New Age Islam News Bureau
12 May 2017
• Al-Azhar Disowned a Famous Preacher for Atoning Christians
• Suicide Bomber Bearing Pakistani Passport Arrested In Kabul
• SRK: India Made Me, a Muslim Son of a Broke Freedom Fighter, the King of Romance
• Jailing Of Ahok Emboldens Hardliners In And Outside Of Indonesia, Say Muslim Scholars
• No Part of Israel Immune to Resistance Missiles in Any Future War: Nasrallah
Arab World
• Al-Azhar Disowned a Famous Preacher for Atoning Christians
• Terrorists Surprised at Syrian Army's Powerful Military Vehicles in Eastern Damascus
• Iraqi forces discover three more mass graves in Iraq's Anbar
• De-escalation plan won't fail in light of Tehran, Moscow support: Assad
• Iraqi army Chief: ISIS will be expelled from Mosul before Ramadan
• Senior Commanders Defect ISIL, Join FSA
• Homs: Over 900 Militants, Family Members Leave Al-Wa'er
• Egypt officials: Militants kill 10 Sinai tribesmen
• Deir Ezzur: ISIL's Belgian Commander Killed, Army Advances in More Strategic Regions
• Aleppo: Syrian Army Laying Siege on Al-Jarah Airbase
• Deir Ezzur: ISIL Team Disbanded, Terrorists' Key Tunnel Destroyed
• ISIL Withdraws from Vast Areas in Eastern Homs
• Homs: 9th Phase of Militant Evacuation Plan Ends in Al-Wa'er
--------
South Asia
• Suicide Bomber Bearing Pakistani Passport Arrested In Kabul
• Bangladesh Seeks Qatari Help in Developing Halal Tourism
• ISIS leader joins peace process in East of Afghanistan
• Afghan forces retake Zebak district from Taliban in Badakhshan
• Decision on increasing NATO troops in Afghanistan to be taken soon: Stoltenberg
• Six killed as Bangladesh police raid militant hideout
• Afghan govt approves in principle the Chabahar port implementation plan
--------
India
• SRK: India Made Me, a Muslim Son of a Broke Freedom Fighter, the King of Romance
• Supreme Court Begins Triple Talaq Hearing, Says Won't Touch Polygamy Issue
• Pak-based terror groups plan to attack India, Afghan: US intel chief
• New Haj policy: Modi government planning 15 cruise trips for pilgrims between Mumbai and Jeddah
• Pakistan violates ceasefire again, one BSF soldier injured
• NIA approaches Interpol for red corner notice against Zakir Naik
• Special Tribunal Upholds Ban on Zakir Naik's Islamic Research Foundation, Says It's In National Interest
--------
Southeast Asia
• Jailing Of Ahok Emboldens Hardliners In And Outside Of Indonesia, Say Muslim Scholars
• Indonesians Follow Malaysia on Religious Intolerance
• Rizieq Shihab Becomes Doctoral Candidate at University of Islamic Science Malaysia
• Myanmar police make arrests after nationalist, Muslim scuffle
• Johannes Nugroho: Identity Politics in Indonesia Remains Ambiguous
• IGP: Three Turks deported home linked to Fetullah group
--------
Mideast
• No Part of Israel Immune to Resistance Missiles in Any Future War: Nasrallah
• Clashes Erupt At Palestinian Protest to Support Hunger Strikers
• Consular affairs office in Saudi Arabia's Jeddah to issue visas to Yemenis
• Mattis affirms US commitment to NATO ally Turkey
• Houthi militia leader killed in battles with the resistance in Shabwa
• Turkey test-fires first domestically-manufactured ballistic missile
-------
North America
• US Blames Pakistan for Deteriorating India-Pak Ties
• Muslim Family Racially Abused By Trump Supporter on Texas Beach
• Pentagon intelligence chief warns of Afghan gains being lost
• American al Qaeda member turned informant avoids long sentence
• NATO Chief Sees Quick Decision on Joining Anti-ISIS Coalition
• Beef exporters in Mexico look to Muslim markets as US alternatives
• US defence chief voices commitment to Turkey's security
--------
Pakistan
• Senators Urge Parliament to Act against Misuse of Blasphemy Law
• Palestinian ambassador to Pakistan calls for Muslim unity and stronger media
• Complete consensus on Dawn story probe: Nisar
• Sindh High Court extends pre-arrest bail of Sharjeel Memon
--------
Europe
• Moscow Backs Resumption of Dialogue between Israel And Palestine
• A British Baroness Wants To Rekindle Donald Trump's Affection for Bashar Assad
• Anti-Islam militants from Britain First arrested over 'Muslim teen rape campaign'
• 5 arrested in Russia as they called for an investigation into Chechen detentions of gay men
--------
Africa
• CAN Raises Alarm over Nigeria's Participation in Islamic Sports Fiesta
• Clerics advocate love, prayers for Nigeria
• Turkey represented at major Somalia conference
• Kenya: Raila Writes His Wishes for Kenya On Jerusalem Wall
Compiled by New Age Islam News Bureau
URL: https://www.newageislam.com/islamic-world-news/al-azhar-disowned-famous-preacher/d/111123
--------
Al-Azhar Disowned A Famous Preacher For Atoning Christians
11 May 2017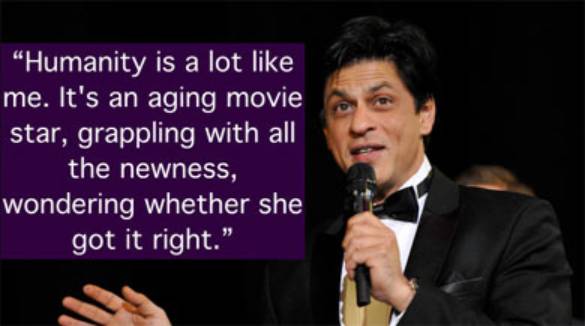 Shah Rukh Khan: Morris MacMatzen / Reuters
----
Al-Azhar disowned a famous Egyptian preacher who expiated Christians; his fatwa was met with great controversy during the past two days.
Al-Azhar said in an official statement on Thursday that "the Islamic Research Council discussed in its session held by the Sheikhs of Al-Azhar the statement of Dr. Salim Abdul Jalil on the Christian religion and Christians," adding that "The Council is keen to state that what was issued by Dr. Salem is an expression of his personal opinion and is in no way an expression of Al-Azhar's point of view or its entrusted bodies; Al Azhar doesn't atone people."
The council considered that "Al-Azhar Al-Sharif is represented only through the Grand Imam of Al-Azhar, the decisions issued by the Council of Senior Scholars together, the Islamic Research Center, or the House of Ifta in its fatwas, which adhere to the unquestioned Islamic principles of Al-Azhar Al-Sharif and among its scholars."
The Egyptian preacher, who was the Undersecretary of the Ministry of Awqaf in Egypt, made offensive comment to Christians and the Christian faith on a religious program broadcasted on Egyptian satellite.
Immediately, the Minister of Awqaf issued a decree prohibiting him from preaching.
For its part, the satellite channel decided to shut down the program of the preacher and to terminate his contract, they also apologized to their "Christian brothers."
Also, the preacher apologized for his remarks. On his Facebook page he wrote that his comments were: "misunderstood by some."
https://english.alarabiya.net/en/News/middle-east/2017/05/11/Al-Azhar-disowned-a-famous-preacher-for-atoning-Christians.html
--------
SRK: India Made Me, a Muslim Son of A Broke Freedom Fighter, The King Of Romance
May 12, 2017
Last month, Shah Rukh Khan attended the TED 2017 conference in Vancouver, Canada and gave a fantastic speech that was tweeted about and written about by whoever was lucky enough to witness SRK speak.
Yesterday, the entire filmed episode of Shah Rukh Khan's speech was uploaded on the TED website and within minutes, the video got viral. And for good reason.
Shah Rukh Khan began by saying that he sells dreams and peddles love to millions of Indians who assume that he is the world's best lover.
"If you don't tell anyone, I'm going to tell you I'm not, but I never let that assumption go away," Shah Rukh Khan added and the crowd laughed wildly.
Shah Rukh Khan then went on to speak about humanity comparing it to himself, an ageing movie star.
"It's an ageing movie star, grappling with all the newness around itself, wondering whether it got it right in the first place, and still trying to find a way to keep on shining regardless," SRK said.
In one of the talk's best moments, Shah Rukh Khan said, "In its immense generosity, India decided somehow that I, the Muslim son of a broke freedom fighter who accidentally ventured into the business of selling dreams, should become its king of romance, the 'Badshah of Bollywood,' the greatest lover the country has ever seen ... with this face. Yeah."
"The people of this ancient land embraced me in their limitless love, and I've learned from these people that neither power nor poverty can make your life more magical or less tortuous," Shah Rukh Khan added.
Shah Rukh Khan's speech was reportedly one of the best moments in this year's TED talks. The full video of the same can be seen here.
http://indiatoday.intoday.in/story/shah-rukh-khan-ted-talk-2017-speech-video-muslim-son/1/951883.html
--------
Jailing of Ahok emboldens hardliners in and outside of Indonesia, say Muslim scholars
12 May 2017
KUALA LUMPUR: It was the moment hardline Muslim detractors of Jakarta's outgoing Chinese Christian governor, Basuki Tjahaja Purnama, had waited for. A south Jakarta court on Tuesday (May 9) found Purnama – also known as Ahok - guilty of blasphemy against Islam and sentenced him to two years' jail.
Outside the courtroom, about 1,000 anti-Ahok hardliners cheered and shouted "Allahu Akbar" ("God is great") while his supporters, many of them Muslims, broke down and cried.
The decision to jail Ahok has raised worries that moderate Islam in the world's largest Muslim country is being eroded while hardliners grow in strength and influence – something that could have implications for the rest of the region, particularly in Malaysia.
A prominent Malaysian Muslim scholar warned that it will reinforce conservatism in his own country.
"This particular court verdict would reinforce the more conservative, bigoted interpretations of Islam in Malaysia, I have no doubts about it. Those (conservative) interpretations are already very strong in Malaysia," president of the International Movement for a Just World, Chandra Muzaffar, told Channel NewsAsia.
"Its impact on a country like Malaysia is worse than its impact on Indonesia, where counter-trends and counter-narratives are still strong. You have NU, civil societies and others who speak out," said Chandra, referring to Nahdlatul Ulama, Indonesia's largest moderate Muslim organisation. "In Malaysia, there is no counter-narrative."
He noted that court rulings pertaining to religious matters have been more or less conservative over the past 15 years. "That sort of conservative trend is going to be even stronger," Chandra added.
A Member of Parliament from the ruling Indonesian Democratic Party of Struggle (PDIP) has alleged that the judges in Ahok's case bowed to public pressure. Ahok's two-year jail sentence is much harsher than the one-year suspended sentence that prosecutors had called for.
"(We are sure) that the judges ruled so due to pressure and intervention, not based on legal facts and evidence," PDIP's Charles Honoris was quoted by The Jakarta Post as saying.
Meanwhile, Malaysian Islamist party PAS was quick to make an example of Ahok when he lost April's gubernatorial election.
"This success clearly shows a signal of Islam's uprising there. When you insult Islam, don't think Muslims will not act by rejecting you as a leader. The Jakarta election has proven it," the Malay Mail Online quoted PAS information chief Nasrudin Hassan as saying.
HARDLINERS HAVE WON TWO BATTLE ROUNDS IN INDONESIA
Nahdlatul Ulama, which has 50 million followers, conceded that hardliners have scored another big win following Ahok's defeat in the gubernatorial election. The campaign was marked by fiery hate speeches from hardliners who called for his death and denounced his Muslims supporters as infidels, warning them not to vote for him.
"This is the second battle the moderates have lost. The war is not lost yet. We believe the majority of Indonesians don't want radical movements to exist in Indonesia," Yahya Cholil Staquf, secretary-general of NU, told Channel NewsAsia.
A day after Ahok's jailing, thousands rallied at various points in Jakarta to show their support for Ahok and to defend the national motto of "Bhinneka Tunggal Ika" (Unity in Diversity) to counter calls by hardliners to dissolve the Republic of Indonesia and replace it with an Islamic caliphate.
The straight-talking Ahok was both loved and hated for taking on the powerful elites in his efforts to clean up Jakarta's bureaucracy and to develop the city.
He was sitting comfortably in opinion polls until a fateful speech to a fishing community last year, where he said political rivals were using a verse in the Quran to say Muslims cannot be led by a non-Muslim.
A video of his speech, doctored to make it appear that he had said the Quran was misleading people, went viral, sparking accusations that he had insulted Islam. It eventually led to him being charged and convicted of blasphemy.
NON-VIOLENT EXTREMISM EQUALLY DANGEROUS: NU
The radical Islamic Defenders Front (FPI) spearheaded the anti-Ahok movement, mobilising hundreds of thousands of people in rallies, joined by other radical groups including Hizbut Tahrir Indonesia (HTI) which the government is seeking to disband.
HTI seeks to replace the secular Republic of Indonesia with an Islamic caliphate as part of a wider goal to establish a global caliphate.
NU's secretary-general Staquf lamented that the Indonesia government appears to be afraid of radical groups, further emboldening them.
"What makes me concerned all this while is that the government appears … to be afraid of the possibility that the radical groups will threaten peace and security, cause riots and others," said Staquf. "I see this happening not only in Indonesia but all over the world.
"I believe this is the wrong attitude to take as it leads to radicals blackmailing governments and societies.
"What is countered right now is violent extremism but not non-violent extremism, as if non-violent extremism is okay. Non-violent extremism is only one step away from violence. Both of them are dangerous ... they threaten peace and security everywhere in the world," he added.
"The middle-class in Indonesia defends Hizbut Tahrir's (right to exist) in the name of democracy. But the issue here is not about democracy, but groups which threaten peace and security," the NU chief argued.
"I believe radical groups have to be eradicated as they are dangerous to all, everywhere in this world … like in Syria and Iraq. There is no need to be afraid of them," he said.
FPI was established in 1998 and has a history of violent vigilantism where they conduct raids and attack restaurants and night clubs that stay open during the fasting month of Ramadan.
Scores of journalists have been attacked by FPI while covering the anti-Ahok protests in recent months and some of FPI's members have even joined the Islamic State extremist group.
HARDLINERS' INFLUENCE UNSETTLES RESIDENTS
Given the role FPI played in contributing towards Jakarta's newly-elected Muslim governor, Anies Baswedan and his deputy Sandiaga Uno's victory, some residents are worried over the influence the group will exert over the new administration.
"One of the party they have to pay back (for their win) is FPI who supported them like crazy during their campaign," said businessman Okki Soebagio. "I think the values they (Anies and Sandiaga) are going to show will be a lot more conservative and FPI could become a lot more radical in their acts (of vigilantism).
"I don't think that Anies, who is an academician, can control such groups. That is my worry."
FPI has called Anies' win a "victory for Islam." "This is a victory of Muslims in Indonesia," FPI spokesman Slamet Ma'arif told Channel NewsAsia, adding that the group boasts 5 million members.
NU describes the radicals as "very smart and strategic". "We expect them to infiltrate deeper into the government through whatever conduit they can get from Anies being the Jakarta governor," said NU's Staquf.
"I also expect them to use the educational system to spread their views via religious teachers. They have been doing that for years."
Counter-terrorism expert and founder of the International Peace Building Institute Noor Ismail Huda warned that it would now be more difficult for the government to promote moderate and tolerant Islam.
"FPI will now have more political power ... since those radicals are sitting informally in any political decisions as they contributed a massive number of votes (during the election). FPI may not have formal political power but they will have cultural and social influence," said Huda.
"I call this the mainstreaming of the radicals. As a result, the country will be held hostage by these radicals."
http://www.channelnewsasia.com/news/asiapacific/jailing-of-ahok-emboldens-hardliners-in-and-outside-of-indonesia-8839176
--------
No part of Israel immune to resistance missiles in any future war: Nasrallah
May 11, 2017
The Secretary General of Lebanon's Hezbollah resistance movement, Sayyad Hassan Nasrallah, says no part of the occupied Palestinian lands will be immune to resistance missiles and its fighters in any future conflict.
Nasrallah made the remarks on Thursday, during a speech made to honor the movement's top military commander, Mustafa Badreddine, who lost his life while fighting foreign-sponsored Takfiri terrorist groups in Syria last year.
Honoring the memory of the slain commander, the Hezbollah chief said Israel knows that any future conflict will be inside occupied Palestine.
Nasrallah noted that Israel will be defeated during any military confrontation with Hezbollah fighters.
The Hezbollah leader went on to say that Lebanese resistance fighters have fulfilled the task of securing the border area with Syria and dismantled militant outposts in the region.
He stressed that Hezbollah has made enormous sacrifices to defend all walks of the nation irrespective of their religious background.
Nasrallah also strongly dismissed allegations that Hezbollah is seeking demographic changes in neighboring Syria, emphasizing that Takfiri militant groups, backed by the United States, Turkey and some Persian Gulf states, are forcing such changes in Syrian towns and cities.
Elsewhere in his remarks, Nasrallah pointed to the step taken by Israel to build walls along its borders with Lebanon and the besieged Gaza Strip, saying that building walls along Lebanon and Gaza borders was admission of the failure of the greater Israel plan.
He added that the fact that Israel hides behind two walls in Lebanon and Gaza proves its weakness, noting that resistance fighters had convinced Israel that there was no place for it in Lebanon.
The Hezbollah chief also underlined that the Lebanese resistance movement will keep cooperating with the Syrian army in the fight against terrorist groups.
Nasrallah also stressed that no disagreement exists between Hezbollah, Iran and Russia concerning the implementation of a nationwide ceasefire in war-ravaged Syria.
The ceasefire was brokered last December between the Syrian government and militants by Russia and Turkey with the support of Iran.
On the back of the truce, the three states have mediated several rounds of peace negotiations between the Syrian government and opposition groups in Astana, Kazakhstan, since the beginning of 2017.
http://www.presstv.ir/Detail/2017/05/11/521513/Hezbollah-Secretary-General-Nasrallah-speech-commemoration-commander-Badreddine/
--------
Arab World
Terrorists Surprised at Syrian Army's Powerful Military Vehicles in Eastern Damascus
May 11, 2017
According to the Russian-language Vestnik Mordovia newspaper, the army is in possession of bulldozers and military AMR-2 vehicles to remove barriers created by the terrorists in al-Qaboun region. The vehicles have been equipped for battle and combat.
Based on the report, the terrorists have failed to damage the military vehicles while the armored bulldozers and the military vehicles can destroy the militants' positions and strongholds, "and this has lowered the terrorists' morale".
Relevant reports said in March that the Syrian army has optimized its T-72 battlefield tanks to resist against anti-tank missiles.
Diyana Mikhailov, a military expert, said that the T-72 tank merely sustained some small damage during a test, adding that the optimization process was successful.
The Syrian army had deployed the Russian T-90 tanks against the terrorists in Aleppo Front in Northern Syria in February 2016 after the T-72 tanks failed to resist against the terrorists' anti-tank missiles.
The T-90 and its outstanding capability to destroy incoming TOW and M79 missiles appears to be perfect for a theater of war like the one in Syria.
In 4 and a half years of conflict, more than 9,000 BGM-71E3B TOW and M79 anti-tank systems have been introduced in the country. Their capability to easily penetrate T-55 and T-72 tanks was the main reason why the Syrian Arab Army has had so many problems gaining ground in Aleppo province prior to using T-90 tanks.
Now, after optimization process, the Syrian army troops will be able to use the T-72 tanks again.
http://en.farsnews.com/newstext.aspx?nn=13960221000875
--------
Iraqi forces discover three more mass graves in Iraq's Anbar
May 12, 2017
Three mass graves have been discovered in Iraq's western province of Anbar, containing the bodies of an estimated several dozen civilians and security forces executed by Daesh Takfiri terrorists.
The sites of the mass graves are in Saqlawiyah region, north of Fallujah, in Karma area, east of Fallujah, and behind the old central library in central Ramadi, the capital of Anbar, Iraqi police officials said on Thursday.
Security forces are deployed to guard the sites and forensic teams from Baghdad are expected in the coming days.
Iraq has discovered dozens of mass graves in areas that have been retaken from Daesh.
This comes as the Iraqi army has launched a large-scale operation against Daesh in the desert areas of Anbar as the terrorist group is being dealt final blows in the country's fight against the Takfiri terrorists.
Anbar is the largest Iraqi province and borders Syria, Jordan and Saudi Arabia. It has been a militant stronghold since 2014, when Daesh swept through Iraq.
The Iraqi forces have managed to retake most of the towns and cities in Anbar, but the Daesh terrorists still control areas near the Syrian border.
Three years ago, Daesh unleashed its campaign of death and destruction in Iraq and declared the northern city of Mosul as its de facto capital in the Arab country.
Full report at:
http://www.presstv.ir/Detail/2017/05/12/521562/Iraq-mass-grave-Abnar-Daesh
--------
De-escalation plan won't fail in light of Tehran, Moscow support: Assad
May 11, 2017
Syrian President Bashar al-Assad says a deal to establish de-escalation zones in Syria with the aim of reducing violence in the war-torn Arab country will not fall short as Iran and Russia will not hesitate to respond appropriately to any form of its violation.
"Former initiatives failed not because they were wrong. They failed because Western states interfered in order to re-escalate militarily. That's why we hope that this plan will give an opportunity to those countries to realize that any escalation will fail; because the Syrian and Russian forces, with support from Iran and [the Lebanese resistance movement of] Hezbollah, will strike any violation on the part of the terrorists," Assad stated in an interview with Belarusian TV network ONT in Damascus on Thursday.
Russia, with backing from Turkey and the Islamic Republic of Iran, brokered the deal for establishing de-escalation zones in mainly militant-held areas of Syria during ceasefire talks in the Kazakh capital city of Astana last week.
The plan, which came into effect at midnight on May 5, calls for the cessation of hostilities between militant groups and Syrian government forces.
It covers the northwestern Syrian province of Idlib, northeastern areas of the western coastal province of Latakia, western areas of Aleppo province and northern areas of Hama province.
It also applies to the Rastan and Talbiseh enclave in Homs province, Eastern Ghouta district in the northern Damascus countryside as well as the militant-controlled southern part of the country along the border with Jordan.
Assad also dismissed allegations that a demographic change is taking place inside Syria.
"The Syrian government does not force anybody to leave. Reconciliation gives local residents the option either to depart or stay. It also gives rebels the chance to lay down their weapons and settle their legal status if they wish to stay, or leave the area if they do not want to do so," the Syrian leader said.
"If the Damascus government had wanted to impose demographic change, why didn't it bring people from other areas and settle them in place of the original population? The areas whose populations have left as a result of terrorist acts remain deserted," he pointed out.
The Syrian president also attached great significance to the return of internally displaced families to their hometowns.
"There are no obstacles in this regard. The government is doing its best to provide necessary services for internally displaced persons. Many people have changed their place of residence in the wake of acts of terror. Damascus continues to provide humanitarian aid with the help of friendly countries," Assad said.
The Syrian president further highlighted that a recent suspected chemical attack in Syria's Khan Shaykhun town was part of a Western scenario to demonize the incumbent Damascus government.
"Western states could initially deceive a section of the Syrian nation to believe the fallacy that their ruling government is horrific. They later sought to prepare public opinion at home for intervention and a military operation against Syria," he said.
Over 80 people died in the April 4 purported gas attack on Khan Shaykhun, which Western countries blamed on the Syrian government.
Using the incident as a pretext, US warships fired 59 Tomahawk cruise missiles from the Mediterranean Sea at the Shayrat airfield in Syria's central province of Homs on April 7. US officials claimed that the suspected Khan Shaykhun attack had been launched from the military site.
Full report at:
http://www.presstv.ir/Detail/2017/05/11/521540/Syria-Assad-deescalation-plan-Russia-Iran-Hezbollah
--------
Iraqi army Chief: ISIS will be expelled from Mosul before Ramadan
11 May 2017
The Iraqi Ministry of Defense has announced that the entire Mosul area will be under control before Ramadan.
This announcement came through army Chief Osman al-Ghanmi during his inspection of the operations taking place against ISIS in the city of Mosul.
Al-Ghanmi praised the progress of the Iraqi forces, stressing at the same time the need to protect the lives of civilians.
It seems that al- Ghanmi based his statement on the progress of the joint forces and their recent control over more than one region near Mosul, such as Al Haramat Al Thanya, Al ma'amel,
As for the industrial zone, the joint forces announced that they continue to rid the area of ISIS militia after the killing of dozens of gunmen and the detonation of car bombs.
On another note, a security source in the province of Diyala said that joint forces of the army and the police launched a large-scale military operation with the support of the warplanes to end the presence of dormant cells belonging to ISIS in villages east of the province.
Full report at:
https://english.alarabiya.net/en/News/middle-east/2017/05/11/Iraqi-army-Chief-ISIS-will-be-expelled-from-Mosul-before-Ramadan.html
--------
Senior Commanders Defect ISIL, Join FSA
May 11, 2017
According to the sources, the three ISIL commanders who had escaped from al-Mayadeen in Southeastern Deir Ezzur towards Badiyeh region were found in al-Tanf base that belongs to Maqawir al-Thowra-FSA.
One of the commanders is Aqaba al-Batah who was responsible for gathering Zakat (religious tax) and fled ISIL with a large amount of money.
Another commander is Qassan al-Sanka, one of the most important ISIL security officials who joined the terrorist group two years ago and issued the most brutal sentences against the civilians.
The third ISIL commander is Mahmoud al-Faraj Libiyayi who is accused of surrendering tens of FSA forces to the ISIL.
Late last month, the FSA terrorists launched an assault on ISIL along the Eastern Qalamoun Mountains, targeting the positions of the rival terrorist faction around the villages of al-Mahsaa and Abu al-Shamat.
The FSA militants stormed ISIL's positions in al-Mahsaa and Abu al-Shamat in order to lift the siege on their comrades in Eastern Qalamoun.
Full report at:
http://en.farsnews.com/newstext.aspx?nn=13960221000772
--------
Deir Ezzur: ISIL's Belgian Commander Killed, Army Advances in More Strategic Regions
May 11, 2017
A field source said that the army units inched closer to Be'r Abu Hassan region adjacent to al-Ta'min brigade.
The source stated that during the army operations aimed at opening roads linking Deir Ezzur's Western regions to the airbase, the Syrian soldiers could advance in important areas in the Southwestern parts of the airbase, killing a Belgian commander and several other foreign members of the ISIL terrorist group.
They also could seized different types of weapons and ammunition from the ISIL.
The source added that the Syrian and Russian fighter jets are repeatedly targeting ISIL's positions in Deir Ezzur and have shattered all bases and roads used by the terrorist group, specially in the Cemetery region, brick factories and al-Mojbal, al-Tharda, Wadi al-Tharda and al-Ammal regions.
The Syrian forces seek to extend the range of their military operations near Deir Ezzur airbase and all roads linking the airbase to the Western districts - recently closed after ISIL's suicide attacks.
Reports said earlier today that the Syrian army forces continued military operations against ISIL in Deir Ezzur, destroying an important tunnel used by the terrorists in the city and killing a group of militants.
The Syrian soldiers blew up a 23-meter-long tunnel belonging to the ISIL in front of al-Makateb region of al-Sana'a district which was used for attacking the army positions by bomb-laden vehicles.
Also, other units of the army launched massive military operations in al-Maleha region near the areas adjacent to Regiment 137 Base in Southwestern Deir Ezzur, and killed all members of an ISIL grouplet.
Field sources said on Wednesday that the Syrian army has dispatched a large number of forces with heavy military equipment to Eastern Homs to take part in an imminent operation to lift the siege on pro-government forces in Deir Ezzur.
The sources said that tens of heavy military vehicles, tanks, missile launchers, cannons and hundreds of soldiers and the Lebanese Hezbollah fighters have left de-escalation zones in Northern Hama for Badiyeh (desert) Palmyra to participate in an imminent large-scale operation to end ISIL presence in Deir Ezzur province.
Full report at:
http://en.farsnews.com/newstext.aspx?nn=13960221000646
--------
Aleppo: Syrian Army Laying Siege on Al-Jarah Airbase
May 11, 2017
The army forces have now focused their military operations on advancing towards villages in the Southwestern parts of al-Jarah airport, fiercely targeting the ISIL positions in the region.
A military source said that the Syrian army forces have heavily pounded the ISIL bases in the two villages of Atira and Jaraj al-Kabirah with missile and artillery fire, adding that the battle is raging near the two strategic regions.
The source added that if the army units capture the two regions, they will gain fire control over al-Jarah airbase and will surround it from three directions.
Another military source also said that the army forces have inflicted tens of casualties on ISIL militants in Aleppo, as the terrorists had been ordered to hold their ground and avoid retreating from al-Mahdoum as it was considered as one of the most important ISIL defense lines for Maskana town.
He added that after the Syrian army seizes control over al-Mahdoum, a major chunk of the Aleppo-Raqqa international highway will open to the Syrian army towards Maskana which is the last ISIL stronghold in Northeastern Aleppo and near the Western parts of Raqqa.
Military sources reported on Wednesday that the Syrian Army troops, backed up by the Russian Air Force, have started a large-scale operation in Eastern Aleppo and managed to drive ISIL out of more positions.
The sources said that the army soldiers stormed ISIL's defense lines in Eastern Aleppo and managed to capture the township of al-Mahdoum after killing and wounding a number of terrorists.
They added that after implementation of the de-escalation zones agreement and ban on combat flights in some provinces, the Russian warplanes concentrated on Eastern Aleppo battlefields and targeted ISIL centers in Maskana plain, killing a large number of terrorists.
Full report at:
http://en.farsnews.com/newstext.aspx?nn=13960221000561
--------
Deir Ezzur: ISIL Team Disbanded, Terrorists' Key Tunnel Destroyed
May 11, 2017
The Syrian soldiers blew up a 23-meter-long tunnel belonging to the ISIL in front of al-Makateb region of al-Sana'a district which was used for attacking the army positions by bomb-laden vehicles.
Also, other units of the army launched massive military operations in al-Maleha region near the areas adjacent to Regiment 137 Base in Southwestern Deir Ezzur, and killed all members of an ISIL grouplet.
Field sources said on Wednesday that the Syrian army has dispatched a large number of forces with heavy military equipment to Eastern Homs to take part in an imminent operation to lift the siege on pro-government forces in Deir Ezzur.
The sources said that tens of heavy military vehicles, tanks, missile launchers, cannons and hundreds of soldiers and the Lebanese Hezbollah fighters have left de-escalation zones in Northern Hama for Badiyeh (desert) Palmyra to participate in an imminent large-scale operation to end ISIL presence in Deir Ezzur province.
Full report at:
http://en.farsnews.com/newstext.aspx?nn=13960221000417
--------
ISIL Withdraws from Vast Areas in Eastern Homs
May 11, 2017
The army soldiers engaged in heavy clashes with the ISIL terrorists in the Eastern parts of Shoumeriyeh mountain and seized back control of three points in the Southern and Southwestern parts of the villages of Western Habreh and Rasm Hamideh.
Meantime, the Syrian air force and missile and artillery units pounded the terrorists' positions in regions of engagement.
During the operations, the Syrian troops killed and wounded a large number of ISIL terrorists and destroyed several of their military vehicles.
Reports said on Wednesday that the Syrian Army has dispatched a large number of forces with heavy military equipment to Eastern Homs to take part in an imminent operation to lift the siege on pro-government forces in Deir Ezzur.
Field sources said on Wednesday that tens of heavy military vehicles, tanks, missile launchers, cannons and hundreds of soldiers and the Lebanese Hezbollah fighters have left de-escalation zones in Northern Hama for Badiyeh (desert) Palmyra to participate in an imminent large-scale operation to end ISIL presence in Deir Ezzur province.
Full report at:
http://en.farsnews.com/newstext.aspx?nn=13960221000269
--------
Homs: 9th Phase of Militant Evacuation Plan Ends in Al-Wa'er
May 11, 2017
The sources said that a sum of 260 gunmen and their family members, with a total number of 1,372, left al-Wa'er district for the border town of Jarabulus in Northeastern Aleppo on 41 buses within the framework of the 9th phase of the evacuation deal in the district under the supervision of Syria's Red Crescent Society, the country's security forces and the Russian military police.
According to Homs Governor General Talal al-Barazi, the last phase of the evacuation plan in al-Wa'er district will be implemented mid May, adding that all government departments will return to the region and the reconstruction work will start soon.
Earlier today, over 900 gunmen and their family members left al-Wa'er district for the militant-held regions in the Northwestern province of Idlib.
In the new phase of the evacuation deal in al-Wa'er which is supervised by the Syrian Red Crescent and the Russian security and police authorities, a sum of 917 people, including 121 militants who had not accepted the peace plan, left the district for Idlib on 23 buses.
The reconciliation agreement of al-Wa'er neighborhood aims at clearing the neighborhood from arms and gunmen and paving the way for the return of governmental institutions to it.
Full report at:
http://en.farsnews.com/newstext.aspx?nn=13960221000903
--------
South Asia
Bangladesh seeks Qatari help in developing halal tourism
May 11 2017
By Mizan Rahman/Dhaka
Bangladesh yesterday sought the co-operation of Qatar to expand religious and halal tourism in Bangladesh.
Civil Aviation and Tourism Minister Rashed Khan Menon made the request when Qatar's ambassador to Bangladesh, Ahmed Mohamed al-Dehaimi, called on him at the Secretariat in Dhaka.
Menon also sought Qatar's investment at the exclusive tourist zone at Sarang in southeastern Cox's Bazar district adjoining the Bay of Bengal sea.
"Qatar is a developed and modern Muslim country of the Middle East and Bangladesh is also a tolerant Muslim country. We have still huge opportunities to expand commerce and trade relations between these two brotherly Muslim nations," the minister said.
The ambassador informed the minister that a high-level Qatar delegate will visit Bangladesh soon to explore new avenues of co-operation between the two countries.
The envoy requested the minister to send a formal proposal to the Qatar government for investment in the exclusive tourist zone in Cox's Bazar.
http://www.gulf-times.com/story/547708/Bangladesh-seeks-Qatari-help-in-developing-halal-t
--------
ISIS leader joins peace process in East of Afghanistan
May 11 2017
A key leader of the Islamic State of Iraq and Syria (ISIS) terror group's offshoot in Afghanistan has joined peace process in Nangarhar province.
The provincial government in a statement said the ISIS group leader identified as Wafadar was in charge of a group of at least 15 insurgents.
The statement further added that Wafadar was previously involved in terrorist related activities in Chaparhar, Haska Mina, and Kot districts.
Wafadar joined peace process after reaching to a conclusion and understanding the realities on the ground due to the efforts of the Afghan intelligence operatives, the statement said, adding that he has also handed over a pistol, a communications device, and two hand grenades to the government authorities.
The former ISIS leader has admitted that was involved in destructive activities with the Taliban group before and pledged allegiance t ISIS when the group established their presence in Afghanistan, committing horrible crimes and atrocities in the country. He also admitted that the citizens of the neighboring countries are also present in the country operating under the flag of ISIS and are receiving command from the neighboring countries.
Full report at:
http://www.khaama.com/isis-leader-joins-peace-process-in-east-of-afghanistan-02739
--------
Afghan forces retake Zebak district from Taliban in Badakhshan
May 11 2017
The Afghan National Defense and Security Forces (ANDSF) personnel have retaken the control of Zebak district from the Taliban in northeastern Badakhshan province of Afghanistan.
The Ministry of Defense (MoD) spokesman Gen. Dawlat Waziri said the Afghan security forces have retaken Zebak from the Taliban insurgents.
He said the control of the district fell around 1 pm local time today and the Taliban insurgents have suffered heavy casualties.
Gen. Waziri further added that full details regarding the operation will be released later.
Full report at:
http://www.khaama.com/afghan-forces-retake-zebak-district-from-taliban-in-badakhshan-02738
--------
Decision on increasing NATO troops in Afghanistan to be taken soon: Stoltenberg
May 11 2017
The NATO Secretary General Jens Stoltenberg has said the alliance will soon decide regarding the request to increase the number of troops in Afghanistan.
Speaking to media during his trip to London, Stoltenberg said "We have received a request from our military authorities to increase our military presence in Afghanistan with a few thousand troops."
Stoltenberg further added "We are now assessing that request; we will make decisions on the scale and the scope of the mission within weeks."
However, he said this is not about returning back to a combat operation in Afghanistan and it will continue to be a train, assist and advice operation.
"Because I strongly believe that the best answer we have to terrorism, the best weapon we have to terrorism is to train local forces to fight terrorism, to stabilise their own country," he added.
The NATO Secretary General said NATO has played a key role in the fight against terrorism for many, many years.
Full report at:
http://www.khaama.com/decision-on-increasing-nato-troops-in-afghanistan-to-be-taken-soon-stoltenberg-02737
--------
Six killed as Bangladesh police raid militant hideout
May 11, 2017
DHAKA: Police in Bangladesh raided a militant hideout on Thursday sparking a clash in which five suspected militants and a fire fighter were killed in blasts that the militants set off, police said.
Bangladeshi security forces have been hunting for militants, especially members of a group that has pledged allegiance to Islamic State, since an attack on a cafe in the capital, Dhaka, last July in which 22 people were killed, most of them foreigners.
Police and army commandos have killed more than 70 suspected militants and arrested hundreds since then.
In the latest incident, police raided the hideout, about 200 miles (120km) west of Dhaka, after a tip-off.
The militants threw grenades, wounding two officers, the area's police station chief, Hipjur Alam Munsi, told Reuters.
The militants, suspected members of a faction of the Islamic-State-linked Jamaat-ul-Mujahideen Bangladesh group, set off explosives, killing themselves and the fire fighter, as police closed in, Munsi said.
Full report at:
http://timesofindia.indiatimes.com/world/south-asia/six-killed-as-bangladesh-police-raid-militant-hideout/articleshow/58625100.cms
--------
Afghan govt approves in principle the Chabahar port implementation plan
May 11 2017
The Afghan government has approved in principle the Chabahar port agreement implementation plan, the Office of the President, ARG Palace said.
According to a statement by ARG Palace, the decision was taken during a meeting of the Afghan cabinet of ministers today.
The statement further added that implementation plan of Chabahar agreement was approved in principle after it was presented to the meeting by deputy finance and administrative minister of the Ministry of Transportation of Afghanistan.
The plan includes awareness of the private sector regarding the materials of the agreement, meeting with the Ministry of Finance, Ministry of Trade and Commerce, Ministry of Public Works, Ministry of Interior, and Afghanistan Chamber of Commerce and Industries to specify the challenges and issues for the implementation of the plan and finding solutions for it.
Full report at:
http://www.khaama.com/afghan-govt-approves-in-principle-the-chabahar-port-implementation-plan-02740
--------
India
Supreme Court begins triple talaq hearing, says won't touch polygamy issue
Dhananjay Mahapatra
May 12, 2017
NEW DELHI: The Supreme Court began on Thursday the first-ever judicial exercise to test the legality of a Muslim personal law provision, but restricted itself to examining the validity of the triple talaq mode of divorce, ruling out the scrutiny of nikah halala and polygamy.
This sets the clock ticking for a pronouncement on whether the court can examine the claim of Muslim clergy that the controversial practice of triple talaq has the sanction of the Quran and is, therefore, beyond the pale of judicial scrutiny. The SC bench commenced hearing on seven petitions on the first day of the court's summer vacation.
The bench of Chief Justice J S Khehar and Justices Kurian Joseph, R F Nariman, U U Lalit and Abdul Nazeer outlined the narrow strip of Muslim personal law provision which it would test on the constitutional touchstone. "We will limit our scrutiny only to the validity of triple talaq. We will not go into the issue of polygamy and nikah halala. If we come to the conclusion that triple talaq is part of the fundamental right to practice religion, then we will not proceed further," the bench said.
The BJP-led government has rejected the contention of Muslim clergy represented by the All India Muslim Personal Law Board and various other outfits, saying the Constitution and fundamental rights guaranteed under it take precedence over personal laws.
On Thursday, when the court declared it would only scrutinise the validity of triple talaq, the Centre reacted immediately through additional solicitor general Tushar Mehta, who said, "The Union government considers triple talaq, polygamy and nikah halala as personal law practices which militate against core fundamental rights — women's right to dignity which is intrinsic to right to life guaranteed under Article 21 and women's inviolable right to gender justice under Article 14."
The bench said, "We are not asking anyone to address us on anything except the validity of triple talaq. You (the Centre) can argue what you wish on Monday. We are informing you that in testing the validity of triple talaq, we are not wandering into examining the legality of other issues." AG Mukul Rohatgi will address the court on Monday on behalf of the Centre, Mehta said. Appearing for petitioner Shayara Bano, who was divorced through a letter with talaq scribbled thrice on it, senior advocate Amit Chadha said triple talaq not only violated the fundamental rights but created an unequal state of affairs for Muslim women.
Senior advocate Salman Khurshid, who has offered to assist the court on this issue, said, " Triple talaq is a non-issue. The court need not examine its validity. The right is given only to men possibly because they would be able to give financial assistance to women after divorcing her." Chadha said, " Many Islamic countries, including Pakistan, have banned divorce through triple talaq and this shows it is not s anctioned by the Quran." The bench asked the counsel to submit laws enacted by Islamic countries which have banned triple talaq, indicating it was keen to study the objective of the legislation and the grounds on which the particular mode of divorce had been rendered illegal. The bench said it would be the best solution if Parliament enacted a law on this issue.
http://timesofindia.indiatimes.com/india/supreme-court-begins-triple-talaq-hearing-says-wont-touch-polygamy-issue/articleshow/58635232.cms
--------
Pak-based terror groups plan to attack India, Afghan: US intel chief
May 12, 2017
WASHINGTON: Pakistan-based terrorist groups are planning to attack both India and Afghanistan, a top US spymaster has said.
"Islamabad has failed to curb militants and terrorists in Pakistan," Daniel Coats, Director of National Intelligence told members of the Senate Select Committee on Intelligence during a Congressional hearing on Worldwide threats.
"These groups will present a sustained threat to the United States's interest in the region and continue to plan and conduct attacks in India and Afghanistan," Coats said.
Pakistan, he rued, is expanding its nuclear arsenal in pursuing tactical nuclear weapons, potentially lowering the threshold for their use.
In South Asia, the intelligence community assesses that the political and security situation in Afghanistan will almost certainly deteriorate through 2018 even with a modest increase in military assistance by the United States and its partners, he told the lawmakers.
"This deterioration is undermined by its dire economic situation. Afghanistan will struggle to curb its dependence on external support until it contains the insurgency or reaches a peace agreement with the Taliban," he said.
"Meanwhile, we assess that Taliban is likely to continue to make gains especially in rural areas. Afghan Security Forces performance will probably worsen due to a combination of Taliban operations, combat casualties, desertion, poor logistic support and weak leadership," Coats said.
"Pakistan is concerned about international isolation and sees its position of India's rising international status including India's expanded foreign outreach and deepening ties with the United States," he said.
Full report at:
http://timesofindia.indiatimes.com/india/pak-based-terror-groups-plan-to-attack-india-afghan-us-intel-chief/articleshow/58638411.cms
--------
New Haj policy: Modi government planning 15 cruise trips for pilgrims between Mumbai and Jeddah
ET Bureau
May 12, 2017
NEW DELHI: As part of the new Haj policy, the Modi government is planning 15 cruise trips for pilgrims from 2018 onwards. The "world class" ships would ferry worshippers between Mumbai and Jeddah in Saudi Arabia, with about 5,000 pilgrims travelling in every trip, Union minority affairs minister Mukhtar Abbas Naqvi said.
The minister added the cruise would be equipped with "world class facilities" and would take only about 3-4 days to reach Jeddah. Naqvi said the option was now being weighed in the light of a 2012 Supreme Court order asking the Centre to abolish by 2022 the subsidy offered to the Haj pilgrims who travel by air. "We don't want the poor pilgrims to suffer because of this. Hence, we are reviving the sea route as part of our new Haj policy."
The practice of ferrying devotees between Mumbai and Jeddah was stopped in 1995 after MV Akbari, the ship which was used for transporting pilgrims, grew old. "It used to take 10-15 days to reach Jeddah then," Naqvi said. The pilgrims will also be trained in "dos and don'ts", which would mainly look at norms of prayers during pilgrimage. "Now, we send our trainers to different embankment points across states to train pilgrims." Naqvi said the government would come out with a new Haj policy next year, under which even poor Muslims would be able to undertake pilgrimage within their budgets.
Ministry sources said a high-level committee studied the option of sending pilgrims via sea route to Jeddah. "The shipping ministry has approved it and Saudi Arabia has welcomed it too," Naqvi said, adding that various people from the Muslim community were also asked for their opinions on this. "The community is excited about this. The cost would come down significantly. It costs a pilgrim Rs 2 lakh via air. Via sea route, the cost will come down to Rs 60,000."
Full report at:
http://timesofindia.indiatimes.com/india/new-haj-policy-modi-government-planning-15-cruise-trips-for-pilgrims-between-mumbai-and-jeddah/articleshow/58638357.cms
--------
Pakistan violates ceasefire again, one BSF soldier injured
May 12, 2017
NEW DELHI: A Border Security Force (BSF) soldier was injured today as Pakistan yet again violated the ceasefire in Jammu & Kashmir.
The ceasefire violation took place between 7-7:30 AM today in Arnia and the BSF promptly retaliated.
Yesterday too, Pakistan violated the ceasefire in Jammu & Kashmir's Nowshera sector. A 35-year-old woman was killed and her husband injured in mortar shelling by Pakistani troops. They shelled forward posts and civilian areas using 82 mm and 120 mm mortars, and Indian Army posts retaliated strongly and effectively.
In the meanwhile, Pakistan yesterday accused India of violating the ceasefire along the Line of Control and summoned Deputy High Commissioner J. P. Singh over the issue.
Sources told ANI news agency that the cross-border firing was initiated by Pakistani troops to give cover to terrorists, and that Indian troops responded in self-defence.
Full report at:
http://timesofindia.indiatimes.com/india/pakistan-violates-ceasefire-again-one-bsf-soldier-injured/articleshow/58638484.cms
--------
NIA approaches Interpol for red corner notice against Zakir Naik
Neeraj Chauhan
May 11, 2017
NEW DELHI: The National Investigation Agency on Thursday approached Interpol for issuing a red corner notice (RCN)+ against controversial Islamic preacher Zakir Naik, who is being probed for terror and money laundering charges.
Naik is said to be hiding either in UAE or Saudi Arabia and keeps on moving between Malaysia and Indonesia, according to the intelligence agencies.
The Interpol RCN against Naik would mean that he will be declared an international fugitive and could be arrested by any agency around the world.
Naik is accused of spreading hatred by his provocative speeches, funding terrorists and laundering several crores of money over the years.
Sources said that the Interpol was approached against Naik after 10-month long investigation during which all the charges against him have been substantiated and his NGO - Islamic Research Foundation - and Peace TV, where he used to give sermons, have been banned by the government.
During the probe, NIA had found 37 properties owned by Naik and companies run by him, which are estimated to be worth more than Rs 100 crore.
While issuing a non-bailable warrant against Naik, a special NIA court in Mumbai had recently said that "there are reasonable grounds to believe that Naik is evading arrest and that he will not voluntarily appear before the court or before the agency."
The court had also observed that it found substance in the allegations made by the NIA.
The agency had informed the court that Naik has been promoting enmity and hatred between different religious groups in India through his speeches and lectures on various platforms and he was inciting Muslim youths and terrorists in India and abroad+ to commit terrorist acts.
Full report at:
http://timesofindia.indiatimes.com/india/nia-approaches-interpol-for-red-corner-notice-against-zakir-naik/articleshow/58631670.cms
--------
Special Tribunal upholds ban on Zakir Naik's Islamic Research Foundation, says it's in national interest
May 11, 2017
A special tribunal on Thursday upheld the ban enforced by the Centre on Zakir Naik's Islamic Research Foundation saying it is involved in activities threatening sovereignty, unity, integrity and security of India. "The entire material placed on record shows that the IRF was involved in activities which not only incite and encourage the youth to under take the unlawful activities with and intent to threaten the sovereignty, unity, integrity and security of India.
"It also cause disaffection against India, which leaves no doubt that the ingredients of section… of the Unlawful Activities Prevention Act (UAPA), 1967 are met and there is every reason to conclude that the IRF be declared as an unlawful association," the tribunal said.
On March 16, the Delhi High Court had also held that the Centre's decision to ban the IRF was taken to safeguard national security. It had dismissed IRF's plea challenging the ban.
The government had in November last year declared IRF as an outlawed organisation under the anti-terror law for five years for its alleged terror activities. The decision was taken at a meeting of the Union Cabinet presided over by Prime Minister Narendra Modi.
The Cabinet had approved a proposal to declare Islamic Research Foundation (IRF) as an 'unlawful association' under the Unlawful Activities Prevention Act for five years, a Home Ministry official had said. According to the Home Ministry, Zakir Naik, who heads the IRF, has allegedly made many provocative speeches and engaged in terror propaganda.
Full report at:
http://indianexpress.com/article/india/zakir-naik-islamic-research-foundation-ban-muslim-ngo-tribunal4651500/
--------
Southeast Asia
Indonesians follow Malaysia on religious intolerance
May 12, 2017
Gaji Buta: Let me get this straight. Jakarta governor Basuki Tjahaja Purnama, or Ahok, said Muslims should not be deceived into believing that the Quran says Muslims should not vote for non-Muslims, as claimed by his opponents.
So what he said has been decided by the court as wrong. Which means the Indonesian court's rationale is that the Quran actually says that Muslims should not vote for non-Muslims. Otherwise, how can he be charged with blasphemy?
Since Muslims in Malaysia also use the same Quran, then by extension, I suppose, they are also expected to believe the same thing. Every day, I learn something new about my neighbours and colleagues.
Blue Mountains: Who says Islamic laws do not affect non-Muslims?
What's worse is that the prosecutors only asked for one year of probation but the judges sentenced him to two years' jail.
Will President Joko Widodo aka Jokowi pardon Ahok now?
Pemerhati: Quote from Asia Sentinel - Phil Robertson of Human Rights Watch said, "What this portends is very worrisome - because if someone as senior as the sitting governor of Jakarta, the country's largest city, can be taken down this way, who is next?
"This is a fundamentally rights abusing law that should be stripped off the books and never replaced because it has such a burden on freedom of expression and religious freedom."
Robertson predicted "the beginning of a very dark chapter in Indonesia, where non-Muslims could be prosecuted and sent to prison simply for discussing Islam in any way other than prescribed by the Indonesian Ulama Council."
"Ahok is certainly the best governor Jakarta has ever had," a businessman said. "He is transforming the city's infrastructure while overhauling municipal services, ending the city's massive flooding problems and done little things like make it possible to get potholes repaired without bribes. His reward? A jail term for a medieval crime he didn't commit."
Raja Chulan: All the good work Ahok has done for Jakarta and its people as their governor notwithstanding, with one slip of the tongue he is accused of blasphemy and sentenced to two years in jail.
Religious believers claim their religion is the most compassionate, most merciful, most fair, etc. Judge for yourself.
Non-Evader: Go to jail because of blasphemy?
Fundamentally, the study of science is blasphemy because these studies always reveal facts that are contradictory to religious beliefs. So, eliminate all scientific studies?
But then, everyone can't get enough of all of the scientific discoveries: air-conditioning, cars, handphones, etc.
Clever Voter: Indonesia along with Turkey, Malaysia, and other countries were once known as secular states.
The world was led to believe that while Islam was the state religion, its treatment of all its citizens would be equal, regardless of religion.
This is no longer the case as each of these states has taken the dictatorial route, where the line between politics and religion has slowly but surely disappeared.
Such uncharted territories bring complexity but rigidity in its interpretation.
Anonymous #69337042: Ahok worked so hard and sacrificed so much for his homeland. Now he is punished because he is a Christian and a non-Muslim minority.
Will this lesson taught to Ahok serve as a mirror to good non-Muslim politicians here?
Justice Now!: This is the end of Pancasila - just when Indonesia is becoming a great democratic nation.
This will be the turning point for Indonesia after so many years of progress. Indeed, this is very unfortunate for the tens of millions of right-minded Indonesians.
Annonymous: Yes, Indonesia, a once united and progressive nation, is slowly but surely turning into an extremist and racist state, influenced by the same supremacist Islamic bigots similar to Perlis mufti Mohd Asri Zainul Abidin and Indian preacher turned Malaysian permanent resident Zakir Naik, who declared that only Muslims must rule over others, even though those "others" could be more competent, non-corrupt, just and God-fearing leaders.
We cry for Indonesia, which is now copying extremist countries abusing religion and spewing racism and threats of violence to ensure the might of the corrupt majority rule over the rights of the minorities.
Cocomomo: Indonesia which was progressing well is now disappointingly on a downward trend. May God have mercy on those who spew hatred and disunity.
Bob the Builder: With all these blasphemy laws, are Indonesians better Muslims? Can Indonesia progress with all kinds of religious laws surrounding it?
Anonymous 444981488553970: It's sad for Indonesia. I hope Indonesia fights for justice and righteousness for all their people.
In the end, God knows our hearts, whether we have blasphemed Him or not. Surely, God is well able to defend His honour.
Anonymous 122461436161429: A good and exemplary man and citizen gets jailed for making an innocent statement about Islam.
On the other hand, PAS president Abdul Hadi Awang calls his fellow Malaysians "children of excrement", and walks around in his robes claiming to be God's holy man.
What the difference? It's all done in the name of Islam.
Anonymous_4056: This clearly shows Islam does not afford equal protection for all.
The above is a selection of comments posted by Malaysiakini subscribers. Only paying subscribers can post comments. Over the past one year, Malaysiakinians have posted over 100,000 comments. Join the Malaysiakini community and help set the news agenda. Subscribe now.
These comments are compiled to reflect the views of Malaysiakini subscribers on matters of public interest. Malaysiakini does not intend to represent these views as fact.
http://www.malaysiakini.com/news/381953
--------
Rizieq Shihab Becomes Doctoral Candidate at University of Islamic Science Malaysia
11 May 2017
KUALA LUMPUR, NETRALNEWS.COM - Muhammad Rizieq B Husein Syihab (HRS), also known as Rizieq Shihab, has become a doctoral candidate at the University of Islamic Science Malaysia (USIM) in Negeri Sembilan, Malaysia.
"HRS is currently a doctoral candidate in Islamic Da'wah (Sermon) and Management Program at the Islamic Science University of Malaysia. His dissertation has reached 70%," said Head of Islamic Education and Implementation Program USIM, Associate Professor Dr. Kamaluddin Nurdin Marjuni in Kuala Lumpur, as quoted by Antara on Thursday (5/11).
Dr. Kamaluddin is currently the first promoter of Rizieq Shihab, while the second promoter is Dr. Ahmed Abdul Malik from Nigeria.
Kamaluddin said HRS started his doctorate program on September 2012 at Universiti Sains Islam Malaysia in Islamic Da'wah and Management Program, Faculty of Leadership and Management.
"HRS wrote a dissertation in Arabic Manahij At-Tamyiz Bayna Al-Ushul Wa Al-Furu 'Inda Expert Suna Waljama'ah or Method of Separation Between Usuliyyah and Furui'yyah Problems according to Ahlu Sunnah Waljama'ah," he said.
He said HRS is currently in Malaysia for several days to conduct intensive meeting with the two promoters for dissertation consultation.
"He is currently in the ninth semester. If he is not preoccupied with the struggle of da'wah and politics in Indonesia, then HRS should have completed his doctoral program by the end of 2015 or seventh semester," he said.
According to Kamalludin, HRS is a diligent in increasing his knowledge. Rizieq Shihab seeks books for reference to writing his dissertation, even though the books are located abroad like in Egypt, Arabia and others.
"When he took two courses (Data Analysis & Research Methodology) required for every doctoral student in the first half of 2012, Dr. Mikail Ibrahim, a lecturer in Data Analysis, was astonished to see that HRS intelligence could accomplish all tasks brilliantly , "He said.
Kamaluddin said that the course is the most difficult and requires in-depth accuracy, while the HRS will bring a several fully-loaded boxes containing reports of the results of studies on the tasks assigned by the lecturer.
He said the persistence of HRS also appeared at the beginning of his encounter in 2012 at that time he asked his motive for taking the doctorate program.
"I asked 'Habib why do you want to go to PhD, while Habib is already pious and is one of the leaders of Islam in Indonesia. He said that he still needed to learn more, since he had already mastered his bachelor's and master's degrees," he said.
Kamaluddin said HRS said in academic sciences he should continue to the end of the academic level of PhD so that should not be half-hearted in any struggle.
Full report at:
http://www.en.netralnews.com/news/opinion/read/5578/rizieq.shihab.becomes.doctoral.candidate.at.university.of.islamic.science.malaysia
--------
Myanmar police make arrests after nationalist, Muslim scuffle
May 12, 2017
Yangon police arrested several Buddhist nationalists Thursday for inciting violence after at least one man was left injured in a confrontation with local Muslims in Myanmar's largest city.
Police issued arrest warrants for seven people including two monks -- among dozens of hardliners who stormed into Mingalar Taung Nyunt township hunting for "illegal" Rohingya Muslims.
Officers fired warning shots to break up the scuffles in the early hours of Wednesday.
The incident comes as nationalists from Myanmar's Buddhist majority have become increasingly vocal in their opposition to the country's hard-pressed Muslims.
The Rohingya, a group of more than a million Muslims who live mainly in western Rakhine State, are particularly maligned as illegal immigrants from Bangladesh and their movements are heavily restricted.
Earlier Thursday the nationalists held a press conference defending their actions and demanding the authorities investigate the case.
At least two people have been arrested out of seven who have been charged with incitement to commit violence, which carries a sentence of up to two years in prison.
''About three lay men were arrested by police this evening," a local police officer told AFP on condition of anonymity.
"Warrants have been issued to arrest seven people altogether, including two monks, U Thu Seitta and U Pyin Nyar Wuntha," he added, using an honorific.
However, local media reported that two people had been arrested.
Nationalists in Yangon have held protests, stopped Islamic religious ceremonies and most recently forced two schools to close temporarily over accusations they were illegally doubling up as mosques in recent months.
Full report at:
http://www.thejakartapost.com/news/2017/05/12/myanmar-police-make-arrests-after-nationalist-muslim-scuffle.html
--------
Johannes Nugroho: Identity Politics in Indonesia Remains Ambiguous
May 12, 2017
In the lead-up to the 1999 general elections, the first after the fall of former President Suharto, slogans counseling voters to separate religion and politics, such as, "In matters of religion I listen to the kyai [cleric] but in matters of state, I listen to my conscience," were commonplace. Curiously, no one took offense. By contrast, in the current climate of sectarian politics, such slogans would probably provoke protests from hardline Islamic groups, 19 years after Indonesia's experiment with democracy. The irony is all too real.
Chief Justice of the Constitutional Court Arief Hidayat recently said at a court hearing: "The development of the modern state saw the rise of two categories in its relation to religion: states which are wholly secular and those with a state religion. Indonesia, however, is neither."
While Indonesia's ambiguity in this respect is not unique – the United Kingdom with its crown-sponsored Church of England is an obvious example – ambiguity could be best described as a national characteristic and indeed preference. Take the recent upsurge of Islamic identity politics and its manifestations, especially during the recent Jakarta gubernatorial election.
Religious and ethnic sentiments were on full display as Christian, Chinese Jakarta Governor Basuki Tjahja Purnama, or "Ahok," was criminalized for blasphemy against Islam. The case against him was so dire that it managed to unify Muslims who turned up irate in their hundreds of thousands and even millions at a string of public protests demanding his incarceration. It is not surprising that faced with such intransigence, he lost the election to a relatively inexperienced rival.
Analysts and pundits have offered different verdicts on this phenomenon. Some forecast doom and gloom for pluralistic democracy in the country as public opinion veers towards the religious right. Others have dismissed the disturbing outpouring of sectarian hatred as a byproduct of the battle between political elites not above exploiting religious and racial sentiments to score political victory.
Yet the reality, like most things in Indonesia, is somewhat ambiguous and in all probability mercurial in nature. There is no doubt that political Islam has successfully used the Jakarta election – particularly the Islamic Defenders' Front (FPI) and its leaders, such as Rizieq Shihab – to leapfrog into sudden political prominence.
Radical groups such as FPI are no longer on the fringes of power play. There is also no doubt that the excesses of sectarianism on display throughout were abetted by political elites who provided the perfect avenue through which pent-up religious and racial biases could be legitimately expressed.
Nevertheless, the rise of political Islam as represented by the radical groups has not been without challenge. Ahok's defeat has already produced civil defiance from his supporters, many of whom sent floral displays to City Hall to express their solidarity with the governor in defeat.
Recently we have also seen public rejections of Islamist groups in the country, notably public protests against Rizieq Shihab's scheduled talk in Surabaya, the mass rejection against the opening of the FPI branch in Semarang and Salatiga in Central Java, as well as the declaration against intolerant groups by the Dayak community in Kalimantan. The government has also jumped on the bandwagon by declaring its intention to ban the fundamentalist organization Hizbut Tahrir Indonesia through a court verdict.
Despite the multi-pronged challenge, it must be admitted that sectarianism exists and thrives within Indonesia. Without the religious and ethnic sentiments and hatred already present in society, the elites could not have possibly conjured up the recent commotion. It was if anything a wake-up call, especially in light of past government disavowals of sectarian tensions.
By the same token, due to long held taboos on the public discussion of topics relating to ethnicity, religion, race and community groupings, members of the Indonesian public may also be in denial that sectarianism lurks in their midst even when the evidence may point to the contrary.
Such taboos, drummed into public psyche during President Suharto's 32-year rule, have only resulted in further segregation of different religious and racial groups in Indonesian society, with each living in their own community with minimal contact with the others. This is especially true in urban centers like Jakarta.
At the same time, as the urban Muslim middle classes grow in numbers and stature, their aspirations will also become more prominent in politics. A survey conducted by Pew Research Center between 2008 and 2012 found that 72 percent of Indonesians support the idea of Shariah law. This particular statistic has been rightly questioned by a few analysts because, again, the picture is probably more nuanced, and ambiguous.
The majority of Muslims in Indonesia would, in principle, support what their religion teaches them, including Shariah law. This is why most would answer in the affirmative when questioned about it. At the same time, many may not feel comfortable with the fundamentalist interpretation of the Shariah, including whether hijab is compulsory for women or if corporal punishment should be part of normative law. At present, only the semi-autonomous province of Aceh has installed Shariah as part of its legal system.
The tendency to put up a good show of support for Islam also explains the huge turnouts of anti-Ahok protests in Jakarta. Once convinced that the governor uttered blasphemy against Islam – after all many clerics at mosques say so – most Indonesian Muslims would have been socially obligated to turn against him, if only to prove their religious credentials.
Full report at:
http://jakartaglobe.id/opinion/johannes-nugroho-identity-politics-indonesia-remains-ambiguous/
--------
IGP: Three Turks deported home linked to Fetullah group
May 12, 2017
KUALA LUMPUR, May 12 — Turgay Karaman, Ihsan Aslan and Turkish academic Ismet Ozcelik were deported home to Ankara, Turkey last night, Malaysia's top police officer disclosed today.
Inspector-General of Police Tan Sri Khalid Abu Bakar said trio were wanted men by the Turkish government for suspected involvement with the Fetullah Terrorist Organisation (Feto), which is gazetted as a terror group by by the Turkish government and the Organisation of Islamic Cooperation.
"The Royal Malaysian Police's investigation found they were involved in Feto activities and listed as wanted by Turkish authorities.
"Their travel documents were cancelled by the Turkish government. As such their presence in Malaysia was illegal," he said in a statement.
Feto is used by the Turkish government to describe followers of an Islamic transnational movement founded by US-based Turkish preacher Fethullah Gülen.
The movement has no official name but its followers usually call it Hizmet (the service) while the general Turkish public refer to it as Cemaat (the community or assembly).
Turgay, 43, and Ihsan 37 were announced to be arrested on May 2 under the Security Offences (Special Measures) Act 2012 (Sosma) which allows for detention without trial, after their wives reported them missing and feared they were abducted.
Police later confirmed arresting Ozcelik, a director of a Turkish university, on May 5 in Pahang, in connection to activities threatening Malaysia's security.
Ozcelik was previously arrested on December 13 last year for allegedly obstructing Immigration Department officers from carrying out their duty.
Deputy Prime Minister Datuk Seri Ahmad Zahid Hamidi previously said that Turgay and Ihsan were arrested on suspicion of links to global terror network the Islamic State.
Yesterday, he was reported saying the government may also deport the families of the three men to their country of origin, after discussions with the Turkish embassy here.
National news agency Bernama reported yesterday that the trio were being investigated under Section 130 of the Penal Code, which deals with aiding the escape of, rescuing, or harbouring any "prisoner of State or prisoner of war".
Malaysian law states that those found guilty in court shall be punished with lifetime imprisonment or for a term of up to 20 years, and a fine.
Full report at:
http://www.themalaymailonline.com/malaysia/article/igp-three-turks-deported-home-linked-to-fetullah-group
--------
Clashes erupt at Palestinian protest to support hunger strikers
11 May 2017
Clashes erupted in the occupied West Bank on Thursday between Israeli soldiers and hundreds of Palestinians protesting in support of hunger strikers in Israeli jails.
At least two Palestinians were wounded by rubber bullets and evacuated on stretchers with bloodied legs, an AFP journalist reported.
Youths wearing hoods or masks threw stones at Israeli soldiers, who responded with rubber bullets and water cannon containing foul-smelling liquid.
The clashes broke out at a major checkpoint at the entrance to Ramallah and another near the Israeli settlement of Beit El, the site of regular demonstrations against Israel's 50-year occupation of the West Bank.
The protest was called in support of hundreds of Palestinian prisoners on hunger strike in Israeli jails since April 17.
"We are entering an extremely critical period" for the hunger strikers, Qadura Fares, head of the Palestinian Prisoners Club, said earlier at a rally in Ramallah.
"A large number of prisoners can no longer move from their bed or take care of their basic needs."
The Red Cross visited the strike's leader, Marwan Barghouti, on Thursday for the first time since the protest began.
An ICRC spokesman was unable to provide an update on his health "in accordance with the principles of medical confidentiality".
The ICRC had previously been allowed access to other prisoners on hunger strike, but Israel had restricted access to Barghouti.
Hunger strikers have issued a list of demands including better medical services, family visits and more dignified conditions in detention.
Israel says its prisons meet international standards.
Barghouti, a senior member of Palestinian President Mahmud Abbas's Fatah party and a highly popular figure among Palestinians, is serving five life sentences over his role in the second Palestinian intifada, or uprising.
Full report at:
https://english.alarabiya.net/en/News/middle-east/2017/05/11/Clashes-erupt-at-Palestinian-protest-to-support-hunger-strikers-.html
--------
Consular affairs office in Saudi Arabia's Jeddah to issue visas to Yemenis
11 May 2017
Saudi King Salman bin Abdulaziz has approved the opening of consular affairs office in Jeddah of the Kingdom's embassy in Sanaa and the consulate in Aden, Saudi Ambassador to Yemen Mohammed al-Jaber announced on Wednesday.
The Jeddah consular office will issue visas.
The service offices accredited by the embassy in Sanaa and the consulate in Aden will receive passports and documents and send them to the consular affairs office in Jeddah.
Al-Jaber said the King's approval is an extension of the keenness of the leadership and the government of Saudi Arabia to support the brethren in Yemen. It also emphasizes the importance of providing services and facilitating procedures for all segments of the Yemeni people.
Full report at:
https://english.alarabiya.net/en/News/gulf/2017/05/11/Consular-affairs-office-in-Saudi-Arabia-s-Jeddah-to-issue-visas-to-Yemenis.html
--------
Mattis affirms US commitment to NATO ally Turkey
11 May 2017
US Defense Secretary Jim Mattis reiterated on Thursday Washington's commitment to protecting NATO ally Turkey after a meeting with the Turkish prime minister in London.
Mattis's roughly half-hour meeting with Turkey's Prime Minister Binali Yıldırım in the British capital was the highest-level meeting since Washington announced its decision to arm Kurdish fighters in Syria. Both men were attending a conference on Somalia. On Wednesday, Turkish President Recep Tayyip Erdogan called on the United States to immediately reverse a decision on arming Syrian Kurdish fighters considered by Ankara to be a terror group.
https://english.alarabiya.net/en/News/2017/05/11/Mattis-reiterates-US-commitment-to-NATO-ally-Turkey-.html
--------
Houthi militia leader killed in battles with the resistance in Shabwa
11 May 2017
A Houthi militia leader and two of his companions were killed in fierce clashes in the province of Shabwa in southern Yemen.
They were killed during battles with the Popular Resistance Forces on Wednesday in the Tawal al-Sada area of Asilan district inside Shabwa province.
Meanwhile, a civilian and his wife were killed by a roadside bomb planted by Houthi militias in their farm in Ibb province in central Yemen.
Politically, Yemen's ex-president Ali Abdullah Saleh has said he is open to negotiations with Saudi Arabia.
"We have no choice but dialogue," Saleh said at a meeting of his General People's Congress party in the Yemeni capital Sanaa on Tuesday.
"We are ready to go to Riyadh, Khamis Mushit, Muscat or elsewhere to start dialogue and to reach an understanding," Saleh was quoted as saying.
On the humanitarian front, Saudi Arabia hosted in Riyadh the preparatory meeting on recovery and reconstruction in Yemen in the presence of Yemeni Prime Minister Ahmed Obeid Bin Daghr.
Full report at:
https://english.alarabiya.net/en/News/gulf/2017/05/11/Houthi-militia-leader-killed-in-battles-with-the-resistance-in-Shabwa.html
--------
Turkey test-fires first domestically-manufactured ballistic missile
May 12, 2017
Turkey has successfully test-fired its first homemade ballistic missile near the Black Sea coastal region of Sinop, the Turkish defense minister says.
"Our missile Bora (storm), with a range of 280km, was just test-fired in Sinop. It will strike its target in the Black Sea any minute now," Fikri Isik told broadcaster A Haber on Thursday.
The test was later described as successful.
"Turkey now makes its own missile. We have gained the self-confidence to make better ones," added the minister.
Bora has a payload of 450kg and it has been developed by Turkey's major weapons manufacturer Roketsan.
In recent years, Turkey has been pursuing a long-term plan of manufacturing weapons systems domestically, as Ankara's NATO allies refuse to transfer the technology to the country.
Turkey has also turned to non-NATO countries to access the know-how despite opposition from the alliance.
On April 28, Turkish Foreign Minister Mevlut Cavusoglu said Ankara and Moscow had "agreed in principle" on a deal for the purchase of the advanced Russian-made S-400 long-range air missile defense system.
Russia's S-400 air missile defense system is capable of engaging 36 targets simultaneously and shooting down aircraft at a range of 400 kilometers and ballistic missiles at a range of 60 kilometers.
In 2013, Ankara concluded a $3.4bn deal with China for its HQ-9 system, but it scrapped the agreement in 2015 due to NATO's opposition.
NATO argues that such systems are incompatible with the military alliance's infrastructure and that they allow non-members to spy on the operational process of the organization.
Full report at:
http://www.presstv.ir/Detail/2017/05/12/521559/Turkey-ballistic-missile-NATO-Russia
--------
North America
US blames Pakistan for deteriorating India-Pak ties
May 12, 2017
WASHINGTON: The Trump administration on Thursday blamed Pakistan for deteriorating India-Pak relations and warned that the ties might worsen further if another "high- profile" terrorist attack emanates from across the border this year.
"Islamabad's failure to curb support to anti-India militants and New Delhi's growing intolerance of this policy, coupled with a perceived lack of progress in Pakistan's investigations into the January 2016 Pathankot cross-border attack, set the stage for a deterioration of bilateral relations in 2016," Daniel Coats, director of National Intelligence, told lawmakers during a Congressional hearing.
Testifying before the Senate Select Committee on Intelligence along with top intelligence officials, Coats said the relations between India and Pakistan became more tense following two major terrorist attacks in 2016 by militants crossing into India from Pakistan.
"They might deteriorate further in 2017, especially in the event of another high-profile terrorist attack in India that New Delhi attributes to originating in or receiving assistance from Pakistan," Coats said in his testimony before the Senate committee on worldwide threats.
Supporting India's pre-condition for bilateral talks on Islamabad stopping support to cross border terrorism, Coats said increasing numbers of cross-firing along the Line of Control, including the use of artillery and mortars, might aggravate the risk of unintended escalation between the two countries.
"Easing of heightened India-Pak tension, including negotiations to renew official dialogue, will probably hinge in 2017 on a sharp and sustained reduction of cross-border attacks by terrorist groups based in Pakistan and progress in the Pathankot investigation," Coats said.
Last year, heavily-armed terrorists sneaked in from across the border and attacked the Pathankot Air Force Station in Punjab. The attack had claimed the lives of seven security personnel while four terrorists were killed.
Coats said Pakistan is concerned about its international isolation due to its dwindling position against India's rising international status, expanded foreign outreach and deepening ties with the US.
"Pakistan will likely turn to China to offset its isolation, empowering a relationship that will help Beijing to project influence into the Indian Ocean," said the top US intelligence official.
In his remarks ahead of the possible release of the Afghanistan policy of the Trump Administration, he said "Pakistani-based terrorist groups will present a sustained threat to the US interests in the region and continue to plan and conduct attacks in India and Afghanistan."
"The threat to the US and the West from Pakistani-based terrorist groups will be persistent but diffuse. Plotting against the US homeland will be conducted on a more opportunistic basis or driven by individual members within these groups," he told members of the Senate Select Committee on Intelligence.
"The groups we judge will pose the greatest threat to Pakistan's internal security include Tehrik-e Taliban Pakistan, Jamaat ui-Ahrar, al-Qaeda in the Indian Subcontinent, ISIS-K, Laskhare Jhangvi, and Lashkar-e Jhangvi ai-Aiami," he said, adding that the emerging China Pakistan Economic Corridor will probably offer militants and terrorists additional targets.
"Pakistan's pursuit of tactical nuclear weapons potentially lowers the threshold for their use," Coats warned.
"Early deployment during a crisis of smaller, more mobile nuclear weapons would increase the amount of time that systems would be outside the relative security of a storage site, increasing the risk that a coordinated attack by non-state actors might succeed in capturing a complete nuclear weapon," he said.
http://timesofindia.indiatimes.com/india/us-blames-pakistan-for-deteriorating-india-pak-ties/articleshow/58638070.cms
--------
Muslim family racially abused by Trump supporter on Texas beach
May 12, 2017
A Muslim-American family enjoying a day out at a Texas beach were subjected to a barrage of racial abuse from a Donald Trump supporter.
Footage has emerged in which the inebriated man can be heard screaming: "Isis don't mean s*** to me" and "Donald Trump will stop you", as the family try to ignore him.
The video showed the man squaring up to members of the family, and shouting aggressively: "Sharia law don't mean s*** to me!" as he paces angrily across the sand on South Padre Island.
Another holidaymaker can be seen trying to intervene, but the drunk man continued to approach the family, hurling further insults.
The 34-year-old man, named by police as Alexander Jennes Downing, was later arrested on charges of public intoxication.
"While enjoying our time at the beach during a family reunion, our kids and us had to experience ugliness and aggressiveness in the worst shape and form possible," Noria Alward, who posted the video to YouTube, said.
"He was yelling so loud that my uncles and my brother came over from the water to see what was going on. The insane man came close to the kids and that's when my uncle stood up to him and defended us and the kids, including my four-year-old cousin, four and two-year-old nephews."
The family had been enjoying a reunion at the three-star South Padre Pearl hotel and had been making use of the hotel's private beach. However, Miss Alward claims the hotel did little to intervene, despite Downing being a fellow guest.
South Padre Police invited members of the public who witnessed what happened and who were offended by the incident to bring further charges against Downing.
Full report at:
http://www.independent.co.uk/news/world/americas/muslim-family-beach-abuse-video-trump-supporter-racism-a7730911.html
--------
Pentagon intelligence chief warns of Afghan gains being lost
12 May 2017
The US must "do something very different" in Afghanistan, such as placing American military advisers closer to the front lines of battle, or risk squandering all that has been invested there in recent years, the head of the Pentagon's military intelligence agency said Thursday.
The grim assessment by Marine Lt. Gen. Vincent Stewart, director of the Defense Intelligence Agency, comes as the Trump administration considers Pentagon recommendations to add more US and NATO troops and to deepen support for Afghan forces. The timing of a White House decision is unclear but is not expected this week.
In testimony before the Senate Intelligence Committee, Stewart said he visited Afghanistan about six weeks ago to see for himself what others have called a stalemate with the Taliban, the insurgent group that was removed from power in 2001 by invading US forces.
"Left unchecked, that stalemate will deteriorate in the favor of the belligerents," Stewart said, referring to the Taliban. "So, we have to do something very different than what we have been doing in the past." He mentioned increasing the number of US and NATO advisers and possibly allowing them to advise Afghan forces who are more directly involved in the fighting. Currently the advisers work with upper-echelon Afghan units far removed from the front lines.
If such changes are not made, Stewart said, "the situation will continue to deteriorate and we'll lose all the gains we've invested in over the last several years."
Taliban gains
Testifying alongside Stewart, the nation's top intelligence official, Dan Coats, said the Taliban is likely to continue making battlefield gains.
"Afghanistan will almost certainly deteriorate through 2018 even with a modest increase in military assistance by the United States and its partners," Coats said, adding, "Afghan security forces performance will probably worsen due to a combination of Taliban operations, combat casualties, desertion, poor logistics support and weak leadership."
The Pentagon says it currently has about 8,400 troops in Afghanistan, about one-quarter of whom are special operations forces targeting extremist groups such as an ISIS affiliate. Gen. John Nicholson, the top US commander in Kabul, has said he needs about 3,000 more US and NATO troops to fill a gap in training and advising roles.
Full report at:
https://english.alarabiya.net/en/News/world/2017/05/12/Pentagon-intelligence-chief-warns-of-Afghan-gains-being-lost.html
--------
American al Qaeda member turned informant avoids long sentence
12 May 2017
A New York City-born former al Qaeda member who plotted to attack a commuter railroad will be released in three months after spending 8-1/2 years in custody because of the extensive intelligence he provided US investigators after his arrest, prosecutors said.
Bryant Neal Vinas, 34, pleaded guilty in 2009 after his capture by Pakistani authorities in 2008. At a hearing in Brooklyn on Thursday, US District Judge Nicholas Garaufis sentenced him to time served plus three months, according to the US attorney's office in Brooklyn.
Vinas, a US Army veteran, traveled to Pakistan in 2007 and eventually joined the militant group al Qaeda, which provided him weapons and explosives training, authorities said.
In 2008, he participated in a rocket attack against a US base across the Afghanistan border. He also worked with al Qaeda leaders to identify potential attacks inside the United States and suggested targeting the Long Island Rail Road, a major commuter rail that connects New York City to Long Island suburbs, according to US prosecutors.
Cooperation with investigators
Within days of his arrest, however, Vinas began cooperating with US investigators, giving operational details and intelligence on al Qaeda's activities and members. In court papers, prosecutors said he contributed to the opening or closing of more than 30 law enforcement investigations.
"To say that the defendant provided substantial assistance to the government in an understatement," prosecutors wrote in court filings. "He may have been the single most valuable cooperating witness" with respect to al Qaeda's activities in Afghanistan and Pakistan between 2007 and 2008.
The government has kept many details of Vinas' cooperation classified, in part because prosecutors said the information he has provided is contributing to ongoing investigations.
In 2012, Vinas testified at the trial of Adis Medunjanin, who was convicted of trying to coordinate suicide bombings of the New York City subway system. His information also led to charges against another al Qaeda member, though that case has remained sealed.
Full report at:
https://english.alarabiya.net/en/News/world/2017/05/12/American-al-Qaeda-member-turned-informant-avoids-long-sentence.html
--------
NATO chief sees quick decision on joining anti-ISIS coalition
11 May 2017
NATO's secretary-general said Thursday that he hopes for a decision by the time member countries' leaders meet May 25 on whether the alliance formally joins the coalition fighting ISIS.
The US under President Donald Trump is keen for a greater emphasis on NATO fighting terrorism. NATO chief Jens Stoltenberg said that all members of the 28-alliance are already members of the anti-ISIS coalition, though NATO itself formally isn't.
"The question is whether NATO as an alliance should be at the table coordinating with the others, or whether we should continue to provide support to the coalition," Stoltenberg said after meeting German Chancellor Angela Merkel.
If it does join, "it will not change the fundamental role of NATO, because we will not be engaged in combat operations - neither in Syria nor Iraq," it said.
NATO currently provides support with AWACS surveillance planes and with training in Iraq, in addition to what its member nations provide individually.
Merkel was noncommittal on whether NATO should formally join the coalition, saying that she had "encouraged" Stoltenberg to pursue talks on the matter. She stressed that the possible move wouldn't lead to Germany expanding any military activity.
NATO is also considering at present whether to send several thousand more troops to Afghanistan but, as at present, not in a direct combat role.
Germany is one of the major contributors to the NATO-led Resolute Support mission, with 964 soldiers. Merkel said: "I don't see us in the front row, and I don't have any concrete plans" as far as increasing that number is concerned.
Stoltenberg said decisions will be made "within weeks" on requests from military authorities for more troops.
"If there is any increase, which is not yet decided, then we will go out and ask all allies and partners," he said.
Full report at:
https://english.alarabiya.net/en/News/world/2017/05/11/NATO-chief-sees-quick-decision-on-joining-anti-ISIS-coalition.html
--------
Beef exporters in Mexico look to Muslim markets as US alternatives
May 12, 2017
Mexico's growing beef industry is targeting Muslim consumers in the Middle East for its prime cuts as it seeks to reduce dependence on buyers in the United States. The potential for a US-Mexico trade war under President Donald Trump has accelerated efforts by Mexican beef producers to explore alternative foreign markets to the United States, which buys 94 percent of their exports worth nearly $1.6 billion last year.
Trump has vowed to redraw terms of trade with Mexico and Canada to the benefit of the United States. Mexican beef companies fear they may be dragged into a renegotiation of the North American Free Trade Agreement between the three countries. That has firms looking to the Middle East, where most meat is imported from non-Muslim countries using animals slaughtered by the halal method prescribed by Islamic law.
Mexico, the world's sixth biggest beef producer, plans to quadruple exports of halal beef to 44 million pounds (20,000 tonnes) by the end of 2018 from 11 million pounds (5,000 tonnes) this year, according to data from the Mexican cattle growers association AMEG. The country should have 15 plants certified to produce halal meat by the end of next year, up from a current six, according to AMEG data.
Jesus Vizcarra, chief executive and owner of SuKarne, Mexico's biggest beef exporter, said his company sees big potential for sales to Muslim-majority countries. "We have to seek out more markets," he said in an interview, pointing to near-term targets in Egypt, the United Arab Emirates, Qatar and Lebanon. "There's an opportunity in these Middle Eastern countries," said Vizcarra, who is known in Mexico as the King of Beef and has boasted of being born in a slaughterhouse.
At SuKarne's sprawling Monarca plant, located 270 miles (435 km) west of the Mexican capital in Michoacan state, more than 150,000 cows leisurely pick at row after row of grain channels in dusty feed lots. The plant is the company's first halal-certified facility and earlier this year began its first-ever shipments to Muslim markets.
"EYES WIDE OPEN"
Mexico's cattle growers' association sent a trade mission to Dubai and Qatar in late February to meet potential buyers, said Rogelio Perez, AMEG's top trade official Inspectors from the UAE will visit Mexico by June, after Saudi inspectors were in Mexico in March, he said. "They left with a very good taste in their mouths regarding Mexican production systems," he said.
Plants must be certified as halal compliant by third-party companies such as US-based Halal Transactions of Omaha or United Arab Emirates-based RACS. Earlier this year, Indonesia, the world's most populous Muslim country, expressed interest in buying Mexican beef for the first time although no deals have yet been cut. Sales to Muslim countries would take a bite out of the market share for halal meat held by beef packers from the United States and Brazil, according to industry and trade sources.
Mexico's beef industry is able to grow its export markets due to a successful push to meet exacting US standards and modernize the sector over the past two decades. That has put Mexican packers in a strong position to diversify away from the US market. "It was our big strength until President Donald arrived, and now it's our major weakness," said Bosco de la Vega, president of Mexico's state farm council, adding that Mexico should limit beef exports to the United States to a maximum of half the overall flow.
He said Mexico can do so in the next five years. Russia is considering buying large volumes of Mexican beef, and Mexico is also seeking to expand shipments to existing buyers like Japan and South Korea. Mexico's herd hit a record 31 million animals in 2015 and totaled 30.8 million in 2016, producing 4.142 billion pounds and exports of 712 million pounds.
Full report at:
http://indianexpress.com/article/world/beef-exporters-in-mexico-look-to-muslim-markets-as-us-alternatives-4652174/
--------
US defence chief voices commitment to Turkey's security
11 May 2017
Defense Secretary James Mattis and Turkish premier Binali Yildirim discussed a host of security issues Thursday during a bilateral meeting in London, according to the Pentagon.
Mattis "reiterated U.S. commitment to protecting our NATO ally", spokeswoman Dana White said in a statement.
"Both leaders affirmed their support for peace and stability in both Iraq and Syria," she added.
The meeting closely follows the U.S. announcement that it would begin to directly arm "Kurdish elements" of the Syrian Democratic Forces (SDF), its preferred partner in the ground war against Daesh in northern Syria.
The SDF is a multiethnic group spearheaded by the YPG, an organization Ankara considers the Syrian affiliate of the PKK, a designated terrorist organization in Turkey, the U.S., and EU.
Washington has relied heavily on the YPG in its campaign against Daesh but until recently had not directly armed the group as a matter of policy.
The recent shift has angered Ankara which views the change as a threat to its security.
Full report at:
http://www.worldbulletin.net/america-canada/189365/us-defense-chief-voices-commitment-to-turkeys-security
--------
Pakistan
Senators urge parliament to act against misuse of blasphemy law
May 12, 2017
The Senate on Thursday deliberated on the Mashal Khan lynching case as the Senators urged the parliament to play its due role against misuse of the blasphemy law, reported Radio Pakistan.
Khan, a 23-year-old student of Abdul Wali Khan University, Mardan, was killed by a vigilante mob for allegedly "publishing blasphemous content online", according to the initial police report.
Senator Farhatullah Babar of PPP in his inaugural remarks said that the mob violence was increasingly becoming a routine in the society. He said the parliament should play its role to prevent misuse of blasphemy law. "Some elements are suppressing the expression of freedom in the name of religion which is regrettable," he added.
Senator Nihal Hashmi of PML-N said that blasphemy law prevents people from taking law in hands as the state is there to check any blasphemous act. He urged Ulema to give the true message of Islam. "Similarly, the liberal elements should also try better understanding of religion instead of criticising it," he added.
Muhammad Azam Khan Swati said politicians, lawmakers, Ulema, lawyers and every segment of society will have to play their due role to change the extremist mindset and to present a soft image of Pakistan and Islam.
Sherry Rehman of PPP said, "Growing intolerance is becoming a serious issue of our society." She said serious efforts should be made to check mob violence.
Rubina Khalid said that war against terrorism cannot be won without having a counter-narrative to check extremism in the country. She urged the Senate chairman to constitute a committee to evolve a counter-narrative.
Maulana Atta-ur-Rehman of JUI-F said, "No one should be allowed to take law into hands." He said that his party expresses complete sympathy with Mashal Khan.
He continued that the implementation of the law in letter and spirit is the way forward to prevent such incidents. He said it will be inappropriate to talk about changing the blasphemy law on the basis of these incidents.
Aitzaz Ahsan of PPP also expressed his views and said that strict action should be taken against those responsible for the lynching of Mashal Khan. He said all the people, after identifying in the lynching video available, should not be given any clemency and everyone should be tried according to the law.
He said Mashal Khan lynching case should be tried in a military court for misuse of religion. He also urged the Senate chairman to form a committee to have detailed discussion with leading Ulema, lawyers, media persons and other important figures on the issue of extremist mindset so that a unanimous view could be sought to address the issue.
Shahi Syed of ANP said some people are doing politics on the issue of Mashal Khan which is regrettable. He said, "Action should be taken against the culprits, irrespective of their political affiliation."
Full report at:
https://www.dawn.com/news/1332467/senators-urge-parliament-to-act-against-misuse-of-blasphemy-law
--------
Palestinian ambassador to Pakistan calls for Muslim unity and stronger media
May 11, 2017
The Ambassador of the Palestinian Authority to Pakistan has called for a more unified Muslim world and a stronger media to counter Israel and its influence.
Speaking at a conference on Tuesday in Pakistan's capital, Islamabad, the ambassador spoke on a number of issues including the Muslim world in general and Pakistan's relationship with the Palestinians and their cause.
The conference, named "Hunger strike for dignity," highlighted the plight of 1,600 Palestinian prisoners who started their hunger strikes on 17 April. Ambassador Walid Abu Ali – along with many other diplomats from Muslim countries – expressed support and solidarity with the prisoners, calling for Israel to provide them with basic human rights.
He said that the "international community is deaf and blind on the suffering of two million people in Gaza," and called on Muslim countries as a whole to do more to highlight issues in Palestine and Israel's violation of human rights.
Abu Ali emphasised the important role that the countries' media has to play, citing Israel's ability to lobby strongly and its wide influence over the media as something that must be countered on an international level.
Read: Barghouthi's wife calls on Pope to help hunger strikers
The conference and the statements by the ambassador comes amid a wave of international support for the Palestinian prisoners, with a number of protests and rallies having been taken place around the world, as well as churches and mosques in the West Bank uniting in support for them.
Full report at:
https://www.middleeastmonitor.com/20170511-palestinian-ambassador-to-pakistan-calls-for-muslim-unity-and-stronger-media/
--------
Complete consensus on Dawn story probe: Nisar
May 12, 2017
Interior Minister Chaudhry Nisar at a press conference in Islamabad on Thursday claimed there was complete civil-military consensus on the Dawn leaks inquiry report.
"It wasn't as big of an issue as it was made out to be," Nisar told reporters a day after Inter-Services Public Relations (ISPR) Director General Maj Gen Asif Ghafoor announced the decision to withdraw the ISPR's controversial tweet rejecting the prime minister's directives on the recommendations of the report of the inquiry committee, set up to probe the publication of a Dawn story regarding a top-level meeting of civil-military leaders.
Following Maj Gen Ghafoor's press conference, the interior ministry released a statement, recounting the recommendations of the committee and concluding that the issue had been "settled".
The interior minister claimed there was "complete consensus" on the inquiry report despite there being "some... procedural issues" when it was announced.
"The order released from the PM's Office, it was an order to all ministries. The notification should not have been spread. When that happened, there was a misunderstanding that snowballed and was rectified yesterday," he added.
"If the government wanted to hide something, it wouldn't have made a committee and a big commission," Nisar claimed.
"You shouldn't make a joke of civil-military relations," the interior minister cautioned members of the press. "It is a sensitive subject, not just in Pakistan but in the world. There shouldn't be any politics in it, and there isn't anywhere in the world except in Pakistan,"
"Civil-military conflicts are not political, they are national [issues]," Nisar said. "It is a sensitive area."
"There were senior leaders present in the meetings and senior military leaders as well. There was no discord in the meetings, they were very composed. Differences exist, but they were civil," Nisar said.
"The matter is settled now," he asserted.
Explore: Exclusive: Act against militants or face international isolation, civilians tell military
Dawn story and the aftermath
The government had formed a committee in November last year to probe the October 6, 2016 story, which reported the details of a high-level civil-military meeting discussing the issue of banned outfits operating in Pakistan.
The Prime Minister's Office had initially rejected the story, but the military had mounted pressure to demand a probe into the matter to determine those involved in disclosing the details of the meeting.
The committee subsequently initiated an inquiry to identify the persons responsible for disclosing the details of the meeting to Cyril Almeida, who wrote the story.
In an Editor's note, published on October 11, 2016, Dawn had clarified its position and stated on the record that the story "was verified, cross-checked and fact-checked."
The publication of the story led to the sacking of Pervaiz Rasheed as information minister, as the government felt Rasheed should have told the newspaper not to publish it.
Full report at:
https://www.dawn.com/news/1332456/complete-consensus-on-dawn-story-probe-nisar
--------
Sindh High Court extends pre-arrest bail of Sharjeel Memon
By Zubair Ashraf
May 12, 2017
KARACHI: The Sindh High Court [SHC] extended, on Thursday, interim pre-arrest bail to former provincial information minister and Pakistan Peoples Party [PPP] leader Sharjeel Inam Memon in two cases pertaining to over Rs5 billion corruption in the advertisements and allotment of thousand acres of land to a private property developer.
The SHC division bench, headed by Justice Muhammad Junaid Ghaffar, extended the interim bail and put off the matter till May 25, the date of next hearing.
Exit Control List: SHC dismisses Sharjeel Memon's urgent plea
The bench asked the accused to submit a reply to the response submitted by National Accountability Bureau [NAB] against his bail. NAB had submitted before the court that the petition filed by Memon in the SHC was not maintainable and that he wanted to circumvent the normal process of criminal proceeding. It requested the court to dismiss the bail petition filed by him.
NAB had filed a reference against the PPP leader for allegedly causing Rs5.76 billion loss to the national exchequer through embezzlement in the Sindh government's advertisement campaign on electronic media.
Sharjeel Memon case: Advised bed rest, cannot come to court: lawyer
The top anti-graft body had also summoned him for questioning into another case pertaining to allotting vast lands in the outskirts of the city to a real estate giant illegally and on throw-away prices, thus, causing an additional loss to the national exchequer.
Full report at:
https://tribune.com.pk/story/1407543/sindh-high-court-extends-pre-arrest-bail-sharjeel-memon/
--------
Europe
Moscow backs resumption of dialogue between Israel and Palestine
11 May 2017
Moscow supports the resumption of dialogue between Israel and Palestine, Russian President Vladimir Putin said Thursday, as his US counterpart Donald Trump prepares to visit Israel.
Putin said Russia "will continue to give its full support to the resumption of direct dialogue between Palestinians and Israelis", following talks with Palestinian leader Mahmud Abbas in the southern Russian city of Sochi.
"The peaceful coexistence of the two states -- Palestine and Israel -- is an indispensable condition to ensure genuine security and stability in this region," Putin said.
Abbas meanwhile said Palestine "values Russia's counter terrorism efforts, as well as its contribution to strengthening security and stability in the Middle East, including in Syria," Russia's RIA Novosti state news agency reported.
After Putin's meeting with Abbas, Russia's defense ministry said that Israeli Defense Minister Avigdor Lieberman had called his Russian counterpart Sergei Shoigu on Thursday.
The two ministers discussed defense cooperation between Russia and Palestine as well as regional security issues, the ministry said in a statement.
Abbas said Thursday he welcomed "President Trump's desire to help find a solution" to the Israel-Palestinian conflict, according to a transcript published by official Palestinian news agency Wafa.
"I told him that we were completely ready to cooperate with him and undertake efforts to reach a historical peace plan to end the conflict between us and the Israelis," Abbas said.
Abbas said Tuesday that Trump was expected to visit the Palestinian territories "soon" and that he was ready to meet Israel's prime minister as part of the US president's peace efforts.
Trump is expected in Israel later this month as part of his first foreign trip, and Abbas said Tuesday "we are looking forward to his visit soon to Bethlehem" in the occupied West Bank, with speculation it will occur on May 23.
https://english.alarabiya.net/en/News/middle-east/2017/05/11/Moscow-backs-resumption-of-dialogue-between-Israel-and-Palestine.html
--------
A British Baroness Wants To Rekindle Donald Trump's Affection For Bashar Assad
May 12, 2017
WASHINGTON ― Lady Caroline Cox, a prominent member of the British Parliament's House of Lords, agrees with President Donald Trump on quite a lot: the need for Brexit, the success of Russia's brutal counterterrorism strategy, the theory that some Muslims are pushing an insidious effort to undermine Western democracy from within, and the idea that the traditional media is biased because of political correctness.
She just wishes he still agreed with her on another matter: Syrian President Bashar Assad.
Cox met with Assad for about two hours last fall during a visit to regime-held areas of Syria. She believes that most Syrians want to keep the dictator in power and that Assad himself seeks to turn his family's repressive 45-year regime into a democracy. Now she's in Washington ― and she's hoping that Trump, who repeatedly praised Assad and raised hopes in the Damascus government, will come around.
"Of course, no one wants to belittle [Assad's] track record. I'm not here to be an apologist. But I'm here to say where it is now in Syria, according to the Syrian people," Cox said at a National Press Club event Tuesday. "He's quite loved by many of the people of Syria ― obviously not the people who've suffered at his hands … [they say] let Assad stay and take Syria into freedom from [the so-called Islamic State] and freedom from Islamist terrorism and then talk about the future."
Echoing supporters of the Assad regime in the U.S. and elsewhere, Cox questioned whether the dictator was really responsible for an April 4 chemical weapons attack that the U.S., France and others say they are sure he committed. Those who see the dictator as a potential partner claim it would have been foolish for him to use nerve gas when he seemed stronger than ever ― and Trump has repeatedly expressed such thinking in private, according to Politico. (Syria experts say the extreme move was actually classic Assad, designed to overwhelm his opponents and prove to them that he can do as he pleases with no consequences.)
"I was obviously disappointed by the change between what I had perceived as Trump's position before and then his recent … extremely unfortunate intervention following that as yet highly problematic chemical weapons incident," Cox told HuffPost, referring to the president's decision to launch an American military strike against a Syrian government airfield on April 6.
A former member of the Conservative Party and now an independent, she hopes to share her perspective with the administration and Capitol Hill. An aide claimed she had meetings set up with the White House, other parts of the administration and senators. (Members of the House are back in their districts this week.)
But her schedule remains largely a mystery. A State Department official told HuffPost the agency's Bureau of Near Eastern Affairs was not scheduled to meet with the baroness, and two Senate offices said they had not heard about her visit. The offices of two lawmakers who share her sympathy for the Assad regime's presentation of events, Reps. Tulsi Gabbard (D-Hawaii) and Tom Garrett (R-Va.), said they had not been in touch with Cox either. And the White House did not respond to a request for comment about the alleged meetings.
Still, Cox's trip shows that pro-Assad lobbying is alive and well in the West even after Trump's turnaround ― and that it's being packaged to appeal to the current U.S. political scene, where fear of Islam is driving official state policy more than ever before.
The baroness spent much of her Tuesday press conference repeating the regime's claim that all alternatives to Assad are dangerous fanatics. In fact, the opposition to Assad grew out of peaceful protests by ordinary citizens in 2011 that the government responded to with bullets, and the regime deliberately released extremists from jail and avoided fighting radical groups so it could portray the entire opposition as irredeemable. Many anti-Assad groups have now become associated with Islamists, including the local affiliate of al Qaeda, but experts believe they could be wooed out of that relationship if they received strong Western backing. (Despite claims abroad that the U.S. and other nations have been supporting military "regime change" for years, Western aid to the armed opposition has been tightly limited and U.S. officials have repeatedly said they have held the rebels back from too forcefully challenging Assad.)
Meanwhile, humanitarian groups and rights activists say the regime continues to be responsible for most ongoing deaths and alleged war crimes in Syria. Political figures who say Assad is the "solution," then, must be worried about a different problem ― not the mass brutality, but the fact that the other side appears to be more religiously inclined.
Cox also echoed the regime argument that Assad is a defender of religious minorities, particularly Christians, and of women. "He's very happy to have a country in which a lady in a bikini can be alongside a lady in a [body-covering] burka [veil] and that's their choice," she said. Of course, Assad's top emissary to negotiations with rebels challenging his rule last year said he would not speak with a counterpart who had a beard, claiming that was a mark of Islamic extremism. That kind of assertion is popular among authoritarians in the Middle East ― with "war on terror" rhetoric dominating the global conversation, they know their best bet is to play on worries about Islamist extremism.
Meanwhile, Assad's own forces have worked closely for years with sectarian fighters. Militants aligned with Iran and the Lebanese group Hezbollah cite religious loyalties to target communities following different faiths, like adherents to the Sunni school of Islam.
In Britain, Cox is well-known for inciting fear about Islam. She invited the far-right Dutch figure Geert Wilders, who sees Islam as a totalitarian ideology rather than a religion, to the House of Lords in 2010. For years, she has pushed legislation seeking to rein in advisory courts that Muslims can voluntarily approach to help settle family issues; while she rightfully notes that people in the community, often women, can unfairly be forced to use that system, observers say Cox's presentation of the facts can veer into exaggeration and bigotry. Her own rhetoric has only helped her critics: In 2014, Cox said, "Islam is using the freedoms of democracy to destroy it."
Full report at:
http://www.huffingtonpost.in/entry/a-british-baroness-wants-to-rekindle-donald-trumps-affection-for-bashar-assad_us_59146959e4b030d4f1f045fb
--------
Anti-Islam militants from Britain First arrested over 'Muslim teen rape campaign'
By Paul Wright
May 11, 2017
The leaders of radical right-wing party Britain First have been arrested following a "campaign" related to an ongoing rape trial at a court in Kent.
Anti-Islam activists Paul Golding, 35, and Jayda Fransen, 31, were detained on Wednesday evening (10 May) on suspicion of inciting religious hatred – a public order offence with a maximum prison sentence of seven years.
Kent Police said the arrests related to "leaflets and videos posted online" that were linked to an ongoing trial at Canterbury Crown Court. The court case involves the alleged gang rape of a 16-year-old girl.
The Britain First leaders – known for their controversial "mosque invasions" and "Christian patrols" – had attended a takeaway shop in Ramsgate owned by one of the four accused defendants. They posted videos on social media of them "confronting" the takeaway's workers last week.
It comes as police have in recent weeks seen other anti-Islam activists arrive outside courts in other parts of the country to protest against "Muslim" defendants accused of rape and/or being involved in child sex gangs.
Golding and Fransen, who spent the night in the police cells, said their own arrests came after police pulled over their vehicle during a "military-style ambush" in the Tonbridge area. Officers also raided their homes, they said.
"We were driving to a meeting through Kent and the traffic in front of us stopped," Fransen told IBTimes UK. "A marked police van had stopped diagonally in front of the cars.
"Then other police cars flew up behind and alongside us and officers leaped out .... they pulled us both out [of the car]."
She added: "It was like watching a Swat team. They were obviously waiting for us on this route."
Golding and Fransen were released on Thursday morning on bail conditions which banned them from entering five specific locations around the country, thought to be locations of other ongoing trials.
The day before the Britain First arrests, fellow anti-Islam activist Tommy Robinson was also arrested after making videos outside Canterbury Crown Court relating to the same rape trial.
The former leader of the English Defence League (EDL) was detained and later bailed for allegedly filming within the precincts of the court, which is strictly prohibited.
Anti-Islam activists target defendants
Robinson, real name Stephen Yaxley-Lennon, has attended a number of court cases in recent weeks, filming himself confront defendants accused of child sex attacks as they walk to and from proceedings.
This includes an ongoing trial in Huddersfield, where 29 people faced a string of child sex charges relating to 18 girls over a period of seven years.
The videos, posted on social media to his followers, show some of the defendants covering their faces with police present to prevent an altercation.
At Canterbury Crown Court, police were so concerned about the likelihood of a confrontation between defendants and those outside the court that they escorted two of the accused on bail out the back entrance.
Regarding the arrests of Golding and Fransen, a spokesman for Kent Police said: "A 35-year-old man and a 31-year-old woman, both from London, have been arrested on suspicion of inciting religious hatred.
Full report at:
http://www.ibtimes.co.uk/anti-islam-militants-britain-first-arrested-over-muslim-teen-rape-campaign-1621171
--------
5 arrested in Russia as they called for an investigation into Chechen detentions of gay men
May 11, 2017
MOSCOW – Several activists were detained in Moscow on Thursday as they prepared to submit signatures they have collected to protest arbitrary detentions and torture of gay men in Chechnya.
The anti-gay abuse first was reported in April by the independent newspaper Novaya Gazeta, which said about 100 suspected gay men were rounded up and tortured, and at least three were killed.
The Associated Press separately interviewed two Chechen men who spoke of torture and corroborated the reports.
LGBT activist Igor Yasin said five people were detained Thursday outside the Prosecutor General's Office as they brought about 2 million signatures to protest the treatment of gay people in the predominantly Muslim region in Russia's south.
The New York-based civic group Avaaz, which helped collect the signatures worldwide, said in a statement that one of the people detained in the morning was an Italian activist.
Avaaz's campaign director, Bert Wander, described the detentions as a "blatant attempt by Russia to intimidate those standing up for gay people (which) will only draw more global attention to the horrors unfolding in Chechnya."
Full report at:
http://globalnews.ca/news/3445104/5-arrested-in-russia-investigation-into-chechen-gay/
--------
Africa
CAN Raises Alarm Over Nigeria's Participation in Islamic Sports Fiesta
May 11, 2017
The Christian Association of Nigeria, CAN has protested against the participation of the country in the Islamic Solidarity Sports Federation which had commenced in Azerbaijan, describing it as illegal.
The organisation therefore demanded that the Federal Government should immediately withdraw Nigeria's contingents from the tournament.
Punch had reported that Nigeria is one of the 57 countries participating in the sports fiesta tagged, "BAKU 2017."
The General-Secretary of CAN, Dr Musa Asake in a letter dated May 10 2017, addressed to the Acting President, Prof. Yemi Osinbajo (SAN), said the participation of the country in the sports activity contravened Nigeria's secular status as it was exclusively for Muslim countries.
The letter, obtained by journalists on Thursday and entitled: "Illegal participation of Nigeria at the Islamic Solidarity Sports Federation, BAKU 2017", was also copied to the Senate President, Dr. Bukola Saraki; and Office of the Secretary to the Government of the Federation.
The letter reads: "It has come to our notice that the Islamic Solidarity Sports Federation is organising its 4th game titled BAKU 2017 in Azerbaijan between May 12 – 22 2017. Of concern to us is the information that Nigeria is listed as one of the 57 countries participating in the games. This information is available on the official web page of the ISSF and can be confirmed at: http://www.baku2017.com/en/countries
"The organisers confirmed that the games are strictly for Islamic countries because the ''ISSF is a section of the Organisation of the Islamic Cooperation. We request that this claim and Nigeria's participation should be investigated because, including Nigeria in an International engagement based purely on religion violates the spirit and letter of section 10 of the 1999 constitution (as amended).
"We wish to reiterate that Nigeria is a secular nation and any misrepresentation should be corrected without delay, and Nigeria's participation be stopped immediately. We further request you to please call those behind this illegal action to order without delay before further damage is done to the nation's identity and the perception of the stance of the government of the day as pro-Islam. Nigeria's membership of OIC should be withdrawn henceforth."
http://www.signalng.com/can-raises-alarm-nigerias-participation-islamic-sports-fiesta/
--------
Clerics advocate love, prayers for Nigeria
May 12, 2017
NIGERIANS have been urged to develop the true spirit of love and cultivate the culture of praying for their country and the leaders.
The plea was made at a special prayer session tagged "Muslims Pray for the Nation," organised by The Muslim Congress (TMC), Lagos State chapter.
Hundreds of Muslim faithful who graced the event in Lagos over the weekend prayed for Nigeria to overcome its current challenges.
Leading Islamic scholars in Nigeria, including Sheikh Moshood Ramadan and Sheikh Dhikrullah Shafii, said one of the cardinal principles of religion and manifestations of love is to pray for one's country and its leaders.
"If the leaders are well guided and spiritually fortified, the nation too will be safe, peaceful and prosperous," they said.
The clerics used the occasion to invoke Allah's protection and guidance for the ailing President Muhammadu Buhari, who is currently in London for medical follow-up.
The congregation also prayed for Lagos State as it celebrates its 50th anniversary.
Speaking with journalists, the National Amir of the Congress, Dr Luqman AbdulRaheem, said it was the responsibility of every religious organisation to be patriotic and show sincere love for the country.
"As a responsible Muslim organisation, we felt that the love for our nation and president should be uppermost in our mind. That is why we decided to dedicate this month's Adhkar (prayer session) to pray for Nigeria and the president.
"This is not the first time TMC will be organising prayer for Nigeria. We do it every day, either individually or collectively. This is what we do at our Adhkar (prayer) centres every month. We believe that we don't have to go to Abuja or seek political patronage before we can pray for our country. We believe that the success of Nigeria as a country is the success of its citizens," AbdulRaheem said.
During the special prayer, which lasted for four hours, the participants made recitations from selected portions of the Qur'an and the Hadith.
Full report at:
http://tribuneonlineng.com/clerics-advocate-love-prayers-nigeria/
--------
Turkey represented at major Somalia conference
11.05.2017
By Ahmet Gurhan Kartal
Turkey took part in a major conference about Somalia in London on Thursday, with more than 20 international leaders meeting to discuss the East African state's myriad problems.
Prime Minister Binali Yildirim represented Ankara at the high-level meeting which focused on Somalia's security, humanitarian and financial issues.
The Turkish premier said Ankara's "solidarity and cooperation" with the Somali government would continue in an even more determined way.
In opening remarks, UN Secretary-General Antonio Guterres underlined the high death toll from Somalia's 2011 famine, describing it "a stain on the conscience of humanity".
"This time, we must save lives before it is too late," he urged the conference.
Somalia is currently in the grip of an extensive drought, which has also struck several countries in the East African region.
The country also faces a range of security issues, with attacks by the al-Shabaab rebel group regularly claiming the lives of civilians and members of the security forces alike.
Surge against militants
Somalia's government has been battling the al-Qaeda-linked militants since 2004.
More than 20,000 foreign troops are currently stationed in Somalia as part of the AMISOM operation (African Union Mission to Somalia) fighting al-Shabaab.
Amid the violence, a government minister was accidentally gunned down last week in the capital Mogadishu.
British Prime Minister Theresa May told the conference al-Shabaab had been "driven back" across Somalia, adding the group no longer posed an "existential threat" to the country.
However, Kenyan President Uhuru Kenyatta called for a surge against al-Shabaab and more support for AMISOM.
Somali President Mohamed Abdullahi Mohamed said his government was working on lifting an arms embargo to receive more efficient weapons with which to fight the terror group.
"Once we recover the remaining territories and secure supply routes, we will stabilize the country by building local administrations in collaboration with the federal member states," the Somali leader said.
'Solidarity'
Turkey's Yildirim condemned terror attacks in the East African country and said "keeping bright the fire of hope for the future and life in Somalia" was the common responsibility of the international community.
He said Turkey and Somalia's ties were historic, deeply rooted and based on brotherhood. Yildirim reminded the conference that in 2011, when Somalia was "almost forgotten" by the international community, President Recep Tayyip Erdogan visited Mogadishu and attracted attention to the country's problems.
Urging a review on the international weapons embargo, Yildirim said "it is a must for Somalia's government to have a regular army in its struggle against the al-Shabaab terrorist organization".
He said a Mogadishu Anatolian Military Training facility will be fully operational by September.
U.S. Secretary of Defense James Mattis and EU foreign policy chief Federica Mogherini also attended the meeting where Somalia's foreign debt was discussed -- it currently has a debt burden of more than $5 billion.
Ankara has been a major supporter of the country. Yildirim said Turkey had contributed to Somalia's development efforts to the tune of some $600 million since 2011.
He also said the Turkish Red Crescent would continue to ship food aid to Somalia before the Muslim holy month of Ramadan starts on May 26.
Briefings
Turkey, as term president of the Organization of Islamic Cooperation, would also continue its initiatives for providing support for Somalia and Eastern Africa, Yildirim added.
Last month Turkey and Somalia signed deals to boost cultural centers and develop cooperation during a visit by the Somali leader to Ankara.
Turkey, which played a significant role in overcoming the last famine in Somalia, has initiated many projects, such as a 200-bed training and research hospital which opened in 2015.
Turkish Airlines also launched a campaign this year to aid the East African country, transporting humanitarian supplies to Mogadishu.
Prime Minister Yildirim met some of the leaders attending the conference in private briefings.
Full report at:
http://aa.com.tr/en/turkey/turkey-represented-at-major-somalia-conference/816357
--------
Kenya: Raila Writes His Wishes for Kenya On Jerusalem Wall
11 MAY 2017
By Peter Leftie
National Super Alliance (Nasa) presidential candidate Raila Odinga on Tuesday visited the sacred Western Wall in the biblical city of Jerusalem in Israel.
Mr Odinga posted several pictures of him pasting his wishes for Kenya on the wall, also known as the Wailing Wall, on his official twitter handle under the title, 'Letter from Jerusalem'.
The veteran opposition leader is in the Jewish nation to attend the Africa-Israel conference at the Hebrew University of Jerusalem.
Writing on his twitter handle, Mr Odinga stated; "This week I travelled to the Holy Land to deliver an address on Democracy, Religion and Peace in Africa. While in Jerusalem I visited the western Wall. Few know my history with this Holy Site."
The western wall is the pulpit of the Temple of Solomon and is said to have been built over 5000 years ago, he went on.
SACRED SITE
"This site is sacred to all three [Abrahamic] religions, Judaism, Islam and Christianity and to me it is a very strong symbolism of strength and unity.
"The story goes that you write your wish on a piece of paper, stick it on the wall and say a prayer and the message goes directly to God," Mr Odinga continued.
He said he had religiously observed this tradition of writing down his wishes for Kenya during his time in detention.
"For those of you who may not know, detention is a miserable place with time mostly spent alone. You are completely alone for 23 out of 24 hours of the day," he stated.
He recounted how it would take him as many as six months to exchange letters with his loved ones during his time in detention.
CALL FOR ACTION
"With a lot of time on my hands, I used to write down the many wishes I had for the people of Kenya. Every time I visit, I take one of those wishes and place it on the wall," he stated.
Addressing the conference at Hebrew University of Jerusalem earlier this week, the Nasa leader challenged religious leaders to pick up from where the likes of Archbishops Desmond Tutu of South Africa, Janani Luwum and Bishop Festo Kivengere of Uganda, and Kenyans including the late Alexander Muge, the late Henry Okullu, Ndingi Mwana a'Nzeki and David Gitari left off and speak out for their followers.
Full report at:
http://allafrica.com/stories/201705110378.html
--------
URL: https://www.newageislam.com/islamic-world-news/al-azhar-disowned-famous-preacher/d/111123
New Age Islam, Islam Online, Islamic Website, African Muslim News, Arab World News, South Asia News, Indian Muslim News, World Muslim News, Women in Islam, Islamic Feminism, Arab Women, Women In Arab, Islamophobia in America, Muslim Women in West, Islam Women and Feminism