New Age Islam News Bureau
28 March 2017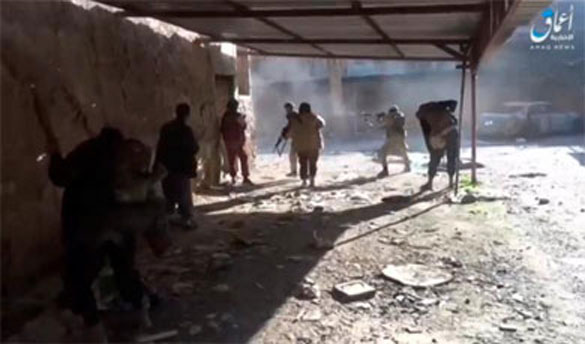 A still image taken from a video posted to a social media website by the Islamic State-affiliated Amaq News Agency on March 26, 2017, shows men, said to be Islamic State fighters, firing their weapons, said to be in Western Mosul, Iraq. Social Media Website via Reuters TV
-----------
• AIMPLB to SC: Declaring Triple Talaq Illegal Akin To Rewriting Quran
• Religion-Based Extremism, Discrimination Anti-Human Ideologies: Speakers
• Hamas Won't Sit Quietly After Israeli Murder of Fuqaha: Meshaal
• Anti-Islamophobia Motion Shows World What Canadians Stand For
India
• AIMPLB to SC: Declaring Triple Talaq Illegal Akin To Rewriting Quran
• Supreme Court Asks Centre, J&K to Sit and Decide Muslim Minority Status
• Muslim Ban Represents US' Darkest Era: Indian-American Philanthropist
• Special Assembly Session of Telangana to Clear Muslim Bill
• The Muslim Who Became Adityanath's Gurubhai
• J-K: Encounter underway between security forces and terrorists in Budgam
• Police arrests seven Hizbul men tasked to disrupt bypolls in Kashmir
-------
Pakistan
• Religion-Based Extremism, Discrimination Anti-Human Ideologies: Speakers
• Saudi Led Alliance to Boost Muslim Unity: Nasser
• 'Last Jew in Pakistan' Allowed To Profess His Religion
• 'Efforts underway to ensure Christians are counted accurately'
• Two terrorists linked with Daesh arrested in Sialkot
• Haqqani Network neither Pakistan's friend nor proxy: Aizaz
• Peace returning to country as terrorists' backbone broken
• 'Attacks on schools are destroying the education system'
• Ashrafi vows to continue fight against terrorism and sectarian violence
• LHC seeks reply in Hafiz Saeed's detention case
-------
Mideast
• Hamas Won't Sit Quietly After Israeli Murder of Fuqaha: Meshaal
• Saudi Jets Bomb North-western Yemen with Banned Munitions
• Islamic State releases video threatening Iran
• Israel president refuses to pardon jailed former PM
• US weighing deeper involvement in Yemen war
• Iran-Russia ties positive for regional, global stability, security: Rouhani
• Iran dismisses Bahraini 'lies' against Tehran
• Yemeni children paying 'heaviest price' as Saudi war turns 2: UNICEF
• Israeli PM thanks Trump administration for supporting Tel Aviv regime
-------
North America
• Anti-Islamophobia Motion Shows World What Canadians Stand For
• Sarcastic Brits Take Down US Alt-Right Host over 'Muslim Queen'
• Canadian Steak Houses Courting Muslim Diners with Halal Options
• Trump backs off Muslim Brotherhood's designation as terrorist organization
• Supremacist gets terror charge over black man's murder
-------
Europe
• Police Say 'No Evidence' British Attacker Had Ties to Islamic State Group, Al-Qaida
• Muslim Converts Revitalize Europe's Fading Christian Churches
• On the eve of Brexit, Qatar pledges over $6 billion in investment in Britain
• Russian FM calls for UNSC briefing over deadly US airstrike on Mosul
• There's a Russian storm over Trump's struggling presidency
-------
South Asia
• Taliban Insurgent Admits Beheading Of Civilians After Joining Peace
• Bangladesh Commando Shootout Kills Four Militants
• US has no objection to Pak-Afghan border fencing
• Curbing militancy: Turkey wants to work with Bangladesh
• Questions raised about defence deal with India
• Deadly car bombing plot foiled by Afghan forces in Wardak
• MoD confirms arrest of senior Afghan army general over corruption
-------
Southeast Asia
• Lawyer: Bill To End Unilateral Child Conversion Void, Against Islam
• Ex-CJ Agrees To Advise Muslim NGO, Says 'Anything For Islam'
• Islamic body accuses Jokowi of promoting secularism
• Pre-election risks, spiked by extremism, rise in Indonesia
• Indonesian Muslims in Netherlands to get Mosque
• Halal… or not: The times Malaysians jumped the gun and sparked a food war
-------
Arab World
• Bomb Factories, Village Command Posts: ISIS Rural Fight
• US-Backed Fighters Battle IS Around Syria Town
• Iraq forces launch renewed attack on Mosul's Old City
• Syria: Over 250 Gunmen Leave Key District in Homs City
• Sweida: ISIL Military Vehicles Sustain Major Damage in Syrian Army Attacks
• Syrian Army Continues to March on ISIL Positions in Eastern Aleppo
• Hama: Syrian Army Restores Security to Strategic Road to Homs
• Syrian Armed Forces Intensify Attacks on ISIL's Positions near Deir Ezzur City
• Syrian Soldiers Fend off Terrorists' Heavy Attack in Dara'a
• Syrian opposition demands Assad's immediate exit from power
• Iraqi forces launch renewed attack on Mosul's Old City
-------
Africa
• Kenyan Troops Kill 31 Shabab Militants in Somalia's Jubbaland
• Boko Haram Kills Three Civilians in NE Nigeria For Collaborating With Military
• Africa: Students from Africa Disturbed by New US Visa Rule
• Cameroon: Journalist Testifies He Is Not a Boko Haram Accomplice
• Sudan: President Al-Bashir Affirms Importance for Islamic and Arab Unity to Overcome Challenges
• Pakistan and South Africa sign memorandum-of-understanding for defence cooperation
Compiled by New Age Islam News Bureau
URL: https://www.newageislam.com/islamic-world-news/aimplb-sc-declaring-triple-talaq/d/110563
-------
AIMPLB to SC: Declaring triple talaq illegal akin to rewriting Quran
Mar 28, 2017
NEW DELHI: Taking a hardline religious stand, the All India Muslim Personal Law Board (AIMPLB ) told the Supreme Court on Monday that if triple talaq mode of divorce was declared illegal, it would amount to disregarding Allah's directions and rewriting of the Holy Quran to force Muslims into committing sin.
Stressing that personal law provisions enjoyed sanctity under the Constitution's Article 25 (right to profess and practice a religion of choice), the AIMPLB said, "If such casual denunciation of the verses of the holy book is permitted, then soon Islam would cease to exist. Though triple talaq in one sitting is an unusual mode of divorce in Islam, it cannot be declared to be invalid in the light of the direct verses of Holy Quran and categorical command of the Messenger of Allah."
Explaining that triple talaq was mandated by the Holy Quran, AIMPLB in its written submission three days before the final hearing on the matter, said the holy book ordained that "once three pronouncements of talaq are made, the wife becomes unlawful or 'haram' to her former husband, unless the process of 'halala' takes place in its natural course". "The pronouncement of the third talaq and its irrevocability is explicitly given in Quran. In such circumstances, it is forbidden for the former husband to take the wife back in marriage again, unless she marries another person of her choice and such marriage comes to an end owing to death or by divorce... The objective is to enable a divorcee woman to remarry out of her own free will and choice," the AIMPLB said through advocate Ejaz Maqbool.
Telling the SC that it had no power to scrutinise the legality of personal law provisions, the board said, "Any deviation from such Quranic injunction (validity of triple talaq) would go against the mandate of the Almighty himself and such an act would be going against the very integral practice of Islam and would be disregarding the precise directions of Allah and also his Messenger, which is nothing but a sin and as per the Holy Quran, such an action would show that the believer has strayed away from the religion in manifest error.
"Furthermore, as ordained by the Holy Quran, all Muslims are bound to accept the command of the Messenger and are bound to avoid whatever the Messenger forbids and when the Prophet has categorically directed separation of parties after triple talaq in one go and has ruled that if the former husband takes the woman back into marriage, he will be committing a sin, then no believer has a choice to take the woman back into marriage after pronouncing triple talaq and such an act is nothing but a sin."
Warning of serious consequences of disobeying the Quran, the AIMPLB said, "The consequences of committing such a sin would be far more adverse as children born out of such relationship would be illegitimate and their rights of inheritance in their putative father's estate would be questionable."
"In view of this, if the Supreme Court holds that triple talaq in one sitting is not a valid form of effecting divorce, then that would amount to rewriting of the Holy Quran itself, which is nothing but the ipissima verba (the precise words) of the Almighty himself and is the entire genesis of Islam. Such an alteration of the specific verses of the Holy Quran would actually amount to altering the very essence of the religion of Islam."
http://timesofindia.indiatimes.com/india/aimplb-to-sc-declaring-triple-talaq-illegal-akin-to-rewriting-quran/articleshow/57863225.cms
-------
Religion-based extremism, discrimination anti-human ideologies: Speakers
March 28, 2017
LAHORE - The concept of living together is very important for human race to exist peacefully on the earth and extremism, hatred, and discrimination on the basis of religion are anti-human ideologies.
These were the remarks given by scholars, academicians and diplomats associated with US-Pakistan Interreligious Consortium (UPIC) during a three-day conference on the theme of 'Building Bridges: Discovering the Foundations for Interreligious Harmony, hosted by University of Management and Technology (UMT), Lahore.
The speakers further said that responsible citizens are now looking into ways and means to interact with one another for finding meaning in human life and securing the future of humanity. Religion is a source, which connects human beings and brings them together under the sunshade of humanity. The current extremist rhetoric pronounced by the US leadership and the circumstances followed by Brexit are predicting a bleak and uncertain future. Extremism, hatred, and discrimination on the basis of religion are anti-human ideologies. Extremists are interpreting religion in their own way and they are deceiving the world. Islamphobia is a rising issue in the western world and the political leadership needs to ponder over it finding new solution. Similarly, xenophobia, which is fear and hatred of foreigners in the western world, is hindering peace and harmony.
The post 9/11 scenario changed the course of history causing disastrous consequences and now the leaders must come out with an alternative strategy to promote peace and harmony. Prophet Muhammad (PBUH) is the messenger of love who guaranteed the rights of followers of Christianity and Judaism. The Pact of Madina introduced by the Prophet Muhammad (PBUH) was the first ever charter of humanity granting recognition to human rights. It is time to eradicate all anti-human ideologies especially the one, which is taking its roots from religion. Islam, Christianity, and Judaism are Abrahamic religions that could save the drowning boat of the humanity and convince their followers to understand one another, and live peacefully. Think-tanks, scholars and the political leadership of Pakistan and the United States need to make collective endeavors to end tensions escalated out of political fissures.
Radical interpretation of Islam must not be allowed.
Speakers said that despite improvements in security and economy in Pakistan, tensions continue to grow between the governments of Pakistan and the United States, which is not good for the people longing for an egalitarian society. Islamophobia is on the rise in the United States, Britain, France, Australia and other Western countries. They said that violence against minorities in Pakistan is hinting at uncertain future. Islam, Christianity, and Judaism need to find similarities rather than difference. Their followers should be convinced at the intersection of faith and reconciliation so that all sorts of stereotypes are wiped out paving way for real democracy and goodwill.
They said that indigenous society in the United States is the beauty of American society, which must set an example for rest of the world to follow.
Addressing the conference, US Council General Mr Yuriy Fedkiw said that the US government believed in interfaith dialogue to take place among the followers of all faiths. He said extremist narrative was putting the future in danger.
Expressing his views, Mr. Robert Chase, the founding Director Intersections International welcomed the participants and said that US-Pakistan Interreligious Consortium was connecting people bringing them closer to each other.
The notable Muslim scholar, Imam Malik Mujahid said that interfaith movement should address all social, cultural and political issues.
On the occasion, Rector UMT, Dr. Hasan Sohaib Murad said that US-Pakistan Interreligious Consortium was promoting dialogue between Islam, Christianity and Judaism. He said Islam is the religion of peace and the religion of humanity. He said UMT was committed to learn and do research on the interfaith as it was useful for the faculty as well as students. "Faith helped us in finding meaning in our beings that where we came from and where we are to return. Faith brought accountability and excellence to us".
Robert Chase said, "We are bringing people together; build relationship between the two countries.
Punjab Minister for Higher Education Mr. Syed Raza Ali said that no faith allowed hatred, intolerance and malice against followers of other religions. He said the Constitution of Pakistan guaranteed the rights of minorities and no one could deprive any individual of these rights on the basis of religion.
Dr. Hans Kochler said that interfaith harmony faced many challenges that needed to be addressed by adopting a realistic approach. He said extremists interpreted the religion in their own way and they were ignorant and thus deceiving others. He put forward the suggestion that the only way to coexist peacefully was possible if people give up arrogant behavior.
Former diplomat Shamshad Ahmad said Pakistan had played a key role in engaging composite dialogue, which was a way forward to reject extremist narrative. He said there was misconception in the world that Muslims were extremists and that perception needed to be changed. He said Muslims had been subject to regime change where they had been deprived of welfare and freedom. He said for Pakistan terrorism was the biggest challenge, which Pakistan was eradicating. He said Pakistan had paid a heavy price that no any country had done. He said Pakistan had survived crisis. "The day we were born, we have been experiencing the threat of survival," he concluded.
http://nation.com.pk/national/28-Mar-2017/religion-based-extremism-discrimination-anti-human-ideologies-speakers
-------
Hamas won't sit quietly after Israeli murder of Fuqaha: Meshaal
Mar 28, 2017
Having lost a top member to what it denounces as another targeted killing by Israel, the Palestinian resistance movement Hamas vows it will not "sit quietly" in the face of the "new challenge" thrown down by the regime.
Hamas leader Khaled Meshaal was reacting to the assassination of the Gaza-based movement's senior commander Mazen Fuqaha in a speech broadcast from Qatar on Monday.
"By killing Fuqaha, the enemy told us: 'I've scored a point against you and I can take away one of your heroes even in the heart of Gaza'," Meshaal said.
"The military and political leadership of Hamas is ready to meet the occupier's challenge… The Zionist occupier took from us a great hero and for this we will not sit quietly," he added.
Fuqaha, who used to direct some of the Palestinian resistance movement's activities in the Israel-occupied West Bank, was shot dead by assailants at the entrance of his home in Gaza City on Friday night with four bullets to the head.
In a statement issued following the murder, Hamas blamed Israel and its "collaborators" for the "despicable crime."
Meshaal further said by choosing to stage the attack within the Palestinian territory run by Hamas, Tel Aviv had "decided to change the rules of the game."
"Our will is stronger than their weapons and we will defeat them in the end," said the Hamas' leader. "It's a new blood debt that adds itself to all those before."
Faqha, 38, had been in Israeli jail since 2003 before he was released nine years later as part of a prisoner swap between Hamas and Tel Aviv.
Israel has assassinated many Hamas figures, including the group's leaders, officials and activists.
Tel Aviv has launched several wars on the Palestinian sliver, the last of which began in early July 2014. The Israeli military aggression, which ended on August 26 the same year, killed nearly 2,200 Palestinians. Over 11,100 others were also wounded in the war.
http://www.presstv.ir/Detail/2017/03/28/515850/Hamas-Israel-Mazen-Fuqaha
-------
Anti-Islamophobia Motion Shows World What Canadians Stand For
Richad Hirani
03/27/2017
The world is watching, Canada.
Given global circumstances, Canada has been uniquely placed to capture the world's attention and admiration. While Sweden, France, the United Kingdom, Germany and the United States grapple with a political climate that has become more hostile to Islam, Canada has had the opportunity to affirm itself as a beacon of inclusivity and diversity. Canada has been positioned to send a symbolic message not only to its global allies, but more importantly, to the thousands of Muslim-Canadian families at home.
parliament ottawa flag
Canada has not been immune from the cultural fanaticism transpiring across the world and the United States. Hate crimes against Muslims in Canada have significantly increased yearly. Fourteen Muslims were shot by a Canadian while peacefully praying in a mosque in Quebec City. A group of Canadians protested outside a mosque, holding signs saying "Muslims are terrorists," while Muslims were praying inside. Just the other week, Concordia University and McGill University received a bomb threat citing specifically the presence of Muslims on campus as motivation. This is on top of the mosques that have been vandalized and individuals subjugated based on how they look or what they believe.
This is not to reduce the prevalence of many other hate crimes against Jews, Christians, Hindus and people of all faith. However, it is calling on the Canadian government to address and act as a leader on a particularly salient issue in the global political climate.
M-103, the House's recently passed motion condemning Islamophobia, was a necessary first step.
Critics have continued to argue that because the motion specifically mentions Islamophobia, it inherently preferences Islam over other religions. In fact, however, the government has passed motions like this historically: the House (indeed, under Conservative leadership) has denounced hatred against other groups, including Jews, Yazidis and Egyptian Coptic Christians in the past. Further, the motion itself explicitly "condemn[s] Islamophobia and all forms of systemic racism and religion discrimination" (emphasis added). Therefore, it is not even exclusive to Muslims, but includes other forms of discrimination as well.
Critics have also argued that M-103 impedes on free speech because criticism of Islam or Shariah law could be construed as Islamophobia. M-103 is a non-binding motion; therefore, it does not have the force of law like a bill. Canada has a unique history of being able to balance the protection of freedom of speech while criminalizing hate speech. M-103 is completely consistent with the Canadian legal tradition.
Finally, critics have pointed to the fact that, according to a survey published by the Angus Reid Institute last week, only one in 10 (12 per cent) Canadians believe that this motion will have a tangible impact on how Canadians view the Muslim community. This argument fundamentally misses the point.
Whether or not this motion has a tangible impact on the Muslim community is not the issue; the importance of M-103 is rooted in the symbolic message attached to it. The very fact that this motion has been subject to public outcry, nationwide protests, and was opposed by 91 members of Parliament has sent a signal to Muslim communities in Canada and elsewhere that perhaps Canada is not as welcoming and inclusive as its citizens believe.
In a world where Muslims are facing heightened criticism and violence, simply based on their belief system, Canada has sent a powerful message that reverberates across all factions: Canada stands with Muslims. This is what M-103 accomplishes. And this is the kind of religious tolerance and inclusiveness that make Canada a model for diversity around the world.
http://www.huffingtonpost.ca/richad-hirani/motion-103-canadian-values_b_15617336.html
-------
India
Supreme Court asks Centre, J&K to sit and decide Muslim minority status
Mar 27, 2017
NEW DELHI: The Supreme Court on Monday asked the Centre and the Jammu and Kashmir government to "sit together" and decide contentious issues including the question whether Muslims can be treated as minority in the state.
A bench comprising Chief Justice J S Khehar and Justices D Y Chandrachud and S K Kaul asked both the governments to resolve the issue and submit a report to it within four weeks.
"This is a very very important issue. You both sit together and take a stand on it," the bench said.
Last month, the apex court had imposed a cost of Rs 30,000 on it for not filing its reply to a PIL alleging that minority benefits are being enjoyed by majority Muslims in Jammu and Kashmir.
It had accorded a last opportunity to the Centre to file its reply, saying the matter is very important.
The court had, however, allowed the counsel for the Centre to file the response after depositing the cost and had also noted that a fine of Rs 15,000 was also imposed last time also for the same reason.
Earlier, the court had issued notice to the Centre, the state government and the National Commission for Minorities (NCM) on the plea filed by Jammu-based advocate Ankur Sharma, alleging that benefits accruing to minorities were being taken away by Muslims, who were in a majority in Jammu and Kashmir.
The plea also alleged that rights of religious and linguistic 'minorities' in the state were being "siphoned off illegally and arbitrarily" due to extension of benefits to "unqualified sections" of the population.
It has been settled that the identification of minority communities has to be decided as per the population data of the state in question, Sharma had said.
The apex court, however, had refused to restrain authorities from disbursing benefits to any community in the state.
The PIL has also sought the setting up of State Minority Commission for identification of minorities.
"The population of Muslims in Jammu and Kashmir according to the 2011 Census is 68.31 per cent. Communities which are eligible to be notified as minorities, were not awarded their due share of scholarship owing to their non-identification as minorities, thereby jeopardising their constitutionally guaranteed rights enshrined under Part III of the Constitution of India.
"This clearly reflects the unfairness and discrimination of the State towards the communities in the state of Jammu and Kashmir which are eligible to be notified as minorities," the petition alleged.
http://timesofindia.indiatimes.com/india/sc-asks-centre-jk-to-sit-and-decide-muslim-minority-status/articleshow/57852832.cms
-------
Muslim ban represents US' darkest era: Indian-American philanthropist
Mar 27, 2017
NEW DELHI: As a teenager when Fakhrul Islam, now Frank F. Islam, crossed the Atlantic in 1970 to realise his American dream, the "shining city upon a hill" opened all its doors for him, helping him become one of the most­celebrated Indian­American businessmen in the US.
But today Islam, 53, fears that the country may be heading to its "darkest" era with President Donald Trump's alleged discriminatory ban on immigrants and travellers from six Muslimmajority countries to protect the US from terrorist attacks.
The man from Azamgarh ­­ the Uttar Pradesh district with a large Muslim population that had once earned the the disreputable moniker of "Aatankgarh", the hub of terror in India ­­ still feels that America continues to be an inclusive society despite President Trump's efforts to stop immigrants from entering the US.
"Muslim ban was a wrong, shameful and unconstitutional move. This is not who we are. These are not the values of America. And this kind of ban represents (the) darkest and ugliest past of America. We don't want to go back to that past. We have entered into a dark chapter of America," Islam told in a wide­ranging interview during a recent visit to India.
He said Trump has to realise that "35 per cent of the business in America, especially in the Silicon Valley, is from immigrants" who not only create wealth and also generate jobs for others. "I still look at the brighter horizon. I have the sense of optimism and hope. We have to make sure that we can still create hopes, inspirations, and dreams in people, not anxiety, anger, and fear," the businessman­turned­philanthropist said, quoting English Puritan lawyer John Winthrop, who described the America he imagined as a "shining city upon a hill" when he founded the Massachusetts Bay Colony in New England.
Notwithstanding the efforts of Trump, "who doesn't represent what America stands for", Islam said India needed to learn from the US how to give "opportunity to all to succeed".
"There are lots of tools and mechanisms available in America for entrepreneurs to succeed, realise their dreams. That is something India needs to (do) and incubate the new generation of entrepreneurs," he said, speaking about Prime Minister Narendra Modi's "Start Up India,
Stand Up India" scheme to boost entrepreneurship and encourage start­ups with jobs creation.
Islam's is an inspiring rags­to­riches story. A son of a peasant family, he got his education at Aligarh Muslim University (AMU) before he moved to the US where he built a multi­million dollar IT empire. But he has not forgotten his "humble roots".
"I always wanted to be an entrepreneur, a business owner. Entrepreneurs are made not born. Look at me, my own personal journey of humble beginning, from humble roots in Azamgarh, I became one of the most successful entrepreneurs in the US.
"I started my own business, the QSS Group, in 1994. I was able to build the group from one employee to 3,000 employees with revenue of $300 million in 12 years," said Islam, who serves on a number boards and advisory councils, including the John F. Kennedy Center Board of Trustees, the US Institute of Peace, the Woodrow Wilson Center, and the Brookings Institution.
He also serves on various boards at more than half a dozen universities including Johns Hopkins, University, American University, and George Mason University.
Islam sold his business in 2007 for $700 million to start with his American wife The Frank Islam and Debbie Driesman Foundation that provides targeted financial assistance to civic, educational and artistic causes and groups.
Full report at:
http://economictimes.indiatimes.com/news/international/world-news/muslim-ban-represents-us-darkest-era-indian-american-philanthropist/articleshow/57850692.cms
-------
Special Assembly Session of Telangana to Clear Muslim Bill
Mar 28, 2017
HYDERABAD: In a political masterstroke to derive the maximum mileage out of granting reservations to Muslims, the TRS government on Monday decided to hold a special session of the assembly in order to pass the proposed quota bill for the minority community. To facilitate the same, the budget session which concluded on Monday, was adjourned sine die and not prorogued as is the practice.
The special session will be held next week and depending on the number of speakers, it will be held either for a day or two. Sources said the TRS go vernment wants to net the minority vote by bringing pressure on NDA government to include the expanded quota in the ninth schedule of the Constitution.
"We will convene the assembly to pass the reservation bill on the next convenient date, probably next week. We are not giving reservations on the basis of religion, but backwardness. Muslim reservations are already in place and we are only going to increase the same by four of five per cent based on the BC Commission recommendation," chief minister K Chandrasekhar Rao said in the assembly.
While acknowledging the opposition to the reservations, the TRS has decided to use this as its main weapon against the BJP which is trying to expand its reach in Telangana.
Full report at:
http://timesofindia.indiatimes.com/city/hyderabad/special-assembly-session-to-clear-muslim-bill/articleshow/57864749.cms
-------
The Muslim who became Adityanath's gurubhai
Mar 28, 2017
AHMEDABAD: Aditya Nath Yogi, recently appointed chief minister of Uttar Pradesh, has a close Gujarat connection apart from his ties with PM Narendra Modi. The erstwhile mahant of a math (ashram) of Nath sampradaya in Visnagar, Mahant Gulabnath Bapu, who was born as a Muslim with the name Gul Mohammad Pathan, was the 'gurubhai' of today's UP CM, considered a Hindu hardliner.
Mahant Avaidyanath, the guru of Aditya Nath, was also the guru of Gulabnath Bapu. Their relation was so strong that when Gulabnath, 86, breathed his last, Aditya Nath came to Visnagar, Gujarat, to perform his last rites on December 6, 2016, and he also appointed the new mahant of the math, Sankarnath. The math runs temples and annakshetra (place providing free meals) in Visnagar and Vadgam.
Gulabnath had taken diksha at the age of 18 from Mahant Balaknath at Vadgam.
"Bapu was the sixth generation in guru-shishya lineage. His association with Mahant Avaidyanath of Gorakhpur math and guru of Aditya Nath Yogi was very old due to the dynamics of Nath sampradaya." said Sankarnath, the newly appointed mahant of the Visnagar math.
"Bapu also considered Avaidyanath his guru and thus he considered Aditya Nath as his gurubhai," Sankarnath said.
"Bapu was invited to Gorakhpur for every major event. When he went there last year, Aditya Nath had him felicitated by PM Narendra Modi," said Shankarnath.
Aditya Nath visits the math at Visnagar at least 2-3 times annually, said Shankarnath, adding that any Gujarat visit by the yogi starts from Visnagar.
"Yogi used to phone regularly to get updates on Bapu's health. It is not just about the Nath sampradaya connection as there are other places in Gujarat with presence of the sampradaya, but he feels connected to this place," Sankarnath added.
Mahant Sankarnath has high hopes about the UP CM.
"We know him for the past 25 years. He is energetic, has new ideas and is a just person. He will not tolerate anything against tradition," said Sankarnath.
Gulabnath Bapu was born in a Muslim family that traces its roots to Jhalod. The family, associated with farming and labour activities, first settled in Dehvasan village and later shifted to nearby Vadgam in Banaskantha district.
He came across Mahant Balaknath at the age of 18 years. After witnessing the mahant's activities, young Gul got attracted towards him and the sect, and decided to take diksha.
Dilawar Khan Pathan, Balaknath's nephew, said that the roots of his transformation can be found in Bapu's upbringing.
Full report at:
http://timesofindia.indiatimes.com/city/ahmedabad/the-muslim-who-became-aditya-naths-gurubhai/articleshow/57864320.cms
-------
J-K: Encounter underway between security forces and terrorists in Budgam
March 28, 2017
An encounter broke out between the security forces and terrorists in Chadora area of Jammu and Kashmir's Budgam district on Tuesday morning, reports PTI. The encounter is currently underway. There are no reports of fatalities or injuries as of now.
Full report at:
http://indianexpress.com/article/india/j-k-encounter-underway-between-security-forces-and-terrorists-in-budgam-4588589/
-------
Police arrests seven Hizbul men tasked to disrupt bypolls in Kashmir
March 27, 2017
Police on Monday claimed to have busted a module of the Hizbul Mujahideen by arresting seven suspected militants in Kashmir who were allegedly tasked to disrupt the upcoming Lok Sabha bypolls. The arrests were made in south Kashmir's Kulgam district, 70 kms off here, ahead of bypolls in Anantnag and Srinagar due in April.
"We have busted a module of the banned Hizbul Mujahideen militant organisation by arresting seven militants," Senior Superintendent of Police (SSP), Kulgam, Shridhar Patil told reporters on Monday. He said the district police received a specific intelligence input on March 21 that the militant outfit has constituted a module to carry out attacks on security forces and disrupt the election process.
The self-styled district commander of the outfit Altaf Dar alias Al-Kachroo and Towseef Sheikh alias Mossad had constituted the module for allegedly disrupting the elections.
"We registered a case on the basis of this information and during investigation it was found that Zubar Ahmad Badar, a resident of Nai-Basti in Qaimoh area of the district, was the king-pin of this module. He was subsequently arrested," Patil said. The SSP said a pistol, three bullets and two AK-47 magazines were recovered from Badar's possession. "During his questioning, we came to know about his associates and among them till now six have been arrested and we expect more arrests," he added.
The police officer said the main aim of the module was to target security forces during the elections and they had even made a failed attempt in Bijbehara area of Anantnag on March 19. "The arrest of these persons and recoveries made is a big achievement for us especially because of the elections," the official said. He also claimed that Hizbul Mujahideen was trying to recruit new people"
Full report at:
http://indianexpress.com/article/india/police-arrests-seven-hizbul-men-tasked-to-disrupt-bypolls-in-kashmir-4588290/
-------
Pakistan
Saudi Led Alliance to Boost Muslim Unity: Nasser
March 28, 2017
Sophia Siddiqui
Islamabad
Pakistan's National Security Advisor (NSA) Nasser Janjua said that former Chief of Army Staff (COAS) General (retd) Raheel Sharif leading the Saudi led military alliance will bring unity to the Muslim world.
Talking to media here on Monday at one-day conference on security challenges in the Indian Ocean, he said that with the experience General (retd) Sharif will remove misunderstandings among Muslim countries. "Iran and other countries opposed of the alliance will also benefit from this."
The former Army Chief Raheel Sharif who retired in November 2016, was allowed to lead the 34-nation Islamic military alliance.
The defence Minister earlier on January 6 last had said the former chief of army staff had been appointed as chief of Islamic military alliance and posted in Saudi Arabia which was highly criticized that how can a ex-army chief can taken the charge with No-Objection-Certificate (NOC). Khawja Asif said that the government was taken into confidence about the ex-army chief's new role.
Raheel Sharif will likely to take charge of his new appointment as the first commander-in-chief of the Islamic Military Alliance to Fight Terrorism (IMAFT), a proposed coalition of 39 countries that will have its headquarters in the Saudi capital, Riyadh in next month.
While in late 2015, Pakistan declined to join military operations against Shia Houthi rebels in Yemen despite relentless pressure from Saudi Arabia, which has led the intervention in its impoverished neighbour.
National Security Adviser Nasser Khan Janjua also said that Pakistan will play a better role to serve the peace and economic growth of the world with its strategic connectivity.
He added that Pakistan is on its way to become a hub of trade, economy and industry with China Pakistan Economic Corridor. The Adviser said achievement of lasting peace in Afghanistan will pave way to gain benefits from CPEC by Central Asian Republics as well as other states in the region.
He said Pakistan sees a great future along with Afghanistan which will come around with reconciliation, peace and stability in that country.
After 9/11 when terrorists attacked the World Trade Centre in New York securing sea routes for countries became essential, National Security Adviser Nasir Janjua said.
The United States and India have become major strategic partners in the region, he said and added that apart from India 300,000 military personnel from the United States are currently stationed in the Indian ocean.
http://pakobserver.net/saudi-led-alliance-to-bosst-muslim-unity-nasser/
-------
'Last Jew In Pakistan' Allowed To Profess His Religion
March 27, 2017
ISLAMABAD: Pakistan has allowed a 29-year-old Jewish activist to change his religion from Islam to Judaism, an unusual move by authorities in the country. In normal circumstances, it would have been a normal practice to let Fishel Benkhald get religion of his choice in the column of religion for the forms filled to get national identity card and passport.
But it was a task for Benkhaled as he was registered as a Muslim, and it could be interpreted as apostasy. The ministry of interior in Pakistan has recently given the green light in response to Benkhaled's application where he had sought 'conversion/correction' of his religion from Islam to Judaism in his national identity documents, the Express Tribune reported.
In the National Database and Registration Authority (NADRA), Benkhald is registered as a Muslim. Faisal, as he is known in his current identity documents, was born to a Muslim father and a Jewish mother in Karachi in 1987. He was registered as a Muslim due to his father's religion.
However, he made an appeal to the NADRA to allow him to return to the religion of his choice, Judaism, by correcting it in a smart ID card he had applied for last year.
NADRA, which was in a fix over the issue, had asked for the interior ministry's opinion to correct the religion of a former Muslim, a ministry source was quoted as saying by the daily.
In its response, the ministry said in writing that "the applicant may be allowed to practice religion of (his) choosing and preference".
NADRA usually turns down such requests, especially from Muslims to any other faith, due to the sensitive religious atmosphere in the country. Although the interior ministry has given the green signal, NADRA has yet to issue a smart card after correcting Benkhald's religion.
A document available with daily suggests that correspondence between the ministry of interior and NADRA over the issue had taken place in February-March 2017.
Benkhald thanked the authorities, especially the interior ministry and NADRA, for granting him the right to profess religion of his choice, the report said.
"I studied Islam in childhood. But I never practiced it as a religion," Benkhald said adding that he would consider that a positive development in his case as a treat from Pakistani authorities for upcoming Passover - a religious event of Jews to commemorate their liberation from Egyptian slavery celebrated in March-April.
Pakistani Jews, a few in numbers, usually hide their identity from public. According to a top NADRA official, their identity details, such as house addresses, in the authority's records are treated as top secret.
Full report at:
http://www.ndtv.com/world-news/last-jew-in-pakistan-allowed-to-profess-his-religion-1674029
-------
'Efforts underway to ensure Christians are counted accurately'
Mar 28, 2017
TAXILA: The Pakistan United Christian Movement (PUCM) chairman, Albert David, on Monday said efforts were under way to ensure that members of his community were counted accurately in the population census.
He was talking to journalists during his visit to U.P. Church in Attock on Monday. Pastor Javed Johnson was also present on the occasion.
Terming the results of the 1998 census "flawed", Mr David said Christian leaders had realised the importance of reliable statistics of the community.
"The census will not only help Christians know their accurate number but also help them socially and politically," he added.
He said political leaders from minorities, especially Christians, had long been demanding an increase in their seats in the National Assembly and provincial legislatures. He was of the view that in 1970 the NA's seats were 145, which were increased to 210 in 2008 and 342 in 2013. But the seats for non-Muslim communities have not been from 10.
Albert David said that the Christians' population in the country was more than eight million but their representation was very little in the parliament. Albert said that he had meetings with election commission officials and even they were not aware of the situation being faced by the Christians.
He demanded that political parties must own them as political workers and must not confine them to minority wings and said that political parties must include them in their central executive bodies.
Full report at:
https://www.dawn.com/news/1323175/efforts-underway-to-ensure-christians-are-counted-accurately
-------
Two terrorists linked with Daesh arrested in Sialkot
28-Mar-17
SIALKOT: Sialkot Counter-Terrorism Department arrested two alleged terrorists linked with Daesh. The terrorists had planned to attack personnel of law enforcement agencies in Sialkot.
According to reports, the Sialkot CTD got information that two terrorists belonging to the proscribed organisation Daesh were present in the area near Dharm Kot Pasroor Road. The terrorists were reportedly planning to attack sensitive installations in the city.
The arrested terrorists were identified as Gulfam Khan, alias Abu Akasha, and Usman Ansar. LEAs recoved 450 grammes of explosives, two detonators, and a 2.5 feet primacord from them.
Full report at:
http://dailytimes.com.pk/pakistan/28-Mar-17/two-terrorists-linked-with-daesh-arrested-in-sialkot
-------
Haqqani Network neither Pakistan's friend nor proxy: Aizaz
March 28, 2017
Pakistani ambassador to US, Aizaz Chaudhary said the Haqqani Network is neither a friend nor a proxy of Pakistan, reported Waqt News.
The ambassador further said that calling Pakistan a sponsor of terrorism is the "thinking of just a few minds".
While talking about Pakistan-India dialogues, Chaudhary pointed out that India is avoiding talks with Pakistan constantly.
"Due to this approach of India, terrorists are gaining strongholds for their activities, because there is lack of communication between two states," he emphasized.
Full report at:
http://nation.com.pk/national/28-Mar-2017/haqqani-network-neither-friend-nor-proxy-of-pakistan-aizaz
-------
Peace returning to country as terrorists' backbone broken
28-Mar-17
HYDERABAD: Prime Minister Nawaz Sharif on Monday announced the establishment of a university, launch of his healthcare insurance scheme, an international airport and metro bus service for Hyderabad city.
Addressing a jam-packed gathering of workers at a party convention here, the Prime Minister also announced Rs 500 million for the development and upgradation of Hyderabad city.
He said Hyderabad would be linked soon to the rest of the country with a network of a six-lane motorway, providing speedy access.
Announcing an initial grant of Rs 1,000 million for the university, the Prime Minister also directed the PASSCO to increase its purchase of wheat crop from Sindh from previous 80,000 tonnes to 100,000 tonnes.
The Prime Minister accepted the party leaders' demand of providing electricity to as many villages as needed, besides providing supply of Sui gas to the area.
He assured the residents of Hyderabad that survey teams would soon visit the city for data collection and then he along with programme in-charge Maryam Nawaz would come there to hand over health cards to the needy.
He urged the people to question the previous rulers for their apathy towards projects like extension of motorway from Lahore to Karachi and launching of more power projects to cope with growing electricity needs. He apologised to the workers who had to return without hearing him owing to the shortage of space at the venue and assured them that he would again visit them keeping in view their enthusiasm and passion.
"Pakistan is changing. A new Pakistan is in the making," the Prime Minister said, and added that the government had broken the back of terrorists and peace was returning in Karachi with business activity reviving and labourers working in a peaceful atmosphere.
He said Hyderabad had also been purged of terrorists, who were now on the run.
The Prime Minister reiterated his resolve to eliminate the menace of terrorism in total. He said peace was also restoring in Balochistan where a vast network of roads were being developed under CPEC. The Prime Minister said the country would soon get rid of unemployment, poverty and illiteracy, and medical treatment facilities would be made affordably available for everyone owing to massive development going on under CPEC.
He said Hyderabad would also benefit from that development as the city had earlier been deprived of clean drinking water with its road infrastructure in shambles. He said economic zones would also be developed throughout the country, besides establishing colleges and universities.
Full report at:
http://dailytimes.com.pk/pakistan/28-Mar-17/peace-returning-to-country-as-terrorists-backbone-broken
-------
'Attacks on schools are destroying the education system'
28-Mar-17
LONDON: Attacks by the Taliban and other militant groups are having a devastating impact on education in Pakistan, Human Rights Watch said in a new report released a day before the Second International Conference on Safe Schools in Buenos Aires, Argentina.
Pakistan faces significant education challenges, with an estimated 25 million children out of school. The report includes testimonies on how militant violence has disrupted the education of hundreds of thousands of children, particularly girls.
"The Taliban and other militants have repeatedly committed horrific attacks on schools, depriving students of their lives as well as their education," said Bede Sheppard, child rights deputy director at the Human Rights Watch. "These audacious attacks often occur because, too often, authorities have protected militants or failed to properly prosecute them, and this needs to change." The Pakistani government should take urgent steps to make schools safer, and fairly prosecute those responsible for attacks against schools, students, and teachers, the Human Rights Watch said.
The 71-page report, 'Dreams Turned into Nightmares: Attacks on Students, Teachers and Schools in Pakistan', is based on 48 interviews with teachers, students, parents and school administrators in Punjab, Sindh, and Khyber Pakhtunkhwa (KP). It documents attacks by militants from January 2007 to October 2016 that have destroyed school buildings, targeted teachers and students and terrorised parents into keeping their children out of schools. These attacks have often been directed at female students and their teachers and schools, blocking girls' access to education. The report also examines occupation of educational institutions by political groups and criminal gangs.
Militant groups in the country, including the Taliban, Lashkar-e-Jhangvi and their affiliates, use attacks on schools and universities to foster intolerance and exclusion, to target symbols of the government and particularly to drive girls out of schools. A Taliban commander claiming the attack on Bacha Khan University in KP in January 2016 said, "We will continue to attack schools, colleges, and universities across Pakistan, as these are the foundations that produce apostates."
After the Taliban took over large parts of Swat Valley in KP in 2007, they began a violent campaign against education for girls. More than 900 girls schools were forced to close and over 120,000 girls stopped attending schools. About 8,000 female teachers were driven out of work. For many girls, the loss was permanent and they did not return to school even after the Pakistan Army had cleansed the areas of the Taliban.
The government does not collect specific data on the number of attacks on schools and universities, or the number of deaths and injuries from such attacks. However, according to the Global Terrorism Database, there were 867 attacks on educational institutions in Pakistan from 2007 to 2015, resulting in 392 fatalities and 724 injuries.
The Global Coalition to Protect Education from Attack recorded at least 838 attacks on schools in Pakistan between 2009 and 2012, leaving hundreds of schools damaged. In December 2015, the Ministry for States and Frontier Regions (SAFRON) reported that in 2015, 360 schools were destroyed in three of the seven regions of the Federally Administered Tribal Areas (FATA).
The government's failure to keep consistent and transparent national data on such attacks raises serious concerns about its ability to track repairs of damaged schools, identify trends that could inform protective measures or investigate and prosecute the responsible individuals, the Human Rights Watch said.
Threats to education in Pakistan were spotlighted by the attacks on Malala Yousufzai on October 9, 2012, and the Army Public School in Peshawar on December 16, 2014. After the Peshawar attack, which killed 135 children, Prime Minister Nawaz Sharif announced a 20-point National Action Plan to comprehensively deal with terrorism, but none of the 20 points pertained to students or education, according to the report.
The Human Rights Watch said that Pakistan should develop a comprehensive policy for protecting students - especially girls - and teachers, schools, and universities from attacks and engage all ministry staff concerned at the central and local levels in implementing the strategy.
Securing schools has been largely left to the provincial governments and these efforts have been sporadic and vary across provinces, with little attention to the specific need to protect girls' education, the report said. "In most cases, responsibility for enhancing and maintaining security has been passed to school authorities. This has led to increased hardship and chaos." According to the report, criminal cases had sometimes been filed against teachers and principals for not taking security measures.
Despite hundreds of attacks on teachers, students and educational institutions, the Pakistani government has not successfully prosecuted the perpetrators in most instances, the Human Rights Watch said. This failure was highlighted in June 2015, when it was reported that eight out of the 10 individuals arrested and charged for the attack on Malala were acquitted, even after they all confessed to their role before a court.
Full report at:
http://dailytimes.com.pk/islamabad/28-Mar-17/attacks-on-schools-are-destroying-the-education-system
-------
Ashrafi vows to continue fight against terrorism and sectarian violence
28-Mar-17
ISLAMABAD: Second World Message of Islam Conference will be held on April 12 at the Convention Centre, Islamabad, said Pakistan Ulema Council Chairman Tahir Ashrafi on Monday.
Addressing a press conference, he said the event will be held by the religious and political leadership of Pakistan and notables of the Islamic world and diplomats of Muslim countries in Pakistan. He vowed that PUC would continue its struggle for eradication of terrorism, extremism and sectarian violence from Pakistan and all over the Muslim world.
PUC representatives from different divisions and districts also accompanied him.
Ashrafi said PUC has decided to consult experts of information technology on the blasphemous content issue on social media, said Ashrafi, adding that Interior Minister Chaudhry Nisar Ali Khan was coordinating with ambassadors of Muslim countries; however practical steps should be taken against this grave issue to remove sacrilegious content from social media and coordination should be made on permanent grounds with authorities of Facebook, Twitter and YouTube to block and remove the blasphemous content.
Highlighting basic objectives of the conference, Ashrafi said that it will prove as a forum to unite the leadership of Muslims to make an ideological alliance against terrorism, extremism and sectarian violence. He also stated that political and religious leadership of the country should endorse Operation Raddul Fasaad and also praised endeavors on part of General (r) Nasir Janjua to devise a unanimous narrative on elimination of extremism and terrorism from the country with the coordination of clerics. Ashrafi also resolved that PUC will put forward a national narrative in its practical form for the elimination of terrorism, extremism and sectarian violence from the country in its conference. He added that a consultative meeting will be devised on this national narrative against elimination of terrorism and extremism which will be held on April 6 at Jamia Masjid Al Fateh, in which all the anomalies on the national narrative against terrorism and extremism will be finalised.
Full report at:
http://dailytimes.com.pk/pakistan/28-Mar-17/ashrafi-vows-to-continue-fight-against-terrorism-and--sectarian-violence-
-------
LHC seeks reply in Hafiz Saeed's detention case
March 28, 2017
LAHORE - The Lahore High Court yesterday directed Punjab government to argue whether it has powers to detain someone or it is the subject of the federal government.
A division bench headed by Justice Kazim Raza Shamsi passed the order after AK Dogar, the counsel of Hafiz Saeed, concluded his arguments in a petition challenging detention of the Jamat-ud-Dawa chief and his four aides.
A number of workers of the organisation were also present in the court during the proceedings.
Representing the detainees, AK Dogar said that the government does not have any evidence to detain his clients. Hafiz Saeed's house in Johar Town was declared as sub-jail while four of his aides had been detained in Masjid Al-Qadsia.
"UN resolution does not say that any citizen of the country be detained," the counsel contended. It was simple mala fide intention of the government authorities to put them under detention despite that Hafiz Saeed had never been involved in any wrong or illegal activity, he argued.
Justice Shamsi observed that the government authorities should see if there were people involved in hatching conspiracies against citizens of Pakistan. "I personally watched an Indian movie made on Hafiz Saeed in which the Indian tried to prove him a negative man," Justice Shamsi observed.
However, the judge observed that 'big people don't go to the crime scene,' and he quoted the case of PPP founder Zulfiqar Ali Bhutto saying that he was booked under abetment charges.
The judge also remarked that Hafiz Saeed, however, had never been tested and it was international pressure pouring on the Muslim world. "Trump is asserting pressure against Muslims around the world," the bench observed.
However, the JuD chief's counsel argued that there were several judgments of the SC which proved that imprisonment of any person without holding his trial was unlawful. In Hafiz Saeed case, it was an open reality that he had never been a risk to the state as alleged by the government, said the counsel. Only the federal government can include names of anybody in 4th schedule and not the provincial government, he maintained.
Dogar said that the Punjab government has issued notification for inclusion of names of his clients in 4th schedule which is illegal and unconstitutional. "Authorities have detained Hafiz Saeed and others only to please India and US which is tantamount to compromising out sovereignty."
Previously, the Punjab government through its law officer told the court that Hafiz Saeed and his aides were detained for being a risk to the state. "They are involved in certain activities which could be prejudicial to peace and security and in violation of Pakistan's obligation to the UN security resolution passed against these organisations," the law officer addded.
Full report at:
http://nation.com.pk/lahore/28-Mar-2017/lhc-seeks-reply-in-hafiz-saeed-s-detention-case
-------
Mideast
Saudi Jets Bomb North-western Yemen with Banned Munitions
Mar 27, 2017
Saudi warplanes have pounded Yemen's northwestern province of Sa'ada with at least two cluster bombs despite a global outcry against the use of such internationally-banned weapons by Saudi Arabia.
According to Yemen's Arabic-language al-Masirah television network, the airstrikes were carried out against al-Malahit area in Az Zahir district on Monday afternoon, but there were no immediate reports of casualties or damage.
The Saudi war machine has already used cluster bombs across Yemen on multiple occasions despite the inherently indiscriminate nature of cluster munitions. Various rights groups, including Amnesty International and Human Rights Watch, have on many occasions reported and criticized the use of cluster bombs by Riyadh's military in Yemen.
On March 9, the Amnesty International rights group said in a statement that Saudi Arabia had used cluster bombs on three residential districts and agricultural land in Sa'ada back in mid-February.
Last December, Human Rights Watch also said Saudi Arabia had fired cluster bombs near two schools in Sa'ada, killing two civilians and wounding six others, including a child.
Cluster bombs are banned under the Convention on Cluster Munitions (CCM), an international treaty that addresses the humanitarian consequences and unacceptable harm caused to civilians by cluster munitions through a categorical prohibition and a framework for action. The weapons can contain dozens of smaller bomblets, dispersing over vast areas, often killing and maiming civilians long after they are dropped.
Meanwhile, Yemeni snipers managed to kill at least two Saudi soldiers during a retaliatory attack on a Saudi military base in the kingdom's southern province of Najran. Since March, dozens of Saudi troops and Saudi mercenaries have been killed by Yemeni snipers in Najran and Jizan, another southwestern Saudi province.
In another development on Monday afternoon, terrorists suspected of belonging to the al-Qaeda in the Arabian Peninsula (AQAP) terror group detonated an explosive-laden car at the gates of a building, used as a temporary headquarters by militia loyal to Yemen's resigned president Abd Rabbuh Mansur Hadi, in the city of Hawtah in Yemen's southwestern province of Lahij.
Shortly after the deafening blast, AQAP militants, dressed as the militia, attacked the headquarters but faced fierce resistance from the guards. The explosion and the ensuing gunfire have so far killed at least eight people and wounded dozens more, mostly from the militia.
On March 26, 2015, Saudi Arabia, backed by a number of African and Persian Gulf Arab states, began launching airstrikes on different areas across Yemen, its southern neighbor, in an attempt to reinstate Hadi, who is a close Riyadh ally, and to crush the popular Houthi Ansarullah movement.
According to the United Nations humanitarian coordinator for Yemen, Jamie McGoldrick, the Saudi military campaign has claimed the lives of 10,000 Yemenis and left 40,000 others wounded.
However, in a report released on February 23, Yemen's Legal Center for Rights and Development, an independent monitoring group, put the civilian death toll in the war-torn Arab country at 12,041. The fatalities, it said, comprise 2,568 children and 1,870 women. The rights body said the bombings have also wounded 20,001 civilians, including 2,354 children and 1,960 women, while more than four million others have been displaced.
The Saudi war has also taken a heavy toll on the country's facilities and infrastructure, destroying many hospitals, schools and factories.
http://www.presstv.ir/Detail/2017/03/27/515802/Yemen-Saudi-cluster-bomb-Saada-Hadi-Amnesty-HRW-Houthis
-------
Islamic State releases video threatening Iran
March 28, 2017
The Islamic State group threatened Iran for its role in the region's conflicts, in a rare Farsi-language propaganda video released on Monday. The 36-minute video, entitled "The Farsi Land: from Yesterday till Today", was issued through IS's social media channels from Diyala province in neighbouring Iraq. A masked man directs his message to Iran's supreme leader Ayatollah Ali Khamenei.
"O, Khamenei, you cursed person who controls the so-called Islamic Iranian regime, rest assured that soon we will destroy your house like this," he says, pointing to ruins behind him. Several captured soldiers are decapitated in the video, one of whom is wearing a "Ya Hossein" badge, indicating that he is a Shiite fighter.
Shiite-majority Iran has been a key backer of the Syrian and Iraqi governments as they seek to root out IS and other Sunni rebels, sending thousands of fighters and military advisers. IS and other extremists consider Shiites to be apostates, and the video accuses Iranians of persecuting Sunnis over the centuries and into modern times.
Full report at:
http://indianexpress.com/article/world/islamic-state-releases-video-threatening-iran-4588602/
-------
Israel president refuses to pardon jailed former PM
Mar 28, 2017
JERUSALEM - Israeli President Reuven Rivlin on Monday rejected a request for clemency by jailed ex-prime minister Ehud Olmert, who is serving a 27-month prison sentence for corruption, his office said.
Olmert, who was premier between 2006-2009, was convicted of graft and entered prison in February 2016.
The president noted that the grounds for the request - including Olmert's contributions to Israel over the years - were known to the court when it sentenced the former prime minister.
Rivlin also said in a statement that Olmert was due to face a parole committee, which would discuss his request to have his sentence shortened by a third.
If the parole board shortens Olmert's sentence, Rivlin said he could consider a pardon that would allow the 71-year-old to avoid being considered a convict after he is released.
Olmert is Israel's first former premier to serve jail time.
He resigned as prime minister in September 2008 after police recommended he be indicted for graft, but remained in office until March 2009, when Likud leader Benjamin Netanyahu was sworn in to the post, which he has held ever since.
Full report at:
http://nation.com.pk/international/28-Mar-2017/israel-president-refuses-to-pardon-jailed-former-pm
-------
US weighing deeper involvement in Yemen war
Mar 28, 2017
WASHINGTON - US Defence Secretary James Mattis is reported to be pushing for the White House to remove all restrictions, placed during the waning months of President Barack Obama's presidency, on US military support for the Saudi invasion of Yemen, seeking deeper direct US involvement in fighting the Yemeni Shias.
A recent memo from Mattis to National Security Adviser H.R. ­McMaster, cited in a report by The Washington Post, said that "limited support" for Yemen operations being conducted by Saudi Arabia and the United Arab Emirates - including a planned Emirati offensive to retake a key Red Sea port - would help combat a "common threat."
Approval of the request would mark a significant policy shift, the report said, pointing out that US military activity in Yemen until now has been confined mainly to counterterrorism operations against al-Qaeda's affiliate there, with limited indirect backing for Persian gulf states' efforts in a two-year-old war that has yielded significant civilian casualties.
It would also be a clear signal of the administration's intention to move more aggressively against Iran, the Post said. The Trump White House, in far stronger terms than its predecessor, has echoed Saudi and Emirati charges that Iran is training, arming and directing the Houthis in a proxy war to increase its regional clout against the Persian Gulf's Sunni monarchies. The administration is in the midst of a larger review of overall Yemen policy that is not expected to be completed until next month, it said.
But the immediate question, addressed by Mattis's memo and tentatively slated to come before the principals committee of senior national security aides this week, is whether to provide support for a proposed UAE-led operation to push the Houthis from the port of Hodeida, through which humanitarian aid and rebel supplies pass, according to the report.
The Pentagon memo does not recommend agreeing to every element of the Emirati request, it was pointed out. A proposal to provide American Special Operations forces on the ground on the Red Sea coast "was not part of the request [Mattis] is making," an unnamed senior administration official was quoted as saying.
This official and several others said that Mattis and his advisers have asked for removal of President Barack Obama's prohibitions, which would enable the military to support Emirati operations against the Houthis with surveillance and intelligence, refuelling, and operational planning assistance without asking for case-by-case White House approval.
A similar Emirati proposal for help in attacking Hodeida was rejected late last year by the Obama administration, on the grounds that Emirati ships and warplanes, US Special Operations forces and Yemeni government troops were unlikely to succeed in dislodging the entrenched, well-armed rebels and could worsen the humanitarian situation. The effort was seen as sure to escalate a war that the United States and the United Nations have been trying to stop.
Some advisers to President Trump share those same concerns, the senior official was quoted as saying. "There has been no decision yet as to whether [the restrictions] will be lifted. There is certainly broad disagreement across our government."
While acknowledging that some might see ending the limits as "a green light for direct involvement in a major war. .?.?. We can't judge yet what the [review] results will be," the official said, adding that the limits could be modified, removed or left in place. Advisers are considering whether direct support for the anti-Houthi coalition would take too many resources away from the counterterrorism fight against al-Qaeda in the Arabian Peninsula and a nascent Islamic State network in Yemen, the US priority there. At the same time, what is described as a bare-bones UAE plan has given rise to worry that the Emiratis may not be capable of such a large operation, including holding and stabilizing any reclaimed area, without sucking in US forces, the Post said.
Without knowing whether the Houthis will give in or fight back - including with Iranian-supplied missiles - there is also concern among US officials that the offensive would further undermine stalemated efforts to negotiate an end to the war and make an already dire humanitarian situation worse, it said. Yemen's population centres have been decimated by the conflict, in which indiscriminate Saudi airstrikes and fighting on the ground have killed an estimated 10,000 civilians.
Both the Houthis, who hold the capital, Sanaa, Hodeida and other cities, and Saudi Arabia, which controls the sea perimeter around Hodeida, have restricted delivery of aid and other goods flowing through the port to other population centres.
On Wednesday, UN humanitarian officials said that millions of Yemenis were on the verge of starvation. Yves Daccord, director general of the International Committee of the Red Cross, warned that an extended battle for the port city would "put even more pressure on the population" and could tip the country into greater humanitarian crisis.
While the warring parties have taken part in UN-brokered peace talks, negotiations are stalled and all parties remain in practice most interested in battlefield victory, Daccord told The Washington Post. "That's the problem in Yemen," he said. "They all still think they can win militarily."
Full report at:
http://nation.com.pk/international/28-Mar-2017/us-weighing-deeper-involvement-in-yemen-war
-------
Iran-Russia ties positive for regional, global stability, security: Rouhani
Mar 27, 2017
Iranian President Hassan Rouhani says relations between the Islamic Republic and Russia are "growing," stressing that their mutual ties will play an effective role in promoting regional and international stability and security.
"Undoubtedly, cooperation between the two countries will have positive effects on the regional and international stability and security," Rouhani said in a meeting with Russian Prime Minister Dmitry Medvedev in Moscow on Monday.
He added that Iran welcomes the expansion of relations with its neighboring countries in the region, particularly Russia.
The Iranian chief executive expressed hope that his visit to Moscow would lead to new developments in Tehran-Moscow cooperation in political, economic and cultural areas and on international issues.
The Russian premier, for his part, said his country was resolved to bolster relations with Iran in all sectors.
He pointed to the favorable relations between Tehran and Moscow and expressed confidence that President Rouhani's trip would help both sides further deepen their ties.
Heading a high-ranking politico-economic delegation, the Iranian president arrived in Moscow Monday evening for a two-day official visit at the invitation of his Russian counterpart, Vladimir Putin.
Iranian president in Russia for key talks
The Russian president is scheduled to officially welcome his Iranian counterpart at the Kremlin on Tuesday. Rouhani and Putin will then hold talks on regional and international issues and matters of mutual interest.
Full report at:
http://www.presstv.ir/Detail/2017/03/27/515820/Iran-Russia-Hassan-Rouhani-Dmitri-Medvedev
-------
Iran dismisses Bahraini 'lies' against Tehran
Mar 27, 2017
Iran says Bahrain had better stop suppressing freedom within its own border instead of throwing groundless accusations against the Islamic Republic.
Foreign Ministry spokesman Bahram Qassemi made the remarks on Monday after Manama claimed to have uncovered a "terrorist" group linked to Tehran.
The spokesman called the accusation "a baseless and fruitless lie" saying it was a source of wonder that Bahraini authorities still insisted on repeating such claims against Iran.
"Instead of [playing] fruitless and repetitive blame games, Bahrain had better direct its efforts towards observing the rights of Bahraini citizens, ending crackdown and detention of intellectuals, and according freedom of speech to all the ranks within the Bahraini society," he said.
The official advised Manama to work toward managing its domestic affairs in a "wiser, more tactful, and rational manner" and observe the principle of good neighborliness with the Islamic Republic.
Full report at:
http://www.presstv.ir/Detail/2017/03/27/515772/Iran-Bahrain-Qassemi-Foreign-Ministry
-------
Yemeni children paying 'heaviest price' as Saudi war turns 2: UNICEF
Mar 28, 2017
The United Nations children's fund has voiced alarm over the plight of the Yemeni children amid the Saudi aggression, saying they are hit hardest by the war with many of them teetering between life and death.
The UN International Children's Emergency Fund (UNICEF) highlighted the suffering of the Yemeni kids in a report titled "Falling through the Cracks," which was released on Monday to mark the second anniversary of the deadly Saudi offensive on the impoverished country.
"As the war in Yemen completes two years, children continue to pay the heaviest price while families' coping mechanisms are stretched to their limit," the report read.
Almost 10 million Yemeni children are currently in need of humanitarian assistance while some 2.2 million of them are acutely malnourished, it further said, adding that quite half a million kids suffer from severe acute malnutrition, up by 200 percent since 2014.
"Malnourished children across Yemen are teetering between life and death…. Cemeteries are filling up with small unmarked graves, the deaths of children unreported to authorities, their suffering invisible to the world," the UNICEF report said.
It also warned that over 17 million people, which equals to 65 percent of all Yemeni households, are food insecure, meaning that they cannot afford feeding themselves and their children adequately.
Nearly 80 percent of Yemeni families are in debt or are borrowing money just to feed their kids, it added.
"The poorest country in the Middle East, Yemen is now the largest food security emergency in the world," the report warned, estimating that at least 7.3 million Yemenis need emergency food assistance to survive.
Full report at:
http://www.presstv.ir/Detail/2017/03/28/515848/Yemen-Saudi-Arabia-UNICEF
-------
Israeli PM thanks Trump administration for supporting Tel Aviv regime
Mar 27, 2017
Israeli Prime Minister Benjamin Netanyahu has thanked the government of US President Donald Trump for its support of the Tel Aviv regime.
Netanyahu also thanked the new US administration over its choice for Washington's new ambassador to Israel, while addressing the annual American Israel Public Affairs Committee (AIPAC) convention via video link on Monday.
Since taking office in January, Trump's increased support for Israel has emboldened the Tel Aviv regime to intensify anti-Palestinian activities such as settlement expansions. Trump's predecessor Barack Obama often clashed with the Israeli premier.
Last week, the US Senate confirmed Trump's controversial pick of David Friedman to be America's ambassador to Israel.
"Israel is committed to working with President Trump to advance peace with the Palestinians and with all our neighbors," Netanyahu said, noting that Palestine must recognize Israel as a Jewish state.
Netanyahu also thanked Trump over a recent US budget request that "leaves military aid to Israel fully funded."
Full report at:
http://www.presstv.ir/Detail/2017/03/27/515828/netanyahu-aipac-us-trump
-------
North America
Sarcastic Brits take down US alt-right host over 'Muslim Queen'
28 March 2017
Radio host Alex Jones is well known in America for shocking people with his conspiracy theories and "alt right" political views.
But he got more than he bargained for when he took on the Queen.
He played a clip purportedly featuring British Muslims saying they wanted to turn Buckingham Palace into a mosque.
And British Twitter users were quick to spring into action with some - always polite - put downs.
The 43-year-old recently apologised for his involvement in advocating the fake "Pizzagate" scandal.
This is the tweet, following the London attack, that activated angry, sarcastic responses.
http://www.bbc.co.uk/newsbeat/article/39405670/sarcastic-brits-take-down-us-alt-right-host-over-muslim-queen
-------
Canadian steak houses courting Muslim diners with halal options
ANDREA CHIU
Mar. 27, 2017
At Barberian's Steak House in Toronto, the Canada Prime steaks are butchered and aged in-house. Hungry beef lovers can tuck into a rib steak or prime rib cooked just the way they like it – and that includes Muslim diners, because for the past year the 58-year-old restaurant has catered to customers looking for a halal 24-ounce porterhouse.
The halal steaks are available for the same price as their non-halal counterparts, said Bob Bermann, the restaurant's projects manager, who added: "Now suppliers are providing larger primary cuts of halal meat, so we are doing the aging and butchering ourselves."
There were more than a million Muslims in Canada in 2011, according to the National Household Survey, double the number of the 2001 survey. That growing population has meant good things for our culinary landscape, as the cuisine of such countries as Turkey, Lebanon and Iran has become increasingly available. More recently, non-Muslim restaurateurs have begun courting this burgeoning customer base, with even traditional establishments such as Barberian's adding halal items to their menus.
Although halal steaks make up less than 1 per cent of sales at the restaurant – about 10 to 12 steaks a week – Barberian's is happy to accommodate customers when it can, especially now that halal options are up to the standards people have come to expect from the restaurant.
"We are getting hand-selected Canadian Prime – the highest grade," Bermann said. "We can have butchery which allows us the flexibility for people who drop in. [People who want halal] don't have to just order the fish."
"Halal" means "permissible" in Arabic, and the restrictions cover not just food but things such as finance and travel as well. A halal hotel, for example, does not serve alcohol and has separate pools or spa facilities for men and women. Salima Jivraj, the founder of Toronto's Halal Food Festival, explains that the list of foods that are not halal is pretty simple: pork, pork byproducts, alcohol and meat that has not been slaughtered in the halal method.
"When it comes to the halal method of slaughter, it is very similar to kosher, but the difference is that you don't need a spiritual leader to do the slaughter. You have a slaughterman who is a practising Muslim," said Jivraj, who is also the editor-in-chief of Halal Foodie, an online directory of halal restaurants in Toronto. "They pray before the slaughter, which involves saying that we're sacrificing the animal in God's name, and the animal has to be cut a certain way. There has to be the least amount of stress for the animal as possible."
More than half of Canadian Muslims live in Ontario, with the majority in the Greater Toronto Area. But restaurants in other parts of Canada are responding to the increasing demand for halal options, too.
At the Ruth's Chris Steak House in downtown Calgary, diners can get a halal meal with 24 hours' notice. General manager Sabrina Raaymaker says only about 1 per cent of all meat orders are for halal steaks, but she believes that will rise as word spreads through Muslim communities.
Raaymaker says the halal meat options are all up to Ruth's Chris standards. "We specialize in Alberta Prime and USDA Prime, and the halal options are all Alberta Prime, raised on grain, specifically barley," she said. "There's really no discernible difference. I've tasted both – they taste the exact same, in my mind."
At least one Canadian restaurateur serves halal meat simply because of its quality, regardless of who's eating it. When Toronto chef Cory Vitiello was sourcing chicken for his chain of fast-casual restaurants, Flock, the best-tasting meat turned out to be halal.
"We chose this chicken based on its quality – the way it tastes, the integrity with which the farmers produce and raise it," he said. "We chose our chicken before learning it was halal." While the fried chicken at his Harbord Street location is not halal, all the birds used for Flock's rotisserie chicken are halal-certified.
Still, Jivraj won't be adding Flock to the Halal Foodie database. The website takes a conservative approach because many devout Muslims may not feel comfortable dining at an establishment that also serves alcohol or pork and where staff may not be trained properly in the preparation of halal food.
And Omar Subedar, a spokesman for the Halal Monitoring Authority, said Canada's largest certification organization wouldn't certify a restaurant like Barberian's. "We don't certify restaurants with a mix of halal and non-halal meat. There are too many variables for us to insure," Subedar said. "Instead, we focus on 100-per-cent halal restaurants where they are catering to Muslim customers or they themselves are Muslim owners." That said, HMA has helped mainstream restaurants understand halal requirements by providing guidelines.
"Restaurants that are interested in halal come from great intentions, born out of the inclusiveness that Canada is known for and that I love," Jivraj said. "But how do you know that all the staff and servers are aware of the halal requirements? Suppliers could change, and if the server isn't aware, they may think they're serving halal but they're not."
"On the flip side, I personally think it's great that restaurants and people who are not Muslim are so interested," she said. "In the long run, it is better for the community to have access to different options."
Full report at:
http://www.theglobeandmail.com/life/food-and-wine/food-trends/canadian-steak-houses-court-muslim-diners-with-halal-options/article34435864/
-------
Trump backs off Muslim Brotherhood's designation as terrorist organization
March 27, 2017
President Trump has — for the time being — put on the back burner an executive order designating the Muslim Brotherhood a terrorist organization, according to U.S. officials close to a heated debate inside the administration over the status of the global Islamist movement.
While the White House has declined to comment publicly, officials speaking on condition of anonymity say the administration backed down from a plan to designate the Brotherhood last month after an internal State Department memo advised against it because of the movement's loose-knit structure and far-flung political ties across the Middle East.
The memo "explained that there's not one monolithic Muslim Brotherhood," according to one of the officials, who told The Washington Times that while the movement may well be tied to such bona fide terrorist groups as Hamas, its more legitimate political activities would complicate the terrorist designation process.
The Brotherhood has prominent political factions engaged — at least perfunctorily — in democracy in Jordan, Morocco, Tunisia and several other Muslim-majority nations, and the State Department memo coincided with high-level pressure placed on the Trump administration from at least one of them.
Full report at:
http://www.washingtontimes.com/news/2017/mar/27/muslim-brotherhood-listing-as-terror-group-delayed/
-------
Supremacist gets terror charge over black man's murder
28 March 2017
A white US Army veteran faced terror and racism charges Monday as he was indicted for fatally stabbing a 66-year-old black man.
James Jackson, 28, "prowled the streets of New York for three days in search of a black person to assassinate in order to launch a campaign of terrorism against our Manhattan community and the values we celebrate," Manhattan District Attorney Cyrus Vance said in a statement.
"Last week, with total presence of mind, he acted on his plan, randomly selecting a beloved New Yorker solely on the basis of his skin color, and stabbing him repeatedly and publicly on a Midtown street corner."
He was formally charged in New York State Supreme Court with one count each of murder in the first and second degrees as an act of terrorism, murder in the second degree as a hate crime, as well as three counts of criminal possession of a weapon.
The March 20 attack comes as several major US cities including New York grapple with an increase in hate crimes.
Police say Jackson admitted stabbing Timothy Caughman multiple times near the low-rent shelter where the victim lived. Caughman managed to walk two blocks to a police station but was pronounced dead at an area hospital.
Jackson -- who served in the US Army from 2009 to 2012, a stint that included a tour of duty in Afghanistan -- turned himself in to police in Times Square on Wednesday, according to local media reports.
He told police he considered the killing to be "practice prior to going to Times Square to kill additional black men," according to the complaint.
It said he was "angered by black men mixing with white women."
- 'I hate black men' -
The ex-serviceman told police he had traveled to the city on a bus from his home in Baltimore, about 170 miles (275 kilometers) to the south.
Jackson attended a prestigious secondary school in Baltimore, and in 2009 joined the Army in intelligence. In addition to the Afghanistan tour, he was stationed for some time in Baumholder, Germany, according to US media.
He arrived in New York Friday and took a hotel room under a false name. Then he said he would start the first of many murders of black men that he planned.
When questioned by police after his surrender, there was no indication where the hate developed.
A law enforcement official who spoke on the condition of anonymity since the investigation is continuing, told the Times that: "He told the cops, 'I've hated black men since I was a kid. I've had these feelings since I was a young person. I hate black men.'"
A former landlord told the Times that Jackson was months behind on his rent, and a filthy tenant.
Full report at:
http://www.worldbulletin.net/america-canada/186940/supremacist-gets-terror-charge-over-black-mans-murder
-------
Europe
Police say 'no evidence' British attacker had ties to Islamic State group, al-Qaida
28 March 2017
Police have found no evidence that the man who killed four people in London last week was associated with the Islamic State group or al-Qaida, a senior British counterterrorism officer said Monday.
Deputy Assistant Commissioner Neil Basu of the Metropolitan Police said Westminster attacker Khalid Masood clearly had "an interest in jihad," but police have no indication he discussed his attack plans with others.
Deputy Assistant Commissioner Neil Basu of the Metropolitan Police said Westminster attacker Khalid Masood clearly had "an interest in jihad," but police have no indication he discussed his attack plans with others.
FROM OUR PARTNERS: The Many Roles Held by Jared Kushner
Basu, who also serves as Britain's senior national coordinator for counterterrorism policing, said Wednesday's attack — in which Masood ran down pedestrians on London's Westminster Bridge before fatally stabbing a policeman guarding Parliament — "appears to be based on low-sophistication, low-tech, low-cost techniques copied from other attacks."
Masood was shot dead by police after his deadly rampage, which police have revealed lasted just 82 seconds.
Police believe Masood — a 52-year-old Briton with convictions for violence who had spent several years in Saudi Arabia — acted alone, but are trying to determine whether others helped inspire or direct his actions.
Detectives on Monday continued to question a 30-year-old man arrested Sunday and a 58-year-old man arrested shortly after Wednesday's attack. Both were detained in the central England city of Birmingham, where Masood had recently lived.
Prime Minister Theresa May said last week that Masood was "a peripheral figure" in an investigation into violent extremism some years ago. But Basu said he was not a "subject of interest" for counterterrorism police or the intelligence services before last week's attack.
Masood was born Adrian Elms, but changed his name in 2005, suggesting a conversion to Islam.
His mother, Janet Ajao, said Monday she was "deeply shocked, saddened and numbed" by his murderous actions.
In a statement released through the police, Ajao said that "since discovering that it was my son that was responsible I have shed many tears for the people caught up in this horrendous incident."
Basu said there was no sign Masood was radicalized during one of his stints in prison, the last of which was in 2003.
"I know when, where and how Masood committed his atrocities, but now I need to know why," Basu said. "Most importantly, so do the victims and families."
As Basu appealed for anyone who spoke to Masood on the day of the attack to come forward, the British government repeated calls for tech companies to give police and intelligence services access to encrypted messages exchanged by terrorism suspects.
Masood used the messaging service WhatsApp just before he began his attack. Home Secretary Amber Rudd said Sunday that such services must not "provide a secret place for terrorists to communicate with each other."
Tech companies have strongly resisted previous calls to create back-doors into encrypted messaging, arguing that to do so would compromise the secure communications underpinning everything from shopping to tax returns to online banking.
Rudd is due to hold a previously scheduled meeting with internet companies on Thursday.
Prime Minister Theresa May's spokesman, James Slack, said tech firms "should be helping us more" to prevent terrorism.
"The ball is now in their court," he said.
Slack said that if agreement was not reached with the companies, the government "rules nothing out," including legislation.
Meanwhile, the families of the dead and injured set about the difficult task of going on with their lives.
The family of an American victim expressed gratitude Monday for the kindness of strangers as they insisted some good would come from the tragedy. A dozen members of Kurt W. Cochran's family gathered to face the media, sharing their shock and sense of loss.
Cochran, from Utah, was on the last day of a European trip celebrating his 25th wedding anniversary when he was killed on Westminster Bridge. Cochran's wife, Melissa, suffered a broken leg and rib and a cut head, but is steadily improving.
The family offered profuse thanks to first responders, British and American authorities and people who had sent notes, prayer and donations.
"Last night we were speaking as a family about all this, and it was unanimous that none of us harbor any ill will or harsh feelings towards this," said Sarah McFarland, Melissa Cochran's sister. "So we love our brother. We love what he brought to the world, and we feel like that this situation is going to bring many good things to the world."
http://www.chicagotribune.com/news/nationworld/ct-british-parliament-attack-suspects-custody-20170327-story.html
-------
Muslim Converts Revitalize Europe's Fading Christian Churches
Mar 27, 2017
Due to Muslim conversions, faith leaders indicate Christianity now is making a comeback in Europe.
Many parts of Europe reportedly are becoming more secular, and worship houses are losing congregants in noticeable amounts. An increasing number of Muslims, many of them refugees from Syria, Iraq and Afghanistan, are converting to Christianity in Europe. Local experts said the converts are embracing various Christian denominations, including Protestants, evangelical or Catholic.
"European churches have struggled for decades to share the gospel with modern secular Europeans," Matthew Kaemingk, a professor at the Fuller Theological Seminary in Seattle, told Fox News. "They have found Muslim immigrants to be much more open to the message of Christianity."
Kaemingk has researched Christian responses to Muslim immigration in the Netherlands, and has written a book titled "Christian Hospitality and Muslim Immigration in an Age of Fear" that will be published this fall. He said secular Europeans rarely sense a deep need for the type of healing and salvation the church offers.
"Europeans are wealthy, comfortable, healthy, and powerful," Kaemingk said. "In short, they don't think they need God."
Conversely, he said Muslim immigrants are intensely spiritual and are leaving their former religion for a variety of reasons.
Some Muslim refugees settling in European counties may be converting on the assumption their odds for obtaining political asylum will improve if they are Christian, according to the Guardian. Others may have had an earlier interest in converting but were unable to do so while they lived in the Middle East, where conversions are often prohibited and could make the family a target. Some jihadist groups, including ISIS, target Christians for murder in such countries as Syria and Iraq.
Others are turning to Christianity to assimilate in their new country. "The average Muslim newcomer in Europe experiences a tremendous amount of societal pressure. They experience racism, poverty, exclusion, discrimination, language and cultural barriers, and a deep sense of displacement," Kaemingk said.
"Their sense of homelessness is not only geographical, it is spiritual. Churches who offer these Muslims real and meaningful hospitality are seeing some surprising results."
Germany received nearly 900,000 asylum seekers in 2016; the majority was from Syria, Iraq and Afghanistan, according to published reports. Churches in Berlin and Hamburg were faced with so many asylum seekers wanting to convert, they held baptisms in municipal swimming pools, reports Fox News.
Full report at:
http://www.gospelherald.com/articles/69973/20170327/muslim-converts-revitalize-europe-s-fading-christian-churches.htm
-------
On the eve of Brexit, Qatar pledges over $6 billion in investment in Britain
Mar 28, 2017
Qatar pledged 5 billion pounds ($6.3 billion) of investment in Britain on Monday in a show of support for the world's fifth-largest economy just two days before Prime Minister Theresa May triggers formal Brexit talks.
The wealthy Gulf state has 40 billion pounds of investments in the United Kingdom, including high-profile London landmarks like the Shard skyscraper, Harrods department store, The Savoy hotel and a stake in the Canary Wharf financial district.
While the June 23 referendum vote to leave the European Union took many investors and chief executives by surprise, Qatar's top financial players used an investment conference in London to pledge support for Brexit Britain.
The head of the $335 billion Qatar Investment Authority (QIA) sovereign wealth fund said he saw opportunities in Britain, adding that the fund was focused on infrastructure, healthcare and technology.
"I am still looking, even after Brexit there will be opportunities QIA can really hunt for," QIA Chief Executive Sheikh Abdullah bin Mohammed bin Saud al-Thani told the conference. "Whenever the (British) government would like the QIA to step in we are ready."
Qatar's prime minister, Sheikh Abdullah bin Nasser bin Khalifa al-Thani, said in a statement that Qatar expected to invest 5 billion pounds ($6.3 billion) in Britain over the next five years.
June's shock Brexit vote triggered the deepest political crisis in Britain since World War Two and the biggest ever one-day fall in sterling against the dollar, though the economy has continued to grow.
But Britain's exit from the EU -- probably in 2019 -- has raised a number of questions about future economic growth and whether London can retain its position as the only financial centre to challenge New York.
PM May is due on Wednesday to formally notify the EU of Britain's intention to leave the club it joined in 1973.
ENERGY PROVIDER
Qatar, which delivers 90 percent of Britain's imports of liquefied natural gas and is the world's biggest producer of the fuel, could play an important role in steeling the UK economy's against economic fallout during and after Brexit.
"The UK will have a new era post-Brexit ... The negotiations will start among Europeans and nobody is extremely clear about where the negotiations will lead to, however we can sense the possibility of the UK's manufacturing power going higher and with that the need for energy," Qatar's Energy Minister Mohammed bin Saleh al-Sada told Reuters in an interview on Monday.
"The UK's manufacturing and industrial sector thriving and going up is possible, and for that Qatar will always be there to supply the energy required. Certainly we can contribute to the UK's need," said Sada.
Sada said Qatar supported a free-trade agreement which the six-nation Gulf Cooperation Council, including Qatar and the two biggest Arab economies, Saudi Arabia and the United Arab Emirates are hoping to secure ahead of Brexit to ensure preferential arrangements with Britain.
Full report at:
http://nation.com.pk/international/28-Mar-2017/on-the-eve-of-brexit-qatar-pledges-over-6-billion-in-investment-in-britain
-------
Russian FM calls for UNSC briefing over deadly US airstrike on Mosul
Mar 28, 2017
Russian Foreign Minister Sergey Lavrov has called for a UN Security Council briefing over a recent US airstrike on Mosul which claimed the lives of over 200 people.
"The most recent tragedy happened on March 17, to be precise it is not the latest one as there were numerous incidents that claimed civilian lives after it. However, the March 17 [tragedy], when the bombings lasted for several hours and an estimated 200 civilians were killed, stands out because of its scale," said Lavrov during a press conference on Monday.
Lavrov (seen above) added that it was quite strange that the US had not realized they were hitting the wrong targets for hours despite having advanced targeting equipment.
He went to say that his country "is interested in liberating Mosul from terrorists," while noting that the US-led coalition should be more "cautious and responsible" like Russia in Syria's Aleppo.
"A corridor was organized for all the militants, including the members of the terrorist groups [to leave eastern Aleppo]. Many [militants] seized this opportunity, thus reducing the need for the use of military force for the liberation of that part of the city," Lavrov said.
"We expect that a similar regardful, cautious and responsible approach would be used by the coalition in its further actions in Mosul," he added.
He also noted that Russia was closely monitoring the operations to liberate Mosul and has brought the matter of the ever increasing civilian casualties before the UNSC in the past.
Last week, the UN expressed "profound concern" over the increase of civilian casualties in the Iraqi city and called on all parties engaged in anti-terror operations in the country to avoid "indiscriminate use of firepower."
On Thursday, Iraq's Kurdish-language Rudaw television network reported that 237 people had been killed in US-led coalition airstrikes on a Daesh-held neighborhood in western Mosul.
Amnesty voices concerns over civilian casualties
Meanwhile, Amnesty International has voiced its concerns over the number of civilian casualties in Mosul, suggesting the US-led coalition may not be doing enough to avoid such casualties.
Evidence "points to an alarming pattern of US-led coalition airstrikes which have destroyed whole houses with entire families inside," said a the report released by the rights group. It added that failure to avoid civilian casualties is "in flagrant violation of international humanitarian law."
On Saturday, the US-led coalition confirmed it had launched an airstrike on the day "at the location corresponding to allegations of civilian casualties."
Iraqi army soldiers and allied fighters launched an offensive to retake Mosul in October 2016. The forces took control of eastern Mosul in January and launched the battle in the west on February 19.
Full report at:
http://www.presstv.ir/Detail/2017/03/28/515834/us-russia-unsc-mosul-lavrov
-------
There's a Russian storm over Trump's struggling presidency
March 28, 2017
The darkening storm over Russia is now looming over President Donald Trump's innermost circle.
The intrigue now threatening to swamp Washington politics deepened on Monday when Trump's son-in-law and trusted adviser, Jared Kushner, offered to testify to senators about meetings with senior Kremlin officials -- including the head of a bank closely linked to President Vladimir Putin's government.
And more revelations about a secret trip to the White House complex by House Intelligence Chairman Devin Nunes spurred claims by Democrats that he was in league with the President's aides to subvert his own panel's investigation into Moscow's alleged election meddling and ties to the Trump campaign.
Kushner, Senate investigators to meet
It was all too much for the President. Perhaps prompted by rising speculation about Russia, Trump launched a Twitter barrage Monday night, possibly to distract attention from stories damaging to his White House by attacking a familiar target.
"Why isn't the House Intelligence Committee looking into the Bill & Hillary deal that allowed big Uranium to go to Russia, Russian speech....money to Bill, the Hillary Russian 'reset,' praise of Russia by Hillary, or Podesta Russian Company. Trump Russia story is a hoax. #MAGA!" Trump wrote in a pair of tweets.
But the storm isn't likely to break soon: There will be new Russia-related headlines on Thursday, when an intelligence committee hearing offers senators their first chance to go on the record addressing the widening controversy embroiling Trump and Russia.
The flurry of developments bore testimony to the White House's inability to shake a controversy over Russia that repeatedly returns to besiege the new administration, compounding the political cost of its missteps elsewhere -- most recently over House Republicans' spectacular failure to repeal Obamacare Friday.
The fresh disclosures about Russia overshadowed an attempt by Trump aides to repair relations with House Speaker Paul Ryan that were strained in the health care push and also threatened to snuff out an attempt by the White House to belatedly reach out to Democrats in a bid to mitigate its precarious political position.
For Trump, no closing this deal
Monday's developments came days after CNN reported that the FBI has information that associates of Trump communicated with suspected Russian operatives to possibly coordinate the release of information damaging to Hillary Clinton's campaign.
House Minority Leader Nancy Pelosi and Rep. Adam Schiff, the top Democrat on the House Intelligence Committee, called on Nunes to recuse himself from the investigation into Russian efforts to influence the election and ties between the Trump campaign and Kremlin officials.
"We've reached the point, after the events of this week, where it would be very difficult to maintain the credibility of the investigation if the chairman did not recuse himself from matters involving either the Trump campaign or the Trump transition team of which he was a member," Schiff told CNN.
"The questions are profound enough that I think we need to move past it, and ideally that would mean the chairman ought to recuse himself, not only from the investigation involving potential coordination or collusion between the Trump campaign and the Russians, but also any oversight of minimization issues affecting the Trump transition since he was a member of that Trump transition team," Schiff said.
The deepening questions about Russia are combining with a thicket of more conventional political troubles bearing down on the White House.
They include Trump's increasing unpopularity. One Gallup tracking poll Monday put his approval ratings as low as 36% -- far lower than most presidents go across the span of the entire terms.
Even the "Trump bump," the feel good spurt in stock prices on expectations of large tax cuts and an infrastructure bill hit the buffers, amid growing doubts following the Obamacare debacle about the administration's capacity to enact its agenda. The Dow Jones Industrial Average fell for its eighth straight day Monday, hitting its longest losing streak since 2011.
The Trump stock market rally is under siege
There could be more trouble when Trump's already twice-blocked travel ban on citizens of predominantly Muslim nations faces another day in court this week -- with a challenge in Hawaii.
All of this will overshadow one area where the White House strategy is unarguably performing well -- the confirmation of Supreme Court nominee Neil Gorsuch.
Kushner to speak
The cascade of challenges is a lesson in how tough it can be to end a White House losing streak as Monday's revelations further complicated the political picture.
Kushner volunteered to testify over his role in arranging meetings between top campaign aides and Russian envoy to the US Sergey Kislyak. He met Kislyak in December during the presidential transition and sent his deputy, Avrahm Berkowitz, to a second sit down. Kushner also met Sergey N. Gorkov, the head of Russia's economic development bank, at the urging of the Russian ambassador, a senior administration official said.
Gorkov has deep ties to the Russian government and was appointed by Putin. The meeting between Kushner and Gorkov is attracting extra intrigue because VneshEconomBank, or VEB, has been under US sanctions for three years, and because Kushner has been trying to attract financing for a building project of his in Manhattan. Trump also said during the campaign that he could lift some sanctions on Russia.
Still, a meeting between Kushner and Gorkov does not violate the US sanctions, and it is not unusual for businesses under sanctions to meet with US officials, experts said.
The White House insisted there was nothing suspicious about the meetings. But they are just the latest revelations about contacts between Trump aides and Russian officials, that have emerged bit-by-bit at the same time that the FBI is investigating allegations that Russian intelligence agencies meddled in last year's election to favor Trump. One Trump official, former national security adviser Michael Flynn has already resigned over his conversations with Kislyak.
White House spokesman Sean Spicer tried to put out the fire on Monday.
"You're acting as though there's something nefarious about doing what he was actually tasked to do," he told reporters of the Kushner meetings during his daily briefing.
"Based on the media frenzy that existed around this, he ... said 'hey, we've made some contact, I'd be glad to explain (it), let me know if you'd like to talk.' Plain and simple," Spicer said.
VEB confirmed the meeting with Kushner in a statement to CNN, though described Kushner in his role as head of Kushner Companies, not as a representative of Trump.
"During 2016 the bank's management repeatedly met with representatives of the world's leading financial institutions in Europe, Asia and America ... including the head of Kushner Companies, Jared Kushner," the VEB statement said.
Nunes visit
The Trump administration also had to respond Monday to questions about the Nunes visit to the White House complex.
The House Intelligence Committee chairman said Monday he went to the Eisenhower Old Executive Office building to view information from a whistle blower in a secure facility.
The visit came the day before he went back to the White House to brief Trump that he and his advisers may have been swept up in surveillance of other foreign nationals. Trump later said he felt partly vindicated by what Nunes told him.
The timing of Nunes' visit sparked fresh Democratic warnings that the chairman and the White House were in league to obstruct the investigation.
"You cannot have the person in charge of an impartial investigation be partial to one side," said Democratic Senate Minority leader Chuck Schumer Monday. "If Speaker Ryan wants the House to have a credible investigation he needs to replace Chairman Nunes."
Nunes insisted he did nothing wrong.
"I am sure people in the West Wing had no idea I was there," Nunes told CNN's Wolf Blitzer Monday, but refused to say if a White House official had cleared him to enter the executive complex.
He said that his visit was to view documents from a source on an issue unrelated to Russia who was not authorized to bring documents to Capitol Hill.
The latest layer of Russia revelations obscured efforts by the administration to reset after the failure of the House Obamacare repeal bill on Friday dealt Trump a blow that will taint his First 100 Days in office.
Publicly at least, the White House was sending signals of a course correction in contrast to the blame game that filtered out of the White House as the health care bill headed for the rocks last week.
"We learned a lot through this process. I think we're obviously looking at ways that we can improve not only how we handled health care, but other things -- how we do everything," said Spicer.
Full report at:
http://edition.cnn.com/2017/03/28/politics/donald-trump-russia-presidency/
-------
South Asia
Taliban insurgent admits beheading of civilians after joining peace
Mar 27 2017
A Taliban insurgent who has joined peace process in eastern Nangarhar province of Afghanistan has confessed that they have butchered innocent civilians.
A group of eighteen Taliban insurgents have joined peace renouncing violence in eastern Nangarhar province of Afghanistan.
The provincial government in a statement said the group led by commander Bakhtu Khan joined the peace process due to the efforts of the Afghan intelligence.
The statement further added that the militants also handed over some weapons as they pledged to return to a normal life and renounce insurgency.
The group was previously operating in Bati Kot and Ghani Khel districts with one of the militants Raz Mohammad saying they were encouraged to start insurgency against the government from certain circles in Pakistan who were providing them with all of types weapons they needed.
He confessed that he was involved in the execution of civilians by butchering them besides conducting other insurgency activities, including attacks on military convoys, for which he says he feels regretted.
Mohammad also added that they had received instructions to destroy the Darunta dam and tunnel which forced them to renounce violence, admitting that the insurgency they were waging was not a holy war or Jihad.
http://www.khaama.com/taliban-insurgent-admits-beheading-of-civilians-after-joining-peace-02450
-------
Bangladesh Commando Shootout Kills Four Militants
Mar 28, 2017
DHAKA - Bangladesh commandos shot dead four suspected extremists during a fierce 72-hour gunfight, the army said Monday, after days of bloodshed around the militants' hideout including blasts claimed by the Islamic State group that killed six people.
Heavily-armed troops found four bodies when they forced their way into the five-storey compound in the northeastern city of Sylhet where the "well-trained" extremists had been holed up since Friday after taking dozens of civilians hostage. "All four were wearing suicide vests," Brigadier General Fakhrul Ahsan told reporters in Sylhet, adding one was a female fighter.
The gun battle began Friday, when commandos laid siege to the building as they tried to free 78 hostages. On Saturday, just as they were able to free the civilians, two powerful bombs ripped through a crowd of onlookers near the hideout, killing six people including two police officers and injuring about 50.
The intelligence chief of Bangladesh's elite counter-terror unit was among those critically injured Saturday's bombings. He was flown to Singapore for treatment.
The gunfight continued into Sunday, when two of the militants were killed after being spotted on the ground floor and shot. One of the suicide vests exploded during the shootout.
The army did not comment on their identities but police and Bangladesh's home minister said they were members of a homegrown militant outfit blamed for a wave of attacks in recent years.
IS took credit for Saturday's attack but the government and police rejected this claim.
Police suspect it was the work of a new faction of Jamayetul Mujahideen Bangladesh, a militant outfit which has killed more than 80 people in a series of attacks targeting mostly foreigners and religious minorities.
Full report at:
http://nation.com.pk/international/28-Mar-2017/bd-commando-shootout-kills-four-militants
-------
US has no objection to Pak-Afghan border fencing
Mar 28, 2017
ISLAMABAD - The United States has no objection to the Pak-Afghan border fencing aimed at stopping infiltration, The Nation has learnt.
Seniors officials at the foreign ministry said that Washington believed Pakistan had a right to secure its border but wanted Islamabad to take Kabul into confidence on the issue.
"In principle, the US has no objection to the border fencing. They are concerned about Pak-Afghan ties and wants us to engage in a dialogue process to defuse tension," a foreign ministry official said.
He said that Pakistan had told Washington and Kabul that border fencing was aimed at ensuring peace and was not a step against Afghanistan. "This is aimed at improving ties. When the infiltration will stop, we will definitely have better ties," the official elaborated.
Earlier, vice spokesperson for Afghan Interior Ministry Najeeb Danish said that border fencing was unacceptable.
Over the weekend, army chief Qamar Javed Bajwa announced that fence-installation had begun along Pakistan-Afghanistan border. General Bajwa said that fence-installation was aimed at securing borders, which was mutually beneficial for Pakistan and Afghanistan.
Recently, Pakistan-Afghanistan border at Chaman and Angoor Adda was sealed over escalated tensions. Islamabad demanded of the Afghan government to take action against terror outfits that were using its soil against Pakistan. The demand came as a fresh wave of terrorism hit Pakistan claiming more than 100 lives and wounding scores of others. The cities of Lahore, Quetta, Sehwan Sharif and Peshawar were hit by terrorists in the recent strikes.
Pakistan later reopened border crossings with Afghanistan as a goodwill gesture, but with a hope that Kabul would address its concerns about terrorists' sanctuaries along the border. This week, former president Asif Ali Zardari said that border fencing with Afghanistan would help eliminate cross-border terror. He expressed the hope that the move to begin border fencing would be welcomed by all those wanting an end to militancy and to the counter-productive allegations of cross-border incursions.
Another official at the Foreign Ministry said that Afghanistan could not stop Pakistan from fencing its side of the border.
"We are not going on their side, so they can't stop us. They can protest only if we encroach (upon) their area," he added.
Foreign Office Spokesperson Nafees Zakaria said that Pakistan had urged Afghanistan to stop the use of its soil by terrorists against Pakistan.
He said that Prime Minister Nawaz Sharif had decided to open the borders as a goodwill gesture. "It is expected that the Afghan government will take measures to address the reasons that led to the closure of the border," he added.
Zakaria said the recent meeting in London – between Adviser to Prime Minister on Foreign Affairs Sartaj Aziz and Afghan National Security Adviser Hanif Atmar – also focused on the need for an institutional mechanism for counter-terrorism cooperation, to which Afghan side agreed.
Last week, Afghan President Mohammad Ashraf Ghani had said "optional routes are available for Afghanistan" if the "enemies" blocked the trade route to the country. Ghani claimed that Afghanistan had become an inseparable part of the Central Asia. He maintained that the northern Kunduz, Mazar and Herat provinces will be connected via railway network that will eventually connect Iran and China via Afghanistan.
Full report at:
http://nation.com.pk/international/28-Mar-2017/us-has-no-objection-to-pak-afghan-border-fencing
-------
Curbing militancy: Turkey wants to work with Bangladesh
March 27, 2017
Turkish Prime Minister Binali Yıldırım today phoned his Bangladesh counterpart Sheikh Hasina and expressed his country's interest in working together to combat the menace of militancy.
During the 15-minute-long conversation this evening, the Turkish PM also expressed his grave concern over the Sylhet militant issue, sources at the Prime Minister's Office said.
The Turkish premier also conveyed his sympathy to the bereaved family members of the civilians who have died in the three-day-long army-led joint "Operation Twilight" at Atia Mahal located in Sylhet's Dakshin Surma upazila.
Reiterating her government's zero tolerance policy against terrorism, the Bangladesh premier said some derailed people are defaming Islam in the name of religion, reports the state run new agency, BSS.
"They are destroying Islamic culture and heritage in the name of religion," she said.
Sheikh Hasina also said Bangladesh condemned the last year's coup attempt in Turkey to overthrow the present government there.
"We always uphold democracy and peace," she said.
She invited the Turkish premier to visit Bangladesh at a convenient time.
At the outset of the conversation, the Turkish prime minister exchanged greetings with his Bangladesh counterpart and congratulated her on the occasion of the 47th Independence and National Day of Bangladesh.
Full report at:
http://www.thedailystar.net/country/curbing-militancy-turkey-wants-work-bangladesh-1382224
-------
Questions raised about defence deal with India
March 28, 2017
Foreign affairs and defence experts and academics at a discussion yesterday raised questions about defence collaboration with India and said a defence pact with the neighbouring country was not necessary as Bangladesh would not be benefited.
Any defence pact with India would encourage trust deficit and might also indirectly help spread of radicalisation, they told a roundtable on "New Dimension of Bangladesh-India relations: Problems and Prospects."
Leading Bangla daily Prothom Alo organised the roundtable ahead of the much talked about Prime Minister Sheikh Hasina's visit to India in early April, when the two countries are expected to strike dozens of deals, most importantly a defence pact for collaboration between the armed forces of the two countries.
Speaking at the discussion, they said the defence deal with India came up all on a sudden and none of the two countries disclosed anything about it. They said India was clearly imposing the pact on Bangladesh and urged the government not to sign the deal. They also said Bangladesh defence had developed on a certain system which was not at all compatible with the Indian system and its hardware. Any defence deal would create unnecessary and extra burden on our armed forces.
The discussants were sceptical of any positive breakthrough in the PM's upcoming visit and said they think India would not deliver on any promise, including the Teesta water sharing agreement, a core issue of Bangladesh.
Speakers were also highly critical of the border killing despite assurance from the highest level of the Indian government that it would be stopped.
Editor of Prothom Alo Matiur Rahman moderated the roundtable.
Former foreign secretaries Hemayetuddin and Touhid Hossain, former ambassador to China Ashfaqur Rahman, former high commissioner to Pakistan Shamim Ahmad, former diplomat Mahmud Hasan, defence expert Maj Gen (retd) ANM Muniruzzaman, former ambassador Maj Gen (retd) Jamil D Ahsan, Prof Amena Mohsin and Prof Lailufar Yasmin of International Relations Department of Dhaka University spoke on the occasion.
Taking part in the discussion, Ashfaqur Rahman said relations between Bangladesh and India have to be fair and equal but the problem is most Indians think Bangladesh would not have achieved independence without the support of India.
He said, "India, as our best friend and worst enemy, should ensure water flow in the lean period and not flood us during the rainy season."
Ashfaq said a tie with China was beneficial as "it provided duty-free market access of over 4,000 items and was not a hypocrite".
Maj Gen Muniruzzaman said Bangladesh's relations with India had become very imbalanced in various sectors, including trade, and that Bangladesh had not gained any thing from India with the only exception being the Land Boundary Agreement, in which India also benefited.
Expressing concern about the proposed defence deal, he said nobody knows anything about the pact and said it was essential to check each and every clause of the entire pact.
He said Indian defence hardware was not up to international standards and that all concerned must be cautious of defence purchases from India with the line of credit it offered.
Prof Amena Mohsin said India should know the needs of its friend and must not impose anything like a defence deal on Bangladesh because the proposed agreement would further increase trust deficit with India.
She apprehended that this defence deal would increase anti-Indian sentiment as well as increase radicalisation of people. "How can India be our friend if it fences us from all sides," she said, adding, "Bangladesh needs China for its defence development considering Bangladesh's strategic interest."
Shamim Ahmad said he did not see any prospect of the Teesta deal being signed during the upcoming visit of the PM, which would upset the people of Bangladesh and have a negative impact on their perception of India.
"If we are excellent friends and if our relationship is so deep, then why do we need a defence agreement? We need detailed discussions and need to know each and everything about the deal before it is signed. This deal is very suspicious … ," said Maj Gen Jamil.
Former diplomat Mahmud Hasan said Bangladesh needs to proceed with India very carefully, considering its geo-political situation. "One must remember that a Muslim country is surrounded by a non-Muslim country on three sides."
"The more agreements we sign with India, the more our sovereignty will be eroded. Bangladesh is not a threat to India, so why does it need a defence pact? … the aim of it is to isolate Bangladesh from China absolutely," he said, adding that India was taking advantage of the political division in Bangladesh and weakness as there is no visible opposition in parliament.
Full report at:
http://www.thedailystar.net/frontpage/defence-pact-not-necessary-1382413
-------
Deadly car bombing plot foiled by Afghan forces in Wardak
Mar 27 2017
A deadly car bombing plot was foiled by the Afghan security forces in central Maidan Wardak province of Afghanistan after a Vehicle-borne Improvised Explosive Device (VBIED) was discovered and defused.
The Ministry of Interior (MoI) said "Based on intelligence report, yesterday morning, Afghan National Police carried out a security operation in Sayed Abad district of Maidan Wardak province."
MoI further added that Afghan National Police has seized a vehicle packed with explosives during the operations..
According to MoI, Afghan National Police had prior information that a vehicle carrying explosives would enter the city.
"In a separate report, Afghan National Police detected a roadside bomb placed by enemies of peace and stability of Afghanistan in the main road of the Tokhchi village, Bagram district of Parwan province," MoI said, adding that the timely discovery of the explosives has foiled terror attacks and saved the city from an expected tragedy.
The anti-government armed militant groups including the Taliban insurgents have not commented regarding the reports so far.
The Taliban insurgents are actively operating in some of the restive districts of Maidan Wardak province where they often carry out insurgency activities.
Full report at:
http://www.khaama.com/deadly-car-bombing-plot-foiled-by-afghan-forces-in-wardak-02451
-------
MoD confirms arrest of senior Afghan army general over corruption
Mar 28 2017
A senior Afghan Army General and the former commander of the 215th Maiwand Corps of the Afghan National Army (ANA) forces in the South has been arrested on charges of corruption.
The Ministry of Defense (MoD) spokesman Dawlat Waziri confirmed that General Mohammad Moein Faqir has been arrested on charges of embezzlement of funds and misuse of the authority.
Waziri further added Gen. Faqir is in custody and his case will be forward to the judiciary institutions in the near future.
He said the Afghan army considers fight against corruption as one its main principles besides fighting the terrorism and defending the national sovereignty and freedom of the country.
This comes as the Afghan government has stepped up efforts to counter corruption, graft, misuse of authority, and trial of the former officials involved in major corruption cases.
The special tribunal formed to try the officials in corruption cases jailed four Afghan officials for 20 and 7 years each and a total fine of 1.86 billion Afghanis on charges of embezzlement.
The four officials belonging to the Ministry of Urban Development and Housing appeared before the special tribunal on Monday as their open public trial official kicked off in Kabul.
According to the court hearing, Mohammad Aminullah Qani, Head of Apartments Cohesion and Syed Aman Sadat, Manager Finance Apartments Cohesion were jailed for 20 years each on charges of the embezzlement and misuse of the authority.
The two former officials of the Ministry of the Urban Development and Housing were also fined 150 million Afghanis each.
Full report at:
http://www.khaama.com/mod-confirms-arrest-of-senior-afghan-army-general-over-corruption-02454
-------
Southeast Asia
Lawyer: Bill to end unilateral child conversion void, against Islam
Nawar Firdaws
March 28, 2017
PETALING JAYA: The bill that seeks to amend marriage and divorce laws to put a stop to unilateral child conversion may be null and void as it is against Islamic jurisprudence, says a senior lawyer.
Haniff Khatri Abdulla, who is also the legal aide to former prime minister Dr Mahathir Mohamad, said Islamic scriptures stated that when a parent converted to Islam, his or her child would automatically be a Muslim too if the child had yet to reach puberty.
He had earlier expressed support for former chief justice Ahmad Fairuz Abdul Halim's interpretation of the Federal Constitution, that any law which contradicted Islamic jurisprudence derived from the Quran and Sunnah was null and void.
"In Islam there is jurisprudence dealing with issues that arise when a person converts to Islam," he told FMT.
"These include disputes over what happens to the convert's previous union, to the child from that union, the religion of that child, the matrimonial and custodial rights.
"On that basis, any amendment to the Law Reform (Marriage and Divorce) Act 1976 (Act 164) which does not comply with Islamic jurisprudence, in that situation, would be null and void. That's what I've been arguing for the last 12, 13 years."
The amendment bill, which aims to help resolve interfaith custody conflicts between Muslim and non-Muslim parents, was tabled in Parliament last November. It followed several cases of custody battles that went to the courts when one spouse converted the child without the consent of the other, causing trauma for all parties, especially the young children.
Act 164, once amended and enforced, would let only the civil courts determine matters involving civil marriages, even if one spouse converts to Islam.
The amendments proposed under the Law Reform (Marriage and Divorce) (Amendment) Bill 2016 also includes a new Section (88A) which explicitly states that "both parties" in a civil marriage must agree to the conversion of a minor to Islam.
"Yes, I would say that the proposed amendments would be null and void under Article 4 of the Federal Constitution read together with Article 3, as it goes against Islamic jurisprudence."
"Even though the spouse originally is a non-Muslim, and the other spouse remains non-Muslim, it does not, on the face of it, interfere with the rights of the non-Muslims," he claimed.
Haniff Khatri added: "When one spouse converts to Islam, automatically the Islamic jurisprudence applies to that person because Islam is the supreme religion for the federation, and it is the courts' duty to apply Islamic jurisprudence on the Muslims."
However, Haniff added that as Islamic jurisprudence was "fair and just", it did provide the mother with the custody of her child, even if the mother was a non-Muslim and her former husband and her child were Muslim converts.
"So there is no issue of custody. The only issue is, therefore, the upbringing of the child which must be supervised, in my opinion, by the Islamic authorities.
"But you can place a condition whereby the relevant state Islamic council must be allowed access to the child at least once a month, to ensure the child has access to the necessary teachings of Islam," he said.
http://www.freemalaysiatoday.com/category/nation/2017/03/28/lawyer-bill-to-end-unilateral-child-conversion-void-against-islam/
-------
Ex-CJ agrees to advise Muslim NGO, says 'anything for Islam'
March 28, 2017
KUALA LUMPUR, March 28 ― A controversial ex-Chief Justice has agreed to act as an adviser to a group of Muslim-rights NGOs in their their bid to challenge the proposed amendment to the Law Reform (Marriage and Divorce) Act 1976 (Act 164).
Hardline Muslim group Ikatan Muslimin Malaysia (Isma) published a report on its website saying that Tun Ahmad Fairuz Abdul Halim had agreed to the request made by a coalition of Muslim NGOs.
The former judge came under attack recently after he said that the current English Common Law should be replaced with Shariah law.
"Of course, I am ready to do anything for Islam," he was quoted saying in a question and answer sessions at a forum titled 'Islam as the law of the land', last week.
He reportedly agreed to do so after being 'proposed' to by the chairman of the Ummat secretariat, Aminuddin Yahaya, who plans to challenge the amendments in court should if be passed in the current Dewan Rakyat sitting.
"If we were to bring this up in the court it is also not easy, from a technical angle, we are not that efficient so that it why I proposed that Tun become an advisor in this case, and PPMM become our representative to fight in court," Aminuddin told Ismaweb, Isma's official mouthpiece.
"This is a case that is big and serious. It has forced several other cases before this to be reviewed and all that. In fact, it revokes the rights of a Muslim. Not only is it not right from an Islamic angle, not right Constitutionally too," he added.
In the forum, several Muslim attendees had voiced their disagreement with the proposed amendments to Act 164, lamenting that it disregards the interest of Islam.
The three Acts set for amendments by the Attorney-General are; the Law Reform (Marriage and Divorce) Act 1976 (Act 164), Administration of Islamic Law (Federal Territories) Act 1993 (Act 505) and the Islamic Marriage Law (Federal Territories) Act 1984 (Act 303).
Full report at:
http://www.themalaymailonline.com/malaysia/article/ex-cj-to-back-ngos-legal-bid-to-oppose-lra-amendments
-------
Islamic body accuses Jokowi of promoting secularism
MARCH 28, 2017
JAKARTA — Indonesian President Joko "Jokowi" Widodo is facing a backlash following his call last week to Indonesians not to mix religion and politics. In response, critics, including the country's influential Indonesian Ulema Council (MUI), have dismissed Mr Widodo's remarks as promoting Western values that they consider anathema to the world's most populous Muslim nation.
Mr Widodo had warned on Friday in the light of rising sectarian tensions during the Jakarta gubernatorial election that politics and religion should be "well separated so that people could differentiate between political and religious matters".
"There should be no friction (between people of different races and religions). Don't insult others with racial and religious abuse," he added.
In response, the MUI said that the president was promoting Western values that were incompatible with Indonesia.
"That's secularism. We haven't yet convened a meeting to respond to it, but I am sure (all MUI members) will oppose and criticise it," MUI's deputy secretary-general Tengku Zulkarnain was quoted by The Jakarta Post as saying.
The MUI is Indonesia's top Islamic authority, and it comprises all Islamic groups in the country.
In 2005, the MUI issued an edict against liberalism, secularism and pluralism in Indonesia as these were considered Western ideals that had no place in Indonesian society.
And last year, MUI issued an edict stating that Jakarta Governor Basuki Tjahaja Purnama had committed blasphemy when he said in a speech that his rivals were tricking people into voting against him using a Quranic verse, which some interpret as meaning Muslims should only choose Muslim leaders.
Mr Purnama's case is a high-profile example of the religious intolerance that has become more common in Indonesia, where 90 per cent of its 255 million inhabitants are Muslim.
Mr Sohibul Iman, the chairman of the Prosperous Justice Party (PKS), toed the MUI line when he said that Mr Widodo's statement last week was made without considering Indonesia's history and Islamic nature, the Post reported.
Mr Iman stressed that Indonesia's road to independence from Dutch rule was guided by religion and that it was Islamic values underpinning the country.
"I suspect the statement reflects his incomprehension and his inability to manage diversity in this country," the PKS chairman observed, adding that Mr Widodo's call not to mix politics and religion could actually raise sectarian tensions in the country.
The Islamist PKS backs Mr Purnama's rival, Mr Anies Baswedan, in the capital's gubernatorial election.
Full report at:
http://www.todayonline.com/world/asia/islamic-body-accuses-jokowi-promoting-secularism
-------
Pre-election risks, spiked by extremism, rise in Indonesia
MARCH 27, 2017
When Islamic hardliners attacked a church under construction in Jakarta's eastern suburb of Bekasi a few days ago, police arrived in force and were eventually forced to fire teargas to disperse the mob. Not long ago, they would have stood idly by and done nothing.
Police links to groups like the Islamic Defenders Front (FPI), which have been used in the past as a proxy stand-over force to extract protection money from businesses, go back to the pre-democracy period under former dictator Suharto when Islam was otherwise repressed.
The difference now is police chief General Tito Karnavian, former head of the elite Detachment 88 counter-terrorism unit and widely viewed as an incorruptible professional. Hand-picked by President Joko Widodo last July, Karnavian will serve until 2023, a longer period in the job than any of his predecessors.
A Muslim himself, Karnavian has often warned against what he calls creeping Islamic extremism, which targets religious minorities and is used by terrorist groups as ideological justification for bombings and other violent acts.
"Unfortunately, democracy is being misused by certain groups to limit other people's freedoms. Take for instance those with Wahabi thinking," his spokesman noted earlier this year, referring to Saudi Arabia's ultra-conservative strand of Islam.
Karnavian has already laid down a marker by firing the previous West Java police chief for failing to protect Christians from a Muslim mob. This month he appointed the first Papuan, a Christian, to take charge of a district on Java.
Educated in New Zealand and Singapore, with a doctorate in terrorism-related strategic studies, the 52-year-old native of the Indonesian island of Sumatra has his work cut out as religious tensions rise ahead of the April 19 Jakarta gubernatorial election.
The showdown between incumbent governor Basuki "Ahok" Purnama, an ethnic-Chinese Christian currently on trial for blasphemy, and former education minister Anies Baswedan, who has the backing of a coalition of hardline and conservative Muslim groups, combines an explosive mix of populism and Islam.
The police have already told the National Movement to Support the Indonesian Ulema (GNPF-MUI) to drop its plan to "monitor" all 13,000 polling stations, a move Purnama's supporters fear will intimidate voters into casting their ballots along religious lines.
Led by hardline clerics, GNPF-MUI was the organizer of last year's mass demonstrations against Purnama over the blasphemy case, which two months later is still dragging on in court and could deprive him of the governorship even if he wins in April.
Looking back at past blasphemy cases, Azyumardi Azra, director of the State Islamic University's graduate school, believes Purnama will be jailed for two or three years – a sentence that would mean his running mate, Djarot Saiful Hidayat, assumes the post.
Purnama and Hidayat need to capture more than their share of the 17% of the electorate who voted for Agus Yudhoyono in the first round of voting on February 17, which saw the son of former president Susilo Bambang Yudhoyono knocked from the race.
Agus' poor performance in the television debates persuaded conservatives to throw their support behind Baswedan in the final fortnight rather than split their vote. In the end, Purnama won the first round 42.9% to 40%.
The April 19 run-off may be even tighter. Bahana Research, a financial services and research company, currently calls the race a tie, with Baswedan holding a 50.6% to 49.4% edge. That translates into 62,000 votes, virtually meaningless when 1.5 million voters are reportedly undecided.
New opinion polls are expected in early April, but with 70% of first-round voters saying they are satisfied to some degree with Purnama's work performance, it is clear that a large number allowed religious affiliation to triumph over more rational factors.
That can be put down to grassroots propaganda spread by conservative clerics in tight-knit Jakarta neighborhoods. Jakarta election officials have already reported a rise in intimidation ahead of the run-off, including a threat by some mosques not to pray over the dead whose families openly voted for Purnama.
In one widely-documented case condemned on social media, a mosque refused to accept the body of an elderly woman until her relatives had signed a statement pledging to vote for the Baswedan ticket on April 19.
Azar says such tactics are haram (forbidden), but it is an indication of the lengths hardline clerics will go to influence the election outcome. It will also be a test of the willingness of individual district police commanders to enforce the law.
Purnama appears to have received a boost with the recent meeting between Widodo, whose Indonesian Democratic Party for Struggle (PDI-P) is Purnama's leading political backer, and ex-president Yudhoyono, head of the fourth-ranked Democrat Party.
Relations between Widodo and Yudhoyono had been cool before they recently shared tea and cakes on the palace veranda, mostly over the former president's financial backing for last year's anti-Purnama rallies that Widodo suspected were also aimed at him and his bid for re-election in 2019.
Government sources say what drove the former president to heal the rift was his bitter falling-out with ex-presidential candidate Prabowo Subianto, leader of the Great Indonesia Movement Party (Gerindra) and chief sponsor of the Baswedan-Sandiaga Uno ticket.
The sources say Yudhoyono and Prabowo had originally agreed to a joint candidate to take on Purnama, but six hours before the deadline for candidates to register, the ex-president and all other Democrat Party leaders turned off their phones.
From then on, Prabowo is said to have directed all his energies to undermining Agus Yudhoyono's candidacy. Although he is not a devout Muslim himself, hailing from a family of Christians, Prabowo has been adept at playing the Islamic card for political effect over the years.
First, it was in his power struggle with then-armed forces chief Wiranto in the late 1990s and more recently as a partner-of-convenience with the Sharia-based Justice and Prosperity (PKS) and United Development (PPP) parties in the post-2014 parliamentary opposition.
All this suggests there is now a much stronger political undercurrent to the gubernatorial election, underlined by a slimmed-down and more energetic PDI-P leader Megawati Sukarnoputri, who has immersed herself in the details of the campaign.
Unhappy at the way Purnama was relying more on his own volunteer workers than the party machinery, the former president has divided the sprawling city into grids and assigned individual PDI-P lawmakers to take responsibility for each of them.
At the same time, Hidayat, a 54-year-old Javanese Muslim, has been given the task of taking the campaign to neighborhood mosques, often dressed in a sarong to connect better with local communities.
All this is a far cry from the 2014 presidential campaign when Megawati and key loyalists, resentful that a rural upstart was preferred over her, sat on their hands for weeks while Prabowo made up electoral ground over Widodo.
Prabowo's 2019 presidential ambitions may explain his choice of financier Sandiaga Uno as Baswedan's running mate. Sandiaga was his original choice as gubernatorial candidate, but when Baswedan was approached as a running mate, he persuaded the Gerindra leader he was better equipped for the main role.
Prabowo's businessman brother, Hashim Djojohadikusumo, took the 2014 defeat much harder than Prabowo, perhaps because he had reportedly sold most of his offshore oil and gas assets to fund the campaign. Since then, Hashim has told friends he is not prepared to fund another presidential bid.
Full report at:
http://www.atimes.com/article/pre-election-risks-spiked-extremism-rise-indonesia/
-------
Indonesian Muslims in Netherlands to get Mosque
Mar 28, 2017
London (ANTARA News) - The Indonesian Muslim community in the European Muslim Youth Union (PPME) of Al-Ikhlas, Amsterdam, has bought a building that will be developed into the Indonesian Cultural Center at Jan van Gentstraat 140, Badhoevedorp, the Netherlands.
The building has several spaces that will be used as a mosque named Al-Ikhlas, classrooms, offices, and workshop rooms, a member of the Indonesian Muslim community, Hansyah Iskandar, said in a statement received by Antara here on Monday.
The Al-Ikhlas mosque will be inaugurated by the Indonesian Minister of Religious Affairs Lukman Hakim Saifuddin.
"This moment had been eagerly awaited by the Indonesian community in Amsterdam and surrounding areas who have long wanted to have their own building to hold cultural and religious events," a founder of the European Muslim Youth Union, Muzayyin, said.
According to the chairman of the union, Rudi Kosasih, the mosque will be inaugurated by Saifuddin on the sidelines of his visit to the Netherlands to open an international conference on "Rethinking Indonesias Islam Nusantara" at Vrije Universiteit Amsterdam, organized by the Indonesian Islamic organization Nahdlatul Ulama (NU) of the Netherlands.
Saifuddin will be accompanied by few Indonesian ambassadors, namely Ambassador to the Netherlands I Gusti Wesaka Puja, Ambassador to Lebanon Ahmad Chozin Chumaidy, Ambassador to Saudi Arabia Agus Maftuh Abegebriel, Ambassador to Algeria Safira Machrusah, and Ambassador to Azerbaijan Husnan Fananie Bey.
Full report at:
http://www.antaranews.com/en/news/110178/indonesian-muslims-in-netherlands-to-get-mosque
-------
Halal… or not: The times Malaysians jumped the gun and sparked a food war
March 28, 2017
KUALA LUMPUR, March 28 — When it comes to what is "safe" to eat or drink, Muslims in Malaysia are pretty savvy.
Of late, though, there has been a greater reliance on the stamp of approval or certification from the Malaysian Islamic Development Department (Jakim) which sets the halal standards for restaurants even though the federal body has said that food without any official halal certification is not necessarily haram.
Despite this, there has been a number of times Malaysian Muslims have been quick to accuse a company of selling non-halal products, only to be proven wrong later on.
Here are the seven of the most controversial examples in recent times:
McDonald's
It would seem that many Malaysians have a love-hate relationship with this US fast-food chain. While it remains popular, there have also been persistent unfounded allegations against the company.
Some consumer groups have threatened to boycott McDonald's because of the parent company's alleged "Jewish" links, which they claim is reason enough for Muslims to stop supporting them.
Others have claimed some products, like the "Quarter Pounder" burger, are made from products that are not halal.
The rumours were so bad that Jakim was forced to intervene and issue a statement last June saying McDonald's Malaysia's halal status should not be questioned.
Interestingly, McDonald's Malaysia restricts customers from bringing cakes that are not halal-certified into its restaurants.
The chain added that although it has a policy barring outside food and drinks in its premises, it made allowances for birthday cakes served at parties held at its restaurants.
But it added that these must be demonstrably halal, either through certification or logo.
Now how's that for irony?
Meanwhile, McDonald's Corp said it has sold the franchise rights for its restaurants in Singapore and Malaysia to Saudi Arabia's Lionhorn Pte Ltd as part of a plan to move away from direct ownership in Asia.
Cadbury
In 2014, the Health Ministry detected pig DNA in samples taken from Cadbury's Dairy Milk Hazelnut and Dairy Milk Roast Almond products.
This, of course, caused an uproar among Muslim groups who called for a nationwide boycott on all Cadbury products, saying that a "jihad" needs to be waged against the confectionary giant for allegedly attempting to "weaken" Muslims in Malaysia.
But Jakim later said that an analysis by the Chemistry Department of samples of the two products taken directly from Cadbury's factory showed no traces of porcine contamination.
Jakim also pointed out that the Health Ministry's samples were not taken directly from Cadbury's factory, suggesting that this resulted in possible contamination and flawed test results.
In order to prove that the Cadbury products were halal, officials with the country's top Islamic authority even volunteered to eat the chocolate bars.
Toblerone, Daim chocolates
Last year, Jakim cautioned Muslims against consuming Toblerone and Daim chocolates as the two brands were not certified halal.
In a posting on its Facebook, the federal Islamic authority's halal hub division said both the Swiss and Swedish chocolates have not received halal certification from Jakim or other international certified bodies.
This then led to Mondelēz International, the manufacturer of Toblerone and Daim brand chocolates, clarifying that the ingredients used in the two products are suitable for Muslims.
The United States-based multinational food company said the two products do not have a halal logo since they are produced in countries that do not require such certification.
The company also said that Jakim has clarified that a food with no halal certification does not necessarily mean it is haram, or forbidden under the religion, and urged customers to refer to the ingredients list printed on its products' packaging.
Texas Chicken
The Texas Chicken kerfuffle began sometime in June 2015 when a Facebook user, Mista Bob Faishah wrote to Texas Chicken to find out more about its "Church's" brand dipping sauce" claiming that Muslims cannot eat food from "church brands."
In his post on Facebook, the man had also claimed that most of Texas Chicken's customers are Muslims, adding that he was "worried" about eating food with a label that says "Church's."
It is unclear what the man meant by "church brands", but he was likely referring to how Muslims may not eat food from churches. There is no such prohibition in Islam.
Texas Chicken Malaysia later responded to explain that "Church's Chicken" was the chain's name in the US, and they were not related to Christianity.
It further explained that some of its sauces were imported from the US, in which case these will carry the Church's Chicken branding.
Mista Bob subsequently wrote an online apology to Texas Chicken, adding that he still enjoyed their food with his favourite being its winglets.
'Eyeglass with candy' sweets
Just earlier this week, Jakim had to issue a statement refuting claims that "Eyeglass With Candy" sweets are not safe for Muslim consumption as it contained haram ingredients.
According to Jakim's Halal Hub Division, the sweets which are round and come in various colours are produced by Goodfood Industries Sdn Bhd which has valid halal certification.
"The misunderstanding arose when the consumer did not look clearly at the label which has the words 'free from pig's products and its derivatives'," it said in a statement.
Jakim also advised the public to be smart consumers and not spread rumours without checking.
Full report at:
http://www.themalaymailonline.com/malaysia/article/halal-or-not-the-times-malaysians-jumped-the-gun-and-sparked-a-food-war#sthash.w4Y6Yuwh.dpuf
-------
Arab World
Bomb factories, village command posts: ISIS rural fight
Mar 28, 2017
Islamic State fighters have pulled out of this deserted village on the Tigris river, which Iraqi commanders say was a crucial outpost defending their nearby stronghold of Mosul, but signs of their presence abound.
As the sounds of battle echo in the distance, the stinking corpses of dead militants line a path from a home they used as a command post down to the river bank.
An enormous cement plant nearby still contains dozens of rockets and booby-trapped car bombs, one of which killed sappers entering the facility on Sunday.
The fighting here is different from the intense street battles raging further to the southeast in Mosul, Islamic State's last major urban stronghold in Iraq. The U.S.-backed offensive to drive the group out of Mosul has recaptured most of the city.
But once operations there wind down, Iraqi forces will need to capture and clear rural centers like Badush as they move west toward the Syrian border and the next target, the Islamic State-held flashpoint town of Tal Afar.
Iraqi officers in Badush say that fight will be easier, but jihadists in the many villages IS still controls toward Tal Afar have kept troops occupied weeks after they seized this area, and made their presence felt.
"Badush was an important base for Daesh (Islamic State)," Lieutenant Colonel Ali Jassem of the 9th Armoured Division said, sitting outside Badush as artillery fired at distant targets.
"It's the starting point for the supply route from Mosul west to Tal Afar, and on toward Syria," where the group will soon have to defend its stronghold of Raqqa.
The strategic importance of outposts like Badush was clear from what the jihadists left as they withdrew.
A large three-dimensional battle map of the area, made of earth, sticks and string, takes up the entire living room of the house next to the river.
In its tiny garden, a deep shaft led down to an underground tunnel a military official said was nearly a mile (1.60 km) long and was used to ferry supplies or fighters undetected.
The Iraqi army and Shi'ite paramilitary forces recaptured Badush earlier this month, severing supply lines and trapping militants inside the city.
Advancing toward Tal Afar should be more straightforward, Colonel Adnan Jabbar said. "It's open ground, there are no tall buildings, no civilians to use as cover" in villages where local populations have fled as Islamic State's grip loosens, he said.
CAR BOMBS, BOOBY TRAPS
Nonetheless, fully securing the Badush area is taking weeks.
Islamic State fighters had two years to prepare their defenses in the villages west of Mosul and are now launching suicide attacks and leaving nasty surprises behind for troops.
"Sometimes there are 10 car bombs driven into the area in one day," Alaa Abboudi, a soldier, said.
Troops took precautions in capturing the cement factory, delaying the final assault for more than two weeks to let demoralized militants escape or come out and fight, so engineers could concentrate on de-mining it when they moved in, Jassem said.
They found no fighters inside, but accidentally triggered a booby-trapped car bomb which the militants had left, killing five soldiers, Staff Brigadier General Waleed Khalifa, deputy commander of the 9th Armoured Division said.
What they did find was several car bombs, 50 or 60 Katyusha rockets and many IEDs (improvised explosive devices), he said.
In the next village along, forces took fewer chances. A helicopter gunship fired up to 10 missiles at a brick warehouse also used to make explosives.
Of around 180 militants in Badush when Iraqi forces attacked, some were killed and some retreated to the factory before fleeing, an army media officer said. He did not now where they had headed.
http://nation.com.pk/international/28-Mar-2017/bomb-factories-village-command-posts-isis-rural-fight
-------
US-backed fighters battle IS around Syria town
Mar 28, 2017
BEIRUT - US-backed forces battled the Islamic State group around a key Syrian town Monday, after the capture of an airbase brought them closer to besieging the militants in their stronghold Raqa.
Backed by air power from the US-led coalition that has been bombing IS since 2014, the Syrian Democratic Forces (SDF) are laying the groundwork for an assault on the heart of the militants' so-called "caliphate". Operations are currently focused on the strategically important town of Tabqa on the Euphrates River, and the adjacent dam and military airport.
Late Sunday, Arab and Kurdish fighters from the SDF seized Tabqa airbase and pressed north towards the town itself. Rami Abdel Rahman, head of the Syrian Observatory for Human Rights monitor, said the SDF was fighting north of the airport to reinforce its positions. "The SDF could bring supplies to the airport in the coming days and use it as a launching point for additional military operations," he added, reporting "heavy strikes" in the area.
SDF spokesman Talal Sello told AFP that the alliance would "begin rehabilitating the airport after clearing out explosive devices" left behind by IS and said the base's main landing strip was seriously damaged.
Bolstered by air strikes and military advisers from the US-led coalition, SDF units are approaching Tabqa from the south via the airport and via the north near the dam.
On Monday, the SDF announced it would pause fighting near the IS-held structure to allow a technical team to work on it, after it was forced out of service the previous day.
"To ensure the integrity of the Tabqa dam... we have decided to stop operations for four hours beginning at 1:00 pm (1100 GMT)... to allow a team of engineers to enter the dam and carry out their work," said SDF spokeswoman Jihan Sheikh Ahmed.
A source inside the dam told AFP the teams would carry out repairs so the dam could resume operations.
The UN has warned that damage to the dam "could lead to massive scale flooding across Raqa and as far away as Deir Ezzor" province downstream to the southeast.
IS issued warnings through its propaganda agency Amaq that the dam "is threatened with collapse at any moment because of American strikes and a large rise in water levels".
The US-led coalition denied the dam had been "structurally damaged" and said it was "taking every precaution" to ensure its integrity.
The SDF launched its offensive for Raqa city in November, seizing around two thirds of the surrounding province, according to the Britain-based Observatory.
At their closest point, they are just eight kilometres (five miles) from the city, to the northeast.
But they are mostly further away, between 18 and 29 kilometres from Raqa.
- Rebels quit Homs district -
Syria's conflict began with protests against President Bashar al-Assad in 2011 but has since morphed into a brutal war pitting government forces, militants, rebels, and Kurds against each other.
In addition to the US-led coalition's bombing campaign, Russian warplanes are carrying out air strikes in support of Assad's government.
On Monday, a spokesman for the Islamist rebel group Ahrar al-Sham told AFP it shot down a "Russian helicopter" over a government-held town in the northwestern province of Latakia.
Full report at:
http://nation.com.pk/international/28-Mar-2017/us-backed-fighters-battle-is-around-syria-town
-------
Iraq forces launch renewed attack on Mosul's Old City
Mar 28, 2017
ARBIL - Iraqi forces renewed their assault Monday against militants in Mosul's Old City, after days in which the battle was overshadowed by reports of heavy civilian casualties from air strikes.
Iraqi forces began the massive operation to retake west Mosul from the Islamic State (IS) group last month and have recaptured a series of neighbourhoods, but the battle poses a major threat to civilians in the city.
Iraqi officials and witnesses have said air strikes took a devastating toll on civilians in the Mosul Al-Jadida area in recent days, but the number of victims - said by some to number in the hundreds - could not be independently confirmed. "Federal Police and Rapid Response Division units began to advance today on the southwestern axis of the Old City," Lieutenant General Raed Shakir Jawdat, the commander of the federal police, said in a statement.
Jawdat said that one of their targets is Faruq Street, which runs near the Al-Nuri mosque.
IS chief Abu Bakr al-Baghdadi made his only known public appearance at the mosque after IS seized Mosul in 2014, calling on Muslims to obey him.
Iraqi interior ministry forces have been operating in the area of the Old City for several weeks, but they have faced tough resistance and progress in the area has been slow. The Counter-Terrorism Service, which along with the Rapid Response Division is one of two special forces units spearheading west Mosul operations, has made faster progress in areas further west.
But the Old City - a warren of narrow streets and closely-spaced buildings in which the UN said 400,000 people still reside - poses unique challenges in terms of the difficulty of advancing as well as the danger to civilians.
Brigadier General Yahya Rasool, the spokesman for Iraq's Joint Operations Command, said that interior ministry units have deployed snipers to target IS militants using civilians as human shields.
However, Iraqi forces have also frequently fired mortar rounds and unguided rockets during the battle for Mosul - weapons that pose a much greater risk to residents of areas where fighting is taking place.
The battle has already taken a heavy toll on civilians, pushing more than 200,000 to flee in addition to others who have been killed or wounded in the fighting.
An AFP photographer saw civil defence personnel and volunteers digging through the remains of houses to recover the dead in Mosul al-Jadida on Sunday.
The remains of at least 12 people - among them women and children - were placed in blue plastic body bags.
Full report at:
http://nation.com.pk/international/28-Mar-2017/iraq-forces-launch-renewed-attack-on-mosul-s-old-city
-------
Syria: Over 250 Gunmen Leave Key District in Homs City
Mar 27, 2017
The sources said that the second group of gunmen and their family members that refused to lay down arms to receive amnesty from the Syrian government left al-Wa'er district.
The sources added that 254 militants and 464 of their family members left al-Wa'er.
In relevant developments in the province, hundreds of militants stationed in al-Wa'er surrendered themselves and their weapons to the Syrian authorities to return to normal life as the soldiers of President Bashar al-Assad continue to capture more regions across the country.
More than 500 militants from al-Wa'er neighborhood in Homs city were granted amnesty by the government within the framework of the reconciliation agreement that was reached in the neighborhood, paving the way for the return of all state services back into operation.
A source at the reconciliation committee said that the government granted amnesty to 545 militants from al-Wa'er so far.
Full report at:
http://en.farsnews.com/newstext.aspx?nn=13960107000790
-------
Sweida: ISIL Military Vehicles Sustain Major Damage in Syrian Army Attacks
Mar 27, 2017
The artillery units shelled ISIL's positions and movements in the hills of al-Shaheib and in Abar al-Dayaseh region, leaving more than ten militants dead and a number of their vehicles destroyed.
Earlier this month, the army troops identified and seized a huge arms and ammunition cargo moving towards terrorists' positions in the Eastern parts of Sweida after brief clashes.
Full report at:
http://en.farsnews.com/newstext.aspx?nn=13960107000815
-------
Syrian Army Continues to March on ISIL Positions in Eastern Aleppo
Mar 27, 2017
The army soldiers continued to attack ISIL's defense lines in Eastern Aleppo and drove terrorists out of the villages of Rasm Jeisi and Jafirah Qaral and Abu Maqbarah hill.
The ISIL lost a number of forces in the army attack, military sources said.
Also, the army soldiers and al-Baqir tribal fighters managed to impose full control of Jafirah, Abu Maqbarah Al-Kabeera and Abu Maqbarah Saghira villages after hours of clashes with ISIL terrorists on Sunday.
Full report at:
http://en.farsnews.com/newstext.aspx?nn=13960107000709
-------
Hama: Syrian Army Restores Security to Strategic Road to Homs
Mar 27, 2017
The army's artillery units and aircraft pounded terrorists' concentration centers and gatherings along a road connecting al-Salamiyah town in Southwestern Hama to Homs city.
Army reports said the terrorists suffered heavy casualties in the attack and retreated from their positions near the road.
An informed local source said that tens of terrorists were killed or wounded in the army attacks that resulted in restorating security to al-Salamiyah-Homs road.
Earlier reports on Monday said that the army forces engaged in heavy fighting with terrorists in the Northern countryside of Hama city and seized several points near the strategic town of Qomhana.
The army soldiers advanced against terrorists from Qomhana Cemetery to the small hilltop town of Tal (hill) al-Sammam, where they were confronted by the militants that retreated from the Western flank of Qomhana after brief clashes.
Following a short battle, the army men took full control of Tal Sammam and its three corresponding checkpoints, pushing further into the West of Qomhana in order to expand the buffer-zone around the town.
Full report at:
http://en.farsnews.com/newstext.aspx?nn=13960107000507
-------
Syrian Armed Forces Intensify Attacks on ISIL's Positions near Deir Ezzur City
Mar 27, 2017
The army's artillery units launched heavy artillery and air assaults on ISIL's concentration centers in areas near Deir Ezzur's airbase, al-Maqaber (cemetery) region, 137th regiment region and other areas South-West of the city, killing a number of terrorists and destroying two military vehicles.
The warplanes, for a second day in a row, pounded ISIL's movements in al-Maqaber region and Jonayd division region, the areas surrounding the city's military airport, power company, Tamin Brigade area, the brick and cement block manufacturing plants and workshops and al-Jafrah village, killing and injuring a number of terrorists and destroying a number of their positions and equipment.
Full report at:
http://en.farsnews.com/newstext.aspx?nn=13960107000461
-------
Syrian Soldiers Fend off Terrorists' Heavy Attack in Dara'a
Mar 27, 2017
The army soldiers engaged in fierce clashes with Al-Nusra in al-Manshiyeh neighborhood and warded off terrorists' attack, killing and wounding a number of them.
In the meantime, the army's artillery units targeted the positions and movements of Al-Nusra and destroyed an arms and munitions depot of the terrorists West of the city's post building.
Meanwhile, the army men attacked the position of a group of terrorists in the Northern direction of Dara'a city and killed or wounded most of the group's members.
Relevant reports said that the army troops engaged in fierce clashes with Al-Nusra Front on Sunday and managed to liberate a part of a key neighborhood in Dara'a city.
The army men attacked the positions of Al-Nusra and pushed the terrorists back from part of al-Manshiya neighborhood in the Southern city of Dara'a, RIA Novosti reported.
According to the news agency, currently, the government forces are conducting an intense battle against terrorists in Dara'a districts.
Full report at:
http://en.farsnews.com/newstext.aspx?nn=13960107000270
-------
Syrian opposition demands Assad's immediate exit from power
28 March 2017
In yet another call for President Bashar al-Assad's departure, the Syrian opposition said on Monday that the prerequisite was a key aspect of political settlement in the war-ravaged country.
Following a meeting with UN Secretary General's Deputy Special Envoy for Syria Ramzi Izz Eddin Ramzi, the chief negotiator for Syria's opposition High Negotiations Committee (HNC), Nasr al-Hariri, said: "Today, we continued to discuss the political period and a constitutional declaration that will be in effect in the transition period."
"All of this is reflected in our documents. Today, we had detailed discussions and I hope they will be continued in the coming days.
"We reiterated at the beginning of the meeting that the key aspect of political process is stepping down of Bashar Assad and all those who took part in the crimes against the Syrian people," he added.
The Syrian opposition rejects terrorism and is "fed up" with banned militants but they cannot be stopped if Syria continues evicting populations of besieged areas, opposition negotiator Basma Kodmani said on Sunday.
Full report at:
https://english.alarabiya.net/en/News/middle-east/2017/03/28/Syrian-opposition-demands-Assad-s-immediate-resignation-.html
-------
Iraqi forces launch renewed attack on Mosul's Old City
27 March 2017
Iraqi forces launched a renewed attack against militants in Mosul's Old City on Monday, a senior commander said.
The United Nations has warned that 400,000 people are "trapped" in the central Mosul area under siege-like conditions, as Iraqi forces battle ISIS for the city's west.
"Federal Police and Rapid Response Division units began to advance today on the southwestern axis of the Old City," Lieutenant General Raed Shakir Jawdat, the commander of the federal police, said in a statement.
Jawdat said that one of their targets is Faruq Street, which runs near the Al-Nuri mosque.
ISIS Chief Abu Bakr al-Baghdadi made his only known public appearance at the mosque after ISIS seized Mosul in 2014, calling on Muslims to obey him.
Iraqi forces have been operating in the area of the Old City for several weeks, but they have faced tough resistance and progress in the area has been slow.
ISIS overran large areas north and west of Baghdad in 2014, but Iraqi forces have since retaken much of the territory they lost.
Full report at:
https://english.alarabiya.net/en/News/middle-east/2017/03/27/Iraqi-forces-launch-renewed-attack-on-Mosul-s-old-city.html
-------
Africa
Kenyan troops kill 31 Shabab militants in Somalia's Jubbaland
Mar 27, 2017
Kenyan troops deployed in neighboring Somalia have carried out a raid on militants of the al-Shabab Takfiri group, killing at least 31 of them.
The Kenyan military said on Monday that two bases of al-Shabab militants in Somalia had been targeted in the raid, which took place a day earlier in the southern region of Jubbaland.
"Ground troops were supported by attack helicopters and artillery fire," the Kenya Defense Forces (KDF) said in a statement, adding that 11 AK-47 assault rifles, communications equipment and uniforms were captured from the militants during the raid.
Al-Shabab has yet to comment on the Kenyan military operation in the Baadhade district of Jubbaland. The al-Qaeda-affiliated militant group has a history of attacks on Kenyan soil, prompting the East African country to deploy thousands of its forces in Somalia as part of a regional mission to combat the militant group.
The African Union Mission in Somalia (AMISOM), which includes soldiers from Kenya, Djibouti, Uganda, Ethiopia, and some other African countries, has managed to curb al-Shabab's attacks and improve security in Somalia.
Kenya said in early March that its forces had killed some 60 suspected al-Shabab militants during a raid in southern Somalia.
The massive operation came after militants targeted a Kenyan military base in the town of Kulbiyow, near the Kenyan border. Kenyan authorities said that nine soldiers had lost their lives in the assault, while al-Shabab claimed it had killed at least 66 people.
Al-Shabab militants have been pushed out of all major urban strongholds and ports, but they continue to stage attacks on targets in smaller, more remote areas.
http://www.presstv.ir/Detail/2017/03/27/515782/Kenya-Somalia-Shabab-AMISOM
-------
Boko Haram kills three civilians in NE Nigeria for collaborating with military
Mar 27, 2017
The Boko Haram Takfiri terrorist group has raided a village in northeast Nigeria, killing three civilians on suspicion of collaborating with the military.
Nigerian security sources said on Monday that the fatalities had occurred two days earlier when the terrorists stormed Kalari Abdiye village, in Borno State.
"They singled out the four men whom they accused of collaboration with the military. They accused the men of passing information to the military," said a military officer, who spoke on condition of anonymity.
"The gunmen took the men outside the village where they slaughtered three of the men."
The officer said three locals had their throats cut while the fourth was left severely wounded.
Security sources said that the Takfiri terrorist group had also seized livestock from a nearby village without leaving any civilian casualties.
Nigeria has been at war with Boko Haram since the group launched militancy in Borno State about eight years ago. More than 20,000 people have been killed while the violence has displaced over 2.7 million others.
Full report at:
http://www.presstv.ir/Detail/2017/03/27/515805/Nigeria-Boko-Haram-Borno-Daesh-
-------
Africa: Students From Africa Disturbed by New US Visa Rule
27 MARCH 2017
By Kevin J. Kelley
New York — Specialists recruiting Africans and other international students for US universities are expressing growing concern over the potentially damaging impact of President Donald Trump's restrictive visa policies.
Most of the 250 higher education institutions in the US, which recently surveyed on their application trends, reported that the number of Africans seeking to study in the US was holding steady or slightly increasing.
At the same time, however, university admissions professionals are reporting troubling feedback from applicants in Africa, said Melanie Gottlieb, deputy director of the American Association of Collegiate Registrars and Admissions Officers.
Prospective students from Africa cite two main sources of worry about applying to attend US universities, Ms Gottlieb noted.
These involved fears of discrimination based on their Muslim faith and anxieties over US visa issues — processing, denials and the ability to travel once admitted to the US, she said.
Some US universities are citing a general concern among international students that Mr Trump's pending ban on travel to the US from six Muslim-majority countries could be expanded to include additional States.
INCREASED SCRUTINY
Those misgivings may well have intensified in the weeks since the survey was conducted.
Reuters reported on Friday that Secretary of State Rex Tillerson has ordered US embassies around the world to identify "populations warranting increased scrutiny" regarding their US visa applications.
This implementation of Mr Trump's promise to conduct "extreme vetting" of visa applicants could lead to systematic US profiling on the basis of religion or nationality, immigration advocates warn. Applicants with no links to terrorist organisations may be denied US visas as a result of the Trump administration's broad focus on "populations".
The number of Kenyans studying in the US had been dropping steadily in the decade prior to Mr Trump's election victory. The total may shrink even further in the coming years due to heightened difficulties in obtaining US visas and Kenyans' suspicions that they may not be welcome in Mr Trump's America.
About 3,000 Kenyans were enrolled in US universities and graduate schools in the 2014/2015 academic year, compared to the more than 7,000 Kenyans studying in the US in 2004/2005. Kenya was once a leading source of international students in the US. Luminaries such as Barack Obama Snr, Wangari Maathai and Uhuru Kenyatta earned degrees from US institutions.
DROP IN SHILLING
But Kenya now sends far fewer students to the US than does Nigeria, which has nearly 10,000 of its nationals currently enrolled in US universities.
The causes of the fall-off in the number of Kenyan students are said to include the drop in the shilling's exchange rate against the dollar and the emergence of academic alternatives in Kenya.
Full report at:
http://allafrica.com/stories/201703270681.html
-------
Cameroon: Journalist Testifies He Is Not a Boko Haram Accomplice
27 MARCH 2017
By Moki Edwin Kindzeka
A court in Cameroon has again adjourned a trial for a foreign reporter accused nearly two years ago of "complicity" with the Boko Haram terrorist group.
Ahmed Abba of Radio France International's Hausa language service says he has done nothing wrong, but he has been in custody for nearly five months and faces a death sentence if convicted.
His hearing Friday at the Yaounde military court was his first since November. During cross-examination to find out how he got videos and photos purportedly from Boko Haram, Abba said he downloaded some from YouTube and Facebook, while others were being shared on other social media.
Asked how he got information security services had discovered on his phone announcing planned attacks that never came to pass, the RFI reporter said all the information he had was shared on social media.
Journalist threatened, too
Abba questioned why the court did not believe him, adding that he also was threatened by Boko Haram, which might have gotten his telephone number from his Facebook page.
Cameroon judicial police said they interpreted discussions allegedly conducted between Boko Haram members and Abba speaking in the Hausa language. One of the messages was about a planned airplane attack, and another, which Abba claimed was from a friend, invited him to pray and fast during the Muslim holy month of Ramadan.
Defense witness Yves Rocle, head of the Africa news section of RFI, testified that Abba had been an objective reporter since joining the organizattion.
Defense counsel Charles Tchoungang said the cross-examination sounded intimidating, but he was happy the trial had at last begun. He said nobody knew the whereabouts of Abba three months after he was arbitrarily arrested.
Documents required
The case was adjourned until April 6 to enable RFI to provide written documents that Abba is its correspondent in Cameroon. The court said verbal testimony from Rocle was not enough.
Full report at:
http://allafrica.com/stories/201703270772.html
-------
Sudan: President Al-Bashir Affirms Importance for Islamic and Arab Unity to Overcome Challenges
26 MARCH 2017
Khartoum — President of the Republic, Field Marshal Omer Al-Bashir, has affirmed the importance of Islamic an Arab unity to overcome the challenges.
This came at his meeting Sunday at the Guest House with the Imam of Prophet's Mosque, Sheikh Salah bin Mohamed Al-Budair, in the presence of Minister of Culture, Al-Tayeb Hassan Badawi, Chairman of Sudan Scholars and the Secretary General of Islamic Figh Complex, Dr. Isam Ahmed Al-Bashir, the Ambassador of Saudi Arabia to Sudan and the Chairman of the Secretariat General of the Project of Sennar the Capital of Islamic Culture, Prof. Yousef Fadl.
He lauded the Custodian of the Two Holy Mosques for the efforts he exerted to strengthen the Islamic and Arab relations, especially his role in consoldating the Sudanese - Saudi relations.
The Minister of Culture, Al-Tayeb Hassan Badawi, said in a press statement following the meeting that President Al-Bashir has appreciated the distinguished relations between Sudan and Saudi Arabia, welcoming the visit of the Imam of the Prophet's Mosque to Sudan.
Full report at:
http://allafrica.com/stories/201703270276.html
-------
Pakistan and South Africa sign memorandum-of-understanding for defence cooperation
Mar 27, 2017
Bilal Khan -
Pakistan and South Africa signed a memorandum-of-understanding (MoU) on Monday, March 27 entailing an increase in bilateral defence cooperation, especially in terms of defence industry collaboration, training and armament procurement.
The MoU – "Defence and Defence Industrial Cooperation" – was signed during an official four-day visit to Pakistan by South Africa's Minister of Defence and Military Veterans, Nosiviwe Mapisa-Nqakula. The visit will conclude on Wednesday, March 29.
Minister Mapisa-Nqakula met Pakistan's Minister of Defence (MoD) Khawaja Asif, Minister of Defence Production (MoDP) Rana Tanveer Hussain, Chief of Army Staff Gen. Qamar Javed Bajwa, and other high-level Pakistani defence officials. The South African National Defence Force's (SANDF) Chief of Staff General Solly Zacharia Shoke was also the chief guest at the annual Pakistan Day Parade on March 23.
As per the press statement released by the Government of Pakistan, the MoU encompasses many areas, among them a call to explore opportunities for collaboration between Heavy Industries Taxila (HIT) and Pakistan Aeronautical Complex (PAC) with Denel Land Systems and Denel Aviation, respectively. Contact between South Africa and Pakistan's respective state-owned vendors have already been established.
Citing the South African Ministry of Defence and Military Veterans, Gulf News reports that the MoU also involves the "acquisition of defence equipment as well as cooperation in Research and Development (R&D), Transfer of Technology, Co-production/Joint Ventures in public as well as private sector."
In September 2016, South Africa and Pakistan officially committed to enhancing bilateral defence ties. At the time, South Africa's defence minister, Ms. Mapisa-Nqakula, stated that South Africa will establish a Defence Attaché office in Islamabad by the end of 2016.
Notes & Comments:
This could be a significant agreement considering it has been signed at the intergovernmental level, which should green-light commercial exchanges and technical collaboration between both countries moving forward. South Africa has a strong product portfolio comprising of surface-to-air missiles, air-to-air missiles, air-to-ground munitions, artillery, armoured vehicles and competency in critical technology, such as dual-pulse rocket motors.
The combination of modern technology and accessible pricing (especially in ZAR) should position South Africa's defence goods favourably against competing Western solutions, especially in a cost-sensitive market such as Pakistan.
While the MoU is a first, Pakistan had procured South African defence equipment in the past, especially in the late 1990s and early 2000s. The most noteworthy of these were the sale – with local licensed production – of Raptor-I and Raptor-II stand-off range glide bombs. Deployed from the Mirage III/5, these formed the nucleus of the PAF's long-range strike capabilities, which now include other stand-off range munitions, including the Ra'ad air-launched cruise missile (ALCM), which analysts believe benefited greatly from South African expertise.
The Denel Land Systems T5-52 self-propelled wheeled howitzer and Denel Dynamics A-Darter air-to-air missile are (or at least were) of interest to the Pakistan Army and Pakistan Air Force (PAF), respectively. The Denel Dynamics Umkhonto EIR could also interest the Pakistan Navy for upgrading the Zulfiqar-class (F-22P) frigates and/or for new surface warships. The Pakistan Army's recurring need for light armoured vehicles, such as mine-resistant ambush-protected (MRAP) vehicles, may also be of interest to Denel Group and Paramount Group.
Full report at:
http://quwa.org/2017/03/27/pakistan-south-africa-sign-memorandum-understanding-defence-cooperation/
-------
URL: https://www.newageislam.com/islamic-world-news/aimplb-sc-declaring-triple-talaq/d/110563
New Age Islam, Islam Online, Islamic Website, African Muslim News, Arab World News, South Asia News, Indian Muslim News, World Muslim News, Women in Islam, Islamic Feminism, Arab Women, Women In Arab, Islamophobia in America, Muslim Women in West, Islam Women and Feminism