New Age Islam News Bureau
15 Dec 2018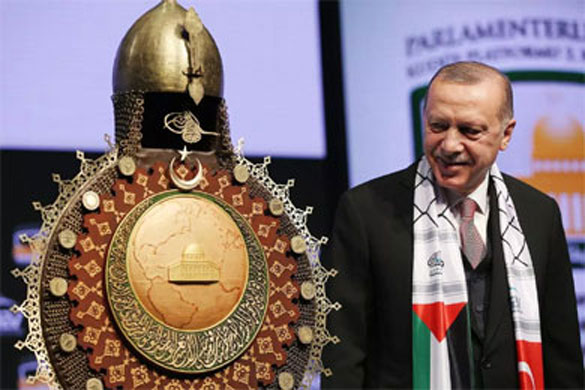 Turkish President Recep Tayyip Erdogan looks at his gift given by Justice and Development (AK) Party's Istanbul Deputy Nureddin Nebati (not seen) during the 2nd Conference of Inter-parliamentary platform on Jerusalem in Istanbul, Turkey on December 14, 2018. ( Murat Kula - Anadolu Agency )
------
• AIMPLB to Approach Supreme Court If Ordinance on Triple Talaq Is Approved By Parliament
• Human Traffickers in Bangladesh Prey on Desperate Rohingya
• Dr M: Islamic Arts Museum Reflection of Islam's Highs and Lows
• Nigeria's Military Accuses UNICEF of Training 'Spies' For Boko Haram
• JUI-F leader, Mufti Kifayatullah, Held for 'Provocative' Speech
• Erdogan: Israel Tries To Dim Islam's Traces in Jerusalem
India
• AIMPLB to Approach Supreme Court If Ordinance on Triple Talaq Is Approved By Parliament
• Meghalaya: Days After 'Islamic Country' Judgment, Judge Says No Political Dreams
• J&K: Encounter breaks out between security forces, militants in Pulwama
• 23 Indian passports go missing from Pakistan high commission, spark alarm
• A Muslim Family Endears Itself to Temple Elephants
--------
South Asia
• Human Traffickers in Bangladesh Prey on Desperate Rohingya
• Offensive against Taliban Kills At Least 20: Official
• At least 84 injured in nationwide violence
• Myanmar can't just deny reality
• Taliban executioner killed in U.S. drone strike in Zabul province
--------
Southeast Asia
• Dr M: Islamic Arts Museum Reflection of Islam's Highs and Lows
• Race and Religion - When 'New Malaysia' Faces Off Against Old Forces
• Bridging economic gap crucial for harmony, says Mat Sabu
• No more giving special haj quota to ministers or MPs
• Aceh Whips Men for Sharia-Banned Gambling
--------
Africa
• Nigeria's Military Accuses UNICEF of Training 'Spies' For Boko Haram
• King Salman Oversees Signing Of Agreements with Tunisia
• AU force in Somalia says not involved in ex-al-Shabab arrest
• Nigeria buries 23 soldiers killed in Boko Haram attack
• Nigerian soldiers battling Boko Haram in Borno community
--------
Pakistan
• JUI-F leader, Mufti Kifayatullah, Held for 'Provocative' Speech
• Pakistan Sentences Christian Brothers to Death for Online Blasphemy
• Pakistan Arranged US, Taliban Talks, Says PM Imran Khan
• Buddhist-Era Site's Archaeological Exploration Likely to Begin Next Month in Dera Ghazi Khan District
• Six FC men martyred, 14 injured in Kech attack
• Maulana Tariq Jameel appeals nation to support PM Imran Khan
• Four terrorists killed, 6 security personnel martyred in Turbat IBO: ISPR
• Five years on, massacre of schoolchildren continues to haunt Pakistan's Peshawar
--------
Mideast
• Erdogan: Israel Tries To Dim Islam's Traces in Jerusalem
• Australia Formally Recognizes West Jerusalem as Israel's Capital
• Israel arrests 40 Palestinians after West Bank attack
• Report: Turkey orders arrest of 219 soldiers in Gulen probe
• Israeli forces kill Palestinian, injure dozens
• US-backed Kurdish militants slam Turkish threats as 'declaration of war'
• Israeli soldier, hit with rock, seriously wounded near Ramallah
--------
Arab World
• Nobel Laureate Murad to Build Hospital with Prize Money in Iraq
• Riyadh Committed to Political Solution That Will Guarantee Yemen's Stability
• UN Chief: Saudi Crown Prince aided Yemeni truce
• Between Saudi Arabia, US and China, lone struggle for Canada's foreign policy
• Iraq summons Turkish envoy to protest latest airstrikes
• Daesh inmates suspiciously slip free from Kurdish-controlled prison
• Saudi Arabia urges Houthis to back political solution in Yemen
• Lebanese wary as Israel destroys Hezbollah border tunnels
• US-backed forces expel Daesh from east Syria hub
--------
North America
• US Asks Saudi, UAE to Pay $331mn More for Yemen War Aerial Refuelling
• Truce Agreement Victory for Yemeni Nation: Abdulsalam
• US terrorism policies have increased anti-American sentiments among Muslims
• War on jihadists will not end unless West tackles root causes: Experts
• Jamaat threat to B'desh's democracy, progress: US congressman
--------
Europe
• Britain's Royal Air Force Gets Its First Sikh, Muslim 'Padres'
• Muslim Brotherhood More Dangerous To Germany than ISIS, Qaeda, Says Report
• Main Suspect in Strasbourg Attack Killed in Gun Battle With Police: Officials
• Strasbourg reopens Christmas market after attacker shot dead
• Briton flees Turkey over 'terrorism' jail term
Compiled by New Age Islam News Bureau
URL: https://www.newageislam.com/islamic-world-news/aimplb-approach-supreme-court-if/d/117170
--------
AIMPLB to approach Supreme Court if ordinance on triple talaq is approved by Parliament
December 15, 2018
Nelanshu Shukla
The All India Muslim Personal Law Board (AIMPLB) is likely to approach the Supreme Court if ordinance brought by the Narendra Modi-led government at the Centre making instant triple talaq a punishable offence is approved by both the Houses of the Parliament.
"In the upcoming meeting of the board members on December 16th in Lucknow the ordinance brought by the central govt making instant triple talaq cognizable will also be discussed. If the ordinance is cleared by the Parliament then the board is likely to approach the Supreme Court. The final decision on this issue will be taken in the meeting on Sunday," AIMPLB member Jafaryab Jilani said.
"We are against instant triple talaq but the 3 years punishment in the ordinance brought by this government was not required. There are a lot of women who also want to leave their husband immediately and this can easily be misused."
Jilani said during its meeting the state capital will also discuss the construction of Ram temple issue in Ayodhya. Jilani said the AIMPLB will also approach the apex court if the BJP government brings a legislation in Parliament on Ram Temple construction.
"Our legal team will be submitting a report on the Ayodhya dispute and a discussion will take place. If the govt brings a legislation in Parliament of Ram Temple construction then we are going to approach the apex court against it," Jilani said
Jilani said the AIMPLB will also discuss Darul Qaza ( shariat courts) and Sabrimala issue in the meeting in Uttar Pradesh's Lucknow.
"Misinformation is being spread about Darul Qaza. It started in 1993 and there are more than 16 centres in UP. The Sabarimala verdict will also be discussed which concerns religious freedom. The shariat issues are also related to it," said the senior member of the AIMPLB.
Reacting on the AIMPLB meeting, Uttar Pradesh BJP spokesperson Rakesh Tripathi said, "The AIMPLB is just an NGO and has no right to frame any law. There is only one constitution in the country which covers every citizen of the country. The instant triple talaq has been made a punishable offence in order to protect the Muslim women from such draconian practice."
https://www.indiatoday.in/india/story/aimplb-to-approach-supreme-court-if-ordinance-on-triple-talaq-is-approved-by-parliament-1409984-2018-12-15
--------
Human traffickers in Bangladesh prey on desperate Rohingya
December 14, 2018
Bangladeshi authorities are cracking down on human traffickers preying on Rohingya refugees desperate to find a better life elsewhere in Southeast Asia.
In the past two months, Bangladeshi authorities have stopped 80 Rohingya refugees from boarding trafficking boats in the Cox's Bazar district.
The boats were to take the refugees to Malaysia.
Nahid Adnan, assistant police superintendent of Ukhiya circle in Cox's Bazar, told ucanews.com they have systems in place to deal with traffickers during the 'sailing season' that follows the monsoon's end.
"We have a comprehensive surveillance system in place at 32 refugee camps with police, border guards and military to thwart any criminal activity including trafficking," said Adnan.
"However, traffickers have been trying to evade our monitoring and lure Rohingya to get into their boats," he said.
Some traffickers have been arrested, he said.
Cox's Bazar has over 30 refugee camps that shelter more than one million Rohingya Muslims from Myanmar's Rakhine State. Most of them fled to the camps to avoid deadly crackdowns carried out by the Myanmar military and local militia in 2016 and 2017.
Despite the relative peace and security Rohingya have in Bangladeshi camps, many look for better prospects elsewhere, namely in more wealthy Southeast Asian countries such as Malaysia and Indonesia.
"Rohingya are landless and stateless people, but they yearn for better lives. They have an uncertain future," Abu Morshed Chowdhury, an anti-trafficking campaigner in Cox's Bazar told ucanews.com. "So, traffickers lure them with good jobs and marriage prospects for women," Chowdhury said.
In battling human trafficking, aid groups have engaged with Rohingya community leaders, said James Gomes, regional director of Caritas Chittagong.
"We have been keeping in touch with Rohingya mazis (block leaders)," Gomes told ucanews.com. "We know of some unidentified people making various offers to Rohingya to entice them out of the camps," he said.
Upcoming national elections in Bangladesh could put more pressure on law enforcers by diverting their attention from combating trafficking gangs, he said.
Rohingya refugees say they are aware about the risks that human trafficking poses.
"Some of my friends are interested to move to Malaysia by boat, and I know they have to pay 50,000 Taka (US $600) to traffickers to make that happen," Muhammad Ali, 25, a father of two from Kutupalong refugee camp told ucanews.com.
Alim Hossain, 20, from Balukhali refugee camp said he is considering going to Malaysia.
"My elder brother and two maternal uncles are in Malaysia and they told me they would help get there," Hossain told ucanews.com.
"I am interested because there is no guarantee that any Rohingya will be able to return to Myanmar and there is no chance for a better life for refugees here," he said.
Meanwhile in Myanmar, displaced Rohingya have also been risking their lives to head to Malaysia on trafficking boats since October.
In 2015, Malaysia and Thailand launched crackdown on traffickers following the discovery of mass graves of trafficking victims on the Thai-Malay border.
The crackdown forced a collapse of regional trafficking networks, resulting in dozens of boats full of desperate Rohingya and Bangladeshis being left adrift on the Andaman Sea.
https://www.ucanews.com/news/human-traffickers-in-bangladesh-prey-on-desperate-rohingya/84119
--------
Dr M: Islamic Arts Museum reflection of Islam's highs and lows
14 December 2018
KUALA LUMPUR, Dec 14 — Marking the 20th anniversary of the Islamic Arts Museum Malaysia (IAMM), Tun Dr Mahathir Mohamad said it stands as a reminder of the achievements of the Muslims and the Islamic civilisation as well as how they could slip down the road.
The prime minister noted that in setting up the museum, it was not merely to glorify the Islamic past or intended to look down at other civilisations.
He said exhibitions at the museum should serve as a reminder of how Islam reached the pinnacle of its glory and became a global phenomenon and that, at its height, Islamic knowledge and sciences provided the light to the darkness in the western world.
"These exhibitions should also remind us of how Muslims have deviated and slipped off the track, withdrawing into a cocoon in the name of the religion.
"Muslims should then reflect on the works and artefacts that the worldly attitude and the thirst for all types of knowledge and sciences that made the religion and Muslims great," he said when addressing IAMM's anniversary celebration as well as the 40th anniversary of the Albukhary Foundation, at the museum here today.
Dr Mahathir admitted that he had a personal attachment to the museum, having kept a close watch on its development — from its ground-breaking day in 1997 to its launch in 1998.
He said the museum's management had proven to have a knack for identifying important contributions of Muslim scholars, craftsmen and patrons, and their innovations in exhibiting the artefacts and works had attracted locals and people from abroad.
"The Islamic Arts Museum Malaysia has indeed carved a name alongside other renowned and earlier established Islamic museums and galleries around the world, becoming an educational hub for researchers and a haven for art lovers and enthusiasts," he said.
In no small way, he said, the museum had been able to share with the world the beauty of Islamic arts and culture, provided insights on how Islam was spread, its philosophy, its contribution in science and technology, medicine, mathematics and other contributions to global intellectualism.
"In essence, this museum has managed to provide a reflection of Islam as 'ad-deen', a way of life and what made it able to spread and embraced by different citizens of the world," Dr Mahathir said.
The prime minister said the government was committed to supporting the endeavours pursued by local museums, including the IAMM.
"I'm aware of the difficulties faced by the curators in sourcing exhibition materials, especially when they involve other nations and foreign authorities. Wherever possible, the government is prepared to assist," he said.
At today's event, Dr Mahathir also opened the Albukhary Foundation Scholar's Library at the museum which has a collection of more than 20,000 volumes of books and journals sourced from all over the world.
Coming in different languages and being multi-disciplinary, the volumes cover the fields of Islamic arts and architecture, history, religion, bibliography, library science, language and literature, as well as with an emphasis on philosophy, science, medicine, sociology, anthropology, military sciences and technology.
The new facility also has a dedicated section of rare and limited-edition publications with printed books that go as far back as the as early 17th century.
"It is, I am also told, to be the largest and most comprehensive museum library in South-east Asia and its primary mission is to support the study and research of the museum's collection," he said. — Bernama
https://www.malaymail.com/s/1703201/dr-m-islamic-arts-museum-reflection-of-islams-highs-and-lows
--------
Nigeria's military accuses UNICEF of training 'spies' for Boko Haram
Dec 15, 2018
The Nigerian military has suspended the activities of the United Nations International Children's Emergency Fund (UNICEF) in the African country's ravaged northeast, claiming that the staff of the agency has purportedly been spying for the Takfiri Boko Haram terrorist group.
In a statement on Friday, the military said that UNICEF had held workshops in the northeast city of Maiduguri on December 12 and 13 training people for "clandestine" activities that are "sabotaging" counter-terrorism operations conducted by the army against the terror group.
It further claimed that the agency had been training people to sabotage the anti-terror efforts "through spurious and unconfirmed allegations" of human rights abuses committed by the Nigerian troops.
Since 2009, terrorists of the Boko Haram outfit have killed at least 27,000 people and made over 2.6 million others homeless. In 2015, Boko Haram pledged allegiance to the Takfiri Daesh terrorist group, which is mainly active in the Middle East.
The Nigerian army carried out multiple operations against the terror group last year and inflicted a series of major defeats against it and even cleared vast swaths of land once under the control of terrorists. However, Takfiri militants persist as a main security issue in the country, triggering a humanitarian crisis in the wider Lake Chad region.
Attacks by the once-weakened Boko Haram group seem to have gained momentum in the country's northeast in 2018, pushing into towns and villages in the restive Borno and Yobe states northeast of the country it had previously lost to the Nigerian military. Maiduguri is the capital city of Borno.
"There is credible information that some of them are indulging in unwholesome practices that could further jeopardize the fight against terrorism and insurgency, as they train and deploy spies who support the insurgents and their sympathizers," said the press release signed by Colonel Onyema Nwachukwu.
"Consequently, the Theatre Command Operation LAFIYA DOLE is suspending the operations of UNICEF in the North East theatre until further notice," he added.
Boko Haram's brutal militancy in northeastern Nigeria has also spread to neighboring countries such as Cameroon, Chad and Niger, leaving 1.8 million people homeless and millions dependent on aid for survival.
UNICEF had "abdicated its primary duty of catering for the wellbeing of children and the vulnerable ... and now engaged in training selected persons for clandestine activities to continue sabotaging the counter terrorism and counter insurgency efforts of troops through spurious and unconfirmed allegations ... on alleged violations of human rights by the military," Nwachukwu further alleged.
Shortly after the statement, an unnamed UNICEF spokeswoman told Reuters that the organization was working to verify the information.
Some human rights organization groups have accused the Nigerian military of committing human rights violations and war crimes and killing civilians during its raids against positions held by the terror group, prompting the army to threaten to take legal action against such organizations and groups for publishing unofficial death tolls.
The Nigerian army strongly dismisses the allegations.
Meanwhile, Amnesty International denounced the suspension and called on Nigeria to reverse the decision, describing the military's allegation against UNICEF as "an absurd charge."
"We see the suspension of UNICEF as part of a wider drive to intimidate international humanitarian and human rights organizations who are working to save lives in this devastating conflict," said Amnesty's Nigeria director Osai Ojigho.
She also noted that the suspension would in fact "deprive those whose lives have been devastated by the Boko Haram conflict from receiving much-needed humanitarian assistance."
https://www.presstv.com/Detail/2018/12/15/582944/Nigeria-military-UNICEF-Maiduguri-Boko-Haram
--------
JUI-F leader, Mufti Kifayatullah, Held for 'Provocative' Speech
December 15, 2018
TAXILA: Police on Friday arrested senior Jamiat Ulema-i-Islam (JUI-F) leader Mufti Kifayatullah for allegedly delivering a provocative speech.
Mufti Kifayatullah — formerly leader of the opposition in the Khyber Pakhtunkhwa Assembly — was taken into custody after he attended a religious conference organised by Wifaqul Madaris Al-Arabia in the Hazro area at Nartopa village.
According to police, the mufti was arrested in a two-year-old case pertaining to hate speech. He said Mr Kifayatullah was arrested by a team comprising personnel of the police and counterterrorism department after he completed his address at the conference and was taken to the Hazro police station.
The JUI-F leader was produced before an antiterrorism court and sent to Attock jail after the court scheduled the hearing for Dec 17.
Police said a new case had also been registered against Mufti Kifayatullah for delivering another provocative speech.
https://www.dawn.com/news/1451550/jui-f-leader-held-for-provocative-speech
--------
Erdogan: Israel tries to dim Islam's traces in Jerusalem
December 14, 2018
Turkish president on Friday accused Israel of trying to deliberately wipe out traces of Islamic heritage in Jerusalem over the last 50 years, Anadolu Agency reports.
"You [Israel] will not be able to wipe out," Recep Tayyip Erdogan said at an Inter-parliamentary platform on Jerusalem in Istanbul.
You are deceiving yourself if you think you can destroy Jerusalem's spiritual identity by moving a few embassies and consulates there, Erdogan said.
Tension has been running high in the occupied Palestinian territories since last year when U.S. President Donald Trump unilaterally recognized Jerusalem as the capital of Israel.
Jerusalem remains at the heart of the Israel-Palestine conflict, with Palestinians hoping that East Jerusalem — now occupied by Israel — might eventually serve as the capital of a future Palestinian state.
Erdogan said criticizing the misconducts of Israel never means anti-Semitism, adding: "Some European countries side with the US and do not raise voice against Israeli occupation policies due to shameful scenes from World War II."
Bombing children playing ball along the coast of Gaza is a crime against humanity as bad as the Holocaust, he said.
The Turkish president said Jerusalem is not merely a cause of a handful of Muslims in Palestine, but it is "our common cause."
Erdogan thanked "heroes" who uphold the honor of Jerusalem and humanity and protect the dignity of the Muslim Ummah against occupiers.
Palestinians must put an end to discord among themselves in order to see the outcome of their friends' efforts, the president added.
https://www.middleeastmonitor.com/20181214-erdogan-israel-tries-to-dim-islams-traces-in-jerusalem/
--------
India
Meghalaya: Days after 'Islamic country' judgment, judge says no political dreams
Abhishek Saha
December 15, 2018
Justice S R Sen of the Meghalaya High Court, who stoked controversy by writing in a recent order that "nobody should try to make India… another Islamic country, otherwise it will be a doomsday for India and the world", issued a clarification on Friday saying that his judgment was "misinterpreted" and it was not "politically motivated".
"I also mention here that I do not belong to any political party nor have I got any dream to get any political berth after my retirement and neither is my judgment politically motivated or influenced by any party," Sen said in his clarification.
"Whatever is the truth, history and real ground reality, on that basis I have written my judgment to save the citizens of India irrespective of caste, creed religion or language and people should understand the history of India and live in peace and harmony," he added.
In his order on Monday, Sen said the Centre should bring a law to allow non-Muslim and tribal communities like Khasis from Pakistan, Bangladesh and Afghanistan to live in India without any cut-off year and be given citizenship without any question or production of document.
He had added he is "confident that only this government under Shri Narendra Modiji will understand the gravity, and will do the needful" and "Chief Minister Mamataji will support the national interest in all respect".
He had also called the process of updation of the National Register of Citizens in Assam "defective as many foreigners become Indians and original Indians are left out which is very sad".
In the clarification on Friday, Sen said, "Secularism is one of the basic structures of our Indian Constitution. It should not further be divided on the basis of religion, caste, creed, community or language."
He added that in his judgment he nowhere said "anything against secularism". He said his "request" was not only to the Prime Minister Narendra Modi or the West Bengal Chief Minister Mamata Banerjee but to the "policy makers and law makers of this country".
Defending parts his judgment, Sen wrote that many Indian-origin may not have important documents related to proving citizenship.
"Their presence in India is primarily due to the religious persecution that they have been facing through generations and nobody can deny that. Since then, these unfortunate people have lost many of their near and dear ones as well as their property and livelihood and were forced to come to India and till date this people are continuously facing religious prosecution," he wrote.
"Therefore, those who could not come till date, in my considered view they may get the right to come and stay in India peacefully and with dignity. Again, how the process of this would look like needs to be determined by the authorities and by due process of law. We should remember that whatever we call influx or foreigner, that is due to unwanted partition without proper referendum and wrong boundary demarcation and mainly on religious prosecution."
https://indianexpress.com/article/north-east-india/meghalaya/meghalaya-days-after-islamic-country-judgment-judge-says-no-political-dreams-5494777/
--------
J&K: Encounter breaks out between security forces, militants in Pulwama
December 15, 2018
An encounter broke out on Saturday morning between security forces and militants in Jammu and Kashmir's Pulwama district
The encounter began after security forces launched a cordon and search operation in Sirnoo village of Pulwama after receiving specific intelligence inputs on the presence of militants in the area, a police official said according to PTI. As police were conducting searches, the militants opened fire on them. The forces retaliated, leading to the ongoing encounter.
Deputy Commissioner Pulwama, Ghulam Mohammad Dar said two civilians were killed in clashes that broke out near the encounter site.
In a similar incident Thursday, two militants were killed in an encounter which started at BrathKalan village of North Kashmir's Sopore district Wednesday evening. Security forces had launched an operation following information on the presence of militants there. According to police, the encounter had started after militants opened fire at the security forces.
On Tuesday, four Jammu and Kashmir policemen were killed in a militant attack on a police picket in South Kashmir's Shopian district. The attack was a first by militants in the Valley after they suffered several blows in multiple encounters over the last one month in South Kashmir. Police officers said that the policemen who were killed were guarding a picket meant for the security of a few Kashmiri pandit families living in Zainapora area of Shopian. Four weapons belonging to the policemen were also taken by the militants after the attack, officials said.
Full report at:
https://indianexpress.com/article/india/jammu-and-kashmir-encounter-live-updates-pulwama-militants-army-5494844/
--------
23 Indian passports go missing from Pakistan high commission, spark alarm
Dec 15, 2018
NEW DELHI: Twenty three Indian passports have been reported missing allegedly from the Pakistan high commission, leading to a security scare here. The passports belonged to Sikh pilgrims who wanted to visit gurudwaras in Pakistan, including Kartarpur Sahib, where the ceremony for a religious corridor was held by the Pakistan government last month.
Several of these passport holders have filed an FIR with the police after which the matter was brought to the notice of the ministry of external affairs. The ministry has now moved to revoke all missing passports and has also taken up the issue with the Pakistan mission. Pakistan had issued visas to over 3,800 Indian Sikh pilgrims to participate in the 549th birth anniversary celebrations of Guru Nanak from November 21 to 30.
These 23 Sikhs who have lost their passports had sought visas and were supposed to travel with that group. Pakistan has denied that any of its officials was responsible for the missing passports.
All the 23 passports had been collected by a Delhi-based agent who claimed to have submitted the documents to the Pakistan high commission. He is later reported to have told Indian authorities that when he returned to the high commission to collect the passports, he was told by Pakistan officials that they didn't have the documents.
"This is a serious issue and we have taken all necessary action to prevent any misuse of these passports," said an official source.
While the Indian government has sought 24/7 access to Kartarpur Sahib for unrestricted number of pilgrims keeping in mind Sikh sentiments, its officials have privately spoken about the need to guard against possible efforts by Pakistan-based forces to use the corridor to further perpetuate terrorism. India has been particularly concerned about the display of Khalistan posters at Sikh shrines in Pakistan.
Whatever the outcome of this latest spat over the mystery of the missing passports, it is certain to add another layer to the already complex Kartarpur story.
Full report at:
https://timesofindia.indiatimes.com/india/23-indian-passports-go-missing-from-pakistan-high-commission-spark-alarm/articleshow/67099551.cms
--------
A Muslim Family Endears Itself to Temple Elephants
DECEMBER 14, 2018
Religion has not stopped Kareem Sett and his sons from becoming mahouts and cavadi
Peer Mohammed, a 21-year-old Muslim youth from Tenkasi, has completed a certificate programme in automobile engineering. However, he chose not to work with the machines. Instead, he chose the elephants.
With his father A. Kareem Sett being the mahout of Aathi Naayagi, the elephant of Aathinaathar Alwar temple of Alwarthirunagari, Mr. Mohammed left the automobile engineering field to become a mahout. Currently he is assisting Mr. Kareem as a cavadi of Aathi Naayagi, one of the elephants at the rejuvenation camp at Thekkampatti.
"Aathi Naayagi and I are of the same age, and we grew up together. I chose the profession of mahout as it gives me more satisfaction than in any other job," he said while feeding Aathi Naayagi at the camp.
Mr. Mohammed is not alone in continuing the rare legacy of a Muslim family taking care of a temple elephant. His elder brother Abbas is the mahout of Kumudavalli, the elephant of Vaithamanidhi Perumal temple at Tirukkolur, which is also at the camp.
Abbas had worked as an air conditioning mechanic before becoming a mahout.
"The religious tag does not matter when you are a mahout. The job of a mahout demands only the rapport between the animal and the handler," said Mr. Mohammed.
Full report at:
https://www.thehindu.com/news/cities/Coimbatore/a-muslim-family-endears-itself-to-temple-elephants/article25746080.ece
--------
South Asia
Offensive against Taliban kills at least 20: Official
Dec 14, 2018
KABUL (AFGHANISTAN): An Afghan official says an assault on Taliban positions in northeastern Afghanistan's Kunar province, which included US air strikes, killed at least 20 insurgents, contradicting Taliban claims of civilian casualties. In southern Helmand province, a US drone strike killed four suspected insurgents.
Sakhi Mushwani, a Parliamentarian from Kunar province, said several civilians were injured in the attack late on Thursday.
US military spokesman Sgt. 1st class Debra Richardson said US strikes were requested by the Afghan National Security Forces, who led the Kunar offensive. They were accompanied by a handful of US soldiers acting in an advisory capacity. Taliban said 60 civilians were killed in the airstrike but they often exaggerate their claims.
Richardson said both incidents are being investigated, adding that all claims of civilian casualties are taken seriously.
https://timesofindia.indiatimes.com/world/south-asia/official-offensive-against-taliban-kills-at-least-20/articleshow/67094846.cms
--------
At least 84 injured in nationwide violence
December 15th, 2018
In Comilla's Muradnagar, BNP candidate Km Mujibul Haque's motorcade was attacked in the upazila sadar in the morning
At least 82 political activists and two journalists were injured in violence during political campaigns across the country. Dhaka Tribune correspondents reported incidents of violence from
In Comilla's Muradnagar, BNP candidate Km Mujibul Haque's motorcade was attacked in the upazila sadar in the morning. His supporters fought back, and at least 20 people were injured in the clash. The cameras of two journalists were snatched away.
Mujibul has blamed Awami League candidate Yusuf Abdullah Harun's men for the attack.
In Chauddagram, Jatiya Oikya Front candidate Syed Abdullah Mohammad Taher's home was reportedly bombed, allegedly by local Awami League activists. His campaign manager Abdus Sattar said in a press release that the activists came to Taher's home on motorcycles from Railway Minister Mujibul Haque's campaign rally. Local Awami League leaders have denied the allegation. Police say they are not aware of the attack.
In Gazipur, BNP leader and candidate Shah Riazul Hannan's motorcade was attacked in the evening in Kapasia upazila's Sammania union, injuring Riaz and 10-12 other political activists. The attackers vandalized Riaz's car and four motorcycles.
In Jhalakathi, BNP candidate Zeba Amin Khan's motorcade was attacked as she was leaving a campaign event in the evening. The incident took place in Jhalakathi town. Local BNP says at least 10 of their people were injured. Zeba was forced to take shelter in a nearby home. Police later arrived at the scene and brought the situation under control.
In Barisal, Jubo Dal leader Advocate Abdur Rahman was hacked and beaten, allegedly by local Chhatra League and Jubo League activists. The incident took place in the afternoon in Gouranadi town's Badamtala area. Rahman was admitted to Barisal Medical College Hospital in a critical state.
In Barisal city, Shakil Hossain, an activist of Islami Andolon Bangladesh (IAB), was beaten allegedly by Awami League activists at Rupatali area after Jumma prayers.
A party spokesman said Shakil was accosted by Awami League men as he was distributing leaflets in favour of IAB candidate Syed Fazlul Karim.
In Sirajganj, BNP activists clashed with police after they were stopped from holding a procession in the town's EB Road, Dhulipara and Kadamtala areas. BNP says at least 20 of their leaders and activists were injured.
In Jamalpur, unidentified men vandalized an chased the motorcade of BNP candidate for Jamalpur 5 constituency advocate Shah Md Wares Ali. Local Chhatra Dal leader Bayezid among eight BNP leaders and activists were injured in the incident.
Wares Ali later alleged that the perpetrators were men loyal to his opponent Awami League candidate Engineer Mojaffar Hossain.
In Satkhira, unidentified men beat and chased BNP candidate Habibul Islam and his campaigning entourage in Kalaroa upazila of Satkhira 1 constiuency (Tala-Kalaroa).
Habibul Islam alleged that men loyal to local Awami League leader and upazila Chairman Firoz Ahmed and Jubo League leader Lavlu orchestrated the attack.
Full report at:
https://www.dhakatribune.com/bangladesh/election/2018/12/15/at-least-84-injured-in-nationwide-violence
--------
Myanmar can't just deny reality
December 15, 2018
Myanmar continues to delay the process of Rohingyas' safe repatriation back to their homeland. Moreover, Myanmar's religious affairs minister recently made a derogatory and provocative remark about Rohingya refugees. He referred to them as "Bengali" and falsely claimed that Bangladesh was not letting them return.
Bangladesh's foreign minister rightly protested the falsehood, reminding Myanmar that its "anti-Bangladesh, anti-Rohingya and anti-Muslim policy" is regarded by many as being an apartheid one.
Like the minister, Myanmar maintains that it was Bangladesh that was not allowing Rohingyas to go back. But in fact, it is the unsafe conditions prevailing in Myanmar that Rohingyas are extremely worried about. Recently, Reuters published an excellent investigative piece that detailed how the Myanmar army has been torturing the remaining Rohingyas who are being forced to live in ramshackle camps.
Full report at:
https://www.thedailystar.net/letters/news/myanmar-cant-just-deny-reality-1673692
--------
Taliban executioner killed in U.S. drone strike in Zabul province
Dec 14 2018
A key Taliban group leader who was also the executioner of the group in southern Zabul province was killed in an airstrike of the U.S.forces.
The provincial police commandment in a statement said the Taliban leader Haroon was killed along with two other militants in a drone strike in Kajer Khel area of Shajoi district.
The statement further added that the airstrike was carried out at around 4pm local time on Thursday.
In the meantime, Colonel Mohamamd Mustafa Mayar, the Police Chief of Zabul, said commander Haroon was involved in several beheadings of the tribal elders and security personnel.
Col. Mayar further added Haroon was also shadow military chief of the group in Shahjoi district of Zabul province and was planning and coordinating suicide attacks.
The anti-government armed militant groups including Taliban have not commented regarding the report so far.
Full report at:
https://www.khaama.com/taliban-executioner-killed-in-u-s-drone-strike-in-zabul-province-02826/
--------
Southeast Asia
Race and religion - when 'new Malaysia' faces off against old forces
15 Dec 2018
KUALA LUMPUR: They came by car, train and buses from across the country in the tens of thousands, turning the Malaysian capital, Kuala Lumpur, into a sea of white last Saturday (Dec 8) to rally against the International Convention on the Elimination of All Forms of Racial Discrimination (ICERD).
Stirred by Islamist party PAS' call that the rally was a "jihad" and former ruling party UMNO's exhortation for "Muslim unity", the protestors went ahead despite Prime Minister Mahathir Mohamad announcing ICERD would not be ratified.
The huge turnout showed how race and religion became tools for the opposition to mobilise the masses against the new Pakatan Harapan (PH) government.
"I came here to defend Islam. We worry the government has merely delayed and not cancelled the ratification of ICERD," said 51-year-old PAS member Surizan Sulaiman, who travelled by car from Kuantan, Pahang.
The opposition parties - UMNO and PAS - claimed ICERD threatened the position of Islam and the special rights of the Malays in the country.
ICERD USED BY UMNO'S ELITE TO DIVERT ATTENTION FROM CORRUPTION CHARGES: ANALYSTS
Analysts suggested UMNO had seized on ICERD to divert attention away from the corruption allegations facing several of the party's senior leaders.
Former prime minister and president of UMNO Najib Razak is currently facing 39 charges of money laundering, criminal breach of trust and abuse of power. Several other senior members of UMNO have been charged in court.
"UMNO's elites saw this ICERD as an amazing opportunity to divert attention from the corruption cases, court trials, by using a very powerful issue - the notion of what the nation is and the position of Malays," said political scientist Chandra Muzaffar, president of the International Movement for a Just World (JUST).
PAS, on the other hand, saw an opportunity to boost its standing.
"PAS saw a huge opportunity to strengthen their political position. PAS does not have to grapple with corruption, for them it is mobilisation, something which they are very good at grassroots, to boost their standing," added Chandra.
"The way it (ICERD) was presented to the Malays by the opposition …there was a lot of distortion, even downright lies. ICERD in no way threatens Islam, the monarchy, Malay rights," said Chandra.
"ICERD allows for affirmative action … this means it does not threaten the special privileges of Malays," he added.
ECONOMIC ISSUES CONTRIBUTED TO TURNOUT: ANALYST
Thrown into this mix was the unhappiness of those rural Malays – the fishermen, farmers, rubber tappers – who feel that they are being sidelined by the new government.
This cocktail of racial and religious brew inflamed passions that were on full display last Saturday, prompting analysts to warn it could potentially turn into a flashpoint if the situation is not managed well by all parties.
"It (ICERD) really hurts Malay sentiment. Don't push us too hard. The word 'amok' comes from Malays. If Malays are very angry, they can become irrational. We don't want that to happen. We want peace," said Dr Mohd Khalid Kassim from PAS who stressed that he was speaking in his personal capacity.
"We must ensure ICERD is out indefinitely in Malaysia as it affects our religion and Bumiputra privileges," he said.
Bumiputra, or sons of the soil, refers to Malays and indigenous people in Malaysia.
"I think the big turnout reflects the growing discontent amongst the Malay constituencies and signals PH to not take the rural voters for granted. Many fishermen, rubber tappers and Felda settlers feel that they are being sidelined by the new government," said Asrul Hadi Abdullah Sani, senior analyst at BowerGroupAsia.
Felda refers to the Federal Land Development Authority, a government agency which was founded in 1956 to develop land and handle the resettlement of rural poor into newly developed areas to organise smallholder farmers growing cash crops.
"While race and religion may have been the headline for this rally, cost of living, affordability of goods, opportunities for employment and affordable housing will be the deciding factor in the next election," said Asrul.
NEW GOVERNMENT FACES BATTLE TO MAINTAIN SUPPORT AS FORMER REGIME PUSHES BACK
Equally significant, last weekend's events were an example of the difficulties that are typically seen to plague new governments that oust long-running regimes.
In the case of Malaysia, Pakatan Harapan unseated UMNO which had ruled the country for 61 years, making it one of the longest-running regimes in the world.
"After many decades in power, the old regime forces have numerous supporters and stakeholders throughout bureaucratic, governmental, legal and community institutions with a great deal to lose," said Professor Greg Barton, chair of Global Islamic Studies, Deakin University.
"Many resort to publicly supporting reform whilst covertly undermining it.
"Invariably, they (new government) face both open push-back, and more insidious attempts at covert meddling, from the ancient regime forces," said Prof Barton.
"Whenever there are clashes or tensions along communal lines, that ostensibly appear to be racial or religious in nature, there are competing elite interests that are attempting to mobilise mass support by inflaming communal tensions," he added.
Prof Barton pointed to Indonesia's chaotic transition from an autocracy to a democracy in 1998 when sectarian violence erupted and claimed many lives as an example.
"This was very clear in Indonesia two decades ago under the reformist transitional presidencies of BJ Habibie and Abdurrahman Wahid," said Prof Barton, who wrote a biography on Wahid.
ECONOMY, MERITOCRACY KEY TO PH SURVIVAL
'I think the lesson learnt from the anti-ICERD rally is that the government should not move too quickly just to appease the vocal urban voters," Asrul of BowerGroupAsia.
"Such an entrenched mindset (on race and religion) must be tackled tactfully through engagement and education," said Asrul.
Political scientist Chandra said the government could practise meritocracy in place of ratifying ICERD.
"You start by tending to the needs of people regardless of ethnicity, reward people on the basis of excellence and ability. Make those changes even if it's gradual," said Chandra.
"At the same time educate people, develop their understanding of society," he said.
Asrul said there is a need for Pakatan to focus on the needs of the majority in order to retain support.
"PH government should focus on quick and easy wins that affect the majority to keep the momentum of winning the general election and defeating Najib Razak. Difficult issues such as ICERD should be tackled with a more long-term strategy in mind," said Asrul.
"For Malaysia to transition through this difficult period of consolidating democratic reform, and to achieve its full potential, will require exceptional leadership from every quarter of Malaysian society," said Prof Barton.
https://www.channelnewsasia.com/news/asia/malaysia-anti-icerd-rally-political-dimension-11029430
--------
Bridging economic gap crucial for harmony, says Mat Sabu
14 December 2018
IPOH, Dec 14 — Empowering the economy of those who lag behind and bridging the economic gap regardless of race, are among key factors which can pave the way for harmony in the country, said Parti Amanah Negara (Amanah) president Mohamad Sabu.
At the same time, he said the government should ensure that the freedom and opportunities that had been granted to the people should not be abused to incite racial and religious hatred for the political benefit of certain quarters.
"The people should not take advantage of the situation to achieve the political objectives of certain groups or question matters which are fundamental rights that have already been enshrined in the Federal Constitution.
"The government's responsibility is to preserve unity, stability and harmony among the people based on the Constitution, and not based on a zero-sum game where the interests and rights of one group should be sacrificed in the interest of other groups," he said in his presidential address at the 2018 Amanah National Convention at the Casuarina Convention Centre, Meru here, today.
A total of 1,000 delegates from 156 registered party divisions as well as 3,000 local and foreign observers are attending the three-day convention themed 'Fulfilling Trust, Building Nation' beginning from today.
Mohamad reminded the Malays to be daring enough to make a paradigm shift in planning progress for the Malays by going beyond racial sentiments.
"We must accept the fact that failure of the Malays to advance is not because of the existence of other races in the country but due to our own attitude and mindset," he said.
He drew the attention of the delegates to the effects of corrupt practices among government leaders and administrators which had caused a big dent in the country's coffers as the revenues were pocketed by cronies and white-collar thieves.
He said the injustices in management and governance, greed, corruption and inequality in wealth distribution had repeatedly led to financial and economic crises, making it burdensome for the poor.
Mohamad also pointed out that power comes with the burden of trust and responsibility along with all forms of trials and challenges.
"Let us not be intoxicated by power lest we drift away and eventually fall in disgrace" he said, cautioning that Amanah must prove that the party and Pakatan Harapan (PH) could fulfil the mandate given by the people.
The Amanah president also reminded the delegates that if the Barisan Nasional government which had been in power for so long could finally be toppled by the people, it was not impossible for the party and the newly formed PH government to suffer the same fate.
"Do be aware that the power we have today is not our absolute right as the power is borrowed from the people. As such never ever underestimate the voice of the people.
"We should not fail to understand the needs of the people and deviate from their demands because if we are not careful this could also lead to our downfall," he said.
Commenting on the economy, Mohamad said trade tensions between the United States and China had also affected world economic growth, particularly South-east Asia economies.
"Not only the ringgit, but almost all currencies of emerging markets are under pressure due to world economic factors. This phenomenon has had a direct impact on Malaysia's economic potential and affected the country's balance of trade.
In view of this, he said the government had taken various steps including implementing cost saving measures while ensuring that these measures would not have a negative impact on the country's economic growth.
In addition, Mohamad, who is also Defence Minister, said Amanah was determined to continue to play a role in the government and at the international level in resolving disputes between parties.
"The Rahmatal Lil A'lamin Islamic concept has always taken the lead in resolving conflicts. Progressive, democratic and scholarly Islamic nations should be consolidated to become a role model to the Muslim world," he said.
He said as long as Amanah remains in the government, the Rohingya issue and the like, will not be allowed to continue without any possible solutions.
Full report at:
https://www.malaymail.com/s/1703165/bridging-economic-gap-crucial-for-harmony-says-mat-sabu
--------
No more giving special haj quota to ministers or MPs
December 15, 2018
KUANTAN: The giving away of some of the haj quota to ministers and MPs and letters of support has been stopped, said Deputy Minister in the Prime Minister's Department Fuziah Salleh.
She said this had been decided by the Cabinet and will be implemented for the haj season this year so that the quota of 30,200 people allocated by the Saudi Arabian government would truly benefit those who qualified.
"The quota for the people becomes less, resulting in a much longer waiting period when small numbers of the quota are milked and given to certain quarters. This results in the haj pilgrim being forced to perform the haj when he or she is old and feeble.
"A quota which has been given to certain quarters, even if it is only 50, is sometimes sold off. This takes away the right of those who are qualified,'' she told reporters after attending a "Community Dialogue With Kuantan MP" here yesterday.
She said the giving of letters of support to facilitate applications to perform the haj would also be stopped in line with the decision of the Pakatan Harapan government.
"If there is an appeal (to perform the haj), we will only extend it for consideration by the quarters concerned based on the procedures. Only those qualified will be considered and there will no longer be any special treatment," she said.
In another matter, Fuziah said the issue of Quran and Fardu Ain (Kafa) teachers being absorbed into permanent service was expected to be settled in the middle of next year after a study is completed in March.
If things proceed smoothly, there is a possibility that 5,000 of the 31,460 Kafa teachers will be the first group to benefit.
"Most of them have a degree or diploma in the Arabic Language or Islamic Studies. We may offer the S29 grade scheme under the diploma qualification for those absorbed, even if they have degrees.
Full report at:
https://www.freemalaysiatoday.com/category/nation/2018/12/15/no-more-giving-special-haj-quota-to-ministers-or-mps/
--------
Aceh whips men for sharia-banned gambling
December 11, 2018
A group of men caught gambling were publicly whipped in Indonesia's conservative Muslim province of Aceh on Tuesday as a crowd of onlookers cheered.
The half dozen men were arrested this year at an internet cafe for online gambling -- an offence under Islamic law -- earning them between seven and 11 strokes each from a rattan cane.
At least one of the men winced in pain as a masked sharia officer lashed his back outside a mosque in East Aceh district.
Dozens in the crowd jeered and called for the men to be whipped harder.
"They have violated the Qanun Jinayah (Islamic law) by being involved in gambling," Muliana, head of the general crime unit at the local prosecutors' office, told AFP.
Public flogging is a common punishment in Aceh for a range of offences including gambling, drinking alcohol, and having gay sex or relations outside of marriage.
Located at the northern tip of Sumatra island, it is the only province in the world's largest Muslim-majority country that imposes Islamic law.
Aceh adopted sharia after it was granted special autonomy in 2001, an attempt by the central government to quell a long-running separatist insurgency.
Rights groups slam public caning as cruel, and Indonesia's President Joko Widodo has called for it to end.
But the practice has wide support among Aceh's mostly Muslim population -- around 98 percent of its five million residents practise Islam.
Full report at:
https://www.thejakartapost.com/news/2018/12/11/aceh-whips-men-for-sharia-banned-gambling-.html
--------
Africa
King Salman oversees signing of agreements with Tunisia
14 December 2018
Saudi Arabia King Salman Bin Abdulaziz and Tunisia Prime Minister Youssef Chahed, oversaw on Thursday, the signing of two loan agreements and a memorandum of understanding (MoU) between the Kingdom and Tunisia.
The signing ceremony was held at Al-Awja Palace in Ad-Diriyah in the Saudi capital, Riyadh.
Ahmad Al-Khateeb, president of the board of Saudi Fund for Development, and Tunisian Minister of Development, Investment and International Cooperation Ziad al-Athari signed loan agreement for implementing the second phase of the Integrated Agricultural Development Project in Tunisia, and the loan agreement for the project of improving the supply of potable water in the rural area in the Tunisian governorate of Bizerte.
Also both countries signed a memorandum of understanding under which Saudi Arabia will extend grant for maintenance of the King Abdulaziz Mosque in the Tunisian capital of Tunis, the Saudi Press Agency reported.
In late November, Saudi Arabia's Crown Prince Mohammed bin Salman visited Tunisia on the fourth leg of a regional tour.
https://english.alarabiya.net/en/News/north-africa/2018/12/14/King-Salman-oversees-signing-of-agreements-with-Tunisia-.html
--------
AU force in Somalia says not involved in ex-al-Shabab arrest
December 15, 2018
NAIROBI, Kenya: The African Union peacekeeping mission in Somalia says it had no part in the arrest of the former No. 2 leader of the Al-Shabab extremist group, who has been a leading candidate for a regional presidency.
The statement released overnight calls for "utmost restraint" after several deaths were reported in the uproar around Muhktar Robow's arrest on Thursday in Baidoa.
He was seized by Ethiopian troops accompanied by Somali police, witnesses told The Associated Press. He was flown to the capital, Mogadishu, a Somali intelligence official said. All spoke on condition of anonymity because they were not authorized to speak to reporters or for safety concerns.
Full report at:
http://www.arabnews.com/node/1421061/world
--------
Nigeria buries 23 soldiers killed in Boko Haram attack
14.12.2018
Nigerian Army on Friday buried officers and soldiers, who were killed in a Boko Haram attack on a military base in northeast Borno State last month, an official said.
The army personnel were buried in a solemn ceremony at an army cemetery in northeastern Maiduguri, provincial capital of Borno and epicentre of Boko Haram insurgency.
Maj. Gen. Benson Akinroluyo, commander of the counter-insurgency operations, said the military lost "valuable equipment and best officers and soldiers" in the attack.
On Nov. 18, Boko Haram attacked the army battalion, located in northeastern Metele town, killing scores of soldiers. Nigerian army put the death toll at 23, whereas local media claimed more than 100 soldiers were killed in the attack
The attack drew widespread condemnations in the country as the military could not immediately provide details of the incident and cited military procedure and protocol as reason for the delay.
Full report at:
https://www.aa.com.tr/en/africa/nigeria-buries-23-soldiers-killed-in-boko-haram-attack/1339088
--------
Nigerian soldiers battling Boko Haram in Borno community
December 14, 2018
Abdulkareem Haruna
Information reaching PREMIUM TIMES from credible sources in Borno state indicate that Nigerian soldiers have been engaged in a fierce battle with Boko Haram fighters in Gudumbali town.
Gudumbali is the headquarters of Guzamala local government area where Metele, the village where soldiers were recently massacred, is located.
The source, who relayed this information to PREMIUM TIMES under strict condition of anonymity, said the attack started at about 7 p.m. when Boko Haram fighters invaded the community.
Gudumbali has been under the control of the Nigerian Army's 118 Task Force Battalion.
"The battle is still going as, as we speak and the air force from Maiduguri have gone to support the troops," the source said.
"We must recall that Gudumbali's last major attack was occurred on 8 September 2018.
"And it was the same town that over 200 soldiers were killed in 2016," said the source.
In August this year, the Chief of Army Staff, Tukur Buratai, unveiled a cenotaph in the community to commemorate the killing of nearly 200 soldiers.
The source further revealed that the 118 Battalion Headquarters based in Arege "was attacked for about four times within November."
"With the fall of Metele, the attack on Arege on 2 December forced the Commanding Officer, Lieutenant Colonel Oyegoke to withdraw from Arege to Malam Fatori (the location of 119 TaskbFor to Battalion)," the source said.
Full report at:
https://www.premiumtimesng.com/news/top-news/301190-breaking-nigerian-soldiers-battling-boko-haram-in-borno-community.html
--------
Pakistan
Pakistan sentences Christian brothers to death for online blasphemy
by Dawood Rehman
December 15, 2018
LAHORE – Two Pakistani Christian brothers have been sentenced to death on blasphemy charges, according to the Centre for Legal Aid, Assistance and Settlement (CLAAS).
Qaisar and Amoon Ayub, from Lahore, were accused of posting offensive material against Islam on their website in 2011. The duo fled the country and were on the run for four years, however they were later arrested when they returned home.
Their case was heard on Thursday (Dec 13) by the Additional Session judge Javed Iqbal Bosal, who found them guilty and sentenced them to death. The sentence was read inside District Jail Jhelum, where the two brothers have been held since their arrest, for security reasons.
Qaisar has three children with his wife Amina while Amoon is married to Huma who is a teacher at the Cathedral School, Lahore.
The Centre for Legal Aid, Assistance and Settlement (CLAAS), an interdenominational organisation dedicated to the victims of religious intolerance, has been representing the accused and now plans to appeal the sentence before the Lahore High Court.
Blasphemy remains a highly combustible issue in Pakistan. Mere allegations can set off spasms of violence and mass riots. Several religious parties have used it to flex their muscles.
The blasphemy law prescribes a death sentence for anyone convicted of insulting Islam or the Prophet Muhammad (PBUH). But critics say the law has been mostly misused, often to settle personal vendettas and property disputes. Religious minorities are especially vulnerable to such accusations, and people who have advocated for changes in the blasphemy law have met with violence.
In 2011, Salmaan Taseer, the governor of Punjab Province and an outspoken politician who had campaigned for a Christian woman's release and changes in the country's blasphemy laws, was shot and killed by his police bodyguard outside a cafe in an upscale area of Islamabad.
Two months later, Shahbaz Bhatti, the minister of minorities and the only Christian cabinet minister in the Pakistani government, was shot and killed outside his home in Islamabad after he also called for changes to the blasphemy law.
In October, Pakistan's Supreme Court fully acquitted Asia Bibi, the Christian Pakistani woman whose conviction in 2009 rallied international condemnation of blasphemy laws in the South Asian country, and ordered her "released forthwith," in an exceptionally rare ruling against a blasphemy verdict.
The ruling, by a three-member bench of the court, was announced by Chief Justice Mian Saqib Nisar.
Following the verdict, violent protests erupted in several cities, mostly by supporters of Tehreek-e-Labbaik, the religious party of the firebrand cleric Khadim Hussain Rizvi. Pir Muhammad Afzal Qadri, one of the TLP leaders, told supporters in Lahore that the three justices who delivered the verdict were risking death. He also called for the removal of the Pakistan army chief, Qamar Javed Bajwa.
Protesters in Islamabad blocked one of the main highways that connect the capital to the neighboring city of Rawalpindi. They also burned tires and chanted slogans against the decision.
In the southern port city of Karachi, hundreds of members of Tehreek-e-Labbaik disrupted traffic at intersections.
Protests also broke out in smaller cities across Punjab.
Last month, the Punjab Police detained a number of clerics, including TLP chief Khadim Rizvi, before they were booked in cases related to terrorism, treason and inciting violence.
https://en.dailypakistan.com.pk/pakistan/pakistan-sentences-christian-brothers-to-death-for-blasphemy-sentenced-to-death/
--------
Pakistan arranged US, Taliban talks, says PM Imran Khan
December 14, 2018
ISLAMABAD: Prime Minister Imran Khan has said that Pakistan had arranged talks between United States and Afghan Taliban.
Addressing a ceremony to mark the 100 days of Khyber Pakhtukhwa in government, Imran Khan said, "The United States who demanded 'do more' in the past now asks Pakistan to arrange talks with Taliban."
"I was dubbed as Taliban Khan when I said the only solution of Afghan issue is dialogue," he added.
https://www.thenews.com.pk/latest/405854-pakistan-arranged-us-taliban-talks-says-pm-imran-khan
--------
Buddhist-Era Site's Archaeological Exploration Likely to Begin Next Month in Dera Ghazi Khan District
December 15, 2018
MULTAN: For the first time ever, archaeological exploration at Mound Dillu Roy, a Buddhist-era site in Dera Ghazi (DG) Khan district, is likely to begin next month under an ongoing Rs17.323 million project.
The work has resumed to complete the remaining portion of the 6,400 feet long boundary wall to protect the site, Archaeology Department Multan in-charge Ghulam Muhammad told APP.
Almost a 5,000 feet long boundary wall has already been built, he added.
Officials would acquire metal detectors and other tools to be used by the archaeologists to select points for exploration and discover antiquities as well as traces of ancient civilizations.
"The site is located exactly on the borderline of Rajanpur and DG Khan districts. A major part of around 480 kanals falls within DG Khan and only three kanals in the Jampur tehsil of Rajanpur."
Ghulam said the site was notified as protected in February 1964 and a study carried out on the site as well as ancient objects recovered so far revealed it was occupied by the Buddhists in the Scytho-Parthian period dating back to 1st century B.C. to 2nd century A.D.
"It lies 2.5 miles north-west of Jampur and consists of two mounds, roughly 100-150 feet apart. The larger one measuring 1460x800x15 feet marks the site of the city and the smaller one about 380 feet north-south and 950 feet east-west has been identified as the remains of a fort."
"Both the mounds were dug by local farmers, following which the historic plan of houses and streets was exposed. The mud brick walls have escaped complete destruction while some of the walls with traces of mud plaster stand as high as 12 feet," he said, adding that at certain places, a complete plan of rooms was traceable; which varied from 5×5 feet to 15-10 feet.
The specimen of bottlenecked sprinklers with curved flange and a conical knob at the top are quite similar in all respects to the types recovered from the Scytho-Parthian levels of Banbhore, Taxila and Pitalkora (India).
Full report at:
https://www.pakistantoday.com.pk/2018/12/14/buddhist-era-sites-archaeological-exploration-likely-to-begin-next-month/
--------
Six FC men martyred, 14 injured in Kech attack
December 15, 2018
GWADAR: Six security personnel were martyred and 14 others injured in a gun attack on a convoy of the Frontier Corps in Kech district on Friday.
ISPR said four terrorists were also killed in the exchange of fire.
Security officials said the FC convoy was passing through the Wakai area when it was attacked by militants hiding in the mountains. The attackers opened fire on the FC convoy, leaving six FC soldiers dead and 14 others wounded.
Security forces rushed to the site and shifted the wounded to hospital. "We received 14 injured security personnel in Turbat hospital," Dr Kahoor, medical superintendent of the facility, told Dawn.
All the wounded personnel were later shifted to Karachi by helicopter.
The martyred were identified as Naib Subedar Gul Shahadat, Naiks Muham­mad Nawaz, Lal Khan and Muhammad Sajid and Sepoys Muhammad Anwar and Sajjad.
The wounded were Captain Awais, Ejaz, Sahib Khan, Abdul Sattar, Noor Azam, Zabt Khan, Mohammad Abbas, Abdul Rafi, Qudratullah, Zahid Ali, Waqar Ahmed, Adnan, Dil Jan and Shahi Rehman.
Full report at:
https://www.dawn.com/news/1451525/six-fc-men-martyred-14-injured-in-kech-attack
--------
Maulana Tariq Jameel appeals nation to support PM Imran Khan
December 14, 2018
ISLAMABAD: Prominent religious scholar Maulana Tariq Jameel has appealed the entire nation to support Prime Minister Imran Khan.
In a special video message to the nation, Maulana Tariq Jameel said, "Imran Khan is the first Prime Minister in the history of Pakistan to show his intentions and wish to transform Pakistan into Madina-like welfare state."
"Therefore, I appealed to the entire nation of over 200 million people to fully extend support to PM Imran Khan," Maulana Tariq Jameel appealed to the countrymen.
The religious cleric went on to say, "I am 100 percent sure Imran Khan is sincere and honest person with strong will power. Khan established a big cancer hospital worth billions of rupees and became a Prime Minister owing to his strong will power and hardwork."
"Now Khan is dreaming to make Pakistan a welfare state like Madina and we should support him. We can support PM Khan by speaking truth, not telling a lie and not deceiving anyone, which are the fundamental of Madina-like welfare state."
Full report at:
https://www.thenews.com.pk/latest/405869-maulana-tariq-jameel-appeals-nation-to-support-pm-imran-khan
--------
Four terrorists killed, 6 security personnel martyred in Turbat IBO: ISPR
December 14, 2018
RAWALPINDI: Security forces killed four terrorists in Turbat, Balochistan, Inter Services Public Relations said Friday.
According to ISPR, the media wing of the military, an Intelligence Base operation was conducted on a terrorists' hideout in Wakai area near Buleda, Turbat, Balochistan.
Terrorists targeted one of the vehicles of security forces through IED as a result six security personnel embraced Shahadat.
In exchange of fire four terrorists were killed, the ISPR said.
https://www.thenews.com.pk/latest/405871-four-terrorists-killed-6-security-personnel-martyred-in-turbat-ibo-ispr
--------
Five years on, massacre of schoolchildren continues to haunt Pakistan's Peshawar
14 December 2018
It's been four years since seven gunmen launched a deadly attack on the Army Public School [APS] in Pakistan's Khyber Pakhtunkhwa city of Peshawar on December 16, 2014.
The terrorists entered the school and opened fire, killing over 140 people, mostly schoolchildren. This was followed by bombs being detonated inside the school premises. The ghastly tragedy shook the world and some labeled it as 'Pakistan's 9/11'.
Martyr in school uniform
Muhammad Tufail Khattak's two children, Sher Shah [Grade-10] and Abid Shah [Grade-7], were studying at the APS. Recalling the deadliest day, he says he came to know about the attack via television.
He says he could not believe that schoolchildren would be massacred. Like other parents, he too became anxious about the safety of my sons.
"I received a call from the military hospital regarding my elder son's death," Khattak told us in a choking voice. "I can't explain how I felt when I saw the blood-soaked body of my son. He was lying on a stretcher in school uniform. I was expecting him to call me 'papa', but he didn't." Khattak cries. "It was the darkest day of my life."
Before the horrible attack, Pakistani society was reluctant to fight terrorists. However, thousands of people took to the streets after the terror attack and demanded stern action against the Taliban, who were hiding in Pakistan's tribal areas.
The government immediately restored the death penalty, and has executed hundreds of militants since then. New strategies related to counter terrorism have been formulated and extensive military operation have been initiated to curb the menace of terrorism across the country.
The military claims to have killed hundreds of terrorists involved in nefarious activities against the state. Last year, the man believed to have masterminded the attack, Omar Khorasani, was killed in a US drone strike in Afghanistan.
The notorious chief of Tehreek-e-Taliban Pakistan [TTP], Mullah Fazlullah, was also killed earlier this year in June. His death evoked no sympathy among the people and no funeral prayers were offered in absentia at his hometown in the Swat valley.
In a statement on the APS tragedy's anniversary, Pakistan's military spokesman Major General Asif Ghafoor saluted the sacrifice of those who laid down their lives to restore peace in the country.
"Students of APS are very close to our heart." said the director general of the Inter-Services-Public-Relations. He said, the martyrdom of APS students had further strengthened the resolve and this incident had united this country. "We fought a decisive war against terrorism and with grace of Allah, we were very successful in it.The sacrifices of our martyrs and Ghazi's will not be wasted, Inshallah."
As soon as December arrives, the memories of Sher Shah starts haunting the Khattak family and they visit the ancestral cemetery, where Khattak's son is buried. "It's a very special occasion for us to pay a visit to the grave of our son and shed tears," he says. "We still don't believe that our son isn't with us."
Horror of the shooting
Khattak's son was a brilliant student. His aim was to become either a journalist or a teacher in future. He added they were like friends but the APS incident shattered his hopes within moments.
"It's sad to lose someone with whom you had been attached for so many years," recalls Ahmad Shah, the younger brother of Sher Shah. He says, he too was inside the auditorium where terrorists opened fire on the students.
He said, "My brother started running towards me but was hit in the back, and he stumbled near me. As for me, I posed as being dead and breathless." He says, at least 24 students of his class were killed out of a total of 30. He was more than a friend than a brother, says Ahmad. "We used to visit different places together, but today I feel alone. I am missing him very much".
Though it's been several years now, but the trophies, medals, certificates and shields are still hanging in Sher Shah's room. Shah's mother cleans and kisses them every day. Staring at the photos, Ayesha Gulalai, the younger sister of Shah, says that he is still in our hearts.
"He wanted to see me a doctor. Now, I am working hard not for myself but to fulfill the dream of my martyred brother," she said adding, and that would be a best tribute to his soul.
Before the APS incident, deadly explosions were part of daily life. Terrorism had gripped the country and people were unable to go to even mosques for worship. People were confined to their homes as the wave of terrorism was in full swing.
"God sometime wants sacrifice from its people. I would say the elimination of terrorism was in the form of APS students, who sacrificed their lives for a better tomorrow," says Khattak adding it removed the darkness and the change is evident. Today peace has been restored in the country and people have forgotten the worst moments.
Ahmad Shah is now a student of Grade12 but the trauma is still haunting him. "He can't be a normal person. He has lost his brother, friends, company and he feels lonely as he has gone through one of the world's worst traumas," says Khattak. "Psychiatrists have told me that he needs company and support. I wonder from where can I bring company and support?"
Despite of all those factors, interestingly on the other hand it's the same Ahmad Shah who provides moral support to his parents. Whenever he sees tears in our eyes, says Khattak, he would rush and say, 'don't worry [papa] I am here with you.'
"I must say he is the bravest person," added Khattak.
On the other hand, Khattak is unhappy for being remembered only on the occasion of APS anniversaries. These people [families] need special attention as they have brought peace to the nation.
Full report at:
https://english.alarabiya.net/en/features/2018/12/14/Five-years-on-killing-of-schoolchildren-continues-to-haunt-Peshawar.html
--------
Mideast
Australia formally recognizes West Jerusalem as Israel's capital
15 December 2018
Australia formally recognizes West Jerusalem as Israel's capital, reversing decades of Middle East policy, but will not move its embassy there immediately, Prime Minister Scott Morrison said on Saturday.
"Australia now recognizes West Jerusalem, being the seat of the Knesset and many of the institutions of government, is the capital of Israel," Morrison said.
"We look forward to moving our embassy to West Jerusalem when practical ... and after final status determination," he told reporters in Sydney.
In the interim, Morrison said, Australia would establish a defense and trade office in the west of the holy city.
"Furthermore, recognizing our commitment to a two-state solution, the Australian government is also resolved to acknowledge the aspirations of the Palestinian people for a future state with its capital in east Jerusalem," he added.
Both Israel and the Palestinians claim Jerusalem as their capital.
Most foreign nations have avoided moving embassies there to prevent inflaming peace talks on the city's final status -- until US President Trump unilaterally moved the US embassy there earlier this year.
Morrison first floated a shift in foreign policy in October, which angered Australia's immediate neighbor Indonesia -- the world's most populous Muslim nation.
The issue has put a halt on years-long negotiations on a bilateral trade deal.
Canberra on Friday told its citizens travelling to Indonesia to "exercise a high degree of caution", warning of protests in the Indonesian capital Jakarta and popular holiday hotspots, including Bali.
Morrison said it was in Australia's interests to support "liberal democracy" in the Middle East, and took aim at the United Nations he said was a place Israel is "bullied".
https://english.alarabiya.net/en/News/middle-east/2018/12/15/Australia-formally-recognizes-West-Jerusalem-as-Israel-s-capital.html
--------
Israel arrests 40 Palestinians after West Bank attack
14 December 2018
Israeli forces arrested 40 Palestinians across the occupied West Bank overnight during a manhunt for the perpetrator of a deadly attack, the army said on Friday.
The West Bank, which Israel has occupied for more than 50 years, saw the third Palestinian shooting in two months on Thursday, with an attacker killing two Israeli soldiers near a Jewish settlement before fleeing the scene.
The army announced reinforcements after the attack and carried out raids in the nearby city of Ramallah, where Palestinian president Mahmud Abbas is based, and other places.
"Forces apprehended 40 suspects wanted for their involvement in terror activities, popular terror and violent riots targeting civilians and security forces," an army statement said.
It said 37 of them were known to be members of Hamas who claimed two recent gun attacks, although not Thursday's.
The army did not announce any arrests in relations to Thursday's attack.
On another incident on Thursday, a Palestinian was shot dead by Israeli forces in the occupied West Bank, the health ministry said, in what the Israeli army called an attempted car ramming.
Full report at:
https://english.alarabiya.net/en/News/middle-east/2018/12/14/Israel-arrests-40-Palestinians-after-West-Bank-attack-.html
--------
Report: Turkey orders arrest of 219 soldiers in Gulen probe
14 December 2018
Turkish prosecutors ordered the detention of 219 soldiers with suspected links to the US-based Muslim cleric accused of orchestrating a failed coup in 2016, state-owned Anadolu news agency said on Friday.
Police have conducted a steady stream of raids against alleged supporters of the preacher Fethullah Gulen since the coup attempt in July 2016, in which 250 people were killed. Gulen denies involvement.
On the orders of the Istanbul chief prosecutor's office, an operation was launched at 01:00 am (2200 GMT) to seize the suspects, all soldiers on active service including four colonels, the Hurriyet newspaper website reported.
Full report at:
https://english.alarabiya.net/en/News/world/2018/12/14/Report-Turkey-orders-arrest-of-219-soldiers-in-Gulen-investigation.html
--------
Israeli forces kill Palestinian, injure dozens
Dec 14, 2018
A Palestinian man has been killed by Israeli fire in the occupied West Bank and at least 85 Palestinians have been injured in clashes during anti-occupation protests along the border between the Gaza Strip and the Israeli-occupied territories.
According to al-Aqsa satellite TV channel, the Gaza Health Ministry said Israeli forces injured 85 Palestinians, including seven medics and three journalists, in Gaza on Friday.
Tensions have been running high near the fence, separating Gaza from the occupied territories, since March 30, which marked the start of a series of protests called "The Great March of Return." Palestinian protesters demand the right to return for those driven out of their homeland.
Some 240 Palestinians have so far been killed and over 20,000 others wounded in the renewed Gaza clashes, according to the latest figures released by the Gaza Health Ministry.
Friday's protest also called for an end to the Israeli siege imposed on Gaza since 2007, which has been causing a decline in living standards as well as unprecedented unemployment and poverty.
Also on Friday, al-Aqsa reported that Israeli troops shot dead Mahmoud Nakhla, 18, during clashes in Jalazone refugee camp in the West Bank city of Ramallah.
Several people were also injured in the clashes that erupted between the Palestinians and the Israeli forces during protests in Ramallah against the Israeli settlements construction and the seizure of their lands.
About 600,000 Israelis live in over 230 illegal settlements built since the 1967 Israeli occupation of the Palestinian territories of the West Bank and East Jerusalem al-Quds.
Palestinians want the West Bank as part of a future independent Palestinian state with East Jerusalem al-Quds as its capital.
The last round of Israeli-Palestinian talks collapsed in 2014. Among the major sticking points in those negotiations was Israel's continued settlement expansion on Palestinian territories.
Full report at:
https://www.presstv.com/Detail/2018/12/14/582928/Israel-kills-Palestinian-Ramallah-Gaza
--------
US-backed Kurdish militants slam Turkish threats as 'declaration of war'
Dec 14, 2018
The so-called Syrian Democratic Forces (SDF), a US-backed coalition of mainly Kurdish militants that maintains a grip on northeastern Syria, together with its component, the People's Protection Units (YPG), have censured Turkish threats of a new operation in the crisis-hit Arab country as a "declaration of war", calling on world powers to stop the assault.
"All the forces in north and east Syria...are asked to agree on strategies to confront this aggression," they said in a statement released on Friday.
Syrian Kurdish militant groups have vowed to fight "to the death" in the event of a new Turkish operation in northeastern Syria.
"We will defend the north and the east of Syria to the death," SDF spokeswoman Jihan Sheikh Ahmed told Russia's Sputnik news agency on Friday.
She noted that the SDF would not like to see a situation similar to what happened earlier this year in Afrin, where Ankara conducted a military operation.
Earlier on Friday, Turkish President Recep Tayyip Erdogan said his country's military forces will enter Manbij city in northern Syria if the United States fails to remove YPG militants from the area.
"Manbij is a place where Arabs live, but they have surrendered the area to the terror organization," Erdogan told members of the Organization of Islamic Cooperation (OIC) in a speech in Istanbul.
He added, "Now we are saying that you should cleanse, remove them, or else we will enter Manbij. I am speaking very clearly."
"We are not only providing security for our country when taking steps in Syria but we are also protecting the honor of people," Erdogan said.
The Turkish president said on Wednesday that "It is time to realize our decision to wipe out terror groups in the east of Euphrates."
"We will start the operation to clear the east of the Euphrates from separatist terrorists in a few days," he added.
A spokesman for the Ankara-backed Free Syrian Army said on Thursday that up to 15,000 militants are prepared to support Turkey's latest operation.
Turkey considers the YPG a terrorist organization and an extension of the outlawed Kurdistan Workers' Party (PKK), which has been fighting for an autonomous region inside Turkey since 1984.
Turkey has complained over the slow implementation of a deal with Washington to pull YPG Kurdish militants out of Manbij, which lies in mainly Arab territory west of the Euphrates, back to the eastern bank of the river.
Full report at:
https://www.presstv.com/Detail/2018/12/14/582922/USbacked-Kurdish-militants-slam-Turkish-threats-as-declaration-of-war
--------
Israeli soldier, hit with rock, seriously wounded near Ramallah
Dec 14, 2018
An Israeli soldier has sustained serious injuries after a Palestinian anti-occupation protester hurled stones at him inside a settlement in the central part of the West Bank amid new wave of Israeli aggression against Palestinians in the occupied territories.
The Hebrew-language Yedioth Ahronoth daily newspaper reported that the unidentified Palestinian man entered Beit El settlement, which lies adjacent to Ramallah, on Friday morning, picked up a large stone and hurled it at an Israeli trooper, who was inside a military site in the settlement.
The report added that the Israeli soldier was seriously injured in the incident, before the Palestinian man fled from the area.
An unnamed Israeli army spokesman said, "A Palestinian nab was fighting with a soldier inside a military post in the settlement, and beat him with a stone on his head and fled."
The spokesman went on to say that reinforced forces have been dispatched to the settlement, and a manhunt operation is underway to arrest the Palestinian man.
"The Palestinian man surprised the soldier from behind, and hit him with a stone on his head from a very short distance," an eyewitness said on condition of anonymity.
The Israeli soldier received initial treatment at the scene, before being transported to Hadassah Medical Center in Jerusalem al-Quds.
Palestinian media outlets reported that Israeli soldiers have closed the main road linking Ramallah to Nablus near Jalazone refugee camp. The troops have installed concrete blocks on the road, and restricted the movement of Palestinian vehicles.
Israeli soldiers have also installed a roadblock at the main entrance to Surda town, located northeast of Ramallah, and prevented Palestinians from either entering or leaving it.
Over 100 Palestinians detained since Thursday dawn: NGO
Meanwhile, the Palestinian Prisoners' Association said in a statement on Friday that the Israeli army has detained more than 100 Palestinians, including lawmakers and former prisoners, throughout the occupied West Bank and East Jerusalem al-Quds since the early hours of Thursday.
The statement noted that Israeli forces detained at least 46 Palestinians, including two lawmakers and a journalist, during a large-scale pre-dawn campaign across the West Bank last night.
Full report at:
https://www.presstv.com/Detail/2018/12/14/582910/Israeli-soldier-hit-with-rock-seriously-wounded-near-Ramallah
--------
Arab World
Nobel laureate Murad to build hospital with prize money in Iraq
15 December 2018
Nadia Murad, an Iraqi Yazidi woman held as a sex slave by ISIS militants who won this year's Nobel Peace Prize, said on Friday she intended to use the prize money to build a hospital for victims of sexual abuse in her hometown.
The Yazidi survivor was speaking to a crowd of hundreds in Sinjar, her hometown in northern Iraq.
"With the money I got from the Nobel Peace prize, I will build a hospital in Sinjar to treat ill people, mainly widows and women who were exposed to sexual abuses by Islamic State militants," she told the crowd and gathered journalists.
She thanked the Iraqi and Kurdistan governments for agreeing to her plan and said she would be contacting humanitarian organizations "soon" to start construction.
Murad was awarded the $1 million prize alongside Congolese doctor Denis Mukwege for their efforts to end the use of sexual violence as a weapon of war and armed conflict.
She was one of about 7,000 women and girls captured in northwest Iraq in August 2014 and held by Islamic State in Mosul, where she was tortured and raped.
She escaped after three months and reached Germany, from where she campaigned extensively to appeal for support for the Yazidi community.
The Yazidi area in Sinjar had previously been home to about 400,000 people, mostly Yazidis and Arab Sunnis.
In a matter of days, more than 3,000 Yazidis were killed and about 6,800 kidnapped, either sold into slavery or conscripted to fight for Islamic State as the religious minority came under attack.
https://english.alarabiya.net/en/News/middle-east/2018/12/15/Nobel-laureate-Murad-to-build-hospital-with-prize-money-in-Iraq.html
--------
Riyadh committed to political solution that will guarantee Yemen's stability
14 December 2018
An official source at the Saudi Foreign Ministry said on Friday that the Kingdom, led by the Custodian of the Two Holy Mosques and the Crown Prince, is committed to reaching a political solution in Yemen to ensure its security, stability and territorial integrity, according to the Saudi Press Agency.
The statement by the Saudi Foreign Ministry welcomed the Sweden deal between the Yemeni legitimate government and the Houthis.
"Handing over the port of Hodeidah helps alleviate the suffering of the Yemeni people," the statement said.
"The Houthis should prioritise the interests of the Yemeni people to reach a political solution," it said. "The solution is based on the Gulf initiative and the outcome of dialogue and UN Security Council resolution."
https://english.alarabiya.net/en/News/gulf/2018/12/14/Riyadh-committed-to-political-solution-that-will-guarantee-Yemen-s-stability-.html
--------
UN Chief: Saudi Crown Prince aided Yemeni truce
14 December 2018
The United Nations said Secretary-General Antonio Guterres feels his talks with Saudi Crown Prince Mohammed bin Salman and Yemen's President Abed Rabbo Mansour Hadi helped achieve the cease-fire agreement in the province of Hodeidah where the country's key port to import desperately needed food is located.
UN deputy spokesman Farhan Haq told reporters at UN headquarters in New York Thursday that Guterres felt the Saudi crown prince's contribution "was very important to the outcome of the consultations" and that Hadi "played a positive role."
The secretary-general thanks those inside and outside the region that tried to encourage the parties to make progress at the talks in Sweden and believes this was "valuable" in reaching Thursday's agreement, Haq said.
He said UN special envoy for Yemen Martin Griffiths, who led the talks, and UN humanitarian chief Mark Lowcock, will brief the UN Security Council Friday on the outcome.
Full report at:
https://english.alarabiya.net/en/News/gulf/2018/12/14/UN-Chief-Saudi-Crown-Prince-aided-Yemeni-truce.html
--------
Between Saudi Arabia, US and China, lone struggle for Canada's foreign policy
14 December 2018
First US President Donald Trump attacked Canada on trade. Then Saudi Arabia punished it for its interference in the internal affairs. Now China has the country in its cross-hairs, detaining two Canadians in apparent retaliation for the arrest of a top Chinese tech executive on behalf of the United States.
Canada is caught between two super powers and taking the punishment - and its ally to the south has been conspicuously absent in coming to its aid.
"We've never been this alone," historian Robert Bothwell said. "We don't have any serious allies. And I think that's another factor in what the Chinese are doing. ... Our means of retaliation are very few. China is a hostile power."
The two Canadians, Michael Kovrig, a former diplomat in China, and Michael Spavor, an entrepreneur who lived in northeastern China near the North Korean border, were taken into custody Monday on suspicion of "engaging in activities that endanger the national security" of China, Chinese foreign ministry spokesman Lu Kang said. Canadian consular officials have had no access to them.
Their detentions ratchet up pressure on Canada, which arrested Meng Wanzhou, the chief financial officer of telecommunications giant Huawei, on Dec. 1 at the request of the United States. The US wants her extradited to face charges that she and her company misled banks about the company's business dealings in Iran. A Canadian judge released Meng on bail Tuesday.
The case has set off a diplomatic furor among the three nations in which Canada has been stuck in the middle.
Until now, Canada had a largely good relationship with China, forged by Canadian Prime Minister Justin Trudeau's father, late Prime Minister Pierre Trudeau, who helped establish the one-China formula that enabled many other countries to recognize China in the 1970s. Canada acknowledged there is one government of China and does not officially recognize Taiwan.
China has since become Canada's second-largest trading partner, after the United States. Chinese investment has powered real estate booms in Vancouver and Toronto. And one-third of foreign students in Canada are Chinese.
Free trade agreement
Justin Trudeau has even talked about a possible free-trade agreement with China in a bid to diversify Canada's trade, which relies on the US for 75 percent of its exports. But the Canadian prime minister has said little since news of this week's arrests became public. Opposition Conservative leader Andrew Scheer said Trudeau isn't being forceful enough with the Chinese.
"This situation demonstrates that Justin Trudeau's naive approach to relations with China isn't working," Scheer said.
It's Canada's second dispute with a major power this year. In June, Trump vowed to make Canada pay after Trudeau said he wouldn't be pushed around in talks to hammer out a new North American trade agreement, an unprecedented attack on America's closest ally. Trump called Trudeau weak and dishonest, words that shocked Canadians.
Then Trump said this week that he might intervene in the Huawei case if it would help clinch a trade agreement with China, upending US efforts to separate the court proceeding from US-China trade talks and contradicting Canadian officials who said the arrest was not political.
Canadian Foreign Minister Chrystia Freeland took a swipe at Trump, saying it was "quite obvious" any foreign country requesting extradition should ensure "the process is not politicized."
"Normally, Canada can count on the United States to back them up on such an issue," said Laura Dawson, a former economic adviser at the U.S. Embassy in Ottawa and director of the Canada Institute at the Wilson Center think tank in Washington. Dawson said it's unusual for Washington to "leave Canada hanging high and dry."
"President Trump has made it clear that old alliances don't matter so much anymore," she said. "He has made no secret of his preference for a go-it-alone approach and his lack of regard for traditional alliances." In years past the US might have defended Canada when came it under attack and other countries would know the US had Canada's back. Not now.
Saudi activist
In August, the Saudi government expelled Canada's ambassador to the kingdom and withdrew its own ambassador after Canada's foreign ministry tweeted support for an arrested Saudi activist. The Saudis also sold Canadian investments and ordered their citizens studying in Canada to leave. No country, including the US, spoke out publicly in support of Canada.
And now the stakes are much higher. Canada is one of the few countries in the world unabashedly speaking out in defense of human rights and the international rule of law. And Chinese trade with Canada is increasingly key as Canada looks to boost its exports in Asia as its trade with the US is threatened by Trump's tariffs on Canadian goods.
"At the beginning of Trump there was this idea that maybe the Chinese would replace the Americans" as Canada's pre-eminent trade partner "but that's just nuts," said historian Bothwell, a University of Toronto professor. "Relations for any smaller country with China are really grave."
Derek Scissors, a China specialist at the conservative American Enterprise Institute, called China's actions toward Canada "thuggish." "You detain a Canadian because the Canadians can't do anything. It's bullying behavior," he said.
Noting Canada was just following a routine extradition process with the United States, Scissors said America should be saying: '''Why are you picking up Canadians? You have a problem with us.'" David Mulroney, a former Canadian ambassador to China, said not only the US but other Western nations should be standing up for Canada.
"It would be nice if publicly and also behind the scenes if countries like the United States, the U.K., Australia and France would put in a word on our behalf and let the Chinese know how damaging this is to their reputation and to the notion that China is a safe place to work and pursue a career," Mulroney said.
"I think a lot of foreigners in China are looking over their shoulder right now," he added. Christopher Sands of the School of Advanced International Studies in Washington said the world took note of how Trump treated Canada during trade negotiations and how the US stayed silent when Saudi Arabia overreacted to Canada's expression of human rights concerns over treatment of the Saudi dissident.
Full report at:
https://english.alarabiya.net/en/features/2018/12/14/Caught-between-Saudi-Arabia-US-and-China-Canada-pays-its-foreign-policy-badly.html
--------
Iraq summons Turkish envoy to protest latest airstrikes
Dec 14, 2018
The Iraqi Foreign Ministry has summoned the Turkish ambassador to Baghdad over Ankara's latest airstrikes against Kurdish militants in northern Iraq, expressing its protest at repeated violations of its airspace.
Baghdad said the Turkish military's Thursday airstrikes were unacceptable "on all levels" and violated its sovereignty and the security of its citizens.
"The ministry denounces the actions of Turkish aircraft that violate Iraqi airspace and target several sites... in northern Iraq, which caused loss of life and property," it said in a statement.
The Turkish military said in a tweet on Friday it had killed eight militants from the outlawed Kurdistan Workers' Party (PKK) in airstrikes targeting the Zap, Hakurk and Haftanin regions of northern Iraq.
"Last night we carried out operations in northern Iraq. This operation we carried out was in opposition to the hostile activities against our national security, along our border line in Sinjar and the outskirts of Makhmur," Turkish President Recep Tayyip Erdogan said Friday, vowing that "there will be more to come."
"Why? Because, if there is a threat toward us from those areas — and yes there is — then they [the US] should eliminate those terrorists from that area. If they don't, we will do it."
He also referred to a Thursday "attack from Tal Afar against Turkish soldiers in Afrin" and said it showed "how accurate our decision was."
"This attack proved that the terrorists who were piling up on our border, would eventually target us. It is known that the USA has 22 bases in the region and more than 20,000 trucks of weapons and tools which have been sent to those locations," he added.
"To whom were those weapons sent? To the PKK, to PYD, to YPG. Whenever we capture those things [weapons], we see clearly who sent those things, from where, and for what purposes," Erdogan said, referring to Kurdish militant groups by their acronyms.
Turkey regularly carries out airstrikes against PKK targets in northern Iraq. The militants regularly clash with Turkish forces in the Kurdish-dominated southeast of Turkey, which is attached to northern Iraq.
Turkey, along with the European Union and the United States, has declared the PKK a terrorist group and banned it. The militant group has been seeking an autonomous Kurdish region since 1984.
A shaky ceasefire between the PKK and the Turkish government collapsed in July 2015. Attacks on Turkish security forces have soared ever since.
More than 40,000 people have been killed during the three-decade conflict between Turkey and the autonomy-seeking militant group.
Over the past few months, Turkish ground and air forces have been carrying out operations against PKK positions in the country as well as in northern Iraq and neighboring Syria.
The Turkish president on Friday said Ankara will send its forces to the Syrian town of Manbij if the United States does not remove the Kurdish People's Protection Units (YPG) militia from the area.
"Manbij is a place where Arabs live, but they have surrendered the area to the terror organization. Now we are saying that you should cleanse, remove them, or else we will enter Manbij. I am speaking very clearly," he warned.
Turkey considers the YPG a terrorist organization and an extension of the outlawed YPG.
Full report at:
https://www.presstv.com/Detail/2018/12/14/582942/Turkey-airstrike-Iraq-protest-ambassador-Kurdish
--------
Daesh inmates suspiciously slip free from Kurdish-controlled prison
Dec 14, 2018
Inmates belonging to the Daesh Takfiri terrorist group have suspiciously escaped a Kurdish-controlled prison quite close to Iraqi Kurdistan's second most important city of Sulaymaniyah.
The Daesh inmates fled as part of a 21-member group fleeing the fortified jail of Sosa, Kurdish security officials announced on Thursday.
The officials, however, claimed to be able to capture most of the inmates later on, although admitting that a number of the former militants were still missing and no further information on their whereabouts were available.
"Almost all of the convicted inmates who escaped are from Daesh," said one Kurdish security source speaking to Reuters.
It is not clear how the inmates were able to escape the prison. Reports have shown no indications of a forced breakout, which can signal probable local cooperation.
The Sosa complex is known to be a prison including mainly Daesh militants who were captured during the group's onslaught on the country which began in 2014.
The reports revealing the suspicious circumstances of the escape come only a week after a report claimed that American aircraft had reportedly airlifted Daesh commanders from a northwestern town in Syria before a Syrian Arab Army operation was set to liberate the town.
Speculations have been made about Washington's direct or indirect support through its allies for the terrorist group in the past years.
Numerous accounts have emerged alleging airlifts, weapon air drops and aerial support for the group, especially as its strength gradually diminished in Syria and Iraq.
Last year, Russia denounced American interference in the region, claiming that Daesh terrorists were being given a free pass by US forces and freely operating "under its nose."
Moreover, many Iranian officials have condemned what they have described as America's open attempts at trying to use the terrorist organization to further US interests.
Earlier this year, Iranian Foreign Minister Mohammad Javad Zarif said the US was relocating Daesh terrorists outside of the Middle East.
Those comments were echoed by Iranian Defense Minister Brigadier General Amir Hatami, who said that the US was transferring the group to Afghanistan.
Full report at:
https://www.presstv.com/Detail/2018/12/14/582900/Daesh-inmates-iraq
--------
Saudi Arabia urges Houthis to back political solution in Yemen
December 14, 2018
JEDDAH: King Salman and Crown Prince Mohammed bin Salman of Saudi Arabia on Friday urged Iran-backed Houthi militias in Yemen to "embark on the path" toward a political solution to the country's conflict.
The two leaders welcomed Thursday's agreement reached at UN-brokered peace talks in Sweden for a cease-fire and troop withdrawals by both sides from the Red Sea port city of Hodeidah.
"The Kingdom remains engaged in the search for a political solution in Yemen that guarantees the security and stability of the country," the king and the crown prince said.
Prince Mohammed had exerted "great personal efforts" to ensure the success of the talks in Sweden, Saudi Foreign Minister Adel Al-Jubeir said.
A "robust and competent monitoring regime" was required in Hodeidah to oversee compliance with the cease-fire, UN envoy Martin Griffiths told the Security Council on Friday.
Such a regime "is not just essential, it is also urgently needed and both parties have told us they would very much welcome it and indeed depend on it," Griffiths said. UN officials were already planning its deployment, which will require a Security Council resolution,.
Retired Dutch Maj. Gen. Patrick Cammaert will lead the monitoring component of the agreement, which took effect on Thursday when the deal was published.
He will arrive in a few days. "Being present in the field soon is an essential part of the confidence that needs to go with the implementation of this agreement," Griffiths said.
The council was already discussing a British-drafted resolution to enshrine five requests made by UN aid chief Mark Lowcock, including a truce around facilities needed for aid and commercial imports, and diplomats said it would now be reworked to endorse the agreement reached in Sweden.
"We hope to be able to work expeditiously with colleagues to bring about a Security Council resolution that will give the firmest possible support to what has been achieved so far," British UN Ambassador Karen Pierce told the council.
America's UN envoy Nikki Haley warned that the Security Council would be watching. "We must be ready to act if one or more of the parties fails to follow through," she said.
In Hodeidah on Friday, Yemenis were optimistic that the agreement in Sweden could bring a permanent end to the fighting.
"We are happy there will be a halt to the war. We have no jobs and are living on aid. We need help," said Akram Ateeq, 31, who used to support his mother, wife and child by selling fish near Hodeidah harbor but has been unable to work for six months because of battles on the outskirts of the city.
Full report at:
http://www.arabnews.com/node/1420751/middle-east
--------
Lebanese wary as Israel destroys Hezbollah border tunnels
December 14, 2018
MAYS AL-JABAL, Lebanon: As Israeli excavators dug into the rocky hills along the frontier with a Lebanese village, a crowd of young Lebanese men gathered to watch.
The mood was light as the crowd observed what Israel says is a military operation — dubbed "Northern Shield" — aimed at destroying attack tunnels built by the Lebanese Hezbollah militia. The young men posed for selfies, with the Israeli crew in the background, as they burned fires and brewed tea to keep warm.
But Lebanese soldiers were visibly on high alert, deploying to new camouflaged posts behind sandbags and inside abandoned homes. About two dozen UN peacekeepers stood in a long line, just ahead of the blue line demarcating the frontier between the two countries technically still at war.
The scene highlights the palpable anxiety that any misstep could lead to a conflagration between Israel and Lebanon that no one seems to want.
Underscoring such jitters, shadowy figures appearing across the misty hills of the border village of Mays Al-Jabal last weekend sparked panic, and Israeli soldiers fired in the air to warn a Lebanese military intelligence patrol, according to Lebanese reports. Israel said it fired at Hezbollah members who came to the site to dismantle sensors installed to detect tunnels.
Israel's tunnel search comes at a time when the civil war in neighboring Syria seems to be winding down. Hezbollah had sent hundreds of troops to Syria in 2013 to fight alongside the forces of Syrian President Bashar Assad. With Assad's forces emerging victorious, attention now seems to be returning to the tense Israel-Lebanon border.
Israel said its troops have discovered at least three tunnels along the frontier — a tactic used by Hezbollah in previous wars — and called on the international community to impose new sanctions on Hezbollah.
The militant group, which fought a bruising but inconclusive war with Israel in 2006, has not commented on the Israeli operation or statements.
Lebanese Prime Minister-designate Saad Hariri said Thursday that neither Israel nor Lebanon wanted to go to war, but noted that Israel violates Lebanese airspace and international waters on a regular basis.
He said the Lebanese army "will deal with this issue" after receiving a full report from the UN peacekeeping force, but did not elaborate.
The peacekeeping force, known as UNIFIL, has confirmed the presence of tunnels and said it is working with both sides to address the situation in line with UN Security Council resolutions.
In southern Lebanon on Thursday, Lebanese army soldiers observed the frontier in Mays Al-Jabal, taking photos of their Israeli counterparts operating only a few meters (yards) away. At times, the Lebanese soldiers asked the young men to move back, away from the frontier.
Lebanese homes and farms are nestled at the bottom of the hill where the operations run from daybreak until sundown. No civilian Israeli homes visible from that tense border.
Ali Jaber, a 21-year-old resident of Mays Al-Jabal, said he believes that Hezbollah is more popular after the Syria war, and that this is the reason Israel is now turning to it. "But whoever puts up a shield and is hiding and making fortifications must be scared," he said.
Hussein Melhem, a 19-year old electrician from the village, came to watch. His cheeks ruddy on a cold but clear day, he covered his head with a tight hood. He alleged that Israel is trying to change the border.
"If they could occupy all of this, they would," he said, in an apparent reference to Israel's 18-year military occupation of southern Lebanon which ended in 2000. "But the resistance will prevent them."
As a seven-year-old in 2006, Melhem and his family left Mays Al-Jabal when Israel invaded. His village was badly damaged but has since largely recovered and he said he found their home intact.
It is hard to forget about war in the villages and towns along the frontier. Pictures of Hezbollah fighters who died in the 2006 war, as well as the one raging in neighboring Syria, known locally as the "Sacred Defense," are everywhere. Posts on town squares boast of defeating Israel or urge the locals to "know their enemy."
During the Syrian civil war, Israel has frequently carried out airstrikes in Syria against Iranian-allied forces, particularly Hezbollah. Israel says it aims to prevent sophisticated weaponry from reaching Hezbollah, which it considers its most pressing security concern.
In Lebanon, Israeli Prime Minister Benjamin Netanyahu's warnings have raised suspicions that he is also using the tunnel operation as a diplomatic pressure card.
Netanyahu has called for more sanctions against Hezbollah. In a visit to the frontier earlier this week, he warned that if Hezbollah tries to disrupt the search for tunnels, "it will be hit in a way it cannot even imagine."
In Israel, some newspaper commentators have been critical of the UN peacekeeping force, whose mandate Israel and the United States have unsuccessfully attempted to expand to include "intervention and deterrence."
About 20 kilometers (12 miles) to the north from Mays Al-Jabal, Israeli soldiers are also operating along another frontier to uncover what they suspect is a tunnel location.
There, a high concrete wall separates them from the Lebanese village of Kfar Kela. Red-roofed Israeli homes on a hill overlook the diggers, who had cleared peach trees to make room for their work. Lebanese residences, some of them luxury summer homes, sat atop hills hundreds of meters from the wall.
Full report at:
http://www.arabnews.com/node/1420641/middle-east
--------
US-backed forces expel Daesh from east Syria hub
December 14, 2018
BEIRUT: Kurdish-led forces seized Daesh's main hub of Hajjin Friday, a milestone in a massive and costly US-backed operation to eradicate the militants from eastern Syria.
The Syrian Democratic Forces secured Hajjin, the largest settlement in what is the last pocket of territory controlled by Daesh, the Syrian Observatory for Human Rights said.
"After a week of heavy fighting and air strikes, the SDF were able to kick IS out," Rami Abdel Rahman, the head of the Britain-based monitoring group, said, referring to another acronym for Daesh.
The operation was completed at dawn, he said, a day after SDF forces fanned out across the large village in the Euphrates valley.
On Thursday, the last Daesh fighters were confined to a network of tunnels and the edges of Hajjin, which lies in the eastern province of Deir Ezzor, about 30 kilometers (18 miles) from the border with Iraq.
The area held by Daesh is sometimes referred to as the "Hajjin pocket," the last rump of a once-sprawling "caliphate" the group proclaimed in 2014 over swathes of Syria and Iraq.
Daesh fighters pulled back to positions east of Hajjin Friday and to Sousa and Al-Shaafa, the other two main villages in their shrinking Euphrates valley enclave.
As recently as Thursday, the group posted pictures of fighting in Hajjin on its social media accounts.
According to Abdel Rahman, a total of 17,000 fighters from the Kurdish-Arab SDF alliance are involved in the operation to flush Daesh out of its last bastion.
The operation was launched on September 10 and has taken a heavy toll, according to figures collected by the Observatory, which has a network of sources on the ground.
At least 900 militants and 500 SDF fighters were killed in the fighting, the Observatory said.
According to Abdel Rahman, more than 320 civilians were also killed, many of them in air strikes by the US-led coalition.
Thousands more civilians who had remained, voluntarily or not, in the Hajjin area have fled their homes since the start of the offensive three months ago.
US President Donald Trump this week predicted the militant group would be fully defeated within a month.
"We've done a very, very major job on Daesh," he said on Tuesday, using another acronym for Daesh.
"There are very few of them left in that area of the world. And within another 30 days, there won't be any of them left," he vowed.
Western and other officials have repeatedly announced deadlines for a final victory over Daesh but the group is proving resilient.
The push to retake Hajjin was delayed by Turkish threats on the Kurdish heartland further north and deadly counter-attacks by die-hard militants making a bloody last stand.
The Turkish threats were renewed this week by President Recep Tayyip Erdogan, who said the army would launch an offensive within the "next few days" to "bring peace and security to areas east of the Euphrates" controlled by the SDF.
Washington, which has set up observation posts along the border and launched joint patrols with the SDF, said any unilateral military action in northern Syria would be "unacceptable."
On Friday, 13 political parties in Kurdish territory in northern Syria issued a joint statement denouncing Erdogan's threat as a "declaration of war."
Besides what is left of the pocket near Hajjin, Daesh has a presence in Syria's vast Badia desert, a front which is managed by Russian-backed government forces.
What is left of the militant group also has sleeper cells across Iraq and Syria that regularly carry out attacks.
Full report at:
http://www.arabnews.com/node/1420626/middle-east
--------
North America
US Asks Saudi, UAE to Pay $331mn More for Yemen War Aerial Refuelling
Dec 14, 2018
Saudi Arabia and the United Arab Emirates should pay the US military $331 million more for the aerial refueling they received during the Yemen war, the Pentagon has said, citing an "accounting error."
The Pentagon is still looking forward to recuperating outstanding refueling costs that were amassed between March 2015, when the Saudi-led coalition attacked Yemen, and November of this year, when the service was pulled amid international criticism.
Commander Rebecca Rebarich, a Pentagon spokeswoman, said Friday that the US Central Command (CENTCOM) was specifically looking to reimburse about $36.8 million for fuel costs and $294.3 million for flight hours, which were not included in the initial bills and were therefore paid for with taxpayer money.
"US Central Command reviewed its records and found errors in accounting where we failed to charge the Kingdom of Saudi Arabia (KSA) and the United Arab Emirates (UAE) adequately for fuel and refueling services. USCENTCOM calculated the correct charges, and Department of Defense is in the process of seeking reimbursement," she said in a statement to CNN.
Senator Jack Reed, the ranking Democrat on the Senate Armed Services Committee, first uncovered the accounting mistake in a probe. He said Thursday that the Pentagon was taking the necessary measures to recover the funds.
"This is good news for US taxpayers and underscores the need for strong oversight of the Department of Defense. The American people should not be forced to bear these costs and I am encouraged DOD is taking steps to get full reimbursement," Reed said in a statement.
He also called on US President Donald Trump to help end the war by taking advantage from the progress that Yemen's warring sides have achieved during the ongoing UN-led talks in Sweden.
"It is time for this war to stop," he added.
The military aggression has created a human crisis in the impoverished country, killing some 15,000 Yemenis and putting millions more on the verge of famine.
While the Trump administration has shown little interest in ending the war, the Senate made it clear on Thursday that it wanted Washington out of the conflict.
The historic 56-41 bipartisan vote, for the first time, invoked Congress' war powers to challenge US military involvement abroad despite the Trump administration's unwavering support for the Saudi regime in its aggression against Yemen.
While the US military has stopped aerial refueling of Saudi-led aircraft, it continues to provide the coalition with targeting intelligence. There are also US military personnel in Saudi Arabia who advise Saudi commanders.
Trump says punishing Saudi Arabia for its crimes only endangers billions of dollars in arms sales and pushes the traditional Middle East ally towards Russia.
https://www.presstv.com/Detail/2018/12/14/582940/US-Pentagon-Yemen-war-air-refueling-Saudi-UAE
--------
Truce agreement victory for Yemeni nation: Abdulsalam
Dec 14, 2018
Yemen's Houthi movement says a ceasefire agreed between the warring sides in Yemen is a victory for the war-torn country as it will stop Saudi attacks on the strategic city of Hudaydah.
Houthi chief negotiator Mohammed Abdulsalam made the remarks in an interview with Al-Masirah TV, shortly after the warring parties reached a ceasefire agreement after days of UN-brokered talks in Sweden.
Based on the deal, "the existing local authorities will be officially in charge of controlling the city and establishing security there under the supervision of the UN," Abdulsalam said.
The Houthi delegation and Saudi-backed former government agreed that the UN would play a "leading role" in Hudaydah, which is currently controlled by the Houthis.
They also agreed to reopen the airport in the capital Sana'a, which was shuttered last year after numerous attacks by Saudi Arabia.
The Riyadh-backed side, which represented former Yemeni president Abd Rabbuh Mansour Hadi in the Stockholm talks, said on Friday that the Houthis must hand over the key port.
However, Abdulsalam strongly rejected the proposal, saying Hudaydah must be kept apart from the military conflict, and that a government should be formed first before all parties are disarmed.
Forces loyal to Hadi and the Saudi-led mercenaries were forced to sit for talks with the Houthi Ansarullah movement after their massive operation to seize the port city of Hudaydah failed.
Saudi Arabia and the United Arab Emirates had deployed about 10,000 troops to Yemen's west coast after repeated campaigns to seize Hudaydah were thwarted by the Houthis and their allies.
Ansarullah calls the truce deal a defeat for the Saudis as it stops the aggression, allows existing local protectors who thwarted the Saudi offensive to be in charge of the city, and allows the Yemeni nation to regain their access to food, medicine, and other basic supplies.
Around 14 million people have been pushed to the brink of starvation since the Saudi war began in 2015, according to the UN.
Cessation of Saudi aggression
In his remarks, Abdulsalam said there is no sign that the Saudis are going to stop their aggression against the innocent people of Yemen despite the ceasefire deal.
One of the articles of the draft agreement proposed by the Ansarullah delegation is "the complete cessation of military actions in Yemen," but the Saudi side is rejecting it, he said.
"The UN has two options ahead of itself: it should either start the political process from the scratch or begin the political process from the draft version of the framework deal proposed in Sweden."
Abdulsalam also called on the Yemenis to remain vigilant, especially in Hudaydah and Tai'zz, and continue supporting the Yemeni army and popular committees.
"Those who have shown resistance against 17 countries for four years can achieve a brilliant victory," he added.
Saudi Arabia invaded Yemen in March 2015 in an attempt to reinstall Hadi, who had resigned amid popular discontent and fled to Riyadh.
Saudi Arabia buys the bulk of its weapons used in war from the US, Britain and France.
The US Senate on Thursday voted to stop US armed forces from supporting Saudi Arabia in its military aggression against Yemen.
The historic bipartisan vote for the first time invoked Congress' war powers to challenge US military involvement abroad despite the Trump administration's unwavering support for the Saudi regime.
US bills Saudis, Emiratis $331mn for refueling warplanes in Yemen
The US Department of Defense said Thursday it has sent Saudi Arabia and its main partner, the United Arab Emirates, a $331-million bill for the fuel their warplanes have received from American refueling aircraft during the past four years in the Yemen war.
"Due to errors in accounting by the Pentagon, the United States had not properly charged Saudi Arabia and the United Arab Emirates for those services," Senator Jack Reed of Rhode Island, the senior Democrat on the Armed Services Committee, said in a statement.
Specifically, the Pentagon is seeking about $36.8 million for jet fuel and $294.3 million for flight hours by American refueling aircraft, Cmdr. Rebecca Rebarich, a Pentagon spokeswoman, said.
Full report at:
https://www.presstv.com/Detail/2018/12/14/582891/Houthi-Ansarullah-Abdulsalam-Yemen-talks-Saudi-coalition
--------
US terrorism policies have increased anti-American sentiments among Muslims
DECEMBER 15, 2018
ISLAMABAD: University of Tennessee Howard H Baker Jr Centre for Public Policy research fellow Harrison Akins said on Friday that American counter-terrorism policies have increased anti-Americanism in many Muslim countries.
He said this during his visit to Islamabad Policy Research Institute (IPRI).
He also suggested that the United States needs to distinguish between international terrorism and domestic terrorism.
He said, "If you look at the trajectory of two kinds of terrorism, there are very different outcomes. The number of international terrorist attacks each year remains relatively small. However, if we look at domestic terrorism, we see a different story."
Domestic terrorist attacks have increased substantially after 2001 and especially after 2004.
Unfortunately, Pakistan is one of those states, where there has seen dramatic increase in domestic terrorist attacks, he added.
"Unfortunately, the US too often establishes counterterrorism policy based upon its own interests and tries to find one-size-fits-all approach, which is not sensitive to local, political, social, cultural and historical contexts," he admitted.
Hence, what it pursues in Pakistan is the same which it pursues in Algeria, Yemen, Kenya, whereas all these states are so vastly different that it becomes difficult to imagine a single strategy in all these different societies and contexts.
He briefly discussed the main foundations of US counterterrorism policy. Firstly, the US views the problem through military approach.
For instance, after former US president George Bush administration took over, it began to take military approach after 9/11.
It was less about bringing criminals to justice and more about making a statement-the latter became very important for the US to pursue. Secondly, the US has a broad conception of enemy.
There was a shift in US counterterrorism policy in 2004. Earlier, cost of Unilateral Action Policy became too high, which led the US to opt for preventive approach.
This change in policy explains the increase in Domestic Terrorism leading to terrorism trap, he explicated.
Later in the Q/A session, responding to a question on warming India-US ties, Harrison Akins said that Republican Party and BJP have a many commonalities.
Both are have serious reservations about Islam and both have strong business ties. Also, Indian diaspora has a strong influence by lobbying in the US, which defines India-US relations.
While Pakistan is mired in security issues, India-US business ties are growing. Although, India is a bigger economy, Pakistan remains a key stakeholder in South Asia, he opined.
Akins recommended that the US needs to move beyond the narrow focus of security perspective and engage with Pakistan as a sovereign nation.
"We need to establish and enhance business exchanges; person-to-person exchanges and scholarship programmes. Both sides need to focus on what is common and need to identify areas of cooperation, from that we can begin to rebuild trust. Then from that position of trust, both countries can work on serious issues. As long as we continue to pound pressure on security interests, it will not help. US should not work from one-track mind," he held.
Full report at:
https://dailytimes.com.pk/333621/us-terrorism-policies-have-increased-anti-american-sentiments-among-muslims/
--------
War on jihadists will not end unless West tackles root causes: Experts
15 DECEMBER 2018
Washington, Dec 15 Western powers fighting Islamist groups around the globe are condemned to a never-ending battle if they only tackle the symptoms and not the underlying causes of jihadist insurgency, experts say.
"Beyond the tactical victories on the ground, the current strategy is failing," said Katherine Zimmerman, who wrote a recent report for the American Enterprise Institute entitled "Terrorism, Tactics and Transformation: The West vs the Salafi-Jihadi Movement."
"Every soldier and intelligence analyst that has worked on this problem understands what is happening," Zimmerman told AFP.
"They understand that what they are doing is a temporary solution. It is ending the immediate threat but not stabilising or moving us forward. The problem comes down to policy and politics," she noted.
"It is easy to say, 'We are going to kill the person responsible for making the bomb.' It is much more difficult to say that our partner government has disenfranchised this group and it is one of the reasons why this person joins the terrorist group. And now he is the bomb maker."
Driven from lands it once held sway over in Syria and Iraq, the Islamic State group has returned to its origins as an underground jihadist outfit because the conditions that spawned it -- a deep discontent among most Iraqis and Syrians -- have persisted, experts say.
"The West is on the road to winning all the battles and losing the war," warned Zimmerman.
In a report last month on the resurgence of IS as a clandestine guerrilla group, the Center for Strategic and International Studies (CSIS) said that "while the United States and allied governments have weakened some groups like the Islamic State, many of the underlying causes have not been adequately addressed."
Those root causes include a "fragile state with weak or ineffective governing institutions" in areas affected by jihadist activity, where the Islamists can establish a sanctuary, the CSIS experts said.
They took maps showing areas where Al-Qaeda and IS were active and compared them to maps displaying "government effectiveness", based on World Bank statistics.
The result was clear: most of the countries where the insurgents are active -- Yemen, Syria, Iraq, Afghanistan, Libya, Mali, Nigeria, Somalia -- are also in the bottom 10 per cent for government effectiveness.
At a conference this week in Washington, retired Marine general John Allen -- who once commanded US forces in Afghanistan and now heads the prestigious Brookings Institution -- said the West had to get ahead of the issue and ask, "Where should we be looking for the next problems?"
"We should spend a great deal more time looking at those areas that are in fragile or failing states," said Allen, who also served as presidential envoy to the international coalition battling IS.
"We have to recognise the hotspots where the human condition prompts the radicalisation of large sectors of the population," he added.
"Often we join the conversation when the process of radicalisation has been in place for quite a long time."
Allen noted that the problem is "a development issue, much more than a counter-terrorism issue."
At the annual conference on terrorism, organised by the Jamestown Foundation, many experts noted that in Iraq, the grievances of the Sunnis -- the branch of Islam that gave rise to Al-Qaeda and IS -- were compounded by the involvement of powerful Shiite militias both in the Baghdad government and in areas recovered from Islamist insurgents.
Full report at:
https://www.outlookindia.com/newsscroll/war-on-jihadists-will-not-end-unless-west-tackles-root-causes-experts/1440432
--------
Jamaat threat to B'desh's democracy, progress: US congressman
Dec 15,2018
An influential US Congressman said the United States stood with the Bangladeshi people seeking free, fair and safe democratic elections but cautioned that Islamist groups like Jamaat-e-Islami posed a great threat to the country's democracy and progress.
'Bangladesh is a young democracy that struggles with radical groups attempting to subvert Bangladesh's progress all while seeking political power for themselves,' Congressman Jim Banks (R-Indiana) told a discussion in Washington on Wednesday, according to a message received in Dhaka on Friday.
Hudson Institute arranged the discussion on 'Stability, Democracy, and Islamism in Bangladesh', where it convened a panel to discuss politics in Bangladesh and the country's upcoming elections.
Panelists included Liberty South Asia's Seth Oldmixon, the Middle East Forum's Sam Westrop, and Abha Shanker of the Investigative Project on Terrorism.
The panel was moderated by ambassador Husain Haqqani, Hudson Institute director for South and Central Asia programming.
The congressman said that Bangladesh was a booming democratic country in the South Asia region with the growing presence in the global stage.
'However, Islamist groups like Jamaat-e-Islami threatened the country's prosperity,' he said.
In his opening remarks, Congressman Banks who recently introduced a bipartisan resolution in the House of Representatives said that these violent theocratic groups had committed violent acts against religious minority Christians, Hindus, Buddhists and moderate Muslims in an attempt to silence their voices and discouraged them from participating in a democratic process.
Banks said that Gono Forum president Dr Kamal Hossain earlier had stated his party would not join the Bangladesh Nationalist Party if Jamaat remained part of it.
The congressman said that the United States should support the efforts of Bangladesh government to combat the radical Islamist groups and to reaffirm the rights of the religious minorities.
Banks said that the resolution he introduced had called on the USAID and the US state department to refrain from any partnership or any funding arrangement from any organisations affiliated with radical Islamist groups in Bangladesh.
He recalled that previous elections has been the breeding grounds for these violent radical groups who had committed hundreds of acts of violence against religious minorities, minority-owned businesses and houses of worships.
Banks said that Bangladesh was a majority Muslim country that had an overwhelmingly positive view of the United States.
Quoting a recent PEU opinion survey, he said that 76 per cent of those in Bangladesh had a positive view of the US.
He said that Bangladesh shared critical strategic partnership with US.
In July 2017, the US and Bangladesh leaders dedicated multipurpose training facilities for Bangladesh Institute for peace support training operations.
The US had provided $3.6 million to facilitate training to peacekeepers deployed for the United Nations peace mission.
The congressman praised Bangladesh as one of the largest contributors of military personnel to the UN machines, playing a vital role in security cooperation.
Keeping in mind the upcoming elections in Bangladesh, Banks said that in a few weeks, the world would watch the elections on December 30.
Full report at:
http://www.newagebd.net/article/58957/jamaat-threat-to-bdeshs-democracy-progress-us-congressman
--------
Europe
Britain's Royal Air Force Gets Its First Sikh, Muslim 'Padres'
December 14, 2018
LONDON: In a first for the British military, a Sikh and a Muslim "padres" have become part of the Royal Air Force Chaplain's Branch, UK's Ministry of Defence announced on Friday.
Flight Lieutenant Mandeep Kaur, who grew up in Punjab, becomes the first Sikh chaplain and Kenya-born Flight Lieutenant Ali Omar becomes the first Muslim chaplain.
Ms Kaur was selected as a chaplain while studying in the UK for her doctorate in engineering and has been working towards this role since 2005, the Ministry of Defence (MoD) said.
The two padres, as they are officially referred to, graduated at Royal Air Force (RAF) College Cranwell, RAF's training and education academy, on Thursday, after completing reservist officer training.
"Padres provide spiritual and welfare support to all soldiers, sailors, airmen and women, and their families. They deploy on operations and aboard ships when they go on long deployments," the MoD said.
"Padres can also go out on patrols and live on the front line, on hand for when personnel need them," it notes.
The appointments form part of the Ministry's new diversity strategy to increase diversity and inclusion across the armed forces.
The strategy titled 'A Force for Inclusion' is aimed at ensuring that diversity and inclusion are a major part of all of the department's work, including workforce policies, culture and behaviour.
"It has been an absolute privilege to welcome our first Sikh and Muslim commissioned Chaplains into the Royal Air Force and I look forward immensely to working with them into the future," said John Ellis, RAF Chaplain-In-Chief, the Venerable (Air-Vice Marshal).
"My role in the RAF as a flagbearer of the Muslim Chaplaincy will see me work with the RAF Chaplaincy branch to negotiate and establish the place of World Faith Chaplaincy within the RAF," said Omar, who studied for his Master's degree in translation studies at Portsmouth University before completing a post-graduate course and joining RAF ranks.
"An overdue and exciting venture that will see me work side by side as a commissioned Muslim chaplain along colleagues from different faiths," he said.
https://www.ndtv.com/indians-abroad/britains-royal-air-force-gets-mandeep-kaur-ali-omar-first-sikh-muslim-padres-1962863
--------
Muslim Brotherhood more dangerous to Germany than ISIS, Qaeda, says report
14 December 2018
Citing German Intelligence and security sources, a local news outlet said an official report has concluded that German security authorities consider the Muslim Brotherhood group as "more dangerous" to Germany's democracy, compared to the ISIS extremist group and al-Qaeda terrorist organization.
FOCUS Online, the German-language news magazine, said that sources have cited German Intelligence, security authorities, and consider the Muslim Brotherhood "in the medium term" as "more dangerous than the ISIS and al-Qaeda to democracy in Germany."
It added that the German Intelligence and security sources started to be worried about the turnout of people in organizations or mosques linked to the Muslim Brotherhood, especially in the state of North Rhine-Westphalia.
The online magazine also said the German security apparatus expressed in the report their concerns regarding the Muslim Brotherhood's influence on the Supreme Council of Muslims in Germany and which is mainly represented by the Islamic Society of Germany - a "registered association" that is based in Cologne.
The assessment reached, according to the report investigating the Muslim Brotherhood's influence in Germany, is that "The efforts to establish a social and political system based on the Sharia is a violation of the free democratic system."
The German Intelligence body reports that Muslim Brotherhood branches have a "schooling program and a comprehensive curriculum for Muslim and religious individuals from all age groups."
Full report at:
https://english.alarabiya.net/en/News/world/2018/12/14/Muslim-Brotherhood-more-dangerous-to-Germany-than-ISIS-Qaeda-says-report-.html
--------
Main Suspect in Strasbourg Attack Killed in Gun Battle With Police: Officials
December 15, 2018
Strasbourg/Paris. The suspected gunman who killed three people at a Christmas market in the French city of Strasbourg was shot dead on Thursday in a brief gun battle with police after being on the run for 48 hours, police sources said.
Cherif Chekatt, 29, was killed in the Neudorf/Meinau area of the city shortly after a big police operation was launched on Thursday about 2 kilometers from where he launched his attack on Tuesday.
Chekatt was killed after firing on police officers, who returned fire, one of the sources said.
Interior Minister Christophe Castaner told reporters later three police officers came across a man they believed to be Chekatt and went to arrest him.
He turned to fire on them and they shot and killed him, Castaner told reporters.
"I think it will help to get back to a life that I would describe as normal," Strasbourg Mayor Roland Ries told reporters after news that Chekatt had been killed.
"With the death of this terrorist ... citizens, like me, are relieved," he said
Reuters reporters near the scene heard three to four gunshots after armed police officers and units launched their operation, backed up by a helicopter circling overhead.
The death toll from Tuesday's attack rose to three while police on Thursday combed the city in the east of France for a second day and manned checkpoints on the German border in their search for Chekatt.
Three others were fighting for their lives on Thursday, Castaner told a news conference before news broke that Chekatt had been shot dead.
Police issued a wanted poster in multiple languages for Chekatt, who was the main suspect in the attack and who had been on a watchlist as a potential security threat.
He had spent time in French, German and Swiss jails for a theft and violence and authorities say he was known to have developed radical religious views while behind bars.
Islamic State claimed him as one of its soldiers on Thursday, who "carried out the operation in response to calls for targeting citizens of coalition countries" fighting the militant group, according to a statement on its Amaq news website. The group provided no evidence for the claim.
Earlier in the day armed and masked police had swooped on the same Strasbourg neighborhoods fanning out across three locations in late afternoon, including the area where Chekatt was last seen. He was killed not far from there.
Witnesses had told investigators that the attacker cried out "Allahu Akbar" (God is Greater) as he opened fire on Tuesday on the Christmas market in Strasbourg, a target Paris Prosecutor Remy Heitz suggested may have been chosen for its religious symbolism.
French soldiers, who are part of anti-terrorism patrols across the country, had shot him in the arm but he managed to escape and elude capture for 48 hours.
BFM TV citing investigators said a taxi driver, who had taken him away from the attack site, had told him he had carried out the attack to avenge his brothers in Syria.
Militant Attacks
Chekatt's police file photo shows a bearded man of North African descent, with a prayer bruise on the center of his forehead.
Neighbors on the housing estate where Chekatt family's lived described the suspect as a typical young man who dressed in jogging pants and trainers rather than traditional Islamic robes.
"He was a little gangster, but I didn't see any signs of him being radicalized," said a leader of a community group standing outside Chekkat's apartment building, who asked not to be identified while discussing him.
The Strasbourg attack was the latest in a succession of attacks linked to Islamist militancy in France going back to March 2012. Since January 2015 more than 240 people have been killed in various attacks, although the last one had been in May.
With the gunman still on the run and officials dubbing the attack an act of terrorism, France raised its security threat to the highest level.
More than 700 police took part in the manhunt. French and German police had manned controls on either side of the Europe Bridge, which spans the frontier running along the Rhine river, causing hours of logjams.
The Christmas market, a hugely popular attraction in historic Strasbourg, will reopen on Friday, Castaner said.
Full report at:
https://jakartaglobe.id/international/main-suspect-strasbourg-attack-killed-gun-battle-police-officials/
--------
Strasbourg reopens Christmas market after attacker shot dead
15 December 2018
Strasbourg reopened its traditional Christmas market under heavy security on Friday, the morning after French police shot dead a gunman suspected of killing four people in the heart of the historic city.
Cherif Chekatt, 29, was killed in the Neudorf neighborhood of Strasbourg after firing on police, ending a two-day manhunt that involved more than 700 members of the security forces.
The fourth victim, an Italian national, was named on Friday.
The attack on Strasbourg's cherished Christmas market, a target full of religious symbolism, evoked France's difficulties in integrating western Europe's largest Muslim minority and dealing with homegrown militants inspired by Islamic State.
"It's reopening just in time," said stall-holder Bernard Kuntz, preparing his scarves and stoles imported from India, where President Emmanuel Macron was expected to arrive in the evening after a trip to Brussels.
"We were getting worried. Some of the guys have taken out loans to be here, and we've already lost two days."
On Friday, 29-year old Italian journalist Antonio Megalizzi died as a result of the wounds he sustained in what Strasbourg Mayor Roland Ries said was indisputably an act of terrorism.
Italy's Foreign Ministry said Megalizzi was in Strasbourg to follow the plenary session of the European Parliament for the Europhonica radio network.
Ries expressed relief that Chekatt had been killed and said everyone in Strasbourg, on eastern France's Rhine river border with Germany, felt the same.
French troops, who have been used to bolster national security since a wave of Islamic State-inspired attacks began in France in 2015, stood guard at the open-air market.
"I think it will help to get back to a life that I would describe as normal," Ries told reporters. "With the death of this terrorist ... citizens, like me, are relieved."
Extra 1,800 troops on market patrols
ISIS claimed Chekatt as one of its soldiers. It provided no evidence for the claim, which Interior Minister Christophe Castaner called "opportunistic".
"Nothing indicates that (Chekatt) was part of a network. There is nothing to suggest that he was being protected by such, but the investigation is not yet over," Castaner told Europe 1.
He said Chekatt's Islamic beliefs were radicalised during time in prison. Police were still interrogating seven associates on Friday, including his parents, to determine whether he had accomplices.
France ramped up its security threat to its highest level after Chekatt struck late on Tuesday. Prime Minister Edouard Philippe promised an extra 1,800 troops would be put on patrols with a special focus on Christmas markets.
Full report at:
https://english.alarabiya.net/en/News/world/2018/12/15/Strasbourg-reopens-Christmas-market-after-attacker-shot-dead.html
--------
Briton flees Turkey over 'terrorism' jail term
December 14, 2018
A British former soldier who travelled to Syria to join Kurdish forces fighting ISIS has fled Turkey after a court jailed him for terrorism offences.
Joe Robinson, 25, escaped to Britain while on bail in Turkey pending an appeal against his seven-and-a-half-year sentence imposed in September for membership of the Kurdish YPG.
"I had to take matters in my own hands," he told the BBC. "I could not accept the sentence and charges as I am not a criminal."
His flight had been weeks in the planning, according to Macer Gifford, a former fighter for the Kurdish YPG group, who has been in touch with Mr Robinson's family.
Mr Robinson, who in 2012 served in Afghanistan with the British army, travelled to Syria in 2015 where he previously claimed to have for just one month inside Syria as a medic treating injured civilians. He said he never took part in YPG operations but posted pictures of himself in camouflage with fighters.
He moved to Iraq where he accepted fought with the Kurdish peshmerga. He was arrested on his return to the UK but has never been charged.
Mr Robinson was arrested in Turkey in July 2017 while on holiday with his fiancée, Mira Rojkan, a Bulgarian woman.
She was given a suspended jail term for sharing pro-Kurdish material on Facebook and had previously left Turkey and had campaigned for Mr Robinson's freedom.
The YPG is an ally of the US and the UK in the fight against ISIS but is considered a terrorist organisation by Ankara because of its links with the Kurdistan Workers' Party (PKK), which is fighting for Kurdish autonomy in Turkey.
Dozens of Britons are believed to have travelled to the region to volunteer for the YPG and several have been arrested after returning to Britain.
Jim Matthews, also a former soldier, became the first person from the UK to face a terrorism charge for fighting against ISIS.
He was charged in February of "attending a place or places in Iraq and Syria where instruction on training was provided" for terrorist purposes. Prosecutors later dropped the charges against him saying there was not a realistic chance of conviction.
Full report at:
https://www.thenational.ae/world/europe/briton-flees-turkey-over-terrorism-jail-term-1.802732
--------
URL: https://www.newageislam.com/islamic-world-news/aimplb-approach-supreme-court-if/d/117170
New Age Islam, Islam Online, Islamic Website, African Muslim News, Arab World News, South Asia News, Indian Muslim News, World Muslim News, Women in Islam, Islamic Feminism, Arab Women, Women In Arab, Islamophobia in America, Muslim Women in West, Islam Women and Feminism