New Age Islam News Bureau
28 Apr 2020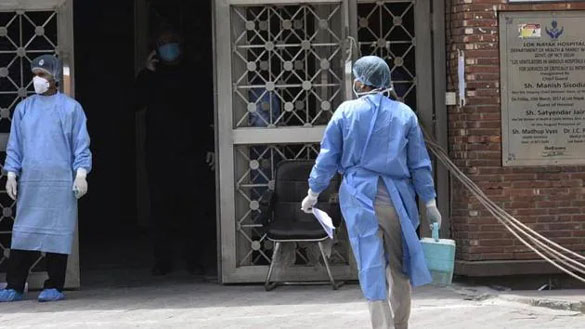 New Delhi In the absence of a vaccine or drug, hospitals are looking are looking at plasma therapy for the treatment of critical coronavirus patients.(Vipin Kumar/HT file photo)
--------
• AIIMS Begins Plasma Therapy, 200 Tablighi Members Begin Donation
• Hindus Arranging Roza-Iftar For Muslims Kept in Isolation at HanumangarhDist Hospital
• Islamic Human Rights Commission Urges to Fly the Palestinian Flag from Their Homes, Cars and Religious Centres During the Last 10 Days of Ramadan
• Coronavirus: Saudi Arabia's Al-Sudais Uses 'Ozone Tech' To Sterilize Kaaba In Mecca
• A Muslim Community in Michigan Has Come Together with A Ramadan Lights Challenge to Lift Spirits During the Holiday
• COVID-19 Lockdown: Buhari Sends Message To Christians, Muslims, Traditional Leaders
• Taliban Appoints First Shia Hazara As Shadow District Chief Of The Group
• Brunei Minister of Religious Affairs Urges Muslims To Pay Zakat Early, In View Of The COVID-19 Outbreak
• Mosque Committees Not Following Sops Endangering Lives of People: Governor
• In Germany, A Muslim Pastoral Phone Service Is Handling A Spike In Calls Since COVID-19 Lockdown
---------
India
• AIIMS Begins Plasma Therapy, 200 Tablighi Members Begin Donation
• Hindus Arranging Roza-Iftar For Muslims Kept in Isolation at HanumangarhDist Hospital
• Rs 5,000 Financial Aid to Priests, Imams, Pastors in Andhra Pradesh
• Islamic Sect Members Who "Sinned" Now Claim to Be "Corona Warriors": Minister Naqvi
• Uttar Pradesh: BJP MLA tells people not to purchase vegetables from Muslim vendors
• This Ramzan, Muslims donate Zakat to NGOs
• 11 Islamic Sect Members From Indonesia Arrested In Mumbai For Visa Rules Violation
• Mohan Bhagwat's words against stigmatisation and blaming of Muslims is timely, may change public perception of RSS
------
Mideast
• Islamic Human Rights Commission Urges to Fly the Palestinian Flag from Their Homes, Cars and Religious Centres During the Last 10 Days of Ramadan
• Ramadan TV Dramas Signal Shift in Arab-Israeli Relations
• Ramadan Callers in Gaza Remind People to Wash Up
• Palestinian group says has captured Israeli military drone flying over Gaza
• Coercive measures against Syria 'unforgivable crime': Arab forum
• Oil dispute between Iraqi government, Kurdish rulers flares again
• Iranian startups faring even better amid pandemic
• Iran offered $2.3bn in insurance to exporters in year ending March
• OPCW report on Syria chemical attacks one-sided, biased: Iran
• Zarif to Pompeo: Iranians decide their destiny, US 'max pressure' policy failed
------
Arab world
• Coronavirus: Saudi Arabia's Al-Sudais Uses 'Ozone Tech' To Sterilize Kaaba In Mecca
• Makkah Grand Mosque Imam Joins Workers Cleaning and Sterilizing the Kaaba
• Coronavirus: Egypt Extends State of Emergency by Three Months Despite Ramadan
• How is Saudi Arabia handling COVID-19 with the start of Ramadan?
• 6 ways to donate meals to frontline workers and vulnerable communities in the UAE during Ramadan
------
North America
• A Muslim Community in Michigan Has Come Together with A Ramadan Lights Challenge to Lift Spirits During the Holiday
• US Ready to Recognize Israeli 'Sovereignty' In Occupied Palestinian Lands
• Edmonton police hate crime unit investigating threats against Al-rashid mosque
• Spirituality amid self-isolation: Memphis' Muslim community connects virtually
• Trump: I Know How Kim Jong-un is Doing, Relatively Speaking
• Trump 'not happy with China' as US coronavirus death toll surges
------
Africa
• COVID-19 Lockdown: Buhari Sends Message To Christians, Muslims, Traditional Leaders
• 'Pray Against Coronavirus During Ramadan' – Ooni Urges Muslims
• Muslim groups await court ruling on mosques during lockdown
• Kenya Bans Night Prayers for Muslims During Ramadan Under COVID-19
• Lockdown: Police hunt for Delta imam, worshippers
------
South Asia
• Taliban Appoints First Shia Hazara As Shadow District Chief Of The Group
• 'Muslim Leaders of Sri Lanka Have an Important Role To Play Against Extremism': Treasurer Of The Foundation For Inter-Religious Peace
• 1 killed, 3 wounded during a clash in Kabul city
• New UN report highlights the role of Taliban, pro-govt forces in 533 civilians deaths
------
Southeast Asia
• Brunei Minister of Religious Affairs Urges Muslims To Pay Zakat Early, In View Of The COVID-19 Outbreak
• FGV launches Ramadan charity campaign as demand soars during MCO
• Ramadan bazaars go digital in Southeast Asia amid pandemic
• MCO: Foreigners selling food during Ramadan
• Mosques' closure extended for another week
• Mosque youth groups call for donations
• Japan needs to keep emergency in place, 2021 Olympics 'difficult,' top doctor says
------
Pakistan
• Mosque Committees Not Following Sops Endangering Lives of People: Governor
• AminulHaq Hands Over Sanitising Walk-Through Gates to Mosques
• Ulema To Ensure Implementation of Guidelines for Mosques: PM Imran Khan
• Mosques, Seminaries Facing Financial Crisis Under Lockdown: Report
• Balochistan minister visits mosques to review implementation of SOPs
------
Europe
• In Germany, A Muslim Pastoral Phone Service Is Handling A Spike In Calls Since COVID-19 Lockdown
• Community centre members rush to aid of gunshot victim in Queen's Crescent
• The Lib Dems' Ramadan stunt is spectacularly bad politics
• Mosque arranges hot meal bonus for Huddersfield food bank users
Compiled by New Age Islam News Bureau
URL; https://www.newageislam.com/islamic-world-news/aiims-begins-plasma-therapy-200/d/121695
------
AIIMS begins plasma therapy, 200 Tablighi members begin donation
Apr 28, 2020
After Lok Nayak hospital, the All India Institute of Medical Sciences (AIIMS) is set to begin plasma therapy for those with severe Covid-19 infections. The collection of plasma from over 350 eligible members of the Tablighi Jamaat started on Monday at the Covid Care Centres in Sultanpuri and Narela. Twenty-five donations have already been received.
Convalescent plasma therapy uses a blood component called plasma—which contains virus-fighting antibodies—from people who have recovered from the infection to treat those who are severely ill with Covid-19.
"We have collected plasma from a couple of donors already and now we are looking for a suitable recipient for the therapy—someone who is admitted to the intensive care unit, yet can tolerate the therapy," Dr DK Sharma, medical superintendent of AIIMS, said.
The therapy is usually administered to those with a respiratory rate higher than 30 (normal is 20), with an oxygen saturation of less than 90% (normal is 95% to 100%), or to those who have pus in their lungs.
Patients suspected to have Covid-19 are being admitted to the new private ward in the hospital, those with mild symptoms are being moved to AIIMS Jhajjar and those with severe symptoms to the AIIMS trauma centre.
"The plasma can be collected at any of the three places, but will be administered only at the trauma centre where the really ill patients are admitted," Sharma said.
The government currently has limited approval to conduct a randomised control trial of the therapy upon 20 critical patients, half of whom will receive antibody-rich plasma and the other half a placebo (which is devoid of any therapeutic value). This will help test whether the plasma actually helps heal those with Covid-19.
"Delhi needs to have a bank of around 200 Covid-19 plasma donations; we cannot wait for a donation when a sick person comes to the hospital. Anybody who has recovered from the infection—meaning two consecutive samples have tested negative—and has completed two more weeks of quarantine can donate plasma. People who have recovered can donate plasma every seven to ten days," said Dr SK Sarin, director, ILBS.
https://www.hindustantimes.com/delhi-news/aiims-begins-plasma-therapy-200-tablighi-members-begin-donation/story-3ldChF41g557rvNUkFbcpM.html
-------
Hindus arranging roza-iftar for Muslims kept in isolation at Hanumangarhdist hospital
Apr 28, 2020
JAIPUR: Bhatner city in Hanumangarh district has become an example of brotherhood with Hindu youths arranging roza-iftar for Muslims admitted to the district hospital during the month of Ramzan.
Suspected corona patients are admitted to the district hospital as their samples have been sent to Bikaner divisional headquarters for investigation.
Bhatner Kings Club and the district-level committee of 'Koi BhukaNahiSoye' have been helping these Muslims who were observing roza-iftar at the hospital by serving them fruits.
Principal medical officer of the district hospital, S P Sharma, said they handed over packets of fruits and other items for roza-iftar at the hospital regularly since Ramzan began on Saturday.
'Koi BhukaNahiSoye' committee chairman Tarun Vijay, Bhatner Kings Club president Kulbhushan Jindal, patron Ashish Vijay, vice-president Rohit Aggarwal are spearheading this campaign in their areas fostering brotherhood among communities.
Tarun Vijay said, "We have decided to distribute fruits to Muslims who are fasting at the hospital for Ramzan." He said there has always been a feeling of communal harmony in Hanumangarh district and they want to reinforce this with a small gesture.
Medical officer Dr M P Sharma said at present 18 such patients are admitted to the district hospital whose samples have been taken, many of them are Muslims observing fast. Their test reports are awaited.
Apart from that, patients who came in contact with corona positive patients have also been admitted. He said the efforts of local youths are laudable.
https://timesofindia.indiatimes.com/city/jaipur/hindus-arranging-roza-iftar-for-muslims-kept-in-isolation-at-hanumangarh-dist-hospital/articleshowprint/75417383.cms
-----
IHRC: Fly the Palestinian flag in last 10 days of Ramadan
16 hours ago
The Islamic Human Rights Commission is urging people to fly the Palestinian flag from their homes, cars and religious centres during the last 10 days of Ramadan.
The IHRC is the main organiser of the UK's annual Al-Quds Day march which will go online this year because of the COVID-19 epidemic.
Al-Quds Day takes place each year on the last Friday of Ramadan when millions of people pour onto the streets of cities around the world to voice their support for Palestinians and to call for an end to Israel's atrocities and occupation.
But to mark the occasion this year, the Justice for Palestine Committee will be streaming messages from a wide array of community leaders, activists and public figures online. The event on YouTube and Facebook will take place on Friday 22 May 2020 between 4-6pm.
As coronavirus rips through countries everywhere, nowhere is the disease likely to be more keenly felt than in Palestine, particularly in Gaza where millions of people live cheek by jowl in one of the most densely populated places on earth.
The IHRC says their suffering is amplified by Israel's weaponisation of COVID-19 to prevent the entry of much-needed medical equipment into Palestine and the passage of Palestinians across checkpoints to access health care in Israel or outside.
IHRC chair MassoudShadjareh said: "We are asking everyone to place Palestinian flags on their homes, cars and places or places of worship – and even on their masks when they go out in the streets. We need to highlight the injustice of the occupation of Palestine and I think we have an opportunity to do this in a major way online.
"Forty organisations have already joined the campaign from across the world, and we will also commemorate Al-Quds Day and Al Nakba Day which are in the last 10 days of Ramadan."
https://5pillarsuk.com/2020/04/27/ihrc-fly-the-palestinian-flag-in-last-10-days-of-ramadan/
-----
Coronavirus: Saudi Arabia's Al-Sudais uses 'Ozone tech' to sterilize Kaaba in Mecca
Tuqa Khalid
28 April 2020
The General President of the Affairs of the Grand Mosque and the Prophet's Mosque, Sheikh Abdul Rahman Al-Sudais used on Monday "Ozone tech" to sterilize Islam's holiest site, the Kaaba, in the Grand Mosque in Mecca, amid the coronavirus outbreak.
Ozone gas (also known as trioxygen, because it is comprised of three atoms of oxygen) is a well-known powerful oxidizer which can kill microorganisms such as bacteria and viruses.
Studies have shown that ozone can be an effective air disinfectant as in water. It has been used to kill E. coli and to disinfect SARS-contaminated environments.
It doesn't leave behind toxic residuals such as other disinfection chemicals making it an efficient and safe method of disinfection and sterilization.
That comes as part of the work scheduled by the General Presidency, which includes maintenance work of the black stone and Kaaba's Kiswa (the cloth cover) and other precautionary measures implemented inside the Grand Mosque to prevent the spread of the COVID-19 virus within it or in its courtyards.
https://english.alarabiya.net/en/coronavirus/2020/04/28/Coronavirus-Saudi-Arabia-s-Al-Sudais-uses-Ozone-tech-to-sterilize-Kaaba-in-Mecca.html
-----
A Muslim community in Michigan has come together with a Ramadan lights challenge to lift spirits during the holiday
April 27, 2020
By AlaaElassar
For Muslims around the world, the holy month of Ramadan looks a little different this year because of the coronavirus pandemic.
That's why the Muslim community in Dearborn, Michigan, decided to start a new tradition this year, one that could be done while still abiding by social distancing guidelines.
The community is hosting a Ramadan lights competition in hopes of spreading joy and bringing back some of the holiday spirit.
While many Muslims decorate their homes during the month, a similar tradition to hanging Christmas lights, this year, the Dearborn community has turned the custom into a challenge.
Residents are invited to nominate their own houses, or their neighbor's, by sharing their address and a photo of their decorated home by May 11. The photos will be shared on social media and the public can vote on their 10 favorite houses from each district. Judges will then pick the best lit-up homes in the city.
Documentary filmmaker Razi Jafri, who works for the Center for Arab American Studies at the University of Michigan-Dearborn, launched the challenge in collaboration with the Michigan Muslim Community Council and the city's annual Ramadan Suhoor Festival.
The competition is also a part of Halal Metropolis, a project Jafri works on at the center to document the lives of Muslims in Southeast Michigan.
"This will help raise spirits by providing a positive, pro-social project for the community to get involved with," Jafri told CNN. "It's amazing because both Muslims and non-Muslims in the community are getting so excited about it. There's been so much positive energy that has come out of this already. "
The winners of each district will be announced before Eid al-Fitr, the holiday that marks the end of Ramadan. Each winner will receive a certificate and gift basket from a local restaurant.
"This project is just the perfect blend of American and Muslim culture," Jafri said. "American Muslims are such an important part of the fabric of American culture and this is a great expression of that."
https://us.cnn.com/2020/04/27/us/ramadan-lights-challenge-dearborn-michigan-trnd/index.html
------
COVID-19 lockdown: Buhari sends message to Christians, Muslims, traditional leaders
April 27, 2020
By Don Silas
President Muhamadu Buhari has paid tribute to traditional rulers, the Christian Association of Nigeria, the Nigerian Supreme Council for Islamic Affairs, and other prominent religious and community leaders for their support in the fight against coronavirus in Nigeria.
According to Buhari, their cooperation and support have significantly contributed to the successes Nigeria has recorded so far in controlling the spread of COVID-19.
He said: "I will also recognize the support we have received from our traditional rulers, the Christian Association of Nigeria, the Nigerian Supreme Council for Islamic Affairs and other prominent religious and community leaders.
"I will urge you all to please continue to create awareness on the seriousness of the coronavirus among your worshippers and communities while appealing that they strictly comply with public health advisories."
https://dailypost.ng/2020/04/27/covid-19-lockdown-buhari-sends-message-to-christians-muslims-traditional-leaders/
------
Taliban appoints first Shia Hazara as shadow district chief of the group
28 Apr 2020
The Taliban group has for the first time appointed a Shia (Shi'ite) Hazara as the shadow district chief of the group, a move which is seen as an attempt to attract the support of Hazara community in the country.
The appointment comes as a surprise as the group persecuted the minority Hazara people on large scale after gaining power in mid-90s, particularly after massacring the Hazara people in Mazar-e Sharif city, the capital of Balkh in 1998.
Meanwhile, the experts have said the group is now trying to win over and recruit from the Shiite Hazara community ahead of intra-Afghan peace talks.
"The Taliban has never been an inclusive force; their leadership in Quetta and Peshawar and their political office in Doha are run by Sunni Pashtuns. They have had token Tajik commanders in the field, particularly in the north, but now they are trying to include some token Shia Hazaras in the mix," said Sabir Ibrahimi, an Afghan security analyst and research associate at New York University's Centre on International Co-operation, was quoted as saying in a report published by UAE-based The National.
Ali YawarAdili, a researcher with the Afghanistan Analysts Network told The National "In recent years, the Taliban have recruited from other communities like Tajiks and Uzbeks. They seemed to feel a gap in their effort to portray themselves as a nationwide movement due to the lack of any significant influence among ethnic Hazaras."
The Taliban group last week released a video of Mawlavi Mahdi, the newly-appointed shadow district chief of the group for northern Sar-e Pul province.
Introduced as a Shi'ite brother by Taliban, Mahdi urges Hazaras, who have faced repeated attacks from the Taliban over the past two decades, to join the group in fighting against "Jewish and Christian invaders", referring to the United States.
https://www.khaama.com/taliban-appoints-first-shia-hazara-as-shadow-district-chief-of-the-group-04734/
----
Brunei Minister of Religious Affairs Urges Muslims To Pay Zakat Early, In View Of The COVID-19 Outbreak
April 28, 2020
Azlan Othman
Muslims have been urged to perform the Zakat (tithe) payment earlier to avoid congestion at the last minute during the eve of Hari Raya Aidilfitri or Malam Pukol in view of the COVID-19 outbreak.
Minister of Religious Affairs PehinUdana Khatib Dato Paduka Seri Setia Ustaz Haji Awang Badaruddin bin Pengarah Dato Paduka Haji Awang Othman told the media yesterday that for the benefit of the public, the Brunei Islamic Religious Council (MUIB) has issued guidelines for Zakat Fitrah and Zakat Harta during Ramadhan through e-posters and news.
Mosques, suraus and religious halls are open for Zakat Fitrah and Zakat Harta payments from 8.30am to 11am and 1pm to 3pm daily. In accordance with the Ministry of Health's guidelines on physical and social distancing, payments will be accepted only in the mosque lobby or veranda area. If the mosque does not have such a space, then another room near the mosque will be used.
To facilitate the payment of Zakat Fitrah and Zakat Harta, efforts are also being made to enable payments to be made at other ministries' main buildings at scheduled times. Amil or tithe collectors appointed by MUIB will carry out the collection.
Meanwhile, regarding the SunnatTarawikh prayers, PehinUdana Khatib Dato Paduka Seri Setia Ustaz Haji Awang Badaruddin said he was pleased to note that Muslims in the country are performing the prayers at home with family members and are adhering to the Ministry of Health's guidelines on the number and appropriateness of home spaces.
On the recitation of DoaQunutNazilah as mentioned in His Majesty Sultan Haji Hassanal Bolkiah Mu'izzaddinWaddaulahibni Al-Marhum Sultan Haji Omar 'Ali SaifuddienSa'adulKhairiWaddien, Sultan and Yang Di-Pertuan of Brunei Darussalam's special titah in conjunction with Ramadhan recently, he said, the Ministry of Religious Affairs has prepared a short and concise DoaQunutNazilah for distribution to the public through social media.
"The DoaQunutNazilah text is the normal supplication that is read during the obligatory Subuh prayer with additional verses related to the outbreak. We extend our gratitude to His Majesty and let us recite this supplication where it was read to avoid accidents, disasters or catastrophes such as fear, drought and disease outbreaks. This was done by Prophet Muhammad (pbuh) according to the hadith narrated by Imam Abu Daud," said the minister.
https://borneobulletin.com.bn/minister-urges-muslims-to-pay-zakat-early-2/
-----
Mosque committees not following SOPs endagering lives of people: Governor
April 28, 2020
LAHORE-Governor Punjab Chaudhry Muhammad Sarwar said that the masaajid's administrative committees, not following the 20-point SOPs, were playing with the lives of millions of people.
Since there were reports from different cities about not following the prescribed SOPs, he said the government had been compelled to take strict action to save lives of people.
He also reiterated that the coronavirus spread would continue surging, if people continued to come out of their homes unnecessarily. He also acknowledged the services of all health professionals and volunteers fighting against coronavirus and its impact on frontlines.
Ch Sarwar was addressing a ceremony organized in honour of volunteers working to serve poor families, whose breadwinners lost their jobs, as well as talking to media persons at Governor's House on Monday. Vice-Chairperson Sarwar Foundation Begum Parveen Sarwar, Akhwat chairman Dr Amjad Saqib and others were present on the occasion.
Speaking to media persons, the Governor said the top ulema had held a meeting with President ArifAlvi, all provincial governors, AJK President and Gilgit-Baltistan Governor, had agreed upon 20 points SOPs for masajid during Ramazan and had assured that all protective measures would be taken in letter and spirit.
Unfortunately, he said, reports suggested that thousands of masajid were not observing the 20 points protective measures and added that such a situation could raise the number of coronavirus-positive patients to millions from thousands. "Those, not implementing protective measures, will be held responsible if the surge in patients takes place," he said.
Replying to a question, the Governor said that the government was implementing smart lockdown as well as ensuring that ration should reach those families, whose breadwinners lost their jobs during the current crisis. In order to serve all in need, he said, the government was also working with social welfare organizations.
He said the government in collaboration with the Punjab Development Network had set a target to provide ration to 300,000 poor families but now this target had been increased to 500,000. "We will complete this target during Ramzan," he said.
The Governor Punjab stressed that philanthropists should serve the poor and the current crisis-affected people wholeheartedly. He said that those serving the poor were heroes and added that the government would not leave any needy alone in these testing times.
https://nation.com.pk/28-Apr-2020/mosque-committees-not-following-sops-endagering-lives-of-people-governor
-----
In Germany, a Muslim pastoral phone service is handling a spike in calls since COVID-19 lockdown
BY PETRA LOHO
23 APR 2020
This week, Germany took its first steps to loosening its COVID-19 lockdown rules that were introduced about a month ago. During that month, a Muslim pastoral phone service had to step up to handle a spike in calls.
"Many people face a variety of challenges causing mental distress," Tarek Abdelalem, managing director of Islamic Relief Germany that runs MuTeS, or MuslimischesSeelsorgeTelefon, told Salaam Gateway.
There are around 5 million Muslims in Germany, making up around 6% of the population. The majority come from migrant backgrounds.
MuTeS managing director Mohammad Imran Sagir, a Berlin native with cultural roots in India, told Salaam Gateway the service receives 20 calls a day on average. This doesn't sound like a huge volume of calls but it is 50% more than what the service is used to.
80% of the callers are between 20 and 50 years old, with a concentration in the 30 to 40 age bracket. Two-thirds of them are women.
The callers receive advice and help in mental and psycho-social emergencies and crises from a pool of about 60 skilled volunteers, all anonymously, of course.
"Our pastors are qualified according to national and international standards of pastoral care by telephone," Sagir said, pointing out that this makes the organisation unique within Europe, if not worldwide.
The volunteers are trained in an extra-occupational course, both theoretically and practically. Their education lasts about 160 hours.
Founded by Islamic Relief in 2009, the Berlin-based German-language service is available 24 hours a day, seven days a week. Other languages such as Turkish, Arabic, and Urdu are facilitated on request.
Together with its worldwide humanitarian relief and development network, Islamic Relief Germany provides COVID-19 support amounting to $10 million to 20 vulnerable nations.
"Education, support for health systems and food provision as well as financial support are measures we have taken to help people in this difficult time," said Tarek Abdelalem.
Founded in 1996, the Cologne-based non-profit organisation recorded donation revenues of 20 million euros ($21.6 million) in 2018, according to its annual report. The funds finance their humanitarian projects as well as initiatives of the entire network in over 40 countries worldwide.
"The lesson we learn is that everyone can come into this situation and be confronted with a crisis," Abdelalem said referring to the COVID-19 situation. "Allah tests our solidarity and rewards us for our generosity."
https://www.salaamgateway.com/story/in-germany-a-muslim-pastoral-phone-service-is-handling-a-spike-in-calls-since-covid-19-lockdown
----
India
Rs 5,000 Financial Aid to Priests, Imams, Pastors in Andhra Pradesh
27 April 2020
Minister for Endowments Vellampalli Srinivas said that priests are performing daily poojas and rituals in every temple during lockdown and the government has provided onetime special financial aid of Rs 5,000 to Priests, Imams, and Pastors.
Speaking to media here on Monday, the Minister said that as per the directions of the Chief Minister YS Jagan Mohan Reddy, onetime special financial assistance of 5,000 was provided to religious service renderers (Archakas, Imams, and Pastors) in the state. For the same, reports were collected from the respective departments.
Chandanotsavam ritual at Simhachalam temple was also completed with full fervor without allowing devotees as per the guidelines, he said and added that food is being prepared in Annadanam temples and distributed to more than 50,000 people. District collectors, concerned officers, and NGOs are helping in this distribution.
Meanwhile, YSRCP MLA and Brahmin Corporation Chairman Malladi Vishnu said the government is giving 16,500 pensions under the corporation and soon the pensions will be considered under the YSR Pensions scheme. Moreover, under the Brahmin credit society 500 groups would get the loans with Rs 3 crore through Arundathi and Vashishta schemes.
Andhra Pradesh tops in the country in terms of conducting the maximum number of COVID-19 tests per million population and trying to identify more positive cases. None of the opposition leaders are involved in helping state people, instead, they are commenting on government by sitting in a different state far from ground reality, they added.
While the state government is putting relentless efforts for the public welfare, they said it was awful and not appropriate for opposition TDP chief Chandrababu Naidu, JSP chief Pawan Kalyan, and BJP state leader KannaLakshminarayana who are trying to irk the government at these tough times.
https://www.newsx.com/national/rs-5000-financial-aid-to-iriests-imams-pastors.html
-----
Islamic Sect Members Who "Sinned" Now Claim To Be "Corona Warriors": Minister Naqvi
April 28, 2020
New Delhi: Amid reports of many Tablighi Jamaat members volunteering to donate their plasma for treatment of COVID-19 patients, Union Minority Affairs Minister Mukhtar Abbas Naqvi on Monday said those who committed the sin of spreading the virus through their "criminal conduct" are now claiming to be "corona warriors".
His remarks come after 10 members of Tablighi Jamaat, who attended its congregation and tested positive for COVID-19, have come forward and donated their plasma to treat severally-ill coronavirus patients in the national capital.
Several Tablighi Jamaat members at different quarantine centres have also volunteered to donate their plasma for treatment of COVID-19 patients, a sources told news agency Press Trust of India.
"Those Tablighi committed sin to spread corona through their 'criminal conduct' are claiming themselves to be 'corona warriors'. Amazing..instead of being ashamed of their crime, Tablighi(s) are insulting lakhs of corona warriors," Mr Naqvi said in a tweet.
"Of course some patriotic Indian Muslims have donated plasma to the needy but it's not correct to call all of them Tablighi. There is a 'well-planned dirty Tablighi conspiracy' to prove every Indian Muslim as Tablighi," he said.
In the plasma therapy, transfusion of plasma from recovered patients to severally-ill COVID-19 patients is conducted. Convalescent plasma is an experimental procedure for coronavirus patients.
The move comes after an appeal was made by Chief Minister Arvind Kejriwal last week to patients, who have successfully recovered from coronavirus, to donate their plasma for treatment of COVID-19 patients.
Last week, Mr Naqvi, while reacting to instances of Muslims being blamed for the spurt in COVID-19 cases after Tablighi Jamaat congregation in Delhi, had said the entire Muslim community cannot be held responsible for one group's "crime".
https://www.ndtv.com/india-news/tablighi-jamaat-members-who-sinned-now-claim-to-be-corona-warriors-minister-naqvi-2219508
------
Uttar Pradesh: BJP MLA tells people not to purchase vegetables from Muslim vendors
An hour ago
A Bharatiya Janata Party MLA from Uttar Pradesh told people in Deoria district not to purchase vegetables from Muslim vendors amid the Covid-19 pandemic, The Indian Express reported on Tuesday. Suresh Tiwari, a legislator from the district's Barhaj constituency, was heard making the remark on a video that has gone viral on social media.
"Keep one thing in mind, I am telling everyone openly, no one should purchase vegetables from miyas [Muslims]," he reportedly told people, including government officials, in the video. When contacted, Tiwari admitted that he made the remark.
Tiwari said he made the comment during his visit to the office of the Barhaj Nagar Palika last week. "After hearing the complaints that people of a community were selling vegetables after contaminating them with saliva in an attempt to spread coronavirus, I advised them if they have any doubt don't purchase from them till they are not well," Tiwari said. "After the situation gets normal then decide what they want."
Tiwari said everyone knows what the members of the Tablighi Jamaat group have done. He was referring to a Tablighi Jamaat congregation in New Delhi in March, attended by thousands, which led to a large number of infections.
Uttar Pradesh BJP Spokesperson Rakesh Tripathi said the party does not endorse Tiwari's remarks. He said the BJP will question Tiwari about the circumstances in which he made the remarks.
Uttar Pradesh has so far reported 1,955 cases of the coronavirus, including 31 deaths, according to the Union Ministry of Health and Family Welfare.
https://scroll.in/latest/960418/uttar-pradesh-bjp-mla-tells-people-not-to-purchase-vegetables-from-muslim-vendors
-----
This Ramzan, Muslims donate Zakat to NGOs
Apr 28, 2020
Hyderabad: Preserving the age-old tradition of giving Zakat, Muslims across the city are distributing essentials to those in need and making donations to charitable trusts during the lockdown, as a form of obligatory religious.
"This year, we have decided to donate Zakat to the poor families through charitable trusts or NGOs that can identify those in need during the lockdown," Mohammad Zubbair, a resident of Tolichowki told TOI.
"We have decided to donate the money that we earlier used to spend to organise Iftar. We realized that there are several families who are struggling to make ends meet due to the lockdown," said Farhan Ahmed, a resident of Banjara Hills.
A survey was also conducted by an NGO to help people make informed choices while donating Zakat. The survey, conducted in Old City by the Helping Hand Foundation, showed that 63% of Muslims in the city are below the poverty line, while other 37% are financially stable and 2% are elite families.
https://timesofindia.indiatimes.com/city/hyderabad/this-ramzan-muslims-donate-zakat-to-ngos/articleshowprint/75416994.cms
----
11 Islamic Sect Members From Indonesia Arrested In Mumbai For Visa Rules Violation
April 27, 2020
Mumbai: Eleven people from Indonesia linked to the Islamic sect Tablighi Jamaat have been arrested for violation of visa rules by the Mumbai Police, officials said.
They had been kept in quarantine before they were arrested. One of them who had been found to be infected with COVID-19 has recovered, the officials said.
They were a part of a group of from Indonesia who were staying at an apartment in Bandra (West) since March 29 after they returned from Delhi.
Over a thousand COVID-19 cases are estimated to be linked to the gathering at Markaz Nizamuddin, the 100-year-old building in the crowded south Delhi locality where the Tablighi Jamaat is based.
Jamiat Ulema-e-Hind, a Muslim organisation, had approached the Supreme Court seeking to stop sections of the media from allegedly giving a communal colour to reportage on COVID-19 cases linked to the event held by Tablighi Jamaat. The court, however, said it will not pass any order that would lead to a "gag" on the media.
https://www.ndtv.com/india-news/coronavirus-11-tablighi-jamaat-members-from-indonesia-arrested-in-mumbai-for-visa-rules-violation-2219278
-----
Mohan Bhagwat's words against stigmatisation and blaming of Muslims is timely, may change public perception of RSS
Sreemoy Talukdar
Apr 28, 2020
Mohan Bhagwat's comments, where he alluded to Tablighi Jamaat attendees and said an entire community should not be vilified for the mistakes of a few, deserve greater scrutiny than a brief headline appearance. The statement, part of the RSS sarsanghchalak's televised addressed on Sunday from Nagpur to mark the Hindu ceremony of Akshay Tritiya, comes at a significant time.
India is precariously perched in the battle against the coronavirus pandemic. Any missteps at this stage could undo the stringent administrative effort and a nation's collective resolve to tide over the crisis. It is easy to forget India's unique challenge given the size and density of its population. India's trajectory of positive cases is comparatively slow thanks to decisive and early implementation of non-pharmaceutical measures but even at this slower rate, the case count could reach 50,000 in eight days, according to latest estimates.
In a nation of 1.3 billion citizens, 50,000 may be a fraction but India lacks the resources and requisite public health infrastructure to control the scale of the pandemic once we reach stage three. Our best course of action, therefore, is to delay the transition from stage two to stage three and hope for the development of an effective line of cure or vaccination.
To achieve this objective, it is vital that India remains unified in its determination. The importance of collective action to break the contagion chain cannot be overstated. We find the pandemic has made 'solidarity' an essential tool in the armoury, not just an ideal to strive for.
When so much is riding on a diverse nation's collective action, any schism that challenges national solidarity at such a sensitive time is a threat. And when that schism develops around communal faultlines in a nation that remains maimed by communal violence, the threat becomes greater.
The Tablighi Jamaat cluster outbreak presented India with one such challenge. It threatened to rip the spirit of collective resolve by highlighting the communal cleavage, and the explosion of cases caused by the 'super spreaders' resulted in Muslims at large in India facing stigma and blame for the surge in the outbreak.
What made matters complicated is that the allegation against Tablighi Jamaat event attendees (that included a number of foreigners) was not unfounded. The Markaz event in New Delhi's Nizamuddin area was a sad story of administrative oversight along with defiance, obstructionism and careless attitude on the part of the organisers.
By the first week of April, there were reports of more than 25,000 Jamaat preachers and their contacts getting quarantined across 15 states and Union health ministry claiming that the Markaz event had single-handedly brought down India's doubling rate from 7.4 days to 4.1 days.
The pandemic affected the world at different levels. It has caused fear, anxiety and panic, ravaged global economies and rendered millions jobless, taken away their livelihoods, introduced uncertainty, triggered behavioural and social changes in a fundamental way. All this churning is taking place at a time when people have gone into self-imprisonment, trading their freedoms for safety and keeping their lives in suspended animation.
In India, the Tablighi Jamaat cluster outbreak caused considerable distress and anger. It didn't help that some of the Tablighi members faced charges of indiscipline, misogynist, lurid behaviour and were accused of attacking frontline health workers. We witnessed polarised behaviour on social media where anti-Muslim trends started surfacing.
Soon enough, there were charges of Islamophobia, and foreign press went to town claiming Indian Muslims were "feeling targeted", boycotted and subjected to religious hatred.
In this context, Bhagwat's comments assume significance beyond mere virtue-signalling. When the RSS sarsanghchalak says: "All 130 crore Indians are our family. We are one... We should not blame the entire community for the mistakes of a few individuals. People who are more mature in both communities should come forward and start a dialogue to remove prejudices among people's minds." He sends a powerful message of solidarity and asks people to rise above sectarian divides.
Bhagwat didn't say anything pathbreaking or new, but the weight of his words lies in the fact that the Sangh, today, is ideologically, culturally, sociologically and even politically the most dominant cultural organisation in India. It is ideologically ascendant, culturally embedded and remains sociologically relevant.
And the position that it enjoys today is the culmination of decades of working with people, staying connected and attaching itself intrinsically with every stratum of Indian society. For instance, to battle the current crisis, RSS through its different organisations have initiated a massive countrywide effort. As Bhagwat said during the recent address: "More than three lakh dedicated volunteers are working at more than 55,000 locations across the country. The RSS, through its network, distributed over 33 lakh ration kits and two crore food packets till April 24. We have to work for others without taking any credit…".
In New Delhi, the RSS unit has been distributing 1.3 lakh food packets every day including among transgenders and sex workers and have employed 4,500 cadres to carry out the task (with administrative approval).
Its Karnataka unit had pressed 8,404 volunteers into service to distribute 71,667 ration kits, 1,04,377 food packets and collect 721 units of blood from donors. The data is updated till 6 April. There is reportedly 52 kitchen running in Delhi alone.
Not just the pandemic, the organisation acts as first responders during any national crisis and executes its tasks on a mass scale. This makes the RSS more influential than any other organization in India and in terms of power, orders of magnitude stronger than its detractors.
An example of this unique power can be ascertained from the fact that — as professor Makarand R Paranjpe writes in The Print — "despite nearly a hundred years of negative propaganda and relentless battering", RSS is "not only alive and well but in great spirits and fighting fit." The RSS is "no longer 'untouchable'. Instead, it had become one of India's most significant organisations, playing a vital role in shaping the nation's destiny."
The RSS recognises that its strength lies in staying connected to the people, and it understands that any shift in collective mindset can only be done through conversation, engagement and persuasion over a long period of time. Calling ordinary people "bigots" for holding certain views will serve to only alienate them and harden their beliefs. The RSS understands the conservative moorings of Indian culture and the civilisational ethos in which it is rooted. This ethos runs across the length and breadth of the nation despite many cleavages of class, caste, community and ethnicity. The RSS coopts people, works with them, becomes a part of their daily lives and tries to bring systemic changes in thought through persuasion.
The goal of RSS has always been both macro and micro — unify the nation, strengthen its moral fibre and engineer India's economic and spiritual revival by stressing on the character of the individual. The RSS believes in a Hindu Rashtra and works relentlessly towards its goal but this is not a project of religious supremacy. As Bhagwat had said in 2018 during a three-day outreach event in New Delhi: "Hindu Rashtra does not mean it has no place for Muslims. The day it is said that Muslims are unwanted here, the concept of Hindutva will cease to exist".
This is where the organisation remains misunderstood, misconstrued and relentlessly vilified by the 'liberal' circle both in India and abroad. The RSS remains committed to its goal of 'one nation' and 'one culture' but the concept of Hindu Rashtra is not a monotheistic, supremacist attempt to degrade Muslims and turn them into second-class citizens. The 'Hindu Rashtra' is a cultural and a geographical construct that has room for all, and space for disagreements. As Bhagwat had said in the lecture, RSS respects "the sentiments of those who wish to be called "Bharatiya" and not Hindu."
Importantly, this is not a recent shift in RSS ideology. If MS Golwalker, the successor to RSS founder KV Hedgewar, had a hardline approach towards religious minorities, the shift towards a more liberal view and expansion of RSS horizons occurred right after Golwalker, through the 'Deoras doctrine' propounded by Golwalker's successor Madhukar Dattatreya, or BalasahebDeoras.
Deoras stated: "We do believe in the one-culture and one-nation Hindu Rashtra. But our definition of Hindu is not limited to any particular kind of faith. Our definition of Hindu includes those who believe in the one-culture and one-nation theory of this country. They can all form part of the Hindu-Rashtra. So, by Hindu we do not mean any particular type of faith. We use the word Hindu in a broader sense."
In 2002, then sarsanghchalak KS Sudarshan established the Muslim RashtriyaManch to work for improved Hindu-Muslim relations. While Golwalker's views on Muslims — which came at a particular time in the nation's history — have been used as a convenient beating stick against the RSS, we must take note of Bhagwat's recent comments where he stated clearly that Golwalker's policy positions were "not eternal".
"Things are said due to circumstances and in a particular context. Wo shashwatnahinhein (They are not eternal)," Bhagwat had said during the lecture in 2018.
Therefore, when Bhagwat warns against stigmatising and blaming Muslims over the "mistakes of a few", he is not merely doubling down on the liberal nature of RSS philosophy and exposing vilification campaigns against the organization as that arising from insufficient understanding and prejudice, he is also laying down a charter of approach for the wider public. Since the RSS is the closest to an ecclesiastical command of sorts for Hindus — in an extremely loose sense of the term — any such attempt to mitigate ill-will between communities is likely to have a deeper impact. Bhagwat's comments couldn't have come at a more opportune time.
https://www.firstpost.com/india/coronavirus-outbreak-mohan-bhagwats-words-against-stigmatisation-and-blaming-of-muslims-is-timely-may-change-public-perception-of-rss-8306821.html
------
Mideast
Ramadan TV dramas signal shift in Arab-Israeli relations
Martin Chulov
28 Apr 2020
Nightfall during Ramadan in the Middle East is drama time, when Arab soap operas accompany evening feasts with fare of feuds, historical heroes and villains and forbidden love. This year though, programmers have broached new ground using the popular shows to highlight a normalisation with Israel.
Two series broadcast across the region in the first three days of the Muslim holy month have stirred both surprise and contention – one by daring to explore the Jewish history of the Gulf, the other by suggesting that Israel may not be an enemy and that Palestinians have been ungrateful for Saudi Arabia's support.
The unusually pointed messages have both aired on the Saudi-controlled satellite channel MBC, offering little doubt that they had been sanctioned by the country's leaders. The broadcasts have left some viewers reeling at the spectre of Ramadan becoming a forum to showcase political shifts and others claiming they belatedly addressed issues that had been airbrushed from Saudi culture.
When satellite TV took hold across the Middle East from the early 1990s, the appeal of Ramadan TV drama shows as a forum to project soft power soon became apparent. Leaders recognised their potential to shape debate as the popularity of the soaps surged.
The Egyptian president, Abdel Fatah al-Sisi, has included the dramas in his clampdown on free expression, putting pressure on filmmakers to emphasise approved themes such as the glory of the military and perfidy of the banned Muslim Brotherhood. A 2016 series lauded as the first "political drama" produced in the United Arab Emirates also focused on the "evils" of the Brotherhood.
Judaism has received warmer treatment in recent years, even as Israel was still portrayed with hostility. A 2015 drama sympathetically depicted Egypt's Jewish community while emphasising them as staunchly opposed to Israel's creation.
If the first days of this year's Ramadan are any guide, 2020 breaks new ground. The characters in both series, Exit 7 and Umm Haroun, are depicted debating not whether Israel should exist but whether doing business with Israelis should override concerns.
The stances taken in both shows are aligned with Saudi government positions, which have drawn Riyadh and Tel Aviv closer than at any time since the state of Israel was formed in 1948. Mutual security concerns about Iran and the Muslim Brotherhood have been instrumental in the shift, which have also led to ties with Saudis Gulf allies thawing to the point that Israelis can now enter the UAE, and previously undisclosed trade ties are public.
The Israeli prime minister's approach has been to promote relations with the Gulf and Saudi Arabia, while at the same time marginalising the Palestinians. "What is happening with Arab states has never happened in our history, even when we signed peace agreements," Benjamin Netanyahu has said on more than one occasion. "Cooperation in different ways and at different levels isn't necessarily visible above the surface, but what is below the surface is far greater than at any other period."
Israeli media reported in January that Riyadh was formally allowing Israeli citizens to visit the kingdom for the first time, provided they were Muslims performing pilgrimages to Mecca or invited by the government and looking to do business.
That month, the US president, Donald Trump, unveiled his peace plan for the region in Washington in front of diplomats from Oman, Bahrain and the UAE. Trump's son-in-law Jared Kushner, a friend of the heir to the Saudi throne, Prince Mohammed bin Salman, was instrumental in drafting the plan, which offered a markedly reduced deal to the Palestinians than any earlier package and has since gone nowhere. Riyadh was officially non-committal, though some former Saudi officials sharply criticised the plan's outline.
https://www.theguardian.com/world/2020/apr/28/ramadan-tv-dramas-signal-shift-in-arab-israeli-relations
-----
Ramadan Callers In Gaza Remind People To Wash Up
April 27, 2020
DANIEL ESTRIN
The men who bang drums to wake people up for the early-morning Ramadan meal in Gaza have added rhymes to their cadences to remind people to wash their hands and stay safe.
This Ramadan in the Gaza Strip, most mosques are closed because of the pandemic. But the musaharati or Ramadan wakeup caller still has a job to do.
KELLY: Every day before dawn, Saleem Abu Foul (ph) bangs a drum to wake up his neighbors to eat before the fast begins. He says his job feels more essential than ever.
ABU FOUL: (Through interpreter) Ramadan has no shape because of corona (ph). Kids used to run after me in the streets and say, the musaharati is here. Now the streets are empty. The mosques are closed, but I bring the atmosphere. If I wouldn't do my job, you wouldn't feel it's Ramadan.
(Through interpreter, singing) Wake up, sleepyhead. Life is too short. Wake up, (non-English language spoken). Say the name of Allah. Wake up, (non-English language spoken). Wake up the children, and tell me they're all right.
ABU FOUL: (Through interpreter, singing) Wake up, (non-English language spoken). Wash your hands with soap and water. Where are you, (non-English language spoken)? Corona is the biggest danger. Ramadan is here. Corona, corona, get out of here.
KELLY: That is Saleem Abu Foul in the Gaza Strip. His story comes to us from NPR's Daniel Estrin.
https://www.npr.org/2020/04/27/846514578/ramadan-callers-in-gaza-remind-people-to-wash-up
-----
Palestinian group says has captured Israeli military drone flying over Gaza
28 April 2020
The Palestinian resistance group, Hamas, says it has captured an Israeli military drone flying over the Gaza Strip.
The Israeli military claims the unmanned aerial vehicle captured by Hamas is a "Skylark" that has "crashed" during an "operation" over the Gaza Strip.
It further claimed that the UAV crashed due to "technical error", but it ruled out the possibility that potentially sensitive information would be leaked from the drone.
The United States says it is "prepared to recognize Israeli actions to extend Israeli sovereignty" in the occupied lands belonging to Palestinians.
The Israeli regime regularly uses drones for reconnaissance and assassination operations, involving violation of Palestinian, Syrian and Lebanese airspace.
Hamas has confiscated Israeli drones several times, either after they crashed due to technical problems or in the wake of shooting them down.
https://www.presstv.com/Detail/2020/04/28/624075/Israeli-military-drone-captured-by-Palestinian-group
------
Coercive measures against Syria 'unforgivable crime': Arab forum
27 April 2020
Participants at an Arab International Forum have called for the lifting of illegal economic sanctions imposed by the West, led by Washington, on Syria, terming the coercive measures as "an unforgivable crime" since they undermine the efficiency of the fight against the new coronavirus.
During an online briefing, the figures pointed out that the United States and its allies were targeting those nations, which reject Washington's hegemony throughout the region and beyond, Syria's official news agency SANA reported on Monday.
The forum, which includes unions, civil society groups, internationally-reputed figures and activists, stressed that using food and medicine as a tool for blockade during the pandemic is one of "the ugliest and most brutal types of war."
"The coronavirus pandemic showed the absence of human values from the new colonial world order, which is led by the United States and controlled by the concept of material profit at the expense of man, health, dignity and life," the participants' statement read.
Elsewhere, they denounced an ongoing "economic terrorism" and other forms of aggression that Syria has been exposed to for more than nine years.
In mid-April, Russian Ambassador to Damascus Aleksandr Yefimov called for the complete and immediate lifting of the unilateral sanctions on Syria.
Syrian Ambassador to Russia Riad Haddad also said in an interview with TASS news agency that Damascus had asked the Russian Health Ministry for aid in order to combat the spread of COVID-19.
Syria's Health Ministry in late March confirmed the country's first death resulting from the COVID-19 pandemic.
https://www.presstv.com/Detail/2020/04/27/624042/Syria-Forum-coronavirus
-----
Oil dispute between Iraqi government, Kurdish rulers flares again
27 April 2020
Iraq has ordered the finance ministry to stop funding to the country's semi-autonomous Kurdistan region amid an oil spat between the two sides, media reports say.
The Council of Ministers said the Finance Ministry was "obliged to stop making payments" to the Kurdistan Regional Government (KRG), read a letter to the country's Finance Minister Fouad Hussein dated April 16.
The reports said KRG's failure to share oil with the Baghdad government since at least October last year was behind the new decision.
According to the letter, the KRG is obliged to deliver all of its revenues from the export of at least 250,000 barrels per day (bpd) of oil to the central government in Baghdad, and then it can receive its share of the budget put at 12.5 percent.
Iraq is one of OPEC's top five oil exporters. Disputes over energy resources have been a long-running feature of Iraqi politics since the semi-autonomous region began officially exporting crude oil to world markets through Turkey in 2009.
The latest dispute could affect the efforts of prime minister-designate Mustafa al-Kadhimi, who is seen as close to the Kurds, to form a government.
The Arab country's parliament will hold a vote of confidence on Kadhimi's government on Tuesday.
https://www.presstv.com/Detail/2020/04/27/624024/Iraq-oil-dispute-Kurdistan-region-government-
-----
Iranian startups faring even better amid pandemic
28 April 2020
Yusef Jalali
The knock-on effects of the coronavirus outbreak have been devastating for nearly the entire global economy but some businesses are faring even better in the new condition.
While many struggle to keep their businesses afloat startups like this one are cashing in on the health crisis by offering much-needed medical services. Since the outbreak of the virus, many previously unheard-of health apps have appeared on billboards to jump on the wagon.
Avid is another fledgling startup that provides online health consultation and telemedicine and now that everyone has questions about the coronavirus boom an 80-million strong market is there for the newbie business. Online shopping platforms have also seen a boom in turnover at a time when internet has become the safest way for shopping and window-shopping amid social distancing.
As daily cases of COVID-19 in Iran witness a slow downturn, the government is gradually reopening its economy, and many low risk businesses have resumed activities but the still many customers bulk at physical buying, and online service providers will continue to have an edge for a foreseeable future.
Clearly nobody wins when it comes to the coronavirus but these startups say there's always a silver lining to every crisis. And the pandemic has inevitably offered an opportunity for such nascent businesses to find a foothold in the market but only if they meet people's demands fairly.
https://www.presstv.com/Detail/2020/04/28/624066/Iranian-startups-faring-even-better-amid-pandemic
----
Iran offered $2.3bn in insurance to exporters in year ending March
27 April 2020
Head of Iran's export guarantee agency (EGFI) says the body has provided more than $2.3 billion worth of insurance to export shipments from Iran over the past calendar year ending late March.
AfrouzBahrami said on Monday that the EGFI, an export credit agency by definition, had effectively replaced banks and lenders who face hurdles underwriting and backing the Iranian exporters because of the US sanctions on the country.
"In this field, the fund has replaced the banking system and has managed to clear hurdles (faced by) engineering and technical services sector in the country through issuing the guarantees (for export)," said Bahrami.
Bahrami said that the EGFI is planning to further expand its risk coverage for Iranian exporters in the current calendar year, saying insurance schemes would also cover political risks that may befall the exporters and their shipments.
She said political risk coverage would include full compensations for exporters who have seen their assets confiscated in the destination country or those who face problems in transfer of money into Iranian banks because of the sanctions.
Iran's exports of various non-crude products and services increased over the past calendar year mainly because of a series of government measures that are aimed at offsetting the impacts of the American sanctions on the country's direct sale of oil.
Officials believe the non-crude sector of the economy has generated around $60 billion in revenues since Washington imposed its sanctions on Iran in November 2018.
The main export items from Iran include various petrochemical products, followed by metals and raw minerals, agrifood and handicraft.
https://www.presstv.com/Detail/2020/04/27/624059/Iran-export-insurance
-----
OPCW report on Syria chemical attacks one-sided, biased: Iran
27 April 2020
The Iranian Foreign Ministry has denounced as "one-sided" a recent report by the Organization for the Prohibition of Chemical Weapons (OPCW) about a series of suspected gas attacks in Syria's western region of Hama in 2017.
Seyyed Abbas Mousavi, Iran's Foreign Ministry spokesman, said in an interview with the Islamic Republic News Agency (IRNA) on Monday that the initial report published by the OPCW's team on the use of chemical weapons in Syria was "biased, one-sided, non-independent, and outside the jurisdiction and scope" of the Hague-based organization.
In an 82-page report earlier this month, the OPCW's Investigation and Identification Team (IIT) claimed Syrian government forces had been responsible for the alleged chemical attacks on the militant-held town of Lataminah in Hama province during the last week of March 2017.
It alleged that in a span of one week, Syrian fighter jets had twice dropped bombs containing sarin nerve agent on the village and a helicopter had targeted its hospital with a cylinder containing chlorine, affecting scores of people.
Syria dismisses the latest OPCW report on the alleged chemical attacks in the western town of Lataminah as misleading, and based on fabricated sources.
According to the report, the team had based its investigation on a range of evidence, including witness testimonies, videos, forensic reports on recovered munitions scraps, medical records and satellite imagery.
"The Islamic Republic of Iran, as the biggest victim of chemical weapons in the contemporary period, condemns the use of chemical weapons by anyone at any place and time and under any circumstances," Mousavi said.
The Iranian Foreign Ministry spokesman added that the OPCW's report on Syria and the type of reasoning and conclusion it provides indicated that the report was prepared and compiled under external pressure, and the sources used in the report had, to some extent, been provided by some terrorist groups and so-called humanitarian organizations, such as the White Helmets.
Stressing that Iran is deeply concerned about the stigmatization of the OPCW's independence and legal personality as a specialized organization with a technical nature, Mousavi said the county disagrees with the formation of an investigation team by OPCW and views this issue as contrary to the provisions of the Chemical Weapons Convention (CWC) and in contradiction with the UN Security Council's exclusive mandate to maintain international peace and security.
While appreciating the Syrian government's constructive cooperation with the OPCW, the Iranian Foreign Ministry spokesman underlined that, "The time has come for Syria's chemical case to be handled away from politicization, political pressures, and falsified and biased mechanisms."
Russia slams as 'untrustworthy' a recent report by the global chemical arms watchdog that accuses Syrian government forces of being behind a series of 'chemical attacks' on a militant-held village in late 2017.
The Lataminah strikes came days before another alleged sarin assault in nearby town of Khan Shaykhun in Idlib province, which killed more than 80 people on April 4.
The Western countries rushed to blame the incident on Damascus — an allegation rejected by the Syrian government — with the United States launching several dozen Tomahawk cruise missiles at a Syrian air base, taking the lives of about 20 people including both Syrian soldiers and civilians.
The Syrian government surrendered its stockpiles of chemical weapons in 2014 to a joint mission led by the UN and the OPCW, which oversaw the destruction of the weaponry. However, Western governments and their allies have never stopped pointing the finger at Damascus whenever an apparent chemical attack has taken place.
https://www.presstv.com/Detail/2020/04/27/624048/OPCW-report-Syria-chemical-attacks-Iran-
-----
Zarif to Pompeo: Iranians decide their destiny, US 'max pressure' policy failed
27 April 2020
Iran's Foreign Minister Mohammad Zarif has reacted to recent reports that his American counterpart is preparing a legal argument that the US is still a participant to the 2015 nuclear deal with Iran, warning the American side that the Iranian nation is the sole party that can decide the country's fate.
Zarif made the remarks in a tweet on Monday after a Sunday report by The New York Times said, "Secretary of State Mike Pompeo is preparing a legal argument that the United States remains a participant in the Iran nuclear accord that [US] President [Donald] Trump has renounced."
The American daily added that the new plan is "part of an intricate strategy to pressure the United Nations Security Council to extend an arms embargo on Tehran or see far more stringent sanctions re-imposed on the country."
The Fox News Channel also reported on Monday that "this plan would give the US standing at the United Nations Security Council to push to extend the arms embargo on Iran expiring in October, and restore sanctions for Iran's violations of the deal."
In reaction to the US media reports, Zarif made a reference in his Monday tweet to a US presidential memoranda released on May 8, 2018, in which Trump's administration declared its decision to cease the country's participation in the nuclear deal, officially known as the Joint Comprehensive Plan of Action (JCPOA), and take additional action to counter what it called "Iran's malign influence" in the West Asia region.
https://www.presstv.com/Detail/2020/04/27/624038/Zarif-Pompeo-New-York-Times-JCPOA-arms-embargo-Fox-News-Channel-destiny-
-----
Arab world
Makkah Grand Mosque imam joins workers cleaning and sterilizing the Kaaba
April 28, 2020
MAKKAH: Dr. Abdulrahman Al-Sudais, the president of the General Presidency of the Two Holy Mosques, on Monday joined workers at the Grand Mosque in Makkah as they washed and sterilized the Kaaba and Maqam Ibrahim before the call to night prayer.
In line with recommendations and instructions from the health authorities, a range of precautionary measures are in place at the mosque to prevent the spread of COVID-19, including maintaining a safe distance between worshipers.
The cleaning is one of a number of operations organized by the General Presidency, which also include the preservation of the black stone and the Kiswa cloth.
https://www.arabnews.com/node/1666156/saudi-arabia
-----
Coronavirus: Egypt extends state of emergency by three months despite Ramadan
28 April 2020
Egypt has extemded the state of emergency in the country for three months beginning Tuesday, April 28, according to a report by the Middle East News Agency (MENA).
The decision was issued by Egyptian President Abdel Fattah al-Sisi. Egypt is the most populous country in the Arab world, with almost 100 million people, who have been under state of emergency restrictions since April 2017.
The restrictions were first put in place due to an ISIS-affiliated group bombing two Coptic Christian churches in April 2017. More than 40 people were killed in the attack. They have been renewed at regular intervals since then as Egyptian officials continue a low-level conflict against ISIS militants in the country's northeasternSinai peninsula.
Egyptians faced further restrictions due to the coronavirus pandemic, with authorities instigating a nighttime curfew in March and banning mass gatherings despite the Islamic holy month of Ramadan, usually a time of communal prayer and social events.
https://english.alarabiya.net/en/coronavirus/2020/04/28/Coronavirus-Egypt-extends-state-of-emergency-by-three-months-despite-Ramadan.html
-----
How is Saudi Arabia handling COVID-19 with the start of Ramadan?
2020-04-28
By Sarah Trad
Senior Editor
As Saudi Arabia collects the most infections among its Arab counterparts, standing currently at 18,811 cases compared to the worldwide 3 million, the country is semi-ready to go back to business as usual as it's being hit the hardest in the region by the novel coronavirus. With the holy month of Ramadan entering its fourth day, cities' curfews and malls' reopening are planned to be relaxed for both people to be able to move more easily and businesses to partially operate normally again.
Ramadan is a month known for its generosity, reunions, and lavish feasts. How is Saudi Arabia, the land of the holiest Islamic sites (Mecca and Medina), working towards lessening the spread of COVID-19 while maintaining, as much as possible, the spirit of the holy month?
Supermarket employee wearing a face mask and gloves while arranging Tang tins, one of the most popular sugary drinks during Ramadan. Photo Credit: SPA Source: Arab News
Many traditions specific to Ramadan revolve around gatherings and late-night hangouts, two activities that attract high chances of contracting COVID-19 as the virus is transmitted at a close range from one human to another.
Reopening malls and stores is one of the steps taken by the GCC country to guarantee people have the option to shop on location instead of online, though it doesn't come without strict regulations. For example, such locations must be disinfected every 24 hours, no banknote payments or children under 15 years of age are allowed, and goods purchased cannot be returned or exchanged.
The holy site of Mecca has been closed off for the first time since 40 years ago due to the pandemic infiltrating Saudi Arabia. The last time a closure was recorded was during what is called "The Siege of Mecca" in 1979 when the Grand Mosque of Mecca was attacked, impacting and changing the entire course of Saudi history.
On the first night of Ramadan, only a small group of clerics, security staff, and cleaners were allowed inside the Prophet's Mosque in Medina for prayers.
Taraweeh prayers at the Grand Mosque of Mecca witnessed social distancing as a number of worshipers prayed at a distance from their neighbors. Worshipers are still denied entry to Mecca as it remains under a 24-hour curfew.
The kingdom has relaxed its curfew - except for Mecca, which remains under 24-hour lockdown - to help citizens and expats move around their cities between 9 a.m. and 5 p.m., from April 26 until May 13.
"Consumption will improve, grocery retailers will continue maintaining the lead (with revenue). Other companies will also be relieved from (having) low or zero revenues such as mall retailers and retailers that were forced to switch to e-commerce," MazenAlsudairi, the head of research at Al Rajhi Capital, told Arab News.
Supervisor general of KSReliefDr. Abdullah Al-Rabeeah and China Ambassador to Saudi Arabia Chen Weiqing stand during the contracts signing ceremony. (Supplied) Source: Arab News
Saudi Arabia and China have signed a 995-million riyals ($264.6 million) deal on Sunday that will supply the kingdom with 9 million COVID-19 tests and needed equipments to combat the virus.
In addition, 500 Chinese specialists and technicians will be recruited for eight months to conduct the tests and train Saudi medical teams across six laboratories, "including a mobile site with the capacity to conduct 10,000 tests per day."
The kingdom has also purchased a total of 14.5 million tests from the U.S., Switzerland, and South Korea — approximately serving to test 40 percent of the country's population.
https://stepfeed.com/how-is-saudi-arabia-handling-covid-19-with-the-start-of-ramadan-8476
-----
6 ways to donate meals to frontline workers and vulnerable communities in the UAE during Ramadan
Katy Gillett
April 28, 2020
Charity has always been a huge part of the spirit of Ramadan, and this year it's more important than ever.
As we battle the coronavirus pandemic together, frontline workers and the disadvantaged are vulnerable. Thankfully, there are a few great initiatives that allow us all to help out among UAE communities.
What is it? The 10 Million Meals campaign is easily the UAE's biggest community drive and was launched by Mohammed bin Rashid Al Maktoum Global Initiatives in collaboration with Social Solidarity Fund Against Covid-19. It aims to provide food assistance to less fortunate families and individuals, by allowing everyone to financially contribute towards providing meals, or donating food items and parcels, directly to those in need across the UAE.
How can you donate? A huge number of companies and restaurants across the UAE have donated meals – more than 15,000 donors pledged 450,000 meals in two days – but there are a number of ways we can all still get involved.
What is it? MarjonAndesha, founder of the popular Abu Dhabi restaurant chain Nolu's, has started a charity drive specifically for frontline workers. Her team has compiled boxes of meals that use ingredients containing vitamins and minerals specifically designed to boost immunity. The box costs Dh52.50 and contains a salad, one vegan or vegetarian dish, healthy snacks, infused water and a juice or "elixir". There's also a box of 50 juices of 60 millilitres – containing orange, ginger, turmeric and honey – that costs Dh420.
"Living in the region for over 16 years and having five local restaurants in Abu Dhabi with many more pending to open, I felt obligated to contribute some way to overcome this pandemic and economic downturn," reads a statement from Andesha on the website. "I hope to make a change and assist the hard-working front-liners who have dedicated their time to help cure the people in need. At the same time, if this becomes a nationwide initiative, the economic impact it could have on restaurants would be a blessing."
How can you donate? They aren't accepting online orders, but you can contribute by filling out your information on a web form. One of the restaurant's team members will get back to you as soon as possible.
What is it? The UAE's largest online tiffin service has teamed up with Emirates Red Crescent, the Islamic Affairs & Charitable Activities Department, the Government of Dubai and the UAE Food Bank to create the Gift A Meal initiative. You can help families of construction workers, cab drivers, healthcare professionals, anyone providing essential services and others who don't have employment opportunities by donating healthy meals to them.
How can you donate? It's really simple. You can do it by filling out a form on the website and it costs Dh49 for one box of seven meals. You can choose to make this vegetarian or non-vegetarian.
What is it? Dubai restaurant Inked, which is based in Alserkal Avenue, has been using its kitchen to cook meals for vulnerable communities and front-line healthcare workers in the city.
Kenza and Patrick Jarjour, the husband-and-wife team behind the dining and event space wanted to "give back to the community of Dubai" after they closed their two kitchens amid the coronavirus crisis.
For a couple of weeks, they have been cooking about 100 meals a day, taking donations from their suppliers who were left with a food surplus because of the mass closure of restaurants. They now hope to up this to 300 meals a day, helped by Alserkal Avenue's Pay it Forward initiative.
Inked has reopened its kitchen to cook meals for vulnerable communities and front-line healthcare workers in the city. Reem Mohammed/The National
It has been working with the UAE Food Bank to determine where these meals go. Some go to vulnerable communities facing food shortages, such as those in Al Ras and Al Quoz. Others, administered by the Dubai Health Authority, go to front-line workers and patients.
How can you donate? The restaurant is seeking donations of Dh25 per meal to continue for as long as possible. These can be bought online at www.inked.ae. Individuals and organisations looking to support in larger numbers can email info@inked.ae or call 050 845 1359.
What is it? This food app lets people who use its service give back, as well as take advantage of discounts and deals across hundreds of restaurants in Dubai. Every time you buy a meal with nefsy, a meal will be donated to someone less fortunate on your behalf. The food you buy is only available for dine-in or to takeaway, unless the restaurant offers its own delivery service.
The initiative is supported by Emirates Red Crescent, the Government of Dubai, the Islamic Affairs & Charitable Activities Department and Fund for UAE the Homeland of Humanity.
How can you donate? At the moment, every time you buy one meal with nefsy, another meal will be donated to someone in need on your behalf in the UAE, as well as a second free meal to someone in another country.
https://www.thenational.ae/lifestyle/food/6-ways-to-donate-meals-to-frontline-workers-and-vulnerable-communities-in-the-uae-during-ramadan-1.1011728
-----
North America
US ready to recognize Israeli 'sovereignty' in occupied Palestinian lands
28 April 2020
The United States says it is "prepared to recognize Israeli actions to extend Israeli sovereignty" in the occupied lands belonging to Palestinians.
"As we have made consistently clear, we are prepared to recognize Israeli actions to extend Israeli sovereignty and the application of Israeli law to areas of the West Bank that the vision foresees as being part of the State of Israel," a State Department spokesperson said Monday.
She further claimed that the step would be in the context of the Israeli regime "agreeing to negotiate with the Palestinians along the lines set forth in President [Donald] Trump's vision."
Israeli Prime Minister Benjamin Netanyahu said earlier that the so-called peace proposal announced by Trump in January was a promise to recognize Israel's authority over West Bank.
The Israeli prime minister has voiced confidence that Washington would give Tel Aviv the nod within two months to move ahead with annexation of parts of the occupied West Bank.
Palestinians have flatly rejected Trump's alleged peace proposal as it awards the Israeli regime nearly all the occupied land on which it has built its settlements.
"This is an unprecedented and highly beneficial opportunity for the Palestinians," the American spokesperson further alleged..
The US highly pro-Israel schemes offer no prescription for peace because they blatantly violate international law and strip Palestinians of their basic rights on a number of sensitive issues, including the state of Jerusalem al-Quds, the future borders of a sovereign Palestinian state, the return of Palestinian refugees driven from their homeland as well as Israeli settlements built on occupied land.
https://www.presstv.com/Detail/2020/04/28/624074/US-ready-to-recognize-Israeli-%E2%80%98sovereignty%E2%80%99
------
Edmonton police hate crime unit investigating threats against Al-rashid mosque
April 27, 2020
The Edmonton city police hate crime unit is investigating a video that appears to show a man outside Al-Rashid mosque during prayer time, uttering remarks anti-hate groups describe as harassment.
The video, originally posted on Youtube and now circulating on social media sites, shows a man sitting in his vehicle outside the north Edmonton mosque counting the number of people that enter the building.
The man says he is making sure they are following public health orders during the start of what he calls "Ramadan Bomb-a-thon" and then proceeds to eat a bacon sandwich. In a second video posted online the man drives through the mosque's parking lot and counts all the vehicles.
In a third video posted online, the man video tapes a woman and two children playing outside the mosque and utters "social distancing apparently."
Noor Al-Henedy, the mosque's director of public relations, said the video was "deeply disturbing and shocking." Mosque members have been in contact with police.
"Our community is already going through a very hard battle to remain home during the month of Ramadan," said Al-Henedy. "Ramadan is a month where community comes together. We have around 2,000 people in our doors during Ramadan and that's just the first couple of days, so for all these individuals to stay home and follow the regulations … It's very frustrating."
Ramadan is an annual month-long holy celebration in the Islamic faith that involves fasting from dawn to sunset. The observance is seen as a time of spiritual reflection and self-improvement.
Al-Henedy said Al-Rashid has moved its services online this year and volunteers have been delivering thousands of meals all over Edmonton.
Bridget Stirling, a co-founder of the anti-hate group Hate Free YEG, said there is a series of false anti-Islam rhetoric that promotes the idea violence perpetuated by Muslim people rises during this holy month.
"In fact it's quite the opposite," said Stirling. "It's a focus on peace, on service, on creating a better world and serving their community."
Stirling said members of hate groups often eat bacon during Ramadan because they think it offends Muslim people. She said the man in the video is known to be part of a group of people who have harassed Muslim groups in the city in the past.
"Being familiar with this group, I'm not that surprised by (the video)," said Stirling. "It just seems to be part of an ongoing pattern of harassment of this particular community, which is really unfortunate."
Evan Balgord, executive director of the Canadian Anti-Hate Network, said these actions are common for the group Stirling spoke about saying they often harass minority groups both online and in person. He said he would take their actions as racist towards Muslims rather than an actual bomb threat.
https://calgarysun.com/news/local-news/edmonton-police-hate-crime-unit-investigating-after-man-threatens-al-rashid-mosque/wcm/16b52155-fadb-4618-b90f-e1ff62b27b69
-----
Spirituality amid self-isolation: Memphis' Muslim community connects virtually
April 27, 2020
The COVID-19 pandemic hasn't stopped the Muslim community in Memphis from keeping up morale and spirituality, with virtual tools bringing religious and cultural content to homes across the Mid-South.
901 Ummah, a local nonprofit for the Muslim youth and community, has created various methods to engage the community. Sameer Mansour, director and creator of the organization, said online content has brought the community closer together.
"We've been physically disconnected, like people can't come and see you and talk to you in person," Mansour said. "But we're having more conversations like this now where it's easier to communicate, it's easier to connect. And so, you're having more meaningful discussions through online content."
On Sunday, Wednesday and Friday, the nonprofit hosts different online sessions via Zoom where various spiritual and religious topics are discussed. Two members of the nonprofit, Samera Khan and EsraBurat, created a book club where participants read specific sections of the book "With the Heart in Mind" and discuss via Zoom.
The nonprofit also uses social media to connect with its younger members. They post nightly religious and uplifting reminders on Instagram Live and a workout challenge.
Every Tuesday and Thursday, spiritual mentors within the organization share their self-isolation life called #ADayInTheLife on Instagram Stories.
"This (self-isolation) is really impacting people's lives in different ways so 'A Day in the Life' kind of shows that … and you kind of see how differently it impacts everybody," Mansour said. "It's also reassuring that you're not the only one going through this kind of thing."
Muzammel Rizvi, who serves as a mentor for 901 Ummah, hosted the first #ADayInTheLife story. He said it was a new experience for him because he doesn't usually share his life on social media.
The recent graduate of UT College of Pharmacy documented his morning routine, cooking meals, his experience working from home, prayer breaks and a reflection on the effects of the pandemic and how to make the most of the situation.
I realized towards the end of the day like I literally had contact — had basically told everyone who's watching these videos who I am and what I do," Rizvi said. "A lot of people did talk to me about the reflection that I had in the evening and how it was very eye-opening and thought-provoking."
Barut, a Smith+Nephew employee, said the virtual content shows the community can adapt to the situation and can still have a presence virtually.
"It's a unique time that doesn't happen often, and that we're able to provide something like this during this time is really kind of inspiring to be a part of," Barut said.
Community members appreciate 901 Ummah's efforts to make sessions available online so they can stay spiritually connected during their self-isolation.
University of Memphis student SouadHadidi has participated in 901 Ummah events since her move to Memphis in 2016. She has followed the nonprofit's Instagram Stories and attended most of its Zoom sessions.
Hadidi said although the feeling isn't the same as in-person gatherings, the online sessions have been "smooth, on time and beneficial."
"I appreciate their dedication to continuing even if it requires them to do more preparation, going through technology courses, maybe even buying some equipment/subscriptions to make sessions as best as possible," Hadidi said. "Inshallah (God willing), God will reward their effort."
"These sessions did give me something to do while my school was preparing for the online transition," Hadidi said. "901 Ummah again filled a gap in the community by bringing its members virtually together during social distancing."
https://www.commercialappeal.com/story/news/local/2020/04/27/coronavirus-901-ummah-memphis-muslim-community/3032084001/
------
Trump: I Know How Kim Jong-un is Doing, Relatively Speaking
2020-04-28
Anchor: Amid mounting rumors about North Korean leader Kim Jong-un's health, U.S. President Donald Trump said on Monday that he knows how Kim is doing, but refused to elaborate. Trump said during a press conference at the White House that he does have a good idea, but he can't talk about it now.
During a news conference at the White House on Monday, U.S. President Donald Trump claimed to have some knowledge about how Kim Jong-un is doing.
"I hope he's fine. I do know how he's doing, relatively speaking. We will see. You will probably be hearing in the not-too-distant future."
The North Korean leader has not been seen in public since April 11, when he presided over a ruling Workers' Party meeting.
Then last week, CNN sparked controversy, saying Washington was looking into intelligence that Kim was in grave danger after surgery. Trump called the report fake news.
Amid mounting speculation, South Korean officials reiterated there have been no unusual signs to suggest a contingency in the North.
State-run media in Pyongyang reported Monday that Kim expressed his appreciation to workers building a tourist zone in the eastern coastal area of Wonsan, where his personal train was spotted. But without providing a photo of Kim, the report did not serve as proof of life.
http://world.kbs.co.kr/service/news_view.htm?lang=e&Seq_Code=153086
-----
Trump 'not happy with China' as US coronavirus death toll surges
6 hours ago
US President Donald Trump has renewed his attack on China over the spread of the coronavirus, saying Beijing could have stopped the disease before it swept the globe. He promised to conduct "serious investigations" into China's handling of the pandemic.
Trump lashed out at China as he projected that the death toll in the US from COVID-19, the disease caused by the coronavirus, could reach 70,000.
"We're doing very serious investigations ... We are not happy with China," Trump said during a White House news conference. "There are a lot of ways you can hold them accountable."
"We believe it could have been stopped at the source. It could have been stopped quickly, and it wouldn't have spread all over the world."
Trump's criticism was the latest from his administration to target how China's managed the coronavirus outbreak, which began late last year in the Chinese city of Wuhan and grew into a pandemic.
Trump had previously referred to COVID-19 as "Chinese virus", igniting a war of words with Beijing, which accused the US military of bringing the disease to Wuhan.
Last week, Secretary of State Mike Pompeo said the US "strongly believed" Beijing failed to report the outbreak in a timely manner and covered up the danger posed by the respiratory illness.
Foreign Ministry spokeswoman Hua Chunying said on social media on Monday that Pompeo should "stop playing the political game. Better save energy on saving lives."
The coronavirus outbreak has killed more than 211,000 people around the world, including more than 56,000 in the US, according to data compiled by Johns Hopkins University.
Earlier on Monday, White House trade adviser, Peter Navarro also accused China of sending low-quality and even counterfeit coronavirus antibody testing kits to the US and of "profiteering" from the pandemic.
Navarro, an outspoken critic of Beijing whom Trump has appointed to work on supply-line issues relating to the health crisis, said more testing both for the virus and antibodies was vital to getting Americans currently in lockdown back to work.
"That's where, perhaps, we can find people who are immune, that can be in the workplace in a more safe environment. But we can't have China, for example, bringing in those fake tests and counterfeit tests, because that's going to be very disruptive," Navarro said in an interview on TV network Fox News.
"There's a lot of these antibody tests coming in from China now that are low quality, false readings and things like that," he said.
https://www.aljazeera.com/news/2020/04/trump-happy-china-coronavirus-death-toll-surges-200428021509155.html
-----
Africa
'Pray against Coronavirus during Ramadan' – Ooni urges Muslims
Kabir Adejumo
April 27, 2020
The Ooni of Ife, ObaAdeyeyeEnitanOgunwusi, has urged Muslims to use the Ramadan period as an avenue to pray against the spread of Coronavirus in Nigeria.
"Let us ask for God's protection over health workers because they are risking their lives to ensure that we do not get swept away by this angry flood of COVID-19. They are our warlords and we must continue to support them with prayers while we equally wish the patients speedy recovery.
"Although it is heartbreaking to realize that we are welcoming the holy month of Ramadan silently without the usual large gatherings of prayers, lectures and others, we must remain grateful to Allah for preserving our lives up till this moment as we await the better days ahead.
"In the same vein, I commend the matured understanding of our Islamic leaders, Muslim brothers and sisters towards combating this enemy. We must not get tired, we must not relent in our efforts until this pandemic is defeated". Ooni said.
https://politicsnigeria.com/pray-against-coronavirus-in-ramadan-ooni-urges-muslims/
-----
Muslim groups await court ruling on mosques during lockdown
by Andrea Chothia
2020-04-28
Muslim groups have challenged the regulations in court so that they may be able to pray in mosques during lockdown but under limitation. The Pretoria High Court is expected to hand down a ruling on the matter on Tuesday 28 April.
Muhammed Bin Hassim Mohomed, Anas Mohammed Chotia and the As-Saadiqeen Islamic Centre are challenging President Cyril Ramaphosa to relax lockdown regulations so that they can be opened for daily prayers.
This comes after a group of 17 men, who gathered inside a mosque for prayer in Mpumalanga, were arrested by police on Friday 24 April. They were arrested for going against the Disaster Management Act, which prohibits public gatherings during the lockdown.
Looking at the court papers, the plaintiffs said their challenge should not be viewed as "obstructionist conduct" to undermine the government and Ramaphosa's efforts in combatting the pandemic.
"The real question we ask the court to consider is whether a complete and total shutdown of the mosques and other places of worship is the appropriate measure required to contain COVID-19 in the context of prayer and worship," the document read.
The advocate for the group, who wishes to remain anonymous, said the plaintiffs asked for a minimum of four people to be able to pray at any one given time.
The notice of motion says 20 people, however, the plaintiffs in argument, said they would settle for four people at a time.
"We ask for no more than for the honourable court to consider our request to permit the reopening of places of worship with the most stringent controls which can and will avoid the spread of COVID-19. In our respectful submission, the total of the mosque is not what is required," it stated.
"A carefully constructed set of rules permitting the entry and exit of congregants with the appropriate screening eliminates the risk of COVID-19 spread altogether. We submit that places of worship should be permitted to operate on this basis," it added.
The court papers went on to say that it is a violation of Islamic law, as contained in the Holy Quran, to forcefully close mosques to prevent any worship from taking place, even in the context of the pandemic.
Members of the South African Police Force (SAPS) stormed a mosque in Masibekela in the Mbuzini area in Mpumalanga on Friday 24 April.
A video of the incident was widely shared and SAPS were strongly criticised for using words that were deemed unnecessary during the operation.
They were accused of the derogatory use of the term "Mohammed" in reference to the Prophet Mohammed. The SAHRC's spokesperson Gushwell Brooks said that while the police needed to do their jobs and enforce lockdown protocol — which prohibits religious gatherings — they should do so in a sensitive and cautious manner.
"The SAHRC reiterates its call that all within South Africa should adhere to the conditions of the lockdown currently in place, which include the prohibition on gathering in groups for religious observances. The lockdown regulations are in place to protect public health through measures designed to curb the spread of the potentially fatal COVID-19 virus," he said.
"The Commission strongly condemns the insensitive remarks made against the Islamic religion, especially at the time when Muslims in our country and all over the world were beginning the holy month of fasting as part of their religion."
https://www.thesouthafrican.com/news/reopening-of-mosques-during-lockdown/
-----
Kenya Bans Night Prayers for Muslims During Ramadan Under COVID-19
28 APRIL 2020
By Joseph Jira
Muslim faithful in Kenya are marking the holy month of Ramadan under tight government restrictions aimed at curbing the spread of Covid-19, which has infected more than 360 people across the country.
Muslim leaders had requested that the government reopen mosques and push back the curfew start time to allow them to conduct prayers during the holy month. The proposals were rejected.
"The government has already announce a ban of social gatherings and night movement. I plead to Kenyans and Muslims at large to adhere to government directives. I understand there are night prayers - they should pray in their households," Muhdhar said.
Mombasa resident ShebanMubaruk says this year's Ramadan is very different from what they are used to. He is worried Muslims might end up violating restrictions after breaking fast at sunset (iftar) and during the prayer of taraweeh, normally observed at 9 pm.
"We are used to going to sleep late after breaking fast. But this is very different because of the coronavirus," Mubarak tells RFI. "We want the government to push back the curfew time to accommodate us.
"In Islam, taraweeh is an important prayer, and you cannot pray alone at home. God will not hear your prayers if you do not observe taraweeh."
"So many institutions in the entire country are paralysed at the moment. If someone says he must observe taraweeh prayers in the mosques then there will be the likelihood of spreading the disease further - unlike staying at home."
Mombasa County governor Ali Hassan Joho also appealed to the Muslim faithful, saying all should follow health ministry guidelines and pray at home.
https://allafrica.com/stories/202004280226.html
-----
Lockdown: Police hunt for Delta imam, worshippers
April 28, 2020
Matthew Ochei, Asaba
The Delta State Police Command has launched a manhunt for a fleeing imam, Alhaji Mohammed Okotie, who allegedly flouted the sit-at-home order of the state government to curtail the spread of coronavirus.
The Public Relations Officer of the command, DSP OnomeOnovwakpoyeya, who disclosed this on Monday in Asaba, stated that the Commissioner of Police, Hafiz Inuwa, had ordered the arrest of the imam.
She said, "CP already directed for the immediate arrest and prosecution of the imam. The laws of this country are very unambiguous. It applies to all. The imam cannot claim to be holier than anyone.
"As a Muslim, our leaders (political and religious) have enjoined all of us to be law-abiding and adhere strictly to what our leaders directed us to follow.
"COVID-19 is a matter of life and death. Why should someone who endangered the lives of innocent souls be spared? This can't be so with me. I am a Muslim and determined to prosecute the imam to serve as a deterrent to those who take delight in violating rules and regulations."
https://punchng.com/lockdown-police-hunt-for-delta-imam-worshippers/
-----
South Asia
'Muslim Leaders of Sri Lanka Have An Important Role To Play Against Extremism': Treasurer Of The Foundation For Inter-Religious Peace
28-04-2020
A year after terrorist attacks left more than 250 people dead on Easter Sunday, Moulavi LaffirMadani, 58, a teacher of Islamic theology in Colombo, president of the Hashimi Foundation and treasurer of the Foundation for inter-religious peace, spoke to AsiaNews.
"The leadership of the Muslim community has a big role to play in sincerely eliminating extremism," he said. Our time needs "us to unite to fight all forms of racism, violence, and poverty and create a new pattern of thinking."
It is not easy to recover from the shock resulting from the suicide attacks on churches and hotels when innocent Christians were piously marking Easter Sunday. The anger, pain, distress and disappointment will continue to echo in our hearts and minds, and not only because we tragically lost family and friends.
A close friend's son, his wife and children lost their lives among hundreds of others in the Katuvapitiya church while attending the Mass for the resurrection of Jesus Christ.
We have to appreciate the leadership of the Catholic community in Sri Lanka for its extraordinary vision, courage and action to manage the crisis, which otherwise might have ended in a difficult national crisis.
The Cardinal with the support of the bishops and other religious leaders reached out to each victim's family, looking after their needs and healing their wounds. They centralised donations, coordinated with the relevant government and non-governmental bodies, and planned programmes and action plans in order to prioritise needs.
There were medical needs; major surgeries to be done; children and widows to look after. They coordinated with the laity to provide every necessity to everyone, including doctors and nurses, livelihood and counselling, rebuilding churches and properties. Religious leaders from other faiths also supported this action. Their sincere efforts are commendable and appreciated by everyone.
Planning and leading the first commemoration too were exemplary; an inclusive initiative that reaffirms the need to find the perpetrators and mete out justice.
Since the suicide attacks were carried out by an extremist group of young Muslims, the entire Muslim community has faced criticism and the wrath from ordinary folks that later turned into violent reaction by some people against Muslim lives and property.
Although inquiries into the incident were initiated to find out the true forces behind these attacks, their goals and reasons, repeated warnings from the intelligence services were ignored and nothing productive came from them.
Now, the government has launched a new series of investigations and started arresting some people allegedly for having some links with suicide bombers. This has kindled fresh hope that justice will prevail in the near future. It is our fervent hope that the inquiries will take the right course without political manipulation and instigation of hatred against a particular group of people, while a general election will be held very soon, on June 20.
Extremism in any form should be wiped out. It is extremism that led people to interpret the religious texts according to the whims of the violent perpetrators of crimes that end up damaging Buddha statues, bombing churches and killing innocent human beings. The raw material of extremism is still active in society and young people must be protected from being infected by extremist ideologies. The leadership of the Muslim community has a big role to play in sincerely eliminating extremism.
http://www.dailynews.lk/2020/04/28/local/217404/%E2%80%98muslim-leaders-have-important-role-play-against-extremism%E2%80%99
-----
1 killed, 3 wounded during a clash in Kabul city
28 Apr 2020
The security forces killed a suspected militant and wounded three others during a clash in Kabul city, the Kabul Police Headquarters said.
According to a statement released by Kabul Police, a group of armed individuals, affiliated with the Taliban group, clashed with police forces in 17th district of the city.
The statement further added that the security forces killed one of the militants and wounded three others.
The security forces also confiscated an Ak-47 assault rifle and 5 ammunition magazines, the statement said, adding that the detained suspects confessed that they had links with the Taliban group.
https://www.khaama.com/1-killed-3-wounded-during-a-clash-in-kabul-city-04733/
-----
New UN report highlights the role of Taliban, pro-govt forces in 533 civilians deaths
27 Apr 2020
The United Nations Assistance Mission in Afghanistan (UNAMA) released its latest report regarding the civilian casualties in Afghanistan which were inflicted in the first quarter of 2020.
"The UN Assistance Mission in Afghanistan (UNAMA) documented a total of 1,293 civilian casualties (533 killed and 760 injured) in Afghanistan during the first three months of the year, underscoring the heavy toll the conflict continues to inflict on the civilian population," UNAMA said in a statement.
The report further added that the anti-Government Elements (AGEs) continued to be responsible for the majority of civilian casualties – 55 per cent – during the first quarter, causing 710 civilian casualties (282 killed and 428 injured). "UNAMA attributed 39 per cent to the Taliban, 13 per cent to Islamic State of Iraq and the Levant–Khorasan Province (ISIL-KP) and the remainder to undetermined AGEs."
The number of civilian deaths attributed to AGEs – particularly the Taliban – increased by 22 per cent in the first quarter of 2020 as compared to the same period in 2019, mainly due to an increase in targeted killings and summary executions, UNAMA added.
Meanwhile, UNAMA said Pro-Government Forces (PGFs) were responsible for 32 per cent of all civilian casualties during the first quarter of 2020, causing 412 civilian casualties (198 killed and 214 injured).
"Of concern, PGFs were responsible for more child casualties than AGEs during the first three months of the year and over twice as many child deaths, mainly due to airstrikes and indirect fire during ground engagements," the report said, adding that "UNAMA attributed 21 per cent of overall civilian casualties to Afghan national security forces, eight per cent to international military forces and the remainder to pro-government armed groups and undetermined PGFs."
https://www.khaama.com/new-un-report-highlights-the-role-of-taliban-pro-govt-forces-in-533-civilians-deaths-04732/
----
Southeast Asia
FGV launches Ramadan charity campaign as demand soars during MCO
28 Apr 2020
BY MELANIE CHALIL
PETALING JAYA, April 28 — Observing the month of Ramadan during the Movement Control Order (MCO) is certainly an experience unlike any other for Malaysian Muslims.
With more Malaysians staying home to make meals, demand for FGV products has soared during the MCO period, says FGV Holdings Berhad (FGV) group chief executive officer Datuk HarisFadzilah Hassan.
To recognise the public's increased support, Saji has launched a campaign to match the value of its products purchased by consumers as part of a charity donation drive until a targeted amount is reached.
Through its subsidiary Delima Oil Products SdnBhd (DOP), FGV has created an opportunity for the public to give back to society by taking part in the Kongsi RezekiSeikhlasHati campaign.
Consumers who purchase any products under the FGV brand such as Saji, Adela, Tiara, TigaUdang, Seri Pelangi, Prai sugar and its latest dairy product Bright Cow, only need to WhatsApp a snapshot of their receipts and their full name to 017-6428765.
Each week, Saji will donate FGV products and cash based on the amount collected which will be distributed to selected non-governmental organisations.
"Last year DOP managed to raise a target of RM300,000 through the public's purchase of SAJI cooking oil for the Infak Ramadan Saji campaign.
https://www.malaymail.com/news/life/2020/04/28/fgv-launches-ramadan-charity-campaign-as-demand-soars-during-mco/1860886
-----
Ramadan bazaars go digital in Southeast Asia amid pandemic
APRIL 28, 2020
RozannaLatiff
KUALA LUMPUR (Reuters) - For 15 years, Siti Zabedah Abdul Wahab's family food business has opened for one month a year, selling murtabak, a pan-fried bread stuffed with meat, at Malaysia's popular Ramadan bazaars.
An online Ramadan bazaar trader wraps "Popiah" spring rolls at his home, during the movement control order due to the outbreak of the coronavirus disease (COVID-19), in Sungai Buloh, Malaysia April 11, 2020. REUTERS/Lim Huey Teng
But this year, Murtabak Mami Murtabak Sultan started taking orders on Whatsapp and Facebook weeks before the Muslim fasting month began on April 23, as authorities across Southeast Asia called off Ramadan bazaars amid the coronavirus pandemic.
"This is the first time we are selling online, so we wanted to start early to make sure our customers can find us," 38-year-old Siti Zabedah told Reuters.
Ramadan is traditionally a lucrative time for food vendors in Muslim-majority countries, with more people going out for late-night meals after breaking their fast at sunset.
Malaysian authorities have imposed a partial lockdown until mid-May and called off Ramadan bazaars. They are usually attended by packed crowds and feature hundreds of stalls selling food for iftar, or the fast-breaking meal.
The movement curbs have forced thousands of street hawkers and vendors to embrace digital platforms, mirroring a shift in neighbouring Indonesia, where roadside businesses enjoy a sizeable online presence.
"In Indonesia, you can order pretty much anything you want on an app," said RosliSulaiman, president of the Malaysian Malay Hawkers and Small Traders Association.
"Here we have to do a bit more educating as most vendors are used to just being on the street. Going online or dealing with cashless transactions will be something new for them."
Malaysian hawkers have been badly hit by the curbs, with estimated losses of about 50 million ringgit ($11.5 million) for some 100,000 traders.
To soften the impact, several companies have developed e-bazaar platforms to help Ramadan traders partner with delivery companies and reach more customers online.
Many small food businesses, however, prefer marketing directly to customers on social media as they do not earn enough profit to share with delivery firms.
Online Ramadan bazaar trader Nur ShaheeraMohd Sabri packs "Popiah" spring rolls, while her family members check online orders at her home, during the movement control order due to the outbreak of the coronavirus disease (COVID-19), in Sungai Buloh, Malaysia April 11, 2020. Picture taken April 11, 2020. REUTERS/Lim Huey Teng
Dozens of Ramadan bazaar groups have popped up on Facebook, where sellers can offer cash-on-delivery services to customers closest to them.
The pandemic has heavily impacted observance of Ramadan, traditionally a month when Muslims spend most of their time with families and attend nightly mass prayers at mosques.
https://www.reuters.com/article/us-health-coronavirus-ramadan-malaysia/ramadan-bazaars-go-digital-in-southeast-asia-amid-pandemic-idUSKCN22A07I
------
MCO : Foreigners selling food during Ramadan
By Norhidayyu Zainal
KUALA LUMPUR, April 28 -- Now that the month of Ramadan has started, many people would be filled with cravings for all sorts of food, including foreign dishes prepared by cooks from the countries of origin.
Yet, because of the Movement Control Order (MCO) which was imposed on March 18, they cannot go out in search of those foods but have to stay indoors.
Not surprisingly then, many foreigners have jumped at the chance to start their own food businesses that serve appetising dishes from their homelands.
One such enterprising cook is Afif Al Haji, 39, the owner of I Cook Arabs, who makes sweets from the Arab world such as the 'Golden Kanafeh', 'Baklava', 'Basbousa Royal' and 'Esh El Bul-Bul', and sells imported Turkish products like the 'Mixed Delights' and the 'Premium Turkish Delights'.
Afif who started his business almost three years ago says he is particular about using quality products to make his sweets, such as the Akkawi cheese which has to be imported from West Arab countries.
"I make all the desserts myself, with seven helpers who have also been specially brought in from Arab countries. We stress on using quality ingredients which will make our products extra special," he told Bernama.
Afif who is from Syria said demand from his customers who are not only from all over Malaysia but also from Singapore and Brunei, has doubled since the MCO was imposed more than a month ago.
"They may be a bit pricey, but these sweets seem to hit it off with the people here, and there are also not many sellers," Afif who has lived in Malaysia since 2009, said.
Just as enterprising is Abd Rahman Miasan, 55, from Pekanbaru, Indonesia, Abd Rahman Miasan, 55, who has been selling several types of 'apambalik' for more than 30 years.
"I used to sell at the night markets in Kajang and Bangi, But now, because of the MCO, I only cater to orders made online or on Whatsapp.
"The way the orders are coming in may be different, but I still keep the price at between RM3 and RM7 depending on the flavour and toppings requested, including an extra charge for the delivery service," Abd Rahman said.
Through her Facebook account, she offers food like 'Maqloba', 'Shawerma', 'Faifel', 'Maqloba Rice', 'Qatef', 'Barbosa Sweet' and 'KhaliatAlnahl Beef'.
Walaa, a mother of three, said she started her small food business after her husband could not work following the imposition of the MCO.
Waala said she was grateful there is demand for her dishes especially in the Ampang area as the income helps pay for her family needs, including rental for her home.
https://www.bernama.com/en/general/news.php?id=1836350
-----
Mosques' closure extended for another week
April 28, 2020
Azlan Othman
The temporary closure of mosques, suraus and religious halls around the country has been extended for another week.
Minister of Religious Affairs PehinUdana Khatib Dato Paduka Seri Setia Ustaz Haji Awang Badaruddin bin Pengarah Dato Paduka Haji Awang Othman said with the consent of His Majesty Sultan Haji Hassanal Bolkiah Mu'izzaddinWaddaulahibni Al-Marhum Sultan Haji Omar 'Ali SaifuddienSa'adulKhairiWaddien, Sultan and Yang Di-Pertuan of Brunei Darussalam, the Ministry of Religious Affairs will continue the temporary closure of mosques, suraus and religious halls around the country for another week starting today until May 4 in view of concerns over the dangers of COVID-19 infection in the country.
The decision was made at the Special Meeting of the Brunei Islamic Religious Council last Thursday, based on a statement from the Ministry of Health on the need to continue measures to curb the spread of COVID-19 outbreak and it is guided by Syarak Law as stated in State Mufti decree number 02/2020.
https://borneobulletin.com.bn/mosques-closure-extended-for-another-week-2/
----
Mosque youth groups call for donations
April 28, 2020
SyazwaniHjRosli
A number of mosque youth groups, AshabulAkhyar, Ashabul Halim, Ash-Shaliheen Mosque Youth, Kumpulan Belia 'IbadurRahman, Syababul Iman, Syababurroja and RPN Kampong Pandan Mosque Youth have organised a collaborative initiative calledthe Belia Masjid Prihatin Project in conjunction with Ramadhan.
The project with support from the Ministry of Religious Affairs (MoRA) and the Ministry of Home Affairs (MoHA) under the theme 'Ramadhan: SalingBerbagi, Bersama Memberi' aims to help those in need, especially persons significantly affected by the COVID-19 outbreak in Brunei.
The project targets some 460 houses and the recipients are registered under the Brunei Islamic Religious Council (MUIB).
The Belia Masjid Prihatin Project invites the public to donate online. The donation transfer can be made from April 22 to May 5.
https://borneobulletin.com.bn/mosque-youth-groups-call-for-donations/
----
Japan needs to keep emergency in place, 2021 Olympics 'difficult,' top doctor says
APRIL 28, 2020
TOKYO (Reuters) - It is too early to consider lifting Japan's state of emergency over the coronavirus, the head of the Japan Medical Association said on Tuesday, adding that it will be difficult for Tokyo to host the Olympics next year without an effective vaccine.
FILE PHOTO: The Olympic rings are pictured at dusk through a steel fence, at the waterfront area of the Odaiba Marine Park, after the postponing of the Olympic Games Tokyo 2020, due to the outbreak of coronavirus disease (COVID 19), in Tokyo, Japan March 25, 2020. REUTERS/Issei Kato/File Photo
The comments by the head of the powerful physician's lobby illustrate Japan's near and longer term concerns as it battles the epidemic that prompted Prime Minister Shinzo Abe to declare a nationwide state of emergency through May 6, the final day of a stretch of holidays known as Golden Week.
The administration will decide during the holidays whether to extend the declaration, government and ruling party sources told Reuters last week.
New daily infections have declined recently, but Japan's coronavirus testing is still not sufficient to prove that contagion is under control, JMA president YoshitakeYokokura said at a media briefing.
"I do not believe it will be possible to lift (the state of emergency) across the whole country at this stage," Yokokura said.
Tokyo on Monday confirmed 39 new coronavirus infections, the fewest since March 30. Japan as a whole has recorded 13,614 confirmed cases, including 394 deaths, according to public broadcaster NHK.
Japan's cases and deaths are still small compared to other nations, but critics say the country isn't doing enough testing to reveal the scope of the problem that has driven some hospitals to the brink.
The one-year delay of the 2020 Olympic Games announced last month was a major blow to Japan, which had already spent $13 billion preparing for the event. As the outbreak has spread around the world, infecting almost three million people and killing more than 200,000, experts have warned that the fight against the virus could be prolonged.
Yokokura blamed a lack of gowns and other protective clothing for spreading the virus in hospitals, and called on the government to help speed development of treatments and vaccines to preserve any hope of holding the Olympics next year.
"I am not saying that Japan should or shouldn't host the Olympics, but that it would be difficult to do so," he said. "Unless an effective vaccine is developed, I expect hosting the Olympics will be difficult."
Laboratories in several countries are working on vaccines to protect people against the novel coronavirus and drugs to treat its symptoms. The need to conduct exhaustive clinical trials to test their effectiveness and safety, however, mean it could be months before they are widely available.
Japan could approve Gilead Sciences Inc's coronavirus treatment remdesivir as early as May, the Yomiuri newspaper reported.
https://uk.reuters.com/article/uk-health-coronavirus-olympics/japan-needs-to-keep-emergency-in-place-2021-olympics-difficult-top-doctor-says-idUKKCN22A072?rpc=401&
-----
Pakistan
AminulHaq hands over sanitising walk-through gates to mosques
Our Correspondent
April 28, 2020
Syed Aminul Haque, a MuttahidaQaumi Movement-Pakistan's central leader who recently took charge as federal minister for information technology and telecommunication system, said on Monday he felt pride in being a worker and a member of the party's coordination committee rather than a minister.
He expressed these views during an event for the handover of sanitising walk-through gates to the managements of a number of mosques and imambargahs in District Central. The MQM-P's central convener, Dr Khalid Maqbool Siddiqui, was the chief guest of the event.
"The Sindh government has spent 500,000 to 1,000,000 rupees on a single sanitising walk-through gate, whereas the MQM-P's representative has made it available for an amount smaller that," said Haque.
He also criticised the Pakistan Peoples Party-led provincial government for using zakat committee chairmen and its own party workers to distribute rations, instead of using elected local government representatives at the union committee level. Due to this, he added, large-scale complaints about irregularities and nepotism had been received.
"We demand of the country's investigation agencies to probe the irregularities," he said. Siddiqui, the event's chief guest, said that the MQM-P believed in serving the people and the party always stood with the people in difficult times.
He appreciated the MQM-P-affiliated local government representatives, volunteers and the party's charity front KhidmatKhalaq Foundation for playing their active roles in providing relief to the needy people, who had been affected by the ongoing lockdown. "The political parties which have roots among the people cannot be finished," he said. "It is the reason that people support the MQM-P in difficult times."
https://www.thenews.com.pk/print/650688-aminul-haq-hands-over-sanitising-walk-through-gates-to-mosques
-----
Ulema to ensure implementation of guidelines for mosques: PM Imran Khan
Mumtaz Alvi
April 28, 2020
ISLAMABAD: Prime Minister Imran Khan said Monday that the strategy with regard to mosques during the holy month of Ramazan was finalised in consultation with the Ulema and they had taken the responsibility of ensuring its implementation.
The prime minister observed this presiding over a meeting on the latest situation in relation to the coronavirus pandemic in the country. Federal ministers Hammad Azhar, Asad Umar, Makhdoom KhusroBakhtyar, Syed Fakhar Imam, Umar Ayub Khan, Special Assistant on Health Dr Zafar Mirza, Dr Mueed Yusuf, NDMA chairman and other senior officials attended the meeting.
"While dealing with the challenge of the coronavirus, we have developed a strategy to address the needs of all, especially the most vulnerable, the poor and the weaker. A balance is to be maintained to keep the economy running as well as fighting the challenge of the virus," the prime minister said while speaking on the occasion.
He contended, "The procedure for the mosques was worked out in consultation with religious scholars and they took responsibility for ensuring its implementation.
The prime minister emphasised that it was the common responsibility of every individual in society to ensure social distancing to prevent the spread of virus. The prime minister directed that in the coming days of the Ramazan, the strategy should be thrashed out keeping in view the prevailing conditions and the requirements of the people.
Earlier, Special Assistant to PM on Health gave the meeting a detailed insight into the current situation of the coronavirus, the cases that were occurring, the recovery rate and mortality rates.
Federal Minister for Industry Hammad Azhar informed the meeting on opening other industries including steel in the second phase of the construction sector as per agreed upon process.
Hammad Azhar apprised the meeting of the details of a Rs75 billion package for labourers and workers and between 4-6 million persons would benefit from this package with the cooperation of the Ministry of Industry and the Ehsaas Programme. Moreover, he noted that the government would pay three-month electricity bill for small businesses.
NDMA chairman informed the meeting about the latest situation on availability of testing kits, safety equipment, N-95 masks, ventilators and other equipment.
Meanwhile, Prime Minister Imran Khan directed legislators to play an active role in providing relief to the people, especially to weaker segments, in the wake of COVID-19.
The prime minister said this while talking to Minister for Power Division Omar Ayub Khan and Members of the National Assembly Prince Muhammad Nawaz Allai and Ali Khan Jadoon here.
The parliamentarians apprised the prime minister of the latest corona situation in their respective constituencies and people's problems. They also informed Imran Khan about the situation, which had emerged due to the coronavirus pandemic and ongoing relief activities. Matters, pertaining to development, also came under discussion during the meeting.
https://www.thenews.com.pk/print/650898-ulema-to-ensure-implementation-of-guidelines-for-mosques-pm-imran-khan
-----
Mosques, seminaries facing financial crisis under lockdown: report
Apr 28 2020
Zia Ur Rehman
Maulana Hamid Sharif, a religious teacher, manages a seminary and a mosque adjacent to it in Karachi's Orangi Town locality. In the Islamic months of Shaban and Ramadan, Sharif and his team would make the annual budget and raise their annual revenue through donations from two factory owners and mosque-goers.
But this year, amid the coronavirus outbreak, their donors have already given zakat to a known charity in the metropolis to support its free ration distribution campaign. Also, because of the closure of the factories for around two months, they are not able to give donations to Sharif to run his seminary and mosque this year.
"We are mainly dependent on the donations collected during Shaban and Ramadan to pay salaries to the prayer leaders, the teachers and other staffers along with clearing the utility bills and providing free food and accommodation to the seminary students," said Sharif.
In the government's policymaking and debate about the closure of mosques in Ramadan, the major concern of the clerics is the collection of donations which is forcing them to resist the government's moves to ban religious congregations, analysts believe.
Unlike the rest of the Muslim world, mosques and religious schools operate independently in Pakistan and do not come under the government's direct control. Therefore, the government does not provide them with any financial support to operate.
Because of the coronavirus pandemic and the lockdown imposed by the government to limit its spread, donations have majorly shifted to the charity organisations. In the meeting of religious scholars with President ArifAlvi on April 18 for inking a 20-point agreement for Ramadan, the participants expressed their concerns over a sharp fall in donations, according to those aware of discussions during the meeting.
While announcing the agreement as he addressed the media, President Alvi especially requested the people not to reduce their donations to the Islamic institutions in Ramadan. He said the donations, including alms and zakat, were the right of mosques and seminaries.
Interviews with managers of various seminaries suggest that they wait the entire year for Shaban and Ramadan for donation.
"Many of them do not pay salaries for four months before Ramadan in which they pay them in a lump sum after the collection of donations," said Sharif. He said the madrasa administrators would be forced to slash the salaries of their staff by half or terminate their services. Mostly, he added, the staff is already underpaid.
Mufti Muhammad Naeem, principal of the Jamia Binoria Al-Alamia, also confirmed that donors had shifted their donations to the charities which were running ration distribution campaigns because of the coronavirus pandemic. "Because of it, seminaries and mosques have been facing a financial crisis," Naeem told The News.
Giving an example of his seminary where around 5,000 students study, Naeem said it would be difficult for them to continue the operations. "The government does not provide financial support to the mosques and seminaries and they completely depend on donations," he said. Naeem requested the people to donate to the seminaries which had suffered badly because of the lockdown.
Almost all mosques and seminaries have been trying to figure out their next steps and, resultantly, some of them have set up charity fronts. "Because donors are interested to donate the money to the charities running the ration distribution among the needy people, many of them have set up their own charity fronts over the night to collect the donations," said a religious scholar, who is familiar with the affairs of madrassas.
https://www.geo.tv/latest/285331-mosques-seminaries-facing-financial-crisis-under-lockdown-report
------
Balochistan minister visits mosques to review implementation of SOPs
April 28, 2020
Minister for Home and Tribal Affairs Mir ZiaullahLangove Sunday visited respective mosques in Quetta City to review precautionary measures being adopted by mosques administration during prayers and Namaz-e-Taraweeh in Ramazan. Talking to media, the provincial home minister said the purpose of his visit was to ensure implementation of standard operating procedures (SOPs) at respective mosques of the city, which were necessary to control spread of COVID-19.
He directed the mosques administrations to ensure implementation of preventive measures as the coronavirus cases were increasing rapidly which was alarming situation in the province.
He said the pandemic could only be defeated by ensuring full implementation of lockdown which was significant for the protection of the people. He urged the people to follow government's defined precautionary measures, avoid social gathering and unnecessary traveling in order to cope with the challenge of the deadly virus.
Mir Ziaullah also appreciated the Ulemas for adopting SOPs during Namaz-e-Taraweeh, adding the police and local administrations were assigned to monitor mosques for ensuring implementation of preventive measures against COVID-19. On the occasion, Additional Inspector General of Police (AIGP) Abdul Razzaq Cheema and Senior Superintendent Police Operation Tariq Mastoi were also present.
AIG Abdul Razzaq Cheema briefed the provincial minister about SOPs of mosques and measures being taken to ensure implementation on it. ZiaullahLongove directed police officials' to take measures for creating awareness among people about the use of facemasks, staying in homes and avoid unnecessary traveling.
https://pakobserver.net/balochistan-minister-visits-mosques-to-review-implementation-of-sops/?utm_source=rss&utm_medium=rss&utm_campaign=balochistan-minister-visits-mosques-to-review-implementation-of-sops
-----
Europe
Community centre members rush to aid of gunshot victim in Queen's Crescent
27 April, 2020
By Tom Foot
A MAN in his 30s staggered into a crowded community centre with gunshot wounds as dozens of members ate their sunset Iftar meal for Ramadan.
Young people at the centre helped bandage up the victim using a "bleed kit" that had been bought by the Queen's Crescent Community Association following the murder of Calvin Bungisa in Grafton Road last year.
Armed police attended and the man, who is believed to have been shot in a drive-by around 7.40pm tonight (Monday), was taken to hospital by ambulance. Police have not yet made any arrests.
Foyezur Miah, chief executive of the QCCA, told the New Journal: "He walked in limping and telling us he has been shot, it looked like his left side. He looked frightened, he was trying to hide in the corridors.
"He was able to talk, able to walk. Armed police arrived. They were here in five minutes, seven minutes tops. An air ambulance came. But he was taken by a standard ambulance to hospital.
"We were doing Iftar for the local residents here. We have been doing that for four days or so. The young people were very quick to help.
"He had been sitting on a chair and the young people, who were here, there was a bleed kit – they used that on him. The kit is specifically for people who have been shot and stabbed. After Calvin [Bungisa], we had sourced one."
Mr Miah said: "The kits are developed specifically because so many lives could have been saved if the response could have been faster. There is quite a lot of materials in there, bandages, straps to stop the bleeding, straps for the legs.
Mr Miah was speaking from the centre tonight at 10pm. It had been sealed off as a crime scene but tomorrow it will reopen as a food bank for those affected by the coronavirus.
He said: "All our work is now for the foodbank. We are Camden's second biggest foodbank. We'll have a clean and get on with it. People were going home to rest, and then this happened."
A police statement said they were called at 19.38 to Queens Crescent following reports of a shooting. The man was later described as being a non life-threatening.
http://camdennewjournal.com/article/muslim-community-centre-members-rush-to-aid-of-gunshot-victim-in-queens-crescent
-----
The Lib Dems' Ramadan stunt is spectacularly bad politics
28 April 2020
For those of you not following the minutiae of the Liberal Democrat party at the moment, which I imagine is almost all of you, Ed Davey is leading many members of his brigade, MPs and councillors, to fast for Ramadan. Your first question here should be: why exactly? Has Ed Davey and many other Lib Dems converted to Islam? Well, no.
They appear to be doing it as some sort of solidarity gesture with British Muslims. In the tweets and videos on the subject, they keep referring to 'showing Muslims they aren't alone' in what they are doing. This is a bad idea for a lot of reasons and instructive of how, months after running the most disastrous political campaign in history, the Lib Dems are bad at politics fought anywhere other than the local level.
Those on the right who have bothered to pay attention to the stunt are attacking it for being a virtue-signalling exercise. For being a cynical attempt by the Lib Dems to try and take the Muslim vote from Labour. And I can see their point. Yet if this was the worst thing about the Ramadan solidarity exercise, I would give it a pass. No, the worst thing about it is that it is patronising, not just to Muslims but to anyone who is religious. It misunderstands religion so completely as to be embarrassing. And I say all this as an atheist.
This line about 'showing Muslims they aren't alone' in pursuing a fast at Ramadan is embarrassing. The fast hasn't been forced upon them. It is not something that some other group of people is oppressing them with. They have done it by choice as an act of faith. It is religiously significant for them to do it every year. You cannot 'show them they are not alone' in enacting the rituals of Ramadan; by the very definition of what any religious faith is, they are completely alone in this. It is part of what makes a Muslim a Muslim, just as taking communion is part of what makes a Christian a Christian. Christians don't feel 'alone' in taking communion, at least in any pejorative sense.
I very much hesitate to use the term 'cultural appropriation' in any context seeing as how ridiculously it has been used in the past decade. But I think it is the only term that applies here. Indulging in a Muslim ritual, visibly labelling it as such, while not converting to the religion is weird and creepy.
Imagine for a moment if Sajid Javid decided he wanted to take communion for a month to 'show Christians they are not alone' while not converting to Christianity. It would annoy a lot of people and I don't need to be religious to understand why. Religion is a deeply important part of religious people's lives, not some random lifestyle accoutrement. Its symbols and rituals have a deep meaning to believers. To casually dip in and out of a religion's rituals in a visible, public way, particularly for a political organisation whose motivations in taking part in such a thing needs to be robustly questioned, seems offensive to me. It is patronising of Islam, in my opinion. I mean, I'm not a Muslim so I have no idea if any Muslims will be offended. I just know they probably should be, at least as much as they can work themselves up to be offended by anything the Lib Dems do.
Why are the Lib Dems so bad at this stuff? As I saw Lib Dem after Lib Dem appear on my Twitter feed yesterday talking about how spiritually meaningful they found taking part in Ramadan was for them, I had horrible flashbacks to the general election campaign. Build a Better Future and a pathological avoidance of challenging the Tory Brexit line. It isn't that they are bad at politics – it's like they are supernaturally bad at it. In the Ramadan stunt, they have found something that will come across as pandering, virtue signalling and hucksterish to a large section of the electorate, and yet also manages to miss its intended target and potentially offend the people it was being used to suck up to. In other words, it is perfectly bad politics; the kind of thing you would do if you were an enemy of a political party and somehow infiltrated its HQ.
This stuff hurts my heart. We need a liberal party in Britain, badly. The Lib Dems not only don't seem up to it, but don't seem to even want to do the job.
https://www.spectator.co.uk/article/the-lib-dems-ramadan-stunt-is-spectacularly-bad-politics
-----
Mosque arranges hot meal bonus for Huddersfield food bank users
By Nick Lavigueur
27 APR 2020
A food bank providing for people in need in Huddersfield was given a surprise boost by a nearby mosque.
Members of Ghausia mosque at Lockwood spent the first day of Ramadan by supporting the Hope Newsome Food Bank.
While they had begun four weeks of daytime fasting, volunteers from the mosque delivered 60 portions of curry and rice, along with a large donation of non perishable food items for the food bank.
It is thought to teach self-discipline and reminds them of the suffering of the poor. However, children, pregnant women, elderly people and those who are ill or travelling don't have to fast.
During Ramadan, it is common to have one meal, known as the suhoor, just before sunrise and another, known as the iftar, directly after sunset.
The latest donation comes just two weeks after the mosque provided a huge donation of pizza and curry for staff at Huddersfield Royal Infirmary.
Members from the Ghausia mosque have also setup a Covid-19 support group for those facing isolation and financial hardship along with those who have been advised to shield.
https://www.examinerlive.co.uk/news/west-yorkshire-news/mosque-arranges-hot-meal-bonus-18155615
----
URL: https://www.newageislam.com/islamic-world-news/aiims-begins-plasma-therapy-200/d/121695
New Age Islam, Islam Online, Islamic Website, African Muslim News, Arab World News, South Asia News, Indian Muslim News, World Muslim News, Women in Islam, Islamic Feminism, Arab Women, Women In Arab, Islamophobia in America, Muslim Women in West, Islam Women and Feminism