New Age Islam News Bureau
11 July 2022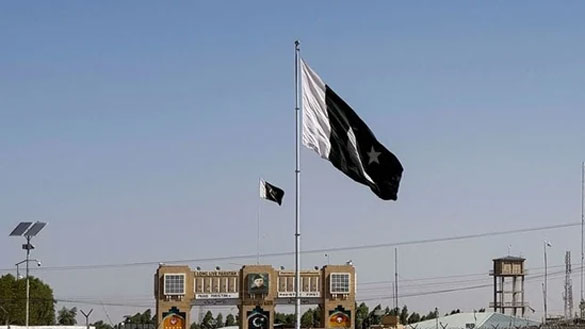 In a letter addressed to the interior secretary, it was stated that article and Section 198-C prevented the Ahmadis from posing themselves as Muslims and performing Islamic practices.(Representative photo / REUTERS)
-----
• Pakistan Accountable For Terrorist Footprints In Britain: British Security Analyst Report
• Biden Defends Decision To Visit Saudi Arabia, Says Rights Are On His Agenda
• Indian, Pakistani Soldiers Exchange Sweets At Wagah Border On Eid Ul-Adha
• Israel Says Biden To Carry 'Message Of Peace' To Saudi Arabia
Pakistan
• No Loan From IMF Despite Pakistan 'Dancing To Its Tune', Says Interior Minister
• In phone call with Iran's Raisi, PM Shehbaz appreciates support on Kashmir
• Relentless rainfall submerges parts of Karachi on second day of Eidul Azha
• SC judge says opinion on Article 63-A 'not binding'
-------
Europe
• YPG/PKK Terror Group Supporters Hold Demonstration In Sweden
• Ukraine Muslims pray during Eid for victory, end of occupation
• German lawmakers recommend Yazidi 'genocide' recognition
• French Catholic Church pays reparations to 6 victims of child sexual abuse
• Iraqi man walks 6,500 km from the UK to reach Mecca for Hajj
--------
North America
• Israeli PM Lapid says countering Iran will top Biden visit agenda
• US, Israeli plan for defence pact with Arabs will raise tensions: Iran
• Biden says always aimed to 'reorient, not rupture' Saudi relations ahead of visit
--------
India
• End Voting Rights For Muslims If They Aren't Allowed To Vote Says Azam Khan, Alleges Harassment
• Remarks Insulting Prophet Aimed At Disturbing Social Harmony: Palayam Imam VP Suhaib Maulvi
• 'Delivering welfare schemes, representation in party': BJP's outreach blueprint for Pasmanda Muslims
• Udaipur Killing: NIA Arrests Seventh Accused, A Snacks Seller, In Kanhaiya Case
--------
Mideast
• Official Vows Tehran's Utmost Efforts to Release Iranian Jailed in Sweden
• Iranian President: No Restrictions to Further Expansion of Relations with Pakistan
• Hezbollah: Drone Operation at Karish Gas Field Had 'Quick Effect' on Demarcation Talks with Israel
• Thousands of Muslim worshipers gather for Eid al-Adha prayers in Jerusalem
• US Plans To Build Diplomatic Compound On Palestinian Land In East Jerusalem: Rights Group
• Iran says US-Israel joint defence pact will fuel regional tensions
--------
South Asia
• Taliban Supreme Leader Vows To Enforce Islamic Law Across Afghanistan
• Isolating the Taliban: How young landmine victims may be collateral damage
• UAE set to run Kabul airport in deal with Taliban
--------
Arab World
• Israel To Probe Reports Of 1967 Mass Grave For Egyptian Soldiers, Lapid Tells Al-Sisi
• Syria aid crossing set to close to UN convoys, threatening millions
• Lebanon's music festivals make modest comeback at Baalbek amid economic crisis
• Syrians fear 'catastrophe' from Russia aid block
• Saudi Islamic Minister Meets Pakistani Cleric In Mina
--------
Southeast Asia
• PM Calls On Muslims To Fight Inflation, Help The Needy
• Decision to degazette Bukit Cherakah land 'unlawful', claims NGO
• Failure to manage conflicts causing divorces among young couples
--------
Africa
• Abuja-Kaduna Train Attack: UBEB Boss Recounts Experience In Terrorists' Den
• Muslim-Muslim ticket: Tinubu, APC hate Nigeria – Segun Showunmi talks tough
• Sudan protesters mark Eid al-Adha at anti-army sit-in
• Morocco arrests 25 suspected of planning illegal crossing into Spain
Compiled by New Age Islam News Bureau
URL: https://newageislam.com/islamic-world-news/ahmadis-muslim-sentiments-sacrificing-animals-eid/d/127457
--------
Ahmadis "Hurting Muslim Sentiments" By Performing Ritual In Line With Islamic Beliefs, 3 Arrested Sacrificing Animals On Eid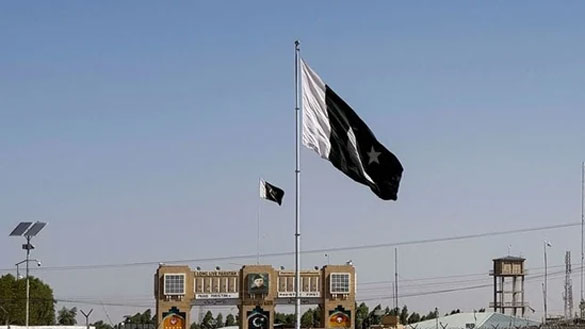 In a letter addressed to the interior secretary, it was stated that article and Section 198-C prevented the Ahmadis from posing themselves as Muslims and performing Islamic practices.(Representative photo / REUTERS)
-----
Imran Gabol
July 10, 2022
A first information report (FIR) was registered in Faisalabad on Sunday against members of the Ahmadi community for "hurting Muslim sentiments" by sacrificing animals on Eidul Azha.
Three members of the community have been arrested over the matter, Jamaat-i-Ahmadiyya Pakistan spokesperson Saleemuddin told Dawn.com.
The FIR, a copy of which is available with Dawn.com, states that the complainants were present in a mosque after Eidul Azha prayers when they came to know through "verified sources" that residents of the Ahmadi community were sacrificing animals inside their homes.
The complainants then reached the area and "climbed the roofs of nearby houses, after which they saw that the [Ahmadi community members] were sacrificing a goat at one place while other members were cutting the meat of another animal at a different place", it added.
"The Islamic sentiments of the complainants and other Muslims were hurt by this and [the complainants] recorded a video which can be presented as evidence.
"By performing a ritual in line with Islamic beliefs and presenting themselves as Muslims despite being Ahmadis, they have committed a cognisable offence, according to Muslim Ummah's belief, and this has grievously hurt Muslim sentiments," the complainants stated.
The FIR was registered at Faisalabad's police station Thikriwala against five people under Section 298-C (person of Qadiani group, etc., calling himself a Muslim or preaching or propagating his faith) of the Pakistan Penal Code (PPC).
The community's spokesperson, Saleemuddin, said the slaughter was being performed within the confines of a house and not in a public place. "The community is being persecuted," he told Dawn.com.
The religious affairs ministry had asked the interior ministry earlier this month to ensure the implementation of Article 260(3) of the Constitution, which classifies segments of society as 'non-Muslims', and Section 298-C of the PPC.
A letter addressed to the interior secretary, dated July 6, which Dawn.com has seen, stated that the article and Section 198-C "prevented" the Ahmadis from "posing themselves as Muslims and performing the Islamic practices".
"It is stated that the implementation of the penal provisions contained in the Pakistan Penal Code is the responsibility of interior ministry (law enforcement agencies) up to extent of ICT and provincial governments up to extent of provinces," the letter added.
Source: Dawn
Please click the following URL to read the text of the original story:
https://www.dawn.com/news/1699181/3-ahmadis-arrested-in-faisalabad-for-sacrificing-animals-on-eid
--------
Pakistan Accountable For Terrorist Footprints In Britain: British Security Analyst Report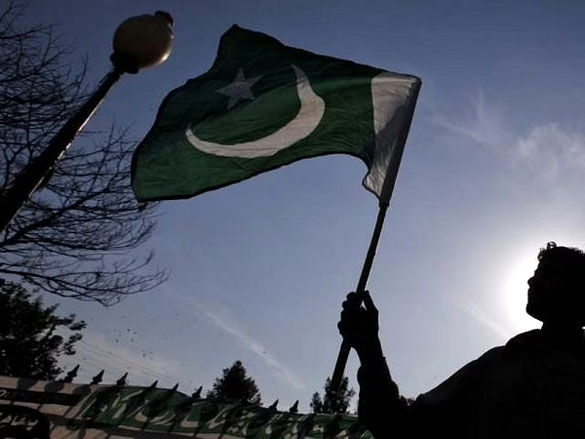 Representative Image
----
11 July, 2022
London [UK], July 11 (ANI): Pakistan's policies have fostered terrorism since time immemorial as the country has always kept itself under a garb while jihadist networks took a footprint in Britain, leading to the deadliest terrorist attacks in the history of Britain, said Kyle Orton, a British Security Analyst.
As the West always ignored the lessons of 7/7 and 9/11, Britain became a special place in the long-standing, transnational ISI jihadist networks.
Masood Azhar, an ISI operative and UN-listed terrorist, toured Britain in 1993, fundraising and recruiting for the Kashmir jihad. And created local networks to continue the job. Some of these networks later defected to the Islamic State (IS) which is also known as Daesh these days.
Moreover, Azhar also created a template for "Londonistan" in the 1990s, where jihadists set up shop in London to provide resources to insurgencies in the Muslim world.
In September 2005, Al-Qaeda released a video to Al-Jazeera of a terrorist named Mohammad Sidique Khan's last testament declaring his "war" on the West and praising "today's heroes"- Osama bin Laden, Al-Qaeda's then-deputy (now emir) Ayman al-Zawahiri, and the founder of the Islamic State movement, which was at that time part of Al-Qaeda, Abu Musab al-Zarqawi, the Jordanian, whose real name was Ahmad al-Khalayleh, a report by Policy Research Group said.
Later in September 2005, a statement from Al-Zawahiri confirmed Al-Qaeda had "launched" the "blessed raid" on London but an official British government report on 7/7, released in May 2006, said: "There is as yet no firm evidence to corroborate this claim or the nature of Al-Qaeda support [for the 7/7 attacks] if there was any."
Two months later, to coincide with the first anniversary of the attacks, Al-Qaeda released the video of Tanweer's testament, with Al-Zawahiri, showing "a terrorist training site and a map of London with areas circled as potential targets".
After 2001, NATO took over the responsibilities for security in Afghanistan however the tables turned when the Taliban re-entered Afghan soil and took control of the country from the Ashraf Ghani government.
The takeover got massive coverage and it was seen that Pakistan stood behind the killing of hundreds of eastern troops and intelligence officers, as well as thousands of Afghans.
Moreover, during the NATO presence in Afghanistan, it was a common discussion between ex-servicemen that Pakistanis were generally the commanders of Taliban units, and it is likely that the old habit of embedding Pakistani Special Services Group (SSG) operatives with the Taliban-Qaeda insurgents, especially during the ISI-planned "spring offensives", POREG stated.
As per the report, Pakistan had helped Bin Laden escape in 2001 and harboured him in a safe house in a garrison town close to its capital till the cover was blown up in 2011 and ultimately the Taliban became entirely intermingled with Al-Qaeda and its derivatives like "Haqqani Network (HN)", as it did with the "Kashmiri" groups like Lashkar-e-Toiba (LeT).
West kept paying Pakistan to help solve a problem it created and sustained–and had every incentive to sustain as Pakistan's lawless conduct–its fundamental strategic commitment to the use of terrorism as a state policy under the protective canopy of pirated nuclear weapons, the report added.
"Pakistan has essentially developed its bargaining power by threatening its own demise," as a scholar aptly put it.
As there are around 1.2 million British citizens of Pakistani descent and about 200,000 Pakistani nationals' resident in Britain, the population concentrates in ways that give it an outsized domestic political sway, and the ISI exploits this to push its own agenda through various "community" groups.
As the 7/7 inquiry report noted, one of the reasons Khan and Tanweer did not raise immediate red flags with their Pakistan journeys is that "extended visits to Pakistan by young men are not unusual". Terrorists can obviously blend in easily with such a large movement of humanity.
Now that NATO is out of Afghanistan, if and when a British citizen goes rogue, in or from Pakistan, the ISI will be there to offer a helping hand in finding them for a price and if Britain accepted the apparent necessity of cooperation with the ISI at a time when the ISI was killing British troops, it is unlikely this will change now, POREG stated. (ANI)
Source: The Print
Please click the following URL to read the text of the original story:
https://theprint.in/world/pakistan-accountable-for-terrorist-footprints-in-britain-report/1033714/
-------
Biden Defends Decision To Visit Saudi Arabia, Says Rights Are On His Agenda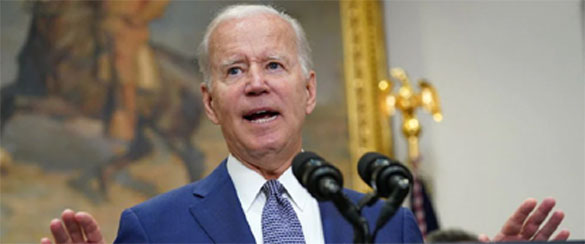 President Joe Biden
----
July 10, 2022
President Joe Biden on Saturday defended his decision to travel to Saudi Arabia saying human rights would be on his agenda as he gave a preview of a trip on which he aims to reset ties with the crown prince, who he previously denounced as a pariah.
Biden will hold bilateral talks with Saudi King Salman bin Abdulaziz and his leadership team, including Crown Prince Mohammed bin Salman on his visit to the Middle East next week.
The Crown Prince Mohammed, Saudi Arabia's de facto leader, was believed to be behind the 2018 murder of Washington Post journalist and political opponent Jamal Khashoggi, according to the US intelligence community.
In a commentary published in the Washington Post late on Saturday, Biden said his aim was to reorient and not rupture relations with a country that has been a US strategic partner for 80 years.
"I know that there are many who disagree with my decision to travel to Saudi Arabia. My views on human rights are clear and long-standing, and fundamental freedoms are always on the agenda when I travel abroad," Biden wrote.
Biden needs oil-rich Saudi Arabia's help at a time of high gasoline prices and as he encourages efforts to end the war in Yemen after the Saudis recently extended a ceasefire there. The United States also wants to curb Iran's influence in the Middle East and China's global sway.
Source: Dawn
Please click the following URL to read the text of the original story:
https://www.dawn.com/news/1699173/biden-defends-decision-to-visit-saudi-arabia-says-rights-are-on-his-agenda
--------
Indian, Pakistani Soldiers Exchange Sweets At Wagah Border On Eid Ul-Adha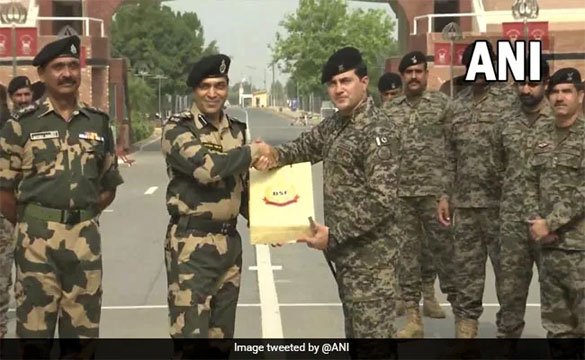 Eid ul-Adha or Bakra Eid is being observed on July 10 this year.
-----
July 10, 2022
Attari (Punjab): Border Security Force (BSF) and Pakistan Rangers exchanged sweets at the Attari-Wagah border on the occasion of Eid ul-Adha on Sunday.
Speaking to ANI, BSF Commandant Jasbir Singh said, "On the occasion of Eid ul-Adha, BSF has offered sweets to Pakistan Rangers at Joint Check Post (JCP) Attari Border. This is a traditional gesture between two border guarding forces. This also symbolises our tradition, goodwill and peace."
Eid ul-Adha or Bakra Eid, which is being observed on July 10 this year, is a holy occasion also called the 'festival of sacrifice' and is celebrated on the 10th day of Dhu al-Hijjah, the 12th month of the Islamic or lunar calendar. It marks the end of the annual Hajj pilgrimage.
Every year, the date changes as it's based on the Islamic lunar calendar, which is about 11 days shorter than the Western 365-day Gregorian calendar.
Eid ul-Adha is an occasion of joy and peace, where people celebrate with their families, let go of past grudges and make meaningful connections with one another. It is celebrated as a commemoration of Prophet Abraham's willingness to sacrifice everything for God.
The history of this occasion traces back to 4,000 years ago when Allah appeared in Prophet Abraham's dream asking him to sacrifice what he loved the most.
As per the legends, the Prophet was about to sacrifice his son Isaac when an angel appeared and stopped him from doing so. He was told that God was convinced of his love for him and hence was allowed to make something else as a 'great sacrifice'.
The same story appears in the Bible and is familiar to Jews and Christians. One key difference is that Muslims believe the son was Ishmael rather than Isaac as told in the Old Testament. In Islam, Ishmael is regarded as a prophet and an ancestor of Muhammad.
To mark this occasion, Muslims re-enact Ibrahim's obedience with the symbolic sacrifice of a lamb, goat, cow, camel, or another animal that is then divided into threes to be shared equally among family, friends and the needy.
Around the world, Eid traditions and festivities vary and different countries have unique cultural approaches to this important festival. In India, Muslims wear new clothes and attend open-air prayer meetings. They may sacrifice a sheep or goat and share the meat with family members, neighbours, and the poor.
Several dishes like mutton biryani, Ghosht Haleem, Shami Kebab and mutton korma, along with desserts such as kheer and Sheer Khurma are eaten on this day. Offering charity to the underprivileged is also considered an important part of Eid ul-Adha.
Source: ND TV
Please click the following URL to read the text of the original story:
https://www.ndtv.com/india-news/indian-pakistani-soldiers-exchange-sweets-at-wagah-border-on-eid-ul-adha-3144099
--------
Israel Says Biden To Carry 'Message Of Peace' To Saudi Arabia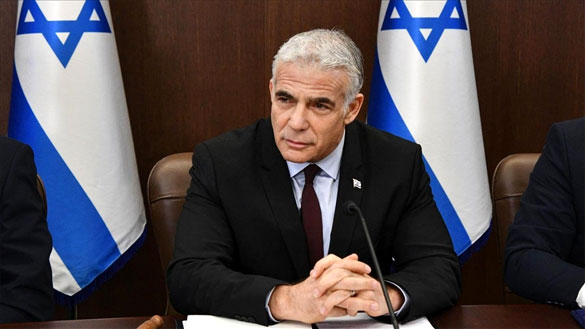 Israeli Prime Minister Yair Lapid
----
Zein Khalil
10.07.2022
JERUSALEM
Israeli Prime Minister Yair Lapid said Sunday US President Joe Biden will carry a "message of peace and hope" to Saudi Arabia.
Biden is scheduled to arrive in Israel this week as part of a tour that will also include the West Bank city of Ramallah and Saudi Arabia.
"From Jerusalem, the [US] president's plane will fly to Saudi Arabia, and he will carry with it a message of peace and hope from us," Lapid said at the opening of the weekly cabinet meeting.
"Israel reaches out to all the countries in the region and calls on them to build ties with us, to establish relations with us and to change history for the sake of our children," he said.
Israel and Saudi Arabia don't have diplomatic relations.
In 2020, Israel signed US-sponsored agreements to normalize relations with the United Arab Emirates, Bahrain, Sudan and Morocco, in a move decried by Palestinians as a "stab in the back".
Source: Anadolu Agency
Please click the following URL to read the text of the original story:
https://www.aa.com.tr/en/middle-east/israel-says-biden-to-carry-message-of-peace-to-saudi-arabia/2634351
--------
Pakistan
No loan from IMF despite Pakistan 'dancing to its tune', says interior minister
Jul 11, 2022
ISLAMABAD (Pakistan): Pakistan's Interior Minister Rana Sanaullah on Sunday said that the International Monetary Fund (IMF) had not released the tranche for the $6 billion bailout package under its extended fund facility, even though it had made the country "dance to its tune."
Responding to a question about the IMF, Sanaullah said that the government had accepted the terms "which we were not in favour of". He also urged the international lender to release the tranche without delay so the country could free itself from the "difficult situation", Geo News reported.
The federal minister said that Pakistan is currently going through a difficult situation in terms of its economy.
"For the sake of the country we have to make difficult decisions because of which the country is headed towards betterment," Sanaullah added.
Referring to the previous government led by Pakistan Tehreek-e-Insaf (PTI's) regime, Sanaullah said that the country was ruled by a group that "did nothing but carry out a vendetta".
Meanwhile, Pakistan planned to borrow Pakistani Rupees (PKR) 5.5 trillion from international lenders in the current fiscal year to maintain their foreign exchange reserves, repay the previous loans and finance of current account deficit.
Earlier, in the annual budget for 2022-23, the Pakistan government had projected that they will borrow only PKR 3.17 trillion from international sources. However, the budget didn't include the financing from the International Monetary Fund (IMF), Saudi Arabia and SAFE China deposit, Pakistani newspaper The Nation.
The volume of the projected international borrowing has now increased to PKR 5.5 trillion after incorporating funding from aforesaid sources.
This new borrowing will be 74 per cent higher than the previous estimates of the government. After the revision, the external resources of PKR 5.503 trillion projected for 2022-23 are greater by more than 200 per cent than the initial PKR 2.7 trillion budgeted for 2021-22.
The current government is still struggling to arrange dollars and it also needs external financing of $ 41 billion in the next fiscal year, reported The Nation.
Source: Times Of India
Please click the following URL to read the full text of the original story:
https://timesofindia.indiatimes.com/world/pakistan/no-loan-from-imf-despite-pakistan-dancing-to-its-tune-says-interior-minister/articleshow/92796705.cms
--------
In phone call with Iran's Raisi, PM Shehbaz appreciates support on Kashmir
July 10, 2022
Prime Minister Shehbaz Sharif held a telephone call with Iranian President Ebrahim Raisi on Sunday and appreciated Tehran and the supreme leader's "steadfast support" to Pakistan on the Kashmir issue.
During the conversation, the two leader also exchanged Eid greetings and views on bilateral ties.
For his part, PM Shehbaz underscored the significance of "historic ties" between Pakistan and Iran, which he said were defined by "geographic proximity, shared history and mutual understanding".
The PM reaffirmed his government's "strong commitment" to boost bilateral ties with Iran in all areas of mutual cooperation, including trade, energy, electricity and people-to-people contact.
He conveyed to the Iranian president that the early convening of a joint economic commission between Pakistan and Iran would further "strengthen economic linkages between the two countries".
PM Shehbaz further expressed the hope that border sustenance markets along Pakistan-Iran frontiers would soon become operational — a development that he said would "facilitate livelihood in the border region".
The premier also expressed gratitude to the Iranian leadership for " extending timely support and lending IL-76 aircraft to Pakistan" for extinguishing forest fires in Balochistan in May.
He also appreciated Iran's cooperation with regards to facilitating Pakistani pilgrims every year and emphasised the importance of further "enhancing people-to-people exchanges".
In return, President Raisi thanked PM Shehbaz for his Eid felicitations and assured him of Iranian cooperation for further "intensifying bilateral trade", particularly with regards to the provision of electricity to Balochistan's Makran division.
Both the dignitaries also invited each other to visit one another's countries.
The Iranian state news agency IRNA quoted Raisi as saying: "The Islamic Republic of Iran emphasizes great importance to its relations with Pakistan."
Raisi in the telephone conversation added that the "current level of Tehran-Islamabad relations is not proportionate to the diverse capacities of the two countries", and that "Iran is ready to expand bilateral relations, especially in energy and agricultural fields".'
Source: Dawn
Please click the following URL to read the full text of the original story:
https://www.dawn.com/news/1699174/in-phone-call-with-irans-raisi-pm-shehbaz-appreciates-support-on-kashmir
--------
Relentless rainfall submerges parts of Karachi on second day of Eidul Azha
Qazi Hassan | Imtiaz Ali
July 11, 2022
At least two people were killed as relentless rainfall battered Karachi on Monday, submerging several areas of the city and leaving many without power on the second day of Eidul Azha.
Despite the Sindh government's claims of cleaning out the city's storm drains, overnight showers caused rainwater to accumulate on roads and in neighbourhoods in scenes reminiscent of the disastrous torrential downpour witnessed in August 2020.
Citizens on social media complained of prolonged power outages and roads turning into rivers as #Karachirain trended on Twitter.
According to data released by the Pakistan Meteorological Department (PMD), PAF Masroor Base received the highest amount of rainfall (119.5mm) in the past 24 hours followed by DHA Phase 2 (106.6mm), Quaidabad (76mm), PAF Faisal Base (65mm), Orangi Town (56.2mm), old airport area (49.8mm), Gulshan-i-Hadeed (46.5mm), Nazimabad (31.8mm), Jinnah Terminal (29.6mm), University Road (14.8mm), Surjani Town (14.4mm), Gadap Town (9.2mm), North Karachi (2.3mm) and Saadi Town (1.1mm).
The heavy downpour also claimed the lives of two citizens. According to a police statement, two people died after being electrocuted in the city's Garden area.
The deceased were identified as 28-year-old Atif and 25-year-old Hassan. The bodies were shifted to Civil Hospital Karachi while further investigation is under way, the statement said.
Separately, the traffic police said that the Submarine Chowk underpass, KPT underpass, and the one near the shrine of Abdullah Shah Ghazi were closed due to the accumulation of rainwater.
Prime Minister Shehbaz Sharif said he was "deeply saddened" by the damage wrought by the torrential rains and that he had had spoken to Sindh Chief Minister Murad Ali Shah.
"I am confident that Sindh government will rise to the occasion and bring life back to normal under the able leadership of CM Sindh. Have offered to extend every possible support."
'Don't leave home unnecessarily'
Commissioner Karachi Muhammad Iqbal Memon urged Karachiites to not leave their homes unnecessarily and stay away from electricity poles. "Stay away from utility lines poles, wires and nullahs."
In a statement, he also cautioned people to keep their distance from drains and manholes.
Heavy rain predicted
Meanwhile, the Met department predicted heavy rainfall and thunderstorms in Karachi, Thatta, Badin and Hyderabad.
Chief meteorologist Sardar Sarfaraz said the new weather system headed towards the city would last until July 18-19.
Sarfaraz also said that intermittent rain with thunder was also expected in Mirpurkhas, Umerkot and Tando Mohammad Khan. He also warned of a risk of flooding in low-lying areas in Karachi, Badin, Thatta, Mirpurkhas and Umerkot.
In an update shared on Twitter around 2:30am, the K-Electric spokesperson claimed that the power supply system within its territory was stable.
"Most areas of the city continue to receive power from more than 1,770 feeders out of 1,900," he said. He added that around 130 feeders were closed as a precautionary measure due to reports of power theft or accumulation of rainwater.
Source: Dawn
Please click the following URL to read the full text of the original story:
https://www.dawn.com/news/1699190/relentless-rainfall-submerges-parts-of-karachi-on-second-day-of-eidul-azha
--------
SC judge says opinion on Article 63-A 'not binding'
Nasir Iqbal
July 10, 2022
Islamabad: Justice Mazhar Alam Khan Miankhel has said the Supreme Court's opinion on the presidential reference seeking interpretation of Article 63-A which pertained to defection, was not binding upon the government.
In his dissenting note, Justice Miankhel, who will reach the age of superannuation on July 13, said that according to Article 189, any decision of the Supreme Court under articles 184, 185 or 188 (review jurisdiction) to the extent that it decides a question of law or is based on or enunciates a principle of law, is binding on all other courts in Pakistan.
"Therefore, it would be fair to say that the opinion expressed by the Supreme Court on the presidential reference under Article 186 of the constitution has no binding," the judge wrote in his 17-page note.
Justice Miankhel observed that Article 186 provided the top court the advisory jurisdiction but was different from its jurisdiction under articles 184 and 185, which empower it to hear and decide appeals against high court orders.
Source: Dawn
Please click the following URL to read the full text of the original story:
https://www.dawn.com/news/1699138/sc-judge-says-opinion-on-article-63-a-not-binding
--------
Europe
YPG/PKK terror group supporters hold demonstration in Sweden
Atila Altuntas
09.07.2022
STOCKHOLM, Sweden
A group of supporters of the YPG/PKK terror organization held a demonstration in the capital Stockholm on Saturday, protesting the recent memorandum between Türkiye, Sweden and Finland.
Participants at Norra Bantorget carried banners and symbols of the terror group, called on the Swedish government to withdraw from accession to NATO and "concessions" given to Türkiye in the memorandum signed at the NATO summit in Madrid late last month.
Chanting slogans in support of the terrorist group, they also criticized Sweden's Prime Minister Magdalena Andersson and Foreign Minister Ann Linde.
Sweden and Finland formally applied to join the alliance in May, a decision spurred by Russia's war on Ukraine.
However, Türkiye, a longstanding member of the alliance, voiced objections to the membership bids, criticizing the countries for tolerating and even supporting terrorist groups.
Ahead of NATO's Madrid summit on June 28-30, Türkiye, Sweden and Finland signed an agreement, which was followed by four-way talks in the Spanish capital.
The agreement allows the two Nordic countries to become NATO members, but conditions them to take steps on Türkiye's terrorism concerns, and lift an arms embargo on Ankara.
Following the agreement, NATO formally invited Sweden and Finland to join the 30-member military alliance.
Source: Anadolu Agency
Please click the following URL to read the full text of the original story:
https://www.aa.com.tr/en/europe/ypg-pkk-terror-group-supporters-hold-demonstration-in-sweden/2634065
--------
Ukraine Muslims pray during Eid for victory, end of occupation
10 July ,2022
By the time the Russians invaded, 43-year-old Mufti Said Ismahilov — one of the Muslim spiritual leaders of Ukraine — had already resolved that he would step aside from his religious duties to fight for his country.
At the end of last year, as warnings of an imminent attack grew louder, Ismahilov began training with a local territorial defense battalion. By then he had served as a mufti for thirteen years.
Born and raised in Donetsk in eastern Ukraine, Ismahilov had already fled Russia once before, in 2014, when Moscow-backed separatists captured his city. He eventually moved to a quiet suburb outside Kyiv called Bucha — only to find himself, eight years later, at the heart of Moscow's assault on Kyiv, and the site of atrocities that shocked the world. It felt as if the threat of Russian occupation would never end.
"This time I made the decision that I would not run away, I would not flee but I would fight" he said in an interview with The Associated Press in Kostiantynivka, a town close to the front lines in eastern Ukraine where a battle for control of the region is intensifying.
Ismahilov began working as a military driver for paramedics evacuating the wounded from front lines or besieged towns. Tasked with driving in highly dangerous conditions, but also emotionally supporting the critically injured, Ismahilov says he sees his new job as "a continuation of my spiritual duty before God."
"If you are not scared and you can do this, then it is very important. The Prophet was himself a warrior," Ismahilov says. "So I follow his example and I also will not run, or hide. I will not turn my back on others."
Ismahilov was one of dozens of Ukrainian Muslims who gathered at the mosque in Kostiantynivka Saturday to mark Eid al-Adha. The mosque is now the last remaining operational mosque in Ukrainian-controlled territory in Donbas. Ismahilov told the AP that there are around 30 mosques in the region in total but that most are now in the hands of the Russians.
Last week, Russia captured the city of Lysychansk, the last major stronghold of Ukrainian resistance in the eastern province of Luhansk. The governor of the Luhansk region said on Saturday that Russian forces are now pressing toward the border with the neighboring Donetsk region.
Muslims make up almost 1 percent of the population in Ukraine, which is predominantly Orthodox Christian. There is a large Muslim population in Crimea — home to the Crimean Tatars and illegally annexed by Russian in 2014. Numbers there jump to 12 percent.
There is also a sizeable Muslim community in eastern Ukraine, the result of waves of economic migration as the region industrialized and many Muslims immigrated to the Donbas region to work in the mines and factories.
The conflict in 2014 forced many Muslims from Crimea and Donbas to relocate to other parts of the country where they joined long-established Tatar communities or built new Islamic centers alongside Turks, Arabs, and Ukrainian converts.
But the invasion has forced many to flee once again. The mosque in Kostiantynivka used to cater for a local Muslim population of several hundred people. On Saturday, few local residents were present, having journeyed west with their families. Instead, the congregation was made up of soldiers or combat medics from different units: Crimean Tatars and Ukrainian converts from Kharkiv, Kyiv, and western Ukraine.
In his sermon following the traditional Eid prayers, Ismahilov told the congregation that this year's Eid had a symbolic significance in the midst of the war, and asked them to remember Muslims living in occupied territories, where many have lost their homes and several mosques have been destroyed by shelling. Referencing a series of arrests of Crimean Tartars in the wake of the 2014 annexation, Ismahilov said Muslims in occupied territories do not feel safe.
"There is a lot of fear. … The war continues and we have no idea what is happening in the occupied territories and what situation Muslims are in there" he said.
Ismahilov told the AP that he considers Russian Muslims invading Ukraine, including Chechen strongman Ramzan Kadyrov's infamous Chechen battalions, as "criminals."
"They are committing sins and … they have come as murderers and occupiers, on a territory that is the home of Ukrainians and Ukrainian Muslims, without any justification. Allah did not give them that right" says Ismahilov. "They will answer for all this before God."
Olha Bashei, 45, a lawyer turned paramedic from Kyiv who converted to Islam in 2015, says Russia is trying "erase Ukraine from the face of the earth."
Bashei began working as a frontline paramedic in Donbas in 2014. She considers this war her 'jihad', a term to denote a holy war or personal struggle in Islam.
"This war is my war, and I defend my jihad because I have nephews, I have a mother and I defend my home. I do not want my nephews to ever see what I, unfortunately, saw in this war" she said.
"Islam even helps me because in Islam, in prayer, you somehow distract yourself from the war because you read the prayer and you have a connection with the Almighty. For me, Islam is a force that supports me even in war."
As the soldiers prepared the customary sacrificial sheep for the Eid feast, a residential area in Kostiantynivka several kilometers away came under violent shelling. The incoming artillery shook the ground. Some soldiers ran to the mosque's bunker. Others shrugged it off and continued to drink their tea and eat dates. The shelling caused several fires, injuring several inhabitants and burning roofs to cinders.
Source: Al Arabiya
Please click the following URL to read the full text of the original story:
https://english.alarabiya.net/News/world/2022/07/10/Ukraine-Muslims-pray-during-Eid-for-victory-end-of-occupation
--------
German lawmakers recommend Yazidi 'genocide' recognition
09 July ,2022
Germany's lower house of parliament on Thursday recommended that German lawmakers recognize as a "genocide" the 2014 massacre of Kurdish-speaking Yazidis by the ISIS terrorist group in Iraq, following the lead of UN investigators.
"The recognition of the genocide is an essential step to overcome the traumas for the Yazidi community," said Greens MP Max Lucks, highlighting the precarious situation faced by survivors still living in Iraq.
"A safe life, peace... must be our ambition for the Yazidi community," he said.
The Bundestag, or lower house of parliament, on Thursday approved a petition asking for this recognition, but still needs to hold a final vote in a plenary session in order to complete the process of recognition.
Germany, home to a large Yazidi diaspora, is one of the few countries to have taken legal action against ISIS.
Last November, a German court convicted an Iraqi extremist of genocide against the Yazidi minority, a first in the world that Nobel Peace Prize laureate Nadia Murad hailed as a "victory" in the fight for recognition of the abuses committed by ISIS.
The Yazidi minority has been particularly persecuted by the terrorist organization, which forces its women into sexual slavery and killed men in their hundreds.
Source: Al Arabiya
Please click the following URL to read the full text of the original story:
https://english.alarabiya.net/News/middle-east/2022/07/09/German-lawmakers-recommend-Yazidi-genocide-recognition-
--------
French Catholic Church pays reparations to 6 victims of child sexual abuse
Shweta Desai
10.07.2022
PARIS
In a first of its kind, the Catholic Church in France has paid financial reparations to six victims of child sexual abuse in the church, according to local media.
The fund for solidarity and the fight against sexual assault on minors (SALEM), set up by the Conference of Bishops of France, has paid compensation to six victims, French newspaper Journal Du Dimanche reported on Saturday.
The development comes after the Independent National Authority for Recognition and Reparation (Inirr) announced in June that 736 victims of church abuse had come forward to claim compensation. The remaining 730 victims will be compensated in the coming weeks of summer, the report said.
Although the amount of compensation has not been disclosed, Inirr said it will provide reparations of up to €60,000 (about $64,000) per person, depending on the severity of the case.
Source: Anadolu Agency
Please click the following URL to read the full text of the original story:
https://www.aa.com.tr/en/europe/french-catholic-church-pays-reparations-to-6-victims-of-child-sexual-abuse/2634392
--------
Iraqi man walks 6,500 km from the UK to reach Mecca for Hajj
July 11, 2022
A British man of Iraqi-Kurdish origin walked 6,500 km on foot from Wolverhampton, England and reached Mecca to perform Hajj this year.
Adam Mohamed, 52, walked through the Netherlands, Germany, Austria, Hungary, Serbia, Bulgaria, Turkey, Lebanon and Jordan to reach Saudi Arabia, covering a distance of almost 6,500 kilometers in 10 months and 25 days. He started in the UK on August 1, 2021 and arrive in Saudi Arabia last month.
According to a report by Al Jazeera, Adam covered an average of 17.8 km each day and pushed along a homemade cart weighing 300 kg which was fitted with speakers that played Islamic recitations and his personal belongings. His aim was to spread the message of peace and equality.
He had also set up a GoFundMe page for himself. He wrote, "I am not doing all this for merely fame or money, but purely to highlight to the world we human being are all equal regardless our race, colour, religion and to spread the message of peace and unity that our religion Islam teaches."
His decision to undertake this journey was a result of this soul-searching. He was overwhelmed with all the love that people showered on him on the way. He broadcast his journey on TikTok and gained half a million followers.
Source: India Today
Please click the following URL to read the full text of the original story:
https://www.indiatoday.in/world/story/iraqi-man-walks-from-uk-reach-mecca-hajj-2022-saudi-arabia-1974166-2022-07-11
--------
North America
Israeli PM Lapid says countering Iran will top Biden visit agenda
10 July ,2022
Expanding joint action to counter Iran will top the agenda during US President Joe Biden's upcoming visit to Israel, Prime Minister Yair Lapid said Sunday, urging a "decisive" response to Tehran's nuclear ambitions.
Addressing his second cabinet meeting since taking office on July 1, Lapid called Biden -- who is due in Jerusalem on Wednesday – "one of the closest friends that Israel has ever had in American politics."
The visit "will focus first and foremost on the issue of Iran," said Lapid, who is serving as premier and foreign minister of a caretaker Israeli government until elections scheduled for November 1.
According to an International Atomic Energy Agency report that emerged over the weekend, Iran has informed the Vienna-based watchdog about enhancements in its uranium enrichment capacity.
"Yesterday, it was revealed that Iran is enriching uranium in advanced centrifuges in complete contravention of the agreements it has signed," Lapid said Sunday.
"The international response needs to be decisive: to return to the UN Security Council and activate the sanctions mechanism at full force," he added.
Israel opposes the restoration of a 2015 agreement between Iran and world powers that offered Tehran sanctions relief in exchange for curbs on its nuclear program.
The US walked out of the deal in 2018 under then president Donald Trump, who proceeded to reimpose biting sanctions on Tehran.
Many in Israel cheered that development, which prompted Iran to step away from many of the nuclear commitments it made under the accord.
Negotiations seeking to restore the deal, including indirect talks with the US, took off in Vienna in April last year, but have been at an impasse since March.
Beyond Iran's nuclear program, Israel has sounded growing alarm about Tehran's support for the Lebanese group Hezbollah, which this month sent drones towards an Israeli Mediterranean oil rig that Beirut claims is in disputed waters.
The country has also accused Iranian agents of plotting to kidnap or kill Israelis in Istanbul.
"Israel will not stand idly by while Iran tries to attack us," Lapid said. "We will discuss with the president and his team expanding security cooperation against all threats."
The White House's National Security Council spokesman John Kirby on Thursday said "greater collaboration" on issues such as air defence, particularly with regards to countering Tehran, would be on Biden's agenda during the Middle East trip.
Source: Al Arabiya
Please click the following URL to read the full text of the original story:
https://english.alarabiya.net/News/world/2022/07/10/Israeli-PM-Lapid-says-countering-Iran-will-top-Biden-visit-agenda
--------
US, Israeli plan for defence pact with Arabs will raise tensions: Iran
09 July ,2022
Iran's foreign ministry said on Saturday that plans by the United States and Israel for a joint defense pact with Arab states to counter the threat of Iranian drones and missiles would only increase regional tensions.
"The entry of foreigners in the region...will not create security and stability but is itself the main cause of tension and regional rift," ministry spokesperson Nasser Kanaani said, according to state media.
The United States and Israel are seeking to lay the groundwork for a security alliance with Arab states that would connect air defense systems to combat Iranian drone and missile attacks in the Middle East, sources familiar with the plan said.
Speaking ahead of US President Joe Biden's trip next week to the Middle East which is to start in Israel, White House spokesman John Kirby said on Thursday that US officials are discussing ways of integrating air defense capabilities with regional leaders in the face of a threat from Iran.
Source: Al Arabiya
Please click the following URL to read the full text of the original story:
https://english.alarabiya.net/News/middle-east/2022/07/09/US-Israeli-plan-for-defense-pact-with-Arabs-will-raise-tensions-Iran
--------
Biden says always aimed to 'reorient, not rupture' Saudi relations ahead of visit
10 July ,2022
US President Joe Biden said that "from the start, my aim was to reorient — but not rupture" relations with Saudi Arabia, on Saturday ahead of his first visit to the Kingdom as president on Friday.
He praised the Kingdom's efforts to restore unity among Gulf Cooperation Council (GCC) countries, support the truce in Yemen, and work with US experts to help stabilize oil markets, in a Washington Post opinion piece.
Biden aims to "strengthen a strategic partnership going forward that's based on mutual interests and responsibilities, while also holding true to fundamental American values."
He will also be the first president to fly from Israel to Jeddah, in a move that he describes as symbolic of a budding relationship between the two countries.
Saudi-US relations had been at a historic low after Biden became President.
He made, during his election campaign, a number of criticisms of the Kingdom, but has apparently taken a more conciliatory approach in the wake of the war in Ukraine and skyrocketing oil prices.
The White House announced in June that Biden would be visiting Saudi Arabia and meeting with King Salman and Crown Prince Mohammed bin Salman, as well as participating in the Gulf Cooperation Council summit, which is being chaired by the Kingdom.
White House Press Secretary Karine Jeane-Pierre said at the time that Biden appreciates King Salman's leadership and the invitation.
Source: Al Arabiya
Please click the following URL to read the full text of the original story:
https://english.alarabiya.net/News/gulf/2022/07/10/Biden-says-always-aimed-to-reorient-not-rupture-Saudi-relations-ahead-of-visit
--------
India

End Voting Rights For Muslims If They Aren't Allowed To Vote Says Azam Khan, Alleges Harassment
Shikha Salaria
10 July, 2022
Lucknow: Right to vote for Muslims should be ended if members of the community are not allowed to exercise this right, veteran Samajwadi Party leader Azam Khan told ThePrint in an exclusive interview Thursday.
The SP leader's remark came in the backdrop of bypoll for Rampur and Azamgarh Lok Sabha constituencies held last month, in which the SP suffered a loss.
Commenting on the low voter turnout in the Rampur bypoll, Khan alleged harassment of Muslim voters and said he favoured ending voting rights for Muslims if they were not allowed to exercise that right.
While according to the election commission, the total voting percentage in Rampur bypoll stood at 41.39 per cent, Khan claimed that the percentage was only around 32 per cent in the entire district.
Khan also said that it was he who had suggested to party chief Akhilesh Yadav to not canvas in Rampur ahead of the polls, so that it does not turn into a "VVIP election". The SP leader claimed this could have led to "more harassment" for Muslim voters.
The SP chief's absence from the bypoll campaign had raised many eyebrows and drawn jibes from rival BJP.
Khan also cleared the air on his meeting with Uttar Pradesh MLA and Akhilesh's uncle, Shivpal Yadav, during his time in jail, and alleged that his bail was delayed because he was a Muslim.
Khan is an accused in 93 cases in UP, which include allegations of land grab, getting opponents' homes demolished and stealing ancient books.
'Muslim voters thrashed, police hurled abuses at them'
"Only 32 per cent from Rampur voted in the entire district (voted)," Khan told ThePrint.
He alleged: "When people are beaten with sticks, abuses are hurled at them, their beards pulled, will you go to vote in such a scenario? Amar Ujala (a Hindi newspaper) wrote about how Muslims were being hit and women made to run away. When people in your colony and Mohalla (area) get to know what is happening (your experience), they won't go to vote either."
"So I am in favour of ending voting rights for Muslims, because they are not being allowed to vote, because their vote can help change the government. They are being harassed as their vote can bring a political change," Khan claimed.
Khan said that he wants three rights for Muslims — right to life, right to religion and right to education. "These three rights should be granted by the Parliament via a law," he said. The three rights being demanded by Khan are already part of the fundamental rights guaranteed by the Constitution.
Asked about the reasons for the SP's defeat in Azamgarh, Khan said that the same things were witnessed in Azamgarh but with lesser gravity.
"There it was less, here more. Here, there was a Muslim candidate (Rampur) who was weak, Azamgarh had a strong candidate from a powerful and good family who was not a Muslim," he said.
Asked if the situation would have been different had SP chief Akhilesh Yadav canvassed for the candidates in the two bypoll seats, Khan claimed it would have led to more harassment for the voters.
"I myself stopped him (Akhilesh) from coming here, saying that it should not be made a VVIP election. Had he come, the election would have become a VVIP election. The real truth was that the motive (of the BJP) was to defeat Azam Khan, then (in case Akhilesh campaigned) it would have been to defeat Akhilesh and Azam both, at least now it is only me," he said.
Speaking about the future of his politics in Rampur, Khan claimed that nobody could defeat him in Rampur, provided elections are held in an "unbiased" manner.
On Qabristan and Shamshaan
Khan, who had extensively campaigned for his aide and SP candidate Asim Raja in Rampur, said that he was not very anxious about his own future or his son Abdullah Azam's future. Also a member of SP, Abdullah represents the state's Suar constituency in the UP legislative assembly.
"I am not very anxious about my own and my son's future, but Muslims should not be harassed. Sticks should not be used on them, their beards should not be pulled. The difference between Qabristan (burial ground) and Shamshaan (cremation ground) should not be told to them," said Khan.
He added: "This travesty should not happen… These allegations that one would not get electricity on Holi and Diwali, but on Eid. I say that even if the most rigid Muslim ruler becomes a CM, he would not have dared to give electricity on Eid and deny it on Holi and Diwali. Responsible people of the BJP have said these things."
Khan was referring to UP CM Yogi Adityanath's remarks at a poll rally ahead of this year's assembly elections, in which he had claimed that the previous Akhilesh Yadav government did not provide electricity to people on Holi and Diwali, but there was always power on Eid and Muharram.
'Met Shivpal while in jail because…'
Khan, who had spent about 27 months in jail because of the 93 cases pending against him, before being released on bail on 20 May, had made headlines when he denied a meeting with an SP-delegation led by MLA Ravidas Mehrotra on 24 April, but met Akhilesh's estranged uncle and Pragatisheel Samajwadi party-Lohia chief Shivpal Yadav on 22 April.
He had also met Congress leader Pramod Krishnan while in Sitapur jail.
"I was unwell that day," Khan said, evading a question on whether he was upset with the SP leadership that time.
After his release, the leader had remarked that his own people contributed towards his destruction. Asked about that comment, Khan told ThePrint that there were many people in the list of his own people.
Responding to reports of being upset with the SP leadership while in jail, Khan said, "I didn't say that. There is a long list of people you call your own".
For the first time since his release from jail in May, Khan visited the SP office in Lucknow Thursday, for a meeting with the opposition's presidential candidate, Yashwant Sinha.
SP leaders led by Akhilesh Yadav, along with RLD chief Jayant Chaudhary, held a meeting with Sinha, who was in Lucknow to seek support from the MLAs of the SP and its allies ahead of this month's presidential elections.
Explaining his meetings in jail, Khan said that while he had good relations with Ravidas, he met the others because he still wanted the estranged Samajwadis (Shivpal Yadav) to return to the fold.
"I have good relations with Ravidas ji, he is a lovely man. But I met the others you are hinting at (Pramod), because I have personal relations with him. He is a gentlemen and does not have Hindu-Muslim divide in his mind. He respects both the religions," said Khan.
He added: "I met Shivpal ji because even today, I want these differences to end. I will try towards it and that all those Samajwadi who have been estranged, should return."
Shivpal Yadav launched his Pragatisheel Samajwadi Party in 2018, but reunited with nephew Akhilesh ahead of the 2022 assembly election in a bid to defeat the BJP. He contested the elections on an SP ticket and won from Jaswantnagar. Differences between the two have since grown.
In April, after meeting Khan in jail, Shivpal Yadav had alleged that the SP was not doing anything for the leader.
Talking about the Samajwadi party, Khan said, "I want two things for the party. One, all Samajwadis should come back and those upset should be pacified. Secondly, the old style of (functioning of) our party… of holding conventions and meetings, even in states where our party and our MLAs are not there."
He added: "Like Mulayam Singh would do in his time…. (hold meetings) in Maharashtra, Rajasthan, Uttarakhand, MP, Bihar. It gives recognition to the party."
Asked if there could have been efforts to pacify estranged leaders like Shivpal Yadav by the SP's top leadership, Azam said that there was a lack of advisers.
'Denied bail because I was Muslim'
Elaborating on the 93 cases filed against him, the veteran SP leader alleged that he was denied bail by lower courts because he was "Azam Khan" and "a Muslim".
Speaking about the 'enemy property' case, in which he was granted bail by the Allahabad High Court in May after intervention of the Supreme Court, Khan said that while the other accused got bail, he was denied one.
Khan has been accused of grabbing 'enemy property' for his Mohammad Ali Jauhar University under the Enemy Property Act, which deals with properties left behind in India by people who took Pakistani and Chinese citizenship after the wars of 1971 and 1965.
"Everybody had gotten bail from the lower court, but since I was Azam Kham, I was denied bail. The (former) chairman of Shia Waqf Board, Waseem Rizvi (who has converted to Hinduism and is now known as Jitendra Narayan Tyagi), got an anticipatory bail (in the same case). Rest of the accused (in that case only) got bail from lower courts, but since I was Azam Khan, I had to go to SC," alleged Khan.
He added: "One person complained that I have hurt his feelings, an FIR was lodged in that case in Lucknow. I had to approach the high court in that case in which maximum punishment would be a fine for defamation. Both lower and session courts denied bail."
Khan also alleged that in the Jal Nigam recruitment scam case — in which he is among those accused of irregularities and corruption in the recruitment of 1,342 people in the Jal Nigam during the tenure of the Akhilesh Yadav government — the name of the then secretary of the urban development department was removed from investigation because he was "Singh".
The SP leader also claimed that the high court, while hearing his (Khan's) plea, asked the government counsel how a person can be kept in jail for two years when there is no evidence against him. He got bail in the case from a Lucknow bench of the high court in March 2022.
"No one went to jail in that, all got anticipatory bail and the FIR against one of the persons who could have been an accused was quashed by high court. But since I was a Muslim and because I was Azam Khan, I was denied bail (by lower court)," he alleged.
Asked about the ED probe against him in a money laundering case for alleged transfer of funds for the construction of the Jauhar university, Khan said, "I have no grouse regarding that because that is happening with everyone."
Source: The Print
Please click the following URL to read the full text of the original story:
https://theprint.in/politics/end-voting-rights-for-muslims-if-they-arent-allowed-to-vote-says-azam-khan-alleges-harassment/1032075/
--------
Remarks Insulting Prophet Aimed At Disturbing Social Harmony: Palayam Imam VP Suhaib Maulvi
11th July 2022
Thiruvananthapuram: In his Bakrid message, Palayam Imam VP Suhaib Moulavi said on Sunday that remarks insulting the Prophet by people in responsible positions were aimed at disturbing religious harmony.
No one can destroy the beliefs of a Muslim by insulting the Prophet. The real reason for the insult is to provoke and divide society for political gains. We should not fall for their attempts at communal polarisation,/; Maulvi said at the Eidgah arranged at the Chandrasekaran Nair Stadium in Thiruvananthapuram.
/;The government and the judiciary should remain vigilant to prevent repetition of such incidents,/; he said. Palayam Imam pointed out that the venerable in all religions should be respected, which leads to plurality. Muslims in the country are going through huge challenges, he said.
Source: New Indian Express
Please click the following URL to read the full text of the original story:
https://www.newindianexpress.com/cities/thiruvananthapuram/2022/jul/11/remarks-insulting-prophet-aimed-at-disturbing-social-harmony-palayam-imam-vp-suhaib-moulavi-2475103.html
--------
'Delivering welfare schemes, representation in party': BJP's outreach blueprint for Pasmanda Muslims
10th July 2022
NEW DELHI: Days, after Prime Minister Narendra Modi suggested to BJP workers to focus on weaker sections in communities other than Hindus, the party's minority wing, has prepared a blueprint to reach out to Pasmanda Muslims, among the most backwards in the community.
The BJP's minority Morcha head Jamal Siddiqui, himself a Pasmanda Muslim, said the party's outreach activities for them are based broadly on two aspects -- ensuring they get the benefits of the Modi government's welfare schemes, and they are represented in party unit in the districts where they are in majority.
"Our party workers especially from minority morcha will reach out to Pasmanda Muslims across the country for this," he told PTI.
He said a majority of office-bearers in BJP's minority wing are from different sections of the Pasmanda community.
Another party leader said the BJP is also planning to hail national heroes from the community such as 1965 war hero and Param Vir Chakra recipient Abdul Hameed, an Idrisi by caste, and organise functions on their birth anniversaries.
Pasmandas constitute more than 70 per cent of the total Muslim population and the BJP aims to reach out to them as it prepares for various state elections and the 2024 Lok Sabha polls.
As things stand, Muslim leaders in various parties come from among Ashrafs which comprise Syeds, Mughals and Pathans (akin to upper castes in Hindus).
Among the Pasmandas are Malik (Teli), Momin Ansar (weavers), Qureshi (butchers), Mansoori (those who make quilts and mattresses), Idrisi (tailors), Saifi (iron smith), Salmani (barbers) and Hawari (washermen).
At the BJP's national executive in Hyderabad last week, Modi had suggested that party workers should reach out to downtrodden sections among minorities such Pasmanda Muslims.
He made these remarks while intervening during the BJP's Uttar Pradesh unit chief Swatantra Dev Singh's presentation on the recent victory in Azamgarh and Rampur Lok Sabha bypolls -- both Samajwadi Party bastions with numerically dominant Muslim population.
Source: New Indian Express
Please click the following URL to read the full text of the original story:
https://www.newindianexpress.com/nation/2022/jul/10/delivering-welfare-schemes-representation-in-party-bjpsoutreach-blueprint-for-pasmanda-muslims-2475041.html
--------
Udaipur killing: NIA arrests seventh accused, a snacks seller, in Kanhaiya case
Jul 11, 2022
NEW DELHI/UDAIPUR: The National Investigation Agency (NIA) on Saturday arrested a seventh accused in the case pertaining to the killing of Udaipur tailor Kanhaiyya Lal Teli, purportedly after he made some social media posts in favour of former BJP spokesperson Nupur Sharma.
Farhad Mohammad Sheikh @Babla, aged 31 years and a resident of Udaipur, was a close associate of one of the main accused in the case, Riyaz Attari, and played an active part in the conspiracy to kill Kanhaiyya, the NIA said on Sunday. Sources said the accused ran a pushcart selling snacks.
Sheikh's name cropped up when an NIA team arrived in Udaipur last week to examine Lal's shop in the Bhoot Mahal area. The team also examined different places associated with the suspects to search for evidence.
The case pertains to hacking of Kanhaiyya to death by two accused at his shop last month. The accused had circulated a video of the criminal act on social media, claiming responsibility for the murder "in order to trigger panic and strike terror among the masses across the country", NIA had stated while re-registering the FIR that was originally registered at a police station in Udaipur.
Source: Times Of India
Please click the following URL to read the full text of the original story:
https://timesofindia.indiatimes.com/india/nia-arrests-seventh-accused-a-snacks-seller-in-kanhaiya-case/articleshow/92789811.cms
--------
Mideast
Official Vows Tehran's Utmost Efforts to Release Iranian Jailed in Sweden
2022-July-10
Qaribabadi, in a meeting with Hamid Nouri's son, explained the actions that have been taken so far at various levels in Iran, especially the judiciary and Iran's High Council for Human Rights, to follow up on Nouri's case.
The Iranian official referred to the process of his mock trial called the arrest of Nouri arbitrary and the court unlawful.
He went on to call the violation of Nouri's human rights by the Swedish government during the past 32 months when he was kept in solitary confinement a stain on the European country's human rights record and emphasized that the Islamic Republic of Iran will make every effort to set him free.
Qaribabadi praised Nouri's principled positions against all the pressures and atrocities against him and added, "He turned the limited time that this illegal court gave him into an opportunity to reveal the true nature of the terrorist group of the Mojahedin-e Khalq Organization( MKO)."
He considered the protection and defense of Iranian nationals wherever they are in the world to be the inherent duty of the Islamic system and said that we would use our maximum efforts in this case as well.
Iran's Foreign Minister Hossein Amir Abdollahian recently asked Stockholm to release the former Iranian official illegally jailed in Sweden, and stressed the need for the two countries to clear out differences.
In a phone conversation with his Swedish counterpart Ann Linde in early July, Amir Abdollahian stated Iran and Sweden should endeavor towards clearing out the issues that have created obstacles in the way of development of their bilateral ties.
"The countries' relations should not come under the influence of propaganda and baseless and unfounded allegations that have been created by a terrorist group, whose record of atrocities against the Iranian nation is clear to all," he added.
Last month, family members of Nouri said that he was still kept in solitary confinement after over 2 years.
Nouri told his family members during a short contact that he has not been allowed to have access to an ophthalmologist despite that his eyesight is worsening.
He also objected to the strict restrictions imposed on him despite a promise by the judge to the contrary.
Nouri added that the judge had told him the restrictions would be lifted but at the end of the trial, he lost all contacts with his family and was allowed to talk to them only twice in 53 days.
Nouri noted that his contacts were short. In his conversation with his family, the Iranian nation said he had been tortured by the Swedish police.
According to Nouri, three policemen hit him hard on the head and in the ear and that he still has problem with his ears.
The Iranian citizen stated two years and eight months have passed since Swedish authorities put him in solitary confinement but no rights group has yet come to meet him in jail.
Nouri was arrested upon arrival in Sweden at Stockholm Airport in November 2019 and immediately imprisoned. He has been held in solitary confinement for over two years.
Swedish prosecutors have requested the maximum penalty of life imprisonment for Nouri, accusing the former Iranian judiciary official of prisoner abuse.
Source: Fars News Agency
Please click the following URL to read the full text of the original story:
https://www.farsnews.ir/en/news/14010419000292/Official-Vws-Tehran's-Ums-Effrs-Release-Iranian-Jailed-in-Sweden
--------
Iranian President: No Restrictions to Further Expansion of Relations with Pakistan
2022-July-10
The Iranian president said on Saturday night that the current level of Tehran-Islamabad ties is not proportionate to the diverse capacities of the two countries and regular holding of the joint commission for economic cooperation can pave the way for boosting the level of bilateral relations.
"The Islamic Republic of Iran emphasizes great importance to its relations with Pakistan," Rayeesi said during the phone call with Sharif.
Rayeesi noted that the current level of Tehran-Islamabad relations is not proportionate to the diverse capacities of the two countries, adding that Iran is ready to expand bilateral relations, especially in energy and agricultural fields.
"The regular holding of the joint commission for economic cooperation will pave the way for boosting the level of relations between the two countries," the Iranian president continued, pointing out that there is no obstacle to expanding ties between Iran and Pakistan.
Rayeesi stated that Iran is the best friend of neighboring countries under various circumstances.
Sharif, for his part, praised Iran's support to extinguish the fire in part of the country's forests, as well as a favorable reception from Pakistani pilgrims.
"I thank the Iranian attention and effort to expand relations with neighboring countries, including Pakistan", the Pakistani premier said, adding that mutual ties continue beyond neighborly relations.
Pakistan is interested in expanding the exchange of goods and commodities as well as cooperation in energy with Iran, Sharif stated, stressing the necessity of holding a joint meeting of the Joint Economic Cooperation Commission of the two countries as soon as possible.
"We call for restoring peace and stability in Afghanistan and improving the lives of the people of this country as well as the provision of the return of Afghan refugees to their homeland," the Pakistani prime minister noted.
President Rayeesi has repeatedly stressed that interaction and dialog with neighboring countries is top on the foreign policy agenda of his administration, underlining that the most important factor that can strengthen regional security is the existence of constructive relations between neighboring countries.
In a meeting with Pakistan's Foreign Minister Bilawal Bhutto-ZardariIn in mid-June, Rayeesi underlined the need to expand comprehensive relations between Tehran and Islamabad.
"The Islamic Republic of Iran is ready for enhancement of comprehensive cooperation with Pakistan," the Iranian president underscored.
Source: Fars News Agency
Please click the following URL to read the full text of the original story:
https://www.farsnews.ir/en/news/14010419000323/Iranian-Presiden-N-Resricins-Frher-Expansin-f-Relains-wih-Pakisan
--------
Hezbollah: Drone Operation at Karish Gas Field Had 'Quick Effect' on Demarcation Talks with Israel
2022-July-10
Hezbollah announced last Saturday that it had sent three unarmed drones of different sizes toward the disputed area at the Karish field in Eastern Mediterranean to carry out reconnaissance missions.
"The mission has been accomplished," the resistance movement said at the time.
On Saturday, Sheikh Nabil Qaouk, a top member of the executive council of Hezbollah, noted that the operation conveyed a message "at the appropriate place and time and had a quick effect".
"It was a one-hundred percent patriotic message," Qaouk stated, adding, "The drones plunged the Israeli enemy into new equations and calculations, and the post-drones period does not resemble the pre-drones one."
A day after the drone operation, Lebanese Foreign Minister Abdallah Bou Habib said he expected his country and the Israeli regime to reach an agreement in September.
Bou Habib noted information obtained from US and UN officials suggests that progress has been made in the negotiations.
US senior advisor for energy security Amos Hochstein has been in the region to facilitate the indirect talks between Lebanon and Israel as they have no official diplomatic ties.
Lebanese President Michel Aoun later said that "the issue of border demarcation will be finalized soon".
"If things were not positive, Beirut would have stopped the negotiations," Aoun stated in an interview with OTV, adding, "We will reach a solution in a short period, and I believe we have reached an understanding with the Americans who are mediating with Israel."
Meanwhile, Qaouk called on the Lebanese diplomats to push for Lebanon's position in the talks and block interference and dictates of embassies of other countries.
"When Lebanon's resources are threatened by the enemy, it is not acceptable to submit to [the will of] an ambassador, regardless of the identity of that ambassador," he continued.
The Hezbollah official further said the resistance group is a strategic national treasure that protects the Arab country and preserves its glory.
"It has performed its duty in a manner that serves the interest of the Lebanese and preserves their dignity and resources," he added.
Hezbollah warned last month that it was "ready" to take action if the Lebanese government confirms that Israel is violating the country's maritime rights.
Hezbollah chief Seyed Hassan Nasrallah warned that the resistance would not "remain silent" in the face of the Israeli regime's efforts to plunder Lebanon's gas resources.
"In the face of looting of Lebanon's resources, the resistance cannot remain silent," Nasrallah stated, adding that all options are on the table for the resistance, whose main role is to "preserve Lebanon's land, waters, oil, gas, and dignity".
Earlier last month, a natural gas storage and production ship operated by the UK-based Energean arrived at the Karish field, some 80 kilometers West of the port city of Haifa.
The Tel Aviv regime claims the field in question falls within its so-called exclusive economic zone while Beirut rejects the claim.
The maritime row between Lebanon and Israel is over an area in the Mediterranean Sea spanning about 860 square kilometers. Block No. 9 is rich in oil and gas. Israel relies heavily on gas and has long been developing a number of occupied offshore gas deposits in the Mediterranean Sea.
Source: Fars News Agency
Please click the following URL to read the full text of the original story:
https://www.farsnews.ir/en/news/14010419000095/Hezbllah-Drne-Operain-a-Karish-Gas-Field-Had-%E2%80%98Qick-Effec%E2%80%99-n-Demarcain
--------
Thousands of Muslim worshipers gather for Eid al-Adha prayers in Jerusalem
09 July ,2022
Thousands of Muslim worshipers gathered in the al-Aqsa compound in Jerusalem early Saturday to perform prayers marking Eid al-Adha, one of the biggest holidays of the Islamic calendar.
Known as the "Feast of Sacrifice," the revered observance coincides with the final rites of the annual Hajj in Saudi Arabia. It's a joyous occasion, for which food is a hallmark.
Russia's war in Ukraine has sent food prices soaring and has caused widespread hardship across the Middle East, with many say they can't afford the livestock for the ritual sacrifice.
Desperation over the cost of living has undercut the typically booming holiday trade in goats, cows and sheep.
Eid al-Adha commemorates the Quranic tale of Ibrahim's willingness to sacrifice Ismail as an act of obedience to God.
Before he could carry out the sacrifice, God provided a ram as an offering. In the Christian and Jewish telling, Abraham is ordered to kill another son, Isaac.
Source: Al Arabiya
Please click the following URL to read the full text of the original story:
https://english.alarabiya.net/News/middle-east/2022/07/09/Thousands-of-Muslim-worshipers-gather-for-Eid-al-Adha-prayers-in-Jerusalem
--------
US plans to build diplomatic compound on Palestinian land in East Jerusalem: Rights group
Burak Bir
11.07.2022
The US is planning to build a diplomatic complex on private property confiscated from Palestinians in occupied East Jerusalem, a rights organization said Sunday.
In a statement, the Legal Center for Arab Minority Rights in Israel (Adalah) said they have found new evidence that the land on which the diplomatic compound is to be built under a joint US-Israeli plan is located on private property taken from Palestinians.
"The land on which the US Diplomatic Compound is to be built is registered in the name of the State of Israel, but it was confiscated illegally from Palestinian refugees and internally displaced Palestinians using the 1950 Israeli Absentees' Property Law," it noted.
Recalling an upcoming visit by US President Joe Biden to Israel, Adalah said the descendants of the original owners of the property, including US citizens and Palestinian residents of East Jerusalem, demand the "immediate cancellation of the plan."
"If built, the US embassy compound will be located on land that was seized from Palestinians in violation of international law," the statement added.
Source: Anadolu Agency
Please click the following URL to read the full text of the original story:
https://www.aa.com.tr/en/middle-east/us-plans-to-build-diplomatic-compound-on-palestinian-land-in-east-jerusalem-rights-group/2634518
--------
Iran says US-Israel joint defence pact will fuel regional tensions
Syed Zafar Mehdi
09.07.2022
TEHRAN, Iran
Iran on Saturday decried a plan by the US and Israel to form a security alliance with Arab states to counter Tehran as "provocative," saying it would fuel regional tensions.
Foreign Ministry spokesman Nasser Kanaani, reacting to reports about the proposed plan, said Iran looks at it as "a threat to national and regional security."
He said the entry of foreigners in the region "will not lead to security and stability" but in turn "cause more tension and discord."
The remarks came in the wake of reports that the US and Israel are mulling over a joint defense pact with Arab states that would connect air defense systems to counter Iran's drone and missile attacks in the region, Reuters cited unnamed sources as saying on Friday.
The plan, it emphasized, would involve Israeli technology, and is likely to gain momentum during US President Joe Biden's upcoming visit to the region, including Israel.
The report, however, added that discussions are still "at an early stage" and that several Arab countries "who refuse to do business with Israel" have resisted the plan.
Taking strong exception to it, Kanaani said Iran has "always emphasized dialogue, participation, and regional cooperation" to ensure "security and common interests" of regional countries, without foreign presence.
He said the US-Israeli plan will "weaken regional security" and "secure the interests" of Iran's arch-foe Israel.
He hastened to add that amassing weapons cannot bring security to the region and that the establishment of "common regional security" depends on the "cooperation of regional countries."
It comes amid growing tensions between Iran and the US, despite indirect talks between them, mediated by the European Union, to revive the 2015 nuclear deal resuming recently in Doha.
On Wednesday, the US Treasury Department announced fresh sanctions against Iran, targeting an "international network of individuals and entities" that it said facilitated the sale of Iranian petroleum-based products to East Asia.
Tensions between Iran and Israel have also heightened since Iran's Islamic Revolutionary Guard Corps (IRGC) launched a missile attack on what it claimed was an Israeli base in Iraq's Erbil region in May, which came in response to an Israeli strike in Syria that killed two IRGC members.
Source: Anadolu Agency
Please click the following URL to read the full text of the original story:
https://www.aa.com.tr/en/middle-east/iran-says-us-israel-joint-defense-pact-will-fuel-regional-tensions/2634084
--------
South Asia
Taliban supreme leader vows to enforce Islamic law across Afghanistan
10 Jul 2022
Taliban's supreme leader Hebatullah Akhundzada has vowed to enforce the Islamic law across Afghanistan.
In audio recorded from Eid prayers in Eid Gaah Mosque in Kandahar, Akhundzada reiterated that the laws which were not based on Shariah in the previous government will be abolished, reported Tolo News.
"I have asked the procedures and policies of all ministries made during the governments of Ashraf Ghani and Karzai or during the past 20-years, now put under the supervision of the clerics, if there was anything against Shariah or the interests of the people, it will be removed and we will bring a pure Islamic system," he said.
This comes after the Taliban's Prime Minister Mullah Mohammad Hassan Akhund called on Afghans living abroad to renounce their opposition to the current Afghan government and take advantage of the general amnesty announced by the country, reported Tolo News.
"What do you want, a commission has been facilitated for you. Why you want to sever this world ...? What do you want?" he said.
However, the analysts said that the Taliban has not been able to stick to its rhetoric.
"The international community is not against the Islamic government on condition that it will be an Islamic government and bring a legislative government. So far, it has only been words. The Taliban couldn't make a proper mechanism, or a national mechanism, or a government confirmed by the people or a government of people," said Javid Sandel, a political analyst.
Earlier, Akhundzada warned foreigners to stop meddling in Afghanistan's affairs and politics.
At an event in Kabul, the reclusive leader told the conference that Afghanistan "cannot develop without being independent," CNN reported citing local media.
"Thank God, we are now an independent country. (Foreigners) should not give us their orders, it is our system, and we have our own decisions," Akhundzada added.
In the speech, Akhundzada praised the Taliban's takeover of Afghanistan last August, almost two decades after they were driven from Kabul by US troops, saying: "The success of the Afghan jihad is not only a source of pride for Afghans but also for Muslims all over the world."
Akhundzada made the comments in an audio recording during a three-day religious gathering of 3,000 attendees — all of whom were male, CNN said, quoting local media reports.
The statements delivered by Akhundzada contradict the ones made by other members of the Taliban's leadership in recent months who have expressed an openness to a more inclusive government in order to gain international support.
The three-day gathering that opened on Thursday and concluded on Saturday was the first nationwide gathering of Islamic clerics in the country.
Source: Khaama Press
Please click the following URL to read the full text of the original story:
https://www.khaleejtimes.com/world/taliban-supreme-leader-vows-to-enforce-islamic-law-across-afghanistan
--------
Isolating the Taliban: How young landmine victims may be collateral damage
Jul 11, 2022
QAFAS KALAY, AFGHANISTAN – A group of Afghan children were grazing sheep in fields near the village of Bolak Wandi in eastern Helmand when they spotted a metallic object half-buried in the ground. Crowding round excitedly, they argued over who had found it first and who could sell it for scrap.
The mortar shell exploded, killing one child instantly.
Three more children died from their wounds as they were taken to hospital by Taliban fighters who had been nearby. Another passed away on arrival.
"I don't blame anyone," said Haji Abdul Salam, the father of two of the children. He tries to focus on comforting his wife, who cries for her lost children.
"This mortar could have been left over from the Americans or the Soviet Union. However, not only our area, but all of Afghanistan should be cleared of this problem."
That mission has become more difficult.
The Taliban's return to power last summer, ending their 20-year insurgency, should have helped de-mining efforts, with swathes of territory that were off-limits during the fighting finally accessible.
Yet foreign governments have now frozen development aid to the Afghan government, unwilling to use their taxpayers' money to prop up the Taliban, an Islamist group that restricts women's rights and has been at war with much of the West since harboring Osama bin Laden after the 9/11 attacks.
One unintended consequence: In a previously unreported development, the Afghan government agency that oversees mine clearance said it had lost its roughly $3 million (¥411.4 million) funding and laid off about 120 staff in April — the majority of the organization — because it couldn't pay salaries.
"All the sanctions have severely affected us," said Sayed Danish, deputy head of the agency, the Directorate of Mine Action Coordination (DMAC). "We can't do strategic work, which is our main responsibility."
The cost to ordinary Afghans of isolating the Taliban, who say they are being unfairly treated, was also highlighted after an earthquake last month left thousands homeless and the health system under huge strain, sparking some calls for a new approach to the group.
The loss of de-mining funds could have profound consequences for the country of 40 million people which is one of the most heavily mined places on Earth after four decades of war.
Almost 80% of civilian casualties from "explosive remnants of war" are children, the U.N. mining agency estimates, partly due to their curiosity as well as their regular role in collecting scrap metal to sell to bolster family incomes.
In the seven months to March, about 300 Afghan children were killed or maimed by landmines and other unexploded devices, according to the U.N.'s children's agency.
The five children from Bolak Wandi, four boys and a girl aged between five and 12, died in April.
Thousands of devices
Foreign governments have exempted humanitarian aid from their freeze, and hundreds of millions of dollars are flowing into the country, allowing aid organizations to function.
But the limitations of such funds — to meet urgent needs and aimed at bypassing the government — are becoming apparent, with many economists and experts saying the population will suffer without robust state services and a viable banking sector.
DMAC's funding is part of roughly $9 billion a year in international development and security aid that the World Bank says has been frozen since the Taliban took power in Afghanistan, which relies on foreign donors for the bulk of its budget.
The de-mining work itself is largely carried out by aid groups, but DMAC provides strategic guidance to prioritize high-danger areas and maps the nationwide de-mining work to avoid duplicating efforts, according to Danish and aid workers.
"Mine action works best when national-level coordination and oversight is in place," said Søren Sørensen, head of Humanitarian Disarmament and Peacebuilding for Afghanistan at the Danish Refugee Council (DRC), an international organization.
"At the moment all that is being done is that we select areas from an outdated list," he added. "That is not effective and is not addressing the most serious hazards."
Sørensen stares out of the window of a car on the way back to the capital Kabul from Qafas Kalay, a small village in the eastern district of Khaki Jabbar, an area once used by Soviet forces as a military outpost and which more recently saw heavy fighting as the Taliban took the area.
Hundreds of devices have been detonated in the vicinity but almost 40,000 square miles still need to cleared. Across Afghanistan, thousands of unexploded devices lie in wait, the U.N. de-mining agency says.
"We finally have this amazing window of opportunity to actually clear this country," Sørensen said. "There is so much we could do."
On a hillside outside Qafas Kalay, about 20 miles east of Kabul, DRC mine-clearance workers in protective vests and visors peer at the ground and sweep detectors.
They place a small flag on a barely visible device found nestled in the dirt — a Soviet anti-personnel mine — and then connect it by wires that run hundreds of meters to a small makeshift control center where the countdown begins. The device blows up and the de-miners return to their painstaking work.
A few miles away, children on the doorstep of a mosque pore over cartoons that show different kinds of explosive devices and the kinds of places they might be hidden.
Their tutor tells them what to do if they spot one.
"We don't go to that place and we report it to our parents," the children repeat back enthusiastically.
The community nearby is already eking out patches of de-mined land to farm wheat and fruit and working on irrigation projects, developments that could help alleviate the growing hunger crisis in Afghanistan.
'The people are suffering'
Asked about the cash crunch and layoffs at DMAC, the U.S. Department of State said it was continuing to support humanitarian de-mining in Afghanistan by directly funding NGO partners. A spokesperson said it had provided $720 million in overall humanitarian assistance to Afghans since last August.
Germany's foreign minister said in June there was no room to recognize the Taliban as a legitimate government until it changed policies on issues such as women's rights.
Foreign capitals want to squeeze the Taliban's finances to pressure the group to lift restrictions on the rights of girls and women to education, freedom of expression and employment.
Since returning to power, the group has kept girls' secondary schools closed and demanded women cover their faces in public and only leave home with a male relative or husband.
Some people have also accused the Taliban of reprisal attacks against former members of the Western-backed administration, including soldiers and intelligence officials.
The Taliban has said it would respect human rights and promised to investigate allegations of revenge killings, saying they have put an amnesty against former foes in place.
The Taliban also says it is addressing issues including girls' secondary education and has called on Washington to unfreeze billions of dollars of central bank assets, saying they belong to the Afghan people and the country needs a functioning banking system to alleviate poverty.
Late last month, a temporary deal was reached when DMAC agreed that the United Nations could set up an office in the country for about six months. But with funding for the stopgap U.N. regulator half of that of the Afghan agency before the Taliban takeover, it has only employed about 30 from the original 120 staff, according to Paul Heslop, Chief of the U.N. Mine Action Program in Afghanistan.
He added that for long-term sustainability, the responsibility of coordinating de-mining should be with a state and not an outside humanitarian body like the U.N. agency.
"We're in a situation where we have a government that's not recognized," said Heslop, adding that the lack of funding was "very difficult."
Source: Japan Times
Please click the following URL to read the full text of the original story:
https://www.japantimes.co.jp/news/2022/07/11/world/afghanistan-landmine-victims/
--------
UAE set to run Kabul airport in deal with Taliban
July 8, 2022
DUBAI: The Taliban and the United Arab Emirates are poised to strike a deal for the Gulf nation to run Kabul airport and several others in Afghanistan that could be announced within weeks, according to sources familiar with the negotiations.
The Taliban, whose government remains an international pariah without formal recognition, have courted regional powers, including Qatar and Turkey, to operate Kabul airport, landlocked Afghanistan's main air link with the world, and others.
But after months of back-and-forth talks, and at one point raising the possibility of a joint UAE-Turkey-Qatar deal, the Taliban is set to hand the operations in their entirety to the UAE, who had previously run Afghan airports, the sources said.
An agreement would help the Islamist militants ease their isolation from the outside world as they govern an impoverished country beset by drought, widespread hunger and economic crisis. It would also hand Abu Dhabi a win in its diplomatic tussle with Qatar for influence.
Under the deal with the UAE, Afghans will be employed at the airports, including in security roles, crucial for the Taliban who want to show they can create jobs but also because they staunchly oppose the presence of foreign forces, sources said.
An Emirati state-linked contractor had been contracted to provide security services, which should be announced soon, while negotiations over airspace management are ongoing, they said.
The militants in May awarded the ground services contract to UAE state-linked GAAC, which was involved in running security and ground handling services at Afghan airports before the Taliban takeover, shortly after Taliban officials had visited Abu Dhabi.
Meanwhile, Qatar and Turkey's joint negotiations with the Taliban broke down around the same time, sources said.
Emirati officials had no immediate comment. GAAC did not respond to a request for comment.
A Taliban transport ministry spokesman confirmed an aviation security contract had already been signed with the UAE but said the air traffic contract was not finalised or confirmed yet.
Source: Dawn
Please click the following URL to read the full text of the original story:
https://www.dawn.com/news/1698793
--------
Arab World
Israel to probe reports of 1967 mass grave for Egyptian soldiers, Lapid tells al-Sisi
11 July ,2022
Israeli Prime Minister Yair Lapid told Egyptian President Abdelfattah al-Sisi that Israel will probe reports of a mass grave of around 80 Egyptian commandos from 1967, the Egyptian Presidency said on Sunday.
"Mr. Lapid confirmed that Israel will deal with this matter in a positive and transparent manner, and that it will communicate and coordinate with the Egyptian authorities regarding developments in the matter in order to get to the truth," al-Sisi's office said.
Lapid's office also said in a statement on Sunday that al-Sisi "raised the report about the collective grave of Egyptian soldiers during the Six Day War," and added that the Prime Minister "directed his Military Secretary, Maj.-Gen. Avi Gil to examine the issue in depth and to update Egyptian officials."
The call comes after Israeli news media Haaretz and Ynet News published exposes on the mass grave in Jerusalem buried under the Kibbutz Nahshon, home to the Mini Israel tourist attraction.
During the Six-Day War in 1967, an elite Egyptian army unit sustained heavy losses in Jerusalem and their bodies were buried in a 20-meter grave.
Residents of the nearby Kibbutz – communal settlement in Israel, typically a farm – complained about the stench of the grave and one member spoke to Israeli media about the issue but the report was banned from being published by the Israel Defense Forces (IDF).
During the 1967 war between Israel and Arab countries including Egypt, Syria, and Jordan, Israel captured Egypt's Sinai Peninsula and the West Bank. The war ended after six days due to a United Nations-brokered ceasefire which was signed by Egypt and Israel.
Egypt then fought Israel again in 1973 during the Suez crisis when Egyptian troops crossed the canal in a surprise attack.
Source: Al Arabiya
Please click the following URL to read the full text of the original story:
https://english.alarabiya.net/News/middle-east/2022/07/11/Israel-to-probe-reports-of-1967-mass-grave-for-Egyptian-soldiers-Lapid-tells-al-Sisi
--------
Syria aid crossing set to close to UN convoys, threatening millions
10 July ,2022
Residents of Syria's opposition-held northwest may lose access to critical aid within weeks if the UN Security Council does not extend authorization for cross-border deliveries, which expires Sunday, officials said.
UN aid deliveries through the Bab al-Hawa crossing on the Syrian-Turkish border could halt as of midnight after Russia on Friday vetoed a Security Council resolution that would have extended it by one year.
The council's non-permanent members may propose a nine-month extension to try to break the impasse, but as of Sunday morning no new agreement had been reached, threatening to upend assistance to more than two million people.
"Until today, we have no information on the mechanism that will be put in place in the coming period," said Mazen Allouch, an official at the Bab al-Hawa crossing.
"Aid groups that are partnered with the UN and that operate in liberated areas have an emergency response plan" in case the UN mandate is not extended, he said, referring to parts of Syria still under opposition control.
But their supplies are expected to last only a little "over one month," he added.
The Bab al-Hawa crossing was closed for a second consecutive day on Sunday due to the Muslim Eid al-Adha holiday.
When it reopens on Wednesday, it will continue to allow civilians and non-UN relief convoys to cross, including those sent by Turkish aid groups and other international aid organizations, Allouch said.
But senior UN officials and relief workers have repeatedly stressed that such aid deliveries cannot substitute the scope and scale of UN cross-border operations.
The cross-border mechanism at Bab al-Hawa -- in place since 2014 -- is the only way UN assistance can be brought into the rebel-held northwest without navigating areas controlled by Syrian government forces.
More than 4,600 aid trucks, carrying mostly food, have crossed Bab al-Hawa so far this year, helping some 2.4 million people, according to the UN's Office for the Coordination of Humanitarian Affairs (OCHA).
"If aid deliveries are diverted through regime (areas) then we will effectively be besieged," said Abu Mohammad, a displaced Syrian living in a camp in northern Idlib.
Source: Al Arabiya
Please click the following URL to read the full text of the original story:
https://english.alarabiya.net/News/middle-east/2022/07/10/Syria-aid-crossing-set-to-close-to-UN-convoys-threatening-millions
--------
Lebanon's music festivals make modest comeback at Baalbek amid economic crisis
10 July ,2022
Lebanon's international music festivals kicked off at the weekend with a performance in the Roman ruins of Baalbek, the first performance there since the country's economic crisis.
Under the title of "Baalbek Nights Return," conductor Lubnan Baalbaki –- whose first name means "Lebanon" and whose last name means "from Baalbek" -- led the orchestra on Friday night alongside his sister, singer Soumaya.
The country once held several music festivals every summer, drawing international acts every weekend. This year, the modest reopenings feature almost exclusively Lebanese performers.
Members of the audience in Baalbek swayed and sang along as Soumaya crooned Arabic tunes on a stage set up inside the temple of Bacchus, her silver gown glittering under the spotlights.
She performed traditional ballads as well as original songs written by Lebanese poets and scored by her brother.
For many, the evening was a welcome escape from the crises that have hit Lebanon over the last three years.
A financial meltdown described by the World Bank as one of the worst since the industrial revolution has led to rampant power cuts and medicine shortages across the country.
Lebanese have been further strained by the Beirut port blast of 2020 and several waves of the coronavirus pandemic.
"This is an exceptional day," Soumaya told Reuters after the performance. "Despite all the difficulties that have shadowed our work, we put on this festival. It's an act of defiance –- an act of faith in this country, in its image as a nation of art, culture and soft power that generates change."
It was her first ever performance in her namesake city. Her brother last performed there in 2019, just months before Lebanon's collapse began.
"Music and arts were the most hard-hit by the coronavirus pandemic. Artists were the first to stop working and the last to return. This moment is so important for musicians and on a
nationwide level," said Lubnan.
"The crisis has pushed us to return to Lebanese talent and real Lebanese voices. Tonight, Soumaya's performance on the stage in Baalbek reminded us how important and refined our musical culture is," said Micheline Abi Samra, a member of the audience.
"We were so happy and the coming days will be even better," she told Reuters.
Upcoming acts at Baalbek include Lebanese rock band Adonis, French-Lebanese pianist Simon Ghreichy, and Iranian dancer Rana Gharghani.
Source: Al Arabiya
Please click the following URL to read the full text of the original story:
https://english.alarabiya.net/News/middle-east/2022/07/10/Lebanon-s-music-festivals-make-modest-comeback-at-Baalbek-amid-economic-crisis
--------
Syrians fear 'catastrophe' from Russia aid block
09 July ,2022
Residents of embattled northwest Syria warned Saturday of a "catastrophe" following a Russian veto at the UN Security Council that threatens to end cross-border aid deliveries critical to their survival.
Friday's veto of a resolution that would have extended authorization for UN aid deliveries through the Bab al-Hawa crossing on the Syrian-Turkish border by one year amounted to a "siege and famine policy that Russia resorts to across Syria", charged Mazen Allouch, a border crossing official.
Failure to extend the authorization would "serve as a prelude to an uncontrollable famine that would directly threaten food security of more than four million people" living in Syria's northwest, he told AFP.
The cross-border mechanism at Bab al-Hawa, which has been in effect since 2014, is set to expire Sunday.
It is the only crossing through which aid can be brought into the rebel-held northwest without navigating areas controlled by Syrian government forces.
The Sunday deadline still leaves time for members of the Security Council to keep the crossing open.
But concern is high in the northwestern province of Idlib, where the majority of the population is displaced and grapples with food insecurity.
"Everyone knows most camp residents are completely dependent on this aid," said Abdulsalam Youssef who lives in a makeshift settlement.
Russia's veto spells a "catastrophe for me."
More than 4,600 aid trucks, carrying mostly food, have crossed Bab al-Hawa so far this year, helping some 2.4 million people, according to the UN's Office for the Coordination of Humanitarian Affairs (OCHA).
On Saturday, Bab al Hawa was closed because of the Muslim Eid al-Adha holidays, said an AFP correspondent at the crossing.
A calm silence has prevailed over the border area since a final aid convoy crossed over on Friday at noon.
"I hope the Security Council will meet again soon and agree on a way forward," said Mark Cutts, UN deputy regional humanitarian coordinator for the Syria crisis.
Source: Al Arabiya
Please click the following URL to read the full text of the original story:
https://english.alarabiya.net/News/middle-east/2022/07/09/Syrians-fear-catastrophe-from-Russia-aid-block-
--------
Saudi Islamic minister meets Pakistani cleric in Mina
July 09, 2022
MINA: Saudi Islamic Minister Sheikh Abdullatif Al-Asheikh met Jamiat Ulema-e-Islam Fazl chief in Pakistan Fazlur Rehman in Mina on Saturday.
Al-Asheikh said that the ministry is working in accordance with the leadership's directives to provide the best services for pilgrims who are performing their Hajj rituals.
He commended the historical relations between the Kingdom and Pakistan and stressed that the ministry is keen to strengthen cooperation with all Islamic organizations in Pakistan in order to promote tolerance and combat hatred.
Rehman thanked the king and crown prince for their efforts in caring for the pilgrims, acknowledging Saudi Arabia's success in organizing Hajj despite pandemic setbacks.
He praised the bilateral ties between the two countries and the Saudi leadership's outstanding relations, based on Islamic brotherhood, with the Pakistani people.
Source: Arab News
Please click the following URL to read the full text of the original story:
https://www.arabnews.com/node/2119716/saudi-arabia
--------
Southeast Asia
PM calls on Muslims to fight inflation, help the needy
09 Jul 2022
KUALA LUMPUR, July 9 — Aidiladha which will be celebrated tomorrow in Malaysia teaches Muslims to be grateful for the blessings granted by Allah and willing to sacrifice to help the needy so that they will not be marginalised, said Prime Minister Datuk Seri Ismail Sabri Yaakob.
He said it was in line with the concept of the Keluarga Malaysia (the Malaysian Family) which he introduced in August last year to ensure that no one is left behind.
In facing economic challenges, which are felt globally, Ismail Sabri said the government was doing its best to address the impact of global inflation, including setting up a special team, dubbed "Jihad Tangani Inflasi" (Jihad on Addressing Inflation), to unite all relevant ministries and agencies to resolve the difficulties faced by members of Keluarga Malaysia.
However, he said the government could not do it alone, instead, it needed all members of Keluarga Malaysia to work together to address the challenges.
"This is our jihad to ensure the country's economy recovers," he said in a special message in conjunction with the Aidiladha celebration which was broadcast live on local television channels tonight.
Ismail Sabri said the spirit of sacrifice practised by Keluarga Malaysia would make the country strong and continue to progress in facing the challenges ahead.
In fact, he said the spirit of tolerance based on the concept of 'tasamuh' in Islam is one of the important elements to maintain the unity and well-being of Keluarga Malaysia.
"An open-minded attitude allows us to continue to develop and protect ourselves from disagreements that will only harm the ummah," he said.
He said the willingness to sacrifice wealth to help the poor was a virtue called for by Islam and it was a symbol of our obedience, piety and servitude to Allah.
The prime minister said Aidiladha, which is closely linked to repentance, sacrifice, togetherness and gratitude, gave great meaning to Muslims to continue to live in harmony despite various uncertainties and setbacks.
Ismail Sabri also called on members of Keluarga Malaysia to set aside political differences and prove their repentance and gratitude by jointly enhancing the dignity of religion as well as fostering good relations with friends from other races and religions.
He also expressed his hope for the well-being and safety of more than 14,000 Malaysian pilgrims in Makkah and for them to accomplish 'haji mabrur' (proper haj that is accepted by Allah).
Source: Malay Mail
Please click the following URL to read the full text of the original story:
https://www.malaymail.com/news/malaysia/2022/07/09/pm-calls-on-muslims-to-fight-inflation-help-the-needy/16656
--------
Decision to degazette Bukit Cherakah land 'unlawful', claims NGO
July 11, 2022
PETALING JAYA: An NGO has hit back at the Selangor government's decision to take over land at Bukit Cherakah Forest Reserve, saying it was made without prior notice.
The Shah Alam Community Forest Society (SACF) said the state government had acted unlawfully in excising the land without prior notice and a public inquiry, and without providing a replacement piece of land.
This comes after Selangor forestry director Ahmad Fadzil Abdul Majid said the decision to take over the land was made after considering the comments from the Selangor state legal adviser's office.
"We reject his explanation," the society said in a statement, adding that Ahmad Fadzil had also failed to address the legal requirement to replace the excised area, which had been in existence since 1984, with another plot of land.
SACF also said Ahmad Fadzil's statement contradicted a statement by state environment committee chairman Hee Loy Sian, who claimed that the Bukit Cherakah land was degazetted in 2006.
"Hee refused to meet us to substantiate that claim. It is clear that no excision was completed in 2006 and he should apologise for misleading the public," it said.
It said the latest move were "attempts to backdate the excision to Nov 20, 2000".
In his statement on Saturday, Ahmad Fadzil said this was due to various factors that had put the process on hold, but SACF said this was a "contradictory statement".
"If the excision process had been put on hold until this year, then the requirement for holding the public inquiry must still apply," it said.
It also claimed there was an obvious conflict of interest involving Selangor menteri besar Amirudin Shari as the land was being cleared for a housing project by the state-owned Perbadanan Kemajuan Negeri Selangor (PKNS).
Source: Free Malaysia Today
Please click the following URL to read the full text of the original story:
https://www.freemalaysiatoday.com/category/nation/2022/07/11/decision-to-degazette-bukit-cherakah-land-unlawful-claims-ngo/
--------
Failure to manage conflicts causing divorces among young couples
Chia Wan Rou
July 11, 2022
PETALING JAYA: Amid a rising trend of young couples separating and mulling divorce, a family NGO says divorce seems to be the only way to resolve conflicts for some partners.
Focus on the Family Malaysia chairman Lee Wee Min said the lack of pre-marital counselling could contribute to early divorces as some couples might not have sufficient knowledge about managing life's challenges together.
He told FMT this made them easily influenced by social media or even third parties, thus affecting their relationship with each other.
"Financial constraints and a lack of understanding between partners are also some causes driving divorces among couples, especially those who marry young," he said.
In October, deputy law minister Mas Ermieyati Samsudin said nearly 140 divorces were filed daily from March 2020 to August 2021.
During that period, 66,440 divorces were filed by Muslim couples at the shariah courts and 10,346 by non-Muslim partners.
A 2016 study by Psychology Today found that couples who married before the age of 28 were more likely to get divorced compared to their older counterparts.
Lee said filing for divorce would never be an easy decision for a husband and wife, describing it as the last resort for a couple struggling with domestic conflicts, whether due to misunderstandings or pressure from financial issues.
"Unfortunately, the children of these individuals would be the most affected by their parents' divorce. They might find it hard to understand why their parents were splitting, and may go on to experience anger, worry and even mistrust.
"Studies show that children can grow up well and achieve success in life if they are raised in a harmonious and loving environment by their parents."
He said it was important for couples to understand that domestic conflicts in daily life were not always a bad thing, as these disputes could go on to strengthen their relationship in the long run.
He said how a couple resolved conflicts in their relationship was key to determining how their marriage turned out, advocating for partners to go for counselling if they felt like they were at a dead-end.
"The most important thing is accepting their partner's shortcomings, because that will be key to understanding and complementing each other better," he said.
Lee also said accepting their partner's flaws does not mean ignoring their weaknesses, but understanding that no one person in this world is perfect.
He said young couples should go through pre-marriage courses with older couples at least a year before getting married to build a better understanding of one another.
Source: Free Malaysia Today
Please click the following URL to read the full text of the original story:
https://www.freemalaysiatoday.com/category/nation/2022/07/11/failure-to-manage-conflicts-causing-divorces-among-young-couples/
--------
Africa
Abuja-Kaduna train attack: UBEB boss recounts experience in terrorists' den
July 11, 2022
By Amos Tauna
Dr Hassan Suleiman, the Director of Universal Basic Education Board (UBEB), has recounted his experience while in the den of his captors after regaining freedom from the Abuja-Kaduna bound train attackers recently.
The FCT UBEC boss, in an audio message he released on WhatsApp, explained that it was all hell being in the terrorists' den for about 100 days, stressing that he do not wish his greatest enemy to be there.
Suleiman, who was on his way to Kaduna on 28th March, 2022, to attend an education programme organized by FCT UBEB, was abducted alongside others by the terrorists.
He expressed gratitude to God Almighty that he did not sustain any injury during the attack, regretting that some who sustained injuries during the attack lost their lives.
He thanked members of the All Nigeria Conference of Principals of Secondary, ANCOPPS, as well as other well wishers for their concern and prayers throughout the trying period.
Source: Daily Post Nigeria
Please click the following URL to read the full text of the original story:
https://dailypost.ng/2022/07/11/abuja-kaduna-train-attack-ubeb-boss-recounts-experience-in-terrorists-den/
--------
Muslim-Muslim ticket: Tinubu, APC hate Nigeria – Segun Showunmi talks tough
July 10, 2022
By Ishola Oludare
A chieftain of the Peoples Democratic Party (PDP), Segun Showunmi, has berated the All Progressives Congress (APC) for picking a Muslim as its presidential candidate and the running mate.
DAILY POST reports that the presidential candidate of the APC, Bola Tinubu, has picked another Muslim, Kashim Shettima, as his running mate.
Shettima, a former governor of Borno State was announced on Sunday as the APC vice presidential candidate.
In his swift reaction, Showunmi, an aide to the PDP presidential candidate, Atiku Abubakar, said Tinubu and his party hate Nigeria.
While saying decisions ought to have consequences, Showunmi maintained that "a nation that is almost evenly divided between the major faiths of Christianity and Islam must work very hard not to give the impression that the sensitivity to diversity does not matter!"
In his quest to know, Showunmi asked that, "Shall we now assume that the APC intends to play only to the numbers advantage without care for national unity and harmony by their share insensitivity to what's going on in the country?"
Showunmi asserted that the APC "have made a choice, now they must be made to pay for the consequences of their extreme lack of thoughtfulness."
He spoke further, "What do they think they are doing? No, they need to lose so that they get the message that parties that balance their tickets do so to inspire national cohesion.
"May the people of goodwill who love our national diversity punish APC for this decision.
"Failing this we may become a nation that tilts dangerously towards one of the faiths.
"Antioch, where Paul the Apostle wrote, is now known as Antakya, losing all of its original ideology.
Source: Daily Post Nigeria
Please click the following URL to read the full text of the original story:
https://dailypost.ng/2022/07/10/muslim-muslim-ticket-tinubu-apc-hate-nigeria-segun-showunmi-talks-tough/
--------
Sudan protesters mark Eid al-Adha at anti-army sit-in
09 July ,2022
Sudanese protesters celebrated Eid al-Adha among barricades on Saturday during a sit-in against military leader Abdel Fattah al-Burhan and his October coup.
Protesters have continued to press the army chief to resign, days after he vowed to make way for a civilian government - an offer quickly rejected by the country's main civilian umbrella group as a "ruse."
Burhan's surprise move has been met with wide skepticism, and pro-democracy groups announced on Thursday the formation of a "revolutionary council" as protests held firm.
The sit-in continued in the capital's twin city of Omdurman Saturday, as an imam took over the microphone usually reserved for protest chants to deliver the Eid sermon.
Protester Ibrahim al-Haj told AFP after the prayer that demonstrators hope to show that "no matter what is happening in the country, our message is ongoing."
Burhan led a coup in October that derailed a transition to civilian rule, unleashing near-weekly protests and prompting key donors to freeze much-needed funding, sending Sudan deeper into economic crisis.
The protests against Burhan were reinvigorated on June 30, when tens of thousands gathered and nine people were killed by security forces, according to pro-democracy medics.
A total of 114 people have been killed in the crackdown by security forces against protesters since the October coup, the medics say.
Worshipers on Saturday held up flags showing the faces of protesters killed in the crackdown.
Source: Al Arabiya
Please click the following URL to read the full text of the original story:
https://english.alarabiya.net/News/middle-east/2022/07/09/Sudan-protesters-mark-Eid-al-Adha-at-anti-army-sit-in
--------
Morocco arrests 25 suspected of planning illegal crossing into Spain
09 July ,2022
Moroccan police on Saturday said they arrested more than 20 Africans suspected of planning an illegal crossing into Spain, after a deadly attempt last month.
Police from the northern port city of Tangiers disrupted "an illegal immigration attempt and questioned 25 people originally from sub-Saharan Africa," the DGNS security service said.
It said in a separate statement that "36 homemade metal objects" were seized in a Tangiers shop that could be used for climbing, but did not specify which of two Spanish enclaves was targeted.
Spain's Ceuta and Melilla enclaves have the EU's only land borders with Africa.
Last month, at least 23 migrants died while trying to enter Melilla over border fences. They were among around 2,000 migrants, many from Sudan, who tried to break through the border fence, according to Moroccan authorities.
The DGNS said the suspects, living illegally in Morocco, were arrested at a checkpoint at the entrance to Tangiers immediately after they arrived on a public bus.
On Friday, the European Union and Morocco said they would step up cooperation to combat human trafficking.
At a meeting in Rabat, the two sides "agreed to renew their partnership in order to work together to tackle human smuggling networks, in particular following the emergence of new, extremely violent, methods adopted by such criminal networks," a joint statement said.
The mass crossing attempt last month led to by far the worst recorded death toll in years of attempts by migrants to enter Ceuta and Melilla.
The June 24 tragedy provoked international indignation, including an unusually strong response from the United Nations against "use of excessive force by the authorities."
Spain and Morocco have opened investigations.
Source: Al Arabiya
Please click the following URL to read the full text of the original story:
https://english.alarabiya.net/News/north-africa/2022/07/09/Morocco-arrests-25-suspected-of-planning-illegal-crossing-into-Spain
--------
URL: https://newageislam.com/islamic-world-news/ahmadis-muslim-sentiments-sacrificing-animals-eid/d/127457
New Age Islam Islam Online, Islamic Website, African Muslim News, Arab World News, South Asia News, Indian Muslim News, World Muslim News, Women in Islam, Islamic Feminism, Arab Women, Women In Arab, Islamophobia in America, Muslim Women in West, Islam Women and Feminism