New Age Islam News Bureau
8 May 2013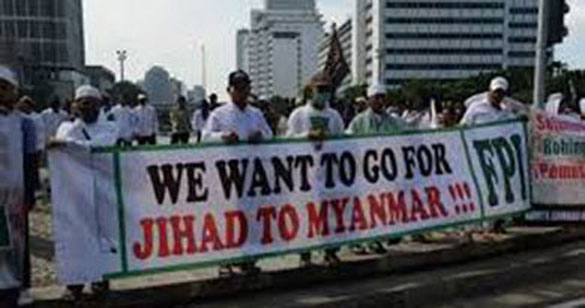 Jakarta Jihadists rage against Myanmar, Photo: AFP
------------
Africa
• Bodies Pour In as Nigeria Rounds up Islamists
• Libyan defence chief reverses move to quit, gunmen press siege
• 4 Gulf nationals among 8 arrested in Tanzania bombing case
• Tunisia links two wanted jihadist groups to Qaeda
• Survey Probes Role of Religion in Tunisian Society
------------
Europe
• Muslim leaders back campaign against sexual grooming gangs
• BBC responds to Leyton Sharia Council's criticism of Panorama exposé
• U.S. and Russia Plan Conference Aimed at Ending Syrian War
• France pledges to keep fighting al-Qaeda
• Record Sukuk seen on Indonesia $92 billion plan: Islamic Finance
------------
India
• Nitaqat fallout: 18,000 Indians prepare to leave Saudi
• Delhi court orders release of Kashmiris
• Sanaullah's family at PGI wants him back in Pakistan
• Only one Pandit family has returned to Kashmir Valley: Govt
------------
South Asia
• Battle over blasphemy deepens divisions in Bangladesh
• Two-day strike begins to protest crackdown on Islamists in Bangladesh
• Jamaat-e-Islami was the mastermind: Communist Party of Bangladesh
• G.I. Stones a Portrait of Karzai, Causing a Stir
• Behind the rise of Bangladesh's Hefazat
------------
Southeast Asia
• Jakarta Jihadists rage against Myanmar
• Minister Points to Decree as 'Moderate' Way to Solve Conflicts against Ahmadiya
• Shariah Banking Market Share Reaches New Height
• Indonesian police in shoot-out with Myanmar plot suspects
• Watchdogs say Malaysia polls were 'not fair'
• Jakarta to host Islamic Solidarity Games in September-October 2013
• AGO to Question Former Jakarta Governor on Toilet Graft Case
• Indonesia Jails Australian, Pakistani People Smugglers
• Crisis Group Warns of Pitfalls of One-Party Domination in Aceh
------------
Arab world
• Iraq's Worsening Sunni Protests Revolve around Antiterrorism Tactics
• Hezbollah Takes Risks by Fighting Rebels in Syria
• More Islamists Join Cabinet in Shuffling Within Egypt
• No Easy Answers on Syria, Obama Says
• Syria cut off from global Internet as civil war rages
• Iraq, Syria and the death of the modern Middle East
• Muslim Brotherhood Calls for Arab and International Action against Assad Massacres
• Ali Jasem elected head of human rights watchdog
------------
Mideast
• Islamic Jihad Movement Maintains Popularity in Gaza
• Al-Qaeda suspects kill 3 Yemen colonels: military
• From bleak to chic, Ahmadinejad's style in spotlight during Iran polls
• Kurdish rebel fighters begin critical withdrawal from Turkey
------------
North America
• Muslims being targeted, advocacy group charges
• Boston Muslims and Jews come together in the shadow of the marathon bombings
• Mayor doesn't want bomb suspect buried in Boston
• Where notorious criminals have been buried
------------
Pakistan
• Three killed in suicide car bomb attack on Bannu police station
• As Pakistan readies for votes, military watches sternly from its barracks
• Pakistan polls: Nawaz, Imran are neck-and-neck, survey says
• Terrorist wanted by Pak for 7 years found in AP; deported
• Imran falls off stage at Lahore rally; sustains serious injuries
• Pakistan warns Kabul to show restraint
• Subjugators of constitution are traitors: Nawaz
• Pakistan election violence forces candidates behind high walls
• Pesco employees, labourers reach home after 16 months militants' captivity
• Bomb aimed at targeting NATO supply defused
Compiled by New Age Islam News Bureau
URL: https://www.newageislam.com/islamic-world-news/new-age-islam-news-bureau/ahmadis-to-boycott-eight-consecutive-elections-in-pakistan-due-to-separate-electoral-lists/d/11475
------------
Ahmadis to Boycott Eight Consecutive Elections in Pakistan Due To Separate Electoral Lists
May 8, 2013
By Kashif Hussain
LAHORE: The upcoming elections are not the first that have been boycotted by the Ahmedis rather these are the eighth consecutive polls being boycotted by the minority community.
Historically, the Ahmedis have not taken part in any election at any level after they were declared non-Muslims in the constitution in 1974. They boycotted the general elections for the first time in 1977. In the later years, they also did not go to the elections when military dictator General Ziaul Haq introduced separate electoral system in the country in 1985.
Prior to this year (1985) all national elections were conducted on the basis of the joint electorate system, but Zia announced allocation of separate seats for non-Muslim Pakistani citizens in the National Assembly and provincial assemblies. Separate electoral lists on a different coloured paper were published for the purpose. The Christian, Hindu, Sikh, Parsi and Ahmadi voters were listed separately.
One seat in each in national and four provincial assemblies was allocated for the Ahmedi community. One proclaimed Ahmadi family contested the elections on every seat and Bashiruddin Khalid became a National Assembly member while his other family members became provincial assemblies' members. It is pertinent to mention here that the Ahmedis did not accept these men as their representatives, as according to them they had never nominated anyone to represent them in parliament.
The interesting fact is that Ahmedis do not get their names registered in the voters list of the Election Commission of Pakistan and the only names included in the separate list of Ahmadi voters have been collected from NADRA record. According to the available data, there are about 200,000 registered voters of Ahmadi community in the electoral lists throughout the country and out of this number 115,966 registered Ahmadi voters reside in Lahore and Chiniot (Rabwah – headquarters of the community) districts of Punjab. Overall, in Chiniot and Lahore districts, there are 35,335 and 247,827 non-Muslim voters, respectively, constituting 6 percent of the total registered voters here.
According to the Jamaat-e-Ahmadiya Pakistan (JAP) spokesmen, "They have been boycotting the general elections' process since 1974 when their community voters were put in the list of religious minorities so from that day no Ahmadi is contesting the elections or casting vote on the election day, and those who will do so they would no longer be considered a part of the community."
In the Pervez Musharraf regime the government decided to restore the joint electorate system, but in a religious gathering chaired by Musahrraf, religious scholar Engineer Saleemullah Khan protested against including Ahmedis names in the electoral list. Musharraf vowed to redress the grievance. The next day a chief executive order was issued calling for preparation of separate list for the Ahmedis. The Ahmadi community boycotted the process again. Another interesting fact is that the election commission has listed all non-Muslim Pakistani citizens – Hindus, Christians, Sikhs, Parsis and people of other religions on one list while there is a separate list for the Ahmedis.
http://www.dailytimes.com.pk/default.asp?page=2013\05\08\story_8-5-2013_pg7_18
------------
Africa
Bodies Pour In as Nigeria Rounds Up Islamists
By ADAM NOSSITER
May 7, 2013
MAIDUGURI, Nigeria — A fresh load of battered corpses arrived, 29 of them in a routine delivery by the Nigerian military to the hospital morgue here.
Unexpectedly, three bodies started moving.
"They were not properly shot," recalled a security official here. "I had to call the J.T.F." — the military's joint task force — "and they gunned them down."
It was a rare oversight. Large numbers of bodies, sometimes more than 60 in a day, are being brought by the Nigerian military to the state hospital, according to government, health and security officials, hospital workers and human rights groups — the product of the military's brutal war against radical Islamists rooted in this northern city.
The corpses were those of young men arrested in neighborhood sweeps by the military and taken to a barracks nearby. Accused, often on flimsy or no evidence, of being members or supporters of Boko Haram — the Islamist militant group waging a bloody insurgency against the Nigerian state — the detainees are beaten, starved, shot and even suffocated to death, say the officials, employees and witnesses.
Then, soldiers bring the bodies to the hospital and dump them at the morgue, officials and workers say. The flood is so consistent that the small morgue at the edge of the hospital grounds often has no room, with corpses flung by the military in the sand around it. Residents say they sometimes have to flee the neighborhood because of the fierce smell of rotting flesh.
From the outset of the battle between Boko Haram and the military, a dirty war on both sides that has cost nearly 4,000 lives since erupting in this city in 2009, security forces have been accused of extrajudicial killings and broad, often indiscriminate roundups of suspects and sympathizers in residential areas.
The military's harsh tactics, which it flatly denies, have reduced militant attacks in this insurgent stronghold, but at huge cost and with likely repercussions, officials and rights advocates contend.
No one doubts that Boko Haram, which has claimed responsibility for assassinations and bombings that have killed officials and civilians alike, is thoroughly enmeshed in the local populace, making the job of extricating the group extremely difficult. But as with other abuses, the bodies piling up at the morgue — where it is often impossible to distinguish combatants from the innocent — have turned many residents against the military, driving some toward the insurgency, officials say.
Even the state's governor, who acknowledged that he must tread a careful line not to offend the Nigerian military, expressed disquiet at the tactics. "A lot of lives are lost on a daily basis due to the inhumane conditions" at the barracks, known as Giwa, said the governor, Kashim Shettima. "They do deposit bodies on a daily basis."
Moreover, the bodies come in even when there have been no bombings, sectarian clashes or battles between the military and the insurgents, making it unlikely that the dead were killed in combat, terrorist attacks or similar circumstances.
"Mostly they bring the corpses from Giwa Barracks, the J.T.F.," said one hospital worker. Most of the young men died "from beating, bullets, maltreatment," he added. "You can hardly see a corpse here from sickness. Sometimes it is up to 120 corpses they bring."
His colleague at the hospital, who, like others, spoke on the condition of anonymity for fear of retribution, said: "Every day. An average of 14 to 15 bodies a day. They accumulate. Some are swollen. Almost all are emaciated. Some they bring in with their handcuffs still on."
On a recent blazingly hot Saturday, a convoy of two armored cars and an ambulance barreled into the sandy grounds of the sprawling state hospital, sirens wailing. Wary Nigerian Army machine gunners flanked the ambulance, and the attendants wore face masks against the odor in the 109-degree heat. It was not the only convoy that day, said rights advocates who observed the scene.
"The numbers can be outrageous; they bring them in an ambulance, two or three ambulances, loaded," the security official said. "Most of them are tortured."
Overwhelmed morgue attendants sometimes simply flee their post, the official said.
"They just throw the corpses on the ground," said Dr. Mohammed Ghuluze, the hospital's medical director. "Yesterday they came in and just threw five corpses on the ground."
A top health official said, "Sometimes it's 20, 30 a day."
Sagir Musa, a spokesman for the military's joint task force, acknowledged detentions at the barracks, saying that "many confirmed commanders of Boko Haram have been arrested, and many of their camps have been destroyed," actions that he said aided the "restoration of law and order."
But he rejected accusations of widespread killing or torture.
"One cannot rule out the possibility of one, two dying periodically in detention," he said. But "to say five, no."
Mr. Musa continued: "There cannot be multiple corpses. We don't torture people. There is no way we can torture. We don't even have the equipment to torture somebody in detention."
One local official described a mass burial of 174 young men at the cemetery recently, with bodies dumped in hastily dug graves. He said the military would simply put "30-40 people inside an armored car. Then they lock the car. It's suffocation. It's not good, not good."
At the back of the hospital, behind a high wall that separates the morgue from a narrow alley of shops, the smell of decomposing flesh was unmistakable. "It's terrible, 100 percent terrible; the neighbors can't stay," said Alhaji Bashir, a satellite equipment vendor on the alley. "You can't sit outside. In my shop, I bring perfume. Sometimes they bring 80 corpses a day from Giwa. They even throw the corpses under the trees."
One retired civil servant said he had not seen his two sons, 36 and 34, since Dec. 11, when soldiers entered their house at 3 a.m. and arrested them. They were health care workers, he said, accused of treating wounded Boko Haram members.
Other detainees passed word to him that the younger son was already dead, he said. He hoped the older son was still alive, but, like most others, he had no access to the barracks, where hundreds are estimated to be detained at a time.
Suleman Mohammed, 28, a clothing seller, said he was rounded up in January with six others after a neighborhood school was set on fire by Boko Haram. He said he was taken to Giwa barracks.
"They hung me for two days," Mr. Mohammed recounted, saying he was handcuffed to a pillar, beaten with a truncheon and given one cup of water a day. "They will insist you are a member of Boko Haram, nothing more and nothing less."
He said he saw many people die at the barracks: "In Giwa, not less than 30 people die every day — starvation, heart attacks. At times, in a single room, 10 people died because of starvation." He added: "Some go mad. They shout, 'Water, water.' "
Boko Haram has shown few signs of giving up — militants suspected of belonging to the group attacked a northern town on Tuesday, killing scores, Reuters reported. The military has not shown signs of relenting either, officials said. There has been "a very high increase in the number of corpses," said one of the state's top health officials. "It was not this bad" several years ago, the official said. "In the last year, it has become so bad. It has escalated."
Mr. Mohammed, the clothing seller, said, "I never thought I would see the outside world again." But he was released, he said, when a neighborhood policeman intervened to say that he was not a Boko Haram member.
As for the military, "I don't fear them as before," he said. "I have undergone the pain."
http://www.nytimes.com/2013/05/08/world/africa/body-count-soars-as-nigerian-military-hunts-islamists.html?pagewanted=all&gwh=0CC0840A16CF9E205B7627E9703F6033&_r=0
------------
Libyan defence chief reverses move to quit, gunmen press siege
May 08, 2013
TRIPOLI: Libya's defence minister quit on Tuesday only to reverse himself soon afterward, the prime minister's office said, and gunmen pledged to keep two ministries under siege in a crisis pointing to a security breakdown in the young democracy. Armed groups seized the Foreign Ministry on April 28 and ringed the Justice Ministry two days later to push parliament into passing a law barring anyone who held a senior position under late dictator Muammar Gaddafi from public service. The Tripoli parliament did precisely that on Sunday but the gunmen have refused to disperse, insisting the entire government step down and prompting Defence Minister Mohammed al-Barghathi to resign in frustration at the feebleness of security services. "I will never be able to accept that politics can be practiced by the power of weapons ... This is an assault against the democracy I have sworn to protect," Barghathi, who was an air force commander in the Gaddafi era, told a news conference. reuters
http://www.dailytimes.com.pk/default.asp?page=2013\05\08\story_8-5-2013_pg4_9
------------
4 Gulf nationals among 8 arrested in Tanzania bombing case
GHAZANFAR ALI KHAN
8 May 2013
RIYADH: Eight people, including a Saudi citizen, have been arrested following Sunday's bomb attack on a Catholic church in Tanzania.
"Those detained by the Tanzanian police include a group of people from Tanzania, a few from Arab countries and other foreign countries," said Osama Nugali, a spokesman at the Ministry of Foreign Affairs, yesterday.
Nugali said that the ministry and the Saudi Embassy in Tanzania are working closely with Tanzanian officials in the case.
The Saudi ambassador to Tanzania rushed to the northern city of Arusha, where two people died in the bombing of the newly opened church. Nearly four dozen people were injured in the blast just before the church's inaugural Mass, which was attended by the pope's envoy to Tanzania.
"Information on the church bombing in Tanzania is still not clear," Nugali said. "Tanzanian authorities arrested a group of Tanzanians, Arabs and foreigners, who were there in the area and are being questioned."
The Foreign Ministry is waiting for a report on the bombings and the identity of those arrested, said another official source.
In a statement, the Tanzanian government said, "It is a terrorist attack carried out by one person or a group of the enemies of the country."
The suspected bombers include two Christians and four people from the Gulf.
http://www.arabnews.com/news/450849
------------
Tunisia links two wanted jihadist groups to Qaeda
May 07, 2013
Two jihadist groups the Tunisian army is pursuing on the border with Algeria belong to Al-Qaeda, interior ministry spokesman Mohamed Ali Aroui said on Tuesday.
"There are two groups, one in the Kef region with around 15 people and the other in Mount Chaambi with around 20 people," Aroui told a news conference, referring to the Islamist groups the army has been hunting since last week.
"There is a connection between the two groups, and the one in the Chaambi region has ties with the Okba Ibn Nafaa brigade, which is linked to Al-Qaeda."
"We have isolated them, and yesterday we arrested someone who was supplying the Chaambi group" with food, the official added.
In December, the authorities announced the arrest of 16 militants belonging to the Okba Ibn Nafaa brigade, described as a cell of Al-Qaeda in the Islamic Maghreb, in Tunisia's Kasserine region, where Mount Chaambi is located.
But they had not until now confirmed a link between those arrested and the "terrorist group" hiding out in the remote Chaambi region that the security forces have been tracking since a deadly attack on a border post in December.
Last week, the army stepped up efforts to take out the group, which has placed homemade explosive devices around the mountainous terrain that have so far wounded 16 members of the security forces, some of whom had to have their legs amputated.
Tunisian troops have been using mortar fire to try and demine the area.
The authorities have given no information on the operations in Kef, a region about 100 kilometres (60 miles) to the north, where the second jihadist group is based.
Since the revolution that toppled Zine El Abidine Ben Ali in January 2011, radical Islamists suppressed by the former dictator have become increasingly assertive in Tunisia and have been blamed for a wave of deadly attacks.
http://www.moroccoworldnews.com/2013/05/89896/tunisia-links-two-wanted-jihadist-groups-to-qaeda/
------------
Survey Probes Role of Religion in Tunisian Society
Tristan Dreisbach
07 May 2013
Though Tunisia is perceived as one of the most liberal countries in the Arab world, a recent survey shows that religion strongly influences some aspects of society, such as attitudes toward Sharia law and marital relations.
Fifty-six percent of respondents favor making Sharia the official law of Tunisia and 93 percent reported that women should always obey their husbands, according to a poll released last week by the Pew Research Center, a U.S.-based think tank.
The report, entitled "The World's Muslims: Religion, Politics and Society," surveyed Muslims from 39 countries.
Researchers interviewed 1,450 Tunisian Muslims for the study, with Pew asserting that a representative sample was taken of all 24 governorates in the country. But the data for Tunisia was collected in November and December 2011, meaning a year and half has passed between the interviews and the report's release.
Attitudes regarding the role of Islam in governance were mixed. While a majority favored making Sharia the country's official law, 40 percent of those interviewed believe that Tunisian law already follows Sharia very or somewhat closely and 72 percent believe Sharia can have multiple interpretations. Fifty-eight percent believe that religious leaders should have some political influence in Tunisia, but only 42 percent say that religious judges should decide family law and property disputes.
Imam Taieb Ghozzi of the influential El-Okba Mosque in Kairouan told Tunisia Live that the report's assertion that 56 percent of Tunisians support the implementation of Sharia in Tunisia seems accurate, although he would prefer the number was a little higher.
"Sharia is not about cutting off hands and legs and implementing the stoning of adulterers," Ghozzi said. "Sharia needs people who can interpret and analyze it deeply and delve into its meaning." It must be implemented rationally, he said, taking international law into consideration and making adjustments based on the context of modern life.
Responses in the report suggest that Islam has a strong influence on some attitudes toward the role of women in Tunisian society. In addition to the vast majority of respondents reporting that women should obey their husbands, only 15 percent of those surveyed said that daughters and sons should have equal inheritance rights. While a majority of Tunisians polled did not approve of honor killings against women for premarital sex or adultery, 38 percent believed that it could be justified in some circumstances.
On other issues related to the role of women, the Tunisian responses could be seen as more liberal. Eighty-one percent of respondents believe a woman should be able to divorce her husband. Eighty-nine percent believe a woman should decide for herself whether to wear the veil — a higher number than the Palestinian territories or any of the five other Middle East and North African countries surveyed. Tunisians were also less supportive of polygamy than any other Muslim population surveyed, with 67 percent disapproving of the practice.
The Tunisians polled expressed a general disapproval of homosexuality, drinking alcohol, abortion, and extramarital sex. For each of these issues, over 80 percent of Tunisians polled said that they were morally wrong. Slim majorities said that divorce and family planning were morally acceptable.
One hundred percent of the respondents said that all or most of their friends are Muslim, and 45 percent stated that they believe in evolution. Fully 59 percent said that they did not use the Internet.
Bakhta El-Quadhi of the Tunisian Association of Democratic Women was shocked by the vast majority who agreed that a wife should obey her husband.
"This represents a kind of patriarchy that is overwhelming Tunisian society," she said. "The preachers and imams lead us to such a mentality, but it is not a problem of religion, it is a problem of the use of religion."
Ghozzi agreed that women should obey their husbands, but emphasized that this conviction has limitations.
"He should not treat her as a slave," he said; She must obey him in religious matters and when interests are shared, but marriage is ultimately a partnership. He emphasized that men should not order their wives to stop working if they wish to have a job.
El-Quadhi was skeptical of the low support for equal inheritance for men and women.
"I don't think this is accurate," she said. "This should be higher. I know some conservative religious families that still believe girls and boys should have the right to equal inheritance." She said that this mindset was caused by misinterpretation of a verse in the Quran.
She felt that 89 percent was the minimum level of support in Tunisia for freedom regarding wearing the veil.
"Even veiled women do not impose their choice on others," she said. She added that it was rare to meet anyone, even conservative Islamists, who would not stand next to a non-veiled women.
Full report at:
http://www.tunisia-live.net/2013/05/07/survey-probes-role-of-religion-in-tunisian-society/
------------
Europe
Muslim leaders back campaign against sexual grooming gangs
08/05/2013
MUSLIM organisations and civil rights groups are to meet in West Yorkshire to launch a community campaign against sexual grooming by gangs.
Led by the Islamic Society of Britain and civil rights movement Hope not Hate, the Community Alliance against Sexual Exploitation (CAASE) is being launched in Bradford on Friday.
Speakers from West Yorkshire Police, Bradford Council of Mosques and Bradford Council will attend.
A spokesperson for the new group said: "While there is a great deal of good work focusing on child exploitation, more needs to be done against scourge of on-street grooming by gangs.
"Local and national grass roots and faith organisations are often best-placed to reach out into the communities most beset by this problem.
"Working across child protection services, with local authorities, schools, faith communities and the police, CAASE will develop a proactive response to the growing problem of on-street grooming, raising awareness, educating and developing community-led responses.
"CAASE will meet head-on the communal challenges raised by child sexual exploitation of vulnerable young girls and women."
The initiative is supported by the Muslim Council of Britain, Muslim Youth Helpline, Muslim Community Helpline, Federation of Muslim Organisations, Mosques and Imams National Advisory Board, the Christian Muslim Forum, City Sikhs Network, and the Church of England, plus women's rights groups.
Julie Siddiqi, of the Islamic Society of Britain, said: "There are few crimes more horrific than the sexual exploitation of young women: these girls have been let down by everyone. I have been sickened reading about these cases. There should be no excuse, no hiding place, for those who perpetrate such crimes."
Nick Lowles, of Hope not Hate, said: "The evil that is abuse happens across all areas of society. This is not an issue of race or religion.
"We want to encourage all our partners to help us remove the veils of secrecy and control that allow abuse to flourish. We also need to ensure that the media, and far-right groups, do not promote an anti-Muslim agenda over so-called 'grooming' trials either.
"Hope not Hate will focus on busting myths that groups such as the English Defence League and British National Party like to promote in their quest for hate and division."
Shayka Ibrahim Mogra, of the Muslim Council of Britain, said: "This is an appalling and abhorrent kind of behaviour which is totally unacceptable regardless of race or religion.
"Some of those perpetrators who have recently been convicted happen to be from the Muslim community, so we need to be at the very front of the voice that is condemning this. It is important that leaders of religious communities speak out against this deplorable and abhorrent behaviour by adults toward vulnerable children."
Full report at:
http://www.yorkshirepost.co.uk/news/around-yorkshire/local-stories/muslim-leaders-back-campaign-against-street-grooming-gangs-1-5653228
------------
BBC responds to Leyton Sharia Council's criticism of Panorama exposé
8th May 2013
By Daniel Binns
The BBC has said it fully stands by its secret filming of an Islamic council which mediates on Muslim marriages after the centre criticised the corporation for being "underhand".
The Islamic Sharia Council, in Francis Road, Leyton, was investigated by the BBC's Panorama documentary series last month following allegations it was ruling on cases it had no legal authority to get involved in.
An undercover BBC reporter posed as a woman complaining of domestic violence and captured staff on camera advising her only to go to the police as a "last resort".
Since the broadcast the council has said it takes a "harsh" stance on domestic violence and claimed the footage had been edited out of context.
But in response, the BBC has hit back and said in a statement to the Guardian: "Panorama fully stands behind its investigation into the workings of some of Britain's Sharia Councils.
"The programme was raised in a Westminster debate in Parliament the next day in which a government minister referred to the concerns we had raised.
"Senior British Muslims such as Baroness Warsi also called some of the councils' secretly recorded comments 'disgraceful'."
A spokeswoman added: "As the Chief Crown Prosecutor for the North West, Nazir Afzal, said in the film: 'Most of them are absolutely fine but there are some …who are putting women at risk."
Sharia partnerships are not recognised under UK law as marriages and are often obtained by couples in addition to civil marriages.
Islamic councils can only issue divorces for Sharia 'marriages' and have no legal rights to rule on issues such as child custody.
Full report at:
series.co.uk/news/wfnews/10405027.BBC_responds_to_Sharia_Council_s_criticism_of_Panorama_expos__/
------------
U.S. and Russia Plan Conference Aimed at Ending Syrian War
By STEVEN LEE MYERS and RICK GLADSTONE
May 7, 2013
MOSCOW — Russia and the United States announced on Tuesday that they would seek to convene an international conference within weeks aimed at ending the civil war in Syria, jointly intensifying their diplomatic pressure on the combatants to peacefully settle a conflict that has taken more than 70,000 lives and left millions displaced and desperate.
Secretary of State John Kerry and his Russian counterpart, Foreign Minister Sergey V. Lavrov, announced their agreement to arrange the conference after a day of intense diplomatic meetings here. Mr. Kerry, who was visiting Russia seeking to find common ground on the Syria conflict, told reporters at a joint appearance with Mr. Lavrov in Moscow that the aim would be to push the government of President Bashar al-Assad and the Syrian opposition to attend.
The announcement appeared to signal a strong desire by both countries to halt what has been a dangerous escalation in the conflict, with evidence of chemical weapons use, a surge in the number of civilians fleeing combat and a refugee crisis that is overwhelming Syria's neighbors. Israeli aerial attacks this past weekend on suspected munitions sites in Syria heightened and further complicated the tensions in the region.
Mr. Kerry's visit also came as the Obama administration faced increasing calls to intervene in the conflict with lethal military aid to the insurgency or perhaps stronger action like the enforcement of a no-fly zone over Syria to protect rebel-held areas. The effort to seek a negotiated solution with the Russians suggested that the administration wanted to first make a public push toward diplomacy.
President Obama defended his cautious approach earlier in the day in Washington, telling reporters he was going to make decisions based on the facts and not "on a hope and a prayer." Mr. Obama, who has said the use of chemical weapons in Syria would cross a "red line," reiterated his view that the evidence of such use was still insufficient to require action or enable him to unite American allies behind a response.
Mr. Kerry said both Russia and the United States wanted to hold the peace conference "as soon as practical, possibly, hopefully as soon as the end of this month."
The United States supports the insurgency that has been seeking to depose Mr. Assad, while Russia has been his most important foreign patron. But as the two-year-old struggle in Syria has worsened, the Russian government has signaled that it is not necessarily bound to Mr. Assad's political survival as part of a solution.
"I would like to emphasize we do not, we are not interested in the fate of certain persons," Mr. Lavrov told reporters on Tuesday. "We are interested in the fate of the total Syrian people."
It was unclear how Mr. Kerry and Mr. Lavrov would persuade the antagonists to put aside their hostilities for talks, and there was no word on where they would be held — or even any assurance that they would take place.
But the diplomatic effort was unusual, given the sometimes rancorous relationship between the United States and Russia, and seemed to be the one optimistic spot on what was otherwise another bleak day in the Syria conflict.
"The alternative is that there is even more violence," Mr. Kerry told reporters. "The alternative is that Syria heads closer to the abyss, if not over the abyss and into chaos."
Both men spoke as Syria lost Internet access in what appeared to be a deliberate shutdown by the Syrian government, with networks there going offline at about 11 p.m. Syria time. Telephone access also appeared to be blocked. The government has intentionally disrupted the Internet in the past to foil rebel communications when the military was undertaking major operations.
Internet monitoring companies said traffic into Syria came to a dead stop, reflecting what they called an intentional effort to block any information from entering the country. "It's akin to someone removing all the street signs into Syria," said Matthew Prince, the founder of Cloudflare, a San Francisco-based Internet security firm that monitors large volumes of Internet traffic.
In Geneva, United Nations relief agency officials said the number of displaced Syrians inside the country had more than doubled in the past two months, to 4.25 million, and that roughly one in three Syrians, or about 6.8 million, needed urgent assistance — half of them children. More than 1.4 million Syrians are now refugees in neighboring countries.
Earlier Tuesday, four United Nations soldiers patrolling part of the disputed Golan Heights area between Syria and Israel were detained by Syrian insurgents, the second time in two months that members of the blue-helmeted international peacekeeping force in that region have become entangled in Syria's civil war.
Secretary General Ban Ki-moon condemned the detentions and called for the immediate release of the peacekeepers. A spokesman for Mr. Ban, Martin Nesirky, told reporters at the United Nations that all parties must respect the peacekeeping force's "freedom of movement and safety and security."
A Syrian insurgent group that calls itself the Martyrs of Yarmouk, responsible for the previous abduction of United Nations peacekeepers in the Golan region, asserted that it had taken custody of the four soldiers for their own safety and posted a photograph of them on Facebook. All are Filipinos and did not appear to have been harmed.
Josephine Guerrero, a spokeswoman for the United Nations departments that oversee its global peacekeeping operations, said efforts were under way to secure the peacekeepers' release.
The Martyrs of Yarmouk detained 21 Filipino members of the Golan peacekeeping force on March 6. That group was freed after four days, after negotiations and international calls for their release.
Full report at:
http://www.nytimes.com/2013/05/08/world/middleeast/syria-golan-heights-united-nations.html?gwh=39E2CAD84CFD782F31E313E20A998387&_r=0
------------
France pledges to keep fighting al-Qaeda
07 May 2013
French President Francois Hollande has said that he is taking threats made by al-Qaeda against his country seriously.
He was responding on Tuesday to threats made by al-Qaeda in the Islamic Maghreb (AQIM) in a video message posted on April 25.
"We are taking seriously the threat by AQIM," Hollande said in Paris, adding that despite considerable losses inflicted on Islamists in Mali, "the terrorist threat has not disappeared".
"So we believe we must continue the operation in Mali for as long as it takes, even if we reduce our presence, and stay vigilant around Mali to continue the fight against terror."
Hollande said he had ordered measures to protect French installations abroad.
Abu Obaida al-Annabi, the leader of AQIM said in the April video message posted online that it was the "duty" of "all Muslims ... to attack to attack French interests everywhere."
Annabi, presented as the head of the council of dignitaries of AQIM, called for "full mobilisation" to combat the "new crusade of France".
"Jihad is now the duty of every capable among you," he said in the message.
"If the French president wants his crusade to be quick, short and limited, to spare his country descending into a swamp like that faced by Americans in Iraq and Afghanistan, it is your duty to foil his plan and drag him into an open war," Annabi said.
Annabi said such a war would "drain France's economy, exhaust its capabilities, and push it into a recession and contraction".
France also suffered an attack on its embassy in the Libyan capital Tripoli last month, which wounded three people. No group has claimed responsibility for the attack.
Al Jazeera's Jacky Rowland, reporting from Paris, said that much of the target of the anger has been the French military intervention in Mali.
"Next to Mali is Niger, there are crucial installations of French uranium mines that France needs for its nuclear power stations," she said.
"It's worth noting that during the French intervention in Mali, security was increased around the nuclear power plants, with some people saying the French special forces had also being deployed."
Full report at:
http://www.aljazeera.com/news/europe/2013/05/201357201852923861.html
------------
Record Sukuk seen on Indonesia $92 billion plan: Islamic Finance
08 May 2013
Indonesian corporate sukuk sales are off to their best ever start and the top underwriter predicts a full-year record as $92 billion of state-backed development projects buoy issuance.
According to Jakarta Globe, Bank Muamalat Indonesia and Adira Dinamika Multi Finance were among issuers of Rp 1.5 trillion ($154 million) of securities, Financial Services Authority data show. That compares with Rp 1.9 trillion for the whole of 2012 and a record Rp 2.3 trillion in 2008. The market is still just a fraction of Malaysia's, where companies sold 95.8 billion ringgit ($32 billion) of sukuk last year.
President Susilo Bambang Yudhoyono is seeking to reduce fuel subsidies to set aside more funds for roads, railways and power stations to spur growth from the slowest pace since 2010 last quarter. Finance companies have accounted for 72 percent of sales this year, while state-owned construction company Hutama Karya and electricity producer Perusahaan Listrik Negara may sell Islamic bonds in 2013, according to Danareksa Sekuritas, the top underwriter last year.
"The other sectors with the biggest potential to actively tap into the sukuk market will be those involved in infrastructure-related projects and utilities," Alhami Mohd Abdan, head of international finance and capital markets at OCBC Al-Amin Bank Bhd. in Kuala Lumpur, said in a May 3 interview. Sales will reach Rp 2.5 trillion to Rp 3 trillion this year, he forecast.
State-owned companies
State-owned enterprises have committed about Rp 900 trillion through the end of 2014 for infrastructure and real- sector projects, Coordinating Minister for the Economy Hatta Rajasa said on Dec. 18. Listrik Negara last sold Rp 500 billion of Islamic securities in 2010, while Hutama Karya would be issuing Shariah-compliant notes for the first time, data compiled by Bloomberg show.
Construction company Adhi Karya sold Rp 125 billion of sukuk in March, after Pefindo Credit Rating Indonesia raised it to five steps above investment grade from four last June, citing strong cash flow. Property companies Bumi Serpong Damai and Lippo Karawaci have also been upgraded by Pefindo in the past year. Indonesia's non-Islamic corporate debt market will triple in five years, Mandiri Sekuritas forecast last month.
'Great demand'
"Property and construction companies will boost debt sales as their ratings rise, reducing borrowing costs and brightening the option to sell debt," Yudistira Slamet, head of debt research at Danareksa, said in a May 3 interview from Jakarta. "We recommend our clients tap the sukuk market because of the great demand, which will further suppress coupons," he said, adding that he was forecasting Rp 2.5 trillion to Rp 3 trillion of company issuance this year.
The average yield on global Shariah-compliant debt fell one basis point, or 0.01 percentage point, to 3.12 percent on May 2, the HSBC/Nasdaq Dubai US Dollar Sukuk Index shows, after reaching an all-time low of 2.67 percent on Jan. 10. The premium over the London interbank offered rate, or Libor, declined one basis point to 188 basis points.
Indonesia's finance ministry plans to sell Rp 53 trillion of Islamic bonds this year, compared with Rp 57.1 trillion in 2012, as it seeks to boost trading volumes by selling less to the national Hajj fund, which holds the notes until maturity, Dahlan Siamat, director of Islamic financing at the debt management office, said Jan.
Tax Rules
Indonesia's 8.8 percent dollar sukuk due April 2014 yielded six basis points less than Malaysia's 3.928 percent Islamic notes due June 2015, even though the former country is rated four levels lower by Standard & Poor's. The yield on the Indonesian securities was 96 basis points higher on Jan. 11, the biggest gap in seven months, data compiled by Bloomberg show.
There is no specific rule on how sukuk should be taxed in Indonesia, although the Financial Services Authority has made sure that no corporate Islamic bonds have been double-taxed, Etty Retno Wulandari, a director at the regulator, said in July 2012. Bank Indonesia asked the taxation department in 2009 to issue a circular to clarify equal treatment for Shariah- compliant debt, Executive Director Edy Setiadi said last September, but this still hasn't happened.
Full report at:
http://english.irib.ir/radioislam/news/islamic-finance/item/86724-record-sukuk-seen-on-indonesia-$92-billion-plan-islamic-finance
------------
India
Nitaqat fallout: 18,000 Indians prepare to leave Saudi
May 8, 2013
Over 18,000 Indians have approached the Indian embassy in Riyadh seeking 'emergency certificate' to leave Saudi Arabia amid concerns about possible job losses due to implementation of a new labour law .
"Nitaqat" that seeks to reserve 10 per cent jobs for locals.
The Indian workers have applied for issuance of Emergency Certificate (EC) to leave the country as they had given their passports to the sponsors.
Over 18,000 applications for issuing 'Emergency Certificates' to return to India have been received till May 2, Overseas Indian Affairs Minister Vayalar Ravi said in a written reply to a question in Lok Sabha.
The embassy had started receiving applications for issuance of EC since last week of May.
The 'Nitaqat' law makes it mandatory for local companies to hire one Saudi national for every 10 migrant workers. There has been widespread perception that the new policy will lead to denial of job opportunities for a large number of Indians working there.
Over two million Indians are currently working in Saudi Arabia. The Saudi government was implementing the Nitaqat law to cut unemployment in the country.
Mr. Ravi said as per the Indian mission in Riyadh, the increase in the number of applications seeking EC was due to Saudi authorities' campaign against foreign workers staying in the country without fulfilling laid down conditions and not due to Nitaqat.
"This drive affects not only illegal workers from India, but also from all countries from where immigrant workers have come to Saudi Arabia," he said.
A delegation led by Mr. Ravi had visited the Gulf nation two weeks back during which it expressed India's concern about the Nitaqat law.
During the talks, both the sides had agreed to set up a joint working group to address "all immediate problems" facing the Indian community including issues related to overstaying Indian workers and the new labour law.
Mr. Ravi said Government has waived the fee of 7 Saudi Riyals for contribution to the Indian Community Welfare Fund by those who applied for EC and even asked the mission to bear processing cost of 40 Saudi Riyals (Rs 600) per application.
He said government has asked the mission to provide temporary accommodation and food to the needy Indians in Saudi Arabia.
Full report at:
http://www.thehindu.com/news/nitaqat-fallout-18000-indians-prepare-to-leave-saudi/article4695488.ece
-------------
Delhi court orders release of Kashmiris
May 08, 2013
NEW DELHI - The Delhi High Court has set aside the conviction of a Kashmiri youth, Muhammad Iqbal Jan, who was awarded life imprisonment in 2009 by the Additional Sessions Judge Delhi in a fake case.
A division bench of the Delhi High Court comprising Justice SR Butt and Justice SP Garg set aside the conviction and sentence of Iqbal Jan, a resident of Bandipora. The court came to the conclusion that the conviction could not be sustained and set aside the same directing immediate release of Jan and Mushtaq Ahmed Kaloo who was also convicted in the same case.
Jan has already spent seven years in Delhi's Tihar Jail. He was arrested by the Special Cell of Delhi Police on 27 November 2006 near Kauria Pul at Old Delhi Railway Station. A case was registered against him under the Unlawful Activities (Prevention) Act.
Full report at:
http://www.nation.com.pk/pakistan-news-newspaper-daily-english-online/national/08-May-2013/delhi-court-orders-release-of-kashmiris
------------
Sanaullah's family at PGI wants him back in Pakistan
Shimona Kanwar & Yudhvir Rana
May 8, 201
CHANDIGARH/ATTARI: On life-support in PGI's intensive care after a vicious attack on him on May 3 at Jammu's Kot Bhalwal jail, Pakistani prisoner Sanaullah Ranjay finally had his family members arrive, who saw him for the first time in 18 years. But there was no joy for them, only sadness.
"We waited 18 years, but not to see him like this in a hospital. He just lay there, didn't move. He didn't recognize us," said Sanaullah's brother-in-law Mohammed Shehzad, who was around 14 when he last saw him. "We hadn't waited all these years for this day," he said.
Shehzad and his nephew Mohammad Asif were granted 15-day visa to see Sanaullah. They arrived at the hospital on Tuesday wearing gowns, masks and head caps and were allowed to remain inside ICU for not more than 15 minutes. But those few minutes were more painful than they had imagined.
Asif, standing next to Shehzad, found it difficult to come to terms with his uncle's sorrow. "We are praying to Allah for his recovery," said Asif.
Sanaullah was grievously wounded in an apparently retaliatory attack for the Indian death row prisoner Sarabjit Singh who died in a Lahore hospital on May 2.
Both the relatives, who were briefed about Sanaullah's condition by doctors, were escorted at PGI by Pakistan high commission first secretary, press, Sultan Hasan, and two consuls from Pakistan high commission, Abrar Hashmi and Zargham Abbas.
Shehzad and Asif, who belong to Sialkot, entered India via Attari land border early on Tuesday. Although they were prevented by Hasan from speaking to the media, Asif said, "We appeal to the Indian government to let Sanaullah accompany us to Pakistan."
Sanaullah's attacker in Jammu's high security Kot Bhalwal jail, Vinod Kumar, is a former army soldier serving life imprisonment for murdering his colleague in Leh. Sanaullah himself was arrested in 1999 and was serving a life sentence for terrorist activities in Jammu & Kashmir, and was in Kot Bhalwal jail for the last 17 years.
Full report at:
http://timesofindia.indiatimes.com/india/Sanaullahs-family-at-PGI-want-him-back-in-Pakistan/articleshow/19942220.cms
------------
Only one Pandit family has returned to Kashmir Valley: Govt
May 8, 2013
NEW DELHI: The government on Tuesday said only one displaced Kashmiri Pandit family has so far returned to the Valley while 4,522 families continue to live in four camps in Jammu.
Responding to a Parliament question, minister of state for home RPN Singh said the total amount disbursed by Jammu and Kashmir government, as part of ex-gratia relief to Kashmiri migrants, was Rs 44.77 lakh between 2010 and 2013.
"No loan has been disbursed to Kashmiri migrants during the last three years," Singh said, adding the number of Kashmiri migrants staying in camps at various locations in Jammu was 4,522.
Full report at:
http://timesofindia.indiatimes.com/india/Only-one-Pandit-family-has-returned-to-Kashmir-Valley-Govt/articleshow/19942238.cms
------------
South Asia
Battle over blasphemy deepens divisions in Bangladesh
Shawn Ahmed
07/05/2013
As the death toll rises to at least 38 after Sunday and Monday's crackdown on Islamist protesters in Bangladesh, an Observer in the capital, who filmed the aftermath of these clashes, explains how divided the country has become.
Following a call by the hard-line Islamic group Hefazat-e-Islam, at least 200,000 people took to the streets of Dhaka to try to pressure the government into adopting strict blasphemy laws, notably the death penalty for bloggers they accuse of insulting the Prophet Muhammad. The opposition Bangladesh Nationalist Party (BNP), the country's main Islamic party, claims that hundreds of people were killed when the police broke up the protests. The police, meanwhile, have counted 38 dead so far, and said dozens more were being treated in local hospitals. They also announced the arrest of 194 Hefajat-e-Islam activists.
The BNP and its Islamist allies have called for a two-day nationwide strike, starting on Wednesday, to protest what they call a "mass killing".
Monday afternoon, I went to Baitul Mukkaram mosque, near which there had been violent clashes. I saw a burnt-out bus, and concrete dividers smashed into little bits. The mall across the street was completely trashed, and a nearby marketplace was in smoulders. There was a horde of policemen there, so I asked some of them, were there injured protesters? Or injured police? They told me nobody had been hurt, that there was nothing but light violence! After much difficulty, and with the help of a policeman who apparently hadn't been briefed about not talking to curious activists, I figured out which hospital injured protesters had been taken to. There, no medical personnel would talk to me, but I managed to speak to some men who had been shot – one in the eye, another in the hips. I also went to a morgue, where the police showed me four corpses they said were of protesters. I also saw police bringing in more corpses, but they claimed it was unrelated to the clashes.
After putting photos and videos of all this online, anti-Islamist activists came at me with pitchforks, metaphorically speaking. Many people don't want any documentation of events that could portray the Islamists as being in any way victims. It's really disheartening to see how much both sides demonise each other. As a gay Muslim man, I'm obviously not a huge fan of the Islamists' agenda; I don't think "atheist bloggers" should be given the death penalty nor do I want sharia law. However, so-called "secular" activists are not exactly pacifists either – last February, they organised protests to call for the death penalty for a radical Islamic leader who had been given a life sentence for crimes perpetrated during the 1971 war of independence. I heard many people in these protests chanting things like, "Light a fire, hang him!" Both sides are really good at incendiary rhetoric.
Full report at:
http://observers.france24.com/content/20130507-blasphemy-law-clashes-sides-dhaka
------------
Two-day strike begins to protest crackdown on Islamists in Bangladesh
May 8, 2013
A two-day nationwide shutdown called by BNP-led opposition alliance began on Wednesday in Bangladesh to protest what it called "mass killings" of marauding members of a radical Islamist outfit in police crackdown during its "Dhaka siege" campaign demanding a tougher blasphemy law.
Thousands of policemen in riot gears and elite anti-crime Rapid Action Battalion (RAB) troops enforced a strict vigil in the capital city Dhaka, where most private cars stayed off the roads and schools were closed.
Witnesses and police said the opposition cadres exploded several crude bombs and vandalised a bus in parts of the city to enforce their strike but no incident of clash was reported in the initial shutdown hours.
In the run-up to the general strike on Tuesday, suspected Bangladesh Nationalist Party (BNP) and Jamaat members set afire a posh train in Chittagong, while vandalised or torched several vehicles and exploded crude bombs in Dhaka.
The call for the general strike by the 18-party alliance, with fundamentalist Jamaat-e-Islami being a major partner, came a day after a Dhaka court placed senior Hefazat-e-Islam leader Junaid Babunagari on a nine-day police remand following his arrest for masterminding the violence.
The Hefazat-e-Islam or 'Protectorate of Islam' has unleashed riots on Dhaka streets since Sunday to mount pressure on the secular Awami League-led government to implement its 13-point demand, including the enactment of a blasphemy law to punish those who insult Islam and its Prophet.
The members of Hefazat, comprising mainly teachers and students of several thousand unregistered madrasas, allegedly backed by Jamaat workers carried out the two days of mayhem in the capital city and Chittagong.
The Islamists also chopped off several hundred street side trees to erect barricades on the road as they fought a pitched battle with security agencies.
Police on Monday sent the conservative outfit's elderly leader back to his village home at south-eastern Chittagong city under security escorts after the May 5 and 6 violence over their Dhaka siege programme that left 28 people dead.
Riot police and paramilitary troops, however, chased thousands of Hefazat members off the capital using non-lethal sound grenades, rubber bullets and water canons but fresh violence erupted at the outskirts of Dhaka and Chitagong's Hathazari area, the stronghold of Hefazat.
Officials earlier said the death toll in violence over of Hefazat-e-Islam's "Dhaka siege programme" stood at 21 which included deaths of an army intelligence official, two paramilitary soldiers and three policemen but the mainstream newspapers tallied the figure to be as high as 28.
The BNP-led alliance called the shutdown to protest what it described as "mass killing" of Hefazat activists during and after their May 5 Dhaka siege programme.
Senior BNP leader M K Anwar, MP, at a news briefing claimed the law-enforcement and paramilitary forces accompanied by ruling Awami League activists killed "several thousand religious leaders and scholars" in an attack at May 5/6 midnight to chase them off.
Mr. Anwar also alleged that a leader of the ruling Awami League belonging to minority Hindu community led the arsons and attack at the Baitul Mukarram Mosque complex.
"M K Anwar is spreading falsehood, which he is habituated to... I challenge him to prove his claim," Home Minister Muhiuddin Khan Alamgir told PTI last night, adding the BNP leader would have to take the responsibility for his extremely provocative remarks.
Full report at:
http://www.thehindu.com/news/international/south-asia/twoday-strike-begins-to-protest-crackdown-on-islamists/article4695473.ece
-----------
Jamaat-e-Islami was the mastermind: Communist Party of Bangladesh
MAY 08, 2013
The Communist Party of Bangladesh (CPB) has alleged that Jamaat-e-Islami was the mastermind of Sunday's violence in Dhaka as it conspired to create a deadlock situation by "strategically" using the programme of Hefazat-e Islam to foil the war crimes trial.
"Although we accuse mainly Jamaat for the violence, Hefajat-e Islam and BNP can not escape the responsibility of the atrocities because they instigated the violence," said CPB President Mujahidul Islam Selim at a press conference at his party office in the capital yesterday.
The arson attack was launched at first at CPB office around 11:00am, and later the atrocities spread out in phases to its adjacent area, he said.
Properties worth of over Tk 3 crore have been damaged, and many necessary documents have been burned in the office, he added.
Full report at:
http://www.thedailystar.net/beta2/news/jamaat-was-the-mastermind-cpb/
------------
G.I. Stones a Portrait of Karzai, Causing a Stir
By MATTHEW ROSENBERG
May 7, 2013
KABUL, Afghanistan — An American soldier would have been well served to remember the childhood adage about sticks and stones before he threw rocks at a wall-size portrait of President Hamid Karzai that graces a town square in northeastern Afghanistan.
If only he had used his words.
Fortunately, at a time of growing tension between Afghans and Americans, the only thing the soldier seems to have bruised was his career. He was pulled from the front line after residents saw the rock-throwing and complained about the disrespect shown their president, according to an Afghan official and the American-led military coalition.
In the annals of American missteps in Afghanistan, the case of the stone-throwing soldier ranks far below Marines' urinating on the corpses of Taliban fighters, the accidental burning of Korans and other episodes that have offended and enraged the Afghan public over the past dozen years.
But it does offer a reminder that patience on both sides is wearing thin as the war grinds on, and that thoughtless acts can lead to international incidents. This one, at least, appears to have been quickly contained.
The American-led coalition said in a statement on Tuesday that it was "aware of the allegations claiming a U.S. service member threw a rock at a governmental poster."
The soldier has been pulled from Kunar Province, the northeastern region where his unit is based, and the episode was under investigation, it said.
The coalition could not say whether the soldier, whom officials would not identify, remained in the country.
In the meantime, "we are working with Afghan officials now to explain what happened and to emphasize that the service member's action in no way represents the values of the coalition forces," the statement said.
Gov. Said Fazlullah Wahidi of Kunar Province said he first received complaints last week that a soldier had been spotted throwing rocks at the portrait of Mr. Karzai as his unit walked through the square in Asadabad, the provincial capital, on its way to train local police officers.
It would not take a great arm or superb aim to hit the portrait of Mr. Karzai: the square is not large, and the weathered picture — showing the president in a traditional turban, his face calm and composed — stands about 9 feet high and 15 feet wide on the side of a building where it was hung ahead of the 2009 election.
There are no slogans on the picture, just a few words in the Pashto language that say "Hamid Karzai, President of Afghanistan."
Full report at:
http://www.nytimes.com/2013/05/08/world/asia/us-soldier-targets-a-karzai-portrait-with-rocks.html?gwh=F4C0D03224F021DB4BE320EE1E849ACF
------------
Behind the rise of Bangladesh's Hefazat
By Toufique Imrose Khalidi
May 8, 2013
Dhaka, Bangladesh - Founded only a few years ago, Bangladesh's Hefazat-e-Islam ["Protectorate of Islam"] has recently been thrust onto the centre-stage of national politics by an extraordinary set of circumstances.
Unlike other outfits that operate here in the capital, Dhaka, the Hefazat group is headquartered in the port city of Chittagong, where hundreds of madrasas draw tens of thousands of young Muslims for schooling.
Many of these madrasas teach only Islam, using Arabic as the medium of instruction.
The Hefazat's leaders and activists, who take strict views on religion, are almost wholly drawn from these schools.
Ahmad Shafi, the 93-year-old supreme leader of the Hefazat, is also the chairman of the Bangladesh Qaumi Madrasa Education Board that oversees all such schools across the country.
Born in Rangunia in Chittagong district, Shafi was educated in two madrasas before he went to Deoband in India for higher Islamic studies. He returned to teach at the Hat-hazari madrasa, where he had once studied, and later became its rector.
He describes the Hefazat as not political, saying that its goals are "purely religious".
Shafi appears averse to public speeches.
He was present at a party rally in Dhaka on April 6 that drew nearly 200,000 people, but did not speak himself. Instead, his statement was read out by one of the younger leaders.
On May 5, he skipped another Hefazat rally in Dhaka completely.
List of demands
Shafi's goal is clear: he wants a Bangladesh run totally on Islamist precepts, and an end to the secularism that has long been one of the declared principles of the country.
The birth of Hefazat was triggered by the 2009 Women Development Policy draft, which gave women equal rights by inheritance. In the face of fierce protests by groups such as Hefazat, the parliament later passed a watered-down draft just giving greater rights to women on acquired property.
Among the 13 demands put forth by the Hefazat is a ban on the public mixing of the sexes.
"A ban on the public mixing of sexes and such other demands would put women back behind the veil," Kazi Shahrin Huq, a journalist working in Dhaka, says.
Many of her female colleagues were attacked during Hefazat's April 6 rally.
Leading women's rights groups have condemned the Hefazat as "anti-women" and plan to organise a rally on May 9.
Others, such as Dhaka University Vice Chancellor AASM Arefin Siddique, say the group is anti-democratic.
"Hefazat-e-Islam campaigning against democratic forces in the name of religion is acceptable in no way," Siddique said.
"They're trying to impose their own opinion on others."
Hefazat's resurgence in recent months is, at least in part, a backlash against a campaign launched by youth activists and bloggers who are demanding capital punishment for alleged war criminals involved in Bangladesh's 1971 war of independence against Pakistan. Tribunals set up to try alleged war criminals began in 2010 and are ongoing.
As part of the bloggers' campaign, tens of thousands of Bangladeshi men and women began congregating at Dhaka's Shahbagh Square, calling for a more secular society, and the death penalty for religious leaders and others allegedly involved in widespread killing and rape during the war.
Jamaat-e-Islami, Bangladesh's largest religious-political outfit, has been in a tight spot since the war crimes trials began.
One verdict handed down by the tribunal said the organisation itself, and not just its leaders, was party to the crimes against humanity committed during the 1971 war.
Jamaat vehicle?
Jamaat controls only two seats in Bangladesh's 300-member parliament. With a ban on the party a real possibility, some suspect, Hefazat's rise came about because Jamaat needed another outlet to do its bidding.
"The Jamaat was on the defensive, its leaders in docks for war crimes and for supporting Pakistan," says a spokesperson for the Shahbagh Square movement.
"A new Islamist force was needed and up came the Hefazat."
The Shahbagh activists have alleged that Hefazat has been financed by Jamaat.
"They are out there to save the Jamaat-e-Islami, to thwart the war crimes trials, to push the same fundamentalist agenda," says the spokesperson.
Meanwhile, the country's information minister, Hasan ul Haq Inu, describes Hefazat as a "shadow" of Jamaat-e-Islami.
Last week, the left-wing minister, who was also a guerrilla leader during the war, was scathing in his description of Hefazat: "It is a fundamentalist force, it is anti-democratic, it is anti-women. It is against everything Bangladesh stands for."
Shafi belongs to a band of Islamists that did not always toe the Jamaat line during Bangladesh's liberation war.
Many in the Deobandi school of thought backed a united India and rejected the partition that created Pakistan in 1947.
Full report at:
http://muslimvillage.com/2013/05/08/39182/behind-the-rise-of-bangladeshs-hefazaat/
------------
Southeast Asia
Jakarta Jihadists rage against Myanmar
07 MAY 2013
Two young men travelling on a motorbike were stopped by national counterterrorism police in a busy residential area of Jakarta on Thursday, May 2. A search revealed they were carrying five assembled pipe bombs, and an interrogation led police to a rented house in the city where more explosive material was found.
According to Indonesia's national police spokesman Brig-Gen. Boy Rafli Amar, the men confessed that they were planning to attack the Myanmar Embassy in the city in protest against the anti-Muslim violence in that country.
The men, Sefa Riano, 28, and Achmad Taufiq, 21, planned to launch the attack the following day, said a senior source at the country's counterterrorism police unit, known as Densus 88, speaking on condition of anonymity to AFP.
"This was an operation to stop a terrorist action," said the head of Indonesia's anti-terrorist agency, Ansyaad Mbai. "We are very certain that the attack would have been launched if we did not stop them."
Though it was reported that the police were acting on a tip-off, subsequent Indonesian media reports accredited the arrests to the counterterrorism agency's tailing of a third man, Sigit Indrajit, or "SI".
On Friday, police raided a house which was rented by Sigit Indrajit. Although he was not to be found, the police found books on jihad and the politics of jihad in the house, reported the Jakarta Post.
Densus 88 announced that the hunt is on for the 23-year-old whom they believe was the bomb-maker. "He allegedly helped assemble bombs for the attack," said Brig-Gen. Boy on Monday.
However, despite their relative success in thwarting a terrorist attack, Jakarta's security forces found themselves embroiled in another situation just hours after the announcement on Friday.
Hundreds of hard-line Muslims gathered outside the Myanmar Embassy—the intended target of an attack that same day—to denounce Myanmar Buddhists' treatment of Muslims, and in particular, the Rohingya community, and to call for a holy war—a jihad—against what they claimed was the persecution of their Islamic brothers.
Up to 2,000 police were deployed to secure the Embassy and its ambassador's house. The demonstrators, reportedly led by a group called the Islamic Defenders Front, chanted slogans such as "We want jihad!" and "Stop the genocide in Myanmar!" while tearing up a picture of President Thein Sein, as well as ripping apart a Myanmar flag.
Similar protests were also reported in the central Javanese town of Solo and at a Buddhist temple in Medan, the capital of north Sumatra.
The following day, Indonesia's President Susilo Bambang Yudhoyono said that the failed attack on the Myanmar Embassy is "proof that terrorism remains a threat in the country."
By Tuesday, May 7, Sigit Indrajit was still in hiding, but Densus 88 released four of his family members from custody as well as the wife of Sefa Riano, saying they were no longer considered suspects in the case.
Indonesian media, meanwhile, lamented that such young men could have been recruited or turned toward committing such a murderous act.
A Jakarta Post editorial on Monday titled "Terror and democracy" quoted National Counterterrorism Agency head Ansyad Mbai saying that solidarity with Muslim Rohingyas in Myanmar was the motive behind the plan to bomb up the embassy.
"If true, it indicates a shift in the targets of home-grown terrorist groups," the editorial said. "In the wake of the 9/11 bombings, terrorist targets included Western interests, as happened when Jamaah Islamiyah masterminded carnage twice in Bali and three times in Jakarta. Then "the allies of the West" were added to the list, as was evident in several attempts to assassinate President Susilo Bambang Yudhoyono and numerous attacks targeting the police."
Yet despite the overt threat to the country, many of Myanmar's media chose to either downplay or ignore the incident. State-run The New Light of Myanmar did not even mention it.
On Monday, Eleven News quoted Lt-Col. Min Aung of the Police Force as saying that Myanmar has beefed up security measures and tightened control over visas after reports of possible terrorist attacks in the country.
He said that they had been notified that "terrorists are trying to enter the country and attempt bombing," and said units around the country had stepped up security measures, as well as border controls.
But last week's foiled attack in Jakarta is just one in a long list of incidents in Indonesia that have threatened to boil over and which jeopardize the security of Myanmar nationals. Most, if not all incidents, were violent acts conducted by hard-line Muslim Indonesians who identified themselves as Rohingya sympathizers.
Last year, jailed radical Islamic cleric Abu Bakar Bashir sent a letter to Myanmar's president threatening to attack the country over the perceived persecution. And just last month, he renewed a call for Indonesian Muslims to go to Myanmar to fight.
Bashir is the spiritual leader of al-Qaida-linked militant group blamed for a string of deadly attacks in Indonesia, including the 2002 bombings that killed 202 people, mostly foreign tourists, on the resort island of Bali.
In July last year, hundreds of Muslim hardliners protested outside Myanmar's Embassy in Jakarta over the issue. And in September, a man turned himself in to police, admitting to have planned a suicide bomb attack against Buddhists in Jakarta in response to Myanmar's treatment of Muslim minorities, particularly the Rohingya.
Then last month on April 5, Rohingya detainees at an immigration detention centre on Sumatra allegedly beat to death fellow Myanmar Buddhist immigrants.
The Indonesian government has been a vocal supporter of Muslim minorities in Myanmar, in January pledging US$1 million in aid to Rohingyas in Rakhine State.
Nonetheless, the heightened antipathy between Indonesia's Muslim hardliners and Myanmar's Buddhist extremists in Myanmar does threaten to derail what has fast become a consolidated business relationship between the two governments.
Full report at:
http://www.bnionline.net/index.php/news/mizzima/15218-jakarta-jihadists-rage-against-myanmar.html
------------
Minister Points to Decree as 'Moderate' Way to Solve Conflicts against Ahmadiya
By Ezra Sihite
May 8, 2013
A government official says people should refer to a five-year-old joint decree to find solutions to the recent spate of violence between hard-line groups and the Ahmadiya Muslim community.
"One of the most important things [that can solve the conflict] is returning to the agreement as written in SKB [joint ministerial decree] about the duty of regional government heads and their deputies, interfaith religious forum [FKUB] and house of worship building. This is the most moderate way," Agung Laksono, coordinating minister for people's welfare, said on Tuesday.
The decree, which was issued by the Ministry of Religious Affairs, Ministry of Home Affairs and the Attorney General's Office in 2008, banned Ahmadiya from spreading their beliefs to other people, but legitimized the group as a legal organization.
Agung's statement came after State Palace meeting about religious intolerance, which was conducted in the wake of the recent attacks on houses, a mosque and facilities on an Ahmadiya community in Tasikmalaya, West Java, earlier this week.
This most recent attack follows a string of incidents against the minority Muslim group this year — an Ahmadiya mosque in Bekasi was sealed with members still inside in April by the local government and another mosque in Depok was closed on Tuesday.
Agung said that the decree had also urged people not to take justice in their own hands, in an effort to reduce conflict between hard-line groups and the Ahmadiya.
Full report at:
http://www.thejakartaglobe.com/news/minister-points-to-decree-as-moderate-way-to-solve-conflicts-against-ahmadiyah/
------------
Shariah Banking Market Share Reaches New Height
May 8, 2013
The market share of Islamic lenders in Indonesia during the first quarter of 2013 reached nearly 5 percent for the first time ever, Bank Indonesia said on Wednesday.
The market share of Shariah-compliant banks in the first quarter was 4.9 percent, mainly from Rp 214.5 trillion in assets, an increase of 37.8 percent compared to the same period in 2012.
"It is a market share in the Shariah banking industry that has never happened before," Bank Indonesia Deputy Governor Halim Alamsyah said during his opening speech at a discussion on Islamic banking at the State Enterprises Ministry.
Halim said the assets growth of Shariah banking is higher than conventional banking, which reached 16.8 percent year on year. Moreover, he said that the growth of Islamic banking within Indonesia exceeded the global rate, which averages 15 percent to 20 percent per year.
From the operational sector, the financing of Shariah banking is 70 percent to 80 percent dominated by lending to micro, small and medium enterprises. He added that the financing activity of Shariah banks is relatively active with funding and saving ratios above 90 percent.
Islamic lenders comply with the Shariah law that prohibits the receipt of interest payments, by instead receiving a pre-arranged percentage of revenue to repay a loan.
Full report at:
http://www.thejakartaglobe.com/business/shariah-banking-market-share-reaches-new-height/
------------
Indonesian police in shoot-out with Myanmar plot suspects
08 May 2013
BANDUNG: Indonesian anti-terror police exchanged fire on Wednesday with four men holed up in a house suspected of involvement in a plot to bomb the Myanmar embassy.
The shoot-out came after the elite unit swooped on a hideout in Bandung, West Java, at 11:30am (0430 GMT), with the suspects at one point throwing a pipe-bomb, police said.
The officers, wearing combat gear, returned fire and hurled tear gas into the building in a bid to flush out the suspects, while hundreds of local police formed a cordon and a large crowd gathered to watch, an AFP reporter said.
After several hours, police were seen dragging a man to a nearby vehicle. A police spokesman confirmed the 25-year-old arrested was one of the suspects, but the standoff continued.
He said the man did not surrender but gave no further details.
Police raided the house, which is surrounded by paddy fields, "after the arrest of terrorists in Jakarta" last week, said deputy police chief Nanan Soekarna.
Anti-terrorist police last Thursday detained two men suspected of planning a bomb attack on the Myanmar embassy in Jakarta, following violence in Myanmar that has left many minority Muslims dead and tens of thousands displaced.
Five assembled pipe-bombs were found in a backpack the men were carrying, and they had planned to launch the attack last Friday, according to officials.
Anger has been growing in Indonesia, the world's most populous Muslim-majority country, over the violence in largely Buddhist Myanmar.
Full report at:
http://www.channelnewsasia.com/news/asiapacific/indonesian-police-in-shoot-out-with-myan/667606.html
------------
Watchdogs say Malaysia polls were 'not fair'
May 8, 2013
KUALA LUMPUR: Independent Malaysian polls watchdogs on Wednesday disputed the government's insistence that weekend elections were free and fair, citing "serious flaws" in the electoral system.
A joint report by the Institute for Democracy and Economic Affairs (IDEAS) and the Centre for Public Policy Studies (CPPS) cited a range of problems including widespread concerns over the integrity of the electoral roll.
It added that while voting and handling of ballots generally proceeded smoothly, issues including faulty indelible ink, partisan use of government machinery and pro-government media bias left a blot on the election.
"Having conducted an independent and impartial observation of the elections, IDEAS and CPPS conclude that (the election) was only partially free and not fair," its report said.
Opposition leader Anwar Ibrahim has called for a sustained "fierce"campaign for electoral reform, alleging Sunday's elections were "stolen" by Prime Minister Najib Razak's government.
Najib, who was sworn in Monday after his Barisan Nasional (National Front) coalition retained its 56-year hold on power, has dismissed the allegation.
But the watchdogs' report cited "serious flaws when assessing the complete freedom and the fairness" of the election.
They included a lack of transparency in campaign spending, questions over the Election Commission's supposed independence from Barisan, and inequities in the delineation of constituencies.
Full report at:
http://dawn.com/2013/05/08/watchdogs-say-malaysia-polls-were-not-fair/
------------
Jakarta to host Islamic Solidarity Games in September-October 2013
May 7 2013
Jakarta (ANTARA News) - Indonesian Youth and Sports Minister Roy Suryo has finally decided to move the venue of the Third Islamic Solidarity Games (ISG) 2013 to Jakarta, ending a controversy about whether Riau Province was appropriate or not to be the next host of the international event.
The ISG 2013 was initially to be held in Pekanbaru, Riau Province, on June 6-17, 2013, but due to some problems, the Games` venue would be moved to Jakarta and its implementation would be postponed to September 22-October 1, 2013, the minister said.
The minister said he made the decision after receiving reports from the Indonesian Olympic Committee (KOI), the National Sports Committee (KONI), and the ministry`s technical team.
"After having an intense discussion with KOI, Riau province, and the Games organizers, we have all agreed to postpone the Games," Minister Roy Suryo said on April 22, 2013.
In the reports, they basically suggested that the ISG 2013 implementation should be delayed because the construction works of some facilities and infrastructure for the games were not yet finished.
One of the considerations to move the ISG`s venue is the fact that Riau Governor Rusli Zainal was recently named as a suspect by the Corruption Eradication Commission (KPK) in a bribery case related to the implementation of the National Games (PON) in Pekanbaru last year.
Another consideration is unsolved debt arrears of the PON main stadium construction amounting Rp240 billion to a consortium.
"The decision to shift the ISG venue is also taken based on inputs received from a number of parties," he noted.
A number of observers from the Islamic Solidarity Sport Federation (ISSF) hailing from several countries had expressed their objection if the ISG would be held in Riau because many of the sport venues have not yet met international standard, the minister added.
The sports minister said October was the best option for a rescheduled Games, considering Muslims` fasting month of Ramadhan and Idul Fitri celebrations will fall in July and August this year.
"In November, we all have to focus on SEA [Southeast Asian] Games preparations," he said.
A budget of Rp 200 billion ($20.5 million) has been earmarked for Indonesia`s hosting of the Islamic Solidarity Games and he said no more money would be funneled into the event.
President Susilo Bambang Yudhoyono approved the postponement, he added. "I have explained the current situation to the president," the minister said.
The minister stated he was ready to apologize to all Games participants and to the Islamic Solidarity Sports Federation.
The ISG is expected to be participated in by athletes from 57 member countries of the Organization of Islamic Cooperation (OIC)
The Games will hold 17 sports to be competed, such as swimming, gymnastic, athletic, football, taekwondo, volleyball, weightlifting,
karate, badminton, pencaksilat (martial art), archery, shooting, wrestling, basketball, handball, tennis, table tennis, fencing, and cycling.
Jakarta Governor Joko Widodo (Jokowi) hailed the decision to move the ISG`s venue to the country`s capital city.
"We are ready, it`s not a problem. We have often organized similar events. This is a trust that the government has given us. So, this is for the national interest," Jokowi said last April 2013.
If necessary, Jakarta is ready to allocate additional funds for the implementation of ISG, he said enthusiastically.
"However, Minister Roy Suryo and I have calculated that the funds for the ISG are adequate so far," he said after receiving Minister Roy Suryo who went to the governor`s office recently to discuss about the moving of the ISG`s venue from Pekanbaru (Riau Province) to Jakarta.
"I asked for the governor`s permission to hold the ISG in Jakarta. We are grateful to the Jakarta administration for approving the plan," Roy Suryo stated.
The minister described the decision to move the venue and delay the game implementation as an effort to save the event and fix the image of Indonesia in the international eyes.
Some Riau`s officials and businessmen, however, were disappointed with the minister`s decision.
"I hope the venue of ISG not to be moved," Emrizal Pakis, the deputy chairman of the Riau organizing committee of the ISG 2013, said in April 2014.
Riau Governor Rusli Zainal was also very disappointed and considered the minister`s decision as unilateral action.
"I understand the minister made such a unilateral decision because he is new in the ministerial post. He does not know how we have worked so hard over the last three years to make preparations for the ISG 2013," Zainal told the press on April 23, 2013.
Besides, the Riau organizing committee has spent so much time and money to recruit personnel and build a number facilities for the games, he said.
"But our efforts are not appreciated at all by the minister," he said.
Youth and Sports Minister Roy Suryo was appointed in January 2013 after Andi Mallarangeng stepped down amid graft allegations.
Chairman of Riau`s Hotel and Restaurant Association (PHRI) Ondi Sukmara also protested the minister`s decision that he considered as controversial and not favorable to Riau`s tourism industry.
The province has lost a chance to promote its tourism potentials to OIC member countries due to the minister`s decision to move the ISG`s venue from Pekanbaru to Jakarta, he said.
"We see that the central government and in particular the youth and sports minister have no sensitivity of Riau`s tourism potentials," he said.
Riau had initially been chosen to host the ISG 2013 because the province is relatively close to Singapore and Malaysia. The delegation of ISSF with the Indonesia Olympic Committee (KOI) had once visited Riau to see the Games` venues in July 2011. The ISSF
delegation at that time said they were satisfied with Riau`s efforts to develop and prepare the venues.
The Islamic Solidarity Games is a multinational, multi-sport event. The Games involve the elite athletes of the OIC member nations. Non-Muslim citizens in the member countries are also allowed to take part in the Games.
The ISG`s participating countries include Saudi Arabia, Egypt, Iraq, Iran, Turkey, Bahrain, Pakistan, Afghanistan, Yemen, Libya, Palestine, Kuwait, Malaysia, Brunei Darussalam, Nigeria, Bangladesh, Oman, Morocco, Uzbekistan, Senegal, Tunisia, Guinea, Congo, Jordan, Turkmenistan, Kyrgyzstan, and Somalia.
Full report at:
http://www.antara.co.id/en/news/88754/jakarta-to-host-islamic-solidarity-games-in-september-october-2013
------------
AGO to Question Former Jakarta Governor on Toilet Graft Case
By SP/Erwin Sihombing
May 8, 2013
The Attorney General's Office will question former Jakarta Governor Fauzi Bowo as a witness of the alleged corruption of the Jakarta Sanitation Agency's toilet car project.
"Everyone who has the needed information or explanation will be questioned," Andhi Nirwanto, junior attorney for special crimes, said on Tuesday. "We'll see the development."
The project to procure VIP toilet cars was carried out in 2009 when Fauzi was still the governor of Jakarta.
AGO spokesman Setia Untung Arimuladi said that the AGO had also questioned tender committee members Lenny Marlina, Ali Yudho Kisrianto and the president director of Asreasea Pasirindo Yusman Pasaribu.
Full report at:
http://www.thejakartaglobe.com/news/ago-to-question-former-jakarta-governor-on-toilet-graft-case/
------------
Indonesia Jails Australian, Pakistani People Smugglers
By Agence France-Presse
May 8, 2013
Banten. An Indonesian court jailed an Australian and a Pakistani for six years each after the men were caught organizing an asylum-seeker boat to Australia, their lawyer said on Wednesday.
Ali Qaseem, a 57-year-old from Sydney described by prosecutors as part of an "international people-smuggling network", and Pakistani Sadaat Ali were also fined Rp 500 million rupiah each.
Qaseem, who sought asylum in Australia after arriving from Pakistan in 1999, and Ali were arrested in September in the town of Pandeglang in West Java as they tried to arrange for a boat to take 45 asylum seekers to Australia.
"They were both found guilty of breaking Indonesian immigration laws. Ali Qaseem denies any involvement, and is deciding whether to appeal. He has seven days to lodge an appeal," the men's lawyer Hassan Ali Rahman told AFP.
The Pakistani had no plans to appeal, Rahman said.
The sentences, handed down on Tuesday, fell short of a demand by prosecutors for 11 years.
Prosecutor Adhy Kusomo described Qaseem, who worked as a house painter in Australia, as "the coordinator" and Ali as "his assistant."
"Qaseem is part of an international people-smuggling network involving countries including Australia and Pakistan," he said.
"But he's only one of several coordinators, not the mastermind. There are many more people above him."
Full report at:
http://www.thejakartaglobe.com/news/indonesia-jails-australian-pakistani-people-smugglers/
------------
Crisis Group Warns of Pitfalls of One-Party Domination in Aceh
May 8, 2013
A dispute over a flag in Aceh is testing the limits of autonomy, provoking Indonesia's central government and could pave the way for separatist factions to emerge, the International Crisis Group said.
The Brussels-based group said that the flag dispute was also heightening ethnic tensions, reviving a campaign for the division of the province and raising fears of violence as the 2014 national elections approach.
The Aceh provincial legislature on March 25 adopted a regulation that made the banner of the now disbanded Free Aceh Movement (Gerakan Aceh Merdeka) the province's official flag.
The central government says the regulation violates a law banning separatist symbols and must be changed.
However, Partai Aceh, the political party set up by the former rebels and which now dominates the political landscape in Aceh, says the flag cannot be separatist since GAM leaders signed a 2005 peace agreement with the Indonesian government in Helsinki in which it acknowledged Indonesian sovereignty.
"This dispute is about much more than whether the flag constitutes a separatist symbol. It is about where Aceh is headed and what its relations with Jakarta will be", says Sidney Jones, ICG's senior Asia advisor, said in a statement on Wednesday. "It is also about what the implications are for other areas, such as Papua, where rising a pro-independence flag has been the iconic act of political resistance."
ICG said that Partai Aceh sees no need to compromise because its leaders believe Jakarta will capitulate, as it has in the past. It also wants to use the enormous emotive power of the flag to mobilize voters in 2014.
Full report at:
http://www.thejakartaglobe.com/news/crisis-group-warns-of-pitfalls-of-one-party-domination-in-aceh/
------------
Arab world
Iraq's Worsening Sunni Protests Revolve around Antiterrorism Tactics
By TIM ARANGO
May 7, 2013
BAGHDAD — The Sunni protest movement here is turning increasingly violent, freshening memories of the brutal sectarian conflict of 2006 and raising troubling parallels to the Syrian civil war.
It has also highlighted an uncomfortable reality for American diplomats here who are scrambling to contain the crisis: at the core of Sunni grievances is a set of laws and practices imposed by the United States in the earliest days of the occupation.
The results of those policies, particularly a set of antiterrorism measures, are visible today throughout the country. Informants who once helped the American military now do the same work for the Iraqi government, sometimes putting innocent people in prison. Thousands of detainees, rounded up in terrorism sweeps, languish in prisons for years without being charged.
And former officers of Saddam Hussein's military, banished by the Americans under their "de-Baathification" policy and later promised by the Iraqis the chance to return and regain their salaries and social status, remain on the outside looking in.
When Sunnis began protesting around the country in December, they put a list of demands to the government: release detainees, reform the use of confidential informants and put an end to rules denying former Baath Party members — most of them Sunnis — jobs and pensions.
At the heart of the troubles are the antiterrorism tactics, which have been continued by the current Shiite-led government, often casting a wide net around Sunnis, ensnaring the innocent and guilty alike.
Often, Sunni critics say, the roundups are based on false information provided by informants who are far from disinterested observers.
"The security forces don't ask me to make up stories, but I know informants who do because they want more money," said a man in Baquba who works as an informant and who gave only his first name, Ghalib. He said he made $600 from the Americans for tips that led to arrests, and now makes just $100 per arrest from the Iraqis.
Another informant in Baquba, who also worked for the Americans and gave his name as Abu Basim, said he often informs on people he believes only "sympathize with extremists." He said that "many innocent people" have been convicted based on his intelligence, and that sometimes government officials have encouraged him to provide false information to secure arrests.
Sunni resentments have been festering since 2003, when the Americans arrived, instantly upending the old social and political order and turning millions of Sunnis, especially those with ties to the old leadership, into society's outcasts.
Consider the trajectory of Khalid al-Obaidi's life: The son of an army general under Mr. Hussein who later became an officer himself, Mr. Obaidi lived a life of privilege.
"We had servants, a driver, a chef," he said in a recent interview. "They treated sons of officers in a special way. We had a special house. We had our own social club."
Now, banished from the armed forces, he earns a living driving a taxi cab, is close to being evicted from his small rental apartment and worries how he will pay for a decent education for his children. His neighborhood in Baghdad, once a well-tended enclave for army officers, is now neglected and strewn with trash.
But last year, he learned from a television news program that the government was inviting former officers to return. "I was so happy," he said. "It was the best news I had heard in a long time."
So far, the promise is unfulfilled. At least five times he has visited a local army office to apply for reinstatement, and each time, he says, "We'd wait in line for hours before someone would say, 'Come back another day.' "
Mr. Obaidi had been willing to give democracy a try in the 2010 national elections, after joining large numbers of Sunnis in boycotting previous votes. Now, he said, "I will not vote again."
Perhaps more ominous for the future stability of Iraq, Mr. Obaidi, like many other ordinary Sunni citizens, is not only fed up with politics but is sympathetic with those who have recently taken up arms against the government.
The change of heart followed a raid by government forces on a Sunni protest camp in Hawija, a northern village near Kirkuk that left nearly 50 people dead. "They should defend themselves," he said. The government, he said, "is pushing us to fight to maintain our life."
When the protests began the government seemed to acknowledge the legitimacy of some of the demands, and formed a committee under a deputy prime minister, Hussein al-Shahristani, to address them. The committee quickly announced the release of a number of detainees and said it was preparing new policies on the use of secret informants and the de-Baathification law.
But critics have said that many of the detainees who were said to be released are still in prison, and they dismissed the other planned changes as empty promises. Human Rights Watch recently complained of a lack of transparency in the process, saying, "It is unclear whether any of the promises have been carried out."
Full report at:
http://www.nytimes.com/2013/05/08/world/middleeast/sunnis-in-iraq-protest-antiterror-tactics-that-hurt-innocents.html?pagewanted=all&gwh=3B44DD3B413AD2B923C153DC0CB9B598
------------
Hezbollah Takes Risks by Fighting Rebels in Syria
By ANNE BARNARD
May 7, 2013
BEIRUT, Lebanon — Near Damascus, Hezbollah fighters are defending the shrine of Sayida Zeinab, revered by Shiite Muslims, from encroaching Sunni rebels. To the north, they are not just part of a Syrian government drive to take back the strategic town of Qusair, rebels say, they are leading it.
On Tuesday, Syrian opposition activists reported that rebels had killed 15 Hezbollah fighters in Qusair. But they also said the rebels were besieged in the town and in danger of losing it, after black-clad Hezbollah fighters swept them from surrounding villages.
Recruited and trained to battle Israel and defend Lebanon, Hezbollah's Lebanese Shiite guerrillas are pushing more and more deeply into a very different fight: in neighboring Syria, against fellow Arab Muslims trying to topple President Bashar al-Assad. Their leaders have made it increasingly clear that Mr. Assad's war is their war, too.
Though Hezbollah has never been militarily stronger — it has more than replenished the weapons and fighters it lost in its brief war with Israel in 2006 — it finds itself in an unaccustomed situation. It is struggling to preserve credibility at home and fend off an array of new challenges abroad as it fights what it sees as a battle to preserve Mr. Assad's rule, and the crucial arms pipeline he provides.
Its chief patron, Iran, is suffering under sanctions over its nuclear program. Its members have been jailed on charges of helping to kill Israeli tourists in Bulgaria, as Europe considers joining the United States in labeling it a terrorist organization. It is facing heightened sectarian talk from its rivals in Lebanon — all while trying to keep its focus on its primary enemy, Israel.
That challenge burst into view on Sunday with a series of spectacular airstrikes that brightened the night sky over the Syrian capital, Damascus. American officials said Israel unleashed the attack to knock out sophisticated long-range missiles on their way from Iran to Hezbollah.
Israel has hit such shipments regularly in Lebanon and twice recently in Syria, but the sheer scope and boldness of Sunday's strikes, analysts said, threw down a gauntlet to Hezbollah, Iran and Syria that could put the Lebanese group at greater risk as Israel appears to take advantage of the chaos in Syria to hit its nemesis with near impunity.
Politically, the strikes could help Hezbollah's leader, Hassan Nasrallah, who has sought to defend Hezbollah's involvement in Syria by defining the uprising as an Israeli-American plot to destroy Mr. Assad and Hezbollah for opposing Israel.
But the strike also could undermine Mr. Nasrallah, said Mahmoud Haddad, a professor at the University of Balamand in Lebanon, if Hezbollah, not wanting to open a new battlefront, does not retaliate.
"They talk the talk, but as you say in America, they don't walk the walk," he said.
Militarily, even frequent Israeli strikes at its weapons in Syria would not immediately harm Hezbollah, said Timur Goksel, an editor at Al-Monitor and a former political adviser to United Nations peacekeepers in Lebanon. It has an estimated 60,000 missiles in the country already, more than enough to deter Israeli attacks, and to strike back.
But, Mr. Goksel said, as Israel and Hezbollah deepen their involvement in Syria's civil war, the chances grow of a miscalculation or mistake that could spark direct conflict or a regional conflagration.
Hezbollah is eager to avoid that; it might be able to bloody Israel and survive its bombardment, but the political costs in Lebanon would be high, experts said.
"What do I care if they destroy Tel Aviv and lose Beirut?" said Amin Hoteit, a retired Lebanese colonel close to Hezbollah.
But Hezbollah may face pressure from its own ranks to respond, said Nicholas Blanford, the author of "Warriors of God," a military history of the group.
"Hezbollah guys don't join to go and fight Arab Muslims in Syria and turn the other cheek when Israeli jets go and blow up weapons," he said.
Hezbollah has already paid a political price for its Syria stance. Supporting Mr. Assad's brutal crackdown has already destroyed its reputation in the wider Arab world as a champion of the underdog.
Now it is stoking anger in Lebanon, where rivals say that Hezbollah, the most powerful political player, has betrayed promises to use its arms only to defend Lebanon.
But instead of backing away from Mr. Assad, Hezbollah has doubled down. Early in the Syrian conflict, it quietly tried to mediate a solution, then played down its involvement in Syria. Now, by comparison, it practically trumpets its presence.
Funerals for the small but steady stream of Hezbollah fighters killed in Syria honor them as martyrs with all the pomp, circumstance and television coverage previously reserved for those who died fighting Israel. Hezbollah says they are defending Lebanese civilians in Syria, but no longer claims that they are individuals fighting on their own initiative.
"They are very organized; no one can breathe without orders," said Abdulrahim Mourad, a member of Hezbollah's March 8 parliamentary coalition.
And they are handling crucial missions in Syria. Mr. Mourad said that when he visited Mr. Assad in Damascus recently with a March 8 delegation, the president described the fight in Homs Province — where Hezbollah is fighting in Qusair — as a top priority. It is an arms corridor for rebels and links the capital with the coastal region that is a government stronghold.
Full report at:
http://www.nytimes.com/2013/05/08/world/middleeast/hezbollah-takes-risks-by-fighting-rebels-in-syria.html?gwh=916C5A939F5EBDBB32DFC788880B1758
------------
More Islamists Join Cabinet in Shuffling Within Egypt
By BEN HUBBARD and MAYY EL SHEIKH
May 7, 2013
CAIRO — President Mohamed Morsi swore in nine new cabinet members on Tuesday in a reshuffle that increased the role of Islamists in the upper ranks of the government but is not expected to herald any immediate policy shifts.
Two of the new ministers are in the Muslim Brotherhood's political party, bringing the group's representation in the cabinet to at least 11 of the 36 members. Others appointed to handle important portfolios are seen as allies of the Islamist movement.
The new cabinet members include the ministers of finance and investment, who will play a major role in the government's negotiations with the International Monetary Fund over a $4.8 billion loan. The talks have been going on for months as Egyptian officials have balked at the economic reforms required by the deal.
The cabinet shake-up is unlikely to assuage the deep polarization between Mr. Morsi's government and the opposition, which has called for a new government that includes figures from a broader range of political groups to run the country until the next parliamentary elections, expected later this year.
Full report at:
http://www.nytimes.com/2013/05/08/world/middleeast/morsi-reshuffles-egyptian-cabinet.html?gwh=368FC38C9BD3FEF6F0DC816DC58D286F
------------
No Easy Answers on Syria, Obama Says
By MARK LANDLER
May 7, 2013
WASHINGTON – President Obama on Tuesday defended his cautious response to evidence that the Syrian government had used chemical weapons on its citizens, saying that he could not make high-stakes decisions based on a "perceived" use of those weapons.
Mr. Obama, who last summer declared that the use of chemical weapons would cross a "red line" and trigger an unspecified American response, said the evidence of such use was not conclusive enough to require action or enable him to mobilize American allies behind a response.
Speaking at a news conference with President Park Geun-hye of South Korea, Mr. Obama said: "Understandably, there's a desire for easy answers. That's not the situation there."
"My job is to constantly measure our very real and legitimate humanitarian and national security interests in Syria," he said, adding that that must be measured against "my bottom line: which is what's in the best interest of America's security."
Still, Mr. Obama sought to dispel suggestions that he faced a credibility gap in the wake of intelligence showing that sarin gas was used on March 19 in a Syrian village west of Aleppo and in the outskirts of Damascus. He cited the commando raid that killed Osama bin Laden and the NATO-led air campaign against Col. Muammar el-Qaddafi in Libya as evidence of his resolve.
"There have been several instances during the course of my presidency where I said I was going to do something," he said, "and it ended up getting done."
Mr. Obama, however, offered no insight into measures his administration might be contemplating, merely citing the humanitarian and nonlethal aid to the opposition that the United States has already pledged.
Ms. Park, asked if the confusion over Mr. Obama's red line might spill over into the confrontation with North Korea, said that country's behavior was so poorly understood that "whether the Syrian situation would have an impact, it's hard to say."
Mr. Obama threw his full support behind Ms. Park as she navigates a confrontation with North Korea, which has been leveling a barrage of threats at the South.
"President Park's approach is very compatible with my approach and the approach that we have been taking together for several years now," Mr. Obama said. The key, he said, is "that we will be prepared for deterrence, that we will respond to aggression, that we will not reward aggressive actions, but that we will maintain an openness to an engagement process."
The meeting came as tensions on the Korean Peninsula seemed to ebb after several weeks of warlike threats by North Korea. The North appeared to roll back two Musadan missiles from their coastal launching sites, according to American officials. Analysts said they believed the reduction in tensions was a pause rather than a long-term trend.
Full report at:
http://www.nytimes.com/2013/05/08/world/asia/obama-on-syria.html?gwh=4C0E17E276A4B3FB0A8FFFCC3D68841C
------------
Syria cut off from global Internet as civil war rages
2013-05-08
SAN FRANCISCO: Internet connections between Syria and the outside world were cut off on Tuesday, according to data from Google Inc and other global Internet companies.
Google's Transparency Report pages showed traffic to Google services pages from the country, embroiled in a civil war that has lasted more than two years, suddenly stopping shortly before 3 p.m. EDT (1900 GMT).
The vast majority of websites within Syria were rendered unreachable as well, other experts said, as the county appeared to shut itself off.
"Effectively, the shutdown disconnects Syria from Internet communication with the rest of the world. It's unclear whether Internet communication within Syria is still available," wrote Dan Hubbard, chief technology officer at infrastructure services firm OpenDNS.
"Although we can't yet comment on what caused this outage, past incidents were linked to both government-ordered shutdowns and damage to the infrastructure, which included fiber cuts and power outages."
Full report at:
http://beta.dawn.com/news/812521/syria-cut-off-from-global-internet-as-civil-war-rages
------------
Iraq, Syria and the death of the modern Middle East
May 08, 2013
Murtaza Hussain
As Syria continues its descent into an anarchic civil war and Iraq is increasingly ravaged by sectarian infighting, a terrifying vision of the future of the Middle East is increasingly coming into view. In his 2008 book "Israel and the Clash of Civilizations", the veteran British journalist, Jonathan Cook, cites a 1982 policy paper by former Israeli foreign ministry official Oded Yinon which seems to presciently forecast the monumental events gripping the region today:
"The total disintegration of Lebanon into five regional localized governments is the precedent for the entire Arab world… Iraq can be divided on regional and sectarian lines just like Syria in the Ottoman era. There will be three states in the three major cities."
The Sykes-Picot Agreement - which divided the Ottoman Empire after World War I and created the Middle East as we know it - is today violently breaking apart in front of the eyes of the world. The countries of Syria and Iraq; formerly unified Arab states formed after the defeat of their former Ottoman rulers, exist today only in name. In their place what appears most likely to come into existence - after the bloodshed subsides - are small, ethnically and religiously homogenous statelets: weak and easily manipulated, where their progenitors at their peaks were robustly independent powers.
Such states, divided upon sectarian lines, would be politically pliable, isolated and enfeebled, and thus utterly incapable of offering a meaningful defence against foreign interventionism in the region. Given the implications for the Middle East, where overt foreign aggression has been a consistent theme for decades, there is reason to believe that this state of affairs has been consciously engineered.
Away from the focus of major news media - numbed as it has become to stories of unconscionable Iraqi suffering - Iraq this past April recorded its deadliest month in five years, with over 700 killed in sectarian violence throughout the country. Describing the aftermath of a deadly car bombing in his neighbourhood, school teacher Ibrahim Ali gave voice to the dread and foreboding felt by many Iraqis for their country:
The unacknowledged truth behind the past decade of bloodletting in Iraq is that the country itself effectively ceased to exist after the 2003 US invasion. The northern province of Iraqi Kurdistan is today an independent country in all but name and is increasingly moving towards formal recognition of this fact - while Sunni and Shia Iraqis have come to see themselves more as distinct entities than as part of a cohesive nation. Iraqi Sunnis, a once-empowered minority, have taken up arms in recent months against the Shia-dominated government of Nouri al-Maliki and have staked their terms in a manner which acknowledges the irredeemable nature of a continued Iraqi state.
There is evidence to suggest that this state of affairs was not an unintended consequence of the 2003 invasion. The American architects of the Iraq War - while couching their justifications for war in the rhetoric of liberation - had for years previously openly acknowledged and predicted that an invasion would result in the death of Iraq as a cohesive state. In a follow-up to their 1996 policy paper"A Clean Break: A New Strategy for Securing the Realm" - a report published by leading neoconservative intellectuals, including Richard Perle, Douglas Feith and David Wurmser, which advocated a radical reshaping of the Middle East using American military power - the report's authors acknowledged the inevitability of Iraq's demise post-invasion.
Full report at:
http://www.nation.com.pk/pakistan-news-newspaper-daily-english-online/international/08-May-2013/iraq-syria-and-the-death-of-the-modern-middle-east
------------


Muslim Brotherhood Calls for Arab and International Action Against Assad Massacres
May 7, 2013
In a press statement, the Muslim Brotherhood in Syria asserted that Bashar Al-Assad's brutal regime is in fact accelerating the pace of vengeful massacres against the Syrian people who rose in their revolution against injustice and oppression.
Assad's forces are committing more unthinkable crimes and inhuman massacres of civilians, women and children and old people, burning their bodies before moving on to fresh grounds, to break the will of the people whose sons and daughters have pledged to sacrifice their blood and souls for the sake of freedom and dignity.
"The massacres of Assad's gangs have become too numerous to list, after losing credibility completely. Massacres are carried out around the clock, focusing on remote and isolated villages, which are in fact far from the revolutionaries and protesters, indicating Assad's intention to take revenge on the people at large, in full partnership with ethnic allies in Qom and Tehran, Baghdad and the southern suburbs of Lebanon. This is only part of a series of crimes whose planners and implementers seek to drag Syria into an outright sectarian war, preparing to occupy, evacuate and divide Syria, robbing its people of their free will.
"The recent horrific massacres committed by the regime's criminal militia in all parts of Syria will generate a violent reaction with fire blasting back at the barbaric perpetrators.
Full report at:
http://www.ikhwanweb.com/article.php?id=30918
------------
Ali Jasem elected head of human rights watchdog
By Samir Salama
May 7, 2013
Abu Dhabi: A veteran member of the Federal National Council was elected head of its newly set up human rights watchdog during its first meeting in Dubai yesterday (Tuesday).
"The FNC Human Rights Committee will review international, bilateral and regional agreements on human rights, as well as draft laws presented to it by the council," said Ali Jasem, the longest-serving member of the House.
Jasem, a representative from Umm Al Quwain, said that the panel will give opinions on whether these bills are in line with human rights enshrined in the UAE constitution and the country's commitments as prescribed in international treaties.
The panel, he added, will contribute to reports regularly presented by the UAE to the United Nations, and explore ways of cooperation with other governmental and non-governmental organisations of human rights.
"The committee present an annual report on the status of human rights in the country at the end of each legislative term of the House and coordinate with authorities concerned to monitor human rights concerns raised by foreign human rights watchdogs," said Jasem, who has been a member of the House sinace 1993.
The UAE's watchdog was set up after a European Union resolution criticised the UAE over conditions for expatriate workers, the status of women and the death penalty.
The committee will discuss its plan until the end of this term and that of the third legislative term in the next meetings.
The Federal National Council (FNC) elected a seven-member human rights panel. The members are Sultan Al Shamsi, Ali Eisa Al Nuaimi, Abdul Aziz Al Za'abi, Noura Al Ka'abi, Ali Jasem, Dr Mohammad Bin Ham and Obaid Bin Rakad.
Full report at:
http://gulfnews.com/news/gulf/uae/government/ali-jasem-elected-head-of-human-rights-watchdog-1.1180517
------------
Mideast
Islamic Jihad Movement Maintains Popularity in Gaza
May 7, 2013
On March 9, 2012, the occupation forces' warplanes assassinated the secretary-general of the Popular Resistance Committees (PRC), Zuhir al-Qaisi, when they bombed his car in the Tel al-Hawa neighborhood, west of Gaza City. This has prompted the Palestinian Islamic Jihad (PIJ) movement to wage a solo war against Israel for four days. At the time, Al-Quds Brigades, the military wing of the PIJ, fired nearly 200 rockets into Israel. They also threatened — should the aggression develop — to use rockets that can reach cities beyond Ashdod, which is located about 35 kilometers from Gaza.
About Thi
However, the "balance of terror," as described by analysts at the time, which prevailed following the assassination of Haitham al-Mislah on April 30, 2013, and the subsequent Israeli raids led to this pertinent question: Is the PIJ capable of waging a war on its own? Perhaps, the war could expand to include Hezbollah in Lebanon, Iran and Syria. Or will the movement resort to political intimidation, especially as it has announced its intention to run for the National Council of the Palestine Liberation Organization and local council elections?
The next war
Al-Monitor met with Khaled al-Batesh, a leader in the PIJ, in his office. He said that the next war is inevitable, as "Zionists at this stage seek to remove the heavy burden off their chests after the results of the last battle in November, when the resistance pounded Tel Aviv with rockets."
He expected that in its next aggression, Israel would try to change the equation and confuse the Palestinian arena by escalating the situation and threatening Iran, Syria and Hezbollah in Lebanon.
"The situation in the Gaza Strip can easily be ignited as the enemy believes that it will achieve a victory in Gaza, but things will not be that simple. The resistance will be fierce to protect the people, win the fight and thwart the plan of the enemy. Hitting Iran will not be easy. Israel and the United States would pay a high price, unlike a war against Gaza, where the international community would have a weak position on this matter under the pretext of fighting against terrorism," he added.
Batesh was confident when he told Al-Monitor that Gaza will likely be involved in a future aggression, as Israel seeks to restore its image, eliminate the factions' limited forces, prevent rockets from being fired from Gaza and impose new conditions regarding the settlement issue, so as to prove to the Israeli community that its government is powerful and capable of imposing its own terms.
Hassan Abdo, a political analyst from the Center for Palestine Research and Studies, does not agree with Batesh. He believes that the last assassination has breached the truce, which was brokered under the auspices of Egypt. This breach, however, was secluded and not within the framework of Israeli policy. He added that Israeli Defense Minister Moshe Ya'alon wants to wage a war, as is evident from recent statements. However, this stance also reflects the position of the extreme right wing to which he belongs.
Abdo confirmed to Al-Monitor that if the occupation forces continued with the assassination policy, the PIJ will not stand by idle, because it is capable of leading a battle on its own against Israel as was the case following the assassination of Qaisi. The movement continued to pound Israel until the latter complied to its will. Abdo added that the current truce involves many parties and the PIJ does not want to be seen as the party seeking to sabotage this situation, and therefore it will work according to a collective vision.
Khoder Habib, a leader within the PIJ, told Al-Monitor that the movement does not prefer to respond [to any aggression] unilaterally. "If the truce is breached, the movement seeks to have a unified Palestinian retaliation that would be much more powerful than a solo response," he added.
He also said that the PIJ considers itself to be one of many Palestinian factions and resistance wings.
When asked about when the resistance would consider Israel to have breached the truce, Habib said, "this depends on the battle and is determined by the brothers in the field and in consultation with the rest of the Palestinian resistance factions."
"The Jihad movement is committed to the truce, although the enemy has breached it many times before. Our commitment reflects the commitment to the people's best interests. Nevertheless, should Israel continue with its violations, the truce will be blown away and the resistance will have to face a serious challenge and will be forced to retaliate," he said.
No to the Oslo Accords
According to the PIJ's website, the movement's general principles lie in "liberating Palestine from the river to the sea, as this is the land of Muslims and Arabs. No inch of this land should be compromised and the existence of the Zionist entity is void and forbidden. According to Shariah law, it is forbidden to recognize any part of the Zionist entity. All settlement projects that recognize the Zionist existence in Palestine, or seek to compromise any national rights, are rejected and forbidden."
This explains the position of the PIJ, as it refuses to take part in any legislative or presidential elections in the Palestinian National Authority, which were the product of the Oslo Accords in 1993. Thus, Abdo believes it is unlikely that the movement would be involved in any political process under the Israeli occupation. He added that according to his observation, he believes that the movement views the intermediate authorities that are formed under the occupation as corrupt, as they are created under the occupation and therefore they are serving its interests and undermining the project of the liberation of Palestine.
Habib, on the other hand, said that the PIJ has a clear position on the legislative and presidential elections and it will not take part in them. It has the same position on the Oslo Accords and its outcome. This is why the movement refused to participate in the 1996 and 2006 elections.
"The equation has yet to change. The Oslo Accords are still the reference and we continue to refuse them, as we see them as a deviation from the correct Palestinian direction, which is to resist and liberate the entire land," he said.
Full report at:
http://www.al-monitor.com/pulse/originals/2013/05/islamic-jihad-movement-gaza-palestine.html
------------
Al-Qaeda suspects kill 3 Yemen colonels: military
May 08, 2013
ADEN, Yemen: Al-Qaeda-linked suspects on Wednesday shot dead three air force colonels from the strategic Al-Anad air base in the southern province of Lahij, a military official told AFP.
"Gunmen shot dead three pilots with the rank of colonel north of Huta (the provincial capital) as they were heading towards Al-Anad air base," said the official, adding that the killers were "suspected of belonging to Al-Qaeda."
Officials said last year that Al-Anad air base was being used by US soldiers to train local forces in combating terrorism.
Al-Qaeda network was driven out of most of its strongholds across Yemen's south in an army offensive backed by US drone strikes last year.
Full report at:
http://www.dailystar.com.lb/News/Middle-East/2013/May-08/216303-al-qaeda-suspects-kill-3-yemen-colonels-military.ashx#axzz2SFVyHEbM
------------
From bleak to chic, Ahmadinejad's style in spotlight during Iran polls
8 May 2013
Sleek, tailored suits can always lend a hand in winning over supporters or electoral votes in the world of politics.
But for Iranian President Mahmoud Ahmadinejad, his evolving smart style could undermine his political stature.
Although Ahmadinejad is not running in Iran's 2013 presidential race, he still stands as an important figure head for Iran and must dress the part.
As of late, Ahmadinejad has been spotted in more sophisticated clothing than he boasted during his initial election run in 2005, an Italian-style dark blue pinstripe suit worn at last week's world conference of Ulama and Islamic awakening for example.
In his early days, his clothing reflected that he "was truly a man of the people," reported The Guardian's Saeed Kamali Dehghan on Tuesday, citing his supporters.
Ahmadinejad first rose to power as mayor with a more humble wardrobe. A trademark white jacket appeared to be a favorite choice for the president.
In 2009, British journalist Ed West described the notorious white jacket as "an item of clothing almost as offensive as his political views."
Full report at:
http://english.alarabiya.net/en/life-style/variety/2013/05/08/Ahmedinejad-s-style-file-in-the-spotlight-during-Iran-s-polls.html
------------
Kurdish rebel fighters begin critical withdrawal from Turkey
8 May 2013
Kurdish rebels began withdrawing from Turkey into their stronghold in northern Iraq on Wednesday, a major step towards ending a decades-long conflict that has left tens of thousands of people dead.
The pullout is the first visible sign that months of fragile talks between the state and the outlawed Kurdistan Workers' Party (PKK) could succeed in ending 29 years of guerrilla war.
"We know that they have started moving," Selahattin Demirtas, a pro-Kurdish lawmaker actively involved in the process, told AFP.
About 2,000 rebel fighters are expected to begin leaving Turkey on foot, travelling through the mountainous border zone to reach their safe havens in the inhospitable Qandil mountains in northern Iraq.
There they will join another 5,000 fellow militants at the command base which has been used as a springboard for attacks against Turkish security forces.
The withdrawals are expected to take three to four months, with several media outlets reporting that the rebels have been on the move for weeks and that May 8 is a "symbolic" date of departure.
On Tuesday, the rebels said they would not renege on their promise to withdraw following an order from their jailed leader Abdullah Ocalan.
Ocalan, known as "Apo" or uncle to Kurds but a "baby killer" by Turks, called in March for a historic ceasefire from his jail cell after months of clandestine peace talks with Turkish security services.
But if his supporters have agreed to the pullout, they have not yet taken their hands off their guns as the delicate process begins.
The rebels on Tuesday complained about Ankara boosting troops and carrying out surveillance flights at the border, saying they were "delaying the peace process" and paving the way for "provocations and clashes."
The Turkish army has not confirmed these measures but said their "fight against any terrorism continues", although no fatal clashes have occurred in recent months, the first such lull in years.
Acting PKK leader Murat Karayilan warned late last month that the fighters would would strike back and the withdrawal would halt "immediately" if they were attacked.
"We have no doubt about the state but fear provocation from dark forces," Demirtas said, referring to the possibility of ambushes by splinter paramilitary groups which may not be fond of the process.
Mass withdrawals in 1999 were disrupted when Turkish forces ambushed departing rebels, killing around 500 people and wrecking hopes for a permanent peace.
Turkish Prime Minister Recep Tayyip Erdogan has repeatedly vowed that retreating rebels "will not be touched".
Full report at:
http://english.alarabiya.net/en/News/world/2013/05/08/Kurdish-rebel-fighters-begin-critical-withdrawal-from-Turkey-.html
------------
North America
Muslims being targeted, advocacy group charges
MAY 07, 2013
An Algerian-American from Cambridge was attacked outside a Back Bay restaurant Saturday night, say police and a Muslim advocacy group, the latest of several assaults on Muslims since the ­Boston Marathon bombings three weeks ago.
The assailants allegedly called the 23-year-old college student, Amine Hadjeres, a "terrorist" and told him he looked like Tamerlan Tsarnaev, one of the suspects accused of planting bombs at the Marathon finish line on April 15, who was later killed while trying to elude police.
The victim, a US citizen, said he was attacked by two tipsy men outside the Cafeteria Boston restaurant on Newbury Street in Boston about 10 p.m. Saturday night after he left to buy a pack of cigarettes.
Hadjeres said he initially tried to ignore the men, who taunted and shoved him, but wound up brawling with them in the street after they would not leave him alone. He said the fight left him with bloody knuckles and a bruised elbow and hip, but he successfully fought off both men and walked back into the restaurant, where he was greeted with applause.
"They messed with the wrong dude," Hadjeres said. "Their faces were pretty banged up."
The Council on American-Islamic Relations, the nation's largest Muslim civil rights and advo­cacy organization, urged state and federal authorities to charge suspects with violating hate crime laws.
"We urge local, state and federal law enforcement authorities to take the suspects in this case into custody and to bring appropriate charges that reflect the apparent bias motive," said council spokesman Ibrahim Hooper.
Police told the council the suspects have been identified, but not yet arrested.
The council said the incident was just the latest attack on Muslims since the Marathon bombings. A Muslim taxi driver was allegedly attacked in Virginia a week ago by a passenger who accused him of carrying out the Boston attack.
In Malden, a mother of Middle Eastern descent who was wearing an Islamic head scarf called a hijab, was attacked two weeks ago by a man shouting anti-Muslim slurs, the council said.
Boston police spokeswoman Cheryl Fiandaca said the Newbury Street assault is being handled by its civil rights unit, which investigates potential hate crimes.
The Suffolk district attorney's office said it has assigned a senior prosecutor to work with Boston police on any potential charges, but has not seen a pattern of similar crimes in the area.
"Even one [attack] is too many, but, fortunately, we have not seen a great deal of similar assaults in Boston," said Jake Wark, a spokesman for the district attorney's office.
The US attorney's office vowed to work with the FBI, Boston police, and the state attorney general's office "to ensure the matter is fully investigated and prosecuted, should the facts demonstrate a hate crime.
According to a redacted copy of the police report, police responded to a radio call about 10 p.m. Saturday about a fight at the intersection of Newbury Street and Gloucester Street, where the Cafeteria Boston restaurant is located.
Full report at:
http://www.bostonglobe.com/metro/2013/05/06/algerian-american-assaulted-outside-restaurant-apparently-because-his-north-african-ancestry/mp33VmzlGo6L74FNQ8tYQJ/story.html
------------
Boston Muslims and Jews come together in the shadow of the marathon bombings
By Dina Kraft
08.05.13
BOSTON - In a country and a city where Muslims and Jews do not tend to overlap socially, the party at the American Islamic Congress Cultural Center on Boston's tony Newbury Street, just a few blocks from the finish line of the Boston Marathon, was a rare moment for the two groups to talk and connect.
The event, where guests nibbled on baklava and listened to student musicians from Brandeis University play Middle Eastern tunes on ouds and violins, had been planned months before the marathon bombings and subsequent manhunt that engulfed Boston and left behind a city forever changed.
"I don't think there is enough dialogue between the communities," said Ron Levy, a retired Baghdad-born Jewish management consultant at the gathering Thursday. "But it's becoming a people-to-people issue although we do need organizations who provide this kind of opportunity."
In Boston there have been various Muslim-Jewish interfaith organizations at work over the years, but two organizations in particular have been working especially closely to make connections: the American Islamic Congress, which promotes civil rights and interfaith understanding, and the American Jewish Committee, which advances understanding between Jews and their neighbors in the United States and abroad.
The reception of food and music followed a program entitled "Friend or Foe: A New Vision of Muslim-Jewish Relations" held across the street at an historic church attended by Massachusetts Governor Deval Patrick and co-hosted by the AIC and AJC.
Patrick said he had come to listen and learn from a panel led by the local leaders of the organizations. He spoke of the hunger everyone has for a sense of community in the city, especially after the attack.
"We chose to turn to each other, rather than against each other. We found out how rich and promising community is," said the governor, his voice almost echoing in the cavernous church. "It is the source of the solution to every challenge we face."
The challenge to community has felt especially acute in the Boston area, where Dzokhar and Tamerlan Tsaranaev, the two brothers suspected of carrying out the bombing, had local ties and lived just across the Charles River in Cambridge.
The younger brother especially, Dzokhar, had been a wrestling team captain at the local high school and was well-liked among classmates, friends and teachers. It's still unclear when Tamerlan, the older brother, became radicalized and adopted an extreme, violent interpretation of Islam, but at some point, both brothers made a dramatic U-turn and both managed to keep that side of their lives hidden from most friends and neighbors.
"It's no secret there is lots of concern about extremism within Muslim communities," said Nasser Weddady, the Civil Rights Outreach Director of AIC, responding on the panel to a question about the issues local Jews and Muslims face. That is why it was so important for leadership to lead by example, he said.
Weddady, who spoke at the interfaith memorial ceremony for the victims of the Boston bombing attended by U.S. President Barack Obama, said most Muslim leaders, both secular like him and clerics, do speak out loudly and clearly against such attacks but those condemnations do not receive much press attention.
After the attack and the manhunt for the Tsarnaev brothers that shut down Boston, the Islamic Society of Boston, the mosque in Cambridge that the brothers occasionally attended, posted a statement on its website: "We practice and promote a comprehensive and balanced view of Islam. We strive to embody the 'middle path' to which the Qur'an calls – a path of moderation that is free of extremism. We believe that the core teachings of Islam are universal and timeless, providing guidance and instruction for all times and all peoples."
The Cambridge mosque is affiliated with the much larger, newer mosque in Boston called the Islamic Society of Boston Cultural Center which opened four years ago after allegations that the mosque had radical ties. The period surrounding the new mosque's construction was a tense one for some local Muslims and Jews.
Though the connections between the two communities are getting stronger, they are still tempered, for some Jews, by what Rob Leikind of AJC Boston described to the audience as a "sense of acute vulnerability," which stems in part from half of the Jews in the world living in Israel where the existential question remains, he said, "Will Israel survive? And who can we trust and who can we not trust?
"This is the subtext to a lot of conversations, but the relationship with the AIC is like a balm, a web of friendship that brings us much closer and within it there has been the chance to build the kind of friendship that we did not think was possible," he said.
Full report at:
http://www.haaretz.com/jewish-world/jewish-world-features/boston-muslims-and-jews-come-together-in-the-shadow-of-the-marathon-bombings.premium-1.519783
------------
Mayor doesn't want bomb suspect buried in Boston
8 May 2013
An aide to Boston Mayor Thomas Menino says the mayor does not want marathon bombing suspect Tamerlan Tsarnaev buried in Boston and calls the decision "a family issue."
The aide said Tuesday Menino believes the body should be sent back to Russia, where his parents live. Menino believes it wouldn't be appropriate for the burial to be in Boston.
The 26-year-old Tsarnaev, a resident of Cambridge, was killed in a police shootout days after the April 15 bombings that killed three people and injured more than 260. His brother remains imprisoned on charges in the case.
Worcester funeral home director Peter Stefan says more than 100 people in the U.S. and Canada have offered burial plots for the body, but officials in those cities and towns have said no.An aide to Boston Mayor Thomas Menino says the mayor does not want marathon bombing suspect Tamerlan Tsarnaev buried in Boston and calls the decision "a family issue."
The aide said Tuesday Menino believes the body should be sent back to Russia, where his parents live. Menino believes it wouldn't be appropriate for the burial to be in Boston.
Full report at:
http://english.ahram.org.eg/NewsContent/2/9/70933/World/International/-Mayor-doesnt-want-bomb-suspect-buried-in-Boston.aspx
------------
Where notorious criminals have been buried
May 7, 2013
Whether it's a genocidal dictator or a gunman behind a mass shooting, debate often flares over where the notorious should be laid to rest. Concerns about gravesite vandalism, possible backlash from the public and some sites becoming shrines often lead to burials cloaked in secrecy. In Massachusetts, controversy is surrounding where to bury Boston Marathon bombing suspect Tamerlan Tsarnaev.
Here's a look at how some of history's most well-known criminals have been buried over the years:
Osama bin Laden
Bin Laden, the mastermind of the September 11, 2001, terror attacks was buried at sea after Navy SEALs killed him in a 2011 raid on his compound in Pakistan.
US officials said the al-Qaida leader's body was handled according to Islamic practice and tradition, which calls for the body to be buried within 24 hours.
Ted Bundy
Bundy was convicted of three Florida slayings and confessed to more than 30 before he was executed in 1989.
His body was cremated. There was no public funeral.
Washington State's Cascade Mountains, where the remains of at least four of his victims were found.
Jeffrey Dahmer
Dahmer was beaten to death by a fellow inmate while serving life prison sentences in 1994. Convicted of killing 16 boys and men, Dahmer was arrested after body parts were found in his Milwaukee apartment in July 1991.
After Dahmer's death, his brain was kept in formaldehyde in the state pathologist's office while his divorced parents disagreed over what to do with it. His mother, Joyce Flint, wanted the brain studied to determine whether biological factors were behind her son's homicidal behavior, which included necrophilia and cannibalism.
His father, Lionel Dahmer, favored cremation, saying that is what his son wanted. Eventually, Jeffery Dahmer's brain and body were cremated and the ashes were divided between his mother and father after a judge decided the brain should be cremated.
Adolf Hitler
The Nazi dictator, who committed suicide in his Berlin bunker in 1945, was responsible for the Holocaust and the deaths of millions during World War II.
Attempts to burn his body was only partially successful, and his remains were recovered by the Soviets. The discovery was kept secret, allowing Stalin to perpetuate a Cold War myth that Hitler survived and was hidden in the West.
After decades of uncertainty and disinformation, the demise of the Soviet Union has allowed researchers to establish what they believe is the truth about what happened to the body.
Hitler's jaws and skull were later rediscovered in secret archives in Moscow and went on display in Russia's Federal Archives Service in 2000. The rest of him turned out to have been buried beneath a Soviet army parade ground in the former East German city of Magdeburg.
His remains were exhumed in the 1970s and incinerated. The ashes were flushed into the city's sewage system.
Dylan Klebold and Eric Harris
In 1999, Klebold and Harris opened fire at Columbine High School in Littleton, Colorado, killing 12 classmates and a teacher and wounding 26 others before killing themselves in the school's library.
Klebold's family had him cremated, according to the Rev. Don Marxhausen, who presided at his funeral.
Marxhausen said Klebold couldn't be placed in a public cemetery because people would desecrate his grave. The pastor said a policeman escorted him to the funeral, and others took circuitous routes to avoid being followed by the media.
Harris' family has never publicly revealed his final resting place.
Adam Lanza
Lanza shot and killed his mother and then 20 first-graders and six school employees at Sandy Hook Elementary School on December 14, 2012, in Newtown, Connecticut. He committed suicide as police arrived.
Lanza's father, Peter Lanza, of Stamford, Connecticut, claimed his son's body. There were "private arrangements," according to a family spokesman, who did not elaborate on what those arrangements were.
Timothy McVeigh
McVeigh was executed by lethal injection in 2001 for killing 168 people in the bombing of the Murrah Federal Building in Oklahoma City.
McVeigh's body was taken to a local funeral home, where he was cremated and his ashes were given to one of his attorneys.
In a letter to The Buffalo (New York) News, McVeigh had said he wanted his ashes scattered at a secret location.
Lee Harvey Oswald
John F Kennedy's assassin was shot to death at a Dallas police station two days after the president was killed in 1963. Oswald was never put on trial, but authorities concluded he was the killer.
His body was exhumed in 1981 from a cemetery in Fort Worth, Texas, to put to rest theories that Oswald's body wasn't actually there. Authorities used dental records to conclude the remains did, indeed, belong to the man who shot the president in 1963.
The body was then reburied at Rose Hill Memorial Cemetery in Fort Worth.
Full report at:
http://timesofindia.indiatimes.com/world/us/Where-notorious-criminals-have-been-buried/articleshow/19926737.cms
------------
Pakistan
Three killed in suicide car bomb attack on Bannu police station
ZAHIR SHAH SHERAZI
2013-05-08
PESHAWAR: At least three people, including two women and a policeman, were killed while 27 others, among them 10 women and children, nine policemen and eight civilians were injured as militants targeted Bannu's Domail Police station with a car bomb.
Officials said the suicide bomber struck an explosive laden vehicle on the backside of the police station on the outskirts of Bannu.
The attack completely destroyed the police station and at least two houses. Moreover, 10 houses surrounding the station were damaged and those inside were injured as well.
District Police Officer Ghafoor Afridi said it was a suicide attack that took place at about 5:30 am. He added that three people had died and over a dozen personnel were injured.
Full report at:
Sources told Dawn.com, one FC person was killed and another one was injured.
http://beta.dawn.com/news/812573/one-dead-15-wounded-in-bannu-suicide-attack-officials
------------
As Pakistan readies for votes, military watches sternly from its barracks
May 08 2013
When a rock-band song mocking Pakistan's army was mysteriously blocked on Internet sites recently, no one was surprised. But, as political parties jousted their way to this Saturday's elections, it was a small reminder of where power really lies.
There is no doubt that attempts to bury a legacy of decades of military rule have made headway in Pakistan, where - for the first time - a civilian government completed its five-year term and stood aside to allow voters choose its successor.
But it would be a mistake to interpret the army's decision to stay put in its barracks throughout those five years as a sign that it has loosened its grip on power, or that civilian primacy has at last arrived in the nuclear-armed nation.
Whatever the make-up of the government that emerges from the general election, its powers will be heavily circumscribed.
The military will decide on foreign policy and security, including the volatile ties with Washington as NATO troops withdraw from neighbouring Afghanistan, and it will still run the thorny relationship with old enemy and nuclear rival India.
"There is no new chapter in the history of Pakistan as far as civilian-military relations are concerned," said Ayesha Siddiqa, an expert on Pakistan's secretive army. "The military remains relevant to politics, and it has partnerships that allow it to remain outside but control the inside."
Full report at:
http://www.indianexpress.com/news/as-pakistan-readies-for-votes-military-watches-sternly-from-its-barracks/1113012/
------------
Pakistan polls: Nawaz, Imran are neck-and-neck, survey says
May 8, 2013
ISLAMABAD: The PML(N) and Pakistan Tehrik-e-Insaf appear to be neck-and-neck in the race for power in Pakistan as they enjoy almost the same voter approval ratings in a new survey released on Wednesday.
Over 25 per cent of respondents in the poll conducted by Herald magazine said they intend to vote for the PML(N) in the May 11 general election while 24.98 per cent said their vote would go to Imran Khan's Pakistan Tehrik-e-Insaf.
Only 17.74 per cent of respondents said they would vote for the Pakistan People's Party, which led the outgoing government that ruled Pakistan for the past five years.
In Punjab, which has more than half of the parliamentary seats going to the polls, the PML(N) appeared to be the party of choice, with 38.66 per cent of respondents saying they would vote for it, followed by at 30.46 per cent.
The PPP trailed way behind at 14.33 per cent.
In the PPP's traditional stronghold of Sindh, the party enjoyed the biggest share of support with 35.21 per cent of respondents saying they would vote for it, followed by the Muttahida Qaumi Movement with 19.37 per cent, Pakistan Tehrik-e-Insaf with 8.45 per cent and PML(N) with 8.1 per cent.
The PPP continues to be backed by more people in Sindh even though 50 per cent of respondents in the province rated the federal government's performance as poor or very poor.
In Khyber-Pakthunkhwa, Imran Khan's party was leading with the support of 35.41 per cent of respondents while the PML(N) (with 12.92 per cent support) and the Awami National Party (with 12.44 per cent support) are distant runners-up.
The Balochistan National Party (Mengal) has the highest backing among poll respondents in Balochistan, at 19.18 per cent, with the PPP a distant second at 8.22 per cent.
Full report at:
http://timesofindia.indiatimes.com/world/pakistan/Pakistan-polls-Nawaz-Imran-are-neck-and-neck-survey-says/articleshow/19951534.cms
-----------
Terrorist wanted by Pak for 7 years found in AP; deported
May 8, 2013
A terrorist wanted in Pakistan was today deported to Sri Lanka by a flight from here after Andhra Pradesh police found him living in a remote village near Cuddapah for the past seven years without a valid visa, airport sources said.
Based on an Interpol alert, 34-year-old Nissar Ahmed, who had fled Pakistan and entered India through Sri Lanka in 2006, was detained by Andhra Pradesh police on May 6 and brought to Chennai on Wednesday morning after producing him in a Cuddapah court.
As he had no visa, Ahmed was sent by a Jet Airways flight to Colombo from where he had arrived here seven years ago, the sources said.
Full report at:
http://www.thehindu.com/news/international/terrorist-wanted-by-pak-for-7-years-found-in-ap-deported/article4695540.ece
--------
Imran falls off stage at Lahore rally; sustains serious injuries
May 8, 2013
LAHORE: Pakistan Tehrik-i-Insaf (PTI) chief Imran Khan Tuesday sustained serious injuries on his head and back after falling from a lifter during climbing up the stage installed for an election rally in Lahore.
TV footage showed him tumbling down along with three or four personal body guards on a pickup truck. The PTI chief was seen bleeding when he was taken away by his party supporters to the city's Liberty Hospital.
The 60-year-old, who has undertaken a punishing schedule of daily rallies but who is known for his physical fitness, tumbled from a riser along with several of his staff, seemingly after one of them lost their balance.
Witness Raza Zaidi told AFP that Khan was being lifted on a crane with five people but lost his balance and fell when a sixth one tried to climb up. Khan hit the lifter before falling on the ground.
Khan sustained injuries on his head and back, said the hospital sources. They also said that Khan had to have as many as 16 stitches due to the injuries he sustained at back of his head.
The rally was held near Ghalib Market in Lahore's Gulberg neighbourhood.
PTI spokeswoman Shirin Mazari told AFP Khan was injured on his forehead after falling from a height of more than seven feet (over two metres), but was conscious.
Pakistan Muslim League-Nawaz (PML-N) chief Nawaz Sharif and his daughter Maryam Nawaz issued sympathetic statements to their competitor in Punjab. They prayed for swift recovery of Khan.
Sharif, in rare goodwill gesture, has asked his party workers to immediately halt the media advertisements against Imran Khan.
Full report at:
http://dawn.com/2013/05/07/imran-injured-after-rally-stage-fall/
------------
Pakistan warns Kabul to show restraint
May 08, 2013
ISLAMABAD (Our Staff Reporter/Agencies) - Pakistan warned Afghanistan on Tuesday that it would not be responsible for the consequences if a border spat between the two countries escalated further.
The Foreign Office summoned the Afghan Charge d'Affaires and conveyed protest of the Government of Pakistan on repetition of an unprovoked firing incident that took place on May 6, 2013 at 0845 hours from the Afghan posts at the Pakistani Gursal Post. As a result of this unprovoked firing incident, five Frontier Constabulary (FC), soldiers got injured. As in the past, Pakistan security forces exercised maximum restraint and communicated first to the Afghan side about repetition of this serious violation through military channels.
The Afghan Charge d'Affaires was conveyed Government of Pakistan's serious concern and asked to advise the relevant authorities in Afghanistan to avoid repetition of unprovoked firing which undermines the existing coordination mechanisms between the security forces of the two countries.
Afghan Charge d'Affaires was also conveyed that in case of any further escalation as a result of this situation, the responsibility would be on the Afghan government. Pakistan feels that repetition of unprovoked firing incidents are adversely affecting the friendly relations between the two brotherly countries which have covered a long distance in building trust and understanding in the recent years. The Pakistani warning came one day after Afghanistan lodged a similar protest with Islamabad, blaming its neighbour for a spate of shootouts near the boundary.
Relations between the two neighbors have been severely strained in recent months, and the mountainous region in eastern Afghanistan where the shootings occurred has seen acrimonious exchanges between the two sides over the demarcation of their border. Earlier, hundreds of men marched through Afghan city of Kandahar chanting anti-Pakistan slogans. The demonstrators, who dispersed peacefully after the march, were protesting the two shooting incidents along the frontier. In the first incident last week, a border gate built by Pakistan was damaged in the fighting. Afghan officials say the second exchange started Monday when Afghan border police told Pakistani forces to stop repairing the gate, sparking a firefight that ended two hours later with a ceasefire.
Full report at:
http://www.nation.com.pk/pakistan-news-newspaper-daily-english-online/national/08-May-2013/pakistan-warns-kabul-to-show-restraint
------------
Subjugators of constitution are traitors: Nawaz
May 08, 2013
HARIPUR/PESHAWAR/SWABI - PML-N Nawaz Sharif has said that the subjugators of the constitution and law breakers are traitors.
Addressing a public meeting in Haripur on Tuesday' he said May 11 will be the day of revolution in Pakistan. He pledged soft loans and employment to the educated and skilled youth.
Nawaz said he will make the country a new Pakistan if elected to power. Nawaz also pledged that his party will establish Hazara province after coming into power. Addressing a huge crowed in Peshawar, the former prime minster, without taking the name of Imran Khan, said a player was abusing him and using vulgar language against him, but PLM-N would continue to work for the betterment of the country. He said when lion (his election symbol) roared on May 11, all the people who were abusing him would run away.
Nawaz told the youth possessing original degrees that his next government would provide loans to them on soft terms for establishing their own business. The PML-N chief said his party would bring normalcy and peace to the country if voted to power. He said there was no load shedding, unemployment and unrest in Karachi and Balochistan and there were no terrorist incidents during the PML-N governments. He said gas and electricity was available for the masses during his regime.
Nawaz asked the audience to vote for his party's nominees for change and peace in the region. Vote for PML-N would ensure bright future of the coming generation and strengthen the country, he said, adding the people should come with the decision for the sake of the country on May 11.
"I have not only played in grounds but also delivered and completed various developmental projects," Sharif said, adding he had a dream to complete motorway from Peshawar to Kabul and Tashkent, which would turn the country into an opportunity zone for rapid development.
Promising to distribute sweets among the people over the victory of PMLN, Nawaz said on May 11 there would be no change, but revolution in the country. "I will build a motorway from Peshawar to Kabul and it would be extended to central Asian states," he said, while addressing his supporters.
"Youth are with me and I will change the country with their help. We will take the country to the new heights of progress," he asserted. Nawaz said electricity was not available for 20 hours in the area, adding industry had been closed and no business was progressing. Nawaz Sharif pledged to provide jobs to all the educated and skilled youth if voted to power on May 11.
Later, addressing a public meeting in Swabi' he said the country would be taken to new heights of development and prosperity. He said the brave people of Khyber Pakhtunkhwa and FATA had offered tremendous sacrifices in the war against terror. He said Fata would be made a cradle of peace.
"There was no loadshedding, terrorism, violence and target killings in my tenure," Nawaz told the audience in Swabi, adding he would restore peace and bring prosperity to the country and make Pakistan the most developed state in the region.
Full report at:
http://www.nation.com.pk/pakistan-news-newspaper-daily-english-online/national/08-May-2013/subjugators-of-constitution-are-traitors-nawaz
------------
Pakistan election violence forces candidates behind high walls
May 08, 2013
PESHAWAR: Mian Hussain is fighting for his political life from a deserted party headquarters, where two telephones sit silently beside him and the footsteps of a tea boy echo down the corridor.
One of Pakistan's most high-profile anti-Taliban politicians, Hussain hasn't been to a single public event since campaigning for the May 11 election kicked off. A fiery orator who once electrified big rallies, he now makes short speeches by telephone to small huddles of supporters meeting in secret. For the spokesman of the Awami National Party (ANP), it's just too dangerous to go out. Since April, the Pakistani Taliban have killed more than 70 people in attacks targeting three major political parties, preventing many of their most prominent candidates from openly campaigning.
Hussain worries the Taliban want to rig the elections in favour of parties that will take a softer line with their determination to stamp a radical brand of Islam on the country. He says that is why the Taliban are targeting the ruling coalition that backed military operations against them - Hussain's ANP, the Pakistan People's Party (PPP) and the Muttahida Qaumi Movement (MQM), whose offices have been repeatedly bombed. The ANP has borne the brunt of the attacks because it is staunchly opposed to the Taliban. As a nationalist party, it competes with the militants for the support of ethnic minority Pashtun people along the Afghan-Pakistan border.
The Taliban say they are targeting "secular" parties and that elections only "serve the interests of infidels and enemies of Islam". However, they have mostly not attacked right-wing religious parties that have joined the election race, or former cricketer Imran Khan's party, which advocates shooting down US drones and withdrawing the Pakistani military from insurgency-infested Pashtun areas along the Afghan border. A blast at a rally organised by the Jamiat Ulema-e-Islam (JUI) on Monday killed 26 people. The Taliban claimed responsibility but said their quarrel was not with the party but with the candidate who the rally was for, who they said had betrayed Arab fighters to US agents.
Another blast at a JUI rally near the Afghan border killed eight people and wounded candidate Mufti Muhammad Janan on Tuesday, said a party official. It was not clear who was responsible but residents say the Taliban had told Janan not to stand. The Taliban have not attacked the main opposition party led by former prime minister Nawaz Sharif, which has courted support from groups accused of supporting sectarian attacks across the country. "It's pre-poll rigging," Hussain says bitterly. The Taliban killed his only son three years ago, just before his wedding. The next day, militants attacked Hussain's home, killing seven.
"They will either have to elect the terrorists or elect those who oppose the terrorists," he said, the studious face of his dead son staring up from campaign posters on a nearby table. But many voters do not see the contest simply as one that pits pro- and anti-Taliban parties against each other. Insecurity worries them, but so does the sluggish economy, endemic corruption and power shortages that have cost millions of jobs over the five years of the last government. Many say it is that legacy, and not the Taliban threat, that makes them inclined to vote for a new guard in Islamabad.
The main opposition party is led by two-times prime minister Sharif. It is widely seen as the front-runner for Saturday's polls, portrays itself as business-friendly and has promised to fix the country's serious economic woes. His party denies that it is soft on the Taliban or militancy but says a new approach is needed, including an overhaul of the country's anti-terrorism courts. The PPP and its coalition partners are the first civilian government to complete a full five-year term in a country whose history has been punctuated by military takeovers. Despite power shortages, tax shortfalls and corruption, they blame the shortcomings of their administration squarely on the Taliban.
Full report at:
http://www.dailytimes.com.pk/default.asp?page=2013\05\08\story_8-5-2013_pg7_3
------------
Pesco employees, labourers reach home after 16 months militants' captivity
Zahir Shah Sherazi
May 8, 2013
PESHAWAR: Though in bad shape, unshaven and their hair unkempt, the released Pesco officials and other laborers rejoiced after their 16-month ordeal in the captivity of militants ended on Tuesday.
Emotional scenes were witnessed at the Khyber Agency political agent's office in Peshawar as many could not control their emotions after meeting their loved ones after what may have seemed like an eternity.
Thirteen people including three Peshawar Electric Supply Company (Pesco) officials, nine labourers and a policeman, who were kidnapped from Mattani and Badbher area of Peshawar by militants on January 31, were released in Kalaya, the agency headquarters of Orakzai Agency, after which they were reunited with the families in Peshawar, the officials said.
These Pesco officials were working on a 132 KV Grid Station in Gula Khan Bagh area in Badbher when they were kidnapped by more than 25 armed militants.
One of the released men told Dawn.com that the group were made hostage and kept in Tirah Valley and were forced into labour for almost a year and a half.
According to the list issued by the security forces, Pesco employees Fayaz Muhammad, Amir Khan and Sohail Ahmed belonged to Bakhu Pul area of Peshawar while the labourers who were assisting the Pesco staff included Ayaz Khan, Muhammad Hussain, Muhammad Akhtar, Mohsin Ali, Muhammad Nawaz, Muhammad Tariq, Muhammad Zahid, Qaiser Abbas, Muhammad Hussain, and police personnel Fazal Wahab.
Sohail, while speaking to Dawn.com after his release, said, "These days were like hell, as we were forced to do the labour work for more than 12 hours a day and mostly assigned construction work."
"We were kept in caves and than blindfolded and moved to the work place, which was all surrounded by mountains."
"Though they did not tell much about our location, once we were told that we were in Tirah Valley but don't know which part in Khyber Agency or the Orkazai Agency," he remarked.
"Some time they were demanding money and some time asked for the release of their fighters but we didn't know what to do as we had not been able to communicate their demands," Sohail added
Fayaz Muhammad said: "The security forces had helped us get released but we don't know how, but we are very thankful to them as well."
The period in captivity clearly took a toll on some.
Qaiser Abbas, one of the labourers assisting on the project, said that "though we were given food to survive but you can imagine from our condition, what could have been our situation in captivity."
Full report at:
http://dawn.com/2013/05/08/wadpa-employees-labourers-reach-home-after-16-months-militants-captivity/
------------
Bomb aimed at targeting Nato supply defused
ZAHIR SHAH SHERAZI
2013-05-08
PESHAWAR: The law enforcement agencies foiled a sabotage bid in Khyber Agency as a roadside IED planted to target Nato containers was defused, while in a seperate incident the bomb disposal unit defused bomb near the house of a tribal areas candidate in Peshawar.
The political administration officials say that the bomb planted along Pak-Afghan Highway near Jamrud was defused and was targeting Nato supplies.
Full report at:
The bomb was locally made and weighed about two and a half kg.
http://beta.dawn.com/news/812650/bomb-aimed-at-targeting-nato-supply-defused
------------
URL: https://www.newageislam.com/islamic-world-news/new-age-islam-news-bureau/ahmadis-to-boycott-eight-consecutive-elections-in-pakistan-due-to-separate-electoral-lists/d/11475