New Age Islam News Bureau
23 Nov 2019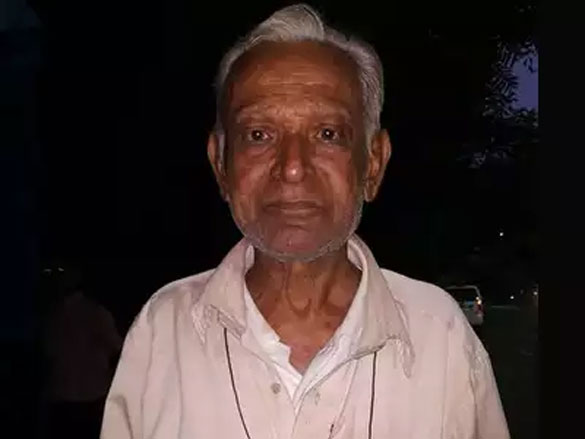 Pirmohammed Shaikh
------
• Ahmadabad, Gujarat is a Heritage of Harmony: Temple in Muslim Residence and Mazar In Hindu Shops
• Rajasthan's Alwar Police Withdraw Order Asking 9 Muslim Cops to Shave Beards
• Social Media Hails Man Who Tried To Stop Desecration of Holy Quran In Norway
• Muslim Woman Defends Jewish Family From Anti-Semitism On London Underground
• Hong Kong 'Would Have Been Obliterated In 14 Minutes' If Not for Me: Donald Trump
• Indonesia Government Jobs Are Not For Pregnant Women, LGBT
• Man Tells Jewish Father and Son on London Metro They Are Part of 'Church Of Satan'
• Sudan: Islamist Leader Detained in Sudan for Role in 1989 Coup
• Attacked Pregnant Muslim Woman Calls For Solidarity Against Racism, Intolerance
• 'We Are Working On Agreement Now With The Taliban': Trump
India
• BHU Row: RSS Affiliate Backs Professor Firoz Khan; Students Opposing End Sit-In Protest
• Boycott NRC: Muslims Are Calling For Gandhian Civil Disobedience against A Communal
• SC decision on Ayodhya case not final: Sunni Waqf Board lawyer
• 2021 Bengal polls: Muslim's messiah Mamata faces AIMIM challenge on home turf
• Amid BHU row, Belur College appoints Muslim teacher in Sanskrit department
• West Bengal: Muslim Sanskrit Teacher Wins Hearts with Knowledge at Ramakrishna Mission College
------
Europe
• Germany to take back 'Islamic State' mother from Syria
• Two further people charged with murder of 22-year-old Shafiul Islam from Newport
• Italy to Deport Imam Who Beat Children at Religious School
------
North America
• Far-right group warning of Islamist infiltration to hold banquet at Trump's Mar-a-Lago Club
• SCOTUS will hear case of three Muslims put on no-fly list
• Donald Trump attacks impeachment probe, sticks to Ukraine meddling theory
• CAIR-Backed Chicago Islamist Activist-Turned-Politician on the Rise
------
Southeast Asia
• Queen Calls On IIUM Graduates to Be Ambassadors Of Islam
• Islamic State liaison to ASG killed in Sulu clash — AFP
• GSIS issues rules on survivorship benefits of Muslim members, pensioners' families
• Xinjiang Authorities Undermine Muslim Abstention From Pork in Bid to Assimilate Uyghurs
------
Mideast
• Netanyahu Faces Calls To Quit But Is Defiant In Crisis
• Palestinians: Israeli settlers torch cars in West Bank
• Turkmen Front: Islamic parties failed to run the country
• Turkey-backed Islamist Groups Execute Two Civilians North of Syria
• Senior Cleric: Foreign Plotters Failed to Achieve Goals in Recent Unrests
• Iran Successfully Test-Fires Indigenous Air-Defence System
• Iran Warns US Not to Endanger Lives of American Troops
• Tehran Denounces Washington's Support for Israeli Land Theft
• Iran Urges IAEA to Respect Security Regulations about Nuclear Sites
• Massive Air-Defence War-Games Underway in Central Iran
• Envoy: US Call for Talks Ungenuine, Inconsistent with Coercive Measures
------
Africa
• Islamists' Power Play Prompts Soul Searching In Tunisia
• With Hate Speech law, Fulani haters in trouble – Myetti Allah Boss, Bodejo
• Islamic group commends FG on fight against corruption
• Islamic group lauds Buhari, Osinbajo on anti-corruption, economy
------
South Asia
• 8 Taliban militants killed, wounded in Special Forces raid in Kunduz
• 8 civilians killed, wounded in an explosion in Kapisa province
• Infighting among Taliban militants leaves 4 dead in Wardak province
• Sporadic clashes leave 7 Taliban militants dead, wounded in Faryab
------
Pakistan
• Mufti Taqi Usmani Urges Muslim Nations To Raise Issue Of Holy Quran's Desecration Globally
• PM's approval sought for next CJP appointment
• Projects being carried out under CPEC free of corruption: envoy
• Trade ties to set record this year: US
• Summary sent to PM's Secretariat: Justice Gulzar to replace CJP Khosa
• Will foreign funding case against PTI conclude before CEC's retirement?
• Imran Khan is Altaf Hussain in the making: PPP
• Sindh High Court acquits man accused of killing MQM MPA Manzar Imam
• CPEC to push Pakistan deeper into debt burden, cautions US
------
Arab World
• Saudi Arabia Takes Presidency of G20
• Four Anti-Government Protesters Killed in Clashes with Security Forces in Baghdad as Top Cleric Bluntly Pushes Reform
• First Flower Festival in Saudi Arabia's Qatif Town Attracts 115,000 Visitors
• Saudi students showcase pioneering inventions
• Lovers of heights dine in sky 50 meters above Riyadh
• KSRelief to send SR3.2m worth of winter aid packages to Yemenis
Compiled By New Age Islam News Bureau
URL: https://www.newageislam.com/islamic-world-news/ahmadabad-gujarat-heritage-harmony-temple/d/120347
-----
Ahmadabad, Gujarat is a Heritage of Harmony: Temple in Muslim Residence and Mazar In Hindu Shops
Nov 23, 2019
AHMEDABAD: For two decades now, Pir Mohammed Shaikh, 75, does not leave his home without folding his hands and bowing down before the picture of goddess 'Jogni Mata' installed in a wall niche of his house at Khanpur locality of Ahmedabad's Walled City. "I have complete faith in the power of Jogni Mata from personal experience," Shaikh said.
Shaikh's is a story continuing the city's rich history of communal harmony where it's not uncommon for persons of one faith to conserve and nurture religious places of another faith. As the city marks World Heritage Week, households talk about their unshaken belief in good omens these places bring for them.
The picture of goddess 'Jogni Mata' installed in a wall niche of his house at Khanpur
The picture of the goddess on a tile was present even before he purchased the house sometime in the year 1999. After he moved in with his family at the house in Thakor Vaas of Khanpur area, Shaikh claims he experienced a rather strange phenomenon. "Almost every night, an invisible hand would slap me. Waking up, I would find everybody else fast asleep. I tried shifting to other rooms, but the same thing continued," said Shaikh, who drives an auto rickshaw for a living.
Shaikh confided his experience in a fellow rickshaw driver, Babu Patel, who suggested a little ritual in front of the picture of the goddess might solve the problem. "That evening, I purchased 200 grams of sweets, some incense sticks and a coconut and placed them in front of the goddess' picture. Bowing my head down, I asked pardon for any mistake I might have done," said Shaikh.
From that day onwards, he has never been jolted out of his sleep by a slap of an unknown entity, he stated. But yes, bowing down and seeking the blessings of "64 Jogni Mata" has become a daily routine of his life.
Shaikh says he has been blessed abundantly because of the presence of the goddess' picture in the wall of his house and never thought of removing it. "All my three boys got married and have settled down in life. People from other houses also offer prayers at the picture of Jogni Mata," Shaikh said.
The lives of people belonging to different faiths in the Walled City are invariably interwoven with each other's. In times of distress, when Shaikh's family was forcibly evicted from their house at Relief Road in the 80s, a friend Ashok Soni supported him financially. The two still continue to be friends.
Prof Ramji Savaliya, former director of BJ Institute of Learning and Research, said that the city has a long history of harmony. "Muslims bow to the hand of goddess Lakshmi at Teen Darwaja whereas Hindus visit Pirana and Bangdadiya Pir in Shahibaug for seeking good luck. There are several households and shops in areas such as Shahpur and Khadia where one can find a Mazar in the basement," he said. "The Mazar is taken care of along with regular Lohban and flower Chadar every Friday as it's considered to be a good omen."
https://timesofindia.indiatimes.com/city/ahmedabad/heritage-of-harmony-temple-in-muslim-residence-and-mazaar-in-hindu-shops/articleshow/72191698.cms
------
Rajasthan's Alwar Police Withdraw Order Asking 9 Muslim Cops to Shave Beards
22 NOVEMBER 2019
The police in Rajasthan's Alwar district on Friday withdrew an order in which it had asked 9 Muslim cops to shave their beards.
The original order on Thursday said that nine policemen were asked to cut their beards so that they acted and looked "unbiased".
As the news went out, on Friday Alwar Superintendent of Police Anil Paris Deshmukh withdrew the order.
Police said they had earlier given permission to 32 Muslim personnel to sport beards. Thursday's order withdrew this permission for nine of them.
The remaining 23 policemen were allowed to continue with their beards, police said.
"Policemen should not only work in an unbiased manner but they should also look unbiased," the SP initially told reporters.
"There is a provision of the state government which allows the HoD (head of the department) to permit policemen to keep beards," he said.
"Under the provision, 32 policemen were given permission. The permission for nine policemen has been cancelled while for the rest of them it stands unchanged," he added.
Deshmukh had said the decision can be reconsidered and those dissatisfied with it can approach the department.
On Friday, while withdrawing the order, he said, "It was an administrative order which has been withdrawn after representation from the aggrieved policemen."
"The permission to sport a beard has been given," he said.
https://www.outlookindia.com/website/story/india-news-alwar-police-disallow-9-muslim-cops-from-sporting-beards/342824
------
Social media hails man who tried to stop desecration of Holy Quran in Norway
November 22, 2019
Social media was set ablaze with praises on Friday for a 'Muslim hero' who interrupted an anti-Islam rally last week to stop another man from burning a copy of the Holy Quran in Norway.
A scuffle broke out after the leader of the 'Stop Islamisation of Norway (SIAN)' rally, Lars Thorsen, tried to burn a copy of the holy book in the city of Kristiansand despite warnings from local police officials.
In a video on social media, the 'Muslim hero' could be seen jumping into the barricaded circle to save the holy book from being desecrated. The rally soon turned violent, after which police took Thorsen and his attackers into custody.
The man who stopped Thorsen from burning the Holy Quran was being called Ilyas on social media, but his exact identity could not be ascertained.
Netizens took to social media to praise Ilyas and also raise alarm over the rise of Islamophobia in Europe and around the world.
#ilyas_Hero_of_Muslim_Ummah, #Norway, #Defender_of_Quran, #TheGloriousQuran and Muslims started trending on Twitter in Pakistan.
The Pakistan Union Norway (PUN), an important social and cultural organisation, condmned the incident.
PUN Chairman Chaudhry Qamar Iqbal said that a man hurt the sentiments of Muslims by desecrating the Holy Quran. He said that Norwegians were peaceful people and Norway enjoyed a good reputation around the world as it respected the rights of other religions.
Iqbal said that the people of Norway and its Muslims were also hurt over the fact that the desecration took place in broad daylight and the police did nothing to stop it. He condemned the police for springing into action only when the man jumped in to stop the desecration and, instead, came to the aid of the agitator.
The PUN chairman urged the government of Norway to stop people who instigated and hurt the sentiments of others through extremism.
https://www.thenews.com.pk/latest/572762-social-media-hails-man-who-tried-to-stop-desecration-of-holy-quran-in-norway
------
Muslim Woman Defends Jewish Family From Anti-Semitism On London Underground
November 22, 2019
By Aiden Pink
A Jewish family riding on the London Underground was accosted by a man yelling anti-Semitic language - but was defended by a Muslim woman also riding on the train, video posted to social media Friday showed.
The footage, posted by British author and filmmaker Chris Atkins, showed a Jewish man wearing a kippah comforting two young kippah-wearing children as another man preached loudly at them about how they were part of the "Synagogue of Satan." The preacher, using obscenities, also threatened to "smack" another person on the train who got too close to him. A woman wearing a hijab then told him off about his language, ignoring the preacher's criticisms of her for wearing trousers.
The video of the incident has over one million views.
This is the second time in the last three months that footage of British Jews being subjected to anti-Semitism on British public transport has gone viral. In September, a Hasidic couple riding the Manchester light rail was harassed by a man complaining about Israel's treatment of Gaza. There, too, fellow riders criticized the man accosting the Jews.
Britain saw a record number of anti-Semitic incidents in the first half of 2019, the Community Security Trust, the British anti-Semitism watchdog organization, reported in August.
https://forward.com/fast-forward/435342/london-britain-anti-semitism-jewish-muslim/?utm_source=rss&utm_medium=feed&utm_campaign=Main
------
Hong Kong 'would have been obliterated in 14 minutes' if not for me: Donald Trump
November 22, 2019
United States President Donald Trump said Friday that if it were not for him, Hong Kong "would have been obliterated in 14 minutes" by Chinese troops, he was quoted as saying by AFP.
Trump said in an interview with Fox News, "President Xi Jinping refrained from sending in military against pro-democracy demonstrators in Hong Kong only because he asked him to."
"If it weren't for me, Hong Kong would have been obliterated in 14 minutes," Trump said.
The US President also said Xi "has a million soldiers standing outside Hong Kong, are not going only because I asked him. 'Please don't do that. You will be making a big mistake. It will have a tremendous negative impact on the trade deal.'"
Beijing has said it is committed to the "one country, two systems" formula under which Hong Kong is governed. It denies meddling in its affairs and accuses foreign governments, including Britain and the United States, of stirring up trouble.
(With inputs from AFP)
https://indianexpress.com/article/world/hong-kong-would-have-been-obliterated-in-14-minutes-if-not-for-me-says-donald-trump-6132394/
------
Indonesia government jobs are not for pregnant women, LGBT
Nov 23, 2019
JAKARTA: Several Indonesian ministries are banning pregnant, disabled, or LGBT job hunters in favour of what one called "normal" applicants, the ombudsman said on Friday, slammed as "arbitrary and hateful restrictions" by a rights group.
The report comes as the country takes applications from millions of candidates who are applying for some 2,00,000 civil-service jobs nationwide.
On Friday, Ombudsman Indonesia commissioner Ninik Rahayu said an investigation found that the defence and trade ministries as well as the attorney general's office were discriminating against candidates in their job advertisements.
https://timesofindia.indiatimes.com/world/rest-of-world/indonesia-government-jobs-are-not-for-pregnant-women-lgbt/articleshow/72192899.cms
------
Man Tells Jewish Father and Son on London Metro They Are Part of 'Church Of Satan'
NOVEMBER 23, 2019
A Jewish father with his child, both religious Jews wearing yarmulkes, were told by a passenger on the Northern Line metro service in London on Friday that he and his son are in "the Church of Satan," a video made by Twitter user Chris Takins shows.
The man went on to claim that Jews are behind the 9/11 terror attacks and the slave trade.
He was confronted not by the father of the boy, who remained calm and ignored him, but by other passengers who objected to him harassing the family.
One of those protesters was a Muslim woman with a hijab, who told him he should not pick on the child. He told her that "these are imposters trying to claim our heritage."
"This is not my opinion," he can be heard telling her, "these are God's words."
The British Transport Police is investigating the case.
jpost.com/Israel-News/Man-tells-Jewish-child-hes-Church-of-Satan-stopped-by-Muslim-woman-608735
------
Sudan: Islamist Leader Detained in Sudan for Role in 1989 Coup
21 NOVEMBER 2019
Khartoum — Authorities in Sudan have arrested prominent Islamist political leader Ali El Haj, after questioning by Khartoum prosecutors on his role in the 1989 military coup that brought the now deposed Omar Al Bashir to power.
El Haj is Chairman of the Popular Congress Party (PCP), which broke away from Al Bashir's National Congress Party (NCP) after a dispute, but later re-allied with the ruling party.
Last week, the public prosecutor in Khartoum issued arrest warrants against El Haj as well as PCP Secretary General Ibrahim El Sanousi, who has not been arrested to date.
Yesterday, the home El Haj was surrounded by a large security force. El Haj was searched, detained, and taken to the office of the public prosecutor in Khartoum Bahri (North) for questioning.
Arrest warrant
The coordinator of the legal committee of the Forces for Freedom and Change, Mohamed Arabi, reported in a statement on November 12 that the prosecutor issued arrest warrants against all living members of the Command Council that organised the military coup on June 30, 1989, which brought Omar Al Bashir to power.
The public prosecutor also issued a travel ban for all accused. Bank accounts of prominent officials of the Al Bashir regime were frozen earlier that week.
Two days previously, El Haj said that Omar Al Bashir should be extradited to the International Criminal Court.
Kober prison
El Hajj said he had been made aware by the PCP secretariat of the intention to arrest him. He has been charged with undermining the constitutional order, and participating in the military coup in 1989.
Ibrahim El Sanousi, head of the PCP Shura Council, confirmed the arrest of El Haj, and that he has been transferred him to Kober prison, where deposed dictator Al Bashir is also being held.
The leader of the PCP, El Amin Abdelrazig, said in a press statement that the written reports against El Haj related to declaring war and participating in the coup. A spokesperson for the Military Coup Lawyers' Committee, El Moiz Hadra, said that El Hajj and El Sanousi face charges under Article 96 on undermining the constitutional order. "Opening the door of investigations deters political forces from thinking of supporting the military to reach power in the future," he said.
https://allafrica.com/stories/201911220518.html
------
Attacked pregnant Muslim woman calls for solidarity against racism, intolerance
A heavily-pregnant Sydney woman who was the victim of an alleged racially-motivated attack has called on all Australians to protect innocent people from racial and religious attacks.
Rana Elasmar, who is 38-weeks pregnant was with friends at a Parramatta eatery on Wednesday night when a man approached their table and spoke to them.
The man then allegedly leaned over and punched Ms Elasmar, 31, several times in the head and upper body, causing her to fall to the ground as her friends tried to hold him back. He then allegedly stomped on her head.
Ms Elasmar, who is a Muslim, was wearing a hijab and police are looking at Islamophobia as a potential motive.
It's been reported the man-made anti-Muslim comments to Ms Elasmar.
In a post to Facebook, Ms Elasmar identifies herself as a Muslim and points out that she was "born and raised in Sydney, Australia".
She goes on to say aid she has experienced verbal abuse and hate in the past but never thought "physical abuse of this nature could happen to me".
The verbal abuse was "already too much," a feeling which Ms Elasmar said the Islamic community shares.
"It is NOT ok. How somebody feels like they have the right to abuse another human being baffles me. It shows a lack of humanity. It shows weakness," the mum-to-be says in the post.
"The man who attacked her "verbalised his hatred of Muslims prior to hitting me (but) he neither knows me, nor my religion," she alleges in the post.
"I do not want this attack to happen to anyone ever again. I want to see a world where people defend one another against cowardly acts like this and band together to protect the victims.
"We cannot allow behaviour like this to become the norm and sit silent."
Ms Elasmar, who suffered bruising and swelling as a result of the attack, goes on to thank everyone who reached out to offer support.
"The overwhelming support I have received is a reflection that this was a story that many can relate to," Ms Elasmar said.
"We are mothers, wives, daughters and we deserve to feel safe wherever we go. We deserve a night out to unwind without being fearful of an attack like this happening again.
"I fear for the world our children will grow up in, if this issue is not addressed.
"I call all Australians, Muslim or non-muslims, of all faiths and cultures to come together, as you have already done for me, and voice your solidarity in protecting innocent people from any future racial/religious attacks."
She was taken to Westmead Hospital but was later discharged.
The attack came days after a Charles Sturt University report into Islamophobia in Australia prompted fears abuse was spilling into the open.
The report found that of all reported non-online Islamophobic incidents in Australia in 2016 and 2017, more than half occurred in guarded or patrolled areas and security guards did not deter the abuse.
Of 349 total incidents, almost three quarters were carried out against women, while 96 per cent of non-online female victims were wearing a hijab.
"In the week a report was released outlying the growing incidents of Islamophobia in this country, such an attack is tragic, real-life proof of the dangers that Muslims, and Muslim women in particular, now face," the AFIC said.
The Australian National Imams Council said it is "appalled" and "deeply concerned" over the attack of the heavily pregnant Lebanese-Australian woman.
"The incident highlights the prevalence and risks associated with Islamophobia, as confirmed by the Islamophobia report released this week," the council said in a statement.
"Sadly, women tend to bear the brunt of the attacks by male perpetrators. Much of the verbal and physical abuse occurs in open spaces."
Stipe Lozina, 43, appeared before Parramatta Local Court on Thursday, charged with affray and assault occasioning actual bodily harm.
He has been refused bail to return to court on 5 December.
https://www.sbs.com.au/news/attacked-pregnant-muslim-woman-calls-for-solidarity-against-racism-intolerance
------
'We are working on agreement now with the Taliban': Trump
Saturday, 23 Nov 2019
The U.S. President Donald Trump has said his administration is working on agreement with the Taliban following the release of Western professors, it has been reported.
President Trump made the remarks in Fox News' "Fox & Friends", according to CNN television channel.
"We're working on an agreement now with the Taliban. Let's see what happens" Trump said.
The Taliban group released the two kidnapped professors of the American University of Afghanistan in a prisoner swap which also resulted in release of three key Haqqani Network leaders.
President Trump had earlier expressed that the release of the two professors would lead to ceasefire in Afghanistan.
The Taliban group had also expressed hopes that the prisoner swap would aid peace process.
This comes as President called off peace talks with Taliban in the month of September following a series of deadly attacks which killed several people in Kabul including an American service member.
https://www.khaama.com/we-are-working-on-agreement-now-with-the-taliban-trump-04379/
------
India
BHU row: RSS affiliate backs Professor Firoze Khan; students opposing end sit-in protest
Written by Avaneesh Mishra
November 23, 2019
banaras hindu university, firoze khan, bhu sanskrit professor, bhu muslim sanskrit professor, phd in sanskrit, sanskrit department of bhu, sahitya akademi, hindu civilisation, indian express
Banaras Hindu University (BHU) students opposing the appointment of a Muslim professor to the faculty of Sanskrit Vidya Dharam Vigyan (SVDV) called off their sit-in protest outside the Vice-Chancellor's (V-C) office and residence on Friday.
The students, however, said that they would continue to boycott classes and may even resume their agitation if the BHU administration fails to answer their questions in 10 days.
The protesting students have maintained that they are not opposing the appointment of a Muslim professor, but the recruitment of a non-Hindu for teaching a subject associated with the religion. The university administration has backed post-doctoral scholar Firoze Khan, saying his appointment was on merit.
On Friday, an affiliate of the RSS, Samskrita Bharati, also came out in support of Khan. "There is a misunderstanding connected to the subject Dharma Shastra. Dharma doesn't mean Religion. India is the oldest civilisation. At various times there have been various constitutions for the smooth functioning of society. Today, they are known as Smritis. These Smritis are studied in the Dharma Shastra subject. According to the modern vocabulary Dharma Shastra may be translated as Law," Samskrita Bharati said in a press release.
The students had been staging a sit-in protest for the past two weeks. The SVDV faculty was closed since November 7. It reopened on Thursday. However, Khan is still on leave.
The HRD Ministry, sources said, was asked by the Prime Minister's Office on Wednesday to ensure the protest ends soon. Following this, the university was directed to keep engaging with the students.
"The students who have been staging a sit-in outside the V-C residence against the appointment of an Assistant Professor in Sahitya department of faculty of SVDV have ended the dharna. University administration has been in constant touch with the students throughout the day following talks with them on Thursday," said university spokesperson Rajesh Singh.
Among the list of questions handed over by the students to the university is whether Khan's appointment was done in accordance with the BHU Act of 1904, 1906, 1915, 1951, 1966 and 1969. The administration has also been asked if the selection process followed the rules of traditional Sanatan Dharma as per the SVDV faculty. In a hand-written statement issued to the media on Friday, the students said they were ending the sit-in as the matter is now in the knowledge of the PM and the university has given a written assurance of answers. "We will boycott classes and our protest will go on till our issues are resolved," the statement reads.
https://indianexpress.com/article/india/bhu-row-rss-affiliate-backs-professor-khan-students-opposing-end-sit-in-protest-6132678/
------
Boycott NRC: Muslims Are Calling For Gandhian Civil Disobedience against A Communal Citizenship Test
On Wednesday, Home Minister Amit Shah repeated in Parliament a promise first made during the 2019 election: that a citizenship test would be carried out across the country.
He also emphasised that the National Register of Citizens would be preceded by the Citizenship (Amendment) Bill. This Bill ensures that Hindus, Sikhs, Christians, Buddhists, Jains and Parsis –which is to say, everyone except for Muslims – cannot be charged with being illegal migrants even if they entered India without papers. This is a narrative that Shah has stressed since the 2019 elections, making sure to communicate that since the Citizenship (Amendment) Bill would precede the NRC, in effect the NRC would only apply to Muslims.
India's Muslims population is more than 170 million – a number that by itself would be the world's seventh most-populous country. A process to check the citizenship of such a large body of people is unprecedented anywhere in the world. The nation-wide NRC would not only bury the idea of a secular India, it would grievously threaten the country's stability.
From fear to boycott
Confronted with this threat, many Muslims have reacted with panic and fear. Across the country, Muslims are gathering documents that will prove their citizenship. West Bengal has seen suicides that have been linked to fear of an NRC. Given the dislocation that the NRC caused in Assam, a nation-wide NRC would be a disaster.
However, an idea has also been floated in Muslim circles of mounting a Gandhian civil disobedience against the NRC. Given the scale of the NRC, and its targeting of nearly 200 million of India's Muslims, it has been argued that a boycott of the NRC would effectively make the exercise a lame duck.
A communal tool
Given the NRC will follow the communally-filtered Citizenship (Amendment) Bill, many argued that it not good-faith citizenship check but simply a way to victimise Muslims.
A class argument was made. For many poor Muslims, who do not even have enough to eat, how can they ensure documents, asks Hasnat in Hindi.
Former IAS officer Kannan Gopinath made the point that rather that go into panic looking for documents, India's citizens should hit the streets and make sure the NRC plan is rolled back.
Aman Wadud, a Guwahati-based lawyer closely involved with the legal cases arising from the Assam NRC, also seconded Gopinath's point, urging Muslims to protest on the ground.
Calls also came in for Hindus to join in the boycott.
The issue has also given rise to a "No NRC Movement" Facebook page with more than one lakh members.
And while most of this narrative has circulated on Twitter and Facebook, some has also found its way to WhatsApp.
Opposition voices
However, there were also some dissenting voices. Delhi-based lawyer Anas Tanwir argued on Twitter that "civil disobedience has no place in democracy" and Muslims should prepare their documents instead.
https://scroll.in/bulletins/252/what-does-it-mean-to-be-manenough
------
SC decision on Ayodhya case not final: Sunni Waqf Board lawyer
23rd November 2019
LUCKNOW: Even as the Supreme Court has delivered its verdict on the Ayodhya case, senior Sunni Waqf Board lawyer Zafaryab Jilani is not satisfied with the decision and is planning to file a review petition. He said that this decision of the five judges of the Supreme Court is not final.
"The Supreme Court has already overruled more than a dozen decisions of these five judges," Jilani told IANS in an interview.
"A bench of 13 judges has been formed. The Supreme Court never says that the decision of the five judges is final and has to be accepted. Those who do not know the history of the law must be surprised to file a review petition."
In response to a question, he said: "My written statement is we will accept the final decision of the Supreme Court. Whatever has come, is not the final decision. Article 137 allows that one who is not satisfied with the verdict can file a review petition."
Jilani, referring to the two responsibilities of the case -- the Sunni Waqf Board and the Muslim Personal Board and the Muslims of Ayodhya, said: "Others do not need to give their opinion on the matter. The proposal to replace five acres of land for the mosque is against the Sharia... Islamic Sharia does not allow this. The Waqf Act also says the same. The Supreme Court cannot change the mosque land. According to Article 142, it cannot go against any institution."
Referring to the Sunni Waqf Board not filing a reconsideration petition, Jilani said: "Whether or not it can file a reconsideration petition, doesn't matter in our case. The Muslim community does not approve of this decision. If the Sunni Waqf Board has to go against the reconsideration petition, go. A party cannot do anything in it."
It was mentioned that most of the Muslims were satisfied with the decision on November 9. Those people have expressed their views in favour of the decision on social media. On this, Jilani said: "There are 200 million Muslims in this country. If two lakhs are satisfied then it doesn't matter."
Noting that some members of the Muslim Personal Law Board are also not in favour of filing a reconsideration petition, Jilani said that there is some difference of opinion in every democratic system.
Some educated Muslims say that this matter would not have taken so long if it had been settled earlier, to which Jilani said: "Such people can only give advice by sitting in the drawing-room. We are doing our work honestly. We have been fighting this battle since 1986. The father of Owaisi (Asaduddin Owaisi) has also supported us in this fight. "
He said: "A review petition on Ayodhya will be filed before December 9. We will choose the legal option of the Indian Constitution. In this case, our struggle will continue till we get ready."
https://www.newindianexpress.com/nation/2019/nov/23/sc-decision-on-ayodhya-case-not-final-sunni-waqf-board-lawyer-2066017.html
------
2021 Bengal polls: Muslim's messiah Mamata faces AIMIM challenge on home turf
23rd November 2019
KOLKATA: The political landscape of West Bengal looks set for a major change with Asaduddin Owaisi's AIMIM deciding to contest the 2021 assembly polls, signalling the advent of a new player in a hugely polarised arena where Mamata Banerjee's TMC holds sway over Muslim votes.
After the eclipse of the once-mighty Left Front and the Congress, Banerjee's party virtually had a monopoly over the Muslim electorate, who acted as a bulwark against her rivals ever since the TMC was catapulted to power in the politically volatile state.
Banerjee's recent bilious assault on the AIMIM leader surprised even the most avid watchers of West Bengal politics when she, without naming Owaisi, asked the Muslims to be wary of the "minority extremists" from Hyderabad.
She said the "moneybags" from the Telangana capital were bent upon "misleading" the minority community, remarks that came out of the blue, as the tempestuous Bengal leader had never criticised Owaisi in the past.
Owaisi, who is fast emerging as the foremost Muslim voice in the country where the predominant minority community has been without a towering leader in a long while and has instead been patronised by leaders like Lalu Prasad, Mulayam Singh Yadav and Banerjee, hit right back.
"When arrogance gets to your head you make nonsensical, baseless statements. She is making these statements because she is frustrated. Because she is losing ground. And she has demeaned all the Muslims who have voted for her," Owaisi said.
He said Muslims of Bengal were ranked "worst" among states in development indicators.
The Hyderabad MP said his party has already been working in the state for a year-and-half and will contest the next assembly elections.
"I have to contest election if I believe in democracy. I have to contest election if I have to realise my constitutional rights. To stop these opportunistic parties who have used Muslims to be in power," he asserted.
For years, the AIMIM's influence was limited to the old Hyderabad city before it forayed into Maharashtra and two of its candidates won the assembly elections from there in 2014.
The party now has a Lok Sabha member from Maharashtra and it recently pocketed the Muslim-dominated Kishanganj seat in Bihar in a bypoll to make its maiden entry into the state assembly.
Owaisi's posters could be seen in several minority- dominated pockets of the state proclaiming both in Hindi and Bengali "Intezaar ab khatam (The wait is now over), Mission West Bengal".
In a huge setback to Banerjee, the 2019 Lok Sabha poll saw the BJP's tally soar from two to 18, and the TMC's plummeted from 34 to 22.
West Bengal has 42 Lok Sabha seats.
Muslims constitute around 30 per cent of the state's population.
It has the largest Muslim electorate after Kashmir, and Owaisi apparently saw in West Bengal a fertile ground for his expansion plans.
"Initially we decided against foraying into Bengal as it would have divided the minority votes and helped the BJP. But in last two years, we witnessed the poor condition of minorities in Bengal and decided to make our presence felt in the state," a senior AIMIM told PTI from Hyderabad.
Attempting to protect her formidable Muslim constituency, Banerjee, apart from excoriating the AIMIM, has raised the pitch against the NRC.
Her cry against the National Register of Citizens (NRC), which was hitherto restricted to Assam, has grown shriller after BJP chief and Home Minister Amit Shah's announcement that it will be extended to the entire country.
The feisty West Bengal chief minister has declared that the NRC, which aims at weeding out illegal immigrants, particularly from Bangladesh, will not be allowed in her state, wary that it could disenfranchise a section of her Muslim support base.
"Since last year, we have seen politics over Muslim infiltration and the proposed NRC in Bengal. The TMC, apart from doing politics to consolidate minority votes, has done nothing. So, we are increasing our presence in minority districts, educating Muslims about documents they need for NRC," AIMIM state president Zameerul Hasan told PTI.
He said whether the party will contest all 294 seats in the assembly polls will be decided by Owaisi, who is likely to start touring the state from next year.
The TMC, however, sought to make light of the AIMIM challenge.
"The minorities in Bengal firmly stand behind Mamata Banerjee and the TMC. Parties like the AIMIM, which are agents of the BJP, will be exposed," asserted state minister and TMC general secretary general Partha Chatterjee.
Though the TMC leadership does not attach much importance to the "tall claims" by the AIMIM, some in the party feel its electoral foray into the state could somewhat disturb the support base of Banerjee's party.
"The AIMIM won't be able to win seats but it can damage our prospects in seats where the minorities play an important role. Where it's a close contest," a senior TMC leader said on condition of anonymity, acknowledging that the BJP could benefit from it.
Of the 22 Lok Sabha seats that the TMC won this year, 16 were those with sizeable Muslim electorate who voted for the party en masse.
On the other hand, 14 of the 18 seats the BJP won were those where the Muslims constituted less than 15 per cent of the electorate.
A Muslim TMC leader, who did not wish to be named, said the community voted for Banerjee's party as it saw there a "credible force" against the BJP.
"The entry of the AIMIM for sure change several equations. Banerjee's comments are based on the ground level feedback about the damage AIMIM can cause to the TMC's Muslim vote bank. Its entry will only help the BJP divide Muslim votes," he said.
https://www.newindianexpress.com/nation/2019/nov/23/2021-bengal-polls-muslims-messiah-mamata-faces-aimim-challenge-on-home-turf-2065975.html
------
Amid BHU row, Belur college appoints Muslim teacher in Sanskrit department
23rd November 2019
KOLKATA: At a time when students of the Banaras Hindu University in Uttar Pradesh are up in arms over the religious identity of one of its Sanskrit teachers, a college, on the outskirts of Bengal capital, has appointed a Muslim man as an assistant professor to teach the subject.
Ramzan Ali, who joined Ramkrishna Mission Vidyamandira in Belur following nine years of experience at a north Bengal college, said he was overwhelmed by the warm welcome extended to him by the students and faculty members.
"I was welcomed by principal Swami Shastrajnandaji Maharaj, and everyone. Maharaj told me that my religious identity was not important, what mattered was my grasp over the language, my indepth knowledge and my ability to share it with the students," Ali, who joined the Belur college on Tuesday, told PTI.
Asked about the Banaras Hindu University (BHU) agitation, he said, "I believe Sanskrit embodies India's inclusiveness, its rich culture.
Don't forget Sanskrit is the mother of all languages.
How can anyone bar people from other religions from learning and teaching Sanskrit?" A section of students at BHU has been demonstrating against the appointment of Feroz Khan as the assistant professor of the varsity's Sanskrit department.
Although the BHU authorities backed him, Khan has not been able to take classes.
Ali, who is in his early 40s, asserted that he had never faced any discrimination as a Sanskrit teacher.
"I never felt that I was out of place or unwanted while studying or teaching Sanskrit. Here, at the Belur college, the management has arranged for my accommodation and ensured that I do not face any inconvenience," the assistant professor maintained.
A student of the Sanskrit department at Ramkrishna Mission Vidyamandira said he was looking forward to attending Ali's classes.
It is "unfair" to question the religious identity of a teacher, he said.
"Ali sir has just joined So far, I haven't had the opportunity to attend any of his classes. I am looking forward to it," the student added.
The principal of the college could not be contacted for his comment.
https://www.newindianexpress.com/good-news/2019/nov/23/amid-bhu-row-belur-college-appoints-muslim-teacher-in-sanskrit-department-2065953.html
------
West Bengal: Muslim Sanskrit teacher wins hearts with knowledge at Ramakrishna Mission college
Nov 23, 2019
KOLKATA: In a classroom at the Ramakrishna Mission Vidyamandira next to the Belur Math, students listened with rapt attention as Ramzan Ali was explaining a sloka from the Upanishads. Ali, who joined the college on Tuesday, has only taken 3-4 classes for the third-year Sanskrit Honours students but the class has realised his worth. This teacher from Jalpaiguri aims to be a friend, philosopher and guide to his students at this institute run by the Ramakrishna Math and Mission and he seems to be succeeding.
"I have never felt that the Sanskrit language has anything to do with religion. It is an ancient language and I feel that every Indian should study it. People can't be 'Sanskrita' without Sanskrit. I fell in love with the language from a young age and never have my teachers dissuaded me from studying the language. And all of them were Hindus, mind you. They encouraged me instead. Without learning Sanskrit, how can people know what our great texts like the Upanishads have to say," Ali says.
He narrates a line from the Upanishads that states how one can enjoy through sacrifice and talks of how this is relevant today when all that most people think of is monetary gains. Born in the Salbari village of Dhupguri Block in Jalpaiguri, Ali was always good at Sanskrit and his teachers egged him on to pursue a career as a teacher of the language. He has been teaching Sanskrit for nearly 10 years now but never faced any trouble. "A teacher has no religion. I love my students and spend as much time with them as possible. I can never forget the kind of love that I received from the principal, staff and students when I joined this institute," Ali said.
Principal Swami Shastrajnananda quotes Swami Vivekananda on how true Sanatan Dharma knows no exclusion. "All that students need to look at is whether they are receiving proper education. We have Muslim teachers in subjects like philosophy, English, history and chemistry," he says.
He refuses to comment with the imbroglio at Benares Hindu University but when asked whether a Muslim can do justice to Sanskrit in which nearly all Hindu scriptures are written, the principal says: "What we mean by Dharma is much greater than such petty things."
Third year student Proloy Sikdar says that he never had any apprehensions when he came to know that a Muslim teacher would take Sanskrit classes. "It's his grasp on the subject that matters." His batchmates Anirban Paul and Arjun Batabyal say the same.
https://timesofindia.indiatimes.com/city/kolkata/muslim-sanskrit-teacher-wins-hearts-with-knowledge-at-rkm-college/articleshow/72191776.cms
------
Europe
Germany to take back 'Islamic State' mother from Syria
German authorities ordered a German woman, believed to be an "Islamic State" (IS) member, to be returned to her home country from a Syrian camp, according to reports on Friday.
Spiegel magazine identified the woman as 30-year-old Laura H. from central Germany, saying that she left the country and joined the jihadi militia in 2016. She and three of her children are now reportedly living in the Kurdish-run prisoner camp al-Hol in northern Syria. They are set to reach Germany "in the coming days" by traveling via the Kurdish city of Erbil in Iraq, according to Spiegel.
On Friday, German officials confirmed that three "German children who are detained in northern Syria, will be able to leave for Iraq together with their mother." However, they did not confirm the mother's identity or provide any details.
According to media reports, German authorities have been investigating the mother on suspicion of membership in a terror organization and child neglect.
US girl under care of 'IS' suspect
Female "Islamic State" suspects have already faced detention and trial in Germany, but prosecution has been limited to suspects who traveled back of their own accord or were extradited by other countries. If the case of Laura H. is confirmed, it would mark the first time that German authorities themselves repatriate such a suspect.
In addition to her own children, the woman also has a two-year-old girl with US citizenship in her care, said sources cited by the mass-circulation Bild newspaper and the DPA news agency. Bild reported that the girl is the daughter of the woman's first husband, who is himself a US citizen. It was not immediately clear how the child came to be with Laura H.
German security sources believe that more than 80 German IS members remain captive in Syria. Berlin recently announced that it would decide on repatriation of jihadi wives on a case-by-case basis. Several children have already been repatriated from the camps in the Middle East. Earlier this month, a German court ordered that a different IS-linked mother and children must be repatriated together, because the minors were dependent "on protection and care of their mother."
European Union nations face immense international pressure to take back former "IS" members, but the European officials have been dragging their feet over security concerns.
https://www.dw.com/en/germany-to-take-back-islamic-state-mother-from-syria/a-51378413
------
Two further people charged with murder of 22-year-old Shafiul Islam from Newport
Two other people have been charged with murder following the death of a 22-year-old man from Newport.
Shafiul Islam was found with serious head injuries on Tewkesbury Walk in the city shortly before midnight on Thursday, November 14.
He later died from his injuries at the Royal Gwent Hospital.
On Thursday, a 22-year-old was charged with murdering Mr Islam and he has since appeared in court for a preliminary hearing being remanded in custody.
On Friday night, detectives from Gwent Police confirmed there had been a further development in their investigation with a 32-year-old from Newport and a 40-year-old man been charged with murder and conspiracy to commit robbery.
A force spokesman said: "They have been remanded into custody and will appear at Newport Magistrates' Court tomorrow morning.
"Mr Islam's family continue to be supported and updated by family liaison officers."
https://www.walesonline.co.uk/news/wales-news/shafiul-islam-murder-newport-gwent-17304186
------
Italy to Deport Imam Who Beat Children at Religious School
The migrant, who lived in Italy on a work visa, is said to have created what investigators described as a "climate of terror" at a Quranic school in Padua and engaged in humiliating young pupils and physically assaulting them, sometimes with a stick, Il Giornale reports.
The beatings of the children, who were aged between five and ten years old, took place at the Bangladesh Cultural Centre in the Arcella district of Padua. Investigators noted that the 23-year-old would engage in physical violence against the children for as little as a wrong answer or catching them being distracted.
Agents of the General Investigations and Special Operations Division (DIGOS), which investigated the case, also found photographs and posts of Nazi leader Adolf Hitler and proposed that he may have also been teaching the young children antisemitic ideas.
Italy has deported several radical imams in recent years, including a Tunisian earlier this year who came into the country illegally and declared to police that he would not only kill them but he would eat their corpses as well.
Last year, another Tunisian imam was expelled from the country after it was found that he celebrated the Berlin Christmas market terror attack from his prison cell. The imam was already in prison for robbery and drug dealing.
The former Italian coalition government of populist Matteo Salvini's League and the Five Star Movement (M5S) led all of Europe last year for deportations of radical Islamists. Both illegal immigration and prison radicalisation have led to a growth in the number of jihadists in the country.
Professor Paolo Branca, Islamologist at the Catholic University of Milan, has even claimed that some jihadists get arrested on purpose in order to be able to preach and radicalise others behind bars.
https://www.breitbart.com/europe/2019/11/23/italy-to-deport-imam-who-beat-children-at-religious-school/
------
North America
Far-right group warning of Islamist infiltration to hold banquet at Trump's Mar-a-Lago Club
By David A. Fahrenthold
November 22, 2019
A far-right group that believes Islamists are infiltrating the U.S. government will hold a banquet Saturday night at President Trump's Mar-a-Lago Club, according to a permit issued for the event.
The group, the Center for Security Policy, has also spread the false idea that former president Barack Obama is a Muslim and alleged that mainstream Muslim organizations in the United States are secretly agents of anti-American jihad.
The group has rented a ballroom for Saturday at Trump's club in Palm Beach, Fla., for its annual Freedom Flame Award Dinner. The 200-person event, named after the group's flaming-torch symbol, previously was held in New York City and Washington.
This year, it was relocated. "This is our first-ever event in Palm Beach," a center official wrote to the town of Palm Beach in an email obtained through a public-records request.
The old Mar-a-Lago is gone. This is the new Mar-a-Lago.
Once, Trump's club was a major player in the Palm Beach social season — renting out its ballrooms for large and lucrative charity galas. Then, in 2017, Trump said there were "very fine people on both sides" in response to violence that broke out between participants of a white-supremacist rally in Charlottesville and counterprotesters.
At Mar-a-Lago, many of his best customers quit. Two years later, most are still gone.
In their place, Mar-a-Lago has attracted some Trump superfans, who have thrown banquets and other events to help the president's bottom line. And it has attracted new customers aligned with Trump's hard-right politics.
Saturday's event illustrates the conflict inherent in that kind of business. At this gala, a conservative group that wants to shape Trump's public policy will also become his private customer.
The White House declined to comment for this article, and the Trump Organization did not respond to requests for comment.
The permit says the Center for Security Policy event will cost $53,000. When The Washington Post called the center to ask about the dinner, a man who answered declined to give details.
"It's a private event," the man said.
The Post had dialed an extension for Fred Fleitz, a former Trump administration official who is the president and chief executive of the Center for Security Policy, but the man declined to say whether he was Fleitz.
"It's a private event," the man repeated.
Multiple emails and calls to officials at the organization were not returned.
In an interview after this story appeared online, Fleitz said this story is false — but did not cite specific details he believed were incorrect.
He also cited an interview he gave to the website PJ Media in January, in which he said the group is not hostile to Muslims.
"I think that we have a proud record of standing up against radical Islam, but to say we have prejudice against Muslim people is absolutely false," Fleitz told PJ Media. "Muslims are part of our country and our society, this is a good thing. But what we don't welcome is the radical ideology that promotes violence."
The Center for Security Policy, founded by a former Reagan administration official named Frank Gaffney, has ties with Trump and his administration. As a candidate, Trump cited the center's research while proposing to ban all Muslims from entering the United States.
But the center is also seeking to shape future Trump administration policies. It has warned, for instance, that Trump should be more skeptical of Turkish President Recep Tayyip Erdogan — who the center says is too close to Islamist groups.
"Gaffney is one of the key figures in the Islamophobia industry," said Ibrahim Hooper of the Council on American-Islamic Relations. He said this dinner could give the center a way to further its influence with Trump: "They get the influence they seek by handing him money, and he gets the money," Hooper said.
Earlier this year, ACT for America, a group that has labeled Islam a "cancer" and warned of plots by Muslims, Democrats and the media, also booked a banquet at Mar-a-Lago. But after the Miami Herald reported on the event, the club canceled it. The Trump Organization has not explained why.
Trump is not expected to attend the Center for Security Policy's banquet on Saturday.
Instead, he is expected to arrive at Mar-a-Lago around Thanksgiving for his first visit of the winter social season in Palm Beach.
There are no signs that Trump's club is in financial trouble. This year, for instance, it filed its annual applications to hire 80 foreign workers as temporary housekeepers, waiters and cooks — slightly more than last year.
Still, Mar-a-Lago was hurt by the abrupt departures in 2017 of 22 charities that rented its space. The club's revenue fell by 10 percent last year, according to federal financial disclosures.
This year, Trump's club has added more events for its existing members, who already paid up to $200,000 to join. For instance, the club has added a "Gods & Goddesses Toga Party" by the pool in January, according to a members-only magazine obtained by The Post. Tickets are $135 per guest.
Trump has also benefited from a smattering of start-up events, organized by Trump supporters who have rushed to replenish his lost business. The largest is a group called Trumpettes USA, which is planning its third annual gathering at the club in February, with 700 guests.
The group says it has sold tickets totaling more than $1 million. As usual, that money isn't intended for charity. It will be spent on the party.
"We're not fundraisers. We never have been. That's not what we do," said Toni Holt Kramer, one of the leaders of the Trumpettes. She declined to say how much of that money would go to Trump's club as opposed to other vendors.
"We spend lavishly, to make it the party of the year, which everyone says it is," Kramer said.
Mar-a-Lago has also turned to customers aligned with his politics. Last year, his customers included his 2020 reelection campaign, the Republican National Committee, several GOP groups and the conservative youth group Turning Point USA.
None of those groups responded to questions about whether they are returning this winter.
Laurence Leamer, who wrote a history of Trump's club called "Mar-a-Lago: Inside the Gates of Power at Donald Trump's Presidential Palace," said he was struck by how quickly the club had changed. When Trump opened the club in the mid-1990s, it was the first Palm Beach club to accept Jewish members — a move that was good for business and brought long-overdue progress to Palm Beach.
"Opening that club up, with Jewish members, was the most socially beneficial thing he did in his whole life," Leamer said. He has "turned it now into this right-wing enclave, this totally politicized space."
But Leamer said he understood.
"What is he going to do?" he said. "That's all that's left."
https://www.washingtonpost.com/politics/far-right-group-warning-of-islamist-infiltration-to-hold-banquet-at-trumps-mar-a-lago-club/2019/11/21/52dbc47c-0bb7-11ea-97ac-a7ccc8dd1ebc_story.html
------
SCOTUS will hear case of three Muslims put on no-fly list
Ed Adamczyk
Nov. 22 (UPI) -- The U.S. Supreme Court said Friday it will hear the appeal of the White House in a case involving three men who said they were placed on a national no-fly list by the FBI after refusing to spy on fellow Muslims.
The three men, each a naturalized U.S. citizen or a permanent resident, sued the FBI over what they said was unlawful abuse of a federal watch list prohibiting suspected terrorists from U.S. air travel. Their refusal to cooperate with the FBI to become government informants in investigations of terrorism-related activities was in part motivated by their religious beliefs. A New York federal district appeals court ruled in 2018 they could sue under the 1993 Religious Freedom Restoration Act.
"They brought this suit against a number of federal officers in their individual capacities, alleging that that they were placed and maintained on the national "No Fly List" in retaliation for their refusal to serve as informants for the FBI," an application for a time extension, submitted to the Supreme Court in June, said in part. "Respondents contended, among other things, that this violated their rights under RFRA and that they were entitled to money damages against the individual federal officers personally."
The district court dismissed the claim, saying that RFRA does not permit the recovery of money damages against federal officers sued in their individual capacities. A court of appeals reversed that ruling.
The Supreme Court case is named FNU Tanzin, Special Agent, FBI et al., v. Muhammed Tanvir et al. Tanzin, "First Name Unkown," is a government employee. Tanzin is one of the three plaintiffs.
The administration of President Donald Trump, through the Justice Department, asked the Supreme Court to find that federal law denies lawsuits seeking monetary damages against individual federal government employees.
https://www.upi.com/Top_News/US/2019/11/22/SCOTUS-will-hear-case-of-three-Muslims-put-on-no-fly-list/5491574451795/?sl=2&ur3=1
------
Donald Trump attacks impeachment probe, sticks to Ukraine meddling theory
Nov 23, 2019
WASHINGTON: President Trump unleashed a series of falsehoods on Friday in an effort to invalidate the impeachment inquiry and counter sworn testimony from officials in his own administration, after a week of damaging public hearings.
In a 53-minute phone interview with "Fox & Friends," Trump accused David Holmes, a political counselor to the American ambassador in Ukraine, of fabricating a phone call between Trump and the American ambassador to the European Union. Holmes told impeachment investigators that he had overheard the president ask the ambassador, Gordon Sondland, about Ukrainian investigations into his political rivals, a consequential detail in the Democrats' impeachment inquiry.
"I guarantee you that never took place," Trump said. He added that he barely knew Sondland, a wealthy hotelier from Oregon who contributed $1 million to Trump's inaugural committee. In his own testimony, Sondland corroborated Holmes's account.
Trump called Democrat representative Adam Schiff, the chairman of the House Intelligence committee, a "sick puppy," a "corrupt politician" and the first witness he would want to call in a senate impeachment trial.
Will he be impeached? "I don't expect it," Trump. "I think it's very hard for them to impeach you when they have absolutely nothing." Trump also said he knows the identity of the anonymous whistleblower and asserted that the details in the complaint were "fake". The July 25 phone call between Trump and Ukraine's president Volodymyr Zelensky was "perfect." He said, "Why should we give money to a country that's known corrupt?"
A key question in the inquiry is why Trump used his personal lawyer in such a role and not the usual government channels. Trump called Ukraine corrupt and said Giuliani was the right person for the job. "He's like an iconic figure in this country for two reasons. He was the greatest mayor in the history of New York and he was the greatest crime fighter probably in the last 50 years."
He said Ukraine interfered in the 2016 polls with the goal of helping Hillary Clinton, an unsubstantiated theory. "Don't forget. Ukraine hated me. They were after me."
Trump also said the Obama administration spied on his campaign, an accusation leveled without evidence on Twitter in the early days of his administration. "They tried to overthrow the presidency. This is a disgrace."
https://timesofindia.indiatimes.com/world/us/donald-trump-attacks-impeachment-probe-sticks-to-ukraine-meddling-theory/articleshow/72192840.cms
------
CAIR-Backed Chicago Islamist Activist-Turned-Politician on the Rise
BY HESHAM SHEHAB
NOVEMBER 22, 2019
On October 27, Abdelnasser Rashid, 30, announced his bid for Cook County Board of Review as an independent Democrat in 2020.
Rashid, who currently serves as chief policy officer for Cook County Assessor Fritz Kaegi, and who previously served as deputy state director for the 2012 Bernie Sanders presidential campaign, previous ran for the Cook County Commissioner office in 2018 and lost by a very narrow margin.
The Council on American Islamic Relations (CAIR)- Chicago awarded Rashid its Trailblazer Award at its 15th annual banquet in February 2019 for his campaign.
CAIR has been identified by federal law enforcement and shown in federal court to have been founded as part of a U.S. Hamas support network, and is a designated terrorist entity in the United Arab Emirates.
Rashid thanked the CAIR audience for its support before announcing the formation of Empower Southwest, an organization intended to maintain the Rashid campaign election infrastructure and continue its advocacy. Rashid founded Empower Southwest together with CAIR-Chicago Board member Ahlam Jbara.
Jbara's CAIR biography notes she "has led the voter registration and get out the vote campaigns on the southwest side in the Muslim community, has trained youth and adults on civic engagement and organizing."
Jbara has also used her experience to assist organizations like American Muslims for Palestine (AMP) with political organizing. In Congressional testimony and civil court AMP has been accused representing the newest incarnation of the same U.S-based Hamas financing network linked to CAIR.
Jbara was personally thanked by Rep. Rashida Tlaib (D-Mich.) in a post-election social media post. Tlaib later faced criticism for her ties to Jbara, whose social media publicly displayed selfie photos with convicted Palestinian terrorist Rasmea Odeh, who was a Chicago activist before being deported for lying about her terrorism conviction to U.S. immigration authorities.
Jbara also appears in a Facebook post by the Rashid campaign after last year's tight loss. Featured in the same photo is Bassem Kawar, a leading activist with "Take on Hate", a Chicago based activism group with close ties to Odeh.
Rashid also received support from The Muslim Educational Cultural Center of America (MECCA) near Chicago, a mosque founded by Muslim Brotherhood leaders which hosted Rashid during his bid for Cook County commissioner in 2018.
Are Rashid's associations with Islamists merely an example of politics making strange bedfellows? It seems unlikely when you also consider Rashid's college ties.
While at Harvard, Rashid served as the 2012 president of the Harvard Islamic Society (HIS), which has been repeatedly accused of anti-Semitism. In 2002, the Harvard Islamic Society attempted to raise funds for the Holy Land Foundation, which would later be convicted for fundraising for Hamas. Harvard Islamic Society is also known for demonstrating bias against Muslim scholars and activists who refuse to boycott Israel. For example, Rabia O'Chaudry, the New York Times best-selling author, was disinvited from speaking at the HIS annual dinner in 2018 because of "pressure from some alumni and her board members," after the society learned that O'Chaudry "did a study fellowship w [with]/an Israeli seminary."
Considering Rashid's young age, and early competitiveness it seems clear he will have a long political career ahead of him and can be expected to continue to rise in Chicago progressive politics, particularly with his ability to maintain his campaign organization. Rashid joins a number of other candidates with Islamist ties seeking local office in Chicago, all running on very progressive platforms. The affiliation between Islamists and progressives remains a growing trend which has worried those who track Islamist groups.
https://pjmedia.com/news-and-politics/cair-backed-chicago-islamist-activist-turned-politician-on-the-rise/
------
Southeast Asia
Queen calls on IIUM graduates to be ambassadors of Islam
23/11/2019
KUALA LUMPUR, Nov 23 -- International Islamic University Malaysia (IIUM) graduates need to be ambassadors of integration, Islamisation, internationalisation and comprehensive excellent, in seeking the pleasure of Allah, said Raja Permaisuri Agong Tunku Hajah Azizah Aminah Maimunah Iskandariah.
Tunku Azizah, who was proclaimed as IIUM's first woman Constitutional Head on Friday, also advised the graduates to use the knowledge that the university has imparted, to make the world better than "the one we have today".
"The condition of the ummah (Muslims) requires, more than ever, that we rise with wisdom, conviction, courage and determination. Whatever are the challenges, we must not, and shall not wallow in despair, since that would negate the very essence of Islam being Ramatan Lil-'Alamin or mercy to all the worlds," she said.
She told this to 577 graduates before the commencement of the first conferment ceremony at the 35th IIUM convocation here today.
Tunku Azizah also urged the graduates to prepare themselves in facing challenges that include social, cultural, political, economic, spiritual and civilisational realms.
Her Majesty said she also believed that IIUM has prepared the graduates to face challenges with wisdom, conviction, courage and determination.
"Courage is not about climbing the top-most 'mountain'. It is about being true to you. It is about holding onto our faith, with the strength of conviction. It is about fulfilling the divine 'amanah' (trust).
"With this convocation, you are standing at the door that marks a new beginning, a new journey. Learning is a life-long process. Learn from the people around you. Learn from your new circumstances. Learn from history and learn from life," said Her Majesty.
Tunku Azizah also told the graduates that they are are graduating from an institution that takes pride in calling itself a 'Garden of Knowledge and Virtue' as IIUM symbolises a garden, where knowledge and virtue grow and prosper.
"You have contributed significantly in building this garden. You have assisted immensely in ensuring the garden to be a sustainable one, by being not only the recipients of revealed knowledge and human sciences but also the co-creators of integrated knowledge and the carrier and promoters of Islamic knowledge, sciences and virtues," she said
Her Majesty also expressed proud over the efforts of IIUM in prioritising 'special needs' students and staff as well as the outreach efforts towards those in need of education.
"These are indeed part of 'rahmah' or mercy in our strife towards spreading Rahmatan Lil-Alamin. I am proud to declare to all of you, that IIUM yet again is 'Leading The Way' for the ummah to 'enlighten the future'," Tunku Azizah said.
Tunku Azizah, who arrived for the convocation ceremony with her daughter Tengku Puteri Raja Tengku Puteri Jihan Azizah 'Athiyatullah, was welcomed by Education Minister Dr Maszlee Malik, IIUM's President Datuk Dr Mohd Daud Bakar and IIUM's Rector Tan Sri Prof Emeritus Dzulkifli Abdul Razak.
This year 5,445 graduates will receive their scrolls at the degree, masters and PhD levels according to their fields of study over four sessions from today.
At today's ceremony, Her Majesty also presented the university's 10 main awards to outstanding graduates among them the Pelajaran DiRaja Award, the President's Award, BUDI Award and Rector's Award.
Tunku Azizah also presented the Ibn Khaldun Merit Award 2019 to the National Cancer Council Malaysia (MAKNA) in appreciation of the council's contributions and expertise in looking after the welfare of cancer patients.
-- BERNAMA
http://www.bernama.com/en/general/news.php?id=1792651
------
Islamic State liaison to ASG killed in Sulu clash — AFP
November 23, 2019
MANILA, Philippines — An Islamic State (IS) – trained bomb expert, who also served as a liaison between the terrorist group and the Abu Sayyaf Group (ASG), was killed in a clash with the military in Sulu, the Armed Forces of the Philippines (AFP) said Saturday.
In a statement, the AFP's Joint Task Force Sulu confirmed the death of Talha Jumsah, also known as Abu Talha, during an armed confrontation with the 1st Scout Ranger Battalion in Barangay Tanum, Patikul Sulu on Friday morning.
The body of Abu Talha was retrieved Saturday morning, during a follow-up operation conducted by the 1101st Infantry Brigade.
According to the AFP, Abu Talha was an expert in making improvised explosive devices and served as an instructor to the ASG in the making of bombs used for suicide bombings in Sulu.
Abu Talha, the AFP said, was also considered a high-value target.
"The death of Abu Talha will surely cause demoralization in the ASG ranks in Sulu. It could not have been made possible without the support of the Tausug community who reported the presence of the armed terrorists and volunteered to serve as guides during the conduct of combat operations," 1101st Brigade Commander Brid. Gen. Antonio Nafarrete said.
https://newsinfo.inquirer.net/1193678/isis-liaison-to-abu-sayyaf-killed-in-sulu-clash-afp
------
GSIS issues rules on survivorship benefits of Muslim members, pensioners' families
November 23, 2019
MANILA, Philippines — The state-run Government Service Insurance System (GSIS) has come out with the rules in granting the survivorship benefits of the pension fund's Muslim members and pensioners in line with their customs and traditions.
"The GSIS recognizes the unique Muslim culture. Thus, the processing of survivorship benefits for deceased Muslim members and pensioners is now institutionalized," GSIS chairman Rolando L. Macasaet said in a statement.
Macasaet, who is also the GSIS's acting president and general manager, noted that while disbursements to survivorship beneficiaries of deceased Muslim members and pensioners had been covered by the Civil Code of the Philippines, Presidential Decree (PD) No. 1083 or the Code of Muslim Personal Laws had "directed the state to consider Muslim customs, traditions, beliefs, and interests in formulating and implementing policies."
As such, Macasaet said the GSIS's Policy and Procedural Guidelines (PPG) No. 334-19 "recognized that Muslims are allowed by law to have up to four wives at a time; provided clear policies in processing and distributing survivorship benefit, which includes cash payment and survivorship pension; outlined the documentary requirements; and consolidated existing and applicable policies on survivorship benefits."
In particular, the primary beneficiaries—which included dependent surviving wives of deceased male Muslim members/pensioners and dependent surviving husbands of deceased female Muslim members/pensioners as well as their five youngest dependent children of minor age, or offspring with mental or physical incapacity acquired as a minor—will be the first to receive payments.
"The grant of survivorship benefits to spouses must be based on marriages between Muslims contracted under PD 1083; a marriage where only one of the parties is a Muslim, provided that it is solemnized in Muslim rites; or a marriage contracted by a Muslim male prior to the effectivity of PD 1083 in accordance with the Civil Code, provided that spouses register their mutual consent for the marriage to be considered as one contracted under PD 1083," the GSIS said.
"The survivorship benefits must be divided equally among the legal wives. The dependent pension must be given to a maximum of five youngest minor children from different legal wives," it added.
Next in line will be the secondary beneficiaries, comprised of dependent parents and legitimate descendants, but "subject to restrictions on dependent children," according to the GSIS.
These secondary beneficiaries, the GSIS said, will be granted the benefit "only if there are no primary beneficiaries."
So-called legal heirs, meanwhile, may avail of the benefit when there were no primary nor secondary benefits.
According to the GSIS, legal heirs will be paid in the following order: paternal grandparents; full siblings; consanguine siblings; and uterine siblings.
Also, "if a Muslim retiree dies within the five-year period after receiving a five-year lump sum, the survivorship pension shall be paid only after the end of the said period," the GSIS said, adding that "claims for survivorship benefit and funeral benefits should be filed within four years from the member's date of death."
https://business.inquirer.net/284024/gsis-issues-rules-on-survivorship-benefits-of-muslim-members-pensioners-families
------
Xinjiang Authorities Undermine Muslim Abstention From Pork in Bid to Assimilate Uyghurs
2019-11-22
Government work groups in China's Xinjiang Uyghur Autonomous Region (XUAR) are undermining the Muslim practice of abstaining from pork as part of a bid to assimilate Uyghurs into Han Chinese culture, according to sources, who also said officials are seeking to turn the region into a major pork producer.
In recent years, RFA's Uyghur Service has received reports that Chinese authorities in the XUAR were delivering pork to Muslim households during the Lunar New Year holiday, and forcing some Muslims to drink alcohol, smoke tobacco, and eat pork, despite Islamic laws that designate them as "haram," or forbidden due to their perceived uncleanliness.
Similar claims have been made about pork being made part of the diets provided for detainees in the XUAR's vast network of internment camps, where authorities are believed to have held up to 1.5 million Uyghurs and other Muslim minorities accused of harboring "strong religious views" and "politically incorrect" ideas since April 2017.
While there is no hard evidence indicating a centralized government plan to force Muslims in the region to break the dietary laws of their religion, RFA recently interviewed officials, public servants and former camp detainees, who said that a quiet effort is in place to undermine the traditions under the guise of promoting "interethnic unity," while abstaining is branded a sign of "extremism."
As part of the "Four Togethers" campaign—which began last year and also includes "Living Together, Working Together, and Learning Together—authorities in the XUAR regularly host communal activities referred to as "Eating Together" events, where pork is included as a so-called "ethnic unity food."
In October 2018, a photo was posted online by the government of Kashgar (in Chinese, Kashi) prefecture's Maralbeshi (Bachu) county, which portrayed a Uyghur village head eating a piece of pork and calling on other Uyghurs to join him. The photo was taken down shortly after publishing.
RFA recently spoke with a village head in Maralbeshi who confirmed that the photo was real, and that local authorities are teaching people to eat pork as well.
RFA also interviewed a government employee who was "sent down" to Kashgar's Makit (Maigaiti) county as part of a practice by China's ruling Communist Party cadres to deploy political and ideological "work groups" in southern XUAR, where concentrations of Uyghur populations are higher than in other parts of the region.
The employee, who spoke on condition of anonymity, said that while he has yet to participate in an "Eating Together" event, many of his colleagues had, and that they always serve "Han food."
When asked if pork is included, the employee said no, but he added that it is forbidden to characterize the meat as "haram."
"Come on," he said, laughing, "I think you know we can't say that."
A Uyghur government employee in Kashgar's Peyziwat (Jiashi) county told RFA that his work group set up a restaurant and brought a Han Chinese chef in from Shanxi province to provide food that everyone eats, including many of the local Uyghur farmers.
But when asked whether the restaurant distinguishes between "haram" foods and those that are considered "halal," or acceptable by Islamic traditions, the employee said, "you can't make a distinction like that—you might as well give up on living in that case."
Asked if he and others will eat food prepared with pork, the employee said he would, as "it's in the air" and couldn't be avoided, adding that one of the work group's roles is to encourage people to eat all kinds of meat and assimilate into Han Chinese culture.
"Since coming here, we've been explaining new things and new culture to the farmers," he said.
"We're teaching them that they need to walk in accordance with new culture, what they need to do to adapt to it."
'Just another kind of meat'
RFA also spoke with Zumuret Dawut, a Uyghur mother of three who in April last year was detained for months in an internment camp, where she was forced to recite Chinese propaganda, beaten for providing food to an ailing fellow prisoner, and injected with unknown drugs, according to an account she related in September during an event on the sidelines of the United Nations General Assembly in New York.
While Dawut was released after her Pakistani husband advocated on her behalf, she was first forced to renounce her faith and promise not to speak about what happened to her there, and later subjected to official monitoring at her home and forced to eat pork, against the dietary restrictions of Islam.
Dawut told RFA that each locality has its own "laws" with regard to cultural practices and how they are applied can be totally arbitrary, but said the promotion of pork is "rarely done in the open" by higher officials, while it is overt at the local level.
"From the outside, it appears as if they aren't saying anything, but that's because the higher-ups have ordered them to use different means to take care of this," she said.
But she said she and others were routinely chastised for refusing to eat pork, which cadres from her local neighborhood committee would say is just another kind of meat.
"They said things like, 'This is meat, and this is too, so why are you being picky over them,'" she said.
"We couldn't even say, 'Oh, it's just what I'm used to,' because they'd see right through it and criticize us."
Dawut said she had never seen any written documentation about the promotion of eating pork, but that local officials aren't concerned about people speaking out against the practice because "none of us stands equal with the government."
A village secretary from Hotan (Hetian) prefecture told RFA that including pork in meals is also common as part of the "Pair Up and Become Family" campaign that since late 2017 has required Muslim—and particularly Uyghur—families in the XUAR to invite officials into their homes and provide them with information about their lives and political views, while hosts are also subjected to political indoctrination.
Reports suggest that Uyghurs who protest hosting "relatives" as part of the program, or refuse to take part in study sessions or other activities—including eating meals containing pork—with the officials in their homes, are subject to additional restrictions or could face detention in the camp system.
The village secretary said that while preparing meals, such as dumplings, hosts and "relatives" share the responsibility.
"If they prepare the filling, we'll prepare the dough—we work together like this and spend the whole week making dumplings," he said.
But no one complains that the "relatives" might prepare the food in ways that are considered "haram" to the Muslim community.
"We'd be crazy to say that—they're people just like we are, so they eat what we make, and we eat what they make," the secretary said.
"We've spent the last two years being relatives like this," he said, adding that if they were to offer them pork-based foods to eat, "we would."
Pig production
The revelations about the promotion of pork for the purpose of cultural assimilation come after the XUAR government held an executive meeting on Nov. 2 to discuss transitioning the region into one of the most important pig breeding and commodity pig production bases in northwest China, according to a report by the official Xinjiang Daily newspaper.
The meeting, led by XUAR Chairman Shohret Zakir, stressed that accelerating the transformation and upgrading of pig production in the region is of great practical significance in promoting the high-quality development of the pig industry, and comprehensively improving the supply capacity of pork, the report said.
China, which is home to half of the earth's pigs, has been decimated by an outbreak of African swine fever that has seen prices for pork skyrocket in the past year, leading the government in September to announce additional measures to encourage pig farmers and producers to breed more hogs.
Shen Xue, a Chinese-Canadian author and human rights activist, told RFA that shifting agricultural priorities in the XUAR from crop farming to pig breeding is not the right way to address the problem, and would represent a further restriction of the rights of Uyghurs and other Muslim minorities in the region.
"In China, the worst persecuted people are Uyghurs and other minority groups in the Uyghur region—the Chinese authorities are not only destroying their identity and culture, but also carrying out all sorts of inhuman forcible acts in order to change them and humiliate them by attacking their faith and cultural traditions," she said.
"This cannot be accepted. If the government's plan also includes the Muslim population, this is clearly a violation of their human rights for economic benefits; and it is a great insult against their religion, culture and way of life."
https://www.rfa.org/english/news/uyghur/pork-11222019161208.html
------
Mideast
Netanyahu faces calls to quit but is defiant in crisis
Nov 23, 2019
JERUSALEM: Israeli PM Benjamin Netanyahu faced calls to resign over a corruption scandal on Friday, as senior government colleagues publicly declared support after some signs of cracks in party loyalty. Netanyahu said he would not quit after he was indicted on charges of bribery, fraud and breach of trust by Israel's attorney general on Thursday night.
The 70-year-old right-wing Likud Party leader denies all wrongdoing and denounced the indictment — the first against a Israeli PM — as an "attempted coup". But his ability to lead a country mired in political crisis, after two inconclusive elections this year that failed to produce a government, is being questioned.
The centrist Blue and White Party headed by Netanyahu's main rival, Benny Gantz, issued a statement calling on him to "immediately resign from all ministerial positions". The party — which has 33 of parliament's 120 seats to Likud's 32 — said its lawyers had formally approached the PM and attorney general's offices saying it was "imperative" that Netanyahu step down. Under Israeli law, as PM he is under no obligation to do so. But with Israel heading towards a likely third election in less than a year, Netanyahu could soon find himself in the difficult position of trying to win an election while preparing to be prosecuted.
https://timesofindia.indiatimes.com/world/middle-east/netanyahu-faces-calls-to-quit-but-is-defiant-in-crisis/articleshow/72192888.cms
------
Palestinians: Israeli settlers torch cars in West Bank
NOV 22ND, 2019
RAMALLAH, West Bank (AP) — Israeli settlers attacked five villages in the occupied West Bank overnight, torching vehicles and olive trees, and leaving graffiti on the walls of homes, Palestinian officials said Friday.
Ghassan Daghlas, a spokesman for the Nablus governorate, said the Jewish settlers set fire to five cars and spray-painted graffiti on more than 20 others. Villagers circulated photos of the damage on social media.
Israeli police say they are investigating the reports and that police and military units will visit the area.
Hundreds of thousands of Jewish settlers live in the West Bank, which Israel occupied in the 1967 Mideast War. The Palestinians claim the West Bank as part of their future state.
Hard-line settlers have been known to carry out "price tag" attacks in response to Palestinian militant attacks or perceived efforts by Israeli authorities to limit settlement expansion. It was unclear what sparked the latest attack.
In the Gaza Strip, meanwhile, Palestinian health authorities said a man died of wounds he sustained in an Israeli airstrike earlier this month that killed eight members of his family. The Gaza Health Ministry identified the man as 40-year-old Mohammed Abu Malhous.
Those killed in the airstrike included two women and five children under the age of 13.
Israel's military said it was targeting "Islamic Jihad military infrastructure" and did not expect civilians to be present. It said an investigation is underway.
The airstrike came during two days of fighting ignited by Israel's targeted killing of a commander of the Islamic Jihad militant group. The fighting killed 35 Palestinians and more than 450 rockets were fired into Israel.
https://www.wthr.com/article/palestinians-israeli-settlers-torch-cars-west-bank
------
Turkmen Front: Islamic parties failed to run the country
2019/11/23
Shafaq News/ The Turkmen Front considered on Saturday that Islamic parties had "failed" to run the country.
The head of the Turkmen Front MP Arshad al-Salehi said in a news conference that "this government is not able to complete reforms within 45 days," noting that "al-Marjiyaa stressed on change, and reform is necessary."
"The Islamic parties have failed to run the country," he said.
He pointed to "the importance of the political leaders meeting on the need to legislate two laws and go to dissolve the government and early elections."
https://www.shafaaq.com/en/iraq-news/turkmen-front-islamic-parties-failed-to-run-the-country/
------
Turkey-backed Islamist Groups Execute Two Civilians North of Syria
23/11/2019
ERBIL — Turkey-backed Islamist militias executed two civilians in Arisha village on the outskirt of Sare Kanie (Ras al-Ain), Syrian media reports said on Saturday.
The identity of the victims and the reason for the execution were not clear.
Local reports said arbitrary actions by the Islamist fighters in the Kurdish areas of Syria, especially in Sare Kanie and Gire Sipi (Tel Abyad) were increasing, threatening the security of population who have not fled their homes yet.
Other agencies reported multiple cases of civilian property looting in the Kurdish towns, for which the Ankara-backed Islamist groups are blamed.
http://www.basnews.com/index.php/en/news/middle-east/562900
------
Senior Cleric: Foreign Plotters Failed to Achieve Goals in Recent Unrests
Fri Nov 22, 2019
TEHRAN (FNA)- Tehran's provisional Friday Prayers Leader Ayatollah Seyed Ahmad Khatami blasted certain foreign countries for orchestrating recent violence in Iran and supporting the rioters, and said that their plots were all in vain.
Addressing a large and fervent congregation of the people in Tehran on Friday, Ayatollah Khatami said, "The enemies themselves said that they had planned for three years and trained their men inside and outside the country, while the milking cow of Trump spent a lot in the recent unrests and provided them with its media and did whatever it could, but their plots were foiled.
In relevant remarks on Wednesday, Head of the Islamic Revolution Guard Corps Public Relations Department Brigadier General Ramezan Sharif announced that ringleaders of the recent riots in Iran who had ties with foreign security agencies have been arrested in four large provinces.
The ringleaders of unrests in four provinces of Iran, including Alborz, Fars, Tehran and Khuzestan, have been arrested, General Sharif said, addressing a gathering in the Northern province of Gilan.
He noted that these arrests contributed a lot to riots to abate, adding that these individuals had links with foreign security services.
General Sharif said the enemies employed thugs to create unrest after the failure of sanctions against Iran.
The US and its proxies have gained nothing 18 months after the imposition of fresh sanctions on the Iranian nation, the general said, adding that the Americans have formally announced support for the riots and recent acts of vandalism and insecurity in Iran.
On Wednesday, Iranian President Hassan Rouhani praised people for keeping distance from the rioters who damaged public and private properties, and said the recent violence in Iran was organized by the US, Israel and certain reactionary regimes in the region.
"The number of people who had taken to the streets was clear, and there were only a few hooligans were among them; but the hooligans were well organized and armed, acting on behalf of the regional reactionaries, the Zionists and Americans," Rouhani said, addressing a cabinet meeting in Tehran.
"As the Leader said, our people have foiled the enemies' plots in face of different incidents, and they became victorious in the recent plots that the enemies had hatched," he added.
Riots by a small number who had taken advantage of legitimate public protests against the government's gas price hike plan in Iran were directed at sowing chaos through targeted attacks on public and private properties, forcing law enforcement to step in to stop saboteurs.
Early estimates of an intelligence body showed that a sum of nearly 87,000 protesters and rioters had taken part in protest rallies and gatherings since Friday night, mostly (over 93%) men. A large number of protesters had only been present in the gathering centers and avoided joining the rioters in sabotage attacks on public and private properties.
"The identical methods of the main core of violent rioters discloses that they are fully trained individuals who have been prepared and looking forward for the situation to rise, unlike most people who have been taken off guard by the sudden hike in gas price," the report said.
The report showed that gatherings have been comprised of 50 to 1,500 people held in 100 regions of the country out of a number of 1,080 major towns and cities. The report says violent raids and damage inflicted on properties has been larger than what happened in February 2018 unrests.
Most cases of damage to properties had happened in Khuzestan, Tehran, Fars and Kerman provinces. The report says most casualties have resulted from armed outlaws' attacks on oil storage and military centers, adding that a number of police and popular forces have been martyred in these attacks.
Nearly 1,000 people were arrested across the country while over 100 banks and 57 big stores were set on fire or plundered in just one province.
The Iranian intelligence ministry announced in a statement on Sunday that it had identified several rioters who misused the recent protest rallies against the gasoline price hikes to destroy public and private properties.
"The main culprits behind the riots in the past two days have been identified and proper measures are being adopted and the honorable nation will be informed about its result later," the statement said.
https://en.farsnews.com/newstext.aspx?nn=13980901000307
------
Iran Successfully Test-Fires Indigenous Air-Defense System
Fri Nov 22, 2019
TEHRAN (FNA)- The home-made state-of-the-art missile defense system named "Khordad 15", which is equipped with passive phased array radar system for detecting fighter jets, stealth targets and cruise missiles, was successfully used during war-games in Central Iran on Friday.
Iran successfully tested a domestically-designed and -manufactured air defense system capable of simultaneously destroying six incoming hostile targets.
The system, dubbed Khordad 15, was launched today, during a large-scale military exercise, codenamed "Guardians of Velayat's Sky-98", in the central province of Semnan.
During a parade in late September in Tehran, Khordad 15.
The system can trace targets, including fighter jets and enemy drones, 150km away and intercept them at a range of 120km.
It can also trace stealth targets in areas 85km in distance, and destroy them at a distance of 45km.
The missile defense system can trace, engage, and destroy 6 targets simultaneously, enjoys high mobility and can be prepared for operation in less than 5 minutes.
https://en.farsnews.com/newstext.aspx?nn=13980901000468
------
Iran Warns US Not to Endanger Lives of American Troops
Fri Nov 22, 2019
TEHRAN (FNA)- Commander of the Islamic Revolution Guards Corps (IRGC) Khatam al-Anbiya Headquarters Major General Qolam Ali Rashid cautioned Washington of the dire consequences of any military move against Tehran, adding that his country's readiness to undertake the necessary defensive and offensive measures makes the US responsible for any adventurism that could endanger the lives of its soldiers.
"Washington has to act responsibly in protecting and not endangering the lives of American soldiers by avoiding any mistakes in the region, specifically in the Persian Gulf and Strait of Hormuz," Major General Rashid said on Friday.
He added that Tehran did not seek war, but that branches across Iran's Army and IRGC forces were always prepared to defend Iran's interests.
He added that Iran's ability to repel any "provocative action" is increasing in a "coordinated manner".
The senior IRGC commander made the comments on the sidelines of a joint military drill, code-named Guardians of Velayat Sky-98, being held over an area of 416,000 square kilometers in the central province of Semnan.
The military exercise seeks to simulate combat in the Persian Gulf and the strategic Strait of Hormuz area.
Various types of state-of-the-art missile and radar systems — designed and built at home — will counter different aerial threats during the exercise.
The military drill comes after Washington's USS Abraham Lincoln sailed through the Strait of Hormuz and entered the Persian Gulf on Tuesday.
On the same day, US President Donald Trump announced the deployment of the first batch of previously promised troops in Saudi Arabia. There will be a total of 3,000 troops in the "coming weeks".
The troops are being deployed to "assure" Washington's regional partners and "deter further Iranian provocative behavior," Trump said.
Washington, along with its regional allies such as Riyadh, has sought to couple economic sanctions with the prospect of military action as part of a campaign of "maximum pressure" against Tehran.
Speaking regarding the developments on Friday, Rashid said "sending messages and words" were not enough to deter Iran's enemies.
"Suitable measures and actions are needed", he added.
Earleir this month, Iranian Deputy Foreign Minister for Political Affairs Seyed Abbas Araqchi expressed confidence that no war would be ignited between Tehran and Washington as Americans are aware of his country's high defense power.
"We are fully confident because we are completely prepared," Araqchi said in an interview with the Arabic-language service of RT on November 11.
He underlined the Iranian Armed Forces' full preparedness to defend the country, saying that the Americans are also aware of this fact.
"In my view, they do not dare to make aggression against us and as a result, we believe that there will be no war to break out in the region," Araqchi said.
In relevant remarks in October, Islamic Revolution Guards Corps (IRGC) Deputy Commander Rear Admiral Ali Fadavi said enemies did not even dare to fire a single bullet at Iran as they rested assured of Iran's crushing response.
"The enemies should know that they will receive a harsh, firm and decisive response to any aggression or move against the country and the Islamic Revolution," Rear Admiral Fadavi said.
"30 years after the end of (Iraqi-imposed) war, no country dares to fire even a single bullet against us and this shows that the enemy is well aware of the Islamic Republic's power and might," he added.
Also, in February, Chief of Staff of the Iranian Armed Forces Major General Mohammad Hossein Baqeri said enemies did not dare to attack his country due to its high defense capabilities and preparedness.
"Enemies do not have the courage to attack Iran militarily and they have resorted to espionage and cultural measures more," General Baqeri said.
He underlined Iran's good situation and progress in defense industries, and said, "At present, over 80% of military equipment needed by our country's Armed Forces is manufactured inside Iran."
General Baqeri said that the Iranian Armed Forces had also registered good performance in playing advisory role in Iraq and Syria in war on terrorism.
https://en.farsnews.com/newstext.aspx?nn=13980901000440
------
Tehran Denounces Washington's Support for Israeli Land Theft
Fri Nov 22, 2019
TEHRAN (FNA)- Iran's Foreign Ministry Spokesman Seyed Abbas Mousavi categorically condemned the recent statement of the American State Department where the US repudiated its past opinion about Israel's illegal settlements in Palestinian lands, adding that the move makes up another proof of Washington's complicity in Tel Aviv's crimes against Palestinians.
US Secretary of State Mike Pompeo said on Monday that Washington was repudiating a 1978 State Department legal opinion that held Israeli settlements illegal, claiming that the establishment of those structures in the occupied West Bank "is not per se inconsistent with international law".
Speaking on Thursday, Mousavi firmly rejected the announcement, saying it once again proved Washington's "partnership" in the Israeli regime's occupation of Palestine and its crimes in the territory as well as "a breach" of the sovereignty of Palestine's neighbors.
The America officials' statements and measures concerning Palestine constitute clear violations of international laws, he noted, urging the international community to take action in this regard.
Mousavi also stressed that the Palestinian land belongs to the Palestinian people.
"The Zionist regime is a usurping and occupying regime, and the only solution to the Palestine crisis is holding a referendum among the main inhabitants of the Palestinian land," he added.
United Nations Security Council members decried the US policy shift on Israeli settlements during a meeting on Wednesday.
They emphasized that the settlements are illegal and undermine the so-called two-state solution to the Israeli-Palestinian conflict.
Before the meeting began, Britain, France, Germany, Belgium and Poland reiterated in a joint statement that "all settlement activity is illegal under international law."
The Arab League will also hold an emergency meeting of foreign ministers on Monday to discuss Washington's new policy on Israeli settlements which has drawn widespread condemnations.
Earlier this month, Iranian President Hassan Rouhani underlined that the Muslim world's public opinion will not allow the US and Israel to divert attentions from the Palestinian issue.
President Rouhani made the remarks, addressing the opening ceremony of the 33rd International Islamic Unity Conference in Tehran on Thursday.
He described Palestine and Al-Quds as the most important issues in the World of Islam, warning of the United States and the Zionist Regime's policies aimed at forgetting the issue as the World of Islam's first priority.
"The public opinion in the World of Islam will not allow enemies to make the issue of Palestine and the Holy Quds be forgotten as the top priority of the World of Islam," President Rouhani said.
He referred to the United States and the Zionist regime's failures, and said, "Americans and Zionists will succeed in their conspiracies against the World of Islam if they are able to distance our young generation from the right ideals, and describe the enemy as friend and the friend as enemy".
"For at least the last three decades, the US and the Zionist regime have been the source of every war, massacre and dispute in the region," President Rouhani said, adding, "The young generation should understand that the US is not, and will never be, regional nations and Muslims' friend, and regional issues must be resolved by its own people."
"Although our enemies have attempted in the recent years to make us forget about Palestine and the Holy Quds, the public opinion in the World of Islam will not allow enemies to make the issue of Palestine and the Holy Quds be forgotten as the top priority of the World of Islam".
"The most important plot against us Muslims in recent decades is to cast doubt on the powers that have long-standing animosity with the Muslim world," he said.
"All these efforts have been for us to forget all the crimes committed by the West, led the United States, over the years, and the occupation of the Palestinian territory by a group of occupiers," the president said.
"All these efforts are made to undermine the important fact that the Palestinians must return to their homeland. Enemies have achieved some success in this regard, but fortunately they have not achieved their malicious goals."
"They wanted the Zionist Regime to be accepted as a normal state by all Muslims in the region and even the Palestinians. Even the new American regime tried to trade the issue of Palestine with money and called it the Deal of the Century, and even tried to make the Holy Quds the capital of the occupiers, but to no avail," he said.
"From the killing of the Afghan people to the killing of the Iraqi people and the oppressed people of Yemen and sowing discord among the Islamic countries, these have all been the impacts of America's evil plots in the region," Rouhani said.
"Which country in the region has America served and helped over the past years? The source of which coup, war and conflict in the Middle East has not been America and the Zionist Regime?" he asked.
"The most important issue in the World of Islam is to dispel the doubt in the younger generation that America is not, and will not be, a friend of the nations and Muslims in the region. The ones that are using more clear language lately used to say that we have come to the region to save the Kuwaiti people, or we are here to secure the waterways, or they said we are sending our fighters and troops to fight terrorism, but they are now saying explicitly today that we are aiming at the Syrian oil wells. We had not heard a more explicit, clear statement than this by the regime in power in the White House," President Rouhani warned.
"When they clearly said that they are starting a fire in the region to sell modern weapons, it became clear to us that they wanted the region's money to pour into their pockets and sell their weapons to be used for the killing of the region's people".
He noted that the Yemenis want nothing except freedom and independence, saying, "What do you want in our region and why is your fleet in the region"?
Rouhani continued saying that others have always created problems for the regional states and have not solved any, adding, "They have only brought suffering, killing and bloodshed to our region. Palestine must be liberated by the heroic Muslims of this region and Palestine. No foreign power has contributed to the independence and freedom of any Islamic country."
"Whenever regional nations have cooperated with each other, either to overthrow demons or gain independence and prosperity, major world powers and the United States have stood against the interests of the nations in favor of the aggressors," he said.
The 33rd International Islamic Unity Conference, marking the birth anniversary of Prophet Mohammad (PBUH), kicked off in Tehran on Thursday with President Rouhani in attendance.
Over 350 elites and figures from 93 countries are also participating in the international conference held in Tehran on November 14-16.
Secretary-General of the World Forum for Proximity of Islamic Schools of Thought Ayatollah Mohsen Araki and 250 Sunni clerics of Iran are present in the international conference.
The International Islamic Unity Conference this year is planned to mainly focus on unity of the Muslim Ummah to defend al-Aqsa Mosque.
Ayatollah Araki has already said that the International Conference will prove that the sanctions are ineffective and cannot isolate Islamic Republic of Iran.
On the sidelines of the four-day international Islamic conference, foreign guests will meet the Supreme Leader of the Islamic Revolution Ayatollah Seyed Ali Khamenei.
The International Islamic Unity Conference t is held annually in an effort to lay the ground for stronger unity and solidarity among Muslims and provide solutions to their problems.
https://en.farsnews.com/newstext.aspx?nn=13980901000419
------
Iran Urges IAEA to Respect Security Regulations about Nuclear Sites
Fri Nov 22, 2019
TEHRAN (FNA)- Iranian Foreign Ministry Spokesperson Seyed Abbas Mousavi said that Tehran is serious in protecting its vital nuclear sites and facilities as an inalienable right and expects the International Atomic Energy Agency (IAEA) to respect regulations it has set for safeguarding such sites.
"It is imperative for the agency's inspectors to observe the Islamic Republic of Iran's regulations as well as the regulations governing our important and vital facilities, because we view it as a right to protect our sensitive centers," Mousavi noted, touching the case of a female IAEA inspector who was barred from entering the Natanz uranium enrichment plant in central Iran on October 28 after she had tested positive for suspected traces of explosive nitrates
Iran immediately reported the issue to the IAEA and accommodated it with relevant evidence too, he added, saying, "We are awaiting the agency's response. We hope that the agency has a convincing response."
If Tehran deems necessary and finds some inspectors, whom the country itself has allowed onto its soil, in default of its laws and regulations or the standing agreements, "It is natural [for the country] to be sensitive, and has to bar their entrance [into its nuclear facilities]," the Iranian official clarified.
On November 06, the Atomic Energy Organization of Iran (AEOI) announced that it has not allowed an inspector of the IAEA to enter a nuclear site for carrying "suspicious" materials.
The AEOI added that the female inspector left her mission unfinished and flew out of Iran after security staff at the Natanz uranium enrichment facility didn't let her in.
"As it is protocol, all of the IAEA inspectors' belongings are closely inspected and scanned before they enter any of the country's nuclear facilities," it added.
"Upon this lady inspector's entry, the security control machines sounded the alarm and denied her entry," the statement said, adding then that Iran had reported the issue to the IAEA.
Iran also told the IAEA in a report that the inspector's previous admissions at various sites were all scrapped and as a result, she decided to abort her mission and go back to the Austrian capital city of Vienna.
The report also asked the agency to help with investigations into the matter and it accepted.
"The investigations are ongoing," the AEOI said, noting that the Iranian mission at the IAEA would present it with a comprehensive report on the matter on Thursday.
The IAEA monitors have been traveling in and out of Iran over the past months amid Tehran's decision to cut back on its commitments under a 2015 nuclear deal, dubbed the Joint Comprehensive Plan of Action (JCPOA), in response to violations by the US and a lack of action to salvage the accord on part of the European signatories -- the UK, France and Germany.
https://en.farsnews.com/newstext.aspx?nn=13980901000373
------
Massive Air-Defense War-Games Underway in Central Iran
Fri Nov 22, 2019
TEHRAN (FNA)- The Iranian Armed Forces' joint military drills codenamed "Modafe'an-e Aseman-e Velayat 98" (Guardians of Velayat's Sky-98) entered its second day on Friday in the Central province of Semnan, in a bid to boost preparedness in the face of potential threats in the Persian Gulf and Strait of Hormuz.
The Iranian Air Force units started the second day of their large-scale military exercises this morning with various types of state-of-the- art missile and radar systems — designed and built at home — boasting their counteroffensive power against different aerial threats.
The military drill is being held over an area of 416,000 square kilometers in the central province of Semnan, simulating the Persian Gulf general area and the strategic Strait of Hormuz.
Speaking on the sidelines of the maneuver on Thursday, Commander of the Iranian Army's Air Defense Force Brigadier General Alireza Sabahi Fard said the first phase of the drill features detecting and identifying enemy targets, while in the next phase radar system will engage airborne targets.
He warned against any violation of Iranian airspace, which he described as the country's "redline."
The drill is aimed at testing the country's latest military equipment and to enhance its preparedness in the face of potential threats in the simulated conditions of real war. The drill includes various types of homegrown missile systems and radars countering aerial threats in low, medium and high altitudes.
The first phase of the drill, held on Thursday, featured detecting and identifying enemy targets, while the second phase will involve radar systems engaging airborne targets.
On Tuesday, USS Abraham Lincoln (CVN-72) sailed through the Strait of Hormuz, through which about a fifth of all oil consumed globally passes.
In June, Iran's air defenses shot down a US-made RQ-4 Global Hawk unmanned aircraft system (UAS), which was sent on a spying mission into the Islamic Republic's skies.
Iran has conducted major military drills in recent years to enhance the defense capabilities of its Armed Forces and to test modern military tactics and state-of-the-art equipment.
Each year, the country inaugurates a host of new projects and hardware developed with reliance on domestic capabilities. The Islamic Republic maintains that its defense power is driven by deterrence and poses no threat to any other country.
In a relevant development on Tuesday, the Ground Force of Iran's Army started large-scale military drills in the country's Northwestern region, in a bid to further boost the combat readiness of its units.
Codenamed "Zolfaghar-e-Velayat", the military drills of the Iranian Army's Ground Forces started this morning in a vast strategic area in the Northwestern parts of the country.
Various divisions of the Army Ground Force are participating in the drill, which is focused on practicing the transfer of rapid reaction units via ground and air from across the country to operation zones. The enlisted units will also display their efficacy and work to enhance their readiness in responding to operational requirements and threats through day and night.
https://en.farsnews.com/newstext.aspx?nn=13980901000317
------
Envoy: US Call for Talks Ungenuine, Inconsistent with Coercive Measures
Fri Nov 22, 2019
TEHRAN (FNA)- Iranian Ambassador and Permanent Representative to the International Organizations Kazzem Qaribabadi said that Washington's expressed readiness for talks with Tehran is fake call, adding that the US can hold negotiations with Iran with abandoning its unilateral sanctions and returning to the framework of the nuclear deal.
In a statement on Thursday before the International Atomic Energy Agency (IAEA) Board of Governors which met on Verification and Monitoring of Iran in Light of United Nations Security Council Resolution 2231 passed in 2015, Qaribabadi rejected statements by the US representative to the IAEA on Washington's readiness to negotiate with Iran as a political gimmick in order to shirk its responsibilities for noncompliance with its international obligations, including the nuclear deal of 2015, officially known as the Joint Comprehensive Plan of Action (JCPOA).
"If the US is serious about entering into negotiations, it should, first, remove all re-imposed sanctions, so that the ground would be leveled. Only then, negotiations could be followed under the framework of the JCPOA Joint Commission."
"Continuation of the imposition of sanctions and other unilateral coercive measures are not consistent and coherent with their claims for negotiations," said Qaribabadi.
The nuclear deal was reached in Vienna in July 2015 between Iran and the P5+1 group of states, the US, Britain, France, Russia, and China plus Germany. It lifted nuclear-related sanctions against Tehran, which, in turn, voluntarily changed some aspects of its nuclear energy program.
The US, however, left the accord last May and reinstated its unilateral sanctions against Iran. The European deal partners, meanwhile, have bowed to Washington's pressure, failing to honor their contractual obligations to protect Iran's economy in the face of America's "toughest-ever" bans.
In reaction to Washington's withdrawal from the deal and Europe's inaction, Tehran has reduced its commitments under the JCPOA in four phases, the latest of which was the resumption of enrichment at Fordow nuclear facility.
The fourth step, the injection of uranium hexafluoride (UF6) gas into centrifuges at Fordow, is believed to be the most important step so far, and a serious warning to other parties.
Elsewhere in his remarks, Qaribabadi told the IAEA that Iran is still faithful to the terms of its 2015 nuclear deal with world powers, and has not breached any of its commitments under the multilateral accord.
"Iran has shown its good will by implementing all of its commitments under the deal wholeheartedly, and as the world witnessed, the Agency has continuously reported the full compliance of Iran with the JCPOA," the Iranian envoy highlighted.
"Iran tries to protect its national interest in accordance with international rules, regulations and negotiated agreements, and even the recent steps taken by Iran to cease the implementation of some of its commitments under the JCPOA not only are the continuation of its full compliance with the provisions of the deal consistent with its paragraph 36, but also do not break any of its international obligations, and Iran still is acting within the nuclear deal," he added.
"However, if it [Iran] is to be the only, and I stress, the only participant who bears the burden and implements the deal unilaterally, such a lopsided implementation, naturally, would not last long, and gradual cessation of implementation of commitments would be the first step for Iran to take to bring back the lost balance in the deal," he warned.
During the meeting, IAEA Acting Director-General Cornel Feruta claimed the Agency has "detected natural uranium particles of anthropogenic origin at a location in Iran not declared to the agency" and said the issue has remained "unresolved".
"A meeting between the Agency and Iran is scheduled next week in Tehran to discuss the matter," he said.
In his Thursday remarks, Qaribabadi referred to the European partners' failure to maintain the inherent balance in the deal following the US withdrawal, and said they "are not ready to pay the necessary price for the sake of maintaining the most significant achievement of diplomacy and the cornerstone of non-proliferation architecture, as they say."
Early in June, Supreme Leader of the Islamic Revolution Ayatollah Seyed Ali Khamenei said that the Iranian nation and officials will not be deceived by the new gambit of US President Donald Trump who is now trying to convey the impression that the White House has put aside its destructive approach towards Tehran.
Ayatollah Khamenei, delivering an address during a ceremony marking the 30th anniversary of the founder of the Islamic Republic Imam Khomeini's departure, in the capital Tehran, underlined that Iran's people and authorities will not fall for US President Donald Trump's political ploys.
The Leader warned about the US's recourse to political approaches aimed at creating the impression that it has abandoned its subversive ways against the Islamic Republic.
Ayatollah Khamenei cited the example of Trump's comments in Japan, where he said he was not pursuing regime change in Iran and that the Islamic Republic "has a chance to be a great country with the same leadership."
The leader said the US president was trying to say that "we are prepared to accept you," but cautioned, "This is political shrewdness."
"This does not dupe the Islamic Republic's authorities and the Iranian nation. Iranians make progress if they stand on their own and Americans stay away. Wherever the US laid its step, either war, sedition, exploitation, or imperialism has followed," Ayatollah Khamenei stated.
Ayatollah Khamenei advised Washington to mind its own business and set its own house in order, reminding how the US was grappling with high levels of crime, drug, and police brutality that was unmatched anywhere else in the world.
"We ourselves know (better) how to behave and act," the Leader noted.
The Leader, however, noted that what the US president had said in terms of Iran's chances with its sitting leadership was "of course true," but the condition for the Islamic Republic to make progress was that Washington "stays away" from the country.
Ayatollah Khamenei further said Trump's very election in the United States was a sign of America's decadence.
"Election of a person with the characteristics of Donald Trump, who is the center of debate in the United States itself over his mental, ideological, and behavioral balance, is in and of itself an indication of political decline," the Leader said.
Ayatollah Khamenei noted how Washington had invariably supported the crimes committed by Israel and the countries behind the ongoing invasion of Yemen, adding, "They back crime. Can moral bankruptcy become any worse?"
The Leader further hailed Iran's "doctrine of resistance" against imperialism, as a legacy of Imam Khomeini.
"The goal behind (pursuing) resistance is to reach the point of economic, political, social, and military deterrence," Ayatollah Khamenei said. "We should reach a point, which would dissuade the enemy from committing aggression against the people of Iran," the Leader added.
Ayatollah Khamenei hailed that the country had, to a large scale, reached that level in military strength.
The Leader said that achievement was the reason the country's enemies were attempting to deprive Iran of its missile power, adding, "Of course, they will not be able to do this."
Ayatollah Khamenei further hailed Imam Khomeini as an icon of resistance, whose unparalleled way of standing tall in the face of the enemies had culminated in the country's current self-reliance.
Had it not been for the resistance put up by Iran, the Leader asserted, the county would have turned into a vassal state like Saudi Arabia, which not only is serving its oil and other resources to Washington, but is also forced to align its political approaches to that of the US.
https://en.farsnews.com/newstext.aspx?nn=13980901000097
------
Africa
Islamists' power play prompts soul searching in Tunisia
Friday 22/11/2019
TUNIS - Tunisians are more optimistic following presidential and legislative elections, surveys indicate, but secularists are voicing concern that a government dominated by the Islamist Ennahda Movement and its allies could reverse years of social progress and increase instability.
A survey by Tunisian polling company Sigma Conseil said that 61.5% of respondents said the "country was moving in the right direction," up from 11% in March.
The proportion of "pessimistic" responders slumped to 30%, compared to 89% in March, marking the highest degree of "optimism" displayed by Tunisians since January 2015, the first month after the previous legislative elections.
Analysts said the trend was mostly because of the election of Kais Saied, a retired university professor who advocates decentralisation and rule of law, as president. Saied, who ran without a party, won 72.7% of the vote in the run-off election, the highest mark of any freely elected leader since the country's independence.
Saied's supporters, an unorthodox mix of Islamists, revolutionary leftists, young people and Tunisians who say they admire him for his "integrity," "humility" and commitment to law and order, underscored the deep rifts — and contradictions — in Tunisian society.
However, Tunisia's parliament and government control most domestic policy, while the president's prerogatives include defence and diplomacy.
Ennahda, despite losing seats in parliament, shored up power by striking a surprise alliance with the secularist Qalb Tounes party. Ennahda, which won 52 seats in parliament, and Qalb Tounes, which won 38, had pledged not to ally with each other.
Ennahda President Rached Ghannouchi was elected parliament speaker through that deal and Ennahda nominated Habib Jemli, an independent former Agriculture official said to be close with the party, as prime minister.
Ennahda's political jockeying cast doubt on its commitment to addressing Tunisia's major challenges, including economic stagnation and security.
Many Tunisians raised concerns that an Ennahda-dominated political scene would change the country's general "political culture" and have a negative effect on future generations.
"I never sensed such feelings of strangeness as I did today in the opening session of the parliament," said newly elected deputy Safi Said. "I went there brimming with hope and optimism. I'm leaving the place burdened with sadness and pessimism."
"I might have lost my way when I thought about the state and the parliament. I found everything there except the homeland and myself," he said, adding that "lies and disloyalty filled the atmosphere in parliament."
Political writer Synda Tajine asked what Ennahda's ascendancy would teach the country's future generations. "What are we striving to teach to our children?" she asked. "Are we giving them the good examples? Certainly not."
Ennahda insists it is being unfairly maligned and that the party's first-place finish in legislative elections gave it the right to play a prominent role in governance. The party has gone to great lengths to put on a friendly face for international media, adopting the image of a dove under a blue sky — symbolising peace and love — and referring to its members as "Muslim democrats" rather than Islamists.
However, the party and its allies are not trusted by a large number of Tunisians, polls indicate. Half of respondents said they view the party negatively, the Sigma Conseil poll states, and two-thirds voiced the "highest degree of distrust" towards Ghannouchi.
"Despite its relative victory in the parliamentary elections, Ennahda remains the party most despised by Tunisians, first as a party and secondly as leaders," said political analyst Zied Krichene.
"Correct, decades have passed since the incipiency of the Islamist current with the Islamists no longer seeking in their speeches to destroy the pillars of the common cultural and religious identity of the Tunisians as they do their utmost to claim they are part of it but the arrogance displayed by the Islamist movement, especially when it dominated power from 2011-13, revived tensions not only among the elite but among the general public."
Secularist intellectuals said Tunisia's Islamists remain a strong force that includes extremist and fundamentalist elements. They point out that, besides Ennahda's 52 seats, the far-right Karama coalition, viewed by some as the fundamentalist wing of Ennahda, has 21 seats in parliament.
Karama is more popular than Ennahda, the poll results said, suggesting the Islamist movement has continued to spread its influence.
Former Information Minister and Jeune Afrique founder Bechir Ben Yahmed said he feared that "by electing Ghannouchi as speaker, Tunisia has turned backward an entire century."
"The policy and behaviour of the Islamists in Tunisia over the last nine years and their plots and intrigues after the latest polls, whether the known ones or the ones suspected by Tunisians, confirm the perception among most observers that Tunisia will be better if ruled by others," he said.
https://thearabweekly.com/islamists-power-play-prompts-soul-searching-tunisia
------
With Hate Speech law, Fulani haters in trouble – Myetti Allah Boss, Bodejo
23rd November 2019
NATIONAL President of Miyetti Allah Kautel Hore socio-cultural organisation, Abdullahi Bodejo, has said that there was no basis for people to call for his arrest over a recent interview in which he said, states that fail to establish settlements for Fulani herdsmen may know no peace. Bodejo told VINCENT KALU, in an interview that the Fulani are the best leaders in Africa, and labelled those who are advocating to move the herdsmen to Sambisa forest, as haters of Fulani ethnic group.
The government is proposing a law against hate speech; offenders are liable to death, what is your view?
It is a welcome development because of the way people are abusing the media, especially the social media. The manner people are insulting others in the social media shouldn't be encouraged. They abuse malams, imams, pastors, president, governors, name it. These people don't have jobs, but just to bring others down; destroy their images and paint them black in the hearts of others.
However, there are other offences people are committing in the country, the govern- ment is supposed to join these offences to carry the same weight with hate speech. The government should also regulate the use of internet in this country, as a way of curtailing the hate speech.
A situation somebody can write or post something that can incite people, tribe, religion against each other shouldn't be tolerated. These days, people are just writing something against the Fulani in order to make other ethnic groups to hate them.
This law against hate speech is very favourable to the Fulani, as many people have been made to hate the Fulani through what was posted in the social media.
In your recent interview, where you said that, 'No Ruga, no peace', many people and groups are calling for your arrest and prosecution, as they said that it amounted to hate speech and incite- ment. What is your reaction to this?
I don't know how that can be incitement or hate speech. I said, if you are a governor of a state, you are governor of everybody – farmers, especially cattle rearers, and as governors, you shouldn't wait for Federal Government's intervention, you are supposed to carve out or create a place with modern amenity for the Fulani herdsmen or create a grazing reserve for them in order to have peace, and avoid the conflict between the herdsmen and farmers.
How can this be a hate speech or incitement? I'm the leader of these Fulani herds- men, and their issue is the problem for ev- erybody in this country. I have cows, but I don't have cattle route to rear them; I don't have a place to rear them, then, I say, find a Ruga or cattle reserve or grazing route to avoid trouble, is that a hate speech?
Fulani are contributing a lot in this coun- try; what the herdsmen need is where they will be grazing their cows. I know the prob- lem that we are facing all over the country. I know the federal government is planning on how to solve this Fulani- farmers issue, but before then, the governors should start doing something by creating a place for them in each state.
I'm not wrong to ask that cattle routes, Ruga or cattle reserve be opened for the herdsmen. You can see cows walking on highways because there is no cattle routes; herdsmen are walking up and down in this country and are confused because no place to do their business.
For a governor who says that he doesn't have any place for Ruga, cattle colony, or route, what is the consequence?
You can chase them out like Governor Ortom of Benue State has done. All our members have already left Benue State be- cause of the antigrazing law. Before, Fulani herdsmen were living with everybody, but now everybody is trying to hate them.
If a governor says he doesn't have land for grazing or Ruga, no cattle colony, it is good, there is no problem, but I know that will not lead to the end of Fulani in this country; come what may, they will continue to survive in this country and that is why we are telling our members to change their thinking on the next line of business to do instead of relying sorely on this cattle rearing business.
If you are a governor and you say you don't have land for the Fulani, that means you don't want them in your state, and you can pursue them out from your state. There is no problem.
Why is it that they don't want them around, is it as some people say that history has it when you give them one plot of land, they extend and encroach into other plots and before you know it they have taken everyplace, and impose their authority?
This is just propaganda to put the Fulani in bad light. If those people saying this know the history of this country, they are not supposed to say that about the Fulani. Fulani are already blessed people; everywhere they go, they carry their blessings.
Before you say anything against the Fulani, go and check, Tafawa Balewa, Ahmadu Bello, how they did during their leader- ship, how they handled everybody. These people don't know the history of the Fulani and that is why they are being antagonistic against them.
Maybe, the history, according to this group was that the Fulani always come in peace, and like they did in the North, they conquered the Hausa, came down to Ilorin and conquered part of Yoruba
That is why I said, the Fulani are already blessed people. If God blessed another tribe, how can you stop that blessing? Fu- lani are the best leaders in Africa. Even in Nigeria here, go and check the domains of emirs who are Fulani, they accommodate everybody – Yoruba, Tiv, Igbo, etc; they never expel people from their land.
Assume you plant maize in your farm and you see cows eating them, how would you feel?
I will feel very bad, but mind you, it is not only Fulani who are rearing cows. The other people who have now joined in rear- ing cows don't know how to control the cattle in the bush. These people are being forced to go and learn Fulani language. These cows that are destroying people's farms are not being herded by Fulani, go and check.
Who are they?
If you have seen a case where police arrested herdsmen whose cows were de- stroying farmlands, show me the place, I want to go and see them. There are different Fulani, but people may not know; it is not only one tribe of Fulani. For a true Fu- lani, if you go and destroy a person's farm with your cattle that is the way that God will also destroy your cattle.
It is not good. When we were growing up, our fathers, even our grand fathers always told us that if you are rearing cow (we call it haram) and you use them to destroy people's farm, your cows will not be healthy; they will not grow to be fat, they will not grow.
Do you mean that Fulani don't herd those cows that destroy farms crops?
Yes. Fulani do not own them
Which other people rear cows?
Anywhere you see cattle destroying crops, go and check the identity of the herdsmen. For example, in Nasarawa and Taraba states, as well as other states, Fu- lani already have committee to take care of how people are rearing cows. If cattle destroy any farm, members of the commit- tee will go after the herder, and he will be punished and seen as person who doesn't want peace. We are doing a lot to make sure that there is peace wherever we are. I'm telling you that Fulani are not the only ones rearing cattle. Right now, you have people who have bought more than five thousand hectares of land where they are rearing cows; they are no Fulani.
That one is ranching, which everybody is advocating for
If you are a Fulani man and you want to go and buy that large expanse of land, how many cows will you want to sell to buy 1000 hectares of land? Maybe, if you have 300 cows and you sell all of them, you may still not be able to buy 1000 hectares of land.
That is the problem the Fulani are facing in this country, everybody is working to have his own place for business, and that is why we are calling on the state governors to understand our problems; that they should accommodate everybody.
To halt these incessant clashes, people are suggesting that ranches be created in Sambisa forest, with all the value chains in animal husbandry. The place is bigger than Lagos State
That is the level of hatred people have for the Fulani in this country. Why is everybody pursuing us to go to Sambisa when they know that it is a no go area? Ok, let Fulani go to Sambisa and be wiped out completely; is that their plans? Everything about Fulani is politicised. Every state has land, and it is for the governors to carve a portion and give us a place, where our children can go to school, a place where we can take care of our cows.
Since Buhari came to power, I know the federal government has been trying to solve the problems facing this country – problem of insecurity, herdsmen/ farmers' clashes. I know the government is trying to make every farmer happy, but when it comes to the issue of the government trying to make the herdsmen enjoy life, ev- erybody will be shouting that Buhari wants to collect land and give to his people. They are doing that because the president is a Fulani man.
Since Buhari came to power, I know the federal government has been trying to solve the problems facing this country – problem of insecurity, herdsmen/ farmers' clashes. I know the government is trying to make every farmer happy, but when it comes to the issue of the government trying to make the herdsmen enjoy life, everybody will be shouting that Buhari wants to collect land and give to his people. They are doing that because the president is a Fulani man.
https://www.sunnewsonline.com/with-hate-speech-law-fulani-haters-in-trouble-myetti-allah-boss-bodejo/
------
Islamic group commends FG on fight against corruption
23 November 2019
In a bid to lend its voice towards national development, the Dar-Us-Su'Ada Islamic Academy recently organised a one-day symposium under the theme, Governance and Sustainable Development: Islamic Perspective.
Held in Lagos, chief host of the symposium, Dr. Saheed Olurotimi Timehin, a senior lecturer at Lagos State University (LASU), in his welcome address, reiterated the old saying about corruption being the bane of Nigeria. Saheed commended the current administration for their dogged struggle for the emancipation of the country and charged Nigerians to support their efforts and to be patient with them.
In his remarks, Director Muslim Rights Concern (MURIC), Professor Ishaq Lakin Akintola, who was the chief speaker at the symposium, encouraged Muslims to join active politics and maintain the teachings of Allah, as that's the only way to achieve sustainable development in the country.
Alhaji Tajudeen Olusi, an APC chieftain who chaired the symposium, urged Muslims to balance the time they devote to religious activities with governance, saying governance is the avenue to attain a sustainable development.
Sheik Sa'eed Abdul, who was the second speaker, spoke extensively on the need for Muslims to be active in governance and shouldn't forget to maintain the Quranic teachings in discharging their leadership functions.
https://guardian.ng/news/islamic-group-commends-fg-on-fight-against-corruption/
------
Islamic group lauds Buhari, Osinbajo on anti-corruption, economy
November 23, 2019
A group, Dar-Us-Su'Ada Islamic Academy, has said President Muhammadu Buhari-led administration made giant strides in fighting corruption and ensuring economic development of the country.
According to the group, the challenges facing the current administration can be traced to the enormity of corruption that held sway from 1999 to 2015.
Speaking at a symposium organised by the group in Ikeja, Lagos recently, a senior lecturer at the Lagos State University, Dr Saheed Timehin, urged the government to do more, noting that Nigeria was still far from the Promised Land.
Timehin, who was the chief host of the symposium, said there was the need to build strong institutions to check the excesses of corrupt people effectively as done in developed nations.
He said, "The nation has been held to ransom by corrupt politicians, particularly between 1999 and 2015. The shocking revelations of the magnitude of the corruption show that the country lacks the institutional capacities to curtail corrupt practices effectively.
"We commend the Vice President, Yemi Osinbajo, for bringing the country out of recession when he was Chairman of the Economic Recovery and Growth Plan. His handling of the SIP's programmes which touched the lives of the poor and the downtrodden people.
"It is disheartening to note that Nigerians expect miracles from mere mortals who are trying to salvage a sinking nation. It's indeed nauseating to hear people who are supposed to know better attributing the harsh economic realities to the present administration. Despite earning less than half the previous administration earned, the current administration is investing more in Nigeria's future."
Delivering a lecture at the event tagged, "Governance and Sustainable Development: Islamic Perspective," the Director Muslim Rights Concern, Prof Ishaq Akintola, encouraged the Muslim faithful to join active politics and abide by the teachings of Allah.
https://punchng.com/islamic-group-lauds-buhari-osinbajo-on-anti-corruption-economy/
------
South Asia
8 Taliban militants killed, wounded in Special Forces raid in Kunduz
23 Nov 2019
The Special Forces killed or wounded eight Taliban militants during an operation in northern Kunduz province, the military said Saturday.
According to a statement released by Special Operations Corps, the Special Forces conducted the raid in Taloka Village located in the provincial capital of Kunduz.
The statement further added that the Special Forces killed 5 Taliban militants and wounded 3 others.
Kunduz is among the relatively volatile proivnces in North of Afghanistan. Taliban militants are active in some districts of the province and often conduct terrorist related activities.
Meanwhile, the Afghan forces routinely conduct counter-terrorism operations against the anti-government armed groups in this province.
https://www.khaama.com/8-taliban-militants-killed-wounded-in-special-forces-raid-in-kunduz-04383/
------
8 civilians killed, wounded in an explosion in Kapisa province
Saturday, 23 Nov 2019
An explosion in Kapisa province killed 3 civilians and wounded 5 others, the local security officials said Saturday.
Abdul Shayeq Shoresh Kohistani, a spokesman for the provincial headquarters confirmed that the explosion too place in Alasai district on Friday.
He said the militants detonated a remote-controlled improvised explosive device in a market which killed 3 civilians and wounded five others.
The anti-government armed militants including Taliban have not commented regarding the explosion so far.
Taliban militants and other militant groups frequently use improvised explosive device as the weapon of their choice to target the security forces and government officials.
However, the roadside bombings normally inflict casualties on ordinary civilians.
https://www.khaama.com/8-civilians-killed-wounded-in-an-explosion-in-kapisa-province-04382/
------
Infighting among Taliban militants leaves 4 dead in Wardak province
Saturday, 23 Nov 2019
An infighting among Taliban militants left four militants dead in central Wardak province, the Afghan military said.
According to a statement released by 203rd Thunder Corps, the Taliban militants clashed with each other in Wardak province which left 4 militants of the group dead.
The statement further added that a local commander of the group identified as Asad was among those killed.
Asad was involved in destructive and disruptive activities on Highway#1 of Wardak province, the 203rd Thunder Corps added in its statement.
Meanwhile, the 203rd Thunder Corps said the security forces killed 2 Taliban militants and wounded 3 others during a joint operation in Nogha and Aashoqan areas of Ghazni province.
The Explosives Ordnance Disposal team of the Afghan military also discovered and defused 4 improvised explosive devices in Paktika province, the 203rd Thunder Corps added.
https://www.khaama.com/infighting-among-taliban-militants-leaves-4-dead-in-wardak-province-04381/
------
Sporadic clashes leave 7 Taliban militants dead, wounded in Faryab
Saturday, 23 Nov 2019
Sporadic clashes took place between Afghan forces and Taliban militants in northern Faryab province on Friday which left 7 militants dead or wounded.
The 209th Shaheen Corps said in a statement the Afghan forces clashed with the militants various parts of Andkhoi and Qaramqol districts at around 10:30 am local time on Friday.
The statement further added that the security forces killed 3 Taliban militants and wounded 4 others during the clashes.
An Afghan soldier also sustained injuries during the clashes but his wounds are not life threatening, the statement added.
The Taliban group has not commented regarding the clashes so far.
https://www.khaama.com/sporadic-clashes-leave-7-taliban-militants-dead-wounded-in-faryab-04380/
------
Pakistan
Mufti Taqi Usmani urges Muslim nations to raise issue of Holy Quran's desecration globally
Saturday Nov 23 2019
Renowned religious scholar Mufti Taqi Usmani on Friday urged Muslim nations to raise at international level the issue of the recent desecration of the Holy Quran in Norway, and called for the release of the Muslim man who had tried to stop the act in the Scandinavian country.
Mufti Usmani, in a Twitter post, said that the West, who lectures the Muslim fraternity on tolerance, has reached the nadir of cowardice by holding rallies to desecrate the Holy Quran.
The scholar praised Ilyas, the Muslim man who stopped the desecration, but deplored that neither any media nor any Muslim country — with the exception of Turkey — took notice.
Usmani said that that it is the duty of the Muslim countries to raise the issue globally and work to ensure that Ilyas is freed.
Social media was set ablaze with praises on Friday for the "Muslim hero" who interrupted an anti-Islam rally to stop another man from burning a copy of the Holy Quran in Norway.
A scuffle broke out after the leader of the 'Stop Islamisation of Norway (SIAN)' rally, Lars Thorsen, tried to burn a copy of the holy book in the city of Kristiansand despite warnings from local police officials.
In a video on social media, the 'Muslim hero' could be seen jumping into the barricaded circle to save the holy book from being desecrated. The rally soon turned violent, after which police took Ilyas and Thorsen into custody.
https://www.geo.tv/latest/258033-mufti-taqi-usmani-urges-muslim-countries-top-take-up-desecration-of-holy-quran-event-globally
------
PM's approval sought for next CJP appointment
Nasir Iqbal
November 23, 2019
ISLAMABAD: As the incumbent Chief Justice Asif Saeed Khosa is all set to doff his robes on Dec 21, the law ministry on Friday moved a summary, seeking Prime Minister Imran Khan's approval for the elevation of senior puisne judge Justice Gulzar Ahmed as the top adjudicator of the country.
When he is sworn into the prestigious office, Justice Ahmed, who enjoys the reputation of being one of the most honest and courteous judges in the judiciary, will be the 27th Chief Justice of Pakistan to serve till Feb 21, 2022.
The law ministry's move to send the summary for the premier's approval has laid to rest the swirling speculation that the federal government intends to enhance the retirement age of Supreme Court judges from the existing 65 to 68 years.
The speculation gained traction in bar rooms and gatherings as part of the recent electioneering of the Supreme Court Bar Association after two parliamentarians of the ruling Pakistan Tehreek-i-Insaf — Fakhar Imam and Amjad Khan Niazi — moved a private bill before the National Assembly seeking to increase the retirement age of SC judges to 68 years.
Justice Gulzar to succeed Chief Justice Khosa next month
The bill, which was later referred to the relevant NA standing committee for a threadbare discussion on it but is still pending with it, was aimed at SC judges' retirement age and not that of the high court judges.
The idea set alarm bells ringing for superior court judges, while some senior lawyers feared that the attempt was in fact a bait and others questioned its possibility without first amending Article 179 of the Constitution for which the help of at least two major opposition parties — Pakistan Muslim League-Nawaz and the Pakistan Peoples Party — would be needed.
While talking to Dawn, Pakistan Bar Council vice chairman Syed Amjad Shah said: "We are opposed to the concept of extensions, be it for the army chief or for the judges." He said the bar councils believed that this concept negated the rule of law and the strengthening of the democratic institutions.
The legal fraternity believes that the next chief justice will steer the superior judiciary out of controversies and add to the prestige of the institution.
Justice Ahmed, who was part of the five-judge bench that disqualified former premier Nawaz Sharif in the Panama Papers case, is also a member of the Supreme Judicial Council (SJC) and the Judicial Commission of Pakistan.
He is known for strict actions during suo motu proceedings regarding Karachi as a result of which massive anti-encroachment and cleanliness drive was launched by the metropolitan authorities though it also created some consternation among the people. Under Article 184(3) of the Constitution, the Supreme Court enjoys the inherent jurisdiction to directly entertain public interest litigation for the enforcement of fundamental rights if breached or by taking suo motu notice whenever certain important issues are brought to its notice.
After Justice Ahmed, Justice Umar Ata Bandial will be next to become chief justice with 19 months of service till Aug 16, 2023. Justice Qazi Faez Isa will replace Justice Bandial to serve for more than a year till Oct 25, 2024.
Then Justice Ijazul Ahsan will become the head of the Supreme Court for 10 months till Aug 4, 2025, while Justice Mansoor Ali Shah will become the chief justice to serve for two years until Nov 26, 2027.
Then Justice Munib Akhtar will be elevated to the prestigious position. He will serve for more than a year till Dec 13, 2028 to be replaced by Justice Yahya Afridi who will remain in the top office for over a year until Jan 22, 2030.
Justice Ahmed was born on Feb 2, 1957, at Karachi in the family of distinguished lawyer Noor Mohammad and did his early education from Gulistan School, Karachi. He obtained BA Degree from Government National College, Karachi and LLB Degree from S.M. Law College, Karachi. He was enrolled as an advocate on Jan 18, 1986 and as an advocate of the High Court on April 4, 1988 and then as an advocate of the Supreme Court on Sept 15, 2001.
He was also elected as Honorary Secretary of the Sindh High Court Bar Association for the year 1999-2000 and had practised mainly on the civil corporate side and remained legal adviser of various multinational and local companies, banks and financial institutions.
He became judge of the SHC on Aug 27, 2002. He also remained member of the Board of Governors, Institute of Business and Technology, NED University of Engineering and Technology, Sir Syed University of Engineering and Technology, Iqra University, Ahmed E.H. Jaffer Foundation and Aga Khan University.
Justice Ahmed was notified as chairman of the disciplinary tribunal of Pakistan Bar Council and enrolment committee of the PBC. He was also notified as member of the building committee of the Supreme Court of Pakistan and senior member of committee for Law Clerkship Programme also as the judge in charge of Administration of the Supreme Court Establishment.
https://www.dawn.com/news/1518318/pms-approval-sought-for-next-cjp-appointment
------
Projects being carried out under CPEC free of corruption: envoy
November 23, 2019
ISLAMABAD: Chinese Ambassador Yao Jing on Friday said that China-Pakistan Economic Corridor (CPEC) projects were free of corruption.
Speaking at the fifth CPEC media forum, organised jointly by the Chinese Embassy in Islamabad and Pakistan-China Institute, the envoy said that CPEC projects were investigated and it was unanimously concluded that there was no corruption in their affairs. "CPEC is clean," he said.
Mr Yao was responding to senior US official Ambassador Alice Wells' comments at the Woodrow Wilson International Centre in which she alleged that CPEC projects were piling debt burden on Pakistan and lacked transparency.
"We hope Pakistanis will ask Beijing tough questions on debt, accountability, fairness and transparency... Ask the Chinese government why it is pursuing a development model in Pakistan, that significantly deviates from what brought China its own economic success," Principal Deputy Assistant Secretary of State for South and Central Asia Alice Wells said.
Chinese ambassador rejects US criticism of mega-project
Ambassador Yao said he was "shocked and surprised" at Ms Wells' speech which "fully exposes her ignorance of Pakistan-China relations".
He said the US should not cast aspersion over something about which it doesn't have accurate information.
Senator Mushahid Hussain Sayed said Pakistan-China relations and the success of CPEC "rankles many" in the region and beyond, hence while they cannot stop or slow the project, now they are trying to undermine it through negative propaganda.
About the so-called debt trap, he said 91 per cent of the Pakistani debt is owed to the West, including multilateral institutions, and only 9pc to China.
APP adds: Mr Yao called upon the media to play its role in nullifying the effects of propaganda against the CPEC.
"Media is a major vehicle of information and platform of interaction," he said while addressing the CPEC media forum. "Media from both Pakistan and China have already been playing role in promoting state-to-state relations."
He said that Pak-China relations were based on win-win cooperation and were mutually beneficial.
China always came forward to assist Pakistan in need without any political or government differences.
The envoy said that if Pakistan was in need, China would never ask Pakistan to repay its loans in time. However, he pointed out, the International Monetary Fund (IMF) was strict in its repayment system.
He wondered why the US had suspended its aid promised to Pakistan and said Washington obviously did so because of political priorities. "When in 2013, the Chinese companies were establishing power plants in Pakistan, where was the US? Why it did not invest in Pakistan's power sector despite knowing that Pakistan was in dire need of electricity?" he asked.
With respect to the US allegation of corruption in CPEC projects, Mr Yao said it was easy to hurl allegations at anyone without having evidences.
With regard to the Main Line (ML-1) railway project which is to be executed under the CPEC, he clarified that the project's cost is around $9 billion; however, it is only an estimate. "The real cost of the project will be finalised in the second stage of determining financial package of the project," he added.
The Chinese ambassador also reacted to the US accusation of providing few jobs to Pakistani workers in CPEC projects, saying that so far over 75,000 Pakistani workers had been given job opportunities and that around 2.3 million jobs are expected to be created in CPEC projects by 2030.
"I would be more happy to see more investment coming from the United States to Pakistan," Mr Yao said, adding that China was determined to build capacities of Pakistani businessmen and industrialists to boost productivity in the country which would ultimately help increase Pakistan's exports.
https://www.dawn.com/news/1518334/projects-being-carried-out-under-cpec-free-of-corruption-envoy
------
Trade ties to set record this year: US
November 23, 2019
ISLAMABAD: Trade ties between Pakistan and the United States are set to witness a new record this year as President Donald Trump and Prime Minister Imran Khan have reaffirmed commitment for a stronger relationship, the White House said on Friday.
"The two leaders reaffirmed their commitment to strengthening the United States-Pakistan trade relationship, which is on track to set a new record this year, as well as investment and people-to-people ties between our countries," White House Deputy Press Secretary Judd Deere said in a statement following the telephonic conversation between the two leaders that took place Thursday evening [partly reported].
The relationship between Pakistan and the US entered into a fresh phase of rejuvenation after Prime Minister Khan assumed his office last year. Later, the meeting between Mr Khan and Mr Trump in Washington this July gave a positive dimension to the otherwise roller-coaster bilateral ties as the discussion featured Trump's mediation offer on Kashmir.
In a joint press conference at White House the same day, Prime Minister Imran Khan informed President Trump of a "good news" in the offing, which was interpreted by media as related to the release of an American and an Australian professor abducted by Taliban in Kabul, Afghanistan two and a half years ago.
After the release of two professors this week, President Trump called to thank Imran Khan in view of facilitation extended by Pakistan. He thanked the Prime Minister for Pakistan for his support for the recovery of American hostage Kevin King and Australian hostage Timothy Weeks, the PM Office statement.
The PM Office said: "President Trump hopes this positive development will contribute to furthering the peace process in Afghanistan," adding that he also thanked the Prime Minister for Pakistan's efforts in facilitating this positive outcome.
Prime Minister Imran Khan conveyed that the release of Western hostages in Afghanistan was a "positive development and Pakistan was happy that they were safe and free". Prime Minister Khan reaffirmed Pakistan's commitment to the advancement of Afghan peace and reconciliation process for a peaceful and stable Afghanistan. Both leaders agreed to continue to work together for the promotion of this shared objective.
The prime minister apprised Presi­dent Trump of the current situation in Occupied Kashmir, underscoring that over eight million people remained under siege for over 100 days.
Appreciating President Trump's continued engagement as well as mediation offer, Prime Minister Khan stressed that the US president must continue his efforts for facilitation of a peaceful solution of the Kashmir dispute.
Recalling their conversations in Washington and New York, the two leaders agreed to deepen bilateral collaboration. The two leaders further agreed to remain in close contact, according to PM Office.
https://www.dawn.com/news/1518331/trade-ties-to-set-record-this-year-us
------
Summary sent to PM's Secretariat: Justice Gulzar to replace CJP Khosa
November 23, 2019
ISLAMABAD: The Ministry of Law has sent to the Prime Minister's Secretariat the summary for appointment of the new chief justice of Pakistan, reported the Geo news channel on Friday.
The report said that Justice Gulzar Ahmed, Senior Judge of Supreme Court of Pakistan, has been named the new chief justice. He will replace the present Chief Justice Asif Saeed Khan Khosa, who is retiring on December 20.
Justice Gulzar will resume the charge as the new chief justice on December 21, if his appointment is approved by the prime minister.
According to the official website of the Supreme Court of Pakistan, Justice Gulzar remained the Acting Chief Justice of Pakistan from 20th-28th November, 2018 and 13th-17th May, 2019.
Justice Gulzar sought his early education from Gulistan School, Karachi, and obtained B.A. degree from the Government National College, Karachi, and LL.B. degree from the S. M. Law College, Karachi.
He has served in the capacity of legal adviser of various multinational and local companies, banks and financial institutions.
He then enrolled as an advocate on 18th January, 1986 and as an advocate of the high court on 4th April, 1988 and then as an advocate of the Supreme Court of Pakistan on 15th September, 2001.
He was elevated to the post of a judge of the Sindh High Court on 27th August, 2002 and later, as a judge of the Supreme Court on 16th November, 2011.
https://www.thenews.com.pk/print/572918-summary-sent-to-pm-s-secretariat-justice-gulzar-to-replace-cjp-khosa
------
Will foreign funding case against PTI conclude before CEC's retirement?
Tariq Butt
November 23, 2019
ISLAMABAD: The foreign funding case against the Pakistan Tehreek-e-Insaf (PTI) is unlikely to be decided by the Election Commission of Pakistan (ECP) before it will be rendered dysfunctional with Chief Election Commissioner (CEC) Justice (R) Sardar Muhammad Raza's retirement on Dec 6.
"The existing three-person ECP comprising the CEC and two members will hold hearings on the foreign funding case only after the scrutiny committee formed by it will present its report to it," ECP spokesman Nadim Qasim told The News.
He said that the ECP has directed the committee to hold day-to-day proceedings to wrap up and provide its findings to it so that it can hold further hearing on the case.
Another ECP official was sure that the ECP would not be able to conclude the case before the CEC's retirement. He said when the committee has failed to produce its report in the last eighteen months since it was constituted, it was unexpected to finish its assignment in such a short span of time.
However, former ECP Secretary Kanwar M Dilshadsays the electoral commission will be able to decide the case before the CEC's retirement as it has received all the evidence. The scrutiny committee will also end its deliberations within this time, he adds.
The committee, established to audit the foreign funding of the PTI, consists of senior officers of the ECP and State Bank of Pakistan (SBP), the ECP spokesman said, adding that although the PTI has challenged its proceedings once again in the Islamabad High Court (IHC), no stay order has been issued. On Nov 20, the IHC adjourned hearing on the PTI petition till the first week of December.
Under the law, the ECP can be functional only when it has at least three members as is the case now. It has a total of five members including the CEC. Two vacancies have not been fulfilled in an almost a year due to disagreement between the two constultees – Prime Minister Imran Khan and leader of the opposition in the National Assembly Shahbaz Sharif on the nominees. The appointment of two members made by President Dr Arif Alvi has been rejected by the IHC, which directed the Senate chairman and National Assembly speaker to contact the two consultees in order to evolve consensus on these two posts as well as the CEC's replacement. The chairman and speaker have called for proposed names from the premier and opposition leader.
On Aug 22, President Alvi appointed Khalid Mehmood Siddiqui from Sindh and Munir Ahmed Kakar from Balochistan as ECP members on the posts that had fallen vacant after the departure of Abdul Ghaffar Soomro and retired Justice Shakeel Baloch.
The ECP set up the scrutiny committee to dispose of the case filed by PTI's founding member Akbar S. Babar in Nov 2014. Since then, it is pending disposal. The body was created on March 27, 2018 to scrutinise the foreign funding accounts and submit its report to the ECP. However, due to lack of cooperation from the respondent, the timeframe of the committee has consistently been extended as it failed to get the bank statements starting from 2013. The committee has held several meetings with little or no progress.
At one stage, the ECP used its powers under Article 220 of the Constitution and directed the SBP to ask all the scheduled banks to submit the PTI's accounts, which was complied with. Article 220 says it shall be the duty of all executive federal and provincial authorities to assist the CEC and the ECP in the discharge of his or their functions.
Since the filing of the case, the PTI has called the ECP jurisdiction in question in the IHC for at least half a dozen times, but all the decisions went against it and in favour of Akbar S Babar.
The ECP direction to the scrutiny committee to hold back to back hearings to conclude the case came after representatives of the Rahbar Committee of the opposition parties protested in front of its offices and sought proceedings on daily basis. In this regard, a notice has been sent by the ECP to both sides, directing them to present themselves before the ECP scrutiny committee on Nov 26. Prior to that, Akbar S Babar has been requesting the committee to hold hearing on day to day basis for disposal of the case as early as possible. He stated that it was not the time of investigation, but the time to announce decision as he has provided to the ECP all evidence regarding the accounts and money trail.
In its latest plea, the PTI has prayed the IHC to restrain the scrutiny committee from probing its foreign funding and challenged the ECP rejection of its applications seeking secrecy in the inquiry.
https://www.thenews.com.pk/print/572927-will-foreign-funding-case-against-pti-conclude-before-cec-s-retirement
------
Imran Khan is Altaf Hussain in the making: PPP
Faizan Bangash
November 23, 2019
LAHORE: Terming Prime Minister Imran Khan mentally unsound, the Pakistan Peoples Party leadership has said Imran is another Altaf Hussein in the making.
"He doesn't know the sanctity of the office he is holding, he is mentally sick and on the path of becoming Altaf Hussein" said Saeed Ghani, PPP leader from Sindh and Provincial Minister for Local Government while talking to The News on Friday.
Commenting on the speech of Imran in Mianwali in which he made fun of the political leadership of the country, Ghani said the PM is not in senses most of the time. He said while chairing a cabinet meeting, Imran had issued the statement that Nawaz was not in good health but while addressing the nation, he is deviating from his own stance. He said Imran Khan's acts are a reflection of defeat and frustration.
Syed Hassan Murtaza, the PPPP Punjab parliamentary leader, while expressing similar views, said the prime minister has lost mental balance and is the future Altaf Hussein of the country. He said that instead of fulfilling his responsibilities, Imran has turned the PM office into a theatre where he seems to be running a circus every day.
https://www.thenews.com.pk/print/572909-imran-is-altaf-in-the-making-ppp
------
Sindh High Court acquits man accused of killing MQM MPA Manzar Imam
November 22, 2019
The Sindh High Court (SHC) on Friday acquitted a man who was accused of murdering the Muttahida Qaumi Movement's (MQM) MPA Manzar Imam.
The accused Muhammad Ashiq filed an appeal after the Anti-Terrorism Court (ATC) awarded him a death sentence.
The court said that prosecution was not able to provide substantial evidence to uphold charges against the accused.
It should be noted that Ashiq and four others were charged with murder and sentenced to death by the ATC.
Manzar Imam along with his gunman and driver were killed in Orangi Town, Karachi in 2013.
https://www.thenews.com.pk/latest/572754-sh
------
CPEC to push Pakistan deeper into debt burden, cautions US
Anwar Iqbal
November 23, 2019
WASHINGTON: The United States has warned Pakistan that the China-Pakistan Economic Corridor (CPEC) would push the country deeper into an already stifling debt burden, foster corruption and repatriate jobs and profits to China.
In a speech, described as "unusually specific" by the international media, the top US diplomat for South Asia warned on Thursday that the multi-billion-dollar project would take a toll on Pakistan's economy at the time of repayments and dividend in the coming years.
Assistant Secretary Alice Wells explained that CPEC was not an aid to Pakistan but a form of financing that guarantees profits for Chinese state-owned enterprises, with little benefits for Islamabad.
As an international media report pointed out, this specific warning comes at a time when Washington and Islamabad are trying to rebuild their turbulent relationship.
Addressing a gathering of diplomats, scholars and journalists at a Washington think tank, the Wilson Center, Ms Wells also quoted specific examples from the project.
Alice Wells says multibillion-dollar project will take a toll on Pakistan's economy at the time of repayments
"CPEC's most expensive single project is upgrading the railway from Karachi to Peshawar. When the project was initially announced, the price was set at $8.2 billion," she said.
"In October of 2018, Pakistan's railways minister announced that they had negotiated the price down to $6.2 billion, a saving of two billion. And he explained Pakistan is a poor country. We cannot afford this huge burden of these loans."
"But recent media reports claim the price is now risen to $9 billion," she added. "So, why doesn't the Pakistani public know the price for CPEC's most expensive project or how it's being determined?"
The US diplomat also underlined the long-term effects in Pakistan of China's "financing practices" and urged Islamabad to examine "the burdens that are falling on the new government to manage with now an estimated $15 billion debt to the Chinese government and $6.7 billion in Chinese commercial debt".
Ms Wells also emphasised the need for Pakistan to know that China was providing loans, not grants, as the United States.
"It's clear or needs to be clear that CPEC is not about aid. This is almost always the form of loans or other forms of financing, often non-concessional with sovereign guarantees or guaranteed profits for Chinese state-own enterprises that are repatriated to China," she said.
"Now, together with non-CPEC Chinese debts payments, China is going to take a growing toll on the Pakistan economy, especially when the bulk of payment starts to come due in the next four to six years."
Ms Wells warned that even if loan payments were deferred, "they are going to hang over Pakistan's economic development potential, hamstringing Prime Minister (Imran) Khan's reform agenda."
Directly addressing the alleged lack of transparency in CPEC projects, she said this could increase projects costs and foster corruption, resulting in a heavier debt burden for the country.
Ms Wells also challenged the notion that CPEC would create jobs in Pakistan. "CPEC relies primarily on Chinese workers and supplies, even amid rising unemployment in Pakistan," she said.
The US diplomat also demanded more transparency on the proposed link between Gwadar Port and China's Xinjiang while responding to a question that New Delhi saw this as a military project aimed at encircling India.
She said that while CPEC would only benefit China, the United States offered a better model and urged Islamabad to introduce economic reforms that would encourage US investors to invest in Pakistan.
She also recalled that during PM Khan's July visit to the White House, US President Donald Trump had offered to greatly enhance American trade with Pakistan.
Ms Wells acknowledged that the United States could not offer investments from state-run companies. But, she added, the private US investment, coupled with grants, would improve Pakistan's troubled economy.
"There is a different model," she said. "Worldwide we see that US companies bring more than just capital; they bring values, processes and expertise that build the capacities of local economies."
She pointed to interest in Pakistan by US companies including Uber, Exxon Mobil, PepsiCo and Coca-Cola, with the soft-drink makers together investing $1.3 billion in the country.
Her speech appeared linked to a major offensive that Washington has recently launched against Beijing's Belt and Road Initiative, a signature project of President Xi Jinping which aims to build ports, highways and railways around the world.
https://www.dawn.com/news/1518319/cpec-to-push-pakistan-deeper-into-debt-burden-cautions-us
------
Arab World
Saudi Arabia takes presidency of G20
November 23, 2019
NAGOYA: Saudi Arabia is set to take over the G20 presidency for a year, as announced during a foreign ministers meeting on Saturday.
The kingdom's new foreign minister, a prince with diplomatic experience in the West, landed in Japan's Nagoya city on Friday to meet with his counterparts from the Group of 20 nations.
Prince Faisal bin Farhan Al-Saud was appointed in October in a partial cabinet reshuffle, joining a new generation of royals in their 40s who rose to power under Crown Prince Mohammed bin Salman, 34, the de facto ruler of the world's top oil exporter.
King Salman has hailed the Kingdom's G20 presidency as proof of its key role in the global economy.
Saudi Arabia will reveal the details of their G20 Presidency program on Dec. 1, 2019. The program seeks to support innovation globally, achieve prosperity, empower the people of the world and conserve the earth, in line with the Kingdom's Vision 2030.
Prince Faisal will pick up the baton at a ceremony on Saturday in Nagoya, where G20 foreign ministers have gathered for talks.
Japan — which headed the G20 this year — was the kingdom's second-largest export market last year, at $33 billion, according to IMF trade data.
Apart from its reliance on Saudi oil, Japan has deepened its ties to the kingdom thanks to Japanese technology conglomerate SoftBank Group. Riyadh has been a big supporter of SoftBank's massive Vision Fund.
Japanese Foreign Minister Toshimitsu Motegi told Prince Faisal he was pleased to meet him for the first time and both sides wanted to boost relations, according to a read-out from Japan's foreign ministry.
Motegi praised Saudi work to stabilize southern Yemen, where Riyadh orchestrated a deal to end a power struggle between Yemen's government, which it backs, and southern separatists.
Diplomats said that Saudi Arabia plans more than a dozen G20 summits throughout the year on tourism, agriculture, energy, environment and digital economy.
A share sale of giant Saudi state oil firm Aramco this month and a bond sale earlier this year — under a drive to diversify the largest Arab economy away from oil — attracted interest in the traditional sectors of energy and finance.
https://www.arabnews.com/node/1588596/saudi-arabia
------
Four Anti-Government Protesters Killed in Clashes with Security Forces in Baghdad as Top Cleric Bluntly Pushes Reform
November 23, 2019
BAGHDAD: Four anti-government protesters were killed in clashes with security forces in Iraq's capital on Friday as the country's top cleric bluntly pushed politicians to enact electoral reforms.
More than 340 people have died and thousands have been wounded since rallies against widespread graft and unemployment erupted in Baghdad and the mostly Shia south last month.
For weeks demonstrators have demanded that the government step down but leaders have resisted, instead proposing a raft of measures including recruitment drives and a revamp of Iraq's electoral system.
Protesters have brushed off the proposals, maintaining their sit-ins in Baghdad's iconic Tahrir (Liberation) Square for four consecutive weeks.
These have spread onto bridges leading to the western bank of the river Tigris, an area which houses parliament, the prime minister's office, several ministries and the central bank as well as foreign embassies.
On Friday, security forces fired tear gas and live rounds from behind thick concrete barriers to keep crowds from crossing over.
Four protesters were killed, two shot dead and two killed by tear gas canisters, a medical source said.
Rights groups have slammed security forces for improperly firing the gas grenades directly at protesters in a way that can be lethal, instead of into the air.
Demonstrators were enraged at the violence, which has continued despite calls by the country's top Shia authority, or marjaiyah, to deal with the rallies peacefully.
"The marjaiyah banned shooting (at protesters), but it's still happening and people are still dying," said Ahmad Mohammad, a 58-year-old protester in Tahrir.
In an unusually brief sermon on Friday, Grand Ayatollah Ali Sistani repeated his support for the protest movement and urged politicians to prioritise new election laws.
"The marjaiyah stresses the need to work quickly to pass an electoral law and a law on the electoral commission," said the sermon.
But the call was met with scepticism from demonstrators, who have sought more robust support from the seat of Shia religious power in Iraq.
"They're going too slowly on the government. I call them the silent marjaiyah," one demonstrator scoffed.
Lawmakers are to meet on Saturday to interrogate the industry minister as part of a planned government reshuffle.
Earlier this week, they began discussing a draft electoral law that would shrink parliament and distribute votes according to a complex hybrid system.
But the United Nations mission in Iraq (UNAMI) said the draft law "requires improvements to meet public demands".
Critics of the current law say it favours entrenched political parties over independents and is vulnerable to corruption and seat-buying.
The last elections in May 2018 produced a parliament in which no bloc had a clear majority — a shaky foundation for Prime Minister Adel Abdel Mahdi.
Parties have rallied around Abdel Mahdi in recent weeks, but protesters have also defiantly clung on.—AFP
They were buoyed on Thursday by the government's lifting of its weeks-long restrictions on social media, opening the door to a slew of online critiques of the political class.
"They have lost all legitimacy and their proposals don't represent us. This government must resign," said Abou Ali, a 32-year-old demonstrator in Baghdad.
Further south, sit-ins continued in the largely agricultural towns of Hillah, Nasiriyah and Diwaniyah, as well as in Najaf and Karbala.
In protest-hit Kut, a local tribal leader said protesters would maintain the pressure on authorities.
"We are determined to keep demonstrating until our demands are met: the government's resignation and parliament's dissolution," said Nasir al-Qassab.
"We reject proposals from the government... They're just trying to procrastinate," he said.
https://www.dawn.com/news/1518352/four-die-in-baghdad-as-top-cleric-bluntly-pushes-reform
------
First flower festival in Saudi Arabia's Qatif town attracts 115,000 visitors
November 23, 2019
QATIF: Qatif's first flower festival, organized by the municipality, attracted some 115,000 visitors from various cities and regions in eight days, the Saudi Press Agency reported.
The festival boasted over a million species of seasonal flowers, and included events, pavilions, the Qatif Museum, a corner for craftsmen and local cuisine, a children's playground and photography. Many families took photos with flowers and plants.
Mohammed bin Abdul Aziz Al-Sifyan, assistant undersecretary for municipal affairs and spokesman of the Eastern Province secretariat, said the festival aimed to promote how to grow and take care of flowers.
He added that locals participated in the festival, especially in the pavilions of productive families, where they featured their products.
Al-Sifyan said the Eastern Province secretariat makes sure that productive families participate in all the region's events.
Attendance at the flower festival "exceeded our expectations," he added. "There were visitors from inside and outside the Kingdom who brought their cameras and came to enjoy the festival."
The organizing committee ensured that the festival would have a wide appeal. As such, it included cultural, social and recreational events and activities, competitions for children, and programs for women and children.
Qatif Mayor Mohammed bin Abdulmohsen Al-Husseini, said the goal of such events is to revitalize tourism in the area. He added that the flower festival aimed to appeal to all age groups.
"The municipality seeks through this festival to promote community participation, develop society's lifestyle and spread joy among visitors," he said, praising the 250 male and female volunteers for their role.
He added that such events are possible through the combined efforts and participation of government agencies, charities and voluntary organizations.
Productive families
Eighty families participating in the festival earned significant revenue after selling 90 percent of their products.
The festival, organized by the region's municipality at the Central Awamiyah project, highlighted the creativity of the families and the young women working from home who presented their hand-made products for sale. The visitors also enjoyed a variety of entertainment, social, artistic, heritage and popular activities.
The items for sale included handicrafts, ceramics, perfumes, herbs, cosmetics, incense, clothing, accessories, henna, abayas, Jalabiyas, gift wrapping, bridal equipment, special occasion dresses, home accessories and rose decorations.
Al-Husseini said: "The festival represents an opportunity for families to sell and advertise their products."
He also thanked the contributing and participating bodies and the 250 volunteers for their role in the success of the festival.
https://www.arabnews.com/node/1588376/saudi-arabia
------
Saudi students showcase pioneering inventions
23 November 2019
RUBA OBAID
JEDDAH: Student innovators have been showcasing their pioneering projects at a Saudi university's inaugural design week.
More than 20 original products and creative ideas by female students at Jeddah's Effat University went on display to the public and industry professionals during the event.
Dr. Sajid Khalifa, chair of the university's design department, told Arab News that the initiative was aimed at promoting community awareness of the role of design in improving quality of life, while also offering a platform for students to present their inventions.
"There has been a trend going on throughout the GCC; we have seen Dubai Design Week and Saudi Design Week just in the past few weeks. Effat University has realized that there is a need for a platform that will gather experts from the industry and the education sector, as well as the public — the potential users of the designs — to communicate and interact," Khalifa said.
Effat University is one of the Kingdom's leading design education institutions. "We were the first university to graduate the first-ever batch of Saudi female product designers and introduced them to the industry in 2018," he added.
The four-day program, staged at the university's library and cultural museum, was divided into talks and workshops presented and run by professionals and professors, and an exhibition of the students' projects.
College and university students, members of the public, designers, and entrepreneurs attended the event, with many environmental, interior and product design graduates from the university taking up the open invitation to participate.
Hasnaa Jestiniah, a graduate of product design, took part in the exhibition with her child-friendly juice mixer, called Bounce. "I made this product to strengthen the relationship between parents and their children, and encourage children to drink fresh, healthy juices at the same time."
The mixer has four separate containers that youngsters can drink from directly or share with other family members. It also functions as a toy that vibrates and makes different sounds.
I made this product to strengthen the relationship between parents and their children, and encourage children to drink fresh, healthy juices at the same time.
Hasnaa Jestiniah, Founder of child-friendly juice mixer, Bounce
Jestiniah also participated with her product at the recent Saudi Design Week in Riyadh, part of the Riyadh Season of activities and events.
Al-Johara Arafa displayed her luxurious mini refrigerator, designed to be a chic addition to the living room. "Some people like to show off; this product is made for them."
It has a screen which connects to the user's phone allowing them to choose important appointments or app feeds to appear on the touch screen, and voice commands summon up the weather and time. It also functions as a piece of art.
Arafa said that after being initially apprehensive, she was enjoying her time in the design department. "It is easy, but you need to work hard."
Another graduate, Galiah Tarabishish, invented specially designed shoes for people with equinus, a foot condition in which the upward bending motion of the ankle joint is limited, causing difficulties with walking.
"When I began planning for my graduation project, I tried to think of something that touched me and that I wanted to change, and I decided to find a solution to my brother's disability," Tarabishish told Arab News.
Her brother disliked his "boring" footwear, so she invented a new type of medical shoe that was colorful, comfortable, and more practical.
"Medical shoes should not be boring and ugly, especially for young children. They shouldn't feel different from their peers," she added.
Product design student, Razan Al-Afif, showcased her robotic Drone Buddy toy. "It helps to wake up kids in the morning, helps them with their homework, and encourages them to be more active physically and mentally," she said.
The robot can be monitored through an app on a parent's mobile and is equipped with GPS, two projectors, a screen, sensors, a sound system, and camera.
Dr. Ahmad Kassab, professor of industrial product design, supervised the student projects. "All students are required to convert their designs to a real product for them to graduate, and they have to prove the success of their project," he said.
The products are registered with the King Abdul Aziz City for Science and Technology (KACST) research institute in Riyadh.
https://www.arabnews.com/node/1588396/saudi-arabia
------
Lovers of heights dine in sky 50 meters above Riyadh
23 November 2019
RIYADH: Riyadh Season made the dream of height lovers come true through a dinner in the sky held at Winter Wonderland Riyadh, the Saudi Press Agency reported.
Participants enjoyed a fancy dinner on a platform hanging 50 meters above the ground. Eight trips per hour are held every day, with 32 seats for everyone to enjoy dinner and coffee served at a special restaurant.
The operator of the restaurant has a number of conditions for diners. They must be at least 130 centimeters high, not pregnant or afraid of heights, cannot smoke or bring food or drink from outside, tamper with seat belts or fail to follow any other instructions during the trip.
Visitors can enjoy this experience by applying through the Riyadh Season smartphone application, where they can follow the instructions to book their tickets.
https://www.arabnews.com/node/1588386/saudi-arabia
------
KSRelief to send SR3.2m worth of winter aid packages to Yemenis
23 November 2019
RIYADH: The King Salman Humanitarian Aid and Relief Center (KSRelief) on Thursday signed a SR3.24 million ($865,000) agreement to distribute winter aid packages in Yemen.
The winter bag project accord, inked with the Selah Foundation for Development, will see 5,600 parcels of blankets, jackets, and children's hats delivered to 33,600 displaced and poor families in Sanaa, Al-Bayda, Taiz, Marib, Al-Jawf, Dhale, Shabwa, Hadramout, Lahij, Aden, and Al-Mahrah.
The agreement was signed by KSRelief's assistant supervisor general for operations and programs, Ahmed bin Ali Al-Baiz, at the center's premises in Riyadh, and is part of the Kingdom's efforts, represented by KSRelief, to relieve the suffering of Yemenis during the cold winter period.
https://www.arabnews.com/node/1588431/saudi-arabia
------
URL: https://www.newageislam.com/islamic-world-news/ahmadabad-gujarat-heritage-harmony-temple/d/120347
New Age Islam, Islam Online, Islamic Website, African Muslim News, Arab World News, South Asia News, Indian Muslim News, World Muslim News, Women in Islam, Islamic Feminism, Arab Women, Women In Arab, Islamophobia in America, Muslim Women in West, Islam Women and Feminism