New Age Islam News Bureau
21 Dec 2016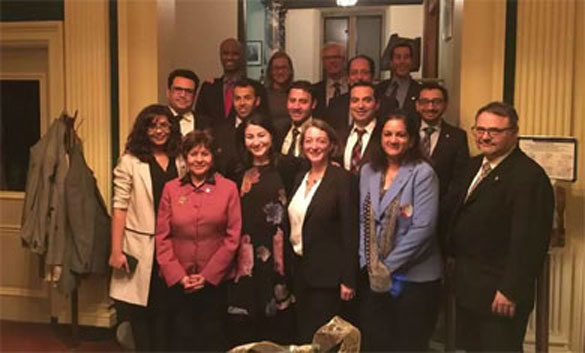 Jewish and Muslim Members of Parliament pose for a group photo after their "Christmas dinner" in Ottawa Dec. 7, 2016. COURTESY OF ANTHONY HOUSEFATHER
--------
• After The Berlin Terrorist Attack, Trump Did ISIS' Work for Them
• Islamic Clerical Body Accused of Playing With Fire by Issuing 'Destructive' Edicts
• Jewish and Muslim MPs' 'Christmas Dinner' Renewed My Faith in Canada'
• Most Bangladesh Rural Students Believe Militant Propaganda
Europe
• After The Berlin Terrorist Attack, Trump Did ISIS' Work for Them
• Halal-Lujah! Just Because I'm Muslim Doesn't Mean I Don't Celebrate Christmas
• Hizb Ut-Tahrir: Radical Group Calls for Global Islamic Rule During Sydney Protest About Syria
• Zurich mosque gunman was Swiss, no Islamist link: police
• Morocco Invests in Religious Reform to Provide Alternative Model to Salafism
• Daesh claims deadly attack on German Xmas market
• Trump frames Europe attacks as clash with Islam
• Germany releases Pakistani held over Berlin attack
• German police says Berlin deadly truck crash 'intentional'
--------
Southeast Asia
• Islamic Clerical Body Accused of Playing With Fire by Issuing 'Destructive' Edicts
• Lawyer: Rulers Consent Not Required To Raise Shariah Penalties
• West Jakarta Military to confront raids on Christmas paraphernalia
• Lecturers in Shah Alam varsity under close watch for IS links
• Indonesia police arrest three over suspected suicide bomb plot
• Malaysia arrests seven for suspected links to militant groups
--------
North America
• Jewish and Muslim MPs' 'Christmas Dinner' Renewed My Faith in Canada'
• UN Afghanistan Envoy Urges Taliban to Join Peace Process
• Trump's National Security Advisor's Twitter Account Shows Extent of Anti-Muslim Beliefs
• Muslim Association Open House Leads To Angry Comments
• US man building ray gun to kill Muslims jailed for 30 years
• Ottawa Muslim community grieving after sisters killed
• Don't think Berlin-style attack couldn't happen in Canada
--------
South Asia
• Most Bangladesh Rural Students Believe Militant Propaganda
• Bangladesh Arrests Two Islamists Blamed For Cafe Attack
• Pentagon confirms death of 2 more senior Al-Qaeda leaders in Afghanistan
• Tales of horror from new arrivals at Rohingya camp
• Hekmatyar's freed commander may punish those who helped jail him: HRW
• Bangladesh plans to procure eight multirole combat aircraft, says report
• ICRC member kidnapped in North of Afghanistan
--------
Mideast
• Iran Forms Joint Military HQ with Russia in Syria
• Russia, Iran & Turkey reach Syria peace deal
• UN human rights resolution politically-motivated: Iran
• Iran censures terrorist attack in Berlin
• Iran, Iraq hold joint military drill in Persian Gulf
• Erdogan opens first road tunnel under Bosphorus
--------
India
• Address Support to Terror from Outside Afghanistan: India to United Nations
• Muslim Leaders Praise 'Long Overdue' Verdict
• BJP Using UCC to Destroy Muslim Identity: CPI (M) Polit Bureau Member
• NIA Questions Zakir Naik's Kin
• Maharashtra: 3 Lakh Muslims Take out Silent March in Beed, Demand Quota
• Process to extradite Masood Azhar will begin soon: Rijiju
• PoK, Kashmir, Pakistan And Bangladesh Belong To India, Says RSS's Indresh Kumar
--------
Africa
• MURIC Threatens To Plant Shariah Court in All Nigerian Towns If Proposed Christian Court Is Approved
• Nigeria: Sultan, Mbaka Preach Religious Tolerance in Enugu
• Four policemen killed in new shootout in Jordan
• ISIS claims responsibility for shootout at Jordanian castle
• Tunisians stage anti-Israel demo after Hamas drone expert's murder
• Nine killed amid violence in DR Congo's capital
• Gunmen kill Puntland presidential director in Somalia
• Al Shabaab militants kill senior official in Somalia's Puntland
• Sudan: New Charges against Czech, Sudanese Pastors
--------
Arab World
• Scores of Terrorists Including Commanders Killed in Syrian Air Raid in Eastern Damascus
• Syrian Army Warns Jeish Al-Fatah to Speed up Evacuation of Militants from Aleppo
• Syria: Turkey-Linked Terrorists Preventing Implementation of Evacuation Agreement in Aleppo
• More Militants Surrender to Syrian Army in Aleppo City
• Saudi King's Order Exacerbates Dark Ties between Riyadh, Cairo
• Russia drafting document to resolve Syria conflict, hopes for regional support
• Zero Hour Arriving for Gov't Forces' Anti-ISIL Operation in Homs
• Hundreds of Civilians Leave Two Besieged Towns in Idlib for Aleppo City
• Militants in Two More Regions End Battle against Syrian Army
• Two sentenced to imprisonment for supporting Daesh
• Arab FMs: Atrocities in Syria threaten regional, global stability
--------
Pakistan
• Pakistan Says Terrorists Have Taken Refuge in Afghanistan
• Government Incentives Boost Pakistan's Islamic Banks
• Political parties urged to unite for success of CPEC
• Govt in a spot over Musharraf's remarks on Raheel, judiciary
• Nisar wants Abbottabad body report made public
• 'Honest answers needed to UN concerns about human rights record'
• Only 96 people are missing in Balochistan, Senate body told
• Suspects confess to killing Amjad Sabri and others
• MQM-L leaders held shortly after release
Compiled by New Age Islam News Bureau
URL: https://www.newageislam.com/islamic-world-news/new-age-islam-news-bureau/after-the-berlin-terrorist-attack,-trump-did-isis--work-for-them/d/109445
--------
After The Berlin Terrorist Attack, Trump Did ISIS' Work for Them
21 December 2016
It took the German Chancellor 15 hours to make a public statement following last night's terrorist attack on a Christmas market in Berlin, Germany. Aware of the impact a poorly chosen phrase could have in a country divided in its sentiments toward Muslim migrants, Angela Merkel said, that while nothing was known for certain, "we must assume it was a terrorist attack."
Not one to let a lack of facts prevent him from forming an opinion, Donald Trump made a statement just three hours after the attack: "Isis and other Islamist terrorists continually slaughter Christians in their communities and places of worship as part of their global jihad."
He later tweeted: "Today there were terror attacks in Turkey, Switzerland, and Germany – and it is only getting worse. The civilised world must change thinking!" The tweet, I assume was to make his point loud and clear, just in case we missed it: Islamic terrorists attacked Christians during a religious festival because Islam and the Christian West are at war.
This isn't the first time that the President-elect has couched terrorism as a clash of civilisations between the civilised West and the barbaric caliphate. In March of this year, he told CNN: "I think Islam hates us." When asked to clarify if he felt that there was a war between the West and radical Islam, or the West and Islam in its totality, he replied, "It's very hard to define. It's very hard to separate. Because you don't know who's who."
This (slightly convoluted) view is not singular to the business tycoon: in 2014, Steve Bannon, his incoming chief strategist, said that the "Judeo-Christian West is in a crisis" and is "at the beginning stages of a global war against Islamic fascism".
As well as managing to conflate numerous Islamic denominations spanning over 50 Muslim majority countries, this BINARY thinking omits the simple fact that Muslims live in the West. We don't yet know the identity of the victims of last night's tragedy but we do know from the similarly horrific Nice attack in July, in which a lorry was driven into crowds on Bastille Day, that many Muslims were counted among the dead.
The first victim to die was Fatima Charrihi, a French Muslim woman from Nice. Following her death, her son said: "She was the first victim; there were no bodies before her. She wore the veil, practising an Islam of the middle ground. A real Islam, not that of the terrorists." Later, a spokeswoman for the Union of Muslims of the Alpes-Maritimes said that 30 Muslim funerals were held for those who died during the attack.
There is no us and them, no imagined Dar-al Harb; in a globalised world these distinct cultural boundaries don't exist. Ask my Muslim friend, who bought me a Christmas present last week. Ask the 4.8 million Muslims who live in Germany, who might have been eating with friends that night at the Christmas market, or walking HOME FROM WORKa few streets away. Terrorism is an attack on the right to freedom of expression and assembly, and that's a right that German Muslims wish to partake in too.
Of course, the President-elect isn't a fool. He knows that this divisive rhetoric serves to bolster his protectionist and isolationist domestic and foreign policies respectively. We don't yet know who is responsible for the attack, but if it is an Islamic extremist group, if they want anything, it is an all-out war between Islam and "the West" – and Donald Trump should know better than to give in to terrorists' demands.
http://www.independent.co.uk/voices/donald-trump-berlin-twitter-terrorist-attack-isis-doing-work-for-them-a7486701.html
--------
Islamic Clerical Body Accused of Playing With Fire by Issuing 'Destructive' Edicts
December 21, 2016
Jakarta. Recent cases of religiously-motivated raids and attacks are now being blamed on the country's highest Islamic clerical body, the Indonesian Ulema Council or MUI, with a pro-democracy group lashing out at its "politically-motivated" and "destructive" fatwas, or edicts.
An edict issued early last week prohibiting Muslims from donning Christmas attire prompted dozens of Muslim hardliners to raid several shopping malls in the East Java city of Surabaya this past weekend.
The incident was the latest in recent years that have drawn public outrage over the instigator, the Islamic Defenders' Front (FPI), but MUI has now been accused of initially sparking the mess.
"MUI has been turning out fatwas that collectively have had a destructive impact on national diversity and law enforcement," Jakarta-based Setara Institute chairman Hendardi said in a statement released on Monday (19/12).
"Those fatwas have not just encouraged hardline groups to believe they have a monopoly on the truth, but are likely also intended to strengthen MUI's political influence. They want to be the supreme authority of Islam in this country," Hendardi said.
MUI has defended last week's edict, saying it was issued to prevent shop owners from forcing their Muslim staff to wear Christmas outfits.
FPI meanwhile claimed they did not raid the malls but only went there to make sure everyone is informed about the MUI edict.
Three months ago MUI also issued the controversial "blasphemy" fatwa against Jakarta Governor Basuki Tjahaja Purnama, who had referred to a Koranic verse in one of his speeches.
The edict accuses the Chinese-Christian governor of insulting the Koran and blasphemy, prompting Muslim hardliners to stage a wave of mass protests, the second of which turned violent.
"Mobs who declared they were the guardians of MUI fatwas felt justified to break the law," Hendardi said. "MUI should not have stayed silent over the destructive acts its fatwas had brought about."
"It's pretty clear MUI has never thought about the adverse impacts its fatwas might wreak on the general public," Hendardi said.
http://jakartaglobe.id/news/islamic-clerical-body-accused-playing-fire-issuing-destructive-edicts/
--------
Jewish and Muslim MPs' 'Christmas Dinner' Renewed My Faith in Canada'
December 20, 2016
In Canada, as the holidays approach this year, I have found the normal cheer somewhat subdued. The aftermath of Brexit and the U.S. elections has had an effect on many Canadians. There is a concern that the world is now a different place. We all knew that in recent years our world has become more dangerous with the rise of terrorist groups that do not play by any rules. But this year, the world seems to have become more divided by race, religion, gender, economic status, sexual orientation and ethnicity, and Canadians are wondering whether this will spread to our own country.
Are we different from the rest of the world? I myself felt somewhat glum as the holidays approached and wondered what I could do to regain my holiday spirit.
For me, my holiday miracle happened in the second week of December. Jewish and Muslim Members of Parliament gathered for what we called our "Christmas Dinner." We shared our personal stories and provided each other with greater understanding of the history and diversity of our communities.
As a white man born in the 1970s to a relatively affluent professional family that has lived in Canada for well more than a century, I cannot remember ever having experienced anti-Semitism or any other form of discrimination. But the same is not true for some of my colleagues. I was in tears as I heard the stories of an older Jewish MP who talked about having been beaten up at a hockey game and having bones broken because he was Jewish. My heart hurt as a female Muslim MP, who has become a close friend, talked about being bullied in high school because she was brown and Muslim.
But what moved me the most was the candid story of a Muslim MP born and educated abroad who acknowledged that he came to Canada having numerous misconceptions about Jews and the time that it took for him to recognize them to be wrong. This only happened because Canada allows us to get to know one another and dispel myths about one another.
We left the evening, after many hours of discussion, convinced that we as a group could make a difference. There is nobody who can confront Islamophobia more effectively than a Jew, and there is nobody who can confront anti-Semitism more effectively than a Muslim. We left inspired to work together with Christians, Hindus, Sikhs, Buddhists, Bahais and people of all religions, or no religion, to fight against discrimination in our country. In the same way that Charlie Brown found the real meaning of Christmas in that famous animated special that we see on TV each year and in the same way the Miracle on 34th Street proved Santa was real, this dinner brought back my holiday spirit.
Even though any country could go down the path of xenophobia, we in Canada are very lucky. We have a prime minister, a government and opposition leaders who are speaking out in favour of tolerance, understanding and brotherhood. We have people of good faith across the spectrum who believes that we need to stand up for one another. Not only do we have a Charter of Rights that protects us in law, but we have a populace that is generally inspired to care.
I left that dinner renewed in my confidence that Canada is and will continue to be a beacon unto the world and that we all have our part to play in making that be so. I will be happy during this holiday season, and I hope and pray that my fellow Canadians will be happy and optimistic as well.
Merry Christmas, Happy Hanukkah and Happy Holidays to all!
Anthony Housefather is the Member of Parliament for Mount Royal and chairman of the House of Commons Standing Committee on Justice and Human Rights.
http://montrealgazette.com/opinion/columnists/opinion-jewish-and-muslim-mps-christmas-dinner-renewed-my-faith-in-canada
--------
Most Bangladesh Rural Students Believe Militant Propaganda
December 20, 2016
87% of the rural students who got offers think that militant activities are justified
Some 20-25% districts in Bangladesh are at risk of militant activities and the tendency is significant among students of village and rural level educational institutes where some 26% students have received offers to join militant activities, a new study has revealed.
Non-government organisation Shopner Desh, who conducted a preliminary research on impact of militancy, has also found that 87% of the rural students who got offers think that militant activities are justified.
Among them, 89% female students and 86% boys of rural institution believe the militant propaganda.
On the other hand, 49% students from urban level educational institutes received direct proposals from militants and over social media. Some 24% respondents (both male and female) said they believed what the extremist groups propagate.
The findings came up in a test survey on the impacts of militancy among students of two institutions with reported history of radical activities – Bohorpur Degree College, Rajbari and North South University, Dhaka.
The paper was presented before media at Sagar-Runi auditorium of Dhaka Reporters Unity yesterday in presence of former national team cricketer Javed Omar Belim Golla, legendary rock star Shafin Ahmed and prominent actress Tazin Ahmed.
Launched in September last year by public figure and academic Bobby Hajjaj, Shopner Desh is dedicated to building a better nation through creating a more empowered and enlightened polity.
The study has found that the extremist groups target mostly the youths and propagate their agenda saying: they are protectors of Islam, democracy is Shirk and the Western world is attacking Islam.
Almost half of the rural students were told that West was working against Islam and that the extremists serve the religion. Some 19% were told that politicians are evil and 2% told that democracy is Shirk.
On the other hand, 46% of the urban students received information against the West, 28% against democracy, 23%in favour of the militants and 3% against politicians.
Some 44% rural students and 7% urban students said they had received messages physically. The other ways of communication were invitation from friend through internet, surfing themselves, print literature supplied by friends and elders.
At the press conference, member of band group Miles Shafin Ahmed said: "Some 40% of the population is youth; this is a huge number. We have to think about their future … whether they are on the right track."
He said that due to distortion of Islam, the Muslims had been humiliated in the international arena.
Actress Tazin thinks that militancy would not last in Bangladesh because the youths would help the country advance further.
Asian University teacher Abdullah M Taher, media personality Syeda Sadia Mehjabeen, Bangladesh Medical College teacher Dr Gazi Gias Uddin and Shopner Desh Organising Secretary Khalid Imtiaz Ahmed were also present at the programme.
http://www.dhakatribune.com/bangladesh/crime/2016/12/20/study-rural-students-believe-militant-propaganda/
--------
Europe
Halal-lujah! Just because I'm Muslim doesn't mean I don't celebrate Christmas
21 December 2016
There aren't many Muslims who don't appreciate the warmth and cheer that the UK collectively indulges in at this time of year.
For my own family, Christmas was the time that TV really upped its game. My dad would buy the Radio Times and, once he'd finished marking out his schedule of James Bond films, my siblings and I would descend upon it, scouring through its pages for Mary Poppins and The Snowman.
Our house began to fill with Christmas cards from colleagues and school-friends. Then probably to ensure we wouldn't feel left out in playground conversations post-Christmas break, we started receiving gifts from our parents, lovingly arranged by our gas fire for us to wake up to on Christmas morning.
It was around this time we were invited to our first specially-organised Christmas dinner at The Earnshaws: my best friend at school's practising Christian family who considerately provided a halal chicken and omitted all pork-based products from the table for our sake.
Seeing how easy it was for us to have the fullest Christmas experience, we went on to emulate this for ourselves every year since. My Muslim family's Christmas dinner proves to be an almost identical experience to the original – with a few tweaks. All the vegetables can remain just as they are, though the Turkey is, of course, halal – and ideally marinated overnight in the choicest spices. In fact, not feeling obliged to stick to the letter of tradition, we're free to concede that Turkey isn't all that great anyway and go for chicken or roast lamb instead. The same laissez-faire attitude cannot be applied to Brussels sprouts, of course. Even Muslims recognise that Christmas just wouldn't be the same without them. Shloer (a fizzy grape juice in suitably fancy bottles) provides the perfect non-alcoholic substitute. And of course no pigs in blankets here please. No pig in anything for that matter.
Christmas is a very special time for us as a family. Like the rest of the country, it's one of the few times of year when our now-disparate clan can get together. We appreciate the values associated with the festive season: the spirit of giving, sharing and concern for our fellow human beings resonates with our own Muslim beliefs. Any opportunity to participate in the recognition of these values is a welcome one.
Also in accordance with our Muslim beliefs is the commemoration of Jesus (upon whom be peace) as an honoured, revered and important prophet for us. His birth is a joy we also feel entitled to share with our Christian neighbours.
This isn't a call for every non-Christian family in the country to feel they have to join in with Christmas as much as we do, or even at all. But those who do choose to take part in the celebrations will recognise the special affinity it allows us to share with our neighbours. Being able to partake in the happiness of those around us is a genuine privilege and an intimate gesture. Far from taking away from who we already are, it strengthens those values and bonds that hold us together.
As a tumultuous 2016 draws to a close, it feels like these affirmations of what we have in common are more important than ever. It's in this spirit, therefore, that I'd like to raise my glass of non-alcoholic bubbly and wish all my neighbours across Britain, whatever their faith, a very merry Christmas, peace on earth and goodwill to all.
Avaes Mohammad is a researcher at the independent thinktank British Future and coordinator of the Unknown & Untold project to highlight the contribution of Muslim soldiers to Britain in the First World War
http://www.independent.co.uk/voices/halal-lujah-just-because-im-muslim-doesnt-mean-i-dont-celebrate-christmas-a7484356.html
--------
Hizb ut-Tahrir: Radical group calls for global Islamic rule during Sydney protest about Syria
December 20, 2016
RADICAL Islamic group Hizb ut-Tahrir held a rally in front of hundreds of supporters in Western Sydney last night denouncing the US and Russia and repeating calls for global Islamic rule.
Women held dolls smeared in fake blood and men held signs declaring "The Axis of Evil: Russia, Iran, Syria, USA", as they called for an end to the Russian-backed Assad regime in Syria.
The rally went ahead in Lakemba Memorial Park despite the murder of Russian ambassador to Turkey Andrey Karlov by an off-duty police officer­ just hours before.
Speakers said Muslims in the Syrian capital Aleppo had been subject to horrific bloodshed and called for retribution.
"The path before us needs to be clear, to construct a solid independent path built solely upon Islam, built solely upon Islam to the exclusion of everything else," one speaker shouted.
The same speaker levelled his rant at Australia, saying said it would be "disgraceful" for ambassadors of the Muslim world "to stand with colonialists and accept their invitations from this country, from other western countries who are directly­ responsible for all of these crimes".
Full report at:
http://www.dailytelegraph.com.au/news/nsw/hizb-uttahrir-radical-group-calls-for-global-islamic-rule-during-sydney-protest-about-syria/news-story/cc91df71ccd3ad269ee3b1ccdb9868ea
--------
Zurich mosque gunman was Swiss, no Islamist link: police
December 20, 2016
ZURICH: A gunman who shot three worshippers in a Zurich mosque on Monday evening was a 24-year-old Swiss man with Ghanaian roots and no apparent links to Islamist radicalism, police said on Tuesday.
The suspect, whom they did not identify by name, is thought to have killed another man in Zurich on Sunday. He seems to have taken his own life shortly after the mosque shooting, whose motivation remains a mystery, police officials said.
"He is Swiss and we don't know anything about the motives," Christiane Lentjes Meili, head of criminal investigations for the Zurich cantonal police, told a news conference.
The gunman from the nearby town of Uster had stormed into the Islamic center near the main train station in Switzerland's financial capital and opened fire on people praying, wounding three men, whose condition was said to be improving on Tuesday.
His body was found soon afterwards around 300 meters (yards) away. He appears to have shot himself, police said.
Investigators were still puzzling over what set off the deadly chain of events. The man - whose last run-in with the law was as a bike thief seven years ago - had quit his job in a shop on Friday.
There were indications that the man had taken an interest in occult sciences, Lentjes Meili said, adding it was not clear at this stage whether he was mentally ill.
Two days later he is suspected of killing a man with South American roots he seems to have been acquainted with and leaving the body in a playground in Zurich.
The mayhem continued when he entered the mosque after dusk on Monday, armed with a gun for which he had a permit.
Full report at:
http://nation.com.pk/international/20-Dec-2016/zurich-mosque-gunman-was-swiss-no-islamist-link-police
--------
Morocco Invests in Religious Reform to Provide Alternative Model to Salafism
December 20, 2016
Paris – Morocco is investing in the religious reform to provide an alternative model to Salafism, French daily "Libération" said on Tuesday.
The publication noted that since March 2015, the Mohammed VI Institute for the Training of Imams is training a new generation of Muslim representatives.
They come from Morocco, but also from Mali, Senegal, Côte d'Ivoire, Guinea, Nigeria and, since last year, from France, said the author of the article, noting that these countries, which were attracted by the Moroccan model of religious leadership, have signed training agreements for their own nationals.
Full report at:
https://www.moroccoworldnews.com/2016/12/204046/morocco-invests-religious-reform-provide-alternative-model-salafism/
--------
Daesh claims deadly attack on German Xmas market
Dec 20, 2016
The Daesh Takfiri terrorist group has claimed responsibility for the deadly attack on a Christmas market in Germany.
"One of our soldiers carried out the Berlin operation in response to appeals to target citizens of coalition countries," said the group in a statement published on the Daesh-linked Amaq news agency on Tuesday.
Germany is not directly involved in the US-led coalition anti-Daesh operations but has jets and a refueling plane stationed in Turkey in its support.
The claim was made shortly after German police released a Pakistani asylum-seeker whom they arrested after the attack on the basis that he matched a witness description. According to federal prosecutors, he denied involvement in the incident and there was no forensic evidence to tie him to the attack.
"The accused, detained over the attack on the Berlin Christmas market on December 19, 2016, was let go on this evening on the orders of the federal prosecutor," said a statement.
"The forensic tests carried out so far did not provide evidence of the presence of the accused during the crimes in the cab of the lorry," the statement added.
Following Daesh's announcement, German Interior Minister Thomas de Maiziere said that investigators are following several leads on the attack.
"We just heard about the supposed claim of responsibility by Daesh group that is in fact a gang of terrorists," de Maiziere told ARD broadcaster.
"There are several leads that investigators are following now," the minister added.
De Maiziere added that "nobody will rest until the perpetrator or the perpetrators are caught."
Meanwhile, Germany's top prosecutor, Peter Frank, told reporters that attack was reminiscent of the attack on the French Riviera city of Nice in July.
"There is also the prominent and symbolic target of a Christmas market, and the modus operandi that mirrors at least past calls by terror organizations," said Frank.
German Chancellor Angela Merkel reacts before signing the book of condolences on December 20, 2016 inside the Kaiser-Wilhelm-Gedaechtniskirche (Kaiser Wilhelm Memorial Church), the day after an attack at the nearby Christmas market in central Berlin.
Full report at:
http://www.presstv.ir/Detail/2016/12/20/500764/germany-daesh-christmas-market
--------
Trump frames Europe attacks as clash with Islam
21 December, 2016
Berlin police have yet to even put their hands on the right suspect after a truck ploughed into a Christmas market and left 12 people dead.
But Donald Trump has no doubts about what happened.
Just three hours after Monday's apparent attack, the US president-elect had branded it the latest outrage in what he sees as a global religious war.
His language was a dramatic departure from how Western leaders generally respond to Islamist extremism but reflected the tone of his campaign.
"Innocent civilians were murdered in the streets as they prepared to celebrate the Christmas holiday," he declared, in a statement from his office.
"ISIS and other Islamist terrorists continually slaughter Christians in their communities and places of worship as part of their global jihad."
Trump made this case before German police released for lack of evidence a Pakistani asylum-seeker who was arrested after the truck attack.
And he spoke even before Amaq, a jihadist-linked news agency, claimed that the Islamic State group was behind the ramming of the market.
Trump resorted to similar language to condemn the murder, on the same day, of Russia's ambassador to Turkey by a "radical Islamic terrorist."
His decision to focus on the presumed religion of the attackers was a deliberately chosen contrast with the policy of outgoing president Barack Obama. The seasoned US leader called Germany's Chancellor Angela Merkel on Tuesday to offer his condolences on "the horrific apparent terrorist attack."
Obama's administration is fighting extremist groups like the so-called Islamic State, but doing so under the banner of "countering violent extremism."
He and his generals and diplomats praise the Muslim governments that have joined in the struggle and insist the extremists do not represent a religion.
Secretary of State John Kerry has gone as far as to declare the Islamic State group "apostates" who have twisted the message of a great faith.
Flowers and candles are placed to mourn the victims of the attack at a Christmas market in Berlin. Photo: Xinhua
Trump, however, has a different set of advisers and apparent beliefs: Extremism can only be defeated if we identify it as springing from Islam itself. During his campaign he proposed a total ban on Muslims travelling to the United States, at least "until we can figure out what the hell is going on."
His national security adviser, maverick former general Michael Flynn, has argued that Islam is not even a religion but a "political ideology."
"They have declared war against us," Flynn said in August. "And our government does not allow us to talk about this enemy."
"This is Islamism," he said of the threat. "It is a vicious cancer inside the body of 1.7 billion people on this planet and it has to be excised.
"We should not fear this idea. We should define it clearly and go after it," he said, summarising the argument of his book, "The Field of Fight."
National Security Adviser-designate Michael Flynn, who has said Islam is not a religion but a political ideology. Photo: AP
But Trump's clash of civilizations narrative does not just stem from the advice of a former soldier who fought extremists in Iraq and Afghanistan. Another of his closest advisers, incoming White House chief of strategy Steve Bannon embodies a nationalist view with roots in hard right ideology.
Bannon has taken a break from running Breitbart, a favorite news platform of the white nationalist "alt-right," to work with Trump. Breitbart's homepage was dominated Tuesday by the news from Germany, prominently featuring criticism of Merkel's open door to Muslim refugees.
Full report at:
http://www.scmp.com/news/world/united-states-canada/article/2056180/trump-frames-europe-attacks-clash-islam
--------
Germany releases Pakistani held over Berlin attack
21 December 2016
A Pakistani asylum seeker suspected of ploughing a lorry into a Berlin Christmas market was released Tuesday for lack of evidence, prosecutors said.
The militant Islamic State has claimed responsibility for the attack.
"The accused, detained over the attack on the Berlin Christmas market on December 19, 2016, was let go on this evening on the orders of the federal prosecutor," his office said in a statement.
Authorities identified the man earlier as a Pakistani asylum seeker.
"The forensic tests carried out so far did not provide evidence of the accused's presence during the crimes in the cab of the lorry."
German authorities had earlier said that the Pakistani asylum seeker may not be the right man, sparking fears the real killer could be on the run.
As the shellshocked German capital reeled from the country's deadliest attack of recent years, doubts emerged over whether the man detained overnight actually committed the atrocity.
Berlin's police chief, Klaus Kandt, said "we may have a dangerous criminal in the area", and announced that security would be boosted while urging "heightened vigilance".
Twelve people were killed and almost 50 wounded when the truck tore through the crowd Monday, smashing wooden stalls and crushing victims, in scenes reminiscent of July's deadly attack in the French Riviera city of Nice.
The mangled truck came to a halt with its windscreen smashed, a trail of destruction and screaming victims in its wake, with Christmas trees toppled on their side, days before the country's most important festival.
Women mourn at the scene where a truck ploughed into a crowded Christmas market. -Reuters
Women mourn at the scene where a truck ploughed into a crowded Christmas market. -Reuters
Chancellor Angela Merkel -- who visited the scene of the carnage for a minute's silence and then joined a memorial service in the adjacent Kaiser Wilhelm Memorial Church - labelled the deadly rampage a likely "terrorist" attack.
Merkel said that, if it was confirmed that the killer had been part of the country's recent huge refugee influx, this would be "particularly sickening in relation to the many, many Germans who are involved every day in helping refugees".
Interior Minister Thomas de Maiziere had earlier said the top suspect was a Pakistani man who had arrived via the so-called Balkan route last New Year's Eve and was staying at a Berlin refugee shelter.
De Maiziere added however that the suspect had insisted he was innocent and had not surfaced on any terror watch lists.
'Bodies everywhere'
Neither the militant Islamic State (IS) group nor other extremists immediately claimed the attack, said de Maiziere, who vowed those responsible would be hunted down.
The Polish-registered vehicle, which was loaded with steel beams, had cut a bloody swathe of 60-80 metres (yards) into the market in the once-divided city's inner west.
At least six of those killed were German citizens, authorities said, while countries from Israel to Spain said their nationals were among those injured in the busy tourist spot.
A Polish man, killed with an gunshot, was found on the truck's passenger seat, said de Maiziere. He was believed to be the vehicle's registered driver.
The Polish owner of the lorry, Ariel Zurawski, confirmed Monday that the driver -- his 37-year-old cousin - was missing, telling AFP: "We don't know what happened to him ... I've known him since I was a kid. I can vouch for him."
Survivors recounted harrowing stories of near misses and carnage as festive partying turned to death and destruction in seconds.
Briton Emma Rushton was enjoying a glass of mulled wine when the Christmas scene was shattered by a loud crash and screams.
"We heard a really loud bang and saw some of the Christmas lights to our left starting to be pulled down," she told Sky news.
"Then we saw the articulated vehicle going through people and through the stalls and just pulling everything down, and then everything went dark."
'Free way of life'
German flags flew at half-mast Tuesday and mourners placed flowers and candles at the site. Berlin's landmark Brandenburg Gate was to be lit in the German colours black, red and gold in honour of the victims at dusk on Tuesday.
The government declared that the city's 60-odd Christmas markets -- after a one-day voluntary stoppage out of respect for the victims - should continue because "we must not let our free way of life be taken from us".
Europe has been on high alert for most of 2016, with bloody jihadist attacks striking Paris and Brussels. Germany also suffered two attacks in July in the southern state of Bavaria committed by asylum seekers and claimed by the IS group.
Full report at:
http://www.dawn.com/news/1303453/germany-releases-pakistani-held-over-berlin-attack
--------
German police says Berlin deadly truck crash 'intentional'
Dec 20, 2016
German police say a truck crash into a crowded Christmas market in Berlin that killed at least 12 people was intentional and that they are investigating a suspected "terror attack."
"Our investigators are working on the assumption that the truck was intentionally driven into the crowd at the Christmas market on Breitscheidplatz," Berlin police said in a tweet Tuesday.
Nearly 50 people were also wounded when a truck drove into the popular Christmas market outside the Kaiser Wilhelm Memorial Church in Berlin late on Monday.
The truck driver was detained about two kilometers away from the crash site. German media reported that the suspect, Naved B., is a Pakistani asylum seeker.
The 23-year-old suspect was reportedly known to police for minor offences and has stayed in a Berlin refugee shelter.
Local media said police raided a large shelter for asylum-seekers at Berlin's defunct Tempelhof airport where the suspect was registered.
The Monday's truck crash was reminiscent of the attack on the French Riviera city of Nice in July that claimed the lives of 86 people.
Germany has been spared acts of terror claimed by Daesh such as the 2015 attacks in Paris, but the Takfiri group has claimed two assaults carried out by refugees in the country. An axe rampage on a train in Wuerzburg in July injured five people, and a bomb attack in Ansbach left 15 people injured.
Full report at:
http://www.presstv.ir/Detail/2016/12/20/500693/Germany-truck-crash-terror-attack
--------
Southeast Asia
Lawyer: Rulers Consent Not Required To Raise Shariah Penalties
December 21, 2016
PETALING JAYA: Putrajaya need not obtain consent from the Conference of Rulers to pass a federal law that seeks to enhance punishment for shariah offences, lawyer Syahredzan Johan said.
"Consulting the Conference of Rulers would be out of courtesy instead of any legal requirement. This is out of respect for the Malay rulers, who are the head of Islam in their respective States," he said.
Syahredzan said the Shariah Courts (Criminal Jurisdiction) Act, or widely known as Act 355, was a 'federal law' which set the jurisdiction of offences for the shariah courts.
He said the State List provided that states in the federation only have jurisdiction over the constitution, organisation and procedure of shariah courts.
"So, the minister is wrong to suggest that there is a requirement for government bills, but no such requirement for private members bills," he said
Syahredzan was responding to remarks by minister in charge of Islamic Affairs in Putrajaya, Jamil Khir Baharom that the government had not originally tabled the amendments to Act 355 because doing so would require the approval of all 14 states.
However, he had said a private member's bill would not need the Rulers' consent.
Syahredzan, who handles mostly civil and constitutional issues, said all bills had the same requirements, whether they came from the government or from individual MPs.
Law expert Abdul Aziz Bari said it was unclear in the Constitution as to which subject matter relating to Islam the government must refer to the Conference of Rulers for their consent.
"It is a moot point and hopefully someone with legal standing files a challenge to obtain the opinion of the court," he said.
Aziz said he could not recall the government, in the past, consulting the Rulers when introducing federal laws relating to Islamic finance and banking.
Former de facto law minister Zaid Ibrahim had earlier said Jamil was wrong to suggest that the amendment to Act 355 through a private member's bill could be done without the consensus of Malaysia's 14 states and the Conference of Rulers.
"Whether it is tabled by Hadi (the private members bill) or Prime Minister Najib Razak (government bill), the same set of requirements apply.
Zaid, who is also a lawyer, said Islamic laws were under the purview of the states and the Malay rulers, and their consent must be obtained before any amendment to Act 355 can be done.
In October, former finance minister and long-serving Umno lawmaker, Tengku Razaleigh Hamzah said the Malay Rulers should have been consulted, and their express approval obtained, before the tabling of any shariah law amendment in Parliament.
Hadi's bill, which initially sought to increase the shariah court's punitive powers, was amended in the last week of November's Dewan Rakyat session.
It will now cap the penalties prescribed under Act 355 at 30 years' jail, RM100,000 fine, and 100 strokes of the cane.
Currently, shariah punishment is capped at three years' prison term, RM5,000 fine, and six strokes of the cane.
http://www.freemalaysiatoday.com/category/nation/2016/12/21/lawyer-rulers-consent-not-required-to-raise-shariah-penalties/
--------
West Jakarta Military to confront raids on Christmas paraphernalia
December 21, 2016
Amid rampant raids targeting shopping malls and business centers across the country banning the use of Christmas paraphernalia, Jakarta Military Commander Lt. Col. Wahyu Yudhayana said military personnel would ensure that no raids would be done by firebrand Muslim groups in the area.
"Whatever the terms they use, be it fatwa familiarization or implementation, no mass organizations are allowed to conduct raids and take the law into their own hands," Wahyu was quoted by Warta Kota on Tuesday.
The raids are related to the issuance of a fatwa or edict from Indonesian Ulema Council prohibiting companies and business owners from forcing their employees to wear Christmas-related attributes.
Full report at:
http://www.thejakartapost.com/news/2016/12/21/west-jakarta-military-to-confront-raids-on-christmas-paraphernalia.html
--------
Lecturers in Shah Alam varsity under close watch for IS links
December 21, 2016
PETALING JAYA, Dec 21 — Police are zooming into a university in Shah Alam following the arrests of two people over their links with Islamic State (IS).
The duo, both foreigners, were among seven nabbed by the Special Branch Counter Terrorism unit in separate raids in recent weeks.
They had planned to attack an international school in Kuala Lumpur.
Police sources revealed they were investigating Universiti Antarabangsa Al-Madinah in Shah Alam as they had incorporated topics promoting extremism in their syllabus.
"We are keeping close tabs on some of the lecturers who we believe are promoting extremism. We are also investigating if there are more (IS) members in the university," the source said.
Inspector-General of Police Tan Sri Khalid Abu Bakar said the two university students, aged between 20 and 30, had planned to launch an attack on the international school after one of them had tried to obtain "sensitive security information" of the institution.
"The third suspect had been arrested by Middle Eastern authorities in 2010 over his involvement in al-Qaeda," Khalid said yesterday.
The trio were deported to their country of origin on Nov 22 and 23.
The fourth foreigner, a 26-year-old factory operator who worked in Johor, was arrested on Dec 8. He planned to launch attacks in Myanmar, and had smuggled weapons into Poso, Indonesia.
Full report at:
http://www.themalaymailonline.com/malaysia/article/lecturers-in-shah-alam-varsity-under-close-watch-for-is-links
--------
Indonesia police arrest three over suspected suicide bomb plot
December 20, 2016
Indonesian police said on Tuesday that three people had been arrested over a suspected plot to carry out a suicide bomb attack in an undisclosed location outside the most populous island of Java.
Two men were arrested in the Central Java city of Solo on Sunday on suspicion they made explosives to be carried by a female accomplice, said Martinus Sitompul, a spokesman for the national police.
A suspected female suicide bomber had been arrested in Purworejo, also in Central Java, last Thursday, he said.
"The group was planning to carry out an attack outside Java," Sitompul said. He declined to elaborate and said police would hold a news briefing later this week.
The three were linked to a group police arrested earlier this month for planning an attack at the changing of the guard at Jakarta's presidential palace, he added.
In both cases, police suspect the groups planned to use a female suicide bomber, a new tactic for attacks in Indonesia.
The suspects held over the planned Jakarta attack had been communicating with and received money from Bahrun Naim, an Indonesian militant known to be fighting with Islamic State in Syria, police have said.
Full report at:
http://nation.com.pk/international/20-Dec-2016/indonesia-police-arrest-three-over-suspected-suicide-bomb-plot
--------
Malaysia arrests seven for suspected links to militant groups
21 Dec 2016
KUALA LUMPUR: Malaysian police said on Tuesday they have arrested seven people, including four foreigners, for suspected links to the Islamic State (IS) militant group and for planning attacks in Malaysia and abroad.
Authorities in Muslim-majority Malaysia have revoked the passports of scores of citizens identified as having left the country to join Islamic State and police reported this year that 18 Malaysians had been killed fighting for the group in Syria, and another seven were killed carrying out suicide attacks.
A grenade attack on a bar on the outskirts of the Malaysian capital, Kuala Lumpur, in June was the Islamist group's first successful assault in the country.
Police said in a statement their latest arrests were made between Nov 3 and Dec 16.
One foreigner was arrested for suspected links to IS and attempting to get details about security at international school in Kuala Lumpur, while another was detained for helping him.
Both were enrolled as students at a university near the capital, police said.
A third arrested foreigner had been detained in the Middle East in 2010 under suspicion of being involved with al Qaeda, police said.
Another foreign national suspected of having links to IS tried to smuggle firearms into Indonesia, and also attempted to sneak into Myanmar to launch an attack, Malaysian authorities said.
Full report at:
http://www.channelnewsasia.com/news/asiapacific/malaysia-arrests-seven-for-suspected-links-to-militant-groups/3382308.html
--------
North America
UN Afghanistan Envoy Urges Taliban to Join Peace Process
December 20, 2016
NEW YORK: The United Nations envoy for Afghanistan has called on the Taliban to participate in peace talks with the national government, stressing that the conflict in the country has no military solution and the only path to a meaningful peace is through intra-Afghan dialogue.
"The Taliban leadership must reconsider the notion that their objectives can only be achieved on the battlefield," the secretary general's Special representative for Afghanistan, Tadamichi Yamamoto, told the security council during a debate on the situation in the country and its implications for international peace and security.
"It takes courage to enter into a peace process. It is not an admission of defeat – it is recognition of reality. An endless war ruins the country and impacts on people," he added. The statement is posted on the UN website.
The only path to a meaningful peace is by Afghans talking directly with Afghans, he continued, urging all parties to the longstanding conflict to identify common interests, and in particular the Taliban, to engage in direct talks with the government without preconditions.
The peace agreement with the Hizb-i Islami armed group shows that the Government is prepared to negotiate on key issues, such as prisoner release, lifting of sanctions, and integration into the political life of Afghanistan, said Mr. Yamamoto, who is also the head of the UN assistant mission in the country, known as UNAMA.
"Successful implementation of the agreement should address any remaining doubts, help unite the Afghans, and could pave the way for further peace agreements," he said.
Looking at the overall situation, despite security challenges and some political volatility, he said, he continues to see opportunities and hope in Afghanistan.
Since the formation of a national unity government two years ago, the Afghan leaders have continued working to overcome their differences to advance the country's reform agenda, he said. The international community also responded with significant financial commitments in both security and development, allowing Afghanistan to achieve greater stability and self-reliance.
Peace and stability in Afghanistan are not the sole interest of Afghanistan, he said, urging regional countries to play their role as such conditions will benefit them security-wise and economically.
Turning to large-scale population movement, he said Afghan citizens are returning home in record numbers, including hundreds of thousands of people from both Pakistan and Iran in the past six months alone.
Over 1.5 million people are 'on the move' this year. It is likely that 2017 will see similar numbers of people will necessarily bring with it strains and pressure on the economy, on social services and could further swell the number of those seeking employment, he added.
"Refugees come back to Afghanistan with hopes," he said, noting that, however, "a better future is not possible without peace." In 2016, thousands and thousands of Afghans have been killed in the conflict, and tens of thousands more were wounded.
The conflict also erodes the living conditions of people and deprives the country of opportunities for development and growth, with economic investment – much-needed to achieve a sustainable future – falling by around 50 per cent.
"Financial resources that are spent on the conflict could be utilised for the economic prosperity of Afghanistan," he said.
http://nation.com.pk/international/20-Dec-2016/un-envoy-urges-taliban-to-join-peace-process
--------
Trump's National Security Advisor's Twitter Account Shows Extent of Anti-Muslim Beliefs
December 20, 2016
In the approximately 1,700 tweets examined by Hatewatch, Flynn has been no stranger to the anti-Muslim movement. He also has interacted with and praised a number of anti-Muslim figures. But perhaps most surprisingly, Flynn follows two individuals who use the hashtag #WhiteGenocide proudly displayed in their Twitter biographies: @ErinBSullivan and @AlbionAwakes.
White genocide is an idea that white people, far from ruling most of the developed world, are actually being subjected to a genocide that will ultimately wipe out their race. In recent years, the idea has been spread through something known as the "The Mantra," a 221-word attack on multiculturalism written by Robert Whitaker, a cantankerous segregationist making a presidential bid this year on the racist American Freedom Party ticket. The Mantra ends with the phrase, "Anti-racist is code word for anti-white."
Flynn's new boss, president-elect Trump retweeted the racist account @whitegenocideTM in January of this year.
Flynn's activity on Twitter goes much farther. Flynn mentions the anti-Muslim hate group, ACT for America (of whom he is an advisory board member) in dozens of tweets. In one, he calls ACT founder Brigitte Gabriel "a national treasure."
Gabriel has made an entire career out of demonizing Islam. In her 2006 book, Because They Hate: A Survivor of Islamic Terror Warns America, she wrote that, "the Arab Muslim world, because of its religion and culture, is a natural threat to civilized people of the world." Last year, on Breitbart radio seemed to double down.
"Europe will no longer be Europe by 2050. Europe has already become Eurabia. Europe is Eurabia right now," Gabriel said.
In other tweets, Flynn called Gabriel an "incredibly courageous person," and "one of the most courageous women of our time," and "you inspire us all."
In one widely reported tweet in February, Flynn wrote, "Fear of Muslims is RATIONAL…" In October, Flynn retweeted a woman who posted a news story about Yemini Houthis stating, "Hillary and Jihadi Obama laundered $1.7 BILLION in cash 2 these Muslim Terrorists!"
Flynn has also proven to be particular defensive about his positions on Muslims. In July he tweeted, "In next 24 hours, I dare Arab & Persian world 'leaders' to step up to the plate and declare their Islamic ideology sick and must B healed." In a tweet that has been since deleted from May he wrote, "We need 2 have this debate abt what is happening in the Islamic religion--the world cannot have radical Islamism."
Flynn has also tweeted multiple times about how political correctness has allowed terrorism to continue.
Following the shooting at the Pluse nightclub in Orlando, Fla., Flynn quoted Chairman Devin Nunes of the House Permanent Select Committee on Intelligence saying, "Tolerating periodic mass attacks on American and allied civilians is simply not an option." Flynn followed that quote with "PC kills." In a tweet the day before, Flynn wrote, "Political correctness contribute [sic] to the fear in our society from radical Islamism."
Flynn's history on Twitter also highlights a number of other anti-Muslim figures, including Frank Gaffney of the anti-Muslim think tank Center for Security Policy (CSP).
In January, Flynn praised Stephen Coughlin, a senior fellow at CSP, and posted a video of Coughlin talking about his book, Catastrophic Failure: Blindfolding America in the Face of Jihad. In the video Coughlin explains how the BOOK DETAILS a CSP-backed conspiracy theory arguing that the U.S. government by the Muslim Brotherhood.
Full report at:
https://www.splcenter.org/hatewatch/2016/12/20/trumps-national-security-advisors-twitter-account-shows-extent-anti-muslim-beliefs
--------
Muslim Association Open House Leads To Angry Comments
December 20, 2016
When Dawson College's Muslim Students' Association opened its doors to break down barriers and tackle misconceptions about Islam, they were faced with a flood of angry comments and criticism.
Nevin Hoque and Samar Eldabaa were giving people the opportunity to try on a hijab, write their name in Arabic, and learn about Islamic culture.
"What the religion was, what we were all about, different things about the religion," said Eldabaa.
"A lot of people wanted to know what it felt like to have the hijab on and what we were going through putting it on. When we put it on them, it was just for them to have a feel of what it was like to have it."
But when the photos of the event were posted online, it opened the Association up to a flood of hurtful comments from complete strangers.
"To me it was really shocking that a lot of people had a negative impact toward what we were doing and a lot of people twisted what we were doing. we weren't promoting Islam or trying to send a message. It was just to make people aware of what we were," said Eldabaa.
Criticism towards Islam, Muslims, the hijab and other burka are especially prevalent in Quebec, with a recent Forum poll showing Quebec was the province with the highest number of people with an unfavourable opinion of Muslims.
Full report at:
http://montreal.ctvnews.ca/muslim-association-open-house-leads-to-angry-comments-1.3211862
--------
US man building ray gun to kill Muslims jailed for 30 years
December 21, 2016
In conversations recorded without his knowledge by law enforcement agencies, Crawford spoke of his hatred of Muslims and said he would go after President Obama in the White House with the device.
The harmful effects of the lethal radiation would only surface days after the exposure, US authorities said.
Crawford's plan was so outlandish that FBI agents received a tip off about it with a high degree of scepticism.
From 2012, undercover operatives from the agency kept contacting Crawford and even offered to supply components.
His lawyers argued at his 2015 trial that he had been a victim of government entrapment and never intended to use the weapon.
Full report at:
http://www.9news.com.au/world/2016/12/21/12/25/us-man-built-ray-gun-to-kill-muslims
--------
Ottawa Muslim community grieving after sisters killed
Dec. 20, 2016
Ottawa's Muslim community is struggling to come to grips with an alleged family tragedy that resulted in the deaths of two devout sisters.
Police allege that 32-year-old Asma A-Noor and her 29-year-old sister Nasiba were both stabbed to death in an Ottawa home on Friday night.
They have arrested the women's brother Musab A-Noor, also 29, and charged him with one count of first-degree murder and another count of second-degree murder. Const. Chuck Benoit declined to say which charge related to which victim.
At least one mourner said the sisters' untimely deaths came as a particular shock to a community with which they were heavily involved.
Sheema Khan said Nasiba A-Noor was a well-respected teacher of the Qur'an throughout the region.
She is listed as a staff member at the Tarbiya Learning Academy, an alternative school with a heavy focus on religion, and also conducted private lessons.
It was in that context that she met Khan, who was looking to deepen her understanding of the Qur'an and ultimately memorize the text as A-Noor had done.
The two women would begin their days by talking to each other at 6:45 a.m., Khan said, adding she spoke to her friend the day she died and did not detect anything amiss.
"I loved her," Khan said in a telephone interview. "She's just so humble, and her love for the subject always came through. Even though I talked to her on the phone, I could always tell she was smiling."
Tarbiya Learning co-founder Ghazala Choudhary expressed similar sentiments on social media when reflecting on the woman she hired to teach.
Choudhary said she entrusted her own daughter's education to A-Noor and praised her as both a person and an educator.
"She was a calm, patient and kind individual," Choudhary wrote on Facebook. "I will cherish seeing her sweet smile and exchanging salaams with her every morning. Watching her teach was always so peaceful and I will never forget her compassion towards her students."
Khan said Nasiba A-Noor was also an avid reader, a fact confirmed on her Instagram account which lists books, photography, coffee and hiking among her interests.
Much less is known about her sister Asma, who did not appear to maintain social media profiles. But Khan said both sisters were remembered at their funeral as quiet pillars of the local Muslim community and role models for young people.
Full report at:
https://www.thestar.com/news/canada/2016/12/20/ottawa-muslim-community-grieving-after-sisters-killed.html
--------
Don't think Berlin-style attack couldn't happen in Canada
DECEMBER 20, 2016
The scenes of carnage from the Berlin Christmas market terrorist attack all seem so far away, so disconnected from life in Canada.
But don't think a similar tragedy couldn't happen here. In fact, it already has. Just on a smaller scale.
On Oct. 20, 2014 — two days before the Parliament Hill attacks — Martin Couture-Rouleau sat waiting in his car at a shopping centre in the Quebec town of Saint-Jean-sur-Richelieu.
When two Canadian Armed Forces soldiers appeared in his line of sight, he rammed his car into them. One of them, 53-year-old Patrice Vincent, died from his injuries.
The Quebec attack, the Berlin one, and the Bastille Day attack in France all used the same weapon — a vehicle rammed into people. It's alarming because it's so mundane. Anyone can do it at any time. And that's exactly what the Islamic State has asked its supporters to do.
Couture-Rouleau was a recent convert to Islam and was irate at Canada's support for the bombing mission against the Islamic State.
The so-called ISIS caliph, Abu Bakr al-Baghdadi, has been calling on his followers to attack Western targets. Canada was even mentioned by name. We still get mentioned.
They've also said a number of times in their literature and videos that if their followers can't make it to Iraq and Syria to fight for the caliphate, then they should do what the can on their own home front.
"Kill them and spit in their faces and run over them with your cars," an ISIS video sent out to supporters says.
Since as early as a 2010 edition of an al-Qaida publication, Islamist terrorists have been calling for car and truck ramming attacks. The calls keep coming, and followers far and near keep answering them.
Full report at:
http://www.torontosun.com/2016/12/20/dont-think-berlin-style-attack-couldnt-happen-in-canada
--------
South Asia
Bangladesh arrests two Islamists blamed for cafe attack
December 20, 2016
Bangladesh security forces on Tuesday arrested two members of an Islamist militant group blamed for a deadly attack on a cafe in Dhaka in July in which 22 people were killed, most of them foreigners.
The July 1 attack in Dhaka's diplomatic quarter was claimed by the Islamic State and was the worst militant attack in Bangladesh, which has been hit by a spate of killings of liberals and members of religious minorities in the past year.
The two suspects, aged 21 and 28, were members of a faction of the Jamaat-ul-Mujahideen Bangladesh (JMB) militant group, known as New JMB, which has pledged allegiance to Islamic State, and which police believe was involved in organizing the cafe attack.
"We have recovered money, jihadi books, leaflets and sharp weapons," Lutful Kabir, a senior official with the police-led Rapid Action Battalion, which is involved in counter-terrorism efforts, told a news conference.
The five gunmen who attacked the cafe were all killed.
Police have killed at least 42 suspected Islamists in raids since then, including the man police said was the attack mastermind, Bangladesh-born Canadian citizen Tamim Ahmed Chowdhury.
http://nation.com.pk/international/20-Dec-2016/bangladesh-arrests-two-islamists-blamed-for-cafe-attack
--------
Pentagon confirms death of 2 more senior Al-Qaeda leaders in Afghanistan
Dec 20 2016
The US Department of Defense (DoD) has confirmed the death of two more senior Al-Qaeda terrorist network leaders in Afghanistan.
DoD spokesman, Peter Cook, in a statement said the two senior Al-Qaeda terrorist network leaders were among three killed in a drone strike conducted late in October.
Cook further added "A precision airstrike carried out by the U.S. military on Oct. 23 near Kunar, Afghanistan, killed three senior al-Qaida leaders."
He said, previously DoD disclosed that the strike eliminated Faruq al-Qatani the group's emir for Eastern Afghanistan.
Full report at:
http://www.khaama.com/pentagon-confirms-death-of-2-more-senior-al-qaeda-leaders-in-afghanistan-02512
--------
Tales of horror from new arrivals at Rohingya camp
December 20, 2016
According to the UNHCR, more than 27,000 Rohingya refugees have entered Bangladesh since the military crackdown began in Myanmar's Rakhine state after attacks on border posts on October 9.
Every day, new arrivals at the Rohingya refugee camps in Cox's Bazar bring familiar horror stories of murder and rape from across the Naf River.
But Mohammed Shah Alam will not be able to tell his story.
Shah Alam, 45, suffered a bullet wound when he was attacked by the Myanmar Army on Sunday night. His cousin Fatema Khatun, 40, took him along to flee on a boat around 4am.
She was hoping that he would receive treatment across the border at Leda refugee camp in Teknaf, where their relatives are currently under shelter.
They reached Teknaf around 8am on Monday, but Shah Alam succumbed to his injuries before they reached the camp.
Since the coordinated attacks on Myanmar border posts on October 9, which killed nine policemen, the Myanmar Army launched a fierce crackdown on the Rohingya community in Rakhine State, blaming them for the attacks.
Fleeing the vicious persecution, more than 27,000 Rohingya refugees have entered Bangladesh since the crackdown began, according to the UNHCR.
Also Read- Bangladesh, Indonesia foreign ministers visit Rohingya refugee camp
Fatema said men and boys of her family in Mangala, a village in Rakhine, have been hiding deep in the forest to escape military brutality, coming home only to eat meals.
On Sunday around 8pm, as Shah Alam went home for dinner, news of the imminent arrival of military forces led him and other males to flee.
The military opened fire on the men, and Shah Alam was shot. Fatema picked him up and brought him inside as soon as the forces left.
Fatema said she was certain that they would have been killed if they had tried going to the nearest hospital in Maungdaw town, which is around four kilometres away.
The pair left behind Shah Alam's wife, who had just given birth to their eighth child six days ago, and Fatema's husband and four children.
Fatema is lucky enough to find shelter with her sister Romida, who has been living in Leda camp since 2008.
Read More- Starving Rohingyas fleeing refugee camps
With 5,000 new arrivals, many Rohingya refugees have had to share their huts with relative strangers – like Aziza Begum.
With seven in her own family, Aziza gave shelter to Shomsul Alam's family of six who arrived on Sunday.
Full report at:
http://www.dhakatribune.com/bangladesh/nation/2016/12/20/tales-of-horror-from-new-arrivals-at-rohingya-camp/
--------
Hekmatyar's freed commander may punish those who helped jail him: HRW
Dec 21 2016
The Human Rights Watch (HRW) has renewed concerns regarding the release of the notorious commander of Hezb-e-Islami Faryadi Zardad, saying the freed commander may punish those who helped jail him.
"Now these same extraordinarily brave witnesses are in grave danger," HRW said while citing a witness who stood in the witness box in a courtroom at the Old Bailey, London's historic Central Criminal Court, to testify in the case of Faryadi Sarwar Zardad some 15 years ago.
After Zardad was convicted and sentenced to 20 years' imprisonment on the basis of their testimony, UK authorities last week abruptly announced the parole of Zardad, 11 years into his sentence, and deported him to Afghanistan.
HRW further added "Incredibly, and unforgivably, British officials didn't even bother to warn the witnesses until a few days before that they were returning this still-dangerous criminal into their midst. None of the witnesses have any protection from this man, who retains his supporters and has shown a willingness to commit torture and other crimes."
According to a statement by HRW "After briefly detaining Zardad upon arrival in Kabul, the Afghan government yesterday released him, after an unnamed high-ranking official intervened on his behalf. Many now fear that Zardad may seek revenge against those who put him away in a British prison cell, and no one in Kabul seems willing to try to stop him."
"But they could. While the UK Home Office has shamefully washed its hands of the case, the Afghan government can and should protect those witnesses most at risk. Zardad was tried in the UK for a limited number of cases of hostage-taking and torture, but nothing prevents Afghan authorities from investigating him for the many other serious crimes he's alleged to have committed. The government should also impose parole restrictions on him, and scrupulously monitor his compliance in order to protect those who testified against him," the statement said.
Full report at:
http://www.khaama.com/hekmatyars-freed-commander-may-punish-those-who-helped-jail-him-hrw-02514
--------
Bangladesh plans to procure eight multirole combat aircraft, says report
20 December 2016
The Bangladeshi government plans to procure eight multirole combat aircraft (MRCA) for the country's air force in the current fiscal year 2015/16 (FY2015/16), Law Minister Anisul Huq told parliament on 8 December, according to the Bangladeshi Daily News website.
Huq's statements are in line with those made by Bangladeshi public administration minister Syed Ashraful Islam, who said in January that the government was planning to procure MRCA to "protect the country's independence and sovereignty".
Full report at:
http://www.janes.com/article/66422/bangladesh-plans-to-procure-eight-multirole-combat-aircraft-says-report
--------
ICRC member kidnapped in North of Afghanistan
Dec 20 2016
According to the security officials, the gunmen stopped the vehicles of ICRC carrying at least 4 staff members but they took away one of them and released the three others.
There are no details available regarding the identity of the kidnapped staff member.
No group including the Taliban insurgents has so far claimed responsibility behind the incident.
The high between Kunduz and Balkh province has been witnessing instability during the recent months as the anti-government armed militant groups have stepped up insurgency in key Northern provinces.
This is not the first time the gunmen have abducted the staff members of ICRC in Afghanistan.
Gunmen abducted a group of 5 staff members of ICRC in southeastern Ghanzi province of Afghanistan earlier in February but released them after almost 4 days in captivity.
The staff members were held while on their way to carry out an assessment, with the aim to assist conflict-stricken communities in the Waghaz district of Ghazni.
Full report at:
http://www.khaama.com/unknown-gunmen-have-kidnapped-a-member-of-the-international-committee-of-red-cross-icrc-in-northern-afghanistan
--------
Mideast
Iran forms joint military HQ with Russia in Syria
20 December 2016
The Secretary of the Iranian Supreme National Security Council Ali Shamkhani revealed on Tuesday that Iran has established joint military headquarters with Russia in Syria, without specifying its location.
Regarding the visit of the representative of the Russian President Vladimir Putin to Tehran and his meeting with some Iranian officials, Shamkhani said: "We have initiated a joint work plan in cooperation with some countries in the region to fight terrorism. It is a field and diplomatic work; it needs counseling to overcome some of the obstacles."
According to ISNA, Shamkhani added: "the visit of Putin's representative was in this framework. We have established a joint military headquarter with Russia in Syria with the help of the Syrian army and the resistance forces and we have provided counseling services too."
The Secretary of the Iranian Supreme National Security Council talked about the military cooperation between his country, Russia and Iraq saying: "We are undertaking a joint military action in the axis formed by Iraq, Syria, Iran and Russia to combat terrorism. What we saw recently regarding the use of Russian aircrafts within the Iranian air space falls in this context."
Regarding the meetings of Putin's representative with Iranian officials, Shamkhani said: "The Russian President's representative has made several proposals due to the new circumstances in the region. His proposals were both on the military and political levels for the joint action plan. He stressed that they are working hard to keep Syria a united country. "We talked about the proposals and we reached a work agreement in this framework", he added.
It is worth mentioning that Russia and Iran have played an influential role in defending the Assad regime, ever since the eruption of the Syrian revolution. The Iranian regime started to support the Assad regime on the intelligence level, and it sent its militias into Syria after the progress made by the opposition forces.
However, despite all the provided Iranian support for the Syrian regime, the Syrian opposition was able to achieve massive victories in 2014, thus urging Russia to intervene and save the Assad regime from falling again.
The Russian-Iranian cooperation in Aleppo reached its peak when the Iranian militias and Russian aircrafts attacked the besieged areas controlled by the opposition in the east of the city. The brutality of the attack, the huge number of attackers and the massive death toll of civilians, pushed the opposition to back off.
The Russian interference in Syria had started under the pretext of fighting terrorist groups, namely ISIS and Nusra. However, Russian aircrafts have mainly bombed moderate opposition sites, including the Western-backed groups.
https://english.alarabiya.net/en/News/middle-east/2016/12/20/Iran-establishes-a-joint-military-HQ-with-Russia-in-Syria.html
--------
Russia, Iran & Turkey reach Syria peace deal
20 December 2016
Russian Foreign Minister Sergei Lavrov said Tuesday at a joint news conference that Russia, Iran and Turkey will help reach a peace agreement between Syrian president Bashar Assad and the opposition.
Lavrov said Russia, Iran and Turkey need to fight terrorism in Syria, not regime change.
He disclosed that a declaration will be announced today under the approval of Syria, Turkey and Iran.
Lavrov added that Russia, Iran and Turkey are ready to support Syria peace talks, and that the evacuation from Syria's Aleppo should end within a couple of days.
Iranian Foreign Minister Mohammad Javad Zarif, Russian Foreign Minister Sergei Lavrov and Turkish Foreign Minister Mevlut Cavusoglu attend a press conference in Moscow on December 20, 2016. (AFP)
During the news conference, Turkish Foreign Minister Mevlut Cavusoglu said that support should be halted for all groups from abroad who go to Syria, saying it was wrong to only point the figure at one side.
He also said Turkey's military operation to push ISIS from the Syrian border was continuing around the town of al-Bab and it did not have a secret agenda.
UN to monitor Aleppo evacuation
The Syrian government has authorized the United Nations to send an additional 20 staff to east Aleppo, where they will monitor the ongoing evacuation of thousands of people, a UN spokesman said on Tuesday.
Full report at:
https://english.alarabiya.net/en/News/middle-east/2016/12/20/Iran-Turkey-reach-Syria-peace-deal.html
--------
UN human rights resolution politically-motivated: Iran
Dec 20, 2016
Iranian Foreign Ministry Spokesman Bahram Qassemi has rejected as politically-motivated and spiteful a recent UN General Assembly resolution on the situation of human rights in Iran.
"The Islamic Republic of Iran condemns such resolutions, which are endorsed against the Islamic Republic of Iran in an unrealistic manner and based on the double standards of Western governments as well as spiteful and political approaches," Qassemi said on Tuesday.
Iran rejects the instrumental and political use of the issue of human rights by Western countries against independent states in the world, he added.
Full report at:
http://www.presstv.ir/Detail/2016/12/20/500750/Iran-UN-General-Assembly-Bahram-Qassemi-human-rights
--------
Iran censures terrorist attack in Berlin
Dec 20, 2016
The Iranian Foreign Ministry has condemned the recent terrorist attack in the German city of Berlin, stressing the importance of a "relentless and sincere" fight against terrorism.
At least 12 people were killed and nearly 50 more injured when a truck plowed into a popular Christmas market packed with tourists as well as local shoppers outside the Kaiser Wilhelm Memorial Church near Berlin's Zoo station late Monday.
Iranian Foreign Ministry Spokesman Bahram Qassemi on Tuesday reaffirmed the Islamic Republic's resolve to fight extremism and violence with the aim of uprooting terrorism.
He said all nations and states in the world must reinforce their unity and engage in a "relentless, purposeful and sincere" campaign against terrorism until its complete eradication.
The Iranian spokesperson expressed his sympathy with the bereaved families of the victims and hoped no such heartrending events would occur again.
German Chancellor Angela Merkel on Tuesday summoned the country's top security authorities for talks on how the government should respond to the truck attack in Berlin.
She said, "There is still a lot that we don't know about this act with sufficient certainty. But we must, as things stand, assume it was a terrorist attack."
Full report at:
http://www.presstv.ir/Detail/2016/12/20/500743/Iran-Germany-Berlin-Bahram-Qassemi-Kaiser-Wilhelm-Memorial-Church
--------
Iran, Iraq hold joint military drill in Persian Gulf
Dec 20, 2016
Iran and Iraq have held a joint military exercise at the mouth of the Persian Gulf in order to step up their readiness.
The Iranian and Iraqi naval forces staged the maneuver, dubbed "Muhammad (PBUH), the Messenger of God," on Monday with the purpose of improving mutual preparedness to fight smuggling and piracy and safeguarding maritime routes in the region.
A total of 32 Iranian and Iraqi vessels participated in the drill, the second joint maneuver between the two countries in less than a week.
The two countries' naval forces conducted the exercises with high precision and at a superior level in adverse weather conditions.
The Iranian and Iraqi navies staged their first joint maneuver on December 15 in the same area with the participation of the commanders of the two countries' border guards.
The Iranian naval forces have held joint military drills with many countries including India and Pakistan and Italy.
Full report at:
http://www.presstv.ir/Detail/2016/12/20/500722/Iran-Iraq-Persian-Gulf-Navy-drill
--------
Erdogan opens first road tunnel under Bosphorus
December 21, 2016
ISTANBUL - President Recep Tayyip Erdogan on Tuesday opened the first ever road tunnel underneath the Bosphorus Strait in Istanbul, the latest project in his plan of transforming Turkey's infrastructure.
The opening ceremony - which brought together Turkey's entire ruling elite - went ahead as planned despite the shock assassination of the Russian ambassador to Ankara by a Turkish policeman a day earlier. Turkey in October 2013 opened the Marmaray rail tunnel underneath the iconic waterway, the first link beneath the waters that divide Europe and Asia. But the new two-storey Avrasya (Eurasia) Tunnel, built at a depth of 106 metres (348 feet), is the first tunnel for cars underneath the Bosphorus and aims to relieve congestion in the traffic-clogged Turkish megacity.
After cutting the ceremonial ribbon, Erdogan joined a vast cortege of vehicles making the first undersea car journey between the two continents, stopping halfway to take souvenir photos.
The assassination of Russian ambassador Andrei Karlov Monday was the latest in a string of shocking acts of violence in Turkey this year.
But Erdogan vowed that his ambitions will not be derailed by the failed July 15 coup and the swathe of terror attacks Turkey has suffered in 2016.
"Subject us to as much terror as you want, bring in as many villains but you will never be able to divide this nation," he told thousands at the opening ceremony.
The tunnel required an investment of $1.2 billion (1.15 billion euros), including loans of $960 million, and will reduce driving time for the route from up to 2 hours to just 15 minutes.
It was built by a consortium consisting of private Turkish construction company Yapi Merkezi and South Korea's SK Group.
The project comprises a 5.4 kilometre (3.5 mile) tunnel, with the portion beneath the Bosphorus 3.4 kilometres long.
The tunnel was built with a special tunnel boring machine which had a daily progress speed of 8-10 metres (26-32 feet) on average.
With Istanbul lying on an active seismic zone, the tunnel has been designed to withstand a 7.5-magnitude earthquake.
"Praise be that we are part of a country and a city that connects two continents," said Erdogan.
Erdogan said a trip through the tunnel would cost 15 lira ($4.25) until the end of the year, with all the revenues until then going to families of victims of the coup and those who helped defeat it.
Turkish Transport Minister Ahmet Arslan told AFP the authorities now planned to build a third tunnel under the Bosphorus that would have three storeys and carry both cars and trains.
"I think the Avrasya tunnel will hugely ease the lives of the residents of Istanbul," Arslan told AFP. "But we are not just going to stop there."
Erdogan has said he is aiming to build a "new Turkey" with transformed infrastructure in time for the 100th anniversary in 2023 of the foundation of the modern state by Mustafa Kemal Ataturk.
Full report at:
http://nation.com.pk/international/21-Dec-2016/erdogan-opens-first-road-tunnel-under-bosphorus
--------
India
Address support to terror from outside Afghanistan: India to United Nations
Dec 20, 2016
United Nations: In a clear reference to Pakistan providing safe havens to terror groups, India has told the UN that the international community must urgently address the issue of backing to outfits like LeT, JeM and the Haqqani Network by "shadowy supporters" outside Afghanistan.
"Experience, as well as academic research, provides ample support for the assertion that conflicts in which foreign assistance is available to shadowy entities that fight legitimate state authorities tend to be more severe and last longer than other types of conflict," India's Ambassador to the UN Syed Akbaruddin said in a Security Council session on the situation in Afghanistan.
Without naming Pakistan, Akbaruddin said sustainable peace in Afghanistan is contingent upon terror groups and individuals being denied safe havens in the country's neighbourhood and the international community must address the issue of the support that terror outfits like the Taliban and al-Qaeda get from their supporters outside Afghanistan.
Representational image. ReutersRepresentational image. Reuters
"If we are to bring sustainable peace to Afghanistan, groups and individuals that perpetrate violence against the people and the government of Afghanistan must be denied safe havens and sanctuaries in Afghanistan's neighbourhood," he said.
"We need to address, as an imperative, the support that terrorist organisations like the Taliban, Haqqani Network, Daesh, al-Qaeda and its designated affiliates such as Lashkar-e-Taiba and the Jaish-e-Mohammed which operate entirely outside the fabric of international law draw from their shadowy supporters outside Afghanistan," Akbaruddin said at the United Nations on Monday.
He pointed out to the meeting in the 15-nation Council that it is apparent that efforts by nations for rebuilding institutions, infrastructure and networks in Afghanistan are being "undermined, schools are being destroyed, mosques bombarded and religious gatherings targeted".
"It is also evident that those who perpetrate these heinous crimes have survived and thrived only with support and sanctuaries on the outside," he said, in a veiled but strong reference to Pakistan.
Akbaruddin noted with concern that while the international community recommits to standing by the Afghan people each time the UN members discuss the situation in the war-torn country, the number of Afghan civilian and security forces casualties keeps rising.
"While the Taliban sanctions regime remains split for more than five years, the designated terrorist group makes concerted effort to capture and hold territory. Therefore, for numerous Afghan women, men and children there is no respite from the plague of terrorism," he said.
The Indian envoy emphasised that the international community must introspect about the way it is approaching the situation in Afghanistan and whether there is need for course correction.
http://www.firstpost.com/india/address-support-to-terror-from-outside-afghanistan-india-to-united-nations-3165082.html
--------
Muslim Leaders Praise 'Long Overdue' Verdict
Dec 20, 2016
HYDERABAD: Muslim leaders welcomed the verdict in the Dilsukhnagar blasts case, saying it was long due.
Majlis Bachao Tehreek spokesman Amjed Ullah Khan said this sentence should not be looked on religion and regional lines because many of those killed or disabled due to the blasts were Muslims. He, however, raised questions on why there was a delay in the trial and judgments in other blast cases, including Mecca Masjid, Samjhauta Express, Malegaon and Jama Masjid. These took place much before the February 21, 2013 blasts in Dilshukhnagar and workers of the RSS and allied organisations were accused of triggering them, he claimed.
Full report at:
http://timesofindia.indiatimes.com/city/hyderabad/muslim-leaders-praise-long-overdue-verdict/articleshow/56079385.cms
--------
BJP Using UCC to Destroy Muslim Identity: CPI (M) Polit Bureau Member
DECEMBER 20, 2016
Accusing the BJP of using the issue of Uniform Civil Code (UCC) as a weapon to obliterate the identity of Muslims in the country, CPI(M) Polit Bureau member Prakash Karat has said that the fundamentalist position insisting that instant and arbitrary triple 'talaq' is ordained by Islam will help communalists create a communal divide in the country.
Addressing a seminar on 'Uniform Civil Code and the Left' organised by the coordination committee of minority cultural groups loyal to the CPI(M) here on Tuesday, Mr. Karat said the BJP government was trying to conflate and combine the issue of the misuse of the instant and arbitrary use of triple talaq with the enforcement of the UCC.
The CPI(M) supports the plea of three Muslim women to the Supreme Court that the instant and arbitrary declaration of triple talaq should be made illegal.
"A substantial Muslim opinion is against the exercise of triple talaq in instant and arbitrary manner," he said.
Noting that there are certain inequalities and defects in the personal laws, the CPI(M) leader said they were not particular to any religion. The real issue in his view was whether the country could have equality within and between religious communities.
"The way forward is to see that personal laws of all religious communities have reforms which will help to provide for gender justice," he said.
Alleging that the Sangh Parivar had a planned agenda to demonise the Muslim community, he said the attempt was to portray Muslims as alien to the Indian mainstream.
Referring to the Law Commission's 'unfortunate' issue of a questionnaire eliciting views of different sections of the people on the UCC, Mr. Karat said its purpose was stated to be to harmonise the cultures of India.
Full report at:
http://www.thehindu.com/news/national/kerala/BJP-using-UCC-to-destroy-Muslim-identity-Karat/article16912242.ece
--------
NIA questions Zakir Naik's kin
Neeraj Chauhan
Dec 21, 2016
'NEW DELHI: Probing controversial Islamic preacher Zakir Naik's terror connections+ , the National Investigation Agency (NIA) has questioned his sister Nailah Naushad Noorani, his brother-in-law Naushad Noorani and his friend and associate of 21 years in Islamic Research Foundation+ , Manzoor Shaikh, apart from several other relatives and colleagues.
Sources said among others who were questioned by the NIA in the last few days were Naik's personal assistant Aslam, his office accountant Ismail Patni and his friend and colleague Amit Gazdar.
Sources told TOI that Nailah, who is said to be director and additional director in five private companies linked to Naik — Harmony Media Pvt Ltd, Longlast Constructions Pvt Ltd, Right Property Solutions Pvt Ltd, Majestic Perfumes and Alpha Lubricants Pvt Ltd — was asked about the funding of the firms.
The agency, after registering a case last month, had recovered hundreds of documents+ which suggested that these companies had close links with IRF. "We are looking at regular inflow and outflow of foreign and domestic funds in IRF and other organisations associated with it," an officer said.
Manzoor Shaikh, sources said, was questioned about Naik's connections in India, funding pattern of IRF and also about his controversial speeches. TOI tried to contact Naik's family members and aides but they couldn't be reached. With Naik in Saudi Arabia, the anti-terror agency is trying to unravel his activities behind the garb of Peace TV and IRF Foundation. In one instance, it was found that Abu Anas, an Islamic State operative from Tonk in Rajasthan, was given Rs 1.5 lakh by IRF Foundation.
Full report at:
http://timesofindia.indiatimes.com/india/nia-questions-zakir-naiks-kin/articleshow/56093388.cms
--------
Maharashtra: 3 lakh Muslims take out silent march in Beed, demand quota
December 21, 2016
Over three-lakh Muslims turned up in Beed Tuesday to take part in a rally seeking reservation in job and education for the community.
The rally was the fourth in a series of silent marches planned across Marathwada by the Muslim Aarakshan Sangharsh Kruti Samiti, an umbrella organisation of all political, social and religious organisations run by the community. The protesters held placards also demanding no interference in Muslim Personal Laws, no targeting of innocent Muslims in the name of terror and immediate search operations to find missing JNU student Najeeb Ahmed.
Full report at:
http://indianexpress.com/article/cities/mumbai/maharashtra-3-lakh-muslims-take-out-silent-march-in-beed-demand-quota-4437999/
--------
Process to extradite Masood Azhar will begin soon: Rijiju
December 20, 2016
New Delhi: The process of extradition of Pakistan-based Jaish-e-Mohammed chief Maulana Masood Azhar, his brother and two others will begin soon with the filing of a charge sheet by the NIA in connection with terror attack at Pathankot airbase, Union Minister Kiren Rijiju said on Monday.
"A total of eight people were involved in the terror attack at Pathankot. Four are dead and four are alive and living in Pakistan. Since the charge sheet has been filed, the process of extraditing them from Pakistan will begin with the issuance of Interpol Red Corner Notice," he told reporters here.
Rijiju termed the filing of the charge sheet at the NIA court at Panchkula as a "huge break through".
The Minister of State for Home said since Pakistan is "incorrigible", India has to put pressure on the neighbouring country to extradite the four persons living in Pakistan on the basis of the evidence gathered by the NIA.
"Pakistan is already under pressure. The World knows that these two brothers are living in Pakistan and doing all kinds of terror acts," he said.
NIA on Monday filed a charge sheet against Pakistan-based Jaish-e-Mohammed chief Maulana Masood Azhar, his brother and two others for hatching the conspiracy of the January two audacious terror strike that left seven personnel dead and 37 others injured.
The charge sheet was filed in the NIA court at Panchkula in which all the four have been slapped with charges under Indian Penal Code, Explosive Substances Act, Arms Act and Unlawful Activities (Prevention) Act.
Full report at:
http://www.siasat.com/news/process-extradite-masood-azhar-will-begin-soon-rijiju-1090250/
--------
PoK, Kashmir, Pakistan and Bangladesh belong to India, says RSS's Indresh Kumar
Dec 20, 2016
AGRA: Taking on former J&K Chief Minister Farooq Abdullah for his recent comments questioning India's claim over PoK, senior RSS functionary, Indresh Kumar said not only PoK but Kashmir, Pakistan and Bangladesh too belong to Hindustan, as they were carved out only in 1947.
Launching a scathing attack on Farooq, Indresh, who was talking to media on sideline of RSS's Muslim Manch Sammelan, said, "he (Farooq) should not forget that even his entire family property is the property of Indian ancestors, as Kashmir had no existence prior to the partition". He warned that such provocative and divisive statements would not be tolerated.
It may be recalled that while addressing a rally in Chennab on Nov 25 Farooq had taken a dig at India's claims over PoK and stated, "Kya yeh tumare baap ka hai (Is this your fathers' property)". He had also stated, "PoK is presently under Pakistan occupation. It is not the personal property of India so that it could make a claim over it like an inherited property of forefathers."
After Abdullah, Indresh took on another prominent Muslim leader and president of Majlis-e-ittehadul Muslimeen, Asaduddin Owaisi over his opposition to chanting 'Bharat Mata ki jai'. He said, "God should give some sane sense to Owaisi, as despite his opposition people had started chanting the slogan". He said he had advised Owaisi to shun "violence and hardline" (hinsa aur kattar) if he wanted to attain some stature outside Hyderabad. "Ek desh, ek jan ke virudh jo khara hoga, woh chal nahin payega (whosoever opposes the philosophy of One India One people will not be able to last)", he said.
Talking to media, Indresh, while referring to opposition from a section of Muslims against triple talaq, said, "such people must realize they have to respect the laws of the country they live in. India is a secular country and Muslims cannot have laws for themselves."
He said that Muslim Personal Law Board was trying to impose two nation theory by claiming that they should have a separate set of rules according to their religion. "The time has gone when they could again try to divide Bharat", he said adding that all Maulanas, Imams and MPLB (Muslim Personal Law Board) members should note that their two nation theory would not work.
Full report at:
http://timesofindia.indiatimes.com/city/agra/pok-kashmir-pakistan-and-bangladesh-belong-to-india-says-rsss-indresh-kumar/articleshow/56088570.cms
--------
Africa
MURIC threatens to plant Shariah court in all Nigerian towns if proposed Christian court is approved
20 December, 2016 6
The Muslim Rights Concern director has threatened to plant Shariah courts in all towns in Nigeria if a proposed Christian court pushes through, saying all the existing courts in the country are already Christian.
In an interview with Punch, MURIC director Prof. Ishaq Akintola downplayed the proposed Christian court as merely an attempt to copy their Shari'ah court. He accused the Christian Association of Nigeria of always seeking to duplicate whatever the Muslim community does.
"It is an attempt to copy Shari'ah. Why must the Christian Association of Nigeria be a copycat? Why must it always seek to do whatever Muslims do?" Prof. Akintola told Punch.
Akintola cited the issue of pilgrimage as an example, saying the Muslims have been doing this activity even before airplanes were invented. Now, he said CAN is suddenly asking for pilgrimage commission although the activity is not required for all Christians.
In addition, Prof. Akintola pointed out that all the courts in Nigeria were established by the British colonialists, so that makes them Christian courts. Therefore, he said approving the proposed Christian court is only duplication.
"They should go ahead and get Christian courts," Akintola added in the interview. "But we should be given our Shariah courts in all states and cities – including Otuoke (former President Goodluck Jonathan's home town)."
Meanwhile, CAN General Secretary Rev. Musa Asake struck back at Muslims who are opposing the proposed Christian court. He said they have no right to fight off the proposed bill because they already have Shariah courts, NAIJ relays.
Rev. Asake challenged the Nigerian Muslims to abolish Shariah if they do not like the proposed bill to establish the Ecclesiastical Court of Appeal, which has already passed for a second reading in the House of Representatives.
Archbishop Nicholas Okoh, the Primate of the Church of Nigeria in the Anglican Communion, urged President Muhammadu Buhari to immediately address the growing religious intolerance in the northern region. He highlighted the increasing incidents of forced conversion to Islam, forced marriage of Christian girls, and the lynching of Christians, slamming the president's silence over these issues.
http://www.christiandaily.com/article/muric-threatens-to-plant-shariah-court-in-all-nigerian-towns-if-proposed-christian-court-is-approved/59654.htm
--------
Nigeria: Sultan, Mbaka Preach Religious Tolerance in Enugu
20 DECEMBER 2016
By Dennis Agbo
The Sultan of Sokoto, His Eminence Alhaji Mohammad Sa'ad Abubakar IV and the charismatic Catholic Priest of Adoration ministries, Rev. Fr. Ejike Mbaka, yesterday, met in Enugu where they preached for religious tolerance across regions in Nigeria.
Both religious leaders were at the reception organized by Enugu state government in honour of Enugu Rangers International Football club for their recent victory in Nigeria Premiership league.
The sultan who first spoke said that Islam does not permit anybody to kill in the name of religion, maintaining that anybody who kills in the name of religion should be held as a criminal and treated as such.
He also said that President Muhammadu Buhari is misunderstood to be biased about some sections of the country, noting that his interaction with the President does not portray him as a religious or ethnic bigot.
Full report at:
http://allafrica.com/stories/201612200596.html
--------
Four policemen killed in new shootout in Jordan
December 21, 2016
Gunmen killed four Jordanian policemen in a new shootout Tuesday in Karak, where a weekend attack claimed by the militant Islamic State (IS) group left 10 people dead, a security source said.
Security forces came under fire after launching a raid to track down suspects following Sunday's assault, whose victims included a Canadian tourist, the source said, adding that the operation was still ongoing.
But another senior security source quoted by the official Petra news agency said that the suspects were not linked to the "terrorist group" behind Sunday's attack.
The general security department said in a statement that police surrounded a house where the gunmen were holed up and that the suspects opened fire on them.
A Jordanian member of parliament from Karak, Haitham Ziadeen, confirmed that an operation was under way to arrest wanted gunmen.
"A shootout erupted after security forces arrived to raid a house in the Qarifla region of Karak province, where the gunmen have sought shelter," he said.
Sunday's shooting spree in Karak, home to one of the region's biggest Crusader castles, killed seven policemen and two Jordanian civilians as well as the Canadian tourist.
A total of 34 other people were wounded, including the son of the Canadian holidaymaker and another foreigner, according to authorities.
Four assailants were killed by the Jordanian security forces after an hours-long siege of the Crusader castle, where the suspects had fled after opening fire on police patrols and a police station in the city.
The IS group on Tuesday claimed responsibility for the attack, saying it was carried out by four "soldiers of the caliphate" who used machine-guns and hand grenades.
A statement said the militant assault targeted Jordanian "apostate" security forces and citizens of the US-led coalition battling the jihadists in Syria and Iraq.
Revenge for air campaign
IS identified the four dead militants and said the attack was revenge for the US-led coalition's air campaign targeting militants in Syria and Iraq.
It also pledged to carry out further assaults on countries within the US-led coalition.
Jordan is part of the alliance and has carried out air strikes targeting IS. It also hosts coalition troops on its territory.
Full report at:
http://www.dawn.com/news/1303462/four-policemen-killed-in-new-shootout-in-jordan
--------
ISIS claims responsibility for shootout at Jordanian castle
December 20, 2016
Islamic State militants claimed responsibility on Tuesday for a shootout at a Crusader castle in the southern Jordanian city of Karak in which at least nine people including a Canadian tourist were killed.
An Islamic State statement said four IS fighters undertook the operation on Sunday that ended in their deaths. Jordanian officials have not said who they suspect in the attack though security sources said the perpetrators were Jordanian nationals.
Jordanian police said late on Sunday that they had killed four "terrorist outlaws" after flushing them out of the castle where they were holed up after an exchange of fire that lasted several hours. Security forces were able to release around 10 tourists unharmed. At least 30 people were taken to hospital.
Interior Minister Salamah Hamad said on Monday at least five suicide belts were found, together with an ammunition cache, automatic weapons and explosives in a hideout in a house in the desert town of Qatranah, 30 km (20 miles) northeast of Karak.
The gunmen had fled to Karak after an exchange of fire with the police, Hamad said. Based on the quantities of explosives and weapons, "I don't think the target was just Karak castle, it's more," he added. He would not elaborate, saying disclosing details at this stage could imperil national security.
Full report at:
http://nation.com.pk/international/20-Dec-2016/isis-claims-responsibility-for-shootout-at-jordanian-castle
--------
Tunisians stage anti-Israel demo after Hamas drone expert's murder
Dec 20, 2016
Over 200 Tunisians have taken to the streets of the capital, Tunis, to protest against Israel over the assassination of an aviation engineer with ties to the Gaza-based Palestinian resistance movement, Hamas.
Holding Tunisian and Palestinian flags, demonstrators walked up a main thoroughfare in Tunis on Tuesday, chanting "With our soul, with our blood, we will avenge you Palestine."
Mohamed Zaouari, a 49-year-old Tunisian national, was shot 20 times outside his house in the country's port city, Sfax, on December 15.
Hamas's al-Qassam Martyrs Brigade said Zaouari was killed by "Zionist treachery," adding that the victim was a drone expert who had worked for the anti-Israeli resistance front for 10 years.
Tunisians take part in a demonstration against Israel in the capital, Tunis, December 20, 2016. (Photo by AFP)
Protester Mohammad Ammar described Zaouari's murder as "a loss not only for Tunisia but also for Palestine and the Arab nation."
Tunisia's prosecution said 10 suspects, including a female journalist, had been detained for questioning over the incident.
Tunisian Interior Minister Hedi Madjoub said on Monday that the Israeli regime's involvement in the killing had not been ruled out.
Investigators have found that the killing was ordered by two foreigners and planned in Austria and Hungary in June, Madjoub added.
Full report at:
http://www.presstv.ir/Detail/2016/12/20/500745/Tunisia-Palestine-Hamas
--------
Nine killed amid violence in DR Congo's capital
Dec 20, 2016
Nine protesters have reportedly been killed in clashes in the Democratic Republic of the Congo's capital, Kinshasa, amid rising tensions over the refusal of President Joseph Kabila to quit after the expiration of his term in office.
On Tuesday, the United Nations director of human rights in the Central African country announced that there were "solid" reports that 20 civilians had been killed in clashes between protesters and security forces in Kinshasa.
"On the issue of deaths, it looks bad. We are reviewing allegations of up to 20 civilians killed, but it (the information) is pretty solid," said Jose Maria Aranaz.
The UN also raised concern earlier on Tuesday over a new wave of detentions in the DRC over Kabila's refusal.
Director of the UN mission in the DR Congo, Maman Sambo Sidikou, announced that his office had documented 113 arrests of opposition leaders and civil society activists, human rights campaigners and journalists by police and intelligence authorities since December 16.
"I am gravely concerned by the arrests of those who seek to express their political views," said Sidikou, who also serves as the UN secretary general's special representative to the Central African country.
"I urge the national authorities to strictly adhere to their international human rights obligations, to create a climate of political tolerance and respect at this important juncture in the DRC's history, and to grant full access to United Nations personnel to all detention centers," he added.
News outlets reported sounds of gunfire in the country's two largest cities as the opposition leader urged citizens to reject Kabila, whose second and final term expired on Tuesday with no indication pointing to his intent to quit or hold new polls.
A man holds a bird as a crowd gathers to protest in the neighborhood of Yolo in Kinshasa on December 20, 2016. (Photo by AFP)
As fears grew about the eruption of new violence across the country, gunfire rang out in the capital as well as the second largest city of Lubumbashi.
Moreover, dozens of troop carriers patrolled the populous capital of nearly 10 million people and police officers and paramilitary forces have remained deployed in other cities since Sunday.
Full report at:
http://www.presstv.ir/Detail/2016/12/20/500730/DR-Congo-Joseoph-Kabila-United-Nations
--------
Gunmen kill Puntland presidential director in Somalia
20 December 201
Somalis autonomous region of Puntland presidential palace director Adan Gus, was shot dead by gunmen in port city of Bosaso on Tuesday evening.
Adan Gus was shot dead in front of Public HOTEL in Bosaso, the commercial city of Puntland.
Abdullah Ahmed Jama, Puntland state spokesman confirmed to Anadolu Agency over the phone that the director was killed by unknown gunmen.
"Our director Adan Gus was seriously wounded by gunmen and he later died in hospital. We are investigating this incident. Our police conducted a security operation," Jama said.
Khalid Amin, an eyewitness in Bosaso, told Anadolu Agency that the gunmen escaped from the scene.
Full report at:
http://www.worldbulletin.net/africa/182011/us-ends-libya-operations-after-isil-cleared-from-sirte
--------
Al Shabaab militants kill senior official in Somalia's Puntland
Dec 20, 2016
Al Qaeda-affiliated al Shabaab militants shot dead an aide to a regional official in Somalia's semi-autonomous Puntland region on Tuesday, the second such attack in a week, police said.
Aden Huruse, a director in Puntland's presidential palace, was attacked at a restaurant in its main city Bosasso, police told Reuters. "Two men armed with pistols fired several bullets into his head. He died on the spot," said Major Mohamed Hassan, a Bosasso police officer.
Al Shabaab regularly targets officials throughout Somalia. Its insurgency aims to drive out African Union peacekeepers, topple Somalia's Western-backed government and impose its strict version of Islam on the Horn of Africa state.
Full report at:
http://www.reuters.com/article/us-somalia-attacks-idUSKBN1492A3
--------
Sudan: New Charges Against Czech, Sudanese Pastors
20 DECEMBER 2016
Khartoum — The Sudanese security service (NISS) filed a new charge against a Czech and two Sudanese pastors, and a Christian activist, who have been detained for months, as the trial has resumed in Khartoum on Monday.
During the court session, prosecution witness and NISS officer Sayed Abdelrahman, said they detected radio broadcasting on the web and YouTube videos posted by two hostile foreign groups. He said that the Czech pastor is a member of one of these groups.
A report on one of the YouTube videos mentioned that some persons who converted to Christianity from Islam have been killed by the Sudanese government, he added.
The two Sudanese pastors did not attend the trial owing to fatigue, as they were permitted by Judge Osama Abdallah to see the doctor.
Full report at:
http://allafrica.com/stories/201612200735.html
--------
Arab World
Scores of Terrorists Including Commanders Killed in Syrian Air Raid in Eastern Damascus
Dec 20, 2016
The warplanes that had received intelligence about the exact venue of a meeting between the commanders of Jeish al-Islam and Faylaq al-Rahman pounded the secret gathering, killing at least 30 militants, including several notorious Syrian and Saudi commanders.
The meeting of the militant commanders was held in al-Mesraba farms to talk about ways to decrease widening differences between Jeish al-Islam and Faylaq al-Rahman.
Jeish al-Islam's large-scale offensive to break through the government positions in Eastern Ghouta was repulsed by the Syrian Army and popular forces on Sunday.
The army and popular fighters fended off large-scale attack of Jeish al-Islam in al-Meida'ani region, inflicting major losses on the militants.
Full report at:
http://en.farsnews.com/newstext.aspx?nn=13950930001396
--------
Syrian Army Warns Jeish Al-Fatah to Speed up Evacuation of Militants from Aleppo
Dec 20, 2016
Based on the reports, while over 15,500 civilians and their families have thus far been evacuated from the Eastern neighborhoods of Aleppo city, the army has called on terrorist groups to leave Aleppo along with their families as soon as possible because the engineering units are waiting for the moment to start defusing bombs and mines planted by militants in the newly-liberated districts.
Reports further added that tens of buses and a number of ambulances entered Aleppo's Western countryside this morning carrying militants and their families.
A group of militants were transferred to the regions of Orum al-Kobra and Kafr Naha and other groups were dispatched to Idlib city.
Tens of buses are now in al-Sukri district to take the rest of militants and their families out of Aleppo.
The army soldiers deployed around the besieged neighborhoods in Eastern Aleppo are calling on the militants to leave the region faster.
Syria's UN Envoy Bashar al-Jafari said on Monday that terrorists affiliated to the Turkish intelligence service are violators of Aleppo truce, preventing evacuation of militants and their families from Aleppo.
Al-Jafari underlined that terrorists have breached the evacuation agreement, adding, "Terrorists set fire at 25 buses and kidnapped their drivers and killed three of them."
He named this al-Qaeda-linked terrorist group as Saraya al-Towhid, saying, "Saraya al-Towhid has had links to the Turkish intelligence bodies."
Full report at:
http://en.farsnews.com/newstext.aspx?nn=13950930001234
--------
More Militants Surrender to Syrian Army in Aleppo City
Dec 20, 2016
The source said that while over 3,400 militants have turned themselves in to the government forces since the army started operation in Aleppo's Eastern neighborhoods, a growing number of more militants and their families are asking for government amnesty. The militants that applied for amnesty have rejected relocation to Idlib.
Reports said earlier today that the army troops urged terrorist groups to speed up their evacuation from Eastern Aleppo as engineering units are preparing to start defusing bombs and mines in the newly-liberated districts as soon as evacuation ends.
Based on the reports, while over 15,500 civilians and their families have thus far been evacuated from the Eastern neighborhoods of Aleppo city, the army has called on terrorist groups to leave Aleppo along with their families as soon as possible because the engineering units are waiting for the moment to start defusing bombs and mines planted by militants in the newly-liberated districts.
Full report at:
http://en.farsnews.com/newstext.aspx?nn=13950930001459
--------
Saudi King's Order Exacerbates Dark Ties between Riyadh, Cairo
Dec 20, 2016
Al-Bawaba al-Fajr news website quoted an Egyptian diplomatic source as saying that most agreements signed between Egypt and Saudi Arabia have been suspended at the order of the King until further notice.
The source added that the agreements don't include plans related to al-Azhar.
According to the source, most investments supported by Saudi Deputy Crown Prince Mohammad Bin Salman have come to a full halt, while the crude aid to Cairo by the US-Saudi company of Aramco had been earlier cut.
The source, meantime, said that Saudi Arabia's pressures don't make any change in Egypt's positions on the crises in either Syria or Yemen as Cairo is firmly resolved to maintain relations with all sides without any exception.
A leading Arabic-language newspaper wrote on Monday that Cairo considers Saudi Arabia's attempts to expand relations with Ethiopia as a threat to its security and it may respond by strengthening ties with Tehran, Damascus and Sana'a.
According to al-Rai daily, the Egyptian nation and government are angry at Saudi Arabia's new turn towards Ethiopia since the African country is viewed as a rival for Cairo.
Meantime, the Saudi king has shown displeasure in the UAE's recent efforts to improve relations between Cairo and Riyadh and arrived in Abu Dhabi two hours after Egyptian President Abdel Fattah el-Sisi left the UAE.
The Arab newspaper underlined that while differences between Egypt and Saudi Arabia are worsening, more media and political conflicts between the two sides are expected, adding that the Egyptian officials are likely to respond their Saudi counterparts' measures with some trips to Damascus, Tehran and Sana'a.
Egypt has also been striving hard since a few weeks ago to prevent the agreement between Riyadh and Djibouti on building a military base in the African country, diplomatic sources said.
According to the Arabic-language al-Khalij al-Jadid news website, the sources said earlier this month that Cairo strongly opposes the agreement since the region that Riyadh has chosen to set up its base is under Egypt's political influence and considered as its strategic depth in the South.
They added that Riyadh's decision is against the tradition and old regulations respected by the Arab countries.
The Egyptian sources underlined that Saudi Arabia has remained adamant to coordination and partnership with Egypt and intend to go on with its plan.
Djibouti Foreign Minister Mahamoud Ali Youssouf announced last week that Saudi Arabia plans to set up a military base in his country.
Full report at:
http://en.farsnews.com/newstext.aspx?nn=13950930001478
--------
Russia drafting document to resolve Syria conflict, hopes for regional support
Dec 20, 2016
Russia says it is drawing up a declaration document that stipulates a roadmap for ending the nearly six years of foreign-sponsored militancy gripping Syria, expressing hope that the text will gain support from Iran and Turkey.
Russian Defense Minister Sergei Shoigu made the announcement at meetings in Moscow on Tuesday with his Iranian and Turkish counterparts, Brigadier General Hossein Dehqan and Fikri Isik, respectively.
"Today experts are working on the text of the Moscow declaration on immediate steps toward resolving the Syrian crisis. This is a thorough, extremely necessary document," Shoigu said, adding that the text was aimed at achieving a ceasefire in the Arab county.
All previous efforts by the US and its allies to agree on coordinated actions in Syria were "doomed to failure," as "none of them wielded real influence over the situation on the ground," he added.
The Russian defense minister further stressed that Tehran and Ankara's approval of Moscow's document shows "readiness to guarantee and jointly address concrete questions related to resolve [the crisis in] Syria."
Syria permits more UN presence to monitor Aleppo evacuation
In another development on Tuesday, Jens Laerke, the spokesman of the UN Office for the Coordination of Humanitarian Affairs (OCHA), said the Syrian government had authorized the world body to send an additional 20 staff to eastern Aleppo, where they will monitor evacuations from the formerly militant-held region.
Red Crescent members hold hands while militants and civilians wait to be evacuated from eastern Aleppo, Syria, December 18, 2016. (Photo by Reuters)
The new deployment would "almost triple" the number of international staffers" in Aleppo, Laerke told a news briefing in the Swiss city of Geneva, adding, "The task is to monitor and observe the evacuations."
On Monday, the UN Security Council unanimously approved a resolution urging the quick deployment of monitors.
The evacuations are part of the fragile Aleppo ceasefire deal, brokered by Turkey and Russia, that also includes the evacuation of the residents of the villages of Foua and Kefraya in Idlib Province, which have been under terrorists' siege.
Some 750 people have been taken out of the two villages so far, where 20 buses headed to early on Tuesday morning, he noted.
Trilateral agreement to guarantee Syria talks, truce
Separately, Russian Foreign Minister Sergei Lavrov announced on Tuesday that Moscow, Tehran and Ankara had agreed to guarantee Syria peace talks, while backing expansion of a ceasefire in the country and free access to humanitarian aid.
Iranian, Russian and Turkish foreign ministers, Mohammad Javad Zarif, Sergei Lavrov and Mevlut Cavusoglu (From L) attend a news conference in Moscow, Russia, December 20, 2016. (Photo by AFP)
He made the remarks following discussions in Moscow with his Iranian and Turkish counterparts, Mohammad Javad Zarif and Mevlut Cavusoglu, respectively, citing a joint statement.
Full report at:
http://www.presstv.ir/Detail/2016/12/20/500719/Russia-Syria-Iran-Turkey
--------
Zero Hour Arriving for Gov't Forces' Anti-ISIL Operation in Homs
Dec 20, 2016
Following the arrival of several fresh pro-government forces in Eastern Homs and the currently improved weather condition for the Russian and Syrian warplanes' flights that helped repel ISIL's repeated attacks on T4 airbase and also take back a number of key positions near Palmyra and T4 base today and yesterday, the pro-government forces are waiting to see the operation code wired by their commanders to start their large-scale operation in Eastern Homs.
In the meantime, hundreds more of fresh forces are due to arrive in Homs in coming days.
The army and popular forces took the introductory steps near Palmyra and T4 airbase yesterday and capture some important lands, including al-Mahjoureh, several villages and strategic crossroads that are valuable to maintain security of the towns of al-Quaryatayn and Maheen.
A field source said that currently the joint operation of the army and the Lebanese Hezbollah fighters is aimed at pinning ISIL down and preventing terrorists' advances in strategic regions, including T4 airbase.
He further added that the army, Hezbollah, National Defense Forces, Tiger Forces and Desert Hawks are about to carry out a massive operation soon.
The source added that the army's offensives in these regions are a part of preparations for that major operation.
The army is preparing for this large-scale operation via engaging in clashes with ISIL in several different battlefields and in the meantime is preventing terrorist groups from spreading to areas near the cities of Homs, al-Quaryatayn, Maheen and T4 airbase.
Army's battles in several different battlefields are aimed at wearing out ISIL and weakening their coordination ability for carrying out military operations.
According to military experts, the geographical nature of this region that includes plateaus, hills and deserts will force the Syrian army to use special military tactics and equipment.
Another military source underlined that the army needs to take control of the hills overlooking Tadmur in order to recapture energy-rich fields and later pave the ground for start of the final operation via cutting off ISIL's communication roads.
Reports said earlier today that the army troops and popular forces continued to advance against the ISIL near the T4 Airbase to recapture the territory they lost to the ISIL in the Western side of ancient city of Palmyra last week.
Full report at:
http://en.farsnews.com/newstext.aspx?nn=13950930001345
--------
Hundreds of Civilians Leave Two Besieged Towns in Idlib for Aleppo City
Dec 20, 2016
The Arabic language Elam al-Harbi reported that eight buses transferred the injured and patient civilians from Fua'a and Kafraya to Aleppo in return for the evacuation of militants and their families from Eastern neighborhoods of Aleppo city.
Based on reports, 12 more buses are ready in Fua'a and Kafraya to evacuate more patients with special medical conditions from these towns to residential centers in Jibrin in Aleppo city.
The Arabic language al-Mayadeen reported earlier today that almost 15,000 militants and their families have been thus far evacuated from the Eastern neighborhoods while more 10,000 militants and their family members are still waiting for evacuation.
Al-Mayadeen further added that 2,500 injured and patient civilians of Fua'a and Kafraya in two 1250-member groups were decided to be evacuated from the towns in return for the evacuation of militants and their families from the Eastern districts of Aleppo.
Based on reports, 1,500 more injured and patient civilians of Fua'a and Kafraya will leave the besieged towns in return for evacuation of 1,500 militants from Zabadani and Madaya in Northwestern Damascus in the next stage.
Full report at:
http://en.farsnews.com/newstext.aspx?nn=13950930001139
--------
Militants in Two More Regions End Battle against Syrian Army
Dec 20, 2016
"Militants in two more regions gave up fight against the army soldiers and joined nationwide reconciliation plan, the Russian center announced in a statement, adding, "The total number of cities, towns, villages and regions that have thus far joined the peace plan stands at 1,070."
Meantime, sources said that negotiations still continue with the field commanders of terrorist groups in Damascus, Aleppo, Homs, Hama and Quneitra to persuade them to join the peace plan.
Full report at:
http://en.farsnews.com/newstext.aspx?nn=13950930000776
--------
Two sentenced to imprisonment for supporting Daesh
MOHAMMED AL-SULAMI
21 December 2016
JEDDAH: The Specialized Criminal Court in Riyadh on Monday issued a prison sentence of 10 years against one Saudi citizen and six years to another as a preliminary ruling after the two were found guilty of supporting Daesh.
The court proved the first defendant guilty of storing materials, that touch on security and stability of public order, on his mobile phone, containing audio and visual videos, and text messages affiliated with Daesh.
The first defendant was found guilty of buying a gun and six bullets for the weapon, and then sold the same weapon without a license.
The defendant was sentenced to 10 years of imprisonment, starting from the date of his detention, and the confiscation of nine bullets in his possession, and he was banned from travel outside the Kingdom for a period similar to his imprisonment, starting from the date of his release from prison.
The second defendant was found guilty by the court of supporting Daesh by joining two terrorist groups via the "Telegram" platform, which is dedicated to exchanging audio and visual videos, as well as text messages containing materials to support Daesh.
The defendant was also found guilty of adding the first defendant to one of the aforementioned groups, and storing copies of Daesh emblems on his mobile phone, and possessing currency and other valuables issued in the name of Daesh.
The court also proved the defendant stored a map featuring the north of Iraq and Syria with the emblem of Daesh on it, along with a photocopy of Osama bin Laden, and a copy of an identifier named "Al-Monaseroon" on the social networking site Twitter, which demanded the release of a number of detainees under investigation for security cases.
Full report at:
http://www.arabnews.com/node/1027551/saudi-arabia#
--------
Arab FMs: Atrocities in Syria threaten regional, global stability
21 December 2016
CAIRO: Foreign ministers of the Arab League countries holding and emergency meeting on Syria here stressed that the tragic situation in Syria poses a threat to Arab and global security and stability, and said the Syrian regime has to come under pressure to respond to the will of the international community represented in the UN resolutions.
Saudi Foreign Minister Adel Al-Jubeir praised the government of Kuwait's initiative to hold the emergency meeting to discuss the latest developments in Syria, especially the tragedy unfolding in Aleppo and expressed the Kingdom of Saudi Arabia's condemnation of all terrorist attacks that took place recently in some Arab countries.
He also said that the Syrian regime bears responsibility for the events in Syria, having sent an army that was the pride of all Arabs to kill the Syrian people.
"It is the Syrian regime that refused to enter into any serious negotiations and proceeded with the killing of its own people. It helped terrorist organizations and sectarian militias, including the Iranian Revolutionary Guard, to enter Syria," he said.
Arab League Secretary General Ahmed Aboul El-Gheit said the Syrian regime and its allies are responsible for the brutal military operations and the serious violations of the international humanitarian law in the city of Aleppo, where it indiscriminately killed civilians in full view of the entire world.
"The condemnation of these crimes reflects our position, which one of rejection of what is happening in this ancient Arab city. It also indicts the international community's silence and helplessness in the face of the unprecedented sabotage and destruction" witnessed in Aleppo, Aboul Gheit said.
He also said that Syria became the arena where world powers wage proxy wars and regional countries wish to achieve their ambitions, all at the expense of the Syrian people who pays for the conflicting interests, rivalries and ambitions in blood, displacement and destruction of their country, adding that "the Syrian war has become an international dispute."
Kuwaiti Foreign Minister Sheikh Sabah Khaled Al-Hamad Al-Sabah warned that the situation in Syria and the tragic humanitarian situation in Aleppo will have negative repercussions on the region and will affect international peace and security.
Full report at:
http://www.arabnews.com/node/1027531/saudi-arabia
--------
Pakistan
Pakistan says terrorists have taken refuge in Afghanistan
21-Dec-16
NEW YORK: Pakistan on Tuesday rejected an Afghan allegation that the Afghan Taliban reorganise in Pakistan during winters, saying their sanctuaries had, in fact, shifted to Afghanistan.
Speaking at the UN Security Council debate, Pakistan's Acting Permanent Representative Nabeel Munir, said that presence of large number of terrorist, violent and extremist groups and organizations in the ungoverned areas of Afghanistan present a continuing challenge to the long-term stability of Afghanistan and its neighbours.
"We reject the unsubstantiated assertion that the Taliban reorganize in Pakistan during the winter period," he said. "Sanctuaries of terrorists have in fact shifted to Afghanistan due to our successful counter-terrorism Zarb-e-Azb operation, the results of which are widely acknowledged by the international community."
Calling for an objective evaluation of the efforts to address the deteriorating security situation in Afghanistan, Munir said the drivers of the recent upsurge in violence "lie within Afghanistan" and not outside. Reaffirming Pakistan's unflinching commitment to lasting peace in Afghanistan and the region, he cited Pakistan's participation in the Heart of Asia meeting in Amritsar, despite escalation on the Line of Control and the Working Boundary with India, as the testimony to Pakistan's commitment.
Pakistan expressed its continued support to regional and international efforts to achieve security and economic development in Afghanistan. "Our commitment of $500 million in Brussels was an expression of our firm resolve to never abandon Afghanistan." Pakistan praised the resolve of the Afghan leadership to work together to address their differences in a spirit of cooperation and agreed with the UN secretary general that a united Afghan government was imperative to effectively address the multiple challenges the country faces.
About border management, Munir said Pakistan has always stressed the need for robust border management as it is critical to control cross-border movement. He told the 15-member council that implementation of the peace agreement with the Hizb-e-Islami signed by the Afghan government can serve as a model for talks with other groups as well.
http://dailytimes.com.pk/pakistan/21-Dec-16/pakistan-says-terrorists-have-taken-refuge-in-afghanistan
--------
Government incentives boost Pakistan's Islamic banks
December 20 2016
Pakistan's Islamic banks are introducing new products and adjusting policies to take advantage of government incentives designed to boost growth in the industry.
Shariah-compliant banks in the country, the world's second most populous Muslim nation, held 11.4% of total banking assets in June, barely changed from a year ago. That is well below levels of around 25% seen in Gulf Arab states.
To help change this, the government introduced a 2% tax rebate for Shariah-compliant manufacturing firms in July to encourage them to eliminate interest-bearing debt from their balance sheets. The central bank has exempted Islamic banks from using interest-based benchmarks for some financing products.
Abdullah Ghaffar, head of investment banking at Al Baraka Bank Pakistan, a unit of Bahrain's Al Baraka Banking Group , said last month he detected signs of an increase in demand for both short- and long-term Islamic financing. The bank has launched Shariah-compliant products to finance purchases of tractors by customers and structured short-term sukuk for a white-label electronic equipment manufacturer in Lahore.
"The customer opted for sukuk - slightly more expensive to float - over quick-to-market commercial paper," Ghaffar said.
In October, Islamic lender Meezan Bank approved a new financing structure for use in the airline industry; it uses plane tickets as an asset to back Islamic deals in cases where fixed assets are not available.
Islamic banks are also adjusting internal policies which limit financing to manufacturing companies and the use of long-term maturities, said Syed Abubakr, Shariah board member of Emaan Islamic Banking, a unit of Silk Bank.
There is some demand for new products from conventional banks planning to convert their operations into fully-fledged Islamic banks, including Faysal Bank and Summit Bank, Abubakr added.
These banks have large portfolios of conventional credit card and personal loan facilities, but Shariah-compliant equivalents are needed to retain customers, he said. Such moves could help Islamic banks continue to grow at double-digit rates; the sector's assets grew 16.8% year-on-year in June, a slowdown from 37.3% growth recorded in the year to June 2015.
Pakistan's government believes it can pull more people into the formal banking sector - especially in rural areas - by expanding the Islamic finance sector, and this could boost economic growth. However, capitalisation levels could emerge as a constraint on growth, said Ghaffar. In June, Islamic banks had a combined, average risk-weighted capital ratio of 13.4% of assets, down 1.2 percentage point from a year ago, central bank data shows, compared to a banking industry average of 16.1%.
Full report at:
http://www.gulf-times.com/story/525370/Government-incentives-boost-Pakistan-s-Islamic-ban
--------
Political parties urged to unite for success of CPEC
Dec 21, 2016
ISLAMABAD: A Chinese minister on Tuesday urged Pakistani political parties to join hands for the success of the China-Pakistan Economic Corridor (CPEC) and attainment of the 'shared goal of development'.
"Political parties in Pakistan have divergent interests. We hope that the political parties can work together to resolve their differences and make CPEC a success," Zheng Xiaosong, Vice Minister of International Department, Central Committee, The Communist Party of China (CPC), said in a lecture at the Pak-China Institute.
Mr Zheng, during his visit, met Prime Minister Nawaz Sharif and leaders of the Pakistan Tehreek-i-Insaf and Pakistan Peoples Party and extended invitation to these parties for a visit to China.
China has been giving a lot of importance to CPEC, which is the flagship project of President Xi Jinping's Belt and Road initiative. Therefore, CPEC's success is being viewed as a key to the future of the Belt and Road project that has drawn a lot of international interest.
Critical views of some of the Pakistani political parties on certain issues related to CPEC have, therefore, been a cause of concern for the Chinese leadership.
The project's success is viewed as key to the future of President Xi Jinping's Belt and Road Project
Mr Zheng explained that it was natural for CPEC, a project with "long timeline" and one that is a "corridor of strenuous endeavours", to face issues from time to time. He offered the Chinese government's help to Pakistan for dealing with those issues. "We are ready to work with Pakistan for consensus and strive jointly for the way forward," he said.
The Chinese minister emphasised the need for public support for guaranteeing "safe and stable environment for investment" and developing "sound political and public opinion" for the project.
Dispelling the perception that CPEC was benefiting some of the provinces more, Mr Zheng maintained that it was for "entire Pakistan".
Touching upon the concern about India and some of the other countries conspiring against CPEC, he said project's success would be the best response to its opponents.
His two-pronged strategy for dealing with external conspiracies against CPEC was "strengthening of cooperation and communication" between Pakistan and China; and promoting unity within Pakistan.
Mr Zheng said a "high level of political trust" was the feature of longstanding Pak-China ties. He assured that his country would remain Pakistan's strong ally and would continue extending support to it on the issues of its core interest.
Senator Mushahid Hussain applauded the governance of the CPC for bringing "stability and prosperity to the world's most populous country," as well as for "making positive contributions to global issues such as climate change".
Full report at:
http://www.dawn.com/news/1303620/political-parties-urged-to-unite-for-success-of-cpec
--------
Govt in a spot over Musharraf's remarks on Raheel, judiciary
Dec 21, 2016
ISLAMABAD: Former military dictator Pervez Musharraf's claim in an interview that the Nawaz Sharif-led government was pressuring courts in cases against him and that former army chief Gen Raheel Sharif came to his rescue drew a strong criticism from legal and political circles on Tuesday, with calls that state institutions must come clean on the subject.
The Prime Minister Office remained tight-lipped about Gen Musharraf's claim that the army influenced the government and helped him in going abroad, though it issued a brief statement denying one of the many allegations levelled by the former dictator during the interview with a private news channel on Monday.
"Well, he [Gen Raheel] did help me and I am absolutely clear and grateful. I have been his boss and I have been the army chief before him… he helped out, because the cases are politicised, they put me on the ECL [exit control list], they turned it into a political issue," Gen Musharraf said.
He said that the army chief had "a role to play in releasing the pressure behind the scenes", and added that Gen Raheel removed the pressure "the government was putting on the courts".
"Once he [Gen Sharif] got the government to relieve the pressure that they were exerting, the courts gave their judgement and allowed me to go abroad for treatment," he told Dunya News TV.
While government representatives regretted that Gen Musharraf did not realise the implication of his statement, legal experts believed that his statement implied that there was an understanding between him and the state institutions.
"Unfortunately Musharraf crossed limits by making such claims against a former COAS. Musharraf should not have talked in a blatant way even if [Gen] Raheel had played a role in this regard," Minister for States and Frontier Regions retired Lt Gen Abdul Qadir Baloch told Geo TV.
Read more: Musharraf crossed all limits by making claims against former COAS Raheel Sharif: Qadir Baloch
Former Supreme Court Bar Association president Kamran Murtaza also told the same news channel that when Gen Musharraf was allowed to go abroad it seemed that "certain institutions were backing him and the issue was being managed by them. I believe that he [Musharraf] was let go to safeguard the government".
SCBA President Rashid A. Razvi said Gen Musharraf's statement depicted that there was an understanding between him, the government and the judiciary.
The current and former bar presidents as well as the federal minister demanded that the apex court must take a prompt action.
Dr Musadik Malik, special assistant to the prime minister, said that Gen Musharraf should have made such a revelation when Gen Raheel was the army chief.
In the same interview, Gen Musharraf said that the differences between him and PM Nawaz Sharif began in the late 90s when the latter asked him to sack two serving senior army officers, but he refused to comply.
This was the only point in the whole interview which was denied by a spokesperson for the Prime Minister Office on Tuesday in a statement.
Full report at:
http://www.dawn.com/news/1303606/govt-in-a-spot-over-musharrafs-remarks-on-raheel-judiciary
--------
Nisar wants Abbottabad body report made public
IFTIKHAR A. KHAN
Dec 21, 2016
ISLAMABAD: Interior Minister Chaudhry Nisar Ali Khan has called for making public the Abbot­tabad Commission report.
Talking to reporters here on Tuesday, he described the 2011 raid by US marines in which Al Qaeda chief Osama bin Laden was killed as a grave violation of Pakistan's sovereignty. He said he would demand at the next federal cabinet meeting that the Abbottabad Commission report be made public. But, he added, it was up to the prime minister to take a final decision on the matter.
The interior minister's remarks came a day after head of the Abbottabad Commission retired Justice Javed Iqbal confirmed that the report had identified all those responsible for the incident involving covert operation by the US marines on May 2, 2011, in which Bin Laden is claimed to have been killed.
Chaudhry Nisar lashed out at the Pakistan Peoples Party (PPP) over raising the issue of Panama Papers leaks, saying that Bilawal Bhutto-Zardari was clamouring for investigation into the leaks even though his mother's name was also included in it.
Reacting to a PPP plan to launch a campaign against corruption in the country, he said it was tantamount to a campaign by Bharatiya Janata Party in India for the rights of Muslims.
He said PPP leaders had forgotten the Surrey Palace in the United Kingdom, palaces in Dubai and precious property in France.
Answering a question about the Sindh government's decision to reportedly send the inspector general of police on forced leave, the interior minister said the IG was an honest officer who contributed a lot towards restoration of peace in Karachi.
Chaudhry Nisar said there was no pressure on him to resign from his office, adding that "if he decides to resign it can only be under pressure of conscience and not on demands of those who have no credentials".
He said his ministry should be given some credit for the arrest of one of the main suspects involved in the 2012 Baldia factory fire in which 250 people were killed.
The factory in Karachi was set on fire after its owner had reportedly refused to pay extortion money to people belonging to a political party.
The suspect, Abdul Rehman, alias Bhola, was arrested in Bangkok on Dec 4. He has been brought back to the country to face charges.
Chaudhry Nisar said that the interior ministry had made a strategy with Thai security agencies for the arrest of Bhola, a former sector in-charge of Muttahida Qaumi Movement who had fled to Dubai after the incident.
He said the Baldia factory fire was an incident of grave magnitude and its perpetrators should be brought to justice.
Talking about Khanani and Kalia International, the interior minister alleged that the company had been involved in money laundering and people in the previous government were hand in glove with it.
He said when Altaf Kalia was arrested in the US, the Federal Investigation Agency had been asked to conduct an inquiry against him and his partner Javed Khanani. The inquiry had revealed that another inquiry was conducted against them in past but it had been covered up by the government of the time, he added.
Full report at:
http://www.dawn.com/news/1303609/nisar-wants-abbottabad-body-report-made-public
--------
'Honest answers needed to UN concerns about human rights record'
Dec 21, 2016
ISLAMABAD: Speakers at a seminar on Tuesday urged the state agencies to provide honest answers to questions raised last week by the United Nations (UN) on Pakistan's rights record.
They said the National Commission on Human Rights (NCHR) should also adopt this as its strategic agenda for the year 2017.
The seminar on human rights and the launch of a strategic plan by the commission was organised by the NCHR and the Asia Foundation here.
As a signatory to the international covenant on human rights, the state authorities have to respond by mid-2017 to the questions asked by the UN about the record of human rights in Pakistan.
Foreign signatories and parliamentarians also spoke about the state of human rights in Pakistan, calling to promote and protect them.
The speakers observed that the rights to life and freedom of expression were the most critical. However, they said, the right to life had been threatened by extra-judicial killings, enforced disappearances and arbitrariness in the application of the death sentence.
The right to life is gravely undermined when people continued to disappear mysteriously in Balochistan, Khyber Pakhtunkhwa, Fata and Sindh with alarming impunity.
"When the Supreme Court identifies those involved in the disappearance of 28 persons from an internment centre and nothing happens it is a dangerous erosion of the right to life. It is a wake-up call. When relatives of the disappeared and later found dead do not even file FIRs it should be dreaded as a lull before the storm if the issue is not addressed," said PPP Senator Farhatullah Babar.
He believed that the right to life had also been undermined by the arbitrariness in the application of the death sentence.
"When two brothers were acquitted of murder charges by the highest court only after they had already been hanged, it was hugely frightening."
When mentally ill or juveniles were sentenced to death it must raise alarm bells about the ever expanding frontiers of the death penalty, he said.
"Out of the 425 executions since December 2014, more than 360 were unrelated to terror crimes, which was a manifestation of the fast expanding scope of the death penalty," the senator lamented.
He also said the right to life was undermined when 27 offences carried the death penalty even when religion prescribed death penalty only in two cases.
"The right to life is undermined when faith-based offences carry mandatory death penalty but the offence itself is not clearly defined. It is further undermined when people calling for preventing misuse of the law and clearly defining the offence are threatened with summary executions and the state unable to do anything," said Senator Babar.
About the right to freedom of expression, he said it had come under attack from the state and non-state actors alike. Ideology and the undefined 'national security interest' were increasingly employed to silence free expression of ideas, opinions and dissent.
"The ideology brigade has prevented free discussion on misapplication of faith-related laws and threatened members of parliament for progressive legislation."
Arbitrarily defined 'national security' has also undermined free expression.
Full report at:
http://www.dawn.com/news/1303567/honest-answers-needed-to-un-concerns-about-human-rights-record
--------
Only 96 people are missing in Balochistan, Senate body told
IKRAM JUNAIDI
Dec 21, 2016
ISLAMABAD: The chairman of the Commission of Inquiry on Enforced Disappearances, retired Justice Javed Iqbal, told a Senate standing committee on Monday that only 96 people are missing in Balochistan and the matter has been politicised.
The claim surprised the Senate Standing Committee on Interior, and two members from Balochistan – Mir Israrullah Khan Zehri and Dr Jehanzeb Jamadini – rejected Mr Iqbal's statements.
Both senators said a large number of people have disappeared in Balochistan, and are killed and their bodies discarded by agencies.
"A few years ago, some people marched from Quetta to Islamabad and claimed almost 17,000 people from Balochistan were missing but they never gave me the list," Mr Iqbal said.
Former interior minister claims Indian officials disguised as FC, army personnel are involved in killing Baloch people
"An NGO from Balochistan claimed 3,500 people were missing but it also failed to provide a list. A former chief minister even said 900 Baloch people were missing but he never provided me [with the] list."
"Even of those 96 people, we are not aware of how many have travelled to Geneva, Afghanistan or other countries – so an exaggerated number of missing persons is presented."
Senator Jamaldini from the Balochistan National Party-Mengal (BNP-M) said those who hide facts are not being just with the state and the nation.
"Every day, newspapers are filled with news about disappeared persons, and two to six bodies are recovered in Balochistan every day. Seven people from my family and 87 from my party have been killed. I have a list of over 1,800 missing persons," he said. "People have stopped registering FIRs because the next day, the complaints also disappear."
Senator Zehri from the Balochistan National Party-Awami (BNP-A) said in Balochistan even those who chant slogans are killed.
"My death warrant will be issued if I start speaking the truth. People are even declared terrorists and killed if they don't vote for some parties or candidates," he claimed.
Meanwhile, the committee chairman, former interior minister Rehman Malik, accused Indian intelligence officials of impersonating Frontier Corps and armed forces personnel and being involved in killing Baloch people, saying Indian intelligence agencies are active in the province.
At the start of the meeting Mr Iqbal, who was invited to give a detailed briefing on the missing persons issue, claimed that the situation in Pakistan was not very bad and blamed NGOs for playing a negative role in 2012 that caused a United Nations Working Group on Enforced Disappearances to look into the matter.
He said the UN working group visited Pakistan, and its recommendations were implemented "to some extent". Mr Iqbal also said that the commission of inquiry continued its work and the number of reported enforced disappearance cases rose from 136 to 3,692 due to increasing confidence in the commission.
"We observed that the police do not register [missing persons] cases, so we ensured that an FIR is registered on every application," he said.
"At the time some incidents were even reported in Islamabad, in which people entered houses, so we involved retired Capt Mohammad Ilyas from the Islamabad police after which the situation improved."
Turning to the provinces, Mr Iqbal said there are 200 pending cases in Sindh but the government there was uncooperative.
He said there were cases where people disappeared just two months after their weddings and had remained missing for the last six years, but the Sindh chief secretary never bothered to meet with the commission.
He said there are 223 missing persons cases in Punjab but the situation in southern Punjab is deteriorating. "There are some people who spent 18 months in the custody of intelligence agencies, during which they were only asked for names and addresses and then they were allowed to go home," he said.
Mr Iqbal said the Punjab home secretary also did not bother to meet with the commission, and instead sent officials who were not empowered to make any decisions.
There are 654 pending cases in Khyber Pakhtunkhwa, including terrorist cases. Mr Iqbal said that because of frequent transfers in the KP police force, it becomes difficult to deal with the police.
Full report at:
http://www.dawn.com/news/1303380/only-96-people-are-missing-in-balochistan-senate-body-told
--------
Suspects confess to killing Amjad Sabri and others
21-Dec-16
KARACHI: Police has informed the administrative judge of anti-terrorism courts on Tuesday that two suspected terrorists have confessed to killing famed qawwal Amjad Sabri, civilians and personnel of law enforcement agencies. Muhammad Asim alias Capri and Ishaq alias Bobby said to be associated with Lashkar-e-Jhangvi have been behind bars on charges of killing Amjad Sabri, seven cops, two traffic constables, and three civilians, including two doctors on sectarian grounds.
Police submitted charge-sheets against the suspects in as many as 17 murder cases to the administrative judge. While accepting the charge sheets, the judge transferred the cases to anti-terrorism courts for trial. The police said that the witnesses have identified the suspects involved in killing Sabri. Moreover, forensic science lab analysis has established that the spent bullets were fired from the weapons recovered from the possession of suspects.
The police informed the judge that the suspects have also admitted to killing soldier Lance Naik Arshad Mehmood and Hawaldar Rashid on 01 December 2015 around the Preedy police station. According to the challan, Capri and Bobby had gunned down four Rangers personnel in Karachi's Ittehad Town area on November, 20, last year. Those killed were Akhtar Ali, Muhammad Qasim, Shahadat Khan and Ishtiaq. The suspects were also involved in the killings of head constable Noor Hussain and Yasir Ali.
Full report at:
http://dailytimes.com.pk/sindh/21-Dec-16/suspects-confess-to-killing-amjad-sabri-and-others
--------
MQM-L leaders held shortly after release
December 21, 2016
KARACHI - Muttahida Qaumi Movement-London (MQM-L) leaders Prof Hassan Zafar Arif and Amjadullah Khan, who have been in jail under the Maintenance of Public Order (MPO) for the last two months, were re-arrested shortly after their release from Karachi's Central Jail on Tuesday. Police shifted the two leaders to North Nazimabad Police Station, but they did not give any reason for their arrest.
Their family members and relatives had gathered outside the Central Jail to welcome them. However, a heavy contingent of District Central police reached the prison, took them into custody and shifted them to the police station in an armoured personnel carrier (APC). In consequence, the family members and relatives of the two leaders staged a protest demonstration against their re-arrest. SSP Central Muqadas Haider has reportedly said that the MQM-L leaders were wanted to the police in a case registered against them at the Azizabad Police Station.
Full report at:
http://nation.com.pk/karachi/21-Dec-2016/mqm-l-leaders-held-shortly-after-release
--------
URL: https://www.newageislam.com/islamic-world-news/new-age-islam-news-bureau/after-the-berlin-terrorist-attack,-trump-did-isis--work-for-them/d/109445
New Age Islam, Islam Online, Islamic Website, African Muslim News, Arab World News, South Asia News, Indian Muslim News, World Muslim News, Womens in Islam, Islamic Feminism, Arab Women, Womens In Arab, Islamphobia in America, Muslim Women in West, Islam Women and Feminism, Moderate Islam, Moderate Muslims, Progressive Islam, Progressive Muslims, Liberal Islam