New Age Islam News Bureau
11 Sept 2017
• Former Al-Qaida Operatives Launch New Militant Group in Pakistan
• Telangana: Muslims unite; ask Centre not to deport Rohingyas
• Russian strikes kill 34 civilians in Syria's Deir Ezzor: monitor
South Asia
• After Muslims, Hindus flee persecution in Myanmar
• Lord Buddha Would Have Helped Rohingya Muslims, Says Dalai Lama
• Rohingya crisis: Hefajat threatens to besiege Myanmar Embassy in Dhaka
• Rohingya Muslim crisis: 400,000 sign petition to strip Aung Sang Suu Kyi of Nobel Prize
• Bangladesh FM speaks of Rohingya genocide in Myanmar
• President seeks OIC members' intervention for Rohingyas' protection
• Deadly explosion rips through Taliban gathering in Kapisa
• Afghanistan and India hold strategic meet in the aftermath of new US policy
• Two dangerous gangs of kidnappers and robbers busted in Kabul city
• 2 held as deadly clash leaves 7 dead, wounded in Kabul city
--------
Pakistan
• Former Al-Qaida Operatives Launch New Militant Group in Pakistan
• Pakistan urges Muslim world to gain self-sufficiency in all development
• Islam a religion of peace, security
• Pakistan birth rate a 'disaster in the making' as population passes 207 million
• Four Shia Hazaras gunned down near Quetta
• Myanmar assailed for Rohingya persecution
• Foreign minister leaves for Iran to discuss regional security
• Student's killing in Burewala: Family pleads for action against teachers
• Cleric apologises for banning music
• Chandio reacts to Sattar's comparison of Mohajirs with Burmese Muslims
• No end to Afghan issue sans Pakistan: Turkey
• Pakistan 'knew of' Trump's new strategy for region: official
• We're ready for talks with Pakistan: Ghani
--------
India
• Telangana: Muslims unite; ask Centre not to deport Rohingyas
• Triple talaq: Critical of govt, Muslim law board will not file review
• Kulgam encounter: Two Hizbul militants killed, one arrested
• NIA seeks details on 'forced conversions
• True secularism demands a Uniform Civil Code
• Jaipur's walled city remains under curfew as talks fail
--------
Arab World
• Russian strikes kill 34 civilians in Syria's Deir Ezzor: monitor
• Iraq holding 1,400 foreign wives, children of suspected ISIS fighters
• IS holds 11,100 blank Syrian passports
• Saudi authorities arrest 20 opponents amid talk of king's abdication
• Egypt is keen to elevate principles of citizenship and equality: Sisi to the American NCC
• Bahrain: We stand with Saudi Arabia against 'advocates of terrorism'
• Police raid in Cairo kills 10 militants
• Syrian Army Imposes Full Control over Damascus-Deir Ezzur Highway after Four Years
• Bahrain: Prison Guards Raid Inmates after Hunger Strike
• Syrian Army on Verge of Complete Victory in Eastern Homs
• Whistle-blower: Bin Salman Hunting Opponents
• Several Senior Terrorist Commanders Escape from Eastern Syria with Hefty • zAmount of Money
• Britain Withdraws Entire Forces from Bases at Syria-Iraq Border Region
• Syrian rebels say US allies push for retreat from southeast Syria
• Qatar arrests Hajj pilgrim Hamad al-Marri, holds him incommunicado
• 10 killed as Egyptian police raid terrorists' hideout in Cairo
• Top Hamas leaders visit Egypt for national reconciliation
--------
Europe
• Russia detains dozens at protest supporting Rohingya
• French Mayor Accuses Morocco of Terrorism, Calls for Banning Teaching of Arabic
• Germany open to Iran-style North Korea talks: Merkel
• Turks can travel to Germany with no fear: Merkel
• Report reveals UK exploiting Qatar crisis for own profit through arms exports
• 2 men arrested near Paris planned terrorist attack, wanted to join ISIS – French prosecutor
--------
North America
• Hundreds decry violence against Rohingya Muslims at Ottawa protest
• Wahhabi elements from Saudi Arabia supported 9/11 attacks: Analyst
• Dr. Johnathan Brown speaks on Islamophobia in America at Common Hour
• Erdogan, Trump agree to meet during UN assembly
--------
Southeast Asia
• DPM urges Suu Kyi to help stop violence against Rohingyas
• Rights group chief: Malaysia should play a role in creation of safe zone in Myanmar
• PAS concerned over KL's 'shameful' beer festival
• Envoy: US visa waiver possible once Malaysians fill up forms properly
• Pas does not trust Pakatan Harapan: Hadi
• Three issues set to define Singapore–Indonesia ties
--------
Mideast
• World of Islam can restore its glorious past: President Rouhani
• Rouhani calls on Muslims to cooperate in science, tech
• Erdogan urges Muslim countries to help Rohingya
• Iranian People, University Students Rally in Front of UN Office to Condemn Massacre of Myanmar Muslims
• Report: Iranian Revolutionary Guards' sectarian activity rises in Sunni areas
• Saleh's forces mobilize in Sanaa after Houthis arrest Republican Guard officers
• Rhetoric on Iran deal has hurt US stature: Zarif
• Pakistan FM to visit Iran for key regional, international talks
• Palestinian court grants bail to prominent activist
• Israel mulls building largest settlement inside Palestinian neighborhood: NGO
• Israeli warplanes cause sonic boom over southern Lebanon
• Opponents of Iraqi Kurdistan vote receive death threats
--------
Africa
• Nigeria: Operation Python Dance a Jihad On Biafra Land - IPOB
• Al Shabaab storms Somali border town, kills at least 10 military
• Bomb attack kills 6 in central Somalia
• 7 killed in Boko Haram attack on displaced camp
• UN rights chief slams EU's failure to halt abuses against refugees in Libya
• Suicide attack kills 2 in central Somalia
• Mauritania says US anti-slavery visit 'illegal'
Compiled by New Age Islam News Bureau
URL: https://www.newageislam.com/islamic-world-news/after-muslims-hindus-flee-persecution/d/112491
--------
After Muslims, Hindus flee persecution in Myanmar
September 01, 2017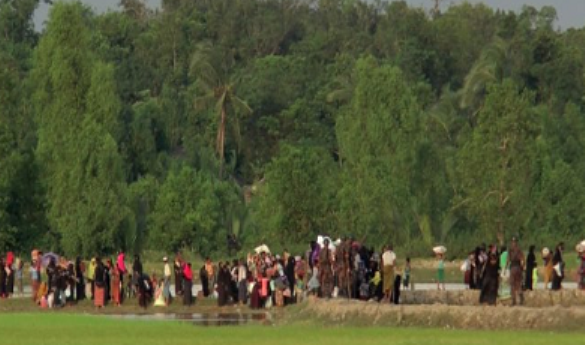 Photo: Rohingya people from Rakhine state in Myanmar gather near the border in Ukhiya town, where Bangladeshi border guards were stopping them from entering, on August 25, 2017
More than 500 Hindus from Myanmar's Rakhine state have crossed over to Bangladesh over the last couple of days.
They have taken shelter at a poultry farm near Kutupalong High School near the border in Ukhiya upazila, Cox's Bazar.
Babul Sharma, president of Jubo League Kutupalong unit, told the Dhaka Tribune that 165 Hindu families had arrived at Kutupalong by Thursday and more families were expected to cross over the border soon.
The Hindu refugees said they had fled their home to escape the persecution being carried out by groups of masked gunmen in Maungdaw amid the escalation of tension in Rakhine.
Modhu Ban Shill, 70, along with eight others of his family fled Riazuddin Para area in Maungdow after such an attack.
"Some gunmen wearing burqa launched an attack and looted our houses. They beat us up. We could not identify who they were," he said.
Kalu, 80, refugee from Chionchhari area in Maungdaw, said his family could not move out of their house in fear for days before finally deciding to flee to Bangladesh.
A series of coordinated attacks by Rohingya insurgents on security forces in the north of Rakhine state and ensuing clashes have triggered the latest Rohingya exodus. The Myanmar authority has also evacuated thousands of Buddhists from the trouble-torn region.
Since the attacks, about 18,445 Rohingyas – mostly women and children – have fled to Bangladesh, the International Organisation for Migration (IOM) stated on Wednesday.
However, according to local sources, the number of the newly arrived Rohingyas in Kutupalong and Balukhali have already crossed 30,000.
dhakatribune.com/bangladesh/2017/09/01/muslims-hindus-flee-persecution-myanmar/
--------
Former Al-Qaida Operatives Launch New Militant Group in Pakistan
Noor Zahid
September 10, 2017
WASHINGTON, KARACHI —
A new al-Qaida-inspired militant group, which has recently emerged in Pakistan's southern port city of Karachi claims to act as a platform for militants who have grown disaffected with the Islamic State militant group (IS) in the country.
The group, Ansar al-Sharia Pakistan, was reportedly formed by two former al-Qaida members who had severed ties with the organization in early 2017. Since then, the group has been involved in several attacks in Karachi, according to Pakistani counterterrorism authorities.
"The Ansar al-Sharia group started killings in Karachi since the beginning of this year and claimed responsibility for killing an army officer on Faisal Highway [in Karachi]," Major General Mohammad Saeed, the head of Rangers paramilitary security force in Karachi, told local media. He added the group has been focusing attacks on "the police only."
The group was allegedly created to operate as a platform for militants who have parted ways with IS in the country, it said in an online statement. It claimed to be active in several parts of the country.
"We give glad tidings to Muslim Ummah that a large number of Mujahideen from Karachi, Punjab and tribal areas are leaving ranks of IS and announce disassociation with [it]," the group said in an announcement through a Twitter account, adding that IS has "spread differences" and "secession instead of unity."
The group has vowed to continue its struggle through "jihad" against "infidel and apostates."
Though the newly-emerged group asserts no official affiliation with al-Qaida and other foreign militant organizations, the group said its ideology is inspired by Osama bin Laden, al-Qaida's slain founder.
VOA was unable to independently verify the authenticity of the Twitter account.
According to the counterterrorism department of Karachi police, Ansar al-Sharia has a presence in areas between Sindh and Baluchistan provinces.
"Unfortunately, according to the names that have come up in the investigation, their kill team has three young men who have masters [degrees] in applied physics," Maj. Gen. Saeed said.
Pakistani media reported the terror outfit also has female members. Police have reportedly arrested four women, including a doctor, suspected of membership in the group.
Pakistani authorities have vowed action to seize members of the group in the country, including in Karachi.
A police officer has reportedly been arrested for links with an alleged Ansar-al-Sharia member in Karachi, Pakistani media reported.
Al-Qaida's branch in South Asia, known as al-Qaida in the Indian Subcontinent (AQIS), has been active in the region. Several militant groups in Pakistan that had an ideological association with bin Laden's al-Qaida, have pledged allegiance to AQIS.
Much of AQIS's power is concentrated in Karachi and IS has also claimed presence in in Pakistan's largest city.
voanews.com/a/pakistan-ansar-al-sharia/4022858.html
--------
Telangana: Muslims unite; ask Centre not to deport Rohingyas
September 10, 2017
Hyderabad: Condemning genocide of the Rohingyas in Myanmar and asking the Centre to drop plans to deport them, a conference was organised by Jamiat-e-Ulema at the Madina Education Centre, on Saturday.
The representatives of Tameer-e-Millat, Jamaat-e-Islamic and other organisations participated and asked the UN to intervene.
"We may approach courts to stop the deportation of Rohingyas," said Hafiz Peer Shabbir Ahmed, the president of Jamaat-e-Ulema of TS and AP. Another meeting was held at Hussaini Alam.
Rohingyas staying in the city Hyderabad are pleading the Centre not to deport them.
A protest rally was organised in the Old City by the Telangana Minorities Welfare Association.
On Sunday, the Majlis Bachao Tehreek has planned a rally in Yakutpura. Another protest was organised in Nampally by the Jamiat-e-Islami. A prayer meet was also organised on Sunday at the Punjagutta mosque.
siasat.com/news/telangana-muslims-unite-ask-centre-not-deport-rohingyas-1231858/
--------
Russian strikes kill 34 civilians in Syria's Deir Ezzor: monitor
11-Sep-17
Russian air strikes reportedly killed 34 civilians in eastern Syria's Deir Ezzor province as they provided cover to Syrian government ground forces pressing an offensive against jihadists
Russian air strikes Sunday killed 34 civilians on ferries fleeing violence in Syria's eastern province of Deir Ezzor, where jihadists face separate assaults by US-backed forces and Russian-backed government troops, a monitor said.
The Britain-based Syrian Observatory for Human Rights monitor initially reported 21 deaths but later raised the toll to 34, saying that "more bodies have been found in the river" Euphrates.
Observatory head Rami Abdel Rahman said nine children were among those killed fleeing fighting and that "dozens" of people were wounded in the strikes.
He said the raids targeted "more than 40 ferries" that had left Al-Boulil town southeast of Deir Ezzor city for the eastern shore of the river.
The Observatory relies on a network of sources inside Syria, and says it determines whose planes carry out raids according to type, location, flight patterns and munitions used.
Moscow intervened in Syria in September 2015 in support of its ally President Bashar al-Assad.
Sunday's reported raids came as Syrian troops with Russian air cover pressed an offensive against Islamic State group jihadists across Deir Ezzor province. On Saturday, government forces broke a nearly three-year jihadist siege of a Syrian airbase on the southern edges of Deir Ezzor city, the provincial capital.
Assad's troops advanced further Sunday, capturing Mount Tharda west of the military airport from IS as well as another mountain overlooking the city, the Observatory said. IS holdouts were still entrenched in southern parts of the city, the monitor said. The army's advances in the oil-rich province come as US-backed forces press their own assault on IS in Deir Ezzor.
The province borders Iraq and is a strategic prize for both the US-backed Syrian Democratic Forces (SDF) alliance and government troops.
The SDF announced on Saturday it had begun clearing IS from areas east of the Euphrates, which cuts diagonally across the province. By Sunday, fighters from the SDF's Deir Ezzor Military Council (DEMC) had seized much of the province's northeast, the Observatory said.
"They seized control of a hilltop seven kilometres (four miles) from the eastern banks of the Euphrates, across the river from Deir Ezzor city," Abdel Rahman said.
He attributed the speedy gains to the fact that "eastern parts of Deir Ezzor are desert and not densely populated".
The DEMC's advance is being backed by the US-led coalition battling IS in Iraq and Syria since 2014.
The coalition, the SDF, Syria's government and Russia have agreed on a "de-confliction line" in northeastern Syria to prevent the two offensives from clashing.
Regime forces were on Sunday also locked in fierce clashes with IS southwest of the city as they prepared a push into neighbourhoods still held by the jihadists, the Observatory said.
According to the War Media channel operated by regime ally Hezbollah, Syrian troops seized full control of the 450-kilometre (280-mile) road linking the capital to Deir Ezzor for the first time in four years. "The Syrian army and its allies now control the entire international highway between Deir Ezzor and Damascus, through the cities of Al-Sukhna and Palmyra," it said, referring to other central Syrian cities recaptured from IS.
dailytimes.com.pk/world/11-Sep-17/russian-strikes--kill-34-civilians-in-syrias-deir-ezzor-monitor--
--------
South Asia
Lord Buddha Would Have Helped Rohingya Muslims, Says Dalai Lama
September 10, 2017
NEW DELHI: Amid mounting international concern over the treatment of the Rohingya Muslims in Myanmar, Tibetan spiritual leader the Dalai Lama on Sunday said that Lord Buddha "would have definitely helped" the minority community.
Nearly 3 lakh minority Rohingya Muslims have fled the violence-hit Rakhine state where the Myanmar's army has allegedly launched a crackdown following a raid by militants on August 25.
"Those people... you see... sort of harassing some Muslims... Then they should remember, Buddha, in such circumstances, would have definitely helped those poor Muslims," Dalai Lama told reporters.
"So still, I feel that... So very sad... very sad," he said.
India has also expressed its "deep concern" about the situation in Myanmar's Rakhine State where security forces have been engaged in a bloody battle against Rohingya insurgents, forcing thousands to flee neighbouring Bangladesh and India.
"India remains deeply concerned about the situation in Rakhine State in Myanmar and the outflow of refugees from that region," the Foreign Ministry said in a statement on Saturday evening that also urged Myanmar to handle the situation with "restraint and maturity".
New Delhi asked Myanmar to focus on the welfare of the civilian population as well security forces and underlined that it is imperative that violence is ended and normalcy in the state restored expeditiously.
Myanmar says its forces are fighting a legitimate campaign against terrorists responsible for a string of attacks on the police and army since October 2016. Officials blame Rohingya militants for killing non-Muslims and burning their homes.
Rohingya Muslims accuse Myanmar's security forces of mass killings and rapes and the burning of hundreds of villages.
ndtv.com/india-news/lord-buddha-would-have-helped-rohingya-muslims-says-dalai-lama-1748490
--------
Rohingya crisis: Hefajat threatens to besiege Myanmar Embassy in Dhaka
September 09, 2017
Hefajat-e Islam, a Chittagong-based Islamist group, today threatened to besiege Myanmar Embassy in Dhaka on September 19 if the "genocide" of Rohingya people is not stopped by then.
Hefajat General Secretary Junaid Babunagri made the announcement at a press briefing at Chittagong Press Club around 11:15am, reports staff correspondent from Chittagong.
The atrocities against the Rohingya Muslims in Myanmar's Rakhine state is unacceptable, he said, adding that if the violence against the Rohingya community is not stopped by then they would besiege the Myanmar Embassy in Dhaka on September 19.
The Islamist group will present a memorandum to the United Nations (UN) and the Organisation of Islamic Cooperation (OIC) on September 21.
It also announced to organise a countrywide protest and long march on September 16.
The Hefajat leader also called upon the Bangladesh government to put diplomatic pressure on the Myanmar government to stop the atrocities against the Rohingya people immediately.
Full report at:
thedailystar.net/country/rohingya-muslim-refugee-crisis-rakhine-state-hefajat-e-islam-threatens-besiege-myanmar-embassy-dhaka-bangladesh-1459669
--------
Rohingya Muslim crisis: 400,000 sign petition to strip Aung Sang Suu Kyi of Nobel Prize
Sep 11, 2017
More than 400,000 people are calling for Aung Sang Suu Kyi to be stripped of her Nobel Peace Prize over her response to the Rohingya Muslim crisis.
The leader of Burma's National League for Democracy party was given the prestigious award in 1991 for campaigning for her country to hold full and free elections.
But more than 405,000 people have now signed a petition on Change.org demanding the Nobel Committee withdraw the award from Ms Suu Kyi, who has been widely accused of failing to protect Burma's Rohingya population.
"Until this second, the de facto ruler of Myanmar [Burma] Aung San Suu Kyi has done virtually nothing to stop this crime against humanity in her country," the petition reads.
The Norwegian Nobel committee has said they will not rescind the award, saying only work led to the prize was taken into account.
There is growing outrage at reports and allegations of the indiscriminate slaughter of Muslim civilians by Burmese soldiers and Buddhist vigilantes.
Thousands of houses and dozens of villages have been burned to the ground in Rakhine State, sending nearly 300,000 fleeing for their lives in a period of just two weeks.
Monitors say up to 1,000 people have been killed. António Guterres, the UN Secretary General, said the violence verged on ethnic cleansing.
The Burmese military, which says it has been conducting clearance operations following attacks by Rohingya insurgents at the end of August, has denied any allegations of indiscriminate killing - blaming the insurgents for killing civilians. Ms Suu Kyi also blamed the violence on "terrorists" and claimed the controversy has been caused by "a huge iceberg of misinformation".
The United Nations has appealed for aid to help deal with a humanitarian crisis in Rohingya refugee camps and makeshift shelters in southern Bangladesh where hundred of thousands of Rohingya have fled.
It said the stream of traumatised refugees was "showing no signs of stopping".
"It is vital that aid agencies working in Cox's Bazar have the resources they need to provide emergency assistance to incredibly vulnerable people who have been forced to flee their homes and have arrived in Bangladesh with nothing," the UN resident coordinator in Bangladesh Robert Watkins said.
Full report at:
independent.co.uk/news/world/asia/rohingya-muslim-aung-sang-suu-sky-petition-nobel-peace-prize-strip-a7938806.html
--------
Bangladesh FM speaks of Rohingya genocide in Myanmar
September 11, 2017
DHAKA - Bangladesh's foreign minister said Sunday that genocide was being waged in Myanmar's violence-hit Rakhine state, triggering an exodus of nearly 300,000 Muslim Rohingya to his country.
"The international community is saying it is a genocide. We also say it is a genocide," AH Mahmood Ali told reporters after briefing diplomats in Dhaka.
Ali met Western and Arab diplomats and the heads of UN agencies based in Bangladesh to seek support for a political solution and humanitarian aid for the Rohingya.
He told the diplomats that some 300,000 Rohingya had fled to Bangladesh in the past two weeks, taking the total number of such refugees in the country to over 700,000. "It is now a national problem," Ali said.
At least two diplomats who attended the briefings said the minister told them as many as 3,000 people may have been killed in the latest round of violence.
The United Nations says 294,000 bedraggled and exhausted Rohingya refugees have arrived in Bangladesh since attacks by Rohingya militants on Myanmar security forces in Rakhine on August 25 sparked a major military backlash.
Tens of thousands more are believed to be on the move inside Rakhine.
Mainly Buddhist Myanmar does not recognise its stateless Muslim Rohingya community, labelling them "Bengalis" - illegal immigrants from Bangladesh.
Ali accused Myanmar of running a "malicious propaganda" campaign to term the Rohingya "illegal migrants from Bangladesh" and the militants as "Bengali terrorists".
He said the Rohingya Muslims in Rakhine are a "mixed group of people" with a history dating back 1,500 years and ancestors included Arab and Indian-origin people.
Ali described actions following the militant attacks on security forces on August 25 as "revenge" by Myanmar troops. "Should all people be killed? Should all villages be burnt? It is not acceptable," he said, adding Dhaka was seeking a peaceful solution, not a "war" against Myanmar.
"We did not create the problem. Since the problem started in Myanmar, that's why they should resolve. We have said we'll help them," he said, adding that the problem took a "new turn" after the August 25 attacks.
Ali called on the international community to urge the Myanmar government to immediately implement the recommendations of the commission's report "in its entirety".
Meanwhile, Rohingya militants in Myanmar, whose raids sparked an army crackdown that has seen nearly 300,000 Muslim Rohingya flee to Bangladesh, on Sunday declared a unilateral ceasefire but the government said it would not negotiate with "terrorists".
Tens of thousands of Rohingya are believed to be on the move inside Rakhine after more than a fortnight without shelter, food and water.
"The Arakan Rohingya Salvation Army (ARSA) hereby declares a temporary cessation of offensive military operations," the militant group said in a statement on its Twitter account.
It urged "all humanitarian actors" to resume aid delivery to "all victims of humanitarian crisis irrespective of ethnic or religious background" during the one-month ceasefire until October 9.
International aid programmes in Rakhine have been severely curtailed over safety concerns due to the fighting.
In addition to Rohingya, some 27,000 ethnic Rakhine Buddhists and Hindus have also fled violence in northern Rakhine.
ARSA called on Myanmar to "reciprocate this humanitarian pause" in fighting.
Myanmar, which has previously labelled ARSA as "terrorists", appeared to reject the overture. "We have no policy to negotiate with terrorists," Zaw Htay, a senior government spokesman, tweeted late Sunday.
Aung San Suu Kyi's government has come in for strong international criticism over the military's treatment of the Rohingya - including the alleged laying of mines along the border to prevent those who fled from returning.
Three Rohingya are reported to have been killed by a mine and others including children have been injured.
Rohingya refugees say army operations against ARSA led to mass killing of civilians and the burning of villages, sending them across the border.
The UN has appealed for urgent donations of $77 million. Bangladesh already hosts around 400,000 Rohingya from previous crises.
The Red Cross in Bangladesh welcomed the ceasefire pledge as aid agencies struggle to meet the needs of an "overwhelming crisis".
"How can you handle such a big influx of people? They want shelter, they want a safe place," Misada Saif, Prevention and Communication Coordinator of the ICRC Bangladesh delegation, told AFP.
Cradling her naked screaming infant, Rohingya refugee Zohra Begum was close to tears as several hundred people were ordered to leave a strip of forest alongside the beach near Shamlapur, where families were clearing land with hoes to build shelters.
"We went to all the camps but there was no place to stay. That's why we came here," she told AFP. "If we have to move from here, where will we go? We will die."
Rohingya refugees in Bangladesh say ethnic Rakhine Buddhists joined Myanmar's security forces in the indiscriminate killing of villagers.
Full report at:
nation.com.pk/national/11-Sep-2017/bangladesh-fm-speaks-of-rohingya-genocide-in-myanmar
--------
President seeks OIC members' intervention for Rohingyas' protection
September 10, 2017
President M Abdul Hamid today sought OIC members' intervention in protecting Myanmar's ethnic minority Rohingya Muslims, saying repeated atrocities threatened their existence at home simultaneously exposing Bangladesh to great difficulty with burdens of huge number of hapless refugees.
"Bangladesh has given shelter to Rohingyas on a humanitarian ground," he said while addressing the opening ceremony of the First Summit on Science and Technology of the Organisation of Islamic Cooperation (OIC) at the Palace of Independence at the Kazakhstan capital here.
He added: (But) I would like to draw your kind attention to the need for protection of the Rohingya Muslims, deprived of all rights, including citizenship, and faced with existential threat at repeated atrocities and displacements."
The president said the Rohingya crisis "directly affected" Bangladesh as atrocities there forced the victims to flee their home in Myanmar's Rakhine state while surges of refugees flooded territories in the neighbouring country.
President Hamid stressed the need for a collective effort to protect rights of this minority Muslim community in Myanmar.
The science summit drew the heads of nation and government of OIC nations to the Kazakh capital where the Bangladesh president also underscored the need for collective journey in Science and Technology to reach the Muslim world on a vantage ground of technology leadership in place of mere technology users.
The president said advancement of technology and innovation particularly in 21st century were rapidly transforming society bringing greater ease in work and communication, drastically reducing time and space barriers, and increasing speed and productivity.
He said nations with varying level and stages of advancement in technology are competing with each other to keep their technological edge and superiority simultaneously creating a technological divide.
"Disruptive innovations are leaving some behind and taking some ahead creating another division in the world," president Hamid observed.
The Bangladesh president called for adopting a scientific view of life, to bring back the intellectual leadership in science which the Muslims once enjoyed through investment in pursuit of knowledge and exploration.
He urged OIV nations to engage in coordinated and dedicated research and development, applying new innovations in all areas of life and quickly adapting to technology to achieve to restore the leadership.
"I believe, our cooperation in science and technology would generate more synergy and dynamism for the Ummah and enhance the image and standing of the Muslims in the world," the President.
He said the OIC nations simultaneously "must also involve, to our advantage, Muslim scientists, researchers, and innovators flourishing in the developed world for research and development and industrial collaboration".
President Hamid said OIC member states needed partnership, platforms and mechanisms for dedicated projects on bilateral, joint and collective basis aiming to utilise the strengths and prospects in different areas.
He described science and technology as a "game changer in poverty alleviation and development" and proposed joint plans of action for selecting, using and tasking institutions in the member states in the field of research and development in collaboration with OIC institutional support.
In Bangladesh, he said, Prime Minister Sheikh Hasina's Vision - 'Digital Bangladesh', made enviable advancement in life sciences which was evident in the country's emerging industry of pharmaceuticals and alternative medicine and high-tech industries like ocean-going shipbuilding.
Full report at:
thedailystar.net/world/president-calls-oic-save-rohingya-islam-myanmar-countries-bangladesh-1460131
--------
Deadly explosion rips through Taliban gathering in Kapisa
Sep 11 2017
A deadly explosion has ripped through a gathering of the Taliban insurgents in eastern Kapisa province of Afghanistan.
The incident has reportedly taken place in the vicinity of Tagab district of Kapisa, leaving at least three militants dead and several others wounded including a local commander of the group.
The ministry of defense of Afghanistan confirmed the incident and said three militants were killed and their commander Khanullah also famous as Bilal was wounded after an improvised explosive device went off among them.
The anti-government armed militant groups including the Taliban insurgents have not commented regarding the incident so far.
The anti-government armed militant groups frequently use explosives materials for the roadside bombings and car bombings to target the government staff and security personnel.
However, in majority of such incidents the ordinary civilians are targeted besides such bombings incur casualties to the security personnel and in some cases the Taliban militants themselves are killed or wounded.
Full report at:
khaama.com/deadly-explosion-rips-through-taliban-gathering-in-kapisa-03409
--------
Afghanistan and India hold strategic meet in the aftermath of new US policy
Sep 11 2017,
Top Afghan and Indian officials are due to meet in New Delhi, the capital city of India, in the aftermath of the new US policy for Afghanistan and South Asia.
The Ministry of Foreign Affairs of Afghanistan in a statement confirmed that the foreign minister Salahuddin Rabbani will meet with the Indian officials during his visit to New Delhi.
The statement further added that Rabbani is accompanied by a delegation of high level Afghan officials.
The ministry also added that Kabul and New Delhi are expected to sign new contracts during the bilateral meetings.
In the meantime, local reports from India suggest that Prime Minister Narendra Modi will also meet with the Afghan officials besides meetings will be held between Foreign Minister Sushwa Swaraj with the Afghan officials.
The reports further add that the two sides will discuss regional security, bilateral ties, and other issues of mutual interest.
India has played a major role in the reconstruction of Afghanistan since the fall of the Taliban regime and has invested over $2 billion in various reconstruction and infrastructure projects.
The construction of the major Salma Dam, the new Afghan parliament building, Zaranj-Delaram highway, and some other projects are among the key investments India has done so far in the country.
Full report at:
khaama.com/afghanistan-and-india-hold-strategic-meet-in-the-aftermath-of-new-us-policy-03408
--------
Two dangerous gangs of kidnappers and robbers busted in Kabul city
Sep 10 2017
Two dangerous gangs of kidnappers and robbers have been busted by the Afghan security forces in capital Kabul amid rising criminal incidents in Kabul city.
The Afghan Intelligence, National Directorate of Security (NDS), said the members of the gangs were arrested during separate operations conducted by the Afghan intelligence operatives in the city.
A statement by NDS said the arrested individuals have been identified as Mohsin who was in lead of the gangs of kidnappers and armed robbers.
The statement further added that the other individuals arrested during the operations have been identified as Abdul Qadir also famous as Khalid Dedana who was the deputy leader of the gangs, Imran Khan, Fawad also famous as Ramiz, Mohsin, and Noor Ahmad also famous as Bibi Mahro.
NDS said the detained individuals have confessed that they were involved in several criminal incidents including the kidnapping of wealthy Kabul residents, armed robberies, and other criminal acts.
This comes as incidents involving armed conflicts and other criminal incidents are on the rise in the key cities of the country including capital Kabul during the recent months.
Full report at:
khaama.com/two-dangerous-gangs-of-kidnappers-and-robbers-busted-in-kabul-city-03406
--------
2 held as deadly clash leaves 7 dead, wounded in Kabul city
Sep 10 2017
At least two people involved in a deadly clash in Kabul city were arrested by the Afghan security forces, the security officials said Sunday.
The Criminal Investigation Department (CID) officials in the Ministry of Interior (MoI) said the incident took place in the vicinity of the 16th police district of the city few days earlier.
The officials further added that the clash between the families erupted following a verbal clash regarding the trash management.
According to the CID officials, two members of a family involved in clash used fire arms and started shooting spree, leaving at least three members of the other family dead and four others wounded.
The perpetrators of the incident managed to flee the area after the shooting spree, the officials said, adding that the Afghan forces launched an operation after the incident that led to the apprehension of the main perpetrators.
This comes as incidents involving armed conflicts and other criminal incidents are on the rise in the key cities of the country including capital Kabul during the recent months.
Full report at:
khaama.com/2-held-as-deadly-clash-leaves-7-dead-wounded-in-kabul-city-03405
--------
Pakistan
Pakistan urges Muslim world to gain self-sufficiency in all development
Sep 11, 2017
ASTANA: President Mamnoon Hussain Sunday urged the Muslim world to gain self-sufficiency in all fields of modern science which could put it back on track of progress and prosperity.
Addressing the inaugural session of the first summit of the Organization of Islamic Cooperation (OIC) on science and technology here at Palace of Independence in the Kazakh capital, the president said the decisions taken today would not only bring development to the Islamic world but also help it regain the lost grandeur.
The president arrived here Saturday on four-day visit to attend the summit being chaired by Kazak President Nursultan Nazarbayev while among the participants comprised the heads of state and government and delegates from across the Muslim world.
He said unfortunately, the Muslim world had been lagging behind in the field of education and research which could be judged by the facts and figures of the inventions and patents.
Therefore, it was inevitable for the Muslim states to include science and technology in their priorities as without achieving excellence in these sectors, the common man's life could not be uplifted.
President Mamnoon observed the Muslim world was faced with new challenges in this modern era which required research in social science and physics.
Keeping the very fact in view, COMSTECH, a standing committee of the OIC had been established that had worked out 10-year programmes participated by researchers and scientists from across the Islamic world.
He said some amendments had been proposed which would be adopted by the House in this session in order to enhance the effectiveness of the programme.
Under this project, special focus would be given to the space sciences, marine biology, energy production, agricultural technology, food security, climate change and uniformity of industrial standards, he said.
The president told the OIC leaders that COMSTECH had worked out several short and long term plans for the capacity building of the young generation.
He told the gathering that Pakistan always served for the betterment and that was why Pakistan had borne 90 percent expenses of these projects.
The president proposed a comprehensive framework to ensure the disbursement of funds without any delay so that the educational projects could be accomplished without any delay.
Islamic Development Bank and Islamic states must play their role in this regard, he added.
President Mamnoon said despite immense economic development, humanity still needed a messiah to mitigate its sufferings and believed that this noble cause could only be achieved by pursuing developing goals without giving up the moral values.
Addressing the summit, President of Turkey Recep Tayyip Erdogan said we cannot make progress without peace.
He said the Muslim Ummah needs unity and integrity. The Muslim countries will have to work together against violence in Myanmar.
He said International organizations should also cooperate with us in this regard. He further said Science and technology summits should be held regularly.
Addressing the summit, President of Kazakhstan Nursultan Nazarbayev said Islam is spreading rapidly in the world.
He said in the world of science, there are two Nobel Prize-winning personalities from the Muslim Ummah. The one is from Pakistan and the other from Egypt. NNI
pakobserver.net/pakistan-urges-muslim-world-gain-self-sufficiency-development/
--------
Islam a religion of peace, security
Sep 11, 2017
Lahore
Islam is a religion of peace and security but since the early years of caliphate elements making killings of caliphs and innocents Muslims on account of Islam are followers of 'Takfeeri and Kharji' mindset, said clerics while speaking at congregations and seminars held all over the country here on Sunday to mark martyrdom of Hazrat Usman (R.A) in aegis of Pakistan Ulema Council.
Addressing the seminars and religious congregations held here on Sunday to mark the martyrdom of Hazrat Usman (R.A), clerics and religious scholars of different Islamic Schools of thought underlined that all the sections of society have to play their responsible and effective role to shelter Muslim Ummah from the menaces of extremism and terrorism. Hafiz Muhammad Tahir Mehmood Ashrafi, Chairman Pakistan Ulema Council addressing a seminar titled, "Message of Islam & Responsibilities of Muslim Ummah" held at Jamia Masid Khulafa-e-Rashdeen, Lahore stated that martyrdom of Hazrat Usman (R.A) witness to the fact that Islam is a religion of peace and security.
He also added that enemies of Islam aiming at imposing 'Takfeeri' mindset on Islamic world and the Muslim Ummah could be rescued from this extremist thinking by following to life and teachings of Hazrat Usman (R.A). He also urged on the leadership of Muslim Ummah to follow the generosity of Hazrat Usman (R.A) to help the oppressed Muslims of Kashmir, Palestine and Myanmar. Leadership of Muslim world should devise a cohesive mechanism to contain the menaces of extremism and terrorism, said Tahir Ashrafi adding that world leadership instead of hurling allegations should come forward with concrete steps to root out fundamental reasons of terrorism and extremism. Divisional President Pakistan Ulema Council Qari Abdul Hakeem Athar addressing the seminar stated that life and teachings of Hazrat Usman (R.A) is like torchbearer for peaceful forces of the world. Enemies of Islam and Muslims aiming at making sectarian differences within Muslims; therefore people of Muslim world should comprehend conspiracies of the enemies of Islam, said Qari Abdul Hakeem Athar.
Full report at:
pakobserver.net/islam-religion-peace-security/
--------
Pakistan birth rate a 'disaster in the making' as population passes 207 million
Sep 11, 2017
For years, Pakistan's soaring population growth has been evident in increasingly crowded schools, clinics and poor communities across this vast, Muslim-majority nation. But until two weeks ago, no one knew just how serious the problem was. Now they do.
Preliminary results from a new national census — the first conducted since 1998 — show that the population has grown by 57 per cent since then, reaching 207.7 million and making Pakistan the world's fifth-most-populous country, surpassing Brazil and ranking behind China, India, the United States and Indonesia. The annual birth-rate, while gradually declining, is still alarmingly high. At 22 births per 1,000 people, it is on a par with Bolivia and Haiti, and among the highest outside Africa.
"The exploding population bomb has put the entire country's future in jeopardy," columnist Zahid Hussain wrote in the Dawn newspaper recently. With 60 per cent of the population younger than 30, nearly a third of Pakistanis living in poverty and only 58 per cent literate, he added, "this is a disaster in the making."
The chief causes of the continuing surge, according to population experts, include religious taboos, political timidity and public ignorance, especially in rural areas. Only a third of married Pakistani women use any form of birth control, and the only family-planning method sanctioned by most Islamic clerics is spacing births by breast-feeding newborns for two years.
Even if the birth-rate slows, some experts estimate that Pakistan's population could double again by the middle of the century, putting catastrophic pressures on water and sanitation systems, swamping health and education services, and leaving tens of millions of people jobless — prime recruits for criminal networks and violent Islamist groups.
But instead of encouraging fresh ideas to address the population crisis, the census has triggered a rash of arguments over whether certain areas have been over or undercounted, or reclassified as urban instead of rural. These squabbles amount to fights over political and financial spoils, including the number of provincial assembly seats and the amount of funding from the central government.
A few people, however, are paying close attention to the larger picture. One is Shireen Sukhun, a district officer for the Population Welfare Department in Punjab province. Her mission is to persuade Pakistani families to have fewer children and offer the families access to contraceptive methods — but she is keenly aware of the obstacles.
"The fatal combination we face is poverty and illiteracy," Sukhun said. "It takes a long time to change people's mind-sets, and we don't have the luxury of leaving it to time."
One outpost in her campaign is a tiny, bench-lined room in Dhoke Hassu, a congested working-class area of Rawalpindi. Inside, Rubina Rehman, a family welfare worker, listens all day to women's problems with feverish babies, painful deliveries and other woes. Once they feel comfortable with her, she broaches the topic of contraception.
It has not been an easy sell. All the clients are Muslims, and most have little education. Some have been taught that God wants them to have many children. Some have husbands who earn too little to feed a large family but keep wanting another child. Some would like help but are too shy to discuss a taboo topic.
"When we first opened this post, women were frightened to come, and some people asked why we were against increasing the ummah [Muslim masses]," Rehman said. "But we explained how the prophet taught that you should have a gap of 24 months between each child, and that you should consider the family's resources when making decisions. Now we do not face such opposition."
On Thursday, a dozen women crowded into Rehman's office, some carrying infants or toddlers. Several leaned close and whispered to her, then slipped packets of birth-control pills into their purses. One woman named Yasina, 35, explained proudly that she had gotten an "implant" — a hormone dose injected under the skin that prevents conception for several years.
"I already have five children, and that is more than enough," she said. At first she had agreed to a tubal ligation, which the government arranges at no cost, but her husband, a labourer, would not allow it. "So I got the implant instead, and I didn't tell him," she said, bursting into laughter as the other women smiled.
Outside, the markets and alleys of Dhoke Hassu were teeming with a mix of Afghan refugees, migrants from rural Punjab and government workers. Some expressed confidence that God would provide for any children that came. But many said that it was important to balance family size with income and that their Muslim beliefs did not conflict with such practical needs.
"If half of our population is young, what will happen to their lives, their jobs, their needs?" mused Rizvi Salim, 29, a government railways employee carrying his only child, a two-year-old girl, in his arms. Salim said that he was raised with seven siblings but that today, "things have changed. We do believe that God will take care of us all, but we also need to plan for our futures."
But upwardly mobile urban communities are more open to such perspectives than rural areas, where two-thirds of all Pakistanis live. In village life, the influences of traditional culture and Islamic teachings are stronger, and the reach of public media campaigns about baby spacing is much more limited.
Attempts to open rural family welfare offices are often met with community suspicion and political opposition, but health officials say more mothers are asking about birth control. The remaining major taboo, they said, is permanent contraceptive practices such as vasectomies or tubal ligations.
In Khyber Pakhtunkhwa province, the population nearly doubled, from 17.7 million in 1998 to 30.5 million this year. The province is home to several million Afghan refugees, numerous Islamist militant groups and conservative religious leaders suspicious of supposed foreign plots to sterilise Muslims. But their views, too, are evolving.
"Islam does not contradict the idea of family planning, but it challenges the Western concept of birth control," said Mufti Muhammad Israr, a religious scholar in Peshawar, the provincial capital. He said Islam allows "natural family planning" via breast-feeding but not "stopping the reproductive system permanently. The prophet Muhammad asked believers to marry and produce children."
Hospital officials in Mardan, a large district in Khyber Pakhtunkhwa, said this month that they frequently deal with cases of child malnutrition and often see mothers with several very young children. They said that although more married couples are seeking family-planning services, women still have difficulty getting their husbands to cooperate.
One pregnant housewife waiting to see a gynaecologist in Mardan had a small child on her lap and a five-year-old girl by her side. All looked weak and malnourished.
Full report at:
independent.co.uk/news/world/asia/pakistan-population-muslim-birth-rate-census-disaster-poverty-million-a7938816.html
--------
Four Shia Hazaras gunned down near Quetta
Saleem Shahid
September 11, 2017
QUETTA: Four members of the Shia Hazara community, among them a 12-year-old boy, were killed and two others injured in an attack in Kuchlak, a town some 30km northwest of here, on Sunday.
Official sources said that eight members of a Hazara family were travelling to Quetta from Chaman in a vehicle. They had stopped near a petrol pump to take a brief rest when two men on a motorcycle appeared and opened fire on them.
They said that three of the six people hit died while the 12-year-old succumbed to injuries during treatment at the trauma centre of Quetta's Civil Hospital.
Two women members of the family sitting in the vehicle escaped unhurt.
Kuchlak DSP Tanvir Shah told Dawn that automatic weapons had been used in the attack.
After receiving information about the incident, police and Levies personnel rushed to the area and shifted the bodies and the injured to the hospital.
Sources in the hospital told Dawn that all the victims received multiple bullet wounds in upper parts of their bodies.
They said the two injured were in serious condition and shifted to the Combined Military Hospital in Quetta.
According to a police officer, the Hazara family had come to Chaman from Afghanistan in the afternoon.
He identified three of the deceased as Mohammad Mehdi, Yazdan Khan and Ghulam Hussain. The boy's name could not be ascertained.
The injured were identified as Mohammad Ismail and Abdul Wakil.
After the incident, security forces launched a search operation in Kuchlak and adjacent areas to arrest those involved in the attack.
However, no arrest was reported till late night.
Full report at:
dawn.com/news/1356900/four-shia-hazaras-gunned-down-near-quetta
--------
Myanmar assailed for Rohingya persecution
Syed Irfan Raza
September 11, 2017
ISLAMABAD: The Orga­ni­sation of Islamic Cooper­ation (OIC) on Sunday censured the government of Myanmar over ongoing persecution of Rohingya Muslims and called upon Naypyidaw to accept the UN Human Rights Council's fact-finding mission to investigate violations of human rights laws and bring the perpetrators to justice.
The OIC members took this stance at a meeting of the heads of state and government of member states held exclusively to discuss the current situation of Rohingya Muslim community on the sidelines of an OIC summit in Astana, the capital of Kazakhstan. The meeting on the Rohingya issue was held on the initiative of Turkish President Recep Tayyip Erdogan.
The OIC's call for Myan­mar coincided with a declaration by Rohingya militants in Myanmar of a unilateral ceasefire, but the Myanmar government announced it would not negotiate with "terrorists".
The OIC meeting expres­sed grave concern over systematic brutal acts perpetrated by security forces forcing around 270,000 Muslims to displace to Bangladesh besides burning their houses and worship places.
OIC asks Naypyidaw to accept UN fact-finding mission to probe into violation of HR laws
It urged the Myanmar government to take measures to immediately halt the dispersion and discriminatory practices against Rohingya Muslims and attempts to obliterate their religious culture.
They asked the government to eliminate root cause, including the denial of citizenship based on the 1982 Citizenship Act which led to statelessness and deprival of rights to Rohingyas.
The leaders of the Muslim world urged the Myanmar government to take urgent measures for sustainable return of Rohingya refugees and internally and externally displaced population.
Calling for revival of peace through dialogue, the meeting sought early implementation of the commission headed by Kofi Anan on the issue.
It also called the members to join efforts by the international community for lifting restrictions on the freedom of movement in Rakhine state.
Agencies add: Rohingya militants, whose raids allegedly sparked an army crackdown that has seen nearly hundreds of thousands of Muslims flee Mynamar to Bangladesh, declared a unilateral ceasefire but the government said it would not negotiate with "terrorists".
Bangladesh's foreign minister said that genocide was being waged in Rakhine state, triggering an exodus of Rohingya Muslims to his country.
"The international community is saying it is a genocide. We also say it is a genocide," A.H. Mahmood Ali told reporters after briefing diplomats in Dhaka.
Mr Ali met Western and Arab diplomats and the heads of UN agencies based in Bangladesh to seek support for a political solution and humanitarian aid for the Rohingya.
He claimed that the total number of Rohingya refugees in his country had topped 700,000. "It is now a national problem."
At least two diplomats who attended the briefings said the minister told them as many as 3,000 people might have been killed in the latest round of violence.
The United Nations said 294,000 bedraggled and exhausted Rohingya refugees had arrived in Bangladesh since the militant attacks on Myanmar's security forces in Rakhine on Aug 25 sparked a military backlash.
Tens of thousands more are believed to be on the move inside the state after more than a fortnight without shelter, food and water.
"The Arakan Rohingya Salvation Army (ARSA) hereby declares a temporary cessation of offensive military operations," the group said in a statement on its Twitter account.
It urged "all humanitarian actors" to resume aid delivery to "all victims of humanitarian crisis irrespective of ethnic or religious background" during the one-month ceasefire until Oct 9.
ARSA called on Myanmar to "reciprocate this humanitarian pause" in fighting.
Myanmar, which has previously labelled ARSA as "terrorists", appeared to reject the overture. "We have no policy to negotiate with terrorists," Zaw Htay, a senior government spokesman, tweeted late on Sunday.
Aung San Suu Kyi's government has come in for strong international criticism over the military's treatment of the Rohingya — including the alleged laying of mines along the border to prevent those who fled from returning.
Mainly Buddhist Myanmar does not recognise its stateless Muslim Rohingya community, labelling them as "Bengalis" — illegal immigrants from Bangladesh.
At the opening meeting in Astana, Kazakh President Nursultan Nazarbayev said that terrorism and Islamphobia were damaging the Muslim world the most.
Iranian President Hassan Rouhani said Islam ruled out any extremism and terrorism and always advocated for education, research and development.
Full report at:
dawn.com/news/1356902/myanmar-assailed-for-rohingya-persecution
--------
Foreign minister leaves for Iran to discuss regional security
September 11, 2017
Foreign Minister Khawaja Asif left for an official visit to Iran on Monday morning, Radio Pakistan reported.
National Security Adviser Nasser Khan Janjua and Foreign Secretary Tehmina Janjua are also accompanying the foreign minister.
While sharing details of the trip, Foreign Office spokesperson Nafees Zakaria said, "Khawaja Asif will hold meetings with his Iranian counterpart, and President Hassan Rouhani."
The spokesperson further said that matters of bilateral relations and the regional situation will be discussed during the meetings.
"Security situation in Afghanistan will also be discussed," Zakaria was quoted as saying.
dawn.com/news/1356974/foreign-minister-leaves-for-iran-to-discuss-regional-security
--------
Student's killing in Burewala: Family pleads for action against teachers
Gulzar Baig
September 11, 2017
VEHARI: The negligence of the class teacher and the hatred against Christians among a few class fellows killed Sheron Masih.
The mother of deceased Sheron Masih, Razia Bibi, wants action against the class teacher and the school headmaster, saying that their negligence claimed the life of her son, who was beaten by one of his class fellows on Aug 30 in the classroom of the Government MC High School, Burewala.
Sheron of, chak-461/EB, had been facing bullying and discrimination from some of the fellows from the day one in the school where he was admitted on Aug 28.
They would not allow him to use glass and watercooler in the class room because of his faith. She said Sheron would drink water only after the school and remain thirsty for hours in hot and humid weather. He had informed the class teacher, Nazir Mohal, about bullying but to no avail.
On Aug 30, Sheron attempted to drink water from the cooler but classmate Ahmed Raza stopped him with brutal thrashing. He soon collapsed. Teacher Mohal was not present at the time of the incident. The situation alarmed the class and four students rushed Sheron to the Burewala Tehsil Headquarters (THQ) hospital in a motorcycle rickshaw where he was received deceased.
The security guard and the peon were also not present at main gate of the school when the boys were taking Sheron to the hospital.
Her mother says her son might be beaten in classroom at 11am, as he had been declared dead at the hospital at 12pm. School teachers arrived at the hospital at 1:30pm.
She says the teacher had been harsh to her son from the day one. The first day, he beat Sheron for not wearing school uniform.
She said the education department wanted to save the teacher. She appealed to the chief justice of Pakistan to provide justice to them.
School's Senior Science Teacher Jawed Iqbal said that an inquiry had been launched into the incident.
He said had the students called Rescue 1122, the timely first aid would have saved Sheron.
He said both Sheron and Ahmed had not been enrolled in school on Aug 30. He denied the widespread hatred against Christians in the school, saying that about 100 Christian students were presently enrolled in the school.
The probe is likely to be completed by Sept 12. Muhammad Asim, the member of the inquiry team set up by the district administration, said that according to initial reports, the class teacher and the headmaster were responsible for the incident. Ahmed, who was arrested days after the incident, has confessed to his crime before a local court. He said that no other class fellow was involved in beating Sheron.
A first information report (FIR) into the incident states that the parents and other relatives of both students were present at school during the brawl.
Sheron's mother, however, says they went to the hospital, not school, after hearing about the death of Sheron.
She said the loopholes were kept in the FIR only to save the teachers. She demanded a murder case against the class teacher and the headmaster. She said they were not satisfied with the way investigations were being held and warned if justice was not provide to them, Christians would go on strike.
Deputy Commissioner Ali Akbar Bhatti and District Police Officer Umer Saeed Malik said the family of Sheron would be provided justice.
Full report at:
dawn.com/news/1356863/students-killing-in-burewala-family-pleads-for-action-against-teachers
--------
Cleric apologises for banning music
September 10, 2017
LANDI KOTAL: A local cleric, who had imposed ban on music, on Saturday tendered an apology to the political administration for taking law into his hands.
Sources said father of the cleric, Mohammad Ibrahim akka Bacha Jan, and three other family members were summoned to the offices of political administration in Landi Kotal, where officials reprimanded them for taking law into their hands by not only conducting raids at private properties of some local residents but also imposing ban on all types of music in the Shinwari territory of Landi Kotal.
They said the political administration was under pressure from public after the ban.
In their written apology they contended that the incident (burning of music instruments) which occurred on Sept 8 and the announcements made were result of a misunderstanding and would not be repeated in future.
"We will not take the law into our hands in future and will remain peaceful citizens," the statement said and added that they repented their deeds.
The apology came after strong criticism from the civil society and even the ordinary citizens.
Full report at:
dawn.com/news/1356759/cleric-apologises-for-banning-music
--------
Chandio reacts to Sattar's comparison of Mohajirs with Burmese Muslims
Dawn Report
September 11, 2017
HYDERABAD: Pakistan Peoples Party-Parliamentarians information secretary Maula Bux Chandio has strongly reacted to MQM-P chief Dr Farooq Sattar's comparison of Urdu-speaking community with the 'world's most persecuted minority' Rohingya Muslims, and said Dr Sattar should always be thankful to God for all the blessings bestowed on him.
Dr Sattar's Muttahida Qaumi Movement had been in power for over four decades, said Mr Chandio while talking to journalists in Bhitai Nagar where some activists of PPP-Shaheed Bhutto announced joining PPP on Saturday evening.
He said that if the federal government could change a minister or a secretary, Sindh government could also do so. The Sindh High Court's verdict on Sindh IGP's case would be challenged in court, he said.
As per law, an IGP was answerable to chief executive of the province and home ministers and he was to obey orders of the provincial government, he said.
In an apparent reference to Pakistan Tehreek-i-Insaf chief Imran Khan and his party, he said the people who were rejoicing over verdict in Panama Papers case should remember that it would not make them look tall.
Panamagate was a product of Sharifs' political sins and Mian Nawaz Sharif was himself to blame for the ruination of his own family because of his incurable arrogance, he said.
He said that pointing fingers at others could never lead one to real victory. History showed that the country had seen such premiers who did not even possess national identity cards but they failed to become leaders of the nation.
Theoretically speaking, he said, anyone could become a prime minister but it was difficult to become a leader of people and the country. For instance, Ghulam Mustafa Jatoi, who was launched against PPP, became a premier but he utterly failed to lead the nation, he said.
He said that conspiracies should not be hatched to secure power nor crutches of institutions be used and the institutions should not be defamed either. Everyone knew who had a deal with whom, so PPP should not be blamed for any 'muk muka', he said.
Mr Chandio said that he respected Imran Khan as a national hero and welcomed him to Sindh as a leader of a political party but he should remember that even Mr Sharif had felt after witnessing a few public meetings in Sindh as if he had conquered the province. Now Imran was doing the same with the help of defeated elements.
The PPP was not afraid of Imran's public meetings because it believed it was people's prerogative to take a decision about their destiny, he said.
Mr Chandio said that PPP had forewarned about census's results and its fears were eventually proved right. If census statistics were not kept secret it would not have given rise to doubts in people's minds, he said.
'Dr Sattar should offer apology'
SUKKUR: Sindh Minister for Information Syed Nasir Hussain Shah has said in reaction to MQM-P chief Dr Sattar's remarks that he should take back his words and offer an apology.
The minister said at a public meeting in Bihar Colony on Saturday night that Dr Sattar's comments proved that he had not yet shed the political views of his former leader Altaf Hussain.
About Imran Khan, he said that PTI chairman had always used lies and duplicity in politics. He was dreaming of becoming prime minister but his dreams would never come true, he said.
He said that his leader Asif Ali Zardari was acquitted by courts in all cases. Who would now be accountable for keeping him in jails for more than 10 years on the basis of fake cases, he asked.
Full report at:
dawn.com/news/1356832/chandio-reacts-to-sattars-comparison-of-mohajirs-with-burmese-muslims
--------
No end to Afghan issue sans Pakistan: Turkey
11-Sep-17
ASTANA: President Mamnoon Hussain and his Turkish counterpart Recep Tayyip Erdogan Sunday agreed that Afghan issue could not be resolved without Pakistan.
Both the leaders expressed these views at a meeting in Astana on the sidelines of the first summit of the Organisation of Islamic Cooperation on science and technology, says a Foreign Office statement issued in Islamabad.
President Mamnoon said Pakistan had taken extraordinary steps for regional peace and security and had faced the biggest loss in its fight against terrorism.
President Erdogan lauded Pakistan's efforts and sacrifices for regional stability and reiterated his support to Pakistan saying that services of the Pakistan's security forces and the people against terrorism were historical and must be acknowledged.
Turkish president thanked the people and the government of Pakistan for extending support to their Turkish brethren at the time of an abortive attempt of military coup.
During the meeting, both the leaders also discussed the plight of Rohingya Muslims of Myanmar and resolved to raise the issue at every platform in the world.
Full report at:
dailytimes.com.pk/pakistan/11-Sep-17/no-end-to-afghan-issue-sans-pakistan-turkey
--------
Pakistan 'knew of' Trump's new strategy for region: official
11-Sep-17
by Tahir Khan
ISLAMABAD: Pakistan was ready for US President Donald Trump's new strategy for the region. US and Pakistani officials had exchanged messages over the development before the announcement, officials told Daily Times.
"The visits of President Trump's National Security Adviser Gen McMaster and Assistant Secretary of State Alice Wells were also part of the contacts on the issue," an official source told Daily Times.
Besides McMaster, other senior US military officials, including CENTCOM Chief General Joseph Votel travelled to Pakistan in August. Earlier in July, a group of senators also visited Islamabad to press Pakistan for taking action against the Afghan Taliban and the Haqqani Network.
Senator John McCain, the Senate's Armed Services Committee chairman, had warned after his trip to Islamabad that the US would change its policy if Pakistan did not change.
"They (US officials) asked Pakistan to take categorical action against Haqqani Network and the Tehreek Taliban Afghanistan (TTA)," the official said.
"Our stance was that action against the Afghan elements is continuing. But we cannot afford a major war on our soil because TTA could join hands groups like TTP, Jamaatul Ahrar, Lashkar-e-Jhangvi, Al-Qaeda and Daesh to fight against Pakistan. Space is available in Afghanistan for these and other groups, including the East Turkistan Islamic Movement (ETIM) and Uzbeks. It is up-to the Afghan government and the foreigners to deal with these groups there. Pakistan is not responsible for the groups operating on the Afghan side," the official said.
He said that Pakistani officials had always pushed for effective border management to stop cross-border movement of the militants. "However, Afghan side has never responded positively," he said.
"The civil and military leaders have come up with a unanimous approach that we will not follow the US dictations. The government has a very valid point," the official said.
To a question about postponement of Foreign Minister Khawaja Asif's visit to US, he said there was the unanimous perception that the visit would only convey Pakistan's "weaknesses" following President Trump's threatening posture.
In his telephonic contact with Asif, US Secretary of State Rex Tillerson had suggested Pakistan's engagement to discus areas of cooperation and mutually work out a way out.
"Asif was ready for the visit, but when Trump announced the review, it changed the situation and the mood in Pakistan. Then the government reviewed the situation and decided the visit will have no immediate impact."
"We are willing to talk to the US, but now our focus is on consulting all regional countries, including China, Russia, Iran and Turkey," he said.
To a question about the possibility of Pakistan-US talks, he said: "We have not shut the doors on talks with the US. Pakistan could have high-level engagements during the next month UN General Assembly session with the US. We hope that the foreign minister will hold discussions with some regional countries before the UN General Assembly."
To another question about the reconciliation in Afghanistan, he said that Pakistan wanted the US to focus on political solution instead of pursing military options.
"We want the US to come to talks, either direct with the Taliban or through any other mechanism in Afghanistan. We also want the Quadrilateral Coordination Group of Afghanistan, China, Pakistan and the US to collectively make efforts to bring the Taliban to the table and that there should be no time frame," he said.
He said that China and Russia as well as Iran had also agreed with Pakistan's stance that there was no military solution to the Afghan problem.
Full report at:
dailytimes.com.pk/pakistan/11-Sep-17/pakistan-knew-of-trumps-new-strategy-for-region-official
--------
We're ready for talks with Pakistan: Ghani
11-Sep-17
ASTANA: Afghan President Ashraf Ghani Sunday reaffirmed his stance that Kabul was ready for comprehensive talks with Islamabad as he met his Turkish counterpart Recep Tayyip Erdogan on the sidelines of a summit in Kazakhstan, the Afghan presidential palace said in a statement.
Ghani said Afghanistan wants to have good relations with its neighbours and that the country was ready to hold talks with Pakistan. He said there was a need for change in the current situation and that regional countries must work towards peace and stability.
Ghani said terrorism was a threat. He urged the world to work together to overcome extremism, read the statement. Ghani said the new US strategy on Afghanistan was a comprehensive plan and that the regional countries should use the opportunity that it had provided, the statement read. Erdogan said Turkey had long, historic relations with Afghanistan and it supported the new US strategy on Afghanistan. He also expressed his country's readiness to help improve relations between Afghanistan and Pakistan and said his country supported the Afghan-led and Afghan-owned peace process.
Full report at:
dailytimes.com.pk/pakistan/11-Sep-17/were-ready-for-talks-with-pakistan-ghani
--------
India
Triple talaq: Critical of govt, Muslim law board will not file review
by Abantika Ghosh , Milind Ghatwai
September 11, 2017
The All India Muslim Personal Law Board (AIMPLB) executive committee meeting on Sunday did not discuss filing a review petition against the Supreme Court order holding instant triple talaq illegal. Sources said during informal discussions it was felt that a review plea may throw open more religious practices like polygamy to judicial scrutiny.
It was the first meeting of the AIMPLB's highest decision-making body since the Supreme Court order. The board had maintained studied restraint on it and there was speculation that the executive committee could decide on a review petition.
At the marathon meeting in Bhopal on Sunday, the AIMPLB again accused the government of attempting an attack on Muslim personal laws, and welcomed the court order for not going in that direction.
Putting this one positive takeaway from last month's triple talaq judgment — the majority verdict upholding personal laws based on religion — in jeopardy would not be a sensible move, many in the topmost echelons of the board felt. The executive committee, however, resolved to set up a panel to examine the judgment to find any inconsistencies with the Shariah. The board also recorded its "commitment to carry forward largescale reforms".
In a statement issued after the meeting, the board said, "The government had laid bare its intention in the form of the Attorney General's submissions in the Hon'ble Supreme Court that all forms of dissolution of marriages without intervention of the court should be declared as unconstitutional. We register our displeasure and consider it as attack on personal law of Muslims. This stand of the present government is contrary to the protection guaranteed by the Constitution of India. We make (a) categorical statement that the Community cannot and shall not tolerate such attack on personal law of Muslim community."
On August 22, a five-judge Bench of the Supreme Court, by a 3-2 majority verdict, had held the practice of instant triple talaq (talaq-e-bidat) illegal. Several Muslim organisations, including the Jamiat Ulama-i-Hind, among the oldest in the country, had objected to this, saying that instant triple talaq should continue and be recognised as a legitimate divorce among Muslims even if that meant courting punishment as per the law of the land.
Kamal Faruqui, a member of the AIMPLB executive committee, told The Indian Express, "The matter of a review petition was absolutely not discussed at the meeting. Whoever thought we would be doing so was merely imagining things. We have always advocated a reasonable line, we are not in favour like some other organisations of taking to the streets at the slightest pretext. We try to steer clear of adopting a confrontational attitude because there are many other issues of Muslims, like education, that need attention. We will stand up against anyone when it is required, but now is not the time. We are not emphasising it, but we did win a major victory when the SC upheld personal laws; we are not talking because we do not want it to be politicised again."
Board insiders say the matter of a review petition was discussed in informal deliberations over the past 20-odd days, but most felt that the risks of such a move far outweighed its potential benefits. Said a source, "There is a saying in Urdu, 'Namaz bakshwane gaye they, roze gale padh gaye (Had gone to seek exemption from namaz, ended up being saddled with roza)'. Things have changed since the last order, there is a new CJI (Chief Justice of India), there will be a new Bench looking at it. What if they do not feel the same way about personal laws? What if they want to examine other practices like polygamy, nikah halala etc, like the original two-judge Bench had wanted examined? We would end up opening more fronts than we would like to. That is why the review petition never came up in the executive committee."
Sunday's resolution said Islamic/Sharia law is based upon Quran, Hadith, Ijma and Qiyas and that the sanctity of belief and practices in personal/matrimonial relationship in Islamic laws cannot be treated differently from the belief and practices in personal/matrimonial relationship by other citizens who follow own customs and practices.
Holding that the board had always felt that instant triple talaq was a sin, even though admissible in the Hanafi, Maliki, Ambali and Shafai schools of Sunni law, the resolution said it had taken steps to discourage the practice through community-reform programmes and had issued a model nikahnama about two decades ago.
The board said it had also informed the apex court about its resolution passed on April 16, that those who indulge in talaq-e-bidat should be socially boycotted and had filed an affidavit that it would advise all qazis, imams, maulvis to counsel the bridegroom not to pronounce three divorces in one sitting.
The chief organiser of the AIMPLB women's wing, Asma Zehra, claimed 99 per cent of Muslim women are in favour of Muslim personal law. "In the name of showing sympathy with Muslim women, a door is being opened to interfere in our religion." She added that there would be a lot of difficulties in implementing the order on triple talaq.
'Why sudden hurry on Babri?'
At its Sunday meeting, the AIMPLB executive committee also expressed its surprise over the Supreme Court's decision to begin hearing the Babri Masjid case on a daily basis. Noting that the court had previously found it impossible to speed up the hearing because it had to go through a lot of documents, the board said it would abide by whatever the court decides, "but the process has to be judicial without bringing politics into it. It's related to property, it's a title suit."
The AIMPLB said the court had now given very little time to the two parties, and that there was not enough time to translate all the documents. Saying "we would do our best", the board said, "We feel this may be used as a plank by a certain political party. We want the might and respect of the court should not be compromised. Court is our last resort."
It added that its president and general secretary would come out with a detailed observation at a later stage talking to lawyers. Without naming anyone, the board said "one gentleman from a particular party" was appearing in court without any authority, despite being told in the past that he would not be entertained.
indianexpress.com/article/india/triple-talaq-critical-of-govt-muslim-law-board-will-not-file-review-muslim-islam-4837620/
--------
Kulgam encounter: Two Hizbul militants killed, one arrested
September 11, 2017
Two Hizbul Mujahideen militants were killed and one was arrested in an encounter with the security forces in Kulgam district of Jammu and Kashmir, according to news agency ANI on Monday. AK 47 rifle and Insas rifle has also been reportedly recovered.
Following inputs about the presence of some militants in Khudwani area of Kulgam district, security forces launched a cordon and search operation on Sunday, a police official said.
During the operation, the militants opened fire at the security forces who retaliated, leading to a gunfight.
indianexpress.com/article/india/kulgam-encounter-jammu-and-kashmir-militants-4837789/
--------
NIA seeks details on 'forced conversions
SEPTEMBER 11, 2017
The National Investigation Agency (NIA) has asked the Kerala Police for the details of "alleged forced conversions" at Therbiyathul Islam Sabha in Kozhikode, a religious centre authorised by the Kerala government.
In a status report filed before the Supreme Court and accessed by The Hindu, the NIA said it had sought information on the activities of the Kozhikode-based organisation. It was at this Islamic centre that Akhila Asokan alias Hadiya, a 25-year-old Hindu girl, converted to Islam and later married a Muslim man. Her parents moved the Kerala High Court alleging that she was radicalised and converted to Islam and forcibly married to a Muslim. The court annulled the marriage and Akhila's husband Shafin Jahan moved the SC, which asked the NIA to investigate the 'love jihad' case.
Records examined
The NIA, in its report, also said it had examined several records of the Kerala police and there seemed to be an "organised effort" in the conversion. The probe agency had not been able to question the woman even once. She continues to live under police protection in Kerala. Akhila is a homeopath.
The NIA said, "During the investigation of Crime No 21/2016 of Perinthalmanna police station, Kerala Police has recorded the statement of detenue Akhila Asokan, after she was sent to her parents by Hon'ble High Court of Kerala on May 24, 2017. Akhila has been consistently maintaining that she had decided to convert to Islam on her own and Sainaba and her associates in SDPI/PFI had assisted her in the process and in her subsequent marriage with Shafin Jahan, on her request."
Retired SC judge R.V. Raveendran who was asked by the SC to supervise the investigation has recused himself from the case.
He recently wrote to the SC saying that he would not be able to guide the NIA investigation as he had to travel abroad for longer durations. An NIA official said they would wait for the SC to appoint another judge before they interact with Akhila.
The NIA has seen similarities between Akhila's case and that of another Hindu woman Athira Nambiar who also converted to Islam at the same Kozhikode centre. Athira's parents had moved a habeas corpus petition in the Kerala High Court against the conversion and the court had asked the NIA to probe the matter. The woman returned to her parents.
In both the cases the NIA has named a woman named Sainaba, an activist of the Social Democratic Party of India (SDPI), the political arm of the Popular Front of India (PFI).
In its report to the SC, the NIA said, "the involvement of Sainaba in luring and influencing Athira Nambiar, the detenue in Habeus Corpus WP (Crl) 235 of 2016 for converting her to Islam with the assistance of her associates in SDPI/PFI and Markaz-ul-Hidaya (Sathya Sarani) during May 2016 when Akhila Asokan was under her custody (as per the directions of the Kerala High Court) reveals that the instant case is not an isolated incident but rather an organised effort."
Full report at:
thehindu.com/news/national/kerala/nia-seeks-details-on-forced-conversions/article19656998.ece
--------
True secularism demands a Uniform Civil Code
Ratan Sharda
Sep 11, 2017
NEW DELHI: Laws should be equal for all citizens irrespective of religion, caste or gender.
The courts of India have been prodding successive governments to bring in a Uniform Civil Code (UCC) as enshrined in Article 44 of Indian Constitution. They raised this issue in 1985, 1995, 2015 and now again, while overturning triple talaq as bad in law. The triple talaq issue is definitely not about religion, it was about gender justice.
Many people wonder, what could have stopped Pandit Nehru from pushing the Uniform Civil Code through when he had massive support from within and outside the party in the 1950s?
Why did he stop at the Hindu Code Bill? The simple answer is lack of political courage. This was the reason why UCC became a part of the Constitution's Directive Principles, stating, "The State shall endeavour to secure for citizens a uniform civil code throughout the territory of India." It was a grave mistake not to do what was needed to reinforce the idea of an egalitarian democratic society. The golden hour was lost.
Champions of minority rights claim the UCC is an RSS conspiracy. They are blind to the fact that none of the members of the Constituent Assembly were RSS members. The courts that gave rulings against shariah or asked for a UCC were not controlled by the RSS. Let us not colour this debate by bringing in the RSS or Hindutva.
Contrary to public perception, the RSS was not in favour of a Uniform Civil Code or Hindu Code Bill being implemented by force. In an inter view to K R Malkani in August 1972, Guruji Golwalkar, who moulded RSS thought for 33 years, said, "If our objections to Muslim practices are on humanitarian grounds, then that becomes a valid objection.A reformist's attitude in this matter is alright. But a mechanical leveller's attitude would not be correct. Let the Muslims evolve their old laws." Thus, the UCC is a highly desirable goal for the RSS, but the urge for reforms should ideal ly come from various communities.
From the authority of learned Muslim scholars I can say that the Shariah is not a divine god-given law.
The codification of Shariah, based on the Quran and Hadis (which were recorded over 2030 decades after the Prophet's death) began at the time of Khalifa, nearly 30 years after death of Prophet Mohammed and was a work in progress for nearly 100 years. 90 percent of these laws have not come from Quran and they reflect the traditions of Arabic societies of those times. It is not uniform across all sects of Mus lims. It has been modified as per the local culture in different countries. Most Islamic countries have outlawed many clauses in the Shariah.
The way Muslim women have come out strongly against malpractices in the name of Shariah tells us that the urge for reforms is unstoppable now. The intransigence of orthodox clergy and their raising the bogey of religious freedom to force their patriarchal attitude built on a 1400-year-old Arabian tribal culture through unrepresentative bodies like AIMPLB tells us that the legislative path is the best way to bring in a UCC.
In a TV debate on NDTV in October 2015, where I was also on the panel, Father Shankar of Delhi Diocese said that though Catholics have their laws, they are clear that they must obey the laws of the land where they reside. He said that Christians would have no problem with the Uniform Civil Code. He rightly asked, where is this code? It has not been defined anywhere.
There is no case for the Hindu Code Bill being imposed as UCC. It may also have many infirmities. If a UCC means Hindus losing benefits like Hindu Undivided Family or extending this benefit to other communities, let it be. If it means equal inheritance rights for women, contrary to different rules in different communities, it would be great.If a UCC means easy divorce and an equal right for women to divorce, it is welcome.If a UCC means the easy adoption of children for families of any religion, it would be a great service to social well-being.
Simply put, the need for a Uniform Civil Code flows from the very definition of secularism. Secularism by Western definition is based on the sepa ration of church (religion) and state (government). If we go by the secular Indian ethos, respect for individual faiths is inherent in the Indian psyche.But it should not mean abandoning `Dharma' in its pristine definition. Dharma holds society together through the ethical rule of law, not religion. It means justice for all.Only a society based on this Indian concept of `Dharma' or `Dhamma' can hold together and be just to its people.
Laws should be equal for all citizens irrespective of religion, caste or gender. In a secular democratic country , no religious law can be above the Constitution. If we can accept uniform criminal laws, then we should be ready to accept uniform civil laws. They don't impinge upon one's religion.
The miasma of civil laws has made lives very painful for people seeking justice. There is an urgent need to demystify civil laws for common people to seek easy and fast justice, just as there is a need to simplify outdated criminal laws.What is the use of laws if they mete out justice to a poor Shah Bano in three decades, or release an innocent person after 10-20 years in jail as undertrial? What is the use of laws that require a costly advocate to decipher them for a poor litigant and allow the cases to be dragged on for years, which break the willpower of the litigant rather than give justice?
Full report at:
timesofindia.indiatimes.com/india/true-secularism-demands-a-uniform-civil-code/articleshow/60455808.cms
--------
Jaipur's walled city remains under curfew as talks fail
by Mahim Pratap Singh
September 11, 2017
Talks between the Muslim community and the police remained inconclusive in Jaipur where a youth was allegedly shot by police on Friday night. Parts of the wall city in Jaipur, where the alleged firing happened, were under curfew for the second day and so far, neither Chief Minister Vasundhara Raje, nor Home Minister Gulab Chand Kataria has spoken. Muslim organisations will hold a dharna on Jawahar Lal Nehru Marg, which is outside the walled city and one of Jaipur's important roads, on Monday.
The delegation of community leaders, led by former state minister Duru Miyan, met the commissioner and the district collector on Sunday but as there was no agreement on the family's demand of a Rs 1-crore compensation and an FIR against policemen, the situation in Ramganj remained unchanged.
On Friday night, a traffic scuffle in Ramganj triggered a bigger exchange between residents and the police, during which the police allegedly fired, killing Mohammad Raees (24), also known as Aadil. Four policemen were injured. BJP president Ashok Parnami said: "We only want peace to be restored. We have been talking to them (the community) since yesterday but it seems there is nobody from their side who can take a decision. We have told them that whatever compensation the government has been giving in such cases will be given. Regarding the post-mortem, we've agreed to their demand of having a Muslim doctor on board. The situation is totally under control. The Congress is playing politics over the issue."
The family of Raees refused to allow a post-mortem after talks remained inconclusive. Apart from a compensation of Rs 1 crore and the FIR against police, the family has demanded a government job for a family member. They also want the suspension of the entire Ramganj police station staff.
"Aadil was to be married in November but now all that is over. My mother and four sisters haven't stopped crying since that night. We just want justice now. The inquiry will drag on for years… but it is certain that the police did open fire. So why are they not registering an FIR against the errant policemen?" Raees's elder brother Mohammad Haneef said. Essentials like milk and medicines were distributed under police protection in the areas under curfew as people stayed locked in their homes.
Full report at:
indianexpress.com/article/india/jaipurs-walled-city-remains-under-curfew-as-talks-fail-4837687/
--------
Arab World
Iraq holding 1,400 foreign wives, children of suspected ISIS fighters
Sep 11, 2017
Iraqi authorities are holding 1,400 foreign wives and children of suspected Islamic State fighters after government forces expelled the jihadist group from one of its last remaining strongholds in Iraq, security and aid officials said.
Most came from Turkey. Many others were from former Soviet states, such as Tajikistan, Azerbaijan and Russia, Iraqi army and intelligence officers said. Other Asians and a "very few" French and Germans were also among them.
The wives and children are being held at an Iraqi camp south of Mosul. Most had arrived since Aug. 30, when Iraqi troops drove Islamic State out of Mosul.
One intelligence officer said that they were still in verifying their nationalities with their home countries, since many of the women no longer had their original documents.
It is the largest group of foreigners linked to Islamic State to be held by Iraqi forces since they began driving the militants from Mosul and other areas in northern Iraq last year, an aid official said. Thousands of foreigners have been fighting for Islamic State, or Daesh, in Iraq and Syria.
"We are holding the Daesh families under tight security measures and waiting for government orders on how to deal with them," said Army Colonel Ahmed al-Taie from Mosul's Nineveh operation command.
"We treat them well. They are families of tough criminals who killed innocents in cold blood, but when we interrogated them we discovered that almost all of them were mislead by a vicious Daesh propaganda," he said.
Reuters reporters saw hundreds of the women and children sitting on mattresses crawling with bugs in tents without air-conditioning in what aid workers called a "militarized site". Turkish, French and Russian were among the languages spoken.
"I want to go back (to France) but don't know how," said a French-speaking veiled woman of Chechen origin who said she had lived in Paris before. She said she did not know what had happened to her husband, who had brought her to Iraq when he joined Islamic State.
A security officer said the women and children had mostly surrendered to the Kurdish peshmerga near the northern city of Tal Afar, along with their husbands. The Kurds handed the women and children over to Iraqi forces but kept the men - all presumed to be fighters - in their custody.
Many of the families had fled to Tal Afar after Iraqi troops pushed Islamic State out of Mosul.
Iraqi forces retook Tal Afar, a city of predominantly ethnic Turkmen that produced some of Islamic State's senior commanders, last month. Most of its pre-war population of 200,000 have fled.
An interior ministry official said Iraq wanted to negotiate with embassies the return of the women and children. "We can't keep this number in our custody for a long time," he said.
Officials had counted so far at least 13 nationalities, said Army Lieutenant Colonel Salah Kareem.
TENSION
Aid workers and the authorities are worried about tensions between Iraqis, who lost their homes and are also living in the camp, and the new arrivals.
Many Iraqis want revenge for the harsh treatment they received under the extremists' interpretation of Sunni Islam, which they imposed in Mosul and the other areas they seized in 2014.
"The families are being kept to one side (of the camp) for their own safety," an Iraqi military intelligence officer said.
The Norwegian Refugee Council (NRC), which is supporting the 541 women and their children, said Iraq "must swiftly move to clarify its future plans for these individuals".
"Like all those fleeing conflict, it is imperative that these individuals are able to access protection, assistance, and information," NRC said in a statement. "They are in de-facto detention."
Western officials are worried about radicalized fighters and their relatives coming home after the collapse of Islamic State's "caliphate".
French officials have indicated a preference for citizens found to be affiliated with IS to be prosecuted in Iraq.
"The general philosophy is that adults should go on trial in Iraq," a French diplomatic source told Reuters last month, of those found to have been fighters. "We think children would benefit from judicial and social services in France."
"TRICKED"
The women in the camp were cooking noodles or lying on mattresses with their babies in the hot tents. Many were still wearing the black abayas and face veils, which were mandatory in areas the militants controlled.
"My mother doesn't even know where I am," said a 27-year-old French woman of Algerian descent. She said she had been tricked by her husband into coming with him through Turkey into Syria and then Iraq when he joined Islamic State last year.
"I had just given birth to this little girl three months before," she said holding the infant and asking not to be named.
"He said 'let's go for a week's holiday in Turkey.' He had already bought the plane tickets and the hotel."
After four months in Mosul, she ran away from her husband to Tal Afar in February. She was hoping to make it back to France but he found her and would not let her leave.
She tearfully recounted how her five-year-old son was killed in June by a rocket while playing in the streets.
"I don't understand why he did this to us," she said of her husband, who she said was killed fighting in Mosul. "Dead or alive - I couldn't care less about him."
She and a few other families had walked for days to surrender at a Kurdish peshmerga checkpoint beyond al-Ayadiyah, a town near Tal Afar where the militants made their last stand.
"We were getting bombed, shelled and shot at," she said.
Kurdish officials said dozens of fighters surrendered after the fall of Tal Afar but gave no details. One Tal Afar resident said he had seen between 70 and 80 fighters fleeing the town in the final days of the battle.
nation.com.pk/international/11-Sep-2017/iraq-holding-1-400-foreign-wives-children-of-suspected-isis-fighters
--------
IS holds 11,100 blank Syrian passports
Sep 11, 2017
FRANKFURT - German authorities believe the Islamic State group holds some 11,100 blank Syrian passports that can be completed with any individual's details, weekly newspaper Bild am Sonntag reported Sunday.
Investigators have assembled a list of serial numbers of the blank passports and the authorities that issued them, the newspaper reported, citing confidential documents from federal police and the interior ministry. The stolen passports are genuine identity papers that have not yet been filled out with an individual's details, making them a valuable tool for forgers. In total, German security services are aware of some 18,002 blank Syrian passports stolen from Syrian government sites, including thousands held by groups other than IS. "Developments in connection with the refugee situation have shown that terrorist organisations are using the opportunity to infiltrate potential attackers or supporters into Europe and Germany undetected," a spokeswoman for the BKA federal criminal police told Bild am Sonntag.
Members of the group behind a series of coordinated bomb and gun attacks in Paris that claimed 130 lives in November 2015 were found to have used fake Syrian passports.
Full report at:
nation.com.pk/international/11-Sep-2017/is-holds-11-100-blank-syrian-passports
--------
Saudi authorities arrest 20 opponents amid talk of king's abdication
Sep 11, 2017
Saudi security forces have reportedly arrested nearly 20 people, known for opposing the absolute monarchy in the Persian Gulf kingdom, in the past 24 hours.
According to multiple unidentified sources and tweets by rights organizations, journalists and others, Prince Abdul Aziz Bin Fahd al Saud, a son of former King Fahd, is among those arrested.
The arrests come amid reports that King Salman bin Abdulaziz Al Saud plans to renounce power in favor of his son, Crown Prince Mohammed.
The sources said among the detainees were also two clerics, identified as Salman al-Odah and Awad al-Qarni who have sparked controversies in the past over their opinions about social life in Saudi Arabia.
Saudi human rights group AlQST reported that Odah, who was imprisoned from 1994-99 for agitating for political change and who has 14 million followers on Twitter, was arrested on Saturday night for posting a tweet in support of mediation to settle a dispute between Saudi Arabia and Qatar.
Saudi Arabia, Bahrain, Egypt, and the United Arab Emirates cut their diplomatic ties with Qatar on June 5, accusing Doha of sponsoring terrorism and destabilizing the region, charges Doha denies.
"May God harmonize between their hearts for the good of their people," Odah had written on Twitter, in reference to a phone call made between the Saudi crown prince and the Qatari ruler during which both leaders stressed the need to resolve the crisis through dialogue. Riyadh, however, suspended plans for negotiations minutes later.
The regime forces also detained al-Qarni, another cleric with an alleged 2.2 million Twitter followers.
Exiled Saudi opposition activists have called for demonstrations on September 15 in a bid to galvanize opposition to the royal family.
Since the establishment of Saudi Arabia as an absolute monarchy in 1932, the system has been effectively known as a hereditary dictatorship and monarchy.
The kingdom is struggling with plummeting oil prices. The Al Saud regime also faces criticism over its deadly military campaign against neighboring Yemen, which it launched on March 26.
Full report at:
presstv.ir/Detail/2017/09/11/534739/Saudi-arrests-raid-dissent
--------
Egypt is keen to elevate principles of citizenship and equality: Sisi to the American NCC
10 Sep 2017
Egyptian President Abdel-Fattah El-Sisi affirmed Sunday that Egypt is constantly working to uphold the principles of citizenship and equality among all its citizens without discrimination, state-run news agency MENA reported.
El-Sisi added that Egypt is also keen on consolidating a culture of pluralism and acceptance, presidency spokesperson Alaa Youssef said in a statement.
These statements came during a meeting between El-Sisi and a delegation from the American National Council of Churches (NCC) in Cairo, attended by Egypt's foreign minister, Sameh Shoukry, and the head of Anglican Church of Egypt, Andrea Zaki.
The meeting tackled ways to combat terrorism, with the American delegation praising Egyptian efforts to fight extremist ideas and consolidate coexistence between all Egyptian citizens.
El-Sisi underlined that extremist ideas do not represent Islam, adding that Islam calls for tolerance, peace and freedom of belief.
NCC representatives also expressed their solidarity with Egypt in the fight against terrorism and appreciation for Egyptian efforts to renew religious discourse.
El-Sisi said that it is important to unify efforts to combat terrorism on all levels, including the cultural and intellectual levels, in parallel to the military and security levels.
He also asserted the importance of supporting stability and state institutions in the region, in order to block the growth of terrorism and resist the machinations of countries and groups that finance and support terrorism.
Full report at:
english.ahram.org.eg/NewsContent/1/64/276838/Egypt/Politics-/Egypt-is-keen-to-elevate-principles-of-citizenship.aspx
--------
Bahrain: We stand with Saudi Arabia against 'advocates of terrorism'
11 September 2017
Bahrain's Foreign Minister Sheikh Khalid bin Ahmed Al Khalifa said on Sunday that his country stands with Saudi Arabia against "advocates of terrorism."
In a statement posted to his official Twitter account, the diplomat said: "We stand with Saudi Arabia in every step it takes to protect its people from the enemies of the nation and advocates of terrorism, agents of the regimes and agents of the demons."
Earlier, the Bahraini foreign minister confirmed that the Arab bloc fighting against terrorism (Saudi Arabia, UAE, Bahrain and Egypt) have not and will not seek to threaten Qatar militarily, but will not allow any party to threaten the security and stability of its people.
Saudi Arabia said on Saturday it was blocking any dialogue with Qatar until Doha clarified its position publicly following "distorted facts" reported by the Qatar News Agency.
english.alarabiya.net/en/News/gulf/2017/09/11/Bahrain-We-stand-with-Saudi-Arabia-against-advocates-of-terrorism-.html
--------
Police raid in Cairo kills 10 militants
Sep 11, 2017
CAIRO - Ten militants from Egypt's Islamic State group affiliate were killed on Sunday in a police raid and a near three-hour shootout in a residential neighbourhood of Cairo, security officials said.
Five policemen were wounded in the clashes at two apartments in the densely populated eastern Cairo neighbourhood of Ard al-Lewa, officials from the national security agency and Giza governorate police said.
The firefight began when security forces approached the two apartments after a tip-off that militants were holed up there, the officials said. They said initial enquiries indicate the militants were planning to attack state institutions, the police, the military and the judiciary, and to blow up key installations.
Egypt is battling a local IS affiliate which has killed hundreds of soldiers and police in attacks since the military in 2013 ousted Islamist president Mohamed Morsi.
Full report at:
nation.com.pk/international/11-Sep-2017/police-raid-in-cairo-kills-10-militants
--------
Syrian Army Imposes Full Control over Damascus-Deir Ezzur Highway after Four Years
Sep 10, 2017
The army men managed to advance against ISIL in the Western direction of Deir Ezzur airbase, seizing control over power company.
Meantime, a military source said that the army has now gained full control over the Damascus-Deir Ezzur highway after the recent advances along a chunk of the highway between al-Sukhnah and al-Shoula and shook hand with their comrades deployed in Panorama region that is considered as the main entrance to Deir Ezzur city from its Southern direction.
Field sources confirmed that a large number of the ISIL terrorists have fled Deir Ezzur countryside towards the town of al-Mayadeen in the Southeastern part of the province after the army took control over al-Sukhnah-Deir Ezzur highway and its artillery units shelled ISIL's positions near al-Thardah Mountain West of Deir Ezzur airbase.
A large number of ISIL terrorists are now under siege by army soldiers in their positions near al-Tayem oilfield.
Reports said earlier today that the army men imposed control over Jonayd Division base, the Republic Guards Division base, al-Ma'amel and al-Maqaber regions, reinvigorating security of the road from Deir Ezzur to the airbase and the two neighborhoods of al-Tahtuh and Harabish.
In the meantime, the army's engineering units are defusing landmines along the road to pave the ground for the dispatch of more supply convoys to the airbase and neighborhoods of al-Tahtuh and Harabish.
The army units, also, managed to advance against ISIL along the al-Sukhnah-Deir Ezzur highway and reached the Panorama region and the 137th Artillery Brigade base from its Southern direction.
Full report at:
en.farsnews.com/newstext.aspx?nn=13960619001305
--------
Bahrain: Prison Guards Raid Inmates after Hunger Strike
Sep 10, 2017
Bahraini sources confirmed on Sunday that political convicts in Ward 4 have been beaten by the jail guards after they refused to end their hunger strike which started on Saturday in protest at the inhumane conditions in the jail and torturing of the inmates before high-ranking officials and prison authorities.
The prisoners have said that they will continue the hunger strike until they are allowed practice religious duties, receive medical treatment for their diseases and see a reduction in their overcrowded ward.
Thousands of anti-regime protesters have held demonstrations in Bahrain on an almost daily basis ever since a popular uprising began in the country in mid-February 2011.
They are demanding that the Al Khalifah dynasty relinquish power and allow a just system representing all Bahrainis to be established.
Manama has gone to great lengths to clamp down on any sign of dissent.
Full report at:
en.farsnews.com/newstext.aspx?nn=13960619001263
--------
Syrian Army on Verge of Complete Victory in Eastern Homs
Sep 10, 2017
The army men continued to hit ISIL's defense lines in the Southeastern direction of Jubb al-Jarah region, and imposed control over the villages of Rahoum, Abu Hawadid and al-Faw Shavish.
A military source reported that the army killed a number of terrorists and destroyed their military equipment in the attack, adding that the remaining pockets of the ISIL terrorists fled the battlefield.
The sources further said that only a few villages and heights are under ISIL's control and the army will end ISIL's presence in Eastern Homs after liberating the remaining villages and heights.
Reports said earlier today that the army units clashed fiercely with ISIL and managed to impose control over Tal (hill) al-Elam after liberating Um Sahrij region, one of the most important bases of ISIL in Eastern Homs.
Full report at:
en.farsnews.com/newstext.aspx?nn=13960619001256
--------
Whistle-blower: Bin Salman Hunting Opponents
Sep 10, 2017
"Reliable sources say that prince Abdolaziz bin Fahad has been detained in his palace in Jeddah last Wednesday," Mujtahid wrote on his webpage on Sunday.
He added that the special forces working under Mohammed bin Salman attacked the prince's palace, arrested him and took him to an unknown place, noting that efforts by bin Fahad's mother, Johareh, to find his whereabouts have proved futile.
Mujtahid underlined that bin Salman shows no mercy to his opponents and believes that no one, even the sons of Abdolaziz, should remain immune from his suspicions.
Arab media reported in August that bin Salman has escaped an assassination attempt at one of the royal family palaces in Jeddah.
Arabic language Mer'at al-Jazeera quoted sources close to the royal family as saying that bin Salman was targeted by an assassination attempt in Jeddah by one of the Saudi princes.
Also, a western diplomat in Riyadh said that the Saudi crown prince wasn't harmed in the failed attempt and the prince who made the move was arrested.
Bin Salman's ambitious acts in recent months and his attempts to dethrone the rivals have created wroth among other Saudi princes.
Full report at:
en.farsnews.com/newstext.aspx?nn=13960619001131
--------
Several Senior Terrorist Commanders Escape from Eastern Syria with Hefty Amount of Money
Sep 10, 2017
The Arabic-language al-Ahd news reported that one of the senior commanders of ISIL carrying a hefty amount of money earned from smuggling crude oil has fled Deir Ezzur province along with some other ISIL members towards the Southern territories of Hasaka province controlled by the Kurdish-led Syrian Democratic Forces.
Al-Ahd further reported that Mohammad Jaber Haj Razouq, ISIL's police chief in Eastern Deir Ezzur nom de guerre Abu al-Joud, has escaped along with his family members to Turkey.
"Abu Laden Araghi, the Iraq emir of ISIL in the town of al-Mayadeen in Southeastern Deir Ezzur, has escaped from ISIL-held regions," al-Ahd reported, adding that ISIL has offered reward for any information about him.
Al-Ahd went on to report that ISIL has dismissed non-Syrian (Mohajereen) members of the terrorist group from their positions and replaced them with militants that have a Syrian origin that are known as Ansar.
Earlier reports said that the Syrian Army troop advanced rapidly against ISIL in the Southern outskirts of Deir Ezzur city and lifted terrorists' nine-month-long siege on the most important military airport in the Eastern part of the war-hit country.
The army men removed ISIL's siege of Deir Ezzur airbase after liberating the areas around the Tahtuh and Harabish districts, forcing the terrorists to retreat from the road blocking Deir Ezzur city from the airbase.
The army men also managed to advance against ISIL from al-Maqaber (cemetery) region and arrived at the positions of their comrades in areas surrounding Tamin (security) brigade base in the Western and Southwestern directions of the airbase, lifting the siege on the Syrian Air Force's base in Eastern Syrian 10km away from Deir Ezzur city.
The army's engineering units managed to defuse over 400 landmines and explosive packages along the road to Deir Ezzur airbase.
A military source reported that tens of ISIL terrorists left behind their weapons in al-Maqaber and fled the battlefield.
The source further said that the army's anti-ISIL operation in the region is still underway, adding that the Russian Air Force is targeting ISIL's positions behind the frontline.
The source added that the next objective of the army is capturing Thardah Mountain, whose liberation will secure the Western side of the Deir Ezzur Military Airport.
In the meantime, the Russian Defense Ministry announced in a statement on Sunday that the Syrian army, supported by Russian Air Force, has succeeded in breaking the siege of an important airbase, thereby retaking it from the terrorist group.
Full report at:
en.farsnews.com/newstext.aspx?nn=13960619001032
--------
Britain Withdraws Entire Forces from Bases at Syria-Iraq Border Region
Sep 10, 2017
The Arabic-language al-Hadath news quoted another Arab news network, Elam al-Harbri, as reporting that all the British soldiers have left al-Tanf and al-Zakaf bases at Syria's border with Iraq for al-Arzaq base in Jordan.
Elam al Harbi had previously reported that Ahmad Abdu terrorist group and later Jeish al-Soud al-Sharqiyeh had left Syria's Badiyeh (desert) in Southern Damascus for Jordanian territories afte receiving assurances from Russia and Jordan.
Elam al-Harbi had said that the two terrorists groups were to hand over the region that was previously under their control to the Syrian government.
A Lebanese media outlet reported on Monday that the UK ended training of the Free Syrian Army (FSA) terrorists in al-Tanf base and withdrawn from the base in Southern Homs near the border with Iraq.
The English-language AMN website reported that the United Kingdom withdrew its troops from the coalition-operated al-Tanf base in Syria's Southwestern desert and ended all military assistance hitherto provided to FSA-affiliated mercenaries in the region.
The UK-based Daily Telegraph reported the UK's wind-down of support for the FSA militants began in June of this year when at least 20 special forces troops were confirmed to have withdrawn from the al-Tanf base.
The Arabic-language al-Hadath news quoted another Arab news network, Elam al-Harbri, as reporting that all the British soldiers have left al-Tanf and al-Zakaf bases at Syria's border with Iraq for al-Arzaq base in Jordan.
Elam al Harbi had previously reported that Ahmad Abdu terrorist group and later Jeish al-Soud al-Sharqiyeh had left Syria's Badiyeh (desert) in Southern Damascus for Jordanian territories afte receiving assurances from Russia and Jordan.
Elam al-Harbi had said that the two terrorists groups were to hand over the region that was previously under their control to the Syrian government.
A Lebanese media outlet reported on Monday that the UK ended training of the Free Syrian Army (FSA) terrorists in al-Tanf base and withdrawn from the base in Southern Homs near the border with Iraq.
The English-language AMN website reported that the United Kingdom withdrew its troops from the coalition-operated al-Tanf base in Syria's Southwestern desert and ended all military assistance hitherto provided to FSA-affiliated mercenaries in the region.
Full report at:
en.farsnews.com/newstext.aspx?nn=13960619000738
--------
Syrian rebels say US allies push for retreat from southeast Syria
10 September 2017
Two Western-backed Syrian rebel groups fighting the Syrian army and Iranian-backed militias in southeastern Syria have been asked by their Western and Arab backers to pull out of the area and retreat into Jordan, rebels and diplomatic sources said on Sunday.
Both Usoud al-Sharqiya and Martyr Ahmad Abdo, part of the Free Syrian Army group, said they were told to end fighting in the area by their backers from the US Central Intelligence Agency and neighbouring states that support them.
"There is a official request for us to leave the area," said Badr al Din al Salamah, a senior official in the Usoud al Sharqiya group, one of the main rebel groups in the area and a recipient of the military aid from the US-backed alliance.
Since early this year, the rebels have pushed ISIS militants out of a large swathe of sparsely populated territory stretching some 50 km (30 miles) southeast of Damascus, all the way to the Iraqi border along the frontier with Jordan.
But an offensive by the Syrian army, backed by Iranian militias and heavy Russian air cover, has encircled the rebels and eroded their gains. In recent weeks, the army has regained a string of border posts with Jordan that it had abandoned in the early years of the conflict
Western diplomatic sources said the request was tied to a decision by the administration of US President Trump in July to halt the CIA's program to equip and train rebel groups fighting the government of Syrian President Bashar al-Assad.
The CIA program began in 2013 as part of efforts by the administration of then-President Barack Obama to overthrow Assad. The Trump administration says its strategy in Syria is focused only on defeating ISIS.
In a letter purportedly to rebel commanders and seen by Reuters, they were told they although they had fought bravely to fend off the Syrian army, their presence in a small enclave now posed a threat to them.
The decision has caused disaffection among hundreds of fighters in the two groups, who consider withdrawing into Jordan as effectively disbanding their forces.
The two groups, who have hundreds of fighters, will have to hand over heavy artillery and dozens of US-made anti-tank missiles that played a part in their battlefield successes against ISIS and the Iranian-backed militias, rebels say.
In a meeting on Saturday, the rebel commanders told the joint operations center in Jordan that requested their withdrawal they would rather "stay and die" in the desert than leave the battlefield.
"We have rejected the request, since if we entered Jordan we would consider it the end ... the blood of our martyrs has not dried yet," said al-Salameh.
The military operations center has not offered them a choice to move to a US garrison further east near the border with Iraq in Tanf, the rebels say. That garrison, run by a separate program of the Pentagon, hosts an Arab rebel tribal group known as the Maqhawir al Thwra.
Another rebel official said they were not necessarily opposed to withdrawing, but they wanted assurances from Jordan they could lobby to expand to the Badia area a US-Russian-brokered ceasefire, which has halted fighting in southwest Syria.
Washington and Jordan are currently negotiating with Moscow to implement a de-escalation zone that would push back Iranian-backed forces 40 kms north of the border strip with Jordan, diplomats say.
Full report at:
english.alarabiya.net/en/News/middle-east/2017/09/10/Syrian-rebels-say-US-allies-push-for-retreat-from-southeast-Syria.html
--------
Qatar arrests Hajj pilgrim Hamad al-Marri, holds him incommunicado
11 September 2017
Qatar has reportedly arrested a pilgrim upon his return from Saudi Arabia after performing this year's Hajj as a guest of the Custodian of the Two Holy Mosques.
Hamad al-Marri, who gave an interview on Saudi Television networks while he was in Mecca, has been held incommunicado from his relatives and lawyers.
A recent video of him being allegedly captured and assaulted in the middle of the desert was proven to have been staged by employees from Qatar's interior ministry.
Saudi Arabia's National Society for Human Rights (NSHR) released a statement on Sunday condemning the violation of a--Marri's rights after being humiliated as a result of the video released showing him suffering from humiliating insults and physical attacks.
NSHR said that it has followed al-Marri's case since the video of him being attack was posted on social media and has verified that the person appearing in the video is the Qatari citizen himself. He was recently in Saudi Arabia to complete the Hajj pilgrimage as a guest of the Custodian of the Two Holy Mosques and left Saudi Arabia safely on September 6.
On August 24, al-Marri had entered the Kingdom of Saudi Arabia through the Salwa border crossing, which was opened exceptionally for the reception of Qatari pilgrims. He had entered the kingdom according to the passport number (01332918).
"We call on the National Human Rights Committee of the State of Qatar and all international human rights organizations to do their duty to ensure the disclosure of the fate of this Qatari citizen and to protect him from the attacks and violations that have been committed against him, and to ensure his safety and not being subjected to pressure imposed by certain political dictates because of his right to perform Hajj and his right to freedom of expression and to ensure that all those who exploited their political power, abuse and torture are prosecuted," NSHR said in a statement.
"We also call on all institutions and institutions in Qatar to work hard to protect Hamad al-Marri and prosecute those who assaulted him regardless of their positions and forced him to film after entering the Qatari territory, and to facilitate his return to his home and his family and his right to travel and freedom of expression and the enjoyment of all natural guarantees and rights guaranteed by international treaties and human rights conventions."
Further condemnations
The Manama Center for Human Rights condemns the verbal and physical assault of Qatari citizen Hamad al-Marri, on the occasion of his Hajj and his visit to Saudi Arabia by the authorities in Doha in a flagrant violation of international human rights relating to freedom of religion and belief and all Islamic principles and customs.
The center deplores such public assault on an individual in light of the authorities' failure in Doha to provide security and safety for its citizens. The Center also deplores Doha's violation of the obligations contained in the convention against torture and other cruel, inhuman or degrading treatment or punishment, as well as the rights contained in the Universal Declaration of Human Rights, the International Covenant on Civil and Political Rights, the Arab Charter on Human Rights and the Gulf Declaration Of human rights.
Full report at:
english.alarabiya.net/en/News/gulf/2017/09/11/Qatar-arrests-Hajj-pilgrim-Hamad-al-Marri-holds-him-incommunicado-.html
--------
10 killed as Egyptian police raid terrorists' hideout in Cairo
Sep 10, 2017
Egyptian police say their forces have managed to kill 10 suspected militants in an anti-terror operation in the capital Cairo.
A police source said five policemen were injured during the operation that targeted two apartments in central Cairo.
The source added that the suspected militants were from Hasm, a group that the Egyptian government links with the outlawed Muslim Brotherhood party.
Authorities reportedly launched the operation after they received a tip off about the hideout of the individuals. When the attack started, one suspected militant detonated an explosive device to block the entry of police forces, leaving three officers injured. The two other police forces were injured during a shootout that erupted afterwards.
Hasm has claimed several attacks across Cairo since last year, most of them targeting judges and policemen. The Muslim Brotherhood, the most popular political party in Egypt and the oldest in the Arab world, has denied any connections to the group. The Brotherhood says the government accusations about Hasm are part of larger crackdown launched against Brotherhood members since the party was removed from power in a coup three years ago. Tens of thousands remain behind bars for links to the group while senior members, including former President Mohammed Morsi, face death or life sentences over terrorism charges.
Full report at:
presstv.ir/Detail/2017/09/10/534673/Egypt-anti-terror-operation
--------
Top Hamas leaders visit Egypt for national reconciliation
11 September 2017
CAIRO: A high-level Hamas delegation arrived in Cairo on Sunday to meet Egyptian officials. The delegation will discuss the blockade of Gaza and achieving national reconciliation with the Fatah movement.
Hamas has sought to improve relations with Egypt in the past few months. This week's visit includes the group's head, Yahya Al-Sunwar, and head of the political bureau, Ismail Haniyeh, on his first foreign visit since being elected to the post last May.
The talks, according to a statement from Hamas spokesperson Fawzi Barhoum, will cover the mechanisms for allowing entry into Egypt through the Rafah border crossing, in addition to mending a longstanding rift with rival group, Fatah.
Senior Hamas member, Mousa Abu Marzook, told the local Egyptian Al-Shorouk newspaper, "Hamas has always welcomed Egypt's leading role."
Regarding the Rafah border, Abu Marzook said: "We understand that opening the crossing is solely an Egyptian decision but we hope it will be opened on a regular basis in order to allow the passage of people and goods."
He also said the talks would discuss the stringent measures taken by Palestinian President Mahmoud Abbas against the movement ruling the Gaza Strip.
Egypt's state-owned Al-Ahram newspaper said Sunday that a delegation headed by the former Fatah leader, Mohammed Dahlan, is expected to join the meetings in Cairo.
Hamas' leadership has been in talks with Mohammed Dahlan, the exiled former Fatah leader in Gaza who was defeated by Hamas when it took control of the territory in 2007.
The group hopes Dahlan can persuade Egypt to come to the aid of the people of Gaza who are struggling under the decade-long Israeli blockade which has been supported by successive Egyptian governments.
On whether the delegation will meet Dahlan on the Cairo visit, Abu Marzook was quoted as saying, "This issue is not on the agenda of the delegation."
"The visit to Egypt could represent a message from Hamas to Palestinian President Mahmoud Abbas that they are open to overtures by the Dahlan supporters," political analyst Mohammed Gomaa told Arab News.
Hoping to pressure Hamas to relinquish control of Gaza, Abbas has cut payments to Israel for the electricity it supplies to Gaza. This means that electricity has often been provided for less than four hours a day, and never more than six.
Full report at:
arabnews.com/node/1159081/middle-east
--------
Europe
Russia detains dozens at protest supporting Rohingya
Sep 11, 2017
MOSCOW - Russian police detained people from a crowd of about 200 protesters Sunday in Saint Petersburg who had gathered over the crackdown on the Rohingya Muslims in Myanmar.
The square in the city centre was surrounded with police vans and policemen were leading people away into the vans, an AFP correspondent at the scene said, counting over 100 detained at the unauthorised demonstration. "Our brothers are being detained! Why are Muslims always to blame, why are they detaining us?" one protester shouted. "Why can't we express ourselves," complained another protester, Makhmud, 45. "We are worried about what is happening with our brothers in Myanmar."
The plight of the Rohingya minority in Myanmar, where nearly 300,000 have fled their homes from what they say are state-orchestrated mass killings into neighbouring Bangladesh, has seen Russia's Muslims stage several protests, particularly after a call by Chechen strongman Ramzan Kadyrov.
Thousands rallied in Chechnya's main city Grozny last week as Kadyrov called on Moscow to "stop this bloodshed" in a rare break from his public image as a fervent loyalist of President Vladimir Putin. Moscow however has been mute over Myanmar. "We're against any sort of violence," Putin said Tuesday when asked about Kadyrov's position, adding that "any person has a right to his opinion regardless of his post."
Russia and Myanmar are also allies who signed a military cooperation agreement last year, with Moscow of having exported military aircraft and artillery to the country.
nation.com.pk/international/11-Sep-2017/russia-detains-dozens-at-protest-supporting-rohingya
--------
French Mayor Accuses Morocco of Terrorism, Calls for Banning Teaching of Arabic
September 10, 2017
Julien Sanchez, who serves as the mayor of the city of Beaucaire in South France, expressed in a video his opposition to teaching Arabic for children of the Muslim community in France.
Sanchez said that teaching Arabic, which is conducted by teachers not trained in France but in countries such as Morocco. The French elected officials accused Morocco of "becoming in recent months a country of origin for terrorist organizations, which exposes French schools to danger."
"We are asked to secure our schools, but we don't know exactly who penetrates in them", he said.
The FN mayor said he will not allocate money for such a project and will instead give a symbolic Europ as he is obliged by the law to contribute.
The mayor went even further in denying the children of the Muslim community in France to learn their language of origin and culture by saying the only language they should be taught is French.
The far-right politician's accusation is typical of the xenophobic discourse of the party. While the FN strives to single out countries such as Morocco from where a large segment of the immigrant community in France come, the French government has a different approach.
Paris had on several occasion recognized the kingdom's role in fighting terrorism and helping in the arrest of suspected terrorists in France.
In February 2015, during a visit to Morocco, former French minister of interior Bernard Cazeneuve described Morocco's intelligence services as a "key partner" in the fight against terrorism.
France also sought the help of Morocco to train imams to counter the extremist ideology.
Full report at:
moroccoworldnews.com/2017/09/228263/french-mayor-accuses-morocco-terrorism-calls-banning-teaching-arabic/
--------
Germany open to Iran-style North Korea talks: Merkel
Sep 11, 2017
FRANKFURT AM MAIN - Germany would lend its weight to a diplomatic push to end North Korean nuclear weapons and missile development along the lines of a past deal with Iran, Chancellor Angela Merkel said Sunday.
"I would say yes immediately if we were asked to join talks," Merkel told weekly newspaper Frankfurter Allgemeine Sonntagszeitung. Talks between Iran and six world powers, sealed with a 2015 deal for Tehran to roll back its nuclear programme and submit to inspections in exchange for some sanctions being rolled back, were "a long but important period of diplomacy" that had achieved a "good end," she added.
"I could imagine such a format for the settlement of the North Korea conflict. Europe and especially Germany ought to be ready to make a very active contribution," Merkel said.
The chancellor said she had held telephone talks with the leaders of France, the United States, China, South Korea and Japan about the North Korea crisis over the past week, and is expected to speak with Russian President Vladimir Putin Monday. Merkel's comments come as Washington has formally requested a Monday vote on tough new sanctions for Pyongyang at the UN Security Council.
US diplomats have called for an oil embargo, an assets freeze against leader Kim Jong-Un, a ban on textiles and an end to payments of North Korean guest workers in response to the nation's sixth nuclear test last week.
Ankara's travel warning
Chancellor Merkel Sunday also dismissed a warning from the Turkish government against travel to Germany during its election season, stressing her country's commitment to "freedom of opinion and the rule of law".
"I want to say very clearly here: any Turkish citizen can travel here. No journalist will be imprisoned here," Merkel told a rally in Delbrueck, western Germany according to news agency DPA. "Freedom of opinion and the rule of law prevail here. And we're proud of that."
she added.
Relations further deteriorated after the detention of several German citizens including Deniz Yucel, a correspondent for Die Welt newspaper.
Full report at:
nation.com.pk/international/11-Sep-2017/germany-open-to-iran-style-north-korea-talks-merkel
--------
Turks can travel to Germany with no fear: Merkel
Sep 10, 2017
German Chancellor Angela Merkel has brushed aside Turkey's warnings to citizens about traveling to Germany, saying Turks arriving in the western European country would be much safer that Germans traveling to Turkey.
"I want to say very clearly that all Turkish citizens can travel here," Merkel said Sunday, adding, "No journalists get arrested here and no journalists get put in custody. Freedom of opinion and the rule of law prevail here and we're proud of that."
Merkel was clearly referring to Turkey's arrest of a dozen of German nationals, among them journalists and rights activists, on what Germany has repeatedly condemned as vague terrorism charges.
The German leader, who seeks a fourth term in office in the upcoming general elections of September 24, made the remarks in the northwestern town of Delbrueck during a campaign event. The Conservative politician has clearly upped her criticism of Ankara ahead of the vote and said last week that she would seek an end to Turkey's membership talks with the European Union. During the Sunday event, Merkel lashed out at Turkey for the lengthy imprisonment of German-Turkish journalist Deniz Yucel, saying Ankara had no ground whatsoever to keep him and 11 other German nationals behind bars for political charges.
"We think there's no justification at all for him being in prison and the same applies to at least 11 other Germans," said Merkel.
Full report at:
presstv.ir/Detail/2017/09/10/534710/Germany-Turkey-row-Merkel
--------
Report reveals UK exploiting Qatar crisis for own profit through arms exports
Sep 10, 2017
Britain is exploiting a rift between several Arab countries of the Persian Gulf and Qatar through designating both sides as the "priority markets" for its arms sales, a report suggests.
The Middle East Eye (MEE) report cited a list of 46 states highlighted by the UK Department for International Trade Defense and Security Organization as potentially lucrative markets for weapons exports.
The list included Qatar as well as Saudi Arabia, the United Arab Emirates (UAE) and Bahrain, which cut ties with Doha three months ago.
This is while many of the countries identified as key targets for the British arms sales are included in the government's own "human rights priority registers."
The list comes ahead of the Defense & Security Equipment International (DSEI) arms fair scheduled to be held in London on September 12-15.
"The fact that, despite current tensions, Saudi Arabia and Qatar are both on the list tells us everything we need to know," Andrew Smith, spokesperson of the UK-based Campaign Against Arms Trade organization, told the MEE.
Britain, he said, has "made clear that it will pull out all stops to sell arms to" both sides of the Qatar crisis.
Back in June, Saudi Arabia, Egypt, Bahrain and the UAE imposed a trade and diplomatic embargo on Qatar, accusing Doha of supporting terrorism.
They presented Qatar with a list of 13 wide-ranging demands and gave it an ultimatum to comply with them or face unspecified consequences.
Doha, however, refused to meet the demands and said that they were meant to force the country to surrender its sovereignty.
UK arms fair hosts despots
In a relevant development, the UK government published its official guest list for DSEI, comprising 56 countries, among them Saudi Arabia, the UAE, Bahrain, Egypt and Qatar.
Smith said the list included "a roll call of despots, dictatorships and human rights abusers. They will be greeted by civil servants and government ministers who are there for one reason only: to promote weapons."
MP Caroline Lucas, UK Green Party co-leader, also called for the closure of the London arms fair.
Full report at:
presstv.ir/Detail/2017/09/10/534652/UK-Qatar-Saudi-Arabia
--------
2 men arrested near Paris planned terrorist attack, wanted to join ISIS – French prosecutor
10 Sep, 2017
Two men who were arrested following the discovery of explosive materials and components at an apartment in a Paris suburb of Villejuif wanted to make a bomb to commit a terrorist attack, Paris' prosecutor has said.
"They had agreed to commit an attack on the [French] territory to take revenge on the coalition but they had not worked out any specific plan to date," Francois Mollins said at a news conference Sunday, as cited by Reuters.
The prosecutor added that one of the suspects admitted the two considered attacking soldiers who were deployed to locations deemed vulnerable for the terrorist attacks. The plot was uncovered as part of Operation Sentinel that was launched following the November 2015 Paris attacks and is part of the ongoing state of emergency.
Both suspects admitted that they wanted to join Islamic State (IS, former ISIS/ISIL) and leave for Syria or Iraq as early as in 2015 but they could not because of a "lack contacts and financial means." The pair added they were planning to carry out an attack in the name of the terrorist group.
The two suspects planned to make some 10 kilos of TATP, or triacetone triperoxide, an explosive compound that can be made using readily-available ingredients, including nail-polish remover and household bleach, Mollins said.
One of the suspects identified as Frederique L, 37, was "in direct contact" with Rachid Kassim, a French jihadist, who joined IS and left France to fight in Syria and Iraq.
Kassim, who was killed in a US airstrike in February, is suspected of being the instigator of several terrorist attacks on French soil, including the double murder of police officers in Magnaville in June 2016 and the attack on the Saint-Etienne-du-Rouvray church in northern France.
On Wednesday, 105 grams of TATP were accidentally discovered in an apartment located in Villejuif along with a liter of sulfuric acid, a liter of hydrochloric acid as well as 8 liters of acetone and a bottle of hydrogen peroxide.
Mollins said "the substances discovered at the scene could be used to produce between three and four kilos of TATP." Investigators also found components needed to make a detonator, including wires, electric batteries, match heads and bulbs from Christmas wreaths.
A USB device containing videos showing a series of explosives tests on the terrace of the Villejuif apartment raided by the police was also found at the scene. Islamic State propaganda videos on a computer belonging to one of the suspects and leaflets with inscriptions in Arabic were also found in the apartment.
Frederique L, born in 1980, converted to Islam in 2008 and was radicalized around 2015. He was previously known to police as an Islamic State sympathizer, Le Parisien reports. The second suspect was identified as Ali M.-R., 36, a Franco-Algerian national who owned the apartment where the bomb making materials were found.
On Sunday, investigators also discovered 11 liters of acetone, sulfuric acid and 83 liters of industrial pipe clearing liquid in a garage belonging to Ali M.-R.
Both men were charged with terrorism-related activities; attempt to commit one or more crimes; as well as with manufacturing, possessing and transporting explosives. A third man, identified as Ichem L., 47, who was also arrested Wednesday following the discovery of the explosives, was released without charge, Le Parisien reports.
France is in a state of emergency following a series of deadly terrorist attacks, including a set of coordinated strikes by IS militants across Paris on the night of November 13, 2015, which killed 130 people.
In July 2016, the French southern city of Nice was hit by another major terrorist attack, in which a lone-wolf terrorist drove a 19-ton cargo truck into crowds of people celebrating Bastille Day on the Promenade des Anglais.
Full report at:
rt.com/news/402825-paris-explosives-terrorist-attack/
--------
North America
Hundreds decry violence against Rohingya Muslims at Ottawa protest
Sep 10, 2017
Hundreds of people showed their solidarity with Rohingya Muslims fleeing persecution in Myanmar at a noisy protest outside the country's Ottawa embassy Sunday afternoon.
Protesters lined Island Park Drive for hours, directing their ire at the goverment building across the street with slogans that both warned of potential genocide and heavily criticized Nobel Peace Prize winner Aung San Suu Kyi, the country's de facto leader.
"We are on the brink of witnessing another Rwanda or Srebenica," said Raees Ahmed, a Rohingya Muslim with family members stuck in the country.
"It is in our responsibility — not only as Rohingya descendents or Rohingya relatives — but as a world community to prevent another [genocide] from happening."
Began fleeing last month
The rally comes as roughly 300,000 Rohingya Muslims have already fled to neighbouring Bangladesh in an attempt to escape a violent crackdown by the Myanmar military upon the ethnic minority.
The exodus from the country's Rakhine state began Aug. 25, after the Myanmar military launched what it called "clearance operations" to root out any hiding Rohingya insurgents.
The government of Myanmar — also known as Burma — said nearly 400 people have been killed in the fighting, which it blames on those insurgents. The Rohingya say that Myanmar troops and Buddhist mobs have engaged in a campaign of widespread violence, burning homes, spraying bullets indiscriminately and stabbing civilians.
On Sunday, Amnesty International also reported two people fleeing violence in Rakhine had been injured by land mines. Myanmar has one of the few militaries that use anti-personnel mines, which were banned under an international treaty in 1997.
Many Rohingya have been in Myanmar for generations, but they are now considered illegals and were effectively stripped of the right to citizenship in 1982.
Deprived of basic rights
Ahmed, who recently moved to Ottawa, told CBC News he had uncles, aunts and cousins living under constant threat of violence and being deprived of basic human rights.
One uncle in Rakhine state had died of complications from diabetes three months ago, Ahmed said, because security forces wouldn't let him travel to see a doctor.
"We have to address this violence. We have to stop this violence, whether through international pressure or through military intervention," Ahmed said.
"Otherwise, the massacre and butchering will continue to happen."
Many travelled long distances to attend Sunday's protest, including Zain Phyo, one of about a dozen Rohingya Muslims who arrived from Kitchener, Ont. — one of the centres of Canada's small Rohingya diaspora.
Phyo, who immigrated to Canada from Myanmar two years ago, said he was concerned for the safety of his aunt back home.
"She lost her houses and properties. [They were] burned down by the military and other Buddhist groups. She is now fleeing away with her family," he said.
"She doesn't know [if] tomorrow she will stay alive or not. We are very worried."
Amina Sadek came from Montreal, and said that even though she wasn't of Rohingya ancestry, it was important to speak out for her fellow Muslims.
"We are a minority here in Canada, too. So I think if something happened to us in Canada, I would like for other Muslims [to be there for us]," she said.
One of the loudest chants Sunday afternoon called Suu Kyi — who became a global symbol for democracy after spending years under house arrest in Myanmar — a "criminal."
Fareed Khan, who helped organize the Ottawa rally, said it was time for the Canadian government to strip Suu Kyi of the honourary citizenship it bestowed upon her in 2007.
"We have the ability to take that back. And yet the Prime Minister has not acted in a forceful and decisive manner," said Khan, who has also crafted an online petition calling for the same thing.
"Aung San Suu Kyi does not belong in the same company as Nelson Mandela, the Dalai Lama, and Malala Yousafzai."
Suu Kyi, who became the country's civilian leader after her party won elections in 2015, has challenged suggestions the Rohingya are being mistreated. She recently posted a message on Facebook claiming the Myanmar government was "defending all the people in Rakhine in the best way possible."
Police officers stood guard outside the Myanmar Embassy across the street during the protest. As of 2 p.m., no one had emerged from the building.
cbc.ca/news/canada/ottawa/rohingya-protest-burmese-embassy-ottawa-1.4282717
--------
Wahhabi elements from Saudi Arabia supported 9/11 attacks: Analyst
Sep 10, 2017
Although the official US narrative on the September 11, 2001 attacks does not give away the real perpetrators behind the operation, it can be safely assumed that "Wahhabi" elements from Saudi Arabia provided direct support to them, says an analyst in Virginia.
Keith Preston, director of the attackthesystem.com, made the remarks while discussing new evidence in a lawsuit that holds Saudi Arabia responsible for the attacks that killed more than 3,000 people 16 years ago.
The lawsuit alleges that the Saudi embassy in Washington paid for two Saudi nationals, living undercover in the US as students, to fly from the city of Phoenix to Washington "in a dry run for the 9/11 attacks" two years before their occurrence, the New York Post reported on Saturday.
Pointing to the fact that 15 of the 19 hijackers were from Saudi Arabia, Preston told Press TV on Sunday that none of the attackers could have completed their "complex" mission without financial support originating from their country.
"Now, it makes perfect sense that there were elements within the Saudi government itself that were involved in the provision of the funding for this activity because of the fact that we do know that the Wahhabist movement has a great many sympathizers within the Saudi government," he said.
"It is also clear that the hijackers from the September 11, 2001 adhered to the same ideology as well," he added.
Citing FBI documents, the lawsuit said the Saudi students — Mohammed al-Qudhaeein and Hamdan al-Shalawi — were both members of "the kingdom's network of agents in the US," had received training at the camps run by the a-Qaeda militant group in Afghanistan, and were in "frequent contact" with Saudi officials while in the US.
In a November 1999 America West flight to Washington, the Saudi students reportedly tried multiple times to gain access to the cockpit of the plane.
Consequently, the pair were taken into custody following an emergency flight landing in Ohio, but later the FBI decided not to pursue prosecution.
Meanwhile, the FBI confirmed that the Saudi embassy had paid for the students' tickets for the pre-9/11 "dry run."
Preston ruled out the possibility of there being "individual donors" who provided those behind the attacks with the necessary resources without being connected to "systems of power in any particular location."
Full report at:
presstv.ir/Detail/2017/09/10/534717/US-Wahhabi-Saudi-911
--------
Dr. Johnathan Brown speaks on Islamophobia in America at Common Hour
SEPTEMBER 10, 2017
On Thursday, September 7, Franklin & Marshall was honored to welcome Dr. Jonathan Brown as this week's Common Hour speaker. Brown is a distinguished professor at Georgetown University, author, and advocate for Muslims around the globe. His book, Misquoting Muhammad, was named one of the top books on religion by The Independent in 2014. Brown's talk was centralized around the theme that America's views on Islam can be seen as a screen on which we project our own anxieties, internal contradictions, hypocrisies, and our inability to deal with real difference.
"Islam is a rorschach test for Americans," he so succinctly stated in the first minute of his talk. He went on to explain that a rorschach test is an overflow of data that forces humans to try and make connections, predictions, and assumptions based on how we perceive it. Brown parallels this to the 1.5 billion Muslims located around the world. When given such a vast amount of data, humans are forced to generalize. He argues that our remarkable ability to categorize leads us astray when we ignore the complexities of a human being and try to fit them into clearly defined groups.
According to Brown, America relies on Muslims to fill the role of the "other." He claims that we need this "other" because as Americans, we tend to use negative integration to define ourselves. In other words, we define ourselves based on what we are not. We see attention-grabbing news articles written about the Middle East on subjects such as honor killings, terrorism, or the suppression of free speech and immediately categorize the Middle East as being in opposition of our idea of "Americanness."
Brown also showed a handful of statistics to further demonstrate our misunderstanding of Islam and its violent associations. When looking at Muslims in the United States, we see that .0007% have been arrested for violent crime, compared to 2.7% for American veterans. Brown made it extraordinarily clear that he was not making any claims or comparisons on the morality of the two groups in question, but that the numbers prove that American perceptions of the threat that Muslims pose are statistically unfounded. He jokes that, "If you want to be safe in America, you should follow around a Muslim" as they are actually less likely to commit a crime than many other demographics in this country.
But what does it mean to be a Muslim? Brown said that as Americans, we are constantly defining what a Muslim is without input from the members of the group. He emphasizes that Christians define what it means to be Christian, Jews define what it means to be Jewish, but Brown says that in the United States we don't give that autonomy to those who identify as Muslim. If a Muslim were to claim their religion as a religion of peace, many Americans are quicker to assume they are being dishonest or are mistaken than to think that the individuals inside the religion should have the right to determine what the religion stands for. Instead, Brown says we decide to draw our own conclusions based on stereotypes and generalities.
If you are interested in learning more about Doctor Brown's work and research, Misquoting Muhammad is available at the F&M bookstore. A list of his other publications is also available on Georgetown University's website.
Full report at:
the-college-reporter.com/2017/09/10/dr-johnathan-brown-speaks-on-islamophobia-in-america-at-common-hour/
--------
Erdogan, Trump agree to meet during UN assembly
10 September 2017
Turkey's President Recep Tayyip Erdogan had a phone conversation with U.S. President Donald Trump on Saturday, according to Turkish Presidency.
Two leaders, said a statement by the Presidential Press Office, agreed to hold a private meeting during the upcoming UN General Assembly in New York later this month.
During the phone talk, Erdogan and Trump also stressed Turkey-US strategic partnership as well as the importance of continuing joint efforts to further strengthen the bilateral relations and promote stability in the region.
worldbulletin.net/america-canada/193823/hurricane-force-winds-reported-as-irma-nears-florida
--------
Southeast Asia
DPM urges Suu Kyi to help stop violence against Rohingyas
September 10, 2017
PUTRAJAYA, Sept 10 — Myanmar leader, Aung San Suu Kyi is urged to use her experience in fighting for democracy and human rights to stop the atrocities by the country's military against the ethnic Rohingya..
Deputy Prime Minister Datuk Seri Dr Ahmad Zahid Hamidi said as a leader who was once awarded the Nobel Peace Prize, Suu Kyi should no longer remain silent and treat the recognition as something meaningless to the world.
"If in the past she could fight for democracy and liberation until her struggles were recognised by the world, she should now translate that into action on the Rohingya issue which is happening in her own country.
"This world recognition for her should be accompanied by appropriate action, and not just being a 'puppet' for the world to see."
Ahmad Zahid said this at the closing of the Merdeka Rides 2017 organised by the Superbikers Association Malaysia (SAM), here, today which was also participated by riders from Indonesia, Thailand, Singapore and Brunei.
He said while other countries were showing concern over the plight of the Rohingya through the various forms of aid given, the international community was also waiting for the same action from the Myanmar leader.
She (Suu Kyi) needed to translate the feelings shared by the world by doing something, which should rightly be demonstrated by her as a Nobel Peace Prize winner, he added.
Suu Kyi received the Nobel Peace Prize in 1991 when she was under house arrest for going against the regime of Myanmar's military junta in her fight for democracy and human rights in her country.
The deputy prime minister also urged former United Nations secretary-general Kofi Annan to play a bigger role in calling on the other international organisations to show concern for the fate of the ethnic Rohingya.
He said religious and racial differences should be no obstacle and in fact, the international organisations and world community should be made aware of their role in assisting in the name of humanity.
At the event, Ahmad Zahid also launched the Rohingya Humanitarian Fund drive by Superbikers Association Malaysia and within eight minutes, a sum of RM7,838 was raised. — Bernama
themalaymailonline.com/malaysia/article/dpm-urges-suu-kyi-to-help-stop-violence-against-rohingyas#uFXkEpJXyxY2gIUw.97
--------
Rights group chief: Malaysia should play a role in creation of safe zone in Myanmar
September 10, 2017
KUALA LUMPUR, Sept 10 — Malaysia needs to play a role in the creation of an international safe zone in Myanmar and use a diplomatic channel to convince other countries to support the proposal.
Lawyer and Chief Executive of the Centre for Human Rights Research and Advocacy, Azril Mohd Amin, said Malaysia's effort in sending a humanitarian mission would be more meaningful if the safe zone could be created soon.
"This mechanism will guarantee a proper channelling of aid to ensure that it will reach its target and to provide a strategic platform for a long-term solution to the long-standing humanitarian crisis suffered by the Rohingya Muslims," he said in a statement here today.
Azril said the Bangladesh government had, on Sept 8, taken a diplomatic initiative by proposing to Myanmar to create a 'safe zone' inside its Rakhine state under the surveillance of the United Nations (UN).
"This zone is to ensure security, peace, food and protection for the Rohingya people who are facing brutal persecution, and hence, stop them from flocking to Bangladesh," he said.
He said the Bangladesh government had also asked the UN, German and the International Committee of the Red Cross (ICRC) to take the initiative to create the safe zone as had been done in other conflict-stricken countries.
However, Azril said the creation of such a safe zone still required the approval from Myanmar.
"Since the country is too stubborn to comply with any international law on the protection of the lives of civilians, it is quite difficult if Bangladesh is left alone to ensure that the proposed creation of the safe zone is well implemented," he added.
Full report at:
themalaymailonline.com/malaysia/article/rights-group-chief-malaysia-should-play-a-role-in-creation-of-safe-zone-in#yafwrkztUhM03Djq.97
--------
PAS concerned over KL's 'shameful' beer festival
SEPTEMBER 11, 2017
KUALA LUMPUR — Parti Islam Se-Malaysia (PAS) yesterday called an annual craft beer festival in Kuala Lumpur next month a "vice festival", warning that the capital city could become known as Asia's vice centre if such programmes are allowed to continue.
In yet another sign of growing religious conservatism in the country, PAS central committee member Riduan Mohd Nor claimed that news about The Better Beer Festival 2017 was shocking and will incite Muslims' anger.
"It is something that is shameful for an Islamic country like Malaysia, when mungkar (treacherous) programmes can easily gain a place in the society's heart and it is allowed to be organised without obstruction," he said in a statement on PAS mouthpiece HarakahDaily. "We can't bear it if Kuala Lumpur is known by the world as the biggest centre of vice in Asia."
This is not the first time PAS has voiced its disapproval of alcohol being available in Malaysia.
In 2009, the Islamist party urged the Selangor state government to impose a blanket ban on the sale of alcohol in convenience stores, a call that was rejected by the state, following an uproar by the Chinese and Indian communities, who felt their rights were being eroded.
Stores in Selangor are already banned from selling alcohol to minors and Muslims, who are forbidden to drink by law.
The party has also urged national carrier Malaysia Airlines to stop serving alcohol on all its flights, alleging that thousands of the airline's Muslim staff were "forced" to serve alcohol, which is contrary to their religious belief.
Dr Riduan expressed his regrets yesterday that the organisers had picked Malaysia for its beer festival despite them purportedly saying that it was an activity for non-Muslims that is also intended to promote tourism.
"Although Muslims are not the target for participation, at the same time there is no limit or obstructions if Muslims were to join. If this event is successfully organised, it is not impossible that activities that are even bigger in scale would be held in years to come," he said.
"What is the guarantee of safety that can be given to the public who are not involved, such as crime, free sex, rape and so on."
He said Muslims could only voice strong objection against The Better Beer Festival to ensure it is not held in Kuala Lumpur.
According to The Better Beer Festival's website, it is organised by Malaysia's largest craft beer distributor, MyBeer, on Oct 6 and Oct 7 at the upmarket Publika mall.
The festival is in its sixth edition, with 43 breweries across 12 countries expected to showcase 250 different craft beers, with food and live music performances. The Star reported that the festival was started in 2012 as a celebration of craft beer in Malaysia.
Full report at:
todayonline.com/world/asia/pas-concerned-over-kls-shameful-beer-festival
--------
Envoy: US visa waiver possible once Malaysians fill up forms properly
BY WONG SAI WAN
September 11, 2017
WASHINGTON, Sept 11— The inability to fill up visa application forms properly is the main reason why Malaysia has yet to qualify for the United States' visa waiver programme.
"Malaysians just seem to be unable to fill the forms correctly. For the country to qualify for the programme, there must be no more than 3 per cent rejection of applications for visa.
"But the failure rate is still hovering between 3.4 per cent to 3.7 per cent and majority of the rejection is because the forms were not filled up correctly," Malaysian Ambassador to the US Tan Sri Zulhasnan Rafique has said.
Zulhasnan said Malaysia has met all other conditions to be part of the programme "long ago" with exception to the rejection rate.
To date, Malaysia has fulfilled six out of the seven statutory requirements:
No visa requirement imposed on US citizens travelling to Malaysia;
Usage of e-passport as per International Civil Aviation Organisation specifications;
Deportation of Malaysians who overstay in the US;
Signing of the Homeland Security Presidential Directive No. 6 Arrangement;
Signing the Preventing and Combating Serious Crime Agreement; and
Exchange of information on Stolen and Lost Travel Documents.
Under the programme, Malaysians will be able to travel to the US for tourism, business or transit for up to 90 days without a visa.
US Ambassador Kamala Shirin Lakhdir had confirmed that Malaysia is just short of the approval rate required to qualify for the programme as it had a 96.7 p cent approval rate for US business (B1) and tourist (B2) visas.
Zulhasnan acknowledged that the forms were "a bit intimidating" and could be quite difficult to fill.
"I hope that Malaysia will qualify for the programme but Malaysians applying for US visas must play their part and be very careful."
The US visas can only be applied digitally and comes in several parts including creating a personal profile, paying for the visa application, setting an appointment for the interview.
Full report at:
themalaymailonline.com/malaysia/article/envoy-us-visa-waiver-possible-once-malaysians-fill-up-forms-properly#DbdHvQZlFeewwqLa.97
--------
Pas does not trust Pakatan Harapan: Hadi
By AINA NASA
September 11, 2017
KUALA LUMPUR: All those involved in forming Pakatan Harapan cannot be trusted, Pas president Datuk Seri Abdul Hadi Awang said.
In a scathing statement Hadi also said the coalition places its hope on a shadow cabinet that has a weak concept of purpose in its aspirations.
He said DAP and Pakatan Harapan have shown its negative side in administering certain states, with an attitude that could create tension among the diversed community.
They even dared to venture into dismantling the basic social contract enshrined in the national Constitution, Hadi said in the statement posted on the party's news organ Harakah.
Hadi said Pas will remain true to its mission to serve as a political party that upholds Islam but embraces the concept of being in a diversed sovereign nation.
"The party wish to call upon all Muslims and non Muslims to reject this these groups that tries to conspire against efforts taken to move forward as a nation for the good of all," he stressed.
"Non-Muslims should also reject fanatic parties and groups that put importance on secularism like DAP and Pakatan Harapan, who separate life affairs from their own religion and allow their religion to be used as a tool for anyone for the sake of temporary politics," he said.
This was the opposite of what Pas aspires in its political struggles that places priority to religion and not seats, Hadi said adding the party still chases for seats either to lead or with the opposition that consults not spoils.
"This is the difference with Pas in Kelantan where we can continue with our struggles even if we are strangled on our necks and not allow ourselves to be pierced by the nose," he stressed.
Hadi stressed that Pas could not be swayed by those who were uncomfortable with the Islamic approach, which was different from opposition approaches in other countries who ruled without knowing right or wrong.
"Pas does not need to be affected by other groups' propaganda who are supposedly worried that Pas will be cheated by Umno or vice versa.
"This is because Islam teaches us that sincere efforts and intentions of cheating are things only known to and punished by Allah while we deal with what is apparent.
"Those who try to threaten Pas based on electoral seats or positions in government should learn about Pas' history."
Full report at:
nst.com.my/news/politics/2017/09/278488/pas-does-not-trust-pakatan-harapan-hadi
--------
Three issues set to define Singapore–Indonesia ties
BY NORSHAHRIL SAAT AND SIWAGE DHARMA NEGARA
SEPTEMBER 11, 2017
Last week, Prime Minister Lee Hsien Loong and President Joko "Jokowi" Widodo met at a Leaders' Retreat to commemorate 50 years of diplomatic relations between Singapore and Indonesia. The event was symbolic, given how bilateral ties have evolved from rocky beginnings to relations in which the two neighbours have become key economic and strategic partners.
As noted by the two leaders, Singapore and Indonesia are neighbours by geography, but partners by choice. The two leaders agreed to continue building on existing mutual trust to further strengthen cooperation, especially on the economic front.
Indeed, there is much both sides can work on together in the years to come. However, there are some bumps that we can expect along the way.
A ROCKY START
Singapore-Indonesia relations began on a frosty note. Between 1963 and 1965, Indonesia President Sukarno launched the Konfrontasi (Confrontation) campaign against Malaysia, of which Singapore was then a part. Relations improved only almost a decade later, under the leadership of President Suharto and Mr Lee Kuan Yew, and Indonesia and Singapore developed closer economic and security ties.
However, Mr Suharto's resignation in 1998 created new diplomatic uncertainties. Relations with Indonesia under the presidencies of B J Habibie, Abdurrahman Wahid and Megawati Sukarnoputri witnessed ebb and flows. Indonesians were angered by the flight of capital brought over by Chinese Indonesians into Singapore as a result of the anti-Chinese riots following Mr Suharto's fall.
Mr Habibie's infamous dismissal of Singapore as a "little red dot" worsened diplomatic ties. The 10 years under President Susilo Bambang Yudhoyono (2004-2014) were generally peaceful for the two nations, spurring greater co-operation on improving economic, business and security ties.
People-to-people relations have improved since 2014 under the Jokowi regime. While analysts can be upbeat that ties will remain stable, three issues are set to define relations in the years to come.
The first concerns economic co-operation, which has generally been positive. The two countries have grown to be strong trading and investment partners, driven by mutual complementarities.
At the leaders' meeting, Singapore and Indonesia came up with promising cooperation plans in key areas such as energy, the digital economy, tourism and skills training.
However, the progress of these initiatives depends on the interplay of various factors such as clarity of rules and regulations; strong supporting infrastructure; and the availability of competent human capital.
On several previous occasions, Indonesia failed to enforce its rules and regulations as well as its international commitments. This failure is often caused by poor coordination within the state apparatus, as well as the executive's and law enforcers' political considerations when dealing with strong lobby groups. One example that directly affects Singapore businesses is related to Batam's dualistic administrative authorities.
This dualism emerged after the launch of regional autonomy in 2001. Since then, the newly established Batam municipal administration has claimed part of the power formerly held by the Batam industrial development authority.
Without any clear and synchronised regulation dividing the scope of the two authorities, investors face lingering uncertainties and are therefore cautious about doing business there.
In another setback to businesses, the Constitutional Court in April annulled four provisions in the regional government law, thereby taking power from the central government to revoke problematic local rules that contravene national regulation and laws.
CHALLENGES AHEAD
Another important issue concerns the security in Batam, Indonesia's closest territory to Singapore.
Last year, Batam authorities revealed that a terrorist group, Cell Gonggong Rebus (GR), had planned to launch a rocket from the island targeting Singapore's Marina Bay Sands. Six militants were arrested, and they have since been jailed on unrelated charges of harbouring other extremists.
The authorities on both sides have been cooperating closely to deal with the threat posed by the Islamic State and other terror groups.
But these groups remain a serious threat, and that is why the reaffirmation by Mr Lee and Mr Widodo on the need for both countries to strengthen counter-terrorism cooperation is a positive sign.
Beyond sharing intelligence, the two countries must foster greater collaboration at the grassroots level. Indonesia can learn from how the Islamic bureaucracy in Singapore manages the country's religious teachers.
For instance, it draws up a directory listing the teachers approved to teach in mosques. Granted, the size of Indonesia's Muslim population is many times that of Singapore's, but the directory of accredited scholars can be managed by civil society groups. This is one way of keeping tabs on those trying to spread radical ideas to the masses.
Singapore Muslims groups should also step up engagement with Indonesia's largest Muslim organisations, Nahdlatul Ulama (Revival of the Ulama) and Muhammadiyah. Religious intellectuals from the two organisations have plenty to offer Singapore's religious elites. Moreover, their youth wings have been championing alternative discourses on Islam, bringing the religion to modern realities. Some important lessons can be drawn from their experience.
Lastly, the haze issue remains a complex one. Every time forest and land fires spread and the number of hotspots spike, neighbouring governments — including Singapore — demand firmer action by the Indonesian authorities.
Following the severe haze pollution across the region in 2015, Indonesia has taken serious steps to address this environmental problem, including setting up better-organised firefighter units and activating integrated forest patrols.
The impact of these new efforts remains to be seen. What is most important is to ensure a more effective common platform for devising a collective effort to prevent, monitor and mitigate the environmental problems caused by forest and peatland fires.
There remains a strong need to curb agricultural slash-and-burn practices. Singapore can offer its innovation and technology to help transform this traditional way of agricultural practices into something more environmentally friendly.
Hopes are high that the leaders' meeting last week will provide greater impetus for the two countries to work together in tackling transboundary haze and climate change.
Full report at:
todayonline.com/world/three-issues-set-define-singapore-indonesia-ties
--------
Mideast
World of Islam can restore its glorious past: President Rouhani
Sep 11, 2017
ASTANA, September 10 (NNI): Iranina Preident Hassan Rouhani said the World of Islam can return to its glorious past by embracing modern science and technology and resorting to the teachings of Holy Quran on leniency and tolerance.
Addressing the first Summit of the Organization of Islamic Cooperation (OIC) on Science and Technology in Astana, Kazakhstan, on Sunday, President Rouhani emphasized the role of the World of Islam as an important part of the modern world and stressed that the situation of Islamic Ummah has great impact on the general conditions of the world.
The president elaborated on the glorious civilziation of the Muslim world in the first centuries after the rise of the brilliant sun of Islam and expressed grief that this civilziation declined at the beginning of the 6th century.
'Dividing knowledge into decent and indecent ones at the beginning of the 6th century paved the way for the decline of the Islamic civilization and Mongol's invasion expedited it. Muslims' indolence and lethargy in recent centuries not only prevented them from making further development, but at the same time blocked them from saving their previous assets,' said the Iranian president.
However, it is possible today for the World of Islam to move toward innovation, creativity and progress beside rationality and ethics and create a world free from violence and extremism, said President Rouhani. NNI
pakobserver.net/world-islam-can-restore-glorious-past-president-rouhani/
--------
Rouhani calls on Muslims to cooperate in science, tech
Sep 10, 2017
Iran's President Hassan Rouhani has underlined the need for unity and cooperation among Muslim countries as the key to rid the world of violence and reach permanent peace.
Rouhani made the remarks in an address to the first Organization of Islamic Cooperation (OIC) summit on science and technology in the Kazakh capital, Astana, on Sunday.
"We have all reached a consensus that the Muslim world is a crucial and effective part of the system of the universe, and its capability, progress and stability leads to global capability, progress and stability."
Rouhani said weakness, backwardness and disunity among Muslim countries would make sustainable peace, inclusive development and effective conversion impossible to reach.
"Therefore, consensus, concord and cooperation among members of the great Islamic world in order to enter the developed world is in fact a joint effort to build a world free of ignorance, poverty, war and violence," he added.
He also stressed that cooperation in the field of science and technology has strategic political and social importance.
Today, he said, the Muslim world feels the need for solidarity and unity more than ever as it is grappling with multiple crises, such as Israeli crimes against the Palestinians, atrocities by Buddhist extremists against Rohingya in Myanmar, humanitarian catastrophes created by extremist groups in Syria and Iraq and the continuation of the Saudi war on Yemen.
Elsewhere in his address, the Iranian president said the OIC summit had the potential to be turned into a milestone in the history of scientific cooperation in the Muslim world.
"Let's put aside divisions being sowed by the enemies of Islam and warmongering powers, who see their benefit in dividing us, and open new grounds for scientific and technological cooperation as well as further renovation of our countries," he said.
Full report at:
presstv.ir/Detail/2017/09/10/534665/Iran-Hassan-Rouhani-OIC-Astana
--------
Erdogan urges Muslim countries to help Rohingya
Sep 11, 2017
President Recep Tayyip Erdoğan on Sunday urged Muslim countries to "use every means available" to stop the "cruelty" perpetrated against Rohingya Muslims in Myanmar.
The United Nations appealed for urgent aid to deal with a humanitarian crisis unfolding in southern Bangladesh after the number of Rohingya fleeing Myanmar neared 300,000, just two weeks after violence erupted there.
"We want to work with the governments of Myanmar and Bangladesh to prevent the humanitarian plight in the region," Erdoğan said at the opening session of an Organization of Islamic Cooperation (OIC) summit in the Kazakh capital Astana.
Erdoğan said Turkey had offered aid, adding that it expected that Bangladeshi authorities admit and help Rohingya Muslims fleeing the violence.
"International organizations and we, as Muslim countries, in particular, should fight together by using every means available to stop that cruelty," he said.
Turkey last week sent 1,000 tons of aid for the refugees in Bangladesh after the Turkish Cooperation and Coordination Agency (TİKA) was allowed to distribute food and clothing in Rakhine state following a phone call between Erdoğan and Aung San Suu Kyii Myanmar's leader.
The agency is planning to eventually distribute 10,000 tons of food, medicine and clothes in the region.
Erdoğan had previously promised to raise the Rohingya issue at the annual meeting of U.N. General Assembly later this month.
The president also raised the issue in his bilateral meetings in Astana with Iranian President Hassan Rouhani, Venezuelan President Nicolas Maduro, Pakistani President Manoon Hussain, Afghan President Ashraf Gani, Uzbek President Shavkat Mirziyoyev, Bangladeshi President Abdul Hamid, Bakir İzetbegovic, Bosnian member of the tripartite Presidency of Bosnia and Herzegovina, and Gine-Bissau Prime Minister Umaro Sissoco Embalo.
The U.N. said the wave of hungry and traumatized refugees crossing into Bangladesh is "showing no signs of stopping," overwhelming agencies in the Cox's Bazar region already helping hundreds of thousands displaced by previous spasms of conflict in Myanmar's Rakhine state.
"It is vital that aid agencies working in Cox's Bazar have the resources they need to provide emergency assistance to incredibly vulnerable people who have been forced to flee their homes and have arrived in Bangladesh with nothing," the U.N. Resident Coordinator in Bangladesh Robert Watkins said.
He said in a statement late on Sept. 9 that agencies urgently needed $77 million to cope with an emergency that was triggered when Rohingya insurgents attacked police posts and an army base on Aug. 25, prompting a military counter-offensive.
The Arakan Rohingya Salvation Army (ARSA) insurgent group declared a month-long unilateral ceasefire, starting on Sunday, to enable aid groups to bring humanitarian aid to those still in the northwestern state of Buddhist-majority Myanmar.
The impact of ARSA's move is unclear, but it does not appear to have been able to put up significant resistance against the military force unleashed in Rakhine state, where thousands of homes have been burned down and dozens of villages destroyed.
Thousands of displaced people in Rakhine have been stranded or left without food for weeks. Many are still trying to cross mountains, dense bush and rice fields to reach Bangladesh.
Full report at:
pakistantoday.com.pk/2017/09/10/erdogan-urges-muslim-countries-to-help-rohingya/
--------
Iranian People, University Students Rally in Front of UN Office to Condemn Massacre of Myanmar Muslims
Sep 10, 2017
The Iranian people and university students, carrying placards called on the UN to deal with the aggravating conditions of the Muslims in Myanmar.
During the peaceful protest rally in Tehran, demonstrators showed support for the Rohingya Muslims, and called on the UN and human rights organizations to break their silence and end the massacre, and probe into the conditions of the Muslims in Myanmar.
Myanmar's security forces have been attacking the Rohingya Muslims and torching their villages since October 2016 in a bid to push them out of the western state of Rakhine.
The attacks have intensified since August 25, following alleged armed attacks on police and military posts in Rakhine.
The Rohingya have been subject to communal violence by extremist Buddhists for years, forcing large groups of Muslims to take perilous journeys and seek refuge in Bangladesh and other neighboring countries.
Myanmar's de facto leader, Aung San Suu Kyi, has come under fire for failing to protect the country's Muslim minority from persecution.
She claimed on Wednesday that "a huge iceberg of misinformation" was spreading about violence in western Myanmar.
Iran has called on the international community not to remain silent on the ongoing genocide against Rohingya Muslims in Myanmar and take the needed measures to bring to a halt their catastrophic situation.
Full report at:
en.farsnews.com/newstext.aspx?nn=13960619001426
--------
Report: Iranian Revolutionary Guards' sectarian activity rises in Sunni areas
11 September 2017
The Iranian repressive and sectarian regime against Sunnis in the country warns of an upcoming civil war, according to a recent reformist opposition report.
First published on amadnews site, which is allied with the opposition, the report reflects the Revolutionary Guards' continued and escalating activity in predominantly Sunni areas.
It also noted that cleric's activities and the Guard's institutions are increasing in southern areas of the country, specifically in Sistan, Baluchistan and Khorasan provinces.
According to the report, among these activities are calls of a sectarian nature. The most recent event called for was Eid al-Ghadeer, a Shiite celebration. Sunnis see this form of celebration in their areas as a form of provocation.
Full report at:
english.alarabiya.net/en/News/middle-east/2017/09/11/Report-Iranian-Revolutionary-Guards-sectarian-activity-rises-in-Sunni-areas.html
--------
Saleh's forces mobilize in Sanaa after Houthis arrest Republican Guard officers
10 September 2017
The Republican Guards in support of ousted President Ali Abdullah Saleh escalated their caution and readiness to confront any developments after Houthis arrested a number of their officers and soldiers on Friday in Sanaa.
The tensions in Sanaa extended to the Sanhan district, south of capital, which is Saleh's hometown.
After the Saudi-led coalition air force shelled militias' posts on Friday, Houthis reinforced their presence in Sanhan and stationed near the Dabwa and Rima Hamid camps which are under the control of the Republican Guards.
Meanwhile, sources said that Saleh directed the Republican Guards to protect both camps and strictly deal with any Houthi attempt to raid them or come near them.
english.alarabiya.net/en/News/gulf/2017/09/10/Saleh-s-forces-mobilize-in-Sanaa-after-Houthis-arrest-Republican-Guard-officers.html
--------
Rhetoric on Iran deal has hurt US stature: Zarif
Sep 11, 2017
Iran's Foreign Minister Mohammad Javad Zarif says the United States' belligerent rhetoric on a multilateral deal with Iran has impacted other countries' faith in potentially negotiating with Washington.
In an interview with the Iranian Borna News, which was published on Sunday, Foreign Minister Zarif referred to the "very dangerous" tensions between the US and North Korea and implied that Pyongyang was not interested in talking to Washington to defuse the tensions because of the US's past behavior.
Dialog was badly needed, he said however.
"The situation is very dangerous. I do not recall any time in my 40 years in politics when there was talk [of using nuclear weapons] in the international community," he said.
Tensions have been running high between the US and North Korea in recent months. Pyongyang has been swiftly advancing its missile and military nuclear programs, which Washington perceives as a threat to itself and its allies in East Asia.
Both sides have been threatening one another with military action, and the prospect of a nuclear confrontation remains on the horizon. On September 3, North Korea conducted a nuclear test — its sixth overall — and said it was now capable of building a nuclear warhead small enough to fit on a missile.
The US, which has permanent military presence in the region, angrily reacted to the test. Washington has reportedly prepared a sanctions resolution, which it plans to table at the United Nations Security Council on Monday. Trump has not ruled out military action against North Korea.
Zarif said a solution had to be reached peacefully, and threats and pressure had to be avoided.
He said that the US, however, suffered from a reputation problem and negotiating with it was not viewed as a favorable option.
"Some of the rhetoric that the US has adopted about the JCPOA since Mr. Trump took office has cast doubt about the US's reputation as a [credible] negotiating partner," the Iranian foreign minister said, referring to the Iran deal by its official abbreviation.
"Other countries, too, feel that this administration is not trustworthy. The US's own allies in Europe say that, too," he said.
Zarif added that the proliferation of nuclear weapons had to stop and all such weapons in the world had to be destroyed.
As foreign minister, Zarif was Iran's chief negotiator in long-running talks in 2013 to 2015 that culminated in the Iran deal, known as the Joint Comprehensive Plan of Action, or the JCPOA.
The US was a party to the talks and is a party to the deal. But the new American president, Trump, has called the deal the "worst" he has ever seen and has been publicly undermining it.
Zarif has said before that the Trump administration has violated the text of the deal by attempting to discourage Iran's European partners from doing business with Iran.
Iran and the other parties to the deal — namely the UK, France, Russia, China, and Germany — have stressed that the agreement should be sustained.
'Iran has options'
In the interview with Borna News, Zarif said while Iran tried to maintain the agreement as it was, Tehran had the option of withdrawal.
He said another option was to "create conditions in which America's withdrawal from or non-performance of the JCPOA would lead to the US's isolation."
He referred to the fact that the Trump administration has twice verified Iranian compliance with the deal to the US Congress, adding that happened despite the White House's skepticism because Washington knew that acting otherwise would lead to its isolation.
The European parties to the deal as well as China and Russia are opposed to the re-imposition of any nuclear sanctions on Iran because Tehran has been confirmed in full compliance with the deal by the International Atomic Energy Agency (IAEA).
The IAEA is the official institution in charge of verification of Iranian compliance, and the US has in the recent past attempted —although unsuccessfully — to sway the agency's reporting on Iran.
'World has failed Rohingya Muslims'
Elsewhere in his remarks, the Iranian foreign minister referred to the crisis in Myanmar, where the government is carrying out a deadly crackdown on minority Rohingya Muslims.
"The situation is outrageous in Myanmar," he said. "The international community has once again failed to uphold the rights of the oppressed and the people who face torture, pressure, and even genocide."
He said Iran had engaged in diplomacy to facilitate a peaceful end to the plight of the Rohingya Muslims in Myanmar but stressed that the Islamic Republic did not seek to pressure the Myanmarese government.
"All we seek is find a solution to improve the situation," he said.
Myanmar has laid a siege to a western state where the Rohingya are concentrated. There, horrific violence has been taking place against the minority Muslims, according to reports and eyewitnesses.
Soldiers and extremist Buddhists have reportedly been killing or raping the Muslims and setting their homes on fire. The Myanmarese government says 400 people, mostly Muslims, have died in the violence. The UN says the actual number likely tops 1,000.
On Saudi Arabia
Zarif was also asked about Saudi Arabia, which has severed its diplomatic relations with Iran. He said Riyadh had to reach a better understanding of the region before an enhancement of relations with Iran could take place.
"We hope the Saudi government reaches a real understanding of the situation in the region and the policies it has adopted in Syria, Iraq, Bahrain, and especially Yemen, where we face a humanitarian situation," he said.
The Saudi government has had nothing to gain from those activities, he added.
Once Saudi Arabia gets a real understanding of the situation in the region, "it will see that Iran is prepared for positive interaction," Zarif said.
Full report at:
presstv.ir/Detail/2017/09/11/534735/Iran-Zarif-interview-US-stature-negotiations-North-Korea
--------
Pakistan FM to visit Iran for key regional, international talks
Sep 10, 2017
Pakistani Foreign Minister Khawaja Muhammad Asif will pay an official visit to Tehran to hold talks with senior Iranian officials on leading mutual, regional and international developments, Iran's Foreign Ministry spokesman says.
Bahram Qassemi said on Sunday that the Pakistani foreign minister would arrive in Tehran on Monday for a day-long visit at the head of a politico-economic delegation.
He added that Asif plans to meet Iranian President Hassan Rouhani, Foreign Minister Mohammad Javad Zarif and the vice president for economic affairs, Mohammad Nahavandian.
During the Iranian president's visit to Islamabad in March 2016, high-ranking Iranian and Pakistani officials signed six documents for cooperation in different fields of trade and commerce, insurance, culture, academy, health and medicine.
presstv.ir/Detail/2017/09/10/534707/Iran-Pakistan-Foreign-Minister-Khawaja-Muhammad-Asif-Bahram-Qassemi-Hassan-Rouhani
--------
Palestinian court grants bail to prominent activist
Sep 11, 2017
HEBRON - A Palestinian court on Sunday released on bail a prominent activist arrested after he criticised president Mahmud Abbas's administration. Issa Amro was detained by Palestinian security forces on Monday in the southern West Bank city of Hebron on accusations including causing "strife", human rights activists said.
His lawyer, Muhannad Karaja, said he has also been accused of creating websites that "aim to undermine the state's security", in violation of a new Palestinian law on cyber crime.
Rights groups have criticised the law, saying it could be used to target critics of the Palestinian leadership. "We asked for Issa to be released on bail," Karaja told AFP. "The prosecution and the court agreed on this in exchange for a deposit of 1,000 Jordanian dinars ($1,400, 1,200 euros)."
"Issa will appear later before the court regarding this case and all the charges against him," he said. The hearing was held in secret, with journalists barred from the courtroom. Karaja said he did not know when the next hearing would be held.
Dozens of activists protested outside prosecutors' offices on Sunday over Amro's detention, some with tape over their mouths. Afer his release, Amro went to the offices of his Youth Against Settlements organisation, where he was warmly greeted by fellow activists and spoke out against the law.
"I hope the president of the state of Palestine will decide today to freeze this law," Amro said. He spoke of the need for "a space for freedom of speech and freedom of criticism" and accused Palestinian security forces of verbal and "minor" physical abuse against him.
Amro's Youth Against Settlements is a campaign group in the tense city of Hebron, where Jewish settlers live in heavily guarded enclaves in the centre. He was detained after post a Facebook post criticising the Palestinian Authority's arrest of a journalist from Hebron.
Palestinian officials have not publicly commented on Amro's detention. Amnesty International and Human Rights Watch both criticised his arrest. Amnesty has called it the "latest evidence that the Palestinian authorities are determined to continue with their repressive campaign against free speech."
Separately, Amro is on trial by Israel on a range of charges dating back to 2010. He has rejected all the charges, saying they are politically motivated and aim to prevent his peaceful resistance to Israel's occupation. "I have been threatened a dozen times by the Israeli occupation and I have received death threats from settlers, but all of this did not and will not stop me," he said Sunday, wearing a shirt emblazoned with the logo "Palestinians Should Be Free".
Full report at:
nation.com.pk/international/11-Sep-2017/palestinian-court-grants-bail-to-prominent-activist
--------
Israel mulls building largest settlement inside Palestinian neighborhood: NGO
Sep 10, 2017
The Israeli regime is thinking over granting construction permits that will create the largest settlement inside a Palestinian neighborhood, an NGO says.
According to Peace Now, an anti-settlement Israeli NGO, the Local Committee for Planning and Construction of Jerusalem al-Quds was discussing on Sunday issuing permits for constructing 176 settler units in the heart of the predominantly Arab neighborhood of Jabel Mukaber, which is located east of the city.
The project allows for an expansion of the Nof Zion settlement as new houses, whose plans have already been approved, will be built on top of the existing 91 units.
According to the NGO, granting building permits for the new units is the last major bureaucratic step and the approvals will make Nof Zion the biggest Israeli settlement inside any Palestinian neighborhood.
Most settlements, particularly those that have been built in the occupied West Bank, are located outside of residential Palestinian areas.
"Within East Jerusalem [al-Quds], it's a very serious development. It's indicative of a trend that we're seeing of settlement expansion inside Palestinian neighborhoods" in the city, said Peace Now spokeswoman Anat Ben Nun.
Since the inauguration of US President Donald Trump in January, the regime in Tel Aviv has stepped up construction of settler units on the occupied Palestinian land in a blatant violation of international law.
Less than a month before Trump took office, the United Nations Security Council had adopted Resolution 2334, calling on Israel to "immediately and completely cease all settlement activities in the occupied Palestinian territories, including East Jerusalem" al-Quds.
About 600,000 Israelis live in over 230 illegal settlements built since the 1967 Israeli occupation of the Palestinian territories of the West Bank and East Jerusalem al-Quds.
Palestinians want the West Bank as part of a future independent Palestinian state, with East Jerusalem al-Quds as its capital.
Full report at:
presstv.ir/Detail/2017/09/10/534715/Israel-East-Jerusalem-Quds-settlement-Peace-No
--------
Israeli warplanes cause sonic boom over southern Lebanon
Sep 10, 2017
Israeli fighter jets have violated Lebanese airspace and flown low over parts of the country in flagrant violation of a UN Security Council resolution.
Security sources and residents said the Israeli aircraft crossed into Lebanese airspace over the southern city of Sidon, located 40 kilometers (25 miles) south of the capital, Beirut, on Sunday, causing sonic booms that broke windows and shook buildings.
The sonic booms also caused panic among local residents. The Israeli military is yet to comment on the incident.
The incident came a day after Lebanon's Foreign Minister Gebran Bassil said the Arab country would lodge an "urgent complaint" with the United Nations Security Council against Israel over an airstrike conducted from the Lebanese airspace on a military facility in the western Syrian province of Hama.
The Syrian army said in a statement on September 7 that Israeli warplanes had fired a number of missiles at 2:42 a.m. local time (0042 GMT) from the Lebanese airspace against one of its military positions near the town of Masyaf, located approximately 40 kilometers west of the provincial capital city of Hama.
Syria's official news agency, SANA, later reported that the air raid had killed two people at the site and caused material damage.
Israel violates Lebanon's airspace on an almost daily basis, claiming the flights serve surveillance purposes.
Lebanon's government, the Hezbollah resistance movement and the UN Interim Force in Lebanon (UNIFIL) have repeatedly condemned the overflights, saying they are in clear violation of UN Resolution 1701 and the country's sovereignty.
UN Security Council Resolution 1701, which brokered a ceasefire in the war of aggression Israel launched against Lebanon in 2006, calls on Tel Aviv to respect Beirut's sovereignty and territorial integrity.
Full report at:
presstv.ir/Detail/2017/09/10/534692/Israeli-warplanes-cause-sonic-booms-south-Lebanon-Sidon
--------
Opponents of Iraqi Kurdistan vote receive death threats
Sep 10, 2017
Members of the "No for Now" campaign, which calls for the postponement of the upcoming referendum on the independence of Iraq's semi-autonomous Kurdistan region, say they have repeatedly received death threats and been physically intimidated.
The movement was founded by Shaswar Abdulwahid Qadir, a Kurdish businessman and the owner of a media conglomerate which includes NRT TV, in the city of Sulaymaniyah in August.
Earlier this month, gunmen stormed the NRT TV office in the Kurdish capital city of Arbil, climbed onto the roof of the building, tore down the channel's logo and chanted slogans such as "Yes for referendum."
The assailants further raised the flag of the Kurdistan Regional Government (KRG) and threatened to burn the building down.
"The threats are still there and constant," Qadir told the Middle East Eye news portal, adding, "Me and my friends at the No For Now campaign are facing threats everyday."
"One of our campaign board members was kidnapped in Sulaymaniyah. Security forces raided the house of another member. The KRG has used the legal system as well to shut down NRT TV, especially local broadcasting, for one week," he noted.
The Kurdish referendum is scheduled for September 25, but the central government in Baghdad is opposed to the vote.
Regional players like Iran and Turkey have also voiced concerns about the planned referendum by Iraqi Kurdish authorities, arguing that it could create further instability in the region.
Qadir voiced alarm that the plebiscite is less about the Kurdish independence and more about an attempt by KRG president Masoud Barzani to maintain his power ahead of parliamentary elections.
"The current ruling elite have been there for the last 26 years … They want to use the referendum to remain in power another 25 years and hand over power to their families," he said.
Additionally, No for Now spokesman Rabun Maruf warned that the referendum "does not serve the fundamental interests of the people of the Kurdistan region" and will spark "a bloody military conflict and towards disaster."
"This referendum is not a move towards the independence and the formation of a democratic and upright country, but is instead a dangerous and historic mistake that will result in the abortion of this aim and which will lead towards further division," he pointed out.
Protest against referendum in Sulaymaniyah
On Saturday, hundreds of supporters of "No for Now" campaign staged a rally in Sulaymaniyah against the September vote.
Full report at:
presstv.ir/Detail/2017/09/10/534628/Iraq-Kurdistan
--------
Africa
Nigeria: Operation Python Dance a Jihad On Biafra Land - IPOB
10 SEPTEMBER 2017
By Vincent Ujumadu
The Indigenous People of Biafra, IPOB, Sunday, reacted to the decision of the Nigerian Army to set up another military exercise in the South East code named 'Operation Python Dance 11', describing the move as a Jihad on the innocent people of Biafra.
Though the Nigerian Army announced weekend that the exercise was aimed at fighting crime in the area, IPOB, in a statement signed by its director of media and publicity, Comrade Emma Powerful urged the Chief of Army Staff, General Buratai to take back the armoured tanks being assembled in the Biafra land to the war fronts in the North where the armoured tanks were needed because IPOB was not fighting any war in the East.
The statement said: "We wish to alert humanity about the silent Jihad war being unleashed on peaceful Biafran populations, in order to complete the extermination of the Igbo race under the pretext of military exercise in a peaceful civilian environment.
"This act of primitive criminal intimidation and provocation must not go unchallenged by men and of good conscience.
"President Muhammadu Buhari was supposedly elected to preside over a transparent civilian democratic government. However, what we have today is an administration of Fulani ethnic jingoists and unprecedented religious bigotry never before witnessed in Nigeria.
"This latest attempt to use military show of force in Biafraland to deal with legitimate peaceful agitation for self determination vindicates IPOB position that Nigeria is irredeemably incapable of human development.
"Where on earth is it heard that combat ready troops are deployed within the borders of a country to deal with a non-violent civil matter? Such a thing can only happen in Nigeria.
"It makes a mockery of the role of the military and nonsense of the constitution that soldiers can be ordered by one army officer, without the permission of the Senate, to kill civilian populations in an area devoid of any conflict.
"This is one of the many reasons why IPOB cannot share the same geo-political space with people that can hardly reason like humans.
"We, the IPOB advise Buratai not to march his army into Biafraland under the cover of Operation Python Dance because IPOB is agitating for self determination in a peaceful manner. We have no arms and will never resort to bearing arms.
"Buhari and Buratai should rather focus their attention on the Boko Haram- ravaged areas of Bornu, Yobe, and Adamawa. Boko Haram is a well armed army and it is the one Buratai should be facing and not market women in Aba and traders at Onitsha. We are peaceful people by nature, but will not tolerate any molestation or intimidation on our soil."
According to IPOB, by the latest action, the All Progressives Congress, APC, controlled government had once again proved that it was undemocratic, adding that its thinking was that it could intimidate Biafrans the same way it had intimidated and conquered Hausa people along with other indigenous ethnic minorities of the North.
The statement said further: "Previous Fulani Jihad campaigns to conquer and subjugate Biafraland always ended in failure and that is why Biafra has remained untainted till date.
"President Buhari and his core Arewa North are misguided into thinking that the present generation can be subdued with threats of war as they did to our fathers. Arewa people boast that they won the 1967-70 war, but as serving officers, which some of them were during that time, they knew very well that Biafra was defeated by Britain and her fellow conspirators and not Nigeria. History is replete with events and instances where British support for Nigeria, especially regarding the secret sale of weapons to General Yakubu Gowon, proved decisive in ending the war in favour of Nigeria.
"The fact remains that Nigeria, as a country, has never won any war on its own; they always need outside help to succeed. The limited gains made against Boko Haram in 2015 was as a result of the coalition put together by former President Jonathan, comprising of troops from Chad, Niger and Cameroon.
" Nigeria cannot point to any theatre of war comprising exclusively of Nigerian troops, with the exception of the Congo expedition led by Gen. JT Aguiyi-Ironsi, where they recorded any victory against an armed opposition.
"Cameroon took Bakassi Peninsula from Nigeria after a series of skirmishes between them that ended in defeat for Nigeria, both on the battlefield and in court.
"Nigerian Army is only strong when it comes to killing unarmed peaceful civilians. In battlefield against a formidable adversary, they are cowards. Whenever they come into contact with any battle ready formation, they crumble and flee.
"The few people cheering Buratai on with this ill advised military exercise were the same people that called for the execution of Mohammed Yusuf, the peaceful Boko Haram leader. His death gave Nigerians Abubakar Shekau and the deadly insurgency ravaging the North today. "Successive Nigerian governments are good at creating problems out of nothing. Had the Nigerian government not executed Mohammed Yusuf in cold blood, there wouldn't have been any Boko Haram as we know it today.
"Had Ken Saro Wiwa not been executed by the Nigerian state, there would be no militancy in the Niger Delta. Those Hausa Fulani people benefiting from defense contracts and wanting to expand the frontiers of Islam into Biafraland must know that any conflict, they ignite will consume them because Britain will no longer support them openly, should they provoke another bloody conflict in Biafra."
The statement urged Biafrans to remain calm and continue to be law abiding in their peaceful agitation to restore Biafra, advising them not entertain any fear because the entire world knew the stand of IPOB.
allafrica.com/stories/201709110023.html
--------
Al Shabaab storms Somali border town, kills at least 10 military
11 September 2017
Heavy fighting erupted on Monday in the Somali border town of Balad Hawo near Kenya after Al Shabaab detonated a suicide car bomb and then stormed the military base there, the spokesman of the al Qaeda-linked group told Reuters.
Al Shabaab, which wants to impose its strict interpretation of Islam in Somalia, has carried out frequent past attacks in Mogadishu and elsewhere in its bid to topple the Western-backed government and drive out African Union peacekeeping troops.
"First, a mujahid with a car bomb rammed into the military base and then we stormed it," the spokesman, Abdiasis Abu Musab, said.
The group also said 24 Somali soldiers were killed in the raid, but a Somali military official put the figure at around 10 dead soldiers.
"We were awoken by a suicide car bomb this morning and then fierce battle followed," Major Mohamed Abdullahi told Reuters from the town. "We lost at least 10 soldiers. We chased al Shabaab out of the town. We killed seven militants."
The death toll on both sides could still rise, however, he added.
Residents said the fighting was continuing.
"First we heard a huge blast at the military base and then heavy exchange of gunfire followed," Suleiman Nur, a shopkeeper in the town, told Reuters.
"Al Shabaab captured the military base, the police station and most part of the town," he added. "But still we hear heavy exchange of gunfire on the far side of town. I could see two military vehicles taken by Al Shabaab."
Full report at:
timeslive.co.za/news/africa/2017-09-11-al-shabaab-storms-somali-border-town-kills-at-least-10-military/
--------
Bomb attack kills 6 in central Somalia
Sep 10, 2017
At least six people have been killed and several others injured in a bomb attack carried out in central Somalia, police and residents say.
Major Hussein Osman, a police officer, said the bombing in the central city of Beledweyne on Sunday afternoon rocked a restaurant outside the office of the governor of Hiran region where he was holding a meeting.
Beledweyne is located about 340 kilometers north of the capital Mogadishu.
"A bomber blew up himself in a restaurant," the officer said.
Farah Ali, a local elder, said clan elders were among the dead. "The bomber, who had an explosive jacket, stood inside the restaurant and blew up himself. We were heading to a meeting in the governor's office when it happened."
Abdiasis Abu Musab, a spokesman for the Takfiri al-Shabab militant group, has claimed responsibility for the assault. "We are behind the attack at the Hiran governor's headquarters. There are casualties. We targeted the workers of the Hiran administration."
The al-Qaeda-linked group has in the past carried out frequent attacks in Mogadishu and other parts of Somalia in a bid to topple the country's government and drive out African Union peacekeeping troops.
Somalia has been at war since 1991, when clan-based warlords overthrew dictator Siad Barre and then turned on each other.
The country has been the scene of deadly clashes between government forces and al-Shabab militants since 2006.
Full report at:
presstv.ir/Detail/2017/09/10/534698/Somalia-Major-Hussein-Osman-Beledweyne--al-Shabab
--------
7 killed in Boko Haram attack on displaced camp
Sep 9, 2017
At least seven people were killed when Boko Haram militants attacked a camp for people displaced by the conflict in northeast Nigeria, militia members and locals said Saturday.
The attack on Friday evening in Ngala, near the border with Cameroon, came as two people were killed in an explosion outside another camp in the Borno state capital, Maiduguri.
In Ngala, a civilian militia member, Umar Kachalla, said militants in two pick-up trucks fired a rocket-propelled grenade at the camp, which houses some 80,000 people.
"They (Boko Haram) fired an RPG into the camp from behind the fire fence, killing seven people and injuring several others," he told AFP from the neighboring town of Gamboru.
The attack, which happened at about 8:00 pm (1900 GMT), was followed by sustained gunfire as the militants drove away into the darkness, he added.
Ngala resident Abubakar Yusuf, who corroborated Kachalla's account, said: "The casualties were relatively minimal because most people had retired for the night."
The camp in Ngala was set up in January last year after the return of thousands of Nigerian refugees from Cameroon, where they had fled the fighting.
Boko Haram seized the trading hubs of Gamboru and Ngala in August 2014, during the group's rapid seizure of territory across Borno state and the wider northeast.
Nigerian troops retook both towns in September 2015 with the help of Chadian forces.
But despite the recapture of the area, Boko Haram fighters still launch sporadic attacks, laying ambush to troops and vehicles as well as attacking and abducting farmers.
'Rise in attacks'
Nigeria's military and government maintains the Daesh affiliate is a spent force but continued attacks underline the lingering threat, particularly to civilians.
Eight farmers were killed in a series of raids on farming communities on Wednesday and Thursday. Four others were shot dead on Tuesday.
Many of the victims had returned home to try to grow crops to alleviate acute food shortages that have left hundreds of thousands of people on the brink of starvation.
Amnesty International said a spurt in Boko Haram attacks has left nearly 400 people dead since April in Nigeria and Cameroon -- double the figure of the previous five months.
In Maiduguri on Friday, two people were killed in an explosion outside the Muna Garage camp for internally displaced people (IDPs).
Babakura Kolo, from the civilian militia assisting the military with security, said two women were asked to get out of a taxi laden with bags of charcoal at a checkpoint.
"One of the women tried to run into a crowd nearby but the explosives concealed under her hijab went off prematurely," he said.
"A female passenger in the taxi and a rickshaw driver trailing behind were killed in the explosion," he said in an account supported by a militia colleague, Musa Ari.
Five people -- the taxi driver, another passenger and three men in the rickshaw -- were injured, they added.
Full report at:
presstv.ir/Detail/2017/09/09/534569/Nigeria-Boko-Haram-militants-raid-victims-explosion-Maiduguri-
--------
UN rights chief slams EU's failure to halt abuses against refugees in Libya
Sep 9, 2017
The top UN human rights official has described as a failure a European-African agreement to contain the flow of refugees seeking to reach Europe through Libya, censuring the EU for turning a blind eye to the abuses the refugees face during the perilous journey to Europe.
In an article published Friday by the UN, the world body's High commissioner for Human Rights Zeid Ra'ad al-Hussein said it was significant that the agreement -- struck in Paris on August 28 between leaders of France, Germany, Italy, Spain, Chad, Niger and Libya – recognized the need for a comprehensive response to the plight of Europe-bound refugees.
The signatories of the deal agreed on a plan to tackle illegal human trafficking and support countries battling to stem the flow of asylum seekers across the desert and Mediterranean Sea.
"But it is very thin on the protection of the human rights of migrants inside Libya and on the boats, and silent on the urgent need for alternatives to the arbitrary detention of vulnerable people," Hussein wrote in the article.
Hussein's office released a report last December on abuses faced by refugees mostly from the Middle East and Africa in Libyan detention centers, "but memories are short when facts are inconvenient," he wrote.
Since then the situation had deteriorated, with far too many allegations to verify and reports of bodies "in the desert, in the forest, on the beaches," according to Hussein, who added that Libya's morgues were overflowing.
"A coastguard that sometimes rescues migrants in distress – but sometimes chooses not to. Like the militias onshore, coastguards also sometimes beat, rob and even shoot the migrants they intercept," said the UN official.
Apart from the families awaiting word from missing relatives, hardly anybody seemed to care, he wrote, underlining that the EU faces a moral and legal dilemma for relying on cooperation with Libyan coastguards and downplaying their abuses, which include shooting at aid workers trying to rescue refugees.
Hussein further supported a letter to European leaders by Joanne Liu, the head Doctors without Borders, a charity group that has dispatched aid workers to affected areas to rescue refugees.
The letter, entitled "European governments are feeding the business of suffering," asks: "Is allowing people to be pushed into rape, torture and slavery via criminal pay-offs a price European governments are willing to pay?"
Libya has turned into a scene of rampant militancy since the NATO military intervention of 2011 amid an uprising that led to the ouster of longtime dictator, Muammar Gaddafi.
Back in April, the United Nations' International Organization for Migration (IOM) raised the alarm over a climbing number of refugees passing through Libya, who were being traded in so-called slave markets before being held for ransom and subjected to malnutrition and sexual abuse.
The organization says it has identified close to 350,000 internally displaced people in Libya.
Full report at:
presstv.ir/Detail/2017/09/09/534546/Libya-UN-human-rights-chief-Zeid-Raad-alHussein-EU-refugee-abuse-human-trafficking
--------
Suicide attack kills 2 in central Somalia
10 September 2017
At least two people were killed and 15 injured on Sunday in a suspected suicide bombing at a busy restaurant in central Somalia.
"The attacker detonated his suicide belt in Beledweyne town [in Hiran region near the Ethiopian border]," said Omar Adan, the local governor.
The casualties include three journalists and several civilians, he added.
Mohammed Ali, a medical officer, said he had received 15 injured at the local hospital.
Al-Shabaab, a Somalia-based militant group, claimed responsibility for the attack.
The group has been driven out of Somalia's major towns by a UN-mandated African Union force (Amisom) of some 18,000 soldiers, but still controls large parts of southern Somalia.
worldbulletin.net/africa/193842/suicide-attack-kills-2-in-central-somalia
--------
Mauritania says US anti-slavery visit 'illegal'
10 September 2017
The West African state of Mauritania on Saturday attacked US anti-slavery campaigners to whom it had denied entry, saying their trip would have violated the law.
Slavery was officially outlawed in Mauritania in 1981 but remains entrenched in a hereditary system of servitude.
"We told the American embassy, which gave us the delegation's programme, that entry visas would not be issued because we consider the programme to be in breach of Mauritanian law," government spokesman Mohamed Lemine Ould Cheikh, who is also culture minister, told AFP.
"There were no consultations with the (Mauritanian) authorities over the programme, as is customary, and it consisted only of meetings with targeted parties who are working on a specific agenda," Ould Cheikh said, without giving further details.
Slavery is engrained in Mauritania. Light-skinned Berber Arab Moors enslaved local black populations after settling in the vast, largely desert nation centuries ago.
Servitude persists today under a hereditary system in which members of the "slave" caste work without pay as cattle herders and domestic servants, despite an official ban.
The trip was organised by a Chicago-based anti-slavery group which is part of US pastor Jesse Jackson's Rainbow/PUSH Coalition.
The campaigners' schedule included meetings with Mauritanian and US embassy officials and members of civil society.
But Ould Cheikh contended that the visit would have been divisive.
"The (country's) slavery programme concerns all Mauritanians, and they must be brought into the debate which concerns them," he said.
"Our laws reject communitarism (and) ethnocentrism, and work for unity, for strong relations between national communities. This is why we refused to admit this delegation."
He added: "Several other American human rights organisations, including State Department missions, have stayed in Mauritania, and been welcomed adequately."
During a meeting on Saturday with the local anti-slavery group, SOS Esclaves, the US ambassador to Mauritania, Larry Andre, said he was surprised by the visa refusal.
The delegation's priority was to "meet and exchange views with the Mauritanian authorities on the issue of slavery," he said.
The Australia-based Walk Free Movement estimated in its 2014 Global Slavery Index that there were 156,000 slaves in Mauritania, or some four percent of the population.
In August 2015, the country passed a law that doubling prison terms for slavery, with up to 20 years in jail.
Full report at:
worldbulletin.net/africa/193836/suicide-attack-kills-2-in-central-somalia
--------
URL: https://www.newageislam.com/islamic-world-news/after-muslims-hindus-flee-persecution/d/112491
New Age Islam, Islam Online, Islamic Website, African Muslim News, Arab World News, South Asia News, Indian Muslim News, World Muslim News, Women in Islam, Islamic Feminism, Arab Women, Women In Arab, Islamophobia in America, Muslim Women in West, Islam Women and Feminism