New Age Islam News Bureau
08 November 2022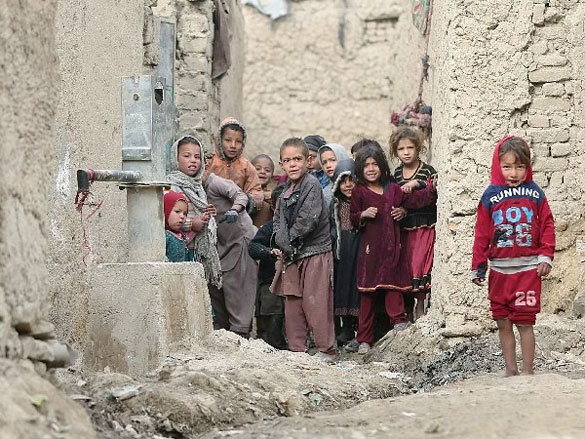 Representative Image
---------
• Palestine calls on international community to stop Israeli criminal acts, settlers' terrorism
• Use of terror group's name 'al-Shabaab' banned in Somalia
• Kerala governor Arif Mohammed Khan tells 2 TV channels to 'get out'
• In Pakistan's Sindh province, Hindu culture fights the odds
• US Sanctions Members of Islamic State Cell Operating in South Africa
• Australian white supremacist who killed 51 in New Zealand mosques appeals life sentence
• Situation of Uighurs and Other Ethnic Turkic Muslims
• 'Cooperate or perish' UN chief Antonio Guterres tells world leaders at COP27
South Asia
• Taliban is reaching your living rooms, and YouTubers are helping
• Karzai criticizes Pakistan for mistreating Afghan refugees
• Kyrgyz Envoy Meets Top Islamic Emirate Officials
• Haqqani Asks Taliban Forces to Observe Personal Hygiene and Wear Fragrances
--------
Mideast
• In Geneva, UN panel holds hearings on Israeli rights violations in Palestinian territories
• Iran Captures All Perpetrators Behind Shah Cheragh Terror Attack
• Top Commander: Advanced Air Defense System Capable of Confronting 5th-Generation Fighters
• IRGC Busts 3 MKO-Linked Terror Networks in Separate Operations
• Judiciary Chief: US, UK, Israel Waging Hybrid War Against Iran
• Iranian Border Guards Seize 600 Weapons in Less Than 2 Months
• Iranian Deputy FM Blames US for Abusing Int'l Bodies
• Iran, Russia Discuss Regional, International Developments
• UK-based news channel says journalists threatened by Iran's IRGC
• 'Like an execution:' Palestinian NGOs detail Israeli crackdown
• Iran summons Norway's envoy over 'interventionist' comments in support of protests
• 'I've grown up,' far-rightist tells Israelis worried about his rise
• Jordan warns Israeli PM of diplomatic pitfalls if al-Aqsa status quo changed
• Israeli settlers spray Palestinian-owned olive trees with toxins
--------
Africa
• South Africa: Probe into Anti-Apartheid Activist Imam Haron's Death Reopens
• Ethiopian government, Tigray officials meet in Nairobi to continue peace talks
• Nigerian Air Force says it killed 2 top Daesh/ISIS terrorists
• 10 dead as Al-Shabab attack Somali military base
--------
India
• UP Court To Pronounce Verdict On Plea Seeking To Worship 'Shivling' Inside Gyanvapi Mosque
• Congress in Kerala hails Supreme Court verdict upholding EWS quota; Muslim League expresses anxiety
• Day after AAP yatra, Ahmedabad Muslim-majority areas 'in no hurry to shift from Cong to party we don't know'
• Experts at AMU discuss subtitling, pragmatics of audio-visual translation
• Muslim intellectuals plan to discuss burning community issues with Prime Minister Modi
• Dehradun: Muslim man seeks DM nod to embrace Hinduism
--------
Pakistan
• Police finally register FIR over attack on PTI chief following SC intervention
• Former Pakistan PM Imran Khan rejects Pakistan police report into shooting
• Pakistan PM's China trip: More words, little action
• China says done 'utmost' and will continue to do so to stabilise Pakistan's weak economy
• 'Act now' to stop 'abuse' of power: Imran Khan in a letter to Pakistan President Alvi
• Pakistan's former foreign minister Qureshi to lead march until Imran Khan recovers
• Imran claims 'malcontent' agency insiders feeding him information
• PTI not behind slogans against army: Asad Qaiser
• Militant commander killed in Khyber raid
• 'Hakeem' Sanaullah prepared effective remedy to deal with PTI marchers: Fazl
--------
North America
• Mehmet Oz could be the first Muslim US Senator, but some Muslim Americans are ambivalent
• Biden congratulates Netanyahu on Israel elections, reaffirms US support
• Armenia, Azerbaijan leaders hold talks in US with Blinken hours after new shootout
--------
Europe
• UK Conservatives face fresh pressure over Islamophobia allegations
• UN chief proposes debt relief for Pakistan
• Pro-Imran graffiti appears outside Sharifs' office in London
• Zelenskyy congratulates Netanyahu on Israel election win
• UK PM Sunak congratulates Netanyahu on Israel election win
• Sweden reiterates bid to join NATO ahead of Turkey Talks
• Greece, Türkiye should resolve differences through diplomacy: US envoy in Athens
• Germany condemns rocket attacks in Syria's Idlib
• Australian engineer jailed in Iraq facing 'death sentence' amid health fears
• Palestinian tycoon shot by British forces as boy launches bid to redress colonial-era abuses
• Qatar hits back at Germany over criticism of World Cup host's rights record
--------
Southeast Asia
• Seven deadly sins of Malaysia's approach to education
• Domestic politics or international relations: Malaysia's 15th general election
• DAP man out to prove that Kedah Malays can accept the party
• Exploring Islamic influences in Niujie, a small district near Beijing
• In what could be his last Malaysia election, can Muhyiddin help Bersatu weather a tough challenge?
• Police probing Perak PAS chief over allegedly defamatory remarks
• Not in manifesto, but BN still pledging 3 DPMs, says Zahid
• Lodge report with MACC, Rafizi told on RM2bil project claim
• Indonesian president receives UAE international peace award
--------
Arab World
• Assad regime's property rights violations complicate return of displaced Syrians
• Muslim Council of Elders congratulates King of Bahrain for success of Bahrain Dialogue Forum
• Ancient pre-Islamic Christian monastery uncovered in UAE
• Saudi Arabia commits $2.5 billion to Middle East green initiative: Crown Prince Mohammed bin Salman
• UAE fights Covid-19: Muslims pray mask-free for first time in 28 months
• US citizen killed in central Baghdad: Police sources
• Saudi Minister of Defense makes phone call to Iraqi counterpart
• Saudi court sentences teenager to death over preparing iftar meal for political opponent: Rights group
• Children living in 'open air prison' at Syria's al-Hol camp: MSF
• Syria cholera outbreak worsened by Assad regime, Turkey: HRW
• World leaders at COP27 gather for a family photograph
• Saudi crown prince to attend Mideast Green Summit in Egypt
Compiled by New Age Islam News Bureau
URL: https://newageislam.com/islamic-world-news/afghanistan-humanitarian-crisis-palestine/d/128360
--------
Afghanistan: People raise concern over humanitarian crisis as winter approaches
7 November, 2022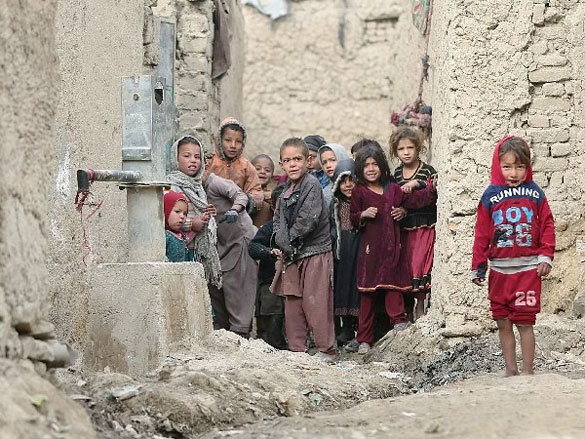 Representative Image
---------
Kabul [Afghanistan], November 7 (ANI): As the winter season is coming closer, Afghanis' concern for humanitarian crisis has grown, Khaama Press reported.
In the most recent report, the Office for the Coordination of Humanitarian Affairs (OCHA) stated that in 3 years, the poverty rate in the country has grown from 47 per cent to 97 per cent.
According to the report by OCHA, in 2020, the poverty rate was 47 per cent, which grew to 70 per cent in 2021 and then to 97 per cent in 2022. This data depicts that 97 per cent of Afghanistan's population lives under the poverty line as Afghanistan faces one of the world's worst humanitarian crises.
The report's rate of poverty in Afghanistan has been linked to factors such as the decline in income, a rise in food costs and inflation, drought, unemployment, and natural catastrophes, reported Khaama Press.
Due to loss of economic prospects and the exodus of significant numbers of human resources, poverty and unemployment in Afghanistan have intensified since the Taliban took back power in August 2021.
There are hundreds of young people who are left with no job. Afghanistan is struggling with poverty and unemployment despite their extensive experience and educational credentials in various political, cultural, and social fields, according to Khaama Press.
Earlier, according to the World Bank's (WB) new Afghanistan Development Update, the country's economy contracted by about 20 per cent in 2021.
The World Bank report released, in October, points to a sharp decline in public spending, lower household incomes, and reduced consumption caused aggregate demand to fall. It also highlights disruptions in the payment system and supplies constraints further hampered private sector activities, initially forcing many businesses to close or scale down their operations.
"Preliminary statistics on the gross domestic product (GDP) show that the economy contracted by about 20 per cent in 2021. Over the past year, the resumption of off-budget international support for humanitarian needs and basic services helped mitigate some of the negative impacts," the World Bank report said.
The report concludes that Afghanistan is a much smaller economy now. "While there are signs of economic stabilization and resilience of Afghan businesses, the country continues to face enormous social and economic challenges that are impacting heavily on the welfare of the Afghan people, especially women, girls, and minorities," said Melinda Good, World Bank Country Director for Afghanistan.
"Living conditions showed slight improvements in the past few months, but deprivation remains very high across the country, and persistent inflation might further erode any welfare gains."
"The report projects that the real GDP in 2022 will contract further, with an accumulated contraction of close to 30-35 per cent between 2021 and 2022, before moving to a low-growth path (2.0 to 2.4 per cent) for the next two years, with no improvement in per-capita income," the World Bank said.
The report says that poverty is expected to remain widespread, with over two-thirds of households in the country struggling to cover basic expenses. (ANI)
Source:ThePrint
Please click the following URL to read the text of the original story:
https://theprint.in/world/afghanistan-people-raise-concern-over-humanitarian-crisis-as-winter-approaches/1203260/
--------
Palestine calls on international community to stop Israeli criminal acts, settlers' terrorism
07 November 2022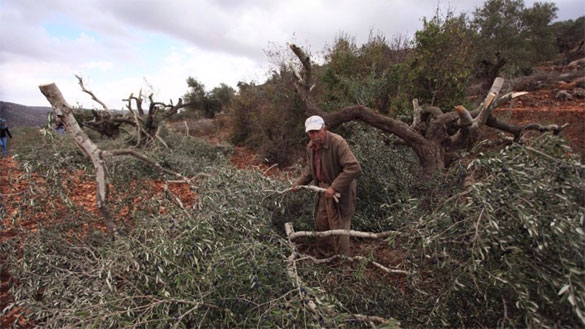 In this file picture, Palestinian olive farmers check damage to their olive trees that were cut down by Israeli settlers in the occupied West Bank. (Photo via Twitter)
------------
The Palestinian Ministry of Foreign Affairs and Expatriates has called on the international community to take on its responsibilities, and stop the Israeli regime's criminal acts as well as continued acts of vandalism and violence by settlers, known as price tag attacks, across the occupied territories.
"These crimes are an integral part of the bloody and systematic Israeli escalation against our people with the aim of breaking their resilience and adherence to their just and legitimate national rights and land," the ministry said in a statement released on Monday.
The statement added that the Tel Aviv regime is making attempts "to force our people to surrender, coexist with occupation and [illegal] settlements, and accept them as a fait accompli that is difficult to change."
It described the organized attacks by armed settlers on Palestinian civilians and their land and property as tantamount to the actions of Israeli military forces, stressing that they are Israel's official denial of the just and legitimate rights of Palestinians which have been officially endorsed by the United Nations.
The Palestinian foreign ministry then held the Israeli regime responsible for the escalating tensions across the occupied territories, stating that the current situation threatens an explosion that would plunge the entire Middle East region into a spiral of violence.
The ministry then warned the international community that the ongoing hostilities would have adverse effects on the so-called two-state solution, as well as efforts to ensure calm, resolve the Israeli-Palestinian conflict, and achieve security and stability in the region.
Earlier in the day, Israeli settlers vandalized and sprayed hundreds of Palestinian-owned olive trees in the West Bank with chemicals.
Israeli authorities also demolished four Palestinian-owned buildings in occupied East al-Quds and the West Bank under the pretext of construction without a permit.
Incidents of sabotage and violence by settlers against Palestinians and their property have become a daily occurrence throughout the occupied territories, particularly in the West Bank.
However, Israeli authorities rarely prosecute settlers, and the vast majority of the files are closed due to deliberate police failure to investigate them properly.
Settler violence includes property and mosque arson attacks, stone-throwing, uprooting of crops and olive trees, and attacks on vulnerable homes.
Israeli settlers have noticeably escalated attacks against Palestinians in the occupied West Bank in recent months.
The United Nations has already warned of a surge in Israeli settler violence against Palestinians, mostly in the areas of al-Khalil, al-Quds, Nablus and Ramallah.
More than 600,000 Israelis live in over 230 settlements built since the 1967 Israeli occupation of Palestinian territories of the West Bank and East al-Quds.
All the settlements are illegal under international law. The UN Security Council has condemned Israel's settlement activities in the occupied territories in several resolutions.
Israel routinely demolishes Palestinian houses in the West Bank and East al-Quds, claiming the structures have been built without the so-called permits, which are almost impossible to obtain. They also sometimes order Palestinian owners to demolish their own houses or pay the demolition costs.
Israel has occupied thousands of dunums of Palestinian agricultural land to construct and expand settlements in various areas of the West Bank.
The regime also plans to force out Palestinian families from neighborhoods in East al-Quds in an attempt to replace them with settlers.
Palestinians want the West Bank as part of a future independent state with East al-Quds as its capital.
Source: Press TV
Please click the following URL to read the text of the original story:
https://www.presstv.ir/Detail/2022/11/07/692326/Palestine-calls-on-intl--community-to-stop-Israeli-criminal-acts,-settlers%E2%80%99-terrorism
--------
Use of terror group's name 'al-Shabaab' banned in Somalia
Mohammed Dhaysane
07.11.2022
MOGADISHU, Somalia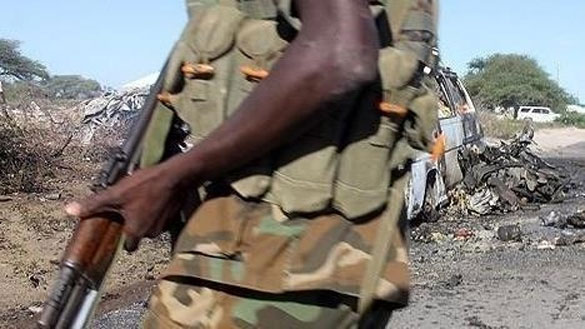 The Somali government on Monday banned the use of the name "al-Shabaab," referring to the al Qaeda-linked terror group that the majority-Muslim nation said is a deviant sect.
In a statement, Somalia's Ministry of Religious Affairs also barred scholars from having dealings with the armed terror group, which it said should rather be referred to as "Khawarij," a term describing a deviant sect.
"By executing the orders of the nation's leaders and recommendations from the religious scholars, the Ministry has banned the use of term al-Shabaab and only should be called them as Khawarij," said the statement, forbidding the group's ideology, as well.
The new order came after President Hassan Sheikh Mahamud announced a "total war" against the group.
Somalia has been grappling with security threats for years, with al-Shabaab being one of its main concerns.
Since 2007, the terror group has fought the Somali government and international forces in a deadly campaign that has claimed thousands of lives.
The UN has warned of growing instability in the country, with its periodic reports on Somalia this year detailing attacks by al-Shabaab and groups aligned with the Daesh/ISIS terrorist organization.
At least 1,242 civilians were killed in terrorist attacks in Somalia in 2018-2019, while 1,735 were injured, according to UN figures.
Source: Anadolu Agency
Please click the following URL to read the text of the original story:
https://www.aa.com.tr/en/africa/use-of-terror-groups-name-al-shabaab-banned-in-somalia/2731999
--------
Kerala governor Arif Mohammed Khan tells 2 TV channels to 'get out'
Nov 8, 2022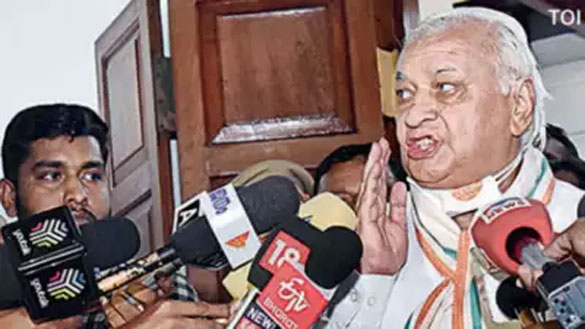 Governor Arif Mohammed Khan on Monday alleged that a system of "oligarchy" was prevailing in the state under the CPM rule, as evident in incidents of party cadres being appointed in government jobs
------------
KOCHI: Governor Arif Mohammed Khan who never tires of reminding everyone of chief minister Pinarayi Vijayan's notorious ''kadakku purathu' (go out) remarks to the media did one better on Monday by singling out two news channels and telling them to "get out" and making it clear that "I don't want to talk to you".
The unprecedented behaviour of the governor came after he ratcheted up the political rhetoric, alleging that the CPM was turning the state into an oligarchy and had initiated the "collapse of constitutional machinery''.
The governor refused to speak to reporters of Kairali and MediaOne news channels at a news conference he convened, alleging that they were "party cadres masquerading as journalists" and "they have campaigned against me". "I hope there is no Kairali or MediaOne here.
I don't want to talk to you. Get out. I won't talk to you. Please go away...You are settling scores with me in Shah Bano. You are carrying out a campaign against me. I will not talk to Kairali and MediaOne. Please, if there is anyone, please get out from here," Khan said.
He also alleged that a system of "oligarchy" was prevailing in the state under the CPM rule as evident in incidents of party cadres being appointed in government jobs, referring to recent developments in Thiruvananthapuram corporation after a letter purportedly written by mayor Arya Rajendran asking party district secretary for a "priority list" of applicants for temporary posts came out in public.
On the letter row, he said it was not the first of its kind. "I am informed that many other such letters exist with people and they will come to light soon. They [CPM] have become like the oligarchy of Kerala.
The young men and women of Kerala go to different states and foreign countries looking for jobs, but relatives of the CPM leadership are accommodated in universities and other temporary and permanent jobs," Khan said.
Reacting to the government challenging the appointment of Ciza Thomas as vice-chancellor-in-charge of APJ Abdul Kalam Technological University (KTU), Khan said what they were doing had 'initiated the process of collapse of constitutional machinery'.
"I would ask them to create more problems. Barge into Raj Bhavan if they have the guts. Attack me on the road. The chief minister says he doesn't know who I am. But I know who he is," he said. The reporters of CPMcontrolled Kairali and MediaOne channels were among those who took prior permission from Raj Bhavan via email to cover Khan's interaction with the media at the government guest house here
. "I have always responded to the media. But I am not able to persuade myself now to respond to those who masquerade as media. There are actually members of the party here. I don't want to talk to them. I would walk away if there are correspondents from Kairali and MediaOne," he said.
Both the CPM and Congress criticised his outburst. CPM state secretary M V Govindan said the governor was trying to provoke everyone with his undemocratic attitude while KPCC president K Sudhakaran said the governor cannot take a stand that he will not speak to media who criticize him.
The Kerala Union of Working Journalists will take out a protest march to Raj Bhavan on Tuesday. On the government decision to seek legal opinion from senior Supreme Court advocate paying Rs 45 lakh, Khan said it was proof of incompetence of the state's law department.
He also said the CPM decided to conduct a house-to-house campaign against him after people started asking questions about their actions. "People are now asking questions: Are all the jobs under Kerala government and universities reserved for CPM cadres and powerful people in Thiruvananthapuram? They [CPM] are going to campaign to clarify their position because these questions are asked in every home now," Khan said.
Khan also said the government could go to the President if he was guilty of breaching any propriety and approach the court if he violated any law. He also 'welcomed' the CPM plan to conduct rallies and dharna against him and challenged them to hold a public debate with him.
He said the CPM central leadership has refused to side with the state leadership on finance minister KN Balagopal's earlier remarks that those accustomed to the practices in places like Uttar Pradesh might not be able to understand the democratic nature in which universities function in Kerala.
Source: Times Of India
Please click the following URL to read the text of the original story:
https://timesofindia.indiatimes.com/city/kochi/governor-arif-mohammed-khan-does-a-kerala-cm-pinarayi-vijayan-tells-journos-to-get-out-wont-talk-to-you/articleshow/95367435.cms
--------
In Pakistan's Sindh province, Hindu culture fights the odds
November 7, 2022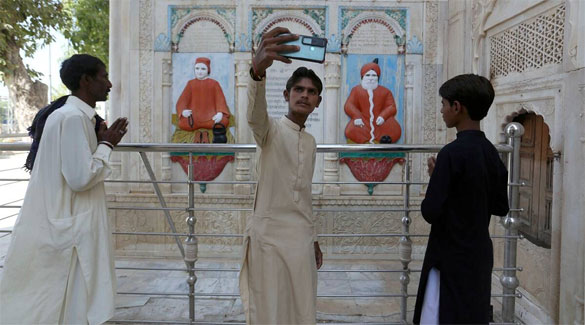 A teenager from Pakistani Hindu community takes selfie with his phone while he with others visit at the Sadhu Bela temple, located in an island on the Indus River, in Sukkur, Pakistan, Wednesday, Oct. 26, 2022. (AP Photo/Fareed Khan)
-----------
On the sandy banks of the Indus River, which flows top to toe through Pakistan and into its southern Sindh province, Hindus waited for brightly coloured boats to ferry them to a peaceful island that has housed a temple for almost 200 years.
Cheers rang out across the water as the marble and sandalwood Sadhu Bela temple complex heaved into view. "Long live Sadhu Bela!" the boat's passengers cried.
The temple attracts tens of thousands of Hindus from within Muslim-majority Pakistan every year for festivals and rituals, including the recent celebrations of Diwali.
The island was gifted to the Hindu community by wealthy Muslim landlords in Sindh two centuries ago. It would have been an unthinkable act in modern-day Pakistan, where Hindus are often marginalised, persecuted, and even killed.
Around 4 million Hindus live in Pakistan, or about 1.9 per cent of the country's population, and 1.4 million are in Sindh.
There is no ban on Hindu worship in Pakistan, but Hindus say openly practicing the faith is not a matter of routine. Decades of political hostility between India and Pakistan present a challenge for the minority community, as many in Pakistan equate Hindus with India. The reverse exists in India where Muslims complain of discrimination.
But the landscape of Pakistan, and Sindh in particular, retains their imprint. It has temples, although their numbers have plummeted. There are Hindu-run businesses as well as education and healthcare institutions, many established before the country was created in 1947. They are part of Pakistan's heritage, even as Hindus are forced into the shadows.
As Sadhu Bela came alive with the delight of devotees exploring the courtyards and gardens, Dewan Chand Chawla, a local politician and general secretary of the Pakistan Hindu Temple Management Committee, spoke proudly of the temple's origins and features. The shrine, which celebrates its bicentennial in 2023, was built by craftsmen from the Indian city of Jodhpur and reflects the architectural style of the Taj Mahal.
"A large part of the Hindu population migrated to India after Pakistan came into being, but those who stayed here are happy and prosperous," Chawla said, keen to stress the harmonious relationship between the Muslim majority and Hindu minority. "I am thankful to the Muslim community of Pakistan, which fully supports us on all occasions. We follow the law and we are supported by the government." His assertion about a happy and prosperous Hindu community is not the majority view, however. Rights groups have long alleged that Pakistan is not doing enough to protect Hindus' freedom of religion and belief. They cite temple desecrations, attacks on businesses, homes, and individuals and the abduction, forced conversion, and forced marriage of young Hindu women.
Chawla is not the only politician to emphasise an image of religious coexistence in Pakistan. "Most of the Hindu population of the country live in Sindh province satisfactorily, peacefully and without any fear or threat," said Waqar Mahdi, a senior advisor to Sindh's chief minister.
Mahdi said provincial officials have prioritized protecting the rights of minorities like Hindus and Christians.
But Zahida Rehman Jatt, a University of Sindh lecturer in anthropology and social sciences, said there has been a surge in discrimination and marginalization of Hindus because of rising extremism and fundamentalism in the country. This intolerance risks undermining Pakistan's ties to its Hindu heritage, she said.
"It's sad because their (Hindus') contribution is huge to Pakistan," she said. "Most Pakistanis are not aware of the importance of Hindu heritage or the contribution that Hindus — and Sikhs — made for the betterment of Pakistani society." Some Hindu-founded institutions had their names changed after Pakistan was created, she said, citing Hyderabad's Kundan Mal Girls' School as an example. It was founded in 1914 by Hindu philanthropist Saith Kundan Mal, but is now known as Jamia Arabia Girls School. Such changes are one reason why Pakistanis don't know about the contribution of minority faiths, she said.
Other institutions still bear the names of their Hindu benefactors, including a red brick college and two hospitals in the city Shikarpur, around 35 kilometers from Sukkur.
On the first night of Diwali, one of the most important festivals in Hinduism, clay lamps subtly illuminated doorways and windowsills in Shikarpur. But there were no elaborate light displays or street festivities, and traditional Diwali firecracker fun took place away from the public gaze.
The city of about 200,000 people has a rich Hindu history and traditions, now gradually fading.
One of the keepers of that history can be found in a vast courtyard off a side road. On a recent day in late October, sweet shop owner Dewan Narain Das, 67, enjoyed the cool air. Vats of food bubbled away, children ran and played outdoors, and people gathered to exchange Diwali gifts and good wishes on the holy occasion.
His family has owned a business in Shikarpur since the late 19th century. It started as a soft drink store and, after partition, became a sweet shop. It is famous in the city for falooda, an ice-cream-based dessert with noodles. Das is so well-known in the city that it is easy to find him just by asking for "Dewan Sahib, who owns the falooda shop." "People who have lived here for a long time say that the taste they enjoyed 20 years ago is still there in our products," said Das.
He said Shikarpur once had a sizeable Hindu community and scores of temples, a number that has since dwindled. "Rich people used to organize picnics at the Indus River," he said. "They used to live here, but their businesses spread to Singapore, Hong Kong, and Mumbai." Many Hindus left after partition, and their properties were taken over by a government trust. Today, Pakistan has a population of some 225 million people.
Jatt, the scholar, said that the properties were allotted to refugees coming into newly created Pakistan from India. Most of the tenants paid minimal rent and were often unable to take care of the properties. "They (the residents) are very poor and these properties are grand, previously owned by wealthy Hindus," Jatt said.
After partition, politicians trying to forge a Pakistani narrative emphasised the Muslim heritage, downplaying the contributions of other communities, Jatt said.
"I don't think we will see this kind of legacy or contribution again from Hindus, the opportunities are on the decline," she said. "There may be individual cases of philanthropy, but the scale of building and philanthropy will decrease."
Source: IndianExpress
Please click the following URL to read the text of the original story:
https://indianexpress.com/article/pakistan/in-pakistans-sindh-province-hindu-culture-fights-the-odds-8255083/
--------
US Sanctions Members of Islamic State Cell Operating in South Africa
NOVEMBER 07, 2022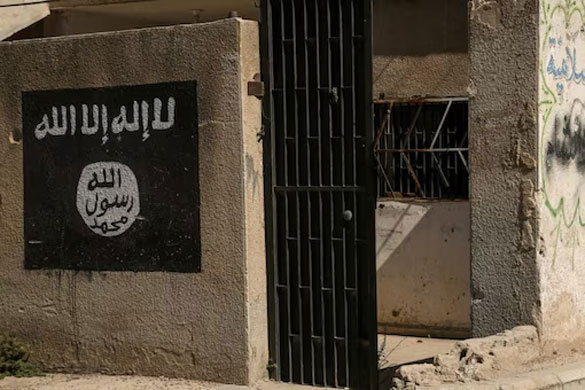 The Treasury Department said the aim is to choke off support for the network and stem the expansion in the region. (Shutterstock)
------------
Washington on Monday announced sanctions targeting members of an Islamic State cell operating in South Africa as well as companies they control, in retaliation for their support of the terrorist group.
The Treasury Department said the aim is to choke off support for the network and stem the expansion in the region.
"Today, Treasury is targeting key individuals in ISIS's network in South Africa, as well as their business assets, who have played pivotal roles in enabling terrorism and other criminal activities in the region," said Brian E. Nelson, Treasury's top terrorist finance watchdog.
The move blacklists four individuals and eight companies, freezing any US assets and denying them the ability to use the US financial system.
"The United States, as part of the Global Coalition to Defeat ISIS, will continue to partner with South Africa to deny ISIS the ability to exploit the country's economy to raise and move funds to support the growth of ISIS affiliates and networks," Nelson said in a statement.
The sanctions target members of the Durban, South Africa-based ISIS cell led by Farhad Hoomer, who was previously targeted by sanctions. They are brothers Nufael Akbar and Yunus Mohamad Akbar, as well as Mohamad Akbar and Umar Akbar.
The companies hit with sanctions are MA Gold Traders (PTY) LTD, Bailey Holdings (PTY) LTD, Flexoseal Waterproofing Solutions (PTY) LTD, HJ Bannister Construction CC, Sultans Construction CC, Ashiq Jewellers CC, Ineos Trading (PTY) LTD, and Shaahista Shoes CC.
Source:News18
Please click the following URL to read the text of the original story:
https://www.news18.com/news/world/us-sanctions-members-of-islamic-state-cell-operating-in-south-africa-6331285.html
--------
Australian white supremacist who killed 51 in New Zealand mosques appeals life sentence
November 8, 2022
WELLINGTON - The Australian white supremacist who murdered 51 people at two New Zealand mosques in 2019 will appeal his conviction and life sentence, a court officer told AFP Tuesday.
Armed with an arsenal of semi-automatic weapons, Brenton Tarrant had attacked Friday worshippers at two mosques in March 2019, livestreaming the killings as he went. His victims were all Muslim and included children, women, and the elderly.
Tarrant pleaded guilty in 2020 to 51 charges of murder and 40 counts of attempted murder, and was sentenced to life in prison without the possibility of parole – the first time a whole-life term has been handed down in New Zealand.
"An appeal against convictions and sentence has been filed," Ms Liz Kennedy, a spokesman in the Office of the Chief Justice, said Tuesday.
During the sentence in August 2020, Judge Cameron Mander said he was imposing the harshest possible term for Tarrant's "inhuman" actions.
"Your crimes are so wicked, that even if you are detained until you die it will not exhaust the requirements of punishment and denunciation," Judge Mander said at the time.
Tarrant's lawyer, Mr Tony Ellis, had said that his client said his pleas were entered under duress and "decided that the simplest way out was to plead guilty".
After Tarrant's 17-minute livestream of his mosque attacks, Facebook said it removed a staggering 1.5 million videos that proliferated within the first 24 hours showing the harrowing viral footage. AFP
Source:StraitsTimes
Please click the following URL to read the text of the original story:
https://www.straitstimes.com/asia/australian-white-supremacist-who-killed-51-in-new-zealand-mosques-appeals-life-sentence
--------
Situation of Uighurs and Other Ethnic Turkic Muslims
November 07, 2022
The United States will continue to shine a light on the PRC's genocide and crimes against humanity, against Uighurs and members of other religious and ethnic minority groups in Xinjiang.
In 2017, reports emerged of severe restrictions on the freedoms of religion or belief, movement, association and expression in Xinjiang, China, according to the United Nations. These reports were later corroborated by numerous open-source reports, including testimony from victims and their families. The United Nations Office of the High Commissioner for Human Rights conducted its own investigation and issued a report in late August, which concluded that "The extent of arbitrary and discriminatory detention of members of the Uighur and predominantly Muslim groups... may constitute international crimes, in particular crimes against humanity" and notes that "serious human rights violations have been committed" in Xinjiang through the use of "severe and undue restrictions." Other predominantly Muslim groups in Xinjiang include Hui, and ethnic Kazakh, Kyrgyz, Mongol, and Tajik peoples.
On October 26, a side event at the United Nations discussed the current human rights situation of these minority groups in Xinjiang.
"The long-awaited United Nations Office of the High Commissioner for Human Rights report on Xinjiang laid out the [People's Republic of China's] human rights violations in horrifying detail," said U.S. Representative to the United Nations Linda Thomas Greenfield.
"Forced confessions and stringent sentences for baseless charges; discriminatory detainment based on ethnic, religious, cultural identity and expression; cruel, inhumane, degrading punishment."
"These and other findings leave no room for doubt," said Ambassador Thomas Greenfield. "The PRC has committed gross violations of human rights. Their actions are, without question, crimes against humanity. The question before us is how will we respond?
"The United States will continue to shine a light on the PRC's genocide and crimes against humanity, against Uighurs and members of other religious and ethnic minority groups in Xinjiang. We will continue to push the PRC to fully implement the UN High Commissioner's recommendations. And we will continue to stand with Uighurs and members of other ethnic and religious minority groups, and hold perpetrators accountable."
On October 31, 50 countries signed a joint statement at the UN General Assembly expressing grave concern about the human rights situation in the People's Republic of China, especially the ongoing human violations of Uighurs and other predominantly Muslim minority groups in Xinjiang and urged the PRC to promptly release those arbitrarily detained and clarify the fate and whereabouts of those missing.
No country is immune from scrutiny of its abuses against its own citizens.
Source:VOA
Please click the following URL to read the text of the original story:
https://editorials.voa.gov/a/situation-of-uighurs-and-other-ethnic-turkic-muslims/6824202.html
--------
'Cooperate or perish' UN chief Antonio Guterres tells world leaders at COP27
07 November, 2022
Humanity must "cooperate or perish" in the face of accelerating climate change impacts, UN chief Antonio Guterres told world leaders Monday at talks in Egypt on curbing global warming.
In the midst of a barrage of international crises – from the COVID-19 pandemic and Russia's invasion of Ukraine to weather extremes battering economies and shaking international relations – Guterres said the world is in "the fight of our lives."
"Humanity has a choice: cooperate or perish," he told the UN COP27 summit in the Red Sea resort of Sharm el-Sheik. "It is either a Climate Solidarity Pact, or a Collective Suicide Pact."
Guterres called for a "historic" deal between rich countries and emerging economies that would aim to reduce emissions and keep the temperature rise to the more ambitions Paris Agreement target of 1.5 degrees Celsius above the pre-industrial era.
He warned that, on the current trajectory, "we are on a highway to climate hell with our foot still on the accelerator."
Source: Al Arabiya
Please click the following URL to read the text of the original story:
https://english.alarabiya.net/News/middle-east/2022/11/07/-Cooperate-or-perish-UN-chief-Antonio-Guterres-tells-world-leaders-at-COP27
--------
South Asia
Taliban is reaching your living rooms, and YouTubers are helping
KABIR TANEJA
8 November, 2022
YouTube content creators, including from India, have started to land in Afghanistan, a year after a botched US-withdrawal and overnight collapse of the government of Ashraf Ghani gave the keys to Kabul back to the Taliban. The videos shot by Youtubers, watched by millions, show the Taliban in an opaque light, now controlling over 40 million people once again since their first reign in the 1990s. In this era of social media and hyper-information, it is much easier, and cheaper, for non-state militant groups to make themselves known in living rooms across the world, and piggyback on this democratisation of information for their own agendas. And they have got great success so far.
Media has always been an integral part of propaganda for militant groups. From the 1990s, visuals of western press interviewing Osama bin Laden in the backdrop of caves in rural Afghanistan are re-played even today. That was the era of cable news, a sure shot way of getting your message across not just in the West, but the entire world. The Taliban, much like others, used a variety of strategies to get their opinions across, from 'night letters' or shabnamah, which were on-paper diktats physically delivered to individuals or villages in the dead of night, to running its website Alemara in the 2000s and finally taking on social media in the 2010s.
Twitter and Taliban
In October this year, the Taliban ran a hashtag promotion on Twitter called #UnitedAfghanistan. At one point, Twitter showed that over 1,25,000 tweets on the platform were using the hashtag with many pro-Taliban social media accounts also participating in making sure the message finds its legs online. The hashtag in all probability was magnified further by using bots. The idea behind this campaign by the Taliban was to promote the message, largely to the global audience, that the Pashtun-led Taliban now in power sought a 'united' Afghanistan, made up of all ethnicities. It showed Taliban leaders with other ethnic leaders in the country. And to dispel rumours of internal strife between the prevailing power blocks of the Kandaharis and the Haqqanis, it showed photos of Mullah Yaqoob, Taliban founder Mullah Omar's son and acting defence minister along with Sirajuddin Haqqani, of the notorious Haqqani Network who is also the acting interior minister. Twitter has been a boon for the Taliban, which as of today, has a very well devised, understood, and designed media strategy. The Taliban know what kind of narrative the West wants to hear, and approaches its interactions with foreign media with that in mind.
The rise of so-called Islamic State (ISIS, or Daesh in Arabic) in Syria and Iraq between 2014 and 2017, in a way revolutionised how non-state actors use social media and the internet for well-imagined and executed propaganda. That propaganda can also be used to influence newspaper and television news programmes despite their editorial scrutiny.
The ISIS ecosystem, fuelled by young and tech-savvy recruits, specifically from Europe, developed robust information creation and distribution ecosystems that prevail and are replicated even today. Many pro-ISIS cases in India during this period were also radicalisation by the online materials and propaganda released by ISIS and its affiliates. These included well-produced and high-definition videos shot in Hollywood style action movies, online magazines with infographics and data visualisation, and even podcasts. A lot of these publications, at the peak of the Islamist group's reign over territories that at the time were as large in geography as the United Kingdom, continue to be released despite the territorial defeat of the caliphate. Today, the Islamic State Khorasan Province (ISKP) has its own propaganda outlets targeting India, Pakistan, the Taliban in Afghanistan, Maldives, and South Asia in general. It is imperative to remember here that two of the most destructive attacks attributed to Islamic State took place in South Asia in Bangladesh in 2016 and Sri Lanka in 2019.
Pro-IS Sawt al Hind (or 'Voice of Hind' in English) magazine was first released in February 2020 in the backdrop of communal riots in India's capital New Delhi. It sought to piggy-back on societal tensions to get its ideological message across, targeting the Muslim population of the country at a time when the Indian government is powered by the Hindu-nationalist Bhartiya Janata Party (BJP). However, over the past three months, Sawt al Hind abruptly stopped publishing, raising questions on how IS' central leadership, ISKP and return of the Taliban are having an impact in South Asia operations of these groups. Their propaganda strategies now overwhelmingly rely on digital ecosystems, and they reach over a billion people across the region through smartphones.
Content at a cost
While social media platforms and online services alike went after ISIS related content, with mixed results, the Taliban has largely been able to maintain its presence on services such as Twitter. In the run up to the fall of Kabul, the Taliban, then in negotiations with the US, used Twitter to maximise its online reach that arguably helped it soften its positioning within some quarters of power. Even from the perspective of diplomacy, months into the talks some Western diplomats had started to conform with some of the Taliban's positions and 'grievances.' While this cannot be attributed by any means solely to public posturing, but the group's dramatic increase in its online activities, aping those done by any other state, have taken place in a planned manner. The Taliban's main spokesperson, who remained faceless up until August 2021, Zabihullah Mujahid, had nearly 300,000 followers on Twitter then. Today, the number tops over 700,000 followers.
The question of whether tech platforms should take a decision to ban certain groups or not has gained prominence over the years. Many platforms, including Twitter and Telegram, have come under flack for serving as a site for groups such as the Taliban and IS. These groups have co-opted smaller platforms with limited resources when bigger platforms ban their content. The Taliban had already found acceptance from Twitter when they were banned by Facebook. In August last year, the group, including many of its members on terrorism lists of both the US and UN, took over official social media handles of the erstwhile government of Afghanistan. This was another conundrum for tech companies. Are the Taliban seen as an extremist group, or as the de-facto state now operating official government's social media accounts? No official recognition was conferred by the international community or the UN alike.
Source: ThePrint
Please click the following URL to read the full text of the original story:
https://theprint.in/opinion/taliban-is-reaching-your-living-rooms-and-youtubers-are-helping/1202687/
--------
Karzai criticizes Pakistan for mistreating Afghan refugees
November 8, 2022
Former Afghan President, Hamid Karzai has criticized Pakistan for mistreating Afghan refugees who had to cross the border for safety following the collapse of Afghan government last year.
Based on the media reports, over 1,100 Afghan refugees including women and children have been arrested and imprisoned in Sindh state of Pakistan, Hamid Karzai tweeted on Monday.
The former Afghan President, Hamid Karzai has expressed his concerns about the mistreating of Pakistan's government with the Afghan refugees and has called on Pakistan's administration to take health approaches towards the Afghan immigrants in Pakistan and treat them based on the international laws and human rights values.
Karzai has also asked the United Nations and human rights organizations to monitor the situation with the efforts of providing better living conditions for the Afghan refugees in Pakistan and defend their basic rights.
This comes as millions of Afghan refugees have been housed in different states of Pakistan for multiple years, however, this number has tremendously increased following the collapse of Afghanistan's republic administration last year.
According to Khaama Press's monitoring desk, thousands of Afghans cross Turkham and Spin Boldak borders on a daily basis, most of whom do not hold valid entry permit and visas.
One of the main motive behind the increasing number of Afghan immigrants in Pakistan is the political instability and economic crisis in Afghanistan. Thousands of Afghans have lost jobs after the international agencies and aid organizations left Afghanistan last year.
Source: Khaama Press
Please click the following URL to read the full text of the original story:
https://www.khaama.com/karzai-criticizes-pakistan-for-mistreating-afghan-refugees-97965/
--------
Kyrgyz Envoy Meets Top Islamic Emirate Officials
November 8, 2022
In a visit to Afghanistan, the special representative of the Kyrgyz president, Talat Beg Mossadaqaf, met with the senior members of the Islamic Emirate in Kabul.
Mossadaqaf met with the first deputy of the prime minister, Mullah Abdul Ghani Baradar, and second deputy of the prime minister, Mullah Abdul Salam Hanafi, as well as deputy of the Foreign Ministry, Shir Mohammad Abas Stanekzai, and they discussed political and economic issues as well as security threats from the Afghan soil.
In the meetings, the Kyrgyz envoy pledged to provide assistance to Afghanistan in various sectors.
The deputy spokesman for the Islamic Emirate, Bilal Karimi, said that the Afghan borders have been secured now more than ever.
"Our borders are more secure than at any other time. The stance of the Islamic Emirate is to prevent threats to any country because the Islamic Emirate doesn't allow any threat to come from Afghan soil toward other countries," he said.
The delegation of the Kyrgyz representative included officials from the Kyrgyz embassy and security departments.
"Refering to the recent clashes on the Kyrgyzstan border, Mr. Stanekzai stressed the need to find solutions through talks. He also pledged the Islamic Emirate's cooperation in extending political and economic relations with Kyrgyzstan," said Zia Ahmad Takal, deputy spokesman for the Ministry of Foreign Affairs.
The political analysts believe that the Islamic Emirate needs to strengthen its security on the borders to eliminate the concerns of neighboring countries, particularly the Central Asian countries.
"Kabul doesn't intend to destabilize the region but it should bring reforms inside the country to gain recognition by the regional countries," said Torek Farhadi, a political analyst.
Source: ToloNews
Please click the following URL to read the full text of the original story:
https://tolonews.com/afghanistan-180649
--------
Haqqani Asks Taliban Forces to Observe Personal Hygiene and Wear Fragrances
By Saqalain Eqbal
November 7, 2022
Sirajuddin Haqqani, the Taliban government's Acting Minister of Interior Affairs, asked the forces under his charge to practice good hygiene stay clean and wear fragrances.
In his presentation to the Taliban forces on Monday, the 7th of November, the Taliban Acting Interior Minister, Haqqani, raised the matter of hygiene and urged them to maintain it.
Online social networks are rife with short tapes of Sirajuddin Haqqani's speeches. In the video, he can be heard laughing with the Taliban soldiers asking them to observe personal hygiene as cleanness is pure and a sign of faith.
The Afghan people, particularly those in Kabul, the Afghan capital, challenged the Taliban's practices of attire in the first year of the group in power and mockingly urged them to take a bath on time.
Source: Khaama Press
Please click the following URL to read the full text of the original story:
https://www.khaama.com/haqqani-asks-taliban-forces-to-observe-personal-hygiene-and-wear-fragrances-3554332/
--------
Mideast
In Geneva, UN panel holds hearings on Israeli rights violations in Palestinian territories
07 November 2022
A three-member rights panel at the United Nations has opened a series of public hearings on Israeli human rights violations committed across the occupied Palestinian territories.
The five-day trials were initiated by the UN Independent International Commission of Inquiry on the Occupied Palestinian Territory in the Swiss city of Geneva on Monday.
The focus of the public hearings was reportedly on the closure orders of a number of Palestinian organizations by Israel in August and the brutal assassination of veteran Palestinian journalist Shireen Abu Akleh by the occupying regime in May.
Rolando Gomez, the UN Human Rights Council spokesman, said at a news briefing with reporters that the hearings were being held to clarify contentious issues, with both Israeli and Palestinian witnesses being allowed to testify.
Stressing that Israel had not cooperated with the commission's work, Gomez said members of the Israeli cabinet refused to participate in the investigation after they dismissed the trials on the regime's rights violations as "sham" and "biased."
"This current commission of inquiry is unique in that it is looking into human rights abuse and violations, alleged human rights abuse and violations in both the occupied Palestinian territory and in Israel. … And they are, of course, impartial, independent investigators. So, any allegations of bias are absolutely false. They are independent and impartial and will be looking at both sides," he said.
He said that the commission of inquiry has called on Israel for its comments, cooperation and access, but "they have not responded."
Gomez underlined that information is collected from victims and witnesses privately, and that public testimony mitigates speculation and misinformation regarding the work of the commission.
The commission was established by the UN Human Rights Council after the 11-day Israeli war on the besieged Gaza Strip in May last year, during which 250 Gazans, including women and children, lost their lives.
Abu Akleh was shot in the head and killed by the Israeli army forces on May 11 while she was covering their raid in the Jenin refugee camp in the occupied West Bank. At the time of her killing, the 51-year-old journalist was wearing easily-recognizable press attire. Multiple investigations by independent organizations and media outlets have already concluded that Abu Akleh was deliberately shot by Israeli forces.
Source: Press TV
Please click the following URL to read the full text of the original story:
https://www.presstv.ir/Detail/2022/11/07/692324/UN-Independent-International-Commission-Israeli-rights-violations-Palestinian-territories
--------
Iran Captures All Perpetrators Behind Shah Cheragh Terror Attack
2022-November-7
The Iranian Intelligence Ministry said in a statement its forces have conducted uninterrupted intelligence and security activities following the terror attack on the key religious site.
"The investigations and operations have resulted in the identification and arrest of all elements that have masterminded, perpetrated and supported the terrorist attack," the statement read, noting that "a total of 26 Takfiri terrorists have been captured".
Moreover, a number of other elements that had entered Iran for a similar operation have been detained, it added.
"All of the arrestees are non-Iranian and are from the Republic of Azerbaijan, Tajikistan and Afghanistan," the ministry declared.
"The main element that guided and coordinated the attack in Iran was a citizen of the Republic of Azerbaijan that had flown from Baku's Heydar Aliyev International Airport to Imam Khomeini International Airport in Tehran," it said.
The statement added that the person had informed the coordinator element in the Republic of Azerbaijan immediately after arriving in Tehran and had also contacted the main operation coordinator of Daesh (also known as ISIL or ISIS) inside Afghanistan and communicated with the network of foreign nationals of Daesh as well to notify them of his presence in Tehran.
The intelligence ministry said the element that had provided support for the bloody attack in Shiraz was an Afghan man, named 'Mohammad Ramez Rashidi', operating under the alias 'Abu Basir', while the man that fired shots at the holy shrine was a Tajik citizen named 'Sobhan Komruni', operating under the alias 'Abu Ayesha'.
The terrorists have been arrested in the provinces of Fars, Tehran, Alborz, Kerman, Qom and Khorasan Razavi, the statement added, noting that a number of others have been caught as they were trying to flee the country from the Eastern borders.
The ministry also noted that a number of those terrorists were planning another terrorist attack in the Southeastern city of Zahedan.
At least 15 people, including a woman and two children, were martyred and 19 others wounded in the terrorist attack on the famous shrine.
Daesh terror group has claimed responsibility for the assault in a statement on their telegram channel.
Source: Fars News Agency
Please click the following URL to read the full text of the original story:
https://www.farsnews.ir/en/news/14010816000377/Iran-Capres-All-Perperars-Behind-Shah-Cheragh-Terrr-Aack
--------
Top Commander: Advanced Air Defense System Capable of Confronting 5th-Generation Fighters
2022-November-7
New edition of Iran's domestically-designed and manufactured missile defense system, Bavar-373, with an extended engagement range of 300 kilometers, called Sayyad 4B was unveiled on Sunday.
Brig. Gen. Sabahifard stated on Sunday that Bavar-373 is capable of countering the fifth-generation fighter jets which have a low-observable Radar Cross Section (RCS).
The senior commander noted that Iranian technicians have managed to extend the range of the homegrown air defense missile system to over 300 kilometers in less than two years.
Bavar-373 is beyond the level of today's threats in the world, he continued, stressing that Tehran continues to upgrade the system.
"Today everybody knows that our equipment is at the cutting edge of the modern world's technology," the military official stated.
Addressing the unveiling ceremony, Iran's Defense Minister Brigadier General Mohammad Reza Ashtiani announced that Bavar-373 defense system has the capability of confronting ballistic missiles.
He said this missile defense can deal with stationary aerial targets, ballistic missiles and all kinds of fighter and bomber planes.
The defense minister added that his ministry has the mission of providing the armed forces with weapons and equipment to confront the threats to the country.
Brig. Gen. Ashtiani reiterated that the defense system can destroy 6 targets, and many countries with technology in the world are keen on having such a system.
He pointed out that this system will definitely play a significant role in improving the combat capability of Iran's armed forces.
According to a report in the long-range test of the Bavar-373 system, a stationary target was detected at a range of more than 450 kilometers by the optimized radar of the Bavar 373 system, and it was tracked at a range of about 405 kilometers and was hit and destroyed at a range of more than 300 kilometers.
The Bavar-373 system detection radar was said to have increased from 350 to 450 kilometers, and the range of its engagement range has risen from 260 to 400 kilometers, the report added.
It also noted that the missile range has gone from 200 to 300 kilometers, and its engagement altitude has increased from 27 to 32 kilometers.
The report also announced the launching of the Sayad B4 missile's production line, saying the long-range missile, running on solid propellant, was operationally evaluated for the first time.
Air Defense Commander: Iran Monitoring Enemies' Trans-Border Movementshttps://t.co/rD9qvPPX6P pic.twitter.com/oKtFUlK0uI
— Fars News Agency (@EnglishFars) September 3, 2022
Iran unveiled the state-of-the-art surface-to-air Bavar 373 missile defense system, designed and manufactured by the country's experts, in August 2019.
It is a mobile missile defense system designed to intercept and destroy incoming hostile targets. The system employs missiles that have a maximum range of 300 kilometers. The system is capable of simultaneously detecting up to 300 targets, tracking 60 targets at once and engaging six targets at a time.
Iranina military officials say the Bavar 373 missile defense system is one of the most important defense achievements of the country after the victory of the Islamic Revolution.
Military officials say the military power of Iran is strong, extraordinary and deterrent despite enemy sanctions and pressures, and hail the country's defense sector for its remarkable developments in the recent decades. They stress the Iranian Armed Forces' deterrent power dissuades the United States and Israel from implementing its threats against the country.
The Islamic Republic's military doctrine holds that the country's armed capability solely serves defensive purposes.
Iranian military experts and technicians have in recent years made substantial headway in manufacturing a broad range of indigenous equipment, making the armed forces self-sufficient in the weaponry sphere.
Source: Fars News Agency
Please click the following URL to read the full text of the original story:
https://www.farsnews.ir/en/news/14010816000296/Tp-Cmmander-Advanced-Air-Defense-Sysem-Capable-f-Cnfrning-5h-Generain
--------
IRGC Busts 3 MKO-Linked Terror Networks in Separate Operations
2022-November-7
The members of the three terrorist teams, detained in the provinces of Khuzestan, Fars and Isfahan, had plans to carry out acts of sabotage and terrorist attacks, the IRGC announced in a statement.
The teams had absorbed rioters and made connections among them, and had hatched plots to attack administrative, security and law enforcement centers, vandalize public properties, and assassinate citizens, it added.
The ringleaders of the groups had given their operational elements a series of instructions in the past recent weeks, the statement read.
Iran has in recent months dismantled several terrorist cells working for the MKO terror group. The militants were involved in making explosives and hand-made bombs and linked to foreigners and planned to carry out counter-security acts and set up operational groups to direct the riots in Iran.
In late October, Iranian security forces defused a bomb in Shiraz that was set to detonate concurrent with a deadly terrorist attack in the Southwestern Iranian city.
The bomb attempt comes as 15 pilgrims, including a woman and two children, lost their lives and at least 19 others were wounded after a heavily-armed terrorist opened indiscriminate fire at Shah Cheragh, a highly revered Shia shrine in Shiraz. Shortly after the attack, the Daesh (also known as ISIL or ISIS) terror group claimed responsibility.
After the Islamic Revolution in 1979, the MKO terrorist group began its enmity against Iran by killing thousands of Iranians and terrorist activities. Several members of the terrorist group and its leaders are living in European countries now, freely conducting terrorist activities.
The MKO terrorist group has martyred 17,161 Iranian citizens and officials, including late president Mohammad Ali Rajayee, former Prime Minister Mohammad Javad Bahonar, late Head of Supreme Judicial Council Ayatollah Mohammad Beheshti, late Deputy Chief of the Iranian Armed Forces General Staff Ali Sayyad Shirazi, and 27 legislators, as well as four nuclear scientists, some on itself and some others through collusion with Israeli Mossad and other notorious spy agencies like CIA.
The MKO terrorist group has publicly specified targets as martyred Lieutenant General Qassem Soleimani, who commanded the Quds Force of the IRGC, and Iranian President Seyed Ebrahim Rayeesi.
The terrorist organization said it would "welcome" their assassination, adding that it desired for the ranking officials to "join" Asadollah Lajevardi, Tehran's former chief prosecutor, and Ali Sayyad-Shirazi, a former commander of the Iranian Army's Ground Forces during Iraq's 1980-88 war against Iran, who have both been assassinated by the terror outfit.
The MKO is currently based in Albania, where it enjoys freedom of activity after being delisted by the European Union and the United States in 2009 and 2012, respectively.
Source: Fars News Agency
Please click the following URL to read the full text of the original story:
https://www.farsnews.ir/en/news/14010816000207/IRGC-Bss-3-MKO-Linked-Terrr-Newrks-in-Separae-Operains
--------
Judiciary Chief: US, UK, Israel Waging Hybrid War Against Iran
2022-November-7
"The recent unrest in Iran were instigated by the enemies, who made every effort to stop Tehran's progress after sanctions policy failed," Eje'i noted Monday.
The judiciary chief described "the riots as part of the hybrid war against Iran" waged by the foes, namely the United States, the United Kingdom and the Zionist regime, but failed.
"Their cohorts inside Iran helped them to undermine the country's security and stop the country's progress," he stressed.
"The enemies were angered by the fact the country was making progress and expanding economic and trade relations with the regional and neighboring countries despite the sanctions and sought to stop the trend," Eje'i pointed out.
He was echoing comments Iran's Parliament Speaker Mohammad Baqer Qalibaf who noted the US and its network of spies had devised a "complex and special plan" for recent riots in the country but failed again.
"America and their spying network and sabotage agents had devised a complex and special plan in recent incidents, but like in the past, they again made a mistake in the face of the alert Iranian nation," he stated.
Iran's Intelligence Ministry and the Intelligence Organization of the Islamic Revolution Guards Corps (IRGC) have recently issued an explanatory joint statement, describing various aspects of the recent riots in the country.
The two top intelligence bodies pointed to the major role of foreign intelligence agencies, especially the CIA, in orchestrating the riots in Iran in the past weeks.
"Intelligence evidence shows that the CIA had devised an extensive plan with the cooperation of allied spy services and reactionary proxies before the start of the unrest to initiate a nationwide chaos with the aim of committing crimes against the great Iranian nation and the country's territorial integrity as well as paving the ground for increasing foreign pressures," it revealed.
According to available information, the statement maintained, "the CIA played the main role" while closely cooperating with the spy services of the UK, the Israeli regime, and Saudi Arabia.
Protests erupted in several cities across Iran over the death of Mahsa Amini, a 22-year-old Iranian woman who fainted at a police station in mid-September and days later was pronounced dead at a hospital. The demonstrations soon turned violent.
An official report by Iran's Legal Medicine Organization announced that Amini's controversial death was caused by an illness rather than alleged blows to the head or other vital body organs.
Iranian officials blame Western countries for orchestrating the riots to destabilize the country.
Supreme Leader of the Islamic Revolution Ayatollah Seyed Ali Khamenei severely censured the deadly riots, saying they were orchestrated in advance by the United States and the Israeli regime.
"I state it clearly that these developments were planned by America, the Zionist regime and their acolytes. Their main problem is with a strong and independent Iran and the country's progress. The Iranian nation proved to be fairly strong during recent events and will bravely come onto the scene wherever necessary in the future," he added.
In recent days, Iranian officials have blamed the United States, the European Unions, and several Western states for meddling in Iran's internal affairs over the death of Mahsa. They advised the US and its allies against "opportunism and instrumentalization of the issue of human rights" by misusing the incident.
Source: Fars News Agency
Please click the following URL to read the full text of the original story:
https://www.farsnews.ir/en/news/14010816000564/Jdiciary-Chief-US-UK-Israel-Waging-Hybrid-War-Agains-Iran
--------
Iranian Border Guards Seize 600 Weapons in Less Than 2 Months
2022-November-7
"In the last 45 days, Iranian border guards have annihilated several arms and ammunition smuggling gangs and discovered about 600 weapons," Brig. Gen. Goudarzi noted.
Seizure of arms grew 26 percent while being compared with the preceding year, he added.
The senior commander stressed that the recent unrest resulted from "the US and the children-killer regime of Israel and their agents" inside the country created problems for the security of "our dear citizens".
The border guards seriously stand against any move to break the law, he underlined.
"Our border guards are the strong fortress of the holy system of the Islamic Republic of Iran," the border guards commander underscored.
Iranian security forces have identified and dismantled several anti-security groups across the country in recent months. Hundreds of weapons, including US-made arms, were seized in the operations.
The raid on the arms smuggling groups comes as terrorist groups have in recent weeks ramped up their activities to undermine the security of the country by hijacking rallies over the death of a 22-year-old Iranian woman to foment unrest and chaos.
Protests erupted in several cities across Iran over the death of Mahsa Amini who fainted at a police station in mid-September and days later was pronounced dead at a hospital. The demonstrations soon turned violent.
An official report by Iran's Legal Medicine Organization announced that Amini's controversial death was caused by an illness rather than alleged blows to the head or other vital body organs.
Iranian officials blame Western countries for orchestrating the riots to destabilize the country.
Supreme Leader of the Islamic Revolution Ayatollah Seyed Ali Khamenei severely censured the deadly riots, saying they were orchestrated in advance by the United States and the Israeli regime.
"I state it clearly that these developments were planned by America, the Zionist regime and their acolytes. Their main problem is with a strong and independent Iran and the country's progress. The Iranian nation proved to be fairly strong during recent events and will bravely come onto the scene wherever necessary in the future," he added.
In recent days, Iranian officials have blamed the United States, the European Unions, and several Western states for meddling in Iran's internal affairs over the death of Mahsa. They advised the US and its allies against "opportunism and instrumentalization of the issue of human rights" by misusing the incident.
Tehran reminded that the countries, which, themselves, towed a "long history of warmongering and violence" throughout the world, lacked the legitimacy that could authorize them to "moralize others" concerning the human rights.
Iran's Intelligence Ministry has announced that the United States and the United Kingdom were "directly" involved in the recent riots across the country.
Dozens of terrorists affiliated with the Zionist regime and anti-revolution groups have been detained during the recent days of unrest, the ministry said in a Friday statement.
The Iranian Intelligence Ministry underlined that 49 MKO terrorists had been arrested for actively propagating fake news, inciting the rioters to organize acts of terror and destruction, directing slogans and being present on the streets to damage public property.
The ministry added 77 members of anti-Iran terrorist groups had also been arrested in the Iraqi Kurdistan Region.
The statement pointed to the detention of five members of Takfiri terrorist outfits with 36 kilograms of explosives that were to be used to carry out bombings in gatherings.
The ministry further underscored 92 people affiliated with the former US-backed Pahlavi regime had been identified and arrested in the riots. It added that nine nationals from Germany, Poland, Italy, France, the Netherlands, and Sweden, among others, were arrested during the riots.
Source: Fars News Agency
Please click the following URL to read the full text of the original story:
https://www.farsnews.ir/en/news/14010816000498/Iranian-Brder-Gards-Seize-600-Weapns-in-Less-Than-2-Mnhs
--------
Iranian Deputy FM Blames US for Abusing Int'l Bodies
2022-November-7
Deputy foreign ministers of Russia, Venezuela and Cuba, who are in Tehran to attend the 1st Meeting of Coordinators of National Group of Friends to Support UN Charter, had separate meetings with Baqeri Kani on Sunday.
The Iranian diplomat referred in the meetings to the miscellaneous and numerous capacities in any of the member countries of the Coordinators of National Group of Friends to Support UN Charter, and reiterated, "Combining the political, economic, legal, and media capacities of the independent countries versus the totalitarian approach of the Americans and their western allies, will decrease the imposed pressure."
"The US take advantage of the international organizations and foundations faultily against the independent countries to secure its own illegitimate interests," he stated.
The Russian Deputy Foreign Minister Sergey Vreshnin criticized the US policies in taking instrumental advantage of the human rights issue, emphasizing that the UN Secretariat Office must heed its responsibilities and Tehran-Moscow cooperation to counter the west's political and economic pressure is of extreme importance.
The Venezuelan Deputy Foreign Minister Carlos Julio Martinez, and the Cuban Deputy Foreign Minister Elio Rodríguez Perdomo, too, in separate meetings with Baqeri Kani stressed the need for increased economic cooperation and resistance against the US totalitarian approach in various fields, and noted that safeguarding the independent countries' interests is a dire necessity.
The US launched the so-called maximum pressure campaign of sanctions against Iran in May 2018, after unilaterally exiting the 2015 nuclear deal.
Tehran has repeatedly denounced the sanctions as an act of "economic war", "economic terrorism", and "medical terrorism".
Source: Fars News Agency
Please click the following URL to read the full text of the original story:
https://www.farsnews.ir/en/news/14010816000146/Iranian-Depy-FM-Blames-US-fr-Absing-In'l-Bdies
--------
Iran, Russia Discuss Regional, International Developments
2022-November-7
Referring to the improved stability and security in Syria, the senior Iranian diplomat urged the need for economic reconstruction in the country and alleviating the suffering of the Syrian people.
Khaji also underlined the significance of extending a ceasefire deal in Yemen to help proceed with political dialogue to bring about peace and stability in the country.
Khaji, meanime, stressed the need for the expansion of mutual cooperation between Iran and Russia, as well as increased support by the international community to help with the reconstruction process in Syria.
The Iranian and Russian diplomats also discussed the developments in Libya and Yemen, and called for preserving solidarity and territorial integrity in the country without the intervention of the foreigners.
In a relevant development in early September, Khaji asked for continued ceasefire in Yemen and complete lift of the siege on the poor war-torn country.
Khaji made the remarks in a meeting with United Nations Secretary-General's Special Envoy for Yemen Hans Grundberg.
During the meeting, Khaji called for the rapid removal of obstacles to the transfer of humanitarian aid to the Yemeni people, particularly the lifting of the country's economic blockade.
Grundberg, for his part, outlined the steps taken by the United Nations to advance peace talks in Yemen, stressing the need for continued political dialogue aimed at building more confidence between the parties.
Source: Fars News Agency
Please click the following URL to read the full text of the original story:
https://www.farsnews.ir/en/news/14010816000572/Iran-Rssia-Discss-Reginal-Inernainal-Develpmens
--------
UK-based news channel says journalists threatened by Iran's IRGC
07 November, 2022
A UK-based news channel aimed at Iranian viewers said on Monday it was "shocked and deeply concerned" by threats from Iran's Islamic Revolutionary Guard Corps (IRGC) against its journalists in London.
"Two of our British-Iranian journalists have, in recent days, been notified of an increase in the threats to them. The Metropolitan Police have now formally notified both journalists that these threats represent an imminent, credible and significant risk to their lives and those of their families," Iran International said in a statement.
"Other members of our staff have also been informed directly by the Metropolitan Police of separate threats," it added.
The Persian-language channel said the threats against its UK-based journalists mark a "significant and dangerous escalation of a state-sponsored campaign to intimidate Iranian journalists working abroad."
Iran International was launched in 2017 and is owned by Volant Media.
The reported threats against Iran International journalists come amid anti-regime protests that have rocked Iran since the death in police custody of 22-year-old Mahsa Amini on September 16.
Source: Al Arabiya
Please click the following URL to read the full text of the original story:
https://english.alarabiya.net/News/middle-east/2022/11/07/UK-based-news-channel-says-journalists-threatened-by-Iran-s-IRGC-
--------
'Like an execution:' Palestinian NGOs detail Israeli crackdown
07 November, 2022
Israel's decision to outlaw several Palestinian rights groups as terrorist organizations was "like an execution" designed to stop them from probing abuses, the head of one of the bodies told UN investigators on Monday.
Israel last year designated six Palestinian civil society groups as "terrorist" bodies and ordered them shuttered, sparking widespread international outrage.
It was the focus of a first series of public hearings hosted by a high-level team of investigators appointed last year by the United Nations Human Rights Council to probe the underlying causes in the decades-long Middle East conflict.
The first week of hearings, which have been harshly criticized by Israel, will also address the killing in May of Palestinian-American journalist Shireen Abu Akleh.
"In these proceedings, we are not drawing any conclusions or making any judgements," lead investigator Navi Pillay, a former UN rights chief from South Africa, told the gathering via video link.
Shawan Jabarin, the head of legal-aid human rights group al-Haq, was the first to take the floor.
He charged that the "terrorist" designation in October had come after a years-long smear campaign against his organization, including efforts to get backers to drop their support, as well as death threats against him and other colleagues.
The designation, which he said was justified with "a secret file," was "like an execution," aimed at halting his organization from examining a vast array of rights abuses.
"We will not stop. Yes, they can they can detain us, they can arrest us, they can put us in prisons, they can kill us... but they can't change our beliefs... We will continue fighting against the culture and the policy of impunity."
Although not unprecedented, it is unusual for UN investigative teams to hold public hearings with witnesses.
But in this case, the investigators had determined it was important to be as transparent as possible as they conduct their work to mitigate accusations of bias.
Israel, which has refused to cooperate, was meanwhile not convinced.
"Over the upcoming five days, the UN Commission of Inquiry targeting Israel intends to simultaneously play judge, jury, and executioner by holding so-called public hearings," the Israeli mission in Geneva said in a statement.
Source: Al Arabiya
Please click the following URL to read the full text of the original story:
https://english.alarabiya.net/News/middle-east/2022/11/07/-Like-an-execution-Palestinian-NGOs-detail-Israeli-crackdown
--------
Iran summons Norway's envoy over 'interventionist' comments in support of protests
07 November, 2022
Iran summoned on Monday Norway's ambassador to Tehran over "interventionist" comments by the president of the Norwegian parliament in support of Iranian protesters, state media reported.
Masud Gharakhani, an Iranian-born Norwegian politician and president of the country's parliament, expressed support on Friday for the ongoing anti-regime protests in Iran in an interview with London-based television channel Iran International.
"You've been in power for 44 years, enough is enough," Gharakhani said in a message to Iranian Supreme Leader Ali Khamenei during the interview.
Iran had also summoned Norway's ambassador in September over "interfering and unconstructive comments about the internal affairs of Iran" made by Gharakhani regarding the protests.
Protests sparked by the death in police custody of 22-year-old Mahsa Amini have rocked Iran since September 16. Demonstrators have been chanting against Khamenei and calling for regime change.
Source: Al Arabiya
Please click the following URL to read the full text of the original story:
https://english.alarabiya.net/News/middle-east/2022/11/07/Iran-summons-Norway-s-envoy-over-interventionist-comments-in-support-of-protests-
--------
'I've grown up,' far-rightist tells Israelis worried about his rise
07 November, 2022
A far-rightist lined up for a senior post in the next Israeli government sought on Monday to reassure the country's minorities that he would safeguard them, but he made no mention of Palestinians who feel especially threatened by his rise.
Having won an election last week, conservative former prime minister Benjamin Netanyahu's most powerful likely coalition ally is Religious Zionism, a party led by ultranationalist Jewish settlers in the occupied West Bank.
One of them, Itamar Ben-Gvir, has received intense scrutiny in Israel and abroad due to past actions including membership in the outlawed militant group Kach, a criminal conviction for anti-Arab incitement, and the heckling of Gay Pride parades.
"I've grown up, I've moderated and I've come to understand that life is more complicated," Ben-Gvir, 46, said in a front-page article in the biggest-circulation Israel Hayom newspaper.
The overture came a day after the Religious Zionism co-head drew center-left ire by suggesting the state had a hand in the 1995 assassination of Prime Minister Yitzhak Rabin by a Jewish zealot bent on stopping territorial handovers to Palestinians.
Rightists were correct to protest Rabin's policies, Bezalel Smotrich said at a memorial ceremony in parliament. He said security services had "used irresponsible manipulation, which to this day has not been fully exposed, to encourage the murderer."
He appeared to be alluding to the Shin Bet domestic intelligence agency's running of an agent provocateur among far-rightists in the run-up to the assassination - a matter addressed by a state commission of inquiry and court trials.
In his article, titled "A Letter to My Brethren on the Left," Ben-Gvir said nothing about US-sponsored Israeli talks on Palestinian statehood, which stalled in 1994 and which the Biden administration said on Saturday that it wants to revive.
Religious Zionism, like other Israeli parties on the right, opposes Palestinian statehood. Ben-Gvir has further called for dismantling the interim Palestinian Authority which governs in parts of the West Bank, a move that would effectively return Palestinians to open-ended Israeli rule without national rights.
Focusing on internal issues, Ben-Gvir, who wants to become police minister, wrote that he would tackle crime racking Israel's Arabs - a minority whose expulsion he once advocated.
Source: Al Arabiya
Please click the following URL to read the full text of the original story:
https://english.alarabiya.net/News/middle-east/2022/11/07/-I-ve-grown-up-far-rightist-tells-Israelis-worried-about-his-rise
--------
Jordan warns Israeli PM of diplomatic pitfalls if al-Aqsa status quo changed
08 November 2022
Jordan has warned that bilateral ties with Israel will suffer if the incoming ruling coalition tries to change al-Aqsa Mosque status quo.
The warning, reported by an Israeli public broadcaster, underlined the potential diplomatic pitfalls awaiting Likud leader Benjamin Netanyahu who plans to form a cabinet with far-right hardliners.
"Any attempt to change the status quo on the Temple Mount will definitely harm ties between Jordan and Israel," the broadcaster quoted an unnamed Jordanian source, referring to al-Aqsa Mosque compound.
The source took specific aim at Itamar Ben Gvir, head of the extremist Otzma Yehudit party and a crucial partner in the ruling coalition, who has made a point of touring the site during times of increased tensions.
Gvir and others in his party are longtime and well-known advocates of unlawful Jewish prayer rights at al-Aqsa Mosque. The Jordanian source warned that visits by Gvir and his other "provocations" would be a whole different story if he does so as a minister.
Jordan's ruling Hashemite family has been the sole custodian of the Muslim and Christian holy sites in East al-Quds, including al-Aqsa Mosque, since 1924.
Under the mosque status quo, only Muslims are allowed to worship within the compound while non-Muslims may visit the site, but are not allowed to pray there.
Al-Quds-based Islamic Waqf has repeatedly denounced the tours of Israeli settlers to al-Aqsa Mosque as "provocative", claiming that Palestinian worshipers and guards at the mosque feel insecure in the presence of trigger-happy Israeli troops and settlers.
Last May, frequent acts of violence against Palestinian worshipers at al-Aqsa Mosque led to an 11-day war between Palestinian resistance groups in the besieged Gaza Strip and Israel, during which the regime killed at least 260 Palestinians, including 66 children.
Netanyahu who served as prime minister from 2009 to 2021, has won elections despite standing charges of corruption and political dysfunction. Netanyahu and his right-wing allies are about to form the most extremist regime in the history of Israel.
During Netanyahu's term as prime minister, ties with Amman hit a low point.
Source: Press TV
Please click the following URL to read the full text of the original story:
https://www.presstv.ir/Detail/2022/11/08/692349/Jordan-warns-Netanyahu-of-diplomatic-pitfalls-if-al-Aqsa-status-quo-changed-
--------
Israeli settlers spray Palestinian-owned olive trees with toxins
07 November 2022
Israeli settlers have attacked Palestinian-owned farming land in the occupied West Bank, and sprayed olive trees with chemicals at the peak of the harvest season.
Ghassan Daghlas, a Palestinian official who monitors settler activities, said the incident took place in the town of Jaloud, near the southern city of Nablus, Palestine's official Wafa news agency reported on Monday.
The settlers sneaked into the land and sprayed 60 trees, ruining all of them.
Settlers escorted by Israeli soldiers have ramped up raids into the Palestinian land of olive trees in the recent past.
Every year during the olive harvest season, violent settlers disrupt Palestinian farmers' movement toward their fields and often damage or steal their crops. They also often set the trees on fire or cut them down.
Olives are a primary source of income for Palestinian farmers. The harvest season, which runs between October and November, is a lifeline for 80,000 to 100,000 Palestinian families in the West Bank.
According to United Nations data, virtually half of the Palestinian agricultural land is planted with an estimated 10 million olive trees in the West Bank and the besieged Gaza Strip.
Source: Press TV
Please click the following URL to read the full text of the original story:
https://www.presstv.ir/Detail/2022/11/07/692332/Palestinian-olive-trees-Israeli-settlers
--------
Africa
South Africa: Probe into Anti-Apartheid Activist Imam Haron's Death Reopens
7 NOVEMBER 2022
Cape Town — The inquest into the death of Imam Abdullah Haron was reopened today, and the case is now under way at the High Court in Cape Town, EWN reports.
In his opening remarks, Judge Daniel Thulare said that during the two weeks dedicated to the inquest he hoped to "engage, in public ... in a thorough, proper, full and fair investigation of the cause or likely cause of death of Imam Abdullah Haron and that we are in truth able to determine whether the death was brought about by any act or omission prima facie involving or amounting to an offence on the part of any person".
According to IOL, Thulare then called on the public to come forward and provide relevant evidence that may assist the investigation to determine what happened to Haron.
The apartheid activist was arrested and incarcerated under under section 6 of the Terrorism Act between May 28 and September 27, 1969. Haron died during his detention at the age of 45. The inquest comes more than 53 years after the fact.
Source: AllAfrica
Please click the following URL to read the full text of the original story:
https://allafrica.com/stories/202211070543.html
--------
Ethiopian government, Tigray officials meet in Nairobi to continue peace talks
07.11.2022
NAIROBI, Kenya
Officials from the Ethiopian government and Tigray forces on Monday met for a second round of peace talks in the Kenyan capital Nairobi.
The Africa Union organized the talks on "implementation of the cessation of hostilities agreement" between Ethiopia and the Tigray Peoples' Liberation Front (TPLF).
Former Kenyan President Uhuru Kenyatta, who hosted the talks, told the media on the sidelines of the talks that he is very optimistic that Ethiopia will finally find a long-term solution to the civil strife that led to a recently ended two-year war.
"We are here as facilitators convinced that these brothers who know each other very well will be able to work and formulate together the best way to bring a permanent cessation and resolution to the problem," Kenyatta said.
"I am certain that at the conclusion of this process, they are colleagues that will be working together for the betterment of Ethiopia, for the benefit of our region and ultimately join us all in our struggle to make Africa a better place and to end and silence the guns permanently," he told representatives from the Ethiopian government and the TPLF.
Former Nigerian President Olusegun Obasanjo, the African Union's high representative for the Horn of Africa, told a news conference that with the talks, both parties are inching closer to a permanent solution.
"The first sign for me of the progress after the signing of the agreement is the fact that between them they have exchanged a hotline," he said.
The hotline will coordinate disengagements in the event of any reported combat between forces, address any escalation in hostilities, and facilitate communication between senior commanders of both sides.
According to the African Union, the meeting should also provide a roadmap for immediate humanitarian access and restoration of services in the northern Tigray region. The expected outcomes of the conference include modalities for silencing guns, humanitarian access, and restoring services in the region.
The meeting is facilitated by Obasanjo together with Kenyatta and Phumzile Mlambo Ngcuka, former deputy president of South Africa.
Source: Anadolu Agency
Please click the following URL to read the full text of the original story:
https://www.aa.com.tr/en/africa/ethiopian-government-tigray-officials-meet-in-nairobi-to-continue-peace-talks/2732097
--------
Nigerian Air Force says it killed 2 top Daesh/ISIS terrorists
Ibrahim Garba Shuaibu
07.11.2022
KANO, Nigeria
The Nigerian Air Force said on Monday that it had killed top members of the terrorist group ISWAP during airstrikes in the northeast.
Edward Gabkwet, an air force spokesperson, said in a statement that ISWAP commanders Ali Kwaya and Bukar Mainoka were neutralized during an operation near Lake Chad. They were members of the group's so-called consultation council.
The group, associated with the Daesh/ISIS terrorist group, is primarily active in the Chad Basin, and fights an extensive insurgency against the states of Nigeria, Cameroon, Chad, and Niger.
Gabkwet said: "Our path to victory in the northeast remains on course and we won't relent until all locations are free of terrorists and insurgents."
He said the operation came in light of intelligence that some ISWAP leaders and fighters from surrounding areas were headed to a meeting to plan more attacks.
Nigerian Air Force fighter aircraft sent to the location of the terrorists' meeting at Belowa engaged the ISWAP elements with rockets and bombs in multiple passes, according an official who spoke on condition of anonymity.
Source: Anadolu Agency
Please click the following URL to read the full text of the original story:
https://www.aa.com.tr/en/africa/nigerian-air-force-says-it-killed-2-top-daesh-isis-terrorists/2732043
--------
10 dead as Al-Shabab attack Somali military base
November 07, 2022
MOGADISHU: At least 10 soldiers were killed when Somalia's Al-Shabab militants assaulted a military base in the central Galgaduud region on Monday, a military officer said, days after government forces said they had regained control of the area.
The army eventually pushed the militants out of the base in Qayib, a village captured from Al-Shabab last week, Defense Ministry spokesperson Abdullahi Ali Anod told the state news agency SONNA.
Major Mohamed Farah, a military officer in the nearby town of Bahdo, said 10 soldiers and 20 Al-Shabab fighters were killed.
"Our forces are now pursuing the Al-Shabab fighters in the jungles. There is sporadic gunfire as we chase them," he said.
Ahmed Hassan, another military officer in Bahdo, told Reuters the attack began with two suicide car bombs, followed by hours of heavy fighting.
"Al-Shabab torched the telecommunication station of the town, and so it is off the air now," Hassan said.
One car bomb hit a military truck guarding the base entrance, while the other was blown up outside, he said.
In a statement, Al-Shabab spokesperson Abdiasis Abu Musab said the group launched the assault in Qayib using suicide car bombs before its fighters attacked from different directions.
The fighters killed 37 soldiers and stole weapons and military vehicles, he added.
The government's and Al-Shabab's casualty numbers often differ.
Government forces, supported by clan militias, have made a number of battlefield gains against Al-Shabab in the last three months, regaining territory long held by the group.
In response, Al-Shabab killed at least 120 people in twin car bombs at the Education Ministry in the capital Mogadishu on Oct. 29, the deadliest blasts in five years.
Source: Arab News
Please click the following URL to read the full text of the original story:
https://www.arabnews.com/node/2195036/world
--------
India
UP Court To Pronounce Verdict On Plea Seeking To Worship 'Shivling' Inside Gyanvapi Mosque
08 NOV 2022
A fast-track court in Uttar Pradesh today will deliver its verdict today on a plea seeking worship of the 'Shivling' that was allegedly found inside the Gyanvapi Mosque premises as claimed by the Hindu side.
The Civil Judge Senior Division Fast Track court will deliver its verdict on the three main demands by the litgant which include the permission for the immediate beginning of prayer of Swayambhu Jyotirlinga Bhagwan Vishweshwar, the handing over of the entire Gyanvapi complex to the Hindus, and banning the entry of Muslims inside the premises of the Gyanvapi complex, according to a report by ANI.
Currently, the Muslim side is allowed to offer prayers.
Earlier, advocate Anupam Dwivedi, appearing for the Hindu side, said that the fast-track court of Civil Judge (Senior Division) Mahendra Pandey heard the arguments of both sides and reserved its order on the suit till November 8.
In an earlier hearing in October, the Varanasi court had refused to allow a 'scientific investigation' of the purported 'Shivling'.
The Court ruled that the plea for 'scientific investigation' cannot be allowed since the Supreme Court has ordered the sealing of the place where the 'Shivling' was found, according to legal news website Lawbeat.
When the Muslim side demanded that the structure found was a 'fountain', the Hindu side, on September 22, had filed a plea demanding carbon dating of the structure they claimed to be a 'Shivling' found inside the Gyanvapi Mosque's wazukhana.
Carbon dating is a scientific process used commonly in archaeology to understand the age of an object.
The Hindu petitioners seeking carbon dating have said they would go to higher courts to pursue their cause.
"We will move to Supreme Court against this order and challenge it there. I cannot announce the date as of now, but we will soon challenge this order in Supreme Court," said Advocate Vishnu Jain, appearing for the petitioners.
On September 29, in another hearing, the Hindu side demanded a scientific investigation of the 'Shivling' by the Archaeological Survey of India (ASI). However, the Varanashi Court had rejected the plea by stating, "It would not be proper to order the survey of Archaeological Survey of India (ASI) and by giving such order the age, nature, and structure of the said Shivling is known, even this does not imply the possibility of a just solution."
Further, referring to the order of May 17, the Varanasi Court earlier said that if the Shivling is damaged during the process of investigation, then that would stand in direct violation of the Supreme Court order.
Source:OutlookIndia
Please click the following URL to read the full text of the original story:
https://www.outlookindia.com/national/up-court-to-pronounce-verdict-on-plea-seeking-to-worship-shivling-inside-gyanvapi-mosque-news-235535
--------
Congress in Kerala hails Supreme Court verdict upholding EWS quota; Muslim League expresses anxiety
November 8, 2022
The Congress in Kerala welcomed Monday's Supreme Court verdict upholding the validity of the 103rd Amendment to the Constitution, which guarantees 10 per cent reservation for economically weaker sections in admissions to educational institutions and government jobs. But its ally Indian Union Muslim League (IUML), the largest party representing the Muslims in Kerala, expressed anxiety over the verdict.
Meanwhile, Nair Service Society (NSS), the outfit of upper caste Hindu Nair community in Kerala, welcomed the verdict. Traditionally pro-Congress, the NSS has been at the forefront of the fight seeking reservation for economically weaker sections in the forward communities.
Congress state president K Sudhakaran stated that the reservation for the weaker sections in the forward communities has been a long standing demand of the party. "But the 10 per cent reservation for economically weaker sections should not affect the existing reservation system. Their (backward communities) reservation should not be hurt in any manner. At the same time, reservation should be given for the economically backward sections in the forward communities," he said.
Senior IUML leader P K Kunhalikutty said the verdict causes anxiety. "The verdict would dilute the Constitutional provisions for the reservation for the weaker sections. The social and economic backwardness due to caste factors had happened over centuries. It is still prevailing and it is not over within half a century. This verdict would deny social justice to the backward communities,'' he said.
Source:IndianExpress
Please click the following URL to read the full text of the original story:
https://indianexpress.com/article/cities/thiruvananthapuram/congress-kerala-supreme-court-verdict-upholding-ews-quota-muslim-league-8254451/
--------
Day after AAP yatra, Ahmedabad Muslim-majority areas 'in no hurry to shift from Cong to party we don't know'
by Rashi Mishra
November 8, 2022
ON Saturday evening, the Aam Aadmi Party (AAP) that has been noticeably silent on Muslim issues in its Gujarat campaign, particularly related to the 2002 riots, took out a Tiranga Yatra through the predominantly Muslim areas of Ahmedabad. The first such yatra by AAP through these constituencies was led by the party's star campaigner and Punjab Chief Minister, Bhagwant Mann.
AAP might be seen as a threat essentially to the Congress in the state, but here in seats currently represented by Congress MLAs, the day after AAP's yatra, most people say they are not going to change their political loyalty.
Sarfaraz Seth owns Bismillah Hotel in Shah-e-Alam area, located just three shops away from the AAP local office. A banner at the entrance displays the party's symbol broom, and photos of AAP supremo and Delhi CM Arvind Kejriwal, Mann, party's state president Gopal Italia, and its CM face Isudan Gadhvi.
The areas that AAP covered during its Saturday yatra are lined with similar restaurants as Seth's, apart from smaller eateries, automobile service centres, cycle repair shops, and Shah-e-Alam Roza, a 15th-Century shrine.
Seth, 34, says the Congress will win again from the Dani Limda seat, which fell in the AAP yatra route. A Scheduled Caste reserved constituency, it is currently represented by Shailesh Parmar of the Congress. "The Aam Aadmi Party is a new party, and has never worked anywhere in Gujarat. We do not know how it works. He (Arvind Kejriwal) keeps repeating his guarantees of free electricity, good education, medical treatment, employment and so on, but it is Team B of the BJP," Seth says, repeating an apprehension that many have and the Congress has been stressing upon.
Seth, who was born and brought up in the area and has been running the hotel for at least a decade, also says that they are happy with the Congress MLA. "They even got this road repaired a few months back… MLA Parmar is approachable and we are familiar with the Congress office here. Corporator (ward Dani Limda of the Ahmedabad Municipal Corporation) Shehzad Khan Pathan (of the Congress) is also accessible, and solves our problems… We vote for the Congress because of them."
In contrast, voters point out, the AAP office in the area opened just three-four days back. "Inka kya bharosa… aaj hain, kal nahi hain (They can't be trusted, they are here today, may be gone tomorrow)."
Kesar Khan, 45, who owns a battery store across the Shah-e-Alam shrine, says they have no doubt that the BJP will return to power in the state. "People can vote for whoever they want, but it is the BJP which will anyhow form the government. So, we will make sure that the Congress wins from our constituency… It will always be the BJP in the state and the Congress in Dani Limda."
The AIMIM, which won seven seats in the Ahmedabad Municipal Corporation in its debut election in February 2021, did not win any of the four wards of Dani Limda, though it scored wins in the neighbouring Jamalpur.
The voters say AAP is also at a disadvantage as the candidate it has fielded from Dani Limda – retired mamlatdar Dinesh Kapadia – is an "outsider". Kapadia's name was announced early in September, and his photo features in AAP posters now.
At the AAP office, caretaker Hanif Noor Pawan, 60, says that while the Shah-e-Alam office opened only now, "the main office for the constituency was inaugurated two months back".
Towards the Shah-e-Alam Darwaza stands Khala Medical Stores of Anwar Khan, 41. He did not join the AAP march, Khan says, and will vote for the Congress again, "like always". "Anyone can hold a rally… AAP is a new party, it must be performing well in Delhi and Punjab, but their promises do not sync with our mentality. Maybe it fits well with the mindset of those states. Here, all these guarantees will not work," says Khan, repeating that they vote for the Congress because of corporator Pathan.
Khan also says that they are determined to ensure that their vote does not get divided. "In the 2007 Assembly elections, the NCP had also contested and the fight had become the Congress versus NCP. The votes got divided, and the BJP won. We do not want to take the risk, for a party which has never worked in Gujarat."
The Shah-e-Alam area also has a 50-year-old settlement of Bangladeshi immigrants called Chandola Talav Basti, or Bangladeshi Basti. Minarul Sheikh, 35, whose father came from Bangladesh and who was born here, says, "None of us went for the rally by Mann. There is no point. It is just Shehzad Khan Pathan who listens to us. So we vote for the Congress."
Sheikh adds: "In all these years, not a single party has come to our basti, to woo us with their promises, or enquire about our demands. So, why should we go to any such rallies, when they do not even bother?"
All the residents here have voter identity cards. Sheikh says that, against their better judgment, they once went for a rally (protest) against the NRC and Citizenship (Amendment) Act, before the pandemic. "But people were beaten up. They did not have any proof against us… but they simply picked up a few people… So we avoid going for any sort of rally," he says.
Ramesh Vohra, part of AAP candidate Kapadia's team, says that the party will continue to focus on its issues of development. "We will stick to our manifesto, of reopening closed schools, improving the school infrastructure in the area, providing free electricity etc. The Congress has been winning, but it has not fulfilled anything in its manifesto, except an Ambedkar Hall. There is a severe problem of water, drainage, and roads in many chawls of Dani Limda."
Vohra adds that they had identified two major communities in the area – "Dalits and minorities (Muslims)". "We will work first for them."
Source:IndianExpress
Please click the following URL to read the full text of the original story:
https://indianexpress.com/article/political-pulse/day-after-aap-yatra-ahmedabad-muslim-majority-areas-in-no-hurry-to-shift-from-cong-to-party-we-dont-know-8255047/
--------
Experts at AMU discuss subtitling, pragmatics of audio-visual translation
Nov 08, 2022
Participants from across the country learnt essentials for creating new audio-visual content and skills required for translation and subtitling technique in the second online ministry of education funded 'Global Initiative of Academic Networks' (GIAN) course on 'Subtitling screen dialogues: The pragmatics of audio-visual translation' of the department of English, Aligarh Muslim University (AMU).
Scholar of media studies and foreign faculty, Dr Mara Logaldo (IULM, Milan, Italy) delivered lectures and practicums and engaged in interactive sessions on semiotics, multilingualism, aspects of audio-visual translation and other topics.
Dr Mara also delivered the valedictory speech.
Prof M Rizwan Khan, course coordinator and faculty member, department of English, discussed how topics like artificial intelligence and audio-visual translation have been included in pedagogy and research at the department of English in AMU.
He also conducted lectures and practical sessions on employability, prospects of professional interest in audio-visual translation and artificial intelligence as vocations besides providing hands-on-training to the participants.
Attending the programme as the national faculty, Prof Mohammed Asaduddin, translation scholar and faculty member, Jamia Millia Islamia, New Delhi, shared expertise in the field of translation and provided the participants with the understanding of the Indian perspective of translation.
He was also the chief guest of the inaugural session.
Ilaria Valerioti, expert subtitler from Rome and the guest of honour at the valedictory session trained the participants in various subtitling and dubbing techniques including the use of open-source software to create subtitles and dubbing scripts, creation of localized video content and applying the learned skills to fragments of movies and documentaries.
AMU faculty members, Prof Wasim Ahmad, department of zoology, and Prof Umar Farooq, department of electronic engineering, also attended the programme as the chief guests in different sessions.
Source: Hindustan Times
Please click the following URL to read the full text of the original story:
https://www.hindustantimes.com/cities/others/experts-at-amu-discuss-subtitling-pragmatics-of-audio-visual-translation-101667847037539.html
--------
Muslim intellectuals plan to discuss burning community issues with Prime Minister Modi
8th November 2022
By Syed Khaled Shahbaaz
Hyderabad: A panel of Muslim intellectuals may soon meet Indian Prime Minister Narendra Modi to discuss the current situation of thei community in the country. "Muslims are living in fear due to recent communal events and the way out of this is through dialogue," the panel observed.
The top-drawer intellectuals like former Member of Parliament Shahid Siddiqui, former Lt Governor Najeeb Jung, educationists Sayeed Sherwani recently met RSS supremo Mohan Bhagwat in an attempt to bridge the gaps between Hindus and Muslims. "We want to dispel the tension between the communities," said India's former Chief election commissioner S. Y. Qureshi.
Speaking at Masjid al Hassan, during an interaction with Muslim educationists, intellectuals, and academicians in Hyderabad organized by Alliance for Education and Economic Empowerment of the Underprivileged (AEEDU) in collaboration with Shaheen Group of Institutions and Shining Stars Education Foundation, Qureshi said, "this is the first step. We had an hour-long discussion with Mr. Mohan Bhagwat on issues like Hindu Rashtra, cow slaughter, and the myth of Muslim population explosion."
He said, "Mr. Bhagwat assured that Hindu Rashtra cannot be imagined without Muslims, and an amicable solution concerning cow slaughter in states where it is not banned by law can be reached".
The same panel, under the aegis of AEEDU, is currently visiting different States in South India to understand the gaps and study the model. They are currently meeting academicians and educationists from different states with the intent to replicate the best.
'The organization's focus is on modernization of madrassas', said Shahid Siddiqui. As part of this learning drive, the panel visited Masjid al Hassan at Shadnagar town located about 50 km from Hyderabad where Madrassa students showcased their 'modern schooling' skills. Several students who had no prior schooling demonstrated excellent oratory skills in English, Urdu, and Arabic which they had learned during a year and a half of the COVID-19 lockdown at the mosque. They are learning mathematics, science, computer skills, and even sports like cricket, and football.
Khair ull Nissa Sheikh, Executive Director of World Trade Center Services (India) said 'amplification of exemplary works is the need of the hour. Such composite education must also focus on not just educating boys and must also focus on girl education in equal measure.
Secretary TMREIS B Shafiullah presented the Telangana model of education for empowerment through which the government has established 204 schools in a span of 18 months where 1.25 lakh students are receiving quality education.
Maulana Azad Educational Trust Director Farhat Jamaal warned that without education, the next 10 years will be very difficult. The biggest challenge for any community is an irrelevance. We must identify, leverage, and capture the creative talent of the community to help it stay relevant to the changing times.
Source:Siasat Daily
Please click the following URL to read the full text of the original story:
https://www.siasat.com/muslim-intellectuals-plan-to-discuss-burning-community-issues-with-prime-minister-modi-2451461/
--------
Dehradun: Muslim man seeks DM nod to embrace Hinduism
Nov 8, 2022
DEHRADUN: A 36-year-old Muslim man has approached the Dehradun district administration seeking permission to embrace Hinduism after leaving Islam to "fulfil his own wish". After Saeed Arshad approached the district administration a few days ago, district magistrate Sonika instructed the additional district magistrate to take legal advice in the matter from the government counsel.
Arshad first approached the district court seeking permission to change his religion, but there he was advised to contact the district magistrate. Arshad tried to meet the DM, but he sent an email to her after having failed to meet her in person to express his wish. "We have forwarded his application to the district government counsel as the appropriate action could be initiated in the light of the Constitution," ADM SK Barnval said. District government counsel GP Raturi told TOI, "In such a case of conversion, one has to apply before the DM 30 days before coming out from the current religion submitting an affidavit of his intent to adopt the religion of her/his choice."
Source: Times Of India
Please click the following URL to read the full text of the original story:
https://timesofindia.indiatimes.com/city/dehradun/dehradun-muslim-man-seeks-dm-nod-to-embrace-hinduism/articleshow/95366600.cms
--------
Pakistan
Police finally register FIR over attack on PTI chief following SC intervention
Nasir Iqbal | Asif Chaudhry
November 8, 2022
LAHORE / ISLAMABAD: After the Supreme Court warned that it would initiate suo motu proceedings if the Punjab police failed to register an FIR regarding the assassination attempt on former prime minister Imran Khan, the provincial police finally registered the case under terrorism charges, with detained suspect Naveed being nominated as the prime accused.
The FIR lodged on the complaint of Sub-Inspector Amir Shahzad at 11:10pm on Monday under Section 7 of the Anti-Terrorism Act, and Section 302, 324, and 440 of the Pakistan Penal Code was registered after a delay of three days.
Even though the Pakistan Tehreek-i-Insaf (PTI) chief accused Prime Minister Shehbaz Sharif, Interior Minister Rana Sanaullah, and a senior intelligence officer Major General Faisal Naseer of the alleged conspiracy to kill him, the FIR did not mention any of these names.
The senior government and military men were nominated in an application filed by a PTI leader, Zubair Khan Niazi, for the registration of the case.
According to events that transpired before the registration of the case, the applicant and the police staff locked horns over the generation of an e-tag for the application. A police official who shared the details with Dawn said the staff refused to issue the e-tag without receiving the copy of the application and the contents it was carrying.
The applicant was hesitating to drop it at the front desk of the police station saying that his political party leadership wanted to keep the contents of the application secret due to the sensitivity of the matter, the official added. The issue remained unresolved until the police registered the FIR on the complaint of a sub-inspector, he added.
The FIR came after IGP Faisal Shahkar in line with the directives of the apex court ordered the Gujrat district police officer (DPO) to lodge the case so a copy of the FIR could be submitted to the SC today. He also conveyed to the DPO the decision of Chief Justice Umar Ata Bandial who had ordered him to register the case within 24 hours. "The DPO had been conveyed to act as per law as per directions of the SC," Mr Shahkar said.
'Register in 24 hours'
Earlier in the day, the Supreme Court took exception to the delay in the registration of the FIR and directed the IGP to register the case within 24 hours if he did not want to face suo motu proceedings over the matter.
The apex court made these remarks during a contempt case against the PTI chairman over the May 25 violence and the alleged violation of an undertaking given to the court by the PTI. However, the proceedings ended up with the court issuing directions over multiple issues, including the assassination bid on Imran Khan, alleged political interference in the Punjab police, the Azam Swati case, and Arshad Sharif's murder probe.
"Can't you see this is an assassination attempt against a national leader," observed Chief Justice Umar Ata Bandial with a direction that the provincial police will report to the Supreme Court in writing about the registration of the FIR and subsequent measures taken regarding the investigation.
At the outset of the hearing, the court asked PTI's counsel Salman Akram Raja to approach the rostrum and acknowledged that he had a valid reason for seeking time for furnishing a detailed reply on behalf of Imran Khan.
The CJ said the assassination attempt on Mr Khan was "very distressing" but also noted that the PTI chairman had been discharged from the hospital. The case will be taken up next week. The counsel expressed the hope that he may sit with his client on Thursday to seek fresh instructions and finalise the reply.
'FIR delay'
In response to an observation by the CJ about the delay in the FIR registration, Mr Raja said that he had been told that the concerned police station was reluctant. "No FIR means no investigation," CJP said, adding even the evidence could be altered due to the delay.
Giving reasons for the delay, Punjab IG Shahkar who joined the proceedings via video link from Lahore said that as per the concerned district police officer (DPO), no formal complaint has been received by the police. The IG claimed that he had also discussed the matter with Chief Minister Parvez Elahi but the CM had "some reservations over the content of the FIR".
The provincial government has certain views on the matter but such views cannot override the views of the police, the CJP said, adding whatever the case may be, the investigation must move forward. "We will take interest and see that this is done," CJ Bandial said, adding the court will support the police in all lawful actions.
The government acts on its own but no one will be allowed to interfere in the police work either, the CJP observed. He told the IG that this "court will interfere in their work if someone interferes in his work". Also, look at the medical reports, Justice Bandial told the police chief while postponing further proceedings for a week.
Moonis hits back
The son of Punjab CM, Moonis Elahi, reacted strongly to the claims made by the Punjab IG and said the police chief was stopping from registering the case by "unknown persons" — a euphemism for establishment.
Source: Dawn
Please click the following URL to read the full text of the original story:
https://www.dawn.com/news/1719634/police-finally-register-fir-over-attack-on-pti-chief-following-sc-intervention
--------
Former Pakistan PM Imran Khan rejects Pakistan police report into shooting
08 November, 2022
Former Pakistan Prime Minister Imran Khan has rejected a police report on the shooting at a public rally last week that left him wounded in the leg because it doesn't name those in government and the military that he blames for the attack.
Police in the Punjab province, where the attack took place Thursday, registered a complaint, known as First Information Report.
Khan's party rejected it since it doesn't name current Prime Minister Shehbaz Sharif, Interior Minister Rana Sanaullah, and a general in the country's powerful spy agency, the Inter-Services Intelligence, whom Khan has blamed, according to Ejaz Chaudhry, a leader in the Pakistan Tehreek-e-Insaf party.
The former cricket star has described the shooting as an "assassination attempt."
The current police document names only the person arrested at the rally seen firing at Khan in televised footage of the incident and who confessed to operating alone.
Khan is recuperating at his residence in Lahore after being treated for his injuries. He has called on his supporters to restart walking toward Islamabad later this week to pressure Sharif's government to call early elections.
Source: Al Arabiya
Please click the following URL to read the full text of the original story:
https://english.alarabiya.net/News/world/2022/11/08/Former-Pakistan-PM-Imran-Khan-rejects-Pakistan-police-report-into-shooting-
--------
Pakistan PM's China trip: More words, little action
Nov 7, 2022
ISLAMABAD: Pakistani Prime Minister Shehbaz Sharif concluded his visit to China this week where the two sides signed several MoUs but without discussing the rescheduling of the debt his country owes to Beijing which makes this trip more of words than a little action.
In the two-day meeting, there was hardly any discussion on the debt crisis that Pakistan is confronting, especially Shehbaz Sharif, given the fact it could become a serious liability for his party in the election year, according to Islam Khabar.
Pakistan is scheduled to pay the debt by next June and a significant amount of debt of over $20 billion is committed to paying in the next financial year, according to Islam Khabar.
This was the first trip of Pakistan's PM to China since Sharif replaced Imran Khan. He was seeking support to help his falling economy as the government is dealing with a spiralling economic crisis and shrinking foreign currency reserves.
During his visit, Chinese President Xi Jinping said that China will continue to support Pakistan as the country tries to stabilize its financial situation. Even to help Pakistan, China pledged a 15 billion yuan ($2.1 billion) loan facility for Pakistan, but no further concrete support plans were revealed, according to Nikkei Asia.
The joint statement, which was released after Sharif's visit to China, said that Pakistan's PM had reaffirmed Pakistan's commitment to further strengthen and deepen the Pakistan-China All-weather Strategic Cooperative Partnership and enhance practical cooperation in all areas."
In the joint statement, there was an in-depth exchange of views on bilateral relations as well as the regional situation and international political landscape but again, the statement did not mention any concrete financing pledges.
Looking at the visit, the senior research scientist at AidData, a research lab at the American university William & Mary, Ammar Malik said, "This trip was more words and little action, and mostly about reaffirming Pakistan and China's all-weather strategic partnership," according to Nikkei Asia.
"Despite more than 40 attacks on Chinese nationals and interests between 2000 and 2020, the pace of engagement has largely continued unabated," said Malik. He added that this is likely because CPEC is the flagship project of Belt and Road, and the size of the engagement makes it too big to fail.
Pakistan's government was also expecting new financial commitments from Beijing under the China-Pakistan Economic Corridor (CPEC), the $50 billion Pakistan component of the Belt and Road Initiative.
Before visiting China, Sharif had created a 50 billion rupee ($225 million) escrow account for automatic partial payments to Chinese independent power producers operating in Pakistan, hoping to pacify them as well as Beijing after tensions over the bills, reported Nikkei Asia.
Nevertheless, experts believe China did not make any major financial commitments due to Pakistan's unprecedented political and economic crises, which make it difficult for Chinese official creditors to commit. Thursday's shooting of Khan, who suffered injuries reported to be not life-threatening, did nothing to dispel fears of instability.
Source: Times Of India
Please click the following URL to read the full text of the original story:
https://timesofindia.indiatimes.com/world/pakistan/pakistan-pms-china-trip-more-words-little-action/articleshow/95364496.cms
--------
China says done 'utmost' and will continue to do so to stabilise Pakistan's weak economy
Nov 7, 2022
BEIJING: China, which has offered a $9 billion bailout package to Pakistan, on Monday pledged more support for the cash-strapped nation, saying that it has done its "utmost" to stabilise the financial situation of its all-weather ally and will continue to do so.
Pakistan had been engaging with China and Saudi Arabia for financial support, including rolling over maturing loans as part of arrangements for about $35 billion putouts against debt and liabilities during the current fiscal year.
Pakistan's finance minister Ishaq Dar on Saturday last said that Islamabad would be getting about $9 billion from China and $4 billion from Saudi as the government tries to steady the nation's weak economy.
Quoting Xi Jinping, Dar said the Chinese President in his meeting with Prime Minister Shehbaz Sharif during his recent visit to Beijing on November 3 had assured him, "don't worry, we will not let you down".
Replying to a query on his reactions to Dar's assertions, Chinese Foreign Ministry spokesman Zhao Lijian told a media briefing here, "China has done its utmost to help Pakistan stabilise its financial situation. We have been doing so, and we will continue to do so."
Zhao declined to comment on the current political crisis in Pakistan following the failed assassination attempt on former prime minister Imran Khan, saying, "China has noted relevant reports. We express our sympathies to Imran Khan and wish him a speedy recovery."
Khan, 70, suffered bullet injuries in the right leg when two gunmen fired a volley of bullets at him and others mounting on a container-mounted truck in the Wazirabad area of Pakistan's Punjab province where he was leading a long march against the Shehbaz-led government. The Pakistan Tehreek-e-Insaf (PTI) party chairman underwent surgery for bullet injuries at the Shaukat Khanum Hospital in Lahore and was discharged on Sunday.
Pakistan owes Paris Club countries a combined sum of around $10.7 billion. The Paris Club is a group of officials from major creditor nations whose role is to find coordinated and sustainable solutions to the payment difficulties experienced by debtor countries.
According to the International Monetary Fund (IMF), Pakistan's total non-Paris Club bilateral debt currently stands at about $27 billion, of which Chinese debt is about $23 billion.
During Pakistan Prime Minister Shehbaz's visit to Beijing, the Chinese leadership promised to roll over $4 billion in sovereign loans, refinance $3.3 billion commercial bank loans and increase currency swap by about $1.45 billion.
Sharif was among the first foreign leaders to visit China following the recently-concluded historic 20th National Congress of the Communist Party of China in which President Xi won an unprecedented third five-year term in power.
Source: Times Of India
Please click the following URL to read the full text of the original story:
https://timesofindia.indiatimes.com/world/pakistan/china-says-done-utmost-and-will-continue-to-do-so-to-stabilise-pakistans-weak-economy/articleshow/95362143.cms
--------
'Act now' to stop 'abuse' of power: Imran Khan in a letter to Pakistan President Alvi
Nov 7, 2022
ISLAMABAD: Pakistan's former prime minister Imran Khan has called on President Arif Alvi to "act now" and stop the massive "abuse" of citizens at the hands of "rogue elements" in the government.
In a letter to the president on Sunday, Khan stated that since the removal of the Pakistan Tehreek-e-Insaf (PTI) government, the country has been "confronted with an ever-increasing scale of false allegations, harassment, arrests, and custodial torture".
Khan, 70, has alleged that Interior Minister Rana Sanaullah has "repeatedly issued death threats" to him and that he was informed of an assassination plot "hatched by Prime Minister Shahbaz Sharif, Interior Minister Rana Sanaullah" and a senior military official, the Express Tribune newspaper reported.
"The plot was operationalised earlier this week during our long march, but Allah saved me and the assassination attempt failed," he said.
Imran requested that as the head of the State of Pakistan and "also as the Supreme Commander of the Armed Forces" of the Constitution, President Alvi take note of the "following serious wrongdoings that undermine Pakistan's national security".
He further asked Alvi, who also hails from Khan's PTI, to lead an inquiry to identify the guilty "and hold them accountable".
The deposed premier reiterated that the country was observing a "massive abuse of citizens at the hands of rogue elements within state organisations, including custodial torture and abductions", all of which he claimed was "carried out with impunity".
"You hold the highest Office of State and I am requesting you to act now to stop the abuse of power and violations of our laws and of the Constitution, which ensures the fundamental rights of every citizen," he further added.
During his long march on Thursday, Khan nearly escaped an assassination attempt after being shot. He sustained bullet injuries in the right leg and underwent a surgery. He was discharged from the hospital on Sunday and has been moved to a private residence in Lahore.
On Saturday President Alvi and first lady Begum Samina Arif Alvi visited the Shaukat Khanum Memorial Cancer Hospital and Research Centre in Lahore to inquire about the health of Khan and thereafter stayed with him for almost three hours.
The president and the first lady expressed their best wishes and prayed for his (Khan's) speedy recovery.
Source: Times Of India
Please click the following URL to read the full text of the original story:
https://timesofindia.indiatimes.com/world/pakistan/act-now-to-stop-abuse-of-power-imran-khan-in-a-letter-to-pakistan-president-alvi/articleshow/95356512.cms
--------
Pakistan's former foreign minister Qureshi to lead march until Imran Khan recovers
Nov 7, 2022
LAHORE: Pakistan's former foreign minister Shah Mahmood Qureshi has said that he will lead the march to Islamabad until Pakistan Tehreek-e-Insaf (PTI) party's chief Imran Khan fully recovers from the injuries sustained during an assassination attempt.
Khan, who suffered bullet injuries in the right leg on Thursday, on Sunday said that his party will resume the march from Tuesday to Islamabad from the same spot where he survived an assassination attempt.
He has been discharged from the hospital on Sunday after undergoing successful surgery. He has now been moved to a private residence in Lahore.
Qureshi told a large public gathering at Clock Tower Chowk in Faisalabad on Sunday that Khan had asked him to lead the march in his place. He said that even if he is not totally recovered, Khan will participate in the long march in Rawalpindi, the Dawn newspaper reported.
He said that the people of Faisalabad and the entire country demand that prime minister Shehbaz Sharif and federal interior minister Rana Sanaullah Khan quit since they are the real planners of attack on Khan in Wazirabad.
Khan suffered bullet injuries in the right leg when two gunmen fired a volley of bullets at him and others mounting on a container-mounted truck in the Wazirabad area, where he was leading the march.
The 70-year-old former prime minister and chairman of PTI party, who underwent surgery for bullet injuries on Thursday was addressing a press conference from the Shaukat Khanum Hospital owned by his charitable organisation.
Source: Times Of India
Please click the following URL to read the full text of the original story:
https://timesofindia.indiatimes.com/world/pakistan/pakistans-former-foreign-minister-qureshi-to-lead-march-until-imran-khan-recovers/articleshow/95350595.cms
--------
Imran claims 'malcontent' agency insiders feeding him information
Syed Talal Ahsan
November 8, 2022
KARACHI: PTI Chairman Imran Khan claimed on Monday that his advance knowledge of the attempt on his life came from "connections with intelligence agencies that operate", adding that most people who were doing so were appalled by what is going on in this country.
In an interview with CNN's Becky Anderson on Monday, Mr Khan said three bullets were removed from his right leg while some shrapnel was left inside his left leg and that it would take him "four to six weeks" to resume his activities after the Wazirabad assassination attempt.
Talking about the incident, Imran Khan claimed that there were two shooters and "maybe another one". "There was this guy who fired the first volley ... then there was another volley [that] came in over our heads because we were falling," he added, terming the attack a "planned assassination attempt".
He also alleged that a cover-up of the incident was under way, saying that is why he had called for an independent investigation and for three people to resign — who Mr Khan claims are responsible for the attack: Prime Minister Shehbaz Sharif, Interior Minister Rana Sanaullah and a senior intelligence official who he identified as Major General Faisal Naseer.
"If my allegations are wrong then an inquiry would prove them wrong," Mr Khan said. He questioned that could he, as the person who the assassination attempt was tried against, "can't name the people I'm suspicious of who planned this attempt on me".
When asked about the source of his pre-emptive information about the attack, Mr Khan referred to his term in power and said he had "connections with intelligence agencies that operate".
"How did I get the information? From within the intelligence agencies. Why? Because most people are appalled by what is going on in this country. What is happening in Pakistan is unprecedented."
Mr Khan also alleged that an "unprecedented" media clampdown was under way in Pakistan, referring to the details surrounding and leading up to journalist Arshad Sharif's killing in Kenya. He also mentioned the treatment meted out to his aides Shahbaz Gill and Senator Azam Swati, alleging that they were stripped and tortured.
"Both blamed a senior intelligence officer who was responsible for their torture," Mr Khan added. The PTI chief also claimed that "all efforts" were under way to somehow disqualify and exclude him from the political arena, adding that the failure of those attempts led to the Wazirabad attack.
Source: Dawn
Please click the following URL to read the full text of the original story:
https://www.dawn.com/news/1719629/imran-claims-malcontent-agency-insiders-feeding-him-information
--------
PTI not behind slogans against army: Asad Qaiser
November 8, 2022
PESHAWAR: Former National Assembly speaker Asad Qaiser on Monday claimed Pakistan Tehreek-i-Insaf was not encouraging anti-army slogans.
Speaking at a news conference at the Peshawar Press Club, he said preparations for the long march on Islamabad were underway and caravans from across Khyber Pakthunkhwa would reach Islamabad.
"We will never defame the Pak Army," Mr Qaiser said. He insisted slogans against the institutions could be an act of individuals.
He was flanked by leaders of Jamiat Ulema-i-Pakistan, including Maulana Gul Naseeb and Maulana Shujaul Mulk.
As part of preparations for the long march, Mr Qaiser said PTI's leadership at the provincial level would arrange political gatherings in Peshawar, Charsadda, Nowshera, Mardan and Swabi.
He expressed the hope that FIR would be registered in the assassination attempt on PTI chief Imran Khan in light of the Supreme Court directives.
Speaking at the presser, Shujaul Mulk alleged the assassination attempt on Imran Khan was planned in consultation with Pakistan Democratic Movement.
Source: Dawn
Please click the following URL to read the full text of the original story:
https://www.dawn.com/news/1719684/pti-not-behind-slogans-against-army-asad-qaiser
--------
Militant commander killed in Khyber raid
November 8, 2022
KHYBER: The counter-terrorism department (CTD) claimed on Monday to have killed a militant commander during an intelligence-based operation in Jamrud tehsil of Khyber district.
In a statement, the CTD said militant commander, Liaquat Ali alias Shaheen, was holed up in a house in Gharreeza locality. A raid was conducted on the house on a tip-off, it added.
The statement said Shaheen was killed and three armed men were arrested while trying to flee in injured condition. The exchange of fire continued for nearly three hours.
The entire Gharreeza locality was cordoned off during the operation. Army helicopters were spotted overhead, supposedly to monitor the situation on the ground.
The statement said the group was involved in a number of terrorist attacks in Peshawar and Khyber in recent past. The CTD said the killed commander was affiliated with self-styled Islamic State group, and also remained part of proscribed Tehreek-i-Taliban Pakistan.
The statement said Shaheen and his group were involved in a recent grenade attack on Regi Model Town police station, firing on an FC checkpost in Gudar area of Jamrud, in which an FC official was martyred; firing on a police mobile vehicle in Nowshera, in which ASI Fayyaz Khan was martyred and two policemen were injured.
The militant was also allegedly involved in attacks on a police team in Mathra locality of Peshawar, which was providing security to a polio vaccination team. A constable, Mohib, had lost his life in the attack. The militant and his accomplices had also killed a constable, Asifullah in Khazana area; a constable, namely Bin Yamin, in a grenade attack on a police mobile near Karkhano market in the recent past.
Source: Dawn
Please click the following URL to read the full text of the original story:
https://www.dawn.com/news/1719699/militant-commander-killed-in-khyber-raid
--------
'Hakeem' Sanaullah prepared effective remedy to deal with PTI marchers: Fazl
November 7, 2022
ISLAMABAD: Pakistan Democratic Movement (PDM) head who also chairman of Jamiat Ulema-e-Islam (JUI-F), Maulana Fazlur Rehman said Sunday that the Pakistan Tehreek-e-Insaf (PTI) marchers would never be allowed reach the federal capital.
"Hakeem Sanaullah has prepared an effective tonic for the marchers and they would be treated accordingly", JUI-F Chief Fazlur Rehman while addressing a presser here on Sunday. He termed the PTI long march a complete flop show and made it clear that nobody would be allowed to play with Pakistan at all costs.
He said Pakistan was being pushed towards difficulties, which made it lag behind in the comity of nations economically.
Taking jibe at the PTI chief, Fazl said that a joint investigation team (JIT) should be constituted against Imran Khan, saying the PTI chairman's bullet injuries in the Wazirabad firing incident was a 'drama'.
The JUI-F chief equated Imran Khan with Indian top stars Salman Khan and Shah Rukh Khan, saying the PTI chief had surpassed the Bollywood's actors in the field of acting.
He, expressing his astonishment, said the PTI chief's bullet injuries were being treated in a cancer hospital, adding that there were contradictions in his medical reports. "We have heard bomb fragments but heard of bullet fragments for the first time."
He urged the federal government not to show leniency to Imran Khan as he was trying to create chaos in the country under the guise of firing accident and making false accusations against the most important personalities, including the prime minister, interior minister and an officer of the national security institution that was not acceptable at all.
He asked the quarters concerned to launch a thorough probe on the matter so that Imran's heinous face could be unmasked before the public.
Condemning Azam Swati's incident, he said, "We wanted peace and harmony in the country and the citizens should lead their lives as per law and the Constitution with respect and dignity."
The JUI-F chief said in case of Arshad Sharif, the commission should also investigate the Khyber Pakhtunkhwa government that issued life threat alert to the senior journalist.
He said during the PTI government, restrictions were imposed on media.
Source: Pakistan Today
Please click the following URL to read the full text of the original story:
https://www.pakistantoday.com.pk/2022/11/07/hakeem-sanaullah-prepared-effective-remedy-to-deal-with-pti-marchers-fazl/
--------
North America
Mehmet Oz could be the first Muslim US Senator, but some Muslim Americans are ambivalent
November 6, 2022
In just a few days, Pennsylvania could elect Dr. Mehmet Oz to the Senate, which would make him the nation's first Muslim senator.
With an eye on that history, Muslims in the state have invited him to events at mosques. They have waited for him to talk about how his life has been influenced by his faith, which he once told an interviewer hewed to the mystical Sufi Islam of the whirling dervishes. They have wondered if he would note the significance of the election of a Muslim to such a high national office.
But he has not done any of those things.
As Oz clashes with Lt. Gov. John Fetterman, the Democratic candidate, in a close race that could decide control of the Senate, he is approaching his Muslim background with what appears to be great ambivalence — and some Muslim Americans have similarly conflicted feelings.
Oz's personal and political identities make him an unlikely fit for the role of a history-making, barrier-breaking Muslim public figure.
He identifies himself as a secular Muslim, raised his four children in his wife's Christian faith and rarely discusses his religious beliefs in public. Unlike most American Muslims, he is a Republican. And some of his rare comments about Islam — including a warning about Shariah law in the United States, which no group has ever proposed — have been viewed by fellow Muslims as Islamophobic signaling.
Above all, though, the alienation many Muslims feel from Oz stems from his vocal backing from former President Donald Trump, who once said he would "strongly consider" closing mosques in the United States, told an interviewer that "I think Islam hates us" and, as president, banned travel to the United States from several predominantly Muslim countries.
In other words, the first Muslim senator might be a man who owes his political rise to a figure who spread Islamophobia more widely than any other recent American leader.
"It's going to be very difficult to wrap my head around that one," said Abdul Maghees Chaudhri, the vice president of the Islamic Society of Chester County, a mosque in suburban Philadelphia.
Oz, who for years was best known as a television self-help personality, has described a spiritual life shaped by the conflicting views of his pious father and his secular mother, who reflected divisions within their native Turkey. His campaign did not respond to requests for an interview.
"I have struggled a lot with my Muslim identity, in part because, within my family, there were two very different perspectives on it," he said in a 2009 interview with Henry Louis Gates Jr. on the PBS television show "Faces of America."
In the end, he told Gates, he embraced his mother's secularism and felt drawn to Sufism, a movement found in both Sunni and Shiite Islam that emphasizes each person's individual search for the divine over dogma or rigidity.
When one is caught up in the "legal aspects of religion," he said, "it frustrates me to no end."
Muslims around the world interpret their faith in a wide variety of ways, and Oz's approach is one shared by many others. For many American Muslims, their concern is not over theological differences with Oz or his religious observance, but over his unwillingness to publicly embrace them while at the same time aligning with politicians who have been hostile toward their community.
Dalia Mogahed, the director of research for the Institute for Social Policy and Understanding, said it felt as if Oz had "disowned" his background.
"I think it's something, for the most part, that he has de-emphasized and walked away from," she said. "For the community to claim him or take any pride in his accomplishments, I don't think makes sense."
Nagi Latefa, an immigrant from the Gaza Strip and a volunteer at the Islamic Education Center in Allentown, Pennsylvania, said he had been open to Oz, whom he viewed as a "poster child" for the sort of success immigrants want their children to have.
Latefa voted for President George H.W. Bush and President George W. Bush and was a longtime supporter of Rep. Charlie Dent, a Republican who represented the area until 2018. Latefa said he had been trying since July to organize a meet-the-candidate event for Oz at his mosque. But his efforts have gone nowhere, he said.
"I have called, I have emails I sent to them, and nothing," Latefa said. The experience soured him. When other Muslims ask him about Oz, he does not know how to recommend voting for him.
"How can I justify this?" he said. "It's like, 'Hey, guys, we want to go vote for this guy, he's good, but he doesn't want to be seen with us.'"
Only 10% of American Muslims identify as Republicans, according to a study by the Institute for Social Policy and Understanding this year. Forty-six percent of Muslims identify as Democrats and 40% as independent, the highest percentage of independents of any faith group. Oz is believed to be the first Muslim nominee for Senate from a major party.
Mogahed said that American Muslims were likely to be independents because many did not feel they fit into either political party.
Many oppose Democratic positions on issues like same-sex marriage and taxation, she said. But a survey of American Muslims by the institute in 2022 also showed that a majority supported abortion rights and gun-control laws and said they agreed with the principles of critical race theory.
American Muslims have also been deeply alienated from the Republican Party since the Sept. 11, 2001, terrorist attacks, which led to years of racial profiling and government surveillance, enabled by the Patriot Act, signed into law by President George W. Bush, a Republican. That estrangement became profound during the Trump administration.
There has been no excitement in the community over Oz the way there was when Keith Ellison, a Democrat, became the first Muslim elected to Congress in 2007, Mogahed said. Ellison visited mosques across the country, was sworn into office on the Quran and served as an eloquent spokesperson for American Muslims, Mogahed said.
Oz addressed his religious background at the start of the campaign, writing in The Washington Examiner in January that he had been "raised as a secular Muslim." His four children are Christians, and he wrote that he had "beamed with joy watching them and our four grandchildren become baptized."
He went further in an interview in May with Real America's Voice, a right-wing online media company, when asked if Islam was incompatible with the Constitution.
"We don't want Shariah law in America," he said. "I'm a secular Muslim. I don't want any of these religious fanatics playing a role in American society."
Many American Muslims view statements like that as a signal to non-Muslim voters that Oz is different from whatever scary image of Islam they may have in their minds, said Ahmet Tekelioglu, the executive director of CAIR-Philadelphia, a Muslim civil rights group. The specter of Shariah in the United States has been a frequent topic in the conservative media since the mid-2000s.
Oz's most substantive public remarks about his religious background appear to have come from his 2009 interview with Gates.
In the interview, Oz described growing up in a divided home, with "one parent on one side of the religious wall, one parent on the other."
His mother's family was aligned with the secular teachings of Mustafa Kemal Ataturk, who founded modern Turkey after the dissolution of the Ottoman Empire in 1922. Oz said those in his mother's family "are religious people, but in privacy."
"They never flaunt it; they never talk about it," he said. "It's frankly none of your business, in their opinion, that they happen to be Muslim."
But for his father's side of the family, Islam was "their core essence — it is what defined who they were; it is what gave them their morality," he said.
"They would never feel comfortable separating away their view towards the law from the view towards religion," he said. "They just seemed so obviously and beautifully and elegantly integrated. Why would you try to carve them apart?"
As an adult, Oz said, he was drawn to Sufism, which emphasizes a personal connection with God.
"It's much more mystical, much more interested in taking away the 99% of reality that we think is there and looking at the real, important 1% that's beneath that veneer," he said, "the true connection with God."
He told Gates he had also found spiritual fulfillment in other traditions, including his wife's religion, Swedenborgian Christianity, a Protestant denomination based on the writings of Emanuel Swedenborg, an 18th-century Swedish mystic.
Oz's background has not come up during the general election campaign, but it was a bitter part of the Republican primary in May.
Oz's opponent, David McCormick, accused him of having "dual loyalties" because he holds Turkish citizenship, which Oz said he would renounce if elected to the Senate.
Behind the scenes, McCormick tried to dissuade Trump from endorsing Oz at a meeting where his wife, former Trump White House official Dina Powell McCormick, showed the former president pictures of Oz alongside others wearing Muslim head coverings. They argued that Oz was too Muslim to win an election in Pennsylvania.
The idea that Oz may be too Muslim is not one shared by many Muslim Pennsylvanians.
Chris Caras, the imam of the Islamic Center of Pittsburgh, was a fan of Oz's television show and followed him on Facebook for years, turning to him for weight loss tips and advice about alternative medicine.
But Caras said Oz's embrace of Trump had left him "profoundly" disappointed.
Source:IndianExpress
Please click the following URL to read the full text of the original story:
https://indianexpress.com/article/world/oz-first-muslim-u-s-senator-muslim-americans-8252449/
--------
Biden congratulates Netanyahu on Israel elections, reaffirms US support
08 November, 2022
US President Joe Biden congratulated Israel's Benjamin Netanyahu on Monday on his party's return to power, the White House said.
During the call, Biden commended Israel's "free and fair" elections, the fifth elections in less than four years.
Netanyahu still has to be tasked with forming a new government, which is expected to take some time.
Biden also reaffirmed US-Israeli ties "based on a bedrock of shared democratic values and mutual interests.
Underscored his "unwavering support" for Israel's security, Biden agreed with Netanyahu to speak again once a new Israeli government is formed.
Reports have suggested that Netanyahu will tap Jewish supremacist Itamar Ben-Gvir as a minister in the next government.
Ben-Gvir was previously convicted by an Israeli court of incitement to racism and supporting a terrorist organization.
The Jewish militant Kach he is a part of was designated as a terror group in 1997 before the Biden administration revoked its Foreign Terrorist Organization (FTO) listing in May.
Source: Al Arabiya
Please click the following URL to read the full text of the original story:
https://english.alarabiya.net/News/middle-east/2022/11/08/Biden-congratulates-Netanyahu-on-Israel-elections-reaffirms-US-support
--------
Armenia, Azerbaijan leaders hold talks in US with Blinken hours after new shootout
08 November, 2022
Armenia and Azerbaijan held peace talks on Monday, mediated by the United States, just hours after a fresh shootout along their troubled border in a conflict which has left hundreds dead in recent months.
US Secretary of State Antony Blinken hosted the foreign ministers of the rival nations.
"The United States is committed to the peace negotiations between Armenia and Azerbaijan," Blinken said before the meeting. "Direct dialogue is the best way to a truly durable peace, and we are very pleased to support that."
An American official, speaking on condition of anonymity, said the meeting was less about peace negotiations in the full sense of the term, and more about providing an opportunity for the warring parties to meet and talk.
A week ago, Armenian Prime Minister Nikol Pashinyan and Azerbaijani President Ilham Aliyev "agreed not to use force" to resolve their dispute over the Nagorno-Karabakh territory, during a summit in Russia hosted by President Vladimir Putin.
However, in the early hours of Monday, Azerbaijani forces opened fire on Armenian positions in the eastern sector of the Armenian-Azerbaijani border, the defense ministry in Yerevan said in a statement, adding there had been no casualties.
Meanwhile, Azerbaijan's defense ministry accused Armenian forces of shooting at the positions of Azerbaijani troops stationed at several locations on the frontier.
Kremlin spokesman Dmitry Peskov on Monday called on both parties to "refrain from the actions and steps that could lead to an escalation of tensions."
Yerevan and Baku fought two wars over the disputed territory of Nagorno-Karabakh -- in autumn of 2020 and in the 1990s.
Six weeks of fighting in 2020 claimed more than 6,500 lives before a Russian-brokered truce ended the hostilities.
Under the 2020 deal, Armenia ceded swathes of territory it had controlled for decades, and Russia stationed peacekeepers to oversee the fragile ceasefire.
There have been frequent exchanges of fire at the Caucasus neighbors' border since the 2020 war.
Source: Al Arabiya
Please click the following URL to read the full text of the original story:
https://english.alarabiya.net/News/world/2022/11/08/Armenia-Azerbaijan-leaders-hold-talks-in-US-with-Blinken-hours-after-new-shootout
--------
Europe
UK Conservatives face fresh pressure over Islamophobia allegations
November 07, 2022
LONDON: The UK's governing Conservative Party has been accused of ignoring rising Islamophobia in Britain and within its ranks as new figures show a surge in anti-Muslim hate crimes nationwide, The Independent reported on Monday.
Government figures show that hate crimes targeting Muslims in the UK rose by 28 percent in the last year, accounting for 42 percent of all recorded religious hate crimes in 2021/22.
For the past five years, Muslims have accounted for the highest proportion of religious hate crime victims, figures show.
Within the Conservative Party, questions remain over the result of a probe into MP Mark Spencer, who was accused of Islamophobia by a fellow MP.
Cabinet Secretary Simon Case last month said the investigation into Spencer's actions remains "outstanding."
In a letter to Conservative Party Chairman Nadhim Zahawi, Labour chair Anneliese Dodds questioned the government's alleged inaction on Islamophobia.
"It is deeply concerning that I must again raise the issue of Islamophobia directly with the chair of the Conservative Party," she said.
"As Islamophobic hate crime is on the rise, the Conservatives need to show they are serious about tackling this insidious hatred, both in society and within their party. Denial of the issue simply isn't good enough."
Zahawi previously rejected criticism that the Conservatives are suffering from an Islamophobia problem, saying he "did not recognize institutional racism in the party."
Dodds, in her letter, raised the issue of definitional arguments over Islamophobia within the Conservative Party.
In 2018, a cross-party parliamentary group encouraged the use of the term Islamophobia within government communications, but the Conservatives rejected the findings.
Dodds asked Zahawi whether his party would end the "bizarre practice of refusing to use the term."
The Independent reported last week that the government had ended discussions over the use of the term more than three years after the findings of the cross-party group were released.
Imam Qari Asim, a senior British Muslim figure who took part in consultations with the parliamentary group, warned earlier this year that the government "had not engaged with him at all."
Source: Arab News
Please click the following URL to read the full text of the original story:
https://www.arabnews.com/node/2195331/world
--------
UN chief proposes debt relief for Pakistan
Sheharyar Rizwan
November 8, 2022
LAHORE: UN Secretary General Antonio Guterres on Monday appealed to the international financial institutions and to the G20 nations to create mechanisms of debt relief for middle-income countries impacted by natural disasters, including Pakistan, while Prime Minister Shehbaz Sharif highlighted how some countries will be more exposed and vulnerable to climate change than those in cooler regions.
Addressing a joint press conference with PM Sharif following a bilateral meeting on the sidelines of the COP27 climate summit here, the UN chief said being a middle-income country, Pakistan hadn't benefited from debt relief at the level that should be necessary for the country.
"One of the proposals that I've been making is that for countries like Pakistan, there should be a way to swap the payment of their debt for investments in rehabilitation and recovery and reconstruction from a natural disaster like the one that just occurred," a UN press release quoted him as saying.
Mr Guterres also believed the way the international financial system worked needed to be reviewed in order for Pakistan to access effective debt relief and concessional funding that was necessary for the "huge" levels of reconstruction and rehabilitation.
PM says recovery from floods held back by rising public debt, energy prices and lack of adaptation funds
Speaking on the occasion, PM Sharif said: "We are poised on the threshold of a new green deal or a trajectory to a three-degree world where returning to the Earth as we know today will be impossible. Some countries, like Pakistan, will be more exposed and more deeply vulnerable than others."
Addressing the UN secretary general, he said: "Our journey to recovery will be held back by increasing public debt, rising international energy prices and no real access to adaptation funds. At the broader level, we seek to add loss and damage to the climate agenda."
The PM remarked that his goals and those of the UN chief were the same: to "not let helplessness become a death sentence in this race against time", adding: "What goes on in Pakistan will not stay in Pakistan."
Mr Guterres also recalled his visit to Pakistan where he saw an "area flooded that is three times the size of my country, Portugal". He also lauded the courage, resilience, and generosity of the people who "decided to leave their property and leave their assets to go and rescue other people's assets and property instead of protecting their own", a UN press release quoted him as saying.
He said it was the international community's duty to massively support Pakistan in this moment, adding though more needed to be done. The UN chief said the COP summit needed to recognize the loss and damage and define a clear roadmap to deal with it, which he said should include the creation of an institutional framework and financing.
PM seeks international support
Earlier, during their bilateral meeting, the premier said the enormous task of rehabilitation and reconstruction following the recent devastating floods in the country would require substantial international support to build back greener, based on the model of sustainable development.
He quoted the government's Post-Disaster Needs Assessment that the total estimated damage caused by the floods was over $32 billion -- around 10 per cent of the country's gross domestic product. The prime minister highlighted this during his meeting with UN Secretary General Antonio Guterres on the sidelines of the COP27 Summit being held here, APP quoted a press release issued by the PM Media Wing as saying.
The premier also reiterated that the unprecedented disaster was a clear manifestation of the challenge posed by climate change, and endorsed the secretary general's call for climate justice and climate solidarity.
He said Pakistan was looking forward to convening an international 'pledging conference' bringing together all development partners. He also appreciated the creation of a UN inter-agency team, led by the deputy secretary general, to help Pakistan prepare a comprehensive rehabilitation and reconstruction plan to be presented at the conference.
With reference to COP27, the PM said the conference was a timely opportunity for the international community to catalyse concerted international action to mitigate the impact of climate change, and promote climate justice based on the principles of equity, but differentiated responsibilities and respective capabilities.
He emphasised that addressing "loss and damage" would be a key "deliverable" at the event.
'Common charter for planet'
Earlier on Monday, PM Sharif said the international community must come together to create a common charter for the survival of the planet. In his meeting with United Arab Emirates President Mohammed bin Zayed Al Nahyan on the sidelines of the COP27 Summit, the PM welcomed the international community's commitment, especially the Islamic world, to the goals and objectives of the conference.
Dealing with the effects of climate change was not for the developing countries alone, he added.
Meanwhile, the heads of state and governments in their interaction with PM Sharif on the sidelines of the summit termed his passion extraordinary, featuring efforts for urgent steps to save the country from the natural disaster, according to the PM Office.
The prime minister in his meetings with Tajik President Emomali Rahmon, Indonesian Vice President Maroof Amin, Iraqi President Abdul Latif Rashid, and Lebanese Prime Minister Najib Mikati drew the attention of the international community to help Pakistan overcome the risks of climate change.
He highlighted the damage suffered by Pakistan in the wake of the recent flash floods and emphasized transforming the key climate-related decisions into concrete actions and credible plans.
Environmental lawyer Ahmed Rafay Alam told Dawn over the phone from Sharm el-Sheikh that the recognition and inclusion of loss and damage on the agenda gets the ball rolling.
Source: Dawn
Please click the following URL to read the full text of the original story:
https://www.dawn.com/news/1719635/un-chief-proposes-debt-relief-for-pakistan
--------
Pro-Imran graffiti appears outside Sharifs' office in London
November 8, 2022
LONDON: A pro-Imran slogan was spray painted on the wall of Stanhope House, the building where former prime minister Nawaz Sharif's son Hussain has an office, on Monday, in an act that constitutes 'criminal vandalism' under UK law.
On Monday evening, a 'die-hard' supporter of PTI Chairman Imran Khan, British Pakistani Shayan Ali posted a photo on social media where he could be seen stood against the boundary wall, which was spray painted with the words: "You can't kill IK chor".
The phrase is being construed by many on social media as being targeted to the Sharifs, whom Mr Ali has for months been heckling and confronting outside their home, office and public places.
The slogan appeared just days after Mr Khan was shot and injured by a gun wielding critic at his rally in Wazirabad.
Mr Ali was briefly detained by Met Police officers last month when a PTI protest outside Avenfield House, where Nawaz Sharif resides, went out of control. Mr Ali is routinely seen outside Avenfield House and Stanhope House, shouting anti-Nawaz slogans.
In one recent video circulating on social media, residents of Dunraven Street who live nearby Avenfield House are seen pleading with Mr Ali and his peers, begging them to stop using bad language on their doorstep and that they have children at home. "It's not fair," the woman pleaded with the pro-Imran supporters, looking tearful. "We pay so much money to live in a good neighbourhood."
Below Mr Ali's tweet about the graffiti outside Stanhope House, some Twitter users praised him, however, others pointed out that his action falls under criminal vandalism in the UK.
Under the Criminal Damage Act 1971, a person caught doing graffiti can face a prison sentence of up to ten years or fined if the damage costs more than £5,000.
If the damage caused is less than £5,000, an offender could face three months in prison or a fine of £2,500. Offenders can also be prosecuted under the Anti-Social Behaviour Act, 2003.
Source: Dawn
Please click the following URL to read the full text of the original story:
https://www.dawn.com/news/1719639/pro-imran-graffiti-appears-outside-sharifs-office-in-london
--------
Zelenskyy congratulates Netanyahu on Israel election win
07 November, 2022
Ukrainian President Volodymyr Zelenskyy on Monday called Benjamin Netanyahu to congratulate him on his victory in last week's election that secured the former Israeli prime minister's dramatic comeback.
In the "warm and personal conversation," Netanyahu thanked Zelenskyy and "repeated what he said during the election campaign, that after assuming the position (of prime minister) he would give serious consideration to the Ukrainian issue," a statement from Netanyahu's office read.
Zelenskyy said he congratulated Netanyahu and "wished him a successful formation of the new government."
"I expressed hope that the level of (Ukrainian-Israeli) interaction will correspond to the security challenges facing our countries," Zelenskyy wrote on Twitter.
Ukraine has since late February been under assault from a Russian invasion.
The call between the two took place via encrypted messaging app Signal, according to Netanyahu's office.
Israel has been reluctant to get involved in a US-led alliance helping pro-Western Ukraine to repel Russia's invasion.
But Israel has been increasingly concerned over the growing role of arch-foe Iran in the conflict, with Tehran accused of supplying fleets of deadly drones used by Russia against Ukrainian civilian targets.
Zelenskyy, who had criticized Israel over its neutrality in the war, had late October noted a "positive trend" in relations after the two countries began sharing intelligence about Russia's use Iranian drones.
Israel has not been willing to provide Ukraine with its state-of-the-art aerial defense systems, walking a delicate diplomatic line in light of its need to maintain cooperation with Russia, which has an active military role in Israel's neighbor Syria.
Netanyahu, along with his far-right and ultra-Orthodox allies, secured a clear win in Tuesday's election, setting him up to form what may be the most right-wing government in Israeli history with 64 members of the 120-seat parliament.
Source: Al Arabiya
Please click the following URL to read the full text of the original story:
https://english.alarabiya.net/News/world/2022/11/08/Zelenskyy-congratulates-Netanyahu-on-Israel-election-win-
--------
UK PM Sunak congratulates Netanyahu on Israel election win
07 November, 2022
Britain on Monday congratulated Benjamin Netanyahu on his return to power in Israel, although it is also urging moderation from his hard-right partners.
"On behalf of the UK, I would like to congratulate @netanyahu on his victory in the Israeli elections," Prime Minister Rishi Sunak tweeted while on a visit to Egypt for the COP27 climate summit.
"Across areas like trade, security and technology there is a huge amount our countries do together and I look forward to working with the returning Prime Minister."
Netanyahu, backed by ultra-Orthodox and far-right allies, secured a clear win in last Tuesday's vote, putting the veteran leader on course for a dramatic comeback.
Sunak's spokeswoman on Thursday urged all parties in Israel to "refrain from inflammatory language and demonstrate tolerance and respect for minority groups."
Source: Al Arabiya
Please click the following URL to read the full text of the original story:
https://english.alarabiya.net/News/middle-east/2022/11/07/UK-PM-Sunak-congratulates-Netanyahu-on-Israel-election-win
--------
Sweden reiterates bid to join NATO ahead of Turkey Talks
08 November, 2022
Sweden's new leader is making progress toward convincing Turkey he's serious about meeting Ankara's demands in exchange for being let into NATO, according to two Turkish officials familiar with the matter.
Stockholm made fresh concessions just days before a key meeting between Prime Minister Ulf Kristersson and Turkey President Recep Tayyip Erdogan scheduled for Ankara on Tuesday.
Kristersson will seek to persuade his opposite number to lift objections to Sweden's entry to the alliance, and ratify the application made alongside neighboring Finland following Russia's invasion of Ukraine.
The Swedish government on Saturday agreed to distance itself from Kurdish groups viewed as terrorists by Turkey – one of two countries yet to back membership – after earlier approving arms exports to the nation. The steps need to remain in place after joining the alliance, said the officials, who asked not to be named while speaking about a confidential matter.
Turkey has been objecting to the two Nordic countries joining NATO, but an agreement hammered out in Madrid in June allowed the process to move forward, and 28 of 30 allies have since ratified their entry. Still, the cooperation between Sweden and Kurdish groups has remained a sticking point for Turkey. Hungary's approval is also pending.
Erdogan is facing elections next year and is keen to consolidate nationalist support by pressuring the Nordic nations to crack down not only on supporters of the Kurdish PKK militant group – already designated a terrorist organization by the European Union and the US – but also on affiliates such as the YPG militia in Syria.
While the YPG, backed by Western nations, played a significant role in defeating ISIS in Syria, Turkey accuses the group of attacking its soldiers near the countries' border.
Source: Al Arabiya
Please click the following URL to read the full text of the original story:
https://english.alarabiya.net/News/world/2022/11/08/Sweden-reiterates-bid-to-join-NATO-ahead-of-Turkey-Talks
--------
Greece, Türkiye should resolve differences through diplomacy: US envoy in Athens
Ahmet Gencturk
07.11.2022
It is essential that Greece and Türkiye resolve their differences through diplomacy, the US ambassador to Athens said on Sunday.
"The only thing that will work is to discuss and resolve the differences diplomatically and according to international law," George Tsunis said in an interview with private broadcaster ANT1, emphasizing that both neighboring countries are important and respected members of NATO.
"There are differences in many relationships. But peace is the primary principle in this case and can only be achieved diplomatically," Tsunis added.
Arguing that inflammatory rhetoric would not serve the interests of Athens, Ankara, or NATO, he drew attention to repeated US calls on both allies to engage in dialogue to overcome differences between them.
"These differences are not unique and can be resolved," he said, expressing hope that the disputes between the two countries would be settled through diplomatic channels "in the near future."
When asked how Washington would react in the face of an attack on Greece, Tsunis was careful in his wording. "The Greek army is capable of protecting the homeland but the US would tirelessly work to ensure the peace," he said.
The New York-born son of a Greek immigrant family, Tsunis has served as the US ambassador to Greece since May.
On Nov. 2, Turkish Foreign Minister Mevlut Cavusoglu criticized Europe and the US over their approach to Türkiye-Greece relations, accusing Europe of double standards in Athens' favor.
Expressing Ankara's readiness to resolve outstanding disputes, Cavusoglu said this was not possible due to Greece's disregard of exploratory talks.
Source: Anadolu Agency
Please click the following URL to read the full text of the original story:
https://www.aa.com.tr/en/europe/greece-turkiye-should-resolve-differences-through-diplomacy-us-envoy-in-athens/2732035
--------
Germany condemns rocket attacks in Syria's Idlib
Ayhan Simsek
07.11.2022
BERLIN
Germany on Monday condemned the Syrian regime's rocket attacks on a refugee camp in the northern city of Idlib.
"We have seen the reports of military attacks by the Syrian regime, as well as the Russian forces in the region," the Foreign Ministry's deputy spokeswoman, Andrea Sasse, told a news conference in Berlin.
"We condemn the use of cluster bombs, which are internationally banned. We also condemn military attacks that target civilian and humanitarian infrastructure, particularly refugee camps," she added.
Sunday's rocket attack on the refugee camp left at least 10 civilians dead, including children, according to the Syrian Network for Human Rights (SNHR). More than 77 civilians were wounded and 12 of them were in serious condition.
Idlib falls within a de-escalation zone where acts of aggression are expressly prohibited under a 2018 deal between Türkiye and Russia. Despite multiple cease-fire understandings, the Assad regime and its allies carried out frequent attacks within the zone.
Syria has been embroiled in a vicious civil war since early 2011, when the Assad regime cracked down on pro-democracy protests with unexpected ferocity.
Source: Anadolu Agency
Please click the following URL to read the full text of the original story:
https://www.aa.com.tr/en/europe/germany-condemns-rocket-attacks-in-syria-s-idlib/2731959
--------
Australian engineer jailed in Iraq facing 'death sentence' amid health fears
November 07, 2022
LONDON: An Australian engineer jailed in Iraq has sent a letter to his family from prison warning that he is facing a "death sentence" over potential untreated skin cancer, The Guardian reported on Monday.
Robert Pether, who was detained in Iraq last year after a contract dispute surrounding the work of his architecture business on a new Central Bank building in the country, warned that he "will not be coming home."
The 47-year-old previously survived skin cancer in 2005, and before his arrest had attended regular screenings to monitor his health status.
But Pether warned in the letter that prison authorities, including a dermatologist brought in for consultations, have ignored the growth of a new lesion on his ear — the same location of a previous melanoma.
In June, he started to notice rapid changes in the lesion and alerted prison officials. But a dermatologist only prescribed Pether topical cream, which failed to arrive.
"The clock is ticking and I have a narrow window of opportunity — certainly less time than I am due to be imprisoned for," he wrote.
"How do you tell a little girl who loves unicorns and cats that her daddy will not be coming home?
"How do you tell your children that you are proud of them, but will not be sharing the accolades (and pitfalls) of their lives with them?
"And toughest of all, how do you tell your wife, who is very much the other half of you, that you will not be keeping the promise you made to grow old together?
"These are the questions that I am currently grappling with every day — from the moment I wake up and sit on the cell floor for the first head count of the day, until the last thing at night, when I look at the photos of my family on the wall next to my bed.
"Hope is not forsaken, miracles can (and do) occur. However, the reality at the moment is looking bleak for myself and my family."
Australian Prime Minister Anthony Albanese earlier this year appealed to his Iraqi counterpart Mustafa Al-Kadhimi over Pether's situation.
A spokesperson for the Australian Foreign Ministry said: "The Australian government continues to advocate for Mr. Pether in the strongest possible terms and at the highest levels."
Source: Arab News
Please click the following URL to read the full text of the original story:
https://www.arabnews.com/node/2195336/world
--------
Palestinian tycoon shot by British forces as boy launches bid to redress colonial-era abuses
November 07, 2022
LONDON: The world's richest Palestinian, who was shot by British forces as a boy, has launched an attempt to win redress for alleged crimes committed during colonial rule.
Munib Al-Masri, 88, who was shot by British forces in 1944, earlier this year drafted a 300-page document on the alleged crimes and abuses committed by colonial forces in Palestine between 1917 and 1948.
"I was walking with a march and the soldier shot me in my leg, even now my leg hurts from the injury," Al-Masri told The Times. "I (barely) survived death seven times, and it is a miracle that I'm still alive to file this lawsuit," he added.
Al-Masri told the BBC earlier this year that British rule and the division of the Palestinian mandate in 1948 between Israel and the Arab territories under the Balfour Declaration affected him deeply in his adult life.
"I saw how people were harassed…We had no protection whatsoever and nobody to defend us," he said.
Al-Masri also wants to collect 100,000 signatures for a petition demanding that Britain reviews the declaration, due to claims it was never ratified by parliament, The Times reported.
He wants at least an apology for the way the British government crushed protests during the mandate period, including the deaths of scores of villagers in a 1938 massacre in Al-Bassa and the killing of 11 people in Halhul.
Ben Emmerson, a British lawyer, and Luis Moreno Ocampo, a former chief prosecutor at the International Criminal Court, are working with Al-Masri.
Emmerson told the BBC earlier this year that "shocking crimes committed by certain elements of the British mandatory forces" were carried out "systematically on the Palestinian population," adding that even during the time the crimes were carried out, they would have been seen as breaches of international law.
Source: Arab News
Please click the following URL to read the full text of the original story:
https://www.arabnews.com/node/2195326/world
--------
Qatar hits back at Germany over criticism of World Cup host's rights record
08 November 2022
Qatar's foreign minister has decried Germany's "double standards" over its criticism of the World Cup host's human rights record, saying the European country doesn't raise the issue when it comes to energy partnerships or investments.
Sheikh Mohammed bin Abdulrahman Al-Thani defended the summoning of the German ambassador that followed the remarks of Interior Minister Nancy Faeser in which she said a country's compliance with human rights should be factored into the selection of World Cup host.
Qatar has been criticized over its treatment of migrant workers building World Cup facilities.
Earlier this month, the UN labor agency said Qatar has carried out "significant" reforms that have "improved the working and living conditions for hundreds of thousands of workers", adding that the measures were having an impact across the Arab countries of the Persian Gulf region.
"On the one side, the German population is misinformed by government politicians; on the other, the government has no problem with us when it comes to energy partnerships or investments," Sheikh Mohammed bin Abdulrahman Al-Thani told the Frankfurter Allgemeine Zeitung newspaper in an interview on Monday.
"We are annoyed by the double standards," he said, noting that Doha had faced a systematic campaign against it since being selected to host the World Cup in 2010 that he said no other country had faced.
"It is ironic when this tone is struck in countries in Europe that call themselves liberal democracies. It sounds very arrogant, frankly, and very racist," Al-Thani said.
Al-Thani described calls for security guarantees for minorities - which Faeser had requested as a prerequisite before agreeing to attend the World Cup - as superfluous.
He added that the German politicians should focus more on hate crimes occurring on their own soil.
Qatar's rights record has come under scrutiny since 2014 when international unions made an official complaint about the country.
The International Labor Organization (ILO) established a temporary office in Doha since then, but it is expected to become permanent as the agency said Qatar has made such a request.
Source: Press TV
Please click the following URL to read the full text of the original story:
https://www.presstv.ir/Detail/2022/11/08/692348/Qatar-hits-back-Germany-World-Cup-
--------
Southeast Asia
Seven deadly sins of Malaysia's approach to education
Sharifah Munirah Alatas
November 8, 2022
We have known for decades that universities in Malaysia are in trouble. In fact, the country's public higher education sector is in crisis because education has become collateral damage of a widespread systemic crisis facing the country.
A key aspect of this crisis concerns how education and development are conceptualised. Since the 1980s, education has been packaged as a "tool" for economic growth. This is wrong and retrogressive.
"Systemic" refers to the component parts of our society, namely, the people, culture, material products, political and economic institutions and social organisations. The systemic crisis referred to above, emerges when all these components fail to integrate in an organised and productive dynamic.
It is wrong to link education solely to economic development because society needs more than just economic activity to thrive. A human being is more than the sum of their economic activities.
What does development mean?
The problems in Malaysia's education sector are due to the absence of a broader conception of development. This error can be addressed, depending on how committed the country's leadership is, and how genuine our politicians are in mobilising the nation's resources.
A corrupt and uncaring government will insist on the status quo. An efficient, people-centred, and ethical government would mobilise for reform.
In any national system, there is typically a "hierarchy of goods", delivered by the government to its people, with the goal of maintaining a happy and contented population, nurtured by national stability.
An honest and selfless government also maintains a healthy consultation with the private sector and civil society, as part of its holistic strategy to modernise the nation, and keep up with global developments.
Additionally, an education system that reassures the meaning of life, or condemns the imbalances of science and technology, and the destruction of our ecology, must be placed high on this list of "goods" for the people.
Greed and corruption
If our leaders focus only on the economic dimension, greed and corruption are likely to set in. When there is tunnel vision of what a good life is, human relations become impersonal through this process of unhealthy competition and spiritual "alienation".
An added tragedy in Malaysia is that politicians regularly invoke race and religion to reinforce this tunnel vision.
Thankfully though, Malaysia is not (yet) a failed state, because the country's security, law enforcement structures, legal institutions, and economic fundamentals are still functioning.
To a large extent the public still has confidence in the governance of the country, although this, too, is being challenged ever since a former prime minister was incarcerated.
Seven sins
The crisis in Malaysia's public higher education can be summed up as follows:
A neglect of critical thinking, i.e. there is a declining number of scholars who theorise about the purpose of life and society, and relate this to the reality on the ground. Most of these so-called scholars cannot link theory to reality.
The vision of higher education is too narrow, i.e. obsessing over the link between education and economic growth.
There is a vulgar politicisation of our top university management and university boards.
Universities are obsessed with policy-relevant research, often for political legitimation, which reinforces the absence of critical thinking.
There is a shameless obsession with global university rankings.
Academic dishonesty and plagiarism thrive.
There is a profound misconception that education is for "livelihood" rather than "for life". This indicates a misunderstanding between development and modernity.
These seven issues collectively highlight the fundamental problems in our society.
These are a culmination of how society has conceptualised development and what it means to be successful in life. This conceptualisation was started as a "top-down" idea in the early 1980s and 1990s, under Malaysia's longest serving prime minister.
The focus on 'growth'
Since then, Malaysia's leaders embarked on massive growth-centric and market-driven policies, to resolve economic and racial disparities in society. This also included robust state intervention policies involving government-business compacts which focused on expediting industrialisation, cultivating more Bumiputera entrepreneurs and reducing poverty.
Over the decades, education policy has been transformed to reflect the gradual obsession with wealth, among certain ministries and civil service departments, through intricate relations of government-business patronage.
Are Malaysia's ethical and philosophical fundamentals able to reverse these developments?
Ancient Greek philosophy goes back as far as the 7th century BCE. Up to the beginning of the Roman Empire, there were five great philosophical traditions: the Platonist, the Aristotelian, the Stoic, the Epicurean, and the Skeptic.
Greek philosopher Plato wrote that education is a means to achieve justice. Attaining justice means achieving excellence in one's political, social and spiritual being.
Education and Islam
The message of the Quran has always been part of education in Islam.
Ever since the Quran was revealed, Muslims have had to read, recite, and understand it as part of being a Muslim. Muslims therefore define education as the reading, teaching, learning, and assimilation of knowledge.
Inherent in the idea of "being" a Muslim is the need to read, debate, and be knowledgeable. Knowledge is part of faith, and is obligatory. (Alatas S. F., 2006).
Therefore, an understanding of the philosophy of education in Islam is linked to how Muslims conceptualise knowledge. The Islamic philosophical view is to acquire knowledge, in order to live within a social and cultural system. Human beings need education to understand both human and non-human life forms, because the two are integrated and in perpetual interaction. In Islam, to be knowledgeable about this interaction means to be knowledgeable of the universe.
Therefore, the Islamic worldview of education is holistic. It ensures the spiritual, moral, psychological and intellectual development of personality, by integrating civic consciousness, social solidarity, justice, and excellence, to be part of our overall personality and physical being. All this is prescribed within a consciousness of a larger cosmic order.
Malaysia's inadequate philosophy
Malaysia's national philosophy of education embodies aspects of both the Greek and the Islamic ideas, and is stated in the Ministry of Education's portal. It comprises two very long sentences. (in both English and Bahasa Melayu). It reads:
"Education in Malaysia is a continuous effort towards further developing individual potential in a comprehensive and integrated way to create a balanced and harmonious person intellectually, spiritually, emotionally and physically, based on faith and obedience to God. This effort is to produce Malaysian citizens with knowledge, skills, noble character, responsibility and the ability to achieve personal well-being, as well as contribute to the harmony and prosperity of the family, society and country".
However, despite its length, the above is inadequate. The conceptualisation of any guiding principle such as a nation's education philosophy, is not meant to be a superficial statement for society to parrot. It is meant to remind us of a goal to achieve, to improve the lives of a nation's citizens.
If we look at Malaysia's education philosophy, it is supposed to nurture the best minds and voices in our society, and to reflect the diverse views and concerns of all segments of the population. The aim is to problem-solve, to improve the living conditions of society, and to provide hope for the future.
Source: Free Malaysia Today
Please click the following URL to read the full text of the original story:
https://www.freemalaysiatoday.com/category/opinion/2022/11/08/seven-deadly-sins-of-malaysias-approach-to-education/
--------
Domestic politics or international relations: Malaysia's 15th general election
Nov 07, 2022
The collapse of the Soviet Union in 1991 sent a wave of triumph across the western world, as it signalled the end of the ideological conflict between the United States and the erstwhile Soviet Union. It was assumed that the ideals of a western style capitalist, and democratic system have won. Since 1991, the concept of democracy itself has undergone several changes. Democracy continues to evolve as it continues facing challenges ranging from corruption to defection to foreign interference in elections, to influence operations to bureaucratic paralysis. The case of Malaysia's 15th general election (GE) becomes an interesting case in this context.
On November 19 this year, Malaysia is set for its 15th GE. In four years since 2018, Malaysia has seen three different administrations and three prime ministers (PMs), which is a record in Malaysia's political history since 1957. Since 2018, the country has been plagued by protracted instability, which saw the Pakatan Harappan (PH) coalition government collapse in 2020, while the defeated United Malays National Organization (UNMO) vaulted back to power with an unsteady coalition government. The PH government lost its majority in the parliament in 2020 when 11 members of parliament withdrew from the coalition. The PH government had replaced the UNMO in 2018. Malaysia's 14th GE in 2018 had ended the then world's longest one-party rule with regular elections. After ruling for 61 years, the UNMO finally fell at the ballot box in 2018. Public anger over the multibillion-dollar corruption scandal, the Malaysian Development Berhad Scandal, referred to as the 1MDB scandal was the reason for UNMO's fall.
The 1MDB scandal was a corruption, bribery and money laundering conspiracy in which the Malaysian sovereign wealth fund 1 Malaysia Development Berhad (1MDB) was thoroughly embezzled, with assets diverted globally. The scandal had international contours as it implicated actors worldwide and led to criminal investigations in several countries. In fact, the 1MDB scandal is one of the world's greatest financial scandals and the United States department of justice had even labelled it as the largest kleptocracy case, back in 2016.
In 2019, power echelons in Malaysia shook again as evidence surfaced regarding China's efforts to strike a deal with the former Malaysian government in 2016 to bail out the IMDB state fund, allegedly implicating former Premier Najib Rajak in exchange for deals tied to China's Belt and Road Initiative (BRI). In the same year, Malaysia also banned the controversial book Belt and Road Initiative for Win-Winism, which, as stated by the home ministry, promotes communism and socialism and the contents could lead to confusion in the country. Controversial parts of the book include descriptions of Malays sympathising with Uyghur Muslims in China. About 60% of the population in Malaysia is ethnic Malay Muslim and there are sizeable minorities of people of Chinese and Indian origin, as well as indigenous communities. Clearly, domestic politics in Malaysia are deeply intertwined with international politics.
The PH, which took over the reins of power, in 2018 was headed by Mahathir Muhammad and Anwar Ibrahim, who both are former leaders of the UNMO. In 2019, then PM Mahathir Muhammad had stated while China is a friend, it is not for Malaysia to promote Beijing's ideology to Malaysian children. Beyond the intricate relationship between corruption, domestic politics and international relations, it also becomes pertinent to note the political fissures in Malaysia to understand how important the 15th GE is.
Fragmentation in Malaysia's democratic system has become constant and is visible from not just the frequent changes in the government, but also the very loosely formed coalitions and regular defections. Five Malaysian states have gone through administration changes caused by defections since 2020. The 15th GE remains an important event to watch out for due to a number of reasons. For one, the 15th GE is going to see the unprecedented involvement of first-time voters after the Malaysian parliament voted to reduce the voting age from 21 to 18 years and enabled automatic voter registration. Because of the change in the voting age, an unknown variable in the form of 1.4 million first time voters gets added to the complexity of Malaysian politics as it is not known how many of this group will vote or who they will vote for. All 222 parliamentary seats in the country will be available during the 15th GE, along with the state legislative seats of Pahang, Perlis and Perak. The state seat in Sabah- Bugaya will also have a mid-term election on the same day.
The polls are being held close to the annual monsoon season which generally begins in mid-November and brings in massive rain and flooding. This raises the concern over how many people will actually come out and vote. Parts of Malaysia have already been affected by flooding this year. Beyond the timing of the GE and the changed voting age, the profiles of the contesting leaders also remain interesting. Voters will have to choose largely between three broad coalitions -- Barisan Nasional (BN), which is dominated by the UNMO but includes parties for ethnic Chinese and ethnic Indians, the multiracial PH under former deputy PM Anwar Ibrahim and the Perikatan Nasional (PN) which includes Parti Islam Se-Malaysia (PAS), Malaysia's Islamic Party. The states of Sabah and Sarawak have their own parties as well, like Gabungan Parti Sarawak (GPS), which had previously backed the BN.
Anwar Ibrahim has been named the PH coalition's prime ministerial candidate. In 2018, Mahathir Muhammad was to hand over power to Anwar, after the two joined together in the PH coalition and won the elections. However, repeated delays in the handing over of power led to divisions within the ruling bloc eventually leading to its downfall in 2020. Anwar also was seen as Mahathir's successor in the 1990s before he was fired in the wake of the Asian financial crisis, after which he spent six years in prison on charges of abuse of power and sodomy. He was released from prison in 2018 after Malaysia's king, Sultan Muhammad V granted him a pardon post PH's electoral victory.
Two-time former PM Mahathir Muhammad also submitted his nomination papers at his constituency; 97-year-old Mahathir had stated in October that he would defend his seat in the GE, but had not confirmed whether he would be the Prime Minister the third time if his political alliance wins. Mahathir warned that a win by UMNO could see imprisoned ex-PM Najib Razak pardoned and let off the hook. UMNO's president is Ahmad Zahid Hamidi, who has been on trial over corruption related to a family charitable foundation. Najib currently remains jailed for convictions in a series of cases on 1MDB. PM Ismail Sabri Yaakob, registered to defend his seat in central Pahang state. PM Yakoob dissolved the parliament on October 10, nine months ahead of schedule at the behest of UMNO leaders, who encouraged by several state victories believe that the party has an upper hand over fragmented opposition. UMNO was an important part of the coalition that helmed the BN party in power till before it was dissolved.
Another interesting facet about the 15th GE is the cost of holding the elections, which as stated by the election commission of the country, will be double that of the last general election. Commission chairman Abdul Ghani Salleh stated that the 2018 polls cost RM500 million, while this election needs an allocation of RM1.01 billion, which is about $ 302 million.
Adding to the conundrum caused by defections, dissolutions, and corruption in Malaysia is the issue of external influence. US-based watchdog, Freedom House, in its Beijing Global Media Influence 2022 report stated that the Malaysian government, journalists and civil societies should watch out for a shift to Beijing friendly coverage from UMNO aligned news outlets. The report adds that UMNO and by extension the BN have been pro-China since the emergence of the 1MDB scandal in 2015.
Source: Hindustan Times
Please click the following URL to read the full text of the original story:
https://www.hindustantimes.com/ht-insight/international-affairs/domestic-politics-or-international-relations-malaysia-s-15th-general-election-101667829510926.html
--------
DAP man out to prove that Kedah Malays can accept the party
Dineskumar Ragu
November 8, 2022
KUALA MUDA: Zulhazmi Shariff of DAP is on a mission to prove a former ally is wrong to claim that Kedah Malays will never accept the party.
Zulhazmi, who is DAP's sole Malay candidate in Kedah, said he wants to prove that the people of Jerai are open-minded and appreciate a party's values and not just its logos.
"It is our responsibility to prove that Phahrolrazi Zawawi is wrong to say DAP is unacceptable to the Malays," he told FMT in an interview.
Phahrolrazi', the former Kedah Amanah chief, made his comment following Pakatan Harapan's decision to field a DAP candidate to contest the Jerai seat.
Phahrolrazi said an Amanah candidate should have been chosen and he called on Amanah members to boycott the general election, resulting in his sacking by the party.
Zulhazmi, who was previously with PAS, said he had joined DAP because he sees the party as being principled. He left PAS in 2015 due to his discontent with the Islamic party cosying up to Umno.
The perception that DAP was anti-Malay or anti-Islam was untrue."I am no less Malay nor less Muslim by joining DAP," he said.
However, some Malays remained sceptical about PH, though this had nothing to do with DAP but rather perceptions surrounding the coalition's 22 months in government.
On the ground, Zulhazmi said non-Malays have responded positively to him, while there were encouraging signs from PAS supporters.
"We are unsure whether they are going to vote (for us), but they (PAS supporters) have never chased us (campaigners) out or ignored us when we approached them," he added.
He said there are even Umno supporters who have praised him for taking the bold decision to join DAP and offer himself as a candidate.
Zulhazmi said he intended to help Jerai realise its potential as an agriculture and tourism hub.
Source: Free Malaysia Today
Please click the following URL to read the full text of the original story:
https://www.freemalaysiatoday.com/category/nation/2022/11/08/dap-man-out-to-prove-that-kedah-malays-can-accept-the-party/
--------
Exploring Islamic influences in Niujie, a small district near Beijing
08 Nov 2022
Finding halal food in foreign countries is one of the challenges Muslim travellers usually face.
However in China, it is not so difficult to find a Muslim restaurant in major tourist cities like Beijing, Shanghai, Xian, Chengdu, Guilin and Guangzhou.
Halal food was one of my main concerns when I first came to Beijing for the China Asia Pacific Press Centre 2022 programme, at the invitation of the China Public Diplomacy Association. I had doubts over the accessibility of Muslim restaurants in the city especially when Muslims only comprise up to 2% of China's population of 1.4 billion.
(Organised by the China International Press Communication Centre, the programme saw the participation of over 70 international media practitioners from various nations.)
Many questions had been playing on my mind when I first arrived in China in mid-July: Where do they get their halal food supply? How do they perform their religious obligations?
All these questions were answered when I visited the Niujie Mosque, the oldest and largest mosque in Beijing, and one of the world's most famous mosques, located in the sub-district of Guang'anmen in Xicheng.
Niujie is in the city's largest Muslim district, home to more than 300,000 Muslims of the Hui ethnic group.
Using a map app to guide me, I picked up the courage to travel alone to Niujie from where I live in Jianguomen (located in the heart of Beijing city), using the subway for the first time.
After a 40-minute ride, I arrived at Nujie. However, I had a rude shock when I got to the mosque as all the doors were closed, with a signboard notifying visitors that it was under construction.
Instead of going back to the city centre, I stayed on, waiting for a "door of opportunity" to enter the mosque and perform the Zohor prayer.
I patiently waited ... and luckily, a man in a white kopiah (cap) soon emerged from the mosque.
"Malaysia," I said as I introduced myself to the man in his 70s. His name was Wang and thankfully, he allowed me to enter the mosque.
There was a sense of calm when I stepped into the premises of Niujie Mosque. Several men, mostly senior citizens either wearing a kopiah or white robe (jubah), were having a chat while waiting for prayer time – a sight that is no different than in mosques back home.
"Assalamualaikum," said the imam.
The greeting was indeed heart-warming as it reflects Muslim solidarity that transcends racial boundaries.
But due to language barrier, I could only return the imam's greeting with a smile.
Tourist attraction
The Niujie Mosque, the largest of all the mosques in Beijing, was first built in 1996. It is a functioning mosque, as well as a major tourist attraction now, but it has not been fully opened to the public since the start of the pandemic.
From the outside, its architecture shows traditional Chinese influences, while the inside has a blend of Islamic calligraphy and Chinese designs.
The main prayer hall is 600sq m, and can hold more than 1,000 worshippers. The blank white tiles and fixtures look "Muslim", but the richly-coloured Chinese roofs and designs give it a more Oriental feel.
Many fences, walls and doors are also painted in bright red.
Outside the mosque is a minaret, a lecture room for religious classes and a two-storey tower structure that is called the "tower for watching the moon". It looks like a two-storey pagoda.
There is also a souvenir shop, as well as an office for the imam within the premises.
According to history, the mosque was first built during the Liao Dynasty (916-1125) and made out of timber. It was named "Liasi" by the emperor in 1474. It covers an area of 10,000sq m, blending both classic Arabic mosque with Chinese royal palace designs.
The mosque has transcended six eras starting from Liao Dynasty, Song Dynasty, Yuan Dynasty, Ming Dynasty and Qing Dynasty, before entering modern-day China.
Within the period, it has gone through several renovations such as in 1955 and 1979, in addition to a major reconstruction in 1996. This was done in conjunction with its 1,000th anniversary.
Based on information displayed at the mosque, the Niujie Mosque is reserved as a "Key Point of Cultural Heritage & Relic" and has been under state-level protection by the State Council since Jan 13, 1988.
"This is my first visit to Niujie Mosque and it is indeed magnificent, with its original nuances, especially from the architectural and design aspects, which reflect Islamic influence in China," said Marshalina Gitafadilla Munir, a journalist from Indonesia.
As I was taking pictures of the place, a woman in her 60s greeted me. Without a word, she used hand gestures and body language as a means of communication.
It was clear that she wanted to know where the women's section for prayers and for "wuduk" (a room designated for ritual washing before daily prayer) was.
Halal food heaven
After prayers, I managed to catch up with Wang. Using a translation app, I expressed my heartfelt gratitude for the opportunity to pray at the mosque and hoped to return with some friends.
Wang only nodded, smiled and gave me a thumbs-up.
Needless to say, travel is incomplete without exploring the neighbourhood and in this case, the streets of Niujie near the mosque and its halal food.
So, without wasting time, I decided to hunt for a place to eat after prayers. Based on some valuable tips shared by local residents, if a building and premise is green in colour, it shows that it is serving halal food. I was glad that the buildings in Niujie were mostly painted green in addition to signboards displaying the word "halal" in Chinese.
Nearly all shops and stalls were selling halal snacks, such as lamb and beef bao, bean soup, Baiji rice cake and various types of bread with halal meat fillings.
A takeaway food outlet was drawing customers who were making a beeline for its popular lamb and beef bao, hot from the oven. I decided to join the line.
Thanks to its efficient staff and the cashless system in place, I did not have to wait long.
"Niujie" literally translates to "ox street" in Mandarin. This area is actually a key market for halal beef and lamb, where the animals are slaughtered in accordance with Islamic laws. In fact meat that is sold in Niujie is said to be among the best in Beijing.
Several restaurants managed by the ethnic Uyghur group from Xinjiang here serve various types of their traditional food, for example the popular lamb kebap.
"During Ramadan, the Niujie area would be packed with Muslims buying halal meat and breaking their fast at Niujie Mosque," said a local resident.
I couldn't help but try the lamb kebap. The meat was marinated well and the whole thing was very tasty. Its exquisite taste was similar to the ones sold in Xinjiang, one of the most popular cuisines in the region.
Muslim community in China
The Hui ethnic group is the largest group of Muslims in China, followed by the Uyghur. Both ethnic groups form about 90% of the Muslim population in the country.
The Muslim community there also comprises Kazak, Kirgiz, Uzbek, Tatar, Tajik, Dongxiang, Salad and Bao'an ethnic groups.
An estimated 25 million Muslims are found across country, with Islam being widely spread and focused on small groups. Islam is one of the four main religions officially recognised in China, with Muslims largely found in Xinjiang, Gansu, Qinghai and Yunnan.
The Xinjiang region has the largest Muslim population (over 50%).
Source: TheStar
Please click the following URL to read the full text of the original story:
https://www.thestar.com.my/lifestyle/travel/2022/11/07/exploring-islamic-influences-in-niujie-a-small-district-near-beijing
--------
In what could be his last Malaysia election, can Muhyiddin help Bersatu weather a tough challenge?
Amir Yusof
08 Nov 2022
PAGOH, Johor: Perikatan Nasional (PN) chairman Muhyiddin Yassin stood up to speak to a group of around 30 Chinese residents in the small town of Bukit Pasir Selatan.
Pointing to his own chest, the 75-year old said: "If Perikatan wins, Muhyiddin will be prime minister. I will ensure Pagoh gets better development."
"I know this Bukit Pasir area is tough for me (to get support), but this time will be my last. So will you please vote for me?" he asked, concluding his speech which was delivered in Bahasa Melayu mixed with Cantonese phrases.
There was applause and loud cheers. "Muhyiddin for PM again!" exclaimed one resident.
It was a warm reception on the first day of Mr Muhyiddin's campaign in the federal constituency of Pagoh in northern Johor for Malaysia's 15th General Election (GE15). This will also likely be the last time the veteran politician contests in the national polls.
In a Facebook post a few hours after he was confirmed as a candidate for Pagoh on Saturday (Nov 5), Mr Muhyiddin wrote: "God willing, this General Election contest will be the last in my political journey and I've decided to fight only because of my determination to complete our struggle.
"I chose to lead PN for this GE because I am not willing to see this country fall into the hands of kleptocrats. I also do not want this country to be governed again by a political coalition that fails to fulfill its promises to the people and does not respect racial and religious sensitivities of multi-ethnic communities in our country," he added.
PN comprises Parti Pribumi Bersatu Malaysia (Bersatu), Parti Islam Se-Malaysia (PAS), Parti Gerakan Rakyat Malaysia (Gerakan) as well as Sabah-based parties Parti Progresif Sabah and Parti Solidariti Tanah Airku. Mr Muhyiddin is the president of Bersatu.
PN is contesting in 171 out of 222 federal seats in the polls, and Mr Muhyiddin has said that the coalition is aiming to form a new government on its own by garnering a simple majority of at least 121 seats on polling night.
In northern Johor, encompassing Pagoh, Muar and Bukit Bakri federal seats, Mr Muhyiddin's popularity and support remains strong.
Yet, some voters have raised doubts about whether his party Bersatu can weather the tough challenge in the upcoming polls and garner sufficient seats to remain relevant in the formation of a new government.
MUHYIDDIN REMAINS FAVOURITE FOR PAGOH SEAT
For the Nov 19 polls, Mr Muhyiddin will be defending his Pagoh seat against Barisan Nasional (BN) veteran Razali Ibrahim and Pakatan Harapan's (PH) Iskandar Shah Abd Rahman.
Mr Muhyiddin has won in Pagoh in the last six General Elections, five of which he contested under BN. He has held the seat since 1995.
In 2018, Mr Muhyiddin contested as a Bersatu candidate under the PH banner. He clinched the seat with around a 7,000 vote majority.
His popularity in Pagoh is clear.
Almost every street within the constituency is lined with PN flags and his posters. Many residents fondly refer to Mr Muhyiddin as "abah", or father, a moniker that first became popular during his 17-month stint as prime minister.
Mdm Sharrifa Ariqa Syed Salleh, who has converted her home into a PN grassroots centre, told CNA that Mr Muhyiddin's family has deep roots in the area and is able to connect better with the voter base than other candidates.
"I heard that he is looking to step down and this will be his last General Election. Let's hope this is not true, we don't want him to retire yet," said the 48-year-old who lives in Kampung Sungai Terap.
"We all knew him and his family since he was young. His family opened an Islamic (religious) school nearby and I still meet his family members around town. In spite of what he has achieved, they have all continued to live humbly," she added.
Mr Muhyiddin's main opponent for the seat is Mr Razali, who is a United Malays National Organisation (UMNO) supreme council member. Mr Razali was previously a three-term member of parliament for Muar, Johor.
Speaking to CNA on the sidelines of the candidate nomination, Mr Razali acknowledged that he is "the underdog" in the contest.
"We are not nervous to contest here because I am not the incumbent in this area. We are the underdogs and we do not come with the expectation that we will win. This gives us encouragement to work hard," said the former deputy minister for youth and sports and deputy minister in the Prime Minister's Department.
However, Mr Razali feels he still has a chance to win because he believes that some residents would prefer a candidate who is part of the coalition that eventually forms the government. He is confident that BN would attain enough seats to return to power.
"There are voters who believe in the importance of having an MP that is part of the federal government. This is what we offer to the voters. If voters pick other candidates, they will have an opposition MP in Pagoh," he said.
POTENTIAL TRUST DEFICIT AFTER SHERATON MOVE
While his legacy in Johor is evident, some voters have expressed doubt over Mr Muhyiddin's party Bersatu, particularly whether it is a party that can represent their interests for the long term.
A Bukit Pasir Selatan resident who only wanted to be known as Mr Yap told CNA that he was proud that a local like Mr Muhyiddin rose through the ranks to be prime minister.
However, he remembers the role Mr Muhyiddin and Bersatu played in the fall of the Pakatan Harapan government in 2020.
"I voted for him as a Pakatan Harapan candidate in 2018. But he betrayed that trust after the Sheraton Move by helping to topple the government," said the 54-year-old who works in the furniture industry.
Mr Mohd Burhan Hameed, an electrician who will cast his vote in Muar, said that he feels "uneasy" supporting PN because Bersatu had "robbed Malaysians" and "betrayed the mandate" given in the 2018 General Election.
In the so-called Sheraton Move in February 2020, Bersatu withdrew from PH and then prime minister Mahathir Mohamad resigned, creating a power vacuum.
Subsequently, the king determined that Mr Muhyiddin, the Bersatu leader, likely commanded the support of the majority of lawmakers in the Lower House. Mr Muhyiddin was sworn in as prime minister, leading the PN coalition.
However, his tenure only lasted until August 2021 when some MPs from BN's main component party, the United Malays National Organisation (UMNO) pulled their support for him and put forth party vice-president Ismail Sabri Yaakob to replace Mr Muhyiddin as prime minister.
At the start of his GE15 campaign, Mr Muhyiddin rejected PH's label that he and Bersatu politicians were "traitors".
Speaking during a campaign walkabout in Sungai Raya, Pagoh on Nov 5, Mr Muhyiddin stated: "We (Bersatu) made a decision to leave PH because we felt our coalition partners no longer cared for the interests of the Malays and the sovereignty of Islam. Is that wrong?
"You can call me a traitor but I cannot betray my race, religion and country."
Mr Hafidzi Razali, a senior analyst with strategic advisory firm Bower Group Asia told CNA that it was highly likely that Mr Muhyiddin will retain his seat as he "remains a popular figure" in Pagoh.
However, he outlined that some other Bersatu members who are contesting in more ethnic-mixed or urban constituencies may be in for a difficult campaign.
"While Muhyiddin himself might not be a casualty of the Sheraton Move, other Bersatu incumbents will face an uphill task to defend their seats - especially those contesting in mixed seats," said Mr Hafidzi.
"Non-Malay voters, especially, would hesitate to give Bersatu a second chance," he added.
Mr Hafidzi also pointed out that having Islamic-based party PAS as its main ally in PN might discourage non-Muslims from supporting Bersatu.
Some Bersatu members who are contesting in fierce fights in mixed-race urban seats include PN information chief Azmin Ali, who will have to fend off the challenge of Selangor chief minister Amiruding Shari in the federal seat of Gombak, Selangor.
Another is Bersatu deputy president Ahmad Faizal Azumu who is facing PH prime minister candidate Anwar Ibrahim in the Tambun federal seat.
Pagoh resident Nurul Normah Puteh, who is also a Muhyiddin supporter, told CNA that she acknowledged that Bersatu may not garner enough seats to form a new government.
However, she still believes that Mr Muhyiddin will continue to play a big part in Malaysia politics, even as an opposition MP.
Source:ChannelNewsAsia
Please click the following URL to read the full text of the original story:
https://www.channelnewsasia.com/asia/malaysia-election-ge15-muhyiddin-yassin-bersatu-johor-pagoh-3049591
--------
Police probing Perak PAS chief over allegedly defamatory remarks
November 8, 2022
PETALING JAYA: Police have opened an investigation paper into allegations that Perak PAS chief and candidate for the Gunung Semanggol state seat, Razman Zakaria, had made defamatory and malicious remarks about Pakatan Harapan during a recent speech.
According to Bernama, Perak police chief Yusri Hassan Basri said a 32-year-old man had lodged a report after a video recording of the alleged event went viral on Sunday.
Razman is being investigated under Section 505(b) of the Penal Code and Section 233 of the Communications and Multimedia Act 1998, he said in a statement.
He also advised party supporters to comply with all laws and regulations and give their full cooperation to the authorities during the general election, especially during the campaign.
Meanwhile, Yusri also said police received five reports regarding the election yesterday, with only one investigation paper opened so far.
Source: Free Malaysia Today
Please click the following URL to read the full text of the original story:
https://www.freemalaysiatoday.com/category/nation/2022/11/08/police-probing-perak-pas-chief-over-allegedly-defamatory-remarks/
--------
Not in manifesto, but BN still pledging 3 DPMs, says Zahid
Yasmin Abdul Latif
November 8, 2022
BAGAN DATUK: Although the pledge to appoint three deputy prime ministers was not in Barisan Nasional's manifesto, coalition chairman Ahmad Zahid Hamidi says BN will still offer this if it wins handsomely at the polls.
At a press conference, Zahid said this pledge was not listed in the BN manifesto, which was launched last night, simply because he had announced this two weeks ago.
On Oct 23, he pledged to appoint three deputy prime ministers from Sabah, Sarawak and Peninsular Malaysia respectively if the coalition won the general election (GE15).
However, a day later, Prime Minister Ismail Sabri Yaakob brushed off questions about the proposal, saying it would be implemented if included in BN's manifesto and if the coalition wins GE15.
It was noticeably absent from BN's manifesto, prompting Warisan deputy president Darell Leiking to question its omission.
Leiking said the exclusion had reduced Sabah and Sarawak to a "side dish" and was a "reflection of what they think of us".
BN's manifesto contained 99 pledges, including promises to develop Sabah and Sarawak in line "with the spirit of the Federal Constitution" and uphold equitable development between East and West Malaysia.
Sabah and Sarawak would be made the new security hub and be developed as new economic giants.
Source: Free Malaysia Today
Please click the following URL to read the full text of the original story:
https://www.freemalaysiatoday.com/category/nation/2022/11/08/not-in-manifesto-but-bn-still-pledging-3-dpms-says-zahid/
--------
Lodge report with MACC, Rafizi told on RM2bil project claim
November 8, 2022
PETALING JAYA: PAS deputy president Tuan Ibrahim Tuan Man has challenged his PKR counterpart Rafizi Ramli to lodge a report with the Malaysian Anti-Corruption Commission (MACC) over claims the environment and water minister had approved a RM2 billion project after Parliament was dissolved.
"He (Rafizi) hides behind (phrases such as) 'I am made to understand', 'I was informed', 'someone told me'… These are words against which, from a legal standpoint, no action can be taken," Tuan Ibrahim was quoted as saying by Berita Harian.
"There may be other aspects that we have to look at, but I want to emphasise that this is slander. That's why I am asking (him) to lodge a report if he has any evidence," he said in a speech in Cheka, Pahang, last night.
Tuan Ibrahim explained that the government, which is currently operating on a caretaker basis, could not approve any financial allocation as it was against a Treasury circular.
He also noted that Chief Secretary Zuki Ali had clearly stated that the Cabinet did not have the right to make any policy decision as Parliament had been dissolved.
"I want to stress that I never approved allocations for any project after Parliament was dissolved," he said.
Yesterday, Rafizi claimed he had received information that Tuan Ibrahim was in the process of awarding a RM2 billion flood mitigation project to an Umno-linked company.
He claimed that the project, which is related to a flood barrier at Sungai Langat, was the second contract awarded to the same company in the past six months.
Referring to a circular from the finance ministry dated Oct 18, Rafizi pointed out that the caretaker government and its agencies should not be involved in any contractual commitments or undertakings until after the general election.
Source: Free Malaysia Today
Please click the following URL to read the full text of the original story:
https://www.freemalaysiatoday.com/category/nation/2022/11/08/lodge-report-with-macc-rafizi-told-on-rm2-bil-project-claim/
--------
Indonesian president receives UAE international peace award
SHEANY YASUKO LAI
November 07, 2022
JAKARTA: Indonesian President Joko Widodo received on Monday an award from the Abu Dhabi Forum for Peace in recognition of his contributions to global peace efforts.
The annual Imam Al-Hassan bin Ali Award, launched in 2015, is aimed at honoring those who created "a culture of peace and consolidating its value in Muslim societies."
Widodo received the award from ADFP Secretary-General Al-Mahfouz bin Bayyah at the Merdeka Palace in Jakarta on Monday morning.
"This award from Abu Dhabi Forum for Peace is a form of appreciation toward Indonesia's contribution to international peace," the Indonesian president tweeted after the meeting.
The award is a "huge honor" not only for the Indonesian government but also for its people, State Secretary Pratikno told reporters.
"President Joko Widodo has been trusted as a leader who spreads message and culture of peace for the world," he said.
"Mr. President expressed gratitude for the award and (expects it to) strengthen relations between Indonesia and the United Arab Emirates, and at the same time give us zest to make the G20 a success for global peace and prosperity."
Indonesia, the world's largest Muslim-majority country, this year holds the rotating presidency of the Group of 20 largest economies. Next week it will host the G20 summit in Bali, where the heads of the group's member states will convene.
Al-Mahfouz told reporters that the ADFP has "great hope" that Indonesia, under Widodo's leadership, will "lead a global initiative (to end) fear" and foster a culture of harmony.
Source: Arab News
Please click the following URL to read the full text of the original story:
https://www.arabnews.com/node/2195381/world
--------
Arab World
Assad regime's property rights violations complicate return of displaced Syrians
Ethem Emre Özcan, Mehmet Burak Karacaoğlu
07.11.2022
ANKARA (AA) - The Bashar al-Assad regime's practice of leasing out crop fields in Hama and Idlib through so-called auctions without the consent of displaced landowners is "illegal and unacceptable" and hinders the voluntary return of Syrian refugees, according to experts.
Millions of Syrians have been displaced during the civil war due to violent attacks on opposition-controlled areas by Assad regime forces and Iranian-backed militia groups with the support of Russia.
An Assad regime law required that all citizens submit their property ownership claims in person within a month, otherwise unclaimed properties could be confiscated.
The regime started to implement the practice in rural areas of Idlib and Hama.
Using regime security forces and Baath Party executives, committees have been transferring the use of the lands identified since June 2020 to regime supporters through "auctions."
Property owners' requests to transfer the use of the properties to people they want or give power of attorney are mainly rejected.
In a recent report, the Syrian Network for Human Rights underlined that the regime aims to seize 570,000 acres of lands in the suburbs of Idlib and Hama through three separate public auctions.
"The Syrian regime tries to steal land and property through procedures that appear to be legal, such as through auctions, but in reality they further violate the rights of the forcibly displaced, which are guaranteed by international humanitarian law and international human rights law," said Fadel Abdul Ghany, the group's director.
Abdul Ghany said that the regime resorted to this practice to reap additional revenue, while it wants to reward Shabiha militias and Assad supporters while punishing his opponents.
He said that it is impossible for them to consider returning refugees in these circumstances, adding that the regime does not want displaced Syrians or refugees to return either.
- Assad moves discourage refugees from returning
Ayman Al Dassouky, a researcher at Istanbul-based Omran Center for Strategic Studies, said: "These laws passed by the regime are contrary to the articles of its own Constitution."
Al Dassouky said that the regime's call to displaced civilians to return and the exclusionary and vengeful steps it has taken on the ground do not match.
"It seems that the regime only allows the return of those who don't oppose it," he said, adding that it wants to create a demographic structure that supports it and doesn't pose a threat to its future existence.
According to the UNHCR refugee agency, during the decade-plus civil war, 6.6 million Syrians had to leave the country, which before 2011 had a population of around 22-23 million.
Syrian Foreign Minister Faisal Mekdad argued that the doors are open to those who want to return to Syria, and that the regime's repentance laws facilitated this.
Many international organizations and non-governmental organizations, particularly the UN and EU, call for the Assad regime to provide the necessary conditions for the safe, voluntary, and dignified return of Syrians, but the regime's violation of many rights, particularly in return attempts from Lebanon, was reflected in the reports.
The Assad regime announced that hundreds of people from camps in Lebanon had returned to Syria on Oct. 26 and Nov. 5, but gave no details about their situation.
Source: Anadolu Agency
Please click the following URL to read the full text of the original story:
https://www.aa.com.tr/en/middle-east/assad-regimes-property-rights-violations-complicate-return-of-displaced-syrians/2731871
--------
Muslim Council of Elders congratulates King of Bahrain for success of Bahrain Dialogue Forum
08 Nov 2022
Manama, Nov.7 (BNA): The Muslim Council of Elders extends its congratulations to His Majesty King Hamad bin Isa Al Khalifa of the Kingdom of Bahrain for the success of the recently concluded 'Bahrain Dialogue Forum' as well as the positive reception of the historic co-visit by His Eminence Dr. Ahmed Al-Tayeb, the Grand Imam of Al-Azhar and Chairman of the Muslim Council of Elders and His Holiness Pope Francis, Pontiff of the Catholic Church.
The Secretary-General of the Muslim Council of Elders Judge Mohamed Abdelsalam said, "The Kingdom of Bahrain is a symbol of how to achieve dialogue and coexistence between people of different religious and sectarian backgrounds. From here, the Grand Imam's invitation for an inter-Islamic dialogue was issued for the purpose of achieving Islamic unity. This goes with the continued Islamic-Christian dialogue through the 'Dialogue between East and West' initiative, which aims to spread coexistence between all of humanity."
Judge Abdelsalam praised the efforts of His Majesty King Hamad bin Isa Al Khalifa, King of the Kingdom of Bahrain in supporting and promoting coexistence and His Majesty's willingness to provide the necessary resources to make the Bahrain Dialogue Forum a resounding success.
Source: BNA
Please click the following URL to read the full text of the original story:
https://www.bna.bh/en/news?cms=q8FmFJgiscL2fwIzON1%2bDnBp23plDpByP9gKmfj2N8Q%3d
--------
Ancient pre-Islamic Christian monastery uncovered in UAE
NOVEMBER 7, 2022
A rare, possibly pre-Islamic era Christian monastery was uncovered last week by archaeologists on an island off the coast of the UAE, Emirati state media reported.
The monastery was discovered on Siniyah Island in the Umm Al-Qaiwain emirate. According to Emirati media, the complex found by archaeologists includes cisterns, a church, a refectory and residences for the monks.
Christian monasteries in the UAE?
While the Arabian peninsula is traditionally known for being the cradle of Islam, there was a time before when Christianity was more widespread in the region.
According to pottery assessment and radiocarbon data, the site seems to imply it was used between the late sixth to mid-eighth centuries, which would put it before or during the rise of Islam.
This would make sense because there have been many historic churches and monasteries found throughout the Persian Gulf area, and plenty of others have been found in the surrounding countries. A Christian monastery was even found in the early 1990s on the UAE's Sir Bani Yas Island.
In fact, this discovery is only the second ever pre-Islamic Christian monastery found in the UAE.
"It is an extremely rare discovery," said UAE University Prof. Tim Power, who was one of the archaeologists that excavated the monastery, according to UAE media.
"It is an important reminder of a lost chapter of Arab history."
The fact that an ancient Christian monastery was found on Siniyah Island, however, isn't too surprising either, considering it is one of the UAE's most important archaeological sites.
Evidence has long shown that the area has been inhabited for at least 10,000 years, so the fact that people lived here isn't too surprising either.
This means it wasn't built by foreigners, but by native Arab Christians in the area.
According to Power, as cited by UAE media, the monastery wasn't lost to conquest at the hands of Muslims. Rather, "The place was slowly abandoned. There was no sign of devastation or violence or burning. There was incremental cultural and social change as Christianity faded out and Islam became dominant. It is a monument to tolerance and multi-faith society."
Source:JPost
Please click the following URL to read the full text of the original story:
https://www.jpost.com/archaeology/article-721697
--------
Saudi Arabia commits $2.5 billion to Middle East green initiative: Crown Prince Mohammed bin Salman
Nov 7, 2022
SHARM EL SHEIKH: Saudi Arabia's Crown Prince Mohammed bin Salman said on Monday the kingdom would contribute $2.5 billion to a green initiative in the Middle East over the next 10 years, and host its headquarters.
The Middle East Green Initiative was launched by the crown prince last year as part of efforts to reduce regional carbon emissions.
Saudi Arabia had said last year it aimed to contribute 15% of the $10.4 billion required for the fund's clean energy projects.
The crown prince, known as MbS, also said the kingdom's Public Investment Fund, would aim for net-zero emissions by 2050.
The Middle East Green Initiative aims to reduce carbon emissions from regional hydrocarbon production by more than 60%.
It also plans to plant 50 billion trees across the Middle EAst and restore an area equivalent to 200 million hectares of degraded land. The initiative will help reduce global carbon levels by 2.5%.
Source: Times Of India
Please click the following URL to read the full text of the original story:
https://timesofindia.indiatimes.com/world/middle-east/saudi-arabia-commits-2-5-billion-to-middle-east-green-initiative-crown-prince-mohammed-bin-salman/articleshow/95363856.cms
--------
UAE fights Covid-19: Muslims pray mask-free for first time in 28 months
By Ehaab Qadeer
7 Nov 2022
On March 16, 2020, as the UAE took stringent measures to keep its residents safe from the pandemic, mosques across the country were closed for worshippers. Now, for the first time in 28 months, Muslims in the country can pray mask-free as authorities announced the lifting almost all Covid-19 restrictions.
"Today, we announced lifting all Covid-19 restrictions and wearing a mask at all open and closed facilities, including places of worship and mosques," said Dr Saif Al Dhaheri of the National Emergency Crisis and Disaster Management Authority.
The Imam of Jumeirah Mosque, while speaking to Khaleej Times, said, "It is a very welcoming step; the mosque is now open as it was during the pre-pandemic days. The UAE Government took all the necessary measures to ensure public safety."
Praying on personal mats will be optional at mosques and praying facilities. Imran, a worshipper in the mosque, said, "Praying freely in the mosque without adhering to strict precautionary guidelines is a relief."
He added, "Also, if we miss jamaat (congregational prayer), we can go to the mosque and offer prayer, whereas earlier, the time slots of opening and closing of the mosque was a hassle", Imran added.
Mosque caretakers and the Imams did a commendable job ensuring that Covid protocols were followed and adhered to by all the worshippers. Abdul, a mosque caretaker, said, "For us, the safety of the sacred place was the utmost priority; we had to make sure everyone comes in with their own personal praying mats and face masks; if not, we had to provide them with it".
The ease of restriction has brought smiles across worshippers of all faith. In gurudwaras, the offerings were given as takeaways when the restrictions were in place. Now worshippers can devour the holy offerings within the vicinity of the gurudwara.
Ann Melvin, a resident of Dubai, told Khaleej Times that the time slots of visiting church were hindering her daily routine. Now that the Covid restrictions are lifted, she is delighted that she can visit church anytime she wants.
Source: KhaleejTimes
Please click the following URL to read the full text of the original story:
https://www.khaleejtimes.com/coronavirus/uae-fights-covid-19-muslims-pray-mask-free-for-first-time-in-28-months
--------
US citizen killed in central Baghdad: Police sources
07 November, 2022
A US citizen was killed on Monday in central Baghdad after a failed attempt to kidnap him, Iraqi police sources said.
The body was taken to a hospital in the capital's Karrada district and an initial hospital report indicated that the death was caused by a bullet, the sources added.
A police source said the victim was carrying an identity card showing his job was an English teacher.
Another police source said armed men in a vehicle opened fire at an SUV carrying the victim and shot him dead.
Source: Al Arabiya
Please click the following URL to read the full text of the original story:
https://english.alarabiya.net/News/middle-east/2022/11/07/US-citizen-killed-in-central-Baghdad-Police-sources
--------
Saudi Minister of Defense makes phone call to Iraqi counterpart
November 08, 2022
RIYADH: Saudi Arabia's Minister of Defense Prince Khalid bin Salman bin Abdulaziz made a phone call to his Iraqi counterpart Thabet Muhammad Al-Absi, the Saudi Press Agency (SPA) reported.
Prince Khalid congratulated Al-Absi on his recent appointment as minister of defense in the new government formed in Iraq last month.
During the phone call, both officials discussed bilateral ties on Sunday and ways of enhancing cooperation in the field of defense in a manner that serves the interest of both countries.
They also discussed several issues of common interest.
Source: Arab News
Please click the following URL to read the full text of the original story:
https://www.arabnews.com/node/2195556/saudi-arabia
--------
Saudi court sentences teenager to death over preparing iftar meal for political opponent: Rights group
07 November 2022
An international human rights organization says a Saudi court has handed down a death sentence to a teenager on charges of providing Iftar, a meal served at the end of the day during the holy Muslim fasting month of Ramadan, to a political opponent wanted by the kingdom's security apparatus.
The European Saudi Organization for Human Rights (ESOHR), in a post published on its Twitter page on Sunday, identified the teenager as Ahmed Al Daghaam.
The report comes as human rights activists have warned that Saudi authorities plan to execute eight teenagers from the kingdom's Shia-populated Qatif region in Eastern Province.
The activists have mounted a campaign under the Arabic hashtag "Stop the Slaughter" to demand abolition of death penalties handed down to the minors.
They named the teenagers as Abdullah al-Howaiti, Abdullah al-Derazi, Ali al-Sabiti, Hasan Zaki al-Faraj, Jalal Al Labad, Mahdi al-Mohsen, Javad Qariris and Yousef al-Manasif.
The activists pointed out that the General Prosecutor's Office has sentenced Manasif, and at least five others, including a teenager named as Sajjad Al Yassin, to death for apostasy – abandoning their Muslim faith, according to trial documents.
They went on to note that these six people have been under trial in Saudi Arabia's Specialized Criminal Court (SCC) since September 2019.
Senior Saudi Shia scholar's fate remains unknown
Meanwhile, activities have warned that the fate of an imprisoned prominent Shia scholar from Saudi Arabia's remains unknown, as the House of Saud is adamantly pressing ahead with a heavy-handed crackdown against members of the Shia community in the kingdom.
They said they had "no information" about the whereabouts of Hashim Muhammad al-Shakhs.
Back in December 2020, members of the General Intelligence Presidency cordoned off the area around the house of Shakhs in the city of al-Ahsa, before breaking in and arresting the cleric.
The sources added that the Saudi regime forces ransacked the house, terrorizing the entire family.
Since Crown Prince Mohammed bin Salman became Saudi Arabia's de facto leader in 2017, the kingdom has arrested hundreds of activists, bloggers, intellectuals and others for their political activism, showing almost zero tolerance for dissent even in the face of international condemnation of the crackdown.
Source: Press TV
Please click the following URL to read the full text of the original story:
https://www.presstv.ir/Detail/2022/11/07/692312/Saudi-court-sentences-teenager-to-death-over-preparing-iftar-meal-for-political-opponent--Rights-group
--------
Children living in 'open air prison' at Syria's al-Hol camp: MSF
07 November, 2022
Doctors Without Borders (MSF) on Monday deplored the fate of thousands of children living in "a giant open air prison" at Syria's notorious al-Hol camp.
Al-Hol is the largest camp for displaced people who fled after Kurdish-led forces backed by a US-led coalition dislodged ISIS fighters from their last scrap of territory in Syria in 2019.
In the country's northeast near Iraq, al-Hol is overpopulated with more than 50,000 residents including relatives of suspected extremists, displaced Syrians, and Iraqi refugees.
Children make up 64 percent of the Kurdish-run camp's population, and half are younger than 12, according to MSF.
"We have seen and heard many tragic stories", the aid agency's Syria operations manager, Martine Flokstra, said.
In a report, MSF cited al-Hol's lack of health care and incidents of violence, warning of the dangerous situation facing children.
Some died "as a result of prolonged delays in accessing urgent medical care," and there are stories of "young boys reportedly forcibly removed from their mothers once they reach around 11 years old, never to be seen again," Flokstra said.
Many of the camp's child detainees were born there and are "robbed of their childhoods, and condemned to a life exposed to violence and exploitation, with no education, limited medical support and no hope in sight," she added.
The report mentions the case of a five-year-old boy hit by a truck and who died after waiting several hours for hospitalization.
In 2021, 79 children lost their lives, MSF said.
Some were killed in violence, including shootings inside the camp where attacks on guards or aid workers are common. The majority of camp deaths are crime related.
Among al-Hol's detainees are more than 10,000 foreigners from dozens of countries.
Housed in a separate part of the camp called "the Annex," MSF considers these foreign nationals the responsibility of their home countries which it said have failed in their obligations to repatriate them.
"Insufficient progress is being made to close the camp," Flokstra said.
Kurdish authorities have repeatedly called on countries to repatriate their citizens from crowded camps.
But nations have mostly received them only sporadically, fearing security threats and a domestic political backlash.
Source: Al Arabiya
Please click the following URL to read the full text of the original story:
https://english.alarabiya.net/News/middle-east/2022/11/07/Children-living-in-open-air-prison-at-Syria-s-al-Hol-camp-MSF
--------
Syria cholera outbreak worsened by Assad regime, Turkey: HRW
07 November, 2022
Human Rights Watch Monday accused the government in Damascus and Turkey of exacerbating Syria's deadly cholera outbreak by restricting aid and water-flow to the country's Kurdish-held northeast.
Syria has recorded 81 deaths and more than 24,000 suspected cases of the extremely virulent disease since September, according to the World Health Organization, in the country's first outbreak for more than a decade.
Ankara has "failed to ensure" adequate water flow down the Euphrates river and supply from the strategic Turkish-controlled Alouk water station, HRW said.
The rights group also slammed the government of Syrian President Bashar al-Assad for its "discriminatory diversion of aid and essential services" away from Kurdish-held areas in the northeast.
Residents of this area are facing waning river flow from the Euphrates, where water testing in September proved the presence of bacteria responsible for cholera, a Kurdish health official told reporters at the time.
Syrian Kurdish authorities have also accused neighbor and archfoe Turkey of weaponizing water by tightening the tap upstream -- claims Ankara has denied.
"Turkey can and should immediately stop aggravating Syria's water crisis," said Adam Coogle, deputy Middle East director at HRW.
"This devastating cholera outbreak will not be the last waterborne disease to impact Syrians if the country's severe water problems are not immediately addressed."
Cholera is generally contracted from contaminated food or water and spreads in residential areas that lack proper sewerage networks or mains drinking water.
"Longstanding restrictions on aid reaching Kurdish-held areas... have left healthcare facilities and humanitarian groups operating in northeast Syria scrambling to respond to a disease that can spread rapidly," HRW said, elaborating on the Syrian government's alleged culpability.
Inside Syria, the Euphrates flows mostly along territory controlled by semi-autonomous Kurdish authorities, whose US-backed fighters dislodged the ISIS group from the extremists' last scrap of Syrian territory in 2019.
Source: Al Arabiya
Please click the following URL to read the full text of the original story:
https://english.alarabiya.net/News/middle-east/2022/11/07/Syria-cholera-outbreak-worsened-by-Assad-regime-Turkey-HRW-
--------
World leaders at COP27 gather for a family photograph
07 November, 2022
World leaders gathered in the Egyptian resort town of Sharm el-Sheikh on Monday for a family photograph at this year's annual UN climate conference.
Discussions at COP27 will be held on how to deal with a worsening problem that scientists' call Earth's biggest challenge.
Much of the focus will be on national leaders telling their stories of being devastated by climate disasters, culminating on Tuesday with a speech by Pakistan Prime Minister Muhammad Sharif, whose country's summer floods caused at least $40 billion in damage and displaced millions of people.
Most of the leaders are meeting on Monday and Tuesday, just as the US has a potentially policy-shifting midterm election.
Leaders of two of the three biggest carbon polluting nations - China and India - appear to be skipping the climate talks, although underlings were in the resort town negotiating.
The leader of the other top polluting country - US President Joe Biden - is coming days later than most of the other presidents and prime ministers on his way to Bali.
Source: Al Arabiya
Please click the following URL to read the full text of the original story:
https://english.alarabiya.net/News/middle-east/2022/11/07/World-leaders-at-COP27-gather-for-a-family-photograph-
--------
Saudi crown prince to attend Mideast Green Summit in Egypt
Ibrahim El-Khazen
07.11.2022
SHARM EL-SHEIKH, Egypt
Saudi Crown Prince, Mohammed bin Salman is set to arrive in Egypt's Red Sea city of Sharm el-Sheikh on Monday to participate in the 2nd Green Middle East summit.
The summit is held in tandem with UN climate conference COP27, which opened in Sharm el-Sheikh on Sunday.
A statement by the Saudi Royal Court said bin Salman had left for Sharm el-Sheikh to take part in the summit, which will be attended by Egyptian President Abdel-Fattah al-Sisi, along with a host of world leaders.
The summit is intended to lay out a roadmap for regional climate action, assessing the consequences of climate change and presenting solutions.
The first edition of the Green Middle East summit was held in the Saudi capital, Riyadh, in October 2021.
Source: Anadolu Agency
Please click the following URL to read the full text of the original story:
https://www.aa.com.tr/en/middle-east/saudi-crown-prince-to-attend-mideast-green-summit-in-egypt/2731919
--------
URL: https://newageislam.com/islamic-world-news/afghanistan-humanitarian-crisis-palestine/d/128360
New Age Islam, Islam Online, Islamic Website, African Muslim News, Arab World News, South Asia News, Indian Muslim News, World Muslim News, Women in Islam, Islamic Feminism, Arab Women, Women In Arab, Islamophobia in America, Muslim Women in West, Islam Women and Feminism