New Age Islam News Bureau
10 February 2022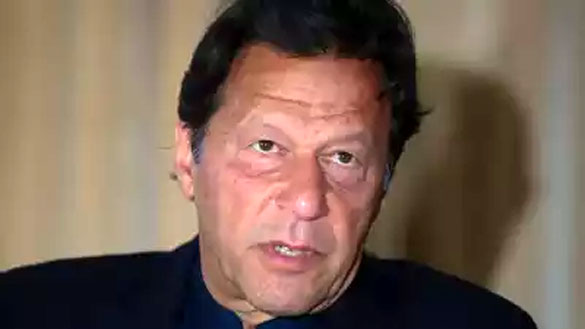 Pakistan Prime Minister Imran Khan
-----
• Fewer Women on Streets, Vandalised Memorials as Kabul Marks Six Months since Taliban Takeover
• Paris 2015 Attacks, That Killed 130 People, Suspect Salah Abdeslam Tells Court: I Love ISIS
• Egypt Names First-Ever Coptic Christian to Head Country's Top Court
• Dozens of Muslims Protest after Demolition of 450-Yr-Old Qutub Shahi Mosque in Telangana, India
Pakistan
• Will Eliminate Remnants of Terrorists, Their Abettors, Accomplices Whatever the Cost: Chief of Army Staff General Qamar Bajwa
• Islamophobia escalating to pandemic proportions, warns Pakistan
• Security forces kill a terrorist in North Waziristan
• One hijab-clad girl exposed India's politics, treatment of minorities: minister
• Pakistan summons India's Charge d'Affaires over hijab controversy
--------
South Asia
• Taliban Urges Afghan Professors in Exile to Return to Country
• Turkey to resume visa issuance in Kabul and Mazar-e-Sharif
• Tedros Adhanom, WHO chief, discusses Health crisis with Taliban in Switzerland
• Afghan kids may die unless action taken: UNICEF
• New Covid wave batters Afghanistan's crumbling health care
• Muhammad Wali Naeemi appointed Afghanistan's Permanent envoy to UN
--------
Europe
• French Muslims Uneasy As Islam Takes Centre Stage in Vote
• Attackers Vandalise Mosque with Nazi Swastika in Germany
• Britain's Prince William in the UAE for first official visit
• Britain's terror threat level lowered a notch to 'substantial'
--------
Arab World
• Daesh/ISIS Retains 6,000-10,000 Fighters In Iraq, Syria: UN Official
• Turkiye 'neutralizes' 9 PKK/YPG terrorists in northern Syria
• Jefferson Quran returns to US as Dubai Expo 2020 winds down
• Lebanon, Israel 'narrowing gaps' towards deal on maritime border: US diplomat
• Syria opposition slams UN's 'step for step' peace push
• Saudi air defences intercept drone targeting airport, minor injuries reported
--------
India
• People Coming Up With New Ways to Stand in Way of Muslim Women's Rights, Says PM Modi
• Hijab Row: RSS Muslim Wing Supports Karnataka Girl
• Hijab row: AIMIM MP from Maharashtra urges non-Muslim women to wear it as protest
• We don't encourage Allah-hu-Akbar or Jai Shri Ram inside campus: Karnataka education minister
• Secunderabad Rehab Institute Has Barred Burqa, Says Student
• Supreme Court to consider listing plea on Karnataka hijab row
• Jaishankar discusses Af with Qatar, heads for Quad meet
--------
North America
• Al Qaeda, Islamic State Reconstituting In Afghanistan: US Official
• Biden talks US support for Saudi Arabia, energy supplies in call with King Salman
• American general in Egypt for talks after US cuts military aid
--------
Southeast Asia
• Indonesia Begins Testing 'Halal' Covid Jab on Humans
• Be apolitical in interpreting the constitution, CJ tells judges
• Sack those who leaked letter on alleged abuse, says ex-Mara Corp chairman
--------
Mideast
• Iranian President Calls for Unity among All Palestinian Groups against Israel
• Turkey says Israel normalization does not mean Palestinian policy change
• Iran's nuclear progress called 'sobering' by US senators as talks resume
• Iran's Supreme Leader Khamenei urges Sadr to unify Iraq Shias
• Top Commander Vows Iran's Determination to Continue Missile Development
• Iran Criticizes Double-Standard Approach towards Human Rights
--------
Africa
• Governors Wike, Makinde, Ishaku Hate Muslims, They've Been Blacklisted – Muslim Rights Concern
• Sudanese envoy in Israel to promote ties, source says
• Libyan PM survives assassination attempt: Source
• Tunisian president steps up power grab with move against judges
• Suicide bombing in Somali capital kills 1, wounds several
Compiled by New Age Islam News Bureau
URL: https://www.newageislam.com/islamic-world-news/afghan-taliban-kabul-ttp-pakistan/d/126343
--------
Afghan Taliban's Kabul Comeback Makes Tehreek-e-Taliban Pakistan Bigger Threat than Ever Before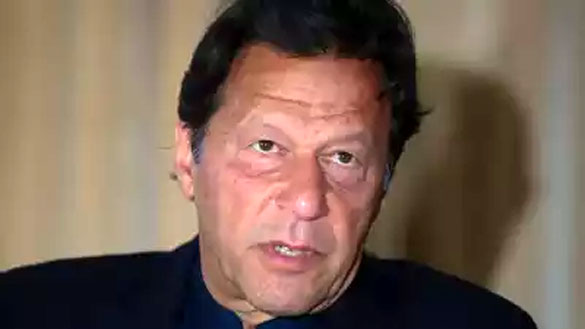 Pakistan Prime Minister Imran Khan
-----
Omer Farooq Khan
Feb 10, 2022
ISLAMABAD: The Taliban's triumphant return to Kabul appears to have given its Pakistani counterpart, which has sanctuaries in Afghanistan, the impetus to further torment Islamabad into enforcing an Islamic system in the country, just as its mentor next door has done.
The Imran Khan-led government's growing concern stems from the unwillingness of the Afghan Taliban to stop Tehreek-e-Taliban Pakistan
(TTP) from using its soil to plan terror attacks in Pakistan, the rate of which has significantly increased since the collapse of a brief truce between the government and the militants last December.
Considering the historical, ideological, cultural, ethnic and linguistic links between the Afghan and Pakistani Taliban, observers believe it is almost impossible for Kabul to move against the TTP. "The TTP was the first group to celebrate the Taliban victory in Afghanistan and pledged their oath of allegiance to Haibatullah Akhunzada, the Taliban's supreme leader," said Tahir Khan, a Pakistani journalist who has widely covered wars in Afghanistan.
Khan described both as two faces of the same coin. "I think the TTP members are now relaxed in Afghanistan as there is neither a danger of US drone strikes nor any operation by the Taliban regime. All the TTP leaders and fighters were freed when the Afghan Taliban broke jails last August. The group's leaders now travel openly in Afghanistan," Khan said, also revealing that all splinter factions have since rejoined the TTP.
"Today's TTP is a major threat and challenge for Pakistan," he said.
The TTP had been driven out from Pakistan through military operations in the country's northwest, along the border with Afghanistan. The final push came in 2014, when a major offensive was launched against the group in North Waziristan tribal district, triggering an exodus of the entire population from the region. The fleeing TTP leaders and fighters found sanctuaries in the eastern Afghan provinces of Kunar and Nangarhar with the support of the Afghan Taliban. Those who were captured and detained by the former Afghan regime were warmly welcomed with a shower of rose petals on their release from prisons by the Taliban.
In November, the Taliban brokered a ceasefire between Pakistan and the TTP as a confidence-building measure to pave the way for broader talks. The conflicting positions of both sides, however, quickly resulted in the collapse of talks. During the dialogue, the TTP's main demands were imposition of Taliban-style rule in the tribal districts along the Pakistan-Afghanistan border, the release of 100 TTP prisoners and the permission to open a political office in a third country, like the Doha office of the Afghan Taliban.
Islamabad, on the other hand, wanted the group to shun violence, offer a public apology, respect the Pakistani constitution and start living in the country like normal citizens.
Following the collapse of talks in December, the TTP lost no time in resuming terror attacks. More than 40 such attacks were reported in Pakistan in December alone. Almost the same number of attacks on security forces, government representatives and their supporters occurred in January.
The muted response of the Afghan Taliban to TTP's unabated attacks against Pakistan probably compelled the latter to carry out covert operations in Afghanistan. On December 17, the TTP's deputy chief Faqir Muhammad narrowly escaped a drone attack when the missile fired from an unmanned aircraft failed to explode. Last month, two TTP leaders – Khalid Balti and Mufti Burjan – were killed in Kunar province in separate assaults. The TTP is now seen as a proxy of the Afghan Taliban against Pakistan.
"Though many considered the takeover of Afghanistan by the Taliban as a strategic win for Pakistan, it has created many political and security challenges for the country. The TTP now poses the bigger threat than ever before, and it can orchestrate more deadly attacks on Pakistan without any fear of reprisal," said Arif Yousafzai, a Peshawar-based journalist covering militancy on both sides of the Durand Line, a disputed border between Pakistan and Afghanistan.
Source: Times Of India
Please click the following URL to read the text of the original story:
https://timesofindia.indiatimes.com/world/pakistan/mentors-kabul-comeback-makes-pak-taliban-bigger-threat-than-ever-before/articleshow/89465545.cms
--------
Fewer Women on Streets, Vandalised Memorials As Kabul Marks Six Months Since Taliban Takeover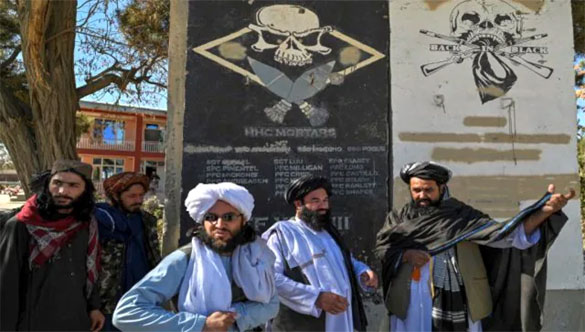 Representational image
-----
February 09, 2022
Kabul: In the six months since taking back control of Afghanistan, the Taliban have erased all visible signs of the former government from the capital.
Gone are flags of the former republic, murals of national heroes, and memorials honouring those killed in Taliban attacks.
Blast walls are now covered with slogans of the new Islamic Emirate. "With the help of God, our nation defeated the Americans," reads one.
The owners of many beauty salons in central Kabul have removed posters of women in full make-up and fashionable hair styles once displayed on their doors.
Iconography of the slain anti-Taliban commander Ahmad Shah Massoud in his trademark Pakol cap that adorned almost every neighbourhood of the city has been covered up.
Fewer women and girls are seen moving between markets and cafes, many too afraid to leave the house after the takeover, or with no money to spend after losing their jobs.
Vehicles all but vanish after dark, as extra Taliban checkpoints spring up.
And on a hilltop overlooking Kabul, the black, green and red flag of the former regime has been taken down.
The flagpole now stands bare in the middle of a snowy garden.
Source: Firstpost
Please click the following URL to read the text of the original story:
https://www.firstpost.com/world/fewer-women-on-streets-vandalised-memorials-as-kabul-marks-six-months-since-taliban-takeover-10361301.html
--------
Paris 2015 Attacks, That Killed 130 People, Suspect Salah Abdeslam Tells Court: I Love ISIS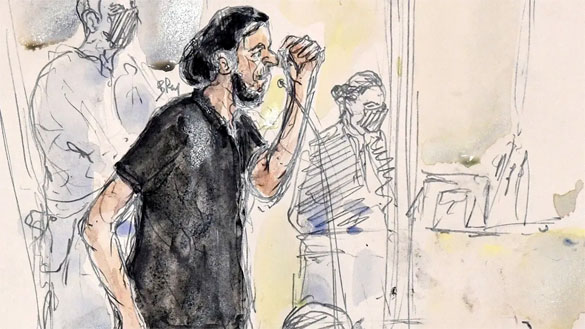 This court-sketch made on September 8, 2021 shows Salah Abdeslam, the last surviving member of the jihadist cell of the November 13, 2015 Paris attacks. (Benoit Peyrucq/AFP)
----
09 February, 2022
Salah Abdeslam, the main suspect in the November 2015 terrorist attacks that killed 130 people in Paris, told a court on Wednesday that he supported and loved the ISIS terrorist group.
Abdeslam, 32, is believed by prosecutors to be the only surviving member of the ISIS cell behind the gun-and-bomb attacks on Paris' bars, restaurants, Bataclan concert hall and the Stade de France sports stadium on Nov. 13, 2015.
In a related development and in neighboring Belgium, more than 100 police on Tuesday, raided multiple addresses around the port city of Antwerp and detained 13 people suspected of links to an extremist group, prosecutors said.
The operation was launched under the authority of anti-terror magistrates as part of a broader investigation, federal prosecutors said in a statement.
The Belgian cities of Brussels and Antwerp have been singled out in the past as alleged rear bases for international extremism.
Antwerp was the base of the extremism group Sharia4Belgium, which was founded in 2010, and several of its members went on to fight for hardline groups in Syria.
Its former leader, Fouad Belkacem, was sentenced in 2015 in Belgium to 12 years in prison, then stripped of his Belgian nationality in 2018.
Sharia4Belgium has been officially dissolved but Belgian law enforcement fears it could still be a source of inspiration for some radicals.
In the aftermath of the Paris attacks of 13 November 2015, which left 130 dead, Belgium was accused of being a rear base for international extremism.
The initial investigation revealed that several of the attackers were from the working class Brussels district Molenbeek, and that the attacks were planned there.
Belgium itself became a target after the arrest in Brussels of Salah Abdeslam, the only surviving member of the Paris attack gang, now on trial in France.
On 22 March 2016, Brussels was hit by a double suicide bomb attack that was claimed by the ISIS terrorist group.
Bombers from the same extremist cell that attacked Paris blew themselves up at Brussels Zaventem airport and in the metro, killing 32 people and wounding 340.
Source: Al Arabiya
Please click the following URL to read the text of the original story:
https://english.alarabiya.net/News/world/2022/02/09/Paris-2015-attacks-suspect-Salah-Abdeslam-tells-court-I-love-ISIS
--------
Egypt Names First-Ever Coptic Christian to Head Country's Top Court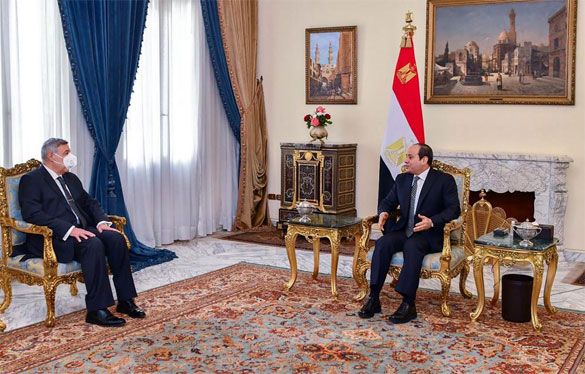 Judge Boulos Fahmy swore in the first-ever Coptic Christian to headEgypt's highest court. (Egyptian Presidency Media Office via AP)
-----
09 February, 2022
Egypt's president on Wednesday swore in the first-ever Coptic Christian to head the country's highest court.
Judge Boulos Fahmy is the 19th person to preside over the Supreme Constitutional Court since it was established in 1969.
President Abdel Fattah al-Sisi picked the 65-year-old Fahmy from among the court's five oldest of 15 sitting judges, as is prescribed by law.
Fahmy succeeded Judge Saeed Marei, who retired over health reasons, according to Mohammed Bassal, a respected expert in Egypt's judicial affairs and editorial manager of the Shorouk daily.
Fahmy has headed the court's General Secretariat since 2014. His appointment as chief judge has been welcomed by many in the Muslim majority country.
Moushira Khattab, head of the government-appointed National Council for Human Rights, hailed the decision as "historic" and "a giant move" in the field of political and civil rights.
Al-Sisi has also taken steps to empower Christians, including the appointment of the first-ever Coptic Christian woman as provincial governor in 2018.
Source: Al Arabiya
Please click the following URL to read the text of the original story:
https://english.alarabiya.net/News/middle-east/2022/02/09/Egypt-names-first-ever-Christian-head-of-country-s-top-court
--------
Dozens of Muslims Protest after Demolition of 450-Yr-Old Qutub Shahi Mosque in Telangana, India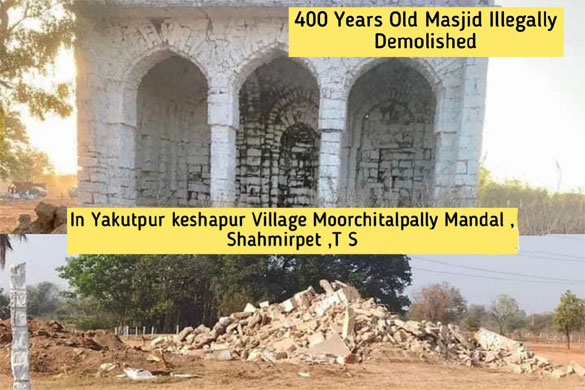 February 10, 2022
After the 400 year old Qutub Shahi mosque was demolished at Yakutpur village in Telangana, India, All India Majli-e-Ittehadul Muslimeen (AIMIM) members protested in front of the state Waqf board office on Tuesday and accused the board of negligence.
The Mosque was located at Chintalapally mandal which was allegedly destroyed by accused Vinoda Reddy of Alwal, on Sunday night.
According to the press release, the chairman of the Waqf board, Mohd Saleem performed Aser Namaz at the mosque place and filed a complaint against the accused at Shamirpet Police station.
Mohd Saleem stated that the mosque is under the Waqf board. "Once a property is waqf, it is always waqf. Further he said that the mosque will be rebuilt at the same location and any unlawful registration paperwork will be revoked."
In 2011, Mir Ghulam Hassan Khan and his son Mohammed Shahnawaz sold the 9-acre property with the mosque and a few grave to Satyanarayan Reddy, who then sold it to Vinoda Reddy.
Mir Ghulam Hassan Khan had the mosque land placed under Auqaf after selling it to Satyanarayan Reddy.
Source: ABNA24
Please click the following URL to read the text of the original story:
https://en.abna24.com/news//dozens-of-muslims-protest-after-demolition-of-450-yr-old-qutub-shahi-mosque_1227926.html
--------
Pakistan
Will Eliminate Remnants of Terrorists, Their Abettors, Accomplices Whatever the Cost: Chief of Army Staff General Qamar Bajwa
February 9, 2022
Chief of Army Staff (COAS) General Qamar Javed Bajwa has ensured peace and stability in the country by stating that the terrorists' "desperate attempts for revival" won't be allowed to succeed.
It is pertinent to note that last week in Balochistan, security forces killed 20 terrorists in clearance operations after they attacked two security camps in Panjgur and Naushki districts of the province. Nine security personnel were martyred while repulsing the attacks, according to ISPR.
"We will eliminate all remnants of terrorists, their abettors and accomplices whatever is the cost," the army chief was quoted by the military's media, the ISPR, as saying while presiding over the 247th Corps Commanders' conference at GHQ on Wednesday.
According to a statement issued by the Inter-Service Public Relations, the forum was given a comprehensive briefing on security situation in the country especially on recent terrorism-related incidents in Balochistan. The participants were apprised on the measures being undertaken to counter "hostile efforts to destabilise Pakistan", it added.
The COAS expressed satisfaction over operational preparedness of the formations and safeguards in place to thwart designs of inimical forces. "We have come a long way in our fight against terrorism. The armed forces, with the support of the nation, have conducted successful operations against terrorists of all hue and colour," he was quoted as saying at the meeting.
The COAS also paid tribute to the martyrs who gave ultimate sacrifice for the defence of the country while valiantly repulsing recent terrorist attacks in Balochistan and inflicting heavy losses on the enemy.
COAS Bajwa also directed all formations to concentrate on maintaining high standards of basic military training to ensure effective execution of operations in conventional / sub-conventional domain.
The top military huddle took place a day after Prime Minister Imran Khan paid rich tributes to the martyrs of last week's terrorist attacks on security camps in Naushki and Panjgur districts as well as the troops who repulsed the attempts, saying that the "entire nation is standing with them" and that their sacrifices and bravery would not go in vain.
Addressing officers and jawans of the Frontier Corps and Pakistan Rangers in Naushki, Premier Imran vowed to give a befitting response to the terrorists who were trying in vain to hamper the pace of progress, particularly in Balochistan. "The Pakistani nation is very resilient and strong and no act of terror can deter them from moving forward."
The PM was accompanied by Foreign Minister Shah Mahmood Qureshi, Information Minister Fawad Chaudhry and Interior Minister Sheikh Rashid Ahmed. Army chief General Qamar and senior commanders were also present.
Source: Pakistan Today
Please click the following URL to read the full text of the original story:
https://www.pakistantoday.com.pk/2022/02/09/coas-bajwa-reaffirms-terrorists-desperate-attempts-for-revival-wont-succeed/
--------
Islamophobia escalating to pandemic proportions, warns Pakistan
Anwar Iqbal
February 10, 2022
UNITED NATIONS: Pakistan has urged the international community to focus on combating the rising phenomenon of Islamophobia, which now forms part of far-right and neo-fascist parties' manifestos in several countries.
"We are witnessing the global resurgence in intolerance, discrimination, racism, negative stereotyping, and violence against persons, on the basis of religion or belief," warned Ambassador Aamir Khan, Pakistan's deputy permanent representative to the UN.
Addressing a meeting of UN Alliance of Civilisation (UNAOC) in New York on Tuesday afternoon, Ambassador Khan said while no religious community was "immune from such discrimination, a particularly alarming trend is the global resurgence in Islamophobia."
This, he said, was a major cause of concern for Muslims across the globe. Borr­owing a quote from a UN report on freedom of religion and belief, Ambassador Khan pointed out that "institutional suspicion and fear of Muslims and those perceived to be Muslim has escalated to epidemic proportions."
In 2005, some UN members founded the Alliance of Civilisations to reduce tensions between the Muslim world and the West that escalated rapidly after the 9/11 terrorist attacks in the United States.
One of the core objectives of this Alliance was to advance mutual respect for all cultures, traditions and religious beliefs, and to serve as a platform to bridge divergence and friction especially between the West and Islam.
In one of its key documents — "A call for Mutual Respect" — the alliance noted with "deep concern" the growing tensions and intolerance triggered by the publication of the satirical caricatures.
The document notes that Muslims consider this insulting, and deeply offensive and such inflammatory caricatures also provoke acts of violence against innocent civilians, attacked for their sheer religion, belief or ethnicity. The document calls for mutual respect of all religions and beliefs and for fostering a culture of fraternity and peace.
In a recent statement, Russian President Vladimir Putin also emphasised this point, saying that insulting a prophet does not count as freedom of expression. This was rather a "violation of religious freedom and the violation of the sacred feelings of people who profess Islam,", he added.
In his address to the alliance, the Pakistani envoy said the greatest paradox of today's world was that while "it has brought people closer and created vast networks of connectivity and interdependence, this proximity has also spawned divisions and frictions among and within societies."
"Irrespective of our diversity," Ambassador Khan said, "it is in our enlightened interest to respect each other's religious beliefs, eliminate the most pervasive forms of religious discrimination and combat incitement to violence."
Noting that the Alliance had done commendable work over the years, he said: "Today, the sounds of a Clash of Civilisations still reverberate, causing great anguish within the Islamic world."
Source: Dawn
Please click the following URL to read the full text of the original story:
https://www.dawn.com/news/1674272
--------
Security forces kill a terrorist in North Waziristan
February 9, 2022
Security forces killed a terrorist during an exchange of fire in the Shewa area of Khyber Pakhtunkhwa's (KP) North Waziristan district on the night between February 8 and February 9, the military's media affairs wing said on Wednesday.
According to a statement issued by the Inter-Services Public Relations (ISPR), the killed terrorist was identified as Irfan alias Abu Darda and weapons and ammunition were found in his possession.
Source: Pakistan Today
Please click the following URL to read the full text of the original story:
https://www.pakistantoday.com.pk/2022/02/09/security-forces-kill-a-terrorist-in-north-waziristan/
--------
One hijab-clad girl exposed India's politics, treatment of minorities: minister
February 9, 2022
ISLAMABAD: After a young headscarf-clad Muslim student was heckled and jeered at by a Hindu mob in the southwestern state of Karnataka, a minister said "one Muslim woman exposed" the politics and the treatment meted out to the largest religious minority in India.
The video of Muskan, a second-year student at a local college, confronting the mob — members of which were carrying saffron shawls — and retaliating by shouting back Allah-o-Akbar (Allah is the greatest) went viral on social media.
The mob had gathered outside the college on Tuesday demanding a ban on what it called Islamic attire, including hijab and burqa, at the campus, the Indian Express reported.
Muskan "effectively exposed the face of Indian extremism before the entire world," said Minister for Interior Sheikh Rasheed Ahmed while addressing a press conference in Islamabad.
He said the increment in the salaries of security forces as announced by the prime minister will come into force from March.
"I have also requested the prime minister to increase the pay of civil servants," he said.
Further speaking on the opposition's plan to bring a no-confidence motion against Imran Khan, Ahmed said any such attempt would be foiled just as recently opposition senators voted in favour of the State Bank autonomy legislation.
"First take care of your lawmakers who could jump the ship on our signal," he said, and added if the opposition benches had the guts to table a no-confidence motion, they would have done it on the first day Khan assumed office.
"I even do not even see them coming to Islamabad [for the anti-inflation protest] on March 23," he said.
He said that the next two months are important in national politics as the interior minister of Iran will be visiting Pakistan on February 14 while the prime minister will also be visiting Russia after a follow-up visit to China.
He further shared the activity in the opposition's ranks was owing to cases against Shehbaz Sharif and Hamza Shehbaz that are now moving towards their logical conclusion.
Further speaking on Senator Faisal Vawda's disqualification, he expressed hope the lawmaker would use his legal options and approach Supreme Court against the decision.
Rasheed said the network of National Database and Registration Authority (NADRA) offices were being expanded to the far-flung areas of the country. As many as 13 passport offices were being set up in interior Sindh alone, he added.
Similarly, he said a succession certificate would also be introduced in Azad Jammu and Kashmir and Balochistan regions.
Responding to a question, he said Pakistan enjoyed good relations with the Taliban government and the group won't let anyone use Afghanistan's soul against Pakistan.
He said the police has started mobile service.
Source: Pakistan Today
Please click the following URL to read the full text of the original story:
https://www.pakistantoday.com.pk/2022/02/09/one-hijab-clad-girl-exposed-indias-politics-treatment-of-minorities-minister/
--------
Pakistan summons India's Charge d'Affaires over hijab controversy
February 10, 2022
Pakistan has summoned India's Charge d'Affaires here to the Ministry of Foreign Affairs and conveyed the government's grave concern on the ban on Muslim girl students from wearing hijab in Karnataka.
The Foreign Office said in a statement late on Wednesday that the Indian diplomat was conveyed Pakistan's deep concern over alleged religious intolerance, negative stereotyping, stigmatisation and discrimination against Muslims in India.
It was emphasised that the Indian government must hold the perpetrators of harassment against women in Karnataka to account and take adequate measures to ensure the safety, security and well-being of Muslim women, the statement said.
The Foreign Office statement came after Pakistan's senior ministers waded into the ongoing hijab row in Karnataka on Wednesday, with Foreign Minister Shah Mahmood Qureshi saying that depriving Muslim girls of education is a grave violation of fundamental human rights.
Information and Broadcasting Minister Fawad Hussain said what was going on in India was worrying and emphasised that wearing hijab is a personal choice just as any other dress and citizens must be given free choice.
Reacting to the tweets of the Pakistani ministers, Union Minority Affairs Minister Mukhtar Abbas Naqvi said in New Delhi on Wednesday that some people are giving "communal colour" to a decision on dress code and discipline of institutions as part of their "conspiracy to defame India's inclusive culture".
Naqvi also shot back saying Pakistan, which is a "jungle of crime and cruelty" for minorities, is preaching India on tolerance and secularism.
The reality is that the socio-educational-religious rights of minorities are being trampled brazenly in Pakistan, Naqvi told reporters in New Delhi.
Source: Business Standard
Please click the following URL to read the full text of the original story:
https://www.business-standard.com/article/international/pakistan-summons-india-s-charge-d-affaires-over-hijab-controversy-122021000323_1.html
--------
South Asia
Taliban urges Afghan professors in exile to return to country
09 Feb 2022
Ministry of Higher Education of the Islamic Emirate of Afghanistan asked public university lecturers who have lately left Afghanistan to return to the country and restart teaching.
The Ministry has promised to be providing the lecturers with the same financial and working facilities they used to receive before the collapse of the previous Afghan government.
The press release of the ministry reads that Afghanistan is a common house of all Afghans so they are all responsible for rebuilding the country.
"Development of a country is fully dependent on the educational system, thus the Ministry of higher education of the Islamic Emirate of Afghanistan urges all the professors of public universities to come back to Afghanistan." Reads the statement.
The ministry has also asked other Afghan specialists and experts in exile to come to Afghanistan and occupy the vacant posts of teaching in Afghanistan universities.
Source: Khaama Press
Please click the following URL to read the full text of the original story:
https://www.khaama.com/taliban-urges-afghan-professors-in-exile-to-return-to-country-687586/
--------
Turkey to resume visa issuance in Kabul and Mazar-e-Sharif
10 Feb 2022
The Foreign Ministry of Turkey in a statement said that visa issuance for people in the Afghan capital Kabul and the northern Balkh province will resume soon.
The decision by Ankara was made after Afghanistan-acting Foreign Minister Amir Khan Motaqi talked with his Turkish counterpart Mevlut Cavusoglu on Wednesday, February 9, 2022.
Meanwhile, Turkey is also supposed to resume its consular service in the northern Mazar-e-Sharif city in March.
During the telephonic call between the two foreign ministers, Mevlut Cavusoglu said that the country will deliver from 500 to 700 tonnes of humanitarian assistance by the end of February.
Based on reports, the Turkish FM has said that the establishment of an inclusive government is the key to peace and stability in Afghanistan.
Source: Khaama Press
Please click the following URL to read the full text of the original story:
https://www.khaama.com/turkey-to-resume-visa-issuance-in-kabul-and-mazar-e-sharif-76775765/
--------
Tedros Adhanom, WHO chief, discusses Health crisis with Taliban in Switzerland
10 Feb 2022
The head of the World Health Organization (WHO) said on Wednesday he had met the health minister in the Taliban-led government in Afghanistan for talks on the "dire" health and humanitarian crisis in the country.
WHO chief Tedros Adhanom Ghebreyesus revealed that he met Qalander Ebad for talks on Tuesday.
Ebad is part of a Taliban delegation visiting Geneva for a week of talks with institutions and non-governmental agencies on humanitarian access and human rights, as Afghanistan's new rulers expand their international engagement.
The Taliban movement returned to power in Kabul in mid-August as the United States ended its 20-year war in Afghanistan.
Since then, Afghanistan has plunged into financial chaos, with inflation and unemployment surging, while the halting of aid and US sanctions has triggered a humanitarian crisis in a country already devastated by decades of war.
Tedros had already met Ebad during his visit to Kabul in September 2021 in the wake of the Taliban takeover.
"Despite some improvements since then, the health situation in Afghanistan is still dire and the acute humanitarian crisis is continuing to put lives at risk," Tedros said.
He said they discussed health needs in the country, strengthening the system, emergency preparedness, and training the health workforce, in which women are central.
Source: Khaama Press
Please click the following URL to read the full text of the original story:
https://www.khaama.com/tedros-adhanom-who-chief-discusses-health-crisis-with-taliban-in-switzerland-0335/
--------
Afghan kids may die unless action taken: Unicef
Feb 10, 2022
KABUL: The Unicef has warned that 1 million children in Afghanistan may die of acute malnutrition if urgent action wasn't taken, the media reported.
Taking to Twitter on Wednesday, the UN
agency referred to the case of a two year old child and said: "Having recently recovered from acute watery diarrhea, two years old Soria is back in hospital, this time suffering from edema and wasting. Her mother has been by her bedside for the past 2 weeks anxiously waiting for Soria to recover."
In the following tweet, the Unicef added that "without urgent action, 1 million children could die from severe acute malnutrition".
According to Unicef estimates, 24.4 million Afghans, including 13.1 children, will need humanitarian assistance in 2022.
Of this number, 1.1 million are acutely malnourished children under the age of five years due to the food crisis and poor access to water, sanitation and hygiene services.
Outbreaks of life-threatening diseases continue, with over 60,000 cases of measles reported in 2021.
The Taliban's Ministry of Public Health has claimed that the number of children suffering from malnutrition is around 4.4. million in Afghanistan.
Source: Times Of India
Please click the following URL to read the full text of the original story:
https://timesofindia.indiatimes.com/world/south-asia/afghan-kids-may-die-unless-action-taken-unicef/articleshow/89468063.cms
--------
New Covid wave batters Afghanistan's crumbling health care
Feb 9, 2022
KABUL: Only five hospitals in Afghanistan still offer Covid-19 treatment, with 33 others having been forced to close in recent months for lack of doctors, medicines and even heat. This comes as the economically devastated nation is hit by a steep rise in the number of reported coronavirus cases.
At Kabul's only Covid-19 treatment hospital, staff can only heat the building at night because of lack of fuel, even as winter temperatures drop below freezing during the day. Patients are bundled under heavy blankets. Its director, Dr. Mohammed Gul Liwal, said they need everything from oxygen to medicine supplies.
The facility, called the Afghan Japan Communicable Disease Hospital, has 100 beds. The Covid-19 ward is almost always full as the virus rages. Before late January, the hospital was getting one or two new coronavirus patients a day. In the past two weeks, 10 to 12 new patients have been admitted daily, Liwal said.
"The situation is worsening day by day," said Liwal, speaking inside a chilly conference room. Since the Taliban takeover almost six months ago, hospital employees have received only one month's salary, in December.
Afghanistan's health care system, which survived for nearly two decades almost entirely on international donor funding, has been devastated since the Taliban returned to power in August following the chaotic end to the 20-year US-led intervention. Afghanistan's economy crashed after nearly $10 billion in assets abroad were frozen and financial aid to the government was largely halted.
The health system collapse has only worsened the humanitarian crisis in the country. Roughly 90% of the population has fallen below the poverty level, and with families barely able to afford food, at least a million children are threatened with starvation.
The Omicron variant is hitting Afghanistan hard, Liwal said, but he admits it is just a guess because the country is still waiting for kits that test specifically for the variant. They were supposed to arrive before the end of last month, said Public Health Ministry spokesman Dr. Javid Hazhir. ' The World Health Organization now says Afghanistan will get the kits by the end of February.
The organization says that between January 30 and February 5, public laboratories in Afghanistan tested 8,496 samples, of which nearly half, were positive for Covid-19. Those numbers translate into a 47. 4% positivity rate, the world health body said.
As of Tuesday, the WHO recorded 7,442 deaths and close to 167,000 infections since the start of the pandemic almost two years ago. In the absence of large-scale testing, these relatively low figures are believed to be a result of extreme under-reporting.
Meanwhile, the new Taliban administration says it is trying to push vaccines on a skeptical population that often sees them as dangerous.
With 3.2 million vaccine doses in stock, Hazhir said the administration has launched a campaign through mosques, clerics and mobile vaccine clinics to get more people vaccinated. Currently barely 27% of Afghanistan's 38 million people have been vaccinated, most with the single-dose Johnson and Johnson vaccine.
Getting Afghans to follow even a minimum of safety protocols, like mask wearing and social distancing, has been near impossible, Liwal said. For many struggling to feed their families, Covid-19 ranks low on their list of fears, he said. The Public Health Ministry has run awareness campaigns about the value of masks and social distancing, but most people aren't listening.
Even in the Afghan Japan hospital, where signs warn people that mask wearing is mandatory, most people in the dimly lit halls were without masks. In the intensive care unit, where half of the 10 patients in the ward were on ventilators, doctors and attendants wore only surgical masks and gowns for protection as they moved from bed to bed.
The head of the unit, Dr. Naeemullah, said he needs more ventilators and, even more urgently, he needs doctors trained on using ventilators. He is overstretched and rarely paid, but feels duty-bound to serve his patients. Liwal said several doctors have left Afghanistan.
Most of the hospital's 200 employees come to work regularly despite months without pay.
In December, a US-based charity affiliated with Johns Hopkins University provided two months funding, which gave the hospital staff their December salary and a promise of another paycheck in January. The public health ministry is now in negotiations with the WHO to take over the cost of running the hospital through June, said Liwal.
Liwal said other Kabul hospitals used to be able to take some patients, but now no longer have the resources. With a lack of funds and staff leaving, 33 facilities offering Covid-19 treatment nationwide have shut down, he said.
Source: Times Of India
Please click the following URL to read the full text of the original story:
https://timesofindia.indiatimes.com/world/south-asia/new-covid-wave-batters-afghanistans-crumbling-health-care/articleshow/89448703.cms
--------
Muhammad Wali Naeemi appointed Afghanistan's Permanent envoy to UN
09 Feb 2022
Afghanistan Permanent Mission in the United Nations in a statement announced that Muhammad Wali Naeemi has been appointed as PR and Charge d'affair to the UN.
The statement reads that Muhammad Wali Naeemi could not assume his post on time due to his health issues and added that he will occupy his post now that he feels well.
Naeemi has replaced Naseer Ahmad Faiq who was appointed as Afghanistan PR after Ghulam Muhammad Ishaqzai resigned from the post in December last year.
Naseer Ahmad Faiq has recently accused former Afghan authorities of plotting against him after he made a speech in UNSC demanding the confiscation and freezing of bank accounts of former Afghan officials.
Afghanistan's representation in the UN has been a matter of conflict in recent months as the Taliban has repeatedly asked for their envoy-Suhail Shaheen- to be allowed to occupy the post but the UN has refused to.
Source: Khaama Press
Please click the following URL to read the full text of the original story:
https://www.khaama.com/muhammad-wali-naeemi-appointed-afghanistans-permanent-envoy-to-un-6758976/
--------
Europe
French Muslims uneasy as Islam takes centre stage in vote
February 9, 2022
PARIS: The role of Islam in French society has emerged as a key battleground in the presidential election campaign, leaving many French Muslims uneasy over the bursts of rhetoric against the nation's largest religious minority.
Far-right candidates Marine Le Pen of the National Rally (RN) and especially the former pundit Eric Zemmour have railed against Islam in frequent diatribes invoking security and terrorism risks.
Their messages are sometimes echoed by officials on the conservative right and allies of centrist president Emmanuel Macron, with their warnings on radical Islamism.
Such a fierce campaign debate about Islam would be less conceivable in neighbours like Britain and Germany, which also both have large Muslim minorities.
France, however, still lives in the shadow of the trauma of Algeria's War of Independence and, more recently, the extremist massacres of 2015.
Zemmour, who is contending with Le Pen and the traditional right-wing candidate Valerie Pecresse to reach a second round run-off against Macron, caused a fresh outcry Monday by describing the town of Roubaix in northern France as "Afghanistan two hours from Paris".
He told France Inter Radio: "French people who are Muslims must live in the French way and not consider that sharia law is superior to the laws of the republic."
His comments added to a febrile atmosphere that meant that a journalist had to be given police protection after a televised report about the rise of Islam in Roubaix.
The official division of church and state in France in 1905 left secularism as one of the cornerstones of the modern republic's identity.
Macron's government in 2021 also brought in a new law to defend France against what the president has described as "Islamist separatism".
'Deep scars'
The end of colonial rule prompted large migration flows into France in the 1950s and 1960s, but the economic crisis that hit in the 1970s saw many of the newcomers stuck without work in housing developments soon abandoned by the middle class.
While Britain and Germany also grappled with large postwar migrant arrivals, no other European colonial power fought a war whose ferocity, duration and consequences can compare with the Algerian War of Independence.
"The migration issue is particularly present in France because it awakens the difficult memory of the Algerian war," political scientist Pascal Perrineau told AFP.
This "left deep scars in the collective consciousness", he said.
But while the debate on Islam has been ever-present in France – which in 2011 banned full veil face coverings for women – many Muslims who make up almost 9% of the country's mainland population are shocked by current levels of rhetoric.
"Sometimes I tell myself that no one can understand quite how violent this is," said Fatma Bouvet de la Maisonneuve, a psychiatrist of Tunisian origin and author of the book "An Arab Woman in France".
Acknowledging that people can be tempted to turn in upon themselves, she said: "Frankly, sometimes we just want to meet among Arabs to tell each other how bad things are."
'Chasing public opinion'
Marine Le Pen's father Jean-Marie Le Pen, who made it to the second round in the 2002 presidential vote, has shocked much of France with repeated broadsides against Islam and immigrants.
French Muslims fear that such rhetoric has now been normalised and increasingly supported by widespread news reports and saturation of social media.
"I feel bad, very bad," said Khadija, 38, a social worker in the Loiret region in central France, who asked that her second name be withheld.
"I have the impression that today's France spits on my grandparents, who fought to liberate it, on my parents who came to build its roads, and on me, who has respected all the rules of democracy and integration.
"A few days ago, my five-year-old daughter told me that she did not like being Arab," she said, complaining of "living under permanent suspicion, no longer knowing what's behind the baker's smile, or what people really think".
For Kamel, who works for a charity association, the attacks on the night of Nov 13, 2015 changed everything.
Islamist gunmen massacred 130 people in and around Paris at locations including restaurants and the Bataclan music venue.
Source: Free Malaysia Today
Please click the following URL to read the full text of the original story:
https://www.freemalaysiatoday.com/category/world/2022/02/09/french-muslims-uneasy-as-islam-takes-centre-stage-in-vote/
--------
Attackers Vandalise Mosque with Nazi Swastika in Germany
February 10, 2022
Attackers have vandalised a mosque in northwestern Germany by painting a swastika on one of its doors, a Muslim body said, and separately, German police admitted its officers botched an investigation over a racist attack targeting a girl from the minority Muslim community.
"We demand that the authorities take urgent action and protect our places of worship," Turgut Ulker, head of Turkish-Islamic Union for Religious Affairs said on Wednesday, adding, similar attacks on the mosques in Dortmund city in North Rhine-Westphalia state were carried out last month as well.
"We will continue our fight against racism in Dortmund together with all democratic institutions. We will continue to do our best to ensure that Dortmund remains a city of tolerance," he said.
The police examined Sultan Ahmet mosque and tried to cover the swastika with spray paint.
Racist attack against German-Turkish girl
Also on Wednesday, authorities confirmed a German-Turkish girl who suffered a racist attack at a Berlin tram station, was falsely accused by police of provoking the assault on her.
Dilan Sozeri, 17, was hospitalised with wounds on Saturday after she was assaulted by six people who also hurled racial slurs and threats at the teen at the Greifswalder tram stop.
After the incident, German police and several media outlets had blamed Sozeri for provoking the attack and blamed the girl for not wearing a face mask and fighting with passengers in the tram.
After she posted a video on Instagram and provided details of the assault, police released a statement acknowledging the officers had goofed up.
"After further investigation and examination of the video material, it was now possible to determine that the young woman was wearing a face mask while getting on and off the tram," police said.
"Most of the six suspected adults were not wearing mouth and nose covers. Investigations are still ongoing," the statement said.
Suspects released, media cover up
The Berlin police later identified one of the attackers from his previous criminal records and detained three of the suspects.
Reportedly, they were drunk and released after the identification.
Despite the station being crowded, Sozeri said no one stepped up to help her.
Sozeri said the attackers have called her a "filthy foreigner" and "go back where you came from".
She also blamed the German media for trying to cover up the racist attack and displaying it as a mask dispute.
Source: Trt World
Please click the following URL to read the full text of the original story:
https://www.trtworld.com/europe/attackers-vandalise-mosque-with-nazi-swastika-in-germany-54592
--------
Britain's Prince William in the UAE for first official visit
10 February ,2022
Britain's Prince William arrived in the United Arab Emirates on his first-ever official trip where he visited a wildlife sanctuary ahead of an appearance at Expo 2020 Dubai.
The second-in-line to the British throne touched down in the city on Wednesday, according to his official Twitter account.
He visited the Jubail Mangrove Park in Abu Dhabi on Thursday morning where he met Sheikh Khalid bin Mohammed Al Nahyan, member of the Abu Dhabi Executive Council, to discuss environmental initiatives, the official WAM news agency reported.
The Duke of Cambridge also planted trees with local schoolchildren at the mangrove park.
Prince William was invited to the UAE by the UK's Foreign, Commonwealth, and Development Office to mark the Expo's UK 'National Day.'
"Excited to be arriving in Dubai to celebrate the UK at @DubaiExpo and discuss the vital issue of working together with the UAE and international partners to achieve a more sustainable world with @EarthshotPrize and United for Wildlife. W," he said in a tweet from the official Duke and Duchess of Cambridge account.
The Duke of Cambridge is expected to take part in a range of events promoting links between the two countries, and focusing on environmental issues.
Another one of the prince's charities, United for Wildlife, launched a Middle East and North Africa (MENA) chapter the day of his arrival.
The group works to prevent the illegal trafficking and hunting of animals.
Prince William will bring attention to the Earthshot Prize, an initiative founded by The Royal Foundation, during his visit.
The award began in 2021 and offers five $1.35 million (£1 million) prizes to innovative ideas to combat climate change.
Organizers have said the prizes will be offered every year until 2030, with the aim of tackling some of the world's most pressing environmental issues.
Source: Al Arabiya
Please click the following URL to read the full text of the original story:
https://english.alarabiya.net/News/gulf/2022/02/10/Britain-s-Prince-William-in-Dubai-for-Expo-2020-visit
--------
Britain's terror threat level lowered a notch to 'substantial'
09 February ,2022
Britain's official threat level for international terrorism was lowered Wednesday to "substantial," meaning an attack is likely.
It previously stood at "severe," signaling that UK intelligence officials considered an attack highly likely.
For the latest headlines, follow our Google News channel online or via the app.
Home Secretary Priti Patel said that "any reduction in the threat level is positive but it must never make us complacent."
She said the threat from terrorism in the UK was "complex, volatile, and unpredictable."
The threat level was raised to severe, the second-highest rung on a five-point scale, in November after an Iraq-born man blew himself up with a homemade bomb outside a hospital in Liverpool.
The suspected bombmaker, Emad Al Swealmeen, died when the device went off inside a taxi. The driver was injured.
The previous month, Conservative lawmaker David Amess was stabbed to death while meeting constituents in what police said was an act of terrorism.
Britain has experienced attacks by both "Islamic" and far-right extremists over the years, including a May 2017 suicide bombing at an Ariana Grande concert in Manchester that killed 22 people.
Source: Al Arabiya
Please click the following URL to read the full text of the original story:
https://english.alarabiya.net/News/world/2022/02/09/Britain-s-terror-threat-level-lowered-a-notch-to-substantial-
--------
Arab World
Daesh/ISIS retains 6,000-10,000 fighters in Iraq, Syria: UN official
Servet Günerigök
10.02.2022
An estimated 6,000-10,000 fighters are operating under the Daesh/ISIS terrorist group in Iraq and Syria, the UN's counter-terrorism chief said Wednesday.
Speaking at a UN Security Council briefing, Vladimir Voronkov, Under-Secretary-General of the United Nations Counter-Terrorism Office, called on member states to maintain gains against the threats by the terror group to prevent its expansion.
"During the reporting period, the group maintained its ability to launch attacks at a steady rate, including hit-and-run operations, ambushes and roadside bombs in both countries. It also continued to attack government forces and civilians with the apparent aim of instigating panic and increasing pressure on the authorities," said Voronkov.
He warned that the group is known for its ability to regroup and even intensify its activities following major defeats.
"Military counter-terrorism operations may be necessary, but comprehensive measures with a strong focus on prevention are required to address the dynamics that fuel the appeal of terrorism," he added.
Last week, Daesh/ISIS leader Abu Ibrahim al-Hashimi al-Qurayshi was killed after blowing himself up during an operation by US forces in northern Syria. Al-Qurayshi, whose real name was Amir Muhammad Saeed Abdul Rahman Al-Mawla, had taken over after Abu Bakr al-Baghdadi was killed by the US in 2019.
Voronkov stressed that it is crucial to build on the momentum following the death of Al-Qurayshi.
"Now is the time to address the grievances that Daesh and other terrorist groups exploit with their propaganda to attract new followers. We must focus on restoring human dignity, trust and social cohesion," he said.
Source: Anadolu Agency
Please click the following URL to read the full text of the original story:
https://www.aa.com.tr/en/middle-east/daesh-isis-retains-6-000-10-000-fighters-in-iraq-syria-un-official/2498464
--------
Turkiye 'neutralizes' 9 PKK/YPG terrorists in northern Syria
Seda Sevencan
09.02.2022
Turkish security forces "neutralized" nine PKK/YPG terrorists in northern Syria, the Turkish National Defense Ministry said on Wednesday.
"Our Hero Commandos neutralized 9 PKK/YPG terrorists, who opened harassment fire in the Euphrates Shield area and were preparing to attack, with a successful operation," the ministry said on Twitter.
Turkish authorities use the term "neutralize" to imply the terrorists in question surrendered or were killed or captured.
The ministry added that Turkiye neutralized a total of 14 terrorists on Wednesday.
Earlier, the Turkish Air Force neutralized five PKK terrorists in the Zap and Avasin regions of northern Iraq.
The PKK terror group often uses bases in northern Iraq just across Turkiye's southern border to hide and plot terror attacks.
Later, the ministry also announced the arrest of four people who attempted to illegally cross into Turkiye from Syria.
One of the arrested was identified as YPG/PKK terrorist, added the ministry.
Since 2016, Ankara has launched a trio of successful anti-terror operations across its border in northern Syria to prevent the formation of a terror corridor and enable the peaceful settlement of residents: Euphrates Shield (2016), Olive Branch (2018), and Peace Spring (2019).
Source: Anadolu Agency
Please click the following URL to read the full text of the original story:
https://www.aa.com.tr/en/middle-east/turkiye-neutralizes-9-pkk-ypg-terrorists-in-northern-syria/2497977
--------
Jefferson Quran returns to US as Dubai Expo 2020 winds down
09 February ,2022
A rare, two-volume Quran owned by US President Thomas Jefferson found itself carefully packed away Wednesday for a return flight to America after being on display at Dubai's Expo 2020, a sign that the pandemic-affected world's fair is beginning to wind down.
The Quran, along with an insert map of Arabia, had been in a climate-controlled display at the US pavilion at the Expo. The book had been under 24-hour guard as part of its first trip outside of America since a young Jefferson purchased the tome as a law student in 1765.
For the latest headlines, follow our Google News channel online or via the app.
After a brief ceremony and questions from journalists, Yasmeen Khan of the Library of Congress gently picked up the books, placing each inside of its own special box. Khan, the head of the library's paper conservation section, earlier told The Associated Press that she would fly with the artifacts back to America as they received special care due to being "so rare and so delicate."
It was "acquired by the third president of the US because it was a book of value and it held valuable knowledge that he and his associates were going to use as they crafted what, you know, the rights and liberties of the American people were going to be," she said.
Movers then carefully placed the Quran and map inside of specialized wooden crate "with four inches of padding and customized trays with more padding, along with a sensor that detects vibrations and temperature changes," the library said.
A similar crate moved the Quran to Dubai, the skyscraper-studded city-state on the Arabian Peninsula that wasn't even mentioned in Jefferson's insert map.
The two-volume Quran is a second edition of a 1734 translation by George Sale. Jefferson's copy was published in London in 1764 and brought to America, where he bought the book in Williamsburg, according to the library.
Historians believe Jefferson used the Quran, along with other major world religious and political texts, when he worked on the Declaration of Independence and the Constitution, the main pillars of America's democracy.
Source: Al Arabiya
Please click the following URL to read the full text of the original story:
https://english.alarabiya.net/News/gulf/2022/02/09/Jefferson-Quran-returns-to-US-as-Dubai-Expo-2020-winds-down
--------
Lebanon, Israel 'narrowing gaps' towards deal on maritime border: US diplomat
09 February ,2022
Lebanon and Israel are at a moment of "narrowing" gaps towards reaching a deal on their disputed maritime borders, a senior US diplomat said on Wednesday.
"I think after 10 years of these discussions, it's time for moving on to a deal. I came here in November. I was in Israel. And now we're at a stage where I understand the parties' positions, and I think that we're at the moment of narrowing those gaps towards a deal," the State Department's senior advisor for global energy security, Amos Hochstein, said.
At least three different US envoys, including Hochstein, have exerted significant diplomatic efforts to help resolve the maritime border dispute. In 2012, Frederic Hof, most notably, proposed dividing the disputed waters along what became the "Hof Line." This would see Lebanon take 500 sq. km. out of the 842 sq. km.
Waters claimed by both sides have potential natural gas reserves. Israel currently pumps gas from offshore fields, while Lebanon has not found commercial gas reserves after one round of drilling north of the capital Beirut.
Hochstein tried to mediate while the State Department's special envoy for international energy affairs from 2014-2017.
But progress seems to have been made, building off former US diplomat David Schenker's successful efforts to get Lebanese and Israeli officials in the same room for indirect talks.
After a few rounds of talks at the end of 2020, the US stopped the discussions when Lebanon suddenly demanded an extra 1,430 square kilometers (550 sq. miles).
Israel proceeded to put forth maximalist demands as well.
Reports of a divide between Lebanese officials, specifically its president and parliament speaker, surfaced over the new demands.
But Hochstein said he was confident that a unified position would be put forth by all parties.
"I'm pretty optimistic, and I hope and trust... I am confident that there will be a unified position in Lebanon, that there'll be a unified position in Israel, and that we'll be able to move forward," he said during an interview with Lebanese TV channel LBCI.
The US diplomat met with Lebanon's top officials on Wednesday after doing the same in Israel last week.
Source: Al Arabiya
Please click the following URL to read the full text of the original story:
https://english.alarabiya.net/News/middle-east/2022/02/10/Lebanon-Israel-narrowing-gaps-towards-deal-on-maritime-border-US-diplomat
--------
Syria opposition slams UN's 'step for step' peace push
09 February ,2022
Syrian opposition forces on Wednesday criticised the United Nations for advocating a "step for step" approach to resolving the grinding conflict, saying it would further embolden an intransigent regime.
Following a tour of Europe, the US and Arab states, UN special envoy for Syria Geir Pedersen called in December for efforts to try to build trust between warring parties by setting precise and "verifiable" steps.
The call followed the failure of several rounds of UN-brokered negotiations in Geneva between the government and opposition groups aimed at forging a new constitution.
For the latest headlines, follow our Google News channel online or via the app.
On Wednesday, the Syrian opposition forces' High Negotiations Committee (HNC) said step for step diplomacy would give "incentives" to a regime that has already demonstrated its rejection of a UN-led peace process.
"It will push it towards more intransigence, and will impede implementation of international resolutions," it said in a statement.
The response to Pedersen came after Syrian opposition forces met for talks in Qatar in a new bid to revive their decade-old campaign against President Bashar al-Assad.
Speaking to AFP at the conference, Salem al-Meslet, head of the National Coalition for Syrian Revolutionary and Opposition Forces, said that a united opposition would send a "an important message to the UN envoy".
The last round of UN-organised peace talks in October failed to make any progress, and Pedersen has highlighted "great mistrust on all sides".
The war in Syria is estimated to have killed nearly half a million people and displaced millions more since it began with a brutal crackdown on anti-government protests in 2011.
With major fighting having subsided since 2020, Damascus has made inroads into easing its international isolation, especially with fellow Arab states.
Source: Al Arabiya
Please click the following URL to read the full text of the original story:
https://english.alarabiya.net/News/middle-east/2022/02/09/Syria-opposition-slams-UN-s-step-for-step-peace-push-
--------
Saudi air defences intercept drone targeting airport, minor injuries reported
10 February ,2022
Saudi Arabia's air defenses have intercepted a drone targeting Abha's airport, an Arab Coalition spokesperson said.
A preliminary report suggests that four civilian workers and passengers sustained minor injuries, the spokesperson added.
Debris from the intercepted drone reportedly fell within the vicinity of the airport.
"We will take firm operational measures in response to the threat of targeting civilian airports and travelers," a coalition spokesperson said in a statement carried by the official SPA news agency.
Abha, near Saudi Arabia's southern border with Yemen, is a regular target of drone and missile strikes launched by the Iran-backed Houthi militia fighting coalition forces in Yemen.
Source: Al Arabiya
Please click the following URL to read the full text of the original story:
https://english.alarabiya.net/News/gulf/2022/02/10/Saudi-air-defenses-intercept-drone-targeting-airport-minor-injuries-reported-
--------
India
People coming up with New Ways to Stand in Way of Muslim Women's Rights, Says PM Modi
February 10, 2022
The Yogi Adityanath government has consistently worked towards preventing crimes against Muslim women, Prime Minister Narendra Modi said on Thursday. The Opposition parties, meanwhile, has stood in the way of Muslim women's progress for the sake of votes, PM Modi added.
Addressing an election rally in UP's Saharanpur, the prime minister said that by banning the practice of triple Talaq, the BJP government has ensured justice for Muslim women. "But when the Opposition parties saw our Muslim sisters praising Modi, they felt they had to stop them," he said. "To stop them, they have been coming up with new ways to stand in the way of their rights and aspirations."
While the BJP government stands with every Muslim woman who is a victim, the party's detractors have been "misleading" them, PM Modi added. "Those people are tricking Muslim sisters so that the life of Muslim daughters is always behind," he said. He went on to say that the 2013 Muzzafarnagar riots as well as the violence in Saharanpur in 2017 "are proof of how people are targeted under political patronage".
Hitting out at the Opposition parties PM Modi said: "People have decided to vote for those who develop Uttar Pradesh. Those who keep UP riots-free, those who keep our mothers and daughters free of fear, those who keep criminals in jail, people will vote for them. A whole parivaar-vaad party is making fake promises. They had promised electricity but kept UP in the dark all throughout."
Source: Indian Express
Please click the following URL to read the full text of the original story:
https://indianexpress.com/article/cities/lucknow/pm-modi-up-rally-yogi-adityanath-assembly-polls-7765770/
--------
Hijab row: RSS Muslim wing supports Karnataka girl
10th February 2022
Ayodhya: In a significant move, the Rashtriya Swayamsevak Sangh (RSS) has come out in support of the Karnataka student, Bibi Muskan Khan, who shot to prominence during hijab protests, and said that hijab or 'pardah' is also part of Indian culture.
The RSS Muslim wing, Muslim Rashtriya Manch, has backed Bibi Muskan's plea to wear a hijab and condemned the saffron frenzy surrounding her.
Talking to reporters, Anil Singh, Avadh prant sanchalak of Muslim Rashtriya Manch, said, "She is a daughter and sister of our community. We stand by her in her hour of crisis."
In its statement, the Muslim Rashtriya Manch said that Hindu culture teaches respect of women and those who chanted 'Jai Shri Ram' and tried to terrorise the girl were wrong.
"The girl has a constitutional freedom to wear a hijab," the statement read. If she had violated the campus dress code, then the institution has the right to act against her.
"The behaviour of boys sporting saffron scarfs and chanting 'Jai Shri Ram' is unacceptable. They have defamed Hindu culture," said the RSS leader.
"Hijab or purdah is also part of Indian culture and Hindu women too sport purdah as per choice. And the same condition applies to Bibi Muskan," said Singh.
Source: Siasat Daily
Please click the following URL to read the full text of the original story:
https://www.siasat.com/hijab-row-rss-muslim-wing-supports-karnataka-girl-2272941/
--------
Hijab row: AIMIM MP from Maharashtra urges non-Muslim women to wear it as protest
09th February 2022
AURANGABAD: All India Majlise-e-Ittehadul Muslimeen (AIMIM) activists put up banners in Maharashtra's Beed city in support of Hijab'hijab' for female Muslim students, and said the Indian Constitution gives the right to citizens to follow their religious culture.
The banners, conveying the message 'pehle hijab fir kitaab' (hijab first, book later), were displayed on Monday in Bashirganj and Karanja areas of Beed and were removed on Tuesday.
Meanwhile, the state unit president of the party and Lok Sabha member Imtiaz Jaleel appealed to non-Muslim women to wear 'hijab' as a mark of protest.
Beed city police station's inspector Ravi Sanap told PTI on Wednesday, "The situation in Beed is peaceful. We told them (MIM activists) that they had put up the banners without permission. They understood and removed the banners."
Protests for and against the 'hijab' had intensified in parts of neighbouring Karnataka and turned violent in some places on Tuesday, after the state government last week issued an order making uniforms prescribed by it or management of private institutions mandatory for its students in schools and pre-university colleges.
Luqman Farooqui, a member of the All India Majlis-E-Ittehadul Muslimeen (AIMIM) students' wing in Beed, said the Indian Constitution gives the right to every person to follow his/her religious culture, and those opposing the 'hijab' should read the Constitution.
"Hence, to convey this message, we had put up banners in support of the 'hijab' in Beed for one day," he said.
Source: New Indian Express
Please click the following URL to read the full text of the original story:
https://www.newindianexpress.com/nation/2022/feb/09/hijab-row-aimim-mp-from-maharashtra-urges-non-muslim-women-to-wear-it-as-protest-2417457.html
--------
We don't encourage Allah-hu-Akbar or Jai Shri Ram inside campus: Karnataka education minister
09th February 2022
BENGALURU: Karnataka primary and secondary education minister BC Nagesh courted controversy a day after students wearing saffron stoles heckled a burqa-clad girl student by alleging the girl was the first to provoke by shouting Allah-hu-Akbar.
Speaking to reporters, Nagesh said the girl, who was all alone, was seen shouting Allah-hu Akbar to the group of men in the incident at the PES Arts, Science and Commerce College in Mandya. "When she was shouting, none of the men gheraoed her. They were standing at a faraway place," he said.
The minister went on to add that the "state government in Karnataka neither encourages students to chant Jai Shri Ram or Alla-hu-Akbar."
The New Indian Express had reported how the burqa-clad student, who was walking towards her classroom from the parking area, was intimidated by the students raising 'Jai Shri Ram' slogans. Irked by this, the girl responded by chanting 'Allah-hu-Akbar' and was later escorted away by the college staff to prevent any untoward incident.
When asked about students hoisting the tricolour flag inside college campus at Shivamogga, Nagesh said there are a few leaders who want to take advantage of the situation. "All schools and colleges cannot hoist the National flag other than August 15 and January 26," he added.
The education minister's statements came on a day when Justice Krishna S Dixit of the Karnataka High Court referred the matters pertaining to the hijab row to the Chief Justice Ritu Raj Awasthi for constituting a larger bench to hear them. This was after hearing the arguments of the petitioners' counsel as well as the Advocate General on the issue.
"All these matters have given rise to certain constitutional rights in the light of some aspects of personal law. The judgments of three high courts have been cited and more than half a dozen judgments of apex courts have also been referred to. This matter was very passionately argued yesterday by both the sides for some time from which the judge has benefited," Justice Dixit said in the order.
"Considering the enormity of importance of the questions that are debated, the court is of the considered opinion that the papers be put in the hands of the Chief Justice to consider if a larger bench can be constituted on the subject matter," Justice Dixit added.
Protests spread to Kolkata
The day also saw the hijab controversy spread to Kolkata after a group of around 300 Muslim students of Aliah University's Park Circus campus took out a protest march wearing hijab and holding placards expressing their solidarity.
The protesting students walked along the roads at Park Circus seven-point crossing holding placards displaying slogans Hijab Amar Sangbidhanik Adhikar (Wearing hijab is my constitutional right) and Rakta Chai Rakta Nao, Amader Adhikar Phiriye Dao (If you want take my blood, give me my rights).
"Wearing hijab is my constitutional right and no one can snatch it. We will be coming to the institution wearing hijab. We all are with the girls in Karnataka," said Shabnam Banu, a student of the university.
Protests near schools and colleges banned in Bengaluru
The Bengaluru city police have prohibited gathering or protesting within a radius of 200 metres around schools and colleges for two weeks.
Source: New Indian Express
Please click the following URL to read the full text of the original story:
https://www.newindianexpress.com/states/karnataka/2022/feb/09/we-dont-encourage-allah-hu-akbar-or-jai-shriram-inside-campus-karnataka-education-minister-2417408.html
--------
Secunderabad rehab institute has barred burqa, says student
Preeti Biswas
Feb 10, 2022
HYDERABAD: Days after the hijab row broke out in Karnataka, a Muslim girl from a college in Secunderabad alleged that students from a rehab training institute were asked not to enter the premises wearing a burqa. Taking to Twitter, the student who identified herself as Fatima said college authorities, teaching rehabilitation for differently-abled people, asked Muslim girls to come in sarees.
"On February 5, we were verbally told that we would no longer be allowed to wear burqa or hijab within the campus. Instead, we were told that female students should only wear sarees to the college," the girl, who created a Twitter account and identified herself as Fatima to keep her real identity a secret, told TOI.
She alleged that one of her juniors was made to remove the burqa on February 8, triggering unrest among others. "Many of us have not gone to college for the past few days due to this diktat," said Fatima.
"Adding to this, we were specifically asked to 'tick' the dress code checklist before joining college. There was no mention of removal of burqa. Nobody is supporting us either," tweeted Fatima, seeking help from Amjad Ullah Khan, spokesperson of Majlis Bachao Tehreek, a Muslim group.
Source: Times Of India
Please click the following URL to read the full text of the original story:
https://timesofindia.indiatimes.com/india/secunderabad-rehab-institute-has-barred-burqa-says-student/articleshow/89466155.cms
--------
Supreme Court to consider listing plea on Karnataka hijab row
Feb 10, 2022
NEW DELHI: The Supreme Court Thursday said it would consider a submission seeking the listing of a plea for transferring a case on the 'hijab' row from the Karnataka High Court to itself.
A bench headed by Chief Justice N V Ramana said the high court is seized of the case and should be allowed to continue with the hearing as also decide it.
Seeking transfer of the case and hearing by a nine-judge bench at the apex court, senior advocate Kapil Sibal said, "The problem is that schools and colleges are closed. Girls are being stoned. It's spreading across the country."
After being told by Sibal that he did not want any order and only listing of the plea, the CJI said, "All right, we will see."
At the outset, Sibal said the matter pertained to what is happening in Karnataka and it is spreading all over and now children from all over the country are getting involved and in the meantime, the examinations are two months away.
The bench, also comprising Justices A S Bopanna and Hima Kohli, said, "Please wait. We cannot do anything. Let the high court decide. Why should we look into it immediately. Let the high court hear the matter. Today also the matter is listed before a three-judge bench that is what the information is."
The court said it is "too early to interfere" and some time may be given to the high court to see whether some interim relief is granted.
"Let us see. The problem is if we list the matter here, the high court will never hear," the CJI said, adding "We are not on merits. Please understand. At least give one day's time."
As Sibal insisted, the bench said that it would consider the request for listing the plea.
On Wednesday, Karnataka High Court Chief Justice Ritu Raj Awasthi constituted a full bench, comprising himself and Justices Krishna S Dixit and J M Khazi, which will look into the hijab matter on Thursday.
The high court was hearing petitions filed by some Muslim girls studying in government Pre-University colleges in Udupi district against a ban on their entry into classrooms with their hijabs on.
The state government had on Tuesday ordered closure of all high schools and colleges in the state for three days.
Source: Times Of India
Please click the following URL to read the full text of the original story:
https://timesofindia.indiatimes.com/india/supreme-court-to-consider-listing-plea-on-karnataka-hijab-row/articleshow/89474062.cms
--------
Jaishankar discusses Af with Qatar, heads for Quad meet
Feb 10, 2022
NEW DELHI: The situation in Afghanistan figured in foreign minister S Jaishankar's "productive" talks with his Qatar counterpart Sheikh Mohammed bin Abdulrahman Al-Thani on Wednesday. Jaishankar visited Doha on his way to Australia where he will participate in the 4th Quad foreign ministers' meeting on February 11, along with his counterparts from Australia, Japan and the US.
In his talks with his Qatar counterpart, Jaishankar is learnt to have underlined India's position on terrorism and also the need for unobstructed humanitarian assistance for Afghanistan. "Discussed our broad based political, economic, digital and security partnership. Appreciate the interest in expanding investment and trade. Exchanged views on global and regional developments, including Afghanistan," he said in a tweet.
The foreign ministry said Jaishankar's visit to Australia will also be an opportunity for Quad ministers to follow up on their virtual meeting held in February 2021 and to exchange views on regional strategic issues given their shared vision of a free, open and inclusive Indo-Pacific region.
This will be his first visit as external affairs minister to Australia. "It would be the first high level visit to Australia from India after the opening of its borders which were closed following the outbreak of the pandemic," said the government.
Source: Times Of India
Please click the following URL to read the full text of the original story:
https://timesofindia.indiatimes.com/india/jaishankar-discusses-af-with-qatar-heads-for-quad-meet/articleshow/89465674.cms
--------
North America
Al Qaeda, Islamic State reconstituting in Afghanistan: US official
February 10, 2022
A top US official has claimed that the Al Qaeda and Islamic State (IS) terror groups were "reconstituting" in Afghanistan.
Gen. Michael Michael Erik Kurilla, the nominee to head the US Central Command (CENTCOM), made the remarks while addressing the Senate Armed Services Committee, TOLO News reported.
"One of the challenges is the threat to the homeland from Al Qaeda and IS-K (Khorasan). They are reconstituting. The Taliban has not renounced Al Qaeda. IS-K, with the release of the prisoners both from the Bagram prison and Pul-e-Charkhi are in a process of reconstituting," he said.
CENTCOM's main headquarters is based in the US but has established a forward headquarters in Al Udeid Air Base in Qatar.
But Kurilla's claim has been rejected by the Taliban government in Afghanistan.
In a statement on Wednesday, Taliban deputy spokesperson Billal Karimi, said: "The allegations and propaganda that are being spread- there is no evidence or documentation. We hope instead of spreading propaganda and allegations without evidence, the world will come forward and engage and cooperate with the Islamic Emirate."
Kurilla's comments come after a report by the UN Security Council Monitoring Team said that the presence of foreign terror groups have increased in the war-torn nation after the collapse of the former administration in August last year.
Source: Business Standard
Please click the following URL to read the full text of the original story:
https://www.business-standard.com/article/international/al-qaeda-islamic-state-reconstituting-in-afghanistan-us-official-122021000260_1.html
--------
Biden talks US support for Saudi Arabia, energy supplies in call with King Salman
10 February ,2022
The White House said Wednesday that President Joe Biden spoke with Saudi Arabia's King Salman to discuss regional developments and issues of mutual concern, "including Iranian-enabled attacks by the Houthis against civilian targets in Saudi Arabia."
A statement from the White House said Biden underscored Washington's commitment to supporting Saudi Arabia in the defense of its people and territory from Houthi attacks and "full support for UN-led efforts to end the war in Yemen."
For the latest headlines, follow our Google News channel online or via the app.
"The President noted his commitment to ensuring that Iran can never obtain a nuclear weapon and briefed the King on ongoing multilateral talks to reestablish constraints on Iran's nuclear program," the White House said.
"The two leaders discussed matters pertaining to the Middle East region and Europe and agreed that their teams would remain closely coordinated over the coming weeks and months," according to the statement.
They also discussed global energy supplies. Biden and officials from his administration have unsuccessfully pressured Saudi Arabia and other OPEC+ members to increase their crude output to lower domestic oil prices. "Both leaders further reiterated the United States' and Saudi Arabia's commitment to ensuring the stability of global energy supplies," the White House said.
The state-run Saudi Press Agency (SPA) said the two leaders spoke of the need to strengthen cooperation for regional stability and to confront terrorism.
For his part, King Salman stressed the importance of abiding by OPEC+ agreements and the need to maintain stability in the oil markets.
Source: Al Arabiya
Please click the following URL to read the full text of the original story:
https://english.alarabiya.net/News/gulf/2022/02/10/Biden-vows-US-support-for-Saudi-Arabia-in-call-with-King-Salman
--------
American general in Egypt for talks after US cuts military aid
09 February ,2022
A top US general emphasized "very robust" military assistance to Egypt as he flew into Cairo on Wednesday in the wake of a decision by President Joe Biden administration's to cut $130 million in military aid to the country over human rights concerns.
The rare US censure of a geostrategic ally that controls the Suez Canal followed Egypt's failure to address specific human rights-related conditions, which have never been publicly detailed by Washington. Activists have said those US conditions included the release of people seen as political prisoners.
General Frank McKenzie, who as head of US Central Command is the top American military commander in the Middle East region, underscored rights concerns in comments to reporters shortly before landing. McKenzie also stressed that the cut in military assistance announced on Jan. 28 did not represent a large part of the $1.3 billion allocated by the US for Egypt.
For the latest headlines, follow our Google News channel online or via the app.
"Compared to the amount of other money that's in play, it's a very small amount. But I think it's intended to be a signal," McKenzie said.
"We still have a very robust weapons program with Egypt and we're still very heavily engaged with them," McKenzie added.
McKenzie, who is the most senior US official to visit Cairo since Washington announced the aid cut, does not plan to shy away from America's human rights concerns in talks with Egypt.
"At the (military) level, we need to be honest with each other about factors that can influence the relationship. Clearly that's a factor that can influence the relationship," McKenzie said.
US officials have said the American relationship with Egypt is complex. The most-populous Arab country is a vital ally and key voice in the Arab world. US military officials have long stressed Egypt's role expediting the passage of US warships through the Suez Canal and granting overflight for American military aircraft.
Rights groups welcomed the Biden administration's announcement of the aid cut. But some saw it as just a slap on the wrist since it closely followed US approval of an arms package worth more than $2.5 billion for air defence radars and C-130 Super Hercules planes.
Despite deep ties to the US military, Egypt has moved to diversify its sources of arms after then-US President Barack Obama in 2013 froze delivery of some military aid to Egypt after former President Mohamed Mursi's overthrow.
Egypt's imports of arms from Russia, France, Germany and Italy have surged, according to data from the Stockholm International Peace Research Institute.
Source: Al Arabiya
Please click the following URL to read the full text of the original story:
https://english.alarabiya.net/News/middle-east/2022/02/09/American-general-in-Egypt-for-talks-after-US-cuts-military-aid
--------
Southeast Asia
Indonesia begins testing 'halal' Covid jab on humans
February 9, 2022
SURABAYA: Indonesia began testing a homegrown Covid-19 vaccine on humans today after getting the green light from the drug regulator as the country faces a rising wave of virus cases.
Research on the "Merah Putih" ("Red White") vaccine – named after the colours of the Indonesian national flag – is led by Airlangga University and Biotis Pharmaceutical Indonesia.
The project has suffered delays since starting in 2020, but authorities are now hoping to authorise its use by the middle of 2022 if the trials are successful.
Health minister Budi Gunadi Sadikin said the drug, set to be rolled out in the latter stages of Indonesia's vaccination campaign, could be donated to other nations, as a booster jab or as a vaccine for children aged three to six.
"I have discussed this matter with the president and he has agreed to use this vaccine as a donation to countries in need," Sadikin said today at a launch event for the human trials in Surabaya.
The first and second phases of the clinical trials will involve 90 and 405 adult volunteers respectively.
The Merah Putih vaccine has been granted a "halal" certification by the Indonesian Ulema Council, the Muslim majority nation's top religious clerics body, according to the dean of Airlangga University, Mohammad Nasih.
"We hope with this halal certification, the public confidence to use this vaccine will be higher," Nasih told reporters.
Indonesia has approved 13 vaccines and boosters but has primarily used the Chinese-made jabs, and has struggled to procure enough doses for its population of more than 270 million people.
The Indonesian government has stressed the importance of developing and manufacturing national vaccines since the beginning of the pandemic.
The country was ravaged by Covid-19 in July last year as the Delta variant swept the country.
Source: Free Malaysia Today
Please click the following URL to read the full text of the original story:
https://www.freemalaysiatoday.com/category/highlight/2022/02/09/indonesia-begins-testing-halal-covid-jab-on-humans/
--------
Be apolitical in interpreting the constitution, CJ tells judges
V Anbalagan
February 9, 2022
KUALA LUMPUR: Though judges must remain apolitical, when it comes to interpreting the Federal Constitution, they must also have regard to the political and social context in which it was drafted, Chief Justice Tengku Maimun Tuan Mat said.
This is because judicial decisions were subject to public confidence in the judiciary, she added.
"Judges must therefore understand their judicial role and be trusted to carry them out faithfully," the top judge said in a special address via Zoom today.
Her speech was in conjunction with the 12th Tun Suffian Memorial Lecture "Reflections & Lessons of a Constitutional Judge – Decision Making, Law & Politics, Legitimacy and Acceptance".
The speaker for this year's event was Dieter Grimm, a former Justice of the Federal Constitutional Court of Germany.
Tengku Maimun said to an extent, the role of a judge in constitutional adjudication might seem paradoxical to some.
"This is because the philosophy behind the notion of judging is that a judge must remain apolitical and free from bias or interference.
That said, a judge must remain apolitical, but cannot afford to ignore politics. Therein lies the paradox to the mind that fails to comprehend the difference behind politics and political context," she added.
Tengku Maimun said the Federal Court, for example, had in 2018 affirmed in the Indira Gandhi case that the constitution must be interpreted in light of its historical and philosophical context.
Source: Free Malaysia Today
Please click the following URL to read the full text of the original story:
https://www.freemalaysiatoday.com/category/nation/2022/02/09/be-apolitical-in-interpreting-the-constitution-cj-tells-judges/
--------
Sack those who leaked letter on alleged abuse, says ex-Mara Corp chairman
Hakimie Amrie Hisamudin
February 10, 2022
PETALING JAYA: A former Mara Corporation Sdn Bhd (Mara Corp) chairman says those involved in leaking a letter claiming that five senior Mara officers had abused their positions should be investigated as well.
Akhramsyah Muammar Ubaidah Sanusi, who was Mara Corp chairman from 2019 to 2020, said leaking company documents was a case of serious misconduct.
"The irresponsible individual who did that should be investigated and sacked," he said in a forum organised by Persatuan Pengguna Islam Malaysia (PPIM) today.
He also questioned the role of the board of directors, saying, "How could they not know about this (the alleged abuses)? Are they not doing their job?"
In a Twitter post recently, Edisi Khas leaked a letter allegedly sent by Mara Corp executive director Suhaili Abdul Rahman to Mara chairman Azizah Mohd Dun, claiming that five senior officers had abused their positions.
The 17-page letter named the five officers and highlighted their alleged wrongdoings. It was said to have been written at Azizah's request for an integrity enquiry into Mara officers who had been "loaned" to Mara Corp.
The letter contained a list of "backdated" payments that the officers allegedly received. According to the letter, Suhaili said the backdated payments were done without his knowledge or that of the board of directors.
At today's forum, Akhramsyah urged Mara Corp to improve its governance following the controversies surrounding the organisation.
Source: Free Malaysia Today
Please click the following URL to read the full text of the original story:
https://www.freemalaysiatoday.com/category/nation/2022/02/10/sack-those-who-leaked-letter-on-alleged-abuse-says-ex-mara-chair/
--------
Mideast
Iranian President Calls for Unity among All Palestinian Groups against Israel
2022-February-9
Unity and coherence among all Palestinian groups play a pivotal role in achieving victory against the Israeli regime, Rayeesi said in a meeting with new Palestinian Ambassador to Tehran Salam al-Zawawi on Tuesday.
He said unity among all Palestinians would "ultimately fulfill the goal of liberating Quds al-Sharif" and it should not be disrupted by no means.
Rayeesi also warned the Arab countries against the adverse consequences of normalizing ties with the Israeli regime, and said, "The move by some Arab countries to establish relations with the Zionist regime (Israel) will not only fail to ensure their protection and security, but will also double the problems of these states and those of the region and [other] Arab countries."
Faced with widespread protests by the Palestinian people and groups, the countries that normalized with Israel should know that "their treacherous act is rejected and condemned", he said.
Elsewhere in his remarks, the Iranian president stated that support for the Palestinian people and the liberation of Israeli-occupied Quds is among the top issues of the Muslim world, adding, "The Islamic Republic of Iran is a true supporter of the Palestinian people and the liberation of Quds al-Sharif."
Rayeesi said the Palestinian people are conveying the message of resistance against the Tel Aviv regime and its Western allies, emphasizing, "If the Zionists realize that the Palestinians will stand strong, their calculations will change."
For her part, Zawawi, who submitted her credentials to the Iranian president, said the victory of the Islamic Revolution in Iran was definitely a big victory for the Arab and Muslim nations.
She added that some Arab and Muslim courtiers that are rushing toward the normalization of relations with the Israeli regime have in fact their back in the ideals of the Palestinian nation and ignore its rights and the relevant UN resolutions.
Four Arab countries – the UAE, Bahrain, Sudan and Morocco – agreed to normalize relations with Israel under US-brokered agreements in 2020, when former US President Donald Trump was in office.
Source: Fars News Agency
Please click the following URL to read the full text of the original story:
https://www.farsnews.ir/en/news/14001120000177/Iranian-Presiden-Calls-fr-Uniy-amng-All-Palesinian-Grps-agains-Israel
--------
Turkey says Israel normalization does not mean Palestinian policy change
10 February ,2022
Foreign Minister Mevlut Cavusoglu said on Thursday that Turkey normalizing relations with Israel would not mean a change in Ankara's Palestinian policy, ahead of an expected visit by Israeli President Isaac Herzog next month.
He was speaking to state broadcaster TRT Haber, underlining comments he made earlier this week that Turkey will not turn its back on its commitment to a Palestinian state in order to broker closer ties with Israel.
Relations between Turkey and Israel froze over after the death of 10 civilians in an Israeli raid on a Turkish flotilla carrying aid for the Gaza Strip in 2010.
In recent months, however, the two countries have been working on a rapprochement, with Erdogan, a vocal supporter of the Palestinian cause, holding telephone talks with Herzog and other Israeli leaders.
The Turkish strongman had already said he was prepared to work with Israel on reviving an old project to ship Mediterranean gas to European clients via Turkey.
His remarks came after the US reportedly dropped support for a rival pipeline project involving Israel and Turkey's historic rival Greece.
Source: Al Arabiya
Please click the following URL to read the full text of the original story:
https://english.alarabiya.net/News/middle-east/2022/02/10/Turkey-says-Israel-normalization-does-not-mean-Palestinian-policy-change
--------
Iran's nuclear progress called 'sobering' by US senators as talks resume
10 February ,2022
US senators from both parties emerged from a closed-door briefing saying they were stunned about the progress Iran is making with its nuclear program even as talks continue in Vienna to revive a 2015 agreement that would restore limits on those efforts.
The chief US negotiator to the Iran talks, Robert Malley, was joined by Brett McGurk, the Middle East coordinator at the National Security Council and an intelligence official for the Capitol Hill briefing on Wednesday. A key issue was the "breakout time it would take Iran to ramp up uranium enrichment and produce a nuclear weapon.
"That was a sobering and shocking briefing about where we are right now, said Senator Chris Murphy, a Connecticut Democrat. "The information we got on breakout time is something we all have to really think about.
For the latest headlines, follow our Google News channel online or via the app.
US lawmakers have long been skeptical about talks with Iran, and members from both parties were critical of the 2015 nuclear deal reached between Tehran and world powers to ease sanctions in exchange for restrictions on the nuclear program. Despite that, most Democrats and some Republicans criticized the Trump administration for pulling out of the accord in 2018, saying it would undermine efforts to restrain Iran's nuclear program.
Wednesday's briefing "crystallized for members where we're at, the challenges ahead and what are the potential options, said Democratic Senator Bob Menendez, chairman of the Foreign Relations Committee and an opponent of the original nuclear deal. "You look at the public reporting, they're talking about weeks away. So that is a very sobering, challenging reality.
The briefing came after the resumption of talks meant to resuscitate the 2015 accord, known as the Joint Comprehensive Plan of Action.
After months of sporadic talks in Vienna, it's still not clear how closer the different sides are to a final agreement. The US has said for months that time is running out, while repeatedly dialed back optimism expressed by Iranian and European diplomats about the status of talks. American officals have reiterated that some key demands from Tehran -- such as a guarantee that a future US administration wouldn't pull out of the accord again -- are unworkable.
But as Iran has continued to enrich uranium beyond levels it agreed to under the deal, along with progressing on other technical measures, the pressure is rising quickly to re-enter the accord or consider alternatives, something the US has said is underway.
Murphy said any new agreement in Vienna "would largely be a re-entry to the JCPOA ,"but you'd have to make some modifications because of their work on advanced centrifuges. And you likely have to roll back some of the sanctions applied after we withdrew from the JCPOA.
Source: Al Arabiya
Please click the following URL to read the full text of the original story:
https://english.alarabiya.net/News/middle-east/2022/02/10/Iran-s-nuclear-progress-called-sobering-by-US-senators-as-talks-resume
--------
Iran's Supreme Leader Khamenei urges Sadr to unify Iraq Shias
09 February, 2022
Iran's Supreme Leader Ayatollah Ali Khamenei has urged prominent Iraqi politician and cleric Muqtada Al-Sadr to unify all Shia Muslims in Iraq amid a political deadlock.
Khamenei sent a letter to Sadr - a prominent Iraqi Shia Muslim figure - via Esmail Qaani, the commander of Iran's Quds Force, who visited Iraq this week.
The general was in Iraq to address politicians ahead of a sensitive parliamentary session that was due to take place on Monday to find a solution to the ongoing political crisis in the country.
Pro-Tehran parties have rejected the results of Iraq's general election in October, which saw these groups lose out to other blocs, including Sadr's political movement.
Khamenei's letter stressed the need to "unify the Shia political house, and that it is Islamically prohibited to separate the Shia forces", according to local Shafaq News Agency.
Sadr reportedly told Qaani to notify Khamenei that he is working on a majority government project, with a number of Shia political parties.
He will, however, exclude the head of the State of Law Coalition and former Prime Minister Nouri Al-Maliki, despite Khamenei insisting on his participation in the process
Iraq's parliament failed to elect a president as the quorum was not met due to several key parties boycotting the vote, which was postponed indefinitely.
Two-thirds of parliamentary votes are required for the election of a new president, who will then entrust the largest coalition in parliament to form a government.
Qaani had already visited Iraq several times over the past few weeks to smooth out tensions between pro-Iran political groups and press for the formation of a new government.
Source: The New Arab
Please click the following URL to read the full text of the original story:
https://english.alaraby.co.uk/news/irans-khamenei-urges-shia-unity-letter-iraqs-sadr
--------
Top Commander Vows Iran's Determination to Continue Missile Development
2022-February-9
Iran will continue the path towards the development of its missile power qualitatively and quantitatively with utmost strength, General Baqeri said on Wednesday, addressing a ceremony to unveil the country's new precision-striking Ballistic missile named Kheybarshekan produced by the Islamic Revolution Guards Corps (IRGC)'s experts.
Elsewhere, he congratulated the 43rd glorious victory anniversary of the Islamic revolution in 1979, and said that the missile power of the Islamic Republic of Iran has witnessed more power against the aggressors and global arrogance and will continue its path of growth, promotion and excellence both in terms of quantity and quality.
Despite conspiracies waged by enemies against Islamic Iran since the victory of the Islamic Revolution of Iran, the country managed to foil all their sinister plots under the auspices of the wise leadership of the Islamic Revolution, General Baqeri said.
The IRGC unveiled a new home-made precision-striking missile with enhanced agility and warhead explosive power.
The new missile, named Kheybarshekan, has a range of 1,450km and enjoys high agility and is capable of striking its designated targets with pinpoint accuracy.
Kheybarshekan was displayed on Wednesday during a ceremony attended by General Baqeri, Commander of the IRGC's Aerospace Force Brigadier General Amir Ali Hajizadeh, and a number of other high-ranking military officials and commanders.
The ceremony coincided with celebrations in Iran commemorating the 1979 Islamic Revolution, which overthrew the US-backed Pahlavi dynasty.
The new ballistic missile is reportedly among third-generation long-range missiles indigenously developed and manufactured by military experts at the IRGC's Aerospace Division.
The new missile uses solid propellants and is said to be capable of penetrating into missile shields with high maneuverability during its landing stage.
The modern design of Kheybarshekan has reduced its weight by a third in comparison with similar missiles, and the preparation time to launch the missile has decreased to one-sixths compared to conventional projectiles.
Moreover, the new ballistic missile enjoys considerable agility and high velocity when hitting its targets.
General Hajizadeh had announced on Monday the development of a new "strategic missile" by Iranian experts, saying that it would be unveiled soon.
"The strategic missile will be unveiled in the near future," General Hajizadeh said, addressing in a ceremony held on Monday to commemorate the late founder of the Islamic Republic, Imam Khomeini, on the 43rd anniversary of the Islamic Revolution.
He underlined the IRGC's latest defense achievements, specially in the field of missiles.
General Hajizadeh added that the missile has been built for quite some time and is currently part of the IRGC's combat capability.
In relevant remarks in January 2021, General Hajizadeh underlined Iran had limited the range of its missiles to 2,000km on the basis of its own decision, but the decision is not something permanent.
"The power of our missiles can be seen in the comments of our enemies. No one has forced us to restrict ourselves to the range of 2,000km because we do not talk to anyone about our missile power. It (2,000km range) was our decision and this range is not permanent for us," General Hajizadeh said in an interview with the Arabic-language al-Manar news channel.
He reiterated the country's position on the prohibition of talks on its missile power, saying that negotiation on the issue is a national redline.
Also, IRGC Top Commander Major General Hossein Salami underlined that enemies can never stop Iran's progress and development in defense fields or coax the country into negotiations about them.
"We will never stop increasing the defense capabilities and we will not retreat because it is among our redlines and therefore, the issue of defense capabilities is not negotiable, modifiable, stoppable and controllable," General Salami said, addressing a ceremony in Tehran in November 2019.
Asked if Iran would agree to take part in missile talks under the pressures and US sanctions, he said, "This will never happen."
Source: Fars News Agency
Please click the following URL to read the full text of the original story:
https://www.farsnews.ir/en/news/14001120000701/Tp-Cmmander-Vws-Iran%E2%80%99s-Deerminain-Cnine-Missile-Develpmen
--------
Iran Criticizes Double-Standard Approach towards Human Rights
2022-February-9
Qaribabadi made the remarks in a meeting with the visiting director general of the Finnish Foreign Ministry's Department for Africa and the Middle East Sofie From-Emmesberger in Tehran on Wednesday.
He outlined Iran's policies on human rights and the country's judicial diplomacy, expressing Tehran's readiness for talks with Helsinki on the issue of human rights and legal-judicial cooperation with the Northern European state.
Qaribabadi criticized the double-standard and selective approach adopted by certain countries vis-à-vis the issue of human rights, and said, "Unfortunately some states use human rights as a political tool against others."
The Iranian official expressed the hope that Finland would adopt a "professional and independent" stance during its first full membership (2022-2024) in the UN Human Rights Council.
The two sides also stressed the necessity of countering terrorism, as a threat to global security, and supporting vulnerable groups of people, such as women, children and individuals with disabilities.
The Finnish Foreign Ministry official, for her part, thanked Iran for throwing its weight behind Finland's membership in the Human Rights Council.
She also said her country welcomed the expansion of expert talks in the legal and judicial sectors and an exchange of relevant experience between the two states.
In relevant remarks in November, Qaribabadi said that Tehran welcomes human rights talks with other states.
He said that judicial diplomacy is a [good] way to mutual understanding to tackle problems which cannot be solved through political ways.
Source: Fars News Agency
Please click the following URL to read the full text of the original story:
https://www.farsnews.ir/en/news/14001120000813/Iran-Criicizes-Dble-Sandard-Apprach-wards-Hman-Righs
--------
Africa
Governors Wike, Makinde, Ishaku Hate Muslims, They've Been Blacklisted – Muslim Rights Concern
February 9, 2022
By Seun Opejobi
The Muslim Rights Concern, MURIC, has accused some state governors of being Muslim-haters.
MURIC, an Islamic human rights organization, identified Darius Ishaku of Taraba State, Nyesom Wike of Rivers State, and Seyi Makinde of Oyo State, as haters of Muslims in Nigeria.
The group warned the governors against attempting to occupy any federal office because they have been blacklisted.
Professor Ishaq Akintola, Director of MURIC, made the remark while claiming that the body has evidence of Ishaku sacking Muslim workers without following due process and replacing them with Christians.
MURIC accused the Taraba State Governor of marginalizing Muslims in the state.
It described as legendary, Ishaku's alleged reckless violation of Allah-given fundamental rights of Muslims in his state.
The group insisted that Ishaku was portraying a false public image of being a governor who promotes a peaceful and harmonious coexistence between Christians and Muslims in the state.
A statement by Akintola reads: "We have incontrovertible evidence that Governor Darius Ishaku has been using his office to put Muslims at a disadvantage through several administrative manoeuvres and misadventures.
"The governor recently claimed that the Taraba Muslim Council which accused him of marginalising Muslims in the state was inciting religious tension but that is far from the truth. The governor is simply trying to cover his tracks. But the wind has blown and we have seen the ruff of the hen.
Source: Daily Post Nigeria
Please click the following URL to read the full text of the original story:
https://dailypost.ng/2022/02/09/govs-wike-makinde-ishaku-hate-muslims-theyve-been-blacklisted-islamic-group/
--------
Sudanese envoy in Israel to promote ties, source says
09 February ,2022
A Sudanese envoy was in Israel on Wednesday in order to promote ties between the two countries, a source with close knowledge of the visit said.
The presidential envoy arrived in Israel at the beginning of the week, the source said. There was no immediate confirmation from Israeli and Sudanese government spokespeople.
Sudan moved toward normalizing ties with Israel in 2020. Envoys have travelled between Israel and Sudan since then, though no official pact has yet been signed.
Source: Al Arabiya
Please click the following URL to read the full text of the original story:
https://english.alarabiya.net/News/middle-east/2022/02/09/Sudanese-envoy-in-Israel-to-promote-ties-source-says
--------
Libyan PM survives assassination attempt: Source
10 February ,2022
Assailants struck Libyan Prime Minister Abdulhamid al-Dbeibah's car with bullets early on Thursday but he escaped unharmed, a source close to him said, amid intense factional wrangling over control of the government.
The source said the incident happened as Dbeibah was returning home, describing it as a clear assassination attempt, but the attackers fled and the incident has been referred for investigation.
Reuters has seen no immediate photographs or footage of the incident or its aftermath, or spoken to other witnesses to the incident.
If confirmed, an attempt to assassinate Dbeibah could aggravate the crisis over control of Libya after he said he will ignore a vote scheduled by the eastern-based parliament later on Thursday to replace him.
Armed forces have mobilized more fighters and equipment in the capital over recent weeks, raising fears the political crisis could trigger fighting.
Libya has had little peace or stability since the 2011 NATO-backed uprising against Muammar Gaddafi, and it split in 2014 between warring factions in east and west.
Dbeibah was installed in March as head of the UN-backed Government of National Unity (GNU) that was meant to unify the country's divided institutions and oversee the run-up to an election in December as part of a peace process.
Rival factions have been jostling for position after the election process fell apart amid disputes over the rules, including over the legitimacy of Dbeibah's own candidacy for president after he pledged not to run.
The parliament, which mostly backed eastern forces during the civil war, has declared the GNU invalid and will hold a vote on Thursday to name a new prime minister to form another government.
Dbeibah said in a speech this week that he would only hand over power after an election and the UN's Libya adviser and Western countries have said they continue to recognize the GNU.
Source: Al Arabiya
Please click the following URL to read the full text of the original story:
https://english.alarabiya.net/News/north-africa/2022/02/10/Libyan-PM-survives-assassination-attempt-Source
--------
Tunisian president steps up power grab with move against judges
09 February ,2022
President Kais Saied's move to dissolve Tunisia's top judicial authority has triggered a critical confrontation over rule of law and his own accountability as he slides further towards one-man rule.
Saied, who suspended parliament and seized executive power last summer in moves his foes called a coup, has for months been attacking the judiciary as part of a corrupt, self-serving elite that disdains ordinary people to protect its own interests.
In a late-night speech this weekend - using his now-familiar refrain that "purifying the judiciary is a priority" - he said he would dissolve the Supreme Judicial Council, the body that upholds judges' independence, triggering a furious reaction.
For the latest headlines, follow our Google News channel online or via the app.
Judges associations, civil society groups, opposition parties, rights groups, Western donors and UN agencies have all criticised his move, warning it undermines the last vestiges of official accountability for Saied.
Many judges are also protesting, partially shutting down the justice system on Wednesday and Thursday, planning a street demonstration and seeking to rally support from civil society groups.
"The judiciary is the only guarantee left in this emergency period in which the president holds executive power before a people who have no power," said Raoudha Karafi, honorary president of the Judges Association.
Saied presents himself as a reformer out to end the decade of stagnation since Tunisia's 2011 revolution that brought democracy by remaking the country's political system and purging its leadership.
He has promised to uphold rights and freedoms but has moved closer to the security services. Critics say he has pushed for the prosecution of some political opponents over accusations of corruption.
Rights groups fear that dissolving the Supreme Judicial Council, which he announced in a late-night speech at the Interior Ministry, could represent the precursor to a more thorough crackdown on dissent.
"There have been increasing attempts to stifle dissent, including through harassment of civil society actors," said UN Human Rights Commissioner Michelle Bachelet in a statement on Tuesday.
Opposition
So far, domestic opposition to Saied has been divided and limp. The biggest political party, the moderate Islamist Ennahda, has made many enemies over the past decade including other groups that also now oppose the president.
The powerful labour union agrees with Saied that Tunisia needs radical change and that the previous system was not working properly, but it is frustrated that he will not work with it.
It is possible that Saied's decision to go after the judiciary may convince more civil society groups to mobilise against him. Supreme Judicial Council head Youssef Bouzakher has warned that judges "will not be silent".
However, the judiciary is not broadly popular in Tunisia. Many people associate it with the administrative dysfunction of the past decade of democracy and failures to root out corruption or bring to justice those responsible for past abuses.
Abd Enaceur Aouini, a member of a legal committee formed to uncover the truth behind the 2013 assassination of the secular politician Chokri Belaid, says judges have shielded conspirators to the killing for political reasons.
Source: Al Arabiya
Please click the following URL to read the full text of the original story:
https://english.alarabiya.net/News/north-africa/2022/02/09/Tunisian-president-steps-up-power-grab-with-move-against-judges-
--------
Suicide bombing in Somali capital kills 1, wounds several
Mohammed Dhaysane
10.02.2022
MOGADISHU, Somalia
At least one person was killed and several others wounded on Thursday when a suicide bomber blew himself up in the Somali capital Mogadishu, an official said.
The attack took place at the El-gabta intersection near the heavily guarded Somali presidential palace in the country's capital Mogadishu.
Abdifatah Hassan, a police officer in Mogadishu, told Anadolu Agency that the target was a convoy carrying voters who were coming back from the election venue in Mogadishu.
"We believe the suicide bomber wanted to target vehicles carrying voters, but it seems that they missed the target," he said.
Source: Anadolu Agency
Please click the following URL to read the full text of the original story:
https://www.aa.com.tr/en/africa/suicide-bombing-in-somali-capital-kills-1-wounds-several/2498714
--------
URL: https://www.newageislam.com/islamic-world-news/afghan-taliban-kabul-ttp-pakistan/d/126343
New Age Islam, Islam Online, Islamic Website, African Muslim News, Arab World News, South Asia News, Indian Muslim News, World Muslim News, Women in Islam, Islamic Feminism, Arab Women, Women In Arab, Islamophobia in America, Muslim Women in West, Islam Women and Feminism