New Age Islam News Bureau
2 Oct 2018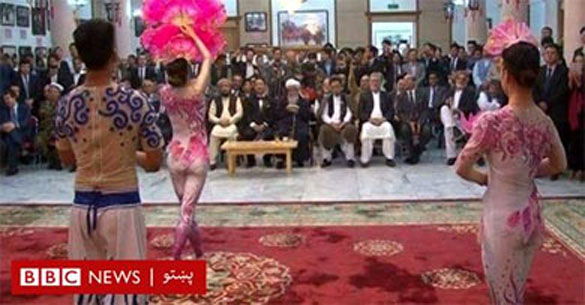 The photos of some prominent Jihadi leaders which purport to show the acrobatic dance of some Chinese girls before them have gone viral on the internet
-----
• Afghan Scholars Ask Jamiat Ulema-e-Islam Chief to Broker Kabul-Taliban Talks
• Bahraini Regime Forces Raid Houses across Kingdom, Detain Many Activists
• Iranian Reformists: Wilayat Al- Faqih Ideology Contradicts Concept of a Republic
• Consider Mufti's Proposal on Child Marriage before Deciding, Sabah CM Says
• Historian Irfan Habib on Mahatma Gandhi: 'Concept of Indian Nation Originated From Freedom Movement, Not Rig Veda'
South Asia
• Afghan Scholars Ask Jamiat Ulema-e-Islam Chief to Broker Kabul-Taliban Talks
• Jihadi Leaders' Communist Party Photos in Chinese Embassy Spark Reactions
• Bangladesh Madrasa Teachers to Be Barred From Politics
• Jamaat leader snatched from police custody
• Hefazat Chief to Honour PM for Dawra-e-Hadith Recognition
• Bangladesh delays plan to shift Rohingya to Remote Island
• Six militants blown up by own IED in Ghazni province
• Four key Taliban group leaders ambushed in Laghman province
--------
Arab World
• Bahraini Regime Forces Raid Houses across Kingdom, Detain Many Activists
• Saudi Charges Economist Critical of Bin Salman's Reforms with 'Terrorism'
• More Terrorists Killed, Wounded in Fresh Infighting in Northwestern Syria
• Tahrir Al-Sham Terrorists Trying to Join Turkey-Backed Militants in Syria's Afrin
• Iraq parliament delays vote for country's president
• Israel seeks to 'justify another aggression' with false missile claims - Lebanon
• US and Turkey begin training for joint patrols in Syria's Manbij
• Coalition rejects report on Yemen for lack of transparency
--------
Mideast
• Iranian Reformists: Wilayat Al- Faqih Ideology Contradicts Concept of a Republic
• Yemeni Army Confirms Death of Houthi Leader, 40 Militias
• Family Of Iran Cleric: Revolutionary Guards Hid Explosives In Hajj Pilgrim Bags
• Iran fires missiles at Syria 'terrorists' after deadly attack
• Iran Uses Drone in Cross-Border Attack on Terrorists in Syria
• Spokesman: Iran Seriously Pursuing Extradition of Ahwaz Attack Terrorists
• Arab Coalition: We refuted Houthi violations with a message to the UN
• Over 50 injured as Israeli forces use live fire to disperse Gaza protesters
• Dozens injured as Palestinians clash with Israeli forces over nation-state law
• Turkey's Erdogan hopes to rebuild US ties despite pastor row
--------
Southeast Asia
• Consider Mufti's Proposal on Child Marriage before Deciding, Sabah CM Says
• I Don't Go To Temples to Pray, Anwar Tells Hadi
• U.N. rights expert urges Malaysia to end child marriage
• Malaysia no longer supports Suu Kyi: Mahathir
• 3 Churches Closed in Indonesia; Christian Group Pledges Legal Aid
--------
India
• Historian Irfan Habib on Mahatma Gandhi: 'Concept of Indian Nation Originated From Freedom Movement, Not Rig Veda'
• Rising Trend of Burqa-Clad Terrorists Worry Forces
• Muslims Are Ram's Descendants, Should Help Build Temple: Union Minister
• Bodh Gaya Blast: NIA Says Explosive Set Off To Show Solidarity with Rohingyas
• Sheikh Hasina's dismissal of 'termites' remarks aside, India-Bangladesh ties face acid test ahead of General Elections
• This school in Malaysia reveres Mahatma Gandhi every day
• India, Uzbekistan to work together to stabilise Afghanistan
• Gandhiji's ideas are relevant today more than ever: Freedom fighter H.S. Doreswamy
• Mumbai-Jodhpur Flight Passenger Alleges Terrorists On Board, Arrested For Misleading Police
• Jammu and Kashmir cop accused of stealing 8 guns seen with Hizbul militants in photo
--------
North America
• As A Mother — and a Muslim — In America, I See Our Flaws and Failures, But Also Our Potential
• Iran Not To Sit For Talks With Unreliable, Unrealistic US, FM Zarif Says
• For Islamic history month, let's remember our collective compassion
• CRA suspends, fines major Islamic charity over concerns it may have 'provided resources' to armed militants
--------
Europe
• Suspected Neo-Nazis vandalize mosque in Germany
• French Police Raid Muslim Club in Counter-Terror Swoop
• German police swoop on far-right 'terrorist' ring
• Erdogan and Merkel start burying the hatchet
• Germany agrees Iranian 'spymaster' extradition
• France supports Russia-Turkey agreement on Idlib
--------
Pakistan
• Imran Khan's Minister Attends Conference with Hafiz Saeed
• Kabul Wants Refugees Back After Pakistan PM Proposed Nationality To Afghans
• Pakistan PM Imran Khan briefs Germany Chancellor Merkel about relations with India
• Former ISI chief moves high court seeking revocation of travel ban
• Qadri plans 'low-key' politics as long as Imran is in the saddle
• COAS apprises corps commanders of China visit
• US unjustly blaming Pakistan for failures in Afghanistan: Qureshi
--------
Africa
• Africa: Muslim Allies in the Fight against Extremism
• Somalia's Shabaab attack EU military convoy, two wounded
• Sudan urges UN to double South Sudan regional force
• Report: Uganda Less Vulnerable to Al Shabaab Terrorists
Compiled by New Age Islam News Bureau
URL: https://www.newageislam.com/islamic-world-news/afghan-scholars-ask-jamiat-ulema/d/116547
--------
Afghan Scholars Ask Jamiat Ulema-e-Islam Chief to Broker Kabul-Taliban Talks
Tahir Khan
OCTOBER 2, 2018
ISLAMABAD: Afghan religious scholars and members of the peace council on Monday concluded their five-day visit to Islamabad, seeking mediation of Jamiat Ulema-e-Islam (JUI-S) chief Maulana Samiul Haq between the Taliban and the Afghan government, Sami's office said.
The seven-member Afghan delegation met Samiul Haq, who is considered as the teacher of Afghan Taliban, in Islamabad on Sunday and urged him to play his key role for peace and reconciliation.
A statement from the Madrassah Haqqania said that the Afghan scholars assured Samiul Haq that they would accept his decision.
"As the Taliban consider you as a teacher, we want your mediation between the Taliban and Afghan government," the statement quoted members of the delegation as telling the JUI-S leader.
Samiul Haq proposed a meeting of the scholars and the Taliban at a secret location without involvement of the Afghan government, Pakistan and the US.
"I think the Afghan rulers, former mujahideen leaders and the Taliban must agree on one point that is the withdrawal of the US and NATO forces and to liberate Afghanistan," Samiul Haq told the Afghan scholars, according to the statement.
The Afghan scholars also met Jamaat-e-Islami chief Sirajul Haq, who backed intra-Afghan dialogue to end the conflict.
"The JI does not support any particular group but we stand by the people of Afghanistan. We ask all Afghan groups to come to the negotiation table for regional peace," Siraj told the Afghan delegates, according to a statement.
"Afghan nation can force foreign occupation forces to leave Afghanistan if it demonstrates unity," he was quoted as saying. A seven-member Afghan delegation headed by Attaur Rehman Saleem had arrived in Islamabad on Thursday.
Earlier, Pakistani and Afghan religious scholars met in Islamabad and discussed the clerics' role in ending violence in war-shattered Afghanistan and encouraging the Taliban to join the peace process.
The scholars held consultations for holding a conference of the scholars in Islamabad and Kabul to announce a joint stance on the Afghan war.
Sources told Daily Times that Afghan scholars had a four-hour meeting at the Council of Islamic Ideology (CII) with Maulana Taqi Usmani, Fazalur Rehman Khalil, Maulana Iderees, Hanif Jalandari and CII Chairman Dr Qibla Ayaz.
Afghan side was upbeat at their first ever face-to-face meeting with Pakistani scholars despite Taliban strong opposition to such gatherings, as they view the initiative as an American plan to "legalise their invasion of Afghanistan."
Afghan officials believe they can convince Pakistani religious leaders to adopt a stance against suicide bombings like they had issued a "decree" in January this year.
They also cite a declaration against the Afghan war adopted by an international conference in Saudi Arabia in July this year. Pakistani clerics had declined Saudi invitation as they were upset at the kingdom's "harsh" statements against the Taliban. Saudi Arabia in its invitation to scholars had termed all Afghan groups terrorist, evoking strong condemnation by the Taliban and an alliance of Afghan scholars.
Pakistani scholars had joined Afghan and Indonesia scholars at a trilateral conference in Indonesia in May this year that declared suicide bombings against Islam and also called for direct talks between the Afghan government and the Taliban.
Foreign Minister Shah Mehmood Qureshi and Afghan officials had agreed this month on a meeting of scholars and officials in Islamabad to discuss agenda for a conference of scholars to issue a joint declaration against violence in Afghanistan.
Afghanistan had long been urging Islamabad to seek help from Pakistani scholars; however, the latter had been reluctant to sit with Afghan scholars in view of the presence of the foreign troops.
https://dailytimes.com.pk/305210/afghan-scholars-ask-sami-to-broker-kabul-taliban-talks/
--------
Bahraini regime forces raid houses across kingdom, detain many activists
Oct 1, 2018
Human rights activists say Bahraini regime forces have stormed dozens of houses and arrested tens of activists across the tiny Persian Gulf kingdom as the ruling Al Khalifah dynasty does not shy away from its heavy-handed clampdown on political dissidents and pro-democracy campaigners.
The activists, requesting not to be named, said the raids were carried out in the villages of al-Musalla, al-Sahla and Karzakan in addition to Jidhafs city and Juffair suburban neighborhood of the capital Manama, Arabic-language and independent Manama Post online newspaper reported.
Some of the detainees were later identified as Abdullah al-Sharaqi, Ali al-Awani, Musa Jaafar al-Madani and Ali al-Qamish.
Meanwhile, the opposition al-Wafa Islamic Movement condemned the new wave of arrests in Bahrain, describing it as in line with the Manama regime's repressive measures against Shia Muslims during the mourning month of Muharram.
Thousands of anti-regime protesters have held demonstrations in Bahrain on an almost daily basis ever since a popular uprising began in the country in mid-February 2011.
They are demanding that the Al Khalifah regime relinquish power and allow a just system representing all Bahrainis to be established.
Manama has gone to great lengths to clamp down on any sign of dissent. On March 14, 2011, troops from Saudi Arabia and the United Arab Emirates were deployed to assist Bahrain in its crackdown.
Scores of people have lost their lives and hundreds of others sustained injuries or got arrested as a result of the Al Khalifah regime's crackdown.
On March 5, 2017, Bahrain's parliament approved the trial of civilians at military tribunals in a measure blasted by human rights campaigners as being tantamount to imposition of an undeclared martial law countrywide.
Bahraini King Hamad bin Isa Al Khalifah ratified the constitutional amendment on April 3 last year.
https://www.presstv.com/Detail/2018/10/01/575767/Bahraini-regime-forces-raid-houses-across-kingdom-detain-many-activists
--------
Iranian reformists: Wilayat al- Faqih ideology contradicts concept of a republic
2 October 2018
Two prominent Iranian reformists, Abu al-Fadl Quidani, and Reza Rajai, who were imprisoned in recent years, issued a statement stressing that the Wilayat al-Faqih (Guardianship of the Jurist) ideology contradicts the concept of a republic. They highlight the importance of embracing the principal of a republic in Iran.
"The Iranian regime, in its current situation, is facing various disasters ranging from social, economic, and political levels. At this point, it is unable to heal the wounds of society by masking these issues with cold-hearted role-play, and false portrayals of confidence," the statement said.
"The Iranian revolution of 1979 acknowledged the Iranian people's aspirations, and how they sought for a republican system that thrives from the strength of its nation. The revolution prevailed as a success however; incorporating the Wilayat al-Faqih principles in Iran's constitution, contradicts the concept of a republic"
The statement added that, "the Iranian regime's current structure allows powers to loot the country's wealth, and exploit its economy for their own political interests. This cannot be in line with the concept of a free, democratic republic, which guarantees the rights of ethnic and religious minorities, and advocates freedom of press"
The statement continued: "A certain class of people with a misinterpretation of Islam impose their will on the people. It is those people who make up the Iranian authority; a minority ruling the majority"
"The extreme transformation occurred after the revolution- a false definition of a republic emerged, paving the way for the principles of Wilayat al-Faqih to be constitutionalized. Since then (in the early establishment of the Iranian Islamic Republic), the structure has gone askew, leading to problems which our society suffers from today"
Iran witnessed a recent outbreak of demonstrations and protests in several Iranian cities, which consisted of hundreds shouting slogans such as "Death to the dictator" and "Death to the leader of Faqih". This triggered political figures, both in and out of Iran, to criticize Iran's Supreme Leader who has absolute control of the country.
https://english.alarabiya.net/en/News/middle-east/2018/10/02/Iranian-reformists-Wilayat-al-Faqih-ideologies-contradict-the-concept-of-a-republic.html
--------
Consider mufti's proposal on child marriage before deciding, Sabah CM says
01 October 2018
KOTA KINABALU, Oct 1 — Sabah Chief Minister Datuk Seri Shafie Apdal said today that the state will consider all expert opinions, including its mufti's call for allowing Muslim girls to marry at 14.
Shafie said its Law and Native Affairs Minister Datuk Aidi Mokhtar, a former Shariah court judge, will evaluate all the opinions, before deciding on the minimum age limit for marriage in the state.
"The idea was floated by the mufti — he is a religious expert so we have to listen to his proposals and opinions.
"I asked my minister in charge of religious affairs to evaluate and ensure we have the right idea before we make any announcement, but I think we will soon make an announcement on what is the right age," he said.
Shafie had come under fire after a portal reported him saying the proposed minimum age of 18 years old was already "too late".
He was commenting on Sabah mufti Datuk Bungsu Aziz Jaafar, who had recently proposed that the legal minimum age of marriage for Muslims to be set at 14 for girls and 16 for boys to give consideration for rural communities who cannot further their education.
Shafie said that Bungsu was a religious authority that would know better about Islamic law.
"I didn't say we will go along with it. We cannot have 12 year olds getting married. They don't know how to run a house, a family, or even drive a car. A lot of consideration has to be given," he said.
Last week, Deputy Prime Minister Datuk Seri Dr Wan Azizah Wan Ismail said that working papers were being prepared to raise the minimum age for both Muslims and non-Muslims.
For customary marriages, she said the respective customary heads will be informed of the dangers of underage marriages to the health and safety of the child.
https://www.malaymail.com/s/1678233/consider-muftis-proposal-on-child-marriage-before-deciding-sabah-cm-says
--------
Historian Irfan Habib on Mahatma Gandhi: 'Concept of Indian nation originated from freedom movement, not Rig Veda'
by Aranya Shankar
October 2, 2018
Historian Irfan Habib on Monday said the concept of the Indian nation was born from the freedom struggle and not from the Rig Veda. He was delivering the first of a series of lectures on Mahatma Gandhi, organised by Safdar Hashmi Memorial Trust at Constitution Club of India.
Speaking on 'Gandhiji and the National Question', Habib said it was important to discuss the concept of Indian nationalism as people these days were being told about a "totally false nationalism". Describing Gandhi's evolving ideas through the years, he said, "Isn't it time to celebrate Gandhi?"
"A country becomes a nation only when there is a serious effort within the country to constitute it as a political entity," he said. "This concept of nation goes back to relatively recent times, particularly the French Revolution of 1789… The concept of Indian nation has really originated from the freedom movement, it does not come from the Rig Veda like the RSS seeks to tell us."
The historian said that Gandhi "was religious but not sectarian", in that he "wanted education to be conducted by mullahs, parsi priests and brahmins". But he also felt that "Hindus must give concessions to Muslims".
"Gandhi's religious position was totally different from Tilak's. To him, Islam was as important in political matters as Hinduism," said Habib.He also said Gandhi valued "truth over consistency".
https://indianexpress.com/article/india/historian-irfan-habib-on-gandhi-concept-of-indian-nation-originated-from-freedom-movement-not-rig-veda-5381830/
--------
South Asia
Jihadi Leaders' Communist Party Photos in Chinese Embassy Spark Reactions
Oct 01 2018
The photos of some prominent Jihadi leaders which purport to show the acrobatic dance of some Chinese girls before them have gone viral on the internet and have sparked reactions among the social media users.
Some of the prominent Jihadi leaders who are currently serving in the leadership of the government could be seen in the photos which are being shared on social media.
The photos purport to show Second Vice President Sarwar Danish, First Deputy Chief Executive Mohammad Khan, Second Deputy Chief Executive Mohammad Mohaqiq, and former Jihadi leader Sebghatullah Mujadedi, among several others who have attended the party.
However, the majority of the social media users have criticized the Jihadi leaders for watching the acrobatic dance by the Chinese girls.
The party was reportedly organized on the eve of the 69th anniversary of the founding of the People's Republic of China.
The First and Second Deputies of the Chief Executive have shared some of the photos on their official Facebook accounts.
One of the photos shows the cake-cutting ceremony by the government and Jihadi leaders together with the Ambassador of China in Kabul.
While some social media users have criticized the Jihadi leaders for watching the acrobatic dance, others have criticized them for participating in a party despite fighting Communism for several years.
https://www.khaama.com/jihadi-leaders-party-photos-spark-reactions-06071/
--------
Bangladesh Madrasa Teachers to Be Barred From Politics
October 2nd, 2018
The Technical and Madrasa Education Division under the Education Ministry has recently sent the draft of 'Bangladesh Madrasa Education Board-2018' law to the Cabinet division for inspection
Madrasa teachers who work under the Monthly Pay Order (MPO) are to be barred from participating in any sort of politics, according to a restriction inserted into a new draft law.
The Technical and Madrasa Education Division under the Education Ministry has recently sent the draft of "Bangladesh Madrasa Education Board-2018" law to the Cabinet division for inspection.
"The 1978 Madrasa Education Ordinance is being transformed and evolved into the new law," Additional Secretary (madrasa) of Technical and Madrasa Education Division Rawnak Mahmud said. "The final draft has already been sent to the Cabinet division."
At present, most of the primary, secondary and higher secondary educational institutions, including a major portion of madrasas, are under the MPO, where teachers and employees receive their basic salary from the state treasury.
Before this draft was made, many madrasa teachers have held important posts in Islamic parties, and students would normally follow the political ideology of their teachers.
Their pursuit of politics would stop a portion of teachers from concentrating on teaching in classes - which is why the government drafted the law.
This is the first time private institution teachers will be restricted by law from participating in politics.
In tandem, teachers from government certified religious institutions will also be barred from practicing politics.
The move comes right after the initiative to bring Ebtadayee madrasa under a wage scale.
Restrictions
According to the proposed law, teachers from government institutions for religious studies, forkania madrasas, ebtedayee madrasas, dakhil madrasas and alim madrasas will have restrictions while participating in politics.
Forkania and ebtadayee madrasas have been recognized as equivalent to primary education.
The proposed law further says teachers from the above mentioned institutions will not be able to participate, join or cooperate in political protests.
They will not be able to engage in activities that might create public discontent, chaos in society or enmity between different factions.
No madrasa teachers or employees will be able to take part in election campaigns under the local government - either as a candidate or an activist. Anyone not following these rules will face actions from the government, including dismissal from their jobs.
Sources from the ministry informed, the "Bangladesh Madrasa Education Board- 2018" law has been drafted to manage, regulate, control and develop madrasa education. The draft will be raised in front of the secretary committee related to administrative development, after initial inspection by the Cabinet division.
Madrasa teachers think the government took this decision to stop madrasa students from taking to the streets, as a huge population of young madrasa students will follow their mentors in any activity they undertake.
The madrasa teachers also fear they might lag behind in politics with the imposition of the proposed law.
"There is no need to impose this ban on the teachers who are under the MPO," Hefazat-e-Islam's Organizing Secretary Mawlana Azizul Haque Islamabadi said.
"These teachers generally do not take part in politics directly. What they do can be termed as an Islamic movement. If public university teachers can engage in politics, directly or indirectly, madrasa teachers should also have a similar right."
The organizing secretary added that this law might restrict madrasa teachers from engaging in religious movements, which will hamper the spirit of religious education across the country.
Full report at:
https://www.dhakatribune.com/bangladesh/politics/2018/10/02/madrasa-teachers-to-be-barred-from-politics
--------
Jamaat leader snatched from police custody
October 1st, 2018
The incident took place at Koyra Charpara village around 2:30pm on Monday
A Jamaat-e-Islami leader named Alauddin Al Azad, who was detained and handcuffed by police, has been snatched away by Awami League and Jamaat leaders and activists in the Ullahpara upazila of Sirajganj.
The incident took place at Koyra Charpara village around 2:30pm on Monday.
Alauddin Al Azad, son of one late Sohrab Ali of the Vengri village of the upazila, was serving as Jamaat acting secretary of Ullahpara upazila.
Ullahpara police station officer-in-charge (OC) Dewan Kawshik Ahmed said Azad was accused in at least 20 cases for obstructing police work and sabotage.
He was arrested and being brought to the police station handcuffed.
Meanwhile, a group of Jamaat and Awami League men, led by Azad's closest relative and local ward unit AL general secretary Saiful Islam, intercepted and snatched Azad from the policemen.
Additional superintendent of police (Ullahpara circle) Sharafat Islam says drives are underway to detain Azad again.
Full report at:
https://www.dhakatribune.com/bangladesh/nation/2018/10/01/jamaat-leader-snatched-from-police
--------
Hefazat chief to honour PM for Dawra-e-Hadith recognition
October 1st, 2018
A 15-member committee has been formed to host the reception in Dhaka this month
Hefazat-e-Islam Ameer Shah Ahmad Shafi will hold a reception for the Prime Minister since a bill to recognize Dawra-e-Hadith (Takmil) degree of Qawmi madrasa was passed in parliament.
This reception will be given on the initiative of Al-Haiatul Ulya Lil-Jamiatil Qawmia Bangladesh, the highest organization of Dawra-e-Hadith of Qawmi madrasa.
The decision was taken at a meeting on Monday at Al-Haiatul Ulya Lil-Jamiatil Qawmia Bangladesh in Hathazari in Chittagong with Hefazat chief Shafi in chair.
A 15-member committee has been formed to host the reception in Dhaka this month at the Bangabandhu International Conference Center.
Shah Ahmad Shafi will preside over the reception, the date of which is yet to be set.
The meeting was also attended by Ashraf Ali, Anwar Shah, Mahmudul Hasan, Abdul Halim, Abdul Halim Bukhari, Mufti Muhammad Waqqas, Mufti Faizullah, Maulana Muslehuddin Raju, Maulana Anas Madani, Maulana Abdul Kuddus and Maulana Mahfuzul Haq.
Full report at:
https://www.dhakatribune.com/bangladesh/education/2018/10/01/hefazat-chief-to-honour-pm-for-dawra-e-hadith-recognition
--------
Bangladesh delays plan to shift Rohingya to remote island
1 Oct 2018
DHAKA: Bangladesh has postponed plans to begin relocating Rohingya Muslims to a remote island, officials said Monday, amid staunch opposition to the controversial idea among refugees living near the Myanmar border.
Prime Minister Sheikh Hasina was slated to open the new settlement built to house 100,000 refugees on Bhashan Char on Oct 3, despite warnings the silty strip was prone to violent weather.
But a spokesman for Bangladesh's armed forces, which has overseen the $280 million-effort to transform the muddy islet into a habitable camp, said the opening ceremony had been delayed.
"We will announce a new date soon," Lieutenant Colonel Alamgir Kabir told AFP, without providing further details.
The controversial plan, first floated in 2015, was already well behind schedule.
Officials previously said they wanted to start moving refugees from overcrowded camps near the border with Myanmar to the island in June, before the monsoon season began.
A senior disaster management official told AFP in September that nearly three quarters of the project was complete, with the navy fast-tracking construction of shelters and evacuation centres.
No reason was provided for the latest delay.
But the proposal to uproot the refugees to a remote island that only rose from the sea in 2006 remains unpopular in the teeming Rohingya camps.
The island is one hour by boat from the nearest land but violent storms make the journey by sea dangerous or sometimes impossible.
"It is cut off from the mainland. What if someone needs emergency medical attention?" said Rohingya community leader Abdul Gowffer.
The UN has insisted that any relocation to Bhashan Char be voluntary.
Local authorities have been seeking to reassure refugees that they will be safe on the island.
"We are still working on it. We're talking to the families," Bangladesh's Refugee Commissioner Mohammad Abul Kalam told AFP.
One million displaced Muslims live cheek by jowl on hillside shanties near the Myanmar border, in conditions aid groups warn put them at risk from floods, landslides and disease.
There was a further push to get the plan off the ground after 700,000 Rohingya, fleeing a violent crackdown in Myanmar in August last year, poured into southeast Bangladesh.
But rights groups have warned it is too risky to house refugees on the island. Hundreds of thousands have died in Bangladesh from natural disasters in the last 50 years, mostly in coastal areas near Bhashan Char.
Local officials have pointed to a newly-constructed three-metre high embankment around the island they say will keep out tidal surges in the event of a cyclone.
But refugees remain wary.
Full report at:
https://www.bangkokpost.com/news/world/1550030/bangladesh-delays-plan-to-shift-rohingya-to-remote-island
--------
Six militants blown up by own IED in Ghazni province
Oct 01 2018
At least six militants were killed or wounded in an explosion triggered by an Improvised Explosive Device (IED) in southeastern Ghazni province of Afghanistan.
The Ministry of Defense (MoD) says the incident has taken place in the vicinity of Andar district of Ghazni.
The source further added that the explosion has left at least five militants dead while another militant was wounded.
Taliban and other militants often use IED as the weapon of their choice to target the security forces and government but in majority of such attacks ordinary civilians are targeted, besides such attacks often claims the lives of the militants as well.
The UN Assistance Mission in Afghanistan (UNAMA) in its latest report stated that 1,692 civilians were killed in the first six months of 2018.
According to UNAMA, the use of improvised explosive devices (IEDs) in attacks by Anti-Government Elements remained the leading cause of civilian casualties.
Full report at:
https://www.khaama.com/six-militants-blown-up-by-own-ied-in-ghazni-province-06070/
--------
Four key Taliban group leaders ambushed in Laghman province
Oct 01 2018
At least four key Taliban group leaders have been killed during an ambush of the Afghan forces in eastern Laghman province of Afghanistan.
The Ministry of Interior (MoI) in a statement said the key Taliban leaders were killed late on Sunday night in the vicinity of Dawlat Shah district.
The statement further added that the militants killed during the ambush have been identified as Mawlavi Janat Gul, Qari Zabiullah, Qari Matiullah, and Mullah Mohammad Nabi.
According to MoI, another Taliban group leader identified as Mullah Mahmood sustained injuries during the operation.
The Afghan National Defense and Security Forces did not suffer any casualty during the operation, MoI added in its statement.
The anti-government armed militant groups including Taliban militants have not commented regarding the killing of their four key leaders so far.
Laghman has been among the relatively calm provinces in East of Afghanistan during the recent years where fewer security related incidents have been reported.
Full report at:
https://www.khaama.com/four-key-taliban-group-leaders-ambushed-in-laghman-province-06069/
--------
Arab World
Saudi charges economist critical of bin Salman's reforms with 'terrorism'
Oct 2, 2018
Saudi Arabia's public prosecutor has reportedly charged a prominent economist, who once strongly criticized the crown prince's economic plans, with "terrorism."
Essam al-Zamil was charged with a range of accusations, including membership of a terrorist organization, communicating with neighboring Qatar, and inciting protests inside Saudi Arabia, Reuters reported on Monday, citing Saudi outlets and activists.
His identity was not mentioned in the reports. It was disclosed by a personal friend, London-based Saudi rights group ALQST and a network of activists.
Local media, including Arabic-language newspaper Okaz, referred to the organization as the transnational Muslim Brotherhood movement founded in Egypt, which has been banned both in Saudi Arabia and the Riyadh-friendly North African country.
Zamil was detained late last year. His arrest came after Crown Prince Mohammed bin Salman remarkably stepped up the kingdom's purge of intellectuals and clerics, and began rounding up the businessmen and royals, whom he considered menacing to his power.
The economist had leveled strong criticism against the centerpiece of Salman's economic reform plan, namely public the listing of five percent of Saudi oil giant Aramco's shares.
The prince announced plans for the sale last year in a deal he hoped would raise $100 billion if the company was valued at $2 trillion.
Right before his arrest, Zamil had said that if the company was to be valued at that rate, the authorities had to include its oil reserves in the sale too.
The Saudi economy has been suffering heavily from falling oil prices. The kingdom is accused of intentionally glutting the crude market to lower the price and hurt fellow crude heavyweight Iran.
The Initial Public Offering (IPO) plan centering on Aramco, which is meant to jumpstart the economy has, however, created concerns that Riyadh was relinquishing its crown jewels to foreigners cheaply.
https://www.presstv.com/Detail/2018/10/02/575804/Saudi-Arabia-economist-charged-terrorism-Aramco-Crown-Prince-Mohammed-bin-Salman
--------
More Terrorists Killed, Wounded in Fresh Infighting in Northwestern Syria
Oct 01, 2018
Tahrir al-Sham and Ahrar al-Sham engaged in a tough battle in Southern Idlib that has thus far inflicted heavy casualties on both sides.
In the meantime, terrorists of the National Liberation Front and Tahrir al-Sham exchanged fire in a region between al-Habit and Kafr Ein, imposing several casualties on both warring sides.
Field sources said that both Ahrar al-Sham and Tahrir al-Sham have dispatched more fighters and military equipment to their contact lines following recent clashes.
Militant-affiliated sources reported earlier today that Abu Mo'aviyah Tukamani, a foreign commander of Tahrir al-Sham, was killed in a gun fire by unknown assailants on a road connecting Kafr Nabl to Hazarin in Idlib province.
They further said that Mustafa Abu Dajanah, an Uyghur commander of Tahrir al-Sham, was also killed in another attack in the town of Ariha in Southern Idlib.
In the meantime, the Arabic-language al-Manar TV Channel reported that a group of Tahrir al-Sham terrorists under the command of Abu Malik Tali have arrested almost 30 non-Syrian members of their own group after breaking into their bases in Idlib city in last 3 days.
Full report at:
http://en.farsnews.com/newstext.aspx?nn=13970709000889
--------
Tahrir Al-Sham Terrorists Trying to Join Turkey-Backed Militants in Syria's Afrin
Oct 01, 2018
Hawar news quoted a well-informed source in Afrin as reporting that Tahrir al-Sham has held a joint meeting with Ankara-backed National Liberation Front in Jandaris region.
It further said that the meeting was aimed at legalizing presence of Tahrir al-Sham in the region and setting up a joint group.
Other news sources had already reported on Tahrir al-Sham's presence in Deir Balout region in Jandaris.
In the meantime, local sources in Afrin pointed to the Ankara forces' attempts to settle terrorist groups of Idlib in Afrin, adding that the terrorists have threatened residents of the village of Jouqah and other nearby villages to leave their region or they will get themselves killed.
On Thursday, the Arabic-language website of Sputnik news agency quoted local sources in Idlib as saying that Ankara transferred a number of the most notorious foreign commanders of the terrorists along with their family members from Jisr al-Dhohour in Idlib and Northern Lattakia to Turkey.
Meantime, a number of commanders and local members of Tahrir al-Sham Hay'at were able to flee to Turkey from the towns of Sarmada and Atmeh by paying a Turkish businessman $10,000 for a commander and $5,000 for low-ranking militants.
The sources said that the foreign terrorists are still stationed in the villages, towns and occupied positions, adding that the foreign terrorist groups, including Turkistanti party, Ajnad al-Qoqaz and Horas al-Din, have strengthened their military preparedness to fight against the Syrian army.
Full report at:
http://en.farsnews.com/newstext.aspx?nn=13970709000625
--------
Iraq parliament delays vote for country's president
2 October 2018
Iraq's parliament postponed a vote on Monday to name a president because the main Kurdish parties, who were supposed to present a candidate, could not overcome differences, said several lawmakers.
Iraq's presidency, traditionally occupied by a Kurd, is largely a ceremonial position but the vote is a key step towards the formation of a new government, which politicians have failed to do since an inconclusive national election in May.
Parliament speaker Mohammed al-Halbousi said the vote would by delayed until Tuesday due to a lack of quorum.
Under Iraq's constitution, the new president would have 15 days to task the largest parliamentary bloc's nominee with forming a government. The prime minister-designate would have 30 days to form a cabinet and present it to parliament for approval.
Lawmakers said the dominant Kurdish parties -- the Kurdistan Democratic Party (KDP) and the Patriotic Union of Kurdistan (PUK) -- were unable to iron out differences and agree on a candidate.
The two sides competed in a parliamentary election in their semi-autonomous region in northern Iraq on Sunday. Allegations of fraud have created tensions. Results have not been announced.
Lawmakers from the parties suggested neither side was showing flexibility.
Rebwar Taha, a PUK member of the parliament in Baghdad, said the party insists on its candidate, veteran politician Barham Salih. "Delaying the session until Tuesday will not change our decision," he said.
KDP lawmaker Sherwan al-Dobardani said his party was entitled to the position because it has more seats in the national parliament.
Full report at:
https://english.alarabiya.net/en/News/middle-east/2018/10/02/Iraq-parliament-delays-vote-for-country-s-president.html
--------
Israel seeks to 'justify another aggression' with false missile claims - Lebanon
1 October 2018
Lebanon's foreign minister said on Monday Israel was trying to "justify another aggression" by falsely alleging there are missile sites near Beirut airport belonging to Iran-backed Hezbollah.
Israeli Prime Minister Benjamin Netanyahu, speaking at the United Nations last week, identified three locations near the airport where he said the Shi'ite group Hezbollah was converting "inaccurate projectiles" into precision-guided missiles.
Lebanese Foreign Minister Gebran Bassil, speaking to foreign ambassadors before taking them on a tour of the area, said there were "many statements ... affirming the possession of accurate missiles by Hezbollah".
But he added: "This does not mean that these missiles are present in the vicinity of Beirut airport".
Bassil accompanied the diplomats, who included Russian and Iranian envoys, and journalists on a tour of three sites near the airport, including the grounds of a top division Lebanese football team, Al-Ahed, which Israel identified as one of the sites.
In response, Netanyahu said later on Monday Hezbollah had lied to the international community. The diplomats were taken to the football pitch but not to the underground site adjacent to it where the missile factory was located, he said.
"The ambassadors should ask themselves why they waited three days until they carried out the tour. Hezbollah regularly makes sure to clean up sites that have been exposed," Netanyahu said in a statement.
Bassil, a political ally of Hezbollah, said Israel aimed to "falsify facts concerning Lebanon and to vocalize lies that carry the seeds of a threat that does not frighten us".
Netanyahu had used the platform of the UN General Assembly "to justify another aggression on a sovereign country like Lebanon".
Hezbollah, founded by the Iranian Revolutionary Guards in 1982, last fought a major conflict with Israel in 2006. The group has grown stronger since then, notably through its role in the Syrian war fighting in support of President Bashar al-Assad.
Hezbollah leader Hassan Nasrallah said last month the group had obtained precision rockets despite Israeli strikes in Syria.
Full report at:
https://english.alarabiya.net/en/News/middle-east/2018/10/01/Israel-seeks-to-justify-another-aggression-with-false-missile-claims-Lebanon.html
--------
US and Turkey begin training for joint patrols in Syria's Manbij
2 October 2018
The United States and Turkey have started training together to carry out joint patrols soon in northern Syria's Manbij area, US Defense Secretary Jim Mattis said on Monday, despite tense relations between the two countries.
As agreed by the two NATO allies in June, Turkish and US forces are currently carrying out patrols in Manbij, but those are independent of each other. Training is the last step before the two countries carry out joint patrols.
Last month, Ankara said joint patrols and training for those would begin soon.
"The training now is under way and we'll just have to see how that goes," Mattis told a small group of reporters traveling with him to Paris.
"We have every reason to believe the joint patrols will be coming on time, when the training syllabus is complete so that we do it right," Mattis added.
He said the United States was currently working with trainers and it would be followed by a few weeks of training with Turkish troops before the joint patrols started.
The training will take place in Turkey.
Turkey has been infuriated with Washington's support for the Syrian Kurdish YPG militia - which it views as a terrorist organization - and prior to the June agreement it had threatened to push on with a ground offensive against the YPG in Manbij despite the presence of US troops there.
Turkey's detention of American pastor Andrew Brunson on terrorism charges has also hit relations between Ankara and Washington.
US President Donald Trump, angered by Brunson's detention, authorized a doubling of duties on aluminum and steel imported from Turkey in August. Turkey retaliated by increasing tariffs on US cars, alcohol and tobacco imports.
Mattis said he would speak about the situation in Syria and militancy in Africa while in Paris, where he is expected to meet his French counterpart and President Emmanuel Macron.
Turkey and Russia agreed in mid-September to enforce a new demilitarized zone in Syria's Idlib province from which rebels will be required to withdraw.
Full report at:
https://english.alarabiya.net/en/News/middle-east/2018/10/02/US-and-Turkey-begin-training-for-joint-patrols-in-Syria-s-Manbij.html
--------
Coalition rejects report on Yemen for lack of transparency
October 02, 2018
JEDDAH: The Arab coalition fighting to restore legitimacy in Yemen has rejected an experts' report for lacking transparency and professionalism.
On Friday, the UN Human Rights Council voted to extend an international probe of alleged war crimes committed in Yemen, which was strongly condemned by Yemen and allies Saudi Arabia, the UAE, Bahrain and Egypt.
"We are left with a resolution which is biased, and which clearly contradicts the clear mandate laid out by the UN Security Council," said the joint statement by the countries.
Council members voted in favor of the resolution in Geneva by 21 to 8, with 18 abstentions.
Coalition spokesman Col. Turki Al-Malki said the allies do not accept the results of the report on the humanitarian situation in the Arab country, stressing that the legitimate government also rejected findings too, and indicated the experts' bias toward the Iran-backed Houthi militia.
The coalition, however, acknowledged the experts' difficult working conditions under the Houthi militia, and welcomed the activities of all the United Nations organizations and NGOs in Yemen.
Leaked reports in the media have shown violations against staff of the UN and NGOs by the Houthis.
There must be more stringent steps to counter the accusations and intrusions, Al-Malki said.
Moreover, Malki stressed that all actions carried out by the militia, including raiding warehouses, hostilities, levying taxation, disrupting trucks only increase the suffering of the public.
200 missiles have now been launched by the militia toward Saudi Arabia since 2015, and the group continues to lay naval mines, putting international trade routes at risk.
Full report at:
http://www.arabnews.com/node/1380996/saudi-arabia
--------
Mideast
Yemeni army confirms death of Houthi leader, 40 militias
2 October 2018
The Yemeni army announced the death of the Houthi leader, Hussein Yahya Ksheima, with more than 40 militias.
The army said that the coalition's strike was able to target them in the West Coast Front in Hodeidah district.
Military sources said that Ksheima is considered one of Iran's major frontline leaders, and that he was an expert in planting mines and explosive devices.
The Houthi leader also received military training in Lebanon and Iran in the years 2011 and 2012.
https://english.alarabiya.net/en/News/gulf/2018/10/02/Yemeni-army-confirms-death-of-Houthi-leader-40-fighters.html
--------
Family of Iran cleric: Revolutionary Guards hid explosives in Hajj pilgrim bags
1 October 2018
The family of a prominent late Shiite cleric Hossein Ali Montazeri said that the Iranian Revolutionary Guards were behind explosives found in the bags of Iranian Hajj pilgrims in 1986.
Montazeri was one of the leaders of the Iranian Revolution in 1979.
His son, Mullah Ahmed Montazeri, spoke out this week in an Iranian TV program called "Khasht Kham" which was discussing the role of Iranian radical Mehdi Hashemi, who smuggled explosives on an airplane headed for Saudi Arabia in 1986.
Mullah Ahmed sought to point out that Hashemi was at that time a senior official in the Revolutionary Guards, and he carried out the terrorist act within this capacity.
Hashemi had become the head of the liberation movements unit in the Islamic Revolutionary Guards in 1983 and "by order of Ali Khamenei, the shipment of explosives was packed into the bags of pilgrims in 1986," Mullah Ahmed said.
His statement is based on a letter written by the late Hossein Ali Montazeri to Supreme Leader Khomeini.
Hossein Ali Montazeri wrote: "The Revolutionary Guards made an unacceptable mistake during Hajj and used the bags of 100 Iranian pilgrims, including elderly men and women, without their knowledge. They lost the dignity of Iran and the Iranian revolution in the eyes of Saudi Arabia and during the Hajj season and forced [Iranian official] Mehdi Karroubi to ask King Fahd for a pardon."
Full report at:
https://english.alarabiya.net/en/News/middle-east/2018/10/01/Family-of-Iran-cleric-Revolutionary-Guards-hid-explosives-in-Hajj-pilgrim-bags.html
--------
Iran fires missiles at Syria 'terrorists' after deadly attack
Oct 1, 2018
TEHRAN: Iran's Revolutionary Guards said Monday they launched a missile strike against a "terrorist" headquarters in Syria in retaliation for an attack that killed 24 people in the Iranian city of Ahvaz.
Iranian President Hassan Rouhani had vowed a "crushing" response to last month's assault — claimed by the Islamic State jihadist group — on a military parade commemorating the 1980-1988 Iran-Iraq war.
"The headquarters of those responsible for the terrorist crime in Ahvaz was attacked a few minutes ago east of the Euphrates by several ballistic missiles fired by the aerospace branch of the Revolutionary Guards," the Guards said on their website.
"Based on preliminary reports, many takfiri terrorists and the leaders responsible for the terrorist crime in Ahvaz have been killed or wounded in this missile attack," they added. The term "takfiri" refers to Sunni Muslim extremists.
The Guards released pictures of what appeared to be missiles lighting up the night sky, leaving trails of smoke as they soared above a desert region with a rugged mountain in the background.
Iran's Fars news agency said the Guards fired "a number of medium-range" Zolfaghar and Qiam missiles, with a range of 750 kilometres and 800 kilometres (465 and 500 miles), respectively.
The agency said the missiles hit the Syrian desert border town of Albu Kamal on the west of the Euphrates River, in the eastern province of Deir Ezzor.
"On at least one of the missiles was written 'death to America', 'death to Israel' and 'death to Al Saud'," it said, a reference to the ruling family in Saudi Arabia, Iran's regional rival.
According to the Syrian Observatory for Human Rights, a Britain-based war monitor, "heavy explosions took place at dawn (Monday) in the last pocket under IS control near Albu Kamal".
Albu Kamal itself, located on the border with Iraq, is held by regime forces and allied regional militiamen who seized it from IS in 2007.
Twenty-four people were shot dead in the attack by five gunmen on a military parade in the mainly ethnic Arab city of Ahvaz in southwestern Iran on September 22.
Ahvaz is the provincial capital of Khuzestan, a border region which was a major battleground of the 1980-1988 Iran-Iraq war, and which also saw ethnic unrest in 2005 and 2011.
Iranian officials initially blamed Arab separatists backed by Gulf Arab allies of the United States for the attack.
But on Monday supreme leader Ayatollah Ali Khamenei appeared to link the perpetrators to jihadists operating in Iraq and Syria, where IS once had major strongholds.
"This cowardly act was the work of those very individuals who are rescued by the Americans whenever they are in trouble in Iraq and Syria and who are funded by the Saudis and the (United) Arab Emirates," Khamenei was quoted by his official website as saying.
The next day Iran's intelligence ministry published photos of five men it said carried out the Ahvaz assault, identifying them as "jihadist separatists".
IS, a Sunni Muslim extremist group which Iran and its Damascus allies are fighting in Syria, has claimed responsibility for the attack and said all five assailants were Iranian, including four from Ahvaz.
It also threatened to carry out new attacks in Iran.
IS had already claimed responsibility for twin attacks in June 2017 on the parliament and the tomb of revolutionary leader Ayatollah Ruhollah Khomeini in Tehran that killed 17 people.
Full report at:
https://timesofindia.indiatimes.com/world/middle-east/iran-fires-missiles-at-syria-terrorists-after-deadly-attack/articleshow/66023140.cms
--------
Iran Uses Drone in Cross-Border Attack on Terrorists in Syria
Oct 01, 2018
The IRGC Aerospace Force used 7 drones as well as 6 precision-striking ballistic missiles to attack the terrorist targets in Albu Kamal region in Eastern Syria on Monday. At least one of the drones was of a Saeqeh model which is a pilotless plane from Simorgh (Phoenix) class and enjoys the capability to simultaneously strike at four targets with smart bombs that have pinpoint precision-striking capability in far distances.
Iran calls its own version of the US Sentinel spy drone RQ-170 as "Simorgh".
Iran has developed Simorgh into a class of drones with reconnaissance, surveillance, combat and bombing capabilities.
Simorgh drones are equipped with an autopilot capability that brings them back to their airbase if operators lose control or are disconnected from the pilotless aircraft.
Saeqeh was unveiled in October 2016 and the footages of the drone attack on the terrorists in Eastern Syria on Monday show that it fires bombs from inside a case mounted under the drone's body.
The manufacture of the Iranian drone based on the US RQ-170 spying drone, which was captured in 2011 by the IRGC Aerospace Force was a major blow to the US government, according to Pentagon officials.
The Iranian version of the RQ-170 drone was manufactured through reverse engineering of the US drone, which was tracked and hunted down in Iran late in 2011, and has been equipped by the IRGC with bombing capability.
Earlier on Monday, the IRGC fired 6 ballistic ground-to-ground missiles and launched drone attacks on terrorists' positions in Eastern Euphrates region in Eastern Syria in revenge for the September 22 Takfiri terrorist attacks in Ahwaz city which killed dozens of Iranian people.
During the operations codenamed Zarbat-e Moharram (Blow of Moharram) carried out at 2:00 AM (local time) on Monday the headquarters of Takfiri terrorists near Albu Kamal region in Eastern Euphrates was attacked from Kermanshah province in Western Iran, 570km away from the targets.
The missiles were of Zolfaqar and Qiam classes with ranges of respectively 750km and 800km and precision-striking capability. At least one of the missiles bore slogans 'Death to America', 'Death to Israel', 'Death to Al Saud' and a Quranic verse meaning 'fight against the friends of Satan'. They travelled over the Iraqi airspace and hit Eastern Euphrates region in Syria.
Then a few minutes after the missile strikes, 7 IRGC drones targeted the terrorists' positions in the region again.
According to reports, heavy damage has been inflicted on the terrorists' infrastructures and positions.
26 people were killed and 69 others were wounded in an attack by al-Ahwaziya terrorist group during the nationwide military parades in the Southwestern city of Ahwaz on September 22.
The terrorists attacked the bystanders watching the annual Armed Forces' parades, marking the start of the Sacred Defense Week, commemorating Iranians' sacrifices during the 8 years of the Iraqi imposed war on Iran in 1980s, in disguise of the IRGC and Basij (volunteer) forces, killing and wounding several people, including innocent women and children.
None of the officials participating in the military parades in Ahwaz city in Khuzestan province was injured in the attack.
The number of the terrorists who carried out the attack in Ahwaz had on September 22 been put at 4 by Spokesman of the Iranian Armed Forces Brigadier-General Abolfazl Shekarchi. The general had explained that three of them were killed and the last one was captured by security forces.
He told FNA that none of the terrorists could escape, noting that other reports about the details of the attack are not confirmed.
Later the intelligence ministry put the number of terrorists at five, naming them as Ayad Mansouri, Foad Mansouri, Ahmad Mansouri, Javad Sari and Hassan Darvishi who were killed on the scene of the clashes with the Iranian security forces after riddling people with bullets.
Meantime, Head of the Islamic Revolution Guards Corps Public Relations Department and IRGC Spokesman General Ramezan Sharif said that the terrorists who attacked people during the Armed Forces' parades in Ahwaz were affiliated to al-Ahwaziya stream which is nourished by Saudi Arabia.
He added that the terrorists aimed to overshadow the magnificence of the Iranian Armed Forces' parades.
General Sharif said that people were also invited to watch the parades and the terrorists both fired at people and the Armed Forces.
Full report at:
http://en.farsnews.com/newstext.aspx?nn=13970709000892
--------
Spokesman: Iran Seriously Pursuing Extradition of Ahwaz Attack Terrorists
Oct 01, 2018
"All foreign ministry-related moves, including referring to the international bodies and some countries, to extradite the culprits have been adopted. We are determined to pursue this issue very seriously," Qassemi told reporters in a press conference in Tehran on Monday.
He noted that gathering documents on the September 22 attacks and the culprits behind them is still underway, expressing the hope that other countries would show more serious commitment to anti-terrorism efforts.
Iranian authorities summoned ambassadors of the Netherlands and Denmark as well as chargé d'affaires of the British embassy in Tehran after terrorists with links to the European countries carried out attacks during a military parade in the Southwestern city of Ahwaz on September 22.
26 people were killed and 69 others were wounded in an attack by al-Ahwaziya terrorist group during the nationwide military parades in the Southwestern city of Ahwaz on September 22.
The terrorists, whose leaders mostly live in the European states, attacked the bystanders watching the annual Armed Forces' parades, marking the start of the Sacred Defense Week, commemorating Iranians' sacrifices during the 8 years of the Iraqi imposed war on Iran in 1980s, in disguise of the Islamic Revolution Guards Corps (IRGC) and Basij (volunteer) forces, killing and wounding several people, including innocent women and children.
None of the officials participating in the military parades in Ahwaz city in Khuzestan province was injured in the attack.
The number of the terrorists who carried out the attack in Ahwaz had on September 22 been put at 4 by Spokesman of the Iranian Armed Forces Brigadier-General Abolfazl Shekarchi. The general had explained that three of them were killed and the last one was captured by security forces.
He told FNA that none of the terrorists could escape, noting that other reports about the details of the attack are not confirmed.
Later the intelligence ministry put the number of terrorists at five, naming them as Ayad Mansouri, Foad Mansouri, Ahmad Mansouri, Javad Sari and Hassan Darvishi who were killed on the scene of the clashes with the Iranian security forces after riddling people with bullets.
Meantime, Head of the Islamic Revolution Guards Corps Public Relations Department and IRGC Spokesman General Ramezan Sharif said that the terrorists who attacked people during the Armed Forces' parades in Ahwaz were affiliated to al-Ahwaziya stream which is nourished by Saudi Arabia.
He added that the terrorists aimed to overshadow the magnificence of the Iranian Armed Forces' parades.
General Sharif said that people were also invited to watch the parades and the terrorists both fired at people and the Armed Forces.
He said that such attacks were precedent and al-Ahwaziya terrorist group had earlier fired at the convoys of people who visited the Southern cities of Iran which resisted against Saddam's aggression during the 8-year Iraqi-imposed war against Iran in 1980s.
In revenge for the September 22 attack, the IRGC fired 6 ballistic ground-to-ground missiles and launched drone attacks on terrorists' positions in Eastern Euphrates region in Eastern Syria on Monday.
During the operations codenamed Zarbat-e Moharram (Blow of Moharram) carried out at 2:00 AM (local time) on Monday the headquarters of Takfiri terrorists near Albu Kamal region in Eastern Euphrates was attacked from Kermanshah province in Western Iran, 570km away from the targets.
The precision-striking missiles were of Zolfaqar and Qiam classes with ranges of respectively 750km and 800km. At least one of the missiles bore slogans 'Death to America', 'Death to Israel', 'Death to Al Saud' and a Quranic verse meaning 'fight against the friends of Satan'. They travelled over the Iraqi airspace and hit Eastern Euphrates region in Syria.
Also, a few minutes after the missile strikes, 7 IRGC drones targeted the terrorists' positions in the region.
Full report at:
http://en.farsnews.com/newstext.aspx?nn=13970709000581
--------
Arab Coalition: We refuted Houthi violations with a message to the UN
2 October 2018
The spokesman of the Arab coalition backing the legitimate Yemeni National Army, Colonel Turki al-Malki said on Monday that the coalition refuted the Houthi militia's violations through a message directed to the United Nations.
In his weekly press conference, al-Malki added that all ports in Yemen are fully operational.
Al-Malki renewed the coalition and the Yemeni government's rejection of the experts' reports on human rights in Yemen.
He also stressed on the need to take a tougher stance when it comes to the Houthis' violations, adding that they are increasing the suffering of the Yemeni people.
Full report at:
https://english.alarabiya.net/en/News/gulf/2018/10/02/Arab-Coalition-We-refuted-Houthi-s-violations-with-the-UN-s-message.html
--------
Over 50 injured as Israeli forces use live fire to disperse Gaza protesters
Oct 1, 2018
More than 50 Palestinians have been injured by Israeli gunfire and tear gas at the border of the besieged Gaza Strip with the occupied territories, as a fresh round of protest rallies drew several thousand Palestinian demonstrators to the flashpoint frontier.
According to the Palestinian Ma'an news agency, clashes erupted on Monday after thousands of protesters gathered near sea port in the northern Gaza Strip to challenge the years-long Israeli siege on the coastal enclave.
The Tel Aviv regime's troops used live ammunition and fired teargas canisters to disperse the protesters.
Local sources said that at least 51 Palestinians were injured, including some 10 by Israeli live fire. Dozens more suffered from tear gas inhalation.
The latest clash comes after seven people lost their lives by Israeli live fire during multiple protests held across the Gaza Strip on Friday evening. Another 506 protesters were also injured.
Meanwhile, Gaza's national Committee for Breaking the Siege, which organized the march, said that it would launch further such rallies until Israel overturned the blockade of the Palestinian enclave.
The Gaza Strip has been under a crippling Israeli siege since 2007, which has prevented some two million Palestinians from having free access to the remainder of Palestine and the outside world. The blockade has also undermined living conditions in the coastal enclave and fragmented its economic and social fabric.
Over the past few years, Israeli forces have conducted more than a hundred assaults on Palestinian boats that the Tel Aviv regime says seek to violate the blockade, detaining dozens of fishermen and confiscating several boats. According to Israeli human rights group, B'Tselem, Israel's Gaza siege and "harassment of fishermen" have been "destroying Gaza's fishing sector," with 95 percent of fishermen living below the poverty line.
The Tel Aviv regime carries out regular attacks on Gaza inhabitants under the pretext of hitting positions belonging to the Hamas resistance movement, which governs the territory.
The coastal sliver has also witnessed a fresh wave of deadly tensions since March 30, which marked the start of a series of protests demanding the right to return for the Palestinians driven out of their homeland.
More than 190 Palestinians have so far been killed and over 20,000 others wounded in the renewed Gaza clashes, according to the latest figures released by the Gaza Health Ministry.
The Gaza Strip and the occupied territories have been the scene of new tensions ever since US President Donald Trump on December 6, 2017 declared Washington's recognition of Jerusalem al-Quds as Israel's "capital" and promised that the US would move its diplomatic mission to the city.
Full report at:
https://www.presstv.com/Detail/2018/10/01/575772/Palestine-Gaza-Tel-Aviv--alQuds-Jerusalem
--------
Dozens injured as Palestinians clash with Israeli forces over nation-state law
Oct 1, 2018
Dozens of people have sustained injuries when Palestinians engaged in clashes with Israeli military forces across the West Bank in protest against the passage of a controversial law in the Israeli parliament, which defines the occupied territories as the so-called nation-state of the Jewish people.
A group of young Palestinian men converged at the northern entrance of the central West Bank city of Ramallah, located 10 kilometers (6 miles) north of Jerusalem al-Quds, setting tires on fire and throwing rocks at Israeli forces.
Israeli soldiers, in return, fired rubber-coated steel bullets, tear gas canisters and sound bombs to disperse the protesters.
Local sources, requesting anonymity, said three people, including a journalist, were struck with rubber bullets while scores of others suffered tear gas inhalation.
Moreover, ten Palestinians suffered breathing difficulties as Israeli soldiers hurled tear gas canisters at protesters in al-Eizariya town, which lies in Area C of the West Bank, and Abu Dis village.
Israeli forces also raided Jabel Mukaber neighborhood in the southern part of East Jerusalem al-Quds, prompting scuffles with local residents. There were no immediate reports of injuries.
Skirmishes also broke out in the northern West Bank cities of Qalqilya and Nablus, during which Israeli soldiers fired live bullets and sound bombs. No injuries have been reported as of yet.
The occupied West Bank and besieged Gaza Strip witnessed a general strike on Monday in protest at the recently passed nation-state law.
The strike was called for by Palestinian national and Islamic factions.
The apartheid 'Jewish nation-state' law, adopted by 62 votes to 55 on July 19, makes Hebrew Israel's official language and defines the establishment of settlements as being in the Tel Aviv regime's interest.
The legislation also strips Arabic of its designation as an official language, downgrading it to a "special status" that enables its continued use within Israeli institutions.
It stipulates that "Israel is the historic homeland of the Jewish people and they have an exclusive right to national self-determination in it". It also states that an undivided Jerusalem is the "capital" of Israel.
Palestinian President Mahmoud Abbas has condemned the Israeli law, saying it "will not change the historical situation of Jerusalem al-Quds as the capital of the occupied State of Palestine."
"No peace or security will prevail unless the city remains as such," Palestinian Wafa news agency quoted Abbas as saying in a statement.
The statement added that "the law will not discourage Palestinians from their legitimate struggle to defeat the occupation and establish their independent state."
Palestine Liberation Organization Secretary General Saeb Erekat also took to Twitter to censure the law, saying the bill "officially legalizes apartheid and legally defines Israel as an apartheid system."
Full report at:
https://www.presstv.com/Detail/2018/10/01/575757/Dozens-injured-as-Palestinians-clash-with-Israeli-forces-over-nationstate-law
--------
Turkey's Erdogan hopes to rebuild US ties despite pastor row
October 01, 2018
ANKARA: President Recep Tayyip Erdogan on Monday said Turkey hoped to rebuild relations with its NATO ally the United States following a bitter standoff over the detention of an American pastor.
"God willing, we hope to solve the problems with America within the shortest time and redevelop relations in the political and economic fields with the spirit of strategic partnership," Erdogan said in an address to the opening of parliament.
The dispute has centered on the almost two-year detention of evangelical pastor Andrew Brunson on terror-related and espionage charges, and caused the Turkish lira to take a beating.
President Donald Trump said he had doubled tariffs on Turkish aluminum and steel over Brunson's detention, with Ankara responding in kind.
"We are determined to fight — within the boundaries of diplomacy and law — against this distorted approach which imposes sanctions on our country by using as a pretext a priest who is on trial for his murky relations with terror groups," Erdogan said.
Erdogan accused Washington of going down the "wrong path of seeking to solve political and legal problems through threats and blackmail rather than dialogue."
This would "actually cause the biggest harm to the United States in the medium and long term," he added.
Brunson, who has lived in Turkey for a quarter-century, runs a small evangelical Protestant church in the western city of Izmir. He is currently under house arrest.
He was detained on allegations of assisting groups branded as terrorist as part of a crackdown by the Turkish government following a failed coup in 2016.
Last month, US Secretary of State Mike Pompeo expressed hope Turkey would release the pastor, whose next hearing is scheduled for October 12.
Abdulkadir Selvi, a pro-government columnist in the Hurriyet daily, wrote that the court might rule on the lifting of Brunson's house arrest and travel ban, allowing him to return home.
"In this case, we might see Brunson walking down the stairs of the plane in the United States on October 13," he wrote.
Erdogan went to New York last week to attend the annual UN general assembly meetings and had a brief handshake with Trump on the sidelines.
Full report at:
http://www.arabnews.com/node/1380811/middle-east
--------
Southeast Asia
I don't go to temples to pray, Anwar tells Hadi
01 October 2018
PORT DICKSON, Oct 1 — PKR president-elect Datuk Seri Anwar Ibrahim today dismissed a criticism by PAS president Datuk Seri Abdul Hadi Awang that he is inconsistent when addressing voters of various races and religions during the campaign for the Port Dickson parliamentary by-election.
Anwar said Islam does not prohibit respect for the right of other people to practise their religions.
He said that when PAS was in the then Pakatan Rakyat, along with PKR and DAP, it did not object to him attending events at Hindu temples and many PAS members also came along with him.
"As such, I do not want to comment on or respond to Abdul Hadi's statement. Lately, many quarters have criticised me; I do not want to respond.
"What's important is that we must realise that Islam does not prohibit respect for others to practise their own religion. I do not go to temples to pray; I attend cultural events in the temple compounds. I will continue doing that," he said.
Anwar spoke to reporters at the Pakatan Harapan main operations room for the Port Dickson parliamentary by-election here.
Abdul Hadi, at a press conference after a PAS 'ceramah' (talk) here yesterday, said Anwar should be more consistent in his Islamic practice.
Responding to a question about the PAS president asking why he did not choose to contest in a Malay-majority area, Anwar said Port Dickson reflected the structure of the Malaysian community comprising various races.
"If I were to contest in a Malay-majority area, they will ask why I am not contesting in a multiracial area," he said.
Anwar said the Port Dickson voters were made up of almost 50 per cent Malays, 30 per cent Chinese and 20 per cent Indians.
Asked about the lack of PKR leaders campaigning for him, Anwar said he had advised them not to neglect their responsibility to ensure the victory of the party's candidate in the by-election.
The by-election is being held after the seat was vacated by Datuk Danyal Balagopal Abdullah, 68, of PKR to enable Anwar to contest and become an MP.
The by-election is a seven-cornered contest involving Anwar, Royal Malaysian Air Force (RMAF) retiree Lt Col (Rtd) Mohd Nazari Mokhtar (PAS) and four independent candidates — Mohd Saiful Bukhari Azlan, social media personality Stevie Chan Keng Leong, Kan Chee Yuen and former lecturer Lau Seck Yan.
https://www.malaymail.com/s/1678275/i-dont-go-to-temples-to-pray-anwar-tells-hadi
--------
U.N. rights expert urges Malaysia to end child marriage
01/10/2018
KUALA LUMPUR (Reuters) - Malaysia should ban child marriage immediately, a United Nations human rights expert said on Monday, stepping into a controversy that has raged since reports in July that a 44-year-old Malaysian man had married an 11-year-old Thai girl.
Prime Minister Mahathir Mohamad's government, in power since May, has promised to raise the legal age of marriage to 18, provoking a backlash from some conservative Islamic leaders who argue that early marriage provides an answer to social ills like premarital sex and pregnancies out of wedlock.
Maud de Boer-Buquicchio, the U.N. special rapporteur on the sale and sexual exploitation of children, urged Malaysian authorities to protect the rights of minors, particularly young girls.
Married underage girls were at higher risk of domestic violence, and are often denied the chance to pursue an education, she told reporters.
"By marrying them, you are denying these girls their basic human rights," said de Boer-Buquicchio, who was on an eight-day visit to mostly-Muslim Malaysia.
In Malaysia, the legal minimum age for marriage under civil law for both genders is 18. However, girls can marry at 16 with the permission of their state's chief minister, while Islamic law sets a 16-year minimum age for girls and allows even earlier marriages with the permission of the sharia court.
The U.N. official called on Malaysia to remove exemptions that allowed underage children to marry, saying "there can be no exceptions."
More than 5,000 applications for marriages involving minors were made at the sharia court between 2013 and 2017, government statistics show.
But many child marriages remained unreported, particularly among indigenous groups on Borneo, in Malaysia's east, de Boer-Buquicchio said.
"It is time to be firm," she said, adding that Malaysia's government should engage religious and customary leaders on the issue.
"The political will is there, but the question is how you can reach out to all the different entities."
Full report at:
https://www.euronews.com/2018/10/01/un-rights-expert-urges-malaysia-to-end-child-marriage
--------
Malaysia no longer supports Suu Kyi: Mahathir
Oct 02, 2018
PETALING JAYA • Malaysia will no longer lend its support to Myanmar leader Aung San Suu Kyi over her handling of the Rohingya crisis, Prime Minister Mahathir Mohamad said.
Ms Suu Kyi seemed to be a "changed person" and he had lost faith in her, said Tun Dr Mahathir. "She did not want to say anything against the action taken by the (Myanmar) military against the Rohingya. So, we made (it) quite clear that we don't really support her any more," he told host Ghida Fakhry of the Turkish international news channel TRT World last Saturday.
The interview was held on the sidelines of the United Nations General Assembly (UNGA) in New York before he left for London.
Dr Mahathir said that when Ms Suu Kyi was under house arrest, Malaysia campaigned to get her released. But when he wrote to Ms Suu Kyi, he did not receive any reply and was "very disappointed".
"We have complained to the world about the treatment of the Rohingya. In fact, we have ourselves received quite a lot of Rohingya people in our country," he said.
Dr Mahathir had addressed the UNGA last Friday over the plight of Myanmar's Rohingya Muslim minority, who have been driven to Bangladesh in huge numbers.
He criticised the authorities in Myanmar and Ms Suu Kyi for denying that the Rohingya people were being murdered and their homes torched, with over a million refugees forced to flee. Dr Mahathir also questioned the world for keeping silent on the massacre.
Several other countries have similarly criticised Ms Suu Kyi. There have been calls to revoke the Nobel Peace Prize awarded to her in 1991, while Canada has stripped Ms Suu Kyi of her honorary citizenship.
Responding to Dr Mahathir's speech at the UN, Klang MP Charles Santiago said yesterday the government needs to also have the political will to promote and protect the rights of refugees in Malaysia.
Full report at:
https://www.straitstimes.com/asia/se-asia/malaysia-no-longer-supports-suu-kyi-mahathir
--------
3 Churches Closed in Indonesia; Christian Group Pledges Legal Aid
October 01, 2018
JAKARTA, INDONESIA —
Authorities on Indonesia's Sumatra Island have sealed three churches that officials said lacked necessary permits.
The Communion of Churches in Indonesia (PGI) is dispatching a legal team to assist the churches that were closed September 27. PGI General Secretary Gomar Gultom told VOA's Indonesian Service on Friday that the legal team will take a cultural approach "rather than a legal approach" which takes a long time. "The legal process is our last resort," he added.
The move by officials in the West Kenali village of the Alam Barajo district of Jambi province is the latest push to close churches in a move that followed more than 1,000 closures in more than a decade.
Until then, Indonesia had a reputation for an interpretation of Islam that embraced religious tolerance. But Muslim extremists have been urging the adoption of Islamic law throughout Indonesia, creating religious divides.
A civil court found the Christian governor of the capital, Jakarta, guilty of blasphemy in May 2017. However, in predominantly Christian Papua, the Protestant Communion of Churches in Jayapura wanted a mosque's minaret torn down because it was taller than church steeples in the area.
In Jambi, the city's Civil Service Police (Satpol PP) sealed the three churches — Indonesia Christian Huria HKI (Huria Kristen Indonesia), Indonesian Methodist Church GMI (Gereja Methodist Indonesia) and God's Assemblies Church GSJA (Gereja Sidang Jemaat Allah) — on Thursday morning. According to numerous posts on Facebook, the authorities cited violation of public order and building permit ordinances. Dozens of congregants wept as the churches were closed.
Most worrisome to PGI is that the churches were closed for administrative reasons because religious freedom is guaranteed by Indonesia's constitution. "The local government keeps delaying the process to have the permit, or just reject it without any reasons," said Gultom.
"There are thousands of other places of worship that don't have permits, but continue to operate," he said. "I just can't understand why they won't let us have our churches. I can understand if [the local government] prohibited us from having the permits if we used the buildings for criminal activities, but we used them to praise God."
The head of the National and Political Unity Agency (Kesbangpol) of Jambi, Liphan Pasaribu, told local media that the church closures were the result of a joint decision made Wednesday by several government agencies and the police, as well as the local chapters of Indonesia's top Muslim clerical body, the Ulema Council (MUI), and the Religious Harmony Forum (FKUB).
Jambi District Spokesman Abu Bakar told VOA that the church closures were "just a temporary action due to objections" from the local community upset by the violation of "administrative issues. The Religious Harmony Forum decided to close the churches to avoid unnecessary incidents. We think it's a wise decision to cool down the situation."
He denied that the Islamic Defense Front (FPI), a far-right Islamist group, had urged local authorities to close the churches, and added that if the churches file the necessary documents, permits will be issued within a week.
Full report at:
https://www.voanews.com/a/three-churches-closed-indonesia-christian-group-pledges-legal-aid/4594407.html
--------
India
Rising trend of burqa-clad terrorists worry forces
Oct 2, 2018
NEW DELHI: The revelation that the terrorists who killed a policeman and snatched away his rifle, during an attack at a police station in south Kashmir's Shopian on Sunday, were wearing burqas to hide their identity has left the security forces alarmed. Officials say there has been a rise in the trend of terrorists using this disguise during an attack or cordon and search operations.
According to officials, more than a dozen such instances have been confirmed in the last one year and the actual number of them going unnoticed may be much higher. Security forces are now mulling the possibility of having woman troops on standby during search operations.
"It has often been noticed during CASOs that a lot of locals, with women in large numbers at the front, began to run around in order to give cover to the fleeing ultras. This creates confusion and many a times terrorists manage to escape," he added.
Another officer recalled an operation conducted around the Republic Day this year in which this confusion had led to two women sustaining gunshot injuries during an intense encounter. Security forces had been trying to capture two Hizbul Mujahideen terrorists in Shopian district of Kashmir. However, the duo, later identified as, Sameer Ahmed Wani and Firdaus Ahmed, tried to flee the village wearing burqas. As locals and family members ran around with them to provide cover, two women, including Wani's sister, was shot at. The duo was ultimately gunned down as well.
Just a month later in February, burqa-clad terrorists handed over weapons to LeT deputy commander Abu Hanzullah aka Naveed Jatt at a hoapital. He escaped from custody with four others after shooting two policemen.
Officials say that terrorists had used the burqa to hide their identity in the past as well but those were one off incident reported once in a while. Since last year, this has become a trend.
In July, 2017, three burqa-clad terrorists robbed a bank in Jammu and Kashmir's Anantnag and escaped with over Rs 5 lakh.
This was one of the first major incidents in the last one year involving terrorists in this disguise.
In February and March, two incidents of terrorists wearing burqas hurling grenades par police stations came to fore. In one of these incidents, a terrorists blew himself as he tried to escape after hurling the grenade at a police station in Tral.
In January this year, Lashkar-e-Taiba had issued a fatwa against women who did not observe complete 'parda'. It specifically mentioned women of Shopian area in Kashmir.
https://timesofindia.indiatimes.com/india/rising-trend-of-burqa-clad-ultras-worry-forces/articleshow/66037794.cms
--------
Muslims Are Ram's Descendants, Should Help Build Temple: Union Minister
October 02, 2018
MATHURA: A few days after right-wing ideologue Mohan Bhagwat claimed that all Indians are Hindu by identity, Union Minister Giriraj Singh today asked Muslims to help construct a Ram temple in Ayodhya because they are "descendants of Lord Ram and not Mughal Emperor Babur".
Mr Singh followed up his controversial claim with a warning. "If Hindus run out of patience, they will take over Mathura, Ayodhya and Kashi," news agency ANI quoted him as saying.
This assertion by the Union Minister comes at a time when Hindutva groups are mounting pressure on the centre to ensure the speedy construction of the temple at the venue believed to be the birthplace of Lord Ram. On September 27, a three-judge bench led by Chief Justice of India Dipak Misra had refused to revisit a 1994 ruling that the government can acquire land that a mosque is built on -- a decision that paved the way for the politically charged temple-mosque dispute to be taken up without further delay.
Mr Singh also slammed the opposition Congress on the occasion, accusing party president Rahul Gandhi of expelling members who worship Lord Shiva and then chanting "Har Har Mahadev". "If you are true Hindus, stop having beef at your parties and don't visit temples only before the elections," he said.
This is not the first time the Union Minister has tried recruiting Muslims for the cause of building the Ram temple. "I believe our side is stronger. We will respect the court's decision but I would say that other Muslims should support the Ram temple like our Shia brothers have done. They should let go of their obstinacy because we are both descendants of Hindus," he had said a few months ago.
The Shia Waqf Board seems relatively amenable to letting Hindu groups construct a Ram temple at Ayodhya. In July, it expressed willingness to donate one-third of the land granted to Muslims by the Allahabad High Court if such an act would help bring about a peaceful resolution to the dispute. The proposal was summarily rejected by other Muslim groups, including the Sunni Waqf Board.
Full report at:
https://www.ndtv.com/india-news/muslims-are-lord-rams-descendants-should-help-build-ayodhya-temple-union-minister-giriraj-singh-1925310
--------
Bodh Gaya Blast: NIA Says Explosive Set Off To Show Solidarity With Rohingyas
Oct 1, 2018
Two persons arrested near here in connection with the bomb blast in Bodh Gaya in January last had allegedly planned to set off the explosives to express solidarity with Rohingya Muslims fighting the Myanmar government and wage war against the government of India, the NIA said.
A low-intensity blast was reported at a kitchen set up at a ground in the temple town of Bodh Gaya on January 19, causing panic among devotees gathered to hear Tibetan spiritual leader the Dalai Lama's discourse. The explosion was supposed to be carried out when the Dalai Lama and the governor of Bihar were at the Bodhgaya Buddhist temple premises, NIA said in a release.
Their objective was to "carry out explosions at the symbols of Buddhist faith in order to show solidarity with the Rohingya Muslims fighting with Myanmar government and cause loss to public life and property, to wage war against Government of India," according to the NIA. The NIA has so far arrested seven people including Jamaat-ul-Mujahideen's top leader Mohammed Jahidul Islam and Sheikh while Arif Hussain alias Anas of Assam is still absconding.
The NIA had arrested Jahidul Islam, resident of Jamalpur in Bangladesh, and Adil Sheikh alias Asadullah, resident of Murshidabad in West Bengal, on August 6 and August 7 this year respectively, from Ramanagar near Bengaluru.Islam with the help of other co-accused allegedly made three Improvised Explosive devices and two hand grenades while Adil Sheikh, Dilwar Hossain and Arif Hussain allegedly planted the bombs on the premises of the temple on January 19, the release said.
Full report at:
https://www.dnaindia.com/india/report-bodhgaya-blast-nia-says-explosive-set-off-to-show-solidarity-with-rohingyas-2670275
--------
Sheikh Hasina's dismissal of 'termites' remarks aside, India-Bangladesh ties face acid test ahead of General Elections
Nazmul Ahsan
Oct 02, 2018
Bangladesh's prime minister Sheikh Hasina has played down the "illegal" Bangladeshi issue that has plagued the Indian political scene for years. The prime minister, who was in New York to attend the United Nations General Assembly's annual summit, was responding to a question from Voice of America's veteran journalist Sarkar Kabiruddin about whether she was worried by the incendiary remarks made by Indian ruling party politicians about "illegal" Bangladeshis.
"It may be their internal politics," she replied with laughter, "I do not think that any Bangladeshis live there illegally."
"Our economy is strong and robust. Why would people take the trouble to go there and live like an illegal?" Referring to those excluded from India's National Register of Citizens (NRC), Hasina said, "[They are] their own nationals. And, if they call them illegal now, it's up to them."
"However, I talked about it to some extent. I have had talks with the Indian prime minister. He assured me that they did not have any plans like pushing people [into Bangladesh]," she added. As concerns have grown in Bangladesh about the increasingly hostile political situation over the issue, Indian officials have sought to reassure their Bangladeshi counterparts, both publicly and privately, that they need not worry.
Indian High Commissioner to Bangladesh Harsh Vardhan Shringla said in August that the NRC was India's internal issue and that there was nothing for Bangladesh to worry about. However, BJP chief Amit Shah's recent remarks describing Bangladeshis as being "termites" eating into India's resources triggered sharp criticism from many quarters in Bangladesh.
"His tone was one of fury, an attitude Indian politicians usually reserve for Pakistanis. But describing Bangladeshis as having entered India in unauthorised manner and insulting them as termites hits a new low even for the BJP," wrote Syed Badrul Ahsan in a widely-shared column for Dhaka Tribune. He even evoked an analogous incident in Rwanda, where the minority Tutsis were referred to as cockroaches by the majority Hutus, only to be killed in hundreds of thousands within a matter of days.
Other commentators fear a Rohingya-like crisis that led to an exodus of nearly a million of Rohingya Muslims from Myanmar into Bangladesh, having been subjected to what the UN termed "a textbook example of ethnic cleansing" in Rakhine, Myanmar, where they lived for generations until recently.
However, Hasina's government has exercised remarkable restraint by not criticising Shah's remarks. Apart from a mild reaction by Information Minister Hasanul Huq Inu, the Bangladesh government has refrained from issuing any official statement. In a brief interview with NDTV, Inu, who heads a faction of a small party in the ruling coalition, termed Shah's comments as "unwanted" and "not proper". He, however, explained that the government would not take up this issue bilaterally because it believes Shah does not represent the Indian government.
Meanwhile, Bangladeshi Opposition party BNP's secretary general, Mirza Fakhrul Islam Alamgir, said the "termite" remark could very well turn out to be an issue in Bangladesh's upcoming General Election due to be held in December. "Issues raised by Indian leaders should be addressed by dialogue across the table. His [Shah] comments about people of Bangladesh are not helpful for Dhaka-Delhi relations and given the political situation of Bangladesh, this unwanted comment may come up in the elections," he told The Hindu.
Full report at:
https://www.firstpost.com/india/sheikh-hasinas-dismissal-of-termites-remarks-aside-india-bangladesh-ties-face-acid-test-ahead-of-general-elections-5298931.html
--------
This school in Malaysia reveres Mahatma Gandhi every day
Oct 2, 2018
Nothing in the nearly 3-hour drive through a vast expanse of lush fields and hills, from Kuala Lumpur to Sungai Siput, a small sub-district of the royal town of Kuala Kangsar, prepares one for this. A simple but imposing Mahatma Gandhi statue ensconced in the reception cum prayer hall of a school has been greeting visitors since 1954.
The Mahatma Gandhi Kalasalai, as the Tamil school is called, is an edifying tribute to India's Father of the Nation, in the Malayan Peninsula, by the founding father of Malaysian Independence, late V T Sambanthan.
The school reveals a rich history of the close ties between India and the British ruled Malaya in the 1950s; Mahatma Gandhi Kalasalai was inaugurated by Vijaya Lakshmi Pandit, who was at the time the first woman president of the UN General Assembly.
"Three European plantation managers were shot dead by the communists in 1948, in Sungai Siput, and the town had become a hotbed of communist guerillas. Emergency was declared, and the then high commissioner of Malaya, Gerald Templer, was against this visit for safety reasons. However, Sambanthan convinced him that Vijaya Lakshmi Pandit was the best leader to inaugurate a Gandhi school," Sambanthan's wife Uma recalls.
The decision to build a school and name it after Mahatma Gandhi was taken in 1951 but there was no state fund available. The school was shaped up, brick by brick, with passion and dedication of the town's Indian community.
While immigrants A Veeraswamy and A M S Suppiah Pillay, who had left the shores of India in the latter part of the 19th century, cleared their coconut plantation estate to donate 2 acres of land for the school, it was left to Veeraswamy's son Sambanthan and Pillay's son Periaswamy to plunge into the task of arranging funds. They donated $25,000 each for building classrooms, and engaged the famous Danish architect B M Iversen. Responding to the call of educating and liberating the poor plantation workers' children, the labourers too responded with a total donation of $7000.
Full report at:
https://timesofindia.indiatimes.com/india/this-school-in-malaysia-reveres-mahatma-gandhi-every-day/articleshow/66036074.cms
--------
India, Uzbekistan to work together to stabilise Afghanistan
Oct 2, 2018
NEW DELHI: India and Uzbekistan agreed to work together to stabilise Afghanistan following talks between Uzbek President Shavkat Mirziyoyev and Prime Minister Narendra Modi during the former's maiden visit to India.
Addressing the media after their discussions, Modi said, "Both India and Uzbekistan aspire towards a safe and prosperous external environment.
We appreciate their efforts in maintaining regional peace and stability. I can assure you that India will help in your efforts. Both India and Uzbekistan wish a democratic, stable and prosperous Afghanistan."
Modi added that India would provide a $200 million line of credit for lowcost homes and such other social infrastructure projects in Uzbekistan. "In addition, we welcome the proposals of Uzbekistan in line with $800 million lines of credit and 'buyers credit' by Exim Bank."
Uzbekistan also used the occasion to indicate that it would join the International North-South Transport Corridor.
The joint statement also records India's gratitude for Uzbek help in getting India to join the Ashgabat Agreement. Both sides committed to starting negotiations for India-Uzbekistan Preferential Trade Agreement by the end of 2018.
Ajoint statement between the two countries "reiterated support for efforts of the government and the people for a genuine Afghan-owned, Afghan-led and Afghan controlled peace and reconciliation process that would allow for a peaceful, secure, united, inclusive and prosperous nation.
The sides shared the view that countering terrorism in all its forms and manifestations without distinction is important for peace and security in Afghanistan."
Full report at:
https://timesofindia.indiatimes.com/india/india-uzbekistan-to-work-together-to-stabilise-afghanistan/articleshow/66035923.cms
--------
Gandhiji's ideas are relevant today more than ever: Freedom fighter H.S. Doreswamy
OCTOBER 02, 2018
The forces that killed Mahatma Gandhi are reigning today, making him all the more relevant, nearly seven decades after his assassination.
Gandhiji gave up his life for Hindu-Muslim unity and fell to the bullets of the Hindutva right. We need to tell Hindus today about the dangers of Hindutva politics and how far away it is from the core values of Hinduism.
Likewise, we should also hold the opposition accountable for not being truly secular and degenerating into vote-bank politics and casteism, letting religious seers wield power.
We can unite and fight these forces through the ballot and we know how to do that. But Gandhiji can show the way to fight it socially. The social fabric of the country has degenerated to a great extent reflected in the lynchings of minorities and Dalits becoming commonplace. Gandhiji, were he alive today, would have attempted to mend fences between communities and religions through inter-faith dialogues. Creating such spaces is the need of the hour.
As a 23-year-old youth, when I participated in the Quit India movement in 1942, we were bombing post boxes and government record rooms. I had no clarity on Gandhian non-violence then. But, I later acquired clarity on the power of non-violence and satyagraha and successfully implemented it in several struggles.
In 2013, I was travelling on the outskirts of Bengaluru and was assaulted by an unbearable stench near a village. I followed the smell and found Mandur, a village where all of the city's garbage was being dumped making life difficult for the residents.
I felt, as a Bengalurean, that I was guilty and had to atone and started a satyagraha, which stopped garbage dumping in Mandur.
Full report at:
https://www.thehindu.com/news/national/karnataka/his-ideas-are-relevant-today-more-than-ever/article25100105.ece
--------
Mumbai-Jodhpur flight passenger alleges terrorists on board, arrested for misleading police
Oct 02, 2018
A man's attempt to frame Karnataka police personnel, who were travelling on a Mumbai-Jodhpur flight on Monday in search of a boy who was reported missing from Karnataka, lead to a hijack scare.
Air India flight 645 was cruising when a passenger informed crew about suspicious activity of four passengers and suggested that they could be terrorists. The crew informed the pilot, who informed the air traffic controller and requested for the presence of security personnel upon arrival.
As the plane landed, personnel from the Central Industrial Security Force (CISF) entered the aircraft and detained some passengers.Police began questioned the four suspects.
But hours of questioning twisted the entire incident and the complainant turned out to be the accused.
"The passenger, who raised an alarm, was unemployed and went to Hyderabad and Bengaluru in search of a job. He saw a poster of a missing 15-year-old boy from Mysore and contacted the boy's parents and the police station concerned and gave them wrong information that the missing boy was in an ashram near Jodhpur city and he can help them reach the boy," said deputy commissoner of police (DCP) (east) Amandeep Singh Kapoor.
Assuming the information given by the youth was correct, a head constable and a constable of the Mysore police and the boy's parents left for Jodhpur on Monday morning along with the youth, whose boarding pass was issued on the basis of a fake identity card.
According to a CISF official, the person was not aware that police personnel were also travelling with the boy's parents, and was hoping to take money from the missing boy's father and run away after landing in Jodhpur.
According to Kapoor, it was confirmed in the investigation that the four suspects were two policemen and the parents of the boy. The police filed a case against the youth on the complaint of the Airport Authority of India (AAI) and he has been arrested.
Full report at:
https://www.hindustantimes.com/india-news/mumbai-jodhpur-flight-passenger-alleges-terrorists-on-board-arrested-for-misleading-police/story-bSK6r87pbxa29Ln5aLebeK.html
--------
Jammu and Kashmir cop accused of stealing 8 guns seen with Hizbul militants in photo
Oct 01, 2018
A special police officer (SPO) in Jammu and Kashmir who ran off with firearms from a PDP lawmaker's house in Srinagar appears to have joined militant group Hizbul Mujahideen. According to a photograph being circulated on social media, Adil Bashir is seen in the company of four Hizbul militants holding two weapons.
Adil Bashir had told guards at the PDP lawmaker Aijaz Ahmad Mir's official residence in the city's high-security area that he had come to clean the house as the legislator was supposed to return later on Saturday evening.
By evening, however, the SPO disappeared with seven AK-47 rifles and lawmaker Ajaz Mir's licensed pistol.
Dilbagh Singh, the Jammu and Kashmir police chief, said the police had some leads about people who might have helped him and "are working on those leads".
In the last few years, there have been several incidents of policemen and SPOs deserting the force along with weapons to join militant groups have been reported. This is the first time that a policeman has deserted the force with such a large number of weapons.
Full report at:
https://www.hindustantimes.com/india-news/jammu-and-kashmir-cop-accused-of-stealing-8-guns-seen-with-hizbul-militants-in-photo/story-XSF3NJzM4YcBzLSAttnwKP.html
--------
North America
As a mother — and a Muslim — in America, I see our flaws and failures, but also our potential
Oct. 1, 2018
My son is named Jibreel, which is Arabic for Gabriel. I wanted him to have a strong name, one he could draw inspiration from. A line was drawn in the sand for him before he was born. He sits on one side of it and doesn't know the line is there because he's only 2 years old. Baby J is consumed with his garbage trucks, cement mixers and kicking his soccer ball around the house.
Meesha is 10 and plays soccer, like a boss. We joke that she'll have only her first name on the back of her jersey, like a Brazilian. Meesha is a Farsi word meaning "always springtime, always in bloom." I'm glad my baby plays soccer, and I am more grateful that soccer builds strength and courage. If she ever gets shoved, Meesha will know how to hold her own. My daughter already knows a line is there.
As a parent, I cringe knowing I cannot protect my children from hate. They will walk into it like a glass door, painfully, jarred into reality. I hope I can equip them with the tools to see the glass door for what it is, but also to have the strength to find the catch and throw the door wide open. But I still worry, because it took me years to come to terms with how to deal with hate.
Some people hate, others comfort
I was 22 the first time I was attacked for being Muslim. After 9/11, I was run off the road while driving, yelled at and humiliated on a plane, spit on and cursed at. My crime was being a visible Muslim woman who wore a headscarf. I was attacked in this way in public, in broad daylight, surrounded by people, in good neighborhoods.
I sometimes think about the old man who verbally attacked me and mostly humiliated me on that plane. I also wonder about the flight attendants and all of the people who watched and did nothing. But I mostly wonder about the woman who held me in the aftermath of that threatening confrontation. I can't even remember her face, just the view of her lap as I cried in her arms.
Her kindness saved me from breaking. Why did she help me and how had she become that way? And why did that older man hate me when we had never met before? How was I on one side of the line for her and the other for him?
I wish that older man could join us on the sideline as we cheer for Meesha shutting down a goal. What would he think of our mad rush for the front door so Baby J can watch the garbage truck take our trash? Would he feel disdain for my love affair with hot sauce? Would he be surprised to know that my husband does all of the grocery shopping and has a wicked sense of humor?
I'll never know the answers to these questions. Oddly, I have learned that most people do care about these details. And for many, they don't realize their misconceptions until it hits them in the face, like a glass door.
Of course my baby boy loves garbage trucks. And, yes, my baby girl plays sports. And they both love professional soccer player Lionel Messi, a Catholic, but also Paul Pogba, a Muslim. And wow, you never realized a Muslim could be funny? Right, because we are always praying, and plotting, and that freaky music from "Homeland" is piped into every room in our homes.
Changing the world, one connection at a time
It has taken me years to heal. And sometimes, I'm still shocked by how simple and powerful personal connection can be. Every time I tell my story, I rip my scabs open again. And I will continue to do it if it means changing even one person's heart or mind. Until every heart is open and every mind is willing, I will show up and do the work to help us see past our differences.
As a parent, it's the least I can do, to build a better world for my babies. And yours. And let's be honest, that's part of our problem. Not mine, not yours, but the emphasis should be on ours.
My name is Muna; it means "something you wish for" in Arabic. My wish is that we work to build love and understanding, one day at a time. We will join hands, and form lines of strength and courage. Together, we will open doors, with courage, to bring people in from the cold. There's more than enough room in my heart, and I know there is in yours.
https://www.usatoday.com/story/opinion/voices/2018/10/01/muslim-hate-crime-adl-family-column/1472702002/
--------
Iran not to sit for talks with unreliable, unrealistic US, FM Zarif says
Oct 2, 2018
Iranian Foreign Minister Mohammad Javad Zarif says Iran will not sit for talks with the US as long as it sees no reliability and realism on the other side.
"I'm not ruling out the prospect of talks provided the necessary conditions for talks, and that is reliability," Zarif said in response to a question about the possibility of bilateral talks between Tehran and Washington.
He made the remarks in an exclusive interview with The New Yorker, which was conducted in New York on Saturday and published on Monday.
"Reliability is different from trust. Reliability is that when you sign something you are bound by it," the Iranian top diplomat noted. He then cited an old Latin idiom, Pacta sunt servanda, which means "treaties shall be complied with", and described it as the basis of international relations.
"Otherwise everything will fall apart… We are waiting for some sense of realism," Zarif added.
Zarif further noted that the relationship between Iran and Washington needs to be based on some foundations, and the Iran nuclear deal could be the one if the US had remained in it.
"That is a hundred and fifty pages long. It's not a two-page document," Zarif said, sarcastically referring to US President Donald Trump's agreement with North Korean leader Kim Jong Un, at their June summit.
Back in May, Trump withdrew his country from the 2015 nuclear deal between Tehran and world powers, officially known as the Joint Comprehensive Plan of Action (JCPOA). Since then, the remaining parties to the deal, including France, Germany, the UK, Russia, and China, are trying to convince Tehran to remain in the multilateral agreement.
Last Monday, European Union's Foreign Policy Chief Federica Mogherini announced, in a joint press conference with Zarif in New York, the E3+2 group of countries will establish a 'special purpose vehicle' to facilitate payments related to Iran's exports as part of efforts to salvage the 2015 deal.
Full report at:
https://www.presstv.com/Detail/2018/10/02/575794/Iran-US-negotiation-reliability
--------
For Islamic history month, let's remember our collective compassion
SHEEMA KHAN
In 2007, Parliament designated October as Canadian Islamic History Month, thereby providing an opportunity to recognize the rich contributions made by Canadian Muslims toward shaping our nation. During this month, diverse Muslim communities across the land will share their teachings, their achievements and their history, which sadly includes Jan. 29, 2017 - a day of infamy.
That evening, Alexandre Bissonette entered the Islamic Cultural Centre of Quebec with the intent of slaughtering defenceless worshippers. Six Muslims were murdered in cold blood, 19 injured, while 17 children were left fatherless.
In the aftermath, the National Council of Canadian Muslims issued a call to recognize Jan. 29 as a national day of remembrance and action against Islamophobia. Earlier this year, NCCM repeated the plea in an open letter to the Prime Minister, supported by 77 Canadian Muslim organizations and 26 Community partners. The call is based on the precedent of recognizing Dec. 6 as a National Day of Remembrance and Action on Violence against Women, following the 1989 massacre of 14 women at L'École Polytechnique in Montreal. Its noble aim is unequivocal: "We must not allow voices of hate … to permeate our public discourse and damage our social fabric." The heartfelt concerns expressed in the letter deserve our respect.
Yet not all Canadians feel comfortable with the proposed commemoration and day of action. While a dangerous fringe harbours anti-Muslim sentiment, it is unfair to tarnish all opponents of the proposition as bigots. We must allow for open discussion without tossing in the accusation of "Islamophobia," which pre-empts meaningful engagement. According to a national poll conducted by Forum Research in 2017, almost half of Canadians disapprove of such a day.
I am one of them.
Why? Because the best answer to anti-Muslim animus is to draw strength from the time-honoured principles of my faith. Resiliency is enhanced by asserting the very teachings that others seek to destroy.
According to Sunni Islamic spiritual traditions, there is no commemoration of death – no matter how tragic or brutal. Three official days of mourning follow burial of the deceased, during which community members offer respect and comfort to the grieving family. Moral, financial and psychological support continues as long as needed to heal.
The funeral prayer itself is brief and open to all. It is a time to remember death amid the brevity of life, for "every soul," the Koran states, "shall taste death." We are to prepare for it by living a life filled with gratitude, humility and service. It is also a time to heal, recognizing that each human being belongs to God, and to God is its return.
For Muslims, the life of Prophet Muhammad serves as a source of guidance in life and in death. In one instance, he sent scores of Muslim teachers and scholars to a tribe that had expressed interest in Islam. However, this defenceless group was massacred in an ambush by those filled with hate. Notably, the Prophet did not commemorate a special day in remembrance of their deaths. Neither was this done for a woman, Sumayyah bint Khabbat, the first Muslim martyr who was tortured and killed for her belief. However, their lives are studied as part of our history, as we seek inspiration from their personal character and remember their ultimate sacrifice in the path of faith.
As for following the precedent of Dec. 6, let us recall that, on that day in 1989, a specific group of women (female engineers at Montreal's École Polytechnique) was targeted by the killer. Yet the wider lesson drawn was the need to act on violence against all women. Following this analogy, proponents of a national day of remembrance and action against Islamophobia should instead call for a day of action against all forms of hate that "corrode our social fabric" – in keeping with the noble aims of the NCCM.
Does this mean the Muslim community should simply ignore the horrific events of Jan. 29? Of course not. Instead, communities can use Canadian Islamic History month to shape their own narrative within the wider spectrum of Islamic teachings. This is also an opportune time to bare hopes, fears, and hearts with fellow Canadians – as a means of strengthening our social fabric and common bonds of humanity.
Full report at:
https://www.theglobeandmail.com/opinion/article-for-islamic-history-month-lets-remember-our-collective-compassion/
--------
CRA suspends, fines major Islamic charity over concerns it may have 'provided resources' to armed militants
October 1, 2018
A major Canadian Islamic organization has been suspended and fined by federal charities regulators following an audit that raised concerns it had "provided resources" that may have been used to support to armed militancy.
The Canada Revenue Agency said it had suspended the Islamic Society of North America-Canada (ISNA-Canada) for a year effective Sept. 12 and ordered the Mississauga-based charity to pay a $550,000 penalty.
Government auditors alleged ISNA-Canada had "failed to conduct any meaningful due diligence" when it transferred $136,000 to the war-torn Kashmir region, where the militant Hizbul Muhajideen has been fighting Indian troops.
By acting as a "conduit" for other organizations, ISNA-Canada "may have, knowingly or unknowingly, provided the benefits of its status as a registered charity to support the efforts of a political party and its armed wing," the CRA wrote.
While the Charities Directorate did not revoke ISNA-Canada's charity status, the group was required to enter into a compliance agreement under which it must "cease its overseas operations."
"We are saddened by this outcome," ISNA-Canada said in a written statement.
It denied any links to terrorism and said it had "made progressive and important changes" to its governance and "how we operate as one of the largest Muslim organizations in Canada."
"We remain politically impartial and are not in any way linked to any political or extremist group," the organization said. "We will continue our operations and remain committed to always striving to be the best possible organization we can be in service to Canadians."
ISNA-Canada runs mosques and provides services to Muslims such as weddings, funerals and "accounting services to other Islamic charities in the surrounding community."
During the suspension, it is prohibited from issuing receipts allowing donors to claim their contributions as income tax deductions.
"A suspended organization will continue to be listed on the CRA's list of charities, with a notice advising the public that the charity is suspended. Once a suspension has been lifted, a charity can begin to issue official donation receipts," said Dany Morin, a CRA spokesperson.
The audit was conducted in 2011 and covered the years 2007 to 2009. The results were conveyed to ISNA-Canada in 2014 but the CRA only sanctioned the charity on Sept. 5, 2018.
The CRA audit documents obtained by Global News were heavily redacted but alleged that during the audited period, ISNA-Canada "gifted" $90,000 to the Relief Organization for Kashmiri Muslims.
The CRA has previously described the ROKM as the "charitable arm" of Jamaat-e-Islami, a Pakistani group whose armed wing, Hizbul Mujahideen, is listed as a terrorist group in Europe and the United States.
The audit documents also showed that ISNA-Canada gave an additional $46,000 to the Kashmiri Relief Fund of Canada, which the CRA has previously alleged had fundraised for the ROKM.
"Providing resources to organizations operating in support of a political purpose, including the achievement of nationhood or political autonomy, are not recognized at law as charitable," the CRA wrote.
It said a political purpose includes supporting a political party, or programs that promote a cause, doctrine, ideology "or generally seek to advocate, and bring about changes in the overall way that a society governs and manages itself."
"In addition, Canada's public policy recognizes that the tax advantages of charitable registration should not be extended to organizations whose resources may have been made available, knowingly or unknowingly, to a terrorist entity."
The auditors identified a number of other concerns, including "inadequate internal controls," a "third-party receipting scheme," close links to for-profit Muslim housing co-ops and a halal certification program that the CRA said was essentially a business.
The CRA also found ISNA-Canada's mission statement — "To advance the cause of Islam and serve Muslims in North America so as to enable them to adopt Islam as a complete way of life" — was too broad and vague to be considered exclusively charitable.
The suspension and penalty were the latest results of federal audits of four formerly affiliated Mississauga charities. ISNA Islamic Services of Canada was stripped of its charitable status last year after auditors raised concerns about possible funding of Hizbul Mujahideen. ISNA Development Foundation was stripped of its charity status in 2013 over similar concerns. The Canadian Islamic Trust Foundation's charity status was also revoked.
Of the tens of thousands of registered charities, only three are currently serving CRA suspensions.
ISNA-Canada is by far the largest, with $3.1-million in reported revenues in 2016, according to the CRA. Prime Minister Justin Trudeau spoke at an ISNA-Canada event in 2013 and Public Safety Minister Ralph Goodale was photographed there in April 2017.
A 2014 written response to the CRA audit by ISNA-Canada's lawyers acknowledged that "not all of its practices may have been in complete compliance" but said the problems were the result of "unauthorized actions" by a former secretary-general who retired in 2011.
The lawyers said ISNA-Canada was "actively seeking legal information from our firm in order to inform the appropriate authorities at the federal and provincial level so that a criminal investigation may be commenced" against for the former secretary-general.
"The charity has had no other record of any non-compliance whatsoever. In addition, the charity has expressed its willingness to bring itself into compliance with the [Income Tax] Act in instances where there has been non-compliance and has been doing so for the past five years."
ISNA-Canada was no longer operating overseas, it said. But it insisted it had not acted as a "conduit" but had directed that its money be used for humanitarian work in Kashmir. It also noted that "Hizbul Mujahideen was not a listed entity in Canada."
"The charity is a prominent Muslim organization that has served Muslims locally in Canada and internationally for over 40 years. As such, it is one of the oldest and longest serving national organizations in Canada advancing the Islamic faith. At any given time the charity provides over 30 different charitable programs."
But the CRA wrote that its concerns about ISNA-Canada "have not been fully alleviated. Specifically, our position that the society failed to devote its resources to its own charitable activities in that it gifted resources to non-qualified donees still remains."
Full report at:
https://globalnews.ca/news/4490892/cra-suspends-fines-major-islamic-charity-over-concerns-it-may-have-provided-resources-to-armed-militants/
--------
Europe
Suspected Neo-Nazis vandalize mosque in Germany
01.10.2018
BERLIN
A mosque in the northwestern German city of Gladbeck was vandalized overnight by suspected Neo-Nazis, according to mosque officials.
The attackers wrote racist slogans and drew swastikas on the windows and the walls of the mosque, run by the Turkish-Islamic Union for Religious Affairs (DITIB).
Nadir Kahraman, head of the DITIB's Gladbeck branch, condemned the attack and urged the police to bring the perpetrators to justice.
"Other mosques have suffered many similar attacks, but no suspects were arrested. We believe that the arrest of perpetrators would help prevent similar crimes in the future," he told Anadolu Agency.
The DITIB, a moderate Muslim organization founded by Turkish migrants in Germany, runs more than 900 mosques across the country.
Germany, a country of over 81 million people, has the second-largest Muslim population in Western Europe, after France. Among the country's nearly 4.7 million Muslims, 3 million are of Turkish origin.
In recent years the country has seen growing Islamophobia and hatred of migrants triggered by propaganda from far-right and populist parties.
https://www.aa.com.tr/en/europe/suspected-neo-nazis-vandalize-mosque-in-germany/1269741
--------
French Police Raid Muslim Club in Counter-Terror Swoop
Oct. 2, 2018
LILLE, FRANCE (REUTERS) - French police raided the premises of a Muslim club before dawn on Tuesday as well as the homes of members of the club, in a swoop that the local government prefect's office said was prompted by serious suspicions of pro-Islamist militancy.
The operation involving some two hundred police began around 6 a.m. targeted a club known as Centre Zahra France and 12 of its members in an area called Grande Synthe, near Dunkirk and not far from Calais on France's northern coast
France, home to Europe's largest Muslim community, remains on maximum security alert after attacks over recent years in which Islamist militants and assailants inspired by militant groups such as Islamic State have killed close to 250 people.
"This is a counter-terrorism operation," said a statement from the prefect's office.
Full report at:
https://www.usnews.com/news/world/articles/2018-10-02/french-police-raid-muslim-club-in-counter-terror-swoop
--------
German police swoop on far-right 'terrorist' ring
October 01, 2018
BERLIN: German police on Monday arrested six men on suspicion of belonging to a far-right "terrorist" group that attacked foreigners in the city of Chemnitz.
The German nationals, aged 20 to 31, were taken into custody for allegedly forming a group called "Revolution Chemnitz" with the aim of subverting the democratic state.
"To this end, they intended to launch violent and armed attacks against foreigners and people who have different political views," said federal prosecutors in a statement.
Their targets included representatives of different political parties as well as members of the economic establishment, the prosecutors said.
They added that the group appeared to have been planning an assault on Germany's Unity Day, which falls on Wednesday.
The arrests once again cast an uncomfortable spotlight on extremism in Saxony state, where Chemnitz is located and which is a stronghold of the far-right party AfD.
Investigators are still trying to determine if the suspects were involved in the wave of xenophobic marches that swept Chemnitz at the end of August following a fatal stabbing, allegedly by an asylum seeker.
But prosecutors said that on September 14 five of the suspects "armed with glass bottles, weighted knuckle gloves, and an electroshock appliance, attacked and hurt several foreign residents" in Chemnitz.
"Investigations show that the assault was a test-run for an event that one of the accused planned for October 3, 2018," said prosecutors.
Police are still investigating what exactly was being plotted.
More than 100 police officers were deployed to search apartments and other premises.
"With the arrests and raids, we are sending a clear signal that we are identifying and breaking up such right-wing terrorist structures early," said Saxony interior minister Roland Woeller.
Germany's Justice Minister Katarina Barley highlighted the suspects' links to the football hooligan, skinhead and neo-Nazi scenes and warned that "the network under investigation does not stand in isolation."
Saxony, a former communist state, has gained notoriety as the homebase of several extremist groups.
Eight members of a far-right outfit called the Freital group were jailed in March on terrorism and attempted murder charges for a series of explosions targeting refugees and anti-fascist activists.
Members of the neo-Nazi cell NSU, responsible for several racist killings, also evaded police for years in Chemnitz and another Saxony town, Zwickau.
Most recently, Chemnitz has been polarized over the question of migrants since 35-year-old carpenter Daniel Hille was stabbed to death on August 26.
Police probing that killing have detained a Syrian man, Alaa S., 23, while an international warrant has been issued for an Iraqi.
In the hours after the stabbing, thousands of people took to the streets in protest, answering calls by far-right party AfD and nationalist group PEDIGA, which campaigns against what it calls the Islamization of the West.
Police found themselves overwhelmed by the swift mobilization of the region's football hooligans and right-wing extremists, with the demonstrations degenerating into mob violence against foreigners.
August's week of xenophobic protests in Chemnitz deeply shocked Germany, prompting Chancellor Angela Merkel to urge Germans to stand up against the far right.
Merkel is due to visit Chemnitz in November, but she faces a cold reception. Resentment runs deep in the city over her liberal refugee policy that led to the arrival of more than a million asylum seekers in Germany since 2015.
The Chemnitz riots also threatened Merkel's fragile government coalition.
Germany's domestic spy chief Hans-Georg Maassen had appeared to play down the severity of far-right mob violence.
Hard-line Interior Minister Horst Seehofer of the CSU backed Maassen, while Merkel's other coalition partner the SPD wanted him removed from the job.
Full report at:
http://www.arabnews.com/node/1380771/world
--------
Erdogan and Merkel start burying the hatchet
October 1, 2018
Turkish President Recep Tayyip Erdogan made no new friends during his three-day visit to Germany but the very fact that he came heralds gradual progress in his country's relations with the European Union.
The trip, as unharmonious as expected but without major upsets, was born out of necessity on both sides rather than any heartfelt desire for a rapprochement.
Mr Erdogan needs to boost trade with the EU to haul his country out of an economic crisis that has been aggravated by US sanctions and has seen the Turkish lira slump 40 per cent against the euro and the dollar this year.
Europe, and Chancellor Angela Merkel in particular, need his continued cooperation to halt illegal migration across the Aegean Sea from Turkey to Greece under a deal reached in 2016 that dramatically reduced the refugee influx. The bloc's rising populists have lambasted the German leader for her open-door policy at the height of the migrant crisis and she is under increasing pressure at home from the far-right AfD party.
During the talks, Mr Erdogan pledged to meet the EU's criteria for achieving visa liberalisation for Turkish citizens, and called for the EU-Turkish customs union to be expanded and for Turkey's stalled EU membership talks to be revived.
Membership of the EU's customs union is a major boon for trade because no customs duties are levied on goods travelling within it. Turkey and the EU have had a customs union on trade since 1996 but Germany has blocked talks to update it and widen it to include services and agricultural products.
Whether any of that will happen remains to be seen. Relations have deteriorated too far in recent years for quick progress to be likely.
Mr Erdogan, enraged by EU and German criticism of his crackdowns on political opponents, has accused politicians in Berlin of behaving like Nazis, prevented German lawmakers from visiting troops stationed in Turkey and lobbied them to prosecute a comedian for insulting him in a poem.
The greatest damage has come came from Turkey jailing German citizens on what Berlin regards as trumped-up political charges of belonging to banned organisations. The row has hit German corporate investment in Turkey.
But the ever-diplomatic Mrs Merkel insisted that the trip marked a step forward even though "deep differences" remained.
"People who don't talk to each other won't find any common positions," she told a joint news conference with Mr Erdogan on Friday. "Sometimes that takes a long time. But I am committed to such talks."
She called for the release of the handful of detainees but stressed that the two Nato allies had many common interests, not least because Germany is home to some three million people of Turkish descent, Turkey's biggest diaspora.
The talks yielded some limited concrete progress with the two leaders agreeing to step up talks on economic, technological and security cooperation and to call a summit with Russian President Vladimir Putin and French President Emmanuel Macron in October to discuss the Syrian war.
"Both sides undertook a cautious attempt at reconciliation," said the chairman of the Turkish Community in Germany, Gökay Sofuoğlu. "The open and critical exchange of known views gives hope for further talks."
Norbert Röttgen, the chairman of the German parliament's foreign affairs committee, was less upbeat. "The timing of this visit was wrong – it was far too early," he said. "The Turkish-German relationship is neither better nor simpler after this visit."
Relations are destined to thaw only gradually at best.
Mr Erdogan angered his hosts at a banquet on Friday night hosted by President Frank-Walter Steinmeier, departing from the text of a speech to claim Germany was harbouring terrorists. He was referring to members of the Kurdistan Workers Party (PKK), which is banned in Germany and has waged a decades-long insurgency for Kurdish autonomy in Turkey.
On Saturday, he was accused of hijacking the opening of Germany's largest mosque in Cologne for his own political purposes at an event that attracted hundreds of Turkish nationalists chanting "Erdogan" and making the four-finger Rabaa sign that is also used by the Muslim Brotherhood and symbolises political Islam.
Critics said he turned an event that should have celebrated the integration of ethnic Turks in Germany into one that highlighted divisions between the communities.
German officials, angered at being invited late to the event, boycotted the Turkish-language ceremony where Mr Erdogan held a combative speech saying football player Mesut Özil had been hounded out of the German national team after the World Cup because of his Turkish roots. "This racism has to end," he said.
German politicians and commentators criticised the red carpet treatment for a leader widely vilified as an autocrat.
"I stayed away because I didn't want to be an extra in the opening ceremony of our mosque by Herr Erdogan," said Josef Wirges, mayor of the Cologne district of Ehrenfeld, where the mosque is located. "He thinks he's a sultan who can come here and tell everybody what to do. Tomorrow when this gentleman has gone we'll have to clear up the mess he's left behind."
Mass circulation newspaper Bild called Mr Erdogan's visit shameful. "Erdogan's first official act upon arriving was to stretch four fingers from the window of his Maybach limousine," the newspaper wrote in a commentary.
Full report at:
https://www.thenational.ae/world/mena/erdogan-and-merkel-start-burying-the-hatchet-1.775915
--------
Germany agrees Iranian 'spymaster' extradition
October 1, 2018
A German court has approved the extradition of an Iranian diplomat accused of handing bombers half-a-kilo of explosives to blow up an opposition rally in France.
Assadollah Assadi is wanted in Belgium for his alleged central role in organising a failed attack against the National Council of Resistance of Iran (NCRI) at an event near Paris on June 30 attended by thousands of supporters and high-profile backers.
Belgian police said they foiled the plot when they stopped a Mercedes car driven by an Antwerp-based Iranian couple and found the explosive hidden inside a toiletries bag.
Mr Assadi is accused of passing the high explosive to the couple during an earlier meeting in Luxembourg.
he court ruled out diplomatic immunity for the alleged spymaster based in Vienna, Austria, because he was on holiday in Germany at the time of his arrest in July, rather than on diplomatic duties between Iran and Austria. He was accused with activity as a foreign agent and conspiracy to commit murder.
German prosecutors are now reviewing the extradition decision. It was not immediately clear on Monday when Mr Assadi would be sent to Belgium.
Members of the Iranian opposition claim that Mr Assadi played a pivotal role as head of intelligence for Europe since 2014 and had previous experience in handling explosives and demolition.
The regime's embassy in Vienna, where he was based on the third floor, is seen as a major hub for the intelligence ministry (MOIS) in Europe.
The opposition claimed that his immediate boss was Reza Amiri Moghaddam, a key figure within the ministry, who reported directly to the regime's intelligence minister.
They claim that Mr Assadi was put in personal charge of the operation to bomb the French rally because of the sensitivity of targeting mainland Europe.
Mr Assadi allegedly sought to distance the regime from the plot by using a Belgium-based sleeper cell to carry out the attack.
Belgian nationals Amir Saadouni, 38, and his wife Nasimeh, 34, lived in Antwerp for up to 15 years before they embarked on the operation, friends told The National.
The couple were stopped on the outskirts of the Belgian capital as they headed to Villepinte, France, where Donald Trump's lawyer, the former New York mayor Rudy Giuliani, and the former House of Representatives speaker Newt Gingrich were both attending the conference. The remain in detention in Belgium.
Another alleged Belgian accomplice, identified as Merhad A, has also been extradited from France.
NCRI claims that Iranian agents have stepped up their activities in the West since the start of 2018, citing alleged plots in Albania – the base for the exiled opposition group - and spying operations against activists in the United States.
The US Secretary of State, Mike Pompeo, said earlier in June that Iran "conducts covert assassination operations in the heart of Europe" but gave no further detail.
The potential attack in France came a month after Mr Trump pulled the United States out of the landmark nuclear deal.
Analysts said any attack would have been highly provocative on the eve of a visit to Europe by President Hassan Rouhani to lobby European leaders to continue with the deal. Analysts said the potential attack could have been an attempt by regime rivals to undermine his leadership.
Iran's deputy foreign minister Abbass Araghchi called the allegations a "plot aimed at damaging EU-Iran relations" and denied involvement in any plot.
Full report at:
https://www.thenational.ae/world/mena/germany-agrees-iranian-spymaster-extradition-1.775743
--------
France supports Russia-Turkey agreement on Idlib
01.10.2018
By Hajer M'tiri
PARIS
France supports the recent Russia-Turkey agreement on installing a demilitarized zone in Syria's Idlib, the French Foreign Ministry said Monday in a statement.
The statement comes a day after French Foreign Minister Jean-Yves Le Drian held talks with his Turkish counterpart Mevlut Cavusoglu in Paris.
"The talks focused mainly on the Syrian issues. Jean-Yves Le Drian expressed support for the [Russia-Turkey] agreement in Sochi on Sept. 17 that establishes a demilitarized zone in the Idlib area and allows to avoid the offensive operation by the [Damascus] regime and its allies at this stage," read the statement.
On Sept. 17, Turkish President Recep Tayyip Erdogan and Russian President Vladimir Putin agreed to establish a disarmament zone in Syria's Idlib province.
Located near the Turkish border, Idlib is home to more than 3 million Syrians, many of whom fled to other cities following attacks by forces of the Bashar al-Assad regime.
Full report at:
https://www.aa.com.tr/en/europe/france-supports-russia-turkey-agreement-on-idlib/1270125
--------
Pakistan
Imran Khan's minister attends conference with Hafiz Saeed
Sandeep Kumar Seth
October 1, 2018
Pakistan's new prime minister Imran Khan's tall talks on India-Pakistan bonhomie fell flat as one of his ministers was seen sharing the stage with 26/11 mastermind and Lashkar-e-Taiba chief Hafiz Saeed at an event in Islamabad on Sunday.
What is more shocking is that Noorul-Haq Qadri, minister of religious affairs and interfaith harmony in the Pakistan government, attended the event allegedly on the directions of PM Khan.
Qadri addressed the All Parties Conference (APC) organised by the Difa-e-Pakistan Council (DPC), which is an umbrella coalition of more than 40 Pakistani political and religious parties that advocate conservative policies. The DPC strongly supports "Kashmir's freedom movement".
The development comes soon after External Affairs Minister Sushma Swaraj addressed the United Nations General Assembly (UNGA) last week where she strongly condemned Pakistan. Blaming Pakistan for providing safe haven to terrorists such as Saeed, Swaraj said Islamabad glorifies terrorism and spreads lies about India.
Addressing the event, Qadri said, "Any aggression by India will be dealt in a befitting manner." The minister further said Pakistan is a peaceful country and intend to resolve all political and territorial issues through dialogue.
"India's response for peace and dialogue was as usual stubborn and it is reluctant to come across the table for negotiations," Qadri added.
The minister said, "Pakistan Army is fully capable of attacking India on any given front. In case of a surgical strike, we are not going to sit back. We will give India a befitting reply."
Spreading the same hatred for India, Saeed said, "Indian PM Modi wants to gather Hindu votes and win elections on the basis of anti-Islam and anti-Pakistan agenda. Ahead of elections, action on borders will escalate and in state like Uttar Pradesh, which has a sizeable Muslim population, the community would face attacks."
Saeed further said, "India transforms facts on the basis of propaganda. India cannot fight any big attack. With such inferior weapons, it can't even think of attacking Pakistan."
According to the DPC, Indian state terrorism should be investigated through International Criminal Court. UN's report about human rights violations in Jammu and Kashmir is accurate as per facts, it added.
Under the banner of DPC, its chairman Sami-ul-Haq and Saeed have in the past organised several anti-India conferences and rallies. Sami-ul-Haq is the head of a religious madrasa in the Khyber Pakhtunkhwa area and he also stood in the 2018 elections representing Khan's Pakistan Tehreek-e-Insaf (PTI).
https://www.indiatoday.in/mail-today/story/hafiz-saeed-noor-ul-haq-qadri-imran-khan-pakistan-1353124-2018-10-01
--------
Kabul wants refugees back after Pakistan PM proposed nationality to Afghans
October 02, 2018
ISLAMABAD: Afghanistan wants refugees back, a senior Afghan diplomat said on Monday, days after Pakistan Prime Minister Imran Khan announced that nationality would be granted to Afghans born in Pakistan.
Khan's proposal was opposed by Baloch nationalists but hailed by Pashtoon nationalists and some senior political leaders.
"Imran Khan's statement was in a positive spirit but Afghan government policy is to repatriate our citizens in a gradual and graceful process. But expect Pakistan to extend their support during their stay till return," Afghanistan Deputy Ambassador to Pakistan Zardasht Shams told Arab News.
"I am speaking on our policy on refugees which has not changed so far." He recalled President Ashraf Ghani's announcement that refugees would be repatriated in two years and he has also assigned the task to various ministries to implement the plan.
"We cannot take them (refugees) by force and repatriation will be voluntary. But the policy is that we want the return of all refugees from Pakistan and Iran," he said.
The Afghan diplomat's comments came after Pakistan Information Minister Fawad Chaudhry announced on Sept. 27 that the federal Cabinet had extended the stay of the Afghan refugees until June 2019.
Chaudhry said the prime minister also issued instructions for the formulation of a comprehensive policy about the Afghan refugees living in Pakistan, adding that Pakistan cannot expel the refugees under its international commitments.
The previous extension of refugees, who have Proof of Registration (PoR) cards, expired on Sept. 30 and with a new extension, the refugees could stay for nine more months.
Shams said Pakistan has not officially informed the Afghan government about the extension but insisted the decision will also be applicable for those documented this year, who had previously been considered unregistered.
He said around 880,000 were documented in the process that was concluded earlier this year.
The UN refugee agency says a total of 12,162 have voluntarily repatriated this year from Pakistan to Afghanistan.
"We still have 1.4 million Afghan refugees remaining in Pakistan," Shams told Arab News.
Pakistan and Afghanistan have now established a bilateral working group on refugee returns and reintegration within the framework of the Afghanistan-Pakistan Action Plan on Peace and Solidarity.
Afghan refugees welcomed the nine-month extension but urged the Pakistani government to announce a long-term extension unless peace is returned to the war-ravaged country.
"We welcome the Pakistani Cabinet's recent decision as a positive step but we want an extension until all facilities are available and peace is restored in Afghanistan," Sherzad, the spokesman for an Afghan refugee committee, told Arab News from Peshawar. Sherzad also praised Imran Khan's citizenship proposal and said Afghan refugees were facing problems in education, health and business in Pakistan.
"Imran Khan's announcement about citizenship has raised high hopes among the refugees for a better life," he said.
Chief of Jamaat-e-Islami Pakistan Siraj-ul-Haq also backed Khan's decision and said if European countries and the US grant citizenship to hundreds of thousands of people then why should Pakistan deprive Afghans of this right?
"I also support Imran Khan's proposal for an open border with Afghanistan and want this to be implemented," the Jamaat chief told Arab News in Islamabad.
Imran Khan, in his July 26 victory speech, had said he wanted an open border with Afghanistan, like the European states, at a time when the security forces are busy in fencing the border with Afghanistan, which is mostly porous.
Full report at:
http://www.arabnews.com/node/1380981/world
--------
Pakistan PM Imran Khan briefs Germany Chancellor Merkel about relations with India
Oct 1, 2018
ISLAMABAD: Pakistan Prime Minister Imran Khan on Monday spoke with German Chancellor Angela Merkel and underscored the need for resumption of a comprehensive dialogue with India to address all outstanding issues, according to an official statement.
Chancellor Merkel telephoned Khan to congratulate him on his election victory and expressed desire to expand bilateral cooperation in diverse fields.
She emphasised the importance of deepening bilateral relations, Prime Minister House said in a statement.
Khan briefed her on the regional situation, especially the importance of a peaceful settlement in Afghanistan and relations with India.
He underscored the need for resumption of a comprehensive dialogue with India to address all outstanding issues, it said.
"Chancellor Merkel expressed desire to expand cooperation in diverse fields and work together on issues of mutual interest at the regional and global levels," it said Khan thanked the German Chancellor for her call and expressed the desire for further enhancing bilateral relations with Germany into a mutually beneficial, broad-based and long-term partnership, it added.
Khan told Merkel that Germany is the largest trading partner of Pakistan in Europe and there is a substantial potential for cooperation in the spheres of energy and automobile sectors, and investment in hydroelectric power generation.
Merkel invited Khan to visit Germany at his earliest convenience and the Prime Minister accepted her invitation, the statement said.
The new government of Prime Minister Khan assumed office on August 18 after his party Pakistan Tehreek-e-Insaf emerged victorious in the July 25 elections.
Separately, Khan called the President-elect of Maldives, Ibrahim Mohammed Solih to congratulate him on his victory in the recent Presidential elections.
"Underscoring that Maldives is entering a new era, the Prime Minster hoped that under the leadership of President-elect Ibrahim Mohammad Solih, the country and its people would achieve great success and prosperity," an official statement said.
Both leaders reiterated their resolve to further strengthen the bilateral relations, which are characterised by cordiality, religious affinity and close cooperation.
They also expressed desire to work closely on issues of mutual interest and for the benefit of peoples of both countries, it said.
The Maldivian President-elect thanked Khan for the telephone call and also congratulated him on assumption of the office of Prime Minister of Pakistan.
Full report at:
https://timesofindia.indiatimes.com/world/pakistan/pakistan-pm-imran-khan-briefs-germany-chancellor-merkel-about-relations-with-india/articleshow/66034494.cms
--------
Former ISI chief moves high court seeking revocation of travel ban
Oct 1, 2018
ISLAMABAD: Former chief of Pakistan's spy agency, ISI, Lt Gen (retd) Asad Durrani, who had co-authored a book with his Indian counterpart, moved the high court on Monday seeking revocation of a travel ban on him by the government, according to a media report.
The government had placed Durrani's name in the Exit Control List (ECL) in May, a day after he appeared before the Pakistan Army officials at the General Headquarters (GHQ) in Rawalpindi to explain about his stance pertaining to "The Spy Chronicles", a book written jointly by him and former chief of India's Research and Analysis Wing (RAW) AS Daulat.
In the book, the two former spy chiefs have touched upon some thorny issues including terrorism, particularly the Mumbai attack, the surgical strikes, Kulbhushan Jadhav, Kashmir and the influence of intelligence agencies. Durrani had revealed that track-II diplomacy was in place since long aimed at averting war between the two nuclear-armed neighbours.
Durrani, in his petition, said his only intention to travel was to pursue his professional commitments and visit his children living abroad, The Express Tribune reported.
A person placed under the ECL cannot travel abroad.
He also said that he and his wife do not hold a nationality of any other country.
The former Inter-Services Intelligence (ISI) chief said that he moved the petition after he did not get any response on his request, made on September 5, to remove his name from ECL on account of professional commitments by the adjutant general of Pakistan Army.
He had also requested the Pakistan government on September 13 to review its decision but it also failed to respond, the report said quoting his counsel.
The counsel maintained that Durrani retired from the Army over 25 years ago and is not subject to the provisions of the Pakistan Army Act, 1952.
"Therefore, any inquiry initiated against him has been done without jurisdiction and is illegal," the report said, adding that Durrani has the right to enter a lawful profession and earn a living as guaranteed by the Constitution.
Durrani's counsel also said that the petitioner retired from the Pakistan Army in 1993 as a three-star general and since then he has served as the country's ambassador to Germany and the Kingdom of Saudi Arabia.
The former spy chief's counsel further added that Durrani has numerously spoken, defended and represented the country's position on matters of national and international importance and he has been invited to the Herat Security Dialogue to be held on October 26 and 27 in Herat, Afghanistan.
According to the petition, respondents in the case are the Pakistan government through the interior secretary, defence secretary and Qalandar Khan, the section officer of the Ministry of Interior.
Full report at:
https://timesofindia.indiatimes.com/world/pakistan/former-isi-chief-moves-high-court-seeking-revocation-of-travel-ban/articleshow/66032651.cms
--------
Qadri plans 'low-key' politics as long as Imran is in the saddle
October 02, 2018
LAHORE: With the arch rivals (read Sharif brothers) of the Pakistan Awami Tehreek (PAT) chief Tahirul Qadri out of power, and his political cousin (Imran Khan) heading the government, the PAT plans to put its five-year-long politics of agitation on hold, at least as long as the PTI rules.
According to the party sources, this change of heart on the part of Mr Qadri has duly been conveyed to the PAT cadres and a "general council" meeting would soon be convened to incorporate the revised preferences into party policies and convince the workers of it.
"In fact, the council meeting was scheduled for Monday (yesterday) but postponed at the last moment as the Lahore High Court (LHC) rejected the party's revision petition," says an insider.
According to party circles, Mr Qadri thinks that with the Sharifs thrown out of power, his political objectives have been achieved.
The Sharif brothers earned his wrath following the Model Town incident in which the party lost 14 workers, while around 100 others were injured. Their removal from power was the party's political objective.
The rest is now legal struggle in which the government is cooperating and the judiciary hearing the cases on a regular basis. "One of the victim's daughters (Ms Bisma) met the chief justice twice recently and requested for quick justice and courts have started taking up cases and appeals," he explains. This satisfied the party's concerns regarding delay in justice.
Recently, the PTI government also withdrew all the accused police officials from field postings and provided an enabling environment for the delivery of justice.
"This explains the change of heart at the PAT level and the PTI should celebrate," the party insider said.
The PAT made life difficult for the Sharifs for four out of five years of their rule. During this period, the party held a month-long sit-in at Islamabad, and big rallies at all provincial capitals.
In the second phase, called Qisas March, it again held around 10 rallies in the big cities of the country and finally culminated the effort with a rally on The Mall earlier this year.
The PAT remained a close ally of the PTI – which prompted some analysts to call them 'political cousins' – and both made life thorny for the PML-N during its rule by launching three different phases of nation-wide protests after a sit-in at Islamabad to avenge Model Town incident.
It may be mentioned here that the Model Town incident took place after the so-called London Plan, which the three allies – the PAT, the PTI and the PML-Q – hatched to remove the PML-N. The plan that was being consistently denied by all the three partners till a week ago, was conceded by the PAT secretary general Khurran Nawaz Gandapur recently during a show at a private television channel.
The Shahbaz government in Punjab over-reacted to what it called London Plan when it tried to remove security barriers around the residence of Mr Qadri to give a "tough message" to PAT chief. It led to resistance by the PAT workers and in the ensuing clash with police 14 people were killed and some 100 injured.
Full report at:
https://www.dawn.com/news/1436279/qadri-plans-low-key-politics-as-long-as-imran-is-in-the-saddle
--------
COAS apprises corps commanders of China visit
Oct 02, 2018
RAWALPINDI: The 214th Corps Commander's Conference was held at General Headquarters (GHQ) on Monday and presided over by Chief of Army Staff (COAS) General Qamar Javed Bajwa, the Inter-Services Public Relations (ISPR) said in a press release.
During the conference, the COAS appraised the forum about his successful visit to China. General Bajwa had visited China last month and discussed the regional security environment and challenges during a meeting with Chinese President Xi Jinping.
The forum also reviewed the geo-strategic environment and security situation of Pakistan and the progress of ongoing stability operations under Operation Raddul Fasad.
The forum expressed its determination to carry forward stability achieved through successful counter-terrorism operations for enduring stability.
The COAS hailed intelligence agencies and all forces for maintaining security during Muharram.
Full report at:
https://www.pakistantoday.com.pk/2018/10/01/coas-apprises-corps-commanders-of-china-visit/
--------
US unjustly blaming Pakistan for failures in Afghanistan: Qureshi
OCTOBER 2, 2018
WASHINGTON: Foreign Minister Shah Mehmood Qureshi has said that Pakistan was being 'unjustly blamed' for the destabilization of neighbouring Afghanistan.
"When you are in a difficult situation, you look for scapegoats, for areas and people and institutions that have not delivered to your expectations," he told Fox News in an interview. "Pakistan is there to help and facilitate, we recognize that a stable and peaceful Afghanistan is in our interest," he said, and pointed out that they will play a role and use 'whatever influence they have' to bring the Taliban to the negotiating table for peace talks.
Qureshi acknowledged that relations have 'soured' significantly between his country and the United States since Trump took office and publicly ramped up pressure on them to do more to obliterate terrorist sanctuaries.
The foreign minister insisted that the Pakistani government is in full control of the country, including the rugged and remote tribal regions, and that terror hideouts have been eliminated. He, however, declined to comment on whether monetary cuts were having an impact on Pakistan's military or involvement in the protracted war against terror. "I am not here to talk dollars and cents, I am not here seeking aid," he said. "I am here to fix a relationship that went sour – a relationship that has mutually benefited both sides. We have been allies for a long time, it is time to rebuild that powerful relationship," he added.
Talking about Dr Shakil Afridi, the foreign minister said the issue could be discussed with the US Secretary of State Mike Pompeo. Afridi's future, Qureshi said, lies with the courts, not the politics. "We have a legal process. Afridi went through that legal process, he was given a fair chance to plead his case. He was sentenced, he was convicted and is serving a sentence," he said. "We expect you to respect our legal process, as we respect yours."
Qureshi, who represented his country at the United Nations General Assembly in New York last week, said, "He is viewed in a particular light in Pakistan, he is viewed as a traitor there. But he is viewed as a friend in the US. So we have to bridge this gap. Openings are always there."
Critics – including the highest levels of the United States government – disagree that Afridi was afforded a just trial, staunchly contending that he has been 'unjustly imprisoned' and his due process under the tribal system continues to be called into question. Despite the public perception that he has committed treason by working with the US, his 23-year sentence is on the pretext of having ties with a militant group, which his lawyer asserts are bogus.
Just prior to US Secretary of State Mike Pompeo's recent visit to Pakistan, the Trump team – who have repeatedly called for Afridi to be let go – cut a further $300 million to Islamabad through the Coalition Support Fund citing Pakistan's 'lack of decisive actions in support of the South Asia strategy'. This comes following the US State Department's announcement in January that it was suspending more than $250 million in security assistance to Pakistan.
Full report at:
https://dailytimes.com.pk/305269/us-unjustly-blaming-pakistan-for-failures-in-afghanistan-qureshi/
--------
Africa
Africa: Muslim Allies in the Fight Against Extremism
28 SEPTEMBER 2018
By Abe Radkin
New York — With the rise of violent extremism worldwide has come the stereotyping of an entire religion. In many countries and across many borders, Muslims have been vilified for events they are just as outraged at.
Yet instead of working together to foster a common understanding and mutual respect, we have seen otherwise liberal countries shut their borders and suppress culture. At a time of extreme intolerance, it is increasingly important that we recognize the importance of working together toward shared global interests of peace and prosperity.
As an increasing number of Muslim-majority nations take a stand against extremism practiced in the name of their faith, people around the world are working across borders to promote cross-cultural understanding and tolerance.
At a time when so much of what we hear is about the ill in the world, we have a duty to celebrate the critical work that happens every day to ensure the "battle of ideas" in the global fight against extremism is not lost to those who preach violence rather than peace.
This is the work of the Global Hope Coalition, which shines a light on both the governments and the everyday heroes standing up to violence and intolerance in their countries and around the world--and those who are joining with them in the fight. At this year's annual dinner they recognize those who have taken a stand against extremists invoking religion for the purposes of perpetrating terror.
Take for example Niger, a majority Muslim country, which is increasingly at the center of a vast struggle for power in Africa's Sahel region. After the retreat of the Islamic State in Iraq and Syria, Niger has seen a massive uptick in extremist threats as the Sahel region has become an active theater for ISIS and jihadi terrorists.
Niger's government under the leadership of President Mahamadou Issoufou has been an outspoken critic of violent extremism in the name of Islam and has advocated a tolerant and peaceful vision of the religion. The country has worked hard to build regional alliances against terrorist groups in the Sahel region.
At a time of great challenge, when many would retrench, Niger has worked to strengthen the rule of law and the country's constitutional institutions, while respecting the separation of powers. Perhaps most heartening was the more than $23 billion from donor countries pledged to Niger at a two-day "Niger Renaissance Conference" in Paris in December 2017.
Niger is not alone.
Muslim-majority countries are standing up to extremists and proving the actions of a select few do not define an entire religion. But the global community's response has been inadequate. Largely fueled by stereotypes created and driven by ISIS and al-Qaeda, Muslims have been demonized, attacked, and shut out of a number of otherwise tolerant nations.
Many global efforts to lift up anti-extremism efforts have been nebulously structured at best and ineffectual at worst. And crucially, some wealthier western countries have failed to be shining beacons of tolerance and prosperity whose principles they were founded upon and have instead hid behind thinly veiled xenophobia. All that while continuing to expect fealty from Muslim allies.
This cowardice is not the answer - in any part of the world. Instead of turning a blind eye to good faith efforts to stand up to common enemies, the global community must rally around them like they did for Niger in 2017.
That's why governments and heads of state are only one piece of the equation. Equally important, but far less public, are the thousands upon thousands of individuals in towns and cities throughout the world working every day to stand up to extremism, fight intolerance, and work towards peace in their communities.
Just as the international community must rally around natural allies in this fight, so too must it uplift and encourage the everyday heroes and on-the-ground change makers - like, for instance, this year's Global Hope Heroes Sherin Khankan and Omer Al-Turabi. Khankan, a female imam and daughter of a Syrian refugee, has led the creation of a women-led mosque in Copenhagen to promote a tolerant, peaceful Islam true to its original precepts.
Al-Turabi is a prominent Sudanese author and academic who has become a leading voice among younger generations in the Arab world seeking peace and a liberal future for their countries.
Both Khankan and Al-Turabi have faced tremendous obstacles to their efforts - yet both have been unwavering in their efforts to win the battle for hearts and minds. There are countless more like them, and that is why Global Hope's work is so important. By providing resources and valuable organization and networking opportunities to heroes just like these, progress can - and will - take shape.
The UN General Assembly gives us an annual opportunity to reflect on what can be accomplished by thoughtful and meaningful multilateral action. This year, under existential threats to our way of life and a global order built on cooperation, the takeaway couldn't be clearer: We must choose peace, and we must stand with those who fight for it.
https://allafrica.com/stories/201810010550.html
--------
Somalia's Shabaab attack EU military convoy, two wounded
1 October 2018
A suicide bomber on Monday rammed a vehicle loaded with explosives into a vehicle carrying a European Union military convoy, injuring two civilians, police said.
Al-Shabaab extremist group claimed responsibility for the attack against "European Union Christians", which targeted vehicles carrying Italian soldiers, in a statement on a pro-Shabaab website.
"The attacked convoy was coming from the ministry of defense when targeted along the industrial road and two civilians were wounded. The military truck in the convoy that was struck was badly damaged," police officer Ahmed Ibrahim told AFP.
The Italian army said in a statement that five Italian vehicles were in the convoy, and a vehicle with four soldiers onboard was "slightly damaged and able to return to the base".
"No Italian soldiers were injured in the event", which took place some 700 meters from the defense ministry.
The European Training Mission in Somalia (EUTM) was launched in 2010 to strengthen the country's transitional government by offering military advice and training.
Somalia collapsed into civil war in 1991 that destroyed state institutions and has been wracked by an Al-Qaeda-linked extremist insurgency since 2006.
Full report at:
https://english.alarabiya.net/en/News/north-africa/2018/10/01/Somalia-s-Shabaab-attack-EU-military-convoy-two-wounded-.html
--------
Sudan urges UN to double South Sudan regional force
October 01, 2018
UNITED NATIONS: Sudan's foreign minister is calling for implementation of the latest agreement to end the civil war in neighboring South Sudan and urging the UN Security Council to quickly approve doubling a regional protection force to monitor the accord.
Eldirdiri Mohamed Ahmed told Monday's final session of the General Assembly's ministerial meeting that Sudan hopes rival leaders in South Sudan will "give peace a chance."
He said regional leaders have called for the regional protection force in South Sudan to be doubled from 4,000 to 8,000 soldiers — with Sudan, Uganda, Djibouti and Somalia contributing troops.
Ahmed also cited "a real change in relations" between Sudan and South Sudan, including the possibility of resolving the Abyei border dispute and conflicts in the Sudanese states of South Kordofan and Blue Nile.
http://www.arabnews.com/node/1380801/middle-east
--------
Report: Uganda Less Vulnerable to Al Shabaab Terrorists
October 2, 2018
Uganda is experiencing 'relative quiet' and remains less vulnerable to Al Shabaab extremism attacks compared to her East African neighbors, Kenya and Tanzania – a new report has revealed.
The Somali-based terrorist group has not launched a successful assault in the country since coordinated July 2010 bombings in Kampala killed 74.
Crisis Group said in a report seen by ChimpReports this week that there is no obvious constituency among indigenous Muslims from which militants can recruit.
Muslims make up about 14 per cent of Uganda's population.
"Most are well integrated and inter-confessional relations are relatively good, with inter-marriage between Christians and Muslims quite common. Although Muslims have similar grievances to their co-religionists in Kenya and Tanzania, notably state neglect and lower access to formal education, Muslim elites in Uganda are relatively successful in business; they dominate the hospitality and transport industries, among other sectors," the report reads in part.
According to Hajj Nsereko Mutumba, spokesperson of the Uganda Muslim Supreme Council: "We historically did not have sufficient access to the education system but we focused on business and have done well".
The International Crisis Group describes itself as an independent organisation working to prevent wars and shape policies that will build a more peaceful world.
Secondly, the Crisis Group researchers discovered, Uganda has better integrated its Somali population than neighbours such as Kenya, thus making them less susceptible to militant recruitment.
The ethnic Somali population in Kampala is divided into two groups: those who have lived in Uganda for decades, and speak local languages, and more recent arrivals.
The first cohort is well integrated and prominent in commerce, particularly in the transportation and logistics businesses.
The second is less well assimilated; donors and local NGOs focus support on them.
A likely third factor, according to Crisis Group, is the Ugandan security forces' close cooperation with Western intelligence agencies, which began soon after the 2010 Kampala attack.
Ugandan security officials assert that shared intelligence helped thwart attacks, including a September 2014 plot to hit bars, a hotel and a university.
"Despite this relative success, the Museveni administration's policies and the security forces' practices could yet drive young Muslims toward militancy," the group observed.
Arrests
"Indiscriminate arrests of Muslims every time a high-profile crime occurs are an acute source of grievance."
In 2012, amid a rising crime wave, Ugandan authorities rounded up dozens of Muslims, creating significant resentment among their co-religionists.
The same has happened after other high-profile crimes, including the November 2016 shooting of police Major Mohammed Kiggundu and the April 2018 killing of businesswoman Susan Magara.
Following a public outcry, the most prominent detention centre where suspects were detained, the Nalufenya police station, was temporarily closed in April 2018 and suspects transferred to other stations after pictures emerged of several of them bearing serious wounds on their bodies, thought to be due to torture.
Police chief Martin Okoth Ochola, who replaced the long-serving Kale Kayihura in March 2018, promised to end the practice of torture in detention. According to one cleric, many Muslims are living with wounds on their bodies and in their hearts due to the indiscriminate arrest and torture of Muslims.
An unexplained spate of murders of Muslim clerics has heightened the alarm. Since 2012, several imams have been killed across Uganda, usually by assailants on motorbikes.
The government has blamed intra-Muslim wrangling and ADF for the killings, an explanation dismissed by clerics who blame the authorities.
In sum, said Crisis Group, Uganda has "done better than its neighbours in thwarting large-scale attacks, related in part to intelligence cooperation with the West but also to its better integration of Muslims, its amicable inter-confessional relations and its lack of a ready constituency from which militants can draw support."
Full report at:
https://chimpreports.com/report-uganda-less-vulnerable-to-al-shabaab-terrorists/
--------
URL: https://www.newageislam.com/islamic-world-news/afghan-scholars-ask-jamiat-ulema/d/116547
New Age Islam, Islam Online, Islamic Website, African Muslim News, Arab World News, South Asia News, Indian Muslim News, World Muslim News, Women in Islam, Islamic Feminism, Arab Women, Women In Arab, Islamophobia in America, Muslim Women in West, Islam Women and Feminism