New Age Islam News Bureau
14 Jun 2013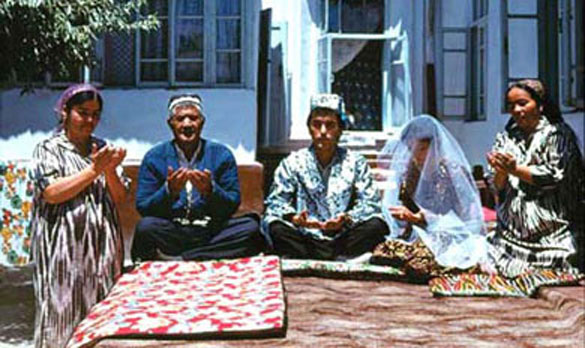 Photo: A bridegroom and his wife to be, who are of legal age, pray with their relatives before a wedding in Tashkent Oblast May 30. Uzbekistan has recently drafted new legislation that aims to curb underage marriage. [Shak]
------------
Arab World
• Sunni Clerics Make Joint Call from Cairo for Jihad in Syria
• First phase of Grand Mosque expansion to be completed before Ramadan
• Bahrain cracks new militant group
• Egypt says citizens free to join fight in Syria
• Key court ruling puts Kuwait democracy on the line
• Meet the Black Bloc: Egypt's most talked about radical opposition group
Europe
• England's Mosques Hear Imam's Sermon against Teen Grooming
• NATO: chemical arms use in Syria breaks international law
• Russia labels US claims of chemical weapons usage in Syria as 'unconvincing'
• Britain says NSA leaker Snowden not welcome in UK
• UK Muslims feel the hate after solider killing in London
Central Asia
• Uzbek legislation discourages underage marriage
• Kazakh Opposition Activist Released In Poland
• HRW Calls On Russia Not To Extradite Uzbeks to Kyrgyzstan
• Kazakh, Uzbek Leaders Sign Strategic Partnership Agreement
India
• Ishrat case: CBI likely to question two of Narendra Modi's trusted bureaucrats
• $159,000 ex-gratia for kin of Indian killed in Bahrain
• PM's Pak visit after substantive progress in ties
• CBI removes IPS officer from Ishrat Jahan probe
• India-Pakistan dialogue: India for keeping momentum 'on'
• Israel to help Bengal govt set up agro-tech farms
• Saudi Arabia -India Pact Domestic Workers Soon
Pakistan
• Honour Killing: Couple Declared Karo Kari Gunned Down
• Two cops, MQM activist killed among eight
• Ahmadi-owned magazine's office under siege
• Pak wants power from India to light up a part of Lahore
• Explanation sought on US surveillance by Pakistan
• Al Qaeda activist arrested in murder of Benazir case prosecutor
• Achakzai sworn in as new Balochistan governor
• Pakistan undaunted amid Taliban's threats against polio vaccinators
• 'Around 30 per cent of children forced into labour in Southern Punjab'
Mideast
• Relations between India and Israel go beyond defence deals: Israel Ambassador
• Sounding the alarm on Iran's human rights violations
• Iranians Say Vote Won't Bridge Gap between Leaders' Promises and Reality
• Turkish Protesters Say Talks Lead to a Tentative Agreement
• Suspected 'price tag' vandalism in East Jerusalem
• Israel pushes plans for 1,000 new homes in West Bank
• Ayatollah Ali Khamenei on US critics: 'The hell with you'
North America
• US Confirms Assad Used Chemical Weapons in Syria
• NSA chief defends worldwide electronic surveillance programme
• U.S. studying Syria no-fly zone near Jordan border: diplomats
• CAIR Asks Florida Atlantic University to Drop Anti-Muslim Advisor
Africa
• Former Italian Premier plotted to 'have Qaddafi killed'
• S. Africa vows to return Qadhafi assets to Libya
South Asia
• Afghan Parliamentarians Praise Fatwa that Calls Suicide Bombings "Haram"
• Buddhist monks in Myanmar call for peace after wave of anti-Muslim attacks
• 21 suspected militants held in Dhaka
• Deadline for Afghan refugees' repatriation may have to be extended
• Maldives President met with angry protests during "bittersweet" campaign trip
• PM warns police of zero tolerance for indiscipline
Southeast Asia
• Golkar Lawmaker under Fire for 'Secret' Israel Visit
• Muhammadiyah Sets Date for Start of Ramadan
Australia
• Man sent to jail for whipping Muslim in Australia
Compiled by New Age Islam News Bureau
URL: https://newageislam.com/islamic-world-news/afghan-parliamentarians-praise-fatwa-that/d/12067
-------------
Afghan Parliamentarians Praise Fatwa that Calls Suicide Bombings "Haram"
By Hasan Khan
14 June 2013
KABUL – Afghan parliamentarians and other political leaders are hailing the fatwa that calls suicide bombings "Haram," praising its decisive stand against militant violence.
Afghan and Egyptian religious scholars in Kabul April 18 publicly proclaimed the use of suicide bombing as specifically forbidden by Islam, joining Ulema and other scholars from around the world – including Turkey, Malaysia, Indonesia, Nigeria, the Palestinian territories and Jordan – who condemned the militant tactic at a March conference in Istanbul.
The united and authoritative stance against suicide bombings draws a clear-cut line between right and wrong and could have an effect on the Taliban's abilities to recruit new suicide bombers, Afghan parliamentarians told Central Asia Online.
"The decision (fatwa) is like confronting Taliban insurgents on their own turf – religious and ideological turfs," said Amir Khan, a member of the Wolesi Jirga (the lower house of the Afghan parliament).
"As the Taliban justifies the act [of suicide bombing] on religious grounds … it (the fatwa) has cleared the air now … especially for those who were confused," he said, adding Islam has no place for such heinous acts.
World supports Afghan condemnation of Taliban
"Islam is very clear on the killing of innocent people … but Afghans knew that (those) killing innocent Afghans are not doing the same for the sake of Islam … but are serving the agenda of their foreign masters," Ismail Yun, a broadcaster and former advisor to President Hamid Karzai, told Central Asia Online.
"Pakistani religious scholar Dr. Allama Tahir-ul-Qadri also sent a message to the conference supporting the fatwa," another seasoned parliamentarian from the hard-hit Ghazni Province, Daud Sultanzai, said. Dr. Qadri was the first Pakistani scholar to issue a fatwa declaring suicide bombing Haram.
"The fatwa was issued by the Islamic scholars from across the world, not just by the Afghan Ulema," Sultanzai told Central Asia Online.
"Afghan ulema have questioned the narratives of the Taliban over the insurgency and suicide bombings, but they were then alone," Yun said, adding that support from Islamic authorities from across the world would add weight to Afghan condemnation of the Taliban violence.
"It's a great development," he said, terming the support of the fatwa "historic" and "unprecedented."
Mirwais Yasimi, another senior parliamentarian, agreed, saying that it would have far-reaching impact and could pave the way for reconciliation.
Spreading the word
"The ulema have done their job; … they cleared away the confusion," Sultanzai said. "Now, the political leadership and media must take this message and educate every Afghan."
Yun agreed, calling upon the media and civil society organisations to educate ordinary Afghans on the importance of the fatwa.
"Afghan media are more powerful and more assertive now," he said. "It's our national responsibility to educate each and every Afghan and expose those killing innocent people in the streets."
Those already brainwashed by the Taliban and already in their insurgent ranks will pay little attention to the fatwa, Amir said, but for others, the message that suicide bombings are Haram will ring clear.
No matter what beliefs the Taliban fighters push, the fatwa will drastically decrease their ability to recruit new suicide bombers, Mangal, another Wolesi Jirga member, told Central Asia Online.
"Afghans are … true believers of Islam," he said. "The fatwa will have a tremendous impact."
http://centralasiaonline.com/en_GB/articles/caii/features/pakistan/main/2013/06/06/feature-01
--------
Arab World
Sunni Clerics Make Joint Call from Cairo for Jihad in Syria
13 June 2013
Sunni Muslim clerics on Thursday made a joint call for Jihad (holy war) in Syria to support the opposition forces there against the army of President Bashar al-Assad and its Shiite allies Hezbollah and Iran.
The clerics gathered in Cairo to unify their stance on the Syrian crisis and issued a statement denouncing the "sectarian" regime in Syria.
"We must commit to jihad to support our brothers in Syria by sending them money and weapons, and supplying them with all assistance to save the Syrian people from this sectarian regime," the clerics said in the statement.
"The blatant aggression of the Iranian regime, of Hezbollah and of their sectarian allies in Syria is tantamount to a declaration of war against Islam and Muslims," the Sunni clerics added.
Hezbollah has sent thousands of troops to Syria and helped Assad's forces take control of the border town of Qusayr after days of fighting.
A speech by Hezbollah leader Hassan Nasrallah last month overtly declaring his militia's involvement in Syria has provoked Sunni clerics across the region.
Qatar-based Sunni cleric Yusuf al-Qaradawi, who had previously defended Hezbollah and Iran, was among the first to denounce Nasrallah's speech.
Qaradawi slammed Hezbollah for taking part in the killing of Muslims in Syria. Hezbollah in Arabic means "party of God;" Qaradawi described it as "party of Satan."
http://english.alarabiya.net/en/News/middle-east/2013/06/13/Sunni-clerics-make-joint-call-for-Jihad-in-Syria.html
-------------
First phase of Grand Mosque expansion to be completed before Ramadan
14 June 2013
Efforts have been stepped up to complete the first phase of a major Makkah Grand Mosque expansion project before Ramadan.
According to a report carried by a local Arabic daily, the first phase of the expansion of the mataf (circumambulation area around the Holy Kaaba) would be completed in 10 days. "The first phase is supposed to be completed by the middle of Shaaban (June 24)," the paper said quoting a source. The SR 80 billion project, the largest in history, is designed to increase the mosque's capacity to more than 2 million worshippers.
Abdul Rahman Al-Sudais, head of the Presidency of the Two Holy Mosques, commended Custodian of the Two Holy Mosques King Abdullah for initiating the project to enhance facilities for the millions of pilgrims who come for Haj and Umrah.
Yahya Binladin, deputy chairman of the Binladin Group, said advanced systems have been used in the new expansion to ensure the smooth flow of pilgrims, especially during peak seasons. It includes security monitoring and garbage disposal systems in addition to sunshades in the courtyards around the mosque. The new extension would be linked to the existing building with bridges. It will have an advanced air-conditioning and lighting system.
King Abdullah laid the foundation stone for the massive project last August and dedicated it to the Islamic world. Covering an area of 456,000 square meters in the northwest and northeast of the mosque, the project includes construction of a new building and expansion and development of courtyards around the mosque.
A 1,200-meter-long tunnel will be constructed from the end of the expansion passing through Jabal Hindi while another tunnel, 1,100 meters long, will be built under Jabal Madafie. An emergency 700-meter tunnel crossing the other two tunnels will be constructed from Jabal Al-Kaaba.
Muhammad Al-Khozaim, vice president of the Presidency of the Two Holy Mosques Affairs, described it as the project of the century.
The total area of the existing Grand Mosque is 356,000 square meters accommodating 770,000 worshippers while the new expansion will accommodate 1.2 million faithful.
http://www.arabnews.com/news/454998
-------------
Bahrain cracks new militant group
14 June 2013
Bahrain announced yesterday the arrest of leading members of the radical opposition February 14 Revolution Youth Coalition, an influential clandestine cyber-group accused of links to Iran.
"After an extensive investigation, several members of the February 14 terrorist organization were identified ... (and) the main actors who took part in criminal acts have been arrested," the Interior Ministry said.
Full report at:
http://www.arabnews.com/news/455011
-------------
Egypt says citizens free to join fight in Syria
13 Jun 2013
A senior official in Egypt's presidential office said that Egyptians are free to fight in the conflict in Syria, and will not be prosecuted on their return to Egypt.
In a response to an Associated Press question Thursday about the government's stance on citizens going to fight alongside Syrian rebels, Khaled El-Qazzaz said that "the right of travel or freedom of travel is open for all Egyptians."
He said that after the 2011 uprising, the government no longer punishes Egyptians for what they do in other countries.
Full report at:
http://english.ahram.org.eg/NewsContent/1/64/73959/Egypt/Politics-/Egypt-says-citizens-free-to-join-fight-in-Syria.aspx
-------------
Key court ruling puts Kuwait democracy on the line
June 14, 2013
Kuwait now stands at a political crossroads ahead of a crucial court ruling on Sunday on a controversial electoral law, with the decision affecting the future of democracy itself in the oil-rich state. The constitutional court, whose verdicts are final, will rule whether an amendment
decreed by the emir last October to the electoral law is constitutional or not.
His decree intensified a bitter political crisis that had engulfed the emirate in 2006, sparking a wave of street protests, some of which turned violent.
Politicians, legal experts and opposition activists say Sunday's verdict could determine whether Kuwait, the first Gulf state to embrace democracy with its own parliament since 1962, stays democratic.
Full report at:
http://www.hindustantimes.com/world-news/restofasia/Key-court-ruling-puts-Kuwait-democracy-on-the-line/Article1-1076080.aspx
-------------
Meet the Black Bloc: Egypt's most talked about radical opposition group
13 Jun 2013
After 45 days in detention, security forces have released eight young men arrested in April for being part of the amorphous and outlawed group the "Black Bloc."
Eight youth slapped with the same charges, including spreading terrorism and banned ideas online, possessing firearms, using violence against public servants and burning down Muslim Brotherhood buildings, have been released.
Egypt's Black Bloc has ruffled the feathers of authorities since it mysteriously appeared on 24 January 2013. Just five days later, Prosecutor General Talaat Abdallah issued a blanket arrest warrant for anyone involved in what he dubbed the "organised group practicing terrorist acts." The media went wild.
Full report at:
http://english.ahram.org.eg/NewsContent/1/151/73889/Egypt/Features/Meet-the-Black-Bloc-Egypts-most-talked-about-radic.aspx
-------------
Europe
England's Mosques Hear Imam's Sermon against Teen Grooming
14 June 2013
Muslim worshippers in mosques across England will hear a sermon that condemns the grooming and sexual abuse of young girls by organised groups of men, it was revealed yesterday.
The talk, to be delivered next week during Friday prayers, forms part of a new campaign by Islamic leaders to isolate and expose offenders who target and exploit children for sex.
It follows several prosecutions in which networks of men, largely of Pakistani origin, have been found guilty of sex crimes involving the grooming of girls aged from 12 to 16.
The sermon, by a Bradford-based imam and youth worker, calls
http://www.thetimes.co.uk/tto/faith/article3790381.ece
----------
NATO: chemical arms use in Syria breaks international law
14 June 2013
BRUSSELS (Reuters) - NATO Secretary-General Anders Fogh Rasmussen said on Friday the world had made clear that any use of chemical weapons in Syria was unacceptable and a breach of international law.
"This is ... a matter of great concern," he told reporters after talks in Brussels with Moldovan Prime Minister Iurie Leanca. "The international community has made clear that any use of chemical weapons is completely unacceptable and a clear breach of international law."
The White House said on Thursday that U.S. intelligence agencies had concluded that Syrian President Bashar al-Assad's forces had used chemical weapons on a small scale against rebel fighters in Syria's civil war.
Full report at:
http://in.news.yahoo.com/nato-says-chemical-weapons-syria-breaks-international-law-073906856.html?.tsrc=lgwn
-------------
Russia labels US claims of chemical weapons usage in Syria as 'unconvincing'
Jun 14 2013
Moscow : Information that the United States has given Russia about suspected use of chemical weapons by Syrian President Bashar al-Assad's forces "does not look convincing", President Vladimir Putin's senior foreign policy adviser said on Friday.
Yuri Ushakov said expanded U.S. military support for Assad's opponents would undermine joint efforts to organise a peace conference, but added that Moscow was "not yet" considering sending Assad advanced S-300 anti-aircraft missile systems in response.
Full report at:
http://www.indianexpress.com/story-print/1129072/
---------
Britain says NSA leaker Snowden not welcome in UK
AP | Jun 14, 2013,
BANGKOK: The British government has issued an alert to airlines around the world, urging them not to allow former US intelligence contractor Edward Snowden to board flights to the United Kingdom.
The alert, dated Monday on a home office letterhead, says carriers should deny Snowden boarding because "the individual is highly likely to be refused entry to the UK.''
The Associated Press saw a photograph of the document taken Friday at a Thai airport. A British diplomat confirmed that the document was genuine and was sent out to airlines around the world.
Snowden revealed top-secret documents about US National Security Agency surveillance programs and is believed to be in Hong Kong. No warrants for his arrest have been issued.
http://timesofindia.indiatimes.com/world/uk/Britain-says-NSA-leaker-Snowden-not-welcome-in-UK/articleshow/20585770.cms
-------------
UK Muslims feel the hate after solider killing in London
Omar Karmi
Jun 14, 2013
LONDON // In a tiny room just inside the lobby of one of London's largest mosques, security staff were huddled around a single computer monitor discussing where best to focus their gaze.
Trying to make sense of feeds from 26 closed-circuit TV cameras on a single screen was not the only challenge faced by the three young men on duty Tuesday night at the East London Mosque.
"The problem with CCTV," said Mohammad, 23, the only salaried staff of the three, none of whom would give their family names, "is that every one looks suspicious."
That assessement is not just the effect of grainy footage.
Ever since the murder last month on a London street of a British soldier, mosques and other Islamic institutions in Britain have been on high alert.
Full report at:
http://www.thenational.ae/news/world/europe/uk-muslims-feel-the-hate-after-solider-killing-in-london#ixzz2WBct0vNb
-----------
Central Asia
Uzbek legislation discourages underage marriage
Tougher penalties protect both children and society from 'negative consequences,' observers say.
By Shakar Saadi
2013-06-13
TASHKENT – To reduce the number of underage marriages, Uzbekistan recently added tougher penalties to its Family Code.
The legal marriage age in Uzbekistan is 18, with khokims (mayors) retaining the right, under exceptional circumstances, to allow boys to marry at 17 and girls at 16. In line with Family Code amendments enacted in April, such circumstances include pregnancy, childbirth and emancipation from one's parents or guardian.
Society views under-18 individuals as "children" and marriages between them as abnormal, Tashkent paediatrician Aliya Mamedova said.
"A youth may look grown-up while still immature physically and, more important, psychologically," she said. "Marrying before the (legal) age is harmful not only to an individual or a young family but also to society as a whole."
Full report at:
http://centralasiaonline.com/en_GB/articles/caii/features/main/2013/06/04/feature-01
---------
Kazakh Opposition Activist Released In Poland
June 14, 2013
A Kazakh opposition activist detained in Poland has been released.
The district prosecutor in the Polish city of Lublin, Agnieszka Kempka, told RFE/RL that Muratbek Ketebaev was released on June 13 after being questioned.
Kempka added that Kazakhstan's official request to extradite Ketebaev lacked adequate proof that the case was not politically motivated.
The prosecutor said Ketebaev was released without conditions.
Ketebaev was arrested on June 12 in Lublin, where he has been living in recent years.
Ketebaev, an associate of fugitive Kazakh banker and opposition politician Mukhtar Ablyazov, is known for his criticism of Kazakhstan's government and President Nursultan Nazarbaev.
Earlier this month, Italian authorities deported Ablyazov's wife and daughter back to Kazakhstan for allegedly violating visa regulations.
Ablyazov fled Kazakhstan in 2009 and is currently in Europe.
http://www.rferl.org/content/kazakhstan-activist-released-poland/25016806.html
---------
HRW Calls On Russia Not To Extradite Uzbeks To Kyrgyzstan
June 13, 2013
Human Rights Watch (HRW) has urged Russia not to extradite three ethnic Uzbeks to Kyrgyzstan, saying they will be at serious risk of torture there.
HRW issued a statement on June 13 that said the three men are wanted by Bishkek for their alleged involvement in killings during June 2010 ethnic clashes between Kyrgyz and ethnic Uzbeks in southern Kyrgyzstan.
Hundreds were killed and thousands were displaced during the clashes.
HRW says its experts found that the use of torture by police during their investigations into the violence was widespread.
Full report at:
http://www.rferl.org/content/hrw-extradition-russia-uzbekistan-kyrgyzstan/25015688.html
---------
Kazakh, Uzbek Leaders Sign Strategic Partnership Agreement
June 14, 2013
Kazakh President Nursultan Nazarbaev has reached a strategic partnership agreement with his Uzbek counterpart, Islam Karimov, during a visit to Tashkent.
The document signed in the Uzbek capital on June 14 defines cooperation regarding politics, trade, economics, culture, and transportation between the two Central Asian countries.
After the talks, Nazarbaev described Uzbekistan as having deeply-rooted cultural and historic traditions that influence cultural developments in the region as a whole.
The Kazakh leader added that Central Asia's regional security "greatly depends on cooperation between the two countries."
Full report at:
http://www.rferl.org/content/kazakhstan-uzbekistan-leaders-karimov-nazarbaev-strategic-agreement/25016929.html
---------
India
Ishrat case: CBI likely to question two of Narendra Modi's trusted bureaucrats
Prashant Dayal & Kapil Dave, TNN | Jun 14, 2013
GANDHINAGAR: In a first, the CBI is likely to soon question two top Babus in the Gujarat government in connection with the Ishrat Jahan fake encounter case. Their names are being withheld for the time being.
The two senior IAS officials are said to have made several calls to the police officers involved in the staged encounter in 2004. "They had also been in touch with Subsidiary Intelligence Bureau joint director Rajendra Kumar," said a CBI officer. "In 2004 Kumar was the Gujarat chief of the central intelligence agency."
The two officers came under the CBI's scanner after their links to the fake encounter were revealed by Cellphone call records. "The two IAS officials have been trouble-shooters for the Gujarat government and are considered to be trusted aides to chief minister Narendra Modi," said the CBI official.
Full report at:
http://timesofindia.indiatimes.com/india/Ishrat-case-CBI-likely-to-question-two-of-Narendra-Modis-trusted-bureaucrats/articleshow/20581340.cms
-------------
$159,000 ex-gratia for kin of Indian killed in Bahrain
June 13, 2013
The family of an Indian man, who died mysteriously during the pro-democracy protests in Bahrain two years ago, has received 60,000 Bahraini dinars (about $159,000) as compensation. Stephen Abraham, working as a security officer in the Almoayyed Group, was sitting in the canteen of Awal
Dairy on Budaiya highway in the Gulf nation in March 2011 when he was shot in the chest. He was 40.
Full report at:
http://www.hindustantimes.com/world-news/restofasia/159-000-ex-gratia-for-kin-of-Indian-killed-in-Bahrain/Article1-1075879.aspx
-------------
PM's Pak visit after substantive progress in ties
TNN | Jun 14, 2013
NEW DELHI: The government on Thursday said it needs "substantive" progress in relations with Pakistan for PM Manmohan Singh to be able to visit that country despite the renewal of invite by his counterpart Nawaz Sharif who stormed back to power in last month's elections. Government sources also confirmed that there is some forward movement likely over the issue of visit to India by a Pakistan judicial commission on the Mumbai attacks.
While the government believes that the comeback of Sharif, who spoke positively about reviving ties with India during his election campaign, official sources said it was looking at making the visit, when it happens, more credible.
Full report at:
http://timesofindia.indiatimes.com/india/PMs-Pak-visit-after-substantive-progress-in-ties/articleshow/20583089.cms
-------------
CBI removes IPS officer from Ishrat Jahan probe
Neeraj Chauhan & Deeptiman Tiwary, TNN | Jun 14, 2013
NEW DELHI: Amid growing concern in the Intelligence Bureau and home ministry over the direction of CBI investigation in the Ishrat Jahan encounter case involving IB special director Rajinder Kumar, the CBI on Thursday removed IPS Satish Verma from its probe team. Verma was a nominee of Ishrat Jahan's mother in the SIT, formed by Gujarat high court to probe the alleged fake encounter. Verma was later made part of the CBI team which was entrusted with the case by HC after SIT submitted its report.
Full report at:
http://timesofindia.indiatimes.com/india/CBI-removes-IPS-officer-from-Ishrat-Jahan-probe/articleshow/20581847.cms
-------------
India-Pakistan dialogue: India for keeping momentum 'on'
PTI | Jun 13, 2013
NEW DELHI: India will work with Pakistan on scheduling of dialogue on various bilateral issues since the new government is now in place in that country.
Noting that it was "inevitable" that when the elections are round the corner, some of the dialogue will take a little time, top government sources said since "the elections are over and there is a new government, they (dialogue) will be brought back on to same track."
The placement and scheduling of these talks will be discussed between foreign secretary Ranjan Mathai and his Pakistani counterpart, the sources said, adding the idea was to keep the momentum "on" in the Indo-Pak dialogue process.
Full report at:
http://timesofindia.indiatimes.com/india/India-Pakistan-dialogue-India-for-keeping-momentum-on/articleshow/20576458.cms
-------------
Israel to help Bengal govt set up agro-tech farms
June 14, 2013
The Mamata Banerjee government has tied up with the Israel government for setting up a clutch of specialised agro-technology farms in the state.
The farms, commissioned under a pilot project, would be set up at Adisaptagram in Hooghly. The decision was reached after a meeting between state agriculture minister Malay Ghatak and Israeli ambassador to India, Alon Ushpiz at Writers' on Thursday.
"The detailed project report for setting up the specialised agro-technology farms at Adisaptagram will soon be sent to Israel for approval. The farms would come up over 2 acres and the state government has promised to provide the required land for the project," Ushpiz said.
Full report at:
http://www.hindustantimes.com/India-news/kolkata/Israel-to-help-Bengal-govt-set-up-agro-tech-farms/Article1-1076131.aspx
--------
Saudi Arabia -India Pact Domestic Workers Soon
13 June 2013
Saudi Arabia and India are scheduled to sign an agreement on domestic workers, which will provide protection to both workers and employers in Saudi Arabia, a senior diplomat from the Indian Embassy told Arab News yesterday.
Sibi George, deputy chief of mission at the Indian Embassy here, said until now domestic aides — mainly drivers, housemaids and farm workers — were not covered by local labor regulations. "We want our workers to be governed by the Saudi labor laws so they will enjoy the privileges and rights granted under the local regulations," George said.
He said the draft agreement, dubbed "Labor agreement for domestic service workers," has been initialled by senior officials of the two countries and the final agreement will be signed by the two governments shortly.
Full report at:
http://www.arabnews.com/news/454902
-------------
Pakistan
Honour Killing: Couple Declared Karo Kari Gunned Down
June 14, 2013
SUKKUR: Four armed men gunned down a couple on Thursday morning after the two were declared karo and kari in Trighati village of Sukkur, within the jurisdiction of Salehpat police station.
Mohammad Ali Katpar and his wife, Gul Taj, were sleeping in their house, when unidentified armed assailants broke into the house and killed the two. The assailants then escaped from the scene.
Full report at:
http://tribune.com.pk/story/563150/honour-killing-couple-declared-karo-kari-gunned-down/
-------------
Two cops, MQM activist killed among eight
14 June 2013
KARACHI: At least ten people including political and religious workers were killed in separate incidents of violence in different parts of the city on Thursday.
An activist of Muttahida Qaumi Movement (MQM) was found dead from the bushes near a link road in the remits of Steel Town police station.
Police officials said that deceased, Muhammad Asif Majeed was abducted by unidentified culprits, who tortured and killed him before dumping his body. After getting information, police rushed to the spot and shifted the body to Jinnah postgraduate Medical Centre (JPMC) for autopsy.
Full report at:
http://www.dailytimes.com.pk/default.asp?page=2013\06\14\story_14-6-2013_pg7_24
-------------
Ahmadi-owned magazine's office under siege
June 14, 2013
LAHORE: The vigilante siege of an office on Turner Road, where a weekly magazine owned by an Ahmadi family is produced, has not been lifted two months after it began, The Express Tribune has learnt.
Since the siege began, the circulation and publishing of the weekly, The Lahore, has stopped. The anti-Ahmadi activists have not only stopped the magazine's administration from entering the office, located on the first floor of Galaxy Law Chambers, but also have not let them take away the printed material and furniture from the office.
Full report at:
http://tribune.com.pk/story/562923/ahmadi-owned-magazines-office-under-siege/
-------------
Pak wants power from India to light up a part of Lahore
Anil Sasi
Jun 14 2013
New Delhi : Power-starved Pakistan has indicated its willingness to hook up a portion of Lahore with the Indian side, enabling the capital of the Punjab province to draw electricity from the Indian grid.
Pakistan's government made the proposal to an expert group representing the Indian government that visited the country earlier this week. The group returned to Delhi on Wednesday.
The proposal to island a part of Lahore from the Pakistani grid and hook up a direct connection with the integrated NEW (north-east-west-north eastern) grid in India is aimed at faciliating the transfer of 250-300 MW of power from the Indian side as a short-term fix for Pakistan's debilitating power crisis.
Full report at:
http://www.indianexpress.com/story-print/1128930/
-----------
Explanation sought on US surveillance by Pakistan
BAQIR SAJJAD SYED
14 June 2013
ISLAMABAD: Pakistan has sought explanation from the United States over reports that its citizens have been a major target of intelligence surveillance and asked the latter to respect the privacy of its citizens.
The apprehensions were conveyed to US Chargé d'Affaires Richard Hoagland by senior Foreign Office officials at a recent meeting.
"We have taken up the matter with the US to ascertain veracity of the news and obtain facts of the matter. We are awaiting their response," Foreign Office spokesman Aizaz Chaudhry said at the weekly briefing on Thursday.
Full report at:
http://beta.dawn.com/news/1018146/explanation-sought-on-us-surveillance
-------------
Al Qaeda activist arrested in murder of Benazir case prosecutor
MUBASHIR ZAIDI
14 June 2013
ISLAMABAD: Islamabad police have arrested an alleged al Qaeda activist involved in the killing of Chaudhry Zulfiqar, prosecutor in Benazir Bhutto murder case, who was killed in Islamabad last month when was on his way to attend the court proceedings of the case.
Highly placed sources in police confirmed to Dawn.com that they have arrested Abdullah Umar, who they claimed was also involved in attack on a military mosque in December 2009 resulting in the killing of more than 37 people.
Police claims that Umar got injured when Zulfiqar's FC guard Farman fired on the attackers who were riding a motorcycle accompanied by accomplices in a taxi cab. Abdullah Umar is the son of a retired military colonel Khalid Abbasi who was court-martialed for his links with al Qaeda in 2003 and dismissed from service. He now lives in Murree.
Full report at:
http://beta.dawn.com/news/1018011/al-qaeda-activist-arrested-in-murder-of-bb-case-prosecutor
-------------
Achakzai sworn in as new Balochistan governor
14 June 2013
QUETTA: Muhammad Khan Achakzai has been sworn in as Balochistan governor during a ceremony held at the Governor's House on Thursday. Balochistan High Court Chief Justice Qazi Faiz Esa administered oath to Khan in the ceremony, which was also attended by Balochistan Chief Minister Dr Abdul Malik Baloch. Balochistan Assembly Speaker Jan Jamali, newly elected MPAs, renowned politicians, and other officials were also present. The new governor is one of the most prominent Pashtoon political families of the province. His father, Abdul Samad Khan Achakzai, was an eminent personality of the province. He is the elder brother of the Pakhtunkhwa Milli Awami Party (PkMAP) Chairman Mehmood Khan Achakzai. Full report at:
http://www.dailytimes.com.pk/default.asp?page=2013\06\14\story_14-6-2013_pg7_9
-------------
Pakistan undaunted amid Taliban's threats against polio vaccinators
The Pakistani government and vaccinators stand tall despite spate of militant attacks and say they are committed to ridding future generations of the disease.
By Zahir Shah
2013-06-13
PESHAWAR – Despite militants' violent efforts to prevent polio immunisation campaigns from going forward, teams of vaccinators and the Pakistani government are continuing their efforts to eradicate the disease in Pakistan.
Militants want to "paralyse our nation by disrupting the polio campaigns," said Mian Iftihkhar Hussain, a former minister in the Khyber Pakhtunkhwa (KP) government and the Awami National Party (ANP) spokesman.
Full report at:
http://centralasiaonline.com/en_GB/articles/caii/features/pakistan/main/2013/06/12/feature-01
----------
'Around 30 per cent of children forced into labour in Southern Punjab'
SHAFIQ BUTT
14 June 2013
SAHIWAL: Around 31,000 children between the ages of 5 and 14 work at 730 brick kiln industries as child labourers in Sahiwal Division alone, according to the Insan Dost Association (IDA) in a recently study conducted in three districts – Pakpattan, Sahiwal and Okara (the three districts make up Sahiwal Division).
The IDA, a social welfare organisation, conducted the study to gauge the demographic of kiln labourers and the brick kiln industry in the region.
Significantly, hardly any brick kiln industry is registered with either the local labour or social security department. IDA Exective Director Anjum Matu told Dawn.com that around 11,000 children are working in Sahiwal district, 13,000 in Okara district and 7,000 in Pakpattan district. The survey also revealed that most of these children are working at kilns along with their families.
Full report at:
http://beta.dawn.com/news/1017988/around-30-per-cent-of-children-forced-into-labour-in-southern-punjab
-------------
Mideast
Relations between India and Israel go beyond defence deals: Israel Ambassador
Jun 14 2013
Kolkata : Relations between India and Israel go beyond defence and there is compatibility to deal with the future challenges, Israel's Ambassador to India Alon Ushpiz said today.
"India-Israel relations go way beyond defence. Both countries share moral set of values, believe in democracy and freedom of speech and a history of political leadership that we have been able to do together", Ushpiz told PTI in an interview when asked what was the key factor in bringing the two countries so close to each other.
"The relation goes way beyond any specific field of cooperation rather than only defence. There is something in our brains and most importantly, the chemistry between people of the two nations", Ushpiz said.
Full report at:
http://www.indianexpress.com/story-print/1129036/
---------
Sounding the alarm on Iran's human rights violations
By IRWIN COTLER, MARK KIRK
06/13/2013
Candian, American parliamentarians have been focusing on Tehran's gov't and massive domestic repression in run-up to Iranian elections.
In the run-up to the Iranian presidential election, Canadian parliamentarians and their American counterparts have been focusing attention on the Tehran government, sounding the alarm on massive domestic repression and the Iranian nuclear and terrorist threat to international peace and security.
We are witness to state-sanctioned assaults that are tantamount to crimes against humanity, including the highest per capita rate of executions in the world; the imprisonment and silencing of more journalists and bloggers than any other country; the persistent and pervasive assault on women's rights; the targeting of religious and ethnic minorities, particularly the Baha'i and the Kurds; the criminalization of fundamental freedoms of speech, association and assembly; and the imprisonment of opposition leaders, human rights defenders, and the lawyers who would defend them.
Full report at:
http://www.jpost.com/Opinion/Op-Ed-Contributors/Sounding-the-alarm-on-Irans-human-rights-violations-316465
-------------
Iranians Say Vote Won't Bridge Gap Between Leaders' Promises and Reality
By THOMAS ERDBRINK
14 June 2013
TEHRAN — On the final day of campaigning, the front-runners in the Iranian presidential election were full of promises of a bright future.
"There is hope in your eyes," the mayor of Tehran, Mohammad Baqer Ghalibaf, told thousands in front of a mosque here in the capital on Wednesday.
"We will achieve victory in the war of wills" with the West, Saeed Jalili, Iran's chief nuclear negotiator, said at a rally at a nearby stadium, where babies in the crowd wore headbands praising Shiite saints.
Full report at:
http://www.nytimes.com/2013/06/14/world/middleeast/younger-iranians-feel-like-outsiders-before-elections.html?pagewanted=print
-------------
Turkish Protesters Say Talks Lead to a Tentative Agreement
By TIM ARANGO
14 June 2013
ISTANBUL — After meeting for several hours with Prime Minister Recep Tayyip Erdogan at his home in Ankara, Turkey's capital, protest organizers whose fight to save an Istanbul park set off a political crisis emerged early Friday with what they called a tentative agreement that could end the civil unrest that has roiled the country for nearly two weeks.
Protest leaders said they and Mr. Erdogan had agreed that the government would not start construction in Gezi Park, in Taksim Square, until a court case against the plans had concluded, and that if the court ruled in favor of the government, the matter would be put to a referendum in Istanbul.
Full report at:
http://www.nytimes.com/2013/06/14/world/europe/turkish-leader-gives-final-warning-to-park-protesters.html?pagewanted=print
-------------
Suspected 'price tag' vandalism in East Jerusalem
14 June 2013
Suspected Jewish extremists torched two Palestinian cars in east Jerusalem and scrawled graffiti nearby, a police spokesman told AFP on Friday, in the latest "price tag" attack.
"Overnight there were two vehicles that were burnt in the Sheikh Jarrah neighborhood," Micky Rosenfeld said.
"Police arrived at the scene and searched the area for suspects, they also discovered graffiti on the wall (that read) 'price tag'," said Rosenfeld. "An official investigation has been opened."
Price tag is the term given to extremist hate crimes which generally target Arabs.
Initially carried out against Palestinians in retaliation for state moves to dismantle unauthorized settler outposts, such attacks have become a much broader phenomenon unrelated to any anti-settlement moves.
Full report at:
http://english.alarabiya.net/en/News/middle-east/2013/06/14/Suspected-price-tag-vandalism-in-East-Jerusalem-.html
-----------
Israel pushes plans for 1,000 new homes in West Bank
Agence France-Presse
Jun 14, 2013
JERUSALEM // Israel is moving forward with plans for more than 1,000 new homes in two West Bank settlements, a watchdog said yesterday in a move denounced by the Palestinians as an "abortion" of US peace efforts.
Details of the plans emerged as US secretary of state John Kerry makes an intensive effort to rekindle dormant peace talks, with Israel's settlement building a key sticking point.
The Peace Now settlement watchdog said plans to build 538 new homes in the northern settlement of Itamar and to legalise 137 existing units there were submitted to regional authorities this week for review.
Full report at:
http://www.thenational.ae/news/world/middle-east/israel-pushes-plans-for-1-000-new-homes-in-west-bank#ixzz2WBe48wQY
-----------
Ayatollah Ali Khamenei on US critics: 'The hell with you'
AP | Jun 14, 2013
TEHRAN, Iran: Iran's top leader has sharp words for US critics of his country's presidential election, which just got under way.
"Recently I have heard that a US security official has said they do not accept this election. OK, the hell with you,'' Supreme leader Ayatollah Ali Khamenei said in remarks broadcast by Iran state television. He spoke shortly after casting his vote Friday morning.
Khamenei says if Iran was supposed to wait for US approval, there would be controversy.
Khamenei has repeatedly called for a high turnout as a reply to Western governments that have strongly questioned the openness of Iran's elections.
State department spokeswoman Jen Psaki said on Thursday that while the US does not think the Iranian election process is transparent, it is not discouraging the Iranian people from voting.
http://timesofindia.indiatimes.com/world/middle-east/Ayatollah-Ali-Khamenei-on-US-critics-The-hell-with-you/articleshow/20584622.cms
-------------
North America
US Confirms Assad Used Chemical Weapons in Syria
By Reuters
June 14, 2013
President Barack Obama has authorized sending U.S. weapons to Syrian rebels for the first time, a US official said on Thursday after the White House said it has proof that the Syrian government had used chemical weapons against opposition forces fighting to overthrow President Bashar al-Assad.
The US decision came as Assad's surging forces and their Lebanese Hezbollah allies turned their guns on the north, fighting near the northern city of Aleppo and bombarding the central city of Homs after having seized the initiative by winning the open backing of Hezbollah last month and capturing the strategic town of Qusair last week.
The White House said Washington would provide "direct military support" to the opposition but did not specify whether it would include lethal aid, which would mark a reversal of Obama's resistance to arming the rebels. But the US official, speaking on condition of anonymity, said the package would include weapons.
Full report at:
http://www.thejakartaglobe.com/international/us-confirms-assad-used-chemical-weapons-in-syria/
-------------
NSA chief defends worldwide electronic surveillance programme
Chidanand Rajghatta, TNN | Jun 14, 2013
WASHINGTON: The head of the US spy agency at the center of the storm over worldwide American electronic surveillance told Congress that its actions halted "dozens" of terrorist threats. But the whistleblower who outed Washington in the matter revealed a wider US agenda, including industrial and academic espionage.
Among the examples of "success" cited by National Security Agency Director Keith Alexander while testifying before a Senate Committee on Wednesday was the eventual capture of David Headley aka Daaod Gilani, the Pakistani-American who scouted Mumbai on behalf of the Pakistani spy agency ISI and the Lashkar-e-Taiba, although technically the U.S failed to prevent the 26/11 carnage despite having him in their sight - and sometimes on their rolls -- for many years.
Full report at:
http://timesofindia.indiatimes.com/world/us/NSA-chief-defends-worldwide-electronic-surveillance-programme/articleshow/20581966.cms
-------------
U.S. studying Syria no-fly zone near Jordan border: diplomats
14 June 2013
(Reuters) - The United States is studying setting up a limited no-fly zone in Syria close to the southern border with Jordan, two senior Western diplomats in Turkey said on Friday.
Their comments, confirmed by a third regional diplomat, came after Washington said it would step up military assistance to rebels battling President Bashar al-Assad in response to what it said was proof of chemical weapons use by Assad's forces.
"Washington is considering a no-fly zone to help Assad's opponents," one diplomat said. He said it would be limited "time-wise and area-wise, possibly near the Jordanian border", without giving details.
Full report at:
http://www.reuters.com/article/2013/06/14/us-syria-crisis-zone-idUSBRE95D06820130614
----------
CAIR Asks Florida Atlantic University to Drop Anti-Muslim Advisor
6/13/13
(SOUTH FLORIDA, 6/13/13) – The South Florida chapter of the Council on American-Islamic Relations (CAIR-SFL) today called on Florida Atlantic University (FAU) to drop an advisor who has expressed and supported extremist anti-Muslim views online.
Roxanna Trinka, who is director of the Research Park at FAU and an advisor to the College of Engineering, posted and re-posted a number of Islamophobic messages on Facebook, including a "joke" about a future in which Muslims do not exist.
Full report at:
-----------
Africa
Former Italian Premier plotted to 'have Qaddafi killed'
14 June 2013
ROME: Former Italian Premier Silvio Berlusconi plotted to have Libyan dictator Muammar Qaddafi assassinated by the secret services, Italy's Il Fatto Quotidiano daily said yesterday, sparking a heated denial from the magnate's spokesman.
"In the middle of the Libyan crisis ... Silvio Berlusconi made a rather unusual request to the head of the secret services: 'Can you eliminate Qaddafi?'" the left-wing paper said, citing "an authorized diplomatic source close to the security services."
"It appears to have been a rather naive attempt on Berlusconi's part to resolve an embarrassing situation," it said.
Qaddafi visited Italy several times, staying in a Bedouin tent pitched in the gardens of the Libyan embassy in Rome and hosting events with young local and Libyan beauties.
He is credited by some as having invented the term "bunga bunga," later used to describe erotic parties held by Berlusconi.
Full report at:
http://www.arabnews.com/news/454988
-------------
S. Africa vows to return Qadhafi assets to Libya
June 13, 2013
JOHANNESBURG: South Africa will return assets and cash stashed by the slain Libyan dictator Mu'ammar Qadhafi in the country after reaching an agreement with Tripoli, the finance ministry said on Thursday.
The two governments agreed on "the repatriation from South Africa of Libyan funds" that are thought to include diamonds and gold worth more than $1 billion.
The assets were placed in South Africa by the Libya Investment Authority, the Libya Africa Investment Portfolio and the Libya Africa Investment Company -- funds closely controlled by Qadhafi's regime.
Full report at:
http://dailystar.com.lb/News/Middle-East/2013/Jun-13/220276-safrica-vows-to-return-kadhafi-assets-to-libya.ashx#ixzz2WBdlrHwz
-------------
South Asia
Buddhist monks in Myanmar call for peace after wave of anti-Muslim attacks
Jun 14 2013
Yangon : Senior monks in Myanmar today appealed for peace following a surge in religious bloodshed in the former junta-ruled nation, in a joint statement that stopped short of condemning a wave of anti-Muslim attacks.
After two days of talks between more than 200 monks at a monastery near Yangon, the Buddhist clerics accused media of tarnishing their image with allegations that monks were at the forefront of the violence.
"All Buddhist leaders and Buddhists want to live peacefully, without any conflict," they said in a statement read out by senior monk Dhammapiya.
Describing Buddhism as one of the "best religions in the world", he said that "all citizens of Myanmar support policies that encourage living peacefully".
Sectarian bloodshed mostly targeting Muslims has laid bare deep divides that were largely suppressed under decades of military rule which ended two years ago in the Buddhist-majority country.
Full report at:
http://www.indianexpress.com/story-print/1129058/
---------
21 suspected militants held in Dhaka
14 June 2013
Police arrested 21 suspected militants, including 10 students of Buet, from a hotel at Thataribazar under Wari Police Station on Thursday night.
Acting on secret information that a group of militants were holding a clandestine meeting at Star Hotel, a team of police led by Illias Sharif, deputy commissioner of Wari, conducted a six-hour raid at the hotel from 11:00pm.
Police arrested 21 suspected militants from the hotel and released 51 others, who were detained on suspicion, after interrogation.
Full report at:
http://www.thedailystar.net/beta2/news/21-suspected-militants-held-in-capital/
-------------
Deadline for Afghan refugees repatriation may have to be extended
ZULFIQAR ALI
14 June 2013
PESHAWAR, June 13: With the official deadline for the withdrawal of refugee status from Afghan refugees nearing an end on June 30, officials privy to the matter believe the newly-elected federal government will have little choice other than extending the stay of more than 1.6 million Afghans in Pakistan — at least for now.
Officials said that all registered refugees in Pakistan would lose their refugee status and become illegal if they don't get another extension. After the expiry of the deadline, their legal status would automatically stand nullified. Previous government had given registered refugees six-month extension from January 1, 2013 on requests of Afghan President Karzai and the international community — that has done next to nothing to feed and shelter them.
Full report at:
http://beta.dawn.com/news/1018167/deadline-for-afghan-refugees-repatriation-may-have-to-be-extended/?commentPage=1&storyPage=2
-------------
Maldives President met with angry protests during "bittersweet" campaign trip
By Mohamed Naahee | June 13th, 2013
President Mohamed Waheed's maiden campaign trip to Thinadhoo in Gaaf Dhaal Atoll was met by hundreds of angry protesters who came out in opposition to the government's heavy crackdown on the island following Waheed's controversial ascension to power on February 7.
President Waheed has launched his presidential campaign under the slogan "forward with the nation", after unveiling Ahmed Thasmeen Ali – leader of government-aligned Dhivehi Rayyithunge Party (DRP) – as his running mate.
Waheed is backed by what he contends is a "broad-coalition" of political parties including his own party Gaumee Iththihaadh Party (GIP), the DRP, Dhivehi Qaumee Party (DQP) and religiously conservative Adaalath Party (AP).
Full report at:
http://minivannews.com/politics/president-waheed-met-with-angry-protests-during-bittersweet-campaign-trip-tothinadhoo-59422
-------------
PM warns police of zero tolerance for indiscipline
14 June 2013
Prime Minister Sheikh Hasina presents the "Best Officer Cup" to Assistant Superintendent of Police (ASP) Md Golam Saklain during the passing out parade of the newly recruited ASPs of the 30th Bangladesh Civil Service (police) batch at Bangladesh Police Academy in Sardah of Rajshahi yesterday. photo: PID
Stressing the importance of maintaining departmental discipline, Prime Minister Sheikh Hasina yesterday warned the police that no one will be spared if found guilty as the government has adopted a "zero tolerance" policy to indiscipline.
Full report at:
http://www.thedailystar.net/beta2/news/pm-warns-police-of-zero-tolerance-for-indiscipline/
-----------
Southeast Asia
Golkar Lawmaker Under Fire for 'Secret' Israel Visit
By Markus Junianto Sihaloho
June 13, 2013
A Golkar Party lawmaker's "secret" trip to witness peace talks between Palestine and Israel — a country with no diplomatic ties to Indonesia — has inspired anger in the House of Representatives.
Tantowi Yahya visited the country earlier this month with a group of journalists on an invitation from an Australia-based pro-Israel organization. During his visit, Tantowi met with members of Israel's parliament (Knesset), as well as academics and government officials. One such meeting, with Knesset speaker Yuli Edelstein, was reported on the website Israel Hayom, raising alarms in Indonesia.
Ali Machsan Musa, a member of the House's Ethics Committee, chastised Tantowi for the visit.
Full report at:
http://www.thejakartaglobe.com/news/golkar-lawmaker-under-fire-for-secret-israel-visit/
-------------
Muhammadiyah Sets Date for Start of Ramadan
By Jakarta Globe
June 13, 2013
The holy month of Ramadan will start on July 9, Indonesia's second-largest Islamic organization Muhammadiyah announced on Thursday.
The organization based the start-date on mathematical and astronomical computations concerning the phase of the moon, Muhammadiyah deputy chairman Yuhagar Ilyas told the Indonesian news portal Detik.com.
"Muhammadiyah has decided that the first of Ramadan of the Islamic year 1434 to fall on Tuesday, July 9, 2013," he said.
Full report at:
http://www.thejakartaglobe.com/news/muhammadiyah-sets-date-for-start-of-ramadan/
-------------
Australia
Man sent to jail for whipping Muslim in Australia
AP | Jun 14, 2013
SYDNEY: A man who whipped a Muslim convert as a religious punishment for drinking alcohol has been sentenced in Australia to at least 16 months in jail.
Wasim Fayad was convicted earlier this year of the 2011 attack on Christian Martinez.
Sydney central local court magistrate Brian Maloney sentenced Fayad on Friday to a maximum of two years in jail for assault occasioning actual bodily harm.
Fayad whipped Martinez 40 times with an electric cord in his Sydney home while three other men held him down on his bed. Those men received suspended sentences and were ordered to perform community service.
Maloney told Fayad that he had brought shame upon the Islamic faith.
Islamic Sharia laws prohibit alcohol and recommend whipping as a punishment for several offenses.
http://timesofindia.indiatimes.com/world/rest-of-world/Man-sent-to-jail-for-whipping-Muslim-in-Australia/articleshow/20584423.cms
-----------
URL: https://newageislam.com/islamic-world-news/afghan-parliamentarians-praise-fatwa-that/d/12067