New Age Islam News Bureau
20 Dec 2014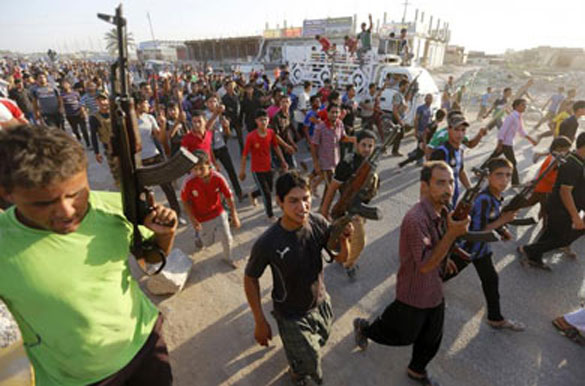 Volunteers who have joined the Iraqi Army to fight against predominantly Sunni militants from the radical Islamic State of Iraq and the Syria carry weapons during a parade in Al-Fdhiliya district. Reuters
---------------
South Asia
• Afghan Army Operations Kill 141 Militants, 5 Soldiers Die In Attacks
• Terrorism, Religious Extremism Threat to Our Existence: SAFMA
• Detained Afghan Taliban insurgents can not recite Kalima
• Dhaka Court sends 24 Tabligh Jamaat men to jail
• Sheikh Hasina PM lauds BGB role against BNP-Jamaat violence
Arab World
• Saudi Rulers Reconsider Ties to Wahhabi School of Sunni Islam
• How the Sunni-Shiite Conflict Frames the Current Crisis in Iraq
• Prophet's Name Misused on Date Packs
• Activists: Qaeda seizes scores of Syrian army tanks
• Top Saudi scholars rap massacre in Peshawar
• Egypt antiquity ministry slams US mission after 'million mummy' controversy
• El-Sisi assures Obama of Egypt's 'commitment to democracy'
• Iraq Kurds press fight back as top jihadist reported killed
• IS executes Syrian for aiding regime air strikes: SITE
• Kuwait court jails three ISIS supporters
• Abu Muslim al-Turkmani: From Iraqi officer to slain ISIS deputy
India
• Clerics Campaign against Wahhabis, Taliban at Urs-e-Razwi
• IndiaWithPakistan Hashtag Crosses 1 Million on Twitter
• President Hands Over War Recordings to Bangladeshi Counterpart
• PM tweets in Hebrew to greet Israelis, Netanyahu replies in Hindi
Pakistan
• Taliban Threaten To Kill Politicians' Kids Next
• Govt, Army Pledge 'Zero Tolerance' Against Terror
• Peshawar School Attack is 'Pakistan's 9/11': National Security Advisor
• Key Taliban commander among 27 terrorists killed in fresh action
• Drone strike kills four suspected militants in North Waziristan
• Taliban video identifies Peshawar attack mastermind as Umar Mansoor, father of 3
• MQM demands arrest of Maulana Aziz, closure of Jamia Hafsa
• Unconfirmed Reports Say TTP Chief Fazlullah Killed In Air Attack
• Terrorists and Enemies of Humanity Deserve Execution: Jamaat-e-Islami
• 'Hanging won't absolve govt of hard decisions': Asma Jahangir
• Key commander of Darra Adamkhel Taliban killed in Peshawar clash: sources
• Two suspected TTP men killed in Karachi encounter: police
• Seven KP Terror Convicts Likely To Be Hanged: IG Prisons
• Jamiat Ulema-i-Islam Maulana says he is not friend of TTP
• 73,000 ulema across country condemn Peshawar incident
• Pakistan Hangs 2 Terrorists in Faisalabad, Army Chief Hails Executions
Mideast
• Turkish Court Issues Arrest Warrant for US-Based Cleric Gülen
• Three soldiers killed in Yemen 'Al-Qaeda' bomb attack
• Israel launches first Gaza strikes since 50-day war
• Chobani founder urges world to 'step up' for Syrian refugees
• Turkish institutions always part of 'sultan's state,' says top economist
North America
• 'US ready for increased cooperation with Pakistan on terrorism'
• US 'disappointed' with Egypt for denying entry to US scholar
• U.S. To Send 1,300 Troops to Iraq on Training Mission
Africa
• Child soldiers in CAR more than doubled, says charity
• Government claims 1 in 5 terrorists in Libya from outside
• Nigeria says reports of latest Boko Haram kidnap 'unverified'
• Tunisia's old regime hopes makeover can win it the election
• Sombre mood in Nigeria's Chibok for first Christmas since kidnap
Europe
• A Simple Gesture Makes a Bold Statement against Anti-Muslim Bigotry
• Government 'consistently refuse to support prevention' of barbaric FGM
• U.N. asks Israel to pay Lebanon $850 mln for oil spill
• Three Years, 10 Months for Tatar from Kazan Who Fought In Syria
• Russia Hopes OPCW to Consider Information of Use of Chlorine by Syrian Militants
Southeast Asia
• Hudud for Kelantan means Hudud for all, DAP says
• Police Chief Tells Schools to Review Security after Girl Taken Hostage in E. Java
• Ali Rustam mocks PAS, PKR over Guan Eng's 'fatwa' on 'Allah'
• IS fighters borrowed RM100, 000 and more to bankroll life as jihadists, cops say
Australia
• Australian Muslim leaders refuse to bury siege gunman
Compiled by New Age Islam News Bureau
URL: https://newageislam.com/islamic-world-news/new-age-islam-news-bureau/afghan-army-operations-kill-141-militants,-5-soldiers-die-in-attacks/d/100606
----------
South Asia
Afghan Army Operations Kill 141 Militants, 5 Soldiers Die in Attacks
20 Dec, 2014
KABUL, Dec. 20 (Xinhua) -- About 141 Taliban militants have been killed as Afghan army waged offensives within the last 48 hours, said the country's Defense Ministry on Saturday morning.
"Afghan National Army (ANA) conducted operations to ensure security in surrounding areas of Kunar, Nangarhar, Ghazni, Helmand, Uruzgan, Balkh and Herat provinces over the past 48 hours, killing 141 armed opponents,"the ministry said in a statement.
A Taliban shadow district governor, named Ahmad Khan, for Dangam District of eastern Kunar province was among the killed, according to the statement.
The statement also confirmed losing five ANA personnel as a result of enemy's heavy weapon firing and roadside bomb attacks over the same period.
The army specialists have recovered and defused 115 roadside bombs and landmines over the past two days, it said.
The Taliban insurgent group has yet to make comments.
The Taliban-led violence continues in Afghanistan. Afghan security forces have pressed on to clear the militants in restive provinces as the NATO and U.S. forces are withdrawing from the country.
http://news.xinhuanet.com/english/2014-12/20/c_133868201.htm
----------
Terrorism, Religious Extremism Threat to Our Existence: SAFMA
Dec 20, 2014
LAHORE: Speakers at a roundtable discussion arranged by the South Asian Free Media Association (SAFMA) reiterated the demand to bring all perpetrators, patrons, ideologues, activists and supporters of terrorism on any pretext whatsoever to justice.
The participants of the roundtable discussion, held at SAFMA House on the Peshawar incident, condemned the barbaric massacre of students and teaching staff.
Speakers included SAFMA Secretary General Imtiaz Alam, HRCP Director IA Rehman, renowned journalist and human activist Hussain Naqi and others.
Welcoming the national resolve of the All Parties Conference headed by Prime Minister Nawaz Sharif in Peshawar for not differentiating between good and bad Taliban and eliminating every terrorist, the participants said that terrorism, religious extremism and sectarian fanaticism have become the principal threat to our existence as a civilised people and nationhood. They said that unfortunately, terrorism is embedded in our history, along with religious misrepresentation, state policies, erroneous security paradigms, use of religion for political objectives and misguiding syllabus/literature in seminaries as well as public and private schools.
While, the state institutions, various governments, some religious/sectarian parties and a section of media, academia, sections of clergy in particular have been pursuing, patronising and supporting most misguided policies, including Talibanisation, militarisation, sectarian frenzy, terrorism in the name of 'Jihad' and murder.
These policies have resulted in the creation of parallel power structures, blood thirsty militias, sectarian divides and implosion of state and society from within, thanks to extra-territorial agendas and terrorist safe heavens and they have brought Pakistan into a dangerous conflict with all of its neighbours and the international community.
Meanwhile, not only that it endangered the life, environment, peace and property of our people, and destroyed our culture, education, socio-political balance and spiritual harmony, it also distorted our image as a nation that is at war with itself and with the world. Due to fatal and self-destructive policies, rule of law, writ of the state and peaceful co-existence of various communities have been undermined.
As well as various variants of extremist religious, sectarian, violent and hateful paradigms and narratives were popularised that have poisoned the mind of sections of our young generations who provide cheap fodder for various kinds of fisad (mischief) sanctioned by self-appointed 'amirs'.
SAFMA members reiterated their demand that all violent religious and sectarian ideologies, terrorist militias and hate materials that promote violence must be proscribed and a paradigm of democratic, humane, pluralist, tolerant nationhood/statehood should be constitutionally, legally, culturally and academically promoted. A national, democratic and enlightened narrative, as opposed to extremist religious, sectarian and fanatic narratives, should be promoted at all levels and in all spheres of state and society allowing both political, civil and human freedom and rights to flourish.
A comprehensive and concrete counterterrorism strategy should be adopted to not only physically eliminate terrorism, annihilate all private sectarian/religious/ethics militias, but also transform the ideological, social and cultural space that produces and nourished violent and fanatic mindset.
All sectarian and violent militias, parties propagating hate and promoting violence should effective banned and not allowed to re-emerge with different names.
Every king of state patronage to terrorist outfits and extremist religious groupings must come to an end and no favourites may be allowed to play havoc within and outside Pakistan. Such a rational, objective and peaceful national security and foreign policy should be adopted that serves the interests of the people of Pakistan, peaceful coexistence with neighbours and a cooperative relationship with the international community according to our means and requirements.
As envisage by the National Internal Security Policy (NISP), National Counter-Terrorism Authority may be reconstituted to be headed by the prime minister and to be regularly operated by the joint chief of staff committee (JCSC). The Rapid Deployment Force should be created from the ranks of armed forces under their respective e professional command structure to fight terrorism. Similarly, Directorate of Internal Security should be made effective to pool all intelligence sources. Given the relative weakness civilian armed forces, the armed forces need to be given a leading role in NACTA with a view that gradually the capacity of civilian armed forces would be build in order to relieve the armed forces to focus on their principal job of meeting external threat.
http://www.dailytimes.com.pk/punjab/20-Dec-2014/terrorism-religious-extremism-threat-to-our-existence-moot
----------
Detained Afghan Taliban insurgents can not recite Kalima
20 Dec, 2014
The Afghan security forces have arrested two Taliban insurgents in northeastern Badakhshan province who are unable to recite Kalima.
According to the local security officials, the two insurgents were arrested during an operation in this province.
The provincial poilce chief Gen. Abdul Qadir Sayyad confirmed that the two insurgents were arrested during an operation and said they were unable to recite Kalima.
A video of the two insurgents were also widely shared on social media networks in Afghanistan.
The social media users condemned the group for their so-called holy war in the country and being involved in human rights violations as their insurgents are illiterate and have no knowledge of the principles of Islam.
The Taliban group has not commented regarding the report so far.
http://www.khaama.com/detained-taliban-insurgents-can-not-recite-kalima-8865
----------
Dhaka Court sends 24 Tabligh Jamaat men to jail
20 Dec, 2014
A Dhaka court sent 24 Tabligh Jamaat men to jail yesterday.
Magistrate Mizanur Rahman passed the order and set tomorrow to hear whether these arrestees could be released on bail.
General Recording Officer (GRO) Kutubul Alam, of the Chief Metropolitan Magistrate Court informed this all to the Dhaka Tribune.
Kakrail Mosque committee member Sayed Wasiful Islam, also a spiritual leader, along with some other senior members embezzles money that comes in as mosque donation and for its development.
One of the protesters, Azharul Islam, told the Dhaka Tribune that protesting against this dishonest activity, several Tablighi Jamaat men were distributing leaflets against him on Thursday night.
They were then allegedly attacked by Wasiful 's followers after he ordered them to do so, he said, adding: "Police had even arrested them (protesters) who were already beaten up by his supporters."
Ramna police station Operation Officer Jahangir Hossain told the Dhaka Tribune that they arrested them after they had been told by the mosque committee that some men were ruining the peaceful atmosphere at Kakrail mosque.
"We just sent the devotees to jail to take the ongoing situation under control and are trying to sold the dispute through holding talks between both the sides."
In protests against the arrests, a number of devotees of Kakrail mosque gathered in front of the police station yesterday noon. They however went away after senior police officials hold talks with them.
Protester Azaharul also said they came to know about the irregularities of Wasiful two year back after one of their associates (Sathi) came up with some documents over it.
"We later looked into the issue and found out that Wasiful along with some other senior members of Tabligh Jamaat embezzles a lot of money that comes in as mosque donation and as for its development."
"Tabligh Jamaat is a place of peace and we would allow none to foil its peace and prosperity and take stand against it at any cost," he said.
Contacted, accused Sayed Wasiful Islam told the Dhaka Tribune: "I don't know why a group of people are trying to create anarchy by spreading false and misleading information about me and some other senior members."
"They are trying to do this for around a year but have so far failed to establish anything against me," he said.
http://www.dhakatribune.com/politics/2014/dec/20/court-sends-24-tabligh-jamaat-men-jail
--------
Sheikh Hasina PM lauds BGB role against BNP-Jamaat violence
20 Dec, 2014
Prime Minister Sheikh Hasina has appreciated members of the Border Guard Bangladesh (BGB) for their role in protecting the country from the violence that was created by the BNP-Jamaat men during the January 5 election.
The premier made the statement while addressing a programme marking the "Border Guard Bangladesh (BGB) Day-2014" at Pilkhana on Saturday morning.
Sheikh Hasina said: "The members of BGB have been playing a laudable and exemplary role in protecting the country's border along with assisting the civil administration."
She hoped that the BGB would discharge its duties with honesty and sincerity to keep the border areas safe and uphold the country's image.
"We expect your further cooperation for protecting our country from any kind of violence," she added.
She said her government has taken all measures to make the BGB a modern force.
To this end, she said, the government enacted the Border Guard Bangladesh Act-2010, and approved a new organisational framework and manpower for making it an efficient force.
The government has already decentralised the BGB command structure under four regions in the country for bringing dynamism in its activities, said the prime minister.
Sheikh Hasina said her government also approved setting up four more sectors along with 15 battalions, and most of which have already been implemented.
http://www.dhakatribune.com/bangladesh/2014/dec/20/pm-praises-bgb-role-against-bnp-jamaats-violence#sthash.GnSaZglj.dpuf
----------
Arab World
Saudi Rulers Reconsider Ties to Wahhabi School of Sunni Islam
20 Dec, 2014
By Reuters
RIYADH— Saudi Arabia's ruling Al Saud royal family are trying to adjust their relationship with the country's strict Wahhabi school of Sunni Islam as they increasingly view the teachings of some of its ultra-conservative clergy as a domestic security threat.
Radicalization of Muslims in the world's top oil exporter has led to domestic attacks and the involvement of Saudi citizens in jihadist movements in Iraq and Syria, while extreme religious practices have damaged efforts to boost employment.
Over the past decade the House of Saud has not only put in place measures to control clerics and their sermons, but has started to favour more modern clergy for top state positions.
Saudi rulers are also starting to reform areas once the exclusive domain of the clergy, such as education and law, and have promoted elements of national identity that have no religious component.
Saudi Arabia remains one of the most religiously conservative countries on earth, and the royal family is not cutting off the clergy or ditching Wahhabism's basic precepts, analysts and diplomats say.
They are instead attempting to foster a reading of its teachings that distances it from Islamist militants such as Islamic State, and which better meets the demands of a modern economy.
"They've been pushing for a more national Wahhabism, one that is more modern in its outlook, one that is better in terms of the kingdom's image overseas, one that is more economically suitable," said Stephane Lacroix, author of Awakening Islam, a book about religious politics in Saudi Arabia.
Spokesmen for the government could not immediately be reached for comment.
Saudi Arabia's approach to religious doctrine is important because of its symbolic position as the birthplace of Islam, while its oil exports allow it to finance Wahhabi-oriented missionary activity abroad.
Full report at:
http://www.voanews.com/content/reu-saudi-arabia-wahhabi-clergy/2562763.html
----------
How The Sunni-Shiite Conflict Frames The Current Crisis In Iraq
20 Dec, 2014
As ISIS keeps advancing on the ground in Iraq, the hardline jihadi militants have revived with a vengeance one of the oldest conflicts there is: the rift between the Sunnis and Shiites in Islam.
Iraq is a perfect ground for the divide to turn violent: it has a Shia-majority population, a Shia-led government under Prime Minister Nouri al-Maliki, and an embattled Sunni minority, which dominated the country for centuries, from the Ottoman Empire until the U.S. invasion deposed Saddam Hussein in 2003.
"The Iraq conflict plays out on several levels between Sunnis and Shiites. First and foremost, it's about how to share power in a 21st century state. The prime minister, a Shiite, has failed abysmally in creating a formula to share power with the Sunnis, the traditional political masters in Iraq," Robin Wright, a joint fellow at the U.S. Institute of Peace and the Woodrow Wilson Center, non-partisan institutions, told NBC News.
The divide between the two major branches of Islam has lasted for centuries -- and the schism is not always just a religious one. It began when the Prophet Muhammad died in 632 A.D. and a clash erupted over who should succeed him. One side, which became the Shiites, believed Muhammad's successor should be someone from his bloodline; those who spawned the Sunnis held it could be a pious individual who could follow Muhammad's customs. The rift has divided the Muslim landscape across the Middle East and beyond for 1,350 years, with some countries being controlled by Shiites and the others by Sunnis, and shifting back and forth.
Full report at:
http://www.ibtimes.com/how-sunni-shiite-conflict-frames-current-crisis-iraq-1603528
----------
Prophet's Name Misused on Date Packs
20 Dec, 2014
DAMMAM — Members of the public have expressed extreme anger over packs of dates with the Prophet's name on them being sold in the Kingdom.
They said the marketing company was using the name of the Prophet (peace be upon him) to encourage customers to buy the date.
They said it was abominable to exploit people's love for the Prophet as a marketing ploy. Those who claim to love the Prophet should follow in his footsteps, instead of printing his name on product labels, they argued.
Anger has been boiling over the issue in the social media as well, with many saying that the company that used the Prophet's name to market its products has no right to remind people of the Prophet's traditions.
http://www.saudigazette.com.sa/index.cfm?method=home.regcon&contentid=20141220228042
-----------
Activists: Qaeda seizes scores of Syrian army tanks
20 Dec, 2014
Fighters from the Nusra Front, Al-Qaeda's Syria branch, seized dozens of tanks and armored personnel carriers from the army when they took two regime bases this week, AFP quoted activists as saying on Friday.
The Syrian Observatory for Human Rights said Nusra Front fighters captured the Wadi al-Deif and Hamidiyeh military posts in the northwestern province of Idlib on Monday.
The fighters captured the Wadi al-Deif and Hamidiyeh military posts in the northwestern province of Idlib on Monday, the Syrian Observatory for Human Rights said.
The Britain-based group, which relies on a network of sources on the ground, had said in an earlier report that nearly 200 combatants on both sides were killed in a 24-hour battle for the bases.
Nusra Front fighters, backed by allied Islamist insurgents, captured at least 120 soldiers, the Observatory said at the time.
On Friday, it reported that the Islamist militants also seized 35 tanks and 20 armored personnel carriers "stuffed with ammunition."
http://english.alarabiya.net/en/News/middle-east/2014/12/19/Nusra-Front-seizes-Syrian-army-tanks-activists.html
----------
Top Saudi scholars rap massacre in Peshawar
20 Dec, 2014
Several religious leaders in Saudi Arabia have slammed those who killed 149 people in an attack on a Pakistan school.
They include Grand Mufti Sheikh Abdul Aziz Al-Asheikh, Grand Mosque imam and khateeb Sheikh Saleh Abu Talib, and Sheikh Abdul Rahman Al-Sudais, president of the Two Holy Mosques Affairs.
"What crime did these children in Pakistan, or the children in Syria, Iraq and other places, commit to be mowed down in broad daylight or driven out to starve and live in fear and cold. Islam does not justify such heinous crimes," Abu Talib said during his Friday sermon.
He said Islam upholds the sanctity of human life, while most of these "deviant" groups show they have no scruples by killing innocent people.
"How can these people kill innocent Muslim children in the name of Islam when Islam does not allow anyone to harm children, even those who fight against the religion."
Abu Talib said the members of these groups mistakenly believe that they are defenders of Islam, while the reality is that they distort its teachings.
Full report at:
http://www.arabnews.com/featured/news/677136
----------
Egypt antiquity ministry slams US mission after 'million mummy' controversy
20 Dec, 2014
The Egyptian antiquities ministry has decided to halt its cooperation with an American mission working near Fayoum after accusing the mission of making false statements about the discovery of a necropolis.
According to a ministry statement, the decision comes after the Brigham Young University mission gave false information to a British newspaper about its excavations in Fag Al-Gamous village in Upper Egypt.
The BYU mission announced that its excavators were working in an ancient necropolis dating back some 2,000 years which contains an estimated one million burials. Press reports described the burials as mummies.
Full report at:
http://english.ahram.org.eg/NewsContent/9/40/118343/Heritage/Ancient-Egypt/Egypt-antiquity-ministry-slams-US-mission-after-mi.aspx
----------
El-Sisi assures Obama of Egypt's 'commitment to democracy'
20 Dec, 2014
Egypt's President Abdel-Fattah El-Sisi affirmed to US President Barack Obama Egypt's commitment to democracy, human rights and to the roadmap unveiled after the ouster of Islamist president Mohamed Morsi, in a phone call on Thursday.
According to Al-Ahram Arabic, citing a statement by El-Sisi's spokesman, the two men also discussed the fight against Islamist militants in the Middle East, and the US president praised the pivotal role played by Egypt in this arena.
During the phone call, El-Sisi highlighted Egyptians' aspirations to establish a modern democratic state that respects rights and freeoms.
Obama also praised Egypt's role in resolving the Israeli-Palestinian conflict and also its role in restoring political stability and security in Libya and Iraq, according to spokesman Alaa Youssef.
Full report at:
http://english.ahram.org.eg/NewsContent/1/64/118314/Egypt/Politics-/ElSisi-assures-Obama-of-Egypts-commitment-to-democ.aspx
----------
Iraq Kurds press fightback as top jihadist reported killed
20 Dec, 2014
Kurdish forces pressed their biggest offensive against the Islamic State group so far on Friday, buoyed by US reports that jihadist supremo Abu Bakr al-Baghdadi's top aide in Iraq has been killed.
Kurdish peshmerga forces were securing the surroundings of Mount Sinjar after breaking a months-old jihadist siege of the northwestern region while fighting was also reported near the city of Tall Afar further east.
The Pentagon said Thursday that US strikes had killed several top leaders of the group that proclaimed a "caliphate" straddling Syria and Iraq six months ago and rose to be the world's most feared jihadist organisation.
"I can confirm that since mid-November, targeted coalition air strikes successfully killed multiple senior and mid-level leaders," spokesman Rear Admiral John Kirby said.
US officials said among those killed was Abu Muslim al-Turkmani, who was Baghdadi's deputy in charge of Iraq and would be the most senior IS leader to fall this year.
Full report at:
http://english.ahram.org.eg/NewsContent/2/8/118327/World/Region/Iraq-Kurds-press-fightback-as-top-jihadist-reporte.aspx
----------
IS executes Syrian for aiding regime air strikes: SITE
20 Dec, 2014
The Islamic State group has publicly executed a Syrian it accused of planting tracking devices for deadly regime air strikes, SITE Intelligence reported on Saturday.
The jihadist group posted footage of the accused being paraded before a crowd but the video deliberately freezes at the point an IS fighter pulls his head back and holds a knife to his neck, the US-based monitoring group said.
After the execution in Syria's northern province of Aleppo, the jihadists paraded the body of the accused on a cross.
IS charged that more than 190 people had been killed in the air strikes that the man had abetted.
Full report at:
http://english.ahram.org.eg/NewsContent/2/8/118396/World/Region/IS-executes-Syrian-for-aiding-regime-air-strikes-S.aspx
----------
Kuwait court jails three ISIS supporters
20 Dec, 2014
A Kuwaiti court has jailed three Arab supporters of ISIS militant group, in a first for the Gulf emirate, newspapers reported.
The court sentenced a Kuwaiti to 10 years in jail for urging support for the group and also for insulting Kuwait's ruler in public.
An Egyptian and a Jordanian were handed four-year terms for helping him distribute pro-ISIS leaflets, local media reports said, quoting Thursday's ruling.
The verdicts can be appealed but the men are in currently in prison.
It was the first such Kuwaiti court ruling against supporters of ISIS, the target of US-led air strikes in Syria and neighboring Iraq.
Kuwaiti courts are examining two similar cases.
In September, police arrested several suspected ISIS members under the Gulf state's commitment to the U.S.-led coalition against the jihadists.
Dozens of Kuwaitis have fought alongside rebel groups in Syria battling President Bashar al-Assad's regime, and a number have been killed in the conflict.
http://english.alarabiya.net/en/News/middle-east/2014/12/19/Kuwait-court-jails-three-ISIS-supporters-.html
----------
Abu Muslim al-Turkmani: From Iraqi officer to slain ISIS deputy
20 Dec, 2014
Fadel Abdullah al-Hiyali, aka Abu Muslim al-Turkmani who U.S. officials say was killed in recent anti-ISIS air strikes, was reportedly a former Iraqi officer under Saddam Hussein and had served time in a U.S.-run prison before becoming "the right hand man" of Abu Bakr al Baghdadi, the militant group's leader.
U.S. Army General Martin Dempsey told the Wall Street Journal on Thursday that three senior ISIS leaders were terminated by anti-ISIS coalition air strikes between November and December.
The newspaper, quoting unidentified officials, said Turkmani and Abd al Basit, described as the head of ISIS military operations in Iraq, were killed in the strikes between Dec. 3 to Dec. 9. Radwin Talib, who was the ISIS governor in Mosul, was killed in late November.
Full report at:
http://english.alarabiya.net/en/perspective/profiles/2014/12/19/Abu-Muslim-al-Turkmani-From-Iraqi-officer-to-slain-ISIS-deputy.html
----------
India
Clerics Campaign against Wahhabis, Taliban at Urs-e-Razwi
Priyangi Agarwal, TNN
20 Dec, 2014
BAREILLY: On the last day of annual Urs-e-Razwi of Imam Ahmed Raza at Dargah Ala Hazrat, Muslim clerics condemned the terrorism practiced by the Taliban, and the orthodoxy of the Wahhabi sect.
The clerics said the world should come together to protest the killing of innocent people in the name of Islam. Ulema should launch a campaign the Taliban and the Wahhabis, said clerics, cheered by a large number of people at the Islamia ground.
"If we must save Islam, we must come forward to protest against these people. Our protest will save our children and youth from these terrorist outfits," said Maulana Farogulquagri, joint secretary, World Islamic Mission, London.
"For conducting Wuzoo (washing of hands, face and legs before prayers), Prophet Mohammed advised us to use minimum water. How would he then ask people to kill innocents in the name of Islam? The Taliban and Wahhabis wear a Muslim mask. In reality, they do not follow the principles of Islam. They run terrorism outfits," Maulana Mohammed Ehsan Raza Khan, the new Sajjadanasheen of Dargah Ala Hazrat, who took over from his father Maulana Subhan Raza Khan on Friday, said.
Full report at:
http://timesofindia.indiatimes.com/city/bareilly/Clerics-campaign-against-Wahabis-Taliban-at-Ala-Hazrat/articleshow/45578318.cms
-----------
Indiawithpakistan Hashtag Crosses 1 Million on Twitter
TNN | Dec 20, 2014
MUMBAI: Cyber empathy between the tweeple of India and Pakistan was never more heartfelt. Following the Peshawar school killings on Tuesday, the hashtag #IndiaWithPakistan started doing the rounds on Twitter. As per Twitter's "reverb" tool, which measures hashtags in real time, the number of tweets containing the #IndiaWithPakistan tag had crossed the one million mark by Friday late afternoon.
On Thursday, when 26/11 accused Zaki ur Rehman Lakhvi got bail, Pakistani Twitterati responded with #PakWithIndiaNoToLakhviBail, condemning the development. According to Frrole, a data analytics company, there were over 9,000 tweets with the tag #PakWithIndiaNoToLakhviBail by 3:30 pm on Friday.
Full report at:
http://timesofindia.indiatimes.com/india/IndiaWithPakistan-hashtag-crosses-1-million-on-Twitter/articleshow/45581397.cms
----------
President Hands Over War Recordings to Bangladeshi Counterpart
20 Dec, 2014
President Pranab Mukherjee on Friday handed over the recordings of transmissions made by All India Radio and Doordarshan during the Liberation War of 1971 to Bangladeshi President Abdul Hamid.
Receiving the Bangladeshi President at the Rashtrapati Bhavan here, Mr. Mukherjee recalled how the "valiant" Mukti Vahini soldiers fought hand in hand with Indian troops for Bangladesh's liberation.
He expressed hope that these recordings would remind the people of Bangladesh of those momentous times.
Mr. Mukherjee complimented Mr. Hamid for the role played by him in the consolidation of India-Bangladesh relations. He said India attached the highest importance to bilateral relations with Bangladesh, a close friend and neighbour.
The President said, "It is satisfying for India to see that Bangladesh, today, represents a high growth economy with a promising future. It is heartening to see the impressive strides made by Bangladesh on human development, healthcare, education, women's empowerment and other socio-economic fronts."
The Bangladeshi President reciprocated the sentiments, and praised Mr. Mukherjee for having been a friend of Bangladesh for long. He invited Mr. Mukherjee to visit Bangladesh again.
http://www.thehindu.com/news/national/pranab-hands-over-war-recordings-to-bangladeshi-counterpart/article6708982.ece
----------
PM tweets in Hebrew to greet Israelis, Netanyahu replies in Hindi
TNN | Dec 20, 2014
NEW DELHI: Prime Minister Narendra Modi on Friday tweeted in Hebrew Hanukka greetings to the people of Israel. This evoked a response from his counterpart Benjamin Netanyahu who thanked Modi for his greetings in Hindi leading to much amusement in diplomatic circles on both sides.
Modi and Netanyahu met this year on the sidelines of UNGA in New York in what was the first meeting between the prime ministers of the two countries in the past 11 years. Netanyahu said after the meeting that sky was limit in bilateral relations and invited Modi to visit Israel.
Known as the Jewish festival of lights, Hanukka is celebrated in Israel for 8 days. "On behalf of all the people of the nation of Israel, thank you very much for your good wishes of Hanukka,'' tweeted Netanyahu in Hindi in his response to Modi's greetings.
There is already speculation that Modi could become the first Indian PM to visit Israel since the two countries established full diplomatic relations in 1992. The two countries are diplomatically working out dates for foreign minister Sushma Swaraj's visit early next year. According to Israeli authorities, the fact that Israel will go to polls in March is not likely to act as an impediment to Swaraj's visit. Israeli authorities told this newspaper earlier that a formal invite will be extended to Modi to visit Israel at some stage.
http://timesofindia.indiatimes.com/india/PM-tweets-in-Hebrew-to-greet-Israelis-Netanyahu-replies-in-Hindi/articleshow/45580224.cms
----------
Pakistan
Taliban threaten to kill politicians' kids next
Sachin Parashar,TNN | Dec 20, 2014
NEW DELHI: After the gruesome killing of children in Peshawar this week, Tehrik-e-Taliban Pakistan has warned the Nawaz Sharif government that it will start eliminating children of politicians, including Sharif's family, and army officers if the Pakistan government keeps its commitment to hang militants owing allegiance to the terror outfit.
The warning came in the form of a letter, written apparently by Mohammed Kharasani, believed to be a top commander of Tehrik-e-Taliban chief Mullah Fazlullah. It was received by Pakistan authorities on Friday evening. TOI has access to the letter.
Top sources said they were trying to verify if the letter was genuine. The letter justified the killing of young children saying the kids were committed to following in the footsteps of their parents.
Full report at:
http://timesofindia.indiatimes.com/world/pakistan/Taliban-threaten-to-kill-politicians-kids-next/articleshow/45581201.cms
----------
Govt, army pledge 'zero tolerance' against terror
Dec 20, 2014
RAWALPINDI: Prime Minister Nawaz Sharif visited the General Headquarters (GHQ) and chaired a high-level meeting on renewed security strategy to take to task the hardcore terrorists of Tehreek-e-Taliban Pakistan (TTP).
The meeting, attended by Chief of Army Staff (COAS) General Raheel Sharif, Interior Minister Nisar Ali Khan and senior military officials, discussed the current security situation in the country. The civilian leadership and military command have agreed that no leniency would be extended to terrorists and tough steps would be taken in this regard. The army chief also took the premier into confidence over his meetings with the Afghan leadership.
It was also decided that security at the Pak-Afghan border would be tightened in order to restrain cross-border movement of militants. The meeting also focused on the ongoing Zarb-e-Azb and Khyber One operations and the future course of action following the recent attack of terrorists at a school in Peshawar that killed more than 140 persons, mostly children. The meeting also decided that the operation being conducted in North Waziristan and Khyber would be expanded and militant hideouts would be targeted in Tirah Valley of Khyber as well as in other tribal areas in the next stage.
Full report at:
http://www.dailytimes.com.pk/national/20-Dec-2014/govt-army-pledge-zero-tolerance-against-terror
----------
Peshawar School Attack is 'Pakistan's 9/11': National Security Advisor
Dec 20, 2014
ISLAMABAD: A Taliban massacre at a school is "Pakistan's 9/11", the country's top foreign policy official told AFP on Friday, saying the assault that left 149 dead would change the country's approach to fighting terror.
The attack on an army-run school in the north-western city of Peshawar horrified the world and drew promises of swift retribution for the Tehreek-e-Taliban Pakistan (TTP), which claimed it.
Sartaj Aziz, Foreign Affairs and National Security Advisor to Prime Minister Nawaz Sharif, said the assault, the deadliest terror attack in Pakistan's history, was a "game changer".
"This has shaken the entire Pakistani society to the core, and in many ways it's a threshold in our strategy for countering terrorism," he told AFP in an interview.
"Just like 9/11 changed the US and the world forever, this 16/12 is kind of our mini 9/11."
Pakistan has long been accused of playing a double game with militants groups, supporting those it thinks it can use for its own strategic ends, particularly in Afghanistan and disputed Kashmir.
Full report at:
http://www.ndtv.com/article/world/peshawar-school-attack-is-pakistan-s-9-11-says-national-security-advisor-sartaj-aziz-637190
----------
Key Taliban commander among 27 terrorists killed in fresh action
Dec 20, 2014
At least 27 terrorists, including a key commander of the banned Tehreek-e-Taliban Pakistan (TTP) Darra Adamkhel chapter were killed in fresh military action against terrorists in Frontier Region Peshawar, Khyber Agency and Charsadda district on Saturday.
At least five terrorists, including their commander Mustafa alias Manan, were killed in a clash between security forces and militants in Bazargari area in the Frontier Region of Peshawar. Mustafa is reportedly a brother of Umar Mansoor alias Umar Naray— the alleged mastermind of the Peshawar school massacre.
Two security personnel were also injured in the clash.
The bodies of the militants, which were later shown to media, also included Hidayatur Rehman alias Saleem, who was wanted for clashes with security forces in Frontier Regions and surrounding areas.
Full report at:
http://www.pakistantoday.com.pk/2014/12/20/national/key-taliban-commander-among-27-terrorists-killed-in-fresh-action/
------------
Drone strike kills four suspected militants in North Waziristan
Dec 20, 2014
PESHAWAR: At least four suspected militants were killed in a US drone strike in the Dattakhel tehsil of North Waziristan tribal region on Saturday.
Intelligence sources said the drone fired two missiles on a compound in Dattakhel, resulting in the deaths of four suspected militants, including a high-value target.
The identity of the militants is yet to be ascertained. Drones were said to be hovering in the area.
North Waziristan is among Pakistan's seven tribal districts near the Afghan border rife with homegrown insurgents and are alleged to be strongholds of Taliban and Al Qaeda operatives, among other extremist groups.
Full report at:
http://www.dawn.com/news/1152058/drone-strike-kills-four-suspected-militants-in-north-waziristan
------------
Taliban video identifies Peshawar attack mastermind as Umar Mansoor, father of 3
Reuters
Dec 20, 2014
The most hated man in Pakistan is a 36-year-old father of three and volleyball enthusiast nicknamed "Slim".
His real name is Umar Mansoor and the Pakistani Taliban say he masterminded this week's massacre of 132 children and nine staff at a school in Peshawar - the deadliest militant attack in Pakistan's history.
A video posted on Thursday on a website used by the Taliban shows a man with a luxuriant chest-length beard, holding an admonishing finger aloft as he seeks to justify the December 16 attack. The caption identified him as Umar Mansoor.
"If our women and children die as martyrs, your children will not escape," he said. "We will fight against you in such a style that you attack us and we will take revenge on innocents."
The Taliban say the attack, in which gunmen wearing suicide-bomb vests executed children, was retaliation for a military offensive carried out by the Pakistani army. They accuse the military of carrying out extrajudicial killings.
Full report at:
http://www.hindustantimes.com/world-news/pakistan-s-most-hated-man-volleyball-player-child-killer/article1-1298346.aspx#sthash.zG64rxdt.dpuf
------------
MQM demands arrest of Maulana Aziz, closure of Jamia Hafsa
Dec 20, 2014
KARACHI: Founder leader of Muttahida Qaumi Movement (MQM) Altaf Hussain while condemning Peshawar school attack has demanded the arrest of Maulana Abdul Aziz and closure of Jamia Hafsa for remarks supportive of Taliban insurgents after Peshawar school attack.
Addressing a massive rally via telephone organised by MQM to show solidarity with victims of Peshawar school attack and Pakistan Army besides paying rich tribute to the martyrs, he said it was not the rally of MQM but the National Solidarity Rally of Pakistan.
Terming the terrorists as 'beasts', the MQM leader said innocent children and teachers were martyred in the massacre. "Islam is the religion of peace and its teachings are for peace and brotherhood," he said. "If we want to save Pakistan, we should get rid of Taliban," he said. Altaf called upon the law enforcement agencies to extend the circle of operation against terrorists to the entire country.
Full report at:
http://www.dailytimes.com.pk/sindh/20-Dec-2014/altaf-demands-arrest-of-maulana-aziz-closure-of-jamia-hafsa
----------
Unconfirmed Reports Say TTP Chief Fazlullah Killed In Air Attack
December 20, 2014
Monitoring Desk
Unconfirmed reports late on Friday night said that TTP chief Maulana Fazlullah was killed in an air attack in Afghanistan.
Ministry of Defence via its Facebook page said that TTP commander Fazlullah was taken out by Pakistani Air Force jets in Afghanistan.
Quoting sources, some private TV channels said the move came as a result of the joint operation by Pakistan military and the Isaf force in Afghanistan. They said intelligence sharing enabled them to target the man who was said to have masterminded the bloody attack on a Peshawar school earlier this week.
The first reports of Fazlullah's death came over Facebook and Twitter from Pakistan's Ministry of Defence's official accounts. However, there was no word yet from the Pakistani military.
Full report at:
http://nation.com.pk/national/20-Dec-2014/ttp-chief-fazlullah-killed-in-air-attack
--------
Terrorists and Enemies Of Humanity Deserve Execution: Jamaat-e-Islami
Dec 20, 2014
LAHORE: Jamaat-i-Islami Secretary-General Liaquat Baloch has said murderers, terrorists and enemies of humanity don't deserve any concession and the law of the land calls for the execution of their death sentence after completion of trial and other legal formalities.
Talking to the media after leading the Friday congregational prayers here, he said the death sentence was implemented all over the world as it created a sense of respect and sanctity of law in society.
He said the death sentence granted to terrorists and saboteurs was opposed to indirectly help the criminals under pressure of a specific lobby working for foreign masters.
Mr Baloch said the decision of the prime minister and the army chief to enforce the death sentence to all those whose cases had completed all legal requirements should be implemented.
The JI leader said that the rulers should realize their lapses and try to make amends, adding that the people in power and the national leadership should firmly resolve to defend the country's ideology and the constitution.
He said the turn of events had given a chance to the rulers and they should review the policies being followed since 9/11 and decide the national priorities keeping in view supreme national goals.
Full report at:
http://www.dawn.com/news/1152025/terrorists-and-enemies-of-humanity-deserve-execution-says-ji-leader
----------
'Hanging won't absolve govt of hard decisions': Asma Jahangir
Dec 20, 2014
LAHORE: Rights activist and former president of the Supreme Court Bar Association Asma Jahangir says hanging of a few convicts will not absolve the government of taking some hard policy decisions on the security paradigm or to revamp the criminal justice system.
In a statement issued on Friday, she said the government decision to execute prisoners who were awarded death penalty for terrorism could well be understood under the present circumstances where emotions were high and there was anger against terrorists. However, she said, such a measure was simply sidetracking the issue.
"Terrorism does not disappear with revenge tactics but through making justice and equality before law a reality," she added.
Ms Jahangir said that in the past, the knee-jerk reaction to terrorism had been to pass harsh laws, giving security forces a free hand to eliminate or arrest anyone on suspicion of being a terrorist. This practice only eroded legal protection, she said.
She stated the powerful walked away free after murder while the vulnerable could easily get death under the weak judicial system. She believed the policy makers should take the recent tragedy as a warning to eruption of more violence and wisely devise strategies that would reduce terror attacks.
http://www.dawn.com/news/1152031/hanging-wont-absolve-govt-of-hard-decisions
----------
Key commander of Darra Adamkhel Taliban killed in Peshawar clash: sources
Dec 20, 2014
PESHAWAR: At least five militants including a key commander were killed on Saturday in a clash between security forces and militants in the Mattani area of Peshawar, sources said.
According to official sources, the clash took place near the town of Darra Adam Khel, leaving five militants, including key commander Mustafa of Darra Adamkhel Taliban, dead.
Two security personnel were also injured in the clash.
With the deadly Taliban attack on Peshawar's Army Public School, the army offensive against militants appears to be gearing up after the country's political and military leadership agreed on a full-blown operation.
Full report at:
http://www.dawn.com/news/1152054/key-commander-of-darra-adamkhel-taliban-killed-in-peshawar-clash-sources
----------
Two suspected TTP men killed in Karachi encounter: police
Dec 20, 2014
KARACHI: Two suspected terrorists were killed in an encounter with personnel from the police's Crime Investigation Department (CID) here on early Saturday morning.
Personnel from CID's Anti-Extremism Cell (AEC) raided at a location in Karachi's Mauripur area on a tip off regarding the presence of suspected terrorists in the locality.
They suspected men resorted to firing when the police party reached the scene, police said, adding that in retaliation, police personnel also opened fire.
During the encounter, two of the suspected men received bullet wounds and scrummed to their wounds on way to hospital.
CID AEC In-charge Ali Raza told media personnel that both men were engaged in terrorist activities and were "associated with the outlawed Tehreek-i-Taliban Pakistan's Khan Zaman group".
CID police has not reveal names and details of the alleged terrorists.
http://www.dawn.com/news/1152053/two-suspected-ttp-men-killed-in-karachi-encounter-police
----------
Seven KP terror convicts likely to be hanged: IG prisons
Dec 20, 2014
PESHAWAR: The province of Khyber Pakhtunkhwa has seven prisoners sentenced to death under the Anti Terrorism Act (ATA) and are likely to be hanged after Prime Minister Nawaz Sharif lifted the moratorium on the death penalty.
Inspector General (IG) of KP prisons Kifayatullah Khan told Dawn that the total number of prisoners sentenced to death and are currently imprisoned, is 192, out of which six or seven are those who had been charged and punished under the ATA.
According to jail statistics, the total number of prisoners in KP jails is 8,955 with Haripur having the highest number with 1,941, Peshawar Central jail with 1,859, Bannu with 718 and Dera Ismail Khan with 340 prisoners.
The remaining prisoners are kept in other jails of the province.
Responding to a query about threats to jails in Peshawar after the school attack, the IG said that the execution of condemned prisoners was banned in 2008, "but we are progressing with the procedure as per new directives".
Regarding the links of prisoners to militant groups, Khan said that it was not the jail authority's mandate. However, those convicted under the ATA or charged under Articles 302 and 788 are applicable under terror charges.
Khan also remarked that security was on high alert following intelligence reports of looming threats.
http://www.dawn.com/news/1151873/seven-kp-terror-convicts-likely-to-be-hanged-ig-prisons
----------
Jamiat Ulema-i-Islam Maulana says he is not friend of TTP
Dec 20, 2014
NOWSHERA: Chief of his own faction of Jamiat Ulema-i-Islam Maulana Samiul Haq has dispelled the impression that he had cordial relations with the banned Tehreek-i-Taliban Pakistan, saying it was part of a propaganda campaign against him.
Addressing a meeting after Friday prayers at Akora Khattak, Maulana Sami said that he had actually friendly relations with the Mujahideen who had fought against Russia for independence of Afghanistan. He alleged that western media was trying to portray him as the friend of the proscribed TTP.
"We always pray for peace in Afghanistan and Pakistan and it is only possible when both countries have independent foreign policies. On the wish of Prime Minister Nawaz Sharif, I had started negotiations with Taliban to stop bloodshed in the country," he clarified.
The maulana condemned the killing of innocent students in the Peshawar school and said that Islam didn't allow the killing of children and women.
He said that Darul Uloom Haqqania was never involved in terrorist activities and always condemned terrorism in all its forms and manifestations.
http://www.dawn.com/news/1152001/sami-says-he-is-not-friend-of-ttp
----------
73,000 ulema across country condemn Peshawar incident
Dec 20, 2014
LAHORE: Ulema of all schools of thought condemned the Peshawar incident in their Friday sermons across the country on the appeal of the Pakistan Ulema Council.
Ulema of 73,000 mosques under the Wafaqul Masajid Pakistan expressed solidarity with the victims of the Peshawar incident.
The ulema demanded that the government takes serious action against terrorists. PUC Central Chairman Hafiz Muhammad Tahir Mahmood Ashrafi led the Friday prayers and condemned the incident. He prayed for eternal peace of the martyrs and patience for the bereaved families.
http://www.dailytimes.com.pk/national/20-Dec-2014/73-000-ulema-across-country-condemn-peshawar-incident
----------
Pakistan Hangs 2 Terrorists in Faislabad, Army Chief Hails Executions
Dec 20, 2014
Pakistan on Friday executed two terrorists in Faislabad after Prime Minister Nawaz Sharif lifted moratorium on the death penalty following an attack on an army school in Peshawar.
Pakistan Army Chief General Raheel Sharif hailed the executions by a tweet saying "go to hell". He has also said that 8 other terrorists would be hanged shortly.
Go to Hell... #PeshawarAttack pic.twitter.com/3E5HicgiNz
; Gen Raheel Sharif (@ImRaheelSharif) December 19, 2014
8 more terrorists to be hanged anytime soon. Death warrants received by Jail Superintendents. #PeshawarAttack
; Gen Raheel Sharif (@ImRaheelSharif) December 19, 2014
Aqeel alias Dr Usman was injured and captured alive during the attack at Rawalpindi's Army General Headquarters (GHQ) in 2009 and sentenced to death, while Arshad Mehmood, also known as Mehrban, was convicted for an assassination attempt on former president and army chief Pervez Musharraf.
Full report at:
http://indiatoday.intoday.in/story/peshawar-attack-pakistan-hangs-terrorists-dr-usman-arshad-mehmood/1/407896.html
----------
Mideast
Turkish court issues arrest warrant for US-based cleric Gülen
20 Dec, 2014
A Turkish court has issued an arrest warrant for U.S.-based Islamic scholar Fethullah Gülen, a former ally turned arch-enemy of President Recep Tayyip Erdoğan.
The Prosecutor's Office in Istanbul described Gülen in a Dec. 18 request to the 1st Criminal Court of Peace as, "The leader of a criminal organization publicly known as the 'Hizmet Movement,' which was structured in media, economy and bureaucracy in violation of laws and regulations."
Prosecutor Hasan Yılmaz requested the arrest warrant by stressing that "enough concrete evidence showing that Gülen committed a crime was collected during the investigation" into the activity of his community.
The request noted that Gülen has been abroad since 1998 and the prosecution was not able to contact him for the investigation, Anadolu Agency reported.
Full report at:
http://www.hurriyetdailynews.com/turkish-court-issues-arrest-warrant-for-us-based-cleric-gulen.aspx?pageID=238&nID=75831&NewsCatID=341
----------
Three soldiers killed in Yemen 'Al-Qaeda' bomb attack
20 Dec, 2014
A suspected Al-Qaeda bomb attack killed three Yemeni soldiers and wounded five others Friday, a military source said, the second attack in days on security forces in Yemen's southeastern Hadramawt province.
An explosive device planted in the town of Seyun was detonated remotely as a vehicle carrying army personnel passed by, the source said.
Three soldiers were killed on Wednesday in a similar bombing west of Seyun.
Security forces are often the target of deadly attacks, which are usually blamed on Al-Qaeda militants, who are active in the violence-wracked country.
Al-Qaeda in the Arabian Peninsula is considered by Washington as the jihadist network's most dangerous affiliate.
http://english.alarabiya.net/en/News/middle-east/2014/12/19/Three-soldiers-killed-in-Yemen-Qaeda-bomb-attack.html
----------
Israel launches first Gaza strikes since 50-day war
20 December 2014
Israeli air planes struck targets in the southern Gaza Strip, witnesses and the army said early Saturday, hours after a rocket from the Palestinian enclave hit Israel.
A spokesman for Gaza's health ministry said there were no casualties in the attack, the first air strike by Israel on the Palestinian enclave since the summer truce that ended the deadly 50-day war between the sides.
The Israeli army confirmed the strike, which it said "targeted a Hamas terror infrastructure site".
Military spokesman Lieutenant Colonel Peter Lerner said in a statement that the "Hamas terrorist organization is responsible and accountable for today's attack against Israel."
On Friday, a rocket fired from Gaza hit an open field in southern Israel, Israeli police said, causing no casualties or damage.
The Islamist militant movement, which has de facto rule over Gaza, did not assume responsibility for the attack, the third such incident since the end of the fighting between the sides nearly four months ago.
Hamas and Israel agreed a ceasefire on August 26, brokered by Egypt, ending 50 days of war which resulted in the deaths of 2,140 Palestinians and 73 Israelis, most of them soldiers.
http://english.alarabiya.net/en/News/middle-east/2014/12/20/Israel-launches-first-Gaza-strikes-since-50-day-war-.html
----------
Chobani founder urges world to 'step up' for Syrian refugees
20 Dec, 2014
Turkish-born Hamdi Ulukaya, the founder of the U.S.-based Chobani Greek Yogurt, has called on the world to "step up on the Syria refugee crisis" in an article for CNN.com.
"Like many entrepreneurs, I am often asked about the secrets to building a successful career. The advice I give is that whether you're in Silicon Valley creating apps, or in Unadilla Valley in upstate New York making yogurt, there are many common ingredients for success," the businessman said in the article.
"But everything starts with opportunity, whether it is the opportunity to study, to work, to build something, or the opportunities afforded by a safe home, a stable society and a secure environment.
These were all opportunities that I enjoyed as a young boy in a Kurdish community in eastern Turkey and as a young man who came to America, inspired by the American dream," he continued.
Full report at:
http://www.hurriyetdailynews.com/chobani-founder-urges-world-to-step-up-for-syrian-refugees.aspx?pageID=238&nID=75822&NewsCatID=359
----------
Turkish institutions always part of 'sultan's state,' says top economist
20 Dec, 2014
Turkey's economic and political institutions have always been part of a "sultan's state" and this can only be overcome by public demands from below for more human rights, freedom and transparency, according to leading economist Daron Acemoğlu.
"There a mixture of inclusive and extractive institutions in Turkey. Turkey's economic and political institutions have always been characterized by a 'sultan state.' This can only be overcome by more political participation of the masses and a rise in public demands for more human rights, freedom and transparency," MIT Professor Acemoğlu said on Dec. 18, speaking at an Istanbul panel titled "The Relationship between Law and Economy: The Public Welfare Dimension of Liberties," organized by Transparency International Turkey and the Consulate General of Sweden in Turkey.
Full report at:
http://www.hurriyetdailynews.com/turkish-institutions-always-part-of-sultans-state-says-top-economist.aspx?pageID=238&nID=75854&NewsCatID=344
----------
North America
'US ready for increased cooperation with Pakistan on terrorism'
Dec 20, 2014
WASHINGTON: The US State Department said on Friday that Washington would welcome increased cooperation with Pakistan in the fight against terrorism.
"We have been working closely with all levels of the Pakistan government and stand ready to provide assistance as necessary," the department's spokesperson Jen Psaki told a briefing in Washington.
"And we, of course, would welcome increased cooperation as well with the government," she added.
Earlier, the White House had also offered to strengthen "a very important" counter-terrorism relationship with Pakistan.
And this week, US President Barack Obama telephoned Prime Minister Nawaz Sharif to express America's "unwavering support for the Pakistani people" in the fight against extremism.
The same day US Secretary of State John Kerry also called the prime minister, reaffirming "solidarity and support … at this difficult time of mourning for the Pakistani people".
Full report at:
http://www.dawn.com/news/1151992/us-ready-for-increased-cooperation-with-pakistan-on-terrorism
----------
US 'disappointed' with Egypt for denying entry to US scholar
20 Dec, 2014
"We are disappointed at the government in Egypt's decision to deny entry to Ms Dunne," US State Department spokesperson Jen Psaki said Saturday.
US scholar Michele Dunne was denied entry to Egypt last week at Cairo International Airport. Egypt's state-owned news agency MENA initially reported that Dunne was denied entry to the country for "security reasons." However, Egypt's foreign ministry later released a statement saying that Dunne didn't have a non-tourism visa.
Spokesperson Psaki said in a presser that Dunne's case was raised with the Egyptian government, but that it is their understanding that she's not banned from entering Egypt.
"We think discouraging travel to Egypt sends exactly the wrong signal to the international community," Psaki added.
Dunne, a senior associate in the Middle East Programme of the Carnegie Endowment for International Peace, landed in Cairo from Istanbul to attend a conference of the government-endorsed Egyptian Council for Foreign Affairs.
Full report at:
http://english.ahram.org.eg/NewsContent/1/64/118393/Egypt/Politics-/US-disappointed-with-Egypt-for-denying-entry-to-US.aspx
----------
U.S. To Send 1,300 Troops To Iraq On Training Mission
December 20, 2014
The Pentagon has announced it will send up to 1,300 more U.S. troops to Iraq on a mission to "train, advice, and assist," beginning in late January.
Pentagon spokesman Rear Admiral John Kirby said on December 19 that the deployment is part of an additional 1,500 troops authorized in November by President Barack Obama.
Kirby said the goal of the mission is to train nine brigades of Iraqi security forces and three Iraqi Kurdish Peshmerga brigades.
The United States has been fighting Islamic State militants since August in Iraq and Syria.
The United States launched airstrikes against the Islamic militants on August 8 in Iraq, and later broadened the fight to IS targets in Syria.
Last week, Secretary of State John Kerry said Obama was committed to using only air strikes to degrade IS militants.
http://www.rferl.org/content/united-states-iraq-training-/26753782.html
-----------
Africa
Child soldiers in CAR more than doubled, says charity
December 20, 2014
The number of child soldiers in the Central African Republic (CAR) has more than doubled – and possibly quadrupled – since sectarian conflict erupted last year, putting them at risk of long-term psychological damage, Save the Children warns.
An estimated 6,000 to 10,000 boys and girls are currently members of armed groups, compared with around 2,500 at the beginning of the crisis, according to the charity.
The CAR was plunged into violence when northern, mostly Muslim Seleka rebels seized control of the capital in March 2013, prompting a backlash by the largely Christian 'anti-balaka' militia. Thousands of people have since been killed or displaced by a never ending cycle of revenge attacks.
A report by Save the Children published on Thursday warns that children as young as eight continue to be recruited by both sides. Some are forcibly conscripted while others are motivated to join out of poverty and a desire to avenge the deaths of loved ones.
They are often victims of physical, mental and sexual abuse by militants and can be ordered to kill or commit other acts of violence.
Full report at:
http://www.theguardian.com/world/2014/dec/18/-sp-child-soldiers-central-african-republic-doubled
-----------
Government claims 1 in 5 terrorists in Libya from outside
December 20, 2014
The Libyan government continues to claim that a significant portion of the terrorists operating in Libya have come from outside. The figure now being given is around 20 percent.
Speaking on Al-Arabiya TV, House of Representatives (HoR) spokesperson Faraj Buhashem said that one in five of the terrorist fighters in Libya were foreigners.
Buhashem went on to suggest that retired General Khalifa's "Operation Dignity", against terror was not just about Libya's problem with terrorism, but about preventing a spillover into North African neighbours and European countries.
Denouncing the United Nations' calls for an immediate ceasefire, Buhashem said: "If the international community has any authority over these groups, or even direct contact with them, the Libyan government needs to be brought into the conversation so that such a ceasefire can be attained."
Full report at:
http://www.libyaherald.com/2014/12/19/government-claims-1-in-5-terrorists-in-libya-from-outside/#axzz3MU5ntY00
------------
Nigeria says reports of latest Boko Haram kidnap 'unverified'
AFP | 20 December, 2014
Nigeria's military on Friday confirmed a deadly attack by Boko Haram in the northeast village of Gumsuri but said reports of a mass kidnapping needed to be verified.
"Troops are patrolling the general area of Gumsuri in search of terrorists," a statement from defence ministry spokesman Chris Olukolade said.
"Although it has been confirmed that some people were killed by the terrorists during the attack, the reported abductions as claimed by unidentified sources being quoted in some foreign media is yet to be verified from any credible sources in the community," he added.
At least 32 people were killed in the attack that began late Sunday and at least 185 others, mostly women and children, were kidnapped, witnesses and local officials said.
The attack recalled the mass abductions in the nearby town of Chibok in April, when more than 200 girls were seized by the Islamists in a raid on a school.
Full report at:
http://www.timeslive.co.za/africa/2014/12/20/nigeria-says-reports-of-latest-boko-haram-kidnap-unverified
------------
Tunisia's old regime hopes makeover can win it the election
20 Dec, 2014
In the corner of his office, Tunisian presidential candidate Beji Caid Essebsi keeps a bust of Habib Bourguiba, who led the country in 1957 after its independence from France. It is a symbol, he says, of the kind of statesman Tunisia now needs.
The 88-year-old was a minister in Bourguiba's government and is now standing for President himself. To win however he must convince voters to look past his more recent job -- speaker for the autocratic Zine El Abidine Ben Ali, who rigged elections to rule for 24 years until the country threw him out in 2011.
That revolt inspired "Arab Spring" uprisings across the Middle East. Where other nations struggle with post-revolt upheaval, Tunisia's presidential elections on Sunday highlight its successful shift to democracy and a new constitution.
Full report at:
http://english.ahram.org.eg/NewsContent/2/8/118345/World/Region/Tunisias-old-regime-hopes-makeover-can-win-it-the-.aspx
----------
Sombre mood in Nigeria's Chibok for first Christmas since kidnap
20 Dec, 2014
The northeast Nigeria town of Chibok used to fill up before Christmas as people returned home to visit their families, but with the 219 schoolgirls kidnapped by Boko Haram still missing, few feel like celebrating this year.
Nigerians were forced to recall the April 14 mass abduction in Chibok this week, following news that another 185 people, mostly women and children, were seized in the nearby town of Gumsuri in another attack blamed on the Islamists.
"In a normal situation, by this time Chibok would have been bubbling with people trooping in to spend the holidays with families...buying livestock, food and new clothing for the holy celebration," said Ayuba Chibok, whose niece is among the hostages.
Full report at:
http://www.dailymail.co.uk/wires/afp/article-2880812/Sombre-mood-Nigerias-Chibok-Christmas-kidnap.html
----------
Europe
A Simple Gesture Makes a Bold Statement against Anti-Muslim Bigotry
20 Dec, 2014
BERLIN — After the latest of his sermons denouncing the Islamic State, Mohamed Taha Sabri stepped down from an ornate platform at the House of Peace mosque. The 48-year-old chief preacher then moved to greet his congregation, steeling himself for the fallout.
Soon, two young men — they are almost always young, but not always men — were calling him out. Only moments before, Sabri had derided the militants' tactics, saying "it is not our task to turn women into slaves, to bomb churches, to slaughter people in front of cameras while shouting 'God is great!'?"
One young man in a black leather jacket angrily chided him for challenging "Muslim freedom fighters." His companion in a yellow shirt then chimed in: "What is your problem with the Islamic State? You are on the wrong path!"
"No," said Sabri, embracing the surprised young men. "My brothers, you are the ones on the wrong path."
In the era of the Islamic State, the wrong path has become all too familiar ground at the House of Peace. Nestled between the kebab restaurants and bric-a-brac shops of an immigrant neighbourhood in south Berlin, the liberal mosque stood for years as a temple of tolerance where battered Muslim women could find help divorcing their husbands and progressive imams preached a positive message of religious tolerance.
Full report at:
http://www.washingtonpost.com/world/europe/fighting-the-invisible-arm-of-the-islamic-state/2014/12/19/2c2b6b30-8097-11e4-b936-f3afab0155a7_story.html
----------
Government 'consistently refuse to support prevention' of barbaric FGM
20 Dec 2014
A Manchester human rights organisation has condemned the government for 'consistently refusing' to support the prevention of 339 cases of female genital multilation in the North West.
A report conducted by the Health and Social Care Information Centre, found 229 active cases of female genital mutilation (FGM) in northern England, along with 110 cases which were identified during the consultation process.
FGM is a common procedure in Africa and the Middle East which involves the complete or partial removal of external female genitalia for non-medical reasons, and is recognised in the international community as a gross violation of human rights.
Dr Rhetta Moran, a patron for Manchester-based human-rights group RAPAR, said: "The Department of Health is a department in a Government that has consistently refused to support FGM prevention by granting refugee status to women and girls at risk of female genital mutilation if they are returned to their countries of origin."
Full report at:
http://www.mancunianmatters.co.uk/content/191272108-government-consistently-refuse-support-prevention-barbaric-genital-mutilation-says
------------
U.N. asks Israel to pay Lebanon $850 mln for oil spill
20 December 2014
The U.N. General Assembly on Friday has adopted a resolution urging Israel to pay Lebanon over $850 million in damages for causing an "environmental disaster" during the July 2006 war.
As many as 170 countries voted in favor of the resolution, three abstained, and six countries: Israel, the United States, Canada, Australia, Micronesia and Marshall Islands voted "no."
General Assembly resolutions are not legally binding but they do reflect world opinion. The United Nations has previously requested that Israel compensate Lebanon, but this is the first time that a monetary figure was set.
The resolution says "the environmental disaster" caused by the destruction of the tanks resulted in an oil slick that covered the entire Lebanese coastline and extended to the Syrian coastline, causing extensive pollution.
Israel's U.N. Mission said in a statement late Friday that the resolution is biased against Israel.
Full report at:
http://english.alarabiya.net/en/News/middle-east/2014/12/20/UN-asks-Israel-to-pay-Lebanon-850-mln-for-oil-spill.html
----------
Three Years, 10 Months For Tatar From Kazan Who Fought In Syria
December 20, 2014
A court in the Russian city of Kazan has sentenced an ethnic Tatar to three years and 10 months in a general corrective prison colony for fighting in a militant group in Syria.
The defendant, 27-year-old Raif Mustafin, was also sentenced to a further year of limited freedom after his release, according to which he will be barred from relocating and attending public events.
The trial of Mustafin was held in open court in Kazan and is the first case of a Kazan Tatar being prosecuted for fighting in Syria.
Mustafin was found guilty of involvement in an armed formation that is not provided for by federal law, as well as participation in a foreign country in an armed formation that is not stipulated under the legislation of that country, for purposes contrary to the interests of the Russian Federation.
Full report at:
http://www.rferl.org/content/russia-tatar-jailed-for-fighting-in-syria/26751237.html
------------
Russia Hopes OPCW to Consider Information of Use of Chlorine by Syrian Militants
20 Dec, 2014
Russia hopes that the Organization for the Prohibition of Chemical Weapons (OPCW) will take into account Damascus' information on the use of chlorine as chemical weapons by Syrian militants, the Foreign Ministry said.
"Due to the fact that the OPCW mission continues establishing facts of the possible use of chlorine as chemical weapons in Syria, on December 15 Damascus gave important information on the cases of seizing chlorine storage facilities by non-state subjects," the ministry said on Friday, Itar-Tass reported.
"Thus, there are grounds for presuming upon the involvement of the Syrian armed opposition, primarily the so-called Islamic State (of Iraq and the Levant), in using the mentioned toxic agencies for terrorist purposes," the ministry said.
Russia "lauds the Syrian step that confirmed its drive for close cooperation with the international community in all issues over the implementation of obligations under the Convention for the Prohibition of Chemical Weapons", it said.
http://english.farsnews.com/newstext.aspx?nn=13930929000352
---------
Southeast Asia
Hudud for Kelantan means hudud for all, DAP says
DECEMBER 20, 2014
KUALA LUMPUR, Dec 20 — PAS's ambition to implement hudud in Kelantan will set Malaysia on an irreversible path towards the enforcement of the Islamic penal code on all citizens, the DAP said today.
Countering the Islamist party's insistence that hudud would only be applicable to Muslims once it is enforceable in the east coast state, DAP secretary-general Lim Guan Eng said the constitutional amendments necessary to do so would eventually see all Malaysians subject to Islamic penal law.
"Every non-Muslim knows that the Federal Constitution will have unalterably changed and Malaysia changed fundamentally from the present civil administration, when hudud laws are implemented under a 'one country, two criminal systems'.
"Non-Muslims know that this is only the first step towards eventually leading to a full implementation of hudud laws on all, including non-Muslims in the future," Lim said in a statement today.
Lim, who is also Penang chief minister, further said that PAS's insistence on implementing hudud in Kelantan suggests that it was worried it cannot regain voter support based on strong public policies.
Full report at:
http://www.themalaymailonline.com/malaysia/article/hudud-for-kelantan-means-hudud-for-all-dap-says#sthash.EhxkUHgh.dpuf
----------
Police Chief Tells Schools to Review Security After Girl Taken Hostage in E. Java
20 Dec, 2014
Jakarta. National Police chief Gen. Sutarman called on schools across the archipelago to consider their security provisions after a girl was held at knifepoint and taken hostage in East Java by a man on Wednesday.
"The National Police can't look after each and very school," Sutarman said. "Every school itself should be able to step up its security."
A man police have identified as Ahmad Fuad took the girl hostage on Monday and demanded to speak with the local military commander. He then asked for a car and driver to take him to Tanjung Perak port. It is understood he was trying to negotiate his was back to Mataram in Lombok.
The driver made available to Ahmad feigned car trouble at an intersection, allowing the police to move in on the car. A police spokesman said officers tried to detain Ahmad, but he resisted arrest and was shot dead.
"Police had to take him down because he was putting people's lives in danger," Sutarman said. "What the police did was right."
http://thejakartaglobe.beritasatu.com/news/police-chief-tells-schools-review-security-girl-taken-hostage-e-java/
----------
Ali Rustam mocks PAS, PKR over Guan Eng's 'fatwa' on 'Allah'
BY YISWAREE PALANSAMY
DECEMBER 20, 2014
KUALA LUMPUR, Dec 20 — Penang Chief Minister Lim Guan Eng is able to tell the state's non-Muslims they may use the word "Allah" because allies PAS and PKR are afraid to reprimand him, former Malacca chief minister Tan Sri Mohd Ali Rustam said today.
In his speech to Malay undergraduates during a forum titled "Empowering Malays In The Era of Globalisation" at the Nusantara Youth Leadership Convention here today, Mohd Ali also urged Muslims to be bold in proclaiming their exclusivity over the Arabic word for God.
"Come say it bravely, Allah is only for Malays. Can we?" Mohd Ali said.
"Why is he (Lim) bold enough to interfere? Because the Islamists in PAS and the Muslims in PKR don't dare reprimand him... they let him off because of their tahaluf siyasi," he told the students.
"Tahaluf siyasi" is the Arabic phrase for political consensus. The Pakatan Rakyat pact professes to operate on such a basis.
Mohd Ali later said that the rules on the non-Muslim use of "Allah" had already been decided during the Mahathir administration, claiming that a consensus on the decision was reached then.
Full report at:
http://www.themalaymailonline.com/malaysia/article/ali-rustam-mocks-pas-pkr-over-guan-engs-fatwa-on-allah#sthash.hwBQUACt.dpuf
----------
IS fighters borrowed RM100,000 and more to bankroll life as jihadists, cops say
DECEMBER 20, 2014
KUALA LUMPUR, Dec 20 ― Malaysians leaving to fight for militant group Islamic State (IS) took bank loans of up to RM100,000 ― that they do not plan on repaying ― to fund their jihadist lifestyle, the police said in a New Straits Times (NST) report today.
The police said the fighters would also dispose of most of their assets here, and the money would then be used to buy firearms when they arrive in Syria, among others.
"We know that before this, many militants wanting to fight in Syria would sell off their belongings or were sponsored to go over [there] by IS supporters in the country. Lately, however, the trend of taking personal loans from banks is on the rise.
"They include young militants, especially those in the early 20s. Those with low credit ratings will apply for personal loans for as low as RM5,000," Datuk Ayob Khan Mydin Pitchay, assistant director-general of the Malaysian police counter-terrorism division, told NST.
Ayob said the jihadists prefer to buy the Russian-made AK-47 assault rifles, which cost around RM2,000 each.
Full report at:
http://www.themalaymailonline.com/malaysia/article/is-fighters-borrowed-rm100000-and-more-to-bankroll-life-as-jihadists-cops-s#sthash.E61vVIVQ.dpuf
----------
Australia
Australian Muslim leaders refuse to bury siege gunman
20 Dec, 2014
The Sydney siege gunman's body remains unclaimed in the morgue, The Daily Telegraph reported, as Muslim leaders express anger and refusal to take the body.
According to Agence France-Presse, Iranian-born Man Haron Monis, a self-styled Islamic cleric, took 17 people hostage at a cafe in the heart of the city's financial district. The 50-year-old was killed along with two victims - the cafe's manager, 34, and a 38-year-old mother-of-three - in a bloody end to the standoff.
"His body will be released before Christmas," stated The Daily Telegraph. However, no one has claimed it yet. Amin Sayed, funeral director with the Lebanese Muslim ¬Association. Said: "No Muslim funeral home would accept the body of terrorist Man Haron Monis and authorities should just dump his corpse at sea or "chuck him in the bloody ****house""
The newspaper approached several Islamic groups around the state, who all refused to bury the body.
Full report at:
http://english.alarabiya.net/en/News/world/2014/12/19/Report-Australian-Muslims-refuse-to-bury-siege-gunman.html
----------
URL: https://newageislam.com/islamic-world-news/new-age-islam-news-bureau/afghan-army-operations-kill-141-militants,-5-soldiers-die-in-attacks/d/100606