New Age Islam News Bureau
29 May 2014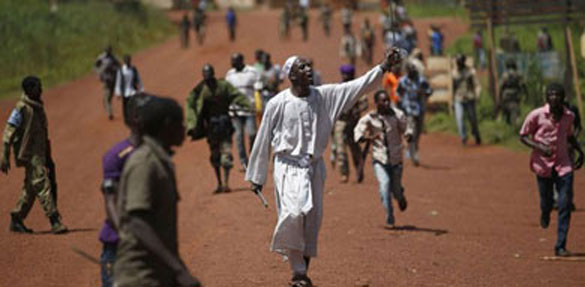 Villagers in the northern town of Bambari clashed with French troops last Thursday
------------
Arab World
• Action Required To Shield Youngsters from Jihadism: Kuwaiti Official
• Abdel-Fattah El-Sisi is Egypt's New President
• Post-election wave of Iraq attacks kills 74
• Maliki: Elimination of Terrorists in Anbar Won't Require Long Time
• Mortar Attacks in Syria Kill 4 Civilians; Hundreds of Gunmen Surrender to Army
• Truce between Syrian gov't and rebels comes into effect on Damascus outskirts
Southeast Asia
• Need For More Stringent Rules of Conversion to Prevent Abuse, Say Shariah Lawyers
• In Malaysia, Hudud a political gimmick, not religious issue
• Malaysian Muslims declare jihad against Cadbury
• Terrifying times in M'sia: The way Islam is being taught needs to be changed
North America
• American Citizen Carries out Suicide Bombing for Al-Qaeda in Syria
• Taliban condemn US exit strategy from Afghanistan
• CIA drone killing program in Pakistan winding down
• Barack Obama fights foreign policy critics, pledges aid to Syria groups
• Iran spies on US, UK, Iraq and others via fake Facebook accounts
South Asia
• 12 people, including 10 militants, killed in Afghanistan violence
• Maldivians shouldn't fight foreign wars in name of Islam, says Islamic minister
• Gonojagoron Moncho Bashes Hefazat-E-Islam for 'Anti-Religious' Remark
• Karzai asks Pakistani PM for immediate halt to cross-border shelling
• 'PM Sheikh Hasina urges Japan to recruit workers'
Pakistan
• India, Pak should remove mistrust and move ahead, Sharif tells Pranab
• Agenda of Imran, Qadri inimical to country: Maulana Fazl-ur-Rehman
• Anti-Modi resolution blocked in Pakistan's Punjab province Assembly
• Panel discussion calls for protecting rights of religious minorities
• Non-bailable arrest warrants issued against Gilani, Amin Faheem
• IED blasts kill three soldiers in northwest Pakistan
• Separate police encounters kill four suspects in Karachi
India
• India-Pak Talks Shouldn't Get Lost In Din of Bomb Blasts: External Affairs Minister
• Art. 370: Our fears have come true, says Farooq
• M.F. Husain's final work celebrates India
• Reciprocating Pakistan's gesture: India releases 32 Pakistan fishermen
Africa
• We're Fighting Al-Qaeda not Boko Haram — Nigerian Air Chief Marshal
• Al-Shabab Raids Village, At Least 39 Dead
• CAR church attack leaves 15 dead
• I Married Two Abducted Schoolgirls - Boko Haram Kingpin
• Nigerian president blames 'extremist foreign elements' for Islamic uprising, offers amnesty
• Haftar's air force bombs Islamist militias in Benghazi
Mideast
• Erdoğan says Gülen Movement 'preparing film' about him and family
• Iran welcomes Saudi invite to Islamic bloc meet
• Hamas denies ISIS presence after Gaza jihadist killed in Syria
• Turkish Parliament's filter denies access to church's website due to 'pornographic' content
• Prosecutors deepen investigation into claims against Fethullah Gülen
• Iran Arrests Takfiri Terrorist Commander in Northern Province
• Israel troops crack down on Hamas newspapers
Europe
• HRW Slams Bahraini Justice System as 'Criminal'
• UN slams killing of pregnant Pakistani woman
• Putin to seal new post-Soviet union with Belarus, Kazakhstan
• EU 'greatly concerned' as Sudan tightens restrictions
• Lavrov: Russia Alarmed by Info on Possible Military Assistance of US to Syrian Opposition
• Anglican leader says minorities in Pakistan 'under siege'
Compiled by New Age Islam News Bureau
URL: https://newageislam.com/islamic-world-news/action-required-shield-youngsters-jihadism/d/87257
------------
Arab World
Action Required To Shield Youngsters from Jihadism: Kuwaiti Official
May 29, 2014
Manama: A Kuwaiti official has sounded the alarm over a gloomy future if enough care is not paid to "guests" in care homes, saying there were around 2,400 young people who were potential criminals in the country.
"We have discovered there are people who went to Syria to fight as jihadists, yet they do not even know the Fatiha Chapter," Abdul Lateef Al Sinan, the head of juvenile care at the ministry of social affairs and labour, said.
Al Fatiha is the opening chapter in the Quran and it is read in every prayer, making it compulsory for every practising Muslim to memorise it.
"We are dealing with 2,400 juvenile cases, and if we cannot rehabilitate these young people within the care home, each of them is a potential criminal who will go out into the open," Al Sinan said. "There are others who are now outside the reach of the law. The problem is that whoever contributed to the moral deviation of a youngster has in fact committed an international crime," he said in remarks published by local daily Al Rai on Monday.
Greater government attention in the conditions of young people was needed, he added.
"We were able to rehabilitate seven young Kuwaiti men who returned from Syria after they decided not to join the armed groups there. We need to appreciate that we either build a bright future for our sons or end up with criminals and corrupt people. It is very crucial for the government to invest in childcare home in order to provide impressive awareness programmes based on scientific facts.
The official warned against the spread of sectarianism and drug uses in society.
"We have already seen graffiti on the care home walls inciting sectarianism, mainly after the participation of some of the home guests in the recent demonstrations and sit-ins," he said.
Al Sinan said that some families refuse to take their children back in for various reasons.
"We keep them with us if we cannot convince their families to take them back," he said.
http://gulfnews.com/news/gulf/kuwait/action-required-to-shield-youngsters-from-jihadism-1.1340300
------------
Abdel-Fattah El-Sisi is Egypt's New President
May 29, 2014
Abdel-Fattah El-Sisi is Egypt's new president after securing a landslide victory of over 96 percent of the popular vote, with over 23 million voters casting their ballots for him, according to an unofficial vote count as of early Thursday.
El-Sisi's only contender, leftist Hamdeen Sabahi, garnered a humble 3.5 percent, with less than 800,000 votes.
A surprise in the 2014 presidential race was the number of invalidated votes – exceeding 1 million – which prompted Egyptians to joke on social media that Sabahi and the spoilt ballots were competing for second place in the election.
Although the results are announced by the judges supervising polling centres across the country, they are still considered unofficial as they must be verified and then announced by the Presidential Elections Commission (PEC), the judicial body overseeing the poll.
Judge Tarek Shebl, a member of the PEC's general secretariat, told Al-Ahram's Arabic news website early on Thursday that the official results will be announced either Sunday or Monday, 1 or 2 June.
El-Sisi's victory had long been predicted.
Polling centres began counting votes on Wednesday, the third and final electoral day, at 9pm CLT (6pm GMT). As the results began to come in, Egyptians took to the streets and stayed until the early hours of Thursday morning to celebrate, waving El-Sisi's campaign posters and bringing traffic to a standstill.
A spokesman for El-Sisi's campaign was already speaking like a winner after midnight on Thursday, thanking the "Egyptian people for putting their trust in Field Marshal Abdel-Fattah El-Sisi".
Speaking to satellite Channel MBC Masr, spokesman Abdallah El-Moghazy said El-Sisi's campaign didn't need the additional day of voting, citing the ex-army chief's sweeping victory.
On Tuesday, the PEC added a third day of voting on Wednesday, which many said was driven by fears of low turnout. The decision brought formal complaints from both candidates – which in turn were rejected by the PEC.
However, El-Moghazy said that the media scared people by saying that voter participation was less than ideal, which he claimed was not true.
El-Moghazy said Egyptians went to polling centres for only one "motive": the love of Egypt and their beliefs in El-Sisi – unlike the temptations offered in the era of Hosni Mubarak, when bread, oil and grains were offered to get people to vote, he said.
The presidential election was the second since the 25 January 2011 revolution that led to the ouster of autocrat Hosni Mubarak.
In 2012, the Muslim Brotherhood's Mohamed Morsi won in a runoff with 52 percent, just over 13 million votes.
This was the first foreign-monitored election in Egypt's history. The European Union had 150 monitors across Egypt, which the EU said maintained their impartiality, neither legitimising the Egyptian electoral process nor validating the election results.
On Thursday, the EU delegation will hold a press conference to reveal its primary findings.
Also present to monitor the election were the African Union, Arab League and Arab Parliament, as well as a number of NGOs.
The election took place in a generally peaceful atmosphere amidst months of a surge in terrorism since the Morsi's ouster last July.
An improvised explosive device exploded on Monday, the first day of voting, but led to no injuries. Some minor clashes also occurred on Monday between police and Morsi supporters in Cairo, Alexandria and Minya governorates, but were dispersed rapidly by security forces.
On Tuesday, the second day, another improvised explosive device went off in Cairo's Heliopolis, leaving one citizen with minor injuries.
Late on Wednesday, Judge Mohamed Khairy was transported to a hospital after he was shot while on his way to a central polling centre in Qalioubiya's Benha to hand in votes, head of Sky News Arabia Samir Omar reported.
http://english.ahram.org.eg/NewsContent/1/64/102438/Egypt/Politics-/AbdelFattah-ElSisi-is-Egypts-new-president.aspx
------------
Post-election wave of Iraq attacks kills 74
May 29, 2014
Baghdad: A post-election wave of attacks across Iraq, including car bombings in Baghdad and a northern city, killed at least 74 people, officials said Thursday.
The compiled death toll for Wednesday, with the number rising to 74 after late-night attacks, made it the bloodiest single day in Iraq in more than seven months.
It was the latest in a protracted surge in unrest fuelling fears that the country is slipping back into all-out conflict.
The wave of violence could further destabilise Iraq as political leaders jostle to build alliances and form a government following April 30 elections that left Prime Minister Nouri Al Maliki in the driver's seat for a third term in power.
In Baghdad's deadliest attack, a suicide bomber detonated a vehicle rigged with explosives in the mainly Shiite neighbourhood of Kadhimiyah in north Baghdad, killing at least 16 people and wounding 52, security and medical officials said. Three other car bombs blew up in the Amin, Sadr City and Jihad districts, costing 20 more lives.
The blasts were the latest in a trend of militants setting off vehicles rigged with explosives during the evening, when Baghdadis go out to markets, restaurants and cafes.
Previously, such attacks had typically been timed to go off during the morning rush-hour.
Four others were killed in shootings and bombings in and around the capital.
In Mosul, one of the most violent areas of the country, twin car bombs set off by suicide attackers killed 21 people, including 14 soldiers and policemen, in the west of the city.
Also in Nineveh province, of which Mosul is the capital, two other attacks left two people dead. No group immediately claimed responsibility, but Sunni militants including those linked to the jihadist Islamic State of Iraq and the Levant often set off coordinated bombings across Baghdad and other major cities. A spate of other attacks in Kirkuk and Salaheddin provinces, both north of Baghdad, left eight people dead while shelling in the militant-held city of Fallujah, a short drive west of Baghdad, killed three more. The authorities blame external factors such as the civil war in neighbouring Syria, and insist that wide-ranging operations against militants out to sow instability are having an impact. But near-daily attacks have continued and diplomats say the Shiite-led government must do more to reach out to the disaffected Sunni Arab minority to curb support for militancy. The unrest comes as Al Maliki seeks to remain in his post after April 30 polls which gave his parliamentary bloc by far the highest number of seats. But the bloc fell short of an absolute majority on its own and he will have to court the support of rivals, many of whom have refused to countenance a third term for Al Maliki.
http://gulfnews.com/news/region/iraq/post-election-wave-of-iraq-attacks-kills-74-1.1340559
------------
Maliki: Elimination of Terrorists in Anbar Won't Require Long Time
May 29, 2014
Iraqi Prime Minister Nouri al-Maliki announced that the army's campaign in Anbar will not be in need of a long time, stressing that the coming Holy month of Ramadan will witness restoring security in the restive province.
The Iraqi leader also said that the local tribes are cooperating with the army to face ISIL terrorists, adding that crisis of the displaced will be ended soon, Al-Manar reported.
It is worth noting that the Iraqi province of Anbar has been witnessing military clashes between the army and the terrorists of the Islamic State in Iraq and the Levant (ISIL) which has committed numerous crimes against the Iraqi military and citizens.
http://www.almanar.com.lb/english/adetails.php?eid=153756&frid=23&seccatid=24&cid=23&fromval=1
------------
Mortar Attacks in Syria Kill 4 Civilians, Hundreds of Gunmen Surrender to Army
May 29, 2014
Foreign-backed mercenaries operating in Syria fired mortar shells on Damascus city, killing four people and injuring scores more.
A source at the Police Command said two mortar rounds fell on al-Nejmeh square and al-Hassan street on Wednesday, claiming the lives of two citizens, Al-Manar reported.
Meanwhile, two other civilians were killed and some 20 others wounded due to mortar shells that terrorists fired on al-Amara residential area in Damascus.
Full report at:
http://english.farsnews.com/newstext.aspx?nn=13930308000272
------------
Truce between Syrian gov't and rebels comes into effect on Damascus outskirts
May 29, 2014
In five districts of the southern Damascus suburbs, a local ceasefire agreement with the militants has come into effect on Thursday, Al-Manar TV channel reports.
An agreement has been reached about the withdrawal of armed groups from Al Qadam, Al Assali, Jurat Sharibati, Port Said and Al Maamouniye.
Those who refuse to lay down arms will be able to leave the city towards the Al Hajar Al Aswad suburb, where locations of militants remain.
A similar deal was made early in May in the ancient blocks of Homs, which was left by 2183 militants from opposition groups.
Full report at:
http://voiceofrussia.com/news/2014_05_29/Truce-between-Syrian-govt-and-rebels-comes-into-effect-on-Damascus-outskirts-3703/
------------
Southeast Asia
Need for more stringent rules of conversion to prevent abuse, say Shariah lawyers
May 29, 2014
Recent protracted custody battles involving Malaysians who have converted to Islam and the conversion of children highlight the need to tighten the rules of conversion to ensure they are not misused, say Shariah lawyers.
They said more stringent rules were needed for conversion to Islam, including when a person wants to convert for marriage. Those wanting to marry Muslims in Malaysia must convert to the faith, which is the country's official religion.
Shariah lawyer Zaini Zainol urged the government and religious authorities not to get over-excited when individuals of other faiths convert to Islam as many were merely conversions of convenience.
He warned that this would only result in some of these individuals wanting out of the religion at some point as their reasons for embracing Islam were not sincere in the first place.
He said that many were converting to Islam because their marriages ran into trouble and they wanted to have custody of the children.
Full report at:
http://www.themalaysianinsider.com/malaysia/article/need-for-more-stringent-rules-of-conversion-to-prevent-abuse-say-shariah-la
------------
In Malaysia, hudud a political gimmick, not religious issue
May 29, 2014
The Islamists want to implement the Islamic criminal law, saying Malaysia is a Muslim nation but politicians and analysts agree that hudud is just political football to win votes in the next general election.
The politicians and analysts believe hudud is also to score points against political foes within the two coalitions – the ruling Barisan Nasional (BN) and the Pakatan Rakyat (PR) which runs three states.
"It is ultimately about politics and not about Islam," said Wan Saiful Wan Jan, who heads the Institute for Democracy and Economic Affairs (IDEAS).
The debate over hudud, or the Shariah Criminal Law, grabbed national attention when Umno offered to back political rivals PAS if it wanted to enforce the law in Kelantan.
When PAS announced it would table a private member's bill in Dewan Rakyat in June to do this, it created a national debate over whether such a move would change the highest law of the land, the Federal Constitution.
Full report at:
http://www.themalaysianinsider.com/malaysia/article/in-malaysia-hudud-a-political-gimmick-not-religious-issue
------------
Malaysian Muslims declare jihad against Cadbury
May 29, 2014
Representatives of more than 20 Muslim organizations urged Malaysia to start a "holy war" against the British company Cadbury, as traces of pigs DNA were found in its chocolates. The several representatives from different Malaysian Muslim organizations condemned the British company Cadbury sweets manufacturer and encouraged others to start "jihad" against it after they have found traces of pigs DNA during the examination of chocolates.
"They betrayed us, Muslims. They included in its products the use of what we consider to be a sin," said the representative of the Muslim group Perkasa Selangor Yahya Abu Bakar.
Some Muslim organizations have even urged to declare "jihad" against the company for its "betrayal," states the website of the TV channel RT.
Thus, Nadzim Johan, president of the Muslim Consumers Association of Malaysia, urged to boycott all products produced by Cadbury.
Full report at:
http://voiceofrussia.com/news/2014_05_29/Malaysian-Muslims-declare-jihad-against-UK-chocolate-manufacturer-Cadbury-0764/
------------
Terrifying times in M'sia: The way Islam is being taught needs to be changed
May 29, 2014
When I was growing up, we had compulsory religious classes to attend in the afternoon after school. I grew up in Kelantan, which at the time called these classes Kelas Agama dan Fardhu Ain (Kafa). There were similar versions elsewhere in the country. We were taught the basic concepts of Islam and learnt how to read Arabic and the Quran, as well as some Seerah (Islamic history).
It was very didactic as I recall it, and no one really asked inquisitive questions. Partly because we were 10 year old boys and just wanted to go out and do PE, but also because that wasn't high on the teacher's priority list. There was a great emphasis on rituals and not a lot of reflection on the essence of the religion.
Full report at:
http://www.malaysia-chronicle.com/index.php?option=com_k2&view=item&id=291502:terrifying-times-in-msia-the-
---------
North America
American Citizen Carries out Suicide Bombing for Al-Qaeda in Syria
May 29, 2014
An American citizen with ties to al Qaeda carried out a suicide bombing mission in Syria, sources told CBS News.
U.S. officials say that a man pictured on Islamic websites frequented by terrorists displays a photograph of a smiling man with a beard, cuddling a cat, with this accompanying — translated — caption: "Cat lover Abu Hurayra Al Amriki performs an istishhadi bombing on Assad's positions."
But U.S. intelligence authorities say the man is an American citizen and is now going down in history as the first U.S. citizen suicide bomber to die while fighting on al Qaeda's side in Syria, CBS said.
The photo is one of four recently released by the al Qaeda-tied group, Jabhat al-Nusra. All the photos show recent terrorist group jihadis, CBS said.
Full report at:
http://www.washingtontimes.com/news/2014/may/29/us-citizen-carries-out-suicide-bombing-syria/?utm_source=RSS_Feed&utm_medium=RSS
------------
Taliban condemn US exit strategy from Afghanistan
May 29, 2014
KABUL - Taliban insurgents denounced US plans to keep troops in Afghanistan up to the end of 2016, threatening to wage war against the "occupation" until the very last foreign soldier pulls out. But outgoing President Hamid Karzai welcomed the timetable for the US's complete withdrawal and called on the insurgents to seize a "historic" opportunity to seek peace after more than a decade of war.
Outlining the US strategy to end America's longest war, President Barack Obama confirmed on Tuesday that the 32,000-strong US deployment in Afghanistan would be scaled back to around 9,800 by the start of 2015.
Those forces would be halved by the end of 2015 before being reduced to a normal embassy presence with a security assistance component by the end of 2016. But underscoring the instability still roiling Afghanistan, two Americans were slightly wounded in an attack on a US consulate vehicle in Afghanistan's western city of Herat on Wednesday.
An unidentified gunman on a motorcycle fired a rocket-propelled grenade at the US vehicle in Herat, five days after insurgents attacked an Indian diplomatic mission in the same city near the border with Iran.
Full report at:
http://www.nation.com.pk/international/29-May-2014/taliban-condemn-us-exit-strategy-from-afghanistan
------------
CIA drone killing program in Pakistan winding down
May 29, 2014
WASHINGTON - The CIA's drone program in Pakistan, once the mainstay of President Barack Obama's counterterrorism effort, is winding down: There hasn't been a drone strike in Pakistan since last Christmas.
The secret targeted killing program that once was the mainstay of President Barack Obama's counterterrorism effort appears to be coming to an end, according to US media. In a major foreign policy speech at the US Military Academy on Wednesday, Obama said the US would continue to carry out occasional drone strikes, but he cited Yemen and Somalia, not Pakistan, where drone missiles once rained down at a rate of two per week.
Armed US drones are still flying regularly over Pakistan's tribal areas, and CIA targeting officers are still nominating militants to a kill list, according to US officials regularly briefed on the covert program who spoke on condition of anonymity because they weren't authorized to discuss covert programs publicly. But over the past five months, no missiles have been fired.
Full report at:
http://www.dailytimes.com.pk/national/29-May-2014/cia-drone-killing-program-in-pakistan-winding-down
------------
Barack Obama fights foreign policy critics, pledges aid to Syria groups
May 29, 2014
President Barack Obama fought back against critics of his foreign policy on Wednesday by insisting U.S. reliance on diplomacy over military intervention was working to resolve global crises like Ukraine and Iran, and he pledged to ramp up support for Syria's opposition.
In a commencement address at the U.S. Military Academy in West Point, New York, Obama laid out a broad approach to foreign affairs for the remainder of his presidency that shifts the fight against terrorism from Afghanistan to more diffuse threats elsewhere in the world. Obama's tendency to rely on diplomacy and steer clear of foreign entanglements has drawn fire from opposition Republicans in Congress and various foreign policy pundits, who would prefer a more robust approach.
Full report at:
http://indianexpress.com/article/world/americas/barack-obama-fights-foreign-policy-critics-pledges-aid-to-syria-groups/
---------
Iran spies on US, UK, Iraq and others via fake Facebook accounts
May 29, 2014
Iranian hackers created false social networking accounts and a fake news website to spy on military and political leaders in the United States, Israel and other countries, a cyber intelligence firm said on Thursday. ISight Partners, which uncovered the operation, said the hackers' targets include a four-star US Navy admiral, US lawmakers and ambassadors, members of the US-Israeli lobby, and personnel from Britain, Saudi Arabia, Syria, Iraq and Afghanistan.
The firm declined to identify the victims and said it could not say what data had been stolen by the hackers, who were seeking credentials to access government and corporate networks, as well as infect machines with malicious software.
"If it's been going on for so long, clearly they have had success," iSight Executive Vice President Tiffany Jones said, Reuters reports. The privately held company is based in Dallas, Texas and provides intelligence on cyber threats.
Full report at:
http://voiceofrussia.com/news/2014_05_29/In-NSAs-footsteps-Iran-spies-on-US-UK-Iraq-and-others-via-fake-Facebook-accounts-9658/
------------
South Asia
12 people, including 10 militants, killed in Afghanistan violence
IANS | May 29, 2014
KABUL: Twelve people, including 10 militants, were killed in separate incidents of violence in Afghanistan on Thursday, authorities said.
In one attack, a district intelligence chief was killed while three intelligence officials were wounded when a roadside bomb struck a vehicle in Aqcha district of northern Jawzjan province at noon, provincial police chief Faqir Mohammad Jawzjani told Xinhua.
Separately, police official Abdul Matin and a colleague were injured when a sticky bomb attached to a police jeep went off in Maehtarlam, the capital city of eastern Laghman province before noon.
In northern Kunduz province, an Afghan Local Police (ALP) officer was killed and three ALP personnel were wounded when Taliban launched an attack in Ali Abad district around midday.
The ALP, or community police, was established in 2010 to protect villages and districts around the country where army and police have limited presence.
Full report at:
http://timesofindia.indiatimes.com/world/south-asia/12-people-including-10-militants-killed-in-Afghanistan-violence/articleshow/35729140.cms
------------
Maldivians shouldn't fight foreign wars in name of Islam, says Islamic minister
By Mariyath Mohamed | May 29th, 2014
Minister of Islamic Affairs Sheikh Mohamed Shaheem Ali Saeed has stated that, while the ministry is not aware of Maldivians taking part in Syria's civil war, he does not believe it is right for locals to join foreign conflicts.
"This ministry is not aware of any Maldivians fighting in the Syrian war, nor is it a matter that concerns us. However, I personally do not believe it is right for any Maldivian youth to join another country's war in the name of Islam," he said.
The Islamic leader's comments follow this week's reports that two Maldivians had died while fighting forces loyal to Bashar Al Assad in Syria.
One government-aligned MP as well as a former senior police officer have today branded the authorities' response insufficient and "irresponsible".
"It does not do to just say that they are unaware of the problem," said Jumhooree Party (JP) MP Ahmed Sameer.
Full report at:
http://minivannews.com/politics/maldivians-shouldnt-fight-foreign-wars-in-name-of-islam-says-islamic-minister-85967
------------
Gonojagoron Moncho Bashes Hefazat-E-Islam for 'Anti-Religious' Remark
May 29, 2014
Gonojagoron Moncho spokesperson Imran H Sarker protested the derogatory remarks of Hefazat-e-Islam Secretary General Junaid Babunagari yesterday, terming it an attempt to create disorder in the country.
"Babunagari called me an atheist to gain political interests. But he actually has no right to give religious certification. I think Babunagari is trying to create countrywide disorder in the name of Islam," Imran said while briefing reporters at a park in the capital's Farmgate area.
At a programme in Bogra on Tuesday, Babunagari termed Imran the "only atheist of the country." He also said they would stay on the street until Imran was buried.
Terming the Hefazat leader's comment "anti-religious," Imran said the Hefazat had been trying to capitalise on the religious sentiment of the mass people against the platform that raised a mass movement last year to ensure the death penalty for all war criminals and a ban on Jamaat-e-Islami and its student body the Islami Chhatra Shibir.
Full report at:
http://www.dhakatribune.com/politics/2014/may/29/imran-bashes-babunagari-%E2%80%98anti-religious%E2%80%99-remark#sthash.BmYEJ35N.dpuf
----------
Karzai asks Pakistani PM for immediate halt to cross-border shelling
By GHANIZADA - Thu May 29 2014
Afghan President Hamid Karzai has asked the Pakistani prime minister for an immediate halt to cross-border shelling in eastern Afghanistan.
The Presidential Palace media office following a statement said the issue was shared with the Pakistani Prime Minister Nawaz sharif during a phone conversation on Wednesday night.
The statement further added that the Nawaz Sharif has vowed to take immediate actions for sharing the issue with concerned departments and take practical steps in this regard.
This comes as local officials in eastern Kunar province have said over 700 rockets were fired from the other side of Durand Line during the recent days.
Full report at:
http://www.khaama.com/karzai-asks-pakistani-pm-for-immediate-halt-to-cross-border-shelling-6165
------------
'PM Sheikh Hasina urges Japan to recruit workers'
May 29, 2014
Prime Minister Sheikh Hasina has requested the Japanese PM to recruit workers from Bangladesh in the sector of construction.
State Minister for Foreign Affairs Shahriar Alam has made the disclosure at a press conference on Thursday afternoon in the capital.
He was briefing the media on the four-day official visit of the prime minister to Japan.
Alam said: "The Japanese Prime Minister Shinzō Abe has assured Hasina to take the request into consideration."
Full report at:
http://www.dhakatribune.com/bangladesh/2014/may/29/%E2%80%98pm-urges-japan-recruit-workers%E2%80%99#sthash.bUfvySXf.dpuf
------------
Pakistan
India, Pak should remove mistrust and move ahead, Sharif tells Pranab
TNN | May 29, 2014
NEW DELHI: Pakistan PM Nawaz Sharif has said both India and Pakistan had a strong mandate and should move forward in their relationship, removing mutual mistrust.
Sharif conveyed this to President Pranab Mukherjee in a meeting on Tuesday. Mukherjee on his part said it had always been India's desire to build peaceful, friendly and co-operative ties with Pakistan and this would l continue to be the policy of the new government.
"Prime Minister Nawaz Sharif said he considers it a personal privilege to be in India. The governments in both the countries have a strong mandate and this is a historic moment for both the countries to move forward in the relationship and remove the mistrust," said Venu Rajamony, press secretary to the President.
Full report at:
http://timesofindia.indiatimes.com/india/India-Pak-should-remove-mistrust-and-move-ahead-Sharif-tells-Pranab/articleshow/35701085.cms
------------
Agenda of Imran, Qadri inimical to country: Maulana Fazl-ur-Rehman
May 29, 2014
LAHORE: Jamiat Ulema-e-Islam-Fazl (JUI-F) chief Maulana Fazl-ur-Rehman said that the agenda of Dr Tahir-ul-Qadri and Imran Khan was inimical to the country and the same should be discouraged.
He said this while replying to media queries after holding a meeting with Jamiat Ulema-e-Pakistan (JUP) President Pir Ijaz Hashmi at his residence Tuesday.
He said Imran Khan and Tahir-ul-Qadri were the representatives of western secular ideology and to block them was the utmost responsibility of the religious parties. He said stopping the secular leaders was a service for the country and democracy as well.
Fazl reiterated the need to set up a platform of Islamist parties to counter the conspiracies to secularise Pakistan.Religious parties in the country have been cornered and brought under pressure by hurling baseless accusations that they were responsible for bloodshed and extremism.
Full report at:
http://www.thenews.com.pk/Todays-News-13-30600-Agenda-of-Imran-Qadri-inimical-to-country-Fazl
------------
Anti-Modi resolution blocked in Pakistan's Punjab province Assembly
Press Trust of India | Lahore | May 29, 2014
A resolution against Prime Minister Narendra Modi over his "allegations of terrorism against Pakistan" was on Thursday blocked in the Assembly of Punjab province.
The opposition comprising Pakistan Tehrik-e-Insaf, PPP, PML-Q and Jamaat-e-Islami wanted to bring the "anti-Modi" resolution in the 372-member house but Speaker Rana Iqbal did not allow it.
Opposition members started shouting slogans against India and the ruling PML-N government as they tore the copies of the agenda of Thursday's proceedings.
Opposition Leader Mahmoodur Rasheed said it was unfortunate that the Speaker was indirectly supporting Modi.
The opposition members then walked out and held a demonstration on the stairs of the Assembly. Earlier in the day, they had submitted the resolution.
Full report at:
http://indianexpress.com/article/india/india-others/anti-modi-resolution-blocked-in-pakistans-punjab-province-assembly/
------------
Panel discussion calls for protecting rights of religious minorities
May 29, 2014
LAHORE: Rights activists and elected representatives have stressed the need for addressing issues relating to religious freedoms and fundamental rights of minorities through carrying out educational reforms, abolishing persecution, protecting existing and providing more burial places to minorities and ensuring the rule of law in Pakistan.
They expressed these views at a panel discussion titled 'Religious Freedoms and Minority Rights' organised by the South Asia Partnership-Pakistan (SAP-PK) and REAT Network at a hotel on Wednesday. Besides rights activists, 16 members of the Punjab Assembly (MPAs) from the PML-N, PTI and PPP participated in this discussion.
The speakers emphasised the need for establishing powerful and independent minority rights commissions at federal and provincial levels to help protect and promote rights of religious minorities besides framing and implementing their family laws.
Full report at:
http://www.dailytimes.com.pk/punjab/29-May-2014/panel-discussion-calls-for-protecting-rights-of-religious-minorities
------------
Non-bailable arrest warrants issued against Gilani, Amin Faheem
May 29, 2014
KARACHI: An anti-corruption court in Karachi on Thursday issued non-bailable arrest warrants for former prime minister Yousuf Raza Gilani and senior Pakistan Peoples Party (PPP) leader Makhdoom Amin Faheem, DawnNews reported.
The warrants against the two were issued in a case relating to financial irregularities in the Trade Development Authority of Pakistan (TDAP).
Subsequently, the court adjourned the hearing to June 17.
The case in this regard had been registered by the Federal Investigation Agency (FIA) when Faheem was the commerce minister.
Full report at:
http://www.dawn.com/news/1109335/non-bailable-arrest-warrants-issued-against-gilani-amin-faheem
------------
IED blasts kill three soldiers in northwest Pakistan
May 29, 2014
PESHAWAR: At least three soldiers were killed and two others were injured on Thursday in two improvised explosive device (IED) blasts in the country's northwest, sources in the Inter-Services Public Relations (ISPR) told Dawn.
The devices were planted along a roadside and targeted a team of soldiers patrolling on foot and inspecting the area near Nosher Fort bordering North Waziristan.
A statement issued by the military spokesman said: "Two soldiers embraced martyrdom and three were injured early in morning in two IED blasts planted by terrorists on a roadside near Nosher Fort, bordering North Waziristan." Another issued a short time later added one of the wounded subsequently died.
Full report at:
http://www.dawn.com/news/1109320/ied-blasts-kill-three-soldiers-in-northwest-pakistan
------------
Separate police encounters kill four suspects in Karachi
May 29, 2014
KARACHI: At least four suspects were killed on Thursday in separate police encounters in Karachi, DawnNews reported.
Two commanders of Lyari gang war were killed in an encounter. The deceased were suspected to be involved in several crimes including killings of policemen.
Two men were also killed on Abul-Hassan Asfahani road near Gulshan-i-Iqbal. According to police sources, they were killed in an encounter when they were seen looting the people.
Three suspects arrested
Three suspects were arrested from Nazimabad No. 6 during an operation by the Rangers personnel. Two of whom allegedly belonged to a political party. Huge amount of arms and ammunition were also recovered from their procession.
http://www.dawn.com/news/1109330/separate-police-encounters-kill-four-suspects-in-karachi
------------
India
India-Pak Talks Shouldn't Get Lost In Din of Bomb Blasts: External Affairs Minister
TNN | May 29, 2014
NEW DELHI: A day after Prime Minister Narendra Modi met his Pakistani counterpart Nawaz Sharif, external affairs minister Sushma Swaraj said talks with Islamabad cannot go hand in hand with terror. Swaraj said Modi's invitation to the Saarc leaders, including Sharif, was evident of the Prime Minister's 'out of box' thinking.
"We told Pakistan that we want good relations with it. But for good relations, the talks can be effective and successful only if terror activities against India stop," she said after assuming office. "Talks get lost in the noise of bomb blasts. That is why bomb blasts should stop so that we can talk and our voices can be heard. Talks will get subdued under the din of bomb blasts. He (Modi) conveyed it to Sharif in these many words."
The new minister had spent her first day on Tuesday, accompanying the Prime Minister during meetings with Saarc leaders. She told top officials of the ministry that she would expect high quality advice from them. Swaraj said one of her main priorities would be to showcase India's strength to the world. She described as "successful" the talks Modi had with Saarc leaders who had come to attend his swearing-in.
Full report at:
http://timesofindia.indiatimes.com/india/India-Pak-talks-shouldnt-get-lost-in-din-of-bomb-blasts-Sushma-Swaraj-says/articleshow/35700738.cms
-----------
Art. 370: Our fears have come true, says Farooq
May 29, 2014
National Conference chief Farooq Abdullah said he had apprehensions that if the BJP came to power, it will work towards abrogation of Article 370.
Ruling National Conference chief Farooq Abdullah on Thursday said the party's apprehensions about the BJP-led NDA Government working towards abrogation of Article 370 have come true.
Addressing a convention of NC youth activists, Abdullah said he had apprehensions that if BJP came to power, it will work towards abrogation of Article 370.
He told the gathering that during electioneering, he had warned people of the BJP's designs of removing the Article from the Constitution which guarantees special status to Jammu and Kashmir, party sources said.
Full report at:
http://www.thehindu.com/news/national/art-370-our-fears-have-come-true-says-farooq/article6061603.ece
------------
M.F. Husain's final work celebrates India
May 29, 2014
It was in 2008 when in exile from his beloved country that M.F. Husain began what was to become his final tribute to the civilisation that was his muse, and from which he had been tragically hounded out by the culture-police of the Hindu religious right.
Given a London studio and a carte-blanche by Usha Mittal — wife of the steel tycoon and billionaire Lakshmi Mittal, and herself a patron of the arts — to do a series on Indian civilization, the 92-year-old artist-in-exile created eight giant 12ft x 8ft triptychs. Through them Mr. Husain sought to answer his critics and tell the world what made him Indian. "I need 96 panels to tell the story," he confessed to Ms. Mittal. He lived to complete just over 25 percent of his target.
Full report at:
http://www.thehindu.com/news/national/mf-husains-final-work-celebrates-india/article6058379.ece
------------
Reciprocating Pakistan's gesture: India releases 32 Pakistan fishermen
May 29, 2014
Reciprocating Pakistan's gesture, India on Wednesday released 32 Pakistani fishermen lodged in Kutch district and they were already on their way to Wagah border in Punjab to return to their country.
"These 32 fishermen from Pakistan have been in Joint Interrogation Centre for almost six months. They were captured while fishing inside the Indian maritime boundary and kept in Bhuj-based JIC. We have released them today. Our team has already left for Wagah border with these fishermen," Kutch-West Superintendent of Police Vidhi Chaudhari said.
Full report at:
http://indianexpress.com/article/world/neighbours/india-releases-32-pak-fishermen/
------------
Africa
We're Fighting Al-Qaeda not Boko Haram — Nigerian Air Chief Marshal
May 29, 2014
THE Chief of Defence Staff (CDS), Air Chief Marshal Alex Badeh, on Wednesday, said the ongoing counter-terrorism and counter-insurgency war has gone beyond Boko Haram Islamic sect to a broader war against Al-Qaeda terror networks in North and West Africa.
Badeh stated this in Abuja, when the Social Welfare Network Initiative (SWNI), a coalition of civil society organisations (CSOs) and community-based non-governmental organisations in Nigeria paid him a solidarity visit at Defence Headquarters.
The CDS said the military and Federal Government were in a serious war far bigger than confronting Boko Haram, saying that Al-Qaeda was now fully in charge of terrorist activities in the country.
Full report at:
http://www.tribune.com.ng/news/top-stories/item/6508-we-re-fighting-al-qaeda-not-boko-haram-military-insists-it-knows-where-chibok-girls-are
------------
Al-Shabab Raids Village, At Least 39 Dead
May 29, 2014
Nearly 40 people are dead after al-Shabab militants attacked a village on the border between Ethiopia and Somalia.
The governor of Somalia's Bakool region, Mohamed Abdi Tall, told VOA that the Islamist militant group raided the village of Aato early Tuesday.
He said 27 pro-government militiamen and 12 al-Shabab fighters were killed in the ensuing clash.
Afterward, the town remained in control of the militias, who have been working with governments on both sides of the border
Full report at:
http://allafrica.com/stories/201405280450.html?aa_source=acrdn-f0
---------
CAR church attack leaves 15 dead
May 29, 2014
At least 15 people, including a priest, have been killed and several others wounded following an attack on a Catholic church compound in the capital by Muslim fighters, witnesses said.
Wednesday's attack at the Notre-Dame de Fatima church in central Bangui, where thousands of civilians had sought refuge, is the largest and most brazen blamed on Muslim fighters since the Seleka coalition was removed from power nearly five months ago.
"We were in the church when we heard the shooting outside,'' Reverend Freddy Mboula told the Associated Press news agency. "There were screams and after 30 minutes of gunfire there were bodies everywhere.''
Witnesses said the gunmen entered the complex, hurling grenades and shooting indiscriminately.
There were conflicting reports of how many were killed, and fighting in the area also prohibited observers from independently confirming the toll.
Some witnesses said up to 30 people had been killed. A Reuters cameraman said he saw dozens of bodies being carried away.
The majority Christian country has been wracked by relentless clashes between Christian vigilante groups and the mainly Muslim ex-Seleka rebels who had seized power in a coup which ended in January.
Full report at:
http://www.aljazeera.com/news/africa/2014/05/car-church-attack-leaves-15-dead-20145294398886880.html
------------
I Married Two Abducted Schoolgirls - Boko Haram Kingpin
May 29, 2014
A Boko Haram leader, Hassan Ali, who was reportedly arrested by the local vigilante in Maiduguri three weeks ago, has confessed that he got "married" to two of the abducted Chibok schoolgirls in Sambisa forest.
LEADERSHIP was reliably told that Hassan Ali, a native of Kwapchi-Kilakise village who was said to have killed his biological father, Mallam Hassan Arigizhe, and his uncle, Zakariya Ali, was also said to have sanctioned the killing of his younger sister whom he forcefully took to Sambisa when she refused to accede to the sexual demands of one of the Amirs (leaders) in Sambisa, an act that elevated him to the position of Amir too.
According to the officials of the Vigilante Group of Nigeria in Borno State, Hassan was arrested by the Civilian-JTF and members of the VGN when he was spotted in a car trying to leave Maiduguri for Benisheik, along the Damaturu-Maiduguri highway.
Full report at:
http://allafrica.com/stories/201405290462.html?aa_source=mf-hdlns
---------
Nigerian president blames 'extremist foreign elements' for Islamic uprising, offers amnesty
May 29, 2014
ABUJA, Nigeria — Nigeria's leader blames "extremist foreign elements" for the Islamic uprising that has ballooned out of a home-grown religious sect and says his government will "do everything possible" to bring home safely nearly 300 schoolgirls abducted by the extremists.
He also offered amnesty to those who renounce violence.
President Goodluck Jonathan spoke on Monday to mark 15 years of democracy after decades of military dictatorship. The military has said it has located the girls but fears using force could get them killed. Jonathan has ruled out swapping detained insurgents for the girls.
The Nigerian leader said all democratic gains on the economic and social fronts are threatened by "international terrorism on our shores."
The World Bank says two-thirds of the 170 million people struggle in poverty in Africa's biggest oil producer.
http://www.startribune.com/world/261061951.html
------------
Haftar's air force bombs Islamist militias in Benghazi
May 29, 2014
Libyan air force loyal to renegade General Khalifa Haftar bombed Islamist militia bases in the eastern city of Benghazi on Wednesday a day after the leader of a group inspired by al-Qaeda described Haftar as an "agent" and vowed to fight him.
A Reuters witness and an air force official in Benghazi said two jets bombed a base belonging to the February 17th Brigade, one of the Islamist-leaning armed groups operating in the eastern city.
"Air raids targeted a camp of the February 17 Martyrs Brigades, hitting it with two missiles," ex-rebel Ahmed al-Jazaoui told AFP.
The leader of Libya's Ansar al-sharia militant group in Benghazi on Tuesday accused the U.S. government of backing Haftar and warned against U.S. interference in the country's crisis or face worse than their conflicts in Somalia, Iraq, or Afghanistan.
Full report at:
http://english.alarabiya.net/en/News/africa/2014/05/28/Haftar-s-air-force-bombs-Islamist-militias-in-Benghazi-.html
----------
Mideast
Erdoğan says Gülen Movement 'preparing film' about him and family
May 29, 2014
Prime Minister Recep Tayyip Erdoğan has claimed that the movement of the U.S.-based Islamic scholar Fethullah Gülen is "preparing a film" depicting him and his family, suggesting the possible leak of further videos ahead of the upcoming presidential elections in August.
"I have just learned that Pennsylvania is preparing a movie about me. They are preparing a nice movie about me and my family," Erdoğan said at a rally in the eastern province of Ağrı on May 28, referring to the U.S. state where Gülen lives in self-exile.
"But they were unable to find an appropriate actor to play me. They couldn't find an actor to play my son either. But they don't need to go to Hollywood to find actors, they have plenty among themselves," Erdoğan said.
Full report at:
http://www.hurriyetdailynews.com/erdogan-says-gulen-movement-preparing-film-about-him-and-family.aspx?pageID=238&nID=67087&NewsCatID=338
------------
Iran welcomes Saudi invite to Islamic bloc meet
May 29, 2014
Tehran: Saudi Arabia has invited Iran to attend a meeting of Islamic bloc foreign ministers in Jeddah next month, an Iranian official said in comments published Thursday.
Deputy Foreign Minister Hussain Amir Abdul Ahian welcomed the "friendly" gesture by Iran's regional rival, with which relations have been strained by the Syrian conflict and the fallout from unrest in Bahrain.
An exchange of visits by Saudi Foreign Minister Prince Saud Al Faisal and his Iranian counterpart Mohammad Javad Zarif was high on Tehran's agenda, he told the Etemad newspaper.
Full report at:
http://gulfnews.com/news/gulf/saudi-arabia/iran-welcomes-saudi-invite-to-islamic-bloc-meet-1.1340561
------------
Hamas denies ISIS presence after Gaza jihadist killed in Syria
May 29, 2014
GAZA CITY, Gaza Strip — On May 25, it was announced that a 21-year-old Palestinian man from the Gaza Strip was killed during a battle in Syria while he was fighting in the ranks of the Islamic State of Iraq and al-Sham (ISIS). The story revived the debate about the presence of Salafist groups in Gaza, the breadth of their activities and the priorities to fight in the framework of their military ideology.
The ISIS-affiliated Jihad Media Forum posted a mourning statement about the young man, Wadih Nafedh Wash, from Jabaliya in the northern Gaza Strip. "From the blessed land of Sham, and in full delivery to God's justice, the Sheikh Abu al-Noor al-Maqdisi Brigade informs you that [our] brother Wadih Nafedh Wash, an immigrant soldier in the Islamic State in Iraq and al-Sham, was martyred in the battle of dignity that is raging on the ground of Sham," the statement read.
Full report at:
http://www.al-monitor.com/pulse/originals/2014/05/gaza-denies-isis-presence-jihadist-killed-syria.html#ixzz335lT3UJj
------------
Turkish Parliament's filter denies access to church's website due to 'pornographic' content
May 29, 2014
Parliament's Internet filter system has blocked the website of a Protestant church in the southeastern province of Diyarbakır due to pornographic content, according to the main opposition Republican People's Party (CHP) Bursa deputy Aykan Erdemir.
Erdemir tried to reach the website "diyarbakirkilisesi.com" while researching at Parliament, but faced a warning saying that access to the page was limited due to "pornography."
He then submitted a parliamentary question on the issue, asking why Parliament had denied access to the website despite there being no general block on the website for other users in the country.
Full report at:
http://www.hurriyetdailynews.com/turkish-parliaments-filter-denies-access-to-churchs-website-due-to-pornographic-content.aspx?pageID=238&nID=67134&NewsCatID=338
------------
Prosecutors deepen investigation into claims against Fethullah Gülen
May 29, 2014
The Ankara Public Prosecutor's Office is again investigating all previous allegations and cases against Fethullah Gülen, a U.S.-based Islamic scholar and erstwhile ally of the government, including cases in which he was acquitted.
Prosecutors from the crimes against the constitutional order bureau are investigating cases that were either dropped or resulted in an acquittal for Gülen.
The prosecutor's office is looking into claims that the scholar "founded an organization with the aim of dissolving and plotting a coup against the Turkish Republic."
Gülen is accused by prosecutors of "attempting to replace the secular state with an Islamic dictatorship ruled by shariah law."
Prosecutors also say he has brainwashed young people, who attend schools of the Gülen movement, along with placing members of his movement in the Education Ministry and Police Department and even the military thanks to his foundations, schools and prep schools. Judicial officials also believe he has maintained his religious structure by financing it with suspicious sources.
Full report at:
http://www.hurriyetdailynews.com/prosecutors-deepen-investigation-into-claims-against-fethullah-gulen.aspx?pageID=238&nID=67124&NewsCatID=338
------------
Iran Arrests Takfiri Terrorist Commander in Northern Province
May 29, 2014
Iran's security forces have captured a notorious Takfiri terrorist ringleader in the country's Northern Gilan province, a provincial intelligence official announced on Wednesday.
"The concerns caused by Takfiri groups in Gilan have been removed as their (notorious) ringleader has been apprehended," a spokesman of Gilan Intelligence office said.
The spokesman declined to reveal any further detail about the arrest, including the identity of the terrorist commander, but underlined that security has now been restored to the Gilan province.
Iranian Prosecutor General and Judiciary Spokesman Gholam Hossein Mohseni Ejeie had announced earlier this month that security forces had arrested a number of Takfiri terrorists who were trying to sneak into the country.
Full report at:
http://english.farsnews.com/newstext.aspx?nn=13930307001000
------------
Israel troops crack down on Hamas newspapers
May 29, 2014
RAMALLAH: Israeli soldiers raided the offices of a Palestinian newspaper in the West Bank city of Ramallah Wednesday, ordering them to stop printing publications by Hamas, managers said.
"Officers informed us that Israel would not allow the printing and distribution of Falastin, Al-Resala, and Al-Istiqlal," three Hamas newspapers, the Al-Ayyam's managers said in a statement. Al-Ayyam has been printing the papers since early this month, after a surprise reconciliation deal between Hamas and Fatah brought the Hamas publications back to West Bank newsstands.
The soldiers threatened to take "concrete steps" toward stopping Falastin, Al-Resala and Al-Istiqlal being printed at Al-Ayyam offices.
http://www.arabnews.com/news/578476
----------
Europe
HRW Slams Bahraini Justice System as 'Criminal'
May 29, 2014
Human Rights Watch (HRW) blasted the Persian Gulf country of Bahrain for its severe punishment of peaceful protesters while granting immunity to abusive authorities.
In its latest report on Bahrain, the HRW on Wednesday lashed out at the Manama regime's justice system, describing it as "criminal" and censuring its "failure to deliver basic accountability and impartial justice", press tv reported.
"A police officer in Bahrain who kills a protester in cold blood or beats a detainee to death might face a sentence of six months or maybe two years, while peacefully calling for the country to become a republic will get you life in prison," said HRW's Deputy Middle East Director Joe Stork following the release of the report.
"Bahrain's problem is not a dysfunctional justice system," Stork emphasized, "but rather a highly functional injustice system".
The 64-page report, titled "Criminalizing Dissent, Entrenching Impunity: Persistent Failures of the Bahraini Justice System since the BICI Report," found that more than two years after the country's ruler King Hamad bin Isa Al Khalifa accepted the recommendations of the Bahrain Independent Commission of Inquiry (BICI) to free peaceful dissenters and hold abusive officials accountable, the courts in the kingdom continue to play a key role in maintaining the regime's highly repressive political order.
Full report at:
http://english.farsnews.com/newstext.aspx?nn=13930308000205
------------
UN slams killing of pregnant Pakistani woman
May 29, 2014
UNITED NATIONS - The United Nations has taken serious notice of the killing of a 25-year-old pregnant Pakistani woman, who was stoned to death by her family as she approached a court on Tuesday, and called on the government to do much more to prevent such killings.
"I am deeply shocked by the death of Farzana Parveen, who, as in the case of so many other women in Pakistan, was brutally murdered by members of her own family simply because she married a man of her own choice," High Commissioner for Human Rights Navi Pillay said. "I do not even wish to use the phrase 'honour killing': there is not the faintest vestige of honour in killing a woman in this way," she added in a news release, which also noted that Pakistan has one of the highest rates of violence against women globally.
According to reports, some 20 members of Ms Parveen's family, including her father and two brothers, attacked her and her husband when they were on their way to the Lahore High Court, where they were due to contest her father's allegations that she had been kidnapped by her husband and that their marriage was invalid. "Every year, hundreds of women are killed in Pakistan as a punishment for marrying a man their families have not chosen or for refusing an arranged marriage," Ms. Pillay said.
Full report at:
http://www.nation.com.pk/international/29-May-2014/un-slams-killing-of-pregnant-pakistani-woman
------------
Putin to seal new post-Soviet union with Belarus, Kazakhstan
May 29, 2014
Russian President Vladimir Putin on Thursday arrived in the Kazakh capital where he was set to sign a deal with his Kazakh and Belarussian counterparts creating a new economic union championed by Moscow.
Putin, Belarussian President Alexander Lukashenko and Kazakh President Nursultan Nazarbayev were due to sign the document in Astana following talks on Thursday.
The Eurasian Economic Union, which is to come into force on January 2015, is designed to strengthen ties between the ex-Soviet countries which have already joined forces in a customs union created in 2010.
"The three states agree to guarantee free circulation of goods, services, capital and the work force, to agree on policy in key areas of the economy: energy, industry, agriculture and transport," the Kremlin said in a statement.
Full report at:
http://english.ahram.org.eg/NewsContent/2/9/102459/World/International/Putin-to-seal-new-postSoviet-union-with-Belarus,-K.aspx
------------
EU 'greatly concerned' as Sudan tightens restrictions
May 29, 2014
The EU expressed "great concern" Wednesday over tighter restrictions in Sudan since ex-premier Sadiq al-Mahdi was detained in mid-May after reportedly accusing a counter-insurgency unit of abuses against civilians in Darfur.
President Omar al-Bashir appealed in January for a national political dialogue, and hinted at greater freedoms.
A tenuous political opening followed, with parties holding rallies and newspaper reports multiplying on alleged official corruption.
But Mahdi was arrested on May 17 for alleged treason after he reportedly accused the Rapid Support Forces of rape and other abuses of civilians in Sudan's western Darfur region.
Khartoum has since banned newspapers from reporting on the case.
In a joint statement, a European Union delegation called on all sides to back the dialogue and to "abstain from acts and statements that might derail the process".
Full report at:
http://english.ahram.org.eg/NewsContent/2/8/102425/World/Region/EU-greatly-concerned-as-Sudan-tightens-restriction.aspx
------------
Lavrov: Russia Alarmed by Info on Possible Military Assistance of US to Syrian Opposition
May 29, 2014
Russia is worried by reports on the possibility that the US administration could provide military assistance to the Syrian insurgents, Russian Foreign Minister Sergei Lavrov said.
It is necessary to implement agreements "and the agreement was that dialogue should begin between the government and opposition on agreeing upon the basis of the consensus and general accord of transition structures concerning political reforms in Syria," Lavrov said, Voice of Russia reported.
"We are worried by information that, among the measures declared (regarding the US' support to Syrian opposition), there could be those such as military assistance to the opposition, the training of fighters by the American army, and also the US' preparedness to lift objections against supplies of mobile anti-aircraft systems to the opposition," Lavrov said at a press conference following negotiations with Argentinean Foreign Minister Hector Timerman in commenting on reports that US President Barack Obama planned to announce military assistance to the Syrian opposition on Wednesday.
Full report at:
http://english.farsnews.com/newstext.aspx?nn=13930307001313
------------
Anglican leader says minorities in Pakistan 'under siege'
May 29, 2014
The spiritual leader of the world's Anglicans urged Pakistan to treat all people equally today during a trip designed to show his support for the embattled Christian community, saying many felt "under siege".
The Archbishop of Canterbury arrived in Pakistan on Tuesday to meet Muslim and Anglican leaders at a time when Christians feel under attack from both authorities and their Muslim neighbors due to Pakistan's oppressive blasphemy laws. "There is a considerable sense of anxiety, of being under siege," Justin Welby, a former oil executive, told sources outside a church in the eastern city of Lahore. "There was a very clear sense that people were nervous about the misuse of the blasphemy law, as a sort of a tool of politics, a way of gaining attention, or as a mob thing," he added, flanked by two Pakistani bishops. He earlier told journalists "Equality under the law is very important."
Full report at:
http://www.nation.com.pk/national/28-May-2014/anglican-leader-says-minorities-in-pakistan-under-siege
------------
URL: https://newageislam.com/islamic-world-news/action-required-shield-youngsters-jihadism/d/87257