New Age Islam News Bureau
16 September 2020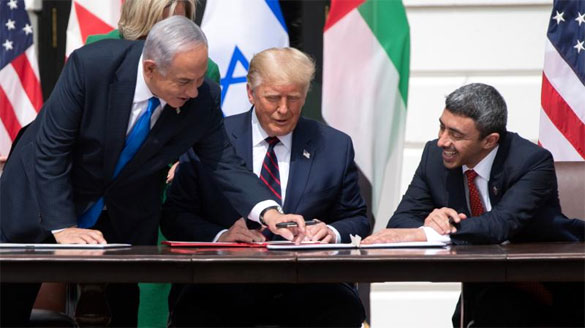 Israeli Prime Minister Benjamin Netanyahu(L), US President Donald Trump, and UAE Foreign Minister Abdullah bin Zayed Al-Nahyan(R)smile as they participate in the signing of the Abraham Accords where the countries of Bahrain and the United Arab Emirates recognize Israel, at the White House in Washington, DC, September 15, 2020. - Israeli Prime Minister Benjamin Netanyahu and the foreign ministers of Bahrain and the United Arab Emirates arrived September 15, 2020 at the White House to sign historic accords normalizing ties between the Jewish and Arab states. (AFP)
-----
• UAE-Israel Agreement Will Include Reference to Two-State Solution: UAE MoS For Foreign Affairs
• Pakistan SC To Consult Islamic Scholars on Grant of Remission to Terror Convicts, Whether It Is A Privilege or a Basic Right
• 14 US Senators Want India Listed as Worst Offenders of Religious Freedom
• Bangladesh's Long Road Ahead in Countering Terrorist Fundraising
• Anti-Noise Campaigners Urge Mumbai Police To Start Drive Against Noise From Mosques
• Penang Says Disbursed Nearly RM6.8m To Non-Islamic Places of Worship Since 2016
• Granting Amnesty to Boko Haram Terrorists Cannot Bring Peace, Says Senator Ndume
Arab world
• Abraham Accord: UAE, Bahrain, Israel And the US 'Change the Course of History' At the South Lawn of The White House
• 29 Western Countries Blast Saudi Arabia's Rights Abuses
• Syria drone strike kills prominent Tunisian extremist
• Qatar, Pakistan rule out possibility of normalization with Israel
• Iraqi, Peshmerga Forces to Step Up Anti-IS Joint Effort
--------
Mideast
• UAE-Israel Agreement Will Include Reference to Two-State Solution: UAE MoS For Foreign Affairs
• Palestinians Mark 'Day Of Rage' As Arab States, Israel Ink 'Normalization' Deals
• Beneficial to every Arab country in the region to connect with Israel: Greenblatt
• Islamic Jihad: Peace with Israel No More Than Illusion
• FM: Trump Needs Regional Client Regimes for Campaign Photo
• Iranian wrestler Navid Afkari was executed without prior warning: Report
• Turkey's arrest of lawyers representing clients accused of Gulen links criticized
--------
North America
• 14 US Senators Want India Listed as Worst Offenders of Religious Freedom
• UAE, Bahrain Have More Influence to Help Israel Solve the Palestinian Issue: Kushner
• Joe Biden: I Will Return US to Iran Nuclear Deal
• O'Toole's 'Lack Of Courage' Against Bill 21 Frustrates Muslim And Sikh Groups
• Toronto mosque discourages speculation, urges vigilance after police say nearby killings could be related
• Palestinians need to recognize peace is better than conflict: US Ambassador Friedman
• Trump acknowledges plan to have Syria's Assad assassinated in 2017
• Despite Israeli objection, Trump OKs F35 sale to UAE
• NYPD union chief calls shooting of LA deputies 'domestic terrorism'
--------
Pakistan
• Pakistan SC To Consult Islamic Scholars on Grant of Remission to Terror Convicts, Whether It Is A Privilege or a Basic Right
• NA passes FATF-related bill on terror financing
• Cabinet endorses PM's view about public hanging of rapists
• Two soldiers injured in J&K encounter, terrorists flee
• Pakistan's Fight Against COVID-19 Has Made Imran Khan Stronger
• 'Unwanted references': Pak rejects US-India statement asking it to act on terror
--------
South Asia
• Bangladesh's Long Road Ahead in Countering Terrorist Fundraising
• Facing Negotiations, Taliban Almost Took Key Afghan City Of Kunduz
• Taliban Ambushes District Governor's Residence
• Taliban Talks: US Peace Envoy 'Not Happy About' Release Of Prisoners
• U.S. commander: Intel still hasn't established Russia paid Taliban 'bounties' to kill U.S. troops
--------
India
• Anti-Noise Campaigners Urge Mumbai Police To Start Drive Against Noise From Mosques
• India slams Pak at UN: 'Your PM proudly admits training terrorists'
• India responds to UN human rights chief's criticism of situation in Kashmir
• J-K Police bust terror module in Ganderbal, Hizbul terrorists arrested
--------
Southeast Asia
• Penang Says Disbursed Nearly RM6.8m To Non-Islamic Places of Worship Since 2016
• Malaysia Day has significant meaning to multiracial community in Sarawak, says state secretary
• 4 Indonesian Men Flogged Over 100 Times For Having Sex With Minors
• This PJ mosque has a play centre for autistic children of all faiths
• Kalis Mardiasih's bold, moderate Islamic interpretation of 'hijrah'
--------
Africa
• Granting Amnesty to Boko Haram Terrorists Cannot Bring Peace, Says Senator Ndume
• 'Hotel Rwanda' Hero in Court on Terrorism Charge Denied Bail
• Libya's Prime Minister Sarraj to resign soon: Report
• 2 soldiers killed in Cameroon bomb attack
--------
Europe
• EU Says Ties with Turkey at Turning Point
• Serbia To Boost Ties with Israel, Palestine: President
• Turkey extends drilling activity in disputed Mediterranean waters off Cyprus
• Swiss probe terrorism link to fatal stabbing of Portuguese man
Compiled by New Age Islam News Bureau
URL: https://www.newageislam.com/islamic-world-news/abraham-accord-uae-bahrain-israel/d/122867
--------
Abraham Accord: UAE, Bahrain, Israel And the US 'Change the Course of History' At the South Lawn of The White House
Joseph Haboush
15 September 2020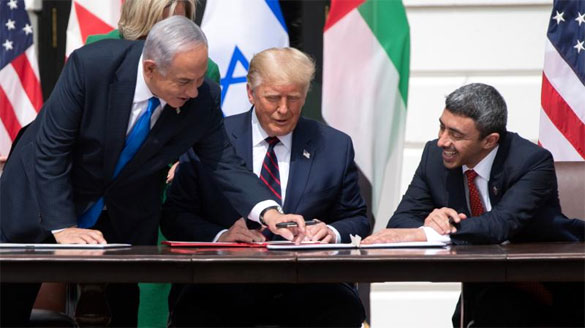 Israeli Prime Minister Benjamin Netanyahu(L), US President Donald Trump, and UAE Foreign Minister Abdullah bin Zayed Al-Nahyan(R)smile as they participate in the signing of the Abraham Accords where the countries of Bahrain and the United Arab Emirates recognize Israel, at the White House in Washington, DC, September 15, 2020. - Israeli Prime Minister Benjamin Netanyahu and the foreign ministers of Bahrain and the United Arab Emirates arrived September 15, 2020 at the White House to sign historic accords normalizing ties between the Jewish and Arab states. (AFP)
-----
At least 1,000 people filled the South Lawn of the White House Tuesday morning as officials from the UAE, Bahrain and Israel signed a historic agreement - brokered by the United States - to normalize ties.
"We're here this afternoon to change the course of history," US President Donald Trump said, standing alongside Emirati Foreign Minister Sheikh Abdullah bin Zayed Al Nahyan, Bahrain's Foreign Minister Abdullatif Al Zayani and Israeli Prime Minister Benjamin Netanyahu.
For all the latest headlines, follow our Google News channel online or via the app.
After speeches from each official, the four men sat at the table to sign what has become known as the "Abraham Accords." They were signed in Arabic, English and Hebrew.
The UAE announced its deal to normalize ties with Israel last month before Bahrain followed suit last week. Tuesday's deal means that four Arab states now recognize Israel after Egypt and Jordan signed peace treaties in 1979 and 1994.
While Israel is set to go back into lockdown, Netanyahu and his wife ditched their face masks while at the White House.
Tens of White House staff and officials were seen without face masks, while over 100 journalists gathered to attend and cover the event.
One member of the Secret Service told Al Arabiya English that it was "by far" the largest gathering at the White House since the outbreak of the pandemic.
A New Era
Diplomats and officials praised the Abraham Accords, which they say will increase the chances for peace in the Middle East.
A senior Emirati official said before Tuesday's event that the signing would allow the UAE to more effectively help the Palestinians and their ambition for statehood and justice. "Our peace will serve the cause in a way we cannot predict today," UAE Assistant Minister for Cultural Affairs and Public Diplomacy Omar Ghobash said in a webinar.
Terje Rod-Larsen, the former United Nations Special Coordinator for the Middle East Peace Process, said the UAE and Bahrain's move would also help the Palestinian cause while also being a positive step toward peace in the region.
"There is no point in making friends with your friends because they are friends. You must make friends with your enemies and change their attitudes and actions," Rod-Larsen told Al Arabiya. "And I see [this] … as a first step in that direction."
At a lunch hosted by Trump after the ceremony, the US president said many more countries would join in normalizing ties with Israel. "I can tell you from personal knowledge, five, six or even seven are wanting to get in it. Get something signed, really quickly, so it's something we should all be very proud of," he said.
Domestically, many members of the US Congress and Senate were in attendance, along with senior officials. Trump faces a Democratic party that has criticized his response to the coronavirus and has sought to play down the importance of Tuesday's breakthrough between Arab states and Israel.
Nevertheless, Democratic officials were in attendance to witness the signing of the Abraham Accords. Longtime Democratic Congressman Eliot Engel, the chairman of the Congressional Foreign Affairs Committee, was one of the few Trump rivals at the White House.
Pro-Palestine and anti-Netanyahu protests
A handful of pro-Palestinian protesters demonstrated outside the White House on Tuesday, against the deal. "Free, free Palestine," the protesters shouted as they waved the Palestinian flag.
On the other side, around a dozen Israeli protesters gathered to condemn Netanyahu for what they say are acts of corruption.
Last year, Netanyahu was indicted for accepting gifts from millionaire friends and allegedly seeking regulatory favors for media tycoons in return for favorable coverage.
"Yes to peace. No to corruption," signs read with pictures of Netanyahu.
Although the two groups of protesters became entangled in a short verbal spat, no violence was witnessed.
Palestinian leader Mahmoud Abbas said Tuesday only an Israeli withdrawal from occupied territories could bring peace to the Middle East, as the UAE and Bahrain signed normalization accords with Tel Aviv.
"Peace, security and stability will not be achieved in the region until the Israeli occupation ends," he said in a statement after the signing in Washington of the deals, condemned by the Palestinians as a "betrayal" of their cause.
https://english.alarabiya.net/en/News/middle-east/2020/09/16/UAE-Bahrain-Israel-and-the-US-change-the-course-of-history-
--------
UAE-Israel Agreement Will Include Reference to Two-State Solution: UAE MoS For Foreign Affairs
Emily Judd
16 September 2020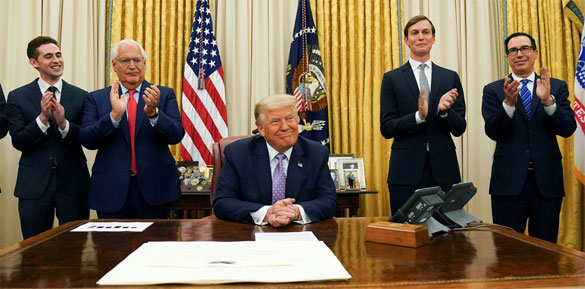 US President Donald Trump receives applause after announcing that Israel and the United Arab Emirates have reached a peace deal that will lead to full normalization of diplomatic relations between the two Middle Eastern nations in an agreement that Trump helped broker, at White House in Washington, U.S., August 13, 2020. REUTERS/Kevin Lamarque TPX IMAGES OF THE DAY
-----
The agreement between the UAE and Israel will include a reference to the two-state solution, UAE Minister of State for Foreign Affairs Dr. Anwar Gargash said in an interview with Israeli media ahead of the signing ceremony.
The two-state solution is a proposal to end the Israeli-Palestinian conflict, granting both parties independent statehood.
Israel halted its plans to annex Israeli settlements in Palestinian territory in August, in exchange for the normalization of diplomatic ties with the UAE.
Gargash said in an interview with Reuters on Tuesday that the suspension of annexation would stop the two-state solution from being undermined.
The agreement between the two countries is set to be signed Tuesday at the White House.
Former US envoy to the Middle East Ambassador Dennis Ross told Al Arabiya English the UAE's decision to normalize relations with Israel in return for an annexation freeze is a "huge step" and will preserve the hope for the possibility of a two-state solution.
"It prevents Israeli annexation, which preserves the possibility of two states and the hope for peace between Israelis and Palestinians," said Ross, who played a leading role in shaping US involvement in the Middle East peace process for over twelve years, in an interview with Al Arabiya English.
Ross said that while Palestinians may criticize the agreement, "the reality is annexation has been prevented and that serves Palestinian interests."
Palestinian lawmaker Bernard Sabella expressed skepticism, telling Al Arabiya English after the announcement that he wasn't sure that the development "would really change things on the ground with respect to settlements and annexation."
https://english.alarabiya.net/en/News/gulf/2020/09/15/UAE-Israel-agreement-will-include-reference-to-two-state-solution-Gargash
--------
Pakistan SC To Consult Islamic Scholars on Grant of Remission to Terror Convicts, Whether It Is A Privilege or a Basic Right
Nasir Iqbal
16 Sep 2020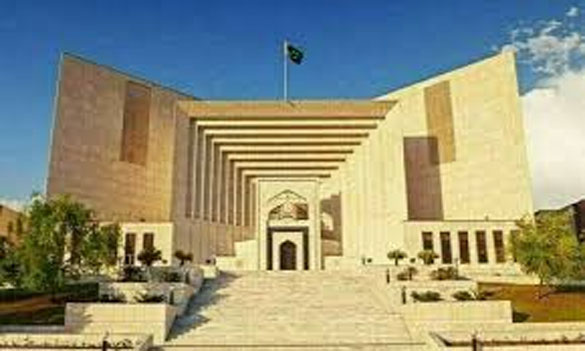 The names of Islamic scholars will be decided by the court later and the case will be taken up again after two weeks.
— SC website/File
-----
ISLAMABAD: The Supreme Court is likely to determine if the award of remission to prisoners convicted under terrorism charges is a privilege or a basic right. And to reach a definitive conclusion, a three-judge Supreme Court bench, headed by Justice Mushir Alam, intends to seek the assistance of religious jurist consultants as amici curiae to understand the real meaning of Fasad-fil-Arz.
The names of Islamic scholars will be decided by the court later and the case will be taken up again after two weeks.
The idea to seek the assistance of Islamic scholars occurred to the bench when Additional Advocate General for Punjab Qasim Ali Nawaz Chohan, during the hearing, cited Ayat 33 from the Surah Al-Maida, which states: "Those that make war against Allah and his Apostle and spread disorders in the land shall be put to death or crucified or have their hands and feet cut off on alternate sides or be banished from the land.
"They shall be held in shame in this world and sternly punished in the next except those that repent before you."
The Supreme Court is seized with a set of appeals instituted by Punjab as well as the Khyber Pakhtunkhwa against the decision of respective high courts in favour of the convicts who were awarded sentence under the Anti-Terrorism Act, 1997. The question to be determined is should remission be awarded to prisoners who were convicted under the Anti-Terrorism Act, 1997, especially after amendment in Section 21-F of the Act in 2001.
The court is seized with a set of appeals instituted by Punjab and Khyber Pakhtunkhwa
Section 21-F deals with the remission and explains that this facility was not available to persons, other than a child, convicted and sentenced for any offence under this act.
During the hearing Justice Umar Ata Bandial, also a member of the bench, observed that rights were something which was vested, but the real question would be to determine should not we adopt an approach to reform the convict or close every door to make him a hardened criminal.
AAG Qasim Ali Nawaz Chohan, while representing the Punjab government and assisted by Additional Inspector General Prisons Dr Qadeer Alam, argued that the purpose and intent of the act, especially after the Oct 15, 2001 amendment in Article 21-F, will stand defeated if the remission was to be awarded to the convicts since ATA is a special legislation aimed at combating menace of terrorism.
The Punjab government argues that the authority of the president to grant remission was made under Article 45 of the Constitution on the advice of the prime minister and under this authority the president grants special remission in sentences to the convicts on different occasions.
But prisoners sentenced for murder, espionage, anti-state activities, sectarian, Zina, robbery, dacoity, kidnapping, abduction and terrorist acts as defined in the ATA were not entitled to get the benefit of such remission.
The provincial government contended that the remission was a constitutional prerogative of the president under Article 45 of the Constitution and this prerogative of the president does not seem to be in conflict with any of the pronouncements made by the superior courts of the country.
Punjab argues that the Peshawar High Court, in the 2019 Abdul Wahab judgement, had held that the president had unfettered powers to grant remission under Article 45.
This concept was also upheld earlier by the Supreme Court in the 1992 Bhai Khan case in which the court had observed that the power of the president under Article 45 was not subject to any limitation or conditions that may be found in the Pakistan Penal Code, 1860. or the Code of the Criminal Procedure Code, 1898.
Likewise, the apex court through its judgment in the 2016 Zahid Javed case held that Article 45 whereby the president was empowered to grant pardon was not a judicial or quasi-judicial function. It was the exercise of a prerogative conferred upon the head of the state by the Constitution on the advice of the government to pardon a person or commute a sentence and therefore it was an executive function.
The Punjab government contends that the apex court in the 2010 Nazar Hussain case had held that the policy of remissions formulated by the interior ministry in 2002 was neither arbitrary nor discriminatory. It was based on an intelligible differentia which was permissible and therefore not violative of Article 25 of the Constitution that speaks of equality.
Similarly, the Sindh High Court in the 2020 Junaid Rehman Ansari case stated that the wording used in Section 21-F of the ATA made it clear that the legislature intended that no remission would be applicable to persons convicted for the offences under the ATA.
The judgment had observed that the legislature would have known the effect of such a section and would have provided it in the ATA after much thought and consideration, especially as it was added by way of an amendment to the ATA four years after the ATA was promulgated by an ordinance.
Despite the insertion of Section 21-F in the ATA in 2001, over 18 years ago, none of the three successive democratically elected legislatures deemed it fit to remove it, the SHC had observed, adding that this was an indication that successive legislatures were satisfied that Section 21-F was justified.
The SHC had also observed that the ATA was a special law and it was well settled by now that it will take preference over a general law and even other special laws such as the Prison Act since the ATA has been passed later in time with the legislature being well aware of the system of remissions provided the Prison Rules.
https://www.dawn.com/news/1579943/sc-to-consult-islamic-scholars-on-grant-of-remission-to-terror-convicts
--------
14 US Senators Want India Listed as Worst Offenders of Religious Freedom
15 Sep 2020
September 15, 2020: The "Coalition to Stop Genocide in India", a broad coalition of Indian American and US-based civil rights organizations and activists, today welcomed a letter written by fourteen US Senators to Secretary of State Mike Pompeo stressing that US law requires the US Government to consider a federal commission's recommendations that some countries be designated as a Countries of Particular Concern (CPC), which is the US Government's official term for countries that are the world's worst offenders of religious freedom.
The bipartisan letter was signed by ten Republican senators and four Democratic senators and sent to Secretary Pompeo this month. Should the US government decide not to accept the recommendations made by the United States Commission for International Religious Freedom (USCIRF), a federal commission, the letter requires the State Department to inform US Congress of its reasons within 30 days of making that determination.
Last year, the US designated nine countries, including China, North Korea, Burma, Pakistan and Saudi Arabia, as CPC on the basis of USCIRF recommendations. In April this year, the USCIRF recommended adding nine more countries, including India, to this list.
CSGI has repeatedly called for the inclusion of India in the list of countries of particular concern, and has urged the State Department to accept USCIRF's recommendations in this regard, given the escalating levels of persecution against religious minorities in India.
"Our nation was founded on the principle that all people have a right to freely practice the faith of their choice, without fear of persecution by their government or any other actors," the bipartisan letter to Secretary Pompeo said. "As the leader of the free world, it is vital that the United States model and promote this crucial human right and our values to the rest of the world as a fundamental part of our foreign policy objectives."
The Senators wrote that to accomplish that goal, "we must first publicly highlight abuse, persecution and discrimination experienced by people and groups of faith around the world."
"We are encouraged to see the pressure from Congress to designate India a Country of Particular Concern. The US should always lead with its values and hold our friends accountable when they miss the mark on religious freedom," said Matias Perttula, Advocacy Director, International Christian Concern. "The Modi government must move away from its radical agenda and secure the rights and liberties of all religious minorities in India as is guaranteed in its constitution."
Added Ahsan Khan, National President, IAMC: "The Senators' letter to Secretary Pompeo shows that there is a strong bipartisan Congressional support for holding India accountable for its escalating violence against its principal minorities, the Muslims and the Christians. The US Government must designate India as CPC."
The Senators who have signed the letter are James Lankford (R-Oklahoma), Chris Coons (D-Delaware), Chuck Grassley (R-Iowa), Marco Rubio (R-Florida), Lindsey Graham (R-South Carolina), Thom Tillis (R-North Carolina), Tim Scott (R-South Carolina), Joni Ernst (R-Iowa), Jacky Rosen (D-Nevada), Kevin Cramer (R-North Dakota), Roger Wicker (R-Mississippi), Steve Daines (R-Montana), Chris Van Hollen (D-Maryland), and Joe Manchin (D-West Virginia).
"Both the State Department and USCIRF play important roles in sustaining the United States' leadership in religious freedom across the globe, including through their annual reports," the letter said. "These reports are invaluable for Members of Congress, other governments, and civil society groups, and help hold bad actors accountable."
Reports by USCIRF and the State Department "enable the international community to identify atrocities, encourage progress and develop solutions," the letter said.
The letter has also been sent to US Ambassador for International Religious Freedom Sam Brownback.
The Coalition to Stop Genocide has urged Secretary Pompeo not only to accept the USCIRF's recommendation that India be designated as CPC "for engaging in and tolerating systematic, ongoing, and egregious religious freedom violations, as defined by the International Religious Freedom Act (IRFA)," but also to move quickly to impose "targeted sanctions" against Indian agencies and officials "responsible for severe violations of religious freedom by freezing those individuals' assets and/ or barring their entry into the United States."
The "Coalition to Stop Genocide in India" is committed to safeguard peace, pluralism and social justice in India by ensuring that American institutions and discourse continues to highlight human rights abuses and religious freedom violations in India.
https://www.milligazette.com/news/8-international/14-us-senators-want-india-listed-worst-offenders-religious-freedom/
--------
Bangladesh's Long Road Ahead in Countering Terrorist Fundraising
By Iftekharul Bashar
September 15, 2020
In early May, a Spanish court sentenced a British citizen of Bangladeshi origin to seven years in prison for financing and supporting terrorism. The convict, Ataul Haque, brother of the head of Islamic State's technological wing (killed in a targeted U.S. drone strike in Syria in 2015), had reportedly sent 47,000 euros from Spain to Bangladesh via China using an informal channel known as "hundi." The money, reportedly intended to finance the activities of the Islamic State in Bangladesh, was seized and its carriers and recipients had been arrested by Bangladeshi authorities in late 2015. Ataul Haque is one of many sources through which Bangladeshi militants have, and continue to, access financial resources.
Although external funding for terrorism, such as the case mentioned above, remains an important challenge, funding from internal sources in Bangladesh is no less important. The latter sources of terrorist fundraising in Bangladesh can be garnered through self-funding, criminal activities, and legitimate businesses. Funds raised from domestic fronts are arguably harder to detect, especially as they tend to be enmeshed within a broader and deeply entrenched economic ecosystem that includes legitimate businesses. Moreover, there are questions about who should respond to this insidious threat and how. While the first two categories seem to be generally known and being dealt with by the law enforcement agencies, legitimate businesses as a source of terrorism financing are still a grey area in terms of how they should be countered.
Self-funding or monthly contributions by group members are an important internal source of funding for Bangladeshi militant groups. This is applicable for both Islamic State (IS) and al-Qaida (AQ)-centric groups operating in the country. Monthly contributions or "yanat" can be as low as 10 Bangladeshi taka (12 cents); contributions depend on the financial capability of individual members. There are instances when members have contributed large donations for militant organisations. The 8 million Bangladeshi taka donation by Rokonuddin Khondoker, a pediatrician, is a case in point. Khondoker traveled with his family to Syria in October 2015 to work at an IS-controlled hospital in Raqqah. An ex-major from the Bangladesh Army, Jahidul Islam, also reportedly donated his full retirement benefits totaling 10 million Bangladeshi taka to Neo-Jama'atul Mujahideen Bangladesh (Neo-JMB), an IS-centric group in Bangladesh. Jahidul was later killed in a law enforcement raid at a militants' den in Dhaka. Another individual, Tanveer Kaderi, donated to the Neo-JMB the sale proceeds of his apartment amounting to 10 million Bangladeshi taka.
Both the AQ-linked JMB and it IS-linked offshoot (Neo-JMB) have raised funds from industrialists. For example, back in 2017, Bangladeshi authorities arrested a garment manufacturer who gave 400,000 Bangladeshi taka to a militant who is believed to have joined IS in Syria in 2015 and 200,000 taka to the wife of a JMB leader who was arrested in November 2016. Terrorist groups in Bangladesh also tap obligatory donations especially during Muslim festive seasons such as Eid ul-Fitr and Eid al-Adha. While most of the donations come from members, supporters or sympathizers, the groups have raised public funds by masquerading as community organisations providing social services or building infrastructure for religious purposes.
AQ-centric groups, namely the JMB and Harkatul Jihad al Islami-Bangladesh (HuJI-B), have reportedly turned to criminal activities such as bank robberies to finance their activities. A 2019 media report indicated that in the case of HuJI-B, at least 30 percent of the proceeds from robberies account for the group's funds. In this context, it is significant that some JMB recruits have criminal backgrounds including as robbers. These persons were possibly recruited by senior JMB members in prisons. In 2016, Bangladeshi authorities arrested seven alleged members of JMB who had confessed during their interrogation to taking part in robberies to raise funds.
But beyond these sources of terror financing lies fundraising from legitimate businesses. Although profits from legitimate businesses are not a new source of terrorism financing in Bangladesh, terrorists are increasingly seeking it partly because they are trying to ensure a sustained source of income.
According to a 2014 media report, JMB leaders reportedly invested the proceeds from donations (through "hundi" channels) into legitimate businesses including companies in various industries, as well as land and property in Dhaka. JMB reportedly owns land and other properties worth 120 million Bangladeshi taka in the capital city. According to the police, JMB made these investments to strengthen the group's financial base. For example, a garments factory, "Rahat International," in Dhaka and a tiles factory in Narayanganj are reported to have been set up by a JMB leader. In 2016, Bangladeshi authorities had also identified at least five business entities involved in terrorism financing. Bangladeshi terrorist groups are also allegedly investing in the local transport industry, including in taxis that run under a multinational ride-hailing company. IS-centric terrorist groups are also known to have invested in the gold market where there is a significant presence of illicit actors involved in smuggling.
There are also a large number of legitimate businesses and nonprofits allegedly colluding with extremists, albeit indirectly. According to the Bangladesh Economic Association (BEA), the apex body of local economists, the "fundamentalist economy" yielded more than half a billion dollars in 2019. The sectors involved include banking, healthcare, education, real estate and others. According to the BEA, fundamentalists reportedly own at least 231 trusts and foundations in Bangladesh. These trusts and foundations provide a wide range of social services including education and healthcare, which observers believe should be audited due to their suspected links to terror financing.
Bangladesh faces two key challenges in countering terrorism financing activities in the country. First, there is a general lack of institutional capacity to adequately investigate and prosecute such cases. Here, a lack of manpower with appropriate technological and investigative skill sets are the main hindrance. Second, there is no agency with specific jurisdiction to monitor and respond to the economic ecosystem that benefits terrorists. For example, the country's Financial Intelligence Unit (FIU) can only monitor the formal banking sector; other agencies such as the Counter-Terrorism and Transnational Crime Unit and Anti-Terrorism Unit are involved in incident-based investigations. As such, although Bangladesh has come a long way in suppressing terrorist activity in recent years, challenges remain in neutering the incubating financial environment that enable terrorist groups to conduct their activities.
Bangladesh needs to empower and enable the relevant agencies to proactively respond to terrorism financing in all forms. It is important to ensure that these agencies not only investigate specific incidents or cases but are also able to monitor, analyse and respond to the broader and evolving financial ecosystem on which terrorist groups depend for their survival and expansion. Many observers in Bangladesh believe that if this wider aspect of terrorism financing remains outside the jurisdiction of the counterterrorism agencies, Bangladesh's ongoing efforts will go in vain and militant groups will continue to regenerate.
Iftekharul Bashar is an associate research fellow at the International Centre for Political Violence and Terrorism Research, S Rajaratnam School of International Studies (RSIS), Nanyang Technological University (NTU), Singapore.
https://thediplomat.com/2020/09/bangladeshs-long-road-ahead-in-countering-terrorist-fundraising/
--------
Anti-noise campaigners urge Mumbai Police to start drive against noise from mosques
Sep 16, 2020
Anti-noise campaigners have requested the Mumbai Police to regulate noise levels from loudspeakers installed at mosques. After recording the lowest-ever decibel (dB) levels during Ganeshotsav 2020, NGO Awaaz Foundation on Tuesday wrote to the police commissioner Param Bir Singh demanding a drive to enforce noise rules in mosques across the city.
The letter was based on recurring complaints from citizens, and included a specific complaint about a mosque at Hasnabad Lane in Santacruz where loudspeakers were being used periodically violating noise norms for residential areas.
"Average noise levels from mosques range between 82-87 dB, much above the safe limit for residential areas which is 55dB in the day and 45dB during night. Our attempt is to ensure that noise levels from mosques do not violate the Bombay high court and Supreme Court orders on noise," said Sumaira Abdulali, convener, Awaaz Foundation adding that all complaints received had been forwarded to the police for follow up action.
A Mumbai Police officer said, "We have taken cognisance of all such complaints and in many cases the loudspeakers violating noise norms have been removed. The issue is being monitored closely by us."
The complaint about the Santacruz mosque read, "School children are struggling with online lessons at home and finding it difficult to hear anything while their teachers are also hearing sounds from mosque instead of being able to concentrate on the subject being taught."
https://www.hindustantimes.com/mumbai-news/anti-noise-campaigners-urge-mumbai-police-to-start-drive-against-noise-from-mosques/story-0aETEmQBXUxPSdi4AEJQQM.html
--------
Penang says disbursed nearly RM6.8m to non-Islamic places of worship since 2016
16 Sep 2020
BY OPALYN MOK
GEORGE TOWN, Sept 16 — The Penang state government has allocated a total of RM6,775,484.44 under funds for non-Islamic places of worship (RIBI) since 2016.
Penang state exco Jagdeep Singh Deo said the state has distributed the sum to temples, churches and Gurdwaras in the state through 165 applications made in the past four years.
"I am happy to announce the allocation of a total RM150,000 to three RIBI this morning, namely the Penang Lay Buddhist Association, the Sri Krishna Bagawan Alayam Temple and the Penang Christian Centre (PCC Georgetown Church)," he said at a press conference at the Wadda Gurdwara Sahib (WGS) this morning.
Each of the organisation will receive RM50,000 from the RIBI fund this year.
He said the RIBI fund, as at August this year, still has a balance of RM2,671,316.62.
"All RIBI in the state are encouraged to apply for allocations from this fund to maintain or repair their RIBI," he said.
The housing, local government and town and country planning committee chairman said to-date, a total RM1.9 million has been allocated to all Gurdwaras in Penang.
Out of that sum, RM804,000 in total were contributions to three Punjabi Education Centres (PEC) in Penang, RM499,390 was disbursed under their RIBI fund, RM444,500 was for restoration of the historic WGS and RM130,000 for various celebrations and festivals.
"This proves the state government's support for the Sikh community in Penang," he said.
He said the WGS is a category one heritage building that is almost 120 years old.
He said the old building had to be restored, with works starting last year.
The restoration works is estimated to cost about RM5.5 million.
Today, Jagdeep contributed another RM50,000 from his own assemblyman allocation towards the restoration of the GWS.
"We need to fully restore this historic building for our future generations," he said.
https://www.malaymail.com/news/malaysia/2020/09/16/penang-says-disbursed-nearly-rm6.8m-to-non-islamic-places-of-worship-since/1903700
--------
Granting Amnesty To Boko Haram Terrorists Cannot Bring Peace, Says Senator Ndume
SEP 14, 2020
Senator Ali Ndume, lawmaker representing Borno-South at the National Assembly and Chairman, Senate Committee on Army, has again kicked against the amnesty granted to Boko Haram members.
Senator Ndume made the declaration while speaking with newsmen at the weekend in Abuja.
He insisted that extending state pardon to erstwhile members of the terror group when the war against their activities was still ongoing would not bring the required lasting peace.
He said, "Majority of Nigerians are against the way that the Operation Safe Corridor is being conducted. It is wrong to be granting amnesty to repentant terrorists when the war is still far from being over. The war must be over before we start doing that. The military could open up the corridor, allow everybody to enter and start profiling them and keep them somewhere as prisoners of war and train them. After the war, they could be reconciled with the victims of their unfortunate actions.
"That is what is being done all over the world. The current arrangement where the repentant insurgents are granted amnesty without apologising to the victims and the state, cannot bring about the required peace.
"Just last week, over 1,000 Kawuri people, along the Maiduguri-Bama Road, about 40 kilometres away from Maiduguri, returned to their town. Kawuri was where the insurgents massacred 85 people in one day sometime in February 2014.
"I was at Ngwoche with the governor and preparations were at the final stage to return the displaced persons on October 15. The government is also making efforts to return the people of four other communities at the various IDP camps by the end of the year.
"We call on the federal and state government to provide the people with farm implements, fertilizers and other agricultural extension services for them to engage in dry season farming because they have missed the raining season now.
"In Gwoza, one Colonel Lamidi, a Yoruba man who has been there now for three years as the battalion commander, bought two golf cars and converted them to gun trucks due to lack of equipment to fight the insurgents. The same Colonel Lamidi has been going after the insurgents with the golf cars he reconstructed to gun trucks.
"Apart from this, the soldiers are also engaged in civil activities. Some soldiers with a diploma and degree certificates are now teaching school children whose parents have returned to some of the affected communities. They even hired 50 volunteers, who they are paying about N30, 000 per month from their salaries and allowances, to teach in some schools also."
http://saharareporters.com/2020/09/14/granting-amnesty-boko-haram-terrorists-cannot-bring-peace-says-senator-ndume?utm_source=iterable&utm_medium=email&utm_campaign=1524777_
--------
Arab world
29 Western countries blast Saudi Arabia's rights abuses
15 September 2020
Dozens of Western countries have censured Saudi Arabia at the United Nations Human Rights Council over serious rights violations and called on Riyadh to punish those individuals involved in the gruesome murder of dissident journalist Jamal Khashoggi.
On Tuesday, Denmark's Ambassador to the body Carsten Staur read a statement on behalf of 29 states demanding justice for Khashoggi and renewing a call for "transparency and holding all those responsible accountable."
The joint statement was the third of its kind rebuking Saudi Arabia at the UN's top rights body since the 2018 killing of the US-based journalist.
Khashoggi, a former advocate of the Saudi royal court who later became a critic of Crown Prince Mohammed bin Salman, was killed in a Saudi consulate in Istanbul on October 2, 2018, after he entered the perimeter to collect documents for his planned wedding. He had been falsely promised the documents.
The Washington Post, for which Khashoggi was a columnist, reported in November 2018 that the CIA had concluded that bin Salman personally ordered the murder.
Saudi Arabia, which initially claimed Khashoggi had left the consulate that same day, later admitted that he had been killed, blaming the killing on a "rogue" group and putting 11 unknown individuals on trial.
Earlier in the month, a Saudi court handed down lengthy jail terms to eight unnamed defendants and overturned death sentences given to five, in a ruling harshly slammed by the UN's special rapporteur on extrajudicial killings Agnes Callamard.
Cases of torture, arbitrary detention, enforced disappearances
The Tuesday statement, praised by several human rights groups, also highlighted a wide range of other serious rights violations by Saudi Arabia.
"We remain deeply concerned by reports of torture, arbitrary detention, enforced disappearances and detainees being denied access to essential medical treatment and contact with their families," the statement said.
The Danish ambassador said the countries welcomed a number of purported reforms in Saudi Arabia but stressed that journalists, activists, and campaigners faced persecution, detention, and intimidation in the country.
While welcoming "recent positive steps in women's rights" in Saudi Arabia, the group of countries remain "deeply concerned about the persisting discrimination" toward women and girls, Staur said.
Saudi authorities have arrested activists, bloggers, intellectuals, and others perceived as political opponents ever since bin Salman became Saudi Arabia's de facto leader in 2017.
Over the past years, Riyadh has also redefined its anti-terrorism laws to target activism.
Staur said, "We reiterate our call for the release of all political detainees and are particularly concerned about the use of the counter-terrorism law and other security provisions against individuals peacefully exercising their rights."
https://www.presstv.com/Detail/2020/09/15/634159/29-Western-countries-blast-Saudi-Arabia-rights-abuses
--------
Syria drone strike kills prominent Tunisian extremist
15 September 2020
A drone strike believed to have been carried out by the United States in northwestern Syria killed a prominent Tunisian extremist, a monitor said Tuesday.
The strike conducted Monday in the opposition-held province of Idlib killed Sayyaf al-Tunsi, said the Syrian Observatory for Human Rights.
"The drone targeted the vehicle of the Hurras al-Deen leader in Idlib, killing him," said Observatory chief Rami Abdel Rahman.
For all the latest headlines follow our Google News channel online or via the app.
Hurras al-Deen is a relatively small but powerful armed group led by al-Qaeda loyalists.
It is a rival of Hayat Tahrir al-Sham, an alliance of extremist factions dominated by former members of al-Qaeda's ex-Syria affiliate Jabhat al-Nusra -- although the two groups cooperate at times.
Sayyaf al-Tunsi was former Nusra leader who was sidelined over his alleged responsibility for the 2015 massacre of 20 Druze villagers in Idlib Province.
There was no immediate confirmation of the strike from the United States, nor the coalition it leads in the region to fight against ISIS.
Rami Abdel Rahman said Tunsi's car was targeted by a so-called "Ninja" R9X missile, a modified Hellfire on which the explosive head is replaced with blades to minimize "collateral damage."
https://english.alarabiya.net/en/News/middle-east/2020/09/15/Syria-drone-strike-kills-prominent-Tunisian-extremist
--------
Qatar, Pakistan rule out possibility of normalization with Israel
15 September 2020
A high-ranking Qatari official says Doha will not follow in the footsteps of neighboring Bahrain and the United Arab Emirates (UAE) to normalize relations with Israel, emphasizing that Doha will not take such a measure as long as the Palestinian issue is unresolved.
"We don't think that normalization was the core of this conflict and hence it can't be the answer," Qatari Spokesperson for the Ministry of Foreign Affairs Lolwah Rashid al-Khater, said in an exclusive interview with Bloomberg television news network on Monday.
She added, "The core of this conflict is about the drastic conditions that the Palestinians are living under" as "people without a country, living under occupation."
Last week, Bahrain joined the UAE in striking an agreement to normalize relations with Israel.
In a joint statement, the United States, Bahrain and Israel said the agreement to establish ties was reached after US President Donald Trump spoke with Israeli Prime Minister Benjamin Netanyahu and Bahraini King Hamad bin Isa Al Khalifah.
The deal came one month after the UAE and the Tel Aviv regime agreed to normalize ties under a US-brokered accord.
Bahrain will join Israel and the UAE for a signing ceremony at the White House hosted by Trump later on Tuesday. The ceremony will be attended by Netanyahu, Bahrain's Foreign Minister Abdullatif Al Zayani and Emirati Foreign Minister Sheikh Abdullah bin Zayed Al Nahyan.
Elsewhere in her remarks, Khater pointed to the attempts, backed by Kuwait, to end the economic and diplomatic blockade Saudi Arabia and a number of its allies imposed on gas-rich Qatar in June 2017, noting that the efforts have not yet reached a tipping point.
"In the past couple of months, there have been messages and messengers going back and forth," she said.
"It's very early to talk about a real breakthrough," but "the coming few weeks might reveal something new," the top Qatari official pointed out.
"We're beyond this point. The point we are at is engaging constructively in unconditional negotiations and discussions" that "do not necessarily need to include all parties at once," Khater said.
Saudi Arabia, the UAE, Bahrain and Egypt severed diplomatic and trade ties with Qatar on June 5, 2017, after the quartet officially accused Doha of meddling in regional affairs and supporting terrorism.
The quartet later issued a 13-point list of demands in return for the reconciliation, which was rejected as an attack on Qatar's sovereignty.
'Pakistan won't compromise on Palestine cause'
Meanwhile, Pakistani Prime Minister Imran Khan reacted to Bahrain's normalization of ties with the Israeli regime following the UAE, saying, "Any recognition of Israel will face strong opposition from Palestinian people. We cannot made a decision which runs counter to the aspirations of the oppressed Palestinian nation. We will continue to support the fair resolution of the Palestinian issue."
"If the whole world wants to recognize Israel, Islamabad would not do so and would never make a decision contrary to the wishes of the Palestinian people" Khan told Urdu-language 92 News television news network on Tuesday.
He underlined that the Pakistani government will never compromise on its fundamental principles of supporting Palestine and its liberation, as stated by the founder of Pakistan Muhammad Ali Jinnah.
"Until a just solution to the Palestinian issue is produced, any recognition of the Zionist regime is ruled out. How can we accept to normalize with the Zionists when the main Palestinian parties do not accept it?" the Pakistani premier said.
https://www.presstv.com/Detail/2020/09/15/634140/Qatar-rejects-possibility-of-establishing-ties-with-Israel-until-Palestinian-issue-resolved
--------
Iraqi, Peshmerga Forces to Step Up Anti-IS Joint Effort
By Sirwan Kajjo
September 14, 2020
WASHINGTON - Iraqi military and Kurdish Peshmerga forces will increase their cooperation in the fight against Islamic State, an Iraqi military official said.
Yahya Rasool, spokesman for the Iraqi military, said Sunday that joint efforts are under way to ensure the security of Iraq's border with Syria, as IS militants continue to exploit the instability in both countries to launch attacks on Iraqi territory.
"The Peshmerga forces are part of the Iraqi national defense system, and now there is joint coordination between the federal forces and the Peshmerga to protect those areas that lie between their lines of presence," Rasool said in a statement to the Iraqi News Agency.
"It is very important during the next phase to coordinate with the Peshmerga forces in order to carry out joint operations within these areas, as well as sharing intelligence," he added.
The Iraqi official noted that there is a new understanding between the two sides to establish coordination centers for their anti-IS campaign.
Rasool's statement comes days after Iraqi Prime Minister Mustafa al-Kadhimi visited Iraq's autonomous region of Kurdistan, where he and Kurdish leaders discussed among other issues the continued fight against IS, also known as ISIS.
Iraqi and Kurdish officials emphasized "continuing security cooperation and coordination between the Peshmerga and the Iraqi military in countering ISIS terrorists to bring stability and help the return of displaced people," the Kurdistan Region's presidency said in a statement Friday.
IS remains active
Despite its territorial defeat in Iraq and Syria, IS continues to carry out attacks in both countries, particularly in border areas.
In August, the United Nations Office of Counter-Terrorism (UNOCT) said more than 10,000 IS fighters are estimated to remain active in Iraq and Syria, noting that their attacks have significantly increased this year.
Vladimir Voronkov, head of the UNOCT, told the U.N. Security Council that IS militants move freely "in small cells between the two countries," adding that the terror group has regrouped, and its activity has increased.
Major objective
Experts say securing Iraq's border with Syria has become a major objective for the current Iraqi government in its counterterrorism efforts.
"There are internal procedures about how to merge the role of the Peshmerga forces with the international coalition to go after ISIS remnants, prevent the smuggling of people and resources and stop the infiltration of terrorists from the Syrian border into the Iraqi territory," said Hussein Ali Allawi, professor of national security at Nahrain University in Baghdad.
Allawi told VOA that Iraqi authorities are also seeking to coordinate with anti-IS forces that are in control of the Syrian side of the border, while the U.S.-led global coalition against IS could provide logistical support.
U.S.-backed Syrian Democratic Forces control a significant part of Syria's border with Iraq. Syrian regime forces and Iranian-backed militias also control parts of the border between the two countries.
US troop drawdown
On Wednesday, Marine Gen. Kenneth "Frank" McKenzie, head of U.S. Central Command, announced during a visit to Iraq that U.S. troops in the country would be cut from 5,200 to 3,000.
McKenzie said in a statement that the remaining U.S. forces would continue advising and assisting Iraqi forces in "rooting out the final remnants" of IS and "ensuring its enduring defeat."
"This decision is due to our confidence in the Iraqi security forces' increased ability to operate independently," the U.S. official said.
https://www.voanews.com/extremism-watch/iraqi-peshmerga-forces-step-anti-joint-effort?utm_source=iterable&utm_medium=email&utm_campaign=1524777_
--------
Mideast
Palestinians mark 'Day of Rage' as Arab states, Israel ink 'normalization' deals
15 September 2020
People rise in anger in key Palestinian cities hours before an unprecedented White House ceremony that is to witness the official signing of normalization deals between the United Arab Emirates and Bahrain on one side and Israel on the other.
The rallies emerged across the Israel-blockaded Gaza Strip and Tel Aviv-occupied West Bank on Tuesday, when the ceremony is expected to go underway at 16:00 GMT.
US President Donald Trump and Israeli Prime Minister Benjamin Netanyahu as well as Emirati and Bahraini Foreign Ministers, Sheikh Abdullah bin Zayed Al Nahyan and Abdullatif bin Rashid Al Zayani will be in attendance among others during the event.
Abu Dhabi and Manama will sign the US-brokered deals after going back on their long-held assertions that they would normalize ties with the occupying regime only after Palestinians' grievances were addressed and an independent Palestinian state was established with the holy city of Jerusalem al-Quds as its capital.
The normalization trend has, however, been uniformly panned by all Palestinian people and factions as well as the Bahraini public that have been holding daily rallies since its inception.
'Weakness and humiliation' on display
In Gaza, popular resistance leaders released a statement in condemnation of the agreements, declaring the upcoming Friday a day of mourning, when black flags are expected to be put up atop all squares, buildings, and homes throughout the Palestinian territories.
Secretary-General of the Gaza-based Palestinian resistance movement of the Islamic Jihad, Ziad al-Nakhala, meanwhile, warned that the normalization proves the Arab regimes' "weakness and humiliation" in the face of the US and Israel and would bring along nothing for them except for more "disgrace and abasement."
Nakhala warned that the international Muslim community would fall apart without Palestine, reiterating the movement's refusal to ever recognize Israel and urging Palestinians to be united in the face of the plots that target them.
In the West Bank, Palestinians rallied in the cities of Nablus, Jenin, Tulkarm, and al-Khalil (Hebron), waving Palestinian flags and signs that denounced the agreements, the Palestinian Wafa news agency reported.
More than 50 US, Palestinian, Arab and Islamic organizations have called for a demonstration in Washington to coincide with the signing ceremonies, the agency wrote.
Sheikh Hussein Al-Daihi, deputy secretary-general of the al-Wefaq National Islamic Society, Bahrain's main opposition group, told Iran's al-Alam television network that "those who choose to back down from defending al-Quds today will back down from defending Mecca tomorrow."
"The Bahraini people are against normalization of relations with the Zionist regime. We will remain in the same front with the Palestinian nation and not stand by lowly regimes," he added.
https://www.presstv.com/Detail/2020/09/15/634153/Palestine-protests-normalization-Israel-Bahrain-UAE-White-House
--------
Beneficial to every Arab country in the region to connect with Israel: Greenblatt
Ismaeel Naar
16 September 2020
The Israel-UAE-Bahrain deal is better for all countries economically, culturally and for national security issues, former US Special Envoy to the Middle East Jason Greenblatt told Al Arabiya English shortly before the historic Abrahamic peace accords.
"It is beneficial to every country in this region to connect with Israel. It is better economically, it is better socially. It is better culturally, it is better national security wise. What people should be looking at is not payment for peace, but rather peace for peace," Greenblatt said from the South Lawn of the White House where hundreds of people witnessed the historic deals Israel signed with the United Arab Emirates and Bahrain to normalize ties.
The UAE announced its deal to normalize ties with Israel last month before Bahrain followed suit last week. Tuesday's deal means that four Arab states now recognize Israel after Egypt and Jordan signed peace treaties in 1979 and 1994.
"We have to help this next generation live lives of prosperity, live lives of peace, and I think the region is poised for this, including by the way the Palestinians I think they're ready. I think their leadership needs to step up to the plate and seize this opportunity because how often do you get to see something? It's been 26 years since we saw something like this in the past, and now we're ready for more and more to come," Greenblatt said.
Israel halted its plans to annex Israeli settlements in Palestinian territory in August, in exchange for the normalization of diplomatic ties with the UAE.
Trump, who hosted the ceremony, said that at least five or six more countries are "very far down the road" on the way to normalizing relations with Israel.
https://english.alarabiya.net/en/News/middle-east/2020/09/16/Beneficial-to-every-Arab-country-in-the-region-to-connect-with-Israel-Greenblatt
--------
Islamic Jihad: Peace with Israel No More Than Illusion
Sep 15, 2020
"The Resistance Movement will not put aside its weapon," al-Nakhalah said, reacting to the US' and Israel's struggles to push back Palestinians' battle against the occupiers.
"Not only will we not abandon the weapon of resistance, but we will also take steps to boost the resistance as much as possible," he added.
Regarding the continuation of the siege of the Palestinian lands, the Islamic Jihad Movement's leader said, "The continuation of the siege of Gaza is a continuation of the Zionist aggression against the rights of the Palestinian people."
He further stressed the need to increase the unity among the various Palestinian resistance groups.
Elsehwere, the Palestinian movement also condemned the recent compromise deals with Israel by the UAE and Bahrain, and said peace with the Zionist regime is no more than illusion.
In a relevant development on Sunday, the central committee of Fatah Movement announced that free normalization with the occupying state of Israel by some Arab countries means an abandonment of Jerusalem and its Muslim and Christian holy sites, and encourages the Israeli occupation for more theft of land and more settlement construction.
During a meeting in Ramallah, the central committee of Fatah vehemently condemned the tripartite American-Bahraini-Israeli declaration on normalizing the relations between Israel and Bahrain, saying the declaration is in contrary to the resolutions of the Arab summits and the Arab Peace Initiative, WAFA news agency reported.
It pointed out that the Palestinian people and their leadership will not allow the so-called "Deal of the Century" and the annexation and normalization plans to pass.
https://en.farsnews.ir/newstext.aspx?nn=13990625000408
--------
FM: Trump Needs Regional Client Regimes for Campaign Photo
Sep 15, 2020
"@realDonaldTrump desperately needed a campaign photo. His son-in-law blackmailed their regional clients into giving him one," Zarif wrote on his Twitter account.
"The only problem: 'Peace agreements' being signed are NOT between foes but longstanding allies," he added.
"What a diplomatic coup! Stay tuned for more," Iran's top diplomat noted.
US President Donald Trump tweeted the news of the Israel-Bahrain normalization deal on Friday after he spoke by phone to Bahrain's King Hamad bin Isa Al Khalifa and Israeli Prime Minister Benjamin Netanyahu.
Following the announcement at the White House, Palestinian officials condemned the Israel-Bahrain normalization deal announced by US President Donald Trump as another "stab in the back" by an Arab state.
Friday's accord normalizing diplomatic ties between Israel and Bahrain comes one month after the United Arab Emirates (UAE) agreed to normalize ties with Israel under a US-brokered deal.
On August 13, President Trump announced a deal brokered by his government between Israel and the UAE which he said would lead to full normalization of ties between the two.
Critics see the deal as the latest attempt by Trump to save his presidential campaign against the Democrat Joe Biden.
Seventeen Bahraini political streams and associations, including the 14th of February Youth Coalition, in a statement voiced opposition to Manama's decision to normalize relations with Israel, warning that it will be a detrimental move against peace in the region.
"No type of normalization of relations between certain countries and the Zionist regime has ever led to peace and restoration of the Palestinian nation's rights and instead has encouraged the enemy to commit more crimes against Palestine and sanctities of Arabs and Muslims, including the holy Quds," the statement said, the Arabic-language Arabi 24 news website reported on Monday.
It added that the peace agreement between Bahrain and Israel, brokered by the US, was a big shock to the Bahraini nation, political associations, civil society and all national figures.
https://en.farsnews.ir/newstext.aspx?nn=13990625000306
--------
Iranian wrestler Navid Afkari was executed without prior warning: Report
16 September 2020T
Iranian champion wrestler Navid Afkari was executed without any prior warning to him, his family or lawyers, according to media reports.
Iran said it executed Afkari on Saturday despite an international outcry and widespread pleas to spare his life.
For all the latest headlines follow our Google News channel online or via the app.
A new audio recording of a phone call between Afkari and one of his brothers late Friday, hours before his death, suggests that he had no prior knowledge of his imminent execution.
In the recording, posted by Iran International on Monday, a hopeful Afkari says he and his two other brothers Habib and Vahid – both of whom have been given lengthy prison sentences – have been told that they are going to be transferred to a prison in the capital Tehran Saturday morning – the same morning he died.
Afkari told his brother in the recording he is "calm" and that "God willing everything will be all right."
The recording has sparked anger among Iranians on social media platforms who believe that Afkari was deceived and given false hope by authorities.
Afkari, his family or lawyers were not notified of the execution in advance, a BBC report said, noting that under Iranian law, the accused and their representatives must be notified 48 hours before a death sentence is carried out.
Signs of torture
The report also cited an eyewitness close to Afkari's family as saying that family members were only allowed to see his face before burying his body. Afkari's nose was broken, the witness told the BBC.
The Afkari brothers had previously released several audio recordings maintaining their innocence and saying they were tortured into making false confessions.
In the audio recording posted by Iran International, Afkari says doctors from Iran's Legal Medicine Organisation examined him and his brothers in prison and took note of 10 to 15 places on his body where he had injuries.
Afkari, 27, was arrested during anti-government protests in 2018. He was given two death sentences, six and a half years in prison and 74 lashes for the alleged murder of a water company security guard.
His brothers, Vahid and Habib, have each been sentenced to 54 and 27 years in prison, respectively.
Their mother had said in a video recording that her sons had been tortured to testify against each other, and that one of them had attempted suicide due to the physical and psychological pressure in prison.
https://english.alarabiya.net/en/features/2020/09/16/Iranian-wrestler-Navid-Afkari-was-executed-without-prior-warning-Report
--------
Turkey's arrest of lawyers representing clients accused of Gulen links criticized
15 September 2020
Turkish and international lawyers' groups have voiced concern over the arrest of dozens of lawyers, saying they had been doing their job when representing clients accused of links to the network Turkey blames for anattempted coup in 2016.
The Ankara state prosecutor's office ordered the detention of 60 people on Friday, including 48 lawyers and others in the legal sector, suspected of operating in support of the network of US-based Muslim cleric Fethullah Gulen.
For all the latest headlines follow our Google News channel online or via the app
The suspects were part of a structure within the Gulenist network which sought to "steer investigations in favor of the group under the guise of attorney activities", the prosecutor's office said.
The Istanbul Bar Association described the arrests as intimidation. In a statement released on Monday, it said the allegations related to the execution of their duties as lawyers, representing clients accused of Gulen links.
"A lawyer cannot be identified with their client," the association said. "Intimidation which hopes to restrict the lawyers' duty ... will impact the public as much as lawyers and gradually destroy confidence in justice."
The International Commission of Jurists (ICJ) also expressed concern, saying the arrests breached Turkey's obligations under international law.
"Lawyers should never be arrested or sanctioned for representing their clients, or identified with their clients causes," said Roisin Pillay, Director of the ICJ Europe and Central Asia Program.
In a crackdown since the failed coup, in which 250 people were killed, tens of thousands of people have been arrested. Gulen, a former ally of President Tayyip Erdogan, has denied involvement in the putsch.
On Tuesday, prosecutors in the western province of Izmir ordered the arrest of 66 suspects, including 48 serving military personnel, in an investigation of the armed forces, state-owned Anadolu news agency reported.
In the post-coup crackdown, more than 20,000 people had been expelled from the Turkish military.
https://english.alarabiya.net/en/News/world/2020/09/15/Turkey-s-arrest-of-lawyers-representing-clients-accused-of-links-to-Gulen-draws-criti
--------
North America
UAE, Bahrain have more influence to help Israel solve the Palestinian issue: Kushner
Ismaeel Naar
16 September 2020
The United Arab Emirates and Bahrain will have more influence to help Israel solve the Palestinian issue as allies, according to Senior White House Adviser Jared Kushner, after both Arab countries signed the historic Abraham Accords normalizing ties with Israel.
"I will say that if you look at what the United Arab Emirates did today and what Bahrain did today, they will have more influence to help Israel solve the Palestinian issue as allies and normalize countries of Israel, than they would have no say at the table," Kushner told Al Arabiya's Washington DC Bureau Chief Nadia Bilbassy on Tuesday.
For all the latest headlines follow our Google News channel online or via the app.
The United Arab Emirates and Bahrain officially normalized relations with Israel at a signing ceremony at the White House on Tuesday. The agreements "will serve as the foundation for a comprehensive peace across the entire region," said US President Donald Trump in an opening speech at the signing ceremony at the White House.
Trump hosted UAE Foreign Minister Sheikh Abdullah bin Zayed Al Nahyan, Bahrain's Foreign Minister Abdullatif Al Zayani and Israeli Prime Minister Benjamin Netanyahu for the landmark deal.
Speaking on the US-brokered efforts, Kushner said it was possible given new leadership and thinking in attempting to solve the Arab-Israeli conflict.
"People point to the Arab Peace Initiative, which was a very noble effort when it was done in 2002. But if it would have worked, then there would have been peace 15-20 years ago. So the reality is that was not a viable pathway to make it things through," Kushner told Al Arabiya.
When asked about Trump's invitation to sit down with the Iranians without any preset conditions, Kushner reiterated Washington's "maximum pressure" strategy as longstanding until Tehran complies with US demands.
"Trump will keep the maximum pressure campaign going until we have an outcome that is appropriate… quite frankly, their situation in Iran is getting more and more dire by the day. But he does want a situation where they can, again, give their people freedom and give their people opportunity," Kushner said.
https://english.alarabiya.net/en/News/middle-east/2020/09/16/UAE-Bahrain-have-more-influence-to-help-Israel-solve-the-Palestinian-issue-Kushner
--------
Joe Biden: I will return US to Iran nuclear deal
15 September 2020
Democratic presidential candidate Joe Biden says if elected he will return the United States to the Iran nuclear deal as a starting point for follow-on negotiations.
Biden said in a recent article for CNN's website that the US will rejoin the 2015 deal if Iran returns to what he called "strict compliance" with the nuclear accord, known as the Joint Comprehensive Plan of Action (JCPOA).
"I will offer Tehran a credible path back to diplomacy. If Iran returns to strict compliance with the nuclear deal, the United States would rejoin the agreement as a starting point for follow-on negotiations. With our allies, we will work to strengthen and extend the nuclear deal's provisions, while also addressing other issues of concern," he wrote.
"I will also take steps to make sure US sanctions do not hinder Iran's fight against Covid-19. And on day one, I will repeal Trump's disgraceful travel ban targeting a number of Muslim-majority countries, among others," he added.
Biden's Republican rival, President Donald Trump, withdrew the US from the Iran deal over two years ago. Trump said it was a bad deal that needs to be re-negotiated.
Iran has time and again said it will not renegotiate the existing accord or make a new one with the US as long as sanctions remain in place.
Since scrapping the JCPOA in May 2018, the Trump administration has unleashed its "toughest ever" sanctions to bring Iran's economy to its knees, but it keeps humming and is getting back on its feet.
President Hassan Rouhani has condemned US sanctions which have obstructed Iran's access to medicines amid the coronavirus pandemic, saying the White House knows nothing about humanity.
Speaking during a meeting of the national task force for fighting the coronavirus on Saturday, Rouhani slammed Washington for blocking a request by the Iranian government for a loan from the International Monetary Fund (IMF) to combat the deadly outbreak.
Iran has been contending with the deadliest pandemic the world has seen in many decades amid US sanctions, which have seriously hampered efforts to contain the outbreak.
More than 407,000 Iranians have been infected with Covid-19 in Iran. More than 23,453 have died, while 350,000 have recovered.
https://www.presstv.com/Detail/2020/09/15/634158/Joe-Biden--I-will-return-US-to-Iran-nuclear-deal
--------
O'Toole's 'Lack Of Courage' Against Bill 21 Frustrates Muslim And Sikh Groups
09/15/2020
By Althia Raj
OTTAWA — Conservative Leader Erin O'Toole 's tacit support for Quebec's discriminatory Bill 21 caught the National Council of Canadian Muslims by surprise this week, leading it and the World Sikh Organization of Canada (WSO) to denounce the move, saying they are deeply disappointed by the Tory leader's "lack of courage."
"It is an absolutely horrific situation that we never thought would happen in Canada, and the fact that none of our federal leaders are really showing the courage to stand up for freedom of religion and to stand up for minority communities, it is very disappointing," WSO spokesman Balpreet Singh told HuffPost Canada Tuesday.
O'Toole's comments on Bill 21 came after a meeting with Quebec Premier François Legault in Montreal on Monday. The newly elected leader of the Conservative party said he sought the meeting to "fully understand" the policy debates in the province, including those regarding questions about Quebec identity.
"That is a priority for me, personally," he told reporters, in French, after the meeting. "We talked about Bill 101 [the French-language law] and Bill 21 [a bill that forbids new employees in certain public-sector jobs, such as teachers, police officers and judges, from wearing religious symbols].
"And I will respect provincial jurisdictions of all provinces, including on laws to protect secularism and the French language. That will be a priority for me, as leader of the opposition," O'Toole said.
https://www.huffingtonpost.ca/entry/erin-otoole-bill-21_ca_5f615734c5b65fd7b856420c
--------
Toronto mosque discourages speculation, urges vigilance after police say nearby killings could be related
Sep 15, 2020
A Toronto-area mosque is trying to discourage speculation, but is also urging caution, after one of its beloved volunteers was fatally stabbed over the weekend — an incident police have said could possibly be linked to the killing of a man sleeping under a bridge just days before.
"At this point, we still cannot say definitively what the motive of the attacker was," the International Muslims Organization (IMO) said in a statement.
"However, we must be clear — the fact that the theories have not been ruled out shouldn't lead us to spreading news that a hate crime was committed or that a serial killer is on the loose, as has been shared by some sources," the statement said.
"At the same time, we urge our congregants to keep our brother in your prayers and to of course continue to be vigilant about any suspicious activity in the area," the IMO added.
The statement goes on to say the past several nights have been "sleepless" ones for many at the IMO mosque, after a well-known member, Mohamed-Aslim Zafis was stabbed to death while seated outside the mosque doors.
The 58-year-old was helping to make sure those entering were properly complying with health protocols amid the COVID-19 pandemic.
Toronto police said Monday it's possible Zafis's death on Sept. 12 might be linked to another fatal stabbing, that of Rampreet (Peter) Singh some five kilometres away on Sept. 7. Singh was attacked while sleeping under a bridge on the West Humber Trail, where he had been living since April, police said.
"By all accounts, he kept to himself. Local residents who would either jog, walk dogs or roller blade would bring him food to eat," said Det. Sgt. Joel Kulmatycki, lead investigator on the Singh homicide.
A jogger located Singh's body around 7 a.m.
Insp. Hank Idsinga did not say definitively if the two cases are linked, but said, "We cannot exclude that possibility."
"We are asking the public to please continue to be aware of your surroundings and report any suspicious people or behaviour to police or to CrimeStoppers."
Speaking outside the mosque Tuesday, its president Omar Farouk described Zafis as "a wonderful human being."
"He was kind, generous, very polite, very humble... He was so helpful in every aspect of the community," Farouk said, recalling how Zafis took the lead in organizing the distribution of approximately 500 food hampers prepared by the mosque each month for members of the community.
Recalling Zafis's role in helping congregants safely enter the mosque on the night he was killed, Farouk said: "He was doing that with love and care for the people. He took that upon himself."
Farouk added Zafis's wife and children are "very much hurt and disturbed" by his death, and are now preparing for his funeral, which will be held Wednesday. Attendance will be by invitation only due to COVID-19, but will be live streamed for those wishing to view it.
As for the investigation into his death, Farouk said the community has faith and trust in the police, though many are fearful.
"To be honest, our congregation, they're afraid of coming. This incident has generated a great level of fear in them."
Police have released security footage of the suspect in the Zafis homicide and are asking anyone with information to contact them.
https://www.cbc.ca/news/canada/toronto/mosque-stabbing-killing-rexdale-1.5725135?cmp=rss
--------
Palestinians need to recognize peace is better than conflict: US Ambassador Friedman
Ismaeel Naar
16 September 2020
The United States is committed to working toward achieving a fair resolution to the Israeli-Palestinian conflict, but the Palestinian leadership has to recognize that peace is better than conflict, according to US Ambassador to Israel David Friedman.
"We're very committed to working on that. But we can't want peace more than they do. And they have to, I think understand, that we hope they understand, that the opportunity is there for them right now," Friedman told Al Arabiya English during the signing of the Abraham Accords.
For all the latest headlines follow our Google News channel online or via the app.
The United Arab Emirates and Bahrain officially normalized relations with Israel at a signing ceremony at the White House on Tuesday. The agreements "will serve as the foundation for a comprehensive peace across the entire region," said US President Donald Trump in an opening speech at the ceremony.
"This entire region is moving in a different direction. People are tired. People see opportunity. There's so much that can be done to make people's lives better. If that's their focus, they will find it in us a very willing participant and someone that wants to have those discussions, but they have to want it," Friedman added during his interview from the White House following the historic signing of Israel with the UAE and Bahrain.
Friedman also spoke on US President Donald Trump's comments earlier that he may agree to a deal with the Iranians next.
"Now when the president says I'm going to make a deal with Iran, it doesn't mean it's going to give Iran what it wants. Any deal with Iran is obviously going to make sure that Iran never has a nuclear weapon, that they end their malign activity from Yemen to Syria to Iraq to Lebanon, that they end the ballistic missiles," Friedman said.
https://english.alarabiya.net/en/News/middle-east/2020/09/16/Palestinians-need-to-recognize-peace-is-better-than-conflict-US-Ambassador-Friedman
--------
Trump acknowledges plan to have Syria's Assad assassinated in 2017
15 September 2020
US President Donald Trump has admitted that he intended to have Syrian President Bashar al-Assad assassinated after an alleged chemical attack in 2017 that Washington blamed on Damascus but reversed his decision due to purported opposition by the then-Secretary of Defense James Mattis.
"I had a shot to take him (Assad) out if I wanted. And Mattis was against it. Mattis was against most of that stuff," Trump said during a phone interview with Fox News on Tuesday.
"Mattis didn't want to do it. Mattis was a highly overrated general, and I let him go," he added. "I don't regret that. I could have lived either way with that, you know, I considered him (Assad) certainly not a good person."
The admission confirmed an account from a book that was published by The Washington Post journalist Bob Woodward in 2018. Trump at the time denied the assassination plan and claimed, "That was never even contemplated."
Woodward reported in his book "Fear: Trump in the White House" that the US president had said American forces had to "go in" and "kill" Assad after the alleged gas attack in April 2017.
Woodward — famous for uncovering the 1970s Watergate scandal that brought down former President Richard Nixon — wrote that Mattis told Trump he would "get right on it" in an apparent attempt to pacify the president but returned with plans for a "more measured" response.
On April 4, 2017, an alleged sarin gas attack was reported in the town of Khan Shaykhun in Syria's Idlib Province, purportedly killing more than 80 people. Western countries quickly blamed Damascus, with the US launching a missile attack against Shayrat Airbase in Syria's Homs Province on April 7, 2017.
Washington claimed that the air field had been the origin of the chemical attack. Damascus, however, said the Khan Shaykhun incident was a fabrication to justify foreign intervention.
The Syrian government surrendered its stockpiles of chemical weapons in 2014 to a joint mission led by the United Nations (UN) and the Organization for the Prohibition of Chemical Weapons (OPCW), which oversaw the destruction of the weaponry.
However, Western governments and their allies did not stop accusing Damascus of conducting chemical attacks.
https://www.presstv.com/Detail/2020/09/15/634173/Trump-acknowledges-plan-to-have-Syria%E2%80%99s-Assad-assassinated-in-2017
--------
Despite Israeli objection, Trump OKs F35 sale to UAE
Beyza Binnur Donmez
15.09.2020
US President Donald Trump said Tuesday he has "no problem" selling F-35 fighter jets to the United Arab Emirates (UAE), hours before a peace signing ceremony between Israel, the UAE and Bahrain at the White House.
"I personally would have no problem with it. I would have no problem selling them the F-35," Trump said in an interview with Fox & Friends. "I view it as an asset, not a liability."
Following an announcement of a UAE-Israel normalization deal last month, Israeli Prime Minister Benjamin Netanyahu said the agreement does not include selling F-35s to the UAE, maintaining Israel's objection to giving advanced arms to Arab states.
- US may have coronavirus vaccine 'in matter of weeks'
In another part of the interview, Trump claimed a coronavirus vaccine may be approved "in a matter of weeks," as he praised his efforts with the Food and Drug Administration (FDA) to accelerate approval methods.
"You wouldn't have a vaccine for years," he said. "I speeded up the process with the FDA ... We're going to have a vaccine in a matter of weeks, it could be four weeks it could be eight weeks ... we have a lot of great companies."
He said his push to begin delivering millions of doses of a vaccine by the end of 2020, called Operation Warp Speed, has "no political" intent.
"I'm not doing it for political reasons, I want the vaccine fast," Trump said.
His remarks came after senior Democrats cast doubt about the safety of a potential vaccine.
"I would want to see what the scientists said," Democratic presidential nominee Joe Biden told reporters last week in response to whether he would take a vaccine if it is approved before Election Day on Nov. 3.
His running mate, Senator Kamala Harris, also said she would not take Trump's word about a vaccine.
The US is the worst-hit country by the coronavirus pandemic with more than 6.5 million cases and nearly 195,000 fatalities, according to Johns Hopkins University. In all, nearly 2.5 million recoveries have been recorded.
https://www.aa.com.tr/en/americas/despite-israeli-objection-trump-oks-f35-sale-to-uae/1974320
--------
NYPD union chief calls shooting of LA deputies 'domestic terrorism'
By Tina Moore and Amanda Woods
September 14, 2020
The president of the NYPD sergeants' union condemned the weekend ambush shooting of two Los Angeles County deputies as "domestic terrorism" — and demanded that nationwide elected officials "take a stand on such crimes against humanity."
The deputies, a 31-year-old mother and a 24-year-old man, were inside a parked patrol car in the southern LA County city of Compton Saturday night when a lone gunman walked up and opened fire, disturbing surveillance video shows.
They were rushed to the hospital in critical condition.
In an open letter to elected officials early Monday, Sergeants' Benevolent Association president Ed Mullins called the attack a symptom of "the unbridled violence plaguing our nation."
"It continued unabated this weekend with the attempted assassination of two police officers in Los Angeles," Mullins wrote. "As they were battling for their lives, scores of protestors descended on the hospital, blocked entrances, and chanted that the officers should die."
"By any standard, what happened in Los Angeles constitutes terrorism, and the American people deserve to know if elected officials, regardless of their party affiliation, stand with the angry mobs or with law enforcement, who are perilously on their own in this battle against American ideals," he declared.
He urged law enforcement organizations nationwide "to take their purported leaders to task for being unwilling or unable to lead during these tumultuous times."
"We need to know who is with us, who is against us, and who is spinelessly sitting on the fence to see which way the political winds are blowing," Mullins wrote.
"We cannot effectively do our jobs in this climate of hate, where politicians vote to defund and devalue us, only to then turn around and blame us for spikes in crime."
President Donald Trump and Democratic presidential nominee Joe Biden have each condemned the shooting.
"When we find that person we got to get much faster with our courts, and we got to get much tougher with our sentencing," Trump told a group of Latino supporters in Las Vegas on Sunday, according to CNN.
Biden called the shooting "absolutely unconscionable."
"Acts of lawlessness and violence directed against police officers are unacceptable, outrageous, and entirely counterproductive to the pursuit of greater peace and justice in America — as are the actions of those who cheer such attacks on," he said in a statement.
Los Angeles County Sheriff Alex Villanueva on Sunday described the condition of the deputies as a "double miracle," saying that they are both expected to survive after emerging from surgery.
https://nypost.com/2020/09/14/nypd-union-chief-calls-la-deputy-shooting-domestic-terrorism/?utm_source=iterable&utm_medium=email&utm_campaign=1524777_
--------
Pakistan
NA passes FATF-related bill on terror financing
Syed Irfan Raza
16 Sep 2020
ISLAMABAD: The National Assembly on Tuesday passed a Financial Action Task Force-related bill, the Anti-Terrorism Act (amendment) Bill, 2020, while another bill was laid in the house that suggested punishment of up to two years, or up to Rs500,000 fine or both for "maligning" armed forces of the country and their personnel.
In a related development, President Dr Arif Alvi summoned a joint sitting of parliament on Wednesday (today) apparently to get the FATF-related legislation passed that was blocked by the opposition in the Senate last month, sources said.
However, no official notification was issued in this regard till the filing of this story.
The session of the lower house of parliament lasted for six-and-a-half hours in which other important issues were also discussed, like the recent rape of a woman on the Motorway near Lahore, flooding in Karachi and Sindh and increasing beggary in the federal capital.
According to the ATA (amendment) Bill, 2020, the investigating officer, with the permission of the court, can conduct covert operations to detect terrorism funding, track communications and computer system by applying latest technologies in 60 days.
Another bill introduced in National Assembly provides for up to two-year imprisonment or Rs500,000 fine or both for defaming armed forces
Written requests would be made to the court for extension in investigation and the court may extend the period for another 60 days.
The current law will not contradict any other law and the federal government will strengthen the procedure and formulate rules for the implementation of orders.
The bill said funding for terrorism was a major obstacle in the country's development and a source of disgrace to it. Terrorism funding was benefiting those elements which were not only a threat to internal and external peace of the country but also its allies, the bill said.
"The main purpose of introducing this bill is to enable law enforcement agencies to eradicate these curses by adopting certain preventive techniques with the empowered assistance of the courts of law."
The Criminal Law (amendment) Act Bill, 2020 was laid in the National Assembly to amend the Pakistan Penal Code, 1860, and the Code of Criminal Procedure, 1898, that suggested punishment to those who would malign armed forces and their personnel. This may be called the Criminal Law (Amendment) Act, 2020.
In Pakistan Penal Code, 1860, Section 500A is inserted which said: "Whosoever, intentionally ridicules, brings into disrepute or defames the armed forces of Pakistan or a member thereof, he shall be guilty of an offence punishable with imprisonment for a term which may extend to two years or with a fine up to Rs500,000 or both."
Later, the house discussed the horrible Motorway incident near Lahore in which a woman was raped by some criminals a few days ago.
The house witnessed anger expressed by legislators over the incident who demanded exemplary punishment to the rapists.
Minister for Science and Technology Fawad Chaudhry did not endorse the idea of public hanging of rapists to avoid such heinous crimes in future. Instead, he called for strengthening of the judiciary.
Maulana Abdul Akbar Chitrali rejected Prime Minister Imran Khan's view that sex abusers should be subjected to chemical or physical castration and asked what if a woman raped a man. He suggested that Islamic punishment should be given to the culprits and Islamic courts should be established at district level.
In a call-attention notice, the house was apprised about devastation of floods in Sindh and Karachi.
https://www.dawn.com/news/1579927/na-passes-fatf-related-bill-on-terror-financing
--------
Cabinet endorses PM's view about public hanging of rapists
16 Sep 2020
ISLAMABAD: The federal cabinet on Tuesday endorsed Prime Minister Imran Khan's view about public hanging of rapists and vowed that the government would not accept any pressure from the West.
"If Islam guides us to give punishment to rapists publicly then there must be some wisdom in it," Infor­mation Minister Shibli Faraz said at a post-cabinet meeting press conference in response to a question about the recent horrible incident of rape of a woman on the motorway near Lahore.
The cabinet meeting was presided over by Prime Minister Khan.
"The prime minister firmly believes in Islamic laws and Sunnah of Holy Prophet (peace be upon him)," Mr Faraz said.
The minister said the government would not accept any pressure from the international community and would make legislation regarding public hanging of rapists and chemical and physical castration of habitual sex abusers. "We will not tolerate any pressure from the west, east, north and south," he declared.
"Rapists must be hanged publicly so that they become an example for others," the minister said, adding that exemplary punishment should be awarded to the culprits of the motorway incident.
In an interview with a private TV channel on Monday, Prime Minister Khan had called for public hanging of rapists and said that habitual sex offenders should be physically or chemically castrated so that they could not commit such crimes in future. However, he said, hanging of a rapist publicly might be opposed internationally as many countries carried out castration of sex abusers.
Demolition of jail
In a significant move, the cabinet decided to demolish an under-construction jail in the federal capital on which Rs1.5 billion had already been spent.
"The cabinet has decided not to regularise illegal construction of a prison on a green area in H-16, Islamabad, as the Pakistan Tehreek-i-Insaf government's philosophy is to preserve green areas," Shibli Faraz said, adding that the structure will be demolished and jail would be constructed on an alternative place in the federal capital.
The minister said the government would conduct an inquiry against the officers who had allowed the construction of the prison on the green area.
In reply to a question, he said the relevant officers of the Capital Development Authority (CDA) would be held responsible for the illegal construction of kiosks at green belts, adding that the CDA must ensure strict monitoring to avoid the construction of illegal structures.
Master plans for cities
The cabinet directed the city managements to step up their efforts for formulating master plans to effectively discourage illegal construction and haphazard expansion in major urban areas across the country.
Reviewing initiatives of the cities management for urban planning, the cabinet underlined the need for formulating master plans to ensure planned construction in major cities.
The meeting also discussed a 16-point agenda and expressed satisfaction over resumption of educational activities of over 2.5 million children in the country, following a decline in Covid-19 cases. It called upon the students and school managements to strictly follow Covid-19 guidelines for containing the spread of the deadly virus at the premises.
The cabinet approved amendments to the Elections Act, making it obligatory for the elected members to take oath of office within 60 days after the elections.
The information minister quoted the examples of Senator-elect Ishaq Dar and MPA-elect Chaudhry Nisar who, he said, had not yet taken oath despite the passage of two years, depriving the people of their right to representation.
https://www.dawn.com/news/1579946/cabinet-endorses-pms-view-about-public-hanging-of-rapists
--------
Two soldiers injured in J&K encounter, terrorists flee
Sep 15, 2020
ISLAMABAD: Amid demands for exemplary punishment to rapists in the wake of a gang-rape of a woman on motorway in Pakistan, Prime Minister Imran Khan called for public hanging and chemical or surgical castration for sex criminals to curb the rising sexual violence in the country.
Khan expressed his views during a TV interview on Monday, while responding to a question about last week's gang-rape of a French national on motorway near Lahore.
The incident sparked anger across the country and brought sexual violence against women into national focus.
PM Khan said he was shocked to learn from police that sex crimes in the country have been rising at an alarming pace.
"They (rapists) should be given exemplary punishment. In my opinion, they should be hanged at the chowk," Khan said, adding that this punishment should be reserved for rapists and those who abuse children.
"Unfortunately, when we had the discussion, we were told it would not be internationally acceptable. We were told that GSP-Plus trade status given to us by the European Union will be affected," he said of the public hanging.
Another option, Khan said, was to "chemically or surgically castrate" rapists. "Castration is important because such criminals convicted in the past were found involved in rapes again after their release from jail. The primary suspect in the motorway rape, Abid Ali, was previously involved in a gang-rape in 2013 as well," he said, urging that fresh legislation was needed to permanently sterilise such criminals.
Khan regretted that there was no registry of sex offenders in the country, which led to a convicted paedophile from a European country entering Pakistan and sexually abusing children here.
He said sexual crimes should be fought by the entire society, and not just police.
"World history tells when you increase 'fahashi' (vulgarity) in a society, two things happen: sex crimes increase and the family system breaks down," he added.
Citing example, he said the divorce rate in England shot up to 70% at present as vulgarity increased there.
Due to obscenity in Bollywood films, New Delhi, too, has become the "rape capital" of the world, the PM said.
Senator Faisal Javed of the ruling Pakistan Tehreek-e-Insaf (PTI) party said PM Khan has approved a draft law to make an example of the perpetrators of rape through castration.
https://timesofindia.indiatimes.com/world/pakistan/two-soldiers-injured-in-jk-encounter-terrorists-flee/articleshow/78134008.cms
--------
Pakistan's Fight Against COVID-19 Has Made Imran Khan Stronger
By Syed Ali Zia Jaffery
September 15, 2020
Earlier last week, Pakistan decided to reopen all educational institutions in phases starting on September 15. The decision was made a month after the federal government decided to open public places like restaurants, gyms and tourist destinations. That the rate of coronavirus infections has not spiked, even after the resumption of business activities, Eid-ul-Azha and Muharram processions, is an indication that Pakistan is finally getting back to normalcy. Recent reports and analyses have described Pakistan as a COVID-19 bright spot – a sharp turnaround from a few months ago, when it was feared that the country's inept handling of the crisis would lead to disaster. That Pakistan has turned the tables in a matter of months is a win for its Prime Minister Imran Khan, whose position has now become stronger than ever.
There are three reasons why Pakistan's fight against COVID-19 has ensconced Khan in a comfortable position vis-à-vis his opponents.
First, Pakistan's COVID-19 response was channeled through a cooperative mechanism between the government and the military, something that has led to cohesion and institutional harmony. Civil-military cooperation in fighting the pandemic has been visible through the National Coordination Committee (NCC) and its operational arm, the National Command and Operation Centre (NCOC), which include both civilian ministers and military leaders. The NCC, headed by the prime minister, is the apex decision-making body on matters related to COVID-19, and involves the military's top brass in its deliberations on future courses of action. The workings of the NCOC have likewise amplified how effectively both civil and military officials have worked together to synergize all efforts and implement the decisions made by the NCC. The NCOC is headed by Federal Minister Asad Umar and comprises several high-ranking civil and military officials. Furthermore, the National Disaster Management Authority (NDMA), headed by a serving three-star general, has also been at the forefront of managing this gargantuan crisis.
Pakistan's model of civil-military cooperation has certainly delivered, indicating that ties between Khan and the military are robust. It also indicates that reports of a possible estrangement between the military and Khan were overblown. Indeed, Pundits who were predicting a doomsday scenario for Khan talked about "in-house change" and the "minus-one" formula, both of which would have involved him being removed from the prime ministership.
However, those possibilities hinged on one eventuality: an unmitigable, COVID-19-induced catastrophe in Pakistan. The military's successful working relationship with the Khan government has also effectively quashed rumors of a behind-the-scenes deal between the Pakistan Muslim League-Nawaz (PML-N) and the military. The ability of the Khan-led government to manage the pandemic has deprived his opponents of a rallying cry against him. Recall that the President of the PML-N, Shahbaz Sharif, had flayed the government for its sheer lack of preparedness to deal with COVID-19-related crises. The government's adept handling of the pandemic, coupled with the support of the military, has made the political landscape easier to navigate for the Pakistani prime minister.
Second, Pakistan's COVID-19 countermeasures were in line with Khan's consistent policy of saving lives and livelihoods. Since the very beginning, Khan, citing Pakistan's specific circumstances, vehemently opposed a full-scale lockdown. While Khan advocated for and enforced a targeted lockdown in a bid to keep the economy afloat, the Pakistan Peoples Party-led Sindh provincial government foisted a complete lockdown in that province. However, the results were not encouraging, to say the least. Ultimately, the Sindh government had to impose a smart lockdown along the lines Khan had advocated. The smart lockdown approach showed its positive effects in the provinces governed by Khan's party. Punjab is a perfect example. Once a veritable coronavirus hotspot, the province has been able to avert a major health crisis due to the implementation of a set of smart lockdowns. With the intensity of the crisis fading noticeably, Khan continues to highlight how determined he was to stick to his smart-lockdown policy, despite constant denunciation and resistance.
With Pakistan's anti-COVID-19 actions and Khan's smart-lockdown policy being lauded, the country's prime minister finds himself in a much better position than he was earlier this year. The optics could not be better for him. That he did not wilt under pressure and remained fixed on striking a balance between the economy and public health shows he braved the odds stacked against him. Moreover, the fact that a smart-lockdown route was taken, by and large, vindicates Khan's position on the state of civil-military relations in the country. Recently, he vociferously stated that the military backs all policies of his government. All this has left little room for the opposition to pose a threat to the Khan government.
Third, Khan's government has been given some respite due to the encouraging statistics on the state of the economy. Pakistan recently recorded a current account surplus, after running a mammoth deficit for years. Additionally, the country received record remittances in the month of July, giving the prime minister an opportunity to announce the good news on Twitter. With Pakistan expected to witness a GDP growth of 1 percent for the current fiscal year, it could be argued that the economy as a whole has not been crippled as a result of the pandemic. Economic recovery is being anticipated, as evidenced by bullish trends in Pakistani stock markets and an increase in business confidence. The outlook might not be ideal, but is not bad enough for the opposition to berate the government and for the latter to feel enfeebled. Moreover, Pakistan's exports returned to their pre-COVID-19 level earlier this year. That Pakistan's government has managed to mitigate the deleterious effects of COVID-19 on the economy is a sigh of relief for its prime minister. Greater or more lasting damage to the economy would have offered an ideal opportunity for the opposition to pin down Khan.
As Pakistan slowly extricates itself from the shackles of the COVID-19 pandemic, Khan finds himself perched in a stronger position at the helm. This breathing space could be used to further consolidate his hold on power.
Syed Ali Zia Jaffery is a strategic affairs and foreign policy analyst. He tweets at @syedalizia1992.
https://thediplomat.com/2020/09/pakistans-fight-against-covid-19-has-made-imran-khan-stronger/
--------
'Unwanted references': Pak rejects US-India statement asking it to act on terror
Imtiaz Ahmad
Sep 15, 2020
Pakistan rejected what it called "unwarranted references" against it in a joint US-India statement on terrorism, saying it was important that partner countries, a reference to US, should refrain from one-sided positions.
The Pakistan foreign office was reacting to the statement at the end of the 17th meeting of the US-India Joint Working Group on Counter-terrorism and the third session of the Designations Dialogue held virtually on September 9-10. It had said India and the US "underlined the urgent need for Pakistan to take immediate, sustained, and irreversible action to ensure that no territory under its control is used for terrorist attacks, and to expeditiously bring to justice the perpetrators of such attacks, including 26/11 Mumbai and Pathankot."
"Our serious concerns and rejection of the unacceptable reference to Pakistan in the aforementioned joint statement have been conveyed to the US side," the Pakistan foreign office said in a statement on Tuesday.
It was important that "partner countries take an objective view of the issues of peace and security in South Asia," it said. It also urged them to "refrain from endorsing positions that are one-sided and divorced from ground realities".
Claiming that Pakistan is a country "most affected by cross-border terrorism, sponsored and supported by India", it said the world recognises Pakistan's efforts, sacrifices and successes in the fight against terrorism.
"Pakistan has repeatedly underlined that peace and stability in South Asia is threatened by the irresponsible policies and actions of the RSS-BJP regime in India — including towards its minorities, its state-terrorism in Indian occupied Kashmir, and its belligerence against Pakistan and other countries in the region," said the statement.
It urged the world to "reverse course and desist from playing a role detrimental to regional peace and stability".
https://www.hindustantimes.com/world-news/unwanted-references-pak-rejects-us-india-statement-asking-it-to-act-on-terror/story-gceNm1p2SkdUmgwYx47SrL.html
--------
South Asia
Facing Negotiations, Taliban Almost Took Key Afghan City Of Kunduz
By Abdul Qadir Sediqi
SEPTEMBER 14, 2020
KABUL (Reuters) - Khan Agha has endured years of violence in Kunduz, but it was the Taliban's attack on the strategic city in northeastern Afghanistan, as the government and insurgents were preparing for historic peace talks, that unnerved him.
"Like me, the majority of Kunduz residents are living in fear," Agha, a 46-year-old driver, told Reuters. "Looking at what's going on, anything could happen at any time."
The Taliban offensive, encircling and almost seizing Kunduz late last month, came just weeks before the Kabul government sat down with their sworn enemies in Doha on Saturday to start historic talks aimed at ending 19 years of war that has killed and wounded more than 100,000 civilians.
The opening ceremony for the talks in the Qatari capital, replete with calls for peace from U.S. Secretary of State Mike Pompeo in a grand hotel and a host of dignitaries on video link urging a ceasefire, contrasted sharply with the recent violence on the ground in Kunduz.
Just hours after those talks started, Taliban and Afghan government forces clashed across Afghanistan, officials said, underscoring the uphill challenge of ending the long war. The most intense of those clashes on Saturday were in Kunduz, where Taliban again jostled with security forces for control of key highways, and the Afghan military deployed air and artillery strikes.
Agha, stranded outside the city of 270,000 for four days during last month's larger attack and unable to reach his family on his way back from a delivery, has since stockpiled three months' worth of food in his small home.
A Reuters examination of the little-reported August offensive - the worst since 2015, when Kunduz briefly fell to the Taliban - shows how the insurgents have recently raised pressure on this strategic urban centre, a gateway in the north to mineral-rich provinces and to central Asia, and a hub for transportation and drug-smuggling.
The Taliban deny the Kunduz attack, saying their fighters only attacked bases in retaliation for troops firing on nearby areas.
"From the start of the year we never had plans of large attacks on any big city for one reason, and that is the peace process," said Taliban spokesman Zabihullah Mujahid. "Attacking large cities can damage this process."
Though it ultimately failed, the brazen attempt to take a strategic urban centre and the continuing pressure shows the Taliban are pursuing a fight-and-talk strategy, largely ignoring the international pleas to temper the violence and agree on a ceasefire.
"The scale of ambition to expand territorial control has not ebbed," said a senior Western diplomat. "They want their fighters to stay active on the ground - it is a key concern ahead of talks as primary trust and confidence-building depends on a reduction in violence."
The Taliban's muscular action comes just as the United States rapidly draws down its troops in Afghanistan, in line with President Donald Trump's promises to end America's longest war. A February pact between Washington and the Taliban set May 2021 as the date for the final pullout, subject to certain security guarantees.
U.S. troop numbers are expected to fall to 4,500 by November from over 100,000 in 2011.
https://uk.reuters.com/article/uk-afghanistan-taliban-talks-kunduz/fight-and-talk-facing-negotiations-taliban-almost-took-key-afghan-city-idUKKBN2651D2?il=0&utm
--------
Taliban Ambushes District Governor's Residence
By Mohammad Haroon Alim
15 Sep 2020
Taliban attacked Baraki Barak's district governor residence last night in Logar province.
Ahmad Wais Abdul-Rahimzai district governor report, last night Taliban insurgents have attacked his residence killing one of his brothers and a personal bodyguard, wounding his other brother.
It is worth mentioning that the residence of Ahmad Wais is located in the Gomran area of Mohammad Agha district in Logar province.
The Southeast region around the capital is considered the most insecure location.
Taliban have not shared their part of description in this regards.
https://www.khaama.com/taliban-ambushes-district-governors-residence-098765/
--------
Taliban talks: US peace envoy 'not happy about' release of prisoners
14 September 2020
The US envoy for peace in Afghanistan has told the BBC he was "not happy about" a controversial deal to release 5,000 Taliban prisoners in order to secure historic peace talks.
However, speaking to the BBC's Lyse Doucet, Zalmay Khalilzad added that "you have to make hard decisions".
Asked about reports of ex-prisoners returning to fight, Mr Khalilzad said they "do not have any evidence".
Peace talks between Afghan leaders and the Taliban began in Qatar on Saturday.
This is the first time the Afghan government has held peace talks with the militant Islamist group. The aim is to end 19 years of conflict in the country.
The release of 5,000 prisoners was a condition, agreed between the US and the Taliban after their peace talks last year, to begin these negotiations.
The Afghan government was not involved in making the agreement, and had concerns about releasing thousands of militants. Last month, Afghan President Ashraf Ghani warned that the prisoners' release was a "danger" to the world, AFP news agency reported at the time.
"Until this issue, there was a consensus on the desirability of peace but not on the cost of it," Mr Ghani said.
But Mr Khalilzad denied that agreeing to release so many prisoners - some of whom are considered highly dangerous - was "a mistake".
"I appreciate the challenges the government faced," he told the BBC. "I applaud them for making the difficult decisions that they did. That decision made today possible."
The Taliban were removed from power in Afghanistan by a US-led invasion in 2001.
The group has gradually regained its strength to control more territory than at any point since that time.
https://www.bbc.com/news/world-asia-54155768?utm_source=iterable&utm_medium=email&utm_campaign=1524777_
--------
U.S. commander: Intel still hasn't established Russia paid Taliban 'bounties' to kill U.S. troops
Sept. 14, 2020
By Courtney Kube and Ken Dilanian
WASHINGTON — Two months after top Pentagon officials vowed to get to the bottom of whether the Russian government bribed the Taliban to kill American service members, the commander of troops in the region says a detailed review of all available intelligence has not been able to corroborate the existence of such a program.
"It just has not been proved to a level of certainty that satisfies me," Gen. Frank McKenzie, commander of the U.S. Central Command, told NBC News. McKenzie oversees U.S. troops in Afghanistan. The U.S. continues to hunt for new information on the matter, he said.
"We continue to look for that evidence," the general said. "I just haven't seen it yet. But … it's not a closed issue."
McKenzie's comments, reflecting a consensus view among military leaders, underscores the lack of certainty around a narrative that has been accepted as fact by Democrats and other Trump critics, including presidential nominee Joe Biden, who has cited Russian bounties in attacks on President Donald Trump.
U.S. intelligence agencies have for years documented Russian financial and military support to the Taliban, but a Russian program to incentivize the killing of American service members would represent a significant escalation.
Trump said he did not raise the issue of Russian payments to the Taliban in his most recent meeting with Russian President Vladimir Putin. Critics have said he should have. Senior military officials say they don't believe the intelligence is strong enough to act on.
Echoing comments in July by Gen. Mark Milley, chairman of the Joint Chiefs of Staff, McKenzie said that if he could establish that the Russians were offering payments to kill Americans, he would push to forcefully respond. But the intelligence is far from conclusive, he said.
"I found what they presented to me very concerning, very worrisome. I just couldn't see the final connection, so I sent my guys back and said, look, keep digging. So we have continued to dig and look because this involves potential threats to U.S. forces, it's open," he said, adding, "I just haven't seen anything that closes that gap yet."
A U.S. military official familiar with the intelligence added that after a review of the intelligence around each attack against Americans going back several years, none have been tied to any Russian incentive payments.
The suggestion of a Russian bounty program began, another source directly familiar with the matter said, with a raid by CIA paramilitary officers that captured Taliban documents describing Russian payments.
A Taliban detainee told the CIA such a program existed, the source said, although the term "bounty" was never used. Later, the CIA was able to document financial transfers between Russian military intelligence and the Taliban, and establish there had been travel by key Russian officers to Afghanistan and by relevant Taliban figures to Russia.
That intelligence was reviewed by CIA Director Gina Haspel and placed in Trump's daily intelligence briefing book earlier this year, officials have said. The source described the intelligence as compelling, but meriting further investigation. Nonetheless, current and former U.S. officials have said, many CIA officers and analysts came to believe a bounty program existed. They concluded that the Russians viewed it as a proportional response to the U.S. arming of Ukrainian units fighting Russian forces in Crimea, the source said.
Many military officials have always been more skeptical, several senior officials said, in part because they had not seen all the intelligence the CIA had gathered. Unlike counterterrorism information, intelligence gathered about sensitive Russian government activities is often closely held, sometimes distributed only in paper form to a small number of senior officials in Washington.
But after The New York Times reported on intelligence about an alleged bounty program, senior military officials have had a chance to examine all the intelligence, officials say.
Defense Secretary Mark Esper told the House Armed Services Committee in July that "All the defense intelligence agencies have been unable to corroborate that report. " But at the same hearing, Milley promised a deeper investigation.
"As of today, right now, we don't have cause and effect linkages to a Russian bounty program causing U.S. military casualties," Milley said. "However, we are still looking. We're not done. We're going to run this thing to ground."
Eight weeks later, McKenzie said, differing opinions persist about what conclusions the U.S. can draw from the information.
"People that are involved in it get very emotional about it," he said. "I can't afford to be emotional about it. I've got to step back and look at the totality of the picture."
If the Russians are trying to kill Americans in Afghanistan, he said, "I want to know, because I won't hesitate to take action if that's the case. I just haven't seen it. I just haven't seen it. There's a lot of conflicting information out there, but nothing was out there that I could grasp that connect together in a pattern that I would consider actionable."
The bounty story has played out against a backdrop of a U.S. withdrawal of forces in Afghanistan. The U.S. is in the midst of cutting the number of troops in Afghanistan roughly in half, from 8,600 to about 4,500, by election day.
McKenzie said with 4,500 troops, the U.S. will still maintain a counterterrorism capability and will continue to advise the Afghan Security Forces at a higher level. "I think Gen. [Scott] Miller has a very good plan to do that at a level of 4,500."
But asked whether he assesses the Taliban are not upholding their end of the peace agreement, McKenzie said, "Absolutely."
"The Taliban has been scrupulous about not attacking U.S. or coalition forces in Afghanistan. They have, however, continued to attack government security forces at a fairly high rate. And that's very concerning," he said.
McKenzie said he also worries that the Taliban may not take concrete steps to show that Afghanistan cannot be used as a base for al Qaeda or the Islamic State militant group in the future. "We have ample evidence that the Taliban is no friend of ISIS. I understand that. But what we need to see is that they're not going to allow al Qaeda to base there. And that is just not yet been demonstrated to my satisfaction. Perhaps it will be brought out in the days ahead. But it's going to need to be brought out demonstrated."
The Taliban have shown the ability to take on ISIS, he said, but al Qaeda is different. "I think emotionally, culturally and for a variety of reasons, it's much harder for them to do that with al Qaeda."
https://www.nbcnews.com/politics/national-security/u-s-commander-intel-still-hasn-t-established-russia-paid-n1240020?utm_source=iterable&utm_medium=email&utm_campaign=1524777_
--------
India
India slams Pak at UN: 'Your PM proudly admits training terrorists'
Sep 16, 2020
GENEVA: India on Tuesday came down heavily on Pakistan, Turkey and Organisation of Islamic Cooperation at the 46th session of the Human Rights Council for their remarks on India's internal affairs.
Responding to reference made by Turkey on Jammu and Kashmir, India in its right to reply has advised Turkey to refrain from commenting on the internal affairs of India and develop a better understanding of democratic practices.
India also repeatedly emphasized and repeated its position on the comments made by the vis a vis Kashmir.
First secretary, Permanent mission of India in Geneva Pawan Badhe who delivered India's right to reply said: "We reject the reference made by the OIC to the Union Territory of Jammu and Kashmir which is an integral part of India. The OIC has no locus standi to comment on internal affairs of India. The OIC has allowed itself to be misused by Pakistan to subverse its own Agenda. It's for the members of the OIC to decide if it is in their interests to allow Pakistan to do so."
India storms off SCO meeting as Pakistan displays controversial map
India also took on Pakistan at the Human Rights council and the First Secretary Badhe in India's right to reply said, "It has become habitual for Pakistan to malign my country with false and fabricated narratives for its self-serving malicious purposes."
"Neither India nor others deserve this unsolicited lecture on human rights from a country that has consistently persecuted its ethnic and religious minorities, is an epicentre of terrorism, has the distinction of providing pensions to individuals on UN Sanctions list and has a Prime Minister who proudly admits training tens of thousands of terrorists to fight in Jammu and Kashmir.
"It is not surprising that other relevant multilateral institutions have been raising serious concerns on its failure to stop terror financing and lack of effective actions against all terror entities in Pakistan," the First Secretary Badhe said.
India also raised issues of state-supported persecution in Pakistan-occupied-Kashmir, Balochistan and Khyber Pakhtunkhwa. In its reply India also highlighted the attacks on liberal voices and journalists in Pakistan
Badhe said: "The nefarious designs of Pakistan continue in Pakistan Occupied parts of Indian Union Territories of Jammu and Kashmir and Ladakh. The mass influx of outsiders has whittled down the number of Kashmiris to an insignificant number in Pakistan occupied parts of Indian Union Territories of Jammu and Kashmir and Laddakh.
India, US sign statement of intent to strengthen dialogue on defence tech cooperation
"Thousands of Sikh, Hindus and Christian minority women and girls have been subjected to abductions, forced marriages and conversions in Pakistan. The plight of people under its subjugation is well represented by the state of affairs in Baluchistan, Khyber Pakhtunkhwa and Sindh. Not a single day has gone by when a family in Baluchistan doesn't find its members picked up or kidnapped by the security forces of Pakistan," he said.
"Pakistan does well when it comes to intimidation and attacks against journalists, human rights defenders and political dissidents in particular by its state machinery. It is not without a reason that Pakistan has been highlighted by international organizations as a country where journalists are slain and their killers go scot free," Badhe added.
https://timesofindia.indiatimes.com/india/india-slams-pak-dont-need-lecture-from-a-county-whose-pm-proudly-admits-training-terrorists/articleshow/78140109.cms
--------
India responds to UN human rights chief's criticism of situation in Kashmir
Rezaul H Laskar | Edited by Sohini Sarkar
Sep 15, 2020
India on Tuesday responded to the UN human rights chief's criticism of the situation in Jammu and Kashmir by saying it had revived grassroots democracy and pushed economic development in the region despite Pakistan's efforts to derail this process.
In her global human rights update on Monday, UN high commissioner for human rights Michelle Bachelet had said that both "incidents of military and police violence against civilians" and incidents related to militancy were continuing in Kashmir, while legal changes to the Constitution and domicile rules were "generating deep anxiety".
Giving India's response during the debate on Bachelet's update on Tuesday, India's permanent representative Indra Mani Pandey said since changes were made in the union territory of Jammu and Kashmir in August last year, people in the region have been "enjoying the same fundamental rights as people in other parts of India".
"We have been able to revive grass root democracy and provide a new momentum to social and economic development, despite the challenge posed by [the] Covid-19 pandemic and persistent attempts by one country to infiltrate terrorists to derail this process by all possible means," Pandey said.
Though the envoy didn't name the country, it was obvious he was referring to Pakistan, which India has blamed for supporting cross-border terrorism, especially in Jammu and Kashmir.
Pandey also said the government's efforts aimed at socio-economic development and ensuring better governance in Kashmir over the past year have "yielded unprecedented results".
He added, "By extending coverage of positive and affirmative federal legislations and repealing discriminatory or outdated local laws, the government has reaffirmed its commitment to delivering socio-economic justice to disadvantaged people in the union territory of Jammu and Kashmir, including women, children, minorities and refugees."
Bachelet had also said in her update that the "space for political debate and public participation continues to be severely restricted" in Jammu and Kashmir, particularly since new media rules prohibited vaguely defined "anti-national" reporting.
She welcomed the release of some political and community leaders, but noted that "hundreds of people remain in arbitrary detention, with many habeas corpus petitions still pending – including those of many of Jammu and Kashmir's political leaders".
She also welcome initiatives to extend services to remote areas and the conditional restoration of full internet connectivity in two districts, and said these measures "should be applied promptly to the rest of Jammu and Kashmir".
Bachelet noted that people in Pakistan-occupied Kashmir have "limited internet access, creating difficulties in accessing education and other vital services". She said she was also concerned about restrictions on the rights to freedom of expression and association on the Pakistani side.
"My office is committed to continuing its engagement with both India and Pakistan, to uphold the rights of the Kashmiri people – which is the best way to prevent further tensions and conflict," she said.
Bachelet had also criticised the situation in Kashmir in her global update in 2019, when she had also spoken out against the National Register of Citizens verification process in Assam, saying it had caused "great uncertainty and anxiety".
Pandey also said in his intervention that India remains committed to upholding all human rights and is of the view that the human rights agenda and discourse "must be pursued in a transparent and impartial manner with respect for national sovereignty and territorial integrity and non-interference in internal affairs of states".
India also exercised its right of reply to respond to statements by Pakistan, Turkey and the Organisation of Islamic Cooperation (OIC) during the debate on the UN high commissioner's update.
It said it has become "habitual" for Pakistan to malign India with false and fabricated narratives for "self-serving malicious purposes", and that India and other countries don't deserve an "unsolicited lecture on human rights from a country that has consistently persecuted its ethnic and religious minorities, is an epicentre of terrorism, has the distinction of providing pensions to individuals on UN sanctions list and has a prime minister who proudly admits training tens of thousands of terrorists to fight in Jammu and Kashmir".
"It's not surprising that other relevant multilateral institutions have been raising serious concerns on its failure to stop terror financing and lack of effective actions against all terror entities in Pakistan," the Indian representative said in the reply.
Pakistan's "nefarious designs" also continue in Pakistan-occupied Kashmir and its "zeal to reassert its theocratic ideology" has ensured that "ethnic and religious minorities have no future through systematic persecution, blasphemy laws, forced conversions, targeted killings, sectarian violence and faith-based discrimination", The Indian representative said.
India also pointed out that "thousands of Sikh, Hindu and Christian minority women and girls have been subjected to abductions, forced marriages and conversions in Pakistan".
India also noted that Pakistan has been "abusing" various UN human rights mechanisms and platforms to raise issues that are "extraneous to the mandate" of the Human Rights Council and relate to the internal affairs of India.
New Delhi also rejected the OIC's reference to Jammu and Kashmir and said the organisation has no locus standi to comment on India's internal affairs. The OIC has also allowed itself to be "misused by Pakistan", India said in its reply. India also advised Turkey to "refrain from commenting on the internal affairs of India".
https://www.hindustantimes.com/india-news/india-responds-to-un-human-rights-chief-s-criticism-of-situation-in-kashmir/story-O1tCJTrhsH3qHAcmSYTsnI.html
--------
J-K Police bust terror module in Ganderbal, Hizbul terrorists arrested
Sep 15, 2020
Jammu and Kashmir Police on Tuesday claimed to have busted terror module in Ganderbal region and arrested five people along with incriminating materials, cash and hand grenades.
Police spokesman said that in a series of actions in Ganderbal and Awantipora, forces have arrested five associates linked to proscribed terror outfits Hizbul Mujahideen (HM) and Al-Badr.
On reliable tip about a terror module, a joint operation was launched by Ganderbal Police and 5 Rashtriya Rifles. Three terrorist associates linked to proscribed terror outfit HM have been arrested, the spokesman added.
The arrested have been identified as Arshid Ahmad Khan of Wayil Wuder Gutlibagh, Majid Rasool Rather of Beehama Ganderbal and Mohd Asif Najar of Beehama Ganderbal.
"Three hand grenades besides, incriminating materials including electronic gadgets, have been recovered from their possession," he said, adding that preliminary investigation revealed that the trio had come in contact with a Pak-based militant Fayaz Khan of Chanhar Gutlibagh presently in Pakistan. Khan had tasked them to join terrorist ranks and undertake terrorist activities/attacks on security forces in the area.
"A case FIR No. 199/2020 under relevant sections has been registered at Police Station Ganderbal. Further investigation is in progress," the spokesman stated.
Meanwhile in Awantipora, on a specific information, the police along with security forces arrested two terrorist associates at Ladhoo crossing while travelling from Shopian to Khrew. The duo was on a scooty bearing registration number JK01AC-4035.
The police identified the arrested terrorists as Rayees-ul-Hassan of Gadikhal and Mushtaq Ahmad Mir of Dadasara.
"Incriminating material of proscribed terror outfit Al-Badr and cash amount of Rs 600,000 meant for terror funding of Al-Badr terror outfit have been recovered from their possession. The Scooty used in the commission of crime has also been seized," the spokesman said, adding that case has been registered at Khrew Police station.
https://www.hindustantimes.com/india-news/j-k-police-bust-terror-module-in-ganderbal-hizbul-terrorists-arrested/story-MGM7U7O4vhAA6dxrMQB6CN.html
--------
Southeast Asia
Malaysia Day has significant meaning to multiracial community in Sarawak, says state secretary
15 Sep 2020
SIBU, Sept 15 — Malaysia Day is very important to Sarawak as it brings a significant meaning to the multiracial community in the state, said State Secretary Datuk Amar Jaul Samion.
He said Sarawak is a model state with a high degree of tolerance, acceptance and mutual respect among the people of different religious beliefs.
Speaking at an Inter-Faith Unity Programme in conjunction with Malaysia Day celebration here today, he pointed out that Sarawak is the only state to have a unit called Unit for Other Religions (Unifor), which operates as a government agency looking after the needs of non-Muslims.
Through the unit, which reflects Sarawak's priorities on inclusivity and diversity, the people are able to voice out issues pertinent to the evaluation and formulation of policies, laws and regulations on non-Islamic religious affairs.
Jaul said Unifor acted as a focal point for the various religious bodies to liaise and interact with the state and federal government agencies in the matter of applications for land and funding for the construction of houses of worships, and it had expanded into socio-economic activities where its services may be needed for such purposes.
"Sarawak is blessed to have Unifor for taking care of the well-being of the non-Muslim religious bodies in the state that include Christianity, Buddhism, Sikhism, Hinduism, Baha'i and Taoism," he said.
He said the state government had increased the allocation to Unifor for constructing, repairing and upgrading houses of worship from RM15 million in 2017 to RM20 million in 2018, RM30 million in 2019 and RM50 million in 2020.
"The state government has also allocated a 1.21-hectare land at Jalan Ong Tiang Swee in Kuching for the construction of Unifor complex, which will be the permanent office for the unit," he said. — Bernama
https://www.malaymail.com/news/malaysia/2020/09/15/malaysia-day-has-significant-meaning-to-multiracial-community-in-sarawak-sa/1903525
--------
4 Indonesian Men Flogged Over 100 Times for Having Sex with Minors
September 15, 2020
LHOKSEUMAWE: Four men were publicly flogged in a conservative Indonesian province on Tuesday under sharia law, after being convicted for engaging in sexual activity with minors.
The sentence was executed in front of the prosecutors' office in North Aceh with armed policemen guarding the event.
Wearing white robes and face masks, the kneeling men were struck by uniformed sharia officers with a rattan stick, causing them to grimace in pain.
Two offenders, aged 18 and 21, were each lashed 100 and 105 times for having sex with a minor, with the younger man sentenced to a further 10 months in prison.
A 25-year-old was struck 75 times for sexually molesting a child, while another man, 20, received 30 strokes for sexual harassment.
The 25 and 21-year-old had their lashes reduced for time served.
Despite the pandemic, dozens still came to watch from a distance — jeering and booing during the flogging.
"The North Aceh government will keep enforcing Islamic sharia even to the village level, so things like these will not happen again in our region," North Aceh deputy district head Fauzi Yusuf said.
Aceh, Indonesia's westernmost province at the tip of Sumatra island, is the only region in the Muslim-majority country to impose Islamic sharia law.
It allows flogging for offences including prostitution, gambling, adultery, drinking alcohol, and gay sex.
Rights groups have denounced public whipping as inhumane and called for the practice to end.
But the measure has wide support among Aceh's mostly Muslim population.
https://www.freemalaysiatoday.com/category/world/2020/09/15/4-indonesian-men-flogged-over-100-times-for-having-sex-with-minors/
--------
This PJ mosque has a play centre for autistic children of all faiths
Adam Abu Bakar
September 16, 2020
PETALING JAYA: From the outside, the Kampung Tunku mosque here looks like any other, a house of worship, a spiritual sanctuary for the local Muslim community.
But for the past two-and-a-half years, the mosque has been receiving a number of non-Muslim visitors, who have come not for religious purposes but to seek a haven for their children with autism.
Established in late 2017, the Kumpulan Anak Autisme Masjid (Kami) Playgroup provides a safe space for autistic children to indulge in activities like art, colouring and games that also involve parents and family members.
Speaking to FMT, the mosque's administrator, Wan Huzaini Wan Hussin, says the Kami Playgroup caters to all members of society, regardless of race and religion.
"The most important thing is to fulfil the unique needs of children with autism," he said, adding the idea for Kami Playgroup was sparked by a teacher who was involved in a programme the mosque organised for autistic children.
Since it was set up, Wan Huzaini said the playgroup has received good response from parents in the Klang Valley as it also provides them with an avenue to seek support from other parents.
"I always say that Kami Playgroup is a place for parents with autistic children to share their emotions, problems and information. They can get support and not feel isolated."
He is thankful that the local community not only accepts but also supports the programme which is run entirely by volunteers and good samaritans.
"They all give their support, justifying what I always say, that a mosque is not just for worship."
Adline Abd Ghani, head of Kami Playgroup, described the programme as an affordable resource for low-income families as fees for private autism centres tend to be on the high side.
"I have a child with autism and face problems like other parents who have autistic children, so I understand their needs. They (children) need a place for activities, a place to play," she said adding the monthly fee per child is only RM30.
The play group, according to her, helps the children improve their social, cognitive, communication and emotional skills, on top of building their confidence.
"The challenge is in planning activities for autistic children of different ages as we accept children aged three to 13."
The centre however has been temporarily closed because of the Covid-19 outbreak but Adline says they are planning to reopen. A proposal will be submitted to the authorities for approval, and will include SOPs tailored to autistic children and their guardians.
"We know things are not as they were and that we need SOPs to protect the children," she said, adding she has received many queries from parents on the reopening of the centre.
"If we ourselves, and children who do not have autism, feel stressed being cooped up at home, what more those who are autistic. They may not understand the situation."
https://www.freemalaysiatoday.com/category/nation/2020/09/16/this-pj-mosque-has-a-play-centre-for-autistic-children-of-all-faiths/
--------
Kalis Mardiasih's bold, moderate Islamic interpretation of 'hijrah'
AQMARINA ANDIRA
September 15, 2020
Born and raised as a Muslim in Indonesia, I can't help but notice the increasing popularity of the hijrah (migration) movement, especially among the young generation of Muslims in Indonesia.
The transformation of young people from cultural Muslims into more devout ones has become more visible in recent years. From fashion to food, property to relationships, this hijrah trend has begun to dominate the mainstream narrative in Islamic society. One local brand even claims to offer the first halal certified hijab in Indonesia, which has made me question my own hijab collection. Is it not halal?
Sharia residential complexes, built exclusively for Muslim families, have been in high demand, as more and more Muslims seek comfort in living in a more homogenous community.
Offering membership, seminars and guidebooks, the social movement called Indonesia Tanpa Pacaran (Indonesia Without Dating) encourages people to break up with their partners and choose to pursue marriage through taaruf (an Islamic process through which couples get to know each other).
Choosing a more moderate approach, I sometimes question myself, am I not Muslim enough if I don't follow this hijrah trend?
In 2018, the first-ever Hijrah Fest was held at the Jakarta Convention Center, drawing more than 15,000 visitors over three days. The event was so successful it became an annual program. Even during the COVID-19 pandemic, the festival continued to be held virtually as "Hijrah Fest from Home".
If you search for the hashtag #hijrah on Instagram, more than 10.5 million posts will appear. One of the most popular figures in the hijrah movement, Hanan Attaki, the founder of SHIFT Pemuda Hijrah, has 8.3 million followers on Instagram. On YouTube, the channel Tafaqquh, owned by Ustaz Abdul Somad Batubara, has more than 1.7 million subscribers and earns more than Rp 300 million (US$20,189) a month.
Rahmat Hidayatullah, a lecturer at Syarif Hidayatullah Islamic State University, said the hijrah phenomenon in Indonesia had been on the rise recently because it had been repressed for so long by the New Order regime. He added that many Indonesian students learning in Saudi Arabia in the mid-1980s had brought home the local ideology and culture and shared it through their dakwah (Islamic preaching) back in Indonesia.
Najib Kailani, a lecturer at Sunan Kalijaga Islamic State University, said the term hijrah appeared in the 1990s when Islamic communities at universities started to actively conduct liqo and halaqah (Islamic mentoring session) programs for students, after the fall of Soeharto.
With the hijrah movement having become a hot topic of conversation among Indonesians, whether at informal social gatherings or on social or mass media platforms, a collection of essays titled Hijrah Jangan Jauh-Jauh, Nanti Nyasar! (Don't Go 'Hijrah' Too Far, You'll Get Lost!) by Kalis Mardiasih has shed light on this issue through relatable personal stories framed within sound social, political, historical and psychological analysis, combined with sound Islamic theological analysis.
Kalis Mardiasih is a writer and activist from Nahdlatul Ulama (NU), Indonesia's largest mass Muslim organization. She is also a member of the national secretariat of GUSDURian, a network for those who admire the fighting spirit of Indonesia's fourth president, Abdurrahman "Gus Dur" Wahid, in promoting pluralism. She is also the author of Muslimah yang Diperdebatkan (Muslim Women Who Were Contested) (2019) and Sister Fillah You'll Never be Alone (2020).
In her book, she shares a story about her colleague's elementary school-age daughter who came to her and said, "I want to have a different mother. I want Aunty Kalis to be my mother, because you wear a hijab. My mother doesn't wear a hijab." She criticizes how children nowadays react to this hijrah phenomenon by asking what is halal and what is haram, even asking if they can play with friends of different religions.
Discussing the shifting identity politics among Indonesian Muslims from the colonial era to contemporary times, this book offers insights into the different challenges faced by Indonesian Muslims throughout the course of history. Kalis argues that the use of religious symbols, such as the Ar-Royah flag, to trigger fear and anger among the Islamic community today is misplaced because we are currently living in an inclusive social system.
Religious symbols cannot solve the social, economic, technology and social justice issues faced by Indonesians today. In the past, Indonesian Muslim scholars used Islamic symbols, such as sarongs and turbans, to differentiate themselves from their oppressors.
But their fight against colonial injustice didn't stop with symbols, as they build academic institutions to educate Indonesia's younger generations, who came to be key to the nation's attainment of independence and freedom. By focusing only on religious symbols and texts, Muslims will lose the ability to think critically and fall into the hands of religious traders who will keep people in the unknown in order to control them.
By Quranic definition, hijrah means a migration from evil to goodness. In general, this movement is a positive activity that aims toward a better way of life based on Islamic values. However, many experts have raised concerns that a growing religious revival in Indonesia could lead to exclusive attitudes and a sense of religious superiority among those who have performed hijrah, believing that leading a certain way of life can make someone more Muslim than other Muslims.
Instant and drastic religious transformation through hijrah without proper and structured knowledge as a foundation can lead to religious exclusivism, social and ideological alienation, or worse, religious extremism.
The sudden urge to become more religious is not unique to the hijrah community. In Etgar Keret's book, The Seven Good Years (2015), he tells a story about his sister who suddenly become a religious person and how his father, a Holocaust survivor, always encourages Keret to live a religious life because in a time of war, being a religious person is the best alternative to find peace.
There are many factors that drive individuals to become more religious, including war, illness, divorce, or the death of loved ones. Growing up, our social circle will expand or change. This can also lead to a behavioral transformation and changes in religious views.
Kalis' father taught the Quran to children and housewives in their neighborhood for free. He did it humbly, selflessly and consistently. Coming home from the university where she became involved in student activism and religious study at the campus' mosque, one day Kalis asked her father, "You have taught Quranic studies for a long time, why has your teaching not progressed?"
Being raised within the pesantren (Islamic boarding school) tradition, Kalis understands that the first step in learning Islam is to study akhlak (the practice of virtue, morality and manners). But at that time, her college education and knowledge of Islamic studies made her feel smarter and perceive herself as a better Muslim than her father, resulting in her being more righteous than kind. But after a while, she felt regret, terribly embarrassed by her actions, and rushed to apologize to his father.
This essay collection really resonates with me as an Indonesian Muslim who believes that religion should be easy, simple, beautiful and inclusive. Unfortunately, since the 2017 Jakarta gubernatorial election, I have personally felt the deep polarization and religious tension, creating a misconception that the more stringent we are in following our religion, the more pious we become, and the more Muslim we are than other Muslims.
This book helped me overcome my anxieties regarding the negative aspects of the hijrah movement, by providing further references regarding the issue, including social, political and historical context, anecdotes from the author's daily life, and references to some of the most prominent Islamic thinkers both from Indonesia and the wider Islamic world.
For me, reading this book is like having a conversation with Kalis Mardiasih, as a fellow Indonesian Muslim who has the same concerns about the shift in religious beliefs and behaviors within the Islamic community in Indonesia, but with richer insights, as she knows more about the subject than I do.
It gives me a reassurance that it is okay to choose a moderate approach to being a Muslim in Indonesia and I am not less of a Muslim, even if I don't follow this hijrah trend. (kes)
***
Aqmarina Andira works at an IT and technology company as a corporate secretary and government relations manager. She loves reading, hiking and traveling in her leisure time and is a cofounder of Rumah Cerita, a creative writing community for children and youth, and also cofounded the Baca Rasa Dengar book club in February 2015.
https://www.thejakartapost.com/life/2020/09/15/kalis-mardiasihs-bold-moderate-islamic-interpretation-of-hijrah.html
--------
Africa
'Hotel Rwanda' Hero In Court on Terrorism Charge Denied Bail
By Saul Butera
September 14, 2020
Paul Rusesabagina, a former Rwandan hotel manager who sheltered people during the nation's 1994 genocide appeared in court on charges including terrorism. He was denied bail.
His lawyers David Rugaza and Emeline Nyembo had asked that Rusesabagina be granted bail, partly on health grounds. The prosecution argued that he will be taken care of.
Rusesabagina said his responses to alleged crimes against him were documented in files before the court on Monday.
An outspoken critic of President Paul Kagame, Rusesabagina was portrayed as a hero in the Oscar-nominated 2004 Hollywood movie 'Hotel Rwanda' for helping shelter over 1,200 people from extermination squads.
The 66-year-old Belgian citizen with permanent residency in the U.S., was presented to the media by the Rwanda Investigation Bureau on Aug. 31, after he was arrested at Kigali International Airport.
https://www.bloomberg.com/news/articles/2020-09-14/-hotel-rwanda-hero-in-court-on-terrorism-charge-denied-bail?utm_source=iterable&utm_medium=email&utm_campaign=1524777_
--------
Libya's Prime Minister Sarraj to resign soon: Report
16 September 2020
Libyan Prime Minister Fayez al-Sarraj will announce his resignation soon, a report says, amid ongoing negotiations with a rival power camp about the political future of the country.
Citing unnamed officials, Bloomberg reported on Tuesday that Sarraj was expected to announce the decision by the end of the week.
Sarraj, however, will stay in a caretaker capacity through negotiations for a new government in Geneva next month, according to the report.
Sarraj's internationally-recognized government controls parts of western Libya. It regained full control of the capital, Tripoli, in June, after repelling a yearlong offensive by rebels under the command of military strongman Khalifa Haftar. The rebels support the rival administration based in the east of the country, which resigned a few days ago amid popular protests.
Libya initially plunged into chaos in 2011, when a popular uprising and a NATO intervention led to the ouster of long-time dictator Muammar Gaddafi. Sarraj's government and the rival administration were formed in 2014.
During the Geneva talks, the rival sides will be asked to agree on a new presidential council structure that unifies the country's dueling administrations and schedule elections, according to Bloomberg.
In talks held in Switzerland earlier this month, the rivals agreed to hold elections within 18 months and restructure the government.
The talks have also boosted the prospect of negotiations to restart oil production in the country.
Libya, which sits atop the largest oil reserves in Africa, has been forced to stop oil production since the rebels took control of the export terminals and fields in the east in January and launched a push to squeeze the resources of the Tripoli government. The blockade has cost Libya 6.5 billion dollars in lost revenue.
Haftar-allied government resigns
On Sunday, people protesting regular power cuts, cash shortages, and high fuel prices set fire to the headquarters of the eastern administration in Benghazi, forcing it to resign.
Prime Minister Abdallah al-Thani handed the government's resignation to Speaker Aguila Saleh late on Sunday, according to a spokesman for the Tobruk-based House of Representatives (HoR).
Lawmakers said they would review the resignation in their next meeting. No date was set for the session, however.
The county had already become the scene of protests over power cuts and deteriorating living conditions since last Thursday.
On Saturday, one protester was killed and three others were wounded in al-Marj, another rebel stronghold.
The casualties were the result of "the reported excessive use of force by eastern authorities against peaceful demonstrators," according to the United Nations Support Mission in Libya (UNSMIL), which called for "a thorough and immediate" investigation of the incident.
Turkey, Russia to hold talks on Libya
Officials from Turkey, which supports Sarraj's government, will hold negotiations with Russian officials in Ankara this week on developments in Libya and Syria, where the two countries back opposing sides.
"Consultations between Turkish and Russian interagency delegations on Libya and Syria will continue at a technical level on September 15-16, 2020 in Ankara," the Turkish Foreign Ministry said on Monday.
The two sides have been holding talks on a lasting ceasefire and a political settlement in Libya.
UN adopts change in structure of Libya mission under US pressure
Under pressure from the United States, the UN Security Council adopted a resolution on Tuesday to endorse a change in the structure of UNSMIL, which will now have a special envoy and a coordinator.
Thirteen of the 15 Council members voted for the resolution, with Russia and China abstaining.
Under the resolution, "UNSMIL should be led by a special envoy of the secretary general… with a particular focus on good offices and mediation with Libyan and international actors to end the conflict."
UN Secretary General Antonio Guterres should now appoint individuals to the new positions.
UNSMIL has not had a special envoy since Ghassan Salame stepped down for health reasons in March.
Guterres had appointed former Algerian foreign minister Ramtane Lamamra to replace Salame, but Washington rejected his nomination for reasons that were not made public. Guterres then turned to former Ghanaian minister Hanna Serwaa Tetteh, but the US again rejected him, asking that the post be split in two.
The other 14 Council members have accused the US of stalling the nomination process.
Washington has pushed for former Danish prime minister Helle Thorning-Schmidt to be the next special envoy.
https://www.presstv.com/Detail/2020/09/16/634203/Libya-conflict-Fayez-al-Sarraj-resignation-Khalifa-Haftar-
--------
2 soldiers killed in Cameroon bomb attack
Peter Kum and Rodrigue Forku
15.09.2020
YAOUNDE, Cameroon
Three people, including two Cameroonian soldiers, were killed late Monday in a bomb attack in one of the country's separatist regions, authorities said on Tuesday.
The incident occurred in Bongongo, the home village of Prime Minister Joseph Ngute, in the South West region of the Central African country.
"Two soldiers were found dead on Monday after a bomb attack in Bongongo," said Nwafua Lawrence Forwang, a senior civil administrator.
The soldiers were killed on their way to the prime minister's residence, according to Forwang. They were in charge of security at the premier's residence in Bongongo.
Later, a civilian was fatally shot by a stray bullet during an exchange of gunfire between the army and armed separatists following the explosion.
The Central African country has been marred by protests and violence since 2016, with residents in English-speaking regions saying they have been marginalized for decades by the central government and the French-speaking majority.
Last week, Cameroon's army launched a security operation in Bamenda, a city in North West, one of the two anglophone separatist regions. Violence in the regions over the last four years has claimed an estimated 3,000 lives and displaced over 730,000 civilians, according to the Human Rights Watch.
In June, the Norwegian Refugee Council (NRC) said for a second year running Cameroon topped the list as the most neglected crisis on the planet in 2019.
https://www.aa.com.tr/en/africa/2-soldiers-killed-in-cameroon-bomb-attack/1974287
--------
Europe
EU says ties with Turkey at turning point
15 September 2020
The European Union (EU)'s top diplomat has warned that the bloc's relations with Turkey are at a "watershed moment in history," urging Ankara to defuse tensions with neighboring Greece over maritime boundaries in the eastern Mediterranean.
Josep Borrell, the EU's high representative for foreign affairs and security policy, made the remarks in a speech he delivered to the European Parliament in Brussels on Tuesday, warning that the EU-Turkey relations would "go to one side or the other, depending on what happens in the next days."
His comments come as Turkey and Greece, both of them NATO members, are at loggerheads over hydrocarbon resources and naval influence in the eastern Mediterranean.
For the past month, Turkey had been sailing a seismic research vessel and escorting warships through an area in the sea that is disputed by Athens to map out possible oil and gas drilling prospects. Greece had dispatched its own naval ships to monitor the Turkish vessels.
Member states of the EU, particularly France, have supported Greece in the dispute and threatened Ankara with sanctions.
On Sunday, Turkey returned its vessels to waters near the southern province of Antalya. The Turkish government said the research vessel had been returned for maintenance, but the move was seen as a stand-down. Athens had demanded that the vessels be withdrawn for any attempt at a peaceful resolution of the dispute to go ahead. Ankara had said formerly that while it was open to dialog, it would accept no preconditions.
Elsewhere in his remarks on Tuesday, Borrell pleaded with EU leaders for more dialog with Ankara, even though he acknowledged that "the situation has worsened."
EU leaders are set to meet next week to discuss Turkey.
"The time has come for our leaders to take difficult decisions" at an EU summit on September 24-25, Borrell said.
Relations with Turkey will be a main topic in an EU summit next week, with France supporting Greece on the possibility of slapping sanctions on Ankara.
Borrell said, however, that "there is not yet an agreement on sanctions."
https://www.presstv.com/Detail/2020/09/15/634155/EU-says-ties-with-Turkey-at-turning-point
--------
Serbia to boost ties with Israel, Palestine: President
Mustafa Talha Öztürk
15.09.2020
BELGRADE, Serbia
Serbia is committed to improving relations with both Israel and Palestine, the country's president said Tuesday.
Aleksandar Vucic briefed Palestinian Ambassador, Muhammad Nabhan, on recent diplomatic talks in Washington and Brussels.
"Serbia is committed to improving relations with both Israel and Palestine and wants a sustainable solution based on international public law norms established at the UN, which would bring peace, stability and progress to all," said President Vucic during the meeting.
He added that Serbia respected and preserved friendship with Palestine and that it supported the establishment of lasting peace and stability in the Middle East.
Vucic expressed hope that the two sides would find a way to reach an agreement that would contribute to a better life for all people in the region.
He also thanked the Palestinian leadership for its principled position on the non-recognition of the unilaterally declared independence of Kosovo.
For his part, Nabhan said Palestine appreciated Serbia, with which it has deep friendly relations, and that this was why the news of a possible relocation of the embassy was received with concern.
Nabhan also expressed confidence that the views of the Palestinian people would be respected by the Serbian leadership in the spirit of traditional friendship.
The two interlocutors agreed that Serbia and Palestine should continue steps to form a Joint Cooperation Committee, which would make concrete existing agreements and help take advantage of opportunities for comprehensive cooperation.
https://www.aa.com.tr/en/europe/serbia-to-boost-ties-with-israel-palestine-president/1974288
--------
Turkey extends drilling activity in disputed Mediterranean waters off Cyprus
16 September 2020
Turkey has issued a new maritime notice to extend the operations of an energy drilling ship in disputed Mediterranean waters off Cyprus.
The new notice was issued for the Yavuz drilling ship on Tuesday, extending its operations until October 12.
According to the notice, Yavuz will be escorted by three other Turkish ships, and "all vessels are strongly advised not to enter" the area where they operate.
Cyprus has been divided since 1974, with the northern third run by a Turkish Cypriot administration recognized only by Turkey and the southern two-thirds governed by the internationally-recognized Greek Cypriot government.
Turkey is also involved in a dispute with Greece, which backs the internationally-recognized government in Cyprus. Tensions between Ankara and Athens spiked after Ankara resumed energy exploration work in a disputed area of the eastern Mediterranean last month. Turkey has withdrawn a seismic research vessel from waters disputed with Greece for maintenance, but ties have remained strained, and the dispute has drawn in the European Union (EU).
Turkey has issued a new maritime notice to extend the operations of an energy drilling ship in disputed Mediterranean waters off Cyprus.
The new notice was issued for the Yavuz drilling ship on Tuesday, extending its operations until October 12.
According to the notice, Yavuz will be escorted by three other Turkish ships, and "all vessels are strongly advised not to enter" the area where they operate.
Cyprus has been divided since 1974, with the northern third run by a Turkish Cypriot administration recognized only by Turkey and the southern two-thirds governed by the internationally-recognized Greek Cypriot government.
Turkey is also involved in a dispute with Greece, which backs the internationally-recognized government in Cyprus. Tensions between Ankara and Athens spiked after Ankara resumed energy exploration work in a disputed area of the eastern Mediterranean last month. Turkey has withdrawn a seismic research vessel from waters disputed with Greece for maintenance, but ties have remained strained, and the dispute has drawn in the European Union (EU).
Greece conditions talks with Turkey on 'encouraging step'
Meanwhile, Athens announced on Tuesday that it was ready for talks with Turkey over disputed Mediterranean waters if Ankara continues "disengaging itself" from the crisis, after the withdrawal of its exploration vessel from the contested region.
"Turkey still has time — ahead of and after the (EU) summit — to continue the first encouraging step of disengaging itself from this crisis," Greek Prime Minister Kyriakos Mitsotakis said following talks in Athens with European Council President Charles Michel.
"If we have tangible proof and this (proof) is continued, we are ready to start immediately — I stress that, immediately — exploratory talks with Turkey regarding our only major dispute: the demarcation of maritime zones" in the Aegean and the eastern Mediterranean, he said.
On Sunday, less than two weeks before EU leaders discuss the crisis, the Oruc Reis seismic research vessel returned to port, though Turkey said it would resume work after undergoing regular maintenance.
According to a Reuters report, Greek and Turkish military officials were also holding separate "de-confliction" talks at NATO headquarters on Tuesday. The meeting was one of a series of contacts intended to prevent any incident at sea spilling over into open conflict. However, it was not expected to address the actual dispute.
https://www.presstv.com/Detail/2020/09/16/634205/Turkey-extends-drilling-activity-in-disputed-Mediterranean-waters-off-Cyprus
--------
Swiss probe terrorism link to fatal stabbing of Portuguese man
SEPTEMBER 14, 2020
ZURICH (Reuters) - Swiss federal prosecutors took charge of a homicide investigation, saying on Monday they could not exclude a terrorist motive for the fatal stabbing of a Portuguese man in the western town of Morges at the weekend.
Police in Vaud canton had said the 29-year-old victim who lived in the area was fatally injured in the attack on Saturday evening and a suspect had been taken into custody.
"A possible terrorist motive for the crime in Morges cannot be ruled out," the Office of the Attorney General said in a statement, noting the suspect had already been under investigation and had been known to the Federal Intelligence Service since 2017.
https://www.reuters.com/article/us-swiss-homicide/swiss-probe-terrorism-link-to-fatal-stabbing-of-portuguese-man-idUSKBN2652G0?utm_source=iterable&utm_medium=email&utm_campaign=1524777_
--------
URL: https://www.newageislam.com/islamic-world-news/abraham-accord-uae-bahrain-israel/d/122867
New Age Islam, Islam Online, Islamic Website, African Muslim News, Arab World News, South Asia News, Indian Muslim News, World Muslim News, Women in Islam, Islamic Feminism, Arab Women, Women In Arab, Islamophobia in America, Muslim Women in West, Islam Women and Feminism