New Age Islam News Bureau
23 November 2021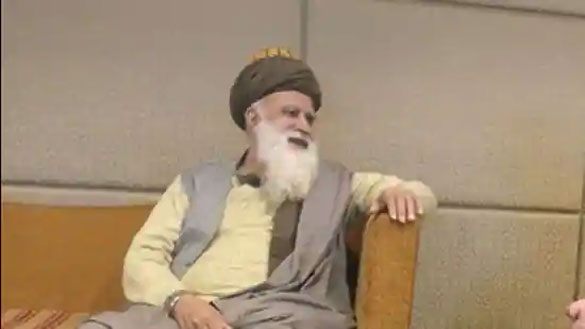 File photo: Abdul Rasul Sayyaf. (@HekmatKarzai/Twitter)
----
• Opponents of the Saudi Government outside the Country Claim the Death of Former Saudi Crown Prince Mohammed Bin Nayef in Prison
• Taliban Sends Hundreds of Fighters to Eastern Afghanistan to Wage War against Islamic State
• Islamic World's 1st Printed Ottoman Atlas Found in UK Manor's Attic
• US Cracking Down on Finances for Islamic State's Afghan Affiliate
India
• All India Shia Muslim Personal Law Board Seeks FIR against Waseem Rizvi
• Setting A Mosque on Fire: Delhi Court Frames Arson Charges Against Father, Son in 2020 Riots Case
• AIMPLB nominates 3 women to exec panel, gives 30 membership
• Kerala: Calicut University Clears Air on 'ST Muslim' Quota, Says, a Mistake by the Backend Team That Handles Its Web Portal
• Extremist Islamist Group's Member Arrested For Kerala RSS Worker's Murder
--------
Arab World
• Iraqi Air Force Bombs Islamic State Hideouts in Mountains
• Iraq's main Shia alliance files lawsuit to annul election results
• Russia starts patrols close to US-controlled zone in Syria's east: Report
• Bahrain arrests 'terror' cell caught with weapons, explosives sourced from Iran
--------
South Asia
• 'The Bone-Thin Afghan Children Elicit Gasps of Horror': International Committee of the Red Cross Chief
• Afghan traders demand subsidized air corridor to export goods to Chinese markets
• Afghanistan tops the world ranking as the 'least happy' country
• Afghan blind runner won the London Half Marathon 2021
• 'Broader efforts to silence all criticism': Human rights group raises concern over Taliban crackdown on Afghan media
--------
Europe
• France's alleged involvement in airstrikes on civilians in Egypt unveiled
• Why can't British government tackle rising Islamophobia?
--------
North America
• US blacklists 3 Daesh/ISIS-K leaders as global terrorists
• US officials warned Israel: Attacks on Iran nuclear facilities counterproductive
• US envoy Kerry attends signing of UAE, Jordan, Israel energy deal
• Turkey conveys condolences to US after car rams into Christmas parade
--------
Mideast
• Dozens of Extremist Jewish Settlers Defile Aqsa Mosque under Police Guard
• Spokesman: US after Selling More Arms to Regional States by Anti-Iran Remarks in Manama
• Syrians Give Warm Farewell to Iranian Anti-Terror General
• Israel's Netanyahu faces key witness in court
--------
Africa
• Haftar, Seif Al-Islam Must Answer Accusations: Libyan Prosecutor
• Sudan frees several civilian leaders held since coup
• Ethiopia's Abiy vows to head to war front amid Tigray advance
• US says restoration of Sudan premier just 'first step,' urges more action
• Roadside bomb blast in SW Somalia kills 2 civilians
• MBYA calls on EU to asks Buhari to release traveling documents of Zakzaky, wife
--------
Pakistan
• Ulema Urge Govt to Hold Accountable Elements Campaigning Against State Institutions
• Pakistan Government 'Releases' Over 100 Tehreek-e-Taliban Pakistan Prisoners
• Kartarpur Corridor Reunites Two Nonagenarian Friends, Muhammad Bashir and Sardar Gopal Singh Separated At the Time of Partition
• Amnesty flags Pakistan on enforced disappearances
• Imran to allow return of Afghan patients through Pakistani territory
• President Of Pakistan: Syria's Victory over Terrorism Is Appreciated
• PM Imran okays Rs5bn humanitarian aid for Afghanistan
--------
Southeast Asia
• Convert all of UDA Holdings Bhd's land bank to 'waqf' land to only benefit Bumiputera and Malays, Penang group tells Putrajaya
• Malay group chides Kedah MB for repeated verbal attacks against Penang, warns may be insult on Agong
Compiled by New Age Islam News Bureau
URL: https://www.newageislam.com/islamic-world-news/rasul-sayyaf-mujahideen-taliban-forces/d/125824
--------
Abdul Rasul Sayyaf, an India-Based Former Mujahideen Commander Being Seen As Leader Of Anti-Taliban Forces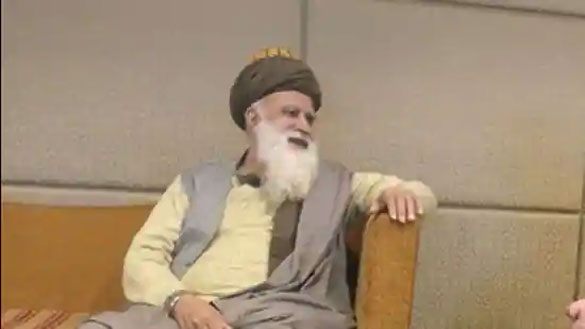 File photo: Abdul Rasul Sayyaf. (@HekmatKarzai/Twitter)
----
Nov 23, 2021
By Rezaul H Laskar
Abdul Rasul Sayyaf, an India-based former mujahideen commander and member of parliament, is being seen as a possible leader who can rally anti-Taliban forces from Afghanistan that are currently scattered across several countries.
Sayyaf, believed to be in his mid-70s, has been mooted as someone who can bring together the diverse groups because of his standing as both a scholar and a senior Pashtun leader, people familiar with developments said on condition of anonymity.
He has been based in New Delhi following the fall of the Ashraf Ghani government and the takeover of Kabul by the Taliban in mid-August. Sayyaf's name was pushed forward as Ahmad Massoud, the son of legendary commander Ahmad Shah Massoud and founder of the National Resistance Front of Afghanistan, has had little success in uniting different groups, the people said.
Massoud and Amruallah Saleh, the former Afghan spy chief and vice president, were seen as potential heads of the resistance forces but their stock has taken a beating since the fall of the Panjshir Valley to the Taliban in September. Massoud is currently believed to be operating from Paris and Dushanbe, while Saleh was reportedly based in the Tajikistan capital as recently as October.
"Ahmad Massoud does not have the same amount of experience as a commander as his father. Saleh, on the other hand, is a good tactician but does not have a popular base," said one of the people cited above.
"If they had worked closely together, they might have been able to put together an effective resistance," the person added.
Though Saleh has claimed the powers of the Afghan president and declared himself the head of a government in exile, the people said he does not have a mass following.
Ustad Sayyaf, as the former mujahideen commander is popularly known, is respected by Islamic scholars and within Pashtun circles, the people noted. It was not immediately clear whether Sayyaf had himself agreed to take on a larger role to bring together the different groups opposed to the Taliban.
A large number of Afghan politicians have taken refuge in Turkey, while a sizeable number is based in the Iranian capital of Tehran. Some of the anti-Taliban groups are also scattered across Central Asia, especially Tajikistan.
Sayyaf was once linked to al-Qaeda founder Osama bin Laden and the militants who took control of Kabul after the collapse of the communist government in the early 1990s. As a former leader of the Northern Alliance, he has been in contact with Indian diplomats and security officials over the years.
Sayyaf last played a prominent role in Afghan politics in 2019, when Ghani chose him to chair a four-day loya jirga or grand council for peace efforts with the Taliban. Sayyaf has also been very critical of the Taliban.
These developments come at a time when there are also divisions within Taliban ranks, especially between the hardliners from the Haqqani Network and members of the political office based in Doha. Some of the leaders from the Doha office, including deputy prime minister Abdul Ghani Baradar and deputy foreign minister Sher Mohammad Abbas Stanikzai, have favoured a more moderate approach.
"The Taliban are grappling with several problems, including lack of internal cohesion, poor governance, an impending economic collapse and a spike in attacks by the Islamic State," said a second person.
Source: Hindustan Times
Please click the following URL to read the text of the original story:
https://www.hindustantimes.com/world-news/indiabased-ustad-sayyaf-being-seen-as-leader-of-anti-taliban-forces-101637585328062.html
--------
Opponents of the Saudi Government outside the Country Claim the Death of Former Saudi Crown Prince Mohammed Bin Nayef in Prison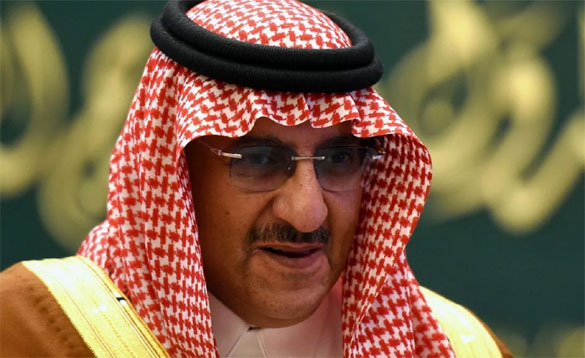 Mohammed bin Nayef
-----
2021-November-22
Opponents of the Saudi government outside the country have claimed the death of former Saudi Crown Prince Mohammed bin Nayef in prison, Saudileaks website reported.
Bin Nayef has died in prison since several days ago and the Saudi royal court has not yet announced his death and his body is in the morgue, the website quoted them as saying in their social media pages since yesterday.
Abdul Rahman Razi al-Sahimi, a Saudi opposition figure, in a post on his twitter page called on Mohammed bin Salman to release footages of Mohammed bin Nayef's presence in the jail with audio, video and exact date to prove that he is still alive.
Al-Sahimi stressed that the video should not be fake.
Earlier this year, Arab media sources had reported that bin Nayef was in critical conditions and close to death.
The Arabic-language al-Ahd al-Jadid twitter account quoted sources as saying in July that bin Nayef suffers severe diabetes and has not received any medication, and this has caused him to lose nearly 22 kilograms in weight.
He also suffers from severe depression and mental disorders, it added, noting that bin Nayef has been severely tortured, his legs have been tied off, two agents have beaten him causing bruises all over his body, he has been deprived of sleep and left with his hands and feet tied and blindfolded for several days.
Bin Nayef is actually experiencing a gradual death and the aim is to make his death look natural, al-Ahd al-Jadid wrote, adding that that the Saudi prince is in critical conditions and his imminent death is likely.
Bin Nayef, 62, was Saudi Arabia's crown prince and interior minister. Having survived four assassination attempts, he was arrested in March 2020 by bin Salman as the de facto Saudi leader, also known as MBS, moved to consolidate power and sideline rivals.
Bin Nayef was detained without charge. A source familiar with the matter told NBC News late in June that there is evidence bin Nayef was held recently at a government compound next to the al-Yamamah Palace in Riyadh, the official seat of the Saudi royal court, just a few hundred yards from where MBS hosts foreign dignitaries.
Two people familiar with his situation, who requested anonymity to avoid repercussions for bin Nayef, said he has lost more than 50 pounds and can no longer walk unaided. He suffered serious injuries to his feet from beatings, the two sources said, adding that pain medication for previous injuries was withheld.
"[He] is not allowed outside and is confined to his own area," one of the sources said. "During the course of the day, he does not see anyone and has not been allowed access to his personal doctor or legal representatives."
Source: Fars News Agency
Please click the following URL to read the text of the original story:
https://www.farsnews.ir/en/news/14000901000671/Srces-Deained-Sadi-Prince-Bin-Nayef-Dead
--------
Taliban Sends Hundreds of Fighters to Eastern Afghanistan to Wage War against Islamic State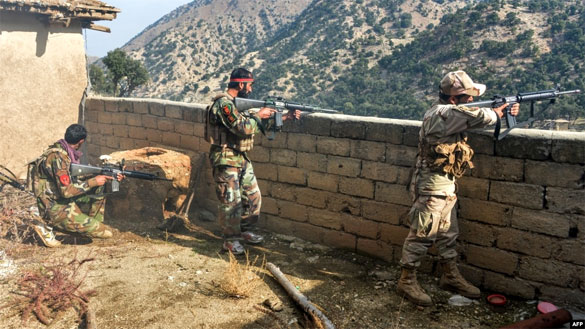 Taliban sends 1,300 fighters to eastern Afghanistan to battle Islamic State - The Washington Post
-----
By Susannah George
November 23, 2021
JALALABAD, Afghanistan — The Taliban has expanded its shadowy war against the Islamic State branch in Afghanistan, deploying hundreds more fighters to this eastern province in an increasingly violent fight and critical test of the group's counterterrorism abilities after the U.S. troop withdrawal.
More than 1,300 additional Taliban fighters have been deployed to Nangahar province in the past month with orders to increase the tempo of operations, according to Taliban security officials. Taliban night raids against suspected Islamic State-Khorasan members are on the rise, and many of the hundreds arrested have disappeared or turned up dead, according to Jalalabad residents and Taliban fighters.
"The fight is difficult, and yes sometimes it is brutal, but we have to eradicate Daesh not just for Afghanistan, but for the entire world," said Qari Nurullah Fateh, a Taliban fighter under the group's intelligence wing in Jalalabad. Daesh is the Arabic acronym for the Islamic State commonly used in Afghanistan. "If someone doesn't surrender to us, we kill them."
Fateh's unit carries out multiple search operations for Islamic State suspects in Jalalabad most nights from sunset until early morning prayers. Previously, the fighters would only leave base once or twice a week. Fateh estimated that seven to 10 Islamic State suspects are arrested in Jalalabad every week and about six are killed.
The Taliban crackdown has sent shock waves through the province and is emerging in Islamic State recruitment propaganda calling on Nangahar residents to rise up and resist. It is unclear how many new fighters have joined the Islamic State's ranks, but since the Taliban takeover the group has strengthened, become more active and expanded its presence to nearly every Afghan province, according to United Nations assessments.
The wave of Islamic State attacks here and across Afghanistan is the first sustained challenge to the Taliban's grip on security since the group took control of the country in August. But the escalating fight in Nangahar risks overstretching limited Taliban resources and further alienating many Afghans.
The Islamic State began attacking Jalalabad within weeks of the Taliban takeover. Local Taliban commanders initially responded by killing several accused collaborators and hanging their bodies along main roads and at busy intersections.
"This was a very effective way to respond," said Fateh, the Taliban fighter in Jalalabad. "It was a lesson to the people that this is what happens if you join Daesh. We wanted to show them the consequences." Two other elite Taliban fighters confirmed Fateh's account.
"Myself, I strung up two of the bodies," Fateh said, estimating other Taliban fighters hung about 40 more. Dozens of accused collaborators were beheaded. He said the punishments were carried out in accordance with Islamic law and were approved by Taliban provincial leadership.
But since the brutal killings, violence has only increased, according to data collected by local health officials. And some Jalalabad residents and former Afghan government officials warn that the Taliban's approach to restoring order will fan Islamic State recruitment efforts.
Community leaders in Nangahar have pleaded for the Taliban to end the killings, warning "otherwise we cannot stop our youth from joining the [Islamic State] and the beginning of a very brutal era," said Abdul Sayed, a London-based researcher of extremist organizations in Afghanistan and Pakistan, citing statements released via public WhatsApp groups.
At a recent news conference, Taliban spokesman Zabihullah Mujahid downplayed the threat, saying the Islamic State does not have any support among Afghans and the group has "largely been dealt with."
But Khalil Hamraz, the spokesman for the Taliban's directorate of intelligence, acknowledged at the same conference that the Taliban's military takeover of the country inadvertently bolstered Islamic State ranks. Taliban attacks on prisons across the country freed jailed Islamic State members who now threaten security in Afghanistan, he said.
"During the victory of the Islamic Emirate, many Daesh prisoners unfortunately managed to escape," he said, but in the months since, Taliban fighters have arrested about 600 Islamic State suspects and defused deadly explosives.
Islamic State fighters in Afghanistan are estimated to number between 2,000 and 3,500 — just a fraction of the approximately 70,000 fighters in the Taliban's ranks.
The Taliban has engaged in battles with the Islamic State for years. In 2019, Taliban fighters helped clear much of Nangahar of Islamic State-held territory, in parallel with a massive U.S.-led operation in which the United States closely supported Afghan government forces with waves of airstrikes. U.S. officials said they did not partner with the Taliban but said Taliban-led offensives on the ground against the Islamic State were critical to its success.
Islamic State attacks across Afghanistan sharply declined the following year, but U.S. officials warned that the group could easily regroup if counterterrorism pressure isn't applied after the U.S. withdrawal.
Orders to kill
Even with specialized equipment and elite counterterrorism units, U.S.-backed Afghan government forces struggled for years to control Nangahar. Home to formidable terrain, profitable smuggling routes and mineral deposits close to Kabul, the province is key real estate for militant groups looking to move fighters and munitions between Pakistan and Afghanistan.
"These Taliban fighters are not familiar with the province, and they have no way to check the intelligence they receive about [Islamic State] targets," said a Jalalabad resident and former civil society activist, who, like others in this report, spoke on the condition of anonymity out of fear of reprisals. "So they just go after anyone they suspect, kill them and say that person was Daesh."
He said he knows dozens of families whose homes were raided and who cannot find their loved ones. Those who are imprisoned by the Taliban and released, he said, often endured days of torture.
Fateh, the Taliban fighter assigned to the group's intelligence wing in Jalalabad, said the top Taliban intelligence commander for Nangahar, Mohammad Bashir, signs off on all targets before a raid is launched and has the final say in all sentences delivered to captured suspects.
"Dr. Bashir tells us Daesh is like a virus that will not just infect Afghanistan, but other countries." Fateh said, referring to the 45-year-old commander. "So the less dangerous people we bring to prison, but the most dangerous are the ones we have orders to kill on the spot."
Bashir declined multiple interview requests. Bilal Karimi, a deputy Taliban spokesman, would not comment on whether a Taliban court has ruled that accused Islamic State members should be hung in public or beheaded.
"However, I can say many of the [Islamic State] members have been killed in armed clashes," he said.
Most suspects detained for trial are brought to Jalalabad's intelligence compound, Fateh said. If they are sentenced to death, they are executed and their bodies are dumped in the street outside the building, he said. In other cases, accused Islamic State members are walked into an open field on Jalalabad's outskirts and shot.
"We always inform the neighborhood elder so they can tell the family where to collect the body for burial," he said. "We never desecrate the dead. That is wrong. It's against Islam."
Violence spikes
Muhammad Tahir Mubaris, who commands a Taliban unit that was recently moved from Ghazni to Jalalabad, said extensive networks of Taliban informants will ultimately help the group achieve what the United States couldn't: the complete defeat the Islamic State in Afghanistan.
"It's because the people trust us. Daesh has no support here," he said, leading a patrol convoy through central Jalalabad traffic on a recent day this month. Unlike the United States, he said, Taliban raids don't alienate local populations.
"We saw how the Americans conducted night raids. It showed us the wrong way to fight," he said, referring to U.S.-backed operations that drew criticism from human rights groups. "We don't just break into a house and destroy everything. This is our country; we respect the culture."
The approach does not appear to be working. While the Taliban's military takeover ended decades of war for most of Afghanistan, violence in Nangahar has escalated with near-daily attacks claimed by the Islamic State. And some Jalalabad residents describe the Taliban raids as more brutal than those carried out by the United States and its Afghan allies.
Few Taliban fighters are trained or have experience conducting precision operations in urban areas. After more than two decades of fighting a guerrilla war, the force is still adjusting to maintaining security during peacetime. Exponentially increasing the number of operations without also expanding intelligence capabilities raises the risk that civilians will be mistaken for Islamic State members.
Already, the number of civilians caught in the crossfire has surged in Nangahar. Across the province, twice as many people were killed and injured by roadside bombs, clashes and targeted killings compared to the month before the government fell, according to a senior member of the provincial health department. And in Jalalabad, the central hospital admitted more casualties of war in October than any other month this year, according to two senior doctors there.
"I can't remember the last time the numbers of war wounded were this high," said one of the doctors at Jalalabad's main hospital who has worked in the city's health sector for years.
Outside his office, the courtyard was full of dozens of families and groups of Taliban members waiting for news of relatives and comrades inside.
Thick metal pins poked out of a white gauze wrapping around Gulzada Osman's right leg. This month he was knocked off his feet and sprayed with shrapnel after a passing Taliban pickup truck rolled over a roadside bomb not far from his home.
Taliban fighters responded with gunfire, he said. After suffering only minor injuries from the blast, Osman was then shot through his thigh. "My leg felt like it was burning, but when I looked down I just saw blood everywhere," he said.
The explosive was probably placed by an Islamic State fighter or by someone paid by the group to target the Taliban, according to former local officials and analysts. Unlike recent bombings claimed by the militants elsewhere in Afghanistan, in Nangahar, Islamic State attacks are smaller in scale: roadside bombs targeting Taliban convoys and drive-by shootings of Taliban fighters stationed at checkpoints.
Islamic State attacks are expected to rise as the Taliban ramps up operations in Nangahar, according to the former Afghan security officials.
"The people are more than upset," said one of the former officials of rising violence and civilian casualties. "Before the government collapse many thought the Taliban could be a better way. But if the fight continues like this, there will be a wave of people joining Daesh."
Source: Washington Post
Please click the following URL to read the text of the original story:
https://www.washingtonpost.com/world/2021/11/22/taliban-isis-afghanistan/
--------
Islamic World's 1st Printed Ottoman Atlas Found in UK Manor's Attic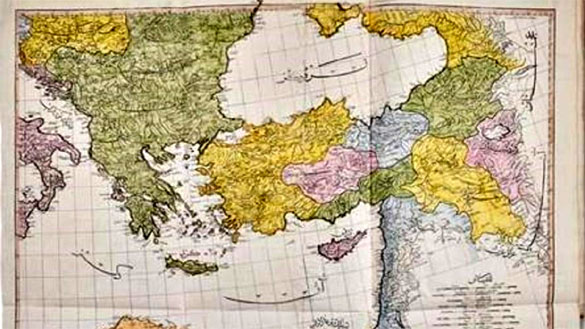 Dreweatts auction house said the Ottoman atlas was the first printed in the Islamic World (Dreweatts/PA)
-----
NOV 22, 2021
An Ottoman atlas found in the attic of the historical house Weston Hall in the Northamptonshire region of Britain was sold for 86,250 pounds ($115,850) at auction.
Only 50 copies of the Ottoman atlas that belonged to the Sitwell family and were kept at the manor for more than 300 years were ever printed, according to an Anadolu Agency (AA) report quoting the BBC.
Dreweatts Auction House stated that the Ottoman atlas in question was "the first atlas printed in the Islamic world."
The extremely rare atlas sold to a British buyer for 86,250 pounds, more than four times the pre-auction estimate.
The atlas contains 24 hand-colored maps showing different parts of the world.
'A fascinating object'
Denise Kelly, an expert at Dreweatts Auctions, commented on the atlas: "This is a great atlas. The condition of the binding, the geographic maps and the celestial map is outstanding. It's a fascinating item to sell."
It is believed that the atlas was brought to Britain by Gen. Lord Hely-Hutchinson, a member of the Sitwell family.
Meanwhile, the rector of the National Defense University (MSÜ), professor Erhan Afyoncu, spoke about the intriguing story and features of the atlas to Turkish daily Sabah. Afyoncu explained where and how the atlas, which has the distinction of being the first printed in the Islamic world, was produced.
'Known as the Üsküdar Atlas'
The professor said: "The atlas prepared by W. Faden was translated into Turkish by Resmi Mustafa Ağa and published as the Atlas-ı Kebir Tercümesi (Cedid Atlas Tercümesi). It is also known as the 'Üsküdar Atlas.'"
24 color maps
"This work, which is the first atlas printed in the Islamic world, has 24 colored maps. The maps are hand-colored. The atlas is 36x53 (centimeters) in size. The maps are larger in size," he outlined.
Only 50 ever printed
Afyoncu further explained: "Therefore, very few atlases have survived to the present day. It is estimated that there are around 20 atlases in complete and incomplete copies today. Only 50 copies of the atlas were printed, excluding the copies given to the sultan, statesmen and the mühendishane (imperial engineering school) library, which burnt down during the Alemdar Incident while they were in the mühendishane warehouse."
A few years back, another copy of the scarcely printed atlas that was unwittingly being kept in the archives of the National Library of Norway was discovered in Norway in 2017.
Source: Daily Sabah
Please click the following URL to read the text of the original story:
https://www.dailysabah.com/life/history/islamic-worlds-1st-printed-atlas-found-in-uk-manors-attic
--------
US Cracking Down on Finances for Islamic State's Afghan Affiliate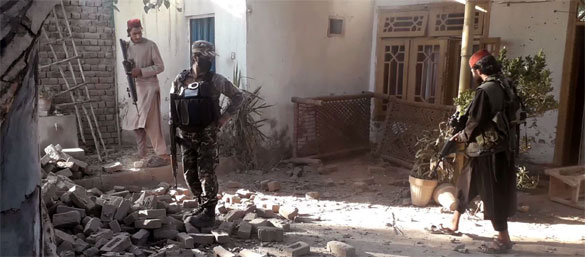 FILE - Afghan security forces take part in an ongoing operation against Islamic State militants in the Achin district of Nangarhar province, Nov. 25, 2019.
------
November 22, 2021
WASHINGTON —
The United States is taking aim at the Islamic State's affiliate in Afghanistan, sanctioning some of the group's top officials as well as a financier charged with bolstering the terror group's numbers with foreign fighters.
The State Department on Monday designated senior Islamic State Khorasan leaders Sanaullah Ghafari, Sultan Aziz Azam, and Maulawi Rajab as Specially Designated Global Terrorists (SDGTs).
The designation clears the way for Washington to block them and their associates from accessing money and assets that come into contact with the U.S. financial system.
Sanaullah Ghafari, also known as Sanaullah or Shahab al-Muhajir, has led IS-Khorasan since about May 2020, when Afghan government forces captured his predecessors.
Intelligence shared with United Nations counterterrorism officials earlier this year indicated that Ghafari had been operating out of the Kabul area, where the group had established a strong network of sleeper cells.
Additionally, the U.S. Treasury Department on Monday sanctioned Ismatullah Khalozai, describing him as a top financier and facilitator for the IS Afghan affiliate, also known as ISIS-K.
Khalozai "has carried out missions for senior ISIS leadership," according to a Treasury Department statement, which added he is also responsible for "facilitating the movement of foreign fighters who seek to escalate tensions in Afghanistan and the region."
Treasury officials said Khalozai most recently operated a money transfer scheme out of Turkey and that he previously ran an operation out of the United Arab Emirates, raising money for IS-Khorasan through the resale of luxury goods.
Despite having been pushed out from its territorial strongholds following pressure from both the U.S. and the Taliban through the first half of 2020, IS-Khorasan has mounted a comeback, growing significantly since the U.S. pulled the last of its forces from Afghanistan this past August.
The top U.N. diplomat in Afghanistan warned last week that IS-Khorasan "seems to be present in nearly all provinces and increasingly active."
Top U.S. defense and intelligence officials have likewise warned the terror group could regenerate the capacity to attack U.S. and Western interests around the world in as little as six months.
U.S. officials estimate IS-Khorasan now has at least 2,000 "hardcore" fighters, mostly organized in cells across the country.
Those numbers have already been bolstered as a result of the Taliban decision to empty out key prisons as their forces advanced across Afghanistan in August.
International counterterrorism officials and independent experts have also raised concerns that IS-Khorasan could get an additional boost from foreign fighters.
Chatter intercepted following the Taliban takeover of Afghanistan indicated IS supporters from outside the region were expressing a desire to travel to Afghanistan to join the fight there.
Source: VOA News
Please click the following URL to read the text of the original story:
https://www.voanews.com/a/us-cracking-down-on-finances-for-islamic-state-afghan-affiliate/6323358.html
--------
India
All India Shia Muslim Personal Law Board seeks FIR against Waseem Rizvi
Nov 23, 2021
The All India Shia Muslim Personal Law Board (AISMPLB) on Monday approached Lucknow police commissioner DK Thakur, demanding an FIR (First Information Report) against former Uttar Pradesh Shia Waqf Board chairman Waseem Rizvi for authoring a controversial book titled "Muhammad".
The All India Shia Muslim Personal Law Board blamed Waseem Rizvi for making "blasphemous" comments about the Prophet his book.
"We met the police commissioner and demanded FIR against Waseem Rizvi for writing the book, Muhammad, that is purely an insult to the Prophet and an attempt to hurt religious sentiments of the people," said Maulana Yasoob Abbas, general secretary of AISMPLB.
Prior to this, the All India Shia Muslim Personal Law Board had also served a notice on Waseem Rizvi, demanding withdrawal of his alleged statement against the Prophet.
If registered, this would perhaps be the first FIR in Uttar Pradesh in the matter against Waseem Rizvi. On November 17, All India Majlis-e-Ittehadul Muslimeen (AIMIM) president Asaduddin Owaisi had submitted a complaint at the Kamatipura police station in Hyderabad.
Owaisi's complaint alleges that Waseem Rizvi has used "objectionable language" against the Prophet in his book.
In response, Rizvi had said Owaisi should have read the book before lodging the FIR.
"Owaisi should have first gone through my book that is based on all facts before reacting," Waseem Rizvi had said in a video statement he released on November 20 morning.
Source: Hindustan Times
Please click the following URL to read the full text of the original story:
https://www.hindustantimes.com/cities/lucknow-news/all-india-shia-muslim-personal-law-board-seeks-fir-against-waseem-rizvi-101637606208997.html
--------
Setting A Mosque on Fire: Delhi Court Frames Arson Charges Against Father, Son in 2020 Riots Case
November 23, 2021
A Delhi court has framed charges of arson against a man and his son, accused of setting a mosque on fire during last year's Northeast Delhi riots.
Additional Sessions Judge Virender Bhat framed charges under sections of arson and rioting, among others, against the accused, Mithhan Singh and his son Jony Kumar.
The complainant, Israfil, alleged that Singh and Kumar were part of a violent mob that was raising slogans of 'Jai Shri Ram' on February 25, 2020, and set his house ablaze.
Israfil managed to escape by jumping to the roof of Fatima Masjid but the accused started damaging the mosque, alleged the complaint.
The complainant further alleged that Mithhan handed a gas cylinder to his son and exhorted him to throw it towards the mosque.
He alleged that after throwing the cylinder, the duo threw bottles filled with inflammable substances towards the mosque.
The lawyers for the accused had argued for discharge, pointing to the delay in filing witness statements and alleging that they were planted.
The court held that "it cannot be said that the delay in recording statements of these witnesses was intentional or contumacious" and the "truthfulness or otherwise of these witnesses can be assessed only during the trial of this case".
Source: Indian Express
Please click the following URL to read the full text of the original story:
https://indianexpress.com/article/cities/delhi/delhi-riots-court-frames-arson-charges-against-father-son-duo-for-setting-mosque-on-fire-7635581/
--------
AIMPLB nominates 3 women to exec panel, gives 30 membership
Nov 23, 2021
AYODHYA: Empowering Muslim women in India's top Islamic organization run by senior clerics, the All-India Muslim Personal Law Board (AIMPLB) during its recently held two-day general body meeting in Kanpur has allotted membership to 30 Muslim women from various fields and appointed three women as executive panel members.
The newly appointed women members do not hold any religious title or madrasa degree, but are endowed with the experience of serving society as per Sharia laws.
Source: Times of India
Please click the following URL to read the full text of the original story:
https://timesofindia.indiatimes.com/india/aimplb-nominates-3-women-to-exec-panel-gives-30-membership/articleshow/87858740.cms
--------
Kerala: Calicut University Clears Air on 'ST Muslim' Quota, Says, a Mistake by the Backend Team That Handles Its Web Portal
K.M. Rakesh
23.11.21
Calicut University has denied creating a new reservation category for Muslim students from Lakshadweep, blaming the controversy on a mistake by the backend team that handles its web portal.
The university in Kerala is a favourite among students from the archipelago, and already offers them reservation based on their domicile and not religion.
Recently, its website showed "ST-Muslim" as a reservation category for postgraduate studies, prompting some to infer that the university had introduced a new quota for the islanders.
The university's admission director, Binoj Sebastian, on Monday told The Telegraph this was a mistaken label for the domicile-based Lakshadweep quota and had now been corrected.
The university sets aside two undergraduate seats in each department and one seat each in every postgraduate department on its campus and at all its affiliated colleges for students from Lakshadweep.
Although the people of Lakshadweep are classified as Scheduled Tribe, Calicut University provides them with a separate quota over and above the Other Backward Classes, Scheduled Castes, Scheduled Tribes and other quotas.
University syndicate member P. Rasheed Ahammed told this newspaper he had called the vice-chancellor's office after the "ST-Muslim" tag was spotted on the web portal and was told that varsity officials were looking into the matter.
"There's a lurking danger in such a classification, whatever may be the excuse. The reservation for students from Lakshadweep is not based on their religion. I know people (from Lakshadweep) who don't follow any religion or are Hindus or Buddhists," Ahammed, assistant professor of Arabic at a private college in Malappuram, said.
"Such a classification could give rise to friction between communities since 'ST-Muslim' could be misconstrued as Muslims grabbing seats meant for other communities."
Sebastian said: "It was only a random name used by the website developer…. Perhaps this confusion wouldn't have happened had it been some other title like 'LD' (Lakshadweep). We have changed that nomenclature."
He added that Muslims from Kerala have eight per cent reservation in the state's universities and the seats reserved for students from Lakshadweep do not fall under that category.
"Let me assure everyone that all the reserved seats would go only to the specific categories," Sebastian said.
Another syndicate member, who declined to be named, linked the controversy to recent developments such as the Lakshadweep administration's sundering of all ties with Calicut University.
The Lakshadweep administration had in August scrapped the BA and MA Arabic courses run by Calicut University on the archipelago. This month, it shifted all the other courses the university taught in Lakshadweep to Pondicherry University.
This was seen as part of the "saffron agenda" that Lakshadweep administrator Praful Khoda Patel is accused by some of imposing on the Muslim-majority islands since taking charge last December.
Source: Telegraph India
Please click the following URL to read the full text of the original story:
https://www.telegraphindia.com/india/kerala-calicut-university-clears-air-on-st-muslim-quota/cid/1840150
--------
Extremist Islamist Group's Member Arrested For Kerala RSS Worker's Murder
November 22, 2021
Palakkad (Kerala): An office-bearer of the Popular Front of India (PFI) was today arrested in connection with the killing of an RSS worker in Palakkad district of Kerala, police said here.
The district police chief R Viswanadh told reporters here that the arrested activist was directly involved in the killing of A Sanjith at Mambaram in the district. Police said the other culprits would be arrested soon.
The identity of the office-bearer has not been disclosed as his identification parade has to be conducted as part of the investigation.
The victim's wife had said she could identify the people who came in a car and killed her husband.
Sanjith (27) was hacked to death on November 15 while he was taking his wife to her workplace, the police had said.
Earlier today, police said they have taken three people into custody.
The BJP and Sangh Parivar organisations have alleged that the activists of Social Democratic Party of India (SDPI), the political offshoot of Islamist outfit Popular Front of India (PFI), were behind the broad daylight murder.
SDPI has rejected the allegations.
Meanwhile, BJP State president K Surendran met Union Home Minister Amit Shah in New Delhi, seeking a probe by the National Investigation Agency (NIA) into the killing.
In a letter to the Home Minister, a copy which was made known, the BJP leader alleged that 10 RSS-BJP activists were killed in Kerala by alleged jihadi groups in the last five years. He alleged that so far about 50 Sangh Parivar activists were killed by them in the State.
Source: ND TV
Please click the following URL to read the full text of the original story:
https://www.ndtv.com/kerala-news/extremist-islamist-groups-member-arrested-for-kerala-rss-workers-murder-2620987
--------
Arab World
Iraqi air force bombs Islamic State hideouts in mountains
November 22, 2021
The Iraqi air force conducted airstrikes against the Islamic State (IS) in the Hamrin mountains today, the military announced.
Iraqi pilots in Czech-made Aero L-159 Alca fighter jets bombed hideouts and equipment belonging to IS in the mountains, which are located in the northern Diyala province. The targets were successfully destroyed, the Security Media Cell said on Facebook.
Iraqi and Kurdistan Region forces have attributed several recent attacks to IS. In early October, a man detonated himself in a vehicle in the western Anbar province. Later that month, IS attacked a Shiite tribe in Diyala, which prompted retaliatory attacks on Sunni civilians in the area. IS also killed two of the Kurdistan Region's peshmerga soldiers in an ambush in late October.
The Iraqi air force regularly strikes purported Islamic State targets and areas used by unspecified "terrorist" groups. They also bombed a tunnel used for weapons smuggling in the northern Salah ad-Din province last week.
Iraqi forces defeated IS in 2017, backed by the US-led military coalition. The group has remained active since then, however, particularly in Sunni majority areas and territories disputed between the federal and Kurdistan Region governments. IS's continued presence is one factor pushing Iraqis to emigrate abroad.
Source: Al Monitor
Please click the following URL to read the full text of the original story:
https://www.al-monitor.com/originals/2021/11/iraqi-air-force-bombs-islamic-state-hideouts-mountains
--------
Iraq's main Shia alliance files lawsuit to annul election results
November 22, 2021
Iraq's Fateh Alliance, the country's most prominent Shia coalition, yesterday announced that it had filed a lawsuit with the Federal Court to annul the parliamentary elections results.
Leader of the alliance, Hadi Al-Amiri, said "sufficient evidence" had been submitted to the Federal Court on Thursday "to annul the results of the parliamentary elections".
The Fateh Alliance includes the political wing of Asaib Ahl Al-Haq, which the United States has designated a terrorist organisation, and the Badr Organisation, which has ties with Tehran and fought alongside Iran in the 1980-88 Iran-Iraq war. The Shia paramilitaries all played a major role in defeating Daesh when it took over a third of Iraq between 2014 and 2017.
In 2018, the alliance came second in the country's parliamentary elections with 48 seats, however, in the last elections, it attained only 16 seats.
Yesterday, the Independent High Electoral Commission said the final results of the elections will be announced within two days.
Source: Middle East Monitor
Please click the following URL to read the full text of the original story:
https://www.middleeastmonitor.com/20211122-iraqs-main-shia-alliance-files-lawsuit-to-annul-election-results/
--------
Russia starts patrols close to US-controlled zone in Syria's east: Report
22 November ,2021
Russia's military has begun patrolling a demarcation line between zones controlled by the US-led international coalition's forces and Russian forces in eastern Syria, the TASS news agency cited Moscow as saying on Monday.
"It's the boundary that divides the territory controlled by the international anti-terrorist coalition, the 'East' zone, and the 'West' zone controlled by Russia's forces. Until now there were no patrols by Russian servicemen," a spokesman for Russia's military was quoted as saying.
Source: Al Arabiya
Please click the following URL to read the full text of the original story:
https://english.alarabiya.net/News/middle-east/2021/11/22/Russia-starts-patrols-close-to-US-controlled-zone-in-Syria-s-east-Report
--------
Bahrain arrests 'terror' cell caught with weapons, explosives sourced from Iran
22 November ,2021
Bahrain authorities have arrested several people they described as a "terrorist cell" for planning attacks targeting security and civil entities, according to state-run news agency report.
"Within the framework of security efforts to preserve the security of the homeland and in a proactive security operation in cooperation with the National Intelligence Service, the Investigation and Criminal Evidence Department announced the arrest of terrorist elements who began planning and preparing for terrorist operations targeting security and civil peace, and the seizure of weapons and explosives sourced from Iran with those elements associated with terrorist groups are in Iran," read a report by the Bahrain News Agency.
Last November, Bahrain's High Criminal Court sentenced 51 defendants to prison terms ranging between five years and life in prison on charges of forming and joining a terrorist group which took orders from Iran's Revolutionary Guards (IRGC).
The US has also designated an Iran-backed extremist group based in Bahrain as a terrorist organization, citing its threat to US national security and foreign policy.
Source: Al Arabiya
Please click the following URL to read the full text of the original story:
https://english.alarabiya.net/News/gulf/2021/11/22/Bahrain-arrests-terror-cell-caught-with-weapons-explosives-sourced-from-Iran
--------


South Asia
'The Bone-Thin Afghan Children Elicit Gasps of Horror': International Committee of the Red Cross Chief
23 November,2021
The International Committee of the Red Cross (ICRC) has issued a stark warning on the worsening crisis in Afghanistan, saying the man-made catastrophe will lead to millions of people across the unstable country facing death without urgent humanitarian help.
Dominik Stillhart, the director of operations for the independent aid agency, paid a six-day visit to Afghanistan and said in a statement that he was "livid" by what he saw.
"Pictures viewed from afar of bone-thin children rightly elicit gasps of horror," he said. "When you're standing in the pediatric ward in Kandahar's largest hospital, looking into the empty eyes of hungry children and the anguished faces of desperate parents, the situation is absolutely infuriating."
More than 22 million Afghans will face crisis or emergency levels of acute hunger between November and March 2022, according to latest estimates.
"It's so infuriating because this suffering is man-made," said Stillhart. "Economic sanctions meant to punish those in power in Kabul are instead freezing millions of people across Afghanistan out of the basics they need to survive."
"The international community is turning its back as the country teeters on the precipice of man-made catastrophe."
Sanctions on banking services are sending the economy into free-fall and holding up bilateral aid, said Stillhart.
Municipal workers, teachers, and health staff have also not been paid in five months.
"They walk up to two hours to work instead of taking public transportation. They have no money to buy food; their children go hungry, get dangerously thin, and then die."
At the pediatric intensive care unit the International Committee of the Red Cross (ICRC) supports at Mirwais Regional Hospital in Kandahar, the number of children suffering from malnutrition, pneumonia and dehydration more than doubled from mid-August to September, according to ICRC.
More broadly, severe and moderate global acute malnutrition is up 31 percent around Kandahar compared to the same period in 2020.
Region by region the severity of child malnutrition can be up to three times the emergency rating.
"This is a serious food crisis even before the worst of winter sets in," said Stillhart. "Amid a sea of heartache is one small silver lining: The ICRC on Monday began supporting 18 regional and provincial hospitals and the 5,100 staff who work in them to help prevent total collapse of the public health system in Afghanistan."
This support, slated to last six months, includes funding for running costs and medical supplies, and will ensure the continuity of nearly half a million medical consultations per month.
"But it's not enough," said Stillhart. "Drought, failed harvests, and the economic collapse are all driving the increase in malnutrition. Rising food costs are pushing proteins and other staples out of reach. As the harsh winter sets with temperatures below freezing, the suffering will be immense as people lack the cash to heat their homes."
Stillhart said states must engage with Afghanistan.
"This is the only way to prevent a total collapse of essential services like health care and education. Political considerations should not interfere with humanitarian action. A political solution must be found to avoid irreparable humanitarian consequences."
"And this is technical but important. Foreign assistance to Afghanistan is currently put in question as donors ask themselves how they can comply with their legal obligations stemming from relevant UN Security Council resolutions. Simply put, some donors feel they can either comply with the resolutions and their own law -- thereby denying life-saving assistance -- or provide such assistance through organizations such as the ICRC and others."
Suppliers and banking services will have similar impediments, he said.
"The ICRC is calling for a clear carve-out for impartial humanitarian organizations engaged in exclusively humanitarian activities, and for its translation into domestic legislation. It is in everyone's interest to see humanitarian activities operating smoothly in Afghanistan."
"Amid what we know will be a tragic winter, the ICRC will step up its response to the most urgent humanitarian needs, but humanitarian assistance is only part of the solution. The existing and projected needs are beyond any humanitarian organization's capacity to deal with or solve."
Source: Al Arabiya
Please click the following URL to read the full text of the original story:
https://english.alarabiya.net/News/world/2021/11/23/-The-bone-thin-children-elicit-gasps-of-horror-ICRC-chief-on-Afghanistan-crisis-
--------
Afghan traders demand subsidized air corridor to export goods to Chinese markets
Nov 22, 2021
KABUL: Demanding a subsidized air corridor for exporting goods to the Chinese markets, the Afghan traders said that the air corridor would be too expensive if the government didn't implement a subsidy system.
"The world countries or so-called donors stopped supporting the subsidy system. This brings a big change. Earlier, the expense for Afghan goods would be less and the Afghan goods were sold in the international markets. We were even able to compete with other countries," said Mahbobullah Mohammadi, a trader, reported Tolo News.
Meanwhile, some Afghan traders in China said that they were expecting more goods to arrive from Afghanistan.
"The goods include carpets, raisins, and precious stones that will arrive in the China market," said Salman Reha, an Afghan trader based in China.
The chamber of commerce and investment said that China pledged to facilitate exports of Afghan fresh fruit to its markets.
The acting head of the chamber, Mohammad Younus Momand, said that Afghanistan exported only pine nuts to China so far, reported Tolo News.
"1,000 tons of pine nuts were exported to China via air-corridor. 5,000 tons were exported by other routes. We are trying to increase the exports," he said.
The Afghanistan Civil Aviation Authority (ACAA) said that cargo flights have been sent to some countries.
Source: Times of India
Please click the following URL to read the full text of the original story:
https://timesofindia.indiatimes.com/world/south-asia/afghan-traders-demand-subsidized-air-corridor-to-export-goods-to-chinese-markets/articleshow/87849475.cms
--------
Afghanistan tops the world ranking as the 'least happy' country
23 Nov 2021
Afghanistan has once again been recognized as the 'least happy' country in the world according to the World Population Review 2021 report.
"The least happy country in the world for 2021 was Afghanistan, whose 149th-place ranking of 2.523 can be attributed in part to a low life expectancy rate and low gross domestic product rates per capita. It's worthwhile to note that the report was released before the recent Taliban takeover of Afghanistan, which will undoubtedly impact future scores in one way or another", the World Population Review reported.
According to the report, Finland, Denmark, Switzerland, Iceland, Netherland, Norway, Sweden, Luxemburg, New Zealand, and Austria are the top 10 happiest nations in the world.
Afghanistan, Zimbabwe, Rwanda, Botswana, Lesotho, Malawi, Haiti, Tanzania, Yamen, and Burundi are the top 10 least happy countries in the world.
Afghanistan had secured the top position amongst the least happy nations in 2020 as well. The country has gone through serious war and insecurity for the last 42 years.
Millions of Afghans have been either internally displaced due to the violence and poverty or have been emigrated and are living as refugees mostly in Pakistan, Iran, India, Turkey, and European countries.
This comes as very recently, the fall of the country in the hands of the Taliban which is believed to have happened as a result of the mismanagement in the Afghan government and fleeing of the President once again took the country into total chaos.
Hundreds of thousands of Afghan citizens had to emigrate soon after the country collapsed on August 15 as the Taliban took the capital Kabul facing no military resistance.
The aid-driven economy of Afghanistan is on the verge of collapse as the international community has abandoned the Taliban regime and has said not to recognize them, but they must form an inclusive government and share the power with other ethnic and religious groups.
Source: Khaama Press
Please click the following URL to read the full text of the original story:
https://www.khaama.com/afghanistan-tops-the-world-ranking-as-the-least-happy-country-876857/
--------
Afghan blind runner won the London Half Marathon 2021
22 Nov 2021
A story of superhuman courage, willpower, and overcoming a life-changing injury.
Wali Mohammad Nouri, the country's blind athlete, won the half marathon in London.
Nouri ran ten kilometers yesterday in the final round of the half marathon race and won first place among 500 runners.
Wali Noori was involved in a Taliban ambush and suffered serious injuries as well as the loss of his sight.
Source: Khaama Press
Please click the following URL to read the full text of the original story:
https://www.khaama.com/afghan-blind-runner-won-the-london-half-marathon-20210-710/
--------
'Broader efforts to silence all criticism': Human rights group raises concern over Taliban crackdown on Afghan media
Nov 23, 2021
The Human Rights Watch (HRW) on Monday (local time) raised concerns regarding the imposition of strict new media guidelines in Afghanistan by the Taliban that especially harm women.
The HRW in a statement said Taliban intelligence officials have issued death threats against journalists who have criticized Taliban officials and have required journalists to submit all reports for approval before publication.
New guidelines from the Vice and Virtue Ministry dictate the dress of female journalists on television and prohibit soap operas and entertainment programs featuring female actors, the rights group said.
"The Taliban's new media regulations and threats against journalists reflect broader efforts to silence all criticism of Taliban rule," said Patricia Gossman, associate Asia director at HRW. "The disappearance of any space for dissent and worsening restrictions for women in the media and arts is devastating."
Several journalists said that they have been summoned by local officials immediately after publishing reports on Taliban abuses. One journalist who had reported complaints about Taliban searching houses and beating people said that the deputy governor called him into his office and told him that if he broadcast anything like that again, "He would hang me in the town square."
Other media staff have reported that heavily armed Taliban intelligence officials visited their offices and warned journalists not to use the word "Taliban" in their reporting but to refer to the "Islamic Emirate" in all publications.
Last week, the Taliban's Ministry for the Promotion of Virtue and Prevention of Vice prohibited broadcasting any films deemed to be "against Islamic or Afghan values," along with soap operas and dramas featuring women actors, and made the hijab - a head covering exposing the face - compulsory for women television journalists.
The Taliban have also pressed the media, especially in the provinces, to publish the reports they want and have ordered journalists in some instances to interview them, the rights group said. One journalist said: "After they threatened us with death, we published what they said. Now we broadcast Quranic verses at the beginning of the programs and naat [Islamic songs] because we fear for our safety."
Source: Hindustan Times
Please click the following URL to read the full text of the original story:
https://www.hindustantimes.com/world-news/human-rights-group-raises-concern-over-taliban-crackdown-on-afghan-media-101637631627380.html
--------
Europe
France's alleged involvement in airstrikes on civilians in Egypt unveiled
Yusuf Özcan
22.11.2021
PARIS
An investigative website has revealed France's alleged involvement in aerial attacks on civilians in a joint "covert operation" with Egypt at the Libyan border in 2016-2018.
A number of classified documents from the French Directorate of Military Intelligence, Armed Forces Ministry and Armed Forces General Staff revealed a secret French intelligence operation in Egypt, called Operation Sirli, according to Disclose website.
On July 25, 2015, then-Defense Minister Jean-Yves Le Drian, who is current French foreign minister, flew to the Egyptian capital Cairo with then-DRM head Gen. Christophe Gomart where they met with then-Egyptian Defense Minister Sedki Sobhy.
According to the website, the controversial operation was born on the very same day, without signing any official agreement.
Sharing intelligence data with Egypt as of February 2016, French forces involved in the operation informed their superiors that Egypt targeted civilians accused of drug smuggling, and not terrorists, with the information provided by France, according to Disclose.
Speaking on the condition of anonymity, an official source told Disclose: "Only civilians were killed (in the operation). The terrorists are not found in this part of the desert, they are mainly located in the Sinai, at the far northeast of the country."
Meanwhile, the "confidential-defense" documents obtained by Disclose revealed that the French forces were involved in at least 19 airstrikes against civilians between 2016 and 2018, resulting in killing of hundreds of civilians.
The report said that the DRM and French Air Force after two years since the start of operation expressed their concerns to the Elysee Palace over indiscriminate strikes.
However, it added that French Minister for the Armed Forces Florence Parly's letter to her Egyptian counterpart from July 31, 2017 read: "You can rest assured that DRM will continue to be your fully committed partner."
Despite all the alleged evidence of French complicity in the killings of civilians, the investigative website said that "the French army is still deployed in the Egyptian desert."
In May, Disclose revealed that Egypt signed an agreement to purchase Rafale fighter jets from France, a deal worth €3.75 billion ($4.52 billion).
It revealed that a major weapons sale by France to Egypt was "secretly" signed on April 26 at the request of Egyptian President Abdel Fattah al-Sisi.
Source: Anadolu Agency
Please click the following URL to read the full text of the original story:
https://www.aa.com.tr/en/europe/frances-alleged-involvement-in-airstrikes-on-civilians-in-egypt-unveiled/2427480
--------
Why can't British government tackle rising Islamophobia?
November 22, 2021
The opposition Labour Party has called on the ruling Conservatives to "get serious" and address the problem of Islamophobia in Britain as new data reveals that last year nearly half of all religious hate crimes targeted Muslims. But is this something the Tories can live up to when an internal probe found "anti-Muslim sentiment remains a problem within the party."
Statistics by the Home Office show the number of offenses against British Muslims in 2019/20 made up 50% of all religious hate crimes reported, compared to 45% in 2020/21. The real number of course can be much higher as not all Muslims report hate crimes committed against them to the police, authorities or even monitoring groups.
The Labour Party chairwoman Anneliese Dodds has told her Conservative counterpart Oliver Dowden to not just tackle Islamophobia in British society but also within his own party.
In a letter, Dodds said Muslims "remained consistently, and especially, vulnerable to religiously motivated hate crimes, a trend that shows no signs of abating under the Conservative Government."
She also raised questions whether the Singh investigation released earlier this year "presented a full picture of Islamophobia within your own party" and said Labour will be closely monitoring the approaching deadlines the party had set itself for responding to the probe.
In May, a long awaited investigation into Islamophobia within the Conservative Party headed by Professor Swaran Singh (the Singh investigation) was published and found that two-thirds of discriminatory incidents reported to the party's hierarchy over six years involved anti-Muslim hatred.
Dodds' letter also said the Conservative Party refuses to use the term Islamophobia, instead referring to "anti-Muslim hatred," which was "undermining [the party's] credibility over tackling this problem."
In May, then Tory chairwoman Amanda Milling said the party had accepted all the recommendations outlined by the Singh report. She said: "We held this investigation to address these allegations to make sure that any instances of discrimination are isolated and to look at how we can improve and strengthen our complaints process."
But Dodds – who is also shadow women and equalities secretary – notes that the Conservative party have a long way to go saying "It's about time the Conservatives got serious about tackling Islamophobia in our society and in their own ranks. They can't do that if they won't even name it."
She noted, "the Tories have dragged their feet on this issue for far too long." She has called for changing attitudes within the government and "that change must start at the top of this Conservative Government."
It was recently revealed that the Prime Minister himself Boris Johnson has not even responded to a call by MPs to take action on Islamophobia for a year now. In November 2020, Afzal Khan, a member of the All-Party Parliamentary Group (APPG) on British Muslims, wrote to the prime minister and warned about a rise in anti-Muslim hate crime and questioned "the inaction of this government in tackling the issue."
An official guide says government departments should respond to correspondence from MPs within 20 working days, but a year has gone by and Khan has yet to receive any response. Khan has called the lack of response "shocking and wholly unacceptable" and urged the prime minister to at least make a statement to MPs on Islamophobia. His 2020 letter, seen by some British media outlets, accused the government of strengthening "disgraceful racism" towards Muslims with actions during the coronavirus pandemic, including a sudden regional lockdown on the eve of the annual Muslim occasion of Eid al-Adha.
Khan wrote, "It contributed to a deeply concerning, and false, far-right narrative that British Muslims are 'spreading corona', as prime minister it is your duty to protect and safeguard all communities. However, I am disappointed, if not surprised, at the inaction of this government in tackling the issue of Islamophobia, which is clearly growing."
The Singh investigation was commissioned after accusations of Islamophobic behavior by Tory party members and representatives. It considered cases including a 2018 column written by Johnson comparing Muslim women to "letterboxes" and "bank robbers." The review said such incidents "give an impression to some of a party and leadership insensitive to Muslim communities."
The government was previously accused of "utterly neglecting" Islamophobia by failing to come up with a definition that can be used to combat anti-Muslim hatred for more than two years. In 2018, a group of lawmakers drew up a working definition and urged the government to adopt it, saying the lack of any term was allowing Islamophobia to "increase in society to devastating effect."
However, the government rejected the proposal in May 2019 and said it would commission independent experts to draw up a different one.
Since that time only one "expert" has been appointed and no proposals have ever been published.
During a parliamentary debate on the conservative party's definition of Islamophobia, one conservative minister said: "We remain committed to there being a robust and effective definition, and we will outline our steps to achieve that in due course."
Meanwhile, according to Sajjad Karim, the former conservative European Member of Parliament, Muslim members of the Conservative party were deliberately excluded from the inquiry into Islamophobia within its ranks. Karim, who represented northwest England in the European parliament for 15 years until 2019, said the Singh investigation was a "whitewash," and apologies from the prime minister for any offence he had caused were "insincere."
Karim voiced concerns that the Conservative Party headquarters would use "sleight of hand" to avoid implementing the recommendations made by the Singh investigation. He said party members including him had "no confidence left that the party internally is willing to actually deal with this issue. We cannot just rely on internal processes to deliver a result"
Karim also revealed he told party officials of a "particular complaint" before the Singh inquiry began and was given assurances he would be contacted once the probe started but he heard "absolutely nothing." He later found his complaint had been wiped off media reports and said he was told by the Conservative Party "we're very sorry, it's too late for you to contribute to the inquiry – it was open to the public but now it's closed." Karim said this was proof of a "very shabby attempt to skewer the findings of the inquiry by trying to make sure only certain people gave evidence so that it progressed in a certain direction." He adds "I'm not the only one that finds himself in this position"
Singh's investigation found anti-Muslim sentiment "remains a problem" within the Conservative Party. The 44,000-word report said: "Judging by the extent of complaints and findings of misconduct by the party itself that relate to anti-Muslim words and conduct, anti-Muslim sentiment remains a problem within the party. This is damaging to the party, and alienates a significant section of society."
Singh's published report also found:
Two-thirds of all incidents reported to the complaints team at the Tories' headquarters related to anti-Muslim discrimination
-Three-quarters of all incidents involved social media
-High-profile incidents, such as Johnson's comments on Muslim women "give the impression to many that the party and its leadership are insensitive to Muslim communities"
-The Conservatives' complaints system is "in need of overhaul" due to its "under-resourced and inadequately trained" complaints team, a "weak" data collection system, and "poor" communication between officials, complainants and respondents
-There has also been a "lack of transparency" in the complaints process
Singh said parts of his report would "make for very uncomfortable reading among the leadership and the rank and file." He added that "change will be a difficult process that will require a completely new mindset in some quarters and one that some party members may not like."
Source: ABNA24
Please click the following URL to read the full text of the original story:
https://en.abna24.com/news//why-can%e2%80%99t-british-government-tackle-rising-islamophobia_1201035.html
--------
North America
US blacklists 3 Daesh/ISIS-K leaders as global terrorists
Michael Gabriel Hernandez
22.11.2021
WASHINGTON
The US designated three leaders of Daesh/ISIS' Afghanistan affiliate as global terrorists on Monday, including its leader Sanaullah Ghafari.
Ghafari has served as Daesh/ISIS-Khorasan Province's (Daesh/ISIS-K) "current overall emir" since June 2020, and "is responsible for approving all ISIS-K operations throughout Afghanistan and arranging funding to conduct operations," Secretary of State Antony Blinken said in a statement.
The terror group's spokesperson, Sultan Aziz Azam, was also blacklisted alongside Maulaw Rajab, the individual the department said is responsible for planning the group's attacks in Kabul.
"The United States is committed to using its full set of counterterrorism tools to counter the threat posed by the Islamic State's Khorasan Province, commonly referred to as ISIS-K, as part of our relentless efforts to ensure Afghanistan cannot again become a platform for international terrorism," said Blinken.
"We will continue to use all levers of American power to target terrorists who plot operations to indiscriminately kill civilians around the world, and those who enable, facilitate, and finance their acts," he added.
Source: Anadolu Agency
Please click the following URL to read the full text of the original story:
https://www.aa.com.tr/en/americas/us-blacklists-3-daesh-isis-k-leaders-as-global-terrorists/2427829
--------
US officials warned Israel: Attacks on Iran nuclear facilities counterproductive
November 23, 2021
US officials warned "Israel" that attacks on Iran's nuclear facilities are "counterproductive" and are encouraging Tehran to speed up its nuclear program, The New York Times reported on Sunday.
Citing officials familiar with the private talks between Washington and Tel Aviv, the report said that "Israeli" officials dismissed the warning and said that they have no intention of changing the strategy.
The report was published ahead of the resumption of talks between Iran and world powers on reviving the 2015 nuclear deal that former US president Donald Trump withdrew from in 2018. The negotiations are scheduled to take place in Vienna starting on November 29.
Source: ABNA24
Please click the following URL to read the full text of the original story:
https://en.abna24.com/news//us-officials-warned-israel-attacks-on-iran-nuclear-facilities-counterproductive_1201323.html
--------
US envoy Kerry attends signing of UAE, Jordan, Israel energy deal
22 November ,2021
US President Joe Biden's envoy for climate, John Kerry, was in the UAE on Monday to attend the signing for "Project Prosperity," a water for energy deal between Jordan, Israel and the United Arab Emirates.
"This agreement will further efforts of partner nations Jordan, Israel, and the UAE to meet the goals of the Paris Agreement, reduce greenhouse gas emissions in the region, and provide a new source of fresh water," the State Department said.
Special Presidential Envoy for Climate John Kerry was in the UAE to oversee the signing of a deal that would see Israel purchase solar energy from Amman in return for more desalinated water.
"The governments of Jordan, Israel and the United Arab Emirates today signed a landmark declaration of intent to build renewable electricity and water desalination capacity and address the threat posed by climate change on energy and water security in the region," the state-run Emirates News Agency (WAM) reported.
The deal is made up of two interdependent and contingent components.
"Prosperity Green" plans for solar photovoltaic plants generating a capacity of 600 MW to be built in Jordan, with all clean power produced to be exported to Israel.
Source: Al Arabiya
Please click the following URL to read the full text of the original story:
https://english.alarabiya.net/News/middle-east/2021/11/22/US-envoy-Kerry-attends-signing-of-UAE-Jordan-Israel-energy-deal
--------
Turkey conveys condolences to US after car rams into Christmas parade
Dilara Hamit
22.11.2021
Turkey on Monday offered condolences to the US after a five people killed when a car speeded into a Christmas parade in Wisconsin.
"We convey our condolences to the US government and people and wish speedy recovery for the injured," a statement by the Foreign Ministry said.
Source: Anadolu Agency
Please click the following URL to read the full text of the original story:
https://www.aa.com.tr/en/americas/turkey-conveys-condolences-to-us-after-car-rams-into-christmas-parade/2427345
--------
Mideast
Dozens of extremist Jewish settlers defile Aqsa Mosque under police guard
November 23, 2021
Hordes of Jewish settlers escorted by police forces desecrated the Aqsa Mosque in Occupied al-Quds (Jerusalem) on Monday morning.
According to local sources, dozens of settlers entered the Mosque through its Maghariba Gate in groups and toured its courtyards under tight police guard.
Meanwhile, the Israeli occupation police restricted the entry of Muslim worshipers to the Aqsa Mosque, searched them and prevented many of them from entering it.
The Aqsa Mosque is exposed to daily desecration by extremist Jewish settlers and police forces in the morning and the afternoon except on Fridays and Saturdays.
The Israeli police close al-Maghariba Gate, which is used by Jews to enter the Mosque, at 10:30 am after the settlers complete their morning tours at the holy site. Later in the afternoon, the same gate is reopened for evening tours by settlers.
Source: ABNA24
Please click the following URL to read the full text of the original story:
https://en.abna24.com/news//dozens-of-extremist-jewish-settlers-defile-aqsa-mosque-under-police-guard_1201331.html
--------
Spokesman: US after Selling More Arms to Regional States by Anti-Iran Remarks in Manama
2021-November-22
"Regarding the statements of certain American officials in the region, I think they are sending expensive bills to some regional states, otherwise they (their remarks) have no other value, and it is possible that the US still seeks to sell more weapons," Khatibzadeh told reporters in a press conference in Tehran on Monday.
He advised the regional states not to fall in the US trap, adding that people of these countries deserve to benefit from the money which is spent by their governments for the American officials' remarks.
Addressing the Manama Dialogue conference in Bahrain, US Defense Secretary Lloyd Austin reiterated his country's commitment to confronting Iran.
"The United States remains committed to preventing Iran from gaining a nuclear weapon," Austin said.
The Pentagon chief claimed that Washington remains "committed to a diplomatic outcome of the nuclear issue. But if Iran isn't willing to engage seriously, then we will look at all of the options necessary to keep the United States secure".
He noted that the US continues to prevent Iran from what he called as acquiring a nuclear weapon, and its options are open if diplomatic solutions fail.
The defense secretary also stressed Washington's commitment to its relations with allies in the Middle East even after the withdrawal of its forces from Afghanistan and increasingly shifting its attention to confronting China.
Source: Fars News Agency
Please click the following URL to read the full text of the original story:
https://www.farsnews.ir/en/news/14000901000528/Spkesman-US-afer-Selling-Mre-Arms-Reginal-Saes-by-Ani-Iran-Remarks
--------
Syrians Give Warm Farewell to Iranian Anti-Terror General
2021-November-22
Different Syrian groups from all social strata have held farewell events for General Qaffari, as the Iranian commander was a popular figure and had a prominent role in social welfare activities besides enjoying strong ties with the Damascus government, Masoud Asadollahi, a prominent political expert on regional affairs, said.
The expert said the Iranian general's anti-terror efforts have been praised at a number of events, including one held by Syrian Defense Minister General Ali Abdullah Ayyoub at the Defense Ministry, where senior Syrian Army officers, as well as those of Iran's Islamic Revolution Guards Corps (IRGC) and Lebanese Hezbollah resistance group, were in attendance.
Asadollahi pointed out that foreign media outlets have published falsified analyses seeking to portray the termination of General Qaffari's mission as a dismissal by Syrian President Bashar Assad at the request of the United Arab Emirates (UAE) Foreign Minister Sheikh Abdullah bin Zayed Al Nahyan.
The arrangements for the Emirati diplomat's visit had been made in advance and his trip to Damascus had nothing to do with the Iranian general, who had been replaced a month earlier, he stressed, citing Hezbollah Secretary General Seyed Hassan Nasrallah, who has described the trip as the official announcement of the defeat of a plot hatched by Takfiri groups against Syria.
Asadollahi categorically dismissed media allegations about the chief officer, stating that General Qaffari was the third commander of Iranian forces in Syria, after Major General Hossein Hamedani – who was martyred in an ISIL terrorist attack in Syria's Northern city of Aleppo on October 7, 2015 – and Brigadier General Mohammad Jafar Asadi.
He went on to say that General Qaffari started his anti-terror mission at the outset of the Syrian crisis and played the leading role in the liberation of the Western districts of the Ghouta area of Damascus.
He was then appointed as the commander of the Aleppo brigade and took the helm as the chief commander of Iranian military advisors in Syria in early February 2016, when the Syrian government managed to liberate Nubl and al-Zahraa towns in Aleppo province with the help of Iranian counselors, the political analyst said.
Asadollahi noted that General Qaffari's mission ended last month after holding the post for six years. He said a new adviser has already replaced him.
The expert highlighted that the Iranian general was set to be relieved of his duties in late March 2020 but the move was put off after the assassination of Iran's top anti-terror General Qassem Soleimani and his companions, including Deputy Chief of Iraq's Popular Mobilization Units (PMU) Abu Mahdi al-Muhandis, in an airstrike directly ordered by former US president Donald Trump at Baghdad International Airport on January 3.
Syria has been gripped by foreign-backed militancy since 2011.
Source: Fars News Agency
Please click the following URL to read the full text of the original story:
https://www.farsnews.ir/en/news/14000901000604/Syrians-Give-Warm-Farewell-Iranian-Ani-Terrr-General
--------
Israel's Netanyahu faces key witness in court
22 November ,2021
Former Israeli prime minister Benjamin Netanyahu appeared in court on Monday to face a key prosecution witness in his corruption trial.
Netanyahu, who served as prime minister for 12 years until June, has pleaded not guilty to charges of bribery, breach of trust and fraud in cases that center on alleged regulatory favors he awarded to media tycoons in return for positive press coverage and receipt of gifts, including cigars and champagne.
For all the latest headlines follow our Google News channel online or via the app.
Netanyahu, now opposition leader, smiled under his black face mask as he walked into the Jerusalem District courtroom to hear the testimony of his former spokesman and close adviser Nir Hefetz, one of a small group of ex-aides to turn state's witness against the country's first premier to be criminally charged while still in office.
"Netanyahu spends at least as much as his time on media as he spends on security matters, including on matters an outsider would consider nonsense," Hefetz told the court.
Netanyahu, 72, is not required to attend the trial hearings and he has made few court appearances. He made no comment to reporters as slogans shouted outside in the street by a cluster of his supporters wafted into the courtroom who faced off with a small group of anti-Netanyahu protesters.
Source: Al Arabiya
Please click the following URL to read the full text of the original story:
https://english.alarabiya.net/News/middle-east/2021/11/22/Israel-s-Netanyahu-faces-key-witness-in-court
--------
Africa
Haftar, Seif al-Islam must answer accusations: Libyan prosecutor
NOV 22, 2021
Putschist Gen. Khalifa Haftar and Seif al-Islam Gadhafi, the son of former strongman Moammar Gadhafi, should first answer the accusations against them before the country's presidential elections, local media cited a Libyan prosecutor as saying.
Libya al-Ahrar TV said military prosecutor Masoud Erhouma submitted a request to Emad Al-Sayeh, the head of the High National Elections Commission, asking to halt the candidacy of the two men.
The prosecutor asked the two presidential hopefuls to appear before him to answer accusations of murder against them.
In his request, Erhouma said a lawsuit was filed against Seif al-Islam and Haftar related to the killing of civilians in the town of Espiaa, south of Tripoli, by Russian Wagner mercenaries.
In his failed attempt to capture Tripoli between April 2019 and June 2020, Haftar was assisted by the Wagner Group in massacres reported against civilians, including the killings in Espiaa.
The military prosecutor, however, didn't specify Seif al-Islam's link to the killings in Espiaa.
He added that Haftar is also accused of killing 63 illegal migrants in July 2019 in the town of Tajoura, east of Tripoli, two Libyans in a shelling on the northwestern al-Zawiyah in Dec. 2019 and 26 students in an attack on a military academy in Tripoli in Dec. 2020.
As of Sunday, 61 candidates have applied to run in the Dec. 24 presidential elections, including Haftar and Seif al-Islam.
Libya's presidential and parliamentary elections are set to take place on Dec. 24 under an U.N.-sponsored agreement reached by Libyan political rivals during meetings in Tunisia on Nov. 15, 2020.
Source: Daily Sabah
Please click the following URL to read the full text of the original story:
https://www.dailysabah.com/politics/haftar-seif-al-islam-must-answer-accusations-libyan-prosecutor/news
--------
Sudan frees several civilian leaders held since coup
22 November ,2021
Sudanese authorities have released several civilian leaders detained since last month's coup, a key plank in a deal aimed to restore a fragile transition process towards full democracy, one said Monday.
"I was released late yesterday evening," the head of Sudan's Congress Party Omar al-Degeir told AFP, who was among the civilians arrested in the October 25 power grab by the army.
"I was in solitary confinement and completely cut off from the world throughout this period."
Other civilian politicians, including from the Umma party, Sudan's largest political group, were also released.
Top general Abdel Fattah al-Burhan last month declared a state of emergency and ousted the government, in a move that upended a two-year transition to civilian rule.
It triggered a wave of mass street protests in which at least 41 people were killed, according to medical sources.
But on Sunday, Prime Minister Abdalla Hamdok -- who had also been put under effective house arrest – was released.
He and Burhan then formally signed a 14-point deal that provided for the premier's reinstatement and for political detainees to be freed.
However, analysts warn the move simply "whitewashes" the coup, as it remains unclear how much power Hamdok's government will hold, and which will still be under oversight of a ruling council led by the military.
Thousands of demonstrators in multiple rallies rejected the deal, shouting "No to military power" and demanding the armed forces fully withdraw from government.
The deal was welcomed by the international community including the United Nations and African Union, as well as the so-called Troika of the Britain, Norway and the United States.
It was also greeted by Saudi Arabia and Egypt, which has strong ties with the Sudanese military.
Source: Al Arabiya
Please click the following URL to read the full text of the original story:
https://english.alarabiya.net/News/middle-east/2021/11/22/Sudan-frees-several-civilian-leaders-held-since-coup
--------
Ethiopia's Abiy vows to head to war front amid Tigray advance
23 November ,2021
Ethiopian Prime Minister Abiy Ahmed said Monday he would head to the war front to lead soldiers battling rebels as the year-long conflict moves closer to the capital Addis Ababa.
"Starting tomorrow, I will mobilize to the front to lead the defense forces," Abiy, winner of the 2019 Nobel Peace Prize, said in a statement posted on Twitter.
"Those who want to be among the Ethiopian children who will be hailed by history, rise up for your country today. Let's meet at the front."
Abiy's statement came as the Tigray People's Liberation Front (TPLF) rebel group continued to press towards Addis Ababa, claiming control of the town of Shewa Robit, just 220 kilometers northeast of the capital by road.
It also came after the ruling Prosperity Party's executive committee met Monday to discuss the war, which has dragged on for a year.
After that meeting, Defense Minister Abraham Belay told state-affiliated media that security forces would embark on a "different action," without providing details.
"We can't continue like this, that means there will be change," Belay said.
"What happened and is happening to our people, the abuses being meted out by this destructive, terrorist, robber group, can't continue."
Abiy sent troops into Ethiopia's northernmost Tigray region to topple the TPLF in November 2020, saying the move came in response to TPLF attacks on army camps.
Though he promised a swift victory, by late June the TPLF had regrouped and retaken most of Tigray including its capital Mekele, prompting the federal army to largely withdraw from the region.
Since then the TPLF has pushed into the neighboring Afar and Amhara regions.
It has also formed an alliance with other insurgent groups including the Oromo Liberation Army (OLA), which is active in the Oromia region surrounding Addis Ababa.
Fears of a rebel advance on the capital have prompted several countries including the US and the UK to pull out non-essential diplomatic staff.
These countries are also urging their citizens to leave Ethiopia while commercial flights are still available.
Source: Al Arabiya
Please click the following URL to read the full text of the original story:
https://english.alarabiya.net/News/africa/2021/11/23/Ethiopia-s-Abiy-vows-to-head-to-war-front-amid-Tigray-advance
--------
US says restoration of Sudan premier just 'first step,' urges more action
Michael Hernandez
22.11.2021
WASHINGTON
The Sudanese military's decision to restore Prime Minister Abdalla Hamdok to power was a "first step" that requires additional action, the US said on Monday.
Secretary of State Antony Blinken conveyed the message during separate calls with Hamdok and Gen. Abdel Fattah al-Burhan, Spokesman Ned Price told reporters at the State Department.
Blinken told the Sudanese leaders that "we must continue to see progress, we must continue to see Sudan move back down the democratic path."
"That starts with the reinstitution of the prime minister, but it certainly doesn't end there," said Price. "We'll continue to press on all of the relevant actors and stakeholders to work toward this goal, and to ensure that the first step that was announced in recent hours is not the last step."
Hamdok was reinstated on Sunday after signing a political agreement with the military. He was placed under house arrest in late October after the Sudanese military led by al-Burhan seized power.
The deal, signed by Hamdok and Gen. Abdel Fattah al-Burhan, the head of the ruling military council, puts an end to a weeks-long crisis that threatened to undermine Sudan's political transition.
The 14-point agreement stipulates that a 2019 political declaration will be the basis for Sudan's democratic transition, and that elections will be held in 2023 as scheduled. It also provides for the prime minister to form a "technocrat Cabinet".
Source: Anadolu Agency
Please click the following URL to read the full text of the original story:
https://www.aa.com.tr/en/africa/us-says-restoration-of-sudan-premier-just-first-step-urges-more-action/2427824
--------
Roadside bomb blast in SW Somalia kills 2 civilians
Mohammed Dhaysane
22.11.2021
MOGADISHU, Somalia
At least two civilians were killed and several other people were wounded in a landmine explosion in southern Somalia on Monday evening, officials said.
The bomb targeted soldiers based near the town of Afgoye in the lower Shabelle region where the explosion took place, said South West State officials who spoke to Anadolu Agency over the phone.
The people wounded in the attack included one soldier, an official told Anadolu Agency on condition of anonymity due to restrictions of speaking to the media.
The wounded were taken to medical facilities in the town for treatment, according to local media.
Afgoye is an agricultural town located some 30 kilometers (18 miles) southwest of the capital Mogadishu.
Officials blamed the al-Qaeda-affiliated terrorist group al-Shabaab for the explosion, but no group has claimed responsibility yet.
The attack came two days after an al-Shabaab bomb attack killed Somali state media director Abdiaziz Mohamud Guled (Abdiaziz Afrika) and wounded two journalists, and last Friday at least eight people were killed and over 13 wounded in a bomb blast in the town of Berdale in Somalia's South West State.
Source: Anadolu Agency
Please click the following URL to read the full text of the original story:
https://www.aa.com.tr/en/africa/roadside-bomb-blast-in-sw-somalia-kills-2-civilians/2427796
--------
MBYA calls on EU to asks Buhari to release traveling documents of Zakzaky, wife
November 23, 2021
A non-governmental organization, Middle-Belt Youth Assembly (MBYA) has advised the European Union (EU) to ask President Muhammadu Buhari led government on humanitarian and judicial ground to grant the leader of the Islamic sect, the Islamic Movement in Nigeria, Sheikh Ibraheem Zakzaky and his wife Malama Zeenat, who had been discharged and acquitted by Kaduna state High Court the release of their traveling documents to treat themselves of various ailments as a result of the brutal crackdown unleashed on them and without any privilege for medical treatment received while in the custody of state security.
In a statement signed by its publicity secretary Mr Yunana Kambai , the group says even Mr. President took time off from duty to attend to his worsening health situation outside the country to stay safe.
The statement read; as you are aware, It has been over four months since the leader of the Islamic Movement in Nigeria Sheikh Ibraheem Zakzaky (H) and his wife were acquitted and discharged by Kaduna State High Court, after spending almost six years in illegal detention. Judge Gideon Kurada had, in his ruling delivered on July, 2021, upheld the couple's no-case submission and dismissed all eight charges, including culpable homicide, disruption of public peace and unlawful assembly, levelled against them by the Kaduna State government.
The couple who were arrested since December 2015 have been languishing in DSS custody, before later being transferred to Kaduna Correctional Centre facility, under in human and degrading condition. Their medical situation was not properly in addition to their mismanaged life threatening gunshot injuries and numerous health complications that require serious intervention; as a result of which their health condition woefully deteriorated from bad to worse.
Now that the couple are acquitted of all charges filed against them by the Kaduna state government, they should be allowed to attend to their health, wherever they choose to go, without any iota of mischief and undue frustration whatsoever. But on the contrary, since their aborted medical trip, the couple's passports and other documents that will allow them to travel is reportedly withheld, and have therefore no access to adequate medical care till date.
The deterioration in the couple's health condition is so glaring as the Sheikh could be seen limping and his wife confined to a wheelchair as they exited the court premises last few months. This is a consequence of lack of access to proper medical attention in the course of the years they have spent in illegal detention.
The Sheikh and his wife have suffered enough already: six of their children were extrajudicially killed in the pace of less than two years, over a thousand of his followers were killed and buried in mass and unmarked graves, and hundreds of others killed while peacefully protesting against his persecution and illegal detention; therefore not allowing them to travel at the moment is tantamount to rubbing salt in their wounds.
If anything, the government should, for the good of the nation, maintain the fresh breath of air in the streets of Abuja, Kaduna, Kano, Katsina, Sokoto and other cities considering the security crisis ravaging the country; it is therefore unwise of the government to add yet another. One thing is certain, Sheikh Ibraheem Zakzaky is not allowed to attend to his health, those streets will soon be littered with his unrelenting, indefatigable followers.
We call on the European Union to help facilitate this, as we seriously fear the return of protests in Abuja and other major cities. Protesting is a constitutional right, and we don't blame the protestors for discharging one of their constitutional rights. But the protests by the IMN in the past had changed Abuja from the tranquil city it used to be to seemingly a battle ground due to intolerance and crude tactics of the security agents.
As civil Society Organizations we call the EU as a matter of urgency to ask Nigerian Government to release the passports of the couple so that they can attend to their health.
Source: ABNA24
Please click the following URL to read the full text of the original story:
https://en.abna24.com/news//mbya-calls-on-eu-to-asks-buhari-to-release-traveling-documents-of-zakzaky-wife_1201321.html
--------
Pakistan
Ulema urge govt to hold accountable elements campaigning against state institutions
November 23, 2021
The Ulema-Mashaykh and religious scholars of different religious schools of thought Monday urged the government to hold accountable the elements campaigning against the judiciary, armed forces, security agencies and Islamic values.
In a joint statement, they said a baseless propaganda campaign was launched against minorities in 'Asma Jehangir Conference' held in Lahore the other day.
The religious leadership also appealed to the representatives and members of the Supreme Court Bar Council (SCBC) and Pakistan Bar Council (PBC) to take action against the propaganda against Pakistan and Islam in the said conference.
The clerics said the SCBC and PBC were unanimous forums and should not have been used for such conferences.
The clerics said the religious leadership of Pakistan and Darul Iftaa had repeatedly issued 'Fatwas' (decrees) stating that Islam does not believe in forcibly converting anyone to Islam or forceful marriages.
The decision on part of the US State Department was also politically motivated, which had nothing to do with facts and ground realities, said the statement adding associating the mistakes of individuals with the institutions and using obnoxious language against the respected state institutions in any case was not right.
In 'Asma Jahangir Conference', a woeful attitude was adopted towards judiciary, armed forces and the security agencies, the statement added.
The deniers of 'Khatm-e-Nabuwat' were given free rein to misrepresent the cases in the courts and the Muslim representatives were not even invited at the conference to present the actual facts.
The religious leadership said Pakistan's religious leadership and Muftis had repeatedly issued fatwas stating that there was no concept of forced conversions or forced marriages in Islam and if anyone had any evidence in that regard, they should bring it to the light to address all such complaints.
Source: Pakistan Observer
Please click the following URL to read the full text of the original story:
https://pakobserver.net/ulema-urge-govt-to-hold-accountable-elements-campaigning-against-state-institutions/
--------
Pakistan Government 'Releases' Over 100 Tehreek-e-Taliban Pakistan Prisoners
November 22, 2021
PESHAWAR: The government has released more than 100 Taliban prisoners as a 'goodwill gesture' to reciprocate the ceasefire announced by the group earlier this month, a media outlet reported.
Per report, most of the freed Taliban prisoners were undergoing de-radicalisation and rehabilitation at the internment centres set up by the government, the officials said on the condition of anonymity since they were not authorised to speak on record.
"Most of the released inmates have not completed a six-month mandatory de-radicalisation and rehabilitation programme," the report quoted an official as saying. "The rest were ordinary foot soldiers."
The officials also clarified that the prisoners were not released in compliance with any demand from the Tehreek-e-Taliban Pakistan (TTP), which is currently engaged in negotiations with the government. "The Taliban prisoners were released as a goodwill gesture," the official added.
On November 8, the TTP announced in a statement that it had reached an agreement with the government to cease hostilities for one month. "The ceasefire agreement between the Pakistan government and the TTP will remain in effect for one month. It could be extended should the two sides agree," the group said in a statement. "It would equally apply to both sides."
Federal Information Minister Chaudhry Fawad Hussain also confirmed talks with the TTP which, he said, were being held within the ambit of the Constitution and law of the land. He also confirmed that both sides have agreed to a ceasefire during the talks, facilitated by the interim Afghan government.
The truce was the result of a series of meetings held between the two sides in Afghanistan. Both sides held at least three rounds of talks — one in Kabul and two in Khost – during which they formed committees to take the process forward and try to convert the ceasefire into a permanent peace deal.
The security officials who spoke to the media outlet on Monday and said that there have been no direct talks thus far between the two sides and that they are engaged through intermediaries.
The Afghan foreign minister also confirmed during a recent visit to Pakistan that they were mediating between the TTP and the Pakistan government. "No individual, but the Islamic Emirate of Afghanistan is mediating between the government of Pakistan and the TTP," Amir Khan Muttaqi said.
Another media report said last week that the TTP made three demands during the exploratory talks which include allowing opening of a political office in a third country, reversal of erstwhile FATA's merger with Khyber-Pakhtunkhwa and enforcement of Islamic shariah in Pakistan.
Source: Pakistan Today
Please click the following URL to read the full text of the original story:
https://www.pakistantoday.com.pk/2021/11/22/159594/
--------
Kartarpur Corridor Reunites Two Nonagenarian Friends, Muhammad Bashir and Sardar Gopal Singh Separated At the Time of Partition
November 22, 2021
The Kartarpur Corridor reunited two old friends who were separated at the time of partition of the sub-continent.
The two nonagenarian friends, Muhammad Bashir (91), a resident of a village in Narowal, and Sardar Gopal Singh (94) from India had got separated at the time of partition of India and Pakistan in 1947. Upon reuniting, the two friends did not wait to embrace each other with teary eyes.
As per the sources, Bashir visited the Gurdwara as a visitor, where he recognized his old friend Gopal Singh who had crossed the border to perform religious rites at Gurdwara Darbar Sahib.
Bashir stated that even before the Partition, both the friends used to visit Baba Guru Nanak's Gurdwara. Gopal Singh added that before Pakistan was formed, both of them were in their early youth. The two friends then sat together at the lunch, ate food and had tea.
Gopal Singh expressed joy at the project of Kartarpur Corridor and thanked the government of Pakistan for it, before returning to India.
Source: Pakistan Today
Please click the following URL to read the full text of the original story:
https://www.pakistantoday.com.pk/2021/11/22/kartarpur-reunites-two-nonagenarian-friends-from-across-the-border/
--------
Amnesty flags Pakistan on enforced disappearances
Nov 23, 2021
ISLAMABAD: Amnesty International has asked Pakistani authorities to end the practice of enforced disappearances as a tool of state policy, underscoring in a report titled 'Living Ghosts' that was released on Monday the mental, physical and socio-economic impact of illegal abductions by security agencies on the "missing" people's families.
Enforced disappearances—known in Pakistan as missing persons—is an act widely used in many countries that allows security agencies to arrest, detain or abduct a person without his will, and deny information about his fate. The refusal to acknowledge an abducted person's fate is a crime under international law.
Earlier this month, Pakistan's National Assembly passed a bill that, for the first time in the country's history, defined and criminalised the practice of enforced disappearances. Amnesty International, however, pointed out that the proposed reforms to outlaw and end the practice do not keep to international human rights law and best practices.
In its report based on based on interviews with family members of people "whose fate remains unknown after they were abducted by Pakistan's security services", Amnesty said the practice violated human rights and had a toll on the mental and physical health of affected families, their financial status, their security, and caused stigma and social isolation.
"Enforced disappearance is a cruel practice that has caused indelible pain to hundreds of families in Pakistan over the past two decades," said Rehab Mahamoor, Amnesty's acting South Asia researcher. "On top of the untold anguish of losing a loved one and having no idea of their whereabouts or safety, families endure other long-term effects, including ill health and financial problems," he said.
Enforced disappearances have been reported since the mid-1980s in Pakistan, but the tool became more widely used since the "war on terror" that began after the US invasion of Afghanistan following the 9/11 attacks in 2001. The Commission of Inquiry on Enforced Disappearances said in its monthly October report that it has documented 8,191 cases of enforced disappearances, of which 2,274 remain unresolved, since it was set up in 2011. Some 37 of these cases occurred in October this year alone.
Intelligence agencies have been targeting human rights defenders, political activists, students, and journalists, and the fate of hundreds of victims remain unknown, according to Amnesty report.
Among the people interviewed by the rights watchdog was Inaam Abbasi, who was held for 10 months following his abduction in August 2017. The physical torture during captivity left him with a host of health issues, including chronic joint pain, high blood pressure and suspected post-traumatic stress disorder (PTSD) that often gets triggered by routine things such as the sound of a doorbell. "I believe that someone has come to take me away again," Inaam was quoted as saying.
Source: Times of India
Please click the following URL to read the full text of the original story:
https://timesofindia.indiatimes.com/world/pakistan/amnesty-flags-pakistan-on-enforced-disappearances/articleshow/87858192.cms
--------
Imran to allow return of Afghan patients through Pakistani territory
23.11.21
Pakistan Prime Minister Imran Khan on Monday decided to facilitate the return of Afghans — who had come to India for medical treatment and got stranded owing to the situation in Afghanistan since August — through the Pakistani territory.
This forms part of the Humanitarian Assistance Package for Afghanistan that he unveiled on Monday after the first meeting of the apex committee of the Afghanistan Inter-Ministerial Coordination Cell.
Among the various measures to be taken, Khan announced that "Pakistan will also facilitate the return of Afghan patients who had gone to India for medical treatment and are stuck there''.
This apart, he iterated that Pakistan would "allow the 50,000 metric tonnes of wheat India has offered to provide Afghanistan as humanitarian assistance to go through Pakistan as soon as modalities are finalised with the Indian side''.
A similar announcement had been made by his office after he met a delegation led by Afghanistan's acting foreign minister Amir Khan Muttaqi on November 12.
At that time, his office had tweeted: "The Prime Minister conveyed that in the current context Pakistan would favourably consider the request by Afghan brothers for transportation of wheat offered by India through Pakistan on exceptional basis for humanitarian purposes and as per modalities to be worked out.''
Source: Telegraph India
Please click the following URL to read the full text of the original story:
https://www.telegraphindia.com/india/imran-khan-to-allow-return-of-afghan-patients-through-pakistani-territory/cid/1840145
--------
President of Pakistan: Syria's victory over terrorism is appreciated
November 23, 2021
President of Pakistan, Arif Alvi, said Monday that Syria's victory against terrorism is an appreciated step for all.
President Alvi who received Education Minister, Darem Tabaa, called for exchanging expertise between Syria and Pakistan in culture and education domains and the need for making use of technology to develop education.
Minister Tabaa, for his part, conveyed President Bashar al-Assad's greetings and appreciation for the good relations between the two friendly countries, stressing Syria's willingness to boost cooperation with Pakistan.
In turn, President Alvi asked Minister Tabaa to convey his greetings to President al-Assad.
Source: ABNA24
Please click the following URL to read the full text of the original story:
https://en.abna24.com/news//president-of-pakistan-syria%e2%80%99s-victory-over-terrorism-is-appreciated_1201325.html
--------
PM Imran okays Rs5bn humanitarian aid for Afghanistan
Baqir Sajjad Syed
November 23, 2021
ISLAMABAD: Prime Minister Imran Khan on Monday approved Rs5 billion humanitarian aid for Afghanistan, besides allowing transportation of Indian food assistance for the war-torn country through Pakistan.
The decision was taken at the first meeting of the apex committee of the newly established Afghanistan Inter-Ministerial Coordination Cell (AICC). PM Khan chaired the meeting that was attended by Foreign Minister Shah Mahmood Qureshi, Adviser on Finance Shaukat Tarin, Chief of the Army Staff Gen Qamar Bajwa, National Security Adviser Dr Moeed Yousuf and senior civil and military officers.
The PM Office said that the prime minister "ordered immediate shipment of in-kind humanitarian assistance worth Rs5 billion".
The aid would include food commodities including 50,000 tonnes of wheat, emergency medical supplies and winter shelters, according to the PMO. A delegation of health officials from Afghanistan will visit Islamabad later this week to work out modalities for Pakistan's support to Afghanistan's health sector.
Allows transportation of Indian food assistance through Pakistan
The assistance approved by the prime minister was earlier announced on October 1 during the visit of FM Qureshi to Kabul for meeting with the Taliban leaders.
Humanitarian supplies are already being transported from Pakistan to Afghanistan almost on daily basis since September.
United Nations' Special Representative for Afghanistan Deborah Lyons had on Thursday warned that the country was "on the brink of a humanitarian catastrophe" with nearly 60 per cent of its population expected to face extreme level of hunger.
The food emergency is expected to aggravate over the winter.
The participants of the meeting, while expressing concern about the deteriorating humanitarian situation in Afghanistan, vowed not to abandon the Afghans in their time of need.
Mr Khan urged the international community of fulfill its "collective responsibility" to help Afghanistan stave off the impending humanitarian crisis.
He announced the government's decision to permit 50,000 MT of wheat India had offered to Afghanistan as humanitarian assistance to go through Pakistan after finalisation of modalities.
"Pakistan will also facilitate the return of Afghan patients who had gone to India for medical treatment and are stuck there," he further said.
While directing the ministries to extend maximum facilitation to Afghans, the prime minister said that it had been agreed in principle to reduce tariff and sales tax on key Afghan exports to Pakistan.
This would help support Afghanistan's economy. Since Taliban takeover in August this year, imports from Afghanistan to Pakistan are higher than exports from Pakistan to Afghanistan.
Mr Khan instructed that no arbitrary closures of borders for trade should be allowed.
He further ordered revival of bus service between Peshawar and Jalalabad for facilitating cross-border travel. Measures for facilitating visas for Afghanistan were also approved.
The prime minister ordered that the facility of free Covid-19 vaccination for the Afghans entering Pakistan from land borders be continued. Pakistan has initiated free vaccination of the Afghans since November 13.
Source: Dawn
Please click the following URL to read the full text of the original story:
https://www.dawn.com/news/1659711/pm-imran-okays-rs5bn-humanitarian-aid-for-afghanistan
--------
Southeast Asia
Convert all of UDA Holdings Bhd's land bank to 'waqf' land to only benefit Bumiputera and Malays, Penang group tells Putrajaya
23 Nov 2021
BY OPALYN MOK
GEORGE TOWN, Nov 23 ― All lands owned by UDA Holdings Bhd should be converted into "wakaf" or reserve land to make sure they fully benefit only Bumiputera and Muslims, said Penang Malay Association (Pemenang) president Tan Sri Yussof Latiff.
He said UDA Holdings had bought up lands at a minimal price as the lands were supposedly meant to benefit the Bumputera but in the end, the lands were developed for other purposes that do not benefit the Bumiputera community at all.
He used the Tanjong Tokong land as an example which he claimed UDA Holdings had paid a nominal sum of RM1 for a 99 lease on 48 acres of the traditional Malay kampung land back in the early 1960s.
"UDA Holdings were supposed to develop the land for the Malay community but till today, the village there is in disarray and in poor conditions," he said in a press conference at Pemenang headquarters here.
He said UDA Holdings' main responsibility was to develop lands to benefit the Bumiputera community but it had diverted from its main responsibility.
"This is proven in the two mega projects by UDA in Penang such as the Tanjong Tokong redevelopment project and the Pulau Jerejak project," he said.
He claimed UDA had joint-ventured with non-Bumiputera companies to develop high-rise buildings and mixed-development projects that are mostly bought and owned by non-Bumiputera.
He said he had met with UDA regarding this issue and UDA claimed that it was "forced" to join ventures with state government-friendly developers for some of its projects.
"That is what they claimed when I met with them, we don't know how true this is," he said.
Yussof, who is also Penang Malay Heritage Trust Organisation president, said UDA has been able to obtain lands at nominal sums in the name of development for the Malay community and yet they have formed joint-ventures with non-Bumiputera companies to develop projects that are not meant for the Bumiputera.
"In this case, the only way to stop this from happening, all lands owned by UDA Holdings should be classified as wakaf land to make sure these lands will only benefit the Muslim and Bumiputera communities," he said.
He said UDA Holdings can choose to join ventures with Bumiputera-owned companies to develop its mega projects.
He said he did not want these lands which rightfully belonged to the Bumiputera and Malay community be lost to non-Bumiputera.
"We can foresee that in another 10 years, the whole Tanjong Tokong area will become a busy metropolitan city with high rise buildings but the original Malays in the area will be left behind," he said.
He claimed that UDA, together with E&O Holdings Bhd had completely changed the traditional structure of Tanjong Tokong from a Malay area.
"This area is meant to be a Malay area but the new high rise developments along the reclaimed land on the coast are mostly owned by non-Bumiputera," he said.
"These are reclaimed land that belonged to UDA but it has become a site for non-Bumiputera while the original settlement there was shifted to low cost flats," he added.
He pointed out that many others were placed in transit homes for over 20 years.
Source: Malay Mail
Please click the following URL to read the full text of the original story:
https://www.malaymail.com/news/malaysia/2021/11/23/convert-all-of-uda-holdings-bhds-land-bank-to-wakaf-land-to-only-benefit-bu/2022968
--------
Malay group chides Kedah MB for repeated verbal attacks against Penang, warns may be insult on Agong
23 Nov 2021
GEORGE TOWN, Nov 23 ― A Penang-based Malay group has taken the Kedah Mentri Besar Datuk Seri Muhammad Sanusi Md Nor to task for his repeated attacks against Penang over the last few months.
Penang Malay Association (Pemenang) president Tan Sri Yussof Latiff said the Kedah lawmaker has issued too many unwarranted public "threats" against Penang.
"He has been going through the media to threaten Penang over water, over land, over various issues and the most recent, telling people to come to Penang if they want to buy lottery numbers," he said in a press conference at Pemenang headquarters here.
He said Sanusi must remember that the Yang di-Pertuan Agong Al-Sultan Abdullah Ri'ayatuddin Al- Mustafa Billah Shah is the head of Islam in Penang.
"By giving the impression that Penang is a gambling state, he is disrespecting the Yang di-Pertuan Agong as the head of Islam in Penang," he said.
Yussof, who is also president of Penang Malay Heritage Trust Organisation, reminded Sanusi that Penang and Kedah are on the same level as both are states under Malaysia.
He said if Sanusi wants to claim anything from Penang, be it for water or the honorarium payment for Penang island and Seberang Perai, he should discuss it with the federal government and relevant ministries internally.
"Why does he need to publicly issue these threats against Penang? This is not the way to do things," he said.
Source: Malay Mail
Please click the following URL to read the full text of the original story:
https://www.malaymail.com/news/malaysia/2021/11/23/malay-group-chides-kedah-mb-for-repeated-verbal-attacks-against-penang-warn/2022958
--------
URL: https://www.newageislam.com/islamic-world-news/rasul-sayyaf-mujahideen-taliban-forces/d/125824
New Age Islam, Islam Online, Islamic Website, African Muslim News, Arab World News, South Asia News, Indian Muslim News, World Muslim News, Women in Islam, Islamic Feminism, Arab Women, Women In Arab, Islamophobia in America, Muslim Women in West, Islam Women and Feminism