New Age Islam News Bureau
22 March 2020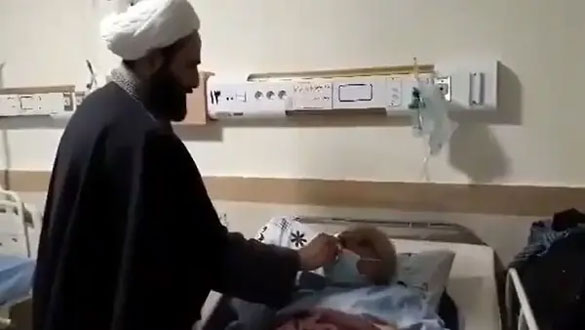 Abbas Tabrizian, Cleric in Iran Gives Patients Perfume 'From Prophet' As 'Islamic' Coronavirus Cure
• Albania's Muslim Community Urges Citizens To Respect Social Distancing To Contain COVID-19
• "Africans Say It Is A Disease of Whites, That They Are Protected by Allah", Says Polemicist Zemmour
• Mumbai Sunni Leaders Seek Suspension of Prayers at City Mosques till Covid-19 Dies Down
• Some 70,000 Indonesians Could Be Infected With COVID-19 Before Ramadan, Scientists Say
• Ex-MPA Wants Muslims To Offer 'Dua' To Overcome Coronavirus
• Ansar Allah Leader Accuses America Of Spreading Coruna Epidemic Within Biological Warfare
• 'We Want to Stop Kids Stabbing Each Other': The Birmingham Mosque Fighting Back Against Violent Crime
• Minnesota: Muslim Migrant Physician Pledges Allegiance to ISIS
• Foreign Diplomats Contract Coronavirus as Afghanistan Reports 10 New Cases
------
Mideast
• Abbas Tabrizian, Cleric in Iran Gives Patients Perfume 'From Prophet' As 'Islamic' Coronavirus Cure
• Albania's Muslim Community Urges Citizens To Respect Social Distancing To Contain COVID-19
• Maryam Rajavi: Iran's coronavirus outbreak will doom the ruling mullahs
• Global arrogance, led by US, attempting to dominate Muslim world: Houthi
• The Yemeni government suspends Friday and congregational prayers in mosques
• Iranian New Year's Table Celebrates Nature's Rebirth That May Herald The Mullah's End –
• Supreme Leader addresses nation on auspicious birth anniversary of Islamic prophet
------
Africa
• "Africans Say It Is A Disease of Whites, That They Are Protected by Allah", Says Polemicist Zemmour
• Nigeria Islamic Movement holds ceremony to commemorate Shuhada
• Covid-19: Mosques close in Zimbabwe
• Covid-19 spreading gradually in Africa, S. Africa cases reach 200
-----
India
• Mumbai Sunni Leaders Seek Suspension of Prayers at City Mosques till Covid-19 Dies Down
• Be prepared to see surge in Covid-19 cases, support one another: Kejriwal
• Janta Curfew shuts down India to tackle Covid-19
----
Southeast Asia
• Some 70,000 Indonesians Could Be Infected With COVID-19 Before Ramadan, Scientists Say
• How A Mass Pilgrimage at A Malaysian Mosque Became A Virus Hotspot
'• Small Areas' Of 19 Mosques to Be Opened For Afternoon Prayers From Mar 23-26, Ahead Of Full Reopening
• Bank Islam Malaysia Bhd Employee Tested Positive For Covid-19 But No Service Disruption At HQ
• Rangers hurt in bomb blast after mosque cleaning
• Coronavirus: Philippines seeks the 215 who attended Islamic event
• Funerals of non-Muslims in Pahang kept to a minimum during MCO
-----
Pakistan
• Ex-MPA Wants Muslims To Offer 'Dua' To Overcome Coronavirus
• Sindh Moving Towards Lockdown, Says CM Murad Ali Shah
• Balochistan govt requests for army deployment to deal with coronavirus situation
-----
Arab world
• Ansar Allah Leader Accuses America Of Spreading Coruna Epidemic Within Biological Warfare
• Coronavirus: UAE move on mosque prayers based in Sharia, says Grand Mufti
• Thousands of Iraqi Shias defy coronavirus curfews to commemorate imam
• Lebanese PM Orders Security Forces to Enforce Curfew, Egypt Shuts Mosques over Virus
• Custodian of the Two Holy Mosques Congratulates President of Pakistan on National Day
• Iraqi F-16s have conducted several strikes on the Islamic State's positions
-----
Europe
• 'We Want to Stop Kids Stabbing Each Other': The Birmingham Mosque Fighting Back Against Violent Crime
• French Muslims Donate To Sabzevar Medical Centers To Buy Anti-COVID 19 Equipment
• Muslims of Greece Assume their Responsibilities during Coronavirus Crisis
• Redditch Central Mosque says its final Jumu'ah prayer before closure
• Coronavirus: Portsmouth Jami Mosque closed because of Covid-19 outbreak
• Coronavirus: Muslims repeat calls for mosque closures
• British mosques suspend congregations due to COVID-19
------
North America
• Minnesota: Muslim Migrant Physician Pledges Allegiance to ISIS
• Ramadan Feast bonuses will be paid early to retirees
• Coronavirus: More businesses in Italy to shut down as outbreak worsens – as it happened
-----
South Asia
• Foreign Diplomats Contract Coronavirus as Afghanistan Reports 10 New Cases
• 27 Taliban militants killed; 19 others wounded in Kunduz: Afghan military
• Al-Qaeda's India affiliate hints at shifting focus to Kashmir
• Afghan Special repulse Taliban attack in Zabul province
Mini Truck packed with explosives goes off close to Bagram Airfield
Compiled by New Age Islam News Bureau
URL: https://www.newageislam.com/islamic-world-news/abbas-tabrizian-cleric-iran-gives/d/121374
------
Abbas Tabrizian, Cleric In Iran Gives Patients Perfume 'From Prophet' As 'Islamic' Coronavirus Cure
Yaghoub Fazel
21 March 2020
"Islamic medicine" relies on the sayings of the Shia Imams to treat patients and often dismisses modern medicine.
Some social media users pointed out the cleric is in close proximity to coronavirus patients without any kind of protective gear, putting himself and anybody else he eventually comes into contact with at risk of contracting the virus.
Three Iranian medical doctors were sentenced to flogging last month on charges of "insulting" Abbas Tabrizian, a cleric who is considered the "father of Islamic medicine" by his followers in Iran.
https://english.alarabiya.net/en/News/middle-east/2020/03/21/Cleric-in-Iran-gives-patients-perfume-from-Prophet-as-Islamic-coronavirus-cure.html
----
Albania's Muslim Community Urges Citizens To Respect Social Distancing To Contain COVID-19
21/03/2020
Albania's Muslim Community urged citizens on Saturday to heed the stay-at-home order and the doctors' advice in response to the COVID-19 outbreak.
The Muslim Community leader Bujar Spahiu appealed to citizens to stay at home, saying in a message that "the virus doesn't spread spontaneously, but it is us who transmit and spread it through contacts with each other on the streets and other public places."
"Brothers and sisters, like the rest of the world, our country is also going through an ordeal because of the COVID-19 virus over the past days! We all know that ordeals require patience! Patience is the quality of our faith! The most experienced among the people have been the prophets of God. They have successfully passed their difficult tests. We too are advised by God to follow their example," Spahiu said.
"We are not alone in these extraordinary days we are going through. In these days, in addition to strictly adhering to the rules prescribed by doctors, I urge you all to use them also to benefit spiritually with prayer and patience," he said.
http://en.ata.gov.al/2020/03/21/muslim-community-urges-citizens-to-respect-social-distancing-to-contain-covid-19/
-----
"Africans Say It Is A Disease of Whites, That They Are Protected by Allah", Says Polemicist Zemmour
March 21, 2020
The polemicist Éric Zemmour spoke in the program Face à l'Info about the containment measures imposed by the government. He deplored that some people, "especially Africans", refuse to comply and claim "to be protected by Allah".
On Thursday March 19, in the program Face à l'Info on CNews, the writer and columnist Éric Zemmour pointed the finger at people who did not respect containment measures during a coronavirus pandemic. He mentioned the case of rallies in Nogent-sur-Oise, where some individuals refuse to comply with government orders.
He then quoted them, claiming to have obtained these words from the police with whom he discussed: "In any case it is a white disease, we are protected by Allah".
Eric Zemmour also deplored the fact that the police must face these individuals without masks, running the risk of being themselves infected. The police "are furious" and "are the victims of history, who are sent to the slaughterhouse," he said. According to him, many agents and unions are ready to exercise their right of withdrawal in the face of the lack of measures taken by the government.
He also condemned the remarks of the director general of health, Jérôme Salomon, for whom the wearing of a mask is not "useful". Mr. Zemmour took the example of the Asian countries where "they have given everyone masks and so far they are doing better than us".
Banned from Instagram in January, Booba is now speaking on Twitter, where he shared Thursday, March 19, a photo of the polemicist with the legend "Zemmour unemployed after there has been no more controversy over Islam since coronavirus ". A montage which does not come directly from him and which quickly became irrelevant.
In France, the containment measures came into force on Tuesday March 17, and will apply for at least 15 days, until the end of the month. 100,000 police and gendarmes were deployed on the territory to ensure that the population remained at home. The fine for violation of this rule is 135 euros.
https://www.mbs.news/a/2020/03/africans-say-it-is-a-disease-of-whites-that-they-are-protected-by-allah-says-zemmour-video.html
----
Mumbai Sunni Leaders Seek Suspension of Prayers at City Mosques till Covid-19 Dies Down
Mar 22, 2020
Mumbai: Alarmed by the number of Sunni Muslims coming out of their homes for Friday and congregational prayers five times a day, a section of community leaders and commentators have demanded immediate suspension of all congregational prayers at mosques till Covid-19 dies down.
While Haji Ali and Mahim Dargah are closed and Shia mosques have suspended congregational prayers in compliance with WHO guidelines in the fight against the virus, Sunnis continue to hold prayers in their mosques, though the duration has been curtailed.
"Daily congregational prayers at holy mosques in Mecca and Medina have been stopped. Mosques in Kuwait are telling worshippers not to visit mosques but pray at home. But here, in India, some Sunni mosques continue to hold congregational prayers," said senior Urdu columnist Hasan Kamal.
Several Sunni clerics have asked people to visit mosques only for the mandatory prayers. "When health guidelines say that we must maintain a distance of at least one metre to avoid contracting this contagious disease, there are chances that an infected person at congregational prayers may transmit the virus to the non-infected," said M A Khalid of All India Milli Council.
Islamic scholar Zeenat Shaukat Ali referred to a saying of the Prophet. He said if there is a plague, no one from the plague-affected area should go out and no person from a non-affected area should visit.
UK-based, Indian-origin pediatrician Dr Nadeem Jilani said on Facebook he offered prayers at home this past Friday. Senior cleric Maulana Mahmood Daryabadi said the lockdown has reduced worshippers at daily prayers at mosques.
https://timesofindia.indiatimes.com/city/mumbai/sunni-leaders-seek-suspension-of-prayers-at-city-mosques/articleshowprint/74752625.cms
-----
Some 70,000 Indonesians could be infected with COVID-19 before Ramadan, scientists say
Gemma Holliani Cahya
March 22, 2020
If the Indonesian authorities failed to take drastic measures to slow down the spread of COVID-19, the country could have tens of thousands of cases by April, or shortly before Idul the Fitri holiday, scientists have warned.
Disease surveillance and biostatics researcher Iqbal Ridzi Fahdri Elyazar and his team at the Eijkman-Oxford Clinical Research Unit (EOCRU) have used the geometric sequence method to see, "how much time it would take for the number of cases to double in Indonesia".
Iqbal and his team noted that the doubling time for Italy and Iran, which currently have the highest COVID-19 death toll, was five and seven days, respectively. The doubling time, they added, would be longer for countries that have taken a rigorous approach to contain the outbreak. South Korea, for example, had a doubling time of 13 days and China 33 days.
For Indonesia, the number of COVID-19 cases doubled in three days, jumping from 172 positive diagnoses on March 17 to 369 on Friday.
The team decided to use Italy's and Iran's doubling times to map the possible exponential rate in Indonesia. By using this geometric sequence, it found that the number of confirmed COVID-19 cases could reach between 11,000 and 71,000 by the end of April.
This prediction, Iqbal said, was meant to push the government to take massive and effective measures to handle the outbreak and also to raise awareness about the importance of social distancing.
Doubling time, he said, depended on the ability of the virus to infect, the magnitude of the case findings and the effectivity of intervention.
"Seventy-one thousand cases might sound scary, but that is what would happen without proper intervention (…) The President has urged the public to practice social distancing and we hope everyone is listening to him so we can decrease the doubling time (…) We have to do it faster and more effectively."
He added that clear, transparent information about the places visited by COVID-19 patients was important to reduce the exponential growth rate of the disease so that people can avoid these areas.
According to the projections of Hadi Susanto, a professor of Applied Mathematics at the University of Essex in England and the Khalifa University of Science and Technology in the United Arab Emirates, the peak of COVID-19 in Indonesia would be around Ramadan, which is expected to take place from April 23 to May 23.
Assuming that even after a lockdown is imposed and people are still working and conducting business as usual and there are only two groups of people, the healthy ones and the sick ones, 50 percent of the population could be infected within 50 days after the first case was announced by the President on March 2, he said.
"We use Jakarta as a sample with a population of around 10 million. At its peak, the virus could infect 50 percent of the population," Hadi told the Post on Friday.
He went on to say that if there was no lockdown policy and people could easily enter and exit the capital, then "the pandemic will not reach a peak and the number of sick people will continue to grow".
"This is my pessimistic prediction, formed with a simple mathematical model. And of course, I hope that I'm totally wrong," he said.
Achmad Yurianto, the Health Ministry's disease control and prevention director general, told a press conference on Friday that the government had prepared 1 million test kits for massive testing.
"Between 600,000 and 700,000 people are at risk [of contracting COVID-19]," he said, adding that only those with a greater risk of infection would get tested.
A group of researchers at the Bandung Institute of Technology (ITB) Center of Mathematical Modelling and Simulation previously estimated that the outbreak would end in the middle of April and infect some 800,000 people.
Nuning Nuraini, one of the researchers, said the team had used a parameter estimation model based on the spread of infection in South Korea, which has been praised for its aggressive prevention measures and widescale rapid testing.
One such measure was providing drive-through COVID-19 testing centers that were able to test thousands of people, catching the infections early and rushing patients to hospitals to curb the spread of the disease.
The ITB researchers' modeling is more "optimistic" compared to others. However, on Friday, after the government announced that the nation had recorded 369 positive cases, Ninung said they could no longer use South Korea's parameters to estimate the epidemic's profile in Indonesia, as the confirmed cases here kept increasing significantly.
"But if our intervention methods are not effective, then the peak can shift, as Hadi explained. Everyone must work together to prevent the spread of the disease. If this doesn't happen, then the number of cases will not decrease. The Spanish influenza pandemic killed one-third of the world's population. Do not let that happen again."
Meanwhile, according to Panji Hadisoemarto from Padjadjaran University's School of Medicine and a senior researcher at the university's Center for Sustainable Development Goals Study (SDGs Center), all the mathematical modeling of COVID-19 made by scientists was meant to provide the government with reliable information to estimate the disease's transmission impacts and evaluate the effectivity of mitigation efforts currently being used.
https://www.thejakartapost.com/news/2020/03/22/some-70000-indonesians-could-be-infected-with-covid-19-before-ramadan-scientists-say.html
------
Ex-MPA wants Muslims to offer 'dua' to overcome coronavirus
March 22, 2020
PESHAWAR: As the coronavirus is spreading across the country, people have been coming up with interesting observations and suggestions.
Many are bizarre as those tweeting on social media or making their videos viral come up with remedies for the coronavirus. These include an addict proposing the use of opium to deal with coronavirus and charlatans offering concoctions of herbal medicines to do the trick. Most of these can be dismissed out of hand, but some useful suggestions are also being made. A retired government official, Islam Badshah belonging to Dargai in Malakand district, noted that the biometric SIM verification could become a source of transmitting the coronavirus. "Due to the ongoing situation of coronavirus and keeping in mind its mode of transmission, I want to add that biometric verification could act as a tool in spreading the virus as a result of the thumb impression. I would suggest that this method should be put off and it would be better if it isn't practiced until the virus is contained," he explained.
A physician, Dr Shaukat from Mardan district, felt the government should invest in the healthcare staff, including doctors, by equipping them to enable them to do a proper job in a safe environment while treating the coronavirus patients. He said the medical staff deployed at the quarantine centres and hospitals dedicated for treatment of coronavirus patients should be the first to be provided the personal protective equipment (PPE) as they are in the frontline of the battle against this disease.
Dr Shaukat said the quarantine centres should be able to provide basic services such as drinking water, toilets, beddings, food, etc to the coronavirus patients who are already feeling worried and depressed. He pointed out that a number of people have escaped from the quarantine centres in different parts of the country and some have complained that these places lacked basic services. "The isolation centres should make patients comfortable and confident. They should stay there instead of running away," he remarked.
The nurses who play a leading role in taking care of patients and are more at risk due to the nature of their work have also been voicing complaints. A group of nurses in a video message said the only thing provided to them by the hospital administration was a mask and yet they are expected to handle coronavirus patients. The student nurses are more vocal in highlighting their complaints as they believe they are taken for granted.
Finally, former Khyber Pakhtunkhwa Assembly member Malik Salahuddin from Dera Ismail Khan told The News that it is time to seek forgiveness of Allah for all our sins. "The Muslims must pray to Allah to seek forgiveness and ask for his blessings to overcome the threat posed by coronavirus. Without 'dua' I don't think the virus would go away. The prime minister should be the first to perform 'dua'," he argued.
https://www.thenews.com.pk/print/632607-ex-mpa-wants-muslims-to-offer-dua-to-overcome-coronavirus
-----
Ansar Allah leader accuses America of spreading Coruna epidemic within biological warfare
March 21, 2020
The leader of the Ansar Allah group, Al-Houthi, accused Abdul-Malik Al-Houthi of spreading the new Corona virus (COFED-19), as part of a biological war waged against its opponents and enemies, blaming it for any case of HIV infection in Yemen.
Cairo – Sputnik. Al-Houthi said, in a televised speech broadcast by the channel "Al-Masirah" speaking on behalf of "Ansar Allah", on the occasion of the anniversary of the killing of the group's founder, Hussein Al-Houthi: "America and some countries have huge laboratories with great capabilities that work to use harmful viruses that spread epidemics and kill people."
Al-Houthi added, "The American is expected to target China as an economic and cultural competitor country, and in our Islamic nation it also focuses on societies within or on the nation in general."
AL-HOUTHI ACCUSED "COMPANIES OWNED BY THE ZIONIST LOBBY IN THE UNITED STATES THAT SEE THE ECONOMIC INTEREST AS A JUSTIFICATION FOR DOING ANYTHING, HOWEVER HARMFUL, WORKING TO SPREAD A PANDEMIC AND DEVISE A SPECIFIC VACCINE FOR HIM WITH VERY LARGE SUMS OF MONEY IN ORDER TO ACHIEVE MATERIAL PROFIT."
He did not rule out the leader of the "Ansar Allah" group that "there will be an American tendency to spread the Corona epidemic and exploit it, even if it harms the American society itself."
He pointed out, "The Americans used the weapon to spread the epidemics, either through the weapon or with things that were presented under a human cover, as they provided blankets infected with germs that spread the deadly smallpox of the Indians and destroyed them."
And he considered that any arrival of corona to Yemen would be by American act and supervision through its tools, "stressing the importance of caring for preventive measures and health advice from the competent authorities regarding Corona."
THE LEADER OF "ANSAR ALLAH" ADVISED THOSE WHOM HE DESCRIBED AS "MERCENARIES", REFERRING TO THE YEMENI GOVERNMENT, SAYING: "IF THEY ARE CAUTIOUS, PERHAPS AS THEY SOLD THEMSELVES IN BATTLES, THEY MAY BE RELIED UPON TO SPREAD THE KORUNA IN THEIR AREAS AND DELIVER IT TO YEMEN."
On the field level, Al-Houthi called for continuing to confront the aggression, pointing to the group achieving a series of important and strong victories.
On March 11, the World Health Organization classified the "Corona" virus, which appeared in China late last year, as a global pandemic, confirming that the number of infected people is increasing very quickly.
According to the latest statistics, the number of people infected with the virus has reached about 290 thousand people, and deaths about 12 thousand people around the world.
https://www.mbs.news/a/2020/03/ansar-allah-leader-accuses-america-of-spreading-coruna-epidemic-within-biological-warfare.html
-----
'We want to stop kids stabbing each other': The Birmingham mosque fighting back against violent crime
6 hours ago
The hall is packed and the room buzzing. There's lots of chatter; a few kids are charging around. The local great and the good are here: the mayor, MPs and councillors, church leaders and police chiefs, as well as ordinary men and women of all ages. Yet, it is a serious occasion.
The Bahu Trust mosque has brought 150 people together from across the local community to launch its campaign against the violence that stalks inner-city Birmingham, focusing in particular on the issues of knife crime and domestic abuse. There is no doubting the salience of the issue. A nasty
https://www.independent.co.uk/independentpremium/long-reads/birmingham-knife-crime-domestic-violence-mosque-bahu-trust-a9349486.html
----
Minnesota: Muslim Migrant Physician Pledges Allegiance to ISIS
BY ROBERT SPENCER
MARCH 21, 2020
Muhammad Masood is a former research coordinator at the Mayo Clinic, and so he could have been spending his time trying to find a cure for coronavirus. Instead, however, he decided to direct his attention to matters that he thought would be more pleasing to Allah. He wrote: "i want to kill and get killed … and kill and get killed," and now he has been arrested on a terrorism-related charge.
The Associated Press reported Thursday that Masood "made several statements to paid informants — whom he believed were members of the Islamic State group — pledging his allegiance to the group and its leader. He also allegedly expressed his desire to travel to Syria to fight for ISIS and a desire to carry out lone wolf attacks in the U.S."
Masood at one point sent a message to one of these informants demonstrating his mastery of the spelling favored on messaging apps today and saying: "there is so much I wanted to do here .. .lon wulf stuff you know … but I realized I should be on the ground helping brothers sisters kids."
In line with that determination, he "bought a plane ticket on Feb. 21 to travel from Chicago to Amman, Jordan, and then planned to go to Syria from there. He had planned to leave at the end of March. But on March 16, he had to change his travel plans because Jordan closed its borders due to the coronavirus pandemic. Masood and one of the informants then developed a plan for him to fly from Minneapolis to Los Angeles to meet with that informant, whom Masood believed would help him travel in a cargo ship into Islamic State territory."
Masood said that once he reached a jihadi hotspot in Syria, Iraq, or the Afghan border, he wanted to "fight on the frontline as well as help the wounded brothers." He didn't want to stay in the United States, he wrote, because he "hates smiling at the passing kuffar [non-Muslims] just to not make them suspicios." His greatest desire, he said, was to spill blood: "i want to kill and get killed … and kill and get killed."
That is, of course, just the opposite of what a doctor should be trying to do. It's also a direct rebuke to the common assumption that people turn to terrorism because they are poor and ill-educated. Physicians are generally affluent and well-educated, so if the mainstream assumptions are correct, the idea of a doctor becoming a terrorist would be nothing less than inconceivable.
Mainstream foreign policy analysts all over Washington, as well as in Ottawa and the capitals of Europe, know – or think they know – that poverty causes terrorism. In reality, however, this idea, and the accompanying assumption that showering Muslim countries with money will end it, has been shown to be false again and again — although it is still a core assumption of U.S. foreign policy, at least among what President Trump has just indelibly dubbed the "Deep State Department."
The New York Times reported in March 2016 that "not long after the attacks of Sept. 11, 2001…Alan B. Krueger, the Princeton economist, tested the widespread assumption that poverty was a key factor in the making of a terrorist. Mr. Krueger's analysis of economic figures, polls, and data on suicide bombers and hate groups found no link between economic distress and terrorism."
CNS News noted in September 2013 that "according to a Rand Corporation report on counterterrorism, prepared for the Office of the Secretary of Defense in 2009, 'Terrorists are not particularly impoverished, uneducated, or afflicted by mental disease. Demographically, their most important characteristic is normalcy (within their environment). Terrorist leaders actually tend to come from relatively privileged backgrounds.' One of the authors of the RAND report, Darcy Noricks, also found that according to a number of academic studies, 'Terrorists turn out to be more rather than less educated than the general population.'"
Meanwhile, Masood was in the United States on a work visa. When he applied for that visa, did anyone make any attempt whatsoever to determine his sentiments regarding jihad against unbelievers? Did they make any effort to discover how devout he was in his observance of Islam? Of course they didn't; such inquiries would have landed the inquirer in hot water as "Islamophobic," despite the close correlation between devoutness in Islam and terror activity: not all devout Muslims are terrorists or terror sympathizers, but all Islamic terrorists and Islamic terror sympathizers are devout Muslims.
Nonetheless, such questions are not allowed to be asked. We can only be grateful that Masood didn't decide to go jihad at the Mayo Clinic while he worked there. But since the false assumptions and untruths that gave rise to his being there in the first place aren't even close to being corrected, a jihad attack at such a place is going to happen sooner or later. Anyone who sounds the alarm about such an eventuality will be dismissed as a cranky "Islamophobe." What could possibly go wrong?
https://pjmedia.com/lifestyle/minnesota-muslim-migrant-physician-pledges-allegiance-to-isis/?singlepage=true
-----
Foreign diplomats contract coronavirus as Afghanistan reports 10 new cases
22 Mar 2020
The Ministry of Public Health (MoPH) has confirmed that two foreign diplomats have contracted coronavirus as ten new cases of the disease have surfaced in the country.
Ferozuddin Feroz, the Minister of Public Health told reporters in Kabul that the two diplomats serving in two different embassies have contracted the disease outside the country.
Feroz did not elaborate further in this regard and did not say to which countries the two diplomats belong to.
Meanwhile, he said Ministry of Public Health has recorded ten new cases of coronavirus in the past 24 hours, increasing the number of positive cases to 34.
https://www.khaama.com/foreign-diplomats-contract-coronavirus-as-afghanistan-reports-10-new-cases-04541/
-----
Mideast
Maryam Rajavi: Iran's coronavirus outbreak will doom the ruling mullahs
3/21/2020
The solution to Iran's coronavirus outbreak, poverty, and oppression is overthrowing the mullahs' religious dictatorship in its entirety, Mrs. Maryam Rajavi, president-elect of the National Council of Resistance of Iran (NCRI), said in her annual Nowruz address, marking the beginning of the Persian New Year.
In her speech, Mrs. Rajavi discussed key events that took place in the past year, including the Spring floods, the November uprisings, the downing of a passenger plane by the Revolutionary Guards (IRGC), and the coronavirus outbreak, which has now taken the lives of more than 8,200 people. In all cases, the regime has proven that it neither has the will nor the capacity to address the desires and needs of the people, and its sole purpose is to extend its rule.
"The people of Iran pay a heavy price as they have always done, but this time, the Coronavirus will doom the mullahs," Mrs. Rajavi said.
Mrs. Rajavi also discussed the key setbacks for the regime, including the elimination of Qassem Soleimani, its chief terrorist, the terrorist-designation of the IRGC by the United States, and the extension of sanctions against its terror-funding apparatus. The regime also experience the lowest turnout in its parliamentary elections since its founding in 1979 despite widespread propaganda efforts and the cover-up of the festering contagion of the COVID-19.
"Throughout the past year (1398), not a single week went by without Khamenei and his regime not experiencing mortal tensions," Mrs. Rajavi said.
On behalf of the Iranian Resistance, its members and all Mojahedin at Ashraf-3, I extend our sincere condolences and sympathies to families who have lost their loved ones on the eve of the New Year. But…
But in anticipation of the arrival of Spring of freedom, heralding health and well-being across Iran, in all cities, villages, and to our people, we salute Nowruz. May such a day arrive as soon as possible despite all the pain, agony and loss of life, in defiance of the mullahs who have brought only sorrow, grief and calamity for our people.
Iran and Iranians will never give in; they will never surrender, be defeated or forced into submission. We will resist and fight the virus and the ruling theocracy. This is our raison d'être. Victory is ours; tomorrow is ours.
Through many events, moments, hours and days, the year that passed laid bare its purpose and direction. I would like to address three special events, three critical moments that will never escape our memories.
Every year, the spring of nature rekindle the yearning for the spring of hope and freedom in the hearts and minds of the oppressed people, especially among the vanguard and rebellious women and men.
In their quest for the spring of freedom, the people of Iran sent their vanguards to the battle field in November. In the blazing November, our people welcomed the spring by sacrificing more than 1,500 red roses.
The freshness and blossoming of the spring of freedom was on the move with uprisings in rebellious cities, from Mahshahr, to Sadra in Shiraz, to Behbahan, Marivan, Kermanshah, Islamshahr, Shahriar, Ghal'eh Hassan Khan, and elsewhere.
Although Khamenei resorted to crime against humanity, not sparing even the 13 and 14-year-olds, ruthlessly shedding blood in many cities by deploying tanks, helicopters, heavy and medium caliber weapons, the blazing November proved that the season of rising up to overthrow the regime continues and the mullahs' extensive plans to contain it are doomed to fail.
The November 2019 uprising delivered devastating blows to the mullahs' decadent regime. Mojtaba Zolnouri, Chair of the National Security and Foreign Policy Committee of the mullahs' parliament, acknowledged that the regime faced 147 clashes on Sunday, November 17, in Tehran, alone, and in 800 locations throughout the country just in one day, which included IRGC and Bassij bases, police stations, governorates and seminary schools which rebellious people and youth had overtaken.
The regime officials' explicit admissions therefore prove that they faced a nationwide anti-regime fighting force during the November uprising which they can never eliminate.
The hollow invincibility of the Revolutionary Guards crumbled and people believed in their own power. The strategy that relied on Resistance Units and rebellious cities was vindicated. Everyone saw with their own eyes that Resistance Units offer a breakthrough and are a beacon for uprising and freedom, and for the rebellious and defiant generation.
At the advent of the New Year, it is so painful to be speaking about calamities such as Coronavirus, poverty and unemployment which the mullahs have inflicted upon the people of our nation instead of talking about their happiness.
The figures, the disaster, and the number of victims our people see every day across the country clearly indicate that no country in the world, not even China with its population in the billions, have had as many cases and as many deaths as in Iran.
Many who need to go to work to earn a living are also vulnerable to the virus. They are neither covered by preventive measures nor do they have access to medical resources. Their life and living conditions have made them powerless in fighting the disease.
The virus caused a new wave of unemployment on the eve of the New Year. Many workers, peddlers, teachers working in private centers, as well as employees and clerks working in shops and stores, have lost their jobs and their only source of income.
Profound class differences are having a tremendous and painful impact in this regard. The deprived and the voiceless, and marginalized sectors have the smallest share of preventive measures and treatment, but the largest share of the illness and death.
Coronavirus outbreak in prisons coupled with the regime's inhuman treatment of prisoners have exposed many prisoners, and particularly political prisoners, to death. Prison environments, already severely contaminated, have turned into the epicenter for spreading the virus. In most prisons, including Evin, Qezel-Hessar, Gohardasht, Ardabil, Urmia, Quchan, Zahedan, Kermanshah, and Sanandaj the numbers of Corona cases are on the rise while there is no adequate medical treatment. All prisoners are at risk.
Now, even hospitals are defenseless. Nurses and physicians risk their own lives to save the lives of others, but are deprived of adequate protective equipment. Regime officials have not done anything to protect them against the disease. For this reason, a considerable number of nurses and physicians have lost their lives since the beginning of the crisis, particularly in the northern provinces of Gilan and Mazandaran. Our people will never forget the nurses and doctors who are on the frontline of this battle. They work hard with the greatest sense of responsibility to save the patients. These men and women are the source of pride for all of us.
In concrete terms, the mullahs have either destroyed or damaged the country's medical, sanitary and environmental infrastructure, causing mal-nutrition and starvation among a vast portion of society.
The figures are horrific: 60 million people live under the absolute poverty line. This includes 20 million slum-dwellers, 12 million people starving, and five million addicts. These people do not enjoy any protection to defend themselves either against Coronavirus, or against floods and earthquakes, or against air pollution and other calamities.
The country's medical system was suddenly paralyzed during the Corona crisis. Hospitals have a shortage of 105,000 beds. There are shortages of emergency rooms, laboratories, medical technology and medicines. The charlatan mullahs have been bragging for years about their nuclear program, about building satellites, and missile towns, but have been unable to provide gloves and masks for nurses and patients.
Recall that some time ago, Khamenei brazenly claimed that his regime was one of the world's pioneers in science and scientific advancements?
He bragged about Iran being the epicenter of science? But when it comes to floods, earthquakes and diseases, such hollow claims are nowhere to be found.
When Iranian protesters in different cities chanted, "let go of Syria and think about us," they knew that the mullahs had ruined Iran's economy by funneling the country's wealth and funds to the inferno of war and terrorism in Syria and Iraq, or by spending them to fund Khamenei's ruthless Revolutionary Guard Corps (IRGC).
The budget for health and medicine shrinks more every year while part of this small budget is never paid to the Ministry of Health. Internal feuding aggravated to a point where the Minister of Health resigned in 2018 because the budget for medicine and medical care had not been paid to his ministry.
For the Persian New Year 1399, tens of millions of dollars have been allotted to the purchase of weapons for the State Security Force. This money could have saved the provinces of Gilan, Qom or Mazandaran from COVID-19.
The so-called Al-Mostafa University of Qom, where foreign theology students are trained, was the epicenter of the outbreak due to the admission of Chinese students. Every year, a huge budget is allocated to this center which is stolen from the budget for health, medicine or education.
This is part of the record of a gang of criminal and backward mullahs who have deprived the society from access to medical and health services, enduring food supply, permanent access to drinkable water, and refused to create an efficient garbage collection system. They even deprived our people from clean air.
Indeed, the massacre of our political prisoners finally led to the massacre of nature and all those disasters and diseases.
Today, when we review the regime's approach since the outbreak of the virus in Qom, it becomes clear that the current crisis is actually not a medical issue in Iran, but a profound political problem.
The epidemic could have been seriously contained at the outset with much less fatalities, provided that the regime had given priority to people's health instead of preserving its grip on power. Yes, this crisis is political in nature because the mullahs opened the way for the deadly spread of the virus to preserve their own rule.
First, the regime had sufficient time but refrained from taking any preventive measures. Coronavirus first emerged in China in December. The regime wasted two months and then deliberately postponed taking any action until after the Revolution anniversary on February 11 and after its elections on February 21.
Second, the state-run media in Iran have admitted that Coronavirus came to Iran in late January. The Ministry of Health, Rouhani's cabinet, and Khamenei were definitely informed of the spread of the outbreak at that time.
On February 1, the state-run media reported that two Chinese nationals in Iran had been infected. However, on Khamenei's order, the regime concealed all information on the outbreak of Coronavirus by highly centralized and controlled measures because they sought to hold the anniversary of the revolution and the sham parliamentary elections. The regime preferred that disgraceful march and its failed elections to the nation's health. It refused to quarantine Qom, the first epicenter of the virus, and continued Mahan Air flights back and forth to China.
Third, the regime failed to mobilize the country's resources to cope with the crisis. The Red Crescent, the Relief Committee, the so-called Khatam al-Anbia Construction Garrison, the Martyrs Foundation, the Mostaz'afan Foundation, Astan-e Quds-e Razavi, the cooperatives belonging to the IRGC, the Bassij, the State Security Force (SSF), and the industries run by the Defense Ministry are giant cartels loaded with wealth which still remain untapped. No funds were donated to the country's hospitals and medical clinics by the banks and the 7,000 financial and credit institutions belonging to Khamenei's family and the IRGC which have plundered the people's savings for years. And the regime refused to spend from the so-called National Development Fund to save the lives of the infected individuals.
Fourth, under the pretext of combating the disease, Khamenei formally tasked the General Staff of Armed Forces to set up a military and intelligence base to handle some of the duties of Rouhani's despondent and failing government. In fact, he set up a military government to control the situation and counter any popular protests.
In recent days, the regime's expert institutes have openly warned that the Coronavirus crisis could pose "a multitude of threats to the country's security and stability and lead to dangerous rebellions." They have reiterated that "although Coronavirus outbreak exists in other countries, in Iran, it will be joined by past incidents, including the November 2019, and could lead to rebellions."
Amid all this, Khamenei ordered the Guardian Council to consider the national budget, without allowing the parliament to deliberate on it. Now, Khamenei has concentrated the command of all matter in his own corrupt office and practically monopolized the power in his own hands.
In this way, he has closed ranks against the popular uprisings and protests. Obviously, this is the regime's weakest and most fragile state in recent years.
During a demoralized cabinet session on the eve of Nowruz, Rouhani urged the people of Iran to compare Tehran with London, Berlin, and Paris to see that their store shelves are empty, as if the abundance of goods in Iran had exhausted the people.
Addressing the crisis of shortage of hospital beds, he said, "20 percent of hospital beds in Gilan are empty."
Shame on this deceptive regime. This charlatanism is unique to the mullahs' rule and is, of course, another sign that the mullahs do not have the slightest intention of fighting the Coronavirus.
For years, Khamenei and his Revolutionary Guards portrayed their crimes and terrorism in the Middle East as a sign of their power. But the Coronavirus crisis, which has spread in Iran more than any other country in the region, proved the incapability, decadence and fundamental weakness of the religious tyranny. So far, none of the countries in the region has been so disastrously affected by the COVID-19 as has Iran.
There was a time when the regime's spin doctors, accomplices and agents claimed that Iran would become insecure, chaotic and ruined if the mullahs were overthrown. Today, everyone can see that it is the mullahs' rule that has made Iran insecure and chaotic. The mullahs have destroyed Iran.
For years, the mullahs have been cracking down on any form of dissent and protests by labeling them acting against national security. Now, it has been proven that the main enemy of Iran's national security is this regime.
The mullahs' approach to set up a garrison to cope with the Coronavirus and to send an armored division to the city of Rasht showed that the problem is not the regime being repressive, but that it knows of no solution other than repression, terror, and suppression.
Besides, today, regime change in Iran is indispensable not only to freedom and democracy in Iran but also to the health of each and every individual in Iran and to the protection of their houses, cities and villages against natural disasters.
First, the regime must be pressured through protests and international pressure to put the medical resources presently monopolized by the IRGC at the disposal of physicians, hospitals and the public. It must immediately release all prisoners, and particularly political prisoners. The regime must provide physicians and nurses with adequate preventive and medical equipment. It must distribute free preventive and medical equipment to infected patients. It must pay the salaries of workers and employees who do not go to work to stay away from the infection.
Secondly, it is imperative that international bodies stand up to the regime's criminal policies. We urge supervisory and medical care delegations from the World Health Organization to visit Iran. We urge the UN Secretary General and the UN High Commissioner for Human Rights to not delay taking action to save the lives and health of prisoners in Iran.
The UN Security Council should condemn the Iranian regime's criminal cover-up, costing the lives of people in Iran and other countries.
We call for sending international aid to the people of our country. But that aid must be given to hospitals and the public directly and without any interference on the part of the regime.
But the main answer to "what must be done?" is a decisive action which would reap great good from this immense evil. And that is to rise up and struggle, and to resist against the clerical regime.
There is a single solution for Coronavirus, for poverty, for oppression and tyranny. That solution is overthrowing the mullahs' religious dictatorship in its entirety.
The recent remarks by the Leader of the Iranian Resistance, Massoud Rajavi, in his messages on the Coronavirus crisis show the way to carry out this struggle:
Although we are engaged in a ferocious battle against disease, poverty and repression in all our provinces, amid this battle, we are seeking to reach a free society devoid of all forms of oppression and tyranny.
This is why we can see that solidarity is spreading everywhere despite the policy of promoting despair and fear. People distribute free masks; inform and educate each other about health issues, and, in some cities, help child laborers and the youth who sift through the garbage. Spontaneously, they get together to disinfect public places; block the roads to quarantine their cities; and nurses and doctors give their own lives to save the lives of their patients.
Yes, it is our own responsibility, the people of Iran, to protect the people and their health and security through national solidarity and assistance by relying on popular and resistance councils. It is our responsibility to take control of our own destiny.
This is the great Nowruz of the people of Iran, the Nowruz of freedom and popular sovereignty. This is the mission that the Resistance Units and the great Army of Liberation have undertaken.
Throughout the past year (1398), not a single week went by without Khamenei and his regime not experiencing mortal tensions.
The regime was beset by tremendous discontent during the uprisings in November 2019 and January 2020. Next, Khamenei held his sham elections which turned into an embarrassing political defeat for the regime. The elimination of Qassem Soleimani upended the regime's balance, and the uprisings of the people of Lebanon and Iraq undermined the regime's so-called strategic depth.
The IRGC was placed on the U.S. terror list. Iran's petrochemical industry, one of the main sources of income for Khamenei's office, was sanctioned. The IRGC's missile attack on a Ukrainian airplane and killing its innocent passengers and crew created an irreparable scandal for the mullahs. The regime was blacklisted for money laundering which chocked its financial lifeline even more. Its oil exports plunged to the minimum, and the mullahs ended up with 50% budget deficit. And the regime's claims of so-called resistance economy fell apart.
On the other hand, the past year was the most brilliant and triumphant era of the Iranian Resistance's struggle and resistance in recent years, as it pertained to greater popular support, organizational cohesion, political and international achievements, and strategic advancements. Inside Iran, the People's Mojahedin Organization of Iran (PMOI/MEK) expanded its organized network despite massive repression and arrests. Resistance Units multiplied rapidly, carrying out hundreds of activities and operations against repressive institutes, and spearheading the uprisings.
The Iranian Resistance Leader Massoud Rajavi said, "The spring of Iran's freedom will be realized by us and by our own hands. It will never come for free. If we want it, we can and must achieve it. This is the test, the duty and the responsibility of each and every one of us."
So, we must congratulate Massoud Rajavi for the advent of nature's spring as a sign of the inevitable spring of freedom. He has guided the Iranian Resistance towards the realization of Iran's social and political spring. We also congratulate members of the National Council of Resistance of Iran, and the Mojahedin as well as Resistance Units and supporters of the Resistance in and out of Iran.
The year which we will begin today is the last year of the 14th Solar Hijri century. This century was marked with the reign of four murderous kings and mullahs. On the other hand, it marked the greatest and longest lasting relentless resistance in the history of Iran, offering a democratic alternative from amid a bloody struggle filled with suffering, executions and massacres.
May victory, people's sovereignty, and lasting freedom culminate in the new history of Iran in the start of the 15th century.
https://english.mojahedin.org/i/maryam-rajavi-ncri-nowruz-message-20200321
-----
Global arrogance, led by US, attempting to dominate Muslim world: Houthi
21 March 2020
The leader of Yemen's Houthi Ansarullah movement has warned against fiendish plots by arrogant powers, particularly the United States, to dominate the Muslim world, saying dictators in a number of Islamic states have deprived their nations of sources of power and plundered natural wealth.
"Hussein Badreddin al-Houthi, who was assassinated by forces loyal to slain former Yemeni dictator Ali Abdullah Saleh back in 2004, was a heroic figure and held anti-arrogance positions," Abdul-Malik al-Houthi said in a televised speech broadcast live from the capital Sana'a on Saturday afternoon.
"Dictators in some Islamic countries, including Yemen, have deprived their peoples of sources of power and looted their wealth. That accounts for their weakness in the face of US attacks and offensives."
The Ansarullah chief then criticized certain Muslim states for inaction toward the White House policies and Israeli plots, stating that some parties have even capitulated to their demands and are advancing anti-Islamic scenarios that serve the interests of Washington and Tel Aviv.
Yemeni army soldiers and allied fighters from Popular Committees have reportedly seized control of a major base in Ma'rib province from Saudi-backed Hadi loyalists.
"(The Holy) Quran invites all Muslims to resistance and perseverance. One who chooses Quran over the enemies of Islam will eventually emerge victorious. On the contrary, one who sides with the enemy is doomed to failure and fiasco. Adverse repercussions await those who support such an option," he underscored.
The Ansarullah leader went on to say that the current circumstances in Iraq and Syria, inveterate hostility toward the Lebanese resistance movement Hezbollah, conspiracies against the Palestinian nation as well as the negative views on the Palestinian resistance groups are all indicative of Washington's aggressive policies in the region.
"Nowadays, the Saudi regime arrests and prosecutes Hamas leaders and figures affiliated to it. Such people are indeed seeking to liberate al-Quds (Jerusalem) and Palestine, and bear enmity toward Israel. The liberation of al-Quds and other sacred sites is vehemently condemned by Saudi authorities and viewed as a criminal act," Houthi stated.
He said Saudi Arabia and the United Arab Emirates were nothing but pawns in the hands of the US, emphasizing that the deadly campaign against Yemen was aimed at bringing the impoverished country under the yoke of the regimes in Riyadh and Abu Dhabi in particular, and Washington in general.
Elsewhere in his remarks, Houthi touched down on the novel coronavirus pandemic, claiming that some states, including the United States, may be manipulating viruses in sophisticated laboratories to use against adversaries.
Yemen's Houthi movement says the Saudi-led coalition will be to blame for a possible outbreak of the coronavirus in the war-torn country.
"Colonial powers, among them the US, must be held accountable first and foremost for the coronavirus pandemic. Americans, Israelis and their allies have no reservations whatsoever to use viruses, like COVID-19, weapons of mass destruction and internationally-banned munitions against humankind."
Houthi said he cannot rule out Washington's role in the spread of coronavirus, even if it could harm the American society itself.
"Any spread of coronavirus to Yemen would be done under the supervision of the US and by its pawns such as Saudi Arabia and the UAE. The Yemeni people and government will stand against such bids, and will fight coronavirus."
https://www.presstv.com/Detail/2020/03/21/621327/Yemen-Houthi-Muslims
-----
The Yemeni government suspends Friday and congregational prayers in mosques
March 21, 2020
Today, Saturday, the Yemeni government announced the suspension of Friday and Friday prayers in mosques, until further notice, as a precaution against the emerging Corona virus.
Cairo – Sputnik. The Yemeni news agency "Saba" quoted a statement of the Ministry of Endowments and Guidance that it was decided to hold Friday and Friday prayers in homes and to suspend their stay in mosques until further notice as part of the precautionary measures to confront the Corona virus.
She added that the decision included "stopping all memorization workshops, schools and the role of memorizing the Holy Quran, and preventing the conduct of any lectures, lessons or scientific seminars in mosques or outside mosques in order to protect society from the repercussions of the virus."
The Yemeni Endowments affirmed that "these precautionary measures come in light of what the world is experiencing from the pandemic of the rapidly spreading Corona virus, as well as the Islamic law's keenness to preserve the lives of people and to pay any danger about it by any means."
She called for "following safety methods and procedures, staying at home, and observing the directions of the specialized doctors, and the instructions of the Ministry of Public Health and the World Health Organization, for the benefit of all."
https://www.mbs.news/a/2020/03/the-yemeni-government-suspends-friday-and-congregational-prayers-in-mosques.html
-----
Iranian New Year's Table Celebrates Nature's Rebirth That May Herald The Mullah's End –
March 21, 2020
By Hassan Mahmoudi
Nowruz marks the first day of the Iranian calendar and the new year. People participate in the Nowruz celebrations and traditional Iranian Spring Festival. Spring started in the Northern Hemisphere at 4:49 on Friday, March 20, 2020.
The beginning of this spring and the new year is a pain since last year, for the Iranian people, have suffered amid the spread of the disastrous coronavirus in 198 cities, with 7,000 dead (according to the main opposition, the NCRI), the crackdown of their protests in November with 1,500 killed, the downing of a Ukrainian passenger plane with 176 dead, economic hardships and poverty, and corruption and incompetence of the authorities in response to floods and natural disasters. But Iranian citizens are celebrating the new year even with a small seven-seater table. They hope this year will be the last year of mullahs.
The traditional table for Nowruz includes flowers, a crystal bowl with swimming goldfish, a mirror, candles, painted eggs, the Quran, and seven food items beginning with the letter "S" in the Persian alphabet.
https://www.eurasiareview.com/21032020-iranian-new-years-table-celebrates-natures-rebirth-that-may-herald-the-mullahs-end-oped/
-----
Supreme Leader addresses nation on auspicious birth anniversary of Islamic prophet
Mar 22, 2020
The Supreme Leader of the Islamic Revolution Ayatollah Seyyed Ali Khamenei addressed the nation on the auspicious occasion of the birth anniversary of the Islamic Prophet Muhammad (PBUH) which is regarded as a major celebration across the Islamic world on Sunday morning.
During the televised speech which is also aired live on Twitter and Instagram, the Supreme Leader also touches upon the advent of the new Iranian year, Nowruz.
The Supreme Leader used to address the nation from the holy tomb of the 8th Shiite Imam Reza (AS) in Mashad on the opening day of the new Iranian year annually but this year the program was cancelled due to healthcare concerns because of coronavirus spread in Iran.
https://en.irna.ir/news/83723542/Supreme-Leader-addresses-nation-on-auspicious-birth-anniversary
-----
Africa
Nigeria Islamic Movement holds ceremony to commemorate Shuhada
22 March 2020
Danjuma Abdullahi
The Shuhada Foundation of the Islamic Movement in Nigeria said available statistics show one thousand and twenty seven of its members have been killed in violent attacks by the security forces.
The Islamic Movement said these people have left behind over two thousand two hundred and eight children for the Shuhada Foundation to cater for. Will the victims and their children get justice?
There were prayers and solemn music at the occasion to remember the victims. The Islamic Movement said the number significantly increased after the 2015 Zaria Massacre, where more than three hundred and forty of Zakzaky supporters were killed when the residence of the Islamic cleric was attacked by security forces.
Over four years after the violent incident, the spiritual leader of the Islamic Movement in Nigeria Sheikh Zakzaky has remained in detention despite his deteriorating health.
In December 2016, a Federal High court ruled that the detention of the Sheikh and his wife is "illegal and unconstitutional" and therefore ordered their release immediately and unconditionally. The Nigerian government, however refused to comply with the court order till now.
Meanwhile, in a statement, the Islamic Movement in Nigeria has lashed out at the authorities of the Kaduna Central Correctional Center for refusing to allow Sheikh Zakzaky's doctors to properly examine him. The statement says the only way out for the government is to abide by the December 2016 ruling of the Federal High Court Abuja which ordered the release of Sheikh Zakzaky and his wife Zeenat.
https://www.presstv.com/Detail/2020/03/22/621341/Nigeria-Islamic-Movement-commemorates-Shuhada
----
Covid-19: Mosques close in Zimbabwe
21st March 2020
By ZBC Reporter
The Supreme Council of Islamic Affairs in Zimbabwe in collaboration with the Covid-19 Muslim Taskforce has ordered the closure of mosques in the wake of the Coronavirus and urged Muslims to observe prayers at home.
President of the Supreme Council of Islamic Affairs in Zimbabwe, Sheikh Ishmael Duwa told ZBC News this Saturday that the closure of mosques in is line with government efforts to curb the spread of the Coronavirus, adding that preservation of life is one of the objectives of Islamic Law.
Prayer is one of the 5 pillars of Islam and every Muslim is supposed to perform ritual prayers 5 times each day.
"As the Muslim community preservation of life is regarded as one of the higher objectives of Islamic law and as such when a situation arises whereby one or many lives are exposed to harm permission is given to forgo some obligatory and supregatory Islamic acts. We therefore order the closure of mosques and strongly urge Muslims to observe their 5 daily prayers at home," said Sheik Ishmael Duwa
Muslim countries such as Saudi Arabia, Egypt, Morocco and Turkey have also suspended religious gatherings that have large crowds.
https://www.zbcnews.co.zw/covid-19-mosques-close-in-zimbabwe/
-----
Covid-19 spreading gradually in Africa, S. Africa cases reach 200
23 hours ago
Fears of a rapid spread of the coronavirus epidemic in sub-Saharan Africa were heightened on Friday, particularly in South Africa where the number of infections has passed the 200 mark.
Despite bans on gatherings, schools and border closures in many countries south of the Sahara, the Covid-19 virus continues to spread.
More than 500 contaminations and two deaths, including a Friday in Gabon, have been reported to date, according to the authorities. The island of Madagascar announced its first three cases on Friday, all of whom had recently travelled to France. And Zimbabwe on Friday reported its first case of contamination, that of a man who recently returned from Great Britain.
The number of infected people must not increase too rapidly, otherwise it will overwhelm our health system, we must turn the tide.
South Africa continues to record the highest number of cases on the continent. The number has risen from 150 to 202 in just 24 hours.
"Scientists estimate that (…) up to 60% of the population could be affected by the virus," said Health Minister Zweli Mkhize, echoing the global projections of epidemiologists.
"The number of infected people must not increase too rapidly, otherwise it will overwhelm our health system," he warned, "we must turn the tide".
In recent days, the World Health Organization (WHO) has repeatedly expressed concern that the pandemic is spreading to the African continent, whose health systems are severely under-resourced.
"If countries like South Africa, which has one of the most developed systems in the region in both the public and private sectors, fear (…) an explosion of serious cases, it will indeed be difficult," predicted its regional boss, Matshidiso Moeti, on Thursday.
South African Airways (SAA) on Friday made its contribution to the effort to curb the disease by suspending all its international flights until May 31 in order to "help the government" and protect "the interest of our crews and passengers".
The continent's leading airline, Ethiopian Airlines, for its part announced the suspension of its flights to 30 at-risk countries, which it did not detail.
The South African government on Wednesday closed its borders to citizens of the countries most infected by the pandemic, notably Europe and the United States.
On Friday, the civil aviation authorities thus isolated fourteen flights from abroad on the tarmac of Johannesburg International Airport. "Only South African citizens are allowed to disembark," the airport management warned on its Twitter account.
Further north on the continent, a 50-year-old patient who had recently travelled to France died in Gabon from a Covid-19 infection.
The death brings the death toll in sub-Saharan Africa to two, after a first case reported in Burkina Faso.
In the aftermath, the Libreville government announced a ban on all domestic and international passenger flights, except in cases of force majeure.
In Senegal, mosques in the capital Dakar and its region remained closed on Friday. The authorities hesitated for a long time before giving the order to ban collective prayer, a decision that is controversial in this Muslim country at nearly 95%.
In Nigeria, the authorities had ordered on Thursday the "limitation" of religious events in the sprawling megalopolis of Lagos and its 20 million inhabitants. But Friday prayers were still widely followed.
The Zawiyat Sofwat El-Islam mosque, in a popular district of the city, welcomed a thousand worshippers, against 5,000 usually.
"I'm here despite the coronavirus to offer my prayers to God," one of those worshippers, Alhaja Basirat Okeowo, told AFP. "We must all pray to ask him to remove this strange disease.
For its part, Kenya, which has so far reported only seven cases of infection, has announced the closure of bars from Monday evening and a strict limit on the number of customers in supermarkets.
These decisions "will determine whether the crisis develops with serious human and economic consequences or whether the effects of this disease will remain limited," commented Kenyan Health Minister Mutahi Kagwe.
Although no cases have yet been reported on their soil, Mozambique and Malawi have announced the closure of their schools, and Angola has announced the closure of its borders.
In the Democratic Republic of Congo, 18 cases were reported on Friday, all in the capital Kinshasa, a four-fold increase from Thursday.
On Friday, Congolese music stars Fally Ipupa and Koffi Olomide posted videos on Twitter urging the public not to exchange kisses and handshakes and to wash their hands.
In Paris, it was the singer Aurlus Mabélé, a figure from the soukouss – a modern version of Congolese rumba – infected with the coronavirus, who died on Thursday at the age of 67.
https://www.africanews.com/2020/03/21/covid-19-spreading-gradually-in-africa-s-africa-cases-reach-200/
------
India
Be prepared to see surge in Covid-19 cases, support one another: Kejriwal
Mar 22, 2020
Delhi Chief Minister Arvind Kejriwal on Sunday said that everyone should be prepared to see a rise in the number of Covid-19 cases in the country but should not panic in such a situation. The Delhi CM called for citizens to remain strong and united.
The number of Covid-19 cases in India has doubled in less than a week. We should be prepared to see a surge in cases but we must not panic. It is the time to be strong and united as a nation. We must support one another.#DelhiFightsCorona #IndiaFightsCorona
Kejriwal's tweet comes on the day when the entire nation observes 14-hour long Janta Curfew as directed by Prime Minister Narendra Modi.
On Saturday Kejriwal announced a ban on gatherings of more than five people in the capital in a significant reduction from the previous cap on gatherings exceeding 50 people in the wake of coronavirus spread in the country. He also cautioned that a lockdown could be considered in future if the situation demands.
Delhi government has also cut down on presence of government staff in offices except for those employed with the essential services and also urged private firms to allow staff to work from home.
Chief minister said the government had not imposed a lockdown for now, but it would have to do if the need arises in the view of the coronavirus outbreak.
On Monday, a day after today's Janta Curfew, Delhi administration has decided to stagger metro services to ensure social distancing.
https://www.hindustantimes.com/india-news/be-prepared-to-see-surge-in-covid-19-cases-must-support-one-another-kejriwal/story-A90baAJAT0aMS9bmy2tb0H.html
-----
Janta Curfew shuts down India to tackle Covid-19
Mar 22, 2020
Much of the country wore a deserted look Sunday morning as a 14-hour janta curfew kicked in to check the spread of coronavirus following an appeal by Prime Minister Narendra Modi.
Roads were deserted roads in Delhi, Mumbai, Nagpur, Varanasi, Guwahati, Ludhiana, Prayagraj, Meerut, Hyderabad, Bengaluru, Thiruvananthapuram and Srinagar among other places.
In Delhi, the Metro rail was shut. Mumbai's Lokmanya Tilak Terminus wore a deserted look as all passenger and inter-city trains have been cancelled till 10 pm as part of the janta curfew in the fight against coronavirus that has now affected 283 people in the country.
In Jalandhar, however, private buses and auto rickshaws continued to ply. But the railway station was deserted.
The Indian Railways had already announced that no passenger trains will originate from any junction in the country from midnight on Saturday to 10.00 pm on Sunday as part of the Janta Curfew.
"Today we need to unite & fight a big battle against #COVID19 infection. 'Janata Curfew' is an important step by the people for the health of the people. I request all of you to follow the guidelines given by PM Narendra Modi, regarding #JanataCurfew," he tweeted.
India is at stage 2 of Sars-CoV-2 virus transmission. The janta curfew is a precautionary measure to prevent coronavirus from spreading to more people and stop the country from slipping into Stage 3 of the pandemic which is community transmission.
"There is a restriction on a large gathering of people. So, we are organizing the praying session via YouTube so they don't need to come to the church for the holy mass," ANI quoted Archbishop of Madras-Mylapore, George Anthony Swamy as saying.
https://www.hindustantimes.com/india-news/janta-curfew-shuts-down-india-to-tackle-covid-19/story-O16jzpxIDtjC6T4nYrf0EK.html
-------
Southeast Asia
How a mass pilgrimage at a Malaysian mosque became a virus hotspot
Mar 22, 2020
Worshipers slept in packed tents outside the golden-domed mosque, waking before dawn to kneel on rows of prayer mats laid out in its cavernous central hall. All the while, COVID-19 was passing unnoticed among the guests.
The Muslim gathering held at the end of last month at a sprawling mosque complex on the outskirts of Malaysia's capital Kuala Lumpur has emerged as a source of hundreds of new coronavirus infections spanning Southeast Asia.
A 34-year-old Malaysian man who attended the event died on Tuesday last week, Malaysian Minister of Health Adham Baba said, the first death linked to the Feb. 27 to March 1 event at the Sri Petaling mosque compound.
Reuters spoke to six attendees and reviewed pictures and posts on social media, and the accounts and evidence showed several ways in which the outbreak could have spread.
The hosts, the Islamic missionary movement Tablighi Jamaat, which traces its roots back to India a century ago, on Monday suspended missionary activities, but did not comment directly on the Malaysian event.
The mosque where the event was held was closed on Tuesday and a guest said he was one of dozens of worshipers still there under quarantine.
Malaysia plans to shut its borders, restrict internal movement and close schools, universities and most businesses, as it seeks to control its coronavirus outbreak. All mosques are to be closed for two weeks.
"I was very surprised actually that it went ahead, but in Malaysia God is very important. The belief is strong," said Surachet Wae-asae, a former Thai lawmaker who attended the event, but has since tested negative for COVID-19 after returning home.
The packed gathering, where guests had to take shuttle buses to sleep at other venues, was attended by nationals from dozens of countries, including Canada, Nigeria, India and Australia, an attendee list posted on social media showed.
Social media posts show hundreds of worshipers praying shoulder-to-shoulder inside the mosque, while some guests posted selfies as they shared food.
It was not clear how many guests were residents of Malaysia, but cases linked to the gathering are popping up daily across Southeast Asia.
"We sat close to each other," a 30-year-old Cambodian man who attended the event told reporters from a hospital in Cambodia's Battambang Province, where he was being treated after testing positive for the virus on Monday.
"Holding hands at the religious ceremony was done with people of many countries. When I met people, I held hands, it was normal. I don't know who I was infected by," he said, asking not to be named due to fears of discrimination at his mosque.
None of the event leaders talked about washing hands, the coronavirus or health precautions during the event, but most guests washed their hands regularly, two guests said.
Only half of the Malaysian participants who attended have come forward for testing, Adham has said, raising fears that the outbreak from the mosque could be more far-reaching.
Tiny neighbor Brunei has confirmed 50 infections linked to it, while Cambodia, the Philippines, Singapore, Thailand and Vietnam have also said citizens were infected there.
That a large religious pilgrimage should have gone ahead, at a time when the disease had killed 2,700 people and was spreading from Italy to Iran, has drawn criticism.
"That Tablighi event in KL [Kuala Lumpur] ... could also cause a regional spike and it was irresponsible for the authorities to have allowed it to be held," Singapore diplomat Bilahari Kausikan said on Facebook.
It is not the only religious event to spread the virus on a mass scale. Thousands of cases in South Korea are linked to services of the Shincheonji Church of Jesus in the city of Daegu.
At the time of the event in Malaysia, the country was in political turmoil. The country had a one-man government in the 94-year-old interim prime minister Mahathir Mohamad, who had quit and was temporarily re-appointed the same day.
Some attendees defended the event, saying that at the time the situation in Malaysia — which had announced 25 known cases by Feb. 28 — was not severe.
"We were not worried then as the COVID-19 situation at the time appeared under control," said Khuzaifah Kamazlan, a 34-year-old religious teacher based in Kuala Lumpur who attended the event but has tested negative for the coronavirus.
Some of the worshipers who attended the event have since refused to be tested for coronavirus, preferring to rely on God to protect them, Khuzaifah said.
Karim, a 44-year-old Malaysian who attended the gathering and later tested positive for coronavirus, said that the government should have canceled the event.
"We are a bit disappointed that this outbreak has been blamed entirely on us. That view is unfair. There was no ban on our gathering," said Karim, who gave only his first name. "Now I am concerned because I am positive. Please pray for me."
https://www.taipeitimes.com/News/editorials/archives/2020/03/22/2003733146
-----
'Small areas' of 19 mosques to be opened for afternoon prayers from Mar 23-26, ahead of full reopening
22 Mar 2020
By Zhaki Abdullah
This comes after the Islamic Religious Council of Singapore (MUIS) first announced on Mar 12 that all 70 mosques here would close for five days for cleaning after several congregants tested positive for the coronavirus following a religious gathering in Malaysia.
It later extended the closure by another nine days, based on a recommendation by the Health Ministry (MOH), to complete "one incubation period to break the cycle of transmission" of the coronavirus.
MUIS said in a Facebook post on Sunday (Mar 22) that the decision to open small prayer areas in some mosques is aimed at meeting the needs of worshippers such as taxi and private-hire car drivers, as well as delivery riders and riders, who had said they "face problems finding a place to pray during their work hours".
These spaces will only be open between 1.15pm and 6pm, and those who wish to perform their prayers must bring their own prayer mats and garments.
They will also have to undertake temperature checks, health declarations and contact tracing measures.
"No congregational prayers will be conducted, and safe distancing will be maintained between each individual," MUIS noted.
"We wish to emphasise that only a small area of the mosques will be accessible to the public, and this is strictly for the purpose of individual prayers," the council added, noting the areas used will be "sanitised regularly".
"We hope this small measure over the next few days will help ease the challenges faced by some members of our community who, because of the nature of their job, have difficulty finding a place to pray," it said.
On Friday, MOH announced that until end-June, all events and gatherings - including weddings and religious events - with 250 or more participants attending at any one time must be suspended to reduce the risk of further local transmission of COVID-19.
Those with fewer than 250 participants must take precautionary measures such as having spaced seating at events as well as incorporating temperature and health screening measures.
In a statement, MUIS said it "understands and fully supports" such medically and scientifically grounded measures to minimise the spread of COVID-19.
"MUIS will seek guidance from the Fatwa Committee, to incorporate the additional measures while ensuring adherence to our religious requirements, to ensure that congregational prayers can be conducted safely in our mosques," it said.
Minister-in-Charge of Muslim Affairs Masagos Zulkifli noted in a Facebook post that more information would be made available soon.
https://www.channelnewsasia.com/news/singapore/small-areas-of-19-mosques-to-be-opened-for-afternoon-prayers-12564862
-----
Bank Islam Malaysia Bhd Employee Tested Positive For Covid-19 But No Service Disruption At HQ
22 Mar 2020
Bank Islam Malaysia Bhd has confirmed that one of its employees based at Menara Bank Islam here has tested positive for Covid-19 and is currently undergoing treatment at a government hospital.
The employee and his immediate family have been under home quarantine since March 19, said chief executive officer Mohd Muazzam Mohamed in a statement.
"As a precautionary measure, Bank Islam has conducted a thorough sterilisation and disinfection of Menara Bank Islam, including its common facilities, today. The bank has also conducted contact tracing measure in order to identify and inform individuals who had direct contact with the employee and advised them to undergo medical screening and home quarantine," he said.
He said there is no disruption of service at Menara Bank Islam and the group has a sound business continuity plan to ensure that its operations are not affected by such eventualities.
"All necessary precautions and awareness have been done consistently by the bank since the outbreak. We would also like to assure our customers that our premises are clean and safe following the sanitisation work," he added. — Bernama
https://www.malaymail.com/news/malaysia/2020/03/22/bank-islam-employee-tested-positive-for-covid-19-but-no-service-disruption/1848944
-----
Rangers hurt in bomb blast after mosque cleaning
22 MAR 2020
NARATHIWAT: Two rangers were hurt in a bomb blast as their team returned from taking part in a cleanup at a mosque to combat the spread of the coronavirus in Rangae district on Friday evening.
The explosion occurred on a local road in Lamai village of tambon Bo-ngo, said Pol Lt Col Paiboon Wattatham, the investigation chief of the Rangae police.
Eight rangers were returning to their base -- four on a pickup truck and two on a motorcycle -- when a roadside bomb went off, he said.
The force of the blast wounded two -- Penphet Yammali, 30, and Witthaya Tengrang, 30 -- who were sitting in the back of the pickup truck. They were taken to Rangae Hospital.
Police, soldiers and bomb disposal officers who went to the scene found a damaged power pole and shrapnel scattered in the area. The military pickup was partly damaged.
A police investigation found the ranger team had been helping with a cleaning activity at Ban Lamai mosque on Friday. The home-made bomb, planted near a power pole, was detonated when their pickup passed the spot.
https://www.bangkokpost.com/thailand/general/1883815/
-----
Coronavirus: Philippines seeks the 215 who attended Islamic event
by Ana P Santos
3 hours ago
Manila, Philippines - Authorities are scrambling to trace the Filipinos who attended a religious event in Malaysia which has been linked to a spike in COVID-19 cases in several countries across Southeast Asia.
The Tablighi Jamaat congregation held from February 27 to March 1 at Kuala Lumpur's Jamek Sri Petaling Mosquedrew an estimated 16,000 devotees from about 30 countries.
On their Facebook page, the National Commission on Muslim Filipinos (NCMF) announced that 215 Filipinos attended the four-day religious gathering.
During the event, the attendees prayed together and slept alongside one another inside a mosque, with many spilling over into tents pitched outside.
Malaysia recorded its single biggest number of 190 COVID-19 cases on March 15, with a majority of those cases being the devotees who attended the Kuala Lumpur assembly.
The NCMF said most of the Filipino attendees were from the Bangsamoro Autonomous Region of Muslim Mindanao (BARMM), a group of provinces in the southern Philippines.
Due to limited personal information available, local authorities are depending on communities to identify attendees or for the persons concerned to themselves come forward.
"Some fear they will be rejected by their communities or are afraid of being isolated from their families if they are suspected of having the virus. The current messaging of 'identify and isolate' is scary for many," said BARRM's Interior Minister Naguib Sinarimbo.
Moreover, some attendees may have exited undetected through the country's "southern backdoor", the islands closest to Malaysia's maritime border.
On March 13, a Filipino man died after he tested positive for COVID-19. He had travelled to Malaysia, but local authorities were unable to confirm if he attended the Tablighi Jamaat event.
On Thursday, another death was recorded in the BARMM province of Lanao del Sur. His test result released on Friday showed he was positive for COVID-19. He had attended the Tablighi Jamaat event.
"In the coming days, we will see the true increase in cases," Health Under-Secretary Maria Rosario Vergeire said during a news briefing.
"We suspect the number of cases will increase. Our strategy is to slow down transmission, improve our response and try not to overload our health facilities," said Sinarimbo.
Last week, President Rodrigo Duterte announced an enhanced community quarantine on the island of Luzon to limit the spread of the virus.
Checkpoints manned by the police and the military were set up to seal off the island of about 56 million people. Other provinces, including those in BARMM, declared similar lockdowns.
The country's former health minister, Manuel Dayrit, who oversaw the 2003 SARS outbreak, said the number fails to present a full picture on the spread of the virus in the Philippines.
Earlier this week, the World Health Organization called on the countries to "test, test, test" to check what it has already declared a global health emergency.
But even with additional kits from China, the Philippines' health department said testing would be limited to people under investigation (PUI), a classification for those showing COVID-19 symptoms and a recent history of travel to a country with a high number of infections.
This week, the Philippines government announced a 27.1-billion-peso ($529m) budget to tackle the COVID-19 crisis, with half the money allocated to the lucrative tourism sector.
"Government authorities do not provide health workers with proper protective gear, making them vulnerable to the virus. Where is the heart of this government?" AHW president Robert Mendoza asked in a statement.
Private citizens and various corporations are making up for the shortfall with an outpouring of donations of protective gear and food.
The show of support is keeping health workers such as Eleazar Sobinsky in positive spirits. "We really feel everyone's concern for us."
But Sobinsky said they are bracing themselves for a long haul where they will see more cases, overloaded hospitals and fatigued health workers.
"We will worry about our personal safety and may have to be away from our families for long periods of time. That will be a double burden for us."
https://www.aljazeera.com/news/2020/03/coronavirus-philippines-seeks-215-attended-islamic-event-200321143247350.html
------
Funerals of non-Muslims in Pahang kept to a minimum during MCO
21 Mar 2020
The prayers and funerals of non-Muslim individuals in Pahang should be carried out within a short period of time during the implementation of the Movement Control Order (MCO).
Pahang state secretary Datuk Seri Dr Sallehuddin Ishak said the ruling came into effect starting today until the revocation of MCO, and would involve deaths not related to Covid-19 virus or any other infectious disease.
He added the families of the deceased must also obtain a MCO exemption permit from the district police chief before the burial.
"The attendance must be kept to a minimum of not more than 10 immediate family members comprising parents, spouse, children or siblings of the deceased.
"These family members must also declare themselves as healthy and will be allowed to accompany the body to the crematorium or the cemetery," he said in a statement here today.
Sallehuddin said the state goverment also stipulated that religious or customary prayers should be conducted at home and concluded within a short period of time without elaborate procession.
The enforcement of a nationwide MCO from March 18 to 31 is to curb the spread of Covid-19 outbreak, which has so far claimed eight lives in Malaysia.
Based on the Health Ministry's statistic today, the cumulative cases of confirmed Covid-19 cases stood at 1,183 cases, with 37 cases recorded in Pahang. — Bernama
https://www.malaymail.com/news/malaysia/2020/03/21/funerals-of-non-muslims-in-pahang-kept-to-a-minimum-during-mco/1848809
-----
Pakistan
Sindh moving towards lockdown, says CM Murad Ali Shah
14 MINUTES AGO
Sindh Chief Minister Murad Ali Shah has said that the provincial government is moving towards imposing a lockdown to curb the spread of coronavirus in the province where the majority of Pakistan's cases have been reported.
Chairing a meeting attended by provincial ministers and police officials, the chief minister said: "I will make every such decision required to [protect] people's lives. I will announce an important decision in the evening which will be in the people's favour."
https://www.dawn.com/live-blog/
-----
Balochistan govt requests for army deployment to deal with coronavirus situation
42 MINUTES AGO
The Balochistan government has written a letter to the interior ministry, requesting that the Army be deployed in the province to maintain the law and order situation and help provincial authorities cope with issues relating to and arising from the Covid-19 outbreak.
https://www.dawn.com/live-blog/#1542869
-----
Arab world
Coronavirus: UAE move on mosque prayers based in Sharia, says Grand Mufti
March 21, 2020
Faisal Masudi
Dubai: Suspending prayers in UAE mosques as a precaution against coronavirus is a decision based in Sharia (Islamic law) and public health, the Grand Mufti of Dubai has said.
In an exclusive interview with Gulf News, Dr Ahmad Abdul Aziz Al Haddad, who is also head of the fatwa (Islamic edict) department at Dubai's Islamic Affairs and Charitable Activities Department (IACAD), said Sharia is "all-encompassing and puts appropriate solutions for such emergency conditions".
UAE authorities last Monday suspended for a month congregational prayers at mosques (and all other places of worship) to curb the spread of COVID-19 in the UAE, which has so far recorded 153 cases, with 38 recoveries and two deaths.
Dr Al Haddad said the Sharia basis for the suspension stems from the principle of "mitigating danger and harm to the people".
He explained: "One of the general rules of Sharia is to defend against harm. There is great harm that could result from the spread of this virus. Sharia is all encompassing and puts appropriate solutions for such emergency conditions. Thus, people are asked to pray at their homes to ensure they remain protected and safe."
The Grand Mufti said the decision is in line with "the directives of competent medical authorities, as well as the official emergency and crisis team. They indicated that one of the reasons for the spread of COVID-19 is large gatherings. They further stated that we can prevent this by not being present in, among other places, mosques, which have a large number of people. They are entrusted with protecting the people and the country, so we follow their directions".
Muslims pray five times a day, either separately or in congregational (group) prayers held in mosques. They stand shoulder-to-shoulder in rows during congregational prayers. Some mosques see tens of thousands of worshippers for the Friday prayer.
These days, the mosques are empty in the UAE and some other countries that also temporarily suspended congregational prayers.
The move to suspend prayers included a temporary modification to the Arabic adhan, or call to prayer, voiced by the muezzin (the one who calls to prayer) over loudspeakers at mosques. The adhan is sometimes a recorded format played over loudspeakers or on TV and radio at the time of each prayer.
The modification, in effect during the duration of the congregational prayer suspension, replaces the usual phrase "come to prayer" with "pray in your homes". The new phrase can also be translated as "pray where you are".
"It has been proven in the Sunnah [the teaching of Prophet Mohammad, peace be upon him] that [the modification] has been made part of the adhan, as the muezzin is instructed to say 'pray in your homes' instead of 'come to the prayer' during or [immediately] after the adhan – both ways are permissible. A hadith [narration] by Prophet Mohammed, peace be upon him, mentioned that praying is valid anywhere."
Dr Al Haddad called on the community to follow the instructions of authorities for their own wellbeing as well as the health interests of others.
He said: "Our message to people is to adhere to the official directives to protect themselves from this virus. These directives are set by officials to preserve the nation's well-being. These include: reducing going out and not shaking hands, and whatever personal and public protection requires as set by the ministry and the crisis and emergency team. We also ask people not to propagate or believe rumors – this only results in confusion among the public and is counterproductive."
There has been speculation about the impact of COVID-19 on some plans for Ramadan, the Islamic holy month of fasting, which this year begins in the last week of April. Many Muslims have meals together at mosques to end the day's fast at sunset. There are also optional group prayers after the regular night prayer during Ramadan at mosques.
When asked about the plans for Ramadan, Dr Al Haddad said: "We hope the holy month of Ramadan will arrive - God willing – and that God frees the Ummah from this disease. Plans for Ramadan programmes have a specific department and team, as they follow what needs to be done. Decisions related to Ramadan will be announced at the appropriate time."
https://gulfnews.com/uae/coronavirus-uae-move-on-mosque-prayers-based-in-sharia-says-grand-mufti-1.70539590
-----
Thousands of Iraqi Shias defy coronavirus curfews to commemorate imam
21 March 2020
Tens of thousands of Iraqi Shias turned out to commemorate a revered imam on Saturday, defying curfews imposed to stem the spread of the coronavirus.
On foot, they streamed to the golden-domed mausoleum of Imam al-Kadhim in Baghdad, where authorities kept an outer gate open to allow pilgrims into the surrounding courtyard.
The inner shrine remained closed despite some pilgrims pressing authorities to let them in, a shrine official told AFP.
The anniversary typically draws millions of devout followers from around the world who visit and kiss the shrine housing the remains of Musa al-Kadhim, who died in 799 in the custody of Abbasid caliph Harun al-Rashid.
https://english.alarabiya.net/en/News/middle-east/2020/03/21/Thousands-of-Iraqi-Shias-defy-coronavirus-curfews-to-commemorate-imam.html
------
Lebanese PM Orders Security Forces to Enforce Curfew, Egypt Shuts Mosques over Virus
21 March, 2020
Lebanese Prime Minister Hassan Diab asked the security forces on Saturday to enforce stricter measures to keep people at home and prevent gatherings to rein in the coronavirus outbreak.
He called on the Lebanese to go out only if absolutely necessary and warned that the rising number of infections "foreshadows an imminent danger threatening society."
The health ministry recorded on Saturday a 29 percent rise in cases from the day before, bringing the total to 230, Diab said. Four people have died in the past month.
Lebanon's government declared a medical state of emergency earlier this week and ordered most of the country closed, including the airport.
Experts warn the country's healthcare system is ill-prepared, as a financial crisis and dollar shortages have for months drained it of critical supplies.
"The interior ministry and army command ... will announce binding plans that will protect the health of the Lebanese," Diab said on Saturday. "It is a very difficult and tough period. Let us reduce our losses."
For almost a week, most Lebanese have been ordered to remain at home to stem the spread of COVID-19. The airport has closed and all non-essential businesses have been told to shutter.
Egypt on Saturday ordered mosques and churches to shut their doors to worshippers in an effort to curb the spread of the coronavirus, after calls for the government to follow steps taken by neighboring countries.
The Ministry of Islamic Endowments said it would shut all mosques for two weeks "for the necessity of preserving souls", but will allow them to broadcast prayer calls through loudspeakers.
Al-Azhar, Egypt's top Muslim authority, said it would shut its historic mosque in old Cairo starting from Saturday "for the safety of worshippers, and until the end of the coronavirus epidemic".
On March 15, Al-Azhar's Council of Senior Scholars said that governments had the right to shut mosques "to protect people from the coronavirus".
Egypt's Coptic Orthodox Church on Saturday ordered all its churches to shut their doors and suspend masses for two weeks over coronavirus fears, it said in a statement.
The Coptic Catholic Church followed the same approach and ordered its followers on Saturday to pray at home until further notice. Its churches will open their doors for funeral prayers only, which will be restricted to family members.
Strengthening measures Egypt, which has seen its tourism sector badly affected by the epidemic, will close all museums and archaeological sites starting March 23 until the end of the month for sanitization, the tourism ministry said in a statement on Saturday.
Cairo said on Thursday it would shut all cafes, shopping malls, sports clubs and nightclubs from 7 pm until 6 am local time every night until March 31. It exempted supermarkets, pharmacies, bakeries and neighborhood corner stores.
Egypt also shut schools and universities and moved to cut the number of public sector employees reporting to work in an effort to discourage crowding and slow the spread of the disease.
Flights were grounded on Thursday until the end of March, with the exception of outward-bound flights needed by foreign tourists. The government said that during the flight ban and school shutdown, hotels and all educational facilities would be sanitized.
Algeria has stopped international and domestic travel, closed mosques, cafes and restaurants and told half of state employees to stay at home to try to limit the spread of the virus.
An estimated 900 million people are now confined to their homes in 35 countries around the world -- two thirds by government lockdown orders, according to an AFP tally.
https://aawsat.com/english/home/article/2192336/lebanese-pm-orders-security-forces-enforce-curfew-egypt-shuts-mosques-over
-----
Custodian of the Two Holy Mosques Congratulates President of Pakistan on National Day
2020/03/22
Riyadh, March 22, 2020, SPA -- The Custodian of the Two Holy Mosques King Salman bin Abdulaziz Al Saud has sent a cable of congratulations to President Dr. Arif Alawi of the Islamic Republic of Pakistan on the anniversary of his country's National Day.
In his name and on behalf of the Government and people of the Kingdom of Saudi Arabia, the King wished the President constant good health and happiness and his Government and people steady progress and prosperity.
https://www.spa.gov.sa/viewfullstory.php?lang=en&newsid=2050119
----
Iraqi F-16s have conducted several strikes on the Islamic State's positions
Mar 21, 2020
KABUL, (BM) – The Iraqi Armed Forces supported by Iraq Air Force carried out a new operation in northern Iraq targeted the Islamic State's (ISIS/ISIL/IS/Daesh) hideouts in the Hamrin Mountains, learned BulgarianMilitary.com citing Lebanese news agency Al-Masdar News (AMN).
According to the official media wing of the Iraqi security forces, their troops managed to kill dozens of Islamic State terrorists, while also destroying a number of tunnels and hideouts.
The Iraqi security forces said the operation was carried out in cooperation with the Iraqi Air Force, who conducted several strikes on the Islamic State's positions in the Hamrin Mountains.
In their statement, the Iraqi security forces confirmed the successful operations in the Kanoukh area and Talat Al-Hamrin, pointing out that as many as 25 terrorists were killed, while also destroying nine tunnels and a training camp.
Despite the Islamic State's defeat on the battlefield, the terrorist group has maintained several sleeper cells across the country.
ISIS has relied on these sleeper cells to carry out sporadic terrorist attacks against both the civilian population and military.
https://bulgarianmilitary.com/2020/03/21/iraqi-f-16s-have-conducted-several-strikes-on-the-islamic-states-positions/
----
Europe
French Muslims donate to Sabzevar medical centers to buy anti-COVID 19 equipment
March-21, 2020
Director of Hakim Sabzevari University for international scientific cooperation Gholam Ali Farzi said the humanitarian donation has been provided by a number of French Muslims and students aiming to control and confront coronavirus pandemic.
Head of Iran's Health Ministry Public Relations Office Kianoush Jahanpour said on Saturday that 7,635 people out of a total of 20,610 infected by the coronavirus have survived the deadly disease while 1,556 have unfortunately succumbed to death.
https://en.irna.ir/news/83723163/French-Muslims-donate-to-Sabzevar-medical-centers-to-buy-anti-COVID
----
Muslims of Greece Assume their Responsibilities during Coronavirus Crisis
By Philip Chrysopoulos
Mar 21, 2020
After some Greek Muslims were arrested on Friday for gathering at a place of worship, defying the government measure that bans gatherings of more than 10 people, President of Ahmadiyya Muslim Community of Greece, Imam Atta-Ul Naseer, reprimanded the Imams who invited the faithful to pray in places of worship.
Naseer stressed the importance of adhering to the measures the Greek government has taken to prevent the spread of Covid-19. He advised the Muslims in Greece to pray at home and avoid gatherings.
"Due to the tragic results of Coronavirus around the globe, the Greek Government took some important initiatives by closing all the places of worship to avoid large gatherings which could play a role in spreading the virus along with many other precautionary measures.
"Today, at Friday prayers, some Muslims in Athens were arrested for violating these measures taken by the Government. It is possible that many are being misled by some Imams. This makes it more important for me to advise the Muslims who have been confused by some people. Firstly, let me assure the Muslims of Greece that Islam allows prayers to be offered at home in congregation in such circumstances. During the lifetime of Prophet Muhammad on an occasion when the weather conditions became difficult people were instructed to pray at their homes. This incident has been narrated by Sahih Bukhari, one of the most authentic collection of traditions of the Prophet.
"As Muslims living in Greece, it is our responsibility to abide by the laws of the land. We should support the authorities in every possible way to help contain this virus. All congregational prayers should be offered at home. Remember all the people in your prayers who are suffering. All the medical instructions should be followed. We should make sure to extend a helping hand to anyone in need of help while keeping in mind all the precautions. If there are any elderly or vulnerable people living in our neighborhood please let them know that they can count on you for help. Only leave home when it is absolutely necessary. Islam teaches to support the community and show kindness to everyone and in this difficult time we need to practice these teachings more than ever."
https://greece.greekreporter.com/2020/03/21/muslims-of-greece-assume-their-responsibilities-during-coronavirus-crisis/
-----
Redditch Central Mosque says its final Jumu'ah prayer before closure
12 hours ago
THE Muslim congregation of Redditch Central Mosque prayed its final Jumu'ah prayer yesterday, writes Shazad Hussain.
After its completion, staff confirmed all prayers at the mosque, including the five daily prayers led by the Imam, had been cancelled until further notice – before shutting its doors to the public amid coronavirus fears.
And worshippers were grateful for that as they left with information, prayer timetables, advice about hoarding and contact details to ease their minds while restrictions are in force.
Chairman of Redditch Central Mosque Rafaqat Hussain, aged 48, said: "A majority decision was made by management to allow Friday prayers to carry on because we are the largest Mosque in the Worcestershire area therefore a lot of people rely on us.
"People didn't really know what was going on or what services are available to them or who to contact regarding religious matters and so that's why we decided to proceed with the Jumu'ah prayer.
"It was essential to use the day to notify the public and hopefully they can pass on the valuable information to their families and friends because this is a religious issue as well as a safety issue."
Mr Hussain revealed they were authorised by the Mosque'sBoard of Trustees to take necessary measures for the safety of the public, the Masjid and its facilities.
"We're dealing with this pandemic by following the measures taught by the Prophet Peace Be Upon Him like self-isolation and using the extra time we have to practice our religion more and get closer to God.
"In emergencies where people's lives are affected, it's importantwe take the responsibility of leading and giving guidance to the ummah. Although our actions may be drastic, if it saves a life it's worth it."
The Mosque's plan to minimise the risk of Covid-19 was in full play during Friday prayers as staff members wore masks and gloves while tissues and hand sanitisers were also provided.
Many of the daily activities the Mosque provides for the community such as Imam services as well as to its students at the Madrasah have also been cancelled.
The Mosque has asked parents of students to ensure their children continue revising at home to maintain their knowledge.
Funeral services have stopped too, and the Mosque has recommended in cases of bereavement people should stay away from visiting each other as this increases the chances of catching the virus.
Instead, it is permissible to make supplication for the deceased from your own home and condolences can be sent over the phone.
The Chairman of the Mosque added there is a very strong likelihood the Government's instruction to refrain from large social gatherings will still be in effect come Ramadan.
The sacred Islamic month which attracts thousands of worshippers every night was due to begin next month, but with the Muslim Council of Britain calling for the suspension of all congregational activities at UK Mosques it means that the Tarawih prayers could be cancelled too.
"But we don't want to scare people so what we've done is explained that the Masjid will remain closed and the public is advised to carry on performing their daily as well as the Tarawih prayers at home.
As Ramadan draws nearer, the Mosque has made the move to issue electronic prayer timetables for worshippers to follow and pray at the correct time. But the prayer calendar for Ramadan will only be available after the moon has been sighted.
In the meantime, the Mosque has said it will continue to provide help and support to those who require it and won't let Covid-19 prevent them from doing so.
"Anybody that needs any sort of help, they can contact the management team and we'll endeavour to help them with food, medicine and transport without cost.
"Our services aren't only extended to Muslims. We're prepared to help any community regardless of race or religion, any member of the public in Redditch and provide assistance free of charge.
The Mosque is already working hard by planning to have the whole Mosque sanitised, the carpets cleaned and hand sanitisers and tissues put in place in every area of the Mosque for when it reopens.
However, a member of the reception team will be available to contact on 07312 000 070 or redditchmasjid@outlook.comregarding general enquiries, emergencies or bereavement cases.
The Mosque will also create a Facebook page as well as set up a Twitter account for the public to send messages and to update the local community on what services the Mosque is providing.
https://redditchstandard.co.uk/news/redditch-central-mosque-says-its-final-jumuah-prayer-before-closure/
-----
Coronavirus: Portsmouth Jami Mosque closed because of Covid-19 outbreak
Byron Melton
21st March 2020
Worshippers were said to be saddened after Portsmouth Jami Mosque secretary, Nazim Ahmed, confirmed the news on Friday afternoon.
The centre is at the junction of Victoria Road North and Bradford Road, in Southsea and can accommodate more than 1,000 people.
Nazim said: 'First of all on behalf of Portsmouth Jami Mosque I would like to say our thoughts are with the families of the deceased and the seriously unwell from this epidemic around the world.
'We at the mosque had already been advising the worshippers about how to keep clean, safe and all necessary information that the government were giving out.
'We recently stopped all children's classes and advised the elderly and the unwell to stay away from the regular prayers as well as restricting most other activities including shortening the Friday prayer today.
'As of today we are announcing the temporary closure of Portsmouth Jami Mosque to the general public for everyone's safety until further notice.
'We wish everyone to stay safe and listen to and abide by the advice given by the government as it's very important we work together to get through this very tough and testing time.'
https://www.portsmouth.co.uk/health/coronavirus/coronavirus-portsmouth-jami-mosque-closed-because-covid-19-outbreak-2504634
-----
Coronavirus: Muslims repeat calls for mosque closures
21 March 2020
Many mosques have suspended gatherings following guidance from the Muslim Council of Britain. However some congregations are continuing to meet.
The footage drew widespread condemnation and was shared by university researcher Yahya Birt, who described the scenes as "shameful incompetence".
In a statement on Saturday, the Leicestershire-based Federation of Muslim Organisations said it "strongly recommends that Muslim institutions [...] suspend all congregational activities with immediate effect".
"With the increasing rate of transmission and the rising number of deaths, we all have a public and an Islamic duty to protect one another from harm, and it is evident the most effective way to do this is to avoid social contact as much as possible."
A group of Muslim doctors, based in northwest England, also called on mosque officials to "adhere to the guidance", advising that people pray at home instead.
In a statement, the doctors urged community leaders to "take drastic action to avoid the scenario where there are thousands of deaths due to the inaction of the masaajid" (mosques) .
Churches and cathedrals in England are planning to stream services after being instructed to close for three months because of coronavirus.
The Church of England has restricted wedding ceremonies to five people, while baptisms are also limited to the candidate, their parents, guardians or carers, the godparents and the minister.
https://www.bbc.com/news/uk-england-51988694
-----
British mosques suspend congregations due to COVID-19
Karim El-Bar
21.03.2020
Over 375 mosques across the U.K. have suspended congregations, including traditional Friday prayers, due to the coronavirus pandemic, the Muslim Council of Britain said Friday.
The news came as government documents revealed that social distancing might need to be implemented in Britain until autumn.
The Muslim Council of Britain said besides mosques, community centers and prayer facilities, suspended congregational activities, including prayers, events, and weddings.
The suspension encompassed some of Britain's biggest mosques, including the East London Mosque that has a capacity of 7,000 people and the London Central Mosque with a capacity of 5,000 people.
The council originally made the call to suspend congregational activities on Monday, after taking expert advice from the British Islamic Medical Association and the British Board of Scholars and Islam.
Harun Khan, secretary general of the Muslim Council of Britain, said: "Safeguarding all of our communities is paramount, and it's reassuring so many mosques and prayer facilities have heeded this advice in trying their best to minimise the spread of the coronavirus.
"Crowds at mosques draw the elderly, vulnerable and those who are in high risk. With the increasing rate of transmission and the number of deaths, for the safety of our families, our communities and society, we cannot afford to take any risks.
"We all have an Islamic and public duty to protect one another from harm, and I hope the remaining mosques, Islamic centers and prayer facilities across the U.K. take this extraordinary step in these unprecedented times and suspend all congregational activities."
With regards to the U.K. as a whole, government documents published on Friday said that social distancing may have to be implemented until autumn in order to control the outbreak.
The documents said the U.K. would have to alternate between "periods of more and less strict social distancing measures" and that "these would need to be in place for at least most of a year."
The death toll from coronavirus across the U.K. hit 177 on Friday, an increase of 40 over 24 hours -- the largest day-on-day increase since the start of the outbreak.
Out of almost 279,000 confirmed cases, the death toll now nears 12,000, and over 89,000 have recovered, according to the U.S.-based Johns Hopkins University.
https://www.aa.com.tr/en/europe/british-mosques-suspend-congregations-due-to-covid-19/1774220
------
North America
Ramadan Feast bonuses will be paid early to retirees
March 21, 2020
Family Labor and Social Services Minister Zehra Zümrüt Selçuk said that pensioners will receive a thousand lira bonus to be paid in May for the Feast of Ramadan in April.
Family Labor and Social Services Minister Zehra Zümrüt SelçukHe reminded that the Package for Combating the Effects of the New Coronavirus was announced last week by President Recep Tayyip Erdoğan.
Stating that the package includes measures for retirees as well as all sides of the working life, Selçuk emphasized that the lowest pension in this context was raised to 1500 liras.
Noting that the pensioners are planning to pay their monthly pensions as of April, Minister Selçuk said that state banks can make their payments at home if the pensioners over the age of 76 want, against the new risk of coronavirus.
Reminding that they started to give a thousand lira bonuses on religious holidays since 2018, Selçuk said, "We have made a good news decision regarding the coming Ramadan Feast.
Minister Selçuk, following this process, added that they will continue to take measures and supports that concern all segments as needed.
https://www.mbs.news/a/2020/03/ramadan-feast-bonuses-will-be-paid-early-to-retirees.html
-----
Coronavirus: More businesses in Italy to shut down as outbreak worsens – as it happened
10 HOURS AGO
US stocks notched up their biggest weekly drop since the financial crisis, with actions by central banks to support economies and financial markets hit by the coronavirus pandemic failing to push Wall Street higher on Friday.
A staffer in the office of US vice-president Mike Pence has tested positive for the coronavirus, according to a spokeswoman.
If there are actions that I can take that will save lives, no matter how difficult, then I have an obligation as governor to take those actions.
Illinois governor JB Pritzker issued a "shelter in place" order Friday, making it the third state after California and New York to tell residents to stay home.
Delta Air Lines forecast second quarter revenue would be $10bn less than a year earlier and revealed it was burning through $50m in cash a day. The Atlanta-based airline is suspending dividend payments and share buybacks as it tries to preserve cash in the wake of the swift decline in air traffic wrought by Covid-19.
At least 22 people who travelled with Brazilian president Jair Bolsonaro to meet his US counterpart, Donald Trump, in Florida earlier this month have tested positive for coronavirus. Both presidents say they tested negative, but on Friday Mr Bolsonaro said he may do another test.
Greece's central bank has slashed its economic growth forecast for 2020 from 2.4 per cent to zero, warning that output in the first two quarters could plunge as the coronavirus outbreak picked up pace.
Singapore reported 40 new cases of coronavirus by midnight Friday, according to the city-state's health ministry.
Officials confirmed 30 imported and 10 local cases of Covid-19 infection in Singapore. The imported cases had travel history to Europe, North America, Asean countries and other parts of Asia.
General Motors said on Friday it would help a suburban Seattle manufacturer produce medical ventilators faster to help US efforts to fight the coronavirus pandemic.
The car maker said it would consult on logistics, purchasing and manufacturing to help Ventec Life Systems scale up its operations.
Earlier on Friday, Donald Trump cited GM at a White House briefing when asked which US companies the administration had asked to make healthcare equipment like ventilators and face masks.
"With GM's help, Ventec will increase ventilator production," said Chris Kiple, Ventec's chief executive, on Friday. "By tapping their expertise, GM is enabling us to get more ventilators to more hospitals much faster. This partnership will save lives."
Mr Kiple told the Seattle Times earlier this week that the company has struggled to ramp up production because of its sprawling global supply chain.
GM, along with Ford, has had discussions this week with the federal government about using the automakers' manufacturing capacity to make breathing equipment for patients suffering from Covid-19.
The plan raised questions not only because making medical devices calls for different equipment and manufacturing parameters than making cars, but because the Detroit Three shut their US plants this week in an attempt to slow the spread of the pandemic.
We've been closely monitoring the COVID-19 situation to ensure we prevent the spread of the virus. In decision with the UAW, we will suspend production in our NA manufacturing operations. We will take a systematic approach, with safety as our top priority. https://t.co/IqD4PgaiPE
Honduras imposed a nationwide "absolute curfew" on its citizens from 6pm until March 29 in a bid to contain the spread of coronavirus in the Central American country.
The government said in a statement that the national supplier of basic products, Banasupro, would tour neighbourhoods to serve customers.
Supermarkets, pharmacies, tortilla shops, grocery stores and fast food delivery outlets would be authorised to make home deliveries, provided they showed identification to the police. Honduras has 24 confirmed cases.
The agricultural and agribusiness sector, as well as food delivery companies, are exempt from the measure. The government has closed all its borders – land, sea and air – but freight is still allowed.
https://www.ft.com/content/d184a0af-3fcd-3e94-8779-575379b8116d
----
South Asia
Al-Qaeda's India affiliate hints at shifting focus to Kashmir
Mar 22, 2020
Rezaul H Laskar
The al-Qaeda affiliate for the Indian subcontinent, which has struggled to gain a foothold in the region, has signalled its plans to focus on Kashmir and India in a special edition of its magazine following the deal struck by the US and the Afghan Taliban.
The latest edition of Nawai Afghan Jihad, the online publication of al-Qaeda in the Indian Subcontinent (AQIS), outlined plans to rename the magazine as "Nawai Ghazwa-e-Hind" – a move that experts said pointed to the terrorist group's decision to focus on India, especially Kashmir.
The latest issue of the magazine, released online this week, was described as a special edition focused on the US-Taliban deal of February 29, which was referred to as a "magnificent victory".
The 135-page magazine also carried an article titled "Kandahar to Doda: The season of hopes", purportedly written by a Kashmiri man named Mohammed Shakir Trali, that spoke of AQIS' efforts to strengthen its presence in Kashmir and made tacit references to last year's revocation of the special status of the erstwhile state.
Pointing to the group's efforts to propagate Islam in the subcontinent and wage jihad for "suppressed Muslims", the magazine said it would be renamed as Nawai Ghazwa-e-Hind from the next edition. It also spoke of the need to retain the Islamic Emirate in Afghanistan for the success of jihad in the subcontinent.
Pakistan-based terror groups such as Jaish-e-Mohammed often invoke the concept of Ghazwa-e-Hind, or holy war against India, that they claim is derived from the "hadith" or sayings of Prophet Mohammed. However, some Islamic scholars have disputed the interpretation.
The article "Kandahar to Doda" referred to alleged "recent atrocities" in Kashmir and the killing of terrorists such as Zakir Musa, the founder of an Indian chapter of al-Qaeda called Ansar Ghazwat-ul-Hind who was killed by security forces in Tral area of south Kashmir in May 2019.
The article claimed AQIS leaders and cadres had overcome difficulties to regroup and mobilise even as the Afghan Taliban had forced the US to "concede". It also claimed the internet shutdown, imposed last August, had not snapped the group's "external contacts" or "diminished public support". The formation of AQIS was announced by al-Qaeda chief Ayman al-Zawahiri in 2014. The group has close links with Afghan Taliban chief Haibatullah Akhundzada. It has claimed attacks in Kashmir, Pakistan and Bangladesh.
Analysts have questioned AQIS' capabilities. "Al-Qaeda first mentioned India as a target in 1996, when Osama bin Laden made a reference to Jammu and Kashmir and Assam," said Ajai Sahni of the Institute for Conflict Management. "Since then, it has not been able to achieve anything significant in both these states."
https://www.hindustantimes.com/india-news/al-qaeda-s-india-affiliate-hints-at-shifting-focus-to-kashmir/story-QgsOfxqfqe17uwYfs13pIJ.html
------
Afghan Special repulse Taliban attack in Zabul province
22 Mar 2020
The Afghan Special Forces repulsed a Taliban attack in southern Zabul province, killing at least 4 militants during the clash, the Afghan military said.
The Special Operations Corps in a statement said the Taliban militants were looking to launch an attack on security posts in Bariha area located in the provincial capital of Zabul.
The statement further added that the Special Forces responded to the attack and killed 4 militants during the clash and seized 2 vehicles and some weapons together with munitions.
The Special Forces also arrested six Taliban militants following the clash, the Special Operations Corps added.
This comes as the Taliban militants killed at least 24 Afghan security personnel during an insider attack in Zabul province on Friday.
https://www.khaama.com/afghan-special-repulse-taliban-attack-in-zabul-province-04542/
-----
Mini Truck packed with explosives goes off close to Bagram Airfield
22 Mar 2020
A Mini Truck packed explosives went off close to Bagram Airfield in northern Parwan province of Afghanistan late on Saturday night, the local officials said.
Mohammad Mahfuz, the Police Chief of Parwan said the Vehicle-borne Improvised Explosive Device went off at around 8 pm local time.
He also added that the security forces opened fire on the vehicle after its driver ignored the call to stop in the check post.
According to Mahfuz, the explosion did not inflict casualties on any one else.
The officials in the Ministry of Interior confirmed that the militants were looking to ram the explosives laden Dyna mini truck into Bagram Airfield.
The anti-government armed militants including Taliban have not commented regarding the incident so far.
https://www.khaama.com/mini-truck-packed-with-explosives-goes-off-close-to-bagram-airfield-04543/
-----
URL: https://www.newageislam.com/islamic-world-news/abbas-tabrizian-cleric-iran-gives/d/121374
New Age Islam, Islam Online, Islamic Website, African Muslim News, Arab World News, South Asia News, Indian Muslim News, World Muslim News, Women in Islam, Islamic Feminism, Arab Women, Women In Arab, Islamophobia in America, Muslim Women in West, Islam Women and Feminism