New Age Islam News Bureau
22 October 2021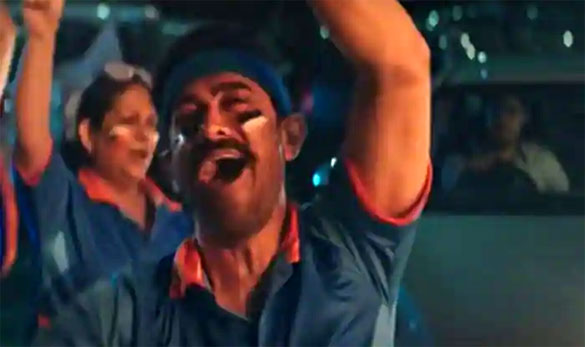 Screengrab of the Ceat ad featuring actor Aamir Khan
-----
• US Lawmakers Put India, China In Same List For Alleged Atrocities Against Muslims In New Bill
• Forty-Three Countries Call On China At The UN To "Ensure Full Respect" With Regard To The Muslim Uyghur Community In Xinjiang
• UN Human Rights Experts To Pakistan: Release Man Charged With Blasphemy And Believed To Be Mentally Ill
• Muslim World League And World Jewish Congress Urge UN Secretary General To Promote Religious Freedom
India
• Police Rushed To A Mosque After A Hoax Call Of Some Suspicious Persons Hiding And Speaking In An Unusual Language, In A Mosque Saraspur, Ahmedabad
• Grandson Of Ustad Ali Akbar Khan, Hit Back At Trolls Who Took A Dig At Him For Posting Photos Of Lakshmi Puja Celebrations At His Residence
• Hyderabad: Congress Leader Hanumanth Rao Participates In Milad Rally
• How Meerut's Deepak Tyagi Became Yati Narsinghanand
• We can never live in peace, unless talks are held with Pakistan: Farooq
--------
North America
• First time in 7 years: US minesweepers enter Red Sea amid increased Houthi aggression
• Biden climate envoy Kerry to visit Saudi Arabia next week
• Afghan detainee held illegally by US government: Federal judge
--------
Southeast Asia
• Malaysian Scholar: Muslims' Power Dependent Upon Faith, Unity
• Minister: Islamic tourism entrepreneurs urged to raise understanding of halal aspects
--------
Pakistan
• Familiarising Youth With Islamic History Through Multimedia Can Prove Helpful: Imran Khan In A Meeting With Turkish Producer
• Pakistan Desires Peace, Stability In Afghanistan: Qureshi Meets Interim Afghanistan PM
• Pakistan, Turkey to produce TV series on Salahuddin Ayubi
• Pakistan Army prepared to defend territorial integrity, sovereignty of Pakistan against all odds: COAS
• Three Afghans from IS killed near border: police
--------
Arab World
• Saudi Arabia calls for international efforts to stop Libya becoming terrorist haven
• Geagea: Military court should first question Hezbollah's Nasrallah on Beirut violence
• Syria says 24 executed over starting wildfires
• Lebanon Christian leader summoned over deadly violence
--------
Europe
• Pakistan To Remain On Financial Action Task Force (FATF) 'Grey List', Turkey New Addition
• British Muslim group releases 6-step guide to keeping mosques safe amid heightened concerns
• New Zealand's Chief Coroner Opens New Inquiry Into Mosque Attacks
• Man charged with UK lawmaker's murder, court hears he supported IS
• UN Security Council condemns Houthi attacks against Saudi Arabia
• Greek court 'shelves' prison term of Turkish religious leader
• Afghan refugees may be housed in hotels for up to a year, say UK councils
• Putin says Afghanistan's financial assets should be unfrozen
--------
South Asia
• Senior Bangladeshi Shia Cleric Calls For Practical Measures For Islamic Unity
• Bangladesh Arrests Hundreds For Violence Against Hindus
• Seven killed in Rohingya refugee camp attack: police
• UN sets up trust fund for 'people's economy' in Afghanistan
• NATO to convene meeting on Afghanistan in Brussels
--------
Mideast
• 'Turkey Leads Fight Against Islamophobia Via International Organizations'
• Grand Mufti Fatwa Banning Trade Of Flour For Bread Stirs Anger In Gaza
• Spokesman: Terrorist Attacks Not to Undermine Syria's Determination in War on Terrorism
• Islamic Jihad threatens to expand hunger strike in Israeli prisons
• Istanbul Finance Centre Will Be Islamic Finance Hub: Turkish President
• Erdogan threatens to expel 10 Western ambassadors
• Iranian Army Air Force Starts Massive Drills
• Iran, Turkey Reiterate Joint Fight against Terrorism
• Iran, Russia Confer on Situation in Syria's Idlib, Eastern Euphrates Region
--------
Africa
• Mali Has Not Asked Any Group To Negotiate With Islamist Militants
• Tunisia's president promises 'dialogue' on changing political system
• Mass protests in Sudan against prospect of military rule
• Libyan PM Dbeibah supports holding national election on Dec. 24
• African envoys make Libya 'conciliation' trip before December presidential vote
• Putin admits presence of Russian private military companies in Mali
• French army says leading member of al-Qaeda affiliate killed in Mali
Compiled by New Age Islam News Bureau
URL: https://www.newageislam.com/islamic-world-news/aamir-advertisement-bjp-firecrackers-/d/125624
--------
Aamir Khan's Advertisement Urging People Not To Burst Firecrackers On The Streets Creating Unrest Among Hindus: BJP MP
Oct 22, 2021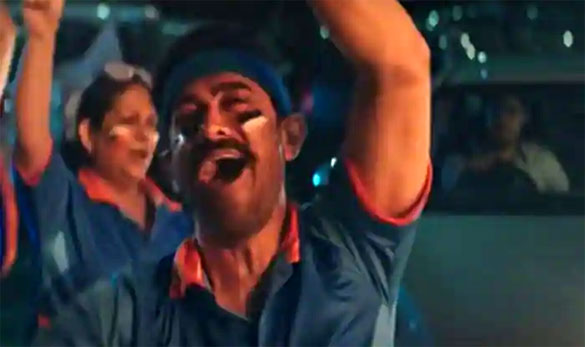 Screengrab of the Ceat ad featuring actor Aamir Khan
-----
KARWAR: Even as the ruckus over naming of a festive line of clothing refuses to die down, BJP MP from Uttara Kannada in Karnataka Anantkumar Hegde has objected to a Diwali advertisement featuring Aamir Khan, in which the actor urges people not to burst firecrackers on the streets.
The advertisement, stressing road safety and social awareness, was issued by CEAT tyre company as part of a series. The company did not comment on the matter.
Hegde, a former minister in the Union Cabinet, wrote to CEAT MD and CEO Anant Vardhan Goenka on October 14, saying the company's concern for public issues is to be applauded but along with raising awareness around bursting of firecrackers on roads, it needs to address "blocking (of) roads in the name of namaaz on Fridays and other important festive days by Muslims".
"It is a very common scene in many Indian cities where Muslims block busy roads and perform namaaz. At that time, ambulances and firefighter vehicles are also stuck in traffic, causing grave losses," Hegde said.
The letter, posted on Facebook, drew angry responses for and against the MP's comments across social media. The MP said the advertisement is creating "unrest among the Hindus", and hoped that the company will respect "Hindu sentiment" in the future.
He also urged Goenka to highlight the issue of noise pollution in the company's advertisements. "Every day, loud noise is emitted from mikes arranged on top of mosques in our country during azan. That sound is beyond permissible limits. On Fridays, it is prolonged for some more time. It is causing great inconvenience to people suffering from different ailments...people working in different establishments and teachers teaching in classrooms," he wrote.
In an indirect reference to Aamir Khan, the letter said, "Nowadays, a group of anti-Hindu actors always hurt Hindu sentiments whereas they never try to expose the wrongdoings of their community."
Source: Times of India
Please click the following URL to read the text of the original story:
https://timesofindia.indiatimes.com/india/aamir-khans-advertisement-on-firecrackers-creating-unrest-among-hindus-bjp-mp/articleshow/87195033.cms
--------
US Lawmakers Put India, China In Same List For Alleged Atrocities Against Muslims In New Bill
22 Oct 2021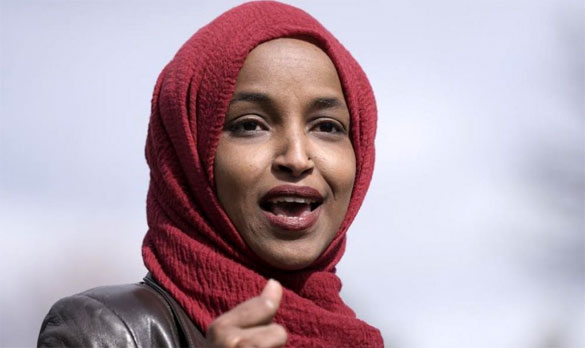 US Lawmaker Ilhan Omar | AP
----
A group of over 30 American lawmakers led by Congresswoman Ilhan Omar has introduced a bill in the House of Representatives against growing incidents of Islamophobia worldwide.
The bill urges the State Department to include state-sponsored Islamophobic violence and impunity in its annual human rights reports.
The creation of the Special Envoy will help policymakers better understand the interconnected, global problem of anti-Muslim bigotry, the group of over 30 lawmakers said.
It will also establish a comprehensive strategy for establishing US leadership in combating Islamophobia worldwide.
Proponents of the bill, which requires the State Department to create a Special Envoy for monitoring and combating Islamophobia, have put India in the category of China and Myanmar for alleged atrocities against Muslims.
The Ministry of External Affairs in the past has asserted that "India is proud of its secular credentials, its status as the largest democracy and pluralistic society with a longstanding commitment to tolerance and inclusion."
The Indian Constitution guarantees fundamental rights to all its citizens, including its minority communities, it has said.
It is widely acknowledged that India is a vibrant democracy where the Constitution protects religious freedom, and where democratic governance and the rule of law further promote and protect fundamental rights, the MEA has maintained.
Congresswoman Omar said: "We are seeing a rise in Islamophobia in nearly every corner of the globe".
A press statement issued by her office said that there has been a staggering rise in incidents of violent Islamophobia.
"Whether it is the atrocities being committed against the Uyghurs in China and the Rohingya in Burma (Myanmar), the crackdowns on Muslim populations in India and Sri Lanka, the scapegoating of Muslim refugees and other Muslims in Hungary and Poland, the acts of white supremacist violence targeting Muslims in New Zealand and Canada, or the targeting of minority Muslim communities in Muslim-majority countries like Pakistan, Bahrain and Iran, the problem of Islamophobia is global in scope," it said.
The Combating International Islamophobia Act is endorsed by several organisations, including the American Muslim Empowerment Network (AMEN), the Council on American-Islamic Relations (CAIR) and the South Asian Americans Leading Together (SAALT).
"For over a decade, we have seen increasing incidents of violent Islamophobia both in the US and worldwide – from the genocide of the Rohingya in Burma (Myanmar) and Uyghurs in China to the attacks on Muslim refugees in Canada and New Zealand," said Congresswoman Jan Schakowsky.
Nihad Awad from CAIR said that while global Islamophobia, anti-Muslim state policies and hate incidents have increased for the past two decades, the American Muslim community has consistently called for the creation of a special envoy position to monitor and combat this rising tide of hate.
"Our nation needs better tools to combat Islamophobic state policies and violence in countries like China, India, Myanmar, Sri Lanka, the European Union and elsewhere," he said.
"Global Islamophobia is not only a threat to the safety and security of Muslims here and abroad, it is also a threat to international religious freedom and democratic principles.
"CAIR is calling on congressional leadership and the Biden-Harris administration to support the Combating International Islamophobia Act and make this special envoy position a reality," Awad added.
Source: Outlook India
Please click the following URL to read the text of the original story:
https://www.outlookindia.com/website/story/world-news-us-lawmakers-put-india-china-for-alleged-atrocities-against-muslims-in-new-bill/398377
--------
Forty-Three Countries Call On China At The UN To "Ensure Full Respect" With Regard To The Muslim Uyghur Community In Xinjiang
October 22, 2021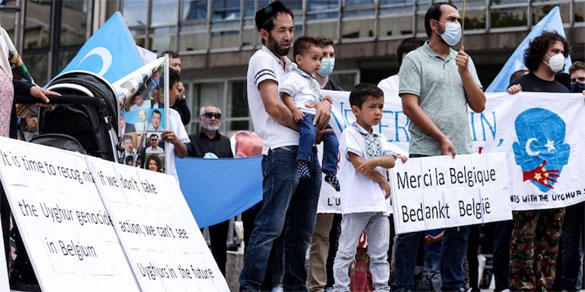 Demonstrators from the Uyghur Community take part in a protest near the Belgium parliament in Brussels. (AFP)
-----
Forty-three countries on Thursday called on China at the UN to "ensure full respect for the rule of law" with regard to the Muslim Uyghur community in Xinjiang, where respect for human rights remains "particularly" worrying.
"We call on China to allow immediate, meaningful and unfettered access to Xinjiang for independent observers, including the UN High Commissioner for Human Rights and her office," the countries said in a joint statement, read at the United Nations by France.
"We are particularly concerned about the situation in the Xinjiang Uyghur Autonomous Region," the statement said, citing "credible" reports that "indicate the existence of a large network of 'political reeducation' camps where over a million people have been arbitrarily detained."
The declaration, signed by the United States, European countries, Asian states and other spoke of torture, cruel, inhuman and degrading treatment, forced sterilization, sexual and gender-based violence and forced separation of children, which it said "disproportionately continues to target Uyghurs and members of other minorities."
China's ambassador to the United Nations, Zhang Jun denounced what he termed the "lies" and "a plot to hurt China." He quickly stepped in to reject "unfounded accusations."
"Xinjiang enjoys development and the people are emancipating themselves every day and are proud of the progress made," he said, supported by Cuba, which criticized any interference in China's internal affairs.
In 2019 and 2020, a similar declaration was made public in the same way by Britain and Germany. After garnering 23 backers two years ago, the declaration gained the support of 39 countries last year. They were joined this year by Turkey, Eswatini, Portugal and the Czech Republic, according to diplomats.
On the other hand, Haiti dropped its backing for the declaration after its relations with China were complicated by Port-au-Prince recognizing Taiwan.
Switzerland also dropped its signature from the statement because, diplomatic sources said, it recently hosted a high-level meeting between the United States and China and decided to prioritize its role as facilitator between these two powers rather than signing the annual declaration calling for respect human rights in Xinjiang.
According to diplomats, China is increasing pressure every year to dissuade UN members from signing the declarations, threatening not to renew a peace mission in a given country or preventing others from building a new embassy in China.
Source: India Today
Please click the following URL to read the text of the original story:
https://www.indiatoday.in/world/story/43-countries-call-on-china-to-respect-uyghur-muslims-1867747-2021-10-22
--------
UN Human Rights Experts To Pakistan: Release Man Charged With Blasphemy And Believed To Be Mentally Ill
Oct 21, 2021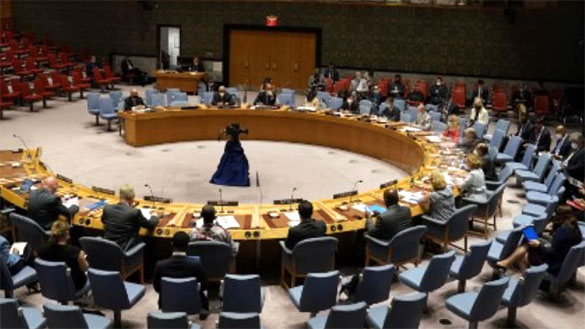 (Photo courtesy: India News Republic
-----
ISLAMABAD: United Nations human rights experts urged Pakistan on Thursday to release a Christian man who was detained two years ago for insulting Islam's Prophet Muhammad and is believed to be mentally ill.
Stephen Masih, who was arrested in March 2019, has yet to face trial, the experts said. He is a Pakistani jailed in Sialkot, a city in the eastern Punjab province where he lived. Masih's family has denied the blasphemy charge and said he was mentally ill.
The UN experts also said they were concerned about the lack of medical care he has received. They said medical reviews to assess Masih's mental health and fitness to stand trial have been "repeatedly delayed," and that Masih was being kept with Muslim prisoners in a jail cell, putting him in danger.
In Thursday's statement, the U.N. experts said they were "seriously concerned by the persecution and ongoing detention of Masih on blasphemy grounds, and by his treatment at the hands of the judicial and prison authorities who are aware of his psychosocial disability and health condition."
Pakistan has been under pressure over the country's blasphemy laws. Rights groups say that blasphemy allegations have often been used to intimidate religious minorities and settle personal scores.
Thursday's demand comes as thousands of Islamists are rallying in the eastern city of Lahore in another case, demanding the release of Saad Rizvi, the leader of a radical Islamist political party who was arrested in April amid protest against France over depictions of Islam's Prophet Muhammad. Police in Lahore were preparing for a crackdown Thursday night to disperse Rizvi's supporters, who had warned that they will march toward Islamabad on Friday if Rizvi is not freed under a recent court order.
Authorities say they already challenged the court order about Rizvi's release and Rizvi's supporters should wait for a final court order. Rizvi's party in recent years has held violent rallies in support of blasphemy laws.
In Masih's case, the U.N. experts urged Pakistan to drop charges against him and ensure protection for the man and his family. They said Masih was arrested following an argument with one of his neighbors in Sialkot where he was attacked by a group of Muslims who accused him of committing blasphemy.
Masih's family home was also set on fire.
A court rejected Masih's request for the bail in August. Another court will hear Masih's bail application on Friday.
The U.N. experts urged Pakistan to "comply with its international human rights obligations," to repeal its anti-blasphemy laws and to "take measures to combat the advocacy of religious hatred that constitutes incitement to discrimination and violence."
A Punjab governor in Islamabad was shot and killed by his own guard in 2011, after he defended a Christian woman, Aasia Bibi, who was accused of blasphemy. She was acquitted after spending eight years on death row and left Pakistan for Canada to join her family after receiving threats.
Source: Times of India
Please click the following URL to read the text of the original story:
https://timesofindia.indiatimes.com/world/pakistan/un-experts-to-pakistan-release-man-charged-with-blasphemy/articleshow/87189371.cms
--------
Muslim World League and World Jewish Congress urge UN secretary general to promote religious freedom
October 21, 2021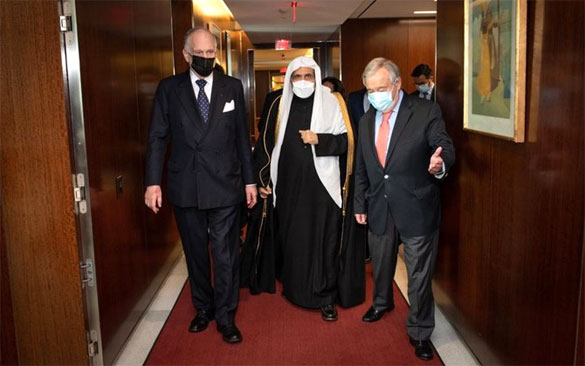 The secretary general of the MWL and the president of the WJC meet the secretary general of the UN. (Supplied)
------
LONDON: The secretary general of the Muslim World League and the president of the World Jewish Congress have urged the secretary general of the UN to advocate for religious freedom and an end to violence against houses of worship.
During a meeting with Antonio Guterres at the UN on Tuesday, the two faith leaders urged the secretary general to promote interfaith dialogue and coexistence as a way to forge consensus on many of the world's greatest challenges.
They emphasized that religions have a unique power to unite individuals given that their common source is mercy and peace.
"The world is under threat from pernicious individuals and groups that seek to use hatred, violence and discrimination to target Muslims, Jews and many other global communities," Dr. Mohammed bin Abdulkarim Al-Issa said.
"Fortunately, however, we are seeing interfaith partnerships blossom more than ever before as we unite to fight the scourge of racism and extremism, and build bridges of tolerance, understanding, peace and harmony," he said.
Meanwhile, the president of WJC Ronald S. Lauder said the world must stand together against racism.
"Campaigns against racism, antisemitism, Islamophobia and other manifestations of hate will be infinitely more effective if they are united, both by the Abrahamic faiths and other religions worldwide," Lauder said.
"We believe in working toward a better world, for generations to come," he added.
The two faith leaders renewed their commitment to working together to promote religious tolerance around the globe and leveraging their influence as leaders of independent, global organizations that are apolitical but wield significant moral standing.
The MWL and WJC issued a joint statement before the UN Human Rights Council in Geneva on Oct. 4 pledging an interfaith commitment to promoting and protecting human rights for all.
It marked the first time a coordinated statement
was presented by Jewish and Muslim representative groups before a UN body.
Both organizations reiterated the need to safeguard religious freedom globally and the right of individuals to practice their religion as a basic human right.
Source: Arab News
Please click the following URL to read the text of the original story:
https://www.arabnews.com/node/1952726/saudi-arabia
--------
India
Police Rushed To A Mosque After A Hoax Call Of Some Suspicious Persons Hiding And Speaking In An Unusual Language, In A Mosque Saraspur, Ahmedabad
Oct 22, 2021
AHMEDABAD: Teams of three police stations — Kalupur, Shaherkotda and Madhupura — rushed to a mosque in the Saraspur area after a hoax call was made that some suspicious persons were hiding in a mosque and were speaking in an unusual language.
The call was made on Thursday morning after which police teams reached there and checked the mosque but did not find any suspicious person or thing inside.
Source: Times of India
Please click the following URL to read the full text of the original story:
https://timesofindia.indiatimes.com/city/ahmedabad/hoax-call-about-suspicious-persons-in-mosque/articleshow/87193079.cms
--------
Grandson Of Ustad Ali Akbar Khan, Hit Back At Trolls Who Took A Dig At Him For Posting Photos Of Lakshmi Puja Celebrations At His Residence
Priyanka Dasgupta
Oct 22, 2021
KOLKATA: Sarod player Shiraz Ali Khan, grandson of legendary musician Ustad Ali Akbar Khan, hit back at trolls who took a dig at him for posting photos of Lakshmi Puja celebrations at his residence. Shiraz had married Atrayee Sengupta in January 2020. This is the first year that Atrayee celebrated Lakshmi Puja at their Ranikuthi residence.
Atrayee told TOI that she had grown up watching her mother offer prayers to goddess Lakshmi. "I am happy that Shiraz supported me when I expressed a desire to perform this puja. My mother would perform the puja herself and read the 'panchali'. I did the same on Wednesday. We want our child to grow up in an environment where he respects all religions," she said.
Though many appreciated the puja photo Shiraz clicked and shared as his Facebook story, trolls jumped into the fray. "I was upset and disappointed to find a family friend from Bangladesh ridiculing my gesture. I do not support such behaviour. That's why I wrote a post stating that whoever believes that this is the way to stand up for any community should unfriend me. They should not connect with me or my family in future," Shiraz told TOI.
Source: Times of India
Please click the following URL to read the full text of the original story:
https://timesofindia.indiatimes.com/india/trolled-for-lakshmi-puja-pics-ali-akbars-grandson-hits-back/articleshow/87195121.cms
--------
Hyderabad: Congress leader Hanumanth Rao participates in Milad rally
21st October 2021
Hyderabad: An Hindu-Muslim solidarity was witnessed in Hyderabad when the senior state Congress leader Hanumanth Rao participated in the procession rally taken out to mark the occasion of Milad-un-Nabi on Tuesday in the old city.
While returning from the Rajiv Gandhi Sadbhavana memorial event which was held in the vicinity of the historical Charminar, Rao joined the Milad rally near the Gulzar house. He took part in the rally by touring some of the localities while sitting on a motorbike.
The public in the rally appreciated Hanumanth Rao's gesture of participating in the rally and the youth welcomed him.
Source: Siasat Daily
Please click the following URL to read the full text of the original story:
https://www.siasat.com/hyderabad-congress-leader-hanumanth-rao-participates-in-milad-rally-2212436/
--------
How Meerut's Deepak Tyagi became Yati Narsinghanand
Avishek Kumar Dubey
Oct 22, 2021
GHAZIABAD: Yati Narsinghanand Saraswati, a priest who has been openly communal in his public statements targeting Muslims, will now hold a prestigious position in the Juna akhara, which has inducted him as a 'mahamandaleshwar'.
The elevation comes barely a week after he likened a 10-year-old boy from the minority community who had wandered into the compound of the Dasna Devi temple in Ghaziabad to "a trained killer" and alleged he had been sent for "a recce" of the premises. Police had later clarified that the boy was headed for the adjoining health centre but had lost his way.
Another boy from the minority community, who had entered the temple compound this March to drink water, was thrashed by an aide of Yati. The Dasna Devi temple, of which Yati is head priest, has a banner at the gate prohibiting entry of Muslims.
The Meerut-born priest, now in his mid-50s, has been at the Dasna Devi temple since 2007. The 10 years preceding this were transformative, according to those who have known him a long time, drawing him to the views that he today espouses and vows to defend. Deepak Tyagi before he took 'sanyas', he renamed himself Deependra Narayan Singh during this period before settling on Yati Narsinghanand Saraswati. "In 1998, he met BJP's BL Sharma. It changed him as a person," said Anil Yadav, a friend of Yati.
Yati, who studied at Chaudhary Tara Chand inter college in Hapur, claims to have left India in 1989 to pursue a chemical technology course in Moscow. He says he graduated in 1994 and worked as an engineer before returning to India in 1997 when his mother fell ill. Yati says his younger brother is still in Moscow. "When my mother's health was failing, both of us wanted to return to India. But later, we decided that I will come back and take care of our parents and my younger brother will stay there and take care of the family financially," Yati told TOI on Thursday.
His father, he says, worked in the central government and his grandfather was associated with Congress. After his return to India, he was briefly associated with the Samajwadi Party, according to his friend Yadav. "For some time, Yati taught maths to students of class 10 & 12. But later, he developed interest in politics and joined Samajwadi party," said Yadav. During those years, he worked out of an 'office' near Shambu Dayal PG College in Ghaziabad. Local Samajwadi functionaries said they did not know if Yati had been a member.
Source: Times of India
Please click the following URL to read the full text of the original story:
https://timesofindia.indiatimes.com/city/delhi/how-meeruts-deepak-tyagi-became-yati-narsinghanand/articleshow/87193642.cms
--------
We can never live in peace, unless talks are held with Pakistan: Farooq
Oct 22, 2021
JAMMU: National Conference leader Farooq Abdullah on Thursday batted strongly for talks with Pakistan and said "unless you do not talk to Pakistan, we can never live in peace in J&K".
He said that if there would have been friendship between India and Pakistan, people would have come here (in Jammu and Kashmir) to eat and drink tea from Sialkot (Pakistan).
"We would have gone there (Sialkot). In the past, this was happening. People used to come in trains before Independence", Abdullah said
"I confidently say, even today, unless you (India) don't talk to Pakistan and shake hands of friendship with each other, we can never live in peace, never, take it from me in writing", he said while addressing a party meeting here.
He said that wars have taken place between Indian and Pakistan.
"Only the poor got killed in these four wars. In future war, this will happen again. Both have nuclear bombs. It will be more disastrous," Abdullah added.
Source: Times of India
Please click the following URL to read the full text of the original story:
https://timesofindia.indiatimes.com/india/we-can-never-live-in-peace-unless-talks-are-are-held-with-pakistan-farooq/articleshow/87197991.cms
--------
North America
First time in 7 years: US minesweepers enter Red Sea amid increased Houthi aggression
21 October ,2021
US mine countermeasures (MCM) ships transited the Red Sea's strategic Bab el-Mandeb strait for the first time in seven years to enhance efforts to secure international shipping lines and global trade routes amid heightened aggression by Yemen's Houthi militia.
"Mine countermeasures ships USS Sentry and USS Gladiator arrived in the Red Sea on Monday, marking the first transit in seven years by 5th Fleet's MCMs from the Gulf to the Red Sea," the US 5th fleet said on Wednesday.
"Sentry and Gladiator are conducting Maritime Security ops and training alongside regional partners," it added.
This marks the first time the Pentagon places this type of naval vessel in the region since the start of the war between Yemen's internationally recognized government and the Iranian-backed Houthi militia.
The threat posed by the Houthis' mines to shipping lanes near the Bab el-Mandeb strait have recently increased, endangering one of the world's busiest oil shipping routes.
Source: Al Arabiya
Please click the following URL to read the full text of the original story:
https://english.alarabiya.net/News/gulf/2021/10/21/First-time-in-7-years-US-minesweepers-enter-Red-Sea-amid-increased-Houthi-aggression
--------
Biden climate envoy Kerry to visit Saudi Arabia next week
22 October ,2021
US President Joe Biden's climate envoy, John Kerry, will travel to Saudi Arabia next week for meetings with government counterparts and business leaders on efforts to address the climate crisis, the State Department said on Thursday.
Kerry will visit Riyadh on Oct. 24 and 25 before the UN climate change convention in Glasgow that starts Oct. 31, the department said in a statement.
In Riyadh, Kerry will participate in the Middle East Green Initiative Summit which will discuss ways to reduce emissions, reverse desertification and grow forests.
The US and the EU are trying to get Saudi Arabia, the world's largest oil exporter, to join a global initiative on slashing emissions of methane 30 percent by 2030 from 2020 levels. More than 30 countries including Germany, Canada and Japan have joined the partnership which covers 60 percent of global GDP and 30 percent of global methane emissions.
It is uncertain whether the kingdom will sign on. Saudi Arabia Minister of Energy Prince Abdulaziz bin Salman said on Wednesday that the world must pay attention to energy supply security, which should not be compromised in the fight to curb climate change.
Kerry and Saudi Arabia share an interest in developing hydrogen as an alternative fuel. Saudi Arabia is building a $5 billion plant to produce 'green hydrogen' by extracting the gas from water using electrolyzers powered by solar and wind power. Hydrogen can be used in fuel cell vehicles or be blended with natural gas to create a cleaner-burning fuel, but today most hydrogen is extracted using fossil fuels that produce large amounts of planet-warming emissions.
Source: Al Arabiya
Please click the following URL to read the full text of the original story:
https://english.alarabiya.net/News/world/2021/10/22/Biden-climate-envoy-Kerry-to-visit-Saudi-Arabia-next-week
--------
Afghan detainee held illegally by US government: Federal judge
Andy Roesgen
21.10.2021
CHICAGO, United States
An Afghan detainee who was held for 14 years at the US detention camp at Guantanamo Bay, Cuba, will soon be released after a federal judge ruled his detention was illegal.
Asadullah Haroon Gul, 40, was captured in 2007 as part of the US' war in Afghanistan after the Sept. 11, 2001, terror attacks. Gul was a member of a paramilitary group allied with al-Qaeda, but he was never charged with a crime and the group, Hezb-i-Islami Gulbuddin (HIG), reached a peace agreement with Afghanistan's US-backed government in 2016.
Prosecutors argued that Gul's ties to al-Qaeda and terrorism ran deeper than just his association with HIG and his detention was justified.
But his defense was bolstered by a finding by a board of review made up of members of the US national intelligence. That board ruled this year that Gul does not pose a significant threat to national security.
Separately, the US determined that transferring Gul from Guantanamo Bay did not pose a security risk and the Afghanistan government, prior to its collapse in August, had also argued for Gul's release, saying that his continued detention was bad for US-Afghanistan relations.
Additionally, his defense team argued that he was a prisoner of war and should have been released upon the announcement that the US was ending the war in Afghanistan.
US District Judge Amit Mehta of Washington D.C. made the final ruling on Gul's release this week, although he did not announce the basis for his decision.
Source: Anadolu Agency
Please click the following URL to read the full text of the original story:
https://www.aa.com.tr/en/americas/afghan-detainee-held-illegally-by-us-government-federal-judge/2399316
--------
Southeast Asia
Malaysian scholar: Muslims' power dependent upon faith, unity
October 21, 2021
Chairman of the Islamic Party of Malaysia warned that the weakness of Muslims is due to estrangement from their religion, making speech on the first webinar held for the 35th International Islamic Unity Conference held on Tuesday.
Sheikh Abdul Hadi Awang, senior Malaysian cleric highlighted materialization of a united Islamic Ummah as a universal mission that does not end with demise of Prophet Mohammad (PBUH).
He said, "The mission of our Prophet Muhammad (PBUH) continues until the end of time and world, and it knows no limit, borders, ethnicity, chronology and patriotism."
He said," The Ummah of the Prophet of Islam (PBUH) has two unique characteristics: First, it is the Ummah to be asked for faith in God and includes all people, both Arabs and non-Arabs, to whom the Prophet was sent, and [the other is] that his mission is for the whole world."
The cleric reiterated that the religion of Islam unites all Islamic denominations in a single Ummah that continues its Islamic mission in the Eastern and Western corners of the world.
He warned of an era of weakness for the entire world of Islam stressing that the reason behind this weakness is disunity and estrangement of Muslims from their religion.
Our power depends on our faith and Islamic unity and the source of Islamic unity among Muslims
Abdul Hadi Awang noted that the source of Islamic unity is referring to the principles that exist among the scholars of the Islamic schools of thought and that the sub-matters of ijtihad and the dispute that does not end due to changes in circumstances, time and place, are the responsibility of scholars.
He stressed the issue of Palestine and liberation of the al-Aqsa Mosque as topics which lead to a unified stance by the entire Islamic Ummah and said," But a group of members who refrain from confrontation and resistance and move towards normalization of relations with the Zionist regime are a bad seed among the Ummah."
Chairman of the Islamic Party of Malaysia expressed his views in his speech on the first day of the 35th International Islamic Unity Conference.
Source: ABNA24
Please click the following URL to read the full text of the original story:
https://en.abna24.com/news/malaysian-scholar-muslims-power-dependent-upon-faith-unity_1190561.html?__cf_chl_jschl_tk__=pmd_DWv6Hby1l6RnD8mcWRvfMeW712i2lDEN2p.qzzieqa4-1634886225-0-gqNtZGzNAmWjcnBszQdl
--------
Minister: Islamic tourism entrepreneurs urged to raise understanding of halal aspects
21 Oct 2021
KUALA LUMPUR, Oct 21 — Entrepreneurs in the Islamic tourism segment need to improve their understanding of the halal aspects to enable them to identify unique selling points for their respective tourism products.
Minister of Tourism, Arts and Culture, Datuk Seri Nancy Shukri said this would also give the assurance that their products were not contravening the Islamic tenets.
To attract more entrepreneurs to venture into the Islamic tourism segment, she also encouraged cooperation between the Islamic Tourism Centre (ITC) and Department of Standards Malaysia in drawing up clear guidelines and standards pertaining to Islamic tourism products and services.
"This is for the existing and new entrepreneurs to receive continued assistance, besides raising the standards in quality of Islamic tourism while the products generated can also compete with the other tourism products," she said in her keynote address at the Islamic Tourism Entrepreneurship and Leadership Seminar, held virtually, today.
"The scope of Islamic tourism is wide, covering Muslim-friendly products and services, hospitality and accommodation but the venturing into this is still at an early stage, hence the need to expose the entrepreneurs to the new business opportunities.
"Venturing into new businesses is important, considering the Global Muslim Tourism Index (GMTI) 2021 expecting the number of Muslim tourists to reach 26 million at the year end if the states' and international borders are opened.
Source: Malay Mail
Please click the following URL to read the full text of the original story:
https://www.malaymail.com/news/malaysia/2021/10/21/minister-islamic-tourism-entrepreneurs-urged-to-raise-understanding-of-hala/2015009
--------
Pakistan
Familiarising Youth With Islamic History Through Multimedia Can Prove Helpful: Imran Khan In A Meeting With Turkish Producer
OCTOBER 21, 2021
ISLAMABAD: Prime Minister Imran Khan on Thursday stressed the need to familiarise the younger generation with Islamic history and said the use of multimedia could prove helpful in this regard.
In a meeting with filmmaker Shehzad Nawaz and Turkish producer Emre Konuk, the prime minister said it was high time to create dramas and films based on historical narrative rather than opting for the routine topics.
In view of the upcoming Pakistan and Turkey's joint production of television series on Muslim warrior Salahuddin Ayubi, the prime minister said even the West quotes him as the great personality of the history.
The prime minister mentioned that Salahuddin Ayubi had announced a general amnesty after the historic conquest of Jerusalem.
The series on the life of Salahuddin Ayubi will make the youth aware of his historical role, he added.
Source: Daily Times
Please click the following URL to read the full text of the original story:
https://dailytimes.com.pk/831878/familiarising-youth-with-islamic-history-through-multimedia-can-prove-helpful-pm/
--------
Pakistan Desires Peace, Stability In Afghanistan: Qureshi Meets Interim Afghanistan PM
October 22, 2021
Foreign Minister Shah Mahmood Qureshi on Thursday met interim Afghanistan Prime Minister Mullah Mohammad Hassan Akhund and conveyed Pakistan's commitment to extending humanitarian assistance to its Afghan brothers.
Qureshi was visiting Afghanistan for the first time after the Taliban took over in mid-August. In the meeting with Akhund, issues of mutual interest were discussed. The foreign minister said Pakistan wanted lasting peace and stability in Afghanistan.
He mentioned in this regard several steps by the government including visa facilities for Afghan citizens, especially traders, and the establishment of new border points to facilitate movement.
Qureshi said Pakistan, in collaboration with Afghanistan's neighbours, was committed to playing a constructive role for peace and stability in the region.
The interim prime minister received Qureshi at the Arg Presidential Office, where they had a meeting in the presence of the Afghan leadership, Ambassador of Pakistan to Afghanistan Mansoor Ahmad Khan said.
The discussions focused on facilitating people-to-people interaction, trade, transit, and connectivity between two brotherly nations, ?the ambassador said. Afghan Interim Foreign Minister Amir Khan Muttaki was also present.
Prime Minister's Special Representative for Afghanistan Ambassador Muhammad Sadiq, Foreign Secretary Sohail Mahmood, Pakistani Ambassador to Afghanistan Mansoor Ahmad Khan, senior military leadership, and other members of the Pakistani delegation were present in the meeting.
Deputy prime minister Maulvi Abdul Salam Hanafi hosted a banquet in honour of Foreign Minister Qureshi and his delegation at the Arg Palace.
Qureshi is the third foreign minister after those of Qatar and Uzbekistan to visit since the Taliban took power after ousting Ashraf Ghani's regime.
In a statement issued earlier, the Foreign Office said Qureshi is in Kabul for a day-long visit and is set to hold important talks with the Afghan leadership.
During his meetings with top Afghan officials, the foreign minister will share Pakistan's perspective on issues of regional peace and stability, the statement said.
The statement added that Pakistan has always stood by Afghanistan and kept the border crossing points open for trade and pedestrian crossing under Covid protocols.
Facilitative visa regime for Afghan nationals and border crossing procedures for trade and cargo have been instituted, it added.
In recent months, Pakistan has provided humanitarian aid and assistance in the form of food stuffs and medicines.
The foreign minister held a meeting with Afghanistan's interim Prime Minister Mullah Hassan Akhund. "Pakistan is determined to help Afghan brethren on humanitarian grounds.
He said Pakistan wants to enhance bilateral trade with Afghanistan," FM Qureshi said during the meeting with Akhund.
"Pakistan resolves to play a constructive role, in collaboration with Afghanistan's neighbouring countries, for peace and stability in the region," the FM said.
Views were also exchanged on matters of bilateral interest, enhancing cooperation in economic sector, including trade and commerce, as well as various options to bring the Afghan people out of the economic crisis.
The Afghan interim prime minister thanked the Pakistani leadership for extending timely humanitarian assistance to Afghanistan.
Source: Pak Observer
Please click the following URL to read the full text of the original story:
https://pakobserver.net/pakistan-desires-peace-stability-in-afghanistan-qureshi-meets-interim-pm-mullah-hasan/
--------
Pakistan, Turkey to produce TV series on Salahuddin Ayubi
October 22, 2021
ISLAMABAD: Pakistan and Turkey will jointly produce a television series on the life of warrior Salahuddin Ayubi as Prime Minister Imran Khan on Thursday stressed the need to familiarise the young generation with Muslim history and expressed the hope that the use of multimedia could prove helpful in this regard.
"The series on the life of Salahuddin Ayubi will make the youth aware of his historic role," the prime minister said while meeting filmmaker Shehzad Nawaz and Turkish producer Emre Konuk.
"It is high time to make dramas and films based on historical narrative rather than opting for routine topics," he said.
In view of the upcoming Pakistan-Turkey joint production of the television series on Salahuddin Ayubi, the prime minister said even the West regarded him as a great man.
PM stresses need for familiarising the young generation with Muslim history
The prime minister said that Salahuddin Ayubi had announced a general amnesty after the historic conquest of Jerusalem.
Senator Faisal Javed, Syed Junaid Ali Shah and Dr Kashif also attended the meeting.
During the meeting, the prime minister was briefed on details of the joint project of the television series between Pakistan and Turkey.
It was highlighted that the planning of the series had been finalised, while shooting of the series will commence in April next year.
Chashma Canal
Prime Minister Khan also chaired a meeting on integrated agriculture and development plan for KPK, especially the Chashma Right Bank Canal (CRBC), and said: "The construction of Lift-cum-Gravity project of Chashma Right Bank Canal (CRBC) would be a real game-changer for the socio-economic uplift of a vast area in southern KPK."
"Once completed, the project would irrigate around 300,000 acres of barren land in the KPK. This would not only ensure food security in the region but would also earn huge foreign exchange for the country by exporting agricultural produce to the Middle East," he said.
The prime minister directed authorities concerned to adopt effective measures to boost up corporate farming in the area.
"It would not only raise income levels of farmers in the area but would also kick-start integrated development by eradicating poverty, eliminating hunger and ensuring good education, health care and other civic facilities for the local population," the prime minister said.
Source: Dawn
Please click the following URL to read the full text of the original story:
https://www.dawn.com/news/1653287/pakistan-turkey-to-produce-tv-series-on-salahuddin-ayubi
--------
Pakistan Army prepared to defend territorial integrity, sovereignty of Pakistan against all odds: COAS
October 22, 2021
RAWALPINDI: Chief of Army Staff (COAS) General Qamar Javed Bajwa Thursday said Pakistan Army was prepared to defend territorial integrity and sovereignty of Pakistan against all odds.
The Army Chief visited Bahawalpur and witnessed training activities of formation at Asrani and Khairpur Tamewali (KPT), said an ISPR news release here received.
Interacting with the troops, the COAS emphasized on realistic training in line with the emerging threats and challenges to defeat nefarious designs of our adversaries.
The mechanized troops demonstrated battle drills involved in the operational cycle of the formation including offensive maneuvers.
The COAS also witnessed field firing of different weapon systems at KPT ranges. It included integrated firepower display of various components including Armour, Mechanized Infantry,
Artillery, Air Defence, ATGMs duly supported by Pakistan Air Force and combat aviation.
Source: Pakistan Today
Please click the following URL to read the full text of the original story:
https://www.pakistantoday.com.pk/2021/10/22/pakistan-army-prepared-to-defend-territorial-integrity-sovereignty-of-pakistan-against-all-odds-coas/
--------
Three Afghans from IS killed near border: police
October 21, 2021
PESHAWAR: The counter-terrorism forces said they killed three Afghan militants who belonged to the Islamic State group during a raid on a hideout near the border with Afghanistan.
The gunbattle was the latest episode of violence in Pakistan involving extremist groups that appear to have been emboldened by the return to power of the Taliban in Afghanistan.
The dawn raid was carried out in Peshawar, said Javed Khan, an officer with the provincial Counter-Terrorism Department. The branch is a special police unit that fights local and foreign militant groups.
Khan said the slain militants were Afghans, and that the raid foiled a possible terrorist attack. Two other fighters managed to flee, he said, giving no further details.
Pakistan has witnessed scores of terrorist attacks in recent months, most of which were claimed by the Tehreek-i-Taliban Pakistan and the IS group. Both organisations have been emboldened by Taliban resurgence in Afghanistan, where TTP militants are still believed to be hiding.
Source: Pakistan Today
Please click the following URL to read the full text of the original story:
https://www.pakistantoday.com.pk/2021/10/21/three-afghans-from-is-killed-near-border-police/
--------
Arab World
Saudi Arabia calls for international efforts to stop Libya becoming terrorist haven
October 21, 2021
RIYADH: Saudi Arabia supports all efforts aimed at achieving stability in Libya, the Kingdom's foreign minister said on Thursday.
During the Libya Stabilization Conference, Prince Faisal bin Farhan praised efforts made by the new unified authority in Libya to meet the aspirations and hopes of the Libyan people towards achieving a united and sovereign state that enjoys security, stability, and development.
Prince Faisal added that the Kingdom's participation in the conference is a continuation of its policy aimed at reaching solutions that are in the interest of the Arab community and benefit the peoples of the region and the world.
"The Kingdom stresses the importance of concerted international efforts to combat terrorism and extremist militias so that Libya will not be a safe haven for these groups, through which they threaten the stability of this country and its regional and international surroundings," the foreign minister said.
Source: Arab News
Please click the following URL to read the full text of the original story:
https://www.arabnews.com/node/1952721/saudi-arabia
--------
Geagea: Military court should first question Hezbollah's Nasrallah on Beirut violence
21 October ,2021
The Leader of Lebanese Forces party Samir Geagea said on Thursday the military court should listen to Hezbollah's chief Hassan Nasrallah's statement about last week's violence in Beirut before they question him.
A judicial official said earlier that Geagea has been summoned for questioning about last week's events after a protest organised by Hezbollah and its ally Amal to demand the judge investigating the Beirut blast, Tarek Bitar, be removed, turned violent.
Fadi Akiki, a representative of the military court, had "instructed the army intelligence to summon Geagea and take his statement based on information provided by arrested LF members," a judicial official said according to AFP.
Geagea said in a TV interview that if the military court would ask him, he would happily give a statement on the condition that they "listen to Nasrallah" before him.
"For one small reason, the Lebanese Forces party, since the end of the civil war, has committed no violations," Geagea added, pointing that his party is registered with ministry of interior, unlike Hezbollah.
Tensions over the investigation into the Beirut blast that rocked the country in August 2020 ignited street violence in the capital last week, leading to the death of seven Shias. It was the worst street violence in over a decade.
The Iran-backed Hezbollah militia held the Christian Lebanese Forces, led by Geagea, responsible. The Lebanese Forces denied the accusation and pointed the finger of blame at Hezbollah for sending its supporters into the Christian neighborhood of Ain al-Remmaneh.
Nasrallah accused the Lebanese Forces on Monay of seeking to ignite a "civil war", demanded there be an investigation into the events of last Thursday and threatened to take action if the judiciary did not.
The powerful Shia militia's leader also revealed for the first time that the group had 100,000 armed and trained fighters.
Source: Al Arabiya
Please click the following URL to read the full text of the original story:
https://english.alarabiya.net/News/middle-east/2021/10/21/Geagea-Military-court-should-first-question-Hezbollah-s-Nasrallah-on-Beirut-violence
--------
Syria says 24 executed over starting wildfires
21 October ,2021
The Syrian government has executed 24 people accused of involvement in starting deadly wildfires last summer, state media reported on Thursday.
Source: Al Arabiya
Please click the following URL to read the full text of the original story:
https://english.alarabiya.net/News/middle-east/2021/10/21/Syria-says-24-executed-over-starting-wildfires
--------
Lebanon Christian leader summoned over deadly violence
October 21, 2021
BEIRUT: The head of the Lebanese Forces Christian group, Samir Geagea, has been summoned for questioning over deadly violence that erupted at a Shiite rally last week, a judicial official said Thursday.
Seven people were killed in Beirut on October 14 during a protest organized by the Shiite movements Amal and Hezbollah to demand Tarek Bitar, the judge investigating Beirut's powerful port blast, be removed.
Hezbollah and Amal accused the Lebanese Forces (LF), which supports the probe, of being responsible for sniper fire against the protesters that ignited street clashes.
The Christian group denies the charges.
Fadi Akiki, a representative of the military court, had "instructed the army intelligence to summon Geagea and take his statement based on information provided by arrested LF members," the judicial official said.
Twenty-six people were arrested after the violence in the heart of the Lebanese capital, most of them LF members, the official said on Thursday.
The exact circumstances of the violence remain unclear.
Geagea has denied responsiblity for the deaths, saying that residents of Beirut's Christian neighborhood of Ain Al-Remmaneh had "defended" themselves against "Hezbollah militiamen who tried to enter their homes."
Hezbollah chief Hassan Nasrallah said on Monday that his Iran-backed movement had 100,000 armed fighters at its disposal, and warned it is against sparking any "civil war."
On Thursday, Geagea told the Lebanon's MTV channel he was not aware of the summons.
"I am ready to appear before the judge, on one condition: that Hassan Nasrallah does it before me," he said.
Source: Arab News
Please click the following URL to read the full text of the original story:
https://www.arabnews.com/node/1952736/middle-east
--------
Europe
Pakistan To Remain On Financial Action Task Force (FATF) 'Grey List', Turkey New Addition
Oct 21, 2021
NEW DELHI: Pakistan will remain on the 'grey list' of the Financial Action Task Force (FATF) as it needs to "further demonstrate" that action is being taken against UN-designated terrorists like India's most wanted Hafiz Saeed and Masood Azhar, and groups led by them, the global body against terror financing said on Thursday.
FATF president Marcus Pleyer said the decision was taken at the conclusion of the three-day virtual plenary of the organisation. It is scheduled to meet again in April 2022.
Pakistan continues to remain on "increased monitoring list", Marcus said at a virtual press conference from Paris.
"Increased monitoring list" is another name for the 'grey list'.
"Pakistan has taken a number of important steps but needs to "further demonstrate that investigations and prosecutions are being pursued against the senior leadership of UN-designated terror groups," Marcus said.
"All these changes are about helping authorities prevent terrorism, stop corruption and prevent organised criminals from profiting from their crimes," he added.
Pakistan was placed on the grey list by the FATF in June 2018 for failing to check money laundering, leading to terror financing.
The FATF had given Islamabad a 27-point action plan that was to be completed by October 2019. Six more points were added later.
Terror groups
The country continues to be on the grey list due to its failure to comply with four of action points, including: to investigate and prosecute senior leaders and commanders of UN-designated terror groups, including Hafiz Saeed and Masood Azhar. Masood was involved in the 2008 Mumbai terror attacks, 2016 Pathankot attack, and 2019 Pulwama attack.
After the announcement by the FATF in June 2021, of keeping Pakistan on the grey list, Islamabad had said it would implement the action points within "3-4 months".
The latest US Congressional report on terrorism "Terrorist and Other Militant Groups in Pakistan", says that at least 12 groups designated as "foreign terrorist organizations" by the US are based in Pakistan, including five that are India-centric. As per the US administration, Islamabad continues to remain a base of operations for numerous non-state militant groups, many with global reach.
Financial aid at risk
With Pakistan's continuation in the grey list, it is increasingly becoming difficult for the country to get financial aid from the International Monetary Fund (IMF), World Bank, Asian Development Bank (ADB) and the European Union, thus further enhancing problems for the country.
Pakistan has so far avoided being on the blacklist with the help of China, Turkey and Malaysia.
The FATF is an inter-governmental body established in 1989 to combat money laundering, terrorist financing and other related threats to the integrity of the international financial system. It currently has 39 members, including two regional organisations: the European Commission and the Gulf Cooperation Council.
Source: Times of India
Please click the following URL to read the full text of the original story:
https://timesofindia.indiatimes.com/world/pakistan/pakistan-to-remain-on-fatf-grey-list-till-april-2022/articleshow/87191105.cms
--------
British Muslim group releases 6-step guide to keeping mosques safe amid heightened concerns
21 October, 2021
The Muslim Council of Britain (MCB) has created a six-step guide on how to keep mosques safe following the murder of Conservative MP Sir David Amess, as concerns on Islamophobia continue to grow.
The 10-page guidance is aimed at helping congregations, mosque goers and religious religious leaders protect the premises as well as the local community at large.
Muslims are encouraged to prepare a safety plan, ensure security systems are up-to-date, and report hate crime and abuse.
The creation of the guide comes as recent data released by the Home Office finds that nearly half of recorded religious hate crime offences (45 per cent) in England and wales targeted Muslims in 2021.
"The tragic murder of Sir David Amess has left British Muslim communities feeling shocked and apprehensive," said MCB Secretary-General, Zara Mohammed.
She added: "There is precedence for hate crime offences targeting visibly Muslim women, mosques and their congregations, in particular."
Last month, the British government was accused of neglecting its responsibility to Muslim citizens after failing to produce a definition of Islamophobia, two years after pledging to do so.
In a 2018 enquiry, MPs urged a working definition of Islamophobia to make it easier to convict such offences. However the Conservative government rejected the proposal in 2019 and promised to appoint an independent commission to come up with a definition – which it has not done.
Source: The New Arab
Please click the following URL to read the full text of the original story:
https://english.alaraby.co.uk/news/british-muslim-group-releases-guide-keep-mosques-safe
--------
New Zealand's Chief Coroner Opens New Inquiry Into Mosque Attacks
By Charlotte Graham-McLay
Oct. 21, 2021
WELLINGTON, New Zealand — The name of the man who waged a terrorist attack on two Christchurch mosques in 2019 has been all but erased from New Zealand's collective memory. Most details of his mass shooting never became public. An official investigation held behind closed doors concluded that the authorities could not have prevented, except by chance, the massacre of 51 Muslims at prayer by the attacker, Brenton Tarrant.
But nearly a year after the end of a high-level commission inquiry, New Zealand's chief coroner, Judge Deborah Marshall, said that she had begun a fresh investigation into the attack of March 15, 2019, citing unanswered questions. Judge Marshall's announcement on Thursday followed pleas from dozens of families of those killed.
The new inquiry was opened because of matters relating to the deaths that earlier investigations had not resolved, Judge Marshall said in written comments sent to the families and seen by The New York Times. She did not specify which matters warranted further investigation, and her office declined to comment further.
The promise of a new inquiry comes more than a year after Mr. Tarrant, 30 — an Australian who was radicalized online and moved to New Zealand, where he easily amassed a cache of weapons before the attack — was sentenced, in August 2020, to life in prison without the chance of parole. Months earlier, reversing an earlier denial of guilt, he had abruptly admitted to all the charges he faced: 51 counts of murder, 40 of attempted murder and one of terrorism.
His confession averted the need for a trial. The prosecution case against him — including witness statements; psychological, forensic and other expert reports; accounts by emergency workers of their actions in the aftermath of the attack; lists of exhibits; and police officers' interviews with him — remained secret.
An independent commission tasked with examining whether the authorities could have prevented the massacre published an 800-page report last December, saying that although New Zealand's security agencies had scrutinized Muslims at the expense of monitoring white supremacist threats, the attack could not have been stopped. Testimony to the commission, including from lawmakers and officials, was given in private and suppressed for 30 years. The level of secrecy, unusual even in a country that takes a cautious approach to public information, was intended to encourage people to speak openly and to protect matters of national security, those heading the commission said at the time.
In the months since that investigation, called a Royal Commission, ended, the government has begun to enact the 44 recommendations it made, and many New Zealanders considered the matter closed. But relatives of those killed in the attack have called for a public hearing that would allow them to hear for themselves what those officials said.
Judge Marshall has not decided whether a public hearing should be part of the new inquiry, and she has not set a time frame for it.
The Royal Commission was ordered to exclude from its deliberations any examination of the attack's aftermath, including the actions of emergency workers at both mosques and at Christchurch's nearby hospital. Its parameters, which were set by the government, also ruled out gathering evidence from the tech platforms where Mr. Tarrant was radicalized, and from Facebook, where he live-streamed his massacre.
When Judge Marshall invited the bereaved families to suggest what a further inquiry would cover, many asked for the matters excluded from the first inquiry to be raised, according to some of those who submitted requests.
Her concession that the criminal process and Royal Commission had not answered all outstanding questions was "significant" said Nigel Hampton, a lawyer for 29 of the families.
"It would be difficult to resist now, I think, having taken this step," he said, referring to the prospect of a public inquest, which is a type of court hearing in New Zealand.
"Survivability is a big question for all families," said Maysoon Salama, whose son, Atta Elayyan, 33, died at Masjid An-Noor, the first mosque attacked. She referred to an earlier report by the police that said none of the 51 people killed in the attacks could have survived their injuries, even if they had been taken to hospitals sooner — a finding that led many families to urge the coroner to investigate each victim's death individually.
Aya Al-Umari, whose brother, Hussein Al-Umari, 35, also died at Masjid An-Noor, said she was among those who received an abridged and generic forensic report nearly two years after the attack. She described emailing various authorities repeatedly since 2019 in an effort to draw out details one at a time about her brother's last moments.
At times information had been withheld because officials told Ms. Al-Umari it would distress her, she said.
"Even at the outset, we were drip-fed the information, so it was like, 'Here's the evidential report, and here's this report, please let us know if you want this and this,'" she said, referring to documents the coroner and the police had provided about her brother's death. "Why don't you just give me the whole thing and I'll choose what to read and what not to read?"
Ms. Salama, Ms. Al-Umari and other relatives of those killed said questions also remained about the exact progress of the killer's online radicalization, his internet history and the route to extremism that others in New Zealand who share his views have followed.
Source: New York Times
Please click the following URL to read the full text of the original story:
https://www.nytimes.com/2021/10/21/world/australia/new-zealand-christchurch-investigation.html
--------
Man charged with UK lawmaker's murder, court hears he supported IS
OCTOBER 21, 2021
By Michael Holden
LONDON (Reuters) -British police on Thursday charged a 25-year-old Londoner of Somali heritage with stabbing a lawmaker to death in a church, a case that has raised fears about the safety of elected politicians.
Prosecutor James Cable told the court that Ali Harbi Ali, the son of an ex-media adviser to a former prime minister of Somalia, had described himself as affiliated to Islamic State and had planned for years to kill a member of parliament.
The killing of 69-year-old David Amess - five years after another British member of parliament was murdered on the street - has prompted calls for better protection of lawmakers.
Amess, a member of Prime Minister Boris Johnson's Conservative Party, was knifed repeatedly on Friday in the Belfairs Methodist Church in Leigh-on-Sea, northeast of London, where he had been meeting constituents. Paramedics tried to save him on the floor of the church, but in vain.
Ali has been charged with murder and preparing acts of terrorism, police said.
Appearing at Westminster Magistrates Court, Ali spoke only to confirm his name, age and address. He was remanded in custody and will appear at the Old Bailey criminal court on Friday.
"He described himself as being affiliated with Islamic State," Cable told the court.
Earlier, Nick Price, head of the Crown Prosecution Service Special Crime and Counter Terrorism Division, said in a statement the murder "has a terrorist connection, namely that it had both religious and ideological motivations".
'SUBSTANTIAL THREAT' TO LAWMAKERS
British lawmakers regularly hold "surgeries", or one-to-one meetings with voters in their constituencies, a tradition considered a bedrock of democracy. But with little or no security and an emphasis on access for all, surgeries can make lawmakers vulnerable.
On Wednesday, interior minister Priti Patel said the terrorism threat level to lawmakers was now deemed substantial, which means an attack is considered likely.
Source: Reuters
Please click the following URL to read the full text of the original story:
https://www.reuters.com/article/us-britain-crime-lawmaker/islamic-state-supporter-charged-with-murder-of-uk-lawmaker-idUSKBN2HB1DB?rpc=401&
--------
UN Security Council condemns Houthi attacks against Saudi Arabia
21 October ,2021
The United Nations Security Council on Wednesday condemned the attacks against Saudi Arabia by the Iran-backed Houthi militia, according to a press release.
The council highlighted the October 8 attack on King Abdullah Airport and the drone attacks striking Abha civilian airport in Saudi Arabia.
For the latest headlines, follow our Google News channel online or via the app.
The UN Security Council also condemned the increasing number of incidents off the coast of Yemen, including attacks on civilian and commercial ships, "which pose a significant risk to the maritime security of vessels in the Gulf of Aden and Red Sea," according to the release.
The statement added that the council stressed the need for de-escalation by all, including an "immediate end to the Houthi escalation in Marib. They condemned the recruitment and use of children, and sexual violence, in conflict."
The council demanded an immediate nationwide ceasefire, in accordance with resolution 2565 (2021), and called for the resolution of differences through inclusive dialogue and the rejection of violence to achieve political goals.
"The members of the Security Council reaffirmed the need for all parties to comply with their obligations under international humanitarian law," the press release said.
"They condemned in the strongest terms violations of international humanitarian law and international human rights law, as well as human rights abuses," it added.
Source: Al Arabiya
Please click the following URL to read the full text of the original story:
https://english.alarabiya.net/News/gulf/2021/10/21/UN-Security-Council-condemns-Houthi-attacks-against-Saudi-Arabia
--------
Greek court 'shelves' prison term of Turkish religious leader
Tevfik Durul and Derya Gulnaz Ozcan
21.10.2021
ATHENS
A Greek court on Thursday "shelved" the prison term of a religious leader from the country's Muslim-Turkish community.
The 80-day prison sentence given by the lower court in northern port city of Thessaloniki was suspended on Oct. 21 by the Court of Appeals, said Ibrahim Serif, the elected mufti of Komotini (Gumulcine) in northeastern Greece, on Twitter.
Serif was charged in March 2018 by Greek authorities with "usurping office" of the country's mufti - a Muslim legal expert with the authority to issue religious rulings – for a religious ceremony he attended in 2016.
Serif's lawyer, Ercan Ahmet, told Anadolu Agency that the prosecutor's suggestion has resulted in the case file being "shelved."
Serif was elected mufti of Komotini in 1990 by the local Muslim-Turkish community.
Ahmet Mete, the current Mufti of Xanthi (Iskece), and his predecessor Mehmet Emin Aga had also previously been convicted by Greek courts on the same charges.
The Western Thrace region of Greece is home to a Muslim-Turkish minority of around 150,000 people, where muftis have legal jurisdiction over family and inheritance matters in the local community.
Since 1991, the mufti election has been a vexing issue in the country.
The election of muftis by Muslims in Greece was regulated in the 1913 Treaty of Athens with the Ottoman Empire and was later included in Greek law.
Source: Anadolu Agency
Please click the following URL to read the full text of the original story:
https://www.aa.com.tr/en/europe/greek-court-shelves-prison-term-of-turkish-religious-leader/2399010
--------
Afghan refugees may be housed in hotels for up to a year, say UK councils
October 21, 2021
LONDON: Local politicians across the UK are making contingency plans to house Afghan refugees in hotels for up to a year, as progress on finding them long-term accommodation slows.
So far, around 1,500 of the 8,500 Afghans airlifted out of Kabul by British forces more than two months ago have been provided long-term accommodation, leaving roughly 7,000 without a permanent home in the UK, and with no guidance on when they will be provided, the Guardian reported.
Many of those brought to the UK had worked alongside British or coalition forces as interpreters or in other support roles.
Prime Minister Boris Johnson previously committed to supporting them, saying: "We will never forget the brave sacrifice made by Afghans who chose to work with us, at great risk to themselves."
But local councils across Britain are struggling to deal with the influx of refugees and the logistical challenges they pose.
Some councils, the Guardian reported, said they had received no support from the Home Office in providing immediate needs assessment on arrivals, and an official from one said they were given no notice that the government was block-booking hotels in the area for refugees.
"We're planning for a year, to be honest," said one unnamed central London hotel official. "We don't think it will be quick."
Nick Forbes, the leader of Newcastle City Council, who heads the UK's Local Government Association Asylum, Refugees and Migration Task Group, told the Guardian: "I get no sense that the government sees this as an urgent priority. I'm concerned that now they are in hotels they are out of sight and out of mind."
There have also been warnings that hotel conditions are not suitable for the many children to have been evacuated to Britain.
"There are kids in lots of hotels with nothing to do; their mental health wellbeing is not being met, they are becoming frustrated and playing up. We could and should be doing better," one charity worker said after visiting several London hotels, where 4,000 people are being housed.
Source: Arab News
Please click the following URL to read the full text of the original story:
https://www.arabnews.com/node/1952756/world
--------
Putin says Afghanistan's financial assets should be unfrozen
Oct 21, 2021
MOSCOW: Russian President Vladimir Putin said on Thursday Afghanistan should receive economic support and get its financial assets unfrozen as its stability was in the interest of all its neighbours.
Washington has said it has no plans to release billions in Afghan gold, investments and foreign currency reserves parked in the United States that it froze after the Taliban seized power in August, despite pressure from humanitarian groups and others who say the cost may be the collapse of Afghanistan's economy.
Source: Times of India
Please click the following URL to read the full text of the original story:
https://timesofindia.indiatimes.com/world/south-asia/putin-says-afghanistans-financial-assets-should-be-unfrozen/articleshow/87191006.cms
--------
South Asia
Senior Bangladeshi Shia cleric calls for practical measures for Islamic unity
October 21, 2021
Delivering speech at the webinar held on the first day of the 35th International Islamic Unity Conference, Seyyed Ebrahim Khalil Rizvi, director of the center for Islamic studies in Khulna, called on the Sunni clerics to explicitly state their opinion on Islamic unity.
He referred to the view by the late founder of Islamic Revolution, Ayatollah Khomeini, following the victory of 1979 Islamic Revolution in Iran that the discord they create in Iraq and other countries will destroys the enemies.
"The sinister groups that divide Shias and Sunnis in Islamic countries are neither Shias nor Sunnis. These are the arms of colonialism" said the cleric and added," They act on behalf of colonialism. They want to take the Islamic countries away from them."
Bangladeshi scholar hailed late Imam Khomeini (RA) for firstly inviting all Muslims to commemorate Islamic Unity Week and lauded the Supreme Leader of the Revolution for emphasizing solidarity among Muslims.
He referred to the historical fatwa by Ayatollah Khamenei and said," Even to preserve Islamic unity, the Supreme Leader of the Islamic Revolution issued a fatwa that the sanctities of the Sunnis are respected by us (Shias)" and added," The Leader issued the decree in order to create an atmosphere of unity."
Ayatollah Sistani, regarding the Sunnis, said: "These are not just our brothers; these are our souls."
Seyyed Ebrahim Khalil Rizvi criticized weakness of Muslims as the reason for arrogant powers' oppression of Muslims and said, "They are constantly insulting the sanctities of Islam."
Director of the center for Islamic studies in Khulna highlighted importance of annual Islamic Unity Conference and said," Holding such events is certainly a must, but it is not enough. We must take practical action" calling on all centers that can play a role in this issue to be activated.
He concluded," In this regard, we also invite the Sunni Muftis to come and explicitly state their opinion that the Muslim nation can be united and preserve the sanctities of Islam with dignity and strength."
Seyyed Ebrahim Khalil Rizvi made the comments in the first webinar held at the 35th International Islamic Unity Conference held on Tuesday.
Source: ABNA24
Please click the following URL to read the full text of the original story:
https://en.abna24.com/news/senior-bangladeshi-shia-cleric-calls-for-practical-measures-for-islamic-unity_1190589.html?__cf_chl_jschl_tk__=pmd_yZi4Ohna2nJUyu71K6SO4hcyCLhMW2AwZOGrTLpXU_8-1634886219-0-gqNtZGzNApCjcnBszQkR
--------
Bangladesh arrests hundreds for violence against Hindus
Oct 19, 2021
NEW DELHI: Bangladeshi police said on Tuesday that 450 people had been arrested in the Muslim-majority nation after attacks against Hindus in some of the worst such unrest for over a decade.
At least six people have died, local media reported, as police have fought to restrain angry mobs.
The violence began on Friday when hundreds of Muslims protested in the southeastern Noakhali district accusing Hindus of a blasphemous incident involving the Koran.
Several Hindu religious sites have been vandalised, and homes attacked.
Authorities have filed 71 cases in connection with the violence during the Hindu festival of Durga Puja, a Bangladesh police spokesman said. Investigations were ongoing after the arrest of 450 suspected culprits, he added.
Communal tensions have long simmered in Bangladesh, whose constitution designates Islam as the state religion but also upholds the principle of secularism.
Hindus make up around 10% of the population.
Source: Times of India
Please click the following URL to read the full text of the original story:
https://timesofindia.indiatimes.com/world/south-asia/bangladesh-arrests-hundreds-for-violence-against-hindus/articleshow/87133944.cms
--------
Seven killed in Rohingya refugee camp attack: police
Oct 22, 2021
BALUKHALI, BANGLADESH: Attackers killed at least seven people in an assault Friday on an Islamic seminary in a Rohingya refugee camp on the Bangladesh-Myanmar border, police said.
The attackers shot dead some victims and stabbed others with knives, a regional police chief told AFP. The killings came amid mounting tensions after a Rohingya community leader was shot dead outside his office in the camps three weeks ago.
https://timesofindia.indiatimes.com/world/south-asia/seven-killed-in-rohingya-refugee-camp-attack-police/articleshow/87200933.cms
Human Rights Watch asks for protecting Bangladesh Hindus, but calls for law enforcement 'restraint'
IANS / Oct 22, 2021
NEW YORK: While asking Bangladesh authorities to protect Hindus, the international group Human Rights Watch (HRW) has said law enforcement should act "with caution and restraint".
"The authorities need to be de-escalating violence, not shooting live ammunition into a crowd," HRW's Asia Director Brad Adams said in a statement issued by the group here.
Bangladesh authorities are dealing with an extremely stressful situation that could easily escalate into even more bloodshed, unless law enforcement acts with caution and restraint," he added.
HRW's statement did not identify or directly condemn those carrying out the attacks on Hindus in Bangladesh, but turning to India it said that Prime Minister Sheikh Hasina has "called on Narendra Modi's government to quell communal violence in India, where the ruling party has fueled violence targeting the minority Muslim community".
However, HRW acknowledged that "Hindus, who make up about 10 per cent of Bangladesh's Muslim-majority population, have repeatedly come under attack".
"Since the first attacks, mobs have torched dozens of Hindu homes and vandalized temples and statues throughout the country."
The HRW statement quoted a Bangladeshi human rights group, Ain o Salish Kendra, as reporting that "at least 3,679 attacks on the Hindu community since January 2013, including vandalism, arson, and targeted violence" have taken place.
Adams said that Hasina "is facing a critical moment to show in words and action that she is serious about her party's commitments to democracy and human rights" and "her calls for an end to the violence should lead to transparent investigations and real legal protections for the Hindu community in Bangladesh".
Source: Times of India
Please click the following URL to read the full text of the original story:
https://timesofindia.indiatimes.com/world/south-asia/human-rights-watch-asks-for-protecting-bangladesh-hindus-but-calls-for-law-enforcement-restraint/articleshow/87198102.cms
--------
UN sets up trust fund for 'people's economy' in Afghanistan
October 22, 2021
GENEVA: The United Nations said on Thursday it had set up a special trust fund to provide urgently needed cash directly to Afghans through a system tapping into donor funds frozen since the Taliban takeover in August.
With the local economy "imploding", the aim is to inject liquidity into Afghan households to permit them to survive this winter and remain in their homeland, it said.
Achim Steiner, the UN Development Programme's (UNDP) administrator said Germany, a first contributor, had pledged 50 million euros ($58 million) to the fund, and that it was in touch with other donors to mobilise resources.
Some 97pc of Afghan households could be living below the poverty line by mid-2022, according to UNDP.
"We have to step in, we have to stabilise a 'people's economy' and in addition to saving lives we also have to save livelihoods," Steiner told a news briefing.
"Because otherwise we will confront indeed a scenario through this winter and into next year where millions and millions of Afghans are simply unable to stay on their land, in their homes, in their villages and survive," he said.
The International Monetary Fund said on Tuesday that Afghanistan's economy was set to contract this year and this was likely to further fuel a refugee crisis that would affect neighbouring countries, Turkey and Europe. The Taliban takeover saw billions in central bank assets frozen and international financial institutions suspend access to funds, although humanitarian aid has continued. Banks are running out of money, civil servants have not been paid and food prices have soared.
Steiner said the challenge was to repurpose donor funds already earmarked for Afghanistan, where the Taliban, the de facto authorities, are not recognised internationally. The fund allows the international community to be "confident enough that these funds are not meant as government-to-government funding", he said.
The UN has discussed the programmes with the Taliban, he said, noting that 80pc of the micro-businesses being helped were led by women.
Source: Dawn
Please click the following URL to read the full text of the original story:
https://www.dawn.com/news/1653317/un-sets-up-trust-fund-for-peoples-economy-in-afghanistan
--------
NATO to convene meeting on Afghanistan in Brussels
21 Oct 2021
NATO chief Gens Stoltenberg said that the organization plans to convene a summit of defense ministers of the state members in which Afghanistan will be concentrated upon.
The meeting is reportedly being held in headquarter of NATO, Brussels on Thursday and Friday.
The defense ministers of NATO state members will discuss potential terror threats evolving from Afghanistan.
Gens Stoltenberg has acknowledged that the state members have the capability to maintain terrorism from the distance.
"Taliban are accountable to NATO and their allies in terms of their commitments over addressing terrorism, human rights, and providing a safe route for people to leave Afghanistan.' Said Stoltenberg.
Source: Khaama Press
Please click the following URL to read the full text of the original story:
https://www.khaama.com/nato-to-convene-meeting-on-afghanistan-in-brussels-36346346/
--------
Mideast
'Turkey leads fight against Islamophobia via international organizations'
Fuat Kabakcı
21.10.2021
Turkey is leading the fight against Islamophobia and all other forms of discrimination through international organizations, the country's deputy foreign minister said Wednesday.
"We are leading the fight against Islamophobia and all other forms of discrimination within the Council of Europe, the Organization for Security and Cooperation in Europe, the Organization of Islamic Cooperation and the UN," Yavuz Selim Kiran said in a session on "Racism, Culture Wars, and the Polarization of Global Politics" at the TRT World Forum 2021.
Kiran said Muslims in Europe are blamed by the far right for economic problems, irregular migration and terrorism, but Muslims themselves are the victims of these problems.
Discrimination in employment, education and social life triggers a tendency to withdraw in immigrant communities, he said, adding this leads to a "more fragmented and polarized society."
He said racist and anti-Islamic attacks in Europe and the US have increased in the last five years, and the number of people killed in these attacks has risen sevenfold.
Racism, populism and anti-Islamism have become the main obstacles to the integration of Muslims into Europe, he added.
He stressed that the threats that fuel polarization and discrimination can no longer be ignored and that these threats require urgent action at both national and international levels.
Source: Anadolu Agency
Please click the following URL to read the full text of the original story:
https://www.aa.com.tr/en/europe/turkey-leads-fight-against-islamophobia-via-international-organizations/2398168
--------
Grand Mufti Fatwa Banning Trade Of Flour For Bread Stirs Anger In Gaza
Mervat Ouf
October 22, 2021
Arwa Farroukh, was shocked to hear about the recent fatwa banning the exchange of flour for bread from bakeries. She had been making the exchange at her local bakery for months while the energy crisis prevented her from making her own bread at home.
Exchanging flour for bread at bakeries has become a common practice in the Gaza Strip. Women from middle and poor classes in Gaza traditionally bake their own bread at home. The UNRWA gives out food vouchers to the needy in Gaza every three months. Each voucher includes one bag of flour for each member of a family.
But the energy crisis plaguing the Gaza Strip has made it difficult to make and keep bread at home. Many people reached deals with local bakeries to give the flour they receive from UNRWA to the baker, who gives bread in exchange for one shekel (31 cents) per kilogram of bread.
Now a fatwa banning the exchange has raised concerns among many poor families in Gaza. On Oct. 18, Grand Mufti of Khan Yunis Sheikh Ihsan Ibrahim Ashour prohibited the practice in a fatwa, which said this practice falls under usury, which is prohibited in Islam.
Farroukh, who lives in al-Shati refugee camp in the west of the Gaza Strip, told Al-Monitor, "After I heard about the fatwa banning the exchange of flour for bread, I stopped to wait to make sure this practice is allowed under Sharia law."
The fatwa also worried Umm Mahmoud Mutair, who has been exchanging flour for bread at her local bakery for two years now.
Mutair had turned to this practice after two loaves were ruined when she was unable to bake them in time due to the power outage in the Badr camp in south Gaza. Other loaves she did bake repeatedly spoiled in the refrigerator, off for long hours.
Shadi Awad told Al-Monitor that he receives seven bags of flour from UNRWA each year. He has also been exchanging the flour for bread from his local bakery. Awad, who has been unemployed for years, said he was surprised by the fatwa, which came at a time when nearly 2 million Gazans are living below the poverty line. He said that the clergy should better consider the people's needs.
Amid the popular outrage, the Fatwa Department of the Islamic University of Gaza issued another ruling allowing the exchange, citing Muslim scholars who see no harm in it. Department head Atef Abu Harbid told Al-Monitor that after the mufti issued the fatwa, people asked his department for another judgment. An advisory council that includes experts in various disciplines including in jurisprudence discussed the matter, and the fatwa was issued to allow the practice.
Abu Harbid stressed that differences among Muslim scholars are common. "The dispute over this issue is not new, and we saw it was necessary to make people's lives easier and not embarrass them by controlling this practice. People are free to choose whatever opinion they are comfortable with."
Abdullah Abu Alyan, secretary of the Council of Jurisprudence at the Ministry of Endowments and Religious Affairs in Gaza, said the fatwa troubled Gazans because it directly affects their basic needs.
Source: Al Monitor
Please click the following URL to read the full text of the original story:
https://www.al-monitor.com/originals/2021/10/fatwa-banning-trade-flour-bread-stirs-anger-gaza?F808F8B4-866D-B94D-9E30-8D51DBA6B8FB_kav_cup_C6FA3ED5_6D17_47D1_B6E2_F4B02CC905E0_
--------
Spokesman: Terrorist Attacks Not to Undermine Syria's Determination in War on Terrorism
2021-October-21
"The blind and cowardly acts of terrorism are doomed to failure and certainly cannot undermine the determination of the Syrian government and people in the fight against terrorism and the liberation of the occupied territories and the stability of this country," Khatibzadeh said on Wednesday.
He also sympathized with the Syrian people and government and the families of the victims.
A blast on an army bus in Damascus on Wednesday killed 14 people, state media reported, the deadliest bombing in the Syrian capital in years.
The bus carrying troops was blown up near a bridge in the center of Damascus. A military source quoted by state media said two bombs had been attached to the vehicle in advance. Army engineers defused a third.
Source: Fars News Agency
Please click the following URL to read the full text of the original story:
https://www.farsnews.ir/en/news/14000729000316/Spkesman-Terrris-Aacks-N-Undermine-Syria%E2%80%99s-Deerminain-in-War-n
--------
Islamic Jihad threatens to expand hunger strike in Israeli prisons
By KHALED ABU TOAMEH
OCTOBER 21, 2021
Palestinian Islamic Jihad said on Thursday that its prisoners will not halt their hunger strike unless their demands are met by the Israeli authorities.
The Iranian-backed terrorist group said that dozens of its inmates are expected to join 250 PIJ prisoners who have been on hunger strike in Israeli prisons for the past nine days. PIJ has at least 400 prisoners in Israeli prisons.
The PIJ prisoners are protesting a series of punitive measures imposed on them by the Israel Prison Service following the escape of six inmates from Gilboa Prison last month.
Five of the escapees, who were recaptured days after the prison break, belong to PIJ. The sixth, Zakariya Zbeidi, is a member of the ruling Fatah faction headed by Palestinian Authority President Mahmoud Abbas.
Mahmoud al-Ardah, described as the "commander and mastermind" of the prison break, has joined the hunger strikers, his brother, Shaddad al-Ardah, said on Thursday.
The PIJ inmates are demanding that the authorities rescind their decision to transfer them to various prisons. They claim that some of the PIJ prisoners have been placed in solitary confinement as a punishment for the escape of their friends.
Thabet Mardawi, a veteran PIJ prisoner, was quoted as saying his group is considering escalating the protests in light of the Israeli authorities' refusal to comply with the demands of the inmates. Mardawi said dozens of PIJ prisoners are expected to join the hunger strike if the demands are not met by Thursday.
Palestinian sources said that prisoners belonging to Fatah, Hamas and other Palestinian factions have thus far refused to join the hunger strike.
The factions, however, said their prisoners may join the hunger strike at a later stage, the sources said, adding that PIJ officials in the West Bank and Gaza Strip expressed "disappointment" over the decision.
PIJ representatives claimed that the hunger strike launched by the prisoners was taken "with the consent of all Palestinian factions."
"Islamic Jihad is preparing to expand the hunger strike so that it would include prisoners from all Palestinian factions," said one PIJ representative. "They are protesting a series of abusive measures imposed by the authorities, including the transfer of many prisoners to other prisons and holding several others in solitary confinement."
The PIJ representative claimed that the prisoners are facing immense pressure from the authorities to end the hunger strike.
Meanwhile PIJ Secretary-General Ziyad al-Nakhalah and senior Hamas official Khalil al-Hayya briefed Iranian officials on the latest developments surrounding the Israeli-Palestinian conflict, including the conditions of Palestinian prisoners held in Israeli prisons.
Nakhalah and Hayya arrived in Tehran earlier this week to attend the 35th International Conference on Islamic Unity. The two held a series of meetings with Iranian officials on the margins of the conference.
Attended by Islamic "scholars" from 52 countries, the one-week conference was held under the banner "Peace and Avoiding Division and Conflict in the Islamic World."
Addressing the conference, al-Nakhalah praised Iran for its ongoing support for the Palestinians in their fight against Israel.
"The support of Iran, and the continuation of this support at all levels, has played the most prominent and important role in our ability to confront and continue the resistance against the Zionist enemy," he said.
Nakhalah said that "the hostile US-led Western attack [on Muslims] targets all components of our nation and constitutes an imminent danger to our nation and our civilization."
He called on all Muslim countries to support the Palestinian "resistance" and "mobilize all their energies towards liberating Jerusalem in order to foil the [US-led] onslaught."
Source: The Jerusalem Post
Please click the following URL to read the full text of the original story:
https://www.jpost.com/arab-israeli-conflict/islamic-jihad-threatens-to-expand-hunger-strike-in-israeli-prisons-682753
--------
Istanbul Finance Centre Will Be Islamic Finance Hub: Turkish President
Mehmet Tosun and Kaan Bozdogan
21.10.2021
With Istanbul Finance Center, a project expected to be launched by early 2022, Turkey targets to be a hub for Islamic finance, the nation's president said on Thursday.
"We are seeking to become one of the important centers in the world with the Istanbul Finance Center. We want this project to become a center for Islamic finance as well," Recep Tayyip Erdogan said in a video message to an economy event -- Regional Finance Conference -- held in Istanbul.
The president added that the legislative work regarding the landmark project will be completed soon.
The Istanbul Finance Center project is set to serve as a global hub for financial systems and non-banking financial methods.
Turkey, Erdogan said, has a lure for foreign investors with tax exceptions and discount.
He also mentioned steps to improve the infrastructure environment and moves to link transportation corridors which create opportunities for investors.
"There are many fields in which we can cooperate, from energy to transportation, defense industry, technology, finance, and food. We expect investors to make the most of these opportunities."
Erdogan said it is an important gain that Turkey's name comes to the fore for alternative destinations to the Asian-based production and supply network.
"As a government that has carried out historical reforms in every field for the last 19 years, we are determined not to let this trust in Turkey fail," he pledged.
- Turkey's economic growth despite pandemic
Amid the COVID-19 pandemic, the world has been struggling with a global crisis which has both economic and health-related fallouts, the Turkish leader said, adding last year's economic data clearly showed what kind of a storm the world is being dragged into.
He recalled that the world economy narrowed by 3.5%, the global trade decreased by nearly 10%, international direct investments dropped by 42%, and global debts reached the record level of $282 trillion last year.
Most of the countries are trying to get through this crisis by retreating into their own shells, instead of opening up and sharing the burden, he criticized.
Disruptions especially in production and supply chains will cause problems of which effects will take long years, he warned.
Turkey, he said, did not suspend production, logistics, employment, and industrial activities in this process by adopting a different method in fight against the pandemic.
With support for the business world, traders, small and medium-sized enterprises, and farmers, Turkey closed 2020 with a positive growth rate – 1.8% – despite a negative economic climate and supply chain problem, Erdogan stressed.
Source: Anadolu Agency
Please click the following URL to read the full text of the original story:
https://www.aa.com.tr/en/economy/istanbul-finance-center-will-be-islamic-finance-hub-turkish-president/2398492
--------
Erdogan threatens to expel 10 Western ambassadors
October 22, 2021
ISTANBUL: Turkish President Recep Tayyip Erdogan on Thursday threatened to expel the US, German and eight other Western ambassadors after they issued a rare joint statement in support of a jailed civil society leader.
Parisian-born philanthropist and activist Osman Kavala, 64, has been in jail without a conviction since 2017, becoming a symbol of what critics see as Erdogan's growing intolerance of dissent.
The 10 ambassadors issued a highly unusual joint statement on Monday — distributed widely on their Turkish social media accounts — saying Kavala's continued detention "cast a shadow" over Turkey.
"I told our foreign minister that we cannot have the luxury of hosting them in our country," Erdogan told reporters in comments published by Turkish media.
Kavala has faced a string of alternating charges linked to 2013 anti-government protests and a failed military coup in 2016.
In their statement, the US, Germany, Canada, Denmark, Finland, France, the Netherlands, New Zealand, Norway and Sweden called for a "just and speedy resolution to (Kavala)'s case".
The 10 envoys were summoned to the Turkish foreign ministry on Tuesday.
Erdogan sounded incandescent with rage in a conversation with Turkish reporters on board his return flight from a tour of Africa.
"Is it within your boundary to teach such a lesson to Turkey? Who are you?" he demanded in comments carried by the private NTV broadcaster.
The Turkish lira extended its fall into record-low territory against the dollar within moments of Erdogan's comments on fears of a new wave of Turkish tensions with the West.
Speaking from his jail cell last week, Kavala said he felt like a tool in Erdogan's attempts to blame a foreign plot for domestic opposition to his nearly two-decade rule.
"I think the real reason behind my continued detention is that it addresses the need of the government to keep alive the fiction that the (2013) Gezi protests were the result of a foreign conspiracy," Kavala said in the interview.
"Since I am accused of being a part of this conspiracy allegedly organised by foreign powers, my release would weaken the fiction in question and this is not something that the government would like," he said.
Kavala was acquitted of the Gezi charges in February 2020, only to be re-arrested before he could return home and thrown back in jail over alleged links to the 2016 coup plot.
The Council of Europe, the continent's top human rights watchdog, has issued a final warning to Turkey to comply with a 2019 European Court of Human Rights order to release Kavala pending trial.
Source: Dawn
Please click the following URL to read the full text of the original story:
https://www.dawn.com/news/1653325/erdogan-threatens-to-expel-10-western-ambassadors
--------
Iranian Army Air Force Starts Massive Drills
2021-October-21
In the main and operational phase of the 10th Fada'eeyan-e Harim-e Velayat military wargames on Thursday, vital targets of hypothetical enemy were destroyed by the indigenized 'Yasin 90' bombs.
The drills are participated by all bases of Army Air Force and with a focus on airbases of Shahid Babayee in Isfahan, Shahid Yasini in Bushehr, Shahid Abdolkarimi in Bandar Abbas, Vahdati in Dezful and Shahid Fakouri in Tabriz under the direct command of the Army Air Force Headquarters.
On the first day of the operational phase of the military exercises, F-4 and F-5 bombers equipped with pinpointing, smart and precision-guided missiles and F-7 aircraft equipped with 'Yasin 90' bombs and home-made rockets with innovative techniques successfully destroyed the critical and vital targets of hypothetical enemy both on land and sea, Iran's Army Air Force Commander Brigadier General Hamid Vahedi said on Thursday.
Also, F-5 and MiG-29 fighter jets conducted air operations successfully in real-time combat, in which the missile fired by hypothetical enemy was intercepted and destroyed by air-to-air missiles of Iran's Army Air Force, he added.
During the military exercises, the Command Center will communicate directly with pilots in fighter jets to carry out their mission, so that targets of fighter jets will be determined from the Command post, General Vahedi said, adding that shooting against air targets with high speed and in various altitudes and air-to-ground bombardment were practiced at the first stage of the drills, using smart, indigenous and upgraded heavy and semi-heavy bombs as well as use of laser missiles, thermal television, radar and various rockets and bombs produced by the young Iranian experts.
The main phase and operational stage of the 10th Air Force drill entitled Fada'eeyan-e Harim-e Velayat started on Thursday with the participation of manned and unmanned aircrafts of Iran's Army Air Force in the presence of Commander-in-Chief of Army of the Islamic Republic of Iran, Deputy Commander of Armed Forces and a number of senior commanders and officials of Khatam al-Anbia Central Headquarters.
A wide range of aircraft and drones, including dozens of fighter jets, bombers, military transport aircraft, and reconnaissance aircraft, will be employed in the main and operational phase of the one-day drills.
On Wednesday, General Vahedi said the drilling squadrons would be flying Sukhoi Su-24 attack aircraft, long-range supersonic F-4 fighter bombers, F-5 fighter aircraft, F-7 fighter jets, RF-4 fighter bombers, Mikoyan MiG-29 fighter jets, F-14 Tomcat fighter aircraft, as well as indigenously-developed Sa'eqeh (Lightning) fighters during the exercises.
He added that the aerial maneuvers would be backed by Boeing-707 and -747 aerial refueling airplanes, transport and freight aircraft, in addition to homegrown Karrar (Striker), Kian, Ababil (Bird Flock), Arash, and Kaman-12 (Bow-12) unmanned aerial vehicles that are equipped with rockets, precision-guided missiles, long-range smart bombs and radar jamming devices.
General Vahedi said the military hardware have been deployed to five bases across the country, including Shahid Babayee Airbase in the Central Isfahan province and Shahid Fakouri Airbase in the Northwestern province of East Azarbaijan Province, over the past few days.
The maneuvers, he said, are aimed at "assessment of combat capabilities of IRIAF units, increasing preparedness of interceptors, practicing the implementation of reconnaissance and operational plans, and establishment of a right model that would suit real-life battle."
The commander said that long-range endurance of the Islamic Republic of Iran Air Force fighter jets outside their defensive spheres, pinpoint accuracy of bombs and rockets in air-to-surface strikes as well as surveillance of the operational zone will be put to test during the massive drills.
Moreover, air-to-air missiles will be fired to test their high destructive power.
General Vahedi said all kinds of homegrown and upgraded systems and ammunition, including heavy and semi-heavy smart bombs, plus all kinds of laser-guided, thermal and radar-evading missiles will be used during the exercise.
He emphasized that Fada'eeyan-e Harim-e Velayat-10 aerial drills will be commanded by the IRIAF Command Center in Tehran, using sophisticated, multi-layered and secure communication systems.
Iranian military experts and technicians have in recent years made great progress in developing and manufacturing a broad range of domestically-manufactured equipment, making the armed forces self-sufficient in this regard.
Earlier this month, the Iranian Army and the Islamic Revolution Guards Corps (IRGC) started large-scale aerial drills aimed at enhancing preparedness for defending the country's skies against threats.
The operational phase of the joint large-scale drill, codenamed Modafe'an-e Aseman-e Velayat 1400 (Defenders of Velayat Skies 1400), was held in the Central desert areas of Iran.
Source: Fars News Agency
Please click the following URL to read the full text of the original story:
https://www.farsnews.ir/en/news/14000729000278/Iranian-Army-Air-Frce-Sars-Massive-Drills
--------
Iran, Turkey Reiterate Joint Fight against Terrorism
2021-October-21
The agreement inked on Wednesday is aimed at broadening neighborly cooperation on security issues and emphasizes determination to expand strategic ties and jointly fight terrorism and trafficking.
The MoU also foresees prevention of all kinds of terrorist and illegal acts concerning the two countries, especially in the border regions, and the mutual development of all kinds of law enforcement activities.
Later in the day, the two ministers briefed media on the content of their talks at a press conference.
Vahidi said they discussed ways to improve relations in all fields, including the fight against terrorism, international crimes, and arms and drug trafficking as well as cross-border exchanges and interactions.
Moreover, he said, "more general issues such as the destructive role of the US and the Zionist regime [Israel] in the region, the many problems they have caused for regional nations, [including] the problems they have created in Afghanistan, and the conspiracies they pursue in the region were also discussed".
"The two countries are resolved to expand strategic relations and new horizons are opening for joint cooperation in all areas. This is a good start for deepening ties with Turkey," Vahidi said.
"Iran-Turkey ties will speed up. The two states will together end regional stability and foil enemy plots. The two countries will not allow others to disrupt their relations," he added.
The Turkish minister, for his part, said he held important talks in Tehran.
Soylu added that Iran and Turkey cooperate on the battle against the Kurdistan Workers' Party (PKK) militants and other terrorist groups and are determined to eradicate terrorism.
The PKK, designated as a terrorist group by Turkey, the United States and European Union, took up arms against the Turkish state in 1984. More than 40,000 people have been killed in the conflict, focused in southeast Turkey.
Pointing to the new influx of many Afghan refugees into Iran and Turkey, Soylu said the two countries are firm in fighting illegal immigration and added that Ankara would examine a proposal by Tehran to set up a joint working group in this regard.
In a relevant development in September, Vahidi in a telephone conversation with Soylu had described Tehran and Ankara as two key regional powers that can play a significant role in the establishment of peace and stability in the region.
Source: Fars News Agency
Please click the following URL to read the full text of the original story:
https://www.farsnews.ir/en/news/14000729000191/Iran-Trkey-Reierae-Jin-Figh-agains-Terrrism
--------
Iran, Russia Confer on Situation in Syria's Idlib, Eastern Euphrates Region
2021-October-21
During the meeting on Wednesday, the two sides exchanged views on bilateral ties and the latest developments in Syria, specially Eastern Euphrates and Idlib as well as other issues of mutual interests.
Khaji referred to holding the sixth round of meetings of members of Syrian Constitutional Committee, and expressed the hope that the meeting would yield good and positive results.
He also lauded the positive attitude of certain countries towards the Syrian government and people, and expressed the hope that this issue would accelerate the delivery of humanitarian aid, reconstruction and return of refugees to their country.
In a relevant development on Wednesday, Khaji had called on Qatar to dispatch humanitarian aid to Syria and participate in the war-ravaged country's reconstruction.
Khaji made the remarks in a meeting with the Qatari envoy for regional affairs and Syria on the sidelines of the Syria Constitutional Committee meeting sponsored and backed by the UN in Geneva.
Source: Fars News Agency
Please click the following URL to read the full text of the original story:
https://www.farsnews.ir/en/news/14000729000467/Iran-Rssia-Cnfer-n-Siain-in-Syria%E2%80%99s-Idlib-Easern-Ephraes-Regin
--------
Africa
Mali has not asked any group to negotiate with Islamist militants
October 22, 2021
BAMAKO, Oct 21 (Reuters) - The Malian government on Thursday said it had not officially asked any organisation to negotiate with Islamist insurgents on its behalf.
This week, a spokesperson for the ministry of religious affairs said it had asked the High Islamic Council (HCI) to open peace talks with leaders of al Qaeda's local affiliate in an effort to end a decade of conflict. read more
"The Government informs the national and international public that to date, no national or international organisation has been officially mandated to carry out such an activity," the government said in a statement.
Source: Reuters
Please click the following URL to read the full text of the original story:
https://www.reuters.com/world/africa/mali-has-not-asked-any-group-negotiate-with-islamist-militants-2021-10-22/?rpc=401&
--------
Tunisia's president promises 'dialogue' on changing political system
21 October ,2021
Tunisia's president said on Tuesday he would launch a "national dialogue" on changing electoral law and the political system, but gave no detail on how he would allay international concerns about his seizure of near total power.
President Kais Saied assumed executive authority in July then last month brushed aside most of the constitution. Critics called the moves a coup and the European Union this week joined other donors in calling for a restoration of democratic order.
In a speech streamed on the presidential Facebook page, Saied said the dialogue would include the country's young people, but kept up a defiant tone.
He said the discussions would not include "those who stole the people's money and traitors". He also criticized what he called foreign interference, telling world powers to "return smuggled Tunisian money to European and international banks".
Critics say his moves have cast doubt over the democratic gains of Tunisia's 2011 revolution. But his supporters have hailed the changes, saying they have reclaimed the revolution from an entrenched, corrupt elite.
Source: Al Arabiya
Please click the following URL to read the full text of the original story:
https://english.alarabiya.net/News/north-africa/2021/10/21/Tunisia-s-president-promises-dialogue-on-changing-political-system
--------
Mass protests in Sudan against prospect of military rule
21 October ,2021
Huge crowds of people marched in different parts of the Sudanese capital and other cities on Thursday in demonstrations to reject military rule as the crisis in the country's troubled transition from authoritarian rule deepened.
The military has shared power with civilians in a transitional authority since the removal of President Omar al-Bashir in 2019 in a popular uprising after three decades in power.
A coalition of rebel groups and political parties have aligned themselves with the military, which has accused the civilian parties of mismanagement and monopolizing power, and are seeking to dissolve the cabinet.
For the latest headlines, follow our Google News channel online or via the app.
Civilian leaders say this would amount to a coup and say the military aims to install a government it can control.
Thursday's protest took place on the anniversary of the 1964 October Revolution and was preceded by days of smaller neighborhood protests.
Reuters journalists estimated the number of participants to be in the hundreds of thousands, making it the biggest demonstration of the transition.
In the city of Omdurman, protesters were met with heavy tear gas to prevent them from crossing a bridge leading to central Khartoum, witnesses told Reuters.
Plumes of smoke could be seen across the city as protesters burned tires and waved Sudanese flags.
Many chants were critical of head of the ruling Sovereign Council, General Abdel Fattah Al-Burhan, accusing him of being loyal to Bashir. Some demanded he hand over leadership to civilians and others demanded his removal.
"This country is ours, and our government is civilian," one chant said.
Several government ministers were seen marching in different parts of Khartoum.
"October 21 is a lesson for any tyrants, loyalists, or opportunists deluded into thinking they can turn back the hands of time," wrote Sovereign Council member Siddig Tawer, one of several civilian officials who endorsed the protests.
Neighborhood resistance committees said in a statement they were protesting the entire power-sharing agreement and demanded sole civilian rule.
Many businesses in central Khartoum were closed in anticipation of the protest and there was an extensive police presence.
The military says it is committed to the transition to democracy and elections at the end of 2023.
Prime Minister Abdalla Hamdok, who leads the cabinet under a military-civilian power-sharing agreement, remains popular despite an economic crisis. He has said he is speaking to all sides in the crisis in order to find a solution.
Source: Al Arabiya
Please click the following URL to read the full text of the original story:
https://english.alarabiya.net/News/north-africa/2021/10/21/Mass-protests-in-Sudan-against-prospect-of-military-rule
--------
Libyan PM Dbeibah supports holding national election on Dec. 24
21 October ,2021
Libyan Prime Minister Abdulhamid Dbeibah suported on Thursday the holding of a national election on Dec. 24 as envisaged in a UN-backed peace plan.
Speaking at the Libya Stabilization Conference in Tripoli, he said it was possible to end the lengthy crisis since the 2011 NATO-backed uprising that toppled former Libyan President Muammar Gaddafi.
"We support the efforts of the higher election committee to hold (the vote) on the planned date. I call for a wide and effective participation of Libyans in the elections," Dbeibah said.
The election, agreed under a UN-supported peace process, has been viewed as a key step in efforts to end a decade of violence by creating a new political leadership whose legitimacy is widely accepted.
Wrangling over the constitutional basis for an election, the rules governing the vote and questions over its credibility have threatened to unravel the peace process.
The United Nations process has called for presidential and parliamentary elections for December 24.
However, although the parliament has issued a law for the presidential election on that date, it has issued a separate law saying the parliamentary election will happen at a later date. Other political institutions in Libya have rejected the parliament's proposals.
Non-interference
Libya has had little stability since the uprising against Gaddafi and the legitimacy of its various political institutions have been questioned repeatedly since then.
Any move to hold an election without widespread acceptance by rival political institutions could lead major factions to reject the vote, potentially triggering another violent schism.
Unifying the country's fragmented armed forces, divided between a host of groups split between two broad coalitions in east and west, as well as resolving the role of foreign powers and mercenaries in Libya, is also crucial.
Source: Al Arabiya
Please click the following URL to read the full text of the original story:
https://english.alarabiya.net/News/north-africa/2021/10/21/Libyan-PM-Dbeibah-supports-holding-national-election-on-Dec-24
--------
African envoys make Libya 'conciliation' trip before December presidential vote
20 October ,2021
Congolese President Denis Sassou Nguesso, the African Union (AU) pointman on Libya, dispatched a "conciliation" mission to the conflict-ridden North African country on Monday ahead of presidential elections there set for December, official sources said.
The AU mission will cover "information, evaluation but also conciliation on the process ahead of the presidential vote due at the end of the year," the Republic of Congo's Foreign Minister Jean-Claude Gakosso told AFP by telephone.
The delegation will meet senior political players, religious leaders and opinion makers in Tripoli, Benghazi, Tobruk, and Misrata, the minister said.
"We envisage also meeting Libyans in the diaspora in Cairo and Tunis," where the AU group of a dozen figures arrived on Monday.
They will return to Brazzaville to brief Sassou Nguesso who will attend a Libya summit in France on November 12, the minister added.
Sassou Nguesso met Libyan leader Mohamed al-Menfi in Congo last July to discuss the election arrangements.
Source: Al Arabiya
Please click the following URL to read the full text of the original story:
https://english.alarabiya.net/News/north-africa/2021/10/20/African-envoys-make-Libya-conciliation-trip-before-December-presidential-vote-
--------
Putin admits presence of Russian private military companies in Mali
Elena Teslova
21.10.2021
Russian private military companies could be active in Mali, President Vladimir Putin admitted on Thursday.
Such contractors could be serving in roles connected to guarding mining operations, Putin said at a meeting of the Valdai Discussion Club in the resort city of Sochi in southern Russia.
"This is a private business, private interests, related to -- among other things -- the extraction of energy resources and other resources -- gold, gems," he said.
The president stressed that as private companies, private military companies do not represent the interests of the Russian state and are not deployed by Russian authorities.
If their activities contradict the interests of Russia as a state, however, Russian officials will take action.
Russia, US move forward on Geneva decisions
Turning to Russia-US relations, Putin said a summit in Geneva with US President Joe Biden earlier this year had been "productive" and boosted impetus towards normalization.
"Though the set of issues we agreed on (in Geneva) is small, we're still on the right track. These are today's most important issues and in general, the administration on the American side and Russia on the other side are fulfilling their plans and moving forward on this path," he said on the meeting held in June.
Putin added that he had the impression that Washington aimed to build and revive relations in some important areas.
Kremlin spokesman Dmitry Peskov said on Wednesday that a new meeting between the Russian and US leaders could take place by the end of the year.
Thawing Armenia-Turkey relations
Addressing the settlement last year of the conflict for the Nagorno-Karabakh region, Putin said that despite all obstacles, Azerbaijani President Ilham Aliyev and Armenian Prime Minister Nikol Pashinyan had managed to stop the bloodshed.
"It is necessary to create conditions for a long-term settlement in the region as a whole, which can be created if the parties accept the agreements on Karabakh as long-term, to be able to assess the benefits of peace," he said.
Putin underlined that both sides would benefit from the peace, with Azerbaijan now able to have normal connections with its exclave Nakhchivan and Armenia profiting from building economic relations.
"Armenia is interested in establishing normal economic activity, including with Azerbaijan, to unfreeze its relations with Turkey, to give them a modern character," he said.
The main point will be to create a situation of security and build relationships between Armenia and Azerbaijan in a positive way, he added.
Another important thing, said Putin, will be to settle the situation on the border, adding that this would be impossible without Russia.
Liberation of Karabakh
Relations between the former Soviet republics of Azerbaijan and Armenia have been tense since 1991, when the Armenian military occupied Nagorno-Karabakh, also known as Upper Karabakh, a territory internationally recognized as part of Azerbaijan, and seven adjacent regions.
When new clashes erupted on Sept. 27, 2020, the Armenian army launched attacks on civilians and Azerbaijani forces, and violated several humanitarian cease-fire agreements.
During the 44-day conflict, Azerbaijan liberated several cities and nearly 300 settlements and villages from the nearly three-decade occupation.
On Nov. 10 last year, the two countries signed a Russian-brokered agreement to end the fighting and work toward a comprehensive resolution.
Source: Anadolu Agency
Please click the following URL to read the full text of the original story:
https://www.aa.com.tr/en/africa/putin-admits-presence-of-russian-private-military-companies-in-mali/2399400
--------
French army says leading member of al-Qaeda affiliate killed in Mali
James Tasamba
21.10.2021
The French military Thursday announced the killing of Nasser Al Tergui, a leading member of the Katiba Serma terrorist group affiliated with al-Qaeda, last week in Mali.
In a statement, the French military said he was killed in an airstrike carried out by Barkhane military forces on Oct. 15.
There was no immediate reaction from the government in Mali on the announcement.
Katiba Serma, an armed group affiliated with al-Qaeda, is operating along Mali's troubled border with Burkina Faso.
Al Tergui was number two in the Gourma-Serma brigade of the Support Group for Islam and Muslims (Jamaat Nasr al-Islam wal Muslimin), the statement said.
Al Tergui is believed to have joined al-Qaeda in the Islamic Maghreb in 2012.
He had "major operational responsibilities in the group, notably planting improvised explosive devices," the statement said, adding: "His death will reduce the capacity to cause harm of an armed terrorist group known for carrying out attacks against local forces and the local population."
A drone reportedly spotted a vehicle believed to be carrying Al Tergui and five other members of the brigade about 100 kilometers (60 miles) northwest of Gossi town on Oct. 15.
An operation was launched to intercept the vehicle, but it refused to stop.
"Two airstrikes were unleashed, destroying the vehicle and neutralizing the five occupants," the army said.
Mali has been battling an insurgency linked to the al-Qaeda and Daesh/ISIS terror groups since 2012 when unrest erupted in the north of the West African country.
Mali's transition government said Tuesday it asked the High Islamic Council to open peace talks with leaders of the al-Qaeda-linked groups to end a decade of conflict, a move not backed by the country's chief military ally, France.
France has maintained about 5,100 soldiers in West Africa as part of its Operation Barkhane anti-terrorism force, with its headquarters in Chad's capital, N'Djamena. The force is being drawn down.
Source: Anadolu Agency
Please click the following URL to read the full text of the original story:
https://www.aa.com.tr/en/africa/french-army-says-leading-member-of-al-qaeda-affiliate-killed-in-mali/2398874
--------
URL: https://www.newageislam.com/islamic-world-news/aamir-advertisement-bjp-firecrackers-/d/125624
New Age Islam, Islam Online, Islamic Website, African Muslim News, Arab World News, South Asia News, Indian Muslim News, World Muslim News, Women in Islam, Islamic Feminism, Arab Women, Women In Arab, Islamophobia in America, Muslim Women in West, Islam Women and Feminism