New Age Islam News Bureau
12 January 2021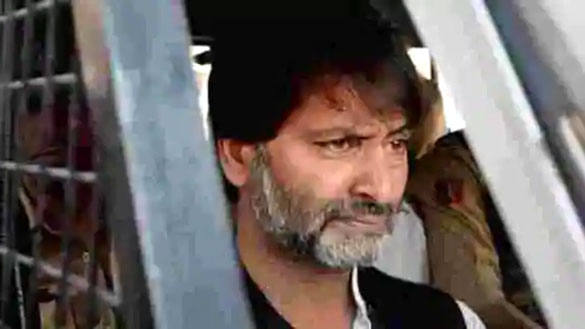 The TADA court had earlier issued non-bailable warrants against Yasin Malik and seven others allegedly involved in the killing of four IAF personnel in Kashmir in 1990.(PTI photo)
-----
• PDM Chief Maulana Fazlur Rehman: Ousting Imran Khan Is 'Jihad'
• Turkish Religious Cult Leader, A Writer Of Over 300 Books Charged over Sexual Assault, Abuse, Statutory Rape
• Main Mauritanian Opposition Party Seeks To Send Bill to Parliament to Criminalize Normalization with Israel
• US Lawmakers: Designating Houthis as Terrorist, Death Sentence For Thousands Of Yemenis
• Albania Races to Rescue Children From Jihadist Camp
• Afghan Leaders Sideline Spokesmen in an Escalating Misinformation War
India
• A TADA Court Orders Charges Be Framed Against Terrorist-Turned-Separatist Leader Yasin Malik and Nine Others in Rubaiya Sayeed Kidnapping Case
• Yogi Govt Plans New Law to Regulate Temples, Mosques, Churches, Will Keep Tab on Donations
• 16 Anti-Conversion Law Cases, Key Accused Muslims, But UP Govt Insists Law Is Religion-Neutral
• 14yr-old injured in Pak shelling along LoC in Poonch
• Shiv Sena Targets BJP Over Bird Flu, Asks If Pak, Khalistanis Behind Outbreak
• PAGD not for petty electoral gains but for restoration of J&K's special status, reiterates Mufti
• 30 years later, charges to be framed against Malik, others
--------
Pakistan
• PDM Chief Maulana Fazlur Rehman: Ousting Imran Khan Is 'Jihad'
• If PDM Comes To Rawalpindi, We'll Offer Them 'Chai-Pani': Pakistan Army Spokesman
• Army rejects allegation of meddling in political affairs
• PM forms ministerial body on law, order in Islamabad
• Two 'IS-inspired militants' get life in Navy officer's killing case
• Terrorist with explosives held in Nowshera
• PA flays miners' killing, seeks steps against fresh terror wave
• Operation against terrorists launched, says Langove
--------
Mideast
• Turkish Religious Cult Leader, A Writer Of Over 300 Books Charged over Sexual Assault, Abuse, Statutory Rape
• Hezbollah: US 'terror' designation for Yemen's Ansarullah criminal act
• Houthis condemn US move to designate them as terrorist
• Hamas warns of Israeli scheme to dismantle Dome of Rock
• Iran, UN Voice Concern over Escalation of ISIL Terrorist Activities in Syria
• Iran Asks Interpol to Issue Red Notice for 4 Culprits in Nuclear Scientist's Assassination
• Official: Sanctions Removal Pre-Requisite for US' Return to N. Deal
• Reviving Iran's nuclear deal must be within coming weeks: UN atomic watchdog
• Coronavirus: Palestine approves Russian COVID-19 vaccine, Russian wealth fund says
• Advocacy group B'Tselem calls Israel apartheid regime for first time
--------
Africa
• Main Mauritanian Opposition Party Seeks To Send Bill to Parliament to Criminalize Normalization with Israel
• Israel to Reopen Morocco Mission in 'The Next Days' After Normalizing Ties
• Sudan voices frustration as latest Nile Dam talks stall
• Cameroon Says Boko Haram, Separatists on Offensive
• Nigeria: Military Kills 28 Boko Haram Terrorists in Gujba Clash
• Boko Haram kills commuters, seizes 11 vehicles in Borno
• Tunisia nabs senior al Qaeda member
--------
North America
• US Lawmakers: Designating Houthis as Terrorist, Death Sentence For Thousands Of Yemenis
• 25 Domestic Terrorism Cases Opened As Result Of US Capitol Riots
• Fear Spreads in Minnesota Town as 'Extremist Group' Moves to Open Church
• US Secretary Pompeo to release new information on Iran's ties to al-Qaeda
• US designates Cuba as a State Sponsor of Terrorism: Pompeo
• Pompeo meets with Mossad chief ahead of anti-Iran speech: Report
• US military continuing Afghan troop withdrawal despite new law
• Cuba raps as 'political opportunism' US return of Havana to 'terror sponsors' list
• US Veteran Diplomat Kissinger Criticizes Possible Return To Nuclear Deal With Iran
--------
Europe
• Albania Races to Rescue Children From Jihadist Camp
• Iran Must Undo Uranium Enrichment, Help Nuclear Diplomacy: EU
• Spain court remands three suspected ISIS members
• Man arrested in Redhill over Islamic terrorism
--------
South Asia
• Afghan Leaders Sideline Spokesmen in an Escalating Misinformation War
• Female Military Personnel 'Assassinated' in Balkh
• Sri Lanka and Bangladesh agree to promote maritime cooperation
--------
Southeast Asia
• Dr M Hits Back At Being Named On Extremist List
• Malaysia's Pharmaniaga signs Covid-19 vaccine agreement with China's Sinovac
• After Machang MP, Umno's Nazri Aziz withdraws support for Muhyiddin
• Indonesia using unmanned vehicle to search for air crash victims in sea
--------
Arab World
• Saudi Arabia's Foreign Ministry Welcomes US Designation Of Houthis As Terrorist Group
• Oman's Sultan Announced New Law Allows Oman to Get First Crown Prince
• Egypt reopens airspace with Qatar, resumes flights: Report
• UAE official welcomes US designation of Iran-backed Houthis as terrorist group
• Bahrain welcomes US designation of Houthis as a terrorist group
• First Qatari flight arrives in Saudi Arabia's Riyadh from Doha
• Senior Bahraini Shia cleric sympathizes with Pakistan's Hazara Muslims after Daesh bloodshed
• Badge of honour for Iraqi PMU chief to be put on US sanctions list: Bahraini opposition
Compiled by New Age Islam News Bureau
URL: https://www.newageislam.com/islamic-world-news/a-tada-court-orders-charges/d/124055
--------
A TADA Court Orders Charges Be Framed Against Terrorist-Turned-Separatist Leader Yasin Malik and Nine Others in Rubaiya Sayeed Kidnapping Case
By Ravi Krishnan Khajuria
JAN 11, 2021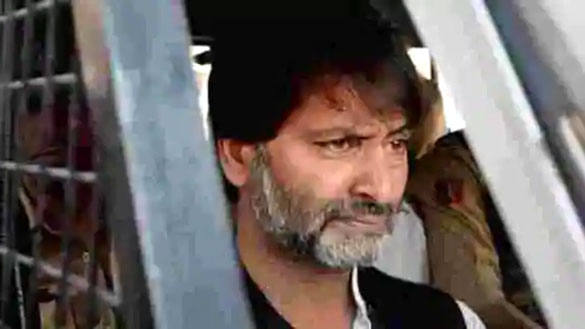 The TADA court had earlier issued non-bailable warrants against Yasin Malik and seven others allegedly involved in the killing of four IAF personnel in Kashmir in 1990.(PTI photo)
-----
A TADA court on Monday ordered that charges be framed against terrorist-turned-separatist leader Yasin Malik and nine others for their alleged roles in the abduction of Rubaiya Sayeed, daughter of the then Union home minister Mufti Mohammed Sayeed in December 1989.
Special Judge TADA Court Sunit Gupta ordered that charges be framed against Yasin Malik, Ali Mohamad Mir, Mohammad Zaman Mir, Iqbal Ahmad Gandroo , Javed Ahmad Mir , Mohammad Rafiq Pahloo alias Nana Ji alias Saleem , Manzoor Ahmed Sofi, Wajahat Bashir , Mehraj-ud-Din Sheikh and Showkat Ahmad Bakshi.
Rubaiya Sayeed who is the younger sister of former Jammu and Kashmir chief minister Mehbooba Mufti, was kidnapped by the Jammu Kashmir Liberation Front from Nowgam in Kashmir on December 8, 1989.
According to the CBI, the accused had kidnapped Rubaiya Sayeed to force the government to release five militants.
Yasin Malik has been accused of playing a key role in the kidnapping that he and his associates executed.
Rubaiya Sayeed was eventually released December 13 that year.
The court after hearing public prosecutor of the CBI Vijay Kumar Dogra and advocate MA Goni besides going into confessional statements of other accused observed that sufficient grounds existed to presume that all the accused had committed offences.
"Hence, charges are required to be framed against each of the accused persons, separately," the court stated.
In March last year, a TADA court had also framed charges against Yasin Malik and six others allegedly involved in the killing of four unarmed Indian Air Force (IAF) officials in 1990 in Kashmir. Malik is currently in Delhi's Tihar jail.
https://www.hindustantimes.com/india-news/yasin-malik-9-others-to-be-charged-in-rubaiya-sayeed-kidnapping-case-101610377073110.html
--------
PDM Chief Maulana Fazlur Rehman: Ousting Imran Khan Is 'Jihad'
Jan 12, 2021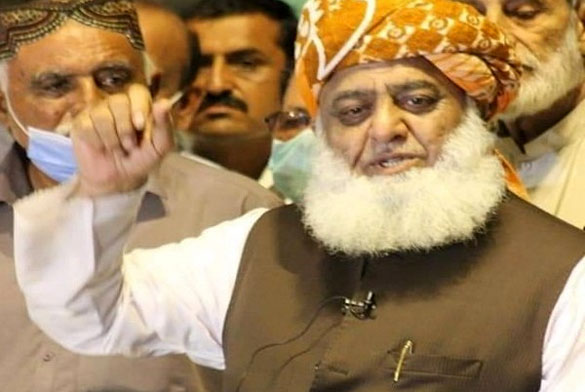 PDM Chief Fazlur Rehman
----
MALAKAND (Khyber Pakhtunkhwa): Pakistan Democratic Movement (PDM) chief Maulana Fazlur Rehman has termed the 11-party movement against the incumbent government of Imran Khan a 'jihad', reported Dawn.
At a PDM rally organised at Malakand in Khyber Pakhtunkhwa, he declared that the nation is ready to offer any sacrifice for this cause. He pledged that jihad would continue till 'rulers stopped oppressing the poor'.
The Malakand rally is among the several rallies organised by PDM to oust the corrupt government of Imran Khan. Earlier this month, a rally was held at Bahawalpur, including those in Peshawar, Karachi, Quetta, Multan and Lahore since October 16. It has demanded the resignation of Imran Khan by January 31 on corruption charges.
Maulana in Malakand rally equated the Imran-led government with General Zia-ul-Haq and General Pervez Musharraf's repressive regime and said that there was no democracy in the country and government was conspiring against the Constitution and provinces and "martial law is in place which is worse than General Zia's and Gen Musharraf's eras," reported Dawn.
He urged the people to gather under the umbrella of PDM to kick out this 'incompetent government' and restore real democracy in the country and remove the 'incompetent and selected' government from power who had snatched the mandate of the people.
Charging the National Accountability Bureau (NAB) of acting on the orders of Imran-government he criticised the ongoing accountability process in the country and termed it partial and challenged NAB officials to come and arrest him if they had the courage. He said NAB was only filing cases against leaders of opposition parties and it had closed eyes on the corruption of leaders of the incumbent government, reported Dawn.
He also informed that PDM will stage a protest in front of the Election Commission in Islamabad on January 19 and also hold a protest million march in Karachi on January 21 against conspiracy to recognise Israel.
Earlier, Imran Khan has begun to take steps toward ending a decades-old diplomatic impasse with Israel, following its key ally, Saudi Arabia, settling on an unstated position of discrete contacts but no diplomatic ties due to shifting geopolitics in the Middle-east. The recent recognition of Israel by the United Arab Emirates, Bahrain, Morocco and Sudan is a case in point.
Islamabad has introduced the emotive issue to the public through pro-establishment media, so as to condition them for a prospective shift in policy as they have never recognised Israel. The Pakistani passport is the only one in the world that explicitly states that you can travel anywhere using the document -- except Israel.
Reiterating his resolve to march on Islamabad, he added that the entire country was ready to oust the corrupt government of Imran Khan.
Pakistan Peoples Party (PPP) chairman Bilawal Bhutto Zardari also addressed the public meeting and said that this rally was a referendum against the 'selected government', adding that the people of Malakand had given their verdict to oust incompetent rulers from power, reported Dawn.
Taking a shot at Imran Khan's Pakistan Tehreek-e-Insaf (PTI) government in Khyber Pakhtunkhwa, he said the people had become fed up with rulers due to their continued suffering at the hands of these incompetent and fake rulers for a long time. He charged them with non-fulfillment of promises made with the people during the election campaign.
Bilawal vowed to get rid of this 'puppet government' and restore true democracy in the country with the support of the masses. He said the people of Malakand were brave as neither they bowed down before terrorists nor dictators.
Terming Imran Khan as 'coward', he said that when the Army Public School in Peshawar had been attacked, this Imran Khan was dancing at the D-Chowk in Islamabad and now when families of Shia Hazara victims of the Mach tragedy were staging the sit-in, the prime minister had called them 'blackmailers', reported Dawn.
"This proved that blood of the people is cheaper in Naya Pakistan than their life," he added.
He also took a shot on the plunging economy of the country, the economy of the country had been ruined by policies of the 'selected government', adding that "even economies of poor countries like Afghanistan and Bangladesh are going up at a rapid pace than Pakistan", he added.
Reminding Imran of his promised ten million jobs to the unemployed youth and building five million houses for the homeless, he said that after coming to power Imran-led government 'incompetent govt' had started destroying houses in the name of encroachments.
He also termed the NAB ongoing accountability process one-sided and selected one, adding that corruption could only be eliminated from society when the process of accountability was fair, even-handed and was the same for everyone including politicians, judges and army generals, reported Dawn.
Earlier, the rally was also addressed by PML-N provincial chief Amir Muqam, PkMAP chief Mahmood Khan Achakzai, Amir Haider Khan Hoti, Maulana Owais Noorani, Agha Hassan and others, reported Dawn.
https://timesofindia.indiatimes.com/world/pakistan/for-pak-opposition-ousting-imran-khan-is-jihad/articleshow/80228607.cms
--------
Turkish Religious Cult Leader, a Writer Of Over 300 Books Charged over Sexual Assault, Abuse, Statutory Rape
By Mohammad Haroon Alim
12 Jan 2021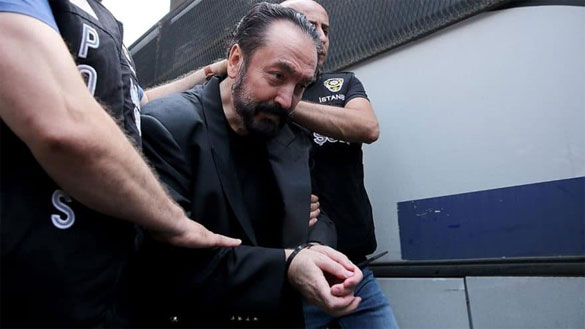 Turkish televangelist/Photo Source: Social Media
-----
Turkish televangelist on Monday was sentenced to more than 1000 years in Jail, the defendant was ordered jail time for crimes, like criminal Gang establishment and leading, sexual abuse and fraud, state media said.
Adnan Oktar and 200 others were detained over sexual assault, sexual abuse of minors, attempted political and military espionage.
Oktar had close to 1000 girlfriends, he previously ran his own TV channel A9 on which he used to discuss Islamic values.
Video footage on some occasions revealed him dancing with young women he used to call them kittens and he nicknamed male singers he used to sing with as "Lions".
He was also known as Harun Yahya who wrote many books such as "the evolution deceit", the blamed culprit has written over 300 books.
In 2018 he and 77 others were arrested by the Turkish government and were kept until the trial.
The religious cult leader was sentenced to 1,075 years and three months in prison on 10 consecutive accounts, according to Anadolu news outlet, Oktar denied the charges against him and demanded his release.
During the last months of the 1970s, Oktar faced a number of trials including forming a gang but was released,
https://www.khaama.com/turkish-televangelist-charged-over-sexual-assault-abuse-statutory-rape-554455/
--------
Main Mauritanian opposition party seeks to send bill to parliament to criminalize normalization with Israel
11 January 2021
Mauritania's largest opposition political party says it intends to submit a bill to parliament seeking to criminalize normalization and establishment of diplomatic relations with the Israeli regime.
"In line with our principles, values, and constitutional texts, which cite Sharia as a source of law, and fulfillment of the aspirations of Muslims to support just causes of nations, especially the issue of al-Aqsa [Mosque] and the Palestinian cause, we highly demand the enactment of a law to criminalize normalization [of relations with Israel], and we declare our full readiness to do whatever necessary for such an honorable purpose," the National Rally for Reform and Development said in a statement.
The party then called on all Mauritanian parliamentary factions and political movements to throw their weight behind the initiative, saying the bid preserves public dignity and is in line with attempts to stand against the Tel Aviv regime's wills.
The development comes as three other opposition parties, namely Union of the Forces of Progress, the People's Progressive Alliance and the Alliance for Justice and Democracy/Movement for Renewal, called last week for legislation against normalization of ties with Israel.
Mauritania fully severed diplomatic ties with Israel in March 2010,
The northwest African country had expelled Israeli representatives and closed the regime's embassy in Nouakchott a year earlier. The move came after it froze ties in response to Israel's attacks on the Gaza Strip.
The Mauritanian government has frequently affirmed its firm support for Palestinians and their right to establish an independent and sovereign state with Jerusalem al-Quds as its capital.
Last September, Mauritania's Foreign Minister Ismail Ould Cheikh Ahmed said in a statement that his country "firmly supports the right of the Palestinian nation to an independent state with al-Quds as its capital, in accordance with the provisions of relevant United Nations resolutions and the Arab Peace Initiative."
The so-called Arab Peace Initiative, which was proposed by Saudi Arabia and endorsed by the Arab League in 2002, calls on Israel to agree to a "two-state solution" along the 1967 lines and a "just" solution to the Palestinian refugee issue.
Morocco and Israel agreed on December 10 to normalize relations in a deal brokered with the help of the administration of outgoing US President Donald Trump, making the North African country the fourth Arab state last year to strike a deal aimed at establishment of relations with the regime. The others were the United Arab Emirates, Bahrain and Sudan.
Trump sealed the agreement in a phone call with Morocco's King Mohammed VI. As part of the agreement, the US president agreed to recognize Morocco's sovereignty over the Western Sahara region.
The Algerian Foreign Ministry later rejected Trump's stance, saying the US decision "has no legal effect because it contradicts UN resolutions, especially UN Security Council resolutions on Western Sahara."
"The proclamation would undermine the de-escalation efforts made at all levels in order to pave the way for launching a real political process," the ministry said in a statement.
Additionally, the Palestinian Hamas resistance movement reacted to the announcement that Morocco will normalize relations with Israel, denouncing the deal.
"This is a sin and it doesn't serve the Palestinian people. The Israeli occupation uses every new normalization deal to increase its aggression against the Palestinian people and increase its settlement expansion," Hazem Qassem, a Hamas spokesman said at the time.
https://www.presstv.com/Detail/2021/01/11/642773/Main-Mauritanian-opposition-party-seeks-to-criminalize-normalization-with-Tel-Aviv-regime
--------
US lawmakers: Designating Houthis as terrorist, death sentence for thousands of Yemenis
11 January 2021
A group of US lawmakers have warned against the United States plans to designate Yemen's Houthi Ansarullah movement as a foreign "terrorist" group, urging Washington to reverse the decision.
In a post on his Twitter account on Monday, US Democratic Senator Chris Murphy said, "The designation of the Houthis as a terrorist organization is a death sentence for thousands of Yemenis," adding that the move will cut off humanitarian aid and make intra-Yemen peace talks nearly impossible.
He further said President-elect Joe Biden should reverse this policy as soon as he takes office.
Murphy's remarks came a day after US Secretary of State Mike Pompeo said he intends to designate the Houthi movement as a foreign terrorist group in defiance of aid groups who fear the move will worsen a humanitarian crisis in the war-torn country.
The Houthis will be blacklisted on January 19 -- one day before Biden's inauguration -- unless US Congress blocks the decision.
Democratic lawmaker Gregory Meeks also said, "No solution in Yemen will be sustainable unless the Houthis are involved."
He further said the outgoing administration of US President Donald Trump "is only pushing a political solution to the conflict further out of reach," by designating the Houthis as a foreign terrorist organization.
Meeks also urged a "speedy reversal" of the decision, but warned that "the damage will be done" even if the designation were to be reversed quickly by the Biden administration.
Republican Senator Todd Young also said Pompeo's move "will further destabilize a war-torn country" and block aid groups from delivering vital relief.
"I look forward to working with President-elect Biden and his team to overturn this misguided decision," he said.
UN warns of serious repercussions if US blacklists Yemen's Houthis
In a related development, the United Nations warned on Monday that the US plan to designate Yemen's Houthi movement as a foreign terrorist organization is "likely to have serious humanitarian and political repercussions."
UN spokesman Stephane Dujarric was quoted by Reuters as saying it is imperative that the United States "swiftly grant the necessary licenses and exemptions to ensure that principled humanitarian assistance can continue to reach all people ... without disruption."
The UN official added that the United Nations was "concerned that the designation may have a detrimental impact on efforts to resume the political process in Yemen, as well as to polarize even more the positions of the parties to the conflict."
Saudi Arabia has been leading a war on Yemen since March 2015, in hopes of reinstating former president Abd Rabbuh Mansur Hadi and destroying the Houthi movement.
The war, which the UN calls the world's worst humanitarian crisis, has claimed the lives of hundreds of thousands of people in the impoverished Arab country over the last six years.
The United States and a number of European countries are major suppliers of weapons to the Saudi-led coalition.
The Houthi Ansarullah movement, backed by armed forces, has been defending Yemen against the Saudi-led alliance, preventing the aggressors from fulfilling the objectives of the atrocious war.
Diplomats and aid groups worry the US designation of Ansarullah could threaten peace talks and complicate efforts to combat the world's largest humanitarian crisis caused by the Saudi-led coalition's aggression against the Yemeni nation.
In November, UN Secretary General Antonio Guterres said Yemen was in "imminent danger of the worst famine the world has seen for decades," warning against any unilateral moves as the United States threatened to blacklist the Houthis.
Under US law, Congress has seven days to review and reject a designation of a terrorist group.
https://www.presstv.com/Detail/2021/01/11/642798/US-lawmakers-Yemen-designation-terrorist-group-Ansarullah-movement-Houthis-Pompeo
--------
Albania races to rescue children from jihadist camp
By Nick Thorpe
09 January 2021
Eva's pale, triangular face glows in the frame created by her coal-black shawl and hood. Her pale brown eyes gaze straight into the camera.
Now 16, she was kidnapped by her father Shkelzen and taken to Syria when she was nine. After seven years of war and then captivity, she looks like she is from another world, capable of nothing, or anything.
We cannot print her photograph because it might endanger her life. She is still in the al-Hol camp in northern Syria, where she was taken with over 70,000 other orphans and widows of jihadist Islamic State fighters, when Barghuz, the last IS stronghold, fell in March 2019.
Her brother Endri, 14, is luckier. He was brought home from Syria by Albanian special forces in late October 2020, with a woman and three other children. Frail, thin as a rake, he grins with his uncle Xhetan, who is barely able to believe he can hold his nephew again in his arms.
"That camp," Albanian Interior Minister Sander Lleshaj tells me, "is hell on Earth, as witnessed by our police officers."
In the UK, the al-Hol camp is better known as the temporary home of former London schoolgirl and "IS bride" Shamima Begum, who joined the jihadists in 2015 and later had her UK citizenship revoked.
'Moral obligation'
The interior minister in Tirana says it is currently home to 30 Albanian children and 10 Albanian women - and the bottom line for Albania is to get all the children home in the next few months.
"We think there is a moral obligation to repatriate at least the kids, because they are not terrorists, they are victims of their irresponsible parents," he told the BBC. "But they could be raised up into real monsters if we leave them in the camps and ignore them."
Their mothers, on the other hand, should face trial, he believes. Negotiations are going on with both the Kurdish authorities, who run the camps, and the mothers to allow repatriation.
I meet Xhetan in the lobby of a Tirana hotel. His hands shake as he shows pictures of the children on his phone. He has dedicated seven years of his life to getting the children home.
He has negotiated with smugglers, militiamen, and aid agencies, but it was his own government in the end which delivered. But now it's a race against time to get the other children out, either before they are harmed in the camp, or spirited away to form the core of a new IS.
The Kurdish authorities running al-Hol are losing control.
'We never talk about conflict'
Across the border in Gostivar in North Macedonia, I meet Habib Fidani. His brother Bekim abandoned the family pizza and pie business in 2013 to fight first for al-Nusra Front in Syria, and later for IS.
Habib hasn't heard from his brother for two years, since he was taken captive by Kurdish forces. But he knows that Bekim's wife and four children - Fidan, Usama, Adnan and Reyana - are still alive in Camp Roj, a smaller and slightly less dangerous place than al-Hol. Reyana, now five, is the only one born in Syria.
"Just two days ago, they sent me a text. We never talk about the conflict. Only about family matters."
Habib's mother travelled to Syria to try to bring the children back. She died there of illness. His father tried to get them back too, travelling widely in the region, negotiating - like Xhetan from Tirana - with anyone who would speak to him, but he died last year too.
Now Habib has taken over the task on behalf of the family.
His main hope lies in the efforts of the Albanian government but, as the interior minister told me, those efforts are focused exclusively on Albanian citizens, not on ethnic Albanians from North Macedonia and Kosovo.
In 2018, the Kosovo government managed, with US mediation, to bring back over 100 women and children from Syria.
Can de-radicalisation help?
In the Macedonian capital Skopje, Samet Shabani of the Bridge-Horizon NGO works for a de-radicalisation programme for the small number of former fighters and their family members who have returned from Syria, mostly under their own steam.
"Fighters who have come home from those battlefields to the Balkans feel like [they're] native to this country," he says, arguing that their strong Albanian national identity helps former fighters and their families shed the kind of militant Islamist brainwashing they were exposed to in the Middle East.
The de-radicalisation work was funded by the UK government until April 2019, when the programme ended. The Dutch government, the Islamic community in North Macedonia and the prison authorities are now taking the work forward.
In early November, a 20-year-old ethnic Albanian, Kujtim Fejzullai, born in Austria to second-generation migrants from North Macedonia, opened fire on passers-by in downtown Vienna, killing four people and injuring 23 others.
Fejzulai had served eight months of a 20-month sentence for trying to join IS fighters in Syria. He had been radicalised in Austria.
"This illustrates my point exactly," says Samet Shabani. "If we do not rehabilitate, reintegrate and re-socialise those fighters, we will end up, unfortunately, with such dramatic incidents in other countries as well."
https://www.bbc.com/news/world-europe-55435069?utm_source=iterable&utm_medium=email&utm_campaign=1890069_
--------
Afghan Leaders Sideline Spokesmen in an Escalating Misinformation War
By Thomas Gibbons-Neff, Fahim Abed and Najim Rahim
Jan. 10, 2021
KABUL, Afghanistan — After Ahmad Jawad Hijri saw the wounded children in the hospital and learned of the Afghan airstrike that put them there, killing nine others around their age in northern Afghanistan, he never expected that his response would land him in jail.
But Mr. Hijri, then the spokesman for the governor of Takhar Province, was arrested, imprisoned for three days and then fired after telling the news media what had happened — a standard part of his role which he had performed many times before. Top officials in Kabul insisted that only Taliban fighters had been killed in the strike, not children, and that anyone who said otherwise was to be prosecuted.
"At the hospital I saw the wounded children," Mr. Hijri said. "I did not make a mistake."
The war in Afghanistan has long been one of competing narratives. But the government's response to the Oct. 22 strike in Takhar Province signaled a shift in tactics by President Ashraf Ghani's administration: an overt declaration of its willingness to suppress and deny information on the deaths of innocent people. It also highlighted the changing political landscape as peace negotiations continue in Qatar and the Taliban move to take advantage of the attention they are attracting on the world stage.
The news briefings that defined the early years of the war as both sides jockeyed to win Afghan hearts and minds have nearly ceased. That leaves its main players — the United States, the Taliban and the government — all testing different communication strategies to achieve their desired ends.
But with the Americans set to possibly withdraw from the country in the coming months, the Afghan government — inundated by Taliban attacks, slumping morale among its security forces and waves of targeted killings across the country — has only shrunk away from portraying itself as a bastion of democratic values.
The October airstrike, experts said, was a turning point for the Afghan government. Even the pretense of accountability shifted to outright condemnation of those going against the government's bottom line, probably because of a fear of losing public standing further.
The clampdown has only emboldened the Taliban, eager to prove themselves capable of leading Afghanistan better than the current leaders, who are increasingly losing credibility.
The Afghan government is "so afraid of criticism, they are unwilling to admit to errors or hold themselves accountable," said Patricia Gossman, the associate Asia director for Human Rights Watch. "It's ultimately self-destructive, but they're desperate to control information."
Earlier in the war, the Afghan government was reticent about civilian casualties inflicted by the coalition or by Afghan forces, often pledging to investigate but offering results that were rarely publicized. But at the least the episodes were acknowledged, and local officials from areas where civilians were wounded or killed were allowed to speak about them freely.
The Taliban have used civilian deaths as a propaganda tool for the entirety of the war, pointing to U.S. and NATO airstrikes and night raids as glaring crimes against the Afghan people. And the Afghan and U.S. governments have often responded in turn by using the same tactic — exploiting civilian casualties — against the Taliban.
But as Western troops scaled back their presence, and Afghan forces leveled their own weapons against the insurgent group, the ensuing errant airstrikes and misguided artillery fire that have wounded and killed innocents have become an ever more powerful propaganda tool, this time leveled directly at the Afghan government.
One such example involved photos of dead civilians and destroyed property posted to Twitter last week by a Taliban spokesman who highlighted them as war crimes committed by the Afghan and U.S. militaries. Such images are often catalysts for public outcry that aims both ways: blaming the government for an inability to protect its people and the Taliban for their unwavering commitment to violence.
As the Taliban have scaled up their propaganda distribution, the Afghan government has tightened the reins on official dialogue with the public. Since October, the Ghani administration has muzzled provincial spokesmen and district governors, demanding that they stop relaying information to the news media, several Afghan officials from multiple provinces told The Times, especially relating to civilian casualties.
The crackdown has prompted fears among provincial spokesmen that they could lose their jobs or face arrest. One spokesman, who spoke on the condition of anonymity, said that journalists often had to wait hours or days to hear from the provincial governors because their spokesmen were not allowed to respond.
American officials and members of Mr. Ghani's administration attributed the clampdown to a lack of coordination between local and national agencies and said that the provincial spokesmen were barred from talking only about security issues.
Sediq Seddiqi, Mr. Ghani's spokesman, denied that the government was trying to limit information, saying that the Afghan government has "been a pioneer in supporting our vibrant media and the enforcement of access to information laws which are unprecedented in the region."
Ultimately, the Afghan government's decision to stifle information at the local level means that the Taliban have more space to control the narrative in the country's districts where they are present but that Afghan officials have greater command over the national narrative, a former U.S. official said.
This dynamic played out on Sunday in southern Afghanistan. Local officials in Nimruz Province claimed an Afghan airstrike there killed at least a dozen civilians a day earlier, only to have the governor later say that 12 Taliban had been killed and that a report of civilian casualties was being investigated. That same day, protesters took the remains of those killedto the provincial capital, saying women and children were among the dead.
The repression of information has been a boon for the Taliban, an insurgent group that once banned televisions and rarely talked to reporters. Their Feb. 29 agreement with the United States on a timetable for withdrawal, experts say, helped legitimize the group on an international level, prompting the Taliban's public relation apparatus to grow considerably.
Taliban opinion pieces written in English are often posted now on the group's website, Voice of Jihad, and sometimes appear in international news media outlets, including the Op-Ed page of The New York Times. Local Afghan news outlets post statements from Taliban spokesmen on social media, much as they would Afghan officials. It's a far cry from a decade ago, when the Taliban's messaging was often dismissed as lies.
The Taliban often lie about death tolls in their attacks, denying civilian casualties and at times blaming coalition forces for them. The group has denied taking any role in the recent string of targeted killings across the country, despite being directly implicated by the U.S. military and Afghan security officials.
Zabihullah Mujahid, the chief Taliban spokesman, said that their media strategy was focused on "sharing the truth for the people." In reality, the group has two lines of effort: one supporting the peace talks and the other discrediting the Afghan government on the battlefield and supporting Taliban fighters.
To help counter the Taliban's narrative, the United States started a small psychological operations unit called the Information Warfare Task Force-Afghanistan, according to U.S. military officials. The shadowy outfit was formed at the request of Gen. Austin S. Miller, the commander of U.S. forces in Afghanistan, in the wake of the 2018 killing of Gen. Abdul Raziq, the police chief of Kandahar. After his death in an insider attack, rumors quickly attributed his killing instead to the Americans.
By combining cybertools, intercepted communications and social media, the unit acts as an immediate counter to disrupt messaging and information channels of the Taliban and terrorist groups in the country, officials said.
Mr. Hijri, the former provincial spokesman, still refuses to cover up the civilian casualties he saw on Oct. 22. An Afghan Independent Human Rights commission report backed up his assertions on the episode, saying that an Afghan government airstrike had killed nine children, aged 7 to 13, and wounded more than 14 others. Taliban fighters were also hurt.
"I am amid two stones: One side is the Taliban and from another side is the government," Mr. Hijri said. "Now my fate is not clear."
https://www.nytimes.com/2021/01/10/world/asia/afghanistan-taliban-information-war.html
--------
India
Yogi Govt Plans New Law to Regulate Temples, Mosques, Churches, Will Keep Tab On Donations
PRASHANT SRIVASTAVA
12 January, 2021
Lucknow: The Yogi Adityanath government is preparing to bring in an ordinance to regulate operations at places of worship across Uttar Pradesh, with an eye on managing donations and offerings at these sites.
According to sources in the government, the proposed ordinance — to be called the Regulation and Registration of Religious Places Ordinance — will likely set rules for registration, function, operational practices and security at religious places.
In the making since October 2019 after a Supreme Court remark in a religious dispute over donations, the law aims to cover the religious places of all religions. The state has not seen any such law before this.
While a formal announcement about the legislation has not yet been made by the government, sources told ThePrint that officials in the Dharmarth Karya Vibhag have already made a presentation to the CM.
A cabinet meeting to clear the ordinance could be called soon, said the sources.
Speaking to ThePrint, cabinet minister and government spokesperson Siddharth Nath Singh confirmed that the department has made a presentation, but said he couldn't divulge more information until the ordinance is introduced.
The sources added that the government aims to bring in the law without much noise to avoid controversies.
What the ordinance aims to do
Sources said the state government is bringing in the law as it wants to completely resolve disputes over management rights at religious places.
According to an official in the Uttar Pradesh government, the ordinance will make the registration of all religious places, including the prominent sites, mandatory.
It will also have a provision for a financial body, which will keep all the details about the donations and offerings being made at these institutions. Moreover, the proposed law will also carry parameters for safety of all religious institutions.
Guidelines related to livelihoods dependent on such religious places are also proposed, apart from provisions to ensure greater convenience of the devotees and better maintenance of the places.
According to the sources in the CM's Office (CMO), Adityanath has suggested that officials must collect feedback from legal experts to incorporate necessary improvements in the ordinance.
The proposed law seeks a comprehensive policy framework for better management of places of worship. For this, it had announced the formation of Directorate of Charitable Affairs Department under the Dharmarth Karya Vibhag in the state last month. The headquarters of the directorate will be based in Varanasi, with a sub-head office in Ghaziabad.
The department's formation was seen as an indication that the government was planning to bring in an ordinance for regulation of religious places.
According to an official in the newly formed department, preparations for this ordinance had been on for over a year now, in view of a top court remark in a case related to a religious site in Bulandshahr.
On 22 October 2019, the Supreme Court had asked why there was no law to control and/or regulate temples and other religious institutions in the state. The court had said the UP government should "seriously" consider enacting a law in this regard, through which the state can bring religious institutions, where there are allegations about mismanagement, under its jurisdiction.
The court was hearing a petition challenging an order by the Allahabad High Court that gave the priests working at a temple all the rights related to donations and offerings being offered at the temple.
Since then, the UP government has sought to bring a law to resolve disputes related to the management of religious places.
According to sources, while there are several committees already working at many places to resolve such disputes, larger disputes often reach courts.
Avoiding controversies
While the CM has given his nod to the ordinance, the UP government wants to bring it "without creating much noise" as it fears possible resentment among saints and priests, the CMO sources said.
All the ministers and officials in the government are avoiding any official comment on the issue before the cabinet meeting to avoid controversies, said the sources.
Last month, Akhara Parishad president Mahant Narendra Giri had said if the government brings any such ordinance, it should have some prior discussion with saints.
He said it would not be appropriate to bring activities of saints and priests residing in monasteries and temples under the purview of state government in any manner, adding that the system already in place in the state is adequate and should be continued with.
However, he later said the CM is himself a saint, the Peethadheeshwar of Gorakshpeeth, so he would take any action only after thinking it through.
Muslim, Christian religious leaders say no idea about law
Speaking to ThePrint, prominent Lucknow-based Shia cleric Maulana Saif Abbas said he has not received any kind of information related to the ordinance, but has only reports in local media that an action in this regard is likely.
According to him, the UP government should not repeat the mistake in a matter related to religion that the Centre made while bringing in farm laws.
"In the Muslim religion, there are already provisions for Shia and Sunni waqf boards, through which all the information related to the religious sites, including their registration, can be obtained. Therefore, some clarification on this ordinance is necessary," he said.
Father Morris Kumar, priest at Assembly of Believers' Church, Lucknow, also said he has not received any information about the proposed law or called for any discussion.
"It is absolutely necessary to have prior discussion before bringing any ordinance related to religious issues," he said, adding that he would certainly participate if there is an invite from the government.
https://theprint.in/india/governance/yogi-govt-plans-new-law-to-regulate-temples-mosques-churches-will-keep-tab-on-donations/583376/
--------
16 Anti-Conversion Law Cases, Key Accused Muslims, But UP Govt Insists Law Is Religion-Neutral
ANANYA BHARDWAJ
12 January, 2021
Uttar Pradesh: In over a month since the Uttar Pradesh Prohibition of Unlawful Conversion of Religion Ordinance was notified, 86 people have been booked in 16 cases involving allegations of conversion for love or marriage among Hindus and Muslims. In all, 54 people have been arrested — including friends and family members of the main accused. The key accused in all the cases are Muslims.
On the ground, the law seems to have deepened communal fault lines, instilled fear among Muslims, and made it tougher for interfaith couples to exercise their choice.
While fringe Hindu Right-wing groups seem to be thriving off this fear, saying it is "important" for "this community", the government maintains that the law is religion-neutral.
The UP government describes the ordinance as a "good legislation" that is necessary to "check cases of deceitful, fraudulent and forceful conversions".
"The law does not espouse any motive to single out any religion or faith. Such legislation was necessary to prevent only those marriages that are done with the sole purpose of conversion. The law, in fact, safeguards human rights by preventing fake, fraudulent or deceitful premises of marriage," a senior UP government functionary said.
But in many of the cases filed under the law, the details don't seem to add up.
ThePrint travelled across Sitapur, Kannauj, Kanpur, Hardoi, Bijnor, Moradabad, Shahjahanpur and Bareilly to track eight of the 16 cases, visiting families of both the accused and the "victims", sifting through FIRs and case diaries, and speaking to police officers privy to the investigations.
What came out were several discrepancies in some of the cases made out by police and the facts narrated by the women involved and their families. Here is what we found.
'Pressured to give statements, no forceful conversion'
Seven of the eight FIRs that ThePrint examined mentioned that the woman was "cajoled" by the Muslim man with an intention to marry her and change her religion.
However, in four of these seven cases, the women portrayed as victims of a forceful conversion bid denied the claim outright and told ThePrint that there was no talk of forced conversion.
While one of the four claimed she was pressured to give a statement against her Muslim partner by her parents, another said her mother's complaint to police was the result of pressure from a fringe Hindu Right-wing group active in their area.
Of the seven cases, there are two where the women involved have alleged forced conversion. In the seventh case, the woman had eloped with her Muslim partner, and thus could not be reached for comment.
In this incident, police initially registered an abduction case when it was discovered that the woman had eloped. Sections under the anti-conversion law were invoked after it was discovered that her partner was a Muslim neighbour.
In all the eight cases, the complainants, mostly fathers of the women, have claimed that the accused Muslim men hid their identity and "fooled" their daughters.
But this claim has also come into question. Only one woman has claimed that a Muslim man lied to her about his identity, while a teenager involved in another case claimed the man — a former classmate — initially lied about his identity but came clean when she told him she didn't like Muslims.
Among the others, one said she hid her boyfriend's identity so her parents would allow their marriage, while another stated that she willingly married her Muslim partner in Uttarakhand in July, four months before the law was notified. This case also appears dubious because the law doesn't apply retrospectively.
In the eight cases analysed, seven involved Hindu-Muslim couples who were in a relationship — romantic or friendly — that their families did not approve of. In the eighth case, the teenager described the accused as a friend that "she liked very much" until she came to know his religion.
In seven of these cases, the Muslim men accused have been jailed. The one who eloped is on the run. In the elopement case, police have declared the man an absconder and arrested 13 members of his family — including his widowed mother — for "conspiracy". Six police and two SWAT teams have been put on duty to track down the couple, even though both the man and woman are adults and the woman's family told ThePrint that they know she eloped willingly.
The reaction to the laws has been different, depending largely on a family's religion. While one Hindu woman's family claimed they are grateful to the anti-conversion law and police, saying they "helped them separate the couple for the woman's good", a Muslim household said they had now warned their sons against going out.
Ismail, the pradhan of all-Muslim Kirarkhedi, claimed all the men in the village "have been warned" since one of the residents was arrested in a controversial case under the law.
"It is better that they are cautious. These are very poor families. If they get caught in these love matters and get jailed, they will not even have money to pay for their bail," the pradhan added. "This law has certainly given a message that all Muslim men should stay away from Hindu women and that is what is happening now."
This fear, members of local Hindu Right-wing groups say, is "necessary".
"This fear is very important among this community. Even if an innocent man is getting arrested, it does not matter. At least it will instill fear in the others and keep them away from our daughters and sisters," Jitendra Bains, a Bijnor-based leader of the fringe group Hindu Jagran Manch, said.
According to Bains, the achievement of this law is that a "Muslim will think a thousand times before befriending a Hindu". "That was our aim and we have achieved it," he said.
The law is being 'misread'
Despite examples of the law being misused in several parts of Uttar Pradesh to separate adult couples, Additional Director General of Police (Law and Order) Prashant Kumar said the intention of the law is not to target a specific community but to stop forceful conversions.
"This law is being misread by many. It is a law that is gender- and religion-neutral. There are many instances in Meerut where women have been deceitfully converted and then brutally murdered, which cannot be ignored," he added. "This has become a rampant problem that is now being dealt with by this law."
When asked about the involvement of Right-wing groups in the filing of these cases, and allegations of police pressure in at least one, Kumar said no one misusing the law will be spared.
"The job of police is to register a case if a complaint comes to them, not to initiate one. If any complaints of police pressure come to us, they will be dealt with sternly," he said.
In a state with a population of 24 crore, he added, only 16 cases have been registered so far. "Just 16 cases in such a big state is not a lot," he said.
Kumar noted that the ordinance is "for all religions, does not single out any particular religion, and is not against interfaith marriages".
Apart from the 16 aforementioned cases involving Hindus and Muslims, one other case had been filed under the law as of 31 December. Filed in Greater Noida, the case led to the arrest of four people, including a South Korean national, for allegedly influencing some local residents to convert to Christianity.
https://theprint.in/india/governance/16-anti-conversion-law-cases-key-accused-muslims-but-up-govt-insists-law-is-religion-neutral/581856/
--------
14yr-old injured in Pak shelling along LoC in Poonch
Jan 12, 2021
JAMMU: A 14-year-old boy was injured when Pakistan violated the ceasefire twice along the Line of Control (LoC) in Shahpur sector in J&K's Poonch district on Monday, police said.
The first breach of truce was made around 11.30am with Pakistan resorting to unprovoked firing and heavy mortar shelling along the LoC, targeting forward Indian posts and civilian areas in Shahpur. The Army retaliated effectively and the initial exchange of fire continued till 12.50pm.
Around 4pm, Pakistan again violated the ceasefire and took to indiscriminate firing and intense shelling along the LoC. "Jahangir Ahmed, a resident of Shahpur's Mendhar area, was hit by splinters when a mortar shell exploded near his house. He was hospitalised," Poonch SSP Ramesh Angral said.
The cross-border exchange of fire continued intermittently till the time this report went to press.
Earlier in the day, IGP (Jammu Zone) Mukesh Singh visited Mendhar to review the security situation along the LoC after numerous terror hideouts were busted in the area recently. He was accompanied by DIG (Poonch-Rajouri Range) Vivek Gupta and Poonch SSP Ramesh Angral.
The trio visited KG Brigade headquarters and interacted with the brigade commander and other officers about the spate in ceasefire violations along the LoC. "Discussions were also held on the terror module of J&K Ghaznavi Force busted in the past few weeks, and guidelines were provided regarding the investigation of the case," said a source. IGP Singh also inspected the recoveries of arms and ammunition made by security forces in Mendhar and discussed the information revealed by terrorist associates during interrogation.
https://timesofindia.indiatimes.com/india/14yr-old-injured-in-pak-shelling-along-loc-in-poonch/articleshow/80221832.cms
--------
Shiv Sena targets BJP over bird flu, asks if Pak, Khalistanis behind outbreak
JAN 12, 2021
Shiv Sena on Tuesday slammed its former ally BJP and questioned it on whether there was any Pakistani, Khalistani or Naxalites hand behind bird flu outbreak in the country.
In its editorial mouthpiece 'Saamana', Shiv Sena pointed out that BJP leaders had earlier targeted farmers' agitation alleging that Pakistanis, Khalistani, Chinese, Naxalites, and Maoists are behind the protest.
"Farmers are agitating against the new agricultural law and meanwhile new crisis of bird flu outbreak has emerged. Government officials say that Pakistanis, Khalistani, Chinese, Naxalites and Maoists are behind the farmers' agitation. BJP spokesperson has not declared if Khalistani, Pakistani and Naxalites have a hand in mysterious deaths of the chickens and bird," read the editorial.
Shiv Sena said that farmers and those involved in poultry farming have been adversely affected due to bird flu.
"The sale of chickens and eggs is more in rural areas. They have the economics of their own and there is no place for poor egg seller's economy in the new farm laws. According to the new agricultural law, corporates will not deal in chickens and eggs infected with bird flu. Then who will support the farmers involved in poultry farmer?" the editorial asked.
The party said that several poultry markets have been shut down across the country that has increased the difficulties of traders dealing in chickens and eggs.
"Due to fear, people will not eat chickens and eggs for a few days and this will affect the business of the area, which will spoil the economic administration," it said.
Avian Influenza has been confirmed in 10 states of the country so far.
https://www.hindustantimes.com/india-news/shiv-sena-targets-bjp-over-bird-flu-asks-if-pak-khalistanis-behind-outbreak-101610423039330.html
--------
PAGD not for petty electoral gains but for restoration of J&K's special status, reiterates Mufti
By Mir Ehsan
JAN 12, 2021
Former Jammu & Kashmir chief minister Mehbooba Mufti has reiterated that the six-party People's Alliance for Gupkar Declaration (PAGD) was not formed in October for petty electoral gains but for the restoration of Jammu & Kashmir's special status.
In a series of tweets, Mufti on Monday said the PAGD has rattled Delhi and there was speculation regarding the future of PAGD, which swept the District Development Councils polls in the Kashmir Valley last month. The polls were the first major electoral exercise in the region after it was stripped of its special semi-autonomous status under Constitution's Article 370, which was nullified in 2019.
"Amidst all the unnecessary speculation about PAGD, Id like make a few things absolutely clear. The purpose of this grand alliance [PAGD] is not for petty electoral gains. It exists for a much larger cause & purpose i.e to restore J&Ks special status," tweeted Mufti, who heads the People's Democratic Party (PDP).
"A lot of baseless theories are being deliberately floated to discredit PAGD amongst masses since they overwhelmingly voted for us in the DDC elections. Regardless of who fought how many seats, our purpose to deny BJP [Bharatiya Janata Party] & its proxies democratic space has been achieved."
Mufti said that all parties of PAGD stand united. "Delhi is deeply rattled by PAGD so I expect this false campaign to intensify in the coming days. Many PDP leaders are already arrested & I expect the situation to worsen. But this will not break our resolve to stand united & fight for whats rightfully ours."
Mufti's tweets came after two leaders of PAGD constituent People's Conference and PDP leader Fiyaz Ahmad Mir questioned National Conference, which leads the grouping, for allegedly fielding proxy candidates in DDC polls.
https://www.hindustantimes.com/india-news/pagd-not-for-petty-electoral-gains-but-for-restoration-of-j-k-s-special-status-reiterates-mufti-101610434126103.html
--------
30 years later, charges to be framed against Malik, others
By Ravi Krishnan Khajuria
JAN 12, 2021
A special court on Monday ordered that charges be framed against separatist leader Yasin Malik and nine others for their alleged role in the kidnapping of Rubaiya Sayeed, daughter of then Union minister Mufti Mohammad Sayeed, in 1989.
Special TADA court judge Sunit Gupta ordered that charges be framed against Yasin Malik, Ali Mohamad Mir, Mohammad Zaman Mir, Iqbal Ahmad Gandroo, Javed Ahmad Mir, Mohammad Rafiq Pahloo alias Nana Ji alia Saleem, Manzoor Ahmed Sofi, Wajahat Bashir, Mehraj-ud-Din Sheikh and Showkat Ahmad Bakshi.
Rubaiya Sayeed, the younger sister of former Jammu and Kashmir chief minister Mehbooba Mufti, was kidnapped by the Jammu Kashmir Liberation Front from Nowgam in Kashmir on December 8, 1989. She was released on December 13.
According to the Central Bureau of Investigation, the accused had abducted Rubaiya Sayeed to force the government to release five militants.
Yasin Malik, who shunned terrorism to join politics in 1994, has been accused of playing a key role in the kidnapping that he and his associates allegedly executed.
The court, after hearing public prosecutor Vijay Kumar Dogra and advocate MA Goni (both representing CBI) and the confessional statements of other accused, observed that sufficient grounds existed to presume that all the accused had committed offences. "Hence, charges are required to be framed against each of the accused persons, separately," the court stated.
In March last year, a court under the Terrorist and Disruptive Activities (Prevention) Act, or TADA, had also framed charges against Yasin Malik and six others for their alleged involvement in the killing of four unarmed Indian Air Force (IAF) officials in 1990 in Kashmir.
Malik is currently lodged in Delhi's Tihar jail.
https://www.hindustantimes.com/india-news/30-years-later-charges-to-be-framed-against-malik-others-101610405826588.html
--------
Pakistan
If PDM comes to Rawalpindi, we'll offer them 'chai-pani': Pakistan Army spokesman
11th January 2021
ISLAMABAD: The Pakistan Democratic Movement (PDM) leaders will be offered 'chai-pani' and looked after if they march towards Rawalpindi, an Army spokesman said on Monday, as he asserted that the country's powerful institution was not interfering in the politics.
Maj Gen Babar Iftikhar, the spokesman of the army's media wing - the Inter-Services Public Relations (ISPR), made the remarks during a press conference in Rawalpindi, where the Pakistan Army's General Headquarters is located.
"I don't see a reason for (them) coming to Pindi.And if at all they want to come, we will offer them chai-pani (refreshments) and look after them. What more can I say?" Maj Gen Iftikhar said while responding to a question about the threat of the PDM to march on Rawalpindi.
His remarks came days after PDM president Maulana Fazlur Rehman said that the opposition alliance's movement would no longer be directed only at the Prime Minister Imran Khan-led government but also "his backers", in an apparent reference to the army.
He hinted that a possible long march to the capital "could also be to Rawalpindi".
The PDM – an alliance of 11 opposition parties – was formed against the Pakistan Army's interference in politics and installing "puppet" Prime Minister Khan through a manipulated election.
Opposition Pakistan Muslim League-Nawaz supremo Nawaz Sharif has repeatedly blamed Army chief Gen Qamar Javed Bajwa and spy agency ISI chief Lt Gen Faiz Hameed for Pakistan's current situation.
When asked why action was not being taken against those targeting the army, the spokesman said the armed forces were doing their job and not worried about such criticism.
"When it comes to criticism or allegations levelled, the army is doing its job. As to why are we not responding to that, only such allegations are responded to which have some weight or are based on facts.
"We have our hands full and we neither want to get involved in such things nor will we. We have stayed the course [and] we will stay the course. There is nothing to worry about; we are not worried," he added.
The Army, which has ruled Pakistan for more than half of its 70 plus years of existence, has hitherto wielded considerable power in the matters of security and foreign policy.
However, the military has denied meddling in the country's politics.
Khan also denies that the army helped him win the election in 2018.
Prime Minister Khan faces a serious challenge as the PDM set a January 31 deadline for him to step down or face a "Long March" to Islamabad.
The PDM has held massive rallies in major cities to seek Khan's ouster and press the powerful military to stop interfering in politics.
https://www.newindianexpress.com/world/2021/jan/11/if-pdm-comes-to-rawalpindi-well-offer-them-chai-pani-pakistan-army-spokesman-2248711.html
--------
Army rejects allegation of meddling in political affairs
Baqir Sajjad Syed
January 12, 2021
ISLAMABAD: The Army has rejected opposition's criticism of meddling in political affairs, saying there is no reason for the opposition alliance — Pakistan Democratic Movement (PDM) — to march on Rawalpindi, the home to the military headquarters.
"I do not see any reason for them to come to Rawalpindi. If they ever come we will serve them 'chai-pani' (tea and water). We will look after them well," said military spokesman Maj Gen Babar Iftikhar while responding to a question at a presser on Monday.
PDM chief Maulana Fazlur Rehman had after a meeting of the 10-party alliance at Raiwind on Jan 1 hinted that the planned long march could also be directed to Rawalpindi.
Opposition parties have lately been vocal in their criticism of the army for allegedly bringing Prime Minister Imran Khan to power by manipulating the 2018 general elections and later influencing governance through a façade of civilian rule. They have demanded that PM Khan step down by Jan 31 or else they would hold a long march to push for his ouster.
Maj Gen Iftikhar, who heads the military's media wing Inter-Services Public Relations (ISPR), said the army saw no substance in opposition's allegations. "We have stayed the course and will stay on it," he asserted.
Rejecting the allegation of manipulation of 2018 polls, the ISPR director general said the government had asked the army for supporting the electoral exercise. "We conducted the elections with full responsibility and honesty," he maintained.
"If anyone has any doubt then national institutions are working, they can be approached and they can decide," he added.
Regretting the criticism, Maj Gen Iftikhar said: "It's not a good thing."
"The army does not need to enter the political fray, nor should it be dragged into it," he said asking the politicians to keep the military out of their squabbles.
The military sees the allegations as an attempt to draw a wedge between the army and the masses.
The presser was seen in military circles to be containing a 'powerful message' that "unity and singleness of purpose was the way forward and reply to enemy's grand design of creating chaos and wedge between people and institutions."
Security situation
The spokesman, while giving an overview of the internal security situation, said the capacities of the terrorist groups to operate in the country had been significantly diminished.
"There is [no] organised terrorist infrastructure on the ground now. … The terrorists are on the run. It may look that there is a surge in the terrorism incidents, but as a matter of fact there aren't high impact incidents anymore. Their capacity to execute high impact incidents has been diminished significantly," he said.
The reduction in number of terrorism incidents and the resulting casualties is being seen as an indicator of the weakening of the terrorist groups because of relentless counter-terrorism operations.
About Daesh, the DG ISPR acknowledged the existence of its footprint, but said it was very limited in scale. "It's there. They are trying. There are splinter groups of different organisations, which keep taking their names to gather some mass or achieve credibility," he said.
Daesh, or the so-called Islamic State, has lately been in focus because of the Jan 3 Mach killing of 11 coal miners.
"We are aware about the capability of this organisation, who is supporting them, where the money is coming from and we are going after them," he further said alluding to Indian support for the global terror outfit.
"They will not be able to establish any kind of permanent foot print here with the way our (counter-terrorism) operations are going," Maj Gen Iftikhar said.
The spokesman said that Balochistan was facing threats, but the situation was under control. He expressed the hope for further improvement in near future.
Chief of the Army Staff Gen Qamar Bajwa is scheduled to visit Quetta later this week.
COAS calls on PM
Meanwhile, COAS Gen Bajwa and Director General Inter-Services Intelligence (ISI) Lt Gen Faiz Hameed met Prime Minister Imran Khan for a discussion on national security.
PM's Office, in a statement, said it was resolved that the perpetrators of Mach incident would be brought to justice.
The continuous human rights violations in India-held Kashmir and the frequent ceasefire violations by Indian forces over the Line of Control also came under discussion.
https://www.dawn.com/news/1601016/army-rejects-allegation-of-meddling-in-political-affairs
--------
PM forms ministerial body on law, order in Islamabad
Iftikhar A. Khan
January 12, 2021
ISLAMABAD: Prime Minister Imran Khan has constituted a five-member ministerial committee to monitor law and order situation in the context of protests planned by multiple organisations and groups in the federal capital.
According to a notification issued with the signature of Zafar Yab Khan, joint secretary security and administration, Ministry of Interior, the committee will be headed by Interior Minister Sheikh Rashid Ahmed and comprise Law Minister Dr Farogh Naseem, Defence Minister Pervez Khatak, Minister for Federal Education and Professional Training Shafqat Mehmood and Minister for Planning, Development and Special Initiatives Asad Umar.
Step has been taken ahead of protests planned by PDM, govt employees
Though the notification appears to be general in nature, it has been issued around a week ahead of the anti-government Pakistan Democratic Alliance (PDM)'s plan to stage a protest outside the Election Commission of Pakistan (ECP) on Jan 19.
Besides the concerned ministers, copies of the notification have also been sent to the secretary to the prime minister, secretary interior, chief commissioner and the inspector general of police Islamabad.
On Jan 6, Maulana Fazlur Rehman, the head of PDM, announced that the opposition parties will stage a protest outside the Election Commission of Pakistan (ECP) office in Islamabad on Jan 19.
"A founding Pakistan Tehreek-i-Insaf (PTI) member has revealed that the party received funding from India, Europe and Israel," Mr Rehman said at a rally in Bannu. He regretted that the ECP failed to hold the PTI accountable in the foreign funding case.
"We do not accept the rule of ones who did politics by taking funds from India and Israel," he remarked.
The PDM, an alliance of 11 opposition parties, is currently holding anti-government protests in major cities. As part of the campaign, the alliance has already announced a march on Islamabad in February.
Prime Minister Imran Khan had last week allowed the PDM to protest outside the Election Commission of Pakistan, warning the opposition parties that "no breach of law will be allowed."
"If anyone desires to protest, they may, no obstacle should be put in the way of a demonstration," said the prime minister during a meeting with Interior Minister Sheikh Rashid Ahmed.
Some believe that the high-powered ministerial committee had been constituted not only to keep a watch on PDM's activities in the capital but also to oversee other upcoming protests, including one by federal government employees demanding better salaries and pension benefits.
https://www.dawn.com/news/1601004/pm-forms-ministerial-body-on-law-order-in-islamabad
--------
Two 'IS-inspired militants' get life in Navy officer's killing case
January 12, 2021
KARACHI: An antiterrorism court has sentenced two men inspired by the militant Islamic State group to life imprisonment in a case pertaining to the killing of a Pakistan Navy officer in 2013.
Accused Saad Aziz alias Tin Tin and Tahir Hussain Minhas alias Saeen were found guilty of murdering Captain Ahmed of the PN and wounding his foreign wife in an armed attack in Karachi.
The judge of the ATC-VIII pronounced the verdict reserved after recording evidence and final arguments from both sides.
Both the accused, who were sentenced to death by a military court for the 2015 Safoora Goth bus carnage in which around 43 members of the Shia Ismaili community were killed, were produced in court from prison.
The judge also imposed a fine of Rs500,000 each on them and in case of default Aziz would have to undergo an additional six-month imprisonment, while Minhas would have to undergo an additional three-month imprisonment.
According to the prosecution, on Sept 4, 2013 Capt Ahmed, 40, was travelling with his Swedish wife in a car when two gunmen on a motorcycle targeted them. Ahmed died on the spot while his wife suffered bullet wounds, but survived the attack, it added.
It further said that the couple was on their way to the Navy Engineering College on Karsaz Road from their residence when they came under attack. The naval officer and his wife held PhD degrees.
Cop's murder case
The same court also awarded life imprisonment to accused Saad Aziz in a policeman's murder case.
According to the prosecution, Constable Waqar Hashmi, who was posted in the Rapid Response Force, was attacked and killed at the Powerhouse Chowrangi in New Karachi's Sector 11-K when he was returning home from duty on Oct 16, 2014. The assailant fled from the scene, it added.
https://www.dawn.com/news/1600981/two-is-inspired-militants-get-life-in-navy-officers-killing-case
--------
Terrorist with explosives held in Nowshera
January 12, 2021
NOWSHERA: The Mardan Counter-Terrorism Department on Monday foiled a terrorism bid by arresting a terrorist and recovering explosives from him in Rashakai area here.
Official sources said Mohammad Yaqoob was a key member of the banned Tehreek-i-Taliban Afghanistan. They said the CTD acting on a tip-off apprehended the outlaw while standing near Shereen Kothe area with a blue shopping bag in his hands.
They said the bag contained three detonators and six meter prima cord.
The officials said investigation was underway and important information was expected to be retrieved from the terrorist.
https://www.dawn.com/news/1601010/terrorist-with-explosives-held-in-nowshera
--------
PA flays miners' killing, seeks steps against fresh terror wave
January 12, 2021
PESHAWAR: Condemning the brutal killing of 10 people in Balochistan's Mach coalfield, the Khyber Pakhtunkhwa Assembly Monday called upon the federal government to take concrete steps to stop the fresh wave of terrorism in the country.
The resolution unanimously passed by the house also flayed the killing of a youngster by the police in Islamabad and expressed solidarity with the families of the victims of both incidents.
Speaker Mushtaq Ahmad Ghani chaired the sitting, which was held after a break of one month.
Pakistan Peoples Party MPAs Nighat Orakzai and Ahmad Karim Kundi jointly tabled the resolution, which said the current wave of terrorism, especially the killing of people of Hazara community in Mach area, had sparked restlessness across the country and therefore, the government should take serious steps for eradicating terrorism and bring killers to justice.
Earlier, minister for law and parliamentary affairs Sultan Mohammad Khan said credible intelligence reports confirmed the involvement of foreign hands in Mach incident.
Members also call for ban on two-finger test of rape victims
He said enemies were conspiring against the country to divide its people along sectarian and linguistic lines.
The lawmakers through another resolution moved by Muttahida Majlis-i-Amal MPA Inayatullah Khan demanded of the federal government to restore 3G and 4G Internet service in the far-flung areas of the province, especially hard areas of Upper Dir district.
The mover said the universities and other educational institutions had begun online classes after the outbreak of coronavirus.
He said thousands of students belonging to tail-end districts of the province couldn't attend online classes due to the unavailability of Internet and 3G and 4G mobile Internet facilities.
Mr Inayatullah pointed out that the Pakistan Telecommunication Company Limited didn't provide services to some remote areas of KP, while mobile phone companies didn't provide 3G and 4G service there.
He said thousands of expatriate Pakistanis living in Gulf countries couldn't communicate with their families due to the non-existence of mobile phone service.
"The federal government should ask mobile phone companies to restore 3G and 4G service in remote areas of the province," read the resolution.
The assembly through another resolution demanded of the provincial government to immediately ban the 'two-finger' test of rape victims during their medical examination.
According to the resolution, the government should adopt internationally certified and latest procedures in this regard.
It said the two-finger test had already been declared against the Constitution and human values.
MPA Ahmad Kundi of the PPP also resented the recent attack on the shrine of a Hindu saint in Karak district of the province and termed it the government's failure.
He said Islam didn't permit attacks on and destruction of warship places of religious minorities and such attacks were against the teachings of Holy Prophet Mohammad (PBUH).
During question hour, special assistant to the chief minister on higher education Kamran Khan Bangash informed the house that the department concerned had planned to overcome the shortage of lecturers and professors in colleges.
He said 1,900 lecturers were being appointed across the province and the finance department had also sanctioned posts.
He assured lawmakers that the seats reserved for students of merged tribal districts in universities and medical colleges of Punjab would be restored.
He said the KP government had contacted Punjab government for the purpose.
Speaking on a point of order, MPA Mir Kalam Khan expressed concern about the arrest of the activists of Pakhtun Tahafuz Movement and insisted that the people raising voice for the rights of the residents of the former Fata were being arrested.
He said MNA Ali Wazir and other PTM activists had been held after they attended a ceremony marking the APS carnage anniversary. Later, Dr Said Alam Mehsud was also taken into custody, he added.
The government introduced the Khyber Pakhtunkhwa Amendment of Certain Fiscal Laws Bill, 2021, in the house.
Earlier, Speaker Mushtaq Ghani issued a ruling turning down a point of order of ANP MPA Khushdil Khan advocate, who objected that the chair didn't have powers to adjourn the sitting for an indefinite period.
The lawmaker had pointed that the speaker had adjourned the current sitting for one month, which was unconstitutional and in violation of the assembly's rules of business.
He pointed out that the governor had summoned the session and therefore, the speaker didn't have powers to adjourn the sitting indefinitely.
Speaker Mushtaq Ghani ruled that he was following the rules and Constitution in matters related to the assembly's business.
He said the mover's point of order was irrelevant. The law minister also endorsed the speaker's ruling.
https://www.dawn.com/news/1601012/pa-flays-miners-killing-seeks-steps-against-fresh-terror-wave
--------
Operation against terrorists launched, says Langove
Saleem Shahid
January 12, 2021
QUETTA: Balochistan Home Minister Mir Ziaullah Langove on Monday said a province-wide operation had been laun­ched against the terrorists involved in the Mach massacre and other terrorist attacks.
Presiding over a meeting to discuss the overall law and order situation in the province, he said the government would go to any extent till the elimination of terrorism.
The meeting reviewed a progress report about tracing out the terrorists involved in slaughtering 11 innocent coal miners in Mach recently.
Additional Chief Secretary Home Hafiz Abdul Basit, Inspector General of Police Mohsin Hassan Butt, Deputy Inspector General, Counter Terrorism Department Aitzaz Goraya, Additional Deputy Commissioner, Quetta, Yaqoob Khan and other officials concerned also attended the meeting.
The home minister said that Balochistan was in the war zone where terrorists had been carrying out operations under a plan to destabilise the province by creating a law and order situation. "Terrorists want to divide us on the basis of sectarianism and language by carrying out such tragic incidents, but the people always thwarted their attempts," he added.
He said that all conspiracies against the country and the province would be foiled with the cooperation of the people and the state would fulfill its responsibilities regarding protection of life and property at all costs.
Mr Langove said action would be taken against terrorists and their facilitators involved in these activities to prevent such incidents.
Official sources said the meeting was briefed about the Mach incident and overall law and order situation and decided to continue intelligence-based operation against the terrorists in the province.
https://www.dawn.com/news/1601024/operation-against-terrorists-launched-says-langove
--------
Mideast
Hezbollah: US 'terror' designation for Yemen's Ansarullah criminal act
12 January 2021
The Lebanese Hezbollah resistance group has denounced the outgoing US administration's decision to designate Yemen's Houthi Ansarullah movement as a foreign "terrorist" organization, terming it as a criminal act aimed at undermining the Yemeni nation's morale.
Hezbollah said in a statement late on Monday that Washington is not content with supporting and participating in the Saudi-led aggression on Yemen, and intends to target the Ansarullah movement and three of its leaders, namely Abdul Malik al-Houthi, Abd al-Khaliq Badr al-Din al-Houthi and Abdullah Yahya al-Hakim, with sanctions.
"It is a criminal move that seeks to hurt the morale of Yemenis, who have been resiliently confronting the unfair blockade and aggression," the statement added. "The United States bears the responsibility for all potential humanitarian and health repercussions."
Hezbollah highlighted that the US measure, besides similar hostile moves it had adopted against resistance movements in the region, is meant to punish all those who reject America's hegemony and dominance over the region's capabilities and resources, and oppose Israel's occupation of Palestinian lands and normalization of ties with the Tel Aviv regime.
The Lebanese resistance movement then voiced solidarity with Ansarullah and its leaders, stressing that the Yemeni movement will become more steadfast and determined to safeguard the country's resources and national interests in the face of the US sanctions.
US Secretary of State Mike Pompeo has announced that the move against Yemen's Ansarullah movement will come into effect on January 19 — one day before the inauguration of President-elect Joe Biden, whose aides have hoped to mount a fresh push to end Yemen's devastating six-year war.
Separately, the Iraqi al-Nujaba movement expressed solidarity with Ansarullah and strongly condemned the US move to blacklist the Yemeni movement.
"Men like Sayyed Abdul Malik al-Houthi and his fellow Yemeni combatants do not need the approval of a deceiver who ignores thousands of innocent victims, and turns a blind eye to Yemen's destruction, hunger as well as the aggression of the Wahhabi-Zionist-American alliance," Nasr al-Shammari wrote in a post published on his Twitter page.
He added, "It is of enormous honor and dignity for any free resistance fighter to be on the side of this great commander [Abdul Malik al-Houthi] and brave Yemeni combatants."
Meanwhile, Saudi Arabia and the United Arab Emirates — a key party to the Riyadh-led coalition waging the war on Yemen — welcomed the US administration's decision to blacklist Yemen's Ansarullah movement.
Lawmakers from Biden's Democratic Party had already told Pompeo that the step would both jeopardize aid and peace efforts in Yemen.
"This designation would almost certainly prevent the critical delivery of food, medical supplies and other items necessary to combat both COVID-19 and famine," said a joint appeal late last year by three senators, Democrats Chris Coons and Chris Murphy and Republican Todd Young.
In an open letter to Pompeo last month, retired US diplomats, including six former ambassadors to Yemen, also doubted that the Houthi Ansarullah movement met the legal definition of a terrorist group.
"In fact, designating the Houthi movement will be perceived as politically motivated and will undermine the credibility of US counterterrorism programs and policies," they wrote.
Additionally, aid groups have warned Pompeo against the blacklisting of Ansarullah, saying that they have no option but to deal with what is the de facto government in northern Yemen.
"We must be able to negotiate access for our aid and protection of civilians with all sides to all conflicts. Our humanitarian work must not be criminalized," Jan Egeland, secretary general of the Norwegian Refugee Council, said last November.
Since late 2014, the Houthi movement has been running state affairs in the absence of an effective administration, after former Riyadh-back president Abd Rabbuh Mansur Hadi resigned amid a conflict with Ansarullah and fled to the Saudi capital.
Months later, the Saudi regime and a number of its allies launched the deadly war on Yemen to reinstall Hadi, but the US-backed campaign has flatly failed in the face of stiff resistance put up by the Yemeni armed forces led by the Houthis and allied popular groups.
https://www.presstv.com/Detail/2021/01/12/642825/Hezbollah-slams-US-blacklisting-Yemen-Houthi-movement
--------
Houthis condemn US move to designate them as terrorist
11 January 2021
Abdullatif al-Washali
Yemen's Ansarullah movement slammed the US administration for its decision to designate the movement as terrorist saying it reserves right to respond to any US move in this regard.
In a twit, Mohammed Ali al-Houthi, a member of Yemen's Supreme Political Council said "America is the source of terrorism and the Trump administration's policy and actions are terrorist. We reserve the right to respond to any designation issued by the Trump administration or any administration."
It came after US Secretary of State Mike Pompeo announced Sunday plans to designate the Houthi movement as a foreign terrorist group.
The condemnation was echoed by other members of the council, saying the decision will not undermine Yemenis' will to continue their resistance against any aggression.
This US decision, as officials in Yemen say, carries great repercussions on the humanitarian situation in the country which is still suffering from war and siege imposed by the Saudi-led coalition for years.
Saudi Arabia has been leading a war on Yemen since March 2015. The war, which the UN calls the world's worst humanitarian crisis, has claimed the lives of hundreds of thousands of people in the impoverished Arab country over the last six years. The US and a number of European countries are major suppliers of weapons to the Saudi-led coalition.
Observers say the US move is aimed at justifying any form of aggression against Yemen and paving the way for further attacks by Saudi-led coalition on the impoverished nation.
https://www.presstv.com/Detail/2021/01/11/642810/Houthis-condemn-US-move-to-designate-them-as-terrorist
--------
Hamas warns of Israeli scheme to dismantle Dome of Rock
11 January 2021
The Palestinian resistance movement Hamas has warned about an Israeli scheme to dismantle the Dome of the Rock in the Al-Aqsa Mosque compound.
In a statement on Monday, Hamas said the compound with all its chapels, squares, and the Dome of the Rock Mosque is an Islamic holy site and a right for Muslims only, the Palestinian Information Center reported.
The compound sits just above the Western Wall plaza and houses both the Dome of the Rock and Al-Aqsa Mosque.
The resistance movement stressed that continuous attempts by Israeli settlers under the regime's protection to alter conditions at the Al-Aqsa Mosque will certainly fail.
"We will defend our Al-Aqsa Mosque, the first of the two Qiblahs, with all our strength and whatever sacrifices it costs us," Hamas added.
The resistance movement urged all Palestinians to intensify presence at Al-Aqsa Mosque, calling on the Palestinian Authority, which runs the occupied West Bank, to support the Jerusalemites by all means.
Hamas further called on Arab and Islamic nations to unite in their defense of the Palestinian cause and Al-Aqsa Mosque.
On January 7, Sheikh Abdel Azeem Salhab, head of the Islamic Waqf (Endowment) organization, also warned about such a move after Jewish settler groups requested to build a temple in place of the Dome of the Rock prayer building.
The senior Muslim cleric warned that the move would trigger an all-out religious war in the region.
Palestinians have long been wary of Israeli attempts to change the status quo of Al-Aqsa Mosque, which is Islam's third holiest site and where only Muslim prayers are allowed under the status quo reaffirmed in 1967 between Israel and Jordan.
The holy compound is administered by the Islamic Waqf (Endowment) organization on behalf of Jordan and Palestine. Non-Muslims can visit the site, but cannot pray there.
https://www.presstv.com/Detail/2021/01/11/642788/Hamas-Israeli-scheme-Dome-of-Rock
--------
Iran, UN Voice Concern over Escalation of ISIL Terrorist Activities in Syria
2021-January-12
During the conversation on Wednesday, Khaji and Pedersen reviewed the latest developments in Syria.
The Iranian and UN diplomats underlined the movements of the ISIL terrorist group in Syria is worrying, and stressed the need to continue the fight against terrorism.
Both sides discussed the latest developments in Syria, including the forthcoming meeting of the Syrian Constitutional Committee, the Astana Peace Process, as well as the escalation of ISIL terrorists in Syria.
According to the agreement of the Syrian parties, the fifth round of meetings of the Constitutional Committee is scheduled to be held in Geneva in late January.
The Constitutional Committee's fifth round of the Syria talks is set to be held at the United Nations' Geneva office on Jan. 25-29, 2021.
The fourth session of Syria's Constitutional Committee was held on November 27 in Geneva to hammer out the roots of the basic laws for a peaceful Syria.
In his November meeting with Pedersen in Tehran, Khaji had said that the western states are using the humanitarian issues in Syria to attain their political goals.
Khaji lauded Pedersen for his efforts to find a political solution to the crisis in Syria and continued meetings of the constitution committee, blasting certain countries, specially the western states, for non-participation in the conference on refugees.
"The western states which claim to be supporting the humanitarian issues, have taken hostage the humanitarian issues in Syria to attain their political goals and have attempted to prevent holding the conference (on refugees)," he added.
Pedersen, for his part, elaborated on the latest coordination with members of Syria's constitution committee about their next meeting, appreciating Iran's efforts to support the political process to resolve the crisis in Syria.
https://www.farsnews.ir/en/news/13991023000215/Iran-UN-Vice-Cncern-ver-Escalain-f-ISIL-Terrris-Aciviies-in-Syria
--------
Iran Asks Interpol to Issue Red Notice for 4 Culprits in Nuclear Scientist's Assassination
2021-January-11
"The request for issuance of red notice has been given to the Interpol on 4 culprits of the terror attack against martyr Fakhrizadeh," Hajian said.
He added that a defense bill has also been prepared for Interpol's issuance of red notice on assassins and those who have ordered the assassination of anti-terror commander Lieutenant General Qassem Soleimani.
In relevant remarks last week, Iran's Judiciary Spokesman Gholam Hossein Esmayeeli said that Tehran has asked Interpol to issue a red notice for all perpetrators and masterminds of the assassination of Islamic Revolution Guards Commander (IRGC) anti-terror Commander Lieutenant General Qassem Soleimani.
"Iran has asked the Interpol for the apprehension of the US president and 47 others in connection with the assassination of Lieutenant General Qassem Soleimani near the Iraqi capital, Baghdad, last year," Esmayeeli announced on Tuesday.
He added that Iran has identified 48 people in connection with the targeted terror attack and that includes US President Donald Trump, Pentagon officials and terrorist American forces in the region.
The spokesman said Tehran has made it clear in its request the role each individual played in the brutal assassination and emphasized that Iran would seriously pursue the case to bring the perpetrators to justice.
Lieutenant General Soleimani was assassinated in a US drone strike on Baghdad International Airport in Iraq on January 3, 2020.
The airstrike also martyred Abu Mahdi al-Muhandis. The two were martyred in an American airstrike that targeted their vehicle on the road to the airport.
Five Iranian and five Iraqi military men were martyred by the missiles fired by the US drone at Baghdad International Airport.
On January 8 and after the funeral ceremony of General Soleimani, the IRGC Aerospace Force started heavy ballistic missile attacks on US Ein Al-Assad airbase in Southwestern Iraq near the border with Syria and a US operated airbase in Erbil in retaliation for the US assassination of General Soleimani.
Ein Al-Assad is an airbase with a 4km runway at 188m altitude from sea levels, which is the main and the largest US airbase in Iraq. Early reports said the radar systems and missile defense shields in Ein Al-Assad failed to operate and intercept the Iranian missiles. Unofficial reports said the US army's central radar systems at Ein Al-Assad had been jammed by electronic warfare.
The second IRGC reprisal attack targeted a US military base near Erbil airport in Iraqi Kurdistan Region in the second leg of "Martyr Soleimani" reprisal operation.
Iraq said the attacks had not taken any toll from its army men stationed at these two bases. The US army had blocked entrance into Ein Al-Assad to everyone, including the Iraqi army.
The IRGC officials said none of the missiles had been intercepted.
Meantime, Iran announced in late June that it had issued arrest warrants for 36 officials of the US and other countries who have been involved in the assassination of the martyred General Soleimani.
"36 individuals who have been involved or ordered the assassination of Hajj Qassem, including the political and military officials of the US and other governments, have been identified and arrest warrants have been issued for them by the judiciary officials and red alerts have also been issued for them via the Interpol," Alqasi Mehr said at the time.
He said that the prosecuted individuals are accused of murder and terrorist action, adding that US President Donald Trump stands at the top of the list and will be prosecuted as soon as he stands down presidency after his term ends.
https://www.farsnews.ir/en/news/13991022000825/Iran-Asks-Inerpl-Isse-Red-Nice-fr-4-Clpris-in-Nclear-Scienis%E2%80%99s
--------
Official: Sanctions Removal Pre-Requisite for US' Return to N. Deal
2021-January-11
"If the US seeks to return to the JCPOA, it should first lift the sanctions imposed on Iran," Velayati said, adding, "Whether the US rejoins the Nuclear Deal is not significant and the Islamic Republic does not insist on this matter."
He noted that the US and Europe are responsible for lifting the sanctions.
The official referred to Iran's reduction of JCPOA commitments, stressing that the country needs to enrich uranium up to 20 percent for scientific and medical purposes.
Velayati underlined that Iran as a member of NPT has the right to enjoy the peaceful benefits of the nuclear industry, noting, "Sooner or later, fossil fuels will finish, and the Islamic Republic needs to use the nuclear capacity to generate electricity to advance its industrial and scientific work."
He also emphasized that Iran wants to be self-sufficient in the field of nuclear energy and does not want to be dependent on other countries especially those who are constantly breaching their relevant commitments.
In relevant remarks on Friday, Supreme Leader of the Islamic Revolution Ayatollah Seyed Ali Khamenei said that the US must first lift all sanctions against Iran if it wants to return to the Joint Comprehensive Plan of Action, stressing that the West is duty-bound to lift all wicked sanctions immediately.
"The United States should remove all sanctions prior to returning to the JCPOA," the Supreme Leader said, adding that the US' return to the nuclear deal before lifting of the sanctions will be to Iran's detriment.
Ayatollah Khamenei made the remarks in a live televised speech on the occasion of the January 9, 1978 uprising of the people of Qom which sparked the nationwide uprisings and the Islamic Revolution resulting in the overthrow of the dictatorial monarchy of the Pahlavi regime and establishment of the Islamic Republic in the country.
"The people's movement on January 9 [1978] was the first blow of the 'Abrahamic Axe' on the body of the 'Big Idol'," he said, adding, "This movement continued so that you can see the situation of the Big Idol [The US] now. This is their election system. This is their human rights condition, every few hours or days, a black man is killed with no guilt. These are the American values that have become the source of ridicule and this is their paralyzed economy with missions of jobless and hungry people."
"The Western front is duty-bound to end this malicious move, namely the sanctions, and stop it instantly," the Supreme Leader stressed, adding, "Yet, we should design the economy in a way that we would administer the country even with the sanctions."
Ayatollah Khamenei made it clear that the sanctions are gradually becoming ineffective.
"As for our regional presence, our establishment has the duty to behave in a way that its friends are strengthened in the region," he said, and added, "Our presence is a source of stability, and this has been proved in the issue of ISIL and the like, while the US is a source of instability and Iran is standing against the US destabilizing moves."
"Today, our defense power is in a way that our enemies have no choice but to consider Iran's abilities in their calculations," Ayatollah Khamenei went on to say, noting, "We should not leave the country defenseless as it emboldens the enemy."
Elaborating on the JCPOA, the Supreme Leader said that Iran's obligations should be completely proportionate to the measures of the US and Europe which have not fulfilled any of their commitments.
Iran signed the JCPOA with six world states — namely the US, Germany, France, Britain, Russia, and China — in 2015.
Outgoing US President Donald Trump, a stern critic of the historic deal, unilaterally pulled Washington out of the JCPOA in May 2018, and unleashed the "toughest ever" sanctions against the Islamic Republic in defiance of global criticism in an attempt to strangle the Iranian oil trade, but to no avail since its "so-called maximum pressure policy" has failed to push Tehran to the negotiating table.
In response to the US' unilateral move, Tehran has so far rowed back on its nuclear commitments four times in compliance with Articles 26 and 36 of the JCPOA, but stressed that its retaliatory measures will be reversible as soon as Europe finds practical ways to shield the mutual trade from the US sanctions.
Tehran has particularly been disappointed with failure of the three European signatories to the JCPOA -- Britain, France and Germany -- to protect its business interests under the deal after the United States' withdrawal.
On January 5, Iran took a final step in reducing its commitments, and said it would no longer observe any operational limitations on its nuclear industry, whether concerning the capacity and level of uranium enrichment, the volume of stockpiled uranium or research and development.
Meantime, US President-elect Joe Biden has recently said in a CNN article that he wants a renegotiation of the contents of the deal before he agrees to rejoin the agreement.
"I will offer Tehran a credible path back to diplomacy. If Iran returns to strict compliance with the nuclear deal, the United States would rejoin the agreement as a starting point for follow-on negotiations. With our allies, we will work to strengthen and extend the nuclear deal's provisions, while also addressing other issues of concern," he wrote, mentioning that he wants changes to the contents of the nuclear deal and guarantees from Tehran that it would be open for compromise to strike multiple deals over its missile and regional powers as well as a number of other issues that have been the bones of contention between the two sides in the last four decades.
In response, Zarif had stressed that the US has violated the nuclear deal and is in no position to ask for any conditions for its return to the JCPOA, adding that it's Tehran that has its own terms to allow the US back into the internationally endorsed agreement.
The foreign minister has reiterated time and again that Tehran would not change even a single word of the agreement, and cautioned the US that it needs to pay reparations for the damage it has inflicted on Iran through its retreat from the nuclear agreement and give enough insurances that it would not go for initiating the trigger mechanism again before it could get back to the deal.
https://www.farsnews.ir/en/news/13991022000858/Official-Sancins-Remval-Pre-Reisie-fr-US%E2%80%99-Rern-N-Deal
--------
Reviving Iran's nuclear deal must be within coming weeks: UN atomic watchdog
11 January 2021
Reviving Iran's nuclear deal must happen within the coming weeks, UN atomic watchdog chief Rafael Grossi said on Monday after Tehran resumed 20 percent uranium enrichment and its parliament threatened to curb access for UN inspectors in February.
"It is clear that we don't have many months ahead of us. We have weeks," Grossi said in an interview for the Reuters Next conference.
Iran resumed enriching uranium to 20 percent fissile strength at the underground Fordow nuclear plant earlier this month in a further breach of the nuclear pact with major powers since the United States withdrew from it in 2018, possibly complicating efforts by US President-elect Joe Biden to rejoin the deal.
Its parliament passed a law in November that obliges the government to halt inspections of its nuclear sites by the International Atomic Energy Agency and step up uranium enrichment if US sanctions are not eased.
An Iranian lawmaker said on Jan. 9 said it would give the incoming Biden administration, which takes office on Jan. 20, until Feb. 21 to reverse sanctions.
"I must take it seriously because it's the law," Grossi said, adding that he believed the Islamic Republic's government intended to implement it.
Grossi said Iran was progressing "quite rapidly" in 20 percent enrichment and that based on estimations it would be able to reach about 10 kilograms a month at its facility in Fordow.
Uranium refined to 20 percent fissile purity is well above the 5 percent generally regarded as suitable for producing civilian nuclear energy and shortens Iran's potential path to 90 percent purity required for a nuclear bomb. Iran denies any intent to weaponize enrichment.
"There will have to be a clear understanding on how the initial terms and provisions of the JCPOA (nuclear deal) are going to be recompiled with," Grossi said.
Tehran started violating the 2015 accord in 2019 in a step-by-step response to President Donald Trump's withdrawal from it in 2018 and to the reimposition of US sanctions that had been rescinded under the deal.
https://english.alarabiya.net/en/News/middle-east/2021/01/11/Reviving-Iran-s-nuclear-deal-must-be-within-coming-weeks-UN-atomic-watchdog-
--------
Coronavirus: Palestine approves Russian COVID-19 vaccine, Russian wealth fund says
11 January 2021
The Palestinian health ministry has approved the main Russian vaccine against COVID-19, known as Sputnik V, for use in Palestinian self-ruled territory, Russia's sovereign wealth fund said on Monday.
The first shipment of the shot is expected to arrive next month, with all deliveries expected in the first quarter of this year, according to the Russian Direct Investment Fund (RDIF), which is responsible for marketing the vaccine abroad.
For the latest headlines, follow our Google News channel online or via the app.
Outside Russia, where authorities say over a million people have now been inoculated with Sputnik V, the vaccine has also been approved for emergency use by local regulators in Algeria, Argentina, Bolivia and Serbia, RDIF has said.
RDIF did not disclose how many doses would be shipped to the Palestinian Authority - which exercises limited self-rule in the West Bank under interim peace deals with Israel - but said the supplies would be facilitated by manufacturing partners in India, China, South Korea, and elsewhere.
Russian authorities have said that any Sputnik V export deals would involve only doses produced by such manufacturing partners abroad, with Russian-made vaccines primarily used to meet domestic needs.
Hence Russia's first major international shipment of vaccine doses - 300,000 that left Moscow for Argentina last month - caused an outcry at home, as critics questioned why exports were being prioritized over domestic requirements.
The Palestinian Authority said on Sunday it expected to receive its first COVID-19 vaccine doses from British drugmaker AstraZeneca in March, and accused Israel of shirking a duty to ensure vaccines are available in occupied territory.
While Israel has become the world leader in vaccinations per capita, Palestinians in the Israeli-occupied West Bank and in the Gaza Strip - where Hamas rules - have yet to obtain their first supplies.
https://english.alarabiya.net/en/News/middle-east/2021/01/11/Coronavirus-Coronavirus-Palestine-approves-Russian-COVID-19-vaccine-Russian-wealth-fund-says
--------
Advocacy group B'Tselem calls Israel apartheid regime for first time
12 January 2021
An Israeli advocacy group says Israel is not a democracy but an "apartheid regime" that systematically oppresses the Palestinians via military occupation and racist laws.
In a position paper published on Tuesday, B'Tselem, for the first time in its 31-year history, called Israel an apartheid regime — which is a crime under international law — for using "laws, practices and organized violence to cement the supremacy of one group over another."
It said, "Israeli apartheid, which promotes the supremacy of Jews over Palestinians, was not born in one day or of a single speech. It is a process that has gradually grown more institutionalized and explicit, with mechanisms introduced over time in law and practice to promote Jewish supremacy,"
"These accumulated measures, their pervasiveness in legislation and political practice, and the public and judicial support they receive – all form the basis for our conclusion that the bar for labeling the Israeli regime as apartheid has been met," it added.
Israel occupied the West Bank and East Jerusalem al-Quds during the Six-Day War in 1967. It later annexed East Jerusalem al-Quds in a move not recognized by the international community.
Palestinians want the West Bank as part of a future independent Palestinian state with East Jerusalem al-Quds as its capital.
But Israel's aggressive settlement expansion and annexation plans have dealt a serious blow to any prospects of peace.
The Gaza Strip has also been under an inhumane Israeli land, air and sea siege since 2007 and witnessed three wars since 2008.
Elsewhere in its report, dubbed "A regime of Jewish supremacy exists from the Jordan river to the Mediterranean Sea. This is apartheid," B'Tselem rejected the assumption that Israel operates two separate systems of rule concurrently, a democracy within the occupied territory and a military grip over the Palestinians.
"The entire area between the Mediterranean Sea and the Jordan River is organized under a single principle: advancing and cementing the supremacy of one group – Jews – over another – Palestinians. All this leads to the conclusion that these are not two parallel regimes that simply happen to uphold the same principle. There is one regime governing the entire area and the people living in it, based on a single organizing principle," it said.
The rights group further said Israel was creating a system over all the occupied lands in which Jewish citizens have full rights while Palestinians are divided into four tiers with various levels of rights, but always below the Jews.
At the lowest end is the roughly 2 million Palestinians in Gaza, where the Israeli blockade gives the regime "effective control."
Above them, is the roughly 2.7 million Palestinian "subjects" in the West Bank, who live in "dozens of disconnected enclaves, under rigid military rule and without political rights."
Next on its hierarchy are the roughly 350,000 Palestinians in East Jerusalem al-Quds. They are offered Israeli citizenship, although many have refused on principle and for those that try, the process has a high rejection rate.
The highest tier is Arab-Israelis, who have full citizenship, but are also kept below Jewish citizens.
"Israel is not a democracy that has a temporary occupation attached to it; it is one regime from the Jordan River to the Mediterranean Sea, and we must look at the full picture and see it for what it is: apartheid," B'Tselem executive director Hagai El-Ad said.
"The fundamental tenets of Israel's regime, although already implemented for many years, have recently grown more explicit," he added.
He also condemned the controversial "nation-state" law that was passed by the Israeli Parliament (Knesset) in 2018, saying the legislation "took the existing discrimination against Palestinians and turned it into an open constitutional principle."
The law permits institutionalized discrimination in favor of Jews in settlement, housing, land development, citizenship, language and culture, according to B'Tselem.
The rights group further explained that Israel has, over the past years, used the occupied land to build hundreds of communities for Jewish citizens – yet not a single one for Palestinian citizens.
https://www.presstv.com/Detail/2021/01/12/642828/Israel-Palestine-apartheid
--------
Africa
Israel to reopen Morocco mission in 'the next days' after normalizing ties
12 January 2021
The Israeli foreign ministry has selected a diplomat to reopen Israel's liaison office in Morocco, an official said, weeks after the two countries normalized ties.
David Govrin, who was Israel's ambassador to Egypt from 2016 to 2020, will be the charge d'affaires in Rabat, taking up his position in "the next days," an Israeli official told AFP.
Morocco and Israel in December signed a US-brokered normalization agreement in Rabat, with bilateral deals centering on direct air links, water management, connecting financial systems and a visa waiver arrangement for diplomats.
Morocco closed its liaison office in Tel Aviv in 2000, at the start of the second Palestinian intifada, or uprising.
A Moroccan technical delegation visited the site two weeks ago to lay the groundwork for its reopening.
The North African kingdom was one of three Arab nations last year to normalize ties with the Israel under US-brokered deals after the United Arab Emirates and Bahrain, with Sudan following suit last week.
Israeli Prime Minister Benjamin Netanyahu has also invited Morocco's King Mohammed VI for a visit.
The kingdom has North Africa's largest Jewish community of about 3,000 people, and Israel is home to 700,000 Jews of Moroccan origin.
https://english.alarabiya.net/en/News/north-africa/2021/01/12/Israel-to-reopen-Morocco-mission-in-the-next-days-after-normalizing-ties
--------
Sudan voices frustration as latest Nile Dam talks stall
11 January 2021
Sudan warned Sunday it cannot continue the "vicious cycle" of negotiations with Egypt and Ethiopia in the long-running dispute over Addis Ababa's controversial Blue Nile mega dam.
Last week, the three countries had agreed to hold further talks to agree the filling and operation of the vast reservoir behind the 145-meter (475-foot) tall hydropower Grand Ethiopian Renaissance Dam (GERD).
For all the latest headlines follow our Google News channel online or via the app.
But the latest meetings between foreign and water ministers "failed to reach an acceptable agreement to resume negotiations", Khartoum's state-run SUNA news agency said Sunday.
Sudan's water and irrigation minister, Yasser Abbas, warned that Khartoum cannot "continue this vicious cycle of indefinite talks".
Tensions have been high in the Nile basin ever since Ethiopia broke ground on the dam in 2011.
Ethiopia, the second most populous country in Africa, says the hydroelectric power produced by the dam will be vital to meet the power needs of its 110 million people.
Egypt, which depends on the Nile for about 97 percent of its irrigation and drinking water, sees the dam as an existential threat.
Khartoum hopes Ethiopia's dam will regulate annual flooding, but has also warned that millions of lives would be at "great risk" if no agreement was reached.
It says the water discharged from the GERD dam "poses a direct threat" to the safety of Sudan's Roseires Dam downstream on the Blue Nile.
The African Union, which is supporting the talks, suggested the three nations "hold bilateral meetings" with AU experts, Ethiopia's foreign ministry said in a statement Sunday.
While Ethiopia and Egypt accepted this proposal, "Sudan refused to have the bilateral meeting", the statement added.
Addis Ababa said it was "immediately" establishing a system to "cater for the concerns of Sudan on dam safety, data exchange and other technical issues", the ministry said.
Relations between Addis Ababa and Khartoum have deteriorated in recent weeks, with clashes reported along their frontier on the sidelines of an Ethiopian military operation in the Tigray region, bordering Sudan.
Ethiopia, which has said it reached its first-year target for filling the dam's reservoir, has recently signalled it would proceed with the filling regardless of whether a deal was concluded.
The Nile, the world's longest river, is a lifeline supplying both water and electricity to the 10 countries it traverses.
Its main tributaries, the White and Blue Nile, converge in the Sudanese capital Khartoum before flowing north through Egypt to drain into the Mediterranean Sea.
https://english.alarabiya.net/en/News/middle-east/2021/01/11/Sudan-voices-frustration-as-latest-Nile-Dam-talks-stall
--------
Cameroon Says Boko Haram, Separatists on Offensive
By Moki Edwin Kindzeka
January 09, 2021
YAOUNDE, CAMEROON - Cameroon said Saturday that at least 22 people, including four soldiers, were killed in two Friday morning attacks – one by Boko Haram fighters on its northern border with Nigeria and the other by separatists fighting to create an independent English-speaking state in the country's western regions. Officials warn of a new wave of violence and killing they say is being prepared by the separatists and Boko Haram terrorists.
Midjiyawa Bakari, governor of Cameroon's Far North region, says there was general confusion in the town of Mozogo when militiamen warned civilians about Boko Haram suicide bombers from neighboring Nigeria in their midst.
He said some scared people fled into the bush, where they always go for safety, but many Nigerian suicide bombers were already hiding there. He said 11 civilians were killed on the spot when bombers detonated explosives. He said three were shot by the terrorist group in Mozogo, a town in Cameroon's Mayo Sava administrative unit.
"Yesterday (Friday) we got an attack of Boko Haram in Mayo Tsanaga Division. Fourteen people died," said Bakari. "We have been instructed by the hierarchy to extend a message of condolence and we condemn this act of Boko Haram and all measures will be taken with our vigilant committees [militias], who are working day and night alongside our forces to secure our populations."
Bakari said the wounded were rushed to hospitals in Mozogo and the neighboring town of Mokolo. He said the military had been deployed in Mozogo to secure Cameroon's northern border with Nigeria's Borno state, an epicenter of Boko Haram activity.
Cameroon government spokesperson Rene Emmanuel Sadi in a release said heavily armed Boko Haram fighters have infiltrated villages around Mozogo and called for vigilance.
The release also says separatist fighters attacked a military post at Matazen at the western entrance to the English-speaking North-West, region killing four soldiers and two civilians. Two civilians died while being rushed to hospitals.
Among the survivors of the attack is 43-year-old trader Clarence Tatah, who was driving from the English-speaking northwestern town of Bamenda to the coastal city of Douala. He says God saved his life from more than half an hour of crossfire.
"I opened that door behind there and jumped out of the car," said Tatah. "Then I rolled and came under the car. After the shooting lasted for about 30 to 40 minutes, I discovered that a bullet went through my chair [seat] and came out behind. God protected me. The Lord preserved me."
General Valere Nka, commander of the Cameroon military forces fighting the separatists, says his troops transported several wounded people to hospitals. He says physical damage was enormous. Nka says civilians should help the military find the fighters by reporting suspects in their communities.
He says the task ahead is still enormous because there are many rebel camps his troops must destroy. He says it is imperative for everyone to know that the military is there primarily to protect civilians. He says he is urging the population to collaborate with the military, which is doing everything possible to protect civilians and their goods and restore peace.
Cameroon has been fighting to secure its northern border with Nigeria from Boko Haram incursions and combating separatist fighters in its English-peaking western regions.
No one has claimed responsibility for the attacks in the northern town of Mozogo and the western locality of Matazen.
The government, however, blames Boko Haram and separatist fighters for the separate attacks.
The separatist crisis that is in its fourth year has killed over 3,000 people and displaced more than 500,000 others according to the United Nations.
Boko Haram terrorists have been fighting for 11 years to create an Islamic caliphate in northeast Nigeria. The fighting has spread to Cameroon, Chad, Niger and Benin.
The United Nations says Boko Haram violence has cost the lives of 30,000 people and displaced about 2 million in Nigeria, Cameroon, Niger and Chad.
https://www.voanews.com/africa/cameroon-says-boko-haram-separatists-offensive?utm_source=iterable&utm_medium=email&utm_campaign=1890069_
--------
Nigeria: Military Kills 28 Boko Haram Terrorists in Gujba Clash
10 JANUARY 2021
By Michael Olugbode
Nigerian military said it obliterated Boko Haram terrorists in a major victory on Saturday, leaving 28 dead and few others injured and fleeing the battle front.
The military gained a major mileage in the ongoing war against elements of Boko Haram/ISWAP who invaded Gujba town in Yobe state on Saturday.
A statement on Sunday signed by Acting Director, Defence Media Operations, Brigadier General Benard Onyeuko, said the troops of the newly launched Operation Tura Takaibango, a subsidiary Operation of Operation Lafiya Dole, had continued to obliterate elements of Boko Haram/Islamic State's West Africa Province criminals with uncommon ferocity.
Onyeuko said: "the latest encounter with the marauding Boko Haram criminals occurred on 9 January 2021 at Gujba local government area of Yobe State where the gallant troops identified and encycled a Boko Haram criminals ambush site.
"The troops from HQ Sector 2 who were led by the Commander Sector 2 and later reinforced by troops from 27 TF Bde Buni Gari and Special Forces Training School Buni Yadi tactically out-manouevered the criminals and engaged them with superior fire power resulting in high casualty on the terrorists.
"In the aftermath of the decisive encounter, 28 Boko Haram Terrorists were neutralized while few others are believed to have escaped with gunshot wounds."
He added: "In the same vein, one Boko Haram gun truck was destroyed with its occupants while another gun truck was captured from the fleeing criminals. Other equipment captured from the criminals include; two Anti Aircraft Guns, 13 AK 47 Rifles, four extra magazines and a Vulcanizing Machine."
He however lamented that a gallant soldier was lost in the operation with another one wounded.
He noted that the wounded had been evacuated to a military medical facility and was responding positively to treatment.
He said: "The renewed onslaught against the remnants of Boko Haram/Islamic State's West Africa Province criminals by the dogged troops of Operation TURA TAKAIBANGO is indicative of the end of all criminal elements within the North East."
He added that: "The troops of Operation TURA TAKAIBANGO are highly commended for their dedication and determination in flushing out remnants of the terrorists from their hideouts. They are also encouraged not to relent but build on the successes recorded."
Onyeuko said: "The entire populace of the North East region are hereby assured of the Nigerian Army's renewed vigour and determination to crush the remnants of Boko Haram/Islamic State's West Africa Province criminals from their enclaves in this zone."
https://allafrica.com/stories/202101110078.html?utm_source=iterable&utm_medium=email&utm_campaign=1890069_
--------
Boko Haram kills commuters, seizes 11 vehicles in Borno
January 9, 2021
Boko Haram terrorist sect has killed some commuters at Aligambori, near Gajiram, along the Maiduguri-Monguno Road in Borno State.
Eyewitnesses said the incident happened on Wednesday, and the casualty figure was yet known as of press time.
According to an eyewitness and driver plying the route, Ya lawan Dawo, the terrorists also snatched 11 vehicles from drivers and took them to the bush.
"They snatched 11 vehicles and killed the passengers at Aligambori, where they (terrorists) usually mount checkpoints," Dawo told our correspondent.
Another transporter, Abba Monguno, said the Maiduguri-Monguno Road had been a nightmare to both drivers and commuters as they were always fearful of being attacked by the insurgents at any of their four checkpoints along the road.
Abba said the insurgents usually operated at will at the checkpoints, looting commuters' belongings and demanding money from drivers.
He said, "They have four roadblocks along that road. There is one each at Tuhuba, Kwanan Tsamiya, Aligambori, and Ayikime. They stop commuters at these checkpoints and rob them of their belongings like phones and money. Sometimes, they even strip passengers of their clothes.
"If you ply the route any time from 8-9am, you will surely meet them. Also at 4pm every day. When they stop us, we obey them. They will ask for money, the least being N1,000. If anybody refuses to heed their commands, they can shoot the person straight away."
Abba further stated that despite the discomfort and risk to their lives, they could not stop plying the route because they had to go out to make income to meet their daily needs.
"Sometimes, we do not know specifically when or where we will meet them. They could decide to come out at a time you least expect them. They operate and go back into the forest. We ply the road in fear," he added.
https://punchng.com/boko-haram-kills-commuters-seizes-11-vehicles-in-borno/?utm_source=iterable&utm_medium=email&utm_campaign=1890069_
--------
Tunisia nabs senior al Qaeda member
January 8, 2021
Tunisian Interior ministry Thursday announced the arrest of a prominent member of global terror group al Qaeda preparing terror attacks in the North African country.
The ministry did not provide details on the name of the al Qaeda official, the place of his arrest but indicated that the "dangerous terrorist" was planning terror attacks in conjunction with Okba Ibn Nafaa brigade which takes its name from an 7th century Arab general who led the Muslim conquest of North Africa.
The ministry also added that the man had been in communication with al Qaeda members outside Tunisia. Tunisia has been in a state of emergency since 2015 after three major terror attacks. They killed dozens of the people including foreign tourists and security forces.
The attacks were claimed by the Islamic state group, ISIS, but the country also struggles with several other terror groups including al Qaeda militants.
https://northafricapost.com/46672-tunisia-nabs-senior-al-qaeda-member.html?utm_source=iterable&utm_medium=email&utm_campaign=1890069_
--------
North America
25 domestic terrorism cases opened as result of US Capitol riots
11 January 2021
US officials say 25 domestic terrorism cases have been opened regarding last week's attack on the Capitol by supporters of President Donald Trump.
US Army Secretary Ryan McCarthy told a Democratic lawmaker on Sunday said that those under investigation are suspected of taking part in the insurrection that shut down Congress.
Representative Jason Crow, a member of the House of Representatives Armed Services Committee, said McCarthy told him the Pentagon was aware of "further possible threats posed by would-be terrorists" in the days up to and including the inauguration of Democratic President-elect Joe Biden on January 20, Reuters reported.
"Long guns, Molotov cocktails, explosive devices and zip ties were recovered, which suggests a greater disaster was narrowly averted," Crow said in a summary of his call with McCarthy.
McCarthy assured the lawmaker the Pentagon was working with local and federal law enforcement to coordinate security preparations after "deficient law enforcement threat reporting" ahead of last Wednesday.
The Pentagon official said there's concern that military members may have been involved in the protest.
The Pentagon also asked to review all members who will be a part of the security detail for the January 20 inauguration of Biden. Authorities said that's to ensure they are not sympathetic to domestic terrorists.
Five people, including a Capitol officer, were killed after pro-Trump protesters breached the Capitol building.
Meanwhile, the Justice Department has charged nearly two dozen people with regard to Wednesday's incident.
US House Speaker Nancy Pelosi on Friday said she spoke with the country's army chief about preventing the "unstable" Trump from initiating military hostilities or ordering a nuclear attack.
Pelosi called Trump an "unhinged president," adding that the president must be stopped from using his assigned codes to launch America's nuclear weapons.
The action was taken by her office in a letter to House Democrats under a section titled "Preventing an Unhinged President from Using the Nuclear Codes."
House Democrats will introduce legislation on Monday calling for the impeachment of Trump following the violence in which five people, including a US Capitol police officer, died.
https://www.presstv.com/Detail/2021/01/11/642781/25-domestic-terrorism-cases-opened-as-result-of-US-Capitol-riots
--------
Fear Spreads in Minnesota Town as 'Extremist Group' Moves to Open Church
By Maria Cramer
Jan. 9, 2021
Maria Barron came to rural Minnesota 10 years ago from Mexico so her husband could work in a nearby dairy farm.
They quickly grew to love the pastoral fields in Murdock, a town of fewer than 300 people. They joined a Roman Catholic church and felt safe when their children, 12 and 14, played outside with children of Mexican and Central American families that settled nearby.
But in December, that feeling of security crumbled when Murdock's mayor and City Council gave an organization for "ethnic European folk," known for excluding anyone who is not white, a permit to open a church on Main Avenue, about four blocks from Ms. Barron's church.
The group, the Asatru Folk Assembly, which describes itself as centered around a "native, pre-Christian spirituality," has been identified as a white supremacist hate group by other Pagan believers and organizations like the Southern Poverty Law Center.
The 3-1 vote in December to approve a permit for the group has made Murdock, which was mostly known for soybeans, corn and its proximity to enormous dairy farms, the subject of intense national attention.
The decision alarmed many residents, particularly residents of color who until recently lived comfortably in the majority-white town. Ms. Barron said she and other mothers had discussed taking turns to watch their children when they play outside. When the elementary school asked Latino families to participate in a video production, Ms. Barron said, many declined.
"I don't feel threatened right now. But I feel worried," she said. "What worries me is losing our sense of peace."
Many residents fear that similar groups will try "to get some sort of toehold here because they feel this is some refuge where they can come and foment this hate," said Pete Kennedy, 59, an engineer who has lived in the town for about 50 years.
Town leaders have insisted they had no choice but to grant a conditional-use permit, or CUP, because of legal protections that forbid governments from using land-use regulations to impose a substantial burden on people trying to practice their religion.
The approval "was strictly a zoning issue the Council felt like it needed to legally abide by," Mayor Craig Kavanagh said in a statement to residents last month.
He added, "If you think this decision was a cake walk and you jump to a conclusion that, because we approved the CUP zoning, we are racists, you are dead wrong."
Allen Turnage, a member of the Asatru Folk Assembly who attended town hearings, did not respond to messages seeking comment. The group has about 500 members nationwide, said Lecia Brooks, chief of staff at the Southern Poverty Law Center, a nonprofit known for its analyses of hate groups.
According to its website, the Assembly believes "those activities and behaviors supportive of the white family should be encouraged while those activities and behaviors destructive of the white family are to be discouraged."
The Anti-Defamation League has called the Assembly an "extremist group." In 2015, the F.B.I. stopped a plot to bomb or shoot Jewish synagogues and Black churches by two men who subscribed "to a white supremacy extremist version of the Asatru faith," an agent wrote in a federal affidavit. It is one of several like-minded groups that have adopted the imagery of Vikings, Norse mythology and medieval Europe.
While the group may be small, Ms. Brooks said, "We're concerned about it because it continues to advance the desires of white nationalists to create a white ethno-state." Such groups sometimes set up in largely white communities because they believe it will help them recruit more members, she said.
Mr. Turnage told The Star Tribune of Minneapolis that the Assembly was "specifically a Northern European religion, and that's it."
"We think our faith is worthy of honor and respect like anyone else's," he said.
Such explanations hide other intentions, said Karsonya Wise Whitehead, an associate professor of African and African-American Studies at Loyola University Maryland.
"They're trying to act as if we don't recognize racism when we see it and when we hear it," she said. "The explanation that 'we want to engage in and protect our heritage' — that's just an update on language that was used to set up Jim Crow."
The group has said that no more than 20 to 30 members will be at the building, a wooden former Lutheran church, said Donald Wilcox, the city's attorney.
In June, it was sold to the Assembly for $45,000, according to county records. Since then, people have been seen clearing brush and fixing up the building. None of the members live in Murdock, according to city officials.
Mr. Wilcox said residents made it clear — through letters and demonstrations — that they did not want the group to open a church.
The question for the Council, however, was whether the group was a legitimate religion with the protected right to use the building.
"We arrived at the decision that there wasn't any sufficient evidence to say that they weren't," Mr. Wilcox said. The church has not opened yet and the group still needs to meet with the city's building inspector, he said.
The city could have denied the permit by arguing that it had a compelling interest in prohibiting race discrimination, said Timothy Zick, a professor at William & Mary Law School. But it would have been a difficult fight, he said.
The group could have argued that it was protected by the same federal law that protects Muslims or Jews from discrimination by municipalities that would prevent them from opening a mosque or a synagogue, he said.
City Councilor James Diederich, who voted to approve the permit, said he did not want to see the town pulled into a protracted legal battle. He said that before the vote, residents told him they opposed the organization's presence. Others left letters on his doorstep.
"Some nice and some not so," Mr. Diederich said. "All anonymous."
At a nearby church, the Catholic Church of the Sacred Heart, the Rev. Jeremy Kucera said that last month his assistant called the police after finding a profanity-laced message on the church voice mail. Apparently, the caller had confused the church with the Assembly.
"I hope someone shoots up your church," the caller said, according to a recording of the message.
The Assembly's opponents plan to spread information about its beliefs and prevent it from recruiting, said Victoria Guillemard, a student at the Mitchell Hamline School of Law in St. Paul, who lives in Murdock and formed the Murdock Area Alliance Against Hate.
Christian Duruji, a Black lawyer who lives in Pennock, a town about 12 miles away, said he was heartened last fall when dozens of residents challenged Mr. Turnage at a public hearing.
He attended the meeting with his wife, who grew up in Murdock and joined Ms. Guillemard's group. The couple frequently visit Murdock to visit their 2-year-old daughter's grandparents.
"The fact that this little itty-bitty town in the back pocket of Minnesota came out and spoke out against racism — that was really encouraging to me," Mr. Duruji said.
Mr. Diederich, the city councilor, said he expected that residents would watch carefully for any permit violations and swiftly report them.
"Until then," he said, "we're going to watch and wait and see."
https://www.nytimes.com/2021/01/09/us/minnesota-asatru-folk-assembly.html?utm_source=iterable&utm_medium=email&utm_campaign=1890069_
--------
US Secretary Pompeo to release new information on Iran's ties to al-Qaeda
Joseph Haboush
12 January 2021
Outgoing US Secretary of State Mike Pompeo is expected to provide new evidence that shows ties between Iran and al-Qaeda, political sources familiar with the top American diplomat's plans to speak later Tuesday have said.
Pompeo and the Trump administration, soon entering their last week in office, have continued to push ahead with their maximum pressure campaign on Iran.
Pompeo is expected to make a televised speech in Washington at the National Press Club, according to a State Department schedule.
Reuters first reported that Pompeo would publicize declassified information on the killing of al-Qaeda's number two in Tehran last August.
Sources familiar with Pompeo's plans confirmed to Al Arabiya English that the secretary of state would provide details on the operation, which was reportedly carried out in cooperation with the Israeli intelligence agency.
On Monday night, the White House reporter for US-based POLITICO said Pompeo was seen dining with the head of Israel's Mossad, Yossi Cohen, in Washington.
A man and his daughter who were killed in Tehran last summer were not Lebanese nationals as Iran's Fars news agency reported at the time. In fact, the man was al-Qaeda's Egyptian-born number two Abou Mohammed al-Masri, who was wanted by the US for his role in the bombing of multiple US embassies in Africa, according to a previous New York Times report which cited intelligence officials.
Al-Masri, who the Times said was around 58 years old, was one of al-Qaeda's founders and the successor to the terrorist group's current leader Ayman al-Zawahiri.
Miriam is reportedly the widow of Osama bin Laden's 11th son, Hamza, who was his father's heir in the terrorist group. US President Donald Trump announced the killing of Hamza in September 2019.
Despite Iran denying links to al-Qaeda terrorists, a 19-page report that was found among Osama Bin Laden's items during the US raid on his compound, Iran allowed al-Qaeda members to pass through its borders without stamping their passports or with visas from its consulate in Karachi, Pakistan before 2001.
Since Trump entered the Oval Office in 2016, he has launched a pressure campaign aimed at forcing Iran back to the negotiating table after he withdrew from the Iran nuclear deal signed under Barack Obama.
An aggressive sanctions campaign was part of this policy and it is anticipated that more sanctions will be announced in the final days of the Trump administration.
Last week, the US blacklisted the leader of a state umbrella group in Iraq for mainly Iran-backed Shia militia.
Washington imposed sanctions on Friday on Falih al-Fayyadh, head of Iraq's Popular Mobilization Forces (PMF).
The US Treasury accused him of leading militia that killed hundreds of protesters with live ammunition during a crackdown on anti-government demonstrations in 2019. It said he had coordinated with Iran's Revolutionary Guards.
While sanctions have sharply lowered Tehran's oil exports and increased the economic hardship of ordinary Iranians, it has failed to bring Iran back to the negotiating table.
US President-elect Joe Biden has said the United States will rejoin the nuclear deal "if Iran resumes strict compliance."
Former and current Iraqi and Lebanese officials have also been slapped with sanctions for dealing with Iran-backed militias and groups.
On Sunday, Pompeo also announced the intention to designate Yemen's Houthi militia as a terrorist organization. The group is backed and supported by Iran and continues to launch rockets and ballistic missiles at Saudi Arabia.
https://english.alarabiya.net/en/News/world/2021/01/12/US-foreign-policy-US-Secretary-Pompeo-to-release-new-information-on-Iran-s-ties-to-al-Qaeda
--------
US designates Cuba as a State Sponsor of Terrorism: Pompeo
Rawad Taha
12 January 2021
The US State Department has designated Cuba as a State Sponsor of Terrorism for repeatedly providing support for acts of international terrorism in granting safe harbor to terrorists.
The statement released by the US state department added that the Trump Administration has been focused from the start on denying the Castro regime the resources it uses to oppress its people at home, and countering its malign interference in Venezuela and the rest of the Western Hemisphere.
"With this action, we will once again hold Cuba's government accountable and send a clear message: the Castro regime must end its support for international terrorism and subversion of U.S. justice," the statement added.
The designation has been made on the grounds that Cuba continues to harbor American fugitives and refuses a Colombian extradition request for National Liberation Army members linked to a 2019 bombing, along with the Cuban's intelligence and security apparatus infiltration of Venezuela's security and military forces, assisting Nicholas Maduro to maintain his stranglehold over his people while allowing terrorist organizations to operate.
According to the statement, the Cuban government has fed, housed, and provided medical care for murderers, bombmakers, and hijackers, while many Cubans go hungry, homeless, and without basic medicine. Members of the National Liberation Army (ELN), a US-designated Foreign Terrorist Organization, traveled to Havana to conduct peace talks with the Colombian government in 2017.
"Cuba has refused Colombia's requests to extradite ten ELN leaders living in Havana after the group claimed responsibility for the January 2019 bombing of a Bogota police academy that killed 22 people and injured more than 87 others," the statement added.
Cuba also harbors several US fugitives from justice wanted on or convicted of charges of political violence, many of whom have resided in Cuba for decades.
The statement added that Cuba has been returned to the list following its broken commitment to stop supporting terrorism as a condition of its removal by the previous administration in 2015.
https://english.alarabiya.net/en/News/world/2021/01/12/US-designates-of-Cuba-as-a-State-Sponsor-of-Terrorism-Pompeo
--------
Pompeo meets with Mossad chief ahead of anti-Iran speech: Report
12 January 2021
Outgoing US Secretary of State Mike Pompeo has reportedly been spotted dining with Yossi Cohen, head of Israel's Mossad spy agency, at a café in Washington ahead of a planned anti-Iran speech by the top US diplomat.
The White House reporter for US-based POLITICO broke the news in a tweet published on Monday night.
The meeting came one day before Pompeo's televised speech at the National Press Club in Washington, where he reportedly plans to use what is said to be "declassified US intelligence" to publicly accuse Iran of ties with the al-Qaeda militant group, an allegation roundly rejected by Tehran.
Speaking on condition of anonymity, two people familiar with the matter told Reuters that Pompeo is expected to claim that Iran has given safe haven to al-Qaeda leaders despite skepticism within the intelligence community and Congress.
He could cite the information on what the US and Israel claim to be the killing of al-Qaeda's suspected second-in-command in Tehran last year, they added.
Citing unnamed intelligence officials, The New York Times claimed last November that Abdullah Ahmed Abdullah, the al-Qaeda's second-in-command who went by the nom de guerre Abu Muhammad al-Masri, had been gunned down by two armed assassins on a motorcycle in northern Tehran in August.
The paper said al-Masri, who had been charged with helping to mastermind the 1998 bombings of two US embassies in Africa, had been killed in Iran by Israeli operatives acting at the behest of the United States.
Iranian Foreign Ministry Spokesman Saeed Khatibzadeh said the report was based on "false information," rejecting the presence of any of the terrorist group's members in the country.
Underlining that the al-Qaeda has been the brainchild of the United States and its allies' wrong policies, he stressed, "From time to time, Iran's foes — the United States and Israel — try to shirk responsibility for the criminal acts of al-Qaeda and other terrorist groups in the region and link Iran to such outfits by lying and leaking false information to the media."
https://www.presstv.com/Detail/2021/01/12/642834/US-Pompeo-Israel-Mossad-Iran
--------
US military continuing Afghan troop withdrawal despite new law
12 January 2021
The Pentagon says the US military is pressing ahead with outgoing President Donald Trump's order to further withdraw American troops from Afghanistan, despite a new law that bans further reductions without verifying that it was in America's national interest.
"Currently, no new orders have been issued which impact the progression of the conditions-based drawdown expected to reach 2,500 (troops) by January 15, 2021," the Department of Defense said on Monday, according to Reuters.
The Pentagon's move will likely stir outrage among Republican and Democratic lawmakers opposed to further troop cuts and renew concerns about the Trump administration's disdain for Congress, even in its final days.
"If they are continuing the drawdown, that would be a violation of the law," Reuters cited a congressional aide, who asked not to be named, as saying.
The US invaded Afghanistan in October 2001 under the pretext of the so-called war on terror, overthrowing a Taliban regime.
Since the US invasion of Afghanistan, Washington has spent more than two trillion dollars waging the war on the impoverished country. Over 2,400 American soldiers and tens of thousands of Afghan civilians have been killed.
The US military's phased withdrawal from Afghanistan is part of a deal signed between the US and Taliban in February 2020, which apparently aims to end the almost two-decade war in Afghanistan.
Under the deal, the Taliban have agreed to halt their attacks on international forces.
The deal was intended to result in the reduction of bloodshed, but violence continues to take a heavy toll in the country.
A report said last year that Taliban bombings and other assaults had increased by 70 percent after the US-Taliban agreement.
In November last year, the Pentagon said it would reduce troops level in Afghanistan from 4,500 to 2,500 by mid-January.
But the Congress earlier this month enacted a defense policy bill that blocks funding for cutting the number of troops in Afghanistan from 4,500 to 2,500 until acting Secretary of Defense Christopher Miller submits to Congress a "comprehensive, interagency assessment of the risks and impacts."
One defense official, who also spoke on condition of anonymity, told Reuters the US troop level was already close to 3,000.
Another US official said the drawdown was already underway when the legislation went into effect, and it was not something that could be changed "at a drop of a hat."
According to the report, the law gave Trump emergency waiver power to continue the withdrawal of US forces. But it said that he must explain to the Congress why a waiver is "important" to the national interest.
The congressional aide said the White House had not provided such waiver communication.
https://www.presstv.com/Detail/2021/01/12/642826/US-military-continuing-to-Afghan-troop-withdrawal-despite-new-law
--------
Cuba raps as 'political opportunism' US return of Havana to 'terror sponsors' list
11 January 2021
Cuba's Foreign Minister Bruno Rodríguez has condemned the US' "hypocritical and cynical" move to return Havana to its list of "state sponsors of terrorism", describing it as political opportunism.
"We condemn the US-announced hypocritical and cynical designation of Cuba as a State sponsoring terrorism," Rodríguez tweeted on Monday night.
"The US political opportunism is recognized by those who are honestly concerned about the scourge of terrorism and its victims," he added.
His comments came after the US administration announced it was returning Cuba to the US list of state sponsors of terrorism, a move that could complicate any efforts by the incoming Biden administration to revive Obama-era detente with Havana.
Just nine days before Republican President Donald Trump leaves office, Secretary of State Mike Pompeo said Monday Cuba was being blacklisted for "repeatedly providing support for acts of international terrorism" by harboring US fugitives as well as Colombian rebel leaders.
Pompeo also cited Communist-ruled Cuba's security support for Venezuelan President Nicolas Maduro.
The US top diplomat urged the government of Raul Castro to end its support for what he called "international terrorism and subversion of US justice".
Returning Cuba to the list is a further rollback of the detente that Democratic former President Barack Obama orchestrated between the old Cold War foes. Obama's decision to formally remove Cuba from the terrorism list in 2015 was an important step toward restoring diplomatic ties that year.
He also became the first US president to visit the island in more than eight decades. Cuba was first added to the terrorism list by the Reagan administration in 1982.
Now it would require lengthy legal deliberations for Democratic President-elect Joe Biden to reverse the designation.
Trump has clamped down on Cuba since coming to power in 2017, tightening restrictions on US travel and remittances to Cuba, and imposing sanctions on shipments of Venezuelan oil to the island.
Trump's hardline Cuba policy was popular among the large Cuban-American population in South Florida, helping him win the state in November though he lost the election to Biden, who was Obama's vice president.
Biden said during the election campaign he would promptly reverse Trump policies on Cuba that "have inflicted harm on the Cuban people and done nothing to advance democracy and human rights."
But Trump's move could make it more difficult for Biden to resume rapprochement when he takes office.
"I denounce Sec of State Pompeo maneuvers to include Cuba in the list of States sponsoring terrorism to please the anti-Cuban minority in Florida," the Cuban Foreign Minister had tweeted on Dec. 30 amid earlier speculation about the move.
Cuban President Díaz-Canel also said in a tweet on December 31 that Havana condemns "a unilateral, absurd, hypocritical and unjust maneuver of the US administration to include Cuba in their list of state sponsors of terrorism."
"This administration protects terrorist groups acting against #Cuba," he said.
Díaz-Canel also wrote that Havana "will constantly and rightfully denounce every mercenary and imperialist action against #Cuba."
Trump has kept up a steady stream of 11th-hour sanctions announcements and other actions against targets including Cuba, Venezuela and Iran, and Biden aides have said some appear designed to tie his hands when he is sworn in on Jan. 20.
"We've taken note of these last-minute maneuvers," a Biden official said. "The transition team is reviewing each one."
Democratic Senator Patrick Leahy, a staunch supporter of Obama's rapprochement, condemned Pompeo for a "blatantly politicized designation," saying "domestic terrorism in the United States poses a far greater threat to Americans."
The designation carries a prohibition on US economic aid, a ban on US arms exports, controls on "dual-use" items with military and civilian applications, and a requirement that the United States oppose loans to Cuba by international financial institutions such as the World Bank and the International Monetary Fund.
But many of those restrictions are already in place - or have even been tightened by Trump - and a decades-old US economic embargo remains and can only be lifted by Congress.
https://www.presstv.com/Detail/2021/01/11/642817/Cuba-US-terrorist-sponsor
--------
US veteran diplomat Kissinger criticizes possible return to Nuclear deal with Iran
11 January 2021
The new US administration should not return to the same Iran deal's spirit, which could spark an arms race in the Middle East, former US secretary of state Henry Kissinger said Monday, The Jerusalem Post reported.
"We should not fool ourselves. I don't believe that the spirit [of the Iran deal], with a time limit and so many escape clauses, will do anything other than bring nuclear weapons all over the Middle East and therefore create a situation of latent tension that sooner or later will break out," the 97-year-old diplomat added.
"The test case is the evolution of nuclear capacities in Iran. If these can be avoided, I do not say we shouldn't talk to them," he added.
Kissinger added that the US should not give up on what has recently been achieved in the agreements between the Arab world and Israel.
"I would tell the incoming administration that we are on a good course. The accords have opened a window of opportunity for a new Middle East," Kissinger said.
He added that the Arab countries understood that they could not survive in constant tension with parts of the West and Israel, so they decided they had to take care of themselves.
Normalization with Israel show that the four states taking part "have concluded that their national interests transcend their ideological interests," added Kissinger.
He added that the Palestinians need to give up on their "ultimate aims" and look for possible interim achievements.
Kissinger served under the Presidents, Richard Nixon and Gerald Ford from 1969 to 1976, as advisor for national security affairs, and secretary of state. He won the Nobel Prize in 1973, negotiating with North Vietnam, to end the Vietnam War.
https://english.alarabiya.net/en/News/middle-east/2021/01/11/US-veteran-diplomat-Kissinger-criticizes-possible-return-to-Nuclear-deal-with-Iran
--------
Europe
Iran must undo uranium enrichment, help nuclear diplomacy: EU
12 January 2021
Iran must reverse its decision to enrich uranium at higher levels and give international diplomacy a chance to save the 2015 nuclear accord, the European Union said in a statement.
"The initiation of uranium enrichment to up to 20 percent by Iran at the underground Fordow Fuel Enrichment Plant ... is a very serious development and a matter of deep concern," the EU's 27 governments said in a statement released late on Monday.
"At this critical juncture, Iran's action also risks undermining efforts aimed at building upon the existing diplomatic process. We urge Iran to refrain from further escalation and reverse this course of action without delay."
Iran started pressing ahead with plans to enrich uranium to 20 percent fissile strength at its underground Fordow nuclear plant last week, a level Tehran achieved before striking the deal with world powers to contain its disputed nuclear ambitions.
The head of the global atomic watchdog told Reuters on Monday that world powers and Iran had weeks, not months to save the nuclear accord once US President-elect Joe Biden takes office on January 20.
https://english.alarabiya.net/en/News/world/2021/01/12/Iran-must-undo-uranium-enrichment-help-nuclear-diplomacy-EU
--------
Spain court remands three suspected ISIS members
11 January 2021
A court in Spain on Monday remanded in custody three suspected members of ISIS arrested last week in Barcelona, including an Algerian man who had fought for the extremist group in Iraq.
Spanish authorities began their investigation after becoming aware just before Christmas that the "potentially dangerous" Algerian man was in Spain, police said in a statement.
The man, a "jihadist" who had fought for ISIS in Iraq, was arrested at a building occupied by squatters in Barcelona's seaside neighborhood of Barceloneta, the statement added.
Police detained two other Algerian men as part of the operation, one suspected of giving him "logistical support" in Spain and another described by police as has "acolyte".
The operation was carried out in cooperation with European Union law enforcement agency Europol and the FBI, as well as the intelligence services of Spain and Algeria, the statement said.
The three men appeared before a court on Monday where the presiding judge ordered they be remanded in custody on suspicion of membership in a terrorist organization.
Their arrest comes as the trial of three men accused of helping the extremists behind the August 2017 attacks in Barcelona and a nearby town that killed 16 people is wrapping up at a court near Madrid.
ISIS claimed responsibility for the attacks, one of which involved a van ramming people in the center of Barcelona.
While none of the three men on trial are charged with direct responsibility, they are in the dock for helping the attackers, who were all shot dead by police.
https://english.alarabiya.net/en/News/world/2021/01/11/Spain-court-remands-three-suspected-ISIS-members
--------
Man arrested in Redhill over Islamic terrorism
09 January 2021
A man has been arrested in Surrey on suspicion of terrorism offences, Counter Terrorism Policing South East (CTPSE) has said.
The 47-year-old man was arrested earlier in the Redhill area in a joint operation with Surrey Police.
A search is being carried out at the scene, police said.
The arrest is linked to Islamic terrorism and there is not believed to be any imminent threat to the public, a CTPSE spokesman said.
https://www.bbc.com/news/uk-england-surrey-55588062?utm_source=iterable&utm_medium=email&utm_campaign=1890069_
--------
South Asia
Female Military Personnel 'Assassinated' in Balkh
12 Jan 2021
At least two female security members were killed in an unknown gunmen attack in PD5 of Mazar-e-Sharif in Balkh province.
Officials confirmed to the media that 2 female officers were killed and 2 other female security members were injured.
Mohammad Hanif Rezaei, the spokesman for the 209th Shaheen Corps, told media that the unknown gunmen burst into attacking the officials on their way to work.
Reports indicate the security officials were on their way to their duties when the incident happened.
During the attack, the driver was also wounded, no further detail was provided by the officials.
Media reported, that motorcyclists opened fire on a vehicle carrying the 209 Shaheen Corps.
This comes in a time, as NDS arrests five members of the Haqqani Network cell on charges of espionage.
Haqqani militant members were captured in Paktika province, one of the captured suspects known as Naqibullah was directly in contact with the Pakistani Inter-services Intelligence (ISI).
Naqibullah and four of his accomplices were arrested by the Afghan National Directorate of Security.
https://www.khaama.com/female-military-personnel-assassinated-in-balkh-445544/
--------
Sri Lanka and Bangladesh agree to promote maritime cooperation
1/11/2021
The newly appointed High Commissioner of the People's Republic of Bangladesh to Sri Lanka Tareq Md. Ariful Islam presented his credentials to President Gotabaya Rajapaksa at the President's House on Monday.
Explaining the current economic situation in Sri Lanka and the steps taken by the government to contain the COVID – 19 pandemic President Rajapaksa stated that it is his intention to promote bilateral relations in identified areas with countries in the region including Bangladesh to the highest possible level, the President's Media Division said.
The President pointed out that there is a great potential for the development of maritime cooperation between States in the Indian Ocean. The new High Commissioner said his country had made maritime security a high priority.
Agriculture and export crops promotion, tourism, education and trade relations were named by the President as other areas in which relations could be expanded. Enhancing educational cooperation at the university level is a necessity, President added.
The High Commissioner said that a large number of Sri Lankan students are already pursuing higher education in Bangladesh and his country is ready to expand educational opportunities for Sri Lankans in a mutually beneficial manner.
Stating that no Sri Lankan Head of State had visited Bangladesh since 2018, High Commissioner Islam recalled an earlier invitation to President Rajapaksa to pay an official visit to his country.
Emphasizing the need for strengthening relations at the Head of State level the President said that he would consider the invitation once the current difficult period is over.
Foreign Minister Dinesh Gunawardena, Foreign Secretary Admiral Jayanath Colombage were also joined the discussion.
https://menafn.com/1101419948/Sri-Lanka-and-Bangladesh-agree-to-promote-maritime-cooperation
--------
Southeast Asia
Dr M hits back at being named on extremist list
January 11, 2021
PETALING JAYA: Dr Mahathir Mohamad, who was included in a list of the world's top 20 most dangerous extremists, said today he was being vilified for his thoughts while others got away with acts of terrorism and violence.
Dr Mahathir was responding to his inclusion last week on a list put up by the US-based Counter Extremism Project website which said he supports extremist violence against the West and has criticised lesbian, gay, bisexual and transgender communities and Jewish people.
"The website regurgitates half of what I wrote and twisted it so as to imply that I advocate terrorism. I specifically stressed that Muslims are not revengeful," he said in an article on his blog today.
"So, one can be an extremist for criticising the West, saying things they do not like to hear, even if it's the truth. You don't have to do anything. It seems that I am vilified for my thoughts while others get away with acts of terror and violence resulting in death and destruction of the weak and the oppressed."
The list includes leaders or members of Hezbollah, Hamas, Islamic State, Muslim Brotherhood, Al Qaeda, as well as the head of a Nazi movement, a white supremacist movement, and an anti-Muslim group in Myanmar.
Mahathir said outgoing US president Donald Trump should be labelled an extremist for the storming of the US Capitol by his supporters, which has been largely attributed to his incitement.
Facebook banned Trump until the end of his presidency for using the platform to "incite violent insurrection against a democratically elected government" but Trump was not included on the list. (The list was published before the attack took place.)
Mahathir said former US president George Bush and former British prime minister Tony Blair were responsible for the "complete destruction" of Iraq through the invasion of the country based on falsified claims of having weapons of mass destruction.
"Would Bush and Blair be held as extremists considering that all those lives lost were due to their lies about Iraq," he asked. "Their shock and awe assault which they claim would solve the problem of Iraq's dictatorship in three months is now in its 18th year. The destruction is still going on."
Mahathir also pointed out that according to the Human Rights Watch, Israeli security forces killed 189 Palestinian demonstrators, including 31 children and three medical workers, and wounded more than 5,800 with live fire between March 30 and November 19, 2018.
"Since the creation of Israel thousands of Palestinian lives have been lost due to Israeli action," he said. "Yet not a single Israeli is listed among the terrorist-extremists by this website."
https://www.freemalaysiatoday.com/category/nation/2021/01/11/dr-m-hits-back-at-being-named-on-extremist-list/
--------
Malaysia's Pharmaniaga signs Covid-19 vaccine agreement with China's Sinovac
12 Jan 2021
KUALA LUMPUR, Jan 12 — Malaysia Pharmaniaga Bhd has signed an agreement with China's Sinovac to purchase ready-to-fill Covid-19 vaccines and later to manufacture the vaccine domestically, it said on Tuesday.
Pharmaniaga said in a filing to the bourse that the company will carry out a fill-and-finish process of the vaccine in Malaysia, and will subsequently enter into local manufacturing, under license from Sinovac for its technology and know-how.
"This will also help Pharmaniaga in long-term partnerships, including technology transfer to grow the sector in Malaysia," the company said.
Malaysia has been in talks to secure a total of 23.9 million doses of Covid-19 vaccines from Sinovac and another Chinese manufacturer CanSino Biologics, and from Russia's Gamaleya Institute, the maker of the Sputnik V vaccine.
The Southeast Asian nation has also procured coronavirus vaccines from U.S. and German drugmakers Pfizer and BioNTech, as well as British-Swedish biopharmaceutical firm AstraZeneca PLC. — Reuters
https://www.malaymail.com/news/malaysia/2021/01/12/malaysias-pharmaniaga-signs-covid-19-vaccine-agreement-with-chinas-sinovac/1939689
--------
After Machang MP, Umno's Nazri Aziz withdraws support for Muhyiddin
12 Jan 2021
BY YISWAREE PALANSAMY
KUALA LUMPUR, Jan 12 — Padang Rengas MP Datuk Seri Mohamed Nazri Aziz today announced his withdrawal of support for Prime Minister Tan Sri Muhyiddin Yassin, who is from Bersatu.
The former minister is the second Umno lawmaker to do so since the year started, after Machang MP Datuk Ahmad Jazlan Yaakub
"I want to announce that I, Mohamed Nazri Abdul Aziz from the Padang Rengas Umno division, and an Umno-BN parliamentarian for Padang Rengas, hereby and officially withdraw my support for Tan Sri Muhyiddin to form the government," he said in a press conference at the Umno headquarters this afternoon.
He said that his withdrawal was endorsed by the Padang Rengas Umno division and the party's supreme council.
He said that Muhyiddin is now left with the backing of only 109 MPs, and by convention, has already lost support.
Nazri hinted that "there may be two or three more" MPs who may follow his suit.
He also said that Umno has also decided against continuing to work with Bersatu, adding that it will be formalised during the Umno general assembly at the end of this month..
Nazri also lashed out at Muhyiddin for invoking a state of Emergency to remain in power when he no longer commands the majority in the Dewan Rakyat.
According to Nazri, Muhyiddin was admitting defeat by doing so.
"So actually to me, it is a logical action to be taken by Muhyiddin. It is an admission of defeat that he has lost the majority.
"Because when we look at it, when he has no more majority, he has to resort to an election, but we all know, how to have an election when Covid-19 has hit us?" he said.
Malaysia is now in a nationwide state of Emergency that will last until August 1, or until Covid-19 cases in the country that number in the four digits decrease to manageable levels.
The proclamation by Yang di-Pertuan Agong Al-Sultan Abdullah Ri'ayatuddin Al-Mustafa Billah Shah this morning followed yesterday's announcement of the return to the movement control order (MCO) for six states and three federal territories that was first imposed last March and lasted nearly three months.
Nazri said he is not sure who currently commands the support of the majority to form government.
"I do not know who can. Just that I retract my support to enable the general election to happen.
"That's why I never thought that it should be this person or that. If it's the best, it would definitely be someone representing Barisan Nasional to be in government," he said when asked to reveal as to whom he fel, would make the best prime minister candidate.
However, he is confident that Umno and PAS through their Muafakat Nasional (MN) partnership would win a general election if it were to be held now.
https://www.malaymail.com/news/malaysia/2021/01/12/after-machang-mp-umnos-nazri-aziz-withdraws-support-for-muhyiddin/1939666
--------
Indonesia using unmanned vehicle to search for air crash victims in sea
12 January 2021
Indonesia has deployed a remotely operated underwater vehicle to help divers search for the remains of victims and recover the flight recorders from a Sriwijaya Air jet that crashed into the sea three days ago soon after takeoff.
The Boeing 737-500 plane with 62 people on board plunged into the Java Sea Saturday afternoon, four minutes after taking off from Jakarta's main airport.
Indonesian police made the first identification of a victim from the crash on Monday. Flight attendant Okky Bisma was identified by his fingerprints, said a police official.
"My super kind husband... Heaven is your place... Until we meet again darling," Okky's wife, who is also a flight attendant, wrote on her Instagram account.
The Boeing 737-500 jet was headed on a domestic flight to Pontianak on Borneo Island, about 740 km from Jakarta, before it disappeared from radar screens.
It was the second major air crash in Indonesia since 189 passengers and crew were killed in 2018 when a Lion Air Boeing 737 MAX also plunged into the Java Sea soon after taking off. The jet that crashed on Saturday is a largely different design.
"Today we are focusing on finding the victims," Yusuf Latif, a spokesman for search and rescue agency Basarnas, said on Tuesday.
Divers have narrowed down an area where they believe the flight recorders, known as black boxes, are believed to be but search efforts have been hindered by debris, officials said.
A remotely operated underwater vehicle has been deployed to help scour the seabed, while navy vessels with sonar search from the surface.
Once the flight data and cockpit voice recorders are found, Indonesia's National Transportation Safety Committee (KNKT) expects to be able to read the information in three days.
With few immediate clues on what caused a catastrophic loss of control after take-off, investigators will rely heavily on the flight recorders to determine what went wrong.
The Sriwijaya Air plane was nearly 27 years old, much older than Boeing's problem-plagued 737 MAX model. Older 737 models are widely flown and do not have the stall-prevention system implicated in the MAX safety crisis.
https://www.presstv.com/Detail/2021/01/12/642832/Indonesia-using-unmanned-vehicle-to-search-for-air-crash-victims-in-sea
--------
Arab World
Saudi Arabia's foreign ministry welcomes US designation of Houthis as terrorist group
Tamara Abueish
January 12, 2021
Saudi Arabia welcomes the United States' decision to designate the Iran-backed Houthi militia as a terrorist organization and to classify three of its leaders as Specially Designated Global Terrorists (SDGTs), the Saudi Press Agency cited the Ministry of Foreign Affairs as saying.
The move is in line with the Yemeni government's efforts to "put an end to the violations of the Iran-backed militia and the real dangers it poses, which has led to the deterioration of the humanitarian situation of the Yemeni people, and the ongoing threats to the international peace and security," the ministry said.
The United States will designate the Iran-backed Houthi militia as a terrorist organization, and three of its leaders as Specially Designated Global Terrorists (SDGTs), US Secretary of State Mike Pompeo said in an official statement on Monday.
"The Department of State will notify Congress of my intent to designate Ansarallah – sometimes referred to as the Houthis – as a Foreign Terrorist Organization (FTO), under section 219 of the Immigration and Nationality Act, and as a Specially Designated Global Terrorist (SDGT) entity, pursuant to Executive Order 13224," the statement from the US added.
"I also intend to designate three of Ansarallah's leaders, Abdul Malik al-Houthi, Abd al-Khaliq Badr al-Din al-Houthi, and Abdullah Yahya al Hakim, as SDGTs," Pompeo added.
The Kingdom's foreign ministry said it hoped the move would put an end to the Houthis' terrorist acts and discourage its backers from supplying the group with missiles, drones, weapons, and funds, according to SPA.
Yemen's foreign ministry also welcomed the US' decision on Monday and said that the move aligns with the government's efforts to punish the militia.
"After six years of war, and the imposition of numerous sanctions against individuals, we believe that all political and legal pressures on the Houthis should continue to escalate and intensify in order to create conditions conducive to a peaceful solution to the conflict," Yemeni foreign minister Ahmad Awad bin Mubarak said in a statement.
The Iran-backed group should be classified as a foreign terrorist organization "not only for their terrorist acts, but also for their permanent efforts to prolong the conflict and cause the worst humanitarian catastrophe in the world," the minister added.
The group's crimes include bombing civilian homes and places of worship, arresting and torturing journalists and political activists, using health and educational facilities for military purposes, destroying economic institutions in Yemen, as well as targeting civilians in Saudi Arabia, according to the foreign ministry.
Iran's Islamic Revolutionary Guard Corps (IRGC) supplies the Houthis with missiles, drones, and training, allowing the group to target airports and other critical infrastructure, Pompeo said.
Iran backs the Houthis in Yemen's civil war against the internationally-recognized government.
https://english.alarabiya.net/en/News/gulf/2021/01/11/Saudi-Arabia-s-foreign-ministry-welcomes-US-designation-of-Houthis-as-terrorist-group
--------
Oman's Sultan Announced New Law Allows Oman to Get First Crown Prince
January 12, 2021
DUBAI: Oman's sultan announced on Monday a constitutional shakeup that includes the appointment of a crown prince for the first time and new rules on how parliament will work, state media said.
A new basic law issued by Sultan Haitham bin Tariq al-Said also emphasises the role of the Gulf Arab state in guaranteeing more rights and freedoms for citizens — including equality between men and women, state news agency ONA said.
Sultan Haitham came to power a year ago after the death of his predecessor Sultan Qaboos, who transformed an impoverished backwater riven by internal conflicts into a state that plays a small but important role in international diplomacy.
Qaboos, who was childless, ruled Oman for 49 years without a publicly designated heir, naming his preferred successor in a sealed envelope to be opened after his death should the royal family disagree on the succession line. The family went with his choice.
The secrecy about the succession to Qaboos resulted in rumours and raised concerns for the country's stability in the last years of his rule. Haitham's plan to designate a crown prince could add predictability to Omani politics.
The new basic law sets out mechanisms for the appointment of a crown prince and his duties. The report did not say who would become the new crown prince or provide other details.
It also sets the rule of law and the independence of the judiciary as the basis for governance in the sultanate, a small oil producer and a regional US ally.
A separate decree created a new law for the parliament — the bicameral Council of Oman. The published text says changes to conditions of membership and the council's terms of reference have been made, but no further details were given.
Sultan Haitham has shaken up the government and state entities and moved to enact long-awaited fiscal reform since taking power, appointing finance and foreign affairs ministers and a central bank chairman — portfolios held by the late sultan. Elana DeLozier, senior fellow at the Washington Institute said the decision announced on Monday is a further devolution of the Sultan's power.
In October he approved a medium-term fiscal plan to make government finances sustainable.
https://www.dawn.com/news/1601018/new-law-allows-oman-to-get-first-crown-prince
--------
Egypt reopens airspace with Qatar, resumes flights: Report
Joanne Serrieh
12 January 2021
Egypt reopened its airspace with Qatar on Tuesday and announced the resumption of flights between the two countries, according to a local media report.
For all the latest headlines follow our Google News channel online or via the app.
"The decision allows EgyptAir and Qatar Airways, as well as other Qatari airlines, to resume air traffic and send flight operating schedules to the Egyptian and Qatari civil aviation authorities for approval," news outlet Ahram Gate reported, citing the head of the Egyptian civil aviation authority Ashraf Noyer.
The decision comes days after the signing of the AlUla declaration at the GCC Summit held in Saudi Arabia last week, in which the Kingdom announced a breakthrough in ending a bitter dispute between Gulf Arab states and Qatar , with its foreign minister saying Riyadh and its allies would restore all ties with Doha severed in mid-2017.
Egypt's foreign minister Sameh Shoukry flew to Saudi Arabia to take part in the 41st GCC Summit and signed the declaration, Reuters reported citing an official source.
The decision to sign the declaration was in line with Egypt's continued support and solidarity with the countries of the Arab Quartet, and in an effort to enhance joint Arab action in facing the grave challenges in the region, the minister said.
Saudi Arabia and the United Arab Emirates have also announced reopening their borders with neighboring country Qatar, in addition to the resumption of flights.
https://english.alarabiya.net/en/News/gulf/2021/01/12/GCC-dispute-Egypt-reopens-airspace-with-Qatar-resumes-flights-Report
--------
UAE official welcomes US designation of Iran-backed Houthis as terrorist group
11 January 2021
The United Arab Emirates' minister of state for foreign affairs on Monday welcomed the United States' move to designate Iran-backed Houthi militia in Yemen as a foreign terrorist organization.
"We welcome the US administration's decision to classify the Houthi militia as a terrorist organization, and to place its leaders on terrorist lists," Anwar Gargash said in a tweet.
The United States will designate the Iran-backed Houthi militia as a terrorist organization, and three of its leaders as Specially Designated Global Terrorists (SDGTs), US Secretary of State Mike Pompeo said in an official statement on Monday.
Earlier on Monday, both Saudi Arabia and Bahrain welcomed the United States' decision to designate the Iran-backed Houthi militia as a terrorist organization.
Saudi Arabia's Ministry of Foreign Affairs said that the move is in line with the Yemeni government's efforts to "put an end to the violations of the Iran-backed militia and the real dangers it poses, which has led to the deterioration of the humanitarian situation of the Yemeni people, and the ongoing threats to the international peace and security."
https://english.alarabiya.net/en/News/gulf/2021/01/12/UAE-official-welcomes-US-designation-of-Iran-backed-Houthis-as-terrorist-group
--------
Bahrain welcomes US designation of Houthis as a terrorist group
Rawad Taha
January 12, 2021
The Ministry of Foreign Affairs of Bahrain welcomed the US administration's decision to classify the Houthi group as a terrorist organization and to place its leaders on the terrorist list, state news agency BNA reported.
"The classification is a necessary step to put an end to the serious violations it [Houthi group] commits against the brotherly Yemeni people, and to confront its continued insistence on destabilizing security and stability in the region, in implementation of the agenda of the Iranian regime that supports it," the statement released by the Foreign Affairs added.
The Ministry of Foreign Affairs added that the decision to designate the Houthi militia as a terrorist organization has great importance.
"The international community needs to take similar measures against this terrorist group, because the sinful attacks it commits against the Yemeni people and the neighboring countries and the threat it possesses to international shipping, and its continued obstruction of all efforts aimed at reaching a lasting peace and a political solution that preserves the Yemeni Republic, its unity and territorial integrity," the statement added.
https://english.alarabiya.net/en/News/gulf/2021/01/11/Bahrain-welcomes-US-designation-of-Houthis-as-a-terrorist-group
--------
First Qatari flight arrives in Saudi Arabia's Riyadh from Doha
Tamara Abueish
11 January 2021
A Qatar Airways plane arrived in Saudi Arabia's Riyadh from Doha on Monday, the first commercial flight between the two countries in three and a half years.
The move comes after the Kingdom and Qatar agreed to restore diplomatic and trade ties following a more than three-year dispute.
For all the latest headlines follow our Google News channel online or via the app.
The Qatar Airways flight took off from Doha at 10:45 a.m. GMT and touched down at 12:10 p.m. GMT, according to the airline's timetable.
An AFP video showed passengers lining up in front of a check-in counter at Qatar's Hamad International Airport ahead of the historic flight.
Qatar Airways had said earlier this week that it would begin resuming flights to Riyadh on Monday, Jeddah on Jan. 14, and Dammam on Jan. 16.
Last week, the leaders of the six-member Gulf Cooperation Council (GCC) signed the AlUla declaration at the conclusion of the 41st Gulf summit, ending the dispute with Qatar and restoring full ties with it.
The UAE, Saudi Arabia, Bahrain and Egypt, had severed diplomatic, trade and transport ties with Qatar in June 2017over Doha's support of terrorism.
https://english.alarabiya.net/en/News/gulf/2021/01/11/GCC-dispute-First-Qatari-flight-arrives-in-Saudi-Arabia-s-Riyadh-from-Doha-after-three-year-dispu
--------
Senior Bahraini Shia cleric sympathizes with Pakistan's Hazara Muslims after Daesh bloodshed
12 January 2021
Bahrain's most prominent cleric Ayatollah Sheikh Isa Qassim has expressed sympathy with members of the ethnic Pakistani Hazara community, after the Takfiri Daesh terrorist group killed nearly a dozen coal miners from the Shia Muslim group in a targeted attack in southwest Pakistan earlier this month.
Sheikh Qassim, in a statement released on Monday, strongly condemned the massacre, stating that the victims were neither harboring any grudge against anyone, nor involved in ideological and sectarian conflicts.
"It is practically obligatory for all sects of the Muslim world to stand up against the devastating menace of Daesh. Daesh has remained and will remain a falsified and distorted representation of Islam. It will ruin the image of Islam in the eyes of all those who believe in the truth and purity of the religion, its denunciation of savagery, its respect for humanity, as well as its sanctity of blood and human life," he said.
Sheikh Qassim added, "Daesh continues to shed the blood of innocents, brutally kills people, promotes ignorance about Islam, alienates from the ethics of the Muslim world, violates many principles of Islam, exercises heresy and murders Muslims who have uttered the Shahada, pray, fast and perform Hajj, and believe in the oneness of God."
"Daesh still loves bloodshed and destruction within the ranks of the Muslim world, and its desire is to spread division and discord among Muslims," the senior Shia cleric said. "All Muslim nations, whether Sunni, Shia or else, are required to stand up against this destructive plague and to educate future generations against the guile, savagery and ignorance of Daesh, and the enormous danger it has posed [to the world]."
Daesh militants captured and shot 11 coal miners from the Pakistani Shia Hazara community on January 3 in Machh, an area located east of Quetta, capital of Pakistan's troubled Balochistan Province.
Shia Muslims across the country later joined in the demonstrations against the massacre, demanding that Prime Minister Imran Khan visit the grieving community in Quetta and assure their protection.
Authorities on Friday promised the arrest of the attackers, payment of compensation to the bereaved families and better security for the Hazara.
More than 4,000 people attended the funeral of the miners whose bodies were laid to rest amid tight security six days after their deaths.
Ethnic Hazaras in Balochistan, Pakistan's largest but least populated and poorest province, have long been persecuted for their faith, facing targeted attacks and large-scale bombings that have killed hundreds in the last two decades.
Quetta is home to roughly 600,000 Hazara Shia Muslims, largely confined to two fortified enclaves on either side of the city, Hazara Town and Alamdar Road.
The enclaves are ringed with high walls topped with barbed wire, and security personnel heavily restrict entry to non-Hazaras.
https://www.presstv.com/Detail/2021/01/12/642835/Senior-Bahraini-Shia-cleric-sympathizes-with-bereaved-families-of-Pakistani-Hazara-coal-miners
--------
Badge of honor for Iraqi PMU chief to be put on US sanctions list: Bahraini opposition
11 January 2021
A Bahraini opposition protest movement has denounced the recent US sanctions against the chairman of the Iraqi Popular Mobilization Units – better known by the Arabic name Hashd al-Sha'abi, saying the sanctions serve as "a badge of pride" for the official.
The February 14 Youth Coalition —named after the date of the beginning of a popular uprising against Bahrain's ruling Al Khalifah regime, in a statement on Sunday slammed the sanctions against Falih al-Fayyadh as cowardly, and said the move represents an attack on Iraq's sovereignty, national security, as well as its people.
"The current US administration [led by President Donald Trump] knows that Fayyadh is one of the national Iraqi leaders, who protected the Iraqi nation against US and Takfiri terrorism represented by Daesh and its collaborators. He was among those who thwarted Trump's failed scheme in Iraq and the region," the statement added.
The February 14 Youth Coalition further noted that recent US sanctions on the PMU chairman denotes the fall of Trump, his Republican party as well as their defeated regional allies.
He, however, added that the sanctions represent a badge of pride for Fayyadh, all PMU leaders and members in addition to the Iraqi Armed Forces.
The Bahraini opposition movement underlined that no future administration at the White House can discourage Fayyadh from continuing his struggle against the US occupation of Iraq, reiterating his solidarity with him and Iraqi people.
The US Treasury Department said in a statement on January 8 it had blacklisted 64-year-old Fayyadh, accusing him of being responsible for a crackdown by security forces on anti-government demonstrations that gripped the Iraqi capital, Baghdad, and later swept through several other cities in late 2019.
The rallies erupted as a result of public anger at corruption, mass unemployment and failing public services. Reports say some 550 people were killed and 30,000 injured as the anti-government rallies took a violent turn.
The protests caused then prime minister Adel Abdul Mahdi's resignation.
Top Iraqi official rejects US sanctions on PMU chairman
Separately, Iraq's National Security Adviser, Qassem al-Araji, has dismissed sanctions against the head of the Popular Mobilization Units, while reiterating that the Baghdad government seeks to resolve lingering crises in the country.
"We want Iraq to be a meeting point [for various parties], and it can actually perform this role. All should realize that Iraq's interests come before anything else," Araji said during a meeting with US Ambassador to Baghdad Matthew Toller on Monday.
Toller, for his part, said US Treasury's measure against Fayyadh was not a wise decision as he is an Iraqi state official and should not be put on the sanctions list.
On March 27 last year, the New York Times reported that the Pentagon had ordered a secret directive, which called on US military commanders to prepare a campaign against Kata'ib Hezbollah, which is part of Hashd al-Sha'abi.
But the United States' top commander in Iraq at the time, Lieutenant General Robert P. White, warned that such a campaign could be bloody and counterproductive.
Hashd al-Sh'abai fighters have played a major role in the liberation of Daesh-held areas to the south, northeast and north of the Iraqi capital Baghdad, ever since the terrorists launched an offensive in the country in June 2014.
Back in November 2016, the Iraqi parliament approved a law giving full legal status to the fighters. It recognized the PMU as part of the national armed forces, placed the forces under the command of the prime minister, and granted them the right to receive salaries and pensions like the regular army and police forces.
https://www.presstv.com/Detail/2021/01/11/642795/Badge-of-honor-for-Iraqi-PMU-chief-to-be-put-on-US-sanctions-list-Bahraini-opposition
--------
URL: https://www.newageislam.com/islamic-world-news/a-tada-court-orders-charges/d/124055
New Age Islam, Islam Online, Islamic Website, African Muslim News, Arab World News, South Asia News, Indian Muslim News, World Muslim News, Women in Islam, Islamic Feminism, Arab Women, Women In Arab, Islamophobia in America, Muslim Women in West, Islam Women and Feminism