New Age Islam News Bureau
18 Jun 2019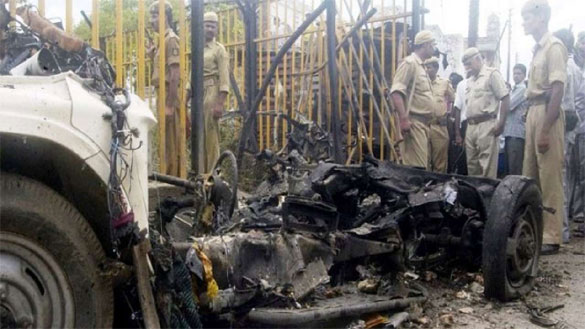 The attack took place on July 5, 2005 had left two locals dead and injured seven security personnel
-----------
• A Special Court in Prayagraj Convicted Four Persons to Life Imprisonment and Acquitted One Person in 2005 Ayodhya Terror Attack Case
• Backdoor Blasphemy Law: British Muslim Group Attempts to Get Islamophobia Definition Approved by Govt
• ISIS-Linked Media Threatens Barcelona Cathedral amid US Warnings of Terror Plots in Spain
• Don't Compare 'Strikes and Match', ISPR DG Schools Indian Minister
• Myanmar's Hardline Monks Rail against Rohingya and Suu Kyi
• Shut Out From Bangladesh Schools, Rohingyas Turn To Madrassas
• Egypt's Former President Morsi Buried, A Day after Courtroom Death
• Mideast Peace Attempts In Vain Without Palestinian State: Arab League Chief
• Sudan Protesters Urge Return To Night-Time Rallies Over 'Massacre'
• White House: Iran 'Nuclear Blackmail' Must Be Met With International Pressure
• Canada: Quebec Passes Religious Symbols Ban
India
• A Special Court in Prayagraj Convicted Four Persons to Life Imprisonment and Acquitted One Person in 2005 Ayodhya Terror Attack Case
• I Monetary Advisory (IMA) Group Rip-Off Erodes Trust in Muslim Politicians, Ulema
• Ayodhya Dispute: Sri Sri Ravi Shankar Meets Prof Taher Mahmood
• Still No Muslim in Maharashtra Government, Rues Community
• Army major, Pak terrorist killed in Anantnag encounter
• 2 soldiers die of injuries day after attack on Army patrol in Jammu and Kashmir's Pulwama
• Failed attempt, says Army after its convoy targeted in Jammu and Kashmir's Pulwama
• NIA Seeks Permission to Question Three Men in Jails to 'Unravel Larger IS Plot'
• Vehicle mounted with IED targets Army patrol unit in Pulwama, six jawans injured
--------
Europe
• Backdoor Blasphemy Law: British Muslim Group Attempts to Get Islamophobia Definition Approved by Govt
• ISIS-Linked Media Threatens Barcelona Cathedral amid US Warnings of Terror Plots in Spain
• New Zealander jailed for sharing mosque shooting video
• Germany, UK warn Iran over uranium plans as EU urges caution
• Trump's racist attack on London mayor causes political backlash
• France: Iran nuclear deal can still be saved
• Egyptian organization seeks probe into Morsi's death
• Turkey's first fighter jet makes debut in Paris
--------
Pakistan
• Don't Compare 'Strikes and Match', ISPR DG Schools Indian Minister
• Pakistan's terror policy to come under scrutiny
• PM Imran Khan appoints Army's confidant as new ISI chief
• Pakistan says Muslim world has lost a true hero with Mursi's death
• Pakistan's top probe agency again fails to explain transactions in Pervez Musharraf's frozen accounts
• 'Front man' confesses to have laundered Rs600m for Hamza, Salman Shahbaz
• Tripartite moot calls for global support to repatriate Afghan refugees
--------
South Asia
• Myanmar's Hardline Monks Rail against Rohingya and Suu Kyi
• Shut Out From Bangladesh Schools, Rohingyas Turn To Madrassas
• Airstrike by Afghan Air Force kills 30 Taliban militants in Faryab province
• UN failed before Rohingya crackdown in Myanmar: Expert
• Bombing Attacks in Sri Lanka Hints New Type Of Terrorism Threat In South Asia, Says Nepal's Defense Minister
• 14 militants killed in airstrike in S. Afghanistan
• Sheikh Hasina has emerged as an important leader in Asia
• Taliban's political chief visits China ahead of the 7th round of talks with U.S.
• Notorious Taliban commander involved in major terrorist attacks arrested in Kabul
--------
Arab World
• Egypt's Former President Morsi Buried, A Day after Courtroom Death
• Iraqi cleric Al-Sadr threatens to withdraw support for Abdul Mahdi's government
• Lebanon arrests Syrian plotting Daesh bomb attacks on churches
• Syria violence kills dozens of troops and civilians in north
• Iraqi Shiite militias foil Islamic State plot to infiltrate into Salahuddin
• Syria says it does not want fighting between Syrian and Turkish militaries
• Report: Mortars land on Iraqi military base near Baghdad
• Lebanon arrests Daesh-linked suspect over bomb attack plots
--------
Mideast
• Mideast Peace Attempts In Vain Without Palestinian State: Arab League Chief
• Iran attempted to shoot down US drone over tanker attack site in Gulf of Oman
• Yemen's Houthis Again Strike at Saudi Airports
• Houthi rebels intensify Hodeidah attacks, prompting fears of ceasefire collapse
• Turkey, Qatar support hampering liberation of Tripoli
• Iran will not wage war against any nation, says Iranian president
• 12 killed as refugee boat sinks off western Turkey
• Palestinians in Gaza to receive new Qatari financial aid
• Palestine urges immediate ICC probe into crimes by Israeli regime, settlers
• Turkey orders arrest of 128 military personnel over suspected Gulen links
--------
Africa
• Sudan Protesters Urge Return To Night-Time Rallies Over 'Massacre'
• 30 killed, 42 injured in multiple explosions in Nigeria
• Al Shabaab kill 16 in Kenya and Somalia blasts
• 20 jihadists 'neutralized' in French-Malian counter-terrorism operation
• 10 Kenyan police officers killed in blast near Somalia
• UN slams use of children as 'human bombs' in Nigeria
• Libyan officials say Hifter's forces fighting IS in south
• Roadside Blast in Niger That Hit Americans Shows Growing Threat, Officials Say
--------
North America
• White House: Iran 'Nuclear Blackmail' Must Be Met With International Pressure
• Canada: Quebec Passes Religious Symbols Ban
• New Yorker who tried to join ISIS sentenced to 20 years in prison
• 'It was not Iraq. It were other people', says Trump
• US Navy Seal goes on trial for Iraq war crimes
--------
Southeast Asia
• Rulers Will Be Consulted On Uniform Shariah Law Plan, Govt Assures
• Maldives Seeks Foreign Help to Deal with Islamic State Fighters Held in Syrian Detention Camps
• Pope Calls On Indonesian Bishops To Forge Muslim Ties
• Elections will be PAS-Umno vs Pakatan, says Tuan Ibrahim
• DPM: Malaysia looks forward to Egypt's report on Mursi's sudden death
• China calls on US to stop 'extreme pressure' on Iran
Compiled by New Age Islam News Bureau
URL: https://www.newageislam.com/islamic-world-news/a-special-court-prayagraj-convicted/d/118917
--------
A Special Court In Prayagraj Convicted Four Persons To Life Imprisonment And Acquitted One Person In 2005 Ayodhya Terror Attack Case
Jun 18, 2019
by Taboola
Four CRPF personnel and two civilians, including a woman, were injured in the attack on July 5, 2005.
A special court in Prayagraj on Tuesday convicted four persons and acquitted one person in 2005 Ayodhya terror attack case. The convicted persons have been sentenced to life imprisonment.
The attack took place on July 5, 2005.
Special judge Dinesh Chandra convicted four persons while acquitting one other.
Due to security reasons, the verdict was announced in Naini Central Jail, where all the accused are imprisoned.
Six heavily-armed terrorists had made an attempt to storm the high-security makeshift Ram temple in Ayodhya on July 5, 2005 and were killed by the security forces before they could strike at the shrine.
Four CRPF personnel and two civilians, including a woman, were injured in the attack.
The attackers, in the guise of devotees, came in a jeep and stunned the security forces deployed at the first barricade by blasting the explosive-laden vehicle in which one of them was blown to pieces.
His other accomplices, who had got down from the vehicle earlier, hurled grenades and fired indiscriminately with sophisticated weapons, including AK-47 and carbine rifles, while entering the premises of the disputed area.
They were challenged by the personnel of the Provincial Armed Constabulary (PAC) and the CRPF near the 'Sita Rasoi' temple, part of the disputed area, and were gunned down nearly 70 metres short of the temple in an operation lasting about 90 minutes.
https://www.dnaindia.com/india/report-2005-ayodhya-terror-attack-special-court-sentences-4-to-life-imprisonment-acquits-one-2762248
--------
Backdoor Blasphemy Law: British Muslim Group Attempts to Get Islamophobia Definition Approved by Govt
06-17-2019
Last month after the British government dropped a proposed definition of Islamophobia, the Muslim Council of Britain (MCB), the largest Islamic organization in the United Kingdom, called for the ruling Conservative Party to be investigated for Islamophobia.
The Gatestone Institute reports the dispute arose after the All-Party Parliamentary Group (APPG) on British Muslims tried to make the government's official definition of Islamophobia to be in racial terms rather than religious terms.
Back in November of 2018, the group's report titled "Islamophobia Defined," proposed a one-sentence definition of Islamophobia:
"Islamophobia is rooted in racism and is a type of racism that targets expressions of Muslimness or perceived Muslimness."
The definition was endorsed by hundreds of Muslim organizations, London Mayor Sadiq Khan, as well as several political parties, including Labour Party, Liberal Democrats and Scottish Conservatives, according to the Gatestone Institute.
However, the proposed definition has been described by some as a "backdoor blasphemy law." It has been opposed by many Britons, including British Muslims, who warned that it would effectively shield Islam from any scrutiny or criticism.
Proponents for the definition said although it is true Muslims come from many nationalities, Islamists also experience what they call prejudice, and discrimination that's a form of racism.
However, during a debate in the House of Commons, Communities Secretary James Brokenshire rejected the APPG's definition of Islamophobia, saying it was too vague and has "potential consequences for freedom of speech."
Brokenshire said that the definition is not in conformity with the Equality Act 2010, which defines "race" as comprising color, nationality, and national or ethnic origins — not a religious practice.
In the online blog, The Spectator, David Green, the founder and chief executive of Civitas, a non-partisan public policy London think tank, wrote:
"Using words with the intention of stirring up racial hatred is not protected under British law and — no doubt for this reason — the APPG definition claims that criticizing Islam is a form of racism," Green wrote. "But race and religion are very different."
"There is wide public support for freedom of speech and it is unlikely to be officially ended by an act of parliament, but it can be chipped away bit by bit. Giving official recognition to the APPG definition of Islamophobia will be a giant step towards an arbitrary police state," he concluded.
Senior British law enforcement officials have also warned the proposed definition of Islamophobia could confuse police officers and even hinder the fight against Islamic terrorism.
"We are concerned that the definition is too broad as currently drafted, could cause confusion for officers enforcing it and could be used to challenge legitimate free speech on the historical and theological actions of Islamic states," Martin Hewitt, chairman of the National Police Chiefs' Council (NPCC), wrote in a letter to Prime Minister Theresa May that was leaked to The Times. "There is also a risk it could also undermine counterterrorism powers, which seek to tackle extremism or prevent terrorism." Even the UK's first Muslim member of Parliament, Khalid Mahmood, spoke out against the definition, saying it would lead to increased segregation of Muslim communities.
"I am for equality for all — but I oppose this," Mahmood said. "We as Muslims should be proud of who we are and try to move away from a victim mentality."
Miqdaad Versi, assistant secretary general of the MCB, later admitted the group's complaint was aimed at pressuring the government to accept its definition of Islamophobia, according to the Gatestone Institute.
A government spokesman said that the APPG's definition had "not been broadly accepted" and needed "further careful consideration."
https://www1.cbn.com/cbnnews/entertainment/2019/june/taylor-swift-music-video-takes-shots-at-people-who-oppose-lgbtq-lifestyle
--------
ISIS-linked media threatens Barcelona cathedral amid US warnings of terror plots in Spain
by Alana Goodman
June 15, 2019
An Islamic State-affiliated media outlet has issued multiple threats against tourist sites in Spain, as the U.S. State Department continues to warn travelers that terrorists are plotting attacks in the country.
Al-Muntasir Media, an unofficial pro-ISIS media outlet, posted three threatening messages on Twitter targeting Barcelona, according to the Daily Star.
The most recent message included a photo of the Sagrada Familia, a 137-year-old landmark cathedral built by architect Antoni Gaudi that draws an estimated 4.5 million visitors to Barcelona each year.
Al-Muntasir also issued a threat to northern Basque Country in Spain last month, posting on social media, "Only death." Spain has been ramping up security amid the concerns, deploying 40,000 police in tourist areas.
The U.S. State Department raised the travel alert level for Spain in March, warning tourists to "Exercise increased caution in Spain due to terrorism."
"Terrorist groups continue plotting possible attacks in Spain," the State Department said. "Terrorists may attack with little or no warning, targeting tourist locations, transportation hubs, markets/shopping malls, local government facilities, hotels, clubs, restaurants, places of worship, parks, major sporting and cultural events, educational institutions, airports, and other public areas."
https://www.washingtonexaminer.com/policy/defense-national-security/isis-linked-media-threatens-barcelona-cathedral-amid-us-warnings-of-terror-plots-in-spain
--------
Don't compare 'strikes and match', ISPR DG schools Indian minister
JUNE 18, 2019
Inter-Services Public Relations (ISPR) Director General (DG) Major General Asif Ghafoor schooled Indian Home Minister Amit Shah as he reminded him not to compare 'strikes' to a cricket 'match', or else remember Pakistan downing two Indian jets earlier this year.
"Dear @AmitShah yes ur team won a match. Well played. Two things with different denominators can't be compared. So are strikes & match. If in doubt please see results of our Nowshera counter strikes & response to IAF violation on 27 Feb19 downing two Indian jets. Stay Surprised," Maj Gen Asif Ghafoor posted on his personal Twitter handle in response to Indian home minister's congratulatory message to the Indian cricket team after their win over Pakistan in the World Cup clash.
"Another strike on Pakistan by Team India and the result is same. Congratulations to the entire team for this superb performance. Every Indian is feeling proud and celebrating this impressive win," Shah had posted on Twitter on Sunday. He was referring to the aerial combat between the two countries in February, which took place after Indian aircraft on Feb 26 carried out an airstrike on what it alleged was a terrorist training camp in Pakistan.
"…and the result is same? IAF strikes failed, two IAF jets shot down, a pilot arrested, Mi17 fratricide, four broad day light successful PAF Noushera counter air strikes, massive casualties along LOC and damage to Indian posts & artillery gun positions… Doctor please…," Major General Asif Ghafoor wrote in another tweet.
Pakistan had denied that there was any damage or casualties. Independent reporting by multiple local and international outlets who visited the site also found no evidence of a terrorist training camp or of any infrastructure damage.
Following India's airstrike on Feb 26, the DG ISPR had held a press conference on the same day to debunk India's claims on the Line of Control (LoC) violation. "Today, the prime minister has asked everyone to get ready for every eventuality. We are all ready. Now it is time for India to wait for our response," he had asserted. "I said that we will surprise you. Wait for that surprise," he had added.
The following day, Pakistan Air Force had announced that its jets had flown into occupied Kashmir to demonstrate its capability to respond to any Indian aggression, locked on to military targets, but then spared them. It had later shot down two Indian aircraft inside Pakistani airspace when they tried to give chase to Pakistani jets, capturing an Indian pilot, Abhinandan Varthaman. The IAF pilot was later released by Prime Minister Imran Khan as a 'peace gesture'.
https://dailytimes.com.pk/414016/dont-compare-strikes-and-match-ispr-dg-schools-indian-minister/
--------
Myanmar's hardline monks rail against Rohingya and Suu Kyi
Jun 17, 2019
YANGON: Ultra-nationalist monks in Myanmar accepted a cash donation from the military on Monday while condemning Aung San Suu Kyi and her government for allowing Rohingya Muslims to enter the country "illegally".
Hundreds of monks swathed in saffron and maroon robes filed early morning into a Yangon monastery for the annual meeting of the Buddha Dhamma Parahita Foundation. The group was known as Ma Ba Tha until a ban by the government and religious authorities in 2017 aimed at curbing its influence.
Their hostility towards the Rohingya helped whip up public support for a brutal military crackdown nearly two years ago. Some 740,000 fled the country in violence branded as "genocide" by UN investigators.
Despite the ban -- offline and on Facebook -- the group has continued to operate under its new name.
Increasingly taking a radical stance against civilian leader Suu Kyi's government, the group has also sidled-up to the country's still-powerful military. Monks regularly appear at pro-army nationalist rallies and the military returned the favour at Monday's session.
Yangon region commander Major-General Thet Pon openly donated 30 million kyat ($20,000) in cash to the group.
In a written statement, the ultra-nationalist monks said they "harshly condemn" the scrapping of various laws, which they claimed had "allowed -- and continue to allow -- Bengalis to enter the country illegally".
The term "Bengali" is a common slur in Myanmar for the Rohingya, implying they are illegal interlopers from Bangladesh.
The hardliners even urged people in next year's election to vote against Suu Kyi's National League for Democracy (NLD) party, which is widely expected to return to power.
They also sniped at Suu Kyi herself for "stepping foot" in a pagoda reserved for men.
One notable absentee at the meeting was co-leader Wirathu, dubbed the "Buddhist Bin Laden" and also blacklisted by Facebook.
He is currently on the run after a court issued an arrest warrant for alleged sedition following several provocative speeches at nationalist rallies.
The hardline monks condemned what they called the "unlawful" charges.
https://timesofindia.indiatimes.com/world/south-asia/myanmars-hardline-monks-rail-against-rohingya-and-suu-kyi/articleshow/69828466.cms
--------
Shut out from Bangladesh schools, Rohingyas turn to madrassas
18 June 2019
Half a million refugee Rohingya children are shut out of local schools in Bangladesh, leaving many in religious madrassas where critics say educational standards are low and students are vulnerable to indoctrination.
Around 740,000 Muslim Rohingya fled into the country during a 2017 crackdown by Myanmar's military, swelling the numbers of the minority in Bangladesh to around a million.
But while their language and culture are similar to people in southeastern Bangladesh, authorities regard the Rohingya as temporary guests and their children are denied access to local schools, raising fears of a "lost generation".
Many Rohingya children had managed to slip through the net until earlier this year when Prime Minister Sheikh Hasina's government cracked down, ordering schools to expel them.
Lucky Akter, 15, lost her spot at Hnila village school, where almost a third of her class were from refugee camps. She now has nothing to do but help her mother with chores.
"I wanted to be a doctor, but I don't think it will be possible," she told AFP, breaking down in tears.
- Koran studies -
Rights groups have criticised the government's policy, and charities and the UN children's agency UNICEF have set up some 1,800 makeshift facilities in the camps, schooling around 180,000 children -- but only to primary level.
To fill the gap, Rohingya groups and Bangladeshi Islamists have set up more than 1,000 madrassas -- religious schools that provide everything from basic Koran-based education to graduate-level religious studies.
"We don't differentiate people by their nationality as long as they have a strong urge to be educated and serve Allah's path," said the head teacher of one local madrassa, which has taken in at least 15 Rohingya students.
Thirteen-year-old Hares, who was expelled from a school in the Bangladesh town of Teknaf, now goes to a madrassa in the Leda refugee camp.
"It's better for him to get busy with studying, otherwise he will loiter around in the camp and get spoilt," his father, Mohammad Khaleque, told AFP.
- Vulnerable children -
But critics warn that the madrassas are not a good educational alternative.
The International Crisis Group said in a recent report that there was no evidence madrassas are promoting violence, intolerance or indoctrination by extremists.
"However, a policy of denying young people formal education and leaving them reliant on unregulated madrassas almost certainly increases the risks of such groups gaining a foothold in the camps," it added.
Mubashar Hasan, an expert in extremism at the University of Oslo in Norway, said the government should ensure "thorough monitoring".
Rohingya children "are psychologically vulnerable, isolated and angry. Simultaneously they are culturally very religious", Hasan told AFP.
Some of the madrassas are run by the hardline Islamist group Hefazat-e-Islam, which has a history of violent protests in Muslim-majority Bangladesh, including demonstrations urging the implementation of a blasphemy law and gender segregation in workplaces.
In 2013, tens of thousands of Hefazat activists descended on Dhaka triggering violence that killed 50 people and injured hundreds.
More recently, the group has made peace with the government and the degrees provided by its schools are recognised officially.
Senior Hefazat leader Azizul Haque denied the group had any link with extremism and said its institutions offered religious education in line with the curriculum at many Bangladeshi madrassas.
"There is no reason for suspicion," he said.
And Fazlul Karim, a spokesman for the group, told AFP the schools were the "last resort" for the Rohingya.
"They were driven away from their home because of their religion. True religious education can only bring salvation to this community," said Karim, who administers seven madrassas with some 2,500 pupils.
But Mojib Ullah, who studied in a Bangladeshi madrassa before switching to secular schools, said the religious institutions were not offering a proper education.
"These madrassas can only help create some religious teachers and mosque imams," said Ullah, who now leads prayers in an Australian mosque.
"We need to send our kids to a school system which can help prepare them to face the challenges of globalisation," he told AFP.
"Otherwise, this generation will be lost forever."
https://www.dailymail.co.uk/wires/afp/article-7152879/Shut-Bangladesh-schools-Rohingyas-turn-madrassas.html
--------
Egypt's former president Morsi buried, a day after courtroom death
18 June 2019
A lawyer says Egypt's former President Mohamed Morsi has been buried, a day after collapsing and dying in a Cairo courtroom.
Abdul-Moneim Abdel-Maqsoud says Morsi's family attended funeral prayers early Tuesday in the mosque of Tora prison, then buried him in Cairo's western district of Nasr City.
Also, Ahmed Mursi, son of former president, said on his Facebook page on Tuesday that the burial was attended by members of the family in Cairo's Nasr City.
The 67-year-old collapsed during a court session on Monday.
Morsi, a top figure in the Muslim Brotherhood, was toppled by in 2013 after mass protests against this rule.
Morsi was serving a 20-year prison sentence for a conviction arising from the killing of protesters during demonstrations in 2012, and a life sentence for espionage. He had denied the charges.
https://english.alarabiya.net/en/News/middle-east/2019/06/18/Egypt-s-former-president-Morsi-quietly-buried-a-day-after-courtroom-death.html
--------
Mideast peace attempts in vain without Palestinian state: Arab League chief
Jun 17, 2019
Secretary-General of the Arab League Ahmed Aboul Gheit has warned that any attempt to settle the Israel-Palestine conflict without considering the establishment of a Palestinian state on all territories occupied by the regime in the 1967 Middle East war will be in vain.
Aboul Gheit made the remarks during an event at the Arab League on Monday, saying, "Whatever is rejected by the Palestinian or the Arab side is unacceptable," .
"What is acceptable from our side as Arabs as a solution is the establishment of a Palestinian state on the June 4, 1967 borders, with Jerusalem as its capital," he stressed.
Aboul Gheit's warning apparently directed at a yet-to-be-released peace plan proposed by US President Donald Trump, dubbed as the so-called Deal of the Century, which has already been strongly Palestinians.
They say the US actions so far have shown Washington is blatantly biased in favor of Israel and its peace plan will quash their aspirations for statehood in the occupied West Bank and besieged Gaza Strip.
Furthermore, the West Bank-based Palestinian Authority, led by President Mahmoud Abbas and the Gaza-based Hamas resistance movement have also boycotted a US-led economic conference scheduled to be held in the Bahraini capital Manama next week.
As part of Trump's plan, the conference will focus on proposals for the Palestinian economy.
While the precise outlines of the draft plan of the Deal of the Century are not known, Palestinian and Arab sources, who have been briefed on it, say it jettisons "the two-state solution."
Elsewhere in his remarks, Aboul Gheit said Israel's acceptance of an Arab Peace Initiative proposed by Saudi Arabia in 2002, which offers Israel normal ties in return for withdrawal from territory seized in 1967, was the only acceptable solution for Arab countries.
Relations between the Palestinian Authority and the US took an unprecedented dip in late 2017, when Washington recognized Jerusalem al-Quds as Israel's "capital." Since then, Palestinians have shown little interest in discussing a plan that they anticipate will fall far short of their core demands.
The Trump administration has said that its secret plan would require compromise by both sides.
Palestinians want the West Bank as part of a future independent Palestinian state with East Jerusalem al-Quds as its capital. However, Israel insists on maintaining the occupation of Palestinian territories.
Trump has time and again called his plan as "The Deal of the Century," but it is coincidentally the title of a 1983 comedy, which features a bunch of hapless arms dealers competing to sell a weapon, called the Peacemaker, to a South American dictator.
https://www.presstv.com/Detail/2019/06/17/598767/Palestine-Arab-League-Deal-of-the-Century-Israel-West-Bank-Gaza-Strip
--------
Sudan protesters urge return to night-time rallies over 'massacre'
17 June 2019
The Sudanese movement whose protests triggered the ouster of Omar al-Bashir called Monday on its supporters to renew night-time rallies to condemn the "massacre" of demonstrators at a Khartoum sit-in.
Thousands of protesters who had camped outside the Khartoum military headquarters for weeks were violently dispersed by gunmen in military fatigues on June 3, leaving dozens dead and hundreds wounded, according to doctors and witnesses.
The sit-in was held for weeks, initially seeking the ouster of Bashir and later to demand that the army generals who toppled him hand power to a civilian administration.
The protest camp was dispersed after talks between the Alliance for Freedom and Change the umbrella protest movement, and a transitional military council collapsed over installing civilian rule.
At least 128 people have been killed since the June 3 crackdown, the majority the day the sit-in was cleared, according to doctors linked to the protest movement. The health ministry put that day's death toll nationwide at 61.
On Monday, the alliance called for night-time demonstrations in residential areas of Khartoum and other regions starting Tuesday to "ask for our main demands, which are a transitional civilian rule and condemning the massacre of June 3".
Protests would also be held on Wednesday and Thursday nights. "We are calling on our people in villages, towns and all over the country to participate," the alliance said.
During the anti-Bashir campaign, the alliance had managed to mobilize supporters by posting its calls on social media networks, but since the June 3 crackdown the authorities have cut back internet services across the country.
Talks between the protest leaders and the military council are, however, expected to resume following mediation led by Ethiopian Prime Minister Abiy Ahmed, but it is still unclear when they are to begin.
"We welcome the mediation by Ethiopia," protest leader Mohamed Naji al-Assam told a press conference on Monday. Assam also condemned "the horrors committed by the forces affiliated with the (ruling) military council".
"There are 12 documented cases of rape," he said, also accusing the forces of "premeditated murder" and "throwing bodies (of protesters) in the Nile" river.
Last week, military council spokesman General Shamseddine Kabbashi angrily dismissed such allegations as "lies". Kabbashi, however, expressed "regret" over the "excesses" on June 3.
https://english.alarabiya.net/en/News/middle-east/2019/06/17/Sudan-protesters-urge-return-to-night-time-rallies-over-massacre-.html
--------
White House: Iran 'nuclear blackmail' must be met with international pressure
17 June 2019
Iran's plan to exceed nuclear enrichment limits amount to "nuclear blackmail" and must be met with increased international pressure, a White House National Security Council spokesman said on Monday.
"Iran's enrichment plans are only possible because the horrible nuclear deal left their capabilities intact," NSC spokesman Garrett Marquis said.
"President Trump has made it clear that he will never allow Iran to develop nuclear weapons. The regime's nuclear blackmail must be met with increased international pressure."
Meanwhile, Israeli Prime Minister Benjamin Netanyahu said on Monday that Iran should be immediately hit with sanctions if it surpasses a uranium stockpile limit set under the 2015 nuclear deal.
"Should Iran make good on its current threats and violate the nuclear agreement, the international community will need to immediately impose the sanctions regime that was agreed upon in advance, the 'snapback sanctions'," Netanyahu said.
https://english.alarabiya.net/en/News/middle-east/2019/06/17/White-House-Iran-nuclear-blackmail-must-be-met-with-international-pressure.html
--------
Canada: Quebec passes religious symbols ban
Barry Ellsworth
17.06.2019
The Quebec province passed its controversial religious symbols ban and critics say the government snuck in an amendment that creates "secular police," Canadian media reported Monday.
Bill 21 contains a clause that calls for unspecified "disciplinary measures" if employers do not enforce the ban, which covers all government workers who interact with the public, including teachers and bus drivers.
Critics of the new law include Prime Minister Justin Trudeau, who earlier said the Quebec government had no business telling people how to dress. Various Muslim groups said Bill 21 unfairly targets Muslim women who would have to remove their hijab in many public sector jobs.
Opposition politicians said the original bill contained no clause that would discipline employers who did not enforce the ban and law enforcement personnel were quickly dubbed "secular police" by critics.
"This potential to have this police, this type of police, wasn't part of the debate at all," said Liberal Member of the National Assembly (MNA) Marc Tanguay. The bill passed 10:30 p.m. Sunday during a marathon assembly sitting enacted by the government to speed passage of the legislation.
Quebec Solidaire MNA member Sol Zanetti wondered if authorities would actively pursue those accused of breaking the new law.
"Will there be police officers going after people to check if they have religious signs?" he said. "We don't know. It's not clear."
The National Council of Canadian Muslims (NCCM) has voiced opposition to the bill, as has the Muslim Association of Canada (MAC).
"The NCCM firmly denounces the discriminatory underpinnings of Bill 21," the council said earlier.
The MAC said under Bills 21, Muslim women will be "unjustly targeted" and that it "will give further rise to Islamophobia."
The ruling Coalition Avenir Quebec government used its majority to ram through another piece of controversial immigration law change.
Bill 9 will require immigrants to Quebec, where French is the most common language, to pass a French language and values test. It also calls for the destruction of 18,000 current immigration applications, affecting about 50,000 people. They will have to reapply under a new system.
https://www.aa.com.tr/en/americas/canada-quebec-passes-religious-symbols-ban/1506662
--------
India
I Monetary Advisory (IMA) Group Rip-Off Erodes Trust in Muslim Politicians, Ulema
Jun 18, 2019
Bengaluru: Numerous Ponzi schemes in Karnataka have duped people of their money, but the I Monetary Advisory (IMA) Group scam has done irreparable damage to middle-class investors while simultaneously eroding public trust in Muslim politicians and ulemas (Islamic scholars).
Politicians of the minority community admitted that their credibility was at stake because some of them had, through their public association with IMA's founder-owner Mohammed Mansoor Khan, given legitimacy to his criminal enterprise. They said the impact of the swindle by Ambidant Marketing Pvt Ltd, whose business model was similar to IMA's, would pale in comparison to the negative fallout from the IMA rip-off.
"Politicians were spotted with Mansoor at public functions he hosted such as mushairas (poetic symposiums)," a source said.
"But Mansoor actually got ulemas to endorse his audit books. Two years ago he brought out a booklet based on these endorsements, stating that all investments in his firm were halal (permissible)."
A senior Muslim Congress leader said there is a crisis of confidence among the community towards politicians and ulemas.
"Certain ulemas, instead of speaking on the Quran's teachings in their Friday sermons, asked their congregations to pray for the welfare of Mansoor and his companies," he said. "Some of them even issued fatwas endorsing his business, when most of them were unaware of how financial institutions should operate."
Sources said a majority of Muslim politicians were beneficiaries of Mansoor's largesse either through election funding or projects like renovation of government schools.
"The fact that they were seen with Mansoor gave confidence to people who had some savings," one source said.
In Karnataka, Muslim political leadership has largely been the monopoly of the Congress. But Muslim leaders have never been able to unite as a consolidated entity. "Jealousy among leaders, political machinations to upstage one another and a generation gap are the reasons that the community does not speak in one voice," a source said.
That the Congress gave just one ticket to the community in the recent Lok Sabha polls, when the norm in the past was two to three, has demotivated Muslim leaders. "The party leadership has taken the community for granted. The Lok Sabha polls, in which many Muslims voted for the BJP, should be an eye-opener," a source said.
Members of the community said there has been no true Muslim leader after former minister Azeez Sait, who passed away in 2001, and was known for his no-nonsense stand on issues.
"Money power works now, which is not my style of functioning," a Muslim Congress leader said. "The Congress sidelined people like K Rahman Khan, CK Jaffer Sharief (when he was alive), CM Ibrahim and K Naseer Ahmed for their forthright views."
Young politicians like Rizwan Arshad, UT Khader, NA Haris and Syed Naseer Hussain wield considerable influence in the party, but are yet to strike a chord with the community, he said.
https://timesofindia.indiatimes.com/city/bengaluru/ima-rip-off-erodes-trust-in-muslim-politicians-clergy/articleshow/69832474.cms
--------
Ayodhya dispute: Sri Sri Ravi Shankar meets Prof Taher Mahmood
Jun 17, 2019
By Rasia Hashmi
New Delhi: Spiritual guru Sri Sri Ravi Shankar who was appointed by the Supreme Court as a member of a panel to mediate the Ayodhya land dispute, met former Chairman National Minority Commission and former member of Law Commission of India Prof Taher Mahmood.
Prof Mahmood agreed completely that consensus among all the stakeholders before the judgment of the court arrives is in the interest of the country and the nation.
It must be noted that, on March 8, a 5-member bench headed by Chief Justice Ranjan Gogoi appointed mediation committee for resolution of the Ram Janmabhoomi-Babri Masjid land dispute. The three-member mediation committee included former Supreme Court judge, Justice FM Ibrahim Kalifulla and spiritual guru Sri Sri Ravi Shankar.
Full report at:
https://www.siasat.com/news/ayodhya-dispute-sri-sri-ravi-shankar-meets-prof-taher-mahmood-1515044/
--------
Still no Muslim in Maharashtra government, rues community
Jun 18, 2019
MUMBAI: The non-inclusion of a Muslim in the latest expansion of cabinet by CM Devendra Fadnavis has come under flak from community leaders, who felt despite PM Modi's 'sabka saath, sabka vikas and vishwas' slogan the promise of an inclusive agenda remains unfulfilled.
"Like his earlier slogans, the new slogan where the PM added vishwas (trust) to sabka saath and sabka vikas is empty. He wants sabka saath but there is no inclusive vikas or growth. Leaving out Muslims from the new cabinet is the latest example," said deputy opposition leader Arif Naseem Khan.
BJP had fielded just one Muslim (Pasha Patel) in the 2014 assembly elections in the state but he lost. There are a few more Muslims in the party like BJP city vice-president and chairman of Maulana Azad Minorities Development Corporation chairman Hyder Azam who could have been considered for a minister's post, many said.
Senior cleric Maulana Mahmood Daryabadi of All India Ulema Council said BJP is not serious in winning the community's trust.
Full report at:
https://timesofindia.indiatimes.com/city/mumbai/still-no-muslim-in-maharashtra-government-rues-community/articleshow/69836331.cms
--------
Army major, Pak terrorist killed in Anantnag encounter
Jun 17, 2019
SRINAGAR: Major Ketan Sharma of the Indian Army and a Pakistani terrorist were killed, while another major and two soldiers were injured in a gunfight at Bidoora village, in Achabal area of south Kashmir's Anantnag district, on Monday, a defence spokesman said. Maj Sharma belonged to Meerut and had been posted to 19 Rashtriya Rifles.
Separately, at least nine Army soldiers were injured in an IED blast that targeted a 44 RR vehicle at Aarihal village, in south Kashmir's Pulwama district, on Monday evening.
In a third attack on Monday, terrorists threw a grenade at the CRPF 180 Battalion HQ in Tral sub-district of Pulwama late Monday evening. The grenade exploded outside the headquarters. No casualties were reported.
Those injured in the Achabal gunfight and in the IED attack were rushed to the Army's 92 Base hospital in Srinagar, officials said.
A police officer said they had recovered the body of an unidentified Pakistani terrorist killed in the gunfight. Arms and ammunition, too, were seized from the encounter site, officials said. The identity of the slain terrorist and the group to which he belonged were being ascertained, they added.
Witnesses said a cordon-and-search operation on Monday morning led to the militants firing on security force personnel who returned fire.
Meanwhile, a police official said that at around 6 pm militants triggered an IED planted on the roadside at Aarihal when a 44 RR vehicle was crossing the area, injuring at least nine soldiers. After setting off the IED, the terrorists opened fire at the vehicle, the official said, adding that the soldiers returned fire. "Initial reports reveal that the vehicle suffered extensive damage," the official added. Three of the soldiers injured in the IED blast were stated to be in serious condition, sources said.
Local residents said they heard a loud explosion followed by gunshots which triggered panic in the area. Soon after the incident, Army, police and SOG reinforcements were rushed to the spot and a massive search operation was launched to catch the attackers.
A defence spokesman, however, said some of the men sustained minor injuries in the IED blast. Damage was minimal due to the alertness of the patrol party, the spokesman said. The vehicle was an armoured ALS and not a Casspir (a mine-resistant, ambush-protected vehicle), the defence spokesman said.
In Meerut, a pall of gloom lay over the family. The deceased major's uncle, Ashok Kumar Sharma, said, "In the afternoon we were given the information that my nephew was injured in a gun battle with militants in J&K. But in the evening, at around 5 pm, we received official confirmation of my nephew's martyrdom. A bullet had hit him in his temple."
Full report at:
https://timesofindia.indiatimes.com/india/army-major-pak-terrorist-killed-in-anantnag-encounter/articleshow/69830974.cms
--------
2 soldiers die of injuries day after attack on Army patrol in Jammu and Kashmir's Pulwama
Jun 18, 2019
Two soldiers who were injured in Monday's improvised explosive device (IED) blast in Jammu and Kashmir's Pulwama district succumbed to injuries on Tuesday, the Army said.
"Two soldiers, brought to the hospital with severe contusions/concussions, have succumbed to their injuries while undergoing treatment in 92 Base Hospital. We deeply mourn the demise of our bravehearts," the Army said in a statement.
The two soldiers who were part of a patrol were among the injured after a 'vehicle-based IED' targeted their truck in the evening.
The Army spokesman had termed the attack as a failed attempt and had described the injuries of the soldiers as minor.
The spokesman said the damage was minimised due to the alertness of the patrol party. He did not specify the number of injured soldiers.
Sources, however, said that nine soldiers who were part of the patrol were injured in the blast. The injured soldiers were shifted to the army's base hospital in Srinagar.
Another army officer, Major Ketan Sharma was killed in a separate encounter in Anantnag on Monday.
Full report at:
https://www.hindustantimes.com/india-news/two-soldiers-injured-on-monday-s-ied-attack-in-pulwama-die/story-ItRxhrMgAzkX5NYMJ7zI2L.html
--------
Failed attempt, says Army after its convoy targeted in Jammu and Kashmir's Pulwama
Jun 17, 2019
Militants on Monday evening triggered a car bomb in South Kashmir's Pulwama district, injuring a few soldiers who were part of an army patrol.
The army termed the attack as a failed attempt.
Defence spokesman Colonel Rajesh Kalia said that it was a failed attempt. "The attack was made on a mobile vehicle patrol of 44 RR with a vehicle-based IED while the Army patrol was moving in the general area Arihal in district Pulwama today evening."
He said all soldiers are safe.
"There were few minor injuries. Reports of attack on Army convoy are unfounded and baseless. The area was cordoned and search operations are in progress."
The spokesman said the damage was minimised due to the alertness of the patrol party.
He did not specify the number of injured soldiers.
Sources, however, said that nine soldiers who were part of the patrol were injured in the blast. The injured soldiers were shifted to hospital.
Full report at:
https://www.hindustantimes.com/india-news/army-convoy-attacked-in-jammu-and-kashmir-s-pulwama/story-JEuzIFLKmOcVbnBoVyn5MK.html
--------
NIA Seeks Permission To Question Three Men In Jails To 'Unravel Larger IS Plot'
By Sadaf Modak
June 18, 2019
The National Investigation Agency (NIA) Monday sought permission to question three men, arrested in three separate cases from 2015-16, claiming that it wanted to unravel a larger conspiracy spread by terrorist organisation Islamic State in the country. The NIA sought permission to question the three men in jails where they are lodged as undertrials currently.
The plea seeks permission to question Mohsin Sayyed, Arshi Qureshi and Naser Yafai. While the court has allowed the plea to interrogate Sayyed and Qureshi, the plea on Yafai is still pending.
Special public prosecutors for the NIA, Geeta Godambe and Sunil Gonsalves, submitted to the court that permission to question the men in judicial custody is required regarding a larger conspiracy of IS and on other incriminating facts.
One of the men the NIA wants to interrogate is Sayyed, a resident of Malwani in north Mumbai, who was arrested in 2015. The NIA had claimed that Sayyed was influenced by IS ideology and along with three others went missing in 2015 after allegedly having left their homes to join IS. Subsequently, two of them returned and were "deradicalised" by investigating agencies, while Sayyed was arrested. Trial against Sayyed is under way. Advocate Wahab Khan representing Sayyed objected to the plea.
The second accused the NIA wants interrogate is the former guest relations manager, Arshi Qureshi. Qureshi was arrested in 2016 on the complaint of the father of a youth, who is suspected to have left the country to join IS. The complainant claimed that Qureshi had used his official position to influence the youth. Lawyer I A Khan representing Qureshi submitted that the plea is filed only to harass the accused and fabricate a false case. He also sought video-recording of the interrogation. The court did not allow this plea but directed the NIA that the interrogation could be allowed for four days but has to remain restricted to their current pending cases only.
Full report at:
https://indianexpress.com/article/india/nia-seeks-permission-to-question-three-men-to-unravel-larger-is-plot-5785413/
--------
Vehicle mounted with IED targets Army patrol unit in Pulwama, six jawans injured
June 17, 2019
A patrol unit was targetted by a vehicle mounted with an Improvised Explosive Device (IED) in Pulwama district of Jammu and Kashmir on Monday, the Army said in a statement. Jammu-Kashmir police said six army jawans and two civilians were injured in the blast. The jawans are stable while the civilians have been shifted to a hospital, the police added.
Defence spokesperson Colonel Rajesh Kalia informed that the driver of the vehicle is injured and is under 'specialist care'. Other soldiers are brought to the hospital with minor bruises and concussion/contusion are stable. "The damage was minimised due to swift action of the driver. Operation is underway. Further updates will be shared later," he added.
The attack took place when a patrol unit of the 44 Rashtriya Rifles was moving towards Arihal village in Pulwama. The Army has cordoned off the area and has also launched a search operation.
"A failed attempt was made to attack a mobile vehicle patrol of 44 RR with a Vehicle Based IED while the Army patrol was moving in the general area Arihal in district Pulwama today evening. Troops all safe. Few minor injuries. Reports of attack on Army convoy are unfounded and baseless. Area cordoned and search operations in progress," the Army said.
The failed attack comes days after Pakistan informed India of a possible attack in the district near Awantipora. A top security official in Srinagar had confirmed to The Sunday Express about the possible attack by militants using an IED mounted on a vehicle. "The Pakistanis shared this information regarding the possibility of such an attack with our High Commission in Islamabad. They had also shared this information with the Americans, who too, informed us. So this information has come directly as well as via the Americans to us," the official had said.
The site of the blast is 27 kms from the area where a convoy of vehicles carrying security personnel on the Jammu Srinagar National Highway was attacked by a suicide bomber on 14 February in which 40 CRPF personnel were killed, PTI reported.
Full report at:
https://indianexpress.com/article/india/jammu-and-kashmir-pulwama-ied-blast-army-vehicle-5785234/
--------
Europe
New Zealander jailed for sharing mosque shooting video
June 18, 2019
WELLINGTON: A New Zealand man was jailed for 21 months on Tuesday for distributing gruesome live stream video of the Christchurch mosque attacks that killed 51 Muslim worshippers, local media reported.
Philip Arps, 44, was arrested in Christchurch four days after alleged gunman Brenton Tarrant's March 15 rampage at two mosques in the South Island city resulted in the worst massacre in modern New Zealand history.
Arps pleaded guilty to two charges of distributing objectionable material for sharing footage that was live-streamed to social media during the attack.
Christchurch District Court heard Arps distributed the raw footage to about 30 people and had another version that was modified to include crosshairs and a "kill count", the New Zealand Herald reported.
"This was in effect a hate crime against the Muslim community," judge Stephen O'Driscoll said.
He said it was "particularly cruel" to share the video in the days after the attacks when relatives were still waiting to hear news of their loved ones.
O'Driscoll found that Arps had set out to "glorify" the deaths of Muslims and any punishment other than imprisonment was inappropriate, Radio New Zealand reported.
New Zealand's chief censor David Shanks classified the video from the mosque shooting as objectionable content soon after the shooting, making sharing the footage a crime punishable by up to 14 years in jail.
Shanks also outlawed publication of the rambling "manifesto" the shooter posted online before the attacks, saying it was intended to inspire "murder and terrorism".
Arps, a self-described white supremacist, was convicted in 2016 of offensive behaviour for leaving a pig's head at the Al Noor mosque, one of those that were targeted in the mass shooting, Newshub reported.
Tarrant last week pleaded not guilty to terrorism charges, as well as 51 counts of murder and 40 of attempted murder.
He was committed to stand trial in May next year
https://www.freemalaysiatoday.com/category/world/2019/06/18/new-zealander-jailed-for-sharing-mosque-shooting-video/
--------
Germany, UK warn Iran over uranium plans as EU urges caution
17 June 2019
Germany and Britain on Monday warned Tehran not to breach uranium stockpile limits set by the 2015 nuclear deal, as the EU's diplomatic chief dismissed Iranian threats as "political dialectics".
Iran set a 10-day countdown on Monday to exceed the 300-kilogram limit set on its enriched uranium stocks, dealing another blow to the crumbling nuclear accord signed by Tehran and six international powers.
The EU has battled to save the agreement since US President Donald Trump withdrew and re-imposed sanctions, but Iran said it would step back from exceeding the 300-kg limit on June 27 only if "other parties live up to their commitments".
The move comes as Iran tries to step up pressure on the deal's other signatories – Germany, France, Britain, China, and Russia – to help it sidestep US sanctions and in particular enable it to sell oil.
German Foreign Minister Heiko Maas rejected the Iranian ultimatum and insisted Tehran must stick to its commitments under the deal.
"We have already said in the past that we will not accept less for less. It is up to Iran to stick to its obligations," Maas said after talks with EU foreign ministers in Luxembourg. "We will certainly not accept a unilateral reduction of obligations."
A spokesman for the British government echoed the call, saying the E3 – the European signatories to the deal – has "consistently made clear that there can be no reduction in compliance".
"For now Iran remains within its nuclear commitments. We are coordinating with E3 partners on next steps," the spokesman added.
The European Union's diplomatic chief Federica Mogherini said the bloc would not act on the basis of Iranian rhetoric but wait for reports by the UN's nuclear watchdog, the International Atomic Energy Agency (IAEA).
"Our assessment on the implementation of the nuclear deal has never been, is not and will never be based on statements, but on the evaluation that the IAEA makes, the reports that the IAEA produces and that can be done at any time," Mogherini said after the talks.
"Announcements are relevant elements of political dialectics but our assessment on the implementation of the agreement is based on the factual, technically sound assessment and evaluation that the IAEA makes in its reports."
On May 8, President Hassan Rouhani said Iran would stop observing restrictions on its stocks of enriched uranium and heavy water agreed under the 2015 nuclear deal.
Rouhani said the move was in retaliation for the unilateral US withdrawal from the accord a year earlier, which saw Washington impose tough economic sanctions on Tehran.
Full report at:
https://english.alarabiya.net/en/News/middle-east/2019/06/17/Germany-UK-warn-Iran-over-uranium-plans-as-EU-urges-caution.html
--------
Trump's racist attack on London mayor causes political backlash
Jun 17, 2019
Senior British ministers have criticized US President Donald Trump for his racist attack on London Mayor Sadiq khan, urging him to stop interfering in the UK's internal politics.
Interior minister Sajid Javid said on Monday that Trump's tweet a day earlier in which he had branded Khan a "disaster" for his inability to contain surging crime in London was "unbecoming" of the position of the US president.
Javid, an influential British politician of Pakistani Iranian origins and one of several candidates seeking to replace outgoing British Prime Minister Theresa May, called on Trump to stop "interfering in another country's domestic politics".
Former Brexit minister Dominic Raab, also a key hopeful to replace May, said Trump's actions were not "helpful, savory or constructive" while saying that he was "proud" to have a Muslim mayor of London.
Environment Secretary Michael Gove, a senior Conservative Party lawmaker, said it was a mistake that Trump had mentioned a British far-right figure in his online comments on Khan.
"I think it's always a mistake to retweet anything that Katie Hopkins tweets," said Gove, making reference to Hopkins's tweet in which she had called the British capital city under Khan as Londonistan.
International development secretary Rory Stewart also hinted that Trump's comments were interventionist.
"You should be firm, you should talk about your national interests, you should talk about it politely, you should talk about it very clearly and you should do it privately," he said.
Hunt 150 percent supportive
However, Foreign Secretary Jeremy Hunt welcomed Trump's statement on Khan, saying he was raising the point that instead of trying to make London a safer place, Khan is only thinking of advancing the political agenda of the opposition Labour Party.
" ... in that I 150 percent agree with the president," said Hunt who is second behind former foreign minister Boris Johnson in an internal race to become the next leader of the Conservative Party.
Hunt drew controversy last week when he supported Trump's claims that Iran had been behind attacks on two oil tankers near the Persian Gulf waters.
Trump's tweet about Khan came after three people were either shot or stabbed to death in London in a matter of one day last week. The American president had previously slammed Khan for his failure in tackling crime, especially during his early June visit to London where the two figures repeatedly clashed on the social media.
Full report at:
https://www.presstv.com/Detail/2019/06/17/598754/UK-political-backlash-Trump-tweet-Sadiq-Khan
--------
France: Iran nuclear deal can still be saved
Jun 17, 2019
France says there is a window of opportunity between now and July 8 -- when Iran has warned it could be forced to suspend more of its nuclear obligations -- to save the nuclear deal between the Islamic Republic and world countries.
"We will do all we can with our partners to dissuade Iran and find a path to a possible path for dialogue," Emanuel Macron said in Paris on Monday during a press conference alongside his Ukrainian counterpart Volodymyr Zelenskiy, Reuters reported.
The agreement was made between the P5+1 group of states -- the United States, the UK, France, Russia, and China plus Germany -- and Iran in Vienna in July 2015.
However, the US left the deal last May. Bowing under Washington's pressure, Europe too has been throwing only verbal support behind the agreement ever since.
Last month, Iran announced that it would suspend the implementation of some of its commitments under the deal. It warned that in 60 days it would resume refining uranium to a higher fissile degree if Europe failed again to ensure Iran's interests under the accord despite the US's pressure.
Earlier on Monday, the spokesman for the Atomic Energy Organization of Iran said the country would surpass the uranium stockpile limit, set under the nuclear deal, from June 27.
"This is based on the Articles 26 and 36 of the (nuclear deal), and will be reversed once other parties live up to their commitments," Behrouz Kamalvandi added.
Addressing the remarks, Macron said, "I regret, of course, the Iranian announcements made today."
He, however, reminded that the United Nations nuclear watchdog, the International Atomic Energy Agency (IAEA), "has underlined Iran is respecting its commitments" under the nuclear agreement.
"We strongly encourage it to continue its patient and responsible behavior," the French head of state noted.
More reactions
The European Union's foreign policy chief also reacted to the announcement, saying Iran was still technically complying with the deal and urging the country to continue to abide by the accord.
Federica Mogherini said the European Union, which coordinated the talks leading to the agreement, would wait for reports by the IAEA to make its assessment of Iran's nuclear measure.
UN Secretary General Antonio Guterres echoed the call, asking Iran to stick to the deal. Guterres also urged other signatories to deal to support its implementation.
Full report at:
https://www.presstv.com/Detail/2019/06/17/598771/France-Iran-nuclear-deal-Macron-United-States-Europe
--------
Egyptian organization seeks probe into Morsi's death
Muhammad Mussa
18.06.2019
LONDON
The Egyptian Revolutionary Council (ERC) is calling for an independent, third-party investigation into the death of former President Mohamed Morsi, who passed away Monday during a court appearance to face espionage charges.
The council also accused Western governments of hypocrisy for supporting and aiding the military regime of Abdel Fattah el-Sisi, who overthrew Morsi's democratically elected government in 2013, while remaining silent over the mass human rights abuses committed by Sisi in the years since the military coup.
"The ERC calls on all human rights organizations and all Western governments to pressure the military regime in Egypt to accept an independent third-party investigation into his death, which we maintain was a result of a premeditated policy by the military regime," it said in a press release.
"The ERC notes in contrast how Western governments, despite the rhetoric of standing for the values and principles of democracy, chose to back a military regime that came to power on the back of murder, torture and rape for the sake of narrow self-interests," it added.
The organization, which represents an array of Egyptian opposition movements in exile, said that ultimately all dictatorships will come to an end and that the Egyptian people will hold to account those responsible for the ensuing oppression and will judge the West on their hypocrisy and their lack of action in supporting Egyptian democracy and those who oppose tyranny.
"President Morsi chose to sacrifice his freedom and ultimately his life in defense of the democratic rights of the Egyptian people to control their own destiny by standing up to the military coup and refusing to step down to bestow legitimacy on a military coup," the ERC said.
"There can be no truer statement of belief in democracy than such a noble and selfless sacrifice."
Morsi became Egypt's first democratically-elected president in 2012 and was ousted the following year in a military coup by Sisi, who was then chief of staff of the Egyptian military. Following the coup, Morsi and senior officials of the Muslim Brotherhood were arrested on charges that many call politically motivated.
Full report at:
https://www.aa.com.tr/en/europe/egyptian-organization-seeks-probe-into-morsi-s-death/1507182
--------
Turkey's first fighter jet makes debut in Paris
Yusuf Ozcan
17.06.2019
PARIS
The mockup of Turkey's first national combat jet -- the Turkish Aerospace Industries' (TAI)-developed TF-X made debut on Monday in the Paris Air Show, the largest aerospace-industry event in the world.
With the TF-X, Turkey aims to meet the operational needs of the Turkish Armed Forces (TFA) in the mid-term.
TAI General Manager Temel Kotil told Anadolu Agency this was the first time the fifth-generation national combat aircraft was showcased.
"It is going to be the best fighter aircraft in Europe," he said, adding that the TF-X would bear similar features to the F-35 fighter jets produced by the U.S.-based Lockheed Martin, and the epicenter of a dispute between Turkey and the U.S. for the past few months.
Tensions between the U.S. and Turkey have simmered over Ankara's purchase of the S-400 Russian missile defense systems.
Washington claims the purchase will jeopardize Turkey's role in the F-35 fighter jet program and has threatened sanctions.
Turkey has said there is no conflict between the S-400 and the F-35 and has called for a working group to clarify the issue.
Kotil added that the TF-X's maiden flight was planned to be carried out in 2025.
TK129 ATAK helicopter
Turkey's TK129 ATAK multirole combat helicopter also joined the prestigious show with a demonstration flight.
With its high performance and maneuverability, as well as with durability against heavy blows and ballistic strikes, the ATAK helicopter provides its pilots with superior operational capability.
In line with Turkey's ATAK program, the Turkish Armed Forces will be provided a total of 91 helicopters, with an option on 32 more, with the Interior Ministry receiving another nine.
Full report at:
https://www.aa.com.tr/en/europe/turkeys-first-fighter-jet-makes-debut-in-paris/1506658
--------
Pakistan
Pakistan's terror policy to come under scrutiny
JUNE 16, 2019
Failing to live upto FATF's standards, the country is likely to face action from international lenders
Pakistan has failed to complete 25 of the 27 action points given by the international terror financing watchdog Financial Action Task Force (FATF) to check funding to terrorist groups such as Lashkar-e-Taiba (LeT) and JeM (Jaish-e-Mohammad) and frontal groups like Jamat-ud-Dawah and Falah-e-Insaniat Foundation.
With this, multilateral lenders like the IMF, the World Bank and the EU may continue downgrading Pakistan, making its financial situation more precarious.
The Paris-headquartered FATF has asked Pakistan to explain whether it has launched any investigation into the $7 million allocated to maintain schools, madrasas, clinics and ambulances originally operated by terror groups like LeT, JeM, and LeT fronts Jamat-ud-Dawah and Falah-e-Insaniat Foundation.
JuD and FIF are founded by terror mastermind Hafiz Saeed.
Pakistan is in deep trouble at the FATF meeting beginning Sunday in Florida in the US, people aware of the development said.
"It has been unable to complete 25 of its 27 action points. It has one last chance, till its 15-month deadline ends in October 2019, when the FATF Plenary will be held," one of them added.
'Grey'-listed
In June 2018, Pakistan was placed in the 'Grey' list and given a 27-point action plan by FATF. This plan was reviewed at the last plenary in October 2018 and for the second time in February this year, when the country was again put into the 'Grey' list after India submitted new information about Pakistan-based terrorist groups.
The FATF continuing Pakistan in the 'Grey' list means its downgrading by IMF, World Bank, ADB, EU and also a reduction in risk rating by Moody's, S&P and Fitch. This will add to the financial problems of Pakistan, which is seeking aid from all possible international avenues.
In a bid to bluff the financial watchdog, Pakistani authorities have shown arrests of LeT, JeM, JuD and FiF cadres.
Pakistan has detained JeM founder Masood Azhar and LeT founder Hafiz Saeed mostly under the laws that provide for detention for apprehension of breach of peace; they have never been prosecuted under anti-terror laws.
The FATF implements UN designations, which do not warrant arrest. They ask only for freeze of funds, denial of access to weapons and travel embargo. The financial watchdog also wants nations to impose penalties that are proportionate and dissuasive.
Financing institutions
Pakistan has also seized several hundred properties of LeT, JuD, FiF and JeM, including schools and madrasas. However, these properties are now being run by its provincial governments.
The Punjab provincial government has allocated $2 million per annum for their upkeep. Similarly, other provinces have allocated $5 million. The annual expense allocated by Pakistan totals $7 million.
The FATF has now asked Pakistan to explain whether there are any terror-funding investigations to unearth the sources and entities that funded these organisations with $7 million per annum for the past several years.
The FATF currently has 35 members and two regional organisations — European Commission and Gulf Cooperation Council.
Guidelines issued
In the last meeting of the FATF in Paris, the FATF said Pakistan should continue to work on implementing its action plan to address its strategic deficiencies.
Pakistan, it said, should demonstrate that competent authorities are cooperating and taking action to identify and take enforcement action against illegal money or value transfer services, demonstrating that authorities are identifying cash couriers and enforcing controls on illicit movement of currency and understanding the risk of cash couriers being used for terror financing (TF), improving inter-agency coordination including between provincial and federal authorities on combating TF risks besides others.
https://www.thehindu.com/news/national/pakistans-terror-policy-to-come-under-scrutiny/article27957511.ece
--------
PM Imran Khan appoints Army's confidant as new ISI chief
Jun 17, 2019
ISLAMABAD: In a surprise move, Prime Minister Imran Khan removed his chief of the Inter-Services Intelligence (ISI) just eight months after he had been appointed to head the country's most powerful spy agency. The Khan government replaced Lt Gen.
Asim Munir with Lt Gen. Faiz Hameed, believed to be a close confidant of Chief of Army Staff Gen Qamar Javed Bajwa.
The new DG ISI, Lt Gen. Hameed, who previously served in the spy agency as the head of internal security, is from Pakistan Army's Baloch Regiment. Inter-Services Public Relations (ISPR), the Pakistan army's media wing, made the announcement of his appointment on Sunday.
Lt Gen Asim Munir had been appointed to lead the ISI in October last year. Generally, the ISI chief is appointed for a period of three years. Munir's eight-month stint as head of the ISI chief was one of the shortest among those who have served this office.
The ISPR gave no reason for his early departure. Munir, however, has been appointed as corps commander of Gujranwala, in Punjab.
The appointment of director general of ISI, like the appointment of army chief, is the prerogative of the prime minister. The PM, however, makes the spymaster's choice in consultation with the army chief.
Full report at:
https://timesofindia.indiatimes.com/world/pakistan/pm-imran-khan-appoints-armys-confidant-as-new-isi-chief/articleshow/69832464.cms
--------
Pakistan says Muslim world has lost a true hero with Mursi's death
June 18, 2019
Leaders of Pakistan's ruling and opposition parties expressed grief Monday over the martyrdom of former Egyptian President Mohamed Morsi and said the Muslim world has lost a true hero.
In a statement, Senator Siraj ul Haq, chief of Jamaat-e-Islami Pakistan, the country's mainstream religious party, said Morsi had refused to bow to dictatorship and withdraw support for the Palestinian struggle for freedom and independence, which were his only "crimes".
"Morsi stood tall in the face of all pressures aimed at forcing him to withdraw from his struggle for the fundamental rights of the people of Egypt and his support to Palestine," Haq noted, adding, "the dictatorial regime failed miserably to break his resolve".
He announced that the party would hold funeral prayers in absentia Tuesday for Morsi across Pakistan.
"Indeed -- sad news. What hope there was and how tragically it all ended. RIP," Shireen Mazari, Pakistan's human rights minister, said on Twitter.
Ahsan Iqbal, leader of the main opposition party Pakistan Muslim League-Nawaz (PML-N) and former interior minister, said Morsi will be remembered.
"First democratically elected President of Egypt Mohamed Morsi will be remembered in history for his courage and dignity in captivity. May Allah Bless his soul Ameen!" Iqbal tweeted.
Maryam Nawaz Sharif, daughter of jailed former Prime Minister Nawaz Sharif and PML-N vice president, expressed similar sentiments.
"Egypt's 1st democratically elected President charged with 'espionage', 'leaking state secrets' 'insulting the judiciary'. Charges every elected representative faces before being thrown out. It is how you're remembered honoured by history posterity that matters. You win. RIP," Maryam tweeted.
"I am deeply saddened at death of former Egyptian President Mohamed Morsi. He was not granted right to fair trial faced political victimization by military regime. International community, especially Islamic world, must raise voice against it," Mohammad Sarwar, governor of Punjab province, said on Twitter.
Full report at:
https://www.yenisafak.com/en/world/pakistan-says-muslim-world-has-lost-a-true-hero-with-mursis-death-3483492
--------
Pakistan's top probe agency again fails to explain transactions in Pervez Musharraf's frozen accounts
17th June 2019
ISLAMABAD: A special anti-terrorism court in Pakistan, hearing the Benazir Bhutto assassination case, on Monday once again sought an explanation from the country's top investigation agency on the transactions in the frozen bank accounts of former military dictator Pervez Musharraf.
The directives were issued to the Federal Investigation Agency (FIA) during the hearing of the murder case of former prime minister Bhutto, in which the former president, now based in Dubai, is among the accused.
The FIA's prosecutor and investigation officer did not attend the hearing and the court expressed its displeasure over the agency's failure to present details of 75-year-old Musharraf's assets and transactions from his frozen bank accounts, The Express Tribune reported.
Judge Asghar Khan adjourned the hearing till July 27 and ordered the FIA to present an explanation on how transactions were taking place from a frozen account.
The anti-terrorism court has been seeking details of the transactions for months now, the report said.
On February 15, the FIA had submitted details of Musharraf's properties in Pakistan.
The agency told the court that its report contained complete details of Musharraf's assets except for some of his bank accounts.
The court had reprimanded the FIA for allowing withdrawal of money from Musharraf's frozen bank accounts and directed it to present a report.
At the time, the court was told that no huge amounts were debited and only bank charges were deducted.
However, despite the passage of over three months, the FIA is yet to submit a comprehensive report on the illegal financial activity, the report said.
The court had also issued perpetual warrants for Musharraf's arrest.
The Lahore High Court had suspended the sentence, while the district administration detained the suspects under the Maintenance of Public Order (MPO) law.
According to a report submitted by the FIA in January, Musharraf's assets included a 1,000 square yards plot in Sanghar Housing Society, Gwadar, a farmhouse in Islamabad, agricultural land registered in the name of his wife Sahba Musharraf in Kotha Kalan and Rs120 million in 15 banks accounts.
The court had issued permanent warrants for Musharraf's arrest for deliberately avoiding the hearing and ordered the FIA and district administration to provide details of his property.
Musharraf is also absconding in the high treason case after a special court indicted him in March 2014.
Musharraf left for Dubai in 2016 to "seek medical treatment" and has not returned since.
In February, he was admitted to a hospital in Dubai after suffering a reaction from a rare disease for which he is already under treatment.
The Pakistan Muslim League-Nawaz (PML-N) government had filed the treason case against Musharraf over the president's imposition of extra-constitutional emergency in November 2007.
Musharraf ruled Pakistan from 1999 to 2008.
Full report at:
http://www.newindianexpress.com/world/2019/jun/17/pakistans-top-probe-agency-again-fails-to-explain-transactions-in-pervez-musharrafs-frozen-account-1991420.html
--------
'Front man' confesses to have laundered Rs600m for Hamza, Salman Shahbaz
June 18, 2019
LAHORE: The alleged front man of Leader of the Opposition in Punjab Assembly Hamza Shahbaz and his brother Salman Shahbaz on Monday confessed to have laundered over Rs600 million for the two brothers.
"I have been working for the two brothers since they started looking after their family's sugar business in 2005," said Mushtaq Cheeni in his confessional statement recorded by a judicial magistrate under Section 164 of the CrPC.
National Accountability Bureau (NAB) personnel produced Cheeni before judicial magistrate Amir Raza Baitu and stated that the suspect had become an "approver" in a money laundering case against Hamza and Salman and that he was ready to record his confessional statement.
The magistrate was also told that the NAB chairman had already approved an application of the suspect to become approver in the case.
The magistrate recorded the statement of the suspect after his lawyers and the NAB team left the courtroom.
A copy of the suspect's statement available with Dawn revealed that Cheeni, who was a wholesale dealer for Ramzan Sugar Mills, claimed that Hamza and Salman used to receive foreign remittances through bank accounts of his company, Mushtaq & Co. He had no information about the senders of the payment and was just required to issue cheques of the amounts in the name of Salman, he added.
On Saturday, a judicial magistrate had refused to record the statement of Cheeni after his lawyers and officials of the NAB insisted to stay in the courtroom.
After the magistrate recorded Cheeni's statement on Monday, the NAB produced him before an accountability court and stated that it did not require him anymore.
A prosecutor stated that the bureau would have no objection if the court sent the suspect to jail on judicial remand. At this the court sent Cheeni to jail.
In this case, Hamza is already in the NAB custody, while Salman is out of country. The bureau alleged that Hamza maintained various accounts in different banks in which credit turnover of Rs500 million was observed between 2006 and 2017.
Full report at:
https://www.dawn.com/news/1488815/front-man-confesses-to-have-laundered-rs600m-for-hamza-salman-shahbaz
--------
Tripartite moot calls for global support to repatriate Afghan refugees
Jun 18, 2019
ISLAMABAD: The representatives of Pakistan, Iran, Afghanistan along with UNHCR, the UN Refugee Agency called on the international community to support refugee-hosting countries and communities and provide development assistance to put an end to future Afghan displacement.
The development took place during the 6th Quadripartite Steering Committee Meeting held here with Minister for SAFRON Shehryar Khan Afridi in the chair. Minister of Refugees and Repatriation (MoRR) H.E Sayed Hussain Alemi Balkhi represented Afghanistan; Deputy Minister of Interior for Security and Disciplinary Affairs H.E Hossein Zolfaghari represented Iran, and Director of the Regional Bureau for Asia and the Pacific Indrika Ratwatte represented UNHCR.
The purpose of the meeting was to discuss developments and challenges in the implementation of the multi-year regional Solutions Strategy for Afghan Refugees (SSAR) to support voluntary repatriation, sustainable reintegration and assistance to host countries and to improve the implementation mechanisms and coordinated efforts.
All parties reaffirmed their commitment to the SSAR and agreed to extend it to the year 2021 and extendable as a valid framework for identifying and implementing solutions for Afghan refugees.
The representatives reiterated their call for joint advocacy and resource mobilisation to support the implementation of the strategy while all participants urged the development actors and other partners to help provide adequate, tangible and predictable support and assistance in support of the implementation of the SSAR.
The parties reaffirmed their assurance to the principle of voluntary repatriation in safety and dignity and called for joint efforts to create an environment conducive to phased, gradual and orderly voluntary return and sustainable reintegration in Afghanistan, as well as to continue to more appropriately support host communities in Iran and Pakistan, within the SSAR framework.
Addressing the participants, Minister SAFRON Shehryar Afridi said that the moot had once again highlighted the need for the world community to understand the pain of being displaced which cannot be fully removed despite consolation by the host countries of Iran and Pakistan.
"Though the recent war and conflict in Syria and Iraq, it seems the priorities of the global community are fast changing under the influence of world powers and Afghan refugee issues have been put on the backburner. Due to this new change in priorities, Pakistan and Iran have been left to suffer the most as both our states are already suffering due to certain sanctions by the US," said the minister.
Speaking on the occasion, Indrika Ratwatte underlined the need for robust support of the international community in ensuring the sustainability of voluntary returns in Afghanistan and in providing tangible support to host communities in host countries.
"Despite challenges and emerging displacements globally, UNHCR equally advocates for supporting a protracted situation like Afghanistan. Sustainable return is linked to sustainable reintegration in Afghanistan. If the integration is not sustainable, people will remain on the move," he added.
Further, Hossein Zolfaghari said that Iran has enhanced services for Afghan refugees, issued driving licenses, regularise parts of the population and has been issuing work visas.
He said that Iran, Pakistan, and Afghanistan needed more international support and the UNHCR needs to step up its efforts to urge the global community to fulfill their commitments made for the humanitarian cause of Afghan refugees.
Full report at:
https://www.pakistantoday.com.pk/2019/06/17/tripartite-moot-calls-for-global-support-to-repatriate-afghan-refugees/
--------
South Asia
Airstrike by Afghan Air Force kills 30 Taliban militants in Faryab province
17 Jun 2019
An airstrike by the Afghan Air Force killed 30 Taliban militants in Faryab province.
The informed military sources said Monday that the Air Forces carried out the airstrike in Gurziwan district.
"The Afghan Air Force conducted an air strike in Gurziwan district killing 30 Taliban fighters," the sources said.
The Taliban militants have not commented regarding the airstrike so far.
This comes as the security situation in some districts of Faryab has deteriorated during the recent years.
Taliban militants are active in some districts of the province and often conduct terrorist related activities.
Meanwhile, the Afghan forces conduct regular counter-terrorism operations against the anti-government armed groups in this province.
https://www.khaama.com/airstrike-by-afghan-air-force-kills-30-taliban-militants-in-faryab-province-03645/
--------
UN failed before Rohingya crackdown in Myanmar: Expert
June 18, 2019
UNITED NATIONS: An independent review of United Nations operations in the years before hundreds of thousands of Rohingya Muslims fled a violent crackdown by Myanmar's military concluded that the organization's many bodies failed to act together, resulting in "systemic and structural failures."
The 36-page review by Gert Rosenthal, Guatemala's former foreign minister, released Monday said the UN could conceivably have reconciled competing views on whether quiet diplomacy or outspoken advocacy against human rights abuses in Myanmar should have been used — but it didn't.
The result — as in Sri Lanka at the end of the civil war against Tamil separatists in 2009 — was a "dysfunctional performance of the UN system," Rosenthal said.
"Without question serious errors were committed and opportunities were lost in the UN system following a fragmented strategy rather than a common plan of action," he said, adding that the "systemic failure was further magnified by some bureaucratic and unseemly infighting."
The long-simmering crisis exploded in August 2017 when Myanmar's military launched what it called a clearance campaign in northern Rakhine State in response to an attack by a Rohingya insurgent group. The campaign forced more than 720,000 Rohingya to flee to neighboring Bangladesh and led to accusations that security forces committed mass rapes, killings and burned thousands of homes.
Rosenthal said the key lesson is "to foster an environment encouraging different entities of the UN system to work together."
On a more optimistic note, he said since UN Secretary-General Antonio Guterres took office at the start of 2017, "there appears to be renewed recognition of the crucial importance of improved coordination."
UN spokesman Stephane Dujarric said Guterres, who commissioned the report, has accepted all of its recommendations "and is committed to implementing them."
"The secretary-general is very grateful to Mr. Rosenthal for producing a candid, forthright and very useful report," he said.
The review covers the UN involvement in Myanmar since 2010, when the at the time military-fueled nation moved started opening up to the outside world, eventually leading to elections and moves toward a more open, market-oriented economy.
Rosenthal said "for all these positive tendencies with their ups and downs over time," Myanmar also engaged in "long-festering discriminatory treatment against minorities" for decades, most especially the Rohingya.
Buddhist-majority Myanmar has long considered the Rohingya to be "Bengalis" from Bangladesh even though their families have lived in the country for generations. Nearly all have been denied citizenship since 1982, effectively rendering them stateless, and they are also denied freedom of movement and other basic rights.
In his conclusions and recommendations, Rosenthal said Myanmar's government is mainly responsible for the grave abuses against the Rohingya.
He said the UN system "has been relatively impotent to effectively work with the authorities of Myanmar to reverse the negative trends in the area of human rights and consolidate the positive trends in other areas."
He also noted "increasing criticism regarding the lack of leadership displayed by Aung San Suu Kyi," the government's de facto leader, "as well as her unwillingness to take distance from the military."
Although the UN's systematic failures are not down to any single entity or any individuals, Rosenthal said, "clearly there is a shared responsibility on the part of all parties involved in not having been able to accompany the government's political process with constructive actions, while at the same time conveying more forcefully the United Nations' principled concerns regarding grave human rights violations."
Rosenthal said the UN Security Council as the world body's most powerful organization should also bear some responsibility because its divisions failed to provide support to the UN Secretariat "when such backing was and continues to be essential."
The Secretariat "would have benefited enormously" from Security Council support for an impartial UN observer presence in Rakhine state "to deter the use of violence in general," he said.
He said the UN, which has multiple ways to engage its 193 member states, could find ways "to criticize and prod governments that engage in serious violations of international law while at the same time cooperating with them in delivering humanitarian and development assistance."
"This would be the highly desirable objective to address the obvious dysfunctional performance of the UN system observed in both Sri Lanka and Myanmar," he said.
But Rosenthal said "recent experience, precisely in both countries, has gone in the opposite direction, with mindsets and specific actions" competing rather than complementing each other.
Louis Charbonneau, UN director at Human Rights Watch, said the United Nations failed to keep its promise of "never again" to mass atrocities after the wartime deaths of tens of thousands of civilians in Sri Lanka.
Full report at:
http://www.arabnews.com/node/1512376/world
--------
Bombing attacks in Sri Lanka hints new type of terrorism threat in south Asia, says Nepal's defense minister
2019-06-17
KATHMANDU, June 17 (Xinhua) -- Nepal's Deputy Prime Minister and Defense Minister Ishwar Pokhrel said on Sunday that the bombing attacks in Sri Lanka in April had sent a clear and strong message that a new type of terrorism threat has arrived in South Asia.
The defence minister made the remarks while addressing a seminar titled "Dialogues on Public Security: Countering Terrorism" organized by the Nepali Army in the capital on Sunday.
On April 21, multiple terror attacks struck churches and luxury hotels in Sri Lanka on the Easter holiday, killing more than 200 people and wounding hundreds.
Pokhrel said the Nepali government thinks it is very important to understand the complex phenomenon of terrorism in regional and national contexts. "We also think that we need to learn from the lessons and experiences of our friends around the world, on counter-terrorism," he said.
The minister stressed the need for domestic, regional, and international efforts to address the problem of terrorism.
"In this century, many security threats are cross-cutting and unconventional in nature. They are neither limited by national boundaries nor dealt with by conventional warfare. The worst of these threats to challenge humanity and global security is terrorism," the minister said.
The minister also said that the government of Nepal recently unveiled the National Security Policy to reflect the changed security environment.
Full report at:
http://www.xinhuanet.com/english/2019-06/17/c_138149579.htm
--------
14 militants killed in airstrike in S. Afghanistan
2019-06-15
QALAT, Afghanistan, June 15 (Xinhua) -- A total of 14 militants have been confirmed dead after military planes stormed Taliban hideouts in Mizan district of southern Zabul province on Friday, said an army statement released here Saturday.
The sorties, according to the statement, was conducted late on Friday that in Regi area of Mizan district as part of night operations, killing 14 armed insurgents and capturing two others.
There were no casualties on security and civilians, the statement said.
Taliban militants who are active in parts of Zabul province have yet to make comment.
http://www.xinhuanet.com/english/2019-06/15/c_138146041.htm
--------
Sheikh Hasina has emerged as an important leader in Asia
June 18, 2019
Exactly eleven years back, in the eyes of the international community, Bangladesh was seen as a poor, corruption-plagued struggling nation. Ruling elites were busy in rampant loot of public wealth while the former Prime Minister Khaleda Zia's son was behaving like a rowdy mafia king, who had formed a band of culprits and criminals not only to help him in robbing-off hundreds of millions of dollars through numerous forms of crimes and corruption but also in treating the people of this country as slaves of his desire. Thanks to the popular masses of the country for giving a landslide victory to Bangladesh Awami League under the leadership of Sheikh Hasina during the 2008-general election. Should it not happen, pro-Islamist and anti-Semitic Bangladesh Nationalist Party (BNP) and its political darling Jamaat e Islami Bangladesh (JIB) would already have turned this country into another Afghanistan – if not even worst!
Rise of radical Islam, anti-Semitism and jihadist forces
Founder of BNP, Maj Gen Ziaur Rahman was a notoriously radical Muslim with extreme anti-Semitic mindset. Few of his top allies were Yaseer Arafat, Saddam Hussain and Muammar Al Gaddafi. From the list of his allies, it can be easily understood, Zia was an anti-West and fully Islamist individual, who was having the dream of turning Bangladesh into an Islamic republic.
Following the death of Zia, his wife Khaleda Zia came to power twice – in 1991 and 2001 – and during each of her tenures, she had shown Bangladesh the ugliest example of state-patronized corruption, nepotism and of course appeasing of radical Islam. Members of her family became filthily wealthy through corruption, while her own younger brother Maj (Retired) Sayeed Iskander established a business company with Khaleda's sons and made tons of money not only through corruption but also by taking hundreds of millions of Taka from the banks. During those two tenures of BNP, Sayeed Iskander and Tarique Rahman emerged as the mightiest figures in Bangladesh. They were making money by receiving bribes and kickbacks from each of the purchase contracts, while they did not hesitate in taking part in some extremely nasty business – such as dealing in drugs and money laundering.
BNP's political darling Jamaat e Islami was engaged in implementing their blueprint of transforming Bangladesh into another Pakistan. Some of the influential BNP leaders such as Salauddin Quader Chowdhury, a known agent of Pakistani spy agency Inter Service Intelligence (ISI) was also playing key-role in pushing Bangladesh towards radical Islam and the pro-Pakistan bloc.
BNP betrayed with their foreign allies
For years, the Bangladesh Nationalist Party was having China as its best friend. But, soon after it came to power for the second term in 2001, BNP tried to back-stab China by letting Taiwan open its economic office in Bangladesh, which clearly went against Beijing. Furthermore, Khaleda Zia had no problem in letting the Islamist forces hold rallies and processions in various cities and towns in the country – chant anti-America and anti-Israel slogan and most disturbingly – burn American and Israeli flags in broad-daylight. Law enforcing agencies did not interrupt such notoriety of those Islamists as they too knew, the hearts of the ruling elites were filled with anti-US and anti-Semitic poison.
At the request of Yaseer Arafat, BNP's founding father Maj Gen Zia had sent hundreds of Bangladeshis to 'Palestine' to take part in the war against the Jewish State – kill Jews and Christians. It is even learnt that Arafat was receiving donations from Zia's government for Palestine Liberation Organization.
BNP's affection towards the Muslim Brotherhood and Hezbollah
In 2003, the then BNP government named a bridge after the notorious jihadist group Hezbollah. The bridge is located in the southern part of Bangladesh, spanning the Batakhali River in an area known as Cox's Bazaar. Justifying naming of the bridge, Salauddin Ahmed, state minister for communication told French news agency AFP, "I named the bridge Hezbollah because of our love for the Lebanese resistance group".
"Hezbollah is the only group which is fighting Israel and the bridge is named after the group as a mark of honour," he added.
The United States has identified Hezbollah as a terrorist group, meaning, BNP has a track record of not only of appeasing terrorists and militants but also of encouraging such notoriety.
Khaleda Zia serving imprisonment while her son is a fugitive
After postponement and obstruction of trials into a number of corruption cases, in 2018, a court in Dhaka sentenced Khaleda Zia and her son with rigorous imprisonment in just one corruption case, while several cases already are under trial. Her son, Tarique Rahman faces conviction in a number of criminal cases as well. Although Khaleda was sent to prison on February 18, 2018, directly from the trial court, her son Tarique Rahman remains as an absconder. It was learnt from media reports that Tarique Rahman, his wife and daughter had sought political asylum in the United Kingdom and surrendered their Bangladeshi passport. Sitting in London, Tarique has been plotting and coordinating terrorist activities in Bangladesh. He played key-role behind series of arson attacks, the murder of innocent people, rape of Hindus and Buddhists, vandalizing of public and private properties during January-April, 2014. During the subsequent years, Tarique had hands behinds several terrorist activities, including plots of assassinating Prime Minister Sheikh Hasina and abducting her only son, Sajeeb Wajed Joy.
Despite such extreme notoriety of Tarique Rahman, British authorities neither had initiated any investigation into his activities nor had ever warned him of consequences of using British soil for terror-plotting.
A journey of hope under the leadership of Sheikh Hasina
Ever since Sheikh Hasina became Prime Minister in 2009, she had dedicated rescuing Bangladesh's economy from mere bankruptcy. She also had focused on combating radical Islam and militancy, which was extremely essential for saving the country from becoming a rogue nation. After ten years, Bangladesh now has emerged into one of the fastest growing economies in the world. Massive infrastructural development works have been continuing, while by 2030, Bangladesh economy is all set to emerge as the strongest economy in South Asia. Sheikh Hasina has also ensured the rule of law and by showing zero tolerance towards militancy and terrorism. Although she is yet to attain success in combating corruption and the culture of nepotism.
During the past few years, although Prime Minister Sheikh Hasina has effectively succeeded in combating the rise of radical Islam, she is yet to succeed in pulling out from the decades-old culture of anti-Semitism and Israel bashing. But political analysts say, within next one year, Prime Minister Sheikh Hasina also may shift from the culture of anti-Semitism and Israel bashing and even may open the door of economic and technological cooperation with the Jewish State.
President Xi Jinping sees the best ally in Sheikh Hasina
Bangladesh Prime Minister Sheikh Hasina is one of the most prominent partners in Chinese President Xi Jinping's signature Belt and Road Initiative (BRI) program. While several countries that have earlier agreed to Belt and Road Initiative projects had suspended, scaled back or terminated it, Prime Minister Sheikh Hasina remains firm on her commitment being a part in BRI, despite repeated oppositions from a number of nations, including India. In this case, Sheikh Hasina's message to those opponent countries is loud and clear – she will do anything which is beneficial for Bangladesh.
Announced in 2013, the Belt and Road Initiative (also known as One Belt One Road or OBOR, aims to strengthen participating country's connectivity with the world. Once implemented, this project will help Bangladeshi exporters and importers in finding a much convenient way of reaching the target countries in Asia, Europe, and Africa and beyond.
The BRI is a global development strategy adopted by the Chinese government involving infrastructure development and investments in 152 countries and international organizations in Asia, Europe, Africa, the Middle East, and the Americas. 'Belt' refers to the overland routes for road and rail transportation, called the 'Silk Road Economic Belt', whereas 'road; refers to the sea routes or the 21st Century Maritime Silk Road.
Immediate benefit for Bangladesh from BRI
To support the BRI, Beijing has injected massive amounts of capital into Chinese public financial institutions, such as the Chinese Development Bank (CDB) and the Export-Import Bank of China (EXIM). These banks enjoy very low borrowing costs as their bonds are treated like Chinese government debt with very low interest rates and they have access to lending from the People's Bank of China's (PBOC), allowing them to lend cheaply to Chinese companies working on BRI projects.
This easy financing enables China's state-owned enterprises (SOEs) to offer highly competitive bids for projects against foreign companies that might be more financially constrained. For instance, in 2015 Japanese construction companies lost out to their Chinese counterparts in a bid to build a high-speed rail project in Indonesia.
That means Bangladesh will be able to undertake massive infrastructural development project by availing the special benefit of getting a much softer loan in comparing to the World Bank, Asian Development Bank etc.
Critics and opponents of BRI say dependence of Chinese funding for implementing massive infrastructural projects might help Beijing in significantly gaining political and other gains. Others say it would actually place China into a much stronger position. But, Prime Minister Sheikh Hasina is not willing to buy such arguments for just one particular reason – to her, Bangladesh is the priority and for the best interest of her country, Sheikh Hasina will always do the right thing defying all criticism or opposition.
India opposes Bangladesh joining BRI
Ever since President Xi Jinping announced the Belt and Road Initiative project, India has been opposing to it thinking the implementation of this project would actually place China into a further height and Indian influence in South Asia would be greatly curtailed. Delhi has been making frantic bids in convincing Dhaka in getting it excluded from BRI. But, considering the national interest, Prime Minister Sheikh Hasina is totally unwilling to pay any heed to any such persuasion or effort. She is known as the individual of high-integrity and once she promises anything, she would stand firm on her commitment under any adversity. According to my own judgment, China will find its best partner in Prime Minister Sheikh Hasina once the BRI is implemented.
What Bangladesh can expect from China
As Prime Minister Sheikh Hasina remains committed in the BRI initiatives, it is the responsibility of China not only to help the Bangladeshi counterpart in smoothly implementing the infrastructural projects but also encourage Chinese investors and entrepreneurs in giving priority to Bangladesh while either relocating their industrial projects from China or making investments in newer projects. Chinese readymade garment ma manufacturers already have found Bangladesh as the most suitable country for relocation or newer investment, which is helping Bangladesh's export of textile products increase significantly. Similarly, China should consider investment in hi-tech industries in Bangladesh. There should also be scope for the Bangladeshi exporters and importers in much smoothly transacting business deals.
Bangladesh definitely expects wholehearted cooperation and support from the Chinese leadership, especially President Xi Jinping.
Why Sheikh Hasina is an important figure in Asia
After Chinese President Xi Jinping, Prime Minister Sheikh Hasina has already emerged as the important politician and statesman. Moreover, she also is gradually becoming a prominent voice in the Muslim world.
Full report at:
https://www.weeklyblitz.net/news/sheikh-hasina-has-emerged-as-an-important-leader-in-asia/
--------
Taliban's political chief visits China ahead of the 7th round of talks with U.S.
17 Jun 2019
The political chief of Taliban Mullah Abdul Ghani Baradar has visited China ahead of the 7th round of talks with the United States.
A former Taliban spokesman Abdul Hai Mutmayen has told Arab News that Mullah Baradar is leading a delegation of Taliban leaders during the visit to Beijing.
Mutmayen further added "It seems that Taliban leaders are making efforts to hold consultations and exchange their views with key stakeholders ahead of the next round. The visit is an indication that the seventh round is important."
This comes as China has offered to host intra-Afghan talks in a bid to help end the ongoing conflict in the country.
Full report at:
https://www.khaama.com/talibans-political-chief-visits-china-ahead-of-the-7th-round-of-talks-with-the-u-s-03646/
--------
Notorious Taliban commander involved in major terrorist attacks arrested in Kabul
18 Jun 2019
The Afghan forces arrested a notorious Taliban commander Zmarai in Kabul city.
Nasrat Rahimi, a spokesman for the Ministry of Interior said Zmarai is one of the most dangerous commanders of Taliban.
Rahimi further added that the security forces arrested Zmarai from the 7th district of Kabul city on Monday.
Originally a resident of Logar, Zmarai was in orchestrating major terrorist attacks in Kabul city.
Full report at:
https://www.khaama.com/notorious-taliban-commander-involved-in-major-terrorist-attacks-arrested-in-kabul-03653/
--------
Arab World
Iraqi cleric Al-Sadr threatens to withdraw support for Abdul Mahdi's government
June 18, 2019
BAGHDAD: Moqtada Al-Sadr, the powerful Iraqi Shiite cleric, on Monday threatened to withdraw his support for the government of Adel Abdul Mahdi if the prime minister fails to finalize the formation of his Cabinet within 10 days.
Al-Sadr is one of the most influential clerics in the country, with millions of followers, a large armed faction and a parliamentary bloc. He is the official sponsor of the Reform Alliance, the second-largest parliamentary coalition, which is overseeing the formation of the government following the national parliamentary elections in May last year. The removal of his support for Abdul Mahdi's government might take the form of an announcement that he no longer has confidence in the Parliament, or the organization of mass demonstrations.
Abdul Mahdi, who became prime minister in October, formed his government with the support of Reform and the pro-Iranian Construction coalition. The latter is led by Hadi Al-Amiri, the commander of Badr Organization, one of the most powerful Shiite armed factions. However, disputes between the two alliances over some of the candidates erupted at the last minute, as a result of which four ministries remain vacant: Interior, defense, education and justice.
Monday's statement, which was signed by Al-Sadr and described as his "last call," was addressed to his Saeiroon parliamentary bloc, the leaders of all political blocs, and Abdul Mahdi. It was issued in response to criticism on social on Monday because of the vote by members of the parliamentary blocs, including Al-Sadr's MPs, the day before to grant all the privileges enjoyed by the former MPs to the deputies who ruled out by the Federal Supreme Court due to the error of counting their votes.
"All the political blocs must authorize the prime minister to complete his ministerial Cabinet within 10 days…and he (Abdul Mahdi) must choose (the ministers) according to the standards of integrity, efficiency and specialization, or I will not support him," Al-Sadr's statement read.
His position is the latest in a series of events that have put pressure on Abdul Mahdi in recent weeks. These include efforts by some political blocs, including Saeiroon, to dismiss a number of ministers under the pretext of failure to improve services and inability to combat the financial and administrative corruption that is rampant in their departments.
While most political leaders believe that reaching a political agreement on candidates to fill the vacant ministries within 10 days "will be very difficult" and predict "this may be the end of the government of Abdul Mahdi," some believe that Al-Sadr's goal is to pile more pressure on Abdul Mahdi as a way to obtain certain concessions.
"Saeiroon is still negotiating with the prime minister and the other political partners to obtain some key government posts that its rivals are looking to get, and Abdul Mahdi refused to give them to the Saeiroon candidates, so this could be a part of this," said a prominent Shiite negotiator who asked not to be named. "No one can predict what Al-Sadr thinks and even his MPs do not know what the man thinks, so it is likely that this threat is part of the ongoing negotiations."
http://www.arabnews.com/node/1512341/middle-east
--------
Lebanon arrests Syrian plotting Daesh bomb attacks on churches
June 17, 2019
BEIRUT: A Syrian national has been arrested in southern Lebanon on suspicion of involvement with the Daesh terrorist group. It is alleged he discussed with other people potential locations, including churches, for attacks in Lebanon where the largest numbers of people could be targeted and killed.
It is thought that they were aiming to emulate similar Easter attacks in Sri Lanka. Daesh leader Abu Bakr Al-Baghdadi released a video message in April in which he praised the Sri Lankan terrorists.
A security source confirmed that a Syrian man has been detained and investigations are continuing. He added that the arrest "came on the basis of a professional intelligence operation" and that the security forces are working with external parties.
The General Directorate of Internal Security Forces (ISF) said that as a result of "preventive and proactive security operations conducted by the Information Division of the ISF concerning the monitoring of activities of serious terrorist cells, especially those affiliated with Daesh, the division was able to monitor and identify a resident of southern Lebanon who was active on social media spreading the ideology of the organization and recruiting people for it."
It continued: "A special force from the Information Division arrested a person named Z.M. who was born in 1999 and is a Syrian residing in the town of Yater. The investigation found that he was promoting the ideology of Daesh through social media by creating a large number of channels and groups on a number of applications that follow and publicize publications of the Daesh organization."
Yater is a village near Tyre in Southern Lebanon. Locals said that Z.M. was arrested six days ago. He worked in construction and agriculture and lived alone in a house without a family, they added.
The ISF said that the man "was associated with people outside Lebanon and cooperated with them to establish online groups to spread and promote Daesh ideology. After publishing the video in which Abu Bakr Al-Baghdadi blessed the operations in Sri Lanka...the detainee bought spray paint and...sprayed on one of the walls at the entrance to Yater slogans containing the words 'Grandson of Abu Bakr Al-Baghdadi' and 'The Islamic state.'"
Preliminary ISF investigations found that the detainee "discussed with a number of those he communicated with the idea of carrying out actions for the organization in Lebanon, including entering a church and killing the largest number of people there.
"He also discussed with them the idea of targeting husseiniyas (congregation halls for Shiite ceremonies) in Shiite villages and towns. He also logged on to jihadist websites of the organization on the internet, including encyclopedias giving details of how to make explosives, and downloaded them to his phone."
The ISF also said that the detainee "communicated with the Syrian S.B. (born in 1990), who has also been arrested, and tried to recruit him to embrace the ideology of Daesh. He said that at the time of his arrest he was still in the process of planning and had not taken any practical steps."
The security source did not specify whether Z.M. is a Syrian refugee, a laborer working under the sponsorship of a Lebanese citizen, or in the country illegally. However, he stressed: "What this person did has nothing to do with Syrian refugees in Lebanon."
Lebanese army commander Gen. Joseph Aoun said on Monday: "The army is dealing today with an unconventional terrorist enemy hiding among people, where the complexities are many and unclear."
He added: "The rapid response of the (security) units to the terrorist attack in Tripoli recently confirms the importance of the principles that we learn in the College of Command and Staff.
Full report at:
http://www.arabnews.com/node/1512221/middle-east
--------
Syria violence kills dozens of troops and civilians in north
Jun 15, 2019
Government airstrikes, intense shelling and fighting on the ground in rebel-held areas in northwest Syria claimed the lives of dozens of people Saturday, Syrian opposition activists said.
Syrian state media reported later that an explosion was heard in a military area in Dummar, a northwestern suburb of the capital Damascus. Syrian state TV said the blast was the result of an explosion in an arms depot that triggered some fires in nearby brush.
State TV gave no further details about the cause of the blast or whether there were fatalities.
In northwest Syria, fighting intensified as government forces pressed their offensive toward Idlib province, the last major rebel stronghold in the country's lengthy civil war.
The Britain-based Syrian Observatory for Human Rights and the opposition's Syrian Civil Defense said at least 10 civilians were killed in Saturday's airstrikes and shelling of rebel-held villages and towns.
Syrian state media said militants shelled government-held areas causing material damage.
The Observatory said Saturday's fighting alone left 26 troops and pro-government gunmen dead along with eight militants.
The Ibaa news agency, the media arm of al-Qaida-linked Hayat Tahrir al-Sham, or HTS, said the militants killed and wounded "a whole group" of Syrian soldiers in their second failed attempt to advance toward a strategic hill.
Six weeks of violence has driven nearly 300,000 people from their homes. Many are living under olive trees, in tents or unfinished buildings, crammed into overcrowded shared rooms.
Full report at:
https://abcnews.go.com/International/wireStory/syria-violence-kills-dozens-troops-civilians-north-63734099
--------
Iraqi Shiite militias foil Islamic State plot to infiltrate into Salahuddin
by Mohammed Ebraheem
Jun 16, 2019
Baghdad (IraqiNews.com) – Iraqi Shiite militias thwarted on Sunday a plot by Islamic State militants to sneak into Samarra city in Salahuddin province, where they planned to carry out terrorist attacks.
In a statement carried by Alsumaria News TV channel, the Samarra Operations Command of the Shiite Saraya al-Salam said that "it received intelligence information on a plot by IS terrorists to infiltrate into al-Madarat city in Samarra on board six boats." The militiamen, according to the statement, opened fire at the IS terrorists and forced them to retreat.
Iraq declared the collapse of Islamic State's territorial influence in November 2017 with the recapture of Rawa, a city on Anbar's western borders with Syria, which was the group's last bastion in Iraq.
IS declared a self-styled "caliphate" in a third of Iraq and neighboring Syria in 2014. A government campaign, backed by a U.S.-led international coalition and paramilitary forces, was launched in 2016 to retake IS-held regions, managing to retake all havens, most notably the city of Mosul, the group's previously proclaimed capital.
Full report at:
https://www.iraqinews.com/iraq-war/iraqi-shiite-militias-foil-islamic-state-plot-to-infiltrate-into-salahuddin/
--------
Syria says it does not want fighting between Syrian and Turkish militaries
18 June 2019
Syrian Foreign Minister Walid al-Moualem said on Tuesday that he does not want to see fighting between the Syrian and Turkish militaries.
Al-Moualem made the comment in Beijing during a joint briefing with China's Foreign Minister Wang Yi.
The Syrian foreign minister remarks come amid escalation between Turkish forces and regime forces in Syria's Idlib region where a Turkish observation post was attacked on Sunday with mortar fire and shelling from an area controlled by the Syrian government forces, causing damage but no casualties, the Turkish Defense Ministry said.
Full report at:
https://english.alarabiya.net/en/News/middle-east/2019/06/18/Syria-says-it-does-not-want-fighting-between-Syrian-and-Turkish-militaries.html
--------
Report: Mortars land on Iraqi military base near Baghdad
17 June 2019
Two mortar shells landed on a military base hosting US forces north of Baghdad late on Monday without causing casualties, a military source said.
The mortars came down in the Iraqi section of the sprawling Taji military base, located about 30 km north of the Iraqi capital.
https://english.alarabiya.net/en/News/middle-east/2019/06/17/Rocket-falls-near-al-Taji-US-military-camp-north-of-Baghdad.html
--------
Lebanon arrests Daesh-linked suspect over bomb attack plots
Jun 17, 2019
Lebanese Security forces have arrested a Syrian national suspected of having links to the Daesh Takfiri terrorist group that was plotting to launch attacks on religious sites in the south of the country.
The Internal Security Forces (ISF) said in a statement on Monday that they had "tracked down and identified a man in southern Lebanon who actively publishes ISIL propaganda on social media networks and recruits new members" for the terrorist group.
The suspect, a 20-year-old Syrian national from Lebanon's southern village of Yater, was in contact with individuals outside Lebanon who helped him to create social networking sites to promote Takfiri ideology, according to the statement.
The ISF said the Syrian national used the sites to discuss plans to carry out bomb attacks on Christian churches, inspired by the deadly Easter bombings in Sri Lanka, and Shia religious centers in the south.
According to the ISF, the suspect shared in April a Daesh video that showed the group's leader Ibrahim al-Samarrai, also known as Abu Bakr al-Baghdadi, hailing the Sri Lanka bombings, which targeted churches and luxury hotels in the Sri Lankan capital of Colombo and two other cities on April 21 and claimed at least 253 lives.
He also downloaded a manual compiled by followers of the Takfiri terrorist group instructing readers on how to make improvised bombs and explosives, the ISF statement added.
The suspect is also believed to have spray painted Daesh slogans on walls in the Yater village.
Lebanon has often seen the infiltration of Takfiri elements from neighboring Syria into its territory, where they target the civilian population or security forces with bombings.
In August 2014, members of the Jabhat Fateh al-Sham, formerly known as Nusra Front, and Daesh terrorist groups overran the town of Arsal, located 124 kilometers northeast of Beirut, killing a number of Lebanese forces. They took 30 soldiers hostage, most of whom have been released.
Since then, Hezbollah resistance fighters and Lebanese military forces have been defending Lebanon on the country's northeastern frontier against foreign-backed terrorist groups from Syria.
Full report at:
https://www.presstv.com/Detail/2019/06/17/598738/Lebanon-ISF-Syrian-suspect-Yater-religious-sites
--------
Mideast
Iran attempted to shoot down US drone over tanker attack site in Gulf of Oman
Jun 15, 2019
Iran attempted to shoot down a U.S. drone that was surveilling the attack on one of two tankers hit in the Gulf of Oman on Thursday morning, U.S. Central Command said. The attempt missed the MQ-9 Reaper by "approximately one kilometer."
The Japanese-owned Kokuka Courageous along with another tanker, the Front Altair, were damaged by mines that the U.S. said Iran's Islamic Revolutionary Guard Corps (IRGC) had placed on the ship's hulls.
"According to our assessment, a modified Iranian SA-7 surface-to-air missile attempted to shoot down a U.S. MQ-9, at 6:45 a.m. local time, June 13, over the Gulf of Oman, to disrupt surveillance of the IRGC attack on the M/T Kokuka Courageous," CENTCOM spokesperson Lt. Col. Earl Brown said in a statement to ABC News on Saturday.
CENTCOM said that, prior to the attempt by Iran to shoot down the MQ-9, the drone had observed the Front Altair on fire.
"The SA-7 was ineffective and its closest point of approach to the MQ-9 was approximately one kilometer," Brown said. "Subsequent analysis indicates that this was a likely attempt to shoot down or otherwise disrupt the MQ-9 surveillance of the IRGC attack on the M/T Kokuka Courageous."
In the day following the attacks, Iranian small boats prevented salvage tugs from towing the Front Altair, as they had been contracted to do, a U.S. official told ABC News.
The 23 mariners on board the Front Altair were rescued shortly after Thursday's attack by the Hyundai Dubai, but Iranians aboard small boats quickly demanded the crew be turned over to their custody, a U.S. official said. The master of the Hyundai Dubai contacted the headquarters of his shipping company in Seoul and was instructed not to turn the crew over to the Iranians. However, the ship's master felt he had no choice but to comply with the Iranian demands.
After being held in Iran for two days, the crew of the Front Altair was flown to Dubai where they will continue on to their home countries, according to the Associated Press.
The Kokuka Courageous is now in territorial waters of the United Arab Emirates, a second official said.
CENTCOM also confirmed on Saturday that another U.S. MQ-9 was shot down by a Houthi SA-6 surface to air missile over Yemen on June 6.
"The altitude of the engagement indicated an improvement over previous Houthi capability, which we asses was enabled by Iranian assistance," Brown said.
https://abcnews.go.com/International/iran-attempted-shoot-us-drone-tanker-attack-site/story?id=63740229
--------
Yemen's Houthis Again Strike at Saudi Airports
June 15, 2019
CAIRO - Yemen's Houthi movement launched fresh drone attacks targeting Jizan and Abha airports in southern Saudi Arabia, the group's Al-Masirah TV said Saturday, adding that the installations were out of service.
The Saudi-led coalition said in a statement that it had intercepted and downed a Houthi drone targeting the southwestern city of Abha.
The Iran-aligned group said multiple drone strikes targeted control rooms at Jizan airport and a fuel station at Abha airport.
"The two airports are now out of service. We promise the Saudi regime more painful days as long as the aggression and siege continue on our country," the group's armed forces spokesman said in a tweet published by Al-Masirah TV's account.
Tit-for-tat airstrikes
The Houthis have launched several strikes targeting Abha airport since Wednesday, when a missile attack against the same airport wounded 26 people.
The Saudi-led coalition, which intervened in 2015 in Yemen's civil war to restore the government of President Abd Rabbu Mansour Hadi, said earlier this week that it intercepted five drones that targeted Abha airport and Khamis Mushait in the same region.
In response to these attacks, the Western-backed coalition said it had destroyed Houthi military assets on the outskirts of the Houthi-held capital Sanaa.
It was unclear if there were any casualties following Saturday's drone strikes.
Rising regional tensions
Coalition leaders, Saudi Arabia and the United Arab Emirates, accuse Iran's Revolutionary Guards and Lebanon's Iran-backed Hezbollah of supporting the Houthis, a charge all three deny.
The Houthis have stepped up missile and drone attacks against Saudi cities as tensions have risen between Iran and Gulf Arab states allied with the United States. Last month, the group carried out drone strikes on two Saudi oil pumping stations.
Tehran and Washington have engaged in a war of words since the United States reimposed sanctions on Tehran and increased its military presence in the Gulf.
Full report at:
https://www.voanews.com/middle-east/yemens-houthis-again-strike-saudi-airports
--------
Houthi rebels intensify Hodeidah attacks, prompting fears of ceasefire collapse
Ali Mahmood
June 17, 2019
The Houthi militia launched a large attack in Yemen on Sunday, targeting sites controlled by the joint forces in Hodeidah as a new escalation threatens the UN peace efforts in the port city.
The Houthis had attacked sites controlled by Al Amalikah Brigades in Kilo 16, east of the city, Arab Coalition spokesman Col Wathah Al Dubaish told The National on Sunday.
The rebels also attacked Al Amalikah divisions in Al Fazah, in the south of Hodeidah, pushing towards the coast to try to cut the main route linking the southern districts.
"The Houthi rebels have been escalating all over the western coast in Hodeidah," Col Al Dubaish said.
"They pushed huge forces to Al Jabaliya area, attacking our sites with all kinds of weapons."
Confrontations in Al Jabaliya continued for more than 24 hours as the Houthis intensified their attacks after one of their high-ranking commanders was killed in clashes on Saturday.
"The top officer killed was Mohammed Ali Al Sharif," Col Al Dubaish said.
"He is one of the top field commanders in Hodeidah of those highly trained in Iran and has close ties with the Houthi leader Abdulmalik Al Houthi."
He said the Houthi escalation was "a hazardous threat" that could endanger the UN-backed ceasefire in the city.
"The joint forces won't keep watching the Houthis wreaking havoc in Hodeidah," Col Al Dubaish said.
"We have shown restraint over thousands of violations committed by them since the halt began in December 2018 and the UN kept watching silently. It is enough."
In Al Dhalea province in southern Yemen, the Southern Joint Forces thwarted a large-scale attack on Sunday.
Full report at:
https://www.thenational.ae/world/mena/houthi-rebels-intensify-hodeidah-attacks-prompting-fears-of-ceasefire-collapse-1.875298
--------
Turkey, Qatar support hampering liberation of Tripoli
June 17, 2019
Cairo: Military support by Qatar and Turkey to militias has hampered an ongoing campaign by Libyan forces to "liberate" the capital Tripoli, the country's top lawmaker has said.
In April, forces of the self-styled Libyan National Army (LNA) led by Khalifa Haftar initiated a massive offensive to capture Tripoli from militias loyal to a weak UN-backed government headed by Fayez Al Serraj.
Head of the Libyan elected parliament, Aqila Saleh, blamed Qatari-Turkish military support to the Serraj-aligned militias for the delay in the city's takeover.
"But this will not discourage the army from doing its duty towards the country's security and stability," Saleh told pan-Arab newspaper Asharq Al Awsat in remarks published Monday.
Doha and Ankara are staunch backers of militias in strife-plagued Libya.
"Tripoli is a populous city. War on terrorism there is not a regulated one or even a street war. Instead, it is happening inside houses. Accordingly, the army has a tight move plan to protect civilians there," Saleh added.
He defended Haftar's campaign for Tripoli as part of war on terrorism.
"Does it make sense for the Libyan army to remain handcuffed and unable to tackle the militias tampering with the country and the people?"
Saleh ruled out a new meeting between Libya's leading rivals.
"Concurrence and talks between Haftar and Al Serraj are impossible, especially after Libyans were killed and the head of the Presidency Council [Al Serraj] has been accused of this," Saleh said.
In February, Haftar and Al Serraj met in the Emirati capital Abu Dhabi where they agreed on the necessity of holding long-delayed elections as part of a UN-sponsored peace process.
Full report at:
https://gulfnews.com/world/mena/turkey-qatar-support-hampering-liberation-of-tripoli-1.64657004
--------
Iran will not wage war against any nation, says Iranian president
18 June 2019
Iran will not wage war against any nation, Iran's President Hassan Rouhani said on Tuesday in a speech broadcast live on state TV.
Fears of a confrontation between Iran and the United States have mounted since attacks on two oil tankers at the entrance to the Gulf on Thursday, which Washington has blamed on Tehran.
"Iran will not wage war against any nation," Rouhani said.
He said: "Those facing us are a group of politicians with little experience."
"Despite all of the Americans' efforts in the region and their desire to cut off our ties with all of the world and their desire to keep Iran secluded, they have been unsuccessful," Rouhani added.
On Monday, a spokesman for Iran's atomic agency said the country will break the uranium stockpile limit set by Tehran's nuclear deal with world powers in the next 10 days.
Behrouz Kamalvandi made the comment in a news conference carried live on Iranian state television.
Full report at:
https://english.alarabiya.net/en/News/middle-east/2019/06/18/Iran-will-not-wage-war-against-any-nation-says-Iranian-president.html
--------
12 killed as refugee boat sinks off western Turkey
Jun 17, 2019
Twelve people have been killed after a dinghy carrying refugees sank off Turkey's western coast, the Turkish coast guard says, adding that 31 others had been rescued.
Search and rescue operations were launched by the coast guard to reach the passengers of the boat, which sunk off the coast of the Bodrum district in the Mugla province.
The coast guard said in a statement that the operations, carried out by two boats, a diving team and a helicopter, had found the bodies of 12 people from the sunken boat at around 32 meters deep in the sea.
The search and rescue operations are continuing.
Turkey became one of the main launch points for refugees taking the sea route to European Union territory in 2015, many fleeing conflict and poverty in the Middle East and Africa. The movement was drastically curtailed by a 2016 accord between Ankara and the EU.
Full report at:
https://www.presstv.com/Detail/2019/06/17/598744/Turkey-refugees-migrants-boat-sinking-passengers
--------
Palestinians in Gaza to receive new Qatari financial aid
Jun 17, 2019
Palestinians in the besieged Gaza Strip will receive a new tranche of financial aid donated by the gas-rich Persian Gulf state of Qatar.
Media reports quoting unnamed Qatari officials reported on Monday that the money was brought into the Palestinian enclave Sunday evening by a Qatari envoy to Gaza.
The cash grant of 10 million US dollars was to be distributed to more than 100,000 impoverished Gazan families all over the coastal sliver, with each receiving 100 dollars.
Another 15 million dollars would be provided for infrastructure and cash-for-work projects.
In early May, Qatar allocated nearly half a billion US dollars in aid to the Palestinian Authority as well as the Islamic resistance movement, Hamas, in order to support education and health services and provide urgent humanitarian relief.
Qatar has committed to providing $15 million a month into Gaza under an informal agreement struck last November.
On January 24, Hamas turned down Qatari funds over Israel's change of conditions due to the unrest along the border fence between the strip and the Israeli-occupied territories, criticizing Tel Aviv for imposing new conditions on the money entering the blockaded Palestinian territory.
Hamas has recently announced a series of new measures to support low-income families, improve electricity infrastructure, expand imports and exports and ensure unemployed university graduates find work.
Gaza has also witnessed tensions since March 30, 2018 which marked the start of the Great March of Return protests, with participants demanding the right to return for those driven out of their homeland.
The coastal sliver of land has been under a crippling siege by Israel since 2007 and witnessed three wars since 2008.
According to the United Nations, around 80 percent of Palestinians in Gaza are reliant on international aid.
Full report at:
https://www.presstv.com/Detail/2019/06/17/598742/Palestine-Gaza-Strip-Qatar-Israel-Great-March-of-Return
--------
Palestine urges immediate ICC probe into crimes by Israeli regime, settlers
Jun 17, 2019
The Palestinian Ministry of Foreign Affairs and Expatriates has called on the International Criminal Court (ICC) to launch an immediate investigation into the crimes of the Tel Aviv regime and extremist Jewish settlers.
The ministry, in a statement released on Monday, condemned the settlers' assault on the town of Kafr Malik, located 17 kilometers northeast of the occupied central West Bank city of Ramallah, which resulted in the damage of a number of private Palestinian vehicles and racist graffiti being spray-painted on the walls of a local mosque.
"The Israeli regime's pride in settlement expansion and land grabs reached a blatant provocation in a ceremony attended by [Prime Minister Benjamin] Netanyahu and [US Ambassador to Israel David] Friedman to launch a new settlement in the occupied Golan Heights named after US President Donald Trump," the statement read.
It added, "The rise in Israeli forces' and settlers' expropriation of occupied Palestinian territories and their reckless disregard for international law and resolutions constitute a flagrant challenge to international peace, and the so-called advocates of human rights that claim peace can be achieved through [the so-called] two-state solution."
The Palestinian foreign ministry finally called on local, regional and international human rights organizations to quickly document these crimes in order to submit them to the ICC, urging them to speed up the opening of an official investigation into these crimes in order to hold Israel accountable for war crimes.
Extremist Jewish settlers stormed Kafr Malik late on Sunday, slashing the tires of four Palestinian vehicles and spray-painting racist anti-Palestinian slogans on the walls of a mosque there.
On Monday morning, Israeli military forces stormed the Palestinian neighborhood of al-Isawiyah in East Jerusalem al-Quds, uprooting tens of trees under the pretext of "security measures."
Muhammad Abu al-Hummus, a member of a local follow-up committee, said Israeli forces raided the southwestern flank of the area, and took out tens of trees, claiming they were "obstructing the work of surveillance cameras" installed in the region.
Israeli settlers uprooted and chopped down 30 olive trees near the town of Bani Na'im, located 8 kilometers east of al-Khalil, on Sunday.
Rateb Jabour, a local activist, said the tress belonged to Palestinian farmers, and they had been planted there some 30 years ago.
About 600,000 Israelis live in over 230 illegal settlements built since the 1967 Israeli occupation of the Palestinian territories of the West Bank and East Jerusalem al-Quds.
Full report at:
https://www.presstv.com/Detail/2019/06/17/598736/Palestine-urges-immediate-ICC-probe-into-Israeli-regime-settlers-crimes
--------
Turkey orders arrest of 128 military personnel over suspected Gulen links
June 18, 2019
ANKARA: Turkey has ordered the arrest of 128 military personnel over suspected links to the network accused by Ankara of orchestrating an attempted coup in 2016, state-run Anadolu news agency said on Tuesday.
Police were looking for just over half of the suspects in the western coastal province of Izmir and the rest across 30 other provinces, Anadolu said.
They were suspected of being supporters of US-based Muslim cleric Fethullah Gulen, who is accused by Turkish authorities of masterminding the failed putsch three years ago. Gulen has denied any role.
More than 77,000 people have been jailed pending trial, while about 150,000 people from the civil service, military, and elsewhere have been sacked or suspended from their jobs under crackdowns since the attempted coup.
Rights groups and Turkey's Western allies have criticized the scope of the crackdown, saying Erdogan has used the abortive coup as a pretext to quash dissent.
Full report at:
http://www.arabnews.com/node/1512411/middle-east
--------
Africa
30 killed, 42 injured in multiple explosions in Nigeria
Olarewaju Kola
17.06.2019
At least 30 persons were killed and 42 injured in multiple explosions in troubled Nigeria's northeastern Borneo State.
Three suicide bombers, one male and two female, detonated explosives at a local tea shop and a Cinema centre of the small town of Konduga, said Usman Kachala, Director of the Search, Rescue and Operations of the State Emergency Management Agency (SEMA).
"At about 8 p.m. [GMT1900] on Sunday, there was a loud explosion at Konduga, but we couldn't access the place that night. This morning, we brought our men for rescue operations and I can confirm to you that about 30 people were killed and 42 injured," Kachala noted.
He added that the attack initially killed 17 people but casualties shot up due to inadequate health facilities in the town which has experienced several attacks -- including bombings -- by the Boko Haram terror group.
Boko Haram has intensified attacks in the country northeast region in recent time in a wave of violence which started since July 2009 in the area.
Nigeria Present Mohamadu Buhari has repeatedly pledged to end the decade of violence in the region.
Since 2009, the terrorist organization's insurgency has killed tens of thousands and displaced millions in the Lake Chad region.
https://www.aa.com.tr/en/africa/30-killed-42-injured-in-multiple-explosions-in-nigeria/1506471
--------
Al Shabaab kill 16 in Kenya and Somalia blasts
JUNE 15, 2019
NAIROBI (Reuters) - Somali militants killed eight Kenyan police with a roadside bomb near the border between the two countries on Saturday, officials said, while another eight died in a bombing the same group carried out in the Somali capital.
Both attacks were claimed by Somali Islamist insurgents, who also kidnapped three Kenyan police reservists on Friday from the same area, in Wajir district in northeast Kenya.
Kenyan military forces have occupied part of southern Somalia along the border since 2011. The Kenyans, along with allied Somali militia, wrested control of the territory from al Shabaab jihadists after a spate of kidnappings on Kenyan soil.
Al Shabaab is fighting the weak, U.N.-backed Somali government and its international allies in a quest to impose strict Islamic law.
The vehicle that was hit by the roadside bomb was carrying 11 policemen, police spokesman Charles Owino told Reuters. A local official said eight were killed.
"Eight bodies were found and taken to Wajir. Two were rescued, but they are in critical condition," said Muhumed Ali Gedi, a member of the local community security team from Wajir who witnessed the rescue mission.
In Mogadishu, al Shabaab detonated two bombs. Police said the first blast, at a busy junction known as K4, was a car bomb intercepted by security services that caused no casualties.
The other blast killed eight people and injured 16, said Abdikadir Abdirahman, the director of Aamin ambulance service.
Full report at:
https://www.reuters.com/article/us-kenya-security/al-shabaab-kill-16-in-kenya-and-somalia-blasts-idUSKCN1TG08L
--------
20 jihadists 'neutralized' in French-Malian counter-terrorism operation
Jun 18, 2019
A joint operation by the Malian army and the French anti-jihadist force Barkhane, underway in northeastern Mali, has resulted in the "neutralization" of some 20 jihadists, the Malian Armed Forces (FAMa) announced Saturday evening.
"About 20 terrorists neutralized in #Ménaka. The #FAMa and #Barkhane are conducting a joint operation in the locality of Akabar, in the Ménaka sector. This operation made it possible to neutralize about twenty terrorists," the Malian army reported on Twitter, without further details.
A jihadist group that calls itself the "Islamic State in the Great Sahara" (EIGS) is mainly active in this region of Ménaka and across the border with Niger.
In particular, he claimed responsibility for the October 2017 attack on Tongo Tongo in Niger. This ambush cost the lives of four American and four Nigerian soldiers.
Northern Mali had fallen in March-April 2012 under the control of jihadist groups, largely dispersed by a military intervention launched in January 2013 at the initiative of France. This intervention continues with Operation Barkhane, which mobilizes some 4,500 soldiers in the Sahel.
But entire areas of Mali are beyond the control of Malian, French and UN forces, despite the signing in 2015 of a peace agreement intended to definitively isolate jihadists.
Since 2015, violence has spread from the North to the centre, and sometimes even to the South. They are very often involved in inter-community conflicts, a phenomenon that also affects neighbouring Burkina Faso and Niger.
The Dogon village of Sobane Da, near Bandiagara (central Mali), was the scene of an attack on the evening of 9 June that killed 35 people, including 24 children.
Full report at:
https://www.africanews.com/2019/06/16/20-jihadists-neutralized-in-french-malian-counter-terrorism-operation/
--------
10 Kenyan police officers killed in blast near Somalia
By Tom Odula?
June 15, 2019
NAIROBI, Kenya — At least 10 Kenyan police officers died after their vehicle struck an improvised explosive device near the Somali border in a suspected extremist attack on Saturday, officials said.
Those killed in the Wajir County blast were among 13 officers who had been pursuing suspected extremists who had kidnapped police reservists, the officials said. The officials spoke on condition of anonymity because they were not authorized to share the information.
Police on Friday said a number of gunmen thought to be members of the Somalia-based al-Shabab extremist group stormed Konton center in Wajir East and kidnapped three reservists.
There was no immediate claim of responsibility for the latest attack. Al-Shabab often targets Kenyan security forces. It has vowed retribution for Kenya's deployment of troops to Somalia in 2011 to combat the extremists after they carried out high-profile kidnappings inside Kenya and hurt the country's lucrative tourism industry.
In recent months the al-Qaida-linked al-Shabab has resumed the abductions.
In April the extremist group kidnapped two Cuban doctors in Mandera County and demanded $1.5 million for their return.
Full report at:
https://www.washingtonpost.com/world/africa/10-kenyan-police-officers-killed-in-blast-near-somalia/2019/06/15/7fd358c8-8f61-11e9-b6f4-033356502dce_story.html?noredirect=on&utm_term=.9c3cdd479502
--------
UN slams use of children as 'human bombs' in Nigeria
Abu 'Adnan
18.06.2019
The United Nations Children's Fund (UNICEF) on Monday condemned the use of children as suicide bombers by Boko Haram terrorists in Nigeria's northeast.
The agency's statement came hours after two underage girls and a boy blew themselves up at a community football viewing center in the Konduga area of Borno State -- the heart of the 10-year-old insurgency.
The incident left at least 30 dead and 40 others injured.
"UNICEF condemns the use of children as human bombs and in any combat or non-combat roles in the conflict in northeast Nigeria," the agency said in a statement.
"It is unacceptable that children should be used in this way. UNICEF appeals to all those involved in this terrible conflict to protect children at all times and to keep them out of harm's way."
UNICEF said the incident brought to five the number of children used as human bombs this year. In 2018, 48 children died as suicide bombers, while more than 83 children suffered a similar fate in 2017.
Full report at:
https://www.aa.com.tr/en/africa/un-slams-use-of-children-as-human-bombs-in-nigeria/1507188
--------
Libyan officials say Hifter's forces fighting IS in south
Jun 18, 2019
CAIRO – Libyan officials say forces loyal to military commander Khalifa Hifter are pursuing Islamic State militants in the country's south, killing more than a dozen militants over the past three days.
The officials said Sunday that the self-styled Libyan National Army began its attack on a militant hideout in the mountainous area of Haruj earlier this week. The officials spoke on condition of anonymity because they were not authorized to brief the media.
The LNA media center said Friday that the IS militants were responsible for recent attacks in southern areas.
IS acknowledged the ongoing LNA attack and claimed to have killed and wounded dozens of LNA troops.
Full report at:
https://www.foxnews.com/world/libyan-officials-say-hifters-forces-fighting-is-in-south
--------
Roadside Blast in Niger That Hit Americans Shows Growing Threat, Officials Say
By Thomas Gibbons-Neff
June 14, 2019
WASHINGTON — The roadside bomb that disabled an American vehicle in Niger last week was rudimentary and harmed no one, but its location — roughly 70 miles into the country's interior and minutes from an American Army outpost — was unusual and alarming, military officials said.
The strike was the latest in a string of attacks carried out by Islamic State affiliates using roadside bombs in Niger that have, until now, mostly targeted Nigerien forces.
No extremist group claimed responsibility for the blast, which occurred on the outskirts of the small town of Oullam. The blast's proximity to American troops has increased concerns about the growing threat of improvised explosive devices, or I.E.D.s, that have long defined American conflicts in Iraq and Afghanistan.
The bomb used on June 8, according to a military official, was activated by a weatherproofed pressure plate and wired to an 81 millimeter mortar projectile, which exploded, causing a main charge of nearly a dozen 60 millimeter mortar rounds to detonate. The explosives were buried roughly three feet underground and positioned at a key choke point on a road that led to a shooting range frequented by American, Canadian and Nigerien troops.
A roughly 12-ton American all-terrain vehicle, known as a M-ATV, with soldiers from the 19th Special Forces Group inside, triggered the device. According to a military official familiar with the blast, the bomb was packed similarly to one used in northern Niger this year. If a lesser-armored vehicle had detonated the explosives, there would have been significant casualties, the official said. Little else is known about the bomb.
Despite military efforts in the region, including a concerted and continuing counterterrorism mission led by France throughout the Sahel since 2014, extremist groups there are expanding their efforts to strike further afield than they have in the past.
Andrew Lebovich, a visiting fellow at the European Council on Foreign Relations who focuses on North Africa and the Sahel, said that the spate of roadside bomb attacks highlights the growing threat that American and French forces are facing in Niger despite their efforts.
"It's an evolving threat and it's spreading," Mr. Lebovich said. He added that militants in Niger are varying their assaults with improvised explosive devices in addition to their often-used tactic of staging ambushes primarily from motorcycles.
On Oct. 4, 2017, Islamic State militants attacked an American Special Forces team of 11 soldiers alongside roughly 30 Nigerien troops in much the same way, leaving four Americans and five Nigeriens dead. A recently released redacted report detailing the ambush pointed to an intelligence failure as one of the reasons that the small American force was caught off guard by a large Islamic State force on the Niger-Mali border.
Last month, at least 25 Nigerien soldiers were killed in an ambush near Tongo Tongo, the site of the October 2017 gun battle. The attack was carried out by Islamic State militants who used a combination of small arms and at least one roadside bomb.
Roadside bombs have been nearly nonexistent in this part of the country until recently. According to a United Nations report published last month, the first roadside bomb to target Nigerien forces in northwest Niger was during a Jan. 31 attack, which left four soldiers wounded.
Since then, there have been at least six more episodes involving improvised explosive devices in western Niger, according to data compiled by Heni Nsaibia, a researcher with the Armed Conflict Location & Event Data Project. But in southeastern Niger, the weapon has been used against government forces fighting Boko Haram around Diffa, Niger, since 2015.
The growing presence of roadside bombs is not just a problem in Niger. In central Mali, according to the United Nations secretary general, roadside bomb attacks have more than tripled to nearly 100 in 2018 from 29 in 2017.
Col. Christopher Karns, a spokesman for Africa Command, said that American forces provide counterroadside bomb training to local forces, but he would not comment on the growing threat from the hidden explosives, nor on the details of the June 8 blast.
"Doing so presents potential information to adversaries, and we're not in the business of doing that," Colonel Karns said in an email.
Full report at:
https://www.nytimes.com/2019/06/14/us/politics/roadside-bomb-niger-growing-threat.html?searchResultPosition=3
--------
North America
New Yorker who tried to join ISIS sentenced to 20 years in prison
by Alana Goodman
June 15, 2019
A New York man who attempted to join the Islamic State was sentenced to 20 years in prison after he tried to provide material support to the terror group and boasted about how easy it would be to carry out an attack in Times Square.
Mohamed Rafik Naji, 40, became a "committed supporter" of ISIS in 2014, according to the Department of Justice. He traveled to Yemen in an attempt to join the terror group in March 2015, said federal authorities.
After returning to the United States in September 2015, Naji repeatedly distributed pro-ISIS messages on social media and advised an individual on how to travel overseas and join the terrorist group.
That individual was a confidential FBI informant, the Justice Department said in a press release Friday. Naji went on to tell the informant that he had pledged an allegiance to ISIS, saying "I belong to the Islamic State only." He also discussed the potential for carrying out a terrorist attack in Times Square, suggesting that a garbage truck could be driven into a crowd of pedestrians.
Naji was arrested in 2016 and pleaded guilty to charges of attempting to provide material support to terrorists in 2018. He was sentenced to 20 years in federal prison on Friday.
"Extremists like Mr. Naji believe murdering innocent people advances their political agendas," said FBI Assistant Director-in-Charge Sweeney. "In the end, Mr. Naji, like many others before him, find the only thing their actions lead to is a different vantage point from which to watch the world pass by — through the steel bars of a federal prison."
https://www.washingtonexaminer.com/news/new-yorker-who-tried-to-join-isis-sentenced-to-20-years-in-prison
--------
'It was not Iraq. It were other people', says Trump
Jun 17, 2019
US President Donald Trump says he knows who was behind the September 11, 2001 terrorist attacks that left thousands of Americans dead.
In an exclusive interview with ABC News' George Stephanopoulos broadcast on Sunday, Trump categorically said that "Iraq did not knock down the World Trade Center."
"It was not Iraq," he told the American broadcaster. "It were other people. And I think I know who the other people were. And you might also."
The September, 11, 2001 attacks, also known as the 9/11 attacks, were a series of strikes in the US which killed nearly 3,000 people and caused about $10 billion worth of property and infrastructure damage.
US officials assert that the attacks were carried out by 19 al-Qaeda terrorists but many experts have raised questions about the official account.
They believe that rogue elements within the US government, such as former Vice President Dick Cheney, orchestrated or at least encouraged the 9/11 attacks in order to accelerate the US war machine and advance the Zionist agenda.
Following the 9/11 attack, the United States, backed by some allies including Britain, invaded Afghanistan, where al-Qaeda chief Osama bin Laden was sheltered, according to the George W. Bush administration. Then 9/11 was used as part of the justification for the 2003 invasion and occupation of Iraq, which resulted in the deaths of hundreds of thousands of Iraqis.
In the ABC News interview, Trump criticized Washington's military intervention in the Middle East, which he said was "the worst decision made in the history of our country."
He described the Middle East region as "like quicksand."
"It was a terrible decision to go into the Middle East. Terrible. We're now up to almost $8t trillion (£6.4trn). And when we want to build a roadway, a highway, a school, or something, everyone's always fighting over money. It's ridiculous. So that was a bad decision," he added.
"And, by the way, Iraq did not knock down the World Trade Center. It was not Iraq. It were other people. And I think I know who the other people were. And you might also. But it was a terrible decision," he continued.
Since his 2016 presidential election campaign, Trump has been leaking out a little bit of what independent analysts call "forbidden truth" about 9/11.
"He has done this before regarding 9/11 and bin Laden issues, for example when he blamed the 9/11 on George W. Bush. That was of course too much for a lot of Republicans but it did not hurt his ability to gain Republican nomination," according to Dr. Kevin Barrett, a founding member of the Scientific Panel for the Investigation of 9/11.
"And, the media always goes after Trump when he says things about 9/11 that let out a little bit of truth, when Trump talked about the dancing Muslims celebrating 9/11 in New Jersey. Of course, that was taken by many as a bleak reference to the dancing Israelis that's the Mossad agents who widely celebrated the success of their operation, and flipped cigarette lighters and held them up for cameras and video cameras as they celebrated during the fire and then the explosive destruction of the world trade center," he told Press TV in November last year.
Full report at:
https://www.presstv.com/Detail/2019/06/17/598751/I-think-I-know-who-was-behind-911-Trump
--------
US Navy Seal goes on trial for Iraq war crimes
June 18, 2019
The trial of an elite US Navy Seal accused of shooting unarmed civilians and stabbing a teenage captive to death in Iraq began on Monday at a military court in California.
Special Operations Chief Edward Gallagher, 40, is charged with several war crimes including premeditated murder, attempted murder of two civilians – including a young girl – with his sniper rifle and obstruction of justice.
His alleged acts in Iraq in 2017 were reported by men under his own command in the special operations branch of the US Navy.
They were among American troops deployed to Mosul, in northern Iraq, alongside Iraqi forces battling ISIS for control of the city.
Mr Gallagher, a decorated veteran of combat missions in Iraq and Afghanistan, faces life imprisonment if convicted by the San Diego court.
He denies all the charges against him.
His lawyers claim he is the victim of a "cabal" who plotted against him in order to remove him from the platoon.
Seven Marines, four sailors and a Navy Seal were questioned on Monday during jury selection. Most served in conflicts in Iraq and Afghanistan. Each said they thought it possible that Navy Seals could lie or make false allegations. A jury is likely to be seated on Tuesday.
The lead prosecutor was removed from the case earlier this month for tracking the defence team's emails.
According to statements read at a preliminary hearing last year, some members of the "Alpha" platoon were so horrified by Mr Gallagher's behaviour that they tampered with his sniper rifle and fired warning shots to scare civilians away before he had time to open fire on them.
They told investigators that Mr Gallagher would brag about the number of people he had killed, according to The New York Times.
In May 2017, Iraqi forces captured an injured ISIS combatant who appeared to be about 15 years old.
According to the testimony of two Seals, Mr Gallagher approached while a doctor was treating the young man and stabbed the prisoner several times in the neck and chest with a hunting knife.
A few minutes later Mr Gallagher and his commanding officer allegedly instructed members of the platoon to pose for a photo around the body as if it were a trophy.
Mr Gallagher's case has proven divisive in the US, where he remains a war hero to some.
His cause has been championed by about 40 Republican members of Congress, as well as the right-wing Fox News channel.
Full report at:
https://www.thenational.ae/world/the-americas/us-navy-seal-goes-on-trial-for-iraq-war-crimes-1.875749
--------
Southeast Asia
Rulers will be consulted on uniform shariah law plan, govt assures
Vinodh Pillai
June 18, 2019
PETALING JAYA: The government has sought to allay fears that the rulers will be left in the dark on its proposal for a uniform code of shariah criminal laws for all states, saying they will be updated on developments and their consent sought once the final draft is drawn up.
The assurance by Minister in the Prime Minister's Department in charge of Islamic affairs Mujahid Yusof Rawa and deputy minister Fuziah Salleh followed a call by a former MP for the rulers' views to be taken into account since they are the heads of Islam in their states.
Tawfik Ismail, former MP for Sungai Benut, said he feared the move could be a step towards the greater centralisation of power over religion by Putrajaya.
He also said discussions on uniform shariah criminal laws could be used as a back door for implementing harsh punishments for Islamic criminal offences in the future.
"The record has shown that PAS-controlled states lean towards harsher penalties," Tawfik said, citing the controversial move by PAS president Abdul Hadi Awang to table a private member's bill to amend the Syariah Courts (Criminal Jurisdiction) Act with enhanced penalties.
However, Mujahid told FMT the rulers would need to give their consent for the proposal to be adopted, adding that he would personally keep the rulers informed on any updates.
He said decisions made among the states would also be reported to them.
Fuziah meanwhile described Tawfik's concern as a non-issue as the "natural next step" would be to bring details of the proposal to the attention of the rulers.
She said there was still a long way to go before the proposal would be brought to the Cabinet or made into law.
"At this stage, it does not have to be brought to them (the rulers) for their approval but the final document will eventually be brought to them for their consent," Fuziah told FMT.
"This is already incorporated in the procedures."
She said there would be a number of technical discussions and meetings with stakeholders before a draft bill is drawn up and presented to the Cabinet and then the Attorney-General's Chambers.
"After that, the draft will be brought back to the National Council of Islamic Religious Affairs and only then will the complete document be presented to the Council of Rulers," she said, adding that the process could take up to a year.
Fuziah said the lack of a standardised system meant there were different punishments for the same offences under shariah law, which was unfair.
"For example, an offence punishable by caning in one state is not the same in another," she said, citing the case of two women who were caned in Terengganu after being convicted of engaging in same-sex relations in 2018.
If the women had committed the same offence in Perlis, their punishment would have been different because caning is not the prescribed punishment in the state.
Pahang also penalises public drinking with caning while other states do not, she said, adding that it was time for all states to get on the same page on such matters.
Fuziah said five standardised Islamic laws had previously been implemented.
The successful implementation of the Islamic Family Law (Federal Territories) Act 1984, she said, was evidence that standardisation was good.
"If this wasn't uniform, you could get married in one state and avoid certain procedures instead of marrying in another state where it is much stricter."
Fuziah also said all states must agree on what sort of punishments will be standardised.
"It's not just a unilateral decision by the minister. Only after all the states agree will it be included in the final draft."
Mujahid announced plans for the uniform code of shariah criminal laws on Sunday.
He said the inconsistency was an injustice "especially to the accused, the prosecution and those involved in a shariah criminal case".
Under the proposal, a draft of a uniform set of shariah criminal laws will be drawn up by amending the existing provisions, as well as adding new provisions to the Syariah Criminal Offences (Federal Territories) Act.
The draft will then be presented to the other states for their views and agreement. When consensus is reached, it will be used as a guide for the states to formulate uniform shariah laws.
https://www.freemalaysiatoday.com/category/nation/2019/06/18/rulers-will-be-consulted-on-uniform-shariah-law-plan-govt-assures/
--------
Maldives Seeks Foreign Help to Deal with Islamic State Fighters Held in Syrian Detention Camps
June 15, 2019
Colombo: The Maldives Saturday called for international help to rehabilitate up to 160 of its nationals languishing in Syrian detention camps after the defeat of the Islamic State group.
Speaker Mohamed Nasheed said the Maldives kept a close tab on citizens who had joined the militant group, but that the island nation was not ready to accept them back without an internationally supervised reintegration programme.
Visiting neighbouring Sri Lanka where 258 people were killed in jihadi attacks recently, Nasheed said the question of foreign IS fighters in Syria should be addressed as a global issue.
As many as 160 Maldivians are thought to be held in detention camps after the fall of IS in March.
"We do not know the situation they have gone through. We don't have the capacity to rehabilitate these people to the extent that they will not have a further impact on society," Nasheed said.
"I think the international community should join together and decide what we should do to the returnees. Hopefully, there is an international arrangement where they are first received, not necessarily to their countries of origin or nationality."
He said the Maldives was concerned about the 30 to 40 children said to be of Maldivian parents now living in detention camps in Syria, but insisted that there should be international involvement to screen the parents. "I don't think we should say they can come back in the first flight they can catch," he added. Nasheed said the nation of 340,000 Sunni Muslims was keeping a close watch on any attempt to radicalise its population, which is known to practise a liberal form of Islam -- and relies heavily on luxury tourism.
More than two thirds of the Maldivian parliament was spending a three-day holiday in Sri Lanka, to demonstrate it was safe for foreigners to visit the island after the deadly Easter Sunday attacks, Nasheed said.
In a chilling warning of the impact of terrorism on tourism, Sri Lanka's thriving tourism sector is projected to lose at least USD 1.5 billion revenue this year with a 30 per cent slump in the number of holidaymakers visiting the island.
Nasheed and his legislators were staying at the luxury Cinnamon Grand -- one of the three hotels hit by a local jihadi group which pledged allegiance to IS leader Abu Bakr al-Baghdadi -- to show Sri Lanka was still a safe tourist destination.
India's Prime Minister Narendra Modi flew to Sri Lanka last week, the first world leader to visit the island after the Easter attacks.
Full report at:
https://www.news18.com/news/world/maldives-seeks-foreign-help-to-deal-with-islamic-state-fighters-held-in-syrian-detention-camps-2188577.html
--------
Pope calls on Indonesian bishops to forge Muslim ties
June 17, 2019
Pope Francis has called on Indonesian bishops to forge greater ties with Muslims by drawing inspiration from a groundbreaking document he signed this year while on a visit to the United Arab Emirates.
In light of concerns over rising intolerance in predominantly Muslim Indonesia, Pope Francis told the bishops to try to adhere to principles set out in "Human Fraternity for World Peace and Living Together," the document he signed in Abu Dhabi in February with Ahmed Al Tayeb, the grand imam of Al Azhar.
The document invites Christians and Muslims to respect each other and work together for the common good.
The pope's call came during the ad limina visit by 37 Indonesian bishops to the Vatican from June 8-16.
"We are encouraged [by the pope] to share the message of this document to all Catholics [in Indonesia]," Archbishop Ignatius Suharyo of Jakarta told ucanews.com on June 16.
Moderate Indonesian Muslim groups say they appreciate the message the document seeks to convey.
Said Aqil Siradj, head of Nahdatul Ulama, Indonesia's largest Muslim organization, said the document's message mirrored their commitment to end hostility between Muslims and non-Muslims. It also supported their call to accept democracy, reject a caliphate and realize peace throughout the world.
Ahmad Nurcholish, an Islamic scholar and head of the education division at the Indonesian Conference on Religious and Peace, said that if the bishops follow up on the pope's request, it will greatly help any efforts to maintain religious tolerance in Indonesia.
He said the document was very relevant to the current situation, where primordial barriers and religious sentiments have strengthened, particularly in the last decade, which has damaged relations among religions.
"By restoring better Islamic-Catholic relations in this country, it is hoped that this will improve interfaith relations at a broader level, both nationally and internationally," he added.
The bishops' visit was a routine visit by bishops of each country every five years to the Vatican to give a country report to the Holy See.
Full report at:
https://www.ucanews.com/news/pope-calls-on-indonesian-bishops-to-forge-muslim-ties/85430
--------
Elections will be PAS-Umno vs Pakatan, says Tuan Ibrahim
18 June 2019
BY TERENCE TANG
KUALA LUMPUR, June 18 — PAS and Umno have agreed to join forces to fight the ruling Pakatan Harapan (PH) coalition in any election, the Islamist party's deputy president said.
Datuk Tuan Ibrahim Tuan Man told Utusan Malaysia in an interview published today that the two parties have a mutual agreement to support the other, which depends on who holds a bigger advantage in a seat being contested.
"We have agreed that when a by-election takes place, it will be 'one against one'. If Umno is strong, then PAS will support Umno and if PAS is strong in a constituency, then Umno will support PAS for a straight fight," he was quoted as saying.
He said the two parties will unite on any issue involving Muslim and Malay interests. Their coordination will also include matters to raise in Parliament.
Full report at:
https://www.malaymail.com/news/malaysia/2019/06/18/elections-will-be-pas-umno-vs-pakatan-says-tuan-ibrahim/1763236
--------
DPM: Malaysia looks forward to Egypt's report on Mursi's sudden death
18 June 2019
KUALA LUMPUR, June 18 — Malaysia is looking forward to the thorough report from Egypt on the cause of its former President Mohamed Mursi's death, Deputy Prime Minister Datuk Seri Dr Wan Azizah Wan Ismail said.
She stressed that Malaysia acknowledged the statement by Egypt's public prosecutor, but was still concerned with the numerous reports by human rights bodies about the treatment of Mursi prior to his passing.
"Mr Mursi was the first democratically-elected president of Egypt following the 2011 Arab Spring revolution, whose term was abruptly ended after 12 months.
"During his tenure as president, Mr Mursi showed courage and moral fortitude in his attempt to lead Egypt away from decades of authoritarian rule and establish true democracy there," she tweeted.
She also said the death of Mursi was a great loss for democracy.
"We sincerely hope the late former President Mursi will be given the appropriate burial," she added.
In an earlier tweet, Dr Wan Azizah also said that she was deeply saddened by the passing of Mursi and extended her deepest condolences to his family and people of Egypt.
"May Allah bless his soul and grant him Jannah," she said.
Mursi, 67, died Monday during his trial on "espionage" charges. He had requested to speak during the session before he fainted and died.
Foreign media reported that the Muslim Brotherhood claimed the death was a "full-fledged murder".
Egypt's public prosecutor Nabil Sadek said in a statement that Mursi arrived dead to the hospital and there were no marks of injuries on his body.
Full report at:
https://www.malaymail.com/news/malaysia/2019/06/18/dpm-malaysia-looks-forward-to-thorough-report-on-mursis-death-from-egypt/1763225
--------
China calls on US to stop 'extreme pressure' on Iran
18 June 2019
China's Foreign Minister Wang Yi warned on Tuesday that the world should not open a "Pandora's Box" in the Middle East, as he denounced US pressure on Iran and called on it not to drop out of a landmark nuclear deal.
Fears of a confrontation between Iran and the United States have mounted since last Thursday when two oil tankers were attacked in the Gulf of Oman.
The United States blamed Iran for the attacks, more than a year after President Donald Trump withdrew from a 2015 Iran nuclear deal.
Iran denied involvement in the tanker attacks and said on Monday it would soon breach limits on how much enriched uranium it can stockpile under the deal, which had sought to limit its nuclear capabilities.
Acting US Defense Secretary Patrick Shanahan announced on the same day the deployment of about 1,000 more troops to the Middle East for what he said were defensive purposes, citing concerns about a threat from Iran.
Speaking in Beijing after meeting Syria's foreign minister, Chinese Foreign Minister Wang Yi said the United States should not use "extreme pressure" to resolve issues with Iran.
Wang told reporters that China was "of course, very concerned" about the situation in the Gulf and with Iran, and called on all sides to ease tension and not head toward a clash.
"We call on all sides to remain rational and exercise restraint, and not take any escalatory actions that irritate regional tensions, and not open a Pandora's box," Wang said.
"In particular, the US side should alter its extreme pressure methods," Wang said.
"Any unilateral behavior has no basis in international law. Not only will it not resolve the problem, it will only create an even greater crisis."
Wang also said that the Iran nuclear deal was the only feasible way to resolve its nuclear issue, and he urged Iran to be prudent.
"We understand that relevant parties may have different concerns but first of all the comprehensive nuclear deal should be properly implemented," he added. "We hope that Iran is cautious with its decision-making and not lightly abandon this agreement."
At the same time, China hopes other parties respect Iran's legitimate lawful rights and interests, Wang said.
China and Iran have close energy ties, and China has been angered by US threats against countries and companies that violate US sanctions by importing Iranian oil, including Chinese firms.
China has had to walk a fine line as it has also been cultivating relations with Iran's regional rival, Saudi Arabia, the Asian giant's top oil supplier.
Full report at:
https://english.alarabiya.net/en/News/world/2019/06/18/China-calls-on-US-to-stop-extreme-pressure-on-Iran.html
--------
URL: https://www.newageislam.com/islamic-world-news/a-special-court-prayagraj-convicted/d/118917
New Age Islam, Islam Online, Islamic Website, African Muslim News, Arab World News, South Asia News, Indian Muslim News, World Muslim News, Women in Islam, Islamic Feminism, Arab Women, Women In Arab, Islamophobia in America, Muslim Women in West, Islam Women and Feminism