New Age Islam News Bureau
15 Jan 2014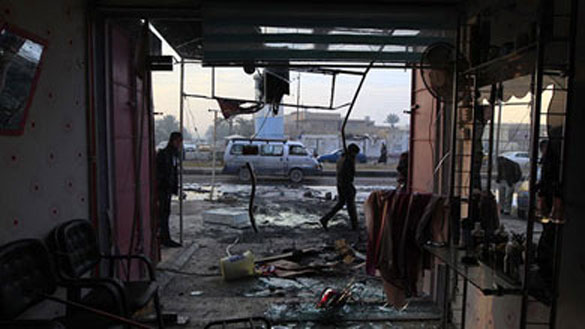 People gather at the site of a car bomb attack in Baghdad's Ghazaliya district, January 15, 2014. (Reuters / Ahmed Saad)
------------
Arab World
• A series of car bombs in Baghdad and Baquba kill at least 52
• Attack in northeast Baghdad kills 15, injures 18
• Gunmen win turf in Ramadi as Baghdad attacks kill 18
• Clashes kill 11 on first day of Egypt vote
• Maliki to revive militia role against Al-Qaeda
• Wary of jihadists, Western countries warm to Assad
• Syria conflict: dozens die of starvation in besieged Damascus refugee camp
• Egypt Nationalists Ready to Join Syria Army against Rebels
• ISIL Controls Raqa, Kills Tawheed's Commander in Aleppo
• Syria says West talks to Damascus about Islamist rebels
• Syrian opposition divided over joining Geneva meet
• Lebanon 'fighting terrorism alongside Syria' – Lebanese FM
North America
• Quran 'Forbids' Violence to Spread Islam: 9/11 Mastermind
• US to give $1.4bn in financial aid to Egypt
• US Secretary of State Kerry pledges $380mn in aid to Syria
• US language association adds to Israel's boycott woes
Southeast Asia
• M'sian Muslims Must Respect Those Who Practise Other Faiths - Negri Sultan
• Federal Constitution outweighs any other law in Allah row, says Karpal
• STOP making fools of yourselves & hurting your own
South Asia
• Islamic Fundamentalists Terrorize Minorities in Bangladesh
• 16 Taliban militants killed, 30 IEDs seized in Afghan operations
• Afghanistan, France inaugurate first political, military commission in Paris
• NATO soldier killed in militants attack in eastern Afghanistan
Europe
• Hollande: 700 from France Fighting within Extremist Groups in Syria
• Four militants killed in Dagestan's Khasavyurt district – source
• Religious Leaders Must Fully Back Fight against FGM, Says Britain's Summit
• Germany, Iran 'unhelpful' in Kurdish peace process
• 'Geneva-2 gives all Syrians a chance to put an end to terrorism'- Syrian UN representative
Africa
• Marzouki - Tunisia Is Certainly a Country of Jihad but Against Poverty and Ignorance
• Police confirm 19 dead in Nigeria market blast
• Six soldiers killed in Somalia clashes
• UN says South Sudan army, rebels stealing humanitarian aid
• Tunisian Constitution, Praised for Balance, Nears Passage
• South Sudan battles rage in key oil town: Army
India
• ASI Team to Bring Back Buddha's Begging Bowl from Kabul
• India, Pakistan troops exchange sweets at LoC on Milad un Nabi
• MoS External Affairs Attends Curtain Raiser for Geneva-II
• Seminar on "Reformation in Muslim Society to eradicate crimes"
• NHRC to share findings on Muzaffarnagar riots with UP government on Jan 17
Pakistan
• No place for extremism, terrorism in Islam: PM Nawaz Sharif
• Man tries to self-immolate after jirga tells him to wed underage daughters
• Two Aman Committee volunteers killed in Khyber explosion
• Four militants killed during operation in Balochistan's Khuzdar
• Pakistan tops list of countries with most religious hostilities: Report
• Islamisation fears at top Pakistan University
Mideast
• Iran nuclear deal means 'surrender' for western powers, says Rouhani
• Jewish settler supporters allegedly set fire to part of West Bank mosque
• Turkish President Gül urges gov't to re-calibrate Syria policy
• Al-Qaeda affiliates kill Yemeni colonel: Officials
• Iranian news agency says the U.S. is secretly run by Nazi space aliens. Really
• Shi'ite-Sunni ceasefire takes hold in north Yemen
• Israel stops Palestinian PM Convoy for 'reckless driving'
Compiled by New Age Islam News Bureau
URL: https://www.newageislam.com/islamic-world-news/new-age-islam-news-bureau/a-series-of-car-bombs-in-baghdad-and-baquba-kill-at-least-52/d/35293
------------
Arab World
A series of car bombs in Baghdad and Baquba kill at least 52
Jan 15, 2014
Bomb attacks hit the Iraqi capital Baghdad and a village near the northern town of Baquba on Wednesday, killing at least 52 people, police and hospital sources said.
In the deadliest incident, a bomb blew up in a funeral tent where mourners were marking the death two days ago of a Sunni Muslim pro-government militiaman, police said. It killed 18 people and wounded 16 in Shatub, a village south of Baquba.
Two years after US troops left Iraq, violence has climbed back to its highest levels since the Sunni-Shi'ite bloodshed of 2006-2007, when tens of thousands of people were killed.
Al-Qaeda-linked militants are pursuing a campaign of attacks, mostly directed at state targets, Shi'ite civilians and Sunnis seen as loyal to the Shi'ite-led government.
Half a dozen car bombs exploded across the Iraqi capital on Wednesday, mostly in Shi'ite districts, killing 34 people and wounding 71, police and medics said.
The violence occurred amid a continuing standoff between the Iraqi army and Sunni militants who overran the city of Falluja west of Baghdad more than two weeks ago in a challenge to Prime Minister Nuri al-Maliki's government.
http://voiceofrussia.com/news/2014_01_15/A-series-of-car-bombs-in-Baghdad-And-Baquba-kill-at-least-52-police-4569/
-----------
Attack in northeast Baghdad kills 15, injures 18
Jan 15, 2014
At least 15 people have been killed and 18 others wounded in a bomb attack in a town northeast of the Iraqi capital, Baghdad.
According to security and medical sources, the attack took place in the town of Buhruz, some 60 kilometers northeast of Baghdad on Wednesday.
No group has claimed responsibility for the attack, but systematic bombings are a favorite tactic of al-Qaeda-linked groups that according to Iraqi officials seek to destabilize the country.
The incident is the latest in a string of attacks across Iraq that have left scores of people dead since the beginning of this year.
On Tuesday, at least 24 people were killed and dozens of others injured in bombings and shootings in Baghdad and Garma, 30 kilometers northwest of the capital, according to security and hospital sources.
Iraq is currently grappling with violence in its western province of Anbar which broke out on December 30, 2013, when the army removed an anti-government camp in the city of Ramadi.
Iraqi authorities said the camp was used as "headquarters for the leadership of al-Qaeda." The bloodshed later spread to the nearby city of Fallujah.
http://www.presstv.com/detail/2014/01/15/345750/bomb-attack-kills-15-in-baghdad/
---------
Gunmen win turf in Ramadi as Baghdad attacks kill 18
AFP | Jan 15, 2014
BAGHDAD: Sunni gunmen, including fighters linked to al-Qaida, made gains in the contested Iraqi city of Ramadi Tuesday in a setback for pro-government forces, as attacks killed 18 around the capital.
The clashes came after UN Secretary General Ban Ki-moon appealed to Iraqi leaders to address the "root causes" of nationwide unrest, echoing calls from diplomats for Baghdad to focus more on political reconciliation.
But Prime Minister Nuri al-Maliki has ruled out talks to resolve the standoff, as April 30 parliamentary elections loom and his government faces the worst protracted period of bloodshed since Iraq was emerging from a brutal Sunni-Shia sectarian war in 2008.
Parts of Ramadi and all of Fallujah, just 60 kilometres (40 miles) from Baghdad, fell out of government control more than two weeks ago, the first time militants have exercised such open control in major cities since the height of the insurgency that followed the US-led invasion of 2003.
In recent days, Iraqi forces and allied tribes had been retaking areas of Ramadi, the Anbar provincial capital, from militants and anti-government tribesmen. The latest clashes represent a setback for Baghdad and threaten to further prolong the crisis.
Gunmen, including those affiliated with the al-Qaida-linked Islamic State of Iraq and the Levant (ISIL), seized all or parts of a half-dozen neighbourhoods in the south and centre of the city in firefights that began late Monday evening and carried on into Tuesday, according to a police captain and an AFP journalist.
Two policemen were killed and five others wounded in the clashes, and three police vehicles set ablaze, according to Dr Ahmed al-Ani of the city's main hospital.
Sporadic clashes continued in the affected neighbourhoods Tuesday, while shelling struck the Andalus neighbourhood of central Ramadi and damaged houses, a police officer said.
Most civil servants had returned to work and many shops reopened, the AFP correspondent reported, but schools remained closed.
Gunfights also erupted in the Albubali area between Ramadi and Fallujah where security forces have repeatedly clashed with militants.
In Fallujah, government employees returned to work, but the city remained in the control of gunmen, an AFP journalist reported.
A doctor in the city's main hospital said at least 26 people were killed in Fallujah and surrounding areas over the past two weeks.
The army stayed on the city's eastern edge Tuesday. Shelling in the city wounded two people, witnesses said, while brief clashes could be heard in the city Monday evening.
Fighting erupted in the Ramadi area on December 30, when security forces cleared a year-old Sunni Arab anti-government protest camp.
The violence spread to Fallujah, and militants moved in and seized the city and parts of Ramadi after security forces withdrew.
ISIL has been active in the Anbar fighting, but so have anti-government tribesmen.
The army has largely stayed outside of Fallujah during the crisis, with analysts warning any assault on the city would likely cause significant civilian casualties.
In Baghdad, shootings and bombings across the capital and a nearby town killed 18 people, including a senior judge.
Authorities also found the bullet-riddled body of a young woman a day after attacks in and around the capital, including four car bombs against civilian targets, killed 30 people.
UN chief Ban urged Iraqi leaders to address the root causes of the unrest, and "ensure that there is nobody left behind. There should be political cohesion" and "social cohesion, and political dialogue, inclusive dialogue."
Ban's remarks, at a news conference with Maliki on Monday, echoed US calls for officials to focus on political reconciliation in addition to ongoing military operations.
But Maliki insisted that "what is happening in Anbar has no relation to Iraqi problems," and ruled out dialogue with jihadists.
"Dialogue with whom -- with al-Qaida? There is no dialogue with al-Qaida, and the Iraqi national decision is to end al-Qaida," Maliki said, referring to ISIL.
The Iraqi Red Crescent said it had provided humanitarian assistance to more than 8,000 families across Anbar but that upwards of 13,000 had fled Fallujah.
http://timesofindia.indiatimes.com/world/middle-east/Gunmen-win-turf-in-Ramadi-as-Baghdad-attacks-kill-18/articleshow/28817863.cms
------------
Clashes kill 11 on first day of Egypt vote
AP | Jan 15, 2014
CAIRO: A referendum on a new constitution laid bare the sharp divisions in Egypt six months after the military removed the elected Islamist president. Pro-army voters lined up Tuesday outside polling stations, singing patriotic songs, kissing images of Egypt's top officer and sharing their upbeat hopes for their troubled nation.
Despite heavy security, 11 people were killed in sporadic violence, with protesters burning tires and pelting police with rocks and firebombs to create just enough danger to keep many voters at home.
The two-day balloting will likely pave the way for a possible presidential run by the nation's top general after he ousted Islamist President Mohammed Morsi last July, setting off a fierce crackdown on Morsi's Muslim Brotherhood.
It's also a key milestone in a military-backed political roadmap toward new elections for a president and a parliament after the coup, which has left Egypt sharply divided between Brotherhood supporters in one camp, and the military, security forces in the other, as well as a large segment of a population exacerbated by three years of turmoil.
Amid a climate of fear and paranoia, authorities, the mostly pro-military media and a significant segment of the population are showing little or no tolerance for dissent. Campaigning for a "no" vote risked arrest by the police and Egyptians who have publicized their opposition to the charter, even just parts of it, are quickly labeled as traitors.
Some 1,60,000 soldiers and more than 200,000 policemen fanned out across the nation of some 90 million people to protect polling stations and voters against possible attacks by militants loyal to Morsi. Cars were prevented from parking or driving by polling stations and women were searched by female police officers. Military helicopters hovered over Cairo and other major cities.
Shortly before polls opened, an explosion struck a Cairo courthouse, damaging its facade and shattering windows in nearby buildings but causing no casualties in the densely populated neighborhood of Imbaba- a Brotherhood stronghold.
The Health Ministry said 11 people died and 28 were wounded in clashes that broke out between Morsi supporters and government security forces on the sidelines of voting in Cairo, the adjacent province of Giza and two provinces south of the capital, Bani Suef and Sohag.
Four of those were killed when gunfire broke out between police and gunmen on rooftops in Sohag, according to security officials. Three others were wounded, including a senior police officer.
A Morsi supporter also was shot to death as he and about 100 others tried to storm a polling station in the province of Bani Suef south of Cairo, said the officials, speaking on condition of anonymity because they were not authorized to talk to the media. It was not clear who was behind the shooting.
In Cairo's working class district of Nahya, pro-Morsi protesters shot at and pelted with rocks a polling station before closing all entrances with chains, scaring away voters and locking election officials inside, Mohammed Seragedeen, the judge in charge of the station, said.
Security forces later fired tear gas to disperse the protesters and allow voting to resume, he said.
The referendum is the sixth nationwide vote since the authoritarian Hosni Mubarak was toppled in a popular uprising in 2011, with the five others widely considered the freest ever seen in Egypt, including the June 2012 balloting won by Morsi. But this vote was tainted by criticism that many of the freedoms won in the anti-Mubarak revolution have vanished amid a fierce crackdown on the Muslim Brotherhood that has spread to others as the military-backed administration tries to suppress all dissent.
The new charter, drafted by a liberal-dominated committee appointed by the military-backed government, would ban political parties based on religion, give women equal rights and protect the status of minority Christians. It also gives the military special status by allowing it to select its own candidate for the job of defense minister for the next eight years and empowering it to bring civilians before military tribunals.
The charter is in fact a heavily amended version of a constitution written by Morsi's Islamist allies and ratified in December 2012 with some 64 percent of the vote but with a nationwide turnout of just over 30 percent.
The current government is looking for a bigger "yes" majority and larger turnout to win undisputed legitimacy and perhaps a popular mandate for military chief Gen. Abdel-Fattah el-Sissi, to run for president this year. El-Sissi has yet to say outright whether he plans to seek the nation's highest office, but his candidacy appears increasingly likely every day.
"The constitution is not perfect," said Ameena Abdel-Salam after she cast her ballot in Cairo's upscale Zamalek district. "But we need to move forward and we can fix it later."
Illustrating the high stakes, the government and the overwhelmingly pro-military media have portrayed the balloting as the key to the nation's security and stability. Hundreds of thousands of fliers, posters, banners and billboards urged Egyptians to vote "yes." People have been arrested for posters and campaigns calling for a "no" vote.
Long lines of voters began to form nearly two hours before polling stations opened in some Cairo districts, including Imbaba, where the blast promptly whipped up anti-Brotherhood sentiment with chants and shouting against the Islamist group.
Women and the elderly were heavily represented. The mood was generally upbeat, hostile toward the Brotherhood and hopeful that the charter would bring better days. In one women-only line in Cairo, voters sang the national anthem together as well as patriotic songs dating back to the 1960s. "El-Sissi is my president," they chanted as some jubilantly ululated.
Manal Hussein, who comes from a village below the Giza Pyramids plateau west of Cairo, wore a dress in the red, black and white colors of the national flag. Her daughter wore an Islamic veil in the same colors.
"This vote brings to an end the era of the Brotherhood, who divided us and turned family members against each other," Hussein said.
Outside a nearby polling station, 67-year-old Alaa al-Nabi Mohammed echoed a similar sentiment- that Egyptians have consigned Morsi and the Brotherhood's yearlong rule to the past.
"I am here to send a message to the world and to those who hate Egypt that we want to live and get our country back on its feet," he said.
The balloting is the first electoral test for the popularly backed coup that ousted Morsi and his Brotherhood. A comfortable "yes" vote and a respectable turnout would bestow legitimacy on the cascade of events that followed the coup while undermining the Islamists' argument that Morsi remains the nation's elected president.
The Brotherhood, now branded as a terrorist group, has called for a boycott of the vote. Morsi himself is facing three separate trials on charges that carry the death penalty.
The unprecedented security surrounding the vote follows months of violence that authorities have blamed on Islamic militants. In the six months since Morsi's ouster, there has been an assassination attempt on the interior minister and deadly attacks on key security officers, soldiers, policemen and provincial security and military intelligence headquarters.
"You must come out and vote to prove to those behind the dark terrorism that you are not afraid," Interim President Adly Mansour told reporters after he cast his ballot.
Morsi's supporters have promised massive demonstrations and have labeled the draft charter a "constitution of blood," but protests in several parts of the country drew only several hundred supporters.
The government has warned it would deal harshly with anyone interfering with the referendum.
Most of Egypt's minority Coptic Christians, who make up about 10 percent of the population, have backed the removal of Morsi and the charter in hopes of winning religious freedoms.
"Anyone who was raised in Egypt will choose this constitution," said Verta Nassif, a 70-year old Christian from Assuit, a stronghold of Islamists and home to a large Christian community south of Cairo.
There was a lone voice of dissent outside another polling station in Assiut.
"El-Sissi is a killer and his constitution is void," shouted a woman, who left the scene just before a security team arrived to look for her. At a nearby outdoor market, Hany Abdel-Hakeem was arguing with a vendor.
"I will not participate in anything I am not convinced of. And if I say anything against it, I will be arrested. Keeping silent is better."
http://timesofindia.indiatimes.com/world/middle-east/Clashes-kill-11-on-first-day-of-Egypt-vote/articleshow/28816902.cms
------------
Maliki to revive militia role against Al-Qaeda
Jan 15 2014
BAGHDAD – Iraqi Prime Minister Nouri Al-Maliki, in a striking change of course, is embracing the Sunni Muslim tribal fighters whose role in combating Al-Qaeda he had allowed to wither after US troops left two years ago.
Al-Qaeda-linked militants, feeding off widespread Sunni resentment at perceived mistreatment by his Shi'ite-led government, swept into the cities of Falluja and Ramadi two weeks ago in an embarrassing setback to Maliki.
His chances of a third term after a parliamentary election in April hang partly on his ability to project an image as a strong national figure who can impose security and stability.
Maliki has used Al-Qaeda's resurgence to muster foreign support for his government, which has otherwise disappointed the United States and allies by moving close to Iran and its failure to forge consensus with the once-dominant Sunni minority.
Full report at:
http://www.saudigazette.com.sa/index.cfm?method=home.regcon&contentid=20140115192568
------------
Wary of jihadists, Western countries warm to Assad
By REUTERS
Jan 15 2014
The intelligence services of some Western countries opposed to Syrian President Bashar Assad have visited Damascus to discuss security cooperation with his government, Syria's deputy foreign minister said in remarks broadcast on Wednesday.
"I will not specify (which countries) but many of them have visited Damascus, yes," the deputy minister, Faisal Mekdad, said in an interview with the BBC.
Mekdad said that the contacts appeared to show a rift between the political and security authorities in some countries opposed to Assad.
Western powers have supported the opposition with rhetoric but have backed away from material aid as Al-Qaeda-linked groups take advantage of a power vacuum in rebel-held regions.
Full report at:
http://www.jpost.com/Syria-Crisis/Wary-of-jihadist-groups-Western-countries-warm-to-Assad-338239
------------
Syria conflict: dozens die of starvation in besieged Damascus refugee camp
Jan 15, 2014
Dozens of children, elderly people and others displaced by the Syrian conflict have starved to death in a besieged camp in Damascus, according to reports.
The sprawling Yarmouk camp, in the southern suburbs of the city, is home to tens of thousands of Palestinian refugees and displaced Syrians who have been trapped under a year-long blockade.
"There are no more people in Yarmouk, only skeletons with yellow skin," said Umm Hassan, a 27-year-old resident and mother of two toddlers. "Children are crying from hunger. The hospital has no medicine. People are just dying." Her three-year-old daughter and two-year-old son were rapidly losing weight from lack of food, she added.
Full report at:
http://www.theguardian.com/global-development/2014/jan/14/syria-dozens-die-starvation-damascus-camp
---------
Egypt Nationalists Ready to Join Syria Army against Rebels
Jan 15 2014
TEHRAN (FNA)- Egypt's Arab Democratic Nasserist Party and other nationalist movements announced their readiness to join the Syrian army in the fight against foreign-backed militants there.
Sources in Egypt say the nationalist movements have realized that what is happening in Syria is a western plot and the West is using extremist groups against the Arab country, Al-Alam reported.
They say thousands of Egyptians from different political groups and the Egyptian National Guard are ready to foil this plot and join the Syrian army to help President Bashar al-Assad.
Nasserism is an Arab nationalist political ideology based on the thinking of late Egyptian leader Gamal Abdel Nasser.
Full report at:
http://english.farsnews.com/newstext.aspx?nn=13921025000453
------------
ISIL Controls Raqa, Kills Tawheed's Commander in Aleppo
Jan 15 2014
TEHRAN (FNA)- A commander in Tawheed Brigade, which belongs to the Islamic Front and antagonizes ISIL, was killed by an explosion in Aleppo.
The explosion took place in the brigade's headquarters in Daahrat Awad in Aleppo and left Hussein Taleb, his entourage and four other commanders dead, according to Al-Manar information.
Full report at:
http://english.farsnews.com/newstext.aspx?nn=13921025000283
------------
Syria says West talks to Damascus about Islamist rebels
Jan 15 2014
Western intelligence agencies have visited Damascus for talks on combating radical Islamist groups, Syria's deputy foreign minister has told the BBC.
Faisal Mekdad said there was a schism between Western security officials and politicians who are pressing President Bashar al-Assad to step down.
The growth of jihadist groups among rebels fighting President Assad has caused international concern.
The Syrian opposition says it has "a real dilemma" over the alleged links.
Khaled Saleh, spokesman for the Syrian National Coalition, told the BBC that if the reports of European intelligence contacts with Damascus were true, "it would show a clear contradiction between the words and actions of the Friends of Syria group" who had "clearly identified the Assad regime as a source of terrorism in the region".
Full report at:
http://www.bbc.co.uk/news/world-middle-east-25738178
------------
Syrian opposition divided over joining Geneva meet
Jan 15 2014
Divisions within the main Syrian opposition group, the Syrian National Coalition (SNC), are growing ahead of next week's peace talks amid promises by Britain and the United States to cease support if it fails to send a delegation.
The leader of the SNC, Ahmad Jarba, told U.N. Secretary-General Ban Ki-moon that his group would attend the Geneva II conference two months ago even though the members of the opposition group had not yet agreed on whether to attend the conference. The division came after Ban sent an invitation letter to SNC members for Geneva II.
Forty-four SNC members, including the leaders of seven Free Syrian Army (FSA) brigades, out of 121 have withdrawn from the coalition after it was revealed that Jarba had already agreed to attend the conference.
Full report at:
http://www.hurriyetdailynews.com/syrian-opposition-divided-over-joining-geneva-meet.aspx?pageID=238&nID=61049&NewsCatID=352
--------
Lebanon 'fighting terrorism alongside Syria' – Lebanese FM
Jan 15, 2014
In the run-up to the international conference on Syria, Foreign Minister Adnan Mansour has talked to the Voice of Russia about the situation in the country and hopes that Lebanon pins on the anticipated Geneva-2 peace talks.
Lebanon has been in a ten-month limbo to create a new government that would unite the country's many sects and political parties. Can we expect a result any soon?
Yes, we can. Lebanon is indeed going to create a new government that will merge different religious groups. As of now, we still have to sit through many negotiations and roundtables that are expected to thrash the whole matter out. The Lebanese are growing impatient because there are some old problems in the country that can only be resolved at the highest level.
Full report at:
http://voiceofrussia.com/2014_01_15/Lebanon-fighting-terrorism-alongside-Syria-Lebanese-FM-4545/
-----------
North America
Quran 'Forbids' Violence to Spread Islam: 9/11 Mastermind
January 15, 2014
WASHINGTON: The self-proclaimed mastermind of the September 11 attacks, Khalid Sheikh Mohammed, has released a manifesto claiming that the Quran forbids the use of violence to spread Islam.
The document, published Tuesday by The Huffington Post and Britain's Channel 4 News, marks Mohammed's first public communication since 2009, when the US government officially accused him of terrorism.
Mohammed, the most high-profile of the five men accused over the 2001 attacks that killed nearly 3,000 people on US soil, has been held at the US detention facility in Guantanamo Bay, Cuba since 2006.
In a major departure from his previous position, Mohammed said that "the Holy Quran forbids us to use force as a means of converting!"
He also tried in the 36-page document to convince his American captors, prosecutors, lawyers and members of his military tribunal to convert to Islam.
Full report at:
http://tribune.com.pk/story/659024/quran-forbids-violence-to-spread-islam-911-mastermind/
------------
US to give $1.4bn in financial aid to Egypt
Jan 15, 2014
United States Congress is prepared to allow President Barack Obama to restore $1.4 billion in aid to Egypt, which is on a political knife edge as the military-backed government bids to consolidate its rule. An issue inserted deep into a broad federal spending bill, which is expected to pass as early as Friday.
This aid would be provided if the US administration finds an accord that Egypt "has held a constitutional referendum, and is taking steps to support a democratic transition in Egypt". Washington withheld much of its aid, principally delivered in the form of payments to US arms manufacturers for deliveries to Egyptian forces, after a crackdown on opposition protesters last year.
Full report at:
http://voiceofrussia.com/news/2014_01_15/US-to-give-1-4bn-in-financial-aid-to-Egypt-3479/
----------
US Secretary of State Kerry pledges $380mn in aid to Syria
15 January, 2014
US Secretary of State John Kerry promised $380 million in additional humanitarian aid to Syria on Wednesday, Reuters reported. "I am… proud to announce today on President Obama's behalf a new announcement of an additional $380 million in assistance," Kerry told a donor conference in Kuwait.
http://rt.com/news/line/2014-01-15/#53985
---------
US language association adds to Israel's boycott woes
World Bulletin / News Desk
It was reported in Israel's Maariv newspaper that the Modern Languages Association in New York had agreed to boycott the Zionist state due to discriminatory behavior towards Palestinian students in higher education in the occupied West Bank territories.
The association declared that their decision was based on Israel's denial of entry to the West Bank by US academics who have been invited to teach, confer or conduct research at Palestinian universities.
Full report at:
http://www.worldbulletin.net/?aType=haber&ArticleID=126881
---------
Southeast Asia
M'sian Muslims must respect those who practise other faiths - Negri Sultan
Jan 15 2014
KUALA PILAH - Respect each individual's religion to avoid disharmony, Yang di-Pertuan Besar Negri Sembilan Tuanku Muhriz Tuanku Munawir today urged Malaysian Muslims during his investiture ceremony in conjunction with his 66th birthday.
In a packed Istana Besar Seri Menanti, here, Tuanku Muhriz said Islam as a religion teaches men to do good to each other regardless of their background and race.
"In a Malaysian context, the Constitution has set Islam as the official religion of the country without hindering others to practice their own religions,"
"With that, I urge Malaysian Muslims to continue living in harmony with each other and ensuring respect is given to others who practice different religions."
Full report at:
http://www.malaysia-chronicle.com/index.php?option=com_k2&view=item&id=214011:rare-voice-of-reason-msian-muslims-must-respect-those-who-practise-other-faiths-negri-sultan&Itemid=2#ixzz2rS8iBVFz
------------
Federal Constitution outweighs any other law in Allah row, says Karpal
Jan 15 2014
Using the Federal Constitution to justify usage of the word Allah by Sikhs, DAP chairman Karpal Singh (pic) said the constitution outweighs other laws passed by Parliament or state legislative assemblies.
"Article 4(1) declares the Federal Constitution to be the supreme law of the land and declares any law passed by Parliament or the state assemblies in the country after Merdeka day, which is inconsistent with it, to be void to the extent of the inconsistency," he said in a statement today.
Karpal, who is Bukit Gelugor MP, was responding to a statement on Monday by the Selangor state executive councillor in charge of Islamic affairs, Sallehin Mukhyi, that the Allah ban includes all non-Muslims, including Sikhs, despite the word Allah appearing 37 times in the Sikh's holy scriptures .
Full report at:
http://www.themalaysianinsider.com/malaysia/article/federal-constitution-outweighs-any-other-law-in-allah-row-says-karpal
------------
Stop Making Fools Of Yourselves & Hurting Your Own Minorities
Jan 15 2014
For nearly 200 years non-Muslim residents of present-day Malaysia used the Arabic and Bahasa word "Allah" to refer to God. Seven years ago, the government began an unnecessary and provocative push to ban them from doing so in print. Now Malaysian police are accusing a Catholic priest of sedition after he announced that churches in the state of Selangor would continue using the A word in their local-language services.
At the heart of the dispute is prominent Catholic priest Lawrence Andrew. In 2007, Home Minister Syed Hamid Albar banned Father Lawrence Andrew's church newspaper from printing "Allah." Father Andrew fought the ban in the courts and eventually lost in the Court of Appeal last October. In November, the sultan of Selangor took the campaign a step further and extended the ban to Bahasa-language Bibles and churches. Now Father Andrew is being investigated for violating the edict under the draconian Sedition Act.
Full report at:
http://www.malaysia-chronicle.com/index.php?option=com_k2&view=item&id=214401:stop-making-fools-of-yourselves--hurting-your-own-minorities-wsjs-stinging-allah-op-ed-to-umno-led-govt&Itemid=2#ixzz2rS9vL8Nl
------------
South Asia
Islamic Fundamentalists Terrorize Minorities in Bangladesh
Jan 15 2014,
Bangladesh's minorities have suffered a series of rapes, arson and vandalism at the hands of Jamaat-e-Islami.
The damage done to shops and houses still looks very fresh, even almost two weeks after they were ransacked. The badly twisted and torn tin shades of the shops and the damaged walls demonstrate the ferocity of the flash attacks on Hindu businesses in the Ramganj village of Nilphamari district in northern Bangladesh. Almost two weeks later the fear among the minority religious community is still so prevalent that they have not come back to reclaim their lost shops. Some of the families of the non-Muslim communities have taken shelter in a neighboring village and whenever they venture out they move in a group.
In the run up to the general elections and its aftermath, Bangladesh has seen a series of attacks on the Hindu minority in different parts of the country, especially the north. The Islamic fundamentalist group, Jamaat-e-Islami, has been largely responsible for this violence.
"Jamaat-Shibir (the student wing of Jamaat-e-Islami) has created a situation of panic in and around the village. They destroyed around 50 shops in my area and we had to flee to another village to take shelter," says Jaynto Mondol, a resident of Ramganj, whose family has been living in the village for generations. Speaking with The Diplomat, the 43 -year-old grocery shop owner feels that "the fundamentalist forces want to turn the nation into a purely Islamic country by throwing the Hindus out. We can't live in peace. For two weeks I have been taking shelter in a friend's house in a neighboring village, to save ourselves from the lurking danger."
Full report at:
http://thediplomat.com/2014/01/islamic-fundamentalists-terrorize-minorities-in-bangladesh/
---------
16 Taliban militants killed, 30 IEDs seized in Afghan operations
Jan 15 2014
At least 16 Taliban militants were killed and 3 others were injured during joint military operations by Afghan national security forces.
The interior ministry of Afghanistan following a statement said, the operations were conducted during the past 24 hours in various provinces of Afghanistan.
The statement further added that the operations were conducted jointly by Afghan police, Afghan army and Afghan intelligence operatives in Parwan, Baghlan, Kunduz, Kandahar, Zabul, Logar and Paktiya provinces.
Full report at:
http://www.khaama.com/16-taliban-militants-killed-30-ieds-seized-in-afghan-operations-3300
------------
Afghanistan, France inaugurate first political, military commission in Paris
Jan 15 2014
The first military and political commission was formally inaugurated between Afghanistan and France in Paris, within the framework of Friendship pact between the two nations.
The mixed commission was inaugurated during a visit by Afghan defense minister Gen. Bismillah Khan Mohammadi to Paris earlier this month.
The French embassy following a statement said, Gen. Bismillah Mohammadi was invited by French defense minister Jean-Yves Le Drian to Paris on 8th January to formally inaugurate the joint commission.
Full report at:
http://www.khaama.com/afghanistan-france-inaugurate-first-political-military-commission-in-paris-3296
------------
NATO soldier killed in militants attack in eastern Afghanistan
Jan 15 2014,
A service member of the NATO-led International Security Assistance Force (ISAF) was killed following militants attack in eastern Afghanistan on Tuesday.
ISAF following a statement said, "An International Security Assistance Force service member died following a direct fire attack by enemy forces in eastern Afghanistan today."
The statement did not disclose further information regarding the exact location of the incident and nationality of the deceased soldier.
Full report at:
http://www.khaama.com/nato-soldier-killed-in-militants-attack-in-eastern-afghanistan-3301
------------
Europe
Hollande: 700 from France Fighting within Extremist Groups in Syria
Jan 15 2014
TEHRAN (FNA)- French President Francois Hollande said 700 French nationals had left France to take part in the fighting alongside the extremist groups in Syria.
"A certain number of young Frenchmen and young foreigners living in France... are fighting in Syria -- 700 are listed, that's a lot. Some are dead," Hollande told a press conference in Paris on Tuesday, SANA reported.
Hollande called on the French authorities to take stringent measures to combat the "networks and havens that sustain terrorism", raising fears that those "fighters" could carry out attacks on France soil when they return home.
A report prepared by the Belgium intelligence and recently broadcast by the French TTA weekly bulletin showed that 4-5 thousand European nationals are fighting within the ranks of the takfiri groups in Syria and Iraq under the name of "jihad".
http://english.farsnews.com/newstext.aspx?nn=13921025000687
------------
Four militants killed in Dagestan's Khasavyurt district - source
Jan 15, 2014
Four suspected members of illegal armed units were killed in a special operation in the Khasavyurt district, a Dagestani police representative said. "The active phase of the operation is complete. Reportedly, four militants are dead. Sappers are examining the house they were hiding in," he said.
In his words, three Special Rapid Response Unit servicemen died and five policemen were injured in the special operation.
http://voiceofrussia.com/news/2014_01_15/Four-militants-killed-in-Dagestans-Khasavyurt-district-source-8408/
-----------
Religious Leaders Must Fully Back Fight against FGM, Says Britain's Summit
Jan 15 2014
Britain's first "faith summit" on female genital mutilation was taking place today in a new attempt to secure religious leaders' help in the fight against the barbaric practice.
Muslim, Christian and other religious leaders were all called to the Whitehall meeting. Officials said the main aim was to encourage them to exert their influence to change the views of followers who believe that mutilation is necessary — and to stop those who carry out cutting.
Government ministers were also hoping that the meeting would help to identify any obstacles hindering efforts to protect girls and allow them to pass on information about the measures that charities, police and others are taking to prevent the crime.
Full report at:
http://www.standard.co.uk/news/uk/religious-leaders-must-fully-back-fight-against-fgm-says-summit-9058483.html
------------
Germany, Iran 'unhelpful' in Kurdish peace process
Jan 15 2014
Countries like Germany and Iran are complicating Turkey's efforts to end a militant Kurdish insurgency at perceived injustice, Deputy Prime Minister Beşir Atalay said at an ambassador's conference on Jan. 13.
Expressing the government's intention to proceed with the peace process, Atalay said the matter was made more difficult by the upcoming local elections. The government is mulling a new democratization package, Atalay also said, while dismissing claims that the government was planning to announce a state of emergency.
The resolution process, also dubbed the peace process, refers to an ongoing government-led initiative aimed at ending the long-running Kurdish issue by ending the three-decade-old conflict between security forces and the Kurdistan Workers' Party (PKK).
Full report at:
http://www.hurriyetdailynews.com/germany-iran-unhelpful-in-kurdish-peace-process.aspx?pageID=238&nID=61048&NewsCatID=338
----------
'Geneva-2 gives all Syrians a chance to put an end to terrorism'- Syrian UN representative
Jan 15, 2014
Bashar Ja'afari, Syria's permanent representative to the United Nations, explained to the Voice of Russia why he had sent a letter to the UN Security Council and Secretary General, in which he accused Saudi Arabia's authorities of supporting terrorist groups active in the territory of the Arab Republic, as well as his expectations of the upcoming Geneva-2 peace conference.
In the official letters that you sent you accused Saudi Arabia of financing and supporting Al Qaeda in Syria. It was not the first time that Damascus has made such statements. Did you mention specific facts in your letters?
We have been living in war conditions for almost three years. And we have indeed raised the issue of extremism with the Security Council many times, as well as at the UN Counter-Terrorism Committee. We have many times pointed the attention of the international organization to the continuous active interference of the Saudi state in the internal affairs of a sovereign country. It is not simply financing terrorists, who are fighting in Syria, but also training them, arming them and sending them onto the Syrian territory.
Full report at:
http://voiceofrussia.com/2014_01_15/Geneva-2-gives-all-Syrians-a-chance-to-put-an-end-to-terrorism-Syrian-UN-representative-2254/
-----------
Africa
Marzouki - Tunisia Is Certainly a Country of Jihad but Against Poverty and Ignorance
Jan 15, 2014
Tunis — "Our responsibility towards martyrs requires us to acknowledge that, three years after the Revolution, the country is far from having fulfilled all the objectives for which the revolution's martyrs and wounded have sacrificed themselves ", said Caretaker President Moncef Marzouki on Monday.
In a TV address broadcast on Al-Wataniya channel, he declared "We have not yet asked those who destroyed the country and stole its wealth and those involved in corruption or torture for explanations. We did not manage to promote development either."
Marzouki said the fight against corruption, torture and tax evasion will be on top of priorities for the new government. However, he added, in spite of a stumbling regional development, hundreds of mega-projects have been carried out and others are underway. But today, Tunisia is entitled to boast about the fact that it has been the only one among countries facing transition to achieve a miracle by preserving democracy and the modernist model of Tunisians in a difficult situation, he indicated.
Full report at:
http://allafrica.com/stories/201401140788.html
----------
Police confirm 19 dead in Nigeria market blast
15 Jan 2014
A total of 19 people were killed in a car bomb attack on a busy market blamed on Boko Haram militants, police in Maiduguri, northeast Nigeria, said on Wednesday.
"From the latest tally at our disposal, the death toll stands at 19," Lawan Tanko, the police commissioner of Borno state, of which Maiduguri is the capital, told AFP.
The military said that Tuesday's blast, on a public holiday when people in the mainly Muslim city were celebrating the birth of the Prophet Mohammed, was the work of the banned Islamist group.
Full report at:
http://english.ahram.org.eg/NewsContent/2/9/91614/World/International/Police-confirm--dead-in-Nigeria-market-blast.aspx
------------
Six soldiers killed in Somalia clashes
World Bulletin / News Desk
Jan 15 2014
Six government soldiers were killed in the early hours of Wednesday in violent clashes with fighters from the al-Qaeda-allied al-Shabaab group in the southern Middle Shebelle region, an eyewitness told Anadolu Agency.
Mohamed Hussein, a resident of the Middle Shebelle district of Mahaday said that a group of al-Shabaab fighters staged a surprise attack late Tuesday night on a government army unit stationed on the outskirts of the district. The ensuing fire exchange left six soldiers dead and four others injured.
Full report at:
http://www.worldbulletin.net/?aType=haber&ArticleID=126918
--------
UN says South Sudan army, rebels stealing humanitarian aid
Jan 15 2014
U.N. Secretary-General Ban Ki-moon accused South Sudan's army and rebels led by former Vice President Riek Machar of stealing food aid and vehicles used to deliver humanitarian relief as the country teeters on the brink of civil war.
"(Ban) is alarmed by the rising number of fatalities resulting from the continuing fighting in South Sudan, including reports received on 14 January about the deaths of 200 civilians who drowned in the River Nile while fleeing hostilities in Malakal," the U.N. press office said.
A government spokesman said the people died as they took to the river to flee clashes in Malakal, a major transit point and administrative center of Upper Nile state.
"(Ban) strongly condemns the commandeering of humanitarian vehicles and the theft of food stocks and other relief items by both Government and anti-Government forces," Ban's press office said in a statement.
Full report at:
http://www.trust.org/item/20140115022207-aaido/?source=hptop
------------
Tunisian Constitution, Praised for Balance, Nears Passage
Jan 15 2014
TUNIS — Tunisia's National Constituent Assembly is close to passing a new Constitution that legislators across the political spectrum, human rights organizations and constitutional experts are hailing as a triumph of consensus politics.
Two years in the making and now in its third draft, the charter is a carefully worded blend of ideas that has won the support of both Ennahda, the Islamist party that leads the interim government, and the secular opposition. It is being hailed as one of the most liberal constitutions in an Arab nation.
"They finally found some equilibrium," said Ghazi Gherairi, secretary general of the International Academy of Constitutional Law in Tunis, the capital. "It is a result of consensus, and this is new in the Arab world."
Full report at:
http://www.nytimes.com/2014/01/15/world/africa/tunisian-constitution-praised-for-balance-nears-passage.html?hpw&rref=world
------------
South Sudan battles rage in key oil town: Army
Jan 15 2014
South Sudan's military battled rebels in the streets of the key northern oil town of Malakal Wednesday, the army said, as conflict in the world's newest nation entered its second month.
The battle for Malakal, the main town in Upper Nile state, is now turning into one of the most bitter in the conflict, with the United Nations reporting tank battles in the streets.
"There is heavy fighting in Malakal," army spokesman Philip Aguer said, dismissing rebel claims they had taken control of the town.
Rebel forces staged a fresh attack Tuesday to seize the town, which has already changed hands twice since the conflict began, with rebel spokesman Lul Ruai Kong, boasting the insurgents had "recaptured Malakal".
Full report at:
http://english.ahram.org.eg/NewsContent/2/8/91602/World/Region/South-Sudan-battles-rage-in-key-oil-town-Army.aspx
------------
India
ASI team to bring back Buddha's begging bowl from Kabul
PTI | Jan 14, 2014
NEW DELHI: Senior officials of Archaeological Survey of India (ASI) will visit Kabul by this month-end to examine the huge 400kg begging bowl, said to belong to Gautam Buddha, and then initiate the process of bringing the relic back to India.
ASI additional director general BR Mani told PTI that the team of senior officials will study the bowl, a huge stone vessel currently displayed at the National Museum of Afghanistan, and initiate the process of bringing it back.
Asked about the number of officials in the team, Mani said, "It could be two or more."
However, he hastened to add, "The team will be selected and sent with the approval of the culture ministry and external affairs ministry."
Full report at:
http://timesofindia.indiatimes.com/india/ASI-team-to-bring-back-Buddhas-begging-bowl-from-Kabul/articleshow/28799047.cms
------------
India, Pakistan troops exchange sweets at LoC on Milad
AHMED ALI FAYYAZ
For the first time since a fresh spell of the border skirmishes began in October 2012, lower- and middle- ranking officers of the Indian and Pakistani Armies on Tuesday held flag meetings and exchanged greetings, and sweets at the LoC in Jammu and Kashmir on the occasion of Eid-e-Milad-un-Nabi, the birth anniversary of Prophet Muhammad.
Defence sources said ahead of a possible meeting between the Directors General of the Military Operations of the two countries "in near future", officers of the ranks company commanders held a flag meeting somewhere along the LoC in Kargil sector. Later, an official release from the Army said: "A flag meeting between Indian and Pakistan soldiers was held in the Kargil sector today. The meeting was organised by the Indian side on the occasion of Milad-un-Nabi to extend best wishes and greetings to the Pakistan Army soldiers. The meeting was conducted in a cordial manner with pleasantries and gifts being exchanged by the two sides."
Full report at:
http://www.thehindu.com/news/national/india-pakistan-troops-exchange-sweets-at-loc-on-milad/article5577319.ece
--------
MoS External Affairs Attends Curtain Raiser for Geneva-II
SANDEEP DIKSHIT
Jan 15, 2014
The second "High Level International Pledging Conference for Syria'' on Wednesday is being held under UN's initiative to address critical humanitarian needs for the Syrians
Minister of State for External Affairs E. Ahamed is leading an Indian delegation for an aid conference on Syria being hosted by Kuwait.
The meet will serve as a useful curtain raiser and sounding board for many countries like India that have been invited for next week's Geneva-II international meet for a political solution to end the Syrian civil war but are not in the first ring of countries which are already holding confabulations at various levels.
Full report at:
http://www.thehindu.com/news/international/ahamed-attends-curtain-raiser-for-genevaii/article5577665.ece
------------
Seminar on "Reformation in Muslim Society to eradicate crimes"
Jan 15, 2014
Shariath Committee for women if organizing a seminar on Reformation in Muslim Society to eradicate crimes at 2 p.m. on Wednesday, 15th January at Khaja Mansion Function Hall, Masab Tank, Hyderabad. Maulana Syed Mohammed Wali Rahmani, Convener Islah-e-Muashira Committee and Secretary, All India Muslim Personal Law Board will preside over the seminar.
Prof. Jameelunnisa, Dr. Asma Zohra, Ms. Shameem Fatima, Prof. Rafeeq Unnisa, Ms. Tahneyath Athar will address the seminar. Women and College girls are requested to attend the seminar.
http://www.siasat.com/english/news/seminar-%E2%80%9Creformation-muslim-society-eradicate-crimes%E2%80%9D
----------
NHRC to share findings on Muzaffarnagar riots with UP government on Jan 17
Ashish Tripathi,TNN | Jan 15, 2014
LUCKNOW: National Human Rights Commission Justice KG Balakrishnan on Wednesday said that the commission will meet senior Uttar Pradesh government officials on January 17 to share its findings on riot hit Muzaffarnagar.
Justice Balakrishnan, who was in Lucknow to inaugurate a three day camp in which officials will hear cases related to the state, said "NHRC teams visited Muzaffarnagar thrice and their findings, observations and recommendations will be shared with senior state government officials during a meeting with them on January 17," he said.
He said that the commission is continuously endeavouring to promote culture of human rights in the country. Despite the laws in place and the best efforts of the commission, he added, the situation of human rights does not present a colourful picture in the country and a lot needs to be done. It is also monitoring issues relating to socio-political, cultural and economic rights as well as implementation of various welfare-oriented flagship programmes, he said, adding that such visits help the commission in disposing of long-pending cases and sensitizing officials.
Full report at:
http://timesofindia.indiatimes.com/india/NHRC-to-share-findings-on-Muzaffarnagar-riots-with-UP-government-on-Jan-17/articleshow/28844088.cms
------------
Pakistan
No place for extremism, terrorism in Islam: PM Nawaz Sharif
Jan 15 2014
Prime Minister Muhammad Nawaz Sharif has said that Islam is a religion of peace and tolerance and there is no space for extremism, sectarianism and terrorism.
In his message on 12th Rabiul Awal, 1435 Hijrah in connection with Eid Milad-un-Nabi, the Prime Minister congratulated the countrymen on the auspicious event, saying that it was indeed a great blessing of Almighty Allah Who had sent Hazrat Muhammad (Peace be Upon Him) for the guidance of whole humanity. "That we have sent not thee (O Muhammad) but as a mercy to the whole of humankind, as a mercy to all the world," the Holy Quran defined the purpose of sending the Holy Prophet (PBUH).
The Prime Minister said that this day reminded us to lead our lives according to the teachings of the Holy Prophet (Peace be Upon Him) and the Islamic injunctions.
The Prime Minister said that the day marked the birth anniversary of the Holy Prophet (PBUH), who brought with him the Holy Quran which contained a complete code of life with comprehensive guidelines and directions for a successful life.
Full report at:
http://www.nation.com.pk/national/14-Jan-2014/no-place-for-extremism-terrorism-in-islam-pm
---------
Man tries to self-immolate after jirga tells him to wed underage daughters
Jan 15 2014
SUKKUR: After being ordered by a jirga to marry his two underage daughters to the sons of a policeman, Sanaullah Banglani – an alleged 'Karo' – tried to set himself on fire in front of Jacobabad Press Club as a final form of protest.
A jirga held on Sunday in Gul Sher Kandrani village under the presidency of influential landlord Jahangir Banglani gave the verdict against Sanaullah. The six-month long Karo-Kari dispute between police constable Abdul Samad Banglani and Sanaullah started when the policeman allegedly murdered his two wives on the suspicion that they were having an affair with Sanaullah.
Fearing for his life, Sanaullah fled to Balochistan and only returned a few days back. Sources claimed that the police deliberately toned down the case against Abdul Samad so that he could not only escape the consequences for murdering his wives but could also continue to perform his duties as a police constable.
Full report at:
http://tribune.com.pk/story/658666/man-tries-to-self-immolate-after-jirga-tells-him-to-wed-underage-daughters/
------------
Two Amn Committee volunteers killed in Khyber explosion
2014-01-15
KHYBER: A roadside remote-controlled bomb blast in Khyber Wednesday killed two volunteers of the Amn Committee, DawnNews reported.
Unknown militants installed a remote-controlled bomb at a roadside in Khyber's Zakakhel area near a barricaded checkpost of Amn Committee. The bomb went off with a loud explosion. Subsequently, two Amn Committee volunteers were killed.
Following the explosion, security personnel cordoned off the area and a probe into the incident went underway.
Full report at:
http://www.dawn.com/news/1080506/two-amn-committee-volunteers-killed-in-khyber-explosion
------------
Four militants killed during operation in Balochistan's Khuzdar
2014-01-15
KHUZDAR: At least four militants were killed Wednesday during an operation conducted by security personnel in Balochistan's troubled Khuzdar district, police said.
Ali Ahmed Kurd, a levies official, told Dawn.com that Frontier Corps (FC) and levies personnel conducted a joint operation in the Zaidi area of Khuzdar. He said four militants were killed and six were arrested during the operation.
"Militants resisted the operation, however, security personnel successfully fought them," Kurd added.
He said one hostage was also recovered from the safe haven of militants.
Security forces moreover seized a huge quantity of arms and ammunition from the militants' possession.
Full report at:
http://www.dawn.com/news/1080513/four-militants-killed-during-operation-in-balochistans-khuzdar
-----------
Pakistan tops list of countries with most religious hostilities: Report
January 15, 2014
Globally, acts of religious hostility hit a six-year high in 2012 with Muslims and Jews suffering most hostility. PHOTO: FILEPakistan's score features in the 'very high' range in both indices. SOURCE: PEWFORUM.ORG
A report placed Pakistan at the top of a list of 198 countries most suffering from social hostilities involving religion, by the end of 2012.
The Pew Research Center's report issued two indices, based on statistics from the years 2007-2012:
1) The Government Restrictions Index (GRI), which measures government laws, policies and actions that restrict religious beliefs and practices.
2) The Social Hostilities Index (SHI), which measures acts of religious hostility by private individuals, organisations or groups in society.
Full report at:
http://tribune.com.pk/story/659005/pakistan-tops-list-of-countries-with-most-religious-hostilities-report/
------------
Islamisation fears at top Pakistan university
AFP
Jan 15 2014
ISLAMABAD (Jan 15, 2014): The Pakistan studies lecturer is in mid-flow when his students stand and rush for the door - his class interrupted yet again by the call to prayer.
"They won't come back for at least 30 minutes and some of them even decide not to return to class," Sajjad Akhtar said, gathering his notes and sitting down to wait for his students to return.
At Quaid-i-Azam University, rated the best public university in Pakistan and the best Pakistani university in Asia, this is an everyday reality across all academic departments.
The university grants a 15-minute break for prayers but any student is allowed to get up as soon he hears the call to prayer in what critics call a chaotic interruption of academic life.
They say increased Islamisation in Pakistan's top teaching institutes and among the growing middle classes is helping to dumb down academic standards and restrict students' social life.
Full report at:
http://www.thesundaily.my/news/930627
------------
Mideast
Iran nuclear deal means 'surrender' for western powers, says Rouhani
Jan 15, 2014
President Hassan Rouhani has praised a landmark nuclear deal struck in Geneva as a victory for Iran, telling a crowd it in effect meant the "surrender" of western powers to his country's demands.
His comments were part of the moderate Rouhani's efforts to bring around hardliners who claim the deal tramples on Iran's enrichment rights.
Last week, the six-nation group – the five permanent members of the UN security council plus Germany – and Iran agreed to start implementing the terms of the November deal later this month.
Full report at:
http://www.theguardian.com/world/2014/jan/14/iran-nuclear-deal-surrender-western-powers-rouhani
-----------
Jewish settler supporters allegedly set fire to part of West Bank mosque
Jan 15 2014
DEIR ISTIYA, West Bank, Jan 15 (Reuters) - A mosque in the Israeli-occupied West Bank was partly set on fire on Wednesday in what Palestinian residents said was an attack by Jewish settlers living nearby.
The main gate of the mosque in Deir Istiya village and some of the carpeting inside were charred by the flames. Graffiti in Hebrew, reading "Revenge for spilled blood" and "Arabs Out", was scrawled on an outside wall and a door.
Such slogans have been used in previous attacks on Palestinian property which police suspect were carried out by settlers.
The incident comes at a delicate time in Israeli-Palestinian peace talks, which were revived last year and are set to expire in April. The United States is trying, with little obvious success, to narrow gaps between the two sides.
Full report at:
http://www.trust.org/item/20140115072150-29oh8/?source=hpbreaking
------------
Turkish President Gül urges gov't to re-calibrate Syria policy
Jan 15 2014
Turkey should re-calibrate its Syrian diplomacy and security policies in the face of realities, President Abdullah Gül urged Jan. 14 in his address to Turkish ambassadors convened in Ankara for an annual conference.
"The key for the settlement of both internal and external issues is common sense, collective mind, dialogue and the empathy. I am of the opinion that we should re-calibrate our diplomacy and security policies given these facts in the south of our country and given the threat perception of (political) centers around us," Gül advised. Foreign Minister Ahmet Davutoğlu was also present during Gül's speech.
Full report at:
http://www.hurriyetdailynews.com/turkish-president-gul-urges-govt-to-re-calibrate-syria-policy.aspx?pageID=238&nID=61053&NewsCatID=338
------------
Al-Qaeda affiliates kill Yemeni colonel: Officials
Jan 15, 2014
A Yemeni military official has been assassinated by al-Qaeda-affiliated militants in the southern province of Hadramout, according to security officials.
On Tuesday, Abd al-Ghani al-Muqalih, the general manager of a military-affiliated corporation, was killed in a drive-by shooting by two gunmen, the officials believed to be from al-Qaeda.
The officials, who were speaking on condition of anonymity, said authorities launched an investigation into the killing.
Full report at:
http://www.presstv.com/detail/2014/01/15/345652/yemeni-colonel-killed-by-alqaeda/
-----------
Iranian news agency says the U.S. is secretly run by Nazi space aliens. Really
Jan 15 2014
Iran's semi-official news outlets have something of a reputation for taking conspiracy theorism to the next level. They've written on Israel's secret plans to annex Iraq, the conspiracy by Western media to fabricate quotes by Iranian President Hassan Rouhani condemning the Holocaust and the secret Jewishness of the British royal family. You may notice a certain theme here.
On Sunday, the hard-line semi-official Fars News dropped one of its biggest bombshells yet: The United States government has been secretly run by a "shadow government" of space aliens since 1945. Yes, space aliens. The alien government is based out of Nevada and had previously run Nazi Germany. It adds, for timeliness, that the controversial NSA programs are actually a tool for the aliens to hide their presence on Earth and their secret agenda for global domination. This is all asserted as incontrovertible fact with no caveats.
Full report at:
http://www.washingtonpost.com/blogs/worldviews/wp/2014/01/13/iranian-news-agency-says-the-u-s-is-secretly-run-by-nazi-space-aliens-really/
------------
Shi'ite-Sunni ceasefire takes hold in north Yemen
Jan 15 2014
SANAA (Reuters) - Fighting in north Yemen between Shi'ite Muslim Houthis and Sunni Salafis stopped on Saturday as a ceasefire deal took hold, according to a presidential committee trying to help end the conflict.
More than 100 people have been killed since violence erupted on October 30 when the Houthi rebels who control much of Saada province on the Saudi border accused Salafis in the town of Damaj of recruiting thousands of foreign fighters to prepare to attack them.
The Salafis say the foreigners are students seeking to deepen their knowledge of Islam.
A number of previous ceasefires have failed to stick. But Yehia Abuesbaa, head of the committee, said the latest had a better chance of holding because it included all factions involved in the fighting in Saada and adjacent provinces.
Full report at:
http://www.thestar.com.my/News/World/2014/01/12/Ceasefire-holds-between-Shiite-and-Sunni-fighters-in-north-Yemen/
------------
Israel stops Palestinian PM convoy for 'reckless driving'
AFP | Jan 15, 2014
RAMALLAH: Israeli police pulled over the convoy of Palestinian premier Rami Hamdallah on Tuesday for "reckless driving" in a move the Ramallah government blasted as harassment, saying he was deliberately targeted.
"An Israeli military vehicle accompanied by police and settlers stopped Rami Hamdallah's convoy today between Ramallah and Nablus," government spokesman Ihab Bseiso told reporters in Ramallah, saying the convoy was held up for about an hour.
Hamdallah was informed that he personally could leave but that his seven bodyguards must stay behind, but he refused until all of them were free to go, Bseiso said.
Full report at:
http://timesofindia.indiatimes.com/world/middle-east/Israel-stops-Palestinian-PM-convoy-for-reckless-driving/articleshow/28807996.cms
-----------
URL: https://www.newageislam.com/islamic-world-news/new-age-islam-news-bureau/a-series-of-car-bombs-in-baghdad-and-baquba-kill-at-least-52/d/35293