New Age Islam News Bureau
22 Jul 2020
• Ban on Qaradawi Urged by French Commission into Islamist Radicalisation
• Coronavirus Punishment by God, Will Disappear If Muslims Offer Namaz: Samajwadi Party MP
• Mecca Authorities Lift Lower Part of Kaaba's Kiswa Cover Ahead of Hajj
• Makkah Grand Mosque to Remain Closed During Eid Al-Adha To Stop Virus Spread
• Afghan Girl, Qamar Gul, Kills Two Taliban Fighters,Wounds Several More After Parents Murdered
• Trump Likens US Cities with Pro-Justice Rallies to Afghan Towns
• Amnesty Slams 'Barbaric' Caning Sentences Given to Rohingya Muslims By Malaysia
--------
Pakistan
• A Rare Buddha Statue Destroyed on Local Muslim Cleric's Order in Pakistan
• After Finding Life-Size Buddha Statue, Pak Begins Archaeological Investigations To Find More • Traces Of Gandhara Civilization
• Pakistani Journalist Home Safe After Abduction That Lasted 12 Hours
• Journalist released after outcry over abduction
• Military top brass reaffirms resolve to thwart threats to national security
--------
Europe
• Ban on Qaradawi Urged by French Commission into Islamist Radicalisation
• France Slams 'Unacceptable' Chinese Imprisonment of Uighurs
• Daughter of Beheaded Aid Worker Says Shamima Begum A 'Ticking Time Bomb'
• UN urges Azerbaijan, Armenia to avoid 'disastrous' full conflict
• Pompeo and Johnson discuss China, Iran and Middle East peace process
• Trial Begins in Germany Over Synagogue Attack on Yom Kippur
--------
India
• Coronavirus Punishment by God, Will Disappear If Muslims Offer Namaz: Samajwadi Party MP
• Muslim MLAs of Maharashtra Likely to Meet Pawar Over Restrictions on Eid-Ul Adha Celebrations
• 'Risk of locust swarms migrating to Indo-Pakistan border from Somalia': UN agency
• J&K: Militant hideout busted in Rajouri; huge cache of arms, Pika gun, seized
--------
Arab World
• Mecca Authorities Lift Lower Part of Kaaba's Kiswa Cover Ahead of Hajj
• Makkah Grand Mosque to Remain Closed During Eid Al-Adha To Stop Virus Spread
• Slain Iraqi al-Hashemi's papers expose PMU criminal activities in Basra, Salahuddin
• Missing Saudi Arabian man found dead in desert, died while praying
• Egypt army kills 18 terrorists in North Sinai
• Qatar's Hezbollah funding exposed by whistle-blower contractor
• Egypt's Sisi wins parliamentary approval for possible Libya intervention
--------
South Asia
• Afghan Girl, Qamar Gul, Kills Two Taliban Fighters,Wounds Several More After Parents Murdered
• 25 Taliban Fighters, Including Pakistani Nationals Killed By Security Forces In Kandahar
• Suspected Taliban Attacks Kill Over A Dozen Afghan Security Personnel
• Pakistani National ID cards recovered from militants killed in Kandahar operations
• Taliban suicide attack kills eight Afghan troops, wounds nine
--------
North America
• Trump Likens US Cities with Pro-Justice Rallies to Afghan Towns
• Biden Pledges to End Trump's 'Muslim Ban' On First Day In Office
• President Trump threatens defense bill veto over Confederate names, Afghan policy
• US's Pompeo repeats widely-disregarded appeal for arms embargo on Iran
• US 'maximum pressure' against Iran failed: Washington Post
• Judge allows lawsuit challenging US terror watchlist to proceed
--------
Southeast Asia
• Amnesty Slams 'Barbaric' Caning Sentences Given to Rohingya Muslims By Malaysia
-----
Mideast
• Erdogan: Turkey Will Remain in Syria 'Until the People Are Free'
• Dozens of anti-government protesters arrested in Jerusalem
• Spokesman: Iraqi PM's Visit to Iran Aimed at Broadening Economic Ties, Anti-Terrorism Cooperation
• FM Zarif: Extension of Iran-Russia Long-Term Treaty on Agenda
• Iraqi MP: No Request from Baghdad by Tehran to Mediate for Ties with US, S. Arabia
• Iran says explosion near military site due to accident, ruling out Israel involvement
• Israel probes Palestinian Jerusalem governor over 'terrorism'
--------
Africa
• Trial of Sudan's Ousted President Omar Al-Bashir For 1989 Coup Postponed
• Jordan to allow tourists from low-risk countries to visit in groups
Compiled by New Age Islam News Bureau
URL: https://www.newageislam.com/islamic-world-news/a-rare-buddha-statue-destroyed/d/122439
--------
A Rare Buddha Statue Destroyed On Local Muslim Cleric's Order In Pakistan
By Sana Sikander
21st July 2020
Islamabad: Four persons have been arrested in Pakistan's northwest Khyber-Pakhtunkhwa province for vandalising a rare statue of Gautam Buddha discovered during excavation at an agriculture farm, police said on Saturday.
The statue that was discovered in tehsil Takhtbai of Mardan district was destroyed on the orders of a local Maulvi (prayer leader), local residents said.
Four suspects have been arrested and an FIR under the antiquity act has been filed, police said.
The arrests were made after a video showing people damaging the statue with hammers went viral on social media.
Director of Archaeology Department Khyber-Pakhtunkhwa Abdul Samad Khan expressed anguish over the incident and assured that proper action would be taken against the culprits involved in damaging the rare statue.
Khyber Pakhtunkhwa's old name is Ghandhara and the region is a highly revered place for the followers of Buddhism.
In 2017, two rare and ancient Buddha statues were unearthed at an archeological site in Bhamala in Hariput district. The largest ever statue found at the site depicts the death of Buddha and the second statue was a Buddha with a double halo.
The statue depicting the death scenario was the oldest of its kind in the world. It was also verified by the American laboratory which identified it as older than third century BC.
Peshawar Museum is also known for displaying one of the world's largest collection of architectural pieces on Buddha.
A couple of years ago, the museum's tallest statue of Buddha in schist stone was transported to Switzerland for display there for 100 days at an international exhibition.
https://www.siasat.com/buddha-statue-destroyed-on-muslim-clerics-order-in-pakistan-1926973/
--------
Ban on Qaradawi urged by French commission into Islamist radicalisation
Damien McElroy
July 21, 2020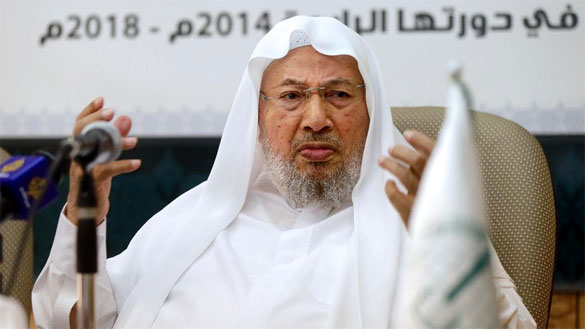 Yusuf Al Qaradawi is a leading Muslim Brotherhood figurehead based in Qatar. Reuters
-----
A French commission of inquiry has called for the leading Muslim Brotherhood ideologue Yusuf Al Qaradawi and his supporters to be barred from France, as it puts forward recommendations to reduce the group's influence.
The 44 recommendations in the report on Islamist radicalisation, presented to the French Senate, addressed the Muslim Brotherhood's strategy of infiltration to control organisations, societies and even state-funded institutions such as schools.
The second-largest faith in France was not the focus of the report. It said it insisted on making a distinction from the ideology of "l'islamisme" as its central challenge.
"Islamist radicalisation is driven in particular by a political project, 'Islamism', supported by states, groups or individuals," it said.
The growth of the Muslim Brotherhood, which was believed to control about 150 French mosques and hundreds of other institutions, posed a particular threat.
It said the group drew support from Qatar and Turkey as it expanded its activities.
The recommendation under the headline "Know, Track and Avoid the Activities of Radical Islam" related to Al Qaradawi in Doha.
"To fight against the influence of the Muslim Brotherhood, there should be a review by the minister of the interior of the possibility of pronouncing an administrative ban on territory against Yusuf Al Qaradawi and the ideologists of this movement," it said.
The ban would severely limit the activities of those deemed to be working with Al Qaradawi and allow restrictions against the publication of his writings.
One of the scores of expert witnesses, the author Emmanuel Razavi, said the action would have to go wider than the Muslim Brotherhood leadership to address the community groups that had fallen under its control.
"I am not a legislator but we must start by closing the 600 associations under the 1901 law linked to the Muslim Brotherhood in France, which form the other end of the terrorist chain," Mr Razavi said.
French President Emmanuel Macron has said a major policy initiative is in the works to ensure that France is not divided between communities, where some segments of society become closed off from the mainstream.
While the Muslim Brotherhood exploits feelings of victimisation and inequality, it also seeks to recruit elite followers who can exert powerful influence over state-backed bodies.
"Everywhere, we have to look at who is doing what in this country, to make sure to stop this organisation at the grass roots," said Jacqueline Eustache-Brinio, a centre-right senator who was rapporteur for the inquiry.
"For the municipal authorities, we have seen the entryism of a certain number of activists who came there to bring voices on behalf of a community and we must fight against that."
The inquiry indicated that the establishment of the Muslim council Conseil Francais du CulteMusulman had been a mistake as it provided a platform for brotherhood influence at a national and departmental level.
In particular the collective campaign on Islamophobia by the council promoted the Brotherhood.
"Under the guise of Islamophobia, political Islam has been able to prosper by the make-belief that it could be non-violent," witness Mohammed Sifaoui told the inquiry.
Sounding an alarm call for France's young, the report said the state needed to respond to the situation in schools, sports clubs and youth groups.
"France is fortunate to be able to rely on 1.5 million associations, mobilising between 16 and 20 million volunteers," it said. "In many ways, they are irreplaceable, especially in the youth field."
It said the misconception that sports associations were a bulwark against radicalisation should be demolished.
"Until recently, the issue of radicalisation and community and religious separatism was not a big factor in the sporting world either for the state, federations or even professional and associative clubs," the report said.
"The commission of inquiry notes that despite the progress made in terms of training to fight radicalisation and religious separatism, it remains insufficient facing players involved in sports."
The report also expressed concern over the rising number of children engaged in schooling at home, outside the regulated national curriculum, which rose by 20 per cent in the 2018-2019 school year – even before the pandemic hit.
It said there was growing mistrust in the state shown by parents and some wanted to detach their children from the national system.
The French Education Minister, Jean-Michel Blanquer, warned the seeds of future danger could be sown in the trend.
"The 2010s saw a sharp increase in the number of requests to open schools outside the system," Mr Blanquer said.
"We must remain very vigilant about the quality of education and the risks of Islamist radicalisation or sectarian drift."
https://www.thenational.ae/world/ban-on-qaradawi-urged-by-french-commission-into-islamist-radicalisation-1.1052633
--------
Coronavirus Punishment by God, Will Disappear If Muslims Offer Namaz: Samajwadi Party MP
By Arnima Gaur
21 July 2020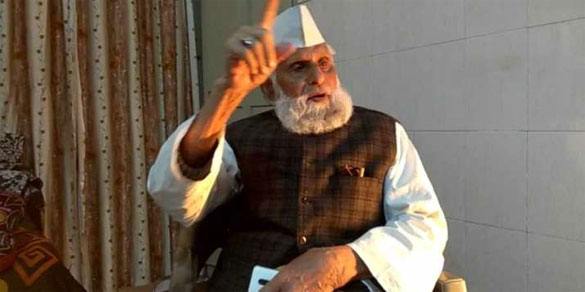 COVID-19 will disappear if muslims allowed to offer namaz in mosques, says MP Shafiqur Rahman
-----
The saga of Indian politicians and their strange cures for fighting Covid-19 continues.
The novel coronavirus will disappear if Muslims are allowed to offer Namaz at mosques, said Shafiqur Rahman, Samajwadi Party MP on Monday.
Bakra Eid festival is on August 12 and Rahman demanded that markets should be opened for this festival. He represents the Sambhal constituency in UP. He also said that coronavirus is a punishment from God for people's sins.
The MP also said that markets should be opened in the first week of August so that people can buy animals. He said that he wants markets to open on the occasion of Bakra Eid so that they can easily purchase animals for the purpose of sacrificing them during the festival. Mosques and eidgahs should be opened for people so that they can offer prayers to end coronavirus.
In UP, strict lockdown has been implemented on weekends by the Yogi Adityanath-led government due to the rising coronavirus cases in the state.
There is no cure for the Coronavirus yet.
In India, public gatherings are still prohibited, particularly in religious places where social distancing cannot be maintained.
Awanish Awasthi, Additional Chief Secretary (Home and Information) said that the markets and offices will remain closed on weekends.
Many politicians have come up with strange treatments to fight the novel Coronavirus. Rahman is not the only one.
Dilip Ghosh, West Bengal BJP President, and Lok Sabha MP, also recommended a solution for the virus a few days ago. He said that to fight the virus, people should drink cow urine.
https://www.newsx.com/national/coronavirus-punishment-by-god-will-disappear-if-muslims-offer-namaz-mp-shafiqur-rahman.html
--------
Mecca Authorities Lift Lower Part of Kaaba's Kiswa Cover Ahead of Hajj
22 July 2020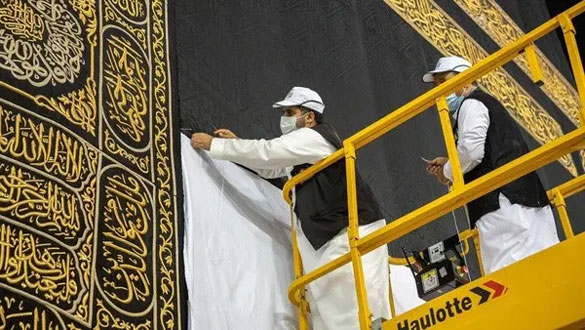 The process of lifting the lower part of the kiswa covering was done during the first minutes of the Dhu al-Hajjah month marked on Wednesday. (Supplied)
-----
Mecca authorities have lifted the lower part of the Kaaba's Kiswa covering as the Muslim world marks the new Islamic month of Dhu al-Hijjah, ahead of the annual Hajj pilgrimage being held this year in a limited capacity due to the coronavirus pandemic.
The process of lifting the lower part of the kiswa covering was done during the first minutes of the Dhu al-Hajjah month marked on Wednesday. The process is usually done days ahead of the Hajj before pilgrims make their way to the Holy sites to begin their pilgrimage.
Visit our dedicated coronavirus site here for all the latest updates.
More than fifty men from the King Abdul Aziz Complex for the Kaaba were accompanied by the General President for the Holy Mosque and the Prophet's Mosque, Dr. Abdul Rahman Al-Sudais, on Wednesday to change the lower part of the covering of the Kaaba.
Every year, the gatekeepers of the Kaaba carry a delicate and precise task to change the silky black cloth embroidered with gold draped that makes up the Kiswa over the holy structure.
The process of changing the Kiswa will take place on the second day of Hajj under the supervision of the President of the Holy Mosque and the Prophet's Mosque Sheikh Dr. Abdulrahman bin Abdulaziz Al-Sudais.
For all the latest headlines follow our Google News channel online or via the app.
The Kiswa is made from about 670 kilograms of raw silk dyed black, 120 kilograms of gold thread, and 100 kilograms of silver thread. Quranic verses are sewn onto the black cloth with gold-plated threads.
Authorities in Mecca have set several health and safety guidelines in preparation for the upcoming Hajj pilgrimage being held in a limited capacity this year given the coronavirus pandemic, according to Al Arabiya sources.
Saudi Arabia will allow limited Hajj pilgrimage this year due to the continued risk of the COVID-19 coronavirus pandemic. Authorities confirmed they have limited the number of pilgrims on this year's Hajj to 10,000 in line with safety concerns over the ongoing COVID-19 pandemic.
https://english.alarabiya.net/en/coronavirus/2020/07/22/Coronavirus-Mecca-authorities-lift-lower-part-of-Kaaba-s-kiswa-cover-ahead-of-Hajj.html
--------
Makkah Grand Mosque to remain closed during Eid Al-Adha to stop virus spread
July 22, 2020
JEDDAH/MAKKAH: The safety of pilgrims had been the top priority in preparing for this year's Hajj, Saudi security officials said on Tuesday.
Announcing the completion of the first stage of planning for the annual religious gathering, the commander of the forces responsible for security at the Grand Mosque in Makkah stressed that protecting worshippers was paramount.
"We have mainly focused on the health aspect this year for its extreme importance in the current unique situation (the coronavirus disease pandemic). The remaining stages will be implemented in the coming days," said Maj. Gen. Muhammad Al-Ahmadi.
He pointed out that new arrangements had been put in place to control pilgrims' entry and exit to the Grand Mosque to ensure social distancing and effective precautionary measures against COVID-19.
Defined pathways for the performance of walking rituals around the Kaaba and between the hills of Safa and Marwah had been established, and entrance to the Grand Mosque area would only be allowed to those with official permission.
Due to the virus outbreak, the Grand Mosque will be closed to worshippers for Arafa day and Eid Al-Adha. "The decision to suspend prayers in the Grand Mosque including its outdoor arenas will continue. We invite people of Makkah to break their fast on the day of Arafat in their homes," added Al-Ahmadi.
The command and control center in Makkah located in Mina and Muzdalifah will be fully operational. Entrances to Makkah city would be controlled by different security forces for 24 hours to prevent people without a permit gaining access.
The General Presidency for the Affairs of the Two Holy Mosques said that more than 80 years of experience in crowd and crisis management had been behind the Kingdom's move to restrict the number of worshippers performing this year's Hajj pilgrimage.
During a virtual meeting to review the Saudi operational plan for the Hajj season, president of the general presidency, Dr. Abdulrahman Al-Sudais, said that the Arafat sermon will be translated into 10 languages, including Chinese and Russian, in addition to an English interpretation on the Holy Qur'an channel and French on the Prophet's Sunnah channel.
He added that the operational plan adopted for Hajj had focused on the enforcement of precautionary and preventive measures to safeguard the health of pilgrims.
Special arrangements have also been made for the delivery of the Kaaba's Kiswa (cover) on Wednesday by Makkah Gov. Prince Khalid Al-Faisal, in line with measures to stop the spread of COVID-19, Al-Sudais said.
Meanwhile, on Tuesday, Saudi Minister of Hajj and Umrah Dr. Mohammed Saleh Benten visited the pilgrims' reception headquarters at the Four Points hotel in Makkah, where he was briefed on preparations to receive and accommodate them from the fourth to the eighth day of the month of Dhu Al-Hijjah.
He then toured the pilgrims' camp in Arafat and reviewed procedures for their movement to the Mount of Mercy (Jabal Al-Rahmah). Benten also checked services for pilgrims at Muzdalifah, including preparations for the provision of meals in three 40-foot vehicles.
In addition, the minister went to Mina and viewed one of the towers designated for housing pilgrims, where he inspected facilities and room services.
At the end of the visit, he watched a presentation on the special procedures put in place to transfer pilgrims from their residences to the Jamarat Bridge outside of Makkah.
https://www.arabnews.com/node/1708256/saudi-arabia
--------
Afghan Girl, Qamar Gul, Kills Two Taliban Fighters, Wounds Several More After Parents Murdered
22 Jul, 2020
GHAZNI: An Afghan girl shot dead two Taliban fighters and wounded several more after they dragged her parents from their home and killed them for supporting the government, officials said.
The incident happened last week when insurgents stormed the home of Qamar Gul, a teenager from a village in the central province of Ghor.
The fighters were looking for her father, the village chief, local police head HabiburahmanMalekzada told AFP.
Her father was a government supporter, which is why the Taliban fighters went to his house and dragged him out, Malekzada said.
When his wife resisted, the Taliban fighters killed the couple outside their home, Malekzada said.
Revenge of the daughter leaves several other militants wounded
"Qamar Gul, who was inside the house, took an AK-47 gun the family had and first shot dead the two Taliban fighters who killed her parents, and then injured a few others," he said.
Gul is aged between 14 and 16, according to different officials. It is common for many Afghans to not know their precise age.
Several other Taliban fighters later came to attack her house, but some villagers and pro-government militiamen expelled them after a gunfight.
Afghan security forces have now taken Gul and her younger brother to a safer place, said Mohamed Aref Aber, spokesman to the provincial governor.
Since the incident, social media networks have been flooded with praise for Gul's "heroic" act.
A photograph of Gul, wearing a headscarf and holding a machinegun across her lap has gone viral in the past few days.
"Hats off to her courage! Well done," wrote NajibaRahmi on Facebook.
"Power of an Afghan girl," wrote another Facebook user Fazila Alizada.
"We know parents are irreplaceable, but your revenge will give you relative peace," said Mohamed Saleh in his post on Facebook.
The Taliban regularly kill villagers who they suspect of being informers for the government or security forces.
In recent months, the militants have also stepped up their attacks against security forces despite agreeing to peace talks with Kabul.
https://www.dawn.com/news/1570419/afghan-girl-kills-two-taliban-fighters-after-they-murdered-her-parents
--------
Trump likens US cities with pro-justice rallies to Afghan towns
T21 July 2020
US President Donald Trump has described the situation in American cities where pro-justice rallies were held "worse than Afghanistan".
"This is worse than Afghanistan, by far. This is worse than anything anyone's ever seen," Trump said at the Oval office on Monday.
Pro-justice rallies -- some of which have turned violent -- triggered by the Minneapolis police killing of George Floyd have been held on a daily basis in US cities including New York, Chicago, Philadelphia, Detroit, Baltimore and Portland.
Trump said he planned to send additional law enforcement personnel to some major US cities to clamp down on the anti-racism anti-police-brutality pro-justice protesters he described as hateful "anarchists".
"These are anarchists. These are not protesters...."Well, I'm going to do something; that I can tell you because we're not going to let New York and Chicago and Philadelphia and Detroit and Baltimore, and all of these, Oakland is a mess, we're not going to let this happen in our country," Trump said.
Trump lauded a federal crackdown on anti-racism protests including use of unmarked cars and unidentified officers in camouflage in Portland, Oregon, saying he would replicate the "fantastic" tactics used there to suppress other pro-justice protests in other major cities.
"In Portland, they've done a fantastic job. They've been there three days and they've really done a fantastic job in a very short period of time, no problem. They grab them. A lot of people in jail," he said.
Trump referred to the pro-justice protesters as "these people", saying local politicians were afraid of them.
"[T]he governor and the mayor and the senators out there, they're afraid of these people," Trump claimed.
https://www.presstv.com/Detail/2020/07/21/630120/US-Trump-Afghanistan-Pro-justice-Protests
--------
Amnesty slams 'barbaric' caning sentences given to Rohingya Muslims by Malaysia
Tuesday, 21 July 2020
Amnesty International has called on Malaysia to withdraw the caning sentences recently handed down to a group of persecuted Rohingya refugees from Myanmar, saying the "barbaric" practice "amounts to torture."
Last month, Malaysia's local media said that a court on Langkawi Island had sentenced a group of Rohingya refugees to seven months in jail and caning for arriving in the country by boat without a valid permit.
In a statement on Tuesday, Amnesty confirmed that a boat carrying 202 Rohingya had made it to shore in northwest Malaysia in April, but at least 20 men from that group had now been sentenced to jail terms and caning.
Rachel Chhoa-Howard, a Malaysia researcher at Amnesty, urged Kuala Lumpur not to cane the refugees.
"Caning is a barbaric practice that amounts to torture, inhuman, and degrading treatment, and Malaysia must abolish the use of such a punishment," she said. "These Rohingya have escaped Myanmar, but traded one nightmare for another."
She said the caning would not deter Rohingya refugees from fleeing to Malaysia.
The UK-based rights group has called on the Malaysian government to release all other Rohingya refugees who were convicted of alleged immigration offenses, saying the convictions violated international law.
Malaysia has long been a common destination for Rohingya refugees seeking a better life after escaping a 2017 military crackdown in Myanmar and, more recently, refugee camps in Bangladesh. But Malaysia has also recently been turning away boats and detaining hundreds of Rohingya, saying it cannot take in more refugees because its economy is struggling as a result of the COVID-19 pandemic.
Since the start of 2020, up to 1,400 Rohingya people have been stranded in boats in the Andaman Sea and the Bay of Bengal after fleeing persecution in Myanmar and refugee camps in Bangladesh.
Myanmar, the Rohingyas' native homeland, is already under international pressure after the bloody military crackdown in 2017 sent around 750,000 civilians fleeing into Bangladesh and prompted the filing of genocide charges at the United Nations (UN) top court.
In a recent submission to the United Nations Human Rights Council, Human Rights Watch (HRW) said that Myanmar's government had failed to abide by its international obligations to account for the army's atrocities against minorities, particularly the Rohingya Muslims in the state of Rakhine.
Thousands of Rohingya Muslims still remain in Myanmar under apartheid-like conditions, confined to camps and villages and denied access to healthcare and education.
The Rohingya are denied citizenship in Myanmar and considered illegal immigrants, despite their ancestral roots dating back centuries.
https://www.presstv.com/Detail/2020/07/21/630114/Amnesty-Rohingya-Malaysia-caning-sentences
--------
Pakistan
After finding life-size Buddha statue, Pak begins archaeological investigations to find more traces of Gandhara civilization
Jul 21, 2020
AMRITSAR: Hoping to find more remains of Gandhara civilization, the Pakistan government has ordered archaeological excavation of the site where three labourers and a building contractor had smashed a nearly 1700-year-old life size statue of Budha dubbing it Hindu and unislamic idol.
While talking to TOI over phone from Peshawar on Tuesday Abdul Samad , director general, archaeology and museum , Khyber Pakhtunkhwa (KP) province of Pakistan, said "Today we inspected the site, cordoned off the area and began archaeological investigations in hope to retrieve more historic remains of Gandhara civilization".
On July 18, three laborers and a contractor, who were digging the foundation of a boundary wall of a mango orchard in Kamran Khan village near Mardan city, had discovered a six and half feet Buddha statue. All four of them smashed the Budha statue with a sledgehammer. The video of labourers smashing the statue, went viral on social media following which the archaeology department of KP swung into action and arrested all four of them.
"Apparently, there are no signs of any remains on the surface so we will be digging four to five feet deep using trial trenching method," said Samad.
https://timesofindia.indiatimes.com/world/pakistan/after-finding-life-size-buddha-statue-pak-begins-archaeological-investigations-to-find-more-traces-of-gandhara-civilization/articleshow/77089007.cms
--------
Pakistani Journalist Home Safe After Abduction That Lasted 12 Hours
July 22, 2020
A prominent Pakistani journalist known for his criticism of the military has returned home after being kidnapped in Islamabad one day before he was scheduled to appear in court over a tweet critical of Pakistan's judges and military.
Matiullah Jan, who was found safe 12 hours after being abducted on July 21, told Pakistan's private TV channel Geo News he was blindfolded and taken to an unknown location after being shoved into the assailants' car.
He said he was then driven around the city before being released in Fateh Jang, about 45 kilometers outside the capital. A close friend and fellow journalist, Azaz Syed, published a photo of Jan after his release.
Jan, a freelancer who has worked for local and international news outlets, was due to appear in the Supreme Court this week after the court took notice of the alleged contemptuous tweet, the newspaper Dawn reported.
Khawaja Asif, a former foreign minister and senior leader in the opposition Pakistan Muslim League (PML-N), held a news conference to condemn Jan's disappearance.
Jan "has talked about media and journalism," Asif said, noting the court hearing on July 22. "To take him into custody now is an attempt to silence him and his journalism," Asif said, according to Dawn.
He said the PML-N would support people who are targeted after speaking against the government, adding that the manner in which journalists have been silenced in Pakistan "does not happen in civilized societies."
Jan was abducted by several unidentified men after they intercepted his car, his colleague Asad Toor said. Footage from surveillance cameras showed men dragging a driver out of a vehicle and pushing him into another car before driving away.
"There were more than five people -- some in civilian clothes, others in black uniforms -- who forcibly picked up my husband," Jan's wife, KaneezSughra, told AFP. She said her husband had been followed by unknown men in recent weeks.
Information Minister Shibli Faraz also confirmed the journalist's abduction, according to Dawn.
Leading politicians, activists, and journalists had called for the journalist's release on Twitter, with the hashtag #BringBackMatiullah trending in the country.
Jan, who has worked as a print and broadcast journalist for the past three decades, has been intimidated, harassed, and attacked in the past, his friend Azaz Syed said.
He was fired by Pakistan's Waqt TV station, allegedly under pressure from the military, which has been a frequent target of his criticism.
A spokesperson for the military declined to comment on Jan's case.
Pakistan's military plays an outsized role in the domestic and foreign affairs of the South Asian country of around 220 million and critical reporting of the institution is not tolerated.
Journalists and bloggers inside Pakistan have complained of intimidation tactics including kidnappings, beatings, and even killings if they cross a red line in their reporting on the military.
Several Pakistani journalists were briefly detained in recent months, allegedly by the military's spy agency, in what is thought to be an attempt to silence criticism of the powerful military.
The military has denied the accusations.
https://www.rferl.org/a/pakistan-journalist-abduction/30740593.html
--------
Journalist released after outcry over abduction
Kalbe Ali | Malik Asad
22 Jul, 2020
ISLAMABAD: Senior journalist Matiullah Jan was released in the late hours of Tuesday after a widespread outcry over his abduction by nearly half a dozen plainclothes and uniformed men from outside a government school in broad daylight in the federal capital.
The 'forced abduction', which was caught on CCTV cameras, not only enraged journalist community and rights organisations but also triggered serious security concerns among legal fraternity, political parties and diplomatic circles.
The journalist had already been in the limelight due to the contempt proceeding against him in the Supreme Court for his alleged 'contemptuous' tweet regarding Justice Isa case decision.
CCTV footage of the abduction shows that it was around 11.10am when men in uniform and plainclothes forcibly removed Mr Jan from his car and thrashed him in front of Government Girls School, situated in Islamabad's sector G-6/1-3, where his spouse works as teacher. It can be seen in the footage, which later went viral on social media, that the journalist was being manhandled and dragged towards their vehicles when he threw his mobile phone into the school while a uniformed man immediately collected it from a woman at the school. The journalist was then whisked away to an undisclosed location.
His brother, Shahid Akbar Abbasi, later lodged an FIR against the unidentified persons under Section 365 of the Pakistan Penal Code and also filed a habeas corpus petition through Barrister Jahangir Khan Jadoon before the Islamabad High Court. In his petition, Mr Abbasi said his brother, who was a known critic of government and establishment, was forcibly picked up by unknown persons in broad daylight.
While "keeping in view the gravity of the matter and its implication in the context of constitutionally guaranteed rights of the citizen", IHC Chief Justice Athar Minallah entertained the petition and directed the interior secretary, chief commissioner and inspector general of Islamabad to trace the 'missing' journalist by Wednesday or face music.
"In case brother of the petitioner namely Matiullah Jan is not traced then the aforementioned public functionaries shall appear in person at 10am on July 22, 2020 in order to explain why person responsible for letting such an alleged incident to happen in the capital of Pakistan may not be ordered to be proceeded against," warned Justice Minallah, while directing the registrar office to send the copies of the court order to the chief commissioner, inspector general of Islamabad and interior secretary.
The Supreme Court is also scheduled to take up the case related to the alleged contemptuous tweet of the senior journalist on Wednesday (today). About his 'enforced disappearance', the Press Association of the Supreme Court also wrote a letter to Chief Justice of Pakistan.
Widespread reaction
Political parties, lawyers, journalists groups, human rights organisations and diplomats expressed their concern over the incident and safety of journalists in the country.
Also read: Pakistan ranks 145 on press freedom index
Justice Qazi Faez Isa along with his wife went to Mr Jan's house to offer their support and express concern over his abduction. They met his two brothers and a sister in law, who then took them to another brother's house where his wife and children were staying.
While Pakistan Peoples Party chairman Bilawal Bhutto-Zardari demanded that the government ensure his safe return soon. The matter was also taken up in the National Assembly where opposition parties and the journalists covering the NA proceedings staged a walkout from the house. Deputy Speaker Qasim Suri sent Minister of State for Parliamentary Affairs to woo the reporters, but he failed to do so as the reporters announced that they would continue to boycott the session till the time the government did not disclose Mr Jan's whereabouts and identify those responsible for it.
Showing helplessness, Minister of State for Parliamentary Affairs Ali Muhammad Khan asked the deputy speaker to seek a response from Minister for Interior Brig (retd) Ejaz Shah over the incident.
Senator Mustafa Nawaz Khokhar, the chairman of Senate Standing Committee on Human Rights, called an emergency meeting of the committee on Wednesday (today) to discuss the matter.
At the outset of the NA sitting, PPP's Syed Naveed Qamar drew the attention of the house towards the "abduction" of Matiullah Jan amid "shame, shame" slogans.
Pakistan Muslim League-Nawaz (PML-N) President and Leader of the Opposition Shahbaz Sharif warned that if anything happened to Mr Jan, the prime minister and the present government would be held responsible.
JUI-F chief Maulana Fazalur Rehman said Mr Jan had been abducted not by a non-state actor. He was a well-known senior journalist and no FIR had been registered against him. "Every dictator thinks that whatever he has done is in the interest of the state," the Maulana added.
Former Senate chairman Mian Raza Rabbani strongly condemned the kidnapping. He said this was a crude attempt to curb the constitutional right of democratic descent. He termed it an attack on the freedom of the press. He said these tactics were pursued in fascism.
Pakistan Bar Council, the apex forum of the lawyers, said that Mr Jan was being punished for his constant vocal stance on different important national issues which is never liked by the government and its agencies.
Demanding the authorities concerned for immediate release of Mr Jan, the PBC said that his abduction was a blatant attack on the right and freedom of expression as guaranteed by the Constitution.
Vienna-based International Press Institute (IPI), a global network of editors, media executives and leading journalists for press freedom, expressed outrage over the apparent kidnapping of Mr Jan.
"We fear that Matiullah Jan's life is in danger, and immediate steps must be taken to locate him and ensure his release from his apparent kidnappers," IPI Deputy Director Scott Griffen said. "Given the history of violence against journalists in Pakistan, the authorities cannot delay in seeking to protect Jan's safety."
Diplomats
In her tweet, Canada's High Commissioner to Pakistan Wendy Gilmour stated: "Very worrying development: the role of the media in a democracy is crucial, and must be protected. I trust that @Matiullahjan919 will be soon safely reunited with his family."
Also, German Ambassador to Pakistan Bernhard Schlagheck tweeted: "Concerned to hear the news about the disappearance of @Matiullahjan919 today. Developments underline once again how dangerous the situation of journalists in #Pakistan is. Journalists' safety is key for media freedom."
The Human Rights Commission of Pakistan (HRCP) demanded that the federal government take immediate measures for the release of Mr Jan. The HRCP also endorsed the Pakistan Federal Union of Journalists (PFUJ) demand that the federal government take immediate measures for his release.
PFUJ President Shahzada Zulfiqar and Secretary General Nasir Zaidi expressed serious concern over his disappearance from Islamabad. The PFUJ said: "This has become a norm in the country to suppress voices of dissent for controlling media, imposing censorship and denying freedom of speech and expression in the country."
The Karachi Union of Journalists KUJ, Awami Workers Party, Sindh Bar Council (SBC) and many other civil society organisations also condemned the abduction.
SBC vice chairman Haider Imam Rizvi stated the abduction of the journalist, a day before his appearance before the Supreme Court to justify his twitter comments given in relation to the Justice Isa case, was clearly meant to send a message to the media in general and court reporters in particular. He called upon the prime minister to ensure the safe return of abducted journalist and also asked the Chief Justice Gulzar Ahmed to take suo motu notice of this matter.
https://www.dawn.com/news/1570416/journalist-released-after-outcry-over-abduction
--------
Military top brass reaffirms resolve to thwart threats to national security
22 Jul, 2020
RAWALPINDI: The Pakistan Army's top brass on Tuesday reiterated its resolve to thwart any threat to Pakistan's security.
According to a statement released by the Inter-Services Public Relations (ISPR), the resolve was expressed during a Corps Commanders Conference presided over by Army Chief General Qamar JavedBajwa at the GHQ.
The ISPR said that the meeting reviewed "operational readiness and evolving threat spectrum in context of external and internal security of the country".
During the meeting, the army chief complimented the efforts put in by all formations to maintain a high-level of combat readiness, "particularly in the wake of [the] evolving regional security situation", the statement said.
Taking special note of the continuing atrocities in occupied Kashmir as the illegal actions of August 5, 2019 complete one year next month, the forum also paid tribute Kashmiris for their "legitimate struggle for freedom", the military's media affairs wing said.
The army chief also lauded the efforts "in aid of [the] civil administration in the fight against Covid-19 and locusts", it said. The forum also appreciated the efforts of doctors, healthcare workers and paramedics, and stressed the need for exercising maximum care during EidulAzha and Muharram to maintain the gains achieved in countering the pandemic, the statement said.
The army chief expressed complete satisfaction with the overall operational readiness of the Pakistan Army, it concluded.
https://www.pakistantoday.com.pk/2020/07/21/military-top-brass-reaffirms-resolve-to-thwart-threats-to-national-security/
--------
Europe
France slams 'unacceptable' Chinese imprisonment of Uighurs
July 21, 2020
PARIS: Paris on Tuesday said the imprisonment of ethnic and religious minorities in China's western Xinjiang region is "unacceptable" and demanded that Beijing let independent human rights observers visit the area.
Rights groups and experts estimate that more than one million ethnic Uighurs and other Turkic-speaking minorities have been rounded up into a network of internment camps.
"France is closely following all the testimonies relayed by the press and through human rights organizations," Foreign Affairs minister Jean-Yves le Drian told parliament.
"According to information that we read or have, there are imprisonment camps for Uighurs, mass detentions, disappearances, forced labor, forced sterilizations, the destruction of Uighur heritage," Le Drian said.
"All these actions are unacceptable. We condemn them firmly," added Le Drian, prompting applause in parliament.
He said France wanted China to allow access to the UN High Commissioner for Human Rights.
His comments come as tensions between the West and China are rising over a new draconian security law in Hong Kong and mounting opposition to the use of products made by Chinese telecom giant Huawei.
Earlier this month, the US slapped sanctions on senior Chinese officials, demanding an end to the "horrific" abuse of Uighurs, and on Monday blacklisted 11 Chinese firms for alleged complicity in the repression.
On Sunday, British Foreign Secretary Dominic Raab accused Beijing of "gross, egregious human rights abuses."
Beijing denies any wrongdoing, saying Uighurs are attending vocational training centers, and has imposed retaliatory sanctions on three US senators.
https://www.arabnews.com/node/1708046/world
--------
Daughter of beheaded aid worker says Shamima Begum a 'ticking time bomb'
July 21, 2020
LONDON: The daughter of a British aid worker murdered by Daesh in Syria has warned that Shamima Begum is a "ticking time bomb" and that allowing her to return to the UK risks public safety.
Bethany Haines, 23, is the daughter of David Haines, who was working at a refugee camp near the Turkish border in Syria when he was abducted in 2013.
He was held by a group of British Daesh members dubbed "The Beatles" for their English accents, before being beheaded on camera in 2014. Footage of Haines' execution featured prominently in Daesh propaganda.
His daughter has warned of the security risks of allowing former Daesh bride Shamima Begum, who travelled to Syria when she was 15, to return to the country.
She said: "From what I gather, Begum still has a strong hatred of the UK. She's a ticking time bomb.
"This decision is against public safety and they don't consider the impact of their decisions."
Begum, now 20, was stripped of her British citizenship in 2019 on national security grounds. A British court recently ruled that she should be allowed to return to the UK to appeal the decision to remove her citizenship.
The British government has vowed to fight to keep Begum from returning to the country. Justice Secretary Robert Buckland has instructed civil servants to come up with proposals to restrict government financial assistance for legal counsel to terrorists who bring challenges in the civil courts, such as under immigration or citizenship law.
A Ministry of Justice source said: "Why should someone who is considered a national security risk have their legal bills picked up by the taxpayer?"
https://www.arabnews.com/node/1708041/world
--------
UN urges Azerbaijan, Armenia to avoid 'disastrous' full conflict
21 July 2020
United Nations Secretary-General Antonio Guterres has called on Azerbaijan and Armenia to exercise "maximum restraint" in order to avoid a full conflict that would be "disastrous," days after a recent flare-up of tensions between the two former Soviet republics.
"The secretary-general is following with deep concern the current tensions between Azerbaijan and Armenia. He calls for maximum restraint, as a full conflict between these two countries would be disastrous," UN spokesman Stephane Dujarric said on Monday.
Azerbaijan has been engaged in a dispute with Armenia over Karabakh — a territory which broke away from Azerbaijan in a bloody war in the 1990s. Some 30,000 people were killed in the conflict, which ended with a fragile truce in 1994. In 2016, scores were killed in four days of renewed fighting.
Earlier this month, new clashes some 300 kilometers from the mountainous region left at least eleven Azeri soldiers and a civilian and four Armenian troops dead.
Armenia's Foreign Minister ZohrabMnatsakanyan blamed Azerbaijan for the latest clashes.
Speaking in an interview with FRANCE 24 that was published on Monday, Mnatsakanyan said his country was committed to enforcing a ceasefire and monitoring mechanism to avoid further clashes.
He insisted that war was not a solution, calling on the international community to help broker a peaceful solution.
Pope Francis calls for peaceful resolution
On Sunday, Pope Francis also called for a peaceful resolution of the conflict.
"I am following with concern the recovery in recent days of armed tensions in the Caucasus region, between Armenia and Azerbaijan," the Pope said.
"I hope that, with the commitment of the international community and through dialog and the goodwill of the parties, a lasting peaceful solution can be reached, which has at heart the good of those beloved populations," he added.
https://www.presstv.com/Detail/2020/07/21/630086/Azerbaijan-Armenia-UN-disastrous-conflict
--------
Pompeo and Johnson discuss China, Iran and Middle East peace process
July 21, 2020
LONDON: US Secretary of State Mike Pompeo and British Prime Minister Boris Johnson discussed China's actions in Hong Kong and its treatment of Muslims in Xinjiang, according to a British summary of the discussion.
"They spoke about shared global security and foreign policy issues, including China's actions in Hong Kong and Xinjiang, the situation in Iran and the Middle East Peace Process," Downing Street said.
"The Prime Minister and Secretary of State also underlined their commitment to negotiate a strong UK-US Free Trade Agreement that benefits the economies of both countries."
Johnson and Pompeo underscored the importance of the US-led Five Eyes intelligence alliance. Johnson also raised the death of 19-year-old Briton Harry Dunn who was killed in a road collision with a US diplomat's wife.
"The Prime Minister reiterated the need for justice to be done for Harry Dunn and his family," Downing Street said. "He said there was a strong feeling among the people of the UK that justice must be delivered."
https://www.arabnews.com/node/1707961/world
--------
Trial Begins in Germany Over Synagogue Attack on Yom Kippur
By Melissa Eddy
July 21, 2020
BERLIN — A young German man charged with killing two people last fall after his plan to blast his way into a synagogue filled with Jews observing Yom Kippur failed, told a court on Tuesday that he was inspired by the white supremacist who had killed 51 worshipers at two mosques in New Zealand earlier last year.
Stephan Balliet, 28, is charged with two counts of murder in the deaths of a 40-year-old woman, who spoke up as Mr. Balliet planted explosives around the entrance to the synagogue in the eastern city of Halle, and a 20-year-old man he thought was a Muslim. He is also charged with 68 counts of attempted murder and other crimes for the attack last Oct. 9. If convicted of murder, Mr. Balliet faces life in prison.
The attack raised alarm that even Germany, a country that prides itself on its culture of humility and atonement for the crimes of the Nazis, is not immune to the international influence of far-right extremism and white supremacy that has incited rampages from New Zealand, to Pittsburgh. In 2019, crimes against Jews in Germany reached their highest level since the country started tracking them in 2001.
Mr. Balliet was flown to the courtroom in Magdeburg hours before the trial opened. He wore a protective vest and jeans, and his hands and feet were in handcuffs and shackles similar to those of defendants who've faced terrorism charges. The trial had been moved from a smaller court in Naumburg to accommodate all of the participants and the news media.
Dressed all in black, his face largely expressionless, Mr. Balliet at first gave only curt responses when the presiding judge, Ursula Mertens, pressed him for details about his past, his family and his personal life, German media reported. "That's not important," he responded again and again.
What was important to him was the year 2015, when Germany welcomed more than one million refugees. He said that was when he decided to turn his back on a society he described as "infiltrated" by Muslims and Black people, whom he used a racist slur to describe, eliciting a rebuke from Judge Mertens.
"I will not accept the verbal abuse of people in this courtroom and have the authority to remove you," she told him. "I will not tolerate further crimes in the courtroom by you slandering people."
The racist slurs and derogatory language Mr. Balliet repeatedly sought to use echoed the hateful rants denouncing feminists and immigrants heard on a video he made of his attack using a camera mounted on a helmet. He broadcast his remarks live to an online chat platform. In the 35-minute video, which Mr. Balliet said was inspired by the New Zealand massacres that were also livestreamed by the perpetrator, he declared, "The root of all these problems is the Jew."
Kai Lohse, a federal prosecutor, confirmed that Mr. Balliet blamed Jews for the problems he identified in German society. "He described Jews as rats that had to be lured out of the synagogue" to be killed, Mr. Lohse told the court. Prosecutors have found no indication the attacker was part of a larger network beyond the virtual world where he drew inspiration.
Mr. Balliet largely confessed, in the courtroom and earlier to prosecutors, to the charges against him, including the two counts of murder. His only remorse, he said, was that both people he killed were white.
The death of the woman, identified only as Jana L., in keeping with German privacy laws, was "not planned or wanted," he said, but when she made a remark that upset him, he had no choice but to shoot her. "If I hadn't done that, everyone would have laughed at me," he said, explaining that because he was livestreaming the attack, those watching would have realized that "a stupid comment is enough to stop someone from the Right."
His intent, though, had been to empty his weapons inside the synagogue, he said. When he was thwarted by its heavy oak doors, he headed for a kebab shop and opened fire. "Someone was standing in the door and I shot him," he told the court, adding that he had thought the man he killed, identified only as Kevin S., was "Middle Eastern."
Dozens of the 52 people who had gathered for services in Halle's Humboldt Street Synagogue last year on Yom Kippur, the holiest day in the Jewish calendar, were among those who packed the courtroom on Tuesday.
In a statement released by their lawyer before the trial began, they expressed hope that the proceedings would draw attention to the role the internet plays in fueling far-right hatred and the links between anti-Semitism and other forms of hatred.
"The perpetrator chose his targets on the basis of a white, racist ideology that fuses anti-Semitism, Islamophobia, racism, homophobia, sexism and xenophobia with conspiracy theories," they said. "His radicalization took place in online communities that strengthened and promoted these beliefs."
In June last year, a conservative politician who supported refugees, Walter Lübcke, was fatally shot just outside his home in western Germany, in the country's first far-right political assassination since the Nazi era. Security forces then revealed that Mr. Lübcke was one of many people on a neo-Nazi hit list.
Interior Minister Horst Seehofer has since declared far-right extremism the "biggest security threat facing Germany," and promised a beefed-up security response. However, minority rights activists and opposition leaders accuse the authorities of being too quick to write off individuals like Mr. Balliet as lone actors with no connection to the societies in which they live.
"He did not simply radicalize out of nowhere," CemOzdimir, a lawmaker for the opposition Greens, told n-tv television on Tuesday, adding that most extremists are men who are marked by misogyny, as well as hatred of Jews and Muslims.
"It is important that the whole of society stands up," he said, "and says we want to chase this hate back into hell, where it came from."
https://www.nytimes.com/2020/07/21/world/europe/germany-synagogue-attack-trial.html?utm_source=iterable&utm_medium=email&utm_campaign=1375383_
--------
India
Muslim MLAs of Maharashtra Likely to Meet Pawar Over Restrictions On Eid-Ul Adha Celebrations
by Iram Siddique
July 22, 2020
A delegation of Muslim MLAs and community leaders is planning to reach out to NCP president Sharad Pawar to seek relaxations to celebrate Eid-ul Adha or Bakri Eid on August 1 amid the Covid-19 pandemic.
The delegation, to be led by Rais Shaikh, Samajwadi Party MLA from Bhiwandi, is set to request Pawar to intervene to ensure the state government reviews its recent guidelines that have prohibited the sale of animals, for the purpose of sacrifice, in open markets across Maharashtra. He has sought time to meet Pawar on Wednesday.
This comes after the Uddhav Thackeray government, in guidelines issued last week, made it clear that instead of sale of animals at Deonar mandi, Muslims will have to buy animals either online or over the phone. The state has not committed itself to providing any help in facilitating the setting up of these online markets.
Describing the guidelines as "impractical" and "ambiguous", Shaikh said: "If one Ganpati mandal can be allowed (to celebrate Ganesh Chaturthi) per ward, I am just asking for one mandi in the whole of the city." "If a person has to transport a goat from Bhiwandi to Mumbai city in his individual capacity, in the absence of clear guidelines, how will he do it? The government should clarify this," Rais said.
Muslim leaders have turned to Pawar, who has been a vocal proponent of allowing the resumption of normal life and lifting the stringent lockdown regulations in the state.
AIMIM MP Imtiaz Jaleel also slammed the state government's guidelines for the upcoming festival and demanded that temporary markets to be set up for the occasion. Last week, state Home Minister Anit Deshmukh had urged Muslims to hold a symbolic sacrifice of animals and to offer namaz at homes instead of mosques. Jalil said the government should explain what it means by "symbolic' sacrifice".
https://indianexpress.com/article/cities/mumbai/muslim-mlas-likely-to-meet-pawar-over-restrictions-on-eid-ul-adha-celebrations-6517367/
--------
'Risk of locust swarms migrating to Indo-Pakistan border from Somalia': UN agency
Jul 22, 2020
There remains a risk that a limited number of locust swarms could migrate from northeast Somalia to the Indo-Pakistan border area during the remainder of this month, the Food and Agriculture Organisation (FAO) of United Nations said on Tuesday.
In its last situation update, the FAO said that in Somalia, ground and aerial control operations are underway against immature swarms on the northern plateau between Hargeisa and Garowe. The swarms are moving eastwards across the north and they could continue to migrate across the Indian Ocean to reach the summer breeding areas along both sides of the Indo-Pakistan border.
"Control operations are in progress against hopper groups and bands in the Nagarparkar area of southeast Sindh near the Indian border in Pakistan. Groups of adults are maturing in Tharparkar and Cholistan deserts where laying is expected in areas that have already received monsoon rains. This will cause a further increase in locust numbers as hatching and hopper band formation occur in the coming weeks," the FAO said.
On the situation in India, the organisation said that adult groups and swarms are maturing throughout Rajasthan where laying is underway in many areas. So far, a few hopper groups and bands have formed but substantial hatching is expected in the coming weeks. There have been no recent reports of additional locusts in the northern states as most of the adult groups and swarms have returned to Rajasthan as expected.
"We have an eye on FAO's updates and ground situations. Every effort is being made to control locusts. So far, the state government and the organisation together have controlled locusts in about three and a half lakh hectare area," said KL Gurjar, Deputy Director of Locust Warning Organization (LWO).
The World Meteorological Organisation (WMO) had recently said that locust attacks are posing a serious threat to food security in parts of East Africa, India and Pakistan as a result of changing climate conditions that can be linked to human activity.
The specialised agency of the United Nations said extreme weather events and climatic changes such as increases in temperature and rainfall over desert areas, and the strong winds associated with tropical cyclones, provide a new environment for pest breeding, development and migration.
https://www.hindustantimes.com/india-news/risk-of-locust-swarms-migrating-to-indo-pakistan-border-from-somalia-un-agency/story-mAx2d5KNSWNAGdZRn6uUGI.html
--------
J&K: Militant hideout busted in Rajouri; huge cache of arms, Pika gun, seized
July 22, 2020
In a joint operation in the bordering Rajouri district, the Jammu Kashmir Police and the Indian Army busted a militant hideout and seized huge quantity of arms and ammunition, including a Pika gun.
A cordon and search operation was launched jointly by the two teams in Manysl area of Thanamandi following information during late hours of Tuesday. Rajouri SSP Chandan Kohli said "the entire area was kept under cordon and in the wee hours of Wednesday morning. Searches were launched during which a militant hideout under a portion of dense bushes was busted."
The seizures included one Pike Rifle, a Chinese pistol, one local Pistol, besides an AK magazine, two pistol magazines, 168 Pika rounds, 47 AK rounds, four pistol rounds, two UBGL grenades, one Binocular, eight Ammunition belts, one Antenna and a tape recorder.
"The area is still under searches and SDPO Thanamandi Sajjad Khan along with SHO Fareed Ahmed and officers of army's Rashtriya Rifles are monitoring the operation," the SSP said.
"The pro-active approach of forces and close synergy with all the sister agencies is playing it's role and the nefarious designs of anti social elements are being foiled." he added.
https://indianexpress.com/article/india/jammu-and-kashmir-rajouri-militant-hideout-arms-ammunition-seized-6517811/
--------
Arab World
Slain Iraqi al-Hashemi's papers expose PMU criminal activities in Basra, Salahuddin
22 July 2020
One of the latest unpublished papers of slain Iraqi researcher Hisham al-Hashemi exposed the criminal activities committed by the Iran-backed Popular Mobilization Unit (PMU) militias in Iraq's provinces of Basra and Salahuddin, according to an Al Hadath investigation.
Al Hadath reporter Roula al-Khateeb obtained several documents from an unnamed source looking into the latest unpublished works of al-Hashemi prior to his assassination earlier this month.
For all the latest headlines follow our Google News channel online or via the app.
The al-Hashemi papers exposed how the PMU's control of checkpoints alongside Iraqi security forces across Baghdad has been used to extort money from Sunni citizens, corrupt activities like oil smuggling in the province of Ninevah and the latest allegation of looting from citizens and shop owners in the provinces of Basra and Salahuddin.
"Today, the focus is on Iraq's main oil provinces of Salahuddin and Basra. The bottom line of these studies by al-Hashemi showed that Iraq's oil resources are not only being exploited and benefited by Iraqi state militias only but is rather being controlled by the entire Iranian axis," al-Khateeb reported.
"The Iraqis are bring trained both ideologically and militarily in Iran. This is killing the Iraqis. They are preventing them from returning to their areas. They are taking their wealth, money, and oil. They are forcing politicking of changing the Iraqi identity and demography," al-Khateeb added in her report.
"Iran and the Lebanese Hezbollah militia, in addition to the Iraqi state militias, are gripping and ruling the people of Iraq with both iron and fire ... in clearer words, they are occupying Iraq," al-Khateeb said during an appearance into her investigation.
Al-Hashemi, who publicly supported the popular protests that broke out in Baghdad in October, was assassinated on July 6 when three gunmen fired dozens of bullets at him outside his home in east Baghdad.
Research from the late al-Hashemi unveiled the links of corrupt activities by finding the Iran-backed PMU's "Economic Committee" made up of 50 people divided into two places, in the Hamra district of Tikrit and on the Baiji refinery, both cities under the Salahuddin province.
"They took over the tenders in the municipalities of Tikrit and Baiji. They took over the squares, garages, and empty lands belonging to the municipality, as well as agricultural areas, towards the Gezira and al-Daiyum regions, as well as homes belonging to Ba'ath party leaders and ISIS in the Qadisiyah and al-Zuhurneighborhoods," al-Khateeb said in regards to her investigation looking at al-Hashemi's unpublished research.
In Baiji refineries and gravel quarries, the PMU umbrella militia group was found to impose their control on gravel and sand quarries, including the bays of sand that are in the outer roads, by forcing commissions of their sale of building materials. They are also found to have been charging a half-profit royalty on all bidders for tenders of the Baiji refinery.
The Badr militia, a faction within the PMUs, also took control of the Alas and Ajil field and have been charging for commissions of sale to Kurdish merchants.
Al-Asaib militia's Mohammed al-Baldawi also took control of several major projects, including a sewage project which cost 50 billion Iraqi dinars to implement.
The PMUs were also found to have charged returnees of lands taken by ISIS. Specifically, the al-Asaib militia took control of the AlbuFadous village in Yathrib, Salahuddin, and have been imposing fees on the families intending to return to their lands. The militia group has been charging each family 500,000 Iraqi dinars to take back their homes that were looted and destroyed.
"There has also been evidence of the PMU militias dismantling and then reselling refineries in the provinces. Specifically, the militias dismantled the Baiji and Seneia refineries, as well as a fertilizer factory, using large trucks to transport materials to Baghdad. After the liberation of the areas, Asaib and Badr militias resold them to the Salahuddin governorate at exorbitant prices," al-Khateeb reported.
The PMU militias also looted and stole from homes and shops in the city of Tikrit and al-Dur and transported them to Baghdad and other provinces, with evidence of trucks and transport vehicles seen transferring the looted devices, equipment, furniture, and cash money for several days.
https://english.alarabiya.net/en/features/2020/07/22/Slain-Iraqi-al-Hashemi-s-papers-expose-PMU-criminal-activities-in-Basra-Salahuddin.html
--------
Missing Saudi Arabian man found dead in desert, died while praying
22 July 2020
A Saudi Arabian man who was missing for three days has been found in the middle of a desert in Riyadh province while he was in the "sujood" or prostration praying position, prompting hundreds of social media users to pray for him online.
Videos of a rescue team finding the man and his car – which was stocked with sticks which may indicate that he was gathering wood for his family – went viral on social media platforms.
Dhuwaihi Hamoud al-Ajaleen had gone missing from his home on Thursday in Riyadh's Wadi al-Dawasir, according to local media reports.
The 40-year-old was found three days later in the middle of the desert after police launched an intensive search for him.
Rescue teams drove through the desert before finding al-Ajaleen a few meters away from his car, local media said.
https://english.alarabiya.net/en/variety/2020/07/22/Missing-Saudi-Arabian-man-found-dead-in-desert-while-praying.html
--------
Egypt army kills 18 terrorists in North Sinai
22 July 2020
The Egyptian army has fended off a militant attack on a post in Egypt's North Sinai Province, killing 18 militants.
The army announced on Tuesday that it killed the terrorists as its forces thwarted a major terrorist attack on a military outpost in the Bir al-Abed area of the province.
The army said two soldiers were killed and four others were wounded by the terrorists in the attack.
One of the attackers was wearing an explosive belt.
The army also destroyed four vehicles, three of them laden with explosives, while chasing the militants in a farm and some uninhabited buildings.
Since the ouster of democratically-elected president Mohamed Morsi in July 2013, hundreds of police and soldiers have been killed in attacks by militants.
The Velayat Sinai group, which is affiliated with Daesh, has claimed responsibility for most of those attacks.
In recent years, the Egyptian armed forces have been making efforts to eradicate the militants holed up in hideouts in the north of the Sinai Peninsula.
In February 2018, the Egyptian army launched a full-scale counterterrorism operation after a terrorist attack on a mosque in North Sinai claimed the lives of more than 300 people.
Since then, over 840 suspected militants have been killed in the region, according to army figures. More than 60 government forces have also died.
https://www.presstv.com/Detail/2020/07/22/630161/Egypt-Sinai-militant-attack-
--------
Qatar's Hezbollah funding exposed by whistle-blower contractor
Damien McElroy
July 20, 2020
A whistle-blower has claimed that he earned tens of thousands of euros from Qatar for hiding a dossier that documented the country's support for Hezbollah.
German press have reported that the security consultant was offered a total payment of €750,000 (Dh3.1 million) to suppress the information he had gathered about Qatar's illicit support for terrorism.
The man, identified only as Jason, said he spent several months in negotiations in 2019 with a Qatari emissary in Europe.
A German business executive who was reported to have witnessed some of the meetings said information had been passed to the Qataris that provided "transparency" in the "fight against certain critical, anti-Israeli networks".
Six meetings took place between the consultant and the Qataris before the talks broke down. Jason reportedly believed that he could receive a payment of €10m from Qatar to buy the evidence he had compiled.
He said the information offered Qatar an opportunity to purge "shady people in their own ranks", including a top-ranked general in Doha.
In a familiar pattern tracked to Qatar's funding for the Muslim Brotherhood, the money to Hezbollah was funnelled through the country's charity sector. Outfits like Qatar Charity have bankrolled a variety of groups politically active throughout Europe.
As a political and military entity, Hezbollah has been proscribed around Europe with Germany and Britain becoming the latest countries to add the group to their banned list.
Under an outline deal considered by both the consultant and the Qatari representative, the man would have taken monthly payments to maintain a line of communication with the Qatari general, by whom he was also being paid, to build up more information on his activities.
Jason also reportedly had first-hand information on arms deals by Qatar with Eastern European armament factories that would have caused the country further embarrassment.
"[Jason] came across some embarrassing information while based in Doha," he said. "There was an alleged arms deal with war material from Eastern Europe that was supposed to be handled by a company in Qatar. And there were alleged money flows from several rich Qataris to exiled Lebanese people that involved money flows from Doha to Hezbollah."
In the first half of 2019 the leak of the dossier in the German press would have been highly embarrassing for Qatar as it pressed forward with its construction programme for hosting the 2022 World Cup.
With Hezbollah on official terror lists in the US and Europe, the country's diplomatic standing would have been compromised, according to Jason's account of his conversations with the Qatari envoys.
Qatar spends tens of millions of euros in Europe to support institutes and organisations that have drawn concerns over the risk of radicalisation.
Doha maintains friendly ties with Hezbollah's patron Iran, which in turn has suffered a blow after European security agencies exposed Tehran's intelligence network run by its embassies in Germany, Belgium and France.
https://www.thenational.ae/world/qatar-s-hezbollah-funding-exposed-by-whistle-blower-contractor-1.1051985?utm_source=iterable&utm_medium=email&utm_campaign=1375383_
--------
Egypt's Sisi wins parliamentary approval for possible Libya intervention
JULY 20, 2020
Mahmoud Mourad, Nadine Awadalla
CAIRO (Reuters) - Egypt's parliament gave President Abdel-Fattah al-Sisi the green light for possible military intervention in Libya by approving the deployment of armed forces abroad to fight "terrorist groups" and "militias".
A sharp military escalation in Libya, where fighters led by eastern commander Khalifa Haftar have been battling the forces of the internationally recognised government, could risk igniting a direct conflict among the foreign powers that have poured in weapons and fighters in violation of an arms embargo.
Sisi warned last week that Egypt would not stand idle if there was a threat to national security in Egypt and its western neighbour, Libya.
Egypt, alongside the United Arab Emirates and Russia, backs Haftar, who abandoned an offensive on the capital last month after Turkey stepped up support for Tripoli.
Egypt has flown air strikes on suspected militants in Libya since the toppling of Muammar Gaddafi in 2011 plunged the oil producer into chaos.
It has also supported Haftar, an ex-Gaddafi general, since 2014 when he assembled a force in eastern Libya, according to U.N. reports. But sending ground-combat troops would be a major escalation.
The eastern-based Libyan parliament allied to Haftar asked Cairo this month to intervene militarily to counter Turkey, and its president welcomed Egypt's move on Monday, a spokesman said.
The Egyptian parliament said on the vote supported by all present MPs that troops would be defending national security on the "strategic western front against the work of armed criminal militias and foreign terrorist elements."
It did not give details, a time frame or name Libya directly. It also did not mention Turkey.
Egyptian state TV later ran banners on the screen saying: "Egypt and Libya, one people, one fate."
The last time Egypt sent ground troops abroad for combat was in 1991 in Kuwait as part of a U.S.-led coalition to drive out Iraqi troops.
SISI SPEAKS TO TRUMP
Shortly before the vote, Sisi and U.S. President Donald Trump spoke by phone.
"The two leaders affirmed the need for immediate de-escalation in Libya, including through a ceasefire and progress on economic and political negotiations," the White House said in a statement.
Trump also told French President Emmanuel Macron by phone that the conflict "has been exacerbated by the presence of foreign forces and arms," the White House said.
U.N. spokesman Stephane Dujarric told reporters: "There is no military solution to the current crisis in Libya and there must be an immediate ceasefire."
Egypt is concerned about instability in Libya and Turkey's support for Tripoli forces.
The Tripoli government's forces have moved closer to the central city of Sirte, which they hope to recapture from Haftar's Libyan National Army and is the gateway to oil- exporting ports held by the LNA. Sisi has declared the Sirte front line a red line for Egypt.
Egyptian officials often refer to armed groups in Tripoli and western Libya as "militias" and see Haftar as leading a "counter-terrorism force."
https://www.reuters.com/article/us-libya-security-egypt/egypt-parliament-approves-sending-troops-west-to-fight-criminal-militias-idUSKCN24L29P?utm_source=iterable&utm_medium=email&utm_campaign=1375383_
--------
South Asia
25 Taliban fighters, including Pakistani nationals killed by security forces in Kandahar
Jul 21, 2020
KANDAHAR: Over 25 Taliban fighters, including 12 Pakistani citizens, were killed in an airstrike by NATO Rescue Support in the Takht-e-Pol town of Kandahar province of Afghanistan on Monday night.
Jamal Barakzai, a spokesperson for the Kandahar Police Command, said that the Taliban fighters who were targeted had been planning to launch an attack on Afghan security forces outposts in the Thoro area of the district.
Several bodies were left behind after the strike and documents showed that many of them were Pakistani citizens.
Police chief of Kandahar, General Tadeen Khan Achakzai also tweeted pictures and documents of Pakistani citizens who were killed while fighting along with the Afghan Taliban.
According to Kandahar police five more Taliban were also killed and two wounded in counterattacks by security forces in the Arghistan district while seven Taliban were killed and four injured when attacks were repelled in the Taghray area of Maruf district of Kandahar.
The Taliban have not yet commented on any of the incidents. NATO has also not commented on the airstrike.
According to the Afghan media, last week, the Taliban had accused the US forces of violating the Doha Agreement for "launching several drone strikes in non-combat zones" in the provinces of Helmand, Ghazni and Zabul.
In the past, Allied forces have insisted that they are committed to defending the Afghan security forces in case of Taliban attacks and airstrikes are only carried out in those instances.
https://timesofindia.indiatimes.com/world/south-asia/25-taliban-including-pakistani-nationals-killed-by-security-forces-in-kandahar/articleshow/77085822.cms
--------
Suspected Taliban Attacks Kill Over A Dozen Afghan Security Personnel
July 20, 2020
Over a dozen Afghan security personnel have been killed in suspected Taliban attacks.
The Defense Ministry said a suicide truck bomber struck an army convoy in the central province of Maidan Wardak on July 20, killing at least eight Afghan soldiers.
The ministry said another nine soldiers were wounded in the attack in Sayed Abad district.
No group immediately claimed responsibility for the assault, although similar attacks in the past have been blamed on the Taliban and Islamic State (IS) extremist group.
Hours earlier, an Afghan official said at least eight government security personnel were killed in a Taliban attack in the country's north.
Esmatullah Moradi, the spokesman for the governor of Kunduz Province, said Taliban militants stormed two security checkpoints in the early hours of July 20.
Moradi said five police officers and three government soldiers were killed in the hours-long clashes.
The Taliban has not commented on the attacks.
The attacks came as the Taliban intensify operations across the country, particularly in the country's north, where Afghan forces are more exposed.
Last week, Taliban fighters stormed the offices of country's main intelligence agency in the northern province of Samangan, killing 11 security personnel and wounding dozens of others, mostly civilians.
The Taliban continues to stage regular attacks across Afghanistan despite signing an initial peace deal with the United States in February.
That agreement was intended to pave the way for direct talks between the militants and the Afghan government over a permanent cease-fire and a future power-sharing deal.
Those talks were supposed to begin in March, but the process has stalled over the implementation of a major prisoner release.
The peace deal calls for Kabul to free 5,000 Taliban prisoners in exchange for the Taliban releasing 1,000 government captives.
So far, the government has freed more than 4,200 and the Taliban have let go around 800 prisoners.
https://www.rferl.org/a/eight-afghan-soldiers-killed-in-suspected-taliban-attacks/30737915.html?utm_source=iterable&utm_medium=email&utm_campaign=1375383_
--------
Pakistani National ID cards recovered from militants killed in Kandahar operations
22 Jul 2020
The Afghan National Defense and Security Forces recovered Pakistani National Identity Cards from the slain militants who were killed during the operations in southern Kandahar province.
Gen. Tadin Khan Achakzai, the Police Chief of Kandahar, said the security forces killed 5 militants in Maroof and 9 other militants in Arghistan districts.
He also added that the security forces recovered National Identity Cards of Pakistan from the slain militants.
Meanwhile, the Afghan Military in the South said the security forces carried out airstrikes in TakhtaPul district of Kandahar, killing at least 25 Taliban militants.
The Taliban group has not commented regarding the incidents so far.
https://www.khaama.com/pakistani-national-id-cards-recovered-from-militants-killed-in-kandahar-operations08974/
--------
Taliban suicide attack kills eight Afghan troops, wounds nine
JULY 21, 2020
KABUL (Reuters) - A suicide car bomber in central Afghanistan targeted a convoy of Afghan army troops, killing eight soldiers, the defence ministry said, while Taliban Islamist militants claimed responsibility for the attack amid a nationwide escalation of violence.
Clashes have grown in recent weeks between Afghan government forces and Taliban insurgents after the government failed to free hundreds of jailed Taliban as part of a prisoner swap agreed by the warring sides.
In a statement, the defence ministry said a car bomber targeted army troops in Monday's incident in the district of Sayed Abad in Wardak province, killing eight soldiers and wounding nine more.
The Taliban, claiming responsibility, said dozens of Afghan special forces were killed in their latest deadly assault on government forces, who have suffered many casualties in the recent fighting.
A pact signed by the United States and Taliban in Doha in February laid out plans for a withdrawal of foreign forces from the war-torn country in exchange for security guarantees from the militants.
But negotiations between the Afghan government and the Taliban for a peace settlement to end the 18-year-old war have been delayed over the release of nearly 600 Taliban prisoners Kabul says were involved in major attacks.
As part of the Doha deal, the Afghan government has released more than 4,000 Taliban prisoners and the militant group has freed hundreds of government troops.
https://uk.reuters.com/article/uk-afghanistan-attacks/taliban-suicide-attack-kills-eight-afghan-troops-wounds-nine-idUKKCN24M0T5?utm_source=iterable&utm_medium=email&utm_campaign=1375383_
--------
North America
Biden pledges to end Trump's 'Muslim ban' on first day in office
Joyce Karam
July 20, 2020
Democratic US presidential nominee Joe Biden pledged on Monday to end the Trump administration's "Muslim ban" and include voices from the community in his administration if he wins on November 3.
Mr Biden was speaking to the activist group Emgage Action, in the first address by a US presidential nominee to a Muslim-American organisation.
He told an online audience of about 700 participants that he would end US President Donald Trump's "Muslim ban" on the first day of his administration.
Mr Trump announced the travel ban as a candidate in December 2015 and partly enforced it in an executive order in January, 2017.
The order bans nationals of Iran, Libya, Somalia, Syria and Yemen from entering the US.
It also covers travellers from North Korea and some government officials from Venezuela.
"If I become president, I will end the Muslim ban on day one. Day one," Mr Biden said.
"I want to earn your vote, I want to work in partnership with you ... to make sure your voices are included in our nation."
He tried to draw a sharp contrast with Mr Trump on issues relevant to the Muslim-American community, such as rejecting Islamophobia and accepting a Palestinian state.
"I'll continue to champion the rights of Palestinians and Israelis to have a state of their own, as I have for decades," Mr Biden said. "Each of them, a state of their own."
Calling Mr Trump "a poison", he asked Muslim-American voters to help him defeat the president in November.
He said the Muslim community was integral to US success in fighting the pandemic, advancing social justices, serving in US military and helping the community.
"I will be a president that recognises and honours your contribution," Mr Biden said.
He quoted a hadith, from the collection of sayings and deeds of the Prophet Mohammed, in advocating activism.
"Whoever among you sees a wrong, then he should change it with his hand; if he is not able to, with his tongue; if he is not able to, with his heart."
Mr Biden was taking part in Emgage's Million Muslim Votes Summit, aimed at galvanising different Muslim-American organisations to register one million votes before November.
There are an estimated 2.15 million adult Muslims in the US, the Pew Research Centre says.
Many have significant numbers in swing states that could determine the outcome of election, such as Michigan, Pennsylvania and Wisconsin.
Fewer than 80,000 votes in these states swung the election to Mr Trump against Hillary Clinton in 2016.
"Muslim-American communities are organising like never before, to maximise our voter turnout and to ensure that our voices are represented," Wael Al Zayat, chief executive of Emgage Action, said before the event.
In a recent study, the Institute for Social Policy Understanding found that 73 per cent of eligible Muslims were registered to vote in 2019, up from 60 per cent in 2016.
https://www.thenational.ae/world/the-americas/biden-pledges-to-end-trump-s-muslim-ban-on-first-day-in-office-1.1052119
--------
President Trump threatens defense bill veto over Confederate names, Afghan policy
22 July 2020
President Donald Trump threatened on Tuesday to veto this year's National Defense Authorization Act, objecting to plans to strip Confederate names from military bases, limit spending on Afghanistan and other provisions he sees as curbing his authority.
The sweeping $740 billion NDAA sets policy for the Department of Defense. It has passed for 59 straight years, one of the few major pieces of legislation seen as "must-pass" because it governs everything from pay raises for the troops to how many aircraft should be purchased or how best to compete with rivals like Russia and China.
The Republican-led Senate and Democratic-led House of Representatives are debating amendments to the NDAA this week. The two chambers will each pass a version of the bill and then come up with a compromise version, which - if it passes - would be sent to Trump to sign or veto later this year.
For all the latest headlines follow our Google News channel online or via the app.
A spokesman for the Pentagon said he expected Congress and the White House would work out their differences. "They understand the importance of the NDAA, and we're confident... the NDAA will be signed and implemented on time so that we can have a budget for our forces," he said.
Trump had already vowed to veto the NDAA over a provision requiring the military to rename bases named for Confederate military leaders, who fought against US forces during the Civil War.
The names of those bases, and statues honoring men who owned slaves or fought on the pro-slavery side, have been targeted in anti-racism protests across the United States - and the world - since George Floyd was killed by police in Minneapolis in May.
The Senate on Tuesday defeated an NDAA amendment that would have blocked the Pentagon from transferring to local police military-grade equipment that has been used against demonstrators.
https://english.alarabiya.net/en/News/world/2020/07/22/President-Trump-threatens-defense-bill-veto-over-Confederate-names-Afghan-policy.html
--------
US's Pompeo repeats widely-disregarded appeal for arms embargo on Iran
21 July 2020
US Secretary of State Mike Pompeo has repeated a widely-disregarded call for the extension of an arms embargo on Iran that is due to expire in a matter of months under an international deal with Tehran, even though a US attempt at the United Nations (UN) to have that embargo extended is most likely to fail.
At a joint press conference with British Foreign Secretary Dominic Raab in London on Tuesday, Pompeo said the two had discussed the "importance" of extending the arms embargo, which is due to expire in October.
The administration of US President Donald Trump has been attempting what it has called a "maximum pressure" campaign against Iran since 2018, when Washington pulled out of the Iran nuclear deal.
The embargo, a remnant of the Western dispute with Iran over its nuclear program, is due to be lifted in October under the deal, which brought the dispute in its original form to an end in 2015. The United States, whose unilateral withdrawal from the Iran deal faced strong backlash from much of the international community, has been attempting to have the embargo extended. It has submitted a draft resolution to that effect to the UN Security Council, but has faced strong opposition from Russia and China and ambivalence from its own European allies.
To circumvent possible vetoes by Russia and China, the US plans to make the bizarre case that it legally remains a "participant state" to the nuclear deal and can thus invoke a mechanism in it to snap UN sanctions on Iran back into place.
In late June, Pompeo faced a sharp reprimand from world powers, including its allies, over that argument.
Iran has made it clear that the US is no more a party to the deal. So have Russia, China, and the EU.
The nuclear agreement, officially known as the Joint Comprehensive Plan of Action (JCPOA), was reached between Iran and what was then called the P5+1 group of countries — namely the US, Britain, France, Russia, China, and Germany.
Trump had long attacked the deal — which he saw as a legacy of former US President Barack Obama — before he withdrew America from it in 2018.
https://www.presstv.com/Detail/2020/07/21/630135/US-Iran-arms-embargo-Pompeo-London
--------
US 'maximum pressure' against Iran failed: Washington Post
21 July 2020
The Trump administration's "maximum pressure" campaign against Iran has failed to achieve any of the US objectives, according to The Washington Post.
The Washington Post editorial published on Tuesday states that Washington unleashed its so-called maximum pressure campaign against Iran in 2018, when it left the 2015 multilateral nuclear agreement, officially known as the Joint Comprehensive Plan of Action (JCPOA).
Following US withdrawal from the Iran nuclear deal, Washington targeted Tehran with its "toughest ever" economic sanctions.
However, the administration's "maximum pressure" campaign not only failed in its objectives, including renegotiation of the Iran nuclear deal, prevention of Tehran's growing influence in the Middle East, as well as "regime change"; but also, unintentionally strengthened China's bilateral relation with Tehran.
The article stresses that the Trump's administration's policy resulted "in a powerful new blow to US interests, in the form of an Iranian partnership with China that could rescue Iran's economy while giving Beijing a powerful new place in the region."
According to the Post article, "Trump's confrontational approach to China in recent months, including his refusal to continue work on a comprehensive trade deal, has given Mr. Xi [Jinping] little incentive to cooperate with Washington's geopolitical priorities. On the contrary, the Chinese leadership likely perceives a moment of critical US weakness as Mr. Trump flounders amid a health and economic crisis and is moving to take advantage. It is expanding its presence in the South China Sea; it is crushing Hong Kong's autonomy. Allying itself with the foremost US adversary in the Middle East opens yet another front."
The Post article concluded that the hostile US policy towards China, exacerbated by the hostilities of Washington's trade war on the Chinese nation, was pushing Beijing to shield US adversaries from Trump's "maximum pressure" campaign.
In addition, China would gain more by "demonstrating US impotence" as Iran becomes immune to the US "pressure campaign".
"Trump is mistaken if he believes 'maximum pressure' is getting him closer to a deal with Iran. The policy is not leading to Iran's capitulation or collapse, but entrenching US-Iran hostilities and keeping the United States perennially at the cusp of war in the Middle East," according to another article published in the Foreign Policy.
The leading US foreign policy magazine advised "Trump to ditch maximum pressure and rebuild the trust necessary for successful negotiations,"
"International relations and the real estate market are not similar," it pointed out to the former realtor.
"Bullying and bluster do not win deals; mutual respect and 'win-win. compromise do," it concluded.
https://www.presstv.com/Detail/2020/07/21/630133/US-Iran-China-Maximum-Pressure-Economic-Sanctions
--------
Judge allows lawsuit challenging US terror watchlist to proceed
21 Jul 2020
A United States federal judge in Maryland is allowing dozens of Muslim plaintiffs to move ahead with a lawsuit against Attorney General William Barr and other federal officials challenging the constitutionality of the government's watchlist of people identified as "known or suspected terrorists".
Government lawyers had asked US District Judge Paula Xinis in Greenbelt to toss out the lawsuit. But in a 65-page ruling issued on Monday, she allowed it to proceed.
It was not a total victory for the plaintiffs, though: The judge did toss out some parts of the case, including claims that the watchlist interfered with First Amendment rights to free assembly, as well as a claim that the watchlist is used to unfairly pressure Muslims into becoming FBI informants.
Gadeir Abbas, a lawyer for the Council on American-Islamic Relations who is representing the plaintiffs, said Monday's ruling is the broadest legal challenge to the watchlist that has made it this far in the legal process and "is the latest sign that the era of the federal government's extrajudicial targeting of innocent Muslims will not go on forever".
A judge in Alexandria, Virginia ruled in favour of Muslim plaintiffs last year in a similar challenge that was focused a little more narrowly, but that case has been held up on the question of what kind of remedy should be crafted.
The watchlist, also known as the Terrorist Screening Database, is maintained by the FBI and shared with a variety of federal agencies. Customs officers have access to the list to check people coming into the country at border crossings, and aviation officials use the database to help form the no-fly list, which is a much smaller subset of the broader watchlist.
The watchlist has grown significantly over the years. As of 2017, approximately 1.16 million people were included on it, according to government documents. The vast majority are foreigners, but according to the government, there were roughly 4,600 US citizens and lawful permanent residents on the watchlist as of 2017.
The lawsuit alleges that Muslims are placed on the list without good reason and without a reasonable opportunity to clear their names. Placement on the watchlist has resulted in travel and business difficulties for those who say they were placed on the list improperly.
The FBI declined to comment on Monday, citing the ongoing litigation. In court papers. government lawyers argued for dismissal on numerous grounds and defended the administration of the watchlist.
https://www.aljazeera.com/news/2020/07/judge-lawsuit-challenging-terror-watchlist-proceed-200720203517486.html?utm_source=iterable&utm_medium=email&utm_campaign=1375383_
What does the first-ever terrorism charge against MS-13 member really mean?
Last week, the U.S. Department of Justice (DOJ) announced its very first terrorist charge against a member of the notorious Mara Salvatrucha gang, better known as MS-13. After unsealing the indictment in Virginia against Melgar Diaz, Attorney General William Barr depicted him as the individual who "would green light assassinations" at the gang's behest in the United States.
And analysts anticipate that the move will have a significant impact on America's ability to go after other gang members.
"The terrorism approach will open up and afford greater intelligence and investigative tools. Utilization of Patriot Act type laws and regulations will afford a more comprehensive U.S..S. and international approach to disruption and dismantlement of the organized crime aspects to each gang," Robert Clark, a former FBI gang specialist, told Fox News. "The terrorism laws and applications will afford greater intelligence gathering and investigative capacity as well as unilateral prosecution abilities."
Diaz himself moved to Virginia from El Salvador in 2003, and quickly joined the GLS – a clique of MS-13. A decade later, according to court documents, he was deported to his homeland but returned illegally six months later. In 2016, he was once again deported to El Salvador, where he has since resided and pulled strings and collected finances for the gang's operatives – referred to as cliques – across at least 13 states and Washington D.C. in the United States. He is currently in custody in his home country, charged with conspiracy to commit murder charges and drug trafficking.
Furthermore, prosecutors are seeking the death penalty for another MS-13 leader – Alexi Saenz – in Long Island, New York. He was charged in seven slayings, including the murders of two teenagers. Grand juries in Nevada and New York also announced last week that new charges had been slapped on almost two dozen MS-13 members for a variety of violations, including murder, kidnapping, drug dealing and racketeering.
The takedown of MS-13 has been a vocal goal of President Trump, dating back to his 2016 campaign. He upped the ante in a press conference last week, telling reporters that his administration believes "monsters who murder children should be put to death," and vowing that they would "not rest before bringing every member of the gang to justice." The recent crackdown on the infamous Central American gang is credited to the Department of Homeland Security and the DOJ's Joint Task Force Vulcan, an initiative launched last August with the goal of "disrupting, dismantling, and ultimately, destroying MS-13."
But there are still many challenges ahead.
"Building federal murder conspiracy cases against transnational organized criminal organizations usually takes years. Finding witnesses to testify against MS-13 is particularly difficult because of their savagery," explained James Jeffrey Higgins, a retired Supervisory Special Agent with the DEA and author of "The Narco-Terrorist." "If terrorism-related charges were included in the indictment, it would give the Feds authority to charge violent crimes as well as additional sentencing guidelines."
Members of the El Salvadorian community in the U.S. are often victims of the gang, Higgins underscored, and "cooperating with authorities can put targets on witnesses and endanger members of their families who live in El Salvador, a country which has been destabilized by MS-13."
Despite the new push, the infamous street gang has long been on the radar of U.S. law enforcement. The Obama administration sanctioned MS-13, with the Treasury Department designating it "a transnational criminal organization," the first-ever for a street gang.
"The evolving complex threats posed by transnational crime groups like MS-13 must face the power of the United States," asserted Derek Maltz, a former special agent in charge of the Drug Enforcement Administration (DEA) Special Operations Division in New York. "Terrorist investigations, like this MS-13 case, will provide enhanced resources and should also, in reality, get the proper focus on the threats by the agencies. DOJ will use the expertise in the different agencies to put forth a way more effective attack on MS-13. These are acts of terrorism, and MS-13 should be dealt with accordingly."
The gang was established in the impoverished, marginalized neighborhoods of Los Angeles, California, in the 1980s by those who fled the civil war wracking El Salvador.
It escalated into one of the most savage criminal enterprises on the planet as it spread to almost every state via an array of "cliques" or cells. Each clique is described as having its own echelons and rank status. InSight Crime, which specializes in investigating and analyzing organized crime, defines an MS-13 "Homeboy" as a fully initiated member who has completed a "jumping-in" ceremony. Such a commemoration involves a beating test, "where the prospective MS-13 member must survive a group of existing gang members beating him for 13 seconds." Once jumped in, according to InSight Crime, "MS-13 members are expected to participate in the gang's criminal activities, and certain "homeboys" also operate as "Palabreros" or "shot callers," making the ultimate decisions affecting the clique."
Meanwhile, leaders of these cliques – designated to specific areas – are referred to as "corredores," meaning "those who have the word." "Primera palabra" is typically the first-in-command of a clique, and "segunda palabra," is the second-in-line. Some of the very top and trusted top-brass are issued authority to manage cliques from a distance.
In the 1990s, as the gang's bloody reign grew, more potent authorities began expelling members from the United States back to Central America. However, a 2008 Congressional Research Service inquiry into the group found that it only continued to grow stronger.
"They have become even more organized and since the violence in El Salvador and other countries such as Guatemala and Honduras as well as other regions, as well as the continuing leadership inside the prisons and protected because they are among their peers, their abilities to organize have become more proficient," Clark explained. "Also, with continuing deportation, they have received freshly trained and experienced soldiers, along with the continuing advanced use of social media to recruit and communicate has likened to any terrorist network."
MS-13 is already a terror group designated by El Salvador, yet not the U.S. However, 18 U.S. Code § 2331 – which covers a broad scope of "international terrorism" – does give U.S. authorities some latitude in the application.
"The law gives the U.S. extraterritorial jurisdiction, and at the fullest application I can see new coordination between DOJ and elements within the intelligence community and DOD to target and prosecute MS-13 members abroad, which will help law enforcement more easily interdict them in the U.S..," observed Andrew Lewis, a former Defense Department staffer and the president of a private intelligence firm, the Ulysses Group.
And they are reported to be growing not only in scope but in tactics and logistical capabilities. Police in Honduras said last month that MS-13 had "wired several Honduran neighborhoods with surveillance cameras," which were connected to a router and thus enabled members to view activity streams on their phones, computers, and other devices.
"Though this is not the first time authorities have discovered a video system controlled by the MS13, its routine use in several poor neighborhoods in San Pedro Sula is striking," InSight Crime surmised. "For the gang to have placed cameras in marginal neighborhoods shows that the system enhanced gang surveillance in some way beyond the usual modus operandi of positioning young members as watchmen."
While membership figures vary, the U.S. Southern Command has estimated that there are some 70,000 members in the Northern Triangle alone. Most of the recruitment efforts target young teens, with some born in the U.S. or second-generation members.
Yet David Pyrooz, associate professor of sociology at the University of Colorado Boulder contended that while MS-13 "has always been an outlier when it comes to gang violence," given their extensive use of "machetes, dismemberment, targeting, and other extremes (which has) made them a trophy in criminal justice," they are "a drop in the bucket of U.S..S. gang violence."
"I don't mean to discount their violence. But they are responsible for a small fraction, no more than 2 percent, of gang-related homicides, and an even smaller fraction of all homicides, in the United States," he added. "The problem with gang crackdowns is that they are temporary solutions to much bigger fundamental issues. If anything, copycat gangs that take on MS-13 symbology will emerge because the gang is perceived as the biggest and baddest, not unlike how street gangs adopt the names of organized crime and terrorist groups."
https://www.foxnews.com/us/first-ever-terrorism-charge-against-ms-13-mean?utm_source=iterable&utm_medium=email&utm_campaign=1375383_
--------
Mideast
Erdogan: Turkey will remain in Syria 'until the people are free'
July 21, 2020
Turkey's President Recep Tayyip Erdogan said on Tuesday that Turkish forces, which have carried out several incursions into northern Syria since 2016, would remain in the country until Syrians could live in freedom and safety.
"Nowadays they are holding an election, a so-called election," Mr Erdogan said of a parliamentary election on Sunday in Syria's government-controlled regions, after nearly a decade of civil war.
"Until the Syrian people are free, peaceful and safe, we will remain in this country," he said in Ankara.
https://www.thenational.ae/world/mena/erdogan-turkey-will-remain-in-syria-until-the-people-are-free-1.1052603
--------
Dozens of anti-government protesters arrested in Jerusalem
July 22, 2020
DUBAI: Israeli police have arrested dozens of anti-government protesters during a mass demonstration against Prime Minister Benjamin Netanyahu, national daily, The Jerusalem Post reported.
Thirty-four people, among around 2,000 protesters, were held by police accused of public order offences and assaulting police officers.
The protest took place outside Netanyahu's residence in Jerusalem on Tuesday evening, amid growing public dismay over the worsening coronavirus crisis and alleged corruption.
The police earlier approved the protests, and announced they were blocking some roads to give way to the demonstrators.
The protest remained largely peaceful, according to the report, with a few disturbances throughout the evening.
https://www.arabnews.com/node/1708341/middle-east
--------
Spokesman: Iraqi PM's Visit to Iran Aimed at Broadening Economic Ties, Anti-Terrorism Cooperation
Jul 21, 2020
"Mr. al-Kadhimi's visit is aimed at strengthening relations between Iran and Iraq and we have a strategic background too. Annihilation of the ISIL terrorists, obviation of environmental threats and foreign currency exchanges are among the important bilateral issues," Rabiyee told reporters in Tehran.
He dismissed al-Khazimi's mediation between Iran and Saudi Arabia or Iran and the US for resumption of ties, saying that "we welcome all proposals" but do not accept any mediation for relations with Washington.
Rabiyee also said that Iran will certainly legally pursue the US assassination of former IRGC Quds Force Commander Lieutenant General Qassem Soleimani and punishment of the culprits behind it in talks with the Iraqi side.
Al-Kadhimi arrived in Tehran on Tuesday. The Iraqi prime minister is to meet with top Iranian officials, including Supreme Leader of the Islamic Revolution Ayatollah Seyed Ali Khamenei.
Chairman of Iran-Iraq Joint Chamber of Commerce Yahya Al-e Es'haq said on Tuesday that the two countries are seeking to attain $20 billion worth of bilateral trade exchanges.
He pointed to the visit of al-Kadhimi to Iran today, and said, "The visit of Iraqi prime minister to Iran will play a very constructive and important role in developing and strengthening trade ties between the two neighboring countries."
During the Iraqi prime minister's visit to Iran, planning to reach the horizon of $20 billion bilateral trade between Iran and Iraq will also be discussed, Al-e Es'haq added.
He further noted that economic issues will include a major part of the Iraqi prime minister's visit to the Islamic Republic of Iran.
Iraq's debt to Iran on importing electricity and energy will be the other important issues that will be discussed between Iranian and Iraqi officials, he said, adding, "agreements have already been made on the repayment of Iraq's about $3 billion debt to the Islamic Republic of Iran, which is gradually being implemented, and during this trip, its payment system will be examined clearly."
https://en.farsnews.ir/newstext.aspx?nn=13990431000848
--------
FM Zarif: Extension of Iran-Russia Long-Term Treaty on Agenda
Jul 21, 2020
"Extension of the agreement is on our agenda and if the Russian friends are ready to have another long-term deal, we can study it but extension of this agreement is certainly on our agenda," Zarif told reporters upon arrival in Moscow on Tuesday.
Iran and Russia prepared a treaty in March 2001 as a roadmap for 10 years of bilateral relations and principles of cooperation between the two countries. The treaty is extended every five years automatically if not faced with opposition of both sides.
"Bilateral ties, the region and the nuclear deal are among issues to be discussed during the trip," he added, describing the two countries' relations as strategic.
Zarif said given the current conditions on the international scene, talks are needed to be held between Iran and Russia and China as two friendly states of Tehran.
During his visit to Moscow, Zarif is due to hold talks with high-ranking Russian officials.
Deputy Foreign Minister for Political Affairs Abbas Araqchi also accompanies Zarif in the trip.
Earlier, Iranian ambassador to Russia KazzemJalali had said that Zarif will deliver President Rouhani's message to President Putin during the visit to Moscow.
This is the 30th visit of Zarif to Moscow as the Iranian Foreign Minister and his third visit to the country in the past six months. Zarif's last official visit to Moscow was in mid-June 2020.
According to Jalali, the Iranian minister will also discuss JCPOA, regional developments, and bilateral ties with his Russian counterpart Sergey Lavorv.
Leaders of the two countries, he continued, are determined to cement bilateral ties to safeguard common interests and help to ensure regional security, said the envoy.
https://en.farsnews.ir/newstext.aspx?nn=13990431000932
--------
Iraqi MP: No Request from Baghdad by Tehran to Mediate for Ties with US, S. Arabia
Jul 21, 2020
"Tehran has not made any official request to Baghdad for mediation between the country and Saudi Arabia or the US," al-Fa'ez told the Arabic-language service of Sputnik news agency on Tuesday.
Yet, he said Iraq itself has embarked on some initiatives to keep the region safe from clashes, adding that conflicts between Tehran and Washington and Riyadh and their negative impacts on Iraq were discussed during Zarif's recent visit to Baghdad.
Speaking to reporters in a joint press conference after meeting his Iraqi counterpart Fo'ad Hossein in Baghdad on Sunday, Zarif underlined the need for the establishment of tranquility in the region, saying that Tehran is interested in having a powerful and peaceful Iraq along its border.
"A powerful Iraq full of peace and tranquility with constructive and good relations with all its neighbors is equal to power, tranquility, stability and peace of ourselves and we welcome Iraq's effective role in the powerful and peaceful Persian Gulf region," Zarif said.
He added that presidents of the two countries have agreed to increase their volume of trade ties to $20bln during President Rouhani's visit to Iraq, and said, "We are not so much far from that goal and we will certainly adopt joint measures to this end."
"Iraq is one of prioritized neighbors in our economic and trade relations," Zarif said.
He also referred to the US assassination of top Iranian commander Qassem Soleimani and al-Muhandis, in January, and said it was a big harm to the war on terrorism in the region and Iran and Iraq will pursue the case in cooperation with each other.
"It is highly important to us to see that the national sovereignty, territorial integrity and independence of our neighbors does not come under aggression by foreigners," Zarif stressed.
https://en.farsnews.ir/newstext.aspx?nn=13990431000725
--------
Iran says explosion near military site due to accident, ruling out Israel involvement
21 July 2020
The explosion that took place near a sensitive military site in the Iranian capital Tehran last month was due to an accident, a government spokesman reiterated on Tuesday, ruling out any Israeli involvement.
On June 25, an explosion took place close to the Parchin military site east of Tehran. A defence ministry spokesman later told state TV the explosion was caused by a tank leak at a gas storage facility.
On July 2, Iran's Atomic Energy Organisation (AEOI) said an "accident" had taken place at a construction site in the Natanz nuclear site in central Iran without causing casualties.
Asked at a press conference about the government's investigations on the recent fires and explosion in Iran, government spokesman Ali Rabei said the explosion at Parchin was "natural and did not leave considerable damage. There was no sabotage."
"But the incident at Natanz has its own complexities, and experts still have come to a final conclusion, which the Atomic Energy Organization will announce," said Rabei.
On July 3, Iran said it determined the cause of the "accident" at Natanz but declined to release details citing security reasons.
Some media reports suggested that Israel may have been behind some of the recent incidents in Iran, especially the incident at Natanz.
Three Iranian officials who spoke to Reuters said they thought cyber sabotage had been involved at Natanz, but offered no evidence. Two said Israel could have been behind it.
Israel has not claimed responsibility for any attacks in Iran.
"Since the beginning of these incidents, some media outlets and media activists, who mainly work with Mossad, have linked the Natanz incident to the Israeli regime in a planned and coordinated effort to portray a powerful image of the Israeli regime," Rabei said.
Some Iran watchers say the Iranian regime is refraining from admitting to an Israeli involvement in order to "save face."
Admitting to an Israeli involvement will also require a response from Iran which the regime likely does not have the capacity for, they say.
https://english.alarabiya.net/en/News/middle-east/2020/07/21/Iran-says-explosion-near-military-site-due-to-accident-ruling-out-Israel-involvement.html
--------
Israel probes Palestinian Jerusalem governor over 'terrorism'
July 20, 2020
Jerusalem (AFP) - Israel is investigating the Palestinian governor of Jerusalem over suspected terrorism, in the first such allegation against the often-arrested leader, his lawyer said Monday.
Adnan Ghaith has been arrested by Israeli security forces more than 10 times over the past two years, but typically over the minor offence of engaging in "illegal" political activities in the disputed city.
He has generally been released within a day or two.
But Ghaith's lawyer Mohammed Mahmoud told AFP that in addition to political offences the governor was being probed over "planning an act of terrorism," and not expected to be released soon.
Under Israeli law, a broad range of offences fall under the terrorism umbrella, and the probe does not necessarily mean Ghaith is suspected of plotting an act of violence.
It was the first time Ghaith was the subject of a terrorism investigation and Israel's powerful domestic security agency, the Shin Bet, was involved in the case, Mahmoud said.
The Shin Bet did not immediately respond to a query about the investigation.
Police spokesman Micky Rosenfeld told AFP that Ghaith had been arrested at his east Jerusalem home on Sunday.
"He is being questioned by security forces," Rosenfeld said.
Israel occupied east Jerusalem in the 1967 Six-Day War and later annexed it in a move never recognised by the international community.
It considers the entire city its capital, while the Palestinians see the eastern sector as the capital of their future state.
Israel bans all Palestinian Authority activities in the city.
As a result, the PA has a minister for Jerusalem affairs and a Jerusalem governor located in Al-Ram, just on the other side of an Israeli wall that separates the city and the occupied West Bank.
Ghaith has repeatedly been arrested for allegedly carrying out PA activities in east Jerusalem, including for working to ensure Palestinians in the city had access to essential services in the battle against coronavirus.
https://news.yahoo.com/israel-probes-palestinian-jerusalem-governor-over-terrorism-144536627.html?utm_source=iterable&utm_medium=email&utm_campaign=1375383_
--------
Africa
Trial of Sudan's ousted President Omar al-Bashir for 1989 coup postponed
21 July 2020
The trial of Sudan's ousted President Omar al-Bashir and some of his former allies on charges of leading a military coup that brought the autocrat to power in 1989 has been adjourned until August 11, the judge leading the case said on Tuesday.
State TV had begun broadcasting the judge opening the trial without showing footage of Bashir just an hour earlier.
Al-Bashir has been jailed in Khartoum since he was toppled in April last year following mass protests against his 30-year rule.
Other defendants include former allies of Bashir such as military officers and extremists, judicial sources said before the start of the trial.
A Sudanese court handed Bashir a two-year sentence in December on corruption charges. He also faces trials and investigations over the killing of protesters.
https://english.alarabiya.net/en/News/middle-east/2020/07/21/Sudan-begins-trial-of-ousted-President-Omar-al-Bashir-for-1989-coup.html
--------
Jordan to allow tourists from low-risk countries to visit in groups
July 22, 2020
DUBAI: Tourists who are coming from low-risk countries will be allowed to enter Jordan in groups, Managing Director of Jordan Tourism Board Abed Al Razzaq Arabiyat said, reported by state news agency Petra.
People traveling in groups will also be restricted by the schedule of their groups within specified tourism areas.
Arabiyat said the country was keen to revive its tourism industry, which has been severely hit by the pandemic.
The government has been discussing with airlines to attract tourists to the country, he added, saying there will be an intensive marketing plan to be launched in eligible countries.
Jordan earlier announced it was gradually reopening its borders to tourists in August, but only for those who are coming from "green countries," a color-coding system that determines countries' coronavirus risk.
Jordan closed its airports in mid-March as part of coronavirus protection measures, which according to Minister of State and Media Affairs Amjad Adaileh, was an "effective decision" as the "calm health situation and low case numbers" in the Kingdom.
"Even at the beginning of the pandemic, bringing back our sons and daughters was among the government's priorities, but given that Jordan is at the lower-mild stage, it is time to gradually bring back commercial flights," the minister said,
The lower-mild stage, also called the "blue stage", is part of the government's coronavirus response plan that allows the reopening of airports with health and safety measures.
https://www.arabnews.com/node/1708286/middle-east
--------
URL: https://www.newageislam.com/islamic-world-news/a-rare-buddha-statue-destroyed/d/122439
New Age Islam, Islam Online, Islamic Website, African Muslim News, Arab World News, South Asia News, Indian Muslim News, World Muslim News, Women in Islam, Islamic Feminism, Arab Women, Women In Arab, Islamophobia in America, Muslim Women in West, Islam Women and Feminism