New Age Islam News Bureau
29 Jul 2020
• Hagia Sofia Move Historically and Factually Justified: Malaysian Group
• Pakistan Admits Land Grabbers of a Religious Shrine Tried to Encroach Upon Gurdwara Shahidi Asthan
• Taliban Executes Female Prison Guard, and U.N. Raises Concern Over Afghan Violence
• Saudi Ambassador in UK Glorifies Drinking Culture in Interview
• Turkey's Social Media Draft Bill Presages 'New Dark Era' Of Censorship, Say Critics
• Wiser Elements in Washington Establishment Get Iran's Message: Analyst
India
• A PIL In the Gujarat High Court Wants Use of Loudspeakers for Azaan Banned
• Karnataka Govt Scraps Chapters on Tipu Sultan, Constitution, Islam; Congress Says BJP Trying to Change History
• Telangana HC Seeks List of Muslim Graveyards, Encroachments
• Can mosque, temple stand together? Rao asked before Babri demolition: Architect
• Pak attempts to bring back Geelani as Hurriyat head in Kashmir
• Rift in NC over Omar Abdullah stand, influential Shia leader quits
• Family of Sikh refugees in Amritsar says told to go to Afghanistan to get documents for visa extension
• J&K: Hizbul poster warns women to stop posting dance videos on social media
• Babri mosque case: Special CBI court completes recording of statements
• Muslim leaders including litigant get Ram Mandir ceremony invite, no opposition leader on list
• Punjab Chief Minister Condemns Attempts To Convert Gurdwara Into Mosque In Pakistan
• 2 Lashkar infiltrators killed, another injured in J-K's Rajouri
--------
Southeast Asia
• Hagia Sofia Move Historically and Factually Justified: Malaysian Group
• Amanah MP Proposes Religion Misuse Act To Prevent Preachers From Spewing Hate
• Muslims in Jakarta's red zones told not to attend Idul Adha mass prayers
• Malaysia's Unwelcoming Shore for Refugees Fleeing Religious Persecution
• MUI calls on Muslims to comply with health protocols during Idul Adha
--------
Pakistan
• Pakistan Admits Land Grabbers of a Religious Shrine Tried to Encroach Upon Gurdwara Shahidi Asthan
• Pakistan Church Urges Combined Worship at Hagia Sophia
• Defence preparation to ensure 'peace within, peace without', says Gen Bajwa
• Urge Pak Sikh Community to Wait for Govt To Act On Gurdwara Shahidi Asthan Issue, Says Pakistan Sikh Gurdwara Parbandhak Committee
• NA committee slams 'non-serious' attitude to meeting FATF conditions
• Talks on FATF, NAB legislation hit a snag
--------
South Asia
• Taliban Executes Female Prison Guard, and U.N. Raises Concern Over Afghan Violence
• US welcomes Afghan ceasefire, urges quick start to talks with Taliban militants
• Afghan president expects talks with Taliban 'in one week's time'
• Taliban announce Eid Al-Adha ceasefire in Afghanistan
--------
Europe
• Saudi Ambassador in UK Glorifies Drinking Culture in Interview
• Europe Warned of ISIS Radicalisation Threat in Prisons
• Swedish Islamic school accused of gender segregation takes over building linked to ISIS
• British-Australian scholar moved to Iran's Qarchak prison amid COVID-19 outbreak
• Jihadist plots used to be U.S. and Europe's biggest terrorist threat. Now it's the far right.
--------
Mideast
• Turkey's Social Media Draft Bill Presages 'New Dark Era' Of Censorship, Say Critics
• US Democratic Party's Platform On Iran 'Positive' Step: Tehran
• Opposing sides in Yemen accept Saudi proposal to implement Riyadh agreement
• Islamic Relief to contest Israeli 'terrorism' allegations in court
• Iran: Prisoner, Kamil Ghaderi-Aghdam Executed in Naghdeh
• Iran continues execution of Kurdish prisoners to little international outcry
• Iran: 21-year-old Majid Choupani executed in Qazvin Prison
• Iranian Supreme Court Upholds Death Sentence for 5 Protesters in Isfahan
• Iran: UN experts call for the urgent release from prison of human rights defender with COVID-19 symptoms
• Iran Jails 20 Protesting Downing of Ukrainian Plane, None Sentenced from Military
• Envoy Underlines Iran's Readiness for Further Security Cooperation with Iraq
• Khamenei-controlled organization acquires part of Iran's highest mountain
• Iran, Hezbollah are unable to fully respond to increase in Israeli attacks: Experts
• Yemen government, STC deal to implement Riyadh Agreement 'positive step:' Saudi FM
--------
North America
• Wiser Elements in Washington Establishment Get Iran's Message: Analyst
• US acknowledges killing civilian, wounding 3 others in Somalia
• US forces asked to stay in bunkers as Iran fires missiles amid drills: Reports
• State Department declares 'unwavering' commitment to seeking 'justice for the families' of US citizens killed by ISIS
• Anti-fascists linked to zero murders in the US in 25 years
--------
Arab World
• Third Iraqi Protester Dies Of Tear Gas Canister Wound This Week In Baghdad
• Egypt's al-Sisi says Ethiopia's Nile dam saga to 'drag on'
• UAE's Gargash welcomes Saudi-Egyptian cooperation after meeting on Libya
• Saudi Arabia Crown Prince's efforts united Yemeni government, STC: Khalid bin Salman
• EU lawmakers concerned bin Salman may kill ex-rival in Saudi jail
• Israel Says It Thwarted a Hezbollah Raid at Lebanon Border
--------
Africa
• UN, AU Urge Darfur Troop Deployment To Protect Civilians After Wave Of Deadly Attacks
• Libya's LNA: Turkey sending mercenaries of various nationalities, not only Syrians
• Turkey still mobilizing forces in Libya, LNA ready on frontlines: LNA spokesperson
• 3 migrants shot dead in Libya after failed crossing to Europe
• Mali's opposition rejects West African leaders' plan to end deadlock
• Boko Haram Currently Attacking Borno Community
• Caught between climate crisis and armed violence in Burkina Faso
Compiled by New Age Islam News Bureau
URL: https://www.newageislam.com/islamic-world-news/a-pil-gujarat-high-court/d/122496
--------
A PIL In the Gujarat High Court Wants Use of Loudspeakers for Azaan Banned
Jul 29, 2020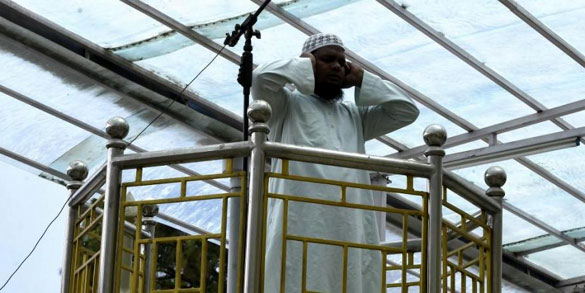 A Muezzin, person appointed to call Muslims to prayers, recites the aazan. (Photo|AFP)
-----
Ahmedabad: A Gandhinagar-based doctor has filed a PIL in the Gujarat high court seeking a ban on use of loudspeakers for the Azaan (call to prayer) at mosques across Gujarat contending that it creates noise pollution and violates the fundamental rights of citizens.
Dharmendra Prajapati, a resident of Sector 5C in Gandhinagar, complained that even though not many persons turn up to pray at the mosque in his neighbourhood, the muezzin uses a loudspeaker five times a day to recite the azaan. This causes great inconvenience and disturbance to the people living nearby. He contended that people have a right to peace and tranquility.
Basing the arguments on the Allahabad high court's order with regard to denial of permission recite the azaan on loudspeakers against the local authorities' decision during the lockdown, the petitioner stated that he complained about this to the local authority but to no effect.
The PIL contends that the sound from the loudspeaker is very loud and is unbearable. Such noise pollution "causes severe mental illness, physical problems to aged persons and small children and it also affects the work efficiency of the public at large. In short, it is not good for health".
Citing legal provisions, the PIL claims that use of loudspeaker without permission from local authorities violates the law. "There is no valid written permission obtained by the persons of Muslim community while using loudspeaker while offering prayers," the PIL reads. It also cited an order by the Supreme Court to assert that no religion prescribes that prayers should be performed by disturbing the peace of others nor does it preach that they should be through voice amplifiers or beating of drums.
The petitioner further claimed that use of loudspeakers is not an integral part of Islam because in the olden days when the technology did not exist, the azaan was recited and namaz used to be offered regularly in mosques. Muslims cannot explain why namaz cannot take place without the azaan through a loudspeaker.
The petitioner further argued that the use of the loudspeaker five times a day disturbs people's sleep and students' education. "Sleep is a fundamental and basic requirement without which the existence of life itself would be in peril. To disturb sleep, therefore, would amount to torture which is not accepted as a violation of human right," the PIL says.
The PIL is likely to come up for hearing later this week.
https://timesofindia.indiatimes.com/city/ahmedabad/pil-wants-use-of-loudspeakers-for-azaan-banned-at-mosques/articleshow/77229060.cms
--------
Hagia Sofia Move Historically And Factually Justified: Malaysian Group
Riyaz ul Khaliq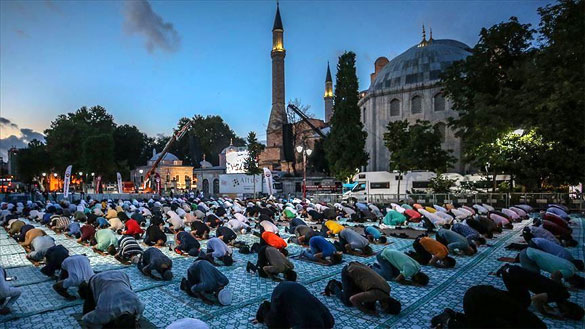 Malaysian group, Indonesian scholars hail reopening of Hagia Sophia Mosque
----
28.07.2020
The move to re-open the Hagia Sophia as mosque is "historically and factually justified," a Malaysian group said Tuesday.
In a statement, the Movement for an Informed Society Malaysia or WADAH said it "celebrates the return and opening of Hagia Sophia as a Masjid [mosque]."
In an online statement, WADAH President Ahmad Azam Ab Rahman said that even with the opening of the mosque, both Christian and Islamic symbols would continue to be preserved.
Rahman pointed out that the Turkish government used curtains and folding screens to cover the Hagia Sophia's many Christian mosaics, icons, motifs and symbols during Muslim prayers, and that these would not be removed or permanently covered up.
On July 24, Friday's prayers in the Hagia Sophia Grand Mosque marked the first acts of worship there in 86 years.
"We commend and laud President Recep Tayyip Erdogan for his leadership, his audacity and courage heralding long awaited inspiration for the Muslim world," said Rahman.
Some 350,000 Muslims took part in Friday prayers on July 24 both inside and outside the historical mosque in Istanbul, Turkey's largest metropolis.
On July 10, a Turkish court annulled a 1934 Cabinet decree that turned Hagia Sophia into a museum, paving the way for its use as a mosque.
Hagia Sophia served as a church for 916 years until the conquest of Istanbul, and a mosque from 1453 to 1934 -- nearly 500 years -- and most recently as a museum for 86 years.
In 1985, during its time as a museum, Hagia Sophia was added to the UNESCO World Heritage List.
Besides being a mosque, Hagia Sophia is also among Turkey's top tourism destinations and will remain open for domestic and foreign visitors.
- Hagia Sophia Mosque 'boosts Muslims' prestige'
Separately, a Muslim clerical body in Indonesia's northernmost province of Aceh also hailed the opening of the Hagia Sophia Mosque.
Tengku Bulqaini Tanjungan, the vice-chairman of Ulema Consultative Assembly, on Monday said Turkey, under the leadership of President Erdogan, has shown its concern for the Islamic world, helping the weak in various parts of the world.
"Then, there is no reason not to support him on the Hagia Sophia move," he told Anadolu Agency.
Highlighting that the Istanbul landmark had been a mosque for centuries before being turned into a museum, Tanjungan said his group welcomed Turkey's decision.
Tanjungan said the decision could be seen as an effort to boost Muslims' international prestige.
"Muslims in Turkey were able to get rid of foreign intervention that has been shackling the determination of Muslims to rise."
Teuku Zulkhairi, an academic at the State Islamic University of Ar-Raniry, said Turkey was now slowly recovering from a long downturn.
"Now, Turkey is an important country and cannot be ordered by other states, especially in the case of the Hagia Sophia," Zulkhairi told Anadolu Agency.
He said the rage displayed by Greece against Turkey over the decision showcased a very intolerant way of thinking in the West.
"Greece and other Western countries have questioned Turkey for turning the Hagia Sophia back into a mosque, but at the same time, they had turned hundreds of Ottoman heritage mosques into churches," he added.
https://www.aa.com.tr/en/asia-pacific/hagia-sofia-move-factually-justified-malaysian-group/1924907
--------
Pakistan Admits Land Grabbers of a Religious Shrine Tried to Encroach Upon Gurdwara Shahidi Asthan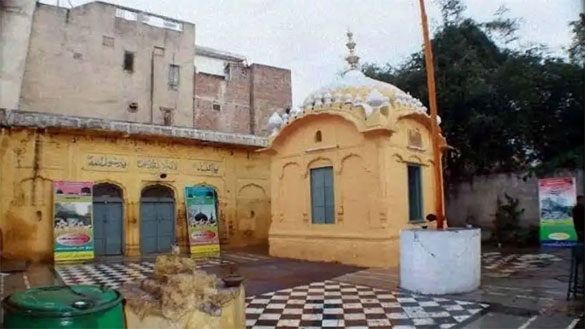 Gurdwara Shahidi Asthan Bhai Taru Singh, Pakistan'
-----
Jul 28, 2020
AMRITSAR: While admitting that a 'focal person' of a religious shrine had tried to encroach upon the Gurdwara Shahidi Asthan Bhai Taru Singh, Pakistan' Evacuee Trust Property Board (ETPB) has come out with a clarification and assurance to take action against the 'delinquent's but only after the issue was raised by New Delhi.
ETPB secretary Sanaulla Khan informed on Tuesday that Sohail Butt Attari, a 'focal person ' of Darbar Hazrat Shah Kaku Chisti and his accomplice including Raza Butt, Umair and others were conspiring to provoke people against the historical Gurdwara Taru Singh and occupy the attached vacant plot which was situated in Landa Bazar, Lahore
The gurdwara is the site of martyrdom of Bhai Taru Singh where he had made supreme sacrifice in 1745. Pakistan has claimed the place as the place of Masjid Shahid Ganj and tried to convert it into a mosque.
Notably, New Delhi had lodged a strong protest with the Pakistan High Commission on Monday on the reported incident.
Spokesperson of the ministry of external affairs Anurag Srivastava in a release said "India expressed its concerns, in strongest terms on this incident and called upon Pakistan to investigate the matter and take immediate remedial measures. Pakistan was also called upon to look after the safety, security, well-being of its minority communities including protection of their religious rights and cultural heritage."
Sanaullah said that Butt had tried to defame Pakistan by uploading a 'baseless' propaganda video against Sikh community of Pakistan.
He further admitted that multiple conspiracies of anti-state elements were being hatched to malign Pakistan's image especially after the success of Kartarpur Corridor project.
Shifting the whole responsibility of encroaching upon gurdwara land on Butt and his associates, the ETPB secretary said that Butt was damaging the image of Pakistan at international level strict disciplinary action against the delinquents.
Meanwhile, sources here informed that it was not the first time that Pakistan government-backed land grabbers had encroached upon gurdwara land but in past also they had been doing the same in connivance with some of the officials of ETPB.
Meanwhile, chairman ETPB Aamer Ahmad informed that some unscrupulous elements wanted to occupy the land. "We are fully aware of the incident and have informed the local law and enforcement agencies, rest assured we will look after the interests," he said.
https://timesofindia.indiatimes.com/world/pakistan/pakistan-admits-land-grabbers-tried-to-encroach-upon-gurdwara/articleshow/77216123.cms
--------
Taliban Executes Female Prison Guard, and U.N. Raises Concern Over Afghan Violence
By Mujib Mashal and Najim Rahim
July 27, 2020
KABUL, Afghanistan — The Taliban abducted and executed a female prison guard in the eastern Afghan province of Ghazni, officials and relatives said Monday, as the United Nations expressed concern over the war's unending toll on civilians.
Fatima Rajabi, 23, who had trained as a police officer, was pulled out of a civilian minibus on her way to her home village in the Jaghori district two weeks ago. After holding her captive for two weeks, the Taliban executed the young woman and sent her body to her family, her brother, Samiullah Rajabi, said.
"My sister was shot eight times," Mr. Rajabi said. "When we opened the coffin, her hands were behind her, together and stiff — you could tell her hands were first tied and they had only untied them after they sent the body."
The United Nations, in a report released on Monday on civilian harm in the Afghan conflict in the first six months of the year, expressed particular concern about the rise of abductions and executions by the Taliban. There has been an increase of more than a fivefold in civilian casualties tied to abductions since last year, it said.
Nearly 1,300 civilians have been killed and close 2,200 others wounded in the first six months of the year, according to the United Nations, which attributed 43 percent of the civilian casualties to the Taliban and 23 percent to Afghan forces.
It said the insurgent violence had grown deadlier, with a 33 percent increase in deaths caused by the Taliban over the same time period last year.
Women and children made up about 40 percent of the overall dead and injured, with pro-government forces responsible for the death of more children than the Taliban, the United Nations said. Civilian casualties from airstrikes by Afghan forces tripled from the first half of 2019.
"The reality remains that Afghanistan continues to be one of the deadliest conflicts in the world for civilians," the report noted. "Each year, thousands of civilians are killed and injured, abducted, displaced and threatened by parties to the conflict in Afghanistan."
The numbers still marked an overall 13 percent reduction in civilian casualties — which accounts for injuries and deaths — from the same period last year.
That is largely attributed to a major drop in casualties from United State airstrikes and attacks by the Islamic State branch in the country, which has shrunk significantly after major military operations. As part of a withdrawal deal signed with the Taliban in February, the United States is no longer deploying its air power against the group except in extreme cases, such as when their Afghan allies are being routed.
Although the United States has reduced its troops in the country to about 8,600 — it is on schedule to complete a full withdrawal over a 14-month period laid out in the agreement — other elements of the peace agreement, mainly direct negotiations between the Afghan sides over future power-sharing, have stalled as the violence continues.
"At a time when the government of Afghanistan and the Taliban have a historic opportunity to come together at the negotiating table for peace talks, the tragic reality is that the fighting continues inflicting terrible harm to civilians every day," said Deborah Lyons, the U.N. secretary-general's special representative for Afghanistan.
Zalmay Khalilzad, the United States' special envoy for peace in Afghanistan, has begun another trip to meet with the Taliban's negotiating team, based in Doha, and Afghan leaders in Kabul and push for direct negotiations, the State Department said. Those negotiations were expected to begin in March, but were delayed by disagreements over a prisoner swap under which the Afghan government was expected to free 5,000 Taliban fighters in return for 1,000 of its forces.
Jaghori, where Ms. Rajabi was traveling to see her family at the time of her abduction, was long considered one of the safest districts in a volatile region inhabited by the Hazara ethnic group. But in 2018, the Taliban launched an assault on the area and nearly took control, before being pushed back.
The insurgents have increasingly threatened the highways and main roads across Afghanistan, taxing commercial vehicles and searching buses for anyone suspected of working for the government.
Mr. Rajabi said his sister would often travel home unannounced to reduce the risk of being detained. Her family found out she was taken by the Taliban only after five days had passed.
Zabihullah Mujahid, a spokesman for the Taliban, denied that the group was behind the execution.
But local officials said the Taliban had been using Ms. Rajabi to pressure local leaders into resolving certain outstanding issues, possibly including taxes that the Taliban believe they are owed. "The Taliban were angry that despite repeated notices, the leaders hadn't reported to them," said Mohamad Ayub Bahonar, the district governor of Jaghori.
Ms. Rajabi's 70-year mother, Mariam Akbari, traveled to the Taliban-held area to beg for her daughter's release. The Taliban told her she must bring 15 district leaders who they wanted to talk to — something that was out of her power, she said.
"I went and begged, I lowered myself at their feet, so my sweet daughter could come back to me alive," Ms. Akbari said. "They told me 'You are old, we respect you, but don't come again.'"
Ms. Akbari had already lost one son, a police officer, to the war about ten years ago. One of her two remaining sons lives with her and has a heart condition, and the other has lived in Iran for years without much contact with the family.
"I really loved my daughter," she said. "She had joined the police out of poverty. Fatima was my only breadwinner."
https://www.nytimes.com/2020/07/27/world/asia/taliban-executes-guard-afghanistan.html?utm_source=iterable&utm_medium=email&utm_campaign=1394155_
--------
Saudi Ambassador in UK glorifies drinking culture in interview
28 July 2020
The Saudi Arabian ambassador to the UK has brazenly admitted to keeping a "pub" at his plush residence in the English countryside.
Prince Khalid bin Bandar bin Sultan made the admission in a wide ranging interview with the UnHerd website, which describes itself as bridging the liberal and reactionary divides in politics and journalism.
Prince Khalid was being interviewed by UnHerd's executive editor, Freddie Sayers.
The ambassador's admission to not only drinking alcohol but going much further by celebrating and glorifying drinking culture (by maintaining a "pub" at home) is bound to raise eyebrows with Muslims and non-Muslims alike.
After all, the Saudi rulers describe themselves as the custodians of the two holy mosques, effectively the guardians of Islam's holiest sites.
The admission of glorifying drinking culture by the Saudis' man in London will be viewed by many as validating the hypocrisy and double standards at the heart of the regime in Riyadh.
https://www.presstv.com/Detail/2020/07/28/630625/UK-Saudi-Arabia-Ambassador-London-Pub
--------
Turkey's social media draft bill presages 'new dark era' of censorship, say critics
28 July 2020
A proposed law that Turkey says will make social media companies more accountable to local regulations will rather increase censorship and accelerate a trend of authorities silencing dissent, critics including a UN body said this week.
The Turkish parliament was to begin debate on Tuesday on the bill that is backed by President Recep Tayyip Erdogan's ruling AK Party, which has a majority with an allied nationalist party.
It is expected to pass this week.
As an overwhelming majority of the country's mainstream media has come under government control over the last decade, Turks have taken to social media and smaller online news outlets for critical voices and independent news.
For all the latest headlines follow our Google News channel online or via the app.
Turks are already heavily policed on social media and many have been charged with insulting Erdogan or his ministers, or criticism related to foreign military incursions and the handling of the coronavirus pandemic.
The law would require foreign social media sites to appoint Turkish-based representatives to address authorities' concerns over content and includes deadlines for its removal.
Companies could face fines, blocked advertisements or have bandwidth slashed by up to 90 percent, essentially blocking access.
"Social media is a lifeline... to access news, so this law signals a new dark era of online censorship," said Tom Porteous, Human Rights Watch deputy program director. It would damage free speech in Turkey "where an autocracy is being constructed by silencing media and all critical voices", he added.
Presidential spokesman Ibrahim Kalin said the bill would not lead to censorship but would establish commercial and legal ties with platforms.
"What is a crime in the real world is also crime in the digital world," he said on CNN Turk, adding that these included terrorism propaganda, insults and violation of personal rights.
Turkey was second globally in Twitter-related court orders in the first six months of 2019, according to the company, and it had the highest number of other legal demands from Twitter.
Erdogan has repeatedly criticized social media and said a rise of "immoral acts" online in recent years was due to lack of regulations.
A spokesperson for the UN High Commissioner for Human Rights said the draft law "would give the state powerful tools for asserting even more control over the media landscape."
It "would further undermine the right of people in Turkey to freedom of expression, to obtain information and to participate in public and political life", said spokeswoman Liz Throsell.
https://english.alarabiya.net/en/media/digital/2020/07/28/Turkey-s-social-media-draft-bill-presages-new-dark-era-of-censorship-say-critics.html
--------
Wiser elements in Washington establishment get Iran's message: Analyst
28 July 2020
By Kevin Barrett
Iran's military has just held a bunch of war games in the Strait of Hormuz featuring a mock-up of US aircraft carrier, which of course would be the prime target if the US ever attacked Iran—its fleet in the Persian Gulf would face serious problems.
I think Iran is sending a message that if Bibi Netanyahu and Donald Trump think that they need to start a big Middle East war to try to keep them out of prison and keep them in power, well, they need to think again, because that war might not go the way that they would hope that it would.
I think Iran is demonstrating that it is entirely capable of actually winning this kind of war, and that's not really sort of an empty boast or display from the Iranian side. Even the American side has had to admit over the past decade and a half, that it very likely would lose a war with Iran, and that's the reason the US has not attacked Iran.
The plan after 911, as we know from General Wesley Clark, was to take out seven countries in five years with the seventh and most important country being Iran, after Iraq and Afghanistan had been occupied and US bases in those two countries surrounding Iran could be used to attack Iran.
So that was the plan. But the problem was twofold. First there was pushback after the 911 neoconservative coup d'etat from people who had opposed it or had certainly not supported it. That is the Realist School of American policy. And those people, led by people like Brzezinski were actually horrified that the extremist Israeli Likudinik Zionists had hijacked the United States on 9/11, in order to use its military to destroy their opponents in the region.
And so those realists saw that this policy of letting America's forces be hijacked by Israel was bad for the US. And that pushback was the first factor that stopped this push to war with Iran, which is really what 9'11, and the 9/11 wars were all about.
So the second factor and perhaps the most important factor is that Iran's defenses are quite formidable. And in fact, in 2002, the US military held a fictional war-game scenario in which the US had mocked up a war with Iran. And guess what, Iran won. And they didn't just win by attrition, or in a small way, they won a huge victory by sinking the entire American fleet five minutes after the war began.
The Iranian mock up side -- the red team in the exercise -- was led by General Van Riper, who used the kinds of tactics that Iran would use. That is not playing the conventional war game, but using sneak attack, speedboats and things like that targeting the American carriers, and then using its advantage of geography, where the mountains on the shore of the Persian Gulf house all kinds of anti-ship missiles that are dug in so deep that they can never be taken out.
And so essentially the US military has known ever since then that a war with Iran would not be a good idea. And now, today we have Trump and Netanyahu both in a position where they might think that that war actually would be a way to stay out of prison.
I think the Iranians have just sent a very strong message to both Trump and Netanyahu, to not think that way. And I do think that the wiser elements in the establishments in Washington and Tel Aviv will very likely be paying attention.
Kevin Barrett is an American author, journalist and radio host with a Ph.D. in Islamic and Arabic Studies. He has been studying the events of 9/11 since late 2003. He recorded this article for Press TV website.
https://www.presstv.com/Detail/2020/07/28/630630/Wiser-elements-in-Washington-establishment-get-Iran%E2%80%99s-message
--------
India
Karnataka Govt Scraps Chapters on Tipu Sultan, Constitution, Islam; Congress Says BJP Trying to Change History
Nolan Pinto
July 28, 2020
After the Karnataka education department reduced syllabi of classes 1 to 10 by 30 per cent as part of efforts to cut working days during the Covid-19 pandemic, the BS Yediyurappa government has come under fire for the scrapping of chapters on Tipu Sultan, Islam, Christianity and the Constitution.
In Social Science, chapters on the Drafting Committee of the Constitution and salient features of the Constitution have been dropped for Class 7. The reason given is 'pupils will study the same in Class 9'.
For Class 6, the chapter that deals with Christianity and Islam has been dropped stating that 'students learn the same topics in Class 9.' But in Class 9, chapter 1 on Christianity and Islam, teachers have been asked to only 'summarise briefly' since it erroneously claims student have studied the topics in class 6.
Similarly, chapter 5 of Class 7 that deals with Haider Ali, Tipu Sultan, historical places of Mysuru, and the administration of Commissioners has been reduced citing 'The unit requires no separate class, introduced thought assignments.'
Even in Class 10, chapter 4 that deals with opposition to British rule in Karnataka, involving lessons on Haider Ali and Tipu Sultan, Rebellion of Halagali Bedas and Rebellion of Kittur Chenamma-Rayanna will be taught through 'chart preparation.'
CONGRESS, JD(S) SLAM SYLLABI REDUCTION
The revision of these particular topics has brought strong criticism from the opposition in the state.
Karnataka Congress chief DK Shivakumar alleged the Bharatiya Janata Party (BJP) "wants to make their personal agenda as historical agenda and this cannot be accepted".
"But history is history so the committee that is trying to change the text needs to be debated. You cannot change history. We will not agree and will take this up seriously,' DK Shivakumar said.
The mention of Tipu Sultan in history books has been a constant source of friction between the BJP and the Congress in Karnataka. BJP MLAs had petitioned the Yediyurappa government to drop academic content on the ruler but a committee had overruled the plea.
Congress MLA and former minister Priyank Kharge told India Today TV, "Especially when it comes to subjects that do not fall in line with their [RSS and BJP] line of thought such as nationalism, secularism, the constitution itself in certain ways and this is nothing new."
"The problem is if this continues, you are ensuring that the next few generations will be robbed of the idea of India, the ideals that our founding fathers stood for and more importantly. We are eroding the intellectual capital that we have built over the last 50-60 years,' Priyank Kharge said.
JD(S) leader Tanveer Ahmed said that the agenda of the BJP is to divide the nation and to fulfil what their understanding of India is. He added, "I don't think the BJP understands India on a broader perspective. The beautiful thing for them to do is... Christians and Muslims and historical characters of any other community do not exist at all."
Even the Archbishop of Bengaluru, Dr Peter Machado, said that the aspect of religions which is most important for communal harmony has been removed.
"This is very sad. It looks like a prefabricated agenda that is behind this in order not to show in the limelight the contribution, the greatness and the religious tenets of Islam and Christianity," he told India Today TV.
However, Karnataka Deputy Chief Minister Ashwathnarayan did not comment on this saying he needs to consult with the concerned department and will definitely look into this.
The controversy stirred after the Department of Public Instruction on Monday announced it had reduced syllabi by 30 per cent as part of efforts to cut working days for classes 1 to 10 to 120 days from the standard duration of around 200 days.
https://www.indiatoday.in/india/story/karnataka-govt-scraps-chapters-tipu-sultan-constitution-islam-congress-bjp-change-history-1705370-2020-07-28
--------
Telangana HC seeks list of Muslim graveyards, encroachments
Jul 28, 2020
HYDERABAD: Telangana HC on Monday directed the state and its Wakf Board to furnish by August 18 a list of Muslim graveyards in Hyderabad, Secunderabad and Rangareddy district along with the details of their encroachments.
A bench of Chief Justice Raghvendra Singh Chauhan and Justice B Vijaysen Reddy gave this direction while hearing a petition filed by Mohammed Ilyas of Asifnagar, who complained about graveyards encroached upon on one hand and were not catering to the needs of the dead on the other.
Petitioner's counsel Vladimer Khatoon told bench about how some muthawalis were not even allowing bodies to be buried and also about their failure to protect the graveyards' land. She also brought to notice of court certain incidents where Muslim clergy refused burial of some bodies. Wakf board counsel Mirza Saifullah Baig told the bench that in one case, the clergy's refusal was on account of the fact that body was brought by third parties and not family members. "It was an unidentified body," he said. Bench asked him whether muthawali was entitled to refuse burial if body was brought by third parties.
https://timesofindia.indiatimes.com/city/hyderabad/telangana-hc-seeks-list-of-muslim-graveyards-encroachments/articleshow/77216239.cms
--------
Can mosque, temple stand together? Rao asked before Babri demolition: Architect
Jul 29, 2020
LUCKNOW: Before the demolition of Babri Masjid, the then PM Narasimha Rao had asked the Gujarat-based chief architect of the Ram temple project Chandrakantbhai Sompura whether the mosque, too, could be part of the plan and whether the Babri Masjid and a Ram temple could stand next to one another, reports.
According to Sompura (77), Rao, in seeking his opinion, had been hinting that the mosque could remain where it was and the temple could be constructed from beyond the Ram Chabutra. But the idea could not be realised as Vishwa Hindu Parishad (VHP) opposed it.
"The PM called me up and asked if the mosque, with its three iconic domes, could be part of the design along with the temple. I communicated the idea to VHP, who had roped me in for the project, but it opposed it and the idea got buried in time," Sompura told TOI over the phone from Ahmedabad.
"VHP was adamant if the 6-foot-by-3-foot space of the khatiya (bed) where Bhagwan Ram was born is not the centre of the Ram mandir, it wouldn't matter where the temple came up. The Ram mandir had to be built at the very spot where the structure (mosque) was as they believed Lord Ram was born in the area right under the central dome," he added.
https://timesofindia.indiatimes.com/india/can-mosque-temple-stand-together-rao-asked-before-babri-demolition-architect/articleshow/77231928.cms
--------
Pak attempts to bring back Geelani as Hurriyat head in Kashmir
Jul 28, 2020
SRINAGAR: The Pakistan National Assembly's resolution to confer the Nishan-e-Pakistan, its highest civilian award, on separatist leader Syed Ali Geelani and to name an engineering university in Islamabad after him is being seen by Hurriyat activists here as an attempt by Islamabad to woo the ailing 91-year-old Geelani back into the Hurriyat fold.
Syed Ali Geelani had quit as head of his Hurriyat faction a month ago and nominated 55-year-old Abdullah Geelani as his successor for the PoK chapter of the separatist amalgamation. He left the Kashmir Hurriyat seat vacant, ostensibly for reasons of corruption within the Hurriyat cadre here.
The move rattled Pakistan's ISI and they, according to Hurriyat insiders, managed to get Geelani the Nishan-e-Pakistan and to have the engineering university named after Geelani. His "life and struggle for the separation of J&K" is to be introduced into the Pakistani academic curriculum.
Though the Kashmir-based Jamaat-e-Islami has been banned by the authorities here as most of its leaders are in jail, activists associated with the Jamaat and other separatists are thrilled by the Pakistan NA adopting the resolution tabled by the Jamaat provisional head, Senator Mustaq Ahmad Khan of Khyber Pakhtunkhwa, after the Pakistan Tehreek-e-Insaaf's MoS for parliamentary affairs Ali Mohammad Khan seconded the resolution on Monday in the assembly with a majority voice vote.
The recent lukewarm response to the general strike call given by the Geelani's Hurriyat faction on the death anniversary of Hizb commander Burhan Wani and subsequent denial by Geelani's family of a press release issued in the name of Syed Ali Geelani also prompted Pakistan to try to bring Geelani back as the face of the Hurriyat in the Kashmir valley, a senior Hurriyat insider said.
"Pakistan has gone into damage-control mode by honouring Kashmir's tallest leader with the Nishan-e-Pakistan because the same Pakistan had recently dumped Geelani Sahib, who subsequently resigned from the Hurriyat," Majid Hyderi, a political analyst, said, adding that Pakistan believes that it has now got a chance to internationalise the Kashmir issue yet again after the abrogation of JK's special status.
"Also, Geelani Sahib is not the first Indian to get it, former PM Morarji Desai had also received it," Hyderi said.
A veteran hardline Hurriyat leader who did not want to be named said "It is heartening to learn that Syed Ali Geelani was conferred Pakistan's highest civilian award."
https://timesofindia.indiatimes.com/india/pak-attempts-to-bring-back-geelani-as-hurriyat-head-in-kashmir/articleshow/77227486.cms
--------
Rift in NC over Omar Abdullah stand, influential Shia leader quits
Jul 28, 2020
SRINAGAR: Taking note of the "ripples" created within his party over his write-up in a national daily, National Conference vice-president Omar Abdullah on Tuesday backtracked from his earlier demand of statehood for J&K.
Omar tweeted: "I've simply said that having been CM of the STATE of J&K I will not fight an assembly election to the assembly of the UT of J&K. That's it. No more no less! That's a far cry from saying I'm demanding statehood be restored."
He made this clarification after former NC minister Agha Ruhullah Mehdi, an influential Shia leader from Budgam in central Kashmir, who was chief spokesman of the party, on Tuesday resigned in protest against "Omar's remarks for restoration of statehood for J&K".
Omar, in his article, had mentioned the restoration of statehood to J&K as a pre-condition for contesting assembly polls in future.
Senior NC leaders, including Mehdi, disapproved Omar's remarks and blamed him for "forgetting to demand" the restoration of Articles 370 and 35A, party insiders said.
In an Op-Ed piece published on Monday, Omar for the first time spoke out on Kashmir politics since his release in March after eight months in detention. He censured the Centre for scrapping Article 370 and also announced that he would return to electoral politics only after J&K's statehood was restored.
In response to this, Mehdi said, "What happened on August 5, 2019 is beyond statehood and it should be the last demand. I feel for what happened to my fellow citizens as it was a coup on the population of J&K." The restoration of statehood should be the last demand while our main demand should be restoration of special status, he added.
Omar, however, blamed journalists for putting words in his mouth. "I have no problem being disagreed with for what I say or do but when you invent things & put words in my mouth to attack me then that's more about you than about me. All you lazy journalists & commentators please show me where I've demanded statehood be restored," he tweeted.
"Haters will hate & nothing will change that. There are a few people from whom I expected better but disappointment is part of politics & one has learnt to live with it. Life goes on," he tweeted again.
https://timesofindia.indiatimes.com/india/omar-abdullahs-article-creates-ripples-nc-chief-spokesman-quits/articleshow/77227470.cms
--------
Family of Sikh refugees in Amritsar says told to go to Afghanistan to get documents for visa extension
by Kamaldeep Singh Brar
July 28, 2020
It was in 1992 that Sardar Singh fled Afghanistan with his wife and three children due to alleged religious persecution. In years that followed, he made Amritsar his home. His fourth child, Arvinder Singh, was born here in 1994. While Sardar Singh died in 2015 as an Afghan refugee, his family has continued to stay in India on a visa extension that they get renewed every year. But this year, they have been asked to procure additional documents from Afghanistan for the visa extension to be processed.
Arvinder Singh (26), who has been camping Delhi to get the family's application processed, said that first they were orally told by the Foreigner Regional Registration Office (FRRO) in Amritsar to get his father's 28-year-old passport renewed. The Afghan embassy in Delhi, he added, later told them that the passport can only be renewed with help of documents that can only be arranged by visiting Afghanistan. According to him, the passport in his deceased father's name was the only official document that the family brought with them and it recorded the names of his mother, and his three siblings born before him. So far, identity cards provided to all of them by the United Nations High Commissioner for Refugees had proved enough to get visa extensions year after year.
"My parents and their three children had come to India on single passport to take refuge in India. Every year, we have to move from pillar to post to get visa extension for another year as refugees. But this year, we have been told to renew my father's passport. It is 28-year-old document. We never renewed that passport. We had identity cards of United Nations High Commissioner for Refugees. We would get a year's extension on these cards. But now we have been told to renew the passport to get an extension," said Arvinder Singh.
However, FRRO officials in Amritsar refused to confirm to The Indian Express that any such demand had been made. "We are not even obliged to give information under RTI," said top official at FRRO Amritsar, while refusing to share any details.
But Arvinder, who approached the Afghan Embassy in Delhi for renewal of the passport, said: "I reached Afghan Embassy to renew passport where Afghan officials told me that I need to go to Afghanistan to get some official papers on the basis of which passport can be renewed. It is an impossible demand. Our visa extension has already expired. We are in the lurch," said Arvinder.
He added: "We were very happy after Citizenship Amendment Act was passed last year. We thought that it would end our suffering. My father died in hope of getting permanent citizenship of India. We thought at least we would get it. But nothing happened after that. In fact, our suffering has doubled this year and there has been no immediate solution in sight."
BJP-led union government had passed CAA in December 2019. However, Congress government in Punjab had passed resolution against CAA in January this year.
Amritsar district administration officials said they have not received any notification from state or central government for the implementation of the CAA.
The district has several Hindu and Sikh refugees, who have come from Pakistan and Afghanistan alleging religious prosecutions.
"We haven't received any notification related to CAA from Centre or state government. Right now we have been processing requests for permanent citizenship of India according to the old provision available in the law," said Himanshu Aggarwal, Additional Deputy Commissioner of Amritsar.
Arvinder's elder brother, Surber Singh, said, "There are around seven Afghan families in Amritsar and 30 Pakistani Sikh families. We all had applied under the old provision in law to get citizenship. But that was like an impossible law. Under old law, we were able to apply for citizenship only after 11 years of living as refugees. Then there was long process to apply for citizenship. I don't know anyone who got citizenship under old law."
Suber, who runs a tyre repair shot, added: "We were at the mercy of bureaucrats. They can make any demand. This year we have been asked to renew an old passport. We are tired living as refugees. We can't buy property here without citizenship. We had some good friends and relatives who helped us to survive all these years. But there is uncertainty in our lives."
https://indianexpress.com/article/india/family-of-sikh-refugees-in-amritsar-says-told-to-go-to-afghanistan-to-get-documents-for-visa-extension-6527583/
--------
J&K: Hizbul poster warns women to stop posting dance videos on social media
July 28, 2020
The Jammu and Kashmir police on Tuesday seized two posters in Kishtwar town of the Chenab Valley region, one of which said women would be shot on the feet if they did not stop posting dance videos on social media and the other asking residents to stay away from security forces.
Both posters bear the name of terror group Hizbul Mujahideen.
Written in English, one of the posters was pasted on the main door of a house in Ghureeyan area. It read: "Those girls who are uploading their dancing videos on social media are warned either stop doing these evil deeds or be ready for legshot".
The other poster, written in Urdu, was pasted on the windscreen of a vehicle in Nagini locality. It asked people to stay away from security forces and police personnel as they were the constant target of the terror group.
Kishtwar SSP Harmeet Singh said they have registered a case in the matter and that an investigation is in progress.
The posters appeared nearly two months after the J&K Police and security forces, in a major setack to Hizbul Mujahideen, killed one militant in Doda and arrested another from Kishtwar in May this year.
https://indianexpress.com/article/india/jk-hizbul-poster-warns-women-to-stop-posting-dance-videos-on-social-media-6528026/
--------
Babri mosque case: Special CBI court completes recording of statements
Jul 28, 2020
A special CBI court here completed on Tuesday the recording of statements of the accused in the Babri mosque demolition case.
Deposing before CBI special judge S K Yadav through video conferencing from Thane in Maharashtra, former Shiv Sena MP Satish Pradhan claimed that he was falsely implicated in the case due to political vendetta and maintained that he was completely innocent. Of the 32 accused in the case, Pradhan was the penultimate on the list.
The judge separated the case against the last accused Om Prakash Pandey, who is not traceable as his family told the CBI that he had become a monk 15-16 years ago and did not return home since then.
The court completed the proceedings under Section 313 of CrPC which gave the accused an opportunity to refute the prosecution evidence against them. BJP veterans L K Advani and Murli Manohar Joshi had recorded their statements last week.
The mosque in Ayodhya was demolished on December 6, 1992 by 'kar sevaks' who claimed that an ancient Ram temple stood at the same site.
The court is conducting day-to-day hearing in the case to complete its trial by August 31 as directed by the Supreme Court.
https://www.hindustantimes.com/india-news/babri-mosque-case-special-cbi-court-completes-recording-of-statements/story-7yR7cgQ8O3cIW3INvCYEKO.html
--------
Muslim leaders including litigant get Ram Mandir ceremony invite, no opposition leader on list
MOUSHUMI DAS GUPTA
28 July, 2020
New Delhi: A host of senior BJP, RSS and VHP leaders associated with the Ram Temple movement, prominent Muslim leaders, one of the main litigants in the Babri Masjid demolition case, Baba Ramdev and saints from across the country – these are among the invitees for Ram temple's bhoomi pujan (ground-breaking) ceremony at Ayodhya on 5 August.
Prime Minister Narendra Modi is confirmed to participate in the ceremony being organised by the Shri Ram Janmabhoomi Teertha Kshetra Trust.
According to senior members in the trust, the invited Muslim leaders include Zafar Farooqui, chairman of Uttar Pradesh Sunni Central Wakf Board, and Wasim Rizvi, chairman of UP Shia Central Waqf Board.
Iqbal Ansari, one of the litigants in the Ayodhya land dispute case, has also been invited. Ansari is the son of Mohammad Hashim Ansari, one of the original litigants in the Ram Janmabhoomi-Babri Masjid dispute.
L.K. Advani and Murli Manohar Joshi are among the BJP-Sangh leaders who have confirmed their presence. RSS chief Mohan Bhagwat, general secretary Suresh Bhaiyyaji Joshi, and Yoga guru Ramdev are among the other invitees who have confirmed their participation, said the sources.
Opposition leaders not invited
The trust has not invited opposition leaders from any political party, including Congress president and Rae Bareli MP Sonia Gandhi.
We are deeply grateful to our readers & viewers for their time, trust and subscriptions.
Quality journalism is expensive and needs readers to pay for it. Your support will define our work and ThePrint's future.
SUBSCRIBE NOW
"We have not sent an invite to any political party as we don't want to differentiate between parties. We can't pick and choose. Lord Ram is a holy figure for all. We are appealing to all those who have not been invited to pray wherever they are," Swami Govind Dev Giri, treasurer of the trust, told ThePrint from Pune.
The only exception is BSP MP Ritesh Pandey, who represents Ambedkar Nagar. "We have invited all MPs and MLAs representing Faizabad, Ayodhya and adjoining areas," Giri said.
This list includes BJP MP Lallu Singh, who represents Faizabad, BJP MLA Baba Gorakhnath from Milkipur, and BJP's Ayodhya MLA Ved Prakash Gupta. Senior civil servants from Ayodhya will also be present.
Giri added that the trust has not sent an invite to any central ministers due to the pandemic.
"Because of the Covid pandemic, the trust is inviting only a limited number of people. We are not aware if Uttar Pradesh CM Yogi Adityanath, who will be present at the ceremony, has sent special invites to some people," he added.
The UP chief minister will be accompanied by his two deputies, Keshav Prasad Maurya and Dinesh Sharma, Tourism Minister Neelkanth Tiwari, among others. UP Governor Anandiben Patel will also be present, said the sources.
Figures involved in Ram Janmabhoomi movement to be present
All prominent BJP and VHP leaders who were part of the Ram Janmabhoomi movement have confirmed their participation at the ground-breaking ceremony, said the sources.
These include BJP patriarchs L.K. Advani and Murli Manohar Joshi, former UP CM Kalyan Singh, and leaders Uma Bharti, Vinay Katiyar and Sadhvi Rithambhara.
BJP president J.P. Nadda, RSS women's wing chief Shanti Akka, and Puneet Dalmia, son of senior VHP member late Vishnu Hari Dalmiya, have also been invited.
Saints from across the country and heads of 'akharas' that represent different Hindu sects have invited too. "We have also invited prominent Buddhist monks and representatives from Chinmaya and Ram Krishna missions," Giri said.
'All protocols to be followed'
Amid the Covid pandemic, the trust has gone ahead with its arrangements for the ground-breaking ceremony.
"It's a historic moment for which we have been waiting for all these years. But we are aware of the situation in the country because of the pandemic. We are taking all the necessary precautions. All safety protocols will be followed to the hilt," said Kameshwar Chaupal, a member of the trust, which was formed in February following the Supreme Court's 9 November 2019 order.
The construction work on the Ram temple will officially start soon after the ceremony. The trust has set a 2024 deadline for completing the temple.
News media is in a crisis & only you can fix it
You are reading this because you value good, intelligent and objective journalism. We thank you for your time and your trust.
You also know that the news media is facing an unprecedented crisis. It is likely that you are also hearing of the brutal layoffs and pay-cuts hitting the industry. There are many reasons why the media's economics is broken. But a big one is that good people are not yet paying enough for good journalism.
We have a newsroom filled with talented young reporters. We also have the country's most robust editing and fact-checking team, finest news photographers and video professionals. We are building India's most ambitious and energetic news platform. And we aren't even three yet.
At ThePrint, we invest in quality journalists. We pay them fairly and on time even in this difficult period. As you may have noticed, we do not flinch from spending whatever it takes to make sure our reporters reach where the story is. Our stellar coronavirus coverage is a good example. You can check some of it here.
This comes with a sizable cost. For us to continue bringing quality journalism, we need readers like you to pay for it. Because the advertising market is broken too.
If you think we deserve your support, do join us in this endeavour to strengthen fair, free, courageous, and questioning journalism, please click on the link below. Your support will define our journalism, and ThePrint's future. It will take just a few seconds of your time.
https://theprint.in/india/muslim-leaders-including-litigant-get-ram-mandir-ceremony-invite-no-opposition-leader-on-list/469485/
--------
Punjab Chief Minister Condemns Attempts To Convert Gurdwara Into Mosque In Pakistan
July 28, 2020
Chandigarh: Punjab Chief Minister Amarinder Singh today condemned the attempts being made to convert a famous gurdwara in Pakistan's Lahore into a mosque.
"Strongly condemn attempts being made to convert holy Gurdwara Sri Shahidi Asthan in Lahore, site of martyrdom of Bhai Taru Singh Ji, into a mosque."
"Urge @DrSJaishankar to convey Punjab's concerns in strongest terms to Pakistan to safeguard all Sikh places of reverence," Mr Singh said in a tweet.
Gurdwara Shahidi Asthan is a historical shrine where Bhai Taru Singh made the supreme sacrifice in 1745.
India on Monday lodged a strong protest with the Pakistan High Commission over reports of attempts being made to convert the gurdwara at Naulakha Bazaar into a mosque.
https://www.ndtv.com/india-news/punjab-chief-minister-condemns-attempts-to-convert-gurdwara-into-mosque-in-pakistan-2269967
--------
2 Lashkar infiltrators killed, another injured in J-K's Rajouri
Jul 29, 2020
Two Pakistani infiltrators from Lashkar-e-Taiba were killed and one of their injured associates fled back to Pakistan-occupied Kashmir (PoK) along the Line of Control (LoC) in Jammu and Kashmir's Rajouri district late on Monday, officials said.
Lt Col Devender Anand, the defence spokesperson, said the suspected terrorists had not entered Indian territory and the anti-personnel mine was planted by Pakistan on their side.
"Around 11pm on Monday, three infiltrators were trying to infiltrate into our territory opposite Kalal area of Nowshera sector. One of them stepped over a landmine and as a result two of them got killed while the third one was injured," Anand said.
"During monsoon, these mines being light in weight drift away from their place and it seems infiltrators stepped on one such mine. The troops had seen the bodies lying in their territory," said the officer.
One of the killed terrorists has been identified as Abid Hussain, son of Khadim Hussain of Naali village in Bhaagsar area of Bhimber district in PoK.
https://www.hindustantimes.com/india-news/2-lashkar-infiltrators-killed-another-injured-in-j-k-s-rajouri/story-p5NFynfbMbN66RAQiaZdjK.html
--------
Southeast Asia
Amanah MP proposes Religion Misuse Act to prevent preachers from spewing hate
27 Jul 2020
BY YISWAREE PALANSAMY
KUALA LUMPUR, July 27 — Pulai MP Datuk Seri Salahuddin Ayub today proposed for a Religion Misuse Act (Akta Penyalahgunaan Agama) to prevent Muslim religious leaders from using sacred verses and words of Prophets to spread hate.
Salahuddin referred to the situation faced by former Religious Affairs minister and current Parit Buntar MP Datuk Seri Mujahid Yusof Rawa, contrasting the situation he was in with that of his successor, former Federal Territories mufti, Datuk Seri Zulkifli Mohamad, over a similar statement on the treatment of the sexual minorities.
"I hope an Act is formulated. The Religion Misuse Act.
"Datuk Speaker, my friend Parit Buntar, when we were in government as ministers, he was the Religious Affairs minister, and the former mufti who is now Religious Affairs minister (Senator Datuk Zulkifli Mohamad Al-Bakri), when he commented about the LGBT group, for instance, Parit Buntar issued a statement that we have to understand them, be wise in facing these people.
"However, the attacks he was faced with; inilah dia liberal (look, here is a liberalist), ini kalau mati besok kubur masuk neraka (if he dies tomorrow, he would go to hell), kubur besok berasap (your grave would emit smoke) and many others in which Allah's words and the wahyu (revelation) were read together, and when the (current) Religious Affairs minister gives the same comment like Parit Buntar, that is not wrong.
"That is what I meant. Please do not use approaches with Allah's words whimsically," he said adding that one does not have to label members of his party with derogatory words such as "kafir" and rain curses on them, simply because of disagreement over the stand taken by Parti Amanah Negara (Amanah) leaders.
Salahuddin also hoped for a watershed over the issue, and called for the promotion of the rahmatan-lil-alamin concept of Islam, adding that non-Muslims too would feel contented and would be able to live peacefully, if such an ideology is preached.
"I hope there can be a clear guideline so that no religious leaders use the words of Allah and the Prophet's hadith to demean another if they do not agree with the group," he added.
On July 10, Zulkifli Mohamad had announced on Facebook that he was empowering the Federal Territories Islamic Religious Department (Jawi) to arrest transgender persons and "educate" them so that they "return to the right path".
Zulkifli's remark appeared to be in response to risqué photos on social media by cosmetics entrepreneur Nur Sajat, which prompted the ire of some Muslim hardliners.
This led calls for the Perikatan Nasional (PN) government to take action on the transgender businessperson.
Transgender rights group Justice for Sisters (JFS) had also lambasted the minister, saying the remark will have hampered the religious affairs minister's previous efforts in engaging with trans persons when he was a mufti.
In 2018, when he was then Federal Territories mufti however, Zulkifli had called on religious authorities to revisit a fatwa, or Islamic edict declaring transgenderism as un-Islamic, adding that the phenomenon is not inherently wrong.
His stand at that time, had also earned him accolades and praises from NGOs and the public. — —
https://www.malaymail.com/news/malaysia/2020/07/27/amanah-mp-proposes-religion-misuse-act-to-prevent-preachers-from-spewing-ha/1888614
--------
Muslims in Jakarta's red zones told not to attend Idul Adha mass prayers
July 29 2020
The Jakarta administration has called on all Muslims living in Jakarta's red zones not to attend mass prayers during Idul Adha (Day of Sacrifice), which is expected to fall on Friday, to prevent the spread of COVID-19. This strengthens previous statements from the Religious Affairs Ministry and Muslim group Muhammadiyah, which are reinforcing such a restriction nationally. The Jakarta Bureau of Mental and Spiritual Education (Dikmental) warned of massive spread of the coronavirus if worshipers ignored the call as they would potentially be in close contact with virus carriers. "For people in red zones, please pray at home together with your respective families. This is for the collective health and safety," Dikmental head Hendra Hidayat said on Tuesday, as quoted by kompas.com. Based on the city's website for COVID-19, corona.jakarta.go.id, as of last T...
https://www.thejakartapost.com/paper/2020/07/28/muslims-in-jakartas-red-zones-told-not-to-attend-idul-adha-mass-prayers.html
--------
Malaysia's Unwelcoming Shore for Refugees Fleeing Religious Persecution
By Gayle Manchin and James W. Carr
July 28, 2020
Several airlines offer direct flights from Myanmar to Malaysia, but many Rohingya Muslims like Sharifah Shakira can only make the journey by using human traffickers. At the age of five, Shakira's mother had her smuggled out of Myanmar to protect her from the military's ongoing genocidal campaign against Rohingya Muslims. In the trunk of a car, trekking through jungles, and at the bottom of a boat, Shakira made the journey for her life to the shores of Malaysia.
Unfortunately, while she made safe passage, she received a far from warm welcome. Xenophobia and discrimination are distressingly common occurrences for refugees fleeing to Malaysia to escape religious persecution.
According to the UN Refugee Agency, Shakira is one of what are now approximately 101,280 Rohingya Muslim refugees and asylum seekers in Malaysia.
Malaysia is not a signatory of either the 1951 United Nations Convention Relating to the Status of Refugees or the 1967 Protocol Relating to the Status of Refugees. Nevertheless, the government had long guaranteed the safety of thousands of refugees and asylum seekers — especially those fleeing religious and ethnic-based violence. That, however is now changing.
Public attitudes have turned against migrants. Businesses have fired or refused to hire Rohingya. Malaysian authorities recently rounded up 2,000 migrants, around 800 of whom were from Myanmar. Under the guise of preventing new COVID-19 outbreaks, Malaysian authorities have turned away boats filled with Rohingya refugees. Survivors from the boats who do make it ashore tell of horror at sea, where dozens die and are thrown to a watery grave. The refusal of Malaysian authorities to admit the boats harkens back to 2015, when hundreds died out at sea in what the United Nations dubbed "floating coffins." Hundreds more could die now.
Unfortunately, the Rohingya are not alone; 6,650 Ahmadi Muslim refugees from Pakistan also face increased hostility in Malaysia. The Pakistani constitution declares the Ahmadiyya faith to be "non-Muslim" and Ahmadis are at risk of being prosecuted for blasphemy. Yet, the Malaysian government views these Ahmadis as "illegal migrants," not refugees. If Malaysia deports them back to Pakistan, they face very real threats to their physical safety merely based on their religion.
Even if they are permitted to remain, Ahmadis face the same state and societal discrimination in Malaysia as native-born Ahmadis. The Malaysian constitution enshrines Sunni Islam as the official state religion. Authorities regularly place a hateful Ahmadi slur, Qadiani, outside Ahmadi faith centers, and state-issued Friday sermons often denounce the Ahmadiyya faith. Yet, the living conditions for Ahmadi Muslims in Malaysia are still safer than in Pakistan, where the persecution goes beyond such hateful slurs and denouncement.
During a global summit of Muslim leaders held in Kuala Lumpur last December, then-Prime Minister Mahathir Mohamad bemoaned the plight of millions of Muslim refugees. Yet neither his administration nor the current government of Prime Minister Muhyiddin Yassin has made a concerted effort to take in the refugees, predominantly Rohingya and Ahmadi Muslims, fleeing persecution. The 36th ASEAN Summit, held virtually on June 26, also failed to mention the ongoing Rohingya refugee crisis, even as Malaysia continued to turn away boats. While we urge the Malaysian leadership to take action, the United States also has an important role to play.
In our 2020 Annual Report, the U.S. Commission on International Religious Freedom (USCIRF) recommended that the U.S. government expand capacity-building programs and religious freedom trainings for Malaysian government officials, especially security authorities. It would be particularly helpful for USAID and the U.S. Department of State to provide humanitarian support and funding to help cover the handling and processing of refugee cases in Malaysia.
In addition, the United States should make advocacy for the rights of refugees and asylum seekers abroad a core part of its religious freedom diplomacy. We strongly urge the administration to extend its admirable commitment to advancing religious freedom to its global refugee resettlement policy by once again resettling 95,000 of the most vulnerable refugees to the United States each year, the previously typical number. Refugees are some of the most vulnerable victims of religious freedom violations and we must work to ensure that they are safe and free from persecution.
Gayle Manchin is the Chair on the United States Commission on International Religious Freedom.
James W. Carr is a Commissioner on the United States Commission on International Religious Freedom.
https://thediplomat.com/2020/07/malaysias-unwelcoming-shore-for-refugees-fleeing-religious-persecution/
--------
MUI calls on Muslims to comply with health protocols during Idul Adha
July 29, 2020
To contain the spread of COVID-19, the Indonesian Ulema Council (MUI) has called on all Muslims nationwide to maintain health protocols when celebrating and praying on Idul Adha (Day of Sacrifice), which falls on Friday.
Repeating previous calls from the Religious Affairs Ministry and Muslim groups, the MUI fatwa commission secretary, Asrorun Niam Sholeh, advised people living in areas at high risk of COVID-19 transmission to pray at home.
"Those living in considerably safer areas are allowed to perform mass prayers in mosques but they must comply with strict health protocols. Use masks, perform wudhu [ablution rituals] at home, bring our own sajadah [praying mat] and maintain a physical distance," Asrorun said through a written statement on Tuesday.
"We need to focus on our health. If we are unfit or carrying preexisting diseases, it is advisable for us to pray from home."
Residents who wish to perform qurban (animal sacrifice) for Idul Adha are suggested to go to abattoirs in order to prevent crowds during the ritual. In addition, the MUI recommended that qurban be done by professionals.
"We must pay attention to the cattle's health conditions," Asrorun said, adding that the cattle should meet the requirement for qurban – proper age and good health.
He also called on qurban procession committees or religious social institutions to distribute the qurban meat directly to those in need and prevent any large crowds from forming during the qurban.
The MUI had previously warned that, given the current pandemic, distributing the meat immediately after the ritual might pose a health risk. Thus, it suggested the qurban meat be processed into canned food or cooked as rendang before being distributed.
The council through its fatwa permits the distribution of qurban meat at a later time after Idul Adha, suggesting that any excess meat should be preserved instead of thrown out.
During this year's Idul Adha, Indonesia's second-largest Islamic group, Muhammadiyah, encouraged Muslims to convert their qurban into sadaqah (alms) to help those who have been hit hard by the pandemic.
https://www.thejakartapost.com/news/2020/07/29/mui-calls-on-muslims-to-comply-with-health-protocols-during-idul-adha.html
--------
Pakistan
Pakistan Church urges combined worship at Hagia Sophia
Kamran Chaudhry
July 28, 2020
Catholic and Protestant leaders are calling on Turkish President Recep Erdogan to open Hagia Sophia for both Muslim and Christian worship.
Father Abid Habib, former president of the Major Superiors Leadership Conference of Pakistan, voiced his concern following the first Muslim prayers at Istanbul's Hagia Sophia since its reconversion to a mosque this month.
"As a museum, it was a neutral place keeping Christians and Muslims at peace with each other. While the Muslim world is rejoicing over this decision, the feelings of Christians worldwide have been hurt. I am also not happy," he said.
"In interfaith dialogue programs, I often hear Muslim scholars quoting a hadith [prophetic tradition] when Prophet Muhammad allowed a delegation of Christians to use Masjid-e-Nabvi [in Madinah, Saudi Arabia] for Christian worship. A cathedral in Boston is used by Muslims for their Friday prayers," he added.
"Learning from these examples, I propose Hagia Sophia be a house of worship not only for the Muslims but also for the Christians. Allow the Christians to pray on Sundays and the Muslims can pray on Fridays. This will surely enhance the image of the Turkish people."
Hagia Sophia was built as a cathedral during the Christian Byzantine Empire and converted into a mosque after the Ottoman conquest of Constantinople in 1453. In 1934, modern Turkey's founder Mustafa Kemal Ataturk ordered it be turned into a museum.
President Erdogan issued a decree to hand over control of Hagia Sophia to the Directorate of Religious Affairs after Turkey's highest court revoked its status as a museum July 10.
Church of Pakistan Bishop Azad Marshall of Raiwind Diocese posted a photo of a Jesus mural in a July 14 tweet.
The president of the National Council of Churches in Pakistan also condemned the move in a press statement.
"Several countries and all international church bodies, including the World Council of Churches, the Vatican, the Eastern Orthodox Church and the Church in Russia, have urged President Erdogan to reverse his decision in the larger interest of interfaith harmony. We would like to propose that the Hagia Sophia be opened for worship for both Muslims and Christians and should remain accessible to all visitors for the rest of the week," said Bishop Marshall.
"We believe that this is a workable solution and would help in promoting mutual understanding, respect, dialogue and cooperation. Pakistani church leadership hopes that the government of Pakistan would convey their concerns to the Turkish leadership and play its due role in promoting interfaith harmony."
https://www.ucanews.com/news/pakistan-church-urges-combined-worship-at-hagia-sophia/88926
--------
Defence preparation to ensure 'peace within, peace without', says Gen Bajwa
29 Jul 2020
RAWALPINDI: Reiterating the need for bolstering defence and operational preparedness, Chief of Army Staff (COAS) General Qamar Javed Bajwa has said that armed forces' defence preparation and operational readiness are "to ensure peace within and peace without."
"However, if provoked we shall respond and respond with all our might," added the army chief while addressing the handing over ceremony of Tank Al Khalid-I to Armoured Corps Regiment (ACR) on Tuesday.
The ceremony was held at Heavy Industries Taxila (HIT) and the Army Chief was chief guest on the occasion, said the Inter-Services Public Relations (ISPR).
General Bajwa expressed his confidence, satisfaction and appreciation for HIT's state-of-the-art products and capabilities. He lauded the efforts of HIT towards attainment of self-reliance and manufacturing of world class indigenous defense products, direly needed in evolving security environment.
Tank Al Khalid-I is a joint venture with friendly countries China and Ukraine. During the ceremony Tank Al Khalid-I displayed some of its outstanding capabilities including mobility, speed, Bi-axis gun stabilization of the control system and use of smoke screen to mask movement.
Al Khalid-I will be handed over to formations, which have a critical and decisive role during war.
HIT Chairman,Major General Syed Aamer Raza highlighted the ongoing projects, achievements of HIT and its contribution in defence industry by pursuing self-reliance.
https://www.pakistantoday.com.pk/2020/07/28/defence-preparation-to-ensure-peace-within-peace-without-coas/
--------
Urge Pak Sikh Community to Wait for Govt To Act On Gurdwara Shahidi Asthan Issue, Says Pakistan Sikh Gurdwara Parbandhak Committee
TNN | Jul 28, 2020, 09.39 PM IST
AMRITSAR: While indicating that an individual has occupied the land of Gurdwara Shahidi Asthan Bhai Taru Singh, Lahore, the president of Pakistan Sikh Gurdwara Parbandhak Committee, (PSGPC) Satwant Singh, feared that any imminent action by the local Sikh sangat could jeopardize the Sikh-Muslim brotherhood and has urged the community to have patience and wait for Pakistan government to take action and resolve the issue.
While talking to TOI, Satwant said Sikhs across the globe were extremely hurt with the act of an individual who attempted or 'could have taken possession' of the gurdwara land .
"Sikh's can't tolerate it and if we take some step on our own or go there and do something that will deteriorate the relations between Sikh and Muslims which we don't want at any cost since Pakistan is a land of pure and belong to us" he said.
He said there was a vacant plot adjacent to the gurdwara which belonged to the gurdwara, on which an individual or a group of people had tried to wrest control.
PSGPC president said that he had personally taken up the matter with the chairman of Evacuee Trust Property Board and with other government departments.
"We should have patience and wait for the government to react as it has always helped Sikhs in past," said Satwant.
He said all the Sikh leadership of Pakistan, including former president of PSGPC, Pak Sikhs scholars, politicians etc. were in touch with Pak government and were trying to resolve the issue amicably and within the ambit of law.
https://timesofindia.indiatimes.com/world/pakistan/urge-pak-sikh-community-to-wait-for-govt-to-act-on-gurdwara-shahidi-asthan-issue-says-psgpc-president/articleshow/77224988.cms
--------
NA committee slams 'non-serious' attitude to meeting FATF conditions
29 Jul 2020
ISLAMABAD: With deadlines looming next month, Pakistan's compliance with 27-point action plan and 40 recommendations of the Financial Action Task Force (FATF) stands at 14 and 10 respectively.
With this update, the government on Tuesday came under severe criticism from the National Assembly's Standing Committee on Finance and Revenue led by MNA Faiz Ullah of the PTI for wasting precious time of the nation without making tangible progress.
While the committee decided to refer three proposed bills — Anti Money Laundering, Limited Liability Partnership and Companies Bill — relating to the FATF to another parliamentary meeting on legislative business, Committee Chairman Faiz announced that he would resign from his position if Adviser to PM on Finance Dr Abdul Hafeez Shaikh maintained his continued abstention from the panel.
Hafeez's refusal to appear stirs anger
The committee expressed serious concern over non-serious attitude of the government to settle matters relating to the FATF and showed displeasure over continuous absence of Dr Shaikh from meetings. Finance Secretary Naveed Kamran Baloch told the committee that the adviser had to miss the meeting because of the cabinet meeting but members were unimpressed as Shaikh has not attended a single meeting of the panel since he joined the government last year.
Financial Monitoring Unit (FMU) Director General Lubna Farooq told the meeting that laws relating to accountants, lawyers and jewellers were being improved. She said the country had complied with 10 out of 40 overall recommendations proposed by the FATF. Talking specifically about Pakistan's action plan to get out of the grey list, Ms Farooq said Pakistan had complied with 14 of the 27-point action plan it had committed with the FATF.
She said the entire country would have to work hard and all the institutions and stakeholders were working on the issue and the country was now in a good position but obviously the final outcome would depend on the FATF assessment.
She said that Pakistan had made good progress on remaining 13 points of the action plan. She said stakeholders were working on the remaining 13 action points and 30 recommendations of the FATF.
She said Pakistan would submit its progress report on the FATF recommendations by August 6 while the submission deadline for Asia Pacific Group (APG) — a regional affiliate of FATF – is September 30 as the country was also under review by the APG. She said Pakistan will complete required legislation by August 15.
She said anti-money laundering laws were also being tightened and the chance of Pakistan's exit from the grey list would increase on the completion of required legislation but obviously the government would also have to ensure implementation of these laws. She said weaker enforcement and non-compliance with the FATF recommendations on terror financing were some of the key reasons for the grey listing and punishments and fines had been increased in all these laws. Meanwhile, laws relating to the Pakistan Post and National Saving Schemes were also being improved.
PMLN member Aisha Ghaus Pasha said the manner in which the government was handling the entire affair was not encouraging as it pertained to the future of the country and the destiny of 220 million people.
She said the parliamentary committee should not be expected to act like a rubber stamp when the government was not taking up the matter seriously and those responsible to improve the situation were nowhere to be seen. "This is make or break issue for Pakistan but look at the seriousness of the government", she said.
PPP Member Hina Rabbani Khar lamented that the government wasted three months while the international community provided an opportunity during the Covid-19 situation and this showed how serious the government was in running the country. She wondered why the anti-money laundering law was brought before the committee so late and at the eleventh hour.
Another PTI MNA Faheem Khan also announced that he would also stage a walk out of the committee if PM's Finance Adviser Dr Shaikh did not turn up in the committee's next meeting.
PMLN Member Ali Pervez Malik said the mee­ting of the committee had been convened on a very short notice of less then 24 hours and such short notice was unreasonable. PPP Member Syed Naveed Qamar said the government was doing legislation on the FATF and he did not even receive a notice for the meeting and had come to the panel after coming to know about it through his colleagues. Such haste gives an impression that the government was trying to bulldoze everything.
https://www.dawn.com/news/1571755/na-committee-slams-non-serious-attitude-to-meeting-fatf-conditions
--------
Talks on FATF, NAB legislation hit a snag
Malik Asad | Amir Wasim
29 Jul 2020
ISLAMABAD: The fate of crucial and much-delayed legislation related to the Financial Action Task Force (FATF) and changes in the accountability laws hangs in the balance as both the sides continue to stick to their positions, with the government rejecting most of the opposition-proposed amendments to the National Accountability Ordinance (NAO) and the opposition refusing to accept the government-introduced FATF bills in the present form.
When the opposition members announced their decision to boycott a meeting of the special parliamentary committee at a press conference, Foreign Minister Shah Mehmood Qureshi, who is also head of the committee, chose the National Assembly floor to explain the government's stance after breakdown of the talks between them.
Mr Qureshi spoke on the day when main leaders of the two major opposition parties — the Pakistan Muslim League-Nawaz (PML-N) and the Pakistan Peoples Party (PPP) — were busy in parleys in Lahore.
The minister alleged that the opposition wanted to have a "package deal" whereas the government had requested it to delink the two issues in the larger national interest.
The foreign minister categorically announced that a majority of the 35 proposals jointly made by the PPP and the PML-N regarding changes in the accountability laws were not acceptable to the ruling Pakistan Tehreek-i-Insaf (PTI) and Prime Minister Imran Khan as these were against the party's core principle of eliminating corruption.
The PTI's Amjid Ali Khan adjourned the sitting soon after the foreign minister's speech without providing an opportunity to the opposition leaders to respond.
Meanwhile, the government has extended the National Assembly session for another day, which was scheduled to be prorogued on Monday, and also changed the time of the Senate sitting from Wednesday morning to the evening, apparently in a move to get the four bills related to the FATF passed from the two houses without the support of the opposition, considering it a conducive time as most of the opposition members have already left for their native areas ahead of Eidul Azha.
Sources in the opposition told Dawn that many opposition members had already left the capital city as the Senate was earlier scheduled to be prorogued on Monday. They said as many as 10 senators from Balochistan had left Islamabad in a single flight on Tuesday.
"We are expecting that the government will make an effort to get the bills passed today (Wednesday) from the two houses, but we will resist it with full force," declared a senior PPP leader who was a part of the negotiations between the government and the opposition.
According to the sources, the talks between the two sides broke down when a government team comprising Mr Qureshi and Law Minister Farogh Naseem, during an informal meeting before the start of the meeting of the parliamentary committee, told the opposition leaders in categorical terms that their proposals regarding changes in the NAO were unacceptable to them.
At the same time, the opposition members told the government team that they were ready to support the FATF legislations, but the bills in the present form were not acceptable to them as, they alleged, the government wanted to achieve some other objectives through these bills which contained some "anti-democratic" clauses and which had nothing to do with the FATF conditions.
Those present in the meeting from the opposition side included the PPP's Sherry Rehman and Naveed Qamar and Khawaja Asif, Shahid Khaqan Abbasi and Rana Sanaullah from the PML-N.
Law Minister Naseem while talking to media confirmed the deadlock in discussion and said the FATF related legislation had to be passed before Aug 6 as it was a requirement for removing Pakistan from the grey list. He declared that the government would introduce the bills on its own before the deadline.
Speaking in the National Assembly after cancellation of the committee's meeting, Mr Qureshi said the opposition wanted to have a "package deal" through clubbing of the FATF and NAO bills.
"The FATF legislation is time-bound whereas we have been discussing changes in NAB laws for the past 10 years," he said.
"We have to legislate on four time barred bills and the report will go to the Asia Pacific Group of the FATF which will do its analysis and submit the report to the FATF plenary which will meet in October," he added.
Highlighting the opposition's proposals regarding changes in the NAO, the minister said the opposition wanted applicability of the accountability law to start from 1999, reduction in NAB chairman's tenure, removal of money laundering from the list of cognisable offences, allowing the convicted persons to remain members of the parliament till disposal of appeals and confining the time of taking cognisance by NAB of any wrongdoing to five years.
He ridiculed the opposition's proposal that allegations of corruption of less than Rs1 billion should not come under the NAB's scope.
"The government does not believe in revenge but these changes are not acceptable to it," he said, adding that with such changes the institution and the process of accountability would become meaningless.
Mr Qureshi said India had a clear policy and it was conspiring against Pakistan and trying at every forum to push Pakistan from the grey to the black list.
https://www.dawn.com/news/1571713/talks-on-fatf-nab-legislation-hit-a-snag
--------
South Asia
US welcomes Afghan ceasefire, urges quick start to talks with Taliban militants
29 July 2020
The United States on Tuesday welcomed a new ceasefire between Afghanistan's government and Taliban insurgents, and voiced hope that they can quickly open talks.
"I welcome the announcements of an Eid ceasefire. Afghans deserve to celebrate the holiday in peace," said Ross Wilson, the top US diplomat stationed in Kabul.
"I look forward to both sides fulfilling their commitments and moving quickly to intra-Afghan negotiations," he wrote on Twitter.
Three-day ceasefire for Eid al-Adha: Taliban
Taliban militants announced on Tuesday that they will observe athree-day ceasefire for the Muslim religious holiday of Eid al-Adha, starting on Friday, offering some respite from weeks of increasing violence.
Disagreements over a prisoner exchange and the violence havedelayed peace talks between an Afghan government-mandated
committee and the Taliban, as envisaged in an agreement signed between the United States and the militant group in Doha in
"In order for our people to spend the three days of Eid inconfidence and happiness, all fighters are instructed not to
carry out any operations," Taliban spokesman Zabihullah Mujahid tweeted.
However, he added that if Taliban fighters come under attack from government forces, they will retaliate.
Peace talks could begin "in a week's time": Ghani
President Ashraf Ghani said on Tuesday that peace talks with the Taliban could begin "in a week's time", following the completion of a crucial prisoner exchange.
"To demonstrate the government's commitment to peace, the Islamic Republic will soon complete the release of 5,000 Taliban prisoners," Ghani told senior officials at the presidential palace.
"With this action, we look forward to the start of direct negotiations with the Taliban in a week's time," he added, speaking in English.
The Afghan president's spokesman, Sediq Sediqqi, said the government welcomed the ceasefire announcement but added that Afghans wanted enduring peace and the start of direct peace negotiations.
Attacks by militants
Since the US-Taliban agreement, 3,560 Afghan security forces personnel have been killed in attacks by militants, President Ghani said in a speech on Tuesday.
The UN Assistance Mission in Afghanistan (UNAMA) said in a report on Monday that more than 1,280 Afghan civilians had been killed in the first six months of the year, mainly as a result of fighting between Afghan government forces and the Taliban.
The US State Department said last week that US Special Representative for Afghanistan Zalmay Khalilzad would travel to the region to push for an agreement on prisoner exchanges and a reduction in violence.
https://english.alarabiya.net/en/News/world/2020/07/29/US-welcomes-Afghan-ceasefire-urges-quick-start-to-talks-with-Taliban-militants-.html
--------
Afghan president expects talks with Taliban 'in one week's time'
Tuesday, 28 July 2020
Afghan President Ashraf Ghani says negotiations between his government and the Taliban militant group are expected to begin "in a week's time," following the completion of a prisoner exchange between the two sides.
In an address at the presidential palace on Tuesday, Ghani said the crucial prisoner swap with the Taliban was almost complete.
"To demonstrate the government's commitment to peace, the Islamic Republic [of Afghanistan] will soon complete the release of 5,000 Taliban prisoners," Ghani said on Tuesday, using the official name of Afghanistan. "With this action, we look forward to the start of direct negotiations with the Taliban in a week's time."
The prisoner swap has been an Afghan government obligation under a deal between the United States and the Taliban that was struck in February. Kabul was excluded from the talks, and the obligation was imposed on it.
The exchange has been regarded as a first step toward broader talks between the Afghan government and the Taliban. Its implementation had faced hurdles since the deal was signed, and Ghani's announcement of both the imminent completion of the swap and the start of talks was unexpected.
The deal envisages a complete withdrawal of US forces from Afghanistan, and the Taliban pledged not to attack American and other foreign forces. They made no such pledge in relation to the Afghan government and people.
The Afghan president also called on the Taliban to agree to a "permanent and comprehensive ceasefire" during the talks. "The ball now is in the court of the Taliban and the international community," Ghani said.
Later in the day, Taliban spokesman Zabihullah Mujahid in a statement declared a three-day ceasefire for the Muslim holiday of Eid al-Adha, starting Friday. But any attack by "the enemy" would be met with force, he said.
Sediq Sediqqi, the main spokesman for Afghanistan's president, greeted the announcement with a note of caution.
"The Afghan government welcomes the announcement of a ceasefire by the Taliban in Eid days, but the Afghan people wanted a lasting ceasefire," the spokesman said. "The Afghan government has taken all necessary steps to show its commitment for the peace process and calls on the Taliban to show commitment too. The Afghan people are tired of war and it must end."
The militants declared a similar three-day ceasefire at the end of the holy fasting month of Ramadan in May. That truce prompted widespread relief across Afghanistan, but it was short-lived, with the militants resuming deadly attacks straight afterwards.
Official data shows that bombings and other assaults by the Taliban have surged 70 percent since the militant group signed the deal with the United States.
https://www.presstv.com/Detail/2020/07/28/630617/Afghanistan-Ghani-talks-Taliban-one-weeks-time
--------
Taliban announce Eid Al-Adha ceasefire in Afghanistan
July 28, 2020
KABUL: Afghanistan's Taliban militants announced on Tuesday that they will observe a three-day ceasefire for the Muslim religious holiday of Eid Al-Adha, starting Friday, offering some respite from weeks of increasing violence.
Disagreements over a prisoner exchange and the violence have delayed peace talks between an Afghan government-mandated committee and the Taliban, as envisaged in an agreement signed between the US and the group in Doha in February.
"In order for our people to spend the three days of Eid in confidence and happiness, all fighters are instructed not to carry out any operations," Taliban spokesman Zabihullah Mujahid tweeted.
However, he added that if Taliban fighters come under attack from government forces, they will retaliate.
The Afghan president's spokesman, Sediq Sediqqi, said the government welcomed the ceasefire announcement but added that Afghans wanted enduring peace and the start of direct peace negotiations.
Since the US-Taliban agreement, 3,560 Afghan security forces personnel have been killed in attacks by militants, President Ashraf Ghani said in a speech on Tuesday.
The UN Assistance Mission in Afghanistan (UNAMA) said in a report on Monday that more than 1,280 Afghan civilians had been killed in the first six months of the year, mainly as a result of fighting between Afghan government forces and the Taliban.
The US State Department said last week that US Special Representative for Afghanistan Zalmay Khalilzad would travel to the region to push for an agreement on prisoner exchanges and a reduction in violence.
https://www.arabnews.com/node/1711321/world
--------
Europe
Europe warned of ISIS radicalisation threat in prisons
Nicky Harley
July 27, 2020
European countries could face a major radicalisation threat within their prison systems from returning ISIS fighters, reports on terrorism reveal.
Researchers from the International Centre for the Study of Radicalism analysed the risks posed by extremists in 10 major European countries.
The individual reports, published on Monday, highlight the dangers posed by returning ISIS fighters and concerns over them radicalising others within the prison system.
A report on Belgium reveals that if all extremists who left return to the country and are jailed, one in 10 women in prison will be an ISIS fighter.
It says that almost half the country's current extremist inmates are former ISIS fighters and nearly a quarter of those showing signs of radicalisation are serving sentences for non-terrorism crimes.
"Some of the women who remained with ISIS until the last battle in Baghuz have been proselytising in the Kurdish camps, chiefly in al-Hoi, and they could seek to achieve the same in Belgium," the report warns.
"The ability of female penitentiary institutions to properly handle these returnees (in terms of monitoring or differentiated detention regimes, for example) would largely depend on the pace of returns: a massive return would be much more challenging than a progressive, limited inflow of returnees.
"Radicalisation or terrorist recruitment in prison are not new phenomena in Belgium, but they have reached unprecedented magnitude in the aftermath of the Syrian conflict and the mobilisation of foreign fighters from Europe.
"This has created serious concerns among Belgian security services and policymakers, who since 2015 have adopted a series of measures to improve the monitoring of terrorist and radicalised inmates as well as minimise the risk of radicalisation of other inmates."
It goes on to say that half of the extremists serving sentences in Belgium are due for release shortly.
A separate report on France, cites prison overcrowding as a major issue in the spread of ISIS propaganda and reveals that 148 ISIS prisoners are due for release in the next two years.
A report focusing on the Netherlands praises the separation of extremists into specialist wings, away from other prisoners, to prevent them spreading extremist ideas.
But it said the country would have to consider how to deal with returning women and children from ISIS because it will not have the room to accommodate all of them.
"When assessing the Dutch approach to managing extremist offenders, the choice to concentrate offenders in special terrorism wings and designate specific staff to deal with this offender group in prison and post-release has been effective for quite some time," the report said.
"Separating extremists has prevented this group from radicalising or recruiting other inmates. It also allowed prison staff to develop in-depth [knowledge] about and expertise with this group of offenders, which has led to highly professional and well-trained staff."
The immediate challenge of repatriating Dutch women and children from Syria might force the Netherlands' government to decide soon whether further action is needed, it said.
"If and when this group returns, it is a given that they cannot all be held in the current terrorism wings and, as such, the Dutch approach to terrorist offenders will likely continue to be characterised by policy thinking on paper and pragmatic solutions in practice."
Last week, the ICSR issued a warning that European governments urgently needed to adopt a uniform plan for the repatriation of ISIS fighters, thousands of whom are expected to return or are due for release from prison.
It revealed that if ISIS fighters from the West were to soon return, prisons across Europe would be overwhelmed.
Peter Neuman, the report's author, said many such militants had been convicted of lesser charges to get them into custody. As a result, many are serving only short sentences.
"Our report is very urgent because within the next two to three years some countries will have a significant number of people in prison being released back into society and that is something to prepare for," Mr Neuman said.
"Rehabilitation is really important in view of how many people will be released. There needs to be linking up between prison and probation. This is urgent."
The UN Security Council's Counter-Terrorism Committee Executive Directorate issued a report warning European governments of the "great risks" posed by returning female ISIS recruits and urging them to "urgently" examine their prosecution and rehabilitation policies.
https://www.thenational.ae/world/europe-warned-of-isis-radicalisation-threat-in-prisons-1.1055403?utm_source=iterable&utm_medium=email&utm_campaign=1394155_
--------
Swedish Islamic school accused of gender segregation takes over building linked to ISIS
Nicky Harley
July 28, 2020
A Muslim school in Sweden that sparked controversy earlier this year is set to expand into an education building that was shut down after allegedly employing former ISIS fighters as teachers.
The Romosseskolan school, which runs Muslim independent schools, has gained a permit to open a new school in the former state-funded Islamic Vetenskapsskolan school in Gothenburg, which was closed last year after it was accused of hiring ISIS fighters as teachers after their return from Syria.
Only four months ago the Romosseskolan school was accused of gender segregation in lessons and faced criticism over its policy of not allowing pupils a choice over whether they attended prayer sessions.
"My opinion is that a school whose management has been criticised for counteracting basic values in the Education Act should not receive approval at all," Sweden's Liberal party school policy spokesman Roger Haddad told Dagens Nyheter magazine.
"The Swedish Schools Inspectorate must put an end to this."
The granting of the permit has also been met with criticism as it was originally awarded to Romosseskolan in 2015 and was due to expire in 2017.
The new school is not set to open until later this year.
The Swedish Schools Inspectorate says the permit expiry date is merely a guide.
Fredrika Brickman, from the inspectorate, told Expressen that it believed it would fail in a court bid to reject the continued use of the permit as it had not made the timetable for its use clear.
"As it was not clear from the decisions that the permit then expires, we have not considered that we have been able to prevent principals from starting schools even after the conditional period," she said.
"We did not think we could win in court if we said that 'no, now you cannot do it'. It is a shortcoming that we have not been clear enough in our previous decisions. We have now remedied this from 2018 so that it is clear in all our decisions that the permit expires two years after the decision date."
In 2018 Romosseskolan successfully appealed in court against a decision by the inspectorate to reject its request to open a school in the city of Boras.
Officials had argued that the school would increase segregation and would counteract the initiatives it had introduced to improve integration.
There are still radicalisation concerns in Gothenburg, where the new school will be located, as more than one third of Sweden's ISIS fighters originated from the area.
In February Swedish authorities gave a warning that Islamic extremists were still focusing on the city.
The Vetenskapsskolan school was closed in December and had its permit withdrawn over radicalisation concerns.
It was claimed that one member of the school's new board had shared ISIS propaganda online and four former ISIS fighters allegedly taught in the school, along with another man who had been accused of soliciting funds for terrorism.
https://www.thenational.ae/world/swedish-islamic-school-accused-of-gender-segregation-takes-over-building-linked-to-isis-1.1055932
--------
British-Australian scholar moved to Iran's Qarchak prison amid COVID-19 outbreak
28 July 2020
Jailed British-Australian academic Kylie Moore-Gilbert has been moved to Iran's Qarchak prison, known as the most dangerous and worst prison in the country, amid a reported coronavirus outbreak in the prison, according to the Guardian on Tuesday.
Concerns have been raised after reports that coronavirus has been detected in the prison, with sources telling the British newspaper "social distancing is impossible, and access to soap is often limited."
Independent sources inside Iran confirmed to the Guardian that the academic had been moved to the prison controlled by Iran's Islamic Revolutionary Guard Corps.
"Isolated and overcrowded, Qarchak has a reputation as one of the most hostile prisons in the country," reported the publication.
"I can't eat anything. I feel so very hopeless," Moore-Gilbert is quoted by the Guardian as telling Reza Khandan, husband of jailed human rights lawyer Nasrin Sotoudeh, in a phone call. "I am so depressed. I don't have any phone card to call. I've asked the prison officers, but they didn't give me a phone card. I [was last able to] call my parents about one month ago."
For all the latest headlines follow our Google News channel online or via the app.
In June, the United States Department of State reportedly listed the prison as an entity responsible for "extrajudicial killings, torture, or other gross violations of internationally recognized human rights."
The Middle East scholar is serving a 10-year sentence on espionage charges in the Islamic Republic and was being held in Evin prison, another notorious institution.
Moore-Gilbert's arrest was confirmed in September 2019 but her family said she was detained months before that date, according to AFP.
https://english.alarabiya.net/en/coronavirus/2020/07/28/British-Australian-scholar-moved-to-Iran-s-Qarchak-prison-amid-COVID-19-outbreak.html
--------
Jihadist plots used to be U.S. and Europe's biggest terrorist threat. Now it's the far right.
July 27, 2020
LONDON — The threat of terrorism — particularly from the far right — should be a major concern for governments on both sides of the Atlantic as coronavirus restrictions continue to ease, according to multiple experts and former law enforcement officials who have experience monitoring violent extremist activity.
High unemployment levels due to the pandemic, poor economic prospects and the spread of disinformation through the internet and social media could accelerate radicalization, they said.
And after a major drive by law enforcement agencies to disrupt the organizing potential of violent Islamist movements in the United States and in Europe, where hundreds of people have returned from the battlefields in Iraq and Syria, recent analysis suggests far-right groups now pose the most significant threat to public safety.
"We see an increasing percentage of plots and attacks in the United States shifting over the past couple of years from jihadist motivations, increasingly, to far-right activity," said Seth Jones, who directs the Transnational Threats Project at the Center for Strategic and International Studies, a Washington, D.C., think tank.
Jones defined right-wing extremists as "sub-national or non-state entities" with goals that could include ethnic or racial supremacy. They can also be marked by anger against specific policies like abortion rights and government authority, as well as hatred toward women, or they may be members of the "involuntary celibate," or "incel," movement.
A report he co-authored recorded 14 terrorist incidents, including attacks and disrupted plots, from Jan. 1 to May 8. Thirteen of them were classified as right-wing, and the other was recorded as being religiously motivated in the context of jihadism.
The report found that the comparable figure for right-wing attacks and plots in 2019 was a little more than 60 percent, which itself was the highest level of such activity since 1995, the year of the Oklahoma City bombing of a federal building, which killed 168 people. And in both 2018 and 2019, right-wing attackers caused more than 90 percent of the terrorism-related deaths in the United States.
Jones said the threat of terrorism had probably increased in the U.S. during the COVID-19 pandemic because of the combined activities of those opposed to lockdowns and other restrictions, anti-federal militia members and their backers, and far-right activists energized by the country's polarized politics or angered by the Black Lives Matter movement.
The highest-profile recent attacks came in late May and early June, when California police officers and security personnel were ambushed in separate attacks, leaving two people dead and three others injured. The FBI said one of the suspects who was arrested was associated with a loosely organized far-right "Boogaloo" movement.
"There is a growing trend of right-wing extremism in the U.K., but it is not as significant as the rising right-wing extremism in America," said retired Maj. Gen. Clive Chapman, the former head of counterterrorism for Britain's Defense Ministry.
He said that, in the almost two decades since the Sept. 11, 2001, terrorist attacks on New York and Washington, D.C., more Americans — 335, according to data compiled by the Center for Strategic and International Studies — have been killed by adherents of a form of right-wing extremism than any other terrorist ideology.
He said terrorists need more than just an ideology to act — they often nurse grievances of some kind and typically have encountered what he termed a "recruitment environment." That could be a social activity in a real-life community, he said, or it could be online.
But Thomas Hegghammer, a senior research fellow at the Norwegian Defence Research Establishment in Oslo, said that while the recent shift to far-right terrorist activity has not passed unnoticed by law enforcement internationally, the kind of websites that might radicalize right-wing actors have been subject to far less scrutiny than has been accorded to the equivalent jihadist literature.
"The threat hasn't been perceived as sufficiently severe," he said. "To put it bluntly, there hasn't been enough mass casualty terrorism from the far right for Western governments to put the full weight of their intelligence apparatus into this."
The limited censorship and law enforcement surveillance of "hard-core far-right extremist propaganda" on the internet has made it easier for users to access such material without inviting attention from government intelligence agencies, Hegghammer said — at least for now.
Meanwhile, the clampdown on online jihadist activity has significantly affected the ability of organizations like the Islamic State militant group to reach new audiences online and to recruit adherents, he said. After a spate of high-profile attacks in Brussels, Paris and London several years ago, the frequency of such incidents has fallen recently.
"In a sense, we've kind of taken away their communication platform. And now the coronavirus is taking away the analogue 'in real life' platform," together with the media attention that Hegghammer described as the "lifeblood" of modern jihadist terrorist attacks.
"The net effect of the corona crisis is negative for the militants, for the radicals," he said. "I would be kind of frustrated if I were a jihadi strategist in this time. And I would be looking forward to the post-corona era."
Internet activity may have spiked during the lockdowns among would-be jihadists who are no longer interacting with people in person and who may have struggled to get involved in Islamic extremist networks in the past. But that now comes with clear pitfalls because of the heightened surveillance, said Raffaello Pantucci, a senior associate fellow at the Royal United Services Institute, a British think thank.
In a video call from Singapore, he pointed to a Moroccan man who was arrested in Spain last month after authorities observed what they described as his constant activity on social media and his anonymized access to radical jihadist content.
He was suspected of disseminating "jihadist terrorist propaganda" through the internet, according to a Europol notice published shortly after his arrest, "and demonstrated a full adherence to the postulates of terrorist groups, fully justifying their violent actions."
Pantucci said of the man's self-radicalization: "It seemed to be very linked to the fact that he was locked in because of coronavirus. Those kinds of cases, I think, are going to be ones that we're going to see more problems with going forward."
https://www.nbcnews.com/news/us-news/jihadist-plots-used-be-u-s-europe-s-biggest-terrorist-n1234840?utm_source=iterable&utm_medium=email&utm_campaign=1394155_
--------
Mideast
US Democratic party's platform on Iran 'positive' step: Tehran
28 July 2020
The United States Democratic Party's draft platform for the 2020 election which opposes regime change in Tehran is a "small but positive" step, Iran's government spokesman Ali Rabei said on Tuesday.
"We believe that [the Democratic Party's 2020 platform] is a small but positive step in understanding the realities of Iran, but it is still ambitious," the semi-official ISNA news agency quoted Rabei as saying.
For all the latest headlines follow our Google News channel online or via the app.
"Overall, we do not care about words on paper. We are waiting for practical steps aimed at correcting past mistakes," said Rabei.
US Democratic presidential candidate Joe Biden says he would deal with Iran through diplomacy and re-enter the 2015 nuclear deal with Iran known as the Joint Comprehensive Plan of Action (JCPOA), but only if Iran first returned to compliance with the deal's restrictions on its nuclear program.
US President Donald Trump withdrew from the JCPOA in 2018 and reimposed sanctions on Tehran as part of a "maximum pressure" campaign against the Iranian regime.
The Trump administration says it wants a more comprehensive deal that would cover nuclear issues, Iran's ballistic missile program and Iranian activities in the Middle East.
Trump's "maximum pressure" policy toward Iran has failed, Rabei claimed.
https://english.alarabiya.net/en/News/middle-east/2020/07/28/US-Democratic-party-s-platform-on-Iran-positive-step-Tehran.html
--------
Opposing sides in Yemen accept Saudi proposal to implement Riyadh agreement
July 29, 2020
RIYADH: An official source on Tuesday night said that the Yemeni government and the Southern Transitional Council (STC) have accepted a proposal by Saudi Arabia designed to accelerate the implementation of the Riyadh Agreement.
The proposal includes the continuation of the ceasefire that came into effect on June 22, and an announcement by the STC that it is abandoning self-rule in favor of the power-sharing Riyadh Agreement, and will appoint a governor and security director for Aden governorate. The Yemeni prime minister will form a government that includes representatives of both northern and southern Yemen within 30 days. In addition, opposing military forces will leave Aden governorate and retreat from Abyan.
The STC spokesperson Nizar Haitham confirmed the announcement "that it (the STC) is abandoning its self-rule declaration" to allow the implementation of the deal, in a statement on his Twitter account on Wednesday.
Saudi Deputy Defense Minister Prince Khalid bin Salman thanked Yemeni President Abdrabbuh Mansur Hadi and the STC for their support of the Saudi effort to accelerate the implementation of the Riyadh Agreement.
"I am optimistic and confident about its implementation and the parties coming together to put the interests of the Yemeni people first," he said.
The Kingdom's efforts in encouraging political leaders to talk to each other, resolve their differences and reach a consensus on the implementation of the agreement shows the potential for resolving the disagreements in Yemen peacefully through dialogue, he added.
"A major goal of the coalition to support the legitimate Yemeni government is the security, stability and return of Yemen as an active member of the Gulf and the Arab world. The Riyadh Agreement is a key factor in reaching this, in addition to supporting the efforts of the UN envoy to Yemen," said Prince Khalid.
"The consent of the Yemeni parties to accelerate the implementation of the agreement reflects a serious desire for dialogue, the resolution of disputes, acceptance of each other, the pursuit of political partnership, and support for a comprehensive political solution to end the crisis."
Saudi Minister for Foreign Affairs Adel Al-Jubeir Tweeted: "The mechanism to accelerate the implementation of the Riyadh agreement represents an important step towards activating state institutions to serve all Yemeni citizens, in addition to supporting UN efforts to reach a comprehensive political solution to the crisis in Yemen."
Meanwhile, Saudi Foreign Minister, Faisal bin Farhan said the agreement would strengthen "trust between parties" and allow the Yemeni government to work from Aden.
"The agreement by the Legitimate Yemeni government and the Southern Transitional Council to accelerate the implementation of the Riyadh Agreement is a positive step towards reaching a wholistic and sustainable political solution in Yemen under the auspices of the UN," Farhan tweeted.
The source said that with the assistance of the UAE, representatives from the two Yemini sides met in Riyadh and agreed to the proposal as an acceptable solution to the obstacles that have prevented the implementation of the Riyadh Agreement, which was signed on Nov. 5, 2019.
They also agreed to prioritize the interests of the Yemeni people, make preparations for the government to operate from Aden, launch development projects in liberated areas, and work to end the crisis in Yemen in cooperation with the UN and its envoy.
The source added that the Saudi authorities welcomed the positive responses from the Yemeni president and the delegations of the government and the STC, while stressing the importance of both sides adhering to the agreement.
He also reaffirmed the continued support of the Saudi-led Arab coalition for the legitimate Yemeni government and the continuation of UN efforts to reach a comprehensive political solution to the crisis, in accordance with the wishes of the Yemeni people.
The United Nations Security Council welcomed Saudi Arabia's efforts to implement the Riyadh Agreement and affirmed its support for the political process in Yemen.
Council members expressed their support for the United Nations Special Envoy to Yemen, calling on the parties to agree to mediation proposals, and expressing support for the United Nations Secretary-General's call to end hostilities.
Members called on all donors to speed up donations, spend their pledges and save lives, expressing deep concern about the lack of funding that exacerbates the risk of acute malnutrition in the war-torn country.
The council also addressed the Safer tanker crisis, expressing deep concern at the increased danger that might lead to the cracking or explosion of the tanker in the Red Sea.
The security council called on the Houthis to approve entry permits for UN technical experts to assess the tanker as soon as possible. The role of the experts would be to make suggestions on any possible urgent repairs need and make recommendations for safe oil extraction.
https://www.arabnews.com/node/1711511/saudi-arabia
--------
Islamic Relief to contest Israeli 'terrorism' allegations in court
27 Jul 2020
A Tel Aviv court is to hear a petition from the charity Islamic Relief to restart its aid work in the occupied West Bank, six years after the Israeli government labelled it a "terrorist organisation".
Islamic Relief Worldwide (IRW) said the designation had left more than 70,000 Palestinians without vital support. It will argue that allegations linking it to the militant group Hamas were unfounded.
"There is no credible evidence that we have seen, and we have got to challenge it," Naser Haghamed, IRW's chief executive, said in an interview. "We cannot accept to be designated and keep quiet about it."
A one-day high court hearing was scheduled for Monday afternoon but postponed to an unspecified later date just before it was due to start. The delay is believed to be related to the coronavirus pandemic, rather than the case itself.
The charity, which has its headquarters in the UK, works in more than 40 countries and has a reputation for delivering aid to some of the world's most hard-to-operate-in conflict zones, including Yemen and Somalia.
In 2014, Israeli authorities seized 3.6m shekels (£820,000), banned the group from operating in the West Bank, and raided its offices. However, most of the information to back up its claims is described as confidential intelligence.
After the designation, IRW commissioned an independent inquiry, which it said found no wrongdoing. Haghamed added that the charity – which receives funds from the UK, US and EU – has been audited more than 500 times in the past decade.
One focus of the case has been on aid provided to Palestinian minors, some of whom Israel said were the children of deceased Hamas militants. In response, IRW said its humanitarian work is strictly based on need.
"We do not discriminate against anyone. We do not ask for the background of those children, where their parents come from, or whether their fathers have died or anything like that," said Haghamed. "They are orphans, and like anybody else, they deserve to be looked after."
Avigdor Feldman, a prominent Israeli civil and human rights lawyer, said it was hard to judge the chances of success for IRW, who he was representing. He said he expected a verdict within the next three to six month.
"The whole attitude [from the Israeli government] towards IRW is quite strange and unexplainable," Feldman said.
"This is the duty of an occupying power to help the population – to help them economically, with health, with schools. And the government is not doing it. There is a vacuum which IRW and other organisations fill and try to help."
The Guardian has contacted the Israeli ministry of defence for comment.
Israel has a tense relationship with many humanitarian groups operating in the Palestinian territories. In a separate but similar case, the Gaza director of a Christian charity, World Vision, was accused of diverting funds to Hamas. The claims were also based on secretive testimony from intelligence officials, and internal World Vision investigations and an inquiry by the Australian government found no evidence that money had been misused.
As well as the high court case in Israel, IRW has been fighting to uphold its reputation on other fronts.
In 2012, one of its founders, Essam al-Haddad, resigned from IRW and joined the then Muslim Brotherhood presidential candidate Mohamed Morsi in Egypt, leading the charity to reiterate that it had no political agenda.
Two years later, the United Arab Emirates, a country deeply suspicious of the Muslim Brotherhood, also designated IRW, along with 85 other organisations, as terrorist groups – a case the IRW also criticised as flawed by a lack of available evidence.
Most recently, the charity announced last week that a trustee had resigned after he was found to have made antisemitic comments on Facebook, including labelling Israeli authorities as "grandchildren of monkeys and pigs".
The IRW chief executive, Haghamed, said he had been "appalled" by the "unacceptable" posts. Ask if the scandal had come at a particularly bad time ahead of the Israeli court case, he replied: "To be honest, for any charity, there is no good time for bad news … any bad news, any time, is really bad."
https://www.theguardian.com/world/2020/jul/27/islamic-relief-to-contest-israeli-terrorism-allegations-in-court?utm_source=iterable&utm_medium=email&utm_campaign=1394155_
--------
Iran: Prisoner, Kamil Ghaderi-Aghdam Executed in Naghdeh
22 July - A prisoner sentenced to retribution in kind (death) for "premeditated murder" has been executed in Naghdeh Prison.
According to Iran Human Rights, a prisoner on death row was executed in Naghdeh Prison this morning. The identity of the prisoner has been established as Kamil Ghaderi-Aghdam, who was sentenced to retribution in kind for "premeditated murder".
An informed source told IHR: "Many efforts were made to save Kamil Ghaderi, and two nights ago, a large number of local elders went to the victim's family home to request their consent. A group of civil activists also gathered outside the prison gates last night, but the victim's family did not consent."
According to the Kurdpa website, which first broke news of the execution, Kamil Ghaderi-Aghdam was from the village of Dilzeh in Piranshahr, West Azarbaijan Province.
At the time of publication, the execution of this prisoner has not been announced by local media or officials.
According to Iran Human Rights Annual Report on the Death Penalty in Iran, at least 225 of the 280 of those executed in 2019 were charged with "premeditated murder."
As there are no legal distinctions made between murder and manslaughter, whether voluntary or involuntary in Iran, those charged under the umbrella term of "premeditated murder" will receive the death penalty regardless of intent (mens rea) and the circumstances.
--------
Iran continues execution of Kurdish prisoners to little international outcry
22 July – While Iran halted this week the executions of three young men linked to deadly fuel protests in November, the government continued to carry out death sentences of Kurds without much apparent notice among the international community.
"Unfortunately, five Kurds were executed in the prisons of Urmia and Kermanshah in the past few days. Another inmate, Hussein Osmani, who is sentenced to 30 years of imprisonment, was threatened with the death penalty," Jila Mostajer, manager of the human rights watchdog Hengaw, told Kurdistan 24 on Tuesday.
Her organization later specified in a report that Osmani had been told he would be put to death this week.
She said that this threat was particularly concerning because it fits a pattern of events that have ended in the death of other political prisoners like Mansour Arvand, whom the courts initially handed a life sentence but was later executed.
A relative of Osmani told Kurdistan 24 that authorities had arrested him along with Sabir Sheikh Abdullah and Diyako Rasoulzadeh, both of whom were executed on July 14 after being convicted of involvement in a bombing attack in Mahabad in a trial rights groups have widely described as "unfair."
Read More: Iran executes Kurdish political prisoners convicted in 'unfair' trial: Reports
"He was tortured into giving a false confession," the relative said, adding that the family now fears that Osmani could face the same fate.
Multiple human rights groups credibly charge that Iranian interrogators routinely obtain confessions from prisoners through the use of torture, including for alleged crimes for which they are later executed.
On Wednesday, after Mostajer's comments to Kurdistan 24, Hengaw also reported that another ethnic Kurd named Kamil Qaderi Aqdam who was arrested two years ago on charges of murder that the organization claims were trumped up, was hanged in the central prison in West Azerbaijan province on July 22.
This brings the total number of executions of Kurdish prisoners in just a week up to at least six, according to Hengaw.
These executions, said Mosajer, "lead us to one critical point: Discrimination again Kurds. Kurds make the majority of those executed in the recent years, yet they have been reported in the media rarely."
She explained that the government and Persian-centric media leaves Kurdish views and even Kurdish deaths woefully underreported.
"Meanwhile, the Kurds have no independent media outlet. Most of the outlets are owned by or affiliated with political parties, which has made them rather loyal to the party political lines."
Another rights group, the Kurdistan Human Rights Network (KHRN), said in a tweet that the death sentences of two prisoners, Asad Keshavarz and Amin Safarkesh, were carried out in Orumiyeh Central Prison on July 20.
"Due to the fact that Iran is a dictatorship now, executions and politically motivated death penalties have become a tool for their oppressions," Mostajer said, noting that that at least 12 Kurds were executed during the Islamic month of Ramadan and several more remain on death row.
"Iran is both internally and internationally under a huge pressure, and that could lead to a massive public protest across the country at any given moment," she said.
"The government in Tehran believes that such collective executions or rapid hangings could spread fear among people and prevent them from taking to the streets."
She puts the blame not only on Iran's government and media, however, saying "Kurds themselves have not worked efficiently on this issue," adding that the majority of Kurdish executions have not even been reported to international human rights group like Amnesty International, which has often actively publicized them after receiving such information
Amnesty called on the UN and its member states in a report last week to quickly intervene to save the lives of those at risk of execution and urge Iran to stop using the death penalty to sow fear and silence political opposition. It also expressed concerns that death row prisoners from Iran's disadvantaged ethnic minorities such as Kurds are at particular risk, given the authorities' pattern of executing prisoners from these groups when concerned about the eruption of civil unrest.
"Iran's increasing use of the death penalty as a political weapon for repression is alarming and warrants the immediate attention of the international community," read the report.
The nation consistently ranks among those with the highest number of deaths sentences it issues and implements, with minority groups being significantly overrepresented among those killed.
This week, however, Iran's judiciary halted the executions of three young men convicted in connection with November's mass anti-government protests following a massive social media campaign.
The Persian hashtag #do_not_execute was used five million times after it was announced on Tuesday that the Supreme Court had upheld their death sentences, the BBC reported.
Conversely, the execution of Kurdish prisoners and the 10-year jail sentence handed to Kurdish language teacher Zahra Mohammadi last week does not appear to have gotten much attention from the wider Iranian public.
Arash Saleh, the Washington Representative of the Kurdish opposition group known as the Democratic Party of Iranian Kurdistan (PDKI), told Kurdistan 24 that the structural oppression of Kurds is not limited to policies of the current government.
"There are strong tendencies in current mainstream Persian media, Persian civil society, Persian journalists, and Persian activists to suppress the voice of Kurds in all levels," he charged, adding, "These tendencies are still strongly under the effect Persian supremacism and cannot let the upper hand position of Persian culture go in Iran."
As a result, he said, near-daily persecution of Kurds "never make the headlines... while a less severe situation such as the three months imprisonment of a Persian activist will stay on headlines of almost all leading Persian news agencies and websites across various political aisles for a long time."
https://www.kurdistan24.net/en/news/7cdc5034-7596-475a-a995-499b639e91a5
--------
Iran: 21-year-old Majid Choupani executed in Qazvin Prison
25 July - A prisoner, sentenced to qisas (retribution in-kind) for "premeditated murder" was executed in Qazvin Central Prison (Choubindar) on July 14, making him the second person to have been executed in Qazvin Prison that day.
According to Iran Human Rights, on the morning of Tuesday, July 14, a 21-year-old prisoner on death row was executed in Qazvin Central Prison. The identity of the prisoner has been established as Majid Choupani, who was sentenced to retribution in kind for "premeditated murder".
"Majid Choupani was sentenced to death for the murder of a Nissan driver," an informed source told IHR. "In his confession, he said that the man intended to sexually assault him." The source also said that the incident took place in an abandoned field in Takestan, Qazvin and that the murder weapon was a piece of rock.
The source added: "Majid had said that I didn't strike him with the intention of killing him and only intended to hit him to get rid of him, but was forced to flee. When he realised that he didn't have a pulse and was dead, he was scared and shocked and ran away. After 40 hours, in his own words, he felt guilty and surrendered and confessed at the Qazvin police station."
Majid Choupani was a Qazvin native and was working as a labourer prior to his arrest.
On July 15, Iran Human Rights published news of the execution of Ali Tavousi, a 35-year-old prisoner who had also been sentenced to retribution in kind for "premeditated murder". News of Majid's execution makes him the second person to have been executed in Qazvin Prison that day.
The execution of these two prisoners has not been announced by domestic media and or officials at the time of publishing this article.
According to Iran Human Rights' annual report, at least 225 of the 280 of those executed in 2019 were charged with "premeditated murder."
As there are no legal distinctions made between murder and manslaughter, whether voluntary or involuntary in Iran, those charged under the umbrella term of "premeditated murder" will receive the death penalty regardless of intent (mens rea) and the circumstances.
https://iranhr.net/en/articles/4348/
--------
Iranian Supreme Court Upholds Death Sentence for 5 Protesters in Isfahan
26 July - The Supreme Court has upheld the death sentences of five protesters arrested at the nationwide December 2017/January 2018 demonstrations in Khomeini Shahr, Isfahan. Referring to the history of Islamic Revolutionary Courts violating the principle of a fair trial and the use of torture to obtain forced confessions, Iran Human Rights (IHR) strongly condemns the issuance and approval of these sentences by the Revolutionary Courts and the Supreme Court.
IHR Director, Mahmood Amiry Moghaddam, said: "In addition to the inhumanity of the death penalty itself, we condemn the use of executions as a means of repressing protesters and creating fear in society. We call on the international community to put pressure on the Iranian authorities to stop these executions." Referring to the unprecedented mass "don't execute" hashtag campaign, which was started by social media users, Amiry Moghaddam also stressed the need for collective action to echo the voice of the protesters to the world.
The five protesters sentenced to death are: Mehdi Salehi Ghaleh Shahrokhi, Mohammad Bastami, Majid Nazari Kondari, Hadi Kiani and Abbas Mohammadi. Confirming the news, one of the defendant's lawyers said that their death sentence had been issued in February by Branch Two of the Islamic Revolutionary Court of Isfahan.
According to the judgment obtained by IHR, the Supreme Court has upheld the death sentences of the five protesters on charges including "baghy"(rebellion) through effective efforts and activities to advance the rioters' goals, "moharebeh" (waging war against God) through using firearms and intending to deprive the community of security and shooting at officials, "Ifsad-fil-arz" (corruption on earth) through disrupting public security and directing the rioters to disrupt public order and safety and disturbing public opinion." In addition, they have also been convicted of other less serious charges including drug possession.
According to IHR sources, the defendants had told the court that they had been tortured to make false confessions.
Iran Human Rights (IHR) previously warned of the possibility of protesters being sentenced to death and executed after Isfahan's chief justice, Mohammad Habibi announced convicting eight protesters arrested over the last three years of "corruption on earth" during a Friday Prayer sermon.
The "corruption on earth" charge is one of the most ambiguous and serious charges in the Islamic Penal Code, which carries the death penalty.
A more detailed report on the case of the five men will be published on the IHR website, as soon as some additional information has been confirmed.
https://iranhr.net/en/articles/4350/
--------
Iran: UN experts call for the urgent release from prison of human rights defender with COVID-19 symptoms
GENEVA (22 July 2020) – Iran must release human rights defender Narges Mohammadi, reportedly ill with coronavirus symptoms, and other arbitrarily detained individuals before it is too late, a group of UN human rights experts* said today.
The group of 16 experts expressed grave concerns that Ms. Mohammadi appears to have contracted COVID-19 in Zanjan Prison. Ms. Mohammadi has been in detention since 2015 on charges that stem from her human rights work. She received a combined 16-year prison sentence in May 2016, of which she will need to serve 10 years under Iranian law.
"We are extremely concerned for Ms. Mohammadi's well-being. We previously raised concerns that she and other individuals in Iranian prisons are at great risk if they contract COVID-19 and we called for their immediate release," the experts said. "For those with underlying health conditions, such as Ms. Mohammadi, it may have life-or-death consequences. The Iranian authorities must act now before it is too late."
They also called on authorities to give Mohammadi the results of the COVID-19 test she took on 8 July, and to move her to a hospital for proper care. She showed the first symptoms of COVID-19 on 29 June 2020 and her condition soon deteriorated and led to a loss of consciousness on 5 July 2020.
Despite these symptoms, and her repeated requests for medical attention, prison authorities reportedly failed to provide such assistance. On 8 July 2020, her family went to the Zanjan prosecutor's office to request she is provided medical care, and the same day she was tested for COVID-19. She has been denied access to the results, despite one of her cellmates having been tested positive and others having displayed symptoms of the disease.
"We also deplore the publishing of a video by State-affiliated media which claims to portray Ms. Mohammadi receiving a medical check-up by a doctor, reportedly to suggest that she is in good health. This video represents a violation of Ms. Mohammadi's privacy rights and has no value as its content cannot be verified in any way", the experts stressed
The experts are also worried that there may be more cases in prison, as prisoners previously released on furlough are returned to prison, and a second wave of COVID-19 hits Iran. There are longstanding concerns over Iran's ability to contain disease outbreaks in overcrowded and unhygienic prisons.
On 16 April 2020, the experts commended Iran's policy to grant temporary release to prisoners to mitigate COVID-19 in prisons. However, the experts also raised concerns that many human rights defenders like Ms. Mohammadi, as well as human rights lawyers, dual and foreign nationals, conservationists and other prisoners of conscience held without sufficient legal basis had not benefitted, and urged the initiative be extended to them.
"Ms. Mohammadi should not be in prison in the first place," the experts said. "The Working Group on Arbitrary Detention found that her detention is arbitrary and called for her immediate release in 2017. Not only do the Iranian authorities continue to imprison her, they have in the past year denied her contact with her family, and are also seeking to prosecute her under new charges in order to continue her unlawful imprisonment."
"We yet again call on Iran to immediately release Ms. Mohammadi, as well as all others who are currently denied their right to liberty in contravention of Iran's obligations under the International Covenant on Civil and Political Rights."
https://www.ohchr.org/EN/NewsEvents/Pages/DisplayNews.aspx?NewsID=26118&LangID=E
--------
Iran Jails 20 Protesting Downing Of Ukrainian Plane, None Sentenced From Military
25 July - Iran's Revolutionary Courts have in the past six months sentenced twenty individuals who participated in peaceful protests against the downing of a Ukrainian passenger plane in January to prison terms totaling more than 23 years. However, none of the people responsible for the incident have yet been named or put on trial.
In the most recent instance, Branch 26 of the Revolutionary Court of Tehran sentenced women's rights and student activist Bahareh Hedayat to 4 years and 8 months in prison.
Hedayat was previously the spokesperson of the Central Council of Tahkim Vahdat -- an Islamic student association -- and actively campaigned to gather one million signatures for a petition to change discriminatory laws against women.
On January 8 a few hours after Iranian missile attacks on two military bases in Iraq and while the Iranian military was expecting an American counterattack, the Revolutionary Guard fired two missiles at a Ukrainian airliner taking off from Tehran. The attack killed all 176 onboard the plane.
The bases in Iraq that were targeted before downing the plane hosted U.S. and other coalition troops. Iran said the attacks were in retaliation for the targeted killing of Qods Force Commander Qassem Soleimani near Baghdad Airport five days earlier, on January 3.
After three days of popular protests in various cities and the authorities' consistent denial of any role in the tragic incident, the Revolutionary Guard finally accepted responsibility for the attack on the plane but attributed it to "human error". Iranian officials still maintain that one individual's misjudgement caused the tragedy.
According to the official reports of the Judiciary, tens of people were arrested in various cities for participating in the peaceful protest rallies that only called for the real reason for the crash to be announced.
In a tweet on Saturday Hedayat said she received a four-year sentence for "participating in the rallies outside Amir Kabir University and 8 months for "propaganda against the regime" as well as her tweets.
Before her, Mostafa Hashemizadeh, a student of Tehran University, had been sentenced to six years in prison, 74 lashes and deprivation from certain social privileges for participating in the same protests.
Some of the families of the victims of the crash who live in Iran have said that they have no hope of getting justice for their loved ones but some others who live abroad have formed an association to bring the culprits to justice through international courts.
https://en.radiofarda.com/a/iran-jails-20-protesting-downing-of-ukrainian-plane-none-sentenced-from-military/30746940.html
--------
Envoy Underlines Iran's Readiness for Further Security Cooperation with Iraq
Jul 28, 2020
Masjedi made the remarks in a meeting with newly-appointed Iraqi National Security Advisor Qasim al-Araji late on Monday, and emphasized the two neighboring countries' commonalities.
Al-Araji, for his part, appreciated Iran's assistance to Iraq in fighting ISIL terrorists and voiced pleasure over Iran's recent welcome to Iraqi high-ranking delegation headed by Prime Minister Mustafa al-Kadhimi.
He said more cooperation between the two countries will benefit both sides.
In a relevant event in early July, Iran's Military Attaché to Iraq Mostafa Moradian and Senior Iraqi Lawmaker Mohammed Redha Al-Haidar in a meeting in Baghdad on Friday explored avenues for expanding security and defense cooperation.
During the meeting, the two sides underlined the need to implement the already signed military and defense agreements, urging the need to promote further cooperation in these areas.
Al-Haidar, also Head of the Security and Defense Committee in the Iraqi parliament, appreciated Iran's support for Iraq during that country's fight against ISIL terrorist group, and said that it was an example of brotherliness between Iran and Iraq.
The Iranian military attaché voiced his country's continued support for the Iraqi nation and government.
https://en.farsnews.ir/newstext.aspx?nn=13990507000284
--------
Khamenei-controlled organization acquires part of Iran's highest mountain
28 July 2020
An organisation directly controlled by Iran's supreme leader has acquired part of Mount Damavand, the country's highest mountain, according to an Iranian daily, sparking criticism amongst Iranians.
The state-run daily Hamshahri reported on Sunday that Iran's Endowments Organization has acquired one eleventh of Mount Damavand and the slopes leading to the summit.
For all the latest headlines follow our Google News channel online or via the app.
The organization is part of the Culture Ministry, but its head must be personally approved by Supreme Leader Ali Khamenei.
Mount Damavand, a potentially active volcano 5,600 meters high, is the highest mountain in Iran and the highest volcano in Asia. It was registered as a national monument in 2008.
The acquisition was completed with the consent of the country's highest judicial authority, the Supreme Court of Iran, Hamshahri said.
The ruling has sparked criticism from Iranians on social media as well as from some officials.
The supreme court issued the ruling without consulting the Forests and Pastures Organization, Mohammad Rajab Ali Pisheh, an official at the Natural Resources Office of Mazandaran Province, told Hamshahri.
"The country's natural resources are no longer enough, they have now come for Damavand," Iranian political analyst Alihossein Ghazizadeh tweeted.
"When the regime's pockets get empty, it will knock on every Iranian's door and demand something more. If we don't act soon enough, all of Iran will be dedicated towards keeping the regime in power," Ghazizadeh added in the same tweet.
"The Islamic Republic is plundering Iran's natural resources and national lands with an insatiable onslaught," another user tweeted.
As with most Iranian organizations under Khamenei's direct supervision, the Endowments Organization is accused of lack of transparency regarding its financial status.
The organisation has never released a transparent report about its transactions, according to Radio Farda.
https://english.alarabiya.net/en/News/middle-east/2020/07/28/Khamenei-controlled-organization-acquires-part-of-Iran-s-highest-mountain.html
--------
Iran, Hezbollah are unable to fully respond to increase in Israeli attacks: Experts
28 July 2020
Iran and its proxies in Syria and Lebanon do not have the maneuverability to respond to increasing Israeli attacks against them and are unlikely to carry out a large-scale retaliation, said experts, ahead of the border skirmish between Hezbollah and Israel on Monday.
Israel has upped its attacks on Iranian targets in the region in recent months, striking Iranian and Hezbollah positions in Syria. But Iran and its proxies still seem to be following a strategy of non-escalation when it comes to Israel, said experts, pointing to Iran's limited capabilities in Syria.
For all the latest headlines follow our Google News channel online or via the app.
A month after Israel last struck Iranian targets in Syria, fresh airstrikes attributed to Tel-Aviv targeted on July 20 several Iranian interests near the capital Damascus.
The alleged Israeli attacks came in two waves, destroying weapons and ammunition warehouses while killing five Iranian-backed non-Syrian and Syrian militiamen and wounding four others in south and southwest Damascus, according to the Syrian Human Rights Observatory.
Seven members of the regime's air-defense forces were injured, with two suffering serious injuries.
"Hezbollah announced one martyr at least but more could follow as Hezbollah rarely releases names in one go," said one source close to the party. Hezbollah's fallen fighter Kamel Mohsen was known by his nom de guerre Jawad. The Syrian Ministry of Defense also announced that several soldiers were wounded as a result of the Israeli airstrikes on the southwestern suburbs of Damascus.
The geographic targets Israel chose for this strike were similar to previous attacks, namely falling in the vicinity of Sayeda Zeynab, Qeswa, Mazzeh, Daraya, Quneitra regions, on a regular basis, Syria expert Naswar Shaaban from the Omran Dirasat Center told Al Arabiya English.
"The first conclusion that can be drawn is that Iran does not have the capability to move its equipment and fighters around freely, which means that its margin of maneuver is severely limited by the Russians, within the capital Damascus, which leaves it vulnerable to Israeli attacks," Shaaban said.
In recent years, Russia has established the rules of engagement for Iran and Israel in Syria, turning a blind eye to Israeli strikes on Iranian interests in Syria while preventing any retaliation by Iran or Hezbollah.
The Israeli strategy in Syria primarily seeks to target equipment and weapons, rather than military personnel and commanders, but the July attack appears to have been different from a strategical standpoint, Middle East Strategy Intelligence analyst Avi Melamed said.
Seeing an opportunity to escalate strikes in Syria before the upcoming US elections, Israel has upped its war on Iran and its proxies in Syria, said Brahim Beyram, a Lebanese expert close to Hezbollah circles.
The November presidential elections could usher in a US president less amenable to the Israeli cause, and in the last few months dozens of attacks have targeted Iranian interests there, said Beyram.
The most recent attacks that took place in Syria, Beyram added, are part of the ongoing war taking place between Iran, backed by its Lebanese proxy Hezbollah, and Israel.
"Israel wants to stop Iran and Hezbollah from entrenching themselves in Syria. Iran is working on creating a line of confrontation similar to the one it created in Lebanon. Hezbollah also has several bases in Aleppo, Homs, Damascus and close to the Lebanese border that it will not abandon," Beyram said.
Beyram and Melamed agree that Syria's escalation cannot be dissociated from the covert war taking place in Iran in the form of mysterious explosions and fires, the most lethal of which being the recent blast at the Natanz enrichment site.
It is difficult for Iran and Hezbollah to retaliate at this time given complex conditions at home and around the region, Melamed said.
Hezbollah's mysterious retaliatory operation showed that both Iran and its Lebanese proxy are treading carefully in these uncertain times, and that they want to maintain any military operation's scope and nature as limited as possible, so that they will not find themselves in a full blown conflict.
https://english.alarabiya.net/en/News/middle-east/2020/07/28/Iran-Hezbollah-are-unable-to-fully-respond-to-increase-in-Israeli-attacks-Experts.html
--------
Yemen government, STC deal to implement Riyadh Agreement 'positive step:' Saudi FM
29 July 2020
The agreement between Yemen's government and the separatists Southern Transitional Council (STC) to accelerate the implementation of the Riyadh Agreement is a "positive step," Saudi Arabia's Foreign Minister Prince Faisal bin Farhan said in a tweet Wednesday.
For all the latest headlines follow our Google News channel online or via the app.
"The agreement by the Legitimate Yemeni Government and the Southern Transitional Council to accelerate the implementation of the Riyadh Agreement is a positive step towards reaching a wholistic and sustainable political solution in Yemen under the auspices of the UN," Prince Faisal said on his official Twitter account. "This will strengthen trust between parties, allow the government to conduct its affairs in Aden, and activate key institutions that will serve the Yemeni people."
Earlier in the day, the Kingdom's Foreign Ministry announced that Saudi Arabia had proposed to the Yemeni government and the STC a mechanism to accelerate the implementation of the Riyadh Agreement which includes maintaining a ceasefire and de-escalation between the government and the STC.
https://english.alarabiya.net/en/News/gulf/2020/07/29/Yemen-government-STC-deal-to-implement-Riyadh-Agreement-positive-step-Saudi-FM.html
--------
North America
US acknowledges killing civilian, wounding 3 others in Somalia
29 July 2020
The United States says one of its airstrikes in Somalia earlier this year killed one civilian and wounded three others.
"This admission is the third case they have substantiated in 13 years of airstrikes in the country," Brian Castner, Amnesty International's senior crisis adviser for arms and military operations, said in a statement. "Now that there has been an acknowledgment of their actions, there must be accountability and reparations for the victims and their families."
The US Africa Command (AFRICOM) made the announcement in its second quarterly report on civilian casualties Tuesday.
"Our goal is to always minimize impact to civilians. Unfortunately, we believe our operations caused the inadvertent death of one person and injury to three others who we did not intend to target," AFRICOM Commander Army Gen. Stephen Townsend said in a statement.
The airstrike on February 2 was allegedly aimed at al-Shabab militants.
"We are getting after a mutual threat in al-Shabab," AFRICOM spokesman Air Force Col. Chris Karns was cited as saying. "If we're found to have made a mistake, we will admit to it because accountability and trust is key."
The United States las year acknowledged killing five civilians and wounding six others in three separate airstrikes only after Amnesty International released an investigation into its airstrikes in Somalia.
Under US President Donal Trump, the number of airstrikes allegedly against al-Shabab and Daesh militants has dramatically increased in the Somali peninsula.
https://www.presstv.com/Detail/2020/07/29/630639/US-acknowledges-killing-civilian-in-Somalia
--------
US forces asked to stay in bunkers as Iran fires missiles amid drills: Reports
28 July 2020
US military forces deployed to the Persian Gulf kingdoms were reportedly asked to stay in bunkers as Iran's Islamic Revolution Guards Corps (IRGC) fired ballistic missiles during normal military drills off the strategic Hormuz Strait.
Citing her "sources" and those of the CNN, a reporter for the BBC wrote in a post on her official page on Tuesday that US troops based in the United Arab Emirates (UAE), Kuwait and Qatar had been briefly put on "high alert" due to "concerns" over Iran's missile activities.
Other sources identified the facilities as al-Dhafra base in the UAE and al-Udeid air base in Qatar, saying the American troops deployed there had been asked to stay in bunkers.
US forces in Qatar and the UAE "went on high alert early Tuesday and were asked to stay in bunkers, due to intelligence indicators showing an Iranian ballistic missile had been fired and possibly headed their way, US defense officials tell CNN," a Twitter user said, indicating that the US forces had misread the trajectory of Iranian missiles.
The reported high-alert notice came as Iran's IRGC started the final phase of large-scale aerial and naval drills, codenamed Payambar-e A'zam (The Great Prophet) 14, involving the elite force's Aerospace Division and Navy.
The maneuvers were held in the general area of the Hormozgan Province, west of the strategic Hormuz Strait, and the Persian Gulf.
The drills featured missiles, vessels, drones, and radars, and are designed to practice both offensive and defensive missions.
Tuesday saw the Corps stage strikes against the life-size replica of a Nimitz-class US aircraft carrier, which the American navy usually sails into the Persian Gulf through the Strait of Hormuz.
The high-alert notice came a week after Leader of the Islamic Revolution Ayatollah Seyyed Ali Khamenei said Iran would definitely deliver a "counterblow" to the United States over the assassination of top anti-terror commander Lieutenant General Qassem Soleimani in January.
"The Islamic Republic of Iran will never forget this issue and will definitely deal the counterblow to the Americans," Ayatollah Khamenei said in a meeting with visiting Iraqi Prime Minister Mustafa al-Kadhimi in Tehran last week.
General Soleimani, former commander of the IRGC's Quds Force, was assassinated in a US airstrike at Baghdad airport on January 3 upon an order by US President Donald Trump.
The assassination pushed Iran and the US to the brink of war.
Shortly after the atrocity, the Leader warned about a pending "harsh revenge."
The IRGC fired volleys of ballistic missiles at two US bases in Iraq on January 8. According to the US Defense Department, more than 100 American forces suffered "traumatic brain injuries" during the counterstrikes.
The Corps, however, says Washington uses the term to mask the number of the Americans, who perished during the retaliation.
https://www.presstv.com/Detail/2020/07/28/630624/US-troops-asked-to-stay-in-bunkers-as-IRGC-holds-massive-drills-in-southern-Iran-Report
--------
State Department declares 'unwavering' commitment to seeking 'justice for the families' of US citizens killed by ISIS
July 27, 2020
The State Department said it has an "unwavering" commitment to bringing Islamic State fighters who killed U.S. citizens to justice.
The agency sent this message as the families of the dead renew calls for captors, some of whom are being held in the Middle East, to be put on trial in the United States.
"Seeking the safe return of U.S. citizens held hostage abroad and justice for the families of those murdered by their captors is a hallmark of this administration's policy," a State Department spokesperson told the Washington Examiner. "The Department of State's commitment to these goals is unwavering."
Last week, the parents of ISIS victims Kayla Mueller, James Foley, Peter Kassig, and Steven Sotloff — all abducted and killed by members of ISIS — penned a joint op-ed in the Washington Post urging the Trump administration to take action.
Recommended For You
Poll warns Republicans of North Carolina shellacking
"Some of the men who allegedly committed these atrocities are now in U.S. military custody in the Middle East. We implore President Trump, Attorney General William P. Barr, and the Justice Department to have the detainees brought to the United States to face trial," the families wrote. "Like any grieving relatives, we want to know the full truth about what happened to our loved ones, and we want to see our children's murderers held accountable. These things can happen only if the suspects are put on trial before a jury in an American court of law."
The families said that ISIS terrorists such as Mohammed Emwazi, also known as "Jihadi John," and ISIS founder Abu Bakr al Baghdadi have already been killed but that "others are being held, right now, on U.S. bases in the Middle East." The families pointed to detainees such as El Shafee Elsheikh and Alexanda Kotey, two British citizens known as "the Beatles" ("Jihadi George" and "Jihadi Ringo") who have been linked to the imprisonment, torture, and execution of U.S. hostages.
Elsheikh and Kotey, currently being held in Iraq by the U.S. military, were part of an ISIS terrorist cell responsible for the murders of U.S. humanitarian aid workers Mueller and Kassig, U.S. journalists Foley and Sotloff, British humanitarian aid workers David Haines and Alan Henning, and others.
Last week, NBC News reported Elsheikh and Kotey, who had previously denied knowing Mueller, now admitted they had been involved in her imprisonment in Syria, with emails showing that they also sent a ransom note demanding the Mueller family pay 5 million euros with a threat that if the money wasn't paid, ISIS would send her family "a picture of Kayla's dead body."
Elsheikh and Kotey still deny being involved in torture and executions, claiming to be hostage "liaisons" while admitting they beat captives. The two men feigned ignorance about who Mueller was in a 2018 interview with the BBC.
It is believed that Baghdadi himself raped Mueller before she was killed. The Special Forces team who took out Baghdadi in October 2019 dubbed their mission "Task Force 8-14," named for Mueller's birthday of Aug. 14, 1988.
"We implore the Trump administration: Please, for the sake of truth, for the sake of justice, order these Islamic State suspects transferred to the United States to face trial," the families of Mueller, Foley, Kassig, and Sotloff wrote last week.
Last year, FBI Director Christopher Wray told the Senate that the FBI is "not giving up" on bringing "the Beatles" to the U.S. to be prosecuted but warned that a complicating factor is that, as British citizens, the courts must first greenlight their transfer to U.S. custody.
Lady Hale of the British Supreme Court ruled in March that the government should cease assisting the U.S. with its case against Elsheikh and Kotey as long as the death penalty remains on the table, since the United Kingdom has abolished capital punishment.
"No further assistance should be given for the purpose of any proceedings against Mr. El Sheikh in the United States of America without the appropriate death penalty assurances," the U.K. court ruled.
Mueller's mother, Marsha, told NBC News that Elsheikh and Kotey "did so much horror to so many people" and said that "they need to be brought here — they need to be prosecuted."
The Justice Department did not respond to the Washington Examiner's request for comment.
ISIS's short-lived reign in Syria and Iraq was marked by attempted genocide, extreme violence, crucifixions, beheadings, slavery, the subjugation of women, and the inspiration of like-minded terrorists worldwide. ISIS attracted thousands of foreign fighters, including many from the U.S.
The State Department told the Washington Examiner that there are approximately 2,000 foreign ISIS fighters currently detained in northeast Syria by the Kurdish-led Syrian Democratic Forces and that the U.S. "continues to call on countries around the world to follow our example and repatriate, prosecute when appropriate, rehabilitate when possible, and reintegrate their Foreign Terrorist Fighter nationals." The State Department said that the U.S. has repatriated eight adult citizens — five men and three women — and 15 minors from Iraq and Syria. The spokesperson said, "We are aware of a very small number of U.S. citizens present in camps in northeast Syria" and that the State Department "is looking into these cases."
https://www.washingtonexaminer.com/news/state-department-declares-unwavering-commitment-to-seeking-justice-for-the-families-of-us-citizens-killed-by-isis?utm_source=iterable&utm_medium=email&utm_campaign=1394155_
--------
Anti-fascists linked to zero murders in the US in 25 years
27 Jul 2020
Donald Trump has made warnings about the threat of antifa and "far-left fascism" a central part of his re-election campaign. But in reality leftwing attacks have left far fewer people dead than violence by rightwing extremists, new research indicates, and antifa activists have not been linked to a single murder in decades.
A new database of nearly 900 politically motivated attacks and plots in the United States since 1994 includes just one attack staged by an anti-fascist that led to fatalities. In that case, the single person killed was the perpetrator.
Over the same time period, American white supremacists and other rightwing extremists have carried out attacks that left at least 329 victims dead, according to the database.
More broadly, the database lists 21 victims killed in leftwing attacks since 2010 , and 117 victims of rightwing attacks in that same period – nearly six times as much. Attacks inspired by the Islamic State and similar jihadist groups, in contrast, killed 95 people since 2010, slightly fewer than rightwing extremists, according to the data set. More than half of these victims died in a a single attack on a gay nightclub in Orlando, Florida, in 2016.
'Leftwing violence has not been a major terrorism threat'
The database was assembled by researchers at the Center for Strategic and International Studies (CSIS), a centrist thinktank, and reviewed by the Guardian.
Its launch comes as Trump administration officials have echoed the president's warnings of a violent "leftwing" revolution. "Groups of outside radicals and agitators are exploiting the situation to pursue their own separate, violent and extremist agenda," the attorney general, William Barr, said amid nationwide protests following the death of George Floyd. A new justice department taskforce on violent anti-government extremists listed "antifa" as a major threat, while making no mention of white supremacy.
Defining which violent incidents constitute politically motivated acts of terrorism, and trying to sort political violence into leftwing and rightwing categories, is inherently messy and debatable work. This is particularly true in the US, where highly publicized mass shootings are common, and some have no clear political motivation at all.
Stated political motives for violent attacks often overlap with other potential factors, including life crises, anger issues, a history of violent behavior and, in some cases, serious mental health conditions.
While researchers sometimes disagree on how to categorize the ideology of specific attacks, multiple databases that track extremist violence, including data maintained by the Anti-Defamation League, and from journalists at the Center for Investigative Reporting, have found the same trend: It's violent rightwing attacks, not "far-left" violence, that presents the greater deadly threat to Americans today.
"Leftwing violence has not been a major terrorism threat," said Seth Jones, a counter-terrorism expert who led the creation of CSIS's dataset. .
Categorizing 'leftwing' extremist attacks
Advertisement
Most of the deadly extremist attacks the CSIS researchers categorized as "leftwing" were killings of police officers by black men, many of them US military veterans, who described acting out of anger or retribution for police killings of black Americans.
These shooting attacks include the murder of two police officers in New York City in 2014, after Michael Brown and Eric Garner's killings; and the murders of five officers in Dallas, Texas, and three officers in Baton Rouge, Louisiana, in 2016.
Some of the gunmen who killed police had connections to black nationalist groups, which extremism researchers at CSIS and elsewhere said they typically categorize as leftwing, largely because in the 1960s, influential black nationalist groups like the Black Panther party were anti-capitalist and considered part of the New Left.
Making that categorization is less straightforward today, some researchers acknowledge, since some prominent black nationalist organizations express homophobic, misogynistic and antisemitic views, values that set them in opposition to the current American left.
Mark Pitcavage, a senior fellow at the ADL's Center on Extremism, noted that Gavin Eugene Long, who staged an attack on police in Baton Rouge, had ties to black nationalism and was also part of an offshoot of the sovereign citizens movement, an anti-government ideology that is typically categorized as rightwing.
In several of the high-profile leftwing attacks included in the CSIS list the only fatality was the perpetrator. A mass shooting attack on a group of congressional Republicans during a baseball practice outside of Washington DC, in 2017 left the Republican congressman Steve Scalise seriously injured, and three other people shot.
The gunman, James Hodgkinson, 66, was the only one killed in the attack. Hodgkinson had deliberately targeted Republicans and had expressed disgust with Trump.
Many of the other leftwing attacks or plots in the CSIS database, including by anarchists, environmental groups and others, resulted in no deaths at all. Often, leftwing plots, particularly by animal rights activists, have targeted businesses or buildings, "and their primary weapons have been incendiaries designed to create fires or destroy infrastructure – not kill people," said Jones, the researcher who led the creation of the data set.
The one deadly anti-fascist attack listed in the database occurred in July 2019, when Willem von Spronsen, a 69-year-old white man, was shot dead by police outside an Ice detention center in Tacoma, Washington. Authorities said von Spronsen had been throwing molotov cocktails, setting flares, that he set a car on fire and that he had a rifle. Local activists told media outlets they believed he had been trying to destroy buses parked outside the facility that were used to transport people who were being deported.
Von Spronsen, who had previously been arrested at a protest outside the detention center, was involved in a contentious divorce, and both a friend and his ex-wife had described him as suicidal. In a letter he wrote to friends before his death, Von Spronsen called detention centers "concentration camps" and said he wanted to take action against evil, BuzzFeed News reported. "I am antifa," he reportedly wrote.
No one was harmed in the attack except Von Spronsen, according to media reports.
Researchers who monitor extremist groups at the Anti-Defamation League and the Global Project Against Hate and Extremism said they, too, were not aware of a single murder linked to an American anti-fascist in the last 20 to 25 years.
Heidi Beirich, a co-founder of the Global Project Against Hate and Extremism, said some leftwing groups were known for more radical and violent tactics in the 1960s, adding: "It's just not the case today."
Mark Pitcavage said he knew of only one killing, 27 years ago, that might potentially be classified as connected to anti-fascist activism: the shooting of a racist skinhead, Eric Banks, by an anti-racist skinhead, John Bair, in Portland, Oregon, in 1993.
'A false equivalence'
Given the discrepancies between the deadly toll of leftwing and rightwing violence, American law enforcement agencies have long faced criticism for failing to take the threat of white supremacist violence seriously, while at the same time overstating the risks posed by leftwing protesters. After a violent rally in California in 2016, law enforcement officers worked with neo-Nazis to build criminal cases against anti-fascist protesters, while not recommending charges against neo-Nazis for stabbing the anti-fascists.
Antifa activists have been the targets of domestic terror attacks by white supremacists, including in a terror plot early this year, in which law enforcement officials alleged that members of the neo-Nazi group the Base had planned to murder a married couple in Georgia they believed were anti-fascist organizers.
"Antifa is not going around murdering people like rightwing extremists are. It's a false equivalence," said Beirich.
"I've at times been critical of antifa for getting into fights with Nazis at rallies and that kind of violence, but I can't think of one case in which an antifa person was accused of murder," she added.
The new CSIS database only includes attacks through early May 2020, and does not yet list incidents connected with the massive national protests against police violence after Minneapolis police killed George Floyd, including the killings of two California law enforcement officers by a man authorities say was linked to the rightwing "boogaloo" movement.
Today, Jones said, "the most significant domestic terrorism threat comes from white supremacists, anti-government militias and a handful of individuals associated with the 'boogaloo' movement that are attempting to create a civil war in the United States."
Daily interpersonal violence and state violence pose a much greater threat to Americans than any kind of extremist terror attack. More than 100,000 people have been killed in gun homicides in the United States in the past decade, according to estimates from the Centers for Disease Control and Prevention. US police officers shoot nearly 1,000 Americans to death each year. Black Americans are more than twice as likely to be shot by the police as white Americans, according to analysis by the Washington Post and the Guardian.
But the president's rhetoric about "antifa" violence has dangerous consequences, not just for anti-fascists, but for any Americans who decide to protest, some activists said.
Yvette Felarca, a California-based organizer and anti-fascist activist, said she saw Trump's claims about antifa violence, particularly during the George Floyd protests, as a message to his "hardcore" supporters that it was appropriate to attack people who came out to protest.
"It's his way of saying to his supporters: 'Yeah, go after them. Beat them or kill them to the point where they go back home and stay home afraid,'" Felarca said.
https://www.theguardian.com/world/2020/jul/27/us-rightwing-extremists-attacks-deaths-database-leftwing-antifa?utm_source=iterable&utm_medium=email&utm_campaign=1394155_
--------
Arab World
Third Iraqi protester dies of tear gas canister wound this week in Baghdad
28 July 2020
An Iraqi protester died Tuesday after being shot with a tear gas canister in overnight skirmishes with police in the capital, medical and security sources told AFP.
The clashes came just hours after Prime Minister Mustafa al-Kadhimi instructed security forces not to "fire a single bullet" at demonstrators, following the deaths of two other protesters Monday morning in Baghdad.
But by Monday evening, the confrontations in the capital's main anti-government protest camp of Tahrir Square had started anew.
For all the latest headlines follow our Google News channel online or via the app.
"He was shot in the head and chest, and more than a dozen others were wounded. He was in intensive care and died this morning," a medic said.
The protests began Sunday night in Baghdad and several southern cities, expressing fury at poor public services as temperatures topping 50 degrees Celsius (122 Fahrenheit) have swelled demand for air-conditioning and overwhelmed dilapidated power grids.
The protests quickly turned violent in the capital, with two men dying on Monday morning after being hit directly by tear gas canisters that are otherwise fired in arced and less powerful trajectories to disperse protesters.
The deaths threaten to reignite an unprecedented protest movement against government graft and incompetence that erupted across Baghdad and southern Iraq in October.
Violence at those grassroots rallies had left around 550 people dead and more than 30,000 wounded, and prompted the resignation of then-premier Adil Abdul Mahdi.
Abdul Mahdi was widely criticized for failing to hold security forces to account and al-Kadhimi, who came to power in May, vowed to be different.
He pledged to carry out an investigation into protester deaths and promised dialogue with the movement, which had largely died down following a surge in wider geopolitical tensions and amid the coronavirus pandemic.
Following the first two deaths, al-Kadhimi gave a rare televised address to say he had ordered a probe into the violence and expected the results within 72 hours.
"Security forces are not permitted to fire a single bullet against our brothers, the demonstrators," al-Kadhimi warned.
https://english.alarabiya.net/en/News/middle-east/2020/07/28/Third-Iraqi-protester-dies-of-tear-gas-canister-wound-this-week-in-Baghdad.html
--------
Egypt's al-Sisi says Ethiopia's Nile dam saga to 'drag on'
28 July 2020
Egypt's president said Tuesday that talks over Ethiopia's Nile dam would "drag on", but voiced hope for a negotiated settlement to the dispute.
"We are negotiating and these negotiations will be a long battle," President Abdel Fattah al-Sisi said.
But, he added, "we will succeed, God willing."
For all the latest headlines follow our Google News channel online or via the app
Al-Sisi's comments, in a speech broadcast on state TV, came amid heightened tensions between Egypt, Sudan and Ethiopia over the vast Grand Ethiopian Renaissance Dam on the Blue Nile.
For nearly a decade, talks between the three countries over the operation and filling of the mega-dam have faltered.
Last week, Ethiopia announced it had reached its first-year target for filling the reservoir, a move that sparked anxiety in downstream Egypt and Sudan, who fear for their vital water supplies.
Speaking at the opening of an industrial park in eastern Cairo, al-Sisi said Egyptians' fears over the dam are "legitimate and natural" but warned the media against making "threats" of military action.
"Be careful, you are addressing public opinion," he said.
The long-running dispute has recently overflowed online, with Egyptians and Ethiopians sparring in online posts over their rights to the Nile's waters.
Cairo fears Ethiopia's dam would severely cut into its share of the Nile, which provides 97 percent of the water needs of more than 100 million Egyptians.
Ethiopia, which began building the dam in 2011 and hopes it will produce vast amounts of electricity for its slightly larger population, says it is vital for its development.
It insists downstream countries' water supplies will not be affected.
Sudan hopes the dam will help regulate flooding, but in June it warned that millions of lives would be at "great risk" if Ethiopia unilaterally fills the dam.
The Nile, the world's longest river, is a lifeline supplying both water and electricity to the 10 countries it crosses.
https://english.alarabiya.net/en/News/middle-east/2020/07/28/Egypt-s-al-Sisi-says-Ethiopia-s-Nile-dam-saga-to-drag-on-.html
--------
UAE's Gargash welcomes Saudi-Egyptian cooperation after meeting on Libya
29 July 2020
The United Arab Emirates welcomes Saudi Arabia and Egypt's decision to intensify their cooperation in the region, according to a tweet by the UAE Minister of State for Foreign Affairs Anwar Gargash on Wednesday.
Saudi Arabia's Foreign Minister Prince Faisal bin Farhan voiced the Kingdom's support for Egypt after visiting Cairo and meeting with the Egyptian President Abdel Fattah al-Sisi on Tuesday.
Egypt recently permitted the deployment of ground troops to Libya, where Cairo, along with the UAE, Russia, and France, backs the Libyan National Army (LNA) against its Turkish-backed rival, the Government of National Accord (GNA)
The Egyptian move came in response to Turkey sending thousands of Turkish and foreign mercenary fighters to support the GNA, tilting the balance of power and allowing the GNA to lift the siege of Tripoli and threaten the strategic positions of Sirte and Jufra.
"The decision to intensify Saudi-Egyptian cooperation to counter attempts by regional powers to expand their influence in the Arab arena is promising," said Gargash on Twitter."
"The growing Arab tendency to regain the initiative after our field became positive and permissible. The road is still bumpy, but the battle to fortify the Arab regional system is getting stronger every day," he added.
The GNA has rejected the Cairo Initiative, a peace plan proposed by Egypt's President al-Sisi and LNA commander Khalifa Haftar.
https://english.alarabiya.net/en/News/gulf/2020/07/29/UAE-s-Gargash-welcomes-Saudi-Egyptian-cooperation-after-meeting-on-Libya.html
--------
Saudi Arabia Crown Prince's efforts united Yemeni government, STC: Khalid bin Salman
29 July 2020
Saudi Arabia's Crown Prince Mohammed bin Salman's efforts successfully resulted in the Yemeni government and the separatist Southern Transitional Council (STC) accepting a resolution to implement the Riyadh Agreement, Vice Minister of Defense Prince Khalid bin Salman said on Tuesday.
The Kingdom announced on Monday that the two warring Yemeni parties agreed on a resolution that stipulated the STC rescind its self-rule and appoint a governor for Aden, the formation of a new government which will equally represent the north and the south of Yemen, and tasking the Yemeni Prime Minister with forming a government within 30 days, Saudi state news agency SPA reported citing the official.
For all the latest headlines follow our Google News channel online or via the app.
The STC spokesman Nizar Haitham later announced on Twitter that the council's "abandonment of self-rule so that the Arab Coalition can implement the Riyadh Agreement."
Prince Khalid said in a series of tweets: "The Crown Prince's efforts have succeeded in bringing together the Yemeni government and the Southern Transitional Council in accepting the proposed mechanism by the Kingdom to implement the Riyadh agreement, and achieve lasting peace, security, and prosperity for Yemen."
He added: "KSA's efforts in bringing together Yemeni political leaders and their points of view closer, and reaching consensus on the mechanism for implementing the Riyadh Agreement shows the possibility of resolving Yemeni differences through dialogue without the use military force."
https://english.alarabiya.net/en/News/gulf/2020/07/29/Saudi-Arabia-Crown-Prince-s-efforts-united-Yemeni-government-STC-Khalid-bin-Salman.html
--------
EU lawmakers concerned bin Salman may kill ex-rival in Saudi jail
29 July 2020
The largest bloc at the European Parliament says it has concerns that Saudi Crown Prince Mohammed bin Salman may attempt to kill his predecessor and onetime rival, Mohammed bin Nayef, in custody.
In a statement, the European People's Party (EPP) called for the immediate disclosure of the fate of bin Nayef and his protection from murder by the heir to the Saudi throne, the Doha-based Al Jazeera broadcaster reported on Tuesday.
The group said it has obtained evidence suggesting that bin Nayef's health condition has deteriorated in Saudi jail.
The EPP described bin Nayef's continued detention as a source of concern for Europe, urging bin Salman to refrain from eliminating his critics and political rivals.
Bin Salman became Saudi Arabia's crown prince on the back of a 2017 palace coup that ousted bin Nayef.
Since his ouster, bin Nayef has effectively been under house arrest and prevented from leaving the kingdom.
In March, he was arrested as part of a renewed purge of royal family members over an alleged coup attempt to unseat King Salman bin Abdulaziz Al Saud and his son.
The Washington Post revealed earlier this month that bin Salman was preparing a set of corruption and disloyalty charges against bin Nayef to demand a $15-billion settlement from the detained prince.
Meanwhile, just last week a campaign was launched on Twitter, with users posting thousands of tweets all of which blamed bin Nayef and his long-time aide for wide-spread corruption, in an apparent bid to discredit him ahead of a possible indictment.
Some reports predict that bin Salman — the kingdom's de facto leader — will ascend to the throne before the 2020 US presidential election amid uncertainty over the health condition of his hospitalized 84-year-old father.
Nabeel Nowairah, an independent researcher of the Persian Gulf Arab states, told Asia Times newspaper recently that the Saudi crown prince would take control of the kingdom by the end of the year.
"Almost everyone is in detention, the important guys," he said. "Bin Nayef himself is in detention – they're all not allowed to leave. And there are dozens of princes who are not allowed to travel outside the country and whose movement is monitored. I think everything is under control at the moment."
Bin Salman is the architect of Saudi Arabia's bloody war on Yemen and the prime suspect in the brutal killing of dissident journalist Jamal Khashoggi inside the kingdom's consulate in Istanbul in October 2018.
https://www.presstv.com/Detail/2020/07/29/630647/EU-Saudi-Arabia-bin-Nayef-bin-Salman-
--------
Israel Says It Thwarted a Hezbollah Raid at Lebanon Border
By Isabel Kershner
July 27, 2020
JERUSALEM — The Israeli military said Monday that it had thwarted a raid by a Hezbollah "terrorist squad" in a disputed area along its northern border with Lebanon, resulting in an exchange of fire that capped days of mounting tension there.
An Israeli military spokesman said that a small squad armed with assault rifles had crossed an unfenced section of the boundary into Israel by a few yards.
Israeli forces responded, firing small arms, tank guns and then artillery, the spokesman, Lt. Col. Jonathan Conricus, said. The squad fled back into Lebanon, he said, and then fired back at Israel.
Hezbollah, the Lebanese militant organization, denied that there had been an exchange of fire, saying the only firing had come from the Israeli side.
"Everything that the enemy's media is claiming in terms of foiling an infiltration operation" is "absolutely not true," Hezbollah said in a statement. "It is an attempt to invent false and mythical victories."
No casualties were reported by either side.
Israel had been bracing for retaliation from Hezbollah since the killing of one of its operatives in a strike in Syria last week that was attributed to Israel.
Hezbollah said Monday that retaliation was still coming, as well as retaliation for the shelling on Monday. Lebanese television reported shelling near the Lebanese village of Kafr Shuba.
"The Zionists only need to continue waiting for the punishment for their crimes," the Hezbollah statement said.
On Monday afternoon, amid preliminary reports of explosions, smoke and cross-border fire, the Israeli military instructed residents of northern Israel to remain indoors and closed roads in the area. But the restrictions were lifted less than two hours later, a sign that calm had been restored and an apparent indication that Israel did not intend to prolong the confrontation.
The events took place in the vicinity of Shebaa Farms — known in Israel as Mount Dov — a strip claimed by Israel, Lebanon and sometimes Syria near the intersection of all three nations and adjacent to the Golan Heights.
Israel's defense minister, Benny Gantz, had visited the northern border on Sunday as anticipation of a retaliatory attack by Hezbollah grew.
Syria's state-run news agency, SANA, reported that Israeli aircraft had fired rockets toward southern Damascus last Monday night, July 20. Though Israel rarely takes responsibility publicly for specific strikes, it has acknowledged carrying out scores of attacks aimed, it says, at preventing the transfer of sophisticated weapons from Iran to Hezbollah via Syria.
After last week's strike on an ammunition depot near the Damascus airport, Hezbollah said that one of its operatives, Ali Kamel Mohsen, was killed in an act of "Zionist aggression."
The killing appeared to violate informal rules of engagement between Israel and Hezbollah.
In recent years, Hezbollah has refrained from killing Israelis while Israel has largely avoided killing Hezbollah fighters in Syria. Both sides want to press their points while avoiding a war that could devastate Lebanon and Israel.
In a television interview on Sunday, Naim Qassem, the deputy secretary general of Hezbollah, described the Hezbollah fighter killed in Syria as a martyr and said the group would uphold the rules of engagement.
"The deterrence equation with Israel is standing," he said on the Arabic news channel Al Mayadeen. "Amending or changing the rules of engagement or the deterrence equation are not on our agenda."
Israel contends that Hezbollah, with Iran's help, is trying to build a fleet of precision-guided missiles, which Israel considers a red line. Last August, an Israeli drone struck a building near Beirut that Israeli officials said contained machinery for making those missiles.
Prime Minister Benjamin Netanyahu said Monday that officials were closely monitoring the situation in the north.
"Hezbollah needs to know that it's playing with fire," he said. "Every attack against us will be answered with great might."
He said that Israel "will not allow Iran to entrench itself militarily on our border with Syria" and warned that "Lebanon and Hezbollah will bear responsibility for any attack" originating from Lebanese territory.
Israel and Hezbollah fought a devastating, monthlong war in 2006. There have only been sporadic clashes across the Israel-Lebanon border in recent years.
Monday's events came as many Israelis, largely barred from traveling abroad because of a spike in coronavirus infections, were vacationing in the north.
Adam Rasgon contributed reporting from Jerusalem, and Vivian Yee from Beirut.
https://www.nytimes.com/2020/07/27/world/middleeast/israel-hezbollah-lebanon-fighting.html?utm_source=iterable&utm_medium=email&utm_campaign=1394155_
--------
Africa
UN, AU urge Darfur troop deployment to protect civilians after wave of deadly attacks
29 July 2020
The joint UN-African Union mission in Sudan's war-torn Darfur region urged the government Tuesday to deploy troops there "as soon as possible" following a wave of deadly attacks on civilians.
The UNAMID call came a day after the United Nations reported a massacre of more than 60 people in the impoverished region.
On Sunday, Prime Minister Abdalla Hamdok said the government would send security forces to the western desert region to "protect citizens and the farming season."
UNAMID said Tuesday that it "hopes that this force will be fully deployed as soon as possible and will be adequately equipped and trained to protect all residents of Darfur without exception."
"The civilian population in Darfur has endured enough suffering, and they deserve to live in peace and tranquility without fear of being attacked," it said in a statement.
For all the latest headlines follow our Google News channel online or via the app.
Conflict broke out in the region in 2003 when ethnic minority rebels staged an uprising against the government of then-president Omar al-Bashir, citing marginalization and discrimination.
Khartoum responded by unleashing the feared Janjaweed militia, mainly recruited from Arab pastoralist tribes, in a scorched earth campaign that left 300,000 people dead and displaced 2.5 million.
Violence in Darfur has eased since al-Bashir's ouster by the army amid mass protests against his rule last year.
The new government and a coalition of rebel groups including Darfur factions had signed a preliminary peace deal in January.
But the UN's humanitarian coordination office OCHA has reported a wave of violence over recent days, with villages burned and markets and shops looted.
The attacks have sparked protests by residents demanding authorities step in to protect them.
Interior Minister Altraifi Idriss said Sunday that troops based in Khartoum would be sent to Darfur with a mandate to "use force to protect civilians and their properties."
Analysts say the new wave of deadly violence is an attempt to sabotage the country's fragile transition after the fall of al-Bashir, who is accused of genocide over the conflict.
In Saturday's assault, hundreds of armed men in pickup trucks descended on Masteri, a town largely inhabited by farmers from non-Arab minority groups, some 50 kilometers (30 miles) from the West Darfur state capital El Geneina.
The attackers looted and torched houses, killing more than 60 people, including eight women, mostly from the Masalit ethnic group, it said.
The vast arid region has seen persistent conflict over land and water, with nomadic Arab herding tribes clashing with minority African farming communities that largely depend on cereals, tobacco and oranges.
https://english.alarabiya.net/en/News/middle-east/2020/07/29/UN-AU-urge-Darfur-troop-deployment-to-protect-civilians-after-wave-of-deadly-attacks.html
--------
Libya's LNA: Turkey sending mercenaries of various nationalities, not only Syrians
29 July 2020
Turkey is not only sending Syrian fighters to Libya but mercenaries of various nationalities, Libyan National Army (LNA) spokesman Khaled al-Mahjoub told Al Arabiya on Tuesday.
He added that the LNA was continuing its reinforcements to defend the country's "oil crescent," the central region that contains over 60 percent of Libya's oil, stressing that Turkey, Qatar and the Muslim Brotherhood were mainly focused on the "oil crescent."
For all the latest headlines follow our Google News channel online or via the app.
A recent report by Somali media said that Turkey and Qatar recruited thousands of Somali mercenaries to fight in Libya alongside the Government of National Accord (GNA) which Ankara supports.
Turkey had sent thousands of Syrian fighters to support the GNA, according to the Syrian Observatory, a war monitor.
Libyan conflict
Libya has plunged into chaos since the 2011 toppling of dictator Moammar Gaddafi.
Clashes between the two main warring parties in the country, the LNA, commanded by Khalifa Haftar and the GNA, led by Fayez al-Serraj, have intensified recently.
Many foreign powers have backed different sides of the conflict with varying degrees of support, with the most prominent countries being Turkey backing the GNA and Egypt backing the LNA.
The possibility of further escalating the conflict in the North African country increased after Egypt's parliament authorized the deployment of troops outside the country, allowing Egyptian President Abdel Fattah al-Sisi to act on his threat of military action against Turkish-backed forces in Libya.
Turkish media outlets said Ankara put in place a plan to increase its forces and military equipment in Libya to confront Egyptian forces in case Cairo decides to intervene.
https://english.alarabiya.net/en/News/north-africa/2020/07/29/Libya-s-LNA-Turkey-sending-mercenaries-of-various-nationalities-not-only-Syrians.html
--------
Turkey still mobilizing forces in Libya, LNA ready on frontlines: LNA spokesperson
27 July 2020
Turkish President Recep Tayyip Erdogan is still mobilizing forces, including both Turkish troops and foreign mercenaries, in Libya, and he wants to impose his power and normalize his involvement in the Libyan crisis before any upcoming negotiations, the spokesperson of the Libyan National Army (LNA) Major General Ahmed al-Mismari said on Monday.
Turkey backs the Government of National Accord (GNA), which has been battling with the LNA for control of the country in a conflict that has sucked in regional players.
For all the latest headlines follow our Google News channel online or via the app
According to al-Mismari, Ankara continues to send thousands of fighters to Libya ahead of an expected upcoming confrontation over the key strategic positions of Sirte and Jufra in the center of the country.
Turkey is "moving thousands of mercenaries and terrorist fighters, as well as thousands of Turkish soldiers, into [Libya's] western region. Erdogan wants to impose his power in Libya, or involvement in the Libyan crisis, as a reality that should be accepted in any upcoming negotiations," al-Mismari said.
The Major General also said the LNA is ready on the frontlines and has sent the appropriate reinforcements to its forces.
"We are reinforcing all our forces present there with all kinds of arms. The latest was [sending reinforcements to] the coastal defense system for ship control," he added.
Turkey has put a military plan into place in anticipation of a possible Egyptian intervention in Libya, according to a report published last week which cited unnamed government officials.
The escalation took place after Egypt's parliament authorized last week the deployment of troops outside the country, allowing Egyptian President Abdel Fattah al-Sisi to act on his threat of military action against Turkish-backed forces in response to their eastward advances in Libya.
Al-Mismari also said that LNA Commander Khalifa Haftar "is personally supervising all the forces' movements, as well as the reinforcements and arms that have been moved to Jufra, Sirte, and the al-Hilal oil region."
Libya has plunged into chaos since the 2011 toppling of dictator Muammar Gaddafi.
Clashes between the LNA and the GNA, led by Fayez al-Serraj, have intensified recently.
Many foreign powers have backed different sides of the conflict with varying degrees of support, with the most prominent countries being Turkey backing the GNA and Egypt backing the LNA. Turkey has been widely accused of using its position in Syria to channel thousands of Syrian mercenaries to support the GNA in Libya.
https://english.alarabiya.net/en/News/north-africa/2020/07/27/Turkey-still-mobilizing-forces-in-Libya-LNA-ready-on-frontlines-LNA-spokesperson.html
--------
3 migrants shot dead in Libya after failed crossing to Europe
29 July 2020
Libyan authorities shot dead three Sudanese migrants trying to flee detention late on Monday, as they disembarked from a failed attempt to cross the Mediterranean to Europe, a UN agency said.
"Staff from the International Organization for Migration (IOM) in Khums, reported that local authorities started shooting when the migrants attempted to escape from the disembarkation point," IOM said in a statement.
Reuters could not immediately reach Libya's interior ministry for comment.
The migrants were among 70 disembarking from a vessel that was intercepted and sent back by the Libyan coast guard, one of many such voyages undertaken during the summer.
War-ravaged Libya is a major route for migrants seeking to reach Europe and now has an estimated 654,000 of them, often living in cramped conditions with little access to healthcare.
In recent months, hundreds of migrants have been stopped at sea and their vessels sent back to Libya despite the risk of violence there.
Both IOM and the UN refugee agency UNHCR have said Libya should not be classified as a safe port for migrants and that they should not have to disembark there. They want an alternative scheme to take people rescued or intercepted at sea to safe ports.
IOM Libya chief Federico Soda said 31 of the 70 migrants who disembarked were taken into detention and the others were reported to have escaped. Two migrants died at the scene of the incident and a third on the way to hospital.
"The use of excessive violence results yet again in the senseless loss of life, amid a lack of action to change a system that often fails to provide any degree of protection," Soda said in a statement.
In May, 30 mostly Bangladeshi migrants were abducted in Libya and shot dead in a southern city by an armed group.
https://www.presstv.com/Detail/2020/07/29/630659/Libya-migrants-shot-dead
--------
Mali's opposition rejects West African leaders' plan to end deadlock
28 July 2020
Mali's opposition coalition on Tuesday formally rejected a plan proposed by West African leaders for ending a political crisis, raising the prospect of more mass anti-government demonstrations in the coming weeks.
Tens of thousands of people answered opposition calls for protests in early June over contested local elections, perceived government corruption and incompetence. Police killings of protesters further inflamed anger against President Ibrahim Boubacar Keita, who the opposition insists should resign.
Heads of state of members of the Economic Community of West African States (ECOWAS) proposed on Monday that the members of parliament whose elections were contested should step down and that by-elections be held. It also called for a government of national unity and an inquiry on the deaths.
President Keita responded with a cabinet reshuffle late on Monday, naming six ministers to core positions, including Tiebile Drame as foreign minister and General Ibrahim Dahirou Dembele as defense minister. They are tasked with negotiating with the opposition to form the government of national unity.
But the plan was unlikely to be accepted by the M5-RFP opposition coalition, which has spearheaded anti-Keita protests and already flatly rejected an earlier version of the proposals from the bloc.
"The M5-RFP states with regret that the conclusions of the Heads of State Summit do not take into account the depth and gravity of the sociopolitical crisis that has Mali's future hanging in the balance," it said in a statement.
It said the proposals did not "correspond to the expectations and aspirations of the people of Mali and violate the laws and constitution of Mali."
The coalition has said it would restart the protests on August 3 if their demands are not met.
https://www.presstv.com/Detail/2020/07/28/630594/Mali-opposition-reject-plan-West-African-leaders
--------
Boko Haram Currently Attacking Borno Community
JUL 27, 2020
Boko Haram terrorists are currently attacking Magumeri town in Borno State, multiple security sources have told SaharaReporters.
Magumeri is about 50km from Maiduguri, the state capital.
SaharaReporters gathered that the insurgents came into the village in trucks and on motorcycles around 2:15pm, shooting sporadically.
"Magumeri is currently under Boko Haram attack, they came into the town few minutes ago and started shooting sporadically," said one of the sources.
The attack comes days after the insurgents killed over 10 soldiers along the Maiduguri-Damboa Highway.
Boko Haram insurgency had caused over 35,000 deaths since 2009.
The terror group wants an Islamic caliphate in Northern Nigeria.
http://saharareporters.com/2020/07/27/breaking-boko-haram-currently-attacking-borno-community?utm_source=iterable&utm_medium=email&utm_campaign=1394155_
--------
Caught between climate crisis and armed violence in Burkina Faso
by Sam Mednick
27 Jul 2020
Ouahigouya, Burkina Faso - Growing up in a community of farmers in northern Burkina Faso, KI, who prefers that his full name not be used for safety reasons, never wanted for much. His family ate what they sowed and bred enough cattle to feel financially secure. But now, for the first time in his life, the 65-year-old does not know how he is going to survive the months ahead.
Decades of climate change and years of increasing violence by armed groups linked to al-Qaeda and ISIL (ISIS), as well as local defence forces - a combination of community volunteers armed by the government and groups who have taken up arms on their own - have pushed KI's once comfortable family into poverty. Chased from his farm by gunmen in November, he has been unable to cultivate. Meanwhile, his herd of 30 cows, most of which scattered and got lost during the attack, has been reduced to just two.
Now displaced, his family lives between Titao town where the two cows remain and Ouahigouya, Yatenga province's largest urban centre - a dry and dusty town with a buzzing market surrounded by what was once a dense forest but is now just arid desert. KI grew up approximately 65km (40 miles) from the town but this is the first time he has ever lived there.
"I've never been in this situation before," he explained, sitting in a dimly lit office owned by a relative in Ouahigouya. "It's devastating," the stoic father of 15 added in a rare show of vulnerability.
Seated upright on the edge of a couch, KI allowed only occasional glimpses during the hours-long conversation into the pain he felt after losing almost everything he had spent his life working for.
The Sahel region, an arid expanse below the Sahara Desert where Burkina Faso is located, is one of the hardest-hit areas in the world by climate change. About 80 percent of the Sahel's farmland is degraded with temperatures rising 1.5 times faster than the global average, according to the World Economic Forum.
Burkina Faso has been affected by an increase in the scale and intensity of droughts, rain, heat waves, strong winds and dust storms, according to a government report. The country is the 20th most vulnerable to climate change and the 35th least ready in the world, said Richard Munang, the Africa regional climate change coordinator for the United Nations Environmental Programme. More than one-third of Burkina Faso's land is degraded with degradation expanding at a rate of 360,000 hectares (889,579 acres) a year, he explained.
Climate change has played a part in the "genesis of the crisis affecting the Central Sahel" according to the International Crisis Group. Droughts in the 1970s and 1980s changed agro-pastoral dynamics in favour of the grain and vegetable farmers who were less harshly affected than the marginalised herder communities.
Years of drought devastated the cattle of herdsmen, who depended on moving their livestock from one grazing ground to another. While farmers were also hit hard, they continued producing food and with the surplus money, they invested in livestock and employed the now impoverished herdsmen. According to the International Crisis Group, this period was the origin of the marginalisation of pastoral communities.
The climatic and economic devastation in Burkina Faso has been compounded by armed conflict in the region. Following the 2012 military coup in neighbouring Mali, armed groups capitalised on the instability and captured parts of that country's north. Since then, regional violence has reached unprecedented levels and sparked a dire humanitarian crisis in Mali, Niger and Burkina Faso. More than one million people are internally displaced across all three countries, according to the UN.
Attacks linked to al-Qaeda and ISIL have recently made Burkina Faso the epicentre of the crisis. For years, the once peaceful nation largely stayed out of the conflict inflicted on its neighbours. But in 2014, the overthrow of the country's longtime president, Blaise Compaore, which also saw the dismantling of the special forces unit, created a path for attacks. Violence that began in the Sahel and northern regions has since spread across the country to the east and west displacing almost one million people and killing almost 2,000 last year. Armed groups exacerbate existing grievances over land, resources and ethnicity, perpetrating violence and driving communities like KI's into desperation.
In better days
For as far back as he can remember, KI's life was defined by farming.
As a young boy, he helped his father cultivate maize, rice, sesame and millet in his small village of Bouna in the country's Loroum province, where he lived until armed men attacked it in November.
In the early 1960s, little effort on small plots yielded immense results, he recalled. One harvest could produce food for a year, even providing enough crops to give as gifts to less well-off neighbours.
"We didn't use any pesticides, no special techniques or even donkeys or oxen, we'd do it by hand," KI said.
Smiling nostalgically, he remembered the harvests, where 30 to 40 extra staff were needed to carry overflowing baskets of fruit and vegetables on their heads and into the house from the farm. There was so much yield that each person had to walk the approximately 5km (3 miles) several times in order to transport everything, he said.
Back then, people rarely needed money, they just lived off the land. The farm produced more than enough for him and his 10 siblings to eat, and sufficient cotton for the women to sew clothes. If anyone wanted to travel, people would either walk or use a donkey.
Even though school was free, most families only sent one child to be educated as the only schools were in larger towns and education was not yet seen as a priority, he recalled. KI's older brother went to school in Ouahigouya, while the rest of the children remained on the farm.
Even when money was needed, it did not exist like it does today. Until just after KI was born, people paid for goods in seashells rather than paper money, he said.
But spotting an old shell today is rare. Most have been bartered for goods, although some can still be found in store windows - a reminder of easier, simpler times.
"When I think about that period compared to now, people weren't suffering the way they are suffering now," KI said.
'The harvest was so bad'
Years of climate change and violence have triggered a dire humanitarian crisis in the Sahel. In April, the World Food Programme warned that the situation was "spiralling out of control", with more than five million people facing severe food insecurity across the Central Sahel region.
In Burkina Faso there are more than two million severely food insecure people - from more than 680,000 at the same time last year - a greater number than in neighbouring Mali and Niger.
In northern provinces, such as Loroum, where KI has his farm, the nutritional situation is expected to remain serious through July, according to a report from the UN's Food and Agriculture Organization.
For years, KI watched his family's economic and food security gradually decline. What began as less consistent rainfall led to soil degradation and a shortage of crops.
Unable to remember specific months or years, KI pegs all significant moments to who was leading the country at the time. He recalls that when things took a stark turn for the worse, Prime Minister Gerard Kango Ouedraogo was in office. That was in the early 1970s.
One hundred thousand people were killed in the Sahel as a result of droughts and famine in the 1970s and 1980s.
"The harvest was so bad that people had to look for leaves and fruit to eat in the bush," recalled KI.
On at least one occasion, the government flew food into the town of Titao, the largest near KI's village, to try and alleviate the hunger. KI remembers lugging bags of red millet back to his family via a cart pulled by a cow.
But when asked how the hunger affected him, he felt more comfortable talking about its effect on the other villagers. "We knew people during that time who only had one meal a day … It was hard to watch the village suffer," he said.
As the years went by, the land dried up, the trees disappeared and the rain became sparser. Rains that used to begin in May now started in June or July. "It wouldn't rain enough or sometimes when it rained you could go outside after and the ground was dry," KI said.
By the time his father died in 1985, the life he had known as a boy was gone. He and his older brother took charge of the farm and became responsible for ensuring everyone had enough to eat.
"After our father died there was a lot of pressure to provide food," he said. KI started rationing and storing crops to prepare for hard years and bought fertiliser to moisten the soil.
Around this time, some of his uncles who were struggling with their own farms moved to the western town of Bobo-Dioulasso, where the government was distributing fertile plots of land. But KI did not want to leave his family's farm and chose to stick it out, some years producing plenty and others nothing at all, each year having to save enough for the inconsistency that lay ahead.
Over time, it became harder to find fertile land to cultivate and farmers had to venture deeper into the bush to grow food.
Unlike when he was a boy working with his father when good farmland was right beside his house, KI's son would spend two months sleeping on the farm during the harvests, because viable farmland was so much further away.
Sprawled on the couch across from his father in the office in Ouahigouya, 26-year-old Soumaila said he spent 10 years living on the farm during harvests.
"It's hard if you go to the field, there's less security than sleeping at home and there are snakes and bush animals," he said.
When Soumaila left his village to attend school in Ouahigouya in 2014, one of his siblings replaced him during the harvests. This continued until the family was chased from the farm by gunmen last November.
Threats of armed attacks
Located in one of the epicentres of the violence, KI's community is one of many being squeezed between the encroaching threats of climate change and violent attacks.
On May, 30 the government said "terrorists" killed at least 15 people, including children in an attack on a group of traders travelling between towns in the north, not far from KI's village. On April 28, four women, one of whom was pregnant, were killed by an improvised explosive device on their way from the market in Titao commune, the same area as KI's farm, according to an internal security report for aid organisations seen by Al Jazeera. It was the second explosion in that area in a month.
The further people have to go in search of land, the more exposed they are to the risk of being kidnapped by armed men, said Mamoudou Ouedraogo, founder of the Association for Education and Environment, a local aid group.
In October, a mechanic from Titao town was kidnapped by "terrorists" while searching for good terrain, said Ouedraogo. "We haven't heard anything from him up till now," he added.
Ouedraogo has also heard that women have been kidnapped and sometimes raped while searching for firewood. Climate-related kidnappings are more prevalent in the rainy season - beginning around May or June - because people travel further to cultivate, he said. In 2019 abductions increased from the year before, although he was not able to provide specific numbers.
With more than 20 years of experience working on environmental issues across the country, Ouedraogo has noticed a direct correlation between climate change and people being recruited into armed groups.
"When you have lost everything, even food, you are on the edge of despair and as a consequence [people] will be ready to find a solution wherever possible, including terrorists," he said.
A lot of recruits come from the most impoverished parts of the country, he added.
Yet some people who have been attacked by them say that no matter how desperate they become they would never join.
"If you're being chased by people in these groups why would you join them? Even if they're providing money or food," said Soumaila. "I would rather die."
KI has a small house in Titao with his three wives and children, but he said it is too small to hold everyone, yet he does not have enough money to build a bigger one. Unable to farm, they are living off the food from last year's harvest and relying on handouts from friends and family.
But when asked about what happened when their village was attacked, KI does not want to discuss it. Nor does he want to talk about the country's growing volatility, which has forced him off his land and crippled his livelihood.
Instead, he sits quietly, staring straight ahead, struggling to find solutions.
The lack of financial stability has prevented him from building a new house, fixing his motorbike and buying updated machinery such as an electric hoe, which would make it easier to grow crops, he said. But most of all, it has made him worry. This is the first year the family is unable to access their farm due to insecurity. While they are farming on a smaller plot in the town they have been displaced to, they will not cultivate enough to last the year and KI is worried his family will not have enough food to survive.
Adapting to climate change
Violence in the Sahel has been largely linked to competition over natural resources, yet international observers warn that when the government and aid groups provide communities with climate change solutions, they need to come at it from a different perspective.
"It is essential to fight climate change and its effects, which include increased land pressure, particularly in rural areas. But resource scarcity is neither the only nor the determining factor behind rising insecurity," said International Crisis Group in a report in April.
There are often plenty of resources but authorities lack the ability or the legitimacy to mediate conflicts over access to them, said the report. Climate policies should focus more on adaptation rather than on the premise that resources are not plentiful enough.
In an attempt to take an adapted and stronger approach to climate change, approximately five years ago, Burkina Faso's government altered the ministry of environment's name to include the words "green economy and climate change", said Colette Kabore, the ministry's director for the promotion of action for climate resilience.
The ministry is focusing on combining forestry and agriculture, something Kabore calls natural regeneration.
If people want to cut down trees, the government is advising not to cut down every tree in the vicinity but to leave a few standing, she said. The ministry is also helping people in climate-affected industries adapt to drought by encouraging them to plant trees that can survive with less water as well as fruit trees, such as Ballantines, to provide the population with more food.
It is also promoting practices that do not pollute the environment, such as using renewable energies like solar pumps, said Kabore.
In the past 10 years, pollution has had a devastating impact, particularly for cattle breeders. Thirty percent of cattle die from ingesting plastic, said Ouedraogo who runs the local environmental group.
Cows are an important source of revenue for farmers, providing milk, meat and manure for fertiliser. One cow can sell for approximately $300, so when farmers have fewer cows, they have less financial stability.
Four years ago, Ouedraogo lost nine out of 10 cows who died from ingesting plastic when they grazed too close to the city, he said. "When you opened them up, their stomachs were full of plastic."
His organisation works with local communities in Titao and the neighbouring commune of Ouindigui, to collect and transform plastic bags into floor tiles, handbags and shopping bags. They plan to start making tables and benches.
The group also tries to plant trees in areas where they have all been chopped down, but it is hard. Many of the trees die because there is not enough water.
During a trip to Ouahigouya in April, Al Jazeera visited an area that residents said was a plush forest full of wildlife four decades ago. Today, it is an arid patch of land marked with a few shrubs.
Over the years, cattle breeders forced from the Sahel due to desertification came further south and many parts of Ouahigouya suffered from overgrazing.
Cattle breeders like KI say the lack of grass has made it impossible to care for as many cows as they used to.
"In the past if you had 10 cattle, now you can manage five," he said.
Since losing almost all of his cows during the attack in November, KI does not want to entertain the idea of selling the only two he has left. But if he cannot produce enough food for the family this planting season, he might not have a choice.
"If there's no food, I'll have to sell them," he said, darting his sad eyes to the floor.
"But I'm still hoping some of them might return."
https://www.aljazeera.com/indepth/features/caught-climate-crisis-armed-violence-burkina-faso-200529144536869.html?utm_source=iterable&utm_medium=email&utm_campaign=1394155_
--------
URL: https://www.newageislam.com/islamic-world-news/a-pil-gujarat-high-court/d/122496
New Age Islam, Islam Online, Islamic Website, African Muslim News, Arab World News, South Asia News, Indian Muslim News, World Muslim News, Women in Islam, Islamic Feminism, Arab Women, Women In Arab, Islamophobia in America, Muslim Women in West, Islam Women and Feminism