New Age Islam News Bureau
20 Jun 2018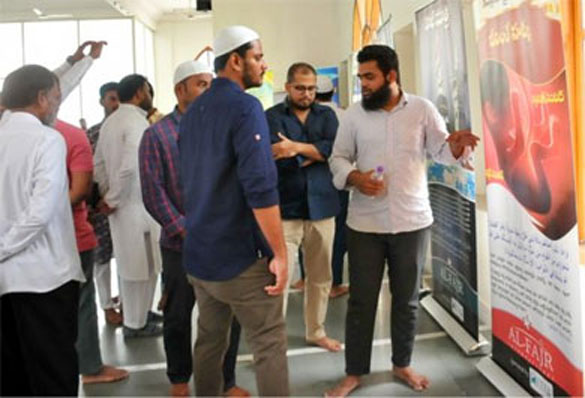 A Mosque for all: Masjid-e-Quba, Hyderabad
-----
India
• A Mosque for all: Masjid-e-Quba, Hyderabad, invites people of other faiths to show what goes on inside a mosque
• Muslim Man Donates Rs 3 Lakh To West Bengal Villagers To Build Temple
• Conservators discover hidden Mughal treasure near Humayun's tomb
• Bihar: Eight held on sedition charges for singing 'pro-jihad' songs on Eid
• After Mehbooba Mufti experiment, over to Army
• Pakistan to milk PDP-BJP collapse, UN report
----
North America
• Trump urges Republicans to fix family separation crisis
• No clear US plan yet on how to reunite children with illegal immigrant parents
• Pakistan, Russia, and Iran still supporting Taliban, says Gen. Miller
• White House Mideast team holds talks with Jordanian king
----
Mideast
• Israel soldiers set dogs on elderly Palestinians and teens in Jenin refugee camp
• 30,000 Syrians eligible to vote in Turkish elections
• Major Gaza Escalation: 45 Rockets Fired at Israel, IDF Strikes 25 Hamas Targets
• Israeli planes hit 25 targets in response to Gaza rocket fire
• Israel quiet on US claims it hit Iraq militia in Syria
• Lebanon to review move to let Iranians in without passport stamps: Source
• 'Clear evidence of Iranian involvement in Yemen'
• Iran's Revolutionary Guard chief flays activists seeking talks with US
----
Arab World
• Egypt court to retry Muslim Brotherhood leaders
• With Hodeidah airport liberated, Saudi Arabia-led coalition accuses Houthis of targeting civilians
• Hodeidah offensive: Coalition forces seize weapons supplied by Iran to Houthis
• Egypt: Families of terror victims demand $150m from Qatar Emir
• Iraq Condemns Strikes Targeting Forces Fighting Islamic State
• Saudi aid center delegation takes part in UN humanitarian affairs meetings
• Saudi Arabia intercepts Houthi missile over Khamis Mushayt
• UAE minister says Qatar responsible for its isolation
• Syrian army drops leaflets over southern region amid tension
-----
South Asia
• Trump's pick to head fight in Afghanistan calls out Pakistan in hearing
• Afghan and Saudi NSAs hold talks on quadrilateral cooperation, Taliban ceasefire
• Heavy clashes erupt among Afghan forces and Taliban in Badghis province
• Ghani says government ready to extend ceasefire with Taliban for one year
• Afghan official says Taliban assault kills 4
• Bangladesh ex-PM Khaleda Zia critically ill, says party
-----
Europe
• Militant sanctuaries in Pakistan, biggest challenge in Afghanistan's stability: US Army General
• Pope criticises Trump administration policy on migrant family separation
• UN chief warns of risk of war in Gaza
• Dutch police use DNA evidence to arrest 3 men with suspected links to Islamic State
• Germany: Syrian man faces charges for kippah attack
----
Pakistan
• Experience in India completely at odds with what we heard, say Pakistani students
• Woman among four 'terrorists' killed in Balochistan operation
• Task force formed to address legal issues on Fata-KP merger
• Four terrorists killed in Quetta anti-terror operation
• US General seeks Pak help for Trump's new Afghanistan push
• PML-N, PTI, MQM-P bigwigs face setback
• 4 suspected terrorists killed in Quetta 'encounter'
• Woman among four 'terrorists' killed in Balochistan operation
----
Africa
• Somalia's Al-Shabaab fighters kill 8 Kenya soldiers
• Libya's coast guard recovers five bodies from migrant boat
• Haftar forces attack important oil sites in Libya
• Shadow of jihadists falls on Cameroon's cattle farmers
-----
Southeast Asia
• Malaysia murder case linked to Najib 'may be re-opened'
• Philippines' Duterte says no 'justice' for families of drugs war casualties
-----
Compiled by New Age Islam News Bureau
URL: https://www.newageislam.com/islamic-world-news/a-mosque-all-masjid-e/d/115593
---
A Mosque for All: Masjid-e-Quba, Hyderabad, Invites People Of Other Faiths To Show What Goes On Inside A Mosque
June 19, 2018
By Nikhat Fatima
Many non-Muslims may have visited mosques as part of a tourist attraction and admired the mosque for its architecture and the history behind it without actually knowing what happens in a mosque apart from the namaz/ prayer. For the first time in Hyderabad and maybe even in India, the trustees of the Masjid-e-Quba initiated a unique program called " Open Mosque" just after Eid ul Fitr by inviting men and women from different faiths to pay a visit to the mosque to get an idea of what goes on inside a mosque.
Masjid-e-Quba, located at Nanalnagar, Hyderabad, is a large structure equipped with air coolers, chandelier and a cellar and can easily accommodate 1,200 people. It has been built by Syed Akthar and designed by architects Naseer Aziz and Zaheer Ahmed in an Egyptian-Arabian style.
As if to extend the celebrations of Eid ul Fitr, the management of the mosque set up this program on 17th June, Sunday, wherein a guided tour of the mosque and later presentations on Islam, its basic tenets, clearing the misconceptions people have regarding Islam was given by volunteers.
The welcome at the registration desk was done with a warm greeting, applying attar and handing the visitor with a rose and dates, after which a volunteer first took the visitor to the place where ablution/ Wadhu is done and explaining the importance of the ritual and the procedure.
The visitor is then taken to the gallery which had books on Islamic teachings in English and the local language and displays on the 5 pillars of Islam, on doomsday, death, and the hereafter – all which every Muslim believes in. The displays were also on topics such as terrorism and women's rights both of which are always in the news for the wrong reasons.
The volunteers explained in detail on all of these topics and answered the questions/ doubts patiently to the men and women who were all inside a mosque for the first time and grappling with so much of knowledge about Muslims and Islam.
"Our main purpose of initiating this program is to clear all the misconceptions people of different faith to have about Islam and a Masjid," said Syed Akhtar, one of the trustees of the mosque. "In these hard times, it is important to let people of other faith know what a mosque is and what we do here. We want them to understand Islam is all about peace and co-existence with people from all other faiths".
A mosque is a place where all activities concerning Muslims take place. It is not just for prayers. Children are taught to read and learn the Quran; Muslims gather at the mosque to perform the Nikah, the final prayers of the dead person called Namaz-e-Janaza are also performed here, people discuss their problems and seek a solution by consulting the elders in the mosque in the light of the judicial tenets of Islam.
In short, it is a place wherein all social activities used to take place. And we want to revive this practice of our beloved prophet who used to also conduct meetings with foreign delegates at the mosque. The prophet used to allow Christians and the Jews–the two faiths that existed then–in the mosque.
One of the trustees added that they want to revive this practice.
As soon as the Azaan, the call to prayer sounded and the afternoon prayer was over, the meaning and process of Namaz were explained to the visitors.
Visitors welcome the initiative
Simrat and Tarun Deep, two visitors, said this was the first time they had entered a mosque and they did not know much about what took place in a mosque, now they knew and appreciated the program very much.
Another person, Sitaram who lived in the same locality and had always seen the mosque from outside had come inside for the first time. He said he learnt more about Islamic beliefs and that Islam teaches kindness, humanity and compassion towards all living beings.
Gita Ramaswamy, a feminist and women's rights activist, felt visiting a mosque to dispel the doubts people may harbour is fine but to build communal harmony we need to work beyond this.
Copies of the Holy Quran were distributed along with other literature on Islam. The trustees said they want to continue this activity and reach out to more people at this time being the first time only about 2 dozen people from other faiths had visited.
All the visitors were treated to the Eid delicacy "Sheer khurma" before leaving the mosque.
Source: twocircles.net/2018jun19/423818.html?utm
-----
Trump Urges Republicans to Fix Family Separation Crisis
AFP: June 20, 2018
WASHINGTON: US President Donald Trump told Republican lawmakers Tuesday he backed their efforts to craft an immigration solution that ends the politically toxic practice of separating families on the US-Mexico border.
Just hours after doubling down on his administration's much-derided policy that triggers separations of migrant children from their parents, Trump braved frustrated and in some cases angry fellow Republicans to assure he wanted their swift resolution to the crisis.
While top officials have stood by Trump's "zero tolerance" approach, insisting children are being held in humane conditions, criticism has swelled from international rights groups, Christian evangelicals, former US first ladies and the president's own Republican Party.
Democrats who have visited minors in detention in Texas and California describe crying children held in cage-like conditions behind chain-link fencing, with no idea when they will see their parents again.
An audio recording purported to feature Central American children separated from their parents sobbing and wailing has also struck a nerve.
With emotions running high, a handful of House Democrats protested the Trump meeting, yelling out at Trump in a rare face-to-face demonstration against a president by sitting members of Congress.
"Quit separating the kids!" Juan Vargas, a Democrat from southern California, shouted as Trump exited the meeting. "Mr President, don't you have kids?"
Republican lawmakers emerged from the 45-minute huddle energized that Trump was giving his backing to legislation that House leaders expect to bring to a vote this week.
It contains several of Trump's main priorities, including border wall funding, protecting young "Dreamer" immigrants who were brought to the country as children and curbs on legal immigration programs such as an end to the visa lottery.
House Republican Mario Diaz-Balart said the priority of ending the separations has been slotted into a compromise bill currently under consideration and favored by GOP moderates.
"Not only does he support the compromise bill, but he backs it all the way," Diaz-Balart said of Trump.
But even after the meeting, it was unclear whether Trump favored that bill over a more hard-line measure supported by conservatives.
White House spokesman Raj Shah said Trump "endorsed both House immigration bills" during the meeting, adding that they "solve the border crisis and family separation issue by allowing for family detention and removal."
"I'm with you 100 percent," Trump said, according to Shah.
Several Republicans have said the more conservative plan is doomed, and that Trump's address was helpful in unifying the divided caucus.
"We're going to have work to do" to get the compromise across the finish line, said number three House Republican Steve Scalize.
Unfazed and defiant
Earlier in the day, a defiant Trump sounded unfazed by the mounting pressure to alleviate the situation before it ruptures into a public relations disaster for his party.
"I don't want children taken away from parents," he told a gathering of small business owners, before adding: "When you prosecute the parents for coming in illegally, which should happen, you have to take the children away."
Trump has accused Democrats of provoking the current crisis by blocking legislation to combat illegal immigration.
But Democratic leaders have pushed back. Senator Chuck Schumer said the president "continues to try to use these separated families as hostages in the legislative process."
Calling for an immediate fix, Schumer added: "The president can end this crisis with the flick of his pen, and he needs to do so now."
Senate Republicans are also moving to block Trump's policy.
A group led by Senator Orrin Hatch wrote Attorney General Jeff Sessions demanding a pause in separations, while Senator John Cornyn was drafting "emergency" legislation to allow families to remain intact while their cases are adjudicated.
The United Nations has slammed the separation practice as unconscionable, while Amnesty International blasted it as "nothing short of torture." Mexico's foreign minister condemned it as "cruel and inhuman."
The issue risks becoming a political nightmare several House Republicans who face tough re-election fights in November. Some may worry that public outrage over the family separations could hurt their chances.
Children used as pawns
Democrats say the crisis is of Trump's own making, and accuse him of using children as pawns.
"This has caused an outcry throughout the country," said Senator Chris Van Hollen, who visited a detention facility in McAllen, Texas over the weekend where some 1,500 children are being held.
US officials say more than 2,300 children have been separated from their parents or guardians since early May, when the administration announced its "zero tolerance" push to arrest and charge anyone illegally crossing the US-Mexico border, regardless of whether they were seeking asylum.
Since children cannot be sent to the facilities where their parents are held, they are separated from them.
Separated children make up a minority of immigrant minors in US custody.
The Department of Health and Human Services said there are currently 11,700 children under its care in 100 shelters across 17 states.
Most crossed the border without their parents.
US public opinion appears divided along partisan lines on the family separations, with two thirds of all voters opposed, but 55 percent of Republicans supporting the policy, according to a Quinnipiac University National Poll.
Source: arabnews.com/node/1324466/world
-----
Israel Soldiers Set Dogs on Elderly Palestinians and Teens In Jenin Refugee Camp
June 19, 2018
Israeli occupation forces set dogs on elderly Palestinians and teenagers in their homes during a raid of Jenin refugee camp in the occupied West Bank last month.
According to rights group B'Tselem, on 7 May, a group of some ten Israeli soldiers raided Jenin refugee camp at around 4am, along with "two attack dogs". The soldiers "forcibly entered two homes, woke up all the residents, turned the homes topsy-turvy, and detained two people".
In one house, home to Zahra Ya'qub, 85, her son Salah, 44, his wife Sabah, 40, and their three children, soldiers "muscled in", and "assaulted the couple with dogs that knocked down Sabah".
B'Tselem continued: "One soldier kicked Sabah while she was lying on the ground and shoved her into the bedroom. Salah pulled her into the bedroom and then helped his mother in. Two soldiers stood by the door and prevented the members of the family from leaving."
In the meantime, the account continues, "the soldiers went into the other rooms in the house, conducted searches, and arrested one of the sons, 'Abd a-Rahman, 20, who has intellectual disabilities. The soldiers led 'Abd a-Rahman into the bedroom, handcuffed with plastic cable ties".
Read: Israeli forces fire grenade at couple holding baby
The next house to be raided was the home of the Salit family, where ten people live: 73-year-old Hashem; his 46-year-old son Samir with his wife and seven of their children, three of whom are minors aged 7 to 13.
Here, "the soldiers broke down the front door and entered the ground floor", where "the soldiers, accompanied by one dog, assaulted the grandfather", with the dog "knock[ing] the 73-year-old man onto his back and scratch[ing] his arms. The soldiers left him lying there injured."
The soldiers then went into another room, and "set the dog on Muhammad (13). The dog knocked the boy to the floor and bit his finger through the muzzle. The soldiers handcuffed Muhammad, threw him to the floor, and covered him with sheets to keep him from seeing what was going on."
B'Tselem notes that "night raids by the Israeli military on the homes of Palestinians in the West Bank have long since become a regular part of the routine imposed by the occupation regime".
"In these raids, everyone in the home, including small children, is made to get out of bed. In this instance, the soldiers even had dogs with them, and they used them to assault some of the people in the home and terrorize the others."
The NGO concluded:
This conduct is not a local initiative by individual soldiers or commanders in the field. It is part of the Israeli military's policy in the West Bank. Therefore, it is abundantly clear that no one will be held to account in any way for what happened in Jenin R.C. last month.
Source: middleeastmonitor.com/20180619-israel-soldiers-set-dogs-on-elderly-palestinians-and-teens-in-jenin-refugee-camp/
-----
Egypt Court to Retry Muslim Brotherhood Leaders
June 19, 2018
The Cairo Criminal Court is to retry today the Supreme Guide of the Muslim Brotherhood Mohammed Badie along with 11 other Brotherhood leaders, Al-Mesryoon reported yesterday.
Khairat Al-Shater, Saad Al-Katatni and Mohamed El-Beltaji are amongst those also being tried in the case.
The suspects are accused of supplying unknown people with guns, weapons and other equipment to plan and carry out attacks on people near the Muslim Brotherhood office with the aim of killing them.
International human rights groups have repeated condemned Egypt's continued detention of opposition groups and activists.
Since incumbent President Abdel Fattah Al-Sisi took over power in a military coup in 2013, he has banned the Muslim Brotherhood and thrown thousands of its members in prison, many have been subjected to mass trials during which they have been given no opportunity for defence.
Brotherhood official: Egypt is arresting opponents in search of its lapsed legitimacy
Source: middleeastmonitor.com/20180619-egypt-court-to-retry-muslim-brotherhood-leaders/
-----
Trump's Pick to Head Fight In Afghanistan Calls Out Pakistan In Hearing
By Carlo Muñoz - The Washington Times - Tuesday, June 19, 2018
President Trump's pick to lead U.S. forces in Afghanistan said Pakistan is continuing to finance and supports elements of the insurgency fighting Kabul even while publicly voicing support for U.S.-backed talks to forge a peace deal with the Taliban and end the 17-year conflict.
Lt. Gen. Austin "Scott" Miller, who previously ran the secretive Joint Special Operations Command (JSOC) before being pegged for the U.S. military's top spot in Afghanistan, told a Senate Armed Services Committee confirmation hearing Tuesday he still had "high expectations" for Islamabad in ending the Afghan war, but that better cooperation and coordination were needed.
"It's obviously a very tough neighborhood with some tough neighbors," Gen. Miller told lawmakers. "Pakistan must be part of the solution, and we should have high expectations that they are part of the solution."
Mr. Trump's new South Asia strategy took Islamabad to task for its support of groups such as the Haqqani network and the Pakistani wing of the Taliban. Gen. Miller said some of Pakistan's actions were "contradictory" to its public calls for peace in Afghanistan. Currently, there are approximately 16,000 U.S. personnel serving in Afghanistan.
Gen. Miller's comments came days after Mullah Fazlullah, the reputed head of the Pakistani Taliban, was reportedly killed in a U.S. drone strike in eastern Afghanistan's Kunar Province. The longtime terror chieftain was blamed for orchestrating that 2014 Pakistani Army school attack in Peshawar that left nearly 150 people dead, including 132 children, among other incidents.
The Trump administration has relaxed its rules of engagement in Afghanistan in response to growing threats from the Taliban and other insurgent groups such as Islamic State. That shift, coupled with the addition of 3,000 U.S. troops and additional American firepower into the country, was the linchpin of Mr. Trump's strategy unveiled last August.
Gen. Miller will be the first U.S. military commander selected by the Pentagon since Mr. Trump's revised the battle plan.
Efforts as a negotiated solution were bolstered in recent weeks as the Taliban and Afghan government forces observed a brief, unprecedented cease-fire coinciding with the Muslim holy month of Ramadan. While only lasting several days, the lull in fighting has raised hopes in Kabul and Washington that a corner had been turned in the Afghan war.
Under the cease-fire, Afghan forces refrained from carrying out offensive operations against Taliban targets while continuing combat operations against the Islamic State's Afghan cell and al Qaeda elements still active in the country.
But after 17 years of conflict, Gen. Miller on Tuesday wasn't ready to proclaim any corners had been turned in Afghanistan.
"I can't guarantee you a timeline or an end date," he said. "But I go back to the vital interests of national security for America. I know this [war] is having a [negative] effect on elements that would attack us."
Sen. Elizabeth Warren, Massachusetts Democrat, criticized the administration's unwillingness to commit to a firm timeline for ending the war.
I'm afraid we're asking our military to perform an impossible task. Our military cannot and should not be in Afghanistan forever," she said.
Gen. Miller warned that a rapid drawdown of U.S. or allied forces would likely produce the same chaotic situation that engulfed Iraq after the 2011 American military pull-out there, clearing the way for the rise of Islamic State in Iraq and Syria.
"With a precipitous and disorderly withdrawal, we would see negative effects on U.S. national security," the general said. "I would be concerned about ISIS and al-Qaida's ability to emerge" in the power vacuum left behind.
Source: washingtontimes.com/news/2018/jun/19/donald-trumps-pick-to-head-fight-in-afghanistan-ca/
-----
India
Muslim Man Donates Rs 3 Lakh to West Bengal Villagers To Build Temple
HuffPost Staff
Moved by the story of a Bengal villages' struggle to build a temple, a Muslim software engineer reportedly donated the residents Rs 3 lakh to help them.
According to a report on Anandabzar Patrika, Saidul Sheik is a software engineer who returned to India on a break after working in Kuwait and Australia. Though Sheikh had never visited the village in question, he met one of the residents at an eatery near his home. They started chatting, and in course of the conversation, Sheikh came to know how the villagers in Khasmora, near Domjur in West Bengal, were struggling to put together funds to build a temple. He decided he wanted to help.
The report says that Sheikh is a part of a Facebook group called 'Amra Family' -- meaning 'We Are A Family' in Bengali -- which has a few hundred members. The founders of the group organised an event in the outskirts of Kolkata, where Sheikh handed over the cheque to the villagers.
The residents of Khasmora, Anandabazar reports, are mostly poor Hindu farmers who had a tiny hut with a tin roof for a temple. In December 2016, communal clashes had broken out a few kilometres away, leading Hindus and Muslims to torch and vandalise shops and houses. Bombs were lobbed and houses were looted by rioters. Sixty five people were arrested.
Villagers told the reporters of Anandabzar that Sheikh's act of generosity has restored their faith in humanity.
The Amra Family group, according to Facebook posts of its members, is not a registered NGO or a political outfit. It appears that the members -- comprising locals of several neighbourhoods on the outskirts of Kolkata -- engage in social work and charitable activities. Members have posted pictures of awareness drives against dengue.
Hindu-Muslim unity seems to be the thrust of this group. The page of its founder is smattered with posts claiming "Not In My Name" and protesting killings in Syria. In one post, the founder has shared a video of an event where Hindus gave Muslims a ceremonial welcome that included blowing conch shells and lighting lamps.
The founder captioned the post saying, "When Hindus-Muslims are fighting around the world, we meet amid the music of azaan and conch shells."
The group has been organising a meet to promote Hindu-Muslim unity since last year in the periphery of Kolkata. In an invite, the founder Raja Banerjee referred to the recent instances of communal violence in West Bengal and commented how they took the lives of innocent people with no political affiliation. The meet, the invite said, meant to counter that narrative of hatred.
Source: https://www.huffingtonpost.in/2018/06/12/muslim-man-donates-rs-3-lakh-to-west-bengal-villagers-to-build-temple_a_23456587/
-----
Conservators discover hidden Mughal treasure near Humayun's tomb
Richi Verma
Jun 20, 2018,
NEW DELHI: Conservators have made a stunning discovery on the domed ceiling of the 16th-century Sabz Burj, a Mughal monument near Humayun's tomb: hidden paintings in blue, yellow, red and white, and some even in gold.
The conservators, working under the Aga Khan Trust for Culture and Archaeological Survey of India, and experts say this is the first time early 16th century wall paintings have been found on a monument in Delhi.
Sabz Burj (or Green Tower, although the dome is blue on the outside), is among the earliest Mughal buildings influenced by Timurid architecture and richly ornamented with incised plasterwork, glazed ceramic tiles and decorative lattice stonework. Conservation work began in November.
"On the removal of 20thcentury cement and lime-wash layers, remnants of 16th-century painted decorations were discovered on the domed ceiling which would have originally been completely covered with floral paintings with blue, yellow, red, white, and even gold, being the predominant colours," said an official.
Though traces of wall paintings were visible on the wall surfaces, it was expected that the ceiling would be ornamented with the usual incised lime plaster patterns. But the painted ceiling stunned everyone.
"It seems much of the painting was lost due to seepage of rainwater and efforts are under way to ensure it never recurs. Portions of the plastered surface have also fallen away due to structural movement in the building," said an official.
National and international experts have been roped in by the AKTC-Havells team to advise on methods to remove later layers and surface coating. "Further analysis of the painted pigments will be undertaken before formulating a conservation strategy for the painted ceiling," an official said.
The project is supported by appliance major Havells as part of its CSR activity.
Source: timesofindia.indiatimes.com/city/delhi/conservators-discover-hidden-mughal-treasure-near-humayuns-tomb/articleshow/64656311.cms
-----
Bihar: Eight held on sedition charges for singing 'pro-jihad' songs on Eid
By: Express News Service | Patna | Updated: June 19, 2018
Rohtas Police Monday booked eight persons, including five minors, for allegedly playing and singing 'pro-jihad' songs during Eid celebrations at Nasriganj. Three people have been sent to judicial custody while the minors have been sent to a juvenile home. The accused have been booked on charges including those pertaining to sedition.
The police took action after a video of the function surfaced. "We have sent the video for FSL test to check its veracity," Rohtas Superintendent of Police Satyaveer Singh said. "Those arrested include the organiser of the function Raja Khan and a local DJ Ashish Kumar," he added.
The case has been lodged at Nasriganj police station under sections 143 (unlawful assembly, 124A (sedition), 153A (promoting enmity) and 295A (malicious act) of the IPC and under provisions of the Loudspeaker Act.
Source: https://indianexpress.com/article/india/bihar-eight-held-on-sedition-charges-for-singing-pro-jihad-songs-on-eid-5223508/
---
After Mehbooba Mufti experiment, over to Army
Jun 20, 2018
NEW DELHI/SRINAGAR: Jammu and Kashmir is set for governor's rule as the PDP-BJP coalition, divided over tackling violence in the Kashmir Valley and catering to sharply conflicting political constituencies, came crashing on Tuesday with BJP yanking the rug from under its coalition partner.
Despite a steady deterioration in relations, BJP's decision to quit the alliance came as a surprise and was seen in some quarters as intended to pre-empt a precipitate move by chief minister Mehbooba Mufti, possibly by September-October.
The dramatic decision has cleared the way for BJP to sharpen its 'tough-on-security' plank ahead of three state polls scheduled later this year and next ye ar's Lok Sabha contest. "Two issues were the basis of the coalition. One was to do all we could to restore peace and secondly to ensure equitable development of all three regions in the state. This has not happened, and in fact, the violence in the Valley has increased and this makes it difficult to continue," BJP general secretary Ram Madhav told reporters, adding that Mehbooba discriminated against (Hindu-majority) Jammu and (Buddhist-dominated) Ladakh regions.
He specifically mentioned the recent killing of Shujaat Bukhari, a prominent editor who had attracted the anger of Pakistan-backed terrorists and hardliners by supporting the Ramzan ceasefire, saying his murder in the heart of Srinagar in broad daylight signalled the Mehbooba government's failure, impelling BJP to pull the plug on the first woman CM of Jammu & Kashmir.
Madhav's stress on PDP's alleged failings on countering separatism and radicalism and lack of attention to Jammu and Ladkah is clearly intended to refurbish its 'Hindutva' credentials, particularly at the national level where the party's constituency was ill at ease with the arrangement.
PDP's pleas for a softer approach towards stone-pelters - partly acceded to by BJP - and the perception that it turned the Kathua gang rape case into a 'Valley versus Jammu' issue exacerbated the tensions in the coalition.
The BJP decision immediately led to the sensitive border state coming under the Centre's direct control. Governor NN Vohra recommended imposition of governor's rule after National Conference leader Omar Abdullah told him his party would not be attempting to form a government, snuffing out even the faint possibility of an alternative government. In the assembly, PDP has 28 MLAs and can command an additional nominated member while Congress and NC have 12 and 15 MLAs each. BJP has 25 members.
With the Congress making it clear it would not support the PDF, all permutations and combinations of anyone staking claim has been rendered moot. Under the J&K constitution, governor's rule can run for six months without the need to secure Parliament's nod.
Unhappy over the lurching course of the coalition, weakened by the violence following the 2016 killing of top Hizbul terrorist Burhan Wani, the BJP leadership began to firm plans to exit the coalition about four months ago, sources in the party said. The 'strike' was deferred because of a view in the government that a last-ditch effort be made to check alienation by offering talks and halting operations during Ramzan. Both initiatives drew a blank.
A key reason for the timing of the pullout was that assembly polls are unlikely to be scheduled before the 2019 Lok Sabha polls given that six months of governor's rule is assured.
The calculation behind the BJP move, according to sources, included the strong view that PDP was not likely to alter its tilt towards 'soft separatism' and that this was leading to the spread of separatist sympathies in educational institutions and professional bodies like trader and law associations. BJP leaders claimed PDP was known to intercede at the 'thana level' to help offenders engaged in violence against security forces; more crucially, information about 'operations' were leaking from police stations over which PDP's writ ran.
which PDP's writ ran. BJP also reckoned that Mehbooba, whose ratings slid following the association with BJP, would have been loath to approach her base in Kashmir Valley while still being in coalition with the Hindutva outfit, and would have, therefore, walked out by September-October. Allowing her to do so just before the crucial assembly polls could have entailed a political cost. BJP kept the decision to withdraw support under wraps, and even when some TV channels started speculating on the issue, the party issued denials so that Mehbooba didn't get an inkling of the party's plan.
The seemingly sudden withdrawal is understood to have caught PDP off guard and placed it in an unenviable situation of having to defend itself against the charge that it's been "used" by BJP. The regional party's credibility took a blow with rival National Conference quick to hit out at Mehbooba, saying, "She was cutting ribbons while BJP was cutting her legs out from under her. How I wish she had left with her head held high and her dignity intact."
BJP's surgical strike against its ally was intended to ensure that PDP or the other political groups in J&K were not given time to react and look for fall back measures. The party anticipated criticism from senior Congress leaders like Ghulam Nabi Azad that BJP had taken more than three years to realise its error and this has cost J&K dearly. Acknowledging the political weight in the charge, BJP leaders said the party will look to recover by addressing its constituency and arguing that it now has a freer hand in dealing with terrorism in the state. Its Hindu constituency in Jammu which always saw PDP as a bigger "evil" than NC will celebrate Mehbooba's predicament and the crisis of credibility facing her.
Source; timesofindia.indiatimes.com/india/after-mehbooba-mufti-experiment-over-to-army/articleshow/64655465.cms
----
Pakistan to milk PDP-BJP collapse, UN report
Indrani Bagchi
Jun 20, 2018
NEW DELHI: As Jammu & Kashmir plunged into political uncertainty with the BJP-PDP alliance, breaking down there is apprehension that Pakistan could use the situation for its own designs.
The Modi government is likely to maintain its no-talks, tough stand against Pakistan, while unleashing a more muscular policy against terrorism inside Jammu & Kashmir. Given that summer months are generally high-infiltration periods, the government expects a spike in attempts across the LoC, with the 2003 ceasefire coming under strain, weeks after Indian and Pakistani DGMOs promised to uphold it.
SK Lambah, a former PM's special envoy, said he didn't foresee any significant impact on India-Pakistan relations as Pakistan elections are scheduled for the third week of July and politicians are busy.
Former Indian high commissioner to Pakistan TCA Raghavan agreed. "Pakistan is in election mode, so I don't see any immediate impact. However, there will be a spike in rhetoric. Unfortunately, this coincides with the damaging UN report, which will be diplomatic fodder for Pakistan," he said.
However, the global situation has changed with the Kashmir 'issue' having traction in fewer countries. If the Modi government pitches its approach as going after terrorists, it would meet little opposition.
Sources here said the BJP-PDP alliance, when it was announced, was a setback for Pakistan, which expected political conflict after the 2014 elections. Tuesday's events would be a shot in the arm for some forces in Pakistan. For them, the three events - BJP-PDP meltdown, Shujaat Bukhari's killing and the UN report - are a bonanza.
Sushant Sareen, a Pakistan analyst at Observer Research Foundation, said, "The alliance had become untenable but the future political path is going to be turbulent. Holding fresh elections is easier said than done, especially since the government was unable to hold byelections to the seat vacated by Mehbooba Mufti."
Source: timesofindia.indiatimes.com/india/pakistan-to-milk-pdp-bjp-collapse-un-report/articleshow/64656795.cms
-----
North America
No clear US plan yet on how to reunite children with illegal immigrant parents
AP: June 20, 2018
More than 2,000 minors have been separated from their families since early May
In May, the Department of Justice adopted the zero-tolerance policy in which anyone caught entering the US illegally is criminally prosecuted
MCALLEN, Texas: Trump administration officials say they have no clear plan yet on how to reunite the thousands of children separated from their families at the border since the implementation of a zero-tolerance policy in which anyone caught entering the US illegally is criminally prosecuted.
"This policy is relatively new," said Steven Wagner, an acting assistant secretary at the Department of Health and Human Services "We're still working through the experience of reunifying kids with their parents after adjudication."
Federal officials say there are some methods parents can use to try to find their children: hotlines to call and an email address for those seeking information. But advocates say it's not that simple.
In a courtroom near the Rio Grande, lawyer Efren Olivares and his team with the Texas Civil Rights Project frantically scribble down children's names, birthdates and other details from handcuffed men and women waiting for court to begin. There are sometimes 80 of them in the same hearing.
The Texas Civil Rights Project works to document the separations in the hopes of helping them reunite with the children.
They have one hour to collect as much information as they can before the hearing begins. The immigrants plead guilty to illegally entering the US, and they are typically sent either to jail or directly to an immigration detention center. At this point, lawyers with the civil rights group often lose access to the detainees.
"If we don't get that information, then there's no way of knowing that child was separated," Olivares said. "No one else but the government will know that the separation happened if we don't document it there."
Olivares has documented more than 300 cases of adults who have been separated from a child. Most are parents, but some are older siblings, aunts, uncles or grandparents. Some are illiterate and don't know how to spell the children's names.
More than 2,000 minors have been separated from their families since early May. The children are put into the custody of the US Department of Health and Human Services with the aim of keeping them as close to their parents as possible and reuniting the family after the case goes through the courts, said Wagner.
But it's not clear that's working.
According to Olivares, the agency is generally "very willing to help," often helping to find a child even if there's a misspelling in the group's records. But if a child has been transferred out of a government shelter — including if the child has been deported — agency representatives won't give any information.
"Sometimes the parent gives us contact information for a relative," Olivares said. "If they have the phone number right and the phone number is working ... we call that number and sometimes we're able to locate that relative and ask them what they know."
In May, the Department of Justice adopted the zero-tolerance policy in which anyone caught entering the US illegally is criminally prosecuted. Children can't be jailed with their parents. Instead, after the adult is charged, children are held briefly by Homeland Security officials before being transferred to Health and Human Services, which operates more than 100 shelters for minors in 17 states.
The department has set up new facilities to manage the influx of children, and Wagner said they were prepared to expand as more children come into custody.
The children are classified as unaccompanied minors, a legal term generally used for children who cross the border alone and have a possible sponsor in the US willing to care for them. Most of the more than 10,000 children in shelters under HHS care came to the US alone and are waiting to be placed with family members living in the US
But these children are different — they arrived with their families.
"They should just give the kids back to their parents. This isn't difficult," said Lee Gelernt of the American Civil Liberties Union.
Gelernt represents a Brazilian asylum seeker in a closely watched lawsuit that seeks a nationwide halt to family separation. The woman, identified as Mrs. C in court documents, was split from her son for nearly a year after entering the country illegally in August near Santa Teresa, New Mexico.
On Tuesday, Olivares' team had seven people left to interview with five minutes left. They took down just the names, dates of birth, and countries of origin of the children.
"One woman (said), 'What about me, what about me?'" Olivares said a few hours later. "She wanted to give us information because she realized what we were trying to do."
Source: arabnews.com/node/1324521/world
-----
Pakistan, Russia, and Iran still supporting Taliban, says Gen. Miller
By KHAAMA PRESS - Wed Jun 20 2018
The U.S. Army general nominated to head U.S. military operations in Afghanistan has said that Pakistan, Russia, and Iran were continuing to support Taliban fighters.
In written remarks to the Senate Armed Services Committee, Lieutenant General Scott Miller, called the militant sanctuaries in Pakistan as one of the biggest challenges to Afghan stability.
Acknowledging that Pakistan has made many sacrifices and its security forces have fought bravely, Gen. Miller said "We have not yet seen these counterterrorism efforts against anti-Pakistan militants translate into definitive actions against Afghan Taliban or Haqqani leaders residing in Pakistan."
This comes as the Afghan and US officials have long been criticizing Pakistan for the lack of action against the Taliban and Haqqani terrorist network leadership councils based in its soil.
However, Pakistani officials have repeatedly rejected the allegations and claim that the terror and militant groups have no organized presence in Pakistan.
In the meantime, Gen. Miller has said that the US must be careful not to withdraw too quickly, warning that the terror groups will regroup and plunge the country into deeper conflict.
Gen. Miller further added that a rapid and hasty withdrawal from Afghanistan could result in a situation similar to Iraq in 2015, when the Iraqi military collapsed after a U.S. withdrawal and Islamic State fighters seized vast swaths of the country.
Source: https://www.khaama.com/pakistan-russia-and-iran-still-supporting-taliban-says-gen-miller-05392/
-----
White House Mideast team holds talks with Jordanian king
AP
June 20, 2018
AMMAN: President Donald Trump's senior adviser and son-in-law, Jared Kushner, kicked off a swing through the Middle East on Tuesday, meeting with Jordan's king as part of a broader effort to lay the groundwork for an expected Israeli-Palestinian peace plan.
Kushner and White House envoy Jason Greenblatt held talks with Jordan's King Abdullah, a key US ally.
A White House statement said the talks focused on US-Jordan cooperation, the humanitarian situation in the Gaza Strip and the US efforts "to "facilitate peace between the Israelis and Palestinians."
US officials have said their peace plan is near completion and could be released this summer. But it faces resistance from the Palestinians, who have cut off ties since Trump recognized contested Jerusalem as Israel's capital last December and moved the US Embassy in Israel to the holy city last month. The Palestinians, who seek Israeli-annexed east Jerusalem as their capital, accuse the US of siding with Israel in the most sensitive issue of their decades-long conflict.
Kushner's team also plans stops in Israel, Egypt and Saudi Arabia. No talks with the Palestinians are scheduled, though the Americans have left the door open to meeting with them.
The Palestinians seek all of the West Bank, east Jerusalem and Gaza Strip for an independent state. Israel captured the territories in the 1967 Mideast war. It withdrew from Gaza in 2005, and Hamas militants seized control of the territory two years later.
The US has been trying to rally support for projects to rescue Gaza's economy, which has been weakened by an Israeli-Egyptian blockade, while continuing to isolate Hamas. The US, Israel and Western allies shun Hamas as a terrorist group. Details of the plan have not been released, but Palestinians fear they will get little more than a symbolic foothold in Jerusalem. They also fear that aid to Gaza will help strengthen Hamas' control over the territory.
Jordan also has a stake in east Jerusalem, serving as the custodian of major Muslim and Christian shrines there. Jerusalem's walled Old City, captured and annexed by Israel in 1967, is home to Muslim, Christian and Jewish holy sites.
Abdullah has also rejected Trump's moves in Jerusalem. Israeli Prime Minister Benjamin Netanyahu refuses to relinquish any part of the city.
Netanyahu traveled to Amman on Monday for a surprise meeting with Abdullah, telling the king that Israel remains committed to the status quo of the holy sites in Jerusalem.
Abdullah told Netanyahu that the fate of Jerusalem must be determined in Israeli-Palestinian negotiations, and that a solution should be based on establishing a Palestinian state, with east Jerusalem as its capital, on lands Israel captured in 1967.
Palestinian officials fear the Trump administration plan will leave them with a mini-state in the Gaza Strip, parts of the West Bank and a foothold in Jerusalem. Palestinian leader Mahmoud Abbas has said he will reject any plan being floated by the Trump team, arguing that the US has forfeited its role as mediator because of decisions seen as pro-Israel.
Source: arabnews.com/node/1324406/middle-east
-----
Mideast
30,000 Syrians eligible to vote in Turkish elections
AP, REUTERS
June 20, 2018
Polls suggest Erdogan's alliance could narrowly lose its parliamentary majority
If the party passes a 10 percent threshold needed to enter Parliament, it could win dozens of seats in Parliament
ANKARA: Turkish Prime Minister Binali Yildirim is quoted as saying that 30,000 Syrians who acquired Turkish nationality are eligible to vote in Sunday's presidential and parliamentary elections.
The Hurriyet newspaper and other media said Yildirim made the comments Tuesday in the city of Izmir.
Turkey, which is hosting 3.5 million Syrian refugees, announced in 2016 that it would begin granting citizenship to Syrians.
Another election?
In another development, the Nationalist Movement Party (MHP) party leader said Turkey could stage another election if the alliance between President Tayyip Erdogan's ruling AK Party and the MHP could not form a majority in Parliament after Sunday's vote.
Polls suggest Erdogan's alliance could narrowly lose its parliamentary majority, while the presidential vote may also go to a second round run-off.
MHP chairman Devlet Bahceli who backed Erdogan in the referendum, said another set of early elections could be on the agenda if the presidency and Parliament struggle to work together after Sunday's vote.
Speaking in an interview on private news channel NTV late on Monday, Bahceli said that the referendum granted either the president or Parliament the authority to call for snap elections when there was a "blockage" — for example if Erdogan won the presidency but his party fell short of a parliamentary majority.
"When the presidency and Parliament come to the point where they can't work in unison, there are ways out of this under the constitutional changes and they are carried out. For example, an ... early election could be considered," he said.
Bahceli played a pivotal role in moving Sunday's elections forward more than a year when he called on the government to declare snap elections in April. Erdogan set the election date for the June 24 votes after a meeting with Bahceli.
Under the constitutional changes, which will go into effect following the elections, the number of lawmakers in Parliament will increase to 600 from 550. Officials from the AK Party, which has enjoyed a parliamentary majority until now, have said they aim to receive at least 300 seats in the assembly.
Throughout his election campaign, Erdogan has stressed the importance of a "strong Parliament," saying the decision to support him for the presidency but not the AK Party was a "disturbing attempt."
The composition of the assembly could depend on Turkey's pro-Kurdish opposition, which has significant backing in the country's largely Kurdish southeast.
If the party passes a 10 percent threshold needed to enter Parliament, it could win dozens of seats in Parliament. If it fails, the seats will go to the second most popular party in the region, almost certainly guaranteeing a majority for the AKP.
Meanwhile, voting at Turkish diplomatic missions abroad for expatriate Turks ends Tuesday, with orange sealed bags carrying votes already arriving in Turkey. Voting at border gates and airports will continue until all polls close Sunday afternoon.
The country's official Anadolu news agency said 41 percent of the more than 3 million registered expatriate voters have cast their ballots so far.
Source: arabnews.com/node/1324371/middle-east
-----
Major Gaza Escalation: 45 Rockets Fired at Israel, IDF Strikes 25 Hamas Targets
Yaniv Kubovich, Almog Ben Zikri and Jack Khoury Jun 20, 2018
Some 45 rockets were fired from Gaza toward Israel overnight on Tuesday after the Israeli military struck Hamas infrastructure in the Strip in response to burning balloons being launched from Gaza into Israel.
Israel's Iron Dome missile defense system intercepted seven of the 45 rockets and at least three landed inside the Gaza Strip. In response, the IDF once again attacked the Strip, targeting a total of 25 Hamas targets.
Eshkol Regional Council announced that three projectiles fell inside populated communities, with one causing damage to buildings and vehicles.
Sources in Gaza said two people were lightly wounded by the IDF strikes. "The sounds and explosions reminded us of the nights of summer of 2014," a Gaza resident told Haaretz, referring to the last time Israel and Hamas waged a major conflict. According to a medical source in Gaza, the small number of wounded was the result of the strikes being focused on empty sites, including some already struck by the IDF in recent weeks.
Source: haaretz.com/israel-news/.premium-rocket-alert-siren-in-israel-s-gaza-border-area-1.6195076?utm
----
Israeli planes hit 25 targets in response to Gaza rocket fire
REUTERS
June 20, 2018
JERUSALEM: Israeli jets struck 25 Hamas targets in the Gaza Strip in the early hours of Wednesday after militants launched rockets and mortar shells at Israeli territory, the military said.
Two Hamas security men were lightly hurt in one air strike in the southern Gaza Strip, residents said. No casualties were reported in Israel after one of the most intense recent barrages of militant rocket launches and Israeli air strikes.
Air raid sirens and Israeli phone warning applications sounded throughout the pre-dawn hours.
The military counted 30 rockets and mortar shells fired at Israeli territory and said its Iron Dome anti-missile shield intercepted seven rockets.
Since its last war with Gaza's dominant Hamas in 2014, Israel has stepped up efforts to prevent cross-border attacks, improving rocket interceptors and investing in technologies for detecting and destroying guerrilla tunnels.
In recent weeks, Palestinians have sent kites dangling coal embers or burning rags across the Gaza border to set fire to arid farmland and forests, others have carried small explosive devices in a new tactic that has caused extensive damage.
At least 127 Palestinians have been killed by Israeli troops during mass demonstrations along the Gaza border since March 30 and the men sending the kites over the fence believe they have found an effective new weapon.
Israel's deadly tactics in confronting the weekly Friday protests have drawn international condemnation.
Palestinians say the protests are an outpouring of rage by people demanding the right to return to homes their families fled or were driven from following the founding of Israel 70 years ago.
Israel says the demonstrations are organized by the Islamist group Hamas that controls the Gaza Strip and denies Israel's right to exist. Israel says Hamas has intentionally provoked the violence, a charge Hamas denies.
Around two million people live in Gaza, most of them the stateless descendants of refugees from what is now Israel. The territory has been controlled by Hamas for more than a decade, during which it has fought three wars against Israel.
Israel and Egypt maintain a blockade of the strip, citing security reasons, which has caused an economic crisis and collapse in living standards there over the past decade.
Source: arabnews.com/node/1324511/middle-east
------
Israel quiet on US claims it hit Iraq militia in Syria
19 June 2018
AFP
JERUSALEM: Israel declined to comment on Tuesday on a weekend air strike against an Iraqi paramilitary base in eastern Syria after its US ally implicated it in the attack.
The Sunday evening strike against the Al-Hari base on the Syrian side of the border with Iraq came less than 24 hours after Prime Minster Benjamin Netanyahu said Israel would strike Iran's "proxies" anywhere in Syria.
Fighters of Iraq's Hashed Al-Shaabi paramilitary force, mainly composed of Iran-trained Shiite militia, have played a major role in the war against the Sunni extremists of the Daesh group in Syria as well as Iraq.
But their presence has sparked confrontations with both Washington, which has been supporting a Kurdish-led alliance that controls other parts of eastern Syria, and Israel, which fears Iranian-inspired attacks on its forces in the occupied Golan Heights.
Syrian authorities and the Iraqi paramilitaries both blamed Washington for the strike, which killed at least 52 fighters, according to the Syrian Observatory for Human Rights.
But US officials denied any involvement and instead pointed the finger at Israel.
"We have reasons to believe that it was an Israeli strike," one US official told AFP on condition of anonymity.
The Israeli military declined to be drawn on the US claims. "We are not commenting on foreign reports," a spokeswoman said.
The military has carried out previous strikes against Iranian targets in Syria, but most have been significantly closer to Israel or the Israeli-occupied Golan.
Last month, Israel launched a large-scale attack on what it said were Iranian targets in Syria, raising fears of a major confrontation.
Those strikes followed a barrage of rockets that Israel said was fired toward its forces in the occupied Golan by Iran from Syria.
Even before that, Israel had been blamed for a series of recent strikes inside Syria that killed Iranians, though it has not acknowledged them.
Speaking at a cabinet meeting in Jerusalem on Sunday morning, Netanyahu reiterated his position that "Iran needs to withdraw from all of Syria."
"We will take action — and are already taking action — against efforts to establish a military presence by Iran and its proxies in Syria both close to the border and deep inside Syria," the prime minister said.
"We will act against these efforts anywhere in Syria."
Israeli seized a large swathe of the Golan Heights from Syria in the Six-Day War of 1967 and later annexed it in a move never recognized by the international community.
Iran has been a close ally of the Syrian regime for some four decades and, with Russia, has been a key supporter in the civil war that broke out in 2011.
Source: arabnews.com/node/1323941/middle-east
-----
Lebanon to review move to let Iranians in without passport stamps: Source
19 June 2018
REUTERS
IRNA news agency said some Iranians who had traveled to Lebanon had faced difficulty obtaining European visas.
BEIRUT: Lebanese ministers will review a security agency's decision to allow Iranians to enter at the airport without having their passports stamped, an interior ministry source said on Tuesday.
The move by the General Security agency has sparked an outcry from some politicians who fear it reflects the deepening influence of Lebanon's Iran-backed Hezbollah movement, which emerged from a recent parliamentary vote with more sway.
The staunchly anti-Hezbollah Lebanese Forces, a Christian party, described the change as an attempt to help Iran send more forces to Syria through Beirut or move money to Hezbollah despite US sanctions.
The agency, which oversees airport security, has defended its decision and said entry cards will be stamped instead.
Iran's state news agency IRNA, reporting on the new measure this week, said some Iranians who had traveled to Lebanon had faced difficulty obtaining European visas.
The United States considers Hezbollah a terrorist group and has tightened sanctions against those accused of doing business with it. The European Union classifies Hezbollah's military wing as terrorist. Tehran and Shiite Hezbollah provide critical support to the Syrian army in the seven-year conflict next door.
Caretaker Interior Minister Nohad Machnouk, returning from a trip abroad, will meet Prime Minister Saad Al-Hariri and other officials on Wednesday to discuss the passport move and determine whether or not to nullify it, the source told Reuters.
Machnouk retweeted an article on Monday in local daily Al-Nahar that cited ministry sources as saying he would challenge the measure.
Major General Abbas Ibrahim, who heads General Security, defended the step as a normal procedure.
"Unfortunately, some in Lebanon have a wide imagination," he said in remarks to local daily Al-Joumhouria.
A database automatically registers all Iranian arrivals and departures, said Ibrahim, a Shiite official who has coordinated with Hezbollah and its political ally the Amal party.
He added that many European and Gulf countries refrained from stamping passports and that introducing new technology at Beirut airport would eventually eliminate the need for stamps.
A lawmaker with the Lebanese Forces, which nearly doubled its seats in parliament in the election, said he believed the interior ministry would cancel the new measure.
"This does not need discussion," Wehbe Katicha told Reuters. "A director general made an administrative decision, when it should be a political one. It's a mistake."
Source: arabnews.com/node/1324231/middle-east
-----
'Clear evidence of Iranian involvement in Yemen'
June 19, 2018 Gulf News
Anwar Ahmad, Staff Reporter
Abu Dhabi: The UAE has clear evidence of Iranian involvement in Yemen and supplies of arms and ammunition to Al Houthi militia which the rebels used on civilians and innocent children, officials from the Armed Forces said here on Tuesday.
The Iranian-manufactured arms, drones, ballistic missiles, land and marine mines were exhibited by UAE Armed Forces and Ministry of Foreign Affairs and International Cooperation at the Armed Forces Officers Club in Abu Dhabi on Tuesday.
"These dangerous weapons were supplied to Al Houthis by Iran. So far, between 20,000 and 30,000 mines and improvised explosive devices (IEDs) were found by the UAE Armed Forces and were cleared," an official said.
Dehlavya, an anti-tank guided missile manufactured by Iran in 2015, was found in Yemen which was used by Al Houthis. This is a clear indication of Iran's support to Al Houthis, he asserted at a press gathering.
The officials demonstrated to media different kinds of weapons — unmanned armed vehicles (UAVs) or drones, sniper rifles and a variety of landmines, devices that the UAE said were used by Al Houthis on civilians in Yemen.
Addressing the media, a Ministry of Foreign Affairs official said: "We have clear evidence of Iranian involvement in Yemen and supplies of arms and ammunition to Al Houthis which they used on civilians and innocent children."
Al Houthis fired more than 100 ballistic missiles towards Saudi Arabia, which is a clear evidence that they get support from Iran. We have demonstrated a large amount of weapons found in Yemen, which were used by Al Houthis, the official said.
"Weapons we demonstrated here were also reported to the United Nations Security Council which also examined them and found that they were used by Al Houthis," he said.
Rebels plant mines in parks and civilian localities of Yemen and target innocents, he said.
Another official from the UAE Armed Forces said, "The main concern is that Al Houthis are getting help from external forces."
"Based on our analysis, we have captured clear evidence of Iranian involvement and the main support comes to Al Houthis from Iran. Third parties like the USA and other international actors also examined the evidence and confirmed the involvement of Iranian support to Al Houthis," he said.
"It's impossible for Al Houthis to avail such kinds of advanced weapons without Iranian experts and supplies of weapons.
"However, we would like to emphasise that we have means to tackle such threats and already we have brought down many of their missiles and drones," he said.
"The UAE has taken steps to tackle such threats along with our Yemeni allies and trained our forces accordingly to deal with the situation," he said. "The armed forces has clear guidelines to work closely with the United Nations. We first secured the items and sent them to the forward operating base in Yemen, and then transported them to the UAE."
Experts of the UN's panels have been notified about them [weapons secured from the war area], he said.
Source: gulfnews.com/news/uae/government/clear-evidence-of-iranian-involvement-in-yemen-1.2239333
-----
Iran's Revolutionary Guard chief flays activists seeking talks with US
AP, REUTERS, June 20, 2018
100 Iranian activists wrote an open letter in which they asked Iranian leaders to hold "direct and unconditional talks" with the US to solve its differences with Washington
We have the scientific ability to increase our missile range but it is not our current policy since most of the enemies' strategic targets are already within this 2,000-km range
LONDON, TEHRAN: Iran has no plans to extend the range of its missiles since their 2,000-km reach is enough to protect the country, the Revolutionary Guards commander said on Tuesday, amid mounting US pressure over Tehran's missile program.
The Guard also criticized Iranian activists who signed an open letter last week asking Iran's leaders to take part in direct talks with Washington, saying they have "sided with the US, the enemy of the people."
The website of the Guard on Tuesday quoted Maj. Gen. Mohammad Ali Jafari as saying "their recent action is a 100-signature letter asking for talks with Trump. They have accompanied the US, the enemy of the people."
"Possibly some of them were assigned" to sign the letter, he said, without offering evidence.
On Sunday, Iranian media reported that 100 Iranian activists, mostly foreign-based, wrote an open letter in which they asked Iranian leaders to hold "direct and unconditional talks" with the US to solve its differences with Washington.
No plans to increase missile range
Iran's government ruled out negotiations with US President Donald Trump over Tehran's military capabilities and regional influence, saying that such talks would be against the values of the Islamic Republic.
Trump withdrew the US last month from the 2015 accord between Iran and world powers that curbed Tehran's nuclear activity in exchange for sanctions relief.
He said the deal was deeply flawed as it had not curbed Iran's ballistic missile program or reined in its support for proxies in conflicts in Syria, Iraq and Yemen, and said Washington would reimpose tough sanctions on Tehran.
"We have the scientific ability to increase our missile range but it is not our current policy since most of the enemies' strategic targets are already within this 2,000-km range. This range is enough to protect the Islamic Republic...," Jafari was quoted as saying by Tasnim news agency.
Jafari said on Tuesday previous negotiations with the United States about Iran's nuclear program were "an exception," and called Iranian politicians and activists who have favored fresh talks with Trump as "traitors and anti-revolutionaries."
On Saturday, over 100 activists associated with the moderate and reformist camps in Iranian politics welcomed Trump's deal with North Korean leader Kim Jong Un envisaging a complete denuclearization of the Korean peninsula.
In a statement published by Iranian media, the activists urged Tehran to start direct negotiations with Washington "with no preconditions" to resolve decades of enmity between the two countries dating to Iran's 1979 Islamic Revolution.
Jafari rejected their call. "The North Korean leader was a revolutionary but a communist, not an Islamic one. That is why he surrendered, but we will not do the same," he was quoted by the semi-official Fars news agency as saying.
Iranian government spokesman Mohammad Bagher Nobakht echoed Jafari's remarks. "There are no grounds or logic to talk to such a person (Trump). Public opinion would not welcome that either," Nobakht was quoted as saying by ISNA news agency.
Jafari said previously that the range of Iran's ballistic missiles was based on limits set by Supreme Leader Ayatollah Ali Khamenei, who commands the armed forces.
Source: .arabnews.com/node/1324386/middle-east
-----
Arab World
With Hodeidah airport liberated, Saudi Arabia-led coalition accuses Houthis of targeting civilians
ARAB NEWS
June 20, 2018
DUBAI: A Saudi-led Arab Coalition commander has confirmed the liberation of Yemen's Hodeida airport in a video posted by UAE state news agency WAM.
"The airport was completely cleared, Thank God, and is under control," the coalition commander for the Red Sea coast, Abdul Salaam Al-Shehi said speaking in Arabic in the video posted on Twitter.
Government forces broke through the airport perimeter fence on Tuesday sparking heavy fighting in which at least 33 militia and 19 soldiers were killed – according to AFP.
The offensive was launched last Wednesday to clear Hodeida of Houthi fighters who have held it since 2014, raising UN concerns for vital aid shipments and food imports through the city's docks.
The airport is disused but housed a major militia base just inland from the coast road into the city from the south.
It lies eight kilometers from the city's port, through which three-quarters of Yemen's imports pass, providing a lifeline for some 22 million people dependent on aid.
UN envoy Martin Griffiths held four days of talks in the rebel-held capital Sanaa in a bid to avert an all-out battle for the city but flew out on Tuesday without announcing any breakthrough.
Meanwhile Coalition forces have accused the Iran-back Houthis of directly targeting civilians in the Tehama region, north-west of Hodeidah, in direct violation of the Fourth Geneva Convention, WAM reported.
Now the Coalition has called on the international community to put pressure on the Houthis to stop their violent and illegal acts against the Yemeni people.
These latest reports came as further evidence was presented by both the UAE and Saudi Arabia, that Iran is supplying the Houthi militia in Yemen with various forms of artillery, including drones, rockets, small arms and ammunition.
(With AFP)
Source: arabnews.com/node/1324581/middle-east
-----
Hodeidah offensive: Coalition forces seize weapons supplied by Iran to Houthis
ARAB NEWS
June 20, 2018
JEDDAH: Saudi-led coalition officials on Tuesday displayed weapons and explosives supplied by Iran to Houthi militias in the Yemeni port city of Hodeidah.
The arsenal included drones, a sniper rifle, roadside bombs disguised as rocks and even a "drone boat" which had been filled with explosives that failed to detonate.
Equipment used to produce and load fuel for rockets that target Saudi Arabia contained Iranian labels. The weapons were captured on the battlefield in Hodeidah and displayed at a military base in the UAE.
"Unsurprisingly, there are advanced military components in the Houthi militias' hands," said Talal Al-Teneiji, an official at the UAE Foreign Ministry.
"We took time to inspect and disassemble these to figure out the source ... and we can say that these elements are military-grade materials imported from Iran to the Houthi militias."
As the week-long offensive in Hodeidah intensified on Tuesday, coalition forces consolidated their grip on the city's airport and there was new fighting on the main coast road leading to the city center, with Apache helicopters providing air support to the coalition.
"We can hear the sounds of artillery, mortars and sporadic machinegun fire. The Houthis have been using tanks," one civilian on the coastal strip said.
"Water has been cut off to many of the areas near the corniche area because the Houthis have dug trenches and closed water pipes."
At the airport, which the coalition has controlled since Saturday, their forces stormed the main compound and took full command.
UAE Minister of State for Foreign Affairs Anwar Gargash said: "We are waiting for the Houthis to realize the sort of military and psychological blow that they got with the airport ... we are giving them time to decide if they want to save the city ... and pull out."
Oubai Shahbandar, a strategic communications adviser, told Arab News that "without the sea and airport of Hodeidah, the Houthi militia has effectively lost the war."
They should agree to UN-hosted peace talks and not prolong the fighting. "The tide in this conflict has clearly turned in favor of the Arab coalition and the welfare of the Yemeni people ought to be paramount," he said.
Source: arabnews.com/node/1324426/saudi-arabia
-----
Egypt: Families of terror victims demand $150m from Qatar Emir
June 19, 2018
A number of families of those who were killed and wounded in armed attacks in Egypt have filed a lawsuit against the Emir of Qatar, Sheikh Tamim Bin Hamad Al Thani, demanding compensation of $150 million.
The families accuse Qatar of being responsible for the killing of four officers and wounding a civilian during attacks by extremists in Egypt's Sinai Peninsula.
The lawsuit was based on judicial rulings that "confirm Qatar's support for terrorist groups in Sinai", according to Hafez Abu Saada, an Egyptian rights activist and a member of the National Council for Human Rights (NCHR).
Abu Saada was referring a previous court case which saw the country's first democratically elected President Mohamed Morsi being handed a life term after being found guilty of "communicating with Qatar", he said that provisions in the case were evidence of Doha's support for a number of terror acts.
According to its laws, Egypt can confiscate Qatari property to settle the compensation claim if Doha's is found guilty of the charges.
Source: middleeastmonitor.com/20180619-egypt-families-of-terror-victims-demand-150m-from-qatar-emir/
-----
Iraq Condemns Strikes Targeting Forces Fighting Islamic State
June 18, 2018
CAIRO (REUTERS) - IRAQ on Tuesday condemned air strikes targeting forces fighting Islamic State in Iraq or Syria after Syrian state media said that U.S.-led coalition aircraft had bombed a Syrian army position near the Iraqi border, causing deaths and injuries.
In a statement, Iraq's Foreign Ministry said that it "expresses rejection and condemnation of any air operations targeting forces in areas where they are fighting ISIS, whether in Iraq or Syria or any other area where there is a battlefield against this enemy that threatens humanity."
The statement added that the ministry reiterates its call for all countries to stand together to face these "extremist groups," and it sees the necessity for an international coalition to coordinate regularly and accurately with the forces fighting these groups as well as to offer help and support.
Iraq's Popular Mobilisation Forces, a grouping of mostly Iran-backed Shi'ite paramilitaries, also said on Monday a U.S. air strike on the Iraqi border with Syria killed 22 of its members and wounded 12 others.
However, an Iraqi military statement later said no Popular Mobilisation Forces or other Iraqi troops tasked with securing the Iraqi-Syrian border had been hit by the air strike, and it had taken place inside Syria.
The U.S. military denied it was responsible.
(Reporting by Nayera Abdullah, editing by Cynthia Osterman)
Copyright 2018 Thomson Reuters.
Source: usnews.com/news/world/articles/2018-06-18/iraq-condemns-any-air-operations-targeting-areas-where-forces-fighting-is-statement
-----
Saudi aid center delegation takes part in UN humanitarian affairs meetings
ARAB NEWS
June 20, 2018
A delegation from the King Salman Humanitarian Aid and Relief Center (KSRelief) was in New York on Tuesday to enhance the efficiency of humanitarian action and raise the capacities of affected and needy peoples.
The delegation participated with the Permanent Mission of Saudi Arabia to the UN in the meetings of the humanitarian affairs section of the UN Economic and Social Council, which are held annually.
The center was represented by spokesman Dr. Samer Al-Jatili, and Director of Partnerships and International Relations Dr. Yahya Al-Shammari.
This year's meetings dealt with topics focused on making humanitarian action more systematic and coordinated.
Earlier, Saudi Arabia's UN Ambassador Abdallah Al-Mouallimi met the delegation of KSRelief to discuss the delegation's participation in the Council.
On Tuesday, a relief convoy of 15 trains from KSRelief moved from Jazan, targeting the people of the governorate of Hodeidah with basic foodstuff and medicines.
The head of the emergency relief department at the center, Fahad Al-Osaimi, said the convoy was carrying 284 tons of basic food baskets and 95 tons of medicines.
Source: arabnews.com/node/1324391/saudi-arabia
----
Saudi Arabia intercepts Houthi missile over Khamis Mushayt
ARAB NEWS
June 19, 2018
JEDDAH: The Saudi Air Defense Force intercepted a ballistic missile fired by the Iran-backed Houthi militias from Saada province, Yemen, toward Saudi territories, the Saudi Press Agency reported on Tuesday.
The official spokesman for the coalition to restore legitimacy in Yemen, Col. Turki Al-Maliki, stated that at 5:43 p.m., the air force intercepted a missile launched by the Houthi militias over the city of Khamis Mushayt. No one was injured, and no property was damaged.
Al-Maliki said: "This hostile act… proves that the Iranian regime is still providing the terrorist Houthi armed militia with qualitative capabilities, in flagrant defiance of UN Security Council resolutions 2216 and 2231, with the main objective of threatening Saudi, regional and international security."
"Launching ballistic missiles at densely populated civilian areas is a direct breach of the principles of international humanitarian law," he added.
Source: arabnews.com/node/1324211/saudi-arabia
----
UAE minister says Qatar responsible for its isolation
IANS/Dubai
June 20, 2018
A senior United Arab Emirates official on Tuesday blamed the Qatari leadership for its own isolation.
The UAE Minister of State Dr Anwar Gargash said through his Twitter account that Qatar's proximity to Iran, the normalisation of ties with Israel and its relations with Lebanon's Iran-backed Hezbollah were isolating its people from surroundings.
"The leadership's ambiguous political orientations were responsible" for Qatar's being isolated, reported pan-Arab TV news channel Al Arabiya, citing Gargash's tweets.
Gargash also claimed that the Qatari government under its ruler Sheikh Tamim bin Hamad Al Thani was not representing the people of Qatar, Xinhua news agency reported.
"I do not imagine that Qatari citizens are satisfied with his government's support for Houthi or his country's close ties with Tehran, nor did they previously accept the normalisation of the country with Israel or its relations with Hezbollah," he tweeted.
The UAE, Saudi Arabia, Bahrain, Egypt and several other countries severed diplomatic and trade ties with Qatar on June 5, 2017, accusing Doha of aligning with non-Arab Gulf state Iran and the Iran-backed Houthi rebels in Yemen against pan-Arab interests. The Arab Quartet also accused Qatar of supporting "extremism and terrorism", charges which the Al Thani government has denied.
Qatar has increased trade relations with Iran and Turkey since then in order to mitigate losses triggered by the boycott.
Source: khaleejtimes.com/region/qatar/uae-minister-says-qatar-responsible-for-/its-isolation
-----
Syrian army drops leaflets over southern region amid tension
Jun 19, 2018
BEIRUT: Syrian army helicopters dropped leaflets Tuesday over rebel-held parts of the country's south calling on civilians to help the military clear the area of militants amid an increase of violence in the region that was among the first to rise against the government seven years ago.
The government-controlled Syrian Central Military Media said the leaflets were dropped over the rebel-held villages of Dael and Ibtah in the Daraa province.
Syrian government forces have been massing troops ahead of a possible attack on Daraa province and the nearby Quneitra region that border Jordan and the Israeli-occupied Golan Heights.
The United States warned last month it would take ``firm and appropriate measures'' to protect a cease-fire in southern Syria if government forces move against rebels there. The region has also been a source of regional tensions between Iran and Israel in recent months.
"The situation is very tense and it looks like the battle is knocking on the door,'' said Jalal al-Ahmad a media activist based in southern Syria. He said Syrian troops as well as members of Lebanon's Iran-backed Hezbollah group who are armed with anti-tank missiles and sophisticated monitoring equipment are sending reinforcements to the area. The reports could not be independently confirmed.
The Britain-based Syrian Observatory for Human Rights, a war monitor, reported shelling and airstrikes in different parts of Daraa on Tuesday. It added that government elite forces including the Republican Guards and Tiger Forces are already in the area although it is still not clear if the government will launch an all-out offensive in the coming days.
The United States, Russia, and Jordan agreed last year to include Daraa in a "de-escalation zone'' and freeze the lines of conflict there. But the area has been tense following a series of recent Israeli strikes on Syrian and Iranian forces. Iran is a close ally of Assad, and its advisers are embedded with his troops.
Assad said last week that contacts aimed at reaching a settlement in the volatile area were "ongoing'' between the Russians, the U.S., and the Israelis, adding that the relationship between Syria and Iran "will not be part of any settlement'' and is "not in the international bazaar.''
There has been speculation that Iran might pull its forces back from near the Israeli-occupied Golan Heights in some kind of settlement.
Israel has warned it will not tolerate a permanent Iranian military presence in Syria. Last month, it carried out a wave of airstrikes in response to what it said was an Iranian rocket attack on its positions in the Golan. It was the most serious confrontation between the regional archrivals to date.
Source: timesofindia.indiatimes.com/world/middle-east/syrian-army-drops-leaflets-over-southern-region-amid-tension/articleshow/64652298.cms
-----
South Asia
Afghan and Saudi NSAs hold talks on quadrilateral cooperation, Taliban ceasefire
By KHAAMA PRESS - Wed Jun 20 2018
The Afghan and Saudi National Security Advisers Mohammad Hanif Atmar and Mohammad bin Saleh al-Ghofaili held talks regarding the quadrilateral cooperation mechanism between Afghanistan, Saudi Arabia, United Arab Emirates, and United States.
The Office of the National Security Council (ONSC) said the two sides also discussed the recently announced ceasefire with the Taliban group.
The source further added that the two sides discussed ways on the implementation of the decisions taken as part of the quadrilateral mechanism for cooperation in the areas of peace and stability.
According to ONSC, both Atmar and al-Ghofaili insisted on the importance of the quadrilateral mechanism established on national security advisers level for regional peace and stability as they emphasized for continued cooperation within the framework of the same mechanism.
Atmar also shared information regarding the recently announced ceasefire with the Taliban group and said the Afghan government's resolute will and programs are key for regional peace and stability.
In his turn, Mr. al-Ghofaili called the ongoing war as illegitimate and hailed the Afghan government for its efforts and sacrifices, according to ONSC.
He also added that the Saudi Kingdom supports the announcement of ceasefire by the Afghan government with the Taliban group as he promised continued support to Afghan-led peace process.
Source: https://www.khaama.com/afghan-and-saudi-nsas-hold-talks-on-quadrilateral-cooperation-taliban-ceasefire-05391/
-----
Heavy clashes erupt among Afghan forces and Taliban in Badghis province
By KHAAMA PRESS - Wed Jun 20 2018
Heavy clashes broke out between the Afghan armed forces and the Taliban insurgents in Badghis province of Afghanistan, inflicting casualties on both sides.
A provincial council member Mohammad Nasir Naziri confirmed that dozens of Taliban insurgents launched coordinated attacks on security posts in Bala Morghab and Aab Kamari districts late on Tuesday night.
He said the Afghan forces responded to the attack effectively and as a result several militants were killed while a number of Afghan armed forces also lost their lives.
In the meantime, provincial security chief Ahmad Fahim Qayem, said at least fifteen militants were killed and more than twenty others were wounded during the clashes in Aab Kamari district.
He said at least nine militants were killed and at least eight others were wounded during the clashes in Bala Morghab district.
According to Qayem, at least four Afghan soldiers also lost their lives and at least two others sustained injuries during the clashes with the Taliban insurgents.
However, the Ministry of Defense (MoD), says at least thirteen army soldiers were martyred and at least eight others were wounded during the clashes.
The anti-government armed militant groups including Taliban militants have not commented regarding the report so far.
Source: https://www.khaama.com/heavy-clashes-erupt-among-afghan-forces-and-taliban-in-badghis-province-05393/
-----
Ghani says government ready to extend ceasefire with Taliban for one year
By KHAAMA PRESS - Wed Jun 20 2018
President Mohammad Ashraf Ghani has said the government is prepared to extend the ceasefire for one year if the Taliban leadership is ready for a ceasefire extension.
Ghani made the remarks during a meeting with the members of Helmand peace convoy who arrived in Kabul on Tuesday.
He said if the Taliban group for a three day ceasefire then they can agree for a one year ceasefire as well as he emphasized that the government announced the ceasefire based on the Fatwa of the religious clerics which reflects the will of the entire nation.
President Ghani said the Taliban group should believe in intra-Afghan talks and specify the venue for the talks as he promised that the government is fully prepared for the negotiations.
He said the Taliban group can share all their concerns with the government, prepare a plan, and start talks for the implementation of the same.
According to President Ghani, the ideology must change and efforts for the self reliancy of Afganistan must be a priority which has links to peace and stability.
He told the members of the Helmand peace convy that he is prepared to go anywhere they ask him for the peace talks.
Presiden Ghani also urged the members of the peace convoy to visit Taliban leader Mullah Hebatullah and ask him for peace and reconciliation.
Source: khaama.com/ghani-says-government-ready-to-extend-ceasefire-with-taliban-for-one-year-05390/
-----
Afghan official says Taliban assault kills 4
AP | Jun 19, 2018
KABUL: An Afghan official says at least four security forces were killed when Taliban fighters targeted army and local police checkpoints in northern Kunduz province.
Nematullah Temori, spokesman for the provincial governor, says six other security personnel were wounded in the attack Tuesday morning in Dashti Archi district.
He added that seven of the insurgents were killed and five others wounded in the battle.
No one immediately claimed responsibility for the attack in Kunduz, but Taliban are active in Kunduz and have repeatedly claimed attacks against Afghan security forces there.
The attack happened after the Eid holiday cease-fire. The government had offered to extend the cease-fire for another 10 days, but the Taliban announced Sunday that they would resume their attacks.
Source: timesofindia.indiatimes.com/world/south-asia/afghan-official-says-taliban-assault-kills-4/articleshow/64643990.cms
-----
Bangladesh ex-PM Khaleda Zia critically ill, says party
AP | Jun 19, 2018
DHAKA: A top leader of Bangladesh's main opposition party says former Prime Minister Khaleda Zia, who has been imprisoned on corruption charges, is critically ill and could be paralyzed if not treated urgently.
Zia was convicted on Feb 8 of misusing power in embezzling some $250,000 in donations meant for an orphanage trust.
Zia's close aide Mirza Fakhrul Islam Alamgir said Tuesday that the 72-year-old Zia recently suffered from a mild stroke and had multiple complications.
According to Alamgir, doctors said Zia could be paralyzed if not treated urgently and properly.
Zia and her party have rejected an offer by the government to treat her in two state-run facilities. Instead, they want her treated in a private hospital.
Source: timesofindia.indiatimes.com/world/south-asia/bangladesh-ex-pm-khaleda-zia-critically-ill-says-party/articleshow/64647286.cms
-----
Europe
Militant sanctuaries in Pakistan, biggest challenge in Afghanistan's stability: US Army General
JUNE 20, 2018
United States (US) Lieutenant General Austin Miller on Tuesday expressed dissatisfaction over Pakistan's efforts in countering terrorism.
Miller, Donald Trump's nominee to lead allied forces in Afghan war told the Senate Armed Services Committee that Pakistan's actions in the War against terror are contradictory.
He asserted that a major challenge was the sanctuaries in Pakistan that creates hurdles in Afghanistan's stability.
Miller added "We should have high expectations that Pakistan is part of the solution, not just diplomatically but from a security standpoint as well."
However, the US general acknowledged Pakistan's sacrifices and commended its brave army, yet there has been no definite action against Afghan Taliban or Haqqani leaders residing in Pakistan.
Miller, who led the ground assault during the October 1993 "Black Hawk Down" is now the head of Joint Special Operations Command, unit of elite US commando forces conducting counterterror operations in Afghanistan.
The Trump Administration had earlier accused Pakistan of harbouring "agents of chaos" as well as giving them safe havens to wage insurgency against the US-backed government in Kabul.
The war on terror started in 2001 by the US after the 9/11 attacks have almost claimed 17,000 Pakistani lives along with 70,000 casualties.
Pakistani government has time and again claimed to have broken the back of terrorists yet US says do more Pakistan.
Source: dailytimes.com.pk/255452/militant-sanctuaries-in-pakistan-biggest-challenge-in-afghanistans-stability-us-army-general/
-----
Pope criticises Trump administration policy on migrant family separation
Reuters | Jun 20, 2018
VATICAN CITY: Pope Francis has criticised the Trump administration's policy of separating migrant families at the Mexican border, saying populism is not the answer to the world's immigration problems.
Speaking to Reuters, the Pope said he supported recent statements by US Catholic bishops who called the separation of children from their parents "contrary to our Catholic values" and "immoral".
"It's not easy, but populism is not the solution," Francis said on Sunday night.
In a rare, wide-ranging interview, the pope said he was optimistic about talks that may lead to a historic agreement over the appointment of bishops in China, and said he may accept more bishops' resignations over a sexual abuse scandal in Chile.
Reflecting at his Vatican residence on his five years as pope, he defended his leadership of the Roman Catholic Church against criticism by conservatives inside and outside the Church who say his interpretation of its teachings is too liberal.
He also said he wanted to appoint more women to top positions in the Vatican administration.
One of his most pointed messages concerned President Donald Trump's zero-tolerance immigration policy, in which US authorities plan to criminally prosecute all immigrants caught crossing the Mexican border illegally, holding adults in jail while their children are sent to government shelters.
The policy has caused an outcry in the United States and has been condemned abroad as videos emerged of youngsters held in concrete-floored enclosures and an audio of wailing children went viral.
US Catholic bishops have joined other religious leaders in the United States in condemning the policy.
"I am on the side of the bishops' conference," the pope said, referring to two statements from US bishops this month.
"Let it be clear that in these things, I respect (the position of) the bishops conference."
Francis' comments add to the pressure on Trump over immigration policy. The pope heads a church which has 1.3 billion members worldwide and is the largest Christian denomination in the United States.
The president has strongly defended his administration's actions and cast blame for the family separations on Democrats.
"Democrats are the problem," Trump said on Twitter on Tuesday. "They don't care about crime and want illegal immigrants."
The US crackdown chimes with a new political mood sweeping western Europe over the large numbers of migrants and asylum-seekers, most of them escaping conflict and poverty in the Middle East and Africa.
The pope said populists were "creating psychosis" on the issue of immigration, even as ageing societies like Europe faced "a great demographic winter" and needed more immigrants.
Without immigration, he added, Europe "will become empty."
CHURCH'S FUTURE "ON THE STREET"
Since assuming the papacy in 2013, Francis has promoted a liberal interpretation of Catholic teachings at a time when politics in many parts of the West have shifted towards economic nationalism.
He has faced internal opposition from conservative clergy who oppose his liberal interpretations, especially his approach to sexuality and showing mercy towards divorced Catholics. But the pope said he prayed for conservatives who sometimes said "nasty things" about him.
Defending his leadership, the 81-year-old Argentine pontiff said the future of the Catholic Church was "on the street".
He said he wanted to appoint more women to head Vatican departments because they were better at resolving conflicts, though this should not lead to what he called "masculinism in a skirt".
The pope said his health was good apart from leg pain related to a back condition. He reiterated comments first made shortly after his election that he may someday resign for reasons of health as his predecessor, Pope Benedict, did in 2013, but said: "Right now, I am not even thinking about it."
He spoke at length about immigration, a controversial issue in Europe as well as the United States. The populist Italian government has refused port access to non-government ships that have been rescuing asylum-seekers trying to cross to Italy from Africa in flimsy boats.
One ship was forced to disembark more than 600 migrants in Spain at the weekend.
Italy's interior minister, Matteo Salvini, who is also leader of the far-right-wing League party, has criticised the pope in the past, once saying the pontiff should take in migrants in the Vatican if he was so concerned about them.
"I believe that you cannot reject people who arrive. You have to receive them, help them, look after them, accompany them and then see where to put them, but throughout all of Europe," Francis said.
"Some governments are working on it, and people have to be settled in the best possible way, but creating psychosis is not the cure," he added. "Populism does not resolve things. What resolves things is acceptance, study, prudence."
SOME STRUGGLES AND TOUGH DECISIONS
Francis said he was saddened by Trump's decision last year to implement new restrictions on American travel and trade with Cuba. The move rolled back his predecessor President Barack Obama's opening to the island nation. That deal, which the Vatican helped broker, "was a good step forward", the pope said.
He also said Trump's decision to pull out of the Paris agreement to curb climate change caused him "a bit of pain because the future of humanity is at stake". The pope said he hoped Trump would re-think his position.
Rejecting criticism that he is at risk of selling out Chinese Catholics loyal to the Vatican, Francis said talks to resolve a dispute over the appointment of bishops in China - an obstacle to resuming diplomatic ties - were "at a good point".
The pope has accepted the resignations of three bishops in Chile over the sexual abuse scandal there and allegations that it was covered up. He said he could accept more resignations but did not say which bishop or bishops he had in mind.
The pope also commented on internal criticism of his papacy by conservatives, led by American Cardinal Raymond Leo Burke.
In 2016, Burke and three other cardinals issued a rare public challenge to Francis over some of his teachings in a major document on the family, accusing him of sowing disorientation and confusion on important moral issues.
Francis said he had heard about the cardinals' letter criticising him "from the newspapers ... a way of doing things that is, let's say, not ecclesial, but we all make mistakes".
He borrowed the analogy of a late Italian cardinal who likened the Church to a flowing river, with room for different views. "We have to be respectful and tolerant, and if someone is in the river, let's move forward," he said.
He said reform of the Vatican administration, the Curia, was going well "but we have to work more". The pope once criticised Curia careerists as having "spiritual Alzheimer's".
Francis said he was mostly happy about reforms enacted to make once-scandalous Vatican finances more transparent. The Vatican bank, which closed hundreds of suspicious or dormant accounts, "now works well", he said.
"There have been some struggles and I have had to make some strong decisions," he said.
Source: timesofindia.indiatimes.com/world/us/pope-criticises-trump-administration-policy-on-migrant-family-separation/articleshow/64662899.cms
-----
UN chief warns of risk of war in Gaza
June 20, 2018
New York,
UN Secretary-General Antonio Guterres is warning that Gaza is close to the brink of war and expressed shock over the number of Palestinians killed and wounded by Israeli live fire during protests, in a report obtained by AFP on Monday.
Guterres told the Security Council that he "unequivocally condemns the steps by all parties that have brought us to this dangerous and fragile place" in the Israeli-Palestinian conflict.
The report was sent to the council last week ahead of a meeting on Tuesday on the Israeli-Palestinian crisis.
The violence in Gaza marks the most serious escalation between Israel and Hamas since the 2014 war.
"It is and should be a warning to all how close to the brink of war the situation is," said Guterres.
"I am shocked by the number of deaths and injuries of Palestinians resulting from the use of live fire by Israel Defence Forces" since protests began on March 30, he said.
At least 132 Palestinian have been killed. The Red Cross says more than 13,000 have been wounded including 1,400 who suffered multiple gunshot wounds, many in the legs. Israel has a responsibility to "exercise maximum restraint" and protect civilians in line with international humanitarian law, the UN chief wrote. "The killing of children, as well as of clearly identified journalists and medical staffers by security forces during a demonstration are particularly unacceptable," he added.
Two Palestinian journalists were killed while covering the protests in April while a 21-year-old medic was shot dead in early June.
Guterres renewed his call for an independent investigation of the shooting deaths in Gaza. Israel has rejected the appeal and argues that the use of force is justified to defend its borders.
The United Nations considers the expansion of settlements on land earmarked for a future Palestinian state to be illegal. Guterres said the construction must "cease immediately and completely."—AFP
source: pakobserver.net/un-chief-warns-of-risk-of-war-in-gaza/
----
Dutch police use DNA evidence to arrest 3 men with suspected links to Islamic State
Date 19.06.2018
Author Keith Walker (with AP)
Dutch authorities said DNA traces of three men arrested on Monday had been found on weapons discovered at an Islamic State-linked hideout in Paris.
The investigation dates back to the Brussels airport and metro bombings of March 2016 which killed 32 people. Two days later, French police discovered the apartment in Argenteuil, which had been rented by French jihadist Reda Kriket.
Weapons cache
Authorities found a weapons arsenal in the apartment, and were convinced a terrorist attack had been thwarted by the discovery. The cache included five Kalashnikovs, small arms, 30 kilograms (66 pounds) of explosives, detonators, false passports, mobile phones and jihadist writings.
Investigators discovered that DNA spores taken from the weapons matched the DNA profiles of the three suspects now in custody — a 26-year-old from the Dutch city of Groningen, a 30-year-old with no fixed abode, and a 53-year-old — as well as a fourth suspect, a 22-year-old who is being detained on a separate matter. All four men are being questioned by police.
Syria connection
Two of the suspects spent some time fighting for Islamic State in Syria, according to French authorities cited by the Dutch Public Prosecution Service. Before their arrest they traveled inside the EU's passport-free Schengen zone between France, Belgium and the Netherlands.
The four suspects will be referred to examining magistrates later this week.
Each evening at 1830 UTC, DW's editors send out a selection of the day's hard news and quality feature journalism. You can sign up to receive it directly here.
Source: http://www.dw.com/en/dutch-police-use-dna-evidence-to-arrest-3-men-with-suspected-links-to-islamic-state/a-44295035
----
Germany: Syrian man faces charges for kippah attack
Date 19.06.2018
The trial against a 19-year-old Syrian man who attacked two men wearing kippahs, the traditional male Jewish head coverings also known as yarmulkes, began on Tuesday in Berlin.
The attack, which was caught on video, took place in April in the Berlin district of Prenzlauer Berg. The disjointed images show three suspects, one of which hurled verbal abuse and struck one of the victims with his belt. The man also yelled the word "Jew" in Arabic. The attacker turned himself in to authorities days later.
The victims, one of whom shot the video, were not in fact Jewish. One of them, who identified himself as Adam, spoke to DW in April about the incident and explained that the kippah had been a gift from a friend who had told him it was "unsafe" to wear out in the open.
Defendant says 'no anti-Semitic motive'
The 19-year-old Syrian admitted to the attack, but said he had been under the influence of marijuana and argued that the incident had nothing to do with anti-Semitism.
He told the judge at the Berlin Tiergarten court that the victim of the attack had insulted him first. Additionally, the defendant stated he had never hit anyone before, despite the fact that a criminal case against him in also underway in the German city of Cottbus for causing bodily harm.
The Syrian man said he was sorry and that the attack was a mistake. "I didn't want to hit him, I only wanted to scare him," he added. So far the accused, one of the two victims and an eyewitness have given evidence. Eight witnesses are participating in the trial, which was adjourned until Monday.
Under German law, the defendant, who is 19, is eligible to be tried as a juvenile. Whether he is tried as an adult or a juvenile will be up to the court. The charge of grievous bodily harm in Germany usually carries a jail term that can range from three months to five years. If deemed a juvenile, the defendant may receive a shorter sentence.
The incident has shocked people in Germany and around the world and raised alarm about growing anti-Semitism in Germany.
Source: dw.com/en/germany-syrian-man-faces-charges-for-kippah-attack/a-44285965
-----
Pakistan
Experience in India completely at odds with what we heard, say Pakistani students
June 20, 2018
NEW DELHI: Ramsha Rehman made plans to go watch Veere Di Wedding as soon as she and her friends landed in Delhi, because the film is banned back home in Pakistan, and in any case, they wanted to "experience a visit to an Indian movie theatre", Indian media reported.
A Communication Design student from the National College of Arts in Lahore, Ramsha and a few friends finally got to watch it but it wasn't the film that thrilled them as much as the fact that she and 70 other Pakistani students got to spend the last two weeks in India.
"I was told there is flash kidnapping and several incidents of rape in Delhi. I was asked not to go out after 7. But what I heard across the border is wrong," said Ikra Nadeem, a masters student from National College of Arts, Lahore.
She added that although she had the opportunity to go to Spain, she chose to come to India due to the difficulty in obtaining a visa.Ikra and Ramsha are part of a group of Pakistani students, most of who have come to India for the first time as a part of a cultural exchange programme. They said that their experience in India has been completely at odds with what they had expected.
"I am taking back so many wonderful memories. I can't even describe how much my thinking has changed," she said.A similar sentiment was echoed by many of the other students.
"We had the liberty to cycle all around the IIT-Kharagpur campus till the morning, chatting with the other students. You can't do that so openly in Lahore," said Namrah Fatima, a third year architecture student from NCA.
While the students claimed to have experienced minor inconveniences due to language barriers and the absence of a 'Muslim shower' (water jet) in public washrooms, they also claimed to have had an overall experience that was very enriching.
"I cried when we crossed the border. It was such a special moment to be able to get a visa to come to India. I'm waiting for another year so that I can visit again," said Ramsha, a communication design student from NCA.
'Art, culture not that different'Most students also felt that although the experience of art, culture and heritage was not as drastically different in India and Pakistan as was portrayed in the media, their exposure to this was always limited in Pakistan.
"Pakistan has untapped diversity," said Zafeer Butt, filmmaker and former NCA student.In Delhi, the students were given the opportunity to attend a day of cultural events at Spic Macay. They have also visited Kolkata and Agra and return home Tuesday.
Along with changing how they perceived Indians, some students also spoke about changing how Indians viewed them."They (Indian students) were shocked to see some of us not wearing a burkha and smoking. They believed we are only violent people but now they know we are just like them," said Ikra.
Like there are religious people in India who do not go to the temple, there are similar people in Pakistan, she added.The group of 71 students arrived in India on 1 June from the NCA and the Center of Excellence Arts & Design in Lahore, as a part of a cultural exchange initiated by Indian filmmaker, Harsh Narayan.
Narayan has been organising this exchange for the last 15 years with students from various institutions across Pakistan."The idea is to connect young minds from both sides of the border so that they can work together to overcome artificial stereotypes and misconceptions," said Narayan.
Speaking to ThePrint, Pakistan's High Commissioner to India Sohail Mahmood lauded this effort to bridge the gap between the two nations."We must have such platforms at multiple levels for enhanced interaction between the two countries. It is only when interaction is increased that preconceived notions and misconceptions can be eradicated and mutual understanding fostered," he said."Similar events can be planned for Indian students to go to Pakistan. The endeavour must be to improve the environment of bilateral relations and ensure sustained engagement."
Source: thenews.com.pk/print/331265-experience-in-india-completely-at-odds-with-what-we-heard
----
Woman among four 'terrorists' killed in Balochistan operation
June 20, 2018
QUETTA: Four suspected terrorists including a woman were killed during an operation carried out by the Counter-Terrorism Department (CTD) on Wednesday, according to Geo News.
A spokesman for the CTD said the operation was conducted at a residential compound in Dasht Tera Meel area on the basis of information provided by an under custody suspect who was also killed during exchange of fire.
He said the terrorists opened fire on police as they entered the compound, adding that one of them blew himself up near the Armored Personnel Carrier (APC) while another was gunned down in retaliatory fire
The spokesman said a female suspect was also killed during the operation.
Rescue officials claimed that body of a child and an injured woman were also shifted from the site to a hospital, but official sources declined to verify or reject the account.
Arms, ammunition and explosives were also recovered during a search operation in the compound.
IG Balochistan's visit
Balochistan Police Inspector General Mohsin Butt visited the compound where he was briefed by CTD officials.
The IG is said to have appreciated the police for successfully conducting the operation.
Source: thenews.com.pk/latest/331511-woman-among-four-terrorists-killed-in-balochistan-operation
-----
Task force formed to address legal issues on Fata-KP merger
Bureau Report
June 20, 2018
PESHAWAR: The caretaker government of Khyber Pakhtunkhwa on Tuesday formed a task force to address legal challenges to Fata's merger with the province.
The decision was made during a cabinet meeting chaired by caretaker Chief Minister retired Justice Dost Mohammad Khan, said an official statement here.
Headed by the chief minister, the task force will have two ministers and additional chief secretary from the tribal areas merged with the province.
CM tells cabinet panel to fast-track mainstreaming of tribal areas
It will grasp the problems of merged areas, identify legal anomalies emerging out of the merger, and find their suitable solution for the smooth transition in the backdrop of merger.
The mainstreaming of tribal areas is the ultimate goal and the task force will fast-track financial and administrative measures in tribal areas and confidence-building of the locals.
Addressing the cabinet, the chief minister said the merger had brought along legal and administrative challenges required for the speedy mainstreaming of the tribal areas and that he had made up his mind to facilitate the merger with a multipronged approach.
He said he had talked to the federal finance minister for early transfer of resources both of the province and the planned money for the development and mainstreaming of newly merged areas with the province.
"The people of the tribal areas suffered heavily. They sacrificed everything and the armed forces had a lion's share in the sacrifices and the struggle in the fight against militancy," he said.
Retired Justice Dost Mohammad said the emerging situation necessitated comprehensive administrative measures and the caretaker set up would go whole hog to take administrative measures required for the timely, peaceful and transparent conduct of elections, ensuring quality governance and improved security situation in the province.
"Good governance requires implementation on the decisions adding that there are three dimensions to good governance that included the correct information to plan a timely response followed by corrective measures and delivery," he said.
The CM said the government would ensure that the governance structure has the required level of efficient delivery in all spheres.
The meeting also took a number of decisions for the peaceful and transparent holding of the upcoming general elections.
It decided to improve the level of administrative and social justice in the province. The cabinet also agreed to introduce a policy of reward and punishment for improving the tax collection.
The cabinet was briefed about the fiscal space of the province, the four months budgetary proposals, the level of preparedness for the upcoming elections, the administrative steps required for good governance and creating a congenial environment for efficient delivery and improving administrative measures in order to give relief to the people and facilitate the peaceful and transparent conduct of general elections.
Retired Justice Dost Mohammad Khan said he had ordered the closure of play landand swingsin the parks following an incident in Abbottabad before linking their opening to the NOC by the respective deputy commissioners.
"There are reports that the orders have not been implemented in letter and spirit," he said, adding that the deputy commissioners should get a feedback from the consultants after examination of the fitness of these play lands and swings etc.
The decisions for good governance should be put on ground, he said.
The CM called upon the provincial administration to keep him informed about the steps being taken for the general elections and specially the security related issues in order to take prompt actions.
He asked participants to take all-out efforts for creating conducive environment required for the smooth and transparent elections in the province.
Retired Justice Dost Mohammad asked administrative secretaries to be responsive to the administrative and social justice yardsticks, the prerequisites for good governance.
"They (secretaries) should discourage leniency and dereliction from duty. The government machinery should be all time responsive to the required measures," he said.
He said the bureaucracy had a dominant role in the overall delivery.
"We are all responsive and accountable to the people in one capacity or the other therefore we should understand the level of our responsibilities to the people."
The CM said it should be out there to discharge responsibilities without any expediency. "By doing so the level of governance and delivery will improve automatically."
Source: dawn.com/news/1414885/task-force-formed-to-address-legal-issues-on-fata-kp-merger
-----
Four terrorists killed in Quetta anti-terror operation
June 20, 2018
QUETTA : Four terrorists were killed in an anti-terror operation in the Dasht area near the provincial capital on Wednesday.
Four security personnel were also injured during the operation and the exchange of fire between security forces and terrorists claimed the life of a child and injured a woman.
The operation was carried out after the Counter-Terrorism Department (CTD) received information regarding the presence of terrorists in a house in the Teera Meel area of Dasht.
According to security officials, two of the terrorists were involved in target killings of bureaucrats. A terrorist also blew himself up during the operation
A large cache of arms and ammunition was recovered from the terrorists and a large contingent of security forces was called to the area.
Earlier, a personnel of the provincial Levies and two civilians were shot dead as the returned after offering Eid prayers in the Sariab road area of the provincial capital.
Source: tribune.com.pk/story/1738165/1-four-terrorists-killed-quetta-anti-terror-operation/
----
US General seeks Pak help for Trump's new Afghanistan push
June 20, 2018
WASHINGTON: Seeking Pakistan's help to Trump's new Afghanistan strategy, the incoming head of US forces in Afghanistan Austin Miller on Thursday told the Senate Armed Services Committee that Pakistan has made many sacrifices and its security forces have fought bravely [against terrorists].
Trump's nominee to lead allied forces in the 17-year-old war, Gen Austin Miller, who previously ran the secretive Joint Special Operations Command (JSOC), during a confirmation hearing, said that he still had "high expectations" for Islamabad in ending the Afghan war, but that better cooperation and coordination were needed.
While seeking Pakistan's help to wipe out the terrorists and their hideouts Gen Miller said; "It's obviously a very tough neighborhood with some tough neighbors," he told lawmakers.
"Pakistan must be part of the solution, and we should have high expectations that they are part of the solution," adding that the biggest challenge to stabilizing Afghanistan remains the sanctuaries that shelter militants fighting the US-led coalition.
Gen Miller's comments came days after Mullah Fazlullah, the head of the Pakistani Taliban, was reportedly killed in a US drone strike in eastern Afghanistan's Kunar Province.
The longtime terror chieftain was involved for orchestrating that 2014 Army school attack in Peshawar that left nearly 150 people dead, including 132 children, among other incidents.
Source: thenews.com.pk/latest/331451-us-general-seeks-pak-help-for-trumps-new-afghan-push#_
----
PML-N, PTI, MQM-P bigwigs face setback
June 20, 2018
Islamabad,
The nomination papers of several top leaders and party chiefs including Pakistan Tehreek-i-Insaf chairman Imran Khan, former prime minister Shahid Khaqan Abbasi, All Pakistan Muslim League chief Pervez Musharraf and Muttahida Qaumi Movement-Pakistan's Dr Farooq Sattar were rejected on Tuesday by returning officers for some constituencies.
The prospective lawmakers can appeal the ROs' decisions before appellate tribunals.
The nomination papers of PML-N leader Shahid Khaqan Abbasi and his covering candidate Sardar Mehtab Khan Abbasi were rejected by the RO for Islamabad's NA-53, Muhammad Adnan.
The RO turned down all objections against the nomination of the two PML-N leaders, but rejected their papers on technical grounds. According to the RO, Abbasi had not submitted complete tax returns with his documents either.
The papers of PML-N president and former Punjab chief minister Shahbaz Sharif were accepted for NA-3 Swat after his personal assistant appeared before the RO for scrutiny of Sharif's papers. Sharif's papers for NA-192 Dera Ghazi Khan were also accepted.
PTI chief Imran Khan's nomination papers were accepted by the ROs for NA-35 in Khyber Pakhtunkhwa's Bannu district, NA-243 in Karachi and NA-131 in Lahore. His papers for NA-95 Mianwali were rejected on technical grounds.The RO for NA-53 Islamabad rejected Khan's nomination papers on account of being incomplete.
Although the RO rejected former PTI MNA Ayesha Gulalai and Justice and Democratic Party candidate Abdul Wahab Baluch's objections against Khan's candidature, he turned down the PTI chief's papers saying he had submitted an incomplete affidavit as approved by the Supreme Court.
In his order on Khan's papers, the RO said that the PTI chief had not filled a column in the affidavit in which he was required to describe his performance as an MNA.
Khan had served as MNA from NA-56 Rawalpindi. There had been resentment in his constituency as he allegedly never visited it during his five-year term despite living in Banigala only a few kilometres away. Khan has decided not to contest the election from the same constituency this time and opted for standing from Islamabad instead.
PPP chairman Bilawal Bhutto Zardari's nomination papers for NA-8 Malakand and NA-246 in Karachi's Lyari neighbourhood were accepted by the ROs after scrutiny.
His lawyer Farooq H. Naek while speaking to reporters in Karachi said they had answered all queries put to them by the RO, after which Bilawal's papers were accepted. He expressed the hope that the PPP chairman will win the poll from Lyari.
Dr Farooq Sattar had filed nomination papers to contest elections on NA-245 constituency in Karachi. The RO for NA-245, Ahsan Khan, rejected Sattar's nomination papers on the grounds that he is a declared absconder in two cases.
The official, in his decision, mentioned that Dr Sattar concealed the two cases and his status as an absconder. Dr Sattar has been declared an absconder in two cases pertaining to the violation of loudspeaker laws under Section 144.
Dr Sattar is among the nine MQM leaders who were booked in Nov 2015 under Section 144 of the Pakistan Penal Code for harassing commuters.
The cases had been registered at the Soldier Bazaar police station in connection with an MQM rally, which was held to register the protest against the arrest of MQM party workers as well as raids conducted by the Rangers at party offices.
However, Sattar's nomination papers were accepted for NA-247 that consists of Karachi's Defence and Clifton localities.
Musharraf's nomination papers, filed from Chitral for NA-1, were rejected by RO Mohammad Khan.
Meanwhile, the attorney for Musharraf filed an appeal to withdraw the former dictator's nomination papers for NA-247 in Karachi. Musharraf and his lawyers had earlier failed to appear before the RO for scrutiny of his papers.
Last week, the Supreme Court had withdrawn its conditional directive allowing Musharraf to file nomination papers after he failed to appear for a court hearing.
Earlier, the apex court had said that the former army chief's nomination papers would be received by the returning officer, but only be considered if Musharraf appeared in person at the SC Lahore registry.
The nomination papers of PTI dissident and chief of her eponymous party, Ayesha Gulalai, were rejected for Islamabad's NA-53.
Her papers were rejected on technical grounds after the RO found some information missing from them. The candidates have vowed to challenge the decision in the election tribunal on Wednesday.
The nomination papers of Jamiat Ulema-i-Islam-F chief Fazlur Rehman were accepted by the RO for NA-38 in Dera Ismail Khan.
Awami Muslim League chief Sheikh Rashid's nomination papers were accepted after scrutiny by the RO for Rawalpindi's NA-60 and NA-62 constituencies.
Meanwhle, the nomination papers of Pakistan People's Party Chairperson Bilawal Bhutto Zardari and Pakistan Muslim League-N President Shahbaz Sharif for different constituencies were accepted by the Election Commission.
The former President and PPP Co-chairman Asif Ali Zardari has also been cleared for contesting elections from NA-213 by the Returning Officer rejecting objections.
Bilawal's nominations papers for NA-246 (Karachi) have been accepted along with nomination papers of Shahbaz and his son, Hamza Shahbaz, for NA-132 (Lahore).
Moreover, PML-N leader Maryam Nawaz's candidacy for PP-173 has been approved.
Alongside, the nominations papers of PSP leader Arshad Vohra for NA-254 (Karachi) and NA-255 (Karachi) have also been approved, along with nomination papers of JUI-F chief Maulana Fazlur Rehman's for NA-38 (DIK).
Senior politician Javed Hashmi's candidature for NA-155 (Multan) has been approved.
Meanwhile, the Election Commission of Pakistan on Tuesday constituted appellate tribunal to hear appeals against decision announced by returning officers.
The appellate tribunal comprises 21 judges from across the country, whereas, appeals against ROs' decision can be lodged from June 20 to June 22. Appellate tribunal will hear and dispose of the appeals from June 23 to June 27.
In Khyber Pakhtunkhwa, ECP has established five tribunals whereas four out of five tribunals are single bench. Justice Syed Afsar Shah, Justice Musarrat Hilali, Justice Lal Jan Khattak, Justice Mohammad Ghazanfar, Justice Abdul Shakoor and Justice Ijaz Anwar will be presiding over the trials in the province from Peshawar, Abbottabad, Mingora, Bannu and Dera Ismail Khan.
In Punjab, Lahore tribunal comprises Justice Syed Shahbaz Ali Rizvi, Justice Faisal Zaman Khan, Justice Ali Akbar Qureshi and Justice Tariq Saleem Sheikh, whereas, Justice Masood Abid Naqvi will preside over the Bahawalpur bench, Justice Qazi Mohammad Amin Ahmed and Justice Mirza Viqas will be presiding over Multan bench and Justice Ibadur Rehman will hear cases in Rawalpindi.
Two tribunals will be set up in Sindh and one in Balochistan respectively.
It is pertinent here to mention that ROs have completed scrutiny of over 21000 nomination papers.
Source: pakobserver.net/pml-n-pti-mqm-p-bigwigs-face-setback/
----
4 suspected terrorists killed in Quetta 'encounter'
Syed Ali ShahUpdated June 20, 2018
The Balochistan Counter-Terrorism Department (CTD), Frontier Corps (FC) and other law enforcement agencies killed four suspected terrorists, including a woman, during an operation in Quetta on Wednesday, local sources told DawnNewsTV.
The CTD launched an operation in Quetta's Dasht area in the morning targeting a hideout belonging to suspected militants of an outlawed group active in the area, sources in CTD said.
Deputy Inspector General of Police Quetta Razzaq Cheema in an afternoon press conference said the operation had been conducted after a tip-off from an arrested suspect.
During the operation, the CTD officials said a militant had detonated a bomb near an armoured security forces' vehicle but there was no loss of life. An exchange of fire also took place between the two sides.
Subsequently, personnel of the FC and other LEAs reached the site to provide backup.
An FC official said that in the ensuing chaos after the blast, two suspected militants — one of whom was a woman — tried to escape but were killed in a shootout.
Seven CTD personnel were injured in the gunfight.
Security forces later took over the compound being used by the terrorists. A large cache of arms and ammunition were recovered during a subsequent search operation.
The FC official said that the operation had been concluded in less than two hours.
The suspected terrorists were involved in multiple terrorist attacks, including the targeted killing of security forces' officials.
The CTD officials said that they have yet to verify the identity of the suspected terrorists that were killed in the operation via DNA tests and through Nadra's help.
2 killed in attack 'targeting CTD SI'
In another incident, unidentified armed militants opened fire at the vehicle of a police officer in Quetta's Nawan Killi area. Police sources said that a CTD sub-inspector, his father and son were injured in the attack. The attackers managed to flee from the scene.
Police officials believe that it was a targeted attack.
The injured were rushed to the Combined Military Hospital, Quetta for treatment, but the father and son of the police officer succumbed to injuries.
Source: https://www.dawn.com/news/1414969/4-suspected-terrorists-killed-in-quetta-encounter
----
Africa
Somalia's Al-Shabaab fighters kill 8 Kenya soldiers
June 19, 2018
Eight Kenyan soldiers were killed in a cross-border attack on Sunday in northern Wajir County, VOA News reported yesterday.
The Kenyan security forces were patrolling the Kenya-Somali border when Al-Shabaab fighters launched an ambush using artillery and an improvised explosive device (IED).
"[Al-Shabab] started shooting at them and killed all of them, only to leave one who was still alive," said Issa Ahmed Abdi, a member of the Wajir county assembly, "but when we were bringing him to Wajir referral hospital, he succumbed to the injuries on the way."
"It could have been prevented, because the public have actually given first-hand information that these elements were there and that these elements themselves said they are going to do an action that the people will regret," he said.
Somalia's domestic problem with political violence has spilled over to Kenya on a number of occasions, resulting in deadly clashes. According to VOA News, this is the second time this year that Al-Shabaab launched an attack across the border in Wajir County.
In mid-February this year, three school teachers were killed when Al-Shaabab attacked the Qarsa Primary School in Wajir. A fourth teacher was injured in the attack, while Kenya's police had to deal with IEDs planted around the school.
In early May, Al-Shabaab detonated an IED which killed some nine Kenyan soldiers as they crossed the border into Somalia.
Al-Shabaab is striking targets within Kenya as a result of its involvement with the African Union Mission in Somalia (AMISOM) which backs Somalia's federal government. Al-Shabaab has been at war with the Somalia government for over a decade, and in 2012 pledged allegiance to Al-Qaeda attracting an international counter-terrorism presence.
Senior official's part of AMISOM and the Kenya government met last week at a conference hosted in Nairobi dubbed "Lessons Learned on Quick Impact Projects Implementation", which sought to strengthen Somalia's military, civilian and police intervention strategy.
Al-Shabaab's main political ambition is to take control and govern Somalia with a strict interpretation of Islamic law.
Source: middleeastmonitor.com/20180619-somalias-al-shabaab-fighters-kill-8-kenya-soldiers/
------
Libya's coast guard recovers five bodies from migrant boat
June 19, 2018
Libyan coastguards said on Monday they had recovered the bodies of five migrants and picked 191 survivors off the coast west of the capital Tripoli, Reuters reports.
Libya's western coast is the main departure point for migrants trying to reach Europe by the sea, though the number of crossings has dropped sharply since last July.
The five dead migrants were brought back to port in Tripoli on Monday along with 115 survivors from various sub-Saharan African and Arab countries, coastguard officials said.
Their boat was intercepted off Mellitah on Sunday after being damaged by rough seas, according to Ayoub Qassem, a coastguard spokesman.
Another group of 76 migrants was intercepted on Sunday off Zawiya, just west of Tripoli.
Since last summer, smuggling networks inside Libya have been disrupted under Italian pressure and Libya's EU-backed coastguard has stepped up interceptions, returning more than 7,000 migrants to Libya so far this year.
Since January, some 10,760 migrants have crossed from Libya to Italy, more than 80 percent less than during the same period last year, according to statistics from Italy's interior ministry.
Last week, crossings in the central Mediterranean were thrown into further uncertainty when Italy's new government closed its ports to a rescue ship operated by humanitarian organisations that was loaded with more than 600 migrants.
It eventually docked in Spain.
Source: middleeastmonitor.com/20180619-libyas-coast-guard-recovers-five-bodies-from-migrant-boat/
-----
Haftar forces attack important oil sites in Libya
June 18, 2018
The General Command of the forces of Libyan Field Marshal Khalifa Haftar announced a large attack on Sunday to control oil sites in the north-east of the country. "We launched a large attack against the Oil Crescent region," said official spokesman Colonel Ahmad Al-Mismari. "The army was backed by air force jets."
In response, the Libyan Petroleum Facilities Guard, led by Ibrahim Jadhran, called on the international community to provide protection for civilians in the Oil Crescent and in the east and south of the country in general against the "violations" by Haftar's forces. According to Guard officials, after taking control of the Oil Crescent, Haftar's forces displaced the local population, arrested other civilians arbitrarily and imposed "enforced disappearance" on some of them. The officials explained that all that the civilians wish now is to return safely to their homes.
The statement added that the oil facilities under the control of Jadhran are open to the National Oil Corporation to do its work. This was released two days after he announced that his forces had tightened their control over the ports of Sidra and Ras Lanuf, which are two of the most important in Libya for oil exports. The Petroleum Facilities Guard had previously controlled the oil ports for several years before losing control in September 2016 to Haftar's forces.
The Libyan National Oil Corporation announced that it evacuated workers at Sidra and Ras Lanuf for their own safety. The Corporation estimated the loss of more than 240,000 barrels of oil, and pointed out that the entry of an oil tanker scheduled to arrive in Sidra on Sunday had been postponed. It demanded that Jadhran's forces and their allies should leave immediately and unconditionally to avoid an environmental disaster and the destruction of the infrastructure.
The Oil Corporation called on all parties not to exploit the oil sector in their political rivalry, and keep the facilities out of all conflicts. The oil infrastructure, it added, is public property and represents the strength and future of all Libyans.
Libya continues to rely on oil revenues. Prior to the fall of the Muammar Gaddafi regime in 2011 it produced 1.6 million barrels per day. Since then, though, it has witnessed chaos, with two governments competing for power: the Tripoli-based and internationally-backed National Reconciliation Government, led by Fayez Al-Sarraj, and the Tobruk-based parallel government in eastern Libya, backed by Haftar.
Source: middleeastmonitor.com/20180618-haftar-forces-attack-important-oil-sites-in-libya/
-----
Shadow of jihadists falls on Cameroon's cattle farmers
By AFP
19 June 2018
Issoufa Mahama is worried. To take his livestock out into the pasture beyond the village, he explains, is to roll the dice.
"We can't take the cattle out into the bush any more," he says. "It's because of Boko Haram. If you go out, they will take your herd."
Mahama, like other farmers in Cameroon's far north, is one of many unseen victims of Boko Haram, whose jihad in Nigeria has spilled over into neighbouring Cameroon and other countries.
According to a study conducted by Cameroon's ministry of livestock, between 2012 and 2016, Boko Haram killed at least 135 farmers, forced the closure of 21 cattle markets and stole 48,000 farm animals and around 4,000 chickens.
The group inflicted direct losses of 55 billion CFA francs (83.8 million euros, $97 million), plunging many families who were already living on the edge deeper into poverty.
In recent months, attacks and thefts seem to have have receded, but in many places the jihadists maintain an empire of fear.
Many farmers in the village of Meme keep their cattle within the village boundaries for safety -- but fodder is desperately short.
"The animals are hungry. They have nothing to eat," said Mahama, contemplating two scrawny cattle and a few goats chewing on a handful of millet stalks he has thrown on the ground.
Before Boko Haram started its rampage, he says, he had 30 cattle. Now he has nine. Two have died in the past fortnight, probably due to lack of food and sickness, he says.
Mathieu Dara, a livestock specialist at the Veterinary Zootechnical Centre in Mora, says many farm animals in areas hit by Boko Haram have had no access to medical treatment or vaccines for the past two years because of the security problems, and food is scarce.
"Lots of animals have died because of a lack of (veterinary) care," he said.
At the entrance to Meme village, members of a local vigilante group, armed with old guns, have taken up position filtering those those who come in.
Three years ago, at least 19 people were killed in a twin suicide bomb attack at Meme's market. Earlier this month, in the village of Mangave Foya Djalingo about 10 kilometres (six miles) away, Boko Haram killed six civilians.
In the Meme region of the same name as the village, 18,700 of the local population of 88,700 have been displaced by the violence, many of them fleeing with their livestock, according to the Lamido, as the local community chief is known.
Mahama says he has 38 people to care for, if displaced people are added to relatives in his charge.
Previously, everyone was able to have three meals a day, "but now, there are days when there's nothing to eat," he said.
Thieving and attacks by the jihadists add to the risks of a lifestyle already complicated by the weather.
"It's not easy to find grass for the cattle because in this part of the world we only have rain for four months of the year," said fellow cattle farmer Boukar Maloum.
The village's meagre pastures have already been stripped of green grass. At the entrance to Maloum's smallholding, two of his cattle go backwards and forwards, searching for something to eat.
Water, too, is scarce -- farmers have to go "up to three kilometres" (two miles) for the precious substance, in heat that reaches 45 degrees Celsius (113 degrees Fahrenheit), said Maloum.
Previously, the farmers were allowed by grain growers to cut the stalks of millet for free, using them as cheap fodder, after the cereal had been harvested.
Now, though, the stalks have to be paid for, said Maloum -- adding to the pressure on poor households.
Earlier this month, the Cameroonian government and International Committee of the Red Cross (ICRC) launched a campaign to vaccinate a million sheep and goats against a contagious disease called ovine rinderpest.
The immunisation has been welcomed by the farmers in Meme, although some say there are more pressing needs.
"It's a good thing to vaccinate our goats and sheep, but if they've got nothing to eat, they'll die," Mahama says bluntly.
Source: dailymail.co.uk/wires/afp/article-5859395/Shadow-jihadists-falls-Cameroons-cattle-farmers.html
-----
Southeast Asia
Malaysia murder case linked to Najib 'may be re-opened'
Jun 19, 2018
KUALA LUMPUR: A probe into the sensational murder of a young woman linked to Malaysia's ousted leader could be re-opened, a lawyer said on Tuesday after a meeting between the victim's father and the attorney-general.
Altantuya Shaariibuu was shot dead and her body blown up with military-grade plastic explosives near Kuala Lumpur in 2006.
The Mongolian's murder was the most shocking aspect in a scandal involving allegations that an associate of recently ousted premier Najib Razak arranged huge kickbacks for the purchase of French submarines in 2002.
The case captivated Malaysia for years and there have long been allegations that Najib -- defence minister at the time of the deal -- and his wife Rosmah Mansor were involved. They have steadfastly denied the claims.
Two government bodyguards were convicted of the killing and sentenced to death. One subsequently fled to Australia, where he is in detention, and maintains he was ordered by "important people" to carry out the murder.
The shock election loss last month of scandal-plagued Najib's regime, long accused of burying the scandal, has fuelled speculation that new details about the murky case could be revealed.
On Tuesday Altantuya's father Setev Shaariibuu and his lawyer met Malaysia's newly-appointed Attorney-General Tommy Thomas to discuss whether authorities could take a fresh look at the scandal.
"It was a very, very positive meeting," lawyer Ramkarpal Singh told AFP, adding discussions centred on the possibility of re-opening the case or holding an official inquiry.
Singh said he believed there were new leads and he was "confident" the investigation would be re-opened. At an earlier press conference, Setev said his daughter's death had "destroyed" his life as if by a tsunami.
Altantuya was the mistress of Najib's associate, Abdul Razak Baginda, and was alleged to have demanded a cut in the submarine deal for translating during negotiations. Abdul Razak was cleared in 2008 of abetting the murder.
The bodyguard who fled to Australia, Sirul Azhar Umar, recently said he is willing to assist any new government investigation into the case, a potential major breakthrough.
Source: timesofindia.indiatimes.com/world/rest-of-world/malaysia-murder-case-linked-to-najib-may-be-re-opened/articleshow/64651605.cms
-----
Philippines' Duterte says no 'justice' for families of drugs war casualties
Reuters | Jun 19, 2018
MANILA: Outspoken Philippine President Rodrigo Duterte said on Monday the families of people killed in his controversial war on drugs will not receive "justice", rejecting calls from rights groups seeking redress for the thousands of deaths.
More than 4,200 suspected drug dealers have been killed by police in Duterte's anti-narcotics campaign since June 2016, as well as several thousand more by unknown gunmen who authorities have described as vigilantes, or rival gang members.
Rights groups and critics of the campaign say some of the killings were summary executions.
Police deny the allegations, saying they had to use deadly force because the suspects were armed and had resisted arrest. They also deny activist allegations that they have falsified reports, staged crime scenes and systematically murdered small-time peddlers and users.
"If you think that you can get justice simply because you lost somebody who's a bullshit into drugs, I'm sorry to tell you I will not allow it," Duterte said in a speech on Monday.
Source: timesofindia.indiatimes.com/world/south-asia/philippines-duterte-says-no-justice-for-families-of-drugs-war-casualties/articleshow/64642737.cms
-----
URL: https://www.newageislam.com/islamic-world-news/a-mosque-all-masjid-e/d/115593
New Age Islam, Islam Online, Islamic Website, African Muslim News, Arab World News, South Asia News, Indian Muslim News, World Muslim News, Women in Islam, Islamic Feminism, Arab Women, Women In Arab, Islamophobia in America, Muslim Women in West, Islam Women and Feminism