New Age Islam News Bureau
6 Jan 2014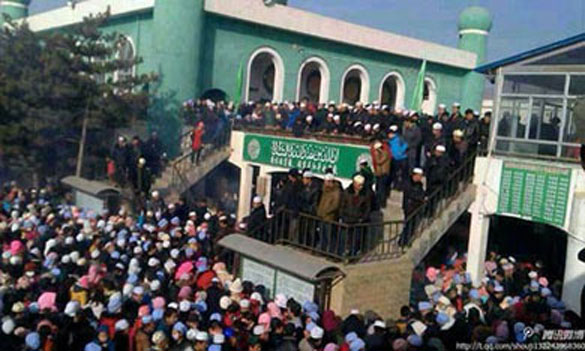 A photograph from Chinese state media of crowds at the mosque where a deadly stampede took place. Photograph: Xinhua
------------
India
• A Maulvi Using Calligraphy to Make Children of Muzaffarnagar Riot Victims Forget Trauma
• Jihad most misunderstood concept of Islam: Historian Irfan Habib
• Pakistan reiterates position on Kashmir
• BSF, Pak Rangers re-activate 16 phone lines for border peace
• Enrolment of Muslims in elementary schools rises
Pakistan
• Taliban talks: Govt eyes Saudi mediation for peace
• Rulers' entire focus on pleasing US: Jamaat-e-Islami
• Bilawal won't let Pak slip into 'pre-Islamic Arab tribal culture'
• External hands shape foreign policy: Pakistan Sunni Tehreek
• Multi-sect peace convention wants action against TTP
• Explosion in Tirah kills 10 including Lashkar-e-Islam members
• Altaf for 'Sindh One' and 'Sindh Two'
• Bomber kills student who tried to stop him at school gate
• Funding terrorism: Illegal cash flows may be aiding terrorists
• MQM rally sparks hope for a revolution
• Shahbaz Sharif urges on resolution of all issues with India through dialogue
Arab World
• Armed man storms Kuwait mosque to call for 'jihad'
• Fighting between Iraqi troops, al-Qaida kills 34
• Jihadists kill 50 rebels in new Syrian front
• Lebanese Christians Protest Burning of Library by Islamic Extremists
• Controversy over Osama Bin Laden death stirred by Kuwaiti analyst's claims
• Saudi Arabia jails five for up to 30 years on Qaeda charges
• Officials discuss plan for ousting al Qaeda in major cities
• Human body parts 'fall from sky' in Saudi Arabia
• Authority over Azhar Mosque transferred from ministry to Azhar institution
• Western-backed Syrian opposition re-elects Ahmad al-Jarba
• Iraq PM urges Fallujah residents, tribes to expel al Qaeda militants
South Asia
• 14 killed in stampede at mosque in China: State media
• Taking the Wind Out of Maldives' Radical Sails: The Sunday Standard
• Maldives F A condemns Sexual Offenses Bill for conditional criminalisation of marital rape
• Close to China but India ties precious: Maldives President
• PM Sheikh Hasina orders stern action to stop violence
• Taliban attack gas field in Shebarghan, 6 killed or injured
• Taliban suspect Afghan intelligence of targeting them in Pakistan
• Religious right boosted by Bangladesh mayhem: analysts
North America
• Saudi Arabia is backing my Mideast peace moves, John Kerry says
• Canadian Shi'ites barred from entering Egypt
• US firm turns down Pakistan's $15mn offer for sniper systems
• Kerry Ends Mideast Trip without Framework Deal
Africa
• Tunisia opts for civil, not Sharia law as assembly votes on new constitution
• Christians Fear Libya's Islamic Laws
• Somalia soldier executed in Mogadishu over pupil murder
• Tunisian opposition head: Progressive forces in Arab world must coordinate
• 500 Muslim Malians flee CAR fighting
• Nigeria's presidency denies Muslims' marginalisation
Mideast
• Iran offers to help Iraq in fight against al-Qaeda
• Turkey's Erdogan not opposed to military coup plot retrials
• Israeli claim on Jordan Valley 'manipulation': Ex-Mossad chief
• Israeli Arabs reject Liberman's bid for land exchange with Palestinians
• Ex-navy chief: Israel has defences against Russian missile coveted by Hezbollah
• Israeli rights group accuses Shin Bet of using torture despite High Court ban
Europe
• UK govt accused of indirectly arming Somali pirates
• Russia delivers 13 "Night Hunter" strike helicopters to Iraq
Southeast Asia
• Islam must be protected even in politics, says Selangor Umno leader
• Christians benefit from Muslims defending them, says Muslim group
• Malay rights group Perkasa slams Marina Mahathir for supporting Christians
• Price hike and 'Allah' issues have reached critical level, says PAS
• For Details and More Headlines from All Regions, Please click, 'More'
URL: https://newageislam.com/islamic-world-news/a-maulvi-using-calligraphy-make/d/35162
-------------
India
A Maulvi Using Calligraphy to Make Children of Muzaffarnagar Riot Victims Forget Trauma
Jan 06, 2014, The Siasat Daily
Among blankets, clothes, rations and other essential relief materials given to Muzaffarnagar riot victims living at various camps, teaching young kids the literary art of Urdu calligraphy at Jogia Khera camp in Shapur Jat is proving to be an innovative way to keep traumatized children away from plunging back into the abyss of haunting memories of the communal violence which displaced nearly 70,000 people belonging to a certain minority community from Muzaffarnagar.
"I teach various kids who hail from the riot-hit areas. I don't know whether they used to go school there or study Urdu or the Qur'an but here I teach them everything including calligraphy," says Abdul Wajid Qasmi, the bespectacled Urdu teacher who hails from Vigyana village and teaches at Jogia Khera camp at Shahpur Jat.
Many kids sitting on a mound at one corner of the camp site in a single file looked busy trying the lost medieval art of artistic writing. Every kid had one's own set of Qalams made of bamboo sticks and ink pots with him. The unique styled nibs of their pen were inking Urdu alphabets on a wooden board.
"What I am learning here is new to me as I enjoy writing by pouring these pens into the ink pot again and again," says Yusuf, riot-affected child. Another young boy, Hamza who happily shows off his progress in the art form recollects, "We used to go to schools from our homes…," and pauses a bit emitting an uncomfortable silence, "…and study many things but never this (calligraphy) before."
Since the inception of the riot, thousands of children lost the bounties of their childhood as their tender eyes witnessed perhaps the grisliest of events in their lives. Images of killings, ransacked, burnt houses and the resulting exodus of the very essence of their childhood than just their physical displacement, still return afresh every time to haunt them and overwhelm their little hearts with big questions.
"Sadma Inke Dilon Mein Baaki Hai," (trauma persists in their hearts), Qasmi opens up. There are moments when they have nightmares and shout in sleep. Sometimes, they speak of the riots in a plaintive tone. That is why they wait for these classes more than everyday more than anything else," he says.
Due to his expertise in calligraphy, he has become the most sought after teacher among students. As a result, many students have now enrolled for his classes. "I used to take only one class everyday but now we have divided the kids into groups and I take classes in different shifts so that I can teach every group beginning from morning till sunset," he says.
Besides calligraphy, Qasmi also teaches Urdu literature and grammar and conducts recitation of the Qur'an. Hindi classes are also a part of the day long time-table. "Sometimes it seems difficult to teach continuously but it is the enthusiasm of kids which keeps me going," he says.
http://www.siasat.com/english/news/maulvi-using-calligraphy-make-children-muzaffarnagar-riot-victims-forget-trauma
-------------
Jihad most misunderstood concept of Islam: Historian Irfan Habib
Jan 06, 2014
CHENNAI: Jihad normally evokes images of bearded men shaking their fists, smoke bellowing from two towers and hooded men wielding grenade launchers. "So ingrained is the fear of the word that my lecture in Chennai almost got cancelled after some people raised concerns over jihad being the topic," historian S Irfan Habib said on Friday.
In the city to deliver a lecture organised by the Islamic Forum for the Promotion of Moderate Thought, Habib, a historian of science and political history who holds the Maulana Abul Kalam Azad chair at Delhi's National University of Educational Planning and Administration, questioned the stereotypes and the propaganda shrouding Islam.
"Believers have started taking religion so seriously that it has become an obsession," said Habib. The 60-year-old who has authored several books on the history of science quoted from the Quran, saying the text primarily promoted independent thinking. "Ijtihad — independent thinking and reasoning — was given priority, but over the years radicals have conveniently buried this term and pushed for collective thinking, which continues to be the way of life for many who follow the religion."
Ruing that Islam had moved from being a religion to a ritual of sorts for many, he blamed leaders who interpreted the scriptures based on their convenience. "It is sad that many Muslims in the country don't know Arabic and hence the real meaning of the texts eludes them. The Quran must be translated into local languages, that way the scriptures won't be an enclave of the select few," said Habib.
"The problem is people are too scared to question. That should not be the case. By not questioning negativity shrouds Islam," he said.
"Everything is a jihad — pursuit of education, earning a living and fighting your egos. But, now, it is the most misunderstood concept of Islam," Habib said.
http://articles.timesofindia.indiatimes.com/2014-01-04/chennai/45859810_1_s-irfan-habib-quran-islamic-forum
-------------
Pakistan reiterates position on Kashmir
Jan 06 2014
Pakistan on Sunday called for solving the problem according to United Nations Security Council resolutions.
In an interview to Radio Pakistan, Ministry of Foreign Affairs spokesperson Tasnim Aslam said that Kashmir was a disputed territory and 20 resolutions have been passed by the Security Council on the matter. Pakistan had a consistent stand on the issue and has raised it time and again. Elections are not a substitute for a plebiscite and the U.N. resolutions demand the withdrawal of Indian troops from Kashmir, she was quoted as saying in the interview.
In 1949, the Security Council adopted a resolution which acknowledged the right to self determination and the day is being observed with demonstrations according to news reports. The Kashmir Liberation Cell in Muzaffarabad, PoK, plans to hand over a memorandum to the U.N. mission there asking it to implement its resolutions on Kashmir.
http://www.thehindu.com/news/international/south-asia/pakistan-reiterates-position-on-kashmir/article5541854.ece
-------------
BSF, Pak Rangers re-activate 16 phone lines for border peace
Jan 06 2014
New Delhi : India and Pakistan have agreed to re-activate 16 telephone numbers along the border, which were put in place after the ceasefire in 2002 but never used, to discuss incidents along the border and prevent them from escalating. The decision was taken at the Director General-level talks between the Border Security Force (BSF) and Pakistan Rangers in Lahore last month.
This assumes significance in the wake of the ceasefire violations in October-November last year, in which several border personnel as well as civilians were killed on both sides.
After the 2002 ceasefire, it was decided that senior officers of the two forces would contact each other on phone to discuss any issue. The telephone lines were installed at various sectors, from Jammu border to Gujarat, and were to be handled by DIG-level officers. However, the numbers were never used, according to officials.
During the DG-level talks in Lahore, which coincided with the DGMOs' talks at Wagah border, the "hotline"-like numbers were activated. "We have already started talking on these numbers... Let's not call them hotline numbers but something similar. I can tell you that they existed but were never used. We can also send fax on these numbers," BSF DG Subhash Joshi told The Indian Express.
"The two sides also decided that they will not ignore a call for a flag meeting," he said.
The two forces have also decided to be lenient with women and children who inadvertently cross the border. "Based on the judgement of the local commander, people who mistakenly cross the border will be sent back immediately," said a senior BSF official.
Besides this, the two forces decided to hold sporting activities and visits of schoolchildren to build confidence. It was also decided that no new defence structures would come up in certain areas. "Starting this week, Pakistan will start clearing vegetation on their side as they hinder our vision," said the official.
While the Indian delegation was led by Joshi, the Pakistan Rangers were led by Major General Rizwan Akhtar.
http://www.indianexpress.com/news/bsf-pak-rangers-reactivate-16-phone-lines-for-border-peace/1215889/
-------------
Enrolment of Muslims in elementary schools rises
ANITA JOSHUA
January 6, 2014
Sarva Shiksha Abhiyan and Right to Education have improved their access to education
The enrolment of Muslim students in elementary schools now exceeds the community's share of the country's population, Union Minister for Human Resource Development M. M. Pallam Raju said here on Monday.
Mr. Raju was addressing a meeting of the National Monitoring Committee for Minorities' Education.
As per the 2001 census, Muslims make up 12.4 per cent of the country's population. The enrolment figures for 2012-13 show that the percentage of Muslim children in elementary schools exceeds that number.
While the enrolment of Muslim children at the primary level stood at 14.2 per cent, it was 12.1 per cent for upper primary in 2012-13. This puts the enrolment of Muslim students at the elementary level 13.15 per cent.
The increase in enrolment from 8.3 per cent in 2006-07 to over 13 per cent, according to the Minister, was a direct result of improvement in access to elementary education —due to the Sarva Shiksha Abhiyan and the Right to Education.
Enrolment of girls
A happy statistic for the Ministry is the increase in enrolment of Muslim girls in schools and their retention. As a result, the number of dropouts from the community has come down from three crore in 2001 to 30 lakhs by March 2013.
At the meeting, Mr. Raju also disclosed that a new scheme – the Maulana Azad Taleem-e-Baligan – was being drawn up to impart functional literacy to a crore Muslim adults in the 15-plus age group. This is part of the adult education effort of the government.
http://www.thehindu.com/news/national/enrolment-of-muslims-in-elementary-schools-rises/article5545675.ece
----------
Pakistan
Taliban talks: Govt eyes Saudi mediation for peace
January 6, 2014
ISLAMABAD: Pakistan is planning to enlist Saudi Arabia's help in brokering a peace deal with the Tehreek-e-Taliban Pakistan (TTP) in its quest for peace in the long term.
When Saudi Foreign Minister Prince Saud al Faisal meets Pakistani officials during his two-day visit beginning today (Monday), one of the key agenda items would be to explore the possibility of Riyadh's role in the government's peacemaking efforts, The Express Tribune has learnt.
The Pakistan Muslim League-Nawaz government is struggling to revive the nascent peace efforts ever since the killing of TTP chief Hakimullah Mehsud in a drone strike in November last year. His successor Mullah Fazlullah has so far refused to respond to the government's peace overtures.
Sources familiar with the development disclosed that Prime Minister Nawaz Sharif was likely to request the Saudi foreign minister to use his country's 'good offices' in persuading the TTP and its affiliates to come to the negotiating table.
The Saudi foreign minister will meet President Mamnoon Hussain, Prime Minister Nawaz Sharif and his Adviser on National Security and Foreign Affairs Sartaj Aziz. Saud al Faisal is also expected to meet prominent religious leaders, including chief of his own faction of Jamiat-e-Ulema Islam (F) Maulana Fazlur Rehman as well as Maulana Samiul Haq, who is known as the father of the Afghan Taliban.
A senior foreign ministry official did not confirm religious leaders' meeting with the Saudi foreign minister. However, sources told The Express Tribune that both these leaders were likely to meet the top Saudi diplomat at the sidelines of the reception being hosted by the prime minister. Their meeting is likely to focus on efforts to strike a peace deal with the TTP.
Both Rehman and Samiul Haq, who are considered close to the Saudi rulers, are intensifying efforts to bring the TTP to the negotiating table as most of the militants studied at their seminaries.
Another official pointed out that the government believes Saudi Arabia could use its 'clout' over some of the TTP affiliates for an agreement.
When contacted, a senior member of the federal cabinet insisted that the Saudis were careful in getting involved in the process considering the TTP's links with al Qaeda.
However, a senior leader from a religious party said Riyadh could use its 'financial leverage' over the Taliban. "Money matters a lot for these groups (TTP) and the Saudis can buy anything," said the leader, who requested anonymity because of the sensitivity of the issue.
But a government official said it was unclear whether the Saudis would be willing to play a role as they have their own interests in the region.
Defense analyst Lt Gen (retd) Talat Masood is of the view that Riyadh could influence the TTP by squeezing their funding which comes from the Gulf countries, including Saudi Arabia.
"Secondly, they (the Saudis) can use their links directly or indirectly to persuade these groups for talks," he told The Express Tribune.
Jan Achakzai, a spokesperson for the JUI-F chief, said that as Saudi Arabia was a friend of Pakistan it could help the country's peace efforts.
"But the fact of the matter is that we haven't evolved a consensus on how to execute the peace plan. Hence the question of seeking help from Saudi Arabia is premature at this stage," he argued.
http://tribune.com.pk/story/655425/taliban-talks-govt-eyes-saudi-mediation-for-peace/
-------------
Rulers' entire focus on pleasing US: Jamaat-e-Islami
January 06, 2014
LAHORE - The central shura of Jamaat-e-Islami said on Sunday it was tragic that the incumbent government was serving foreign agenda and bowing before International Monetary Fund like the previous governments.
The rulers had not learnt any lesson from the past experiences, nor had they evolved a roadmap for pulling the country out of the plethora of crises, the central committee said in its resolution adopted on the last day of a series of meetings.
It said the rulers' entire focus was on perpetuating their regime by pleasing their foreign bosses and they least bothered about miseries of the people. The government was neglecting the oppressed, and patronising the elite, it added.
Full report at:
http://www.nation.com.pk/lahore/06-Jan-2014/rulers-entire-focus-on-pleasing-us-jamaat
-------------
Bilawal won't let Pak slip into 'pre-Islamic Arab tribal culture'
Jan 06, 2014
Pakistan People's Party Patron-In-Chief Bilawal Bhutto Zardari has termed slain former Punjab governor Salman Taseer 'Martyr of Humanity'.
Bilawal believes Taseer was killed for showing sympathy in a society while being under threat of 'blood-thirsty extremists devoid of spiritually'.
On the 3rd Martyrdom Day Anniversary of Salman Taseer, Bilawal said the country was under danger of being dragged into the 'pre-Islamic Arab tribal culture'.
He pledged that his party, together with all other democratic forces, will struggle for true Islamic teaching and values of tolerance and respect to humanity as per the spirit of Meesaq-e-Madina.
Full report at:
http://www.pakistantoday.com.pk/2014/01/04/news/national/bilawal-wont-let-pak-slip-into-pre-islamic-arab-tribal-culture/
-------------
External hands shape foreign policy: Pakistan Sunni Tehreek
January 06, 2014
KARACHI - Pakistan Sunni Tehreek Chief Sarwat Ejaz Qadri said that Islamabad is keen to hold dialogues with terrorists as the Pakistan's foreign policy is made by the US, Saudi Arabia and other countries.
Speaking at a conference at Nishtar Park here Sunday, the PST chief said that some terrorists are using the name to Sunni sect, but, he added, not even a single person involved in terrorism was found linked to the sect during the last 66 years. He regretted that Prime Minister Nawaz Sharif has lot of time for the handful miscreants, but is unavailable for the 120 million people of the country.
Full report at:
http://www.nation.com.pk/karachi/06-Jan-2014/external-hands-shape-foreign-policy-pst
-------------
Multi-sect peace convention wants action against TTP
2014-01-06
ISLAMABAD: A National Peace Convention held here on Sunday to promote sectarian harmony lashed out at the government for trying to hold peace talks with the Taliban and called for dealing firmly with terrorists.
Speaking at the convention held at D-Chowk, leaders and members of organisations belonging to different religious sects – Muttahida Majlis Wahdatul Muslimeen, Sunni Ittehad Council and Voice of Shuhada Pakistan – announced that they would demonstrate complete unity and harmony by jointly celebrating Eid Miladun Nabi.
According to a press release, a declaration issued at the end of the convention announced that they would launch a joint struggle against anti-Pakistan forces, setting aside sectarian or ethnic divide.
Full report at:
http://www.dawn.com/news/1078628/multi-sect-peace-convention-wants-action-against-ttp
-------------
Explosion in Tirah kills 10 including Lashkar-e-Islam members
January 6, 2014
PESHAWAR / HANGU: A bomb explosion in Khyber Agency's Tirah area killed 10 people including three members of Lashkar-e-Islam, Express News reported on Monday.
"The initial information suggests that the blast triggered by explosives killed at least 10 people including three children and wounded nine others," senior local administration official Nasir Khan said.
"We are trying to ascertain exact nature of the blast," he added.
The target of the blast was reportedly a building belonging to the banned outfit Lashkar-e-Islam. The injured were shifted to local hospital for medical assistance.
Full report at:
http://tribune.com.pk/story/655496/suicide-bomber-kills-teenager-in-hangu-officials/
-------------
Altaf for 'Sindh One' and 'Sindh Two'
2014-01-05
KARACHI: In a charged address to his supporters on Sunday evening, Muttahida Qaumi Movement (MQM) chief Altaf Hussain said that 'Sindh should remain Sindh' and then went on to suggest the province must be split into two parts.
Addressing a large number of people at the ground adjacent to Aladdin Park in Karachi, the MQM chief said, "If Sindh's urban population is not accepted by the Pakistan People's Party (PPP) and not given its due rights, then there should be a separate province for them. Sindh must be split into Sindh One and Sindh Two."
Full report at:
http://www.dawn.com/news/1078561/altaf-for-sindh-one-and-sindh-two
-------------
Bomber kills student who tried to stop him at school gate
PTI | Jan 6, 2014
PESHAWAR: A 14-year-old student was killed on Monday when he valiantly tried to stop a suicide bomber at the entrance of a high school in the restive Khyber-Pakthunkhwa in northwest Pakistan, saving many lives.
The bomber disembarked from a passenger coach in front of Government High School Ibrahimzai in Hangu district and was heading towards the school building when he was spotted by class 9 student Aitezaz Khan.
Full report at:
http://timesofindia.indiatimes.com/world/pakistan/Bomber-kills-student-who-tried-to-stop-him-at-school-gate/articleshow/28472409.cms
--------
Funding terrorism: Illegal cash flows may be aiding terrorists
January 6, 2014
KARACHI: Terrorist groups in the Federally Administered Tribal Areas (Fata) and Balochistan have been receiving billions of rupees each month through banking channels and money exchange companies, sources in Federal Investigation Agency (FIA) have revealed.
These companies in collusion with some bankers have been transferring huge amounts to unnamed bank accounts in Quetta and Peshawar. The FIA has recently found evidence of transfer of billions of rupees to the two cities in the last few months.
According to sources, the FIA made these discoveries during its investigations into the multibillion rupee Trade Development Authority Pakistan (TDAP) scam.
Full report at:
http://tribune.com.pk/story/655400/funding-terrorism-illegal-cash-flows-may-be-aiding-terrorists/
-------------
MQM rally sparks hope for a revolution
January 6, 2014
KARACHI: "This jalsa means a new life for us workers," said Muhammad Arshad excitedly, clutching a party flag in one hand and holding his son with the other. Making his way through the huge crowd, he shouted, "Today is the start of a revolution," as a bunch of young men erupted into 'Jeay Altaf' slogans.
On Sunday, the Muttahida Qaumi Movement (MQM) did all it could to justify its claims of hosting the biggest congregation in Pakistan's political history as part of its campaign for the upcoming local bodies elections.
Full report at:
http://tribune.com.pk/story/655292/show-of-strength-mqm-rally-sparks-hope-for-a-revolution/
-------------
Shahbaz Sharif urges on resolution of all issues with India through dialogue
January 06, 2014
Punjab Chief Minister, Shahbaz Sharif on Monday stressed on the resolution of all pending issues between Pakistan and India through dialogues.
In a meeting with Indian High Commissioner Dr. T.C.A. Raghavan in Lahore, Shahbaz Sharif said that the two neighborly countries achieved nothing except wars during 65 years.
The Chief Minister said that the lasting regional peace would assure progress and prosperity in the region.
Full report at:
http://www.nation.com.pk/lahore/06-Jan-2014/shahbaz-sharif-urges-on-resolution-of-all-issues-with-india-through-dialogue
-------------
Arab World
Armed man storms Kuwait mosque to call for 'jihad'
Jan 06, 2014
An armed Kuwaiti eluded police and stormed a packed mosque in the oil-rich Gulf emirate to call for jihad (holy struggle) before he was overpowered and arrested by cops waiting outside, a newspaper reported on Sunday.
Police had tried to stop the man when they saw the gun in his hand but let him drive away after he started to shoot in the air and threaten passers-by.
As they chased him, he stopped his car near a mosque which was packed for Friday's prayers and stormed in still waving the gun at them.
"It's time for jihad… it's time for jihad… let's go," the man shouted to hundreds of worshippers inside the mosque, according to Al Anba newspaper.
It said the man fled the mosque after he was chased by worshippers, adding that he was overpowered and arrested by police men waiting outside for him.
Full report at:
http://www.emirates247.com/news/region/armed-man-storms-kuwait-mosque-to-call-for-jihad-2014-01-05-1.533516
-------------
Fighting between Iraqi troops, al-Qaida kills 34
AP | Jan 6, 2014
BAGHDAD: The Iraqi military tried to dislodge al-Qaida militants in Sunni-dominated Anbar province on Sunday, unleashing airstrikes and besieging the regional capital in fighting that killed at least 34 people, officials said. A series of bombs in Shia neighbourhoods of Baghdad, meanwhile, killed at least 20 people.
The recent gains by the insurgents have been a blow to the Shia government — as sectarian violence has escalated since US withdrawal. US secretary of state John Kerry said Washington was "very, very concerned" by the fighting but would not send in American troops.
Video of the airstrikes in Anbar — apparently taken by aircraft at night — was released by Iraq's defence ministry showing al-Qaida hideouts being bombarded. It showed men gathered around a vehicle, then running away as the site was struck.
Full report at:
http://timesofindia.indiatimes.com/world/middle-east/Fighting-between-Iraqi-troops-al-Qaida-kills-34/articleshow/28450827.cms
-----------
Jihadists kill 50 rebels in new Syrian front
2014-01-06
BEIRUT: Jihadists killed at least 50 rival rebels in a new front in Syria's brutal war, the Syrian Observatory for Human Rights said, citing insurgents and medics.
The rebels were killed in fighting, car bombings and also summary executions by forces loyal to the Islamic State of Iraq and the Levant.
ISIL, an Al Qaeda affiliate, moved into Syria in late spring last year amid the armed uprising against President Bashar al-Assad.
The latest deaths come a third day into fighting that began when rebels, including Islamists, attacked checkpoints and bases manned by ISIL, which is accused of horrific abuses in areas where its fighters operate.
Full report at:
http://www.dawn.com/news/1078648/jihadists-kill-50-rebels-in-new-syrian-front
-------------
Lebanese Christians Protest Burning of Library by Islamic Extremists
Jan 06, 2014
JNS.org – Hundreds of Lebanese Christians took to the streets in Tripoli to protest the torching of a decades-old library owned by a Greek Orthodox priest.
The demonstrators held up banners reading, "Tripoli, peaceful town" and "this is contrary to the values of the Prophet [Mohammed]," Ya Libnan reported.
On Friday night, assailants torched the person library of Greek Orthodox Priest Ibrahim Surouj, destroying two-thirds of the 80,000 books and manuscripts.
The attack came after "a pamphlet was allegedly discovered inside one of the books that insulted Islam and the Prophet Mohammed," a Lebanese security official told AFP. But it later became clear that no pamphlet existed.
The incident comes amid growing radicalism in Lebanon related to the nearby Syrian Civil War.
http://www.algemeiner.com/2014/01/05/lebanese-christians-protest-burning-of-library-by-islamic-extremists/
-------------
Controversy over Osama Bin Laden death stirred by Kuwaiti analyst's claims
Jan 6, 2014
The controversy surrounding the death of Osama Bin Laden returned to the spotlight in the Middle East following a recent claim that the infamous former al-Qaeda leader is still alive.
Although news broke of his untimely end at the hands of a raid by elite U.S. Special Forces in Pakistan's northern city of Abbottabad in May 2011, no physical evidence constituting Bin Laden's "proof of death" has surfaced.
Photographs of his body – despite requests from news outlets – have never been released, with a judge saying that the U.S. Department of Defense was not required to release any evidence of the death to the public.
On Sunday, a Kuwaiti academic said in an interview with a Saudi-owned news channel that Bin Laden was abducted, rather than killed by U.S. forces.
Abdullah al-Nafeesi, a former Kuwaiti deputy and political science professor in Kuwait University, said that the U.S. lied about Bin Laden's killing.
Full report at:
http://english.alarabiya.net/en/perspective/features/2014/01/06/Controversy-over-Osama-Bin-Laden-s-death-stirred-by-Kuwaiti-analyst-s-claims-.html
-------------
Saudi Arabia jails five for up to 30 years on Qaeda charges
2014-01-06
RIYADH: A Saudi court has jailed five people for up to 30 years on charges including plotting to blow up an oil refinery on behalf of al-Qaeda, state media reported Monday.
The official SPA news agency gave no details of when the alleged plot against the refinery in the Red Sea port of Yanbu took place.
But the trial is believed to be the latest in a series of prosecutions begun in July 2011 for alleged offences committed during the peak of al-Qaeda violence in the kingdom between 2003 and 2006.
Full report at:
http://www.dawn.com/news/1078739/saudi-arabia-jails-five-for-up-to-30-years-on-qaeda-charges
-------------
Officials discuss plan for ousting al Qaeda in major cities
2014-01-06
BAGHDAD: Iraqi government forces battling an al Qaeda offensive near the Syrian border launched an airstrike on Ramadi city on Sunday killing 25 Islamist militants, according to local officials.
Government officials in western Anbar province met tribal leaders to urge them to help repel al Qaeda-linked militants who have taken over parts of Ramadi and Falluja, strategic Iraqi cities on the Euphrates River.
Al Qaeda's Islamic State of Iraq and the Levant (ISIL) have been steadily tightening its grip in the vast Anbar province in recent months in a bid to create a Sunni Muslim state straddling the frontier with Syria.
Full report at:
http://www.dawn.com/news/1078730/officials-discuss-plan-for-ousting-al-qaeda-in-major-cities
-------------
Human body parts 'fall from sky' in Saudi Arabia
2014-01-06
JEDDAH: Human body parts fell from the sky in the Saudi city of Jeddah on Sunday, with police saying they could be the remains of someone trapped in an aircraft's undercarriage bay.
"Police received a telephone call at 2:30 am from a witness reporting the fall of human remains at an intersection in Mushrefa neighbourhood" in the Red Sea city, spokesman Nawaf bin Naser al-Bouq said in a statement.
Initial indications were that the remains "fell from a plane's landing gear," said Bouq, adding that investigations were ongoing. The report came after a Saudi Arabian Airlines jet made an emergency landing in the city of Medina in the west of the kingdom, injuring 29 people on Sunday.
Full report at:
http://timesofindia.indiatimes.com/world/middle-east/Human-body-parts-fall-from-sky-in-Saudi-Arabia/articleshow/28470803.cms
-------------
Authority over Azhar Mosque transferred from ministry to Azhar institution
Jan 06 2014
Minister of Religious Endowments Mokhtar Gomaa decided on Monday to transfer the authority over Al-Azhar Mosque to Al-Azhar Institution, the oldest seat of Sunni Islam, reported Al-Ahram's Arabic news website.
The historic mosque, as all other mosques in Egypt, had hitherto operated under the authority of the Ministry of Religious Endowments.
Al-Azhar Mosque will henceforth follow Al-Azhar Institution theologically, administratively and financially.
Full report at:
http://english.ahram.org.eg/NewsContentP/1/90947/Egypt/Authority-over-Azhar-Mosque-transferred-from-minis.aspx
-------------
Western-backed Syrian opposition re-elects Ahmad al-Jarba
Jan 06 2014
Syria's main opposition National Coalition re-elected Ahmad Jarba as its leader during a general assembly meeting in Istanbul on Sunday, the coalition said in a statement.
Jarba won 65 votes, beating his only rival Riad Hijab -- the best-known defector from the regime of President Bashar al-Assad -- by 13 votes.
Jarba, who is seen as close to key rebel backer Saudi Arabia, was first elected to head the Coalition in July, and will now lead the group for another six months.
His re-election comes at a sensitive time, less than three weeks away from slated peace talks in Switzerland that would bring rebels and regime representatives to the table.
The Coalition is set to discuss on Monday whether to take part in the peace talks, though a key bloc -- the Syrian National Council -- has already announced it will boycott the so-called Geneva 2 process.
Full report at:
http://english.ahram.org.eg/NewsContent/2/8/90930/World/Region/Syria-opposition-reelects-Jarba-as-leader.aspx
-------------
Iraq PM urges Fallujah residents, tribes to expel al Qaeda militants
Jan 06 2014
Iraqi Prime Minister Nuri al-Maliki called on residents of Fallujah Monday to expel "terrorists" holding the city to spare it an assault by the army, state television reported. Maliki called on "the people of Fallujah and its tribes to expel the terrorists" so "their areas are not subjected to the danger of armed clashes."
Maliki also said he had ordered security forces "not to strike residential areas," the television added.
Fallujah, west of Baghdad, where US troops repeatedly battled insurgents, is outside government control.
Militants have also held parts of Anbar provincial capital Ramadi for days.
It is the first time militants have exercised such open control in major cities since the height of the bloody insurgency that followed the US-led invasion of 2003.
Full report at:
http://voiceofrussia.com/news/2014_01_06/Iraq-PM-urges-Fallujah-residents-tribes-to-expel-militants-TV-2911/
----------
South Asia
14 killed in stampede at mosque in China: State media
AFP | Jan 6, 2014
BEIJING: Fourteen people were killed and 10 injured in a stampede during a gathering at a mosque in northwest China's Ningxia region, state media reported on Monday.
The stampede occurred around 1pm on Sunday while traditional food was being handed out to people attending an event to commemorate a late religious leader, Xinhua news agency said, citing the local government.
The injured were hospitalized with four in critical condition, the brief report said.
An investigation was under way into the cause of the stampede at the mosque in Xiji town, some 320 kilometres (200 miles) northwest of Xian.
Ningxia region is home to the Chinese-speaking Hui minority, who are mostly Muslim but distinct from the Uighurs of Xinjiang.
Full report at:
http://timesofindia.indiatimes.com/world/china/14-killed-in-stampede-at-mosque-in-China-State-media/articleshow/28454193.cms
------------
Taking the Wind Out of Maldives' Radical Sails: The Sunday Standard
By Minivan News | January 6th, 2014
"There is alarm in India over Jihadi indoctrination of youngsters from the island nation of Maldives in Pakistan," writes Devirupa Mitra for India's Sunday Standard publication.
"Red flags have gone up over young Maldivians going for Islamic studies at seminaries in Pakistan and later turning up at the wrong place at the wrong time. Like a 31-year-old Maldivian national killed in a bomb explosion in Afghanistan in December 2013.
To curb the spread of Pakistan-induced radicalisation in the atoll—as it could pose a greater security challenge due to Maldives' strategic position and freer travel guidelines—New Delhi is moving towards increasing contacts with moderate Indian Islamic institutions to educate youths from its Indian Ocean neighbour. For a year now, the Ministry of External Affairs (MEA) has been working on a proposal to increase engagement and contact between Islamic groups in Maldives and moderate Islamic educational institutions in India. All with the hope that more Maldivian youth would prefer to come to India in large numbers to pursue Islamic education than go to Pakistan.
Full report at:
http://minivannews.com/category/news-in-brief
-------------
Maldives F A condemns Sexual Offenses Bill for conditional criminalisation of marital rape
By Ahmed Rilwan | January 5th, 2014
Dr Mohamed Iyaz Abdul Latheef, Vice President of the Maldives Fiqh Academy has condemned the recently passed Sexual Offenses Bill for conditional recognition of marital rape as a crime, and advised members of People's Majlis who voted for the bill to repent.
Answering a question requesting for comments on the bill Dr Iyaz said on "mvislamqa.com" – a local Islamic Questions and Answers website – that it is a great religious obligation upon the wife to give the husband his "marital rights" when he is in need of it.
"With the exception of forbidden forms of sexual intercourse, such as during menstrual periods and anal intercourse, it is not permissible under any circumstance for a woman to refrain from it when the husband is in need." Quoting a Hadith (sayings attributed to Prophet Muhammad) he said a woman should respond to her husband "even if she was at the kitchen stove".
Full report at:
http://minivannews.com/society/fiqh-academy-vp-condemns-sexual-offenses-bill-for-conditional-criminalisation-of-marital-rape-74565
-------------
Close to China but India ties precious: Maldives President
Jan 06 2014
New Delhi : Maldivian President Abdulla Yameen on Sunday described the island nation's relationship with China as "very close" but assured India that his country's ties with it are "far more precious".
Yameen, who was elected President less than two months ago, told PTI in an interview here that he had assured Indian leaders during his just-concluded visit that ties with India were based on "sentiments". It is a "heartfelt" relationship, he said. Answering a question on the perception that his country was getting close to China, he replied, "I would like to tell you that the relationship we have with China is very close." But ties with India "will precede any other relationship", he said.
Full report at:
http://www.indianexpress.com/news/close-to-china-but-india-ties-precious-maldives-president/1215800/
-------------
PM Sheikh Hasina orders stern action to stop violence
Jan 06 2014
Prime Minister Sheikh Hasina has ordered the enforcement agencies, army and administration to take stern action to stop post-election violence and save lives of the countrymen.
"At any cost, lives and properties of people have to be saved, peace ensured and post-polls violence stopped," Hasina said at a press conference at Gono Bhaban, the PM's official residence.
Addressing the briefing as the chief of Awami League, which won more than three-fourths seats in the parliamentary election, she urged the international community for assistance in continuing the democratic process in the country.
Full report at:
http://www.thedailystar.net/pm-orders-stern-action-to-stop-violence-5685
-------------
Taliban attack gas field in Shebarghan, 6 killed or injured
Jan 06 2014
At least six people including Taliban militants were killed or injured following an ambush by Taliban fighters in northern Jawzjan province of Afghanistan.
According to local security officials, the incident took place late Sunday night in Shebarghan city, after a group of Taliban militants attacked a security check post, which was providing security to a gas field project.
Provincial security chief, Faqir Mohammad Jawzjani, said a civilian worker of the gas project was killed and two others were injured in the attack.
Full report at:
http://www.khaama.com/taliban-attack-gas-field-in-shebarghan-6-killed-or-injured-3258
-------------
Taliban suspect Afghan intelligence of targeting them in Pakistan
Jan 06 2014
The Afghan Taliban group leaders accuse the Afghan intelligence – National Directorate of Security (NDS) behind the recent assassination of two senior Taliban figures in Pakistan.
Taliban group leaders also suspect that the provincial security chief of southern Kandahar province, Gen. Abdul Razaq was behind the cross-border assassination campaign.
The two senior Taliban commanders were assassinated by unknown gunmen in Quetta city of Pakistan late in December last year, which was followed by the assassasination of the top Haqqani Network leader near Islamabad in November.
Full report at:
http://www.khaama.com/taliban-suspect-afghan-intelligence-of-targeting-them-in-pakistan-3256
-------------
Religious right boosted by Bangladesh mayhem: analysts
2014-01-06
DHAKA: Bangladesh's main religio-political party was banned from weekend elections and many of its leaders are in custody or face execution, but moves to marginalise Jamaat-i-Islami will ultimately backfire, analysts say.
After its split from the Islamic Republic of Pakistan in a 1971 independence war, Bangladesh was founded as an officially secular nation and secularism was enshrined in a 2010 constitutional amendment.
Religious extremism failed to make much impact in the four decades after independence, its leading lights tainted by siding with Pakistani forces during the war.
Jamaat-i-Islami, the only Islamist party to have made electoral inroads, has never seen its support move beyond single digits at elections, although it has been in government on several occasions in coalitions with the centre-right Bangladesh Nationalist Party.
Full report at:
http://www.dawn.com/news/1078737/religious-right-boosted-by-bangladesh-mayhem-analysts
-------------
North America
Saudi Arabia is backing my Mideast peace moves, John Kerry says
AFP | Jan 6, 2014
JERUSALEM: US secretary of state John Kerry Sunday said he had won Saudi support for his efforts to broker an Israeli-Palestinian peace deal, in a day of whistlestop diplomacy to key Arab allies.
The top US diplomat, on the fourth day of his 10th visit to Israel and the West Bank, promised any agreed plan would be "fair and balanced."
And he likened his efforts to broker a compromise, and a framework for guiding the talks towards an April deadline, to figuring out a puzzle.
"In the end all of these core issues fit together like a mosaic, like a puzzle and you can't separate out one piece or another," Kerry said early Sunday before flying to Amman, and later to Saudi Arabia.
Full report at:
http://timesofindia.indiatimes.com/world/middle-east/Saudi-Arabia-is-backing-my-Mideast-peace-moves-John-Kerry-says/articleshow/28452086.cms
------------
Canadian Shi'ites barred from entering Egypt
World Bulletin / News Desk
Jan 06 2014
Egypt stopped 61 Canadian Shi'ite Muslim pilgrims from entering the country and decided to hold them at Cairo airport until their onward flight, security officials said on Sunday.
The Canadians landed in Egypt from Iraq to complete a pilgrimage to Shi'ite sites in the region, but were kept out on the orders of security authorities, said airport security officials who gave no further explanation.
Canadians are usually allowed into Egypt with a visa bought upon arrival.
A spokesman for Canadian Foreign Minister John Baird said Ottawa would react later on Sunday.
http://www.worldbulletin.net/?aType=haber&ArticleID=126332
-----------
US firm turns down Pakistan's $15mn offer for sniper systems
2014-01-06
WEST VALLEY CITY: A Utah-based gun manufacturer has turned down a $15 million deal to supply Pakistan with precision rifles, citing concerns they could eventually be used against US troops.
Mike Davis, sales manager at Desert Tech, said the company was on a short list for a contract with Pakistan, but spurned the opportunity because of unrest in Pakistan and ethical concerns.
It was a difficult decision because of the amount of money involved, he said, and the sale of rifles to Pakistan would have been legal.
''We don't know that those guns would've went somewhere bad, but with the unrest we just ended up not feeling right about it,'' Davis told KTVX-TV.
The company, based in the Salt Lake City suburb of West Valley City, was founded in 2007 on the principle of keeping America and its allies safe, he added.
Full report at:
http://www.dawn.com/news/1078729/utah-gun-maker-turns-down-15m-deal-with-pakistan
-------------
Kerry Ends Mideast Trip Without Framework Deal
Jan 06 2014
Jerusalem. After four days of intense diplomacy, US Secretary of State John Kerry was heading home Monday, insisting progress has been made despite failing to agree a framework to guide Israeli-Palestinian talks.
During his tour, Kerry spent hours locked in separate meetings with Israeli Prime Minister Benjamin Netanyahu and Palestinian president Mahmud Abbas, as well as making a surprise day trip to key Arab allies, Jordan and Saudi Arabia.
Monday morning, the top US diplomat was briefing Tony Blair, the Middle East special envoy for the Quartet of regional peacemakers, at his Jerusalem hotel as he wrapped up his 10th trip to the region as secretary of state.
Full report at:
http://www.thejakartaglobe.com/international/kerry-ends-mideast-trip-without-framework-deal/
-------------
Africa
Tunisia opts for civil, not Sharia law as assembly votes on new constitution
Jan 06, 2014
Tunisia has rejected Islam as the source of its laws, with the country's Islamist-dominated constituent assembly voting to adopt new articles amid fears that ongoing disagreements may derail the constitution altogether.
The country that in 2011 gave birth to the Arab Spring has adopted new articles in its upcoming constitution, the first two of which state that Tunisia is a "civil" republic based on the rule of law, but with Islam remaining as its state religion. After Saturday's vote, 12 of the 146 articles discussed have now been adopted.
The articles received harsh criticism from opponents, some of them believing that an absence of Islam from the legal framework would open the door to "Satanism and idolatry." In fact, the assembly, which was set up in 2011 to establish a new constitution after the uprising that removed the then-president, Zine el-Abdine Ben Ali, was plagued by so much infighting that there are fears that the January 14 deadline for ratifying the new constitution would not be met, AFP reported.
Full report at:
http://rt.com/news/tunisia-rejects-islam-law-196/
-------------
Christians Fear Libya's Islamic Laws
Jan 06, 2014
TRIPOLI, LIBYA (BosNewsLife)-- Minority Christians in Libya have begun the New Year with concern after parliament voted to make sharia, or Islamic law, the source of all legislation.
A special committee has begun reviewing existing laws to ensure that they comply with sharia, BosNewsLife learned Sunday, January 5.
Last month's vote was seen by Christians as an attempt to counter criticism from "militant Islamists", who called some of the country's lawmakers "un-Islamic".
Advocacy group Barnabas Fund, which supports Christians in Islamic nations, expressed concern about growing influence of Islamists.
Full report at:
http://www.bosnewslife.com/31594-christians-fear-libyas-islamic-laws
-------------
Somalia soldier executed in Mogadishu over pupil murder
January 6, 2014
A firing squad has executed a soldier in Somalia's capital, Mogadishu, after a military court convicted him of murdering a school pupil last year.
A crowd, including children, saw the execution at the police academy in the city, according to photographs posted on state-run Radio Mogadishu's website.
The death penalty is legal in Somalia, a mostly lawless state in East Africa.
Government soldiers are often accused of acting with impunity, including killing and raping.
Radio Mogadishu reported that more soldiers found guilty in other cases by the military are expected to face a firing squad in the coming days.
Full report at:
http://www.bbc.co.uk/news/world-africa-25626176
---------
Tunisian opposition head: Progressive forces in Arab world must coordinate
Jan 06, 2014
Hamma Hammami, secretary-general of the Tunisian Workers Party and spokesman for the opposition Popular Front, is one of the key leaders of the Tunisian opposition. Indeed, he represents one of the faces of this opposition for the Arab public opinion.
Hammami has had a long journey of struggle and political action. In short, he started as a leftist fighter in the 1970s in the student movement and in the Tunisian Worker Prospects Organization. He then participated in 1986 in the establishment of the Communist Workers Party of Tunisia. During his struggle and political life, he was imprisoned and detained for a total of almost 10 years, during which he was engaged in covert action. His last arrest by the Tunisian security forces was two days before the departure of former Tunisian President Zine El Abidine Ben Ali from power on Jan. 14, 2011.
Full report at:
http://www.al-monitor.com/pulse/politics/2014/01/tunisia-opposition-leader-interview.html#ixzz2qbWay2CP
-------------
500 Muslim Malians flee CAR fighting
World Bulletin / News Desk
Jan 06 2014
Around 500 Muslims of Malian origin living in the Central African Republic are joining the hundreds of thousands of people in the country who have been forced to flee their homes due to inter-religious fighting.
One Malian called Mbou, told France 24 that all Muslims in the country were under attack, claiming that the Senegalese, Chadians, Cameroonians and Nigerians living in the country have already left.
Full report at:
http://www.worldbulletin.net/?aType=haber&ArticleID=126338
-------------
Nigeria's presidency denies Muslims' marginalization
World Bulletin / News Desk
Jan 06 2014
The Nigerian Presidency denied on Sunday the oppression or marginalization of Muslims in the country, a few hours after thousands of Muslims gathered in Lagos to pray for the nation and protest alleged government's marginalization and anti-Muslim policies.
"It is not true that President [Goodluck Jonathan] is marginalizing or discriminating against the Muslims," presidential spokesman on political matters Ahmad Gulak told Anadolu Agency.
"He is not a religious bigot," he insisted.
Thousands of Nigerian Muslims flocked to Tarawa Balewa Square in Lagos earlier Sunday to pray for the nation and urge authorities to "redress the many injustices" against Muslims.
Themed "Muslims pray for the Nation," the event was organized by the Joint Muslim Forum, an influential amalgam of Muslim organizations drawn largely from Lagos State, Nigeria's former political capital with hugely rich Muslim history.
Full report at:
http://www.worldbulletin.net/?aType=haber&ArticleID=126323
-------------
Mideast
Iran offers to help Iraq in fight against al-Qaeda
Jan 06 2014
A senior Iranian military official said on Monday Iran is ready to help Iraq battle al-Qaeda "terrorists" in the neighbouring country's Sunni-dominated western Anbar province.
Iraqi troops have been trying to dislodge fighters from the al-Qaeda group known as the Islamic State in Iraq and the Levant from two key cities the militants overran last week.
Gen. Mohammad Hejazi, deputy chief-of-staff of Iran's army, is quoted by Iranian media on Monday as saying the Islamic Republic can offer "military equipment and advisers" should Baghdad ask for it.
Full report at:
http://www.thehindu.com/news/international/world/iran-offers-to-help-iraq-in-fight-against-alqaeda/article5544660.ece
-------------
Turkey's Erdogan not opposed to military coup plot retrials
Jan 06 2014
Turkish Prime Minister Tayyip Erdogan said he would not oppose the retrial of hundreds of military officers convicted on coup plot charges, a case that underlined civilian dominance over a once all-powerful army. Turkey's appeals court in October upheld the convictions of top retired officers for leading a plot to overthrow Erdogan's government a decade ago.
The military last week filed a criminal complaint over the court cases, saying evidence against serving and retired officers had been fabricated.
"There is not a problem for us about retrials as long as the legal basis is established. In terms of regulations, we are ready to do what we can," Erdogan told reporters late on Sunday before leaving on an official visit to Asia.
Full report at:
http://voiceofrussia.com/news/2014_01_06/Turkeys-Erdogan-not-opposed-to-military-coup-plot-retrials-7523/
-------------
Israeli claim on Jordan Valley 'manipulation': Ex-Mossad chief
PTI | Jan 5, 2014
JERUSALEM: A former Mossad chief on Sunday described as mere " manipulation" a claim that Israel's presence in Jordan Valley is vital for its security, a core issue in the troubled peace process with Palestinians.
Israel on Sunday rejected any security concessions for the valley under a "framework agreement" that US secretary of state John Kerry is trying to secure for a Israel-Palestinian deal on core issues, including security and borders.
"The Jordan Valley is not essential to Israel's security because the country is not facing a threat from the east," former spy agency chief Meir Dagan was quoted as saying by Ma'ariv newspaper days after a ministerial panel supported legislation to annex Israeli settlements in the valley bordering Jordan.
Full report at:
http://timesofindia.indiatimes.com/world/middle-east/Israeli-claim-on-Jordan-Valley-manipulation-Ex-Mossad-chief/articleshow/28443131.cms
-----------
Israeli Arabs reject Liberman's bid for land exchange with Palestinians
Jan 06 2014
Israeli Arabs reacted strongly against Foreign Minister Avigdor Liberman's call on Sunday for a land swap that would include some Israeli Arab areas in any future deal with the Palestinians.
Liberman said that the land exchanges would be based roughly on the path of Route 6, which shadows the security barrier through the center of the country, and would leave many Arab towns on the eastern side of the border of a future Palestinian state.
"This not a serious proposal. Not Israel, the Palestinian Authority, or the Americans are considering this proposal during the negotiations, but it is a plan of one person – Liberman," United Arab List-Ta'al MK Ahmed Tibi told The Jerusalem Post on Sunday. "And even if the proposal were raised, it would be rejected."
Full report at:
http://www.jpost.com/Diplomacy-and-Politics/Israeli-Arabs-reject-Libermans-bid-for-land-exchange-with-Palestinians-337173
-------------
Ex-navy chief: Israel has defenses against Russian missile coveted by Hezbollah
Jan 06 2014
Israel has defenses in place against the supersonic Russian- made Yakhont anti-ship missile, ex-navy chief Vice-Admiral (res.) Eliezer Marom told The Jerusalem Post on Sunday, days after The Wall Street Journal reported that Hezbollah has been smuggling the weapon to Lebanon in pieces to evade Israeli strikes.
Describing the Yakhont as the most advanced missile of its kind in the world, Marom said the West does not know very much about the weapon, which flies at low altitude "right over the sea," reaching speeds of between Mach 2 and Mach 3 (up to three times the speed of sound).
With most other missiles in the Yakhont's group achieving subsonic speed at most, the Yakhont represents a new type of threat, giving the navy between half and a third of the time to respond compared to other threats, Marom said.
Full report at:
http://www.jpost.com/Defense/Ex-navy-chief-Israel-has-defenses-against-advanced-Russian-missile-obtained-by-Hezbollah-337182
-------------
Israeli rights group accuses Shin Bet of using torture despite High Court ban
Jan 06 2014
The High Court of Justice declared torture illegal in 1999, but according to an NGO, the Shin Bet (Israel Security Agency) never stopped using torture as an interrogation tool.
The Public Committee Against Torture in Israel told The Jerusalem Post that the famous 1999 ruling was a positive turning point, but that the state and the Shin Bet have interpreted that ruling in a way that has led to "less brutality, but not less torture."
PCATI announced last week that the Israel Prison Service had placed Palestinian minors suspected of crimes in outdoor cages during the height of the winter storm. (Justice Minister Tzipi Livni confirmed and eventually stopped this mistreatment.) In the wake of this revelation, the NGO spoke to the Post about some of its recent major activities and its view of changes the state is making in its treatment of Palestinian detainees.
Full report at:
http://www.jpost.com/Defense/Israeli-NGO-accuses-Shin-Bet-of-using-torture-despite-High-Court-ban-337196
-------------
Europe
UK govt accused of indirectly arming Somali pirates
Jan 06 2014
A report on the UK's weapons exports has triggered accusations that Britain may be arming Somali pirates and dictatorial regimes. MPs allege this is due to the sheer volume of guns being exported and poor oversight.
An urgent review has been launched over why some 44,000 guns were exported to East Africa in just 15 months. Government data shows that among the weapons were 30,000 assault rifles, 2,536 pistols and 11,000 rifles which ended up in countries with poor human rights records like Somalia, Egypt and Sri Lanka. Some of the weapons were also exported to Russia and South Africa.
The report, which was part of a wide-ranging inquiry into arms exports, noted the MPs want to know why UK firms would need such a large stash of new weapons, given that they already had thousands of weapons in their armory before April 2012.
MPs alleged that the sheer volume of weapons being exported meant that it was difficult to keep tabs on where they end up, prompting speculation the UK could be arming pirates in Somalia.
Full report at:
http://rt.com/news/british-weapons-somali-pirates-208/
-------------
Russia delivers 13 "Night Hunter" strike helicopters to Iraq
Jan 06 2014
Iraq has received 13 Mil Mi-28NE helicopters under a $4.2 billion defense contract with Russia. The helicopters, dubbed "Night Hunter" for their night operation capabilities, were delivered to Umm Qasr Port on Sunday, Itar-Tass reported. The Iraqi army received 15 similar aircraft last year, which they plan to use in the fight against militants. Under the contract, signed in October 2012, Iraq is also to receive 24 Pantsir-S1 anti-aircraft systems and 12 more Mi-28NEs.
http://rt.com/news/line/2014-01-06/#53764
----------
Southeast Asia
Islam must be protected even in politics, says Selangor Umno leader
Jan 06 2014
The interest of Islam must be protected even in Muslims' political struggle, said Selangor Liaison Committee chairman Datuk Seri Noh Omar (pic).
Referring to the issue of the ban on non-Muslims using the word Allah, he noted that PAS Dewan Ulama chief Datuk Harun Taib had stated that PAS was together with Pakatan Rakyat (PR) only in politics but not in religious matters and that there was no compromise on Islam and Islamic rulings.
"Hence, the people need to look at the issue more clearly as whatever we fight for in politics, we must also defend our religion," he said in a statement issued today.
Noh said Selangor Umno also saw the state DAP as becoming big-headed when it proposed for the Selangor Non-Islamic Religions (Control of Propagation Among Muslims) Enactment 1988 to be amended.
Full report at:
http://www.themalaysianinsider.com/malaysia/article/islam-must-be-protected-even-in-politics-says-selangor-umno-leader-bernama
-------------
Christians benefit from Muslims defending them, says Muslim group
Jan 06 2014
Muslims speaking up against the Bible seizure by the Islamic Religious Department Selangor (Jais) are only helping Christians with "their cause", said the Malaysian Muslim Solidarity group (Isma).
The Muslim group said the Christians' defiance of the state law that banned the usage of the word Allah by non-Muslims stemmed from the action of Muslims who defended the Christians.
"Every time a Muslim is sincere, brave and bold enough to protect Islam, he would be chastised," said Rahman Mat Dali, vice-president II of Isma in a statement today, accusing Christians of trying to spread their faith to Muslims.
Full report at:
http://www.themalaysianinsider.com/malaysia/article/christians-benefit-from-muslims-defending-them-says-muslim-group
-------------
Malay rights group Perkasa slams Marina Mahathir for supporting Christians
Jan 06 2014
Malay rights group Perkasa has hit out at Datin Paduka Marina Mahathir for showing solidarity with Christians currently caught in a storm of controversy over the use of the word Allah.
Youth chief Irwan Fahmi Ideris said Marina, who is the daughter of Malaysia's longest serving prime minister Tun Dr Mahathir Mohamad, should be with them to defend Muslims' rights to use the word and not show support for the church.
"As a Muslim, she should be with us to defend the word Allah so that it is not used by the Christians," he said in a statement today.
Bearing a bouquet of flowers, Marina had turned up with a group of people at the Our Lady of Lourdes Church in Klang yesterday morning as Catholics turned up for Sunday mass.
After the service ended, she handed over the flowers to parish priest, Reverend Father Michael Chua, with worshippers cheering and applauding the act.
Full report at:
http://www.themalaysianinsider.com/malaysia/article/perkasa-slams-marina-mahathir-for-supporting-christians
-------------
Price hike and 'Allah' issues have reached critical level, says PAS
Jan 06 2014
The issues of price hike and use of the word "Allah" have reached a "critical" level which demand an immediate solution, said PAS lawmakers.
The Islamist party chief researcher and central working committee member Dr Dzulkefly Ahmad said it was time for the Barisan Nasional government and Pakatan Rakyat to sit down and find a solution to tackle both issues.
"Let me be clear, I am not talking about a unity government but a bipartisan reconciliation where we can come up with steps to handle the crisis. This would involve structural reforms," said Dzulkefly at the party headquarters in Kuala Lumpur today.
Party information chief Datuk Mahfuz Omar said the National Fatwa Council should also make a stand on the "Allah" issue to resolve the confusion created by Putrajaya.
Full report at:
http://www.themalaysianinsider.com/malaysia/article/price-hike-and-allah-issues-have-reached-critical-level-says-pas
-------------
URL: https://newageislam.com/islamic-world-news/a-maulvi-using-calligraphy-make/d/35162