New Age Islam News Bureau
31 Jul 2020
• US Urges Action Against Killing of Citizen in Pakistani Courtroom
• Taliban Tells Fighters Group Is 'On the Threshold' Of 'Pure Islamic Government'
• Meet the Imams, Drug Dealers in A French Town Accused Of 'Islamist Separatism'
• Following Israeli Strike, Hezbollah Ups Its Theatrics in Lebanon
• Syrian Army Forces Find Human Organs Intended for Trafficking Inside Ex-Militant Redoubt
• Pak Army, ISI with Support of China Are Planning to Declare Karachi a Federal Territory: Altaf Hussain
• Indonesia Ranks Among Most Religious Countries in Pew Study
• Libya's LNA: Turkey Sending Mercenaries of Various Nationalities, Not Only Syrians
India
• A Group of Muslim Men Step in For the Dead When Kin Don't
• Construction of Mosque On 5-Acre Plot In Ayodhya Babri Litigant Miffed At Being Left Out Of Trust
• Prayers Can Be Offered with Limited People in Mosques on Eid Al-Adha: Kerala CM
• Ayodhya: 5-Acre Allotted For Mosque Wears Deserted Look, No Sign Of Activity
• Pakistan indulging in activities to deflect attention from support to terror: India
• Terrorist violence in J&K down 36%; law & order incidents fall by 74%
• 3 Assam Rifles men killed in terrorist ambush
• Red Flags in Delhi Over Erdogan's Turkey Funding Anti-India Activities: Official
-------
North America
• US Urges Action Against Killing of Citizen in Pakistani Courtroom
• Trump Nominee Hearing Pulled Amid Furor Over Islam Remarks
• Muslim Families Keeping Eid Al-Adha Traditions Alive In The US
• US slaps more sanctions on Iran's nuclear, ballistic missile programs
• Pompeo says he raised Taliban 'bounties' on US troops with Russia despite Trump not doing so
-------
South Asia
• Taliban Tells Fighters Group Is 'On the Threshold' Of 'Pure Islamic Government'
• Taliban say will free Afghan government inmates before Eid al-Adha
• Bangladesh arrests three suspects in Dhaka police station blast, denies Islamic State link
• Car bomb kills at least 17 in Afghanistan ahead of ceasefire, Eid al-Adha
-------
Europe
• Meet the Imams, Drug Dealers in A French Town Accused Of 'Islamist Separatism'
• Saudi Bid to Buy Newcastle Soccer Club Ends Over Human Rights Issues
• Deaths of "300 Russians" in Syria sent warning to Moscow, Pompeo says
-------
Mideast
• Following Israeli Strike, Hezbollah Ups Its Theatrics in Lebanon
• US reveals key Daesh money provider based in Turkey
• IRGC Ends Massive Wargames, Warns Aggressors of Crushing Response
• Iran Pursuing Rights of Pilgrims Martyred in Mina Disaster
• Hamas warns Israel of consequences over al-Aqsa Mosque attacks
• Turkey launches new anti-terror operation in east
-------
Arab World
• Syrian Army Forces Find Human Organs Intended for Trafficking Inside Ex-Militant Redoubt
• Hajj pilgrims stone the devil, pray in Grand Mosque as Muslims around the world celebrate Eid
• Sanctions pretext to violate Syria's sovereignty, support terrorism: Ja'afari
• Iraq confirms nearly 560 killed in anti-government unrest, offers payment to families
• Car bomb at checkpoint in Syria kills 6, others wounded: Report
• UAE supports Egypt's efforts towards resolving Libyan crisis: Foreign Minister
• This year's Hajj measures aim to protect the guests of God: Saudi Arabian King Salman
• US imposes sanctions on Syrian president's son, 9 other entities
-------
Pakistan
• Pak Army, ISI with Support of China Are Planning to Declare Karachi a Federal Territory: Altaf Hussain
• Despite Looming FATF Deadlines, Pakistan Yet to Act to Curb Terror Financing
• West abetting India arms build-up, deplores Pakistan
• Court takes up govt plea for appointment of Jadhav lawyer on Aug 3
• Justice Isa's wife accuses FBR officers of acting on 'instructions'
-------
Southeast Asia
• Indonesia Ranks Among Most Religious Countries in Pew Study
• Indonesian Muslims Perform Eid Prayers with Social Distancing, Masks
• Agong, Permaisuri perform Aidiladha prayers at Tengku Ampaun Afzan Mosque in Kuantan
-------
Africa
• Libya's LNA: Turkey Sending Mercenaries of Various Nationalities, Not Only Syrians
• Libyan rebels overhaul, operationalize old S-200 systems: Report
• 3 migrants shot dead in Libya after failed crossing to Europe
• Jordan calls on Israel to respect Al-Aqsa mosque sanctity
• Tunisia's parliament speaker narrowly survives confidence vote
Compiled by New Age Islam News Bureau
URL: https://www.newageislam.com/islamic-world-news/a-group-muslim-men-step/d/122516
-------
A Group of Muslim Men Step in For the Dead When Kin Don't
Jul 31, 2020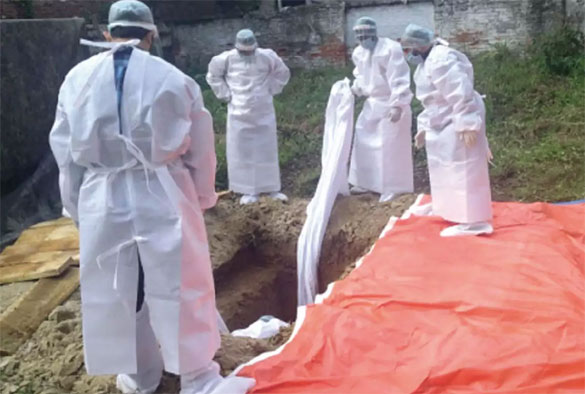 Members of the Covid-19 Tadfeen Committee wear PPE kits and have consulted doctors on safety measures
-----
Lucknow: They are not healthcare workers nor do they work in graveyards, but a group of Muslim men in Lucknow have donned personal protective equipment (PPE) kits and have literally taken the graveyard shift.
These men are burying Covid-19 victims who had no one to perform their last rites or their relatives were too scared to perform the task themselves. Around 10 in number and two clerics, all residents of Old City, these men have voluntarily taken up the 'dangerous' task and have helped bury seven Covid victims in Lucknow and one in Kanpur.
They say the only relationship they have with the dead is that of humanity.
"The first person we buried was a woman from Dubagga who had died at a private hospital a month ago. She only had a son who could not have buried his mother alone. We received information through social media and offered help," said Imdad Imam, who is leading the group which now calls itself Covid-19 Tadfeen Committee. Tadfeen stands for burial in Urdu.
Imdad (32) who runs a departmental store and does graphic designing, called up a doctor at KGMU seeking opinion on viability of performing the task. "We then took up training on how to don and dock the PPE kit which is highly important in keeping the infection away," he said.
The men are residents of Golaganj, Wazirganj, Kashmiri Mohalla and other Old City areas. The two clerics involved in the cause are Maulana Ali Ameer and Maulana Hasnain Baqai who fulfil the religious obligations during burial.
"We have buried four bodies on our own and for others, we have helped the relatives and guided them through the process," added Imdad.
Asked if the volunteers are worried about their own medical safety, he said, "We follow the medical guidelines and take vitamin C and immunity boosting foods. On reaching home from the graveyard, we maintain distance from our families. We shroud the body over the body bag and place it in the center of a 24-foot-long cloth which is used as a pulley to lower the body in a 6-foot-deep grave."
At Karbala Malka Jahan in Aishbagh, the mutawwali has spared 2,000 square feet for just Covid patients and has also installed a sanitization machine for disinfection. Imdad told TOI that the first time one of the volunteers had donned the PPE, he had felt dehydrated because of the heat. "But then he got back on his feet. Our families were hesitant too initially, but now everyone prays for our well-being," he said.
As the next step, the team wants to prepare people in different parts of the city to be able to perform the task with maximum safety.
https://timesofindia.indiatimes.com/city/lucknow/these-muslim-men-step-in-for-the-dead-when-kin-dont/articleshow/77272547.cms
--------
US Urges Action Against Killing Of Citizen In Pakistani Courtroom
31 Jul 2020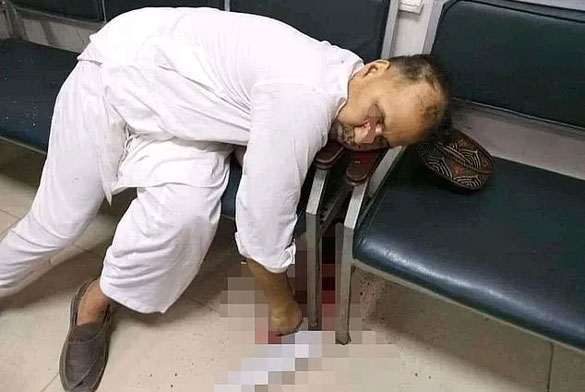 Tahir Shamim Ahmad, had claimed he was Islam's prophet
-----
The United States urged Pakistan on Thursday to act over the killing of an American national in a crowded courtroom in Peshawar as he faced trial for blasphemy.
57-year-old Tahir Ahmad Naseem was shot multiple times at close range on Wednesday when he was seated in the court of an additional sessions judge after arguments in his case, awaiting to be shifted to prison.
"We extend our condolences to the family of Tahir Naseem, the American citizen who was killed today inside a courtroom in Pakistan," the US State Department said in a tweet. "We urge Pakistan to take immediate action and pursue reforms that will prevent such a shameful tragedy from happening again."
Witnesses and officials reported a young man pulling out a handgun and shooting Naseem in the head just as has arraignment before the judge began. The shooter, a 19-year-old male, was arrested on the spot and the pistol used in the offence was seized.
The incident was followed with a social media outrage when a video of the deceased lying on a court bench with a pool of blood underneath went viral. The video also showed the suspected shooter police custody, claiming that the deceased was a blasphemer.
Police were interrogating the suspect to determine how he carried a pistol into the highly guarded Peshawar Judicial Complex and whether anyone had motivated him into committing the murder.
A first information report (FIR) was registered against him at the East Cantt Police Station under Section 302 of the Pakistan Penal Code (PPC), Section 7 of the Anti-Terrorism Act and Section 15 of the Arms Act.
The deceased had lately filed an application in the court, requesting to be allowed to recite Kalima Tayyaba in the court to show that he was a Muslim and did not belong to the Ahmadi community. After hearing the arguments from the prosecution and defence, Judge Syed Shaukatullah Shah had adjourned the hearing until October 12.
Reportedly, the deceased had been residing in the US with his family and visited Pakistan two years ago after he got in touch with some people on social media who asked him to return to his country to spread his faith.
The case against Naseem was registered at the Sarband Police Station on April 25, 2018, under Sections 153-A (promoting enmity between different groups), 295-A (acts intended to outrage religious feelings of any class), 295-B (defiling Holy Quran), 295-C (derogatory remarks in respect of Holy Prophet (PBUH)) and 298 (uttering words to wound religious feelings) of the PPC.
The complainant, in that case, was a student of a religious seminary in Islamabad, Malik Owais.
Naseem was indicted on February 4, 2019, under sections 153-A, 295-A and 298 of the PPC, whereas the charge sheet did not include Sections 295-B and 295-C.
The deceased had denied all charges and decided to stand trial.
https://www.pakistantoday.com.pk/2020/07/31/us-urges-action-against-killing-of-citizen-in-pakistani-courtroom/
--------
Taliban Tells Fighters Group Is 'On the Threshold' Of 'Pure Islamic Government'
BY BILL ROGGIO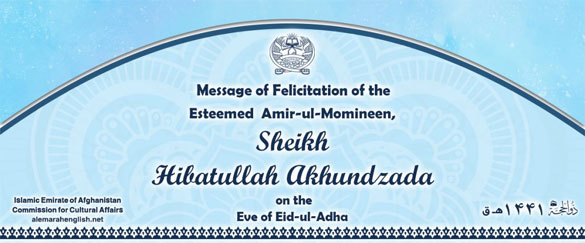 In his yearly Eid-ul-Adha message, Taliban emir Mullah Haibatullah Akhundzada issued a rallying cry to his fighters, saying the Taliban is "on the threshold of establishing an Islamic government"
----
July 29, 2020
In his yearly Eid-ul-Adha message, Taliban emir Mullah Haibatullah Akhundzada issued a rallying cry to his fighters, saying the Taliban is "on the threshold of establishing an Islamic government" after two decades of fighting.
The Taliban has been adamant that the only acceptable outcome for the country is the return of the Taliban's Islamic Emirate of Afghanistan with Haibatullah at its helm. In his statement, Haibatullah yet again called for the establishment of a "pure Islamic government" and an "Islamic system" for Afghanistan.
His message was released on July 28 on Voice of Jihad, the Taliban's official website. Haibatullah mentioned the return of an "Islamic government," "pure Islamic government," and an "Islamic system" five times in his short statement.
Now, after signing a so-called 'peace' deal with the U.S. that facilitates the Americans' withdrawal from Afghanistan, Haibatullah says the Taliban is finally close.
But contrary to the popular opinion that peace will be at hand once the Taliban conducts "intra-Afghan negotiations," Haibatullah says that there will be peace once "a pure Islamic government" is established [emphasis ours]:
We do not hold personal vendetta against anyone but have raised arms to defend the sovereignty of our homeland and establish a pure Islamic government. We seek a peaceful life with everyone once those objectives have been met.
Message of Felicitation of the Esteemed Amir-ul-Mumineen, Sheikh-ul-Hadith Mawlawi Hibatullah Akhundzada (may Allah protect him), on the occasion of Eid-ul-Adha, Voice of Jihad. July, 28, 2020. [PDF]
Haibatullah's Eid-ul-Adha message is entirely consistent with the Taliban's position over the past two decades. He said this on May 21, 2020, less than three months after signing the much-misunderstood deal with the U.S.
"The objectives of our Jihad are to gain the pleasure of Allah (SwT), freedom of our country and to establish an Islamic system," Haibatullah stated.
Just eight days after the U.S.-Taliban withdrawal deal was inked, the Taliban issued a religious decree that said that the return of the Islamic Emirate of Afghanistan with Haibatullah as its rightful leader was the only permissible result of intra-Afghan talks. The Taliban fatwa said the group "shall continue waging armed jihad" until it establishes the Islamic Emirate of Afghanistan.
In Sept. 2019, the Taliban said that its prime objectives in negotiations with the U.S. is to get Coalition forces to withdrawal from Afghanistan, and the "establishment of an Islamic government."
The Afghan government is the problem
In Haibatullah's Eid message, he notes that the Afghan government, which he calls "very small group", is attempting to sabotage the Taliban's objective of regaining full power. The Taliban couches this group's position as standing in the way of the will of the Afghan people [emphasis ours]:
The biggest issue at hand that needs addressing by the international community is the subject of a very small group unaware of the pains and demands of society being imposed upon the economic resources, reserves and seat of power, whom care not for the higher national interests of Afghanistan, are engaged in a struggle for short-term interests and power, do not give importance to the long-term success and prosperity of the country, delay and obstruct national and other key processes and continually endanger the greater interests of our homeland.
Message of Felicitation of the Esteemed Amir-ul-Mumineen, Sheikh-ul-Hadith Mawlawi Hibatullah Akhundzada (may Allah protect him), on the occasion of Eid-ul-Adha, Voice of Jihad. July, 28, 2020. [PDF]
The Taliban has committed to conducting intra-Afghan negotiations, which means it will talk to a cross section of political, civil, and religious leaders, but the Taliban outright rejects direct negotiations with the Afghan government.
The Taliban views the Afghan government as "illegitimate," "impotent," a "puppet" and "stooge" of the West – and most importantly, "un-Islamic." It has publicly stated it would never share power with the "Kabul administration," an insult that implies the Afghan government controls little outside of the capital.
"The Islamic Emirate has not readily embraced this death and destruction for the sake of some silly ministerial posts or a share of the power," the Taliban said in an official statement released on Voice of Jihad in 2016.
On June 10, 2020, the Taliban laid out its position on the Afghan government and Western-styled governments in general. In a video titled "Real Men 4," the Taliban railed against the "deviants" of the Afghan government.
"The Deviants are those who are trained in the poisonous deviant beliefs of atheism, communism, secularism, democracy, and other satanic western and disbelieving ideologies in order to mislead the Muslims with their deviant ideologies," The Taliban narrator stated in English. "The Deviants are the people who work for the implementation of secularism and deviant laws instead of sharia [Islamic law]."
The Taliban has been very clear that it will not compromise on its objective of resurrection of the Islamic Emirate of Afghanistan, and will continue to wage jihad until its objective is realized.
Yet U.S., NATO, and Afghan leaders continue to view intra-Afghan talks in which the Afghan government cannot attend as the solution.
https://www.longwarjournal.org/archives/2020/07/taliban-tells-fighters-group-is-on-the-threshold-of-pure-islamic-government.php
--------
Meet the imams, drug dealers in a French town accused of 'Islamist separatism'
29 July 2020
Muslims in one of the French towns accused of "Islamist separatism" have rejected the accusation and told Al Arabiya's investigative journalist Rola al-Khatib that their community was being confused with local drug dealers who want autonomy from state police.
In Argenteuil, Al Arabiya met with Muslims leaving the mosque after prayers and interviewed the imam of one of the two mosques in the town to ask about separatism and get a glimpse inside the French Muslim community there.
For all the latest headlines follow our Google News channel online or via the app.
"People who are saying this are not familiar with the area [Argenteuil]," said the imam. "Before building this mosque, this area was kind of dangerous because of thieves, assaults, and drugs, but the mosque has put many young people on the right path again."
Macron accuses towns of 'Islamist separatism'
French President Emmanuel Macron announced in February that France would crack down on "Islamist separatism" and end a system in which foreign countries send imams to preach in French mosques.
The imam of Mosquée d'Argenteuil is one of the mandated imams who were brought to France by a cooperation program between France and Algeria to lead prayers in French Mosques. Asked about the decision to end the foreign imams system, he said that he believes the French authorities "want to qualify French imams who speak the French language and have good knowledge of the French culture."
President Macron had said a part of the crackdown campaign was to ensure "that the laws of the Republic are respected by everyone," but the Muslims Al Arabiya met during the Argenteuil visit showed no signs of disrespecting the law.
"There isn't a neighborhood that's isolated from the republic's laws," French Imam Abdul Ali Mamoun told Al Arabiya. The statement is "completely untrue and baseless," he added.
"Some of the far-right French people claim that these drug dealers are using the money to practice Islamic control over the neighborhoods, and that is completely false," he said.
"There's no correlation between religious extremism and the drug mafias."
A talk with a drug dealer
Drug dealers have been accused of using their illicit funds to impose Islamic control on the area.
Al Arabiya's al-Khatib met with one drug dealer, who said he is a Muslim and wanted people to "understand why we do what we do" but asked to remain anonymous.
The 30-year-old told Al Arabiya that he has been dealing drugs since he was 16 because he did not have money and came from a poor big family in which the breadwinner could barely provide necessities.
"I know I shouldn't be doing this, but we live in a harsh world that doesn't have mercy," he said. "This is our reality."
Asked about people who have left France to fight in Iraq and Syria, he said he does not understand their decision and that he does not consider it the right path.
Al-Khatib asked the drug dealer what he made of the accusation that dealers are distorting the image of Islam, scaring people, and financing terrorism and extremists.
"My work does not scare the residents. They come to us for solutions to their problems," he said, adding that whether they scare the police is unimportant. "After all they do to us, it's not important if we scare the police."
Sitting for the interview on a staircase, the drug dealer said that there is no official funding channel from the drug dealers to the town's mosques, but added that he individually donates money to the mosque.
https://english.alarabiya.net/en/features/2020/07/29/Meet-the-imams-drug-dealers-in-a-French-town-accused-of-Islamist-separatism-.html
--------
Following Israeli strike, Hezbollah ups its theatrics in Lebanon
30 July 2020
On 27 July, tensions flared between Israel and Lebanon, after the Israeli military reported that a number of Hezbollah fighters crossed into Shebaa Farms, which is disputed territory. The Lebanese militant group quickly denied the move, and the mysterious incident falls within Hezbollah's psychological warfare, which targets Israel and Hezbollah's popular base as the group faces mounting challenges at home.
Monday's failed infiltration, which was seen as a response to Israeli strikes on Iranian interests in Syria a week before, that killed Hezbollah fighter Ali Kamel Mohsen Jawad was unusual in many ways. According to media reports, a Hezbollah cell comprised of three to five fighters crossed the blue line border a few meters into Israeli-controlled territory in the Shebaa Farm region, where it was repelled by Israeli troops.
"The attack is in itself peculiar as it took place during the day in an area under heavy drone surveillance," said Nicolas Blanford, senior non-resident fellow at the Atlantic Council.
For all the latest headlines follow our Google News channel online or via the app.
While the group denied responsibility for the operation, a source close to Hezbollah's fighters confirmed the group was behind the operation.
Brahim Beyrarm, a journalist and analyst close to the organization also believes the group to be behind the attempted infiltration, which he says is part of the group's psychological warfare on Israel.
As pressure mounts on Hezbollah, and the group faces larger repercussions for its military interventions around the region and support from its popular base shrinks at home, the party will rely more heavily on psychological warfare. Lebanon's dire economic situation also contributes to this shift.
This will translate in two types of operations: Hezbollah could resort to small covert operations by "unknown" groups on the borders or in disputed territories such as the Shebaa Farms.
"This was the case in March 2014, when four Israeli soldiers were hurt by an IED (improvised explosive device) blast near the demilitarized zone between the Israeli-occupied Golan Heights in Syria, and Israel. While Hezbollah never claimed the attack, everyone knew it was behind the bombing," added Blanford.
Propaganda and theatrics are other tools Hezbollah could opt for, as they project an aura of power while maintaining the status quo, explained activist Ali Amin. This approach is seen as part of a tacit agreement between Israel and Hezbollah. A case in point is the escalatory strikes last September on the border. At the time Hezbollah launched a retaliatory attack in south Lebanon, after two drones hit its stronghold in the Beirut suburbs. It is believed that the Israeli military then faked injuries of soldiers to make Hezbollah believe it caused damage during the following round of fighting on the Lebanese border.
The million dollar question that remains is whether theatrics and propaganda will prevent the escalation of violence on the Lebanese and Israel Border. In a recent interview, Deputy Hezbollah leader Naim Qassem, dismissed the prospect of any military escalation with Israel.
Yet a source close to Hezbollah fighters explains that "Hezbollah will definitely retaliate a second time, given the first attempt failed," and added that if the organization did not, its credibility will be further damaged given the unpreceded disastrous economic situation the country is facing.
Hezbollah and its allies are backing the current government of Prime Minister Hassan Diab.
"They are caught between a rock and a hard place," the source said.
Yet Middle East Strategy Intelligence analyst Avi Melamed, who follows Israeli politics closely, explained that while Israel has no interest in an all-out war with Hezbollah, Israel's strategic interest is to disrupt Iran's attempt to build military infrastructure in Syria that could target Israel.
That means ultimately that Israel is willing to risk an extensive war on more than one front if they wager a war would be in their strategic interest.
"Hezbollah's leader Hassan Nasrallah is wrong to think that by threatening Israel, it will avoid Israel acting against Iran's hostile deployment. Israel will continue to attack Iran's hostile deployment whenever and wherever it decides to. Accordingly, the odds for [an] Israeli-Hezbollah massive collision increases," Melamed concluded.
https://english.alarabiya.net/en/features/2020/07/30/Following-Israeli-strike-Hezbollah-ups-its-theatrics-.html
--------
Syrian army forces find human organs intended for trafficking inside ex-militant redoubt
30 July 2020
Syrian military forces have discovered a large number of human body organs persevered in chloroform and intended for trafficking while conducting clean-up operations in the country's northwestern province of Idlib.
A local source, requesting anonymity, told Syria's official news agency SANA that a doctor affiliated to foreign-sponsored Takfiri militants had transformed a house in the village of al-Ghadfa into a medical laboratory, where many packages of human organs, including eyes, hearts, lungs, livers and kidneys, were being kept in chloroform solution.
The report added that the packages were marked with male and female names, while there were records inside the house containing the names of people with descriptions of their general health conditions.
Back in November 2019, Russian experts warned that members of the so-called civil defense group White Helmets are involved in forcible removal of organs from Syrians living in militant-controlled areas.
"They (White Helmets) were a key element in this illegal scheme of organ removal. We learned about those incidents from the people whom we interviewed. This information came as an unpleasant surprise to us," the director of the Russian Foundation for the Study of Democracy, Maxim Grigoryev, said at the time as he presented a survey entitled "White Helmets: Terrorist Abettors and Sources of Disinformation" at the Russian Foreign Ministry in Moscow.
He noted that Russian researchers made the discovery while interviewing residents of Syrian regions where White Helmets were most active.
Grigoryev and his colleagues conducted more than 100 interviews not only with residents of the major cities of Aleppo, Douma, Dayr al-Zawr and the southern town of Saqba, but also with over 40 members of White Helmets and some 20 former militants.
According to eyewitnesses' testimony, White Helmets were involved in extracting human organs from the bodies of ill-fated people whom they had promised medical assistance. After that, their relatives received bodies with some vital organs missing. This came to light when the bodies were examined and weighted, he pointed out.
US-backed SDF militants impose curfew across Hasakah
Meanwhile, Kurdish-led militants from the so-called Syrian Democratic Forces (SDF) have imposed a raft of new restrictions across Syria's northeastern province of Hasakah.
Syria's pro-government and Arabic-language al-Watan newspaper reported that the new restrictions came into force on Thursday, in addition to implementing an open-ended lockdown during Eid al-Adha (the Feast of Sacrifice), which marks the culmination of the annual Hajj pilgrimage.
Under the new measures, local residents have to stay at their homes and movement of individuals is prohibited. Moreover, all social gatherings and visits and intercity travels are banned during Eid al-Adha.
US-backed SDF officials allege that they have adopted the measures in response to an alarming increase in cases of coronavirus infection across Hasakah over the past few days.
https://www.presstv.com/Detail/2020/07/30/630754/Syrian-army-forces-find-human-organs-intended-for-trafficking-inside-ex-militant-redoubt
--------
Pak Army, ISI with support of China are planning to declare Karachi a federal territory: Altaf Hussain
Jul 31, 2020
LONDON: Pakistan Army and Pak spy agency Inter-Services Intelligence with the support of China are planning to declare Karachi a federal territory to usurp its resources, Muttahida Qaumi Movement leader Altaf Hussain said.
"Pakistan Army and ISI along with China have completed its nefarious design to declare Karachi a federal territory to usurp its resources," a statement quoted Hussain as saying.
Hussain remarks come in response after Pakistan Prime Minister Imran Khan announced that he has asked the Army to assist the authorities in cleaning up in the aftermath of the rain in Karachi.
"According to the nefarious design, under the guise of the task of cleaning the city, Karachi is being handed over to the Army," Hussain said.
He said that federal ministers of PTI government are making open statements in the favour of "nefarious" design of Army to take Karachi in the control of Islamabad.
"Rather than to give more autonomy, rights and power to Karachi, Imran Khan-led government are trying to take into federal control of this megacity, is strongly condemnable," the MQM leader said.
Altaf Hussain called people to come forward to foil this conspiracy of Army and Pakistan government.
https://timesofindia.indiatimes.com/world/pakistan/pak-army-isi-with-support-of-china-are-planning-to-declare-karachi-a-federal-territory-altaf-hussain/articleshow/77275601.cms
--------
Indonesia ranks among most religious countries in Pew study
July 31, 2020
Indonesians are among the most religious people in the world, a recently released survey from the Pew Research Center says.
Nearly all Indonesian respondents (96 percent) surveyed stated that belief in God was necessary to be moral and have good values, revealed the Pew Research Center's "The Global God Divide" report, published on July 20.
The results of the survey, which covered 34 countries, places Indonesia alongside the Philippines as the two countries with the highest percentage of citizens (96 percent) who equate belief in God with having good values.
Most Indonesians also deemed religion, God and prayer to be an important part of their lives, at respectively 98 percent, 91 percent and 95 percent of respondents.
"Over time, the importance of religion in Indonesia has not changed, making it one of the most religiously devout public that we surveyed," Jacob Poushter, Pew associate director of global attitudes research, told The Jakarta Post on Wednesday.
The survey confirmed that it was important for Indonesians to define themselves along religious lines, with "religiously unaffiliated people" like agnostics and atheists rarely found in the country.
Indonesian laws guarantee freedom of religion, although in its implementation, citizens must subscribe to one of the six approved official religions: Buddhism, Catholicism, Confucianism, Hinduism, Islam or Protestantism.
Experts have said that Muslim-majority Indonesia is neither an Islamic state nor an entirely secular one, with religion largely recontextualized as a sociopolitical issue through the country's democratic and nationalist principles.
Meanwhile, Poushter noted that Indonesia bore similarities with other highly religious societies in emerging and developing economies, where people generally tended to be more religious than people in more advanced economies.
Wahid Foundation researcher Alamsyah M. Djafar suggested that the government's move to formalize religion may have bolstered Indonesians' high level of religiosity as shown in the Pew survey. The government's policy on religion includes permitting specific regions to adopt sharia, such as Aceh where it is obligatory for Muslim women to wear hijab.
Other factors like economic inequality, the politicization of religion and wide-ranging uncertainties across various sectors may have also contributed to high religiosity in Indonesia, as religious institutions offered their congregations a sense of certainty and safety.
But Alamsyah also pointed out that intolerance remained prevalent in the country.
He criticized a 2006 decree that made it difficult for minority religions to build places of worship.
The joint ministerial decree on houses of worship requires a congregation to collect 90 signatures from its members and another 60 signatures from other residents in the community before a building permit can be issued. Many minority religions have been unable to fulfill the requirement and so have been unable to build a house of worship.
Alamsyah also said that local administrations had been inconsistent in supporting minority religions that could not meet the decree's requirements.
His view echoes that of many activists who have long criticized the decree and its misuse by local communities across the country as a means of obstructing the construction of places of worship for minority religions.
Experts have also previously condemned the draconian 1965 Blasphemy Law that privileged the Muslim majority over religious minorities, as well as discriminative regional bylaws that provide justification for religious intolerance.
In addition to fixing the regulatory loopholes, Alamysah called on the public to employ critical thinking in their religious belief.
"Critical thinking is shown in how people understand religion from more than one source or opinion. If they deem one [religion] is wrong and another is right, then he or she is likely following a conservative view," he said.
Meanwhile, Religious Affairs Ministry spokesman Oman Fathurahman said on Monday that the Indonesian results of the Pew survey were "unsurprising".
"Spirituality has been an inseparable part of Indonesia for hundreds of years," he said.
Oman was quick to add that Indonesia's high religiosity must be balanced with moderate, inclusive understanding that did not claim "a [particular] religious interpretation as absolute truth", considering the diverse religious beliefs and practices of Indonesia.
He said the ministry was currently strengthening and expanding its "religious moderation" programs and was including the programs in the ministry's five-year development plan to guide future policies on religion.
Oman stressed that the purpose of religious moderation was to prevent acts of intolerance and conservative extremism, as well as to educate people to avoid freely "ignoring or degrading [other] religious values".
"In principle, they must be fair and balanced in practicing religious teachings and not be excessive [in leaning toward] either the extreme right and left, because they will both be counterproductive for the very religious people of Indonesia," he said.
https://www.thejakartapost.com/news/2020/07/30/indonesia-ranks-among-most-religious-countries-in-pew-study.html
-------
Libya's LNA: Turkey sending mercenaries of various nationalities, not only Syrians
29 July 2020
Turkey is not only sending Syrian fighters to Libya but mercenaries of various nationalities, Libyan National Army (LNA) spokesman Khaled al-Mahjoub told Al Arabiya on Tuesday.
He added that the LNA was continuing its reinforcements to defend the country's "oil crescent," the central region that contains over 60 percent of Libya's oil, stressing that Turkey, Qatar and the Muslim Brotherhood were mainly focused on the "oil crescent."
For all the latest headlines follow our Google News channel online or via the app.
A recent report by Somali media said that Turkey and Qatar recruited thousands of Somali mercenaries to fight in Libya alongside the Government of National Accord (GNA) which Ankara supports.
Turkey had sent thousands of Syrian fighters to support the GNA, according to the Syrian Observatory, a war monitor.
Libyan conflict
Libya has plunged into chaos since the 2011 toppling of dictator Moammar Gaddafi.
Clashes between the two main warring parties in the country, the LNA, commanded by Khalifa Haftar and the GNA, led by Fayez al-Serraj, have intensified recently.
Many foreign powers have backed different sides of the conflict with varying degrees of support, with the most prominent countries being Turkey backing the GNA and Egypt backing the LNA.
The possibility of further escalating the conflict in the North African country increased after Egypt's parliament authorized the deployment of troops outside the country, allowing Egyptian President Abdel Fattah al-Sisi to act on his threat of military action against Turkish-backed forces in Libya.
Turkish media outlets said Ankara put in place a plan to increase its forces and military equipment in Libya to confront Egyptian forces in case Cairo decides to intervene.
https://english.alarabiya.net/en/News/north-africa/2020/07/29/Libya-s-LNA-Turkey-sending-mercenaries-of-various-nationalities-not-only-Syrians.html
--------
India
Construction of Mosque on 5-acre plot in Ayodhya Babri litigant miffed at being left out of Trust
by Asad Rehman
July 31, 2020
Babri Masjid-Ramjanmabhoomi title suit litigant Iqbal Ansari on Thursday expressed his displeasure at not being consulted or invited to join a trust set up by the Sunni Central Waqf Board the day before to facilitate the construction of a mosque on five-acre land in Ayodhya district's Dhannipur village. The trust has been named the Indo-Islamic Cultural Foundation.
The Uttar Pradesh government allotted the land earlier this year following the Supreme Court's directions regarding an alternative site for a mosque and other facilities. In the verdict last year, the court had permitted the construction of a Ram temple on the land in Ayodhya where the Babri Masjid stood before its demolition by "kar sevaks" in 1992.
Iqbal Ansari is the son of Hashim Ansari, who was the oldest litigant in the title suit case. He told The Indian Express, "We have fought the case for 70 years and have taken on enmity with people in Ayodhya and spent everything we had in the case…Now, when the mosque is being built, we are not even consulted. We aren't even asked if we want to be part of the trust. If I want to be a part of the trust comes later, but the Waqf Board should have at least asked us."
Responding to Ansari's allegation, the Indo-Islamic Cultural Foundation's spokesperson, Athar Hussain, said, "The Supreme Court gave this land to the Sunni Waqf Board, and it is the decision of the Board to decide who will be part of the trust. I accept that Ansari sahabhas emotional attachment with the case and the issue, but he never made any correspondence with the Board after the verdict in the matter came."
While the names of nine members of the foundation were announced by the Waqf Board on Wednesday, six others are expected to be named soon. Sunni Central Waqf Board chairperson Zufar Ahmad Faruqi is the chief trustee and president of the foundation.
He is an agriculturist from Leherpur in Sitapur district, and one of the town's big landowners.
Treasurer Adnan Farooq Shah is a member of the Waqf Board, and comes from a land-owning family in Gorakhpur district.
The foundation's second treasurer, Faez Aftab, is an industrialist from Meerut. He manufactures sports goods and other products, and is also an exporter.
Secretary Athar Hussain belongs to a land-owning family in Lucknow. He is a political analyst, and makes regular appearances on TV news debates. Hussain also analyses state elections on news channels. Mohammad Junaid Siddiqui, who is part of the Waqf Board, is a member of the foundation, while the Board's CEO Mohammad Shuaib has been named founder trustee.
Following the end of his term, his successor as CEO will take over his position on the trust.
Lucknow-based social activist Mohammad Rashid, who also comes from a land-owning family, is a trustee, along with Samajwadi Party leader Imran Ahmad, who lost the 2012 Assembly elections from Lakhimpur, and Sheikh Sauduzzaman.
Sauduzzaman is the mutawalli, or caretaker, of one of the biggest private Waqf properties in the state in Banda district.
He belongs to the Banda nawab's family. Mohammad Shuaib said the nine members were selected at a virtual board meeting on July 19. "Some people were selected because they have been part of the mediation process.
The names were proposed by the Board members. People who were constructive in reaching a conclusion to the dispute over the land in Ayodhya and those who could keep politics away from the issue have been made part of the trust," he added.
Asked how long it would take to build the mosque, Shuaib said, "First we need to get physical possession of the land that has been given to us. Then, we will draw out a plan regarding the mosque from an architect. There is no immediate deadline."
Asked about the selection of the remaining six members of the trust, he said, "It will be decided in the next meeting, which will be held soon."
https://indianexpress.com/article/cities/lucknow/construction-of-mosque-on-5-acre-plot-in-ayodhya-babri-litigant-miffed-at-being-left-out-of-trust-6532096/
--------
Prayers can be offered with limited people in mosques on Eid al-Adha: Kerala CM
Jul 31, 2020
Prayers can be offered in mosques with a limited number of persons on the occasion of Eid al-Adha on August 1, said Kerala Chief Minister Pinarayi Vijayan on Thursday.
He welcomed those mosque committees which decided to cancel prayers in view of COVID-19.
"On Eid al-Adha, prayers can be offered in mosques with a limited number of persons. Some mosque committees in Kerala have decided to cancel prayers in view of COVID-19 which is a welcome step. The situation is not suited for large gatherings," Vijayan said.
Eid al-Adha or Bakrid, also known as "Sacrifice Feast" is marked by sacrificing an animal, usually a sheep or a goat to prove their devotion and love for Allah. Post the sacrifice, devotees distribute the offering to family, friends, neighbours and especially to the poor and the needy.
https://www.dnaindia.com/india/report-prayers-can-be-offered-with-limited-people-in-mosques-on-eid-al-adha-kerala-cm-2835026
--------
Ayodhya: 5-acre allotted for mosque wears deserted look, no sign of activity
Nelanshu Shukla
July 30, 202
While the city of Ayodhya is being decked up for the August 5 ground-breaking ceremony (bhumi pujan) of the Ram Mandir, 25km from the site, the five-acre land that has been allotted to the UP Sunni Central Waqf Board to construct a mosque, wears a deserted look.
The land has been allotted to the Board in Dhannipur village. Locals say they have not seen any activity around it since months.
Speaking to India Today TV, Sohrab Khan, a local resident, said, "The Sunni Waqf Board accepted the land in February. It was given by the government following the Supreme Court order in the Babri Masjid-Ram Janmbhoomi land title dispute case. A team of the Sunni Waqf Board came here once to see the land. However, we haven't seen any activity here."
Sohrab Khan said locals want the mosque to be constructed "at the earliest", and the government should announce schemes to develop their area.
On Wednesday, the Sunni Waqf Board announced a 15-member Trust named the Indo-Islamic Cultural Foundation. The Trust will plan and oversee the mosque construction.
However, the statement made by the Trust's secretary Athar Husain indicates that construction work on the five-acre land is unlikely to begin anytime soon.
Speaking to India Today TV, Athar Husain said, "We will apply for a PAN number and open a bank account for the Trust. We will also look for an office. There are other formalities which are pending. All this may take 30-45 days for us to settle down. After completing the procedures, we will be holding a meeting for the construction of mosque."
He said the Trust plans to construct a mosque, an Indo-Islamic research centre, a library and a charitable hospital for people living in the area. "We are dependent on public donation to start the construction work. However, we have already been assured some financial support. There is no delay in formation of the Trust. We couldn't execute our plans earlier due to the Covid-19 outbreak," Hussain said.
Meanwhile, responding to the formation of Trust to facilitate construction of a mosque in Ayodhya, former Babri Masjid litigant Iqbal Ansari said, "I have nothing to do with the Sunni Waqf Board and the Trust which has been formed. The land should have been given in Ayodhya for construction of a hospital. I would prefer to offer namaaz at a mosque near my home."
https://www.indiatoday.in/india/story/ayodhya-5-acre-allotted-for-mosque-wears-deserted-look-no-sign-of-activity-1706176-2020-07-30
--------
Pakistan indulging in activities to deflect attention from support to terror: India
Jul 30, 2020
NEW DELHI: As Pakistan plans to hold protests to mark one year of the scrapping of Article 370, India on Thursday said the neigbouring country indulges in such activities to divert international attention from its support to cross-border terrorism in Jammu and Kashmir.
August 5 will mark the first anniversary of India's decision to abrogate Article 370 of the Indian Constitution from Jammu and Kashmir and to bifurcate the state into two union territories.
"They indulge in activities to deflect international attention from support to cross border terrorism," external affairs ministry spokesperson Anurag Srivastava said at an online media briefing, replying to a question on Pakistan's planned activities to protest India's action of scrapping of Article 370 on its first anniversary next week.
"As far as India is concerned, August 5 will be a historic day for us as on this day, we could remove the hurdles for overall development of Jammu and Kashmir and Ladakh," he added.
As per reports, Pakistan is planning to hold protests and reach out to several countries against India's decision to scrap Article 370 that extended special status to Jammu and Kashmir.
https://timesofindia.indiatimes.com/india/pakistan-indulging-in-activities-to-deflect-attention-from-support-to-terror-india/articleshow/77269022.cms
--------
Terrorist violence in J&K down 36%; law & order incidents fall by 74%
Jul 31, 2020
NEW DELHI: Terror-related violence in Jammu & Kashmir till July this year was two-third of the levels witnessed during the corresponding period of 2019, while law and order incidents dipped sharply by 74%. Also, the number of terrorists killed in the first seven months of 2020 is already nearing the figure for entire 2019.
As per data accessed by TOI, 120 violent incidents were recorded in J&K till July 15 this year, down from 189 in the corresponding period of 2019. Of these, 69 related to cross-firing and encounters initiated by the security forces while 21 were grenade attacks, 22 random firing by terrorists and one IED blast. In 2019, till July 15, there were 81 cross firing/encounters, 51 grenade attacks, 60 IED blasts and 43 random firings by terrorists.
Security forces' fatalities fell to 35 till July 15, 2020 from 75 in the same period last year. There has been little change in civilian killings (22 this year) though injuries to civilians fell by 75%. Law and order incidents too have fallen by 74% from 389 till July 2019 to 102 till July this year.
"The only thing that has risen are ceasefire violations: from 267 till July 2019 to 487 in the corresponding period of 2020. However, infiltration attempts have fallen by almost 50% over this period," DGP Dilbag Singh told TOI.
As many as 141 terrorists were neutralised till July this year (the number till July 30 has gone up to 150), as compared to 131 till July 31 last year. In entire 2019, 157 terrorists – 125 local and 32 foreign -- were killed as there were negligible encounters in the months following abrogation of Article 370 in J&K on August 5.
Of the 141 terrorists neutralised this year, 109 were killed between April and July, with the number peaking at 49 in June. In 2019, 25 terrorists were killed in June.
Importantly, 88% or 124 of the 141 terrorists killed this year were local Kashmiris, while 17 were foreign terrorists. Also, 108 terrorists were killed in South Kashmir alone — 37 in Shopian, 36 in Pulwama, 21 in Kulgam and 14 in Anantnag.
Local terror recruitment cases fell by 36% to 80 till July 2020 from 124 till July 2019. Many of these recruits have already been neutralised.
J&K police chief attributed the fall in local recruitment to care taken by the police to avoid any collateral damage to civilians during encounters, zero tolerance towards misconduct against the public by a person in authority, and good management of terrorists' burials.
On why local militant casualties are higher, an officer said: "There are around 250 terrorists in J&K, of which 100 are in south Kashmir alone. Of the 250, 35-40% are foreign terrorists, who mostly hide in the uninhabited stretches/forests of North Kashmir. Local militants live in towns and villages and far more intelligence on them is available".
While J&K police persuade local militants to surrender during encounters, even getting their families to make direct appeals, they rarely surrender. Sources said this is as the militant fears retribution from active cadres, alienation from the society and sees no tangible benefits from surrender," said a government functionary.
https://timesofindia.indiatimes.com/india/terrorist-violence-in-jk-down-36-law-order-incidents-fall-by-74/articleshow/77276085.cms
--------
3 Assam Rifles men killed in terrorist ambush
Jul 31, 2020
IMPHAL: Three Assam Rifles personnel were killed and five others injured in an ambush by underground militants at Khongtal in Manipur's Chandel district bordering Myanmar on Wednesday evening.
Three outfits — Manipur Naga People's Front (MNPF), Revolutionary People's Front (RPF), and Ulfa-I — claimed responsibility for the attack. In a joint media statement, they said a combined team of their cadres carried out a "joint military offensive against the Indian security forces."
Terrorists set off IEDs before opening fire on troopers
They added that the people of Western South East Asia (WeSEA) were countering the "expansionism of India" and the attack was launched for the "independence struggle against Indian colonisation and expansionism". Official sources said a contingent of 15 personnel from Assam Rifles (4th battalion), who were on patrolling duty, came under attack when they were returning to their base at Khongtal around 7pm.
The militants exploded IEDs before they opened fire at the paramilitary personnel, who were led by a junior commissioned officer. The sources added that the security personnel fired in retaliation, which led to a heavy exchange of fire between the two sides for about 30 minutes. Havildar Pranay Kalita (Assam), riflemen Ratan Salam (Manipur) and Methna Konyak (Nagaland) were killed on the spot. The injured — Subedar S Haokip, Nitul Sharma, Vivekanan, Sandeeb Kumar (all havildars) and sepoy Anis Kumar — were taken to the military hospital at Leimakhong near Imphal in an Army helicopte
https://timesofindia.indiatimes.com/india/3-assam-rifles-men-killed-in-terrorist-ambush/articleshow/77273886.cms
--------
Red Flags In Delhi Over Erdogan's Turkey Funding Anti-India Activities: Official
Shishir Gupta
Jul 30, 2020
Islamist radical organisations in parts of the country including Kerala and Kashmir are being supported and funded by Turkish outfits backed by Recep Tayyip Erdogan's government in Ankara, people familiar with the development have told Hindustan Times.
"There is an effort to radicalise Indian muslims and recruit fundamentalists coordinated from Turkey," a senior government official said, underlining that a recent assessment in New Delhi had noted the emergence of Turkey as "the hub of anti-India activities" next only to Pakistan.
Ankara's attempt to expand its influence among South Asian muslims comes against the backdrop of President Erdogan's continuing pitch to challenge Saudi Arabia's dominance in the Islamic world at a global level and offering a reshaped, conservative Turkey with Ottoman traditions as the model for other Islamic nations to follow.
The reconversion of the Byzantine cathedral Hagia Sophia to a mosque last week was a giant step in this direction, counted by commentators as a milestone in Turkey's rebirth as a powerful, muslim nation. The church had been converted into a mosque after the Ottoman conquest of Constantinople, now Istanbul - and from mosque to museum in 1934.
The change fits in with Erdogan's long-term plan to project himself as a global protector of muslims, much like the Ottoman Caliphs. He had last year taken baby steps to build an alliance of non-Arab Islamic countries along with a handful of countries including Pakistan's Imran Khan and Malaysia's Mahathir Mohamad. Iran and Qatar were also roped in.
Pakistan watchers say Islamabad latched on to Turkey's Erdogan after India deepened its ties with Saudi Arabia and the United Arab Emirates.
Imran Khan, however, backed out of the meeting at the last minute due to pressure from Riyadh but has made up by feting Erdogan - called Sultan by some supporters - at home, even emulating some of his policies back home.
Officials believe that Erdogan's political agenda has driven his government to expand its influence with South Asian muslims, particularly those in India.
Indian officials said the Turkish government had funded Kashmir's hardline separatist leader such as Syed Ali Shah Geelani for years. But it is the rapidly expanding scale of the effort that recently nudged security agencies to carry out an extensive review.
The Erdogan government has been funding religious seminars in India, recruiting fundamentalists to radicalise people and even take freshly-minted radicals on all-expense trips to Turkey to reinforce their learnings.
The security review also referred to a Kerala-based Islamist radical organisation that had been funds from Turkey for some time.
"We are also aware of some people from this group travelling to Qatar to meet some people from Turkey to seek funding for their activities," a government official said. "That amounts as high as Rs 40 lakh are being offered to preach radical Islam in Kerala". Besides, officials said Turkey, along with Pakistan, have also been funding Zakir Naik, the controversial Islamic preacher accused of radicalising muslims, via Qatar, a senior official said.
Turkey has become Pakistan's "new Dubai" at a smaller scale, the official added, a reference to the United Arab Emirate's city that used to be a second home to Pakistan's ISI between 2000 and 2010 and the epicenter of anti-India activities in west Asia.
During this decade, Pakistan's ISI was able to radicalise some Indians and turn them against their own country. It is also here that the founders of terror group Indian Mujahideen were first radicalised. Since 2014, however, the United Arab Emirates has turned into one of India's closest partners with no protection or sanctuary for anyone indulging in anti-India activities.
Turkey also stepped in early this year when protests broke out over India's amendment to the citizenship laws, not just to criticise the change that was perceived to potentially hurt the interests of muslims but also with money to keep the protests going, according to an intelligence assessment accessed by HT.
Indian security officials believe that much of this radicalisation effort being bankrolled by Ankara was being carried out in coordination with Pakistan's deep state. To be sure, Erdogan was the only world leader to speak out against India in the UN general assembly over Kashmir.
On a visit to Pakistan earlier this year, he went on to assert that Kashmir is as important to Turkey as it is to Pakistan. "Kashmir is and will be the same for us. It was Çanakkale yesterday and it is Kashmir today, he said in February.
Turkey is the only country that actively backs Pakistan's Kashmir agenda in OIC and is also forging close economic ties with China.
https://www.hindustantimes.com/india-news/erdogan-s-turkey-doesn-t-stop-at-kashmir-barbs-funds-radicalisation-too-official/story-Ct1HpX1q0WLW0exZx8Hv5N.html
--------
North America
Trump nominee hearing pulled amid furor over Islam remarks
Jul 30, 2020
WASHINGTON: A Senate committee abruptly cancelled a confirmation hearing on Thursday on a controversial former general's nomination to a top Pentagon post, amid continued furor over offensive remarks he made about Islam and other inflammatory comments.
The nomination of retired Army Brig. Gen. Anthony Tata to be the Pentagon's under secretary for policy was already under fire from Senate Democrats, who sent a letter to him this week calling for him to withdraw.
Tata, a staunch supporter of President Donald Trump and a Fox News commentator, has been working in the department as a senior adviser. It wasn't clear on Thursday if his nomination would be withdrawn.
According to media reports, Tata posted tweets in 2018 calling Islam the "most oppressive violent religion I know of," and he called former President Barack Obama a "terrorist leader," and referred to him as Muslim. The tweets were later taken down.
The committed chairman, Sen. Jim Inhofe, R-Okla., announced the hearing's cancellation shortly before it was scheduled to start.
"There are many Democrats and Republicans who didn't know enough about Anthony Tata to consider him for a very significant position at this time," Inhofe said.
He said the panel didn't get required documents from Tata until Thursday. "As I told the President last night, we're simply out of time with the August recess coming, so it wouldn't serve any useful purpose to have a hearing at this point, and he agreed."
The committee's top Democrat, Sen. Jack Reed of Rhode Island, said the senators had a closed-door meeting on Tuesday, and Inhofe "did the right thing."
"It's fair to say members on both sides of the aisle have raised serious questions about this nominee," Reed said.
According to a statement from the senators who sent the letter, Tata walked back his statements, "many of which he deleted, only after his nomination became public."
They said Tata referred to the tweets as an "aberration in a four-decade thread of faithful public service."
The letter to Tata, signed by nine Democratic senators and Vermont Independent Sen. Bernie Sanders, said, "Your letter to committee leadership appears to be a conveniently timed retraction by someone who has suddenly realized his nomination is in jeopardy. But your multiple past statements cannot be dismissed simply as an aberration."
Islamic groups have repeatedly called for lawmakers to oppose Tata's nomination. And they hailed the hearing cancellation.
Tata, who retired in 2009 after 28 years in the Army, served in a number of command and combat jobs.
https://timesofindia.indiatimes.com/world/us/trump-nominee-hearing-pulled-amid-furor-over-islam-remarks/articleshow/77268475.cms
--------
Muslim families keeping Eid Al-Adha traditions alive in the US
July 30, 2020
LOS ANGELES: For Arabs and Muslims living in the United States, this Eid Al-Adha marks another holy day that must be celebrated at home.
But for some families, this gives parents the opportunity to use crafts and activities to keep their children entertained and teach them about their cultural heritage.
Arab News spoke with Nour Tonbakji to find out how her family held on to Eid Al-Adha traditions while living in Los Angeles.
"The hardest thing about alienation is getting away from family and the feeling of loneliness and missing the atmosphere and the warmth of your own country and the beautiful gatherings," Tonbakji told us.
An expert in handicrafts, Tonbakji used crafting as a way to engage her children and connecting them to their heritage.
"Whenever I have any religious event or a point that I'd like to highlight to my kids, I try to use social media to find things I can print that can support the action I have in mind," she said. "So we do lanterns and crescent in Ramadan, during Eid Al-Fitr we do decorations & we do coloring or now in Eid Al-Adha we decorate sheep and a model for Kaaba."
Families like the Tonbakjis are also sharing their traditions with their new neighbors. And during the coronavirus pandemic even small gestures are going a long way toward building a community.
"Kids share in everything of course so that they feel the happiness and that there is an occasion happening now and we do the same thing during Ramadan or during any occasion that relates to us," said Tonbakji.
"We usually prepare small bags gifts that include delicious meals and gifts and we distribute them to the neighbors and we tell them that we are passing through a religious event that's related to us and we add a small card that explains the event."
With Ramadan and now Adha overlapping with the pandemic, the Muslim community has faced exceptional circumstances this year. But the safety of the people remains the most important, as Eid will come again next year with better conditions.
https://www.arabnews.com/node/1712351/lifestyle
--------
US slaps more sanctions on Iran's nuclear, ballistic missile programs
30 July 2020
Washington Thursday expanded the scope of its sanctions targeting Iran's nuclear, military and ballistic missile programs, US Secretary of State Mike Pompeo announced.
"Today, I expanded the scope of Iran metals sanctions targeting Iran's nuclear, military, and ballistic missile programs. Knowingly transferring any of these 22 metals to Iran is now sanctionable," Pompeo tweeted.
For all the latest headlines, follow our Google News channel online or via the app.
He added: "Our pressure will continue until Iran behaves like a normal nation."
In a separate statement released, Pompeo said he was continuing his determination "that the Islamic Revolutionary Guard Corps (IRGC) controls Iran's construction sector."
As a result, Pompeo said, "any knowing transfer of certain materials, including graphite or raw or semi-finished metals, to or from Iran to be used in connection with the construction sector of Iran remains sanctionable."
https://english.alarabiya.net/en/News/middle-east/2020/07/31/US-slaps-more-sanctions-on-Iran-s-nuclear-ballistic-missile-programs.html
--------
Pompeo says he raised Taliban 'bounties' on US troops with Russia despite Trump not doing so
30 July 2020
US Secretary of State Mike Pompeo says that the Trump administration has confronted top Russian diplomats and military officers over the allegations about suspected Russian bounties on coalition forces in Afghanistan, despite Donald Trump previously calling it a "Fake News tale."
Last month, the New York Times reported that a Russian military intelligence unit had offered Taliban-linked militants bounties to carry out a series of attacks against coalition forces, including American troops, in Afghanistan.
The bombshell report, which was soon "confirmed" by some other newspapers, including the Washington Post and the Wall Street Journal, further claimed that US intelligence officials had also reached the conclusion about the clandestine payments and then briefed Trump in March.
The New York Times also reported that Trump had claimed that he was not briefed on any reports that Russians offered Taliban militants bounty.
The president, on the other hand, blamed the "fake news" for the allegations, calling the story a "hoax."
On Thursday, Pompeo told lawmakers, "I can assure you and the American people that each time I've spoken with [Russian Foreign Minister Sergey] Lavrov, I have raised all of the issues that put any American interests at risk, whether it's our soldiers on the ground in Syria, soldiers on the ground in Afghanistan, the activities that are taking place in Libya, the actions in Ukraine."
"Each and every one of these [issues] that potentially threaten American interests are things that I raise in my conversations with Foreign Minister Lavrov, and I speak with him with some frequency," Pompeo testified before the Senate Foreign Relations Committee.
Trump also said earlier this week he has never discussed such reports with Russian President Vladimir Putin, although he had reportedly talked with his Russian counterpart on at least eight occasions since the intelligence was reportedly included in his daily briefing.
In February, Trump's daily written brief had in it a report that Russia might have been placing bounties on the heads of US troops, with payments of up to $100,000, according to the New York Times.
However this week, when Trump was asked about whether he had raised the issue in his most recent phone call with Putin, he said he had not.
"That was a phone call to discuss other things, and frankly, that's an issue that many people said was fake news," Trump said.
He later added, "I have never discussed it with him, no."
Meanwhile, Pompeo refused to criticize Trump for not mentioning the issue with Putin, saying he would "leave it to the president what he wants to say to other leaders".
He went on to say that "make no mistake about it, the proper people have been aware of every single threat to our soldiers on the ground in Afghanistan, whether that was [General Austin S] Miller, or my team at the embassy there in Kabul," referring to the US general in charge of NATO forces in Afghanistan.
https://www.presstv.com/Detail/2020/07/30/630788/US-Russia-bounties-Taliban-American-troops-
--------
South Asia
Taliban say will free Afghan government inmates before Eid al-Adha
30 July 2020
The Taliban militant group says it will release the remaining Afghan government prisoners before Eid al-Adha (the Feast of Sacrifice) as a "goodwill gesture."
Suhail Shaheen, a spokesman for the Taliban's office in Qatar, said in a statement on Twitter on Thursday that the militant group had decided to release the 1,000 prisoners before Eid al-Adha, which marks the culmination of the annual Hajj pilgrimage.
Shaheen called on the Afghan government to complete the release of the 5,000 Taliban prisoners that has been underway in a gradual format as part of a prisoner swap between the two sides.
Afghan President Ashraf Ghani said on Tuesday that his government would soon complete the release of the 5,000 Taliban prisoners in order to demonstrate its commitment to peace.
He also said negotiations between the Afghan government and the Taliban militant group were expected to begin "in a week's time," following the completion of the prisoner exchange.
The prisoner swap has been an Afghan government obligation under a deal between the United States and the Taliban that was struck in February. The Afghan government, which was not a signatory to the accord, was required to release up to 5,000 Taliban prisoners. The militants, for their part, were obliged to free 1,000 government captives.
The exchange has been regarded as a first step toward broader talks between the government and the militants. Its implementation had faced hurdles since the deal was signed.
The deal envisages a complete withdrawal of US forces from Afghanistan, and the Taliban pledged not to attack American and other foreign forces. They made no such pledge in relation to the Afghan government and people.
The Taliban on Tuesday declared a three-day ceasefire for the Muslim holiday of Eid al-Adha, starting Friday. Kabul welcomed the announcement with a note of caution.
The truce announcement has been welcomed by the public and officials in Afghanistan and they have called for a lasting ceasefire in the war-ravaged country.
The militants declared a similar three-day ceasefire at the end of the holy fasting month of Ramadan in May. That truce prompted widespread relief across Afghanistan, but it was short-lived, with the militants resuming deadly attacks straight afterwards.
Official data shows that bombings and other assaults by the Taliban have surged 70 percent since the militant group signed the deal with the United States.
https://www.presstv.com/Detail/2020/07/30/630738/Afghanistan-Taliban-prisoners-release-Eid-al-Adha
--------
Bangladesh arrests three suspects in Dhaka police station blast, denies Islamic State link
July 30, 2020
Dhaka: Bangladeshi police said they arrested three suspects in the bombing of a Dhaka police station and denied a claim of responsibility by the Islamic State group, saying the attackers were motivated by criminal intent.
Five people, including four police, were injured when a bomb hidden inside a weight machine-like object went off inside the Pallabi police station on Wednesday morning. The Islamic State group claimed credit for the blast in a statement the same day.
Three suspected hitmen were arrested Wednesday along with two loaded firearms and another weight machine-like object, said Dhaka Metropolitan Police Additional Commissioner Krishna Pada Roy.
Dhaka Metropolitan Police Deputy Commissioner for Counterterrorism and Transnational Crime Saiful Islam denied any links between the Islamic State group and the blast.
"IS made this kind of false claim in the past, too. This is also part of that process," he said. "As per the information available so far, criminal intentions were behind the blast and we're investigating the incident."
He also described as baseless claims made by US-based SITE Intelligence Group's founder Rita Katz.
Katz, in the tweet Wednesday, said the blast marked the first attack in Dhaka since last August and was part of a campaign in the lead-up to the Muslim holiday of Eid al-Adha.
The Islamic State has claimed similar attacks on police in the past. Authorities do not publicly reveal the results of their investigations.
Bangladesh has a history of attacks by radical groups. It experienced a rise in Islamic militancy in recent years, with groups targeting atheist bloggers, publishers and writers, members of minority groups and foreigners.
On 1 July, 2016, five militants took hostages and opened fire in a Dhaka cafe, killing more than 20 people, mostly foreigners. Seven members of a banned militant group were sentenced to death for the attack last year. The government had also rejected the IS claim of responsibility.
https://www.firstpost.com/world/bangladesh-arrests-three-suspects-in-dhaka-police-station-blast-denies-islamic-state-link-8657071.html
--------
Car bomb kills at least 17 in Afghanistan ahead of ceasefire, Eid al-Adha
30 July 2020
At least 17 people were killed in a car bomb explosion in Afghanistan on Thursday as crowds shopped ahead of the Muslim festival of Eid al-Adha, officials and a medic said.
"Seventeen bodies and 21 wounded people were brought to our hospital," Sediqullah, a senior doctor at a hospital in the city of Puli Alam in Logar province, told AFP.
For all the latest headlines follow our Google News channel online or via the app.
The interior ministry confirmed the blast, which came on the eve of a three-day ceasefire between the Taliban and Kabul.
"It was a suicide car bomb in a crowded place where our people were shopping for Eid al-Adha," Dedar Lawang, spokesman for Logar's governor, told AFP.
The explosion occurred near the governor's office, said Jamshed Ahmad, a student at the site of the blast.
The interior ministry condemned the explosion.
"The terrorists have once again struck on the night of Eid al-Adha and killed a number of our countrymen," interior ministry spokesman Tariq Arian said.
Taliban spokesman Zabihullah Mujahid said the blast had "nothing to do" with the insurgents.
The extremist Islamic State group, which has claimed a string of high-profile attacks on civilians in recent years, did not immediately comment on Thursday's blast.
The Taliban and Afghan government have agreed on a three-day ceasefire starting Friday, the first day of Eid.
The truce is slated to last for the duration of the festival, which marks the end of hajj.
The ceasefire has raised hopes of a permanent truce ahead of much-awaited peace talks between the two foes.
https://english.alarabiya.net/en/News/world/2020/07/30/Car-bomb-kills-at-least-17-in-Afghanistan-ahead-of-ceasefire-Eid-al-Adha.html
--------
Europe
Saudi bid to buy Newcastle soccer club ends over human rights issues
31 July 2020
A consortium backed by Saudi Arabia's sovereign wealth fund has withdrawn its bid to buy English Premier League club Newcastle United after the takeover process was stalled by concerns about piracy by the kingdom, and complaints that Riyadh is seeking to "sportswash" its human rights abuses through the purchase.
The investor group, which included Saudi Arabia's Public Investment Fund (PIF) chaired by Crown Prince Mohammed bin Salman (MBS) as well as the British-based PCP Capital Partners and Reuben Brothers, was reported to have made a 300 million-pound ($391 million) bid to buy the leading soccer club from British businessman Mike Ashley.
The takeover would have seen the PIF gain an 80 percent stake in the club. The British sides were planning to each buy the remaining 10 percent stakes to end the ownership.
"With a deep appreciation for the Newcastle community and the significance of its football club, we have come to the decision to withdraw our interest in acquiring Newcastle United Football Club," the consortium said in a statement released on Thursday.
"We do so with regret, as we were excited and fully committed to invest in the great city of Newcastle and believe we could have returned the club to the position of its history, tradition and fans' merit."
"Unfortunately, the prolonged process under the current circumstances coupled with global uncertainty has rendered the potential investment no longer commercially viable," the group added.
According to Bloomberg News, American businessman Henry Mauriss has also been considering placing a bid for Newcastle United and is prepared to offer about 350 million pounds.
The Premier League's board had been carrying out an examination of the proposed takeover over the past four months as part of its "owners and directors test,"
Amnesty International had asked the league to consider blocking the bid because Saudi Arabia's sovereign wealth fund is overseen by MBS, and said he has been involved in a "sweeping crackdown on human rights."
The proposed deal was also complicated by the World Trade Organization recently after it ruled that Saudi Arabia had breached global rules on intellectual property rights by failing to prosecute pirate broadcaster BeoutQ, which broadcasts Premier League games, and blocked moves to shut it down in an economic and diplomatic dispute with Qatar.
The Qatar-owned beIN Sports network, which is banned from operating in Saudi Arabia, holds the Middle East rights that are being pirated by BeoutQ.
Last month, British lawmaker Angus MacNeil wrote to Secretary of State for International Trade, Liz Truss, calling for Saudi takeover of Newcastle United to be blocked.
https://www.presstv.com/Detail/2020/07/31/630795/Saudi-Arabia-abandons-bid-to-purchase-Premier-League-club-Newcastle-United
--------
Deaths of "300 Russians" in Syria sent warning to Moscow, Pompeo says
31 July 2020
US Secretary of State Mike Pompeo says the deaths of "300 Russians" in a failed attack on a military base held by US and mainly Kurdish forces in Syria's oil-rich eastern province of Dayr al-Zawr more than two years ago sent a warning to Moscow.
Speaking at a Senate hearing on Thursday, Pompeo sought to forestall criticism over President Donald Trump's statement that he had not raised with his Russian counterpart Vladimir Putin accusations that Moscow paid the Taliban bounties to kill US troops in Afghanistan.
"I don't think there's any doubt in the mind of every Russian leader, including Vladimir Putin, about the expectations of the United States of America not to kill Americans," Pompeo told the Senate Foreign Relations Committee.
"I can promise you that the 300 Russians who were in Syria and who took action that threatened America who are no longer on this planet understand that, too," he said.
On February 7, 2018, hundreds of Russian forces aligned with Syrian government troops were killed in US airstrikes near the town of Khursham in Syria's Dayr al-Zawr province.
US officials claimed at the time that the Russian fighters had crossed the Euphrates River and were shelling the positions of the Kurdish-led militants from the so-called Syrian Democratic Forces (SDF), where American advisers were present.
Syria's state-run al-Ikhbariyah Syria television news network then condemned the "brutal massacre" by the United States, and said the bombing had left "dozens of people dead and wounded."
The Russian Defense Ministry also said Syrian government troops and their allies were hit as they launched an operation against the Daesh Takfiri terrorists in the region.
Russian jets have been carrying out air raids against targets belonging to the Daesh Takfiri terrorist group and those of other terror outfits inside Syria at the Damascus government's formal request since September 2015.
The airstrikes have helped Syrian forces advance against anti-Damascus terrorists, who have been wreaking havoc in the Arab country since 2011.
Earlier this month, the Kremlin roundly dismissed news reports that US intelligence had allegedly found Russia offered bounties on American troops in Afghanistan.
Kremlin spokesman Dmitry Peskov called the reports "hoaxes," and stated that they damage the reputation of the media that publish them.
The Russian Foreign Ministry, for its part, said the initial story in The New York Times demonstrated the "low intellectual abilities of US intelligence propagandists."
Trump said in an interview with "Axios on HBO" published on Wednesday that he did not bring up intelligence reports that Moscow paid the Taliban to kill American troops in Afghanistan, when he spoke with the Russian leader last week.
Senator Robert Menendez told Pompeo on Thursday that Trump's remarks were "astonishing" and that the bounties marked an "outrageous escalation" by Russia.
Menendez also asked the US state secretary how he would have acted if a Democratic president acted similarly to Trump.
"If you were sitting in your old House seat, would you be okay with a president who abandoned our troops but not even raising this with the Kremlin?" he said.
Pompeo said he had raised Afghanistan with Foreign Minister Sergei Lavrov, but declined to comment on Trump's discussions.
https://www.presstv.com/Detail/2020/07/31/630805/Deaths-of-300-Russians-in-Syria-sent-warning-to-Moscow-Pompeo-says
--------
Mideast
US reveals key Daesh money provider based in Turkey
July 31, 2020
ANKARA: Washington has identified a critical financial facilitator for Daesh based in Turkey in a move to unsettle the remaining global financial networks of the terrorist group.
In a statement on Tuesday, the US Department of the Treasury's Office of Foreign Assets Control (OFAC) said that the Daesh facilitator, Adnan Muhammad Amin Al-Rawi, had materially assisted, sponsored or provided financial, material or technological support for — or goods or services to or in support of — Daesh.
"This action coincides with the 13th meeting of the Counter Daesh Finance Group (CIFG), which includes over 60 countries and international organizations, and plays a fundamental role in coordinating efforts to deny Daesh access to the international financial system and eliminate its sources of revenue," the statement read.
The Treasury requires that all property and interests in property of relevant individuals that are in the US or in the possession or control of US persons must be blocked and reported to the OFAC.
In the meantime, any foreign financial institution that deliberately conducts or facilitates any substantial transaction on behalf of individuals and entities designated by OFAC is likely to be subject to US sanctions.
Hidden Daesh cells are known to be active in Turkey. On July 19, Turkish police detained 27 people in 15 districts of Istanbul with links to Daesh whom they suspect were preparing to carry out a terror attack.
According to Colin Clarke, senior research fellow on terror financing networks with the Soufan Group, financial networks of Daesh unsurprisingly remain active in Turkey, given the way that Daesh prepared for the collapse of the caliphate.
"Daesh has laundered its illicit proceeds in Turkey through money-service businesses and middlemen looking to profit from ill-gotten gains. I think Daesh financial networks could potentially help sustain the group for the next decade," he told Arab News.
Since last year, Turkey's financial crimes watchdog MASAK has been going after the terror group's illegal money transfer system, targeting suspects who they accuse of directing to Daesh international money transfers using the "Hawala" chain system. Turkish- and Syrian-based jewelry firms or exchange offices are believed to act as front companies for such illegal money transfers.
Last November, Washington blacklisted three Turkey-based companies and two Turkish individuals based in Turkey over charges of providing financial and logistical support for Daesh in Syria and Iraq through currency exchange offices and import-export operations. The sanctions are meant to freeze any US assets held by targeted individuals and companies and to forbid Americans from doing business with them.
"The geographical defeat of Daesh in March 2019 did not mean putting an end to the reasons behind its emergence and the conditions in which it flourished. These include political, social and religious grievances; repressive governance; as well as the security vacuum," Orwa Ajjoub, affiliated researcher at the Center for Middle Easter Studies at Lund University, told Arab News.
According to Ajjoub, the loss of its territory has disrupted the group's main sources of income such as oil revenues and tax collection. However, Daesh has found new ways to support itself such as limited legitimate businesses, smuggling, donations, kidnapping for ransom and extortion of
wealthy individuals in the areas in which it operates in the Eastern desert of Syria and the border region between Syria and Iraq.
"The international community realizes that drying up (Daesh's) financial resources is a major factor in neutralizing the group's military operations. Therefore, CIFG has been monitoring and sanctioning some money transfer offices that are involved in illegitimate activities and operate in both Syria and Iraq," he said.
Ajjoub thinks that the difficulty in achieving this lies in the ability to monitor the process of transferring remittances from the point of sending them to the moment they are received by beneficiaries.
"Other ways of channeling resources to Daesh fighters include social media campaigns and donations in cryptocurrency, which require rigorous cybersecurity measures to contain," he said.
https://www.arabnews.com/node/1712456/middle-east
--------
IRGC Ends Massive Wargames, Warns Aggressors of Crushing Response
Jul 30, 2020
"The exercises which were held with the participation of the IRGC Navy and Aerospace Force in the general area of Hormozgan province, the Persian Gulf and the West of the strategic Strait of Hormuz ended successfully with implementation of all plans and combined operational exercises on land, sea, and in the air and space," the statement said.
"Complex and various operational wargames, including firing [buried] ballistic missiles from the depths of the earth, destroying (hypothetical) enemy's radar systems, firing coast-to-sea and ship-to-ship missiles to destroy the warships, drone drills to attack the enemy aircraft carrier's command bridge, capturing hostile vessels by carrying out heliborne operations and using surface-to-surface and coast-to-sea missiles in the presence of observers of Khatam al-Anbia Central Headquarters were exercised in their best form," it added.
The statement noted that the Islamic Republic of Iran has never started a war, stressing that safeguarding independence, territorial integrity, security, national interests and the geographical area of the country, specially the Persian Gulf islands, comprises its defensive strategy and it clearly and strongly considers decisive, crushing and finishing response of the IRGC and other powerful defenders of the country against the aggressors as one of its main and negligible principles.
Great Prophet (Payambar-e Azam) wargames are annual missile tests and exercises conducted by Iran's IRGC. The first series of the wargames began in July 2008.
On the second day of the Great Prophet-14 wargames on Wednesday, the IRGC fired ballistic missiles buried deep into the ground during the second day of massive 'Great Prophet-14' drills in the Southern parts of the country on Wednesday.
The successful firing of ballistic missiles fully hidden in camouflage deep into the ground is an important achievement that could pose serious challenges to enemy intelligence agencies.
In the final stage of the IRGC's drills, which took place in the waters of the Persian Gulf and the Strait of Hormuz, the IRGC Aerospace Force's drones attacked enemy's mock aircraft carrier and targeted its command tower and bridge.
Also, the IRGC's Sukhoi-22 fighters bombed and destroyed pre-determined targets in Farour Islands with winged bombs.
Destroying hypothetical enemy targets designed much smaller than the actual size with a variety of smart bombs was another part of this phase of the exercises.
The IRGC Aerospace and Naval Forces' joint exercises were an important part of the drills and demonstrated surprising tactics, including establishment of the two forces' joint command systems, joint control, combined tactics and combat methods.
Successful missile combat operations were carried out by firing two surface-to-surface Hurmoz and Fateh missiles, and a ballistic missile at specific targets, as well as launching precision-striking air defense missiles.
Also, Shahed 181, Mohajer and Bavar drones successfully attacked and destroyed hypothetical enemy targets and positions at this stage of the drills.
Meantime, surface-to-surface missile operations, coast-to-sea operations, heavy artillery firing and offensive mine-laying operations to cut off enemy lines were demonstrated on the second day of the massive wargames.
Also, firing of all kinds of artillery, RPGs and light weapons by combat forces in line and around Iranian islands was part of the drills to reportedly show the firm determination of the border guards in defending the country.
The IRGC announced in a statement on Tuesday that it has started the final phase of the 'Great Prophet-14' drills in the South of the country, and added that Nour-1 Satellite, that was launched on April 22, is being used to monitor the wargames.
The drills are underway with the participation of the IRGC Navy and Aerospace forces in the Hormozgan province and extend to the depth of the Iranian soil.
IRGC Navy's missile, ship, and drone units as well as IRGC Aerospace's missile, drone, and radar units are due to conduct operational drills in the wargames, the statement said.
The wargames are being monitored for the first time by the Nour-1 Satellite that was launched successfully on April 22.
The IRGC launched the satellite aboard Qassed (Carrier) satellite carrier during an operation that was staged in Dasht-e Kavir, Iran's sprawling Central desert. The Launcher Qassed is a three-stage launcher using compound solid-liquid fuel.
The satellite was placed into the orbit 425km above Earth's surface.
The satellite was sent to the space on the anniversary of the IRGC establishment (April 22, 1979).
In recent years, Iran has made great achievements in its defense sector and attained self-sufficiency in producing essential military equipment and systems.
The Iranian Armed Forces several times a year test their preparedness and capabilities as well as newly-manufactured weapons systems in different wargames.
Iranian Armed Forces recently test-fire different types of newly-developed missiles and torpedoes and tested a large number of home-made weapons, tools and equipment, including submarines, military ships, artillery, choppers, aircrafts, UAVs and air defense and electronic systems, during massive military drills.
Iranian officials have always stressed that the country's military and arms programs serve defensive purposes.
Defense analysts and military observers say that Iran's wargames and its advancements in weapons production have proved as a deterrent factor.
https://en.farsnews.ir/newstext.aspx?nn=13990509000607
--------
Iran Pursuing Rights of Pilgrims Martyred in Mina Disaster
Jul 30, 2020
Iran's Hajj and Pilgrimage Organization and the Representative of Leader of the Islamic Revolution Ayatollah Seyyed Ali Khamenei in Hajj Affairs in a joint statement on the threshold of the 5th anniversary of the Mina disaster and the Mecca crane collapse underlined that Tehran is seriously pursuing the rights of victims.
It added that Eid al-Adha (Feast of Sacrifice) reminds Muslims and the Iranian nation of a "bitter memory".
The statement criticized the silence of international rights bodies and media on the deadly incidents, saying it was only Iran that spoke in defense of the victims' rights.
"Although the Mina tragedy and the crane collapse incident at Mecca's Grand Mosque happened before the eyes of the Islamic Ummah, the silence of international organizations and media added to the pain of the families of the two disasters' martyrs," it said.
Iranian officials in charge of the Hajj affairs have always underlined the need for clarifying the dimensions of the Mina tragedy through the formation of a fact-finding committee including the representatives from the countries that lost their pilgrims in the incident, it added.
It further complained that the Saudi government has not published an official report on how the tragedy occurred and has not taken responsibility for it.
"On the fifth anniversary of the Mina tragedy, the Representative of Leader of the Islamic Revolution Ayatollah Seyyed Ali Khamenei in Hajj Affairs and Iran's Hajj and Pilgrimage Organization … emphasize that they have diligently followed up on the rights of the martyrs of Mina and Grand Mosque and will keep doing so until the desired results are achieved," the statement read.
A stampede during one of the last rituals of the Hajj season on September 24, 2015, killed at least 7,477 people and left thousands wounded.
The stampede occurred during the ritual known as "stoning the devil" in the tent city of Mina, about two miles from Mecca.
At least 465 Iranians lost their lives in the incident, while hundreds of others were wounded.
Earlier that month, a massive construction crane operated by the Saudi Binladin Group conglomerate collapsed onto Mecca's Grand Mosque, killing more than 100 pilgrims, including 11 Iranians, and injuring over 200 others, 32 of them from Iran.
On September 30, 2015, Ayatollah Khamenei warned Saudi Arabia that the slightest disrespect for the Iranian pilgrims who were in Mecca for the Hajj ceremony would be reciprocated with Tehran's harsh and crushing response.
Ayatollah Khamenei called for setting up a fact-finding committee of Iranian and other Islamic countries' authorities to probe the death of Hajj pilgrims in Mina and missing of hundreds of them, and said, "The Saudi government is not complying with its responsibilities to transfer the bodies of those who have been killed (in Mina stampede) and the Islamic Republic of Iran has so far, respected the brotherhood in the Muslim world by exercising self-restraint and Islamic politeness but they should know that the slightest disrespect for tens of thousands of Iranian Hajj pilgrims in Mecca and Medina and any lack of responsibility to transfer the bodies will result in Iran's crushing and violent reaction."
Ayatollah Khamenei underlined that Iran did not want to have an early judgment of the cause of the incident "but we believe that the Saudi government hasn't acted upon its responsibilities with regard to the injured pilgrims in the Mina incident and has left them desperate and thirsty".
He said Iran had so far practiced self-restraint over the death of its citizens in Saudi Arabia, "but they should know that Iran's hand is above many others and it enjoys more possibilities too and if it wants to show reaction to annoying and insidious actors, they will not have a good situation and they won't be able to gain victory on any scene of rivalry."
"The Islamic Republic of Iran doesn't practice cruelty but it also doesn't accept anyone's oppression and cruelty; therefore, it doesn't trample on the rights of any human beings and nations, either Muslim or non-Muslim, but if anyone wants to trample Iran and its nation's rights, he/she will receive a strong response; and thanks God, there is a capability for such a confrontation and the Iranian nation is powerful and resistant," Ayatollah Khamenei underscored.
https://en.farsnews.ir/newstext.aspx?nn=13990509000576
--------
Hamas warns Israel of consequences over al-Aqsa Mosque attacks
30 July 2020
The Palestinian resistance movement, Hamas, has warned Israel of the consequences of its further encroachment on the al-Aqsa Mosque compound in East Jerusalem al-Quds.
Hamas made the remarks in an official statement on Thursday that marks Arafah Day, a major occasion on the Islamic calendar. It called on Palestinians to rally in mass towards the al-Aqsa Mosque.
The statement stressed that al-Aqsa is holy for the Palestinian people, and that they will not remain silent on Israeli violations against the site. Hamas said Israel should pay a heavy price if it keeps on such violations.
"Bab al-Rahma, the Marwani prayer hall, the Omar prayer hall, the Buraq prayer hall and the Buraq Wall are all part and parcel of our beloved Mosque," Hamas said.
The movement condemned Israel for continued persecution of the people of Jerusalem al-Quds, demolishing their homes and imposing exorbitant taxes on them to force them to leave the holy city.
The Palestinian movement also called on the Arab League and the Organization of Islamic Cooperation (OIC) to prevent Israel from destroying the homes of Palestinians and Judaizing Jerusalem al-Quds.
Extremist Israeli settlers have frequently stormed the al-Aqsa Mosque compound in the occupied Old City of Jerusalem al-Quds under the protection of regime forces.
Many of the Knesset members are right-wing extremists, who support the demolition of the Islamic site in order to build a Jewish temple instead.
Last year in October, Ismail Haniyeh, the head of Hamas' Political Bureau, said the Israeli regime's Judaization plans in Jerusalem al-Quds would never succeed.
In recent months, Palestinian officials have condemned Israel's exploitation of the novel coronavirus pandemic to expand its settlement construction activities, saying the Tel Aviv regime aims to further Judaize the occupied holy city of Jerusalem al-Quds.
Back on March 28, the Palestine Liberation Organization (PLO) said that Israel was exploiting the world's preoccupation with the outbreak of the coronavirus pandemic to advance settlement projects and carry out "ethnic cleansing" against Palestinians.
Tensions have been on the rise in recent weeks in the occupied territories as Israel has pressed ahead with its plans to annex large parts of the West Bank in line with US President Donald Trump's so-called Middle East peace plan, which strongly favors Israel and has been rejected by the Palestinians.
In December 2017, President Donald Trump recognized the whole Jerusalem al-Quds as the "capital" of Israel. The US president also moved the American embassy from Tel Aviv to the Israeli-occupied city in May 2018, triggering waves of protest rallies in the occupied West Bank and the besieged Gaza Strip, where Hamas is based.
Israel's unlawful annexation push has drawn widespread criticisms from the entire international community, including the regime's closest allies.
The United Nations, the European Union and key Arab countries have all said the West Bank annexation would violate international law and undermine the prospects of establishing a sovereign Palestinian state on the 1967 boundaries.
The international community views the entire West Bank and the eastern part of the occupied city of Jerusalem al-Quds as lands that could become home to an independent Palestinian state in future.
More than 600,000 Israelis live in over 230 settlements built since the 1967 occupation of the Palestinian territories of the West Bank and East Jerusalem al-Quds.
The UN Security Council has condemned Israel's settlement activities in the occupied territories in several resolutions.
https://www.presstv.com/Detail/2020/07/30/630752/Palestine-Hamas-East-Jerusalem-al-Quds--Judaization-
--------
Turkey launches new anti-terror operation in east
July 29, 2020
With 1,006 personnel, Turkey has launched a new anti-terror operation in its eastern Tunceli province, the country's Interior Ministry announced on Wednesday.
In a statement, the ministry said Operation Yildirim-4 was launched on Tuesday to "completely eliminate the separatist terror group from the country's agenda and to neutralize terrorists taking shelter in the region."
A total of 1,006 security personnel, including gendarmerie commandos, gendarmerie special operations and police special forces as well as security guards, are taking part in the operation, added the statement.
Also, operations Yildirim, Yildirim-2 Cilo, and Yildirim-3 Mt. Agri continue, it noted.
As part of these operations launched in July under the coordination of the Interior Ministry, eight terrorists have been neutralized, and 24 caves, shelters, and storages were destroyed, as well as many weapons, ammunition, and food were seized, the statement said.
Turkey's operations against terrorists within the country continue determinedly and successfully with the support of the public, the statement added.
In its more than 30-year terror campaign against Turkey, the PKK – listed as a terrorist organization by Turkey, the US and EU -- has been responsible for the deaths of some 40,000 people, including women, children, and infants.
https://www.yenisafak.com/en/news/turkey-launches-new-anti-terror-operation-in-east-3535656?utm_source=iterable&utm_medium=email&utm_campaign=1401052_
-------
Arab World
Hajj pilgrims stone the devil, pray in Grand Mosque as Muslims around the world celebrate Eid
July 31, 2020
DUBAI: Around 1,000 pilgrims made their final journey to the Jamarat wall on Friday to stone the three pillars, before heading to Makkah to perform prayers at the Grand Mosque and complete their hajj.
The stoning ritual coincides with Eid Al-Adha – Islam's feast of sacrifice – where Muslims slaughter sheep and distribute the meat to the needy.
Pilgrims arrived in Muzdalifah last night to rest after spending the day in Arafat where they had scaled Mount Arafat to pray and repent.
This year's pilgrimage is the smallest in modern times after the number of participants was greatly restricted to prevent the spread of the coronavirus.
Meanwhile 1.8 billion Muslims around the world celebrate Eid in the age of social distancing amid the pandemic that has so far infected more than 16 million people.
https://www.arabnews.com/node/1712621/saudi-arabia
--------
Sanctions pretext to violate Syria's sovereignty, support terrorism: Ja'afari
30 July 2020
Syria's Ambassador to the United Nations Bashar al-Jaafari has denounced the Western economic sanctions against his country, saying the coercive measures are used as a pretext to keep up violations of Syrian sovereignty and support the terrorist groups wreaking havoc on the Arab country.
Addressing a Security Council session via video link on Wednesday, Jafari said the financial restrictions by Western states against his country and their attempts to hinder efforts to deliver aid to Syria expose their fake humanitarian claims.
"The motive behind all that is to find pretexts to continue violation of Syria's sovereignty, threaten its territorial integrity, supporting the terrorist organizations," Ja'afari said.
This month, he said, the Security Council has witnessed "feverish Western endeavors" to extend a 2014 resolution on aid delivery to Syria.
"The motive behind that is not to bring in aid to needy people, but to continue violation of Syria's sovereignty, threaten its territorial integrity which contradict with the General Assembly Resolution No. 46/182," he said.
After three attempts, the UNSC voted finally voted to extend aid deliveries to Syria for a year through a single border crossing from Turkey within the framework of a 2014 mechanism.
Russia and China abstained from voting.
Two of the earlier attempts were blocked by veto-wielders Russia and China, which argued the measures would violate Syrian sovereignty and any aid should be channeled through the Damascus government. The UNSC had also rejected relevant a Russian-drafted resolution.
Ja'afari said that sanctions against Syria have hampered the entry of medical supplies amid the country's battle against a coronavirus outbreak.
He said that Syria had repeatedly informed the United Nations that its health sector was suffering from a major shortage in medicine, yarns, surgical materials and medical equipment due to the illegal financial sanctions imposed on the Arab country.
He stressed that the center to coordinate humanitarian work is in Damascus, not in Gaziantep in Turkey, Belgium's Brussels, Germany's Berlin, France's Paris or any other place
"The main burden in providing humanitarian aid, services and support for the Syrians are assumed by the institutions of Syria, its allies and partners in the humanitarian work," he said, criticizing the UN human rights office for politicizing humanitarian aid.
Ja'afari further noted that countries hostile to Syria have not stopped their documented grave violations of the UN Charter and international law, nor have they stopped perpetrating crimes against the Syrian people, plundering the country's resources and besieging and starving its people.
Besides all those crime, they also launch acts of aggression on civil passenger planes that cross the Syrian airspace in a flagrant violation of international law and international civil aviation rules, he added.
He was referring to the US harassment of an Iranian civilian flight in Syrian skies last Thursday, when two US F-15 warplanes conducted a dangerous maneuvering close to Mahan Air's Flight 1152 that had taken off from Tehran and was heading to Beirut.
The incident took place over Syria's al-Tanf region, where the US maintains an illegal military presence.
https://www.presstv.com/Detail/2020/07/30/630730/Syria-UN-envoy-Ja-fari-Western-sanction
--------
Iraq confirms nearly 560 killed in anti-government unrest, offers payment to families
30 July 2020
The Iraqi government said on Thursday that nearly 560 protesters and security forces were killed in months of anti-government unrest that erupted last year.
Prime Minister Mustafa al-Kadhimi's new government has pledged to investigate the deaths and incarceration of hundreds of protesters in unrest that unseated the previous government last year.
The death toll is roughly in line with what news outlets and rights groups have reported.
The government will treat all those who died as "martyrs" and each family will be offered 10 million dinars ($8,380) in compensation, Hisham Daoud, the prime minister's adviser, told reporters.
Protests began on Oct. 1 and continued for several months, with hundreds of thousands of Iraqis demanding jobs, services and the removal of the ruling elite, which they said was corrupt.
The protests led to the resignation of Prime Minister Adel Abdul Mahdi, who was replaced in May by Kadhimi, a former intelligence chief.
Later on Thursday, a fact-finding committee tasked with investigating the death of two protesters killed on Sunday suspended three policemen and referred them to trial for using hunting rifles against protesters, the interior minister said in a press conference.
The committee found that hunting rifles were used against the two protesters, Othman al-Ghanimi said.
"During the initial investigation, it was proven that this weapon was used by the two officers and a conscript," Ghanimi said, adding that using weapons is a violation of the instructions given to security forces when dealing with protesters.
Clashes erupted between protesters and security forces in central Baghdad on Sunday night, resulting in the death of the two and the wounding of about 26 others.
It was the first deadly incident in months at Tahrir Square, which became a symbol of anti-government protests during months of mass unrest last year.
https://english.alarabiya.net/en/News/middle-east/2020/07/30/Iraq-confirms-nearly-560-killed-in-anti-government-unrest-offers-payment-to-families.html
--------
Car bomb at checkpoint in Syria kills 6, others wounded: Report
30 July 2020
A car bomb in northeast Syria targeting a checkpoint manned by Turkish-backed forces killed six people, mostly fighters, near the border town of Ras al-Ain on Thursday, a war monitor said.
The blast in the village of Tal Halaf held by Turkish forces and their Syrian proxies also wounded 15 others, the Britain-based Syrian Observatory for Human Rights said.
Turkish forces and their Syrian proxies last year seized a 120-kilometer (75-mile) stretch of land inside the Syrian border from Kurdish forces, running from Ras al-Ain to Tal Abyad.
Many bombings have since rocked the area, several in the past week alone.
An explosives-rigged motorbike in Ras al-Ain on Tuesday killed two civilians and a fighter, the Observatory said, two days after another in a vegetable market in the town killed eight people, six of them civilians.
The Kurdish-led People's Protection Units, from whom the Turks and their allies seized the territory, have played a key role in the US-backed fight against ISIS in Syria.
But Ankara views them as an extension of the Kurdistan Workers' Party (PKK) that has waged a deadly insurgency in southeastern Turkey since 1984.
Syria's civil war has killed more than 380,000 people and displaced millions from their homes since erupting in 2011 with the brutal repression of anti-government protests.
https://english.alarabiya.net/en/News/middle-east/2020/07/30/Car-bomb-at-checkpoint-in-Syria-kills-6-others-wounded-Report.html
--------
UAE supports Egypt's efforts towards resolving Libyan crisis: Foreign Minister
30 July 2020
The United Arab Emirates supports Egypt's efforts to resolve the crisis in Libya, UAE Minister of Foreign Affairs Sheikh Abdullah bin Zayed al-Nahyan told his Egyptian counterpart Sameh Shoukry in a phone call on Wednesday.
"During the call, the two top diplomats discussed a number of issues of common interest, including the situation in Libya and ways of supporting the ongoing efforts made to promote political settlement to the crisis, with Sheikh Abdullah reiterating UAE's support for Egypt's tireless efforts to reach a diplomatic solution that ensures security, and stability for the people of Libya," the UAE's Ministry of Foreign Affairs said in a statement.
For all the latest headlines follow our Google News channel online or via the app.
The ministry added that Sheikh Abdullah also "emphasized the historical and strategic relations binding the two countries and the determination of their leadership to continue supporting cooperation across all fronts to the best interests of their peoples."
Libyan conflict
Libya has plunged into chaos since the 2011 toppling of dictator Moammar Gaddafi.
Clashes between the two main warring parties in the country, the LNA, commanded by Khalifa Haftar and the GNA, led by Fayez al-Serraj, have intensified recently.
Many foreign powers have backed different sides of the conflict with varying degrees of support, with the most prominent countries being Turkey backing the GNA and Egypt backing the LNA.
The UAE also backs Haftar's forces and condemns Ankara's interference in Libya.
Towards the end of June, Sheikh Abdullah stated that Turkey's "current role in the Arab region is not welcome."
https://english.alarabiya.net/en/News/gulf/2020/07/30/UAE-supports-Egypt-s-efforts-towards-resolving-Libyan-crisis-Foreign-Minister.html
--------
This year's Hajj measures aim to protect the guests of God: Saudi Arabian King Salman
31 July 2020
Saudi Arabia's King Salman bin Abdulaziz said on Friday that the world is going through exceptionally hard times, adding that the number of pilgrims was limited this year due to the coronavirus pandemic.
"The Hajj measures this year aim to protect the guests of God from the virus," said the Kingdom's Minister of Media Majid al-Qasabi on behalf of the King.
The King also said that this year's Hajj required the state's apparatus to double the efforts, thanking everyone who was involved in coordinating the holy ritual.
https://english.alarabiya.net/en/News/gulf/2020/07/31/This-year-s-Hajj-measures-aim-to-protect-the-guests-of-God-Saudi-Arabian-King-Salman.html
--------
US imposes sanctions on Syrian president's son, 9 other entities
29 July 2020
The United States has imposed sanctions on the son of Syrian President Bashar al-Assad over "enriching" a government that has been fighting Takfiri militancy for years.
The Department of the Treasury's Office of Foreign Assets Control (OFAC) introduced the sanctions on Wednesday, further targeting nine entities in addition to Hafez al-Assad, the president's eldest son born in 2001.
"These targets consisted of individuals and entities who are actively supporting" Assad, alleged the statement.
The treasury further undermined the country's fight against terrorists, many backed by the US, blaming Damascus for the economic situation in Syria.
"Bashar al-Assad and his business associates are complicit in destroying Syria's economy––they squander tens of millions of dollars each month to wage war against the Syrian people instead of providing for their basic needs," claimed the statement.
Secretary Steven T. Mnuchin went even further accusing the government of cracking down on its own people, totally disregarding the repercussions of US military adventurism in Syria.
"While corrupt businessmen with ties to Assad invest in luxury real estate made possible by forced displacement of innocent civilians, they also worsen the oppression of the Syrian people," Mnuchin said. "The United States remains committed to providing humanitarian assistance to the Syrian people, while the Assad regime seeks to profit from their suffering."
A military coalition, led by the US, has been conducting purported airstrikes against what are said to be Daesh targets inside Syria since September 2014 without any authorization from the Damascus government or a United Nations mandate.
https://www.presstv.com/Detail/2020/07/29/630691/US-sanctions-Assad-s-son,-9-entities
--------
Pakistan
Despite looming FATF deadlines, Pakistan yet to act to curb terror financing
Jul 30, 2020
ISLAMABAD: With deadlines looming next month, Pakistan is yet to comply with 13 conditions out of the 27-point Action Plan of the Financial Action Task Force (FATF) including curbing terror financing, enforcement of the laws against the proscribed organisations and improving the legal systems.
Pakistan has been on the FATF grey list since June 2018.
Pakistan Financial Monitoring Unit director-general Lubna Farooq told the National Assembly Standing Committee on Finance on Tuesday that the country is still fully compliant on 14 out of the 27-point Action Plan and said it will have to submit an implementation report on the remaining points in the next eight days, reported Express Tribune
According to Dawn, Islamabad also has to comply with 30 recommendations of the Financial Action Task Force (FATF). The committee expressed serious concern over the non-serious attitude of the government to settle matters relating to the FATF.
The Imran Khan-led government on Tuesday came under severe criticism from the National Assembly's Standing Committee on Finance and Revenue led by MNA Faiz Ullah of the PTI for wasting precious time of the nation without making tangible progress.
She said Pakistan would submit its progress report on the FATF recommendations by August 6 while the submission deadline for Asia Pacific Group (APG) -- a regional affiliate of FATF - is September 30 as the country was also under review by the APG. She said Pakistan will complete required legislation by August 15.
The implementation report will be sent to the FATF by August 6, the DG said.
Pakistan is in the grey list since June 2018 and the government had given a final warning in February to complete the remaining action points by June 2020. The FATF extended the June deadline to September due to spread of coronavirus that disrupted the FATF plenary meetings.
The meeting of the Standing Committee on Finance had been convened to approve three-FATF related bills.
"The parliamentary committee has to approve three FATF-related bills before August 6, or else Pakistan cannot exit the grey list," Farogh Nasim, the federal minister for law, said after the legislative committee meeting.
The three bills are Anti Money Laundering, Limited Liability Partnership and Companies Bill.
The 13 conditions that remain unimplemented are related to curbing terror financing, enforcement of the laws against the proscribed organisations and improving the legal systems, Express Tribune reported.
Pakistan will have to demonstrate the effectiveness of sanctions including remedial actions to curb terrorist financing in the country; it will have to ensure improved effectiveness for terror financing of financial institutions with particular to banned outfits. It is yet to take actions against illegal Money or Value Transfer Services (MVTS) such as Hundi-Hawala.
Pakistan will have to place sanction regime against cash couriers. Pakistan will have to ensure logical conclusion from ongoing terror financing investigation of law enforcing agencies (LEAs) against banned outfits and proscribed persons. Pakistani authorities will have to ensure international cooperation based investigations and convictions against banned organisations and proscribed persons.
Seizure of properties of banned terror outfits and proscribed persons is another unfinished agenda. The conversion of madrassas to schools and health units into official formations is also needed to be demonstrated.
https://timesofindia.indiatimes.com/world/pakistan/despite-looming-fatf-deadlines-pakistan-yet-to-act-to-curb-terror-financing/articleshow/77254648.cms
--------
West abetting India arms build-up, deplores Pakistan
Baqir Sajjad Syed
31 Jul 2020
ISLAMABAD: Pakistan on Thursday said it could not ignore the arms build-up by India including its purchase of Rafale fighter jets, which could be modified to deliver nuclear weapons.
"We have seen reports of recent acquisition of Rafale jets by Indian Air Force. According to some former senior Indian officials and several international publications, these Rafale jets have dual-capable systems that can be modified as nuclear weapon delivery platforms," Foreign Office spokesperson Aisha Farooqui said at her weekly media briefing.
Five Rafale fighter jets reached India from France on Wednesday. These jets were the first from the 36 aircraft ordered by India in 2016 as part of its plans for upgrade of its air force.
Indian Defence Minister Rajnath Singh hailed the induction of the jets into Indian Air Force as "the beginning of a new era in our military history".
The arrival of the new fighter jets in India comes almost six weeks after India's armed clash with China in Ladakh.
Says Delhi's newly acquired Rafale jets can be modified to deliver nuclear weapons
Ms Farooqui said India was expanding and modernising its nuclear arsenal both in terms of type and number of delivery systems. Additionally, it has nuclearised the Indian Ocean and continues to increase the readiness of its arsenal through measures such as canisterisation of missile systems, she added.
The spokesperson said India, the second largest arms importer in the world, was amassing military capabilities beyond its genuine security requirements.
She said India's arms build-up was being aided and abetted by the West's policy of exemptions, waivers and supply of advanced equipment, technology and weapons for its narrow commercial interests.
"Such arms transfers also violate the objectives of various export control regimes on preventing destabilising accumulation of arms in various regions including where there exist outstanding conflicts and disputes," Ms Farooqui said.
"Transfer of advanced systems, where there is an open intention of conversion into nuclear delivery platforms, calls into question the commitment of international suppliers to non-proliferation commitments," she added.
The spokesperson reminded that Pakistan had repeatedly warned about the risks of massive Indian arms build-up as well as its offensive security doctrine and force postures.
These developments, she said, were adversely affecting strategic stability in South Asia.
"The world community must dissuade India from its disproportionate arms build-up which could also lead to an arms race in South Asia," Ms Farooqui emphasised.
Pakistan, she said, remained open to consideration of measures for crisis management, risk reduction and strategic restraint.
"Pakistan cannot remain oblivious to these developments and remains confident of its ability to thwart any ill-considered act of aggression," she added.
Afghan ceasefire
Pakistan, the spokesperson said, welcomed the announcement of ceasefire in Afghanistan on Eidul Azha. "We see this as a positive development," she said.
Taliban this week announced a three-day ceasefire on the occasion of Eidul Azha, which starts from Thursday night.
Afghan President Ashraf Ghani had earlier announced that his government would soon complete the release of 5,000 Taliban prisoners as agreed in the Doha Agreement signed between US and Taliban in February.
These developments point to the expected start of long elusive intra-Afghan dialogue.
"Regarding the matter pertaining to the Afghan peace process, we have already said on a number of occasions that the commitments made by both sides must be fulfilled to take the peace process forward," the spokesperson said.
"Release of prisoners is one such commitment and we hope to see a forward movement in this aspect, so that the next step which is the intra-Afghan dialogue can take place," she added.
https://www.dawn.com/news/1572064/west-abetting-india-arms-build-up-deplores-pakistan
--------
Court takes up govt plea for appointment of Jadhav lawyer on Aug 3
31 Jul 2020
ISLAMABAD: The Islamabad High Court (IHC) has fixed the hearing of a petition filed by the Pakistani government for seeking permission to appoint counsel for Indian spy Kulbhushan Jadhav on Aug 3, the first working day after Eidul Azha vacations.
According to the supplementary list of the cases fixed before the IHC division bench comprising Chief Justice Athar Minallah and Justice Miangul Hassan Aurangzeb, the bench would hear the petition at 1:30pm on Monday. The registrar's office has intimated the ministry of law and justice and the additional attorney general, who has filed the petition.
The ministry is seeking app­ointment of state counsel for Jad­hav to implement the verdict of the International Court of Justice (ICJ) regarding his conviction.
The petition has cited the secretary of the ministry of defence and the judge advocate general at the General Headquarters as respondents.
According to the petition, on March 3, 2016, an officer of the Indian navy, commander Jadhav illegally entered Pakistan and was arrested during an intelligence operation from Mashkel in Balochistan.
He confessed to his association with the Indian intelligence agency, Research and Analysis Wing, and involvement in espionage and terror activities in different parts of Balochistan and Sindh and was awarded death sentence by a military court.
The Pakistani government this week laid the ICJ (Review and Reconsideration) Ordinance 2020 before the National Assembly aimed at allowing Jadhav to have consular access in line with the ICJ verdict.
The ordinance had been promulgated by the government in May. Under the ordinance, Pakistan invited India to move a review and reconsideration petition before the IHC against the conviction of Jadhav by a military court.
The invitation was extended to the Indian government after Commander Jadhav twice declined to take advantage of the law, saying that sympathetic consideration should be given to his mercy petition pending with Chief of the Army Staff Gen Qamar Javed Bajwa.
Section 2 of the ordinance empowers the high court to review and reconsider any ICJ decision in relation to a foreign national in respect of rights under Article 36 of the Vienna Convention of Consular Relations of April 24, 1963.
In the petition, the law ministry has said that the commander Jadhav has refused to engage a lawyer for himself and to file a petition for review and reconsideration of his sentence and conviction and he "does not have independent means nor does he possesses the capability to engage and instruct a lawyer in Pakistan without assistance from his own country i.e. India which is avoiding the remedy made available by the federation under the ordinance".
https://www.dawn.com/news/1572060/court-takes-up-govt-plea-for-appointment-of-jadhav-lawyer-on-aug-3
--------
Justice Isa's wife accuses FBR officers of acting on 'instructions'
Nasir Iqbal
31 Jul 2020
ISLAMABAD: The wife of Justice Qazi Faez Isa of the Supreme Court on Thursday accused the officers of the Federal Board of Revenue (FBR) of losing their credibility and ability to act independently.
"Clearly, they are acting on instructions," Sarina Isa alleged in a one-page statement issued to the media, highlighting how she personally delivered again her July 21 letter to FBR Commissioner Zulfiqar Ahmed that she wrote in reply to his "rejoinder".
In the letter, she reproduced the 12 queries she had raised in her first letter written on July 9. "I am still waiting for the answers," she said in the statement, adding that she had also requested for copies of her tax declarations which she did not have as the gentleman who used to file her tax declarations through Rehan Hasan Naqvi, had passed away.
Not providing copies of her own returns was troubling because the FBR was referring to the returns which they said she had filed when she stopped working and had no taxable income, Ms Isa feared, adding that this was alarming and suggested "manufacturing".
She said she had also informed the FBR about the filing of a review petition in the Supreme Court on July 20 in which she made serious allegations against certain officers of the FBR and members of the present government like Law Minister Dr Farogh Nasim, Commissioner (IR) Zulfikar Ahmad, Dr Mohammad Ashfaq Ahmed and Manzoor Ahmed Kayani.
Sarina says she is still waiting for answers to her earlier questions
These allegations comprised 18 paragraphs in the statement she submitted to the FBR on July 9, Ms Isa said, adding that these paragraphs were supported with the FBR's and government's own documents. But there has been no response, she added.
She said she had also pointed out the obvious disparity in language between the earlier notice and the FBR's rejoinder, both under Zulfiqar Ahmed's signature which, she feared, were not written by the same person. Again no explanation was offered, the statement said.
Ms Isa said she had also pointed out how allegedly mockery of the word "confidential" was made when an open envelope and its "confidential" contents on full display were pasted on the gate of her husband's official residence.
"I had in writing informed Zulfiqar Ahmed that I will have no option but to release my letter of July 21 so that the people could judge for themselves; but I still waited expecting to be given copies of the returns I am said to have filed and some reasonable explanation about my concerns but none has come after a week's passage," she added.
In her July 21 letter, Ms Isa had regretted that rather than appreciating people voluntarily coming forward to declare their income and paying taxes, they were attacked. "Or is it because I am a woman and the misogynist coterie does not respect women's independent financial status?"
She asked as to how many non-salaried women in Pakistan paid taxes. "I did not want to drag anyone into this but I have had enough of being spied on, abused and harassed for the last year and made to feel like a common criminal," she regretted.
"Please do not blame me if all that I ask FBR is to provide me copies of the income tax records of the prime minister, Abdul Wah­eed Dogar, Mirza Shahzad Akbar, Farogh Naseem, Anwar Mansoor, Dr Muhammad Ashfaq Ahmed, and whether they show the properties of their wives and children in their tax papers," she said in her July 21 letter.
https://www.dawn.com/news/1572061/justice-isas-wife-accuses-fbr-officers-of-acting-on-instructions
--------
Southeast Asia
Indonesian Muslims Perform Eid Prayers With Social Distancing, Masks
JULY 31, 2020
Indonesian Muslims, wearing face masks and getting temperature checks as a precaution against the novel coronavirus, performed morning prayers on Friday to celebrate the festival of Eid al-Adha in mosques with reduced capacity as well as on the streets.
As the world's biggest Muslim-majority country struggles to contain the spread of the virus, worshippers were advised to maintain social distancing during the prayers.
Indonesia's religious ministry also asked mosques to shorten the gatherings this year, while many mosques cancelled the traditional ceremony when livestock is slaughtered and meat distributed to the community.
Instead the donated sheep, goats and cows will be killed in abattoirs to mark the 'Feast of the Sacrifice', celebrated by Muslims around the world to commemorate Prophet Abraham's willingness to sacrifice his son Ismail at God's command.
"This year's Eid al-Adha is very different from the previous years because we need to follow health protocols as we perform prayers, like maintaining social distancing," said Devita Ilhami, 30, who was at the Sunda Kelapa mosque in Jakarta.
She also noted there were fewer people attending prayers this year and they had to bring their own prayer mats, with markers on the ground to show where they should be laid.
Health experts have been concerned about the risks of the coronavirus being spread during such religious festivals, when Muslims typically gather in mosques and homes, or travel to their home towns.
Australian Prime Minister Scott Morrison on Friday urged Muslims in his country celebrating Eid al-Adha to stay away from big gatherings.
An outbreak in the state of Victoria has been partly linked to family gatherings after the holy fasting month of Ramadan.
https://www.news18.com/news/world/indonesian-muslims-perform-eid-prayers-with-social-distancing-masks-2746755.html
--------
Agong, Permaisuri perform Aidiladha prayers at Tengku Ampaun Afzan Mosque in Kuantan
31 Jul 2020
KUANTAN, July 31 — The Yang di-Pertuan Agong Al-Sultan Abdullah Ri'ayatuddin Al-Mustafa Billah Shah joined Muslims to perform Aidiladha prayers at Tengku Ampuan Afzan Mosque here today.
His Majesty accompanied by the Raja Permaisuri Agong Tunku Hajah Azizah Aminah Maimunah Iskandariah arrived at the mosque at 8.25 am and the royal couple was received by Menteri Besar Datuk Seri Wan Rosdy Wan Ismail and Pahang state government leaders.
Also present at the prayer was the son of the Yang di-Pertuan Agong who is the Regent of Pahang, Tengku Hassanal Ibrahim Alam Shah Al-Sultan Abdullah and they were dressed in matching grey baju Melayu.
The prayer was led by the Chief Imam of the mosque, Mohd Hafiz Suhaili while the sermon was read by Kuantan Kadi, Abdul Aziz Abd Karim.
The Yang di-Pertuan Agong also witnessed the sacrificial ritual of nine cows for the occasion in the compound of the mosque before departing. — AFP
https://www.malaymail.com/news/malaysia/2020/07/31/agong-permaisuri-perform-aidiladha-prayers-at-tengku-ampaun-afzan-mosque-in/1889812
--------
Africa
Libyan rebels overhaul, operationalize old S-200 systems: Report
30 July 2020
Rebel forces in Libya have purportedly overhauled and operationalized old Russian-built S-200 air defense systems to use them against government forces and Turkey.
The Arabic-language Libya News said on Wednesday that the systems were deployed in the vicinity of the eastern cities of Benghazi, Sirte, and Zelten to help monitor "any hostile aerial activity" by Libyan government forces and their main ally, Turkey.
The website added that the S-200 air defense systems had been purchased under former Libyan ruler Muammar Gaddafi and that most of their parts had been lost and destroyed or had been in poor condition due to a lack of maintenance after the NATO intervention in Libya in 2011.
The missile systems were properly maintained and overhauled by the rebel forces and were ready to "repel airstrikes from Ankara or Tripoli," the report said.
The S-200 is a long range, medium-to-high altitude surface-to-air missile system designed in the 1960s to target enemy aircraft.
Ahmed al-Mismari, a spokesman for the rebel forces, had earlier said that the strategic city of Sirte on the Mediterranean coastline — which the Libyan government has over the past months been pushing to recapture — had been "reinforced." Sirte fell into the rebels' hands in January.
Libya has been beset by chaos since the overthrow and killing of Gaddafi and the NATO intervention in 2011.
Since 2014, two rival seats of power have emerged, namely the internationally-recognized Libyan government, headed by Prime Minister Fayez al-Sarraj, in Tripoli, and another group, which is based in the eastern city of Tobruk and which is supported militarily by the rebels under the command of a military strongman named Khalifa Haftar.
The rebels — who are backed by the UAE, Russia, and Egypt — launched an offensive to seize the capital and unseat Sarraj's government in April 2019. But the government launched a counter-offensive and has recently managed to reverse many of their gains both around the capital and elsewhere in the country with crucial help from Turkey.
The Turkish military has been providing air cover, weapons, and proxy militia from Syria to help the Libyan government.
https://www.presstv.com/Detail/2020/07/30/630732/Libya-rebels-S-200-systems-
--------
3 migrants shot dead in Libya after failed crossing to Europe
29 July 2020
Libyan authorities shot dead three Sudanese migrants trying to flee detention late on Monday, as they disembarked from a failed attempt to cross the Mediterranean to Europe, a UN agency said.
"Staff from the International Organization for Migration (IOM) in Khums, reported that local authorities started shooting when the migrants attempted to escape from the disembarkation point," IOM said in a statement.
Reuters could not immediately reach Libya's interior ministry for comment.
The migrants were among 70 disembarking from a vessel that was intercepted and sent back by the Libyan coast guard, one of many such voyages undertaken during the summer.
War-ravaged Libya is a major route for migrants seeking to reach Europe and now has an estimated 654,000 of them, often living in cramped conditions with little access to healthcare.
In recent months, hundreds of migrants have been stopped at sea and their vessels sent back to Libya despite the risk of violence there.
Both IOM and the UN refugee agency UNHCR have said Libya should not be classified as a safe port for migrants and that they should not have to disembark there. They want an alternative scheme to take people rescued or intercepted at sea to safe ports.
IOM Libya chief Federico Soda said 31 of the 70 migrants who disembarked were taken into detention and the others were reported to have escaped. Two migrants died at the scene of the incident and a third on the way to hospital.
"The use of excessive violence results yet again in the senseless loss of life, amid a lack of action to change a system that often fails to provide any degree of protection," Soda said in a statement.
In May, 30 mostly Bangladeshi migrants were abducted in Libya and shot dead in a southern city by an armed group.
https://www.presstv.com/Detail/2020/07/29/630659/Libya-migrants-shot-dead
--------
Jordan calls on Israel to respect Al-Aqsa mosque sanctity
July 31, 2020
DUBAI: The Jordanian government has called on Israel to respect the sanctity of Al-Aqsa mosque in Jerusalem, which recently reopened to Muslim worshippers after a two-month closure due to the coronavirus.
In a diplomatic note to Tel Aviv, the Ministry of Foreign Affairs and Expatriates stated that Israel as an occupying power should 'respect the sanctity of Al-Aqsa Mosque/Al-Haram Al-Sharif, and end all provocations and violations there,' state news agency Petra reported.
The ministry's spokesperson Deifallah Al-Fayez condemned the continued Israeli violations at the mosque, the most recent of which was the 'Israeli occupation forces allowing hundreds of Jewish extremists to storm the mosque', Petra added.
Al-Aqsa is a place of worship for Muslims only and the Jerusalem Awqaf Department, which affiliated to Jordan, is the sole institution responsible for administrating the affairs of the mosque, the spokesman said, as he called for global pressure to end Israel's violations in against the Al-Aqsa status quo.
https://www.arabnews.com/node/1712526/middle-east
--------
Tunisia's parliament speaker narrowly survives confidence vote
July 31, 2020
TUNIS: Tunisia's parliament speaker narrowly survived a confidence vote on Thursday, but his slim margin of victory may only deepen the country's political divisions after the resignation of the prime minister.
Some 97 members of parliament voted against Rached Ghannouchi, veteran leader of the Islamist Ennahda party, falling short of the 109 needed to oust him.
However, with Ennahda and the conservative Karama party boycotting the vote to show their opposition to the motion, only 16 MPs gave him formal support.
Ghannouchi's narrow margin of victory may indicate that Ennahda will now face fiercer opposition in parliament from parties that voted against him, potentially complicating efforts to agree on a new government.
The vote comes two weeks after Tunisia's government collapsed less than five months into its term following corruption allegations against the prime minister, which he denied.
Both the confidence vote in Ghannouchi and the collapse of the short-lived government stem from an election last year that produced a deeply fragmented parliament in which Ennahda, as the biggest party, won only a quarter of the seats.
President Kais Saied, a political independent who won a separate election in a landslide last year, has nominated a new candidate for prime minister who must now propose a government that can win majority support in the divided parliament.
The political crisis has come at a difficult moment for Tunisia, where the global pandemic has crashed the economy just as the government was seeking to agree on reforms aimed at reducing public debt while boosting growth and creating jobs.
https://www.arabnews.com/node/1712446/middle-east
-------
URL: https://www.newageislam.com/islamic-world-news/a-group-muslim-men-step/d/122516
New Age Islam, Islam Online, Islamic Website, African Muslim News, Arab World News, South Asia News, Indian Muslim News, World Muslim News, Women in Islam, Islamic Feminism, Arab Women, Women In Arab, Islamophobia in America, Muslim Women in West, Islam Women and Feminism