New Age Islam News Bureau
08 March 2021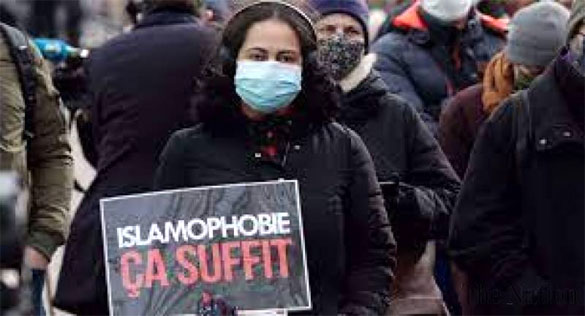 Civil society groups urge EU to probe France on Islamophobia
-----
• Aurat March Today in Lahore Dedicated to Healthcare Workers and Women's Health
• Women in Afghanistan Worry Peace Accord with Taliban Could Cost Them Hard-Won Rights
• In Iraq's Ruined City Of Mosul, Pope Francis Hears Of Life under Islamic State
• Muslims Are the Least Polygamous, Data Proves It, Says Former CEC Quraishi
• Biden's Attack on Anti-Terror Forces in Syria, A Gift to Daesh Terrorists: US Politician
• UAE Breaks Ground For Sheikh Zayed Mosque Replica in Indonesia
• Iran Warns To Demolish Tel Aviv, Haifa If Attacked By Israel
• 'Libya's Democratic Steps Pave Way for Permanent Peace'
Europe
• A Global Coalition of 25 Civil Society Groups Urge EU to Probe France on Islamophobia
• Where ISIS Ruled, Pope Francis Calls on Christians to Forgive, Rebuild
• Suspected ISIS member, Bataclan attack perpetrator arrested by Italian police
• 'Syria crisis could see at least 6M more displacements'
--------
Pakistan
• Aurat March Today in Lahore Dedicated to Healthcare Workers and Women's Health
• Chinese Embassy Official in Pakistan Faces Backlash For 'Hijab Off' Tweet
• Gunmen ambush Pakistan Navy vehicle, killing 1, wounding 2
• 5-member Hindu family found dead under mysterious circumstances in Pakistan
• Four terrorists killed in two operations, says ISPR
--------
South Asia
• Women in Afghanistan Worry Peace Accord with Taliban Could Cost Them Hard-Won Rights
• 45 Taliban Killed In Kandahar, Herat Provinces
• US Secretary Of State Pens Letter to Ghani As 'Transitional Gov't' Is Proposed
• NDS kills key intelligence Daesh official in Nangarhar
• Afghanistan conflict: US warns of new Taliban 'spring offensive'
--------
Arab World
• In Iraq's Ruined City Of Mosul, Pope Francis Hears Of Life under Islamic State
• Pope Francis meets father of drowned Syrian boy Alan Kurdi in Iraq's Erbil
• Pope urges peace over war as historic Iraqi tour ends
• SDF militants kidnap more than 200 people in Syria's Raqqah, Hasakah provinces
• US Khashoggi report 'abuse of the intelligence community's power': Former policymaker
• Russia calls on OPCW to unveil truth behind alleged 2018 chemical attack in Syria's Douma
• Saudi Arabia confirms Yemeni drone, missile attacks on oil facilities
--------
India
• Muslims Are the Least Polygamous, Data Proves It, Says Former CEC Quraishi
• If Shyama Prasad was not there, India would be an Islamic country: BJP Bengal Leader
• Iran behind Israel embassy attack in India, bomb planted by local Shia cell: Report
• Jaishankar, US' special envoy for Afghanistan discuss Afghan peace talks
• India sets up holding centre for Rohingya in Kashmir
--------
North America
• Biden's Attack on Anti-Terror Forces in Syria, A Gift to Daesh Terrorists: US Politician
• US Secretary of State Blinken calls for a 90-day reduction in violence in Afghanistan
• US will do what is necessary after rocket attack on forces: Defence Secretary
• US says 'all options on table' for Afghanistan, no decision on troop withdrawal by May deadline
--------
Southeast Asia
• UAE Breaks Ground For Sheikh Zayed Mosque Replica in Indonesia
• PAS Committed To Unity of Ummah, Says Takiyuddin
• Thailand gets tough on Myanmar asylum seekers
• Ousted, but still popular – how past generosity keeps Najib ahead
• Protect, defend the Constitution: In it is our right to a life with dignity
• UAE to develop $500 million tourism resort in Indonesia's Aceh
--------
Mideast
• Iran Warns To Demolish Tel Aviv, Haifa If Attacked By Israel
• Yemeni Minister Confirms Al-Qaeda Terrorists Fighting Alongside Saudi Forces In Ma'rib
• Yemen's Houthis attack Saudi oil heartland with drones, missiles
• Deputy FM: US Should Show Honesty by Lifting Sanctions
• Turkey is seeking to mend ties with Egypt, Gulf countries: Erdogan spokesman
• Saeed Mohammad, head of IRGC's biggest commercial enterprise, runs for president
• Iran says US approved release of $3 bln of Iran's funds in Iraq, Oman, S. Korea
• Fire at Houthi-controlled migrant facility in Yemen kills at least eight: UN
• Israeli forces shoot Palestinian over alleged stabbing attack
--------
Africa
• 'Libya's Democratic Steps Pave Way for Permanent Peace'
• Soldier, civilian dead, 4 hurt in Somalia suicide blast
• Libyan MPs arrive at Sirte to debate proposed unity government
• Tunisian prime minister refuses to step down, challenging president
• Fire engulfs religious centre in Somaliland, 49 injured
Compiled by New Age Islam News Bureau
URL: https://www.newageislam.com/islamic-world-news/a-global-coalition-25-civil/d/124491
--------
A Global Coalition of 25 Civil Society Groups Urge EU to Probe France on Islamophobia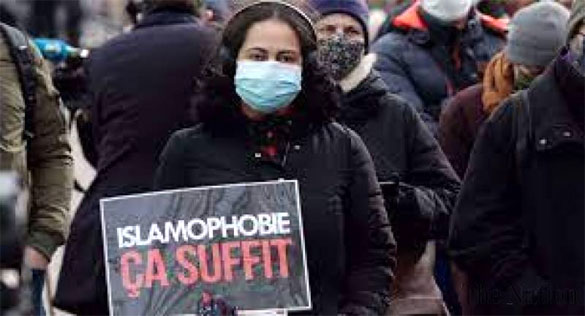 Civil society groups urge EU to probe France on Islamophobia
-----
Burak Dag
08.03.2021
A global coalition of 25 non-governmental organizations (NGOs) has asked the European Commission to investigate France for its state-sponsored support to Islamophobia.
In a petition to Ursula von der Leyen, president of the European Commission, these NGOs representing 11 countries have asked her to try the French government at the European Court of Justice for imposing discriminatory practices.
"France has implemented numerous laws designed to limit freedom of belief and punish the manifestation of religion, "said the petition.
Speaking to Anadolu Agency, Samira Sabir from Sabir's Legal Services who submitted the petition to the European Commission on behalf of the alliance said Islamophobia has become ingrained and mainstreamed in the European societies.
"Islamophobia is not only a widespread and serious phenomenon in right-wing circles, but it is also ingrained in the mainstream of European societies," she said.
The legal activist said that France provided an example of how state actors have institutionalized and legitimized Islamophobia through hate speech targeting Muslims.
Among the organizations who have signed the petition included Representative Council of France's Black Associations, Muslim Rights Watch Netherlands, the Islamic Central Council Switzerland, and Muslim Association for Human Rights from Spain.
"There is a widespread failure to implement EU legislation and in particular human rights related to religious integrity and the freedom to express political beliefs in France," the petition said.
It has also highlighted that French President Emmanuel Macron's plan "against separatism", which according to these NGOs merely focuses on tightening "political, ideological, theological and financial control on Muslim communities".
"There is no real or effective remedy within the French legal system to stop the continuation of structural and systemic Islamophobia by the French government within the meanings established by European case law," said these NGOs, while explaining the reason of approaching the European Commission.
- Do not set precedent
They asked Von der Leyen to intervene for the sake of not allowing a precedent to be set that would harm not only Muslims but other communities in France as well.
The petition noted that the French government exploited the killing of French middle-school teacher Samuel Paty to promote a racist, discriminative and Islamophobic agenda.
Referring to France's interior minister's statement, defending the raids against people not linked to investigations into the killing of Paty to send a message, the petition said that so far police have conducted 51 violent raids on homes of Muslims.
Seeking direct and urgent intervention from the European Commission, Sabir said it was the responsibility of the EU to directly act upon the complaint.
"With its enforcement powers, the European Commission must ensure the enforcement of EU law," she said, adding that France has violated the EU Charter of Fundamental Rights and regulations on the prohibition of discrimination, xenophobia, racism, and protection of minorities and children's rights.
The French government has been criticized for its moves and rhetoric against Islam and Muslims.
French President Emmanuel Macron's claim that Islam is "in crisis," raids on mosques and Islamic foundations and a proposed "anti-separatism" law that slap wide-ranging restrictions on the Muslim community have also come under fire.
The bill permits authorities to interfere with mosques and their administrators as well as control the finances of associations and NGOs belonging to Muslims.
The coalition had also petitioned the UN Human Rights Council, complaining against systematic Islamophobic actions in France on Jan. 18, 2021.
https://www.aa.com.tr/en/europe/civil-society-groups-urge-eu-to-probe-france-on-islamophobia/2168451
--------
Aurat March Today in Lahore Dedicated to Healthcare Workers and Women's Health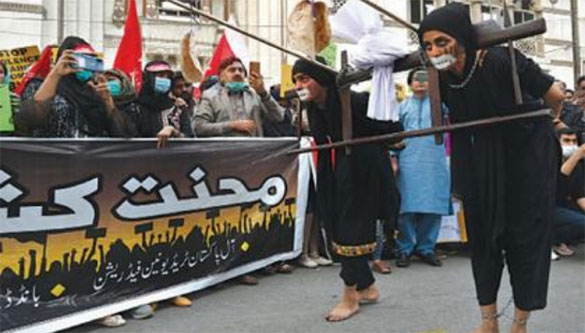 Aurat March in Pakistan on Women's Day
-------
March 8, 2021
LAHORE: The year's march will be dedicated to healthcare workers and women's health in the light of the violence that marginalised genders faced during the past year.
The health of women and non-binary gender is massively ignored at both an individual and structural level, says the manifesto. Other issues including enforced disappearances are also expected to be given in-depth focus.
Those in the core committee say that the manifesto of Aurat March was made with collective effort, and came out after months of hard work, research, and absorbing the opinions of different community members, including those women, whose voices are silenced, women with disabilities, transgender groups, lady health workers, etc.
This point of the manifesto is to make marginalised voices mainstream and give them space.
Enforced Disappearances
One of the most important issues that are expected to be given space this year is that of enforced disappearances as well as accompanying human rights violations, especially in Balochistan.
From mid-2010 onwards, hundreds of dead bodies of those who went 'missing' began to emerge. Besides Balochistan, Sindh's families have also been victims of this crime.
Bodies are generally found, dumped in deserted areas, and most times are found to be tortured badly.
Families and those that have gone missing, have been victimised under the guise of the war on terror, and of laws and policies pertaining to terrorism, while some have been picked up over personal vendetta.
However, while it is usually the men who are abducted, tortured and killed, the women of the family are also victims in this crime, leaving them in a limbo and without closure, resulting in psychological trauma, as well as economic issues.
Aurat March will stand in solidarity with affected people, especially as the whole trend of enforced disappearances has resulted in militarisation of communities, seeping hatred, as well as discord.
Entry Forms
Aurat March Lahore has also raised concerns over the biased and sensationalised coverage of the march, and has decided to issue media passes to encourage women and transgender reporters to cover the event.
It has taken this step in the light of many complaints of the participants in the march where they were bullied and harassed by people claiming to be media personnel.
A member of the collective told Dawn that last year several people, mostly from non-legacy digital media organisations, disrupted the safe and private space by asking 'extremely personal questions' unrelated to the issues at hand. She said that they not only imposed their questions on the marchers, they also jumped to conclusions and did not allow them to speak either.
"We are also trying to protect the privacy of those who are going to be there," she said. "There were certain video clips and images that ended up in harassing our supporters not just that day, but all the year round."
She also reiterated three core principles of Aurat March Lahore including no NGO funding or affiliation, no corporate funding or affiliation, and no political party alliance or affiliation.
Demands
Article 38 of the Constitution says that the State must provide basic necessities of life, (food, clothing, housing, education, and medical relief), for all such citizens, irrespective of any differences of sex, caste, creed, etc. AM Lahore has demanded the state fulfill its responsibility here and add that it is a huge concern that the health budget has gone down.
The demands include a better infrastructure given to survivors of abuse who need access to mental as well as physical care within a rehabilitative framework in order to adequately manage the long-term effects of the violence visited upon them.
A huge issue within the health sector is that of transgenders and PWDs (persons with disabilities) to access health. According to a study, 92% of transgender people report facing discrimination or harassment in healthcare settings in Khyber Pakhtunkhwa, while another study in Punjab reveals that 74% of transgender persons prefer not to go to public hospitals.
Other health issues concern are also raised in the document, including, educational programs and training aiming to stop stigmatization and shame associated with gendered bodies, breast cancer, reproductive health, the gender pain gap, more gender sensitized medico-legal practitioners, charging for forensic services (including from rape victims), HIV, access to free medicines, rights of PWDs, implementation of the Transgender Act 2018, access to clean water and toilets, especially to avoid contraction of Covid-19, healthcare for female prisoners, and drug addicts and users, an end to underage marriage, and several other issues associated with the health sector.
CM'S message
Chief Minister Sardar Usman Buzdar said that the respect of women was a part of Pakistan's social and religious norm.
In his message with regard to International Women Rights Day, the CM said that women are approximately 50% of the population of Pakistan. He said that role of women in practical life for the socioeconomic development of the country could not be neglected.
Equal opportunities have been provided to women in practical life and his party would seek to further empower women. He said that 187 daycare centres have been established throughout the province. Seven new centres have been inaugurated last year, he added. A facility of hostel has been provided for the working women. New hospitals are being established for ensuring quality treatment to mother and child.
He said new mother and child care hospitals would be set up with a a sum of Rs280 million in Attock, Rajanpur, Bahawalnagar, Sialkot and Layyah. He said that work was being carried out on Mother and Child care hospital in Lahore and Mianwali.
https://www.dawn.com/news/1611328/aurat-march-today-in-lahore-an-effort-to-mainstream-marginalised-womens-issues
--------
Women in Afghanistan Worry Peace Accord With Taliban Could Cost Them Hard-Won Rights

Audience members listen to Afghan parliamentarian Fawzia Koofi speak in 2014. Women's access to politics increased greatly after the Taliban's 2001 ouster. Sha Marai/AFP via Getty Images
-----
Mona Tajali and Homa Hoodfar
March 8, 2021
Three Afghan women who worked at a media company were gunned down in Jalalabad in early March. In January, unidentified gunmen killed two female Supreme Court judges in Kabul.
These are the latest victims on a long list of assassinations and attempted assassinations of female politicians and women's rights activists. Such attacks have intensified since the government began peace negotiations with the Taliban militant group in September 2020. In the past year, 17 human rights defenders have been killed in Afghanistan.
The Taliban's rule of Afghanistan from 1996 to 2001 was the darkest time for Afghan women. Assuming an austere interpretation of Islamic Sharia and Pashtun tribal practices, the group limited women's access to education, employment and health services. Women were required to be fully veiled and have male escorts in public.
We are scholars of women's rights in Muslim majority countries, including in Afghanistan. We have been following Afghanistan's peace talks with an eye on gender, seeking to understand how Afghan women view the prospect of their government striking a power-sharing agreement with the group that oppressed them.
Seat at the table
Women are a pale presence in the on-again, off-again, US-brokered Afghanistan peace process underway in Doha, Qatar. The Taliban, which still controls roughly 30% of Afghanistan's territory, has no women on its negotiating team. Only four of the Afghan government's 21 negotiators are women – even though several women play prominent roles within the national government.
The past six months of talks have demonstrated the contradictions between each side's stance on women's equality and other central issues.
The government intends to preserve Afghanistan's democratic institutions and constitution, which guarantees the rights of women and minorities as equal citizens of an Islamic republic.
The Taliban, on the other hand, is pushing for an Islamic emirate controlled by a nonelected council of religious leaders who rule based on their conservative interpretation of Islam, according to unpublished analysis by the nonprofit Women Living Under Muslim Laws, where we are board members.
Roya Rahmani, the Afghan ambassador to the US, says having women on its team gives the Afghan government more leverage to negotiate on women's rights. That's important because our research indicates that the Taliban maintain their extremist stance on women.
"The Taliban live in their 1990s universe and they refuse to see the reality of Afghanistan and in particular the young generations today who see themselves entitled to human rights, education, and an open public sphere," Palwasha Hassan, an Afghan women's rights activist, told us in an interview in December 2020.
The Taliban claims its views on women have evolved. But in some Taliban-controlled regions of Afghanistan girls are barred from getting an education after puberty – in violation of the Afghan constitution. And while women are elected and appointed to high-level posts nationally, their political participation is restricted in Taliban-controlled regions.
There is a "gap between official Taliban statements on rights and the restrictive positions adopted by Taliban officials on the ground," according to the international nonprofit Human Rights Watch.
Women and war
Armed conflicts may be primarily fought by men, who are killed or injured, but women are war victims in a different way – and therefore have different needs when it ends. Many lose their husbands and children, and thus their income, and are disproportionately displaced by violence. Rape is one weapon of war, and in some places women may be sexually assaulted en masse.
In 2000, the United Nations adopted a resolution emphasizing that women should be included in all post-conflict reconstruction efforts.
Colombia was the first country to ensure gender equity in its peace process. In its landmark 2016 accord with the FARC insurgents, which was mediated by Sweden, women were on both the insurgent and government negotiating teams, and the final accord included a chapter outlining what assistance women in conflict zones would need to start businesses, participate in politics, thrive in rural areas and the like.
Afghanistan, the first big globally brokered peace deal to follow Colombia's, does not follow this model.
In interviews with more than 15 Afghan women's rights leaders, we heard frustration over women's exclusion from the peace talks given that women are the main victims of Afghanistan's 40-year conflict.
These women support the effort at national reconciliation. But they cited the targeted killings of women over the past year as reason for concern that the Taliban's disregard for human rights jeopardizes the longevity of any peace deal.
As one interview subject put it, "Taliban's win is a win for ISIS, Boko Haram and other extremist groups."
Targeting women
Outspoken critics of the Taliban's undemocratic vision of peace have been threatened or killed.
In August 2020, Fawzia Koofi, an Afghan government negotiator and long-time Afghan parliamentarian, was shot in the arm in an attempted assassination. The attack is an instance of the gendered violence that women often face as a way to deter them from participating in politics.
Koofi refused to be silenced. Just days after her injury, she flew to Doha to attend the peace talks.
The Afghan government has made recent missteps on women's rights, too.
In 2020, the Afghan government dissolved the State Ministry of Human Affairs, led by Dr Sima Samar, a key advocate for women's rights with nearly two decades of experience at the Afghanistan Independent Human Rights Commission.
This ministry, as the main body documenting and reporting on Afghanistan's human rights status, could have played an instrumental role in the negotiations.
After the fall of the Taliban in the 2001 U.S. invasion, women eagerly embraced every opportunity to advance professionally in diverse sectors, from politics to social services. Today women compose around 27% of the Afghan Parliament, one of the highest rates of women's political representation in the region.
"There is no going back," Zarqa Yaftali, a women's rights activist told us. "Women intend to guide their country towards peace and stability."The Conversation
Mona Tajali, assistant professor in IR and WGSS, Agnes Scott College and Homa Hoodfar, professor of anthropology, Emerita, Concordia University.
https://thewire.in/south-asia/women-afghanistan-peace-accord-taliban-hard-won-rights
--------
In Iraq's ruined city of Mosul, Pope Francis hears of life under Islamic State
March 7, 2021
Muslim and Christian residents in the ruined Iraqi city of Mosul told Pope Francis of their lives under brutal Islamic State rule on Sunday as the pontiff blessed their vow to rise up from ashes and told them that "fraternity is more durable than fratricide."
Francis flew into the northern city by helicopter to encourage the healing of sectarian wounds and to pray for the dead of any religion.
The 84-year-old pope saw ruins of houses and churches in a square that was the old town's thriving centre before Mosul was occupied by the Islamic State from 2014 to 2017. He sat surrounded by skeletons of buildings, dangling concrete staircases, and cratered ancient churches, most too dangerous to enter.
"Together we say no to fundamentalism. No to sectarianism and no to corruption," the Chaldean archbishop of Mosul, Najeeb Michaeel, told the pope.
Much of the old city was destroyed in 2017 during the bloody battle by Iraqi forces and an international military coalition to drive out Islamic State.
Francis, who on a historic first trip by a pope to Iraq, was visibly moved by the earthquake-like devastation around him. He prayed for all of Mosul's dead.
"How cruel it is that this country, the cradle of civilization, should have been afflicted by so barbarous a blow, with ancient places of worship destroyed and many thousands of people Muslims, Christians, Yazidis and others forcibly displaced or killed," he said.
"Today, however, we reaffirm our conviction that fraternity is more durable than fratricide, that hope is more powerful than hatred, that peace more powerful than war."
Intense security has surrounded his trip to Iraq. Military pickup trucks mounted with machine guns escorted his motorcade and plainclothes security men mingled in Mosul with the handles of guns emerging from black backpacks worn on their chests.
In an apparent direct reference to Islamic State, Francis said hope could never be "silenced by the blood spilled by those who pervert the name of God to pursue paths of destruction."
He then read a prayer repeating one of the main themes of his trip, that it is always wrong to hate, kill or wage war in God's name.
Fighters of Islamic State, a Sunni militant group that tried to establish a caliphate across the region, ravaged northern Iraq from 2014-2017, killing Christians as well as Muslims who opposed them.
'AFRAID TO RETURN'
Iraq's Christian community, one of the oldest in the world, has been particularly devastated by the years of conflict, falling to about 300,000 from about 1.5 million before the U.S. invasion of 2003 and the brutal Islamist militant violence that followed.
Father Raid Adel Kallo, pastor of the destroyed Church of the Annunciation, told how in 2014 he fled with 500 Christian families and how fewer than 70 families are present now.
"The majority have emigrated and are afraid to return," he said.
"But I live here, with two million Muslims who call me father and I am living my mission with them," he added, telling the pope of a committee of Mosul families who promote peaceful coexistence among Muslims and Christians.
A Muslim member of the Mosul committee, Gutayba Aagha, urged the Christians who had fled to "return to their properties and resume their activities".
Francis then flew by helicopter to Qaraqosh, a Christian enclave that was overrun by Islamic State fighters and where families have slowly returned and rebuilt ruined homes.
In Qaraqosh, he received the most tumultuous welcome so far on the trip, with thousands of ecstatic people packing the roadsides to get of glimpse of their religious leader.
Most were not wearing masks despite a rising number of COVID-19 cases in the country.
"I can't describe my happiness, it's a historic event that won't be repeated," said Yosra Mubarak, 33, who was three months pregnant when she left her home seven years ago with her husband and son, fleeing the violence.
Francis has stressed inter-religious peace from the start of his trip on Friday.
On Saturday he held a historic meeting with Iraq's top Shi'ite cleric and visited the birthplace of the Prophet Abraham, condemning violence in the name of God as "the greatest blasphemy".
https://www.indiatoday.in/world/story/in-iraq-s-ruined-city-of-mosul-pope-francis-hears-of-life-under-islamic-state-1776618-2021-03-07
--------
Muslims are the least polygamous, data proves it, says former CEC Quraishi
6th March 2021
Indian Muslims hardly practise polygamy but they are willing to die for it, says S Y Quraishi, whose just published book, The Population Myth: Islam, Family Planning and Politics in India, on the issue of population and family planning among Muslims is the subject of discussion these days in the country.
Quraishi, who has served as India's 17th Chief Election Commissioner, says Muslims should not make polygamy an issue. "Let there be a ban across communities. There is no harm in it," he said in an interview to Clarion India. But what about the Muslim leadership, especially Ulema, who are very sensitive about it? Quraishi says their objection is understandable. "They say what is permissible in Islam should not be taken away by the government. The courts and the government can't interpret the Quran," Quraishi said, but added since Muslims don't practise polygamy there is no point being all worked up about it.
Polygamy and population are highly politicised issues in India where right-wing politicians stoke majoritarian fears by claiming that Muslims are growing more children with intention to overtake the country. They also claim that Muslims don't practise family planning and keep four wives. But Quraishi challenges such claims. "Show me a single Muslim with four wives… In fact Muslims are the least polygamous community in India."
He quotes the Status of Women in India report of 1975, the only study on this so far. He says it shows that all communities in India are polygamous. "Interestingly, the least polygamous were the Muslims. I studied the census from 1930 to 1961 and found that in every census, Muslims were the least polygamous, followed by the Hindus," he says, adding tribal communities have 16% polygamy, Hindus 5.8% and Muslims 5.7%.
Quraishi's book Population Myth: Islam, Family Planning and Politics in India, is an eye-opener. He has investigated the subject from various angles. He talks with facts and figures and also refers to the Quran and Hadiths (sayings of the Prophet) to bust myths that have been created around the subject. He says nowhere in the Quran family planning is prohibited. "In fact the Quran is totally supportive of the concept. My conclusion is that Islam is the pioneer of the concept of family planning. It is a marvel that 1,400 years ago when there was no population pressure anywhere in the world Islam talked of quality of upbringing, the importance of health and children."
Quraishi is a known public figure, who has been speaking and writing on various issues. He commands respect for his balanced views on issues of public concerns. The subject that he has dealt with in his book is political. But he has tried to be objective in his analysis.
He says the subject came to him "accidentally" 25 years ago when the country director of the United Nations Development Programme (UNDP) approached him to write a strategy paper for family planning among Muslims.
The paper that he wrote was an "eye-opener" for him and therefore he decided to develop it into a book. He says this project was a learning experience for him. When he began in 1995, he had a vague idea about the subject. He only knew that Muslims had a bit of resistance to family planning. But as he studied various government reports and surveys, he realised that facts don't support the myths that have been created about Muslims.
When he started in 1995, the first National Family Health Survey (NFHS) had been released. After that, till the time he finished the book, three more NFHSs came. "Fortunately, every new data strengthens my hypothesis," about population and family planning, he says.
Quraishi's Population Myth, according to him, is four-in-one kind of a book. Part one of it is written as a demographer, which talks only of statistics: how the population grows across communities and across States. Part two is written as an Islamic scholar quoting from the Quran and Hadiths.
Third part is written as "an administrator, which I was. I used to implement various government programmes like national population policy." And finally, he says, he has dealt the subject as "a communicator, which I claim to be because my Ph.D is in communication, social marketing to be precise. How social issues need to be communicated to audience."
Has he been challenged by anyone for making bold statements that go against certain deep-rooted perceptions? His reply was in the negative. He says he has received lots of appreciation from every corner. "I have spoken on the subject at various places. At one of the places, it was Muslim audience, and I was a bit worried. But the audience overwhelmingly supported me," he said.
What about the allegations of the Hindu right-wing? He says the claims made by the Right about the Muslims have no basis. Data don't support them. "They are rash and false" he opines.
Quraishi says, "We need to talk about it (the facts) more; to discuss it more; and to disseminate it more."
The right-wing needs to be replied with facts and figures. "Mine is not the first book. There are two to three demographers who have written about it. All the authors are non-Muslims, they are Hindus," Quraishi says.
Any counter to his argument? So far, none, he says. But he has received "lots of hate messages…they are very general. They are from illiterate trolls who have not read my book."
Quraishi is used to such trolls. "It's not new. It happens all the time for every Muslim… typically like reminding him who made me the CEC."
But nobody has challenged the content of the book. "Let people read the book, and come up with counter-argument, if any. I will be very happy to be educated," he said.
Shaheen Nazar is the executive editor of Clarion India. With over 30 years of experience in journalism he also teaches at India Today Media Institute at New Delhi.
https://www.siasat.com/muslims-are-the-least-polygamous-data-proves-it-says-former-cec-quraishi-2104569/
--------
Biden's attack on anti-terror forces in Syria, a gift to Daesh terrorists: US politician
06 March 2021
US President Joe Biden has aided the Daesh terrorists in Syria and Iraq after he ordered airstrikes against facilities belonging to anti-terror resistance groups on the Iraqi-Syrian border, a US politician says.
Biden authorized the deadly strikes late last month, destroying facilities at a Syrian border point used by Iraq's Popular Mobilization Units (PMU), also known as Hashd al-Sha'abi, including members of Kata'ib Hezbollah and Kata'ib Sayyid al-Shuhada groups.
The White House claimed without providing any evidence that the fatal raids were in response to attacks against American and allied personnel in Iraq.
Richard Black, a Republican member of the Virginia State Senate told Press TV that, "The (Iraqi) PMU forces have mainly fought against Daesh, and they have been highly effective against them. Therefore, when the US attacks the PMU, it assists Daesh terrorists in Iraq and Syria."
The US fatal attack was carried out after rockets hit the Green Zone in Baghdad, which houses the US embassy and other diplomatic missions in late February. The American military base at the Erbil International Airport had also been attacked in a similar fashion earlier.
"The Biden Administration chose to use the rocket attacks on the Green Zone as a pretext to attack Iraqi (anti-terror) forces, who were effectively blocking Daesh militants from operating along the Syrian-Iraqi border. The attacks targeted sovereign Syrian territory and were in clear violation of international law," Black said.
The US politician noted that, "It is unlikely that the US really knows who fired the rockets."
The Daesh remnants, who are seeking to make a comeback after the Takfiri terrorist group was vanquished in Iraq in 2017, have switched to new tactics against the anti-terror forces, Black said.
"A (US) policy that always assumes that Iraqi anti-terror forces fired the rockets gives Daesh the power to trigger an American airstrike against its enemies whenever Daesh chooses. Daesh fires rockets; we blame the Iraqi militias; the US bombs Iraqi forces. That strategy is unfair and immoral," the US Republican added.
He said CNN quoted US officials, who falsely characterized Iraqi casualties as militants. "This implied that Iraqis killed in the bombed facilities (on the border with Syria) were "terrorists" rather than legitimate elements of the Iraqi Armed Forces," Black underlined.
President Biden's Syria attack has been sharply criticized by both US political parties as he decided to launch the airstrikes without consulting Congress.
Black told Press TV that Democratic Senator Tim Kaine of Virginia, who serves on the Senate Armed Forces Committee, demanded that Americans know the justification for attacking targets without first coming to Congress. Kaine said, "Offensive military action without Congressional approval is not constitutional, absent extraordinary circumstances."
Republican Senator Rand Paul of Kentucky, the most ardent opponent of America's undeclared wars against Syria and Iraq tweeted, "What authority does @POTUS have to strike Syria?"
"Some in Congress are criticizing the expansive use of the open-ended 2001 and 2002 authorizations for use of military force [AUMFs] that paved the way for the US to invade Afghanistan and Iraq. They have since been used to justify 41 military operations in 19 countries. No nation on earth conducts more military attacks against foreign nations than the US," Black pointed out.
Since assuming office, Biden has not only followed in Trump's footsteps regarding Syria, but ratcheted up US interventionist policies in the war-torn country.
"Two days after President Biden's inauguration, US troops that Trump had ordered out of Syria, were sent back in from Iraq. It is unclear whether President Biden was even made unaware that troops were being reinserted back into Syria," Black said.
The US politician slammed the US military industrial complex and "Deep State" for reinforcing America's warmongering and hegemonic policies, and blocking ways to peace.
"Elements within the Deep State will work hard to block any movement toward peace. The continuation of war is so lucrative that any move toward peace will encounter stiff resistance," Black pointed out.
"It is within the power of the US President to stop these wars. However, he cannot accomplish this without totally removing military forces from the region. The US has repeatedly used attacks on its military forces as justification for new troop build-ups. If Joe Biden wanted to create a lasting, positive, legacy, he would order all US troops to leave the Middle East within 90 days. However, I do not expect this to happen," the US politician underlined.
https://www.presstv.com/Detail/2021/03/06/646697/US
--------
UAE breaks ground for Sheikh Zayed Mosque replica in Indonesia
March 08, 2021
JAKARTA: Top Emirati officials have broken ground for a replica of Sheikh Zayed Grand Mosque in Indonesia.
The mosque will be constructed in Solo in Central Java province, the hometown of Indonesian President Joko Widodo.
The replica of the UAE's largest mosque was gifted to Widodo during the visit of Abu Dhabi Crown Prince Mohammed bin Zayed Al-Nahyan to Jakarta in July 2019.
The crown prince's visit to Indonesia was the first by a UAE leader since that of his father Zayed bin Sultan Al-Nahyan in 1990.
On the Emirati side, the ground-breaking ceremony was attended by Energy and Infrastructure Minister Suhail Al-Mazroui, and General Authority of Islamic Affairs and Endowments Chairman Dr. Mohammed Al-Kaabi.
On the Indonesian side, it was attended by Religious Affairs Minister Yaqut Cholil Qoumas, State-Owned Enterprises Minister Erick Thohir and Solo Mayor Gibran Rakabuming Raka, who is Widodo's eldest son.
"The mosque will be almost 100 percent similar to the one in Abu Dhabi, but it will also incorporate some Indonesian ornaments and will maximize the use of local materials," Husin Bagis, Indonesia's ambassador to the UAE, told Arab News on Sunday.
The mosque, which will be built on a 3-hectare plot, will feature four minarets, with the main dome surrounded by smaller domes. It will be able to accommodate about 10,000 worshippers.
The ambassador said it could become a major religious tourism destination in the Muslim-majority Southeast Asian country. "Now worshippers can go to Solo to marvel at Sheikh Zayed Grand Mosque's splendor," he added.
The $20 million mosque project is expected to be ready to welcome worshippers in September 2022.
Construction is being fully financed by the UAE, Qoumas said during the ground-breaking ceremony.
"The mosque, which has a contemporary historical value, will be dedicated to all Muslims and will be managed by the Indonesian government," he added.
The mosque compound will include an Islamic center to provide UAE-sponsored training for clerics to promote religious moderation.
The ground-breaking ceremony capped a series of events as part of Indonesia-Emirati Amazing Week in Jakarta, Solo, Bandung and Surabaya, which started on March 1 and witnessed the signing of a number of agreements.
The visit by Al-Mazroui and his delegation is a follow-up to $22.9 billion worth of UAE investment deals signed by Widodo during his visit to Abu Dhabi in January 2019.
The agreements, which cover energy, infrastructure, defense and mining, are seen as the biggest foreign investment in Indonesia's history, and a major advancement of its ties with the Gulf state.
In October 2020, one of the roads in Abu Dhabi's diplomatic quarters was renamed President Joko Widodo Street.
The Indonesian ambassador said: "Following the grand mosque construction in Solo, the UAE will also construct a mosque named after President Widodo on a location near President Joko Widodo Street."
https://www.arabnews.com/node/1821616/world
--------
Iran Warns to Demolish Tel Aviv, Haifa If Attacked by Israel
2021-March-7
"Although sometimes their dogs speak bigger than their mouths out of desperation and raise threats that are clearly out of desperation, the Supreme Leader of the Islamic Revolution has responded well to the Zionists many years ago by saying that the Zionist regime is not an arch foe of our size and is too small to show hostility to the Islamic Republic. The Zionist regime knows, and if it does not know, it should know, that if it makes a mistake, the Islamic Republic will raze down Tel Aviv and Haifa," General Hatami said on Sunday.
"This order of the Commander-in-Chief of Armed Forces (the Leader) has been precisely implemented by the Armed Forces, and it has turned into a plan and will be implemented with a single command of the Commander-in-Chief. I advise them (the Israelis) not to make this mistake, even in words," he added.
General Hatami also referred to Iran and the resistance groups' power in the region, saying that the Islamic Revolution has blocked Israel's schemes and made the regime build a wall around itself.
His remarks came after Israeli officials warned to attack the Iranian nuclear sites in case of the country's further development of its peaceful program.
Also, reports said earlier this week that Israeli Prime Minister Benjamin Netanyahu has reached out certain Persian Gulf Arab states' leaders, calling on them for formation of a coalition against Iran.
Meantime, Iran's Ambassador and Permanent Representative to the Vienna-based International Organizations Kazzem Qaribabadi criticized the International Atomic Energy Agency (IAEA) for inaction towards the nuclear threat posed by Israel, stressing that Tel Aviv enjoys the advantages of Non-Proliferation Treaty (NPT) while it is has never signed the pact.
Israel enjoys more preferential advantages compared to the nuclear-armed states because the latter are NPT members and have special commitments, while Israel is out of it, is free of any commitments, and enjoys all the advantages of the Agency which are relevant to the NPT, Qaribabadi said on Friday.
He said that all regional countries are members of the NPT and have committed themselves to accept the IAEA's safeguards, adding, "Developing a secret nuclear weapon program by the Zionist regime is a serious persisting threat not only to the security and stability of the region and the world, but also for the effectiveness of NPT and the Agency's safeguards."
"Needless to mention, the Zionist regime is not a member of any of the other disarmament and WMD non-proliferation treaties," the envoy noted, adding, "the nuclear capabilities of the Zionist regime and its threats have been put on the agenda of the UN General Assembly while the IAEA has issued several resolutions in this regard."
"But the Zionist regime has neglected the international community by ignoring the NPT, avoiding to join it, and refusing to put its facilities and nuclear activities under IAEA's safeguards inspections," Qaribabadi stated.
He warned that such conditions have emboldened Israel to ridicule the IAEA authority and the mission for preventing deviation of materials and nuclear activities.
"Most importantly, it has been so emboldened that it distorts realities and criticizes some of the NPT members, while they are committed but it is not," the diplomat added.
He termed it ironic that the IAEA, its secretariat, Board of Governors, and general conferences all focus on NPT members, while ignoring the materials and the activities of the Zionist regime in the volatile West Asian region is a chronic strategic mistake.
"In such a condition, what is the advantage of being a NPT member and implementing the safeguards? How can the global community see the IAEA as a serious, professional, impartial partner while the comprehensive safeguards regime is not applied to its members identically and justly and it doesn't even seriously discuss the necessity of verification and inspections of Israel's nuclear activities? Does the silence about the Israeli nuclear deal not send a message to the NPT members that membership means accepting the strongest verification and monitoring systems and staying out of it means freedom of any commitments and even receiving bonuses?" he asked the IAEA.
https://www.farsnews.ir/en/news/13991217000373/Iran-Warns-Demlish-Tel-Aviv-Haifa-If-Aacked-by-Israel
--------
'Libya's democratic steps pave way for permanent peace'
Gözde Bayar
06.03.2021
Libya's democratic steps based on dialogue and national consensus in the political process offered an important window of opportunity for permanent peace in the country, the Turkish Foreign Ministry spokesman said on Saturday.
Hami Aksoy, responding to a question in a written statement, said the historical opportunity in Libya should not be wasted for the sake of some ambitious countries.
Turkey will continue to provide the Government of National Unity with all kinds of support, Aksoy said, noting that the country welcomed the election of Libya's new interim leadership to govern the country.
Turkey hopes that Prime Minister-designate Abdul Hamid Dbeibeh's Cabinet will receive a vote of confidence, he added.
The government lineup will be debated by the Tobruk-based House of Representatives (parliament) which will convene on Monday in the coastal city of Sirte for a vote of confidence.
On Feb. 5, Libyan delegates elected Mohammad Younes Menfi to head the three-member Presidency Council and Dbeibeh the new prime minister. The new executive authority will govern Libya in the lead-up to national elections on Dec. 24.
On Oct. 23, 2020, the UN announced a permanent cease-fire agreement between Libya's warring rivals.
Libya has been torn by civil war since the ouster of late ruler Muammar Gaddafi in 2011.
Turkey supports the UN-recognized Government of National Accord based in the capital Tripoli, as well as a peaceful resolution to Libya's problems.
https://www.aa.com.tr/en/africa/libyas-democratic-steps-pave-way-for-permanent-peace/2167239
--------
Europe
Where ISIS Ruled, Pope Francis Calls on Christians to Forgive, Rebuild
March 7, 2021
Pope Francis called on Iraq's Christians to forgive the injustices committed against them by Muslim extremists and to rebuild as he visited the wrecked shells of churches and met ecstatic crowds in the community's historic heartland, which was nearly erased by the Islamic State group's horrific reign.
At each stop in northern Iraq, the remnants of its Christian population turned out, jubilant, ululating, decked out in colourful dress, though heavy security prevented Francis from plunging into the crowd as he would normally do.
Nonetheless, they seemed simply overjoyed that they had not been forgotten.
It was a sign of the desperation for support among an ancient community uncertain whether it can hold on.
Traditionally Christian towns dotting the Nineveh Plains of the north were emptied as Christians — as well as many Muslims — fled the Islamic State group's onslaught in 2014.
Only a few have returned to their homes since the defeat of IS in Iraq declared four years ago, and the rest remain scattered elsewhere in Iraq or abroad.
Bells rang out in the town of Qaraqosh as the pope arrived. Speaking to a packed Church of the Immaculate Conception, Francis said "forgiveness" is a key word for Christians.
"The road to a full recovery may still be long, but I ask you, please, not to grow discouraged. What is needed is the ability to forgive, but also the courage not to give up." The Qaraqosh church has been extensively renovated after being vandalised by IS militants during their takeover of the town, making it a symbol of recovery efforts.
For the Vatican, the continued presence of Christians in Iraq is vital to keeping alive faith communities that have existed here since the time of Christ. The population has dwindled from around 1.5 million before the 2003 U.S.-led invasion that plunged the country into chaos to just a few hundred thousand today.
Francis came to Iraq to encourage them to stay and help rebuild the country and restore what he called its "intricately designed carpet" of faith and ethnic groups.
In striking images earlier Sunday, Francis, dressed in white, took to a red carpet stage in a square in the north's main city, Mosul, surrounded by the grey hollowed-out shells of four churches, nearly destroyed in the war to oust the Islamic State group from the city.
It was a scene that would have been unimaginable years earlier. Mosul, Iraq's second largest city, was at the heart of the IS so-called "caliphate" and witnessed the worst of the group's rule inflicted on Muslims, Christians and others, including beheadings and mass killings.
"How cruel it is that this country, the cradle of civilization, should have been afflicted by so barbarous a blow," Francis said, "with ancient places of worship destroyed and many thousands of people — Muslims, Christians, Yazidis — who were cruelly annihilated by terrorism and others forcibly displaced or killed."
He deviated from his prepared speech to address the plight of Iraq's Yazidi minority, which was subjected to mass killings, abductions and sexual slavery at the hands of IS.
"Today, however, we reaffirm our conviction that fraternity is more durable than fratricide, that hope is more powerful than hatred, that peace more powerful than war."
The square where he spoke is home to four different churches — Syriac Catholic, Armenian-Orthodox, Syriac Orthodox and Chaldean — each left in ruins.
IS inflicted atrocities against all communities, including Muslims, during its three-year rule across much of northern and western Iraq.
But the Christian minority was hit especially hard. The militants forced them to choose among conversion, death or the payment of a special tax for non-Muslims.
Thousands fled, leaving behind homes and churches that were destroyed or commandeered by the extremists.
Mosul, Iraq's second largest city, became IS's bureaucratic and financial backbone.
It was from Mosul's al-Nuri mosque that then-IS leader Abu Bakr al-Baghdadi made his only public appearance when he gave a Friday sermon calling on all Muslims to follow him as caliph.
It took a ferocious nine-month battle to finally free the city in July 2017, during which between 9,000 and 11,000 civilians were killed, according to an AP investigation at the time.
Al-Baghdadi was killed in a U.S. raid in Syria in 2019. The war left a swath of destruction across Mosul and the north, and many Iraqis have been left on their own to rebuild amid a years-long financial crisis.
The Rev. Raed Kallo, was among the few Christians who returned to Mosul after IS was defeated.
"My Muslim brothers received me after the liberation of the city with great hospitality and love," he said on stage before the pontiff.
Before IS, he had a parish of 500 Christian family. Most emigrated abroad, and now only 70 families remain, he said.
"But today I live among 2 million Muslims who call me their Father Raed," he said.
Gutayba Aagha, the Muslim head of the Independent Social and Cultural Council for the Families of Mosul, encouraged other Christians to return.
"In the name of the council I invite all our Christian brothers to return to this, their city, their properties and their businesses."
https://indianexpress.com/article/world/where-is-ruled-pope-calls-on-christians-to-forgive-rebuild-7218513/
--------
Suspected ISIS member, Bataclan attack perpetrator arrested by Italian police
08 March ,2021
An Algerian man has been arrested in the Italian town of Bari on suspicion of belonging to the extremist militant group ISIS and helping the perpetrators of a coordinated attack that killed 130 people in Paris in 2015, police said on Monday.
A statement said that the man, 36, was believed to have provided counterfeit documents to the gunmen and bombers who attacked the Bataclan concert hall, restaurants and the vicinity of the Stade de France sports stadium.
The attack, in which hundreds more were wounded, was France's deadliest since World War Two.
Police said they would hold a news conference later on Monday.
https://english.alarabiya.net/News/world/2021/03/08/Suspected-ISIS-member-Bataclan-attack-perpetrator-arrested-by-Italian-police
--------
'Syria crisis could see at least 6M more displacements'
Busra Nur Cakmak
08.03.2021
At least 6 million more displacements can occur in Syria if the crisis continues for another decade, an independent humanitarian group said Monday.
"The Syria crisis could see at least 6 million more displacements over yet another decade if the conflict, insecurity, and economic deterioration continue unabated," Norwegian Refugee Council (NRC) said in a statement announcing a new report on the issue.
"Ten years since the start of the biggest displacement crisis since World War 2, analysis by NRC shows that on average, an estimated 2.4 million displacements occurred in and outside Syria every year since the start of the conflict," said the statement.
Some 467,000 people have returned home in Syria in the past year while 1.8 million people were newly displaced, meaning for every person who returned home nearly four more people were displaced, according to NRC.
Displaced Syrians around the region have lost hope for returning home and "were more concerned about how they will put food on the table for their families, pay the rent, or take care of medical expenses than envisioning a future back home."
"The longer this crisis is left unsolved, the more we expect economic destitution to become the prominent push factor for further displacement," NRC Secretary-General Jan Egeland said.
"And yet, we know that more countries with influence are turning their back on Syria. They need to step out of their complacency and constructively step in to support the millions of Syrians who depend on vital aid and are clamouring for an end to the conflict."
Syria has been embroiled in a vicious civil war since early 2011 when the Bashar al-Assad regime cracked down on pro-democracy protests with unexpected ferocity.
Turkey hosts some 3.6 million Syrian refugees, more than any other country in the world.
https://www.aa.com.tr/en/europe/-syria-crisis-could-see-at-least-6m-more-displacements-/2168434
--------
Pakistan
Chinese embassy official in Pakistan faces backlash for 'Hijab off' tweet
Nayanika Sengupta
March 7, 2021
China's Cultural Counsellor at the Chinese embassy in Pakistan, Zhang Heqing, faced a backlash from people in Pakistan for tweeting a video of a dancing Chinese girl, with the caption: "Off your hijab, let me see your eyes.#Xinjiang dance."
It didn't take long for Twitter users in Pakistan to ask Heqing to take down the tweet immediately.
The Chinese embassy realised the tweet had not gone down well with the people of the country and deleted it.
Scores of Twitter users in Pakistan slammed Heqing for "insulting" Islam. One even said that the tweet might strain China-Pakistan relations.
"This is an awful statement. But If Chinese goes on like these Islamophobic statements than Pak-China relation will not end on good terms...But we must realise that stupid people like him are there who want to create misunderstandings. Better to reports him to Chinese government[sic]," the Twitter user said.
Another Twitter user reminded Heqing that Hijab is very much part of "our Islamic values" and that ridiculing the same while holding a key position in Pakistan is shocking.
One user told Heqing that he had "crossed the red line" with his "derogatory" tweet towards Muslim women, hoping that the Pakistan foreign ministry takes up the issue.
"@zhang_heqin sir know your place. We respect China as a country .But you crossed the Red line with your derogatory tweet towards Muslim women. You should be ashamed of your self & issue an apology for your shameful tweet . I hope @ForeignOfficePk take up this issue [sic]," the tweet read.
@zhang_heqing sir know your place. We respect China as a country .But you crossed the Red line with your derogatory tweet towards Muslim women. You should be ashamed of your self & issue an apology for your shameful tweet . I hope @ForeignOfficePk take up this issue
— Dr. Khan (@khannn666) March 7, 2021
Hijab is a traditional headscarf worn by some Muslim women.Live TV
https://www.indiatoday.in/world/story/china-embassy-official-pakistan-zhang-heqing-controversial-tweet-hijab-off-1776682-2021-03-07
--------
Gunmen ambush Pakistan Navy vehicle, killing 1, wounding 2
Mar 7, 2021
QUETTA: Gunmen ambushed a vehicle transporting security forces killing a sailor and wounding two others in the coastal town of Jewni in southwest Pakistan, officials said Sunday.
The Pakistan Navy vehicle came under attack Saturday evening while traveling from Jewni to the Ganz area, said Zahoor Buledi, a Baluchistan provincial minister.
The insurgent group Baluchistan Liberation Army claimed responsibility for the attack.
Two intelligence officials confirmed the minister's account, saying unidentified attackers opened fire with automatic weapons on the vehicle, which was also carrying Quick Response Force troops.
The attack came a day after five laborers were killed and five others, including two security personnel, were wounded when a roadside bomb went off between the towns of Sibi and Harnai in the same province.
Intelligence officials, who spoke on condition of anonymity under policy, said a sailor was fatally shot while a barber and another sailor were critically wounded during an exchange of fire with the attackers.
Baluchistan Liberation Army spokesman, Azad Baluch, in a message to reporters, said the group killed four Navy officers and wounded two others.
Buledi, the provincial minister, condemned the attack saying the insurgents were trying to demoralize security forces operating against them.
Officials said soon after the incident, security forces rushed to the scene and surrounded the area to try and locate the attackers.
Local administrator Athar Abbas said the body of the sailor and the wounded were shifted to the town hospital and there they were moved to Karachi.
Baluchistan has been the locale of a long-running insurgency by Baluch separatist groups who want independence for the mineral and gas rich province that borders Iran and Afghanistan.
Also Sunday, Pakistan's military said it killed four Islamic militants in two different operations _ in the Datakhel area of North Waziristan and the Zoida area of South Waziristan. The two tribal regions along the Afghan border have long served as a safe haven for local and foreign Islamic militants.
Among the slain militants were known suspects Adam Zeb, Maulvi Mahboob, and Mir Salam, all accused of planning and executing attacks against military forces, civilians and government installations, the military added in a statement.
https://timesofindia.indiatimes.com/world/pakistan/gunmen-ambush-pakistan-navy-vehicle-killing-1-wounding-2/articleshow/81380359.cms
--------
5-member Hindu family found dead under mysterious circumstances in Pakistan
Mar 06, 2021
Pakistan's Hindu community is in shock following the killing of a five-member family in mysterious circumstances in Pakistan on Friday.
The members of the family were found dead with their throats slit with some sharp-edged weapon in their house in Abu Dhabi Colony, Chak No 135-P, 15-kilometre away from Rahim Yar Khan city, reported The News International.
Police have recovered murder weapons including a knife and an axe. Social activist Birbal Das in Rahim Yar Khan told The News International that Ram Chand was a Meghwal Hindu and he was 35-36 years old.
He used to run a tailor shop. He was a peaceful man and lived a happy life, and the incident was shocking for everyone.
According to the community, over 90 lakh Hindus are living in the country. The majority of Pakistan's Hindu population is settled in Sindh province where they share culture, traditions and language with Muslim residents. They often complain of harassment by the extremists.
Meanwhile, a report submitted to the Supreme Court of Pakistan on February 5 has revealed that most of the Hindu holy sites across the country were in a state of decay.
The seventh report of the one-man Dr Shoaib Suddle commission submitted to the Apex Court has depicted a dismal picture of most revered Hindu sites in the country.
The Commission was set up by the apex court in 2019 to oversee implementation of its judgement on minority rights.
It regretted that the Evacuee Trust Property Board (ETPB) 'failed to maintain most of the ancient and holy sites of the minority Hindu community'.
Dr Shoaib Suddle's one-man commission has been established by the Supreme Court but it has three supporting members, Dr Ramesh Vankwani, Saqib Jillani and the attorney general for Pakistan, who has nominated the deputy attorney general to participate in fact-finding activities of the commission, the report said.
Some of the major Hindu temples in Pakistan include Shri Hinglaj Mata temple (Balochistan), Shri Ramdev Pir temple (Sindh), Umarkot Shiv Mandir (Sindh), and the Churrio Jabal Durga Mata temple (Sindh).
In December last year, a temple in Terri village in Khyber Pakhtunkhwa's Karak district was torched by members of radical Jamiat Ulema-e-Islam party (Fazal ur Rehman group).
The attack on the temple drew strong condemnation from human rights activists and the minority Hindu community leaders, prompting the Supreme Court to order its reconstruction.
https://www.wionews.com/south-asia/5-member-hindu-family-found-dead-under-mysterious-circumstances-in-pakistan-368474
--------
Four terrorists killed in two operations, says ISPR
March 8, 2021
NORTH WAZIRISTAN: Four terrorists were killed when security forces conducted two intelligence-based operations at Data­khel in North Waziristan tribal district and at Zoida in South Waziristan tribal district, the Inter-Services Public Relations (ISPR) said on Sunday.
According to the ISPR, during an intense exchange of fire, terrorist commander Abdul Adam Zeb alias Dung, who belonged to the banned Tehreek-i-Taliban Pakistan's Bismillah group, and terrorist commanders Molvi Mehboob alias Molvi and Mir Salam alias Anas, who were associated with the TTP Sajna group, were killed.
Abdul Adam Zeb had been involved in more than 20 terrorist activities against security forces, law enforcement agencies and local population since 2014. He was involved in IED attacks, firing, attacks on government buildings, targeted killings, kidnapping for ransom, extortion and recruiting and organising terrorists in Mohammad Khel, Boya and Datakhel areas of North Waziristan and Zoida area of South Waziristan.
Molvi Mehboob and Mir Salam were close associates of Baitullah Mehsud and TTP's other terrorist commanders. They were involved in attacks on security forces and law enforcement agencies' check-posts, military convoys, attack on Ladha Fort in 2007, IED attacks and other sabotage activities in South Waziristan.
https://www.dawn.com/news/1611305/four-terrorists-killed-in-two-operations-says-ispr
--------
South Asia
45 Taliban killed in Kandahar, Herat provinces
08 Mar 2021
Ministry of defense in a released statement on Monday said at least 34 Taliban insurgents were killed and seven others wounded during an infantry and air operation in southern Kandahar province.
According to MoD's statement, Afghan national defense and security forces conducted offensive operations in the Arghandab, Panjwai, and Zherai districts of Kandahar province with the support of the Afghan Air Force.
During the skirmish 34 Taliban-affiliated members were killed and seven others were injured, ANDSF also destroyed a large number of the group's weapons and ammunition.
Mod stated that the Taliban had also planted 20 landmines in Zhari and Arghandab districts of the province in an intention to target military personnel and civilians, the bombs were later discovered and defused by an ANA engineering team which led to securing dozens of lives.
Taliban have not yet commented on the incident.
This comes as local sources in Herat province reported that 11 Taliban were killed in the Zawul district of the province.
Herat's officials in a press release said that during a Joint clearance operation backed by Air support in the region ANDSF inflicted heavy casualties on the Taliban.
207th Zafar corps commander, Colonel Esmatullah Gharwal said that "11 Taliban terrorists were killed and 7 others were seriously wounded during the clashes" and 11 mines placed in the area were also discovered and defused by the Afghan security forces.
The operation was launched to strengthen, stabilize and maintain security in the villages of the district and other parts of the region.
The operation will continue until the complete elimination of the enemies, Gharwal told the media.
In another similiar clash, 209th Shaheen corps said at least 12 Taliban militants were killed and 4 more were wounded in a joint operation of Afghan air & ground forces in Almar district of Faryab province,
This comes as peace negotiations are ongoing in Doha, Qatar.
https://www.khaama.com/45-taliban-killed-in-kandahar-herat-provinces-646466/
--------
US Secretary of State pens letter to Ghani as 'transitional gov't' is proposed
07 Mar 2021
A U.S draft plan for the transitional government and permanent cease-fire was reported by media on Sunday.
According to the plan Islam considered to be the official religion of Afghanistan and all citizens will be granted immunity as Afghanistan is common to all ethnicities and religions.
In the first phase at the end of the Transitional Period, the President of Afghanistan will be chosen through an election.
The key points in the plan consists of three main features:
Executive administration including a president, ministers, and independent directorates
The legislature that includes Senate and Parliament and Taliban will also be given a part in it.
The judiciary in which includes the Independent High Council of Islamic Jurisprudence and the Commission for Drafting a New Constitution.
The council will be responsible to prepare Islamic guidance for social and cultural affairs.
The High Council of Islamic Jurisprudence will have 15 members 7 from the Taliban side and 7 others from the government and one another individual will be chosen by the government's president.
Zalmay Khalilzad, U.S special envoy also handed over the plan to the Taliban in Qatar, Taliban spokesman Mohammad Naeem said the plan was being reviewed by the group's leadership in Qatar and a final decision is yet to be made in this matter.
According to Naeem, the drafted plan includes Turkey summit and ceasefire, and that the Taliban has not yet taken a clear position based on the proposed plan.
The draft has also been given to the Afghan government, Afghan officials told the media that it needs serious and careful consideration.
Hamdullah Mohib, National Security Advisor has reported said the plan handed over to everyone is not an official US government's scheme for the country.
The plan is aimed at sharing power to find a solution to the current security issues, Mohib said in a press conference.
Mohib said the "negotiations with the Taliban alone will not bring lasting peace, it results in a temporary peace", adding that "if the war in Afghanistan had been a civil war, it would not have been so difficult to end, but now the dimensions of the war are beyond Afghanistan's borders" some nations persuade and promotes the conflict in the country.
This comes as Antony Blinken, US Secretary of State in a leaked letter to President Ashraf Ghani and Abdullah Abdullah, Head of High Council for National Reconciliation suggested the Afghan government for accelerating the peace process.
In the first suggested point Blink said the UN should convene a foreign ministers meeting and envoys from the US, India, China, Iran, and Pakistan for discussing a unified approach in supporting the Afghan peace process.
Second is that Khalilzad US envoy should share the US planned political structure for Afghanistan and discuss accelerating peace talks and ceasefire with President Ghani and The Taliban, he wrote "These proposals reflect some of the ideas included in the roadmap for the peace process," and elaborated that "In sharing these documents, we do not intend to dictate terms to the parties…. Rather the documents will enable the Islamic Republic and the Taliban to move urgently to the tasks of developing a) the foundational principles that will guide Afghanistan's future constitutional and governing arrangements b) a roadmap to a new, inclusive government and c) the terms of a permanent and comprehensive ceasefire".
The third suggestion is that Turkey will host a senior-level meeting of both sides in the coming weeks to finalize a peace agreement, Blinken also urged Ghani and his authoritative designees to attend the upcoming meeting.
Blinken finally said that a revised proposal for a 90-day violence reduction has been made "which is intended to prevent a spring offensive by the Taliban and to coincide with our diplomatic efforts to support a political settlement between the two parties", President Ghani is asked to positively consider the proposal for the reduction in violence.
"I must also make clear to you Mr. President, that as our policy process continues in Washington, The United States has not ruled out any option. We are considering the full withdrawal of our forces by May 1st, as we consider other options," Blinken indicated in the letter adding that even with continuation of US financial assistance to Afghanistan's defense forces, following the withdrawal the security situation could "worsen and that the Taliban could make rapid territorial gains".
Blinken shared this as so President Ghani understands the urgency of his tone "regarding the collective work outlined in this letter."
https://www.khaama.com/us-secretary-of-state-pens-letter-to-ghani-as-transitional-govt-is-proposed-4654333/
--------
NDS kills key intelligence Daesh official in Nangarhar
08 Mar 2021
In a night operation in Nangarhar province, NDS killed the deputy intelligence chief of ISIL for the province.
Afghan National Directorate of Security in a press release says that the deputy intelligence chief of Daesh (IS-K) was killed in a night raid in Nangarhar province.
NDS stated on Monday, that special forces of its unit carried out the night operation in Adur area of Khogyani district in Nangarhar.
According to the National Directorate of Security's 02 unit, the operation lasted resulting in the seizure of three AK-57 rifles, a shotgun, a tactical vest, and a pistol.
Eastern Nangarhar is one of the insecure provinces in the country and in addition to the existence of Taliban fighters, Daesh-affiliated militants are also present and active in some areas of the region.
In recent years, Nangarhar province has been the main base of Daesh in Afghanistan, the group carries similar attacks like Taliban, Al-Qaeda, and other militant groups.
This comes as Unknown gunmen shot dead a civilian prosecutor, Mirwais Samadi, in the company area of PD 5, Kabul this morning.
Kabul Police confirmed the incident and added that an investigation is underway to determine the motive behind the assassination.
https://www.khaama.com/nds-kills-key-intelligence-daesh-official-in-nangarhar-4645333/
--------
Afghanistan conflict: US warns of new Taliban 'spring offensive'
March 8, 2021
The Taliban could make rapid military gains across Afghanistan when American and Nato troops pull out, US Secretary of State Anthony Blinken has warned.
Under a deal between the Taliban and the previous Trump administration, all remaining US forces are due to leave the country by the end of next month.
But in a letter to Afghan President Ashraf Ghani, Mr Blinken has warned of a possible new "spring offensive".
US soldiers invaded Afghanistan in 2001 to remove the Taliban from power.
The American military operation was in response to the 9/11 terrorist attacks.
In January, the Biden administration said it would review the peace agreement made with the Taliban during Donald Trump's presidency.
Under the deal, the remaining 10,000 US-led Nato forces in the country are due to pull out by 1 May in exchange for Taliban security guarantees.
The White House has now said that it wants to make sure the Afghan militant group is "living up to its commitments", including reducing violence and cutting ties with terrorists, before withdrawing.
Levels of violence in the country remain high - with journalists, activists, politicians and women judges among those killed in targeted assassinations.
In Mr Blinken's letter, obtained by the BBC on Sunday, the US secretary of state calls for a 90-day reduction in violence in Afghanistan and a new international peace effort - overseen by the UN - to help reach a "permanent and comprehensive ceasefire".
This, he warns, is urgently needed to prevent the security situation from deteriorating further.
The UN will be asked to convene a meeting of foreign ministers and envoys of regional powers, the letter says, adding that Turkey would be the venue for a high-level meeting between the Taliban and the Afghan government.
The BBC's chief international correspondent, Lyse Doucet, says the letter underscores Washington's efforts to find a peaceful resolution to America's longest war.
Mr Blinken is stepping up pressure on President Ghani and the Taliban as the US looks to avoid the spectre of a chaotic civil war - even the collapse of the Afghan capital, Kabul - in the wake of its pull-out, our correspondent adds.
As peace talks between the Afghan government and the Taliban remain stalled, President Ghani on Saturday urged the militant group to renounce violence and to consider holding fresh negotiations.
What is the US-Taliban deal?
The Trump administration made withdrawing troops from Afghanistan a priority.
The deal signed in February 2020 said that the US and its Nato allies would withdraw all troops in 14 months if the Taliban upheld its promises, including not allowing al-Qaeda or other militants to operate in areas it controlled, and proceeding with national peace talks.
Although the Taliban, a hard-line Islamic movement, stopped attacks on international forces as part of the historic agreement, it has continued to fight the Afghan government.
As a condition of starting negotiations with the Afghan government, the Taliban also demanded that thousands of their men be released in a prisoner swap.
Direct talks then began Doha in September 2020, but a breakthrough has still not been reached.
https://www.bbc.com/news/world-asia-56316649
--------
Arab World
Pope Francis meets father of drowned Syrian boy Alan Kurdi in Iraq's Erbil
07 March ,2021
Pope Francis on Sunday met the father of Alan Kurdi, the boy whose body washed up on a Turkish beach six years ago became an image of the suffering of Syrians trying to escape war.
The pontiff, winding up a historic trip to Iraq, met Abdullah Kurdi at the end of Mass in the Iraqi Kurdish city of Erbil, the Vatican said in a statement.
"The pope spent a long time with him (Kurdi) and with the help of an interpreter was able to listen to the pain of a father for the loss of his family," it said.
Kurdi thanked Francis for his closeness to the tragedy and to the pain of "all those migrants who seek understanding, peace and security, leaving their country at the risk of their lives," it added.
Alan Kurdi drowned along with his mother and brother when a smuggling boat taking them to Europe capsized off the coast of Turkey in 2015.
An image of his body washed up on the shore captured the world's attention as millions of Syrians fled the civil war there and many boarded unsafe ships bound for a Europe that eventually began shutting its doors. Many drowned trying to make the journey.
The pope has long called for more compassionate treatment of migrants and refugees. In Iraq, where Abdullah Kurdi now lives in the autonomous Kurdish region, the pontiff preached for an end to conflict and sectarian violence.
https://english.alarabiya.net/News/middle-east/2021/03/07/Pope-Francis-meets-father-of-drowned-Syrian-boy-Alan-Kurdi-in-Iraq-s-Erbil
--------
Pope urges peace over war as historic Iraqi tour ends
March 8, 2021
BAGHDAD: Pope Francis ended his historic tour of Iraq today, departing by plane from Baghdad after visiting conflict-torn cities, meeting Muslim and Christian leaders and preaching peace and coexistence over war.
Francis waved one last time from before boarding a plane flying the Vatican and Iraqi flags from its cockpit windows.
President Barham Salih accompanied the 84-year-old pontiff down a red carpet to his flight.
During Francis' trip, the first ever papal visit to Iraq, he toured four cities, including Mosul, the former Islamic State stronghold where vast areas still lie in ruins, telling Iraqis that "peace is more powerful than war".
He said Iraq would "always remain with me, in my heart".
The pontiff, who walked with a limp during parts of the frantic tour, also made a historical first in meeting Iraq's Grand Ayatollah Ali al-Sistani, Iraq's top Shi'ite Muslim cleric.
Iraqis welcomed the pope and said it was a chance for the world to see their perpetually crisis-hit nation in a new light.
Iraq suffers from chronic mismanagement and corruption, and a steady level of violence often linked to the region's US-Iran rivalry 18 years after the US invaded.
https://www.freemalaysiatoday.com/category/world/2021/03/08/pope-urges-peace-over-war-as-historic-iraqi-tour-ends/
--------
SDF militants kidnap more than 200 people in Syria's Raqqah, Hasakah provinces
07 March 2021
Militants from the so-called Syrian Democratic Forces (SDF), which is supported by the United States, have abducted more than 200 people in Syrian provinces of Raqqah and Hasakah in an attempt to forcibly recruit them in the militant group.
Syria's official news agency SANA, citing local sources, reported on Sunday that the US-backed SDF militants kidnapped the civilians during a wide raid campaign that targeted a number of villages and towns in Raqqah and Hasakah countryside.
According to the report, the SDF militants abducted over 200 young males in Raqqah during the past two days in raids on mosques in villages in the province as part of the so-called "compulsory recruitment" in the areas, which are currently under the control of the American and SDF forces.
As for Hasakah, the militants kidnapped a number of civilians during raids on the town of Arisha and the village of Twaimin in the southern parts of the province before forcibly taking them to their camps and positions in the same region.
Mine blasts kill more than a dozen people in Hama
On Sunday, at least 18 Syrian civilians were killed and three others wounded after two landmines, left behind by terrorists, went off in the vicinity of Wadi al-Azib in Salamyieh area in the west-central province of Hama, SANA reported.
It added that the wounded sustained serious injuries and they were being treated at al-Salamyieh Hospital.
Back in February 27, at least five civilians were killed and more than a dozen wounded in the explosion of an anti-tank mine in the same province.
The deadly incident occurred when a vehicle, transporting a number of civilians, was crossing during the harvest of truffles in Rasm al-Ahmar village of Salamyieh countryside.
https://www.presstv.com/Detail/2021/03/07/646778/Syria-SDF-militants-abduction-Raqqah-Hasakah-Hama-mine-
--------
US Khashoggi report 'abuse of the intelligence community's power': Former policymaker
Jennifer Bell
07 March ,2021
The latest report released by the Biden Administration on the murder of late journalist Jamal Khashoggi was an "abuse of the intelligence community's power," according to a former member of the US National Security Council.
In a column published in the digital magazine Tablet, Eli Lake, a fellow at the Clement Center for National Security at the University of Texas, Austin, said she had recently interviewed Kirsten Fontenrose, who was serving as senior director for Gulf affairs at the National Security Council at the time of Khashoggi's murder.
In the interview, Fontenrose said she believed there was "insufficient evidence" in the report declassified by US President Joe Biden which alleged that Saudi Arabia's Crown Prince Mohammed bin Salman approved the 2018 operation that led to the murder of Khashoggi in Saudi Arabia's Istanbul consulate. Saudi Arabia's Foreign Ministry has denied the allegations following the report's publication.
Fontenrose had commented that the assessments targeting the Crown Prince offered no proof of his involvement, instead citing it as "an abuse of the intelligence community's power," according to the interview.
At the time, Fontenrose was so concerned that she warned the CIA that if the report was included in the president's daily intelligence briefing, she would attach a memo that warned him, "this is intelligence based on supposition and triangulation and being used to force your hand," the column read.
Fontenrose also stressed there was nothing new in the repackaged Khashoggi report released by the Biden team.
"The only piece of this that is high confidence is the last paragraph," said Fontenrose, noting that this paragraph lists the names of the Saudi men who were outed by Turkish intelligence at the time, but makes no mention of the Crown Prince.
"Fontenrose told me that the 2018 assessment provided no "smoking gun" proof of the Crown Prince's role in a murder plot," Lake wrote.
"Without that smoking gun there is insufficient justification to trash the US-Saudi relationship when bin Salman is going to lead that country for decades unless the US wants to get back into the business of regime change."
After Fontenrose's argument with the CIA, the agency then deliberately produced a less classified version of the report, making it possible to spread it far and wide, Lake wrote.
"That meant that every senior national security adviser on the hill now had access to it. They released it on the day Congress came back into session, knowing that these guys would all come back from recess and it would cause an explosion," Fontenrose said, according to the column.
Saudi Arabia's government has since released a statement saying it completely rejects the negative, false, and unacceptable assessment made by the US following the declassification of the report.
Khashoggi was murdered on October 2, 2018, after a fistfight broke out at the Saudi Arabian consulate in Istanbul, Saudi Arabia's public prosecutor had said at the time. He was visiting the consulate to complete paperwork related to his divorce.
At the time, Saudi Arabian authorities arrested 18 Saudis for investigation in connection with events surrounding Khashoggi's murder.
The Crown Prince told CBS "60 Minutes" in 2019 that he takes "full responsibility" for the murder of Khashoggi but denied allegations that he ordered it.
"When a crime is committed against a Saudi citizen by officials, working for the Saudi government, as a leader I must take responsibility. This was a mistake. And I must take all actions to avoid such a thing in the future," he said at the time.
https://english.alarabiya.net/News/gulf/2021/03/07/US-Khashoggi-report-abuse-of-the-intelligence-community-s-power-Former-policymaker
--------
Russia calls on OPCW to unveil truth behind alleged 2018 chemical attack in Syria's Douma
07 March 2021
Russia has called on the global chemical weapons watchdog to conduct impartial and reliable investigation into an alleged chemical attack in the Syrian city of Douma near the capital Damascus on April 7, 2018.
Russia's Permanent Representative to the OPCW, Alexander Shulgin underlined the need for launching a transparent technical inquiry aimed at clarifying the actual course of events in Douma in 2018, Syria's official news agency SANA reported on Sunday.
"Successful work at the Organization for the Prohibition of Chemical Weapons (OPCW) will be impossible until trustworthy circumstances behind the incident in the Syrian town of Douma in April 2018 are established," the Russian official said.
Shulgin added that this sad page could be over and an international dialogue could be built at the OPCW only after receiving reliable conclusions on the issue.
Moscow has for months cited dissent by two former OPCW employees who leaked a document and an email as evidence that the OPCW doctored the conclusions of a report which found that a toxic chemical containing chlorine was used in a 2018 attack near Damascus.
According to the Russian official, the results which the two inspectors have reached and the violations they have uncovered have undermined the Western allegations.
In late 2019, whistleblowing website WikiLeaks published several batches of documents suggesting that the OPCW may have intentionally doctored its findings, notably avoiding revelations which may point to terrorists having been behind the alleged chemical attack.
One of the published documents showed Sebastien Braha, chief of cabinet at the OPCW, had ordered in an email that "all traces" of a report from Henderson be erased from the body's registries.
Ian Henderson had found out that the gas cylinders at the site of the Douma incident had been placed there manually most likely by militants given that the area was not controlled by Damascus at the time.
Following the suspected chemical attack, Western countries were quick to blame it on the government of Syrian President Bashar al-Assad.
On April 14, 2018, the US, Britain and France launched a coordinated missile attack against sites and research facilities near Damascus and Homs with the purported goal of paralyzing the Syrian government's capability to produce chemicals.
Damascus, however, said that no chemical attack had happened and that the incident had been staged by foreign intelligence agencies to pressure the government in the face of army advances against militants back then.
The OPCW concluded that chlorine had most likely been used in the attack. However, Syria and Russia both rejected the findings, saying they believed the incident had been staged by the White Helmets, a group which claims to be a humanitarian NGO but has long been accused of working with anti-Damascus militants and staging false-flag gas attacks.
The Syrian government also surrendered its stockpiles of chemical weapons in 2014 to a joint mission led by the UN and the Organization for the Prohibition of Chemical Weapons (OPCW), which oversaw the destruction of the weaponry. However, Western governments and their allies have never stopped pointing the finger at Damascus whenever an apparent chemical attack has taken place.
Syria has been gripped by foreign-backed militancy since March 2011. The Syrian government says the Israeli regime and its Western and regional allies are aiding Takfiri terrorist groups that are wreaking havoc in the country.
Syrian government forces have taken back many areas once controlled by the terrorist groups.
Russia on Wednesday also called for not politicizing and exploiting the work of the International Atomic Energy Agency (IAEA) in Syria.
The IAEA in recent years has been investigating US claims that Syria allegedly tried to build a secret nuclear reactor at a remote desert site in Dayr al-Zawr in 2007, which no longer exists.
Syria and some other regional countries have time and again denounced the US and its Western allies for helping Israel develop its nuclear facilities and adopting double-standards on the issue of non-proliferation policies when it comes to Israel.
https://www.presstv.com/Detail/2021/03/07/646758/Syria-Douma-OPCW-Alexander-Shulgin-Russia-US-SANA--
--------
Saudi Arabia confirms Yemeni drone, missile attacks on oil facilities
08 March 2021
Saudi Arabia has confirmed that a Yemeni drone attack targeted a petroleum tank farm at Ras Tanura port and a ballistic missile targeted Saudi Aramco's facilities in the city of Dhahran.
In a statement on Sunday, a spokesman for the Saudi Energy Ministry acknowledged that a drone coming from the sea hit one of the petroleum tank farms at the Ras Tanura Port – one of the largest oil shipping ports in the world, in the morning.
The spokesman also said a "ballistic missile's shrapnel" fell near Saudi Aramco's residential area in the city of Dhahran after it was intercepted.
None of the attacks resulted in any injury or loss of life or property, the spokesman added.
Saudi Defense Ministry spokesman Brigadier General Turki al-Malki claimed in a statement later on Sunday that both attacks were intercepted before reaching their targets.
"The attacking bomb-laden UAV that came via the sea was intercepted and destroyed prior to reaching its target. The ballistic missile that was launched to target Aramco facilities in Dhahran was intercepted and destroyed as well," al-Malki said, state news agency SPA reported.
The oil market reacted to the news as details of the retaliatory attack trickled in.
Brent crude futures surged above $70 a barrel on Monday for the first time in more than a year. While Brent jumped 2.65% to trade at $71.20, US crude futures also rose 2.56% to $67.78.
US urges citizens in Saudi Arabia to 'stay alert'
The US Consulate General in Dhahran urged US citizens to review precautions to take in the event of an attack and "stay alert" in case of additional attacks.
The consulate general cited reports of possible missile attacks and explosions in the area of Dhahran, Dammam, and Khobar, saying "regional actors hostile to Saudi Arabia have conducted destructive and sometimes lethal attacks against a variety of targets."
Spokesman for the Yemeni Armed Forces Brigadier General Yahya Saree said the Yemeni army launched eight ballistic missiles and 14 bomb-laden drones in a "wide operation in the heart of Saudi Arabia".
Saree said the attacks hit Aramco facilities and military sites in Asir province and the cities of Dammam and Jizan. He also said the Yemeni army shot down a Saudi reconnaissance plane over Yemen's Jawf Province.
The attacks are the most serious against Saudi oil facilities since a September 2019 operation against a key processing facility and two fields. That attack was claimed by the Ansarullah movement, while Riyadh and Washington put the blame on Iran.
The Sana'a government, which is run by the Ansarullah movement, says its attacks against Saudi targets are retaliatory and come in response to the continuous blockade and aggression on Yemen by Saudi Arabia and its allies.
"We promise the Saudi regime painful operations as long as it continues its aggression and blockade on our country," said Saree, who termed the attacks as "The Sixth Deterrence Balance Operation".
Sana'a: Criminalize Saudi war on Yemen
Mohammed Ali al-Houthi, a member of Yemen's Supreme Political Council, called on the international community to criminalize the continuation of the Saudi-led siege and aggression against Yemen.
"We call on the international community to condemn the airstrikes of the American, British, Saudi, and Emirati forces of the coalition and their allies," al-Houthi wrote in a tweet on Sunday.
"We hold the aggressor states responsible for the crimes and the famine [in Yemen]," he added.
Saudi Arabia and some of its regional allies launched the war on Yemen in March 2015 with the goal of bringing the former Riyadh-friendly regime back to power. The US and some other Western countries have also been involved in the war.
Nearly six years later, however, Riyadh's goal still remains as elusive as ever, with tens of thousands of people killed, much of Yemen's infrastructure destroyed and horrifying outbreaks of cholera and hunger bordering on famine underway.
According to the UN, by mid-2020, Yemen had returned to alarming levels of food insecurity and acute malnutrition, with some 24 million Yemenis in need of some form of assistance, and nearly 20 million teetering on the brink of starvation.
The United States has had a particularly big hand in the Yemen war from the beginning of the Saudi aggression. Back in 2018, then secretary of state Mike Pompeo shocked the world when he said the war coalition was "undertaking demonstrable actions" to reduce the risk of harm to civilians. He made the remarks only weeks after a Saudi strike hit a school bus and killed 40 children.
Sana'a rejects US call for unilateral end to war
Earlier this month, Reuters reported that US President Joe Biden's special envoy for Yemen had met with officials from the Ansarullah movement in February.
"The discussions, which have not been officially made public by either side, took place in the Omani capital Muscat on February 26 between US Yemen envoy Timothy Lenderking and the Houthis' chief negotiator Mohammed Abdusalam," Reuters reported.
A senior member of Ansarullah's political bureau, said Sunday the meeting had not been held directly but through a third party and an intermediary.
"The atmosphere in the meeting was also not positive because the Americans wanted a unilateral end to the war, which we rejected," Mohammed al-Bukhaiti said in an interview with al-Mayadeen.
Saudi Arabia has recently stepped up its bombings as Yemeni forces are pushing ahead with an offensive to liberate the strategic Ma'rib province from Takfiri elements and militants loyal to former president Abd Rabbuh Mansur Hadi.
https://www.presstv.com/Detail/2021/03/08/646801/Saudi-Arabia-confirms-attacks-on-oil-facilities
--------
India
If Shyama Prasad was not there, India would be an Islamic country: BJP Bengal Leader
MAR 07, 2021
Bharatiya Janata Party (BJP) leader Suvendu Adhikari, who is contesting against West Bengal Chief Minister Mamata Banerjee at Nandigram seat in the upcoming Assembly polls, on Saturday said the state will turn into Kashmir if Trinamool Congress (TMC) comes back to power.
Addressing a public meeting in Behala yesterday, Adhikari said, "If Shyama Prasad Mukherjee was not there, this country would have been an Islamic country and we would be living in Bangladesh. If they (TMC) came back to power, West Bengal will become Kashmir."
"Nandigram is not a challenge for me. I am going to Nandigram to defeat her (Mamata Banerjee) and send her back to Kolkata. I thank the national party leadership for the responsibility given to me. I will work to make lotus bloom in Nandigram and across West Bengal. She (Mamata Banerjee) is going to lose this election (in Nandigram) by over 50,000 votes," added Adhikari.
The BJP on Saturday fielded Adhikari from Nandigram against TMC supremo Mamata Banerjee, setting the stage for a high-profile contest from the seat in the state assembly elections.
Adhikari's name figured in the BJP's first list of 57 candidates for the March-April assembly elections, out of which six are women and one seat ( Baghmundi) has been given to the All Jharkhand Students Union (AJSU).
TMC had on Friday released its list of 291 candidates with Mamata Banerjee announcing that she will be contesting from Nandigram.
Banerjee, who has been representing Bhawanipur, had earlier announced that she will contest from Nandigram. Adhikari, a former minister in the Trinamool Congress government, had joined the BJP in December last year. He had earlier said that BJP will defeat Mamata Banerjee by over 50,000 votes from Nandigram.
West Bengal Assembly elections will be held in eight phases starting from March 27 with the final round of voting taking place on April 29. The counting of votes in the state will take place on May 2.
https://www.hindustantimes.com/elections/west-bengal-assembly-election/if-shyama-prasad-was-not-there-india-would-be-an-islamic-country-adhikari-101615094523823.html
--------
Iran behind Israel embassy attack in India, bomb planted by local Shia cell: Report
08 March ,2021
Iran's Quds Force was behind the January attack near the Israeli embassy in New Delhi, but a local Shia cell in India planted the bomb, Indian media said central counterterrorism agencies concluded on Monday.
A small bomb exploded close to Israel's embassy in New Delhi on January 29, an incident that an Israeli official had said was being treated as terrorism.
"Although there were no casualties, India and all elements in Israel regard the explosion as a terrorist incident," an Israeli official, speaking off the record, told Reuters at the time.
The blast occurred while Indian President Ram Nath Kovind and Prime Minister Narendra Modi were participating in a military ceremony a kilometer away.
Investigations found that the explosive device used in the attack was remote-controlled, and triggered off by a bomber using line of sight, The Hindustan Times newspaper reported.
According to the counterterrorism agencies, the device contained ammonium powder and had ball bearings, which shattered the windows of three cars parked nearby.
The agencies also recovered a letter from the scene of the attack addressed to Israel's ambassador to India, Ron Malka, according to The Hindustan Times.
In it, the ambassador was called a terrorist and a devil from a terrorist nation.
The letter also swore revenge for the killing of Quds Force commander Qassem Soleimani and Abu Mahdi al-Mohandes, the deputy commander of Iran-backed militias known as the Popular Mobilization Forces.
Investigators looked into the contents of the letter – including the style of writing and the spelling of the names – which revealed that it was written by an Iranian, and handed over to a local Shia module by an agent, the Indian newspaper reported.
A US airstrike killed Soleimani and al-Mohandes at Baghdad's International Airport on January 3.
The Iranian embassy in India did not respond to The Hindustan Times' request for a comment.
https://english.alarabiya.net/News/world/2021/03/08/Iran-behind-Israel-embassy-attack-in-India-bomb-planted-by-local-Shia-module-Report
--------
Jaishankar, US' special envoy for Afghanistan discuss Afghan peace talks
Mar 8, 2021
NEW DELHI: As the US ramps up its diplomatic efforts to advance the peace process in Afghanistan, foreign minister S Jaishankar held talks with the US special envoy for Afghanistan, Zalmay Khalilzad on Sunday.
The Biden administration has been doing its own review of the peace process in Afghanistan, as a result, the US has advanced a five-point process to take this forward, worried that the security situation in Afghanistan would deteriorate after the US withdrawal on May 1, leading to the Taliban making "rapid territorial gains."
The US Secretary of State, Anthony Blinken, in a letter to the Afghan president Ashraf Ghani said "to move matters more fundamentally and quickly towards a settlement and permanent and comprehensive ceasefire", the US would take several steps — the first of which would entail asking the UN to convene a meeting of foreign ministers from India, Pakistan, China, Iran, Russia and US to discuss a unified approach to Afghanistan.
This is significant — it would bring the regional powers with stakes but different interests in Afghanistan to the same table, to chart a common way forward. It is in context of such a meeting that Jaishankar held a phone conversation with Zalmay Khalilzad.
Jaishankar tweeted, "Received a call from US Special Representative Zalmay Khalilzad @US4AfghanPeace. Discussed latest developments pertaining to peace talks. We will remain in touch."
Received a call from US Special Representative Zalmay Khalilzad @US4AfghanPeace. Discussed latest developments pert… https://t.co/zwztrAvF01
— Dr. S. Jaishankar (@DrSJaishankar) 1615120659000
"Even with the continuation of financial assistance from the United States to your forces after an American military withdrawal, I am concerned that the security situation will worsen and that the Taliban could make rapid territorial gains," Blinken said in his letter to Ghani.
The US, as the letter shows, is keen that the Afghan government and Taliban work on "a roadmap to a new, inclusive government", and a permanent ceasefire. The first is also known as an "interim" government which essentially brings the Taliban at par with the Afghan government. The escalating violence in Afghanistan over the past weeks make the idea of a ceasefire worthy but perhaps unattainable at this point.
Ghani, speaking to the Afghan parliament on Saturday, refused to step aside for an interim government. "Any institution can write a fantasy on a piece of paper and suggest a solution for Afghanistan" he said, demanding that any government would have to come through elections. The Taliban is more amenable to an interim government, with their officials saying they would choose people of "good reputation" for the government. The fear in Kabul is such a government would be undemocratic and essentially inserting the Taliban into sharing power with the elected government.
The Blinken letter conveyed a lot of the urgency of the Biden administration. A similar urgency is not reflected on the Afghan side.
India has maintained that Pakistan's malafide interest in Afghanistan is the sole cause of the continuing insurgency, since Islamabad/Rawalpindi continues to support the Taliban and the Haqqani network, two of the top terror groups responsible for a lot of the killing in Afghanistan. However, with a recent India-Pakistan ceasefire in place, the two countries may be persuaded to sit together at the same table, even though they might have very different solutions to the Afghan peace process.
Blinken told Ghani that he had asked Khalilzad to give written proposals "for accelerating discussions on a negotiated settlement and ceasefire." The Taliban have mounted deadly violence in recent weeks, putting the Doha peace process with the US under sever strain. The US, Blinken told Ghani, intends to leave by May 1 — which could prompt the Taliban to continue doing what they're best at, waiting the US out.
Clearly indicating that the Doha process may have run its course, Blinken said the US would ask Turkey to convene a meeting of the two sides to "finalise a peace agreement." The Doha pact between US and Taliban was supposed to lead to intra-Afghan talks. That did not happen, instead violence has only increased.
Blinken also said the US had prepared a 90-day reduction-in-violence proposal which the Afghan government and Taliban have been urged to abide by, "which is intended to prevent a spring offensive by the Taliban." Blinken said, "I urge you to positively consider the proposal." But there is no word whether the Taliban would also obey.
Blinken, importantly, reminded Ghani that disunity among Afghan leaders in the 1990s had proved costly — he said Ghani should work with his CEO Abdullah Abdullah, former president Hamid Karzai and Prof Sayyaf, even expand the group to make it more representative of all Afghans.
https://timesofindia.indiatimes.com/india/jaishankar-us-special-envoy-for-afghanistan-discuss-afghan-peace-talks/articleshow/81381777.cms
--------
India sets up holding centre for Rohingya in Kashmir
March 8, 2021
Authorities in Indian-controlled Kashmir have sent at least 168 Rohingya refugees to a holding center, police said Sunday, in a process that they say is for the deportation of thousands of the refugees living in the region.
The move began Saturday following a directive from the region's home department to identify Rohingya living in the southern city of Jammu said Inspector-General Mukesh Singh. He said around 5,000 Rohingya Muslims have taken refuge in Jammu in the past few years.
"All of them are illegally living here and we have begun identifying them," Singh said. "This process is to finally deport them to their country."
More than 1 million Rohingya have fled waves of violent persecution in their native Myanmar and are currently mainly living in overcrowded, squalid refugee camps in Bangladesh.
Since Saturday, officials have called hundreds of Rohingya to a stadium in Jammu, taking their personal details and biometrics and testing them for the coronavirus. A jail has been converted into a holding center in the outskirts of the city, and at least 168 Rohingya have so far been sent there, Singh said.
The refugees, who have previously faced hostility in the city, were not informed of what was going on. Jammu is a Hindu-dominated area in Muslim-majority Indian-controlled Kashmir.
Khatija, a Rohingya Muslim woman who uses one name, said the Indian authorities took away her son on Saturday and she didn't know where he was being kept. Her daughter-in-law gave birth on Sunday morning, she said.
An estimated 40,000 other Rohingya have taken refuge in parts of India. Fewer than 15,000 are registered with the U.N. High Commissioner for Refugees.
Many have settled in areas of India with large Muslim populations, including the southern city of Hyderabad, the northern state of Uttar Pradesh and New Delhi. Some have taken refuge in northeast India bordering Bangladesh and Myanmar.
The Indian government says it has evidence there are extremists who pose a threat to the country's security among the Rohingya and calls all of them "illegal immigrants" who will be deported.
In 2018 and 2019, Indian authorities deported at least 12 Rohingya in two groups to Myanmar. Rights groups have asked the Indian government to abandon plans for deporting Rohingya and evaluate their asylum claims.
https://www.independent.co.uk/news/india-sets-up-holding-center-for-rohingya-in-kashmir-jammu-rohingya-india-muslims-muslim-b1813593.html
--------
North America
US Secretary of State Blinken calls for a 90-day reduction in violence in Afghanistan
08 March ,2021
US Secretary of State Antony Blinken called for a 90-day reduction in violence in Afghanistan and a new United Nations-led peace effort as he warned the US could withdraw all forces after May 1, according to a letter to Afghan President Ashraf Ghani reported by several news outlets Sunday.
The letter from Blinken was first published by TOLOnews, an Afghan news outlet, and confirmed by the New York Times. A State Department spokeswoman declined to confirm the letter's veracity, but said the US has "not made any decisions about our force posture in Afghanistan after May 1. All options remain on the table."
https://english.alarabiya.net/News/world/2021/03/08/US-Secretary-of-State-Blinken-calls-for-a-90-day-reduction-in-violence-in-Afghanistan
--------
US will do what is necessary after rocket attack on forces: Defence Secretary
07 March ,2021
The United States will do what it views as necessary to defend its interests after a rocket attack against Iraq's Ain al-Sada airbase, which hosts American, coalition and Iraqi forces, US Defense Secretary Lloyd Austin said on Sunday.
Speaking on ABC's "This Week" program, Austin said the United States was urging Iraq to quickly investigate the incident and determine who was responsible.
"We'll strike, if that's what we think we need to do, at a time and place of our own choosing. We demand the right to protect our troops," Austin said.
Asked if Iran had been given a message that US retaliation would not constitute an escalation, Austin said that Iran is fully capable of assessing the strike and U.S activities.
"What they should draw from this, again, is that we're going to defend our troops and our response will be thoughtful. It will be appropriate," Austin said. "We would hope that they would choose to do the right things."
There were no reports of injuries among US service personnel after the attack but an American civilian contractor died after suffering a "cardiac episode" while sheltering from the rockets, the Pentagon said.
Iraqi officials said 10 rockets landed at the base but the Pentagon was more guarded, saying there were 10 "impacts." It said the rockets appeared to have been fired from multiple sites east of the base, which also was targeted last year by a ballistic missile attack directly from Iran.
US forces carried out air strikes against facilities at a border control point in Syria used by Iranian-backed militias including Kata'ib Hezbollah and Kata'ib Sayyid al-Shuhada in February.
https://english.alarabiya.net/News/middle-east/2021/03/07/US-will-retaliate-against-Iranian-attacks-on-Iraq-Defense-secretary
--------
US says 'all options on table' for Afghanistan, no decision on troop withdrawal by May deadline
08 March 2021
The US government has said "no decisions" have been made regarding the withdrawal of American troops from Afghanistan by a May 1 deadline it has negotiated with the Taliban, adding "all options are on the table."
"We have not made any decisions about our force posture in Afghanistan after May 1," the US State Department said in a statement on Sunday.
The comments came after reports emerged that US Secretary of State Antony Blinken had made a new push for a United Nations-led peace effort that included a "warning" to the Afghan government that the US military was considering exiting Afghanistan by the set deadline.
In a letter to President Ashraf Ghani, published by TOLO News and reported by the New York Times, Blinken said that President Joe Biden had lost faith in faltering negotiations between Kabul and the Taliban.
Negotiations between the Afghan government and the Taliban began in September last year as part of a February 2020 agreement between the militants and the administration of former US president Donald Trump in the Qatari capital, Doha.
Under that deal, all foreign troops were expected to leave Afghan soil within 14 months in exchange for a series of commitments by the Taliban, including a reduction in violence.
The Biden administration has said the Taliban have not lived up to their commitments to reduce violence and to cut ties with terrorist groups such as al-Qaeda and Daesh.
Violence has escalated in Afghanistan over the past year, with persistent Taliban attacks on government forces and a string of targeted assassination of officials, civil servants and journalists.
Blinken said in the letter that the US State Department, along with the UN, aimed to launch high-level talks "to move matters more fundamentally and quickly toward a settlement and a permanent and comprehensive ceasefire" in Afghanistan.
Accordingly, the US will ask Turkey to host the meeting of "both sides in the coming weeks to finalize a peace agreement." Representatives from Russia, Pakistan, Iran, India and others will also be invited to "discuss a unified approach to supporting peace in Afghanistan."
The letter said a 90-day violence reduction proposal was "intended to prevent a spring offensive by the Taliban."
Urging President Ghani to "understand the urgency of my tone," Blinken claimed he was worried that a hasty military exit from Afghanistan would worsen the security situation in the country and cause the Taliban to make "rapid territorial gains."
The United States currently has 2,500 troops in Afghanistan.
President Ghani has rejected a plan to forge an interim government in Afghanistan. As part of the deal with the US, the Taliban agreed last year to negotiate a permanent ceasefire and a power-sharing formula with Kabul.
The Afghan president said on Saturday that he was opposed to any transfer of power except through democratic elections, which he said were the only legitimate way to gain political power.
The US overthrew the Taliban regime in Afghanistan in 2001. However, the occupation forces have remained bogged down there and violence continues to take a heavy toll on the country.
https://www.presstv.com/Detail/2021/03/08/646790/US-Blinken-UN-Afghanistan-Peace-Conference-Turkey
--------
Southeast Asia
PAS committed to unity of ummah, says Takiyuddin
March 7, 2021
KOTA BHARU: PAS is committed to its stance that unity of the ummah is vital in forming a strong and stable government, its secretary-general Takiyuddin Hassan said.
He added that unity in Islam, among the Malays, the bumiputera and all citizens of the country is required to establish a strong government.
"In the Malaysian context today, we have the Malay Muslim parties. So these parties must unite to work together to enable effective administrative management of the country.
"In this context, we have seen how PAS, after decades of enmity with Umno had made a firm stand to establish ties with the party after realising the need to work together for the sake of the people and country and in following the unity of ummah concept," he told reporters after a meeting with former Kelantan football players here yesterday.
Elaborating, Takiyuddin who is also the de facto law minister said the unity of ummah is not exclusive to PAS and Umno only.
"The ummah unity charter states that parties that have the ambition to develop the country, especially the Malay, Islamic and bumiputera parties, are allowed to join in even though at the start the ummah involved only PAS and Umno.
Following several new developments and with the existence of other Malay parties, he said PAS decided that the ummah unity should be open to the other parties.
"Currently, PPBM stands together with PAS and Umno but why is it that we cannot unite?" he asked.
Takiyuddin said PAS had always stressed the need for PPBM to stand together with PAS and Umno, and if there are other parties with the common struggle to fight for the interests of the Malays, Muslims and bumiputera willing to join them in future, that would be all the better.
"In Sabah and Sarawak, they are united, but why can't parties in the peninsula such as PAS, Umno and PPBM support the current government and be together in the next general election.
"To me, we should discuss this like a family and I am confident this matter will be resolved amicably as the saying goes, 'united we stand, divided we fall'.
"We need a government with a stable and strong majority. PAS will continue to strengthen Muafakat Nasional (MN) and defend Perikatan Nasional (PN)," he added.
https://www.freemalaysiatoday.com/category/nation/2021/03/07/pas-committed-to-unity-of-ummah-says-takiyuddin/
--------
Thailand gets tough on Myanmar asylum seekers
March 08, 2021
Thai authorities are refusing to grant asylum to people from Myanmar fleeing their conflict-torn nation through stepped-up patrols along the two countries' long and porous border.
In the latest incident, police in the Thai province of Kanchanaburi detained 33 Myanmar nationals who had entered the country illegally last week.
The migrants, including nine Rohingya people from Myanmar's Rakhine state, as well as a three-year-old girl and an 11-month-old baby, were discovered in a forest where they had sought refuge.
The asylum seekers had reportedly paid smugglers to take them to Thailand from where the nine Rohingya Muslim refugees were planning to head down south and cross over into Malaysia, a Muslim-majority nation that is a popular destination for stateless Rohingya asylum seekers.
Thailand does not recognize the right of stateless Rohingya to refugee status and routinely detains them in overcrowded immigration detention centers.
Support Asia's largest network of Catholic journalists and editors.
One of the 33 migrants told police that a broker in Myanmar had promised to find them jobs in Thailand and arranged for local guides to help them cross the border through a clearing in a forest.
In the forest the guides left with the promise that a van would arrive to pick them up, but no one came for two nights, which indicated the migrants had been abandoned to their fate.
They were discovered after locals tipped police off about their presence in the forest, where the migrants were reportedly dehydrated and going without food.
All the migrants were taken to a hospital for checks before they were taken to a police station where they were charged with entering Thailand illegally and will likely be deported.
The plight of these 33 people from Myanmar is yet another indication of the desperation many citizens in the war-torn country feel after their economic prospects have been severely limited back home by the Covid-19 pandemic as well as severe repression in the wake of a military coup last month.
In recent weeks and months, numerous migrants from Myanmar have been smuggled into Thailand by unscrupulous people traffickers and left to their fate after crossing the border.
Migrants from Myanmar are widely seen as unwelcome in Thailand, where authorities have repeatedly blamed them for the second wave of the coronavirus by accusing them of bringing the virus in by evading disease control measures.
As protests in Myanmar have been picking up steam against the military, which seized power in a coup last month, Thai authorities have intensified border controls even further to stop Myanmar nationals entering illegally.
Thailand has closed several border crossings with Myanmar and stepped up border patrols for fear that a flood of asylum seekers might try to enter.
The chief of Thailand's immigration police, Sompong Chingduang, said last week that as many as 400,000 Myanmar nationals might try to enter Thailand in order to escape a state of emergency back home and the military's bloody crackdown on anti-junta protesters.
https://www.ucanews.com/news/thailand-gets-tough-on-myanmar-asylum-seekers/91672#
--------
Ousted, but still popular – how past generosity keeps Najib ahead
Minderjeet Kaur
March 8, 2021
PETALING JAYA: Political observers say Najib Razak's popularity in a recent poll of possible candidates to be prime minister is a result of effective public policies and his ability to get on with people of all backgrounds.
Economist Barjoyai Bardai and political analyst Kenneth Cheng both felt that Najib remained influential because he had been a generous prime minister with policies that favoured the people instead of the capitalist free market.
Another analyst, Kartini Aboo Talib of Universiti Kebangsaan Malaysia, said Najib's "Bossku" campaign had been one of the most effective slogans on social media, portraying him as the victim of a power struggle, especially at the hands of Dr Mahathir Mohamad.
Najib had garnered almost half the votes in a recent online poll by Utusan TV, in which a total of 53,105 people had responded.
Almost half picked Najib as their choice to be the next prime minister; PAS president Abdul Hadi Awang came next with 11,050 votes, followed by PKR president Anwar Ibrahim with 6,938 votes. Prime Minister Muhyiddin Yassin received 3,262 votes, while former prime minister Dr Mahathir Mohamad had 424 votes and Cabinet minister Mohamed Azmin Ali garnered 176 votes.
Barjoyai, of Universiti Tun Abdul Razak, said Najib had started many welfare programmes such as Bantuan Rakyat 1 Malaysia or BR1M (now called Bantuan Sara Hidup) which the country did not have previously.
Najib had also changed Malaysia's economic system from a capitalist free market favouring privatisation, to a more social model.
Barjoyai said he would not be surprised if more young people supported Najib because of his public programmes. However, they needed to know that corruption was not acceptable. Najib is currently undergoing trials for 1MDB corruption charges.
He said Najib's government was effective in its delivery process and "was philosophical. He brought in the blue ocean strategy and had a long-term development agenda."
Hadi only came second as some respondents have tasted a Muslim-led government (Kelantan, Kedah and Terengganu are run by PAS-led administrations) and "they feel if this is enforced further, Malaysia can be an effective Islamic-led country."
However, Cheng said there might be feelings of nostalgia for a politically stable government, such as the one under Najib.
Aside from the 1MDB scandal, Najib had been a competent prime minister with several public projects that had benefitted the rakyat, such as mass rapid transit projects and the 1Malaysia Klinik among others.
Cheng, a member of the Agora Society network of intellectuals, said Chinese and Indian voters viewed Najib as a liberal prime minister; "if you look carefully, there is only the 1MDB case that is very damaging".
However, Barisan Nasional had lost the support of Chinese voters by the time Najib came into power in 2009, Cheng said. "Najib tried to bring back the Chinese votes but it was too late by then."
He said Najib then focused on his Bumiputera agenda; "he might as well, as it was his support base".
However, Cheng felt it may be difficult for Najib to be the prime minister again. He would need to be a party president, and go up against Umno president Ahmad Zahid Hamidi. He might not, Cheng said. "His chances seem to be quite slim," he added.
Kartini said she is not sure if Najib still remains the choice of the rakyat. "Umno has factions and the response that one receives from different members would produce different answers," she told FMT.
However, Najib's public policies, such as the goods and services tax (GST), East Coast Rail Link (ERCL) and a proactive diplomatic policy with China turned out to be the right direction to boost Malaysia's economic development.
"That could be the reason behind the support," she added.
https://www.freemalaysiatoday.com/category/nation/2021/03/08/ousted-but-still-popular-how-past-generosity-keeps-najib-ahead/
--------
Protect, defend the Constitution: In it is our right to a life with dignity
By S. INDRAMALAR
08 Mar 2021
Today is International Women's Day, a day where the world unites to celebrate the achievements of women while pushing for greater equality, highlighting gaps in policy that continue to isolate women and keep them from enjoying equality at home, in the workplace and in society. StarLifestyle is highlighting the stories of young women who are stepping up and taking action for causes they believe in to make Malaysia a better and safe place for everyone
One of the greatest challenges that human rights activist Firdaus Husni has in carrying out her work is convincing Malaysians of the need for them to protect, preserve and defend the Federal Constitution.
After all, it is the Constitution that affirms our citizenship, gives us our rights and the power to vote for our government.
"We are Malaysian. That is enshrined in the constitution along with provisions about our fundamental liberties or basic rights that allow us to live our lives with dignity. I mean, we don't want to wake up one day and find that we have lost our rights, right?
"I really want Malaysians to see that human rights isn't something that is 'liberal' or 'foreign' or 'secular'. Unfortunately, political propaganda can sometimes feed the belief that the concept of human rights is incompatible with Islam or religion. Sadly, many people buy into this kind of propaganda, " she says.
Also a challenge, she admits, is encountering people who believe that Islam has no place in a secular society like Malaysia.
"The Federal Constitution is the highest authority of the land and within the constitution is the recognition of Islam (as the religion of the country).
So it is possible for Islam to exist within the structure, " asserts Firdaus, 35, who left the legal practice to focus on human rights activism in 2019.
As the Chief Strategist Officer at the Malaysian Centre for Constitutionalism and Human Rights (MCCHR), FIrdaus and her "small team of five staff" run programmes with lawyers, youth and the public on the constitution and human rights.
In the past five years alone, the MCCHR has reached more than 8000 youths through its public dialogues with youth through its UndiMsia! programme which provides a safe platform for youths to discuss current issues to increase their awareness and understanding of important issues affecting them as Malaysians.
"We also try to get youth connected to their MPs. Youth are concerned about a lot of issues but often aren't sure who to address it to and we show them how they can communicate with their MPs, " says Firdaus.
MCCHR's Laporan Rakyat project (carried out from 2011 to 2012) which aimed to challenge youths in Hulu Langat and the Klang Valley to assess their MPs and State Assemblyperson, highlighted how little they knew about their elected representatives, indicating a lack of concern by the voter population on who they vote into power.
This reinforced the relevance of UndiMsia!'s projects and led to the development of an user-friendly and interactive online portal called MyMP.
The organisation also develops strategic litigation training for lawyers which introduces them to the fundamental liberties provisions within Federal Constution and also human rights advocacy.
"Also, after the 2018 elections, we had quite a lot of engagement from the government and were consulted for policy reform, particularly in areas like statelessness, citizenship and nationality provisions. Unfortunately, since the change of government last year, that has taken a back seat, " she notes.
All kinds of stereotypes
Firdaus admits that she is stereotyped "all the time" in the course of her work.
"Firstly I am a woman. Add to that, a Malay, Muslim woman and one who wears a headscarf! There are all sorts of stereotypes associated with all these intersectional identities that make me me and it does affect how people interact with me or whether they'd consider me for engagements.
"For a while, it did bother me and I didn't like it that people approached me to be a part of a programme just because I appear to represent a certain segment of society, rather than picking me for my merit.
"But over time, I've learnt to accept that first impressions do matter but also that I can use that to further a good cause, " she says.
She shares an instance when she was invited to talk about Hudud law and the constitutionality of it to an audience in Terengganu.
"The essence of my talk was to urge the audience not to get caught up with labels but, rather, to consider whether or not such a law will achieve justice, regardless of whether it is Islamic law or civil law. We have to look at the substance and not the form or the rituals.
"I was definitely more nervous than I would have been if the session had been anywhere else but after the talk, a gentleman came up to me and asked me if I would consider delivering the talk in other states.
I was really happy to think hat maybe I'd played a small role in shifting perspectives in that one person and that's how I want to continue to push for a mindset change, " says Firdaus who is from Kuala Selangor and is the eldest of six siblings.
Although she admits it can be scary to go against the norm – "sometimes I fear that someone will come barging through my door" – Firdaus is determined to do all she can to make a positive change for society.
"Standing for what is right is how we can find our sense of purpose. Living isn't about how we survive individually but how we can all exist together.
"If we appreciate that everyone is entitled to human rights in equal measure, wouldn't it be a much better world to live in?" she concludes.
https://www.thestar.com.my/lifestyle/family/2021/03/08/protect-defend-the-constitution-in-it-is-our-right-to-a-life-with-dignity
--------
UAE to develop $500 million tourism resort in Indonesia's Aceh
March 06, 2021
JAKARTA: The UAE is to develop several major infrastructure projects in Indonesia, including a multimillion-dollar tourism resort in its westernmost Aceh province, top Emirati and Indonesian ministers have confirmed.
A series of business agreements were signed by the two nations during a Jakarta visit of UAE Energy and Infrastructure Minister Suhail Al-Mazroui on Friday. The agreements are a part of a $22.9 billion deal signed during Indonesian President Joko Widodo's Abu Dhabi visit in January last year. The investment deal, also covering energy, infrastructure and mining, is seen as the biggest in Indonesia's history.
The tourism resort development project, which according to Indonesia's Coordinating Minister for Maritime Affairs and Investment Luhut Pandjaitan is valued at between $300 million and $500 million, is expected to start in Aceh Singkil district in May.
Aceh, a semi-autonomous province on the northwest tip of Sumatra Island, is the only region in Muslim-majority Indonesia that imposes Shariah.
"I think within two months' time, we can see the progress of this project in the Singkil area," Pandjaitan said during a joint conference with Al-Mazroui.
While authorities have not revealed more details, in response to a question by Arab News, Al-Mazroui said that some islands off the main coast of Aceh have been identified for the resort.
"Hopefully the team will finalize (it) and then we will be moving to the next stage of having some definitive agreements," he said.
The project agreement was signed by Aceh Governor Nova Iriansyah and Amine Abide, executive director of Murban Energy, a UAE company whose investment portfolio includes the development of luxury resorts in the Maldives and Seychelles.
According to a statement by the Indonesian Ambassador to the UAE, Husin Bagis, one of the considerations for developing the project in Aceh is that it is only five hours away from the UAE by plane. He said that Abide had visited nine islands in the Aceh Singkil district that were shortlisted for the project.
Among the agreements inked in Jakarta, which Al-Mazroui said are follow-ups to those signed in Abu Dhabi last year, is a $1.2 billion deal between UAE's logistics company Dubai Port (DP) World and Indonesia's Maspion group to develop a port and an industrial zone in Gresik, East Java.
Other deals signed on Friday, Panjaitan said, included an agreement between Indonesia's state-owned weapons manufacturer Pindad and UAE's small-arms manufacturer Caracal to develop assault rifles, drones and defense system technologies.
LuLu Group International is also expected to enter the Southeast Asian country, as its president director also signed a property lease agreement on Friday to open a hypermarket on the outskirts of Jakarta.
Minister Al-Mazroui hinted that other deals may also follow in the wake of the newly forged economic ties between the UAE and Indonesia.
"Some new deals have been considered, which was not discussed before, and this is the nature of the relationship," he said.
Al-Mazroui is the first high-level government official from the UAE to visit Indonesia since the signing of a bilateral safe travel corridor agreement in July last year.
He and members of his delegation are in Indonesia to attend a series of events during Indonesia-Emirati Amazing Week, held in Jakarta, Solo, Bandung and Surabaya on March 1-8.
https://www.arabnews.com/node/1820961/world
--------
Mideast
Yemeni minister confirms al-Qaeda terrorists fighting alongside Saudi forces in Ma'rib
07 March 2021
Yemen's Interior Ministry has confirmed that the al-Qaeda terrorists are fighting alongside Saudi-backed militants in Yemen's strategic Ma'rib province, as Yemeni forces are pressing ahead with an offensive to liberate the city.
In a statement carried by al-Masirah television network on Sunday, Yemen's Deputy Interior Minister Major General Abdul Majeed al-Murtadha said devices and equipment owned by al-Qaeda were found in the central province of al-Bayda after the Yemeni military managed to clear terrorists from there, which were linked to foreign intelligence services.
Murtadha said the United States was annoyed after the Yemeni armed forces and allied fighters from popular committees managed to eliminate a-Qaeda in al-Bayda, adding that this is the reason why Washington is calling on the Yemeni forces to halt their offensive on the city.
"We tell the people of Ma'rib, those who are fighting today are those affiliated with this [terrorist] organizational outfit and our operation aims to rescue the citizens from getting involved in their battles" he said.
The Yemeni official further called on citizens to stand firm in the face of the Takfiri intelligence groups, adding that their presence represents a threat to Ma'rib's security and safety.
The remarks came after Yemen's Security and Intelligence Service detailed the operation of Takfiri terrorists in the city.
In a report on Saturday, the agency pinpointed the hideouts of the terrorists, hotels they hold their meetings as well as their arms depots and supply warehouses in Ma'rib.
The report marked out training and rehabilitation camps belonging to the al-Qaeda terrorists, and the terrorists' links with Saudi-backed militants loyal to former president Abd Rabbuh Mansur Hadi.
The Yemeni intelligence agency said it will publish the detailed report, which includes maps and other information about the presence of the Takfiri terrorists in Ma'rib.
Last month, Yemeni officials said members of the al-Qaeda and Daesh terrorist groups were using Ma'rib as a launchpad for attacks on other regions in the country, and receiving training from Saudi military officers.
"Al-Qaeda and Daesh groups have turned Ma'rib into a launch pad for attacks on the entire Yemeni territory. They are under the command of a Saudi officer, and sending car bombs and death squads across the country," Director of Yemen's Presidency Office Ahmed Hamed said in the capital, Sana'a.
Chairman of the Comprehensive National Reconciliation and Political Solution Team Yousef Abdullah al-Fishi said Yemeni and foreign militants from Islah Party as well as al-Qaeda and Daesh terror groups have come together in Ma'rib, displacing local people after seizing their homes.
Over the past few weeks, Ma'rib has been the scene of large-scale operations by the Yemeni troops and allied Popular Committees fighters, who are pushing against Saudi-backed militants.
Ma'rib is the last stronghold of pro-Hadi forces in northern Yemen and the loss of the province would mean the defeat of the Saudi-backed former regime.
In recent weeks, numerous reports have emerged about civilians being used as human shields and preventing them from leaving the city by the Takfiri terrorists and Saudi-backed mercenaries in Ma'rib.
Saudi Arabia and a number of its regional allies launched the war on Yemen in March 2015, with the aim of bringing Hadi back to power.
The war has turned Yemen into the world's worst humanitarian crisis, with hundreds of thousands of Yemenis dead and many others facing famine and starvation. It has taken a heavy toll on the country's infrastructure, destroying hospitals, schools, and factories.
The ongoing Saudi military aggression has provided an opportunity for terrorist groups such as Daesh and al-Qaeda to secure a foothold in impoverished Yemen.
https://www.presstv.com/Detail/2021/03/07/646751/Yemen-Ma-rib-al-Qaeda-terrorists-Daesh-Saudi-Arabia-Yemeni-forces-al-Bayda
--------
Yemen's Houthis attack Saudi oil heartland with drones, missiles
March 8, 2021
Yemen's Houthi forces fired drones and missiles at the heart of Saudi Arabia's oil industry on Sunday, including a Saudi Aramco facility at Ras Tanura vital to petroleum exports, in what Riyadh called a failed assault on global energy security.
Announcing the attacks, the Houthis, who have been battling a Saudi-led coalition for six years, also said they attacked military targets in the Saudi cities of Dammam, Asir and Jazan.
The Saudi energy ministry said an oil storage yard at Ras Tanura, the site of an oil refinery and the world's biggest offshore oil loading facility, was attacked with a drone coming from the sea. The defence ministry said the armed drone was intercepted and destroyed prior to reaching its target.
Shrapnel from a ballistic missile fell near a residential compound in Dhahran used by state-controlled Saudi Aramco, the world's biggest oil company, the ministry said, adding that neither attack resulted in casualties or loss of property.
The attacks drove Brent crude prices above $70 a barrel to their highest since January 2020, while US crude futures touched their loftiest since October 2018.
"Such acts of sabotage do not only target the Kingdom of Saudi Arabia, but also the security and stability of energy supplies to the world, and therefore, the global economy," a ministry spokesman said in a statement on state media.
The Saudi-led coalition earlier said it had intercepted 12 armed drones aimed at "civilian targets" without specifying a location as well as two ballistic missiles fired towards Jazan.
The sites attacked on Sunday lie on the Gulf coast in Eastern Province, home to most of Aramco's production and export facilities. In 2019, Saudi Arabia, the world's top oil exporter, was shaken by a big missile and drone attack on oil installations just a few kilometres from the facilities hit on Sunday, which Riyadh blamed on Iran, a charge Tehran denies.
That attack forced Saudi Arabia to temporarily shut more than half of its crude output, causing a huge price spike.
Escalation
Houthi military spokesman Yahya Sarea said on Sunday that the group had fired 14 drones and eight ballistic missiles in a "wide operation in the heart of Saudi Arabia".
The Houthis recently stepped up cross-border attacks on Saudi Arabia at a time when the United States and the United Nations are pushing for a ceasefire to revive stalled political negotiations to end the war.
Last Thursday, the movement said it fired a missile at an Aramco petroleum products distribution plant in the Red Sea city of Jeddah which the Houthis had attacked in November 2020, hitting a storage tank. Aramco and Saudi authorities have not commented about Thursday's claim.
The military alliance intervened in Yemen in March 2015 after the Houthis ousted the Saudi-backed government from power in the capital, Sanaa. The conflict is widely seen in the region as a proxy war between Saudi Arabia and Iran.
Colonel Turki al-Malki, the spokesman of the Saudi defence ministry and of the Saudi-led military coalition, said in a statement that the ministry would take "all necessary, deterrent measures to safeguard its national assets".
Earlier, the coalition said it had conducted air strikes on Houthi military targets in Sanaa and other Yemeni regions on Sunday and warned that "civilians and civilian objects in the kingdom are a red line".
It said the Houthis had been emboldened after the new US administration revoked a terrorist designation on the group in February that had been imposed by former President Donald Trump's administration and backed by Riyadh.
Last week, the US Treasury Department imposed sanctions on two Houthi military leaders in the first punitive measures against the group by President Joe Biden's administration following the increase in attacks on Saudi cities and intensified battles in Yemen's Marib region.
In Sanaa, a Reuters witness reported several air strikes. The Houthi-run Al Masirah TV said coalition warplanes bombed al-Nahda and Attan districts.
In February, Biden declared a halt to US support for offensive operations by the coalition but said the United States would continue to help Saudi Arabia defend itself.
The war, which has been in a military stalemate for years, has killed tens of thousands of people and pushed Yemen to the brink of famine. The Houthis say they are fighting a corrupt system and foreign aggression.
https://www.dawn.com/news/1611381/yemens-houthis-attack-saudi-oil-heartland-with-drones-missiles
--------
Deputy FM: US Should Show Honesty by Lifting Sanctions
2021-March-8
"If the US is serious about returning to Iran nuclear deal it should put an end to all the sanctions," Araqchi said on Sunday in a meeting with Norwegian foreign Minister's Special Envoy for Iraq and Syria Hilde Haraldstad.
The two sides discussed the latest developments of Syria and Iraq and ways to confront factors of instability and insecurity, especially Takfiri terrorist groups.
Haraldstad, for her part, stressed Norway's inclination to continue political consultations on regional issues.
In relevant remarks on Sunday, Tehran university professor and political analyst Seyed Mohammad Marandi said contrary to the western media reports, it's Washington that has withdrawn from the agreement and should, hence, send promising messages to Iran by removing sanctions and returning to the deal.
"Releasing media reports claiming that Iran has sent some promising messages (to resolve differences with the US) and the EU-proposed meeting between Iran and the US are all intended to divert attention from the main issue," Marandi said on Sunday.
"The main issue is that it is the US that should send promising messages these days, not Iran, because the Islamic Republic of Iran has fulfilled its undertakings within the framework of the nuclear deal for years and everyone knows that," he added.
Marandi noted that Iran is now waiting for the US to act upon its nuclear deal undertakings, and added, "What the Biden administration needs to do is to cancel what Trump has done and live up to its undertakings, so the path is very clear."
He also blasted the European countries for breaching their undertakings, and said, "The sanctions and damages the Europeans inflicted on the Iranian people for the US sake are as criminal as Trump's acts."
https://www.farsnews.ir/en/news/13991218000277/Depy-FM-US-Shld-Shw-Hnesy-by-Lifing-Sancins
--------
Turkey is seeking to mend ties with Egypt, Gulf countries: Erdogan spokesman
08 March ,2021
Turkey is sending its strongest signal yet that it's ready to mend ties with Egypt and other Gulf countries that have been strained by Ankara's support for extremist-rooted governments.
"A new chapter can be opened, a new page can be turned in our relationship with Egypt as well as other Gulf countries to help regional peace and stability," Ibrahim Kalin, the spokesman for Turkish President Recep Tayyip Erdogan, said in an interview in Istanbul on Saturday.
Turkey's Defense Minister had said on Saturday that his country shared common values with Egypt which may bring about "different developments" in the coming days.
"We have many historical and cultural values in common with Egypt. When they are put in use, we consider that there may be different developments in the coming days," state news agency Anadolu cited Hulusi Akar as saying.
Ties between the two countries have been strained since Egypt's army ousted Erdogan ally Mohammed Morsi in 2013.
Erdogan's extremist-rooted AK Party supported Morsi's short-lived Egyptian government. Many Muslim Brotherhood members and their supporters have fled to Turkey since the group's activities were banned in Egypt.
Turkey and Egyp have also clashed over maritime jurisdiction and offshore resources, as well as differences in Libya, where they backed opposing sides in the civil war.
https://english.alarabiya.net/News/middle-east/2021/03/08/Turkey-is-seeking-to-mend-ties-with-Egypt-Gulf-countries-Erdogan-spokesman
--------
Saeed Mohammad, head of IRGC's biggest commercial enterprise, runs for president
Ismaeel Naar
08 March ,2021
Saeed Mohammad, the head of the Khatam al-Anbiya Construction Headquarters run by the Islamic Revolutionary Guard Corps, has resigned from his position to run in Iran's June presidential elections.
The Khatam al-Anbiya (PBUH) Construction Headquarters is behind some of Iran's largest domestic infrastructure projects.
For all the latest headlines follow our Google News channel online or via the app.
The Iranian Students' News Agency reported his resignation on Sunday via a letter he penned to the IRGC in which he described himself as the "soldier of the Revolution's Supreme Leader."
"As a soldier of the Supreme Leader of the Revolution, I will always be proud to serve the holy people of Iran in the service of the holy system of the Islamic Republic and in the light of the Imam, the leadership and the precious martyrs of the Revolution," Mohammad wrote.
Mohammad is considered a veteran of the IRGC with and close links to the office of Supreme Leader Ali Khamenei.
In recent months, Mohammad has spent time raising his public profile by touring key Iranian cities like Ahwaz and Tabriz, cities which saw significant protests in recent weeks by angry retirees who say their pension funds no longer provide them with a decent life amid high inflation and unemployment.
"Mohammad is not only the first 'second generation' Guardsman to head Khatam al-Anbiya, he is also the first with no military background or fighting experience in the IRGC. With a PhD in civil engineering, he represents the Guard's technocratic and educated class and has been at the forefront of driving the economic expansion of the IRGC, which now controls as much as 40 percent of Iran's economy," Iran expert Kasra Aarabi wrote in a profile on Mohammad for the Tony Blair Institute for Global Change.
"This experience and the absence of a military background would enable Mohammad to present himself as both a loyal Guardsman and 'civilian' technocrat, potentially appealing to regime supporters beyond the IRGC's traditional sphere," Aarabi added.
https://english.alarabiya.net/News/middle-east/2021/03/08/Iran-military-Saeed-Mohammad-head-of-IRGC-s-biggest-commercial-enterprise-runs-for-president
--------
Iran says US approved release of $3 bln of Iran's funds in Iraq, Oman, S. Korea
Yaghoub Fazeli
07 March ,2021
The United States has agreed to the release of $3 billion in Iranian funds that have been frozen in Iraq, Oman and South Korea due to Washington's sanctions, Iranian trade official Hamid Hosseini told the semi-official Fars news agency on Sunday.
Hosseini, board member of the Iran-Iraq Joint Chamber of Commerce, had tweeted on Friday that Washington approved the release of frozen Iranian assets at the Trade Bank of Iraq, without mentioning the value of the assets.
Hosseini on Sunday confirmed that the US agreed to the release of $3 billion in Iranian frozen assets in the three countries.
US sanctions imposed by former President Donald Trump have prevented Iran from accessing tens of billions of its assets in foreign banks.
Iranian frozen assets in Iraq amount to more than $6 billion, according to Iranian officials.
The head of the Iran-South Korea Chamber of Commerce said in October Iranian frozen funds in South Korea are worth $8.5 billion and added that their release depended on the outcome of the US presidential election.
Iranian officials have not commented on the value of Iran's frozen assets in Oman.
Iran's economy has been hit hard since 2018 when Trump withdrew from the 2015 nuclear deal between Tehran and world powers and reimposed sweeping sanctions on the country.
Iran's chances of gaining access to billions of dollars of its frozen assets abroad have risen significantly since Trump, who pursued a policy of "maximum pressure" against Tehran, left the White House.
Under President Joe Biden, Washington has signalled its willingness to return to talks to revive the nuclear deal, which saw Iran limit its nuclear program in return for billions of dollars in sanctions relief.
The Biden administration revoked snapback sanctions claimed by the Trump administration against Iran and also revoked travel restrictions on senior Iranian diplomats at the United Nations.
Last month, South Korea said it reached an agreement with Iran over the release of Tehran's frozen funds in its banks but signalled that the agreement was effectively subject to US approval.
https://english.alarabiya.net/News/middle-east/2021/03/07/Iran-says-US-approved-release-of-3-bln-of-Iran-s-funds-in-Iraq-Oman-S-Korea
--------
Fire at Houthi-controlled migrant facility in Yemen kills at least eight: UN
08 March ,2021
A fire at a holding facility for migrants in the Yemeni capital, Sanaa, controlled by the Houthi militia killed at least eight people, including guards, and injured more than 170 others on Sunday, the United Nations Migration Agency (IOM) said.
The total death toll from the fire, whose cause remains unclear, could be higher, the IOM regional director for the Middle East and North Africa, Carmela Godeau, said in a Twitter post.
It was not immediately clear how many people were being held at the facility.
IOM was providing emergency healthcare for the injured, more than 90 of whom were in serious condition, and distributing food to those affected, Godeau added.
The organization estimates that thousands of migrants became stranded in Yemen after movement restrictions were imposed due to the coronavirus pandemic across the Gulf region and Horn of Africa.
Alongside refugees, about 100,000 migrants arrive in Yemen each year by sea from the Horn of Africa hoping to trek north into wealthy Saudi Arabia and beyond.
The six-year war in Yemen between the Arab Coalition and the Iran-aligned Houthi militia group has left Yemen a land of displacement, with 80 percent of the population reliant on aid.
https://english.alarabiya.net/News/gulf/2021/03/08/Fire-at-Houthi-controlled-migrant-facility-in-Yemen-kills-at-least-eight-UN
--------
Israeli forces shoot Palestinian over alleged stabbing attack
08 March 2021
Israeli forces have shot a Palestinian man over an alleged stabbing attack in the occupied West Bank.
The Israeli military said on Monday that a soldier shot the Palestinian who allegedly tried to stab another soldier during an overnight operation.
According to the Times of Israel, the statement did not provide details on the Palestinian man's health condition.
The military claimed that the incident occurred while the soldiers were trying to make an arrest, without elaborating.
Many Palestinians have sustained injuries or lost their lives in similar incidents due to allegations that they attempted stabbing or car-ramming attacks.
The Tel Aviv regime has been criticized for its extensive use of lethal force and extrajudicial killings against Palestinians who do not pose an immediate threat to the occupation forces or to Israeli settlers.
More than 600,000 Israelis live in over 230 settlements built since the 1967 Israeli occupation of the Palestinian territories of the West Bank and East Jerusalem al-Quds.
All Israeli settlements are illegal under international law. The UN Security Council has condemned Israel's settlement activities in the occupied territories in several resolutions.
Palestinians want the West Bank as part of their future independent state with East Jerusalem al-Quds as its capital.
https://www.presstv.com/Detail/2021/03/08/646804/Israeli-forces-shoot-Palestinian-alleged-stabbing-attack
--------
Africa
Soldier, civilian dead, 4 hurt in Somalia suicide blast
06.03.2021
MOGADISHU, Somalia
A soldier and a civilian were killed and four more people injured in a suicide attack in southwestern Somalia on Saturday.
A bomber blew himself up outside a small but busy restaurant in the town of Waajid in the Bakol region, according to Mohamud Kheyrow, a police official.
The town is located some 350 kilometers (218 miles) southwest of the capital Mogadishu, where a suicide attack by the al-Shabaab terror group killed over 20 people and wounded more than 30 just hours earlier.
"At least four people, including two paramilitary soldiers, were injured in the blast," he told Anadolu Agency, adding that all the wounded have been shifted to a hospital in Baidoa, the administrative capital of Somalia's South West State.
While no group has claimed responsibility for the attack, Dahir Ali Mohamed, a senior military official in Waajid, said a security operation has started in the area and several suspected al-Shabaab members have been arrested.
https://www.aa.com.tr/en/africa/soldier-civilian-dead-4-hurt-in-somalia-suicide-blast/2166874
--------
Libyan MPs arrive at Sirte to debate proposed unity government
07 March ,2021
Scores of Libyan parliament members from both sides of the divided country arrived in the frontline city of Sirte on Sunday for a session this week to debate a proposed unity government.
The parliament has been split - as have most state institutions - since soon after it was elected in 2014, as Libya broke between warring factions in the east and west.
It is meeting this week to debate giving confidence to a government announced by Abdulhamid Dbeibeh, who was designated as prime minister last month through a political dialogue held in Geneva by the United Nations.
Under that process, his government is intended only to oversee the run-up to an election planned for the end of this year and then to cede power to the new authority it creates.
A military ceasefire under the same UN process has held since the fall between the Government of National Accord (GNA) and the Libyan National Army (LNA) led by Khalifa Haftar.
The ceasefire was supposed to include reopening the main coast road through Sirte, which is held by the LNA. However, groups on the GNA side have refused to do so, saying pro-LNA foreign mercenaries remain near the frontline.
It is not clear how many of the 200 parliament members elected in 2014 will attend the session, with about 75 having arrived by late on Sunday, parliament spokesman Abdullah Belhaq said. Some members have died, others have resigned and some have threatened to boycott the meeting.
Debate on Monday will include discussion of what constitutes a legitimate quorum, and what majority is needed to confer confidence, the parliament rapporteur Saleh Galma said.
If parliament is unable to agree on approving the new government, the UN talks forum has said it can do so instead.
https://english.alarabiya.net/News/north-africa/2021/03/08/Libyan-MPs-arrive-at-Sirte-to-debate-proposed-unity-government
--------
Tunisian prime minister refuses to step down, challenging president
07 March ,2021
Tunisia's Prime Minister Hichem Mechichi has refused to step down from his post, challenging Tunisian President Kais Saied's conditions to resume talks, local media reported on Saturday.
Mechichi said submitting his resignation is not on the table.
Tunisia needs stability and a government that responds to the aspirations of the people, the prime minister said, adding that he will not abandon his responsibility towards the country, its democratic institutions and the people's entitlements, according to local media reports.
The reports added that the Noureddine Taboubi, the Secretary-General of the Tunisian General Labour Union (UGTT), said that President Saied had informed him that national dialogue sessions will not start until PM Mechichi resigns.
Last month, Tunisia's powerful UGTT labor union called for four proposed new cabinet ministers to stand aside as a step towards resolving a political crisis.
Parliament had earlier approved a cabinet reshuffle put forward by Mechichi with 11 new ministers. But Saied rejected the reshuffle, saying four of the appointments were believed to have conflicts of interest.
The dispute has caused a political logjam as the government struggles to combat the coronavirus pandemic and its economic fallout. Protests have been going on for nearly three weeks over the political and social crisis.
https://english.alarabiya.net/News/north-africa/2021/03/07/Tunisian-prime-minister-refuses-to-step-down-challenging-president
--------
Fire engulfs religious centre in Somaliland, 49 injured
Mohammed Dhaysane
08.03.2021
MOGADISHU, Somalia
At least 49 people were injured late Sunday when a fire broke out at an Islamic learning center in Hargeisa, the capital of Somalia's breakaway Somaliland region.
The wounded include 40 women and eight men as well as a firefighter, the Somaliland Fire Brigade said in a statement.
"Hundreds of students were studying at the institute, and all of them were rescued by the Somaliland Fire Brigade. The building consisted of two floors of 20 rooms and a mosque," said the statement.
The reason for the fire is unknown, but the fire brigade said the police are currently investigating the incident.
A former British protectorate, Somaliland got its independence in 1960 but days later joined Somalia. In 1991, it declared independence from the rest of the country following a war with the government in Mogadishu.
https://www.aa.com.tr/en/africa/fire-engulfs-religious-center-in-somaliland-49-injured/2168020
--------
URL: https://www.newageislam.com/islamic-world-news/a-global-coalition-25-civil/d/124491
New Age Islam, Islam Online, Islamic Website, African Muslim News, Arab World News, South Asia News, Indian Muslim News, World Muslim News, Women in Islam, Islamic Feminism, Arab Women, Women In Arab, Islamophobia in America, Muslim Women in West, Islam Women and Feminism