• Decision to Close Madrassas and Sanskrit Centres of Learning Flayed By Congress
• Four US Senators Write To Pompeo Seeking Assessment on Kashmir and Minority Rights in India
• A 'Date' with PM, Song and a Teddy Bear: How Shaheen Bagh Dadis Celebrated Valentine's Day
• Decision to Close Madrassas and Sanskrit Centres of Learning Flayed By Congress
• There Must Be Huge Mass Movement If Muslims Being Sent To Detention Camps: P Chidambaram
• Citizenship Law Not Anti-Muslim, Can 'Personally Clarify' On It: Home Minister
• Army apprises envoys on AFSPA, Pak backed infiltration, deradicalisation of youths in J&K
• 'Trump's Plan Act of High Treason against Entire Muslim World: Top Bahraini Cleric
• Turkey says will use 'any measure' against 'radicals' in Syria's Idlib province
• Saudi-US relation key to global stability, says Princess Reema on 75th anniversary of USS Quincy meeting
• Saudi 'donations' came after Malaysian govt sought money for political longevity, court told in SRC trial
• Religious representation 'vital', experts say after Religious Affairs Ministry blunder
• Four US Senators Write To Pompeo Seeking Assessment on Kashmir and Minority Rights in India
• US Air Force Updates Its Dress Code Policy to Include Turbans, Beards and Hijabs
• US accuses Chinese tech giant Huawei of stealing trade secrets, assisting Iran
• Thousands of Iranians mark 40th day after Lt. Gen. Soleimani's martyrdom
• US crossed 'all red lines' by assassinating Lt. Gen. Qassem Soleimani, Nasrallah says
• US ship in Arabian Sea seizes suspected Iranian weapons, likely on their way to Houthis in Yemen
• Turkish President Erdogan meets PM Imran, President Alvi upon arrival in Pakistan
• Kabul Police Department's Counter-narcotics chief sentenced to 17 years in prison
A 'Date' with PM, Song and a Teddy Bear: How Shaheen Bagh Dadis Celebrated Valentine's Day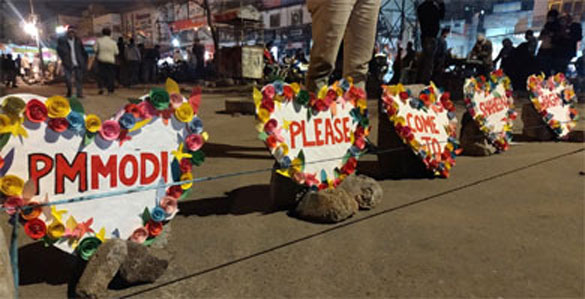 February 14, 2020
Be it alleged 'sting' videos revealing the 'truth' about paid protesters, rumors about their allegiance to so-called 'tukde-tukde' gangs and smear campaigns pegged on biriyani, Valentine's Eve found Shaheen Bagh in an ecstatic mood full of love and amity. To celebrate the day of love, the women protesters and 'dadis' (grandmothers) who have been leading continuous sit-in demonstrations on Delhi's Shaheen Bagh-Kalindi Kunj highway for 63 days wanted a date with none other than Prime Minister Narendra Modi himself.
At 5 pm, a group of young musicians took to the stage at Shaheen Bagh to unveil what the protesters are now calling the "anthem" of Shaheen Bagh. Called 'Modi Tum Kab Aaoge', the song appealed to PM Modi to come and meet with the women of Shaheen Bagh and have a conversation.
The protesters have for over a month been seeking dialogue with the PM and other members of the administration including Home Minister Amit Shah. A group of activists, artists, journalists and civil servants have even started a campaign under the hashtag of #tumkabaaoge to carry out events and social media campaigning to urge leaders to have a peaceful dialogue with the protesters, who have been seeking a withdrawal of the Citizenship (Amendment) Act 2019 as well the proposed nation-wide National Citizenship Register and National Population Register.
The CAA seeks to grant Indian citizenship status to Hindus, Christians, Jains, Buddhists and Sikhs living in Pakistan, Afghanistan and Bangladesh. Critics have called both laws divisive, stating that if implemented along with nationwide NRC - which seeks to weed out illegal immigrants in India - the new citizenship law could have an adverse effect on India's Muslim population.
"I want to meet the PM and give him a hug. He is like my son because his mother is also my sister," said 90-year-old Bilkis who has gained popularity on social media as one of the "Dabang dadis" of Shaheen Bagh. Bilkis has lived in Shaheen Bagh for over five decades. She refuses to understand why the PM would bring in a law that could make her homeless. "I want to give him love and take love from him. Then we can talk about how to plan the future of the country," Bilkis tells News18. The women also unwrapped a "gift" for PM Modi on stage preceding the performance of the anthem. Wrapped carefully in colorful paper, the "gift" turned out to be a giant, red teddy bear.
"We want him to come and take his gift from us as a gesture of commitment to a peaceful solution," a girl who called herself "Shaheen" told News18. A local who has been part of the protest since Day 1, Shaheen says that the Valentine's Day event was held a day before the actual date out of respect for the martyrs of Pulwama who were killed in a terrorist attack in Jammu and Kashmir on February 14 a year ago. "We have silent protests all day on the 14th to honour the martyrs so we decided to hold the music performance on 13th instead."
The song, written by marketing professionals and part-time poet Farhan Zaidi who is part of the #TumKabAaoge movement, aims to initiate dialogue by way of compelling the government to grant legitimacy to the protests. In the past month, as Delhi witnessed a particularly vitriolic poll campaign, Shaheen Bagh received its fair share of bad press and even an incident of shooting. The protesters wanted to revive the spirit of the protesters as well as restore people's faith in the protesters' commitment to peace and dialogue.
"We have been helping the local protesters at Shaheen Bagh to coordinate and organise events like "Letters to PM", communal prayer sessions and off-site events," Zaidi who is part of the group that runs the #TumKabAaoge movement says. The idea, he says, was to spread the word that the unlike what much of the media portrayed, the protesters here were actually more than willing to talk".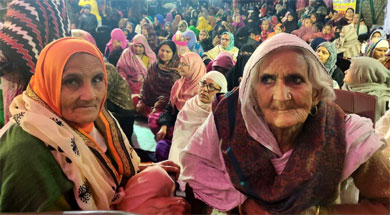 As the evening wound up, music performances continued. Noor Unnisa, a 70-year-old protester with a candy pink Valentine's Day poster happily hummed a verse of the song:
"Sardi aake chali gayi
Garmi zyada door nahi
Ham to aas me baithe hain
Modi tum kab aaoge"
(Winters came and went,
Summers are not that far ahead
We sit in hope
Modi, when will you come?)
Meanwhile, the bus-stand turned Fatima Sheikh and Savitribai Phule library hosted the giant teddy which stood there as a reminder of Valentine's Day and the peaceful resilience of the protesters who were here to stay, come hail or sunshine.
https://www.news18.com/news/buzz/valentines-day-cards-a-song-and-a-teddy-bear-the-dadis-of-shaheen-bagh-want-a-date-with-pm-2500417.html
--------
Decision To Close Madrassas And Sanskrit Centres Of Learning Flayed By Congress
13 FEBRUARY 2020
BJP backs move (Eds: with dropping a word in para one) Guwahati, Feb 13 (PTI) The BJP-led Assam government''s decision to shut down the state-run Madrassas and Sanskrit tols (centres of learning) has invited critical remarks from the opposition Congress and various organisations, Islamic as well as those linked with Sanskrit, while the saffron party backed the move. The Assam State Jamiat Ulema-e-Hind, one of the leading organisations of Islamic scholars belonging to the Deobandi school of thought, has threatened to take legal action in order to stop the administration from implementing its plan. State''s Education Minister Himanta Biswa Sarma had said on Wednesday that the state-run Madrassas and Sanskrit tols would be closed down within the next three to four months. He had said they would be converted to high and higher secondary schools teaching regular courses "because it is not the job of government to provide funds to institutions to impart religious teachings, Arabic or other such languages". Sarma said there were about 1,200 Madrassas and 200 Sanskrit learning centres in Assam without any independent boards to run them. The minister said "If someone is teaching religion using own money then it is no problem, but if the state funding is used for teaching holy Koran, then we have to teach Gita and Bible as well". "As the state government is a secular entity, it cannot fund organisations involved in religious teaching. Private Madrassas and Sanskrit tols can continue to run, but we will soon bring a new legislation to ensure they function in accordance with a regulatory framework," he said. Former Assam chief minister Tarun Gogoi termed the decision as "unwise". He emphasised that the administration should have instead taken steps to modernise these institutions.
Gogoi, who had studied at a Madrassa in Jorhat along with many boys from Hindu families, said, "The government should not ignore the Madrassas and link them them with religion. Instead of killing the institution, government should strengthen them, modernise them, introduce general subjects and promote technology there". Referring to the tols, Gogoi said, Sanskrit was the richest language not only of India but of the world. It not only has the rich religious texts of the Vedas but also of other books of knowledge.
Meanwhile, both the Anfar and Badruddin Ajmal groups of the Assam State Jamiat Ulema-e-Hind opposed the move. Maulana Fazlul Karim, state secretary of the Jamiat led by AIUDF chief and MP Badruddin Ajmal, told PTI "It''s not true that the Madrassas only impart religious education as they teach Islamic studies and the subject Arabic as a foreign language which helps many of its students become doctors and engineers and get employment in the Middle East countries". Noting the Madrassas give importance to general education syllabus teaching other regular subjects such as maths, science, Assamese, English, social studies, etc., Maulana Karim said children from the Hindu community also study in many of these institutions across the state, while a large number of others similarly were enrolled in the neighbouring West Bengal.
"If the state government closes down its Madrassas, then Jamiat may take recourse to legal provisions to halt the move," Maulana Karim warned.
Echoing similar views, Anfar Jamiat group''s state secretary Maulana Kalimuddin said higher Madrassa schools were functioning with government funds from before Independence and continue to do so.
"Suddenly the government cannot shut down the Madrassas," Maulana Kalimuddin said. The state unit of the BJP supported the government''s decision. Assam BJP spokesman Rupam Goswami said the state has taken a right decision as "it is not the responsibility of the government to provide money for promoting religious eduction." Fakrul Islam, Superintendent (Principal) of Ashima Senior Madrassa established in 1942 in Karimganj, said along with the general subjects, Koran and Hadith or sayings of Prophet Muhammad are taught as literature there.
As no religious teaching is imparted, Islam said, the students passing out from there were not interested in becoming Imaams in mosques or joining any religious institutions.
Objections have also been raised against the decision to wind up the state-aided Sanskrit tols. Damodar Satuspathis Sanskrit tol governing body vice president Jukti Nath Khound said the government should have taken such a strong step only after enough deliberation as question will arise as to who will conduct the Madyamik (higher secondary) level and Shastri (graduation degree) level courses. It is at present held by Kumar Bhaskar Varma Sanskrit and Ancient Studies University at Nalbari. Guna Saikia, retired Sanskrit department professor of Nagaon College, is of the opinion that the government instead of closing down the tols should have taken initiative for creating a conducive atmosphere for imparting Sanskrit teaching. Head of a Satra (monastry) set up by 14th-15th century polymath of Assam Srimanta Sankar Deb wanted the tols to continue. PTI ESB CORR SNS SNS SNS
https://www.outlookindia.com/newsscroll/decision-to-close-madrassas-and-sanskrit-tols-flayed-by-cong/1733681
--------
Mosques may verify 'ethnicity' claims of Assamese Muslims
Feb 14, 2020
GUWAHATI: Neighbourhood mosque committees across Assam could be officially tasked with verifying the "ethnicity" of Assamese-speaking Muslims during the state's first census to distinguish "native" Muslim communities from "immigrant" ones.
The Assam Minorities Development Board's proposal to make mosques the official verification authority comes on the heels of a campaign by the Janagosthiya Samannay Parishad to get the state's 40 lakh Assamese-speaking Muslims to file affidavits to add an ancestral or ethnic surname to their Muslim names.
Board chairman Mominul Awal has already filed an affidavit to change his name to Mominul Awal Goria, the surname representing the ethnic community he belongs to. While adopting a new surname is a personal choice that many Assamese-speaking Muslims might not want to exercise, there is no escaping the census to establish their ethnicity.
Most native Muslims trace their ancestry to the 15th century, but don't have any legacy documents stretching so far back. "The government has yet to finalise the modalities for the census. We know there will be challenges, which is why the practical option is identification and verification by the local mosque jamats in the presence of enumerators from the revenue department," Awal said. "If an immigrant Muslim tries to pass off as a native just by adding an ethnic surname, the local mosque committee will surely be able to call that bluff."
Once the census exercise is notified, Assamese-speaking Muslims wanting to be enumerated would be required to apply online. These applications would be verified by the jamats and officials of the revenue department, Awal said.
The minorities development board has proposed categorising native Muslims into four groups —Goria, Moria, Desi and the Jolha tea tribe. This recommendation has been submitted to the high-powered committee set up by ministry of home affairs to recommend measures to implement Clause 6 of the Assam Accord of 1985.
"Constitutional, legislative and administrative safeguards, as may be appropriate, shall be provided to protect, preserve and promote the cultural, social, linguistic identity and heritage of the Assamese people," the clause states.
The committee's brief is to also define who is an "indigenous Assamese", a nomenclature that has been the bone of contention in a state inhabited by a large number of disparate ethnic communities.
The proposed census for now will be limited to the Brahmaputra Valley, which is where the Goria, Moria, Desi and Jolha communities are concentrated. The Barak Valley in south Assam has other Muslim communities that claim to be "native" but speak Bengali and other languages.
https://timesofindia.indiatimes.com/india/mosques-may-verify-ethnicity-claims-of-assamese-muslims/articleshow/74126098.cms
--------
Valentine's Day in Saudi Arabia: A once-illicit holiday turns popular
14 February 2020
Just two years ago in Saudi Arabia, shops were banned from selling red roses and teddy bears for Valentine's Day. Celebrating lovers' day was illegal as the Christian holiday was deemed "un-Islamic."
This week, a local newspaper published a Valentine's Day dining guide and flower shops have been busy booking orders for romantic bouquets.
"You never used to see people wearing anything red around Valentine's Day," Rania Hassan, a Riyadh resident told Al Arabiya English. "Even if people were coincidentally dressed in red, the religious police used to stop them."
Things changed after the cabinet issued a decree restricting the Committee of Promotion of Virtue and Prevention of Vice in 2016, and Saudis have increasingly embraced the celebration ever since.
Saudi daily newspaper Arab News listed several restaurants that allow guests to celebrate Valentine's Day, including one that will offer a themed menu with special arrangements for Valentine's surprises.
Faisal al-Himedi, from a flower shop in Jeddah, said things had changed fast. "There's been a huge difference in sales from the previous years to this year. The environment became more open in recent years when it comes to Valentine's Day, and so sales have definitely gone up," he told Al Arabiya English.
Before the ban was lifted, people who wanted to send their loved ones flowers or gifts used to get round the rules by reaching out to shopkeepers weeks in advance, who would sell roses and items embellished with hearts at shockingly-high prices.
The prices of roses and gifts have fallen sharply since restrictions eased, Hassan added.
https://english.alarabiya.net/en/features/2020/02/14/Valentine-s-Day-in-Saudi-Arabia-A-once-illicit-holiday-turns-popular-.html
--------
Once We Had Progressive Islamic Family Laws, Says Malaysian Ex-Mufti
Robin Augustin
February 14, 2020
PETALING JAYA: Islamic family laws as practised in Malaysia have become regressive despite a progressive shariah federal Act some four decades earlier, said a former Terengganu mufti.
Ismail Yahya, who also served as the chief shariah judge in Terengganu, cited how amendments to the Islamic Family Law (Federal Territories) Act some 15 years ago have made it easier for Muslim couples to divorce, as well as for men to take more than one wife.
Ismail said the Act, introduced in 1984, was supposed to act as the model for Islamic family laws in other states, with provisions such as the need for both husband and wife to be present in court when seeking a divorce.
He said it ensured that divorces were only formalised in a court of law and not by mere utterance by the husband during a heated argument.
"When a divorce needs the permission of the shariah judge in court, the judge can assess both parties to ensure that the party seeking a divorce is in the right frame of mind," he told FMT.
Ismail said amendments in 2005 changed this, and the requirement that both parties should attend court for a divorce was "loosened".
Since then, divorces can be recognised even if pronounced outside the court, with the shariah court only confirming it later.
He said this was in contrast to more strict divorce proceedings in Indonesia and Singapore.
Ismail said the 2005 amendments also eased conditions on polygamy, when previously a shariah judge would evaluate applications for polygamy to ensure they are "patut dan perlu" (appropriate and necessary).
Explaining how a minor change to the phrase "appropriate and necessary" changed all that, he said: "In 2005, the words 'necessary and appropriate' were changed to 'necessary or appropriate' making the burden of fulfilling the requirement for polygamy lighter."
It means the husband only needs to show that his proposed marriage is "necessary", and not whether or not it is "appropriate" for him to practise polygamy.
He said "necessary" could mean that the wife is unable to bear children, while "appropriate" could mean that the man wanted to help a single mother by taking her as his wife.
The 2005 amendments had come under criticism from Muslim women empowerment group Sisters In Islam, who said it also undermined the wife's right to her husband's property.
Despite objections from women's groups, the amendments were passed and gazetted.
Last month, Muslim women's rights activist Zainah Anwar said amendments in the 1990s and 2000s removed many progressive reforms made previously.
Zainah, who heads international rights group Musawah, also said Malaysia's Islamic family laws went from one of the best in the Muslim world to one of the worst.
"What is galling is the fact that for non-Muslim women, law reforms have moved forward to recognise equality. But for Muslim women, in the name of Islam, you can be discriminated against," she said.
https://www.freemalaysiatoday.com/category/nation/2020/02/14/once-we-had-progressive-islamic-family-laws-says-ex-mufti/
--------
Four US Senators Write To Pompeo Seeking Assessment on Kashmir and Minority Rights in India
Feb 14, 2020
WASHINGTON: A bipartisan group of four US Senators have written a letter to US secretary of state Mike Pompeo requesting an assessment of the human rights situation in Kashmir and of the rights of religious minorities in India.
The letter, coming ten days before President Trump's two-day state visit to India, is seen by some quarters as an effort to embarrass New Delhi, which is making strenuous efforts to show the situation in Kashmir is returning to normal by taking a second group of foreign envoys to the region this week.
Claiming to be "longtime friends of India," the Senators wrote: "More than six months after Indian Prime Minister Narendra Modi's government unilaterally revoked the autonomy of Jammu and Kashmir, the government continues to block most internet in the region. India has now imposed the longest-ever internet shut down by a democracy, disrupting access to medical care, business, and education for seven million people. Hundreds of Kashmiris remain in 'preventive detention,' including key political figures."
"In addition, the Indian government has taken other troubling steps that threaten the rights of certain religious minorities and the secular character of the state. This includes the passage of the controversial Citizenship Amendment Act, which is being challenged in India's Supreme Court," they added, seeking a State Department assessment of a number of issues within India including: the number of individuals detained by the government for political purposes and the treatment of those individuals; current restrictions on communications in Jammu and Kashmir; the current accessibility of Jammu and Kashmir; and restrictions on religious freedoms in Jammu and Kashmir.
The Trump administration has been extremely circumspect about the Modi government's actions with regards to Jammu and Kashmir and CAA/MRC issues, largely treating it as a domestic matter for New Delhi to sort out while expressing concern about human rights and civil liberties aspects.
Signatories to the letter are Republicans Lindsey Graham and Todd Young, and Democrats Chris Van Hollen and Dick Durbin.
https://timesofindia.indiatimes.com/india/four-us-senators-write-to-pompeo-seeking-assessment-on-kashmir-and-minority-rights/articleshow/74125564.cms
--------
Father of British jihadist bride may seek Bangladeshi citizenship for her
February 14, 2020
DHAKA: The father of a woman who married an Islamic State fighter as a teen told AFP Thursday he would seek citizenship for her if she came to Bangladesh, after she lost an initial bid to restore her British nationality.
Shamima Begum left the UK for Syria with two school friends in 2015, when she was just 15, prompting the British government to revoke her citizenship last year.
Begum, now 20, appealed the decision but lost the first round of her legal challenge on Friday when a tribunal ruled Downing Street "did not make her stateless" as she was a citizen of Bangladesh by descent.
Her father Ahmed Ali, who follows Begum's plight from a remote village in northeastern Bangladesh, said he would help her apply for citizenship if she wanted to move to the Muslim-majority nation of 168 million people.
"I feel sorry for her. Any parent will feel bad for her," Ali said.
But Ali was worried Begum might be prosecuted if she entered the South Asian nation, after Foreign Minister A K Abdul Momen said Bangladesh had "no relationship" with the young woman.
"Shamima Begum was born… British. She lived as a British (citizen). She never applied for Bangladesh citizenship. We have nothing to do with her," Momen told reporters earlier this week.
Momen told AFP Thursday he would not consider granting her citizenship.
Begum was one of three schoolgirls from east London who left home to join the jihadist group on Feb 17, 2015.
She claims she married a Dutch convert soon after arriving in IS-held territory. She was discovered, nine months pregnant, in a Syrian refugee camp in February last year.
Her newborn baby died soon after she gave birth. Two of her other children also died under IS rule.
Begum's lawyer Daniel Furner said she would "immediately initiate an appeal" against Friday's decision.
Ali said he last visited London in December 2018, where he spoke to Begum's mother and other family members who live in England.
He believes his daughter was brainwashed into joining IS.
"It was certainly a mistake to go to IS. Perhaps it was because she was a child. She may not have gone there (Syria) willingly. She may have been ill-advised by other people," he said.
https://www.freemalaysiatoday.com/category/world/2020/02/14/father-of-british-jihadist-bride-may-seek-bangladeshi-citizenship-for-her/
--------
Iran warns it will strike US and Israel if they make the 'slightest error'
14 February 2020
Iran is ready to strike the United States and Israel if they give it any reason to do so, the head of the elite Revolutionary Guards said in a live broadcast on state television on Thursday.
"If you make the slightest error, we will hit both of you," Major General Hossein Salami said in a speech at a ceremony marking the 40th day since the death of top commander Qassem Soleimani.
Soleimani, who was head of the Quds Force, a branch of the Guards responsible for operations outside Iran, was killed by a US drone in Baghdad on January 3 along with Iraqi militia commander Abu Mahdi al-Muhandis.
The killing of Soleimani will lead to the liberation of Jerusalem, the spokesman for the Revolutionary Guards said earlier, according to the Tasnim news agency.
"The cowardly and craven assassination of commander Soleimani and Abu Mahdi al-Muhandis by the Americans will lead to the liberation of Jerusalem, by the grace of God," Ramezan Sharif said.
Iran's Supreme Leader Ayatollah Ali Khamenei said last week that Iran would support Palestinian armed groups as much as it could and urged Palestinians to confront a US plan for Israeli-Palestinian peace.
US President Donald Trump announced a plan that would set up a Palestinian state with strict conditions but allow Israel to take over long-contested Jewish settlements in the occupied West Bank. Palestinian leaders reject it as biased towards Israel.
Separately, Soleimani urged Iranians to support Khamenei and said political factions should put aside their differences. He made the call in his will, which was read by the new Quds Force chief, Brigadier General Esmail Ghaani, at a ceremony in Tehran.
https://english.alarabiya.net/en/News/middle-east/2020/02/14/Iran-warns-it-will-strike-US-and-Israel-if-they-make-the-slightest-error-.html
--------
India
There Must Be Huge Mass Movement If Muslims Being Sent To Detention Camps: P Chidambaram
February 13, 2020
Senior Congress leader P Chidambaram on Thursday said there should be a "huge mass movement" if any Muslim is sent to detention camps in case the Supreme Court upholds the validity of the Citizenship Amendment Act.
Speaking at the JNU campus in New Delhi, Chidambaram said that Citizenship Amendment Act (CAA) was an outcome of the "NRC fiasco" in Assam which left 19 lakh people out of the National Register of Citizens (NRC).
The CAA was brought to accommodate 12 lakh Hindus out of the 19 lakh people who could not be included in the final NRC in Assam, he claimed.
Replying to a question by a student asking for best course of action if the CAA is upheld by the apex court, Chidambaram said, "When they touch the excluded...they will only be Muslims, try to identify and throw them out, declare them Stateless. There must be a huge mass movement resisting any Muslim being thrown out or kept in detention camps."
He also said the Congress believes the CAA must be repealed and there should be a political struggle so that National Population Register(NPR) is pushed beyond 2024.
https://www.indiatoday.in/india/story/chidambaram-caa-nrc-mass-movement-muslims-detention-camps-1646236-2020-02-13
--------
Citizenship Law Not Anti-Muslim, Can 'Personally Clarify' On It: Home Minister
February 14, 2020
New Delhi: In the wake of nationwide protests against the amended Citizenship Act, Union Home Minister Amit Shah on Thursday vehemently defended the contentious law and said that anyone could seek time to debate the issue with him on merits.
"Whoever wants to clarify this issue can seek an appointment with me. I will personally clarify the issue to them. My office will provide time within three days," Mr Shah said at the Times Now Summit here.
"The Citizenship (Amendment) Act has no provision that deprives anyone of citizenship, or that it is anti-Muslim or anti-minority. Gandhiji himself insisted that non-Muslims of Pakistan who faced persecution there should be given respect, dignity and citizenship in India."
Mr Shah said that India had allowed for leniency in issuing long-term visas to Hindus and Sikhs from the 1960s. "Why is our approach seen in a different light?" he asked.
Hitting out at the Congress, he said: "Successive governments -- including those of the Congress -- have gradually expanded the scope of facilities afforded to these refugees. We are simply building on that legacy."
Without naming any country, Mr Shah said that the minorities in those countries had come down from 30 per cent to only 3 per cent of the total population. "It is very clear that these minorities need to be protected," said Shah, a senior leader of the BJP.
Speaking on the proposed nationwide National Register of Citizens, Shah said that while the issue has been included in the Bharatiya Janata Party's election manifesto, nothing has as yet been decided on the matter.
Flashing some papers, the Minister claimed that a report by a Parliamentary Committee headed by then Congress leader Pranab Mukherjee had advocated for a nationwide NRC.
He asserted that no one needs to show documents for inclusion in the National Population Register.
"Nobody has been asked for documents in the NPR. Nobody will be asked either. People are supposed to get their details recorded orally," he said. He was obviously hinting at the 'kagaz nahi dikhayenge' slogans.
As for Congress leader Rahul Gandhi's charge that the Modi government was anti-Dalits, he said that the amendments to the Scheduled Castes and Scheduled Tribes law to deny reservation in promotions in government jobs were actually passed by the then Congress government in Uttarakhand.
Mr Shah claimed that detention of Kashmir leaders like Omar Abdullah was a "local matter" and that the courts were seized of the matter. He claimed that anyone could visit the Valley now.
Full report at:
https://www.ndtv.com/india-news/caa-not-anti-muslim-can-personally-clarify-on-it-amit-shah-2179956
--------
In Assam, The Identities Within Identities
by Kabir Firaque
February 14, 2020
A proposed census of four Muslim groups in Assam, who are recognised as "Assamese Muslims" in society although not formally defined as such, underlines the significance of sub-communities in Assam, beyond the traditional linguistic and religious binaries of the rest of India.
Assam's migration history gives additional context to dual identities — Assamese Hindu, Assamese Muslim, Bengali Hindu, Bengali Muslim. These sub-identities drive the narrative about which communities have a longer history in Assam, and which ones migrated later. While the Census of India includes a language census and a religion census, these do not account for these sub-identities.
In Census of India data, the Assamese-speaking population fell from 57.81% in 1991 to 48.38% in 2011, while the Bengali-speaking population rose from 21.67% to 28.91% in the same period. Simultaneously, the Hindu population declined from 67.14% to 61.47%, while the Muslim share grew from 28.44% to 34.22%.
These trends have been interpreted variously by scholars, organisations campaigning for indigenous rights amid the effects of migration, and politicians playing on the communal divide. While many read these as a sign of continuing migration, there are several factors to consider:
> The Muslim population includes groups considered indigenous — including Goriya, Moriya, Deshi and Julha, the groups listed for the proposed census. The Muslim population also includes Bengali-origin Muslims whose families were already living in Assam before the 1971 cutoff date for legal migration as stipulated in the 1985 Assam Accord.
> The Muslim population has grown significantly in districts with a predominant Bengali-origin Muslim population. One theory is that the growth is driven by a higher fertility rate among Bengali-origin Muslims — which would include families who were already living in Assam before 1971.
> The other view is that post-1971 migration has largely driven the growth of the Muslim population, which some see as too rapid to be explained by natural factors.
> The migrant population includes both Bengali Hindus and Bengali Muslims. In the religion-neutral agitation against the Citizenship Amendment Act in the state, Assamese civil society is protesting against citizenship being given to Hindus who migrated from Bangladesh beyond the cutoff date.
Full report at:
https://indianexpress.com/article/explained/in-assam-the-identities-within-identities-6266981/
--------
Pakistan tries to create security scare with Geelani rumour
Feb 14, 2020
NEW DELHI: Tehreek-e-Hurriyat ex-chairman Syed Ali Shah Geelani's deteriorating health sparked off rumours in the Valley over the past couple of days with a Pakistan-based separatist group urging Kashmir-based madrasa teachers and students to hold special prayer sessions for his health while also asking people to march towards Eidgah in Srinagar in the event of his death.
While the statement issued by All Parties Hurriyat Conference from Muzaffarabad in Pakistan-Occupied Kashmir on Wednesday did raise security concerns in J&K, DGP Dilbag Singh told TOI that it was part of a design by Pakistan-based elements to provoke Kashmiris by citing Geelani's "continued detention" and setting off rumours about his impending death to create a security scare in Srinagar coinciding with the visit by a delegation of 25 envoys.
"It was a ploy by Pakistan-based elements to mobilise crowds and project Kashmir as 'troubled' before the foreign delegation. However, the propaganda was effectively countered with statements issued by Geelani's own family, his doctor as well as local administration and police denying the rumours of his death and clarifying that he was stable," Singh said.
Geelani has been ailing for several years now and has been mostly confined to his home. After speculation was rife on Wednesday evening, authorities discontinued mobile services, which were only resumed on Thursday afternoon when statements were released by Geelani's family members that he was stable.
Full report at:
https://timesofindia.indiatimes.com/india/pakistan-tries-to-create-security-scare-with-geelani-rumour/articleshow/74126206.cms
--------
Delhi: Shaheen Bagh protesters' Valentine's Day invitation to PM Modi
Feb 13, 2020
NEW DELHI: The anti-CAA protesters at Shaheen Bagh have extended an invitation to Prime Minister Narendra Modi to come and celebrate Valentine's Day with them on Friday.
The protesters, who are staging a demonstration since December 15 last year demanding withdrawal of the contentious Citizenship (Amendment) Act (CAA) and a proposed all-India National Register of Citizens (NRC), will also unveil a "love song" and "a surprise gift" for Modi.
Posters at the protest site in south-east Delhi and also circulating on social media platforms read: "PM Modi, please come to Shaheen Bagh, collect your gift and talk to us."
"Whether Prime Minister Modi or home minister Amit Shah or anyone else, they can come and talk to us. If they can convince us that whatever is happening is not against the Constitution, we will end this protest," Syed Taseer Ahmed, one of the first protesters at Shaheen Bagh, told PTI.
He said according to the government's claims, the CAA was "to award citizenship and not to take away someone's citizenship", but nobody explained "how is it going to help the country".
"How is CAA going to help us tackle issues of unemployment, poverty and economic slowdown, which are the most pressing issues," Ahmed said.
Protests against the CAA and the NRC unfolded at Shaheen Bagh, Zakir Nagar, Jamia Nagar, Khureji Khas and other places in the national capital and elsewhere in the country in December.
The protesters at Shaheen Bagh have pitched a tent on a main road linking Noida to south-east Delhi via the Kalindi Kunj bridge, which, according to an official estimate, witnesses movement of around 1.75 lakh vehicles on a daily basis.
Ahmed said school buses, ambulances and emergency vehicles were allowed hassle-free movement since the protest started two months ago and the claim that the stir was causing a lot of problems to the common people was "exaggerated".
"Had it been at the levels as it is being portrayed by some people, we would have been evacuated from here long ago. The BJP would have won the Delhi polls and the Centre would have removed us. So, this claim that the Shaheen Bagh protest is causing major inconvenience is unsubstantiated," he added.
According to the CAA, members of Hindu, Sikh, Buddhist, Jain, Parsi and Christian communities who have come to the country from Pakistan, Bangladesh and Afghanistan till December 31, 2014 after being subjected to religious persecution will not be treated as illegal immigrants but given Indian citizenship. The law excludes Muslims.
Those opposing the law contend that it discriminates on the basis of religion and thus, violates the Constitution.
They also allege that the CAA, along with the NRC, is intended to target the Muslim community in India.
Full report at:
https://timesofindia.indiatimes.com/india/delhi-shaheen-bagh-protesters-valentines-day-invitation-to-pm-modi/articleshow/74124148.cms
--------
Army apprises envoys on AFSPA, Pak backed infiltration, deradicalisation of youths in J&K
Feb 13, 2020
SRINAGAR: The Armed Forces Special Powers Act (AFSPA) is not absolute and the Army is bound by legal scrutiny, the 25-member delegation of foreign envoys on a visit to Jammu and Kashmir was told on Thursday.
They visited the headquarters of Chinar Corps in Srinagar where they were given a detailed presentation by GOC- Chinar Corps Lieutenant General KJS Dhillon.
Sources, privy to the meeting, said that envoys raised questions over the AFSPA to which Lt Gen Dhillon replied, saying that "AFSPA is special power but not absolute and the Army is bound by legal scrutiny."
He also informed the envoys about the local employment scheme and recruitment drive run by the Army.
According to sources, he also told the delegates about how the Army is engaging mothers in Kashmir to persuade their radicalised sons, who have joined the terrorist's organisation or ranks to return home.
Lt Gen Dhillon also informed the envoys that all the terror camps in Pakistan are 100 per cent functional and as the snow melts there will be attempts of infiltration with help of cover fire by the Pakistan Army.
He also said that Pakistan is using the international border for infiltration and India is equipped to intercept and eliminate the same.
The delegation comprising envoys of Germany, France, Mexico, and other countries is on a two-day visit of Jammu and Kashmir to take stock of the ground situation in the region nearly six months after the abrogation of Article 370 of the Constitution.
The group consists of representatives from Afghanistan, Austria, Bulgaria, Canada, Czech Republic, Denmark, Dominican Republic, the European Union, France, Germany, Republic of Guinea, Hungary, Italy, Kenya, Kyrgyzstan, Mexico, Namibia, The Netherlands, New Zealand, Poland, Rwanda, Slovakia, Tajikistan, Uganda, and Uzbekistan.
Full report at:
https://timesofindia.indiatimes.com/india/army-apprises-envoys-on-afspa-pak-backed-infiltration-deradicalisation-of-youths-in-jk/articleshow/74122952.cms
--------
India cautious after Pakistan court jails LeT chief Hafiz Saeed
by Shubhajit Roy
February 14, 2020
A day after a Lahore anti-terrorism court convicted Mumbai 26/11 terror attack mastermind and Laskhar-e-Taiba (LeT) chief and Jamat-ud-Dawa(JuD) founder Hafiz Saeed in two terror-financing cases, a cautious New Delhi said that efficacy of Islamabad's decision remains to be seen, as it came just before the Financial Action Task Force's (FATF) session from February 16 to 21.
Ahead of the six-day session of FATF, the Paris-based global watchdog on financial matters, beginning on Sunday to decide on Pakistan's fate on blacklisting, Saaed has been convicted and sentenced to prison for five-and-a-half years and slapped a fine of Rs 15,000 in each case.
A source in the government said it is part of a "long-pending international obligation of Pakistan to put an end to support for terrorism". "The decision has been made on the eve of FATF Plenary meeting, which has to be noted. Hence, the efficacy of this decision remains to be seen," a source said, elaborating on the government's assessment of the action.
Sources said it is also to be seen whether Pakistan would take action against all other terrorist entities and individuals operating from territories under its control.
India has been pressing Pakistan to take action against all those involved in cross-border terror attacks, including Mumbai and Pathankot attacks.
It has to be seen whether Pakistan brings perpetrators of cross border terrorist attacks, including in Mumbai and Pathankot to justice expeditiously, sources said.
Saeed, who in November 2018 was set free from a 300-day house arrest, is considered the mastermind and planner of the Mumbai attack in November 2008, which killed 166 people.
The Lahore court ordered that sentences of both cases will run concurrently. The court also granted Saeed the benefit of Section 382-B of the Code of Criminal Procedure (reduction of period of sentence of imprisonment). Malik Zafar Iqbal, secretary of Al-Anfaal Trust, has also been convicted in the same cases and awarded similar punishment.
The two were convicted under Pakistan's Anti-Terrorism Act Section 11-F(2) — pertaining to membership, support and meetings relating to a proscribed organisation — and 11-N (punishment under Sections 11-H to 11-K).
During its session from February 16 to 21, the FATF is expected to take up Pakistan's case, as it has been on the 'grey list' since 2018. India's effort will be to move it to the 'black list', if not stay on the grey list. Islamabad wants to get out of the grey list since it impacts the country's global credit-rating and investor sentiment.
Full report at:
https://indianexpress.com/article/india/india-cautious-after-pak-court-jails-let-chief-hafiz-saeed-6267115/
--------
Pulwama terror attack: What happened and how India responded
FEBRUARY 14, 2020
New Delhi: It was around 3:00 pm on this day, last year when a Jaish-e-Mohammad (JeM) terrorist rammed a vehicle carrying explosives into the Central Reserve Police Force (CPRF) convoy on Srinagar-Jammu national highway.
Around 40 CRPF personnel were killed when their convoy was targeted by the suicide bomber of Pakistan-backed Jaish-e-Mohammad in Pulwama district.
Tensions flared up between India and Pakistan after the convoy of 78 buses, in which around 2500 CRPF personnel were travelling from Jammu to Srinagar, came under attack.
Nationwide protests erupted against the dastardly terror attack even as the country bid goodbye to its bravehearts. Leaders across the party lines and civil society condemned the attack and called for an appropriate response.
"I feel the same fire in my heart that's raging inside you," Prime Minister Narendra Modi would declare on February 17, days after the attack took place.
A day before, he had said that "all tears will be avenged" and the armed forces have been given "full freedom to decide the place, time, intensity and nature of the retaliation against the enemy".
United Nations and several countries from across the globe condemned the Pulwama terror attack and extended their support to India in the fight against terrorism.
China, the "all-weather friend" of Pakistan also backed the United Nations Security Council (UNSC) resolution on the "heinous and cowardly" Pulwama terror attack that was unanimously adopted by permanent and non-permanent member countries of the global body.
Following the dastardly attack, India had launched extensive diplomatic efforts to get JeM chief Masood Azhar designated as a global terrorist, which finally became a reality on May 1 when China lifted its technical hold on a proposal introduced by the US, the UK, and France in the 1267 Committee of the UN Security Council.
Around 12 days after the terror attack, in the wee hours of February 26, Indian Air Force jets bombed the JeM camp in Balakot, in Pakistan's Khyber Pakhtunkhwa.
"In an intelligence-led operation in the early hours of today(Feb 26), India struck the biggest training camp of JeM in Balakot. In this operation, a very large number of JeM terrorists, trainers, senior commanders and groups of jihadis who were being trained for fidayeen action were eliminated. This facility at Balakot was headed by MAULANA YOUSUF AZHAR (alias USTAD GHOURI), the brother-in-law of MASOOD AZHAR, Chief of JeM," the then Foreign Secretary would say in a press conference later in the day.
A day later on February 27, IAF foiled an attempt by PAF to strike at military installations in Jammu and Kashmir. In the aerial skirmish, Wing Commander Abhinandan Varthaman piloting a MiG-21 Bison aircraft shot down a much-advanced F-16 of PAF.
However, his aircraft was also hit and upon ejection, his parachute landed in PoK, where he was taken captive by Pakistani Army.
Full report at:
https://www.siasat.com/pulwama-terror-attack-what-happened-and-how-india-responded-1825221/
--------
After Babri verdict, VHP eyes on Gyanvapi mosque
FEBRUARY 14, 2020
New Delhi: After getting a satisfactory verdict from the Supreme Court on Ram temple in Ayodhya, the Vishwa Hindu Parishad has now shifted its focus on Gyanvapi mosque and Krishna temple in Mathura.
VHP called meeting
The VHP has called a meeting on February 16 to push for the demand and devise strategy on the Gyanvapi mosque in Varanasi.
The Gyanvapi mosque shares a boundary wall with the Kashi Vishwanath temple.
A civil court in Varanasi will start hearing the Gyanvapi Temple-Masjid complex case from February 17.
The VHP, which had earlier claimed that there is no plan to take up the causes of Kashi and Mathura, has now started pushing for them, emboldened by the Supreme Court verdict in Ramjanmabhoomi Babri mosque case.
The VHP wants to free the Gyanvapi premises of the mosque which is situated near the temple.
Milind Parande, Secretary General of Vishva Hindu Parishad, though was guarded on response when asked about the issue, but said the Kashi Vishwanath temple is a symbol of Hindu religious identity, which cannot be abandoned.
The Hindu party in Gyanvapi Temple-Masjid complex case has sought an archaeological excavation on the temple premises in Varanasi.
Gyanvapi Mosque
The Gyanvapi Mosque, which adjoined the Kashi Vishwanath Temple, was built by Mughal Emperor Aurangzeb in 1669 after allegedly demolishing a Hindu temple.
Full report at:
https://www.siasat.com/after-babri-verdict-vhp-eyes-gyanvapi-mosque-1825085/
--------
Arab World
Syrian parliament recognizes Armenian genocide amid Ankara-Damascus tensions
13 February 2020
The Syrian parliament has overwhelmingly recognized the mass killings of more than one million Armenians by the Ottoman Empire that took place a century ago, as tensions run high between Damascus and Ankara over the latter's military campaign in Syria's embattled northwestern province of Idlib.
"The parliament... condemns and recognizes the genocide committed against the Armenians by the Ottoman government at the start of the twentieth century," the legislature said in a statement released on Thursday.
سانا عاجل
@SanaAjel
#عاجل || الوكالة العربية السورية للأنباء - سانا#مجلس_الشعب يتبنى بالإجماع قرارا يدين ويقر جريمة الإبادة الجماعية المرتكبة بحق الأرمن على يد الدولة العثمانية بداية القرن العشرين
158
5:11 PM - Feb 13, 2020
Twitter Ads info and privacy
66 people are talking about this
Syria's official news agency SANA reported that the People's Council approved the motion without a single vote against it, describing the genocide as "one of the most atrocious crimes against humanity."
The lawmakers also called on the international community to condemn the mass killings of Armenians as well.
Meanwhile, Syrian parliament speaker, Hammouda Sabbagh, said the Syrian people were facing Turkey's hostility based on the outrageous Ottoman ideology, pointing out that the Syrian people know exactly this kind of racial crimes as they have been exposed to the same brutal terrorism by the same criminal mindset.
Sabbagh added that heinous crimes against people will not be forgotten as time goes by, particularly taking into account that neo-Ottomanism uses the same criminal styles.
He called on the international community to shoulder its humanitarian, ethical and political responsibility in recognizing this crime, and not to deny it while strongly condemning it.
Armenia says 1.5 million were killed under the Ottoman Empire, the forerunner of modern-day Turkey, from 1915 to 1917, and that the mass killings were an effort to wipe out the Christian ethnic group and thus amount to genocide.
Turkey, in return, puts the number far lower and adamantly rejects the term genocide, saying that Turks also died in what it considers fighting as part of World War I.
The move comes amid heightened tensions between Syria and Turkey over Idlib and Turkish President Recep Tayyip Erdogan's threats of military escalation there.
Earlier on Wednesday, Erdogan said Turkey's military would strike Syrian army forces by air or ground anywhere in Syria if another Turkish soldier was hurt as Syrian government troops continue to make significant gains in battles against foreign-backed terrorists in Idlib province.
The Turkish president said Ankara was determined to push Syrian government forces beyond Turkish observation posts in Idlib by the end of this month, urging allied militants not to give government forces an excuse to attack.
An official at the Syrian Ministry of Foreign Affairs and Expatriates dismissed Erdogan's threats as hollow, stressing that they have been made by someone detached from realities on the ground.
The source added that such statements are simply made by someone, who does not understand changing developments, and threatens to attack Syrian Arab Army soldiers after the Turkish army and their proxies suffered a heavy blow.
The diplomat further highlighted that the Syrian government is completely determined to perform its national and constitutional duties as regards the campaign against terrorist groups across the country, and to open up humanitarian corridors for the exit of civilians as Turkish-backed militants prevent their departure and take them to use as human shields.
https://www.presstv.com/Detail/2020/02/13/618575/Syrian-parliament-recognizes-Armenian-genocide-amid-rising-tensions-between-Ankara-and-Damascus
--------
Saudi Arabia launches new arrest campaign against Palestinian expatriates
13 February 2020
Saudi Arabian authorities have launched a new campaign of "arbitrary" arrests against Palestinian expatriates living in the conservative kingdom on charges of supporting the Hamas resistance movement.
The Prisoners of Conscience, a non-governmental organization advocating human rights in Saudi Arabia, announced in a post on its official Twitter page that the kingdom had detained a number of Palestinians, including the relatives or children of those imprisoned last April for the same reason.
معتقلي الرأي
✔
@m3takl
🔴 عاجل🔴
تأكد لنا أن السلطات #السعودية شنت حملة اعتقالات تعسفية جديدة طالت عدداً من المقيمين الفلسطينيين وذلك على خلفية دعم المقاومة الفلسطينية.
كما تأكد لنا أن عدداً ممن اعتقلوا في هذه الحملة هم من أقارب أو أبناء من تم اعتقالهم في أبريل الماضي للسبب ذاته.
View image on Twitter
306
10:56 PM - Feb 12, 2020
Twitter Ads info and privacy
344 people are talking about this
On October 21 last year, Hamas spokesman Sami Abu Zuhri told Arabic-language Shehab news agency in an exclusive interview that Palestinians being held at prisons and detention centers in Saudi Arabia are exposed to various forms of torture and cruel methods of interrogation.
"Unfortunately, there is a harsh investigation procedure against the detainees, some of whom are subjected to various forms of torture. Interrogators of different nationalities are questioning them," he said then.
Abu Zuhri added, "There are about 60 Palestinian detainees [in Saudi jails], and some of them are the sons or supporters of Hamas. Some of them have even lived more than three decades in the kingdom and greatly contributed to the construction of the country."
He further noted that Hamas has made great efforts, either through contacts with a number of countries or Saudi officials, to secure the release of the Palestinian inmates but all to no avail.
The senior Palestinian official stressed that his movement is closely monitoring the cases of Palestinian prisoners being held in Saudi Arabia.
On September 14, 2019, Hamas also called on Saudi authorities to immediately release its senior official Muhammad al-Khudari, who has been living in the kingdom for over 30 years.
Khudari represented Hamas between mid-1990s and 2003 in Saudi Arabia.
He has held other important positions in the Palestinian resistance movement as well.
Back on June 3, 2019, Lebanese Arabic-language daily newspaper al-Akhbar, citing informed sources who requested anonymity, reported that Saudi officials had been holding dozens of Saudi nationals and Palestinian expatriates in detention for months over affiliation to Hamas.
The report added that the most prominent figure among those arrested was Dr. Khudari.
Al-Akhbar went on to say that the campaign of arrests coincided with the closure and tight control of bank accounts, and a ban on sending any money from Saudi Arabia to the Gaza Strip.
Over the past two years, Saudi authorities have deported more than 100 Palestinians from the kingdom, mostly on charges of supporting Hamas financially, politically or through social networking sites.
The Riyadh regime has imposed strict control over Palestinian funds in Saudi Arabia since the end of 2017.
All remittances of Palestinian expatriates are being tightly controlled, under the pretext that these funds could be diverted indirectly and through other countries to Hamas.
Full report at:
https://www.presstv.com/Detail/2020/02/13/618569/Saudi-Arabia-launches-new-arrest-campaign-against-Palestinian-expatriates
--------
'Trump's plan act of high treason against entire Muslim world: Top Bahraini cleric
14 February 2020
Bahrain's most prominent Shia cleric Ayatollah Sheikh Isa Qassim has severely denounced US President Donald Trump's so-called deal of the century on the decades-old Israeli-Palestinian conflict as treason and an act of aggression against the entire Muslim world.
"The plan is an aggressive position against the whole Muslim Ummah, which the United States, Israel and those who have contributed to it are seeking to advance. This is an act of high treason," the cleric said at a ceremony marking the ninth anniversary of Bahrain's popular uprising against the ruling Al Khalifah regime in the Iranian city of Qom on Thursday night.
Sheikh Qassim also harshly criticized Arab states that have backed the US-crafted deal for betraying Palestinian people.
On January 28, Trump unveiled his so-called deal of the century, negotiated with Israel but without the Palestinians.
Palestinian leaders, who severed all ties with Washington in late 2017 after Trump controversially recognized Jerusalem al-Quds as the capital of the Israeli regime, immediately rejected the plan, with President Mahmoud Abbas saying it "belongs to the dustbin of history."
Palestinian leaders say the deal is a colonial plan to unilaterally control historic Palestine in its entirety and remove Palestinians from their homeland, adding that it heavily favors Israel and would deny them a viable independent state.
The top Bahraini Shia cleric then lauded Iran's 1979 Islamic Revolution as a revolution of principles and a victory for all human beings.
"The Islamic Republic of Iran is a major challenge to all arrogant powers," he pointed out.
Elsewhere in his remarks, Sheikh Qassim described the US assassination of Lieutenant General Qassem Soleimani, the commander of the Quds Force of Iran's Islamic Revolution Guards Corps (IRGC), Abu Mahdi al-Muhandis, the second-in-command of Iraqi Popular Mobilization Units (PMU), and their companions in Iraq on January 3 as an act of cowardice.
"Lt. Gen. Soleimani was fighting on the path of righteousness. Takfiri militant groups are working with arrogant powers in order to tarnish the image of Islam," he highlighted.
In retaliation for the US airstrike that assassinated Lt. Gen. Soleimani, Abu Muhandis and their commanders and had been authorized by Trump, the IRGC on January 8 fired a number of ballistic missiles at Ain al-Asad air base in Iraq's western province of Andar, which houses American troops.
Trump initially reported that "no Americans were harmed" but subsequent reports revealed that troops were injured in the attack, largely with concussions from the missile blasts.
On January 5, Iraqi lawmakers unanimously approved a bill demanding the withdrawal of US forces.
Full report at:
https://www.presstv.com/Detail/2020/02/14/618613/%E2%80%98Trump%E2%80%99s-plan-is-act-of-high-treason-treason-against-entire-Muslim-world:-Top-Bahraini-Shaia-cleric
--------
Saudi minister lauds Trump's Mideast plan amid Palestinian outrage
13 February 2020
Saudi Minister of State for Foreign Affairs Adel al-Jubeir has hailed US President Donald Trump's so-called deal of the century on the decades-old Israeli-Palestinian conflict as positive, saying the initiative can provide the basis for negotiations between the Palestinians and the Tel Aviv regime.
"The Palestinians must decide for themselves, and we must support them. I believe that things will become clear after the US elections (slated for November 3, 2020)," Jubeir said at a press conference on the sidelines of his visit to the Romanian capital Bucharest on Thursday.
The top Saudi official went on to say that there are some positive elements in Trump's proposed deal, which could facilitate negotiations between Israeli and Palestinian officials.
On January 28, Trump unveiled his so-called deal of the century, negotiated with Israel but without the Palestinians.
Palestinian leaders, who severed all ties with Washington in late 2017 after Trump controversially recognized Jerusalem al-Quds as the capital
Palestinian leaders, who severed all ties with Washington in late 2017 after Trump controversially recognized Jerusalem al-Quds as the capital of the Israeli regime, immediately rejected the plan, with President Mahmoud Abbas saying it "belongs to the dustbin of history."
Palestinian leaders say the deal is a colonial plan to unilaterally control historic Palestine in its entirety and remove Palestinians from their homeland, adding that it heavily favors Israel and would deny them a viable independent state.
The Saudi foreign ministry said on January 29 it "appreciates" Trump's efforts and called for direct Israeli-Palestinian talks.
"The kingdom appreciates the efforts of President Trump's Administration to develop a comprehensive peace plan between the Palestinian and the Israeli sides," it said in a statement carried on the state-run SPA state news agency.
Last week, senior Arab diplomatic sources said Saudi Crown Prince Mohammad bin Salman might meet Israeli Prime Minister Benjamin Netanyahu on the sidelines of a potential summit in Cairo.
The Jewish News Syndicate (JNS) quoted the Arab sources as saying that US Secretary of State Mike Pompeo and his team have been mediating between representatives from Israel and Saudi Arabia over the past few months to set up the meeting.
"In recent days, there have been very intensive discussions between Washington, Israel, Egypt and Saudi Arabia to arrange a summit meeting in Cairo as early as the coming weeks, even before the election in Israel," one of the Arab sources told JNS. Israel is scheduled to hold a general election on March 2.
Saudi Foreign Minister Prince Faisal bin Farhan, however, asserted on Thursday that there are no plans for a meeting between Mohammed bin Salman and Netanyahu.
Speaking to al-Arabiya English, he also claimed that Saudi Arabia's policy toward Palestine remained "firm."
Last month, senior Saudi cleric and former justice minister, Sheikh Muhammad bin Abdul Karim bin Abdulaziz al-Issa, paid an official visit to the former Nazi concentration camp, Auschwitz, in Poland. A delegation of American Jewish Committee (AJC) officials was in the company as well.
The CEO of the AJC, David Harris, described Issa's visit to the site as highly significant, claiming that the trip represented "the most senior delegation" of Muslim scholars to visit Auschwitz ever.
Back on July 22, 2019, angry Palestinians jeered and cursed a Saudi blogger known to be a huge fan of establishing formal ties between Israel and Saudi Arabia.
One video clip posted on Twitter at the time showed Mohammed Saud being cursed and jeered as he was visiting the al-Aqsa Mosque compound in the Old City of Jerusalem al-Quds.
He was part of a six-person media delegation from the Arab world, including representatives from Jordan, who were in the occupied Palestinian territories at the invitation of the Israeli foreign ministry.
Palestinians protesting his visit called him a "traitor," "animal" and "Zionist trash," and also told him to "go to a synagogue" instead of praying at a mosque.
Another video clip showed plastic chairs and sticks being thrown at him as he walked in the market in the Old City.
Last May, Lebanese daily Arabic-language newspaper al-Akhbar said the Saudi crown prince had offered Abbas 10 billion dollars in return for accepting Trump's controversial proposal.
Akhbar noted that Abbas had turned down the offer, saying supporting the deal would be "the end of his political life."
Earlier last year, delegates from Saudi Arabia, the United Arab Emirates and Egypt at a meeting of Arab states reportedly opposed bids condemning the normalization of relations with the Israeli regime.
Full report at:
https://www.presstv.com/Detail/2020/02/13/618587/Saudi-minister-lauds-Trump%E2%80%99s-Mideast-plan-as-Palestinians-voice-anger
--------
Syria's air defenses down missiles from Israel
14 February 2020
Syria's air defenses intercepted and downed several missiles coming across the occupied Golan Heights in Israel before they hit their targets in the capital Damascus, Syrian state television said on Thursday.
"Our air defences intercepted hostile targets over the skies of Damascus," state agency SANA said.
It said the "missiles were launched from over the occupied Golan Heights."
Several missiles were intercepted before they could reach their targets, it added.
Al Arabiya sources said that five airstrikes targeted weapons and missile depots in the vicinity of Damascus International Airport and that one of the strikes targeted a military post south of Damascus.
The airstrikes were launched hours after the arrival of Iranian arms shipments to Damascus International Airport, according to the sources.
An AFP correspondent in Damascus heard large blasts.
The Syrian Observatory for Human Rights blamed the attack on Israel, which has not claimed responsibility.
The Britain-based monitor said the attack targeted Iran-backed militias near the capital, with some missiles hitting their intended targets.
On January 15, Israel carried out an aerial attack that damaged a military airport in central Syria, according to a military source quoted by Syria's state news agency SANA.
Israel "led a new attack against T4 airport... air defenses were immediately activated against the enemy missiles, destroying several of them," a military source told SANA.
Israel has repeatedly bombed Iranian-backed militia targets in Syria, saying its goal was to end Tehran's military presence in the country.
Full report at:
https://english.alarabiya.net/en/News/middle-east/2020/02/14/Syria-s-air-defenses-intercept-hostile-targets-over-Damascus.html
--------
Regime offensive in northwest Syria displaces more than 800,000: UN
13 February 2020
A Russia-backed Syrian regime offensive on the last major opposition bastion in the country's northwest has displaced more than 800,000 people since December, the United Nations said on Thursday.
"Of the more than 800,000 people who have been displaced in northwest Syria from 1 December 2019 to 12 February 2020, some 60 percent are estimated to be children," said the United Nation's humanitarian coordination office, OCHA.
Full report at:
https://english.alarabiya.net/en/News/middle-east/2020/02/13/Regime-offensive-in-northwest-Syria-displaces-more-than-800-000-UN.html
--------
Russia tells Turkey to stop its provocative statements on Syria
13 February 2020
Russia's foreign ministry on Thursday called on Turkey to refrain from making provocative statements about events in Syria amid rising tensions over the Syrian province of Idlib.
The ministry said it was "perplexed" by comments made by the chairman of Turkish President Tayyip Erdogan's nationalist partner party who, it said, had tried to hold Russia and Syria's government responsible for the death of Turkish servicemen.
https://english.alarabiya.net/en/News/middle-east/2020/02/13/Russia-tells-Turkey-to-stop-its-provocative-statements-on-Syria.html
--------
Turkey says will use 'any measure' against 'radicals' in Syria's Idlib province
13 February 2020
Turkey has threatened to use "force" against "radicals" in Syria's northwestern province of Idlib, which militant groups have been using as a launch pad for attacks against Syrian forces and civilians.
Turkish Defense Minister Hulusi Akar made the comment on Thursday, stressing that the Turkish military would use "force … in Idlib against those who do not abide by the ceasefire, including the radicals."
Turkey would take "any form of measure" against "radicals", the Turkish state-run Anadolu news agency further quoted Akar as saying.
Back in September 2018, Russian President Vladimir Putin and his Turkish counterpart Recep Tayyip Erdogan reached an agreement, known as the Sochi agreement, to create a de-militarization zone in Idlib province, whose large parts are controlled by foreign-backed militants.
According to the Sochi agreement, "radical" groups or the ones identified as Takfiri terrorist outfits, were required to withdraw from the buffer zone.
However, Hayat Tahrir al-Sham Takfiri terrorists and other militants have been launching attacks on army and civilian targets from the buffer zone, where Turkish observation posts have been established to monitor the enforcement of the ceasefire there.
The increasing attacks prompted Damascus last August to begin liberating areas from the grip of terrorists in the province. Syria also started its full-scale offensive in December to flush all militant groups out of Idlib, the last militant bastion in a nine-year war.
Turkey claims that 14 members of its forces in Idlib have been killed in shelling by Syria's government troops, vowing to severely retaliate.
On Wednesday, Erdogan accused Russia, Syria's key ally in the fight against terror groups, of "constantly attacking the civilian people, carrying out massacres, spilling blood."
A few hours later, the Russian Defense Ministry strongly rejected Erdogan's allegations
"Statements by Turkish representatives about alleged attacks by Russian forces on civilians in the Idlib de-escalation zone do not correspond with reality," the ministry said in a statement.
"The real reason for the crisis in the Idlib de-escalation zone unfortunately is the non-fulfillment by our Turkish colleagues of their undertakings to separate moderate opposition militants from terrorists," it added.
Under the bilateral agreements between Moscow and Ankara, the latter was tasked to separate the so-called "moderate opposition" militants from the internationally recognized terrorists. Turkey's failure to do so is believed to be one of the main reasons behind the ongoing escalation in Idlib.
The Russian statement said the presence of Turkish troops and armor in Idlib is further deteriorating the situation there, as is the transport of weapons and ammunition across the common border between Syria and Turkey.
Moscow took issue with Ankara after the Turkish president threatened that his military would rain fire on Syrian forces by air or ground anywhere in the Arab country if another Turkish trooper was hurt.
Turkey has established 12 observation posts in Idlib, of which three have reportedly been encircled by Syrian army troops.
Erdogan has given the Syrian government until the end of February to push back its forces outside the military locations.
Full report at:
https://www.presstv.com/Detail/2020/02/13/618580/Turkey-Akar-Syria-Idlib-Erdogan-buffer-zone-Russia-radicals
--------
Saudi-US relation key to global stability, says Princess Reema on 75th anniversary of USS Quincy meeting
February 14, 2020
When Saudi Arabia's King Abdul Aziz and US President Franklin Delano Roosevelt met on February 14, 1945 aboard the USS Quincy in Egypt's Great Bitter Lake, no one probably had a faint idea whether they would actually get along well. After all, they seemed not to have much in common. The meeting was just a side trip for Roosevelt, whose main purpose was to meet with Soviet Premier Joseph Stalin and British Prime Minister Winston Churchill in Yalta in the Crimea to discuss the postwar reorganization of Germany and Europe.
As it would turn out, the first and only meeting between Ibn Saud and Roosevelt had become a defining moment in world history.
"King Abdul Aziz and President Roosevelt both understood that what was at stake was far more than just the immediate recovery of post-war Europe and Germany," writes Saudi Arabia's ambassador to Washington in an opinion article enumerating the bonds that tie the two great nations together.
Princess Reema bint Bandar Al Saud's article is part of today's special supplement in Arab News in commemoration of the 75th anniversary of that historic meeting.
"These two leaders saw this as the time for new alliances and partnerships that would expand existing bilateral relationships, forge new economic ties and create new international institutions that would be essential for global peace and security.
"Both leaders recognized that establishing a sustained and lasting global stability would require new international bonds — and that if the US and Saudi Arabia were to help develop this new approach to global, collective security — both leaders and both nations would need to look beyond their own provincial interests," the ambassador writes.
Arab News also sat with Roosevelt's grandson Hall Delano Roosevelt, who has devoted a significant part of his career to promoting US-Saudi partnerships, to share his reflections on that historic meeting.
"It was about creating a relationship and a friendship with this new King, who had just spent quite some time, and resources, and blood, and effort to unite the Arabian Peninsula for the purpose of being a productive part of the world," he says.
For US Ambassador John Abizaid, since that meeting between Saudi Arabia's founding monarch and the US president, Washington has been a steady strategic partner of Riyadh, notwithstanding the up and downs in the relationship.
Columnist Oubai Shahbandar, a former Middle East Pentagon analyst, writes that the two nations have managed to overcome a number of obstacles in their bilateral relations over the years because "it is a relationship that has been anchored on common security interests and personal bonds between leaders."
Full report at:
https://www.arabnews.com/node/1627551/saudi-arabia
--------
Assad's offensive on Idlib creating a 'Gaza in Syria', says aid group head
February 14, 2020
ANKARA: Over 800,000 Syrians, the vast majority women and children, have fled their homes from a relentless Russian-led Syrian military campaign in northwest Syria since Dec. 1, David Swanson, a senior UN spokesperson, said on Thursday.
The head of the International Rescue Committee aid group warned that the fighting around an opposition holdout is a "clear and present threat" to regional peace.
David Miliband said that President Bashar Assad's offensive on Idlib was creating a "Gaza in Syria" with millions of people crammed into a tiny space beset with violence.
Separately, Syria's parliament recognized the 1915-1917 killings of up to 1.5 million Armenians as genocide, as tensions run high with Turkey after deadly clashes in northwest Syria.
The move comes after weeks of tensions between Ankara and Damascus over deadly clashes between their forces in Syria.
Ozgur Unluhisarcikli, Ankara office director of the German Marshall Fund of the US, said Erdogan has responded to escalation by changing the rules of engagement.
"Assad has not fought a regular battle against a state actor since the beginning of the conflict. With the ongoing deployments in Syria, Turkey is building a force that is clearly superior to Assad's," he told Arab News.
Full report at:
https://www.arabnews.com/node/1627521/middle-east
--------
Egyptian delegation seeks to defuse tensions in Gaza
February 14, 2020
GAZA CITY: Since US President Donald Trump announced his Israel-Palestine peace plan on Jan. 28 — which he referred to as the "Deal of the Century" — tension in the Gaza Strip has escalated rapidly, with the Gazan side firing rockets and releasing incendiary balloons across the border, and Israel shelling Gaza by night.
Over the past few days, Israel has escalated its threats against factions in Gaza, with Israeli Prime Minister Benjamin Netanyahu and Defense Minister Neftali Bennett warning Hamas that Israel would launch a full military assault unless the rockets and balloons sent from Gaza stopped.
Many observers believe that Hamas is seeking to pressure Netanyahu — who is preparing for elections early next month — into easing the siege imposed on Gaza 13 years ago. At the moment, that tactic does not appear to be working, however.
At the beginning of this month, Israel stopped the entry of cement into Gaza, reduced the number of permits available to Palestinian merchants to enter the West Bank and Israel, and shrunk Gaza's fishing zone from 15 nautical miles to 10.
In an attempt to prevent further escalation of the situation — potentially into a fourth Intifada — an Egyptian security delegation, headed by the director of the Palestinian Department in Egyptian Intelligence, Maj. Gen. Ahmed Abdel Khaliq, visited the enclave on Monday to meet with Hamas and major Palestinian forces.
A Palestinian leader who participated in the meeting told Arab News, on condition of anonymity, that the delegation carried several "Israeli messages," the main one being the threat of a broad military operation unless the rockets and balloons stopped.
In return, the source said, the delegation pledged that it would pressure Israel to follow up cease-fire conditions agreed with Hamas earlier — through Egyptian mediation — to ease the blockade, allow some goods to enter Gaza, increase the availability of fuel for the power station, and widen the fishing zone.
Talal Abu Zarifa, a member of the Political Bureau of the Democratic Front for the Liberation of Palestine, told Arab News, "The resistance factions were the ones who passed a message via the Egyptian delegation stipulating the necessity to lift the siege on Gaza and stop all forms of aggression against our people in the Gaza Strip, the West Bank and Jerusalem, and that more aggression will push the region to escalate."
Since the Egyptian visit, there has been a marked decrease in the number of balloons and rockets fired from Gaza into Israel, although it has not stopped completely.
Abu Zarifa said that Egypt is "aware of the suffering" of 2 million Palestinians in Gaza, and is keen not to see the situation deteriorate.
Rami Abu Zubaydah, a military-affairs researcher, said, "(Israel) makes various threats regarding the launch of a broad military operation against Gaza. The intervention of the Egyptian mediator may contribute to containing the situation a little, especially since the factions and the occupation do not want to enter into a comprehensive confrontation now, if it is possible to reach an agreement ending the siege of Gaza, realizing that Netanyahu cannot implement any comprehensive agreement in light of the upcoming elections."
Likewise, Tayseer Mohaisen, a professor of political science at Al-Azhar University in Gaza, said he did not believe the situation in Gaza would develop into all-out war, despite growing Israeli threats, because Israeli politicians are focused on the upcoming elections, and would not sanction any unpredictable military action at the moment.
Mohaisen added that he views the rocket and balloon launches from Gaza as "a limited wave of escalation aimed at demonstrating public protest against Israel's failure to comply with the ceasefire understandings, and forcing Israel to ease the blockade.
"The Israeli army is targeting empty fields and sites in Gaza (while attempting to fool) the Israeli public into thinking they have targeted the infrastructure of Hamas," Mohaisen told Arab News. "This means (Israel) does not want to break its security relationship with Hamas, as any war will hinder the achievement of its strategic goals."
Full report at:
https://www.arabnews.com/node/1627446/middle-east
--------
Southeast Asia
Registration Department Can Follow State Islamic Laws, Says Federal Court
V Anbalagan
February 13, 2020
PUTRAJAYA: The Federal Court today affirmed that the National Registration Department (JPN) can recognise Islamic laws in the exercise of its duty and powers.
Judge Rohana Yusof said a previous Federal Court majority judgment in 2007 in the case of Lina Joy v Majlis Agama Islam Wilayah Persekutuan & Ors had examined this issue.
In that case, the main issue was whether the JPN had acted in accordance with the law when it rejected Lina Joy's request to remove the word "Islam" from her identity card .
Joy, whose Muslim name is Azlina Jailani, had applied to remove the word "Islam" from her identity card and tendered a statutory declaration to support her application that she was no longer a Muslim.
The JPN refused to accept her application on the grounds that it was incomplete without an order from the Shariah Court to the effect that she had renounced Islam.
Rohana said the majority 2-1 decision found that the refusal of the JPN to act without the approval of the Islamic religious authority was reasonable.
"That remains the legal position of this country till today and there is no good reason for this court now to depart from that clear legal ruling made earlier by this court," he said.
Rohana said it was again a prescription of the Federal Constitution that Muslims in this country were subject to the general laws enacted by Parliament as well as Islamic state laws enacted by the legislatures of each state.
She said this authority to legislate included the power to create and punish offences by Muslims.
"Legitimacy of a Muslim person is one of the areas in which the state legislature is authorised by the Federal Constitution to enact as state law," she added.
Her remarks were contained in the majority ruling that ordered the JPN to remove the word "bin Abdullah" from the birth certificate of a Muslim illegitimate child born in Johor.
The Federal Court also ruled that the boy, born out of wedlock, could not use his biological father's name, labelled as MEMK to conceal the identity of the litigants.
Rohana, Azahar Mohamad, Mohd Zawawi Salleh and Idrus Harun, who made up the majority, also held that the JPN was correct to refuse to allow the boy to use his biological father's name, in relying on a provision in the Johor state enactment governing Muslims.
However, judges David Wong Dak Wah, Abang Iskandar Abang Hashim and Nallini Pathmanathan, who dissented, took the position that the boy could use the father's name.
Rohana said both MEMK and his spouse NAW were Muslims and were married under the Islamic law and the birth of the child occurred in Johor.
"They are subjected to the Islamic law as found in the state of Johor," she said.
The boy was born in 2009 but his birth was only registered two years later under Section 12 of the Births and Deaths Registration Act or BDRA. He was born less than six months after the parents' marriage, which is considered illegitimate under shariah law.
The parents applied to the JPN to register the father's name on the birth certificate under Section 13 of the BDRA but it carried "bin Abdullah" instead.
JPN refused to substitute it with the father's name – despite an application made to remove "bin Abdullah" – on the grounds the child was illegitimate.
This resulted in the parents seeking a legal redress in the High Court in 2016.
https://www.freemalaysiatoday.com/category/nation/2020/02/13/registration-department-can-follow-state-islamic-laws-says-federal-court/
--------
Strong Resistance against Anti-Shia Stances in Indonesia: Scholar
February 13, 2020
Azyumardi Azra, a former rector of Syarif Hidayatullah State Islamic University Jakarta, said Malaysian and Indonesian clerics, witnessing Iran's boldness against the United States during and after its Islamic Revolution of the late 1970s, regarded the religious zeal of Iranians as a cause for concern.
He told Free Malaysia Today that some Malaysian and Indonesian leaders of the time saw Shia Islam as politically revolutionary and wanted to ban its teachings.
However, he added, the ban did not happen in Indonesia because there was strong resistance against it.
He described Shia teachings as being "part and parcel" of Islam.
Noting that there was more tolerance of Shia Islam in Indonesia than in Malaysia, he said this was because Indonesian Muslims were less reliant on the government in the administration of religious affairs.
"They have their own organizations and they finance these organizations," said Azyumardi, who was in Malaysia for the Regional Conference on Peaceful Coexistence.
Full report at:
https://iqna.ir/en/news/3470625/strong-resistance-against-anti-shia-stances-in-indonesia-scholar
--------
Change the law, says Suhakam rep after 'bin Abdullah' decision
Robin Augustin
February 14, 2020
PETALING JAYA: Suhakam's child commissioner has called for changes in the law to ensure all children, regardless of religion, enjoy the same rights.
Commenting on yesterday's Federal Court ruling that a Muslim boy born out of wedlock cannot use his biological father's name, Noor Aziah Mohd Awal said such a child would be stigmatised and suffer discrimination.
"This is against the best interest of the child," she told FMT.
The Federal Court's decision concerned a boy from Johor whose parents had applied for registration of his father's name in the birth certificate. The National Registration Department (JPN) rejected the application on the grounds that the child was illegitimate, prompting the parents to take the matter to court.
The court, besides ruling that the boy could not use his father's name, also ordered the JPN director-general to remove the appellation "bin Abdullah" from his birth certificate.
Noor Aziah said she hoped the case would move Parliament to amend the relevant laws to give Muslim and non-Muslim children equal rights.
"All children have equal rights to name, identity and nationality," she added.
Child rights activist Hartini Zainudin accused the Federal Court of failure to take into account the best interest of the child.
Full report at:
https://www.freemalaysiatoday.com/category/nation/2020/02/14/change-the-law-says-suhakam-rep-after-bin-abdullah-decision/
--------
Saudi 'donations' came after Malaysian govt sought money for political longevity, court told in SRC trial
11 Feb 2020
KUALA LUMPUR, Feb 11 — Datuk Seri Jamil Khir Baharom testified in court today that he understood funds originating from the Saudi Royal family which ended up in Datuk Seri Najib Razak's personal bank accounts were proceeds following an application for financial assistance by the Malaysian government to ensure political longevity, and not as a result of an outright donation.
The former minister in the Prime Minister's Department, when taking the stand as the fifth defence witness in Najib's RM42 million SRC International Sdn Bhd corruption trial, said the supposed application for the financial assistance was not discussed or raised with other ministers at Cabinet meetings.
Under cross-examination from prosecutor Datuk V. Sithambaram, Jamil Khir said he was present at an informal meeting between Najib and the Saudi monarch, King Abdullah Abdulaziz Al-Saud in August 2010, but the amount of the cash injection was not mentioned by either party.
Sithambaram: You mentioned in your witness statement over financial support from Arab Saudi to Malaysia through the Prime Minister at that time. As a fact, do you know if the Malaysian government asked for a donation from Saudi Arabia or did they offer the donation?
Jamil Khir: As far as I know, we made an application.
Sithambaram: Was the request for the funds from Saudi Arabia discussed in Cabinet?
Jamil Khir: Not to my knowledge.
Sithambaram: Do you know why something important like this, which looks like Malaysia through the prime minister is requesting for assistance from a foreign country, was not discussed in Cabinet?
Jamil Khir: I am not sure.
The former minister in charge of Islamic matters also agreed with Sithambaram that the entire process of applying for the funds from the Saudi royals was kept from the public, and was effectively a state secret.
Sithambaram: The matter of the private contribution to Najib's private account, you agreed that it was not made public knowledge. Do you know why it was not broadcasted?
Jamil Khir: I felt this was a personal contribution which was deemed acceptable from a legal standpoint, so there was no need for it to be discussed.
He also replied in the negative when asked if he was aware of Najib's previous testimony that fugitive financier Low Taek Jho, otherwise Jho Low, was the person arranging the donations between the Saudi Royals and Malaysian government.
Jamil Khir however did corroborate with Najib's previous testimony that the Saudi government were forthcoming and generous towards the Malaysian government due to their adoration and respect of how the Barisan Nasional administration had steered the country as a leading moderate Muslim nation.
The trial before High Court Judge Mohd Nazlan Mohd Ghazali resumes on Thursday with former Foreign minister Datuk Seri Anifah Aman expected to take the stand as the next defence witness.
Najib is currently on trial over seven charges related to SRC International.
Full report at:
https://www.malaymail.com/news/malaysia/2020/02/11/saudi-donations-came-after-malaysian-govt-sought-money-for-political-longev/1836467
--------
Indonesia Won't Take Back Suspected Islamic State Militants
By Niniek Karmini
February 14, 2020
Indonesia's government on Tuesday banned citizens who joined the Islamic State group in Syria from returning home because of fears they could pose a threat to national security.
A furious debate has raged in the world's most populous Muslim nation in recent weeks over how to handle hundreds of suspected militants and their families seeking to return from combat zones in Iraq and Syria, as well as those in detention, after IS lost large swathes of territory and the United States announced the withdrawal of its forces.
The country has been torn between protecting citizens' rights, especially those of women and children, and national security.
"The government has no plans to repatriate terrorists," the coordinating minister for Political, Legal and Security Affairs, Mohammad Mahfud MD, said after a Cabinet meeting to discuss the return of hundreds of Indonesians held by authorities in Syria.
"The state should provide security for 267 million Indonesians from new terrorist viruses," he said.
Enjoying this article? Click here to subscribe for full access. Just $5 a month.
He said the government will collect more data on the identities of people who joined radical groups in the Middle East. Citing U.S. Central Intelligence Agency records, he said some 689 Indonesian citizens are currently in Syria, of whom only 228 had been identified.
The government is considering the possibility of allowing children return home, especially orphans.
Indonesian veterans of fighting in Afghanistan spearheaded attacks in the 2000s against local and Western targets, including nightclub bombings on the resort island of Bali that killed 202 people, mostly foreign tourists.
A sustained crackdown by Indonesian authorities since 2002 has reduced the threat of large-scale attacks against Western or civilian targets. But IS attacks abroad have inspired Indonesian militants to continue to plan and carry out attacks, mostly against police targets across the country, officials say.
Full report at:
https://thediplomat.com/2020/02/indonesia-wont-take-back-suspected-islamic-state-militants/
--------
Religious representation 'vital', experts say after Religious Affairs Ministry blunder
Ivany Atina Arbi
February 14, 2020
To ensure the rights of all religious groups in the country are protected, it is vital that representatives of each group hold strategic posts in the Religious Affairs Ministry's community guidance directorates general, experts have said following the public outcry over the recent appointment of a Muslim official as the acting head of Catholic affairs. Religious Affairs Minister Fachrul Razy's decision to appoint a Muslim to head the Catholic Affairs Community Guidance Directorate General caused disquiet among followers of the religion. Acknowledging the move was a blunder, the ministry appointed Aloma Sarumaha as the acting director general, replacing the ministry's secretary-general Nur Kholis Setiawan who was previously appointed to the position. Aloma, who is a Catholic, previously held the position of secretary in the same directorate general. Aloma's ...
Full report at:
https://www.thejakartapost.com/news/2020/02/14/religious-representation-vital-experts-say-after-religious-affairs-ministry-blunder.html
--------
North America
US Air Force Updates Its Dress Code Policy to Include Turbans, Beards and Hijabs
February 14, 2020
(CNN)The US Air Force has updated its dress code policy to outline a clear approval process for Sikhs and Muslims who want to serve while wearing their articles of faith.
Under the new guidelines, which were finalized last week, Sikhs and Muslims can seek a religious accommodation to wear turbans, beards, unshorn hair and hijabs, and expect to be approved as long as their appearance is "neat and conservative," except under extremely limited circumstances.
The final review for the accommodation must take place within 30 days for cases in the United States, and 60 days for all other cases, according to the guidelines. And for the most part, airmen can expect the religious accommodation to follow them through their career.
Previously, Sikhs and Muslims serving in the Air Force individually requested religious accommodations that were granted on a case-by-case basis, but the approval process could be lengthy.
This update standardizes that process and outlines a formal timeline for approval.
Advocacy organizations say more needs to be done
Sikh and Muslim advocacy organizations said the move was a significant step toward inclusion, though some said that the military needs to go further.
"We support these new guidelines as a step toward religious accommodation and inclusion for military personnel of all faiths," Ibrahim Hooper, national communications director for the Council of American-Islamic Relations, said in a statement.
Both the Sikh Coalition and the Sikh American Veterans Alliance (SAVA) have called on the US military to allow religious minorities to serve without exception.
"Sikhs have served honorably and capably in the U.S. Armed Forces and other militaries around the world, and while we are eager for a blanket proclamation that all observant Sikh Americans can serve in every branch of the military without seeking accommodations, this policy clarification is a great step forward towards ensuring equality of opportunity and religious freedom in the Air Force," Giselle Klapper, a staff attorney for the Sikh Coalition, said in a statement.
SAVA President Kamal Singh Kalsi said that the Department of Defense should institute a broader policy that applies across all branches of the military, following the example set by the US Army in 2017.
"The Department of Defense should have a consistent and department wide policy on religious accommodation," Kalsi said in a news release. "Those who are committed and qualified to serve our country in uniform should be able to do so in a more streamlined and efficient manner."
Airmen have received accommodations before
A handful of Sikhs and Muslims have received accommodations to serve in the Air Force while wearing their articles of faith.
On Wednesday, the Sikh Coalition announced that Airman 1st Class Gurchetan Singh became the first Sikh American to receive an accommodation to serve in the Air National Guard.
Last June, SAVA announced that Airman 1st Class Harpreetinder Singh Bajwa became the first active duty airman to receive religious accommodation allowing him to serve with the Sikh turban and beard -- a process that took nearly six months.
Airmen 1st Class Sunjit Singh Rathour and Jaspreet Singh received religious accommodations last year.
And in 2018, Maysaa Ouza, now a captain, made history as the first officer in the Air Force's Judge Advocate General's Corps authorized to wear a hijab, a reflection of her Muslim faith.
https://edition.cnn.com/2020/02/13/us/air-force-dress-code-sikhs-muslims-trnd/index.html
--------
A priest's anti-Muslim comments reveal US Catholics' Islamophobia problem
February 13, 2020
Jordan Denari Duffner
(RNS) — On a day in which pastors were encouraged to remind their flocks of the Christian duty to "welcome the stranger," a Catholic priest in Minnesota used the opportunity to sow fear and suspicion about Muslims.
Calling Islam "the greatest threat" to Christianity and to America, the Rev. Nick VanDenBroeke argued that Muslim immigration to the United States should be curtailed.
"We do not need to pretend that everyone who seeks to enter into America should be treated the same," he said. After news of the homily spread, the local chapter of a Muslim advocacy group called upon the Catholic Church to repudiate the priest's remarks. Archbishop Bernard Hebda, who leads the diocese where VanDenBroeke ministers, released a statement conveying the Catholic Church's positive teaching on Muslims and indicating that he had spoken to the priest. VanDenBroeke then published his own brief statement: "My homily on immigration contained words that were hurtful to Muslims. I'm sorry for this. I realize now that my comments were not fully reflective of the Catholic Church's teaching on Islam."
However sincere, this statement fails to acknowledge the fact that the views he expressed put Muslims at risk, nor does it indicate how the priest will seek to make amends. More than "hurtful," VanDenBroeke's comments were harmful, serving to drum up fear and suspicion, setting up an us-versus-them dichotomy that scapegoats Muslims and justifies discriminatory action against them.
The whole incident is reflective of a deeper problem — the discrepancy between the church's positive official teaching on Muslims and the Islamophobia that often permeates U.S. Catholic communities and discourse.
In its 1965 "Declaration on Non-Christian Religions," issued during the Second Vatican Council, the Catholic Church begins by declaring its high esteem and respect for Muslims. The document continues by outlining some of the many similarities Muslims share with Christians, including belief in the one, merciful God who has spoken to humanity; reverence for common figures like Jesus and Mary; and practices like regular prayer, fasting and almsgiving. It then urges Catholics and Muslims around the world to seek mutual understanding and work together to create peace and establish justice.
The most important aspect of the church's statement about Muslims is the first line — the teaching that we are to treat Muslims with respect and hold them in high regard. In other words, as Catholics our default attitude toward Muslims is to be a positive one. This also extends to how we are to view and engage with others' religious traditions.
"Dialogue and Proclamation," a document published by the Vatican's interreligious affairs council in 1991, speaks of the church's "positive evaluation" of other religions. This does not mean compromising on the Christian gospel message, but rather that our judgment of other religions always be informed by close, personal contact with those of other faiths, as well as a recognition for the ways that these religions reflect "rays of Truth," in the words of the Second Vatican Council's statement on non-Christian faiths, "Nostra Aetate."
As VanDenBroeke noted in his apology, his remarks did not reflect this positive teaching.
But views like these are common among Catholics in the U.S. today, as I discovered while doing research with Georgetown University's Bridge Initiative. Misconceptions about Islam and Muslims are widespread among Catholics. In some cases, Catholic institutions and media outlets actively give a platform to voices promoting prejudice and fear.
The idea that Islam is "the greatest threat" — as VanDenBroeke put it in his homily — has been promoted widely for years in Catholic publications. As I wrote in the Bridge report "Danger and Dialogue," the description of Islam as "threat" has been one of the most consistent themes in the work of popular voices who write about Islam for Catholics, like Robert Spencer and Scott Hahn, whose publications often appear on the shelves of Catholic bookstores or in Catholic media outlets.
A nonprofit called the Turning Point Project, which supports the writing of another author, William Kilpatrick, is exclusively dedicated to "educating Catholics and other Americans about the threat from Islam."
In 2014, the U.S. Conference of Catholic Bishops released a statement about dialogue with Muslims, noting that, "Sadly, in recent years, there has been a deliberate rejection of this call to engage in dialogue with our Muslim brothers and sisters by some in the Catholic Church and in other ecclesial families."
But the efforts to sow fear among Catholics about Islam have often drowned out the bishops' message. This seems to be so in part because, as we found in a national survey conducted for the Bridge report, many Catholics do not know Muslims personally, making Catholics vulnerable to rhetoric that dehumanizes Muslims.
That kind of rhetoric, unfortunately, is readily available in Catholic circles. Last year, in a video posted online, Catholic commentator Taylor Marshall said that Islam "is of the devil" and that Muslims "must convert or be wiped off the face of the earth. You can't have civilization with Islam. Period." His colleague Timothy Gordon agreed, comparing Muslims to "bugs."
The widely viewed video was removed after it received attention from reporting in Sojourners magazine, but the audio is still available online and to my knowledge Marshall and Gordon have not issued an apology.
This exchange is deeply concerning, not only for the violence it advocates, but also because it is framed as an appropriate Catholic response to Muslims and depends on Catholics' ignorance of their own faith's positive teaching on other religions.
As this extreme case and the incident with VanDenBroeke indicate, more must be done to communicate the church's teaching of charity and hospitality to displace the fearmongering about Muslims that often has gained traction in Catholic circles.
Fortunately, more Catholics are recognizing the extent of the problem. Inspired by the leadership of Pope Francis and St. John Paul II, many Catholic institutions and media outlets are working to address both latent and overt biases about Muslims.
Full report at:
https://religionnews.com/2020/02/13/a-priests-anti-muslim-comments-reveal-u-s-catholics-islamophobia-problem/
--------
US announces Taliban truce as deal looks near
February 14, 2020
BRUSSELS: The United States has secured a seven-day reduction in violence in Afghanistan that it hopes will allow it to strike a deal with the Taliban, officials said on Thursday.
The announcement came a day after Afghan President Ashraf Ghani reported "notable progress" in negotiations with the militants.
"The United States and the Taliban have negotiated a proposal for a seven-day reduction in violence," US Defence Secretary Mark Esper said after a Nato meeting in Brussels.
"We've said all along that the best, if not the only, solution in Afghanistan is a political agreement. Prog­ress has been made on that front and we'll have more to report on that soon, I hope."
Esper did not say when the partial truce would begin, but on Wednesday a Taliban official had said the group would begin a "reduction of violence" on Friday.
Pompeo says peace talks have made real progress in the last few days
"It is our view that seven days for now is sufficient but in all things our approach to this process will be conditions based, I will say it again, conditions based," Esper said.
"So it will be a continual evaluative process as we move forward, if we go forward."
US Secretary of State Mike Pompeo, speaking to reporters on board a plane to the Munich Security Conference where he is expected to meet Ghani, said talks had "made real progress over the past couple of days". "We hope we can get to a place where we can get a significant reduction in violence not only on a piece of paper but demonstrated, the capability to actually deliver a serious reduction in violence in Afghanistan," he said.
"If we can get there, if we can hold that posture for a while, then we'll be able to begin the real, serious discussion, which is all the Afghans sitting at a table, finding a true reconciliation, a path forward."
Washington and the Afghan militants have been locked in gruelling talks that have stretched over more than a year, seeking an end to what has already become America's longest war.
Citing Afghan and US officials, the New York Times had reported that President Donald Trump had given conditional approval to a deal with the Taliban to allow him to start withdrawing US troops.
"It will be a difficult set of conversations, one that's long overdue," Pompeo said. "It would also give us the opportunity to reduce the footprint not only for America's forces there but for all forces."
The United States currently has between 12,000 and 13,000 troops in Afghanistan, more than 18 years after it invaded the country to overthrow the then Taliban government in the wake of the Sept 11 attacks.
The only other time there has been a Taliban ceasefire since the government's overthrow was in 2018, during the three days of Eidul Fitr.
It led to moving scenes such as Afghans sharing ice cream with Taliban fighters and snapping selfies. But afterwards, the violence resumed.
Full report at:
https://www.dawn.com/news/1534299/us-announces-taliban-truce-as-deal-looks-near
--------
US seizes Iranian weapons cache in Arabian Sea
Michael Hernandez
14.02.2020
WASHINGTON
The U.S. said Thursday it seized a cache of suspected Iranian-origin anti-tank weapons and other munitions in the Arabian Sea.
The USS Normandy intercepted and boarded a dhow, a traditional sail boat used in the region, when it discovered the sizable cache, U.S. Central Command said in a statement.
The weapons include 150 'Dehlavieh' anti-tank guided missiles, which are similar to Russia's Kornet anti-tank missiles, as well as three Iranian-designed and manufactured surface-to-air missiles, thermal weapons scopes and drone components. Various weapon parts and munitions were also seized
The command said the weapons are "identical" to a haul seized by the USS Forrest Sherman in November that it later claimed were bound for Yemen's Houthi rebels.
Full report at:
https://www.aa.com.tr/en/americas/us-seizes-iranian-weapons-cache-in-arabian-sea/1733541
--------
US: Senate approves Iran war powers resolution
Michael Hernandez
13.02.2020
WASHINGTON
The U.S. Senate easily passed a resolution Thursday seeking to curtail President Donald Trump's ability to wage war on Iran.
The resolution received bipartisan support in a 55-45 vote, despite Trump's vehement opposition. It ultimately gained support from all 45 Senate Democrats, two Independents and eight Republicans.
Republican senators Lamar Alexander, Bill Cassidy, Susan Collins, Mike Lee, Jerry Moran, Lisa Murkowski, Rand Paul, Todd Young voted in support.
The vote is a response to Trump's decision to kill Iranian Gen. Qasem Soleimani in Iraq early last month, an action taken at a time of heightened Iran-U.S. tensions that pitched the rival nations on to the precipice of war. Soleimani led Iran's Quds Force, the branch of the country's Islamic Revolutionary Guards Corps responsible for extraterritorial military activities.
The Senate resolution reins in Trump's Iran war making powers by requiring the president seek congressional authorization for any military action against Iran.
Senator Tim Kaine, the resolution's chief author, said the vote "is a strong bipartisan message from the Senate that we will uphold our constitutional duty to deliberate and vote before sending our troops into harm's way."
It will now head to the House, which passed a similar resolution last month. But because it is not identical to the Senate version brought by Kaine it will face a separate vote in the Democrat-controlled chamber.
Trump is widely expected to issue a veto in the likely event it reaches his desk.
He said Wednesday it is "very important" the Senate not approve the measure, claiming its passage would "show weakness" to Iran.
"If my hands were tied, Iran would have a field day. Sends a very bad signal," Trump said on Twitter. "The Democrats are only doing this as an attempt to embarrass the Republican Party. Don't let it happen!"
Full report at:
https://www.aa.com.tr/en/americas/us-senate-approves-iran-war-powers-resolution-/1733451
--------
US Senate acts to restrain Trump's military powers against Iran
14 February 2020
The Senate approved a bipartisan measure Thursday limiting President Donald Trump's authority to launch military operations against Iran.
The measure, authored by Sen. Tim Kaine, D-Va., says Trump must win approval from Congress before engaging in further military action against Iran. Eight Republicans joined with Democrats to pass the resolution by a 55-45 vote.
Kaine and other supporters said the resolution was not about Trump or even the presidency, but instead was an important reassertion of congressional power to declare war.
While Trump and other presidents "must always have the ability to defend the United States from imminent attack, the executive power to initiate war stops there,'' Kaine said. "An offensive war requires a congressional debate and vote.''
The Democratic-controlled House passed a separate, nonbinding war powers resolution last month. The House could take up the Senate resolution later this month, said House Majority Leader Steny Hoyer, D-Md.
Two-thirds votes in the House and GOP-run Senate would be needed to override an expected Trump veto.
Answering a claim by some of Trump's supporters and Trump himself that the measure would send a signal of weakness to Iran and other potential adversaries, Kaine said the opposite was true.
"When we stand up for the rule of law - in a world that hungers for more rule of law - and say 'this decision is fundamental, and we have rules that we are going to follow so we can make a good decision,' that's a message of strength,'' Kaine said.
Sen. Mike Lee, R-Utah, agreed. Lee supports Trump's foreign policy, including toward Iran, but said Congress cannot escape its constitutional responsibility to act on matters of war and peace.
"What the American people and the entire world will see from the debate we're about to have in the Senate is that there is abundant support for the United States taking tough positions with regard to Iran,'' Lee said Wednesday. "And as part of that we want to make sure that any military action that needs to be authorized is in fact properly authorized by Congress. That doesn't show weakness. That shows strength.'''
The principle of congressional approval is established for an important reason, Kaine said. "If we're to order our young men and women ... to risk their lives in war, it should be on the basis of careful deliberation by the people's elected legislature and not on the say-so of any one person.''
Trump disputed that, arguing in two tweets Wednesday that a vote against Kaine's proposal was important to national security and pointed to the January 3 drone strike that killed Iran's top general, Qassem Soleimani.
"We are doing very well with Iran and this is not the time to show weakness. Americans overwhelmingly support our attack on terrorist Soleimani,'' Trump said. "If my hands were tied, Iran would have a field day. Sends a very bad signal. The Democrats are only doing this as an attempt to embarrass the Republican Party. Don't let it happen!''
Tehran responded to the US attack on Soleimani by launching missiles at two military bases in Iraq that house American troops. The attack caused traumatic brain injuries in at least 64 US soldiers, the Pentagon said..
Democrats and Republicans alike criticized a briefing by the Trump administration shortly after the drone strike, saying US officials offered vague information about a possible attack being planned by Iran but no substantial details.
Kaine has long pushed for action reasserting congressional power to declare war. At Republicans' request, he removed initial language that targeted Trump in favor of a generalized statement declaring that Congress has the sole power to declare war.
The resolution also directs Trump to terminate use of military force against Iran or any part of its government without approval from Congress.
Sen. Susan Collins, R-Maine, a co-sponsor, called the resolution "much needed and long overdue.'' She said that oat over the past decade, "Congress has too often abdicated its constitutional responsibility on authorizing the sustained use of military force.''
Full report at:
https://english.alarabiya.net/en/News/middle-east/2020/02/14/US-Senate-acts-to-restrain-Trump-s-military-powers-against-Iran.html
--------
Trump sees 'good chance' for deal with Taliban by end of month
14 February 2020
US President Donald Trump said on Thursday he thinks there is a "good chance" the United States would reach an agreement with the Taliban by the end of February on a US troop withdrawal from Afghanistan.
Trump's comments were the latest indication of significant progress in negotiations that the United States and the Taliban have been holding since December in Qatar.
"I think we're very close," Trump said on a podcast broadcast on iHeart Radio when asked if a tentative deal had been reached. "I think there's a good chance that we'll have a deal ... We're going to know over the next two weeks."
Earlier, US Secretary of State Mike Pompeo said the talks had achieved "a pretty important breakthrough."
Defense Secretary Mark Esper said the sides have been negotiating a proposed seven-day reduction in violence that some lawmakers saw as a test of the Taliban leadership's control of its fighters.
Sources had told Reuters a US-Taliban peace deal could be signed this month, a move that would pave the way for a withdrawal from Afghanistan of some 13,000 U.S. troops and thousands of other NATO personnel, 18 years after a US-led coalition invaded following the Sept. 11, 2001, al Qaeda attacks on the United States.
The demand to sharply reduce violence has been partly why the talks had been deadlocked, according to a Western diplomat in Kabul.
Speaking to reporters traveling with him to Munich, where he will attend a security conference, Pompeo expressed both optimism and caution.
"We have made real progress over the last handful of days and the President gave us the authority to continue to have the conversations," Pompeo said, adding: "We are not there yet."
"We hope we can get to a place where we can get a significant reduction in violence, not only on a piece of paper but demonstrated ... and if we can get there, if we can hold that posture for a while, then we'll be able to begin the real, serious discussion which is all the Afghans sitting at a table," Pompeo said.
He is expected to meet with Afghan President Ashraf Ghani in Munich, a former senior Afghan official said on Wednesday.
Esper, during a press conference in Brussels, said that if the process goes forward there would be continuous evaluation of any violence.
The news of a potential agreement comes amid continued attacks by the Taliban, who control about 40 percent of Afghanistan, according to Afghan defence officials.
Last month the Special Inspector General for Afghanistan Reconstruction, a US government agency, assessed that there had been a record-high number of attacks by the Taliban and other anti-government forces in the last three months of 2019.
Although the Taliban is negotiating with US envoy Zalmay Khalilzad, it refuses to talk directly to Ghani's government, which it denounces as a puppet of the West.
US Democratic Representative Tom Malinowski, who has expressed deep reservations about the talks with the Taliban, said he viewed the proposal of a reduction in violence as a test of the Taliban leadership.
"We also need to see whether the Taliban leadership conducting these negotiations actually can control what their
Full report at:
https://english.alarabiya.net/en/News/world/2020/02/14/Trump-sees-good-chance-for-deal-with-Taliban-by-end-of-month.html
--------
US accuses Chinese tech giant Huawei of stealing trade secrets, assisting Iran
14 February 2020
US prosecutors on Thursday accused Huawei of stealing trade secrets and helping Iran track protesters in the latest indictment against the Chinese company, escalating the US battle with the world's largest telecommunications equipment maker.
In the indictment, which supersedes one unsealed last year in federal court in Brooklyn, New York, Huawei Technologies Co was charged with conspiring to steal trade secrets from six US technology companies and to violate a racketeering law typically used to combat organized crime.
It also contains new allegations about the company's involvement in countries subject to sanctions. Among other accusations, it says Huawei installed surveillance equipment in Iran that was used to monitor, identify, and detain protesters during the 2009 anti-government demonstrations in Tehran.
The United States has been waging a campaign against Huawei, which it has warned could spy on customers for Beijing. Washington placed the company on a trade blacklist last year, citing national security concerns.
The indictment is "part of an attempt to irrevocably damage Huawei's reputation and its business for reasons related to competition rather than law enforcement," Huawei said in a statement.
It called the racketeering accusation "a contrived repackaging of a handful of civil allegations that are almost 20 years old."
Huawei pleaded not guilty to the earlier indictment unsealed against the company in January 2019, which charged it with bank and wire fraud, violating sanctions against Iran, and obstructing justice.
Its chief financial officer Meng Wanzhou was arrested in December 2018 in Canada on charges in that indictment, causing an uproar in China and a chill in Canadian-Chinese relations. She has said she is innocent and is fighting extradition.
There are no new charges against Meng in the superseding indictment.
New charges
The new trade secret theft charges relate to internet router source code, cellular antenna technology, and robotics.
For example, beginning in 2000, Huawei and its subsidiary Futurewei Technologies Inc are accused of misappropriating operating system source code for internet routers, commands used to communicate with the routers, and operating system manuals, from a company in Northern California. Futurewei was added as a defendant in the latest indictment.
Huawei then sold their routers in the United States as lower cost versions of the US company's products, the indictment says.
Although the US company is not identified, Cisco Systems sued Huawei in Texas in 2003 over copyright infringement related to its routers.
Huawei is also accused of recruiting employees from other companies, making efforts to get intellectual property from those companies, and using professors at research institutions to obtain technology.
"The indictment paints a damning portrait of an illegitimate organization that lacks any regard for the law," US Senate Intelligence Committee chairman Richard Burr and vice chairman Mark Warner said in a joint statement.
The Republican and Democratic Senators called it "an important step in combating Huawei's state-directed and criminal enterprise."
The indictment also accuses Meng and Huawei of conspiring to defraud HSBC and other banks by misrepresenting Huawei's relationship with a company that operated in Iran.
It references reporting by Reuters from seven years ago about Huawei's ties to Skycom Tech Co Ltd, which offered to sell US origin goods to Iran, in violation of US law. It also mentions news reports in Reuters and the Wall Street Journal that claimed Huawei assisted the government of Iran in domestic surveillance.
In addition to accusing Huawei of lying about its operations in Iran, the latest indictment says Huawei falsely represented to banks that it had no business in North Korea.
The US Commerce Department in May put Huawei on a trade blacklist that restricted US suppliers from selling parts and components to the company.
On Thursday, in some positive news for the company, the Commerce Department announced it was extending a temporary general license for 45 days allowing US companies to continue doing some business with Huawei. The move is intended to maintain existing equipment and allow providers in rural communities more time to find alternatives to the company's networks.
At the same time, the United States is weighing new regulations to stop more foreign shipments of products with US technology to Huawei.
Full report at:
https://english.alarabiya.net/en/News/world/2020/02/14/US-accuses-Chinese-tech-giant-Huawei-of-stealing-trade-secrets-assisting-Iran.html
--------
US, Taliban have negotiated 7-day reduction in violence: Pentagon
13 February 2020
US Defense Secretary Mark Esper said on Thursday that the US and the Taliban had negotiated a proposal for a seven-day reduction in violence.
"We've said all along that the best, if not only, solution in Afghanistan is a political agreement. Progress has been made on this front and we'll have more to report on that soon," Esper told reporters during a press conference in Brussels.
"It will be a continual evaluative process as we go forward -- if we go forward," Esper added.
https://english.alarabiya.net/en/News/world/2020/02/13/US-Taliban-have-negotiated-7-day-reduction-in-violence-Pentagon.html
--------
Europe
Can Jewish and Muslim children fight increasing antisemitism and crime?
FEBRUARY 14, 2020
LONDON – "What is good for you is not good for me and vice versa," the Country Mouse said to the Town Mouse, as they embraced at the conclusion of the play "The Town Mouse and the Country Mouse," which has been adapted into Hebrew and was performed at the Simon Marks primary school in central London last week.
The play was one aspect of the school's participation in the "Spoken Ivrit (Hebrew)" festival, in which a number of Hebrew plays translated into English are being performed by a group of leading actors from Tel Aviv at 18 London schools. The festival, which started last week and ends Tuesday, is sponsored by JNF UK.
For the children of Simon Marks, the play's focus on accepting differences and celebrating similarities must have resonated, as this is the basis for what they are taught every day. The only United Synagogue mainstream Orthodox Jewish day school in the London Borough of Hackney, its principal is of Turkish descent and at least half of the students have only one Jewish parent or none at all.
Pictures of flags from around the world are stapled to bulletin boards, representing Colombia, India, Eritrea, Ghana, Jamaica, New Zealand and the many other places from which the students and their families emigrated.
"The school has one worldview and that is Orthodox," said consultant rabbi-in-resident Nicholas Goldmeier. "The students are quite happy learning those values, because they are the values of society."
In other words, he said, the students learn human values through a Jewish lens.
Goldmeier said that when he grew up in Britain 30 years ago there was little diversity, whereas today, according to the most recent census, one in three people who live in London was born abroad. Immigrants are set to account for half the capital's population within 15 years.
Some in London, Goldmeier believes, fear these new immigrants. But he, on the other hand, thinks multiculturalism should be celebrated and will ultimately lead to greater success.
The 19th century German-Jewish rabbi and scholar Samson Raphael Hirsch "wrote to educate children in the way they are going to grow up," the rabbi said. "If a child is going to grow up in a culturally diverse society, that is the way you have to educate him. Simon Marks is a model for how children should be educated to be successful, both socially and academically – and even financially – in a society. From social acceptance comes everything else."
Principal Gulcan Metin Asdoyuran has been with the school for three years and adheres to the same philosophy. She equates Jewish values with British values of respect and tolerance, and said she looks at Simon Marks as a model for how society could be if we could live together in better harmony.
"When people talk about Muslim people, they assume the females are wearing hijabs and the men the fez – there is Islamophobia. When people talk about Jewish people, they see men in black, long coats and hats and curly locks coming down," the principal continued. "It is about breaking down these stereotypes. Only through education can we make a difference."
Of course, not everything is accepted equally at Simon Marks. All boys who attend the day school are required to wear kippot, and there is a conservative school uniform, including skirts for girls. The students start out their mornings with prayers and hold a collective Kabbalat Shabbat (welcoming the Sabbath) service and assembly on Fridays. Whether a student is Muslim, Christian or a Jehovah's Witness – and there are children of all these faiths at Simon Marks – she or he participates in the program, learns Hebrew and celebrates Israel.
Muslim parent Necibe Ozturk, whose daughter Nazli Ela is in first grade, admitted that she knows little about some of the subjects her child is learning. Ela, as she likes to be called, is teaching her mother Hebrew and explains to her about the Jewish holidays. While at first it was confusing for Ozturk, she said she has learned to celebrate the traditions.
"Praying is really important," Ozturk told The Jerusalem Post. "So, she prays in Hebrew – that's fine. We are all praying for the same thing: being grateful – just saying thanks – so that is good." She said Ela now refers to God as Hashem (the Name).
"Hashem is just another name for Allah," said Ozturk, who believes that all people are talking to the same God.
Ozturk said she tries not to follow "too much politics" and doesn't have an opinion on the Arab-Israeli conflict. She doesn't even know about the recently released "Deal of the Century" peace plan. She puts up a Christmas tree, throws an Eid al-Fitr celebration (the break fast after the month-long Ramadan daytime fast) and now lights Hanukkah candles with her daughter, believing one can find joy in all faiths.
"Respect, understanding, kindness, generosity, being good and family-oriented" – that is what Simon Marks is about, she said, "and the education is very good."
Math coordinator Syed Gilani, also Muslim, expressed similar sentiments. He said that when he took a job at Simon Marks, his friends and family asked him, "How are you going to do this?" "But I really get along," he told the Post.
Gilani counts in Hebrew – "achat, shtayim, shalosh" (one, two, three) – he said with a smile, and has become enlightened about the similarities between Islam and Judaism. The school recently visited a mosque.
"We spoke about why you take your shoes off when you enter a mosque," Gilani said. "It's because Moses was asked to come forth in front of God and take his shoes off. It's the same Moses.
"The world is full of differences, but here at Simon Marks, we pick up on the similarities and celebrate them," he concluded.
The oasis of tolerance that Ozturk and Gilani described taking place at Simon Marks is, however, inconsistent with reports about Britain in general and Hackney in particular.
The Community Security Trust (CST), a Jewish community security organization that works in cooperation with the UK police, reported last week that there were 1,805 antisemitic incidents in Britain in 2019, up almost 7% from the previous year and the highest total ever recorded in a single calendar year.
Jewish day schools in Britain have been surrounded by high metal fences for years now. And guards are hired to protect entryways.
Furthermore, according to a report by the UK police, compared with other areas in London, Hackney has an above-average crime rate, with "violence against the person," being the No. 2 offense, only under theft and handling. Some 36% of people in Hackney are living in poverty, according to the UK NGO Trust for London.
"In every primary school, children have a happy time," Asdoyuran insisted. "It is the age of innocence, and we need to nurture them. In secondary school, the curriculum includes a focus on gun crime, knife crime, so children are reluctantly and realistically hardened. Our children will not be blind to what life in London is like."
And they will be open-eyed about Israel.
Through a four-year grant from JNF UK, the school has been expanding its Israel curriculum. Simon Marks purchased laptops so students could Skype with youth in the Jewish state. The Hebrew language, noted assistant principal Zachary Jacobs, is incorporated into everything the school does.
Jonathan Gallon, CEO of JNF UK, said these programs "aim to connect the Jews who live here with the Israelis and allow them to speak the same language.
"The main goal of JNF UK is to continue and strengthening Israel when the relationship with the diaspora poses a major challenge for us," he continued. "We want Israel to become a key part of Jewish identity of the youth in the UK and one of the ways to do so is through the Hebrew language. Today, Hebrew is only being used as lashon hakodesh for many Jews. We thought, how about how we could turn this language to an everyday language among the students."
JNF UK is the oldest Israel charity supporting Israel's periphery with various projects in the education, culture and infrastructure.
Last year, the school participated in a country-wide Hebrew spelling bee competition and two of its children placed in the top three. A non-Jewish student who immigrated to London from South America was among the winners.
Under Asdoyuran's leadership, the student body has grown by 20%.
"It's a small school and everyone knows everyone," said sixth-grader Lori. "We are not all the same and that's the best thing about us. They learn from me and I learn from them, as well."
https://www.jpost.com/Middle-East/Can-Jewish-and-Muslim-children-fight-increasing-antisemitism-and-crime-617562
--------
German court sentences Syrian man for war crime
13 February 2020
German judges on Thursday sentenced a Syrian man to three and a half years in prison for crimes including posing with the head of a decapitated corpse in his home country.
Identified only as Kassim A., the 34-year-old received one and a half years from the superior state court in Koblenz for the war crime, with the rest of his sentence relating to lesser crimes committed since his arrival in Germany.
Judges found the man joined forces rebelling against Syrian President Bashar al-Assad's regime at the latest in 2013.
At the latest in November that year, he posed for a photos with the head of an enemy fighter "in a way that mocked and debased the dead man," they added.
But the court did not find any evidence the defendant had been the one to kill the decapitated man or mutilate his corpse.
Kassim A. admitted to the acts during the trial, saying he had lost people close to him and himself been badly wounded in the conflict that has racked Syria for almost nine years.
Other Syrian refugees alerted the police after he showed them the photos, and officers then found them saved on his phone.
Full report at:
https://english.alarabiya.net/en/News/world/2020/02/13/German-court-sentences-Syrian-man-for-war-crime.html
--------
Germany mosque targeted by hoax bomb threat
Mesut Zeyrek
13.02.2020
COLOGNE
A bomb threat, emailed to a western Germany mosque on Thursday, turned out to be a hoax.
Aachen's prominent Yunus Emre Mosque in North Rhine-Westphalia was targeted by a bomb threat via e-mail, which claimed to explode the mosque.
Responding to the incident, police evacuated the mosque and searched for a bomb with sniffer dogs.
The police investigation revealed that it was a hoax bomb threat.
Suleyman Zembilci, the vice-president of the mosque administration, said mosque could not serve for noon and afternoon prays due to the bomb threat.
On Wednesday, similar hoax bomb threats were sent to the mosques in Essen-Steele, Hagen-Haspe, Unna and Bielefeld by a neo-Nazi group Combat 18 (Kampfgruppe 18).
The Yunus Emre Mosque, which belongs to the Turkish-Muslim organization DITIB, is a well-known Muslim place of worship in Aachen.
In recent months, dozens of mosques across Germany received bomb threats, sparking worries among the country's Muslim population.
The country has witnessed growing Islamophobia in recent years, triggered by the propaganda of far-right parties.
Full report at:
https://www.aa.com.tr/en/europe/germany-mosque-targeted-by-hoax-bomb-threat/1733456
--------
Turkish defense chief meets British, French counterparts
Sarp Ozer
13.02.2020
BRUSSEL
Turkey's Defense Minister Hulusi Akar had separate meetings with his British and French counterparts in Brussels on Thursday.
Akar visited NATO headquarters on the second day of NATO defense ministers meeting.
He met with U.K. Defense Secretary Ben Wallace before attending a session on defense, deterrence and burden-sharing.
Akar later met with his French counterpart, Florence Parly.
During the bilateral meetings, the officials exchanged views on cooperation in military, security and defense industry. They also discussed regional developments, particularly in Libya and Syria, the latest situation in Idlib, a de-escalation zone in northwestern Syria, and necessary moves to end the humanitarian crisis in the region.
During the talks, Akar underlined that civilians in Idlib, who flee their hometown due to violence, have been heading towards Turkish border, not to the regions under the regime control.
Akar later left Brussel to join President Recep Tayyip Erdogan in his two-day official visit to Pakistan.
At least five Turkish troops were martyred and five injured in an attack by Assad regime forces in Idlib earlier this week.
That followed last week's attack by regime forces in Idlib which martyred seven Turkish soldiers and one civilian contractor working with the Turkish military. It also injured more than a dozen people.
In retaliation, Turkey neutralized more than 120 Assad regime military personnel since last week.
Turkish troops are in Idlib as part of an anti-terror and peace mission.
Idlib has been a stronghold of the opposition and anti-government armed groups since the outbreak of the Syrian civil war in 2011.
In September 2018, Turkey and Russia agreed to turn Idlib into a de-escalation zone in which acts of aggression are expressly prohibited.
Full report at:
https://www.aa.com.tr/en/europe/turkish-defense-chief-meets-british-french-counterparts/1733438
--------
Turkish, Greek defense ministers meet in Brussels
Sarp Ozer
13.02.2020
BRUSSELS
Turkish Defense Minister Hulusi Akar and his Greek counterpart Nikos Panagiotopoulos met Wednesday in Brussels and agreed to hold talks later this month on confidence-building measures.
Talks between delegations from the two countries will take place in Athens from Feb. 17-21.
Akar and Panagiotopoulos also underlined the importance of keeping dialogue channels open between the two countries.
Within the scope of the NATO Defense Ministers Meeting, Akar participated in a session held for countries taking part in NATO's Resolute Support mission and then met with Ukrainian Defense Minister Andriy Zagorodniuk.
The two counterparts also discussed regional developments and cooperation on military issues.
Akar also attended the first session of the NATO Defense Ministers Meeting, which addressed the alliance's operations and missions.
Full report at:
https://www.aa.com.tr/en/europe/turkish-greek-defense-ministers-meet-in-brussels/1732500
--------
Mideast
US Navy seizes Iranian-manufactured missiles in Arabian Sea
13 February 2020
A US navy ship seized 150 Iranian-manufactured anti-tank guided missiles after boarding a vessel while conducting maritime security operations in the Arabian Sea on Sunday.
"While conducting maritime security operations in the US Central Command area of operations, [the USS Normandy] boarded a dhow (a traditional sailing vessel) in accordance with international law and discovered a large cache of weapons," said the US Central Command (CENTCOM) in a statement released on Thursday.
U.S. Navy
✔
@USNavy
Not today 💪
USS Normandy Seizes Illegal Weapons in Arabian Sea
Read Now:https://www.navy.mil/submit/display.asp?story_id=112097 …
Embedded video
1,625
6:54 AM - Feb 14, 2020
Twitter Ads info and privacy
561 people are talking about this
It added that the weapons seized were components of Iranian design and manufacture, including three Iranian surface-to-air missiles.
"The weapons seized include 150 Dehlavieh anti-tank guided missiles (ATGM), which are Iranian-manufactured copies of Russian Kornet ATGMs," the statement said.
"Many of these weapons systems are identical to the advanced weapons and weapon components seized by guided-missile destroyer USS Forrest Sherman (DDG 98) in the Arabian Sea on Nov. 25, 2019. Those weapons were determined to be of Iranian origin and assessed to be destined for the Houthis in Yemen, which would be in violation of a UN Security Council Resolution that prohibits the direct or indirect supply, sale, or transfer of weapons to the Houthis."
The statement added that the operation is ongoing, and further information will be shared as it becomes available.
Under a United Nations resolution, Tehran is prohibited from supplying, selling or transferring weapons outside the country unless approved by the Security Council. A separate UN resolution on Yemen bans the supply of weapons to Houthi leaders.
The Houthis have built their arsenal using local manufacturing, foreign expertise and parts smuggled in from Iran, their ally, and elsewhere.
https://english.alarabiya.net/en/News/middle-east/2020/02/13/US-Navy-seizes-Iranian-manufactured-missiles-in-Arabian-Sea.html
--------
Israel says planning 'massive' drone acquisition to counter Iran threat
13 February 2020
Israel is to buy and develop drones on a "massive" scale to increase its military edge over its enemies - Iran and its allies - the army said Thursday.
"This plan will improve the lethality of the Israeli armed forces, in terms of precision and reduction of the duration of military campaigns," army chief Aviv Avikom said in a statement, unveiling the military's 2020-2024 work plan.
Entitled "Momentum" the program has been approved by Defense Minister Naftali Bennett and presented to Prime Minister Benjamin Netanyahu and will next go to Israel's security cabinet for approval.
An outline of the plan shows that the defense establishment continues to see the Lebanese Shiite movement Hezbollah, Palestinian militant group Hamas and Iran's al-Quds forces as its most pressing threats.
"We have before us organizations which have the capacity and structure of an army" and are preparing for a "massive and unprecedented barrage of rockets and missiles against the civilian population of Israel and its infrastructure," said Lieutenant Colonel Jonathan Conricus, an army spokesman.
Speaking in a teleconference he added that such attacks could come from "two or three fronts" simultaneously.
Israel is currently relying on its Iron Dome missile shield to intercept short-range rockets fired mainly from the Gaza Strip, a Palestinian enclave controlled by Hamas, which has fought three wars with Israel since 2008.
For medium-range threats it has a missile defense system named David's Sling and for high-altitude, long-range attacks it has the Arrow.
Last month it said it was developing a new laser-based defense system capable of neutralizing all types of threats.
A 2006 Israel-Hezbollah war was the "first in history" in which the number of operational hours flown by unmanned aerial vehicles was greater than that of piloted aircraft, according to a study by Tel Aviv University.
At that time the drones were mainly Israeli but Israel has steadily seen its foes acquire drones of their own, narrowing the technological gap between the sides.
"We want to create a greater gap between our capabilities and those of our enemies," said Conricus, speaking both in terms of anti-drone defense systems, but also the development of drones capable of precision offensive strikes in "urban environments."
"We are going to acquire a quite massive amount (of drones) - acquire and develop and adjust and refurbish... in order to have the ability to deliver... very precise fire power against an enemy that is entrenched or embedded in urban terrain," he added.
The army did not reveal the projected cost of Momentum.
Full report at:
https://english.alarabiya.net/en/News/middle-east/2020/02/13/Israel-says-planning-massive-drone-acquisition-to-counter-Iran-threat-.html
--------
Settlement report shows UN's 'unrelenting anti-Israel bias': Pompeo
13 February 2020
US Secretary of State Mike Pompeo on Thursday denounced the UN release of a list of companies involved with Israeli settlements, saying it proved the world body was biased against Israel.
"Its publication only confirms the unrelenting anti-Israel bias so prevalent at the United Nations," Pompeo said in a statement, calling himself "outraged."
The UN released a list on Wednesday of 112 companies with activities in Israeli settlements, which are considered illegal under international law, including Airbnb, Expedia and TripAdvisor.
The report comes in response to a 2016 UN Human Rights Council resolution calling for a "database for all businesses engaged in specific activities related to Israeli settlements in the occupied Palestinian territory."
The UN rights office said the claim about the companies was "not, and does not purport to be, a judicial or quasi-judicial process."
Israeli officials fear the list could be used to boycott firms with ties to the Israeli settlements.
Read more: Experts warn against impending Israeli annexation of West Bank settlements
The Palestinian foreign minister hailed the report and urged the international community to press the businesses to cut their links with the enclaves.
Full report at:
https://english.alarabiya.net/en/News/middle-east/2020/02/13/Settlement-report-shows-UN-s-unrelenting-anti-Israel-bias-US-Secretary-Pompeo-.html
--------
Turkey hiding Ottoman-era evidence of Armenian Genocide: Historian
13 February 2020
A Turkish historian said the Turkish government is hiding historic telegrams which could provide information about the Armenian Genocide, based on his findings.
Armenia says the killing of up to 1.5 million Armenian people between 1915 and 1917 was a genocide. The events are recognized as a genocide by 30 other countries, and US Congress passed a measure in December last year to formally recognize the killings as a genocide.
Turkey strongly denies the accusation of genocide and puts the death toll in the hundreds of thousands.
According to historian Tanar Akcam, the Turkish government is deliberately hiding evidence of the genocide even today.
Akcam told Al Arabiya that the Turkish government knew of the existence of telegrams related to the genocide because they were used in state military tribunals in Istanbul in the year 1919.
"In these military tribunals, public prosecutors wrote an indictment and verdicts … they quoted from these telegrams," he said in a video interview.
Akcam found the documents in a private archive and not in state archives.
There are people in Turkey who are fighting for the recognition of the Armenian Genocide, explained Akcam.
Full report at:
https://english.alarabiya.net/en/News/middle-east/2020/02/13/Turkey-hiding-Ottoman-era-evidence-of-Armenian-Genocide-Historian-.html
--------
Sudan signs deal with families of USS Cole bombing victims killed in Yemen
13 February 2020
Sudan's justice ministry said early Thursday it had signed a deal with the families of the American servicemen killed in the 2000 bombing of the USS Cole in Yemen.
The deal was signed on February 7 in Washington to fulfil a key condition for removing the northeast African country from the United States' state sponsor of terrorism list, the ministry said in a statement without specifying the amount of compensation agreed.
Read Also: US may remove Sudan from list of terrorism sponsors: US official
"As part of the transitional government's effort to remove Sudan from the terrorism list, a deal has been signed on February 7 with the families of the victims of the USS Cole incident," the ministry said.
"The deal clearly specifies that the government of Sudan was not responsible for the incident or any such terrorist incident and it is doing this deal only to... fulfil the condition put by the American administration to remove Sudan from its terrorism list."
On October 12, 2000, a rubber boat loaded with explosives blew up as it rounded the bow of the guided-missile destroyer, which had just pulled into Aden, Yemen, for a refueling stop.
Seventeen American sailors were killed as well as the two perpetrators of the attack claimed by al-Qaeda, in an early success for the terror group and its founder Osama bin Laden.
A US court then ruled that Sudan, where the two bombers were trained, was responsible for the attack – a claim Khartoum always denied.
Full report at:
https://english.alarabiya.net/en/News/middle-east/2020/02/13/Sudan-signs-deal-with-families-of-USS-Cole-bombing-victims-killed-in-Yemen.html
--------
Thousands of Iranians mark 40th day after Lt. Gen. Soleimani's martyrdom
13 February 2020
Thousands of Iranians gather at Tehran's iconic Imam Khomeini Grand Prayer Grounds (Mosalla) to mark 40 days since the martyrdom of senior Iranian anti-terror commander Lieutenant General Qassem Soleimani and his companions in an airstrike by terrorist US forces outside Baghdad International Airport.
The ceremony was held on Thursday, with throngs of people as well as ranking government and military officials, including top commanders of Iran's Islamic Revolution Guards Corps (IRGC), in attendance.
The terrorist US forces assassinated General Soleimani, the former commander of the IRGC's Quds Force, along with Abu Mahdi al-Muhandis, deputy head of Iraq's Popular Mobilization Units (PMU), known as Hashed al-Sha'abi in Aabic, and their companions by targeting their car on January 3.
General Soleimani, who had earned reputation as the region's most popular anti-terror military figure, was on an official visit to the Iraqi capital when the attack took place.
Support Leader, avoid division: Gen. Soleimani's last will
Addressing the ceremony, Brigadier General Esmaeil Qaani, the Quds Force's new commander, recited parts of Gen. Soleimani's last will, in which he had advised the Iranian people and politicians to rally behind Leader of the Islamic Revolution Ayatollah Seyyed Ali Khamenei in order to promote the goals of the Revolution.
Brigadier General Esmaeil Qaani, the new commander of the IRGC's Quds Force, reads out martyred Lt. Gen. Soleimani's last will during a ceremony in Tehran, February 13, 2019.
The top Iranian general also warned various political factions and figures to remain united in order to ward off enemies' plots, noting that in case of division in the ranks of the nation and political officials, the country and the Islamic establishment as a whole would be damaged irreparably.
In addition to IRGC's Chief Commander Major General Hossein Salami, IRGC Deputy Commander Brigadier General Ali Fadavi, Commander of the IRGC's Ground Force Brigadier General Mohammad Pakpour, Commander of the IRGC's Aerospace Division Brigadier General Amirali Hajizadeh, and the Quds Force's Deputy Commander Brigadier General Mohammad Hejazi were also present at the ceremony.
'Soleimani thwarted US policy to create new Middle East'
Further in the ceremony, Major General Hossein Salami addressed the audience, noting that measures taken by the martyred commander of the IRGC's Quds Force thwarted a US plan for the creation of a new Middle East.
"During the war in Lebanon against Zionists, he was directly present in the battlefield. Living under threat was his art. He stood on the shores of the Mediterranean, so that Muslims would not be at risk…. He thwarted the Americans' policy for creating a new Middle East," General Salami said.
When General Soleimani entered the battleground against the Zionists, the Palestinians were fighting the regime using stones, Salami said, adding, "General Soleimani helped turn [the Palestinian territories of] the Gaza Strip, the West Bank, and northern Palestine into an arena where fire is erupting against the Zionists."
This has "forced them to build a wall around themselves. General Soleimani had locked Israel up," the IRGC chief said.
Salami also pointed to Saturday remarks by Israel's minister of military affairs Naftali Bennett, who had claimed that Tel Aviv and Washington had divided up the fight against Iran in Syria and Iraq.
The Iranian commander said the American and Israeli regimes were, as ever, mistaken.
"We are telling you this -- and this word of ours is accompanied with action -- that 'if you take any erroneous action, we will hit you both,'" General Salami emphasized, reminding that the Islamic Republic had, time and again, warned that the Israeli regime should not rely on Washington, as it would either arrive late or not show up at all to defend Tel Aviv.
"You should [instead] definitely look to the sea, because that is going to be your eventual residing place," he warned the Zionists.
Since General Soleimani's martyrdom, his character has regenerated itself, breathing new life into both the regional resistance front and Iran's Islamic Revolution, the IRGC chief noted.
"The US was dealt a slap in the face. But the big and final slap is yet to come, until the last American trooper exits Muslim territories," he said, noting, "This reality is upon them."
Soon after General Soleimani's assassination, Ayatollah Khamenei said Washington was to face a "harsh revenge" for the atrocity.
The IRGC shortly unleashed volleys of ballistic missiles at the US' Ain al-Assad air base in Iraq's Anbar Province, which housed US forces. The Leader later described the retaliatory strikes as "only a slap."
'Soleimani's path will continue until all US forces expelled from region'
Speaking to reporters on the sidelines of the event, Pakpour said, "General Soleimani's path will be pursued until annihilation of all terrorists and expulsion of the Americans from the region."
"The Americans are terrorists, and we should know that General Soleimani stood up to them," he noted.
The top commander added, "It was he, who began the fight against terrorism and took the final steps in some stages of that fight," he added, referring to the former Quds Force commander's indispensable contribution to Iraq and Syria's overcoming the Takfiri terrorist group of Daesh in late 2017.
The people of the world have borne witness to General Soleimani's endeavors, and saw well "who and what spectrum of people defeated Daesh," Pakpour observed.
Also on Thursday, similar mourning gatherings were held in different Iranian cities, including the northeastern city of Mashhad.
Earlier, people in Iraq likewise held a ceremony to commemorate the 40th day since the martyrdom of General Soleimani and the PMU commander, at the site of the drone attack near Baghdad International Airport
Iraqi mourners condemned the US assassinations, calling for the immediate withdrawal of US troops from their country.
Full report at:
https://www.presstv.com/Detail/2020/02/13/618590/Iran-General-Soleimani-mourning-ceremony-Tehran
--------
US crossed 'all red lines' by assassinating Lt. Gen. Qassem Soleimani, Nasrallah says
13 February 2020
The secretary general of the Lebanese resistance movement Hezbollah says Washington "passed red lines" with its assassination of Lieutenant General Qassem Soleimani, the commander of the Quds Force of Iran's Islamic Revolution Guards Corps (IRGC) and his companions in Iraq last month, emphasizing that the incident changed all regional equations.
"The Americans must know that they have crossed all red lines and changed regional equations by assassinating Lt. Gen. Soleimani. The event has pitted the axis of resistance and regional nations against the United States," Sayyed Hassan Nasrallah in a televised interview broadcast from the Lebaanese capital city of Beirut on Thursday night.
Nasrallah added that the killing of the top Iranian commander helped the entire Muslim Ummah to know their worst enemy, the Great Satan – an epithet for the United States of America.
He then lauded Iran over firing a salvo of ballistic missiles at US military bases in Iraq in relation for the January 3 assassination of Lt. Gen. Soleimani in an airstrike near Baghdad International Airport.
The Hezbollah chief further noted that the resistance front has scored impressive achievements following the martyrdom of the top Iranian commander.
"The influence of Lt. Gen. Soleimani and Abu Mahdi al-Muhandis – the second-in-command of Iraqi Popular Mobilization Units (PMU), is now felt more than ever among us," Nasrallah said.
He highlighted that his presence on the field gave him a clear picture of the developments unfolding, stressing that the axis of resistance could improve its defense capabilities thanks to the strenuous efforts made by the late Iranian military commander. "Lt. Gen. Soleimani helped Hezbollah drive Israeli forces out of southern Lebanon (in the wake of the Israeli military's 33-day war on the Arab country in the summer of 2006). Iran helped Lebanon defend itself against the Israeli invasion. Hezbollah has been cooperating with the Quds Force since late 1980s," Nasrallah pointed out.
The Hezbollah secretary general also praised the late Iranian military commander's personality, saying his political weight was much more significant than his military one.
"Lt. Gen. Soleimani used to attack paramount significance to Lebanon developments, and would analyze them from regional perspectives. He would not focus on trivial issues. He believed the campaign against Daesh in Iraq and Syria was of outstanding importance. His presence on battlegrounds would greatly boost the morale of resistance fighters," Nasrallah said.
He underscored that US media outlets ran articles about the late Iranian commander weeks before his assassination.
Elsewhere in his remarks, Nasrallah strongly condemned US President Donald Trump's so-called deal of the century on the decades-old Israeli-Palestinian conflict, saying the US statesmen defend the Israeli regime despite the fact that it has usurped Palestinian lands.
"The Islamic Republic of Iran and the axis of resistance will stand against the deal of the century with full force," he commented.
On January 28, Trump unveiled his so-called deal of the century, negotiated with Israel but without the Palestinians.
Palestinian leaders, who severed all ties with Washington in late 2017 after Trump controversially recognized Jerusalem al-Quds as the capital of the Israeli regime, immediately rejected the plan, with President Mahmoud Abbas saying it "belongs to the dustbin of history."
Full report at:
https://www.presstv.com/Detail/2020/02/13/618604/US-crossed-%E2%80%98all-red-lines%E2%80%99-by-assassinating-Lt.-Gen.-Qassem-Soleimani,-Nasrallah-says
--------
US ship in Arabian Sea seizes suspected Iranian weapons, likely on their way to Houthis in Yemen
February 13, 2020
WASHINGTON: A US Navy warship seized weapons believed to be of Iranian "design and manufacture" in the Arabian Sea, including more than 150 anti-tank guided missiles and three Iranian surface-to-air missiles, the US military said in a statement on Thursday.
The US military said the USS Normandy boarded a dhow in the Arabian Sea on Sunday.
"The weapons seized include 150 'Dehlavieh' anti-tank guided missiles (ATGM), which are Iranian-manufactured copies of Russian Kornet ATGMs," the statement said.
"Other weapons components seized aboard the dhow were of Iranian design and manufacture and included three Iranian surface-to-air missiles, Iranian thermal imaging weapon scopes, and Iranian components for unmanned aerial and surface vessels" it added. It did not say what kind of surface-to-air missiles were seized.
https://www.arabnews.com/node/1627326/middle-east
--------
Turkey to hit groups who violate Idlib ceasefire
February 13, 2020
ANKARA: Turkey will use force against rebel groups violating a cease-fire in Syria's northwest Idlib region, Turkish Defense Minister Hulusi Akar was quoted as saying on Thursday in an apparent response to Russian criticism.
Turkish President Tayyip Erdogan said on Wednesday that his military would strike Syrian government forces by air or ground anywhere in Syria if another Turkish soldier was hurt, after 13 troops were killed by Syrian forces in just over a week.
Russia, which supports Syrian President Bashar Assad, has accused Turkey of flouting the agreements it made with Moscow on Syria and of aggravating the situation in Idlib. The Kremlin said Ankara had failed to neutralize militants there, as per a 2018 agreement to establish a de-escalation zone.
In an apparent response to the Russian criticism, Akar said Turkey was sending additional reinforcements to its positions in Idlib to ensure a cease-fire in the region is maintained and to "control" the area, according state-run Anadolu news agency.
"Force will be used against those violating the cease-fire, including radicals, and every measure will be taken," Akar said, referring to a Jan. 12 cease-fire Ankara says has been violated by Assad's forces. Ankara has deployed more than 1,000 troops to its military posts in Idlib since last week.
On Wednesday, Erdogan said Ankara had given a message to the rebels it supports in the conflict to refrain from acting in an "undisciplined" way and give Syrian forces an excuse to strike.
The rebels are a mix of nationalist factions and Islamist militants who have had deadly rivalries but are now closing ranks.
Turkey, a NATO ally with the alliance's second largest army, has repeatedly urged Russia to stop the Syrian attacks in Idlib, warning that it will use military power to push back the Syrian forces unless they withdraw by the end of the month.
Full report at:
https://www.arabnews.com/node/1627251/middle-east
--------
Africa
New deadly clashes hit Libyan capital despite UN call for 'lasting ceasefire'
13 February 2020
Civilian casualties have been reported after warring sides in crisis-hit Libya clashed in capital Tripoli, just a day after a United Nations Security Council resolution called for a "lasting ceasefire."
Since 2014, two rival seats of power have emerged in the North African country: the internationally-recognized government of Prime Minister Fayez al-Sarraj, known as the Government of National Accord (GNA), and another group based in the eastern city of Tobruk, supported militarily by rebel forces under the command of renegade general Khalifa Haftar.
The rebel leader is primarily supported by the United Arab Emirates, Egypt and Jordan.
The rebels launched an offensive to capture the capital, Tripoli, the seat of the GNA, in April last year. Despite intense fighting, they have so far failed to achieve their objective, and the offensive has stalled outside the capital.
On Thursday, the latest wave of violence occurred on the southern outskirts Tripoli that either killed or wounded some civilians, GNA spokesman Moustafa al-Mejii confirmed.
"Haftar's militias tried to advance in the region of Machrou al-Hadhba, but our forces repelled the attack," he said.
According to witnesses, explosions were carried out in the largely agricultural area of Machrou al-Hadhba, some 30 kilometers south of Tripoli.
Separately, the capital's sole functioning airport of Mitiga, which has been frequently closed by violence, announced that it was again suspending flights following a rocket attack.
The residential neighborhoods of southern Tripoli came under rocket attack, claiming the life of a woman and wounding four other civilians, said Amin al-Hachimi, a spokesman for the health ministry.
The Security Council resolution, the council's first since the onset of Haftar's offensive in April, was adopted on Wednesday, affirming "the need for a lasting ceasefire in Libya at the earliest opportunity, without pre-conditions."
It also called for continued talks by a joint military commission formed last month between the two rival forces, with the aim of achieving a "permanent ceasefire." This would include a monitoring mechanism, a separation of forces and confidence-building measures.
Last month, a peace summit was held in the German capital of Berlin with the participation of leaders from Turkey, Russia, Egypt, France, Italy, Britain, and the United States, as well as Sarraj and Haftar, to help broker peace in Libya.
The final communiqué of the day-long summit, the first such event since 2018, called on all the parties concerned in the conflict "to redouble their efforts for a sustained suspension of hostilities, de-escalation and a permanent ceasefire."
Participants also pledged not to interfere in Libya's internal affairs and its conflict and agreed to "fully respect" the arms embargo imposed on the North African country by the UN in 2011.
However, Haftar refused to sign the joint communiqué.
To further complicate the situation in the Arab country, Turkey reached a military agreement with the GNA recently and, on Sarraj's request, pledged to send troops to Libya to help his government defend itself against Haftar's attacks.
While Ankara has since the Berlin summit said it would hold off the dispatch of troops to Libya, reports have already emerged of Turkey sending allied militants from Syria to the North African country.
Since 2011, Libya has been under a tight UN arms embargo, but it has frequently been abused as arms have continued to flow into the country.
Earlier in this month, UN Secretary-General Antonio Guterres said the embargo "remains violated" and lambasted continued foreign interference in Libya as a "scandal."
According to the UN figures, more than 1,000 people have lost their lives in the clashes between Haftar and the GNA since April, while another 140,000 have been displaced.
Libya initially plunged into chaos in 2011, when a popular uprising and a NATO intervention led to the ouster of long-time dictator Muammar Gaddafi and his execution by unruly fighters.
https://www.presstv.com/Detail/2020/02/13/618599/Libya-clashes-GNA-Haftar-UNSC-ceasefire-Sarraj-Turkey-Berlin
--------
More Cameroonians enter Nigeria to flee violence: UN
13 February 2020
Almost 8,000 people have fled into Nigeria from Cameroon in the past two weeks to escape clashes between the security forces and armed separatists, the UN refugee agency said Thursday.
The latest arrivals are crossing the border into Taraba and Cross Rivers states in eastern and southern Nigeria, bringing the number of refugees to almost 60,000, the UN High Commissioner for Refugees (UNHCR) said in a statement.
"Refugees reported fleeing violence and some even arrived across the border with gunshot wounds," it said.
"According to new arrivals, most come from areas near the border and have trekked across Savannah and forests to reach Nigeria."
In October 2017, an armed revolt erupted in Cameroon's English-speaking Northwest and Southwest regions bordering Nigeria, where insurgents want to break with the French-speaking bulk of the country.
The conflict has claimed more than 3,000 lives, according to tolls compiled by NGOs. The UN estimates that more than 679,000 have been displaced from their homes.
Fighting at the weekend disrupted voting in parliamentary and local government elections, according to official sources and witnesses who asked not to be named.
Refugees in Nigeria are "being sheltered in public schools and health facilities or with local families", the UNHCR said.
About 51,000 registered refugees had been taken in by some 87 communities in four Nigerian states, before the latest influx.
"In addition, there are four settlements where UNHCR and humanitarian partners are providing protection, food, livelihood, shelter and healthcare," the statement said.
"Refugees also need support to become self-reliant," said the UNHCR's deputy representative in Nigeria, Roger Hollo.
Full report at:
https://www.presstv.com/Detail/2020/02/13/618567/Cameroonians-Nigeria-Violence
--------
Somalia rejects Amnesty's new report on media freedom
Felıx Nkambeh Tıh
13.02.2020
Somalia's government on Thursday rejected a recent report of Amnesty International which says freedom of media has been deteriorating since President Mohamed Abdullahi Mohamed took office.
"The report has overlooked the achievements registered by the Federal Government in challenging impunity, protecting journalists and addressing media freedom concerns in the past 3 years," the Somali government said in a statement in response to the report.
Amnesty's report said at least eight journalists have been killed since Mohamed took office in February 2017.
"Somali journalists are under siege. From barely surviving explosive-wired cars, being shot, beaten up and arbitrarily arrested, journalists are working in horrifying conditions," said Deprose Muchena, Amnesty International's director for East and Southern Africa.
Somali government said in response that it is "fully aware of its responsibility to protect the rights of every individual to liberty and security."
It added that the "majority of cases (53%) described in the report are not accurately media freedom cases and there is no single evidence to back this fabrication."
"The Federal Government vehemently denies and strongly disowns the allegations of bribery to the private media and views these ludicrous allegations as deliberate lies to misguide the public," the statement added.
Somalia, located in the Horn of Africa and bordered by Ethiopia to the west, the Gulf of Aden to the north had witnessed multiple terror attacks over the past two decades.
Full report at:
https://www.aa.com.tr/en/africa/somalia-rejects-amnestys-new-report-on-media-freedom/1733223
--------
Libya: GNA battles Haftar forces in Tripoli attack
Walid Abdullah
13.02.2020
Libya's UN-recognized government said on Thursday it is confronting an ongoing attack by warlord Khalifa Haftar's forces on the capital Tripoli.
A spokesperson for the Government of National Accord (GNA) said fighting is taking place south of the Libyan capital, which has been under siege since last April.
The attack comes just a day after the UN Security Council (UNSC) passed a resolution demanding "a lasting ceasefire" in the North African country.
Fourteen countries voted for the resolution drafted by the UK and Germany. It is the first binding text adopted by the 15-nation UNSC since the conflict flared up last year.
The resolution also includes plans for a monitoring mission in Libya and urges countries to stop sending arms to the war-ravaged country.
Full report at:
https://www.aa.com.tr/en/africa/libya-gna-battles-haftar-forces-in-tripoli-attack/1733055
--------
Al-Shabaab militants torch shops, homes in Kenyan border region
February 14, 2020
Somali Al-Shabaab militants on Wednesday night burnt eight homes and some shops belonging to National Police Reservists (NPR) in Garissa county near the border with Somalia, officials said on Thursday.
Bernard Ole Kipury, Garissa deputy commissioner, said that militants abducted a father and son whom they later released after providing them with some information.
Ole Kipury said that a combined team of security officers and police reservists are combing the area for the militants who escaped on foot.
"The militants are being pursued by security forces," he said, adding that investigation has been launched to establish the motive of the militants.
Nicodemus Ndalana, North Eastern regional commissioner who termed the attacks as cowardly and an act of desperation said the government resolve to rid the region of the militants is on course.
Ndalana said that his security team is determined to win the fight against the militants in the region which neighbors Somalia, vowing to work towards sealing the loopholes being exploited by the militants as witnessed by the new wave of attacks.
The government official assured northeastern residents of their security and urged them to continue working closely with security agents on the ground.
Ndalana called on the police reservists whom he said are doing a commendable job that the government will do everything within its means to safeguard them, their families and properties.
"I want to personally thank the police reservists for volunteering to work alongside our security forces in the fight against terror. We are not taking their sacrifice for granted," he said.
Ndalana reiterated his earlier statement that there was local involvement in the attacks and urged members of the public to volunteer information on such individuals.
Full report at:
https://africa.cgtn.com/2020/02/13/al-shabaab-militants-torch-shops-homes-in-kenyan-border-region/
--------
Nigeria: Military razes villages as Boko Haram attacks escalate
14 February 2020
The Nigerian military has burned and forcibly displaced entire villages in response to a recent escalation in attacks by the armed group Boko Haram, Amnesty International said today, based on interviews with affected villagers in Borno State and satellite data analysis.
The military also arbitrarily detained six men from the displaced villages, continuing a pattern of violations Amnesty International has documented throughout the country's decade-long armed conflict in the northeast. The men were held incommunicado for almost a month and subjected to ill-treatment, before their release on 30 January 2020.
"These brazen acts of razing entire villages, deliberately destroying civilian homes and forcibly displacing their inhabitants with no imperative military grounds, should be investigated as possible war crimes," said Osai Ojigho, Director of Amnesty International Nigeria.
"They repeat a longstanding pattern of the Nigerian military's brutal tactics against the civilian population. Forces allegedly responsible for such violations must be suspended immediately and brought to justice."
Unlawful tactics
From December 2019, Boko Haram has increasingly carried out attacks in northeastern Nigeria, particularly along the important road between Maiduguri and Damaturu, the capitals of Borno and Yobe States. A recent Amnesty International research mission to Borno State shows that, in response to the attacks, the Nigerian military has resorted to unlawful tactics that have had a devastating effect on civilians and may amount to war crimes.
Amnesty International interviewed 12 women and men forced to flee their homes on 3 and 4 January 2020 from three villages near the Maiduguri-Damaturu road, between Jakana and Mainok in Borno State. The organization also reviewed fire data from remote satellite sensing, which indicates several large fires burning on and around 3 January in that area. Satellite imagery of Bukarti, Ngariri, and Matiri shows almost every structure was razed. The imagery also shows signs of burning in neighbouring villages.
Residents from Bukarti consistently described to Amnesty International scores of Nigerian soldiers arriving during the late morning of Friday 3 January. They said soldiers went house to house and to surrounding farmland, forcing everyone to gather under a tree and by a graveyard between Bukarti and the main road. Soldiers also rounded up people from neighbouring Matiri and brought them to the same area.
Villages torched
Around 3 pm on 3 January, soldiers demanded everyone walk to the main road, where the villagers were forced to board large trucks. Witnesses said that, as they were loaded into the trucks, some of the soldiers returned to Bukarti. The witnesses then saw their village burning.
"We saw our houses go into flames," recalled a woman, around 70 years old, from Bukarti. "We all started crying."
The trucks then took more than 400 women, men, and children from Bukarti and Matiri to an internally displaced persons (IDP) camp near Maiduguri.
The next day, on 4 January, soldiers went to Ngariri, a village across the main road from Bukarti, according to three residents of Ngariri. Soldiers assembled primarily older women and men, as younger adults had already fled to surrounding farmland, and forced them aboard a truck that took them to Maiduguri. Ngariri was then razed.
People who returned to check on Bukarti and Ngariri told Amnesty International that everything was torched. Satellite imagery corroborates both villages were burned in early January.
Witnesses interviewed by Amnesty International said they could not bring belongings with them, so lost everything – their homes, jewellery, clothes, and, most devastatingly, the crops they stored after the harvest.
"Everything we harvested was destroyed, and some of our animals died," said a farmer in his 60s. "I had a year [of harvest] stored – it's what I would've sold to buy clothes and other things for my family."
"Everything was burned, even our food – it could feed [my family] for two years," said another man, around 30, who snuck back weeks later to see the destruction. "Our clothes, our food, our crops, our kettles. Even the trolley we used for getting water. Only the metal dishes are there, but everything else is burned."
Ordering the displacement of the inhabitants of these villages, where their security or imperative military reasons did not demand so, constitutes a war crime. The subsequent burning of their homes may amount to a war crime as well.
Arbitrary detention, torture or other ill-treatment
As the military emptied Bukarti and Matiri and brought people to the trucks on 3 January, they separated six younger men and blindfolded them, according to consistent accounts by relatives of two of the men and other witnesses. They said the soldiers did not seek the men out by name or otherwise appear to come looking for specific people. Four witnesses said they thought it was because those younger men had mobile phones.
The soldiers beat at least some of the men with large sticks and put them in military vehicles. The military held the men incommunicado for almost a month; relatives and village leaders were unable to determine where the men were held. All six men were released on 30 January. They have not been charged with any crime.
Two of the detained men told Amnesty International that, because they were blindfolded until reaching their cell, they did not know where they were being held until their release – when they saw it was Maimalari military barracks in Maiduguri. They said they were chained in pairs and, other than being questioned one day, never let out of the cell. They only received food once a day.
"We had no food," one former detainee described. "People there are hungry. It was horrible."
Throughout the conflict between the Nigerian military and Boko Haram, Amnesty International has documented prolonged arbitrary detention by the military. Soldiers have also subjected detained men, women, and children to torture and other ill-treatment, in violation of both international human rights law and international humanitarian law.
'They say they saved us from Boko Haram, but it's a lie'
Nigerian army statements, reported by the media, indicate soldiers from Brigades 5 and 29, along with Special Intervention Battalion 2, carried out the operations between Jakana and Mainok on 3 January. The army said it arrested six "suspects" and "rescued… 461 Boko Haram captives" from several villages, including Bukarti and Matiri.
Witnesses interviewed by Amnesty International said Boko Haram had not been in their village, and that they felt significantly safer in their village than in the IDP camp where the military took them. "They say they saved us from Boko Haram, but it's a lie," said one man, around 65. "Boko Haram isn't coming to our village."
"If Boko Haram had been visiting our place, we have our own animals, our own harvest – do you think they wouldn't have taken those?" said another older woman from Bukarti. "The [Boko Haram] boys aren't close to us."
Several Bukarti and Ngariri residents said their village was so close to the main road that it wasn't credible to think Boko Haram could base itself there. They said Nigerian soldiers came through the area regularly and spoke frequently with village leaders.
Four witnesses told Amnesty International that Nigerian soldiers staged photographs of the villagers walking to the trucks, to make it appear as if the military had 'saved' them.
"The Nigerian government must not brush these violations under the carpet. They must be investigated, and alleged perpetrators must be prosecuted. Necessary steps must also be taken to ensure that military operations do not further forcibly displace civilian populations," said Osai Ojigho.
Surge in Boko Haram attacks
Full report at:
https://www.amnesty.org/en/latest/news/2020/02/nigeria-military-razes-villages-as-boko-haram-attacks-escalate/
--------
Pakistan
Erdoğan, Pakistan's Khan agree to counter challenges against Muslim ummah
February 14, 2020
Pakistani President Arif Alvi on Thursday hosted a reception in honor of his Turkish counterpart Recep Tayyip Erdogan in the capital Islamabad.
The reception was held at the President House hours after Erdogan arrived in Islamabad for a two-day official visit.
According to a statement by the presidency, both leaders stressed the importance of historic bilateral relationship between Turkey and Pakistan in various areas, including politics, economy, culture, defence and people-to-people contacts.
Alvi briefed Erdogan on the worsening human rights situation in the Indian-administered Jammu and Kashmir and thanked him for his "principled stance" on Kashmir.
The two leaders also exchanged views on regional and international issues. Alvi underscored Pakistan's efforts for Afghan peace and stressed that the global community should help Afghanistan in post-conflict reconstruction.
The two leader also agreed that Pakistan and Turkey must continue to work closely to counter challenges facing the Muslim ummah, including Islamophobia, the statement added.
They affirmed that both countries would continue to extend mutual support on issues of each other's core national interests. The leaders highlighted the importance of fully realizing the great potential of relationship between Pakistan and Turkey and transforming it into a strong and dynamic trade and economic partnership, it said.
The two leaders, along with delegations, held talks focusing on bolstering the bilateral strategic and economic cooperation, the state-run Pakistan Television reported.
The two leaders vowed to increase the strategic partnership between the two countries, according to the broadcaster.
"Alvi expressed his satisfaction over ever-increasing cooperation between the countries in different sectors" the channel reported.
Apart from the two presidents, Pakistan's Army Chief Gen. Qamar Javed Bajwa, Turkish Foreign Minister Mevlut Cavusoglu, Finance and Treasury Minister Berat Albayrak, Trade Minister Ruhsar Pekcan, and Presidential Spokesman Ibrahim Kalin also attended the reception.
On Friday, Erdogan, who is visiting Pakistan for the fourth time since 2002, will address the joint session of the parliament at 11 a.m. local time (0600GMT). He is the only foreign leader who has already addressed Pakistan's parliament thrice.
Supreme Court Chief Justice Gulzar Ahmed, all the four provincial governors, chief ministers, Cabinet members, chiefs of the armed forces, President of Pakistani-administered Kashmir Masood Khan and its Prime Minister Raja Farooq Haider, foreign diplomats, and other dignitaries were invited to attend the special session.
Later, the Turkish president will meet Pakistani Prime Minister Imran Khan at the Prime Minister House.
Along with Khan, Erdogan will address the Pakistan-Turkey Business and Investment Forum, which will gather leading investors and businesspeople from both sides.
Erdogan and Khan will also co-chair a meeting of the Pakistan-Turkey High Level Strategic Cooperation Council.
https://www.yenisafak.com/en/world/erdogan-pakistans-khan-agree-to-counter-challenges-against-muslim-ummah-3511985
--------
US hails Hafiz Saeed's conviction as 'step forward' for Pakistan
February 14, 2020
ISLAMABAD: United States' Acting Assistant Secretary for South and Central Asia Alice Wells on Thursday hailed the conviction of Jamatud Dawa (JuD) chief Hafiz Saeed and his aide Malik Zafar Iqbal as a "step forward" for Pakistan.
A day earlier, an anti-terrorism court in Lahore convicted the two JuD leaders to five-and-a-half-years of rigorous imprisonment (RI) in two cases relating to terror financing. The verdict came days ahead of the Financial Action Task Force's (FATF) meeting in Paris to decide Pakistan's grey list fate.
In a series of tweets, Wells said that the conviction was a step forward, "both toward holding the banned Lashkar-e-Taiba (LeT) accountable for its crimes and for Pakistan in meeting its international commitments to combat terrorist financing".
State_SCA
✔
@State_SCA
Today's conviction of Hafiz Saeed and his associate is an important step forward – both toward holding LeT accountable for its crimes, and for #Pakistan in meeting its international commitments to combat terrorist financing.
577
01:30 - 13 Feb 2020
Twitter Ads information and privacy
259 people are talking about this
In another tweet, she noted that "as Prime Minister Imran Khan has said, it is in the interest of Pakistan's future that it not allow non-state actors to operate from its soil".
State_SCA
✔
@State_SCA
• 13 Feb 2020
Today's conviction of Hafiz Saeed and his associate is an important step forward – both toward holding LeT accountable for its crimes, and for #Pakistan in meeting its international commitments to combat terrorist financing.
State_SCA
✔
@State_SCA
And as @ImranKhanPTI has said, it is in the interest of #Pakistan's future that it not allow non-state actors to operate from its soil. AGW
250
01:30 - 13 Feb 2020
Twitter Ads information and privacy
118 people are talking about this
SAEED JAILED FOR TERROR FINANCING:
ATC Judge Arshad Hussain Bhatta found Saeed guilty in two terror-financing cases under Section 11-N of the Anti-Terrorism Act, 1997, and handed him five and a half years and a fine of Rs15,000 in each case.
The ATC judge observed that in addition to the evidence presented by the prosecution, both accused also admitted the ownership of the property by Tanzeem Markaz Dawatul Irshad, a proscribed organisation.
Full report at:
https://www.pakistantoday.com.pk/2020/02/13/us-hails-saeeds-arrest-as-step-forward-for-pakistan-in-meeting-intl-commitments/
--------
Pak Institute For Peace Studies To Host Talk On Muslim Identities
February 14, 2020
Islamabad : The Pak Institute for Peace Studies (PIPS), in collaboration with the Australian High Commission, will host a talk for the distinguished Australian-based Pakistani origin academic Professor Samina Yasmeen, around the topic 'Muslim Identities in Australia here on February 17.
Professor Samina Yasmeen (AM) is Director of Centre for Muslim States and Societies and lectures in Political Science and International Relations in the School of Social Sciences, the University of Western Australia (UWA), Perth. She is a specialist in political and strategic developments in South Asia (particularly Pakistan), the role of Islam in world politics, and citizenship among immigrant women. She is the author of Jihad and Dawah: Evolving Narratives of Lashkar-e-Taiba and Jamat ud Dawah (Hurst, 7 2017), and Understanding Muslim Identities: From Perceived Relative Exclusion to Inclusion (2008).
Professor Yasmeen has also served on the National Consultative Committee of International Security Issues; the Australian Multicultural Advisory Council; the Council for Immigration Services and Status Resolution, the Australian Multicultural Council, National Australia Day Council, and the Australian Strategic Policy Institute. She is currently a Vice-President of the Australian Institute for International Affairs (WA Branch). The conference will invite participants from civil society, think tanks, academia, politics and media.
https://www.thenews.com.pk/print/613774-pips-to-host-talk-on-muslim-identities
--------
Pak: US move to sell air-defence system to India 'disturbing'
Feb 14, 2020
ISLAMABAD: Pakistan described on Thursday the US' decision to sell an integrated air defence weapons system to India as "disturbing" and warned it would further destabilise the already volatile region.
Pakistan foreign office spokesperson Aisha Farooqui said the sale of such "sophisticated weapons to India will disturb the strategic balance in South Asia with security implications for Pakistan and the region". Earlier this week, US President Donald Trump's administration had cleared the sale of the highly sophisticated system to New Delhi for an estimated $1.86 billion (about Rs 13,254 crore) to modernise its armed forces.
"Defence relations between the US and India are contributing to the destabilisation of peace and security in South Asia," the FO spokesperson said. "South Asia cannot afford an arms race and conflict."
https://timesofindia.indiatimes.com/world/pakistan/pak-us-move-to-sell-air-defence-system-to-india-disturbing/articleshow/74126992.cms
--------
Pakistan intentionally being pushed towards economic bankruptcy: Shehbaz
FEBRUARY 14, 2020
Leader of the opposition in National Assembly Mian Shehbaz Sharif on Wednesday expressed concerns over economic crisis and said that Pakistan is being pushed towards economic bankruptcy. In a statement, Mian Shehbaz Sharif said that economic destruction will severely affect Pakistan's integrity. He termed raising interest rates and power tariff as 'economic massacre of the people'. Loans of Rs11000 billion have chained the economy, he added. President of Pakistan Muslim League-Nawaz (PML-N) urged politicians, businessmen and people to unite for saving the economy of the country. He further said that Prime Minister House is a refuge for thieves. Shehbaz Sharif said that flour and sugar thieves are being protected by PM Imran Khan, while innocent traders are being sent to jails.
https://dailytimes.com.pk/557746/pakistan-intentionally-being-pushed-towards-economic-bankruptcy-shehbaz/
--------
PM assures MQM of meeting its 'genuine' demands
February 14, 2020
ISLAMABAD: Prime Minister Imran Khan on Thursday made another attempt to appease the disgruntled Muttahida Qaumi Movement (MQM) by assuring it of meeting its demands, but MQM leader and Minister for Information Technology Khalid Maqbool Siddiqui refused to return to the federal cabinet.
According to a press release issued by the PM Office, the prime minister and Mr Siddiqui during a meeting discussed the issues between the government and the MQM.
Minister for Planning and Development Asad Umar and some federal secretaries also attended the meeting.
"The prime minister reviewed the progress of development projects in Sindh," the press release said.
Sources said the prime minister assured the MQM convener that all genuine demands of his party will be met soon and development activities will be expedited in Karachi and Hyderabad.
When contacted, MQM leader Aminul Haq told Dawn that it was a positive meeting, but Mr Siddiqui had decided not to withdraw his resignation unless some practical steps were taken by the government to meet the MQM's demands.
"Khalid Bhai categorically decided that he will remain outside the federal cabinet," he said.
Mr Haq said in fact Mr Siddiqui was scheduled to meet Asad Umar, but during the meeting the prime minister joined them and promised to address the MQM's reservations soon.
He said the MQM had demanded empowerment of local government representatives in Karachi and Hyderabad under Article 140-A of the Constitution and for that purpose the party had already moved the Supreme Court. "We demand political, administrative and financial powers for local representatives," he added.
Mr Haq said Prime Minister Khan endorsed the demand and assured that the Pakistan Tehreek-i-Insaf will also become a party and join the MQM in the apex court.
He said the prime minister assured Mr Siddiqui of releasing billions of rupees for development activities in Karachi and Hyderabad.
The MQM has also demanded a ban on issuance of Karachi domiciles to the people of interior of Sindh. "It has been observed that the people who spent their whole life in interior of Sindh managed to get domiciles of Karachi illegally," Mr Haq said.
The Pakistan Muslim League-Quaid (PML-Q) has also some issues with the government as its leader and Housing Minister Tariq Bashir Cheema did not attend the federal cabinet meeting on Tuesday.
Meanwhile, PTI leader Jahangir Khan Tareen told a TV channel that he will not return to any government's negotiation team to appease disgruntled allies.
"I don't want to go back to the place from where I was removed," he said, adding that the prime minister might want him to do some other task.
He, however, said that he had managed to settle majority of issues of the allies when he was heading negotiation teams.
Full report at:
https://www.dawn.com/news/1534353/pm-assures-mqm-of-meeting-its-genuine-demands
--------
Ahsan Iqbal slams govt for 'destroying economy'
February 14, 2020
ISLAMABAD: Pakistan Muslim League-Nawaz (PML-N) leader Ahsan Iqbal on Thursday vehemently criticised the Pakistan Tehreek-e-Insaf (PTI) government, saying it believes that the "200 million population of Pakistan lives in a village and can be fed through a couple of langars and tandoors".
The former minister was responding to Adviser to the PM on Finance Abdul Hafeez Sheikh's speech in National Assembly a day earlier wherein he talked about the ailing state of the economy and responded to opposition's criticism on it.
In his speech, Shaikh had said that those who had themselves approached the International Monetary Fund (IMF) should not be criticising the government for doing the same, in an apparent reference to the PML-N.
Iqbal, when given the NA floor on Thursday, said: "These people kept criticising us at every step of the way, now they are asking us not to criticise them for taking the same measures. If these measures were so bad, why are they carrying them out today?
"They have brought a bad name to national institutions. These institutions did not tell them to give such a budget, these institutions did not tell them to bring inflation. They need to stop hiding behind national institutions and saying that the institutions are faulty.
"They keep crying about current account deficit, they did not understand that the current account deficit had shot up because of the large amount of investment we had put into development projects, especially in the energy sector.
"What they failed to understand is that once these projects were completed, the deficit would also have come down and rationalised," Iqbal said.
'THINK ACROSS PARTY LINES':
Minister for National Food Security Makhdoom Khusro Bakhtiar, who took the floor after Iqbal, lamented that the government was facing troubles due to low revenue. He said that currently, there were five million bank accounts in the country but only 0.5m were within the tax net.
"We need to take a moment and think across party lines on how we will run this country when the volume of debt is at 78 percent. We will have to pay interest and a principal amount on it.
"How will this country be run, even if we earn 5 trillion with a 12pc GDP tax ratio, then the federal government then has to give around 3 trillion to the provinces. So the federal government already starts at a deficit."
He insisted that every government will face the same challenges as the incumbent one. The federal minister said the share of investment by the private sector in Pakistan's economy was a mere 9pc because banks do not have the money to provide loans.
"We need to develop a mindset in this country that investors need to be respected," he said.
"The tragedy of this country is that we keep changing policies," he lamented. "First we [implemented a] nationalisation policy, then [later] we privatised all the banks.
"What are the banks doing? Right now, banks are providing money to the government, or to the main sectors like fertiliser, sugar, cement, on the most favorable interest rates. But the small sector, that of small-medium enterprises (SME), are merely getting 6pc of credit — in 2000, they would get 17-18pc of total credit.
"So we will have to think that when we develop a national development finance institution, the money will flow into SMEs and new sectors."
He also directed the House's attention towards the developing economies of neighbouring countries China and India, adding that by the time Pakistan turns 100, the country will have to feed 400 million people from existing resources.
Full report at:
https://www.pakistantoday.com.pk/2020/02/13/iqbal-takes-on-govt-for-destroying-economy-in-impassioned-speech/
--------
Turkish President Erdogan meets PM Imran, President Alvi upon arrival in Pakistan
February 13, 2020
Turkish President Recep Tayyip Erdogan arrived in Islamabad on Thursday on a two-day trip aimed at strengthening bilateral strategic partnership and economic ties. He was received at the Nur Khan Airbase by Prime Minister Imran Khan.
In his first official engagement of the visit, the Turkish leader held a meeting with President Arif Alvi, which was followed by a banquet. President Erdogan and Turkish First Lady Emine Erdoğan were received by President Alvi and his wife Samina Alvi as they arrived at the Aiwan-i-Sadr.
During their wide-ranging talks, President Alvi extended a warm welcome to President Erdogan and expressed satisfaction over the level of multifaceted engagement between Pakistan and Turkey, according to a press release issued by the President's Secretariat.
He said that the 6th session of the Pakistan-Turkey High Level Strategic Cooperation Council (HLSCC) will further strengthen and broaden relations between the two countries.
President Alvi apprised his Turkish counterpart of the "worsening human rights situation" in Indian-occupied Jammu & Kashmir and thanked President Erdogan for his "principled stand" on the issue of Kashmir, the tweets said.
The two presidents also exchanged views on regional and international issues, with President Alvi highlighting Pakistan's efforts for peace and reconciliation in Afghanistan. He stressed that the world community should extend its help in Afghanistan's post-conflict reconstruction.
According to the press release, both leaders underlined the significance of the historic bilateral relationship between Pakistan and Turkey in diverse areas including politics, economy, culture, defence and people-to-people contacts. They underscored the importance of fully realising the potential of this relationship and transforming it into a "strong and dynamic trade and economic partnership".
President Alvi and Erdogan also agreed that Pakistan and Turkey "must continue to work closely to counter challenges facing the Ummah, including Islamophobia", the statement said.
Turkish president arrives
Earlier in the day, Prime Minister Imran welcomed the Turkish president and his wife as they disembarked from the airplane at the Nur Khan Airbase.
In what has now become a tradition for special foreign guests, Prime Minister Imran personally drove President Erdogan and the Turkish first lady from the airport to Prime Minister House.
A guard of honour was presented to the Turkish president by smartly turned-out personnel of the armed forces. Senior cabinet members and government officials welcomed the president at Prime Minister House.
Posters welcoming the Turkish president were put up in the capital ahead of his arrival with strict security in place.
The Foreign Office had announced that the Turkish president would visit Pakistan from Feb 13 to 14 for underscoring "traditional solidarity and affinity" between the two countries and further "deepening and broadening of the flourishing Pakistan-Turkey strategic partnership".
Erdogan, who is accompanied on the trip by his cabinet members, senior government officials and leading Turkish business figures, would co-chair with Prime Minister Imran the 6th session of the HLSCC, address a joint session of parliament on Friday for the record fourth time and speak at the Pakistan-Turkey Business and Investment Forum.
Talking to Anadolu Agency, Turkish Ambassador to Pakistan Mustafa Yurdakul said that President Erdogan's visit to Islamabad is a historic event and "a major step towards exemplary bilateral ties between the two countries".
Prime Minister Imran is expected to invite Turkey to join the China-Pakistan Economic Corridor (CPEC). He had in an interview with a Turkish newswire said: "We hope to involve them in using CPEC for further connectivity, and we hope to involve Turkey in this [CPEC]".
According to Radio Pakistan, the Turkish ambassador said CPEC is nearly completed and that Turkey is interested in becoming a part of special economic zones which will be established under the project.
The prime minister wants Turkish businesses to invest in Pakistan's mining sector and engage in technology transfer projects.
About the proposals for promoting economic ties, the FO said: "Both sides place a strong emphasis on forging a robust economic relationship."
"Pakistan and Turkey have a unique and abiding relationship characterised by mutual support and exceptional mutual trust and understanding. The two brotherly countries have always been each other's steadfast partners. Turkey supports the cause of self-determination for the people of Indian occupied Jammu & Kashmir. Pakistan stands by Turkey on the question of Cyprus," the FO said.
Turkey and Pakistan are expected to sign a number of important agreements/memorandums of understanding to formalise some of the understandings that would be reached during the HLSCC meeting.
The HLSCC is the highest-level decision-making forum that provides strategic direction to the ties. There are seven joint working groups under the HLSCC working on political coordination, trade and investment, energy, banking and finance, transport and communications, culture and tourism, and education.
HLSCC meetings are held alternatively in Islamabad and Ankara.
PML-N President and opposition leader Shehbaz Sharif, who is currently in London, welcomed Erdogan to Pakistan and extended wishes on behalf of former prime minister Nawaz Sharif and the opposition.
"President Erdogan represents the honour and courage of the Muslim Ummah," Shehbaz said in a statement, adding that the Pakistani people are grateful to the Turkish leader for raising his voice against Indian atrocities in occupied Kashmir.
Stringent security in place
Strict security measures were taken ahead of the Turkish president's arrival and more than 2,000 police personnel and officers will perform duties during his visit, according to the Islamabad police spokesperson.
Full report at:
https://www.dawn.com/news/1534235/turkish-president-erdogan-meets-pm-imran-president-alvi-upon-arrival-in-pakistan
--------
Pakistan, Turkey sign two MoUs
Mubarak Zeb Khan
February 14, 2020
ISLAMABAD: Pakistan and Turkey on Thursday finalised two memorandums of understandings (MoUs) to increase the level of economic engagement and mobilise the untapped potential for increasing trade and investment.
The understanding was reached during a meeting of the Joint Working Group (JWG) on Trade and Investment held on the sidelines of the two-day visit of President Recep Tayyip Erdogan.
Two MoUs finalised by the JWG include one on Trade Facilitation and Customs Cooperation, and the other to reinforce cooperation in the field of Halal Accre­ditation. The two sides agreed to explore the possibilities of enhancing bilateral trade by mutually beneficial market access and trade facilitation.
According to a statement issued after the meeting both sides reviewed the existing bilateral trade and agreed to increase the level of economic engagement.
Both sides also agreed to encourage their businessmen to establish joint ventures in industrial sectors and cooperate in the field of e-commerce.
Meanwhile, the Ministry of Commerce and Trade Development Authority of Pakistan (TDAP) organised the Pakistan-Turkey Busi­ness-to-Business (B2B) networking session. Secretary Commerce Ahmad Nawaz Sukhera formally inaugurated the session. He emphasised that the warm bilateral relations need to be translated into economic gains for both countries.
Later, Adviser to the Prime Minister on Com­merce Razak Dawood visited the venue and met with Turkish delegates.
He assured them of full support from the commerce ministry for working in Pakistan and with Pakistani companies.
B2B meetings were held in the engineering, energy, tourism, construction, defence, automotive, chemicals and IT sectors.
Around 450 fruitful B2B meetings were conducted between the visiting Turkish companies and their Pak­istani business counterparts.
More than 200 prominent businessmen from Pakistani counterpart sectors, leading trade bodies as well as government organisations inclu­ding PBIT, TDCP, PTDC were present at the event. The Turkish side was represented by TUMSAID, DIEK and Pakistan-Turkey Friend­ship Association.
Both the countries had started deliberations on closer trade ties in 2004 but failed to conclude a free trade agreement despite several rounds and officially concluded the talks last year on the agreement owing to differences on opening of certain sectors.
Turkey has expertise in shipping, road infrastructure network and export processing zones which will be helpful in China-Pakistan Economic Corridor and other transit routes.
Full report at:
https://www.dawn.com/news/1534372/pakistan-turkey-sign-two-mous
--------
Situation ripe for protest: JUI-F
February 14, 2020
SWABI: Jamiat Ulema-i-Islam-Fazl central deputy chief Maulana Fazal Ali said on Thursday that the party's new phase of anti-government protest would get an overwhelming response because masses were in deep trouble due to the government policies.
Talking to this correspondent, he said that in the new phase protest demonstrations would be held in Karachi, Lahore and Islamabad and the struggle would continue till ouster of the present rulers and announcement of fresh election in the country.
He said that the situation was ripe for the protest because Pakistan Tehreek-i-Insaf government had already committed serious blunders and the masses wanted to get rid of this incompetent government.
Maulana Ali said that JUI-F chief Maulana Fazlur Rehman had announced the new phase of agitation after consultation with the allied parties.
Maulana Ali vows struggle till fresh polls announced
He said that during the last one and half years the PTI leadership had pushed the poor masses into the spiral of record price hike.
"Right now we can predict that the claim of Rs10 billion subsidy to the Utility Stores Cooperation is an empty pledge because the stores have already been tested in Ramazan, but they never succeeded to reduce prices of commodities," he said.
Maulana Ali claimed that the upcoming annual budget would open new floodgates of price hike. He predicted that the prices of electricity, gas and petroleum products would also be increased.
Answering a question, he said that earlier the leadership of PML-N and PPP had committed a mistake because they failed to join the 'Azadi March' on the JUI-F's term.
Registering an FIR in Chota Lahor city police station, Akhtar Ali said that his father Naimat Khan was on way to a mosque at Thano village when Manazir Khan opened fire on him, killing him on the spot. He said that his father had recently been released from jail and the cause of the incident was an old enmity. Police have registered the case.
In another incident, Salman Khan of Manki village was on way to Chota Lahor when his motorcycle collided with a tractor trolley near Beka village.
Full report at:
https://www.dawn.com/news/1534334/situation-ripe-for-protest-jui-f
--------
TTP leader Sheharyar Mehsud killed in Afghanistan bombing
February 14, 2020
PESHAWAR: A senior Tehreek-e-Taliban Pakistan (TTP) commander was killed by a bomb in eastern Afghanistan, militant and intelligence sources told AFP on Thursday, the latest such incident to target the group in recent days.
Sheharyar Mehsud, chief of a militant faction which is part of the umbrella TTP, was the target of the remote controlled blast in Kunar province, a TTP commander in Pakistan told AFP.
A Pakistani intelligence official who confirmed the incident said Mehsud had fled to Afghanistan in 2016.
The blast comes nearly two weeks after two other key TTP leaders — Khalid Haqqani and Qari Saifullah Peshawari — were killed in a clash with security forces.
It was not immediately clear who was behind the killings, which have come as the US and the Afghan Taliban — which is separate from the TTP — appear close to a breakthrough on a deal for an American troop withdrawal from Afghanistan.
Full report at:
https://www.pakistantoday.com.pk/2020/02/13/another-ttp-leader-killed-in-afghanistan-bombing/
--------
South Asia
30 terrorists killed, wounded in 5 provinces: Special Ops Corps
13 Feb 2020
The Special Operations Corps in a statement an airstrike in Nahr-e Saraj district of Helmand province killed 7 terrorists.
The statement further added that the National Defense and Security Forces killed 4 terrorists and injured 7 others during a joint operation in Chahar Bolak district of Balkh.
According to Special Operations Corps, airstrikes in Posht-e Rod district of Farah province killed 4 terrorists and destroyed a vehicle.
The security forces killed 2 terrorists and wounded 4 others after responding to an attack in Alingar district of Laghman, the statement said, adding that the security forces killed a terrorist and wounded another terrorist while responding to attack in Shahwali Kot district of Kandahar.
The anti-government armed militants have not commented in this regard so far.
https://www.khaama.com/30-terrorists-killed-wounded-in-5-provinces-special-ops-corps-04450/
--------
Suspected Ansar al-Islam member held in Sylhet
February 13th, 2020
The detainee is Shafayat Ahmed Chowdhury, a second-year student of Sylhet International University
Rapid Action Battalion (RAB) arrested a suspected member of the banned militant outfit Ansar al-Islam, formerly known as Ansarullah Bangla Team (ABT), in Sylhet on Wednesday.
The detainee is Shafayat Ahmed Chowdhury, a second-year student of English Department at Sylhet International University.
Shafayat was arrested from Sagor Dighirpar area on Wednesday night, Assistant Superintendent of Police (ASP) Jahid Hasan of RAB 2 said on Thursday.
The battalion also recovered 15 books related to extremism, training manuals of militants, passports, mobile phones, laptops, video making equipment, and provocative leaflets from his possession.
"We detained him following information gleaned from three Ansar al-Islam members -- Abu Rayhan Limon, Saifullah Nayeem, and Nabil Chokder -- who were held in Munshiganj on January 1," the RAB official said.
"Shafayat is directly involved with the militant outfit as we have found evidence in this connection," he claimed.
Full report at:
https://www.dhakatribune.com/bangladesh/nation/2020/02/13/suspected-ansar-al-islam-member-held-in-sylhet
--------
Kabul Police Department's Counter-narcotics chief sentenced to 17 years in prison
13 Feb 2020
The Counter-narcotics chief of Kabul Police Commandment was sentenced to 17 years in prison on charges of cooperating with the drug smugglers.
Jamshid Rasooli, a spokesperson for the Attorney General's Office said Mia Ahmad, the Counter-narcotics Chief of Kabul Police Commandment was sentenced to 17 years and 3 months in prison after the conclusion of an investigation by prosecutors into alleged coopration between Mr. Ahmad and the drug smugglers.
Rasooli further added that the prosecutors sentenced Lemar, the director of the detective directorate of Counter-narcotics of Kabul Police Commandment to 7 years and 6 moths in prison on similar charges.
He also added that two Counter-narcotics officials, Nooruddin and Mohammad Esa, each received 1 year and 6 months in prison.
Full report at:
https://www.khaama.com/kabul-police-departments-counter-narcotics-chief-sentenced-to-17-years-in-prison-04449/
--------
URL: https://www.newageislam.com/islamic-world-news/a-date-with-pm-song/d/121065
New Age Islam, Islam Online, Islamic Website, African Muslim News, Arab World News, South Asia News, Indian Muslim News, World Muslim News, Women in Islam, Islamic Feminism, Arab Women, Women In Arab, Islamophobia in America, Muslim Women in West, Islam Women and Feminism