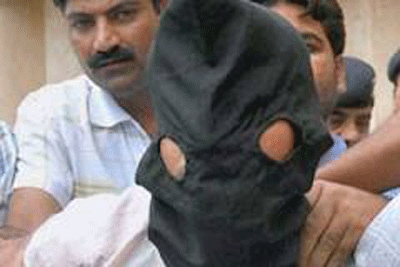 India
A Children's Magazine, Newspaper, Urdu Poetry – Anything Can Land You in Jail
Kashmir Separatist Leader Geelani Call to Boycott President's Visit
Fresh wave of terror in J&K: Second Sarpanch killed in a fortnight
Bajrangi threatened them in jail, blasts accused tell court
Forty Panches resign in North Kashmir
Pakistan conspiring to usurp Gilgit-Baltistan: BJP
Govt seeks time from SC in Abu Salem case
India to ask Pak for voice samples of 26/11 ultras
Kuwait frees 50 Indian workers who held for flouting visa norms
Sarabjit's lawyer denied permission to meet him in Pak jail, moves court
26/11 attacks: Home ministry to quiz Headley again
IM suspect gets bail four years later
Europe
UK to extradite one of the most radical clerics to US, HR court rejects appeal
UN says Israel must stop abusing Palestinian rights
Queen was not amused over radical cleric Abu Hamza
Students praise Islamic Economics Institute: Madrid
Bosnians elect new Grand Mufti
At U.N., New Syria Envoy Gives Bleak Appraisal
Pakistan
Transgenders have equal rights in Pakistan: Supreme Court
Pakistan offers assistance to train Maldivian police
Pakistan not to welcome any UN group in future
In shadow of insecurity, Hindus plan exodus
48 Pakistani Hindus arrive in India – never to return home
Pakistan Developing Non-Strategic Nuclear Weapons: Leading American Think-Tank
Pakistan paid biggest price for conflict in Afghanistan: Zardari
Trade boost: Pak to dismantle negative list
Pak election panel to take action against Rehman Malik
Internet in Pakistan is 'not free': Report
110-year-old Newton Hall to be demolished
Pakistan government submits Swiss letter draft to court
26/11 trial in Pakistan adjourned till Sep 29
Arab World
Soldiers kill child in Syria's Aleppo province: activists
Party split threatens Egypt's Salafis
Schools can't be used to house Haj pilgrims: Ministry of Haj
NGO asks Saudi Arabia to aid death row Filipino
Children suffer as envoy sees Syria war worsening
Syrian war threatening region
King launches largest expansion of Prophet's Mosque
Militants strike Iraq security forces in Baghdad
Bombs explode at security site in Damascus: rebels
Lebanese kidnapped in Syria released
Lebanon's stability should not be sacrificed to Arab Spring: Sleiman
Syrian War's Spillover Threatens a Fragile Iraq
Kuwait top court rejects govt recourse on electoral law
Education Ministry wins Arab award
UAE in top three in ME financial literacy
Africa
Islamists threaten to kill Somali MPs 'one-by-one'
Nigeria braces for escalation in terrorist attacks
Mali Islamists Becoming More Repressive, Report
South Africa's ANC rebel to Face Corruption Hearing
Tunisia arrests radical over US Embassy attack
Kenyan soldier kills several Somalis
Libyans rise up against militias' dominance
Libyan leader vows his country will not be a burden
Final solution eludes the two Sudans
Mideast Asia
Former Israeli PM avoids jail over fraud sentencing
Iran tests missiles, unveils drone amid Israel tensions
Ahmadinejad's speech at UNGA sparks Israel walkout
After hate video, Iran plans own net system
Iran blocks Gmail, may boycott Oscars over anti-Islam film
Blasts hit oil, gas pipelines in Yemen
Before Palestinians Act at U.N., Israeli Officials Urge Other Steps
Syrian Shells Land near Israeli Border
Gunmen kill Yemeni intelligence officer: security official
Iran Ayatollah is poster boy for influence in Iraq
North America
US says best protection for religious dignity is free speech
Obama warns Iran on nuclear bid, containment 'no option'
Clinton Offers More U.S. Help as Libya Battles Militias
Muslim community in Oklahoma vows to continue outreach
Hillary Clinton, Asif Zardari discuss Indo-Pak ties, anti-US protests
Wisconsin Gurdwara to receive 2012 Solidarity Award
'Hate movie' actor files fresh case against Nakoula
World must stand together against extremists: Clinton
In Arab Spring, Obama Finds a Sharp Test
South Asia
US soldiers charged in Afghan urination case
Ayyubey's final heir calls for death sentence not Blood Money
Children caught up in Afghan conflict
Bangladeshi NGO wins WISE Award
Top Afghan Security Official Wins Case Challenging Corruption Accusation
US drone kills five militants: Officials
Afghanistan hails US action on marine's video
Govt ensures voting rights: Hasina
Ministry of Human Rights reserves posts for the disabled
Govt empowering women: Hasina
Southeast Asia
'Human rights must conform to local values': Indonesia Home Minister
Indonesia's first president immortalized, in wax
Police obtain ten names of Alawy's alleged assailants
Compiled by New Age Islam News Bureau
Photo: A Children's Magazine, Newspaper, Urdu Poetry – Anything Can Land You in Jail
URL: https://newageislam.com/islamic-world-news/a-children's-magazine,-newspaper,-urdu/d/8780
----------
India
A Children's Magazine, Newspaper, Urdu Poetry – Anything Can Land You in Jail
Muzamil Jaleel
Sep 25 2012
New Delhi: In the story of men getting branded "SIMI activists" and charged under the stringent Unlawful Activities (Prevention) Act (UAPA), innocuous objects take the form of "incriminating material". The list of such "material", in which anything written in Urdu or Arabic comes right at the top, is by now predictable — and includes Urdu poetry, pamphlets issued by Hindu groups, newspaper articles about the Sangh Parivar, pictures and videos of the Gujarat riots, books on Islam, complaints against discrimination, as well as verses of the Quran.
* Shabir Ahmad Masiullah, Malegaon, & Nafis Ahmad Jameer Ahmad Ansari, Mumbai
In his statement that was treated as FIR (No. 1106/06, dated August 11, 2006), Assistant Police Inspector Shripad Balkrishna Kale of the Greater Mumbai Police, currently DCB Unit 7, Ghatkopar, Mumbai, claimed that on August 1, 2006, he got information that Shabir Masiullah of Malegaon and Nafis Ahmad of Shivaji Nagar, Mumbai, were "preparing to commit some sabotage acts in the coming Ganesh festival". Though Shabir and Nafis were picked up immediately, police records show the date of their arrest as August 11, 2006. Kale claims that Shabir, who made and sold batteries and inverters in Malegaon, and Nafis, who worked as a DTP operator in Shivaji Nagar, were both "workers" of SIMI and had received arms training in Pakistan.
Shabir's case takes a twist. While he was in police custody for his alleged plan to bomb the Ganesh festival from August 1, 2006, five weeks later, the ATS accused him of masterminding the Malegaon blasts of September 8, 2006. In January 2011, Malegaon blast accused Aseemanand confessed that a Hindu group was involved in the 2006 attack. On November 16 last year, Shabir was among the seven who were granted bail and walked free.
A day after Shabir and Nafis were arrested, DCB, CID Unit 7, Ghatkopar, had invited Pradip Pandurang Shirodhkar and Sunny Jogmohansingh Sidana as witnesses. According to the panchnama, Nafis was taken to his home where he "voluntarily'' took out a "black rexine bag'' and handed over "incriminating material". Here is what the police claim to have found: an Urdu-language children's monthly journal Umang published by Urdu Academy, Delhi. The police also claimed to have recovered a SIMI pamphlet, SIMI Rudad—1998-2000 (The story of SIMI from 1998 to 2000).
These pamphlets had been printed before the ban on SIMI in September 2001 and were seized in bulk from various SIMI offices across the country.
* Younis Khan, Juna Risala, Indore
FIR 135/08, dated April 10, 2008, filed at the Sadar Bazar police station in Indore, Madhya Pradesh, says Mohammad Younis was arrested from Smrati Talkies for "propagating" SIMI and "inciting" the Muslim community against the arrests of SIMI members. In his affidavit before the UAPA tribunal in 2010, J D Bhonsle, Town Inspector, Depalpur Police Station, said that on April 10, 2008, "the accused was arrested and pamphlet seized from him in which there was statement about the status of Islam and Muslims in India and reference to the Pakistani organisation ISI, where it is insinuated that all Muslims are being equated with ISI. In this way, the disaffection of SIMI towards India and the sympathy with Pakistani organisation ISI is clearly evident''. The inspector doesn't explain how a complaint that Indian Muslims are being wrongly suspected to be ISI agents can be interpreted as sympathy towards a Pakistani organisation.
Inspector Bhonsle also reveals that the police seized the previous day's newspaper, the Indore edition of Dainik Jagran, dated April 9, 2008, from the accused. According to Bhonsle, it was "incriminating" material because it had "news of the 13-hour-long Narco test of SIMI activists Safdar Nagori, Kamruddin Nagori and Amil Parvez".
Bhonsle also says the accused "admitted" that he had joined Dars-e-Quran (learning of Quran) classes at Chhoti Gawl Toli mosque from 1999 to 2000. Dars-e-Quran is basic Quranic education and is not illegal.
* Faisal of Holikhut; Irfan and Shakir, Narsinghgarh, Madhya Pradesh
In his affidavit before the UAPA tribunal in 2010, Inspector Vikram Singh Bhadoria (who was Station House Officer, Narsinghgarh, when the case was filed) alleges that Faisal, Irfan and Shakir had met SIMI leader Safdar Nagori during his visit to Narsinghgarh. Though the police claim that the three came to the police station after they were summoned, they were arrested and a case was lodged against them (FIR No. 142/08, date April 5, 2008).
During investigation, Inspector Bhadoria claimed, SIMI pamphlets with an aim to "propagate enmity between religions'' were recovered from the accused. According to the final report, the police seized two papers from Faisal which had "bhadkane wali aayaten (provocative verses)" from the Quran against other religions.
The story of this document is interesting. The document, "Quran ki kuch aayten jo Iman walon (Musalmanon) ko anya dharamvalambiyon se jhagda karne ka aadesh deti hain (A few of the verses from the Quran that order the Muslims to fight those belonging to other religions)", had been printed by the Hindu Writers' Forum, New Delhi, in which they had made derogatory remarks about the Quran. Another "incriminating" document is a one-page document in Urdu that talks about the basic tenets of Islam—namaz (prayers), fasting, Zakat (charity), and Hajj.
* Abdul Razzak, Nayapura, Indore
In his FIR (159/08), M G Road Station House Officer Inspector Kailash Chandra Malviya says that the police arrested Abdul Razzak on March 30, 2008, for "doing propaganda against the government". Malviya says Razzak was standing on the street near Ghadi Wali Masjid in Nayapura, Indore, and the police team heard him say: 'What will happen if the government has banned SIMI? I am a member of SIMI and will remain a member of SIMI.'
Inspector Malviya says they arrested him and "found two books of Urdu language in the pocket of his Kurta". One of them was on the essence of employment while the other was about Hindu religion and the concept of a single god. Malviya says that one of the books had "SIMI written on it by pen" while the other had a SIMI seal. The police also claim to have recovered 36 other "incriminating" books from him that include 'Life of Mohammad' published in New Delhi, Darse Quran (Teachings of Quran) and a self-help book, Herbert Fensterheim's 'Don't Say Yes When You Want To Say No'. All "incriminating evidence".
Jamir Ahmad and Abdul Rehman had two FIRs filed against them — one on May 28, 2001, four months before the ban on SIMI, and then on September 28, 2001, a day after the ban. The FIR in the first case (FIR 250/2001), filed at the Seoni police station in MP, says that Jamir and Papa Bhai were arrested after Raja Bhagel of Ganj, Seoni, complained that the duo had sold him a book that "contained material which was against the feelings of other communities and was a SIMI book." The police say that the two were arrested and were later bailed out.
On September 28, 2001, Seoni police station acted again and arrested Jamir and Papa Bhai "while they were standing near Choti Masjid''. The police registered an FIR (423/01) and charged them under the UAPA. The FIR claims that "they were discussing matters related to SIMI and proclaiming that if America or any other country attacked Taliban, then all Muslims and followers of Islam must be ready for jihad''.
In the challan filed by the police on May 31, 2003, the police accused him of participating in "Seerat Pak Jalsa" on June 10, 2001, which the police claimed to be unlawful. 'Pak' means pure and is generally used in reverence while referring to the Quran or the Prophet's life and 'Seerat Pak Jalsa' was a gathering on the life of the Prophet. But the police challan translates 'Seerat Pak' as "goodness of Pakistan". Also part of the "evidence" was a letter that the police claimed had been written by Jamir to the Prime Minister seeking action against the VHP.
* Khalid Mucchale
In the case against alleged SIMI activist Khalid Mucchale at Vijaypur Naka police station, Solapur (FIR 3036/2008, dated April 1, 2008), a couplet of Mirza Ghalib, which was part of a one-page complaint against harassment of Muslims, was declared "incriminating". The police also claimed to have seized a document published by the Rashtriya Vichar Manch from the accused. This document talks about alleged "growth of Muslims and Christian population and its devastating effects" and seeks "effective anti-conversion laws".
http://www.indianexpress.com/news/achildrensmagazinenewspaperurdupoetryanythingcanlandyouinjail/1007411/
----------
Kashmir Separatist Leader Geelani Call to Boycott President's Visit
Mail Today/ Srinagar
Sep 25, 2012
THE University of Kashmir is all set to welcome President Pranab Mukherjee to its 18th convocation ceremony on September 27 despite a boycott call by separatist leader Syed Ali Shah Geelani.
The university authorities have decided to ignore the separatists' call as Mukherjee is not the first President to preside over its convocation function.
On November 15, 1997, the then President, K. R. Narayanan, visited Kashmir to address the 15th convocation of the university. In 2003, the then Prime Minister, Atal Bihari Vajpayee, had addressed the 16th convocation while the 17th convocation of the university was presided over by Vice- President Hamid Ansari.
" There is no hard and fast rule about who should be invited to preside over the convocation.
During Sheikh Muhammad Abdullah's time, we would get personalities from different fields to preside over the function. Once, rector of Darul Uloom Deoband presided over the convocation," said Riyaz Rufai, chief librarian of the university.
Geelani has called for a strike against the visit citing the government's " apathy towards the issue of unmarked graves" in the Kashmir Valley.
Mail today
----------
Fresh wave of terror in J&K: Second sarpanch killed in a fortnight
Sep 24, 2012
SRINAGAR: Mohammed Shafi Teli, the 42-year-old deputy 'sarpanch' (democratically elected village head) of Nowpora Jageer in Baramulla district, had no chance as he stepped out of his home at around 8:30 pm on Sunday. He had no protection and no means to call for immediate help as unidentified terrorists arrived at his doorstep and pumped four bullets into him, from close range, including in his head. He was killed instantly.
Mohammed Shafi, affiliated with the ruling National Conference, is the fourth panchayat official killed in the last one year or so, apart from four who've been injured in firing ever since the Jammu & Kashmir government re-launched grassroots democracy via panchayat (village local body) elections in the state in 2011 after a gap of 23 years. The elections witnessed a record 80% turnout.
This was the second killing of a panchayat member in the last two weeks in the area. On September 10, militants had shot dead sarpanch of Palhalan village, Ghulam Mohammad Yatoo, also in Baramulla.
Terror outfits like Lashkar-e-Taiba and Jaish-e-Mohammad have been issuing death threats to the panchayat officials, asking them to resign from their posts for past several months. The police have seized handwritten posters at various places in different villages across the valley asking all panch and sarpanch to quit. But strangely, the police haven't been convinced of these threats, describing them as "fake" calls.
After Yatoo's killing, over two dozen panch and sarpanch in Palhalan and adjoining areas resigned fearing for their lives. In fact, over 400 such panchayat officials - of the 2000-odd elected -- have resigned in the Kashmir valley following militant attacks since last year. The militants' aim of spreading terror has worked especially because the administration has shown no sign of providing these officials with security.
Two weeks ago, the police claimed to have arrested a hardline Hurriyat Conference leader Nasir Ahmad Ganie alias Nasir Molvi for plotting to kill Yatoo.
It hasn't helped their cause that the panchayat officials have demanded more powers from the government, asking it to extend constitutional amendments 71 and 73 that would enable them to intervene with government departments and the administration at the grassroots level. National Conference and Congress are divided on this issue and hence the demands of panchayat officials remain unmet.
On Monday, the police and Rashtriya Rifles launched a major operation to arrest the militants responsible for Sunday's attack. Top police and Army officers reached the spot and all routes leading to the village were sealed. The forces extensively searched vehicles along the National Highway without success.
The police said they busted a Hizbul Mujahideen module that was targeting panchayat members in Tral area of South Kashmir district and arrested three of its members. But the central question remains: who will protect grassroots democracy from the terror-mongers?
http://timesofindia.indiatimes.com/india/Fresh-wave-of-terror-in-JK-Second-sarpanch-killed-in-a-fortnight/articleshow/16529424.cms
----------
Bajrangi threatened them in jail, blasts accused tell court
Sep 25 2012
Ahmedabad : A designated court for the 2008 Ahmedabad serial bomb blasts case on Monday ordered the Sabarmati Central Jail authorities to inquire into the allegations levelled by the blast accused that Babu Bajrangi, convicted in the Naroda Patiya riot case, was trying to create communal atmosphere in the jail.
The complaint comes following a verbal fight between Bajrangi, a former Bajrang Dal leader, and three of the blasts accused Ismail Mansoori, Abbas Sameja and Javed Ahmed last week.
In a complaint in court, Mansoori has claimed that Bajrangi and his accomplices "hurled abuses, spoke scornfully of our community and religion" during medical check-ups at the jail dispensary.
Full report at:
http://www.indianexpress.com/news/bajrangi-threatened-them-in-jail-blasts-accused-tell-court/1007526/
----------
Forty panches resign in North Kashmir
Sep 25 2012
Srinagar : At least 40 panchayat members have tendered their resignations fearing for their life after the killing of a panch in north Kashmir's Baramulla district on Sunday.
Forty panches, including three sarpanches, have submitted their resignations to the government in Baramulla district alone and reports suggest many more are in the offing.
"We have so far received the resignations of 40 panches, which includes three sarpanches from the district," DC Baramullah Khwaja Ghulam Ahmad said.
Full report at:
http://www.indianexpress.com/news/fortypanchesresigninnorthkashmir/1007613/
----------
Pakistan conspiring to usurp Gilgit-Baltistan: BJP
Sep 24, 2012
JAMMU: The Bharatiya Janata Party (BJP) in Jammu on Monday described the resolution by the Gilgit-Baltistan legislative assembly demanding provincial status as a conspiracy by Pakistan to weaken India's legitimate claim over the region.
BJP state unit's chief spokesman Jitendra Singh said here that the resolution demanding provincial status for the region is a "design by Islamabad to achieve twin objectives of usurping the constitutional status of Gilgit-Baltistan and at the same time compromising India's legitimate claim over the region".
Singh alleged that the resolution was adopted by the Gilgit assembly at the behest of the Pakistan People's Party (PPP) government in Pakistan.
Full report at:
http://timesofindia.indiatimes.com/india/Pakistan-conspiring-to-usurp-Gilgit-Baltistan-BJP/articleshow/16531911.cms
----------
Govt seeks time from SC in Abu Salem case
Sep 25, 2012
NEW DELHI: Attorney General G E Vahanvati informed the Supreme Court on Monday that India was working out the way forward with Portugal after the latter's supreme court ruled that New Delhi had breached the order extraditing gangster Abu Salem by charging him with offences punishable with death sentence.
Vahanvati told a bench of Justices P Sathasivam and Ranjan Gogoi that India was "trying to find out from Portuguese government, both informally and formally, what steps are to be taken in future" after their courts ruled that India had breached the November, 2005, order extraditing Salem from Lisbon to New Delhi.
Full report at:
http://timesofindia.indiatimes.com/india/Govt-seeks-time-from-SC-in-Abu-Salem-case/articleshow/16535531.cms
----------
India to ask Pak for voice samples of 26/11 ultras
Sep 25, 2012
NEW DELHI: India will ask Pakistan on Tuesday to expedite the trial of the 26\11 terror attack case accused and reiterate its demand for voice samples of undertrials lodged in Rawalpindi jail for their alleged roles in the Mumbai carnage.
These issues will be raised by the Indian delegation- led by home minister Sushil Kumar Shinde - with their Pakistani counterparts in Male, where they will meet on the sidelines of a three-day Saarc conference of home\interior ministers.
Full report at:
http://timesofindia.indiatimes.com/india/India-to-ask-Pak-for-voice-samples-of-26/11-ultras/articleshow/16535499.cms
----------
Kuwait frees 50 Indian workers who held for flouting visa norms
Sep 25, 2012
NEW DELHI: Fifty Indian workers were released in Kuwait after they were identified by Indian officials, even as more than 1,000 Indians remain in custody after being arrested for visa violations.
In New Delhi, foreign minister S M Krishna called in the ambassador of Kuwait, Sami Mohammed Al Sulaiman to ask for an early release of the Indian workers. The issue came to limelight after Rajasthan CM Ashok Gehlot wrote a letter to Krishna asking for his intervention.
Indian officials said they had identified the sponsors of 500 other Indian workers languishing in Kuwaiti prisons.
Full report at:
http://timesofindia.indiatimes.com/india/Kuwait-frees-50-Indian-workers-who-held-for-flouting-visa-norms/articleshow/16537116.cms
----------
Sarabjit's lawyer denied permission to meet him in Pak jail, moves court
Sep 25 2012
Amritsar : Awais Sheikh, the lawyer of Indian prisoner Sarabjit Singh who is languishing in a Pakistani jail for over two decades, on Monday moved court in Pakistan after he was denied permission to meet Sarabjit.
"After returning from my India visit, I submitted an application to home secretary on September 1 for permission to meet Sarabjit Singh in jail to deliver messages from his family and certain goods for his personal use. To my surprise, I was denied permission. It has been mentioned in the order that since there is no judicial proceedings pending before court, interview or meeting cannot be allowed under rules," Sheikh said in an email to Sarabjit's daughter Swapandeep on Sunday night.
Full report at:
http://www.indianexpress.com/news/sarabjits-lawyer-denied-permission-to-meet-him-in-pak-jail-moves-court/1007537/
----------
26/11 attacks: Home ministry to quiz Headley again
Sep 25, 2012
NEW DELHI: A Union home ministry team is travelling to the US early next month to seek fresh details of the source of funding behind American Lashkar operative David Coleman Headley's reconnaissance trips to India and also gather additional information on the disclosures made by arrested 26/11 handler Abu Jundal regarding future terror strikes being plotted by LeT.
The team, to be headed by joint secretary in the home ministry M Gopal Reddy, will press for direct access to Headley, who has been questioned once by National Investigation Agency in 2010, to get this crucial piece of information.
Full report at:
http://timesofindia.indiatimes.com/india/26/11-attacks-Home-ministry-to-quiz-Headley-again/articleshow/16535552.cms
----------
IM suspect gets bail four years later
Sep 25, 2012
The Bombay High Court on Monday granted bail to Mohammad Atik Mohammad Iqbal, suspected to be a member of the banned Indian Mujahideen (IM).
The Mumbai Police Crime Branch arrested him in 2008 along with several other suspected IM members in connection with two e-mails sent in the aftermath of the Ahmedabad and Surat blasts. The group was charge-sheeted in 2009 under the Unlawful Activities (Prevention) Act and the Maharashtra Control of Organised Crime Act.
Full report at:
http://www.thehindu.com/news/national/im-suspect-gets-bail-four-years-later/article3932907.ece
--------
Europe
UK to extradite one of the most radical clerics to US, HR court rejects appeal
September 25, 2012
PARIS: The European Court of Human Rights on Monday gave final approval for one of Britain's most radical clerics, Abu Hamza al-Masri, to be extradited to the United States with four others to be tried for terrorism.
The Egyptian-born cleric filed an appeal, along with the four other suspects, after the court in Strasbourg authorised Britain to transfer him to the United States on charges that he supported al Qaeda and aided a fatal kidnapping in Yemen.
Al-Masri, 54, could face a sentence of over 100 years in an ultra-secure "Supermax" prison, and had argued that such treatment would contravene Article 3 of the European Convention on Human Rights, which prohibits inhumane and degrading treatment.
Full report at:
http://tribune.com.pk/story/441964/uk-to-extradite-al-masri-to-us-after-human-rights-court-rejects-appeal/
----------
UN says Israel must stop abusing Palestinian rights
NINA LARSON
25 September 2012
GENEVA: Israel must do more to halt a string of serious violations of Palestinian human rights documented by a 2009 fact-finding mission, according to a UN report published yesterday.
There is a "need to more earnestly pursue accountability for the serious violations of human rights and international humanitarian law that were documented by the fact-finding mission," Deputy High Commissioner for Human Rights Kyung-wha Kang told the UN Human Rights Council in Geneva.
Speaking on behalf of UN rights chief Navi Pillay, she presented a report on progress made in implementing recommendations in the UN Goldstone report, which detailed violations of international rights and humanitarian laws in connection with the 2008/09 Gaza conflict.
"It has been nearly three years since this council endorsed the fact-finding mission's recommendations. Yet, not one person has been indicted for any of the incidents documented," she said.
Full report at:
http://www.arabnews.com/un-says-israel-must-stop-abusing-palestinian-rights
----------
Queen was not amused over radical cleric Abu Hamza
Sep 25, 2012
LONDON: It is rare for Queen Elizabeth to intervene or express opinion on matters related to terrorism, but she was so upset at radical Islamic cleric Abu Hamza's activities in Britain that she asked a former home secretary why he had not been arrested, it was reported on Tuesday.
Hamza, 54, described as the face of extremism with a hook on his right hand, on Monday lost his last chance to stop his extradition to the United States, when the Grand Chamber Panel of the European Court of Human Rights (ECHR) rejected his appeal to reopen his case.
As Britain and the US welcomed the ECHR's decision, it was revealed that Queen Elizabeth had been upset about Hamza being allowed to preach his message of hate in the UK.
He often addressed gatherings in London, in which he ridiculed Britain and the West.
Full report at:
http://timesofindia.indiatimes.com/world/uk/Queen-was-not-amused-over-radical-cleric-Abu-Hamza/articleshow/16543768.cms
--------
Students praise Islamic Economics Institute: Madrid
FOUZIA KHAN
25 September 2012
A youth immersion program at King Abdulaziz University (KAU) concluded last week with a successful introduction to Islamic economics, finance and the Saudi banking system.
The Saudi-Spanish Center for Islamic Economics and Finance (SCIEF) organized the event to promote Islamic economics and finance for the students of Islamic economics at the University of Madrid.
Abul Raheem Al-Saati, a professor at the Islamic Economics Institute introduced the basics of Islamic economics and explained the Islamic worldview and its economic paradigms.
Full report at:
http://www.arabnews.com/students-praise-islamic-economics-institute
----------
Bosnians elect new Grand Mufti
25 September 2012
SARAJEVO: Bosnian Muslims have elected Hussein Kavazovic, as their new spiritual leader or Grand Mufti, the Islamic community said yesterday in a statement. Kavazovic replaced Mustafa Ceric, who served as Grand Mufti for 19 years, notably during the 1992-1995 inter-ethnic war, said the statement published on the community's web site.
Ceric stepped down after serving his maximum two mandates under the rules of Bosnia's Islamic community.
Full report at:
http://www.arabnews.com/bosnians-elect-new-grand-mufti
----------
At U.N., New Syria Envoy Gives Bleak Appraisal
By NEIL MacFARQUHAR
25 September 2012
UNITED NATIONS — Prospects for any settlement in the Syria conflict remain dismal, but not impossible, the new Syria peace envoy said Monday, telling Security Council diplomats that the government of President Bashar al-Assad still clung to the notion that pre-revolution Syria could be resurrected.
It was the first report to the Security Council by Lakhdar Brahimi, a veteran United Nations troubleshooter and former Algerian foreign minister who took on the job of Syria peace envoy three weeks ago after his predecessor, Kofi Annan, resigned in frustration. The envoy serves both the United Nations and the Arab League.
Full report at:
http://www.nytimes.com/2012/09/25/world/middleeast/new-syria-envoy-gives-bleak-appraisal.html?_r=1&ref=middleeast
--------
Pakistan
Transgenders have equal rights in Pakistan: Supreme Court
September 25, 2012
ISLAMABAD: The Supreme Court of Pakistan (SC) said on Tuesday that transgenders had equal rights as all citizens of Pakistan, Express News reported.
Completing proceedings in a case regarding transgender rights in the country, presided by Judge Chief Justice Iftikhar Mohammad Chaudhry, SC issued a decision saying that transgenders should be given equal basic rights as all citizens.
The decision said that transgenders should be given equal inheritance and job opportunity rights, amongst others.
During the proceedings, transgenders had requested the court to direct the Town Municipal Administration to allow them to rent halls to celebrate birthdays.
The court has directed that the decision should be sent to all chief secretaries and that the latter were to attend to the complaints of the transgender community.
http://tribune.com.pk/story/442151/transgenders-have-equal-rights-in-pakistan-supreme-court/
----------
Pakistan offers assistance to train Maldivian police
Sep 25 2012, 16:02 hrs
Male : Pakistani Interior Minister Rehman Malik on Tuesday met his Maldivian counterpart and offered Islamabad's assistance to train the country's police force.
Malik offered help to Maldives in various sectors at a bilateral meeting with Maldivian Home Minister Jameel.
Talking to reporters, Malik said his country would help in training the staff of Maldives Police Service both at Pakistan and at Maldives.
Full report at:
http://www.indianexpress.com/news/pakistan-offers-assistance-to-train-maldivian-police/1007638/
---------
Pakistan not to welcome any UN group in future
By Sumera Khan
September 25, 2012
ISLAMABAD: The Parliamentary Committee on National Security has decided that in the future no United Nations group would be allowed to visit Pakistan to discuss "sensitive issues".
The committee took the decision on Monday at a meeting chaired by Senator Raza Rabbani. The decision came following a recent visit to Pakistan by the UN Working Group on Enforced and Involuntary Disappearances.
Senator Rabbani asked the foreign and interior ministries to abstain from welcoming international intervention in local issues, sources privy to the committee meeting told The Express Tribune.
Full report at:
http://tribune.com.pk/story/441966/pakistan-not-to-welcome-any-un-group-in-future/
----------
In shadow of insecurity, Hindus plan exodus
By Zahid Gishkori
September 25, 2012
ISLAMABAD: Amid a mounting sense of insecurity, close to 1,000 families belonging to the country's largest religious minority group, Hindus, plan to migrate to India — a step likely to raise more questions about Pakistan's ability to protect its minorities.
A group of 171 Hindus has already crossed the border into India after a string of incidents — especially the contentious issue of forced conversions and marriages of Hindu girls.
Prominent Hindu leaders told The Express Tribune on Monday that their plan of migrating to India came at a time when several Hindu families in Jodhpur, a city in Rajasthan state, which shares a border with Sindh, expressed willingness to welcome the migrants.
Full report at:
http://tribune.com.pk/story/442002/minority-rights-in-shadow-of-insecurity-hindus-plan-exodus/
----------
48 Pakistani Hindus arrive in India – never to return home
September 25, 2012
JAIPUR: Dozens of Pakistani Hindu pilgrims who arrived in the Indian state of Rajasthan on Sunday say they don't want to go back, BBC Urdu reported on Monday.
A group of 48 Pakistani Hindus, travelling on board "Thar Express" train, reached Jodhpur city on Sunday. They have joined 347 Pakistani Hindus who are already staying in a temporary shelter in the city.
Half of the new arrivals belong to the Raikas clan – who are shepherds by profession. This is the first time that Raikas clansmen have travelled to India from Pakistan.
Earlier this month, 171 Hindu pilgrims, mostly from the Bheel community of Sindh, reached Jodhpur and refused to return, citing religious persecution at home.
Full report at:
http://tribune.com.pk/story/442012/fleeing-persecution-48-pakistani-hindus-arrive-in-india--never-to-return-home/
----------
Pakistan Developing Non-Strategic Nuclear Weapons: Leading American Think-Tank
Sep 25 2012
Washington: To enhance its nuclear capability, Pakistan is developing non-strategic nuclear weapons, and thus joining the ranks of countries like the US and Russia, a leading American think-tank has said.
India, however, not listed among five of the nine-nuclear weapons powered countries that has or is developing non-strategic nuclear weapons said Hans Kristensen, director of the Nuclear Information Project, and Dr Robert S Norris, senior fellow for Nuclear Policy, in a new edition of Nuclear Notebook.
Full report at:
http://www.indianexpress.com/news/pakistan-developing-nonstrategic-nuclear-weapons/1007572/
----------
Pakistan paid biggest price for conflict in Afghanistan: Zardari
Sep 25 2012
New York : Pointing that Pakistan has paid the biggest price for conflict in Afghanistan, President Asif Ali Zardari told US Secretary of State Hillary Clinton that peace and stability in his country were tied to a peaceful and stable Afghanistan.
Zardari met US Secretary of State Hillary Clinton on the sidelines of the 67th session of the UN General Assembly.
According to a news release issued by Pakistan's mission to the UN, Zardari and Clinton had an in-depth conversation on the way forward in bilateral relations.
Full report at:
http://www.indianexpress.com/story-print/1007579/
----------
Trade boost: Pak to dismantle negative list
Harpreet Bajwa
Sep 25 2012
Chandigarh : Trade between Pakistan and India through the Attari-Wagah land route is expected to get a major boost from next month with the Pakistan government agreeing to dismantle the negative list for trade between the two countries.
As against the permission to trade in just about 137 items through this route, the number of items that can be traded in future are expected to go up to 6,000. Last week, an 18-member delegation, lead by Union Commerce Secretary S R Rao had visited Pakistan. The delegation also included Punjab Chief Secretary Rakesh Singh.
Full report at:
http://www.indianexpress.com/news/trade-boost-pak-to-dismantle-negative-list/1007535/
----------
Pak election panel to take action against Rehman Malik
Sep 25, 2012
ISLAMABAD: Pakistan's Election Commission on Monday announced it would take legal action against 12 lawmakers, including interior minister Rehman Malik, with dual nationality for submitting false declarations about their citizenship during the 2008 polls.
Election Commission secretary Ishtiaq Ahmed Khan told a news conference that the action was being taken in line with an order issued by the supreme court last week.
The apex court had disqualified 11 federal and provincial lawmakers and said Malik stands to lose his membership of the senate or upper house of parliament.
Full report at:
http://timesofindia.indiatimes.com/world/pakistan/Pak-election-panel-to-take-action-against-Rehman-Malik/articleshow/16535946.cms
----------
Internet in Pakistan is 'not free': Report
September 25, 2012
WASHINGTON: Government restrictions on the Internet in Pakistan have risen over the past year with some use of violence against bloggers and turn to censorship and arrest to squelch calls for reform, a new report from a US advocacy group has found.
Pakistan, Bahrain and Ethiopia saw the biggest rollbacks in Internet freedom since January 2011 and were among the 20 countries out of 47 assessed by Freedom House that declined in their rankings.
The report, which gave Pakistan a internet freedom score of 63, and the status of not free, notes that the country bans virtual private networks, shuts down information communication technology nationwide and has a record of arresting bloggers and users for political writing and their deaths in captivity.
Full report at:
http://tribune.com.pk/story/441949/internet-in-pakistan-is-not-free-report/
----------
110-year-old Newton Hall to be demolished
* 50 companies participate in auction
* Rs 5.86 million decided for debris
By Arsalan Haider
LAHORE: The 110-year-old historical building of Newton Hall of Mayo Hospital is to be demolished after it was declared dilapidated and unusable.Constructed in 1902, the building has been declared abandoned by the different departments of Punjab government. Construction and Works Department, Road Research and Material Lab, and Architecture Department has conducted surveys of the building and proposed to demolish it.
A new nurses hostel has been proposed at the same place and same design as Newton Hall with an estimated cost of Rs 30.5 million.
Full report at:
http://www.dailytimes.com.pk/default.asp?page=2012\09\25\story_25-9-2012_pg13_1
----------
Pakistan government submits Swiss letter draft to court
25 September 2012
The Pakistani government Tuesday submitted to the Supreme Court the draft of a letter to be sent to Swiss authorities to reopen corruption cases against President Asif Ali Zardari. But the bench pointed to discrepancies between the draft and an earlier letter.
Law Minister Farooq H. Naek presented the draft of the letter to the apex court, reported Geo News.
The minister also presented Prime Minister Raja Pervez Ashraf's letter delegating authority to him to write the letter to Swiss authorities when the Supreme Court resumed hearing of the National Reconciliation Ordinance (NRO) implementation case.
Full report at:
http://www.khaleejtimes.com/kt-article-display-
---------
26/11 trial in Pakistan adjourned till Sep 29
Sep 25, 2012
ISLAMABAD: The trial of LeT commander Zakiur Rehman Lakhvi and six other Pakistani suspects charged with involvement in the 2008 Mumbai attacks was today adjourned till September 29 as the judge was unavailable to conduct the hearing.
Court officials in Rawalpindi said the hearing had been put off till Saturday.
It could not immediately be ascertained whether the judge was unwell or on leave.
Five prosecution witnesses had been expected to testify at today's hearing.
http://timesofindia.indiatimes.com/world/pakistan/26/11-trial-in-Pakistan-adjourned-till-Sep-29/articleshow/16542422.cms
---------
Arab World
Soldiers kill child in Syria's Aleppo province: activists
September 25, 2012
BEIRUT: Soldiers shot dead a child Tuesday in Syria's Aleppo province when troops targeted the car she was in, after a bloody day in which 116 people, including 12 children, were killed, a rights watchdog said.
The young girl was in a car on the motorway that links the northern commercial hub of Aleppo to Damascus after midnight when the attack happened, the Syrian Observatory for Human Rights said.
"Save the Children," the global children's aid agency, warned on Tuesday that children are being "badly traumatised" after witnessing killings, torture and other atrocities in the brutal conflict that has gripped Syria for 18 months.
Full report at:
http://www.dailystar.com.lb/News/Middle-East/2012/Sep-25/189139-soldiers-kill-child-in-syrias-aleppo-province-activists.ashx#ixzz27TsQquEW
----------
Party split threatens Egypt's Salafis
Alaa Bayoumi
24 Sep 2012
The stunning ascension of the hardline Sunni Islamists could be overshadowed by infighting over their political course.
A serious rift inside the leadership of Egypt's Salafi political party al-Nour threatens its meteoric rise to power after the country's first post-Hosni Mubarak election, when it came out of nowhere and grabbed 20 per cent of parliament's seats.
Established in May 2011, the al-Nour party surprised many inside and outside of Egypt. Its strong election performance thrust al-Nour and its Salafis into political power, which the strict followers of Sunni Islam had never been previously afforded.
Full report at:
http://www.aljazeera.com/indepth/features/2012/09/201292463212656324.html
---------
Schools can't be used to house Haj pilgrims: Ministry of Haj
25 September 2012
JEDDAH: The Ministry of Haj has banned the use of the buildings of schools, institutions, rest houses and wedding halls for the accommodation of pilgrims unless they are licensed and supervised by the Civil Defense.
Their use for accommodating pilgrims is to be sanctioned only in cases of emergency on a temporary basis and after the ministry's approval.
Full report at:
http://www.arabnews.com/schools-can%E2%80%99t-be-used-house-pilgrims
----------
NGO asks Saudi Arabia to aid death row Filipino
ABDUL HANNAN TAGO
25 September 2012
RIYADH: An international NGO with volunteer goodwill ambassadors in 193 countries around the world has asked the people of Saudi Arabia to help a Filipino on death row be set free on humanitarian grounds.
The inmate must pay SR 2 million as the remaining blood money from the required amount of SR 3 million, or $ 800,000, to save him from execution He has spent 12 years in Eastern Province prison. He was convicted of killing a Saudi national in 2000 in the Eastern Province. But he was granted forgiveness on Feb. 27, 2011, by the victim's family if he paid the blood money.
Full report at:
http://www.arabnews.com/ngo-asks-saudi-arabia-aid-death-row-filipino
----------
Children suffer as envoy sees Syria war worsening
Marie Roudani | September 25, 2012
Syrian soldiers were reported to have shot dead a young girl on Tuesday after peace envoy Lakhdar Brahimi said he saw no end in sight for the conflict as President Bashar al-Assad clings to power.
A day after at least 12 children were killed nationwide, global aid agency "Save the Children" also said Syrian children are being "badly traumatised" after witnessing killings, torture and other atrocities.
Regime soldiers shot dead the girl when they targeted the car she was in after midnight on the motorway linking the northern commercial hub of Aleppo to Damascus, the Syrian Observatory for Human Rights said.
Full report at:
ttp://www.thejakartaglobe.com/afp/children-suffer-as-envoy-sees-syria-war-worsening/546421
----------
Syrian war threatening region
25 September 2012
NEW YORK: International envoy Lakhdar Brahimi says the civil war in Syria threatens to spill across the Middle East and is "extremely bad and getting worse."
The Syria conflict is expected to dominate the annual UN General Assembly debate of world leaders which starts in New York today.
Brahimi told reporters after a closed-door briefing to the UN Security Council that he and the council members began to discuss "the way forward."
Brahimi said he didn't have "a full plan" now but was working with a few ideas he hopes to expand after another visit to the region.
Full report at:
http://www.arabnews.com/middle-east/syrian-war-threatening-region
----------
King launches largest expansion of Prophet's Mosque
YOUSUF MUHAMMAD
25 September 2012
MADINAH: Custodian of the Two Holy Mosques King Abdullah laid the foundation stone for the largest expansion of the Prophet's Mosque here yesterday. The new project will increase the mosque's capacity to more than two million worshippers.
King Abdullah arrived here last night from the Moroccan city of Casablanca and was received at Prince Muhammad International Airport in Madinah by Crown Prince Salman, deputy premier and minister of defense.
Full report at:
http://www.arabnews.com/king-launches-largest-expansion-prophet%E2%80%99s-mosque
----------
Militants strike Iraq security forces in Baghdad
September 25, 2012
BAGHDAD: Militants carried out a series of apparently coordinated attacks against Iraqi security forces in and around Baghdad on Tuesday, killing six police and soldiers, security and medical officials said.
In Tarmiyah, north of the capital, militants attacked a police station with two car bombs, rocket-propelled grenades and Kalashnikov assault rifles, killing one policeman and wounding two, an interior ministry official and a medical source said.
Gunmen also attacked a checkpoint in Zayouna in east Baghdad, killing two police and wounding three, the interior ministry official said.
In Al-Amriyah in west Baghdad, gunmen killed army Brigadier General Saleh Hassan Fezaa, while others attacked a checkpoint in Al-Amil in the south of the capital, killing two soldiers and wounding three.
Full report at:
http://www.dailystar.com.lb/News/Middle-East/2012/Sep-25/189138-militants-strike-iraq-security-forces-in-baghdad.ashx#ixzz27TtBsYWx
----------
Bombs explode at security site in Damascus: rebels
September 25, 2012
BEIRUT: Bombs planted by rebels exploded at a school building occupied by security forces and pro-government militias in the Syrian capital of Damascus on Tuesday, activists and rebels said.
Residents said smoke was billowing from the area in southeastern Damascus and an activist said ambulances were rushing to the scene.
"At exactly 9:35 a.m., seven improvised devices were set off in two explosions to target a school used for weekly planning meetings between shabbiha militia and security officers," said Abu Moaz, a leader of Ansar al-Islam, one of the rebel groups in the 18-month-old revolt against President Bashar al-Assad.
Full report at:
http://www.dailystar.com.lb/News/Middle-East/2012/Sep-25/189140-bombs-blow-up-at-security-site-in-damascus-rebels.ashx#ixzz27Tt7rfSL
----------
Lebanese kidnapped in Syria released
September 25, 2012
BEIRUT: One of the 10 remaining Lebanese hostages held by Syrian rebels since May was released near the Turkish-Syrian border Tuesday, security sources told The Daily Star.
The sources, speaking on condition of anonymity, said that Lebanese authorities were notified of Ibrahim Awad's release earlier in the day.
The sources also spoke of the possibility of the release of two other of the hostages.
Speaking to LBCI from the Bab al-Salam border crossing, Awad said the remaining nine hostages were in good health and reiterated the captors' demand for an apology from Hezbollah Secretary-General Sayyed Hasan Nasrallah for his supportive stances of President Bashar Assad.
Full report at:
http://www.dailystar.com.lb/News/Local-News/2012/Sep-25/189146-lebanese-kidnapped-in-syria-released-sources.ashx#ixzz27TsUz1nX
----------
Lebanon's stability should not be sacrificed to Arab Spring: Sleiman
September 25, 2012
BEIRUT: President Michel Sleiman said Tuesday Lebanon had paid the price of enjoying a democratic system for decades and stressed the need to preserve the country's stability amid the Arab Spring.
"Our country has for more than six decades suffered from the blessings of democracy which made it the subject of envy and exposed it to crises threatening its existence and entity," Sleiman said.
For that reason, he went on to say, "we must not sacrifice our stability for the sake of the Arab Spring."
Sleiman spoke at the groundbreaking ceremony for the construction of the AUB Medical Center's new Academic and Clinical Center.
Full report at:
http://www.dailystar.com.lb/News/Politics/2012/Sep-25/189148-sleiman-praises-aub-for-new-initiative.ashx#ixzz27Ts8YzIM
----------
Free Speech 'Red Lines' Feed Muslim Film Rage
September 25, 2012
Dubai, United Arab Emirates. In US-funded ads running on Pakistani TV, subtitled clips show President Barack Obama extolling America's traditions of religious freedom. For many watching, though, the message misses the mark in efforts to calm the Islamic outrage over a film denigrating the Prophet Muhammad.
America's free speech laws and values of openness are not in question, but rather there is confusion and anger over how they are applied.
A powerful theme binding the protests from Indonesia to Africa is the perception that the US codes of free speech are somehow weighted against Islam — permitting the Internet video that insults the faith but placing clear limits on hot button issues such as hate speech, workplace discrimination and even what is acceptable on prime-time network TV.
Full report at:
http://www.thejakartaglobe.com/home/free-speech-red-lines-feed-muslim-film-rage/546380
----------
Syrian War's Spillover Threatens a Fragile Iraq
By TIM ARANGO
25 September 2012
BAGHDAD — The civil war in Syria is testing Iraq's fragile society and fledgling democracy, worsening sectarian tensions, pushing Iraq closer to Iran and highlighting security shortcomings just nine months after American forces ended their long and costly occupation here.
Fearing that Iraq's insurgents will unite with extremists in Syria to wage a two-front battle for Sunni dominance, Prime Minister Nuri Kamal al-Maliki recently ordered guards at the western border to block adult men, even husbands and fathers with families in tow, from crossing into Iraq along with thousands of refugees seeking to escape the grinding war next door.
Full report at:
http://www.nytimes.com/2012/09/25/world/middleeast/iraq-faces-new-perils-from-syrias-civil-war.html?_r=0
----------
Kuwait top court rejects govt recourse on electoral law
25 September 2012
Kuwait's constitutional court ruled on Tuesday that the Gulf emirate's electoral constituency law was in line with the constitution, rejecting a government appeal, an AFP correspondent reported.
"The recourse is rejected," judge Faisal al-Murshid declared in a court verdict, a day after thousands of opposition supporters rallied against the government's attempt to redefine the constituencies.
Last month, the government asked the constitutional court, whose rulings are final, to rule if the electoral constituency law was not in breach of the 1962 constitution.
Full report at:
http://www.khaleejtimes.com/kt-article-display-
----------
Education Ministry wins Arab award
22 September 2012
The Ministry of Education won the Arab e-Government shield award as the best interactive platform of a ministry on Facebook.
A competition was organised for Arab countries' government agencies and official websites by the Arab Organisation for Administrative Development and the Internet Awards Academy in the Arab World.
Director of Governmental Communication at the Ministry, Murad Abd Al Baloushi, was presented with the award in a ceremony in Sharm El Sheikh city, Egypt.
The organisers, in a statement, said the ministry based on its belief in the significance direct communication between institutions and individuals, seriously took into consideration comments by visitors to its page on the social networking site and worked on implementing them whenever regulations allowed it.
http://www.khaleejtimes.com/nation/inside.asp?xfile=/data/government/2012/September/government_September53.xml&section=government
----------
UAE in top three in ME financial literacy
25 September 2012
The UAE ranked among the top three in the Middle East for financial literacy, according to a new report from MasterCard.
The company's latest Index of Financial Literacy showed that UAE consumers increased their overall financial literacy ranking in the region, going from sixth place in 2010 to third place this year.
In addition, UAE consumers were the most informed in the region when it came to knowledge about investments. The country scored highest in the investment component of the survey at 57 per cent, followed by Qatar (55 per cent) and Lebanon (55 per cent).
Full report at:
http://www.khaleejtimes.com/kt-article-display-
----------
Africa
Islamists threaten to kill Somali MPs 'one-by-one'
Sep 24, 2012
NAIROBI: Somalia's al-Qaida linked Shebab threatened today to kill all the country's new lawmakers, saying that an MP killed at the weekend in Mogadishu was just the first to be targeted.
"The successful elimination of Mustafa Haji Mohamed was the action of the mujahedeen who are committed to killing all MPs," a Shebab official who asked not to be named, saying the group would "kill one-by-one" all other lawmakers.
"The remaining 274 MPs are on the waiting list to die if they don't abandon the criminal organisation that was set up contrary to Islamic law," the official said, referring to the new parliament selected in August.
Parliament's election this month of Hassan Sheikh Mohamud as president and the end of Somalia's transitional institutions in August had sparked hopes of a new beginning for the country after two decades of war.
Full report at:
http://timesofindia.indiatimes.com/world/rest-of-world/Islamists-threaten-to-kill-Somali-MPs-one-by-one/articleshow/16532093.cms
----------
Nigeria braces for escalation in terrorist attacks
Senior political and military figures say government has lost control of security amid wave of Boko Haram bombings
Afua Hirsch in Lagos
25 September 2012
The Nigerian government has lost control of security, according to its own advisers, and lacks a coherent strategy to counter the threat of terrorism.
Senior political and military figures have told the Guardian of their growing pessimism over the government's ability to contain Boko Haram, the Islamist sect responsible for a deadly wave of bombings and kidnappings in northern Nigeria, and are bracing themselves for an escalation in attacks.
Full report at:
http://www.guardian.co.uk/world/2012/sep/25/nigeria-terrorist-attacks-boko-haram
----------
Mali Islamists Becoming More Repressive, Report
25 September 2012
BAMAKO, Mali (AP) — Radical Islamists in control of northern Mali are becoming "increasingly repressive," amputating limbs, whipping people in the streets and stoning to death a couple accused of adultery, a human rights group said Tuesday.
The Islamists' efforts to impose their strict form of Islamic law known as Shariah has also extended to banning ring tones on mobile phones that are not Quranic verse readings, as well as prohibiting cigarettes and alcohol.
Women who wear jewelry or perfume, or fail to cover their heads can also face punishment, Human Rights Watch said in its report Tuesday.
Full report at:
http://www.nytimes.com/aponline/2012/09/25/world/africa/ap-af-mali-human-rights.html?ref=africa
----------
South Africa's ANC rebel to Face Corruption Hearing
25 September 2012
JOHANNESBURG (Reuters) - ANC rebel Julius Malema, South African President Jacob Zuma's most prominent critic and an advocate of mining nationalization, appears in court on Wednesday on corruption charges that his supporters say are politically motivated.
Police said they would close roads around the courthouse in Polokwane, the provincial capital of Malema's native Limpopo, 350 km (220 miles) north of Johannesburg, for one of the biggest trials since the end of apartheid in 1994.
Full report at:
http://www.nytimes.com/reuters/2012/09/25/world/africa/25reuters-safrica-malema.html?ref=africa
----------
Tunisia arrests radical over US Embassy attack
25 September 2012
TUNIS: A senior member of Tunisian hard-line group Ansar Al-Shariah has been arrested in connection with the attack on the US Embassy in Tunis earlier this month, the Interior Ministry said yesterday.
"Hassen Brik, who is the subject of a police inquiry, was arrested on Sunday in the connection with the investigation," ministry spokesman Khaled Tarrouche said.
Full report at:
http://www.arabnews.com/tunisia-arrests-radical-over-us-embassy-attack
----------
Kenyan soldier kills several Somalis
24 Sep 2012
Soldier immediately disarmed after shooting at least six people, believed to be civilians, in southern Somalia.
A Kenyan soldier with the African Union force in Somalia has killed six people, all believed to be civilians, after firing on them, a spokesman for the Kenyan Defence Forces (KDF) has said.
"Several people approached a KDF defensive position where a KDF soldier opened fire, killing six people," the army said in a statement on Monday.
"The soldier was immediately disarmed and has since been put on guarded seclusion."
The incident took place on Sunday in Jana Cabdalla, a town about 40km from the port city of Kismayo, the last major bastion of al-Shabab, the armed Islamist group.
Removing al-Shabab from Kismayo has been a long-term goal of Kenyan forces ever since they entered Somalia last October, but reaching the city has taken longer than initially planned.
http://www.aljazeera.com/news/africa/2012/09/2012924163725411242.html
----------
Libyans rise up against militias' dominance
Yasmine Ryan
24 Sep 2012
Benghazi civilans take action, arguing government failed to rein in ultra-conservative groups such as Ansar al-Sharia.
Benghazi, Libya - The killings at the US consulate in Benghazi earlier this month have laid bare a cultural war between ultra-conservatives and the rest of the population that has been brewing in Libya ever since the early days of the rebellion that ousted Muammar Gaddafi
On Friday, about 10,000 civilians, sick of what they view as the increasing impunity and lawlessness of militias, evicted Ansar al-Sharia, and several other similar armed groups that have rejected recent moves from authorities to integrate them into the nation's nascent security forces, from their compounds in central Benghazi.
Full report at:
http://www.aljazeera.com/indepth/features/2012/09/201292218380199890.html
--------
Libyan leader vows his country will not be a burden
September 25, 2012
NEW YORK: New Libyan leader Mohamed al-Megaryef on Monday vowed his country would not be a burden to the international community as he held his first face-to-face talks with US Secretary of State Hillary Clinton.
After voicing his condolences again for a militant attack on the US mission in the eastern city of Benghazi in which four Americans were killed, Megaryef said in English: "We will not be a burden."
Full report at:
http://www.dailystar.com.lb/News/Middle-East/2012/Sep-25/189134-libyan-leader-vows-his-country-will-not-be-a-burden.ashx#ixzz27TsFz4lO
----------
Final solution eludes the two Sudans
AMAN SETHI
Sep 25, 2012
ONGC Videsh expects to produce less oil and gas due to crisis
A solution to end hostilities and resume oil production continued to elude the two Sudans on Monday despite weeks of negotiations and the expiry of a September 22 deadline set by the UN Security Council.
Interim agreements
Sudan's President Omar al-Bashir and South Sudan's President Salva Kiir met late on Sunday night in Ethiopia to approve interim agreements thrashed out in prolonged negotiations held under the aegis of the African Union.
Full report at:
http://www.thehindu.com/news/international/final-solution-eludes-the-two-sudans/article3932584.ece
----------
Mideast Asia
Former Israeli PM avoids jail over fraud sentencing
25 Sep 2012
Former Israeli PM given suspended sentence and fine for breach of trust, opening up possibility of a return to politics
An Israeli court has spared Ehud Olmert, the former prime minister, a prison term over a conviction for breach of trust, potentially paving his way for a political comeback.
Olmert was sentenced on Monday after being found guilty in July of of illegally granting favours to a businessman while in a former cabinet post, he was acquitted at the time of more serious bribery charges.
Full report at:
http://www.aljazeera.com/news/middleeast/2012/09/2012924123925783825.html
----------
Iran tests missiles, unveils drone amid Israel tensions
Sep 25, 2012
TEHRAN: Iran has tested anti-air and anti-ship missiles and unveiled a new drone, its powerful Revolutionary Guards said today, in a show of military readiness for a war with Israel their chief says is inevitable.
Medium-range surface-to-air missiles designed to knock attacking aircraft out of the sky at a range of 50 kilometres were successfully fired today, the Guards said in a statement on their official Sepahnews website.
The new, Taer-2 missiles were part of an anti-air defence system known as Ra'ad (Thunder), the statement said.
Full report at:
http://timesofindia.indiatimes.com/world/middle-east/Iran-tests-missiles-unveils-drone-amid-Israel-tensions/articleshow/16536642.cms
----------
Ahmadinejad's speech at UNGA sparks Israel walkout
Sep 25, 2012
Iran's president called Israel a nuclear-armed "fake regime" shielded by the United States, prompting Israel's U.N. ambassador to walk out of a high-level U.N. meeting on Monday promoting the rule of law.
Iranian President Mahmoud Ahmadinejad also accused the U.S. and others of misusing freedom of speech and failing to speak out against the defamation of people's beliefs and "divine prophets," an apparent reference to the recently circulated video made in the U.S. which attacks Islam and denigrates the Prophet Muhammad.
he Iranian leader, who has called for Israel's destruction, used his speech to denounce Israel's occupation of Palestinian territory and U.S. vetoes in the U.N. Security Council to back its ally. He urged all nations to "hold occupiers accountable and make efforts to return the occupied territories to their rightful owners."
Full report at:
http://www.thehindu.com/news/international/ahmadinejads-speech-at-unga-sparks-israel-walkout/article3934587.ece
----------
After hate video, Iran plans own net system
Sep 25, 2012
DUBAI: Iran plans to switch its citizens onto a domestic internet network in what officials say is a bid to improve cyber security but which many Iranians fear is the latest way to control their access to the web.
The announcement, made by a government deputy minister on Sunday, came as state television announced Google Inc's search engine and its email service would be blocked "within a few hours".
Full report at:
http://timesofindia.indiatimes.com/world/middle-east/After-hate-video-Iran-plans-own-net-system/articleshow/16535997.cms
----------
Iran blocks Gmail, may boycott Oscars over anti-Islam film
Sep 25, 2012
Iran has blocked access to Google's mail service in protest of a U.S.-made anti-Islam video, a report said on Monday, while the government also announced that the country may boycott the Oscars if organisers failed to condemn it.
The Gmail service has been blocked since Sunday night, the Mehr news agency reported. A government spokesman said the action was taken at the request of citizens upset about the film Innocence of Muslims, which was posted on YouTube.
While YouTube has been blocked before, Google and its mail service have been accessible and popular in Iran. Gmail is said to be used by millions of Iranians, including government officials.
Full report at:
http://www.thehindu.com/news/international/iran-blocks-gmail-may-boycott-oscars-over-antiislam-film/article3931891.ece
----------
Blasts hit oil, gas pipelines in Yemen
25 September 2012
Two bomb blasts struck Yemen's gas and oil pipelines that link central fields with maritime terminals on the Gulf of Aden, officials and a company statement said Tuesday.
The first explosion early on Tuesday sabotaged the country's sole pipeline transporting gas from fields in Marib to the southern Belhaf export terminal, Yemen LNG Company said.
It went off 35 Kilometres (22 miles) north of Balhaf Liquefication Plant, in which France's Total has an almost 40 percent stake, the company said, adding that it "caused no victims."
The explosion occurred in the province of Shabwa, where Al-Qaeda militants remain active, and through which the 320-kilometre (200-mile) 38-inch pipeline travels, a security official said.
Full report at:
http://www.khaleejtimes.com/kt-article-display-
----------
Before Palestinians Act at U.N., Israeli Officials Urge Other Steps
By JODI RUDOREN
25 September 2012
JERUSALEM — With the Palestinians planning to make their case this week to upgrade from organizational status to nonmember status at the United Nations General Assembly, one senior Israeli minister condemned the move as "the easy and wrong way out" on Monday, while another said the time had come for Israel to consider its own unilateral move toward a separate state: annexing parts of the West Bank and withdrawing from others.
The first, Deputy Prime Minister Dan Meridor, said at a briefing for journalists here, "The goal is not a statement but a state; the way is not condemnation of Israel, but negotiations." Of the Palestinian bid, he said: "It's easier, but it won't bear fruit. A statement in the U.N. will give him some advantage in the public opinion, but this is it. Nothing will change on the ground."
Full report at:
http://www.nytimes.com/2012/09/25/world/middleeast/opposite-israeli-views-on-palestinian-stalemate.html?ref=middleeast
----------
Syrian Shells Land Near Israeli Border
By JODI RUDOREN
25 September 2012
JERUSALEM — Several mortar shells launched from Syria landed in the Golan Heights near Israel's northern border on Tuesday morning, prompting the Israeli military to file a complaint with United Nations forces operating in the area.
No one was injured and no damage was caused by the shells that landed near Kibbutz El Rom. Israeli military officials said the firing was aimed at rebel forces holed up in Jubta al-Hashab, a village on the Syrian side of the border.
"The shells were aimed at villages inside Syria and are actually part of the internal, ongoing conflict inside Syria," the Israeli Defense Forces said in a statement. "Fire from Syria leaking into Israel will not be accepted. I.D.F. forces remain alert and will continue their routine activity protecting the borders and the residents of the state of Israel."
Full report at:
http://www.nytimes.com/2012/09/26/world/middleeast/syrian-shells-land-near-israeli-border.html?hp
----------
Gunmen kill Yemeni intelligence officer: security official
September 25, 2012
SANAA: Unidentified gunmen have shot dead a senior Yemeni intelligence officer in the capital Sanaa, the fourth assassination targeting senior officers in just over a month, a security official said.
General Abdullah al-Ashwal "was shot in the stomach by unknown assailants" as he returned home from work late on Monday, said the official who spoke on condition of anonymity.
He said an initial investigation indicates that "Al-Qaeda was behind the attack."
Ashwal's killing was the fourth of its kind in just over a month.
Full report at:
http://www.dailystar.com.lb/News/Middle-East/2012/Sep-25/189125-gunmen-kill-yemeni-intelligence-officer-security-official.ashx#ixzz27TsYtssG
---------
Iran Ayatollah is poster boy for influence in Iraq
Sep 25 2012
Baghdad: After years of growing influence, a new sign of Iran's presence in Iraq has hit the streets. Thousands of signs, that is, depicting Iran's supreme leader gently smiling to a population once mobilized against the Islamic Republic in eight years of war.
The campaign underscores widespread doubts over just how independent Iraq and its majority Shiite Muslim population can remain from its eastern neighbor, the region's Shiite heavyweight, now that US troops have left the country.
The posters of Grand Ayatollah Ali Khamenei first appeared in at least six Shiite neighborhoods in Baghdad and across Iraq's Shiite-dominated south in August, as part of an annual pro-Palestinian observance started years ago by Iran. They have conspicuously remained up since then.
Full report at:
http://www.indianexpress.com/news/iran-ayatollah-is-poster-boy-for-influence-in-iraq/1007675/
---------
North America
US says best protection for religious dignity is free speech
Sep 25, 2012
GENEVA: The United States told a UN human rights body on Monday it considered freedom of religion inseparable from free expression, countering calls from many Islamic countries for a treaty outlawing blasphemy.
After two weeks of protests around the Muslim world over an online film mocking the Prophet Mohammed (PBUH), Ambassador Eileen Chamberlain Donahoe told the UN Human Rights Council that religious dignity is best protected where there is free speech.
"The inseparable freedoms of expression and religion are important not for abstract reasons," she told the Geneva body in an unscheduled intervention as world leaders arrived in New York for a General Assembly where some were expected to call for action against blasphemy.
Full report at:
http://dawn.com/2012/09/25/us-says-best-protection-for-religious-dignity-is-free-speech/
----------
Obama warns Iran on nuclear bid, containment 'no option'
Sep 25, 2012
NEW YORK: President Barack Obama will warn Iran on Tuesday that the United States will "do what we must" to prevent it acquiring a nuclear weapon, and appeal to world leaders for a united front against further attacks on US diplomatic missions in Muslim countries.
Preparing to take the podium at the United Nations six weeks before the US presidential election, Obama hopes to counter criticism of his foreign record by Republican rival Mitt Romney, who has accused him of mishandling the Arab Spring uprisings, damaging ties with Israel and not being tough enough on Iran.
Seeking to step up pressure on Iran, Obama will tell the U.N. General Assembly that there is still time for a diplomacy but that "time is not unlimited," according to advance excerpts of his speech, due to begin sometime around 1315 GMT.
Full report at:
http://timesofindia.indiatimes.com/world/us/Obama-warns-Iran-on-nuclear-bid-containment-no-option/articleshow/16543846.cms
--------
Hillary Clinton, Asif Zardari discuss Indo-Pak ties, anti-US protests
Sep 25 2012
New York : The improving trade ties between Pakistan and India, terrorism and violent anti-US protests were among a host of issues that President Asif Ali Zardari discussed with Secretary of State Hillary Clinton when they met here on the sidelines of the UN General Assembly session.
Zardari brought up the issue of the anti-Islam movie with Clinton and the two leaders "spent quite a bit of time talking about the violence throughout the region," that has resulted in the aftermath of the movie, a State Department official told reporters after the meeting yesterday.
Full report at:
http://www.indianexpress.com/news/hillaryclintonasifzardaridiscussindopaktiesantiusprotests/1007595/
----------
Muslim community in Oklahoma vows to continue outreach
By Carla Hinton
September 23, 2012
As a Muslim American, Adam Soltani said he has been told to "go home" more times than he can count, particularly in the aftermath of violence perpetuated by radical Islamic extremists.
But Soltani, a native Kansan raised in Oklahoma, said he is home.
"We get told a lot to 'go home,' and it is sometimes very difficult to hear that," Soltani said, referring to those who have told him and other Muslims that they should live in Muslim-majority countries.
Soltani said he has lived in the United States his entire life and "to be told to go back home really hurts us because this is our home."
Full report at:
http://newsok.com/muslim-community-in-oklahoma-vows-to-continue-outreach/article/3712140#ixzz27T4RlI7J
----------
Wisconsin Gurdwara to receive 2012 Solidarity Award
Sep 25 2012
Washington : The Gurdwara in Wisconsin, which experienced a shooting spree by a white supremacist last month, leaving six worshipers dead, will receive the "2012 Solidarity Award" by an eminent American Muslim organization.
The award by Washington-based Council on American-Islamic Relations (CAIR) would be presented to a Gurdwara representative at the organization's banquet and Leadership Skills Training Conference on September in Virginia.
Full report at:
http://www.indianexpress.com/news/wisconsin-gurdwara-to-receive-2012-solidarity-award/1007575/
----------
'Hate movie' actor files fresh case against Nakoula
Sep 25, 2012
An actress suing the producer of an anti-Islam movie that has spawned violent protests across the Muslim world plans to drop her suit and file a new case in federal court over copyright claims, her lawyer said on Monday. Cindy Lee Garcia, who appeared in the "Innocence of Muslims", filed a lawsuit last week in a state court in Los Angeles against Nakoula Basseley Nakoula, the California man thought to be behind the movie, claiming she was duped into playing a role and her life has been put at risk as a result. Her case also named YouTube and its parent company, Google, as defendants for their role in distributing the short, crudely made film on internet.
http://timesofindia.indiatimes.com/world/us/Hate-movie-actor-files-fresh-case-against-Nakoula/articleshow/16535998.cms
----------
World must stand together against extremists: Clinton
Sep 25, 2012
NEW YORK: In a round of intense diplomacy in the wake of violent anti-US protests, US Secretary of State Hillary Clinton met a series of Muslim leaders Monday and urged people to work together against extremists.
"All of us need to stand together to resist these forces and to support the democratic transitions under way in North Africa and the Middle East," Clinton told a donors forum.
"Unity on this throughout the international community is crucial because extremists around the world are working hard to drive us apart." She was addressing a meeting of the Clinton Global Initiative, founded by her husband, former president Bill Clinton, at which she praised the Libyan people in Benghazi for rising up last week against armed militias.
Full report at:
http://dawn.com/2012/09/25/world-must-stand-together-against-extremists-clinton/
----------
In Arab Spring, Obama Finds a Sharp Test
By HELENE COOPER and ROBERT F. WORTH
25 September 2012
WASHINGTON — President Hosni Mubarak did not even wait for President Obama's words to be translated before he shot back.
"You don't understand this part of the world," the Egyptian leader broke in. "You're young."
Mr. Obama, during a tense telephone call the evening of Feb. 1, 2011, had just told Mr. Mubarak that his speech, broadcast to hundreds of thousands of protesters in Tahrir Square in Cairo, had not gone far enough. Mr. Mubarak had to step down, the president said.
Minutes later, a grim Mr. Obama appeared before hastily summoned cameras in the Grand Foyer of the White House. The end of Mr. Mubarak's 30-year rule, Mr. Obama said, "must begin now." With those words, Mr. Obama upended three decades of American relations with its most stalwart ally in the Arab world, putting the weight of the United States squarely on the side of the Arab street.
Full report at:
http://www.nytimes.com/2012/09/25/us/politics/arab-spring-proves-a-harsh-test-for-obamas-diplomatic-skill.html?hp
----------
South Asia
US soldiers charged in Afghan urination case
24 Sep 2012
Marine Corps punishment for incident, a video of which was circulated on internet, falls short of criminal prosecution.
Two US soldiers are to face criminal charges for urinating on the bodies of dead Taliban fighters in Afghanistan, the Marines Corps has said.
The criminal charges are the first faced by anyone over the incident, a video of which was widely circulated on the internet, sparking protests in Afghanistan earlier this year.
At the time, Hamid Karzai, the Afghan president, called the Marines' actions "inhumane".
Staff Sergeants Joseph Chamblin and Edward Deptola were also charged with "posing for unofficial photographs with human casualties" the Marine Corps said, and will face a court martial.
Full report at:
http://www.aljazeera.com/news/asia/2012/09/2012924221942318709.html
----------
Ayyubey's final heir calls for death sentence not Blood Money
By Minivan News | September 25th, 2012
Ali 'Ayyubey' Hassan's final heir has asked for the death penalty for the under aged defendants in his murder trial, reported Haveeru.
Ayyubey, 76, was found murdered with multiple stab wounds on Kudahuvadhoo in January this year.
The victim had been accused of using sorcery on a 37 year-old woman, whose body had been found in the lagoon the previous month.
Full report at:
http://minivannews.com/category/news-in-brief
----------
Children caught up in Afghan conflict
Ali M Latifi, Abdullah Shahood
23 Sep 2012
More children are being killed or maimed as bloody conflict takes a heavy toll on the civilian population.
Kabul, Afghanistan - In what had become a daily ritual, Anisa Shahghasi said goodbye to her son, Nawab, with prayers on her lips and a quick wave of her hand.
The world outside their cramped Kabul home was fraught with dangers. And like every other mother in the Afghan capital - which still witnesses regular bombings and deadly attacks - Anisa wished for her son's safe return.
But on that September 8 morning, her prayers went unanswered.
Nawab, 17, had set off with a friend to sell scarves and bracelets near the ISAF headquarters, like he had done every day over the past six years.
Full report at:
http://www.aljazeera.com/indepth/features/2012/09/2012918124140212587.html
----------
Bangladeshi NGO wins WISE Award
25 September 2012
Six projects from around the world including Bangladesh have been awarded for their transformative impact on education and society.
The World Innovation Summit for Education (WISE) announced six groundbreaking projects from around the world as Winners of the 2012 WISE Awards under the theme "Transforming Education".
Now in their fourth year, the WISE Awards identify, showcase and promote innovative educational projects from all sectors and regions of the world in order to inspire change in education. Winning projects, which have been selected for their concrete, positive impact upon society, receive global visibility and a prize of US $20,000.
Full report at:
http://www.thedailystar.net/newDesign/latest_news.php?nid=41145
----------
Top Afghan Security Official Wins Case Challenging Corruption Accusation
By ALISSA J. RUBIN
25 September 2012
KABUL, Afghanistan — A judicial panel here ruled in favor of Afghanistan's national security chief on Monday in an unusual case of a senior government official turning to the courts and the public to prove that allegations of corruption against him were untrue.
The three-judge panel found that a former deputy attorney general, Fazel Ahmed Faqiryar, had falsely stated that he had been forced into early retirement and that he had falsely accused Rangin Dadfar Spanta, the national security adviser, of corruption. Mr. Faqiryar was ordered to pay a modest fine, about $300. The small fine was in keeping with Mr. Spanta's stated intent, which was to clear his name rather than to get revenge, said his lawyer, Ahmad Farid Arabzai.
Full report at:
http://www.nytimes.com/2012/09/25/world/asia/rangin-spanta-wins-case-challenging-corruption-charges.html?ref=world
----------
US drone kills five militants: Officials
September 25, 2012
MIRAMSHAH: A US drone strike on Monday killed at least five militants near the Afghan border, security officials said.
The strike targeted a compound in the Mir Ali area of North Waziristan, known as a bastion for the Taliban and al Qaeda. The drone fired two missiles, they said.
A security official in Miramshah told AFP that five militants had been killed.
"The compound was located in Khaderkhail village, some 40 kilometres east of Miramshah, the headquarters of the North Waziristan tribal district," the official added.
Full report at:
http://tribune.com.pk/story/441970/us-drone-kills-five-militants-officials/
----------
Afghanistan hails US action on marines video
Sep 25, 2012
WASHINGTON: Afghanistan on Tuesday welcomed a Pentagon decision to put two US Marines on trial for urinating on the bodies of dead Taliban fighters and posing for photographs with them.
The Pentagon announced that Staff Sergeants Joseph Chamblin and Edward Deptola will face court martial, a month after three other Marines were sanctioned administratively for their role in the July 27, 2011 incident in Afghanistan's Helmand province.
"We welcome the US move to put those Marines on trial," Afghanistan's defence ministry spokesman General Zahir Azimi told AFP.
Full report at:
http://dawn.com/2012/09/25/two-us-marines-charged-with-urinating-on-taliban-dead/
----------
Govt ensures voting rights: Hasina
25 September 2012
Prime Minister Sheikh Hasina said her government has been working tirelessly to further consolidate democracy and establish rule of law in the country along with fulfilling basic needs of the people.
She made the remark when US Senator Peter W Galbraith met her at her hotel suite in New York on Sunday evening.
After the meeting, Press Secretary to the Prime Minister Abul Kalam Azad briefed reporters.
Sheikh Hasina said democratic institutions of Bangladesh, including Jatiya Sangsad, Election Commission and Human Rights Commission, have been strengthened, while voting rights of the people have been ensured due to various pragmatic steps of the government.
Full report at:
http://www.thedailystar.net/newDesign/news-details.php?nid=251135
----------
Maldives Ministry of Human Rights reserves posts for the disabled
By Minivan News | September 25th, 2012
The Ministry of Gender, Family and Human Rights has reserved three posts for people with disabilities and has urged other government departments to do the same, reports Sun Online.
The ministry is said to have reserved the position of Procurement Officer for a person with disabilities whilst two additional posts will be reserved for those with visual impairment.
Sun reported that the ministry drew attention to article 37 of the constitution which guarantees the right to work to all Maldivian citizens.
Private businesses have also been encouraged to follow the Ministry of Gender's lead.
http://minivannews.com/category/news-in-brief
----------
Govt empowering women: Hasina
25 Sep 2012
Women will account for 30 percent of parliamentary seats and half the country's workforce by 2021, Prime Minister Sheikh Hasina told an international audience on Monday as she spelled out the steps taken by her government to boost women's political, economic and social empowerment.
Globally, women are also making progress, but it's still not enough, she said at the programme organised by US Secretary of State Hilary Clinton to discuss women's equal partnership with men and their empowerment.
"In recent times, there has been progress, but not enough. Women's participation in all spheres of society is small," she told the 'Equal Futures Partnership' event at Astor Room of the Inter Continental Barclay Hotel.
Full report at:
http://www.thedailystar.net/newDesign/latest_news.php?nid=41116
---------
Southeast Asia
'Human rights must conform to local values': Indonesia Home Minister
Margareth S. Aritonang
September 25 2012
Home Minister Gamawan Fauzi has said that the government is drawing up a regulation that would make it possible for local governments to interpret the universal values of human rights in accordance with local conditions.
Gamawan said his ministry was working with the Law and Human Rights Ministry to draft a joint ministerial decree that would set standards on how to define human rights according to local customs that would be used as the benchmark in drafting bylaws nationwide.
"We have to come up with our own standards so that the implementation of so-called human rights will not contradict religious and cultural values embraced by people in parts of this country who have their own traditions," Gamawan said on the sidelines of a hearing with House of Representatives Commission II on home affairs and regional autonomy on Monday.
Full report at:
http://www.thejakartapost.com/news/2012/09/25/human-rights-must-conform-local-values.html
----------
Police obtain ten names of Alawy's alleged assailants
Iman Mahditama
September 25 2012
The Jakarta Police confirmed on Tuesday that they had obtained ten names of SMAN 70 students who allegedly assaulted and killed SMAN 6 high school student Alawy Yusianto Putra. Alawy died as a result of a violent incident involving students of the neighboring schools in South Jakarta on Monday.
"We are still investigating the case. None [of the ten names] have been identified as suspects. Let us pray that the investigation goes smoothly," police Chief Insp. Gen. Untung S. Rajab told reporters in Jakarta.
Full report at:
http://www.thejakartapost.com/news/2012/09/25/police-obtain-ten-names-alawy-s-alleged-assailants.html
----------
Indonesia's first president immortalized, in wax
Ina Parlina
September 25 2012
The country's first president Sukarno is finally to receive long-overdue recognition by being immortalized in wax at Madame Tussauds Bangkok, standing alongside other famous world leaders including Mahatma Gandhi, Aung San Suu Kyi and the Dalai Lama.
After six months' work, Madame Tussauds Bangkok unveiled Sukarno's wax figure on Monday.
Sukarno proclaimed the country's independence on Aug. 17, 1945 and served as its first president until 1966. Sukarno, who died in 1970, also wrote the country's founding principles, Pancasila.
Full report at:
http://www.thejakartapost.com/news/2012/09/25/indonesia-s-first-president-immortalized-wax.html
----------
URL: https://newageislam.com/islamic-world-news/a-children's-magazine,-newspaper,-urdu/d/8780