New Age Islam News Bureau
5 Jul 2013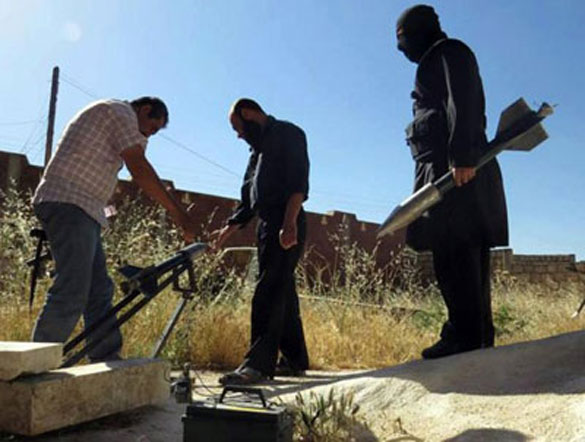 This citizen journalism image provided by Edlib News Network, ENN, which has been authenticated based on its contents and other AP reporting, shows Syrian rebels preparing to fire locally made rockets, in Idlib province, northern Syria Photo by: Anonymous
----------
Arab World
• 6,000 terrorists flood new al Qaeda training ground
• Lebanese Sunni militant cleric condemns Hizbullah and Lebanese army
• Bombs on Iraq town squares kill 8
• Drive-by shooters, bomb leave 6 dead in Baghdad
• OIC conference on Rohingyas in Jeddah next week
• A simple prayer: the UAE's portable mosques
• Egypt army permits 'peaceful protest' amid Morsi anger
• In his final days, Mohammed Morsi was isolated but defiant
• Egypt military vows no 'exceptional' measures
• Ex-president's blunders doomed nation's first tryst with democracy
• Egyptian liberals call for 'urgent' anti-Islamist rallies
• Egypt's interim president to issue constitutional declaration
• At least 3 killed in gunfight between army, pro-Mursi protesters
India
• Ishrat Jahan Encounter Case: CBI's Report Gives Chilling Account of Murders
• 'India hopes Pak would respond to its immediate concerns'
• Zero tolerance for crime against women, Najeeb Jung says
• India says no to Afghan arms plea
• Militant activities on the rise in J&K
• India bats for 'conciliatory dialogue' in Egypt
• Ishrat Jahan case: 'Encounter bungalow' goes to the dogs
• Vanzara said he had Modi's nod to kill Ishrat: Gujarat cop
South Asia
• Afghan suicide bomber 'kills 12' at Uruzgan police station an Afghan Province
• 15 million Afghans to gain from UAE-backed project
• China Xinjiang security tight on riot anniversary
• 'Human-trafficking in Maldives' to the fore again, but hopes remain
• Egyptian coup "different" to Maldives' 2012 power transfer: President Waheed
Pakistan
• Scholars condemn terrorism, but a group fans the same: Eminent Islamic scholar
• 9 killed, 19 injured in Pakistan suicide bombing
• Karachi central prison: A tinderbox of expanding militant networks
• 'Honour' killing: Top cops of Islamabad, K-P put on notice by SC
• Afghanistan imbroglio: India, Pakistan urged to pursue policies of cooperation, not conflict
• China-Pakistan friendship 'sweeter than honey': Sharif
• KP opposed to extending stay of Afghans
• Pakistan Brings Back Death Penalty
• NATO supply truck attacked in Balochistan, driver killed
• IIUI to launch zero tolerance policy against plagiarism
• Concern rises over Pakistan plan to halt extremism
• Karachi Rangers arrest suicide bomber, 10 suspects from no-go area
Africa
• Nigeria: Police Parade Alleged Homosexual Pastor, 25 Others for Various Crimes
• African Union suspends Egypt over Mursi's ouster
• Going underground: Libya's unusual cave dwellings
• Tunisia will not follow Egypt, says Tunisia's ruling party
Southeast Asia
• 'Democracy is No Guarantee' Indonesian Lawmakers Say as Morsi Falls
• Controversial Bill on conversion of minors withdrawn in Malaysia
• Many Aceh Victims Still in Need of Aid
• Change does not guarantee people's prosperity and well-being, says Najib
Indonesia: booze sale ban?
Mideast
• Israel relying on Egyptian army to counter Islamists
• Turkish PM Erdoğan slams Western countries over Egypt
• Turkey police crack down on Syria aid workers after unrest
• Fatah calls on Palestinians to overthrow Hamas in wake of Morsi's fall
• Netanyahu hails Israel as 'island of democracy'
• Turkish Constitutional Court abrogates provision allowing detentions up to 10 years for terror suspects
North America
• US touts democracy as Egypt Army takes over
• Gitmo inmates to be force-fed only after fasting hours
• US face battle to restore trust in Egypt after 'kowtowing to Brotherhood'
• John McCain Wants the U.S. to Support These Syrian Rebels
• US activists mark Independence Day with NSA surveillance rallies
Europe
• UK to be first non-Muslim country to host Islamic Economic Forum
• London Muslim community out to reclaim 'honour'
• UN's Pillay says concerned over detention of Brotherhood heads in Egypt
Compiled by New Age Islam News Bureau
URL: https://www.newageislam.com/islamic-world-news/new-age-islam-news-bureau/6,000-terrorists-flood-new-al-qaeda-training-ground-in-syria/d/12445
------------
Arab World
6,000 Terrorists Flood New Al Qaeda Training Ground in Syria
July 5, 2013
Thousands of foreign terrorists traveled to Syria over the past several months to wage jihad, or holy war, in what U.S. officials say is fast becoming a new international terror training ground.
Most of the foreign terrorists are fighting for the al Qaeda-linked group the al-Nusra Front and are coming from around the world, mainly from Saudi Arabia, Iraq, Libya, and Tunisia, by crossing the Syrian border with Turkey. The al-Nusra Front is the most well organized and ideologically motivated armed opposition group after the secular Free Syrian Army.
"The Syrian opposition is benefiting from a steady flow of foreign fighters who seem to be joining a variety of Islamist-oriented brigades or, on a smaller scale, starting up nationality-based units," said one U.S. official familiar with internal reports on the region.
Bruce Riedel, a former CIA official and former staff member of the White House National Security Council, added: "Syria is the new epicenter for the global jihad with would be 'martyrs' arriving from across the Islamic world to fight Assad. They are getting experience in the terror arts they will bring home."
Word of the growing foreign terrorist presence comes as a gruesome videosurfaced over the past weekend showing Syrian rebels beheading three Christians, including a Catholic priest, in a public execution widely circulated on the Internet.
The Obama administration announced last month that it will begin sending arms to secular rebel groups fighting under the Free Syrian Army banner. Critics have warned that the covert U.S. support could end up bolstering al Qaeda forces in the region.
"The balance of power within the Syrian opposition between responsible forces and terrorists is already murky at best," John Bolton, former U.S. Ambassador to the United Nations, told the Washington Free Beacon.
"If even more al Qaeda supporters are moving in, it raises the risks of supplying weapons even to 'friendly' opposition forces even higher," he said.
The number of "martyrdom announcements" by jihadists in Syria indicates the influx of foreigners is increasing, said officials who spoke on condition of anonymity.
Officials familiar with reports of the foreign fighters said many of the jihadists are Sunni Muslims initially drawn to the conflict to help the Syrian people and oppose Shiites.
However, one official said the fact that most are joining al-Nusra Front and another Chechen terrorist group are troubling signs since it is believed the foreign fighters will become "hardened jihadists" through the experience.
The increase in foreign terrorists began in December and is continuing. U.S. officials estimate many as 6,000 foreign terrorists are now fighting in Syria and the large numbers have increased fears among security officials that the terrorists will use their experience to spread terror to their home countries.
More than 600 Islamist foreigners were reported killed in fighting in Syria since the beginning of the year.
Al-Nusra and the Chechen-led Jaysh Al-Muhajirin wal Ansar rebel group, which collaborates with al-Nusra, are the main jihadist groups that have helped funnel foreign terrorists into the conflict.
According to the officials, Syria is becoming a new terrorist training ground as most of the foreign fighters joining the conflict have little or no jihadist experience.
For example, the martyrdom statements of the dead jihadists revealed that among the more than 600 dead, fewer than 20 were experienced fighters from Afghanistan, Libya, or elsewhere.
The easy access to the Syrian conflict is viewed as a main factor in the increase of foreign fighters.
It has become relatively easy for terrorists to reach the Islamist rebels through the Turkish-Syrian border, the officials said.
Chechen terrorists have set up an Internet site that helps fighters reach the Jaysh Al-Muhajirin wal Ansar group by traveling to Turkey and then crossing easily into Syria.
According to London's Arabic-language newspaper Al-Sharq al-Awsat, Libyan terrorist leader Abu-Yahya has said there is an easy travel route for Tunisian and Libyan fighters, who are being trained in Libya for jihad in Syria, to be smuggled into Syria with the help of militant groups.
The conflict in Syria also has pitted Muslims against each other. Many Sunni militants initially traveled to Syria to wage jihad against Shiites, like the Iranian-backed Hezbollah terrorist group that is supporting the Assad regime.
The Syrian conflict also has exposed a rift within al Qaeda. The Iraqi al Qaeda group known as the Islamic State of Iraq merged with Al-Nusra Front in March to create the Islamist State of Iraq and the Levant. However, al Qaeda leader Aymen al Zawahiri announced that the merger was not valid.
Meanwhile, weapons continue flowing into the Syrian conflict for both rebels and the Assad regime.
Reports from the region indicate governments in Saudi Arabia, Qatar, and Turkey are the most active supplying an array of missiles, including both anti-aircraft and anti-tank missiles to Islamist groups. France has supplied anti-aircraft missiles and other weapons to Free Syrian Army rebels.
Of particular concern are reports that the Islamist rebels are receiving significant numbers of Russian-made SA-7 anti-aircraft missiles. The shoulder-fired missiles are considered ideal terrorist weapons that could be used against commercial airliners.
Reports from northern Syria indicate Chechen jihadists there are equipped with more advanced SA-16 surface-to-air missiles.
Russia and Iran have been arming the Assad regime's forces. News reports from Asia stated in early June that North Korea's military had sent about a dozen troops to aid the Assad regime as advisers.
Estimating numbers of foreign terrorists in Syria is difficult. But officials said most of the foreigners appear to be from Libya, with reportedly some several hundred Libyan jihadists; Saudi Arabia with at least 330; several hundred Egyptian Islamists and around 300 Iraqis. Jordan's jihadist contingent in Syria is said to number more than 500.
Other nationalities observed engaged in Syria jihad include Kuwaitis, Lebanese, Palestinians, Qataris, Algerians, and Moroccans.
Non-Arab jihadists include smaller numbers of terrorists from China, Australia, Britain, Denmark, France, Germany, Netherlands, Sweden, Canada, Russia, Azerbaijan, Kazakhstan, Kyrgyzstan, Tajikistan, Uzbekistan, Austria, Belgium, and Bosnia. It could not be learned if any American jihadists are in Syria.
Analyst said one of the main dangers from the influx of foreign fighters is that the fighters will use their jihadist experience to continuing waging jihad around the world.
"Not everyone who has joined the Syrian rebels is al Qaeda, and only a small number may ever become involved in terrorism after returning to Europe," said Aaron Y. Zelin of Washington Institute for Near East Policy in a recent paper.
"That said, it would be wrong to conclude that individuals who have trained and fought in Syria pose no potential threat. Numerous studies show that individuals with foreign training and/or fighting experience have featured prominently in European based terrorist plots."
Other studies have shown that foreign-trained terrorists "are far more lethal, dangerous and sophisticated than purely domestic cells," Zelin stated, noting that the Syrian conflict could produce a new generation of terrorists like the conflicts in Iraq in the 2000s, Bosnia in the 1990s, and Afghanistan in the 1980s.
http://www.washingtontimes.com/news/2013/jul/2/syria-jihad-central-6000-terrorists-flood-new-al-q/?page=3#ixzz2YDBQHNBa
------------
Lebanese Sunni militant cleric condemns Hizbullah and Lebanese army
July 5th, 2013
Sheikh Ahmed al-Asir, whose fate became uncertain after the army stormed his headquarters on June 24, resurfaced Thursday in an alleged audio message in which he described the deadly Sidon clashes as a plot aimed at ending his presence.
"You will know and everyone must know the normal context of the incident, or rather the massacre, that happened, which is not an isolated incident, as we had raised the voice several times over the attacks of the Party of Satan (Hizbullah), the criminal AMAL Movement and the shabiha (thugs) of the so-called Lebanese army, which is in the service of Hizbullah, AMAL Movement, the criminal Syrian regime and the Iranian regime," Asir says in the audio recording.
"These attacks have not only targeted us, but have also targeted the entire Sunni sect, ever since Syria started its hegemony over Lebanon … such as jailing our young men, torturing them, stepping on their beards and necks and interrogating them in a provocative sectarian manner, and lately one of the soldiers pushed another soldier against one of our sisters who wears niqab and he fell over her," Asir added.
He said he was fully aware that "a confrontation was being plotted" against his group because Hizbullah chief Sayyed Hassan "Nasrallah knew that he would lose a direct confrontation against us after he lost in (Syria's) Qusayr."
"The scenario was to pit us in a confrontation with the army. That's why we raised our voices high throughout seven months to say that the 'apartments of strife' tried to assassinate my son amid daily provocations and several mediations that prevented us from making any move to close the apartments, and we complied with every initiative and remained calm," Asir claimed.
He accused the army of deploying in the Abra region in order to "protect the apartments" that he had claimed were being used by Hizbullah to stockpile weapons and monitor his movements.
Asir also accused the army of "insulting us and harassing us and our women."
"We repeated several times that we want coexistence and to live in peace with everyone, but I asked them to put out the fire and vacate the apartments and my demand was not heeded," he said.
Asir noted that several weeks before the deadly "incident" at an army checkpoint in Abra, his group detected unusual movements on the Mar Elias Hill, the Sharhabil Hill and in Haret Saida "and several other locations."
"We asked the (Internal Security Forces') Intelligence Bureau to probe the issue, but no one responded," the fugitive cleric added.
He claimed that gunmen loyal to Hizbullah "expelled residents from the buildings and heavily stockpiled weapons."
"We informed the relevant authorities that a major battle was being prepare and no one was able to do anything," Asir added.
"The incident happened when the army erected a checkpoint outside our mosque and its sole mission was to harass us and the worshipers. They used to remove the checkpoint after the end of the prayer at the mosque and erect it again during prayer time to harass our youths," he said, accusing troops of "beating up a bearded taxi driver and a passenger over the possession of a baton."
Explaining the incident that sparked the fierce deadly clashes, Asir said: "I asked my office manager Sheikh Ahmed Hariri to go to the checkpoint and ask them to remove it because we couldn't tolerate what's happening anymore, so Sheikh Ahmed and one of the brothers, who were of course armed, went there and spoke with the officer, who started raising his voice gradually before bullets rained down on us."
"I saw the incident through the surveillance camera and I dare them to broadcast the video that they confiscated from Bank Audi to expose all the liars who condemned the attack on the army," said Asir.
He added that troops opened fire, "which prompted our men to retreat and defend themselves, and at that moment heavy gunshots rained down on everyone, on the army and on our men, most probably from an apartment belonging to Hizbullah in the building of KFC."
"One of our men was killed and several others were wounded and the shelling and bullets did not stop when the men retreated to the mosque," Asir said.
"Is it logical that an incident happened at a checkpoint while bullets and shells were ready to be fired from Haret Saida and Sharhabil over an incident at a checkpoint? Even if an officer and a soldier were killed?" he wondered.
He claimed that it was a "premeditated decision" because "if we wanted to open fire on the army, Sheikh Ahmed would not have gone to the barracks and the issue is a big lie and the decision was taken to end Ahmed al-Asir amid the consent of some local figures and a lot of Lebanese parties from the March 14 and March 8 camps."
Inside Asir's headquarters complex, which includes a mosque, several office buildings and apartment blocks, explosives and weapons, – including rocket launchers, snipers and machineguns -- were found.
"It looks more like a security fortress than a mosque," caretaker Interior Minister Marwan Charbel told reporters in the wake of the clashes, adding that several Asir supporters detained by security forces were non-Lebanese.
According to an army statement, the clashes erupted after Asir supporters attacked a checkpoint in "cold blood" and "for no reason."
Eighteen soldiers were martyred and 20 others were wounded in the attack and in the fierce clashes that ensued. Twenty of Asir's gunmen were also killed.
"The interior minister sent us a message in an indirect manner in which he warned that 'Ahmed al-Asir's head is wanted' and 'Ahmed al-Asir must die'," the cleric added in the recording.
Asir called on the Sunni community to "break the barrier of fear and fear only God," urging them to protest "in a peaceful and civilized manner" after Friday prayers "in coordination with the Muslim clerics."
"I don't want to hear that there is frustration. God will show the right and we will return to raise the flag of right, whether they like it or not," Asir pledged.
He noted that the audio message, whose authenticity could not be independently verified, was recorded on Thursday.
http://www.albawaba.com/news/lebanese-sunni-militant-cleric-condemns-hizbullah-and-lebanese-army-audio-recording-504371
------------
Bombs on Iraq town squares kill 8
AFP | Jul 5, 2013
BAGHDAD: Attacks killed eight people in town squares in Iraq on Friday, including seven who died when a suicide bomber dressed in army uniform set off his car rigged with explosives just before midday prayers.
The latest violence, which also left dozens wounded, comes as Iraq struggles with a surge in violence coinciding with a long-running government deadlock and months of protests among the Sunni Arab minority.
The deadliest of the attacks struck Samarra, a predominantly Sunni town north of Baghdad, when a suicide bomber detonated a car bomb near al-Haq square, a focal point for anti-government protesters for months.
The attack took place just before Friday prayers near the al-Razzaq mosque, killing seven people and wounding nine others, police and medics said.
The bomber wore an army uniform, police said.
In the predominantly Shia town of Kut, south of Baghdad, a bomb set off in al-Amil square at around 10:00 am killed one person and wounded 17 others.
Two militants also died in the northern town of Hawijah when the bomb they were trying to plant unexpectedly went off, officials said.
Iraq has seen a surge in violence since the start of the year, with the UN reporting more than 2,500 people killed from April through June, the highest such level since 2008.
http://timesofindia.indiatimes.com/world/middle-east/Bombs-on-Iraq-town-squares-kill-8/articleshow/20931378.cms
-------
Drive-by shooters, bomb leave 6 dead in Baghdad
5 July 2013
BAGHDAD: Officials say gunmen in speeding cars shot and killed three people in Baghdad while a bombing at a teahouse the night before also killed three.
A police officer says attackers opened fire from a speeding car at two doctors in the eastern New Baghdad neighborhood on Thursday morning, killing one and wounding the other.
The officer says a similar drive-by shooting in the eastern Zafaraniyah neighborhood killed a woman doctor and a school guard.
Another officer says a bomb went off late Wednesday inside a teahouse in the capital's northern Azamiyah neighborhood, killing three people and wounding 14 there.
Two medical officials confirmed the casualty figures. They spoke on condition of anonymity as they were not authorized to talk to the media.
No one has claimed responsibility for the attacks.
http://www.arabnews.com/news/457082
------------
OIC conference on Rohingyas in Jeddah next week
5 July 2013
The Organization of Islamic Cooperation (OIC) will hold on July 7 and 8 the Arakan Rohingya Union Conference at its headquarters in Jeddah.
The charter of the Arakan Rohingya Union (ARU) will be submitted to the members for discussion in preparation for its adoption.
The agenda of the conference will also include introduction of the current and new members of the union, which was established by the OIC in May 2011 to unite the Rohingya refugees around the world.
Waqarudin, director general of the first session of the union, will present his report on ARU's achievements. The conference will look into the strategy and action plan of the union in the next session, in addition to electing officials and the formation of the Supreme Council, the committees and advisory board.
In a letter sent through his special envoy, OIC Secretary General Ekmeleddin Ihsanoglu told Myanmar President Thein Sein that the organization, on behalf of the 57 heads of the member states, is ready to assist in reaching a long-term solution to problems of Muslims in Myanmar.
Special envoy Talal Daous, director of minorities department at the OIC, accompanied by Hassan Abdin, delivered the letter last week.
In the letter, the secretary-general said the OIC is ready to assist in any way to reach a long-term solution for the existing and emerging problems of all Muslims in Myanmar, who deserve nothing less than the basic rights accorded to any citizen of Myanmar, including access to urgent humanitarian assistance.
The special envoy delivered the letter to Foreign Minister Wunna Maung Lwin and during the meeting discussions focused on the importance of the secretary-general's visit to Myanmar and the Contact Group on Myanmar.
"We believe that a long-term solution to the problems of the Rohingya Muslims can only be found through the restoration of their legal status and the recognition of their birth right, including citizenship," said Ihsanoglu.
He said the targeting of Muslims in central Myanmar during the last week of March and last week of April has been a particularly worrying development for the reason that unlike the Rohingya Muslims, the recent events involved Muslims who are integrated in the Myanmarese society with full citizenship rights in areas outside the Rakhine region.
"We are concerned that what was once considered as a case of inter-communal violence confined to one part of Myanmar now has the danger of spreading throughout the country," Ihsanoglu said.
The OIC chief said that with the cooperation of the authorities in Myanmar, OIC member states would be willing to establish a collaborative mechanism with Myanmar to provide economic and humanitarian assistance to all those in need, confidence building between communities, interfaith dialogue and technical expertise to assist Myanmar in its democratic transition and integration into the international community.
http://www.arabnews.com/news/457095
------------
A simple prayer: the UAE's portable mosques
Anna Zacharias
Jul 4, 2013
Benoy Thomas has never set foot inside a mosque he has not built.
The Christian from Kerala has designed hundreds of mosques that are found from Fujairah's wadis to the oilfields of Abu Dhabi. His mosques have heard the prayers of thousands of men, from dozens of countries.
But Thomas is not an Islamic architect. He is a specialist in prefabricated housing design. It is his job to convert labour camp caravans into mosques.
"If you see a permanent mosque, it's totally different than a prefab mosque," says Thomas, who works for Extra Co, a company that specialises in prefabricated units in Sharjah. "You cannot adopt all the features. The main thing is that this should be spacious for them, it should not be congested. A mosque should have a feel that this is not a normal house. Full report at:
http://www.thenational.ae/lifestyle/a-simple-prayer-the-uaes-porta-mosques#ixzz2YD7CzYtv
------------
Egypt army permits 'peaceful protest' amid Morsi anger
July 5, 2013
Egypt's army has said it will guarantee the right to peaceful protest, ahead of the traditional day for major rallies.
Muslim Brotherhood supporters are expected to rally on Friday after the army deposed President Mohammed Morsi.
New interim leader Adly Mahmud Mansour, the top judge of Egypt's constitutional court, has pledged to hold elections based on "the genuine people's will".
Muslim Brotherhood spokesman Gehad al-Haddad said it refused to co-operate with the new regime.
Mr Morsi, Egypt's first freely elected leader, is in detention, as are senior figures in the Brotherhood, the Islamist group of which he is a member. Arrests warrants have been for some 300 others.
Full report at:
http://www.bbc.co.uk/news/world-middle-east-23192472
------------
In his final days, Mohammed Morsi was isolated but defiant
AP | Jul 5, 2013,
CAIRO: The army chief came to President Mohammed Morsi with a simple demand: Step down on your own and don't resist a military ultimatum or the demands of the giant crowds in the streets of Egypt.
"Over my dead body!" Morsi replied to Gen. Abdel-Fattah el-Sissi on Monday, two days before the army eventually ousted the Islamist leader after a year in office.
In the end, Egypt's first freely elected president found himself isolated, with allies abandoning him and no one in the army or police willing to support him.
Even his Republican Guards simply stepped away as army commandos came to take him to an undisclosed Defense Ministry facility, according to army, security and Muslim Brotherhood officials who gave The Associated Press an account of Morsi's final hours in office. They spoke on condition of anonymity because they were not authorized to talk to the media.
Full report at:
http://timesofindia.indiatimes.com/world/middle-east/In-his-final-days-Mohammed-Morsi-was-isolated-but-defiant/articleshow/20924133.cms
------------
Egypt military vows no 'exceptional' measures
AP | Jul 5, 2013
CAIRO: The spokesman of Egypt's military says it will not carry out any exceptional or arbitrary measures against any political group, amid a swift crackdown on the group of the ousted Islamist president, the Muslim Brotherhood.
Colonel Ahmed Mohammed Ali said on his official Facebook page late Thursday the armed forces and security agencies want to "ensure national reconciliation, constructive justice and tolerance."
Full report at:
http://timesofindia.indiatimes.com/world/middle-east/Egypt-military-vows-no-exceptional-measures/articleshow/20921965.cms
------------
Ex-president's blunders doomed nation's first tryst with democracy
Jul 05 2013
Cairo : Mohammed Morsi's early challenge to the army and his imposition of an Islamist-tinged constitution were fateful moments in his turbulent year as Egypt's first freely elected president.
A year ago, the Muslim Brotherhood seemed about to reap the fruits of the popular uprising that had toppled Hosni Mubarak, with Morsi installed in the palace he occupied for 30 years.
Now, with the army unceremoniously removing him to wild acclaim from streets packed with Egyptians who had once demanded Mubarak's removal and then an end to the military rule that followed, the movement's future appears at best uncertain.
Full report at:
http://www.indianexpress.com/news/expresident-s-blunders-doomed-nation-s-first-tryst-with-democracy/1137827/
------------
Egyptian liberals call for 'urgent' anti-Islamist rallies
By REUTERS
5 July 2013
CAIRO - Egypt's liberal coalition issued an "urgent call" for supporters to take to the streets on Friday in response to demonstrations by Islamist supporters of deposed President Mohamed Morsi.
The National Salvation Front, which endorsed the army's removal of Morsi and a plan it issued for holding new elections, said people must protect what it called the "June 30 Revolution" - referring Sunday's mass rallies that prompted the army move.
NSF spokesman Khaled Dawoud told Reuters that plans by Morsi's Muslim Brotherhood and their Islamist allies to hold protests on Friday amounted to a "counter-revolution".
The Egyptian military warned against reprisal attacks and called for conciliation ahead of rallies expected to be held on Friday by Islamist supporters of toppled president Mohamed Morsi, AFP reported.
Full report at:
http://www.jpost.com/Middle-East/Egypt-army-warns-against-violence-ahead-of-Morsi-rallies-318848
---------
Egypt's interim president to issue constitutional declaration
5 July 2013
Egypt's interim President Adli Mansour, who was sworn on Thursday, is expected to announce a constitutional declaration within hours, media reports said.
The Anadolu News Agency said that the expected declaration will be temporary.
Sources told the agency the declaration will dissolve Shura council, the upper house of Egypt's Islamist-led parliament.
Full report at:
http://english.alarabiya.net/en/News/middle-east/2013/07/05/Egypt-s-interim-President-to-issue-constitutional-declaration-.html
---------
At least 3 killed in gunfight between army, pro-Mursi protesters
5 July 2013
At least three people were killed and several were wounded on Friday in a gunfight between the Egyptian army and backers of ousted Islamist President Mohammed Mursi, AFP reported.
Gunfire erupted near the headquarters of the Republican Guard in Cairo where pro-Mursi supporters had gathered to express their dissatisfaction over the military's decision to oust the president.
Gun shots could be heard coming from both the Republican Guard and the demonstrators, an AFP correspondent said.
http://english.alarabiya.net/en/News/middle-east/2013/07/05/Egyptian-troops-open-fire-on-pro-Mursi-supporters.html
-----------
India
Ishrat Jahan Encounter Case: CBI's Report Gives Chilling Account Of Murders
TNN | Jul 5, 2013
Fight CBI moves at political level, Narendra Modi says State cops and IB were hand-in-glove
Investigation revealed that the encounter was the joint operation of IB and Gujarat Police. Investigation disclosed that the passive agents, engaged by Rajinder Kumar of subsidiary intelligence bureau (SIB) and G L Singhal of crime branch, assisted them in managing the illegal custody of Jishan Johar. The investigation revealed that in the last week of April 2004, Jishan Johar on his arrival at Ahmedabad was taken into illegal custody by a joint team of accused Gujarat Police officers and SIB officers of Ahmedabad, namely Kumar and Singhal. Thereafter Jishan Johar was confined at house no. 164/165 in Gota Housing, near Vaishno Devi Crossing, off SG Highway, Ahmedabad and was put under audio-tap by Rajeev Wankhede, M K Sinha & T Mittal, the SIB officers, and the surveillance was maintained by Gujarat policemen C J Goswami, P G Waghela, Hanubha Narsinh Dodiya and Zahir Ahmed.
Full report at:
http://timesofindia.indiatimes.com/india/Ishrat-Jahan-encounter-case-CBIs-report-gives-chilling-account-of-murders/articleshow/20920528.cms
------------
'India hopes Pak would respond to its immediate concerns'
July 05, 2013
India is hoping that Pakistan's new government will respond to its immediate concerns, such as fixing accountability for the 2008 Mumbai terror attacks.
"It is important to let them (new Pakistan government) settle down, let them take stock of the situation. And hopefully start
giving us signals that they mean business on those issues which are of immediate concern to us, and that includes accountability for the 2008 terror attack on Mumbai," external affairs minister Salman Khurshid said.
"That is something we can't wish away and should not wish away," Khurshid said in an interview.
Full report at:
http://www.hindustantimes.com/world-news/restofasia/India-hopes-Pak-would-respond-to-its-immediate-concerns/Article1-1087603.aspx
----------
Zero tolerance for crime against women, Najeeb Jung says
Manash Pratim Gohain & Ambika Pandit
July 4, 2013
NEW DELHI: Delhi's newly-designated lieutenant governor Najeeb Jung is expected to assume office only by next week, but the 62-year-old outgoing Jamia vice-chancellor is clearly set to focus on law and order with a zero tolerance policy towards crime against women. In less than 24 hours since his appointment as LG, Jung made it clear that there was "no conflict of interest" between the office of the chief minister and LG.
He is clear that Delhi Police needs proper training, signalling some reform, urges sensitive urban planning which will keep Delhi green and believes that resettlement of slum-dwellers needs to be done with a "rare sensitivity". In his first interaction with the press after his appointment, Jung shared his vision for a job that is a big challenge at a time when the capital is gearing up for the assembly elections in November. Some excerpts:
Law and order and women's safety: Law and order is naturally a top priority. We should create an environment for women to feel comfortable. It's a complex issue. You can't start hitting the police or the civil society with a stick. As a young man in Delhi in the 50s, I remember people said girls are safer in Mumbai than in Delhi or a girl can walk on Marina beach in Chennai but not on the roads in Delhi. So these have been consistent concerns for the past 50 years. Of course, we are more exasperated. There must be zero tolerance for crime against women.
Full report at:
http://articles.timesofindia.indiatimes.com/2013-07-03/delhi/40350130_1_delhi-police-najeeb-jung-commonwealth-games
--------
India says no to Afghan arms plea
PTI | Jul 5, 2013
SINGAPORE: India has turned down Afghanistan's request for supply of lethal weapons, saying it was not "either in a position or willing" to contribute lethal weapons right now, days after Afghan President Hamid Karzai raised the issue with Prime Minister Manmohan Singh.
"We are going to help with non-lethal equipment but I don't think we are either in the position to or willing to contribute lethal weapons right now," external affairs minister Salman Khurshid said.
Full report at:
http://timesofindia.indiatimes.com/india/India-says-no-to-Afghan-arms-plea/articleshow/20927651.cms
------------
Militant activities on the rise in J&K
Rakhi Chakrabarty, TNN | Jul 5, 2013
NEW DELHI: Violence by militants is rising perceptibly in Jammu and Kashmir, raising concerns in the security establishment about an escalation in future. A shift of focus of the security forces from conducting anti-militancy operations in J&K to handling law and order problems is being cited as one of the reasons for a rise in militant activities.
With the onset of summer in J&K this year, there was one incident of militant violence every month since March, killing 19 people — 13 security force personnel and six militants. The period coincides with the anger in J&K in the aftermath of the hanging of Afzal Guru on February 9, pointed out Kashmir experts.
Full report at:
http://timesofindia.indiatimes.com/india/Militant-activities-on-the-rise-in-JK/articleshow/20920831.cms
------------
India bats for 'conciliatory dialogue' in Egypt
TNN | Jul 5, 2013
NEW DELHI: As Egypt's security forces ousted president Mohammed Morsi and arrested the supreme leader of the Muslim Brotherhood, Mohammed Badie, India urged all forces to enter into a "conciliatory dialogue" and end the violence.
"India urges all political forces to abjure violence, exercise restraint, respect democratic principles and the rule of law and engage in a conciliatory dialogue to address the present situation," the MEA said in a statement.
Full report at:
http://timesofindia.indiatimes.com/india/India-bats-for-conciliatory-dialogue-in-Egypt/articleshow/20922128.cms
------------
Ishrat Jahan case: 'Encounter bungalow' goes to the dogs
Ujjwala Nayudu
Jul 05 2013
Ahmedabad: It was once bustling with parties, a summer getaway for bureaucrats, politicians and police officers. Today, it is so lonely that it is said to have become haunted over the years since Ishrat Jahan and Javed Sheikh were allegedly held captive here.
The Arham farmhouse's most frequent visitor used to be encounter cop D G Vanzara. Among various versions about where Ishrat and Javed were killed, one is that they were shot dead at the farmhouse itself. This is according to a report by then Ahmedabad chief metropolitan magistrate S P Tamang.
Full report at:
http://www.indianexpress.com/news/ishrat-jahan-case-encounter-bungalow-goes-to-the-dogs/1137821/
------------
Vanzara said he had Modi's nod to kill Ishrat: Gujarat cop
Ajay Umat, TNN | Jul 5, 2013
AHMEDABAD: The CBI chargesheet in the Ishrat Jahan case contains the testimony of a police witness who told a magistrate that he had heard DIG of crime branch, DG Vanzara, telling his junior officer G L Singhal about having obtained permission from chief minister Narendra Modi and and then junior Gujarat home minister Amit Shah for killing her in a fake encounter.
Deputy superintendent of police in crime branch, D H Goswami, had given this statement under Section 164 of CrPC before the additional judicial magistrate, Esplanade Court, Mumbai. His statement is part of the annexures to the chargesheet submitted by CBI in the Ahmedabad court on Wednesday.
Full report at:
http://timesofindia.indiatimes.com/india/Vanzara-said-he-had-Modis-nod-to-kill-Ishrat-Gujarat-cop/articleshow/20919821.cms
------------
South Asia
Afghan suicide bomber 'kills 12' at Uruzgan police station a Afghan Province
July 5, 2013
At least 12 people have been killed and five wounded in a suicide attack at a police station in the southern Afghan province of Uruzgan, officials say.
Most of the victims are thought to be police officers who were having lunch at the time the attacker struck.
The station is used by police guarding the road to neighbouring Kandahar.
Officials say it is still not clear how the attacker managed to gain entry to the dining hall. One report says he was wearing an Afghan police uniform.
http://www.bbc.co.uk/news/world-asia-23193422
---------
15 million Afghans to gain from UAE-backed project
Emily Cleland
Jul 5, 2013
A UAE-backed project to tackle severe malnutrition among children and pregnant women in Afghanistan is making good progress.
The initiative, which has the support of the Khalifa bin Zayed Al Nahyan Foundation, was launched in September last year.
Fifteen million people, approximately half of Afghanistan's population, will be helped by the project, said foundation chairman and Deputy Prime Minister, Sheikh Mansour bin Zayed, in a report issued by the Global Alliance for Improved Nutrition (Gain).
Full report at:
http://www.thenational.ae/news/uae-news/15-million-afghans-to-gain-from-uae-backed-project#ixzz2YD7Qt9HS
------------
China Xinjiang security tight on riot anniversary
5 July 2013
BEIJING (July 5, 2013): Security was ramped up in the capital of China's Xinjiang region, state media reported Friday, the fourth anniversary of ethnic clashes which killed around 200 people.
Two incidents last week in the area, where mostly Muslim Uighurs are the largest group but members of China's Han majority dominate the economy, left at least 35 people dead.
"Wearing helmets, officers patrolled the capital holding guns and shields," said a report by the state-run Global Times, describing the "heaviest security measures since 2009" in the regional capital Urumqi.
Full report at:
http://www.thesundaily.my/news/761762
------------
'Human-trafficking in Maldives' to the fore again, but hopes remain
By N SathiyaMoorthy | July 4th, 2013
The US State Department's continued placing of the Maldives on the 'Tier Two Watch-List for Human-Trafficking' could not have come at a worse – or better – time for the country's authorities, particularly those intent on finding a way out for good.
Coming as it does after specific issues flagged by India over the past months, the US warning that Maldives could automatically slip into the 'Tier Three' [watchlist] with consequential sanctions of a non-humanitarian kind should be seen as a wake-up call for Male' to set right matters, which have been allowed to drift for decades now.
Full report at:
http://minivannews.com/politics/comment-human-trafficking-to-the-fore-again-but-hopes-remain-60757
------------
Egyptian coup "different" to Maldives' 2012 power transfer: President Waheed
By JJ Robinson | July 4th, 2013
President Mohamed Waheed has condemned the overthrow of Egyptian leader Mohamed Morsi by the military, but emphasised that the event that brought him to power in February 2012 was "different".
Morsi, President Waheed informed local newspaper Haveeru, was "a little stubborn" in his oppression of opposition views and had "failed to allow space for others".
"There are similarities in what happened in Egypt and Maldives. The difference is that the military didn't bring the change in Maldives. The change was brought because he [Nasheed] resigned on his own," Waheed declared.
Full report at:
http://minivannews.com/politics/egyptian-coup-%E2%80%9Cdifferent%E2%80%9D-to-maldives%E2%80%99-2012-power-transfer-president-waheed-60760
------------
Pakistan
Scholars condemn terrorism, but a group fans the same: Eminent Islamic scholar
July 5, 2013
Eminent Islamic scholar and columnist Dr Aamir Liaqat Hussain has said, "In order to stem terrorism, Ulema have not fulfilled their responsibilities. It would be far from truth to say that there is no sectarianism. We will have to destroy all the objectionable material in the country including the one on the social websites. Mere sitting together of religious scholars is not going to serve any purpose. There does exist a group that is poisoning the minds of the people. Pakistan is the only country in the world where we are prepared to hold talks with those who mercilessly kill our people. No one has ever talked of punishing them. In order to solve the mysteries and complications, scholars will have to attend different sacred days observed by the other sect and will have to tell the audience that they are all respectable for them."
Dr Aamir was taking to Hamid Mir, the host of Geo News programme 'Capital Talk' on Monday. Others who participated in the debate on the topic: 'Govt Changed, But Not the Conditions of Pakistan' included chief of Islami Tehreek Pakistan Allama Syed Sajid Naqvi, Director Sheikh Zayed Islamic Centre Dr Dost Muhammad Khan.
Full report at:
http://www.thenews.com.pk/Todays-News-6-187525-Scholars-condemn-terrorism,but-a-group-fans-the-same:-Dr-Aamir
------------
9 killed, 19 injured in Pakistan suicide bombing
PTI | Jul 5, 2013
KARACHI: At least nine people, including six Afghan security officials, were killed and 19 others injured today when a suicide bomber blew himself up at a check post on the Pakistan-Afghanistan border in the troubled Balochistan province.
There were six Afghan security officials among those killed and 19 others were injured in the suicide bombing in the Chaman region of Balochistan, according to security sources.
Pakistani security officials, who did not want to be named, told Dawn.com that the suicide bomber blew himself while targeting the vehicle of Afghan border forces close to a check post near the Friendship Gate at Pak-Afghan border.
Full report at:
http://timesofindia.indiatimes.com/world/pakistan/9-killed-19-injured-in-Pakistan-suicide-bombing/articleshow/20927424.cms
------------
Karachi central prison: A tinderbox of expanding militant networks
SAHER BALOCH
July 5, 2013
KARACHI: Even with increased outreach of militant networks from within Karachi's central prison, most search operations carried out inside the jail are done without scanners or metal detectors, the stated reason for which is primarily financial constraints and a "lack of response from the concerned department".
This also explains the planning of the attack on Sindh High Court's Justice Maqbool Baqar from inside Karachi Central Jail and the subsequent recovery of a number of cell phones and other devices in the June 29 search operation led by Sindh Rangers.
The operation established that the attack on Justice Baqar was indeed planned from inside the central prison and further revealed that security checks inside prison cells have largely remained lax.
Full report at:
http://dawn.com/news/1023001/karachi-central-prison-a-tinderbox-of-expanding-militant-networks
------------
'Honour' killing? Top cops of Islamabad, K-P put on notice by SC
July 5, 2013
ISLAMABAD: The Supreme Court on Thursday issued notices to top officials of the Islamabad and Khyber-Pakhtunkhwa (K-P) police to explain "serious illegalities" in handling a murder case.
The case has already been compromised since the K-P police did not register an FIR even thought the incident took place in Peshawar, while the Islamabad police registered an FIR but later cancelled it, observed a three-member bench headed by Chief Justice Iftikhar Muhammad Chaudhry.
The bench took up an application filed by Zahida accusing her husband and son of killing her daughter Wahida. The complainant also accused Inspector General (IG) of Islamabad, Bani Amin of damaging the case. Wahida was divorced from Ali Bani Amin.
Full report at:
http://tribune.com.pk/story/572677/honour-killing-top-cops-of-islamabad-k-p-put-on-notice/
------------
Afghanistan imbroglio: India, Pakistan urged to pursue policies of cooperation, not conflict
July 5, 2013
ISLAMABAD: Panellists of a conference underscored the importance of enhanced trade and travel between Pakistan and India in improving bilateral relations and reappraisal of the two countries' role in Afghanistan.
The "Islamabad Dialogue" is being organised by the Islamabad-based think-tank, Jinnah Institute in collaborating with New Delhi's Centre for Dialogue and Reconciliation (CDR) for the third consecutive year to promote peace between Pakistan and India through Track-II diplomacy, said a press release issued by the institute.
Full report at:
http://tribune.com.pk/story/572612/afghanistan-imbroglio-india-pakistan-urged-to-pursue-policies-of-cooperation-not-conflict/
------------
China-Pakistan friendship 'sweeter than honey': Sharif
AFP
Beijing, July 05, 2013
Pakistan's prime minister Nawaz Sharif on Friday told his Chinese counterpart Li Keqiang that their countries' relationship was "sweeter than honey", during a visit to Beijing with economic ties at the top of the agenda.
Pakistan and China are close diplomatic and military allies and Sharif, who is on his first foreign trip since his May election, is looking to secure infrastructure projects to tackle a chronic energy crisis and economic malaise in his country.
At the Great Hall of the People in the Chinese capital, Sharif said his welcome "reminds me of the saying, our friendship is higher than the Himalayas and deeper than the deepest sea in the world, and sweeter than honey".
Full report at:
http://www.hindustantimes.com/world-news/restofasia/China-Pakistan-friendship-sweeter-than-honey-Sharif/Article1-1087408.aspx
-------
KP opposed to extending stay of Afghans
July 5, 2013
PESHAWAR: Rejecting Islamabad's draft 'National Management and Repatriation Policy of Afghans' as arbitrary, Khyber Pakhtunkhwa has opposed extending Afghan refugees' stay in the country and suggested that should the need arose, registered Afghans be equally distributed among four provinces instead of burdening one federating unit.
Responding to the state and frontier region (Safron) ministry's draft policy recommendations for Afghan refugees beyond 2013, the provincial government has made two proposals for the 'sustainable' repatriation of 1.6 million registered Afghan refugees from Pakistan, an official source told Dawn on Thursday.
Full report at:
http://dawn.com/news/1022882/kp-opposed-to-extending-stay-of-afghans
------------
Pakistan Brings Back Death Penalty
July 5, 2013
Pakistan's new government, trying to appear determined to rein in escalating crime and militancy, has ended a ban on the death penalty, in a move condemned by international organizations as inhuman and retrograde.
Up to 8,000 people languish on death row in dozens of Pakistan's notoriously overcrowded and violent jails.
Once a moratorium is in place, reinstatement of capital punishment is rare, with more than 150 countries having already either abolished the death penalty or stopped administering it.
A 2008 moratorium imposed by Pakistan's previous government, praised at the time by global rights groups, expired on June 30.
Full report at:
http://www.thejakartaglobe.com/international/pakistan-brings-back-death-penalty/
------------
NATO supply truck attacked in Balochistan, driver killed
July 5, 2013
QUETTA: Unidentified armed suspects near Khuzdar attacked a truck carrying NATO supplies, killing the driver and injuring his two helpers. According to officials, the truck had been travelling from Karachi to Afghanistan when it came under attack near the Wadh area of Khuzdar district on the Quetta-Karachi national highway. The deceased driver was identified as Fazal Gul while the other two were Gul Ghaffar and Abdullah. The attackers also set the container ablaze before fleeing from the area. In another incident, a policeman was killed in Tehsil Dera Allayar of Jaffarabad district. Police said that a clash took place between Sub-Inspector Hussain Ahmed and Constable Muhammad Ismail. Resultantly, Hussain Ahmed received serious wounds and was rushed to the hospital where he succumbed to his injuries. Police have registered cases for both incidents.
http://www.dailytimes.com.pk/default.asp?page=2013\07\05\story_5-7-2013_pg7_5
------------
Concern rises over Pakistan plan to halt extremism
AP | Jul 5, 2013
ISLAMABAD: Suspected Islamic militants killed at least 160 people during the new Pakistani government's first month in office, fueling concern that the country's leaders lack a coherent strategy to fight the pervasive problem of violent extremism.
The ruling Pakistan Muslim League-N party scored a resounding victory in national elections in May with a platform that promoted peace talks as the best way to quell a domestic Taliban insurgency that has killed thousands of people. The plan quickly fell apart after the Taliban withdrew their offer to talk in response to a US drone strike that killed the group's deputy leader at the end of May.
Full report at:
http://timesofindia.indiatimes.com/world/pakistan/Concern-rises-over-Pakistan-plan-to-halt-extremism/articleshow/20925460.cms
------------
IIUI to launch zero tolerance policy against plagiarism
July 5, 2013
ISLAMABAD: International Islamic University Islamabad (IIUI) President Dr Ahmad Yousif Al-Draiweesh has said the students should conduct research work in a creative way as the university would launch zero-tolerance policy against plagiarism.
He stated this while addressing a workshop, titled 'Higher Education Commission's policy of plagiarism and its software Turnitin', organised by Quality Enhancement Cell (QEC) of IIUI at central library of the university.
HEC Quality Assurance Division's Deputy Director Munir Ahmed was the guest speaker on the occasion. The workshop was also attended by the university's QEC Director Dr Irshad Ahmad Arshad, deans, directors, faculty members and a large number of research students of the university.
Full report at:
http://www.dailytimes.com.pk/default.asp?page=2013\07\05\story_5-7-2013_pg11_8
------------
Africa
Nigeria: Police Parade Alleged Homosexual Pastor, 25 Others for Various Crimes
4 JULY 2013
Twenty-four hours after the House of Representatives lent its voice to criminalise homosexuality and same-sex marriage in Nigeria, the police in Edo State Wednesday paraded 26 suspected criminals among whom was a pastor identified as Philips Ogbebor who was alleged to have had carnal knowledge of a 20-year-old male member of his church (name withheld). The pastor was alleged to have had intercourse with the victim and told him he would die if he ever disclosed what happened.
When confronted with the allegation, the pastor simply said: "God will judge, go and talk to others" and kept on mumbling. But opening up on his experience, his victim said: "I told him I had never done this since I grew up, but he did it and it hurt me... Then I said I would not allow it again, so after the second attempt, I threatened to tell other people. But he made me take an oath and threatened that if I ever told anyone, I would die.
Full report at:
http://allafrica.com/stories/201307040127.html
------------
African Union suspends Egypt over Mursi's ouster
5 July 2013
The African Union suspended Egypt from all its activities on Friday after the Egyptian military overthrew the elected president, Mohamed Mursi, a senior AU official said.
"As mandated by the relevant AU instruments, the African Union Peace and Security Council decides to suspend the participation of Egypt in AU activities until the restoration of constitutional order," said Admore Kambudzi, secretary of the council.
Suspension is the AU's usual response to any interruption of constitutional rule by a member state. In March it suspended the
Central African Republic after rebels overthrew the government. In recent years, it has meted out similar treatment to Madagascar and Mali, although Mali's suspension has since been lifted.
Full report at:
http://english.alarabiya.net/en/News/africa/2013/07/05/African-Union-suspends-Egypt-over-Mursi-s-ouster.html
-----------
Going underground: Libya's unusual cave dwellings
Reuters
Jul 4, 2013
GHARYAN, LIBYA // Deep inside Libya's western Nafusa Mountains, some 10 metres into the ground, Al Arabi Belhaj is preparing mint tea in a somewhat unusual dwelling.
Sitting on colourful rugs on the floor and surrounded by clay pots, the 43-year old describes life in what used to be his home - a troglodyte cave house.
"This house was dug out in 1666 and generations of families have lived here. I was born here and there used to be eight families living together," he said as he poured the tea from one pot to another to cool it.
Full report at:
http://www.thenational.ae/news/world/africa/going-underground-libyas-unusual-cave-dwellings#ixzz2YD6lCyww
------------
Tunisia will not follow Egypt, says Tunisia's ruling party
July 5th, 2013
The leader of Tunisia's ruling al-Nahda party ruled out a scenario in his country similar to the recent events leading to the ouster of Egypt's Islamist president Mohammed Mursi, in remarks published Thursday.
Tunisian opposition activists have launched their own version of Egypt's Tamarod (Rebellion) protest movement, whose campaign to remove Mursi drew millions to the streets and led to the ouster of the Islamist leader Wednesday.
"Some young dreamers may think that they can repeat in Tunisia what happened in Egypt, but their efforts would be wasted," al-Nahda's Rached Ghannouchi told Saudi daily, Asharq Al-Awsat, insisting the situation in Tunisia is "different" from that in Egypt.
Full report at:
http://www.albawaba.com/news/tunisia-will-not-follow-egypt-says-tunisias-ruling-party-504367
--------
Southeast Asia
'Democracy is No Guarantee' Indonesian Lawmakers Say as Morsi Falls
By Markus Junianto Sihaloho & Ezra Sihite
July 5, 2013
Indonesian politicians called on the government to learn from the crisis in Egypt, saying democracy did not guarantee a leader could stay in power despite winning it democratically.
Golkar Party cadre Hajriyanto Tohari said Egypt showed the government should have shared power even if the president was elected fairly, as was the case with Egypt's Mohamed Morsi.
"He should have also listened to the voices that didn't support him. He should have shared power," said Hadjriyanto, adding that a democratic election was not everything.
Susaningtyas Kertopati, a lawmaker from the People's Conscience Party (Hanura), said the Indonesian government should learn from the political turmoil in Egypt because such a situation could happen here if the government committed too many violations.
Full report at:
http://www.thejakartaglobe.com/news/democracy-is-no-guarantee-indonesian-lawmakers-say-as-morsi-falls/
------------
Controversial Bill on conversion of minors withdrawn in Malaysia
JULY 05, 2013
The Cabinet has decided to withdraw the proposal allowing for the conversion of minors to Islam by a single parent.
In a statement today, Deputy Prime Minister Tan Sri Muhyiddin Yassin said the cabinet made the decision to withdraw the proposed Administration of the Religion of Islam (Federal Territories) Bill 2013, to ensure that any religious decision made is fair to all, the New Straits Times reported.
"We also want to give time to the government and all parties to review the bill holistically and will only re-table the bill once we achieve a consensus," he said. - July 5, 2013.
http://www.themalaysianinsider.com/malaysia/article/controversial-bill-on-conversion-of-minors-withdrawn/
------------
Many Aceh Victims Still in Need of Aid
July 5, 2013
Banda Aceh. Many earthquake victims in secluded areas of Aceh had yet to receive proper aid, local officials said on Friday.
"The severe damage [in some areas] and the number of victims has made it difficult to disperse aid, especially since supplies are still limited," Masrizal Edy, the secretary of the Central Aceh Disaster Management Agency (BPPD), said.
"We are trying to take care of all the victims."
Adj. Sr. Cmr. Artanto of the Central Aceh district police said that parts of Central Aceh and Bener Meriah affected by Tuesday's 6.2 magnitude quake had yet to receive tents, blankets, food, medication or clothes.
Full report at:
http://www.thejakartaglobe.com/news/many-aceh-victims-still-in-need-of-aid-officials/
------------
Change does not guarantee people's prosperity and well-being, says Najib
JULY 05, 2013
Malaysians should learn lessons from the conflict in Egypt where change as demanded by some does not g uarantee prosperity and well-being for the people.
Prime Minister Datuk Seri Najib Tun Razak said change that was not managed well could bring suffering to the people through price hikes of goods, rising unemployment, crippling of the tourism industry and so on.
"In the end, it will cause the people themselves to demand for another change as the change they had wanted did not fulfil their needs and aspirations," he told Malaysian journalists at the end of his four-day working visit to London, yesterday.
Full report at:
http://www.themalaysianinsider.com/malaysia/article/change-does-not-guarantee-peoples-prosperity-and-well-being-says-najib/
----------
Indonesia: booze sale ban?
AFP
July 05, 2013
Sales and distribution of alcohol could be banned in some parts of Indonesia after Muslim hardliners won a Supreme Court victory, an official said on Friday.
While it is the world's most populous Muslim-majority country, the sale of alcohol for the small number who drink and tourists has until now been allowed.
Some local authorities, where Islamic hardliners are influential, introduced bylaws banning the sale and distribution of alcohol.
But these could never be enforced due to a 1997 presidential decree prohibiting local governments taking it upon themselves to ban the sale of alcohol.
Now a prominent hardline group, the Islamic Defenders Front (FPI), has succeeded in getting the decree overturned in a judicial review at the Supreme Court, a spokesman for the court said.
Full report at:
http://www.hindustantimes.com/world-news/restofasia/Indonesia-booze-sale-ban/Article1-1087638.aspx
--------
Mideast
Israel relying on Egyptian army to counter Islamists
5 Jul 2013
Israel is relying on the Egyptian army to suppress Islamist militants in the Sinai and to ensure the country's stability after the dismissal of Mohamed Morsi as president, Israeli media and politicians said.
The Egyptian military overthrew Morsi on Wednesday after millions of protesters rallied to demand the Islamist leader quit for failing the 2011 revolution and bolstering his Islamist base at the expense of the rest of the country.
Ministers in the Israeli cabinet have so far stuck to Prime Minister Benjamin Netanyahu's order for silence on the subject.
But MP Tzahi Hanegbi, who is close to Netanyahu, welcomed the ouster of Morsi, Egypt's first democratically-elected president who hails from the Muslim Brotherhood.
"Israel's clear interest is for Egypt to remain stable, favourable to the West and the US, and that it does not let itself get carried away by a wave of religious extremism," said Hanegbi, former head of the Knesset (parliament) commission on defence and foreign affairs.
Full report at:
http://english.ahram.org.eg/NewsContent/2/8/75768/World/Region/Israel-relying-on-Egyptian-army-to-counter-Islamis.aspx
---------
Turkish PM Erdoğan slams Western countries over Egypt
5 July 2013
Prime Minister Recep Tayyip Erdoğan has slammed Western countries which did not describe the overthrow of Egyptian President Mohamed Morsi as a "coup."
"Coups are evil, coups target people, the future, democracy," Erdoğan said today in Istanbul. "I want this to be expressed by everyone with courage. I am surprised with the West. They couldn't say 'coup.' But I congratulate the African Union which suspended the membership of Cairo."
Full report at:
http://www.hurriyetdailynews.com/turkish-pm-erdogan-slams-western-countries-over-egypt.aspx?pageID=238&nID=50096&NewsCatID=338
---------
Turkey police crack down on Syria aid workers after unrest
AFP
July 5, 2013
ANKARA: The finger of blame which the Turkish government pointed at foreigners for orchestrating anti-government protests that rocked the country now appears to target foreign aid missions helping internally displaced Syrians.
Last week Turkish police raided offices of two humanitarian aid missions operating in war-torn Syria and deported four foreigners, witnesses said.
A Turkish official however denied the action was linked to the nationwide demonstrations that presented the Islamic-rooted Justice and Development Party (AKP) with its most serious challenge since coming to power more than a decade ago, saying that humanitarian aid missions in border regions must be registered.
Full report at:
http://dawn.com/news/1022998/turkey-police-crack-down-on-syria-aid-workers-after-unrest
------------
Fatah calls on Palestinians to overthrow Hamas in wake of Morsi's fall
07/04/2013
Palestinian Authority leaders on Thursday expressed joy over the downfall of Egyptian President Mohamed Morsi's regime, with some calling on Palestinians in the Gaza Strip to follow suit and topple the Hamas government.
Palestinian analysts predicted that the collapse of the Muslim Brotherhood regime in Egypt would undermine Hamas, which in the past year has been emboldened by Morsi's rise to power.
PA President Mahmoud Abbas was one of the first Arab leaders to congratulate the Egyptians on the ouster of Morsi.
In a letter to acting President Adli Mansour, Abbas congratulated him on the appointment, expressing hope that he would fulfill the aspirations of the Egyptian people to "live in freedom, dignity and stability."
Full report at:
http://www.jpost.com/Middle-East/Fatah-calls-on-Palestinians-to-overthrow-Hamas-in-wake-of-Morsis-fall-318792
---------
Netanyahu hails Israel as 'island of democracy'
5 July 2013
Israel is an island of democracy in a sea of instability and despotism, and this has never been truer than now, Prime Minister Binyamin Netanyahu said on Thursday night at the annual Fourth of July bash at the US ambassador's home in Herzliya.
Without addressing the situation in Egypt directly, the prime minister said that "those who seek liberty are our natural allies."
Netanyahu said that he hopes there will be a time when true democracy will flourish in the region, but this is something that will take time.
Ambassador Dan Shapiro quoted President Barack Obama as saying the US will do "whatever it must" to prevent a nuclear Iran.
Full report at:
http://www.jpost.com/Diplomacy-and-Politics/Peres-lauds-America-as-beacon-of-hope-on-Independence-Day-318790
---------
Turkish Constitutional Court abrogates provision allowing detentions up to 10 years for terror suspects
5 July 2013
The Turkish Constitutional Court abrogated July 4 an article of the Turkish Penal Code allowing up to 10 years of detention for suspects prosecuted on terror charges, two days after a landmark ruling on the "unconstitutionality" of lengthy detentions.
The court ruled that the legal provision, which had been included in the third judicial reform package and enacted after its adoption by the Turkish Parliament, doubling the detention periods stipulated in the penal code for charges of spying and attacking "state security, constitutional order, national defense and state secrets" was found unconstitutional.
Full report at:
http://www.hurriyetdailynews.com/constitutional-court-abrogates-provision-allowing-detentions-up-to-10-years-for-terror-suspects.aspx?pageID=238&nID=50070&NewsCatID=339
---------
North America
US touts democracy as Egypt Army takes over
Jul 05 2013
The Obama administration turned to its top officials to tout democracy and political transparency for Egypt, a message that took on a hollow tone as the Egyptian military installed a new leader for the country and began rounding up its ousted president and his supporters.
Secretary of State John Kerry, Defence Secretary Chuck Hagel and national security adviser Susan Rice were among those who briefed President Barack Obama on Thursday on their calls to counterparts in Egypt, Israel, Turkey and other U.S. partners in the region.
The calls conveyed "the importance of a quick and responsible return of full authority to a democratically elected civilian government as soon as possible," said Bernadette Meehan, a spokeswoman for the White House National Security Council.
Full report at:
http://www.thehindu.com/news/international/world/us-touts-democracy-as-egypt-army-takes-over/article4884109.ece
------------
Gitmo inmates to be force-fed only after fasting hours
NARAYAN LAKSHMAN
Jul 05 2013
Guards at the infamous Guantanamo Bay prison in Cuba are force-feeding inmates only after sunset and before sunrise during the Muslim holy month of Ramadan, a prison spokesman said.
Guards at the U.S.' infamous Guantanamo Bay prison in Cuba are force-feeding inmates only after sunset and before sunrise during the Muslim holy month of Ramadan, a prison spokesman said, prompting an outcry that this action represented continuing cruelty rather than religious empathy.
Full report at:
http://www.thehindu.com/news/international/world/gitmo-inmates-to-be-forcefed-only-after-fasting-hours/article4881557.ece
------------
US faces battle to restore trust in Egypt after 'kowtowing to Brotherhood'
Taimur Khan
Jul 5, 2013
NEW YORK // America's strongest allies in Egypt, the military, may be back at the helm of politics in Cairo, but Washington has found itself in another foreign policy blunder in the Middle East.
The United States faces an uphill battle to restore trust in Egypt among supporters of the military takeover, who said the US for months kowtowed to the Muslim Brotherhood, and Mohammed Morsi's supporters, who wondered why Washington so quickly dumped a democratically elected leader.
Full report at:
http://www.thenational.ae/featured-content/channel-page/news/world/middle-article-list/us-faces-battle-to-restore-trust-in-egypt-after-kowtowing-to-brotherhood#ixzz2YD7XUdiF
------------
John McCain Wants the U.S. to Support These Syrian Rebels
July 5, 2013
In the rebel-controlled city of Aleppo, Syria, anti-government forces are attempting to impose sharia law. These are the Syrian rebels John McCain wants the U.S. to support. He wants more aid for Islamic extremists who already hate America.
The fatwa (an order based on Sharia law) was issued by the Islamic law council in Aleppo's Fardous neighborhood.
"Muslim women are banned from leaving the house in immodest dress, in tight clothing that shows off their bodies or wearing makeup on their face. It is incumbent on all our sisters to obey God and commit to Islamic etiquette," the statement on the Fardous council's Facebook page says as cited by Reuters, which reports that Aleppo residents have confirmed the news.
These extreme rules were issued by the same rebels who lopped off the heads of Assad supporters just days ago. And under sharia law, women can be corporally punished if they are suspected of infidelity or out of wedlock intercourse. The punishments can range from body parts being removed to death at the hands of a husband, father, or brother.
Full report at:
http://guardianlv.com/2013/07/john-mccain-wants-the-u-s-to-support-these-syrian-rebels/
------------
US activists mark Independence Day with NSA surveillance rallies
AFP | Jul 5, 2013
WASHINGTON: Thousands of activists across the United States took to the streets and the internet to mark July 4 with protests against the National Security Agency's surveillance programmes on Thursday.
The protests, organized by the "Restore the Fourth" movement, were intended to raise "awareness of and spur political action against unconstitutional spying by the US government," organizers said.
Full report at:
http://timesofindia.indiatimes.com/world/us/US-activists-mark-Independence-Day-with-NSA-surveillance-rallies/articleshow/20922481.cms
--------
Europe
UK to be first non-Muslim country to host Islamic Economic Forum
July 5, 2013
London will host the ninth World Islamic Economic Forum in October, the first time that the event will be held outside of a Muslim country, as the British capital looks to become a global hub for Sharia finance.
More than 1,500 delegates, including government and business leaders, as well as scholars, will descend on London for the three-day event, which sets out to boost trade partnerships between Islamic and European markets.
Full report at:
http://www.telegraph.co.uk/finance/economics/10160547/UK-to-be-first-non-Muslim-country-to-host-Islamic-Economic-Forum.html
------------
London Muslim community out to reclaim 'honour'
July 5, 2013
The Muslim community has declared its intention to "reclaim the word 'honour'" from people who commit so-called honour violence against women.
The defiant stance came as London North Centre MP Susan Truppe announced almost $200,000 for a project that will train local women to help prevent and stop honour violence.
The grim and complex problem sees violence against women for social reasons, usually because they are seen as having brought dishonour on a family.
It can be triggered by a wide variety of choices, from relationships to modes of dress, but the use of the word "honour" has particularly aggrieved the people behind London's Muslim Resource Centre for Social Support and Integration.
Full report at:
http://metronews.ca/news/london/727815/muslim-centre-project-to-address-violence-against-london-women-girls/
------------
UN's Pillay says concerned over detention of Brotherhood heads in Egypt
5 July 2013
GENEVA - UN human rights chief Navi Pillay said on Friday she was concerned by reports of the detention of leading members of Egypt's Muslim Brotherhood, but stopped short of saying whether their overthrow this week constituted a coup d'etat.
"I hope that the rule of law and a system of government that respects the human rights of all Egyptians - men and women - can be quickly re-established," she said in a statement.
Her spokesman Rupert Colville told a regular UN briefing that specific crimes would need to have been committed to justify the detentions of the Muslim Brotherhood's leaders.
Full report at:
http://www.jpost.com/Middle-East/UNs-Pillay-says-concerned-over-detention-of-Brotherhood-heads-in-Egypt-318853
---------
URL: https://www.newageislam.com/islamic-world-news/new-age-islam-news-bureau/6,000-terrorists-flood-new-al-qaeda-training-ground-in-syria/d/12445