New Age Islam News Bureau
8 March 2019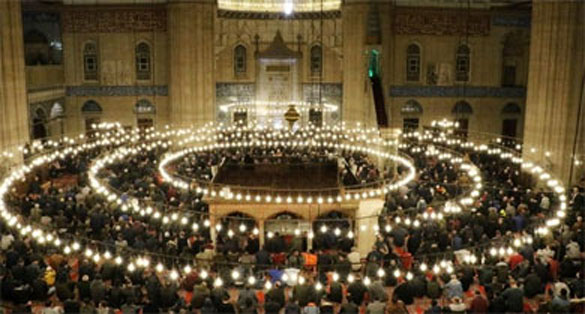 Muslims during the prayer in Edirne's Selimiye mosque during the Laylat al-Raghaib (IHA Photo)
------
• 36 Nations, Including Europeans, Rap Saudi Arabia for 1st Time at UN Rights Body
• Several Senior ISIL Commanders Riot against Al-Baghdadi in Eastern Syria
• Madrasas to Be Strengthened 'Holistically' To Develop Islamic Religious Teachers of Future
• 'Fellow Citizens' a Better Term Than 'Kafir', Says Mujahid
• Turkey's Jewish Community Celebrates Islam's Night of Wishes, Laylat Al-Raghaib
• Pakistan Govt to Open Visa-Free Kartarpur Corridor in November
• US Urges Pakistan to Take 'Sustained and Irreversible' Actions against Terrorists
• One-Third of Russia's Population Will Be Muslim By 2034, Predicts Chief Mufti
Arab World
• 36 Nations, Including Europeans, Rap Saudi Arabia for 1st Time at UN Rights Body
• Several Senior ISIL Commanders Riot against Al-Baghdadi in Eastern Syria
• Reviving Art and Culture in Iraq's Former Islamic State Stronghold
• Syria Rejects OPCW Report On Douma Chlorine Attack As 'Distortion Of Facts'
• Waves of people still leaving Islamic State's last Syrian enclave
• Iraqi Lawmaker Reveals US Role in ISIL Offensive against Hashd Al-Shaabi
• Hundreds of ISIL Terrorists Surrender to Kurds in Eastern Syria
• US-Backed Militants Hoard Foodstuff Needed for Refugees in Rukban Camp
--------
Southeast Asia
• Madrasas to Be Strengthened 'Holistically' To Develop Islamic Religious Teachers of Future
• 'Fellow Citizens' a Better Term Than 'Kafir', Says Mujahid
• We Won't Work With 'Traders of Islam', Says PPBM In Dismissing PAS
• Umno-PAS Union to Enable Muslims to Return to Power - Hadi
--------
Mideast
• Turkey's Jewish Community Celebrates Islam's Night of Wishes, Laylat Al-Raghaib
• Israel's Election Body Bars Arab Party from Knesset Elections
• Ultra-Conservative Cleric Appointed Head Of Iran's Judiciary
• Palestinian teen killed by Israeli fire during Gaza border clashes
• Turkey merely seeks its own interests in purchasing Russian S-400 systems: VP
• Houthis have 'killed the Stockholm Agreement': Yemeni official
--------
Pakistan
• Pakistan Govt to Open Visa-Free Kartarpur Corridor in November
• Pakistan Takes Control of Religious Schools in Continued Crackdown
• Popular Support for Militants Complicates Pakistan Crackdown
• Pakistan Seals Lahore Headquarters of Jamaat-ud-Dawa, Its Wing FIF
• Deal allows Pakistan to use F-16s as 'deterrence against India'
• Administrators appointed for three former JuD schools
• Murder charges dropped against Samiul Haq's secretary
--------
North America
• US Urges Pakistan to Take 'Sustained and Irreversible' Actions against Terrorists
• US Passes 'Historic' Resolution Condemning Anti-Muslim Bigotry
• Israel trying to provoke US into attacking Iran: Academic
• Furious row erupts over anti-Semitism in US Democratic Party
• US House committee urges Saudi Arabia to release doctor
• Senate must hold Trump accountable on Khashoggi: report
• US commander: Daesh 'a serious generational problem'
--------
Europe
• One-Third of Russia's Population Will Be Muslim By 2034, Predicts Chief Mufti
• Istanbul Panel Discusses Future of Islam in Europe
• US, UK bombs caused 1,000 civilian casualties in Yemen: Report
• UK Far-Right Islamophobe to Face Contempt Proceedings
• Egypt, Greece seek to boost military cooperation
• EU Rejects Adding Saudi Arabia to Money-Laundering List
• UK lawyers file case against Assad regime at ICC
• Anti-Muslim activist Tommy Robinson to face new contempt of court trial
• Afghan interpreters win right to bring their families to Britain
--------
India
• Madrasa to Modern Education – Maulana Azad National Urdu University Provides The 'Bridge'
• Jamaat-e-Islami ban: Yasin Malik booked under PSA, shifted to Jammu prison
• India extends detention of two separatist leaders amid tensions in Kashmir
• Popular Front of India demands reservation for Muslims
• Jaish terrorist killed in Jammu & Kashmir's Kupwara district
• More Muslim youth take up Sanskrit studies in Agra
--------
South Asia
• Taliban, US Negotiators Struggling To Remove Differences
• China Praises Pakistan's 'Restraint' Over Tensions
• ICC team in Bangladesh working on Rohingya report
• 3 killed, 22 wounded in Kabul mortar attack
• Taliban Will Not Win On the Battlefield, Says NATO Secretary General
• Two prominent Taliban leaders killed in Kunduz airstrikes
• Several Taliban, ISIS-K militants in Special Forces operations, airstrikes: Sources
• One of the main architects of 215th Corps attack killed, 7 others arrested: NDS
• Attack on Hazara gathering in Afghan capital kills at least one
--------
Africa
• Powerful car bomb explosion hits Somali capital, leaves four dead
• At least 5 killed in Nigeria as van strikes Boko Haram mine
• The real reason terror group al-Shabaab banned plastic bags
Compiled by New Age Islam News Bureau
URL: https://www.newageislam.com/islamic-world-news/36-nations-including-europeans-rap/d/117964
--------
36 nations, including Europeans, rap Saudi Arabia for 1st time at UN rights body
Mar 7, 2019
As many as 36 countries, including all 28 members of the European Union, have taken Saudi Arabia to task for the first time at the United Nations Human Rights Council over Riyadh's glaring rights violations.
The group of countries expressed concern about Riyadh's rights records in a statement issued on Thursday and read out by Iceland.
"It is a success for Europe to be united on this," an envoy of an EU country told Reuters.
The United States, which considers Saudi Arabia to be one of its allies in the Middle East and maintains strong economic and military cooperation with Riyadh, however, opted out of signing the statement.
Saudi counter-terror law in focus
The signatories to the statement expressed concern about the kingdom's so-called counter-terrorism law, which it has been sweepingly using against protesters and dissidents.
"We are particularly concerned about the use of the counter-terrorism law and other national security provisions against individuals peacefully exercising their rights and freedoms," the statement read.
Jailed activists
The Council's members also called on Riyadh to release 10 prominent rights activists.
The joint statement named the activists as Loujain Al-Hathloul, Eman Al-Nafjan, Aziza Al-Yousef, Nassima Al-Sadah, Samar Badawi, Nouf Abdelaziz, Hatoon Al-Fassi, Mohammed Al-Bajadi, Amal Al-Harbi, and Shadan al-Anezi.
Jailed women activists subjected to torture
Advocacy and rights groups accuse the kingdom of widely using torture against jailed women activists, including those who campaigned for the right to drive, saying they have been subjected to electric shocks, flogging, sexual assault and other forms of torture.
Zaynab al-Khawaja of the Beirut-based Persian Gulf Center for Human Rights independent charity read out a litany of the instances of torture during a panel event attended by UN experts on the sidelines of a Human Rights Council gathering in Geneva on Monday.
"We highlight some of the torture methods that are being used in Saudi Arabia - electrocution, flogging, sometimes whipping, on the thighs for example, sexual assault where some women human rights defenders have been stripped, have been groped, have been photographed naked, some while handcuffed, and others while blindfolded," she said.
Khashoggi drama
The Council's statement further condemned "in the strongest possible terms" the killing of Saudi journalist Jamal Khashoggi. The prominent journalist was killed and had his body dismembered after entering the Saudi consulate in Istanbul last October.
"The circumstances of Mr. Khashoggi's death reaffirm the need to protect journalists and to uphold the right to freedom of expression around the world," the text said.
"Investigations into the killing must be independent, impartial, and transparent," it added, specifically calling for cooperation with an inquiry led by Agnes Callamard, the UN special rapporteur on extrajudicial executions.
Evidence has shown that the killing was carried out by a hit squad with close links to Saudi Crown Prince Mohammed bin Salman, and Turkish officials have blamed Saudi Crown Prince Mohammed bin Salman of ordering the killing.
https://www.presstv.com/Detail/2019/03/07/590430/United-Nations-Saudi-Arabia-human-rights
--------
Several Senior ISIL Commanders Riot against Al-Baghdadi in Eastern Syria
Mar 07, 2019
The Arabic-language Baghdad al-Youm news website reported on Thursday that the decision was made after hundreds of ISIL terrorists surrendered to the Syrian Democratic Forces (SDF) upon Baghdadi's order, adding that there are deep differences among the ISIL members and commanders in Eastern Deir Ezzur.
It added that the 6 commanders wanted the ISIL militants to remain in the region and fight against the Kurds.
Thousands of ISIL terrorists have left their last occupied positions in Eastern Euphrates so far after an agreement between the US-led coalition and the SDF with the ISIL.
The London-based Syrian Observatory of Human Rights (SOHR) reported that a sum of 58,000 people, including 6,000 ISIL militants, have evacuated the last areas under their control in Eastern Euphrates.
Media reports said on Wednesday that over 2,000 ISIL militants had left their last base in Eastern Euphrates with the help of the US-led coalition and Syrian Democratic Forces as Washington and the SDF were planning to declare the end of the ISIL in Eastern Euphrates.
"More than two thousands ISIL terrorists who were stationed in al-Baqouz town in Eastern Euphrates near Syria's borders with Iraq surrendered to the SDF on Monday after they were given a safe corridor," the Kurdish-language Bas News website reported.
Meantime, the SOHR reported that a sum of 3,140 ISIL militants and their families left the last areas under their control in Eastern Euphrates.
The pro-militant Baldi news website also pointed to the presence of about 1,000 ISIL terrorists in Baqouz, and said that the surrendered ISIL militants will be transferred to the US-controlled Omar oilfield.
Meantime, sources close to the SDF said they would impose full control over the town of Baqouz to declare the end of ISIL in Eastern Euphrates in coming days.
http://en.farsnews.com/newstext.aspx?nn=13971216000207
--------
Madrasas to be strengthened 'holistically' to develop Islamic religious teachers of future
08 Mar 2019
SINGAPORE: Madrasas will be strengthened "holistically" as they are key components of a large blueprint to develop future-ready Islamic religious teachers or asatizahs, Minister-in-charge of Muslim Affairs Masagaos Zulkifli said in Parliament on Friday (Mar 8).
In his Committee of Supply Muslim Affairs speech, Mr Masagos emphasised that asatizahs today play a critical role in guiding the Singapore Muslim community.
"Our aspiration is for them to reach the highest level of religious scholarship and leadership, contributing to our community in Singapore and beyond – especially in building up religious knowledge that is appropriate to guide a Muslim community living in harmony with other communities and the wider society," said Mr Masagos.
"With their grounding in both Islamic knowledge as well as secular subjects, asatizah(s) are well-placed to serve in many adjacent fields, such as social work, counselling, Islamic finance, law, and beyond," he added.
In support of the vision to strengthen the development of asatizahs, he said that the first batch of 26 students from Madrasah Aljunied started on the International Baccalaureate Diploma Programme (IBDP) this year.
They were selected based on their performance at the end of Secondary Two.
Madrasah Aljunied is now an accredited IB-authorised school, and to meet the requirements of the IBDP, MUIS said it has expanded the number of subjects offered.
Mr Masagos said MUIS has also "worked closely" with Madrasah Wak Tanjong on a Comprehensive Assistance Package (CAP) to strengthen its administration and education programmes with a new management board who will be able to contribute multiple perspectives to guide the madrasah.
Last year, the school signed the S$7.5 million package with MUIS, which includes funding for a 30-year lease for its current premises at Sims Avenue.
PUBLIC CONSULTATION EXERCISE TO DEVELOP FUTURE-READY ASATIZAH
Mr Masagos also announced that a Committee on Future Asatizah (COFA) will be established.
COFA, which will be chaired by Senior Minister of State for Defence and Foreign Affairs Maliki Osman, is a public consultation exercise to obtain the community's feedback on how MUIS can develop a future-ready asatizah workforce.
The committee also comprises of community and religious leaders, asatizah and individuals with relevant professional expertise.
"COFA will co-create our vision of the "Asatizah of the Future" together with the community, and advance the thinking on the skills and competencies that our asatizah will need to better serve the Singapore Muslim community in the future," said Mr Masagos.
COFA 'A CRITICAL STEP' IN DEVELOPING SINGAPORE ISLAMIC COLLEGE
Dr Maliki said the committee's work is a "critical step" towards the development of a Singapore Islamic College (SIC).
The SIC is MUIS' vision for a local tertiary Islamic institute that will develop Islamic leaders and scholars who are steeped in Islamic tradition, anchored in Singapore's multi-racial, multi-religious context, and attuned to the contemporary, real-world concerns of the local Muslim community.
MUIS had earlier embarked on preliminary engagements with various stakeholders on the idea of the college, and it will continue to engage stakeholders and the public on it.
Dr Maliki said that through COFA engagements, MUIS will be able to chart the holistic development of its asatizah, from the Madrasas to the universities, and into their employment.
"MUIS will also be able to map out the skillsets that our asatizah will require to serve our community effectively, and develop pathways for careers within and beyond the religious sector. These findings will provide us with a strong foundation for establishing the SIC in the future," he said.
Mr Masagos also announced that the Postgraduate Certificate in Islam in Contemporary Societies (PCICS) will be rolled out next year for all religious graduates returning from overseas studies.
The PCICS will replace the existing Islam in Context Programme today, and place greater focus on helping participants acquire work-relevant skillsets, Mr Masagos said.
Elaborating on the PCIS in his speech, Dr Maliki said the certificate will offer modules that deepen Singapore's returning graduates' understanding of the country's geo-political and socio-religious context and how Islam can be practised effectively in our multi-racial and multi religious society.
"This is important to prepare them for their role in providing religious guidance to the community. The PCICS will also equip participants with work-relevant knowledge and skillsets, such as in social work and counselling, digital literacy as well as entrepreneurship, to open up more opportunities for them," said Dr Maliki.
He added that graduates of the PCICS will also be recognised under the Asatizah Recognition Scheme (ARS), a scheme that recognises teachers and scholars who meet the minimum standards of qualification to preach and teach Islamic religious knowledge.
https://www.channelnewsasia.com/news/singapore/Madrasas-to-be-strengthened-holistically-to-develop-islamic-11323932
--------
'Fellow citizens' a better term than 'kafir', says Mujahid
Vinodh Pillai
March 8, 2019
PETALING JAYA: Putrajaya's top policy maker on religious matters has called for scholarly discussions on the justness of using the word "kafir" when Malaysian Muslims refer to their non-Muslim compatriots.
Mujahid Yusof Rawa, the minister in charge of religious affairs, told FMT he believed it would be appropriate for local ulamas to discuss the question in the context of nation building.
He said Amanah, the political party he belongs to, had held academic discussions on the matter "and we think the term 'fellow citizens' would be an appropriate one to use" by Muslim officials in reference to non-Muslims.
Mujahid's remarks followed a call by Nahdlatul Ulama, Indonesia's largest Islamic organisation, to end the use of "kafir" in official discourse. The word is usually translated as "infidel".
Nahdlatul Ulama, which has about 140 million members, proposed that the term "muwatin" be used instead. "Muwatin" is Arabic for "citizen" in the legal sense of the term. It implies the sharing of rights and responsibilities.
"I think it's high time that we discuss the issue within the framework of citizenship," Mujahid said. "We should deliberate on this in the context of nation building."
He appeared to be distancing himself from the Perak and Pahang muftis, who had earlier told FMT there was nothing wrong with using "kafir" and that they believed no other term was available to refer to non-Muslims.
Social activist Chandra Muzaffar lauded Nahdlatul Ulama's call but said he doubted that Malaysian ulamas would readily follow suit.
He told FMT there was a need for public education to instil appreciation of the "common citizenship" concept.
He noted that "kafir" is often used in the Quran to refer to someone who is ungrateful for the blessings of life.
Activist group Sisters in Islam (SIS) also welcomed Nahdlatul Ulama's call and lamented that the "supremacist and exclusivist narratives" coming from political and religious leaders had prevented a similar gesture in Malaysia.
"Malaysia's call for the application of Rahmatan lil 'Alamin (mercy to all creation) has yet to resonate with our nation's political and religious leaders," said SIS executive director Rozana Isa.
"As such, Malaysia lags behind the Indonesians in actively influencing an inclusive and comprehensive discourse of harmony, unity and equality.
"We look forward to learning from constructive conversations of Indonesia's experiences and hope that these will inspire confidence for us here in Malaysia to understand and appreciate what it means to have equality as Malaysian citizens and as fellow human beings."
Novelist and historian Faisal Tehrani said he would not support the use of "kafir" on non-Muslims but would use the word on "those without morals, integrity and ethics".
https://www.freemalaysiatoday.com/category/nation/2019/03/08/fellow-citizens-a-better-term-than-kafir-says-mujahid/
--------
Turkey's Jewish Community Celebrates Islam's Night of Wishes, Laylat Al-Raghaib
07.03.2019
Turkey's biggest Jewish society, the Turkey Jewish Community, celebrated the Laylat al-Raghaib on Thursday as Muslims around the world observed the holy day.
"We celebrate the Islamic world's holy Laylat al-Raghaib, and wish it will lead to benevolence," the community said in a tweet.
A sizable population of Jewish people have lived in Turkey and its predecessor the Ottoman Empire for centuries.
After being expelled from Spain via the Alhambra Decree and settling in then-Ottoman territory Thessaloniki during the late 15th century, Jews have integrated more and more into the Turkish society over the years, living in peace with Muslims, Christians and people of all other faiths.
To this day, Turkey's Jewry organizes iftar meals for Muslims during Ramadan.
Laylat al-Raghaib, also known as the "Night of Wishes," marks the first day of the Islamic month Rajab.
During this day, Prophet Mohammad (Peace Be Upon Him) used to pray to Allah even more often, and it is believed that every wish will be fulfilled if asked for on that night.
https://www.dailysabah.com/religion/2019/03/07/turkeys-jewish-community-celebrates-islams-night-of-wishes-laylat-al-raghaib
--------
Pakistan Govt to Open Visa-Free Kartarpur Corridor in November
Mar 8, 2019
ISLAMABAD: The Pakistani government has announced to open the 4.7 kilometre-long visa-free Kartarpur Corridor on the 550th birth anniversary of Baba Guru Nanak in November.
While inaugurating the project in November 2018, Prime Minister Imran Khan stated, "There have been mistakes on both sides [in the past], but we will not be able to move forward until we break the chains of the past. The past is there only to teach us, not for us to live in."
Every year thousands of Sikh devotees come from India to Kartarpur to celebrate Baba Guru Nanak's birth anniversary. Kartarpur is located in Narowal district of Pakistan's Punjab province. About three kilometres away from the border with India, Kartarpur Sahib Gurdwara is located on the banks of River Ravi in Pakistan and is the site where the founder of Sikhism, Baba Guru Nanak spent his life's last 18 years before dying in 1539.
Kartarpur Corridor will provide visa-free access to Indian Sikh pilgrims to visit Gurdwara Kartarpur Sahib (the final resting place of Baba Guru Nanak) in Pakistan. Since 1947, when India and Pakistan gained independence from Britain, this is the first time that Indian Sikh pilgrims would be able to travel to Pakistan without a visa.
The proposal was first put forward in 1998 when Pakistan and India agreed to construct a corridor from Kartarpur Sahib in Pakistan to Dera Baba Nanak in India — but due to tense relations between the two neighbours, the project could not be materialised.
https://www.pakistantoday.com.pk/2019/03/07/govt-to-open-visa-free-kartarpur-corridor-in-november/
--------
US urges Pakistan to take 'sustained and irreversible' actions against terrorists
Mar 8, 2019
WASHINGTON: The US has asked Pakistan to take "sustained and irreversible" actions against terrorist groups operating from its territory, according to a top state department official.
The state department statement came as Pakistan, under global pressure after the Pulwama terror attack and India's air strikes against a JeM terrorist camp in Balakot on February 26, has started taking actions against some of the terrorist outfits and their leaders over the past few days.
In Islamabad, the interior ministry announced that a total of 121 members of the proscribed groups have so far been taken into "preventive detention" across Pakistan.
State department deputy spokesperson Robert Palladino told reporters at his biweekly news conference on Thursday, "I would say that we, the United States notes these steps and we continue to urge Pakistan to take sustained, irreversible actions against terrorist groups that will prevent future attacks and promote regional stability".
"We reiterate our call for Pakistan to abide by its United Nations Security Council obligations to deny terrorists safe haven and block their entry to funds," he said.
Responding to questions, Palladino refrained from giving a direct answer on the move in New York to designate Jaish-eMohammed (JeM) leader Masood Azhar as a global terrorist, but said that the US and its allies in the UN Security Council want to update the UN list of terrorist organisations and leaders.
"Our views on Masood Azhar and Jaish-e-Mohammed are well-known. Jaish-e-Mohammed is a United Nations-designated terrorist group that has been responsible for numerous terrorist attacks and is a threat to regional stability. Masood Azhar is the founder and leader of JEM," he said.
Questions on United Nations sanctions committee deliberations are confidential and as such it is not something that the state department is going to be able to comment on specific matters in that regard, he said.
"But we will continue to work with the sanctions committee to ensure that the list is updated and that it is accurate," Palladino said.
At the US Capitol, India's ambassador to the US Harsh Vardhan Shringla met Kevin McCarthy, the Republican leader in the House of Representatives.
"We must stand strong against acts of terrorism and work together to improve trade between our nations," the top Republican leader said after the meeting.
Tensions between India and Pakistan escalated after a suicide bomber of Pakistan-based terror group JeM killed 40 CRPF personnel in Jammu and Kashmir's Pulwama district in February 14.
India launched a counter-terror operation in Balakot. The next day, Pakistan Air Force retaliated and downed a MiG-21 in an aerial combat and captured its pilot, who was handed over to India on March 1.
https://timesofindia.indiatimes.com/world/pakistan/us-urges-pakistan-to-take-sustained-and-irreversible-actions-against-terrorists/articleshow/68313387.cms
--------
One-third of Russia's population will be Muslim by 2034, predicts chief mufti
March 6, 2019
Around 30% of the country's population will be Muslim within 15 years, predicted Ravil Gainutdin, the chairperson of Russia's Council of Muftis.
The Moscow Times website reported the grand mufti as telling the Muslim community in Russia, "According to experts, Russia's population will increase to 30 percent in a decade and a half."
The article wrote he said that North Caucasus and the republic of Tarastan which are Russia's Muslim-majority regions have the highest birth rates.
The Muslim population of Russia lies between 14 million and 20 million people, according to an estimate. The increasing population also means that new mosques will need to be built in major cities, said Gainutdin at a forum on Monday.
"There won't be any Russians left in 2050," an official in Russia's Orthodox Church, Archpriest Dmitry Smirnov agreed with the mufti's statement.
https://www.samaa.tv/global/2019/03/one-third-of-russias-population-will-be-muslim-by-2034-predicts-chief-mufti/
--------
Arab World
Reviving Art and Culture in Iraq's Former Islamic State Stronghold
7 March, 2019
Comfortably seated between the cushions of an elegant sofa in his vast house, Qais Ibrahim Mustafa, 60, a sculptor since 1974, recalls the latest milestone of his life. For more than two years, he had to live in Mosul under the Islamic State group [IS].
Despite generalised repression against artists by members of IS, Qais had produced dozens of sculptures in the basement of the house, alongside his son, until their liberation by the Iraqi army in late 2016.
"I knew that one day the jihadists would leave," Mustafa told The New Arab.
To not attract attention, each blow of the mallet was gently smoothed. Composed of a wooden structure covered with metal nails, the sculptures remained abstract to prevent the Islamic State from identifying 'any human representations' in the creations.
Following a radical interpretation of religious texts, the Islamic State argues that human representation is contrary to Islam.
To honour his commitment to preserving Mosul's artistic creation, Mustafa was the first guest of the cultural TV show, Ebdaa was Hekaya, launched in January 2018.
"Family and friends were happy to see me on TV," he said proudly.
The voice of Iraqi artists
The host of the programme, Abdulrahman Al Dulaimi, 23, stands nearby some destroy buildings. Nicknamed 'Leonardo Da Vinci from Mosul' for his paintings, he dreams to be the voice of Iraqi artists in the post-Islamic State era.
But such a project is a source of fear for Al Dulaimi's family, still terrified by the murder of his brother by the Islamic State in 2015.
"I am not afraid of them... they committed countless crimes that could not be documented because there were no journalists or cameras," the young TV presenter said.
Nowadays, poets, writers, painters, sculptors and singers flock to Ebdaa was Hekaya's studio to publicly express their dream for a new Iraq, where culture goes hand in hand with respect for traditions. Indeed, the programme raises awareness about humanist values promoted by the cultural sector.
"I am happy and proud to see a young man contributing to the restoration of art," smiles Natiq Azizz, the guest of the day.
After the broadcast of the first episode, many Iraqis contacted Al Dulaimi to express their satisfaction over seeing such an initiative to reappear quickly.
"This show is a powerful tool to present the creativity of our artists to the world," he believes.
According to Azizz, numerous artists in Iraq have expressed their willingness to revive the artistic movement in Mosul after the fall of the Islamic State group.
Aged 71, the grey haired man has been an involuntary witness to four decades of violence that has struck Iraq since the 1980s. Yet, it was the abuse committed by the Islamic State group against artists that remains unforgettable to him.
"They were against all forms of art and destroyed many pieces to put an end to Iraqi culture. This worthless group is a contagious disease," Azizz said.
During the 'occupation', he hid his most precious creations under the mattress of his bed to protect them from being destroyed.
Following its occupation of one-third of Iraqi territory in 2014, IS embarked on a crusade against culture, destroying the Cultural Heritage of a country known as the cradle of the world's oldest civilisations.
But in December 2017, the Iraqi government claimed victory over IS in Iraq, just months after Iraqi Prime Minister Haider al-Abadi declared victory against the group in Mosul. The July 2017 defeat in Mosul came eight months after an alliance of Iraqi armed forces, Shia militias and Kurdish fighters launched an offensive to retake the city. It was considered one of the biggest defeats for the Islamic State group, but the cost of this "liberation" has been immense.
Monitoring group Airwars estimated that between February and June 2017, as many as 5,805 Iraqi civilians were killed in Iraqi and coalition attacks. But many believe the actual number is likely much higher, with rights group Amnesty International saying at the time that the "true death toll of the battle may never be known".
In addition to the deaths, nearly a million people fled their homes during the military operations and the fighting destroyed entire districts of the city, with the scale of destruction unprecedented in Iraq's most recent conflict. The UN estimated that the cost of repairing basic infrastructure is set to top more than $1 billion, with rebuilding likely to take several years.
Islamic State ideology in Iraq
Enthusiastic by nature, sculptor Qais Ibrahim Mustafa feels invested with a mission of general interest to revive culture in Mosul after IS.
Out of a desire to send a symbolic message, he decided in late 2017 to place a feminine artistic monument at the gates of Mosul's old city, the physical representation of the cultural diversity that characterised Iraq.
But this time, he got impeached to proceed by the Governor of Mosul, claiming that a statue of this nature could hurt conservative citizens.
"Islamic State's influences are still very much present in Iraq," Mustafa concluded, aware that territorial defeat of the extremist group does not mean that its ideology has necessarily disappeared from the minds of many Iraqis.
https://www.alaraby.co.uk/english/indepth/2019/3/7/reviving-culture-in-iraqs-former-islamic-state-stronghold
--------
Syria rejects OPCW report on Douma chlorine attack as 'distortion of facts'
Mar 7, 2019
The Syrian government says it "categorically rejects" a report by the global chemical weapons watchdog that banned weapons were used in a Damascus suburb last year, accusing the West of fabricating lies through its mercenaries in the Arab country.
The Organization for the Prohibition of Chemical Weapons (OPCW) announced on March 1 that based on the findings of its inspectors, a "toxic chemical" containing chlorine was used in clashes between the Syrian military and anti-government militants in the town of Douma, near the capital Damascus on April 7, 2018.
"The Syrian Arab Republic categorically rejects the conclusions of the mission team," the Syrian Foreign Ministry said in a statement carried by state news agency SANA. "(The report) was no different to previous reports from the mission, which were full of blatant distortion of facts."
The statement criticized the OPCW for ignoring eyewitness accounts that terrorist groups had staged the chemical attack scenario with the help of the so-called White Helmets aid group, which has known ties to Britain.
"In fact what attracts attention now is that the authors of the report ignored the statements of witnesses who lived with that incident and described the allegations of using chemical weapons in Douma as a play performed by armed terrorist organizations," it added.
The statement blasted the US, the UK and France for using the alleged attack as a pretext to conduct aerial and missile raids in Syria "that destroyed scientific centers which include laboratories for peaceful purposes."
The ministry said Syria provided the OPCW mission with all the necessary facilities hoping that it would make a logical and professional conclusion with giving in to political pressure from Western countries.
"Syria calls on the member countries at the OPCW to uncover such fake reports which don't enjoy any credibility, and calls upon the technical secretariat of the OPCW to appoint fact-finding mission members who are professional, fair and neutral," the spokesman said.
At the time Douma was held by rebels but besieged by pro-government forces. It came back under government control later that month after years of siege.
The OPCW investigation did not assign blame and confirmed that it had found no traces of banned chemicals but said the information gathered offered "reasonable grounds that the use of a toxic chemical as a weapon has taken place on 7 April 2018."
"This toxic chemical contained reactive chlorine," the Hague-based organization said, noting that it had found no evidence of the use of nerve agents in the Syrian town.
A joint UN-OPCW team appointed to assign blame for alleged chemical attacks in Syria found that Daesh terrorists had used sulfur mustard in their attacks from 2015 to 2017.
Full report at:
https://www.presstv.com/Detail/2019/03/07/590453/Syria-OPCW-Chlorine-attack-Douma
--------
Waves of people still leaving Islamic State's last Syrian enclave
Mar 08, 2019
DEIR AL-ZOR PROVINCE, Syria (Reuters) - Thousands of people could still be left inside Islamic State's last enclave in eastern Syria, the U.S.-backed Syrian Democratic Forces (SDF) said, as the waves of evacuations from the tiny area continued on Thursday.
The SDF has said it wants to ensure all civilians have been evacuated before launching a final assault on the besieged enclave of Baghouz. It is the last shred of populated territory held by Islamic State, which once controlled swathes of Iraq and Syria.
"We are still hearing about the presence of thousands inside Baghouz," SDF spokesman Mustafa Bali told al-Hadath television.
"We expect a fierce battle later on after the end of the civilian evacuation, given that those that will remain in Baghouz are the ones brimming with salafi jihadi ideology and the ones for whom surrender is not an option," he said.
Even with its defeat at Baghouz looming large, Islamic State is still widely assessed to represent a security threat, with a foothold in patches of remote territory and the ability to mount guerrilla attacks.
Many thousands of people, many of them the families of Islamic State fighters, have poured out of Baghouz over the last several weeks. Hundreds of Islamic State militants have also surrendered, the SDF says.
One of those men emerging from Baghouz, Abu Mujahid, told Reuters he came to Syria in 2015 from China's far western region of Xinjiang, also referred to as east Turkestan, which is home to a sizeable minority Muslim population.
"I came from China to here (Syria) because of unfairness. There is a lot of injustice in China and we cannot live with it," he said.
Another man, Abu Ali Shishani, said he had come from the Russian region of Chechnya.
The SDF announced it was launching a final battle for the enclave last month but has slowed its attack to allow civilians to leave.
SDF commander Adnan Afrin said on Thursday he hoped the evacuations would "be completed today".
'FAR FROM OVER'
On Wednesday the Syrian Observatory for Human Rights that monitors the war said preparations were underway in eastern Syria to announce the end of Islamic State there. But Colonel Sean Ryan, spokesman for the U.S.-led coalition backing the SDF, said the international force had "learned not to put any timetables on the last battle".
Islamic State suffered its major military defeats in 2017 when it was driven from the Iraqi city of Mosul and its Syrian headquarters at Raqqa by local forces supported by a U.S.-led international coalition.
The head of the U.S. military's Central Command, General Joseph Votel, said on Thursday the reduction of Islamic State's territorial footprint was a "monumental military accomplishment", but the fight was "far from over".
"What we are seeing now is not the surrender of ISIS as an organisation," he told a hearing of the U.S. House of Representatives Armed Services Committee.
Rather, he said, it was the group's "calculated decision to preserve the safety of their families and preservation of their capabilities by taking their chances in camps for internally displaced persons and going to ground in remote areas and waiting for the right time to resurge".
Votel, who oversees U.S. forces in the Middle East, said he was under no pressure to withdraw forces from Syria by any specific date, after President Donald Trump ordered the drawdown of most U.S. troops from Syria.
Full report at:
https://www.firstpost.com/world/waves-of-people-still-leaving-islamic-states-last-syrian-enclave-6219231.html
--------
Iraqi Lawmaker Reveals US Role in ISIL Offensive against Hashd Al-Shaabi
Mar 07, 2019
Karim al-Aliwi, a representative of al-Bina coalition at the Iraqi parliament, was quoted by the Arabic-language al-Ma'aloumeh as saying that the US forces provide the ISIL with intelligence about Hashd al-Shaabi and Iraqi security forces' moves, noting that they want to induce the necessity for their deployment under the pretext of fighting against the ISIL.
The Arabic-language service of Sputnik quoted the Iraqi intelligence and security bodies as reporting that during the terrorist attack against Hashd al-Shaabi on Makhmour road in Mosul, 6 Hashd al-Shaabi forces were killed and 31 others were wounded.
Another senior Iraqi lawmaker had also disclosed last Monday that the US army troops and warplanes were preventing Hashd al-Shaabi from getting close to the country's borders with Syria.
"The US troops stationed along Iraq-Syria borders have blocked the access of Hashd al-Shaabi forces from nearing that region through air and ground cover," Member of the Iraqi Parliament's Security Committee Ali Jabbar was quoted by al-Maloumeh as saying. He underlined that the US considered Hashd al-Shaabi as a big threat to its plots in Iraq, and said that the US army troops were exerting pressure on the Iraqi government to prevent Hashd al-Shaabi from getting close to the border with Syria or to prevent them from targeting the ISIL movements in the Baghouz region.
Full report at:
http://en.farsnews.com/newstext.aspx?nn=13971216000439
--------
Hundreds of ISIL Terrorists Surrender to Kurds in Eastern Syria
Mar 07, 2019
The Arabic-language al-Nashrah news website quoted a commander of the Syrian Democratic Forces as saying that the SDF forces have detained over 400 ISIL terrorists who were escaping from Baqouz region in Eastern Euphrates.
It added that hundreds of other ISIL militants have also surrendered to the Kurds, noting that a large number of ISIL members and their commanders are still at large in the town of Baqouz in Eastern Deir Ezzur.
Meantime, the SDF spokesman said that nearly 6,500 people, including ISIL terrorists, have left Baqouz region in the past 24 hours.
Media reports said on Wednesday that over 2,000 ISIL militants had left their last base in Eastern Euphrates with the help of the US-led coalition and Syrian Democratic Forces as Washington and the SDF were planning to declare the end of the ISIL in Eastern Euphrates.
"More than two thousands ISIL terrorists who were stationed in al-Baqouz town in Eastern Euphrates near Syria's borders with Iraq surrendered to the SDF on Monday after they were given a safe corridor," the Kurdish-language Bas News website reported.
Meantime, the SOHR reported that a sum of 3,140 ISIL militants and their families left the last areas under their control in Eastern Euphrates.
The pro-militant Baladi news website also pointed to the presence of about 1,000 ISIL terrorists in Baqouz, and said that the surrendered ISIL militants will be transferred to the US-controlled Omar oilfield.
Full report at:
http://en.farsnews.com/newstext.aspx?nn=13971216000567
--------
US-Backed Militants Hoard Foodstuff Needed for Refugees in Rukban Camp
Mar 07, 2019
The Arabic-language al-Watan newspaper quoted sources as saying on Thursday that the terrorists who are supported by the US and are stationed in al-Tanf region, specially Maqawir al-Thawra group, which controls al-Rukban, have threatened the civilians with weapons to avoid leaving the camp for their villages.
They added that the terrorists also force the civilians to pay huge amounts of money to receive permission to leave the camp.
The sources warned of the dire humanitarian situation in the camp, saying that the terrorists in the region prevented the traffic of humanitarian aid cargos and buses sent by the Syrian government to the camp to transfer the refugees to other regions and have hoarded the foodstuff and other vital goods needed by the civilians.
A joint statement by the Russian and Syrian coordination centers said that the US has blocked traffic of the sixth bus sent by the Damascus government to transfer the refugees from al-Rukban to different parts of Syria.
Russian and Syrian coordination centers have urged the US to set free the forcibly held residents of Rukban camp and allow them to return to their homes, Major General Viktor Kupchishin, chief of the Russian center for reconciliation of conflicting sides in Syria, told reporters on Wednesday.
"On March 6, the interdepartmental coordination centers of the Russian Federation and the Syrian Arab Republic came forward with a joint statement, which urges the US to switch from populism to practical steps, which are to release illegally held residents of the Rukban camp and to ensure their right to leave freely for permanent residence places and to guarantee a safe passage of humanitarian motor convoys through illegally seized area of al-Tanf," he said.
Full report at:
http://en.farsnews.com/newstext.aspx?nn=13971216000277
--------
Southeast Asia
We won't work with 'traders of Islam', says PPBM in dismissing PAS
Minderjeet Kaur
March 7, 2019
PETALING JAYA: PPBM today said it is not interested in working with the Abdul Hadi Awang-led PAS, which it described as a "trader of Islam".
The statement comes a day after PAS chief Abdul Hadi Awang said his party wants to unite all Malay parties, including Dr Mahathir Mohamad's PPBM, which is part of the ruling Pakatan Harapan.
PPBM chief strategist Rais Hussin said his party was committed to PH's cause and believed in "less politicking and more delivering".
"PAS is more into politicking. They use religion as a trade. They are merchant traders of Islam and they will do whatever they need to survive," he told FMT.
After announcing his party's alliance with Umno, Hadi had said: "We need to unite the Malay parties – PAS, Umno and PPBM. PKR is not a Malay party, Amanah is not a Malay party."
Rais said PAS had unfortunately turned into a "cult" and working with it would not benefit anyone.
He added that the same PAS leaders, who announced an alliance with Umno today, had approached PPBM in 2015.
"PAS has never been consistent. The only thing consistent about them is being inconsistent with their principles.
Full report at:
https://www.freemalaysiatoday.com/category/nation/2019/03/07/we-wont-work-with-traders-of-islam-says-ppbm-in-dismissing-pas/
--------
Umno-PAS union to enable Muslims to return to power - Hadi
7 Mar 2019
Abdul Hadi Awang said PAS' formalisation of ties with Umno is to facilitate Muslims returning to the seat of power in the country.
Speaking at a ceramah after a prayer event in Terengganu tonight, the PAS president said Muslims must unite so that they could rule over the non-Muslims.
He cited the situation in Medina during the Zaman Jahiliyah (Age of Ignorance) when they were two warring factions before the advent of Islam.
"But when they were converted by the Prophet Muhammad, they became united and when they were united, they became rulers.
"Although the population of non-Muslims far outnumbered the Muslims then, the latter still ruled for 1,300 years," he said.
Hadi then drew a comparison with the current political scenario in the country.
"As you can see, the (Pakatan Harapan) government is filled with non-Muslims. There are 66 non-Muslim MPs in Parliament and only 58 Muslim MPs when the population of the country is only 35 percent non-Muslims.
"This is similar to Indonesia where, despite having a majority Muslim population, the economy, for instance, is controlled by the non-Muslims," said the Marang MP.
This is possible because Muslims are busy fighting with each other, he added.
"We must work towards being united and staying strong, come what may. There are high tides and low tides ("zaman pasang dan zaman surut"). Our zaman pasang will come but it will not be easy," he said, to shouts of "Allahuakhbar" from those present.
Hadi also commented on the allegation that the party received RM90 million from Umno in return for support prior to the last general election.
"They (Harapan) slandered us as having received money. We got the money from sources that are halal. Our members now number a million plus, nationwide. If one member donates RM100, that's RM100 million. What is RM90 million then? Even RM900 million is not surprising," he said.
What should matter are sincere contributions from those who believe in divine rewards, he said.
Earlier this week, Umno and PAS announced the formalisation of their political ties which acting Umno president Mohamad Hasan described as their "wedding ceremony."
Both said that their cooperation is founded on the agenda of uniting the ummah (Muslim community).
PAS has been under fire over allegations that it received RM90 million from Umno. The party has denied this but the matter is still being investigated by the MACC.
Full report at:
https://www.malaysiakini.com/news/467034
--------
Mideast
Israel's election body bars Arab party from Knesset elections
Mar 7, 2019
Israel's election board has disqualified an Arab party, while approving far-right candidates accused of racism, ahead of parliamentary elections due to be held early next month.
The Central Elections Committee barred Balad from participating in April 9 elections for the 21st Knesset, voting 17-10 in favor of disqualifying the Arab alliance.
The disqualification of Balad was approved in accordance with a petition filed by Prime Minister Benjamin Netanyahu's ruling Likud party and Otzma Yehudit, a far-right and anti-Arab party. They say the Arab alliance wants to "eliminate" Israel and supports Palestinian and Lebanese resistance movements.
"Those who support terrorism will not be in the Israeli Knesset!" Netanyahu wrote on Twitter after the vote. The Israeli premier is now facing a corruption case and a merger of centrist parties that could defeat him in the upcoming elections.
Pro-democracy Balad describes itself as a movement opposed to Zionism and Israel's occupation of Palestinian territories. It now holds four seats as part of the 12-member United Arab List, which represents members of Israel's Arab minority.
Earlier, attorney general Avichai Mandelblit had recommended the committee members not to vote against Balad, stressing that the evidence presented against the alliance was old and a previous attempt to disqualify it had been overruled by a court.
On Thursday, United Arab List chair Mansour Abbas lambasted the decision and said Balad would appeal.
"We undergo this travesty during every election campaign. In the end, the supreme court voids the elections committee's political, populist decisions," he said.
Back in 2009, Israel's supreme court reinstated Balad after it was disqualified.
The committee, made up of representatives of parties in parliament, also disqualified Ofer Cassif, the only Jewish candidate representing the mainly Arab Hadash party, under the same criteria.
According to Israeli media, it is expected that all of the committee's rulings will be challenged in petitions to be filed with the supreme court on Sunday.
The committee on Wednesday also qualified two candidates from the extreme-right Jewish Power party to run in the elections. Michael Ben-Ari, who has branded Israeli Arabs as "treacherous and murderous", and Itamar Ben-Gvir were given the green light.
The rulings against the two figures were issued after the committee struck down motions by a liberal Jewish movement and center-left politicians against Ben-Ari and Ben-Gvir.
The Israeli attorney general had recommended Ben-Ari to be barred from the polls, arguing that the politician's comments amounted to "incitement to racism."
Netanyahu has allied with an ultra-nationalist list that includes the Jewish Power party to enhance his chances to win.
Arabs, most of whom consider themselves as Palestinians, are descended from Palestinians who remained on their occupied land after the creation of Israel in 1948. They hold so-called Israeli citizenship, making up 17.5 percent of Israel's population.
https://www.presstv.com/Detail/2019/03/07/590432/Palestine-Israel-Knesset-elections-Arab-Balad-Netanyahu-Likud-BenGvir
--------
Ultra-conservative cleric appointed head of Iran's judiciary
08 MARCH 2019
Tehran, Mar 8 Iran's Supreme Leader Ayatollah Ali Khamenei on Thursday appointed ultra-conservative cleric Ebrahim Raisi, a one-time presidential hopeful, as head of the judiciary, the leader's website said.
Former judge Raisi, who currently heads the holy shrine of Imam Reza, was the leading rival to President Hassan Rouhani at Iran's 2017 election and has close ties to the supreme leader.
Khamenei said in a statement that he appointed Raisi to bring about a "transformation (in the judiciary) in line with (its) needs, advancements and challenges" on the 40th year of the 1979 Islamic Revolution.
"For carrying out this crucial act, I have chosen you who have a long track record in different levels of the judiciary and are in touch with its nuances," he said in the statement.
He called on Raisi to be "with the people, the revolution and against corruption" in his new role. Raisi takes over from Sadegh Amoli Larijani who was in December appointed chairman of the powerful Expediency Council.
Raisi is a mainstay of the conservative establishment, having served as attorney general, supervisor of state broadcaster IRIB and prosecutor in the Special Court for Clerics.
He bears the title of Hojjat al-Islam, which is a rank under Ayatollah in the Shiite cleric hierarchy.
Raisi became deputy prosecutor at the Revolutionary Court of Tehran during the 1980-88 Iran-Iraq war.
Human rights organisations, opposition members and dissidents have accused the tribunal of overseeing the execution of political prisoners without due legal process during his tenure.
He was chosen by Khamenei in 2016 to head Iran's Imam Reza Shrine and lead its huge business conglomerate, Astan Qods Razavi, with interests in everything from IT and banking to construction and agriculture.
During his 2017 campaign, Raisi took a tough line on Rouhani's "weak efforts" in negotiating the 2015 nuclear deal with world powers that brought the Islamic republic sanctions relief in exchange for limiting its nuclear programme.
Full report at:
https://www.outlookindia.com/newsscroll/ultraconservative-cleric-appointed-head-of-irans-judiciary/1492184
--------
Palestinian teen killed by Israeli fire during Gaza border clashes
7 March 2019
A Palestinian teenager was killed by Israeli fire during renewed clashes along the Gaza border overnight Thursday, the enclave's health ministry said, with Israel striking a Hamas position in response to the violence.
Health ministry spokesman Ashraf al-Qudra said Saif al-Deen Abu Zeid, 15, died "due to wounds sustained east of Gaza (City) a few hours ago."
The teenager was shot during clashes along the border late Wednesday, Qudra told AFP.
An Israeli army spokeswoman did not comment on the specific incident but said hundreds of "rioters" had hurled rocks and explosive devices at troops along the border.
Soldiers responded according to "standard operating procedures," she said.
Israeli fighter jets later struck several sites belonging to Hamas in the south of Gaza, an army statement said.
The military said the strikes were "in response to the balloons carrying explosive devices and the projectile that were launched from the Gaza Strip at Israeli territory earlier this evening."
Projectile often refers to a rocket, but Israel's military said it could provide no further details.
A Palestinian security source said a Hamas base was struck in southern Gaza, causing damage but no injuries.
It was the fifth such Israeli strike since Saturday, each in response to either balloon-borne explosive devices floated across the border or explosive devices hurled at the border fence.
The uptick in violence has raised fears a fragile truce agreed in November between Israel and Hamas could collapse, with both sides accusing the other of breaching the terms of the informal agreement.
Hamas have controlled Gaza since 2007 and have fought three wars with Israel since.
Full report at:
https://english.alarabiya.net/en/News/middle-east/2019/03/07/Palestinian-killed-by-Israeli-fire-during-Gaza-border-clashes.html
--------
Turkey merely seeks its own interests in purchasing Russian S-400 systems: VP
Mar 7, 2019
Turkish Vice President Fuat Oktay says his country's decision to buy Russian-built S-400 air defense missile systems is only based on its own interests, stressing Ankara will not stop the purchase in the face of strong opposition from Washington and warnings that it should not buy the anti-aircraft platform.
"Turkey does what is necessary for its own interests regarding the S-400 missile defense system, it takes own decision and choice," Oktay told Turkey's official Anadolu news agency on Thursday. adding that Ankara will not renege on its agreement with Russia.
"In any case [about purchasing of S-400 defense system from Russia], we would do what it requires, especially if we signed a deal," the Turkish official emphasized.
The remarks came a day after President Recep Tayyip Erdogan said Turkey would never go back from a deal to buy the S-400 missile defense systems from Russia, adding that Ankara may subsequently look into buying S-500 systems.
In an interview with Turkish-language 24 television news network on Wednesday, Erdogan also said the United States should not try to discipline Turkey through trade measures, adding that Ankara had its own penalties prepared.
"We concluded the S-400 issue, signed a deal with the Russians and will start co-production," said Erdogan, who added, "Later, we may work with S-500s."
US State Department deputy spokesman Robert Palladino warned on Tuesday that "acquisition of the S-400 will result in a reassessment of Turkey's participation in the F-35 (fighter jet) program, and risk other potential future arms transfers to Turkey."
The comments came on the same day that the head of the US European Command, General Curtis Scaparrotti, told members of the Senate Committee on Armed Services that the United States should not follow through with a multi-billion dollar weapons sale of F-35 jets to Turkey, if Ankara takes delivery of Russian S-400 missile systems.
"My best military advice would be that we don't then follow through with the F-35, flying it or working with allies that are working with Russian systems, particularly air defense systems," he said.
"I would hope that they [Turkey] would reconsider this one decision on the S-400," Scaparrotti added, noting that there could be potential consequences, namely no future military sales between Washington and Ankara.
Washington has reportedly proposed to deliver one US-made Patriot missile system to Ankara by the end of 2019, on the condition that Turkey abandons the deal with Russia.
Two senior Turkish officials familiar with the talks, requesting anonymity, said on March 1 that Turkey had rejected the offer as it didn't include a loan agreement or a technology sharing pact.
Moscow and Ankara finalized an agreement on the delivery of the S-400 missile systems in December 2017.
Back in April last year, Erdogan and his Russian counterpart Vladimir Putin said in Ankara that they had agreed to expedite the delivery of the S-400 missile systems. At the time, it was said that the delivery could be made between late 2019 and early 2020.
A number of NATO member states have criticized Turkey for its planned purchase of the S-400 from Russia, stating that the missile batteries are not compatible with those of the military alliance.
They also argue that the purchase could jeopardize Ankara's acquisition of F-35 fighter jets and possibly result in US sanctions.
The S-400 is an advanced Russian missile system designed to detect, track, and destroy planes, drones, or missiles as far as 402 kilometers away. It has previously been sold only to China and India.
Ankara is striving to boost its air defense, particularly after Washington decided in 2015 to withdraw its Patriot surface-to-air missile system from Turkish border with Syria, a move that weakened Turkey's air defense.
Before gravitating towards Russia, the Turkish military reportedly walked out of a $3.4 billion contract for a similar Chinese system. The withdrawal took place under purported pressure from Washington.
Ankara's ties with its Western allies in NATO have been strained over a range of issues.
Erdogan has been critical of Washington for supporting Kurdish groups in Syria that he says are responsible for terror attacks inside Turkey.
Full report at:
https://www.presstv.com/Detail/2019/03/07/590422/Turkey-pursues-own-interests-in-purchasing-Russian-S400-missile-systems-Vice-president
--------
Houthis have 'killed the Stockholm Agreement': Yemeni official
March 07, 2019
LONDON: The Houthis have "killed the Stockholm Agreement" that they signed with the Yemeni government in Sweden last December, the Yemeni army's spokesman Brig. Abdo Abdullah Majali said Wednesday.
Majali added that the Houthis have failed to uphold clauses regarding the withdrawal of troops from Hodeidah, and that anything "taken from the Yemeni government will be recovered by force."
The army spokesman then asked how it was possible to trust the Houthis when they are "carrying out acts of aggression against the Yemeni people, and continuously targeting Yemeni army positions."
The Yemeni army "maintains its right to respond" to violations committed by the Houthis who "do not understand the language of dialogue," Majali told Asharq Al-Awsat.
The Stockholm Agreement was signed by the Yemeni government and the Houthis in December last year. The main components of the agreement are a prisoner exchange, steps toward a cease-fire in the city of Taiz, and a cease-fire agreement on the city of Hodeidah and the ports of Hodeidah, Salif and Ras Issa.
The governments of Yemen, Saudi Arabia and the UAE have accused the Houthis of breaking the cease-fire in Yemen's key port of Hodeidah and refusing to withdraw their forces in accordance with the Stockholm Agreement.
The ambassadors from the three countries urged the UN Security Council in a letter circulated Tuesday to call on the Houthis to implement the agreement and to condemn their continuing violations of the cease-fire.
Meanwhile, the United Nations announced its Special Envoy for Yemen Martin Griffiths was holding intensive talks with the warring parties in the Yemeni conflict in an effort to implement the Stockholm Agreement, revive hope of redeployment from Hodeidah and open humanitarian corridors.
Full report at:
http://www.arabnews.com/node/1463236/middle-east
--------
Pakistan
Pakistan takes control of religious schools in continued crackdown
Mar 7, 2019
The Pakistani government has taken control of more than 180 purported religious schools as part of a crackdown on militant organizations operating in the country.
"Provincial governments have taken in their control management and administration of 182 seminaries (madaris)," Pakistan's Interior Ministry said in a statement on Thursday, using the Arabic word for the purported religious schools.
Those facilities are often funded by Saudi Arabia.
The ministry added that other facilities and properties belonging to different militant groups had been taken control of in the crackdown, which began this week. Those facilities include 34 schools or colleges, 163 dispensaries, 184 ambulances, five hospitals, and eight offices of banned organizations.
Pakistan's law enforcement agencies also arrested 121 people, according to the ministry.
On Tuesday, Pakistani security forces arrested dozens of militants in what was described as a crackdown against "proscribed organizations" following last month's bombing attack in Indian-controlled Kashmir.
The younger brother of the leader of a militant group — which claimed responsibility for the deadly attack on an Indian security forces convoy in Kashmir on February 14 — was among the detainees.
Pakistani officials said the crackdown was part of a long-planned drive and not a response to Indian anger over what New Delhi calls Islamabad's failure to rein in militant groups operating on Pakistani soil.
The terrorist attack in Kashmir left at least 40 troops dead, sparking tensions between the two nuclear-armed neighbors and spurring tit-for-tat cross-border raids. The tensions reached a peak last Tuesday, when India said it had conducted "preemptive" airstrikes against what it described as a militant training camp in Pakistan's Balakot.
Islamabad confirmed and condemned the violation of its airspace but denied that the purported target had been hit.
Days later, the Pakistani military captured an Indian pilot after shooting down his MiG-21 fighter jet, which Islamabad said had violated Pakistani airspace.
The flare-up between the two arch-foes appeared to be easing after Pakistan handed back Wing Commander Abhinandan Varthaman, whose return was meant to be a goodwill gesture toward India.
But the tensions continued.
In a separate development on Thursday, a grenade explosion at a bus station in Jammu City — the Hindu-majority region of Kashmir — killed one person and wounded at least 29 others.
Kashmir has been split between India and Pakistan since partition in 1947. Both countries claim all of Kashmir and have fought three wars over the territory.
Indian troops are in constant clashes with armed groups seeking Kashmir's independence or its merger with Pakistan. India regularly accuses Pakistan of arming and training militants and allowing them across the restive frontier in an attempt to launch attacks. Pakistan strongly denies the allegation.
https://www.presstv.com/Detail/2019/03/07/590415/Pakistan-religious-schools-India
--------
Popular support for militants complicates Pakistan crackdown
March 08, 2019
BAHAWALPUR, Pakistan: On the congested streets of Bahawalpur, a city in southern Pakistan's jihadi heartland, emotions run high in favor of Jaish-e-Mohammad, a U.N.-designated terror group that recently pushed nuclear-armed India and Pakistan to the brink of war.
Such support complicates Prime Minister Imran Khan's latest crackdown on militant groups, including Jaish-e-Mohammed. In recent days, Khan has ordered the takeover of assets and property of dozens of banned militant organizations that operate in Pakistan. Many of the groups are popular among the poor because they operate networks of charities. Some groups have also enjoyed the support of the military and intelligence services.
"Jaish-e-Mohammad is not a terrorist group, they just want to spread Islam," said Tahir Zia, a gray-bearded resident of Bahawalpur, a city whose 18th-century founders claim to be direct descendants of Islam's Prophet Mohammad.
According to Pakistan's counter-terrorism agency, the government has outlawed 68 militant groups. This includes Jaish-e-Mohammad, Lahskar-e-Taiba and Harakat-ul Mujahedeen — Pakistan-based groups that seek to wrest control of Indian-controlled territory in the disputed Kashmir region.
Kashmir is split between Pakistan and India and claimed by both in its entirety. The region has been the flashpoint of two wars between the South Asian neighbors as well as several lower-level face-offs.
The latest confrontation began Feb. 14 when a suicide bombing in Indian Kashmir killed 40 Indian soldiers. Jaish-e-Mohammad, which is based in Pakistan, claimed responsibility, even though the attacker was identified as an Indian Kashmiri militant. The bombing escalated tensions between India and Pakistan, with India launching an airstrike against suspected militant training camps. Journalists, who visited the site hours after the bombing, said the area was a deserted forested hilltop.
Under pressure to rein in the militants, Pakistan took over mosques and religious schools belonging to Jaish-e-Mohammad. Their students and teachers have been barred from talking to the media. Police and paramilitary rangers armed with AK-47s, now guard the group's buildings.
The group's headquarters on the northern outskirts of Bahawalpur, a city of 2 million, are ringed by a 20-foot-high (6-meter) brick wall.
On a recent morning, several bearded men and two Pakistani police officers armed with automatic rifles turned away visitors approaching the compound's large steel gates.
Bahawalpur is located on the edge of Pakistan's Cholistan desert in the southern part of Punjab province. In recent decades, the area has become a jihadi heartland encouraged by state sponsorship and financial support from abroad, particularly Saudi Arabia, and several Gulf States.
The donors have financed a vast network of religious schools that cater to the poorest residents, teaching a brand of Islam that promotes sectarianism, brands Shiite Muslims as infidels and espouses jihad, according to the Brussels-based International Crisis Group.
Khan, who adopted the role of peacemaker in the latest outbreak of hostilities between Pakistan and India, returned a captured Indian pilot, offered peace talks with his Indian counterpart, and launched a crackdown on militant groups from which previous administrations shied away.
On Tuesday, in a gesture aimed at mending relations on the subcontinent, Pakistan announced it had arrested 44 suspected members of several militant organizations, including Jaish-e-Mohammed. Among those arrested was Mufti Abdul Rauf, the brother of Masood Azhar, the founder of the organization. Azhar's whereabouts are unknown.
Rauf was also among those named by India in a dossier it gave to Pakistan after Khan promised to investigate suspected links between Pakistani-based militants and the February bombing.
On Wednesday, more schools, hospitals and charities run by banned groups were taken over by the government. Padlocks were put on some facilities.
In a tweet Wednesday, Interior Minister Shahryar Afridi promised his government would implement a widely cheered 2015 National Action Plan that calls for zero tolerance of militant groups. Pakistan's previous government devised the 20-point plan to combat terrorism and extremism in Pakistan, only to ignore it.
Still the move by Khan's government is fraught with dangers in a country where militant groups provide social services to poor residents ignored by the government. The 2016 Crisis Group report called south Punjab "the poorest region of the country's richest and most populous province."
In Bahawalpur, Jaish-e-Mohammad and its leader enjoy considerable support.
Storekeeper Sajjad Ali called Azhar a "man of peace" and dismissed accusations that he is a terrorist as Indian propaganda.
Hafiz Muzamil, a fiery young man, railed against India's violent suppression of a 30-year insurgency in Kashmir __ India's only Muslim dominated state __ and championed Jaish-e-Mohammad and Azhar as warriors for Islam. Crowds gathered as he spoke, most nodding vigorously.
Adnan Naseemullah, an expert in international affairs at King's College in London, warned of a short-term backlash against the crackdown.
"Pakistan, if it takes an aggressive, no-tolerance stand against Lashkar-e-Taiba, Jaish-e-Mohammed and Harakat ul-Mujahidin, will suffer a violent backlash domestically," he said.
"But a zero-tolerance policy from the Pakistani state will over time shift the focus back on Kashmir and the treatment of the Kashmiri people, which is in Pakistan's long-term interest," he added.
International human rights groups have accused India of widespread abuses as it seeks to crush dissent in its part of Kashmir. "India's policy on Kashmir under (Prime Minister Narendra) Modi is straightforwardly and violently repressive," said Naseemullah.
For Pakistan, the deadly mix of militant groups on its soil is a decades-old problem with roots in the 1980s war in neighboring Afghanistan, when the United States and Pakistan were allies against the former Soviet Union. Together they nurtured an army of mujahedeen, or holy warriors, to oust the former Soviet Union from Afghanistan. When the war ended with a Soviet withdrawal in 1989, young Pakistani recruits to jihad were sent to the Indian half of disputed Kashmir to fight for a united Kashmir under the Pakistani flag.
It's a history that analysts like Zahid Hussain, author of two books on militancy, say haunts Pakistan.
Full report at:
http://www.arabnews.com/node/1463511/world
--------
Pakistan Seals Lahore Headquarters of Jamaat-ud-Dawa, Its Wing FIF
Mar 7, 2019
KARACHI: At least 56 seminaries and facilities being run by Mumbai terror attack mastermind Hafiz Saeed-led Jamaat-ud-Dawa and its wing Falah-eInsaniat Foundation in Pakistan's southern Sindh province have been taken over by authorities since Islamabad launched a crackdown against banned outfits in the country.
The Lahore headquarters of the two organisations have also been sealed.
The Sindh government confirmed that it has taken control over 56 facilities being run by these proscribed organisations.
"The Sindh government also decided to move against the proscribed organisations after the crackdown started by the Centre," advisor to the Sindh chief minister on Information and Law, Barrister Murtaza Wahab said.
The confiscation of properties of JuD and FIF comes after Pakistan formally placed them in the list of banned organisations on Tuesday.
According to Pakistan's National Counter Terrorism Authority (NACTA) list, which was updated on Tuesday, the JuD and FIF were among 70 organisations proscribed by the Ministry of Interior under the Anti-Terrorism Act, 1997.
"The Federal government has declared both organisations as proscribed so we have also taken over the welfare and educational facilities being run by the two outfits in the province," he said.
He said the schools, medical facilities and seminaries being run by the JuD and FIF will now be run by the provincial government.
The advisor said the two banned outfits were running their seminaries, schools and medical units in many parts of Sindh including Karachi, Matiari, Jamshoro, Sanghar, Tando Allahyar, Badin, Naushero Feroz and Shahdadkot.
According to officials, JuD's network includes 300 seminaries and schools, hospitals, a publishing house and ambulance service. The two groups have about 50,000 volunteers and hundreds of other paid workers.
The JuD is believed to be the front organisation for the LeT which is responsible for carrying out the Mumbai attack that killed 166 people. It had been declared as a foreign terrorist organisation by the US in June 2014.
The US Department of the Treasury has designated its chief Saeed as a Specially Designated Global Terrorist, and the US, since 2012, has offered a USD 10 million reward for information that brings Saeed to justice.
Saeed was listed under UN Security Council Resolution 1267 in December 2008. He was released from house arrest in Pakistan in November 2017.
The NACTA has so far declared 70 terrorist organisations as banned and a sizeable number of these organisations are based in Balochistan, Gilgit-Baltistan and the Federally Administered Tribal Areas (FATA).
Already, government has arrested at least 44 individuals of various banned groups.
Jaish-e-Mohammed chief Masood Azhar's son and brother were among 44 members of the banned militant outfits taken into "preventive detention", Pakistan said on Tuesday, amid mounting pressure from the global community on it to rein in the terror groups operating on its soil.
The crackdown came amid tensions with India following a suicide attack in Jammu and Kashmir's Pulwama district on February 14 by Jaish-e-Mohammed terror group that killed 40 CRPF soldiers.
Full report at:
https://timesofindia.indiatimes.com/world/pakistan/pakistan-seals-lahore-headquarters-of-jamaat-ud-dawa-its-wing-fif/articleshow/68307950.cms
--------
Deal allows Pakistan to use F-16s as 'deterrence against India'
Anwar Iqbal
March 08, 2019
WASHINGTON: The United States, while providing F-16 fighter jets to Islamabad, not only acknowledged the aircraft's "deterrence value" to Pakistan in a future conflict with India but also noted that it could prevent a nuclear clash between the two neighbours.
Both points are specifically mentioned in a message the then US ambassador in Islamabad Anne Patterson sent to the State Department on April 24, 2008.
"An enhanced F-16 programme also has deterrence value by giving Pakistan time and space to employ a conventional, rather than nuclear, reaction in the event of a future conflict with India," she wrote.
The quote is from a 20-paragraph communique that Ambassador Patterson sent to Washington in April 2008 and was disclosed by WikiLeaks.
The package she was referring to included 500 AIM-120-C5 Advanced Medium Range Air-to-Air Missiles (AMRAAMs), which India claims Pakistan used against the Indian Air Force in last week's combats over Kashmir.
On March 18, 2009, Ambassador Patterson sent another long message to Washington, which deals with Pakistan's requests for more F-16s and India's objections to the proposed sale.
"If our goal is to press the Army to change strategy and redeploy forces from the Indian border, punishing the Air Force by cancelling this sale will not help us," wrote the ambassador while responding to India's request to cancel the sale.
"It will emphasise that we favour maintaining Indian superiority at Pakistan's expense and feed anti-Americanism throughout the military."
In the same message she also explained why she believed the F-16s could avert a nuclear conflict in South Asia.
"To overcome overwhelming Indian military superiority, Pakistan developed both its nuclear/missile programme and its air power. F-16 aircraft, armed with AMRAAMS, essentially buy time to delay Pakistan considering the nuclear option in a conflict with India." she wrote.
"Given India's overwhelming military superiority, this would only be a few days, but these days would allow critical time to mediate and prevent nuclear conflict."
Ambassador Patterson reminded policy makers in Washington that in 2008 India already enjoyed "an almost 2-1 advantage" over Pakistan in advanced multi-purpose fighters, when New Delhi had 736 aircraft while Pakistan had 370 only.
"Pakistan's shortfalls in training and tactics multiply India's edge," she added.
Ambassador Patterson noted that Pakistan was also buying/jointly producing 150 JF-17 fighters from China, but it is unclear how they will pay for them.
"India plans to acquire 126 multi-purpose fighters (F-18 or equivalent) that will give (New Delhi) significant new technologies and further expand its air superiority over Pakistan," she wrote.
Ambassador Patterson explained the new aircraft and 500 AMRAAM missiles would give Pakistan beyond visual range capability, but Pakistan will acquire the ability to employ this capability with either the new buy or MLU aircraft.
She argued that cancelling the proposed buy would only delay the process by 18 months while successful employment of this capability by the PAF would take 2-3 years and a significant revision of doctrine and tactics.
"The Indian Air Force already routinely trains on existing beyond visual range tactics. (If) we do deny Pakistan requests for arms sales that could upset the regional balance of power."
In a scene-setter for the former army chief Gen Ashfaq Parvez Kayani's Feb 19, 2009, visit to Washington, the US Embassy in Islamabad informed Washington that he would raise the issue in his meetings with US officials.
Full report at:
https://www.dawn.com/news/1468323/deal-allows-pakistan-to-use-f-16s-as-deterrence-against-india
--------
Administrators appointed for three former JuD schools
March 08, 2019
CHAKWAL: The district administration on Thursday appointed separate administrators for two seminaries and a school formerly run by the proscribed Jamaatud Dawa (JuD) in Chawal.
During the ongoing crackdown on militant outfits across the country, the Darus Salaam Model School and its affiliated Madressah Darus Salaam, located on Railway Road in Chakwal City and the Madressah Khalid bin Waleed in Talagang, were also taken over on Wednesday.
On Thursday, the concerned authorities removed the JuD signboards from the three institutions and put up new banners with the names of these institutions and announcing that they are now operated by the Punjab government.
The new banners also carry the monogram of the Punjab government.
On Thursday, a letter was also issued by District Education Authority Chief Executive Officer Sohail Azhar Khan for the appointment of the three administrators.
A subject specialist teacher at Government Girls High School in Chak Baqir Shah Village Riffat Sultana has been appointed the administrator of Darus Salaam Model School, Assistant Education Officer Khalil Ullah Khan was appointed the administrator of Madressah Darus Salaam and another assistant education officer, Ishfaq Ahmed has been appointed administrator of Madressah Khalid bin Waleed.
Darus Salam is a middle school which was being run by JuD for the last decade.
"There are about 100 students in the schools and 15 and 18 students in the two seminaries," a source said.
The district administration also confiscated two ambulances owned by JuD's sister organisation, Falah-i-Insaniyat Foundation and they were handed over to Rescue 1122.
Full report at:
https://www.dawn.com/news/1468259/administrators-appointed-for-three-former-jud-schools
--------
Murder charges dropped against Samiul Haq's secretary
Mohammad Asghar
March 08, 2019
RAWALPINDI: Murder charges against Syed Ahmed Shah, secretary to late senator Maulana Samiul Haq, were dropped by a judicial magistrate on Thursday after Haq's sons told the court that they were not accusing him of their father's murder.
Mr Shah was arrested for murder on Feb 28 by the Airport police and presented before the court of a judicial magistrate for physical remand.
He was remanded into police custody for four days, which was then extended for two more days on Friday because the police said they wanted to interrogate him further, as previous interrogations had not revealed anything they could use to charge him with murder or to help find the real killer.
The six-day remand ended on Thursday, when Mr Shah was produced before judicial magistrate Zaib Shahzad Cheema.
Haq's sons Maulana Hamidul Haq and Hafiz Rashidul Haq also appeared in court, where they submitted an affidavit stating that Mr Shah was not an accused in their father's murder.
Maulana Hamidul Haq confirmed to Dawn that he appeared in court along with his brother.
"We prayed to the court that Ahmed Shah was not our accused as a superpower was involved in the murder of our father, therefore, we do not want to charge any innocent person with murder," he said, adding that the magistrate dropped the charges after their affidavit was submitted in the court.
He added that the police have assured him the case has not been closed and investigations into Haq's murder will continue.
Regional Police Officer Ahmed Ishaq Jhangeer told Dawn that Mr Shah's arrest came about after he failed a polygraph test and after he made inconsistent statements.
Mr Shah had been staying with Haq when he was stabbed to death by unidentified individuals in Bahria Town Safari II on Nov 2, 2018.
Mr Shah had said in an earlier statement that he had left the house, locking the gate from outside, to fetch water from a filtration plant. During this time unidentified individuals entered the house, stabbed Haq and escaped.
Full report at:
https://www.dawn.com/news/1468257/murder-charges-dropped-against-samiul-haqs-secretary
--------
North America
US passes 'historic' resolution condemning anti-Muslim bigotry
March 8, 2019
The House passed a resolution on Thursday condemning anti-Semitism, discrimination against Muslims and other bigotry against minorities.
The 407-23 vote Thursday was a bid to end dissension among Democrats over congresswoman Ilhan Omar's latest remarks on Israel. Omar said the Jewish state's allies pressure lawmakers to pledge "allegiance" to a foreign country.
Some lawmakers wanted Ms Omar implicitly rebuked with a measure condemning anti-Semitism. But others said the resolution should condemn discrimination against Muslims, too.
House Speaker Nancy Pelosi said Omar didn't intend the remark to be anti-Semitic.
Democrats have long been split over the US-Israeli relationship. But the developments seem to highlight a divide that's as generational as it is ideological. The dynamics on Israel have seeped into the party's fight over the 2020 presidential nomination.
"It's not about her. It's about these forms of hatred," Speaker Nancy Pelosi said before the vote.
The resolution approved Thursday condemns anti-Semitism, anti-Muslim discrimination and bigotry against minorities "as hateful expressions of intolerance." Omar, a Somali-American, and fellow Muslims Rashida Tlaib of Michigan and Andrew Carson of Indiana, issued a statement praising the "historic" vote as the first resolution to condemn "anti-Muslim bigotry."
Some Democrats complained that Omar's comments on Israel had ignited all this debate while years of President Donald Trump's racially charged rhetoric had led to no similar congressional action.
The seven-page document details a history of recent attacks not only against Jews in the United States but also Muslims, as it condemns all such discrimination as contradictory to "the values and aspirations" of the people of the United States. The vote was delayed for a time on Thursday to include mention of Latinos to address concerns of the Congressional Hispanic Caucus. It was inserted under a section on white supremacists who "weaponise hate for political gain" over a long list of "traditionally persecuted peoples."
An earlier version focused more narrowly on anti-Semitism. The final resolution did not mention Omar by name.
https://www.thenational.ae/world/the-americas/us-passes-historic-resolution-condemning-anti-muslim-bigotry-1.834476
--------
Israel trying to provoke US into attacking Iran: Academic
Mar 7, 2019
An American writer and retired professor says Israel and its lobby in Washington, DC are trying to provoke the United States into attacking Iran by fabricating the notion that the Islamic Republic represents a threat.
James Petras, a retired professor who has written dozens of books on international issues with particular focus on Latin America, the Middle East and imperialism, made the remarks in an interview with Press TV on Thursday.
In a Washington Post article on Tuesday, two US senators warned that the administration of President Donald Trump "is barreling toward war with Iran," calling on Congress to act to prevent it.
Tom Udall (D-NM) and Richard J. Durbin (D-Ill.) said that Trump might wage a war on Iran based on a wrong justification like the one the administration of former President George W. Bush used to go to war with Iraq in 2003.
They said the Trump administration claims that Iran has not abided by the nuclear deal it reached with the world powers, an accusation Tehran has vehemently rejected. The International Atomic Energy Agency (IAEA) has several times confirmed that Iran complies with the restrictions on its nuclear activities under the 2015 deal known as the Joint Comprehensive Plan of Action (JCPOA).
They added that the president also accuses Iran of being partially responsible for the rise of the Daesh terrorist group, another allegation that Iran has dismissed as unfounded. Iran has, in fact, been actively providing the governments of Iraq and Syria with military advice to push back against foreign-backed militants who have been terrorizing both countries using support from Western countries and their regional allies.
'US accusing Iran the crimes that it committed against Syrian people'
"The world opinion agrees that Iran has complied with all the conditions of the nuclear agreement. All five countries except the United States signed off on the agreement and continue to respect that only Trump discovered that his own former president [Barack Obama] was false. I think this is a complete fabrication by the extremists in the Trump government and Trump himself," Professor Petras said.
"The second accusation that Daesh was working with Iran is completely false. Iran was very active in Syria in advising and supporting the elected government of Syria and has fought consistently over the past two decades fighting Daesh [Takfiri extremists] in every context. And I think the world opinion understands that. Very few people except Israel make those accusations," he stated.
"What is really clear is that Washington was intimately involved in encouraging the extremists in Syria and Daesh itself. So the US is accusing Iran of the crimes that it committed against the Syrian people and the advisers from Iran," he noted.
"It's very clear that the US Congress especially Senators Udall and Richard Durbin have put a motion in Congress to reject the US military aggression. The only influence in Washington that is pushing for an aggressive and militaristic policy towards Iran is the pro-Israel lobby and the Netanyahu regime. They are trying to provoke the United States into attacking Iran by fabricating the notion that Iran represents a threat," the analyst said.
Full report at:
https://www.presstv.com/Detail/2019/03/07/590457/Israel-trying-to-provoke-US-into-attacking-Iran
--------
Furious row erupts over anti-Semitism in US Democratic Party
Mar 7, 2019
A furious row over anti-Semitism erupted in the US Democratic Party as its leadership attempted to pass a resolution in the lower chamber of Congress to condemn language used by a Muslim congresswoman.
US House of Representatives Majority Leader Steny Hoyer told fellow Democrats at a closed-door meeting on Wednesday that "a resolution opposing hate will be voted" on Thursday.
Senior Democrats wanted a statement to be adopted by the House condemning "the dangerous consequences of perpetuating anti-Semitic stereotypes."
The resolution was viewed as a direct rebuke of Ilhan Omar, a newly elected Democrat Congresswoman from Minnesota who sparked a firestorm on Capitol Hill over repeated criticisms of Israel and the powerful pro-Israel lobby in Washington that exerts great influence in US politics.
However there was a heated backlash from fellow Democrats who said Omar was being unfairly singled out by the leadership.
The dispute resembles the row over anti-Semitism raging in the British Labour Party, which has seen members of Parliament split on the issue under Jeremy Corbyn's leadership.
Omar, who has already been once rebuked by Democratic leadership over her comments on Israel in the two months she has been in office, triggered this new row with a tweet: "I should not be expected to have allegiance/pledge support to a foreign country in order to serve my country in Congress or serve on committee".
Some Democrats have expressed anger that Omar could be facing an implicit rebuke, while racist statements by US President Donald Trump and other Republicans go largely unchallenged.
During a party meeting on Wednesday, a number of Democrats, including members of the Congressional Black Caucus, reportedly challenged the decision to pass a resolution that condemns anti-Semitism and pushed to include resolution language that decries anti-Muslim bias.
The members argued that the move will single out Omar for a rebuke over her comments, while comments from Republicans go unchallenged by the chamber.
"We need to have equity in our outrage... [including] the occupant of this White House who is seeding every form of hate, emboldening it with racist rhetoric and policies," congresswoman Ayanna Pressley, an ally of Omar, told the Washington Post after the meeting. "That is who we all need to be focused on, and this is a distraction."
Republicans have seized on the controversy, hoping to exploit divisions within the Democratic Party and calling for Omar to be removed from the Foreign Relations Committee.
Full report at:
https://www.presstv.com/Detail/2019/03/07/590445/US-Israel-antiSemitism-Democratic-Party--Ilhan-Omar
--------
US House committee urges Saudi Arabia to release doctor
Michael Hernandez
Mar 8, 2019
WASHINGTON
The top Democrat and Republican on the House Foreign Affairs Committee called on Saudi Arabia Thursday to release a Saudi-American who was reportedly detained and tortured in prison.
"We are deeply concerned by reports that Dr. Walid Fitaihi, a dual U.S.-Saudi citizen in Saudi custody, has been tortured," Chairman Eliot Engel and Ranking Member Michael McCaul said in a joint statement.
"Torture and coercion of all prisoners must end. We call on Saudi Arabia to immediately release Dr. Fitaihi and allow him to travel outside Saudi Arabia," they added.
The New York Times reported last week that Fitaihi was detained in the Ritz-Carlton hotel in the Saudi capital of Riyadh in November 2017. He told a friend that he was dragged into a room at the hotel, where he was stripped and tortured with electric shocks in a session that lasted about an hour, according to the Times.
Fitaihi, 54, is one of dozens of people who remain imprisoned under the pretext of what the Saudi government calls a crackdown on corruption in the Kingdom. He has not been charged, nor has he faced trial.
His detention and torture took place amid deeply strained U.S.-Saudi ties over the murder of Washington Post journalist Jamal Khashoggi and the ongoing Riyadh-led air campaign in Yemen.
Khashoggi was killed inside the Saudi consulate in Istanbul on Oct. 2 last year. After initially denying any role in his disappearance, Saudi Arabia eventually acknowledged Khashoggi was killed in its diplomatic facility, blaming his death on a rogue rendition operation that went awry.
Full report at:
https://www.aa.com.tr/en/americas/us-house-committee-urges-saudi-arabia-to-release-doctor/1412269
--------
Senate must hold Trump accountable on Khashoggi: report
Umar Farooq
07.03.2019
WASHINGTON
The Senate must push for accountability after U.S. President Donald Trump defied Congress and did not report whether Saudi Crown Prince Mohammed bin Salman was responsible for Jamal Khashoggi's death, according to The Washington Post.
The newspaper's editorial board said the Trump administration's failure caused an outrage amongst senators, who have been calling for further action to hold the crown prince responsible.
Khashoggi, a U.S. resident and contributor for The Post, was brutally murdered inside the Saudi Consulate in Istanbul last October shortly after he entered the diplomatic facility. Riyadh initially denied any role in the killing but has since sought to blame his death on a botched rendition operation carried out by rogue agents.
In November, the CIA concluded with high confidence that bin Salman ordered Khashoggi's killing, according to The Post.
Trump and his administration, however, have shied away from placing any blame on bin Salman.
"The Senate's view is already clear: It unanimously approved a resolution in December holding the crown prince responsible," the editorial board wrote.
On Monday, the administration held a hearing on Khashoggi before the Senate Foreign Relations Committee. However, the information provided was not new and did not say whether the White House was going to place the murder on bin Salman.
Senator Lindsey Graham called is a "worthless" hearing.
"Not only the question of justice for Khashoggi is at issue: The crime is part of a pattern of reckless and destructive behavior by Mohammed bin Salman that ranges from the bombing of civilians in Yemen to the imprisonment and torture of a number of Saudi female activists, as well as a U.S. citizen," newspaper wrote.
The Post's editorial board noted there are currently several pieces of legislation addressing Khashoggi and the Yemen war that are pending in the Senate and House of Representatives.
Full report at:
https://www.aa.com.tr/en/americas/senate-must-hold-trump-accountable-on-khashoggi-report/1412201
--------
US commander: Daesh 'a serious generational problem'
Umar Farooq
07.03.2019
WASHINGTON
While territory originally held by Daesh has been largely reduced, the fight against the terrorist group is "a serious generational problem," the top U.S. commander for the Middle East said Thursday.
"The ISIS population being evacuated from the remaining vestiges of the caliphate largely remains unrepentant, unbroken and radicalized," Gen. Joseph Votel said using another name for Daesh. "We will need to maintain a vigilant offensive against this now widely dispersed and disaggregated organization that includes leaders, fighters, facilitators, resources and toxic ideology."
"In my view this is a serious generational problem that if not handled properly will sow the seeds of future violent extremism," Votel said.
Votel told the House Armed Services Committee while Daesh forces are being defeated, their surrender is a strategy to go into camps for internally displaced persons or remote areas "waiting for the right time for a resurgence."
He offered a more levelheaded approach to the situation, as opposed to U.S. President Donald Trump who used the reduction of Daesh's territory as justification for pulling a large amount of troops from Syria.
"Reduction of the physical caliphate is a monumental military accomplishment --- but the fight against ISIS and violent extremism is far from over and our mission remains the same," he added.
Shortly after its sudden appearance in mid-2014, the terror group overran vast swathes of territory in northern Syria and northern and western Iraq.
Full report at:
https://www.aa.com.tr/en/americas/us-commander-daesh-a-serious-generational-problem/1412094
--------
Europe
Istanbul panel discusses future of Islam in Europe
Ayse Busra Erkec
07.03.2019
Future of Islam in Europe was discussed by academics at a conference in Istanbul's Ibn Haldun University on Thursday.
Recep Senturk, head of the Ibni Haldun University, said the university is setting up a new research center dedicated to studies on Islam and its future.
In this center, researchers will carry out studies to find answers to questions like, "What is Islam's future in Europe?" and "Can Muslims be able to protect their cultures and languages?"
Noting that Islamophobia is growing in Europe, he said it is a threat for the continent, America and the whole humanity.
Muslims fail to show that Islam brings peace and prosperity to not only Muslims but to non-Muslims too, Senturk said.
He also said some Muslims have forgotten the teachings of Islam and act against them.
Bulent Ucar, professor from Germany's Osnabruck University, for his part, said history of Christianity in Europe is not an ancient phenomenon.
"When we think about Europe we always assume it is Christian, non-Muslim. Same goes for Africa and Asia, we think these places are largely Muslim.
"However, this is wrong. Europe met Christianity later in the history. And for the Islamic world, countries like Egypt, Syria and Turkey had a large non-Muslim population until very recently," he added.
Speaking at the conference, Professor Merdan Gunes said Muslims should work together to solve today's problems and set aside little differences and disagreements.
https://www.aa.com.tr/en/turkey/istanbul-panel-discusses-future-of-islam-in-europe/1412203
--------
US, UK bombs caused 1,000 civilian casualties in Yemen: Report
Mar 7, 2019
A US-based human rights group has revealed that British and American have killed and maimed nearly 1,000 civilians, including over 120 children, in the Saudi war in Yemen, a new report has revealed.
According to the report released on Wednesday by the US-based University Network for Human Rights (UNHR), the airstrikes killed 203 people and injured at least 749. At least 122 children and 56 women were also among the casualties.
The investigators from the UNHR and Yemeni monitoring group Mwatana said they obtained the figures from only 27 unlawful strikes launched in Yemen between April 2015 and April 2018.
The findings from the 128-page investigation have reignited the debate on the need for the US and Britain to halt arms sales to Saudi Arabia and its allies.
"Our findings reinforce prior evidence demonstrating that the Saudi/UAE-led Coalition is failing to fulfill its obligations under the laws of war and repeatedly using US weapons in apparently disproportionate and indiscriminate attacks that have resulted in widespread civilian casualties and other civilian harm in Yemen," the report said.
The report stated that the air strikes could be unlawful under international law and constitute potential war crimes.
"Many of the attacks appeared to take place far from any potential military target," the report said. "Others caused harm to civilians that vastly outweighed any likely military benefit. In no case did it appear that coalition forces took adequate precautions to minimize harm to civilians, as required by international humanitarian law."
Meanwhile, the Pentagon said in a statement on Wednesday the United States does not investigate airstrikes by the Saudi-led coalition, but "we have consistently discussed and reinforced procedures to limit civilian casualties."
"We have repeatedly urged the Saudi-led coalition to address shortcomings in their operations that have led to civilian casualties, and have worked with them to develop procedures and oversight mechanisms to reduce such incidents," said Pentagon spokeswoman Cmdr. Rebecca Rebarich.
Saudi Arabia and a number of its allies have been waging a war on Yemen for the past five years to restore the former regime, which resigned and fled the country amid popular discontent.
The World Health Organization says some 10,000 people have been killed since the coalition launched the war, but rights groups put the death toll at five times higher.
Full report at:
https://www.presstv.com/Detail/2019/03/07/590449/US-and-UK-bombs-caused-1000-civilian-casualties-in-Yemen
--------
UK far-right Islamophobe to face contempt proceedings
Mar 7, 2019
UK's attorney general says Tommy Robinson, known as the most controversial anti-Islam figure in Britain, should face contempt of court proceedings despite efforts to have the long-running charges against him quashed.
Geoffrey Cox said on Thursday that the case of Robinson, whose real name is Stephen Yaxley-Lennon, would be referred to Britain's High Court as a matter of public interest.
"After carefully considering the details of this case, I have concluded there are strong grounds to bring fresh contempt of court proceedings against Stephen Yaxley-Lennon," said Cox, insisting that he was acting independently of government and it position on Robinson.
Robinson has staged various demonstrations and campaigns against Muslims over the past few years. Convicted several times for other charges, he was arrested last year after staging a live video broadcast of a protest in front of a court in London.
The notorious Islamophobe, who enjoys close relations to some senior politicians both in his country and in the US, was later released with judges saying the attorney general should decide whether to continue proceedings against him or not.
Cox warned Robinson and allies that they should refrain from commenting on the case while proceedings continue.
"As proceedings are now underway, it would not be appropriate to comment further and I remind everyone that it is an offence to comment on live court cases," said the top government lawyer.
After appealing against his initial sentence, Robinson managed to get onboard the far-right UK Independence Party (UKIP) by becoming a high-ranking advisor to the party's leadership. The move sparked furious reactions, especially from UKIP founder Nigel Farage who resigned following the appointment.
Full report at:
https://www.presstv.com/Detail/2019/03/07/590435/UK-Islamophobe-Robinson-contempt-proceedings
--------
Egypt, Greece seek to boost military cooperation
07.03.2019
Egypt's Defense Minister Mohamed Zaki welcomed his Greek counterpart Evangelos Apostolakis on Thursday in Cairo to discuss military cooperation between their armies.
Both sides mutually agreed on issues related to national defense, security and peace, said a statement from Egypt's defense ministry.
The sides have been collaborating on defining the territorial waters in the natural gas rich eastern Mediterranean Sea, energy, sea transportation, security and tourism.
Egypt and Greece held a joint military drill last November.
https://www.aa.com.tr/en/europe/egypt-greece-seek-to-boost-military-cooperation/1412193
--------
EU rejects adding Saudi Arabia to money-laundering list
Dilara Hamit
07.03.2019
Envoys from the 28 EU member states rejected a proposal Thursday to add Saudi Arabia to a list of countries suspected of money laundering and financing terror groups.
The Council of the EU rejected the list because it was unclear and contained inadequate information.
" [The Council] cannot support the current proposal that was not established in a transparent and resilient process that actively incentivizes affected countries to take decisive action while also respecting their right to be heard," it said in a statement.
It emphasized the EU Commission will now have to propose a new draft of high-risk third countries that will address members' concerns.
The EU Commission submitted Feb. 13 a draft of a list 23 countries that were inadequately combating money laundering.
The objective is to protect the EU financial system from risks of money laundering and terrorist financing coming from third countries, according to the statement.
Full report at:
https://www.aa.com.tr/en/europe/eu-rejects-adding-saudi-arabia-to-money-laundering-list/1411985
--------
UK lawyers file case against Assad regime at ICC
Ahmet Gürhan Kartal
07.03.2019
LONDON
A group of lawyers filed a case at the International Criminal Court (ICC) against Bashar al-Assad regime in Syria, a statement said.
The case is being brought against the top officials of the regime, including Bashar al-Assad, on behalf of 28 victims who have been forced over the border from Syria into Jordan, said the statement by the law firm Stoke White.
The refugees are "currently staying in the Al Zaatari, Al Rajihi and Al Azraq refugee camps on the border between Jordan and Syria," according to the statement.
"What we are trying to do is to highlight the crimes committed against these people in the right platform, that is the ICC," Hakan Camuz, a representative of the law firm said in a news conference.
He said they have been investigating crimes against civilians in Syria for the past two years and they have "submitted all evidence collected to the ICC prosecutors".
"The very people who actually committed these heinous crimes think they have somehow impunity," he added.
Camuz said these issues have never been raised in 9 years in a legal way and they believe "this is an opportunity for justice to be served".
Underlining that some of these people have been subjected to chemical attacks, rapes in prison, Camuz said they included the names of the regime officials including Assad and his brothers, as well as some of the generals of the regime forces.
Crimes against civilians
The statement said: "Syria is not a signatory to the ICC Statute so it has not previously been possible to open a case against the Syrian regime."
"However, using the recent precedent before the ICC of Rohingya refugees who have been forcefully deported from Myanmar to Bangladesh, the team of Lawyers, has argued that the same legal principle applies to Syrian refugees who have been forcefully deported into Jordan which is an ICC signatory," it added.
The case will also "focus on the wider pattern of attacks and crimes against the civilian population in Syria including torture, rape, chemical attacks and disappearances in order to establish the full breadth of the systematic violations of which the deportations form a part".
"In addition Stoke White represent 1,183 other Syrian refugees who have fled Syria to other countries including Turkey," according to the statement.
"Their evidence will be relied upon to show the wider attack on the Syrian population," it added.
Speaking in London on Thursday, Rodney Dixon QC, the lead lawyer in the case, said: "The ICC exists precisely to bring justice to the victims of these most brutal international crimes."
"The devastating war in Syria has been going on for almost nine years now and no one has yet been held accountable for the hundreds of thousands of violations against civilians," he said.
"This case represents a genuine breakthrough for the Syrian victims. There is a jurisdictional gateway that has opened up finally for the ICC Prosecutor to investigate the perpetrators who are most responsible," he added.
Testimony
The news conference included voice recordings from victims.
One of the victims from the Al Zaatari camps, who is not publicly identified, recorded her testimony, which was included in the communication to the ICC.
"I saw a lot of people being shot at by the regime forces, people were being randomly shot including my 18-year old nephew. Two other family members of mine were kidnapped and we never heard from them again. In 2012, my neighbor's house was bombed and everyone living there died," one of the victims said.
"When I was living in Homs I was volunteering by providing medication and treatment to injured people. I attended to a lot of women who had been raped and abused by the regime forces. My volunteer work made me a target for the regime.
"We had to flee to a safer location, we went to Damascus. My eldest son was being forced to join the regime forces but he refused. He was taken away and brought back to our house a few days later, he was bruised all over and didn't recognise me. He was bleeding and his clothes were torn…. We knew we had to leave again.
Full report at:
https://www.aa.com.tr/en/europe/uk-lawyers-file-case-against-assad-regime-at-icc/1411959
--------
Anti-Muslim activist Tommy Robinson to face new contempt of court trial
March 7, 2019
Contempt of court proceedings will be brought against the British right-wing leader Tommy Robinson, the Attorney General has announced.
Robinson, also known as Stephen Yaxley-Lennon, was found to be in contempt of court last year, after live streaming outside a trial for a mainly Pakistani gang later found guilty of grooming young girls.
He was found to be in violation of court reporting restrictions imposed by the judge. Robinson was sentenced to 13 months in jail but successfully appealed for the original finding to be quashed. The case was then referred to the Attorney General.
"After carefully considering the details of this case, I have concluded there are strong grounds to bring fresh contempt of court proceedings against Stephen Yaxley-Lennon (AKA Tommy Robinson), said Geoffrey Cox, the Attorney General.
"As proceedings are now underway, it would not be appropriate to comment further and I remind everyone that it is an offence to comment on live court cases."
Robinson has attracted widespread criticism for his often Islamophobic and anti-immigration rhetoric, but still retains a small but dedicated following.
Earlier this week he turned up at the doorstop of a journalist who has written extensively about the far-right with Robinson demanding to speak to him.
"I'm going to make a documentary that exposes every single one of you, every single detail about every one of you. Where you live, where you work, everything about you is going to be exposed," Robinson had said to the journalist, Mike Stuchbery. He was later moved on by police.
Full report at:
https://www.thenational.ae/world/europe/anti-muslim-activist-tommy-robinson-to-face-new-contempt-of-court-trial-1.834422
--------
Afghan interpreters win right to bring their families to Britain
March 7, 2019
Afghan interpreters who risked their lives serving alongside British troops in the fight against the Taliban in Helmand Province have won the right to bring their families to the UK.
Britain's home secretary Sajid Javid said on Thursday that he was waiving current immigration rules for the interpreters' loved ones, which required the families to have moved at the same time as the interpreters to qualify for relocation.
The decision, which takes effect in April, means that partners and children of the interpreters still in Afghanistan will be able to travel to Britain to be reunited with their family members.
"Afghan interpreters who served alongside British soldiers played a vital part in our fight against the Taliban," Mr Javid said.
"We owe these unsung heroes a huge debt of gratitude for their service. That is why we are making it even easier for them to build their future here in the UK with their loved ones."
Last year, the Home Office announced it was scrapping a £2,398 fee for Afghan interpreters applying for permanent settlement in the UK following pressure by campaign groups.
The Sulha Network, a group working for interpreter's rights, described Thursday's decision as "life changing" for the servicemen, some of whom they said were suicidal with grief after being separated from their families.
"There were countless good reasons why wives could not immigrate with their husbands which made the old policy extremely unfair," the group, which was founded by former British Army captain Ed Aitken, told the Daily Mail.
"Our faith in the Home Office has been restored. The immigration minister Caroline Nokes promised the Sulha Network last October to rectify this injustice. She has been good to her word.
Full report at:
https://www.thenational.ae/world/europe/afghan-interpreters-win-right-to-bring-their-families-to-britain-1.834343
--------
India
Madrasa to Modern Education – Maulana Azad National Urdu University Provides The 'Bridge'
Mar 07, 2019
Hyderabad: Maulana Azad National Urdu University (MANUU) is striving hard to facilitate the entry of Madrasa pass outs into various streams of modern education. As part of this effort, University has launched Bridge Courses two years ago. However, the response from the Madrasa pass outs is lukewarm. Dr. Mohammad Aslam Parvaiz, Vice-Chancellor, while delivering presidential address today in the inaugural of two day National Seminar The Contribution of Madrasas in Promotion of Indian Culture, Civilization, Science & Arts (With Reference to Persian, Arabic and Urdu Literature)" shared these views.
He asked the students of the Madrasas to avail this unique opportunity to fulfil their dreams of pursuing modern education. The Madrasa pass outs are eligible to join the undergraduate or post graduate courses directly in Urdu, Arabic, Persian and Islamic Studies Departments. MANUU, in an attempt to implement its mandate of reaching the unreached has introduced one year Bridge courses with a personal push from the Vice-Chancellor. These courses will facilitate the students to join B.Sc., B.Com., B.A. (Economic) or Polytechnic courses. He asked the audience, mainly consisting of Madrasa pass outs & administrators to equip themselves with the latest knowledge to face the contemporary challenges. Madrasas has played an important role in nurturing the Urdu language, he admitted.
Department of Persian, MANUU is organizing the seminar in collaboration with National Council for Promotion of Urdu Language (NCPUL), New Delhi.
Earlier, Prof. Hasan Abbas, Director, Raza Library, Rampur in his keynote address claimed that Madrasas in India have helped in preserving the legacy, literature and culture.
Noted Scholar, Maulana Khalid Saifullah Rahmani in his address said that Urdu literature has grown up under the shadow of "Ulema" (Religious Scholars). The value of Arabic translation work carried out in India is no less than the Arab world itself, he asserted. Madrasas have burnt midnight oil to ensure the survival of Urdu language, he added. The literature work rendered by the scholars with Madrasa background, represents sweetness of Persian, grandeur of Arabic and combination of Islamic teachings. He expressed the need to link the Urdu language with Science enabling its readers to catch up with the rest.
Dr. Rizwana Zareen, Principal, Jamiatul Muminath, Hyderabad, Mr. Raheemuddin Ansari, Chairman, Telangana Urdu Academy, Hujatul Islam Dr. Syed Nisar Hussain, Member of Telangana Waqf Board also addressed. Dr. M. Rizwan, Director Seminar welcomed the gathering. Prof. Shahid Naukhez, Head, Department conducted the proceedings and Dr. Junaid Ahmed, coordinator proposed vote of thanks.
https://www.siasat.com/news/Madrasa-modern-education-manuu-provides-bridge-1474890/
--------
Jamaat-e-Islami ban: Yasin Malik booked under PSA, shifted to Jammu prison
by Adil Akhzer
March 8, 2019
Jammu and Kashmir Liberation Front (JKLF) chairman Yasin Malik, who was under detention since February 22 and kept at the Kothibagh police station, was booked under the Public Safety Act (PSA) and shifted to Jammu's Kotbalwal jail from Srinagar on Thursday.
The Joint Resistance Leadership (JRL) has called for a shutdown on Friday against the ban on Jamaat-e-Islami, arrests of its activists, and the invocation of PSA against Malik.
A JKLF spokesperson said Malik was informed on Thursday morning that he has been booked under the PSA and is being shifted to Jammu. "JKLF strongly condemns this arbitrary arrest and use of PSA against a political leader. It is a glaring display of frustration by Indian rulers and their abettors in Jammu and Kashmir," the spokesman said.
Police sources said that Malik left with a police team for Jammu by road.
JKLF members said Malik was last booked under the PSA in 2008. "He was then also shifted to Jammu jail. All these years, he has been detained and arrested by police several times but he was lodged in Srinagar jails only. Today, after a long time he has been shifted to Jammu jail," said one of the JKLF members.
Hurriyat chairman Mirwaiz Umar Farooq condemned the move. "Strongly condemn slapping of draconian PSA and shifting to #KotBalwalJail Jammu of #YasinMalik & others by the authorities.These illegal & undemocratic tactics will not stop people & leadership from demanding peaceful resolution of #KashmirDispute in accordance with people's will," he tweeted.
Full report at:
https://indianexpress.com/article/india/jamaat-e-islami-ban-yasin-malik-booked-under-psa-shifted-to-jammu-prison-5616605/
--------
India extends detention of two separatist leaders amid tensions in Kashmir
Mar 7, 2019
Indian authorities have extended the detention of two separatist leaders arrested days after a car bomb killed dozens of paramilitary troops in the disputed Kashmir.
Yasin Malik, the chairman of the Jammu and Kashmir Liberation Front (JKLF), and Zahid Ali, a spokesman for the recently-banned Jamaat-e-Islami party, were being moved to a jail in Jammu, police said.
They were arraigned under a controversial law that allows for suspects to be held for up to two years without charge. The order is part of a crackdown on militancy and secessionist campaigns in Kashmir.
A senior Indian government official said more than two dozen other separatist leaders, most of them affiliated with Jamaat-e-Islami, could be detained in coming days.
At least 300 separatists, most of them from Jamaat-e-Islami, have been arrested in the past three weeks.
Reacting to Malik's detention, a JKLF spokesman denounced the "arbitrary arrest", calling it a "glaring display of frustration" of Indian authorities.
Malik's supporters called for a shutdown in parts of Kashmir's main city of Srinagar to protest against his detention.
The JKLF chairman renounced violence and declared a ceasefire in 1994, but he has been imprisoned multiple times since then.
Mirwaiz Umar Farooq, chairman of All Parties Hurriyat Conference, denounced "illegal and undemocratic tactics" used by Indian authorities. He and other separatist leaders have called for a strike in Kashmir on Friday.
In a separate development on Thursday, a grenade explosion at a bus station in Jammu -- the Hindu-majority region of Kashmir -- killed one person and wounded nearly 30 others.
Police suggested that the blast could have been aimed at fomenting tensions among different communities in the city.
The developments come amid rising tensions between India and Pakistan after 40 Indian troops were killed in a suicide bombing in Kashmir on February 14.
The attack was claimed by Jaish-e-Mohammed (JeM), a militant group based in Pakistan. India has long accused Pakistan of supporting the insurgents, a charge Islamabad denies.
The bombing sparked tensions between the two nuclear-armed neighbors, leading to tit-for-tat cross-border raids.
The tensions reached a peak on February 26, when India said it had conducted "pre-emptive" airstrikes against what it described as a militant training camp in Pakistan's Balakot.
Islamabad confirmed the attack and condemned the violation of its airspace but denied that the purported target had been hit.
Days later, the Pakistani military captured an Indian pilot after shooting down his MiG-21 fighter jet, which Islamabad said had violated Pakistani airspace.
The flare-up appeared to be easing after Pakistan handed back Wing Commander Abhinandan Varthaman in a goodwill gesture toward India but the tensions have dragged on.
Indian troops are in constant clashes with armed groups seeking Kashmir's independence or its merger with Pakistan.
India regularly accuses Pakistan of arming and training militants and allowing them across the restive frontier in an attempt to launch attacks. Pakistan strongly denies the allegation.
Full report at:
https://www.presstv.com/Detail/2019/03/07/590429/Kashmir-dispute-Yasin-Malik-India-Pakistan-JamaateIslami
--------
Jaish terrorist killed in Jammu & Kashmir's Kupwara district
Mar 7, 2019
SRINAGAR: A Jaish-e-Muhammad terrorist was killed on Thursday in an encounter with security forces at Badra Payeen area in north Kashmir's Kupwara district, officials said on Thursday.
The body of the terrorist, who was killed after a brief gunfight on Wednesday night, was recovered along with a pistol and a few grenades, an Army officer said. He added that the Army's 32 RR jawans were attacked when they were setting up a cordon after receiving inputs about the presence of some terrorists. The gunshots were retaliated, leading to an encounter in which the terrorist was killed.
A police spokesman said that from the materials recovered, it is understood that the slain was a Pakistani national code named 'Anwar' and affiliated to JeM. "Anwar, according to police records, was wanted by law for his involvement in a series of terror crimes including attacks on security establishments and for many other civilian atrocities. Several terror crime cases were registered against him," he added.
No collateral damage took place during the exchange of fire, the spokesman said.
Full report at:
https://timesofindia.indiatimes.com/india/jaish-terrorist-killed-in-kashmirs-kupwara/articleshow/68309564.cms
--------
More Muslim youth take up Sanskrit studies in Agra
Mar 07, 2019
Agra: A large number of Muslim youth in Agra city is taking interest in learning Sanskrit in their schools along with other religious books. According to an inter-college survey carried out by India Today in the city, Muslim students especially girls in large numbers are studying Sanskrit.
According to the report, few Muslim girls also got a Bachelor's degree in Sanskrit from India's universities. Hailing the efforts of the students, social activist Yogesh Malhotra said, "This is very good that our Indian Muslim girls are taking interest in learning Sanskrit with other holy books."
Full report at:
https://www.siasat.com/news/more-muslim-youth-take-sanskrit-studies-agra-1475064/
--------
South Asia
Taliban, US negotiators struggling to remove differences
Tahir Khan
MARCH 8, 2019
Afghan Taliban and the US officials are struggling to remove differences on certain key issues in the ongoing peace talks in Qatar as both sides have not yet reached any deal despite their earlier claims of progress, people familiar with the process said late Thursday.
Taliban sources told Daily Times that Abdul Manan Akhund, brother of Mullah Omar, reached Qatar on Wednesday and joined the Taliban's 14-member negotiation team. Akhund's participation has further strengthened the Taliban team with six members from the powerful leadership council.
The Taliban and the US are tight lipped about the difficulties in the talks and both sides have agreed not to share anything about the parley underway at Doha's posh Sharq neighborhood. The Taliban political spokesman Suhail Shaheen is even kept out of most of the meetings to avoid any leak, a Taliban negotiator has said.
The current round had started on Feb. 25 and the talks continued on 11th day on Thursday, Taliban sources said. There was a two-day break in the current round for internal discussions. The present round is the longest since the US special envoy Zalmay Khalilzad opened talks with the Taliban in October.
Both sides had first sitting in July when US Principal Deputy Assistant Secretary of State for South and Central Asia, Ambassador Alice Wells met with the Taliban political envoys in Doha.
Taliban spokesman Zabihullah Mujahid said this week that the talks are focused on the "withdrawal of occupying forces and preventing Afghanistan from being used against others" and that the "talks are advancing on a step-by-step basis."
Sources say the Taliban insist on the announcement of a timeframe for the withdrawal of all foreign troops, the US side wants all issues, including a ceasefire by the Taliban and their agreement to start negotiations with the Kabul administration.
In a series of background interviews Daily Times understands the US is seemed unwilling to strike a deal on the Taliban terms as it would give an impression that they have surrendered to the Taliban. On their part, Taliban are reluctant to show flexibility on their demand for the withdrawal of the foreign troops.
On the question of the talks with the Afghan government, the Taliban argue that they have already joined intra-Afghan dialogue with senior political leaders and parties in Moscow last month. A second meeting of the Moscow's intra-Afghan dialogue is scheduled to be held in Qatar later this month, but lack of progress in the ongoing US-Taliban talks could delay the Moscow's negotiations.
As the Taliban interaction with the Afghan politicians gained momentum, Khlalizad is also now positive about Moscow led Afghan diaspora effort and he had discussions on the process with Russian special envoy for Afghanistan Zamir Kabulov in Istanbul last month. The US had earlier pursued solo flight, but now it is now involved in consultations with all stakeholders.
The sense in Islamabad is: there cannot be a further development without involvement of the National Unity Government in Kabul and other Afghan groups. The impression here is the US and Taliban have already achieved whatever they could do together.
On the other hand the Afghan gov't has said it is in the process of the formation of a negotiation team with Taliban and has requested the Afghan political leaders to nominate members for the team. Presidential spokesman Haroon Chakhansuri has said in Kabul that the team will be announced after the parties share names of their representatives.
Earlier, Afghan gov't had announced a 12-member negotiation team for talks with the Taliban in November last year. Taliban, however; refused to meet the team that was headed by presidential chief of staff Salam Rahimi.
As regional countries are showing interest in the peace process, Uzbekistan is seen active to play important role in political process.
Uzbekistan Foreign Minister Abdul Aziz Kamolov and Uzbekistan Special Envoy to Afghanistan Ismatullah met the Taliban chief negotiator Mullah Abdul Ghani Baradar in Qatar last week.
The Taliban spokesman later said the Uzbek delegation showed willing that they are "ready to lend every type of assistance regarding peace in Afghanistan."
In March last year Uzbek President Shavkat Mirziyoev had offered to host peace negotiations between Afghanistan's government and the Taliban.
https://dailytimes.com.pk/362663/taliban-us-negotiators-struggling-to-remove-differences/
--------
China praises Pakistan's 'restraint' over tensions
March 08, 2019
BEIJING: China has praised Pakistan's "restraint" and willingness to talk with India to ease tensions between the two countries after a deadly bombing in India-held Kashmir (IHK) last month. Visiting Pakistan on Wednesday, Chinese Vice Foreign Minister Kong Xuanyou said Beijing and Islamabad were "all-weather" strategic partners and that they always supported each other, China's Foreign Ministry said in a statement on Thursday.
The main mission of Chinese vice foreign minister's visit was to exchange views on the situation between India and Pakistan and to commend Pakistan for exercising restraint and calm and make efforts to ease the situation, Chinese foreign ministry spokesperson Lu Kang said during his regular briefing.
"China has paid close attention to the present situation between Pakistan and India, and appreciates Pakistan's remaining calm and exercising restraint from the beginning, and persisting in pushing to lower the temperature with India via dialogue," the ministry paraphrased Mr Kong as saying.
China maintains that the sovereignty and territorial integrity of all countries should be respected and does not want to see "acts that violate the norms of international relations", Mr Kong added.
"China calls on Pakistan and India to refrain from taking actions that aggravate the situation, show goodwill and flexibility, launch dialogue as soon as possible, and work together to maintain regional peace and stability," he said, adding that China was willing to continue to play a constructive role in this regard.
According to the foreign ministry spokesperson, Pakistan had also appreciated China's unbiased attitude and was willing to resolve the problem with India. It had expressed the hope that China and other members of the international community could play a constructive role in this process, he said.
He pointed out that the vice foreign minister when in Pakistan held detailed talks on the situation and tension between India and Pakistan and the major concern was the security situation in this region.
The spokesperson said that the Chinese side had stated its position that sovereignty and territorial integrity should be upheld.
"We believe we should take positive measures to ease the tensions so as to maintain peace and stability in this region," he said.
Full report at:
https://www.dawn.com/news/1468295/china-praises-pakistans-restraint-over-tensions
--------
ICC team in Bangladesh working on Rohingya report
Md. Kamruzzaman
07.03.2019
A team from the International Criminal Court (ICC) prosecutor's office is visiting camps for the persecuted Rohingya in Bangladesh, the office confirmed to Anadolu Agency on Wednesday.
On the purposes of the visit, an email statement from the ICC office said the team will work in the context of its ongoing preliminary examinations concerning the situation -- the Rohingya crisis -- in Bangladesh and neighboring Myanmar, which the persecuted Muslim Rohingya fled.
"A preliminary examination is not an investigation," said the statement. "Such visits in the context of preliminary examinations are standard practice, and the delegation will not engage in any evidence collection in relation to any alleged crimes."
The independent and impartial preliminary examination of the situation in Bangladesh and Myanmar is ongoing and following its normal course, it said.
About Myanmar's military crackdown on Rohingya Muslims since Aug. 25, 2017, however, an ICC preliminary report published last December said: "During the course of these [military] operations more than 40 percent of all villages in northern Rakhine State were reportedly partially or totally destroyed and it is estimated that by September 2018, over 725,000 Rohingya had fled to the neighbouring state of Bangladesh."
Persecuted people
The Rohingya, described by the UN as the world's most persecuted people, have faced heightened fears of attack since dozens were killed in communal violence in 2012.
According to Amnesty International, more than 750,000 Rohingya refugees, mostly women and children, have fled Myanmar and crossed into Bangladesh after Myanmar forces launched a crackdown on the minority Muslim community in August 2017.
Since Aug. 25, 2017, nearly 24,000 Rohingya Muslims have been killed by Myanmar's state forces, according to a report by the Ontario International Development Agency (OIDA).
More than 34,000 Rohingya were also thrown into fires, while over 114,000 others were beaten, said the OIDA report, titled "Forced Migration of Rohingya: The Untold Experience."
Some 18,000 Rohingya women and girls were raped by Myanmar's army and police and over 115,000 Rohingya homes were burned down and 113,000 others vandalized, it added.
The UN has also documented mass gang rapes, killings – including of infants and young children – brutal beatings and disappearances committed by Myanmar state forces.
Full report at:
https://www.aa.com.tr/en/asia-pacific/icc-team-in-bangladesh-working-on-rohingya-report/1411945
--------
3 killed, 22 wounded in Kabul mortar attack
07 Mar 2019
Security officials confirm that a gathering has came under mortar attack in West of Kabul city this afternoon.
According to reports, the incident has taken place close to a gathering which was organized to mark the 24th death anniversary of Abdul Ali Mazari.
The Ministry of Interior officials confirm that several explosions have been heard in West of Kabul city.
Nusrat Rahimi, a spokesman for the Ministry of Interior confirmed that the gathering was targeted with mortar fires and one suspect has been arrested in connection to the incident from a residential house.
In the meantime, the Ministry of Public Health officials are saying that three people have died and 22 others have sustained injuries in the attack.
Eyewitnesses are saying that 12 explosions have been heard so far together with sporadic gunshots from the site of incident.
Full report at:
https://www.khaama.com/several-explosions-heard-in-west-of-kabul-city-03440/
--------
Taliban will not win on the battlefield, says NATO Secretary General
08 Mar 2019
The NATO Secretary General Jens Stoltenberg has said that NATO has a presence in Afghanistan to create conditions for peace and send a clear message to Taliban that they will not win on the battlefield.
He made the remarks during a press conference with the President of Poland on Thursday.
"We support the peace efforts. We are there to create the conditions for peace. To send a clear message to the Taliban that they will not win on the battlefield, but they have to sit down at the negotiating table and reach a political agreement," he said. The NATO Secretary General further added that for any peace to be sustainable, it will need to be built on the achievements that have been made in recent years, including on human rights and the rights of women.
Full report at:
https://www.khaama.com/taliban-will-not-win-on-the-battlefield-says-nato-secretary-general-03444/
--------
Two prominent Taliban leaders killed in Kunduz airstrikes
08 Mar 2019
Two senior leaders of Taliban have been killed during the airstrikes which were conducted in northern Kunduz province of Afghanistan on Wednesday, the Afghan military said Thursday.
The 209th Shaheen Corps of the Afghan Military in the North announced that the airstrikes were carried out at around 10:20 am local time on Wednesday against the hideouts and commander and control center of Qari Wali Mohammad and Najeebullah alias Haroon. According to a statement released by 209th Shaheen Corps, at least 6 Taliban militants including the leaders of the group were killed and 3 others were wounded in the airstrikes.
The statement further added that a fighting position, the command and control center of Taliban, and another compound of Taliban were destroyed in the airstrikes.
The 209th Shaheen Corps also added that a clash also broke out between Taliban militants and security forces at around 1:30 pm local time in Pesta and Malraghai areas of Khanabad district, leaving 4 militants dead and 6 others wounded.
Full report at:
https://www.khaama.com/two-prominent-taliban-leaders-killed-in-kunduz-airstrikes-03443/
--------
Several Taliban, ISIS-K militants in Special Forces operations, airstrikes: Sources
07 Mar 2019
Several anti-government militants including ISIS Khurasan affiliates and Taliban fighters were killed during separate operations of Special Forces and airstrikes which were conducted in Nangarhar, Paktika, Wardak, Kandahar, Helmand, and Khost provinces in the past 24 hours.
According to the informed military sources, an air strike was carried out on 5th of March in Gandomak of Nangarahr killed a Taliban District Shadow Governor for Chaparhar district, Shaheen.
The sources further added that the Afghan Special Forces destroyed 3 roadside bombs, allowing civilians to travel without the thread of explosives.
The Afghan Special Forces conducted a raid in Jaghatu district of Wardak province killing 3 Taliban fighters and confiscating a small weapons cache, the sources said adding that an air strike in Ghorak district of Kandahar killed 1 Taliban fighter and wounded 2 others.
An air strike was also carried out in Nahr-e Saraj district of Helmand province leaving one Taliban fighter while Afghan Special Forces repelled an attack near the Jalalabad airfield yesterday killing 4 fighters and destroying 3 suicide vests, 3 magnetic IEDs and 1 vehicle-borne IED, the sources added.
Full report at:
https://www.khaama.com/several-taliban-isis-k-militants-in-special-forces-operations-airstrikes-sources-03442/
--------
One of the main architects of 215th Corps attack killed, 7 others arrested: NDS
07 Mar 2019
The Afghan Intelligence, National Directorate of Security (NDS) announced Thursday that one of the main architects of the attack on 215th Maiwand Corps has been killed during an operation of the NDS Special Forces.
The National Directorate of Security in a statement said the operation was conducted in the vicinity of Nawzad district of Helmand province.
The statement further added that one of the architects of the attack was killed and seven others were arrested during the operation.
According to National Directorate of Security, the detained suspects have been identified as Gul Agha son of Noor Mohammad, Mohammad Reza son of Gul Mohammad, Nemat son of Majnoon Agha, Mohammad Sadiq son of Haji Amanullah, Abdul Basir son of Nemat, Esmatulah son of Haji Mohammad Shah, and Khan Mohammad son of Lal Mohammad.
The NDS Special Forces also confiscated some weapons during the same operation, the National Directorate of Security said.
Full report at:
https://www.khaama.com/one-of-the-main-architects-of-215th-corps-attack-killed-7-others-arrested-nds-03441/
--------
Attack on Hazara gathering in Afghan capital kills at least one
7 March 2019
Several rockets were fired on Thursday at a gathering of members of the Shi'ite Hazara minority in the Afghan capital, Kabul, killing at least one person and wounding several.
There was no immediate claim of responsibility but over the years Hazaras have been repeatedly attacked by the Taliban, al Qaeda and ISIS.
TOLO News, which had a camera crew reporting live from the commemoration, said that at least 10 explosions were heard at the commemoration on the anniversary of a Hazara leader's death.
"Our gathering is under attack. Rockets are being dropped on us from every direction," said Muhammad Mohaqiq, a lawmaker and leader of the main Hazara political party from the stage in comments aired on television.
Hundreds of people including top government officials such as Chief Executive Officer Abdullah Abdullah and at least three candidates in a July presidential election were at the commemoration.
People could be seen scattering in all directions as the rockets fell. At least one person was killed and 16 wounded, said Wahidullah Mayar, a spokesman for the public health ministry.
A spokesman for the interior ministry, Nasrat Rahimi, said one suspect had been arrested, while several others had been surrounded by the security forces. Presidential candidate Mohammad Hanif Atmar was unhurt, but eight of his security guards were wounded. They were in stable condition, said Atmar's spokesman, Qader Shah.
The gathering was for the anniversary of the death of Abdul Ali Mazari, a Hazara leader who died in 1995 after being taken prisoner by the Taliban. A reporter who was present at the gathering site said ambulances had rushed to the area to help.
Full report at:
https://english.alarabiya.net/en/News/world/2019/03/07/Report-Blast-strikes-near-major-political-gathering-in-Kabul-.html
--------
Africa
Powerful car bomb explosion hits Somali capital, leaves four dead
Mar 7, 2019
A deadly car bomb explosion claimed by al-Qaeda-linked al-Shabab militants has hit near the presidential palace in Somalia's capital, security officials and witnesses say.
An explosives-laden car went off near a restaurant near the presidential palace in the heart of Mogadishu on Thursday morning, Somali police official Ibrahim Mohamed told AFP.
"The blast occurred at a checkpoint close to the National Theatre, we don't have the details but there are casualties," a security official said.
Somali police said four people have been killed and nine others sustained injuries in the powerful blast.
The al-Shabab militant group claimed responsibility for the bombing.
Last week, at least 36 people, mostly civilians, were killed and over 60 wounded after a bomber rammed his explosives-laden car into the Hotel Maka al-Mukarama and nearby buildings in Mogadishu.
Al-Shabab claimed that attack as well and threatened more such assaults in the future.
The militant outfit, which has long sought to topple Somalia's Western-backed government, was forced out of Mogadishu with the help of African Union forces in 2011.
Al-Shabaab, however, still wields control in large parts of the countryside, and every now and then carries out deadly attacks against government, military, and civilian targets in the capital as well as regional towns.
The terrorist group has fought successive Somali governments as well as neighboring governments in Kenya and Uganda.
https://www.presstv.com/Detail/2019/03/07/590416/Somalia-Mogadishu-bomb-explosion-casualties
--------
At least 5 killed in Nigeria as van strikes Boko Haram mine
March 8
MAIDUGURI, Nigeria — A resident says at least five farmers are dead and dozens are wounded in northeastern Nigeria after their vehicle struck a land mine buried by Boko Haram extremists.
Bello-Indimi Zabarmari says the blast occurred Wednesday. He says the mine was planted as the extremists fled after trying to attack Khaddamari town outside Maiduguri city in Borno state on the eve of the Feb. 23 elections.
Zabarmari says the farmers defied soldiers' warnings not to use the road because they wanted to reach their cucumber farms.
He says four died at the scene and a fifth died at a hospital. A security source who spoke on condition of anonymity because they were not authorized to speak to reporters had estimated seven dead.
Full report at:
https://www.washingtonpost.com/world/africa/at-least-5-killed-in-nigeria-as-van-strikes-boko-haram-mine/2019/03/08/03e4df54-4180-11e9-85ad-779ef05fd9d8_story.html
--------
The real reason terror group al-Shabaab banned plastic bags
Mar 8, 2019
Terrorism is no laughing matter. But the notorious Somali terrorist group al-Shabaab managed to become the subject of derision in the news media when it declared last year that it was banning plastic bags.
Al-Shabaab, al-Qaeda's affiliate in Somalia, claimed that plastic bags presented "a serious threat to the well-being of humans and animals alike." Websites from The Daily Caller to The Small Wars Journal tweeted their mockery about the terrorist group's peculiar edict while a photojournalist for the magazine National Geographic had to clarify his own tweet about the phenomenon as "not satire."
Al-Shabaab remains far from the first associate of al-Qaeda to try tackling environmental issues. Osama bin Laden spent several of his last days fretting over climate change, and the reclusive leader of the Taliban encouraged Afghans to plant more trees in a bizarre "special message" in 2017.
Despite these commonalities, the Somali terrorist group has distinguished itself from its foreign allies with a history of outlandish boycotts, outlawing staples of modernity from bras and ringtones to the Internet, music, and television.
The reach of these frequent bans remains a matter of debate, given that several East African militaries—bolstered by American airstrikes—have expelled the militants from much of Somalia. In response, al-Shabaab has retaliated against the East African countries backing the central government in Somalia. The militants attacked a hotel in Nairobi just this January.
"Al-Shabaab is no longer in control of major cities in Somalia," said Hassan, a researcher at the Somali Institute for Peace and Human Rights who asked LobeLog to withhold his last name. "It has been pushed out of major towns by the Somali government with support from the African Union."
Al-Shabaab's defeats on the battlefield may explain why the Somali terrorist group felt the need to implement a ban on plastic bags to begin with. As the militants have lost territory, the income that they earned from controlling cities and ports has dwindled. Al-Shabaab has had to find other ways to fill its war chest, such as enforcing a tax on Somali businesses and even livestock.
Though websites such as Quartz framed the militants' boycott of plastic bags as the Somali terrorist group's ill-conceived attempt at public relations, the move likely had more to do with economics: plastic bags were killing the animals that help al-Shabaab bankroll its operations.
"The only way that al-Shabaab can finance its activities in Somalia is via the collection of taxes from businessmen and herders," Hassan told LobeLog. "The majority of the Somali people are livestock herders…Right behind droughts, plastic bags kill the second-greatest number of livestock in the country. By losing animals to plastic bags, al-Shabaab felt that its only source of income was being threatened and decided to ban them. The ban was also meant to portray the group as one that cared for the economic and social well-being of the Somali people."
The Somali terrorist group's sudden embrace of environmentalism seems far less aberrant in this context: al-Shabaab was acting out of self-interest, not concern for the natural environment.
"Herders are expected to pay the tax in the form of animals," Mohamed Mukhtar Ibrahim, executive director of the Somali Institute of Public Administration and Management and a former Somali Petroleum and Mineral Resources Minister, told LobeLog. "It's not in al-Shabaab's interest to lose animals after collecting them or to have less livestock to tax in the first place."
The militants have shown their willingness to disregard and even exacerbate environmental issues in the past if exploiting the natural environment earns them a profit. This behavior is similar to other affiliates of al-Qaeda involved in trafficking the horns of rhinos and the pelts of tigers throughout Southeast Asia.
Much of al-Shabaab's revenue comes from burning and cutting trees, another practice that it once prohibited. The Somali terrorist group uses some of the trees to produce charcoal that it then exports to black markets in the Persian Gulf. The United Nations had to respond by banning charcoal from Somalia in a bid to curb terrorism financing there. The militants also participate in the ivory trade, from which the Somali terrorist group earned as much as $200,000 a month in 2012.
According to anecdotal evidence, al-Shabaab will even break its own rules if necessary. A journalist wrote on Twitter last year that the militants were using plastic bags filled with explosives to intimidate residents of Mogadishu, where the Somali terrorist group remains active.
"Al-Shabaab doesn't even care about the environment," argued Hassan, noting al-Shabaab's role in environmental issues. "Its activities have contributed to deforestation and other problems."
Even if al-Shabaab's ban on plastic bags lacks sincerity, the environmental movement has gained traction elsewhere in East Africa. Kenya, which has fought al-Shabaab in Somalia and on its own soil for a decade, announced its own prohibition on plastic bags a full year before the Somali terrorist group's diktat. Uganda, which, like Kenya, has deployed soldiers to Somalia, followed suit last year. Meanwhile, Rwanda, one of several countries that has trained Somali soldiers, banned plastic bags in 2008.
Within Somalia, the region of Somaliland outdid Kenya, Rwanda, and Uganda by instituting a ban in 2005. Some Somalis have even turned recycling plastic into a business.
Public figures such as the famous Somali-American environmentalist Fatima Jibrell have further institutionalized the environmental movement in the country, and the rise of the Somali Green Party indicates just how far environmentalism has spread there. For their part, the UN Development and Environmental Programs are likewise working to address environmental issues in Somalia.
Somali environmentalists appear to have little need for the assistance of a radical terrorist group better known for beheading s, kidnappings, and suicide attacks than for its environmental policy.
Full report at:
https://www.businessinsider.com/the-real-reason-terror-group-al-shabaab-banned-plastic-bags-2019-3?IR=T
--------
URL: https://www.newageislam.com/islamic-world-news/36-nations-including-europeans-rap/d/117964
New Age Islam, Islam Online, Islamic Website, African Muslim News, Arab World News, South Asia News, Indian Muslim News, World Muslim News, Women in Islam, Islamic Feminism, Arab Women, Women In Arab, Islamophobia in America, Muslim Women in West, Islam Women and Feminism