New Age Islam News Bureau
30 Jun 2013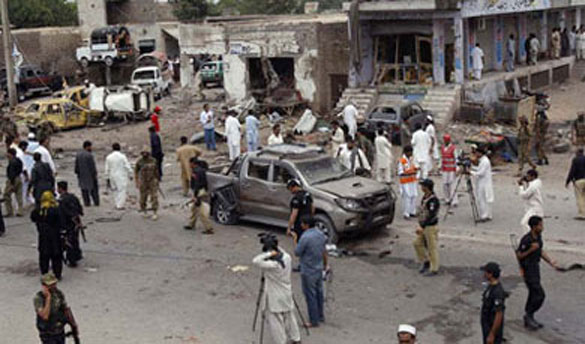 Pakistani security officials and media person gather at the site of car bombing on the outskirts of Peshawar, Pakistan, Sunday, June 2013. — Photo by AP
------------
Pakistan
• 21 Soldiers, 75 Extremists Killed During The 34 Day Operation In North-West Pakistan
• Car bomb in Peshawar's Badaber area kills 16, injures 25
• Pak-India relations: PM vows to pursue policy of détente
• Rangers unearth terrorist network inside Karachi jail
• Four gunned down in Balochistan's Kharan and Killa Abdullah
• Sharif says ties warmer, but Pak steps up attacks
• Pakistan to seek India's help to overcome acute energy crisis
• Pakistan tells Cameron it backs Afghan peace efforts
• KP government eyes troop withdrawal from Swat
• Gwadar to benefit both Pakistan, China: Pak PM
• Quest for dominance may disrupt stability in region: Army chief
• Case in Sweden: SHC moved against Pakistani's gay marriage
• Pakistani hacker sentenced in two cyber heists
Africa
• Al Shabab extremists kill 2 of their chiefs
• Detained Somali Islamist commander flown to Mogadishu
• Tunisians protest against revolution draft law
• UN peacekeepers take over from African troops in Mali
Southeast Asia
• Myanmar must act to stop violence now, says Malaysia
• Sultan of Kelantan: Apply 'moderation' concept in moulding future generation of Muslims
South Asia
• Scrapping of state religion from constitution sought in Bangladesh
• 'Will hit hard on Xinjiang terror' says leader CPC
• Afghan imbroglio: Tiff over 'Qatar office' jeopardises peace process
• Karzai refused Qatar talks in light of 'foreign conspiracies'
• China boosts security in Xinjiang after bloodshed
• PPM only party who can secure peace, investor confidence: Former H M
Europe
• Today's Incident Represents Further Evidence of China's Failed Policies towards Uyghurs
• Seven Saudis jailed for urging protests on Facebook: HRW
• Rebels kill policeman, injure 14 others in Chechnya
• EU must condemn Saudi jailing of cyber activists: HRW
Arab World
• UAE possesses one of the strongest human rights records in the region
• Tahrir protesters show Egypt's Morsi the 'red card'
• Pro-Kurdish party urges Ankara to 'take step' for peace
• Prince Naif gets UN honour for supporting Palestinians
• Two dead in north Lebanon violence
• Mursi: Egypt's divisive Islamist president
Mideast
• Palestinians downbeat over Mideast talks as Kerry hails 'real progress'
• Israel holds Gaza Palestinian who vanished in Egypt
• Israel sweetens deal for 930 E. Jerusalem homes: report
• Israel milks Palestinians for magnetic cards
North America
• Reformist Ahmadiyya Muslim followers seeks tolerance, peace in roots of Islam
• Egyptians 'must talk, not fight'
• WikiLeaks accused of manipulating Snowden
• Russia holds 'solution' for Snowden destination: Ecuador
India
• Hope Pakistan air space is opened for flights from Srinagar: J&K CM
• Taj Mahal ranked third among top landmarks in the world
• MHA sceptical of charges on IB officer in Ishrat case
• Qazigund-Banihal rail link realises J&K residents' dreams
• JKLF Chairman, 4 others taken into preventive custody
• Muslim outfits against Panchayat poll in West Bengal during Ramzan
Compiled by New Age Islam News Bureau
URL: https://newageislam.com/islamic-world-news/new-age-islam-news-bureau/21-soldiers,-75-extremists-killed-during-the-34-day-operation-in-north-west-pakistan/d/12363
----------
Pakistan
21 soldiers, 75 extremists killed during the 34 day operation in north-west Pakistan
June 29, 2013
Pakistani security forces have killed 75 militants while losing 21 troops during the 34 day operation against ultras, in the country's tribal region close to the Afghanistan border.
Deputy Commandant of Frontier Corps Colonel Wasim Zafar Bhatti said about 75 militants were killed in the 34 day operation.
As many as 86 soldiers have been injured in the operation.
The forces have cleared Para Chamkani area in Kurram agency, and established the government's writ by flushing out the militants from their bastion, said Colonel Wasim Zafar Bhatti while briefing newsmen at Sadda Tehsil of Kurram agency.
Col Wasim said the operation was started on May 11 last against the extremists, who had infiltrated into the Para Chamkani area from the nearby Khyber Agency on May 6 last.
The forces were deployed on May 8 in the restive areas comprising 28 small and big villages and towns.
In all 15,000 plus individual comprising 1,700 families were dislocated due to the operation, who were put up in New Durrani Camp in Sadda tehsil of Kurram Agency.
The families being returned to their areas are provided three month ration and free transport by the FDMA (Fata Disaster Management Authority).
http://www.hindustantimes.com/world-news/pakistan/21-soldiers-75-extremists-killed-in-operation-in--north-west-Pakistan/Article1-1084536.aspx
----------
Car bomb in Peshawar's Badaber area kills 16, injures 25
ZAHIR SHAH SHERAZI
June 30, 2013
PESHAWAR: At least 16 persons, including three children, were killed and more than 25 injured in a blast on Sunday near Peshawar's Badaber police station targeting a convoy of security vehicles.
Deputy Commissioner Peshawar, Jawed Marwat, told media persons that 16 people, icluding a woman and children, were killed and 25 others injured in the blast.
Khyber Pakhtunkhwa's Inspector General of Police, Ehsan Ghani, had also confirmed the deaths of 13 people in the car bomb targeting a convoy of the Frontier Corps
He added that the three vehicles, which comprised of the targeted convoy, were destroyed.
SP Rural Shafiullah Khan told Dawn.com that the FC convoy was moving on Kohat road when a vehicle parked near a CNG station detonated.
He added that several security personnel were injured in the attack but no one was killed.
Bomb Disposal Squad official Abdul Haq told Dawn.com that 40-50 kilograms of explosives were used in the car bomb attack.
It was not clear as yet whether the explosion was remotely detonated or carried out by a suicide bomber.
Gunfiring was also heard after the blast.
The victims were shifted to the Lady Reading Hospital where an emergency was imposed.
A market and ten vehicles situated in the blast vicinity were destroyed in the explosion.
Security forces cordoned off the area and began a search operation as investigations into the incident went underway.
While expressing grief and shock, Prime Minister Mian Muhammad Nawaz Sharif deeply condemned the bomb blast in Badabher, Peshawar killing innocent people and injuring many.
He also prayed for the early recovery of those injured in the blast.
Earlier Khyber Pakhtunkhwa's Information Minister Shaukat Yousufzai had confirmed that nine persons, including three children were killed in the blast whereas more than 20 were wounded.
http://dawn.com/news/1021795/car-bomb-in-peshawars-badaber-area-kills-16-injures-25
----------
Pak-India relations: PM vows to pursue policy of détente
June 30, 2013
ISLAMABAD: As hopes swell for a lasting period of détente between Pakistan and India, Prime Minister Nawaz Sharif signalled his willingness to pick up the process of normalising relations with India from where it was left off when he was ousted from power in 1999.
Chairing the first meeting of Pak-India Joint Business Council (PIJBC) since the country's landmark democratic transition, the prime minister said his government will pursue the same policies in this regard as the ones he initiated during his previous stint as premier.
"It is reassuring that both sides are sitting together and talking to each other," the premier told representatives of trade groups from the two countries. At the same time he expressed satisfaction over the visit of Indian business delegates under the auspices of PIJBC.
The prime minister, according to some delegates, also volunteered to personally deal with assignments aimed at restoring his country's bilateral ties with India.
Earlier, Indian representatives drew the prime minister's attention towards the trade barriers existing between the two countries , saying these were hindering businessmen from either side of the border.
One of the members pointed out that despite the fact that Pakistan and India had signed three agreements pertaining to customs cooperation and mutual recognition and compensation of complaints, legal formalities to implement them were still pending. Other members drew attention towards hindrances caused by allowing only 140 commodities to be traded through the Wagah-Attari land route.
In response, Premier Nawaz assured Indian representatives that he would do his utmost to remove the hurdles in the way of business development between the two countries.
They quoted him as saying that he would "personally deal with assignments aimed at restoring Pakistan's bilateral ties with its neighbours". "I deem it my prime responsibility and that is why I am personally looking after the defence and foreign affairs portfolios."
Meanwhile, Nawaz drew the Indian delegation's attention towards Pakistan's energy need. "We are facing an acute power shortage … any assistance in this sector will us address the issue," he maintained. The premier told the businessmen that he had already directed Water and Power Minister Khwaja Muhammad Asif to visit India and explore areas of potential cooperation in this regard.
Indian members of PIJBC noted that India, since it faced similar problems as Pakistan, could provide much assistance in the fields of medical science, higher education and vocational training.
The meeting also discussed non-discriminatory market access and agreed that industrialists from both countries should be provided a level-playing field.
PM Nawaz meets new Chinese envoy
On Saturday, Prime Minister Nawaz met newly-appointed Chinese Ambassador Sun Weidong and stressed that Pakistan's relationship with China was centred on mutual cooperation and was not aimed at conspiring against any other country.
Welcoming Weidong's appointment, he said Pakistan is committed to take its relationship with China to an even higher level and greatly values its economic support and cooperation. He added that he looked forward to his visit to China in the first week of July.
Later, while meeting a visiting delegation of Chinese media persons, Prime Minister Nawaz conveyed his deepest condolences to the families of the trekkers killed in the attack at Nanga Parbat and the Chinese government and people. He vowed to bring the perpetrators of the attack to justice very soon and assured that the government will take all possible efforts to ensure such a tragedy will never occur in the future.
Meanwhile, the premier said the envisaged Pak-China Trade Corridor would open vistas of development and prosperity to the around 3 billion people of the region. About handing over Gwadar port to China, he said the project was the 'hallmark' the two countries' strategic partnership.
Talking about his upcoming visit, he said he had established a high-level task force to explore avenues to enhance economic cooperation with China.
"We want to cooperate with each other in several fields, including energy and infrastructure," he maintained, adding, "I think if all these initiatives materialise, our trade volume will cross hundreds of billions of dollars."
http://tribune.com.pk/story/570349/pak-india-relations-pm-vows-to-pursue-policy-of-detente/
----------
Rangers unearth terrorist network inside Karachi jail
June 30, 2013
KARACHI: Rangers personnel conducted targeted operation at Central Jail Karachi (CJK) on receiving information about terrorists operating a network from inside the jail.
There was report that terrorist operating from jail had planned the attack on senior Judge of Sindh High Court on June 26 at Burns road, which claimed at least nine lives of rangers and police personnel, several others were wounded. As per detail, Rangers recovered cell phones, knifes and other materials from the possession of prisoners. Extra contingent of rangers' personnel participated in the operation here on Saturday, they also interrogated the inmate who along with his companions had planned to attack senior judge in 2011.
Full report at:
http://www.dailytimes.com.pk/default.asp?page=2013\06\30\story_30-6-2013_pg7_6
----------
Four gunned down in Balochistan's Kharan and Killa Abdullah
June 30, 2013
QUETTA: At least four people were killed in two separate incidents of gun firing in Kharan and Killa Abdullah towns of Pakistan's restive Balochistan province on Saturday evening.
A police official, who requested not to be named, told Dawn.com that two armed militants opened indiscriminate firing at a shop in Kubdani Muhalla Kharan.
He said two labourers sitting inside the shop were killed on the spot. The victims belong to Sindh province.
Full report at:
http://beta.dawn.com/news/1021577/four-gunned-down-in-balochistans-kharan-and-killa-abdullah
----------
Sharif says ties warmer, but Pak steps up attacks
June 29, 2013
Despite Prime Minister Manmohan Singh being keen to normalise ties with the Nawaz Sharif government, the increasing aggressiveness on the part of Pakistan-based terrorist groups in Kashmir has left him disconcerted.
To date, 27 security personnel have been killed in terrorist attacks as compared to four during the same period last year.
The internal security establishment has brought to the notice of the government that despite Sharif insisting on warmer ties with India, the Pakistan Army, particularly the ISI, seems to have different plans.
Full report at:
http://www.hindustantimes.com/India-news/newdelhi/Sharif-says-ties-warmer-but-Pak-steps-up-attacks/Article1-1084584.aspx
----------
Pakistan to seek India's help to overcome acute energy crisis
Jun 30 2013
Islamabad : Pakistan's Prime Minister Nawaz Sharif has directed his Water and Power Minister to India to address the severe energy crisis facing the country. "We are facing acute electricity shortage and any assistance in the power sector will help us in addressing the problem," Sharif said while speaking to members of the Pak-India Joint Business Council at the Prime Minister's Office yesterday. Sharif told the meeting that he had directed Khawaja Muhammad Asif, Minister for Water and Power, to visit India and explore potential areas of cooperation between the two countries, the official APP news agency reported.
Full report at:
http://www.indianexpress.com/news/pakistan-to-seek-indias-help-to-overcome-acute-energy-crisis/1135802/
----------
Pakistan tells Cameron it backs Afghan peace efforts
30 June 2013
Pakistan assured visiting British Prime Minister David Cameron on Sunday that it would promote efforts to reach a peace deal in neighboring Afghanistan before NATO's planned withdrawal.
Cameron is the first foreign government leader to visit Islamabad since Prime Minister Nawaz Sharif took office in June after winning landmark elections in May.
Relations between Kabul and Islamabad are traditionally mired in distrust. The apparent headway made at a summit hosted by Cameron in February has since unraveled in a series of public rows.
Full report at:
http://english.alarabiya.net/en/News/asia/2013/06/30/Pakistan-tells-Cameron-it-backs-Afghan-peace-efforts-.html
----------
KP government eyes troop withdrawal from Swat
UMER FAROOQ
June 30, 2013
ISLAMABAD: The Pakistan Tehrik-i-Insaf (PTI)-led government in Khyber Pakhtunkhwa is seriously working towards a plan for the army's withdrawal from Swat – but unfortunately, security imperatives make completely withdrawal an impossibility.
The coalition government has so far discussed the proposal with military leaders, and have also informed the public in Swat of their plan, according to senior minister in the coalition government and central leader of Jamaat-i-Islami (JI), Sirajul Haq.
Full report at:
http://dawn.com/news/1021572/kp-government-eyes-troop-withdrawal-from-swat
----------
Gwadar to benefit both Pakistan, China: Pak PM
June 30, 2013
ISLAMABAD: Prime Minister Nawaz Sharif has said that friendship with China is and will remain the cornerstone of Pakistan's foreign policy and it has been a factor for peace and stability in the region.
Speaking to Chinese Ambassador Sun Weidong, who called on him at the Prime Minister's Office on Saturday, Mr Sharif said he was looking forward to his visit to China next week which he hoped would help strengthen bilateral ties.
Full report at:
http://dawn.com/news/1021762/gwadar-to-benefit-both-pakistan-china-pm
----------
Quest for dominance may disrupt stability in region: Army chief
June 30, 2013
NEWS DESK: Army Chief General Ashfaq Pervez Kayani Saturday said the Pakistani armed forces desire regional stability based on balance of power that promotes respect for each other's sovereignty and discourages any form of quest for dominance.
The army chief stated desire for peace was greatest strength of the Pakistani Army, which he said gives the forces the poise and confidence to exercise restraint, even once incited or provoked, said a press release issued by Inter-Services Public Relations (ISPR).
Full report at:
http://beta.dawn.com/news/1021580/quest-for-dominance-may-disrupt-stability-in-region-army-chief
----------
Case in Sweden: SHC moved against Pakistani's gay marriage
June 30, 2013
KARACHI: A petition has been placed before the Sindh High Court (SHC), requesting the government to act against a Pakistani citizen, who has reportedly solemnised gay marriage in Sweden.
The court has yet to take up the plea for hearing.
Muhammad Imran Shahzad from the United Human Rights Commission has made the federal ministries of foreign affairs, interior, religious affairs and Sindh government respondent in the case.
Full report at:
http://tribune.com.pk/story/570358/case-in-sweden-shc-moved-against-pakistanis-gay-marriage/
----------
Pakistani hacker sentenced in two cyberheists
June 30, 2013
NEW YORK: A Pakistani man who participated in two multimillion-dollar ATM heists targeting debit card processors was sentenced in Brooklyn federal court on Friday to 18 months in prison.
Imran Elahi pleaded guilty last year to access device fraud and conspiracy, largely for his involvement in two precision strikes: a $9 million heist in 2008 involving RBS WorldPay and a $14 million hack in 2011 against Fidelity Information Services.
The cybercrimes were strikingly similar to the $45 million global ATM heist that Brooklyn federal prosecutors revealed last month, when US Attorney Loretta Lynch charged eight defendants with using stolen debit cards at thousands of automated teller machines worldwide over a period of hours in a coordinated attack.
Full report at:
http://www.dailytimes.com.pk/default.asp?page=2013\06\30\story_30-6-2013_pg4_9
--------
Africa
Al Shabab extremists kill 2 of their chiefs
June 30, 2013
Mogadishu: Somalia's Al Qaida-linked Al Shabab extremists have killed two of their own top commanders, one with a $5 million (Dh18.3 million) United States bounty on his head, the insurgents said on Saturday.
"We have informed their widows of their deaths, as they must now wear the clothes of mourning," Al Shabab spokesman Abdul Aziz Abu Musab said.
The pair killed are two co-founders of the Islamist group, including US-wanted Ebrahim Haji Jama Mead, better known by his nickname Al Afghani — "the Afghan" — due to his training and fighting with Islamist guerrillas there.
Washington offered the $5 million bounty for Al Afghani, who opposed the command of top Al Shabab leader Ahmad Abdi Godane.
Full report at:
http://gulfnews.com/news/region/somalia/al-shabab-extremists-kill-2-of-their-chiefs-1.1203716
----------
Detained Somali Islamist commander flown to Mogadishu
30 June 2013
One of Somalia's most prominent Islamist rebel commanders, arrested by a regional administration, was flown to the capital Mogadishu on Saturday, where he agreed to hold talks with the federal government about his fate, Somali officials said.
Sheikh Hassan Dahir Aweys, whose capture was a boost to Mogadishu in its battle against Islamist insurgents, was detained in central Somalia and then taken to the town of Adado.
Much of Somalia has been stabilized after two decades of turmoil by a campaign that drove back the militant group Al-Shabaab.
Full report at:
http://english.alarabiya.net/en/News/africa/2013/06/29/Detained-Somali-Islamist-commander-flown-to-Mogadishu.html
----------
Tunisians protest against revolution draft law
30 June 2013
Hundreds of Tunisians took to the streets of the capital on Saturday to protest against a draft law aimed at excluding former regime officials from taking part in future elections, an AFP journalist said.
The Islamist-led government in power since a 2011 uprising toppled veteran dictator Zine El Abidine Ben Ali has been pushing for the controversial law.
But opponents of the government said it is aimed at keeping them out of politics, and protesters gathered outside the National Assembly chanted slogans such as: "No to dictatorship."
Full report at:
http://english.ahram.org.eg/NewsContent/2/8/75253/World/Region/Tunisians-protest-against-revolution-draft-law.aspx
----------
UN peacekeepers take over from African troops in Mali
30 June 2013
BAMAKO — United Nations soldiers will take over from African troops in conflict-scarred Mali from Monday, making up the organization's third-largest peacekeeping force by the end of the year.
A 12,600-strong force will take over security duties from French troops who entered Mali in January to halt an Islamist advance and help the government re-establish its authority over the vast country.
France is winding down its deployment from its peak of nearly 4,500 but is to keep up to 1,000 troops in Mali and they will maintain responsibility for military strikes against the militants.
Full report at:
http://www.saudigazette.com.sa/index.cfm?method=home.regcon&contentid=20130630171722
----------
Southeast Asia
Myanmar must act to stop violence now, says Malaysia
JUNE 30, 2013
Malaysia has urged the Myanmar government to act immediately to address the ongoing inter-communal violence in the country.
Foreign Minister Datuk Seri Anifah Aman said this in a bilateral meeting with Myanmar's Foreign Minister Wunna Maung Lwin at the 46th Asean Foreign Ministers Meeting (AMM) which began yesterday in Bandar Seri Begawan, Brunei.
A statement from the Asean-Malaysia National Secretariat, Foreign Affairs Ministry, here said Anifah conveyed Malaysia's concern, saying it had also affected neighbouring countries, including Malaysia.
Full report at:
http://www.themalaysianinsider.com/malaysia/article/myanmar-must-act-to-stop-violence-now-says-malaysia/
----------
Sultan of Kelantan: Apply 'moderation' concept in moulding future generation of Muslims
JUNE 30, 2013
The Sultan of Kelantan, Sultan Muhammad V, tonight said that the 'wasatiyyah' (moderation) approach explained in the Quran should be applied in moulding the future generation of Muslims.
He said he has confidence in the commitment shown by the Malaysian government in applying the concept at all levels of management and administration.
"It is important to apply the concept if we want to create a balance in building a more harmonious integration in a society with diverse culture, race and religion," said the ruler when opening the international-level Quran Recital at the Putra World Trade Centre (PWTC) in Kuala Lumpur last night.
Sultan Muhammad V, who is also the Deputy Yang di-Pertuan Agong, said the 'wasatiyyah' concept should continue to be applied in government policies, as well as the daily lives of Muslims.
Full report at:
http://www.themalaysianinsider.com/malaysia/article/sultan-apply-wasatiyyah-concept-in-moulding-future-generation-of-muslims/
----------
South Asia
Scrapping of state religion from constitution sought in Bangladesh
June 30, 2013
Speakers at a roundtable yesterday urged removal of the constitutional provision of state religion, stating that it cannot ensure equal rights and security to all religious communities.
Referring to the recent four city corporation elections and the upcoming one in Gazipur, they also urged stopping use of religion in politics and tendency of political parties to support communal forces to get more votes.
The roundtable, "Religious Harmony and Present Reality", was organised by Bangla daily Prothom Alo at its office in the capital.
Full report at:
http://www.thedailystar.net/beta2/news/scrapping-of-state-religion-from-constitution-sought/
----------
'Will hit hard on Xinjiang terror' says leader CPC
June 29, 2013
China will strike hard on terrorists in accordance with law and maintain social stability in the remote Xinjiang Uyghur Autonomous Region, Yu Zhengsheng, one of the country's top Communist Party of China leader said on Saturday. Over 30 people have been killed in violence in the region, where the Uyghur community, accuse the government of both religious and political persecution.
http://www.hindustantimes.com/world-news/china/Will-hit-hard-on-Xinjiang-terror/Article1-1084569.aspx
---------
Afghan imbroglio: Tiff over 'Qatar office' jeopardises peace process
June 30, 2013
ISLAMABAD: The fledgling Afghan peace process hit snags less than two weeks after kicking off.
The ultraorthodox Taliban militia has blamed the United States for being in a 'state of confusion' and lacking a 'firm stance' on the proposed talks in the Qatari capital of Doha where they opened their 'political office' with much fanfare on June 18.
A hard-hitting statement issued late Saturday was the first formal reaction from the Taliban to the reluctance of the administrations of US President Barack Obama and Afghan leader Hamid Karzai to hold dialogue with the Taliban negotiators in Doha following a controversy over the status of the office.
Full report at:
http://tribune.com.pk/story/570320/afghan-imbroglio-tiff-over-qatar-office-jeopardises-peace-process/
----------
Karzai refused Qatar talks in light of 'foreign conspiracies'
June 30, 2013
ISLAMABAD: Beleaguered Afghan President Hamid Karzai has asserted he foiled "foreign conspiracies" in Qatar days after refusing to send members of his peace council to the gulf state for possible talks with the Taliban.
Speaking at his weekly radio address on Thursday, Karzai said the Qatar office was inaugurated in violation of "agreements". Although Afghanistan and the United States had agreed on opening the office, the situation was different at the time of its formal inauguration, he claimed.
Full report at:
http://tribune.com.pk/story/570205/karzai-refused-qatar-talks-in-light-of-foreign-conspiracies/
----------
China boosts security in Xinjiang after bloodshed
June 30, 2013
Chinese paramilitary troops began conducting round-the-clock patrols on Sunday in the north-western region of Xinjiang following a series of bloody clashes that have killed at least 56 people over the last several months.
Police in the region also released new details about a clash Wednesday that authorities said left 35 people dead, including 11 attackers, blaming it on a violent gang of Muslim extremists.
The order for the patrols by the People's Armed Police was issued by the ruling Communist Party's top law enforcement official, Meng Jianzhu, at an emergency meeting late Saturday in Xinjiang's regional capital, Urumqi. The action came just days ahead of the July 5 anniversary of a 2009 riot between Xinjiang's native Uighur people and Han Chinese migrants in the city that left nearly 200 people dead.
Full report at:
http://www.thehindu.com/news/international/world/china-boosts-security-in-xinjiang-after-bloodshed/article4866075.ece
----------
PPM only party who can secure peace, investor confidence: Former Home Minister Dr Jameel
June 30, 2013
Dr Mohamed Jameel Ahmed, running mate of Progressive Party of Maldives (PPM) presidential candidate MP Abdulla Yameen, has said ensuring peace and safety in the Maldives will be vital to ensuring economic progress following September's election.
Speaking on the island of Dhuvaafaru in Raa Atoll on Thursday (June 28), Dr Jameel was quoted by Sun Online as saying that the PPM was the only party able to secure peace and safety in the country required to boost foreign investor confidence.
He also praised the PPM's founder, former President Maumoon Abdul Gayoom, for his efforts in trying to establish peace across the country during his time in office.
Full report at:
http://minivannews.com/category/news-in-brief
----------
Europe
Today's Incident Represents Further Evidence of China's Failed Policies Towards Uyghurs
June 30, 2013
The World Uyghur Congress (WUC) is deeply concerned about the emergence of reports that 27 people have been killed during the early hours of this morning (0600 Beijing time) in Lukchun, Piqan Nah̡iyisi County (Shanshan in Mandarin). There remain many unanswered questions surrounding the incident as reports confirm that an information blackout and security crackdown has been implemented in the region to quell any independent verification of the facts. The WUC therefore calls upon the Chinese authorities allow an independent investigation into the incident and its root causes, and to alleviate the legitimate concerns of Uyghurs so as to avert such incidents in the future.
Picking up from the original Xinhua source, various media outlets reported today that the incident occurred in the predominantly-Uyghur Lukchun village, outside a police station, government buildings and at a construction site, where so-called rioters began stabbing people and setting alight vehicles. Xinhua reported that 9 police and security guards, along with 8 civilians were killed in clashes with so-called "rioters", of whom 10 were shot dead by police forces. Three other people were reportedly injured during the clash, and another three arrested. Images posted on the internet show the brutality of this incident.
The official reports, however, must be questioned in view of the inability to independently verify this narrative. The WUC has attempted to uncover further information on the incident, but all Uyghur telecommunications have been shut down in the Turpan Prefecture. The WUC is deeply concerned by this development, in what is a clear attempt to silence the free dissemination and examination of this incident by independent media, and to also prevent Uyghurs from knowing what happened to their people.
The WUC has been able to ascertain via Han Chinese contacts (whose telecommunications are still working) that house-to-house searches have begun. The Washington Post did manage to contact someone at the scene, who reported that the area has been cordoned off and armed police officers were posted at road intersections. They also reported that police, anti-riot forces and paramilitary police were patrolling the town armed with pistols and machine guns, said their source, who refused to give his name out of fear of government reprisals.
Whilst the ethnicity of the individuals who died was not revealed, the ethnicity is indicated by the naming of the rioters as "knife-wielding mobs", a standard accusation from the Chinese authorities. The reasons behind the incident were also not revealed, but the timing of it should be taken into consideration when understanding the cause.
This incident has occurred around the arrival of Ramadan, which is severely repressed each year, and the sensitive fourth anniversary of the 5 July Urumchi unrest in 2009. Peaceful protesters gathered in Urumchi to demonstrate for better rights and to be free from repression following the murder of 18 Uyghurs at the hands of their Han Chinese colleagues at a toy factory in Shaoguan, Eastern China, on 26 June 2009. The Chinese security forces quickly swept in to Urumchi, violently cracking down on the protesters, leaving many dead, injured, detained and disappeared, following which there was a 10 month information blackout.
Only last week did we hear that 19 people were sentenced to prison and another 6 to administrative detention for having attempted to access information on such incidents. WUC President Ms Rebiya Kadeer said, "this is the second deadly incident in as many months. Since 23 April 2013, nearly 50 people have needlessly died, whilst approximately 40 have been detained and sentenced to terms of imprisonment in trials marred by a lack of respect for international standards and political interference. The increasing frequency with which these incidents occur illustrates the PRC's reticence to address the root causes of the tensions that are escalating in East Turkestan."
As is often the case, the root causes of such protests and confrontations lie in the People's Republic of China's (PRC) longstanding, failing policies towards Uyghurs. There is an ever pressing need for the PRC to afford linguistic, cultural and religious freedoms, as well as ceasing politically-motivated arbitrary detentions, enforced disappearances and extra-judicial killing, in order to alleviate the recurrence of these needless and avoidable events.
----------
Seven Saudis jailed for urging protests on Facebook: Human Rights Watch
June 30, 2013
"Sending people off to prison for peaceful Facebook posts sends a message that there's no safe way to speak out," says HRW official. PHOTO: AFP/FILE
Saudi Arabia has sentenced seven activists from its restive Eastern Province to prison terms ranging from five to 10 years for posting messages on Facebook calling for anti-government protests, Human Rights Watch (HRW) said on Sunday.
The New York-based rights group urged EU foreign policy chief Catherine Ashton and other European officials who were meeting with Gulf counterparts, including Saudi Arabia, in Manama on Sunday to condemn the convictions.
Full report at:
http://tribune.com.pk/story/570460/seven-saudis-jailed-for-urging-protests-on-facebook-human-rights-watch/
----------
Rebels kill policeman, injure 14 others in Chechnya
June 30, 2013
MOSCOW: Rebels have killed a Russian policeman and injured 14 others in Chechnya, police said on Saturday, a rare clash in the now mostly calm North Caucasus republic, which lies near to the venue for the 2014 Winter Olympics.
Moscow waged two wars against separatist rebels in mainly Muslim Chechnya in the 1990s but the province has been fairly peaceful in recent years as insurgents have turned their focus to the nearby regions of Dagestan and Ingushetia.
This month, President Vladimir Putin put Russia's security forces on high alert to safeguard the Games due to take place next year in the Black Sea resort of Sochi.
A police spokesman said by telephone from the Chechen capital Grozny that a police patrol had run into a band of rebels in the southern Shatoi district. reuters
http://www.dailytimes.com.pk/default.asp?page=2013\06\30\story_30-6-2013_pg4_5
----------
EU concern over Der Spiegel claim of US spying
June 30, 2013
The head of the European Parliament has demanded "full clarification" from the US over a report that key EU premises in America have been bugged.
Martin Schulz said that if this was true, it would have a "severe impact" on ties between the EU and the US.
The report, carried by Germany's Der Spiegel magazine, cites a secret 2010 document alleging that the US spied on EU offices in New York and Washington.
Fugitive ex-CIA analyst Edward Snowden leaked the paper, Der Spiegel says.
Mr Snowden - a former contractor for the CIA and also the National Security Agency (NSA) - has since requested asylum in Ecuador.
Full report at:
http://www.bbc.co.uk/news/world-us-canada-23116517
----------
Arab World
UAE possesses one of the strongest human rights records in the region
(Wam) / 30 June 2013
The UAE is committed to pursuing its efforts to enhance human rights, in keeping with its own cultural identity and special characteristics and in cooperation with international human rights bodies.
It has made significant progress in this field over the last few years. In November 2012, the UAE won membership of the UN Human Rights Council for a three-year term, starting from early 2013. The UAE was elected in a secret ballot, conducted by the UN General Assembly, in which 21 candidate countries from 18 geographical groups competed for 18 vacant seats. The UAE got 184 votes, the highest vote turnout of the total garnered by the four winning Asian countries (Kazakhstan, Japan, Korea and Pakistan) and the second highest amount of votes of the 18 winners.
H. H. Shaikh Abdullah bin Zayed Al Nahyan, Foreign Minister, said the win "crowned a series of achievements made by the UAE in its human rights record over the recent years, particularly in areas of legislation to uphold and protect fundamental freedoms and legal rights of individuals, rights of women and children and advanced regulations on the rights of the foreign workforce."
Full report at:
http://www.khaleejtimes.com/nation/inside.asp?xfile=/data/government/2013/June/government_June74.xml&section=government
----------
Tahrir protesters show Egypt's Morsi the 'red card'
June 30, 2013
CAIRO — Thousands of demonstrators waved red cards in Tahrir Square Sunday to demand the resignation of Egypt's Islamist President Mohamed Morsi, as the spirit of 2011's revolution returned to the iconic Cairo protest venue.
"The people want the ouster of the regime!" protesters chanted — the signature slogan of the uprising that ousted Hosni Mubarak and brought Morsi to power.
Jubilant men, women and children brandished red cards, blowing whistles and vuvuzelas and chanting "Leave, Morsi!"
"This is the second revolution and Tahrir is the symbol of the revolution. The revolution will be launched from here," said Ibrahim Hammouda, a carpenter who had came from the northern city of Damietta to join the protests.
Full report at:
http://www.saudigazette.com.sa/index.cfm?method=home.regcon&contentid=20130630171798
----------
Pro-Kurdish party urges Ankara to 'take step' for peace
30 Jun 2013
A pro-Kurdish party said it will launch on Sunday rallies in several cities to press the Turkish government to "do its part" to settle the nearly three-decade old conflict in southeast Turkey.
"Our party is calling on our people as well as all oppressed and ignored segments of society to say 'Government, take a step' in order to step up the struggle for democracy," the Peace and Democracy Party (BDP) said in a statement.
The party is calling on Ankara to "do its part" for a democratic solution to the bloody conflict and to "stay away from any actions" which could undermine the peace process.
The BDP said one of its main demands was to ensure freedom for the Kurdistan Workers' Party (PKK) leader Abdullah Ocalan, who has been serving a life prison term on a remote island off Istanbul since his 1999 capture.
Full report at:
http://english.ahram.org.eg/NewsContent/2/8/75319/World/Region/ProKurdish-party-urges-Ankara-to-take-step-for-pea.aspx
----------
Prince Naif gets UN honor for supporting Palestinians
30 June 2013
The United Nations on Friday honored Prince Naif for his support of Palestinian development projects and said the late crown prince would be remembered for his humanitarian endeavors.
Speaking in New York, UN Secretary-General Ban Ki-moon offered his "heartfelt appreciation" to the Saudi leadership.
"Their financial support is making a concrete difference in the lives of hundreds of Palestinian families, improving conditions in communities and contributing to peace, security and stability," Ban said.
He presented the "Outstanding Donor Award for the Special Human Settlements Program for the Palestinian People" to Abdallah Al-Mouallimi, Saudi Arabia's permanent representative to the UN.
Full report at:
http://www.arabnews.com/news/456630
----------
Two dead in north Lebanon violence
30 June 2013
TRIPOLI, Lebanon – A man preparing a bomb was killed on Saturday when it went off prematurely in Lebanon's restive northern city of Tripoli where another person was also shot dead, a security source told AFP.
Another two people were wounded when the device exploded in Baqar, a neighborhood in western Tripoli, the source said, identifying the dead man as a Sunni Muslim Islamist.
After the blast, gun battles broke out between Baqar, a Sunni Muslim neighborhood, and Jabal Mohsen, an Alawite district. Four Sunnis were wounded, one of whom later died.
The army later intervened to restore calm.
Full report at:
http://www.saudigazette.com.sa/index.cfm?method=home.regcon&contentid=20130630171726
----------
Mursi: Egypt's divisive Islamist president
30 June 2013
Mohammed Mursi, an Islamist who pledged to be a "president for all Egyptians" at his inauguration, faces mass rallies demanding his departure on Sunday's first anniversary of his taking office.
Twelve months after he was feted by cheering crowds in Cairo's iconic Tahrir Square, Mursi's Egypt is deeply divided and rocked by deadly violence that has killed eight people this week alone.
The opposition Tamarod ("Rebellion") movement has urged Egyptians to take to the streets to demand that Mursi resign. It claims to have collected an unverified 22 million signatures calling for a snap presidential election.
Full report at:
http://english.alarabiya.net/en/perspective/profiles/2013/06/30/Mursi-Egypt-s-divisive-Islamist-president-.html
----------
Mideast
Palestinians downbeat over Mideast talks as Kerry hails 'real progress'
30 June 2013
A top Palestinian official said on Sunday that there had been no breakthrough in marathon U.S.-led efforts to revive direct peace talks but Washington's top diplomat said there had been "real progress."
Speaking shortly after U.S. Secretary of State John Kerry finished talks in Ramallah with Palestinian president Mahmud Abbas, his third meeting in as many days, chief negotiator Saeb Erakat said there was "still a gap" between the two sides.
U.S. Secretary of State John Kerry visited to make a last-minute push on Sunday to revive Middle East peace talks as Israeli media said that days of exhaustive shuttle diplomacy had failed to break the deadlock.
Kerry has spent 13 hours with Israeli Prime Minister Benjamin Netanyahu since Thursday, with the latest session between the two men and their aides lasting until nearly 4 a.m. (0100 GMT) at a hotel suite overlooking Jerusalem's Old City.
Full report at:
http://english.alarabiya.net/en/News/middle-east/2013/06/30/Kerry-in-last-minute-push-on-Mideast-peace-amid-deadlock.html
----------
Israel holds Gaza Palestinian who vanished in Egypt
30 June 2013
A Palestinian from the Gaza Strip who vanished while visiting Egypt this month is under arrest in Israel for alleged security offences, his family and his Israeli lawyer said on Sunday.
They said they did not know how Wael Abu Rida, 35, ended up in the Jewish state. The possibility he was seized from Egyptian Sinai territory could embarrass the Islamist-rooted government in Cairo at a time of major domestic unrest.
Abu Rida, who lives in the southern Gaza Strip, went to a town near the Egyptian capital two weeks ago to seek medical treatment for his son, according to his wife, Amani, who accompanied him there.
Full report at:
http://english.alarabiya.net/en/News/2013/06/30/Israel-holds-Gaza-Palestinian-who-vanished-in-Egypt.html
----------
Israel sweetens deal for 930 E. Jerusalem homes: report
30 June 2013
JERUSALEM — Israel is poised to approve incentives for buyers of nearly 1,000 new homes in annexed east Jerusalem despite a major US push to revive peace talks, reports said on Sunday.
The plan, which will offer prospective buyers a huge discount on 930 new homes to be built in Har Homa, will be discussed by Jerusalem municipality's finance committee on Monday, army radio and the Maariv newspaper reported.
The reports emerged as US Secretary of State John Kerry was wrapping up an intensive four days of shuttle diplomacy toing and froing between Israeli Prime Minister Benjamin Netanyahu and Palestinian president Mahmud Abbas in a bid to coax them back to direct negotiations.
If approved, the plan will lower the price of each new home by 100,000 shekels ($27,500 or 21,000 euros) in a move which will be funded by the housing ministry.
Full report at:
http://www.saudigazette.com.sa/index.cfm?method=home.regcon&contentid=20130630171800
----------
Israel milks Palestinians for magnetic cards
30 June 2013
RAMALLAH — A Palestinian research center on Saturday said that Israeli collects some $11 million annually from issuing magnetic cards to Palestinians.
The Applied Research Institute (ARIJ) said in a report that the magnetic cards are issued or renewed for some 100,000 Palestinian laborers and civilians through the Israeli District Civil Liaison (DCL).
ARIJ said that the Palestinian must pay 130 Israeli shekel (roughly $40), which includes a fee of 100 shekel – made through the purchase of Israeli "stamps" that are attached to the application – and a 30 shekel fee to an office that types the application form for applicants. Work permits are given to workers, and there are also permits for personal needs, including medical treatment and professional updates.
Full report at:
http://www.saudigazette.com.sa/index.cfm?method=home.regcon&contentid=20130630171735
----------
North America
Reformist Ahmadiyya Muslim followers seeks tolerance, peace in roots of Islam
June 30, 2013
Lancaster.com: It's a long road from India's peace-preaching 1800s villager, Mirza Ghulam Ahmad, to 9/11.
Reformist Ahmadiyya Muslim followers, gathering in Harrisburg this weekend for the fourth year in a row, say they want to get back to the tolerant roots of their religion.
"The word Islam means peace," said Dr. Mubashir Mumtaz, a Harrisburg heart surgeon publicizing the annual Ahmadiyya Muslim Community USA meeting. "Islam does not teach the destruction of community or society."
The conference has been held for 65 years.
This year's edition, which started Friday and ends Sunday at the Farm Show Complex & Expo Center, 2300 N. Cameron St., will feature ethnic food, prayer and talks about "Finding God in Youth," "Avoiding the Drug Culture" and "Muhammad, Messenger of Peace," among other topics.
The event is expected to draw about 10,000 Ahmadiyya Muslims from North America and abroad, and about 1,000 non-Muslims.
A visitor period is scheduled from 3:30-6:30 p.m. today, but Mumtaz said the public may come in any time.
Guests are asked to register by calling 800-949-4752 or emailing convention@muslimsforpeace.org.
http://www.themuslimtimes.org/2013/06/americas/sect-seeks-tolerance-peace-in-roots-of-islam
-----------
Egyptians 'must talk, not fight'
30 June 2013
US President Barack Obama has called on Egypt's government and opposition to engage each other in constructive dialogue and prevent violence spilling out across the region.
Bloodshed on Friday killed at least three people, including an American student, and mass rallies are planned for today aimed at unseating President Muhammed Mursi.
Obama said he was "looking at the situation with concern."
Hundreds have been wounded and at least eight killed in street fighting for over a week as political deadlock deepens. On Friday, a bomb killed a protester at a rally by the Suez Canal. Washington is pulling non-essential staff out of Egypt.
Full report at:
http://www.arabnews.com/news/456633
----------
WikiLeaks accused of manipulating Snowden
June 29, 2013
NSA whistleblower Edward Snowden's father Lonnie Snowden has reportedly said people at the WikiLeaks website have manipulated his son and he did not commit any treason. According to News 24, Snowden's father in his letter to US attorney general Eric Holder has acknowledged that his son
has broken the US law but did not commit any treason neither has he betrayed anyone.
He further said he hasn't spoken to his son since April but believes his son may voluntarily return to US if the Justice Department promises not to hold him prior to trial.
Snowden who leaked the classified information about US led surveillance programme had been in hiding in Hong Kong for a few weeks and has recently flown to Moscow in a bid to claim asylum in Ecuador.
Full report at:
http://www.hindustantimes.com/world-news/africa/WikiLeaks-accused-of-manipulating-Snowden/Article1-1084565.aspx
----------
Russia holds 'solution' for Snowden destination: Ecuador
(AFP) / 30 June 2013
Russia will decide the destination of fugitive US intelligence analyst Edward Snowden, who is currently holed up in Moscow, Ecuador President Rafael Correa said late Saturday.
"To process the asylum application, (Snowden) must be in Ecuadoran territory," the president said in an interview with the private Oromar channel.
"At this moment, the solution of Snowden's destination is in the hands of Russian authorities."
Snowden, who faces espionage charges in the US over his revelations about a vast US surveillance program, has been in Moscow's international airport since arriving from Hong Kong last Sunday.
Full report at:
http://www.khaleejtimes.com/kt-article-display-1.asp?xfile=/data/international/2013/June/international_June958.xml&section=international
----------
India
Hope Pakistan air space is opened for flights from Srinagar: J&K CM
Jun 29 2013
Srinagar: Citing close proximity of Jammu and Kashmir with the Central Asian countries, Chief Minister Omar Abdullah today expressed hope that the new government in Pakistan will allow international flights originating from Srinagar to fly over its air space.
"One hopes with a new dispensation in Pakistan, one hopes with encouraging voices emerging from new Prime Minister of Pakistan about normalising the relations to some extent between our two countries, perhaps this (use of airspace) is one aspect that can also be normalised," Omar said.
He was addressing a conference on 'Cooperation, Development, Peace and Security in Central Asia' at Kashmir University here.
Omar said the flight distance between Srinagar and some of the capital cities of Central Asian republics is shorter than the distance between Srinagar and some larger Indian cities.
Full report at:
http://www.indianexpress.com/news/hope-pakistan-air-space-is-opened-for-flights-from-srinagar-omar-abdullah/1135553/
----------
Taj Mahal ranked third among top landmarks in the world
PTI | Jun 30, 2013
NEW YORK: Travellers from across the globe have ranked India's Taj Mahal among the top three landmarks in the world, a leading travel website has announced.
According to TripAdvisor's 2013 Travellers Choice Attractions Awards, Taj Mahal was ranked third in the list of Top 25 landmarks.
The top two places were taken by Machu Picchu in Peru and Angkor Wat in Cambodia respectively.
Full report at:
http://timesofindia.indiatimes.com/india/Taj-Mahal-ranked-third-among-top-landmarks-in-the-world/articleshow/20842745.cms
----------
MHA sceptical of charges on IB officer in Ishrat case
June 30, 2013
The Ishrat Jahan fake encounter controversy heated up on Saturday with the home ministry (MHA) expressing its doubts about the CBI's case against Intelligence Bureau (IB) special director Rajender Kumar.
Based on its probe, the CBI wants to charge Kumar with conspiracy and murder along with more than a dozen Gujarat police officials. This has become a bone of contention between the CBI and IB, leading to the government's intervention.
The MHA came into the picture after the PMO asked it to look into the matter after the IB chief had complained about CBI's attempts to book Kumar.
Full report at:
http://www.hindustantimes.com/India-news/newdelhi/MHA-sceptical-of-charges-on-IB-officer-in-Ishrat-case/Article1-1084609.aspx
----------
Qazigund-Banihal rail link realises J&K residents' dreams
June 30, 2013
Mohammad Sultan's 30-year-old dream came to fruition, when Prime Minister Manmohan Singh flagged off the train between this highway town in Jammu region to Qazigund in Kashmir.
Mr. Sultan, 80, whose wrinkled face bears testimony to his hard life, was among hundreds of eager residents of Banihal who had assembled at the railway station way before the scheduled time for the first passenger train to chug towards Qazigund.
"The first time I heard that there is a possibility of a train coming to our town was back in 1983. I thought, if the tracks could be extended from Jammu to Udhampur, why not up to Banihal," Mr. Sultan told PTI during his journey to Qazigund.
Full report at:
http://www.thehindu.com/news/national/other-states/qazigundbanihal-rail-link-realises-jk-residents-dreams/article4866233.ece
----------
JKLF Chairman, 4 others taken into preventive custody
June 30, 2013
JKLF Chairman Mohammad Yasin Malik and four other separatist leaders of the outfit were placed under preventive custody on Sunday when they were heading towards Sumbal area where two youths were allegedly killed in army firing.
"Mr. Malik along with Showkat Ahmad Bakhshi, Bashir Ahmad Kashmiri, Shahid Makaya and Javed Ahmad Mir were detained at Sumbal," a spokesman of Jammu Kashmir Liberation Front said.
Full report at:
http://www.thehindu.com/news/national/other-states/yasin-malik-4-others-taken-into-preventive-custody/article4866084.ece
----------
Muslim outfits against Panchayat poll in West Bengal during Ramzan
Jun 30 2013
Kolkata: Several Muslim organisations in the city have decided to write to the authorities to reconsider the decision of holding the panchayat polls in the state during Ramzan.
In a meeting, organised by the Jamaat-e-Islami Hind today, about 15 organisations expressed concern over the timing of the upcoming polls. "We welcome the Supreme Court's intervention to make the polls possible, but it is unfortunate that the month of the Ramzan may have been overlooked," said Md Nooruddin, state president, Jamaat-e-Islami Hind.
Full report at:
http://www.indianexpress.com/news/muslim-outfits-against-poll-during-ramzan/1135755/
----------
URL: https://newageislam.com/islamic-world-news/new-age-islam-news-bureau/21-soldiers,-75-extremists-killed-during-the-34-day-operation-in-north-west-pakistan/d/12363