New Age Islam News Bureau
23 May 2018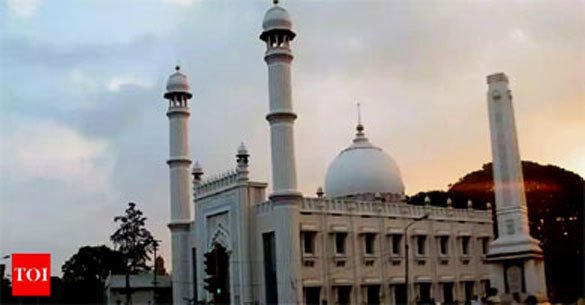 200-year-old 'military' mosque offers 'green' iftar | India News - Times of India
------
• 200-Year-Old Thiruvananthapuram 'Military' Mosque Offers 'Green' Iftar to Secular Gathering
• Hijacking Of Islam by ISIS Mirrors Efforts of Rebel Group in Mid-600s, Majlis Hears
• ISIS Extracting Talc worth Millions of Dollars from Nangarhar Mines: Report
• Indonesians Debate on Who Can Preach at Mosques
• Palestine Asks ICC to Open Probe into Israel Crimes
• Canada: Toronto Mayor Condemns Islamophobic Hate Graffiti at Muslim School
India
• 200-Year-Old Thiruvananthapuram 'Military' Mosque Offers 'Green' Iftar to Secular Gathering
• Delhi Minorities Panel Issues Notice to JNU on 'Islamic Terror' Course
• Ramzan Ceasefire Successful So Far, Law and Order Better, Says J&K DGP
• SCO meet: Terror single most significant threat to peace, says India
• Jammu & Kashmir Congress slams Pakistan shelling on civilian areas
• India to attend anti-terror conference in Islamabad
--------
Arab World
• Hijacking Of Islam by ISIS Mirrors Efforts of Rebel Group in Mid-600s, Majlis Hears
• ISIS Attack In Syria Desert Kills 26 Pro-Regime Forces
• US-Backed Militias Preparing for Tough Battle with Turkish Army in Northern Syria
• Iraqi Forces Detain ISIL's Execution Officer
• Popular Uprising against US-Backed Militants Reported again in Northeastern Syria
• Syrian police deploy forces in southern Damascus after Daesh rout
--------
South Asia
• ISIS Extracting Talc worth Millions of Dollars from Nangarhar Mines: Report
• British Mps Want Myanmar Govt. Referred To ICC
• 32 Killed In Afghan Blast, Clashes
• Minibus bomb causes heavy casualties in Afghanistan's Kandahar
• Bangladesh Begins Distributing Cooking Fuel for Rohingya Refugees
• Bangladesh launches deadly 'Philippine-style' war on drugs
• More Taliban positions pounded in latest raids after last week's attack in Farah
--------
Southeast Asia
• Indonesians Debate on Who Can Preach at Mosques
• Report: China Forces Muslim Students to Sign Pledge Not to Fast During Ramadan
• Malaysia's Anti-Graft Agency Raids Muslim Pilgrim Fund Chief's Home and Office, Seizes Cash and Documents
• Indonesian Islamic State Sympathizer Receives 4-Year Prison Sentence
--------
Mideast
• Palestine Asks ICC to Open Probe into Israel Crimes
• UK To Use US Embassy in Jerusalem Al-Quds Despite Condemning Move: Report
• Israeli Security Cabinet convening in underground bunker
• Yemeni army liberates govt compound in Houthi militia stronghold
• Houthi prisoner confesses: We received cultural courses, including Iranian films
• Israeli tanks target Hamas observation post in southern Gaza Strip
• Israel claims it has used US-made F-35 jets 'in attack mode' for first time
--------
North America
• Canada: Toronto Mayor Condemns Islamophobic Hate Graffiti at Muslim School
• US Says It Blacklists Iranians For Links To Missile Program
• US Designates Group Led by Polisario Member a Terrorist Organization
• US Treasury issues fresh sanctions targeting five Iranians linked to IRGC
• US asks Congress to review sale of guided bombs to Saudi, UAE: Report
--------
Pakistan
• Pakistan's First Sikh Police Officer Challenge ETPB and PSGPC
• Pakistani Parliament Looks to Merge Tribal Region
• Mumbai terror attack mastermindHafiz Saeed seeks PML-F and MML alliance in Sindh for upcoming polls
• FIA relying on Nawaz's 2015 statement in Asghar Khan case
• Qatari prince was ready, JIT didn't bother recording his statement: Nawaz
• Court summons Auqaf, district admin in plea seeking cremation facility for Sikhs of KP
--------
Africa
• Al Shabaab Suicide Bomber Hits Somalia Military Convoy: Police
• 700 Boko Haram Fighters Ready to Surrender – Nigerian Govt
• Horror As Muezzin And Worshiper Found Dead In Algeria Mosque
• Burkina forces kill 3 suspected terrorists in early morning raid
• Car bomb kills two soldiers in eastern Libya
• MJC has stranglehold over SA Muslims who blindly follow them
• Nigerian Muslim body calls for sanctions on Israel
--------
Europe
• How Can Leaving JCPOA Make Region Safer? EU To Pompeo
• 'No alternative' to Iran nuclear deal, EU foreign policy chief tells US
• Amosun, Adebule, UK Imam for Adegbite Quran Competition
Compiled by New Age Islam News Bureau
URL: https://www.newageislam.com/islamic-world-news/200-year-old-thiruvananthapuram-military/d/115334
--------
200-Year-Old Thiruvananthapuram 'Military' Mosque Offers 'Green' Iftar to Secular Gathering
May 22, 2018
THIRUVANANTHAPURAM: When this mosque was constructed for the soldiers of the erstwhile princely state of Travancore over two centuries ago, it was a tiny thatched roof structure sans domes and minarets.
Sharing border with a Hindu shrine, it offered Muslim members of the royal army a place to offer their prayers and 'eidgah' near their cantonment in the capital city.
When it had metamorphosed into the present magnificent structure over decades, the 'Juma Masjid' at Palayam here now woos even non-Muslims with its unique iftar feast and secular gatherings during the month of Ramzan.
Cutting across religious barriers, local people including officials of the nearby state Secretariat, drivers, traders, travellers and passers by, throng the centuries-old mosque during evenings of the holy month.
Complete adherence to green protocol and distribution of "oushadha kanji, a unique medicinal porridge prepared and served in an eco-friendly manner, make the iftar of this "pattalappalli" unique.
The Palayam Juma Masjid was once known as 'pattalappalli' (military mosque) in local parlance as it was made for the Travancore Army.
According to the mosque's management, over 900-1200 people including non-muslims relish this delicious and nutritious 'kanji' every day of the holy month.
Located in the heart of the city, the masjid also offers special facility for women for 'salah' (prayers) and breaking the fast in its premises.
Quoting records, Moulavi VP Suhaib, Palayam imam, said the masjid was constructed in 1813 and the practice of social iftar could be dated back at least to a century.
"The present masjid was just a thatched-roof building when it was constructed in 1813 AD.It was reconstructed and developed into the present structure in 1960s," he told PTI.
For the past several decades, the Palayam Masjid has been a landmark pilgrim centre of Muslim fraternity here and a perfect example of secularism as it has a Hindu shrine on one side and a Christian church on the other side of the road.
The imam said the masjid opens its portals cutting across religion to taste it's delicious'nombukanji' during Ramadan month.
"We serve at least 1,200 plates of kanji every day. Besides rice and ghee, over 20 ingredients including dates, pepper, cardamom, cinnamon, cloves, turmeric, fenugreek, coriander, garlic, fennel, cumin, pineapple, tomato and so on make this delicacy a healthy diet," he said.
A seasoned cook prepares the kanji in wood fire kilns in eco-friendly utensils in the mosque premises.
Later, it is served in steel bowls and plates at the attached community hall in the evening.
After breaking the fast using dates and fruits followed by a customary namaz, the devotees are served with the medicinal kanji either with tappiyoca or green gram.
"We adhere to the green protocol completely during iftar. We don't use any kind of plastic articles while preparing and serving the kanji. We avoid plastic completely and use steel utensils only," he noted.
The iftar kanji won't be given even to those who come with plastic carry bags or utensils to collect it to take home, he added.
According to historians, the Travancore royals, who ruled the princely state of Travancore (present Kerala),had aided in the construction of the mosque for their army men.
The masjid was built for the Muslim members of the army after a temple, dedicated to Lord Ganapathy, was built nearby for Hindu soldiers.
Palayam, where the mosque and the temple are located adjacent to each other, had got it's name due to the presence of the camp of royal army there.
'Palayam' means army cantonment in local parlance.
The juma masjid also had the 'kabar' (grave) of eminent Indian-English writer Kamala Das who had embraced Islam and accepted the name Surayyiah in the later years of her life.
She, who died in 2009, was buried at the shady 'khabaristan', the burial ground, behind the masjid.
https://timesofindia.indiatimes.com/india/200-year-old-military-mosque-offers-green-iftar/articleshow/64270949.cms
--------
Hijacking Of Islam by ISIS Mirrors Efforts of Rebel Group in Mid-600s, Majlis Hears
Haneen Dajani
May 22, 2018
Radicals' attempts to hijack Islam today follows the same pattern as one that was weathered by the Muslim world more than 1,000 years ago, the Crown Prince Court heard.
On Monday, at the inaugural lecture of the annual Crown Prince Court Ramadan series, Omar Al Darei, director of the fatwa department at the UAE Authority of Islamic Affairs & Endowments, said lessons learnt from how the Khawarij were dealt with in the mid-600s could be used again today to counter ISIS' tactics.
It is said that Prophet Mohammed warned his followers that a rebel group would arise after his death. He was referring to the Khawarij, a group of Muslims who deviated from the leadership of the Caliph Ali bin Abi Taleb, Prophet Mohammed's son-in-law and cousin. It was the first sect to split from mainstream Islamic thought.
The Khawarij practised an extreme version of Islam and adopted a radical approach to takfir, the Arabic word for declaring self-described Muslims as non-Muslims.
Their overzealous approach is comparable to that of Isis, said Mr Al Darei.
"The hijacking of religion [by radical groups] is not unique to Islam. Every religion has faced this but Islam has been subjected to it many times," he told the majlis, which was attended by Sheikh Mohammed bin Zayed, Crown Prince of Abu Dhabi and Deputy Supreme Commander of the Armed Forces.
He said Isis was using similar tactics to Al Khawarij breaking down young peoples' sense of nationalism and encouraging them to judge others based on their newly adopted ideologies.
Such groups influence young people to turn against their regimes under the concept of 'hakimiya' — meaning that only God may rule over and judge people.
The Khawarij used this concept to revolt against the authority of the Caliph Ali after he agreed to arbitration with his rival over the succession to the caliphate. They said that since only God is allowed to pass judgement and make decisions, people should not be involved in arbitration and the matter needed to be settled by God, who also determines the outcomes of war.
A similar concept is used today by ISIS and other extremist groups who believe that modern state regimes are not ruling by the word of God and therefore are infidels who should be fought and brought down.
Throughout history, radicals have also used the power of the media to attract followers.
"They used to promote their ideologies through poetry and now they have countless of channels and social media accounts to spread their messages," said Mr Darei.
"Hijackers also used religion as a sword against anything new and developed … they have placed suffocating restrictions against certain categories of people — especially women."
He said they have deprived women of work and even education to minimise their role in directing their children against the destructive path of radicals.
"Women are the most powerful tool to counter attack terrorists, so they decided to trap them," he said.
"So what strategy can we follow to take back our religion? If we don't save our religion, we will see more people killed and more refugees."
The method, he said, is to counter attack terrorists' messages by clarifying religious ideologies.
He cited Awqaf's work as an example of an authority working with counter terrorism organisations to produce media publications that explain Islam's tolerance.
They have been observing radical content and counter-attacking it, he said.
Similarly, he said the peace forum and Muslim Council of Elders are working on the ground to resolve crises and find ways to spread a more tolerant Islam.
https://www.thenational.ae/uae/government/hijacking-of-islam-by-isis-mirrors-efforts-of-rebel-group-in-mid-600s-majlis-hears-1.732877
--------
ISIS extracting Talc worth millions of Dollars from Nangarhar Mines: Report
May 22 2018
The Global Witness organization has reported that the Islamic State of Iraq and Syria Khurasan (ISIS-K) is extracting Talc from the deposits/mines in eastern Nangarhar province of Afghanistan.
According to a new report by the Global Witness, citing unnamed sources, the group has brought in foreign engineers from Pakistan and Saudi Arabia and installed heavy machinery at the mining sites in Nangarhar province.
The sources have also added that phones are banned and locals are searched and monitored by the groups near the mines.
The report also adds that the majority of talc extracted from Nangarhar mines are smuggled across to Pakistan at the Torkham border where it can eventually be shipped out to other markets.
Nick Donovan, a campaign director at Global Witness, has said "The vast majority of minerals from insurgent-controlled mines in Nangarhar openly goes through government-held territory on the main roads to Pakistan."
"It is all but certain that individuals and companies in China, Europe and the U.S. are effectively, if inadvertently, funding insurgent groups," Donovan added.
Qadeer Khan Mutfi, a spokesman for the ministry of mines and petroleum of Afghanistan quoted in the report said the government has shut down at least a hundred illegal mines in the past year.
https://www.khaama.com/isis-extracting-talc-worth-millions-of-dollars-from-nangarhar-mines-report-05215/
--------
Indonesians Debate on Who Can Preach at Mosques
23 May 2018
Jakarta, GIVnews.com – During his visit to Indonesia, Saudi King Salman bin Abdulaziz al-Saud was reportedly surprised about the number of mosques in the country. "He had earlier thought that there are only 8,000 mosques (in Indonesia). In fact, there are 800, 000," Vice President Jusuf Kalla reportedly told journalists about his discussion with King Salman in Jakarta in March of last year.
But, Jusuf Kalla, who is also chairman of the Indonesian Mosque Council (DMI), admitted to the Saudi monarch that mosques across the archipelago were generally not as big as those in Saudi Arabia and other Middle Eastern countries.
On Tuesday (22/5), a few days after the Ramadhan fasting month started, the Indonesian Vice President suggested that the government put many more names of Muslim khotib (preachers) into the list issued last week by the Ministry of Religious Affairs. The list reportedly contains names of 200 'moderate' Islamic religious preachers eligible to deliver sermon during the Friday prayers and major Islamic holidays. But, given the large number of mosques in the country, Jusuf Kalla suggested that another 300,000 of such preachers be added on top of the current list. This is according to a report by Merdeka.com.
It is public knowledge that the issuance of such list containing 200 preachers had connection with rising public worries about the allegedly wide-spread radicalism and terrorism in Indonesia. In fact, there had been calls over the years for 'certifying' preachers in order to prevent those who incline to use their sermon in instilling radicalism and intolerance.
While pros and cons remain on the government's 'meddling' the people's right to choose their preachers, increasingly more people would actually have the opinion that preachers could easily use Friday prayer sessions for political purposes or even instill radicalism.
Top Muslim leaders have openly aired in the past days their support for the certification of preachers. "(That move) is necessary for maintaining order. How come one who can only curse becomes a mubaligh (preacher)," Maruf Amin, chairman of the Indonesian Ulema Council (MUI) said on Tuesday (22/5) as reported by Wartaekonomic.com. He said MUI would hold dialogs with Islamic mass organizations and preachers on ways of creating quality preachers.
Meanwhile, KH Said Aqil Siroj, chairman of Nadhlatul Ulama (NU), Indonesia's largest Islamic organization, disagreed with the method applied by the Ministry of Religious Affairs. He advised the government to list the 'not good' preachers instead of the qualified ones. Said Aqil argued that unqualified preachers is relatively very small in number and reportedly mentioned Habib Rizieq Shihab, the firebrand leader of hardline organization carrying the name Islam Defenders Front (FPI) currently in exile after the police declared him a suspect in several criminal cases.
Amidst strong reactions from FPI leaders and others from opposition parties toward Said Aqil's comments, Ministry of Religious Affairs officials reportedly said they took serious notice of Said Aqil's suggestion.
http://www.globalindonesianvoices.com/32845/indonesians-debate-on-who-can-preach-at-mosques/
--------
Palestine asks ICC to open probe into Israel crimes
May 23, 2018
THE HAGUE - Palestinian Authority Foreign Minister Riyad al-Malki submitted a referral on Tuesday to the International Criminal Court (ICC) asking prosecutors to immediately open a formal investigation into accusations of Israeli crimes in the occupied Palestinian territories.
"The State of Palestine took an important and historic step towards justice for the Palestinian people who continue to suffer from ongoing, widespread and systematic crimes," Malki told press after meeting with ICC prosecutor Fatou Bensouda.
He said the referral addressed a myriad of issues including "settlement expansion, land grabs, illegal exploitation of natural resources, as well as the brutal and calculated targeting of unarmed protesters, particularly in the Gaza Strip".
For him, the evidence of Israeli crimes are "ample and insurmountable". The investigation should cover the period from mid-2014 to the present, including the deaths in last week's conflicts between Palestinian protesters and Israeli forces, he added.
"This referral is Palestine's test to the international mechanism of accountability and respect for international law," the minister said. In 2014, Palestine signed the Rome Statute, the founding treaty of the ICC. In January 2015, the Hague-based court decided to launch a preliminary inquiry into Palestine's request of an investigation into crimes on Palestinian territory. A formal investigation will be opened after the preliminary inquiry concludes.
Palestine's submitting of the referral came just days after more than 60 Palestinians were killed by Israeli forces as they protested Washington's decision to move its embassy from Tel Aviv to the disputed city of Jerusalem. Israel said Palestine's request was "legally invalid" as "the ICC lacks jurisdiction over the Israeli-Palestinian issue, since Israel is not a member of the Court and because the Palestinian Authority is not a state".
Israel targets Hamas position
An Israeli tank fired at a Hamas position Tuesday after Gazans infiltrated the Jewish state and torched a military post before returning to the Palestinian enclave, the army said. "A number of terrorists infiltrated into Israel and set a military post on fire. In response, an (Israeli) tank targeted an observation post belonging to the Hamas terror organisation in the southern Gaza Strip," the army said in a statement.
The Israeli position was unmanned at the time, the army said, which could not confirm reports it was a sniper tent. There were no reports of casualties from Gaza. In a separate incident, a drone from northern Gaza landed in Israel overnight and was being "examined," the army said.
No timeframe for
Abbas discharge from hospital
Palestinian president Mahmud Abbas remained in hospital for a third day Tuesday with pneumonia, with a hospital spokeswoman saying there was as yet no timeframe for his discharge.
"He is doing fine but still needs to take care," the spokeswoman for the Istishari Arab Hospital near Ramallah in the occupied West Bank told AFP.
"Until now there is no news about a timeframe for when he might leave."
Pictures and video of 83-year-old Abbas walking around the wards and reading a newspaper were published late Monday, in an apparent attempt to calm rumours that his condition was more serious than reported. Ahmad Tibi, an Israeli Arab member of parliament, said on Twitter he had visited Abbas late Monday.
"He suffers from pneumonia and is treated with antibiotics," said Tibi, who is also a doctor, adding he was expected to spend "several more days" in hospital.
Abbas was admitted to hospital Sunday with a high fever. Last week, he underwent what was called minor ear surgery.
His health is the subject of regular speculation, with no clear successor identified.
In February, he underwent what was then described as routine medical tests in the United States.
https://nation.com.pk/23-May-2018/palestine-asks-icc-to-open-probe-into-israel-crimes
--------
Canada: Toronto mayor condemns Islamophobic hate graffiti at Muslim school
23rd May 2018
TRENTON, Canada (AA): Two elected officials shocked at hate graffiti sprayed on a Toronto-area Muslim school wall stepped forward Tuesday to help clean off the offensive remarks.
"The first thing I thought is 'I can't let the kids see this tomorrow morning.' It's disgusting. It's not who we are," said Glenn De Baeremaeker, councillor for Scarborough Centre, who was out riding his bike when he noticed the red and black spray-painted messages on the exterior walls of Wali ul Asr school, East Campus, on Torrance Road, near Eglinton Avenue East and McCowan Road, Scarborough.
"I can't imagine a 5-year-old or 10-year-old innocent child coming to school and parents having to walk past this type of hateful, racist graffiti," he said.
Graffiti spray-painted in black along the brick wall read "expletive U MUSLIMS". Other graffiti which crossed out words in red spray paint on a school sign and depicted a middle finger.
Police are investigating after the expletive-filled anti-Muslim graffiti was spray-painted on the brick wall at Wali ul Asr school, which has several campuses in Ontario ranging from kindergarten to Grade 12.
Toronto Mayor John Tory was quick to condemn the act.
"This hatred is unacceptable at any time, but it is disturbing someone would choose to do this during Ramadan," Tory said on Twitter. He also thanked the pair of councilors who helped remove the graffiti before students arrived at school.
The anti-Muslim graffiti on Wali ul Asr is the kind of hateful act & language that has absolutely no place in Toronto. This hatred is unacceptable at any time but it is disturbing someone would choose to do this during Ramadan.
11:24 AM – May 22, 2018
One of those councilors, Jim Karygiannis, said he spoke to the school principal and was told this was not the first time an offense like this has been committed.
"I was shocked at that," Karygiannis said.
The other councilor, Glenn De Baeremaeker, said youngsters should not have to endure this kind of hatred.
"This has happened and one idiot has said some hurtful, horrible racist things, but we want the world to know and the local Muslim parents to know that we stand by them as neighbors and as friends," he said.
A school spokesperson said in a statement that the school appreciated the support and dismissed the act as that of a misguided person.
"In these holy days of Ramadan, we thank Allah for being part of a respectful and tolerant society; the actions of a misguided individual does not change the spirit of co-existence that is an integral part of the fabric of the Canadian Society," the school said.
The defacement took place sometime over the long weekend – Monday was a holiday in Canada.
http://muslimnews.co.uk/news/islamophobia/canada-toronto-mayor-condemns-islamophobic-hate-graffiti-muslim-school/
--------
India
Delhi Minorities panel issues notice to JNU on 'Islamic Terror' course
MAY 23, 2018
The Delhi Minorities Commission (DMC) chairman Zafarul-Islam Khan on Tuesday issued a notice to the Registrar of Jawaharlal Nehru University (JNU) asking him if there was any concept paper or proposal to include a course on "Islamic Terror" at the proposed Centre for National Security Studies at the university.
The DMC has also sought information about the areas to be covered under this subject.
It also sent queries about the sources, methodology, reference books and asked about the main experts expected to take part in the implementation, research and teaching of this subject.
The Commission has asked for a full list of the members of the university's academic council marking those who were present during the meeting where the proposal to start such a course was adopted. The panel also, questioned if the agenda item was put to vote and if so, what was the result. The administration has been asked to file its reply to the questions by June 5.
Jamiat Ulama-i-Hind general secretary Maulana Mahmood Madani has also written to the JNU V-C condemning the decision to introduce 'Islamic Terrorism' as a subject. Mr Madani said the decision was ill-conceived and would hurt the sentiments of not only Muslims but all those who believe in respecting all the religions.
"Labelling any religion with such epithet as terrorism is the ultimate insult and as such it is most abominable and condemnable," Mr Madani said.
Mr. Madani urged the academic council in JNU to reconsider the decision specifically linking Islam with terrorism and suspend this move for the wider interest and threatened legal action if JNU administration failed to do so.
The JNU Academic Council had allowed the tabling the proposal to set up a Centre for National Security Studies under which "Islamic terrorism" would be a key area of focus according to a report presented in the recent AC meeting by a committee set up to look into the setting up the Special Centre.
http://www.thehindu.com/news/cities/Delhi/delhi-minorities-panel-issues-notice-to-jnu-on-islamic-terror-course/article23963089.ece
--------
Ramzan ceasefire successful so far, law and order better, says J&K DGP
by Bashaarat Masood
May 23, 2018
As the ceasefire announced on the eve of Ramzan completed a week in Jammu and Kashmir, the J&K Director General of Police said that non-initiation of combat operations has "helped" improve the law and order situation in the Valley. The J&K police chief also said the ceasefire has been successful so far and termed it a confidence building measure for the families "who want their boys to return".
"The Ramzan ceasefire has been successful thus far. The initiative of Hon'ble PM has helped in general improvement in law & order. The situation especially in south Kashmir has eased & is serving as confidence building measure for families who want their boys to return back home," J&K DGP S P Vaid tweeted.
Citing an assessment by security agencies, an official from the Union Ministry of Home Affairs also said that only five incidents of stone-pelting were reported in the state in the first five days of suspension of anti-militancy operations during May 17-21. This was registered against the 92 incidents of stone-pelting as seen in the first five days of April when anti-militancy operations were in full swing, the official said.
On May 16, the Centre had announced that anti-militancy operations would be stopped in the state for the month of Ramzan. "The Centre asks security forces not to launch operations in Jammu and Kashmir during the holy month of Ramzan. Decision taken to help the peace loving Muslims observe Ramzan in a peaceful environment," a Home Ministry handout read.
Full report at:
http://indianexpress.com/article/india/ramzan-ceasefire-successful-so-far-law-and-order-better-says-jk-dgp-5187481/
--------
SCO meet: Terror single most significant threat to peace, says India
by Shubhajit Roy
May 23, 2018
Even as Beijing continues to block India's efforts to list Jaish-e-Mohammad chief Maulana Masood Azhar as a global terrorist at the UN Security Council at Pakistan's behest, India, Pakistan and China are coming together to fight terrorism under the rubric of Shanghai Cooperation Organisation (SCO).
Deputy National Security Advisor Rajinder Khanna is in Beijing for an NSA-level meeting of the SCO. This was the first such meeting since India became a full member of the SCO last year. Khanna went to Beijing because NSA Ajit Doval was accompanying Prime Minister Narendra Modi for the informal summit in Sochi. This will be followed by India's participation at the meeting of the SCO counter-terrorism body, Regional Anti-Terrorist Structure (RATS), in Islamabad from May 23 to 25.
This cooperation assumes significance as China has been blocking initiatives by India as well as US, UK and France to list Azhar as global terrorist at UN Security Council. New Delhi has maintained that Azhar not being listed as global terrorist when JeM has been designated a terrorist outfit defies logic.
Sources said that at the meeting in Beijing, Khanna underlined that terrorism is the "single most significant threat" to peace and stability and reiterated Delhi's "strong commitment" to combat this menace in all its forms. He stressed that there can be no justification for acts of terror on any grounds whatsoever.
The meeting attended by Khanna, who is Secretary of National Security Council Secretariat, was chaired by State Councillor and Minister of Public Security Zhao Kezhi. The Indian embassy in Beijing said in a statement that at the meeting, views were exchanged on ways to "strengthen the SCO cooperation in the fight against terrorism, drug trafficking and transnational organized crime".
"They discussed the security situation in Afghanistan as well as other topical issues of regional and international importance. They also reviewed the preparations for the forthcoming SCO Summit in Qingdao on 9-10 June and the signing of outcome documents in the field of security," it said.
This assumes significance in the wake of India and China agreeing to work on a joint economic project in Afghanistan, as decided during the informal summit in Wuhan between PM Modi and Chinese President Xi Jinping.
Full report at:
http://indianexpress.com/article/india/sco-meet-terror-single-most-significant-threat-to-peace-says-india-5187421/
--------
Jammu & Kashmir Congress slams Pakistan shelling on civilian areas
May 22, 2018
The Jammu and Kashmir unit of the Congress on Tuesday condemned Pakistan for heavy shelling along the International Border and said targeting civilians is the "worst kind of violation" of international norms.
Seven persons, including an infant, have been killed and several others injured in Pakistani shelling since May 15. On Tuesday, five people, including a 70-year-old woman, were injured by mortar shells fired by Pakistani Rangers on forward posts and villages near the International Border in Jammu region.
"The unabated Pakistani shelling and targeting of civilian population along the international border is the worst kind of violation of international norms," Jammu and Kashmir Pradesh Congress Committee (JKPCC) president G A Mir said. He urged the state government to provide necessary assistance to the affected families.
National Conference senior state vice-president Surjeet Singh Slathia visited the shelling-hit villages in Samba district. He said the "forward areas are presenting a grim picture of gloom and destruction with people running for safety." Expressing grave concern over the threat faced by border residents, Slathia sought immediate measures to instill a sense of security in them and arrangement of shelters.
Full report at:
http://indianexpress.com/article/india/jammu-kashmir-congress-slams-pakistan-shelling-on-civilian-areas-5187089/
--------
India to attend anti-terror conference in Islamabad
Omer Farooq Khan
May 23, 2018
ISLAMABAD: Despite strained relations, an Indian delegation will participate in the anti-terrorism conference in Pakistan starting Wednesday under the banner of the Shanghai Cooperation Organisation (SCO).
The three-day SCO-Regional Anti-Terrorist Structure (SCO-RATS) legal experts meeting will be held in Islamabad.
Observers believe the recent admission of former Pakistan Prime Minister Nawaz Sharif regarding Islamabad's involvement in the 26/11 Mumbai terror attacks provides Indian officials a good opportunity to use the SCO forum to highlight its serious concerns about cross-border terrorism and its consequences for the region.
The presence of the Indian delegation in Islamabad, experts expect, could also pave the way for easing frosty relations. Another significant development will take place in September when the two countries will participate in joint military drills involving SCO countries in Russia for the first time.
"This is the first-ever SCO meeting being held in Pakistan since the country became a member of the SCO in June 2017," read a statement issued by the Pakistan foreign office.
"Legal experts from the eight member states — India , China, Kazakhstan, Kyrgyzstan, Russia, Tajikistan, Uzbekistan and Pakistan — as well as representatives of the SCO-RATS executive committee will participate in the meeting," it added.
The legal experts, according to the statement, will discuss terrorist threats being faced by the region and ways and means to enhance counter-terrorism cooperation between SCO member states.
Full report at:
https://timesofindia.indiatimes.com/world/pakistan/india-to-attend-anti-terror-conference-in-islamabad/articleshow/64280617.cms
--------
Arab World
ISIS attack in Syria desert kills 26 pro-regime forces
22 May 2018
More than two dozen pro-government forces based in Syria's desert died in a surprise ISIS attack Tuesday, a day after the extremists' ouster from the outskirts of Damascus, a monitor said.
"At least 26 regime soldiers and allied forces were killed in an ISIS attack at dawn today, against one of their posts in the Syrian Badiya," said the Syrian Observatory for Human Rights.
Among them were Iranian militiamen, said the Britain-based monitor.
The Badiya is a vast desert region stretching from central Syria to the eastern border with Iraq, where ISIS still holds small pockets.
Observatory chief Rami Abdel Rahman said the attack hit a small base east of Palmyra, the famed ancient city that ISIS has overrun twice in Syria's war.
"It began with a car bomb targeting regime forces that set off clashes that are still ongoing," he said.
Five ISIS fighters were also killed.
"ISIS fighters launched their attack from a pocket they control in the Badiya, and which was the destination for ISIS fighters evacuated from southern Damascus on Sunday and Monday," Abdel Rahman added.
Syria's government on Monday seized a southern pocket of the capital from ISIS, announcing that the regime was back in full control of Damascus and its outskirts.
The Observatory, as well as a military source close to the regime, said the capture came after ISIS fighters were bussed out of the zone to desert territory.
https://english.alarabiya.net/en/News/middle-east/2018/05/22/ISIS-attack-in-Syria-desert-kills-26-pro-regime-forces.html
--------
US-Backed Militias Preparing for Tough Battle with Turkish Army in Northern Syria
May 22, 2018
The SDF has long been exercising forced recruitment in Raqqa, Manbij, Hasaka and Eastern Deir Ezzur and the move has led to popular protests.
The SDF has arrested a number of demonstrators who protested the US-backed militias' forced recruiting in Raqqa, Manbij and Hasaka.
In the meantime, analysts believe that the SDF prefers to recruit Arab youths and train them to use them later in battle with the Ankara forces.
Meanwhile, a US delegation has recently declared the American forces' support for the SDF in a meeting with the allied militias in the town of Manbij.
Now local sources and analysts say that they believe the SDF is almost through with the plan and its preparing to launch a major assault against the Turkish army in Northern Syria.
In a relevant development on Monday, civilians in Manbij went on a general strike and closed shops and trade centers to oppose the SDF's forced recruitment of young men in the region.
The SDF further stormed the civilians and arrested a number of them that had joined the sit-in.
The US-backed militias later broke the locks of shops and commercial centers.
Full report at:
http://en.farsnews.com/newstext.aspx?nn=13970301000939
--------
Iraqi Forces Detain ISIL's Execution Officer
May 22, 2018
Al-Sumeriyeh news quoted a well-informed source as reporting that the security forces have captured Abu Wahab Araghi in a residential unit in al-Zab region in al-Huweija along with four of his comrades.
Abu Wahab was the ISIL man in charge of executions, al-Sumeriyeh said, adding that Abu Wahab was the mastermind behind several assassinations and kidnapping operations in al-Huweija.
The news website further said that the security forces discovered a series of documents in Abu Wahab's hideout proving that he had new plans to attack certain locations in the region.
In a similar development on Wednesday, the security forces, tipped-off by the country's popular forces of Hashd al-Sha'abi, staged an ambush on a militant hideout in the village of Karhakazan, and killed the terrorists.
The slain terrorists were later identified as Adnan Ahmed Hassan al-Sour nom de guerre Abu Rizwan, who was a senior militant commander in the Riyadh district Southwest of Kirkuk, Shaker Shallal Ousebi, commonly known as Abu Haifa, who was responsible for ISIL's medical affairs, Abu Talha, Abu Haitham and Hassan Ali Thalaj nom de guerre Abu Dhar.
Abu Rizwan was apparently one of the main organizers of ISIL's surprise attack on Hashd al-Sha'abi forces in Sa'adounia village, Western Huweija, on February 18, when 21 voluntary fighters were killed.
Full report at:
http://en.farsnews.com/newstext.aspx?nn=13970301000858
--------
Popular Uprising against US-Backed Militants Reported again in Northeastern Syria
May 22, 2018
The SDF embarked on arresting fifty young men in the villages of al-Karama, Hara Balasem and Hamra Boweita in Eastern Raqqa and in the town of Ein Issa in Northern Raqqa under a recruitment plan.
The SDF move angered villagers in al-Karama that took to the village's main street and demonstrated against the Kurdish militias.
The Kurdish militias have been forcing locals to join the SDF via vast arrest plans in their territories.
In a relevant development on Monday, the US-backed militias continued blackmailing people in Western Raqqa as differences between the locals and Washington-backed gunmen widened.
The SDF arrested a number of civilians in Raqqa province to further ask a hefty amount of money for their release.
Full report at:
http://en.farsnews.com/newstext.aspx?nn=13970301000291
--------
Syrian police deploy forces in southern Damascus after Daesh rout
May 22, 2018
Syrian police forces have been deployed across neighborhoods south of the capital Damascus, a day after government troops and allied fighters from popular defense group purged the districts from members of the Daesh Takfiri terrorist group.
Syria's official news agency SANA reported that units of the Internal Security Forces entered al-Hajar al-Aswad district, located just 4 kilometers (2.4 miles) south of the center of Damascus, on Tuesday morning, and raised the national Syrian flag over a number of buildings there.
Bomb disposal units then launched an operation to clear the area of hidden explosive devices and ordnance left behind by Daesh militants.
Major General Issam Shehadeh al-Hallaj, the chief police commander in the region, said security forces have started to carry out their national duties in preserving security in the liberated areas.
Later in the day, security forces were deployed in the Yarmouk Palestinian refugee camp, and brandished the national flag on several government buildings in the region.
On Monday, the General Command of the Syrian Army and Armed Forces announced in a statement that complete security was restored to Damascus and its countryside after al-Hajar al-Aswad district and al-Yarmouk camp had been totally cleansed of Daesh terrorists.
The development was preceded by flushing the Takfiris out of the towns of Yalda, Babbila and Beit Sahem on the southern outskirts of Damascus.
Syrian army troops and pro-government fighters had been fighting since April 19 to recapture the area covering Yarmouk camp and the adjacent districts of Qadam, Tadamun and al-Hajar al-Aswad.
Syria has been gripped by foreign-backed militancy since March 2011. The Syrian government says the Israeli regime and its Western and regional allies are aiding Takfiri terrorist groups that are wreaking havoc in the country.
The Syrian government, backed by Russian warplanes, has managed to liberate swathes of territory it lost following the outbreak of the crisis from the control of the terrorists.
Since February, the Syrian army, backed by Russia, has been engaged in a major push to rid Damascus and the surrounding areas of terrorist groups.
Full report at:
http://www.presstv.com/Detail/2018/05/22/562576/Syrian-police-forces-deploy-in-southern-Damascus-after-Daesh-rout
--------
South Asia
British MPs want Myanmar govt. referred to ICC
May 22, 2018
A British parliamentary committee says the government must support efforts to refer Myanmar's government to the international criminal court over evidence of state-sanctioned "ethnic cleansing" of Rohingya Muslims in Rakhine state.
The lawmakers on the international development select committee said that the UK should still seek to gather "support for the UN security council to refer Burma to the international criminal court and to apply targeted financial sanctions at all identifiable key figures".
The lawmakers welcome a move by the ICC prosecutor Fatou Bensouda to seek a ruling whether she can investigate the deportation of thousands of Rohingya Muslims to neighboring Bangladesh, the committee added.
The committee has accused Myanmar's de facto leader Aung San Suu Kyi of a "longstanding approach of denying human rights abuses have taken place and seeking to obstruct moves towards justice and accountability [and] failing to counter hate speech through positive speech and messages of tolerance and restraint".
The developments come as there has been a tension within the UK's Foreign Office over the degree to which Britain should give Suu Kyi. But the British parliamentary committee says the former Nobel prize winner has become part of the problem.
The committee also called for a complete review of UK aid to Myanmar.
The MPs point out that, since the last British aid program was prepared, "there has been ethnic cleansing, the breaking of ceasefires, a closing of civil society space, including restrictions on media freedoms and the persecution of journalists, and a reduction in religious freedom".
Following this bleak assessment, the committee said the UK's government's language and actions towards Myanmar needed to change dramatically, including by imposing targeted sanctions.
The committee says, "[Myanmar] must realize that there is a bill to pay for the actions of its army and the inaction its government and society. The dramatic changes to the situation in Burma must drive dramatic change in UK policy."
The committee's chair, Stephen Twigg, said, "British taxpayers must be assured that their money is not being used to subsidize a government accused of crimes against humanity. If there is nothing to report, we recommend suspending these programmes."
The lawmakers said that they are now deeply concerned by the threat to the Rohingya's fraught and fragile foothold in Bangladesh as the monsoon season approaches.
In early May, human rights groups urged the UN Security Council to refer Myanmar to the International Criminal Court (ICC) for crimes against humanity, including the military's atrocities against the persecuted Rohingya Muslims in the northwestern state of Rakhine.
The hundreds of thousands who have fled to Bangladesh have brought with them horrifying accounts of massacre, gang rape, and arson by Myanmar's military forces and Buddhist mobs.
The UN has described the violence against the Rohingya as "ethnic cleansing" and possibly "genocide."
http://www.presstv.com/Detail/2018/05/22/562593/Myanmar-UK-ICC-Rohingya-genocide
--------
32 killed in Afghan blast, clashes
May 23, 2018
KANDAHAR - At least 16 people were killed and 38 wounded Tuesday when a minivan packed with explosives exploded as members of the security forces were trying to defuse it in southern Afghanistan, while 16 members of the security forces were killed in fresh clashes with Taliban militants in Ghazni province.
Police and intelligence officers in the city of Kandahar had already cleared the area around a bus station where the van was found, said the provincial governor's spokesman Daud Ahmadi.
"As the security forces were trying to defuse the van, it detonated," said police spokesman Mohammad Qasim Azad. "The latest figures show 16 dead and 38 wounded people brought to the hospital. We still have two ambulances at the site because there might be more people under the rubble," said Dr Nehmat Barak, chief of the Mirwais Hospital in Kandahar.
Ahmadi confirmed the toll, adding that the dead included four members of the security forces. At least five children and 10 members of the security forces were among the wounded.
The blast was so powerful that most of the casualties were passers-by outside the cleared area.
"When I was going to my shop the area was closed by the security forces," one witness who did not give his name told AFP. "I was waiting for the way to be opened when a big explosion happened and I escaped from the area. My co-workers who were already in the shop have disappeared and I have no news about what happened to them."
Another witness said he was inside his shop when the explosives detonated. "I found myself among smoke and bloodstains and saw my hand broken," he said.
Ahmadi said security forces also found a large container of explosives, rocket-propelled grenades, suicide vests and ammunition near the site.
"The terrorists planned to conduct a big attack at the end of Ramazan in the city among crowds of people as they went out shopping for Eid... security forces prevented a disaster from happening," one security official told AFP.
No group immediately claimed responsibility. The blast was quickly condemned by President Ashraf Ghani, who praised the "brave" officers who dealt with it.
The Taliban are stepping up their spring offensive across the war-torn country.
Late Monday the insurgents attacked two districts in the southeastern province of Ghazni, briefly capturing the police headquarters in one of them before being pushed back, said governor's spokesman Aref Noori.
He said 16 members of the security forces had been killed in the fighting and the Taliban also suffered "heavy" losses, with sporadic clashes continuing Tuesday.
Last week the militants attacked the western city of Farah but were driven back by commandos supported by the Afghan and US Air Force.
On Monday the Taliban warned Kabul residents to avoid "military centres" in the heavily fortified city, saying they are planning more attacks there.
A US government watchdog also warned Monday that upbeat assessments of improving security in the country did not match facts on the ground.
The Pentagon's Office of the Inspector General said there were "few signs of progress" in the fight against the Taliban.
Top US officials and military commanders insist that Afghan police and troops - who have suffered thousands of casualties and are beset by low morale and corruption - are now doing a better job.
Full report at:
https://nation.com.pk/23-May-2018/32-killed-in-afghan-blast-clashes
--------
Minibus bomb causes heavy casualties in Afghanistan's Kandahar
May 22, 2018
KANDAHAR: A minibus packed with explosives blew up in the southern Afghan city of Kandahar on Tuesday causing dozens of casualties, officials said, as fighting continued across the country during the Muslim holy month of Ramadan.
The blast, near one of the city's main markets, sent a huge cloud of dust and smoke into the air. Nematullah Barak, head of Mirwais hospital in Kandahar, said six dead and more 30 wounded, including several children, had been brought in.
A statement from the NDS intelligence service said the minibus, packed with explosives, was discovered in a large open yard of mechanics workshops but blew up before it could be defused.
There was no immediate claim of responsibility. Hundreds of people have been killed or wounded in high-profile bomb attacks since the beginning of the year, many in the capital Kabul, but provincial cities have also been hit as the Taliban, seeking to reimpose hardline Islamic rule, have stepped up fighting across the country.
Tuesday's explosion came as the Taliban pushed ahead with their spring offensive, launched last month, with fighting in other areas of the country.
As many as seven police were killed in clashes on Monday night between security forces and the Taliban in the southwest province of Ghazni, where the insurgents have cut a key highway with the neighbouring province of Paktika, officials said.
Arif Noori, spokesman for the provincial governor, said a large Taliban force, armed with heavy weapons, attacked government positions in five districts of the province late on Monday, with fighting continuing until dawn.
Insurgents burned down the police headquarters in Jaghato district, he said.
The latest fighting coincided with a US government report that found few signs of progress so far this year, with fighting spreading across the country and hundreds of casualties from high profile attacks in Kabul and other cities.
Full report at:
https://nation.com.pk/22-May-2018/minibus-bomb-causes-heavy-casualties-in-afghanistans-kandahar
--------
Bangladesh Begins Distributing Cooking Fuel for Rohingya Refugees
2018-05-21
Bangladesh has started distributing cooking gas cylinders to Rohingya refugees in response to scientists' warnings that an environmental disaster could engulf camps where about 1 million people have been sheltering and using firewood from nearby forests for fuel, officials said Monday.
Forest denudation in Cox's Bazar, a southeastern district that borders Myanmar, was an indirect consequence of a brutal military crackdown launched in the neighboring country last August, according to scientists and environmental conservationists.
"The Rohingya completely depend on firewood for cooking," Habibul Kabir Chowdhury, chief of the Rohingya section at the ministry of disaster management, told BenarNews, an RFA-affiliated online news service.
"Since last month, we have started providing them gas cylinders," he said. "In the first phase, we have targeted to provide cylinders to 11,000 families."
After deadly attacks on police outposts by Rohingya insurgents in Rakhine state, Myanmar security forces mounted counter-offensives that drove about 700,000 Rohingya to flee to safety in Bangladesh. Another 300,000 Rohingya, most of them undocumented, have also been living in Cox's Bazar after fleeing earlier bouts of conflict in northern Rakhine.
The rate of the unprecedented refugee influx created an environmental crisis in Bangladesh's border district because of the Rohingyas' dependency on firewood for cooking, officials said. Refugees have cut down trees and stripped away 1,650 hectares of forest land, according to the nation's forestry department.
What used to be lush forest hills in Cox's Bazar has been replaced by denuded mounds pockmarked with blue tarpaulin sheets on top of makeshift shelters, environmental activists said.
The government project's first phase is continuing and, depending on its impact, the second phase will involve thousands of families receiving gas cylinders, Chowdhury said.
He said the Indian government had shown interest in providing kerosene and stoves for the refugees.
"But we cannot accept the offer at this moment. This is because they want to give us loose kerosene. We do not have any depot near the refugee camps," he said, explaining that distributing kerosene in congested refugee camps could be a difficult and dangerous task.
Danesh Mian, director of Institute of Forestry and Environmental Science at Chittagong University, told reporters in October 2017 that clearing forest and hills for firewood and settlements in Cox's Bazar could threaten bio-diversity and spawn landslides during the monsoon season.
"We fear rare animals such as the Asian elephant … might get extinct," he said.
Refugees burn more than 1 million pounds of wood daily
Environmental activists applauded Dhaka's move to distribute gas cylinders to the refugees, explaining that the Rohingya were burning at least one-half million kilograms (more than 1 million pounds) of dry wood daily.
Mohammad Abul Kalam, Bangladesh's refugee relief and repatriation commissioner, told BenarNews that the international NGO Caritas had been providing funds for supplying gas cylinders to the refugees.
"With support from other agencies, the UNHCR has been thinking of providing gas cylinders to several thousands of families in the second phase," Kalam said, referring to the U.N.'s refugee agency.
"We cannot save forests in Ukhia, Teknaf and neighboring areas if we cannot provide alternative fuel," he said.
A BenarNews correspondent who visited a Rohingya camp last month saw massive deforestation in Ukhia and Teknaf areas in Cox's Bazar and the neighboring Bandarban district.
Hundreds of Rohingya leave the camps in the mornings to cut down trees in the forest, returning around midday with bundles of firewood.
Because of a huge demand for cooking fuel, makeshift shops have mushroomed at every corner of the refugee camps.
Shah Alam, who lives at the Kutupalong refugee camp, told BenarNews that his seven-member family would consume at least five kilograms (11 pounds) of firewood every day to cook food.
"I have to spend 150 taka (about U.S. $2) every day if I buy firewood. So, we just go to the forest to gather it," he said.
Another refugee, Mahmudul Islam, said each Rohingya man would chop off trees every day, a chore that could take at least five hours.
Asked why he chopped down the whole tree, instead of merely cutting its branches for firewood, Islam replied: "If I do not cut it, some other people will."
As of October 2017, forest resources valued at about 1.5 billion Bangladeshi taka (U.S. $18 million) had been destroyed to accommodate the latest influx of refugees, according to the Ministry of Environment and Forests.
Farid Uddin Ahmed, executive director of the Bangladesh Tropical Forest Conservation Foundation, a joint initiative of the Bangladesh and the U.S. governments, told BenarNews that the Cox's Bazar area had many special trees, such as Dhakijam, Chapalish, Gorjon and Gamari.
Alarmed by the forest denudation, the United Nations issued warnings in February that flash floods from monsoonal rains could wash away fragile shelters in congested camps in Cox's Bazar, threatening about 100,000 refugees.
"Since the arrival of the Rohingya, many forest lands in Ukhia and Teknaf have been destroyed," Ahmed said. "The refugees have been cutting big trees for firewood, but the harsh truth is they have no other option."
Full report at:
https://www.rfa.org/english/news/myanmar/refugees-fuel-05212018174815.html
--------
Bangladesh launches deadly 'Philippine-style' war on drugs
May 22, 2018
Bangladeshi security forces claim that 26 suspected drug dealers were killed during several raids in different parts of the country. At least nine suspected traffickers were killed on Monday alone in the government's crackdown on the "drug menace."
"We've contained (Islamist) militancy,'' said Bangladesh's prime minister, Sheikh Hasina. "Now we've taken an initiative to save the country from this drug menace."
Bangladeshi authorities have increasingly focused their attention on illegal drugs, particularly yaba, a mixture of caffeine and methamphetamine. Anti-narcotics officials said they seized a record 40 million yaba pills last year but admitted that an estimated 250-300 million pills entered the market. An official at Dhaka's Department of Narcotics Control said about $600 million worth of yaba, which is popular with the youth, could be consumed in Bangladesh this year.
Thousands of alleged dealers have also been arrested in an aggressive campaign that some analysts have compared to President Rodrigo Duterte's controversial war on drugs in the Philippines.
Human rights activists say more than 12,000 suspected drug users and dealers, mostly from poor families, have been killed in Duterte's drug war. They also accuse the Philippine security forces of killing many innocent people during their anti-drug drive.
"The recent killings were cold-blooded murders by police and the elite security force Rapid Action Battalion (RAB)," Tasneem Khalil, a Bangladeshi-Swedish journalist, told DW. "I'm not sure how the killings of suspected drug dealers will benefit PM Hasina's party in the country's upcoming elections, but she, of course, is following Duterte's steps," he added.
Mizanur Rahman, the former chairman of Bangladesh's National Human rights Commission, believes that killing drug dealers won't resolve the narcotics problem in the Muslim-majority nation.
"By killing suspects during raids, the security forces are violating the country's legal system. These actions will promote a culture of arbitrariness in society," Rahman told DW, adding that "extrajudicial killings are unacceptable in a democratic country."
"The authorities must respect human rights and respect the rule of law during their operations," he added.
Nasiruddin Elan, an expert at Odhikar rights organization, told the AFP news agency that the families of the people killed in police raids also spoke of "extrajudicial killings."
Bangladesh has been struggling with yaba smuggling on its southeastern border with Myanmar, where the drug is being manufactured in large quantities.
Government officials say the bulk of the drugs were brought to Bangladesh last year by Rohingya refugees fleeing a military crackdown in Myanmar. Drug traffickers used some refugees as mules, the authorities claimed.
Tasneem Khalil called the anti-drug campaign in Bangladesh a hoax because a number of big dealers are linked to Prime Minister Hasina's Awami League party.
"One of the most notorious drug godfathers in the country, known as 'Yaba Emperor," is an Awami League member of parliament. He controls the drug trade on the southeastern border of the country," Khalil said, adding that the only way to tackle the issue would be an across-the-board operation.
"That, unfortunately, is not a priority with PM Hasina," he said.
Security forces rejected claims that the alleged drug dealers were killed extrajudicially.
"We were compelled to fire back when they fired at us," a RAB officer said.
Full report at:
https://www.usatoday.com/story/news/world/2018/05/22/bangladesh-launches-war-drugs/631773002/
--------
More Taliban positions pounded in latest raids after last week's attack in Farah
May 22 2018
The Afghan and US forces have carried out a series of new operations against the Taliban targets in western Farah province in response to last week's coordinated attack on the provincial capital. (US Air Force Photo)
The 207th Zafar Corps of the Afghan Military in the West said the latest operations were conducted in the vicinity of Bala Bolok district, jointly by the Afghan and US forces.
The source further added at least thirty Taliban militants including two of their commanders were killed or wounded during the operations conducted in Piyo Paso area.
According to Zafar Corps, the two Taliban local commanders killed during the operations have been identified as Salim and Salam.
In the meantime, the Ministry of Defense says the security forces also conducted operations in Pas Aab, Ziarat Ganj, North and South of Pancharmani, and Char Kocha.
The ministry of defense put the total casualties of the Taliban insurgents at least 33 Taliban dead at least 12 others wounded.
Full report at:
https://www.khaama.com/more-taliban-positions-pounded-in-latest-raids-after-last-weeks-attack-in-farah-05212/
--------
Southeast Asia
Report: China Forces Muslim Students to Sign Pledge Not to Fast During Ramadan
22 May 2018
Authorities in China's northwest Xinjiang Uyghur Autonomous Region are forcing Islamic students to sign a pledge not to fast during the Holy month of Ramadan, according to a report published by Radio Free Asia this week.
RFA reports that local students were forced to sign pledges alongside their parents stating that they would not fast or pray during the Islamic holy month, the first time that authorities have specifically targeted children with such measures.
"As we are students, we don't fast," one student told the outlet. "We have signed a school agreement and also written a letter of promise." He added his parents are also "not allowed to practice such things in front of their children" in an attempt "to act as role models."
According to a female cadre in Peyziwat county who spoke with the outlet, ahead of the festival, "all cadres and party members were called to the county office for a meeting, in which we were told to 'be more vigilant' and to 'pay special attention' to anyone who complains about the government's policy regarding religious extremism."
The case is the latest example of religious repression undertaken by Chinese Communist Party authorities, who have previously forced restaurants to stay open and limited access to mosques during the holiday, which this year takes place between May 16th and June 14th. Such measures are typically described as an attempt to combat "extremism."
As a result, many religious communities live in fear of potential reprisal for practicing their faith, especially during special periods such as Ramadan and Easter.
"Each year, the month of Ramadan has been turned into one of fear and anxiety because of the increased restrictions, which has caused untold disturbance in the daily life of the Uyghur people," said the President of the World Uyghur Congress (WUC) Dolkun Isa in the run-up to the festival.
Previous reports from inside China include cases of authorities burning down Christian crosses at some churches while forcing Muslim Uighurs to eat pork in an attempt to impose the regime's strictly atheist values on adherents of both faiths.
Last September, Muslims in Xinjiang, home to most of the Uighur minority, claimed that police had confiscated their Qurans, warning the Islamic Holy Book contained "extremist content." China's Foreign Ministry later denied the allegations as "groundless allegations and rumors."
Yet amid greater international scrutiny of their religious intolerance, Chinese authorities have pledged to crack down on so-called "Islamaphobia." In December, a judge sentenced blogger Li Zhidong to two and a half years in prison on charges of "inciting ethnic hatred" after he criticized Islamic ideology online.
http://www.breitbart.com/national-security/2018/05/22/china-forces-muslim-students-sign-pledge-not-fast-during-ramadan/
--------
Malaysia's anti-graft agency raids Muslim pilgrim fund chief's home and office, seizes cash and documents
23 MAY, 2018
KUALA LUMPUR — Malaysian Anti Corruption Commission (MACC) investigators have raided the office and residence of Muslim pilgrim fund Lembaga Tabung Haji chairman Datuk Seri Abdul Azeez Abdul Rahim.
A source from MACC told Malay Mail that the raid started on Tuesday (May 22) at 9am at several locations including Mr Abdul Azeez's homes in Selangor, Kedah as well as Lembaga Tabung Haji headquarters located in Kuala Lumpur, and continues on Wednesday.
The source said so far investigators have seized more than RM500,000 (S$168,689) in cash, some documents and jewellery.
"The raids are still ongoing in several other locations in Kedah and Selangor.
"We also seized stacks of foreign currency which we are in the midst of counting now," the source said.
MACC chief Datuk Seri Mohd Shukri Abdull in a tell-all press conference on Tuesday revealed that he received threats from a former member of Parliament from the north.
Tabung Haji is a savings fund for Muslims planning pilgrimages to Mecca. Mr Abdul Azeez - who is the incumbent Member of Parliament for Baling parliamentary ward in Kedah - was appointed as Tabung Haji chairman on July 2013.
During his time as chairman, Mr Azeez had defended Tabung Haji's decision in buying a parcel of land from troubled state fund 1Malaysia Development Berhad's (1MDB) Tun Razak Exchange project for RM188.5 million and planned to build a residential tower at the site.
Opposition politicians had been quick to note that Tabung Haji paid RM2,773 per square foot for the 1.5 acre plot, a hefty premium compared with the RM64psf price paid by 1MDB when it acquired the land from the federal government.
Full report at:
https://www.todayonline.com/world/malaysias-anti-graft-agency-raids-muslim-pilgrim-fund-chiefs-home-and-office-seize-cash-and
--------
Indonesian Islamic State Sympathizer Receives 4-Year Prison Sentence
2018-05-22
A West Jakarta district court sentenced an Islamic State (IS) sympathizer Tuesday to four years in prison after finding him guilty of influencing, recruiting and facilitating the travel to Syria of the militant group's supporters.
After hearing the verdict, Iman Santoso smiled, shook hands with the judges, the court clerk and his lawyer, and said he was delighted to receive a relatively light prison sentence.
"The defendant Iman Santoso (alias Abu Umar bin Kosasih Bakri), has been proven legitimately and convincingly guilty of committing a crime of terrorism," said the presiding judge, Sarjiman, who uses only one name.
Along with the sentence, the court ordered Iman to pay a fine of 50 million rupiah (about U.S. $3,540), with a provision that if he fails to pay, he will be required to serve an extra four months behind bars.
The verdict was lighter than the seven-year prison term sought by prosecutors.
Indonesia, the world's largest Muslim-majority nation of 262 million people, has imprisoned hundreds of suspected extremists since bombings killed 202 people and injured hundreds more on Bali island 16 years ago.
Influencing family members
Iman had influenced the decision of his brother-in-law Dwi Djoko Wiwoho, 50, to leave Indonesia with his family in 2015 to join IS in Syria, according to court documents. Prosecutors said they believe Iman also facilitated the travel.
Djoko, a former high-ranking civil servant from Batam, an Indonesian island about 12 miles (18 km) from Singapore, went to Syria with his wife, their three children, his mother-in-law who died in Syria from an illness, his other brother-in-law, Heru Kurnia, and Iman.
The family linked up with 19 other people who also left for Syria on Aug. 1, 2015, prosecutors said.
Djoko and his family were among 18 Indonesians who turned up at a refugee camp near Raqqa in June 2017, telling reporters they had been enticed to Syria two years earlier by the promise of a prosperous life with the IS.
The 18 were sent back to Indonesia in August 2017 and attended a rehabilitation program organized by the Indonesian National Counterterrorism Agency (BNPT).
Djoko and Heru Kurnia face similar charges in separate ongoing trials in the same courthouse.
During his hearing in March, prosecutors alleged that Djoko trained with IS fighters in Syria and accused him of having a role in funding the international militant group.
"The defendant sold his house on July 2015 for 500 million rupiah (U.S. $36,372) and used part of that money to go to Syria," prosecutor Jaya Siahaan said at that time.
"After five days, the defendant stopped training because he didn't want to be a soldier and only wanted to be a regular civilian who supports IS," the prosecutor said. "But the defendant's action violated the anti-terrorism law."
Djoko could face life in prison if convicted.
Spate of IS-inspired attacks
Iman's sentencing took place days after a spate of IS-inspired militant attacks in West Java and East Java killed 45 people, including 27 suspects.
Those attacks, between May 8 and May 16, included suicide bombings carried out by three families, accompanied by their young children who targeted churches and police in Surabaya, Indonesia's second-largest city.
Iman received a lighter verdict for good behavior during his detention and after repenting, prosecutors said.
Full report at:
https://www.benarnews.org/english/news/indonesian/militant-sentence-05222018151242.html
--------
Mideast
UK to use US embassy in Jerusalem al-Quds despite condemning move: Report
May 22, 2018
British officials are reportedly set to maintain formal communications with the American embassy in Israeli-occupied Jerusalem al-Quds despite condemning its recent relocation, in what activists have denounced as a hypocritical approach adopted by London on Tel Aviv's occupation.
Last week, the UK, along with France, Germany and much of the international diplomatic corps, boycotted a ceremony held to inaugurate the US embassy in Jerusalem al-Quds, which took place months after Washington announced it was recognizing the occupied city as the "capital" of Israel.
However, three days after the inauguration ceremony, UK Middle East Minister Alistair Burt rejected a call by the British Palestinian Policy Council for London to keep up the boycott and refuse to attend meetings in the embassy, the Middle East Eye news portal reported on Monday.
"When we asked him to confirm [that] UK officials would not attend meetings at the embassy going forward, as the UK does not recognize it, he was very clear that they would attend," according to participants in a meeting between representatives of the Council and Burt.
The UK Foreign Office has now confirmed that diplomats and other representatives would take part in meetings at the embassy.
London has censured Washington's controversial policy shift on Jerusalem al-Quds, with Prime Minister Theresa May saying back in December that such a decision would jeopardize the "prospects of peace" in the Middle East.
Earlier this month, the UK PM stressed that her country would not follow the US in its decision to take the American mission from Tel Aviv to Jerusalem al-Quds.
Kamel Hawwash, vice chair of the British Palestinian Policy Council, told the Middle East Eye that the refusal to stop attending meetings at the US embassy "shows the hypocrisy of the UK, in that it appears to talk in a principled way, but when it comes to action it doesn't."
The report also cited Ben Jamal, director of the Palestinian Solidarity Campaign, as saying that the UK government needs to follow up its official position against Washington's move with action.
"For the UK government to treat the situation as business as usual and attend meetings at the US embassy will only serve to normalize what the US has done," he said. "We keep hearing that Theresa May's government is willing to stand up to the Trump administration when they act in a wrong fashion. This will be a litmus of their willingness to do so."
On Friday, Britain abstained from a United Nations Human Rights Council vote in favor of sending a team of international war crimes investigators to probe the latest massacre of dozens of Palestinians in Gaza by the Israeli military.
Only two of the council's 47 members -- the United States and Australia -- voted against the resolution, while 14 abstained, including Britain, Switzerland and Germany.
Some 110 Palestinians were killed and thousands more injured during the six-week "March of Return" protests that first began on March 30 near the fence separating Gaza from the Israeli-occupied territories.
On the day of the US embassy relocation alone, some 60 Palestinian protesters lost their lives when the Israeli military used snipers, tank fire, live ammunition and strikes to quell the angry protests against Israel and the US.
http://www.presstv.com/Detail/2018/05/22/562547/UK-US-embassy-Jerusalem-alQuds-Palestine-Israel
--------
Israeli Security Cabinet convening in underground bunker
23 May 2018
Israel's Security Cabinet, a forum of senior ministers headed by Prime Minister Benjamin Netanyahu, has begun holding its weekly meetings in a secure underground bunker in Jerusalem, Israeli media said on Tuesday.
The facility, known as the "National Management Centre", was first used by the Security Cabinet in 2011 to rehearse a national crisis scenario. It was carved out beneath the government complex in Jerusalem and includes living quarters as well as command facilities.
Reports of the move come amid a rise in tensions with Iran.
Israel this month accused Iran of firing rockets from Syria into the Israeli-occupied Golan Heights. Israel struck back with its heaviest air strikes in Syria since the start of the Syrian civil war in 2011.
Meetings of the Council, hitherto mostly at the prime minister's office in Jerusalem, are already generally held out of the public eye.
"Cabinet ministers have told us that one of the main reasons for the move is Netanyahu's wish to try even harder to prevent leaks and because of fears of spying attempts by hostile foreign parties," Israel's Channel 10 said.
The group of 11 ministers has already held a small number of meetings at the facility, and three planned weekly sessions, the next of which is scheduled for Wednesday, will be held in the bunker, a media source said.
Full report at:
https://english.alarabiya.net/en/News/middle-east/2018/05/23/Tariq-Ramadan-loses-appeal-for-early-release-ahead-of-rape-trial-.html
--------
Yemeni army liberates govt compound in Houthi militia stronghold
23 May 2018
Yemeni forces said on Wednesday dawn that they liberated the governmental compound in al-Malaheez in Al-Zahir district in Saada which is the Houthis' main stronghold in Yemen's far north.
According to a statement published on the army's website, army forces raided the compound aided with the Arab coalition's air force following violent clashes with the Houthis.
A source said the battles inflicted human and material losses on the Houthis, adding that many Houthis fled leaving their weapons behind.
Full report at:
https://english.alarabiya.net/en/News/gulf/2018/05/23/Yemeni-army-liberates-government-compound-in-Houthi-militia-stronghold.html
--------
Houthi prisoner confesses: We received cultural courses, including Iranian films
22 May 2018
Television Channel Yemen Today broadcasted a videotape of the confessions of a captured Houthi militia commander, in which he said that militants had received military courses for less than a week as well as cultural courses which included Iranian films.
The Houthi commanders was captured by military formations, led by Brigadier General Tariq Saleh, on the west coast front.
The channel said that the Houthi militiant, identified as Abdullah Jarmuzi, confessed that the militias "instilled the sectarian Iranian ideology in the minds of the deluded through cultural courses," expressing his discontent on how the militia pushed its elements to death without thinking about them.
Jarmuzi was a social supervisor in the northern area of Madhbah and the Shemlan area in Sanaa.
In his confessions, Jarmuzi spoke of his beginnings with the Houthis where militias recruit and mobilize young people to take part in demonstrations through the then-social relations chief Abbas al-Lassani. Following the 2014 events, Jarmuzi was appointed a social supervisor after receiving the recommendation of Lassani.
Jarmuzi explained that the military and cultural courses they had received from the militia leaders placed their lives in imminent danger. The militias gave them "ancient military courses that did not qualify them to fight," while the cultural courses called for jihad and obedience to the leader of the group and cultivated the Iranian ideology noting that the militia uses Iranian films in its cultural courses.
In the video recording, Jarmuzi also spoke of the deteriorating economic situation which the country is going through as the result of corrupt Houthi officials and their looting of state funds, expressing his dissatisfaction with the poor living conditions of the citizens and the extravagant wealth of Houthi supervisors in Saada.
Full report at:
https://english.alarabiya.net/en/features/2018/05/22/Houthi-prisoner-confesses-We-received-cultural-courses-including-Iranian-films.html
--------
Israeli tanks target Hamas observation post in southern Gaza Strip
May 22, 2018
Israeli battle tanks have targeted the southern part of the Gaza Strip as the Tel Aviv regime goes ahead with its acts of aggression against the besieged Palestinian coastal sliver.
Arabic-language Palestine al-Yawm news agency reported that an artillery round struck an observation posts belonging to the Ezzedine al-Qassam Brigades, the military wing of Hamas resistance movement, east of Bureij refugee camp on Tuesday.
An unnamed Israeli army spokesman said Israeli tanks bombed a Hamas monitoring post in the southern Gaza Strip after a group of Palestinians allegedly crossed the border fence between the Gaza Strip and occupied territories, and set an Israeli military post on fire earlier in the day.
There were no immediate reports of casualties and the extent of damage caused.
At least 65 Palestinians were killed and more than 2,700 others wounded near the Gaza fence on the eve of the 70th anniversary of Nakba Day (Day of Catastrophe), which coincided this year with the relocation of the US embassy from Tel Aviv to the occupied city of Jerusalem al-Quds.
The occupied territories have witnessed new tensions ever since US President Donald Trump on December 6, 2017 announced Washington's recognition of Jerusalem al-Quds as Israel's "capital" and said the US would move its embassy to the city.
Muslim leaders have called for an international force to be deployed to protect Palestinian people against Israeli crimes.
The Israeli military frequently bombs the Gaza Strip, with civilians being the main target of such attacks.
Israel has also launched several wars on the Palestinian coastal sliver, the last of which began in early July 2014. The military aggression, which ended on August 26, 2014, killed nearly 2,200 Palestinians. Over 11,100 others were also wounded in the war.
The Gaza Strip has been under an Israeli siege since June 2007. The blockade has caused a decline in the standards of living as well as unprecedented levels of unemployment and unrelenting poverty.
Full report at:
http://www.presstv.com/Detail/2018/05/22/562568/Israeli-tanks-target-Hamas-observation-post-in-southern-Gaza-Strip
--------
Israel claims it has used US-made F-35 jets 'in attack mode' for first time
May 22, 2018
An Israeli military official says Israel is the first regime to have used the US-made F-35 stealth fighter jets in attack mode, claiming that the fighter jets have been twice used in the Middle East.
"We are flying the F-35 all over the Middle East. It had become part of our operational capabilities. We are the first to attack using the F-35 in the Middle East and have already attacked twice on different fronts," Israeli air force chief Amikam Norkin said at a conference in Herzilya on Tuesday.
He also displayed a photo that he said showed one Israeli F-35 over Lebanon's capital, Beirut, without elaborating.
Manufactured by Lockheed Martin Corp, the F-35 is also known as the Joint Strike Fighter and, in Israel, by its Hebrew name "Adir" (Mighty).
Israel was the first regime outside the US to obtain the fighter jet. In December 2016, it received the first two planes out of an order of 50. Tel Aviv has at least nine so far.
Norkin said that the F-35 did not take part in the most recent airstrike on Syria but did in two previous ones.
The Israeli regime has a history of military aggression in the region.
Over the past few years, the Israeli military has launched sporadic attacks against various targets on Syrian soil.
Earlier this month, Israeli jets attacked dozens of targets inside Syria in an unprovoked act of aggression.
On May 10, minister of military affairs, Avigdor Lieberman, claimed that Israel had "hit almost all of the Iranian infrastructure in Syria" in response to a barrage of 20 rockets fired at Israeli military outposts in the occupied Golan Heights.
However, the Syrian ambassador to China, Imad Moustapha, rejected the Israeli claim that its assault had been directed at Iranian infrastructure.
The Syrian military in February hit at least one intruding Israeli F-16 warplane that attacked positions inside Syrian territory, sending it down in flames and smoke.
The warplane was the first to be lost in 35 years, since the regime's war on Lebanon in 1982.
Reports said that the displaying of a photo of the fighter jet flying over Lebanon is considered an implicit threat to the Lebanese resistance movement of Hezbollah.
The Israeli regime has waged three wars on Lebanon — in 1982, 2000, and 2006. It has also carried out assassinations in Lebanese territory.
Since its establishment in 1985, Hezbollah has helped the army defend Lebanon both in the face of foreign aggression, including in the 2000 and 2006 wars, and against terrorism.
Hezbollah has also been a strong force in the battle against terrorism in the region. It has fought the Daesh terror group in Lebanon, Syria, and Iraq; and its well-trained anti-terror units have dealt heavy blows to terror groups across the region.
The Israeli military also frequently bombs the Gaza Strip, with civilians being the main target of such attacks.
On May 17, Israeli fighter planes carried out bombing raids on several locations in northern Gaza.
Full report at:
http://www.presstv.com/Detail/2018/05/22/562543/Israel-F35-attack-mode
--------
North America
US says it blacklists Iranians for links to missile program
May 23, 2018
The United States Treasury Department has blacklisted five Iranian nationals for their alleged association with Iran's ballistic missile program.
US Treasury Secretary Steven Mnuchin claimed in a statement on Tuesday that the targeted individuals had provided ballistic missile-related equipment and technical expertise to Yemen's Houthi fighters on behalf of Iran's Islamic Revolution Guards Corps.
Mnuchin accused the individuals of enabling the Houthis to launch missiles at Saudi Arabia and its oil infrastructure.
The US Treasury secretary also claimed that the targeted individuals had disrupted humanitarian aid efforts in Yemen and threatened freedom of navigation in key regional waterways.
Iran has repeatedly denied accusations of providing ballistic missiles to Yemen's popular Houthi Ansarullah movement, which is fighting a Saudi military aggression for more than three years.
Saudi Arabia and its allies launched the war on Yemen in March 2015 in support of the country's resigned president, Abd Rabbuh Mansur Hadi, a close ally of Riyadh. The Yemeni Ministry of Human Rights announced in a statement on March 25 that the Saudi-led war had left 600,000 civilians dead and injured until then.
In one of the deadliest air raids, Saudi warplanes last month targeted a wedding ceremony in Yemen's northwestern province of Hajjah several times, killing almost 50 people and wounding 55 others. Saudi jets also carried out raids on the ambulances transporting the casualties to local hospitals.
The Saudi-led countries engaged in the war on Yemen have also blockaded the already-impoverished country.
According to United Nations figures, a record 22.2 million people in Yemen are in need of food aid, including 8.4 million threatened by severe hunger.
http://www.presstv.com/Detail/2018/05/23/562607/US-Treasury-Department-Steven-Mnuchin-Iranian-nationals-ballistic-missile-program-Yemen-Houthi-fighters
--------
US Designates Group Led by Polisario Member a Terrorist Organization
May 23, 2018
The Department of State has designated ISIS in the Greater Sahara (also known as ISIS-GS) led by Polisario member Adnan Abu Walid al-Sahrawi as a Foreign Terrorist Organization.
"Today's designations notify the U.S. public and the international community that this group is a terrorist organization and this individual has committed or poses a significant risk of committing acts of terrorism," the Department of State said last week in a statement.
ISIS-GS emerged when Adnan Abu Walid al-Sahrawi and his followers split from Al-Mourabitoun, an al-Qaeda splinter group and U.S.-designated foreign terrorist organization.
Al Sahrawi was first battle hardened within the ranks of the Algerian-backed Polisario militias. In 2011 he was among the extremists who came together to form the Movement for Oneness and Jihad in West Africa, MUJAO, one of the jihadist groups that seized control of northern Mali for several months in 2012.
In 2015, Al-Sahrawi issued a bay'a, or pledge of allegiance, to Abu Bakr al-Baghdadi, the overall leader of the Islamic State militant network.
Al-Sahrawi still has connections to many of the AQIM sub-groups in Mali because of his experiences. But his loyalty is to the Islamic State.
Al-Sahrawi involvement is but the three that hides the forest. Morocco has been warning of an ongoing connivance between the Polisario and terrorist groups in the Sahel.
The disenchanted youth in the Polisairo-run camps are lured by the lucrative activities offered by terrorist networks that also engage in trafficking and criminal activities.
Recently, an EU-funded report entitled: "Illegal Markets and the Acquisition of Firearms by Terrorist Networks in Europe", highlighted the documented connection between the separatist front and the jihadist groups swarming in the Sahel-Sahara powder keg, notably the MUJAO and Ansar Dine (a creation of the Algerian intelligence services/DRS) based in the city of Gao, in northern Mali.
Full report at:
http://northafricapost.com/23767-us-designates-group-led-polisario-member-terrorist-organization.html
--------
US Treasury issues fresh sanctions targeting five Iranians linked to IRGC
22 May 2018
Five Iranians have been targeted by fresh US sanctions for their links to Iran's Revolutionary Guard Corps, according to a statement on the US Treasury's website.
In a statement on its website, the U.S. Treasury named the individuals as Mehdi Azarpisheh, Mohammad Jafari, Mahmud Kazemabad, Javad Shir Amin, and Sayyed Mohammad Tehrani.
https://english.alarabiya.net/en/News/middle-east/2018/05/22/US-Treasury-issues-fresh-sanctions-targeting-five-Iranians-linked-to-IRGC.html
--------
US asks Congress to review sale of guided bombs to Saudi, UAE: Report
May 23, 2018
The Trump administration has asked Congress to review the planned sale of more than 120,000 precision-guided munitions to Saudi Arabia and the United Arab Emirates amid concerns of their use in Yemen, according to a report.
President Donald Trump views weapons export as a way to create jobs in the United States and his administration has approved billions of dollars in arms sales since January 2017.
In November, Saudi Arabia agreed to purchase $7 billion worth of precision-guided munitions from US-based companies Raytheon and Boeing.
The Trump administration approved the sale, but the deal raised concerns on Capitol Hill over American weapons being used in the Saudi-led war in Yemen, which has left more than 14,000 dead since March 2015.
Under the Arms Export Control Act, the US State Department reviews potential arms sales to ensure they are in line with US foreign policy objectives before issuing export licenses. The department then notifies Congress about large arms sales, giving lawmakers time to review them.
Administration and congressional sources confirmed to Reuters that the informal 40-day review period to sell the guided bombs to the Saudis and Emiratis was underway.
The Senate Foreign Relations and House Foreign Affairs committees have been briefed by the administration, but lawmakers have asked for more information on the sales.
Key members of Congress, including leaders of the two committees, are allowed to informally review major weapons sales, and at times they have objected to sales and held them up for months.
Republican Senator Bob Corker, who chairs the Foreign Relations Committee, blocked major sales to Saudi Arabia, the UAE and other Persian Gulf nations last year over a diplomatic dispute with Qatar, but lifted his "hold" early this year.
Full report at:
http://www.presstv.com/Detail/2018/05/23/562621/US-guided-bombs-Saudi-Arabia-UAE
--------
Pakistan
Pakistan's First Sikh Police Officer Challenge ETPB And PSGPC
Yudhvir Rana
May 22, 2018
AMRITSAR: The issue of plundering of Gurdwara properties by the office bearers of Pakistan's Evacuee Trust Property Board (ETPB) and Pakistan Sikh Gurdwara Parbandhak Committee (PSGPC) came to fore after Pakistan's first Sikh police officer Gulab Singh filed a case against ETPB officials and president of PSGPC Tara Singh in Lahore court.
According to Pakistan media reports ETPB had tried to sell land of Bebe Nanki gurdwara in Dera Chahal, which was challenged by Gulab Singh in court.
Intelligence sources here informed that Tara Singh along with a Sikh fugitive, currently living in Pakistan, had collected around Rs 10 to Rs 15 crore on the pretext of development of Bebe Nanki gurdwara from the Sikhs living in US, UK, Canada. But didn't spend a single penny on the development of gurdwara .
"These Sikh leaders have good relations with some of Indian Sikh leaders, who are constantly in touch with them" said sources.
Earlier in February this year, Pakistan's Supreme Court had held former chairman of EPTB Syed Asif Hashmi responsible for illegally selling around 800 out of over 1200 acres land of Bebe Nanki gurdwara for the construction of a residential colony.
Besides Tara Singh, Gulab has accused deputy administrator and assistant administrator of ETPB for forcibly taking control of the gurdwara property.
Constituted in 1960, the ETPB is a statutory government body, which administers evacuee properties of Sikhs and Hindus, left in Pakistan, after India Pakistan partition. PSGPC is a puppetry body, working under direct control of ETPB, which was once headed by former ISI chiefJaved Nasir.
Sources also informed that ETPB officials have made a Christian turned Sikh as sewadar of Bebe Nanki gurdwara. In the past, Gulab's wife Paramjit Kaur was attacked by a few Khalistani Sikh, who took shelter in Pakistan for raising his voice against ETPB and PSGPC.
https://timesofindia.indiatimes.com/world/pakistan/pakistans-first-sikh-police-officer-challenge-etpb-and-psgpc/articleshow/64275936.cms
--------
Pakistani parliament looks to merge tribal region
22.05.2018
Pakistan's parliament is likely to approve a much-awaited legislation on Wednesday aimed at bringing the country's semi-autonomous tribal region along the Afghanistan border under the federal constitution after 70 years of independence.
The FATA (Federally Administered Tribal Areas) Reforms Bill is expected to be adopted smoothly after all political parties except for two voiced their support for the move that will merge the seven tribal regions with the country's northwestern Khyber Pakhtunkhawa (KPK) province.
If the 25-point bill expected to be tabled on Wednesday gets approved, over 5 million people of the tribal region will have representation in the KPK provincial assembly, and access to the high court and the supreme court in line with other Pakistani citizens for the first time since 1947 when the country gained its independence.
It will also provide a local government system to the tribal region for the first time, in addition to a 100 billion rupees (nearly $10 million) additional grant per year.
The tribal regions commonly known as "agencies" -- North Waziristan, South Waziristan, Bajaur agency, Kurram agency, Orakzai agency, Mohmand agency, and Khyber agency -- are currently governed under the 19th Century British era law called the FATA Crimes Regulations (FCR).
According to the system currently in place, if a person is found guilty of any crime, his whole tribe gets subjected to collective punishment.
Similarly, if a bomb blast takes place in front of a house in FATA, the entire male members of the family are held responsible for the crime on the pretext that they had failed to stop the perpetrators.
The 700-kilometer (435-mile) belt had been an epicenter of militancy since Pakistan joined the so-called war against terrorism in 2002, which saw a series of military operations and a large number of casualties. In June 2014, Pakistan army launched a series of decisive onslaughts on North Waziristan, Khyber Agency, and adjoining areas to eliminate the Pakistani militant groups' umbrella organization, Tehrik-e-Taliban Pakistan (TTP).
'80 percent want' merger
Over 5,000 suspected militants, and more than 700 troops were killed in clashes, airstrikes, and landmine blasts during this period.
The military operations had also displaced over a million tribesmen, mainly from North Waziristan and Khyber agency, of them, as per government claims, more than 95 percent have returned to their homes.
Apart from political and religious parties, the National Security Council (NSC) comprising top civilian and military leadership also threw its weight last week behind the tribal region's merger with the KPK province, further weakening the already small opposition to the move.
A majority of political religious parties, including the ruling Pakistan Muslim League (Nawaz group), and the two main opposition parties -- Pakistan Peoples party (PPP) and Pakistan Tehrik-e-Insaf (PTI) -- along with the religious party Jamaat-e-Islami, Pashtun nationalist Awami National Party (ANP) and other regional parties also support the move.
Only the Jamiat Ulema Islam (JUI) led by Maulana Fazl-ur-Rehman, which enjoys a sizeable presence in the tribal areas opposes the merger. It wants the tribal regions to become a separate province.
"More than 80 percent tribesmen want [tribal region's] merger with the KPK province. Only 10 to 15 percent tribal lords, and their affiliates who have been taking huge advantages of the incumbent system oppose the idea," Brig. Mahmud Shah, a Peshawar-based security analyst, told Anadolu Agency.
Shah, who had served as the administrator of the tribal region from 2002 to 2006, said a common tribesman wanted to get rid of the current arbitrary system under which he gets treated as second-class citizen.
"They [tribesmen] want to be treated like any other citizen of Pakistan," Shah said.
Separate province better solution?
Amir Afridi, spokesman for the FATA Youth Jirga (assembly) -- a conglomerate of youths from 29 political, religious, and social organizations, backed Shah.
"The approval of the legislation will be a major breakthrough for our bright future. It will not only open the doors for education but also provide local political leadership," Afridi said.
"It [merger with KPK] will bring 24 provincial assembly seats in addition to thousands of local government seats, providing an opportunity to local youths and common tribesmen to participate in the direct elections," he added.
Afridi's group has been launching a pro-merger campaign for the last several years, and also met the prime minister, and the army chief earlier this year to press their demands.
On top of all that, he said, some 20,000 vacancies would be generated for tribal women in line with the reforms bill, which would bring an economic and cultural change in the otherwise backward region.
Mufti Abdul Shakoor, JUI's head for FATA, however, believes that instead of a merger, a separate province is a better solution to the tribesmen's predicaments.
"There is no debate of merger whatsoever in any other part of the country. It's just FATA, which according to some government and opposition leaders, should be merged with KPK. This is not good," Mufti told Anadolu Agency.
Full report at:
https://www.aa.com.tr/en/asia-pacific/pakistani-parliament-looks-to-merge-tribal-region/1153862
--------
Mumbai terror attack mastermindHafiz Saeed seeks PML-F and MML alliance in Sindh for upcoming polls
22nd May 2018
LAHORE: Mumbai terror attack mastermind and Jamaat-ud-Dawah chief Hafiz Saeed has reached out to Pakistan Muslim League-Functional president Pir Sibghatullah Shah Rashidi and sought his party's alliance with Milli Muslim League (MML) in Sindh province for the upcoming elections.
Saeed has already started campaigning for the MML with an eye on the general elections in Pakistan expected to be held on July 27.
He is currently on the visit of Sindh province to explore chances of political alliance for his MML which is yet to be registered with the Election Commission of Pakistan (ECP).
He held a meeting with Rashdi, a spiritual leader of the Hur in Sindh province, yesterday and sought PML-F and MML alliance in Sindh province for forthcoming general elections.
PML-Zia head Ijazul Haq, a son of slain military ruler Gen Zia-ul Haq, was also present in the meeting.
A source privy to the development told PTI that the meeting agreed that the three parties 'PML-F, PML-Z and MML' would explore the possibility of seat-adjustment in Sindh.
They also agreed that the like-minded parties should contest the election jointly to avoid division of the their vote bank.
"Saeed said that since his organisations - JuD and Falahai-i-Insaniat (FIF) – had done an extensive social work in Sindh especially during floods the people have a soft corner for them and they will vote for MML," the source said.
Earlier, Saeed held a rally on the platform of MML in Haroonabad, Punjab, some 400-km from Lahore.
The interior ministry had opposed enlisting of the MML as a political party arguing it's an offshoot of the JuD which is banned under a UN resolution.
The US last month designated the MML as a foreign terrorist organisation, saying the banned Lashkar-e-Taiba (LeT) members make up MML's leadership and the so-called party openly displays Saeed's likeness in its election banners and literature.
The JuD is believed to be the front organisation for the LeT which is responsible for carrying out the Mumbai attack that killed 166 people, including six Americans.
Full report at:
http://www.newindianexpress.com/world/2018/may/22/mumbai-terror-attack-mastermind-hafiz-saeed-seeks-pml-f-and-mml-alliance-in-sindh-for-upcoming-poll-1818077.html
--------
FIA relying on Nawaz's 2015 statement in Asghar Khan case
Zulqernain Tahir
May 23, 2018
LAHORE: The Federal Investigation Agency (FIA) has decided in principle not to summon former prime minister Nawaz Sharif in the Asghar Khan case till it gets "concrete evidence" against him for receiving money from the Inter-Services Intelligence (ISI) in the 1990 elections to stop Benazir Bhutto's Pakistan Peoples Party from coming to power.
"The FIA's committee for implementation of the Supreme Court's Oct 19, 2012 judgement in the Asghar Khan case will not summon Nawaz Sharif till it gets some solid evidence against him for his alleged involvement in receiving money from the intelligence agencies in the 1990 elections," a source privy to the development told Dawn on Tuesday.
He said the FIA team would record statements of the officials of the intelligence agencies involved in this case and if "some concrete evidence" was found, it (FIA) would confront the former premier (Nawaz) with it.
"Otherwise, the FIA will use his (Nawaz) earlier statement he recorded with it a few years ago in which he had denied receiving money (from the intelligence agencies in the 1990 elections)," he added.
Mr Sharif had appeared before a four-member FIA team probing the Asghar Khan case in 2015 and recorded his statement.
The current implementation committee is headed by FIA Additional Director General Ehsan Sadiq. The Supreme Court had ordered Attorney General Ashtar Ausaf and the FIA director general on May 7 to inform it about the progress made to implement its verdict in the Asghar Khan case.
The FIA team had last week recorded the statements of former army chief retired Gen Mirza Aslam Baig and former ISI chief retired Lt Gen Asad Durrani. Earlier, both generals had refused to answer queries of the FIA team, saying their review petitions were pending before the court.
"In the coming days the FIA committee will summon the intelligence agencies' officials involved in the case and seek documentary evidence regarding distribution of money among the politicians and others," the source said.
The Supreme Court had in October 2012 ordered legal proceedings against the ex-ISI head and the former army chief over allegations that politicians were bankrolled to stop the PPP from coming to power after winning the 1990 elections.
The court's decision came 16 years after retired Air Marshal Asghar Khan filed a petition requesting the court to look into allegations that the ISI had financed many politicians in the 1990 elections by dishing out Rs140 million to create the Islami Jamhoori Ittehad (IJI) and stop Benazir Bhutto's PPP from coming to power. The petition was based on an affidavit of Gen Durrani.
A three-judge SC bench comprising then chief justice Iftikhar Mohammad Chaudhry, Justice Jawwad S. Khawaja and Justice Khilji Arif Hussain had ruled in its short order that there was "ample evidence" to suggest that the 1990 elections were rigged and that a political cell maintained by then president Ghulam Ishaq Khan had supported the formation of the IJI.
"Late Ghulam Ishaq Khan, retired Gen Aslam Baig and retired Gen Asad Durrani acted in violation of the Constitution," said the verdict, adding that the federal government should take "necessary steps under the Constitution and law against them".
The apex court had ordered the government to take legal action against the retired generals involved in corruption as well as against Younus Habib, former president of the now defunct Mehran Bank.
The court further ordered that the money illegally disbursed among the politicians by the then president and the ISI be recovered and deposited in Habib Bank, along with the accumulated interest on it. "Legal action should also be taken against the politicians who received the money.
Legal proceedings shall be initiated against the politicians, who allegedly have received donations to spend on election campaigns in the general election of 1990, and a transparent investigation into the criminal side shall be initiated by the FIA against all of them," the order had said.
In compliance with the apex court's order, the FIA had launched a probe into the Asghar Khan case by the end of 2013. An FIA committee headed by Ghalib Bandesha and comprising Dr Usman Anwar, Qudratullah Murawat and Najaf Mirza had then recorded the statements of Nawaz Sharif, Asghar Khan, Younis Habib, advocate Yousuf Memon, veteran politician Makhdoom Javed Hashmi, former Sindh chief ministers Dr Arbab Ghulam Raheem and Syed Muzaffar Hussain Shah, Altaf Hassan Qureshi of Urdu Digest, politician Syeda Abida Hussain, former governor Ghulam Mustafa Khar and others.
All politicians, including Mr Sharif, in their statements had denied receiving any money from the ISI or else.
Full report at:
https://www.dawn.com/news/1409447/fia-relying-on-nawazs-2015-statement-in-asghar-khan-case
--------
Qatari prince was ready, JIT didn't bother recording his statement: Nawaz
MAY 23, 2018
During the hearing of the Avenfield reference on Tuesday, former prime minister Nawaz Sharif remarked that he wasn't involved in any business dealings with the Qatari royal family.
The Avenfield reference, pertaining to the Sharif family's London properties, is among the three references filed against the family by the National Accountability Bureau (NAB) last year on the Supreme Court's directives.
Regarding letters written by Qatari Prince Hamad Bin Jassim Bin Jabor al Thani, Nawaz said the letters had been verified by the prince himself, who was ready to join the hearing, but the Joint Investigation Team (JIT) didn't bother recording his statement.
During the proceedings, Nawaz once again brought up the issue of JIT head Wajid Zia employing the services of his cousin Akhtar Raja's company during the course of the investigation.
"Akhtar Raja's statement in court was biased," Nawaz said, adding that Jeremy Freeman verified trust deeds of Comber group, Nielsen and Nescoll, on January 5, 2017. "Freeman had a copy of the trust deeds at his office," the former premier said.
He said neither Akhtar nor the investigating officer make any effort to obtain copies of trust deeds from Freeman.
The former PM also raised the issue of Akhtar Raja getting done forensics of photocopies. "Akhtar Raja should know there is no forensic review of photocopies. He emailed the documents to forensic experts in haste. The forensic expert was hesitant at first to conduct forensic of the documents."
Over his alleged involvement in Dubai Steel Mills, Nawaz said he just attended the inauguration ceremony of the facility.
Nawaz claimed that he was never the owner, director or shareholder of Capital FZE. "I was never affiliated with the business dealings of the company."
Regarding the letter from the UAE's Justice Ministry, Nawaz said that he was unaware that the letter came in response to any mutual legal assistance (MLA). "The letter was never presented as evidence in court, therefore, it cannot be used as proof," he said.
Nawaz remarked that the 2012 Mosaic Fonseca letter presented by Zia could not be used as a primary document since it could not be certified as per customary laws.
Meanwhile, the NAB prosecutor raised objections over 'the way Nawaz was recording his statement'. He said the suspect needed to record the statement on his own and he can only take help from his counsel on certain legal points.
"My objections should be made part of court records," th e NAB prosecutor told the court.
In response, Nawaz said, "I own my statements. I prepared the statement with help from my counsel, Khawaja Harris. My throat hurts if I read for too long. This is why I asked Khawaja Harris to read my statement," he said, adding, "If NAB had a problem with it then they should've raised objections in yesterday's hearing."Afterwards, Nawaz started reading the statement himself. On Monday, Nawaz had denied invovlement in Avenfield case while recording his answers to 55 of the 128 questions asked by the court. He remarked that the prosecution had 'failed miserably' to prove both, its stance and any link between him and the London flats, in the Avenfield properties reference. The former PM said that none of the documents produced by the prosecution could connect him to any money trail leading to the Avenfield apartments. "I was never involved or associated in any capacity in the acquisition of any real or beneficial title of the Avenfield apartments (or providing means or funds)," he said. The three-time premier remarked that the JIT report could not be treated as evidence as it was the report of an investigation agency. "None of the volumes of the report stand as exhibited as evidence as only a selected portion was allowed to be exhibited in court," he said.
Full report at:
https://dailytimes.com.pk/243574/qatari-prince-was-ready-jit-didnt-bother-recording-his-statement-nawaz/
--------
Court summons Auqaf, district admin in plea seeking cremation facility for Sikhs of KP
MAY 23, 2018
A division bench of the Peshawar High Court (PHC) on Tuesday issued summons to the Auqaf Department and the town administration concerned in a petition seeking provision of cremation facilities for Khyber Pukhtunkhwa's Sikh community.
The petitioner had submitted that due to the lack of any such facility in the province, the community was left with no option but to take their dead all the way to Attock in Punjab province, the nearest place where such a facility was available.
During the hearing on Tuesday, KP's additional advocate general, Qaiser Khan, claimed before the court that measures were taken to provide the facility, but work could not be completed in time due to differences among community members.
In an apparent reference to the delayed construction of the Bus Rapid Transit system, Justice Mussarat Hilali of the PHC said that the district administration of Peshawar could not provide the Sikh community with a ground for cremation of their dead while it was digging ditches all over the city.
Justice Hilali said the court would not let the government withhold funds allocated for the provision of cremation facilities.
The court then issued summons to the Auqaf Department and the town administration and adjourned the hearing till May 31.
According to the petition, there are over 60,000 Sikhs living across KP but the province does not have a single facility where the community can hold funeral services including cremation of the dead. It states that sikhs from across the KP have to carry bodies to Attock, where they cremate their dead, adding that even transportation of the bodies in not an easy task since there is no dedicated ambulance service for the purpose.
The petition states that the KP government had allocated millions of rupees for the establishment of a cremation facility as well as a cemetery for the province's Christian community, but officials in the Department of Auqaf and Religious Affairs were employing delaying tactics in the matter.
The petition seeks court orders for the authorities to provide the Sikh community with a proper cremation facility and an ambulance service for transportation of bodies.
Reports appeared in the media on Tuesday quoting Radesh Singh Toni, a Sikh community leader, to claim that Rs30 million was allocated by the government for a cremation facility last year. He said that the government had set the ceiling on land price at Rs100,000 per marla. However, he said, it was impossible to find land in the given price range in Peshawar city.
Full report at:
https://dailytimes.com.pk/243561/court-summons-auqaf-district-admin-in-plea-seeking-cremation-facility-for-sikhs-of-kp/
--------
Africa
Al Shabaab suicide bomber hits Somalia military convoy: police
MAY 22, 2018
MOGADISHU (Reuters) - A suicide car bomber from Somalia's Islamist group al Shabaab hit a military convoy outside Mogadishu on Tuesday, causing an unknown number of deaths, a police officer and the group's spokesman told Reuters.
The attack targeting a passing military convoy occurred in Afgoye, a district about 30 km northwest of Mogadishu, police officer Major Abdiqadir Ali said.
"What we are sure (of) is a military vehicle was hit," Ali said, adding there were casualties but the death toll had not yet been determined.
Al Shabaab's military operations spokesman Abdiasis Abu Musab told Reuters they were responsible for the attack.
The group, an ally of Al Qaeda, is fighting to topple the country's western-backed central government and impose its rule based on its own interpretation of sharia law.
Al Shabaab also wants to force out an African Union-mandated AMISOM peacekeeping force that is helping defend the government of President Mohamed Abdullahi Mohamed.
"One of our mujahideen (was) martyred after he rammed his car into a Somali military convoy," Abu Musab said.
One military pick-up truck was destroyed while 12 soldiers were killed by the blast, he said and added that a second vehicle in the convoy was also damaged.
The soldiers in the convoy were U.S.-trained Somali military commandoes. Al Shabaab have targeted them on the same road several times in the past.
https://www.reuters.com/article/us-somalia-security/al-shabaab-suicide-bomber-hits-somalia-military-convoy-police-idUSKCN1IN1KB?il=0
--------
700 Boko Haram fighters ready to surrender – Nigerian Govt
May 23, 2018
Nigeria said no fewer than 700 Boko Haram militants have signified their intention to surrender as it told the world the unprecedented humanitarian crisis triggered by the nine-year-old insurgency in the North-east.
Nigeria's Ambassador/Permanent Representative to the UN, Tijjani Bande, told the UN Security Council that 14.8 million people were affected by the crisis. He said 1.7 million people were internally displaced, with the most adversely affected being children and women.
Mr Bande spoke during an Open Debate on the Protection of Civilians in Armed Conflicts.
He assured the international community that 'The Buhari Plan' would bring relief to North-east Nigeria, currently ravaged by Boko Haram as all efforts were being taken against the insurgency.
The Presidential Committee for North-east Initiative developed 'The Buhari Plan' – a framework of action to ensure the rehabilitation of the victims of insurgency and the reconstruction of their communities.
Mr Bande said a robust Social Protection Initiative, and a second National Action Plan to fully implement the provisions of resolution 1325 (2000) had been instituted to protect civilians, particularly women and children from the Boko Haram ravages.
"To that end, the initiatives will also complement the implementation of 'The Buhari Plan', which provides a blueprint for the comprehensive humanitarian relief and socioeconomic stabilisation of the North-East, as well as the return and resettlement of displaced persons.
"We are collaborating with our neighbours, Chad, Cameroon, Niger and Benin, within the framework of the Multinational Joint Task Force, to defeat the Boko Haram insurgency, which is targeting civilians, particularly women and children," Mr Bande said.
The Buhari Plan aims to achieve a safe and prosperous North-east that would be a global model for post-conflict socio-economic recovery and development.
The envoy noted that Nigeria was among the first group of states to endorse the Safe Schools Declaration in Oslo, thereby making a pledge to protect schools during armed conflicts and using and promoting the Guidelines for Protecting Schools and Universities from Military Use during Armed Conflict.
Mr Bande said the declaration complemented and strengthened Nigeria's national Safe Schools Initiative established in 2014, as part of the response by the Federal Government to promote safe zones for learning.
He said these initiatives reflected government's commitment to ensuring the security of women and children during armed conflicts and enhancing their active and direct participation in conflict prevention and peacebuilding.
The ambassador said: "It is heartening to note that over a thousand kidnapped women and children have been rescued, and all territories once controlled by the group have been recovered.
"Indeed, our experience in the Lake Chad Region today, is evidence that with determined international collaboration, terrorism can be defeated.
"In addition, the Government of Nigeria has adopted a multinational and multi-agency approach tagged 'Operation Safe Corridor', to effectively handle the de-radicalisation, rehabilitation and reintegration of willing and surrendered Boko Haram members back to the society".
The Nigerian envoy said so far, many insurgents had willingly surrendered to the military, while about 700 others had indicated interest to surrender.
He said Nigeria had taken steps to cater to victims of Boko Haram in the form of rape and other sexual violence against children, abduction of children and other grave violations.
According to him, these steps include providing humanitarian relief, financial, economic, educational and psycho-social support.
"Despite the tremendous efforts being made at the national level, we acknowledge that protecting civilians in conflict situations remains a critical challenge, not only for the United Nations, but also for the entire international community.
"We therefore call for continued collaboration and assistance among the international community to address this issue.
Full report at:
https://www.premiumtimesng.com/news/more-news/269445-700-boko-haram-fighters-ready-to-surrender-nigerian-govt.html
--------
Horror As Muezzin And Worshiper Found Dead In Algeria Mosque
22 May 2018
Two men including the muezzin, who leads and recites the call to prayer, were found murdered in a mosque in Oued Sebaa in Sidi Bel Abbes Province, west of Algeria, on Monday, the fifth day of Ramadan.
The Algerian news agency quoted a security source as saying that Algerian security forces found two men, a muezzin, 64 years old, and a worshiper, 67 years old, killed in Khaled bin al-Walid mosque on Monday morning.
The two men died before dawn prayers, and an investigation is underway.
The crime deepens imams' fears in Algeria that they may be attacked inside and outside mosques. It comes less than a week after they held a protest in the capital to demand security and protection after frequent attacks on them by extremists.
https://english.alarabiya.net/en/News/north-africa/2018/05/22/Horror-as-muezzin-and-worshiper-found-dead-in-Algeria-mosque-.html
--------
Burkina forces kill 3 suspected terrorists in early morning raid
May 23, 2018
Burkina Faso security forces killed three suspected terrorists and arrested one more on Tuesday morning in an operation on the outskirts of the capital Ouagadougou, state television reported.
One gendarme was killed in the fighting in the Rayongo neighbourhood, while five people, including one civilian, were injured, the report said.
"The Special Intervention Unit of the National Gendarmerie (USIGN) conducted an operation during the night of May 21 to 22 to dislodge suspected terrorists in the Ragnongo district," according to a statement released by the security forces.
Long spared by armed groups active in the Sahel, Burkina Faso, one of the poorest countries in the world, has been facing increasingly frequent and deadly attacks since 2015.
In March, the army headquarters and French embassy in Ouagadougou were attacked, leaving eight dead and 85 injured.
Northern Burkina Faso, bordering Mali, regularly experiences abductions and attacks perpetrated by jihadist groups against state representatives.
The Ansarul Islam jihadist group has claimed responsibility for several attacks against the Burkinabe army, including one that killed 12 soldiers in December 2016 in Nassoumbou.
Full report at:
http://www.africanews.com/2018/05/22/burkina-forces-kill-3-suspected-terrorists-in-early-morning-raid/
--------
Car bomb kills two soldiers in eastern Libya
22 May 2018
At least two army personnel loyal to military commander Khalifa Haftar, who is backed by Libya's Tobruk-based parliament, were killed Tuesday in a car-bomb attack in eastern Libya.
Libya's Channel 218 television station reported that the car bomb blew up near Gate 60 outside the town of Ajdabiya, where forces loyal to Haftar are deployed.
According to the broadcaster, the attack killed two soldiers from Haftar's 152nd Battalion.
No group has yet claimed responsibility for Tuesday's attack, but the Daesh terrorist organization has reportedly carried out similar attacks in the past.
In March, the same gate was attacked by a Daesh suicide bomber who managed to kill three soldiers loyal to Haftar.
Libya has remained dogged by turmoil since 2011, when a bloody NATO-backed uprising ended with the ouster and death of President Muammar Gaddafi after more than four decades in power.
Full report at:
http://www.worldbulletin.net/africa/202321/death-toll-in-dr-congo-ebola-outbreak-now-at-27
--------
MJC has stranglehold over SA Muslims who blindly follow them
22 MAY 2018
The horrific incident that resulted in the brutal killing of an innocent Shia worshipper, the injury of others and the burning of portions of the Imam Hussein Mosque in Verulam must be denounced unequivocally by Muslims. If this despicable crime is not nipped in the bud and the culprits are not brought to justice, it sets a dangerous precedent for South African Muslims.
It may then become the norm to resolve theological differences through intimidatory violence and indiscriminate murder, and not by peaceful debate or respectful interaction.
To date, South Africa has been spared the worst excesses of religious fundamentalism and ideological violence that has characterised the Middle East, South Asia and Africa where sectarian slaughter and denominational killings are rife. The gross inhumanity of Isis in Iraq, Syria and Libya, the rapacious vengeance of al-Qaeda in the Levant, the blood-soaked gore of the Taliban in Afghanistan and Pakistan, the ruthless cruelty of al-Shabaab in Somalia, and the insane criminality of Boko Haram are reflective of mindless fanaticism within contemporary Islam.
While violent doctrinal conflicts and bloody denominational conflicts are normative of populist Islam in much of the contemporary Muslim world, these raging battles have not yet reared their ugly head in any discernible degree locally.
What has occurred however, in the past several decades, has been the steady erosion of religious tolerance and denominational diversity. This religious intolerance and philosophical straitjacketing inside the South African Muslim community has been fostered by self-appointed clergy organisations that oversee a largely ill-informed and unthinking Muslim community.
By far the most recognisable of these groups is the self-styled Muslim Judicial Council (MJC) that prides itself as the self-anointed champion of Muslims in the Western Cape. Since its formation in 1945, this priesthood has imposed its control over pliant believers who have been conditioned not to question but to blindly follow the dictates of opportunist Muslim clergymen.
These priests have proven to be fixated in feathering their own nests through their monopolistic halaal certification racket, the profitable South African Hajj and Umrah Council and other commercial enterprises, rather than educating and uplifting the Muslim masses.
Alongside kindred clerical bodies in Gauteng, Eastern Province and Kwa-Zulu Natal, the MJC exerts a stranglehold over South African Muslims, programming their thoughts and deeds to a degree unfathomable to outsiders. Not only is the MJC instrumental in creating a climate of controlled conformity in much of the Muslim community, it seeks to stamp out what it deems as heterodoxy and heresy. This unaccountable body has effectively brainwashed the Muslim population to uncritically accept its rulings (fatwahs) even when many are contrary to the indisputable Qur'anic teachings of inclusivity and pluralism (2:256; 18:29; 109:6 etc).
To maintain their unrelenting theological grip over the masses and to divert attention, the MJC has focused Muslim minds on combating "heresy" inside Islam. Within a decade following its inception, the MJC orchestrated a comprehensive boycott of the minority Ahmadi/Qadiani sect that reached it zenith in the 1960s with the total social isolation and economic emasculation of that embattled faction. Boosted by their success, the MJC then went after other free-thinkers and independent-minded Muslims who did not kow-tow to its authority. This is the prime reason why the MJC would eventually become obsessed in trying to close down the Open Mosque when it was established in 2014 as this represented a direct challenge to its theological monopoly.
By the end of apartheid tyranny in 1994, the MJC was the unrivalled clergy clique in the land. However, with the eclipse of institutionalised racism and the advent of democracy, the ANC opened the floodgates to unregulated immigration from Africa and Asia. This led, for the first time, to a distinct Shia presence in a land that was orthodox Sunni. Confronted by these heterodox newcomers and egged on by their Saudi backers who were eager to prevent Shia Iran from extending its sway in the Islamic world, the dictatorial MJC unleashed insidious propaganda through its affiliated mosques and educational centres that painted the Shia as the embodiment of demonic depravity that must be eliminated.
Emboldened by their victory over the minuscule Ahmadis, the MJC, supported by local and foreign Wahhabi paymasters and preachers, intends to contain growing Shia numbers. With the opening of their mosque in Ottery six months ago, the Shia became a permanent component of the Muslim landscape. The MJC, naturally, revived its old anti-Ahmadi campaign by conducting a relentless crusade of social intimidation, sectarian supremacy and economic boycott of all those who attend the Shia place of prayer.
In this febrile climate of Sunni religious intolerance and sectarian hegemony, is it surprising that theological thugs inspired by the irrational threats of the MJC and other associated bodies may have taken the law into their own hands? This, by the way, is not the first time that misguided Muslims have been encouraged to attain heavenly bliss by committing earthly crimes.
Full report at:
https://www.iol.co.za/capeargus/opinion/mjc-has-stranglehold-over-sa-muslims-who-blindly-follow-them-15089843
--------
Nigerian Muslim body calls for sanctions on Israel
22.05.2018
A Nigerian Muslim body called on international community to pressure the U.S. and Israel to stop atrocities against Palestinians.
"After 70 years since the Palestinian people were evicted from their houses and turned into refugees, another 60 innocent young men and women were killed by Israeli snipers and over 2,000 were injured," Abdul Waheed Atoyebi, chief of the Muslim Awareness International, told a news briefing in Lagos on Tuesday.
"The Israeli government as usual continues to be defiant, using deception, lies and false narratives to defend their indefensible crimes against humanity."
Atoyebi said the relocation of the U.S. embassy from Tel Aviv to Jerusalem was "provocative and exposed Washington as a biased party that could no longer serve the cause of justice or fairness on the Palestinian issue."
He praised Turkish leader Recep Tayyip Erdogan for showing "unequivocal solidarity" with the Palestinians. He also commended South Africa and Nigeria which have registered their protests at the maltreatment of the Palestinians.
"The whole world is taking note of the great roles Turkey is playing. We call on the Arab league to wake up from their slumber and follow the steps of countries who are standing up to be counted. Arab nations should stop burying their heads in the sand while Palestine and Islam's third holiest site are under constant attacks," Atoyebi said.
Full report at:
https://www.aa.com.tr/en/africa/nigerian-muslim-body-calls-for-sanctions-on-israel/1153902
--------
Europe
How can leaving JCPOA make region safer? EU to Pompeo
May 22, 2018
The EU's foreign policy chief Federica Mogherini has stressed that there is no "alternative" to the Iran nuclear deal, after US Secretary of State Mike Pompeo vowed "painful" sanctions against Tehran.
"Secretary Pompeo's speech has not demonstrated how walking away from the JCPOA (nuclear deal) has made or will make the region safer from the threat of nuclear proliferation or how it puts us in a better position to influence Iran's conduct in areas outside the scope of JCPOA," said Mogherini in a statement released on Monday.
Earlier in the day, Pompeo said that Washington would increase financial pressure on Iran by imposing the "strongest sanctions in history" on the Islamic Republic if Tehran refuses to change the course of its foreign and domestic policy.
Mogherini went on to emphasize that "there is no alternative" to the Joint Comprehensive Plan of Action (JCPOA,) while calling on the US to honor its commitments to the deal.
"This deal belongs to the international community, having been endorsed by the United Nations Security Council. The international community expects all sides to keep the commitments they made more than two years ago," she added.
She also noted that International Atomic Energy Agency (IAEA) has on multiple occasions confirmed that Iran has implemented "all its nuclear related commitments" under the agreement.
Iran Foreign Ministry decries Pompeo's rhetoric
The Iranian Foreign Ministry also released a statement condemning Pompeo's remarks, stressing that the US has no right to interfere in Iran's internal affairs.
"Iran rejects the allegations and lies in this so-called new strategy and condemns the US Secretary of State's ... open interference in its internal affairs and the unlawful threats against a United Nations member state," read the statement.
The statement further noted that such threats and accusations were aimed at diverting attention from Washington's violation of JCPOA.
German FM to meet Pompeo over Iran deal
German Foreign Minister Heiko Maas announced that he will travel to US to meet with Pompeo to discuss Washington's stance on the deal.
"I will actually travel to Washington to have a meeting with Secretary Pompeo, and take advantage of that meeting to talk about this," said Maas in reference to Pompeo's remarks.
"We think that without this agreement we could run the risk that Iran could restart a nuclear program," Maas added.
Britain undermines Pompeo's 'jumbo' Iran deal
British Foreign Secretary Boris Johnson also questioned the practicality of the tough conditions set by the US for a new "jumbo" Iran deal.
Johnson referred to anti-Iran allegations by some Western countries, suggesting that they could not be incorporated into one single agreement.
Israel hails US policy on Iran
Israeli Prime Minister Benjamin Netanyahu hailed Pompeo's remarks, and called on rest of the world to follow suit.
"The US policy is correct. Iran is spreading aggressively throughout the Middle East. It aspires to achieve nuclear weapons by various means," he said.
"We call on the entire international community to join this American position," he added.
UAE says US taking right approach
The United Arab Emirates Minister of State for Foreign Affairs Anwar Gargash responded to Pompeo's remarks by saying that the US was taking the right approach towards Iran.
"Uniting (our) efforts is the correct path for Iran to realize the futility of its incursions and expansionism," tweeted Gargash.
Following Pompeo's remarks, Iranian President Hassan Rouhani said the United States cannot make decisions for Iran and other independent countries.
"All world countries want independence in their decisions and perhaps Americans are able to advance their agenda in some places through pressure, but logic does not accept them making decisions for the world," said Rouhani.
US President Donald Trump announced on May 8 that Washington was walking away from the nuclear agreement which was reached between Iran and the five permanent members of the UN Security Council - the US, Britain, France, Russia and China - plus Germany.
Trump also said he would reinstate US nuclear sanctions on Iran and impose "the highest level" of economic bans on the Islamic Republic.
Iran has said it would remain in the JCPOA for now, pending negotiations with the other signatories in the coming weeks, before making a final decision on its future role in the agreement. Tehran wants the Europeans to give it clear-cut guarantees about fulfilling their obligations if it remains in the accord.
Iranian Foreign Minister Mohammad Javad Zarif also took to Twitter, noting that the United States was repeating "the same wrong choices" and would obtain the "same ill rewards."
http://www.presstv.com/Detail/2018/05/22/562511/eu-jcpoa-iran-pompeo
--------
'No alternative' to Iran nuclear deal, EU foreign policy chief tells US
22 May 2018
The EU's foreign policy chief warned Monday there was "no alternative" to the Iran nuclear deal, after US Secretary of State Mike Pompeo vowed unprecedented sanctions against Tehran following Washington's withdrawal from the pact.
Pompeo -- a longtime Iran hawk and fierce opponent of the 2015 agreement -- earlier outlined an aggressive series of "painful" measures designed to hurt Tehran, in his first key address since moving to the State Department from the CIA in April.
"Secretary Pompeo's speech has not demonstrated how walking away from the JCPOA (nuclear deal) has made or will make the region safer from the threat of nuclear proliferation or how it puts us in a better position to influence Iran's conduct in areas outside the scope of JCPOA," the European Union's foreign policy chief Federica Mogherini said.
In a statement, she stressed "there is no alternative" to the Joint Comprehensive Plan of Action, as the deal is officially known.
US President Donald Trump sparked an international outcry earlier this month when he announced his country would pull out of the landmark accord struck in July 2015 between Tehran and major world powers.
His move came despite the fact that the UN's nuclear watchdog, in charge of monitoring Iran's compliance with the deal, has confirmed that Tehran has so far abided by the terms.
Trump wants Brussels and others to support his hardline strategy and push for a fresh agreement.
"Iran will never again have carte blanche to dominate the Middle East," Pompeo said, outlining 12 tough conditions from Washington for any "new deal" with Tehran.
But Mogherini called on the US to keep its commitments as part of the agreement signed under Trump's predecessor Barack Obama.
"The JCPOA is the result of more than a decade of complex and delicate negotiations, based on dual track approach and therefore the best possible outcome, striking the right balance," Mogherini said.
"This deal belongs to the international community, having been endorsed by the United Nations Security Council. The international community expects all sides to keep the commitments they made more than two years ago."
She reiterated that the International Atomic Energy Agency (IAEA) had confirmed already 10 times that Iran has implemented "all its nuclear related commitments" under the agreement.
The re-establishment of the US punitive measures will likely force European companies to choose between investing in Iran or trading with the United States.
The EU has been trying to persuade Iran to stay in the 2015 agreement, even without Washington's participation.
German Foreign Minister Heiko Maas, attending the G20 foreign ministers' meeting in Buenos Aires, said he was not surprised by Pompeo's critique of the Iran deal, before adding: "We do not see at this time a better alternative."
"We believe that without this agreement, we would take the risk that Iran resumes its nuclear program," he said.
Full report at:
https://english.alarabiya.net/en/News/middle-east/2018/05/22/-No-alternative-to-Iran-nuclear-deal-EU-foreign-policy-chief-tells-US-.html
--------
Amosun, Adebule, UK Imam for Adegbite Quran Competition
May 23, 2018
Ogun State Governor Ibikunle Amosun, Lagos State Deputy Governor Dr Idiat Adebule, Chief Executive Officer of Bua Group Alhaji AbdusSamad Rabiu will lead others to the Lagos Quran Competition.
The event is organised by the Muslim Students' Society of Nigeria (MSSN) Lagos State Area Unit to honour the pioneer MSSN National President and former Secretary-General of the Nigerian Supreme Council for Islamic Affairs, the late Dr AbdulLateef Adegbite.
It will hold on Sunday at University of Lagos Main Auditorium, Akoka, Lagos.
At a briefing yesterday addressed by a son of the late Adegbite, Bashorun Ladi and MSSN Amir (President) Dr Saheed Ashafa at NUJ House, Alausa, the duo promised that the competition will be the largest in Lagos State.
Ashafa said the Chief Executive Officer of Basmallah Institute for Teaching Qur'an and Islam in Ireland, United Kingdom, Ustadh Harun Thanni, will speak on the theme – Hope for the hopeless.
The topic, he said, is apt because "some Nigerians have already lost all hope in Project Nigeria, but we as a Muslim Students' body say No! We believe in the Nigerian dream, which to us is still achievable if the government and the led return to the Qur'an."
He admitted that the country is experiencing difficult times.
"Many Nigerians," he said, "are beginning to lose hope because things are not working out as promised by this government when they came to power. The state of insecurity, the rise in prices of most commodities, even as the government tries to stabilise the economy and the unguarded utterances of many Nigerians, some unfortunately from elder statesmen, can spell doom for Nigeria, if not curtailed. We hope the crisis will be nip in the bud soonest."
Bashorun Adegbite said he was happy to represent the Adegbite family "not only because it's an opportunity to remember him but a chance to continue his legacies by transmitting those core values for which he had become well known in his life.
Full report at:
http://thenationonlineng.net/amosun-adebule-uk-imam-for-adegbite-quran-competition/
--------
URL: https://www.newageislam.com/islamic-world-news/200-year-old-thiruvananthapuram-military/d/115334
New Age Islam, Islam Online, Islamic Website, African Muslim News, Arab World News, South Asia News, Indian Muslim News, World Muslim News, Women in Islam, Islamic Feminism, Arab Women, Women In Arab, Islamophobia in America, Muslim Women in West, Islam Women and Feminism