New Age Islam News Bureau
4 Feb 2015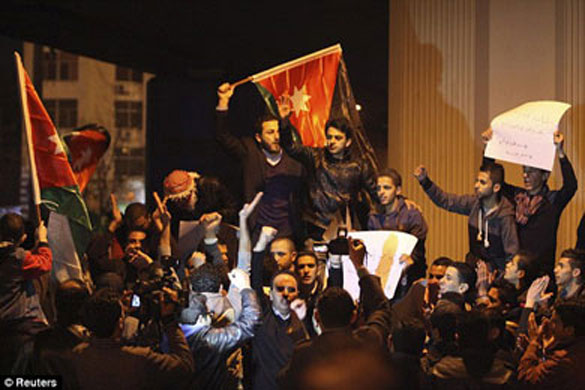 Activists took to the street in Amman to protest and wave their flags in defiance of the shocking video
-------------
Africa
• 200 Boko Haram Fighters, 9 Chadian Soldiers 'Killed In Clashes'
• Islamic State Affiliate Takes Root amid Libya's Chaos
• Clashes in Libya kill 16 soldiers near Islamist hub
• Reluctant Islamic State Fighters Choose Between Death, Jail
• U.S. Targets Al-Shabab Leader in Somalia with Drone Strike
Europe
• Spanish Call Centres and Butcher's Shops Fund Jihad
• ISIS Captors 'Didn't Have A Quran,' Says Ex-Hostage
• Germany to Clamp Down on Jihadi Travel, Financing
• French police arrest 8 suspected in Syria extremist network
• UN calls for refugee quota system in Europe
Arab World
• Norwegian 14-Year-Old Found in Iraq Waging Jihad—Against ISIS
• Jordan Responds to Pilot's Killing By Islamic State, Executes Two Iraqi Militants
• Al-Azhar Calls for 'Killing, Crucifixion of ISIS Terrorists'
• Iraqi Army Kills over 10 ISIL Terrorists in Fallujah
• The chilling reason the Islamic State burned a Jordanian pilot alive
• Syria to Jordan: Help us fight ISIS and al-Qaeda
• Saudi executions judicial while IS beheadings are arbitrary, says Saudi official
• Senior Politician: Iran Only True Supporter of Iraq in War on ISIL
• Slain pilot's father expects U.S., Jordan to 'take revenge' on Islamic State militants
• IS killers of pilot opened "gates of hell" on themseves: Jordanian interior ministry
India
• Bengaluru Deportees Wanted To Serve In Syrian War Field
• Scared of ISIS, Iraqi brothers seek refuge in India
• India Can Spread the Message of Tolerance: Israel Ambassador
• Any path other than diversity will face obstacles: Vice-President
Pakistan
• Mumtaz Qadri Lawyer Hails Charlie Hebdo Attackers As 'Heroes'
• Four Security Personnel, Five Lashkar Men Killed In Kurram, Khyber
• Army vows blanket crackdown against terrorists, extremists
• Four militants killed in clashes with security officials in Bannu
• Gunmen kill 5 customs officials in Kohat
• NAP in Lahore: 1,999 people arrested under counter-terrorism initiative
• Even Islamic State knows polio is bad
• Indian govt changing Kashmir's demographic: Foreign Secretary
South Asia
• In Japan, Nervous Muslims Condemn Islamic State
• 3 ANA Martyred, 52 Insurgents Killed In Clearance Operations
• For Once, China Does Not Defend Pakistan On Terrorism Issue
• Myanmar condemns UN official for using term "Rohingya"
Southeast Asia
• Court Sets May 14 to Hear If Non-Muslims Can Practise As Shariah Lawyers
• Crime-Fighting Measures in Jakarta Take a Modern Twist on Classics
• Najib the right man to mediate MIC tussle, says Dr M
Mideast
• Gülen's Cancellation of Passport Conveyed to U.S. As Turkey Demands His Extradition
• Iranian Cultural Official Stresses Islam's Opposition to Violence
• 1,000 Israeli Settlers Invade Al-Aqusa Mosque in January
North America
• Muslim Groups 'Troubled' By Stephen Harper's Mosque Remark
• Montreal Imam Hamza Chaoui Fights 'Radicalization' Allegations
• Jordan hostage video shows ISIS 'barbarity': Obama
• U.S. Muslims to Condemn ISIS's 'Unspeakable' Brutality in Killing of Jordanian Pilot
• Obama's Pentagon nominee interested in counter-terrorism cooperation with Pakistan
Compiled by New Age Islam News Bureau
URL: https://www.newageislam.com/islamic-world-news/new-age-islam-news-bureau/200-boko-haram-fighters,-9-chadian-soldiers--killed-in-clashes-/d/101371
----------
Africa
200 Boko Haram fighters, 9 Chadian soldiers 'killed in clashes'
February 4, 2015
Gamboru (Nigeria) (AFP) - Chad said Wednesday it inflicted heavy losses on Nigeria's Boko Haram, killing "over 200" Islamist militants in a border town that it wrested from the rebels in a ground offensive.
Nine Chadian soldiers were also killed and 21 injured Tuesday in Gamboru as regional forces took the fight against the insurgents on to Nigerian soil for the first time, the Chadian army said.
"This toll is provisional," the Chadian military said in a statement, adding that troops were still combing the town on Nigeria's border with Cameroon for lingering rebel elements.
Around 2,000 Chadian troops backed by armoured vehicles poured across the border into Gamboru on Tuesday after the African Union last week backed a regional force to take on the extremists.
The sound of automatic gunfire could heard Wednesday in the town, which has been abandoned by residents after a barrage of air strikes by Chad in the run-up to its offensive, an AFP journalist reported.
While the operation in Gamboru continued, the town of Fotokol on the other side of the border, in Cameroon, came under fresh attack from the jihadists.
"The guys (Boko Haram) entered this morning. The fighting between them and our soldiers is very intense," a Cameroonian security source in Fotokol told AFP by telephone.
The Cameroonian troops had managed to repel the attack by mid-morning, after Chadian soldiers crossed back from Nigeria to help defend the town.
In Gamboru, the clashes left scenes of desolation, with bodies lying on the ground, houses destroyed, shops gutted and trucks charred.
"We have routed this band of terrorists," the commander of the Chadian contingent Ahmat Dari told AFP Tuesday, vowing to "hunt them down everywhere."
Nigeria's military has drawn fierce criticism for failing to hold back the insurgents, who have stepped up their campaign of terror in country's northeast in the run-up to presidential and parliamentary elections on February 14.
In recent months the group has also carried out increasing cross-border raids, threatening regional security.
Chad's intervention reflects the growing nervousness among Nigeria's neighbours over the prospect of Boko Haram achieving its stated aim of carving out an Islamic caliphate on their borders.
Nigerian defence spokesman Chris Olukolade denied that the presence of foreign troops on Nigerian soil compromised the country's sovereignty.
"Nigeria's territorial integrity remains intact," he said, claiming national forces had "planned and are driving the present onslaught against terrorists from all fronts in Nigeria, not the Chadian forces".
Regional forces have gone into action on several fronts.
Chadian troops and vehicles have massed near Boko Haram-held towns along Nigeria's border with Niger, pointing the way to another possible cross-border operation.
"A contingent of about 400 vehicles and tanks is stationed between Mamori and Bosso," Niger's private radio Anfani reported.
France is supporting the operations by carrying out reconnaissance flights over border areas of Chad and Cameroon, defence officials in Paris said.
At least 13,000 people have been killed and more than a million forced from their homes since Boko Haram launched an insurgency in 2009.
The group has stepped up its attacks in recent weeks, in a move believed to be aimed at disrupting the elections.
The rebels have tried, in vain, to capture the strategic northeastern town of Maiduguri twice in the past week.
On Monday, President Goodluck Jonathan -- who is running for re-election against a former military ruler who has vowed to defeat Boko Haram -- escaped a suspected suicide bomb attack after attending a campaign rally in Gombe in the northeast.
Chad's President Idriss Deby sent soldiers to Cameroon in mid-January to assist troops from Yaounde fighting increasing rebel incursions in the country's far northeast.
N'Djamena was already part of a long-standing regional force with Niger and Nigeria in the Lake Chad area.
But that force had been assumed to be moribund after Boko Haram overran the multi-national base in Baga, northern Borno state, on January 3, in an attack that also left hundreds of civilians feared dead.
http://news.yahoo.com/200-boko-haram-fighters-9-chadian-soldiers-killed-093749776.html
----------
Islamic State Affiliate Takes Root Amid Libya's Chaos
04 Feb, 2015
Islamic State's affiliate in Libya has capitalized on the battlefield failures and disillusionment among better-established, more moderate Islamist groups in the country, following the same formula that brought the radical movement success in Syria and Iraq, Western counterterrorism officials said.
A group calling itself Islamic State's Tripoli Province claimed responsibility for an attack on Tuesday on a hotel that killed nine people, including an American. It was the first time the group came to prominence in Libya, raising concerns that the reach of the extremists is spreading beyond Syria and Iraq.
But the attacks also underlined the threat Islamic State poses to more entrenched Islamist groups such as Libya Dawn, a more moderate Islamist militia that is ideologically close to Egypt's Muslim Brotherhood and now fights secular insurgents in eastern Libya.
Oil-rich Libya has gradually slipped into chaos since rebels toppled strongman Moammar Gadhafi three years ago, with two rival governments now claiming to run the country and myriad competing local militias effectively in control on the ground.
In an example of the anarchy creeping into the country, the head of planning at the National Oil Co., Samir Kamal, was kidnapped two weeks ago before being released Sunday. The identity and motives of his kidnappers remain unknown.
The threat to Libya represented by Islamic State is on an altogether different scale. The North African nation's experience with local militants pledging allegiance to Islamic State follows a pattern in which the group gains a foothold by seizing on the vulnerabilities of countries embroiled in chaos and war or with weak central governments.
Since its inception in Syria in 2013, Islamic State has behaved opportunistically, piggybacking on more powerful, more moderate Islamist groups. They appear to be following a similar pattern to capitalize on the conflict dividing secularists and Islamists in Libya, Western counterterrorism officials said.
"The secularists and the Muslim Brothers have been fighting each other and the Salafi-jihadists like Islamic State are taking advantage of that and are in the ascent" in Syria, Egypt and Libya, said a Western counterintelligence official. An umbrella of moderate Islamist political groups in the country, such as Libya Dawn, share an ideological affinity to the Muslim Brotherhood in neighboring Egypt while Islamic State and other extremists follow a hard-line ideology known as Salafism.
By hanging back from much of the front-line fighting, Islamic State's affiliates have been able to save their strength while seizing recruits, land, weapons and other resources from the more moderate, religiously driven groups—aiming to build up until it is powerful enough to become the dominant Islamist force.
"Taking the upper hand from the Muslim Brotherhood is Islamic State's priority," said the Western counterterrorism official.
That strategy worked best in Syria, where Islamic State spent the first part of the civil war almost entirely disengaged in the fight against dictator Bashar al-Assad.
An Islamic State affiliate also appears to be gaining momentum in Egypt's restive Sinai Peninsula by tapping into a vein of anger left over from the ouster of the Muslim Brotherhood's Mohammed Morsi, the country's first freely elected president who was pushed aside in a popularly backed military coup in 2013.
The group, which calls itself Province of Sinai, claimed responsibility for a coordinated assault against multiple Egyptian police and military targets Thursday night that killed at least 30 people.
If Islamic State's attacks over the past week caused anxiety in the West, it is unclear how the leadership of Libya Dawn will respond to the challenge. The coalition of militias, which governs the capital Tripoli and much of the country's lawless western half, has condemned the hotel attack. The coalition grew out of the remnants of Islamist parties that resisted leaving office after Libyans voted out the country's first parliament last summer.
Since then, the group has fought against a secular-leaning militia led by Gen. Khalifa Hifter, a former Libyan army officer. Most of the international community backs Gen. Hifter and his rival parliament based in the eastern city of Tobruk.
Libya Dawn leaders blamed the hotel attack on their more traditional rivals: their secular-leaning groups in eastern Libya, elements of the country's former regime and neighboring Arab governments that are hostile to Islamists.
Last week, few in Libya Dawn's leadership were prepared to acknowledge that the attack may have actually come from Islamic State. Terrorism experts warn that Libya Dawn's lack of focus on Islamic State's expanding presence is only playing into the extremist group's ambitions.
"The attack gave us an indication of the presence of terrorism, but I cannot confirm it was done by radical groups" because the investigation isn't finished yet, said Mohamed Baio, a political adviser to Libya Dawn's leadership.
Another leader insisted that the assailants didn't speak like Islamists and seemed more like "drug addicts" employed by Gen. Hifter or remnants of Moammar Gadhafi's ousted regime to sow mayhem.
Islamic State claims little allegiance among Libyan Islamists and controls little territory. But some intelligence officials worry that battlefield defeats of the larger Islamist militias, who carry the bulk of the fighting against secularists, could benefit the hard-core Islamic State.
The radical fighters are already capitalizing on the recent killing of the leader of the powerful Libyan Islamist militia Ansar al-Shariah, which Washington blames for killing U.S. Ambassador to Libya J. Christopher Stevens in the 2012 attack on the American consulate in the eastern city of Benghazi.
The death of the militia leader, Mohamed al-Zehawi, who died during a fight with secular-aligned enemies, increased the appeal of Islamic State, which still rarely wades into such fights, according to another Western counterterrorism official.
"Islamic State has taken roots in Libya, particularly in the eastern city of Derna, because Libya Dawn's moderate Islamists and secularists supporting Gen. Hifter are focused on battling each other," said Geoff Porter, head of political risk firm North Africa Risk Consultancy.
If Libya Dawn waits to police Islamic State elements within their midst, Mr. Porter and other experts say it may soon find it has waited too long to contain the extremist threat.
http://www.wsj.com/articles/islamic-state-affiliate-takes-root-amid-libyas-chaos-1422837545
----------
Clashes in Libya kill 16 soldiers near Islamist hub
February 4, 2015
BENGHAZI: Sixteen Libyan soldiers were killed and 38 wounded in clashes around an eastern Islamist stronghold and close to a key oil terminal, military officials said on Tuesday.
"The army lost 11 soldiers... in violent clashes with radical Islamists after an army offensive launched on Monday" near the town of Derna, said Colonel Ahmed al-Mashari.
He said the Islamist fighters had suffered "heavy losses" in the skirmishes. The jihadist Islamic State (IS) group that has seized chunks of Iraq and Syria is thought to have gained a foothold in Derna amid the chaos in Libya since the 2011 uprising that ousted dictator Moammar Qadhafi.
The Islamist-backed militia laun­ched an offensive against troops around the key oil hub of Al-Sidra, a military spokesman said.
http://www.dawn.com/news/1161361/clashes-in-libya-kill-16-soldiers-near-islamist-hub
----------
Reluctant Islamic State Fighters Choose Between Death, Jail
04 Feb, 2015
In Tunis, Ghaith stands furtively on a street corner, his face masked by a hoodie, his tense eyes scanning the crowd for any hint of Islamic State militants.
He chain-smokes as he describes the indiscriminate killing, the abuse of female recruits, the discomfort of a life where meals were little more than bread and cheese or oil. He recounts the knife held to his throat by fellow fighters who demanded he recite a particular Quranic verse on Islamic warfare to prove himself.
"It was totally different from what they said jihad would be like," said Ghaith, who asked to be identified by his first name only for fear of being killed. Ghaith eventually surrendered to Syrian soldiers.
While foreigners from across the world have joined the Islamic State militant group, some find day-to-day life in Iraq or Syria much more austere and violent than they had expected. These disillusioned new recruits also soon discover that it is a lot harder to leave than to join. The Syrian Observatory for Human Rights says the Islamic State group has killed 120 of its own members in the past six months, most of them foreign fighters hoping to return home.
Even if they manage to get out, former fighters are considered terrorists and security risks in their own countries. Thousands are under surveillance or in jail in North Africa and Europe, where former militants massacred 17 people last month in terror attacks in Paris.
"Not everyone who returns is a budding criminal. Not everyone is going to kill — far from it," said France's top anti-terror judge, Marc Trevidic. "But it's probable that there is a small fringe that is capable of just about anything."
The number of French returnees has recently increased, their enthusiasm dented by the reality of militant life and by the allied bombing campaign, according to a top French security official who spoke anonymously because the issue is sensitive. Some foreign recruits have written home to say they are being held against their will, the official said.
The Associated Press talked to more than a dozen former fighters, their families and lawyers about life in and escape from Islamic State, many of whom spoke only on condition of anonymity for fear of retribution.
Youssef Akkari used to spend hours in his room in Tunisia listening to religious chants and reading, according to his brother, Mehdi Akkari. One day the family received a message that he was going to Syria. But he lost his glasses and couldn't fight, his brother said, so he was put in charge of preaching jihad to new recruits instead.
After seven months he began to plot his escape, along with two brothers.
The brothers were discovered and killed. Youssef turned himself in to Kurdish fighters and made his way back to Tunisia, where he felt trapped between police harassment and his terror of the vengeful militants. He returned to Syria and died in an airstrike in October.
The Islamic State group works to prevent recruits from leaving from the time they join.
The first step is removing their passports and identity documents. Hamad Abdul-Rahman, an 18-year-old Saudi, said he was met at the Syrian border last summer by militants who escorted him to a training camp in Tabaqa, Syria.
"They took all my documents and asked me if I want to be a fighter or a suicide bomber," Abdul-Rahman told AP from prison in Baghdad, where he was shackled, handcuffed and hooded.
He chose to fight.
In early September, he surrendered to Iraqi forces. An Iraqi defense ministry video shows Abdul-Rahman minutes after his arrest, identifying himself to soldiers.
Another Tunisian recruit, Ali, escaped after he was made a courier in the winter of 2013. He made four courier trips between Syria and Tunisia in three weeks, taking back news, money and propaganda videos. On the last trip to Tunisia, he simply stayed.
"I feel like I was a terrorist, I was shocked by what I did," said Ali, dropping his voice low and moving when people approached. His advice for would-be jihadis: "Go have a drink. Don't pray. It's not Islam. Don't give your life up for nothing."
The predicament for governments is to figure out whether a recruit is returning home to escape from the Islamic State or to spread its violence.
France has detained more than 150 returnees — including eight on Tuesday — and says about 3,000 need surveillance. Britain has arrested 165 returnees, and Germany considers about 30 of its 180 returnees extremely dangerous. There is no way to prove their intentions.
"(For many in France), they need to be punished. That's it," said Justice Minister Christian Taubira. "These are the people who can bear witness, who can dissuade others."
French lawyer Martin Pradel said his client is one of 10 men from Strasbourg who left for Syria last winter to take up arms on behalf of Syrian civilians. But they crossed into territory controlled by militants, who suspected they were spies or enemies. They were jailed for two weeks, then transferred and locked up for another three. Two of the French recruits died in an ambush.
The men decided to leave, one by one so as not to draw attention.
"They left at night, they ran across fields, they practically crept across the border," Pradel said.
His client surrendered to Turkish authorities. Since he lacked ID, he got temporary transit papers from the French embassy. He is now in jail in France, where the government accuses the Strasbourg men of running a recruiting ring for extremists.
It was a similar escape for four Frenchmen from Toulouse, according to their lawyers.
Pierre Dunac, the lawyer for Imad Jjebali, said the men went to Syria in hopes of helping civilians, but ended up in Islamic State territory and were thrown in jail. One day, Dunac said, their jailer gave them their papers. He told them, "I'm going to pray," and he left them alone right by the door.
"They understood that he was letting them leave," Dunac said. "Why? It's astonishing. ... They themselves didn't understand why."
The men surrendered to Turkish soldiers and were deported to France. They are now in jail facing terrorism charges.
In Tunisia, where close surveillance of 400 returnees is far more common than arrests, Ghaith is now a free man by most measures. But he does not act like one. He neck still bears a scar where his fellow fighters held the knife.
"It's not a revolution or jihad," he said. "It's a slaughter."
Hinnant reported from Paris. Associated Press writers Zeina Karam in Beirut; Jamey Keaten and Nicolas Vaux-Montagny in Paris; Vivian Salama in Baghdad; and Danica Kirka in London contributed.
http://abcnews.go.com/International/wireStory/cost-leaving-islamic-state-death-jail-28681743?singlePage=true
----------
U.S. Targets Al-Shabab Leader in Somalia With Drone Strike
04 Feb, 2015
The United States says it has carried out a drone strike against a senior figure of militant group al-Shabab, in Somalia. The group's main leader and its intelligence chief were killed in strikes last year.
The Pentagon said on Tuesday that US drone aircraft launched a strike in southern Somalia against a senior al-Shabab figure over the weekend.
The strike targeted Yusuf Dheeq, the group's external operations chief, said Pentagon spokesman Rear Admiral John Kirby.
"I'm not in a position now to confirm the results of the strike, but if successful, if he no longer breathes, then this is ... another significant blow to al-Shabab," Kirby said, adding that Dheeq was directly involved in planning and conducting attacks outside of Somalia.
The operation was conducted on Saturday afternoon south of the capital, Mogadishu.
The US is fighting an ongoing campaign to take out the leadership of the al Qaeda-linked group. Last September, a US drone strike killed the group's main leader, Ahmed Abdi Godane, while another strike in late December killed intelligence chief Tahlil Abdishakur.
Al-Shabab is an ultra-conservative Islamic militant group that has steadily lost territory to a military offensive by Somalia and African forces. It had controlled Mogadishu and southern Somalia until it was driven out of the capital in 2011.
But the group has still shown the capability of carrying out terrorist attacks, launching guerilla attacks and bombings. In November, the group killed 28 people on board a bus in Kenya, and 36 non-Muslim quarry workers in early December. It was also behind a 2013 raid on a Nairobi shopping center that killed 67 people.
jr/bk (AFP, AP, Reuters)
http://allafrica.com/stories/201502040350.html
----------
Europe
Spanish Call Centres and Butcher's Shops Fund Jihad
04 Feb, 2015
(ANSAmed) - MADRID - There is a network of at least 250 call centres, Halal butcher's shops and grocery stores in Spain funding jihadist operations in Syria and Iraq. To send donations to the Islamic State (ISIS) or the Syrian Al-Qaeda affiliate Jabhat Al-Nusra, the network uses the 'hawala' informal money transfer system. The system avoids inspection by the authorities and moves the savings of over 150,000 Muslims, estimated at 300 million euros per year, Spanish daily El Pais quoted intelligence services as saying. The Hawala circuit is based on trust between a network of family members and those from the same country to send money to other parts of the world without leaving physical traces of it.
It is used by Syrian, Tunisian, Algerian and especially Pakistani immigrants. Investigators say that there are about 300 Hawala terminals and clandestine 'offices' in Barcelona, Tarragona, Lleida, Bilbao, Santander, Valencia and Madrid used by the network to support the 'jihadist cause'.
It is also the channel through which payments to jihadists of Spanish nationality get to Spain from camps in northern Syria. Intelligence services estimate that there are about 100 youth - mostly of Moroccan origins - that have joined ISIS, including about 15 that have been killed in suicide operations against the Syrian regime under Bashar Al-Assad. ''With a single telephone call you can send 3,000 euros to Pakistan in only a few minutes. The so-called 'hawaladares' are men who keep their promise to send the remittances,'' said Juan Carlos Galindo, expert in the prevention of money laundering and the funding of terrorism. ''The mediators are tasked with getting money where it needs to go without leaving a trace. Trust is fundamental and, if anyone ends up being stopped by the police for illicit activities, they never reveal the client's name,'' he said. With ancient origins in China, the system has spread alongside international bank circuits across the planet. Experts say that there are between 200 and 300 intermediaries in Spain, mostly in the Pakistani community in Catalonia. At the global level, the Hawala system moves over 200 billion dollars per year without undergoing any sort of checks.
Full report at:
http://www.ansamed.info/ansamed/en/news/sections/generalnews/2015/02/02/spanish-call-centers-and-butchers-shops-fund-jihad_1df00c4e-9948-4fd4-8678-be54f2cbac31.html
----------
ISIS captors 'didn't have a Quran,' says ex-hostage
4 February 2015
French journalist Didier François, who had spent 10 months being held captive by ISIS, has revealed the militants cared so little about religion they did not even have a Quran.
Speaking to CNN's Christiane Amanpour, Francois said he did not witness any "religious discussion" between the militants.
"There was never really discussion about texts or -- it was not a religious discussion. It was a political discussion. It was more hammering what they were believing than teaching us about the Quran. Because it has nothing to do with the Quran. They didn't even have the Quran; they didn't want even to give us a Quran."
When asked for his reaction to witnessing the aftermath of his captors' torture of local Syrians and Iraqis, Francois said:
"We could see some of them in the corridors when we were taken to the toilets, and we could see some people lying in their blood. You could see the chains hanging, or the ropes hanging, or the iron bars."
Full report at:
http://english.alarabiya.net/en/News/middle-east/2015/02/04/ISIS-captors-didn-t-have-a-Quran-says-former-hostage.html
----------
Germany to Clamp Down on Jihadi Travel, Financing
04 Feb, 2015
Germany plans to clamp down on the flow of would-be jihadis by making it an offense to travel abroad with the aim of joining the Islamic State group or other extremist organizations.
Authorities estimate that about 600 Islamic extremists have left Germany to fight in Syria or Iraq in recent years. Until now, such people could only be prosecuted when they returned to Germany, by which time officials feared they could be battle-hardened and pose a domestic terror threat.
A draft bill, obtained Tuesday by The Associated Press, extends existing laws to cover anyone intending to travel abroad in order to carry out, or train for, a terrorist attack. It complements a recent measure that allows authorities to confiscate the travel documents of Islamic extremists.
A police union official welcomed the bill, but warned it would only be effective if security services are able to obtain sufficient proof to arrest would-be jihadis before they board a plane.
"Intentions and motives take place inside the head of a potential perpetrator," said Rainer Wendt, chairman of the German Police Union. "That's why we expect clear-cut laws."
Wendt also called for greater police powers to retain emails and other data for later use during investigations.
A separate measure would give authorities additional legal firepower to prosecute anyone who funnels even small amounts of money to terrorist groups.
The bill will be debated by Cabinet on Wednesday. It would still need to be passed by Parliament before it becomes law, bringing Germany in line with a 2014 U.N.
http://abcnews.go.com/International/wireStory/germany-clamp-jihad-travel-financing-28682952
----------
French police arrest 8 suspected in Syria extremist network
04 Feb, 2015
French police have arrested eight men suspected of recruiting fighters for Islamist militants in Syria, Interior Minister Barnard Cazeneuve said.
The arrests in the Paris and Lyon areas are not linked to the Charlie Hebdo attacks in January, Mr Cazeneuve told local media.
France remains on alert after 17 people were killed in attacks on the satirical magazine and a Jewish supermarket.
Under French law, the suspects can be held for up to 96 hours without charge.
Speaking at a press conference, Mr Cazeneuve said the eight men had actively participated in a network recruiting French youths for jihad in Syria.
"The battle against terrorism is also a race against time," he said. "Our determination is total."
'Syria issue'
Full report at:
http://www.bbc.com/news/world-europe-31111147
----------
UN calls for refugee quota system in Europe
4 February 2015
The top UN official for refugees called on Tuesday for the European Union to consider imposing a quota system to force its nations to more equitably handle a spike in asylum seekers.
"We are ready to support political initiatives within Europe, for instance, aiming in some situations to have forms of quota distribution," Antonio Guterres, the UN high commissioner for refugees (UNHCR), told reporters.
He said that while asylum seekers generally enter Europe through Greece and Italy, nearly half of all asylum requests last year were presented in Germany and Sweden, a sign of the continent's lopsided distribution.
The rush of refugees into Europe comes as the number of people driven from their homes by conflict and crisis topped 50 million, a first since World War II, according to the UNHCR.
Many refugees choose to seek asylum in northern Europe rather than following EU immigration rules and applying where they first arrive. Sweden has already called on other EU states to take a greater share of refugees.
Full report at:
http://english.ahram.org.eg/NewsContent/2/9/122109/World/International/UN-calls-for-refugee-quota-system-in-Europe.aspx
------------
Arab World
Norwegian 14-Year-Old Found in Iraq Waging Jihad—Against ISIS
Norwegian boy fights against ISIS alongside his father in Iraq
04 Feb, 2015
A 14-year-old boy from Norway has been discovered fighting in Iraq against the militant Islamic group Isis, Norway's TV2 reported on Monday.
Norwegian journalists interviewed Hussein Abbas, a Norwegian citizen from Sagerne, Oslo, on the front line in Iraq, where he was fighting as part of the Shia militia led by his father, Abbas al-Asadi.
"Why did you come here?" TV2 journalists asked the boy. "To wage jihad," he replied boldly.
"Aren't you afraid of IS," they continued. "No," he said.
According to the boy's father, the whole family moved to Syria from Norway two years ago, after which they relocated to Iraq on the orders of religious leaders.
"I have Norwegian citizenship. I came here after receiving orders to participate in jihad from the highest religious leader," he told reporters.
Al-Asadi said he did not fear for his son's life:
"Iraq stands united. We cannot think of the individual person," he told journalists.
Joran Kallemyr, a state secretary in the Ministry of Justice told TV2 that al-Asadi risked arrest by the police should he return to Norway.
"I think it is absolutely awful. If it turns out that the parents have brought a child into a war zone and let the child become a child soldier, it's just horrid," he said. "The police and prosecutors must decide if this is a punishable offence."
Full report at:
http://www.iraqinews.com/iraq-war/norwegian-boy-fights-isis-alongside-father-iraq/
----------
Jordan responds to pilot's killing by Islamic State, executes two Iraqi militants
By: Reuters
February 4, 2015
Jordan has executed by hanging a jailed Iraqi woman militant whose release had been demanded by the Islamic State group that burnt a captured Jordanian pilot to death, a security source said on Wednesday.
Responding to the killing of the pilot, whose death was announced on Tuesday, the Jordanian authorities also executed another senior al Qaeda prisoner sentenced to death for plots to wage attacks against the pro-Western kingdom in the last decade.
Sajida al-Rishawi, the Iraqi woman militant, was sentenced to death for her role in a 2005 suicide bomb attack that killed 60 people.
Ziyad Karboli, an Iraqi al Qaeda operative, who was convicted in 2008 for killing a Jordanian, was also executed at dawn, the source said.
A video the extremists released late Tuesday purportedly shows the pilot being burned alive in a cage. Jordan vowed a swift and lethal response to what it called a "barbaric act." Before daybreak Wednesday, a convoy carrying the al-Qaida prisoner, Sajida al-Rishawi, arrived at Swaqa prison where executions have been carried out in the past, the official said.
The official said al-Rishawi was to be executed at dawn. He spoke on condition of anonymity because he was not authorized to discuss the issue with the media.
The 44-year-old Iraqi woman faces death by hanging for her role in triple Amman hotel bombings in 2005. Her suicide belt did not detonate at the time and she fled the scene, but was quickly arrested. After a televised confession, she recanted, but her appeal was turned down.
Full report at:
http://indianexpress.com/article/world/middle-east-africa/jordan-executes-two-iraqi-militants-in-response-to-pilots-death-by-isis/99/#sthash.KL6Dj0Nm.dpuf
----------
Al-Azhar calls for 'killing, crucifixion of ISIS terrorists'
4 February 2015
Al-Azhar, Sunni Islam's most prestigious center of learning, has called for the killing and crucifixion of militants from the Islamic State of Iraq and Syria (ISIS), expressing outrage over their murder of a Jordanian pilot.
In a statement after the burning alive of Moaz al-Kassasbeh, the Cairo-based authority called for the "killing, crucifixion and chopping of the limbs of ISIS terrorists."
http://english.alarabiya.net/en/News/middle-east/2015/02/04/Al-Azhar-calls-for-killing-crucifixion-of-ISIS-terrorists-.html
----------
Iraqi Army Kills over 10 ISIL Terrorists in Fallujah
4 February 2015
At least 10 ISIL terrorists were killed in an encounter with the Iraqi army in the city of Fallujah, Anbar province, a senior official said.
A senior Iraqi commander, speaking on condition of anonymity, said that the army troops claimed the lives of over ten ISIL militants in an operation that took place in al-Na'imiyah area, South of Fallujah.
The commander added that the soldiers also managed to destroy a rocket launcher and defuse a number of explosives in the area of al-Harariyat.
The ISIL Takfiri terrorists currently control a shrinking part of Syria and Iraq. They have threatened all communities, including Shiites, Sunnis, Kurds, Christians, Ezadi Kurds and others, as they continue their atrocities in Iraq.
Senior Iraqi officials have blamed Saudi Arabia, Qatar, and some Persian Gulf Arab states for the growing terrorism in their country.
The ISIL has links with Saudi intelligence and is believed to be indirectly supported by the Israeli regime.
http://english.farsnews.com/newstext.aspx?nn=13931115000444
----------
The chilling reason the Islamic State burned a Jordanian pilot alive
04 Feb, 2015
The Islamic State video depicting the brutal immolation of a Jordanian pilot was different from the beginning. The Islamic State had released numerous videos showing acts of barbarity ranging from beheadings to mass shootings. Those videos, often starring the masked Jihadi John, were rough and hurried. This one, by contrast, plodded through 22 long minutes. It had a narrative, almost thematic, quality. There was building tension. There was a defined arc. And a clear message.
The video slides through some high-tech graphics and interviews before settling on the image of fire. A "crusader" fighter jet shoots off some missiles and a truck burns. The camera zooms in on charred corpses. Each bursts into flames. Then out of this carnage, a moment of quiet arrives, and the pilot appears. Wearing all orange, he walks across a barren and craggy landscape as dozens of masked militants look on.
Full report at:
http://www.washingtonpost.com/news/morning-mix/wp/2015/02/04/the-chilling-reason-the-islamic-state-burned-a-jordanian-pilot-alive/?tid=hp_mm
----------
Syria to Jordan: Help us fight ISIS and al-Qaeda
4 February 2015
Syria urged Jordan to work with it to fight ISIS and al-Qaeda's Syria wing, condemning what it described as the "heinous" killing of a Jordanian pilot by militants, Syria's state news agency SANA said on Wednesday.
The Syrian foreign ministry called on Jordan, which is part of a U.S.-led aerial campaign against ISIS, "to cooperate in the fight against terrorism represented by the organization Daesh and Nusra Front ... and other terrorist organizations associated with them in Syria and the region."
Daesh is a Arabic acronym for ISIS and Nusra Front is al-Qaeda's Syria wing. Both have seized land in Syria. The United States has said Syrian President Bashar al-Assad cannot be a partner in the fight against ISIS.
http://english.alarabiya.net/en/News/middle-east/2015/02/04/Syria-to-Jordan-Help-us-fight-ISIS-and-al-Qaeda.html
----------
Saudi executions judicial while IS beheadings are arbitrary, says Saudi official
February 4, 2015
Days after the Islamic State (IS) executed Japanese journalist Kenji Goto and criticism arose in the near identical manner in which the militant group and the Saudi Arabia carry out capital punishments, a top official for the Arabian kingdom defended its justice system.
The Saudi official claimed executions and beheadings it carries out can not be compared with those committed by IS, since the death penalty awarded in the kingdom is based on a court decision.
In an interview with NBC News, Interior Ministry spokesperson Major General Mansour alTurki said the executions carried out by IS are 'arbitrary.'
Middle East Eye, a website that focuses on news from the region, compared legal punishments recently announced by the Islamic State with the punishments for corresponding crimes in Saudi Arabia.
However, the spokesperson defended Saudi Arabia's punishments.
"ISIS has no legitimate way to decide to decide to kill people," he said, adding, "the difference is clear."
Full report at:
http://tribune.com.pk/story/832201/difference-is-clear-saudi-executions-judicial-while-is-beheadings-are-arbitrary-says-saudi-official/
----------
Senior Politician: Iran Only True Supporter of Iraq in War on ISIL
February 4, 2015
Head of Iraq's al-Anbar Salvation Council Sheikh Hamid al-Hais underlined that Iran is the only country which has sincerely helped Iraq in its campaign against the ISIL terrorist group.
"Iran has helped Baghdad in fighting the ISIL more than other countries which claim to be supporters of Iraq," Hais said on Tuesday.
"Our Iranian brothers have cooperated with us more than others in the war on ISIL and other countries which are engaged in this war are lying," he added.
In relevant remarks late January, Iraqi Prime Minister Haidar al-Abadi lauded Iran's assistance to his country in fighting terrorism, describing Tehran as a reliable military partner.
Speaking at the World Economic Forum in Davos, al-Abadi said that while the West was slow to deliver help to Iraq, Iran was filling the gap.
"I have received quite sizeable (amounts of) ammunition free of charge. And we have been promised deferred payments on some arms sales to Iraq," he added.
Full report at:
http://english.farsnews.com/newstext.aspx?nn=13931115000261
----------
Slain pilot's father expects U.S., Jordan to 'take revenge' on Islamic State militants
04 Feb, 2015
AMMAN, Jordan — In a swift decisive response, Jordan authorities executed at dawn Wednesday two Iraqi terror convicts in retaliation against Islamic State militants who killed a Jordanian pilot by burning him to death in a cage.
Jordan's chief government spokesman announced that Jordan executed two prisoners, including Sajida al-Rishawi, an Iraqi woman who was a failed suicide bomber and was sought by the Islamic State in a prisoner swap.
Rishawi and hung by the neck before day break alongside Ziad al-Karbouli, another Iraqi terror convict sought by Islamic State.
The quick executions were carried out less than 12 hours after the video of the Jordanian pilot's death was released. The video sparked street protests calling for vengeance and threatened to draw this country's usually low-key monarch toward ever more direct confrontation with radical Islam.
Rishawi had been on death row for her role in a triple hotel bombing in the Jordanian capital of Amman in 2005 that killed 60 people. Karbouli also had been sentenced to death for his part in a terror attack against Jordanian citizens in Iraq in 2005.
The Jordanian military, a close ally in the U.S.-led coalition against the Islamic State, had vowed "punishment and revenge" for the killing, which it said had probably been carried out in early January.
Full report at:
http://www.washingtonpost.com/world/slain-pilots-father-expect-us-jordan-to-take-revenge-on-islamic-state-militants/2015/02/04/b5c96b50-abe7-11e4-9c91-e9d2f9fde644_story.html
----------
IS killers of pilot opened "gates of hell" on themseves: Jordanian interior ministry
4 February 2015
The Jordanian ministry of interior has issued a statement following the execution of Iraqi female suicide bomber Sajida Al-Rishawi and Iraqi Al-Qaeda member Ziad Al-Karboli at dawn on Wednesday in response to the murder of a Jordanian pilot by Islamic State militants.
The statement said that the execution was carried out based on a judgement issued by state security court on 21 September 2006.
Meanwhile, Ziad Alzoubi, the spokesperson of the ministry said that the Islamic State has opened "the gates of hell on themselves by committing its inhumane crime."
He added that the executions are meant to send a message and not simply response to the Jihadist group.
Alzoubi warned that Muath's blood will be a curse haunting IS even in the afterlife, MENA Egypt's state news agency reported .
Full report at:
http://english.ahram.org.eg/NewsContent/2/8/122161/World/Region/IS-killers-of-pilot-opened-gates-of-hell-on-themse.aspx
-----------
India
Bengaluru Deportees Wanted To Serve In Syrian War Field
4 February 2015
BENGALURU: The nine Bengaluru residents deported by Turkey last week were allegedly driven by their sympathies to the victims of Syrian war on the terror outfit ISIS and wanted to serve them on the war field.
All the nine — engineers Ibrahim Nowfal, 24, from Hassan in Karnataka and Javeed Baba, 24, from Khammam district, Telangana; and Chennai resident Muhammed Abdul Ahad, 46, his wife and their five children - were released by the city police, who took an undertaking from them that they will not indulge in any terror-related activity.
The nine persons met at prayer halls and exchanged views over developments in Syria, the sources said, adding that their ambitions to serve Syria war victims was generated by the recent news about Mehdi Masroor Biswas.
Mehdi, 27, was arrested for operating a Twitter handle supporting the outfit.
Meanwhile, city police commissioner M N Reddi said these men wanted go to the Levant region to work for humanity or for their religion. They believed that if they were killed or they died in the process, they would go to heaven.
"We had no criminal intention. We could not tolerate the increasing atrocities in Syria. Everyday we would discuss this issue and return home emotionally. After reading about Mehdi and his intentions, we decided that we too should do something," police sources quoted one of them as saying.
Full report at:
http://timesofindia.indiatimes.com/india/Deportees-wanted-to-serve-in-Syrian-war-field/articleshow/46101104.cms
----------
Scared of ISIS, Iraqi brothers seek refuge in India
February 1, 2015
Introduction: 'Don't Publish Our Names, Else They'll Hunt Us Down'
Over 3,000km away from the grim spectre of sectarian violence and the rise of ISIS in Iraq, two doctor brothers from Baghdad have found refuge in the relatively peaceful western UP city of Aligarh. They now say they would rather be refugees in this country than go back to be dragged into a war they don't believe in. Moreover, they say, their parents write to them almost everyday asking them not to return to the war-ravaged country. The conflict in Iraq claimed more than 17,000 civilian lives in 2014 alone — that's more than 45 deaths a day.
So scared is family of the boys that soon after they told their parents they had spoken to The Times of India, they called back the reporter to change their names in the story. "Please," they said. "They (ISIS) will hunt us down."
Isaac, 24, and Yusuf, 22 (not their real names), completed their MBBS from Ukraine's Odessa Medical University last year. A return flight to Baghdad was the logical next step, but instead they flew to India in September and are now seeking refugee status from New Delhi.
"On November 28 last year, Abdullah, a friend of ours, returned to Iraq from Ukraine and was killed in a blast a few days later," Isaac says. "We had already lost a cousin of ours to the violence. Now our parents just want us to stay away because the militia as well as the army are constantly looking for new recruits. Our parents want us to be safe."
They have found help in Dr Jayant Sharma, a urology specialist at Aligarh's Jeevan Hospital, who they were introduced to by an Indian classmate.
"I have informed the local police about the presence of two Iraqi doctors here (at Jeevan hospital) as observers. The police have asked me to also inform the local intelligence unit," says Sharma. "I give them Medical Council of India (MCI ) tutorials so they can go ahead with the internship and don't have to apply for a no-objection certificate. Their family is providing financial assistance as of now. And we are doing whatever little we can."
The hospital is grooming them to conduct IVF procedures, surgeries and pediatrics. Asked if they want to return home one day, Yusuf says, "Of course. But it is better to be safe than sorry. These are not fears but realities that people in Iraq are living with. India is peaceful and people are helpful."
The brothers, who have taken up a room at a nearby hotel and pay Rs 300 as daily rent, came to India on a medical visa in September last year after their internship request went unheeded. "Our medical visas will expire in February," Isaac says.
Back home in Baghdad their parents and their 16-year-old sister wait for peace to return to Iraq. Until then, they have said, the boys should do their best to stay put in "safe India".
http://timesofindia.indiatimes.com/india/Scared-of-ISIS-Iraqi-brothers-seek-refuge-in-India/articleshow/46082864.cms
-----------
India can spread the message of tolerance: Israel ambassador
4 February 2015
NEW DELHI: The Israel embassy here observed the International Holocaust Remembrance Day last week on January 27 with a memorial event organised jointly with the French embassy and United Nations Information Centre.
In 2005, the UN General Assembly passed a resolution establishing 27 January as International Holocaust Remembrance Day urging every member nation to honor the memory of Holocaust victims, the over 6 million Jews killed by the Nazi regime.
The memorial event started with a short memorial ceremony for school students from Delhi. Students from various schools participated in the ceremony, where the movie 'The Last Korczak Boy', was also screened. Students also wrote messages which were hung outside on barbed wires as a mark of respect for the Holocaust victims.
The evening saw the screening of the film, 'Rafting to Bombay', by Israeli film Director Erez Laufer, which depicts the tragic story of 5 year old Nahum and his mother on how they escaped the Nazis in Poland, crossed Europe by train and sailed to India.
Speaking on the occasion. Israel ambassador to India said Daniel Carmon said the Holocaust was systematic, bureaucratic, ruthless annihilation of six million Jews by the Nazis and their collaborators. "It was a crime unprecedented, unique in the annals of human history. It was different not only in its magnitude and cruelty but also in its manner and purpose as a mass criminal enterprise organized by a state against defenseless civilian populations," he said.
"Anti-Semitism had never had set its foot in India. Jews have been living here peacefully without persecutions for over two millennia. This is a lesson and message of tolerance India can and should teach other nations and other countries," he added.
http://timesofindia.indiatimes.com/india/India-can-spread-the-message-of-tolerance-Israel-ambassador/articleshow/46105008.cms
----------
Any path other than diversity will face obstacles: Vice-President
4 February 2015
Diversity in Indian society is a fact of life, and any other path will only see "obstacles," Vice-President Hamid Ansari told students of a Mumbai college at an interaction during his two-day Mumbai visit.
Replying to questions posed by students of Wilson College in South Mumbai, Mr. Ansari said no country was completely homogenous. "People say China is almost homogeneous. But almost homogenous means 90 per cent, and the remainder 10 per cent is giving them a fair degree of trouble, because they have not developed a framework to accommodate the 10 per cent," he said.
"Homogeneity is a fictional or limiting notion. Diversity is a fact of life. Accommodation of diversity is the challenge. Indian polity and Indian society have been addressing this issue not for the past 60 years but for centuries. This diversity has been with us since time immemorial. That is the only response that is possible, any other path will only see obstacles," he said.
Replying to questions on communal polarisation and safeguarding secular tradition, Mr. Ansari said: "What do we understand by the word secular? There are philosophical, theoretical and practical arguments about it. Philosophical argument is rooted in the Western thought. The ground reality is that we have a society in which people of different faiths live side by side. The challenge is the need to accommodate."
Full report at:
http://www.thehindu.com/news/national/other-states/any-path-other-than-diversity-will-face-obstacles-ansari/article6854416.ece?ref=tpnews
----------
Pakistan
Mumtaz Qadri lawyer hails Charlie Hebdo attackers as 'heroes'
February 4, 2015
ISLAMABAD: A lawyer for Mumtaz Qadri, the killer of former Punjab governor Salman Taseer, said the Charlie Hebdo attackers were his heroes.
Qadri's counsel Barrister Khawaja Sharif made the statement about the attack on the French magazine during a hearing of an appeal filed in the Islamabad High Court against his client's conviction.
A two-member appellate court comprising IHC's Justice Noorul Haq Qureshi and Justice Shaukat Aziz Siddiqui heard the appeal today.
Justice Siddiqui said he "could not even think of having a discussion on the issue of blasphemy" and added that no discussion could take place in support of blasphemers.
Islamabad Additional Advocate General Mian Abdul Rauf represented the federal government during the hearing as it failed to nominate a prosecutor in the case.
During the hearing, counsel for Mumtaz Qadri and former Lahore High Court chief justice Khawaja Mohammad Sharif told the court that there was no conflict between his client and the late governor.
Full report at:
http://www.dawn.com/news/1161470/mumtaz-qadri-lawyer-hails-charlie-hebdo-attackers-as-heroes
----------
Four security personnel, five lashkar men killed in Kurram, Khyber
February 4, 2015
GHALANAI/BARA: At least four security men were killed in an explosion targeting a convoy of security forces in Warmagai area of Kurram tribal region on Tuesday.
Security and rescue teams reached the blast site and shifted the victims to a nearby hospital. The security forces' vehicle was destroyed in the blast. Security forces cordoned off the blast site as a probe into the incident went underway. Kurram is one of the most sensitive tribal areas as it borders three Afghan provinces and at one point in time was one of the key routes for militants' movement across the border.
The region was claimed by the military to have been cleared of insurgents during an operation a couple of years ago, however, militants still carry out sectarian attacks and also target security forces occasionally. Kurram tribal agency is adjacent to North Waziristan region where the operation Zarb-e-Azb is in progress against Taliban and other insurgent groups. Meanwhile, in Khyber Agency, three volunteers of local peace committee were killed and another sustained injuries in a bomb blast at Tirah valley. They were patrolling the area when the explosion took place.
Full report at:
http://www.dailytimes.com.pk/national/04-Feb-2015/four-security-personnel-five-lashkar-men-killed-in-kurram-khyber
----------
Army vows blanket crackdown against terrorists, extremists
February 4, 2015
ISLAMABAD: Taking stock of the fresh spate of sectarian killings, Pakistan Army's top brass has reiterated the vow of an all-out crackdown against terrorism, extremism and sectarianism 'without any discrimination.'
The military command on Tuesday reviewed its ongoing counterterrorism drive in the north-western tribal region in addition to taking decisions on a host of related operational and legal issues concerning the army's enhanced role in line with the National Action Plan (NAP) as well as the military's role in the United Nations missions. The 179th Corps Commanders Conference with Chief of Army Staff (COAS) General Raheel Sharif in chair saw reported discussions on the Pakistan Army's ongoing military operations as well as the deployment of peacekeeping troops in different parts of the world.
Full report at:
http://www.dailytimes.com.pk/national/04-Feb-2015/army-vows-blanket-crackdown-against-terrorists-extremists
----------
Four militants killed in clashes with security officials in Bannu
February 4, 2015
BANNU: Clashes between security forces and militants in Bannu's Jani Khel area have left four dead and two injured, Express News reported on Wednesday.
As security forces carried out a search operation in the area, they came face to face with militants and resorted to a clash.
Security personnel overpowered the militants, leaving four dead and two injured.
Earlier this morning, a bomb disposal squad defused explosives which had been planted outside a government school in Bannu.
Security forces cordoned off the area until the explosives were defused and removed.
http://tribune.com.pk/story/832732/4-militants-killed-in-clashes-with-security-officials-in-bannu/
----------
Gunmen kill 5 customs officials in Kohat
February 4, 2015
PESHAWAR: Unidentified gunmen shot dead five customs officials patrolling overnight in the Kohat city of Khyber Pakhtunkhwa province, authorities said on Wednesday.
The gunmen attacked the duty officers at around midnight in Kohat city, some 80 kilometres (49 miles) southwest of Peshawar, capital of the Khyber Pakhtunkhwa province.
"Three gunmen fired at the customs team indiscriminately. Four officials died on the spot and another succumbed to his injuries in hospital later, "Sohaib Ashraf, district police chief in Kohat, told AFP.
"We are unaware of the identity of the attackers but it's an act of terrorism," he said.
Another police official in the area, Iqbal Mohmand said the attackers escaped on foot under cover of darkness.
Full report at:
http://www.dawn.com/news/1161455/gunmen-kill-5-customs-officials-in-kohat
----------
National Action Plan in Lahore: 1,999 people arrested under counter-terrorism initiative
February 4, 2015
LAHORE: While the National Action Plan (NAP) is being implemented across the country since Dec 17, 2014, the capital city police, in association with law enforcement agencies, have so far arrested 1,999 people and booked them in 1,610 cases in connection with four recently promulgated ordinances.
However, 1,163 cases in four categories are pending with the courts.
Police conducted 744 joint search (combing) operations in 1,050 localities, registered cases against 91 people and quizzed 93,421 others from Dec 17, 2014 to Feb 2, 2015. Fifty two cases have been registered under Foreign Act, Arms Act and Control of Narcotic Substance Act during the period.
Official statistics, available with Dawn, further show police arrested 688 people and registered 555 cases against them under the Punjab Sound Systems (Regulation) Ordinance 2015 with 458 cases pending with courts; held 865 people in 601 cases under the Punjab Information of Temporary Resident Ordinance 2015 with 471 cases pending with courts; and apprehended 446 people in 449 cases under the Punjab Arms (Amendments) Ordinance 2015 from Jan 9 to Feb 2 with 244 cases pending with courts.
Full report at:
http://www.dawn.com/news/1161444/national-action-plan-in-lahore-1999-people-arrested-under-counter-terrorism-initiative
----------
Even Islamic State knows polio is bad
February 4, 2015
SYRIA: The Islamic State (IS) may have sanctioned strict restrictions on Syrians and Iraqis under their rule, but surprisingly the group has so far been tolerant on account of polio vaccinations, VOX reported.
"An unexpected success of the polio immunisation campaigns in Syria and Iraq has been the access granted to vaccinators in territory controlled by the militant group calling itself the Islamic State," according to the Integrated Regional Information Networks (IRIN) – a humanitarian news service formerly part of the UN.
Polio had an outbreak in Syria in 2013 for which the UN had called a polio immunisation campaign. The campaign was a great success as 8,500 health workers got close as they possibly could to immunising everyone, mostly children.
Full report at:
http://tribune.com.pk/story/832096/even-islamic-state-knows-polio-is-bad/
---------
Indian govt changing Kashmir's demographic: Foreign Secretary Aizaz Chaudhry
February 4, 2015
ISLAMABAD: Pakistan's Foreign Secretary Aizaz Chaudhry on Wednesday accused the Indian government of deliberately altering the demographic makeup of Jammu and Kashmir by settling non-state citizens in Indian-held Kashmir and turning its Muslim majority into a minority by dividing the population on ethnic, religious and communal lines.
"No elections in Indian-held Kashmir could be a substitute to the plebiscite under the auspices of the UN," Chaudhry told ambassadors posted to Pakistan of countries in the Organisation of Islamic Cooperation (OIC).
Briefing the envoys on the eve of Kashmir Day, the foreign secretary referred to the actions taken by Indian security forces to suppress the indigenous Kashmiri movement against Indian rule. He also quoted staggering figures of Kashmiris killed, women widowed and raped and children orphaned in human rights violations in the region.
Full report at:
http://www.dawn.com/news/1161467/indian-govt-changing-kashmirs-demographic-foreign-secretary
----------
South Asia
In Japan, Nervous Muslims Condemn Islamic State
04 Feb, 2015
TOKYO—Muslim religious leaders here have condemned the terrorist group responsible for the apparent killing of Japanese hostages amid concerns that their small but growing community may become a target for public anger.
The response from Muslim leaders follows a two-week hostage drama that riveted Japan and prompted debate about Prime Minister Shinzo Abe 's security policy.
Hostile comments against Islam and Muslims have emerged on Japanese social media since the first hostage video was released Jan. 20. One right-wing group held a rally in Tokyo on Thursday to protest the government's relaxation of immigration rules.
"If we invite workers from Muslim nations in the future, given their doctrine, we may see a clash more tragic than what they are experiencing in Europe," a group affiliated with Zaitokukai, a high-profile national organization, said on its website.
Organizers of the rally didn't respond to requests for comment.
The Muslim population in Japan is tiny but growing because of an influx of students and workers. Hirofumi Tanada, a Waseda University professor and an expert on Muslim communities, estimates the number at about 130,000, compared with roughly 60,000 in 2000.
Indonesians make up the largest group, followed by people from Pakistan, Bangladesh, Malaysia, Iran and Turkey.
Full report at:
http://www.wsj.com/articles/in-japan-nervous-muslims-condemn-islamic-state-1422932241
----------
3 ANA martyred, 52 insurgents killed in clearance operations
February 4, 2015
Defense ministry of Afghanistan says that three Afghan National Army soldiers have embraced martyrdom in an Improvised Explosive Device (IED) explosion.
A statement issued by the Defense Ministry on Wednesday morning does not specify the exact location of the incident but states that in took place in past 24 hours.
The statement further states that 48 insurgents were also killed and 69 others injured during the past 24 hours while in confrontations with the Afghan National Army occurred in six provinces.
According to the statement 13 Improvised Explosive Devices (IED) were also discovered and defused by the military.
Full report at:
http://www.khaama.com/i-am-still-presidents-spokesman-salarzai-29015
----------
For once, China does not defend Pakistan on terrorism issue
4 February 2015
BEIJING: China refused to take a clear stand on whether Pakistan should be made to stop sheltering those who finance and support terrorist activities. This is the possibly the first time China did not try to defend Pakistan against accusations of sheltering terrorism.
China and Russia on Monday accepted India's request for pushing a resolution on Comprehensive Convention on International Terrorism in the United Nations. External Affairs Minister Sushma Swaraj told a trilateral meeting of Russia, India, China (RIC) that the purpose of the UN convention would be to punish those who support terrorism and not just its actors.
Chinese foreign ministry spokesman Hong Lei avoided a direct answer when he was asked at a media briefing if Pakistan would be affected by the proposed convention. India has been complaining that Pakistan has sheltered those who financed and encouraged terror attacks in Mumbai and other Indian cities.
Full report at:
http://timesofindia.indiatimes.com/world/china/For-once-China-does-not-defend-Pakistan-on-terrorism-issue/articleshow/46112961.cms?
----------
Myanmar condemns UN official for using term "Rohingya"
4 February 2015
Myanmar on Wednesday condemned a UN official for using the term Rohingya to describe a persecuted minority that the government refers to as Bengali, which implies they are illegal immigrants from neighbouring Bangladesh.
Most of Myanmar's 1.1 million ethnic Rohingya Muslims are stateless and live in apartheid-like conditions in Rakhine state in the west of the predominantly Buddhist country.
The government is carrying out a controversial citizenship verification process, which requires Rohingya to list their identities as Bengali.
The UN Special Rapporteur on Human Rights in Myanmar, Yanghee Lee, said conditions were "abysmal" in camps where almost 140,000 Rohingya remain after being displaced in clashes with ethnic Rakhine Buddhists in 2012.
Full report at:
http://english.ahram.org.eg/NewsContent/2/9/122142/World/International/Myanmar-condemns-UN-official-for-using-term-Rohing.aspx
----------
Southeast Asia
Court sets May 14 to hear if non-Muslims can practise as shariah lawyers
February 4, 2015
The Federal Court will hear an appeal whether non-Muslim lawyers can appear in shariah courts in the Federal Territories, after a delay of more than a year.
Chief Justice Tun Arifin Zakaria will lead a five-man bench to hear the appeal on May 14 against the Court of Appeal's ruling in June 2013 which stated that non-Muslim lawyers were eligible to practice as shariah lawyers.
The bench also included another question to be argued and it was whether Rule 10 of the Rules of the Shariah Lawyers 1993 were against Articles 5, 8 and 10 of the Federal Constitution.
The Federal Court on January 28 last year allowed without contest one single question as to whether Rule 10 which stipulated that only Muslims could be admitted as shariah lawyers was beyond the authority of the Administration of Islamic Law (Federal Territories) Act 1993.
Any appeal before the apex court must be a novel question raised for the first time which would be of public importance.
Full report at:
http://www.themalaysianinsider.com/malaysia/article/court-sets-may-14-to-hear-whether-non-muslims-can-practice-as-shariah-lawye
----------
Crime-Fighting Measures in Jakarta Take a Modern Twist on Classics
February 4, 2015
Jakarta. Jakarta Governor Basuki Tjahaja Purnama says he has launched a number of programs aimed at reducing the capital's crime rate, ranging from ongoing installation of 2,500 CCTV cameras and an Android app for crime prevention.
The Safe Cities Index by the Economist Intelligence Unit (EIU) put Jakarta at the bottom of a list of 50 international cities.
The report measured the relative level of safety in four broad categories: digital security, health security, infrastructure security, and personal safety.
Some 44 metrics were used in the survey, which included cities such Bangkok, Hong Kong, New York and Rio de Janeiro.
Basuki said he was aware of the high crime rate in Jakarta, vowing to deploy the "three-pillar" crime prevention units — consisting of ward officers, public order officers and members of ward military units — to tackle crime in the city.
Full report at:
http://thejakartaglobe.beritasatu.com/news/jakarta/security-in-the-capital-basuki-promises-plenty-of-cctvs-aid-for-the-poor/
----------
Najib the right man to mediate MIC tussle, says Dr M
February 4, 2015
Former prime minister Tun Dr Mahathir Mohamad said the MIC crisis needed be tackled with the help of a third party.
He said the Barisan Nasional component party's leaders would not reach a consensus if the crisis was to be settled among them.
"MIC always has problems. I think their problems should be resolved with the help of people outside MIC. If it's to be done among them, they will never reach an agreement... this had happened before."
Mahathir said this when asked by reporters to comment on the MIC crisis after placing a plaque at the Forest Research Institute of Malaysia as a national heritage in Kuala Lumpur today.
On whether he would agree if asked to be a mediator, Dr Mahathir said: "I am not a politician anymore. I am only a critic."
He said Prime Minister Datuk Seri Najib Razak was suitable to be mediator in resolving the MIC crisis.
The internal crisis came about after the Registrar of Societies (RoS) declared as null and void the election for the party's three vice-presidents and 23 Central Working Committee (CWC) members at the MIC general assembly in Malacca in November 2013.
In its letter dated December 5, 2014, RoS ordered MIC to hold re-elections for these posts within 90 days.
http://www.themalaysianinsider.com/malaysia/article/najib-the-right-man-to-mediate-mic-tussle-says-dr-m-bernama#sthash.42OQCsZe.dpuf
----------
Mideast
Gülen's cancellation of passport conveyed to U.S. as Turkey demands his extradition
04 Feb, 2015
Turkey has submitted information to the U.S. saying that the green passport of Fethullah Gülen, who resides in exile in Pennsylvania, was cancelled after findings revealed that the passport had been obtained with certain irregularities. It is now up to the U.S. to decide whether or not to allow Gülen's extradition, which has long been sought by Turkish government officials.
The "parallel structure," is a euphemism coined by a ruling Justice and Development Party (AK Party) official in reference to the Gülen Movement, which was discovered following the Dec.17 and Dec. 25 operations, and which were allegedly orchestrated by the movement in an apparent attempt to topple the elected government. Government officials gave the go-ahead for the extradition of Gülen, who they believe is behind the illegal activities which the movement's members have been accused of.
The Governorate of Erzurum province had previously decided to cancel Gülen's passport, citing some irregularities. In December, the State Council found that the decision of the Governorate of Erzurum province to cancel Gülen's passport was justified.
The State Council said: "Gülen had given false information and mislead government officials in order to obtain a green passport."
Full report at:
http://www.dailysabah.com/politics/2015/02/03/turkey-informs-us-about-cancellation-of-gulens-passport
----------
Iranian Cultural Official Stresses Islam's Opposition to Violence
February 4, 2015
Head of Iran's Islamic Culture and Relations Organization (ICRO) Abuzar Ebrahimi Torkaman condemned the crimes committed in the name of Islam, and said such acts aim to taint the image of the divine religion.
"They (western states) should realize that Islam in its essence has both mercy and kindness," Ebrahimi Torkaman said in a meeting with a number of Russian clerics.
In January, Iranian Judiciary Deputy Chief Hadi Sadeqi condemned any form of violence against people across the world, and reiterated that extremism and violence have nothing to do with the real nature of Islam.
Sadeqi said that Muslims do not seek any form of conflict with followers of other religions and respect other religions and their prophets.
Also in January, the ISIL terrorist group attacked the weekly after it released a cartoon of ISIL leader Abu Bakr Al-Baqdadi. At least 12 people were killed when masked gunmen stormed the Paris offices of Charlie Hebdo and opened fire.
Iranian officials condemned the attack, but warned that the incident should not be used as a pretext for accusing Islam or pressuring the Muslim community in the West, reminding that ISIL is not an Islamic group.
The same day, Iranian Foreign Ministry Spokeswoman Marziyeh Afkham condemned the attack, and said any act of terrorism against innocent people is opposed to Islamic teachings.
http://english.farsnews.com/newstext.aspx?nn=13931115000788
----------
1,000 Israeli Settlers Invade Al-Aqsa Mosque in January
February 4, 2015
Approximately one thousand Israeli settlers in January alone invaded the holy al-Aqsa Mosque Compound in East Jerusalem al-Quds, media report said.
Some 965 Israeli settlers accompanied by Israeli security forces stormed the holy Islamic site in January, said the al-Aqsa Foundation for Endowment and Heritage, press tv reported.
Israel continues to restrict the movement of Palestinian worshipers to the al-Aqsa Mosque. The invasion has led to many conflicts between Palestinian worshipers and Israelis.
Nearly 90 percent of Palestinians believe that Israel is going to destroy the al-Aqsa Mosque and replace it with a temple, a new survey shows.
The Tel Aviv regime has tried to change the demographic makeup of al-Quds over the past decades by constructing illegal settlements, destroying historical sites and expelling the local Palestinian population.
The al-Aqsa Mosque compound, located in the Israeli-occupied Old City of al-Quds, is a flashpoint Islamic site, also holy to the Jews. The mosque is Islam's third holiest site after Masjid al-Haram in Mecca and Masjid al-Nabawi in Medina.
http://english.farsnews.com/newstext.aspx?nn=13931115000589
----------
North America
Muslim groups 'troubled' by Stephen Harper's mosque remark
04 Feb, 2015
Two national Muslim organizations say they are troubled that Prime Minister Stephen Harper last week drew a link between radicalization and mosques.
Harper made the remark last Friday when he was answering a question about the Canadian government's new anti-terrorism legislation. The measures unveiled in Bill C-51 include criminalizing advocacy for or promotion of a terrorist act. Another measure lowers the threshold needed for police to arrest somebody they suspect may commit a terrorist act.
Asked how to distinguish between teens messing around in their basements and someone who is radicalized, Harper said it would be a serious offence "no matter who you are."
"It doesn't matter what the age of the person is, or whether they're in a basement, or whether they're in a mosque or somewhere else," Harper said Friday in Richmond Hill, Ont.
The National Council of Canadian Muslims (NCCM) and the Canadian Muslim Lawyers' Association (CMLA) said in a press release Monday that they are "deeply troubled" Harper "implicated Canadian mosques as venues where terrorism is advocated or promoted." In a press release, the groups demanded Harper apologize.
Amira Elghawaby, human rights co-ordinator for the NCCM, said the organization found Harper's comments "extremely divisive."
"Considering that we've seen anti-Muslim violence and vandalism at places of worship, it was very disturbing to see the prime minister create this kind of impression in the minds of Canadians, that there's something wrong going on when there isn't anything of that sort," Elghawaby said.
Full report at:
http://www.cbc.ca/news/politics/muslim-groups-troubled-by-stephen-harper-s-mosque-remark-1.2940488
----------
Montreal imam Hamza Chaoui fights 'radicalization' allegations
04 Feb, 2015
MONTREAL—A polarizing Quebec Muslim leader accused of being an "agent of radicalization" is threatening to sue Montreal's mayor for defamation in a controversy that started with a permit to open an Islamic prayer centre and has grown into a debate about the intersection of freedom of speech and national security.
Hamza Chaoui, a Montreal-based imam with hundreds of people who follow his religious teachings on Facebook and YouTube, said he and the members of the Centre Ashabeb, a Muslim group in the city's east end, are considering legal action against municipal officials who have pledged to re-write zoning laws that would prevent the planned opening next month of a prayer centre.
Chaoui said he may also sue Montreal Mayor Denis Coderre as well as other city and provincial officials for attacks on his reputation and interfering with his Charter rights.
It is a dispute that started with a few pictures of a renovated prayer space on Facebook and a newspaper article that pushed the City of Montreal into action at a time of heightened concern over religious fundamentalism, radicalization and terrorism are top of mind for politicians.
Full report at:
http://www.thestar.com/news/canada/2015/02/03/montreal-imam-hamza-chaoui-fights-radicalization-allegations.html
----------
Jordan hostage video shows ISIS 'barbarity': Obama
04 Feb, 2015
U.S. President Barack Obama says that if a video purportedly showing the immolation of a Jordanian pilot at the hands of ISIS militants is authentic, it would be more evidence of the group's "viciousness and barbarity."
Obama says that if the video is genuine, it would "redouble the vigilance and determination on the part of our global coalition to make sure they are degraded and ultimately defeated."
He said Tuesday that if the video is authentic, it would indicate that "whatever ideology they are operating out of is bankrupt."
The video appears to show the death of a 26-year-old Jordanian pilot held by the militants since his F-16 crashed in Syria in December. It was released on militant websites and bore the logo of the ISIS's al-Furqan media service.
http://www.dailysabah.com/mideast/2015/02/03/jordan-hostage-video-shows-isis-barbarity-obama
----------
U.S. Muslims to Condemn ISIS's 'Unspeakable' Brutality in Killing of Jordanian Pilot
04 Feb, 2015
(WASHINGTON) -- Later today, representatives of the Council on American-Islamic Relations (CAIR) and other national and local leaders of the American Muslim community will hold a news conference at the Muslim civil rights organization's Capitol Hill headquarters in Washington, D.C., to condemn the terror group ISIS's "unspeakable and anti-Islamic" brutality in the burning alive of a Jordanian air force pilot.
"We join the world community in mourning the death of yet another victim of ISIS's brutality. This unspeakable and anti-Islamic act must be condemned by anyone with even a spark of humanity," said CAIR National Executive Director Nihad Awad. "Such inhuman acts are designed to provoke hatred and to create divisions, and we must not fall into this trap laid by the terrorists."
CAIR is America's largest Muslim civil liberties and advocacy organization. Its mission is to enhance the understanding of Islam, encourage dialogue, protect civil liberties, empower American Muslims, and build coalitions that promote justice and mutual understanding.
http://www.cair.com/press-center/press-releases/12838-muslims-condemn-isis-unspeakable-brutality-killing-jordanian-pilot.html
----------
Obama's Pentagon nominee interested in counter-terrorism cooperation with Pakistan
February 4, 2015
WASHINGTON: President Barack Obama's pick for defence secretary is poised to tell Republicans in Congress on Wednesday he might eventually consider reviewing the schedule for withdrawing US troops from Afghanistan, and would push to trim wasteful spending.
Ashton Carter, a former Pentagon No. 2, heads to the Senate for a 9:30 am confirmation hearing that is expected to be far smoother than the one that badly damaged outgoing Defence Secretary Chuck Hagel's political stature two years ago.
But Carter is hardly going to get an easy ride, with key Republicans in the Senate Armed Services Committee sharply critical of Obama's drawdown schedule in Afghanistan as well his limits on US military actions in Iraq, Syria and Ukraine.
"I think he's well qualified. He's going to have to do well. He's going to have to defend the president, but not to a fault," Senator Lindsey Graham, a key committee member, told Reuters.
Full report at:
http://www.dawn.com/news/1161461/obamas-pentagon-nominee-interested-in-counter-terrorism-cooperation-with-pakistan
-----------
URL: https://www.newageislam.com/islamic-world-news/new-age-islam-news-bureau/200-boko-haram-fighters,-9-chadian-soldiers--killed-in-clashes-/d/101371