New Age Islam News Bureau
26 November 2022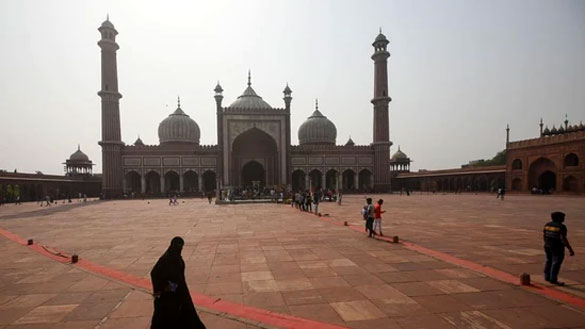 Jama Masjid, Delhi
----
• England Fans Dressed As Knights Accused Of Being 'Muslim Killers' By Qatari Police
• Fans Unite For Friday Prayers: Muslim Fans Say Qatar's World Cup Has Accommodated Them Like No Other Tournament
• Iran Anthem Tense Moment For Players: A Form Of Protest That Got Global Attention
• Tehreek-i-Taliban Pakistan Extortion Rackets Return To Swat Valley After A Decade
India
• UP: Man, Pretended to be Muslim, Arrested Over Derogatory Comments on Shraddha Walkar Murder Case
• India Abstains From Vote In The Geneva-Based UNHRC Fact-Finding Mission To Probe Human Rights Violations In Iran
• Muslim Man Travelling With Hindu Woman In Mangaluru Assaulted: Cops
• 26/11 Attacks In Mumbai: The Trauma Of The Memory Still Lingers
• 'In Five Kashmir Districts, No Local Has Joined Terror Outfits This Year'
• Mosques In Govandi And Bhiwandi Join In Efforts To Remove Vaccine Hesitancy
• U.P.: Shia clerics to discuss impact of terrorism on society in Lucknow
• FIFA World Cup: Muslim body laments craze for soccer among youth in Kerala
• Secular Muslim think tank demands entry of Muslim women in all mosques
• Telangana: Four percent Muslim reservations reduced to 3 in new roster system
• More Than 1,300 Hindu, Muslim Couples Tie Knot At Mass Wedding Event In Ayodhya
--------
Europe
• Azerbaijan says no talks with Armenia if Macron attends
• France seeking advantage from Lebanon's presidential vacuum: Report
• How New Zealand-born Joel Hayward become one of the world's 500 most influential Muslims
• Ankara's security concerns to be addressed as part of memorandum for Nordic nations' NATO bids: Swedish premier
• Man denies funding Daesh through government COVID-19 support payments
--------
Arab World
• Turkey's Erdogan vows to create 'safe zone' in Syria after barrage of airstrikes
• Iran guards send reinforcements to Kurdish areas near country's Iraq border: General
• Displaced Syrians stage protests against YPG/PKK near Türkiye-Syria border
• Turkish threats leave Syria Kurds in fear for symbolic city
• Base housing US occupation troops in northeastern Syria comes under rocket attack
--------
Mideast
• Iran govt supporters at Qatar World Cup heckle woman speaking on protests
• 'Halal products not just for Muslims, they are favourites for many people worldwide'
• Iran's Khamenei praises Basij forces for confronting 'riots': Report
• More security for London-based Iran International TV after threats
• Turkey in final stage talks for up to $10 billion funding from Qatar: Report
• Israel's Netanyahu offers far-right Ben-Gvir national security minister role
--------
Pakistan
• Unnecessary censorship suffocates society, stifles creativity, rules SHC
• Gangs unite under banned group to avenge killing of 'terrorist'
• 'My Investor Is My Master': PM Shehbaz Seeks Turkish Investment For 10,000MW Solar Project
--------
South Asia
• United Nations Assistance Mission Calls on Taliban to End Gender-Based Violence in Afghanistan
• Taliban Calls Out UN Security Council To Permanently End All Travel Bans
--------
Southeast Asia
• Gains For Malaysia's Hardline Islamist Party A Challenge For New PM Anwar Ibrahim
• Number of Muslim divorce cases down 7% in 2021
• Protests erupt in Xinjiang over 3-month Covid lockdown
• Islamist party PAS turns down Malaysia PM Anwar's offer to join government
• Malaysia's new PM says first priority is cost of living
--------
Africa
• South Sudan Pulls Out Of Peace Talks With Rebel Groups
• French businesses, schools closed following protests in Burkina Faso
• Kenyan army to forego portion of salary to help combat drought: Deputy president
• Somali army thwarts al-Shabab attack on military base
--------
North America
• McCarthy's Threats Against Ilhan Omar 'Illustrate The Institutional Racism In The US System': African American Journalist
• Chile's embassy in Türkiye, UN office mark Int'l Day for Elimination of Violence Against Women
• US official urges 'de-escalation' as Turkiye strikes Syria
Compiled by New Age Islam News Bureau
URL: https://newageislam.com/islamic-world-news/supreme-court-imams-constitution-remuneration/d/128498
--------
1993 Supreme Court Order To Pay Remuneration To Imams Is In 'Violation Of Constitution': Central Information Commission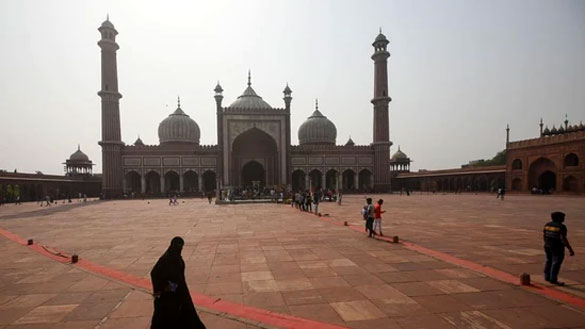 Jama Masjid, Delhi
----
Nov 26, 2022
The Central Information Commission has said the 1993 Supreme Court order allowing remuneration to imams in mosques was in "violation of the Constitution" and besides setting a "wrong precedent", has become a point of unnecessary political slugfest and social disharmony.
Information Commissioner Uday Mahurkar, while hearing an RTI application filed by an activist demanding details of salaries to imams by the Delhi government and the Delhi Waqf Board, also observed that the order violated constitutional provisions that say "tax payers money will not be used to favour any particular religion".
The Supreme Court in 1993 on a petition from the All India Imam Organisation had directed the waqf board to give remuneration to imams in mosques managed by it.
He has directed that a copy of his order be sent to the Union law minister with suitable action to ensure enforcement of provisions of articles 25 to 28 of the Constitution in letter and spirit to keep all religions on par in terms of monthly remuneration to priests of different religions at the cost of the public exchequer -- both central and states -- and also other matters.
"Further with regard to the judgment by the Supreme Court in the case between the 'All India Imam Organisation and ... vs Union Of India And Ors' on 13 May, 1993, that opened the doors to special financial benefits from public treasury to only imams and muezzins in mosques, the commission observes that the highest court of the country in passing this order acted in violation of the provisions of the Constitution, particularly Article 27, which says tax payers money will not be used to favour any particular religion," Mahurkar said.
"The commission notes that the said judgment sets a wrong precedent in the country and has become a point of unnecessary political slugfest and also social disharmony in the society," the information commissioner said.
He also directed the Delhi Waqf Board to pay a compensation of ₹25,000 to RTI activist Subhash Agrawal for the loss of time and resources in chasing the response to his application. The activist was not being able to get a satisfactory response to his application.
"It is necessary to go into the history when it comes to giving special religious benefits to the Muslim community by the State. A religious (Islamic) nation Pakistan was born out of the demand of a section of Indian Muslims for partition of India along religious lines. Despite Pakistan choosing to be a religious (Islamic) nation, India chose a Constitution guaranteeing equal rights to all religions," Mahurkar said.
"It is necessary to note here that it was the policy of giving special benefits to the Muslim community before 1947 that played a key role in encouraging pan-Islamic and fissiparous tendencies in a section of Muslims, ultimately leading to the nation's partition," he said.
So giving remuneration to imams and others only in mosques, amounts to "not just betraying the Hindu community and members of other non-Muslim minority religions, but also encouraging pan-Islamist tendencies amongst a section of Indian Muslims which are already visible", the information commissioner said.
Steps such as giving special religious benefits to the Muslim community only like the one taken up in the present matter, in fact, severely affects interfaith harmony as they invite contempt for the Muslims as a whole from a section of ultra nationalist population, Mahurkar said.
He said the Delhi Waqf Board (DWB) gets an annual grant of around ₹62 crore from the Delhi government while its own monthly income from independent sources is just around ₹30 lakh.
"So the monthly honorarium of ₹18,000 and ₹16,000 being given to the imams and muezzins of DWB mosques in Delhi is being paid by the Delhi government virtually from the tax payers money which in turn is in sharp contrast with the example quoted by the appellant in which the priest of a Hindu temple is getting a paltry ₹2,000 per month from the trust controlling the said temple," he said.
Mahurkar said those who justify such steps in the name of protection to religious minorities raise a question that if a particular religious minority has a right to protection, the majority community too has a right to protection in a multi-religious country where it is incumbent that the rights of the members of all religions are protected equally in the interest of inter-faith harmony and unity of the nation.
He said Delhi Waqf Board initially denied salaries to imams but later in a revised reply said it is only an honorarium not a salary.
"The commission observes that there was a clear attempt to hide the information in the initial period by a play of words which showed complete lack of transparency on the part of the respondent authorities in a case which in turn affects the provisions of the Constitution, and also social harmony and uniform applicability of laws for all religions in keeping with the constitutional direction that citizens of all religions be treated equally," he said.
Mahurkar directed the Delhi Waqf Board and office of Delhi Chief Minister to provide responses to the RTI application of Agrawal.
The orders of the commission, the highest body to decide appeals and complaints under the RTI Act, are often challenged in high courts through writ petitions.
The government through an amendment in the RTI Act had diluted perks, salaries and tenure of information commissioners from being on par with central election commissioners or to that of bureaucrats serving at their pay scale. The fixed tenure of five years given to an information Commissioner in the RTI Act was also reduced to three years.
Source: Hindustan Times
Please click the following URL to read the text of the original story:
https://www.hindustantimes.com/india-news/sc-order-to-pay-remuneration-to-imams-is-in-violation-of-constitution-cic-101669445665694.html
--------
England Fans Dressed As Knights Accused Of Being 'Muslim Killers' By Qatari Police
Two supporters apparently led away by World Cup security after England fans were told not to dress up as St George for fear of insulting Muslims in Qatar/ Photo: The Telegraph
-----
By Bill Gardner
25 November 2022
Two England fans dressed as knights say they were accused of being "Muslim killers" by Qatari police as FIFA announced a ban on "Crusader" fancy dress.
The two men claimed they were ordered to take off their chainmail and St George shields outside England's first match against Iran.
Social media footage of the two men showed them being led away by Qatari security.
Speaking for the first time, the two men, who did not wish to be named, told The Telegraph they were "definitely not racists" and claimed they had been dressed as knights from Monty Python rather than Crusaders.
Both are British expats who have lived in Doha for several years.
"It was ridiculous," one of the men said. "We turned up and the police first told us we couldn't take the swords in, even though they are made out of foam. Then a captain came running after us saying we couldn't wear the chainmail.
"At one point one of them asked 'Are you Muslim killers?' Of course we aren't Crusaders. We've lived here for years and we have no problems with Muslims at all – we work with them every day.
"It took two-and-a-half hours before they eventually let us in, wearing England shirts. This is just total woke madness. I blame Fifa. You can't wear anything nowadays without someone taking offence."
England fans have supported the team for years while dressed as St George, the patron saint often depicted as a Crusader warrior knight on horseback. The best-known Crusades took place between 1095 and 1291, when Christian armies fought to seize Jerusalem and the surrounding area from Islamic rule.
The two men said they feared reprisals from the Qatari authorities, and were only comfortable being photographed in their full costumes in a cellar.
"Now we are worried about the Qataris coming after us – they've got cameras everywhere. We were dressed as Monty Python, for god's sake. One of us had coconuts to do the horses clip-clopping from the film.
"On the way to the stadium everyone loved us, including the Qataris. They took pictures, and they couldn't get enough of us."
Fifa announced a ban on Crusader costumes after Islamophobia charities warned the garb could be offensive to Muslims.
In a statement, Fifa said: "Crusader costumes in the Arab context can be offensive against Muslims. That is why anti-discrimination colleagues asked fans to wear things inside out or change dress."
A spokesman for Kick It Out, a charity campaigning against racism and discrimination in football, warned fans against dressing up in knight costumes in Qatar.
"We would advise fans who are attending Fifa World Cup matches that certain attire, such as fancy-dress costumes representing knights or crusaders, may not be welcomed in Qatar and other Islamic countries. Foreign Office travel advice issued before the tournament expressed that fans should familiarise themselves with local customs, and we would encourage fans to take this approach."
In the weeks leading up to the World Cup, British police warned of the risk of England fans inadvertently offending Qatari locals.
Mark Roberts, Cheshire chief constable and English national football lead, said: "It's a World Cup in a different part of the world with a very different culture, and I think one of my fears is that supporters not wishing to cause offence or cause problems may act in a way that inadvertently causes offence or draws attention."
Source: Telegraph UK
Please click the following URL to read the text of the original story:
https://www.telegraph.co.uk/news/2022/11/25/exclusive-england-fans-knight-fancy-dress-accused-muslim-killers/
--------
Fans Unite For Friday Prayers: Muslim Fans Say Qatar's World Cup Has Accommodated Them Like No Other Tournament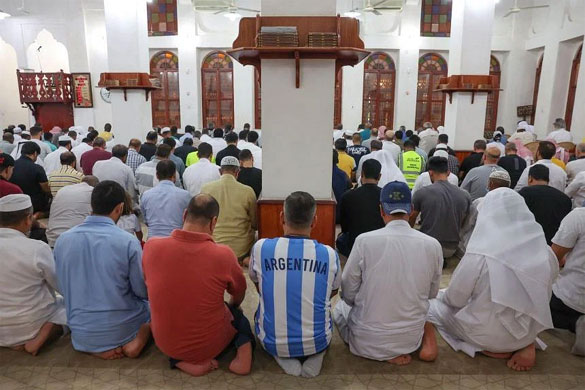 A worshipper wearing an Argentina national team soccer jersey at daily prayers in a mosque in Doha. PHOTO: BLOOMBERG
-----
25 November 2022
In the early afternoon, muezzins across Qatar called Muslim football players, fans, officials and anyone else in the vicinity to the first Friday prayers of the first World Cup to take place in a Muslim-majority country.
And for those fans unable to make it to one of Doha's many mosques to attend prayers ahead of Qatar's match versus Senegal, authorities set up an outdoor prayer just steps away from the Al Thumama Stadium.
While having a crowd of hundreds sitting on a carpet outdoors listening to a preacher give a sermon is an unusual site for football events in the western world, Muslim fans say Qatar's World Cup has accommodated them like no other tournament, with prayer rooms inside each stadium, concessions selling halal food and no beer-swilling supporters to contend with in the stands following a stadium alcohol ban.
"I came to an Islamic country to attend Friday prayer... This is what makes me happy in this competition," Yousef al-Idbari, a visiting fan from Morocco, told Reuters.
During a night-time official fan festival event in the city, the speaker announced a pause in festivities to the entire crowd to allow for the Muslim congregants to take a prayer break.
Qatar has also made an effort to feature Islam and Muslim culture throughout the first week of the tournament with sayings and teachings of the Prophet Muhammad posted around Doha and translated into multiple languages including English.
Sunday's opening ceremony began with a female singer donning a traditional burqa, a face covering banned in several European countries, who also recited a verse from the Quran about God creating humanity into "nations and tribes" so they can get to know one another.
Some hotel rooms in the country are also offering visitors QR codes to learn about Islam, according to social media reports, and tourists visiting Qatar for the tournament were invited to learn about Islamic dress.
"For 450 million Arabs, this is something they thought they would never see in their lifetimes," Ali al-Ansari, Qatar's media attache in the United States, said in a written statement to the New York Times.
However, while Muslims attending games in Qatar may be enjoying a better fan experience than they have had before, it is not clear whether this World Cup will change things for them in the long run.
Qatar has faced a barrage of criticism in western media, and from some countries playing in the 32-team tournament, over its rights record on migrant workers, women and the LGBTQ community.
Yet the criticism has been seen by Qataris as hypocritical, given that many of the countries engaging in the criticism continue to rely on the country for its natural gas resources with no outcries, or that the same criticism isn't applied to Qatar's neighbour, the United Arab Emirates.
Still, for Muslim fans, the tournament is an enjoyable experience that they are sure to remember for a long time.
Ridwaan Goolam Hoosen, an avid South African soccer fan, told Reuters he frequently has to leave football grounds in order to find a prayer space, including at the 2010 World Cup in South Africa.
"You go out and you miss a team goal or you miss someone getting sent off," he said. "It feels as if this World Cup is for me, it works for me, it fits for me... This is the first of its kind like this."
Source: Middle East Eye
Please click the following URL to read the text of the original story:
https://www.middleeasteye.net/news/qatar-world-cup-2022-fans-unite-friday-prayers-during-muslim-worlds-first-world-cup
--------
Iran Anthem Tense Moment For Players: A Form Of Protest That Got Global Attention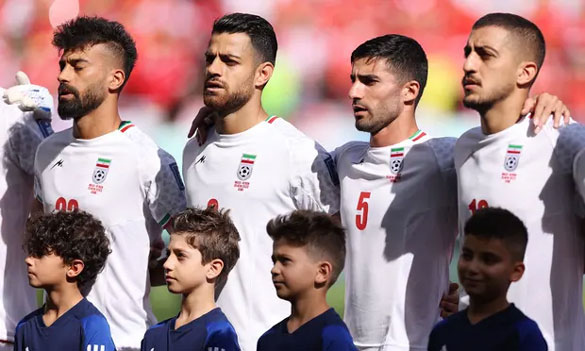 Iran players during their national anthem before Friday's World Cup game against Wales in Qatar. Photograph: Richard Heathcote/Getty Images
-----
26.11.22
Iran's national anthem was met by half-hearted singing or mouthing of the words by players and the jeering whistles of thousands of fans at Ahmad bin Ali Stadium before the team played Wales on Friday in its second game at the World Cup.
The scene, and the sounds, were different from Iran's opener against England on Monday, when players gave the anthem the stoic silent treatment, a form of protest that got global attention.
Iran's team, a regular at the tournament and long a unifying force in a divided country, has for months been trying to navigate the delicate internal politics of Iran, caught between government expectations and an ongoing national uprising.
Before Friday's match against Wales, the stadium camera feeds showed a man sobbing as Iran's anthem was played.
When an emotional woman was shown, fans erupted in cheers.
Elsewhere, others booed. In the seats, a woman unveiled a No. 22 jersey with the name Mahsa Amini on it.
She was the 22-year-old who died while in police custody in September It was the actions of Iran's players, though, that attracted the most attention.
After standing silently during the anthem before their first game, they appeared to sing with varying degrees of commitment amid a mix of boos and cheers. Iran's fan base may be as incessantly noisy as any here at the World Cup.
Source: Telegraph India
Please click the following URL to read the text of the original story:
https://www.telegraphindia.com/world/iran-anthem-tense-moment-for-players/cid/1900271
--------
Tehreek-i-Taliban Pakistan Extortion Rackets Return To Swat Valley After A Decade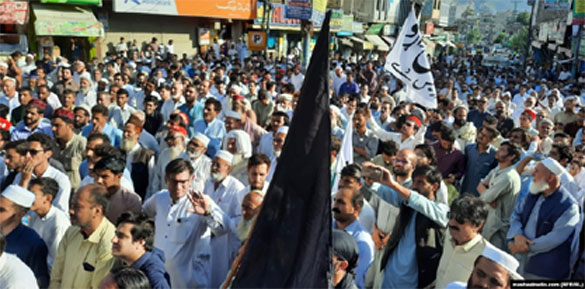 Hundreds of people protest in Swat on September 18, criticizing the government for failing to prevent the return of the Pakistani Taliban.
-----
November 26, 2022
MINGORA: A lawmaker was sipping tea with voters when his phone chirped to life — the Taliban were calling with a demand for "donations".
"We hope you won't disappoint," read the chilling text from a shady go-between of the outlawed Tehreek-i-Taliban Pakistan (TTP).
Then, a second message pinged on-screen: "Refusal to provide financial support will make you a problem," it warned.
"We believe a wise man will understand what we mean by that."
After the Taliban takeover in neighbouring Afghanistan and emboldened by its sister movement's success, TTP racketeering has infested areas along the border with Pakistan, locals say.
'Threatening calls' from Afghan cell numbers ask influentials for 'donations'; ominous messages warn of impending 'days of cruelty'
Since July, the provincial lawmaker — who asked to remain anonymous —has been cowed into sending the TTP sums totalling Rs1.2 million rupees.
"Those who don't pay have to face the consequences. Sometimes they throw a grenade at their door. Sometimes they shoot," he said.
"Most of the elites pay the extortion money. Some pay more, some pay less. But nobody talks about it. Everyone is scared for their life."
Open shelter
The TTP share lineage with the Afghan Taliban, but were most potent from 2007 to 2009, when they overran Swat.
The military came down hard on them in 2014, after a brazen attack on the Army Public School in Peshawar, which killed nearly 150 people, mostly pupils.
The TTP were largely routed, their fighters fleeing to Afghanistan where they were hunted by US-led forces.
But with Afghanistan back under Taliban rule, it has become an "open shelter" for the TTP, according to Imtiaz Gul, an analyst with Islamabad's Center for Research and Security Studies.
"They now have freedom of action while living in Afghanistan," he said, adding: "that's a simple explanation for why the TTP attacks rose".
In the year since the Taliban's return, militant activity in Pakistan has spiked, according to the Pak Institute for Peace Studies, with around 433 people killed.
'The same old game'
"They started the same old game: target killings, bomb blasts, kidnappings — and making calls for extortion," Swat community activist Ahmad Shah said.
The blackmail network bankrolls the TTP, but also sows a crisis of confidence in local government the militants seek to usurp in favour of Islamist rule.
Provincial lawmaker Nisar Mohmand estimates 80 to 95 per cent of well-off residents in surrounding districts are now blackmail victims.
Fellow legislators have been targeted for refusing to pay out, and some are too fearful to visit their precincts.
"They have their own system of reward and punishment," said Mohmand. "They have established an alternate government, so how are people supposed to resist?"
The Afghan Taliban have long-standing differences with their Pakis­tani counterparts, and since capturing Kabul have pledged not to allow their soil to be used for militant activities.
But the first telltale sign of a TTP blackmail attempt is the phone number — starting with the +93 international code indicating an Afghan SIM card.
Then comes a suggestive text, or voice message in Pashto — spoken with a Pakistani lilt.
AFP heard one message threatening an "action squad" would be despatched to a landlord if he declined to pay.
"The days of cruelty are near. Don't think we are a spent force," it warns.
The sum "owed" is then hashed out, generally through an intermediary, before it is sent to the ragged bands of TTP fighters whose silhouettes haunt the mountain steeps.
Victims expect to be "tapped up" up to five times a year, the anonymous MP said.
Since the 2014 APS massacre, which horrified Pakistanis even marginally sympathetic to their cause, the TTP has pledged to avoid civilian targets, and claims extortion is done by criminals borrowing their brand.
But a civilian intelligence official in the area insisted they were "the root cause of the menace".
'Life at a standstill'
Swat — a snow-capped mountain valley split by turquoise running waters — is one of Pakistan's most famed beauty spots, but its reputation has a dark side.
In 2012 then 15-year-old Malala Yousafzai was shot in the head by the TTP while campaigning for girls' education, a campaign that later earned her the Nobel Peace Prize.
This summer things seemed to have slipped irredeemably back towards those dark days.
After a decade-long hiatus, the anonymous lawmaker started receiving blackmail texts once again.
"The situation was so bad that many people were thinking of migration," said Shah. "Life was at a standstill." But there has been pushback, and several protests against the TTP have been held since the group's high-profile kidnapping of three officials in August.
Businesses shut and thousands spilled into the streets in rallies up and down the valley.
Pakistan's military has claimed that reports of a strong TTP presence in the area were "grossly exaggerated and misleading".
Still, in Pakistan's borderlands, attacks and extortion continue unchecked — despite a professed negotiation truce between the TTP and Islamabad.
"We have to search a solution which is acceptable to both sides. A lasting settlement will have to be found," said government negotiator Barrister Muhammad Ali Saif.
Source: Dawn
Please click the following URL to read the text of the original story:
https://www.dawn.com/news/1723144/ttp-extortion-rackets-return-to-swat-valley-after-a-decade
--------
India
UP: Man, Pretended to be Muslim, Arrested Over Derogatory Comments on Shraddha Walkar Murder Case
NOVEMBER 25, 2022
Police have arrested a man for outraging religious feelings after he allegedly made remarks justifying the Shraddha Walkar murder while pretending to be a Muslim.
Vikas was heard in a video clip telling a reporter that if a man is not in the right mood, he can chop a woman into 36 pieces. He gave out his name as Rashid.
"If a man's mood is not right, why 35? He can chop (a woman) into 36 pieces," he says in the video.
Shraddha Walkar (27) was allegedly strangled by her live-in partner Aaftab Amin Poonawala, who sawed her body into 35 pieces, which he kept in a 300-litre fridge for almost three weeks at his residence in south Delhi's Mehrauli before dumping those across the city over several days past midnight.
Source: News18
Please click the following URL to read the full text of the original story:
https://www.news18.com/news/india/up-man-pretended-to-be-muslim-arrested-over-derogatory-comments-on-shraddha-walkar-murder-case-6471697.html
--------
India Abstains From Vote In The Geneva-Based UNHRC Fact-Finding Mission To Probe Human Rights Violations In Iran
Anita Joshua | New Delhi
26.11.22
India on Thursday abstained from a vote in the Geneva-based United Nations Human Rights Council that set up a fact-finding mission to probe human rights violations in Iran during the crackdown on the recent "anti-hijab" protests.
The protests had broken out after the custody death of a young woman, Mahsa Amini, in September after she was arrested for violating the country's strict dress code for women. While 25 of the 47 countries voted in favour of setting up the fact-finding mission, India was among the 16 that abstained. The remaining six voted against the motion.
India has studiously avoided commenting on the agitation. Asked for a comment on the Iran protests during Thursday's weekly briefing, external affairs ministry spokesperson Arindam Bagchi stuck to the "no comment" response given a couple of weeks earlier to a similar question.
Source: Telegraph India
Please click the following URL to read the full text of the original story:
https://www.telegraphindia.com/world/unhrc-india-ducks-vote-on-iran/cid/1900290
--------
Muslim Man Travelling With Hindu Woman In Mangaluru Assaulted: Cops
Nov 26, 2022
In an alleged case of moral policing, a group of men assaulted a Muslim man, who was travelling with a Hindu woman in Mangaluru on Thursday, police said.
The incident occurred on Thursday night near Nanthoor circle in Mangaluru. The couple were travelling in a bus from Karkala, when three to four unknown men stopped the bus, dragged the Muslim youth out of the vehicle and thrashed him, police said.
The Muslim youth has been identified as Seyad Raseem Ummar (20), a third year BE (Information Science) student at Nitte Institute of Technology, Nitte, Karkala. The identity of the woman is not known.
An FIR has been registered at the Kadri police station. "On Thursday, Seyad was returning from Karkala in a private bus at 4pm. Near Nanthoor junction, three to four unknown people entered the bus, abused him verbally and thrashed him. They also threatened him if he told anyone about the incident. The miscreants then dragged him out of the bus and beat him up with sticks," the FIR read.
The police said that while there are reports that members of the Bajrang Dal attacked the Muslim youth, the right-wing organisation has however, denied its involvement in the incident so far.
"We are assuming it could be moral policing. The Muslim youth was travelling in the bus when three people dragged him out and thrashed him. The couple were coming from Karkala and the incident occurred near Nanthoor circle in Mangaluru," the police said.
"They also asked for his ID card. We are trying to identify the accused by examining the CCTV footage," the police said.
"We are not sure if those who attacked him are members of the Bajrang Dal. When we asked them about the incident, Bajrang Dal said they have not done anything," the police added.
Moral policing by right-wing groups is on the rise in Dakshina Kannada district. In September this year, an incident of moral policing was reported in Dakshina Kannada's Sullia Taluk in which a Muslim boy was beaten up and was issued death threats by his college mates for befriending a Hindu girl.
In April this year, another incident of moral policing had taken place in Dakshina Kannada's Kadaba Taluk. Then, a group had assaulted a Muslim auto driver accompanied by a woman. Police said he was attacked after the group learnt that the woman was a Hindu and the driver was a Muslim.
Source: Hindustan Times
Please click the following URL to read the full text of the original story:
https://www.hindustantimes.com/india-news/muslim-man-travelling-with-hindu-woman-assaulted-cops-101669402023800.html
--------
26/11 Attacks In Mumbai: The Trauma Of The Memory Still Lingers
Nov 26, 2022
MUMBAI: It's been 14 years since the 26/11 attacks in Mumbai. For some survivors, the trauma of the memory still lingers; for others, it's an event that even shapes their goals in life; the rest are trying to keep the door shut.
For Devika Rotawan, who was nine years and 11 months old then, justice is still a quest. Shot in the right leg in the indiscriminate firing at the Chhatrapati Shivaji Terminus, she says, "Sometimes, when I run and when it's cold, it hurts. It doesn't let me forget."
Rotawan had fallen unconscious during the attack, but moments earlier she had seen "a man with a gun. He was less than 20 feet away." When she came to, she was in St George Hospital. After surgeries and a phase of rehabilitation during which she was on crutches, she regained her strength.
In June 2009, she was taken to the special court at Arthur Road Jail to identify Kasab. "I was in the witness stand and Kasab sitting close to the judge...I wanted to throw a crutch at him or shoot him," she says. On November 21, 2012, Kasab was hanged but she feels full justice will be done only when the mastermind is punished. "Justice isn't done yet and so, I want to be a cop," says the 23-year-old.
For others like Rounak Kinger who had joined the Taj Mahal hotel as a trainee six months before 26/11, it was his first job. That night, he was helping with a corporate dinner at the Gateway room. When he heard gunshots, Kinger, then 21, thought it was firecrackers. Soon, he and his colleagues were told to switch off lights, close doors and crouch on the floor. Hours later, they managed to break open the windows, make a rope out of curtains and escape. When it was his turn to climb down, the curtains gave in. "I landed on the pavement with glass splinters in my knees and cracked ankles."
Kinger worked with Taj for four years before moving on. "They say you can never forget your first job. For me, I carry that part every day," says Kinger, now an assistant vice president-culinary experience with Zomato.
Source: Times Of India
Please click the following URL to read the full text of the original story:
https://timesofindia.indiatimes.com/india/26/11-terror-attacks-it-still-hurts-in-my-leg-brings-back-horror/articleshow/95774210.cms
--------
'In Five Kashmir Districts, No Local Has Joined Terror Outfits This Year'
Nov 26, 2022
BARAMULLA: Five of the 10 districts in Kashmir division - Kupwara, Ganderbal, Bandipora, Baramulla and Anantnag - have witnessed zero local terror recruitment this year, with active local terrorists in the Valley now contained at around 53, sources in the Jammu & Kashmir government said on Friday.
According to the latest figures, the number of active terrorists in J&K has fallen by over 27% to 135 at present, from 184 in December 2021. The decline has been largely on account of the 46% fall in count of local terrorists from 99 in December 2021 to 53.
The fall in numbers of home-grown terrorists is attributed by sources to curbs on online activity aimed at glorifying terrorists, the waning influence of Jamaat-e-Islami and also of separatist outfits like the Hurriyat Conference, sustained anti-terror actions, and disincentives against facilitation of terror acts such as attachment of property and denial of government jobs.
A senior government official in Baramulla told TOI: "Thanks to zero tolerance approach of the government to terrorism, locals have realised the fate that awaits them if they join terrorist ranks. Besides, there are enough development and social welfare initiatives that are reaching the people of Kashmir. Youths are engaged in things like sports and emphasis is laid on their education. They are no longer attracted to terrorism".
As many as 176 terrorists were neutralised till early November this year, of which a whopping 126 were local J&K recruits and 50 foreign terrorists, as per MHA data. The terrorists mostly belonged to outfits like Lashkar-e-Taiba, its offshoot The Resistance Front, Jaish-e-Mohammad and Hizbul Mujahideen.
The neutralisation of 126 terrorists in J&K so far this year and dip in local recruitment has overturned the ratio of local terrorists to foreign terrorists, with active foreign terrorists now far outnumbering local terrorists, contrary to the trend of past several years.
Source: Times Of India
Please click the following URL to read the full text of the original story:
https://timesofindia.indiatimes.com/india/in-five-kashmir-districts-no-local-has-joined-terror-outfits-this-year/articleshow/95774202.cms
--------
Mosques in Govandi and Bhiwandi join in efforts to remove vaccine hesitancy
by Rupsa Chakraborty
November 26, 2022
To overcome vaccine hesitancy among people in Govandi and Bhiwandi, where 10 children have died due to suspected cases of measles, local mosques started making announcements about the importance of vaccination after the prayers on Friday.
"It is your responsibility to get your children vaccinated against measles. Get the vaccine to save your children from the disease," announced Abdul Rahman Zeeyai from Darul Uloom Haji Ali Khan in Govandi after the prayers.
In Bhiwandi, the mosques also announced the location of vaccination centres where the parents can get their children vaccinated. "We have selected five to six madrasas where vaccination camps can be held. To inform the parents, the mosques were requested to announce the location of the camps after the Friday prayers in Bhiwandi," said Dr Bushra Shaikh, BMC medical officer in Bhiwandi.
Both Govandi and Bhiwandi, which have a high Muslim population in slum pockets, have been witnessing vaccination hesitancy.
Officials said they are also asking local schools to create awareness. "We are asking school teachers and headmasters to counsel parents against vaccine hesitancy. Also, they have been asked to identify the children who haven't taken the jab," said Dr Upalimitra Waghmarem, BMC medical officer in Govandi.
Source: Indian Express
Please click the following URL to read the full text of the original story:
https://indianexpress.com/article/cities/mumbai/mosques-in-govandi-and-bhiwandi-join-in-efforts-to-remove-vaccine-hesitancy-8290422/
--------
U.P.: Shia clerics to discuss impact of terrorism on society in Lucknow
Nov 26, 2022
Shia ulemas from across the country will assemble in Shia Degree College to discuss the impact of terrorism on the society at the fourth "Ahl al-Bayt" conference on Saturday. They will give a message against terrorism on the day that coincides with the 14th anniversary of the 26/11 Mumbai terror attack. They will also express their views on situations of minorities and Shias in Pakistan.
Speaking to reporters on behalf of All India Shia Hussaini Fund, which is organising the conference, at Shia Degree College on Friday, general secretary, All India Shia Personal Law Board, Maulana Yasoob Abbas, said, "Pakistan has become the epicentre of terrorism where terrorist organisations are continuously targeting the Shia community. He said that Prophet Muhammad and his 'Ahl al-Bayt' (family members) have given the message of peace and humanity to the world. Through the conference, ulemas will spread the message of humanity and peace."
Source: Hindustan Times
Please click the following URL to read the full text of the original story:
https://www.hindustantimes.com/cities/lucknow-news/up-shia-clerics-to-discuss-impact-of-terrorism-on-society-in-lucknow-101669401755829.html
--------
FIFA World Cup: Muslim body laments craze for soccer among youth in Kerala
November 25, 2022
Thiruvananthapuram: An influential Sunni Muslim body in Kerala on Friday came out against soccer-crazy Muslim youth in the state who have erected huge cutouts of star players in support of their teams participating in World Cup, saying worshipping football celebrities is against Islamic faith and urged them not to wave flags of Portugal, which had made many countries its colonies.
Nasar Faizy Koodathayi, general secretary of the Qutba committee under the Samastha Kerala Jam-Iyyathul Ulama, also expressed concern over football fans spending too much money on erecting huge cutouts of their favourite soccer stars like Argentina's Lionel Messi, Portugal's Cristiano Ronaldo and Neymar Jr of Brazil on the streets.
He also lamented that students were losing interest in studies due to the ongoing World Cup in Qatar.
"It is not right to wave the flag of Portugal, which colonised many countries", the cleric said, adding that it was not right for Indian citizens to respect and wave the flags of other nations over the national flag.
He, however, said the organisation was not against football.
"The game should be seen in a sportsman's spirit. Football is becoming a fever and people are getting addicted to it. This is not a good trend," he said.
According to Koodathayi, football should be promoted only as a game which encourages physical activity.
"Instead of that now football has become a fever and fans are engaged in worshipping football stars. Today people are respecting and waving the flags of other nations over their own," he said.
He said those who are poor are wasting their money in erecting huge cutouts of their favourite football stars and students are not concentrating on their studies.
"Instead of loving our nation, some are engaged in worshipping football stars. There is a limitation to worshipping people when it comes to Islam. Also people are waving Portugal flags…A country which colonised many countries. Students are losing interest in their studies," he said.
Kerala is well-known for the football crazy fans. Huge cutouts of football stars including Messi, Neymar Jr and Ronaldo can be seen across the state.
Fans of Brazil and Argentina religiously follow the football season and celebrate the world cup with fervour in Kerala.
Source: Firstpost
Please click the following URL to read the full text of the original story:
https://www.firstpost.com/india/fifa-world-cup-muslim-body-laments-craze-for-soccer-among-youth-in-kerala-11694801.html
--------
Secular Muslim think tank demands entry of Muslim women in all mosques
Nov 26, 2022
MUMBAI: Indian Muslims for Secular Democracy (IMSD), a thinktank, has condemned the "blatant sexism" of Imam Bukhari of Delhi's Shahi Jama Masjid while welcoming his decision to remove the boards prohibiting Muslim girls from entering the mosque precincts. IMSD also demanded entry of Muslim women in all mosques in the country.
In a statement, IMSD convener Javed Anand said that the "earlier decision to put up the notice board was sought to be explained on the ground that Muslim girls 'loiter' around the mosque's sprawling compound. Presumably it's OK for boys to loiter, not OK for girls. Such an attitude reeks of a patriarchal mindset."
"The imam has sought to clarify that the do-not-enter directive did not apply to women who were welcome as before to pray at the mosque. We appreciate the clarification since IMSD has consistently supported the right of women from all religions to equal access to all sacred spaces on par with men," the statement said.
Anand said that Muslim women have prayed inside the mosques in Mecca and Medina from the time of Prophet Mohammed and they continue to do so even today in Saudi Arabia and much of the Arab world, the land of Islam's birth.
Source: Times Of India
Please click the following URL to read the full text of the original story:
https://timesofindia.indiatimes.com/city/mumbai/secular-muslim-think-tank-demands-entry-of-muslim-women-in-all-mosques/articleshow/95781517.cms?from=mdr
--------
Telangana: Four percent Muslim reservations reduced to 3 in new roster system
26th November 2022
Hyderabad: Reservations are provided for better representation of all the communities in education and employment. After the formation of Telangana state, TRS chief K. Chandrasekhar Rao had promised to provide 12% reservation to Muslims in education and employment, but till date, there are no practical steps are taken to fulfill it.
On the other hand, the 4% reservation provided to Muslims in the united Andhra Pradesh seems to be under threat. Although this matter is pending in the Supreme Court, the implementation of reservation in education and employment is still going on.
The government has announced to fill more than 80000 vacancies in various departments and for this roster points system has announced. However, only 3% reservations have been added to the roster points. Under the Telangana State and Subordinate Service Rules 1996, Muslim reservations were reduced from 4% to 3% in the roster points released for direct recruitment.
The intention of the government does not appear to be in favour of 4% representation for Muslims, so only 3 percent reservations were included in the roster points.
A letter was sent by former minister Muhammad Ali Shabbir to the Chief Minister and Chief Secretary, after which the government issued an explanation in an unclear manner. Although the explanation did not mention the name of any officer or department, the statement was later confirmed by the Chief Secretary's office. The Chief Secretary, who is in-charge of administration, has claimed that Muslim reservations i.e. BC-E mentioned at 19, 44, 69 and 94th position in the 100-point roster.
Interestingly, there is no modification made in the roster points till date, despite Chief Secretary's explanation. If the error in the roster points was rectified, the Chief Secretary should have released the details of the revised points to the public. It is reported that the Minority Welfare Department itself has not been sent a copy of the revised roster points till date.
Even the TRS minority leaders in the government did not ask for an explanation from the Chief Secretary on this issue. Somesh Kumar refrained from saying anything more on this matter and said that the government has added 4% reservation in the roster points. Till date, it has not been explained who was responsible for reducing the 3% reservation and why the new roster points are not released if the mistake is indeed corrected. Senior officials of the Minority Welfare Department made the roster points expressed ignorance about and said they did not receive any message from Chief Secretary's office. A large number of Muslim candidates will be in loss the corrections are not made.
Source: Siasat Daily
Please click the following URL to read the full text of the original story:
https://www.siasat.com/telangana-four-percent-muslim-reservations-reduced-to-3-in-new-roster-system-2466068/
--------
More than 1,300 Hindu, Muslim couples tie knot at mass wedding event in Ayodhya
25th November 2022
Ayodhya: A mass marriage event was organised on Friday by the department of labour and employment here at the government inter-college ground where 1,356 daughters of Ayodhya and Ambedkar Nagar districts got married without exchange of dowry.
As many as 1,342 Hindu couples and 14 Muslim couples tied the knots at the event.
Gayatri Pariwar performed the marriage rituals for the Hindu couples, while a Muslim Qazi administered the nikah for the Muslim couples, District Magistrate Nitish Kumar said.
All couples who tied knots got Rs 75,000 from the state government as a gift. The money was credited to their bank accounts, the official said.
Ayodhya district administration issued the certificates of marriage registration to the couples on the spot.
Uttar Pradesh Labour and Employment Minister Anil Rajbhar, who was present during the ceremony, said that in the second term of the Yogi government, he has got five lakh daughters married.
Source: Siasat Daily
Please click the following URL to read the full text of the original story:
https://www.siasat.com/more-than-1300-hindu-muslim-couples-tie-knot-at-mass-wedding-event-in-ayodhya-2465856/
--------
Europe
Azerbaijan says no talks with Armenia if Macron attends
November 26, 2022
BAKU: Azerbaijan's President Ilham Aliyev said on Friday he would not meet the prime minister of Armenia, as planned in Brussels next month, because Yerevan demanded French leader Emmanuel Macron mediate.
Azerbaijan accuses France of backing Armenia in the two countries' decades-long conflict over the breakaway region of Nagorno-Karabakh.
Aliyev said he would not meet Prime Minister Nikol Pashinyan in Brussels on Dec 7 because the Armenian leader demanded that Macron attend the talks.
Pashinyan "agreed to the meeting only on condition" that Macron take part, Aliyev told an international conference in Baku. "That means the meeting will not take place."
He accused Pashinyan of attempting to "scupper the peace talks". Last month Macron and European Council President Charles Michel attended a meeting between Aliyev and Pashinyan in Prague.
On Friday, the Armenian foreign ministry said the meeting in Brussels should have the "same" format.
With Moscow increasingly isolated on the world stage following its February invasion of Ukraine, the EU and the United States have taken a leading role in mediating the Armenia-Azerbaijan peace talks.
On Friday, Kremlin spokesman Dmitry Peskov insisted Moscow was "continuing its work on facilitating" talks between Armenia and Azerbaijan.
Armenia and Azerbaijan have fought two wars — in 2020 and in the 1990s — over Azerbaijan's Armenian-populated region of Nagorno Karabakh.
'Unacceptable'
The six-week war in 2020 claimed the lives of more than 6,500 troops from both sides and ended with a Russia-brokered ceasefire.
The two countries have recently begun working on a peace treaty under the mediation of the European Union and the United States. Last month, President Aliyev denounced as "unacceptable and biased" a comment from Macron that "Azerbaijan launched a terrible war, with many deaths, (and) atrocious scenes".
Source: Dawn
Please click the following URL to read the full text of the original story:
https://www.dawn.com/news/1723138/azerbaijan-says-no-talks-with-armenia-if-macron-attends
--------
France seeking advantage from Lebanon's presidential vacuum: Report
25 November 2022
France is reportedly pushing to end the presidential deadlock in Lebanon by promoting a Western-aligned candidate that may also be confirmed by Hezbollah.
In a report on Friday, Lebanese newspaper Al-Akhbar said that officials in France have chosen a different path compared to that of the US and Saudi Arabia as they are seeking to nominate Joseph Aoun, current commander of the Lebanese army, for the presidency.
The push is reportedly led by the "Lebanon crisis cell" at the Élysée palace as well as by presidential diplomatic adviser, Emmanuel Bonne, and the head of foreign intelligence, Ambassador Bernard Emier.
According to the report, Paris seeks to rule out the nomination of Christian politicians who are aligned with Hezbollah, especially from the Free Patriotic Movement.
Meanwhile, Hezbollah has also not included Aoun as a possible candidate but it seems that the resistance movement does not reject him completely.
MP Ali Ammar of Hezbollah responded to a question about the nomination of Aoun, saying, "Hezbollah sees Aoun as a good example in his management of the military establishment and his protection of civil peace and national security."
Lebanese lawmakers failed to elect the country's next president for a seventh time on Thursday, nearly a month after the previous head of state Michel Aoun left the Baabda Palace.
Christian MP and presidential hopeful Michel Moawad, who is seen as close to Washington, was the front-runner with 42 votes in Thursday's session. He, however, fell short of the two-thirds majority or 86 votes needed to win. The fraction of the vote in the 128-seat parliament is needed for a candidate to win in the first round, with an absolute majority required in subsequent rounds.
Parliamentary Speaker Nabih Berri said the legislative body will convene for an eighth attempt to elect a new president on December 1.
Moawad's candidacy is opposed by Hezbollah.
There have been delays in electing previous Lebanese presidents. Aoun's own election in 2016 followed a more than two-year vacancy at the presidential palace as lawmakers made 45 failed attempts before reaching a consensus on his candidacy.
The country has also had only a caretaker government since May.
Source: Press TV
Please click the following URL to read the full text of the original story:
https://www.presstv.ir/Detail/2022/11/25/693375/France-pushing-Western-aligned-
--------
How New Zealand-born Joel Hayward become one of the world's 500 most influential Muslims
Daniel Bardsley
Nov 26, 2022
When Prof Joel Hayward received an email telling him that he had been included in a publication detailing the world's 500 most influential Muslims he, modestly, thought someone was joking.
"I was shocked to find, in fact, that it was me and that people do think that I somehow am making a difference," he said.
"I'm a historian and we don't imagine that people read our books and that our books make a difference. To have been put in such an illustrious group of people is beyond imagination."
The recent announcement that this 58-year-old researcher at the Rabdan Academy in Abu Dhabi has been included in the 2023 edition of The Muslim 500 should, however, not come as a surprise.
The British-New Zealander, a distinguished historian of warfare and military strategy, became a Muslim in the early 2000s and is now recognised as an authority on Islamic history.
One of his most recent books, The Leadership of Muhammad: A Historical Reconstruction, was chosen as the Best International Non-Fiction Book at last year's Sharjah International Book Awards.
Prof Hayward has found the life of the Prophet to be "immensely stimulating and very impressive".
Born in New Zealand to parents of British extraction, Prof Hayward developed an interest in warfare in part because his father was a soldier.
His interest also stemmed from a feeling that warfare was when "people are tested to the most extreme levels and … the quality of their character emerges".
"People become very frightened, they become very emotional, they become very angry. Also, they become very brave," he said.
"Those esteemed qualities — self-sacrifice, comradeship, courage — that we all place importance on are demonstrated best, I think, during wartime."
At the University of Canterbury in Christchurch, New Zealand, he completed a doctorate on the Luftwaffe's operations during the Second World War and, after a number of years working as a lecturer in the country where he was born, moved to the UK
There he continued to lecture, including at a military academy, and to write books on military history.
Following the 9/11 attacks, Prof Hayward became interested in Islam when a senior military officer suggested to him that there was a militarism to the religion.
He took evening classes in Arabic so that he could read the Quran in its original language and, nearly two decades ago, became a Muslim himself.
In the early 2010s, Prof Hayward moved to the UAE, working first at Khalifa University, then the National Defence College and now the Rabdan Academy, a government security-oriented academic institution.
There he mostly teaches young Emiratis, who he says are enthusiastic to learn.
The Abu Dhabi resident spends between three and five hours a day reading and from Saturday to Thursday writes 500 words a day.
His background in the western source-critical historical method, in which scholars interrogate sources to understand their motivations rather than simply accept them at face value, coupled with his expertise in Islam, gives him a perspective few other historians share and one that seems to resonate with readers.
Prof Hayward has written a number of books on Islamic history, the latest of which is The Warrior Prophet: Muhammed and War. Running to nearly 500 pages, it has taken Prof Hayward about a decade of on-and-off work to complete.
Now he has turned his focus to the Prophet's diplomacy. Prof Hayward said the Prophet had great strengths as a diplomat and insights into what others thought.
"When you know what people want, your competitors in other tribes, it's far easier to negotiate than if you don't know what they want," Prof Hayward said.
"He understood ego, he understood greed, he understood ambition — all those things that his competitors seemed to have been motivated by — and found ways to work with those traits to get the best out of people and to bring people together who might not ordinarily have wanted to come together."
Prof Hayward has found Islam to be a unifying force also in the present day because being a Muslim has given him a strong sense of kinship with his co-religionists, even though he is of a very different background to many of them.
"That's the thing about Islam — it transcends race, it transcends ethnicity, it binds us all together regardless of our backgrounds, and also regardless of our socioeconomic status," he said.
"You go to the mosque and you pray alongside people who might be cleaners or construction workers or they might be CEOs. They might even come from one of the royal families.
"Everybody just prays together in a line. There's no sense that status plays a role in that. In some ways that's one of the attractions."
He feels lucky to be living in the UAE, which he describes as a Muslim country "that has so easily and fully embraced modernity and done so with success".
Source: The National News
Please click the following URL to read the full text of the original story:
https://www.thenationalnews.com/uae/heritage/2022/11/26/how-new-zealand-born-joel-hayward-become-one-of-the-worlds-500-most-influential-muslims/
--------
Ankara's security concerns to be addressed as part of memorandum for Nordic nations' NATO bids: Swedish premier
Atila Altuntas
26.11.2022
STOCKHOLM
Swedish Prime Minister Ulf Kristersson told the media Friday that Ankara's security concerns will be addressed as part of a tripartite memorandum between Finland, Sweden and Türkiye for NATO membership of the Nordic nations.
Kristersson underlined that Türkiye's security concerns will be addressed as part of the memorandum between Finland, Sweden and Türkiye for NATO membership of the Nordic nations.
"To be honest, this is not a triple memorandum, rather it is an agreement that Finland and Sweden promised Türkiye on security," Kristersson told the Dagens Nyheter newspaper, adding it would fulfill the commitments.
He noted that Sweden is in contact with Türkiye about the law, citing his country's new anti-terror law that is expected to take effect next spring.
"This is the fact that Sweden is involved in the fight against terrorism together with NATO," he added.
Nordic countries' NATO bid
Sweden and Finland formally applied to join NATO in May, abandoning decades of military non-alignment, a decision spurred by Russia's war against Ukraine.
But Türkiye voiced objections to their membership bids, accusing the two countries of tolerating and even supporting terrorist groups.
Stockholm and Helsinki struck a deal with Ankara in June, which requires them not to provide support to the PKK terror group and its offshoots, or the Fetullah Terrorist Organization (FETO) -- the group behind the 2016 defeated coup in Türkiye. Ankara has also called for the extradition of terror suspects.
In its more than 35-year terror campaign against Türkiye, the PKK -- listed as a terrorist organization by Türkiye, the US, and EU -- has been responsible for the deaths of more than 40,000 people, including women children and infants. The YPG is its Syrian offshoot.
Turkish officials, including President Recep Tayyip Erdogan, have warned that Türkiye will not give the nod to Sweden's and Finland's memberships until the memorandum is implemented.
Source: Anadolu Agency
Please click the following URL to read the full text of the original story:
https://www.aa.com.tr/en/europe/ankara-s-security-concerns-to-be-addressed-as-part-of-memorandum-for-nordic-nations-nato-bids-swedish-premier/2748480
--------
Man denies funding Daesh through government COVID-19 support payments
November 25, 2022
LONDON: A UK man has denied sending money to Daesh fighters in Syria from a COVID-19 relief package during the pandemic totaling £25,000 ($30,246).
Tarek Namouz, a former pub landlord and barber, received thousands of pounds from the government support scheme for local businesses and is accused of sending the proceeds to Daesh, Kingston Crown Court heard on Thursday.
The British government loaned about £47 billion under the program to support businesses hit by the COVID-19 pandemic, and it was estimated earlier this year that £17 billion will never be repaid and £4.9 billion was claimed fraudulently
Namouz, 43, wanted to buy a building for "storing weapons" and occupy it with "Daesh fighters," the court heard.
Transfers, totaling about £11,280, were sent to accomplice Yahya Ahmed Alia between November 2020 and May 2021, jurors heard.
But, while remanded in custody, Namouz told a visitor he had transferred "more than double" that amount, the Metro reported.
Prosecutor John McGuinness KC told the court that forensic analysis of his mobile phone showed he was in "regular WhatsApp communication" with Alia.
According to McGuinness, Namouz and Alia were "committed to the Islamic extremist culture," "fervently supported" the culture of Daesh and were "committed to the cause of terrorism."
The two also shared messages expressing a desire to "burn Christianity" and "(kill) non-believers."
Source: Arab News
Please click the following URL to read the full text of the original story:
https://www.arabnews.com/node/2206036/world
--------
Arab World
Turkey's Erdogan vows to create 'safe zone' in Syria after barrage of airstrikes
25 November ,2022
President Recep Tayyip Erdogan on Friday vowed to protect Turkey's southern border with a "safe zone" in Syria after Ankara launched a barrage of airstrikes against Kurdish fighters.
Erdogan has long sought to build a "safe zone" with a depth of 30 kilometers (19 miles) inside Syria and repeatedly threatened this year to start a new military operation to achieve this goal.
Turkey's military has conducted three offensives against Kurdish fighters and extremists since 2016 and already captured territory in northern Syria, held by Ankara-backed Syrian proxies.
"With the security (zone) we are establishing on the other side of our border, we are also protecting the rights of millions of women and children," Erdogan said during a televised speech to mark International Day for the Elimination of Violence against Women.
"God willing we will complete this (zone) along the border from the west to the east as soon as possible," he added.
Following a bombing in Istanbul on November 13 that killed six people and injured 81, Turkey launched a series of airstrikes across parts of Iraq and Syria on Sunday, targeting Kurdish groups.
Turkey blamed the bombing on the Syrian Kurdish YPG militia and the Kurdistan Workers' Party (PKK). The PKK is designated a terrorist group by the European Union and the United States.
Kurdish groups deny any involvement in the Istanbul attack.
Turkey says the Kurdish YPG militia is allied with the PKK, which has waged an insurgency against the Turkish state since 1984.
According to the UK-based Syrian Observatory for Human Rights, Turkey launched raids Friday on Hasakeh in northeast Syria, held by the US-supported Syrian Democratic Forces (SDF), now the Kurds' de facto army.
Erdogan wants the "safe zone" to include the Syrian Kurdish border city of Kobane, also known as Ayn al-Arab, which was captured by Kurdish YPG forces from extremists in 2015 with the support of the United States.
Source: Al Arabiya
Please click the following URL to read the full text of the original story:
https://english.alarabiya.net/News/middle-east/2022/11/25/Turkey-s-Erdogan-vows-to-create-safe-zone-in-Syria-after-barrage-of-airstrikes
--------
Iran guards send reinforcements to Kurdish areas near country's Iraq border: General
25 November ,2022
Iran's Revolutionary Guards have sent reinforcements to the country's protest-hit Kurdish areas in order to stop the infiltration of "terrorists" from neighbouring Iraq, a general said in a report on Friday.
Tehran told the United Nations on Thursday that it had no choice but to act in self-defense by striking Kurdish rebel groups in Iraq, which it accuses of stoking protests back home over the death of Iranian Kurdish woman Mahsa Amini.
The Islamic Revolutionary Guard Corps has launched missile and drone strikes on the bases of armed groups in northern Iraq twice in recent days, according to Iranian media reports.
"Armored units and special forces of the Revolutionary Guards army are moving to the western and northwestern borders of the country," General Mohammad Pakpour, who heads the Guards' land forces, was quoted as saying by the Tasnim news agency.
"This movement of ground forces aims to strengthen the units located on the border and prevent the infiltration of terrorists affiliated with separatist groups operating in Iraq's northern region," he said.
On Tuesday, Pakpour had advised residents near "the bases of terrorist groups to evacuate in order to avoid injury during the operations of the Guards," the ideological arm of Iran's military.
Kurdish groups from Iran have long inhabited areas of northern Iraq's autonomous Kurdistan region, previously waging an armed insurrection against the Islamic republic.
Source: Al Arabiya
Please click the following URL to read the full text of the original story:
https://english.alarabiya.net/News/middle-east/2022/11/25/Iran-guards-send-reinforcements-to-Kurdish-areas-near-country-s-Iraq-border-General
--------
Displaced Syrians stage protests against YPG/PKK near Türkiye-Syria border
Ömer Koparan, Ethem Emre Özcan
25.11.2022
AZAZ, Syria
Syrians who were forced to flee their hometown of Tal Rifat by the YPG/PKK terrorist group held a demonstration on Friday.
The protesters gathered near the Oncupinar border crossing with Türkiye demanding that the YPG/PKK terrorists be cleared from their lands.
They also chanted slogans praising the Turkish army.
Sulaiman Abdo, who was forcibly displaced, told Anadolu Agency: "We came together to protest against the terrorist organization YPG and its supporters. We want the Turkish army and the Syrian National Army to clear our lands from terrorism."
"The YPG has deprived us of our sustenance, condemned us to a life in tents, we have been living in tents for six years, away from our home," he added.
Some 250,000 civilians in Tal Rifat and the surrounding areas were displaced in 2016 by YPG/PKK terrorists. They sought refuge close to the Turkish border.
Source: Anadolu Agency
Please click the following URL to read the full text of the original story:
https://www.aa.com.tr/en/middle-east/displaced-syrians-stage-protests-against-ypg-pkk-near-turkiye-syria-border/2748251
--------
Turkish threats leave Syria Kurds in fear for symbolic city
November 26, 2022
In the Syrian Kurdish city of Kobane, gripped by fear of a Turkish offensive, Saleh Abdo Khalil passes an open-air "museum" of buildings reduced to rubble.
"Daesh destroyed these buildings," the local baker said.
That danger has passed, but now, he says: "Turkiye wants to destroy the rest of the city."
Since Sunday, Turkiye has carried out airstrikes against the semi-autonomous Kurdish zones in north and northeastern Syria, and across the border in Iraq.
Those raids, which started in Kobane, have killed 58 Kurdish fighters and Syrian soldiers as well as a Kurdish journalist, the Syrian Observatory for Human Rights said.
Ankara has threatened a ground offensive and made clear that Kobane, also known as Ayn Al-Arab, would be a primary objective.
US-supported Syrian Democratic Forces, now the Kurds' de facto army in the area, led the battle that dislodged Daesh fighters from the last scraps of their Syrian territory in 2019.
Years before, in 2015, Kurdish forces drove Daesh from Kobane, on the border with Turkiye, and the city became a symbol of their victory against Daesh.
To keep the memories of the combat alive, Kurdish authorities erected a cordon around a group of destroyed buildings, burnt-out vehicles and missile remnants, dubbing the area the Kobane "museum."
While the football World Cup in Qatar has captured some residents' attention, tension can be read on their faces.
Most fled the combat with Daesh before slowly returning and rebuilding.
"We fought Daesh for the whole world, and today the world closes its eyes and acts like an ostrich while Turkiye bombs," said the baker Khalil, 42.
One week after a bombing in Istanbul on November 13 that killed six people and wounded 81, Ankara said it launched air strikes from "70 planes and drones" against Kurdish bases in Iraq and Syria, starting with Kobane.
Turkiye blamed the Istanbul bombing on the Kurdistan Workers' Party — designated a terrorist group by the EU and the US — and said it was ordered from Kobane.
The PKK has waged an insurgency against the Turkish state since 1984, and Turkiye alleges that Syrian Kurdish fighters are the group's allies.
Kurdish groups denied any involvement in the Ankara blast.
Turkiye then hit other areas including the SDF bastion of Hasakeh province, in the northeast, and President Recep Tayyip Erdogan vowed Tuesday that Turkiye would "soon" begin a ground operation.
"The situation in Kobane is bad. People don't sleep at night" out of fear that the city could be "bombed at any moment," said Nabo Jumaa Ramadan, who opened a minimart in Kobane after he returned from Lebanon in 2019.
"Kobane is a symbol for the Kurds and she defeated Daesh," Ramadan said with pride. Erdogan wants to "break the will of Kurds in the city," according to Ramadan.
"If Kobane falls, all Rojava will fall," he predicted, using the name Kurds in Syria give to the area they administer.
The Kurds faced an earlier Turkish incursion in 2019 when Ankara's forces and its Syrian proxies grabbed a swathe of land along the frontier.
Under a deal between Moscow and Ankara, Kurdish forces which controlled nearly a third of Syria had to pull back to a line 30 km from the border.
The withdrawal included Kobane.
On Thursday, despite fears of a new ground incursion, there was no visible Kurdish military mobilization in the streets of Kobane, AFP correspondents said.
A civilian vehicle traversed the city-center, calling residents through a loudspeaker to join a demonstration against Turkiye's strikes.
Even when bombs are not falling, Turkiye's proximity is hard to avoid, and its flags can be seen along the border from several districts of Kobane.
Flags of Syria and Russia — a major ally of Damascus — are also visible, on a nearby hill with a post for government troops.
"We're afraid of bombs. We are poor, without possessions or land," said Amina Youssef, 65, in front of her home.
"We only have this house. What does Turkiye want? We don't know what to do."
The trauma spans generations.
"We came back years ago and began to rebuild our homes," Sherwan Hami, 39, said, sheltering from rain inside a shop.
Source: Arab News
Please click the following URL to read the full text of the original story:
https://www.arabnews.com/node/2206136/middle-east
--------
Base housing US occupation troops in northeastern Syria comes under rocket attack
26 November 2022
A military facility occupied by US forces in Syria's northeastern province of Hasakah has come under rockets attack from nearby areas amid public rage over presence of American occupation troops in energy-rich regions of Syria and US's attempts to further loot natural resources there.
The US military's Central Command (CENTCOM), which oversees American troops in the Middle East, said in a short statement that the rockets were launched at around 10:31 p.m. local time (1931 GMT) on Friday, and targeted the US patrol base in al-Shaddadi town.
It added that the projectiles failed to impact anything inside the base.
CENTCOM further said that US-sponsored and Kurdish-led militants affiliated with the Syrian Democratic Forces (SDF) later visited the rocket launch site, and found an unfired rocket there.
Late on November 17, a military facility housing US occupation forces in Syria's oil-producing eastern province of Dayr al-Zawr came under a rocket attack.
Sabereen News, a Telegram news channel associated with Iraqi anti-terror Popular Mobilization Units – better known by the Arabic name Hashd al-Sha'abi – reported at the time that several rockets had struck the vicinity of the US-controlled al-Omar oil field.
The Arabic-language Radio Souryana station also reported that several explosions were heard inside the US-run base, and attack helicopters flew overhead at a low altitude in the aftermath of the attack.
The US military has for long stationed its forces and equipment in northeastern Syria, with the Pentagon claiming that the deployment is aimed at preventing the oilfields in the area from falling into the hands of the Daesh terrorists.
Source: Press TV
Please click the following URL to read the full text of the original story:
https://www.presstv.ir/Detail/2022/11/26/693401/Base-housing-US-occupation-troops-in-northeastern-Syria-comes-under-rocket-attack
--------
Mideast
Iran govt supporters at Qatar World Cup heckle woman speaking on protests
25 November ,2022
Iran's political turmoil cast a shadow also over Iran's second match at the World Cup on Friday, with pro-government fans harassing anti-government fans outside the stadium in Qatar.
Unlike in their first match against England, the Iran players sang along to their national anthem before the match against Wales as some fans in the stadium wept.
Some Iran fans confiscated Persian pre-revolutionary Iranian flags from supporters entering the Ahmad Bin Ali Stadium and shouted insults at those wearing shirts with the slogan of the country's protest movement, "Woman, Life, Freedom."
Small mobs of men angrily chanted "The Islamic Republic of Iran" at women giving interviews about the protests to foreign media outside the stadium.
Shouting matches erupted outside the security checkpoint at the between fans screaming "Women, Life, Freedom" and others shouting back "The Islamic Republic."
Many female fans were visibly shaken as Iranian government supporters surrounded them with national flags and filmed them on their phones.
One woman named Vanya, 21, who lives in Qatar, said she was terrified to ever go back to Iran after what she experienced outside the stadium on Friday.
She said Iranian government supporters "have been attacking me, they've been cursing at me all the way in the metro when I was getting here."
As she walked and talked on her phone, one Iranian government supporter walked behind her with an unfurled Iranian flag chanting "Islamic Republic of Iran."
Some anti-government fans waved signs in support of the protest movement at Iran's first match against England earlier this week. Before that match, Iran's players remained silent as their national anthem played. On Friday, they sang along.
The unrest in Iran was spurred by the September 16 death of 22-year-old Mahsa Amini in the custody of the country's morality police.
Source: Al Arabiya
Please click the following URL to read the full text of the original story:
https://english.alarabiya.net/News/middle-east/2022/11/25/Iran-govt-supporters-at-Qatar-World-Cup-heckle-woman-speaking-on-protests
--------
'Halal products not just for Muslims, they are favourites for many people worldwide'
Gokhan Ergocun
25.11.2022
Thanks to its unparalleled standards in such areas as cleanliness and healthfulness, halal products are the favorites of people all the world, not just Muslims, said a top official of the Standards and Metrology Institute for Islamic Countries (SMIIC).
International interest in halal products grows greater each day, Mahmut Sami Sahin, SMIIC vice president and also head of the Turkish Standards Institution (TSE), told Anadolu Agency during the Organization of Islamic Cooperation's (OIC) Halal Expo and World Halal Summit, hosted in the Turkish metropolis Istanbul.
Halal refers to products and services that conform to Islamic guidelines, but Sahin argued the term should no longer be considered as purely religious, as actually it is an area with a very large trade volume worldwide.
The global halal market, including Islamic finance, food, tourism, cosmetics, medical products and textiles, totals $7 trillion, according to World Halal Summit Council.
Touching on the current expo and summit, he said there is high attendance from all around the world thanks to the rising interest in halal products.
Muslims are sensitive about halal due to religious necessity, he said, adding: "People want to consume halal products, so they need to access halal products."
Within the framework of this need, the SMIIC was established in Türkiye in 2010 with 13 countries, as a significant step, he said.
The standards were prepared within the framework of Islamic rules, he noted.
So far, approximately 50 standards were published by the SMIIC, and Türkiye adopted all of them, he stressed.
Ensuring uniformity in halal concepts among Islamic countries will make a great contribution to boosting trade, especially between Islamic countries, he said, adding that the umbrella group SMIIC is a good platform for this target.
He stressed that with 47 member states, SMIIC is a large intergovernmental institute, and one of the most important for Muslim-majority countries, adding: "The world is following SMIIC's standards very closely right now."
The Turkish Standards Institute aims to share its experience with other countries, especially Turkic republics and North African countries, he said.
"We have undertaken a mission to convey its experiences to countries within a three-hour flight distance, we're working on this," he explained.
He said the institute hopes to remove hurdles to boosting trade ties between Türkiye and countries in its region.
Source: Anadolu Agency
Please click the following URL to read the full text of the original story:
https://www.aa.com.tr/en/economy/halal-products-not-just-for-muslims-they-are-favorites-for-many-people-worldwide/2748123
--------
Iran's Khamenei praises Basij forces for confronting 'riots': Report
26 November ,2022
Iran Supreme Leader Ali Khamenei said on Saturday that Basij militia forces sacrificed their lives in "riots" sparked by the death in custody of a young Iranian Kurdish woman in September.
The Basij force, affiliated with the country's Revolutionary Guards (IRGC), has been at the forefront of the state crackdown on protests that have spread across the country.
"They have sacrificed their lives to protect people from rioters," Khamenei said in a televised speech.
Authorities have blamed Iran's foreign enemies and their agents for orchestrating the unrest, sparked by the death of Mahsa Amini on September 16 after being arrested by the morality police that enforces strict Islamic dress codes in the country.
The activist news agency HRANA said as of Friday 448 protesters have been killed, including 63 children.
Source: Al Arabiya
Please click the following URL to read the full text of the original story:
https://english.alarabiya.net/News/middle-east/2022/11/26/Iran-s-Khamenei-praises-Basij-forces-for-confronting-riots-Report
--------
More security for London-based Iran International TV after threats
25 November ,2022
The Iran International TV channel on Friday said that further security measures have been put in place around its London offices after threats from the regime in Tehran.
Concrete barriers have been erected similar to those at key government buildings and tourist spots in the British capital, to prevent vehicle attacks.
For the latest headlines, follow our Google News channel online or via the app.
The barriers were "guaranteed to stop a 7.5 ton truck at 50 miles (80 kilometers) per hour," a spokesman for the Persian-language channel said.
Vehicle access in and around the site would also be controlled and checks carried out, he added.
The threats were an escalation of years of intimidation because of its broadcasting of protests in Iran, the spokesman told AFP.
"We're the only channel running 24/7 coverage of the protests," he said.
But he added: "We're not the voice of the protests. We're the only means that people in Iran can see them."
The spokesman, who asked not to be identified, stressed that Iran International was not an opposition channel and its staff were not activists.
"We were set up as a service for people in Iran and the diaspora," he said.
Last week, London's Metropolitan Police confirmed that armed police vehicles had been deployed outside the TV studios.
That followed "severe and credible" death threats against two of its UK-based journalists from the Islamic Revolutionary Guard Corps.
The UK government promptly hauled in Iran's highest-ranking diplomat to the country for a dressing-down.
MI5, the UK domestic intelligence agency, has uncovered at least 10 plots by Iran to kill UK-based individuals deemed to be "enemies of the regime" so far this year, its boss said last week.
The channel employs about 100 staff in London, whose coverage of the protests largely involves sifting through and verifying social media content of the demonstrations.
Iranian staff were "more anxious" than panicked about the threats and more worried about the safety of their families back home, as well as the wider impact of the protests, said the spokesman for the channel.
Source: Al Arabiya
Please click the following URL to read the full text of the original story:
https://english.alarabiya.net/News/middle-east/2022/11/25/More-security-for-London-based-Iran-international-TV-after-threats-
--------
Turkey in final stage talks for up to $10 billion funding from Qatar: Report
25 November ,2022
Turkey and Qatar are in the final stages of talks for Doha to provide up to $10 billion in funding for Ankara, including up to $3 billion by the end of this year, two senior Turkish officials and one other source told Reuters.
One of the officials said the total funding could take the form of a swap, eurobond or other method, and that the Turkish and Qatari leaders had discussed the issue.
The foreign funding could help shore up forex reserves to backstop President Recep Tayyip Erdogan's unorthodox policy of pursuing interest rate cuts and other stimulus measures despite soaring inflation and a slumping lira currency.
Turkey's Treasury was not immediately available for comment. Officials in Qatar did not immediately respond to a request for comment.
With Western countries balking at investments in Turkey, Ankara has turned to "friendly" countries for foreign resources to backstop its policy of supporting the lira currency by balancing the economy's supply and demand for forex.
Turkey's central bank already had in place a swap deal with Qatar's central bank that was originally worth $5 billion but was tripled in 2020 to $15 billion.
'New resources'
The sources spoke under condition of anonymity because they were not authorized to discuss the funding.
"Talks for Qatar to provide new resources to Turkey have reached the final stage. A minimum amount of $8 billion is foreseen" but it could total as much as $10 billion, the first official said.
"Resources will be obtained, with $2-3 billion by the end of this year (and) the rest to come next year. This could be a swap or eurobond but they are discussing several methods. There is a mutual agreement," the person added.
The second Turkish official said the talks for $2-3 billion funding for this year were focused on the eurobond.
Erdogan was in Qatar for the opening game of the soccer World Cup on Sunday, while Turkish Finance Minister Nureddin Nebati met his Qatari counterpart Ali bin Ahmed al-Kuwari last month.
Turkey's Finance Ministry has borrowed $9 billion in 2022, of the $11 billion foreign borrowing foreseen for the year.
The ministry foresees $10 billion foreign borrowing for 2023 but it can bring forward its debt issuances when needed for earlier financing.
Ankara already has a total $28 billion currency swap deals with the United Arab Emirates, China, Qatar and South Korea and bankers calculate around $23-24 billion are already in the Turkish central bank's reserves.
Turkey is also in the final stage of talks with Saudi Arabia on Riyadh placing a $5 billion deposit at the Turkish Central Bank, a Saudi finance ministry spokesman said on Tuesday. Turkey's central bank has declined to comment on the matter.
Source: Al Arabiya
Please click the following URL to read the full text of the original story:
https://english.alarabiya.net/News/gulf/2022/11/25/Turkey-in-final-stage-talks-for-up-to-10-billion-funding-from-Qatar-Report
--------
Israel's Netanyahu offers far-right Ben-Gvir national security minister role
Abdelraouf Arna'out
25.11.2022
JERUSALEM
Israeli Prime Minister-designate Benjamin Netanyahu agreed to offer far-right politician Itamar Ben-Gvir the portfolio of the national security minister in the new Israeli government.
Israeli public broadcaster KAN said Netanyahu's Likud party agreed with Ben-Gvir, who is head of the Jewish Strength party, on other positions including the portfolio of the minister for development of periphery, Negev and galilee, minister for national fortitude, and deputy minister for the economy.
Under their deal, the National Security Ministry will have expanded authorities, including control of the border police.
Source: Anadolu Agency
Please click the following URL to read the full text of the original story:
https://www.aa.com.tr/en/middle-east/israels-netanyahu-offers-far-right-ben-gvir-national-security-minister-role/2747938
--------
Pakistan
Unnecessary censorship suffocates society, stifles creativity, rules SHC
Naeem Sahoutara
November 26, 2022
KARACHI: The Sindh High Court has ruled it is not the job of judiciary to morally police the public by deciding what should be or should not be viewed by them as unnecessary censorship suffocates a society and stifles its creativity and growth.
"In our view, where a cinematic work has passed through the censors, who have examined its content and cleared it for release with an appropriate certification, an individual cannot be allowed to trump that decision through a court proceeding based on his conception of morality. Indeed, it is not the function of the Court under Article 199 to make a moral judgment so as to curtail the freedom of speech and expression of a filmmaker, as safeguarded under Article 19 of the Constitution," stated the detailed order passed by a division bench dismissing a petition seeking ban on the film Joyland.
The bench, headed by Chief Justice Ahmed Ali M Shaikh, added: "On the contrary, the default position of the Court under Article 199 ought to be that of fully safeguarding the fundamental right by giving as expensive an interpretation to Article 19 as possible, and in that event of a restriction being imposed by the Board or any other authority that may be competent in that regard, testing the reasonableness of that restriction stringently, so as to ensure that the same is "reasonable" in the strictest conceivable sense.
"As such, in the absence of any restriction imposed by the concerned quarter, whether that be the Board of Provincial Government, it does not fall to the Court to morally police the public by making a determination of what should or should not be viewed and to take on the function of itself devising and imposing a restriction. Suffice it to say that unnecessary censorship suffocates a society and stifles its creativity and growth".
"Looking to the matter at hand, we are confident that Islam, being the great global religion that it is, is strong enough to withstand a cinematic work portraying a purely fictional account of a relationship humanizing a transgender character, and are equally sanguine that our society is not so weak as to crumble as a consequence," the order stated.
"Suffice it to say that transgender persons are equal citizens of Pakistan in all respects and the stories of their life, their struggle, and their human relationships deserve equal space and recognition," the court order concluded.
The petitioner sought a ban on the film, arguing that it apparently portrayed a relationship between a married man and a transgender woman, and averred that the storyline violates the Islamic teachings and the Constitution.
However, the judges observed that the petitioner did not make any attempt to show how any Articles would be violated by the screening of the film, other than confined his argument to the extent that the theme and storyline thereof offended the Article 277.
Source: Dawn
Please click the following URL to read the full text of the original story:
https://www.dawn.com/news/1723071/unnecessary-censorship-suffocates-society-stifles-creativity-rules-shc
--------
Gangs unite under banned group to avenge killing of 'terrorist'
Asif Chaudhry
November 26, 2022
LAHORE: Several gangs of hardened criminals united on Friday under the umbrella of a banned militant group and threatened to attack six police stations in Rojhan tehsil of Rajanpur district, a couple of days after a most-wanted criminal was killed in a police operation, and the police high-ups started preparing a strategy to offer a befitting response, a senior official told Dawn.
In fierce clashes late on Wednesday, the criminals had fired rocket launchers, mortars and other weapons at the poorly equipped police force for more than five hours.
Dera Ghazi Khan Regional Police Officer (RPO) Khurram Ali Shah told Dawn that a heavy exchange of fire ended up in the killing of proclaimed offender and ringleader of a notorious gang, Khuda Bukhsh Lound, who also had a head money of Rs1.8 million against him.
At least 12 others, including five policemen, were injured in the fighting and the heavily armed criminals left several bullet-proof vehicles riddled with bullets.
The five cops, including a 'gunner' of an armoured personnel carrier (APC), were trapped inside the two-decade-old APC after its rusty tyres burst during the operation and a group of criminals attacked the vehicle with lethal weapons, the official said.
Following an emergency call, additional police force had reached the spot and another round of clashes ensued. Police, however, forced the attackers to retreat and managed to rescue the 'trapped' colleagues amid fierce resistance.
Another most-wanted criminal, identified as Gora Umrani, had received five bullet injuries and six of his accomplices were also injured. The assailants took away their injured associates and disappeared in the tall bushes and forests.
The official said over 1,000 police personnel were participating in the large-scale operation launched in the troubled and relatively inaccessible areas of Rajanpur and Rahim Yar Khan districts of south Punjab, which shared boundaries with Sindh and Balochistan.
On Friday, the RPO said, several gangs, including Lound, Umrani, Dullani, Banu, Indhar and Mosani, convened a grand jirga and united under the BLA umbrella.
Through a social media account that could not be independently verified, the BLA announced they would all avenge the killing of Khuda Bukhsh whom they declared a "martyr". The statement further added that a member of the BLA, Gora Umrani, had been injured critically in the fight on "our homeland".
Moreover, in wake of serious threats by the Baloch militant group, the Punjab police have withdrawn the force from six police stations of Rajanpur. The militants had announced to target these police stations and pickets with rocket launchers and mortars from their hideouts.
About Wednesday's clashes, the south Punjab police's initial report sent to the government said the Rojhan police had received information that criminals Khuda Bukhsh Lound, Mujeeb Lound, Abdul Wahab Lound, Ameen and Shahid Lound along with 26 other hardened criminals had gathered at the residence of Gora Umrani.
"All the criminals were equipped with heavy weapons, including SMGs, G3s, LMGs, and planned to attack the Bahar Machi police picket," stated the report, a copy of which is available with Dawn.
The area where the picket was located was Mouza Khairpur Bambli in the southwest of Rojhan with an approximate population of around 7,000 people largely belonging to two castes of Mazari tribe. Due to its peculiar topography, the area had a significant strategic importance, the report added.
Following the volatile security situation in Rojhan, nearly 200 Punjab police personnel, including Elite commandos, had advanced towards the tehsil and launched the operation under the command of Rajanpur District Police Officer Ahmad Mohiuudin.
Source: Dawn
Please click the following URL to read the full text of the original story:
https://www.dawn.com/news/1723125/gangs-unite-under-banned-group-to-avenge-killing-of-terrorist
--------
'My investor is my master': PM Shehbaz seeks Turkish investment for 10,000MW solar project
November 26, 2022
Prime Minister Shehbaz Sharif on Saturday made a pitch to Turkish entrepreneurs to invest in a 10,000-megawatt solar power project for Pakistan, saying "my investor is my master".
The premier sought the investment while addressing a meeting of the Pakistan-Turkiye business council.
Milgem Corvette
Earlier termed the launch of a Milgem Corvette ship as one of the "finest moments" in ties between Turkiye and Pakistan which will strengthen and enhance the two countries' defence production and joint cooperation.
PM Shehbaz, who left for Turkey on a two-day visit yesterday, witnessed the inauguration of the third of four Milgem Corvette ships for the Pakistan Navy at the Istanbul Shipyard on Friday.
The Milgem project — based on a joint collaboration between Turkiye and Pakistan — was signed with ASFAT inc, a Turkish state-owned Defence contractor firm in 2018, according to which the Pakistan navy would acquire four Milgem-class ships from Turkey.
Speaking about the project today, PM Shehbaz said Milgem Corvette was a "great step forward" in terms of defence cooperation between the two countries.
The premier also offered condolences over the loss of life in a "barbaric action" by terrorists against the innocent people of Turkiye.
Source: Dawn
Please click the following URL to read the full text of the original story:
https://www.dawn.com/news/1723225/my-investor-is-my-master-pm-shehbaz-seeks-turkish-investment-for-10000mw-solar-project
--------
South Asia
United Nations Assistance Mission Calls on Taliban to End Gender-Based Violence in Afghanistan
By Arif Ahmadi
November 25, 2022
Kabul, Afghanistan – The United Nations Assistance Mission in Afghanistan (UNAMA) on Friday called on Taliban leadership to end violence against women and the "broader deterioration of women's rights" in an efforts to establish a sustainable peace in the country.
In a press statement to Khaama Press, UNAMA made the call at a time the world marks the International Day for the Elimination of Violence against Women and the start of the global 16 Days of Activism against gender-based violence.
Since the takeover last August, Women in Afghanistan have had many of their most fundamental rights restricted in a country that has one of the highest rates of violence against women globally.
Afghan women have also experienced a "marked deterioration" in access to coordinated, comprehensive and quality services for survivors of gender-based violence.
"The fundamental rights of Afghan women need to be protected and concrete steps need to be taken for an enabling environment which is free from all forms of violence," said Roza Otunbayeva, the Secretary-General's Special Representative for Afghanistan.
"Protecting the rights of women is a crucial factor for stability, prosperity and any lasting peace in Afghanistan" said Otunbayeva, who is also head of the UN Assistance Mission in Afghanistan (UNAMA).
The current situation is exacerbated by a dire humanitarian and economic crisis – including the freedom to move, work, seek education, and participate in public life.
These factors reinforce traditional social norms that condone the use of violence as a form of discipline and control, creating an environment where violence against women and girls is normalized.
"Each day we continue to see the normalization of violence against women and girls, in their homes, places where they are allowed to work, online, and in public spaces," said Alison Davidian, UN Women's Representative in Afghanistan.
"Globally we know it is impossible to create an environment where women and girls are free from violence without also having specific interventions to empower them, including initiatives to support their voice, agency and participation in the decisions affecting their lives. We need to renew our efforts to invest in both the protection and empowerment of women and girls in Afghanistan."
The UN in Afghanistan is working to address gender-based violence, including responding to the differentiated needs of vulnerable women and girls, amplifying the priorities and influence of women, direct support and funding to service providers and civil society organizations working to eliminate all forms of violence, prevention and response programmes, and advocacy with key national and international stakeholders.
What is 16 Days of Activism Against Gender-Based Violence
The 16 Days of Activism against Gender-Based Violence is an annual international campaign that starts on 25 November and ends on 10 December, International Human Rights Day.
It calls for global action to increase awareness, strengthen advocacy efforts and share knowledge and innovations to end gender-based violence everywhere.
The campaign started by activists at the inauguration of the Women's Global Leadership Institute in 1991.
Source: Khaama Press
Please click the following URL to read the full text of the original story:
https://www.khaama.com/unama-calls-on-taliban-to-end-gender-based-violence-in-afghanistan/
--------
Taliban Calls Out UN Security Council To Permanently End All Travel Bans
26 November, 2022
Kabul [Afghanistan], November 26 (ANI): Claiming that an isolating approach of Taliban would do no good to Afghanistan and its people, the Deputy Spokesperson of the Islamic Emirate Bilal Karimi called out the United Nations Security Council (UNSC) to lift all the sanctions related to travel bans, saying there should be a less gap between the Islamic Emirate and the world, TOLOnews reported on Friday.
"An isolating approach would not work and there should be less of a gap between the Islamic Emirate and the world," Taliban's Deputy Spokesperson Bilal Karimi said.
Earlier in September, Human Rights Watch urged the United Nations Security Council (UNSC) not to extend the existing government officials' travel exemption as a result of the closure of girls' schools in Afghanistan and the Taliban's atrocities against women and girls in the war-torn nation.
"The Islamic Emirate always works to minimize gaps: isolationist policies, and policies that create gaps and lead to problems. History has shown that did not produce any results, I mean positive results," Karimi added, TOLOnews reported.
The UN Security Council hasn't renewed the Taliban leaders' exemption from the travel ban in more than three months.
TOLOnews reported citing various international relations specialists that the Taliban's failure to address the demands of the international community is what prevented the extension of the travel exemption for its officials.
"The Taliban should respond to the demands of the international community as a standard country and a standard government," said a former diplomat, Aziz Marij.
According to the analysts, one of the key reasons for not extending the travel exemption for officials of the Islamic Emirate is the failure of the Taliban to implement the Doha Agreement.
"The Taliban group failed to uphold its obligations to the international community and the Afghan people, one of which is to respect Afghan citizens' fundamental rights," said Nematullah Bizhan, international relations expert.
Human Rights Watch also urged the United Nations not to extend the existing government officials' travel exemption and demanded how they should be taking care of the intense women's rights crisis in Afghanistan.
The Security Council should permanently end all exemptions to the travel bans that are covering and restricting some Taliban leaders. The Security Council should be looking to add more Taliban leaders to the list of people subject to travel bans and to add other measures and based on their involvement in human rights violations," said the associate director of the women's rights division at Human Rights Watch, Heather Barr.
Earlier, the UN Security Council (UNSC) gave leaders of the Islamic Emirate exemptions to travel bans to facilitate their negotiations with the US despite its long-standing international travel ban on the Taliban leaders.
Moreover, in an earlier statement, HRW's Barr said the Taliban rollback of the rights of women and girls began immediately after they took power on August 15, 2021.
An extraordinary national economic, financial, and humanitarian crisis has aggravated the human rights situation since the Taliban took control of Kabul last year. Large-scale violence has been unleashed since the US soldiers left the country, causing political unrest in many regions of the nation.
Source: The Print
Please click the following URL to read the full text of the original story:
https://theprint.in/world/taliban-calls-out-un-security-council-to-permanently-end-all-travel-bans/1236330/
--------
Southeast Asia
Gains For Malaysia's Hardline Islamist Party A Challenge For New PM Anwar Ibrahim
By A. Ananthalakshmi
November 25, 2022
KUALA LUMPUR, Nov 25 (Reuters) - Malaysia's new prime minister, Anwar Ibrahim, will be contending in parliament with a strengthened Islamist party that espouses a stricter interpretation of sharia Islamic law, a challenge to Anwar's vision of an inclusive society.
Anwar will likely face challenges from the Parti Islam Se-Malaysia, or PAS as it is known, which emerged as one of the big winners in Malaysia's election last Saturday, risking deeper divisions in the diverse, multi-faith country.
Anwar, who is ethnic Malay and Muslim, addressed race and religion in his first news conference as prime minister, promising to uphold Islam as the official religion of the country and the rights of the ethnic Malay majority, while also safeguarding the rights of all.
PAS, long a powerhouse in northeastern parts of Malaysia, has become a national force by winning the most seats of any party: 49 of the total of 222, nearly triple its tally in the last election in 2018.
PAS has banned cinemas and advocated caning as a punishment for homosexuality in states that it runs and put its religious appeals front and centre in the election, with one leader saying voters would "go to hell" if they voted for Anwar's coalition.
Race and religion are thorny issues in Malaysia, where Muslim ethnic Malays form a majority in a country with significant ethnic Chinese and ethnic Indian minorities, most of them Hindu, Buddhist or Christian.
As the biggest party in parliament, PAS could push for Islamisation and more affirmative action for Malays - a long-standing policy that Anwar has opposed, analysts said. PAS could also play up its religious credentials to distinguish itself from other Malay-centric parties, they say.
"The big victory of PAS in this election proves that Malay and Islamic politics is still the dominant core of Malaysian politics," said Mohd Izani Mohd Zain, an associate professor at University Putra Malaysia.
'RELIGIOUS RHETORIC'
The election illustrated how polarised Malaysia has become.
While on the one hand PAS did well on its own, Anwar's bloc of progressive parties, which includes the predominantly ethnic Chinese Democratic Action Party (DAP), won the most seats of any alliance.
A conservative, predominately Malay Muslim coalition led by Muhyiddin Yassin, which includes PAS, came second.
The result was a hung parliament with no bloc winning a majority. In the ensuing five-day crisis, ethnic tensions came to the fore on social media.
In the midst of the standoff, PAS called on all parties to respect the constitution, preserve public order and avoid provocation that could threaten national harmony.
The party did not respond to a request for comment but it congratulated Anwar on Friday, saying it was confident he would "prioritise the concept of federalism for all states and the people".
Oh Ei Sun, a senior fellow with Singapore's Institute of International Affairs, characterized the Malay parties as being in a "race to the bottom" to prove their religious credentials to a significant portion of voters who are receptive to religious appeals.
"Certainly, PAS could play up its religious rhetoric," Oh said.
The new popularity of PAS is also partly a result of the decline of the long-dominant United Malays National Organisation (UMNO), for generations the party of choice for Malays that has recently been mired in graft scandals.
UMNO's former leader, ex-premier Najib Razak, is in jail for corruption and abuse of power over the looting of funds from the 1MDB state fund.
'CLEAN PARTY'
Under current president Abdul Hadi Awang, PAS has been pushing for the expansion of sharia that allows for harsher punishments for Muslims nationwide. Malaysia has a dual-track legal system, with Islamic criminal and family laws applicable to Muslims running alongside civil laws.
PAS pressed for the law aggressively as the opposition, though analysts say it moderated its views while it was part of a governing coalition after 2020.
In regional governments that it runs, PAS has enforced stricter rules. In Kelantan state, cinemas have been banned since 1990 for causing "social ills", and in 2017, a man was fined for wearing a pair of shorts that exposed his knees.
In 2018, two women were publicly caned after being accused of attempting lesbian sex in Terengganu state.
PAS has called for tighter controls on alcohol and gambling.
Analysts say the 70-year-old party, founded before Malaysia's independence from Britain, has worked for decades to build its reach, at times cooperating with Anwar and the DAP to win power.
PAS has also built a strong base through private and informal religious schools, which it partly funds.
It offers training for civil society and party members, aiming to produce scholars and professionals with Islamic knowledge, said Mohd Izani, adding that such efforts have helped PAS win support among young Malays who want to see reforms.
Source: Reuters
Please click the following URL to read the full text of the original story:
https://www.reuters.com/world/asia-pacific/gains-malaysias-hardline-islamist-party-challenge-new-pm-anwar-2022-11-25/
--------
Number of Muslim divorce cases down 7% in 2021
November 25, 2022
PETALING JAYA: The number of divorce cases among Muslims declined by 7.1% from 47,272 in 2020 to 43,934 last year, according to the latest marriage and divorce statistics released by the statistics department.
Conversely, the number of divorce cases involving non-Muslims increased by 30.4% from 9,418 in 2020 to 12,284 last year, Bernama reported.
In a statement, Chief Statistician Uzir Mahidin said the decrease in the number of Muslim divorce cases could be attributed to the closure of the shariah court, civil court and national registration department (JPN) during the various movement control orders (MCOs) from March 18, 2020, to Nov 21, 2021, and the limited number of cases that could be handled by the court following the SOPs put in place during the MCO.
He said the three states that recorded the highest decline in Muslim divorce cases were Sarawak, Perlis and Penang.
Meanwhile, Selangor, Kedah and Kuala Lumpur recorded the highest number of non-Muslim divorce cases.
A similar pattern was observed in terms of the number of marriages, with an increase of 15.4% of Muslim marriages from 186,297 in 2020 to 214,943 in 2021.
Conversely, the number of non-Muslim marriages declined by 4.7% from 40,854 in 2020 to 38,941 in 2021.
Source: Free Malaysia Today
Please click the following URL to read the full text of the original story:
https://www.freemalaysiatoday.com/category/nation/2022/11/25/number-of-muslim-divorce-cases-down-7-in-2021/
--------
Protests erupt in Xinjiang over 3-month Covid lockdown
November 26, 2022
HONG KONG: Protests have broken out in China's remote Xinjiang region, as anger boils over three months of harsh Covid curbs, and after a fatal blaze at a locked-down apartment killed 10.
Hundreds of people marched through the streets of the far western territory's capital, Urumqi, on Friday evening shouting "Lift the lockdown," according to online videos verified by Nikkei Asia.
"We've been under lockdown for more than 100 days," one resident, who declined to be named, told Nikkei. "Every day people are locked in their homes. There are no government subsidies."
"There were 10 lives lost and we've been under lockdown for [over three months]. We're all angry."
It was not clear if virus curbs contributed to the death toll from the apartment fire on Thursday evening.
But Xinjiang, home to Uyghurs and other mostly Muslim ethnic groups, has set China's record for the most prolonged lockdown – with no end in sight – after authorities started shuttering Urumqi on Aug 10.
Millions of people remain under strict Covid controls in Xinjiang in what critics say marks an expansion of widespread rights abuses against minorities, which the UN this year said could amount to crimes against humanity. China denies all abuse claims.
Some of China's biggest cities, from Beijing to southern Guangzhou and sprawling Chongqing, are tightening curbs and ordering large swaths of their population indoors as Covid infections soared to new daily records this week. Shanghai endured a gruelling two-month lockdown earlier this year.
But the situation in Xinjiang appears to be among the strictest nationwide.
One Uyghur with family in Urumqi told Nikkei Asia that his relatives are housebound and live under what they described as constant surveillance, despite Beijing saying this month it would loosen its controversial zero-Covid policy.
"They can't open the door and there are cameras everywhere to make sure they aren't able to leave," he said, asking not to be named to protect his family's safety. "The relaxations don't make any difference."
The cities of Urumqi and Yining, with a combined total of about eight million people, have been under severe restrictions for months, with the region of some 26 million also squeezed by travel restrictions.
People who test positive for the respiratory illness are whisked away to quarantine centres, while Xinjiang has pinpointed some 1,100 "high- and low-risk areas" where residents are routinely tested.
Despite these measures, Xinjiang's official case count hit 3,853 known infections this week, with an average of about 900 a day. China recorded a new daily record of 32,695 nationwide infections on Friday.
Yining, where most of the population is Uyghur, went into lockdown in August and residents shared videos and online posts of the chaos sparked by food and supply shortages. The public outcry, including claims that some residents were starving, was quickly scrubbed by China's internet censors.
Last week, the city officially lifted its citywide shutdown but some restrictions remain, with daily testing the norm.
"They're still locked at home, but are now required to work from home," too, according to a Uyghur whose sibling lives in Yining. "Even though officially it was lifted, it's still not true."
And Xinjiang's Communist Party boss, Ma Xingrui, warned that "the situation is still serious and complicated," as he said the virus had spread to the ancient Silk Road city of Kashgar and other cities with predominantly Muslim populations.
More than one million Uyghurs have been held in what critics describe as internment camps and have been allegedly subjected to torture, forced labour and sterilisation.
China has described the camps as training centres to combat terrorism and separatist activity.
Xinjiang and Tibet, another region with a large ethnic minority population, have been subject to harsher censorship than other parts of the country, largely due to authorities' already tight control.
Several Yining residents were arrested in September over allegations that they spread false rumours online about pandemic controls.
This month, three men in Xinjiang were investigated by the region's internet regulator over similar claims. Ma, the regional leader, later visited parts of Urumqi and said the government should "severely crack down on fabrication and spreading of rumours," according to state media.
China has long defended tight pandemic controls for saving lives. But some activists and critics say the harsh lockdowns are an extension of abuses against Xinjiang's ethnic minorities, who make up about half the population.
"It's a very convenient way for authorities to try to justify a greater capacity for surveillance and imposing constraints on people," said Sophie Richardson, China director at Human Right Watch.
Source: Free Malaysia Today
Please click the following URL to read the full text of the original story:
https://www.freemalaysiatoday.com/category/world/2022/11/26/protests-erupt-in-xinjiang-over-3-month-covid-lockdown/
--------
Islamist party PAS turns down Malaysia PM Anwar's offer to join government
Ram Anand
November 26, 2022
KUALA LUMPUR - Malaysia's Parti Islam SeMalaysia (PAS) has turned down Prime Minister Anwar Ibrahim's offer to join his unity government on Saturday, saying that it will remain as an opposition party along with its Perikatan Nasional (PN) coalition partners.
PAS secretary-general Takiyuddin Hassan said on Saturday that the Islamist party, which has 43 MPs – the largest party in Parliament – after the Nov 19 General Election, will respect the wishes of the "majority" and especially those who had voted for PN coalition.
Datuk Seri Takiyuddin's assertion comes just a day after PN chief Muhyiddin Yassin said that the coalition will remain as an opposition, and will not be joining the government, which already has a two-thirds majority in Parliament.
On Friday, Mr Takiyuddin had said that it will consider Mr Anwar's offer, which was made hours after he was sworn in as Malaysia's 10th prime minister on Thursday, ending five days of political impasse.
PAS' decision means that PN, which comprises mainly of PAS and Tan Sri Muhyiddin's Parti Pribumi Bersatu Malaysia will be the only opposition.
Mr Anwar said on Thursday that he was leaving the door open for PN to join his government, in the spirit of the King Sultan Abdullah Ahmad Shah's wish to see a unity government following a polarising election which resulted in a hung Parliament.
PN had already rejected the unity government proposal on Tuesday, when Mr Muhyiddin told the King that he was not amenable to form a unity government with PH.
PN had attempted, unsuccessfully, to form Malaysia's next government and consistently claimed it had the support of majority MPs, before finally conceding and congratulating Mr Anwar on Friday.
PN has 73 MPs, the second-largest bloc after Mr Anwar's PH, which won 82 seats.
But Mr Anwar was able to form a government with the backing of former ruling party Barisan Nasional, Gabungan Parti Sarawak (GPS), other parties and independents. As at Saturday, he has the support of 148 MPs – or two-thirds of lawmakers in the 222-member Parliament.
Mr Anwar has said that he will test his majority in Parliament by calling for a confidence vote when the Lower House sits on Dec 19.
He has also promised a leaner Cabinet, to reduce salaries for ministers, and not take any pay as prime minister as he looks to help Malaysia recover from an economic slump and a prolonged political instability that has lasted for more than two years.
PN's Sabah-based partner Gabungan Rakyat Sabah (GRS) has said that it will be backing Mr Anwar's government. But GRS chief Hajiji Noor on Saturday denied that his party had demanded the deputy prime minister's post in the Cabinet, which has yet to be formed.
Source: Straits Times
Please click the following URL to read the full text of the original story:
https://www.straitstimes.com/asia/se-asia/pas-turns-down-pm-anwar-s-offer-to-join-government
--------
Malaysia's new PM says first priority is cost of living
November 25, 2022
KUALA LUMPUR: Malaysia's newly appointed Prime Minister Anwar Ibrahim said on Friday his primary focus would be on the cost of living as he takes office with a slowing economy and a country deeply split after a close election.
Anwar, 75, was sworn in as premier on Thursday, capping a three-decade political journey from a protege of veteran leader Mahathir Mohamad to protest leader, a prisoner convicted of sodomy and opposition figurehead.
Anwar, who was appointed by Malaysia's king on Thursday following an inconclusive election, said his primary concern was the economy and he would have a smaller Cabinet than those of previous administrations.
"My priority now is addressing the cost of living," he told a news conference after reporting for duty at the prime minister's office.
Anwar had earlier indicated there would be two deputy prime ministers in his Cabinet — one from former ruling alliance Barisan and another from smaller political blocs in Malaysia Borneo.
Anwar said he would convene parliament on Dec. 19 for a vote of confidence to prove his majority in the lower house.
His appointment ended five days of unprecedented post-election crisis.
His rival, former Prime Minister Muhyiddin Yassin, had refused to concede, challenging Anwar to prove his majority in parliament.
But on Friday, Muhyiddin said he accepted Anwar's appointment and his bloc would play the role of the opposition.
The campaign for Saturday's election pitted Anwar's progressive, multi-ethnic coalition against Muhyiddin's mostly conservative ethnic-Malay, Muslim alliance.
Anwar's supporters expressed hope that his government would avert a return to historic tensions between the ethnic Malay, Muslim majority and ethnic Chinese and Indian minorities.
Anwar's coalition, known as Pakatan Harapan, won the most seats in Saturday's vote with 82, while Muhyiddin's Perikatan Nasional bloc won 73. They needed 112 — a simple majority — to form a government.
The long-ruling Barisan bloc won only 30 seats — the worst electoral performance for a coalition that had dominated politics since independence in 1957.
Anwar said on Thursday the Barisan and an alliance of parties from Malaysian Borneo had pledged to support his government.
On Friday, he said another Borneo bloc had also joined, giving him the backing of more than two-thirds of members of the 222-seat parliament.
A two-thirds majority will allow Anwar's government to amend the constitution.
No Malaysian government has held such a majority in the lower house since 2008.
Muhyiddin's bloc includes the PAS, whose electoral gains raised concern within the ethnic Chinese and Indian communities, most of whose members follow other faiths.
Authorities have warned of a rise in ethnic tension since the vote on social media and short video platform TikTok said this week was on high alert for content that violated its guidelines.
Source: Arab News
Please click the following URL to read the full text of the original story:
https://www.arabnews.com/node/2206106/world
--------
Africa
South Sudan pulls out of peace talks with rebel groups
25 November ,2022
South Sudan's government has withdrawn from peace negotiations with rebel groups, accusing them of using the talks "to buy time as they prepare for war," according to a letter seen by AFP Friday.
The talks between the government and a coalition of rebel groups, which did not sign a 2018 peace agreement that ended a five-year civil war, were brokered in Rome by a Catholic association with ties to the Vatican.
Negotiations began in 2019 but have failed to curb violence in the south of the country, despite a ceasefire signed in January 2020.
In a letter dated November 21 and addressed to the Catholic Community of Sant'Egidio, Presidential Affairs Minister Barnaba Marial Benjamin said the government "has suspended its participation in the Rome Peace talks till further notice."
"While we have been preparing to engage in serious dialogue with Non-Signatory South Sudan Opposition Group to bring lasting peace to our country, it has come to our attention that this group is using these talks to buy time as they prepare for war," Benjamin said.
The government had previously pulled out of talks last year, accusing one of the groups, the National Salvation Front (NAS), of carrying out indiscriminate attacks in the south of the country. But in August it said it was ready to resume discussions.
The rebel coalition in October announced it was changing its name from the South Sudan Opposition Alliance (SSOMA) to the Non-signatories.
The world's newest nation has suffered from chronic instability since winning independence from Sudan in 2011, including a civil war that killed nearly 400,000 people.
Since the peace deal between President Salva Kiir and his deputy Riek Machar, the country has endured natural disasters and an economic crisis, with political infighting fueling further violence and obstructing progress on the terms of the agreement.
Source: Al Arabiya
Please click the following URL to read the full text of the original story:
https://english.alarabiya.net/News/middle-east/2022/11/25/South-Sudan-pulls-out-of-peace-talks-with-rebel-groups-
--------
French businesses, schools closed following protests in Burkina Faso
Aurore Bonny
26.11.2022
DOUALA, Cameroon
Teleworking and e-learning were planned Friday for French schools and companies in Burkina Faso in anticipation of the resumption of previously announced protests, a diplomatic authority told Anadolu Agency.
"People from French companies are invited to telework today and people from French schools and students are in distance learning," the French Embassy told Anadolu Agency in a telephone interview.
A source at the embassy confirmed the move was made in the wake of anti-French demonstrations in cities of the West African country. Demonstrators took to the streets on Nov. 18 and days before to protest French aid in the fight against terrorism, which has plagued the country for years.
The military police did nothing when hundreds of demonstrators threw stones and projectiles at the walls of the embassy, according to French diplomats.
A diplomatic source told Anadolu Agency that the situation "seems calm for the moment."
Violent demonstrations are not new to Burkina Faso which is undergoing a transition after a second coup in less than because of insecurity due to the presence of terrorists.
Angry demonstrators also tried to burn the embassy in October following the dismissal of Paul-Henri Damiba, the former leader of the military junta.
They suspected French authorities of providing him with shelter and assistance. The charges were denied by France.
Source: Anadolu Agency
Please click the following URL to read the full text of the original story:
https://www.aa.com.tr/en/africa/french-businesses-schools-closed-following-protests-in-burkina-faso/2748509
--------
Kenyan army to forego portion of salary to help combat drought: Deputy president
Andrew Wasike
26.11.2022
NAIROBI, Kenya
Kenyan Defense Forces (KDF) will give up one day of pay every month to help raise funds to combat the effects of a drought that has rocked the country, according to an official.
Deputy President Rigathi Gachagua said the KDF and the National Youth Service (NYS) will forgo the pay and he urged Kenyans to donate a portion of their pay to aid those affected by the drought.
"Our men and women in the KDF have offered to forgo a one-day salary to contribute to the drought response kitty," said Gachagua.
"We appeal to Kenyans in food surplus counties to help contribute to drought-affected areas. We appeal to Kenyans of goodwill to contribute a percentage of their salaries to a pay bill number that will be established soon to contribute to the drought response kitty," he added.
Rigathi launched the country's newly formed National Drought Response Steering Committee. The 15-member state-funded team will provide a framework for the mobilization of additional resources following increased public interest in scaling up the drought response to meet the needs of citizens affected by drought.
The United Nations Refugee Agency released a statement Tuesday with humanitarian aid partners that urged $472.6 million in 2023 to respond to the drought to help 4.3 million people.
Source: Anadolu Agency
Please click the following URL to read the full text of the original story:
https://www.aa.com.tr/en/africa/kenyan-army-to-forego-portion-of-salary-to-help-combat-drought-deputy-president/2748493
--------
Somali army thwarts al-Shabab attack on military base
Mohammed Dhaysane
25.11.2022
MOGADISHU, Somalia
The Somali military said Friday its forces thwarted an al-Shabab attack on a military base in the recently liberated village of Qayib in Galmudug state.
A security officer in Galmudug, who spoke to Anadolu Agency over the phone on condition of anonymity, said heavily armed fighters from the al-Qaeda-affiliated terrorist group al-Shabab tried earlier to overturn the army camp but they were defeated and several terrorists were killed.
He said the army also destroyed vehicles laden with explosives.
Earlier this month, Qaayib was recaptured by the army backed by local clan militias from the al-Shabaab terrorists.
Al-Shabaab claimed responsibility for the Friday morning attack and said several Somali government soldiers had been killed and several wounded in the attack.
However, a statement issued by the government said it killed 15 al-Shabaab terrorists late Thursday.
On Wednesday, the government said it killed 49 terrorists after an operation in the same region.
In his first 100 days in office, Prime Minister Hamza Adi Barre said the army killed more than 600 al-Shabaab fighters and wounded 1,200 others.
He also said the army has liberated over 68 areas in the south and central parts of the Horn of African country.
Somalia has been plagued by insecurity for years, with al-Shabaab being one of the main threats.
Since at least 2007, al-Shabaab has waged a deadly campaign against the Somali government and international forces that have claimed thousands of lives.
The UN has also warned of growing instability in the country, with its periodic reports on Somalia this year detailing attacks by al-Shabaab and pro-Daesh/ISIS groups.
Source: Anadolu Agency
Please click the following URL to read the full text of the original story:
https://www.aa.com.tr/en/africa/somali-army-thwarts-al-shabab-attack-on-military-base/2748286
--------
North America
McCarthy's Threats Against Ilhan Omar 'Illustrate The Institutional Racism In The US System': African American Journalist
25 November 2022
Presumptive US House Speaker Kevin McCarthy's threats against African American Congresswoman Ilhan Omar "illustrate the institutional racism inherent in the US political system," according to African American writer and journalist Abayomi Azikiwe.
Azikiwe, an editor at the Pan-African News Wire, made the remarks in an interview with Press TV on Friday after US House Minority Leader Kevin McCarthy (R-Calif.) vowed to remove Omar from her committee posts over her condemnation of Israel's war crimes if he becomes speaker of the House.
On Monday, Omar hit back at McCarthy and his Republican Party, saying they "use fear, xenophobia, Islamophobia and racism to target me."
Omar (D-MN) issued the following statement after McCarthy threatened to strip her from her seat on the House Foreign Affairs Committee.
"From the moment I was elected, the Republican Party has made it their mission to use fear, xenophobia, Islamophobia and racism to target me on the House Floor and through millions of dollars of campaign ads.
"Whether it is Marjorie Taylor Greene holding a gun next to my head in campaign ads or Donald Trump threatening to 'send me back' to my country (despite the fact that I have been a proud citizen of the United States for more than 20 years), this constant stream of hate has led to hundreds of death threats and credible plots against me and my family.
"At the same time, they have openly tolerated antisemitism, anti-Muslim hate and racism in their own party. Newly-elected Whip Tom Emmer said prominent Jewish Democrats 'essentially bought control of Congress.' And McCarthy himself accused Jewish Democrats of trying to 'buy elections.'
"Instead of doing anything to address the open hostility towards religious minorities in his party, McCarthy is now lifting up people like Marjorie Taylor Greene, Emmer and so many others. If he cared about addressing the rise in hate, he would apologize and make sure others in his party apologized.
"McCarthy's effort to repeatedly single me out for scorn and hatred—including threatening to strip me from my committee—does nothing to address the issues our constituents deal with. It does nothing to address inflation, healthcare, or solve the climate crisis.
"What it does is gin up fear and hate against Somali-Americans and anyone who shares my identity, and further divide us along racial and ethnic lines. It is a continuation of a sustained campaign against Muslim and African voices, people in his party have been trying to ban since Donald Trump first ran for office.
"I will not stop fighting for more equitable, more just and more humane policies. I will not stop advocating for peace and human rights around the world. And I will not stop fighting for an America that does not single out people based on their race or religion."
Azikiwe said, "McCarthy's threat to ban Congresswoman Ilhan Omar from participating in the foreign relations committee is an outrage. It should be illegal under Constitutional law since Congresswoman Omar has been elected three times by her constituents in the state of Minnesota."
"She has not been charged or found guilty of breaking any United States laws or Congressional rules. This is an attempt to further criminalize African Americans and Muslim Americans in the US," he added.
"McCarthy's threats illustrate the institutional racism inherent in the US political system," the journalist stated.
"During the late 1960s, militant African American Congressman Adam Clayton Powell, Jr. was illegally expelled from the House of Representatives leaving his district without representation for three years. Powell was eventually vindicated by the Courts. Omar should wage a struggle to maintain her full authority as a member of Congress," he noted.
Omar has long been critical of the regime of Israel and its actions in the occupied Palestinian territories.
Along with US Congresswoman Rashida Tlaib, the two have triggered a widespread debate in the US about Israel's crimes against the Palestinians and American aid to the regime.
Tlaib and Omar, the first two Muslim women elected to Congress, are outspoken critics of Israel's policies toward the Palestinians and vocal supporters of the Boycott, Divest and Sanction (BDS) movement. The two called "Israel" an "apartheid state" guilty of war crimes.
The 37-year-old US lawmaker is originally from Somalia and represents Minneapolis, Minnesota, a district with a large Somali population.
In his earlier interview with Press TV, Azikiwe said the independent organization of the African American people in alliance with other oppressed peoples in the United States must overturn "the existing system which is rooted in racism and exploitation."
"There is potentially the threat of civil war in the US. It is a civil war that oppressed and working-class people are not prepared for no more than what developed in 1860-61, when the intolerance of the slaveocracy and the indifference of northern industrialists led to a four-year conflict that killed nearly one million people. This war created the conditions for the elimination of chattel slavery and the ostensible freedom of African people who were in captivity since the 16th and 17th centuries under Spain and Britain," he said.
"However, it is not only the fault of the Republicans. The Democratic Party under President Joe Biden has been largely ineffective in passing legislation and issuing executive orders aimed at protecting the rights of African Americans, people of color communities and women. There are concerted efforts underway to turn back the social clock making African Americans, Latin Americans, women and all oppressed groups slaves of the racist and capitalist system. Both parties which are dominant in the US deserved condemnation for their perpetuation of the exploitative and discriminatory political culture which remains pervasive in the US," he stated.
Source: Press TV
Please click the following URL to read the full text of the original story:
https://www.presstv.ir/Detail/2022/11/25/693388/McCarthy-s-threats-%E2%80%98illustrate-institutional-racism-in-the-US-system%E2%80%99
--------
Chile's embassy in Türkiye, UN office mark Int'l Day for Elimination of Violence Against Women
Busra Nur Cakmak
25.11.2022
Chile's embassy in Türkiye and the UN Women Türkiye office marked the International Day for the Elimination of Violence Against Women on Wednesday.
In a roundtable panel titled Human Rights and Violence Against Women: A Shared Vision, Chile's ambassador Rodrigo Arcos, lawmaker Lorena Fries and Duygu Arig, Programme Specialist at UN Women Türkiye, discussed issues women face and how to raise awareness ahead of the UN-designated day on Nov. 25.
Fries said that violence against women is often discussed within marriage, but in the past few decades in Latin America, studies show that it starts much earlier with controlling behavior of the partner and then escalates until it turns to violence.
She stressed the importance of education of young women and girls on the issues.
Arig for her part said that prevention should start at an early age by educating young people about gender equality.
"I have been part of other research during my tenure with UNFPA (United Nations Population Fund), where we have worked with middle school students and we try to understand their perceptions in terms of violence against women," she said.
"And we have seen that the gender roles are so concrete that even at that age, you cannot break it."
"So whatever we do, we should start off very early," she added.
Ambassador Arcos also underlined the importance of creating awareness about gender equality and women rights.
Source: Anadolu Agency
Please click the following URL to read the full text of the original story:
https://www.aa.com.tr/en/americas/chile-s-embassy-in-turkiye-un-office-mark-int-l-day-for-elimination-of-violence-against-women/2747868
--------
US official urges 'de-escalation' as Turkiye strikes Syria
November 25, 2022
BEIRUT: A US official in Syria on Friday called for an "immediate de-escalation" following days of deadly airstrikes and shelling along the Syria-Turkiye border, saying the actions destabilize the region and undermine the fight against the Daesh group.
Turkiye this week launched a wave of airstrikes on suspected Kurdish rebels hiding in neighboring Syria and Iraq, in retaliation for a deadly Nov. 13 bombing in Istanbul that Ankara blames on the Kurdish groups.
The groups have denied involvement in the bombing and say the Turkish strikes have killed civilians and threatened the anti-Daesh fight.
The Britain-based Syrian Observatory for Human Rights, an opposition war monitor, said that 67 civilians, gunmen and soldiers, have been killed in Turkish attacks in northern Syria since the airstrikes began.
Nikolas Granger, the US senior representative to northeastern Syria, said Washington "strongly opposes military action that further destabilizes the lives of communities and families in Syria and we want immediate de-escalation."
The developments are "unacceptably dangerous and we are deeply concerned," said Granger, who is currently in Syria, and added that the strikes also endanger US military personnel there.
Turkish President Recep Tayyip Erdogan threatened a new land invasion of northern Syria targeting Kurdish groups. On Friday, he said Turkiye would continue its "struggle against all kinds of terror inside and outside our borders."
Turkiye and the United States both consider the outlawed Kurdistan Workers' Party, or PKK, a terror group for the decadeslong insurgency and attacks the group has staged within Turkiye's borders.
But they disagree on the status of the main Kurdish militia in Syria, the People's Protection Units, or YPG. The Syrian Kurdish group has been a key US ally in the fight against Daesh.
Turkiye has carried out three major incursions into northern Syria since 2016 and its forces still control part of the country.
Kurdish officials in Syria have been warning that any new Turkish incursion would disrupt the fight against Daesh, which still has sleeper cells and has carried out deadly attacks in recent months against the Syrian Kurdish-led opposition forces as well as Syrian government forces.
Source: Arab News
Please click the following URL to read the full text of the original story:
https://www.arabnews.com/node/2206066/middle-east
--------
URL: https://newageislam.com/islamic-world-news/supreme-court-imams-constitution-remuneration/d/128498
New Age Islam, Islam Online, Islamic Website, African Muslim News, Arab World News, South Asia News, Indian Muslim News, World Muslim News, Women in Islam, Islamic Feminism, Arab Women, Women In Arab, Islamophobia in America, Muslim Women in West, Islam Women and Feminism