New Age Islam News Bureau
11 May 2019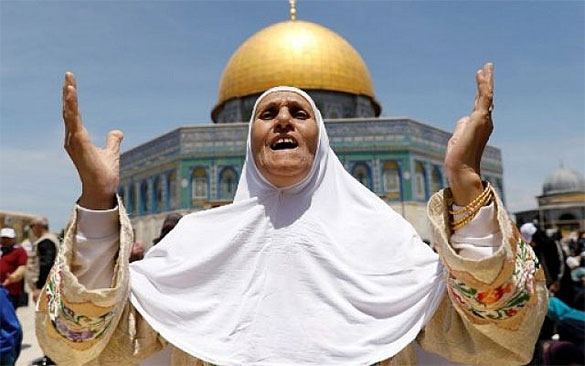 Muslim worshipers pray in the al-Aqsa Mosque compound at Jerusalem's Temple Mount on May 10, 2019 on the first Friday prayers of the holy fasting month of Ramadan. (Ahmad GHARABLI / AFP)
----------
• 180,000 Muslims Pray Peacefully At Al-Aqsa Mosque on First Friday of Ramadan
• Pakistan Islamic School Reforms Aim to Curb Extremism
• Action Stepped Up As Chinese Reject Forced Prostitution Claims
• Man Breaks Ramzan Fast to Donate Blood to His Roommate Tapash Bhagawati
• Zakir Naik Says ED Lying, Asks If Agency Is Under 'Pressure'
• Sri Lanka Sets Up Hotline to Report Increasing Anti-Muslim Harassment in the Wake of Easter Sunday Attacks
• Muslim Refugees Now Feel Safer In Non-Muslim Countries, Says Dr M
• OIC Keen to Showcase Depth of Islamic Culture, Says Chief
• Washington Looks To Haftar to End Slave Trade in Libya
• Saudi Arabia's Military Invites British Soldiers To Make Pilgrimage In 'Blessed Lands'
Mideast
• 180,000 Muslims Pray Peacefully At Al-Aqsa Mosque on First Friday Of Ramadan
• Iran Cleric Says US 'Fleet Can Be Destroyed With One Missile'
• Iran reduces commitment to the nuclear deal amid increased U.S. pressure
• Hezbollah blasts US over new Iran mining sanctions
• Houthi rebels are holding a 'floating bomb' oil tanker hostage off Yemen's coast
• After Trump invite, Iran commander says: No talks with US
• Palestinian killed by Israeli fire in Gaza border clashes: ministry
• Trump envoy slams UN over 'tired talking points' on Israel
• Houthis announce redeployment from Yemen ports amid doubts by legitimate govt
• Palestinian's death in Turkish prison raises questions on torture
• UN says Yemen's Houthis agreed to begin Hudaydah withdrawal
--------
Pakistan
• Pakistan Islamic School Reforms Aim to Curb Extremism
• Action Stepped Up As Chinese Reject Forced Prostitution Claims
• Death toll rises to 12 in Lahore Sufi shrine suicide attack
• PTI govt, opposition in rare unison over Fata bill
• PM assures people tough times will be over soon
--------
India
• Man Breaks Ramzan Fast to Donate Blood to His Roommate Tapash Bhagawati
• Zakir Naik Says ED Lying, Asks If Agency Is Under 'Pressure'
• Militant From group inspired by ISIS Killed
• ISJK terrorist killed in Jammu and Kashmir encounter, arms stash recovered
• India, UK vow to boost cooperation in maritime security, counter-terrorism
--------
South Asia
• Sri Lanka Sets Up Hotline to Report Increasing Anti-Muslim Harassment in the Wake of Easter Sunday Attacks
• Taliban Open New Front against Aid Workers While Talking Peace
• Sixth round of Taliban-U.S. peace talks end
• 7 security forces, 34 militants killed in N. Afghanistan
• Don't allow mosques to promote hatred; submit recordings of sermons: Sri Lanka govt
• Sri Lankan court orders DNA test to verify death of Easter bombings mastermind
• What Bangladesh would gain from normalizing relations with Israel?
• Senior militant leader in-charge of 'Kangaroo Court' of Taliban killed in Ghor province
• 21 militants killed in a 'kinetic airstrike' carried out in support of Afghan soldiers in Kandahar
• 4 children killed, 5 wounded in a roadside bomb explosion in Faryab
• Relentless Taliban violence casts a pall over 'slow' Afghan talks
--------
Southeast Asia
• Muslim Refugees Now Feel Safer In Non-Muslim Countries, Says Dr M
• Buddhist Temple Provides Free Iftar Meals for Low-Income People in West Jakarta
• Umno sec-gen says past with PAS irrelevant, party is now without Dr M
• Jokowi Says He'll Have More Leeway in Second Term Without Re-Election Concerns
--------
Arab World
• OIC Keen to Showcase Depth of Islamic Culture, Says Chief
• Seven children of dead ISIS parents reunited with Swedish grandfather in Erbil
• Only Trump can save Syria's Idlib, but time is running out
• IS militants attack house, kill 8 persons in right coast of Mosul
• Islamic State claims responsibility for Baghdad blast: statement
• Iraq not keeping up with evolving ISIS: US Defense Department
• Protests return to Lebanon as government discusses austerity
--------
North America
• Washington Looks To Haftar to End Slave Trade in Libya
• CIA And Mossad Conflating Intelligence to Push US into Military Conflict with Iran: Expert
• Pompeo Says US Doesn't Want War with Iran But Warns Of 'Swift' Response If Provoked
• Trump Considers Them Terrorists, but Some Are Allies
• Latin America keen on Islam: Argentinian Muslim scholar
• US sanction on Iran not serving peace: Turkish official
--------
Europe
• Saudi Arabia's Military Invites British Soldiers To Make Pilgrimage In 'Blessed Lands'
• France Arms Sales to Saudi Arabia, UAE 'Evident Hypocrisy': Ansarullah
• 3 Convicted Of Terrorism for Arson of Australian Mosque
• Ambassador to Germany threatens companies with U.S. ban over Iran
• 2 French soldiers killed in hostage rescue mission in Benin
• Germany says talks continue with Iran on INSTEX
--------
Africa
• Somalia: Al-Shabaab Stages Attack On a Town Under Somali Troops
• Anti-Boko Haram militia frees 900 children in Nigeria: UN
• U.S. Air Strike Kills 13 Islamic State Fighters in Somalia: U.S. Military
• Dozens of migrants drown off Tunisia coast after leaving Libya
• Dozens of refugees drown off Tunisia coast after leaving Libya
• Somalia busts UAE-linked spy network, arrests agents: Report
• Seven Boko Haram terrorists killed in northeast Nigeria
• Sudan protesters press demands on 1st Friday of Ramadan
Compiled by New Age Islam News Bureau
URL: https://www.newageislam.com/islamic-world-news/180000-muslims-pray-peacefully-al/d/118569
--------
180,000 Muslims pray peacefully at Al-Aqsa Mosque on first Friday of Ramadan
10 May 2019
Tens of thousands of Muslims, including many from the West Bank, prayed peacefully at Jerusalem's Al-Aqsa Mosque compound on Friday, the first in Islam's holiest month of Ramadan, officials said.
The Jerusalem Islamic Waqf organization which administers the site estimated that there were 180,000 worshipers, some 50 percent higher than last year, when around 120,000 people attended the first Friday prayers. Israeli estimates varied between 135,000 and 180,000.
Azzam al-Khatib, director general of Waqf, said the crowds reached the site "despite checkpoints and a large security presence." The prayers ended without any major incident, he told AFP
Israel Police said that they had deployed hundreds of officers and Border Police "to ensure that tens of thousands of worshipers could reach the site and at the same time prevent any incidents throughout the day."
The Al-Aqsa Mosque is the third holiest site in Islam and sits atop the Temple Mount, the most sacred site in Judaism and revered as the home of the ancient Jewish Temples. It is often a major flashpoint in the Israeli-Palestinian conflict.
An AFP photographer at the Qalandiya checkpoint between Jerusalem and the West Bank saw thousands of Palestinians — including elderly people in wheelchairs — queuing to enter the city early Friday morning.
Coordination between Palestinian and Israeli authorities had improved at the checkpoint this year, the photographer said, making access to Jerusalem easier.
This was largely due to Israel opening a new crossing at the site in February that is designed to reduce friction at one of the largest crossing points between the West Bank and Jerusalem.
The IDF said some 75,000 people from the West Bank crossed into Israel for the prayers.
Israeli restrictions on Palestinians from the West Bank are eased during the month of Ramadan, which began on Monday.
Men over the age of 40 and children under 12 will be allowed to enter the city on Fridays during Ramadan, while there are no restrictions on women, the Israeli army announced.
Israel views the whole of Jerusalem as its capital while the Palestinians see the eastern part as the capital of their future state.
https://www.timesofisrael.com/180000-muslims-pray-peacefully-at-al-aqsa-mosque-on-first-friday-of-ramadan/
--------
Pakistan Islamic School Reforms Aim to Curb Extremism
May 09, 2019
ISLAMABAD —
Officials in Pakistan say Islamic organizations have agreed to put some 30,000 madrassas, or seminaries, under the supervision of the Ministry of Education as part of the government's efforts to curb violent extremism in the country.
Critics blame madrassas for the rising radicalization of Pakistan's youth and for serving as breeding grounds for transnational terrorist networks. The Pakistani military also has long been accused of covertly supporting some of these madrassas to train and send fighters to fuel conflicts in Afghanistan and a Muslim insurgency in the India-ruled portion of the disputed Kashmir region.
"The agreement has outlined rules and regulations for all madrassas in Pakistan to be registered with the education ministry and those who oppose the process will not be allowed to work," Education Minister Shafqat Mehmood told the local Geo News channel. Under the deal, the government will assist madrassa operators in opening their bank accounts and processing visas for foreign students seeking admission in Pakistani seminaries, the minister explained.
Officials say the measure will enable the government to audit finances being provided to the seminaries in the name of donations and charities to deter terrorism-related transactions, and monitor activities of foreign students attending the institutions.
The rare understanding comes days after the chief military spokesman Major General Asif Ghafoor, in an unusual move, unveiled government plans to bring much-sought reforms to madrassas to put them under state control.
Analysts say the military's lead to announce the plan was apparently aimed at deterring any possible backlash from Islamic organizations and at sending a strong message to these entities that the state is determined to press ahead with its plans.
The seminaries are largely ill-equipped. Children spend most of the time memorizing the Holy Quran, with almost no access to modern subjects. They can only get the job of a prayer leader at a mosque after finishing the madrassa education.
Supporters of the madrassa system say they are offering free education to around 2.5 million children of poverty-stricken families in Pakistan, where an estimated 25-million children are unable to receive any education.
Ghafoor says government scrutiny of all the seminaries has determined "less than 100" are suspected of involvement in promoting "violent extremism and terrorism."
"An Islamic education will continue to be provided, but there will be no hate speech," the army spokesman said while announcing the reform program about two weeks ago. "We want to end violent extremism in Pakistan and that will only happen when our children have the same education and opportunities," he stressed.
Attempts by past Pakistani governments to mainstream the madrassa education system have faced strong resistance and threats of street agitation from religious groups for what they denounced as anti-Islam Western plot.
Mohammad Amir Rana of the Islamabad-based Pakistan Institute for Peace Studies (PIPS) explained the reason for the military to take the lead and announce the madrassa reform program.
"This is quite a sensitive and critical issue and there is this thinking among the security institutions that no civilian government can handle it all alone and they need some harder perusal approach to implement the madrassa reforms," Rana said.
Prime Minister Imran Khan, who took office last August, has vowed his government would not tolerate extremist or militant outfits operating on its territory.
Rana noted that there has been no retaliation, so far, from Islamic groups to madrassa reforms because the announcement has come from the military, the institution long suspected of creating and patronizing some of the seminaries.
"I think this may be one of the factors behind this new approach by the security institutions that they always have been blamed for supporting these kind of extremist elements in the country whatever the purpose was, whatever the complicated history we have. But now they have decided to deal with it by themselves," Rana noted.
A senior Pakistani official told VOA that Islamic leaders and clerics from all schools of thought will be barred from delivering sermons or speeches in their respective seminaries that fuel sectarianism among various Sunni sects and the rival minority Shi'ite Muslim community. The official requested anonymity because he was not authorized to speak to media on the subject.
He noted the government has allocated an initial amount of $3.8 million (2.7 billion rupees) for the reform program. The process of hiring 100,000 new teachers to teach contemporary subjects at madrassas has started. Regional government officials will be appointed to support and coordinate with madrassa operators in mainstreaming the schools.
"If any madrassa are found involved in activities beyond their stated mandate the responsibility will rest with the religious leader running them," the official emphasized.
Pakistani authorities in recent weeks have also taken control of hundreds of hospitals, seminaries and other facilities linked to banned organizations, including those designated as global terrorists by the United Nations.
Anti-India Jaish-e-Mohammed (JeM) and Jamaatud Dawa (JuD) militant groups were also among them. Indian officials blamed JeM for orchestrating a deadly suicide car bombing in February that killed 40 paramilitary forces in India-ruled portion of the disputed Kashmir region.
The move comes at a time of increased pressure on the country to act against Islamist groups that continue to operate religious seminaries and other facilities despite being designated as global terrorists by the United Nations.
It is widely believed that Pakistan's steps against Islamist groups and entities stem from pressure the Paris-based Financial Action Task Force (FATF) is putting on Islamabad to take effective steps against money laundering and terrorism financing.
The FATF identifies jurisdictions with weak measure to combat money laundering and terrorist financing. Countries with inadequate controls for curbing money laundering and terrorism financing appear on the watchdog's "grey list." The group's "blacklist" is reserved for countries that fail to meet international standards in stopping financial crimes.
The watchdog is due to meet next month to review Pakistani measures before a critical meeting in September where a final decision will be taken to either remove the country from FATF's grey list or to place it in its blacklist. In the event of being blacklisted, analysts say, Pakistan's economic woes will worsen because international financial dealings and trade will face restrictions.
https://www.voanews.com/a/pakistan-islamic-school-reforms-aim-to-curb-extremism/4910257.html
--------
Action stepped up as Chinese reject forced prostitution claims
May 11, 2019
RAWALPINDI / ISLAMABAD: As the FIA stopped two Chinese men and three Pakistani women from boarding a flight to China at the Islamabad Airport on Friday for their alleged involvement in bride trafficking, the Chinese Embassy said a joint Pak-China probe had found no evidence to claims that the women married to Chinese men were being forced into prostitution or organ sale.
The Federal Investigation Agency's immigration staff took into custody the two couples and a single woman on charges of bride trafficking and shifted them to the FIA's anti-human trafficking cell for interrogation.
According to sources, Chinese authorities had held two meetings with Minister for Interior retired Brig Ijaz Ahmad Shah — one on Thursday and the other on Friday — and expressed their displeasure over publicising the arrest of Chinese nationals in connection with the alleged bride trafficking.
The Chinese authorities made it clear to the minister that if someone individually had done anything wrong that should not be publicised by holding press conferences, because that is giving a bad name to their country.
Besides, the Chinese Embassy in a statement issued on Friday said that Chinese authorities had jointly investigated with their Pakistani counterparts the allegations of Pakistani women married off to Chinese men being forced into prostitution or organ sale, but found no evidence.
"The Ministry of Public Security of China sent a task force to Pakistan to carry out law enforcement cooperation with the Pakistani side," the embassy said, adding the Chinese ministry found that there was "no forced prostitution or sale of human organs for those Pakistani women who stay in China after marriage with Chinese".
The findings cited by the embassy appear to be at odds with an FIA press statement, which had detailed how Pakistani women were fraudulently married off to the Chinese and later trafficked into prostitution in China.
The Chinese investigations, however, appear to be ongoing as the embassy noted: "Relevant cases are now under investigation".
The sources said that all the detained Chinese nationals had been visiting Pakistan on "business visas on arrival" and therefore none of them was illegal immigrant. After arriving here, they contact locals to allegedly lure young Pakistani girls into marriages.
They pointed out that if anyone from South Asian countries is arrested in China, the authorities there don't publicise his/her nationality. They only mention that a South Asian has been arrested.
According to sources, after the Chinese authorities expressed their displeasure over publicising the arrest of Chinese nationals, the FIA has been verbally asked to slow down the crackdown and avoid arrests unless any girl came to them to lodge a complaint.
On Friday, the FIA staff held two couples and one Pakistani woman while they were passing through the immigration process at the Islamabad airport for travelling to China through Air China flight CZ6008.
Zheng Zhili along with Samreen Fatima, a resident of Lahore, and Guo Wenchao along with Rabia, a resident of Rawalpindi, and Masooma Kalsoom, a resident of Lahore were detained after they failed to satisfy the FIA for the purpose of travelling to China.
Ms Kalsoom said in her statement recorded with the FIA that she was travelling to China to join her husband there.
The embassy statement issued on Friday — a second by the embassy in nearly a month — was issued amid growing media reports of Pakistani women being duped into marriages with the Chinese and the law enforcement action by Pakistani authorities against people and marriage bureaus involved in contracting such fraud matrimony.
In a latest report, the FIA arrested three Chinese and their Pakistani accomplices on charges of fake marriages. Nearly two dozen Chinese have been arrested so far in different Pakistani cities.
The last statement was issued on April 13 in which the Chinese embassy had acknowledged that some "unlawful matchmaking centres" were deceiving Pakistani and Chinese youth by brokering cross-national marriages for "illegal profits".
The latest statement backed Pakistani law enforcement action against the marriage bureaus concerned. "If any organisation or individual commits a crime in Pakistan under the banner of the cross-border marriage, China supports the Pakistani side to crack down on it according to Pakistani laws," it said.
The embassy pledged to continue cooperation with Pakistan on the issue. "China will further strengthen cooperation with the law enforcement agencies in Pakistan, to effectively combat crime, so as to protect the legitimate rights and interests of the two peoples, and jointly safeguard China-Pakistan friendly relations," it said, adding that "a few criminals" cannot be allowed to undermine the friendship between the two countries and "hurt the friendly feelings between two peoples".
The embassy asked the media to be "objective and fair" in reporting on the issue and asked the people to reject rumours.
https://www.dawn.com/news/1481577/action-stepped-up-as-chinese-reject-forced-prostitution-claims
--------
Man Breaks Ramzan Fast to Donate Blood to His Roommate Tapash Bhagawati
May 11, 2019
Twenty-six year old Md. Panaulla Ahmed was resting after his 'sehri' (pre-dawn meal) on Wednesday morning, the second day of the month-long Ramzan fast, when he noticed his roommate Tapash Bhagawati was upset.
An active member of Team Humanity, a group of voluntary blood donors, Tapash had got a call the previous night about a patient needing two units of O positive blood which the latter's family had tried hard to procure but with no success.
"I asked him what the problem was and immediately offered to donate my blood," said Ahmed, a ward boy at a private hospital in Guwahati.
Tapash, who works as operation theatre technician at the same hospital, wasn't sure whether Ahmed could help since the latter was fasting for Ramzan and could weaken after donating blood.
"I had got negative responses from many before Ahmed offered. I was happy, but didn't want him to break his fast. But he was adamant," said Tapash.
The two friends rushed to another hospital in the city where Ranjan Gogoi, a 50-year-old businessman from Dhemaji in upper Assam, was about to be operated for the removal of two tumours in his stomach.
"I consulted some 'maulvis' (Muslim religious scholar) who encouraged me to go ahead with my plan but advised not to continue with the fast if I felt weak," said Ahmed, whose blood group is B positive.
"I donated one unit of blood, which the hospital kept in their blood bank and they released a unit of O positive blood for the patient. Once I was done, I had to break my fast and eat something," he added.
Doctors removed both the tumours in Gogoi's stomach and will test them for cancer. The patient is recuperating in hospital while Ahmed has resumed his Ramzan fast.
"We are very thankful for Ahmed's gesture. I was very surprised to learn that he broke his 'roza' (fast) to donate blood. I was even more surprised when he refused to accept anything from us in return," said Gogoi's brother-in-law, Binod Baishya.
https://www.hindustantimes.com/india-news/man-breaks-ramzan-fast-to-donate-blood/story-RMD6mRKHEDC8zZuxO8YkpO.html
--------
Zakir Naik says ED lying, asks if agency is under 'pressure'
May 10, 2019
MUMBAI: Controversial Islamic preacher Zakir Naik on Friday termed a lie the Enforcement Directorate's claim that he transferred over Rs 49 crore to his bank accounts in India over a period of six years despite not having any "known source of income".
The agency had, on May 2, filed a prosecution complaint before a special court here against Naik charging him with laundering criminal money to the tune of Rs 193 crore and allegedly creating illegal real estate assets worth crores in India and abroad.
The ED had stated that Naik did not have any "known source of income" but still managed to transfer more than Rs 49 crore to bank accounts in India.
In a detailed statement released to media by his PR team, Naik said, "Why is ED lying? When everyone - including all the government agencies - know that I have multiple businesses and revenue streams and my earnings have always reflected in the tax returns I've filed, why is ED lying about it?"
He further questioned if the "pressure was so huge" that they (ED) need to lie to achieve the goal set out by their political bosses?
Naik claimed to be an NRI since 2010, living and earning outside India.
"I earn over a crore a month, and I send money back to India as and when required. I send it from my Dubai account to my India account, and every penny is then accounted for in my tax returns, the papers for which are with the Indian agencies," he said.
"Between 2010 and 2016 - in the six year period - I must have sent 49 crore to India. How is sending 65 lakh per month a problem? For a country that receives more than Rs 6,000 crores every month from UAE-based Indians, how is my Rs 65 lakh a problem?" he asked.
"I'm a full time preacher and part-time businessman. I don't charge for my lectures nor do I earn from Peace TV, so I do need another revenue stream to survive, which I have. Implying that I could survive outside India without earning anything is not just illogical, it's childish," he added.
The ED has so far arrested two of Naik's aides, Amir Gazdar and Najamuddin Sathak, while Naik himself is absconding and is reportedly in Malaysia.
Naik was booked by the ED in 2016 based on a National Investigation Agency (NIA) FIR that was registered under the Unlawful Activities Prevention Act (UAPA).
The NIA in the past has said the Islamic preacher "deliberately and maliciously insulted the religious beliefs of Hindus, Christians and non-Wahabi Muslims, particularly Shias, Sufis and the Barelvis, with the intention of outraging their religious feelings."
It had said Naik's organisation, IRF and Ms Harmony Media, "have been instrumental in the maximum circulation of such incriminating speeches".
https://timesofindia.indiatimes.com/india/zakir-naik-says-ed-lying-asks-if-agency-is-under-pressure/articleshow/69271618.cms
--------
Sri Lanka sets up hotline to report increasing anti-Muslim harassment in the wake of Easter Sunday attacks
10 MAY 2019
The Sri Lankan government has set up a police hotline to report for Muslims to report harassment, as the community comes under increasing attack in the wake of the Isil-linked Easter Sunday bombings.
Multiple suicide attacks targeted churches and luxury hotels on Easter Sunday, leaving 258 people dead, including 42 foreign nationals. The attackers later released a video pledging allegiance to the Islamic State of Iraq and the Levant.
Sri Lankan authorities on Friday said investigators were still trying to establish how deep those contacts were.
An Islamic Affairs ministry spokesman told The Telegraph that there have been "hundreds of calls every day" reporting incidents of hate and violence against Muslims since the attacks, especially against women wearing headscarves, or the abaya robe.
"Unfortunately the Muslim community is being harassed and targeted for actions committed by few individuals," said Mufti Mohamed Rizwe, president of All Ceylon Jamiathul Ulema (ACJU), a governing Muslim body.
A spokesman of ACJU told The Telegraph that "a serious anti-Muslim oppression is going on now."
There are some 2 million Muslims in Sri Lanka, around 10 per cent of the mostly Buddhist population.
In one incident, parents at a school in Puwakpitiya, some 50 kilometres west of Colombo, reportedly barred entry and threatened Muslim teachers wearing headscarves.
"We are gripped with fear," Fathima Rahma, an accountant wearing a headscarf told The Telegraph. "I'm afraid to step into supermarkets or banks because I've had bad experiences with security guards and staff shouting at me. Uber drivers cancel on me, trishaws don't stop for me anymore."
Muslim Uber drivers and businesses are also reporting decline in rides and sales.
A ban on face-covering veils and sweeping house-to-house searches by police and military have also added to the tension.
Over the past week, many Muslims have been arrested for owning toy drones, toy walkie-talkies and in one case a set of "Hadith" books - on the lifestyle of Prophet Muhammed.
Minister of Higher Education Rauf Hakeem said there was a "hidden hand" behind the Easter terror, bent on destabilizing the country.
https://www.telegraph.co.uk/news/2019/05/10/sri-lanka-sets-hotline-report-increasing-anti-muslim-harassment/
--------
Muslim refugees now feel safer in non-Muslim countries, says Dr M
Ainaa Aiman
May 10, 2019
PUTRAJAYA: Prime Minister Dr Mahathir Mohamad has expressed disappointment with Muslim countries which, he argued, have "failed" as Muslim refugees now feel safer seeking asylum in non-Muslim countries.
"I feel sad looking at Muslims (abroad). Muslim countries have failed and they (their citizens) have to save themselves by going to non-Muslim countries.
"They should actually go to other Muslim countries. But most of the Muslim countries are not safe and are not willing to accept refugees," he said at a breaking of fast event organised by the Malaysian Islamic Welfare Association (Perkim) here this evening.
Mahathir said millions of refugees had migrated to European countries in their search for safety and protection.
"This is not because of Islam as a religion itself but because the Muslims push aside the teachings of Islam, even though they often preach in God's name," he said.
Mahathir said Malaysians often forget to be thankful that they live in a peaceful country.
"In Malaysia, we can have our breaking of fast gathering peacefully and safely. This is not something that is seen as common (in some other Muslim countries)."
He said people in many Muslim countries face occurrences that are "against Islam".
"We see many people dying from hunger or being hit by bombs and rockets in the wars that are happening.
"A lot of governments also oppress their citizens. Even though they are Muslim, they do not abide by the religious teachings," he said.
However, he said that differences within the Muslim community in Malaysia are mainly due to different individual interests.
"Because of different interests, political interests for example, we are divided and have become weak," he said.
Later, after the breaking of fast, Mahathir told reporters the government needed more time to fulfil the remaining promises in its manifesto.
"We will put in effort (going forward) but one year is not enough to do anything," he said.
He maintained that the government has "achieved a lot", noting that 39.01% of the 464 initiatives in the PH manifesto have been fulfilled in its first year in power.
"But a lot of the other promises will take more time," he said.
https://www.freemalaysiatoday.com/category/nation/2019/05/10/muslim-refugees-now-feel-safer-in-non-muslim-countries-says-dr-m/
--------
OIC Keen To Showcase Depth Of Islamic Culture, Says Chief
May 10, 2019
JEDDAH: Dr. Yousef Al-Othaimeen, secretary-general of the Organization of Islamic Cooperation (OIC), commended the efforts of the Islamic Educational, Scientific and Cultural Organization (ISESCO) during the third extraordinary session of ISESCO's general conference at King Abdullah Economic City, in Rabigh.
He thanked the Saudi government for supporting the OIC, noting that "ISESCO has assisted the OIC's member states in the promotion of culture, science, education and communications according to Islamic values and ideals."
"The General Secretariat looks forward to further consulting with the ISESCO to establish joint programs that pave the way for a genuine partnership with member states in order to showcase the depth of Islamic culture," he said.
Minister of Education Dr. Hamad bin Mohammed Al-Asheikh highlighted the ISESCO's achievements and its efforts to attain the highest goals. He hoped that the programs, projects and strategies would build beacons of teaching, learning and culture, promoting the true spirit of Islam away from stereotyping or traditionalism.
Al-Asheikh wished success for the new director general of the ISESCO, Dr. Salim bin Mohammed Al-Malik. He also honored the former director general of the ISESCO, Dr. Abdul Aziz bin Osman Al-Tuwaijiri, who held the post from 1991.
http://www.arabnews.com/node/1495391/saudi-arabia
--------
Washington looks to Haftar to end slave trade in Libya
10 May 2019
US President Donald Trump's continued support for Libyan Field Marshall Khalifa Haftar is based on a promise by the military commander to clamp down on the slave trade in Libya and bring soldiers found guilty of human rights abuses to justice, says a former official in the US Department of Defense.
"The US backs Haftar because he is seen in Washington as anti-extremist and anti-slavery," said Rudolph Atallah, a former counter-terrorism director for the office of the US Secretary of Defense and CEO of White Mountain Research in Virginia, noting that National Security Advisor John Bolton has been acting as an intermediary between the US Administration and Haftar.
"Haftar has promised to stamp down on the slave-trade of illegal migrants in Libya, which the Government of National Accord (GNA) has been unable to stem and which has outraged the world," said Atallah.
"This has gone down very well in Washington along with his promises to deal with human rights abuses and with Islamic extremists of all hues. This all bodes well for the Libyan National Army (LNA)," he added.
Washington is also linking the increasing number of ISIS attacks on the LNA to the possible military purpose of dragging LNA units away from Tripoli, according to a US intelligence assessment seen by Al Arabiya English.
Fayez Serraj, Prime Minister of the GNA in Tripoli, has been touring European capitals seeking help in his battle against Haftar, as well as threatening European companies with contract terminations. However, the on-ground reality in Libya and the growing certainty of US support for Haftar have been forcing a diplomatic reassessment.
Haftar already controls southern and eastern Libya and has now besieged the capital Tripoli in the north of the country with fierce fighting ongoing in its suburbs.
Taking Tripoli would give Haftar control of Libya's immigration routes, worth hundreds of millions of dollars a year to smugglers, with migrants systematically treated inhumanely and sold in what the International Organization of Migration (IOM) has called "slave markets."
The possibility of closing down the migrant slave gangs is said to have been a key consideration behind the Trump Administration's blocking of a draft UN Security Resolution condemning Haftar's assault on Tripoli and calling for a ceasefire.
Hundreds of thousands of desperate migrants come from war-torn and hostile parts of Sub-Saharan Africa and the Sahel region to northern coast around Tripoli, where they aim to start their journey across the Mediterranean to Europe, as promised by smugglers.
The International Organization for Migration (IOM) documented how thousands of smuggled migrants, including women and children, have perished during arduous sea crossings, frequently after having been beaten, raped, tortured, and robbed on their way through Libya.
So far this year, 17,000 people entered Europe by sea from Libya, with 493 deaths. This week, the IOM reported that a vessel which left Zuwara city, on the north-western coast of Libya, capsized with at least 50 deaths.
"By taking Tripoli, Haftar will have the power and military ability to shut down the sea routes used by the smuggler gangs to send migrants to Europe, and target their associates who run the southern routes into the country," said Atallah.
Media exposure of the illegal trade of migrants in Libya, including undercover footage shown on CNN of African migrants being auctioned in a market, has caused international revulsion.
Italy is among the countries that suffered the worst impacts of migrants influx, and it had previously supported the GNA in Tripoli in countering illegal migration. However, with the LNA's advances and the US' political support for Haftar, Italy has developed a more diplomatic stance.
In London, British Foreign Secretary Jeremy Hunt met with Prime Minister of the GNA, Fayez al-Sarraj, on Thursday and called on "all sides" to commit to a ceasefire, in comments that lack direct condemnation of the LNA.
The UK Foreign Office has been reviewing its policy towards Haftar while maintaining its focus on improving human rights and support for the UN political process in Libya, a British diplomatic source said on condition of anonymity.
The GNA asked 40 foreign firms including French oil major Total to renew their licenses or have their operations suspended, pressuring Europe to stop the Haftar's military offensive against Tripoli and choose sides.
Germany, which has invested millions of euros in recent months in Libya's development and in support of GNA efforts, remains unconvinced by Haftar as a force for peace and human rights.
Haftar ignored a call by the head of the UN Support Mission in Libya for a ceasefire during Ramadan and called for an intensification of his assault on Tripoli instead.
https://english.alarabiya.net/en/features/2019/05/10/Washington-looks-to-Haftar-to-end-slave-trade-in-Libya-.html
--------
Saudi Arabia's military invites British soldiers to make pilgrimage in 'blessed lands'
May 11, 2019
Ramadan will be particularly special for nine British soldiers this year, as they make Umrah to Makkah at the invitation of Saudi Arabia.
The team of ten Brits has arrived in Jeddah from the UK and are being hosted by the Saudi Arabian army's religious directorate, along with soldiers from armed forces from around the world. One of the army's civilian chaplains and an officer were chosen alongside eight soldiers selected via a lottery system to ensure fairness.
Corporal Sohail Ifraz recounted he was "a bit shell shocked" to hear his name had been picked.
"I felt so privileged to kind of get the opportunity to go to the blessed lands of Saudi Arabia. Spiritually it's a place that every Muslim across the world have a connection to. It doesn't matter where you are in the world, you have a connection to that one place because you know, everyone prays to that location, towards that direction everyday."
The party left the UK on May 2 and are due to return on this week after visiting Makkah and Madinah to complete the pilgrimage.
The trip is running over Ramadan, making it extra special, the soldiers say.
"The opportunity to observe a part of the month of Ramadan in the holy lands, you couldn't ask for a better Ramadan," said Cpl Ifraz.
Not only is the trip an opportunity for the armed forces personnel to deepen their connection to their faith, it brings opportunities to share information about Islam with their non-Muslim colleagues.
The army Umrah has sparked curiosity among the men's units, prompting questions not just about the journey but about halal meals, Ramadan and other Muslim practices.
Cpl Ifraz, who was awarded an MBE in 2018, says his seniors have asked him to explain different elements of his faith to further their understanding.
They're sort of constantly asking questions, like 'why do you pray towards that one location?' Something that's as simple as that."
"I kind of go through all the motions and tell people that this is what we do, why we do it. And I think that kind of, it starts at that level. One soldier tells four or five other soldiers and then it kind of branches from there. That's how everyone would get a better understanding of not just our faith but all faiths."
Muslims are still underrepresented in the armed forces, making up just 0.4 per cent of the UK regular forces, compared to just under 5 per cent of the British population, according to April 2017 Ministry of Defence figures.
The army has made efforts to attract recruits from Muslim communities, including a £1.6m campaign on belonging that featured Cpl Ifraz.
It is important for youngsters considering the army of all backgrounds to see that it offers myriad opportunities as well as allowing you to practice your faith or be a member of a political party, Sgt Dorian John says .
"You just have to understand that and it's people like us doing these things that can tell people what it is that the army offers and why they can see the army as a career or even just an adventure," he said.
Sgt John was born on the island of Dominica and joined the forces in 2003. He has been deployed to Afghanistan twice and Iraq once, and worked for a variety of army units. He says being a Muslim in the army has improved over the years, particularly with the publication of official guidance on Ramadan in 2010 to help his colleagues and superiors understand the fasting period and give instructions on how to treat soldiers partaking in Ramadan.
Measures include exempting soldiers from arduous physical activities, making time for prayer and access to one of the two army Imams for theological guidance.
Private Abubakarr Mahmoud is the first reservist to ever go on the pilgrimage trip, which has been running twice a year since 2016, covering both Hajj and Umrah. He praises the army's commitment to ensuring he can practice his faith, from pastoral support to a wide variety of halal meals provided to army bases across the globe.
"If you are a Muslim and you go on tour, a helicopter brings in the food I have to eat," he says.
"Also, the Imam is available. If I need any help or spiritual support, I can talk to him and he'll guide me through."
Favourite halal rations among those taking the Umrah journey include vegetarian tikka masala and lamb tagine, which are apparently so delicious that non-Muslim colleagues are trying to get hold of them.
"We still have a way to go in terms of the journey that we're on in terms of diversity and inclusion," said Major Naveed Muhammad MBE, who is organising the trip.
"But we're in a good place and, and hopefully with events like this and the guidance that we have, we're continuing on the correct trajectory."
https://www.thenational.ae/world/europe/saudi-arabia-s-military-invites-british-soldiers-to-make-pilgrimage-in-blessed-lands-1.859907
--------
Mideast
Iran cleric says US 'fleet can be destroyed with one missile'
10 May 2019
A senior Iranian cleric said in a Friday prayers sermon that the United States' navy fleet could be "destroyed with one missile," as a US aircraft carrier headed to the Gulf, the semi-official news agency ISNA reported.
The carrier Abraham Lincoln, deployed by US President Donald Trump's administration to the Middle East as a warning to Iran, passed through Egypt's Suez Canal on Thursday, the Suez Canal Authority said.
"Ayatollah Yousef Tabatabai-Nejad,... referring to the Abraham Lincoln warship heading to the Gulf, said: 'Their billion (-dollar) fleet can be destroyed with one missile,'" ISNA reported from the central city of Isfahan.
On Thursday, Secretary of State Mike Pompeo threatened a "swift and decisive" US response to any attack by Iran, in the latest of a series of escalating statements and actions.
"The regime in Tehran should understand that any attacks by them or their proxies of any identity against US interests or citizens will be answered with a swift and decisive US response," Pompeo said in a statement.
https://english.alarabiya.net/en/News/middle-east/2019/05/10/Iran-cleric-says-US-fleet-can-be-destroyed-with-one-missile-.html
--------
Iran reduces commitment to the nuclear deal amid increased U.S. pressure
By Dina Esfandiary
May 9, 2019
On Wednesday, one year after the U.S. announcement of withdrawal from the 2015 Joint Comprehensive Plan of Action (JCPOA) and the resumption of sanctions, Iranian President Hassan Rouhani announced that Iran would reduce its commitments but would not withdraw from the nuclear deal.
Iran's response was carefully calibrated and demonstrated considerable restraint. Highlighting Iran's continued commitment to the deal, Rouhani stated that Iran would give remaining parties to the deal 60 days to uphold their end of the bargain before Iran would be forced to walk away. The president's statement was reiterated in a letter sent by the Supreme National Security Council — a body that makes decisions based on consensus within the diplomatic and security circles — to the other states party to the nuclear deal.
Why Iran was boxed in
Iran's move was a response to a year of increasing struggles with renewed sanctions, a new set of U.S. sanctions and several provocative U.S. threats.
On April 8, President Trump designated Iran's Islamic Revolutionary Guard Corps as a foreign terrorist organization, increasing the risk of potential confrontation between U.S. troops and Iranian forces or proxies in the region. On April 21, the administration announced an end to waivers that allowed eight countries to purchase Iranian oil and funnel the money into escrow accounts to be used for the purchase of humanitarian goods. While countries may still be determining how to respond to this, Iran's oil shipments have tumbled. And each successive measure was accompanied by tough rhetoric and threats, calling on Iran to cease its nefarious activities and give in to Secretary of State Mike Pompeo's 12 demands. Importantly, last week, the administration framed a routine deployment of aircraft carriers, announced last month, to the Persian Gulf as intended to 'send a clear and unmistakable message' to Iran. This only serves to heighten tensions.
On May 3, the Trump administration revoked two waivers allowing Iran to ship excess heavy water to Oman and trade excess enriched uranium for low enriched uranium with other countries. This effectively limits Iran's ability to continue implementing its commitments under the deal. It also announced that waivers to continue the conversion of three Iranian facilities — Bushehr nuclear power plant, the Arak heavy water reactor, and the Fordow enrichment plant — would be renewed, for 90 days.
U.S. withdrawal from the nuclear deal and the ratcheting up of pressure made implementation of the deal difficult for the countries which remained committed to the JCPOA. They feared the United States would directly impose sanctions on anyone who dealt with Iran. This made them dependent on U.S. waivers allowing them to buy Iranian oil or continue working on the conversion of Iran's nuclear program, as per the terms of the deal. But over the past few weeks, Trump has progressively closed off all these avenues.
Iran had limited options
Iran had few options. Going back to the U.N. Security Council would run the risk of invoking 'snapback' sanctions, which would be universally applied and thus more effective and harmful than unilateral U.S. sanctions. It also did not want to simply walk away from the deal: Iranians and their officials suffer from nuclear fatigue, and few want to rehash this issue over and over again.
The Rouhani administration does not want to risk losing international support for their continued implementation of the deal. Iran has been highly pragmatic and strategic in its approach to keeping the deal alive. It understood that certain measures would immediately be viewed as 'significant violations' of the deal, inviting further sanctions, such as restricting access to their facilities by IAEA inspectors or resuming enrichment at the Fordow underground facility.
But it also couldn't sit by and continue to uphold its commitments under the deal, while the United States increased its effort to punish Iran. As a result, Iran reacted in a limited manner, and in direct reaction to the Trump administration's announcement that some nuclear waivers would not be renewed.
How Iran responded
Iran's announcement was a direct reaction to these new restrictions. Headlines suggesting that Iran had left the nuclear agreement were misguided. Rouhani said that Iran would no longer ship its excess low enriched uranium and heavy water abroad. This bought Iran some time — several months in fact — given that the February IAEA report stated that Iran had 124.8 metric tons of heavy water, well below the 130-ton cap, and 163.8 kilogram of uranium equivalent, also well below the 202.8 kg (equivalent to the 300 kg cap for low enriched uranium).
Rouhani gave other states party to the deal 60 days to facilitate the promised economic dividends of the deal for Iran, after which Tehran threatened to resume enrichment beyond 3.67 percent and construction at Arak. Iran chose the 60-day deadline because article 36 of the Iran deal states that the snapback mechanism and resumption of UN Security Council resolutions occur after 65 days, giving Iran an additional five days to consider whether to enact their threats should their terms not be met.
Importantly, both these measures are reversible and sit in the gray area of the Iran deal. As such, Tehran is not in breach of the deal. Rouhani was at pains to highlight this in his remarks, stating that Iran was 'diminishing its commitments' and not withdrawing from the deal. Neither measure puts Iran on the path to a nuclear weapon, but they slowly chip away at the constraints established by the 2015 nuclear deal. Iran also outlined a general road map to avoid a worsening of the situation in a letter to its European counterparts, which Secretary Pompeo referred to as 'intentionally ambiguous'. Tehran called on the remaining five countries party to the deal to help protect Iran's interests in oil and banking sectors.
Iran's announcement on scaling back its commitments isn't surprising. What is surprising is that it took Iran this long to announce it. Iran had been implementing the nuclear deal for the past year, but it continued to face increasing pressure from the United States. The Trump administration's 'maximum pressure' campaign denied — and continued to deny — Iran any benefits from the deal. That is what drove the leadership in Tehran to take these retaliatory steps.
Full report at:
https://www.washingtonpost.com/politics/2019/05/09/iran-reduces-commitment-nuclear-deal-amid-increased-pressure-us/?noredirect=on&utm_term=.6cbf927d24da
--------
Hezbollah blasts US over new Iran mining sanctions
9 May 2019
The parliamentary bloc of Lebanese terror group Hezbollah has blasted the United States over new sanctions it imposed on Iran, describing them as "unjustified."
The bloc said in a statement Thursday that the US move against Iran shows the Trump administration's "tyrannical and dictatorial trend."
Hezbollah, which is backed and armed by Iran and sees the destruction of Israel as its main mission, is represented in Lebanon's cabinet and parliament and has been under US sanctions for many years.
The group said in a statement Thursday that America's unilateral sanctions do not respect international laws, and that Washington "behaves in accordance with the law of the jungle."
It added that Iran had the power to defend itself.
The comments came a day after US President Donald Trump tightened the screws further on Iran with sanctions on its mining industry in response to a frustrated Tehran, which said it would suspend some promises it made under a 2015 nuclear deal rejected by Washington.
On Wednesday, Iran said it would immediately stop implementing some restrictions on its nuclear program set down in the 2015 deal — a move aimed largely at pressing Washington's European allies to step up to preserve the agreement.
Tehran said it would abandon even more restrictions if the remaining parties to the agreement — Britain, China, France, Germany and Russia — failed to start delivering on their commitments to sanctions relief within 60 days.
President Hassan Rouhani said the ultimatum was intended to rescue the nuclear deal from Trump, whose sanctions have caused severe pain in Iran — which had anticipated an economic boon from the agreement negotiated under then-US president Barack Obama.
Rouhani denounced European countries for seeing the US as the world's "sheriff" and said their view kept them from making "firm decisions for their own national interests."
Trump quickly fired back, imposing sanctions that would punish anyone who buys or trades the country's iron, steel, aluminum and copper.
The White House had already acted forcefully to prevent all countries from buying Iran's oil — its crucial money-maker — and said that the steel and mining sector was the country's second largest source of foreign revenue, accounting for 10 percent of exports.
"Tehran can expect further actions unless it fundamentally alters its conduct," Trump said in a statement Wednesday.
The tensions come on the anniversary of Trump's withdrawal from the 2015 accord he denounced as "horrible," and were highlighted earlier this week when the White House ordered an aircraft carrier strike group and nuclear-capable bombers to the region and accused Iran of planning "imminent" attacks against US forces.
On Thursday, the US Navy's aircraft carrier USS Abraham Lincoln, which leads the strike group, traversed the Suez Canal on its way to the Persian Gulf.
Full report at:
https://www.timesofisrael.com/hezbollah-blasts-us-over-new-iran-mining-sanctions/
--------
Houthi rebels are holding a 'floating bomb' oil tanker hostage off Yemen's coast
May 9, 2019
Houthi rebels are blocking UN access to an unmaintained oil tanker described as a "floating bomb" off of Yemen's Red Sea coast, which officials say is an environmental catastrophe waiting to happen.
The chief of the Iran-backed Houthi rebels is demanding a share of revenue from the sale of about one million barrels of oil aboard the FSO Safer.
The UN warned almost a month ago that the ship was at risk of exploding, possibly causing a disastrous oilspill in one of the world's busiest shipping lanes.
It is a dangerous bargaining chip worth tens of millions of dollars.
The Safer, once Yemen's main oil export facility, is a floating storage and offloading vessel moored about 50 kilometres north-west of Yemen's port city of Hodeidah, the entry point for most of the war-racked country's humanitarian aid and imports.
The Safer has had no maintenance since it fell under Houthi control in 2015, allowing explosive gases to build up in its storage tanks.
Experts and Yemeni ministers have been warning for more than a year that the vessel needs urgent maintenance, with a report by the US think tank the Atlantic Council calling it a floating bomb.
A rupture could unleash a catastrophe four times larger than the 1989 Exxon Valdez oilspill that poured 260,000 barrels of crude into Prince William Sound Alaska.
"Without maintenance, we fear that it will rupture or even explode, unleashing an environmental disaster," the UN's humanitarian chief Mark Lowcock told the Security Council on April 15.
Mr Lowcock said that Houthi approval to carry out an assessment of the vessel have been pending since last September.
In 1988, Yemen's national Safer Exploration and Production Operations Company (Sepoc) moored a former Japanese oil tanker 9km off the coast at Ras Isa, a Red Sea port, linking it by pipeline to the Marib oil field in central Yemen. Described by the company that installed it as the largest FSO system in the world, the Safer has a capacity of three million barrels of oil and until 2015 served as Yemen's main export route for light crude.
The ageing vessel is susceptible to corrosion and needs about $10 million (Dh3.6m) in annual maintenance.
Inert gas must be regularly injected into the storage tanks to prevent the accumulation of explosive gases. Without fuel to run its generators, this has not happened in years.
A stray spark, collision or sabotage attack could cause the vessel to explode.
In March last year, Yemeni Foreign Minister Abdulmalik Al Mekhlafi wrote to UN Secretary General Antonio Guterres, warning that the Safer was in a "bad and deteriorating situation" that threatened an "imminent environmental and humanitarian catastrophe".
On April 29, Col Turki Al Malki, spokesman for the Arab Coalition against the Houthis, warned that the Safer posed a serious risk of oilspill to the Red Sea.
The Houthis agree the vessel poses a threat but they have asked the UN to arrange the sale of oil so they can use the revenues to pay for fuel imports and public salaries.
The head of the Houthis' Supreme Revolutionary Committee, Mohammed Al Houthi, warned on Twitter on April 22 of the risk to the environment and marine transport posed by the Safer.
On April 30, he wrote: "We call on the UN and the Security Council to put in place a mechanism to sell Yemeni crude oil, including the oil in the Safer."
But a Yemeni oil expert told The National that the condition of the vessel meant it was now unlikely that it could safely offload the oil from where it is moored.
"The solution is to tow the Safer to Bahrain" where the vessel can be safely repaired, Yemeni economist Abdulwahed Al Obaly said.
Both Houthi and government areas of Yemen are suffering from a lack of fuel and cash, with 24.1 million Yemenis in need of aid and 13 million on the brink of famine.
The fuel aboard could be worth $80m at current prices.
"Fuel shortages in Yemen continue to add to the appalling humanitarian cost of the conflict," said Doug Weir, a director at the Conflict and Environment Observatory, which wrote a report into the environmental risks of the Safer.
"However, the use of the FSO Safer as a bargaining chip carries with it a serious risk of miscalculation.
"All of the indications suggest that it poses a grave and imminent threat to the marine environment, and it is critical for parties to the conflict to reach agreement on an independent UN-led assessment as a first step in mitigating the risks that it poses.
The UN contracted a company to carry out an initial technical assessment of the vessel last August, but this work is yet to be done. The UN did not respond to repeated requests for comment.
But the company contracted to carry out the assessment, Asia Offshore Solutions, said it hoped to begin work shortly.
"We've been waiting for the Hodeidah area to be safe enough for our people to go in," Petter Nilsen, the company's managing director, told The National.
The delays preventing the UN from accessing the ship also threaten to undermine the Hodeidah agreement, reached in Stockholm in December between the Yemeni government and the Houthis.
The two agreed to "a strengthened UN presence in the city of Hodeidah and Ports of Hodeidah, Salif and Ras Issa" and "committed to facilitate and support the work of the UN".
The oil aboard belongs to Yemen's Ministry of Oil. Even after an assessment is carried out, all parties would need to agree to a salvage operation.
"There's legal, technical, and business obstacles," Mr Al Obaly said. "They all need to agree on managing the insurance, what to do with the vessel and the oil, and they need to pay the company that would carry it out."
But a spill would cause untold environmental damage and the need for a clean-up that could cost $1 billion.
"We must empty the vessel as soon as possible," Mr Al Obaly said. "It could explode any time just because of the weather and the circumstances.
Full report at:
https://www.thenational.ae/world/mena/houthi-rebels-are-holding-a-floating-bomb-oil-tanker-hostage-off-yemen-s-coast-1.859601
--------
After Trump invite, Iran commander says: No talks with US
May 11, 2019
TEHRAN, Iran (AP) — A top commander in Iran's powerful Revolutionary Guard said Friday that Tehran will not talk with the United States, an Iranian news agency reported — a day after President Donald Trump said he'd like Iranian leaders to "call me."
The semi-official Tasnim news agency quoted Gen. Yadollah Javani as saying that "there will be no negotiations with America."
The Iranian commander also claimed the U.S. would not dare take military action against Iran but did not elaborate.
The verbal exchange comes as tensions escalate between Washington and Tehran. The Trump administration sent the aircraft carrier USS Abraham Lincoln and a bomber squadron to the region in response to unspecified threats by Iran against American interests. And on Wednesday, Iran threatened to renew some nuclear enrichment that had been halted under the 2015 nuclear deal with world powers — a year after Trump pulled America from the accord, saying it does nothing to stop Iran from developing missiles or destabilizing the Middle East.
But in a softer approach, Trump told reporters on Thursday at the White House: "What I would like to see with Iran, I would like to see them call me."
Shortly after Trump spoke, Secretary of State Mike Pompeo issued a written statement that reinforced Trump's tone. After repeating the administration's complaints about Iran, including what he called "40 years of killing American soldiers, attacking American facilities and taking American hostages," Pompeo appealed to "those in Tehran who see a path to a prosperous future" through modifying their government's behavior.
Iranian President Hassan Rouhani on Wednesday gave European leaders a 60-day deadline to find a way to shield Iran from U.S. sanctions targeting its economy and oil industry. Otherwise, he said Tehran would begin to enrich uranium at levels closer to weapons-grade levels.
The following day, the European Union urged Iran to respect the international agreement curbing the Islamic Republic's nuclear ambitions, and added that the bloc aims to continue trading with the country despite U.S. sanctions.
The Europeans insist the pact is an important pillar of regional and global security but have struggled to preserve the increasingly unravelling accord.
Iran's National Security Council spokesman Keyvan Khosravi was quoted Friday as saying that Iran stands firm to withdraw from the deal unless a beneficial agreement can be reached with the EU.
Thousands of Iranians rallied after Friday prayers in support of Iran's ultimatum, many chanting traditional anti-U.S. slogans of "Death to America" and "Death to Israel."
The demonstrators burned U.S. flags and some threw fake punches at a protester wearing a Trump costume mask.
The Trump administration has not offered specific details of the threat allegedly presented by Iran that prompted the U.S. to dispatch the aircraft carrier and B-52 bombers to the Mideast.
The B-52 bombers arrived at an American air base in Qatar, the U.S. Air Force acknowledged Friday. Images released by the U.S. Air Force's Central Command show B-52H Stratofortress bombers arriving at Al Udeid Air Base in Qatar on Thursday night.
Others landed at an undisclosed location Wednesday in "southwest Asia," the Air Force said. The U.S. military in the past has described its presence at both the Al Dhafra Air Base in the United Arab Emirates and Al Udeid as "southwest Asia."
The Air Force identified the aircraft as coming from the 20th Bomb Squadron of Barksdale Air Force Base in Louisiana.
Full report at:
https://www.apnews.com/2c52085b08354fcd80fe38402a42e50f
--------
Palestinian killed by Israeli fire in Gaza border clashes: ministry
10 May 2019
A Palestinian was killed by Israeli fire in new clashes on the Gaza border on Friday, the health ministry in the Hamas-ruled enclave said.
Abdullah Abd al-Aal, 24, was shot in the stomach on the border east of Rafah in the southern Gaza Strip, a ministry spokesman said, in the first protests there since a deadly flare-up last weekend.
Earlier, around 180,000 Muslims prayed at east Jerusalem's Al-Aqsa mosque compound, the first in the Friday during the holy Islamic month of Ramadan, a body responsible for the site said.
The figure from the Waqf organization is 50 percent higher than last year, when around 120,000 people attended the first Friday prayers.
Azzam al-Khatib, director general of Waqf, said the crowds reached the site "despite checkpoints and a large security presence".
The prayers ended without any major incident, he told AFP.
The site in Israeli-controlled east Jerusalem is the third holiest in Islam and has proved a flashpoint in the Israeli-Palestinian conflict.
An AFP photographer at the Qalandia checkpoint between Jerusalem and the West Bank saw thousands of Palestinians -- including elderly people in wheelchairs -- queueing to enter the city early Friday morning.
Coordination between Palestinian and Israeli authorities had improved at the checkpoint this year, the photographer said, making access to Jerusalem easier.
Israeli restrictions on Palestinians from the occupied West Bank are eased during the month of Ramadan, which began on Monday.
Men over the age of 40 and children under 12 will be allowed to enter the city on Fridays during Ramadan, while there are no restrictions on women, the Israeli army announced.
Full report at:
https://english.alarabiya.net/en/News/middle-east/2019/05/10/Palestinian-killed-by-Israeli-fire-in-Gaza-border-clashes-ministry-.html
--------
Trump envoy slams UN over 'tired talking points' on Israel
10 May 2019
President Donald Trump's Middle East envoy berated the UN Security Council on Thursday for "rehashing tired talking points" criticizing Israeli settlements and said an upcoming US peace plan would provide a fresh approach.
Jason Greenblatt told a council meeting that the United Nations was biased against Israel, choosing "the comfort of 700 paper resolutions" condemning Israel instead of confronting the "700 rockets" fired by Palestinian militants.
"It is time for a new approach," said Greenblatt, who is working with Trump's son-in-law Jared Kushner on an Israeli-Palestinian peace plan that is expected to be unveiled soon.
The council met for an informal meeting organized by Indonesia, a strong Palestinian supporter, about the expansion of Israeli settlements on occupied Palestinian land, which the United Nations considers illegal.
The Trump administration is expected to roll out the long-awaited plan, possibly as early as next month, but the Palestinians have already rejected it as heavily biased in favor of Israel.
Addressing the council, Palestinian Foreign Minister Riyad al-Maliki again voiced opposition to the US plan, which is expected to include economic development as a key component.
"This is not a peace plan but rather conditions for surrender and there is no amount of money that can make it acceptable," said Maliki.
Indonesian Foreign Minister Retno Marsudi described settlement construction as "unacceptable" and urged the council to take a firmer stance against Israel. "Inaction is not an option", she said.
But Greenblatt dismissed the view that the expansion of Jewish settlements was an impediment to Israeli-Palestinian peace and illegal under international law.
"Let's stop pretending that settlements are what is keeping the sides from a negotiated peaceful solution," said Greenblatt. "This farce and obsessive focus on one aspect of this complicated conflict helps no one."
He criticized the council for taking aim at Israel over the expansion of settlements but failing to condemn the Hamas movement and Islamic Jihad for firing rockets into Israel.
"Instead of seeking accountability for Hamas and Islamic Jihad... we are rehashing tired talking points, some 20 years old," he argued.
The soon-to-be-released peace plan "will be realistic and implementable", said Greenblatt, describing it as "the right package of compromises for both sides".
Full report at:
https://english.alarabiya.net/en/News/middle-east/2019/05/10/Trump-envoy-slams-UN-over-tired-talking-points-on-Israel.html
--------
Houthis announce redeployment from Yemen ports amid doubts by legitimate govt
10 May 2019
Yemen's Houthi militia will on Saturday start to unilaterally redeploy forces out of three key ports, the United Nations and a Houthi spokesman said, a move labeled as misleading by the Yemeni government, who accuse the militia of violating and stalling a ceasefire agreement.
The statement from the UN's Redeployment Coordination Committee (RCC) said the Houthis would make an "initial unilateral redeployment" between May 11 and May 14 from the ports of Saleef, which is used for grain, and Ras Isa, used for oil, as well as the country's main port of Hodeidah.
The withdrawal would begin on May 11 at 10 a.m. (0700 GMT), the head of the Houthis' Supreme Revolutionary Committee, Mohammed Ali al-Houthi, said on Twitter on Saturday.
The RCC committee, led by Danish Lieutenant General Michael Lollesgaard, head of the UN observer team in Hodeidah, drew up the redeployment plans under a pact agreed last December in Stockholm, Sweden, the first major breakthrough in peace efforts.
At Stockholm, it was hoped the redeployment would happen in January, but its implementation has repeatedly stalled on a lack of trust between both sides.
The Houthis have been accused of violating the ceasefire in the port city of Hodeidah 970 times since it came into force on December 18.
The UN mission will monitor the redeployment, a first step towards concluding the peace agreement, the UN statement said, adding that it must be followed by "the committed, transparent and sustained actions of the parties to fully deliver on their obligations."
The redeployment should allow the United Nations to take "a leading role in supporting the Red Sea Ports Corporation in managing the ports" and to enhance UN checks on cargoes.
The spokesman for the Yemeni government's delegation to the RCC, Sadiq Dweid, said on Twitter that a Houthi withdrawal is "the first step of the first stage. We support the implementation of the agreement."
Yemen's Information Minister Moammar al-Eryani criticized the Houthi offer to redeploy on Twitter, calling it "misleading" and unacceptable if it did not allow for "joint monitoring and verification" as stipulated by the December pact.
The Arab Coalition has reported that the Houthis use the ports to smuggle weapons. The Iran-aligned Houthis say the government would try to choke them off if it gained control.
Yemeni government representative Dweid said his side would hold the United Nations responsible for implementing the December pact "as agreed in terms of verification, monitoring, and the removal of mines, obstacles and military installations".
Full report at:
https://english.alarabiya.net/en/News/gulf/2019/05/10/UN-says-Houthis-to-redeploy-from-Yemen-ports.html
--------
Palestinian's death in Turkish prison raises questions on torture
10 May 2019
The recent death of Zaki Mubarak, a Palestinian man who died under suspicious conditions while in detention on espionage charges, has raised questions on others cases of torture and abuse, according to international reports.
Zaki Mubarak was arrested alongside another Palestinian in Turkey on charges of alleged espionage. 10 days after announcing his arrest, Turkish authorities announced that he had died from an apparent suicide.
Mubarak's family said they were skeptical of the suicide claims and called for an investigation into the matter.
Mubarak's sister told Al Arabiya that the family believes Turkish authorities are delaying the process of repatriating the body in order to conceal any traces of torture that may prove his murder.
According to several international organizations, Turkey is among the top countries accused of systematically failing to investigate allegations of torture in police custody.
Torture claims
In October 2016, Human Rights Watch published a report on Turkey's state of emergency, which was enacted that year after a failed coup attempt against the government, and how it removed protection against torture and ill-treatment of people under police custody.
Since the failed coup in 2016, the Turkish government has launched a crackdown against dissent and opposition members by firing more than 150,000 civil servants and arresting more than 50,000 civilians. At least 600,000 citizens have been investigated on terror-linked charges since then.
The Stockholm Center for Freedom (SCF), an advocacy organization that promotes the rule of law, democracy, and fundamental rights and freedoms with a special focus on Turkey, says that the true number of deaths under the extended emergency rule since July 2016 in Turkey is still unknown. However, it has documented at least 126 cases of suspicious deaths and suicides since 2016.
The most recent documented case was that of İbrahim Özyavuz, a young doctor who died in prison on the first day of 2018 from an apparent suicide. His family allege that he lost his life after he had been heavily tortured by police officers in pre-trial detention at the notorious Silivri Prison. The Özyavuz family said that they saw traces of heavy torture on their son's body when they retrieved him.
Mubarak also died at the same prison.
According to a 2017 report from the Office of the United Nations High Commissioner for Human Rights (OHCHR) on the impact of the state of emergency on human rights in Turkey, a number of police officers who refused to participate in arbitrary arrests, torture, and other repressive acts were dismissed and/or arrested on charges of supporting terrorism.
Prison overpopulation
The number of people in Turkish prisons have increased annually since the failed coup in 2016. That number increased by 15.7 percent in 2017, up to 232,000 compared to the previous year.
As of September 15, 2018, there were 246,426 prisoners in 449 prisons across the country with a capacity that can only hold up to 211,274 inmates, according to a report sent by Turkey's Justice Ministry to the Turkish Parliament.
"Thirty prisoners share a 12-person ward. Due to inadequate beds, detainees take turns sleeping. In some jails, there are beds on the floor in front of the bathroom entrance. The overcrowding is a significant issue in going out for social activities, meeting with psychologists, and for exercising one's rights," Berivan Korkut, an executive board member of Civil Society Association for Law Enforcement Systems (CISST) group told SCF.
Turkey has also been accused of arbitrarily arresting journalists in recent years. Advocacy group Reporters Without Borders ranked Turkey 157th out of 180 countries in its 2018 press freedom index.
Writing for Foreign Policy, Nate Schenkkan, the project director of the Nations in Transit publication at Freedom House, called the arrests of foreign journalists "hostage-taking" and "Turkey's new foreign policy."
Full report at:
https://english.alarabiya.net/en/features/2019/05/10/Palestinian-s-death-in-Turkish-jail-raises-questions-on-torture-prison-conditions.html
--------
UN says Yemen's Houthis agreed to begin Hudaydah withdrawal
May 11, 2019
The United Nations says Yemen's Houthi Ansarullah movement has agreed to unilaterally pull out its forces from three key ports over the next four days, a necessary step for the implementation of a ceasefire deal the warring sides reached in Sweden in December.
Lt. Gen. Michael Lollesgaard, who heads the Redeployment Coordination Committee (RCC), a UN mission to monitor the deal, said in a statement on Friday that the movement would make an "initial unilateral redeployment" of its forces from Yemen's three key ports of Hudaydah, Salif and Ras Isa between May 11 and May 14.
The movement, which has been significantly helping the Yemeni army against a Saudi-led military coalition for the past four years, and the country's former Saudi-backed government, led by ex-president Abd Rabbuh Mansur Hadi, signed a UN-brokered truce deal in Stockholm on December 13.
More than 70 percent of Yemen's imports used to pass through the docks of Hudaydah, a lifeline for the war-ravaged country's crippled economy. However, since June last year, forces of the United Arab Emirates, a significant ally of Saudi Arabia in its war against Yemen, and Hadi's militia have laid a tight siege to the city, which is under the control of Houthi fighters.
The redeployment of forces from the three port cities is a critical part of the ceasefire deal, aimed at averting a full-scale assault on Hudaydah, but has so far failed to materialize on the ground.
The statement said the redeployment must be followed by "the committed, transparent and sustained actions of the parties to fully deliver on their obligations."
It also stressed that the redeployment of forces should allow the UN to take "a leading role in supporting the Red Sea Ports Corporation in managing the ports" and to increase UN checks on cargoes.
Following the UN statement, the ex-president's information minister said in a twitter post that the report on the Houthis' redeployment offer "is inaccurate and misleading."
He claimed that the reported redeployment offer was "unacceptable" because a required joint monitoring and verification mechanism as stipulated in the December pact was not foreseen in the UN's Friday arrangement.
No response has been released yet either from the RCC or the Houthi Ansarullah movement, which has repeatedly complained about Saudi Arabia's repeated violation of the ceasefire in Hudaydah.
Leading a coalition of its allies, Saudi Arabia invaded Yemen in March 2015 in an attempt to reinstall Hadi, who had resigned amid popular discontent and fled to Riyadh, and to crush the Houthis.
The imposed war initially consisted of an aerial campaign, but was later coupled with a naval blockade and the deployment of ground mercenaries to Yemen. Furthermore, armed militia forces loyal to Hadi, in line with invaders, launch frequent attacks against Yemeni people in regions held by Houthis.
The aggression is estimated to have left 56,000 Yemenis dead.
The Saudi-led war has also taken a heavy toll on the country's infrastructure, destroying hospitals, schools, and factories. The UN has said that a record 22.2 million Yemenis are in dire need of food, including 8.4 million threatened by severe hunger. According to the world body, Yemen is suffering from the most severe famine in more than 100 years.
Full report at:
https://www.presstv.com/Detail/2019/05/11/595621/Yemen-UN-RCC-Hudaydah-Houthis-ceasefire-Hadi-Saudi-Arabia
--------
Pakistan
Death toll rises to 12 in Lahore Sufi shrine suicide attack
May 10, 2019
LAHORE: The death toll in the suicide attack targeting one of Pakistan's oldest and most revered Sufi shrines in Lahore rose to 12 on Friday as a police commando succumbed to his injures.
Ten people, including five police personnel, were killed when a suicide bomber blew himself up outside the Data Darbar shrine, the largest Sufi shrine in South Asia on Wednesday morning as the country marks the fasting month of Ramzan.
Elite force personnel Saddam Hussain succumbed to his injuries at the Mayo Hospital on Friday. Other three critically injured cops are battling for their lives at the Intensive Care Unit of Mayo Hospital, Lahore police spokesman Syed Mubashir said on Friday.
A CCTV footage showed a teenage boy wearing black shalwar kameez and a suicide vest coming closer to the vehicle of elite force beforing blowing himself up.
Punjab Inspector General of Police Arif Nawaz said it was a suicide attack as the target was the vehicle of the elite force that was stationed outside the shrine of Sufi saint Ali Hajvari commonly known as Data Darbar.
"Police was the target. 100 per cent," he said.
Mubashir said the police have arrested four suspects with the help of CCTV cameras in the city.
The rickshaw used to transport the suicide bomber to the shrine has been identified, he added.
The CCTV footage shows the rickshaw driver approached the bomber as the latter emerged from Garhi Shahu area, some seven kilometres from the shrine.
Prime Minister Imran Khan condemned the attack which came on the second day of Muslim holy month of Ramazan and has directed the Punjab government to provide all assistance to the injured and families of victims.
Punjab Chief Minister Usman Buzdar has ordered an inquiry into the attack.
The shrine is visited by hundreds of thousands of people each year. In 2010, the heavily-guarded shrine was targeted in a suicide attack that killed more than 40 people.
Police also confirmed that Hizbul Ahrar had claimed responsibility for sending the teenage suicide bomber to the shrine.
The Counter Terrorism Department (CTD) of Punjab has examined the records of three terror groups, including the Ghazi Force and Jamaatul Ahrar.
Hizbul Ahrar is a splinter group of Jamaatul Ahrar headed by Muqarram Shah from Afghanistan. It separated from Jamaatul Ahrar due to internal rifts.
It started operating separately to target primarily the law enforcement agencies in various parts of Pakistan, the police said, adding the CTD is also following other leads, like the possibility of the involvement of Islamic State terror group.
https://timesofindia.indiatimes.com/world/pakistan/death-toll-rises-to-12-in-lahore-sufi-shrine-suicide-attack/articleshow/69272339.cms
--------
PTI govt, opposition in rare unison over Fata bill
Syed Irfan Raza
May 11, 2019
ISLAMABAD: The government and the opposition on Friday reached a consensus for the passage of 26th Constitutional Amendment Bill seeking an increase in the number of seats for the erstwhile Federally Administered Tribal Areas (Fata) in the National Assembly and Khyber Pakhtunkhwa Assembly.
Members on treasury and opposition benches agreed to pass the bill with a two-thirds majority in the NA session which will also be attended by Prime Minister Imran Khan.
Despite exchange of some harsh words, treasury and opposition members supported the bill during a debate asking each other to show unity to resolve this and other important issues.
Introduced by lawmaker Mohsin Dawar from erstwhile Fata on Thursday, the bill was not passed the same day when the opposition refused to vote without having a thorough debate on it.
On Friday, Defence Minister Pervez Khattak's remarks sparked a controversy when he called NA Speaker Asad Qaisar "our speaker" and said "when you [the opposition] will create a hue and cry on the speaker's dais, members of treasury benches could come to the rescue of the speaker and that may cause a physical clash". However, the speaker later expunged the words "our speaker" on the concerns shown by Pakistan Peoples Party leader and ex-prime minister Raja Pervaiz Ashraf and said: "I am speaker of the house and do not belong to only those on treasury benches."
Extending olive branch to the opposition, Mr Khattak in his initial part of speech said the opposition gave a "good" response to the constitutional amendment bill. "Let us sit together to work jointly for better future of people of Pakistan," he said.
The minister said the government wanted to end a sense of deprivation prevailing among the people of erstwhile Fata by providing them basic facilities of health, education, banks and courts.
He said some Rs100 billion would be spent on erstwhile Fata each year for 10 years. "Of Rs100 billion, a sum of Rs30 billion will be given to the elected representatives under local government system so that they could spend funds at village level," he added.
The defence minister said people of the erstwhile Fata who had protected the country's borders in the past would be able to take part in Pakistan's growth as well after Fata's merger.
Mr Khattak said Fata had 12 seats in the National Assembly and 16 in the provincial assembly of KP before the merger. "The NA seats for Fata members will remain same (12) and in provincial they will be increased from 16 to 24 under the bill," he added.
He expressed the hope that treasury and opposition members would pass the bill with a two-thirds majority on Monday, giving a clear message to the people of tribal districts that nobody would be allowed to deprive them of their due rights.
The Election Commission of Pakistan (ECP) also recently issued a schedule for polling in Fata on KP Assembly seats on July 2. By the end of May, the ECP will issue election symbols to candidates.
Earlier, Pakistan Muslim League-Nawaz (PML-N) leader Khawaja Asif in an emotional speech suggested to the house to resolve some other important issues as well besides Fata reforms through consensus.
About the problems being faced by people of the tribal areas, he said the people of Fata had suffered the impact of being on the frontlines of the 18-year-long Afghan war against terrorism. "After 2000, the Afghan war was not Pakistan's war and even after 18 years of war in Afghanistan, the US has not been able to win it," he added.
Mr Asif indirectly criticised former president Gen Pervez Musharraf's policies and said: "An individual sold country's freedom for the sake of his own rule."
The former defence minister said the people of Fata were fighting terrorism on the one hand and were hit by drone strikes on the other. Even their weddings and funerals were hit, he said.
He said the people of erstwhile Fata be granted special privileges till the completion of work on the 10-year development plan in their areas. He said the country owed a lot to the people of Fata and they must be provided the same rights and facilities which were enjoyed by the people in other parts of the country.
Criticising the US drone attacks in tribal areas in the past, Mr Asif said: "This house will have to make sure that we are not the tools of some super power."
Minister for Religious Affairs Noorul Haq Qadri said the bill had been finalised after consultation with all political parties in parliament.
He said the number of seats of Fata members in KP assembly would be increased from 16 to 24 according to the bill. He thanked the leadership of the Pakistan Peoples Party, Pakistan Muslim League-Nawaz and other opposition parties for supporting the bill. "We are all on the same page," he claimed.
Minister for States and Frontier Regions (Safron) Shehryar Afridi said the maturity exhibited by the opposition and treasury benchers on the bill would be remembered for a long time. He expressed the hope that no federating unit would oppose any facility being extended to the people of erstwhile Fata.
Ghaus Bakhsh Meher demanded that the number of seats of public representatives promised under the bill in National Assembly and provincial assembly of the KP should be increased after census in the tribal areas.
MNAs of the tribal districts hailed the opposition and treasury lawmakers for their support and expressed confidence that the problems and hardships being faced by the people of tribal districts would be addressed on a priority basis.
Legislator Ali Wazir said security operations conducted in Fata and from Afghanistan had adversely hit the people of erstwhile Fata. "People of Fata have been suffering from wars since colonial rule till today," he added.
Another lawmaker Sajid Mohmand expressed the hope that like the opposition-government agreement on the passage of the bill, the opposition would not oppose provision of funds to erstwhile Fata under National Finance Commission (NFC) award.
Full report at:
https://www.dawn.com/news/1481548/pti-govt-opposition-in-rare-unison-over-fata-bill
--------
PM assures people tough times will be over soon
Aamir Yasin
May 11, 2019
RAWALPINDI: While admitting that people are faced with high inflation and increased power and gas tariffs in the country, Prime Minister Imran Khan on Friday held 'wrong economic policies' of the past governments responsible for the situation.
But tough times would be over soon as the government was fixing the entire system, Mr Khan assured the nation while addressing a ceremony to re-launch Mother and Child Hospital and Nursing Training Centre.
The PM explained that the government had to increase the gas and electricity tariffs to manage things. "Why do prices rise, I want to explain this to you. It is because power and gas sectors are indebted," he said, adding that there were only two ways to tackle the debt: either to take more loans or increase the price of commodities.
Mr Khan said nations experienced ups and downs in their journeys. "Once the system is rectified, you will realise how blessed your country is. Be assured, tough days will be over... Pakistan will sail through difficult times and will emerge as a great nation," he reiterated.
He asked the people to wait for some time as the government was working to improve the economic condition. Provision of basic facilities and resolving common people's problems were the fundamental responsibility of the government, he said.
Mr Khan said the government was working to improve existing health facilities and establish new hospitals where needed. He said the government was committed to giving better healthcare facilities to the less privileged.
Praising the dedication of federal Railways Minister Sheikh Rashid Ahmed, PM Khan said work on the construction of the Mother and Child Hospital had been pending since 2005 and his railways minister got the work resumed.
The PM recalled the government had launched health insurance plan under which a family would get medical treatment at private or government hospitals for up to Rs720,000 charges. He said the government also started Ehsas programme to provide shelter homes to those without shelter.
Mr Khan said the government would start extending loan facility to the youth to encourage them to run their own businesses. He said goats, hens and cattle would be provided to poor families in villages.
He said the government was working on Naya Pakistan housing scheme to provide affordable living to the people. He said that a survey was being conducted to find the people who could not afford to construct house for themselves.
Earlier, Punjab Chief Minister Usman Buzdar said Rs157 billion had been provided for 473 development projects in Rawalpindi division. He said Sehat Insaf Card scheme would also be introduced in Rawalpindi soon. He explained that a health card scheme had been launched in 18 districts of Punjab benefiting around 35 million people.
"The PTI government has the honour to introduce state-of-the-art projects including the gynae hospital under the leadership of Prime Minister Imran Khan," he said.
He said the cabinet had accorded approval to upgrade the Rawalpindi Institute of Cardiology as a cardiac and vascular diseases centre. Patients suffering from cardiac as well as paralysis diseases would benefit from the latest treatment facilities, he explained.
He said a ring road and a signal-free expressway would be constructed in Rawalpindi at the cost of Rs45billion and Rs70 billion, respectively. Besides, the Parks and Horticulture Authority was working on different projects to restore the original grandeur of Rawalpindi, he added.
Full report at:
https://www.dawn.com/news/1481576/pm-assures-people-tough-times-will-be-over-soon
--------
India
Militant From group inspired by ISIS Killed
May 11, 2019
A militant from an Islamic State-inspired group was killed in a gun battle with security forces in south Kashmir's Shopian district on Friday, police officials said.
The slain militant, identified as Ishfaq Ahmad Sofi alias Umar, belonged to the Islamic State of Jammu and Kashmir (ISJK), police claimed.
So far, the central government and security agencies have maintained that there is no connection between ISJK and the terror outfit, Islamic State that operates in Iraq and Syria. In February, Union minister, Hansraj Gangaram Ahir, had said in a written reply in Lok Sabha that "seven local youths have joined ISJK through "self-proclamation". Of these, four terrorists were killed on June 22, 2018 at Anantnag, two were held and one is currently active in the Valley".
"He [Sofi] died as a member of ISJK. We can't say [whether] he was the last member of the group [or not]," said Atul Kumar Goel, deputy inspector general of police, south Kashmir.
The gun battle took place at Ram Nagri area of Herpora in south Kashmir's Shopian, police said. Incriminating material, including arms and ammunition, was recovered from Sofi. A resident of Sopore, Sofi was trapped in a hideout in Ram Nagri after security forces launched an operation based on intelligence input. "During the search operation, the terrorists...fired on the search party. It was retaliated... the terrorist was killed," said a police spokesman.
https://www.hindustantimes.com/india-news/militant-from-group-inspired-by-isis-killed/story-bN3VmPu6X67cBLhKOStYGJ.html
--------
ISJK terrorist killed in Jammu and Kashmir encounter, arms stash recovered
May 10, 2019
SRINAGAR: Ishfaq Ahmad Sofi, a top commander of Islamic State Jammu and Kashmir (ISJK) — an IS-inspired module in Kashmir Valley — was killed during an anti-insurgency operation in Amshipura area of south Kashmir's Shopian district early on Friday. Security forces recovered a huge cache of arms and ammunition and other incriminating evidence stashed in his hideout.
Acting on intelligence inputs, security forces had launched a cordon-and-search operation at Ram Nagri area of Shopian's Herpora region when holed-in terrorists opened fire at the search party. Sofi was killed in the ensuing gunfight. His body was recovered from the scene of the encounter.
A resident of Sopore in Baramulla district, Sofi was a wanted terrorist and involved in the Safa Kadal and Soura grenade attacks in Srinagar, police said.
"Sofi had a long history of crime records and was initially affiliated with proscribed terror outfit Harkat-ul-Mujahideen. He and his associates carried out a series of crimes including grenade attacks on CRPF bunkers at Safa Kadal, Soura and the Khanyar police station. He was also involved in multiple attacks on security establishments in the area and civilian atrocities," said a police spokesperson.
As per police records, Sofi was arrested earlier and released on bail after getting recycled. However, he joined militancy again in 2018 and went back to planning and executing attacks, said the spokesperson.
A spontaneous shutdown was observed by "sympathisers" in several parts of Sopore in protest against Sofi's killing. Shops and other business establishments remained closed, while public transport was off the roads.
Full report at:
https://timesofindia.indiatimes.com/india/isjk-terrorist-killed-in-jammu-and-kashmir-encounter-arms-stash-recovered/articleshow/69274455.cms
--------
India, UK vow to boost cooperation in maritime security, counter-terrorism
May 10, 2019
NEW DELHI: India and the UK on Friday resolved to step up cooperation in the key areas of maritime security, counter-terrorism and climate change as the two countries held their foreign office consultations to review the entire range of bilateral relations.
Foreign secretary Vijay Gokhale represented the Indian side, while the UK side was headed by Sir Simon McDonald, Permanent Under Secretary, Foreign and Commonwealth Office of the UK government.
The consultations provided an opportunity to review the entire range of bilateral relations, including political, economic, commercial, scientific, regional and international cooperation, including in the Commonwealth, the Ministry of External Affairs (MEA) said in a statement.
They expressed satisfaction on the level of political exchanges and decided to further intensify them in the coming months.
Both sides agreed to increase their collaboration in the fields of Indo-Pacific, disaster resilience, climate change and development in third countries, amongst other areas.
The instrument of ratification of the UK joining the International Solar Alliance was formally handed over during the consultations.
Over the past year, the two countries have identified specific areas to work together as a force for good, for example on a global coalition on climate resilience, disaster relief and development, the British High Commission said in a statement.
Bilateral trade has grown by 14 per cent, and visas for Indian students have increased by 35 per cent, it said.
"The UK-India relationship is focused on the future: whether it be through the technology partnership, security collaboration or economic ties, our bilateral cooperation is designed to build shared prosperity and tackle future challenges. It has been 12 months of impressive progress since the Commonwealth Summit," Simon said.
He said over the next decade, the UK and India will be ever more central players in global debates on security, development and protecting the planet.
"I'm delighted that, together, we are tackling these issues head on as partners -- reinforcing our two prime ministers' desire to act as a joint 'Force for Good' in the world," he said.
The FCO consultations also covered bilateral cooperation on cyber and maritime security, counter-terrorism, and other regional challenges, the British High Commission said.
Full report at:
https://timesofindia.indiatimes.com/india/india-uk-vow-to-boost-cooperation-in-maritime-security-counter-terrorism/articleshow/69272030.cms
--------
South Asia
Taliban Open New Front Against Aid Workers While Talking Peace
By Thomas Gibbons-Neff and Rod Nordland
May 9, 2019
KABUL, Afghanistan — As the Taliban opened a new front this week in the Afghan war by attacking American-backed aid organizations in Kabul, negotiators for the group and the United States were meeting in the latest round of talks on ending the war.
The Taliban has struck aid organizations sparingly in the past, making the attacks on Wednesday at the offices of CARE and Counterpart International even more stark. At least nine people were killed and 20 others wounded, Afghan officials confirmed. The death toll was nearly double initial reports.
A Taliban spokesman, Zabihullah Mujahid, was quick to claim responsibility for the attack and to offer an explanation on Twitter: Counterpart International, which works largely on civic engagement projects, is American led and is financed primarily by the United States Agency for International Development.
But neither Taliban nor American negotiators commented on the inherent contradiction in talking peace while attacking civilian targets. The Taliban had rejected pleas by the Afghan government and the Americans for a cease-fire during Ramadan, but they had promised to avoid civilian targets during the holy month.
The blast on Wednesday from a vehicle packed with explosives ripped off the gate of Counterpart's compound and scarred much of the city block. Among the dead were three Afghans who worked in the nearby offices of the American aid group CARE, which first established a presence in Afghanistan in 1961 and is one of the oldest humanitarian organizations in the country.
Aid groups, the Afghan government and the American ambassador in Kabul, John R. Bass, criticized the attack, but the lead American negotiator, Zalmay Khalilzad, has remained silent. The most recent post on his Twitter feed, on Tuesday, described the food he had eaten on a recent trip to India. He did not mention the talks or the bombing.
A spokesman for the Taliban's negotiating team, Suhail Shaheen, said Mr. Khalilzad returned Monday to Doha, Qatar, where a sixth round of talks concluded on Thursday.
The Taliban was unusually harsh in its rhetoric toward the main target of the attack, Counterpart International. The Taliban spokesman, Mr. Mujahid, said the group employed foreign advisers who engaged in "various aspects of brutality, oppression, terror, anti-Islamic ideology and promotion of Western culture." It also criticized the group for allowing male and female staff to intermingle.
Although the car bomb breached the outer wall and gate of Counterpart's compound and four attackers entered its buildings, none of its staff were killed, the group said; many had taken refuge in safe rooms. The attackers were killed by Afghan security forces; an elite police officer was among the dead.
One Counterpart employee, who declined to give his name, said that the attackers at one point appeared to try to talk the employees into opening a safe room door. "We didn't because when there is a big attack you can't trust people, you don't know who is friend and who is enemy," he said.
A logistics company across the street, RBT, was also damaged by the blast, and its guard outside was killed, according to an employee, Masihullah Malikzai. Nine others there were wounded. "I feel so hopeless," Mr. Malikzai said. "Everyone leaves Afghanistan because they feel the government can't protect us."
The initial blast killed three CARE employees at their offices, including a security guard, Safiullah Ebadi; a driver, Mohammad Waqif; and a technical adviser on education, Mohammad Asif Frotan, CARE said in a statement released late Wednesday from Atlanta, its American headquarters.
Mr. Ebadi had just bought land for his family, with hopes to build a house. Mr. Waqif had worked for CARE for 22 years. Mr. Frotan left behind six children.
"This attack reflects the increasing dangers of humanitarian work in conflict-affected countries such as Afghanistan and the unfortunate daily reality of violence for many Afghan families," the organization said.
The American and Taliban negotiators have reached a preliminary agreement on the withdrawal of American troops from Afghanistan in exchange for a Taliban promise to end its alliance with extremist groups like Al Qaeda, but Mr. Khalilzad has been unable to persuade the group to accept a cease-fire or talks with the Afghan government.
The Taliban has refused to talk with the Afghan government, dismissing it as a puppet regime controlled by the Americans.
https://www.nytimes.com/2019/05/09/world/asia/taliban-afghanistan-attack.html
--------
Sixth round of Taliban-U.S. peace talks end
MAY 9, 2019
KABUL (Reuters) - U.S. and Taliban negotiators wrapped up their sixth round of peace talks on Thursday with "some progress" made on a draft agreement for when foreign troops might withdraw from Afghanistan, a Taliban official said.
The talks, in which the United States has also sought assurances the Taliban will not allow militant groups to use Afghanistan to stage attacks, began on April 30 in Qatar's capital Doha.
About 17,000 foreign troops are based in Afghanistan as part of a U.S.-led NATO mission to help local forces.
The United States has been pushing the Taliban to agree to a ceasefire and to talk with Afghanistan's government, which the militant group considers a U.S. puppet regime.
"The 6th round of talks ... ended, with some progress made on the draft agreement prepared in the last round of talks," tweeted Muhammad Sohail Shaheen, spokesman for the Taliban's political office in Doha
"In general, this round was positive and constructive. Both sides listened to each other with care and patience," he added.
The negotiations included the Taliban's political chief Mullah Abdul Ghani Baradar and a U.S. team led by special envoy Zalmay Khalilzad.
Khalilzad, an Afghan-born veteran U.S. diplomat, had suggested that the warring sides should declare a ceasefire as part of an effort to end the nearly 18-year war.
But the Taliban rejected Khalilzad's offer and have continued attacks on government buildings and offices of foreign organizations.
On Wednesday, a Taliban attack on a U.S.-based aid group in Kabul killed at least nine people as members of the hardline Islamist group set off a huge explosion and battled security forces for over six hours.
Full report at:
https://www.reuters.com/article/us-usa-afghanistan-talks/sixth-round-of-taliban-u-s-talks-end-in-qatar-taliban-official-idUSKCN1SF1PR
--------
7 security forces, 34 militants killed in N. Afghanistan
2019-05-09
SHIBERGHAN, Afghanistan, May 9 (Xinhua) -- Seven government security forces and 34 Taliban militants have been killed and 31 militants wounded in clashes in Afghanistan's northern province of Jawzjan since early Tuesday, an official said Thursday.
In one incident, the Taliban attacked a security checkpoint in Aqcha district of the province, but the clashes left 27 members of the group dead and 20 others wounded, Fraidoon Aniq, the provincial government spokesman, told Xinhua.
Those among the killed was Khairullah, the Taliban deputy shadow governor for Jawzjan, he said.
In the neighboring Qush Tepa district, seven Taliban militants have been reported dead and 11 others wounded during a clash between the militants and security forces, said the spokesman.
The source also confirmed the death of seven security force members during the two-day clashes.
Jawzjan has long been the scene of heavy clashes between Taliban and security forces.
Full report at:
http://www.xinhuanet.com/english/2019-05/09/c_138046034.htm
--------
Don't allow mosques to promote hatred; submit recordings of sermons: Sri Lanka govt
May 10, 2019
COLOMBO: The Sri Lankan government on Friday said the trustees of all the mosques in the country should not engage in or allow any gathering to promote or propagate hatred and also directed them to send the audio recordings of the sermons to authorities.
The government's move came after security forces recovered swords and other weapons from mosques during search operations following the April 21 bomb blasts in which over 250 people, including 44 foreigners 10 of whom were Indians, were killed and 500 others injured.
All trustees of Mosques should not engage in or permit any gathering to promote or propagate hatred or extremism in any form, doing so will result in the Board of Trustees being held fully responsible under may laws including the Penal Code, according to a statement issued by the Ministry of Muslim Religious Affairs.
"In view of the prevailing situation in the country, the Trustees are directed hereby to send audio records all sermons of Jumma (Friday) or otherwise on their Masjids and to forward them to the ministry," said the statement signed by Muslim religious affairs minister M H A Haleem.
Muslim theologists and civil society organizations have warned radicalisation of Muslims with support from mosques in some places, particularly in the island nation's eastern province.
Nine suicide bombers carried out a series of devastating blasts that tore through three churches and as many luxury hotels on April 21.
The ISIS terror group claimed the attacks, but the government blamed the local Islamist extremist group National Thawheed Jammath (NTJ) for the bombings. The victims included over 40 foreigners, 10 of whom were Indians.
Mohamed Cassim Zahran, the mastermind of the blasts and NTJ leader, was running his own mosque in the eastern Kathankudi region, police said, adding that his extreme religious sermons had attracted followers.
Two weeks ago, Zahran's family members committed suicide by triggering a blast at a safe house in Sainthamuruthu area of Kathankudi following a gun-battle with the security forces.
Full report at:
https://timesofindia.indiatimes.com/world/south-asia/dont-allow-mosques-to-promote-hatred-submit-recordings-of-sermons-sri-lanka-govt/articleshow/69271541.cms
--------
Sri Lankan court orders DNA test to verify death of Easter bombings mastermind
May 10, 2019
COLOMBO: A Sri Lankan court has ordered a DNA test before May 15 to verify the death of Mohamed Cassim Zahran, the ring leader of the local Islamist extremist group NTJ which the government blamed carried out the devastating Easter Sunday bombings killing over 250 people.
Zahran, the mastermind behind the Easter blasts, led the attack on the Shangri-La hotel and was accompanied by a second bomber identified as Ilham Ahmed Ibrahim. He was killed inside the hotel where he blew himself up.
The Colombo Fort Magistrate also ordered the Deoxyribo Nucleic Acid (DNA) verification of Ibrahim, the second bomber.
Nine suicide bombers carried out a series of devastating blasts that tore through three churches and as many luxury hotels on April 21, killing more than 250 people and injuring 500 others.
The Islamic state terror group claimed the attacks, but the government blamed the local Islamist extremist group National Thawheed Jammath (NTJ) for the bombings. The victims included over 40 foreigners, 10 of whom were Indians.
The court gave the order under which Zahran's sister Madaniya would be subjected to a DNA verification, the police said.
She is currently in custody at the eastern town of Batticaloa prison.
The test will be performed before May 15, according to the magisterial order.
Zahran was one of the two suicide bombers at the Shangri La Hotel where 36 people including 12 foreigners died.
The hotel's CCTV footage showed two bombers with heavy back packs arriving at the hotel's restaurant on the third floor.
The court has also ordered Government Analyst's reports on seven vehicles believed to have been used by the ISIS linked group to carry out the deadly attacks which killed 258 and injured nearly 500.
The booking at the Shangri La hotel for the two bombers was done by Insaf Ibrahim, the brother of Ilham. Insaf himself was the suicide bomber at the Cinnamon Grand Hotel.
The police said that at least three police officers have been questioned on the arrest and the subsequent release on bail of at least nine employees of Ibrahim.
They worked in the copper factory owned by Insaf.
The police said that an investigation was launched to ascertain if any mistakes were committed by the police in filing charges against them, leading to the magistrate to grant bail to the employees.
For suspects held under the tough Prevention of Terrorism Act, no bail is given.
The government invoked counter-terrorism regulations under the state of emergency, enabling the law enforcement to carry out investigations into the suicide bombings and the Jihadist group's activities including its ISIS connections.
Over 100 people are already in custody in connection with the bombings.
Full report at:
https://timesofindia.indiatimes.com/world/south-asia/sri-lankan-court-orders-dna-test-to-verify-death-of-easter-bombings-mastermind/articleshow/69268793.cms
--------
What Bangladesh would gain from normalizing relations with Israel?
May 11, 2019
Anand Sharma
After decades of Israel-bashing, which actually is a regular habit and tendency of terror-patron Iran, a number of moderate Muslim nations now coming to their sense? Recently, Saudi Crown Prince Mohammed Bin Salman has signaled of normalizing relations with the Jewish State and he even went further saying, it is Palestinian Arabs who are actually trying to obstruct the process of peace in that part of the world. Reason behind Palestinian Arab's tendency of keeping hostility alive is, the leaders from Hamas and Fatah actually are enjoying personal luxuries at the cost of their people. But, they also are blackmailing the Arab and Muslim nations with the false slogan of Muslim solidarity by imposing Israel-bashing on most of those nations. This is what exactly a terror-patron Iran wants. There even is possibility that Iran actually is providing fund and other "logistics" to few of the top brasses in Hamas and Fatah in keeping the Muslim nations into their anti-Israel bloc.
Recently, Rami Dabbas, a Jordanian-born journalist in an article wrote, "As an Arab activist and writer, I call on the Arab world to normalize relations with Israel, a move that would be almost entirely to our benefit alone. Israel will gain very little from this in practical terms, while Arabs stand to gain tremendously. The state of Israel is stronger and more stable than the Arab states on almost all fronts. If all borders were wide open in Arab states, few if any Israelis at all would flee Tel Aviv for Arab cities, but you would certainly see a flow of people in the opposite direction for the very same reason that multitudes of Arabs seek to emigrate to Europe".
On the State of Palestine, Mr. Dabbas wrote, "The Arabs are the original occupiers, and have no right to deny the return of the Jewish nation. And that is why I call for normalization: for the recognition of the right of the Jews to exercise sovereignty in their ancestral lands. We Arabs came from the Hijaz, Najd and Yemen. We occupied this land and made it Arab. Some of the Syriac and Aramaic words we still use today, as well as the recorded names of settlements uncovered in archaeological digs. This demonstrates the proof that we are not the original inhabitants here. It is time to solve this conflict, and that begins with us, the Arabs, accepting the Jewish people's true historical connection to this land. We have everything to gain from so doing".
I do agree with Rami Dabbas who said, the main reason Arab countries resist normalization with Israel is their mindset of rejecting Western civilization. The Jewish State is a civilized and democratic country like those Western nations – even in some cases more so. Arabs have been raised to detest such brand of civilization. If we closely look into the Muslim nations, both Arab and non-Arab, who are either engaged into Israel-bashing or considering the Jewish State as an "enemy nation" often to not truly understand what they actually are protesting or doing. On the one hand, they want to be benefited from the Westerners and even Israeli civilization but then reject the existence of the State of Israel.
It is globally accepted that the Israeli scientific research is often ahead of what's coming out of Europe and America. Should there be relations between Dhaka and Jerusalem, Bangladesh will immensely benefit in boosting its agro productions by using Israeli agro-tech. At the same time, Bangladesh also can resolve the existing electricity shortage by joining hands with Israeli technology companies.
Bangladesh is one of 29 UN member states that does not recognize the state of Israel. It is one of several countries that officially bans its citizens from traveling to Israel and does not accept Israeli passports. In November 2003, Bangladeshi journalist Salah Uddin Shoaib Choudhury was arrested for attempting to fly to Tel Aviv, arraigned for "sedition, treason, and blasphemy", and sentenced to a seven-year prison term. Bangladesh officially supports a sovereign Palestinian state and an end to Israel's illegal occupation of Palestine.
In a September 2011 statement published in the Jerusalem Post, an Israeli government spokesperson said, "We have no conflict with Bangladesh. We want dialogue. We want people-to-people relations. We welcome the religious-minded people of Bangladesh to visit the holy land of Jerusalem". Israel fruitlessly "sought a relationship with Bangladesh" after they had established "full diplomatic relations with China and India in 1992".
Bangladesh maintains a ban on trade with Israel even though both countries are members of the World Trade Organization. In 2014, it was found from the official statistics of the Bangladesh Export Promotion Bureau that Bangladesh had exported a small amount of merchandise goods worth about US$2,577 to Israel in 2013–14 fiscal year. In recent years however, it is found that Bangladeshi products are exported to Israel through USA or European Union or other third countries.
But according to Dhaka's largest vernacular daily the Prothom Alo, Export Promotion Bureau of Bangladesh (EPB) data shows that in FY12-13 Bangladesh has exported goods worth about $ 22,435 to Israel while in FY11-12 the amount was $ 8,364. The maximum amount of exports took place in FY11 when export earning fetched $ 30,545. And in FY9-10, the amount was US $17,861.
During these years under review, Bangladesh mainly exported apparel, knit and textile products to Israel. Besides garments items some ceramic items were also exported.
Israel's foreign trade official statistics also showed that the country is importing goods from Bangladesh. According to the respective website, the country has imported $ 17,571 and $ 26,558 in 2012 and 2013 respectively.
EPB officials said that there are two ways to export goods to Israel. One is few individual's direct export. Other way is, by notifying party.
An official of the EPB tried to explain it in following way: a Bangladeshi is exporting to UK. The UK importer is the consignee. The consignee asked the exporter to make shipment of partial goods to a firm or individual in Israel. The Israeli party becomes a notifying party. And goods send to Israel turn it an export to the country.
According to business analysts, the volume of export of Bangladeshi goods to Israel would increase many folds once there are economic relations between the two countries. In this case, analysts are suggesting Dhaka of adopting the same policy it had earlier adopted for opening economic cooperation between Bangladesh and Taiwan.
Achievement of Israeli medical science:
Recently Israeli scientists have invented medicines for cancer, blood pressure and diabetes, which would be of great interest to the people of Bangladesh. Particularly the invention of oral insulin by an Israeli company which would substitute the injection insulin of the diabetes patients would not only help the patients from getting rid of daily physical pains, but it also will help Bangladesh in saving millions of dollars each month. According to statistics, more 35 million Bangladeshis currently are suffering from diabetes and a large segment of these patients are dependant of injection insulin. Israeli biomedical scientists also have invented 3D heart with human tissue.
"This is the first time anyone anywhere has successfully engineered and printed an entire heart replete with cells, blood vessels, ventricles and chambers," said Prof. Tal Dvir of TAU's School of Molecular Cell Biology and Biotechnology, Department of Materials Science and Engineering in the Center for Nanoscience and Nanotechnology, and the Sagol Center for Regenerative Biotechnology, who was the lead researcher for the study.
Heart disease is the leading cause of death among both men and women in the United States. In Israel, it is the second largest cause of death (after cancer).
Heart transplantation is often the only treatment available to patients with end-stage heart failure. The waiting list for patients in the US can be as much as six months or more. In Israel and the US, many patients die while on the waiting list, hoping for a chance at survival.
"This heart is made from human cells and patient-specific biological materials. In our process, these materials serve as the bio-inks, substances made of sugars and proteins that can be used for 3-D printing of complex tissue models," Dvir explained.
The next step, they said, is to teach the hearts to behave like human hearts. First, they will transplant them into animals and eventually into humans. The hope is that within "10 years, there will be organ printers in the finest hospitals around the world, and these procedures will be conducted routinely," Dvir said.
Conclusion:
Full report at:
https://www.weeklyblitz.net/news/what-bangladesh-would-gain-from-normalizing-relations-with-israel/
--------
Senior militant leader in-charge of 'Kangaroo Court' of Taliban killed in Ghor province
10 May 2019
The Afghan Special Forces have killed a senior Taliban leader who in charge of the 'Kangaroo Court' of the group in North-western Ghor province.
The Ministry of Interior (MoI) issued a statement earlier today confirming that a senior Taliban leader who was in-charge of the Kangaroo Court of the group in Ghor province was killed in a joint operation of the Special Forces of Afghan National Police and Special Air Brigade.
The statement further added that the operation was conducted late last night in the vicinity of Ghalmin Village located in the outskirts of the provincial capital of Ghro.
The Afghan forces also confiscated two weapons, munitions, and some important documents of Taliban group were also confiscated along with six motorcycles during the operation, the Ministry of Interior added.
Full report at:
https://www.khaama.com/senior-militant-leader-in-charge-of-kangaroo-court-of-taliban-killed-in-ghor-province-03934/
--------
21 militants killed in a 'kinetic airstrike' carried out in support of Afghan soldiers in Kandahar
10 May 2019
At least 21 Taliban militants were killed in a kinetic airstrike which was carried out in support of the Afghan army soldiers in southern Kandahar province of Afghanistan.
The military sources said Friday "In defense of Afghan National Army soldiers, a kinetic strike was conducted in Khakrez district killing 21 Taliban fighters and wounding 1 other."
The sources further added that an airstrike was also conducted in Nahr-e Saraj district of Helmand province killing 3 Taliban fighters.
The anti-government armed militants including Taliban have not commented regarding the airstrikes so far.
Full report at:
https://www.khaama.com/21-militants-killed-in-a-kinetic-airstrike-carried-out-in-support-of-afghan-soldiers-in-kandahar-03936/
--------
4 children killed, 5 wounded in a roadside bomb explosion in Faryab
10 May 2019
At least four children were killed and five others were wounded in an explosion triggered by an improvised explosive device in northern Faryab province.
A spokesman for Faryab Police Abdul Karim Yurish said the incident took place late on Thursday afternoon in the vicinity of Dawlatabad district.
Yurish further added that the children were busy herding their livestock when they struck an improvised explosive device in Chaharshangho Village.
He also added that the IED was planted by Taliban militants to target the security forces.
The anti-government armed militants including Taliban have not commented regarding the incident so far.
Full report at:
https://www.khaama.com/4-children-killed-5-wounded-in-a-roadside-bomb-explosion-in-faryab-03937/
--------
Relentless Taliban violence casts a pall over 'slow' Afghan talks
May 10, 2019
KABUL: Talks with the Taliban on ending Afghanistan's war are making steady but slow progress, the chief US envoy involved in the negotiations said on Friday while signalling growing frustration with relentless militant violence.
A sixth round of talks ended on Thursday in Qatar with "some progress" on a draft agreement on the withdrawal of foreign troops, a Taliban official said. The United States is seeking a Taliban guarantee they won't let militants use Afghanistan to stage attacks.
The talks, the most sustained effort to end the 18-year conflict — America's longest war — began last year.
The sixth round got going on April 30 in Qatar's capital, Doha, but wound up early in response to a Taliban attack on an aid group in the capital, Kabul, on Wednesday, a senior official with knowledge of the talks said.
The chief US envoy, Zalmay Khalilzad, did not say if the talks had ended early, in comments he posted on Twitter, but expressed frustration with Taliban violence that has shown no sign of easing.
"We made steady but slow progress on aspects of the framework for ending the Afghan war. We are getting into the 'nitty gritty.' The devil is always in the details," Khalilzad said.
"However, the current pace of talks isn't sufficient when so much conflict rages and innocent people die. We need more and faster progress. Our proposal for all sides to reduce violence also remains on the table."
Nine people were killed and at least 20 were wounded when Taliban fighters set off a big bomb at the gate of the Counterpart International aid group's office in Kabul, and then battled Afghan security forces for seven hours.
Taliban spokesman Zabihullah Mujahid said his fighters attacked the group because it promoted "Western culture," including the mixing of the genders.
Officials from the aid group were not available for comment.
The attack in Kabul triggered a sense of unease between the US and Taliban negotiators in Qatar, three senior officials said.
"The original plan was to continue the talks," said one of the officials, who declined to be identified. "It ended abruptly due to the attack."
"What's the point?"
Last year, US President Donald Trump's administration accelerated efforts to find a political settlement in Afghanistan and reduce the US troop presence there.
About 17,000 foreign troops are based in Afghanistan — most of them American — as part of a US-led NATO mission to train, assist and advise Afghan forces. Some US forces carry out counter-terrorism operations.
But the Taliban have repeatedly rejected calls for a cease-fire, and they also refuse to talk to the US-backed Afghan government, and have instead stepped up their attacks.
"They are clearly giving a message that they can continue war and peace talks at the same time and are engaged in negotiations from a position of strength," said a Western diplomat in Kabul.
But the level of violence was putting pressure on the US side to come up with a plan to end it, the diplomat said.
"There is no time left for fake bonhomie when people were dying every hour."
An aide to Afghan President Ashraf Ghani questioned the entire process, given the Taliban rejection of a cease-fire.
Full report at:
http://www.arabnews.com/node/1495151/world
--------
Southeast Asia
Buddhist Temple Provides Free Iftar Meals for Low-Income People in West Jakarta
May 11 2019
Cross-community: Muslims break the fast at an event hosted by the Kim Tek Le Vihara Foundation at Petak Sembilan, Jakarta, on Wednesday. The foundation prepared 200 food packages for low-income people living around the vihara.(JP/Wendra Ajistyatama)The sight of worshipers shuffling about and praying, surrounded by the red candles, aromatic incense and lanterns that adorn the iconic Dharma Bakti temple in Tamansari, West Jakarta, is a common one.However, the scene at the famous Buddhist temple and popular tourist destination transforms completely on every afternoon during Ramadan, when dozens of people gather at its front yard to prepare iftar (breaking of the fast meals).As the adzan (call to prayer) was heard on a rainy Thursday afternoon, worshipers and temple employees and volunteers quickly distributed takjil (breaking of the fast snacks) consisting of water, dates, kolak (sweet dess...
https://www.thejakartapost.com/news/2019/05/11/buddhist-temple-provides-free-iftar-meals.html
--------
Umno sec-gen says past with PAS irrelevant, party is now without Dr M
11 May 2019
By Ida Nadirah Ibrahim
KUALA LUMPUR, May 11 — Past stories on the spat between Umno and PAS are irrelevant as the two parties have changed their leadership, approach, policies, and have a different political view, Umno secretary-general Tan Sri Annuar Musa said.
In an interview with Utusan Malaysia, Annuar said the move was seen as an attempt to lessen the unity within the Malay Muslim community.
"At that time, PAS was the Opposition and Umno was the government under Dr Mahathir's leadership now he is 'on the other side'. The present Umno is without Mahathir, therefore the old tales are no longer relevant.
"Perhaps previously, the issuance of the fatwa to say [Umno was] kafir was under the context of the reaction towards what Umno had done at the time. Let's just say perhaps at that time PAS was oppressed, mistreated, denied their rights, so you get what you get for what had happened," Annuar told the Malay daily in the interview published today.
This was in response to Prime Minister Tun Dr Mahathir Mohamad's remarks last Thursday that PAS, especially its incumbent president Datuk Seri Abdul Hadi Awang had labelled the Umno-led Barisan Nasional (BN) government of the past of being a kafir administration for cooperating with infidels.
In his controversial Amanat Hadi then, the Marang MP also claimed those who opposed the Umno government would die as martyrs. Dr Mahathir was the BN PM from 1981 to 2003 before becoming the seventh prime minister after Pakatan Harapan won the 14th general election last year.
Annuar also said Umno will hold a closed-door meeting in commemoration of its 73rd anniversary this year, adding that its celebration this time around will be moderate.
The Keterah MP said there were two main items on its agenda for the meeting: amendments to the party's constitution as well as its new cooperation with PAS.
"These agenda, however, will be done behind closed doors as we are still at the internal discussion stage and there's nothing to be announced in the near future," he said, adding that there will be buka puasa followed by tarawih prayers at night.
Annuar said four main scopes will be amended in the party constitution, which will be discussed in a special annual general meeting before the Umno General Assembly 2019, scheduled in October.
He said the four focus areas include improving party policies, empowering the Umno wings, expanding its influence, and returning the party policy to its original platform.
"This is not to say the past struggles in no longer relevant as it is still accepted by the people. But after seven decades going through the process, there would be new challenges that the party faces.
Full report at:
https://www.malaymail.com/news/malaysia/2019/05/11/umno-sec-gen-says-past-with-pas-irrelevant-party-is-now-without-dr-m/1751850
--------
Jokowi Says He'll Have More Leeway in Second Term Without Re-Election Concerns
MAY 09, 2019
Jakarta. President Joko "Jokowi" Widodo said on Thursday that he would be able to give his best for the country during his second term, as he would no longer be burdened by having to consider re-election.
The president therefore called on all bureaucrats to stop applying old work routines, patterns and traditions, because he would focus on making the bureaucracy simpler and more efficient, in preparation for Indonesia likely becoming the fifth- or even fourth-largest economic power in the world by 2045.
The statement is his second implicit claim of victory in the April 17 presidential election, in which he ran against former Army general Prabowo Subianto. His first victory statement was on election night, after several reliable pollsters released their quick-count results, all in favor of Jokowi and his running mate, Ma'ruf Amin. His latest statement was recorded in a video published by the Cabinet Secretariat.
"Watch out, don't continue old routines, patterns, traditions. Stop it. We must stop it. In the next five years, excuse me, I won't be burdened, because I cannot be nominated [as a presidential candidate again]," Jokowi said during a meeting in Jakarta to discuss national planning programs.
"So I will do whatever is best for the country," he said, amid applause from the audience, which included top government leaders from across the country.
Jokowi plans to soon disband any government institutions deemed unnecessary, inefficient or not contributing to the state on the central and regional levels.
He also plans to continue developing infrastructure, as it is necessary if Indonesia wants to become one of the world's largest economic powers.
Congratulated
Meanwhile, a group of prominent figures, all members of the Agency for the Implementation of the State Ideology of Pancasila (BPIP) and led by former President Megawati Sukarnoputri, met with Jokowi to congratulate him on his second term as head of state. "We congratulated him, because based on the quick counts, he and Mr. Ma'ruf Amin had a [good] result, which would allow him to be inaugurated again as president," Megawati said, as quoted by Kompas.com.
However, she urged the public to wait for the official announcement by the General Elections Commission (KPU) on May 22.
The prominent figures included Said Aqil Siraj, chairman of Nahdlatul Ulama, Indonesia's largest independent Islamic organization; Mahfud M.D., a former Constitutional Court chief justice; Benny Susetyo, a Catholic priest and social observer; Syafei Ma'rif, former chairman of Muhammadiyah, the country's second-largest Islamic organization; and Tri Sutrisno, a former vice president.
Full report at:
https://jakartaglobe.id/context/jokowi-says-hell-have-more-leeway-in-second-term-without-reelection-concerns
--------
Arab World
Seven children of dead ISIS parents reunited with Swedish grandfather in Erbil
May 09-2019
ERBIL (Kurdistan 24) – Seven orphaned children whose parents were members of the Islamic State have been reunited with their grandfather in Erbil following their recent handover from Syrian Kurdish authorities to a Swedish delegation at the border between Syria and Iraq's Kurdistan Region.
The Swedish team met with Syrian Kurdish officials recently after an agreement was struck to return the children, who were found after their parents had been killed in the town of Baghouz, the Islamic State's final former territory in Syria.
Following the collapse of Baghouz, many of those who fled and were captured by the Kurdish-led Syrian Democratic Forces (SDF) and have been settled in the sprawling al-Hol camp.
The camp's residents are living in harsh conditions as those placed there number far above the facility's capacity. It currently houses around 70,000 people, many of them women accused of Islamic State membership and their children. The seven children, Swedish nationals, were among these.
Swedish Foreign Minister Margot Wallström in April said his government was "working intensively so that children with a connection to Sweden who are in Syria get the help they need."
Patricio Galvez, the grandfather of the children, along with the Swedish delegation expects to repatriate them back to their home country, affirming Stockholm's commitment to facilitate the return of the offspring of their citizens who left to join the Islamic State following its emergence in 2014.
Speaking with Kurdistan 24, Galvez retold the story of his family. His daughter, he explained "had become a Muslim in 2008 and married a guy" with whom she went on to "have four kids." "They didn't tell me anything and three months after they had joined ISIS, they called [and told] me."
The grandfather claimed he had told his daughter and son-in-law to turn themselves over to the SDF but that they had refused to listen. In March, both would die during the SDF's last siege and eventual offensive on Baghouz.
The two Islamic State members' children are currently residing in the Kurdistan Region. Four of them have Swedish passports but the other three were born in Syria and have no travel documentation or IDs, a common problem for children born of the extremist group's members.
"Now, the children are with me and I am making the preparations to take them back to Sweden."
http://www.kurdistan24.net/en/news/1f15e0a8-7ac1-40ee-b30e-ccdf86b895b3
--------
Only Trump can save Syria's Idlib, but time is running out
By Josh Rogin
May 9, 2019
There is little that can stop the brutal assault underway in northwest Syria, where Russian, Iranian and Assad regime forces have launched a major military offensive as millions of civilians flee for their lives. But the record shows that if President Trump acts to try to halt the slaughter, it will have real impact on the ground. Even a presidential tweet could save lives. Time is of the essence.
There's a lot going on right now in U.S. foreign policy. The Trump administration is dealing with an escalating Iran crisis, North Korea missile firings, a shaky China trade negotiation and an attempt to oust the Venezuelan regime. It's no mere coincidence that Bashar al-Assad and Moscow chose this moment to retake the last rebel-held area of Syria using scorched-earth tactics, committing atrocities along the way.
The region of Idlib holds about 3 million civilians, including 1 million children, who were moved there from across the country because they would not submit to the Assad regime. And now there is deafening silence from the international community about their brutal slaughter.
James F. Jeffrey, the State Department's special envoy for Syria, told me the U.S. government sees a "major escalation" by the regime and its allies in Idlib and is working diplomatic channels to de-escalate the fighting.
"We are raising this at every level with the Russians," he said. "Any major operation into Idlib would be a reckless escalation of the conflict."
Assad is dependent on Russian air power, and Moscow has committed a lot of it to the assault, Jeffrey said. That means Moscow is flagrantly violating the cease-fire and de-escalation agreement it signed with Turkey last year in Sochi, Russia.
So far, Moscow is ignoring Jeffrey's warnings. The Turkish government, which saw its outpost in Idlib shelled, seems unable or unwilling to stop the onslaught. But history shows that when Trump decides to intervene in Syria to protect civilians, Moscow listens.
In April 2017, when Trump first launched missiles at the Syrian regime, he was responding to a chemical weapons attack in Idlib that looked to be the beginning of the very offensive we are seeing now. Trump's actions persuaded Assad and Russia to back down.
After a Syrian activist told Trump at a fundraiser that the assault on Idlib was beginning again, the president tweeted last September that Assad "must not recklessly attack Idlib" and that Russia and Iran must not support a "potential human tragedy." The tweet worked.
"It stopped. You saw that. And nobody's going to give me credit, but that's okay," Trump said at the time. "Millions of people would have been killed. And that would have been a shame," he said.
Now Moscow is testing Trump again. So far, the president is silent. That has a cascading effect inside the U.S. national security system. Several people who work with U.S. government agencies on the ground in Syria told me that U.S. officials throughout the bureaucracy are waiting on Trump to signal his intent before they move to engage in Idlib.
Sen. Lindsey O. Graham (R-S.C.) understands the importance of Trump's verbal cues. He tweeted at the president this week asking him to speak up and protect Idlib. Putin surely also understands that in the United States' Syria policy, only Trump's words really matter. Trump and Putin spoke for about an hour last week, but it is unknown what, if anything, they discussed about Syria.
Meanwhile, Russian planes are targeting residential areas and hospitals and then killing aid workers responding to those attacks, said Raed Al Saleh, founder of the Syria Civil Defense, a civilian rescue organization better known as the White Helmets. In Idlib, he said, the regime has resumed the use of barrel bombs and white phosphorus, weapons of mass atrocity and mass displacement.
Public estimates of 150,000 newly displaced people are just the beginning, said Saleh. Millions of people are preparing to "form caravans like in El Salvador" to head for Europe. "These people see the international community is not willing to do anything to keep them safe in their homes," he said.
Several schools in Idlib supported by U.S. aid organizations are now at grave risk. Thirty of those organizations wrote to Trump asking him to give the signal so the U.S. government can snap into action.
"Only you are able to direct our government to use every tool and resource at our disposal for the protection of civilians in Idlib Province," they wrote.
Syrians will remember that the world abandoned them in their time of most dire need. The fresh atrocities will fuel more extremism. The new refugee crisis will further destabilize Turkey, the Middle East and Europe.
Full report at:
https://www.washingtonpost.com/opinions/global-opinions/only-trump-can-save-syrias-idlib-but-time-is-running-out/2019/05/09/dd7cf19a-728e-11e9-9eb4-0828f5389013_story.html?utm_term=.aab3cd5719da
--------
IS militants attack house, kill 8 persons in right coast of Mosul
by Loaa Adel
May 9, 2019,
Nineveh (IraqiNews) A security source informed, on Thursday, that eight persons were slaughtered by militants from the Islamic State group, when the latter attacked their house in the right coast of Mosul.
The source said in a press statement that militants from the Islamic State group stormed the house of the elder of Kawar area, located in the right coast of the city of Mosul, while pointed out that the militants slaughtered the elder, his wife and his six sons.
Security forces cordoned off the area, and transferred the bodies to the forensic medicine department, he further added.
Full report at:
https://www.iraqinews.com/iraq-war/is-militants-attack-house-kill-8-persons-in-right-coast-of-mosul/
--------
Islamic State claims responsibility for Baghdad blast: statement
MAY 10, 2019
BAGHDAD (Reuters) - Islamic State claimed responsibility on Thursday for a blast in Baghdad, saying a suicide bomber had detonated an explosive vest in the northeastern Sadr City district of the Iraqi capital and killed eight people.
"He, thanks to God almighty, entered into a gathering of infidels ... and detonated his vest, killing eight and wounding more than 10 others," the group said in a statement.
https://www.reuters.com/article/us-iraq-security-blast-islamic-state/islamic-state-claims-responsibility-for-baghdad-blast-statement-idUSKCN1SF2IW
--------
Iraq not keeping up with evolving ISIS: US Defense Department
May 11, 2019
ERBIL, Kurdistan Region – Police in Nineveh arrested five alleged members of the Islamic State (ISIS), accused of working for the group when it controlled the city of Mosul, the Iraqi Interior Ministry announced Wednesday night. Recent analysis of ISIS activities after the group was territorially defeated in Iraq and Syria reveals the militants have adapted to their change of circumstances, but Iraq's security establishment has not similarly evolved its tactics in order to capably counter the group.
Nineveh police acted on warrants for the five suspects, three of whom were allegedly members of ISIS' judicial branch and the other two are accused of being members of the religious police known as Hisbah, Interior Ministry spokesperson Saad Maan announced.
ISIS was declared defeated in Iraq in December 2017, but the group remains a serious security threat. The militants have returned to their underground insurgency roots, but with more sophistication as they seek to take advantage of divisions in Iraqi society.
Islamic State (ISIS) militants in Iraq spent the first three months of the year focused on "reconstitution and recruitment," according to a US Defense Department report released on May 7.
There are daily reports of ISIS militants carrying out hit-and-run attacks on security personnel and infrastructure, and kidnapping and killing local officials and civilians in areas where massive security gaps exist – primarily in the desert regions of Anbar near the border with Syria and in the disputed areas where there are gaps between Iraqi and Kurdish forces.
"In addition, ISIS focused on exploiting weaknesses and failure of the Iraqi government, which has struggled to rebuild areas liberated from ISIS and provide basic services and economic opportunities to millions of Iraqis, particularly in Sunni areas where ISIS recruiting efforts are strongest," the Defense report stated.
In the disputed area around Makhmour, ISIS militants are essentially operating freely, even in daylight hours, and are making efforts to forge friendly ties with Sunni locals. Residents in Mosul, who say they receive minimal support from Baghdad for reconstruction of the war-ravaged city, believe government corruption has done more damage to their city than ISIS.
Iraqi and Peshmerga forces, backed by the global coalition against ISIS, have conducted scores of clearing operations against ISIS. This week, a mishmash of Iraqi forces conducted an operation in the desert of Anbar.
Iraqi army units, border forces, tribal forces, security agencies, and Anbar police, backed by the coalition and air support carried out the operation that ranged from south of Rutba towards the border with Saudi Arabia, Col. Musa Mohammed, commander in the Euphrates area, told Arab24.
"The operation resulted in destroying three vehicles and three tents that were left by ISIS," said Mohammed, describing it as an "excellent pre-emptive operation."
The US says that clearance operations like this have seen only limited success. They have only "marginally diminished ISIS's ability to operate, mainly by restricting its freedom of movement," read the Defense report.
A major challenge for Iraqi forces comes from failures in its intelligence structures. Lack of training and financial investment, poor ability to process and exploit information, and then failures to share relevant information within the wider security apparatus are hampering intelligence efforts, the Defense report stated.
A Peshmerga commander in a disputed area says that Iraqi forces need a stronger, permanent presence on the ground if it really wants to counter ISIS.
"The solution is that the Iraqi army should be returning to this area, not just carry out an operation and leave," Sirwan Barzani, commander on the Peshmerga's Makhmour front, told Rudaw on May 1.
The Peshmerga have a base on the top of Mount Qarachogh and Barzani said they could clear ISIS from the mountain within days, "but there is no guarantee that they will not come back" in the absence of armed forces.
Iraq's armed forces melted away in the face of ISIS' advance in 2014. International allies of the global coalition to defeat ISIS have worked to rebuild Iraq's security forces with extensive training and equipping.
The coalition has now focused its training efforts on filling the gaps that exist in their ability to counter ISIS, the Defense report stated. The coalition "will now focus on counter-ISIS capability shortfalls that can be addressed by September 2020, ... other capabilities that cannot be addressed in that timeframe will require longer-term international assistance."
Full report at:
http://www.rudaw.net/english/middleeast/iraq/090520191
--------
Protests return to Lebanon as government discusses austerity
10 May 2019
Dozens of Lebanese military and security veterans are protesting for the second time in two weeks against proposed cuts to their pensions and benefits, as the government discusses a budget bill that aims to cut public spending and usher in austerity measures.
The protesters gathered Friday in downtown Beirut outside the government offices to denounce what they called "painful" and "unpopular" measures.
They asked the government to address corruption and retrieve lost funds instead of slashing their benefits.
Professors in the state-owned Lebanese University also protested Friday potential cuts to their wages.
Full report at:
https://english.alarabiya.net/en/News/middle-east/2019/05/10/Protests-return-to-Lebanon-as-government-discusses-austerity.html
--------
North America
CIA and Mossad conflating intelligence to push US into military conflict with Iran: Expert
May 10, 2019
America's CIA and Israel's Mossad are conflating and distorting intelligence to push the United States into a military conflict with Iran, according to Scott Bennett, a former US military psychological warfare officer and political commentator.
Bennett made the remarks in an interview with Press TV on Thursday while commenting on a statement by American Muslim Representative Ilhan Omar who has accused the Donald Trump administration of preparing the ground for direct confrontation with Iran using inflated intelligence data.
The lawmaker said on Wednesday that the US intelligence community was making up excuses to justify hostile anti-Iran policies just as it did before the invasion of Iraq in 2003.
Bennett told Press TV that "the recent developments between Iran and the United States and Israel are sadly coming to a very potential boiling point and it's problematic, and ironically one of the few people who have pointed out truth of this is Representative Ilhan Omar."
"And I think she is very right on and she is accurate when she says certain people are producing false intelligence and manipulating the president into a misdirected, misunderstood confrontation with Iran," he stated.
"And I think she speaks from the vast majority of Americans who share the same sentiments, who may not agree with her politically, philosophically or religiously, however, the American people sense in their heart that what Ilhan Omar is saying is absolutely true, and that is certain people, certain industry, specifically the military-industrial complex and certain war mongering Zionists, and other parties including Benjamin Netanyahu, and members of the [US] intelligence community and Mossad, and Israel and Britain, MI6, and the United States' CIA all have been conflating and distorting intelligence and manipulating it to President Trump's mind and sadly pushing him into a potential conflict by overreaction and other accelerating provocative counter measures to Iran's very understandable and justifiable response to its natural resources being cut off, and economic sanctions strangling them, to the point of a very similar scenario between the United States and Japan in 1940," he pointed out.
"We remember that the Japanese WWII conflict erupted after the United States cut off oil supplies and rubber supplies from Japan and that reacted in Japan a life-and-death situation, responding with a counterattack in Pearl Harbor. And I think the same military mindsets are looking to set up a similar scenario in the Strait of Hormuz, with a false flag gulf of Tonkin attack repeat or an American ship is falsely attacked by what seemed to be Iranian military sailors or other military units which will be provocative and will facilitate the United States military's response," he said.
"So I think Ilhan Omar is pointing to these possibilities. So the American people have seen them. They have sadly suffered under them, from both of the Gulf of Tonkin and New York 9/11 attacks. And this is something people are waking up to," the analyst said.
'Trump maybe doing this as a deal-making mechanism'
"This is also the reason that Donald Trump maybe doing a lot of these actions as a deal-making mechanism. There is a very strong possibility of it and many in the Conservative circles rest upon the conviction that Donald Trump does not want to go to war and this is all posturing for negotiating position so that the Iranian, American JCPOA and other agreements, maybe to negotiate from a position of strength, from Donald Trump's position," he said.
"So this is a very distant way, a very positive way of looking at this because it intimates that Donald Trump is in fact separating from John Bolton, distancing himself from him, and blaming John Bolton for the bogged down Venezuela coup, and most likely will be looking towards others in the intelligence community to blame for the Iranian problem," he added.
"But Ilhan Omar is pointing something that all Americans agree to it that the intelligence Israel has provided about Iranian threats is complete false, propaganda campaign, and Donald Trump unfortunately has been manipulated into overreacting to that. But I think the American people and American Congress are going to stand up to and give Donald Trump a very clear warning that if you wage war on Iran you will not be elected to a second term and worst you may be impeached for violating the war powers' act," the expert said.
https://www.presstv.com/Detail/2019/05/10/595611/Mossad-conflating-intel-to-push-US-into-war-with-Iran
--------
Pompeo says US doesn't want war with Iran but warns of 'swift' response if provoked
May 10, 2019
Washington (CNN)The Trump administration doesn't want war with Iran, Secretary of State Mike Pompeo said Wednesday, but he warned Tehran of a "swift and decisive" US response to any attack.
Iran "has engaged in an escalating series of threatening actions and statements in recent weeks," Pompeo said in a statement, echoing Pentagon and unnamed US officials. He provided no specifics about the nature or scope of that threat, but other US officials have said that they've observed Iranian forces moving missiles around on boats.
"The regime in Tehran should understand that any attacks by them or their proxies of any identity against US interests or citizens will be answered with a swift and decisive US response," said the top diplomat, who cut short overseas travel to fly back to Washington Wednesday for urgent meetings on the situation with Iran and North Korea.
He warned Tehran not to mistake Washington's "restraint" for "a lack of resolve" and closed by repeating an offer from President Donald Trump.
Meeting with Iran
"As President Trump stated yesterday, he 'looks forward to someday meeting with leaders of Iran in order to work out an agreement and, very importantly, taking steps to give Iran the future it deserves,'" Pompeo said.
Pompeo issued his statement after the US sent a Navy strike group and bomber into the Persian Gulf, citing "specific and credible" threats against US forces. Iranian officials, however, including President Hassan Rouhani, have said they have no interest in a conflict that analysts say the country can ill afford. Foreign Minister Javad Zarif has said Tehran believes some US officials are trying to provoke Iran into a conflict, portraying it as a trap Tehran means to avoid.
Speaking in New York on April 23 as tensions rose, Zarif said "It is not a crisis yet, but it is a dangerous situation. Accidents, plotted accidents, are possible." Referring to a group of foreign and domestic officials that includes national security adviser John Bolton, the Iranian official added that he "wouldn't discount the B team plotting an accident anywhere in the region."
The release from Pompeo comes a day after Iran declared it would ease its adherence to the international nuclear pact that constrains its nuclear program in exchange for sanctions relief. The Trump administration, which abandoned the deal a year ago, has made it nearly impossible for Iran to access the financial benefits of the deal.
"The path we have chosen today is not the path of war, it is the path of diplomacy," Rouhani said when he made the announcement in a nationally televised address. "But diplomacy with a new language and a new logic."
The US has also taken recent measures that could make it impossible for Iran to adhere to the pact, ending non-proliferation related waivers that allowed Iran to export heavy water and low-enriched uranium to stay below levels mandated in the 2015 Joint Comprehensive Plan of Action, as the nuclear deal is formally known.
Pompeo issued his statement as a US official with direct knowledge of the situation told CNN that the latest intelligence indicates there's no sign of a "decrease in Iran's posture" or the signals that prompted the US to move a Navy strike group and B-52 bombers to the region, according to a US official with direct knowledge of the latest intelligence.
"There is no intelligence to indicate a decrease in Iran's posture or intentions," the official said.
Iranian commanders have not issued a "wave-off" to Iranian-backed militias and Revolutionary Guard Corps elements to stop planning for possible attacks against US forces in the region, the official added. "We are looking for anything to reflect a change in their behavior and are not seeing it," the official said.
CNN has reported US officials' claims that intelligence shows Iran is likely moving short-range ballistic missiles and cruise missiles aboard boats in the Persian Gulf. The US military believes that cruise missiles could be launched from the small Iranian boats known as dhows. Officials have now clarified that those boats are IRGC-naval assets, not regular Iranian navy boats.
In addition to the threat of attack against US navy ships, these officials say Iran continues to pose a threat to US military bases and airfields in the region.
Several officials tell CNN it is not clear that the central Iranian government has given orders to the militias giving them permission to attack. The US has monitored "chatter" on several different levels among Iranian players.
Expected deterrence
An official told CNN that the intelligence community is still trying to assess exactly what is happening and whether it's possible that the Iranians are simply raising tensions against the Americans, but not taking the final step to attack.
Arms control specialists said Iranian missile movements would not contravene UN resolutions, while analysts said deterrence moves from Tehran were to be expected, particularly given an Iranian security official's comments that Iran's armed forces had detected the American aircraft carrier when it entered the Mediterranean Sea more than three weeks ago.
Given the circumstances, Iran would naturally be making preparations as well as a show of deterrence, said Alex Vatanka, a senior fellow at the Middle East Institute.
"They might have forces getting ready in case we enter a hot war -- you see the latest information from the Pentagon about missile parts on boats -- but if the Iranians are serious, they're going to have to think about a potential war, think about ways to retaliate or deter the US and that includes US allies, as well," Vatanka said.
Creating leverage
That said, Vatanka, who has been following Iran for 20 years, says he believes its leaders do not want to provoke a conflict.
"While it is true they want to create leverage for themselves in the theater, as a way of shaping America's next moves -- maybe some limited maneuverings are happening just to make Americans wonder what Iran will do next -- but overall, on a strategic level, Iranian leaders believe that provoking the US into open hostility would risk the Islamic Republic's grip on power," Vatanka said.
With the boat movements, the Iranians are signaling their ability to push back. "They're trying to shape everybody's calculations as this thing is escalating," Vatanka said.
Kelsey Davenport from the Arms Control Association in Washington said she sees no violation of UN resolutions if Iran is moving missiles by boat, but added that she didn't know how common it was for them transport them that way.
Davenport also noted that Iran has the capability to target US assets without moving short-range ballistic missiles to sea. Its medium-range ballistic missiles have a range of 2,000 kilometers, meaning that threat is already established.
Former State Department official Robert Einhorn, now with the Brookings Institution, said "ballistic missiles, unlike cruise missiles, are not typically launched from surface ships. Perhaps the missiles in question are simply being moved."
The US Maritime Administration is expected to issue an advisory to regional shipping warning them of the tensions.
Separately, CNN has learned that Bolton held an unusual briefing for the national security council principals at CIA headquarters on April 29, according to two US officials.
Typically these meetings take place at White House. The meeting was first reported by NBC.
Full report at:
https://edition.cnn.com/2019/05/09/politics/pompeo-us-iran-war-statement/index.html
--------
Trump Considers Them Terrorists, but Some Are Allies
By David D. Kirkpatrick
May 10, 2019
LONDON — In Kuwait, the Muslim Brotherhood is vocally pro-American.
In Iraq, the Brotherhood's political party has steadfastly supported the American-backed political process and still forms part of the governing coalition.
And in Yemen, the Brotherhood-linked party is cooperating with some of America's closest Arab allies in a war against a faction backed by Iran.
President Trump's proposal to designate the Muslim Brotherhood as a terrorist organization raises the difficult question of just whom he intends to target. The original Islamist organization, founded in Egypt in 1928, has spun off or inspired thousands of independent social or political groups around the world, and they are far from monolithic.
They include mainstream associations and advocacy groups in Europe and North America, as well as recognized political parties in United States allies from Morocco to Indonesia. Although most of the Brotherhood-linked parties are sharply critical of United States foreign policy, at least a few — like those in Kuwait, Iraq and Yemen — have sometimes also supported American goals.
The push to penalize the Brotherhood has come from one set of American allies: Egypt, Saudi Arabia and the United Arab Emirates, who see the Brotherhood and its calls for elections as a threat to their stability.
Ibrahim Munir, 82, the Muslim Brotherhood's acting leader, in his office in London. The Brotherhood is not an organization as much as it is an idea, Mr. Munir argued.
But the same step risks alienating another set of partners, including Turkey, Qatar and Jordan, which have either aligned themselves with the Brotherhood or integrated Brotherhood spinoffs into their political systems.
Leaving aside the question of whether the Brotherhood or these spinoffs meet the legal criteria for designation as terrorists, experts say, the proposal risks drawing the United States into a feud that Washington has no stake in.
"It is the new cold war in the region, and there is not a good side and a bad side from the U.S. perspective," said Kristian Coates Ulrichsen, a scholar at the Baker Institute for Public Policy at Rice University. "All these countries are close American partners, and letting ourselves get forced to take sides will just harm U.S. interests."
Designating the Muslim Brotherhood as a foreign terrorist organization would block its members from entering the United States and bar anyone in the country from supporting or even consulting with them.
But the far-flung international movement can hardly be described as a single organization.
Today the only connection among the Brotherhood's many offshoots may lie in a sleepy two-story office above a defunct takeout pizza restaurant in a suburb northwest of London. Because of a ferocious government crackdown against the Muslim Brotherhood at home in Egypt, this is now the headquarters of the Egyptian Brotherhood's acting leader, Ibrahim Munir, a frail 82-year-old lawyer.
A ceremony in Gaza last year marking the 31st anniversary of Hamas's founding.
In truth, Mr. Munir said, he has no authority over or much contact with the many independent Brotherhood-linked organizations around the world.
"We try to coordinate," he said, "but it is not a management structure."
Moreover, he argued, the Brotherhood is not an organization as much as an idea — unconstrained by borders, subject to widely varying applications and almost impossible to expunge.
"Trump thinks he is treating the Muslim Brotherhood like that wall he wants to build with Mexico, but you can't build up a wall against an idea," he said.
The vagueness of that idea — essentially that a bottom-up Islamic religious revival will unlock social progress — has opened it to many interpretations followed by disparate groups.
But the Brotherhood's atomization is only one obstacle to its designation as terrorist group.
Under United States law, the designation can be applied only to organizations that direct violence against American interests, and there is no publicly available evidence that the Egyptian Muslim Brotherhood has done that.
Hassan al-Banna, an Egyptian schoolteacher, founded the Muslim Brotherhood in 1928.
A few Brotherhood spinoffs may qualify — notably Hamas, the Palestinian militant group. But the United States has already sanctioned them.
Career staff working for the Pentagon, State Department and the National Security Council have argued against Mr. Trump's proposal in part for those legal reasons.
It would also be the first time the United States has applied the terrorist label to a popular mass movement, one with millions of followers across the Muslim world, not a small and secretive organization on the model of Al Qaeda.
Among American allies, the ruling party in Turkey is an ideological cousin; in Jordan, King Abdullah has long relied on a Brotherhood-linked party to provide an outlet for limited and nonviolent political opposition; and Qatar has sought to expand its influence by aligning with the Brotherhood-style Islamists.
The American-allied governments of Bahrain, Morocco, Tunisia, Indonesia, Malaysia and Kenya also all recognize political parties rooted in the ideology of the Muslim Brotherhood.
People at a mosque in Cairo in 2013 mourned the death of a Morsi supporter killed during protests.
Those parties and governments have so far stayed quiet about Mr. Trump's proposal, possibly for fear of picking a fight with the White House while the chances of any action remain uncertain. Still, the tension is clear.
In Turkey, Yasin Aktay, a politician close to President Recep Tayyip Erdogan, argued in a recent newspaper column that the proposed sanction against the Brotherhood would "deliver a new blow to the U.S.'s own credibility" and "carries the risk of being perceived as a total declaration of war against not only this organization but Islam."
In Jordan, where a political party that grew out of the movement holds 16 seats in Parliament, King Abdullah has resisted demands from Saudi Arabia and the United Arab Emirates to outlaw the Muslim Brotherhood as a terrorist organization.
The Americans' doing so "will put Jordan in a direct confrontation with the U.S.," said Amer Sabaileh, a political analyst and columnist in Amman.
In Kuwait, the Brotherhood party's positive attitude toward Washington dates to the role that the United States played in rolling back an invasion by Iraq nearly three decades ago.
A Muslim Brotherhood demonstration last month in Jordan in support of the king.
In Iraq, the Sunni-dominated Brotherhood party has formed cross-sectarian partnerships with Shiite-dominated parties in successive coalition governments, even at the price of losing some Sunni political support.
In Yemen, the party associated with the Brotherhood has formed a strange-bedfellows alliance with Saudi Arabia and the U.A.E. to battle a common enemy, the Iranian-backed Houthis.
And in Bahrain, the home of a major American naval base, the Brotherhood-linked party is a pillar of support for the Sunni monarchy, which has struggled against opposition from the country's Shiite majority.
Hamas, the Palestinian offshoot of the Muslim Brotherhood, has been designated a terrorist organization for more than two decades, and its supporters argued this week that their organization could benefit if Mr. Trump sanctioned the larger Brotherhood movement. It would diminish the cost to Brotherhood supporters of backing their Palestinian cousins.
"If they are considered terrorists anyway, why not support Hamas?" asked Basem Naim, a former Palestinian health minister and prominent Hamas member. "They have got nothing to lose."
Egyptians ransacking the Muslim Brotherhood's headquarters in Cairo in 2013.
Several experts in Washington noted that, aside from Hamas, Brotherhood-inspired parties had engaged in the kind of nonviolent parliamentary politics that American officials usually encourage. Calling the Brotherhood a terrorist organization could thus send a troubling message to young people in a region with few viable paths to improve their lives, argued Michele Dunne, a scholar at the Carnegie Endowment for International Peace.
"I can't think of anything more counterproductive if what we want to do is encourage young people to take peaceful routes instead of violence," she said.
Over its 90-year history, the organization has frequently come under pressure from the Egyptian police state.
Mr. Munir joined the Muslim Brotherhood in Egypt at 14 and spent 16 years in prison for it during a crackdown by President Gamal Abdel Nasser.
Now the Egyptian Brotherhood has all but receded from active political opposition, retreating in the face of an equally sweeping crackdown by President Abdel Fattah el-Sisi. After carrying out a military takeover in 2013 that removed an elected president who had come from the Muslim Brotherhood, Mr. el-Sisi has overseen the killing of thousands and the imprisonment of tens of thousands of the former president's Brotherhood supporters.
The group's primary function now, Mr. Munir said, was to provide support for the families of those killed or jailed.
Only seven years ago, he said, a senior Brotherhood official spent 40 minutes in the Oval Office with President Barack Obama talking about a democratic future for Egypt.
The official, Essam Haddad, was the national security adviser to the Egyptian leader Mohammed Morsi, another Brotherhood leader and Egypt's first democratically elected president.
Mr. Haddad has now been in prison for nearly six years on politicized charges.
Mr. Munir said he was stunned by the silence of the American officials who had known Mr. Haddad during Mr. Morsi's year in office.
"It is a shock, really," Mr. Munir said. "When Essam Haddad went to the administration for a dialogue, was it just a game?"
Full report at:
https://www.nytimes.com/2019/05/10/world/middleeast/trump-muslim-brotherhood.html
--------
Latin America keen on Islam: Argentinian Muslim scholar
10.05.2019
There is a growing interest in Islam in Latin America, Anibal Bachir Bakir, head of the Islamic Center of the Republic of Argentina (CIRA), said Friday.
In an exclusive interview with Anadolu Agency, Bakir explained that CIRA was established in 1926 with the aim of promoting Muslim culture and the teachings of Islam.
According to Bakir, CIRA also provides services to local Muslim communities, including courses in Arabic language and history, lectures on the Muslim faith, and Islamic marriages and funerals.
Some 400 students are currently enrolled in the Omar bin Khattab School in Buenos Aires, which was originally founded by CIRA, Bakir said.
He went on to point out that CIRA frequently works in tandem with the Turkish Cooperation and Coordination Agency (TIKA).
Coexistence
"Muslims first arrived in Latin America after fleeing the [Spanish] inquisition," Bakir told Anadolu Agency.
"About 400,000 Muslims now living in Argentina arrived from Syria and Lebanon in the mass migrations of the 1900s," he added.
"Throughout Argentina's history," Bakir said, "Christians, Muslims and Jews have always coexisted."
Full report at:
https://www.aa.com.tr/en/americas/latin-america-keen-on-islam-argentinian-muslim-scholar/1475314
--------
US sanction on Iran not serving peace: Turkish official
Erdoğan Çağatay Zontur
10.05.2019
U.S. sanctions on Iranian oil exports do not serve peace in the region, a spokesman for Turkey's ruling Justice and Development (AK) Party said Friday.
"We state that such sanctions are only punishing people, and that it is not possible to reach the goals written in any way," Omer Celik told a wide-ranging news conference at the party headquarters.
"We once again clearly state that we are against these sanctions, and that these sanctions will not yield the right results," Celik added.
U.S. President Donald Trump's administration reimposed sanctions on Iranian oil exports in November after he pulled out of the 2015 Iran nuclear deal between Tehran, Washington and five world powers.
Washington announced last month that it would end sanctions waivers granted to countries that were still buying Iranian oil.
The moves are a part of Trump's "maximum pressure" campaign to curb sales of Iranian oil, denying what Washington said was the country's main source of revenue.
Turkish Cypriot and actions on natural resources
Celik said the Greek Cypriot administration and Greece governments have made "aggressive" statements attacking Turkey's natural resources exploration in the areas where Turkish Cypriot bequeathed its license to Turkish Petroleum (TP).
"They know best that these aggressive statements will not alter our attitude of protecting Turkey's rights and interests," he said.
Turkey supports distributing natural resources to Greek and Turkish Cypriots equally, according to Celik. "But the Greek Cypriot administration doesn't give consent in any circumstances."
Turkey has consistently contested the Greek Cypriot administration's unilateral drilling in the Eastern Mediterranean, citing Turkish Cypriots also have rights to the resources in the area.
Celik did not hold any punches when he talked about Greek Cypriot leader Nicos Anastasiadis' comparison of Turkey's seismic vessels Barbaros Hayrettin Pasa and Fatih to the Cyprus Peace Operation in 1974.
"He calls 1974 operation an invasion. But we call it protection of the Turkish Cypriot's life, rights and interests," said Celik. "Turkey, today as in the past, is in full commitment to protect the interests of the Turkish Republic of Northern Cyprus [TRNC]."
Cyprus has been divided since 1974 when a Greek Cypriot coup was followed by violence against the island's Turks and Ankara's intervention as a guarantor power.
Turkey's first seismic vessel, the Barbaros Hayrettin Pasa, bought from Norway in 2013, has been doing exploration in the Mediterranean since April 2017.
Purchase of S-400 air missile system
Celik said Turkey maintains its position on purchasing the Russian S-400 advanced surface to-air missile system and F-35 fighter jets.
Celik said it's impossible for any Western country to cope alone against terror attacks. "The spirit of solidarity and alliance will become more important and Turkey is a key country in the NATO alliance," he said.
"I emphasize once again that we want to hear more common sense, closer to cooperation than our allies," he added.
Tensions between the U.S. and Turkey have reached a fever pitch in recent months with Turkey set to begin receiving the advanced S-400 surface-to-air missile system.
Washington said the move will jeopardize Turkey's role in the F-35 fighter jet program and could trigger congressional sanctions.
Full report at:
https://www.aa.com.tr/en/americas/us-sanction-on-iran-not-serving-peace-turkish-official/1475530
--------
Europe
France arms sales to Saudi Arabia, UAE 'evident hypocrisy': Ansarullah
May 10, 2019
The spokesman for Yemen's Houthi Ansarullah movement has fiercely criticized the French government for supplying Saudi Arabia and the United Arab Emirates (UAE) weapons that have been used in their war on Yemen, describing the move "a clear hypocrisy to evade crimes."
"The persistence of French President (Emmanuel Macron) on selling arms to Saudi Arabia on the pretext that they are not used against (Yemeni) civilians is a clear hypocrisy to evade crimes," Yemen's Arabic-language al-Masirah television network cited Mohammed Abdul-Salam as writing on his official Twitter page on Friday.
The Houthi official then called on France and other countries to stop selling weapons to Saudi Arabia and the UAE, which have been involved in an atrocious military aggression against Yemen for more than four years.
"The move is an attempt by France to evade responsibility for the crimes being committed against Yemeni people," Abdul-Salam noted.
Saudi ship leaves France without arms cargo
Meanwhile, a Saudi cargo ship that had been expected to pick up a hugely controversial shipment of French arms from Le Havre port in the Normandy region of northwestern France has not docked there and left without its arms cargo.
According to ship tracking data and comments from a local French official to Reuters, the Bahri Yanbu is now sailing towards Santander in Spain.
On Thursday, two French human rights groups had sought to block the loading of weapons onto the Saudi vessel.
It came weeks after investigative website Disclose published leaked documents, showing Saudi Arabia was using French weapons, including tanks and laser-guided missile systems, against civilians in Yemen's war.
Faced with strong criticism, Macron admitted that the weapons were indeed being used in the war; but only within Saudi Arabia's border.
"I would like to say here that what we reiterated was the guarantee for them (the arms) not be used against civilian populations," he asserted.
Back in March 2018, French law firm Ancile Avocat said France's arms exports to Saudi Arabia and the UAE could be in contravention of its international commitments – primarily the Arms Trade Treaty, which Paris ratified in 2014.
"The French government has authorized exports of military equipment to Saudi Arabia and the UAE in circumstances where these weapons can be used in the conflict in Yemen and could be used to carry out war crimes," it said in a report.
Saudi Arabia and a number of its regional allies launched a devastating campaign against Yemen in March 2015, with the goal of bringing the government of former president Abd Rabbuh Mansur Hadi back to power and crushing the Houthi Ansarullah movement.
According to a December 2018 report by the Armed Conflict Location and Event Data Project (ACLED), a nonprofit conflict-research organization, the Saudi-led war has claimed the lives of over 60,000 Yemenis since January 2016.
The war has also taken a heavy toll on the country's infrastructure, destroying hospitals, schools, and factories. The UN said in a report in December 2018 that over 24 million Yemenis are in dire need of humanitarian aid, including 10 million suffering from extreme levels of hunger.
https://www.presstv.com/Detail/2019/05/10/595587/France-arms-sales-Saudi-Houthi
--------
3 convicted of terrorism for arson of Australian mosque
May 11, 2019
MELBOURNE, Australia – Three Sunni Muslim men have been convicted of engaging in a terror act by burning down a Shiite mosque in the Australian city of Melbourne three years ago.
A Victoria state Supreme Court jury on Thursday convicted Abdullah Chaarani, Ahmed Mohamed and Hatim Moukhaiber over the firebombing of the Imam Ali Islamic Center on Dec. 11, 2016. No one was injured in the blaze.
Mohamed and Moukhaiber had both denied any involvement. Chaarani conceded that he was there, but argued he had been part of an act of protest, advocacy or dissent, but not terrorism.
Full report at:
https://www.foxnews.com/world/3-convicted-of-terrorism-for-arson-of-australian-mosque
--------
Ambassador to Germany threatens companies with U.S. ban over Iran
05/09/19
U.S. Ambassador to Germany Richard Grenell warned companies that they could be blocked from the U.S. market if they do business with Iran.
"You can do as much business as you want in Iran, but we have a say with regards to your visa," Grenell, who has a history of exasperating his Berlin hosts, told Bild newspaper in an interview. "Because if you do something, we're not going to agree to let you enter our country."
The Trump administration doubled down this week on its hard-line stance against Iran, slapping a new round of sanctions on its steel, iron, aluminum and copper sectors and deploying a carrier strike group and a bomber task force to the region as Tehran declared it would curtail its cooperation with a landmark 2015 nuclear deal.
A former Fox News contributor who emerged as a vocal Trump loyalist, Grenell has often criticized the German government over remarks on Iran, military spending and a gas pipeline from Russia. He reportedly threatened to limit intelligence sharing with Germany in March if Berlin allowed equipment from China's Huawei Technologies Co. into the country's fifth-generation mobile networks.
Grenell also criticized German politicians who have rejected the U.S. demand for the country and other NATO allies to spend 2 percent of gross domestic product on defense.
"That someone says you need to reform NATO, but not strive for the 2%, I find hypocritical," Grenell told Bild. "Another thing that surprised me a lot is how many German politicians try to pretend the 2% goal is only a target and not a real obligation."
He also expressed surprise at Germany's apparent restraint within the European Union given that it has the most powerful economy in the bloc.
Full report at:
https://thehill.com/homenews/administration/442914-ambassador-to-germany-threatens-companies-with-us-ban-over-iran
--------
2 French soldiers killed in hostage rescue mission in Benin
May 10, 2019
Two French soldiers have been killed during an operation to free four hostages held by a militant group in northern Burkina Faso, France has announced.
The French Presidency said on Friday that French special forces had freed two French hostages — as well as an American and a South Korean who had also been held hostage — during an overnight covert military raid in Burkina Faso.
The two French hostages had disappeared during a safari in the Pendjari National Park in Benin near Burkina Faso's border on May 1. The body of their wildlife guide and their abandoned vehicle were found back then. They had been taken across the border into Burkina Faso.
Takfiri terrorists have overrun parts of Burkina Faso's north and east and stepped up attacks in the country in recent months.
In a separate statement, French Armed Forces Minister Florence Parly thanked Beninese and Burkinabe authorities as well as the United States for their "precious support" in the operation. It was not clear what kind of support they had provided.
Full report at:
https://www.presstv.com/Detail/2019/05/10/595590/France-soldiers-hostage-rescue-raid-Burkina-Faso-Benin
--------
Germany says talks continue with Iran on INSTEX
Ayhan Şimşek
10.05.2019
BERLIN
EU's major powers are working intensely to operationalize the alternative payment channel INSTEX to facilitate legitimate trade with Iran, German officials said on Friday.
Speaking at a news conference in Berlin, Foreign Ministry spokeswoman Maria Adebahr reaffirmed Germany's commitment to the nuclear deal with Iran, and urged Tehran to continue fully implementing the agreement.
"We are working intensely to operationalize the INSTEX," she said, referring to the mechanism set up by Germany, France and the U.K. in January, to continue trade with Iran despite sanctions imposed by the U.S.
Adebahr argued that the mechanism could not be realized yet due to the very complex nature of the problem and due to some expectations from the Iranian side.
"As you know INSTEX also needs a mirror structure in Iran, which must be realized by the Iranian side," she added.
Adebahr underlined that both structures should ensure international standards with regards to anti-money laundering and combating the financing of terrorism.
"We continue our talks with the Iranian side on this," she said.
In March, a group of Iranian state and private banks registered a mirror company named as Special Trade and Finance Institute (STFI) to match INSTEX.
The delay in the operationalization of the alternative payment channel has led to sharp criticism of Iran, with Tehran announcing on Wednesday that it may abandon parts of the nuclear deal because of unfulfilled promises.
World powers had agreed in 2015 to lift economic sanctions imposed on Iran in return for Tehran agreeing to limit its nuclear activity to peaceful and civilian purposes.
The agreement, also known as the Joint Comprehensive Plan of Action (JCPOA), was signed between Iran and Russia, China, France, the U.K., and the U.S., plus Germany.
Full report at:
https://www.aa.com.tr/en/europe/germany-says-talks-continue-with-iran-on-instex/1475192
--------
Africa
Somalia: Al-Shabaab Stages Attack On a Town Under Somali Troops
9 MAY 2019
Heavily armed Al-Shabab militants were reported to have launched a daring assault on a military base belonging to Somali government forces stationed in Barire town, located in Lower Shabelle.
The fighters encountered a fierce resistance they tried to storm the army outpost, which was recently recaptured by Somali government troops backed by AU soldiers. The attack occurred Wednesday evening.
A local resident confirmed to Radio Shabelle that the Al-Shabaab combatants attacked the village from different directions the onset of the night as people gather in their homes to breaking their fasting.
The commanders of the troops in the area say they have beefed up security following the take-over and vowed to continue flushing out Al-Shabab from its remaining strongholds in Lower Shabelle region.
https://allafrica.com/stories/201905090606.html
--------
Anti-Boko Haram militia frees 900 children in Nigeria: UN
May 10, 2019
Nearly 900 children held by a pro-government militia force fighting Boko Haram insurgents in northeastern Nigeria were freed on Friday, the UN said.
The 894 children, including 106 girls, had been in the ranks of the government-backed Civilian Joint Task Force (CJTF), a local militia which supports regular soldiers battling the extremists.
At a ceremony in the north-eastern town of Maiduguri, they were released as part of the CJTF's "commitment to end and prevent the recruitment and use of children," the UN children's agency (Unicef) said.
"Children of north-east Nigeria have borne the brunt of this conflict," said Mohamed Fall, the Unicef chief in Nigeria.
"They have been used by armed groups in combatant and non-combatant roles and witnessed death, killing and violence."
The CJTF militia formed in 2013 to protect communities from attack, but it has also recruited hundreds of children.
In 2017, the militia signed a promise to stop recruiting child soldiers and release the ones they hold.
The children freed on Friday bring the total released since then to 1,727 children, Unicef said.
It was not clear how many children remain in its ranks, but the UN welcomed the news on Friday.
"Any commitment for children that is matched with action is a step in the right direction for the protection of children's rights, and must be recognised and encouraged," Mr Fall said.
The freed children will be enrolled into a reintegration programme with education and training to help them return to civilian life.
Boko Haram's uprising to establish a hardline Islamic state in Nigeria's north-east has spilled into neighbouring Niger, Chad and Cameroon.
The extremists have also recruited thousands of children to fight in their ranks.
Full report at:
https://www.thenational.ae/world/africa/anti-boko-haram-militia-frees-900-children-in-nigeria-un-1.859752
--------
U.S. Air Strike Kills 13 Islamic State Fighters in Somalia: U.S. Military
May 10, 2019
NAIROBI — A U.S. air strike killed 13 Islamic State fighters in Somalia's semi-autonomous Puntland region on Wednesday, the U.S. military said, days after another strike killed three.
The U.S. military has stepped up its campaign of air strikes in Somalia since President Donald Trump took office, saying it has killed more than 800 militants in two years.
Islamic State, also known as ISIS, has gathered recruits in Puntland, although experts say the scale of its force is unclear and it remains a small player compared al Qaeda-linked al Shabaab group that once controlled much of Somalia.
U.S. Africa Command (AFRICOM) said late on Thursday the latest strike targeted an ISIS-Somalia camp in Golis Mountains.
"At this time, it is assessed the air strike on May 8 killed 13 terrorists," it said.
AFRICOM said in April it had killed Abdulhakim Dhuqub, identifying him as Islamic State's deputy leader in Somalia.
Somalia has been mired in civil war and an Islamist insurgency since 1991 when clan warlords overthrew a dictator and then turned on each other.
Full report at:
https://www.nytimes.com/reuters/2019/05/10/world/africa/10reuters-usa-somalia-islamists.html?searchResultPosition=2
--------
Dozens of migrants drown off Tunisia coast after leaving Libya
11 May 2019
At least 65 migrants drowned on Friday when their boat capsized in the Mediterranean Sea off the Tunisian coast after they had left Libya hoping to reach Europe, the UN refugee agency UNHCR said.
The state-run Tunis Afrique Presse agency gave a death toll of at least 70 people. It was one the deadliest shipwrecks involving migrants trying to reach Europe this year.
"This is a tragic and terrible reminder of the risks still faced by those who attempt to cross the Mediterranean," UNHCR Special Envoy for the Mediterranean Vincent Cochetel said in a statement.
In the first four months of 2019, 164 people are known to have died on the route, a smaller number but higher death rate than in previous years, with one dying for every three who reach European shores, UNHCR said.
UNHCR said the sunken boat had taken to the sea on Thursday from neighboring Libya, where renewed warfare between rival factions has gripped the capital Tripoli in the past five weeks.
The Tunisian navy brought 16 survivors to the coast at Zarzis, where one was immediately taken to hospital and the others awaited permission to disembark, UNHCR said.
The Tunisian agency said the boat had sunk 40 miles off the coast of Sfax, south of the capital Tunis and that fishing boats had rescued the survivors.
Full report at:
https://english.alarabiya.net/en/News/north-africa/2019/05/11/Dozens-of-migrants-drown-off-Tunisia-coast-after-leaving-Libya.html
--------
Dozens of refugees drown off Tunisia coast after leaving Libya
May 10, 2019
At least 50 refugees drowned on Friday when their boat capsized in the Mediterranean Sea off the Tunisian coast after they had left Libya hoping to reach Europe, the United Nations migration agency said.
The state-run Tunis Afrique Presse agency gave a death toll of at least 70 people.
It was one of the deadliest shipwrecks involving refugees trying to reach Europe illegally this year.
The UN's International Organization for Migration said the sunken boat took to the sea from neighboring Libya, where renewed warfare between rival factions has gripped the capital, Tripoli, in the past five weeks. It put the number of victims at 50, with 16 survivors.
The boat sank 40 miles off the coast of Sfax, south of the capital, Tunis, the Tunisian agency said. Fishing boats rescued the survivors, it said.
The Tunisian Defense Ministry said the boat had left from the Libyan port of Zouara on Thursday aiming to reach Italy.
Navy units have recovered only three bodies so far, it said in a statement.
"Another tragedy in the Mediterranean," the IOM said.
Libya's western coast is a main departure point for refugees from across Africa hoping to reach Europe by paying human traffickers, though numbers have dropped due to an Italian-led effort to disrupt smuggling networks and support the Libyan coast guard.
Earlier on Friday, UNHCR spokesman Babar Baloch said the United Nations had repeatedly voiced its concerns about the lack of boats to pick up migrants and refugees fleeing from "the horrendous and horrible situation" in Libya. It called on governments to step in.
Although the fighting in Libya has made the situation more difficult for people-trafficking rackets, international aid officials have warned that it could also prompt more Libyans to flee their country.
It was not immediately known from which countries the refugees involved in Friday's tragedy were.
According to the IOM, 2,297 refugees died or went missing in the Mediterranean last year.
Full report at:
https://www.presstv.com/Detail/2019/05/10/595594/Tunisia-Libya-refugees-Mediterranean
--------
Somalia busts UAE-linked spy network, arrests agents: Report
May 10, 2019
Somali authorities have reportedly arrested a spy network working for the United Arab Emirates (UAE).
Qatar's semi-official and Arabic-language al-Raya daily newspaper, citing a local intelligence source, reported on Thursday that Somali security forces have busted a UAE-linked espionage network, arresting a number of people.
Relations between Mogadishu and Abu Dhabi have been sour since June 2017, after the former resisted UAE and Saudi pressure and announced it would not cut off ties with Qatar following a dispute between the Persian Gulf neighbors. Somalia said it was neutral in the diplomatic spat.
On April 9, 2018, Somali security forces seized some $9.6 million from an Emirati private plane, which had landed from Abu Dhabi, at Aden Adde International Airport, formerly known as Mogadishu International Airport.
The Somali interior ministry then said the money was found in three unmarked bags on a Royal Jet plane. The airline is based in Abu Dhabi, servicing the luxury market between the UAE and Europe.
The UAE Foreign Ministry condemned Somali authorities for seizing the aircraft, which had some 47 Emirati officers on board at the time of the incident.
The ministry said the funds were needed for a military training program for Somali troops; however Somalia officials suspected the money was meant to buy power in the Horn of Africa country.
An investigation was presumably launched to locate, where the funds came from and their intended use.
A month earlier, the UAE had concluded an agreement to train security forces in the self-declared Republic of Somaliland.
Abu Dhabi also signed with Somaliland a 30-year concession to manage Berbera Port in the semi-autonomous region. It started building a military base in the port city as well.
Somalia rejected the deal between the UAE and the breakaway northern Somali region as "non-existent, null and void" and called on the United Nations to take action.
Speaking at the UN Security Council, Abukar Osman, Somalia's Ambassador to the UN, said the agreement between Somaliland and the UAE to establish the base in Berbera is a "clear violation of international law."
Full report at:
https://www.presstv.com/Detail/2019/05/10/595603/Somalia-UAElinked-spy-network
--------
Seven Boko Haram terrorists killed in northeast Nigeria
Rafiu Oriyomi Ajakaye
11.05.2019
At least seven Boko Haram militants were killed late Friday in a shootout with the army and a local vigilante group.
Army spokesman Col. Sagir Musa said in a statement that troops and vigilantes on a joint patrol engaged the terrorists for hours in the Gulwa area of Borno State.
"Seven terrorists were killed, while several escaped with gunshot injuries and are being hunted by the troops," the statement said.
Full report at:
https://www.aa.com.tr/en/africa/seven-boko-haram-terrorists-killed-in-northeast-nigeria/1475586
--------
Sudan protesters press demands on 1st Friday of Ramadan
Adel Abdelrheem
10.05.2019
KHARTOUM
Thousands of protesters continued to stage demonstrations on the first Friday of Ramadan outside army headquarters in Khartoum to demand that Sudan's ruling Military Transitional Council (MTC) hand over power to a civilian authority.
In a Friday sermon delivered near the protest, Abdul-Rahman Hassan, a prominent preacher, urged the MTC to prosecute figures close to ousted President Omar al-Bashir for their alleged role in violence against protesters.
"We have already tried military rule, under which we saw only oppression and corruption," Hassan said.
Following Friday prayers, protesters chanted slogans demanding "freedom, peace, justice and a government chosen by the people".
On April 11, the Sudanese army announced the "removal" of al-Bashir following months of popular protest against his 30-year rule.
The MTC is now overseeing a two-year "transitional period" during which it has pledged to hold presidential elections.
Full report at:
https://www.aa.com.tr/en/africa/sudan-protesters-press-demands-on-1st-friday-of-ramadan/1475212
--------
URL: https://www.newageislam.com/islamic-world-news/180000-muslims-pray-peacefully-al/d/118569
New Age Islam, Islam Online, Islamic Website, African Muslim News, Arab World News, South Asia News, Indian Muslim News, World Muslim News, Women in Islam, Islamic Feminism, Arab Women, Women In Arab, Islamophobia in America, Muslim Women in West, Islam Women and Feminism