New Age Islam News Bureau
25 Sept 2013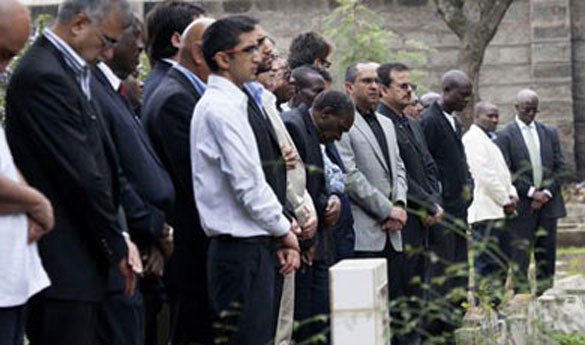 People attend the funeral of Selima Merali, 41, and her daughter Nuriana Merali, 15, killed at the Westgate Shopping Center (Reuters)
-------------
Europe
• 113 Countries Sign Pledge against Sexual Violence in Conflict
• Briton Arrested In Nairobi Mall Attack
• U.N. official: 'more interfaith dialogue' needed in Myanmar
• Man behind 'Innocence of Muslims' film to be released from prison
• Iran's new tone 'encouraging': Germany
• UN chief urges leaders to stop fueling Syria war
• 'Possible that "white widow" involved in attack': British Security Source
Africa
• Al Shabab claim 137 hostages killed in Nairobi mall siege
• Al-Shabaab blames Kenya for Nairobi mall deaths
• We have shamed and defeated our attackers; losses immense: Kenyan President
• Shabab threatens new attacks if Kenya does not leave Somalia
• Shabab denies American, British attackers in Kenya
Southeast Asia
• Sunnis and Shiites Embrace after Deadly Dispute in East Java
• Protests continue to dismiss Christian sub district head in S. Jakarta
• Only Shariah court rules on change of religion for Muslims, says minister
Arab World
• 14 killed in bombings, clashes in north Iraq
• Iraqi Kurdistan Must Ensure Minority Rights
• Egyptian police shut down Muslim Brotherhood's newspaper
• Syria rebels reject opposition coalition, call for Islamic leadership
• Tracing Syrian Conflict Back to Iraq's Civil War
• Bahrain's FM says Hezbollah leader Nasrallah is a 'criminal'
• Egypt warning a 'very dangerous escalation': Hamas
North America
• US bar displays pictures of Sikh Gurus, outrages community
• US president Obama opens door to direct diplomacy with Iran
• Syria's al-Assad 'must face consequences' for chemical weapons use, Obama says in UN speech
• Iran-US talks: No meeting between presidents even after 36 years
South Asia
• Preparations afoot to ban Bangladesh Jamaat-e-Islami
• Waheed ticks off India, obliquely
• Shot killed British soldier in Afghanistan: Inquest
• Afghan foreign minister upbeat on Pakistan ties
• Global concern as Maldivian court suspends presidential election
• MDP calls on Supreme Court to remain within "legal ambit of the constitution"
India
• Jamaat-e-Islami Hind sues state for Rs 10 cr
• An Iran-US 'handshake' is just what India asked for
• Al Qaeda on NIA radar for Bodh Gaya blasts
• Will meet Pakistan PM in New York, Manmohan Singh says
• 26/11: Pak panel to cross examine two key Indian witnesses
• India calls for resumption of electoral process in Maldives
• Godhra carnage: High court grants bail to three convicts
Pakistan
• Five Karachi police stations to be run by Rangers
• Pakistan Tehreek-i-Insaf assails blasphemy law in NA
• Massive earthquake kills more than 260 in Balochistan
• Mortar round from Afghanistan kills two in Pakistan
• 'My son is not a spy': Two abducted boys seen in Lashkar-e-Islam video
• 'Missing' photo of sole Christian deputy NA speaker displayed
• Militant attack on dam in Mohmand region kills three
• Rs320m Saudi donation goes missing, Senate body told
• Government hopes to use Imams to raise awareness
• UK-based group releases list of drone victims
Mideast
• Male students wear skirts to protest Skirt ban in Turkey's Antalya
• Rouhani's holocaust condemnation not enough: Israel
• Iran's Rouhani calls for 'consistent voice' from US on nuclear issue
• Abbas to Obama: Palestinians to 'exert every effort' for peace with Israel
• Main opposition CHP accuses ruling AKP over 'radical Islam'
Compiled by New Age Islam News Bureau
URL: https://newageislam.com/islamic-world-news/113-countries-sign-pledge-sexual/d/13682
---------
Europe
113 Countries Sign Pledge against Sexual Violence in Conflict
2013-09-25
UNITED NATIONS: Ministers from 113 countries have signed a declaration pledging new action to end sexual violence in conflict.
British Foreign Secretary William Hague said the declaration prohibits amnesties for sexual violence in peace agreements and allows suspects to be apprehended wherever they are in the world.
It also pledges to adopt a new International Protocol in 2014 to help ensure that evidence collected can stand up in court.
Hague, who co-hosted Tuesday's meeting on the sidelines of General Assembly, called the declaration ''a milestone towards shattering impunity for those who commit horrific crimes during times of war.''
He said Britain will be encouraging the 80 UN member states that haven't signed the declaration to do so. Hague announced that Britain will host a conference next year on sexual violence in conflict.
http://www.dawn.com/news/1045316/113-countries-sign-pledge-against-sexual-violence-in-conflict
---------
Briton Arrested In Nairobi Mall Attack
AFP | Sep 25, 2013
A British national has been arrested in Nairobi over the bloody attack on a shopping mall by armed Islamists, a spokeswoman for the foreign office said on Wednesday.
"We can confirm the detention of a British national in Nairobi and we are making contact to offer standard consular assistance," she told AFP, without saying if the suspect was a man or a woman.
British newspapers have speculated that Samantha Lewthwaite, the widow of one of the men who bombed the London transport system in 2005, was among the attackers who besieged the Westgate mall in the Kenyan capital.
Kenyan foreign minister Amina Mohamed told US television on Monday that a British woman was among the attackers, although this contradicted earlier statements from Kenyan officials who said they were all male.
Lewthwaite, a 29-year-old Muslim convert known as the "White Widow", has been on the run in East Africa for the last couple of years and is wanted by Kenyan police for alleged involvement in a separate terror plot.
President Uhuru Kenyatta announced an end to the 80-hour bloodbath in Nairobi late Tuesday, with the loss of 61 civilians and six members of the security forces.
He said five attackers were killed and 11 suspects detained.
http://timesofindia.indiatimes.com/world/rest-of-world/Briton-arrested-in-Nairobi-mall-attack/articleshow/23047045.cms
----------
U.N. official: 'more interfaith dialogue' needed in Myanmar
25 September 2013
Al Arabiya
There needs to be more "interfaith contact and dialogue" between ethnic Rakhine Buddhists and Rohingya Muslims, U.N. special adviser to the secretary-general for Myanmar, Vijay Nambiar, told Al Arabiya on Wednesday.
"There is now a need, a strong need, and I think that is being recognized by the government and in fact by some elements even of Buddhist community that there needs to more interfaith contact and dialogue," Nambiar said.
Last year in Rakhine state, nearly 200 people were killed and tens of thousands were forced from their homes after clashes between often the majority Buddhist Rakhine and the sizable minority Rohingya Muslims.
Rohingya Muslims, who are not recognized as citizens, live largely segregated from Buddhists in Rakhine after the deadly violence, with many of them living in tents or temporary camps.
The conflict has spread to other places in the country.
In March, at least 43 people - mostly Muslims – were killed in violence that erupted after an argument at a Muslim-owned shop in Meiktila, a town in central Myanmar.
While Myanmar classifies Rohignya Muslims as "immigrants," Nambiar said their status "is not in question," as "they have been there for generations if not centuries."
Instead, he said the deadly backlash was over "some of the political issues relating to Rakhine, which also got extended there."
He added: "the outbreak of violence, which was actually in a sense a normal law and order problem, became a major problem of communal tensions and was aggravated by a whole series of factors, including what was the old existing factor of the status of the Rohingya community in Rakhine."
The special advisor, who was in Myanmar early September, said: "I was able to get together with the help of government- the government also supported this - a meeting of Buddhist, Muslim leaders as well as those from the Catholic Christian community."
He said that they agreed on the need to "take pro-active action to prevent [conflict]."
According to Nambiar, Myanmar has realized that the sectarian tension is "affecting both its national prestige" and its current reform program.
He cautioned that within the Muslim communities there is "a strong sense of vulnerability" and added that "a sense of accountability" is sorely needed.
"People who have actually perpetrated acts have to be punished, that has to happen, only then will there be a sense of assuagement of the sense of insecurity and a sense of justice."
http://english.alarabiya.net/en/News/asia/2013/09/25/U-N-official-more-interfaith-dialogue-needed-in-Myanmar-.html
---------
Man behind 'Innocence of Muslims' film to be released from prison
25 September 2013
Al Arabiya
The man behind an anti-Islam film that sparked a wave of violence in parts of the Middle East is due to be freed from federal custody on Thursday.
Nakoula Basseley Nakoula, 56, is currently being held in Southern California, said Ed Ross, a spokesman for the Federal Bureau of Prisons, according to the Associated Press.
Nakoula was sentenced in November to a year in federal prison for using false names in violation of a probation order in a bank fraud case. That case was not related to the film.
In an interview earlier this year, Nakoula told Fox News that he was proud of the film and its purpose was not to insult Islam but rather to fight terrorism.
"I have a lot of Muslim friends and not all the Muslims believe in the terrorism culture. Some of them believe in this culture. That's why we need to fight (against) the culture, not the Muslims. My enemy is the terrorism culture," he told Fox in a telephone interview.
The film mocked the Prophet Mohammad, causing riots to break out in the Middle East that resulted in numerous deaths and casualties as protesters attacked U.S. embassies in countries such as Egypt and Yemen.
http://english.alarabiya.net/en/News/world/2013/09/25/Man-behind-Innocence-of-Muslims-film-to-be-freed.html
--------
Iran's new tone 'encouraging': Germany
25 September 2013
German Foreign Minister Guido Westerwelle on Tuesday met Iranian President Hassan Rowhani, welcoming a "new tone" from Tehran but demanding "substantial action" on its controversial nuclear program.
"This is a good day for those who bet on a political and diplomatic solution," Westerwelle told journalists, calling Rowhani's speech to the UN General Assembly "encouraging."
He later met Iran's new leader, who has made diplomatic overtures in his country's nuclear standoff with the West.
The talks focused on Iran's nuclear program and the civil war in Syria, diplomats said.
"We had a constructive discussion," Westerwelle said, stressing that he agreed with Rowhani that the use of chemical weapons is a "huge crime."
Western nations accuse Syria's President Bashar al-Assad of being behind the August 21 chemical attack near Damascus, which the United States estimates killed 1,400 people.
Westerwelle emphasized the "stark contrast" between the wording of Rowhani's speech and the fiery broadsides of his predecessor Mahmoud Ahmadinejad against Israel and the United States that prompted Western diplomats to walk out.
"The Iranians could be serious with a new constructive approach," he said but cautioned that Tehran must take concrete steps to prove its willingness to engage.
"It is critical that new substantial offers are made," Westerwelle added.
Germany's top diplomat also praised US President Barack Obama's speech to the General Assembly, who pushed for a "diplomatic path" with the new Iranian government.
Obama has sent a "strong signal" and offered a "window of opportunity" to end hostilities between Iran and the West, he said.
Westerwelle will participate in high-level talks on Iran's suspect nuclear program on Thursday, joining counterparts from the United States, Britain, China, France, Russia and Iran.
On Syria, Westerwelle urged world leaders to make renewed efforts for a political process during their annual gathering in New York.
"There cannot be a military solution in Syria. Only a political solution can bring sustainable peace and stability," he said.
Westerwelle is scheduled to address the UN General Assembly on Saturday in what will likely be his last major appearance as foreign minister.
After four years at the helm of Germany's diplomatic corps, Westerwelle is set to leave office following his party's crushing defeat in Sunday's parliamentary elections.
http://english.ahram.org.eg/NewsContent/2/8/82469/World/Region/Irans-new-tone-encouraging-Germany.aspx
----------
UN chief urges leaders to stop fueling Syria war
AP | Sep 24, 2013
UNITED NATIONS: Secretary-General Ban Ki-moon urged world leaders on Tuesday to stop fueling the bloodshed in Syria with weapons and get both sides to the negotiating table to end the "biggest challenge to peace and security in the world."
In his state of the world address to open the annual gathering of presidents, prime ministers and monarchs at the UN General Assembly, the UN chief said the international response to last month's "heinous use of chemical weapons" in Syria "has created diplomatic momentum - the first signs of unity in far too long."
He called on the UN Security Council to adopt an "enforceable" resolution on a U.S.-Russian agreement to put Syria's chemical weapons under international control for future destruction and bring to justice the perpetrators of the Aug. 21 chemical weapons attack outside Damascus to justice "either through referral to the International Criminal Court or by other means consistent with international law."
UN diplomats say differences between the U.S. and Russia on how a resolution should be enforced have held up action in the Security Council. Russia is opposed to any mention of Chapter 7 of the U.N. Charter, which includes military and non-military actions to promote peace and security.
The secretary-general stressed that the international community "can hardly be satisfied with destroying chemical weapons while the wider war is still destroying Syria."
"The vast majority of the killing and atrocities have been carried out with conventional weapons," Ban said. "I appeal to all states to stop fueling the bloodshed and to end the arms flows to all parties."
The fighting in Syria has left more than 100,000 dead.
Ban called on the Syrian government and opposition to "lift all obstacles" to access for humanitarian workers and release "the thousands of men, women and children whose detention has no basis in international law."
Beyond Syria, the secretary-general said, "we can see tremendous stress and upheaval across the region."
Without naming any countries, he noted that "historic transitions have stumbled or slowed. Springs of inspiration are giving way to winters of disillusionment."
He added, "The challenges are immense: building democracy and pluralistic dialogue; dousing the flames of sectarianism; filling the security vacuum after the iron grip of dictators is gone."
The secretary-general urged world leaders to do their utmost to help reforms succeed.
Elsewhere in the world, he welcomed the revival of direct negotiations between Israel and the Palestinians and Africa's new "dynamism, democracy and sustained, impressive economic growth."
The secretary-general called this "an era of wondrous opportunity" and called the year 2015 "a historic opportunity."
That is the year that world leaders have pledged to achieve anti-poverty U.N. Millennium Development Goals, the year a new development agenda will be adopted and the year that leaders have pledged to complete "a global legal agreement on climate change."
Ban announced that the U.N. will hold a climate summit next September in New York and challenged leaders to bring "bold pledges" to close the emissions gap.
http://timesofindia.indiatimes.com/world/us/UN-chief-urges-leaders-to-stop-fueling-Syria-war/articleshow/23004927.cms
----------
'Possible that "white widow" involved in attack': British Security Source
Sep 25 2013
London: A British security source on Tuesday said it was a possibility that the widow of a suicide bomber who attacked London in 2005 was involved in the siege of a Nairobi shopping mall where Islamist fighters killed at least 62 people.
When asked about reports that Samantha Lewthwaite, dubbed the "white widow" by the British media, was directly involved in the attack in Kenya, the source said: "It is a possibility. But nothing definitive or conclusive yet."
The security source spoke on condition of anonymity.
Lewthwaite is the widow of Germaine Lindsay, one of the suicide bombers who killed more than 50 people on London's transport system in 2005. She is thought to have left Britain several years ago.
In March last year, officials said she had fled to Somalia and that officers were hunting a woman who used several identities, including hers.
At a press conference in Pakistan, British Home Secretary Theresa May said: "I'm aware that there have been reports of a British woman being involved, but until we have seen the investigations completed it is not possible to give further details to confirm or deny that issue."
http://www.indianexpress.com/news/-possible-that-77-bomber-s-widow-involved-in-attack-/1173875/
---------
Africa
Al Shabab claim 137 hostages killed in Nairobi mall siege
AFP
2013-09-25
NAIROBI: Somalia's al Shabab insurgents claimed Wednesday 137 hostages they had seized died in a Nairobi shopping mall siege, figures impossible to verify and higher than the number of people officially registered as missing.
The Al-Qaeda-linked fighters, in a message posted on Twitter, said "137 hostages who were being held by the mujahedeen" had died.
They also accused Kenyan troops of using "chemical agents" to end the four-day stand-off.
"In an act of sheer cowardice, beleaguered Kenyan forces deliberately fired projectiles containing chemical agents," one tweet read.
Full report at:
http://www.dawn.com/news/1045327/shebab-claim-137-hostages-killed-in-nairobi-mall-siege
-----------
Al-Shabaab blames Kenya for Nairobi mall deaths
Sep 25, 2013
The militant group behind the four-day takeover of a Nairobi mall claimed on Wednesday that Kenyan government forces used chemical weapons in their assault on the building, then carried out "a demolition" to cover evidence and buried 137 hostages.
In a series of Twitter posts from an account believed to be genuine, al-Shabaab said that "having failed to defeat the mujahideen inside the mall, the Kenyan govt disseminated chemical gases to end the siege."
They added "to cover their crime, the Kenyan govt carried out a demolition to the building, burying evidence and all hostages under the rubble."
Government spokesman Manoah Esipisu immediately denied the claim, telling told The Associated Press no chemical weapons were used and that the official civilian death toll remains 61.
Full report at:
http://www.thehindu.com/news/international/world/alshabaab-blames-kenya-for-nairobi-mall-deaths/article5167455.ece
--------
We have shamed and defeated our attackers; losses immense: Kenyan President
Sep 25 2013
Nairobi: Kenya's president Tuesday said his forces had "defeated" Islamists from Somalia's al Shabaab, had shot five of them dead and detained 11 others suspected of killing 67 after storming a Nairobi shopping mall.
It remained unclear after Uhuru Kenyatta addressed the nation on television whether the four-day security operation at the upmarket Westgate centre was completely over, or whether any militants were still at large or hostages unaccounted for.
Full report at:
http://www.indianexpress.com/news/-we-have-shamed-and-defeated-our-attackers--losses-immense-/1173862/
---------
Shabab threatens new attacks if Kenya does not leave Somalia
AFP
Nairobi, September 24, 2013
Somalia's Shabab insurgents warned Tuesday they would follow the ongoing siege in Nairobi's Westgate shopping mall with further attacks if Kenyan troops did not pull out of Somalia immediately. "If not, know that this is just a taste of what we will do... you should
expect black days," Shabab spokesman Ali Mohamud Rage said, speaking in Arabic in an audio broadcast released by the extremists.
Full report at:
http://www.hindustantimes.com/world-news/Africa/Shabab-threatens-new-attacks-if-Kenya-does-not-leave-Somalia/Article1-1126576.aspx
---------
Shabab denies American, British attackers in Kenya
Reuters
Mogadishu, September 24, 2013
Somali Islamist militant group al Shabab on Tuesday dismissed comments by a Kenyan minister that Americans and a Briton were among the militants who attacked a shopping mall in Nairobi, and also said it had been in touch with the attackers. "We have communicated with our mujahideen
Full report at:
http://www.hindustantimes.com/world-news/Africa/Shabab-denies-American-British-attackers-in-Kenya/Article1-1126458.aspx
-------
Southeast Asia
Sunnis and Shiites Embrace after Deadly Dispute in East Java
September 25, 2013
Sunnis and Shiites from East Java finally sat together in their final and fourth meeting to declare peace, putting aside differences that erupted from a deadly attack more than a year ago.
Around 50 Sunni followers from Karang Gayam village in Omben subdistrict and Blu'uran village in Karang Penang subdistrict in Sampang traveled to the Puspo Argo low-cost apartment building in Sidoarjo, East Java, on Monday . They met with around 40 representatives from the Shia group who had been forced by the East Java government to live there.
Full report at:
http://www.thejakartaglobe.com/news/religious-embrace-after-deadly-dispute/
---------
Protests continue to dismiss Christian subdistrict head in S. Jakarta
September 25 2013
The rejection from local the Muslim majority residents against the head of Lenteng Agung subdistrict in South Jakarta continued after some 700 people took to the street on Wednesday, urging the dismissal of the Christian subdistrict head.
Residents from Lenteng Agung demanded that the Jakarta Administration dismiss their newly installed subdistrict head, Susan Jasmine Zulkifli, 43, simply because she was a Christian, not a Muslim like the majority of the residents.
Full report at:
http://www.thejakartapost.com/news/2013/09/25/protests-continue-dismiss-christian-subdistrict-head-s-jakarta.html
---------
Only Shariah court rules on change of religion for Muslims, says minister
BY JENNIFER GOMEZ
September 25, 2013
The only recourse for Muslims to convert to another faith is the Syariah court.
This was the response from Minister in charge of Islamic affairs Datuk Seri Jamil Khir Baharom (pic) when asked about the government's proposal to overcome the problems in cases where a non-practising Muslim wanted to convert to another religion.
Jamil Khir said the law sided with the religion stated in official documents, such as the birth certificate or identity card.
Full report at:
http://www.themalaysianinsider.com/malaysia/article/only-syariah-court-can-rule-on-muslim-conversion-says-minister
---------
Arab World
14 killed in bombings, clashes in north Iraq
25 September 2013
Militants attacked local government buildings in north Iraq on Wednesday with suicide bombers and mortar fire and clashed with soldiers, leaving 14 people dead, an army officer said.
Seven civilians, three soldiers and four militants were killed in the violence in the town of Hawijah, west of Kirkuk, army Staff Major General Mohammed Khalaf al-Dulaimi said.
One suicide bomber detonated an explosives-rigged vehicle near a police station while a second blew up another near a local administrative building.
Full report at:
http://english.ahram.org.eg/NewsContent/2/8/82468/World/Region/-killed-in-bombings,-clashes-in-north-Iraq.aspx
---------
Iraqi Kurdistan Must Ensure Minority Rights
September 25, 2013
The Kurdistan Region of Iraq succeeded in establishing a relatively stable state system in an environment that was — and still is — surrounded by dangers for the Kurds. This occurred after a decadeslong struggle against repressive totalitarian regimes that wanted to eliminate their unique culture and incorporate them into a chauvinistic, ideological identity. Kurds were joined in their struggle by other communities that have coexisted with them in the northern regions of Iraq for hundreds of years. These communities, however, are increasingly worried that the Kurdistan Region of Iraq has begun to take the same path as past regimes, characterized by totalitarianism and chauvinism.
Full report at:
http://www.al-monitor.com/pulse/originals/2013/09/iraq-kurdistan-region-protect-minority-rights.html#ixzz2fu0ppeaf
---------
Egyptian police shut down Muslim Brotherhood's newspaper
September 25, 2013
CAIRO - Egyptian authorities have shut down the headquarters of the Muslim Brotherhood's Freedom and Justice newspaper in Cairo, the latest move aimed at crushing the Islamist movement, the Brotherhood said on Wednesday.
"We the journalists of the Freedom and Justice newspaper condemn the security forces for closing down the headquarters of the newspaper," the Brotherhood said in a statement posted on its Facebook page.
Police stormed the building overnight and removed the contents. A source at the Cairo Security Department said the raid followed Monday's court ruling which banned the Brotherhood and ordered its funds seized.
Full report at:
http://www.jpost.com/Middle-East/Egyptian-police-shut-down-Muslim-Brotherhoods-newspaper-327038
---------
Syria rebels reject opposition coalition, call for Islamic leadership
September 25, 2013
A group of powerful rebel units have rejected the authority of the Western-backed Syrian opposition leadership abroad and called for it to be reorganised under an Islamic framework, according to a video statement posted on the internet.
At least 13 rebel factions were said to have endorsed the statement, including the al Qaeda-linked Nusra Front and the powerful Islamist battalions Ahrar Asham and the Tawheed Brigade.
These forces feel that all groups formed abroad without having returned to the country do not represent them, and they will not recognise them," said an elderly man reading the statement on film.
"Therefore the National Coalition and its transitional government led by Ahmad Tumeh do not represent it and will not be recognised."
Full report at:
http://www.hurriyetdailynews.com/syria-rebels-reject-opposition-coalition-call-for-islamic-leadership.aspx?pageID=238&nID=55104&NewsCatID=352
---------
Tracing Syrian Conflict Back to Iraq's Civil War
By: Harith Hasan
September 25, 2013
The relationship between Iraq and Syria has a troubled history with many contradictions. It has been strained during most of the countries' recent history. Nevertheless, the two sides are so similar and close that there have been projects to turn them into one entity ever since the founding of postcolonial states in the Arab Middle East.
The first king in Iraq after its separation from the Ottoman Empire was also previously the king of Syria. However, as Iraq and Syria were under the control of two different powers (Britain in the case of Iraq, and France in the case of Syria), they were not governed by King Faisal I during the same period.
Full report at:
http://www.al-monitor.com/pulse/originals/2013/09/syria-iraq-geography-mythology-conflict.html#ixzz2fu0iUgG3
---------
Bahrain's FM says Hezbollah leader Nasrallah is a 'criminal'
September 25, 2013
Bahrain's foreign minister slammed Hezbollah leader Hassan Nasrallah on Tuesday for criticizing the Sunni-led Gulf kingdom's treatment of its opposition Shi'ite population, AFP reported.
"The people of Bahrain are above being addressed by a criminal whose hands are stained by the blood of innocents in Syria, Lebanon and Iraq," Khalid al-Khalifa wrote on his Twitter account.
Full report at:
http://www.jpost.com/Middle-East/Bahrains-FM-says-Hezbollah-leader-Nasrallah-is-criminal-326976
---------
Egypt warning a 'very dangerous escalation': Hamas
25 September 2013
Hamas has condemned Egypt's warning of possible military action in the Gaza Strip if the Islamist group threatens Egyptian security.
"[Egyptian interim Foreign Minister] Nabil Fahmy's threats of military escalation against Hamas are very dangerous and reflect bad intentions towards Palestinians in general and Gaza in particular," said Fawzi Barhoum, a spokesperson for the group.
Fahmy told pan-Arab daily Al-Hayat on Tuesday that there was "tension" between Cairo and Hamas, and suggested the group was not doing enough to secure the border between Egypt and the Gaza Strip.
Full report at:
http://english.ahram.org.eg/NewsContent/1/0/82473/Egypt/Egypt-warning-a-very-dangerous-escalation-Hamas.aspx
---------
North America
US bar displays pictures of Sikh Gurus, outrages community
PTI
September 25, 2013
A pub in the city of Hollywood near Los Angeles has displayed full size posters of Sikh Gurus in their bar area, outraging the community members and forcing the owners to issue an apology. Pikey Bar agreed to take down the pictures of Sikh Guru after community members lodged a protest with the pub owners.
"We have lodged a protest," Satnam Singh Chahal, executive director of the North American Punjabi Association (NAPA) told PTI.
Full report at:
http://www.hindustantimes.com/world-news/americas/US-bar-displays-pictures-of-Sikh-Gurus-outrages-community/Article1-1126779.aspx
---------
US president Obama opens door to direct diplomacy with Iran
Sep 25 2013
United Nations : President Barack Obama opened the door to direct nuclear talks with Iran's moderate new government on Tuesday, declaring diplomacy worth pursuing though skepticism persisted about Tehran's willingness to back up friendly overtures with concrete action.
"The roadblocks may prove to be too great, but I firmly believe the diplomatic path must be tested," Obama said during an address to the United Nations General Assembly.
However, quiet negotiations over a possible first encounter between Obama and Iranian President Hasan Rouhani on the sidelines of the U.N. meeting ended without an agreement for the two leaders to meet. It would have marked the first time a US and Iranian leader had met in 36 years.
Full report at:
http://www.indianexpress.com/news/us-president-obama-opens-door-to-direct-diplomacy-with-iran/1174047/
----------
Syria's al-Assad 'must face consequences' for chemical weapons use, Obama says in UN speech
September 25, 2013
U.S. President Barack Obama on Sept. 24 demanded that the world take action on Syria, saying that the regime must face consequences after the use of chemical weapons.
Speaking before the United Nations General Assembly, Obama defended his threat of force against Syrian President Bashar al-Assad's regime and denounced critics who accuse the United States of inconsistency.
"There must be a strong Security Council resolution to verify that the Assad regime is keeping its commitments, and there must be consequences if they fail to do so," Obama told world leaders.
Full report at:
http://www.hurriyetdailynews.com/syrias-al-assad-must-face-consequences-for-chemical-weapons-use-obama-says-in-un-speech.aspx?pageID=238&nID=55090&NewsCatID=359
---------
Iran-US talks: No meeting between presidents even after 36 years
Sep 25 2013
United Nations : Iran's new president met with the French president Hollande on the sidelines of the UN General Assembly, but not with US President Barack Obama, as Western nations explored whether conciliatory talk from the Middle Eastern leader offers a way out of the impasse over Iran's nuclear program.
Anticipation of any brief but historic encounter between President Hasan Rouhani and Obama during the global meeting faded on Wednesday as US senior officials said a meeting proved to be too complicated for the Iranians.
Full report at:
http://www.indianexpress.com/news/iranus-talks-no-meeting-between-presidents-even-after-36-years/1173990/
---------
South Asia
Preparations afoot to ban Bangladesh Jamaat-e-Islami
September 25, 2013
Information Minister Hasan ul Haque Inu on Tuesday said all preparations were afoot to take action against Jamaat-e-Islami adding that it was not a tough task for the government to face the party.
He said: "The government is ready to ban Jamaat-e-Islami. But we have to remember that Jamaat was a registered party. So we have to follow the administrative and legal procedures in this regard. "
The minister made the comment while addressing a press briefing at the Secretariat.
Questioning the role of opposition leader Khaleda Zia as the chief of BNP-led 18-party alliance, he said: "The Jamaat men have took the lives of three drivers by setting fire to their vehicles during their recent 48-hour hartal. But, Khaleda Zia didn't give any statement condemning the incident. Her historical silence could be a questionable issue for the entire nation."
Full report at:
http://www.dhakatribune.com/politics/2013/sep/24/preparations-afoot-ban-jamaat-e-islami
---------
Waheed ticks off India, obliquely
Sep 25, 2013
Maldivian President Mohamed Waheed cautioned foreign governments against issuing "irresponsible statements," and asserted here on Wednesday that "the Maldives is capable of managing the dispute over the conduct of the first round of Presidential Elections."
In a statement here, which obliquely attacked India, he demanded that "foreign governments, the United Nations, and the Commonwealth to show responsibility and to refrain from issuing statements commenting on, and speculating about, the on-going court case."
Full report at:
http://www.thehindu.com/news/waheed-ticks-off-india-obliquely/article5167437.ece
-------
Shot killed British soldier in Afghanistan: Inquest
September 25, 2013
LONDON: A British soldier killed by a rogue member of the Afghan army as he played in a Remembrance Day football match died instantly from a gunshot wound to the chest, an inquest heard Tuesday.
Captain Walter Barrie died when gunman Mohammad Ashraf fired around 10 shots at players competing in the match between British forces and members of the Afghan National Army (ANA) at a base in the restive Helmand province, Oxford Coroner's Court heard.
Ashraf, who was wearing a full ANA uniform, used an M16 rifle during the attack, which took place on November 11 last year.
Full report at:
http://tribune.com.pk/story/609132/shot-killed-british-soldier-in-afghanistan-inquest/
---------
Afghan foreign minister upbeat on Pakistan ties
AP
2013-09-25
NEW YORK: Afghanistan's foreign minister is upbeat about relations with neighbouring Pakistan after the release of the former Taliban deputy leader, which Kabul had long sought.
For years, Afghanistan has accused Pakistan of supporting the raging anti-government insurgency, badly straining relations.
But Foreign Minister Zalmai Rassoul said Saturday's release of Mullah Abdul Ghani Baradar is the first signal that Pakistan's new prime minister is keeping his promise to cooperate with Afghanistan.
Full report at:
http://www.dawn.com/news/1045318/afghan-foreign-minister-upbeat-on-pakistan-ties
---------
Global concern as Maldivian court suspends presidential election
By JJ Robinson | September 25th, 2013
The international community has expressed alarm over the Maldives' sudden suspension of the second round of presidential elections, initially scheduled for September 28.
The Supreme Court issued an interim order on Monday evening, signed by four of the seven-member bench, halting the election until the court rules on allegations of electoral impropriety filed by third-placed presidential candidate, Gasim Ibrahim.
Gasim is seeking annulment of the first round in which he received 24.07 percent of the vote, alleging that he received at least 20,000 more votes and declaring that "God Willing, Gasim will be President on November 11″.
Full report at:
http://minivannews.com/politics/global-condemnation-as-maldivian-court-suspends-presidential-election-66642
---------
MDP calls on Supreme Court to remain within "legal ambit of the constitution"
By Minivan News | September 25th, 2013
The Maldivian Democratic Party (MDP) has called on the Supreme Court to "restrain itself to the legal ambit of the constitution" in an open letter from the party's chairperson 'Reeko' Moosa Manik to Chief Justice Ahmed Faiz Hussain on Tuesday (September 24).
The party contended that its lawyers Hassan Latheef and Hisaan Hussain were "unlawfully suspended" by the apex court in ongoing proceedings of the Jumhooree Party's case against the Elections Commission (EC) seeking annulment of the first round of the presidential election on September 7.
Full report at:
http://minivannews.com/politics/mdp-calls-on-supreme-court-to-remain-within-legal-ambit-of-the-constitution-66609
--------
India
Jamaat-e-Islami Hind sues state for Rs 10 cr
Sep 25 2013
Mumbai : The Jamaat-e-Islami Hind has slapped a Rs 10-crore defamation suit in the Bombay High Court against the state government, the state police and even the Union government.
The suit comes in the backdrop of a circular issued by the state police in April, asking its officers to keep a special watch on JIH's sister organisation, the Girls Islamic Organisation (GIO) since it was allegedly radicalising Muslim youths.
"We have filed a Rs 10-crore defamation suit against the state. The organisation has been working since 1941. Our work is not such that it would create a rift in society. That circular has done immense damage to our reputation. People are unwilling to allow their daughters to join GIO now," JIH spokesperson Aslam Ghazi said.
Full report at:
http://www.indianexpress.com/news/jamaateislami-hind-sues-state-for-rs-10-cr/1173835/
---------
An Iran-US 'handshake' is just what India asked for
Indrani Bagchi, TNN | Sep 25, 2013
NEW DELHI: While they aren't yet doing a high five in South Block but it's difficult to miss the optimism here at the possibility of Iran's new president Hassan Rouhani actually shaking hands with Barack Obama this week.
India has been friend of Iran's, US pressures notwithstanding. While little was officially shared about Manmohan Singh's meetings with Ayatollah Khamenei in August 2012 in Tehran on the sidelines of the NAM summit, it is believed he impressed upon the Iranian leader about the importance of resolving the standoff over Iran's nuclear programme.
New Delhi is inclined to believe that Khamenei is actually more pragmatic than is believed by the west. If Rouhani meets Obama, which may open the door to much more, it would only reflect the decision of Khamenei.
Full report at:
http://timesofindia.indiatimes.com/india/An-Iran-US-handshake-is-just-what-India-asked-for/articleshow/23019446.cms
---------
Al Qaeda on NIA radar for Bodh Gaya blasts
September 25, 2013
The National Investigation Agency (NIA) is probing al Qaeda for carrying out serial blasts in Bodh Gaya after key Indian Mujahideen (IM) operative Yasin Bhatkal told interrogators that Ayman al-Zawahiri-led global terror outfit already has a group operating in India, a counter terror official familiar with the details of Bhatkal's interrogation told HT.
Full report at:
http://www.hindustantimes.com/India-news/newdelhi/Al-Qaeda-on-NIA-radar-for-Bodh-Gaya-blasts/Article1-1126798.aspx
---------
Will meet Pakistan PM in New York, Manmohan Singh says
PTI | Sep 25, 2013
NEW DELHI: Prime Minister Manmohan Singh on Wednesday confirmed that he would be meeting his Pakistani counterpart Nawaz Sharif during his visit to the US which began on Wednesday.
Singh, in his departure statement, said he looks forward to bilateral meetings with leaders of some neighbouring countries including Pakistan, Bangladesh and Nepal during his visit to New York.
Full report at:
http://timesofindia.indiatimes.com/india/Will-meet-Pakistan-PM-in-New-York-Manmohan-Singh-says/articleshow/23029851.cms
---------
26/11: Pak panel to cross examine two key Indian witnesses
PTI | Sep 25, 2013
MUMBAI: The deposition of two key Indian witnesses in the 26/11 Mumbai terror attack case before an eight-member Pakistani Judicial Commission is underway in a local court on Wednesday amidst tight security.
The commission is here to cross examine Indian witnesses in order to carry forward prosecution of seven LeT suspects, including Zaki-ur-Rehman Lakhvi held in Pakistan for their role in 26/11 terror attacks.
Full report at:
http://timesofindia.indiatimes.com/india/26/11-Pak-panel-to-cross-examine-two-key-Indian-witnesses/articleshow/23039195.cms
---------
India calls for resumption of electoral process in Maldives
TNN | Sep 25, 2013
NEW DELHI: Stung by reports that Maldives Supreme Court had postponed the second round of elections in the archipelago, India on Tuesday called upon the country to respect the will of the people and resume the electoral process. Former president Mohamed Nasheed had established a substantial lead in the first round held on September 7 and was seen as the frontrunner for the post of president.
Full report at:
http://timesofindia.indiatimes.com/india/India-calls-for-resumption-of-electoral-process-in-Maldives/articleshow/23022571.cms
---------
Godhra carnage: High court grants bail to three convicts
TNN | Sep 25, 2013
AHMEDABAD: Gujarat high court on Tuesday granted regular bail to three of the convicts in the Godhra carnage case, while it rejected the bail plea filed by 11 others who have been sentenced to life imprisonment by a special SIT court.
Fourteen people, who were sentenced to life, had sought bail on the ground that they spent more than a decade inside jail in this case. Moreover, the appeals filed by them as well as by the state government are not likely to be heard in near future by the high court. In fact, the paper books of the case have not been prepared by the government in more than two years, which has delayed the proceedings in the high court. The SIT court had delivered its verdict in February 2011.
Full report at:
http://timesofindia.indiatimes.com/india/Godhra-carnage-High-court-grants-bail-to-three-convicts/articleshow/23011982.cms
---------
Pakistan
Five Karachi police stations to be run by Rangers
2013-09-25
KARACHI: The Sindh government issued a notification on Wednesday under which five police stations in Karachi would be under the control of Rangers' forces whereas at least 151 suspects were arrested in the city during targeted operations carried out by paramilitary forces and police personnel, DawnNews reported.
Earlier, the provincial government had decided that five police stations in the metropolis, one each in the five districts of Karachi division, would be under the joint control of Rangers and police to deal with four types of heinous crimes.
The suspects arrested on charges of "terrorism, targeted killing, kidnapping for ransom and bhatta (extortion)" during the ongoing targeted operation would be kept and interrogated at the five designated police stations, said Advocate General for Sindh Barrister Khalid Javed Khan.
Full report at:
http://www.dawn.com/news/1045324/five-karachi-police-stations-to-be-run-by-rangers
---------
Pakistan Tehreek-i-Insaf assails blasphemy law in NA
RAJA ASGHAR
2013-09-25
ISLAMABAD: A strong voice for a reform of the controversial blasphemy law was raised in the National Assembly on Tuesday by lawmakers of the opposition Pakistan Tehreek-i-Insaf during a debate on Sunday's massacre of more than 81 Christians in a suicide bombing at a Peshawar church.
This was the first public opposition from a right-wing party to the Zia-era law, which prescribes the death penalty for blasphemy and which has often been allegedly misused against members of the Christian community, while the previously ruling PPP paid with the lives of a provincial governor and a federal minister more than two years ago for demanding a similar reform.
Full report at:
http://www.dawn.com/news/1045294/javed-hashmi-assails-blasphemy-law-in-na
---------
Massive earthquake kills more than 260 in Balochistan
2013-09-25
KHUZDAR: Pakistan's military on Wednesday rushed to reach the scene of a huge earthquake that killed more than 260 people and toppled thousands of mud-built homes when it hit the country's southwest.
The 7.7-magnitude quake struck Tuesday afternoon in Balochistan province's Awaran district while aftershocks continued to jolt the northwestern part of the country – the latest tremor measured at 4.7 on the Richter scale on Wednesday.
Officials said 264 deaths had been confirmed so far – 208 in Awaran district alone – and that the toll is expected to rise as rescue teams reach more villages in the remote area.
Provincial home secretary Asad Gilani confirmed the death toll at 264 and said more than 400 were injured.
Full report at:
http://www.dawn.com/news/1045322/massive-earthquake-kills-more-than-260-in-balochistan
---------
Mortar round from Afghanistan kills two in Pakistan
Sep 25, 2013
Pakistan's Foreign Ministry says security forces in neighbouring Afghanistan fired a mortar round across the border, killing two Pakistanis and wounding one person.
Wednesday's statement from the Ministry says it has summoned a top Afghan official to lodge a strong protest over the incident, which occurred on Tuesday in the North Waziristan tribal region.
Full report at:
http://www.thehindu.com/news/international/south-asia/mortar-round-from-afghanistan-kills-two-in-pakistan/article5167576.ece
---------
'My son is not a spy': Two abducted boys seen in Lashkar-e-Islam video
September 25, 2013
PESHAWAR: Two teenage boys, who disappeared from Sheikhan village nearly two weeks ago, were seen in a video released by banned outfit Lashkar-e-Islam (LeI) in Bara, Khyber Agency.
Talking to The Express Tribune, Rehmat Sher said his son Sajjad Khan went missing along with his friend Manzoor Hussain one Sunday evening and the families have not been able to locate them since.
Full report at:
http://tribune.com.pk/story/608984/my-son-is-not-a-spy-two-abducted-boys-seen-in-lashkar-e-islam-video/
---------
'Missing' photo of sole Christian deputy NA speaker displayed
September 25, 2013
ISLAMABAD: C E Gibbon was 'missing' until Tuesday. But the National Assembly Secretariat finally displayed the photograph of Pakistan's third deputy speaker and the only Christian to hold the office, in its gallery.
"Gibbon's photograph has been displayed in the gallery," announced National Assembly Speaker Sardar Ayaz Sadiq on Tuesday, while expressing gratitude to Asia Nasir, Jamiat Ulema-e-Islam-Fazl's (JUI-F) minorities' representative, who had pointed it out to him earlier.
"It took us some time as we had to enlarge the only photo of Gibbon," Speaker Sadiq said. In response, Nasir said, "I am really grateful for the prompt action."
Full report at:
http://tribune.com.pk/story/608999/missing-photo-of-sole-christian-deputy-na-speaker-displayed/
---------
Militant attack on dam in Mohmand region kills three
ZAHIR SHAH SHERAZI
2013-09-25
PESHAWAR: A militant attack on a small dam in Mohmand tribal region's Halimzai area claimed the lives of three dam employees and injured seven others on Wednesday.
Security sources told Dawn.com that around a dozen militants attacked a small dam in Halimzai area of Mohmand tribal area causing damage to the installation.
The militants also set alite excavator and other machinery on the site.
As backup personnel began arriving at Gandau dam, the militants blew up their vehicle using an Improvised Explosive Device (IED).
Full report at:
http://www.dawn.com/news/1045317/militant-attack-on-dam-in-mohmand-region-kills-three
---------
Rs320m Saudi donation goes missing, Senate body told
KHALEEQ KIANI
2013-09-25
ISLAMABAD: About Rs320 million reportedly donated by Prince Fahd Bin Sultan, the governor of the Tabuk region of Saudi Arabia, for construction of a transmission line in Balochistan is allegedly missing, prompting a parliamentary sub-committee to order a detailed investigation.
Fateh Mohammad Hassani, who presided over a meeting of sub-committee of the Senate standing committee on finance and revenue, ordered the probe by the ministry of foreign affairs and the Saudi embassy in Islamabad.
Full report at:
http://www.dawn.com/news/1045264/rs320m-saudi-donation-goes-missing-senate-body-told
---------
Government hopes to use Imams to raise awareness
September 25, 2013
ISLAMABAD: In an attempt to shore up support from all segments of the society, the government said on Tuesday it is hoping to use the pulpit to improve understanding of the country's development and social issues.
Apart from narrating stories during their Friday sermons, the Imams could also become partners with the government in sensitising millions of mosque goers every Friday, said Minister for Planning, Development and Reforms Ahsan Iqbal.
Full report at:
http://tribune.com.pk/story/609003/broader-support-govt-hopes-to-use-pulpit-to-raise-awareness/
---------
UK-based group releases list of drone victims
2013-09-25
ISLAMABAD: A UK-based independent organisation launched on Tuesday a project aimed at identifying the victims of drone strikes in Pakistan and released its first list of over 550 victims — both civilians and militants.
The list, released by the Bureau of Investigative Journalism on its website, contains the names of 295 civilians, 255 alleged militants (74 of them are classified as senior commanders), 95 children (counted in the civilian total) and only two women.
The project, titled 'Naming the Dead', builds on the bureau's two-year work tracking drone strikes in Pakistan and the number of people reportedly killed. In its research the bureau has found that at least 2,500 people, including 400 civilians, have reportedly been killed. But almost nothing is known about the identities of the dead.
Full report at:
http://www.dawn.com/news/1045276/uk-based-group-releases-list-of-drone-victims
--------
Mideast
Male students wear skirts to protest Skirt ban in Turkey's Antalya
September 25, 2013
A small group of male high school students wore skirts in protest at a ban on girls wearing skirts yesterday at a high school in the southern province of Antalya.
Several male students, members of "Dev-Lis" (Revolutionary High Schoolers), turned out for the protest against a ban placed on girls wearing skirts late yesterday, after the Gazi Anatolian High School in Antalya prohibited its female students from wearing skirts as part of the school uniform.
Full report at:
http://www.hurriyetdailynews.com/male-students-wear-skirts-to-protest-ban-in-turkeys-antalya.aspx?pageID=238&nID=55083&NewsCatID=341
---------
Rouhani's holocaust condemnation not enough: Israel
AFP | Sep 25, 2013
Israeli officials on Wednesday brushed aside Iranian President Hassan Rouhani's condemnation of the holocaust as insufficient, saying he ought also to have condemned those who deny the Nazi genocide.
Rouhani told CNN, after addressing the UN general assembly late on Tuesday, that the extermination of Jews in World War II was "reprehensible," in a new sign of a radical change by the Tehran government.
Rouhani's predecessor Mahmoud Ahmadinejad was a strident critic of Israel and repeatedly questioned the Holocaust.
"It's true that (Rowhani) didn't deny the Holocaust, but he didn't condemn those who have denied it, such as his predecessor and other Iranian leaders," Intelligence minister Yuval Steinitz told Israeli public radio.
Full report at:
http://timesofindia.indiatimes.com/world/middle-east/Rouhanis-holocaust-condemnation-not-enough-Israel/articleshow/23040736.cms
---------
Iran's Rouhani calls for 'consistent voice' from US on nuclear issue
Reuters | Sep 25, 2013
UNITED NATIONS: Iranian President Hassan Rouhani expressed hope on Tuesday that US President Barack Obama would not be swayed by "war-mongering pressure groups" at home in dealing with the Iranian nuclear dispute and called for a consistent voice from Washington on the issue.
Full report at:
http://timesofindia.indiatimes.com/world/us/Irans-Rouhani-calls-for-consistent-voice-from-US-on-nuclear-issue/articleshow/23014229.cms
---------
Abbas to Obama: Palestinians to 'exert every effort' for peace with Israel
September 25, 2013
NEW YORK - Palestinian President Mahmoud Abbas pledged to US President Barack Obama on Tuesday that the Palestinians will exert every effort possible to try to ensure peace talks with Israel are a success.
Obama met with Abbas on Tuesday afternoon, after telling the United Nations that one of the two greatest foreign policy priorities of his presidency is the Israeli-Palestinian conflict.
The US president commended the Palestinian Authority president for sitting at the negotiating table with his Israeli counterparts and for condemning violence against the Jewish state.
"We've seen Palestinian and Israeli representatives discuss some of the most difficult issues that have been roadblocks to peace for too long," Obama said.
Full report at:
http://www.jpost.com/Middle-East/Abbas-to-Obama-Palestinians-to-exert-every-effort-for-peace-with-Israel-326994
-----------
Main opposition CHP accuses ruling AKP over 'radical Islam'
September 25, 2013
The main opposition party has accused Prime Minister Recep Tayyip Erdoğan of being the main financer of the radical Islamist groups in Syria, claiming the state's assets have been mobilized for these groups.
"If you bring foreign radical elements into Turkey, train, arm and finance them, then it has a cost," Republican People's Party (CHP) leader Kemal Kılıçdaroğlu said yesterday at a meeting with economy reporters. Turkey's 900-km border with Syria is only "a border on paper, but in reality those borders have turned into a parking area," said Kılıçdaroğlu.
Full report at:
http://www.hurriyetdailynews.com/main-opposition-chp-accuses-ruling-akp-over-radical-islam.aspx?pageID=238&nID=55093&NewsCatID=338
--------
URL:
https://newageislam.com/islamic-world-news/113-countries-sign-pledge-sexual/d/13682