New Age Islam News Bureau
25 Apr 2020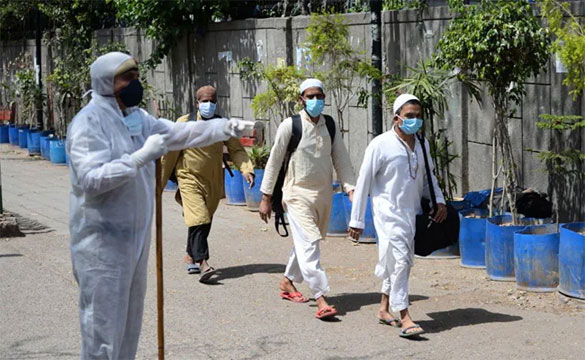 The ex-bureaucrats however, also termed as "misguided and condemnable", the action of Tablighi Jamaat
-------
• 101 Ex-Bureaucrats, Cabinet Secretary to CEC, Write to Chief Ministers Over 'Harassment' Of Muslims
• Muslim Neighbours Arrange Last Rites of Hindu Woman​ In Ahmedabad
• 'Ensure Mosques Are Able To Use Loudspeakers For Azan': Delhi Minorities Commission
• Ramazan Begins Amid Virus Pandemic: Islam's Holiest Sites in Saudi Arabia And Jerusalem Largely Empty Of Worshippers
• ISI's Changing Strategies Pushing Kashmiri Terrorists For 'Jihad' In Afghanistan, Says European Think-Tank
• Despite Occupation-Related Adversity, Palestinian Engineers Build Medical Ventilator
• Taliban Rejects Call for Ramadan Ceasefire in Afghanistan
• Mosques Rely on Low-Cost Disinfectant System Amid Pandemic
• IFSB, AMF Renew MOU To Support Islamic Finance Development
• Cameroon: Police Clash with Muslims Refusing to Cancel Ramadan Gatherings
• South Africa: Ramaphosa Sends Ramadan Wishes to Muslims
----------
India
• 101 Ex-Bureaucrats, Cabinet Secretary to CEC, Write to Chief Ministers Over 'Harassment' Of Muslims
• Muslim Neighbours Arrange Last Rites of Hindu Woman​ In Ahmedabad
• 'Ensure Mosques Are Able To Use Loudspeakers For Azan': Delhi Minorities Commission
• Ramadan Glut, Crude Oil Slump Drag Basmati Paddy Futures Down 6%
• Azaan from mosques allowed only in low volume, subject to permission from district authorities: Uttarakhand Police
• Ramadan Mubarak 2020: Wishes, Messages, Images, Quotes, Pictures, Facebook & WhatsApp status for Ramzan
• SonuSoodTo Donate 25,000 Meals Every day During Ramadan
-----
Arab world
• Ramazan Begins Amid Virus Pandemic: Islam's Holiest Sites in Saudi Arabia And Jerusalem Largely Empty Of Worshippers
• Tarawih Prayers from Sheikh Zayed Grand Mosque to Be Broadcast on UAE TV, Radio Channels
• Combating coronavirus: Abu Dhabi announces national sterilisation programme timings during Ramadan
• Egypt, Algeria relax coronavirus restrictions for Ramadan
• Eminent Saudi Activist, Denied Due Medical Care, Dies in Saudi Jail: Report
• Syria envoy denounces UN failure to enforce resolutions on Israeli occupation
• Ramadan and coronavirus: Time to share the blessings
• Can diabetics in UAE still fast during Ramadan in times of coronavirus?
• Awqaf Ministry to hold religious programs remotely during Ramadan
• King Salman Congratulated by Palestinian, Tunisian Leaders on Advent of Ramadan
-------
Europe
• ISI's Changing Strategies Pushing Kashmiri Terrorists For 'Jihad' In Afghanistan, Says European Think-Tank
• Enterprising Yorkshire Boy Builds His Own Home Mosque Using Recycled Cardboard
• East Renfrewshire's Muslim Community Are Being Urged To 'Pray At Home And Stay At Home' During Ramadan
• Ramadan Kareem! Here's Malta's Fasting Timetable for Islam's Holy Month
• Lockdown to make for very different Ramadan for Aberdeen Muslim community
• How Oxford's Muslims are preparing for Ramadan under lockdown
• Ramadan 2020 timetable - here's how lockdown could impact the annual celebrations
• Travel retailers, airports and airlines honour the start of Ramadan
-----
Mideast
• Despite Occupation-Related Adversity, Palestinian Engineers Build Medical Ventilator
• Read 'nonfiction books' about world affairs, Iran advises US officials
• President Rouhani Felicitates Leaders of Islamic Countries on Holy Month of Ramadan
• Iran's First Vice President Congratulates Muslim Nations on Ramadan
• Gazans welcome Muslim holy month of Ramadan
• Iran's satellite launch right move in right direction: Rouhani
------
South Asia
• Taliban Rejects Call for Ramadan Ceasefire in Afghanistan
• Muslims in Sri Lanka: Ramadan in times of quarantine
• '30 doctors infected with Covid-19 daily on average last week
• 18-bed ICU set up for coronavirus patients at SBMCH
------
Pakistan
• Mosques Rely on Low-Cost Disinfectant System Amid Pandemic
• Major violation of SOPs witnessed in majority of mosques
• Pro forma issued for mosques to contain Covid-19 spread
-----
Southeast Asia
• IFSB, AMF Renew MOU To Support Islamic Finance Development
• Singapore Minister-in-Charge of Muslim Affairs Lauds Muslim Leaders' Early Decision to Close Mosques
• Fasting, giving alms key to meaning of Ramadan: Minister
• Seize the Benefits Of Ramadhan, His Majesty Of Borneo Tells Muslims
• Sarawak Starts BROSS Programme to Encourage Online Trades During Ramadan
• Ramadan welcomed with cleansing ritual at PathokNegoro Mosque
• Coronavirus: From Coffee InHong Kong To Burgers In Malaysia And Ramadan In Singapore – Here's How Asia's Small Businesses Cope With Covid-19
-----
North America
• Cameroon: Police Clash with Muslims Refusing to Cancel Ramadan Gatherings
• Jeff Goldblum Faces Social Media Backlash Over Islam Comments on 'RuPaul's Drag Race'
• Muslim association donating care packages for Ramadan
• Coronavirus: Toronto Ramadan celebrations move online
-----
Africa
• South Africa: RamaphosaSends Ramadan Wishes to Muslims
• UPC wants govt to give food aid to fasting Muslims
• METROCOVID-19: Three Imams In Trouble For Flouting Lock Down Order In Borno
• 2020 Ramadan: Yobe govt reduces official working hours for civil servants
• Ramadan: We'll come out stronger, better, says Oyetola
• Ramadan: NAHCON, PDP urge prayers for Nigeria over COVID-19
Compiled by New Age Islam News Bureau
URL; https://www.newageislam.com/islamic-world-news/101-ex-bureaucrats-cabinet-secretary/d/121672
------
101 Ex-Bureaucrats, Cabinet Secretary to CEC, Write to Chief Ministers Over 'Harassment' Of Muslims
April 25, 2020
New Delhi: As many as 101 former bureaucrats have written to the Chief Ministers of states expressing anguish over the "harassment" of Muslims in some parts of the country.
They termed as "misguided and condemnable" the action of Tablighi Jamaat in organising a meeting in Delhi, but mentioned the "utterly irresponsible and reprehensible" action of a section of media in fuelling hostility towards the Muslims.
"The fear and insecurity generated by the pandemic is sought to be channelled into the "othering" of the Muslim community in different places to keep them out of public spaces, purportedly to protect the rest of the population," the former civil servants said in an open letter.
We can endure, survive and overcome the challenges that this pandemic has imposed on us only by remaining united and helping each other," they said, and lauded those chief ministers who have been resolutely secular in their approach both in general and, in particular, in relation to this pandemic.
These 101 former civil servants belong to the all-India and central services, from all over India and said they "do not subscribe to any particular political ideology but rather focus on issues that have a bearing upon the Indian Constitution".
"It is with much anguish that we bring to your attention reports of harassment of Muslims in some parts of the country, particularly following the meeting of the Tablighi Jamaat in March in the Nizamuddin area of New Delhi," the letter said, as reported by news agency Press Trust of India.
The Jamaat was criticised for ignoring the principle of social distancing when cases of COVID-19 had started emerging in the country, it said.
Although this was hardly the only incident of such gatherings, both political and religious, sections of the media hastened to give a communal colour to COVID-19, including attributing motives to the Tablighi Jamaat in spreading the virus to different parts of the country, the letter said.
"The action of the Jamaat in organising such an event, ignoring the Delhi government''s advisories was, without question, misguided and condemnable. However, the action of the media in communalising it and extending it to the Muslim community as a whole is utterly irresponsible and reprehensible," it said.
Such coverage has fuelled hostility towards the Muslim community in parts of the country, the former bureaucrats said, citing different incidents of alleged bias towards Muslim.
"More disturbingly, reports of discrimination are also coming in from various places about Muslims being turned away from hospitals and health facilities," the letter said.
"In addition, there are reports of the special entitlements of rations and cash, that governments have sanctioned at this time, being denied to Muslim families," they former civil servants claimed.
"We call upon you to reassure all the people in your state that by following the instructions for social distancing and the practices regarding using face covering and hand washing, they can keep safe from COVID-19. It needs to be emphasized that there is no truth whatsoever in the rumours that any particular group has more infections than others in our country," they said in the letter, accessed by news agency Press Trust of India.
The former bureaucrats said some Muslim nations with whom India has traditionally maintained good relations have expressed serious concerns about the recent development in the country.
"Millions of our fellow citizens live and work in these countries. There has been serious concern expressed in these countries about the recent developments. We should ensure, through our non-discriminatory action and relief measures, that the minorities have nothing to fear in India. This will help assuage the misgivings of these countries and avoid any consequential detriment to the prospects of the sizable Indian diaspora there," the letter said, reported news agency PTI.
The former civil servants requested the Chief Ministers to instruct all public functionaries to be particularly vigilant to prevent social boycott of any community in the state and to ensure that all the entitlements including medical and hospital care, rations and financial assistance are available equally to all those in need.
"At this time of grave national and international crisis, we count on your leadership in bringing the people of India together rather than allowing the deepening of fissures in our country," they said.
These bureaucrats include former cabinet secretary KM Chandrasekhar, former IPS officers AS Dulat and Julio Ribeiro, former chief information commissioner Wajahat Habibullah, former Lt Governor of Delhi Najeeb Jung and former chief election commissioner SY Quraishi.
https://www.ndtv.com/india-news/101-ex-bureaucrats-write-to-chief-ministers-over-alleged-harassment-of-muslims-2218027
------
Muslim Neighbours Arrange Last Rites Of Hindu Woman In Ahmedabad
Apr 25, 2020
AHMEDABAD: In a heart-warming instance of humanity trumping pandemic apprehensions, Muslim neighbours ensured final rites of a Hindu woman who died in the city. Mandakini Tripathi, 75, who stayed all alone at Usha Kiran building in Khanpur, accidentally fell in her house on Thursday and died within hours.
Her neighbours got in touch with her nephew in the United States, who said that two of her distant relatives stayed in the city. They then got in touch with the relatives, and together, helped complete the final rites of the woman, setting an example of inter-community goodwill and bonhomie.
"I got a call from NaseeruddinAjmeri and JoharTarwala, who stay in the same building, informing that a senior citizen in their building had collapsed in her house. All the building residents rushed to her house, but she did not survive," said Sahal Qureshi, one of those who helped in Mandakini's final rites. He added that they got in touch with her nephew, who stays in the US. "He gave us the numbers of her distant relatives who stay in Ahmedabad," Qureshi added.
"Muslims of the building and neighbouring buildings themselves went to the crematorium to see through the final rites of Mandakini. None of us could hold back our tears, as her relatives held our hands and thanked us for making arrangements for her final rites," said Hakeem Yaasir, who was among those who helped organize the final rites of the senior citizen at Dudheshwar crematorium. He added, "This is the true character of India. This proves we are all united." Among those who helped in arranging Mandakini's final rites were Sahal Qureshi, Arif Shaikh, Samir Jariwala and others.
Rajnikant Trivedi, 64, a distant relative of Mandakini, said that her husband had died several years ago. He acknowledged the love and respect from the neigbours and said, "Humanity is much greater than one's religion. Mandakini's neighbours, mostly Muslims and DawoodiBohras, not only stood by respectfully as post-death rituals were done, but they even accompanied the body to the crematorium for final rites," said Trivedi.
https://timesofindia.indiatimes.com/city/ahmedabad/muslim-neighbours-arrange-last-rites-of-hindu-woman-in-ahmedabad/articleshowprint/75367449.cms
-----
'Ensure Mosques Are Able To Use Loudspeakers For Azan': Delhi Minorities Commission
APRIL 25, 2020
The Delhi Minorities Commission (DMC) on Friday asked Lieutenant-Governor Anil Baijal and Chief Minister Arvind Kejriwal to ensure that the police does not stop mosques from using loudspeakers for azan.
In a letter, the DMC said it had received reports from some districts that the police had been making announcements that carrying out of azan has been prohibited. Ramzan is starting from April 25.
The DMC assured officials that mosques will meticulously follow COVID -19 restrictions regarding social distancing and the number of people gathered at one spot.
"The issue of azan is very pressing due to the beginning of the month of Ramzan when Muslims fast and break their fast on hearing the azan at sunset. The Commission received information from some areas where policemen are telling mosques to stop azan and in some cases they have even removed the loudspeakers," the DMC said in its letter.
The DMC also asked the L-G and CM to ensure that Muslims living in quarantine camps who will be keeping fast during Ramzan are given food according to the timings of their fast.
In the letter, the DMC also alleged that members of the Tablighi Jamaat in quarantine camps were not being treated well and that breakfast was being served at 11 a.m., and dinner at 10-11 p.m.
"The food is hardly edible. People are having stomach problems and some are vomiting. Medical facilities and medicines are not being provided... some of the inmates are diabetic and heart patients. Doctors rarely visit the patients. Inmates are not given necessary and life-saving medicines as a result of which two diabetic patients have died in a quarantine camp at Sultanpuri," the commission said.
Mohamed Mustafa (60) died on April 22 while Haji Rizwan died about ten days earlier as they were diabetic, the DMC said, adding that the men died due to denial of diabetic medicines and erratic food supply. The commission has requested the L-G and CM to order an inquiry into the deaths.
https://www.thehindu.com/news/cities/Delhi/ensure-mosques-are-able-to-use-loudspeakers-for-azan/article31429343.ece
-----
Ramazan Begins Amid Virus Pandemic: Islam's Holiest Sites In Saudi Arabia And Jerusalem Largely Empty Of Worshippers
April 25, 2020
RIYADH/JERUSALEM: The holy month of Ramazan began on Friday with Islam's holiest sites in Saudi Arabia and Jerusalem largely empty of worshippers as the coronavirus crisis forced authorities to impose unprecedented restrictions, a British wire service reported.
In a rare occurrence in Islam's 1,400-year history, Makkah's Grand Mosque and the Masjid-e-Nabwi (SAW) in Medina - the religion's two holiest locations - will be closed to the public during the fasting period.
Prayers from inside the mosque at Makkah on the first evening of Ramazan on Thursday were restricted to clerics, security staff and cleaners, in a ceremony broadcast live on television.
The masks and gloves were used in KhanaKa'aba and Masjid-e-Nabwi while offering Jumma prayers.A stunning emptiness enveloped the sacred Ka'aba in the most potent sign of how the daytime fasting month will be a sombre affair across Islamic nations.
In comments marking the start of Ramazan, King Salman, who is the Custodian of the Two Holy Mosques, lamented the need for social distancing during the holy month.
"It pains me to welcome the glorious month of Ramazan under circumstances that forbid us from prayers in mosques," he said, according to the official Saudi Press Agency.
"It doesn't feel special this year, we don't feel any Ramazan vibes," said Sarah, a mother-of-two in Riyadh. At a near-empty Al-Aqsa Mosque in Jerusalem, an imam called out the first Friday prayers of Ramazan across a windswept plateau almost devoid of worshippers.
A handful of clerics in face masks knelt below the pulpit, keeping several feet apart to comply with coronavirus restrictions. "We ask God to have mercy on us and all of humanity and to save us from this lethal pandemic," the imam said.
Ramazan typically draws tens of thousands of Muslims daily to the mosque and the adjoining Dome of the Rock. Worshippers will instead have to watch prayers on television.
Ramazan is typically a period of both worship and socialising, but this year strict lockdowns limit socialising during iftar meals at dusk when the fast is broken -- a centrepiece of Ramazan.
The measures have put a damper on spirits in Indonesia, the world´s biggest Muslim majority nation, where national religious organisations have called on the faithful to stay at home.
"I´m disappointed that I can´t go to the mosque, but what can we do? The world is different now." Similar sentiments echoed across the Middle East and North Africa, where multiple towns and cities are under round-the-clock curfew.
Countries such as the United Arab Emirates, Iraq, Libya, Tunisia and Algeria have partially eased the lockdown but Morocco has announced a night-time curfew for Ramazan as it steps up emergency measures to combat the virus.
The North African nation´s Council of Ulema, the official religious body, called for confinement to be respected during Ramazan, saying Islamic sharia law put saving lives above all else -- even meeting for prayers.
However, some religious leaders in Asia -- home to nearly a billion of the world´s Muslims -- have shrugged off fears about the spread of COVID-19.
In Bangladesh, Hefazat-e-Islam group criticised government moves to restrict access to more than 300,000 nationwide mosques. "Quotas on prayer attendance are against Islam," Mojibur Rahman Hamidi, a Hefazat official, said.
"A healthy Muslim must join prayers in a mosque. We hope that, if we pray hard, Allah will save us from the coronavirus," he added. The top Islamic organisation in Indonesia's Aceh province also publicly bucked a national order to stay at home.
Several thousand worshippers attended evening prayers Thursday at the biggest mosque in the region´s capital Banda Aceh, though crowds were smaller than usual.
The threat of large religious gatherings has been highlighted in recent weeks by waves of infections in Asia linked to separate, massive Islamic congregations in Malaysia, Pakistan and India.
The COVID-19 death tolls across the Middle East and Asia have been lower than in Europe and the United States but are rising steadily, sparking fears the virus may overwhelm often underfunded healthcare systems.
To limit exposure, the World Health Organisation has urged countries to "stop large numbers of people gathering" in places associated with Ramazan activities, such as entertainment venues, markets and shops.
Mohamad Shukri Mohamad, the top Islamic cleric in the Malaysian state of Kelantan, planned to skip public prayers and family meals -- even if it meant not seeing his six children and 18 grandchildren.
"This is the first time in my life that I´ve been unable to go to the mosque," he said. "But we must accept it and obey the rules of social distancing to protect our lives."
This year many Muslims are saving their money for masks, gloves and other COVID-19 protective gear. In Lebanon, the threat of the virus and a severe economic crisis have put a damper on Ramazan festivities, with the streets in the capital Beirut largely empty.
Muslim-majority Malaysia has extended a strict lockdown until mid-May with mosques, schools and most businesses closed -- and police checkpoints set up to catch rule breakers. Even popular Ramazan bazaars, where Muslims buy local delicacies before breaking their fast, have been banned.
Meanwhile, in Pakistan Jumma prayers was offered by implementing the standard operating procedures (SOPs) devised unanimously by the government and Ulema.
Administrations of the mosques marked distances for followers in the courtyards of the mosques besides special arrangements for the followers.
Ulema in their sermons, urged the citizens to follow instructions by the government and health departments to save them from coronavirus. The citizens have been directed to make ablution (wuzu) and offer sunnah prayers at homes.
The mosques administrations arranged sanitizers for citizens and washed courtyards with disinfectants. However, in most of the areas, the government imposed restrictions were not followed.
Our Karachi correspondent adds: A mixed response to the government's 20-point SOP regarding Friday and Taraveeh congregational prayers was observed across the city.
In some places, worshippers followed the SOP while in others they displayed carelessness. In some mosques, carpets and rugs were removed and the worshippers offered prayers by maintaining a proper distance, which was the main point of the SOP that the federal government and religious scholars had agreed on.
In some mosques, soap was also provided to the worshippers to wash their hands during ablution, and only a limited number of people were allowed to pray. The SOP was also enforced outside the mosques and worshippers were requested to follow it. A large number of people also offered Friday prayers at their homes.
For Taraveeh, people in some places acted upon the SOP, but at other places they showed complete disregard for it and ignored social distancing and other precautionary measures.
https://www.thenews.com.pk/print/649253-jumma-prayers-mosques-across-globe-stood-empty
-----
ISI's Changing Strategies Pushing Kashmiri Terrorists For 'Jihad' In Afghanistan, Says European Think-Tank
Apr 25, 2020
AMSTERDAM: Pakistan is posing multifarious challenges for those seeking to curb its sponsorship of terrorism, says European think-tank while exposing ISI's new strategies of using terrorists for its proxy wars against its neighbours.
The European Foundation for South Asian Studies (EFSAS) which recently exposed Pakistan's spy agency, the ISI's role in a terror attack on a Gurudwara in Kabul on March 25, says that the agency is now pushing Kashmiri terrorists for its proxy war in Afghanistan.
"It had been brought out that the Afghan National Directorate of Security (NDS) had revealed that Abdullah Orakzai alias Aslam Farooqi, a key leader of the Islamic State in Khorasan Province (ISKP), who had been arrested with 4 of his ISKP associates for carrying out the attack, enjoyed "close relations" with Pakistan-based and backed terrorist groups such as the Haqqani network and the Lashkar-e-Taibah (LeT), and that he had confessed to having links with 'regional intelligence agencies' a euphemism for the ISI," the report said.
It added, "It has since emerged that one of Farooqi's arrested associates, whom the EFSAS commentary had identified as Ali Mohammad from Islamabad, was actually a Kashmiri terrorist called Aijaz Ahmad Ahangar who at the time of his arrest was also functioning as the chief recruiter of the Islamic State for Jammu & Kashmir (J&K)."
Aijaz Ahmad Ahangar's case is an interesting one, and it sheds some light on the modus operandi of the Pakistani Inter-Services Intelligence (ISI) in the region.
Afghan security officials have revealed that Ahangar, after initially identifying himself as Ali Mohammad, only disclosed his true identity under more sustained questioning.
Originally a resident of NawaKadal in Srinagar in J&K, the now 55-year-old Ahangar had been arrested on terror charges by Indian security agencies in the 1990s. Upon his release, he found a way into Bangladesh, from where he boarded a flight to Pakistan.
EFSAS research also found that once he reached Pakistan, the ISI initially settled Ahangar in Islamabad. He was then subsequently relocated to the Miranshah area of Waziristan in Pakistan's Khyber Pakhtunkhwa province that borders Afghanistan. Ahangar, after a brief fling with Al-Qaeda, eventually joined the ISKP on the directions of his handlers.
The details of Ahangar's life serve to demonstrate yet again the immense advantages that a terror-exporting country has if the indiscriminate nature of its sponsorship of terror encourages it to prop up and finance terrorist groups that target both of its largest neighbours, in this particular case India and Afghanistan.
"The exodus of a large contingent of foreign mercenaries from Afghanistan to J&K after the Soviet departure from Afghanistan in the 1990s was an early example of the Pakistani policy of relocating its surplus, expendable, or exposed terrorist assets from the western terror front to the eastern one and vice versa," the report added.
The think-tank found that the formation of the Lashkar-e-Taiba (LeT) in Afghanistan and its subsequent relocation to the east to focus predominantly on terrorist acts against India, especially in J&K, was another such example.
"Ahangar's arrest showed that not only entire terrorist groups, even individual terrorist leaders and cadres were being flung eastward or westward by the Pakistani military establishment, as per its requirements or its convenience. The freedom to ensure mobility and fluidity for its terrorist assets has provided an unmistakable depth to Pakistan's terror calculus, and put serious monitoring challenges before those seeking to thwart Pakistan's dalliance with terror," the report said further.
The Pakistani military establishment's recalcitrance and incorrigibility even at times when it is under serious international scrutiny, was also on display this last week.
Castellum.AI - a New York-based regulatory technology company that automates watch list compliance - observed that even as Pakistan is scheduled to face its next evaluation by the Financial Action Task Force (FATF) in June, the country has brashly removed as many as 4000 names from its terrorism watch list, known locally as the 'proscribed persons list', that is maintained by its National Counter Terrorism Authority (NACTA).
As many as 1800 names have been removed since March this year. Prominent among the names that have been excluded from the list is that of Zaki-ur-Rehman Lakhvi, the LeT operations commander who is widely accepted to be the mastermind behind the 2008 Mumbai terror attacks.
https://timesofindia.indiatimes.com/world/pakistan/isis-changing-strategies-pushing-kashmiri-terrorists-for-jihad-in-afghanistan-says-european-think-tank/articleshowprint/75369632.cms
-----
Despite occupation-related adversity, Palestinian engineers build medical ventilator
24 April 2020
In spite of adversity and deprivation caused by the Israeli occupation, Palestinian engineers have built a pump-action medical ventilator to treat patients with COVID-19.
The Palestinian Al-Quds University, near Jerusalem al-Quds, unveiled the ventilator on Thursday a day after it was certified for use in Palestinian hospitals, AFP reported.
According to the head of the university's faculty of medicine, Hani Abdeen, Palestinian territories, including the besieged Gaza, had only 180-200 ventilators. Many more such machines will be required if the outbreak escalates within the Palestinian territories, which are home to about five million Palestinians.
Palestinian engineers decided to design their own ventilators given the global peak in demand for the device and difficulties in importing large numbers of them.
"This proves the perennial fact that under duress you excel," Abdeen said, pointing to the difficult political situation of Palestinians under Israeli occupation. "We have to rely on the knowledge, the expertise, and the innovative ability of Palestinian intellectuals, scientists, and medics in order to help our community."
Earlier, Saeb Erekat, the secretary general of the Palestine Liberation Organization (PLO), said Palestine had requested cooperation from Israel to combat the COVID-19 epidemic but instead received incursions, killings, and demolitions from the occupying regime.
"Of course, there was this problem 'where are you going to find the parts needed for this ventilator in order to produce it in large numbers?'" he said. "But we were fortunate enough to find (them) in the Palestinian market."
The ventilator is less advanced than larger models available on the market but can be quickly produced with a fraction of the cost of the advanced models.
The Palestinian engineers aim to produce 500 ventilators for local hospitals and possibly export additional machines beyond the territories.
"We are now in a hurry to produce for our hospitals in Palestine, and later on we (will try) to produce more machines for the whole world," said the dean of the university, Imad Abu Kishek.
So far, there is only a limited need for the ventilators as only 350 COVID-19 cases have been confirmed in the Gaza and the West Bank. Two people have also died.
The Palestinian Authority in the West Bank and the Hamas resistance movement have undertaken strict measures to contain the outbreak.
Israel has so far reported nearly 15,000 confirmed cases and 193 deaths resulting from the COVID-19 outbreak.
https://www.presstv.com/Detail/2020/04/24/623833/Palestinian-engineers-ventilator
-----
Taliban rejects call for Ramadan ceasefire in Afghanistan
April 25, 2020
KABUL: The Taliban have dismissed a government call for a Ramadan ceasefire in Afghanistan, saying a truce is "not rational" as they ramp up attacks on government forces.
President Mohammad Ashraf Ghani appealed to the militants to lay down their arms for the Islamic holy month that began Friday, as the country battles the growing coronavirus pandemic.
But the Taliban's spokesman Suhail Shaheen tweeted late Thursday to lambaste the government's offer, citing ongoing disagreements over a potential peace process and a delayed prisoner exchange as reasons to keep fighting.
"Asking for ceasefire is not rational and convincing," wrote Shaheen as he accused the government of putting prisoners' lives at risk during the outbreak.
Under a landmark US-Taliban deal signed earlier this year, the Afghan government and the insurgents were by now supposed to have concluded a prisoner swap and started talks aimed at bringing about a comprehensive ceasefire.
The latest round of bickering comes after dozens of Afghan security forces personnel were killed in a fresh wave of violence launched by the insurgents this week.
The attacks have mostly been limited to rural areas and small towns. Under the US-Taliban deal, the insurgents have agreed not to attack cities.
https://www.thekabultimes.gov.af/2020/04/25/taliban-rejects-call-for-ramadan-ceasefire-in-afghanistan/
-----
Mosques rely on low-cost disinfectant system amid pandemic
By Aamir Khan
April 25, 2020
KARACHI: In advance of the Muslim month of fasting, several mosques across Karachi have chosen to keep their doors open to worshippers and staff throughout Ramazan, despite the World Health Organisation's (WHO) suggestion to discourage congregational gatherings amid the threat of Covid-19.
However, in a bid to abide by the standard operating procedures (SOPs) provided by the government in the regard, many mosques around the city have started installing sanitisation mechanisms and disinfectant sprays in the hopes of keeping their premises contagion-free.
According to a local mosque administrator, Asif Iqbal, mosques and imambargahs of Karachi will thoroughly comply with the guidelines agreed between the president and ulemas while encouraging health and safety practices among the worshipers.
Since washing hands with soap is one of the entrance protocol, we have installed taps and washbasins rights outside the gates of our mosques so that anyone entering the mosque can follow the basic safety procedures before entry," Iqbal shared.
Speaking further to The Express Tribune, the mosque administrator also revealed that the outbreak of the coronavirus has significantly affected mosque funding as most charity is now being targeted towards providing relief and rations to those affected by the lockdown.
"In this scenario, where mosques are also socially responsible for catering to those most affected by the disease, it becomes very difficult to focus our resources on acquiring branded sanitiser gates and such mechanisms which can cost up to Rs 10,000 or more," he explained. "So making the best of our resources, we have come up with a more low-cost alternative by using mist fans filled with a mixture of water and Dettol and placing them across the mosque. The water-Dettol mixture works the same as disinfectant liquid and when placed at the mosque entrance, the mechanism functions in the same way as an expensive sanitisation gate or tunnel would."
According to Umair Farooqi, a water-cooler or mist fan dealer in Karachi, the gradual opening of mosques has created a surge in demand for these special fans. "These fans can cost anywhere between Rs 12.000 to 14,000 and are procured from Gujranwala, Gujrat and Lahore. Although we have enough units available for now, we might fall short when the demand goes up because we haven't been able to restock during the lockdown."
Though Iqbal says the mechanism fulfils the basic safety protocols for disinfecting mosques, Infection Control Society Pakistan (ICSP) president Dr M Rafiq Khanani believes it offers little to no protection against Covid-19.
"Such mechanisms mostly offer a false sense of safety against the virus, which is more harmful than beneficial," he told The Express Tribune, "Even high-end sanitisation systems like walkthrough gates and tunnels rely on spraying diluted chlorine, bleach or Dettol mixtures on people passing through. The spray only mostly touches the person's shoulder, forehead, face or hands while the actual virus is known to be carried in abundance in oral cavities like the mouth, nostrils, throat and even membrane of the eye which the disinfectant does not come in contact with." He added that these sprays, if used over the long term, can irritate and harm sensitive areas like our eyes and skin, so are not recommendable.
https://tribune.com.pk/story/2206285/1-mosques-rely-low-cost-disinfectant-system-amid-pandemic/
-----
IFSB, AMF renew MoU to support Islamic finance development
25/04/2020
KUALA LUMPUR, April 25 -- The Islamic Financial Services Board (IFSB) and Arab Monetary Fund (AMF) have sealed the continuation of collaboration between the two institutions with a new Memorandum of Understanding (MoU) for the period of three years.
IFSB said the MoU was signed on April 23 to continue the cooperation and collaboration in promoting programmes and initiatives for the Islamic financial services industry, specifically in the Arab region.
The continuation of collaboration signifies the commitment of both institutions in increasing awareness and promotion of the sound practices of Islamic finance based on its tremendous potential for the advancement of financial services industry, it said in a statement.
Under this agreement, key areas of cooperation between the IFSB and AMF include, among others, providing expertise for joint technical assistance missions to member countries to facilitate the development of Islamic finance and strengthening the capacity of regulatory and supervisory institutions to better supervise institutions offering Islamic financial services.
It will also enhance outreach to member countries for awareness building through joint organisation and hosting of international conferences and seminars in areas of mutual interest; and conducting joint research and undertaking coordinated policy dialogues to support guidance on the stability, resilience and macroprudential supervision of Islamic finance sector and enhancing financial inclusion in member countries
https://www.bernama.com/en/business/news.php?id=1835661
----
Cameroon: Police Clash with Muslims Refusing to Cancel Ramadan Gatherings
24 Apr 2020
Police in Cameroon clashed with Muslims on Friday after they refused to adhere to lockdown measures in response to the Chinese coronavirus to celebrate the holy month of Ramadan, Voice of America (VOA) reports.
In a statement, police said they were forced to disperse Muslims gathering in 13 mosques in the country's West, Center, and Far North regions, attending Friday prayers to begin the Ramadan fasting period.
Gatherings of more than 50 people are banned under measures imposed by the government this month aimed at containing the spread of the virus. Anyone venturing outside must wear protective face masks. Those not following the rules are subject to fines and sanctions.
AwahFonka, governor of the western region of Cameroon, said he asked security forces to forcibly remove those ignoring government orders and "not spare anyone" who continues to disobey. According to police, some in the crowd were actively targeting people in some of Cameroon's hardest-hit towns and villages, with some 175 people complaining that they were targeted or chased from their villages.
Police in Cameroon are not the only authorities struggling to keep some Muslims from practicing their faith at this important time in the Islamic calendar. Most imams have asked people to stay indoors, yet some hardliners have urged their followers to ignore lockdown measures in order to prioritize the observation of Ramadan and other religious practices.
Ramadan, which began on Thursday, requires Muslims to fast and pray at mosques during the daylight hours before holding feasts with family and friends at sundown. The large crowds that ensue create ripe conditions for the virus to spread, and so most governments have ordered people to stay home.
Elsewhere in Africa, Islamist terror organization Boko Haram has taken advantage of the lockdowns by increasing attacks across territories in both Cameroon and Nigeria. This month, the organization killed at least ten people in a suicide bombing in BlamaKamsoulou, a northern village of Cameroon close to the country's border with Nigeria.
Cameroon remains the West African country hardest hit by the ongoing pandemic, reporting 1,430 cases nationwide and 43 deaths. At least 668 people have already made a full recovery.
https://www.breitbart.com/africa/2020/04/24/cameroon-police-clash-with-muslims-refusing-to-cancel-ramadan-gatherings/
-----
South Africa: Ramaphosa sends Ramadan wishes to Muslims
Hassan Isilow
25.04.2020
South African President and African Union Chairperson Cyril Ramaphosa said Friday he hopes Muslims continue charity during the holy month of Ramadan being observed under lockdown in many nations due to the novel coronavirus.
"The crescent moon has risen over our continent, Africa. And the sacred month of Ramadaan has begun. On behalf of the African Union, I wish our Muslim brothers and sisters well during this holy month," said Ramaphosa.
He urged Muslims to follow regulations put in place by authorities while observing the holy month.
"A number of countries have imposed measures to contain the spread of the virus," which "means that many of the Ramadan traditions like praying at the mosque, making the Umrah pilgrimage and visiting family and friends are not taking place," he said.
"If we are to prevail against this pandemic, we have to stand united and observe the provisions that are in place to safeguard our health and the health of others," he warned.
There are 27,385 confirmed COVID-19 cases on the continent, with 1,297 deaths reported and 8,172 recoveries.
Ramaphosa encouraged Muslims to continue performing charitable acts in the spirit of Ramadan at a time when millions face hunger, destitution and misery.
"As Africans, we will emerge from this hardship with a new consciousness. We will understand, and perhaps as never before, our great duty to help and support those less fortunate than ourselves will be enhanced," he said.
https://www.aa.com.tr/en/africa/south-africa-ramaphosa-sends-ramadan-wishes-to-muslims/1817923
-----
India
Ramadan glut, crude oil slump drag basmati paddy futures down 6%
April 25, 2020
Basmati paddy futures price has tumbled nearly 6% in a week on the Indian Commodity Exchange (ICEX). Analysts attribute it to softened festival demand, improved supplies and the impact of crude slump.
On ICEX, the May contract traded at around Rs 3,309 per quintal on Friday, falling from the high-perch of Rs 3,498 on April 17- contract. About 66% of India's 6.5 million tonne of basmati rice is exported. Phenomenal lows in crude oil price are likely to give a shakedown to the economies of West Asian countries, which are the staple buyers of basmati rice, according to experts.
Unseasonal rains hit mango production in Andhra PradeshUnseasonal rains hit mango production in Andhra PradeshMaharashtra's onion supplier database to act as alternate marketing channel for farmersMaharashtra's onion supplier database to act as alternate marketing channel for farmers
"Saudi Arabia,facing its worst economic shock since 1999, is heading for a fiscal deficit of 15%. The Gulf country is considering a massive borrowing plan to bail out its economy, sinking from the double-shock of pandemic and crude oil slump," said Ajay Kedia,director, Kedia Advisory, on the shrinking purchasing power of one of the major buyers. "In such a scenario, I would not be surprised if it de-prioritises imports, including those of some high-end food products like basmati rice," Kedia told FE.
In the domestic market, Ramadan rice demand has softened, as consumers have been stocking up for the holy period starting Friday. Supply had improved after partial resumption of operations in rice mills. This has further rendered the price outlook feeble.
Even in spot markets, price of basmati paddy is unlikely to escalate, as the rice exports are expected to be limited, due to several restrictions on export cargo movement as part of Covid-19 curbs, said Anand Goyal, a rice trader.
Pusa 1121 paddy spot price has dropped from Rs 30 per kg to Rs 28 per kg. Traders feel it might hover in the Rs 23-25 per kg price band in coming days. The government's foodgrain production target is 298 million tonne for 2021. Normal to excess rains, forecast by IMD, is conducive to increase in rice output. This implied glut too doesn't seem too rosy for basmati rice price.
Get live Stock Prices from BSE and NSE and latest NAV, portfolio of Mutual Funds, calculate your tax by Income Tax Calculator, know market's Top Gainers, Top Losers & Best Equity Funds. Like us on Facebook and follow us on Twitter.
https://www.financialexpress.com/market/commodities/ramadan-glut-crude-oil-slump-drag-basmati-paddy-futures-down-6/1939291/
----
Azaan from mosques allowed only in low volume, subject to permission from district authorities: Uttarakhand Police
Apr 25, 2020
DEHRADUN: Uttarakhand Police said on Friday that they have allowed azaan (prayer call by mosques) in low volume during Ramzan, although this will be subject to permission from the district officials.
Earlier, the state had prohibited the use of loudspeakers in mosques for azaan in the wake of the ongoing Covid-19 threat-induced lockdown due to which any kind of religious gathering has been banned.
Police officials said that following requests by religious leaders of the Muslim community that azaan be allowed during Ramzan, it was being allowed in low volume subject to approval by the respective district authorities.
Ashok Kumar, director general (DG), law and order, told TOI, "With due permission from district magistrate and superintendent of police in the district, azaan will be allowed in low volume from mosques during the month of Ramzan. But community prayers and community iftars (evening meal to end fast at sunset) will be prohibited."
Kumar further said that the decision to allow broadcast of azaan in low volume was taken after a series of meetings held between officials and Muslim community leaders, adding that it was also decided that to maintain social distancing, "no one except the Imam will be allowed to go inside the mosque for the azaan."
He added that sirens—one in the morning just before first azaan and another in evening—will be allowed from mosques, again in low volume during the Ramzan period. "The sirens were already used during Ramzan to alert people regarding prayers. The only change is that now they will be played out in low volume too," said Ashok Kumar.
https://timesofindia.indiatimes.com/city/dehradun/azaan-from-mosques-allowed-only-in-low-volume-subject-to-permission-from-district-authorities-ukhand-police/articleshowprint/75360351.cms
-----
Ramadan Mubarak 2020: Wishes, Messages, Images, Quotes, Pictures, Facebook & WhatsApp status for Ramzan
Apr 25, 2020
Ramadan is an Arabic word which means "scorching heat or dryness". The festival was given the name 'Ramadan' because it is believed to burn the sins and keep the people on the right path. Muslims fast during Ramadan, which is all about self-control and patience. People observe a fast from sunrise till sunset for 30 days, which is the duration of the month of Ramadan. Fasting helps in cleansing the soul of all the impurities. It is also a pure and pious time to wish your friends and family.
May Allah's grace and exceptional wisdom conquer your life as you celebrate this holy month of Ramadan. Have a blessed and peaceful Ramadan
May the sickle moon be your directing light, may its energy fill your life with peace and prosperity. Ramzan Mubarak to you and your family
Wishing you a happy Ramadan. May God bless your path with knowledge and light that will help to enlighten your heart. May God grant you health, success and happiness. Ramadan Mubarak to you and your family
May the holy spirit of the month of Ramadan spark in your heart always and guide you to walk through your life. Ramadan Mubarak
Let the divinity of this holy month erase all the sinful thoughts off your mind and fill it with a sense of purity and gratitude towards Allah! Ramadan Mubarak to you and your family
Welcome Ramadan. Walk humbly. Talk politely. Dress neatly. Treat kindly. Pray attentively. Donate generously. Celebrate Ramadan safely with your family. Ramadan Mubarak
Ramadan Kareem! May Allah give you all the prosperity and success. May Allah bless you with wealth and happiness and gives you a healthy life. Wishing a very happy Ramadan to you and your family
Let's celebrate joyously as the month of Ramadan begins here. May this month fill your life with happiness and may Allah bless you with prosperity and cheer. Happy Ramadan!
Ramadan Mubarak to you and your family. May the holy essence of this auspicious month remain in your heart and life forever and ever
As you fast and offers petitions to Allah, may you discover your tranquility and satisfaction. Have a happy and healthy Ramadan! Ramadan wishes to you and your family
As the crescent moon is sighted... And the holy month of Ramadan begins... May Allah bless you with happiness and grace your home with warmth & peace. Wishing you and your family a very happy Ramadan
May Allah ease your hardships and shower you with loads of peace and prosperity during this holy month of Ramadan. Have a blessed time. Ramadan greetings to you and your family
Ramadan takes you on a spiritual journey that ends right at the door of Allah, where dwells endless mercy and immeasurable happiness. Ramadan Mubarak to you and your family
Almighty Allah offers several spiritual rewards in this month of Ramadan! You must observe fasting and refrain from sinful activities. May Allah bless you and your family. Happy Ramadan Kareem!
Four Weeks of mercy, 30 days of worship, 720 hours of Spirituality. 43,200 Minutes of Forgiveness, 2592000 Seconds of Happiness. Ramadan Kareem Mubarak.
A glass of Care, A plate of Love, A spoon of Peace, A fork of truth and A bowl of Duas. Mix with spice of Quraan. Enjoy the meal. Ramadan Mubarak to you and your family
Welcome the month of Ramadan with the heart filled with peace, harmony and joy. May the divine blessings of Allah protect and guide you always. Wishing you and your family a healthy and happy Ramadan
Happy Ramzan! May Allah pour his blessings throughout this holy month and grace your home with warmth and love. Wishing health, joy and peace to you and your family on this holy festival of Ramzan
That time of the year has come. A month to repent from our wrong-doings and sin. May all of us find peace on this Ramadan. Happy Ramadan Kareem!
On the commencement of Ramadan, I wish the crescent-shaped moon would brighten your path towards enlightenment. May Allah Bless you with Peace and Grace. Happy Ramadan 2020.
https://timesofindia.indiatimes.com/life-style/events/ramadan-mubarak-2020-happy-ramzan-wishes-messages-quotes-images-facebook-whatsapp-status/articleshow/75324355.cms
------
SonuSood to donate 25,000 meals everyday during Ramadan
April 25, 2020
Bollywood actor SonuSood has started an initiative to feed needy migrants from far-flung areas like Bengal, Karnataka, Uttar Pradesh and Bihar during the month of Ramadan.
Taking to his Instagram handle to share the news, Sonu wrote, "Let's fight the battle against #Covid19 together! Join me in the #ShaktiAnnadanam drive and let's make sure that no one sleeps hungry."
The Dabangg actor added, "Times are so difficult today that it's very important for each one of us to stand for each other. Through this initiative, I would be helping all those who would be fasting during this period and we would provide special meal kits so they don't stay hungry after fasting all day."
'Shakti Annadanam' was launched in the name of Sonu's late father Shakti Sagar Sood, who had envisioned feeding 45,000 people on a daily basis in Mumbai.
https://www.thenews.com.pk/latest/649645-sonu-sood-donates-25000-meals-during-holy-month-of-ramadan
------
Arab world
Tarawih prayers from Sheikh Zayed Grand Mosque to be broadcast on UAE TV, radio channels
April 24, 2020
Tawfiq Nasrallah
Abu Dhabi: The Ministry of Presidential Affairs has announced an exceptional and limited live broadcast of "Tarawih" prayers from Sheikh Zayed Grand Mosque in Abu Dhabi on the official TV and radio channels in the country.
The decision has been taken in coordination with the General Authority for Islamic Affairs and Endowments and the Sheikh Zayed Grand Mosque Center and the "Tarawih" prayers broadcast will continue throughout the holy month of Ramadan.
The prayer will be limited to the imam and two worshipers, taking into account all the precautions and procedures taken by the concerned authorities to counter the spread of coronavirus (Covid 19).
Accordingly, worshipers who will perform the Tarawih prayer will subject to regular check-up and have to wear masks and gloves, for their own safety.
The two entities stressed that the decision reflects the keenness of the wise leadership to preserve the spirituality of the Holy Month and the manifestations of religious rituals. It is also to keep the public in spiritual contact with the mosques in all parts of the country.
https://gulfnews.com/uae/ramadan/tarawih-prayers-from-sheikh-zayed-grand-mosque-to-be-broadcast-on-uae-tv-radio-channels-1.1587733349928
----
Combating coronavirus: Abu Dhabi announces national sterilisation programme timings during Ramadan
April 25, 2020
The national sterilisation programme timings in Abu Dhabi during Ramadan have been announced by the Abu Dhabi Government.
In residential areas, the measures to combat the spread of Covid-19 will be undertaken from 10pm until 6am.
In industrial zones and workers' accommodation, the programme will take place from 8pm until 6am,
The national sterilisation programme timings in Abu Dhabi during Ramadan:
https://www.khaleejtimes.com/coronavirus-pandemic/combating-coronavirus-abu-dhabi-announces-national-sterilisation-programme-timings-during-ramadan-
-----
Egypt, Algeria relax coronavirus restrictions for Ramadan
Apr 24, 2020
Egypt and Algeria are relaxing their coronavirus restrictions as the Islamic holy month of Ramadan begins, joining other countries in the region in doing so.
On Thursday, Egyptian Prime Minister Mustafa Madbouly announced that shopping malls and businesses will be allowed to reopen on weekends, but they will need to close by 5 p.m. The nightly curfew has also been pushed back from 8 p.m. to start at 9 p.m., according to Reuters.
Egypt's lockdown includes the closure of restaurants, schools and airports. Egyptians can only leave their homes for essential needs during the curfew. Before Thursday's easing, only supermarkets and pharmacies were allowed to operate, and only until 5 p.m. each day.
Algerian Prime Minister Abdelaziz Djerad announced on Thursday that the curfew in several provinces will be pushed back from 3 p.m. to 5 p.m. until 7 a.m. A round-the-clock curfew in Blida province southwest of the capital Algiers will be reduced to 2 p.m. to 7 a.m. The other provinces will continue with a 7 p.m. to 7 a.m. curfew, according to Reuters.
Recent news pertaining to the virus in Egypt has not been positive, however. On Thursday, the country recorded its highest ever number of new coronavirus cases since the first one in February with 232, Reuters reported.
In Algeria, the mass anti-government Hirak movement has shifted to digital forms of protest to avoid spreading the disease.
Some in Egypt have challenged the official statistics. Al-Shorouk newspaper published higher figures than the government on April 3 and a government official confirmed to Al-Monitor that these numbers, and not the government's, were correct.
Egypt and Algeria join other Muslim countries in the region that have relaxed some of their anti-virus measures for Ramadan, when Muslims traditionally fast during the day then eat and worship together at night. Dubai in the United Arab Emirates partially lifted its strict lockdown, as did Iraq this week.
https://www.al-monitor.com/pulse/originals/2020/04/egypt-algeria-relax-coronavirus-restrictions-ramadan.html
----
Eminent Saudi activist, denied due medical care, dies in Saudi jail: Report
24 April 2020
A prominent Saudi rights activist, Abdallah al-Hamed, has died in detention in Saudi Arabia as a result of "deliberate medical negligence" days after suffering a stroke, a report says.
Citing Saudi sources, the Arabic-language Arabi21 online newspaper reported that Hamed died on Friday morning a few days after his health deteriorated.
Hamed had been transferred to the al-Shumeisi Hospital in the Saudi capital of Riyadh after suffering a stroke on April 9, according to Arabi21.
Yet, Saudi activists said that Hamed's death had been a result of "deliberate medical negligence," according to Arabi21 and other Arab outlets, including the London-based Al-Araby Al-Jadeed.
The influential Saudi thinker was serving an 11-year prison sentence since 2013 for his role in the formation of the "Hasm" human rights group. The rights group advocated for the imposition of constitutional restraints on the Saudi monarchy and called for increased civil engagement in the country's political process.
Eisa al-Hamed, Abdallah's brother, is the leader of Hasm group and is also in prison. Abdul-Rahman al-Hamed, Abdallah's other brother, is also behind bars.
The Saudi activist, who was also a university professor, had written numerous books and works of poetry regarding human rights.
The Saudi regime has come under increasing international scrutiny for its handling of critics and human rights activists ever since the state murder of dissident journalist Jamal Khashoggi in the Saudi consulate in the Turkish city of Istanbul in 2018 attracted global attention to Riyadh's treatment of dissidents.
The Saudi kingdom has, however, been continuing with its numerous human rights abuses mainly due to extensive economic ties with and the political backing of Western countries.
https://www.presstv.com/Detail/2020/04/24/623814/Saudi-activist-jail
-----
Syria envoy denounces UN failure to enforce resolutions on Israeli occupation
24 April 2020
Syria's UN ambassador says the Security Council has failed the Palestinian and Syrian people by not enforcing its resolutions on the Israeli occupation due to pressure from certain permanent members of the council.
"The UN, due to pressure by some permanent members of the Security Council, has so far failed to enforce resolutions calling for an end to the Israeli occupation of Arab lands, particularly Resolutions 242, 338 and 497," Bashar al-Ja'afari said at a UN Security Council session on the situation in the Middle East via video link on Thursday.
Ja'afari also described the Israeli-occupied Golan Heights as an integral part of his country's territories, stating that the return of the strategic area is among the high priorities of the Syrian government.
He added the UN inaction has emboldened some countries to try to wriggle out of their legal commitment and change the facts, such as the provocative US recognition of Jerusalem al-Quds as the "capital" of Israel in December 2017, and later recognition of Israeli sovereignty over the Golan Heights in March 2019.
Ja'afari then noted that Syria, along with the majority of other countries, condemns such unilateral moves by a party, which is devoid of any political, moral or legal capacity to seal world nations' fate and to hand over lands which belong to Syria and Palestine.
He also criticized the Israeli regime for using Lebanon's airspace to launch missile attacks on Syria, emphasizing that such strikes are against UN resolutions and meant to boost the morale of the last remnants of foreign-backed Takfiri terrorist groups.
On March 25, 2019, US President Donald Trump signed a proclamation, formally recognizing Israel's sovereignty over Golan Heights. The announcement came as Israeli Prime Minister Benjamin Netanyahu visited the White House at the time.
US President Donald Trump has formally recognized Israeli sovereignty over the occupied Golan Heights, a border area the Tel Aviv regime seized from Syria in 1967.
Israel seized the Golan Heights from Syria after the 1967 Six-Day War and later occupied it in a move that has never been recognized by the international community. The regime has built dozens of settlements in the area ever since and has used the region to carry out a number of military operations against the Syrian government.
https://www.presstv.com/Detail/2020/04/24/623762/Syria-envoy-denounces-UN-failure-to-enforce-resolutions-on-Israeli-occupation--
------
Ramadan and coronavirus: Time to share the blessings
April 25, 2020
Mohammed Almezel
In my Sharjah neighbourhood, there is a fridge at the entrance to the area. It has been there for a few years. Most of the neighbours fill it with packs of food for the labourers in the area, who often come at lunch or supper time to pick up. It is a gesture by the community to help the less fortunate among us.
In normal times, there will be a few packets left. Nowadays, I noticed that whatever we put in that fridge goes away fast. It did not take me long to figure out. Many of these labourers may have lost their jobs, and therefore need all the food they can get.
These are tough times. The coronavirus affected all of us. The pandemic has impacted the global economy in a way the world has never seen before.
On Thursday, the US Department of Labour said more than 4 million Americans lost their jobs last week. That makes it 26 million Americans who have been laid off in the past five weeks alone, taking the unemployment rate in the US to a staggering 23 per cent — the worse in 87 years.
Schools...could reduce the tuition fees or postpone the payment deadlines. Property owners also have a duty to ease the burden of families by lowering the rent and delaying the encashment of cheques.
The numbers released by the department show that all the jobs created since the 2008 financial crisis — from 2010 to 2020 — have been erased in just one month by the economic downturn triggered by the coronavirus pandemic with most economic activities coming to a standstill.
Millions more are expected to file for unemployment benefits this week as April comes to an end. This month has been the worse ever economically since the Great Depression, between 1929 and 1933, when the global GDP declined by 27 per cent.
Around the world, the picture is not very different. In Europe and Asia, the situation is somewhat similar, although not as drastic as America. All of a sudden, millions of families found themselves without income. They can no longer make ends meet. The United Nations Food Programme went as far as warning that millions are under the threat of dying from hunger. This is the stark reality we face today as the COVID-19 continues unabated. With a vaccine or a treatment not in sight, lockdowns will continue around the world, despite the marginal easing of movement in some countries. Major industries and businesses will thus remain closed. More people will lose their jobs.
In the UAE, a global hub of trade and tourism, the economy has naturally been impacted by the global recession. Thousands of people lost their jobs or saw their pay slashed significantly. One cannot blame employers in these conditions. When the business is down, the cost will be cut, and manpower reduced. And in these times, our humanity will be tested.
In these times of crisis, our core values as human beings are being challenged. We will get through these difficult times by showing solidarity and offering support to those who have been impacted.
The government has come up with several initiatives to help people cope with the dire situation. There is a massive stimulus package to help businesses survive to keep their staff on the payroll. There is also a Ramadan initiative, announced by His Highness Sheikh Mohammed Bin Rashid Al Maktoum, Vice-President and Prime Minister of the UAE and Ruler of Dubai, to provide more than 10 million meals for the needy.
But ultimately the buck stops with us, the community. Every one of us has a duty to help those in need. I am thinking of the three main expenses most families endure every month — bank commitments, schools fees and the rent.
Banks need to show their support for the community that helped them make massive profits all these years. Now, it is time for the banks to pay the society back. They could defer loan instalments and waive service charges. Credit cards payments can also be postponed. These gestures will go a long way in helping families overcome the loss of their income or the major part of it. The banks are due to get an aid package from the central bank anyway.
https://gulfnews.com/opinion/op-eds/ramadan-and-coronavirus-time-to-share-the-blessings-1.71170135
-----
Can diabetics in UAE still fast during Ramadan in times of coronavirus?
April 25, 2020
Dubai: Can diabetics still fast during Ramadan amid the coronavirus pandemic? Doctors say yes those with type two diabetes can fast under guidance with regular glucose monitoring and the right food choices.
Type two diabetes is a lifestyle triggered disease where glucose metabolism is impaired due to the inability of insulin - the sugar metabolising hormone - to transport sugar to cells to be converted into energy. Blood sugar levels remain high and eventually damage organs. The condition can be managed by both pills, insulin and the adoption of a healthy lifestyle.
A 2010-study found that 92.4 per cent of type two diabetes patients were able to fast for 15 days and 63.6 per cent could complete the full 30-day fast.
Dr Hamed Farooqi, consultant endocrinologist and director of the Dubai Health Authority (DHA)–run Dubai Diabetes Centre (DDC) said, "International studies have indicated that fasting can have a therapeutic effect and build the body's immunity."
But what about about the coronavirus pandemic? Well the Diabetes and Ramadan (DAR) International Alliance has come up with two basic recommendations during COVID-19.
Firstly, the risk of contracting the virus is the same for a diabetic as it is for a non-diabetic, and second, if a diabetic tests positive, they may not cope well, because when blood sugar is high, the body's ability to fight infections is compromised.
"The main meal of the day is suhour or the pre-dawn meal," he said. "That is the time a diabetic needs to check his blood glucose, decide the dose of insulin or medication he needs to take before having the meal. The eating window is shortened from 7.30pm to 3.30am," he added. "Diabetics need to make sure they have a balanced meal that can be split into smaller portions for better sugar absorption."
Dr Siby Elias, specialist in internal medicine added, "A balanced diet would mean 45-50 per cent of complex carbohydrates with low glycaemic index (choosing dense foods that slowly release sugar into the blood and do not cause spikes), 30-35 per cent of protein ingesting both animals and plant protein intermittently and 20 per cent of fat derived from nuts seeds, healthy Omega 3 rich oils and oily fish. The individual needs to make sure he or she gets the right nutrition, adequate fibre adequate water and rest too."
"This medication blocks sugar absorption in the intestines and flushes it out with the urine so the kidneys need lots of water to expel the sugar. It is important that diabetics using this medication keep this in mind and ingest a lot of water during suhour or better have the medicine after iftar."
Those taking renal or blood pressure medication must also regulate their doses during Ramadan as these medicines are diruetics and could cause electrolyte imbalance in a fasting diabetic, he added.
It is advisable to choose whole grain, high fibre, low glycameic index foods for suhoor such as sugar free cereals of oats or whole wheat porridge with skimmed milk or a boiled egg and whole grain bread sandwich with hummous and greens along with a fruit and yoghurt smoothie for breakfast, advised the doctors.
In the evening there are ample hours and diabetics must choose to end the fast with a light meal, exercise and then go for a larger meal during dinner time.
"First it is important to test the blood sugar and decide on the quantity of food one can have. Ending the fast with a couple of dates, water followed by a clear lentil and vegetable or chicken soup should be enough," added Farooqi.
For the main course diabetics must have one portion of cooked vegetable such as leafy vegetables, mushrooms, potato, beans, cauliflower, a raw salad, one portion of bread or rice, one portion of lean meat that is grilled or panbroiled and one portion of dairy such as cottage cheese or yoghurt, said Dr Elias.
Diabetics should refrain from large portioned meals, cut out refined carbohydrates such as pastries, cakes, puddings and fried food such as samosas and cutlets, carbonated and sweetened drinks form their meals.
One hour after iftar, diabetics are advised to get moderate exercises before they have a big dinner. Dr Farouqi said in days of lockdown people had to be inventive and devise ways to do work outs at home.
"These days people are innovative and have run marathons on their balconies or backyards or work out with guided videos," said Farooqi. "It is advisable for diabetics to decide on a simple mode of workout at home. Being confined to home is no excuse to get sedentary. Once exercise is over, dinner can be had by 9 pm," he added.
Since people arise earlier than normal their sleep patterns have to be readjusted and it is important diabetics get adequate sleep.
"It is important to establish a proper sleep schedule during Ramadan and stick to it. Eight hours of sleep is recommened," said Dr Elias.
Based on their HBA1C readings DAR has categorised diabetics in to high, low and medium risk. Those in the high risk are advised against fasting and medium risk people can fast under medical guidance whereas most low-risk diabetics can easily observe the 30-day fast with minor tweaks to their lifestyle.
HbA1c or glycosylated haemoglobin is an indicator of an individual's blood sugar levels for three months. The haemoglobin protein in our red blood cells combines with a molecule of glucose and turns into glycosylated haemoglobin. In non-diabetics, HbA1c is between 5.2 to 5.5, it is about 5.5 to 6 in pre-diabetics and in cases of people with diabetes, the HbA1c reading can be anything beginning from 6 up to 14. The higher the HbA1c the more severe is the diabetic condition of the patient.
https://gulfnews.com/uae/ramadan/can-diabetics-in-uae-still-fast-during-ramadan-in-times-of-coronavirus-1.71114342
-----
Awqaf Ministry to hold religious programs remotely during Ramadan
25 Apr 2020
By SanaullahAtaullah
Doha: The Calls and Guidance Department at the Ministry of Awqaf and Islamic Affairs will hold a number of religious programs remotely with the help of Microsoft-Teams app and on its official website and social accounts during holy month of Ramadan.
"The decision was taken to curb the spread of COVID-19, following the state's preventive and precautionary measures which led the closure of mosques across the country," said Director of Calls and Guidance Department, Malallah Al Jaber in a report on the official website of the Ministry.
He said that the Department will launch a program 'schools of holy Quran' from Ramadan 1 to 20, online. The interested candidate can register through this link from April 21.
He said that the program will have two parts, first one is dedicated for revising the momorised parts of holy Quran and second one is about reciting holy Quran properly in the form of practical learning.
"The schools program will be broadcast on Microsoft-Teams app. The candidates can access by logging in to benefit from the program," said Al Jaber.
"The school program will be offered for everyone not only for the students of Centers for Learning Holy Quran. Those registered in the app will be invited through the program to learn holy Quran by qualified scholars," said Al Jaber.
"A live holy Quran reciting program will be broadcast on Instagram account of the Ministry of Awqaf and Islamic Affairs during Ramadan," said Al Jaber.He said that a number of Qatari Imams (who leads the prayers) with attractive voice will be hosted under 'Khatamat Al Quran' program to recite a part of holy Quran in turn from the beginning of Ramadan on daily basis.
He said that the Ministry will respond the questions of people about religious issues through Islamweb from 7pm to 11pm during holy month of Ramadan.
"Since the beginning of the outbreak of coronavirus, the number of the surfers of Islamweb increased significantly as they used it while sitting at home utilizing their time for good things," said Al Jaber.
"We will broadcast religious lectures live through the platforms of social sites and accounts of social sites of some famous scholars which will be announced soon."
https://thepeninsulaqatar.com/article/25/04/2020/Awqaf-Ministry-to-hold-religious-programs-remotely-during-Ramadan
-----
King Salman Congratulated by Palestinian, Tunisian Leaders on Advent of Ramadan
25 April, 2020
Asharq Al-Awsat
Custodian of the Two Holy Mosques King Salman bin Abdulaziz received on Friday more telephone calls of congratulations on the advent of the holy fasting month of Ramadan.
He received a call from Palestinian President Mahmoud Abbas and Tunisian President Kais Saied.
Ramadan started on Friday and King Salman had already received congratulations from numerous Muslim and Arab leaders, including Emir of Kuwait Sheikh Sabah al-Ahmed al-Jaber al-Sabah and Crown Prince of Abu Dhabi Sheikh Mohammed bin Zayed al-Nahyan.
https://aawsat.com/english/home/article/2251661/king-salman-congratulated-palestinian-tunisian-leaders-advent-ramadan
-----
Europe
Enterprising Yorkshire boy builds his own home mosque using recycled cardboard
By Ruby Kitchen
25th April 2020
Yahya Murad Hussain came up with the idea himself following the closure of the mosques in his home city.
It's taken him a week to design and build his unusual DIY project, with his parents helping with the structure and some of the more intricate Islamic geometric designs.
Yahya used sweet wrappers and paint to complete his design before adding fairy lights, a diffuser with different scents and a light box, to which he adds an inspirational word or two every day – from Be Happy to Smile.
"He uses it every day, not just to pray, but also to read and reflect. We spend time in there together as a family to pray and reflect.
"Sometimes children can be the greatest teachers, showing strength and resilience by finding something positive to focus on in times of crisis."
Richard Ribeiro, headmaster at Bradford Grammar Junior School, said: "We're really proud of Yahya for taking on such a challenge and showing real ingenuity in creating a happy, inspiring and safe place to be in his home. Well done Yahya!"
https://www.yorkshirepost.co.uk/news/people/enterprising-yorkshire-boy-builds-his-own-home-mosque-using-recycled-cardboard-2549333
-----
East Renfrewshire's Muslim community are being urged to 'pray at home and stay at home' during Ramadan
24th April
MEMBERS of East Renfrewshire's Muslim community are being urged to "pray at home and stay at home" during the holy month of Ramadan.
He is one of many Muslims who are observing fasting during the Ramadan period, with those taking part forbidden from eating or drinking between sunrise and sunset.
Mr Yousaf said: "This Ramadan will be challenging. Ramadan by its nature in normal times involves social interaction. We break fast with family and friends.
"The first fast of the month, I would in normal times be breaking with my parents and with my siblings. In normal times, we pray as a congregation every single day.
Ramadan started on Thursday and continues until Saturday, May 23, with Mr Yousaf stressing that the current lockdown rules must be followed to help protect the NHS and save lives.
He added: "This will be hard but we will continue to connect with each other by other means, such as by using various digital platforms.
"So my message is a clear one – fast at home, pray at home and stay at home and help us protect the NHS and help us to save lives."
https://www.barrheadnews.com/news/18404097.east-renfrewshires-muslim-community-urged-pray-home-stay-home-ramadan/
-----
Ramadan Kareem! Here's Malta's Fasting Timetable For Islam's Holy Month
By Jean Paul Azzopardi
April 24, 2020
The holy month of Ramadan starts today which means Muslims across the Maltese islands will partake in 30 days of fasting, prayer and reflection.
The annual observance involves fasting from sunrise to sunset and the Islamic Community of Malta has published a Ramadan timetable for all its observers.
According to Malta's timetable, the last pre-dawn meal can be taken at 4:44am and the nightly feast that breaks the fast can be had at 7:45pm.
The end of Ramadan is declared after a crescent new moon has been sighted or after completion of thirty days of fasting if no sighting of the moon is possible.
Malta has a Muslim population of about 3,000 who will be celebrating Ramadan this year – here's wishing them all a Ramadan Mubarak.
https://lovinmalta.com/news/ramadan-kareem-heres-maltas-fasting-timetable-for-islams-holy-month/
-----
Lockdown to make for very different Ramadan for Aberdeen Muslim community
by Alastair Gossip
April 25, 2020
Muslims celebrating Ramadan in Aberdeen are being urged to mark the most important period of their year by staying at home.
The plea comes from Imam Emran Ahmed of the city's Masjid Alhikmah and Community Centre, who has admitted "it will be painful" to stay away from the mosque in Nelson Street.
Normally during Ramadan, which began this week, the centre would be full of families and children but due to coronavirus lockdown, worshippers are being encouraged to stay at home.
Iman Emran Ahmed said: "Masjid Alhikmah and Community Centre plays a key role during Ramadan – we have an environment of praying together and having community iftars (evening meals) to break the fast together, something that unfortunately we cannot do this year.
"It will be painful not to be able to come to the mosque – children and the elderly look forward to coming together, especially at this time.
The Masjid has been closed since mid-March with community leaders not envisaging reopening "any time soon", although they are looking to hold some services online.
https://www.pressandjournal.co.uk/fp/news/aberdeen/2167909/lockdown-to-make-for-very-different-ramadan-for-aberdeen-muslim-community/
-----
How Oxford's Muslims are preparing for Ramadan under lockdown
5 hrs ago
By David Lynch
OXFORD's Muslims are preparing for Ramadan during the coronavirus lockdown by delivering food parcels to those in need.
But the coronavirus lockdown is presenting problems for some of Oxford's Muslim population, so the Central Oxford Mosque on Manzil Way has decided to deliver Halal food parcels to less well-off members of the community.
Faisal Aziz, a spokesman for the mosque, said: "The mosque has historically for a number of years had an open house – an open iftar – where everyone comes to eat. This includes students, people who are vulnerable and elderly people."
Mr Aziz added: "This year, because of coronavirus we cannot offer that anymore, but the leaders of the mosque decided we should still do something to feed the community, irrespective of their background or religion."
The mosque is working with Oxford City Council to deliver 150 food packages to those most in need within the Muslim community in Oxford.
The food packages contain a wide range of essential food supplies, including rice, flour, oil, dates, tinned tomatoes and chickpeas.
Organisers at the mosque, who have been part of the delivery effort alongside Mr Aziz, include land trustees Wally Dogar and Ajaz Rehman, and committee member Manavar Anwar.
Every food pack will also contain a leaflet from the city council explaining other support available in Oxford during the pandemic.
Muslims in Oxford can access the food packages by contacting the city council's single point of contact for vulnerable people to ask for the extra help during the coronavirus pandemic.
https://www.oxfordmail.co.uk/news/18404282.oxfords-muslims-preparing-ramadan-lockdown/
-----
Ramadan 2020 timetable - here's how lockdown could impact the annual celebrations
4 hrs ago
This year, Ramadan began on the evening of Thursday, April 23, and will end on the evening of Saturday, May 23, 2020.
Sawm, which is one of the Five Pillars of Islam, will begin a few hours after the sighting of the moon at sunrise and continue until sunset.
However, Muslim Aid adds that "it is essential to familiarise yourself with the dates and times for Ramadan 2020 with our timetable, as anyone who is still eating their pre-dawn meal (suhoor) following the completion of the call to prayer (Fajr) is disqualified from that day's fast."
The day's fast is then completed at sunset and the Maghrib prayers can begin. It is traditional to end your fast by eating dates, before the evening meal with family and friends.
The Central London Mosque and the East London Mosque have compiled Ramadan timetables. These give worshippers the information they need to observe the fast correctly, but apply to London only as the times of sunrise and sunset vary across the rest of the UK, depending on location.
These are the key timings day-by-day for Fajr and Maghrib, which is when the fast begins and ends, dependent on exactly when Ramadan begins.
https://www.dudleynews.co.uk/news/18402838.ramadan-2020-timetable---lockdown-impact-annual-celebrations/
-----
Travel retailers, airports and airlines honour the start of Ramadan
25 April 2020
Travel retailers and airports have been honouring the start of Ramadan, the most religiously important time of the year throughout the Muslim world. Here we present some of the images and videos reflecting this key month of spiritual reflection.
Ramadan, which falls on the ninth month of the Islamic lunar calendar (this year from Thursday 23 April until Saturday 23 May 2020), marks the month in which the Quran – the holy text of Islam – was revealed to the Prophet Muhammad by the archangel Gabriel in 610 CE.
Ramadan is a month of fasting, prayer, and reflection for Muslims, in which they refrain from eating or drinking from sunrise to sunset and avoid thoughts and behavior considered impure under the tenets of Islam. The Muslim faith believes that the spiritual rewards for this good behaviour are increased during Ramadan.
https://www.moodiedavittreport.com/travel-retailers-airports-and-airlines-honour-the-start-of-ramadan/
-----
Mideast
Read 'nonfiction books' about world affairs, Iran advises US officials
24 April 2020
Iran's Foreign Ministry spokesman has advised American officials to read nonfiction books about the world affairs, as it may help them stop making empty threats against Tehran.
"Had the American leaders read nonfiction books about world affairs, they'd have stopped making empty threats against Iran, "THE GREAT NATION", relying on the fakes for judgment, and outsourcing Iran policy to warmongers!" he added.
Had the American leaders read nonfiction books abt🌍 affairs, they'd have stopped making empty threats agnst IRAN🇮🇷. "THE GREAT NATION" relying on the fakes for judgement & outsourcing Iran policy to warmongers!
Mousavi's comments came shortly after US President Donald Trump claimed that he had instructed the US Navy to destroy Iranian boats "if they harass" American ships in the Persian Gulf.
"I have instructed the United States Navy to shoot down and destroy any and all Iranian gunboats if they harass our ships at sea," Trump wrote on Twitter on Wednesday.
Iran's Islamic Revolution Guards Corps released a video on Sunday showing its Navy warning off a flotilla of US warships in the Persian Gulf as they tried to approach the Iranian territorial waters.
An IRGC Navy officer was shown warning the US vessels to stop inspecting and detaining Iranian fishing or commercial ships in the Persian Gulf and the Sea of Oman.
Trump claimed that such incidents happened frequently during Obama's presidency, saying that, "Under the Obama administration, it was taking place all the time. Under my administration, I gave this order early on and nothing happened. They were very nice. There was no problem."
Trump made the claim as the IRGC shot down an intruding American spy drone in the country's southern coastal province of Hormozgan last June after the aircraft violated Iranian airspace.
US president is stepping up his anti-Iran threats by claiming that he has instructed the US Navy to destroy Iranian boats "if they harass" US ships in the Persian Gulf.
Trump's latest threat comes as his administration is under unprecedented pressure over its highly criticized response to the coronavirus pandemic, prompting suggestions that his anti-Iran statement is probably meant to divert attentions from his poor handling of the crisis.
The threat came on the same say that the IRGC successfully launched and placed the country's first military satellite into the orbit.
"The satellite's successful launch enhanced new aspects of the Islamic Republic's defensive might. By God's grace, the Corps turned into a space force today," Major General Salami said.
https://www.presstv.com/Detail/2020/04/24/623797/Iran-IRGC-US-threats-sanctions-
-----
President Rouhani felicitates leaders of Islamic countries on holy month of Ramadan
25 April 2020
Tehran (ISNA) - While congratulating the holy month of Ramadan, the month of the revelation of the Qur'an and divine mercy and forgiveness, the President of the Islamic Republic of Iran stated in his separate letters to leaders of Islamic countries, "I hope we will be able to strengthen relations between Islamic countries as much as possible, and also, through joint efforts and exchange of experiences, accelerate the process of combatting COVID-19".
Dr. Hassan Rouhani added in his message, "Ramadan has once again come to touch the souls of the pious with its fragrance hidden in its worship and spirituality, so that the righteous servants can cultivate and purify their souls and purify themselves through this valuable opportunity".
At the end of the message, Dr. Rouhani has wished the acceptance of the obedience and worship of the leaders of Islamic countries during the holy month of Ramadan and happiness and pride for Muslims.
https://en.isna.ir/news/99020603667/President-Rouhani-felicitates-leaders-of-Islamic-countries-on
-----
Iran's First Vice President Congratulates Muslim Nations On Ramadan
Apr 25, 2020
Tehran, April 25, IRNA – Iran's First Vice President EshaqJahangiri in separate messages on Saturday congratulated Muslim nations and governments on the arrival of holy month of Ramadan.
The first vice-president expressed hope that relations among Islamic countries would be bolstered this month.
He hoped that the Islamic states will be able to speed up the battle against the deadly COVID-19 pandemic through joint efforts, and witness its eradication at the end of this blessed month.
https://en.irna.ir/news/83763521/Jahangiri-congratulates-Muslim-nations-on-Ramadan
----
Gazans welcome Muslim holy month of Ramadan
23 April 2020
RubaShabit
Palestinians in the Gaza Strip are preparing for the fasting month of Ramadan. This as the Israeli blockade and the coronavirus pandemic have created serious challenges for the population.
Gaza's dire economic situation along with electricity cuts due to the Israeli blockade has made life difficult for ordinary citizens but Palestinians say these hardships will not stop them from observing their religion.
The coronavirus pandemic has changed how Gazans observe the holy fasting month of Ramadan. There will be no gatherings and ceremonies and previously busy markets are now quiet as people stay at home amid the pandemic.
Palestinians hope things will remain under control during this holy month, especially that the health-care system in Gaza cannot handle any major outbreak.
With high rates of poverty and unemployment, the coronavirus has exacerbated the already dire economic situation in Gaza. Palestinians here say they welcome the holy month of Ramadan and observe their religious duties while following the instructions to help contain the coronavirus outbreak.
https://www.presstv.com/Detail/2020/04/23/623758/Gaza-Ramadan-Israel-blockade-covid
-----
Iran's satellite launch right move in right direction: Rouhani
24 April 2020
President Hassan Rouhani says a recent successful launch for a home-made satellite was proof that Iran has pursued a sound policy to develop its space sector.
In comments published on Friday, the Iranian president hailed the launch of Noor military satellite earlier this week by the Islamic Revolution Guards Corps (IRGC). It was a right move in the right direction, he said.
"This success is a sign that strengthening the space sector in the country and in the armed forces has been a correct and effective step," Rouhani said in a phone call with Defense Minister Brigadier General Amir Hatami.
Washington and allies have even called the launch a breach of a United Nations resolution on a 2015 deal on Iran's nuclear energy program, something both Tehran and signatories to the treaty have dismissed as baseless.
He also touched upon a series of recent "provocations" by some countries in the Persian Gulf, saying Iran should move to keep its stabilizing role in West Asia.
"While maintaining our vigilance and (our) leading presence in the region, we should carefully pursue strategies that would ensure and strengthen stability and sustainable security in the region."
The chief executive felicitated the IRGC on the occasion of the launch operation during another phone call with the Corps' Chief Commander Major General Hossein Salami, IRNA reported. Rouhani called the achievement a valuable and national success.
There again, Rouhani pointed to the foreigners' provocative actions targeting the region, noting that the prowess and readiness possessed by the Iranian Armed Forces, especially the elite force, have always fitted within the framework of preserving regional stability, security, and fighting terrorism.
For his part, General Salami expressed his gratitude towards Rouhani for his acknowledgment of the Corps' achievement, and expressed hope that the success world be followed by further enablement of the country's defense sector.
The country now needs "unity and integrity" more than ever, he added, asserting that the IRGC "is always in perfect readiness to confront the enemies' excessive demands, fight terrorism, and provide the region with sustaining stability and security."
https://www.presstv.com/Detail/2020/04/24/623831/Iran-Rouhani-space-missile
-----
South Asia
Muslims in Sri Lanka: Ramadan in times of quarantine
Muslims all over the world will begin fasting today, in observation of Ramadan – a pillar of Islam and the blessed and holiest month, when the faithful abstain from eating and drinking from dawn to dusk.
If Muslims in Sri Lanka had harboured any hope that the COVID-19 pandemic would be over before the holy month of Ramadan begins, we are grossly mistaken. Today/Tomorrow heralds the month of fasting for this year, under exceptional circumstances.
Instead of the usual excitement over preparations, apprehension has taken over. Currently, the world is on lockdown: mosques are closed, holy Islamic sites in Saudi Arabia are empty and flights are suspended.
Many have now accepted the reality that the core of the holy month will be affected by an outbreak that shows no signs of subsiding anytime soon. Muslims in Sri Lanka are no different. The true test of faith will be how we remain steadfast to prayer and faith under some of the harshest of circumstances.
Ramadan would likely have started on the evening if April 23 and culminate on May 23. Many wonder what purpose fasting serves, among mainly, the experience of fasting is intended to teach a Muslim self-discipline and self-restraint, and understand a little of the plight of the less privileged. A Muslim will have one meal (Suhoor) just before sunrise and break the fast exactly after sunset (Iftar).
Ramadhan for Muslims is like an intensive course intended to help him/her cultivate the essential virtues. People today live at a superficial level of existence with emphasis on the physical realm or attachment to material dimensions forgetting their identity as human beings. The first few days of Ramadan are usually difficult on the believing Muslims because it restrains the mind, body and soul to discipline ourselves.
A Muslim has to guard his tongue and restrain his anger and do good deeds and exercise personal discipline. In Ramadan we starve our body to feed our soul. Fasting imbues in a Muslim the genuine virtue of effective devotion, honest dedication and closeness to God; because when he fasts he does so for Allah and Allah's sake alone.
Fasting cultivates in man a vigilant and sound conscience; because the fasting person keeps his fast a secret even in public. In fasting, there is no mundane authority to check man's behavior or compel him to observe fasting. He keeps it to please God and satisfies his own conscience by being faithful in secret and in public.
Islamic holy sites, including Makkah and Medina in Saudi Arabia and Al-Aqsa mosque in Jerusalem, will be empty during Ramadan after authorities advised worshipers to pray at home.
For Muslims, a big part of the holy month consists of special night prayers called "Taraweeh," which are held daily at the mosque and performed by the imam, the mosque's prayer leader. Historically speaking, mosques are packed with worshipers during the month of Ramadan. The Ministry of Religious affairs has banned all such congregational prayers this month.
Muslim scholars say despite the restrictions Muslims can still pray at home. What more, they can pray and recite the holy Quran at their own pace.
Eid al-Fitr, the last of day of Ramadan, is considered one of the most important days for Muslims. The holiday is known as the "festival of breaking the fast."
During the day, Muslims gather in large open spaces or mosques for special prayers, called Salat al-Eid, which are usually followed by a small breakfast -- their first daytime meal in a month. Gifts are typically exchanged and almsgiving is also a common practice. Another custom involves donning new clothes for the day, which marks a spiritual renewal.
Food is an important part of Eid al-Fitr, as feasting takes the place of fasting with community members, family and friends. This year the Ministry has advised Muslims to refrain from attending the morning prayers which heralds the festival of Eid. Muslims have been requested to refrain from visiting relations and observe these rituals at home.
Needless to say, fasting will be vastly different from any other year we have experienced in our lifetime. This period in isolation has already showed us what it feels like to be detached from the worldly life and the importance of a human connection. Let us use this period productively and more spiritually than we have done before.
"The month of Ramadan is a blessed month, a month in which Allah has made fasting obligatory. This month contains a night greater than a thousand months. Whosoever deprives himself of the blessings of that night truly denies himself tremendously." (An-Nisa'iee)
The night referred in the paragraph above is Laylat-ul-Qadr (meaning the Night of Power). It was during these nights in the year 610 C.E that the holy Prophet received the first of the divine revelations through the Angel Gabriel. This event is annually marked by Muslims on the odd nights of the last ten days of Ramadhan.
The end of Ramadan is marked by a festive celebration called 'Eid-ul-Fitr', the Festival of the Breaking of the Fast. Muslims not only celebrate the end of Ramadhan, but thank Allah for the help and strength that he gave them throughout the previous month.
There are special services at mosques and Muslims partake in a special celebratory meal eaten during daytime, the first daytime meal Muslims would have had in a month. Eid is also a time of forgiveness, and making amends. On this day, Muslims dress in their finest clothes, give gifts to children and spend time with their friends and family. At Eid it is obligatory to give a set amount of money (Zakat) to charity to be used to help poor people.
http://www.dailynews.lk/2020/04/25/features/217185/ramadan-times-quarantine
-----
'30 doctors infected with Covid-19 daily on average last week
April 25, 2020
Rafiul Islam
On an average, nearly 30 doctors across the country have tested Covid-19 positive daily in last one week, according to a tally of Bangladesh Doctors Foundation (BDF), an organisation of physicians.
As many as 324 doctors from government, private and specialised hospitals were so far infected with Covid-19 till 10:30am today, said Dr Nirupam Das, chief administrator of the foundation.
According to the foundation, the main reasons behind the high rate of infection among doctors and other health workers in Bangladesh are: "poor quality" of personal protective equipment (PPE) provided to doctors, community transmission and patients concealing having coronavirus symptoms.
Sometimes, doctors are not put in isolation and quarantine right after any of their colleagues exhibit Covid-19 like symptoms, the organisation said.
The foundation says several infected doctors are from hospitals not designated for Covid-19 treatment or they tested positive before the hospitals they work at were designated for coronavirus treatment. Patients hiding coronavirus symptoms while receiving treatment there may have contributed largely to the transmission, the doctors say.
"We are at risk and the risk is growing everyday when people are hiding symptoms of Covid-19," a doctor, wishing anonymity, of Shaheed Suhrawardy Medical College Hospital said yesterday.
Doctors also have serious concerns about the quality of PPEs, especially masks, provided by the authorities concerned.
Senior doctors and healthcare experts have said that all government and private hospitals across the country need to be brought under a central system as nearly 70 percent of healthcare services are provided by private hospitals.
https://www.thedailystar.net/30-doctors-infected-with-coronavirus-covid-19-daily-average-last-week-1896589
-----
18-bed ICU set up for coronavirus patients at SBMCH
April 25, 2020
Coronavirus patients will get ICU support at Sher-e-Bangla Medical College Hospital (SBMCH) from now on as an 18-bed Intensive Care Unit (ICU) with ventilators has been set up at its isolation unit.
"There will be a doctor and a nurse at the ICU in each shift and a panel of four doctors and 30 nurses will work at the unit following a roster," said the hospital's Director Dr BakirHosssin.
Four intern doctors, a number of nurses and hospital staff have tested positive for Covid-19 in the last four days.
Around 150 intern doctors of the hospital are living under quarantine since Tuesday, as all hostels of Sher-e-Bangla Medical College (SBMC) -- Habibur Rahman Hostel, Jamilur Rahman Hostel, Dr Nur-ur-Nabi Interns' Hostel and Girls' Hostel -- were locked down after the four interns tested positive for coronavirus.
According to SBMCH authorities, 31 coronavirus patients were treated at the hospital till yesterday morning.
https://www.thedailystar.net/18-bed-icu-set-for-coronavirus-patients-at-sbmch-1896583
-----
Pakistan
Major violation of SOPs witnessed in majority of mosques
April 25, 2020
MANSOOR ALI
ISLAMABAD-The mosques are likely to be the hotspots of COVID-19 as majority of them witnessed huge number of worshipers with no precautionary measures on Friday here in Islamabad.
On the first Friday after the agreement between the government and clerics, a huge violation of SOPs was seen in majority of mosques in Islamabad. However, very few of the mosques including Faisal Masjid completely followed the SOPs and the prayer was performed with no carpet on the floor while maintaining social distancing during the Friday prayer.
The crowded mosques and absence of complete precautionary measures during the Friday congregation in capital has also raised questions over the status of the agreement between the government and the religious clerics of the country.
Despite the warnings of health experts, the government is yet to review its decision regarding permission of conditional prayer at mosques and the religious clerics instead of playing their role of convincing the masses to stay at home are warning the government of protest in case of ban on religious gatherings.
Meanwhile, talking to The Nation Dr IntikhabAlam hailing from Peshawar said that the government should have a sense of difference between the health issue and religious issue, adding that the COVID-19 was a health issue that is why the government should have a consultation with the health experts rather than involving the religious clerics.
He stated that the agreement was inked between both the sides but none of the sides will take the responsibility if the pandemic reached its worst stage.
It must be noted that on one side the worshipers have not been allowed to enter Mecca's mosque nor the Prophet's Mosque in Madinah, since Saudi Arabia has suspended prayers at mosques after the outbreak of COVID-19, on the other side the religious clerics have been asking the people to come to mosques on daily basis which according to the health experts will be catastrophic for the country in upcoming days.
Unlike the rest of the Muslim countries where the religious clerics on the directives of the governments are using their speakers to remind people to stay at home and pray at home, the clerics in Pakistan besides asking the people to come to mosques have also been blackmailing the government to remove ban from religious gatherings.
https://nation.com.pk/25-Apr-2020/major-violation-of-sops-witnessed-in-majority-of-mosques
-----
Pro forma issued for mosques to contain Covid-19 spread
April 25, 2020
LAHORE :The Punjab government has issued a pro forma comprising surety bonds for prayer leaders and management of mosques.
The provincial government has issued the pro forma based on the 20 point for offering of prayers during the holy month of Ramazan. The respective police station will hand over the pro forma to the area mosques.
According to the the 20 points pro forma, 6 feet distance is mandatory between two worshipers while offering prayers in the mosques while it has been instructed to remove carpets rolled in the mosques and the prayers be offered on clean floors.
Convergence of people before and after prayers at a single place is prohibited while children and people above 50 are not allowed to enter the mosques. The pro forma instructed that management will draw marks on the floors of the mosques so that people could ensure social distancing during the prayers.
It is clarified in the pro forma if the situation related to the coronavirus worsened, the government has the right to review the policy.
cheques: The Punjab government salutes Shoaib Malik and Engineer Fawad Butt, the martyred pilot of plane that crashed due to technical malfunctioning during aerial spray in Cholistan conducted for the control of locust and stands by the families of these martyrs.
This was stated by Punjab Agriculture Minister Malik Nauman Ahmad Langrial. Meanwhile, Punjab Agriculture Minister presented relief cheques for Rs1.5 million to the family of the martyred pilot and Rs1 million to the family of the martyred engineer. The air operation was essential to save the country from the catastrophe of locust. That is why these two brave sons of ours carried out this aerial operation knowing their duty as a priority. During the same operation, both the workers were martyred due to technical faults. The everlasting services of a pilot and engineer will always be remembered.
Nauman Langrial said the process of monitoring and surveillance of locust was still going on in the province to save the farmers from this disaster and was being carried out through special teams. Surveillance of more than one lakh hectare area has been completed and 12,000 hectare affected area has been sprayed in Sahiwal, DG Khan, Sargodha and Faisalabad affected locust division.
workers' right: Punjab Minister for Labour and Human Resources Ansar Majeed Khan on Friday met with the newly appointed secretary of his department, Amir Jan, in his office. They discussed improvements on modern lines in the department, protection of workers' rights and implementation of labour laws, said a handout issued here on Friday.
The provincial minister said that former secretary, Sarah Aslam, had played an unparalleled role and services in the betterment of the department. He said, "It is our core responsibility to clean this department from corruption."
Ansar Majeed Khan said that the department had taken strict action against child labour, adding that PTI government had enacted legislation to protect the workers and labourers. He said the protection of workers' rights had been ensured through the labour policy.
He added steps were being taken to increase the capacity of the department. He mentioned that Labour Department was on the frontline in the fight against coronavirus. Coronavirus counters have been set up in all social security hospitals, he added.
https://www.thenews.com.pk/print/649457-pro-forma-issued-for-mosques-to-contain-covid-19-spread
-----
Southeast Asia
Singapore Minister-in-Charge of Muslim Affairs Lauds Muslim Leaders' Early Decision to Close Mosques
25 April 2020
Wong Kai Yi
As Singapore grappled with rising numbers of coronavirus infections earlier this year, the country's Muslim religious leaders unanimously agreed to close the mosques, a move applauded by Minister-in-Charge of Muslim Affairs MasagosZulkifli.
Speaking on The Straits Times video news programme The Big Story, Mr Masagos, who is also Minister for the Environment and Water Resources, said the move was ahead of what other countries did at the time.
The Islamic Religious Council of Singapore (Muis) ordered all 70 mosques here to close from March 13 for cleaning, and they have remained shuttered since amid the circuit breaker measures.
Mosques will "continue to provide essential services to the community via alternative means" such as online and on-air platforms, Muis said earlier.
Malaysia ordered its mosques to close from March 17, while mosques in Jakarta, Indonesia's most populous city, were closed on April 10.
The Indonesian government has not mandated nationwide mosque closures, choosing instead to curtail road, air and sea travel during Ramadan to curb rising numbers of new Covid-19 infections.
The move to close mosques here came after a late February mass Islamic prayer session in Kuala Lumpur spawned hundreds of infections and ignited fears that it could be a "super-spreader" event.
For Ramadan and Hari Raya Aidilfitri celebration, the same group of scholars - who advocated closing the mosques and are "very respected" in society - have made calls to the local Muslim community to adapt and adhere to safe distancing measures, Mr Masagos said.
"I am very happy that our religious scholars have always aligned (with) and understand the need to issue instructions and guidance, based on medically sound advice," he said.
Mr Masagos acknowledged that being cooped up at home during the circuit breaker period was a "very difficult situation", but one that could be overcome if people "hunker down together".
https://www.straitstimes.com/singapore/manpower/masagos-lauds-muslim-leaders-early-decision-to-close-mosques
-----
Fasting, giving alms key to meaning of Ramadan: Minister
11 HOURS AGO
Ramadan and Hari Raya Aidilfitri will not be the same this year amid the coronavirus outbreak, but the fundamentals of fasting and giving alms stand true, said Minister-in-Charge of Muslim Affairs MasagosZulkifli.
Mr Masagos noted that several online packages had been put together to help the community cope with the changes in this period.
Online donations, online lessons and food delivery to the needy have been put together by the Islamic Religious Council of Singapore (Muis), Malay business chambers and Malay-Muslim organisations like charity Pertapis and the Association of Muslim Professionals, coming together in the spirit of gotong royong, or kampung spirit, he said.
He cited the popular GeylangSerai bazaar which has been cancelled this year, prompting many stallholders to sell their wares online.
Some shop owners have turned to e-commerce sites to try and maintain sales, while others have set up sales platforms and Facebook groups.
"If they are not constrained in the delivery of these goods, we can certainly still participate in some form of bazaar shopping," said Mr Masagos.
He will, for example, have to make sure that his mother understands why he cannot visit, and instead offer his greetings virtually.
Mr Masagos said: "Old people have very strong habits, it is hard to change, but I am glad she understands."
https://www.straitstimes.com/singapore/manpower/fasting-giving-alms-key-to-meaning-of-ramadan-minister
-----
Seize The Benefits Of Ramadhan, His Majesty Of Borneo Tells Muslims
April 25, 2020
Hakim Hayat
The same thing can be done for the Tedarus Al-Quran, His Majesty said, adding that we are not short of ways to perform them to seize bounties of the holy month.
"Ramadhan only comes once a year and one particular evening in the holy month, called the 'Al-Qadar', is better than 1,000 months, which means that worship during this time will allow us to attain bounties of more than 1,000 months. This is why we should be determined to seize them," added the monarch.
Following Ramadhan, the month of Syawal will be the month to rejoice during Hari Raya Aidilfitri which is usually celebrated with joy.
As SunnatAidilfitri prayers will be forced to be cancelled and the tradition of visiting forbidden, His Majesty said we should be patient in facing this situation by considering that all that is happening has its own wisdom from Allah the Almighty.
His Majesty added that apart from patience, we are also obliged to make efforts in any methods, such as taking precautionary measures and the likes of it.
His Majesty touched on the prayer in QunutNazilah that is read in the Friday prayers, where His Majesty said it should be continued despite us not being able to perform the Friday prayers amid the closure of mosques.
The monarch said that it should also be carried out at home, whether in a congregation with families or individually during the daily prayers.
His Majesty added that the QunutNazilah can be read according to our abilities such as during the Subuh or Maghrib prayers, without it being read in all daily prayer times.
"What is important is for it to be read continuously, while waiting for mosques, suraus and religious halls to reopen," His Majesty said.
His Majesty urged the Ministry of Religious Affairs (MoRA) to take the lead in providing a simple Qunut prayer guide for public use.
His Majesty urged Muslims all over the world to seize opportunities in the holy month by intensifying prayers so we can be swiftly be freed of the dangers of the COVID-19 pandemic.
https://borneobulletin.com.bn/seize-the-benefits-of-ramadhan-his-majesty-tells-muslims-2/
-----
Sarawak starts BROSS programme to encourage online trades during Ramadan
25 Apr 2020
KUCHING, April 25 — Sarawak takes another step to help small and medium enterprises (SMEs) to earn extra income during the fasting month through the Bazar Ramadan Online SarawakkuSayang (BROSS) programme on Facebook.
State Welfare, Comunity Wellbeing, Women, Family and Childhood Development Minister Datuk Seri Fatimah Abdullah said BROSS was initiated as an alternative to the annual Ramadan bazaar which had been barred following concerns over the Covid-19 outbreak.
"With Covid-19 still looming over our head and MCO (movement control order) still enforced, our women entrepreneurs, in particular, must capitalise on the online business (through BROSS)," she said in a statement.
She said her ministry has been advocating online business through the ePreneurs programme which could provide a bigger market with the luxury of working from home and using pre-order strategy.
https://www.malaymail.com/news/malaysia/2020/04/25/sarawak-starts-bross-programme-to-encourage-online-trades-during-ramadan/1860076
------
Ramadan welcomed with cleansing ritual at PathokNegoro Mosque
April 25, 2020
Boy T Harjanto
On the first day of Ramadan, dozens of people swam and bathed in the pool of PathokNegoro Mosque on Jl. Plosokuning in Sleman regency, Yogyakarta.
The mosque was constructed between 1757 and 1758 under the initiative of then-Yogyakarta sultan, Sri Sultan HamengkuBuwono I.
Cleansing oneself in the pool, also known as padusan, is a long-standing ritual to welcome the Islamic holy month at the decade-old mosque.
The COVID-19 pandemic has apparently not affect this tradition, as evidenced in these photos. The mosque even holds tarawih (evening Ramadan prayers) despite the government's suggestion of praying at home to curb the spread of the virus. [yps]
https://www.thejakartapost.com/multimedia/2020/04/25/ramadan-welcomed-with-cleansing-ritual-at-pathok-negoro-mosque.html
----
Coronavirus: from coffee in Hong Kong to burgers in Malaysia and Ramadan in Singapore – here's how Asia's small businesses cope with Covid-19
25 Apr, 2020
As the coronavirus continues its spread across the globe, economists are warning that small and medium-sized businesses are shaping up to be its greatest economic casualty.
That is particularly worrying in Asia, where such firms account for more than 90 per cent of businesses and employ half of all workers.
Luckily, the region's entrepreneurs are a hardy bunch, not easily dissuaded from their dreams even when faced with what some people are touting as the greatest economic upset since the Great Depression.
From being a full-time barista to selling espresso machines, Wong Yat-chun's life had always revolved around coffee. So when the young Hongkonger saw the opportunity to open his own coffee shop four years ago, he jumped at it.
"I had always dreamed of having my own cafe so I poured all my money into opening the shop," said Wong, 29, whose initial start-up capital was HK$1 million.
Since then, he has welcomed coffee lovers from around the world to his cafe, Why 50, in Sheung Wan and, until recently at least, business had been going just fine.
"But in February, when the coronavirus hit Hong Kong, everything changed," he said. "Hongkongers knew that hanging out outside would increase their chances of getting infected, so most chose to stay home and away from the crowds."
Though there have been signs the infection rate is stabilising in Hong Kong, the city has extended most of its social distancing rules – including the closure of bars, gyms, beauty salons, massage parlours and karaoke lounges – until early May.
While cafes can still operate, Wong's revenue has fallen by about 50 per cent to HK$4,000 a day, and he expects things to get worse if the coronavirus continues to spread.
"During the protests, no matter which political side you were on, people were still coming out for food and drinks so there was still business."
He has brainstormed ways to adapt to the situation and keep the business afloat. He is doing more deliveries through mobile apps and is looking to expand sales of coffee beans, demand for which has increased as more people stay at home.
Wong said he had received help from the Hong Kong government as part of its HK$137.5 billion package to help businesses and prevent job losses.
Event management is a complicated business at the best of times. Throw in a global pandemic that can't decide whether it's dying down or flaring up in your particular neck of the woods and you've got a real headache.
Few firms know this better than Singapore's S-Lite Group, the multimillion-dollar firm that helps stage events including the Formula 1 Grand Prix, mass participation running events and, this year, the city's annual Ramadan bazaar.
The company has found that each time it tries to adapt to the city state's social distancing measures, the number of infections increases and new restrictions are brought in. First events were restricted to no more than 250 participants; then to no more than 10; finally the whole country was put into a partial lockdown that has now closed workplaces and schools.
"It's akin to being in a maze. We kind of know where we want to be, but, in this situation, the paths we would normally use end up in dead ends and we have to manoeuvre and renegotiate, only to find it's another dead end," said its chief executive Marc Lim.
Sporting events such as the Sundown Marathon and more recently the Formula 1 Singapore Grand Prix used to account for more than 70 per cent of its business. But S-Lite has in recent years also expanded into community events, festive decorations and the MICE space.
However, since the first case of Covid-19 was discovered in Singapore on January 23, S-Lite's normally lucrative business has taken a 90 per cent hit in February and March.
Particularly tough for the company was the cancellation of the annual Ramadan bazaar. S-Lite had spent S$300,000 (US$210,000) ordering lights and tentage for the event. Equally hard hit were the 800 vendors who had been hoping to sell a variety of Hari Raya goods, from snacks to traditional clothes and curtains.
When the physical event was cancelled, the two-decade-old family business – started by former electrical contractor Thomas Ang – pivoted to an online model in an effort to keep the bazaar alive. It is now working with online retail platform B. Halal to run variety shows hosted by local celebrities to help vendors sell their products.
Lim said the initial plan was that vendors would be able to use the online platform to continue making sales after the end of the bazaar. Instead, the bazaar will now be entirely online.
"It is a good lesson for us in the events industry that nothing is forever and it's always good to have a plan B," Lim said. "The pivot to doing stuff online can be a value add for our event and complement what we do in physical space."
As Malaysia enters the sixth week of a partial lockdown that has banned dine-in custom at restaurants, social restrictions are taking a big bite out of the profits of small home-grown operations like myBurgerLab.
The eight-year-old Americana-inspired Malaysian burger chain, wildly popular for its gourmet smashed beef patties and ingredients like salted eggs, birds eye chilli and curry leaves, has six outlets, 70 full-time employees and around 200 part-timers.
So far, it has avoided retrenchments and pay cuts for ground-level staff, although management has had to take a 10 to 25 per cent salary cut "as a precautionary measure", with operations running on break-even only mode as its focus switches to online orders and deliveries.
Chin Ren Yi, who started the burger joint with friends Cheah Chang Ming and Teoh Wee Kiat, said the challenges to both the restaurant and the industry had come in phases.
"During the first two weeks of the lockdown, we were swamped. Thanks to our online presence on food delivery apps and branding, people found us to be a product they were happy to support and eat during the first weeks of the movement control order. But the challenge then was to find staff because it was a very uncertain time, there was a lot of fear going around, lots of our staff felt they weren't comfortable working."
When the government tightened the lockdown in April to limit travel and close businesses by 8pm instead of the usual 10pm, more challenges arose – last orders had to be made by 7pm "meaning we missed a lot of the dinner crowd and dropped below the break-even mark," said Chin. About 3,000 ringgit (US$680) in sales was lost daily.
The chain has responded with measures to drive sales like introducing a new line of breakfast products, including sandwiches and pancakes, and making take-home kits for people to buy raw ingredients and build their own burgers at home.
"We've also riffed off the very popular Animal Crossing game through our online marketing campaign, encouraging fans to build Animal Crossing versions of our franchise and we plan to show them off to the world soon."
The chain has also applied for government relief, although it may take some time for loans to be processed as "due to the lockdown we cannot get our money yet as lawyers need to be involved and they are not able to work at the moment, so that's a bit of a speed bump there", said Chin.
"We have also applied for the government's wage subsidy relief fund, we've got that and we're very thankful for that, it covers about 50 per cent of our full-time staff."
Chin said a recovery plan was on the cards, though the situation was hard to predict. The lockdown has been extended to May 12, and many expect further extensions to prevent gatherings during the fasting month of Ramadan or Eid celebrations at the end of May.
When the government ordered Bangkok's restaurants to close in late March to help stem the spread of the virus, ThanapanVongchinsri had to act fast to keep his business afloat.
He retained half a dozen members of the management team, but prepared them for the worst, instructing them "to talk to the bank early on about any debts they have, credit cards, home loans, car leasing".
Then he brought in the new business model. While restaurants were not allowed to open their doors, they were allowed to operate delivery services, so Thanapan realigned his operations and the responsibilities of his staff and tinkered with his menu to make it more suitable for deliveries.
ThanapanVongchinsri (in white top) opened buffet restaurant Penguin Eat Shabu with his twin brother Thanapong more than five years ago in Bangkok.
Luckily for Thanapan, shabu-shabu, a Japanese hotpot dish that has been popular in Thailand for years, is relatively well suited to deliveries as the ingredients – raw meat, soup and sauces – can be transported easily for customers to cook at home.
"The branches were turned into a food factory to prepare shabu-shabu sets for home delivery. I myself also help drive the delivery car," said Thanapan, 36.
The delivery sets include a selection of Wagyu beef, pork and vegetables, along with shabu-shabu soup and sauces and prices start at 499 baht (US$15).
For two days following the closure of Thanapan's restaurants, the company had zero income, but within about a week revenue had picked up, spurred by the popularity of delivery promotions like free giveaway of shabu-shabu electric pots. "We should earn around half of our usual revenue by April's end," he said.
Thanapan said his current business model meant his operations survived on minimal cash flow, meaning that he could avoid closing down for good. However, if the lockdown were to continue beyond the end of April – when it is currently set to expire – he would be faced with financial options that might not be workable in the long run.
"The SME soft loans have low interest rates only for the first two years," he said. "But for the third year onwards, interest spikes to 6-7 per cent and the condition is the loan cannot be paid back in under five years.
Sydney pub i Darts Zen was never a quiet place, even when it was subject to the late-night sales restrictions the city introduced five years ago to crack down on alcohol-fuelled violence. Still, when the laws were lifted in mid-January, it looked like business was going to take off in a big way. Party time, thought the bar owners. Even the unprecedented bush fires that were enveloping the city in thick smoke and slowing trading weren't enough to dent the optimism of i Darts Zen owner Eddy Lee.
But by March, sweeping social distancing rules brought in by the city to stem the spread of Covid-19 managed to achieve what neither the alcohol law nor the bush fires could achieve: silencing the bar's beer-loving, dart-playing young crowd. All pubs, cafes and restaurants in Sydney were ordered to close.
"One night we were trading, and the next day we were closed," Lee said. "In six to eight months, if we are all still locked down, it will be catastrophic."
Presently, three restaurants, a bubble tea maker and an independent grocer are cohabiting in the i Darts Zen basement, each of them operating takeaway services and taking online orders. The tea maker and the grocer moved to the basement in the once-thriving southern end of the Central Business District after giving up the leases on their previous premises because they couldn't keep going.
This co-sharing arrangement means that the bar is now getting by with a 30 per cent slump in its revenue, rather than the 75 per cent slump it had been weathering in the previous six weeks. Lee has managed to keep all his 15 full-time, part-time and casual staff, though their hours have undergone a little nip and tuck.
This was possible only after he claimed the City of Sydney council's Covid-19 A$10,000 (US$6,375) business grant and the federal government's Jobkeeper allowance, a wage subsidy for employers to keep staff on, and delayed all regular company and payroll taxes.
"Luckily we didn't have to send anyone home, but we have new challenges ahead because we have to rethink our marketing plan to get more customers when doors open again," he said.
Hospitality is among the industries hardest hit by the pandemic. According to the Australian Bureau of Statistics, three weeks after Australia recorded its 100th Covid-19 case on March 14, jobs in the accommodation and food services industry had fallen 26 per cent, the steepest decline of any industry.
https://www.scmp.com/print/week-asia/economics/article/3081471/coronavirus-coffee-hong-kong-burgers-malaysia-and-ramadan
----
North America
Jeff Goldblum Faces Social Media Backlash Over Islam Comments on 'RuPaul's Drag Race'
4/24/2020
"Is there something in this religion that is anti-homosexuality? And anti-woman?" the actor and special guest asked during Friday night's episode.
Jeff Goldblum came under fire on social media for asking if Islam was "anti-homosexuality" and "anti-woman" during Friday night's episode of RuPaul's Drag Race.
The comments came after the seven remaining queens on the show, now in its 12th season, walked a patriotic runway tailored to this week's "Stars & Stripes" theme. Those contestants included Jackie Cox (whose non-drag name is Darius Rose), who donned a red-striped caftan with a midnight blue hijab outlined with 50 silver stars.
'I'm not," Cox replied. "To be honest, this outfit really represents the importance that visibility for people of religious minorities need to have in this country."
The actor continued by asking Cox about Islam and how the faith treats LGBTQ people. "Is there something in this religion that is anti-homosexuality and anti-woman? Does that complicate the issue? I'm just raising it and thinking out loud and maybe being stupid."
Goldblum's commentary was quickly criticized on social media, with users noting Islam is not alone in being a religion that that has historically discriminated against women and the LGBTQ community. Several users also noted that Thursday evening marked the start of Ramadan, a holy month of fasting for the religion.
The actor's questioning opened up a meaningful conversation on the show about Islam, its treatment towards the LGBTQ community specifically, and how those like Cox who are a part of the culture live through it. RuPaul, perhaps spotting the sensitivity of the conversation, noted that "drag has always shaken the tree, so to speak."
"There are so many different layers to this presentation. If it was ever going to be done, this is the stage to do it," the host added.
While tearful on the runway, Cox shared that "it's a complex issue" and she has her "own misgivings about the way LGBT people are treated in the Middle East."
"At the same time, I am one," Cox continued. "What is so important to me is that if you just happen to be different, then live that truth."
While cultural norms and traditional readings of Islamic sacred text can promote a heteronormative binary of gender identification and sexual orientation, according to a recent survey by Public Religion Research Institute, more than half (52 percent) of American Muslims agreed that "society should approve of homosexuality."
Cox continued to address how the U.S. travel ban that prohibits entry into the country from all Muslim-majority countries has impacted her personally. The ban has barred immigrants from from Libya, North Korea, Somalia, Syria, Venezuela and Yemen as well as Cox's home country of Iran.
For Cox, she noted how the ban stopped her aunt from coming to the U.S. to help care for Cox's mother. "When the Muslim ban happened, it really destroyed a lot of my faith in this country. And really hurt my family. And that's so wrong to me," Cox shared on the runway.
"I had to show America that you can be LGBT and from the Middle East and there's going to be complicated shit around that and that's okay. But I'm here and I deserve to be in America just as much as anyone else."
https://www.hollywoodreporter.com/news/jeff-goldblum-faces-social-media-backlash-islam-comments-rupauls-drag-race-1291882
-----
Muslim association donating care packages for Ramadan
April 24, 2020
Some Edmonton Muslims are celebrating Ramadan by helping those struggling financially through the COVID-19 pandemic.
The Muslim Association of Canada is raising money to donate at least 500 care packages to families living in the city's subsidized housing. Along with the Capital Region Housing, youth groups from the association are delivering care packages with food and treats to tenants who sign up for a package. Volunteer Yasin Cetin said charity is an important part of the month-long holiday.
"Sometimes community members are just in need and they can't afford food at home so they'll come to the mosque … to break their fast. There is a need in the wider community as well, folks are struggling or out of work," he said Friday.
"The idea of providing care packages that are open to everyone, regardless of their faith, sort of came to be a very tangible project that we could take on, and something that we can get the community excited about."
Ramadan, the month of dawn-to-dusk fasting which started Thursday and ends with Eid al-Fitr May 24, is normally celebrated with festivals, feasts and helping others.
But with COVID-19 forcing large gatherings to be shut down, and food banks and social services expecting to see higher demands, Cetin says this is a way they can celebrate their faith and do something good for the community, together.
Khalid Karana, a volunteer with the Muslim Association of Canada, packs care packages for those in need on Friday, April 24, 2020. Greg Southam / Postmedia
"I think it's a good morale boost, and a good emotional boost, for people who are fasting, people who are struggling, people who are just trying to make ends meet, and who are stuck inside houses and maybe want to contribute to something bigger than themselves," he said.
The care packages include dry staples like rice, pasta, canned goods and oatmeal, but also fresh food like potatoes, onions and juice. They also include treats like chocolate and cookies to keep with the spirit of the holiday. Most packages will be delivered in mid-May.
Greg Dewling, CEO of Capital Region Housing, says they've never done a food drive before. When the Muslim association approached them he said it seemed like a good idea they would be happy to support. Volunteers from both organizations are putting the packages together.
"For many of our families that we help, when they get towards the end of the month … they're starting to run out of funds in order to put food on the table. They're just deciding whether or not they're going to keep the money to pay rent on the first of the month, or feed their children. Nobody wants to be put in that circumstance," he said in an interview.
The Muslim Association of Canada had raised around $10,000 for the Edmonton drive as of Friday morning. The organization raised more than $77,000 for similar charitable events country-wide within the same time frame.
https://edmontonsun.com/news/local-news/edmonton-muslim-association-donates-care-packages-to-families-in-social-housing-for-ramadan/wcm/869bcfbc-59b5-4a21-8f40-610214799423
----
Coronavirus: Toronto Ramadan celebrations move online
April 24, 2020
Ramadan celebrations in Toronto are taking a virtual turn this year as many stay home to prevent the spread of COVID-19.
The Fast in the 6 festival has taken to Nathan Phillips Square since 2017, attracting hundreds of people of different faiths to share a meal and mark Ramadan.
"We wanted to take that same energy, that same spirit and take it into this 21st century digital world where we're all learning to be together while we're apart," said Dany Assaf, who co-founded the event with his wife Lisa.
"Now, with this incredible physical restriction, we now have this interesting portal of even more people we can reach globally."
"While all of us are in isolation and all of us are in a lockdown, we wanted to take this as an opportunity to create a sense of community," said Safwan Choudhry, an organizer of the campaign.
A live-stream on Saturday afternoon is set to include Prime Minister Justin Trudeau and Mayor John Tory.
https://globalnews.ca/news/6866301/coronavirus-toronto-ramadan-online/
----
Africa
UPC wants govt to give food aid to fasting Muslims
25th April 2020
By Sandra Kyalitesa
"We welcome the Holy Month of Ramadan for it has indeed come at such a time when prayers and sacrifices are most needed," UPC official said
The Uganda People's Congress (UPC) has urged the Government to give relief aid to the Muslim community in the country to enable them fast smoothly during this Month of Ramadan.
Lawrence Okae, the party national chairman, said the Holy Month has come at a time when there is a lockdown in the country because of the threats of the COVID-19 pandemic.
Okae, however, noted that the lockdown came with the challenges of high prices for food varieties mostly needed by Muslims during the fasting season.
"We urge the Government to consider in its relief supplies, some allocation to our Muslim brothers and sisters in this demanding period of fasting for 30 days," said Okae.
"We welcome the Holy Month of Ramadan for it has indeed come at such a time when prayers and sacrifices are most needed for both our motherland and the entire world as we fight against COVID-19," Okae added.
While addressing the media at the party headquarters yesterday, Okae implored the citizens to observe health guidelines provided by experts to curb the spread of the virus.
"The Ugandan citizen should be responsible in this COVID-19 fight by following religiously the Ministry of Health guidelines and regulations from time to time," said Okae.
https://www.newvision.co.ug/new_vision/news/1518256/upc-govt-food-aid-fasting-muslims
-----
METROCOVID-19: Three Imams in trouble for flouting lock down order in Borno
April 25, 2020
By SeunOpejobi
The Borno State Government has vowed to punish three Imams for flouting the COVID-19 lockdown order by holding Friday congregational prayers.
Commissioner for Home Affairs, Information and Culture, Babakura Abba Jatau stated that holding congregational Friday prayers exposed worshippers to risks of spreading COVID-19 in the State.
Jatau, who is a member of the State's High Powered Response Team on COVID-19, spoke during a daily briefing at the State's Government House in Maiduguri, Borno State.
The Commissioner said the three Islamic Scholars had been reported to Shehu of Borno and the Chief Imam preparatory to other punitive measures to be adopted.
According to Jatau: "It is disheartening to tell you that three Islamic Scholars (names withheld) today violated the total lockdown rules by conducting Juma'at prayers in their respective mosques in the metropolis.
The Commissioner also reviewed the lockdown directive, stressing that bread, kosai, iced blocks, and pure water sellers were free to operate from 4pm.
"As part of continued review of lockdown measures, the high powered response team has announced that a window of 4pm has been allowed for sellers of bread, sachet water, iced blocks and local foods – kosai, masa and shayi, to meet the needs of fasting citizens who may need food for iftar," Jatau said.
https://dailypost.ng/2020/04/25/covid-19-three-imams-in-trouble-for-flouting-lock-down-order-in-borno/
-----
2020 Ramadan: Yobe govt reduces official working hours for civil servants
April 24, 2020
By Shehu Usman
Civil servants from grade level 13 and above in Yobe State have their official working hours reduced following the commencement of Ramadan fast.
The State of Head of Service, Mohammed Nura, made this know in a circular, he released on Friday and obtained by DAILY POST in Damaturu.
"This is to inform you that, His Excellency, the Executive Governor of Yobe State, Hon. Mai Mala Buni, has approved the adjustment of official working hours in the Public Service for the Holy month of Ramadan as follows:
The adjustment according to the circular covers the month of Ramadan (Fasting) only and normal working hours commence immediately after the month of Ramadan.
Recalled that civil servants on grade level 12 and below in the state are observing the stay-at-home and work-from-home directive as a way of preventing the spread of COVID-19.
https://dailypost.ng/2020/04/24/2020-ramadan-yobe-govt-reduces-official-working-hours-for-civil-servants/
-----
Ramadan: We'll come out stronger, better, says Oyetola
By John Akubo
25 April 2020
Governor AdegboyegaOyetola of Osun state has felicitated with Muslim faithful in the state and around the world on the commencement of this year's Ramadan fast, saying the observance of fasting amidst the battle against coronavirus is not a coincidence.
He noted that the pandemic ravaging the world challenges humanity and its faith in God, urging Muslims to hold fast to their faith in their creator in both times of prosperity and hardship in order to validate the sincerity of their faith; adding that considering the huge blessings that come with the holy month, Nigerians and the world would come out of this war, stronger and better.
In a statement issued by his Chief Press Secretary, Ismail Omipidan yesterday, he urged the faithful to seek maximum benefits of Ramadan by engaging in more acts of worship that would draw them closer to God. He added that the current situation in the country made it more imperative for people to reach out and show love to the vulnerable and poor. He noted that the lockdown directive imposed to check the spread of the disease was still in force and warned against violation of the order, stressing that violators would not be spared. "Regular activities during Ramadan such as congregational prayers including Taraweeh, Tafseer, public lectures, and other religious gatherings are suspended."
Also, Senate President, Ahmed Lawan has urged Muslims to remember to pray fervently for health workers and other caregivers who are at the front line of the fight against COVID-19. This was contained in Ramadan message made available to The Guardian yesterday.
https://guardian.ng/news/ramadan-well-come-out-stronger-better-says-oyetola/
-----
Ramadan: NAHCON, PDP urge prayers for Nigeria over COVID-19
By Azimazi Momoh Jimoh
25 April 2020
The National Hajj Commission of Nigeria (NAHCON) has urged Muslims to use the Ramadan period to pray for Nigeria as the country tackles the COVID-19 scourge.
In his Ramadan message to Muslims yesterday in Abuja, Chairman of the Commission, Alhaji Zikrullah Kunle Hassan, stated that prayer was necessary at this period when the Covid-19 pandemic has demoralised the world, with a lockdown that is hindering people from performing their legitimate duties to earn their livelihood.
The Peoples Democratic Party (PDP) also made a similar appeal yesterday, urging Muslims to use the period of the Ramadan to pray fervently for the nation as well as instill self-restraint on the faithful as commanded by Holy Prophet Mohammad.
Hassan urged Nigerians to adhere strictly to directives of the Presidential Committee on COVID-19 on social distancing and personal hygiene in order to stave off the spread of the virus. He further Muslims to always respect constituted authorities, saying it is a key principle of Islam.
The NAHCON chair stated: "As a Muslim, I cannot think of a better idea than to call on the Muslim Ummah to use this occasion to pray conscientiously to the Almighty Allah to protect us from this calamity and terminate the pandemic, for the world to return to its normal activities.
"Similarly, the sublime month of Ramadan is a period of retreat; retreat from worldly treats to spiritual sobriety; a retreat from selfishness to sharing and caring.
"Ramadan is a time of showing appreciation to the Almighty and to fellow humans who must have impacted in one's life one way or the other. Although we do this every other day, however, the special occasion inspires us to do more."
The PDP, on its part, said the Holy month of Ramadan presents a divine opportunity to mankind and Nigerians in particular, to draw near to the Almighty Allah in supplication to bring solution to the challenges of life, especially the deadly COVID-19 pandemic.
The PDP, in a statement by its national publicity secretary, Kola Ologbondiyan, noted that the coming of Ramadan at this trying time was yet another divine signal of Allah's love and mercy to deliver mankind from tribulations.
"Our party therefore urges all compatriots to set aside every primordial difference and unite as one people in sober reflection, prayers and support to one another in this quest to defeat the pandemic."
It is also instructive that we all use the holy month to rekindle our spirit of brotherliness by redoubling our efforts in reaching out, supporting and caring for one another, particularly the vulnerable and the downtrodden," the PDP stressed.
The party also called on Nigerians to continue to observe all the safety directives of social distancing and personal hygiene in the overall effort to defeat the plague and restore normalcy in the country.The party prayed for a peaceful and successful Ramadan as well as divine solution to Nigeria's challenges.
https://guardian.ng/news/ramadan-nahcon-pdp-urge-prayers-for-nigeria-over-covid-19/
-----
URL: https://www.newageislam.com/islamic-world-news/101-ex-bureaucrats-cabinet-secretary/d/121672
New Age Islam, Islam Online, Islamic Website, African Muslim News, Arab World News, South Asia News, Indian Muslim News, World Muslim News, Women in Islam, Islamic Feminism, Arab Women, Women In Arab, Islamophobia in America, Muslim Women in West, Islam Women and Feminism