New Age Islam News Bureau
16 Aug 2014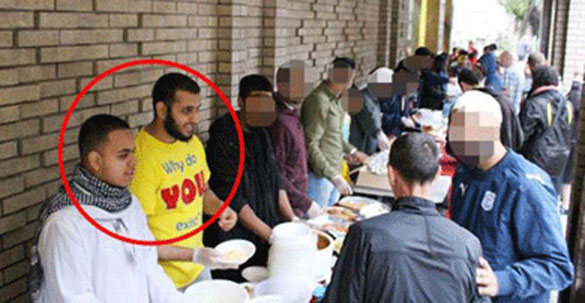 Before they fled: Jihadists Reyaad Khan and Nasser Muthana (circled) hand out food to the needy in Cardiff last year. Both have been tweeting about their involvement with IS while on the front line
---------
Europe
• 'You Are Not Too Young To Die': The British Jihadists Bidding To Recruit Boys
• Pontifical Council for Interreligious Dialogue slams Islamic Caliphate crimes and barbarism
• Netherlands suspends official who said Zionists created ISIS
• How Muhammad is now the most popular name for baby boys in England and Wales
• UN Sanctions Bolster Global Efforts against Islamists
Arab World
• ISIS Militants 'Massacre 80 Yazidi Men And Kidnap 100 Women And Girls In Northern Iraq After They Refuse To Convert To Islam'
• Philosophy and Chemistry Banned In Schools by ISIS
• Top Saudi Cleric Calls for Code of Conduct to Curb Violence
• Isis Kills Dozens of Syrian Rebels after Seizing Two Towns near Aleppo
• Three killed in Egypt as Islamists protest
• Five ISIL Commanders in Tikrit Killed in Iraqi Air Force's Attack
• Hezbollah leader Nasrallah sees Islamic State as growing 'monster'
• Iraqi Sunnis lay out conditional offer to join unity govt
• Iraq jihadists destroy Shiite mosque, execute Muezzin of Jalawla
India
• ISIS Now Targets Indian Muslims with Video Subtitled In Hindi, Urdu and Tamil
• Muslim Clerics Pledge To Make Mumbai Drug-Free
• India access to Headley "under discussion": U.S. official
• Two BSF men killed in militant attack near Srinagar
Africa
• Boko Haram kidnaps at least 97, kills 28 in raid
• Five Western nations issue joint statement condemning Libya violence
• Tripoli wakes to another Friday of pounding by militias
• Egyptian killed on Libya-Tunisia border
South Asia
• Interior ministry says 42 Taliban militants killed in past 24 hours
• Taliban executes 5 people over espionage charges in Helmand
• 22 Barisal Jamaat men, including ameer, sent to jail
Mideast
• More than 1,000 Turks Fighting for ISIL
• Draft terms for long-term Gaza truce revealed in Egyptian newspaper
• Turkey to build camps for 36,000 displaced Iraqis
• Palestinians accuse Israel of violating Gaza truce
North America
• 'We are in your streets': Secret Service investigates ISIS Twitter taunt
• Obama's Mission Not-Accomplished, Insist Iraqi and U.N. Officials
• CAIR Asks Imams to Devote Sermons to Racial Equality in Response to Missouri Police Shooting
• US backs Pakistan's efforts to fight terrorism
• Qaeda warns US hostage risks 'lonely death'
• Sign language Qur'an for hearing-impaired Muslims
Southeast Asia
• Islamic State ideology a threat to our identity: Indonesian president
• West Nusa Tenggara Police Officer Murdered in Possible Terror Attack: Densus 88
• Dr M condemns Isis, says Islam doesn't condone violence
Pakistan
• One doesn't become PM by holding a big rally: PML-N, Leader
• Imran and Qadri's demands unconstitutional: Pak Punjab CM
• Next PM will be Imran Khan: PTI Leader
• Imran Khan says Nawaz has no option but to resign
• Pakistan: 60,000 rally against PM Sharif
Compiled by New Age Islam News Bureau
URL: https://www.newageislam.com/islamic-world-news/new-age-islam-news-bureau/-you-are-not-too-young-to-die---the-british-jihadists-bidding-to-recruit-boys/d/98590
----------
Europe
'You Are Not Too Young To Die': The British Jihadists Bidding To Recruit Boys
Aug 16, 2014
British jihadists fighting with terror squads in Iraq are using social networking sites to lure young Muslim teenagers from the UK into joining the Islamic State fanatics.
The extremists, who boast of 'slaughtering' innocent Yazidis and 'taking their women as slaves', are advising 15-year-olds that they are 'not too young' to die fighting for Allah.
Asked by a British 18-year-old girl if she is too young to join, one of them replied: 'I know sisters younger than you. I heard of maybe 16-year-olds being here from UK. You aren't too young.'
They are informing their British 'brothers and sisters' every day how to make their way to Iraq, claiming they are 'ordered' to defy their parents and fight jihad.
After one British teenager wrote of having a 'bad feeling I can't hack it there and my family will want me to come back', British jihadist Abu Farris replied: 'We're all bros here. Trust me, don't be scared. 15-year-olds can hack it bro, so why can't you. It is from Allah.'
And the chilling posts reveal they are advising them down to the smallest detail on how to prepare for travelling to the region – from where to get guns and bulletproof vests to what trainers they should bring and how to avoid being bitten by bugs at night.
The revelations raise urgent questions for the security services over whether enough is being done to prevent the spread of radical Islamic ideology among British teenagers.
Young British Muslims are now known to be among the IS terror squads besieging the area around Mount Sinjar where thousands of refugees are trapped, the Mail can reveal.
Intelligence officers have identified UK nationals as being part of the fanatical IS army that has swept across northern Iraq, carrying out a horrifying catalogue of medieval war crimes.
The British IS fighters, who refer to themselves as the 'Baadiya Boys' after their original base in Syria, include Reyaad Khan and Nasser Muthana, the 20-year-olds from Cardiff who notoriously featured in a jihad recruitment video for the group.
The former Catholic college students have been joined on the frontline by young Muslim men and women from across the UK, including a group of five friends from Portsmouth, two of whom have already been killed.
Using Twitter, social media site Ask.fm and smartphone apps, the jihadists are posting disturbing updates on their progress.
Uploads have included pictures of mass executions, beheadings, child soldiers and selfies with men captured and tied to railings in the oppressive heat. A British girl who has gone to Syria also posted a picture of herself in the area, wearing a niqab and with a gun by her side.
Some of the British jihadists command followers to 'make hijrah' – an Arabic term meaning emigration. They boast about what weapons they are using and offer advice on how to get into Syria and where to buy guns. If those messaging them appear serious about joining IS, they send private messages on mobile apps Kik and Surespot, which they claim are encrypted and impossible for authorities to monitor.
It is thought about 500 British nationals have travelled to the region. United Nations War Crimes investigators said they are monitoring Islamic State online postings.
A spokesman for Twitter declined to comment last night. Ask.fm and Kik were unavailable for comment.
A spokesman for Surespot said: 'Any technology has the potential for abuse by nefarious individuals.
'For example, digital cameras can be used for child porn but they can also be used to take lovely pictures. Are we then to stop selling them?
'In the same vein, are we supposed to give governments access to all of our private information?'
The Home Office said it is aware of the IS propaganda online and is working with social media companies to remove extremist material.
A spokesman added: 'We do not tolerate the existence of online terrorist and extremist propaganda.
'We work with the internet industry to remove terrorist material hosted in the UK or overseas.'
Can I wear my Nike trainers? Are the bugs going to crawl on me in my sleep? The burning questions teenagers had for British jihadi
One British fighter, Abu Farris, took to the website Ask.fm – criticised for failing to crack down on harmful content – to convince radicalised youths to join him. Here are some of his slang-filled posts from his question-and-answer session:
Q: Don't you miss your mum? Why don't you just be a British Muslim and live in peace? A: Of course I miss my mum, I'll see her in jannah [paradise] if Allah accepts me. Regardless of how we feel, its obligatory. This is more important than my family.
Q: Since u left have ur family been more understanding or confused? A: To be honest, my family think IS are extreme. They think I was brainwashed. By the grace of Allah I'm not upset. I know that if Allah accepts me I'll intercede for them and show them who was right on judgment day.
Q: I have a bad feeling I can't hack it... A: Trust me, when ur here you will have ur brothers to talk to. Don't be scared. 15-yr-olds can hack it bro, so why can't you? Ask Allah for help.
Q: How much British have you met over there? A: So many.
Q: Would you advise people going over to learn Arabic first? A: You'll pick it up here inshallah [God willing]. You can even study here.
Q: I'm 18. Do you know any 18-year-old sisters from the UK? I think I am too young. A: I heard of maybe 16-year-olds being here from UK. You aren't too young.
Q: Do u find a spouse in advance? A: There are bros here that wanna get married and sisters out there that wanna get married. Just find a bro or a sis, thru friends or however.
Q: Are there gun stores there? A: Yep, u can buy loads of stuff.
Q: Are bulletproof vests hard to get where you are? Would a person be better buying it in Turkey and then crossing over with it? A: You can buy it here easily, like any random military store in Raqqah u'll find it.. they're like $100.
Q: Do you use night vision goggles? A: Of course, we even have spy planes.
Q: Are Nikes sufficient footwear? A: I brought one pair of Adidas high-tops. You'll get what you need here. You won't enter the battlefield unless ur kitted up and you have ammo etc.
Q: Are there a lot of bugs there? Like if I'm sleeping, are they gonna crawl on me? Sorry if this is a weird question. May Allah reward you. A: Nope inshallah, you'll be fine. Even if there was bugs, there's those bug eliminators. It's not bad, only thing is mosquitoes really.
Q: Is there internet at your homes? A: Sometimes your house can be near an internet cafe so you can use internet from there.
Q: Are there jobs to be an executioner, like when you capture kuffar [non-believers]? A: Yep.
Q: How do you earn money? A: We get 'pocket money' to spend, to look after your wife, buy some clothes etc.. they give us what's necessary.
Q: Do I need to do a front-flip during training? Nope, training here isn't as hard as u think. It's more psychological training, like mentally training you.
http://www.dailymail.co.uk/news/article-2723346/Youre-not-young-die-British-jihadists-bid-recruit-boys-young-15-social-media-sites.html#ixzz3AZ1GGi7E
-----------
Pontifical Council for Interreligious Dialogue Slams Islamic Caliphate Crimes and Barbarism
Aug 16, 2014
Vatican City (AsiaNews) - The Pontifical Council for Interreligious Dialogue deplores in no uncertain terms the acts of violence by the militants of the Islamic caliphate in the Middle East, especially in Iraq and Syria.
The Vatican body calls on the members of all religions and on the international community to join in the condemnation. It also calls on Islamic religious leaders to condemn the use of religion as a false justification for terrorism and to make the culture of coexistence and dialogue that has developed in the past few years more real and credible.
The full translation of the statement issued by the Pontifical Council is presented below.
The whole world has witnessed with incredulity what is now called the "Restoration of the Caliphate," which had been abolished on October 29, 1923 by Kamal Ataturk, founder of modern Turkey. Opposition to this "restoration" by the majority of religious institutions and Muslim politicians has not prevented the "Islamic State" jihadists from committing and continuing to commit unspeakable criminal acts.
This Pontifical Council, together with all those engaged in interreligious dialogue, followers of all religions, and all men and women of good will, can only unambiguously denounce and condemn these practices which bring shame on humanity:
-the massacre of people on the sole basis of their religious affiliation;
-the despicable practice of beheading, crucifying and hanging bodies in public places;
-the choice imposed on Christians and Yazidis between conversion to Islam, payment of a tax (jizya) or forced exile;
-the forced expulsion of tens of thousands of people, including children, elderly, pregnant women and the sick;
-the abduction of girls and women belonging to the Yazidis and Christian communities as spoils of war (sabaya);
-the imposition of the barbaric practice of infibulation;
-the destruction of places of worship and Christian and Muslim burial places;
-the forced occupation or desecration of churches and monasteries;
-the removal of crucifixes and other Christian religious symbols as well as those of other religious communities;
-the destruction of a priceless Christian religious and cultural heritage;
-indiscriminate violence aimed at terrorizing people to force them to surrender or flee.
No cause, and certainly no religion, can justify such barbarity. This constitutes an extremely serious offense to humanity and to God who is the Creator, as Pope Francis has often reminded us. We cannot forget, however, that Christians and Muslims have lived together - it is true with ups and downs - over the centuries, building a culture of peaceful coexistence and civilization of which they are proud. Moreover, it is on this basis that, in recent years, dialogue between Christians and Muslims has continued and intensified.
The dramatic plight of Christians, Yezidis and other religious communities and ethnic minorities in Iraq requires a clear and courageous stance on the part of religious leaders, especially Muslims, as well as those engaged in interreligious dialogue and all people of good will. All must be unanimous in condemning unequivocally these crimes and in denouncing the use of religion to justify them. If not, what credibility will religions, their followers and their leaders have? What credibility can the interreligious dialogue that we have patiently pursued over recent years have?
Religious leaders are also called to exercise their influence with the authorities to end these crimes, to punish those who commit them and to re-establish the rule of law throughout the land, ensuring the return home of those who have been displaced. While recalling the need for an ethical management of human societies, these same religious leaders must not fail to stress that the support, funding and arming of terrorism is morally reprehensible.
That said, the Pontifical Council for Interreligious Dialogue is grateful to all those who have already raised their voices to denounce terrorism, especially that which uses religion to justify it.
Let us therefore unite our voices with that of Pope Francis: "May the God of peace stir up in each one of us a genuine desire for dialogue and reconciliation. Violence is never defeated by violence. Violence is defeated by peace."
http://www.asianews.it/news-en/Pontifical-Council-for-Interreligious-Dialogue-slams-Islamic-Caliphate-crimes-and-barbarism-31876.html
----------
Netherlands suspends official who said Zionists created ISIS
Aug 16, 2014
THE HAGUE, Netherlands — A Dutch government employee who said the ISIS terrorist group was a Zionists conspiracy has been suspended pending further disciplinary steps.
Dutch Justice Minister Ivo Opstelten announced the decision about Yasmina Haifi, a former project manager for the ministry's Cyber Security Center, on Friday, the news agencies ANP and Novum reported.
On Wednesday, Haifi wrote on Twitter: "ISIS has nothing to do with Islam. It's part of a plan by Zionists who are deliberately trying to blacken Islam's name."
She later removed the statement, citing work-related "sensitivity." Two rightist lawmakers for the VNL faction said they would query the justice ministry as to whether employing Haifi posed a security threat.
Commenting on Haifi's statement, Vice Premier Lodewijk Asscher said: "When I heard it it made me sick to my stomach." Asscher is a member of Dutch Labor, or PvdA, which is also Haifi's party, according to her personal profile on the social network LinkedIn.
On Friday, Opstelten said: "She will not be returning to this function, not ever," adding he was "shocked" by the contents of her message. Her statement, he also said, was "incompatible with her responsibilities" and "therefore she was removed. She is not the right person for this job."
He added: "This is not about what anyone's own beliefs are but about what one expresses, as a civil servant."
Haifi's comments came amid a polarizing public debate in the Netherlands about ISIS following three rallies over the past month in The Hague that featured ISIS flags. Two of the rallies also featured calls to kill Jews and in the third protesters hurled stones at riot police.
http://www.jpost.com/Jewish-World/Jewish-News/Netherlands-suspends-official-who-said-Zionists-created-ISIS-371240
----------
How Muhammad is now the most popular name for baby boys in England and Wales
Aug 16, 2014
The most popular boys' name in England and Wales last year was Muhammad, according to an ONS poll released earlier today.
The research officially lists Oliver as the most popular boys name, with 6,949 counts, but the way the names are organised means each different spelling of Muhammad is listed separately.
When all the variations are added together, including Muhammad, Mohammed and Mohammad, the name comes out top with 7,445 counts.
Oliver replaced Harry as the second most popular name given to baby boys, while George jumped up to tenth place.
For girls, Amelia remained the favourite for the third year running – ahead of Olivia and Emily.
Multi-cultural London and the West Midlands contained the most babies named Muhammad, while Oliver came out top in the South East, South West and Wales.
Last year also saw George jump into the 10 most popular boys names, following the birth of Prince George to the Duke and Duchess of Cambridge in July.
Royal names Willilam, Harry and George now occupy three of the top 10 spots in the boys' name league table.
While connections to Royalty remain popular with the public, new parents appear to want to shield their children from comparisons to politicians. The name 'Cameron' was one of the biggest fallers – dropping 16 places in a year and 70 places since 2003.
For boys Oscar and George replaced Alfie and Riley in the top 10 most popular names, climbing from number 17 to 7 and number 12 to 10 respectively. Poppy replaced Lily in the top 10 most popular names for girls, climbing from number 13 to 7.
There were six new entries in the 100 most popular boys' names in 2013 – including Teddy, up 55 places to 86, Ibrahim up 18 places from 107, and Ronnie which entered at number 90 - up 15 places from 105.
Felix, Austin and Albert also make the top 100. These replaced Rhys, Ellis, Kayden, Bailey, Taylor and Kyle which fell out of the top 100.
Theodore showed the largest rise within the top 100, gaining 19 places to reach number 78, while Reuben, Hugo, Elijah, Oscar and Blake were also high climbers. Callum, Liam, Tyler and Riley were among the largest fallers.
There were three new entries in the top 100 most popular girls' names in 2013: Victoria at number 88, Darcy at number 93 and Beatrice at number 95. These replaced Keira and Caitlin which fell out of the top 100.
Elsie showed the largest rise within the top 100 for the second year running, gaining 23 places to number 47 after climbing 17 places in 2012 from number 87 in 2011. Ivy and Violet – both up 22 places to 66 and 78 respectively - Willow, Sofia and Mollie were also high climbers.
Hollie, Paige, Madison, Heidi and Amy showed the largest falls within the top 100.
When compared with 2003, Oscar, Jacob and Charlie with the biggest climbers. Benjamin, Daniel and Samuel meanwhile were the biggest fallers.
For girls over the last 10 years, Isla enjoyed one of the biggest increases in popularity – jumping up 195 places to number 5. Ava also enjoyed a rapid rise up the ladder, from 164 to four in the list.
Within the top 100 girls' names, Ivy was up 733 places to number 66, Lexi up 729 places to 42 and Bella up 563 places to 56. Sienna and Elsie were also big climbers.
http://www.dailymail.co.uk/news/article-2725724/How-Muhammad-popular-baby-boys-England-Wales-doesn-t-official-list-ways-spell-it.html#ixzz3AXLOXqXz
----------
UN Sanctions Bolster Global Efforts against Islamists
Aug 16, 2014
CHICAGO, – Efforts against Islamic State (IS) militants stepped up a notch on Friday with political gains in Baghdad, more foreign military support for Kurds and new UN Security Council sanctions against six men for recruiting or funding foreign fighters in Iraq and Syria.
The 15-member UN council unanimously adopted a resolution against al Qaeda's Syrian wing, Nusra Front, and the Islamic State militants who have declared a caliphate across Iraq and Syria and recently turned their blitzkrieg holy war on religious minorities in Kurdish zones.
Britain's UN ambassador Mark Lyall Grant said sanctions hit six Islamist leaders and foreign financial backers. The document "tackles the funding and financing of these terrorist groups" by "choking off recruitment and in particular the supply of foreign fighters", he said.
The document uses fiery diplomatic language and "deplores and condemns" IS and its "violent extremist ideology, and its continued gross, systematic and widespread abuses of human rights and violations of international humanitarian law".
It lists six people for international travel bans, asset freezes and arms embargos, including IS spokesman Abu Muhammad al-Adnani. Other additions are Abdelrahman Mouhamad Zafir al Dabidi al Jahani, Hajjaj Bin Fahd Al Ajmi, Said Arif, Abdul Mohsen Abdallah Ibrahim al Charekh and Hamid Hamad Hamid al-Ali.
Dr Najib Ghadbian, the Syrian Coalition's UN envoy, praised a "useful step to tackling the threat" from IS, a Sunni Muslim force – also known as ISIS and ISIL – which is strengthened by foreign fighters and US weapons that were seized during battlefield victories against Iraqi forces.
"The Syrian Coalition calls for targeted airstrikes in Syria. We are seeing their impact in Iraq. But they will not succeed in defeating the threat if ISIS is allowed to grow, train and regroup in Syria," Ghadbian said. "Moderate forces need the means to hold ground, protect the civilian population, govern and provide services. Moderates are the credible alternative to extremist rule."
UN efforts to staunch the Islamic State's money flows add to the military pressure against IS. US warplanes continue bombarding its forces while an emergency European Union meeting in Brussels opened the door for more members of the 28-group to arm embattled Kurdish forces.
Meanwhile in Baghdad, the new Prime Minister Haider al-Abadi sought to form a government that was capable of orchestrating the recapture of IS-held territory, following the decision of his divisive predecessor Nouri Maliki to accept a changeover.
http://rudaw.net/english/world/150820143
----------
Arab World
ISIS Militants 'Massacre 80 Yazidi Men And Kidnap 100 Women And Girls In Northern Iraq After They Refuse To Convert To Islam'
Aug 16, 2014
Islamic State militants have 'massacred' at least 80 Yazidis after they refused to convert to Islam, it has been claimed.
The insurgents allegedly stormed into the small village of Kojo in northern Iraq, where they spent five days trying to persuade villagers to take up their religion.
When they refused, the male members of the ancient sect were reportedly rounded up and shot dead, while more than 100 women and girls were kidnapped.
'They arrived in vehicles and they started their killing this afternoon,' senior Kurdish official Hoshiyar Zebari told Reuters yesterday. 'We believe it's because of their creed: convert or be killed.'
The women and girls abducted from the village, situated around 12 miles south of Sinjar, were being taken to the ISIS-controlled cities of Mosul and Tal Afar, the official said.
It comes as the Islamic State's continued push to the border with the Kurdish region has sparked a series of U.S. airstrikes and sent tens of thousands of Yazidis and Christians fleeing for their lives.
Yesterday, Yazidi parliamentarian Mahama Khalil said the alleged massacre had taken place during a one-hour period.
Meanwhile, the resident of a nearby village claimed to have been told details of the bloodshed by an Islamic State fighter.
Full report at:
http://www.dailymail.co.uk/news/article-2726033/We-hundreds-Yazidi-slave-women-Syria-How-news-Sick-boast-British-jihadi-ISIS-captures-wives-siege-Mount-Sinjar.html#ixzz3AXItPUXd
----------
Philosophy and chemistry banned in schools by ISIS
16 August 2014
The Islamic State of Iraq and Syria (ISIS) has established an "Islamic curriculum" for students living in the Syrian northern city of Raqqa and banned the study of philosophy and chemistry, the Syrian Observatory for Human Rights (SOHR) reported Friday.
The militants called on teachers and school directors to "prepare an Islamic education system in the schools of Raqqa," which would be reviewed by a board of education appointed by ISIS.
They vowed adequate wages to teachers and principals in Raqqa.
The decision to remove chemistry and philosophy from the curriculums comes as ISIS militants said "they do not fit in with the laws of god," the London-based monitor group said.
The Sunni fighters have already closed several schools in the province, which had an educational program consistent with the Syrian regime of Bashar al-Assad.
ISIS, which first emerged in Syria's war in spring 2013, has since imposed near-total control in Raqqa province and Deir Ezzor on the Iraq border.
http://english.alarabiya.net/en/perspective/features/2014/08/16/ISIS-calls-for-an-Islamic-curriculum-in-Syria-s-Raqa.html
----------
Top Saudi cleric calls for code of conduct to curb violence
Aug 16, 2014
A top Saudi Muslim cleric called on Friday for a global code of conduct for leaders, scholars and young people to halt a further slide into violence and "terror" in the Middle East.
The U.S.-allied kingdom has grown increasingly alarmed since militants from an offshoot of al Qaeda captured large areas of neighboring Iraq and Syria and declared an Islamic caliphate.
At his Friday sermon in Makkah, the imam and preacher of the Grand Mosque in Makkah, Sheikh Abdul-Rahman al-Sudais, decried "mass massacres against humanity" in Gaza, Syria and Iraq.
"All of this happens under the sight and hearing of the international community ... which raises fear that a generation would come to believe only in violence, terror and the clash of civilizations," Saudi state news agency SPA quoted Sudais as saying.
'Urgent need'
He said "there was an urgent need to prepare a global code of conduct in which the leaders and scholars would deliver their messages and in which the youths would set their thoughts right and the path of the new media is set right," SPA added.
Full report at:
http://english.alarabiya.net/en/News/middle-east/2014/08/15/Top-Saudi-cleric-calls-for-code-of-conduct-to-curb-violence.html
----------
Isis Kills Dozens of Syrian Rebels after Seizing Two Towns near Aleppo
Aug 16, 2014
ISTANBUL – Syrian opposition activists say extremist militants from the Islamic State of Iraq and al-Sham (ISIS) have seized key towns and villages near the border with Turkey after deadly clashes with other rebels in the area. They said fighters of the group captured the towns of Akhtarin and Turkmanbareh in the Aleppo countryside Wednesday, dislodging other rebels fighting to topple President Bashar Assad. They also took three nearby areas. The two towns have a large Turkmen population. It was reported that the Turkmens have been fleeing to the Turkish border as ISIS militants began committing atrocities in the towns. They are believed to have killed dozens of Syrian rebels.
Activists said at least 50 opponents were slaughtered and added that what ISIS does in Syria is just undermining the "revolution." Members of the Free Syrian Army and the Islamic Front also claimed that the al-Nusra Front which is the official branch of al-Qaeda in Syria, started fighting ISIS, betrayed their fighters and then allied with ISIS.
Anadolu Agency (AA) reported that fierce clashes erupted after ISIS militants seized control of the opposition-held town and nearby Turkmen villages of Barih, Aziziyah, and Khoz earlier in the day.
Full report at:
http://www.dailysabah.com/mideast/2014/08/15/isis-kills-dozens-of-syrian-rebels-after-seizing-two-towns-near-aleppo
----------
Three killed in Egypt as Islamists protest
Aug 16, 2014
Three people were killed in the Egyptian capital Friday as supporters of ousted Islamist President Mohammad Mursi held scattered protests for a second straight day, a year after the mass killing of protesters at two Cairo sit-ins.
Clashes erupted at one protest between Mursi supporters and local residents. Two people were killed in the fighting and four police were wounded as they tried to disperse the crowd in the Giza district, according to security officials.
At another protest in Giza, demonstrators fired birdshot, set off fireworks and tried to block a road. One of the protesters was killed when police moved in to disperse the group, a statement from the Interior Ministry, which is in charge of the police said, adding that the man was armed.
In a third incident, protesters torched a public bus in a Cairo suburb after forcing the driver and passengers out. Police arrested at least 14 protesters at the events, the security officials said. They spoke on condition of anonymity because they were not authorized to brief the press.
Full report at:
http://english.alarabiya.net/en/News/middle-east/2014/08/15/Two-killed-in-Cairo-as-Mursi-backers-clash-with-opponents-.html
----------
Five ISIL Commanders in Tikrit Killed in Iraqi Air Force's Attack
Aug 16, 2014
Iraq's Air Force, in a close cooperation with its intelligence forces in Salah al-Din province, staged an attack on a hideout belonging to the Islamic State of Iraq and the Levant (ISIL) terrorist group, killing five commanders of the group in the region and wounding some others.
Security source told Alforat news agency that the Iraqi army air force bombarded a building in Sadirat neighborhood in the Northern part of Tikrit, the capital of Salah al-Din, killing five terrorists of the ISIL.
The crisis in Iraq escalated after the ISIL militants took control of Mosul in a lightning advance on June 10, which was followed by the fall of Tikrit, located 140 kilometers (87 miles) Northwest of the capital, Baghdad.
Soldiers of the Iraqi army and Pishmarga have been engaged in heavy fighting with the militants on different fronts and have so far been able to push them back in several areas.
http://english.farsnews.com/newstext.aspx?nn=13930525000642
----------
Hezbollah leader Nasrallah sees Islamic State as growing 'monster'
Aug 16, 2014
BEIRUT- The Hezbollah leader described the radical Islamist movement that has seized large areas of Iraq and Syria as a growing "monster" that could threaten Jordan, Saudi Arabia, Kuwait and other Gulf states, according to an interview printed on Friday.
In a separate speech, Sayyed Hassan Nasrallah said Islamic State also posed an existential threat to his own nation, Lebanon, the target of an incursion by Islamist insurgents from Syria this month. He said his heavily armed Shi'ite Muslim group was ready to fight the threat in Lebanon - if required.
The Iranian-backed Hezbollah has been helping Syrian President Bashar Assad fight a Sunni Islamist-dominated insurgency that spilled into the Lebanese border town of Arsal on Aug. 2, triggering five days of battles between the Lebanese army and militants including members of Islamic State.
"Here we live, and - if the battle is imposed on us - here we fight and here we will be martyred," said Nasrallah. Hezbollah said it stayed out of the Arsal battle, wary of inflaming sectarian tensions with Lebanese Sunnis, many of whom have supported the uprising against Assad.
Full report at:
http://www.jpost.com/Middle-East/Hezbollah-leader-Nasrallah-sees-Islamic-State-as-growing-monster-and-threat-to-Gulf-and-Jordan-371237
----------
Iraq jihadists destroy Shiite mosque, execute Muezzin of Jalawla
Aug 16, 2014
Jihadist fighters blew up a Shiite prayer hall in the Iraqi town of Jalawla on Friday and publicly executed the muezzin, witnesses and a regional police chief said.
Islamic State (IS) fighters detained the muezzin, who calls for Muslim prayers, and blew up the Jalawla husseiniyah, a term used for a Shiite place of worship.
"Then they shot him dead in front of his mosque," said the police official for Diyala province, northeast of Baghdad.
Witnesses confirmed the execution, which came four days after IS militants wrested control of the town from Kurdish Peshmerga forces following two of deadly fighting.
In Sayed Ahmad village north of Jalawla, IS fighters also executed six policemen, the same sources said.
Full report at:
http://english.ahram.org.eg/NewsContent/2/8/108512/World/Region/Iraq-jihadists-destroy-Shiite-mosque,-execute-muez.aspx
----------
Iraqi Sunnis lay out conditional offer to join unity govt
Aug 16, 2014
BAGHDAD: Tribal leaders and scholars from Iraq's Sunni heartland offered their conditional backing for a new government that hopes to contain sectarian bloodshed and an offensive by Islamic State militants.
One of the most influential tribal leaders said he was willing to work with prime minister-designate Haider Al-Abadi provided a new administration respected the rights of the Sunni Muslim minority.
Ali Hatem Suleiman left open a possibility that Sunnis would take up arms against the Islamic State fighters in the same way as he and others joined US and government forces to thwart an Al-Qaeda insurgency in Iraq between 2006 and 2009.
Al-Abadi faces the daunting task of pacifying the vast western desert province of Anbar, where Sunni frustrations with the sectarian policies of outgoing premier Nuri Al-Maliki have goaded some to join the Islamic State insurrection.
Taha Mohammed Al-Hamdoon, spokesman for the tribal and religious leaders, said Sunni representatives in Anbar and other provinces had drawn up a list of demands.
Iraq's Grand Ayatollah Ali Al-Sistani said the handover of power offered a rare opportunity to resolve the crisis.
Al-Sistani told the country's feuding politicians to live up to their "historic responsibility" by cooperating with Al-Abadi.
Al-Abadi himself, in comments online, urged his countrymen to unite and cautioned that the road ahead would be tough.
http://www.arabnews.com/news/middle-east/616601
---------
India
ISIS Now Targets Indian Muslims with Video Subtitled In Hindi, Urdu and Tamil
Aug 16, 2014
In the past, a number of reports have suggested that Indian men have been recruited by the Islamic State for Iraq and Syria (ISIS) for their operations in Syria and other places in the Middle East. A few weeks back, a propaganda video surfaced on the internet. The video describes the life of a young male, Abu Muslim (whose name means 'may Allah accept him') who was recruited from Canada. The video shows him narrating his experience of how he was a street janitor in Canada and then moved to Syria. He calls on people to help them in any way possible including engineers and doctors. He glorifies the cause of Jihad and asks people to come along with their families who "will be taken care of. We have wide expanse of territory in Syria."
The video ends with him being killed in a fight. The video which was made by Al Isabah Media. As scroll. in reported, their page on Facebook has over 2800 likes. The video has been translated into Tamil as well as Urdu in addition to the Hindi subtitles in the videos. ISIS leader Abu Bakar Al Baghdadi's video earlier has also been translated to Hindi and in a message published last month he has also called on Muslims from India to come and fight for the dignity they deserve.
http://www.dnaindia.com/india/report-isis-now-targets-indian-muslims-with-video-subtitled-in-hindi-urdu-and-tamil-2010195
---------
Muslim Clerics Pledge To Make Mumbai Drug-Free
Aug 16, 2014
MUMBAI: In a unique initiative, Muslim clerics, intellectuals and social activists Friday pledged to make Mumbai drug-free, especially the city's minority-dominated areas, on the occasion on India's 68th Independence Day.
The special event was organised at the Islam Gymkhana where a debate was conducted between police and the public on how to tackle the growing menace of drugs among youths and eradicate it from society.
Prominent cleric Hazrat Maulana Syed Moin Miyan expressed alarm at the increasing use of psychotropic drugs among youngsters, and said it was spreading like an infection among all sections of society.
"This infectious wave has rattled thousands of homes, including many from the minority community. In fact, there is evidence to show that the use of such drugs is rampant in Muslim-dominated areas in the city, which is a matter of great concern," said Hazrat Maulana, president of the Jamia Quadiriya Ashrafia.
Full report at:
http://www.newindianexpress.com/nation/Muslims-Pledge-to-Make-Mumbai-Drug-free/2014/08/15/article2381355.ece
---------
India access to Headley "under discussion": U.S. official
Aug 16, 2014
"America very committed to working with India to bring 26/11 perpetrators to justice"
With scarcely a month to go before Prime Minister Narendra Modi embarks on a high-profile visit to the United States, a senior official here said that the Obama administration was aware of India's request for additional access to terror mastermind David Coleman Headley and that request was currently "under discussion."
Speaking to a small media group from New York, Assistant Secretary of State for South and Central Asia Nisha Biswal added that the U.S. was "very committed to working with India to bring to justice the perpetrators of the Mumbai attacks and to advance cooperation between the U.S. and India to ensure that such an attack does not happen in the future."
Headley, who potentially faced the death penalty here over charges that he masterminded the 2008 Mumbai terror attacks, in January 2013 struck a plea bargain with the U.S. Department of Justice that precluded his extradition to India or even unsupervised access for interrogation by Indian authorities on U.S. soil.
Although India's National Investigation Agency was provided with seven days' access to him between June 3 and 10 2010, subsequent requests to question him appear not to have been taken forward.
Full report at:
http://www.thehindu.com/news/india-access-to-david-headley-under-discussion-us/article6321737.ece
----------
Two BSF men killed in militant attack near Srinagar
Aug 16, 2014
Two BSF personnel were killed and four others injured when militants opened fired at their vehicle just outside the Awantipora IAF airfield in Jammu and Kashmir on Satuday.
Officials said a squad of Border Security Force (BSF) personnel was changing guard at the airfield in Pulwama, 33 km from Srinagar this afternoon when a group of militants opened fire at them from automatic weapons.
The BSF is deployed for securing the Indian Air Force airfield and the squad that came under militant attack belongs to the 'G' company of BSF's 165th battalion.
"The militants opened fire at the BSF squad that was in a military gypsy. Two personnel were killed and four have been injured in the firing," a senior official said.
Immediately after the firing, the other BSF personnel present on the spot retaliated but the militants fled.
Full report at:
http://www.thehindu.com/news/national/2-bsf-men-killed-in-militant-attack-outside-iaf-airfield-in-jk/article6324103.ece?homepage=true
---------
Africa
Boko Haram kidnaps at least 97, kills 28 in raid
Aug 16, 2014
(CNN) -- The Islamist terror group Boko Haram kidnapped at least 97 men and boys and killed 28 people this week in a raid on villages in Borno State in northeast Nigeria, a local leader and residents said Friday.
Boko Haram gunmen also injured 25 others during the raid in which scores of homes were burned, the sources said.
Boko Haram: A bloody insurgency, a growing challenge
The gunmen raided the farming and fishing village of Doron Baga and surrounding villages on the shores of Lake Chad, about 110 miles north of the state capital, Maiduguri.
The raid and kidnappings occurred on Monday, but the news did not emerge sooner due to lack of communication and because cell phone towers were destroyed in previous Boko Haram attacks.
Boko Haram has been active as a violent group since 2009 and has killed Nigerians, both Christian and Muslim, at rates frequently exceeding 100 people weekly.
The terror group abducted an estimated 276 girls in April from a boarding school in Chibok in northeastern Nigeria. Dozens escaped, but more than 200 are still missing.
Full report at:
http://edition.cnn.com/2014/08/15/world/africa/boko-haram-kidnapping/
----------
Five Western nations issue joint statement condemning Libya violence
Aug 16, 2014
France, Germany, Italy, the United Kingdom and the United States have again issued a joint statement calling for immediate ceasefire and for political dialogue, saying they reiterate what the international community, the Libyan government and the House of Representatives have all recently expressed.
They called on the various groups in Libya to forgo violence as a means to achieve their objectives or settle differences. They urged consensus and inclusiveness in political dialogue.
They also urged all groups to recognise the authority of the House of Representatives as a body elected by the Libyan people. The events happening now in Libya posed a threat to Libya's democratic transition, the statement asserted.
Full report at:
http://www.libyaherald.com/2014/08/14/five-western-nations-issue-joint-statement-condemning-libya-violence/#ixzz3AYb58nhV
---------
Egyptian killed on Libya-Tunisia border
Aug 16, 2014
An Egyptian was shot dead Friday night on the Libyan-Tunisian border at Ras Jdeir as he and over 1,000 compatriots were attempting to cross to Tunisia, state-owned news agency MENA reported.
The man was killed as Libyan guards fired to stop the unauthorised crossing attempt.
Tens of thousands of Egyptians have fled Libya after the security situation there worsened significantly starting mid-July, as rival militias battle for control.
Tunisia has refused to let in people who were neither Libyan nor Tunisian, unless they could prove they would be immediately repatriated and were only transiting the country.
Last week, Egypt's civil aviation minister announced that flights between Egypt and Tunisia carrying Egyptians fleeing Libya concluded on Sunday.
Full report at:
http://english.ahram.org.eg/NewsContent/1/64/108538/Egypt/Politics-/Egyptian-killed-on-LibyaTunisia-border.aspx
----------
Tripoli wakes to another Friday of pounding by militias
Aug 16, 2014
Tripoli residents are awaken to yet another Friday - the third Friday in August alone - of thuds and shock waves caused by the military activity of the two camps of warring militias.
The calls for a ceasefire by both the government and the House of Representatives (HoR) locally, as well as internationally by the UN, EU and African Union seem to have fallen on deaf ears so far.
Nor have the warnings, it seems, that the attack on innocent and defenceless civilians in their residential areas or the unjustifiable destruction of state property - are . . .
Full report at:
http://www.libyaherald.com/2014/08/15/opinion-tripoli-wakes-to-another-friday-of-pounding-by-militias-as-the-war-moves-to-control-of-the-airwaves/#ixzz3AYagi4EZ
---------
South Asia
Interior ministry says 42 Taliban militants killed in past 24 hours
Aug 16, 2014
At least 42 Taliban militants including their local commanders were killed during counter-terrorism operations in Afghanistan, the Ministry of Interior (MoI) said Saturday.
A statement released by MoI, said the militants were killed or injured during coordinated operations in the past 24 hours.
The statement further added that the operations were jointly conducted by Afghan national police, Afghan national army and Afghan intelligence – national directorate of security (NDS) operatives.
At least 44 Taliban militants were also injured and another one was arrested during the operations which were conducted in Kunar, Nangarhar, Paran, Paktika, Kunduz, Zabul, Maidan Wardak, and Logarar provinces, interior ministry said.
Full report at:
http://www.khaama.com/interior-ministry-says-42-taliban-militants-killed-in-past-24-hours-8439
----------
Taliban executes 5 people over espionage charges in Helmand
Aug 16, 2014
The Taliban militants have executed five people over espionage charges in southern Helmand province of Afghanistan.
According to reports, the the five individuals were publicly executed by Taliban militants in Kajaki district of Helmand province.
In the meantime, local officials believe that the individuals were members of the Taliban group and were executed for their negligence in Sangin battle.
Local residents have also confirmed that the individuals had links with the Taliban group and were hanged to death in public around 10:00 am local time on Friday.
The Taliban militants group has not commented regarding the report so far.
Nearly 800 Taliban militants launched a major offensive in Helmand province late in June which continued for several weeks and left dozens of people including civilians and members of the Afghan forces dead.
Taliban launched their offensive from Sangin district and clashes soon spread in other districts including Kajaki, Mosa Qala and Nawzad.
http://www.khaama.com/taliban-executes-5-people-over-espionage-charges-in-helmand-8438
----------
22 Barisal Jamaat men, including ameer, sent to jail
Aug 16, 2014
A court sent 22 Jamaat-e-Islami leaders and activists, including its city unit amir, nayebey amir, secretary, to Barisal Central jail yesterday afternoon.
The arrested are Advocate Moazzem Hossain Helal, ameer, Bazlur Rahman, nayeb-e-ameer, Jahiruddin Md Babar, secretary, Mawlana Matiur Rahman, assistant secretary, Prof Shah Alam, Barisal correspondent of Daily Sangram, Abur Rouf, Moazzem Hossain Haoladar, Mahbubur Rahman, Mijanur Rahman, Shafiullah Talukdar, Joynal Abedin, Ismail Hossain, Md Russel, Saiful Islam, Abul Kalam Abul Kasem, Shamim, Kabir, Shahjahan, Siraj, Abdus Sattar and Rafikul Isam, activists of city unit JIB.
Police placed them before the court at noon after arresting them with Tk1,75,700 and 22 mobile phone sets during a secret meeting at a house of Dr Majed Ali at South Alekanda in the city on Thursday night.
Barisal Kotowali police station Officer-in-Charge (OC) Shakhawat Hossain said they arrested the Jamaat men upon a lead that they had been planning an act of sabotage on the National Mourning Day.
Full report at:
http://www.dhakatribune.com/law-rights/2014/aug/16/22-barisal-jamaat-men-including-ameer-sent-jail#sthash.Wn8w0Ls8.dpuf
---------
Mideast
More than 1,000 Turks Fighting for ISIL
Aug 16, 2014
The number of Turkish citizens fighting under the umbrella of the Islamic State of Iraq and the Levant (ISIL) is slightly more than 1,000, according to Turkish officials, who admit that they are unable to learn the exact number.
The estimated number of armed ISIL fighters is around 12,000 to 15,000, which shows that Turks make up just less than 10 percent of the jihadist group.
Turkey has long been accused of not efficiently controlling its borders to prevent those foreigners joining the jihadist extremist groups and stop the flow of weapons into Syria. In response to these criticisms, Turkish officials have noted the difficulty of controlling a nearly 900-kilometer-long border while blaming western countries for not sharing intelligence on potential recruits for the jihadist groups.
However, when it comes to Turkish citizens' participation in one of the world's deadliest groups, these explanations are unconvincing. Who organized the recruitment of these people for ISIL? What organizations sponsored these recruitments? Which routes have been used? Assuming the security forces and the intelligence are closely following the jihadist movements in Turkey, how did they fail to realize that more than 1,000 Turks have joined ISIL? Could it be because security forces and intelligence skipped their main duties and responsibilities as they are chasing what the government calls the "parallel state"?
Full report at:
http://english.farsnews.com/newstext.aspx?nn=13930511000944
----------
Draft terms for long-term Gaza truce revealed in Egyptian newspaper
Aug 16, 2014
Details of a framework for a long term cease-fire between Israel and the Palestinians, including highly contentious issues such as border crossings and the deployment of Palestinian Authority security forces, were revealed in a report of the Egyptian newspaper A-Shorouk on Friday.
Israel's security cabinet convened in Tel Aviv on Friday morning to discuss the negotiations taking place in Cairo to end the hostilities in Gaza which began at the beginning of July.
On Friday evening, Israeli government officials said that Israel has not yet acceded to any agreement, and that Israel stands firm that understandings will be reached only if its security interests are ensured.
Neither Israel nor the Palestinians have yet responded to Egypt's call to commit to the terms of the truce, according to the report that cited Egyptian sources with insider knowledge of the negotiations.
Full report at:
http://www.jpost.com/Arab-Israeli-Conflict/Draft-terms-for-long-term-Gaza-truce-revealed-in-Egyptian-newspaper-371223
----------
Turkey to build camps for 36,000 displaced Iraqis
World Bulletin / News Desk
Aug 16, 2014
A Turkish aid agency plans to build camps in northern Iraq for about 36,000 people displaced by ongoing attacks by ISIL militants.
The first camp will be built in the city of Zakho located only about six miles (10 kilometers) from the Iraqi-Turkish border. It will house members of the country's Yazidi ethnic minority who fled from Sinjar, Turkey's emergency management authority said this week.
From 30 to 40 thousand Yazidis fled to Syria, and about 100,000 sought refuge in the cities of Zakho and Duhok.
The agency also is setting up another camp for 20,000 Iraqi Turkmen near Duhok.
More than 10,000 Turkmen families have fled their homes since militants from ISIL began targeting Turkmen-populated cities in June, according to the International Organization for Migration.
Full report at:
http://www.worldbulletin.net/headlines/142602/turkey-to-build-camps-for-36000-displaced-iraqis
---------
Palestinians accuse Israel of violating Gaza truce
Reuters | Aug 16, 2014
The Palestinian interior ministry in Gaza accused Israel on Friday of a cross-border shooting in violation of a truce that has largely held since getting off to a shaky start on Thursday.
An Israeli military spokeswoman said: "We have no knowledge of such an incident."
The Palestinian ministry in the coastal territory dominated by Hamas Islamists said Israeli troops shot at houses east of the town of Khan Younis.
The ceasefire, renewed on Thursday for five days after a previous truce expired, has largely halted more than a month of fighting in which 1,945 Palestinians, many of them civilians, 64 Israeli soldiers and three civilians in Israel were killed.
The truce got off to a rocky start with Israel launching an air raid early on Thursday in response to rocket fire from Gaza in violation of the earlier truce.
There were no reported casualties in any of these incidents.
The latest ceasefire, mediated by Egypt, gave the parties an additional five days, until late on Monday to come up with a comprehensive agreement to end the war in Gaza.
Negotiations hosted in Cairo were expected to reconvene on Sunday.
Full report at:
http://timesofindia.indiatimes.com/world/middle-east/Palestinians-accuse-Israel-of-violating-Gaza-truce/articleshow/40312928.cms
----------
North America
'We are in your streets': Secret Service investigates ISIS Twitter taunt
Aug 16, 2014
United States Secret Service is investigating a photograph blasted out on Twitter which seems to show someone holding up a smartphone, displaying a picture of the ISIS flag, in front of the White House.
The photo appears to have been taken at night on the pedestrian mall occupying what used to be part of Pennsylvania Avenue. The White House's north portico can be seen in the background.
It was first tweeted on August 9 by an account that was later deleted.
'[W]e are here #America near our #target :) sooooooooooooon,' read the message that accompanied it.
Later that day another pro-ISIS Twitter user whose account is named 'Conquer the tyrants' reposted the photo with a separate warning.
'We are in your state,' it read. ''We are in your cities. We are in your streets. You are our goals anywhere [sic].'
Secret Service spokesman Ed Donovan told ABC News that his agency has 'an intelligence division whose mission is to assess information that we receive every day for dangerousness or potential threat level.'
'We are aware of the image and will take the necessary and appropriate follow up steps,' he said.
Full report at:
http://www.dailymail.co.uk/news/article-2726260/We-streets-Secret-Service-investigates-ISIS-Twitter-taunt-included-terror-groups-flag-photo-held-WHITE-HOUSE.html#ixzz3AYMhALqu
----------
Obama's Mission Not-Accomplished, Insist Iraqi And U.N. Officials
Aug 16, 2014
Iraqi government and U.N. officials say thousands of Yazidi refugees are still dying on Mount Sinjar, even though President Barack Obama has declared his top-priority rescue mission to be successfully accomplished.
The non-Muslim Yazidis fled from nearby towns after they were attacked by local tribes and advancing jihadis, who claim the Koran's text requires them to kill and enslave non-Muslims.
The administration's Aug. 14 claim "is not true," said Vian Dakhil, a Yazidi member of Iraq's parliament, told The New York Times.
Up to 80,000 people are still trapped on the southern slopes of sprawling mountain, she said, while recovering in a hospital from from an Aug. 12 helicopter crash. The crash happened during a supply-and-rescue mission to the mountain.
"It's better now than it had been, but it's just not true that all of them are safe," Dakhil said.
"Especially on the south side of the mountain, the situation is very terrible. There are still people who are not getting any aid," she said.
Her claim was backed up by a UN. aid official, according to the Times. "The crisis on Mount Sinjar is by no means over," said David Swanson, the spokesman for the United Nations' operations in the north of Iraq.
Full report at:
http://dailycaller.com/2014/08/15/obamas-mission-not-accomplished-insist-iraqi-and-u-n-officials/#ixzz3AXOC4Nny
---------
CAIR Asks Imams to Devote Sermons to Racial Equality in Response to Missouri Police Shooting
Aug 16, 2014
CAIR today called on imams (prayer leaders) nationwide to devote at least a portion of their khutbas (sermons) for tomorrow's weekly congregational prayers (jummah) to the issues of racial equality and social justice.
That request comes in the wake of racial turmoil resulting from the fatal police shooting on Saturday of 18-year-old Michael Brown in Missouri. Police claim the unarmed Brown had struggled for an officer's gun in a patrol car before he was killed, but witnesses said Brown, who is African-American, had his hands up when he was shot. Brown's death triggered angry demonstrations, as well as vandalism and looting.
CAIR's St. Louis chapter joined calls for a federal investigation into the shooting.
"Despite progress in race relations over the past decades, our nation still has a long way to go to live up to the true American values of equality and justice for all," said CAIR National Executive Director Nihad Awad. "We need a serious and deep national conversation about how to heal these wounds, starting with all of us as individuals, family members and community leaders."
Full report at:
http://www.cair.com/action-alerts/12618-devote-sermons-to-racial-equality-after-ferguson-police-shooting.html
----------
Sign language Qur'an for hearing-impaired Muslims
World Bulletin / News Desk
Aug 16, 2014
A new initiative for Muslims with hearing difficulties has been launched in the US, helping to raise awareness of the issue within the Muslim community and allowing deaf Muslims to gain more access to religious learning.
Global Deaf Muslims (GDM) was set up by Nashiru Abdulai, a 38-year old Muslim from Ghana now living in the state of Virginia, to help around 55 million deaf Muslims around the world.
Saying that he set up the organization after promising to do so when he left Ghana for the US at the age of 19, Abdulai, who lost his hearing 28 years ago after contracting meningitis, told Desert News, "Every time I'd go to a mosque, I'd sit there and I'd just watch the speaker and I couldn't understand a word that person was saying."
Abdulai said he was disheartened when he found no interpretation services at the mosque, so he set up the organization to recognize the rights of deaf Muslims and actively strive to ensure that the Muslim community is "accessible and inclusive of all Muslims."
The organization also aims to "advocate for the advancement and inclusion of deaf Muslims" in the community and to "raise awareness of deaf Muslims issues within the broader Muslim community."
Full report at:
http://www.worldbulletin.net/muslim-world/142450/sign-language-quran-for-hearing-impaired-muslims
----------
US backs Pakistan's efforts to fight terrorism
Aug 16, 2014
WASHINGTON: The United States supports Pakistan's efforts to stand up against the extremists, says US Secretary of State John Kerry in a message released to greet the country on its Independence Day.
Secretary Kerry also noted that America's security partnership with Pakistan remained critical and pledged to invest with Pakistan "in our shared security".
The US diplomat underlined the importance of stability in Pakistan and in the South Asian region, which, he said, "underpins all of our other shared efforts."
"We support efforts by Pakistan's civil society and government to stand up against extremists," he said. "We stand by your side in the struggle to develop a Pakistan where Pakistanis have a say and a stake in the nation's success.
Referring to his efforts as a lawmaker to promote US-Pakistan relations, Mr Kerry said that building stronger ties with the people of Pakistan has long been "a personal commitment' of him.
Full report at:
http://www.dawn.com/news/1125654/us-backs-pakistans-efforts-to-fight-terrorism
----------
Qaeda warns US hostage risks 'lonely death'
August 16, 2014
DUBAI - Al-Qaeda has urged the family of an American kidnapped in Pakistan in 2011 to press their government to negotiate an exchange or face the risk of his "dying a lonely death".
"If you want Warren Weinstein to be released, do whatever you can to pressurise your government," it said in a statement posted this week on Islamist websites.
Weinstein, a development expert who had lived in Lahore since 2006 and learned Urdu, was snatched in Lahore on August 13, 2011.
He appeared in a December 2013 video in which, under apparent coercion, he called on the United States to free Al-Qaeda prisoners.
Full report at:
http://www.nation.com.pk/national/16-Aug-2014/qaeda-warns-us-hostage-risks-lonely-death
----------
Southeast Asia
Islamic State ideology a threat to our identity: Indonesian president
Aug 16, 2014
JAKARTA - Indonesia's president dismissed a call to arms to Indonesians by the Islamic State militants in the Middle East Friday, saying the group's version of Islam is heretical.
IS's attempt to spread its ideology "is a threat to our identity," Susilo Bambang Yudhoyono told parliament ahead of Independence Day.
"Leaders across the country must take firm action to deal with this challenge," he said. "Indonesia is a God-believing, but not religion-based nation."
The Islamic State group has taken control of large parts of Syria and Iraq, and has been accused of atrocities against Shia Muslims and the Yazidi, a Kurdish religious community in Iraq.
A video on YouTube.com shows an Indonesian fighter making an mpassioned appeal for compatriots to join the jihadist cause abroad.
The video has sparked debates in Indonesia on how to counter the group's recruitment attempts.
Yudhoyono said Indonesia, the world's most populous Muslim-majority nation, is a place where "Islam, democracy and modernity can flourish together."
"We can show to the world that a diverse nation like us can be harmonious," he said.
Between 50 and 200 Indonesians are thought to have travelled to Syria to fight with the Islamic State and other rebel groups, US-based think tank Soufan Group said in a report released Tuesday.
Malaysia, the Philippines and Singapore have also expressed concern that Muslim extremists from their respective countries could fight in the Middle East and bring their experience back home to domestic conflicts, the report said.
http://www.enca.com/islamic-state-ideology-threat-our-identity-indonesian-president
----------
West Nusa Tenggara Police Officer Murdered in Possible Terror Attack: Densus 88
Aug 16, 2014
Jakarta. A local police chief in the eastern province of West Nusa Tenggara was shot dead by unidentified assailants on Saturday morning in what police believe may have been an act of terrorism.
Abdul Salam, the police chief of Ambalawi subdistrict, in Bima, West Nusa Tenggara, was shot dead while riding a motorcycle on his way to the police precinct.
"It happened in Ambalawi subdistrict, Bima, at 6 a.m. this morning. The victim died," an officer in Indonesia's anti-terrorism unit, Densus 88, told the Jakarta Globe on condition of anonymity.
The Densus 88 source said police were working on the assumption that the attackers were linked to jihadists trained in Poso, Central Sulawesi, under the nebulous leadership of the fugitive terror leader, Santoso.
The source did not comment further on the nature of the connection with Santoso, who is originally from Bima, but two senior police officers have been murdered in the area in recent months.
Full report at:
http://www.thejakartaglobe.com/news/west-nusa-tenggara-police-officer-murdered-possible-terror-attack-densus-88/
----------
Dr M condemns Isis, says Islam doesn't condone violence
Aug 16, 2014
Tun Dr Mahathir Mohamad today condemned the Isis militant group for its violent attacks in Iraq and Syria, saying it has misinterpreted Islam which is a religion of peace.
The former prime minister's views on Isis, or the Islamic State of Iraq and Syria, is opposite that of Prime Minister Datuk Seri Najib Razak, who in June called on Umno members to emulate the boldness and courage of Isis fighters in defeating the much larger Iraqi forces.
"There is no place for violence in Islam. Islam is a religion of peace and some people have wrongly interpreted the religion," Dr Mahathir told reporters after a youth forum in Putrajaya today.
He added that he had seen images of atrocities and executions carried out by the Isis fighters and strongly condemned it.
The country's longest-serving prime minister who stepped down in 2003 is an outspoken critic of Israel for its violence against Palestinians.
Dr Mahathir's (pic, right) views on Isis came after the group overran much of northern Iraq and grabbed huge swathes of land, in a bloody campaign which has alarmed the international community.
Full report at:
http://www.themalaysianinsider.com/malaysia/article/dr-m-condemns-isis-says-islam-doesnt-condone-violence#sthash.wsV07DJH.dpuf
----------
Pakistan
One doesn't become PM by holding a big rally: PML-N, Leader
Aug 16, 2014
LAHORE: Pakistan Muslim League – Nawaz (PML-N) leader Rana Sanaullah has said that Imran Khan shouldn't think that because he has managed to hold a big rally, he has become the country's prime minister.
"No one becomes the country' prime minister through a rally," Sanaullah said, adding that if the PTI chief was sincere about holding discussions with the government, the premier would be happy to meet Imran at Bani Gala.
Sanaullah further said that if Imran really believed the elections to be rigged, he should call for the dissolution of the Khyber Pakhtunkhwa assembly first.
The PML-N leader said Imran should understand that nothing real could materialise from rallies and the PTI chief should sit down for talks with the government.
Sanaullah also said that he was accepting Imran's challenge, adding that his party could manage to put together a bigger crowd if it had 10 days to do so.
He added that the PTI chief's demands were unconstitutional.
http://www.dawn.com/news/1125709/one-doesnt-become-pm-by-holding-a-big-rally-rana-sanaullah
----------
Imran and Qadri's demands unconstitutional: Pak Punjab CM
August 16, 2014
Lahore- Criticizing the PTI Chief Imran Khan and PAT leader Tahirul Qadri, Punjab Chief Minister Shahbaz Sharif said today that their demands are unconstitutional.
In a statement, CM also said that both Azadi March and Inquilab March face failure as the people have rejected both parties and did not participate.
Sharif further said that the leaders should do something for development of the country instead of disturbing it by such protests.
http://www.nation.com.pk/national/16-Aug-2014/imran-and-qadri-s-demands-unconstitutional-shahbaz
----------
Next PM will be Imran Khan: PTI Leader
Aug 16, 2014
LAHORE: Pakistan Tehreek-e-Insaf (PTI) leader Javed Hashmi late Friday night addressing Azadi March here said that Imran Khan would be the next prime minister and added he didn't want to hear any other name for the slot.
Javed Hashmi said that none other than Imran Khan was acceptable as the prime minister.
Awami Muslim League chief Sheikh Rashid taking the rostrum made the audience to raise the slogan of Al Wada Nawaz Sharif, Al Wada.
The audience and the leaders despite heavy rains remained seated in the meeting under the open sky without least disturbance showing their firm commitment to the cause for which they have staged this March.
Javed Hashmi and Sheikh Rashid in their highly emotionally charged address continued attacking the government. Sheikh Rashid said that this country was not the property of Nawaz Sharif. The rulers didn't fulfill the promise of ending the loadshedding. The love which Imran has in his heart for the people, none can match, he said.
This mammoth gathering has come here to press upon Nawaz Sharif to resign and said we would not leave until he resigns.
Full report at:
http://www.thenews.com.pk/article-156952-Imran-Khan-will-be-the-next-PM:-Hashmi
----------
Imran Khan says Nawaz has no option but to resign
Aug 16, 2014
ISLAMABAD: Pakistan Tehreek-e-Insaf chairman Imran Khan has demanded of Prime Minister Nawaz Sharif to resign as he has no other option.
Addressing huge crowd of the PTI on Saturday morning, Khan said that there is no democracy to derail and he will not leave until the re-election is announced. He asked Nawaz Sharif to resign and announce re-election.
Imran Khan said he had not slept for 40 hours and could stay awake for 40 more hours for the people of Pakistan.
Mr Khan who led a long march to the federal capital all the way from his Lahore's Zaman Town residence to Aabpara in Islamabad, was informed by the police that he could be targeted by the Punjab Taliban during the Jalsa.
"Coward Punjabi Taliban attacked us from the top of a police van," he said in a reference to a confrontation between PTI and PML-N workers in Gujranwala which prompted him to travel in a bullet proof vehicle.
Full report at:
http://www.thenews.com.pk/article-156936-Imran-Khan-says-Nawaz-has-no-option-but-to-resign-
----------
Pakistan: 60,000 rally against PM Sharif
16 August 2014
Pakistan's famous cricketer-turned politician Imran Khan early Saturday asked Prime Minister Nawaz Sharif to step down to pave the way for fresh elections, saying last year's vote was massively rigged.
Addressing tens of thousands of supporters in the pouring rain in the capital, Islamabad, he vowed to continue a sit-in until Sharif quits.
Khan's demand came hours after he arrived in Islamabad after leading a big convoy of party workers.
The protesters left the eastern city of Lahore on Thursday, vowing to march to the capital and camp out there until their demands for a new government are met. Despite the darkness and the lashing rain, the crowds swelled as they entered Islamabad shortly before late Friday night.
An anti-Taliban cleric Tahir-ul-Qadri also reached Islamabad late Friday, and he too led tens of thousands of his supporters to bring about what he called a "green revolution." The twin protests led by Khan and Qadri represent the biggest challenge yet to Sharif's year-old government.
Security has been tightened across the capital amid fears of unrest in a country with a long history of chaotic politics and military coups. Authorities set up shipping containers to block traffic and cut off cellphone service in some areas.
Full report at:
http://english.alarabiya.net/en/News/middle-east/2014/08/16/60-000-Pakistanis-rally-against-PM-Nawaz-Sharif.html
---------
URL: https://www.newageislam.com/islamic-world-news/new-age-islam-news-bureau/-you-are-not-too-young-to-die---the-british-jihadists-bidding-to-recruit-boys/d/98590