New Age Islam News Bureau
19 May 2022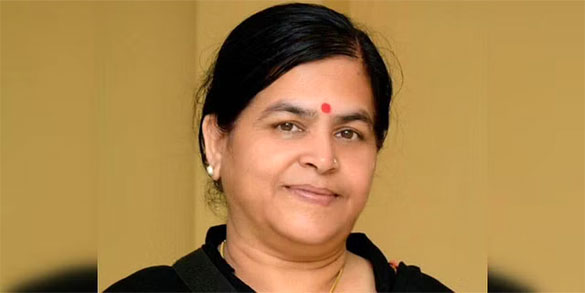 Madhya Pradesh Spiritual, Culture and Tourism Minister Usha Thakur (Photo| Facebook)
----
• Cells From The Gulf, Europe Sponsoring Terrorist Networks, Especially By Recruiting Women: Balochistan Official
• 'Our Land Will Not Be Used As A Threat To Anyone,' Says Taliban Leader Sirajuddin Haqqani
• Scotland Yard Arrests 13-Year-Old For Islamist Terror Offence In Britain
• Pakistan Likely To Expand N-Arsenal For 'Survival' Against India: US Intelligence
India
• AIMPLB Seeks Centre, States' Stand On Alleged Targeting Of Mosques
• Gyanvapi row: Jamiat Ulema-e-Hind Appeals People Not To Hit Streets; RSS Says Facts Should Be Allowed To Come Out
• Don't interfere in Gyanvapi case: Jamiat Ulama-i-Hind chief asks Muslim bodies
• Sree Ram Sena Alleges Hundreds Of "Illegal" Churches And Mosques Are Functioning In Karnataka
• SC to hear Gyanvapi Mosque case tomorrow, stays hearing in UP court for today
• Gyanvapi Mosque Video Survey Report Submitted In Sealed Cover In UP Court
• Intervention in Mecca Masjid blast case sought
• Bengaluru: Speakers at Hindutva Group Meet Call Muslims 'Cancer', Complaint Lodged
• Muslim personal law board constitutes legal committee to review Gyanvapi mosque case
• Gyanvapi mosque case: Delhi University prof booked for post on Shivling
• Worship war reaches Punjab: Hindus, Sikhs claim sarai converted into mosque, Muslims deny
• Now, Petition Before Mathura Court for Video Survey of Shahi Idgah Mosque
• Post-Hijab Row, Karnataka Makes Uniforms Must For PU Students
• Azan no match for Hanuman Chalisa in terms of noise
--------
Pakistan
• Imran says families of army personnel will march with him to Islamabad
• Pakistan Taliban declare ceasefire till May 30 for talks with govt
• Devaluation of rupee versus US dollar continues as Pakistan resumes talks with IMF for relief
• Situation in Afghanistan has direct impact on people of Pakistan: Bilawal
• Suspects 'linked to Saddar IED blast' in killed in encounter
• Ahmadiyya community member killed in Okara
• Army responds to disasters without fail: COAS
--------
South Asia
• The Taliban in Afghanistan Mediates Ceasefire Between Pakistan and Pakistani Taliban
• The UN Special Rapporteur on Human Rights Visits the Foreign Minister of the Taliban
• Mullah Baradar Urges Afghan Traders Abroad to Invest in Country
• Ankara Gathering: Afghan Political Figures Gather in Turkey
• We have open communication channels with India, says Taliban's Abdul Qahar Balkhi
--------
Europe
• Belarus Introduces Death Penalty For 'Attempted' Terrorism
• Turkey's Erdogan links Sweden NATO bid to return of 'terrorists'
• Paris court indicts Lafarge for 'complicity in crimes against humanity' in Syria
--------
North America
• US Takes Control of the Afghan Consulate and Embassy
• Bush mistakenly calls Iraq invasion 'brutal, unjustified'
• US, Turkiye 'committed to working closely' to face challenges
• Saudi-US defence delegations review ties, discuss future cooperation
--------
Southeast Asia
• Singapore Denies Entry To Muslim 'Hate' Preacher Abdul Somad Batubara
• Selangor Islamic Authority Allows Those With Incomplete Vaccination To Attend 'Nikah'
• Will you step down as MP to be envoy, Maria asks Tajuddin
• Prosecution closes case in Bung Moktar, wife corruption trial
--------
Arab World
• 'Conflict, Destruction' Prevent Return To Iraq's Yazidi Heartland: Report
• Egypt Hands Down Death Sentence For Coptic Priest's Murder
• Lebanon's new parliamentary line-up a 'double-edged sword' for economy: Expert
• Egypt removes all mosque restrictions amid Brotherhood criticism
• Hezbollah chief Nasrallah acknowledges loss of Lebanon parliamentary majority
• Senate confirms Barbara Leaf to lead State Department's Middle East bureau
• Royal approval issued to hold international Qur'an writing competition
--------
Mideast
• Iranian Leader Underlines Importance of Increasing Population
• Israel activates missile defences near Lebanon after misidentification
• Thousands join Jewish pilgrimage year after stampede at Israel's Mount Meron
• Yemen asks for US pressure on Houthis to break Taiz siege
• Iran Dismisses New Development in Talks with S. Arabia
• Iran releases two detained filmmakers on bail: Reports
• Israel arrests pallbearer beaten at journalist's funeral
• Iran hostage taker kills three, takes own life: State media
--------
Africa
• Fatwa House Calls Bashagha's Move 'A Coup' Says Elections Are The Right Way Forward
• Jewish pilgrims back in Tunisia after two-year hiatus due to COVID-19
• Uganda will not allow itself to be used by FETO as base to undermine Turkiye: Minister
• Relations with Turkiye to thrive under new Somali president, say experts
• 2 prominent Sudanese opposition leaders arrested in South Sudan
• Libya's council urges Parliament-appointed premier to resign
Compiled by New Age Islam News Bureau
URL: https://newageislam.com/islamic-world-news/hindus-muslims-dharmik-sanskar-religious-sacrament/d/127043
--------
'Want Hindus To Idealize Muslims For Ingraining Dharmik Sanskar (Religious Sacrament) Among Kids': MP Minister Usha Thakur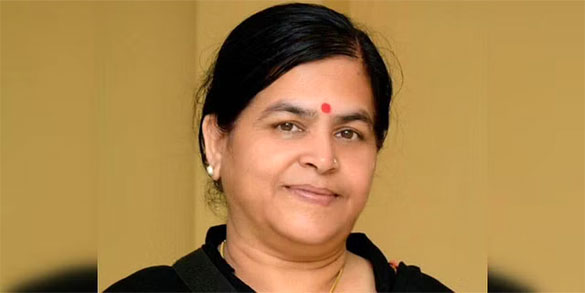 Madhya Pradesh Spiritual, Culture and Tourism Minister Usha Thakur (Photo| Facebook)
----
19th May 2022
BHOPAL: A Madhya Pradesh minister who once demanded ban on entry of non-Hindus at Garba venues and accused Madrasas of breeding terrorism, has now asked Hindus to idealize Muslims for ingraining religious Sanskar (sacrament) staunchly among children.
"Ingraining Dharmik Sanskar (religious sacrament) with tenacity and staunchly among Hindu kids is the responsibility of all family members, including mothers and sisters. If you want to learn staunch religious culture and practices, then idealize Muslims. One and all among them (Muslims), spanning from small kids to officials and traders will leave all their work, wear skull caps to offer Namaz at stipulated time. But what do we (Hindus) do, we're fond of building temples in villages, but don't love participating in Arti there," said MP culture and tourism minister Usha Thakur said at a Gau Pujan event in communally sensitive Khandwa district on Tuesday evening.
The video of her public utterances went viral on Wednesday. She is the minister in-charge of Khandwa district.
Caught up in a controversy following the viral video, the minister explained that she didn't imply learning Dharmik Kattarta (staunch religious practices), but getting inspired from Muslims on their religious discipline and commitment to their religious practices.
Reacting to the minister's viral video, state Congress spokesperson Narendra Saluja said, "I hope that Bhakts don't demand the sacking of the staunch RSS supporter minister and bulldozing her house for candidly praising the virtues of a particular community."
Thakur, the Mhow (Indore) MLA has been often in news for off the cuff remarks. She had in 2014, as the Indore-III MLA demanded ban on entry of non-Hindus at Garba venues.
In 2020, she had demanded ending government support to Madarsas, accusing them of breeding terrorism.
Source: New Indian Express
Please click the following URL to read the text of the original story:
https://www.newindianexpress.com/nation/2022/may/19/want-hindus-to-idealize-muslims-for-ingraining-religion-staunchly-among-kids-mp-minister-usha-tha-2455218.html
--------
Cells From The Gulf, Europe Sponsoring Terrorist Networks, Especially By Recruiting Women: Balochistan Official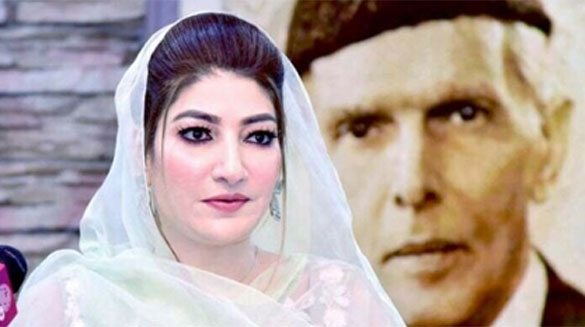 Balochistan government spokesperson Farah Azeem Shah
----
Kalbe Ali
May 19, 2022
ISLAMABAD: The Balochistan government revealed on Wednesday that cells operating from the Gulf region and Europe were sponsoring terrorist networks in the province, especially by recruiting women.
Addressing a press conference in Islamabad, Balochistan government spokesperson Farah Azeem Shah said the Counterterrorism Department (CTD) had arrested a woman named Noor Jehan and her accomplice during an operation in Turbat on Monday.
The spokesperson said it had been revealed that anti-state elements were operating from abroad, not only to sponsor subversive activities in Pakistan but also to train terrorists and supervise terror acts in the country.
Ms Shah said Noor Jehan had revealed during investigation that she and her accomplice were paid members of the Majeed Brigade, a lethal guerilla cell of the banned Balochistan Liberation Army. They were arrested by the CTD Makran Range after a tipoff from intelligence units.
A suicide jacket, six hand grenades, Kalashnikov rifles and explosive material were recovered from them during the raid.
The spokesperson said an FIR was filed against the accused while a court had granted her seven-day remand.
"The arrested woman has made revelations regarding the BLA activities and the wife of one Aslam alias Uccho was training women to become terrorists," the spokesperson said, adding: "Aslam alias Uccho has already been killed and now his wife Yasmeen is training women to become terrorists."
She said Noor Jehan had revealed the names of Waheeda, Fehmida and Hameeda, who were part of the BLA network and were trained for suicide bombing.
She said that foreign hands were involved in the recent wave of terrorism in Pakistan. "Terrorist attacks are being carried out at the behest of some people in the United Kingdom and others residing in Gulf countries."
"India and its intelligence agency RAW want to destabilise Pakistan. Some other countries are also willing to destabilise Pakistan," Ms Shah said.
"Those who care for the cause of Balochistan should return home to truly serve the people here," she said. "Real Baloch cannot use their women for terror attacks."
Source: Dawn
Please click the following URL to read the text of the original story:
https://www.dawn.com/news/1690417/foreign-terror-cells-active-in-balochistan-official
--------
'Our Land Will Not Be Used As A Threat To Anyone,' Says Taliban Leader Sirajuddin Haqqani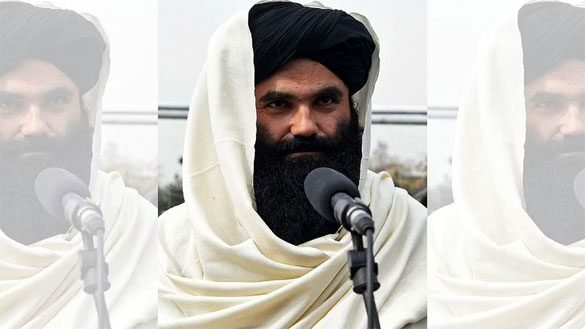 Photo of Sirajuddin Haqqani | Commons
-----
Pia Krishnankutty
18 May, 2022
New Delhi: The Taliban would like to "strongly reassure" the world that their land would not be used as a threat to anyone, the Taliban's Acting Interior Minister Sirajuddin Haqqani told CNN in an interview Tuesday.
Asked about recent ISIS-linked attacks in Afghanistan and if the country would be used as a base for terrorism, Haqqani told CNN's Chief International Anchor Christiane Amanpour: "Here, we have internal threats and some are deliberately elevating the threats to portray them as a cause for concern for the nation and the international community."
He added: "There can be threats to the rest of the world that are orchestrated by a government but we would like to strongly reassure everyone that our land will not be used as a threat to anyone."
Haqqani, whose father Jalaluddin founded the US-designated terror group Haqqani Network, is on the United Nations's sanction list. He is also on the FBI's most-wanted list, and in the past, the agency had offered up to $10 million for information on the militant leader.
The Interior Minister is also accused of being involved in an assassination attempt on former Afghanistan President Hamid Karzai in 2008.
Haqqani has made only one public appearance in March, during which he addressed the graduation ceremony of newly-recruited police personnel. Prior to that, his face was either covered or blurred in photos of events that he attended.
Speaking to CNN, he said that the Taliban had all intentions for a peaceful takeover of power but that the former Ashraf Ghani-led government, "with assistance from some other circles, sabotaged our particular plan…"
The Haqqani chief also said the Taliban does not view the US as an enemy, but "based on their conduct, Afghans have reservations about their intentions".
'We keep naughty women at home'
While discussing women's rights, the Taliban Minister joked that there was a need to keep "naughty women" at home.
"The international community is raising the issue of women's rights a lot. Here in Afghanistan, there are Islamic, national, cultural and traditional principles. Within the limit of those principles, we are working to provide them with opportunities to work — that is our goal. By saying "naughty women", it was a joke referring to those naughty women who are controlled by some other sides to bring the current government into question," said Haqqani," Haqqani said.
His statement comes weeks after the Taliban issued a decree urging women to stay at home or wear the burqa if they had to go out.
Asked about Afghan women taking to the streets to protest decrees issued by the Taliban in recent months, Haqqani described it as movements "provoked from outside".
On the issue of reopening girls' secondary schools, he said this depends on dress codes to ensure women's "honour and security", and that the Taliban regime is currently working on mechanisms for this.
'Sanctions pushing Afghan people into poverty'
Haqqani added that Afghan women weren't the only ones facing poverty and unemployment in the country. "Half of our Mujahideen comrades have not got employment either," he said.
"The issue of women's rights has been frequently highlighted. But, what has created these obstacles are international sanctions and the lack of official interaction with the world community. This has pushed a lot of people into poverty and joblessness," he said.
The US, UN and other world powers had responded with crushing economic sanctions when the Taliban seized Kabul last year. The Joe Biden-led administration also froze roughly $7 billion in Afghan government reserves held in the Federal Reserve Bank of New York.
Source: The Print
Please click the following URL to read the text of the original story:
https://theprint.in/world/our-land-will-not-be-used-as-a-threat-to-anyone-says-taliban-leader-sirajuddin-haqqani/961176/
--------
Scotland Yard Arrests 13-Year-Old For Islamist Terror Offence In Britain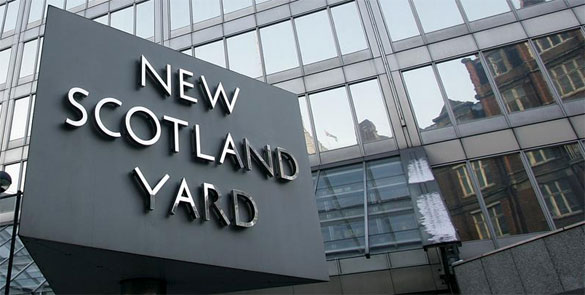 File Photo/ Google.com
-----
May 18, 2022
A 13-year-old boy has been arrested in Britain for a terrorism offence as part of an ongoing investigation related to the alleged sharing of extreme Islamist material online, Scotland Yard said here on Wednesday.
The Metropolitan Police said its Counter-Terrorism Command arrested the teenager at a west London address on Tuesday on suspicion of dissemination of terrorist material contrary to Section 2 of the UK's Terrorism Act 2006.
"The investigation relates to the alleged sharing of extreme Islamist material online," the Met Police said.
If he goes on to be charged and convicted, the teenager will become the youngest person in the UK to be found guilty of a terror offence.
"While it is still very rare for such a young person to be arrested for a terrorism offence, in recent times we have seen a worrying increase in the number of teenagers being drawn into terrorism," said Commander Richard Smith, head of the Met's Counter Terrorism Command.
"This particular investigation remains ongoing, but more broadly, we work closely with a whole range of partners to try and protect and divert young, vulnerable people away from extremism and terrorism," he said.
The boy was detained under the Police and Criminal Evidence Act (PACE) and taken into custody before being bailed to appear in court in mid-June. A PACE warrant to search the west London address was obtained by officers and has now been carried out. The Met Police said its officers will work closely with partners from child safeguarding agencies as the investigation continues.
Commander Smith said the public have an important part to play, as he urged anyone who thinks a friend or relative is becoming "radicalised or drawn into a path towards terrorism" to contact the force as part of the ACT Early strategy or Action Counters Terrorism Early. There is also an app called iREPORTit for people to report such terror related concerns.
Source: India Today
Please click the following URL to read the text of the original story:
https://www.indiatoday.in/world/story/scotland-yard-arrests-minor-for-islamist-terror-offence-britain-1951089-2022-05-18
--------
Pakistan Likely To Expand N-Arsenal For 'Survival' Against India: US Intelligence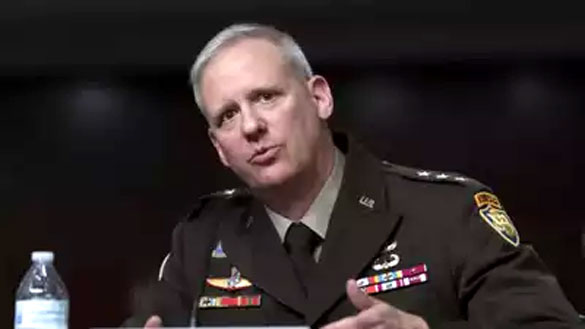 Lt Gen Scott Berrier, director, Defence Intelligence Agency ..
-----
May 19, 2022
WASHINGTON : Pakistan is likely to continue to modernise and expand its nuclear capabilities by conducting training with its deployed weapons and developing new delivery systems in 2022 as it perceives it as key to its survival, given India's nuclear arsenal and conventional force superiority, the Pentagon's top intelligence official has told lawmakers.
Lt Gen Scott Berrier, director, Defence Intelligence Agency told the Senate Armed Services Committee during a Congressional hearing that Pakistan's tense relationship with India will continue to drive its defence policy. He said Pakistan "perceives nuclear weapons as key to its national survival, given India's nuclear arsenal and conventional force superiority. Pakistan very likely will continue to modernise and expand its nuclear capabilities by conducting training with its deployed weapons and developing new delivery systems in 2022," Berrier said.
"Pakistan's ties with India remain strained since a militant attack in Kashmir in February 2019," he said, referring to the Pulwama attack in which 40 Indian paramilitary troopers were killed. "New Delhi's August 2019 revocation of Kashmir's semiautonomous status added to tensions. But, cross-border violence has decreased since February 2021, when both countries recommitted to a ceasefire," Berrier said, adding, "India and Pakistan have not made meaningful progress toward a long-lasting diplomatic solution since then."
Source: Times Of India
Please click the following URL to read the text of the original story:
https://timesofindia.indiatimes.com/world/pakistan/pakistan-likely-to-expand-n-arsenal-for-survival-against-india-us-intelligence/articleshow/91653788.cms
--------
India
AIMPLB seeks Centre, states' stand on alleged targeting of mosques
May 19, 2022
NEW DELHI: The All India Muslim Personal Law Board has asked the central and state governments to clarify their position on alleged targeting of places of worship of the Muslim community and step in to stop the false propaganda. The board has also decided to provide legal aid to the Intezamiya Masajid Committee and its lawyers in the Gyanvapi Masjid case.
The board has also sought that the Centre clarify its stand on the The Places of Worship Act, 1991.
The working committee of AIMPLB held an emergency meeting on Tuesday to dwell on the course of action to counter the response of sectarian forces towards the Gyanvapi Masjid and various other places of worship of Muslims.
"On one hand, the hatemongering forces were spreading false propaganda and targeting Muslim holy places with full force, and on the other hand, the central government and the state governments are not coming to the fore against this false propaganda the way they should. Their position needs to be clarified," the board said.
Source: Times Of India
Please click the following URL to read the full text of the original story:
https://timesofindia.indiatimes.com/india/aimplb-seeks-centre-states-stand-on-alleged-targeting-of-mosques/articleshow/91652106.cms
--------
Gyanvapi row: Jamiat Ulema-e-Hind Appeals People Not To Hit Streets; RSS Says Facts Should Be Allowed To Come Out
18th May 2022
NEW DELHI: Amid the Gyanvapi mosque row, prominent Muslim organisation Jamiat Ulema-e-Hind on Wednesday appealed to the people, specially members of the community, not to hit the streets over the issue and avoid all kind of public demonstrations.
The Gyanvapi mosque is adjacent to the iconic Kashi Vishwanath temple in Varanasi and a local court is hearing a plea by a group of five Hindu women seeking the court's permission for daily prayers before the idols on its outer walls.
In a statement, Jamiat Ulema-e-Hind president Maulana Mahmood Madani said some "mischievous elements and biased media" are trying to create strife between the two communities by fanning religious emotions.
In such a situation, the Jamiat appeals to all the people of India, specially Indian Muslims, that they should not hit streets over the issue of the Gyanvapi mosque and all kinds of public demonstrations should be avoided, it said.
The Committee of Management Anjuman Intezamia Masjid is a party to the matter in various courts of the country and it is believed that they will fight this case vigorously till the end, the statement said.
Other organisations of the country are urged not to interfere directly in this case in any courts, the Jamiat said.
If they want to provide help or assistance in the case, they can do through the 'masjid Intezamia committee', it said.
Ulema, scholars, speakers and TV debaters are urged to refrain from participating in debates and discussions on this issue, the statement said.
The case is subjuidice, so provocative debates and social media speeches are by no means in the interest of the country, the Jamiat said.
the RSS Wednesday said the facts should be allowed to come out, while asserting that truth can't be hidden for long.
Rashtriya Swayamsevak Sangh (RSS) publicity in-charge Sunil Ambekar touched upon the Gyanvapi issue while speaking at an annual event here organised by the organisation to honour journalists.
"There are some facts which are coming out in the open. I believe we should let the facts come out in the open. In any case, truth always finds a way to come out. How long can you hide it? I believe the time has come to put the historical facts in the right perspective before the society," Ambekar said.
Similar views were expressed by Union Minister Sanjeev Balyan who was also present at the event.
Balyan said he became "emotional" when he learnt about a Shivling being found in the mosque complex.
"I was in Varanasi when these events unfolded. I became emotional. But I became more overwhelmed when a journalist told me that Nandi (a sacred ox on which Lord Shiva rides) had been waiting for Shiva for centuries. My eyes welled up. That is why journalism is so important. It can make people emotional," Balyan said.
Remarks by Ambekar assume importance as on November 9, 2019 when the Supreme Court ruled in favour of the Ram temple in Ayodhya, responding to a question on the issue of the Gyanvapi mosque and the Shahi Idgah in Mathura, RSS chief Mohan Bhagwat had said, "The Sangh got associated with this (Ramjanambhoomi) movement as an organisation because of the historical reasons. It is an exception. Now we will again be associated with human development and this movement will not remain of concern to us."
On the same day, Prime Minister Narendra Modi speaking about the judgment had called it a "day to forget any bitterness one may have".
On Monday, a Varanasi court had ordered the sealing of a pond in the Gyanvapi Masjid complex after lawyers representing the Hindu petitioners said a Shivling was found there during the court-mandated videography survey.
However, a mosque management committee member disputed the claim, saying the object was part of the water fountain mechanism at the 'Wazoo Khana' reservoir where devotees carry out ablutions before offering Namaz.
Source: New Indian Express
Please click the following URL to read the full text of the original story:
https://www.newindianexpress.com/nation/2022/may/18/gyanvapi-row-jamiat-appeals-to-people-not-to-hit-streets-rss-says-facts-should-be-allowed-to-come-out-2455137.html
--------
Don't interfere in Gyanvapi case: Jamiat Ulama-i-Hind chief asks Muslim bodies
Amit Bhardwaj
New Delhi
May 18, 2022
Maulana Mahmood Asad Madani, President of Jamiat Ulama-i-Hind, has asked Muslim organisations not to intervene in the Gyanvapi Mosque controversy, which is currently being debated at both the public and judicial levels.
"Some nefarious elements and biased media are attempting to sow discord between the two communities by fanning religious passions," said Madani in an official statement.
In this situation, the Jamiat Ulama-i-Hind chief has appealed to all Indians, particularly Indian Muslims, that:
They should not hit the streets on the issue of Gyanvapi mosque, and all kinds of public demonstrations should be avoided.
In this regard, the masjid intezamiya committee (mosque management committee) is a party in various courts of the country. It is believed that they will fight this case vigorously till the end. Other organisations in the country are urged not to interfere directly in this case in any courts. If they want to provide help or assist in the case, they can do so through the masjid intezamiya committee.
Ulama, scholars, speakers, and TV debaters are urged to refrain from participating in TV debates and discussions on this issue. Provocative debates in public debates and social media speeches are not in the best interests of the country or the nation.
THE GYANVAPI CASE
A petition filed in 1991 in a Varanasi court claimed that the Gyanvapi Mosque was built on the orders of Aurangzeb by demolishing a part of the Kashi Vishwanath Temple during his reign in the 16th century.
The petitioners and local priests sought permission to worship in the Gyanvapi Mosque complex. The Allahabad High Court in 2019 ordered a stay on an ASI survey that was requested by the petitioners.
Source: India Today
Please click the following URL to read the full text of the original story:
https://www.indiatoday.in/india/story/muslim-body-chief-calls-for-non-interference-gyanvapi-case-1951142-2022-05-18
--------
Sree Ram Sena Alleges Hundreds Of "Illegal" Churches And Mosques Are Functioning In Karnataka
K.M. Rakesh
19.05.22
The Sree Ram Sena, which echoes the Sangh Parivar's views, has alleged that hundreds of "illegal" churches and mosques are functioning in Karnataka, adding that its workers are gathering details for submission to the authorities.
Sree Ram Sena chief Pramod Muthalik made the allegation just when the state governor gave his nod to a contentious anti-conversion ordinance that has now become law.
Muthalik said Sena workers "are preparing a full list of the illegal churches and mosques operating from houses and such other buildings. These places are being used for religious conversions".
He said an estimated 500 such illegal places of worship had come up in the state over the years, although he could not produce any documentary evidence to substantiate his claim.
An organisation that wields considerable clout in the southern districts, especially coastal Karnataka, the Sree Ram Sena had recently spearheaded a vitriolic campaign against mosques using loudspeakers for azaan. Muthalik had led a protest on May 9 by singing bhajans and chanting Hanuman Chalisa at a temple in Mysore located close to a mosque.
The state government had subsequently issued a circular, making a Supreme Court order on decibel levels mandatory at all establishments, including places of worship, across the state. The Muslim community has readily agreed to control the volume of loudspeakers, although a majority of the 12,000 mosques in the state were already using decibel-level controllers.
The latest issue raked up by the Sree Ram Sena coincided with the notification of the Karnataka Protection of Right to Freedom of Religion Ordinance, 2022, on Tuesday. Governor Thawar Chand Gehlot gave his assent to the ordinance a day after a church delegation met him and appealed against giving his nod.
The Sena allegation comes in the wake of it joining hands with the little-known Narendra Modi Vichar Manch in demanding permission to pray at Mazjid-e-Ala in Srirangapatna in Mandya district, around 130km from here, alleging that it stands on the ruins of a Hanuman temple.
The Narendra Modi Vichar March recently approached the Mandya district administration to permit them to pray at the mosque, which is currently a heritage site managed by Archeological Survey of India. Only a madrasa now functions from the mosque complex.
The mosque is believed to have been constructed in 1728 during the reign of Tipu Sultan.
The secretary of the Narendra Modi Vichar Manch, C.T. Manjunath, claimed documentary evidence to prove the contention that a Hanuman temple once stood where the mosque had been built. "Tipu Sultan had written to the ruler of Persia that a temple existed there before the mosque was built. We want the authorities to let us pray there," he said.
But state home minister Araga Jnanendra warned of stringent action if anyone dared to take law into their hands. "Strict action will be taken if anyone challenges law and order," he said.
Bishop decries
Archbishop of Bangalore Peter Machado on Wednesday said the Christian community felt betrayed since its sentiments were not taken into consideration while notifying the anti-conversion ordinance.
"The Christian community feels betrayed since its sentiments are not taken note of and its selfless services in the fields of education, healthcare and other social areas for the welfare of all communities are not taken into consideration," Machado said in a statement.
Source: Telegraph India
Please click the following URL to read the full text of the original story:
https://www.telegraphindia.com/india/karnataka-illegal-mosques-churches-on-sree-ram-sena-radar/cid/1865746
--------
SC to hear Gyanvapi Mosque case tomorrow, stays hearing in UP court for today
Aneesha Mathur Sanjay Kapoor
New Delhi
May 19, 2022
The Supreme Court will hear the Gyanvapi Mosque case on Friday. The court has also stayed the hearing in Varanasi court. The move of the top court came amid fears of the Muslim side that the Wazukhana (ablution area) - where a 'Shivling' was said to be found - could be razed, following the order by the Varanasi court to seal the area.
The Varanasi administration has sealed the ablution area of the Gyanvapi Masjid that housed the reservoir, in which a Shivling was reported to have been discovered during a survey. Officials on Wednesday, May 18, made the wazukhana off-limits to all by placing locks on the doors that lead to the area.
Source: India Today
Please click the following URL to read the full text of the original story:
https://www.indiatoday.in/india/story/supreme-court-gyanvapi-mosque-case-varanasi-court-hearing-stayed-1951314-2022-05-19
--------
Gyanvapi Mosque Video Survey Report Submitted In Sealed Cover In UP Court
May 19, 2022
Varanasi (UP): The report of filming of the Gyanvapi Masjid in Varanasi was submitted to a court this morning in a case involving a request by Hindu petitioners to worship idols inside the mosque complex.
The report, in three folders, was submitted in a sealed cover by the team that filmed the mosque complex. A chip with videos and photographs of the filming was also handed over, Vishal Singh, the court-appointed commissioner, told NDTV.
The Varanasi court was told, however, not to pass any orders for now by the Supreme Court, which is hearing a petition by the mosque committee challenging the Gyanvapi complex filming. The Supreme Court said it would take up the case tomorrow after the lawyers for the Hindu petitioners asked for an adjournment.
The Varanasi court is hearing a petition by five Hindu women who have requested access to the Gyanvapi mosque complex - located next to the iconic Kashi Vishwanath temple - to worship idols on its outer walls.
One of the lawyers involved in the filming at the mosque has claimed that a "Shivling" was found inside a pond traditionally used for "Wazoo" or Islamic purification rituals before namaaz.
The Supreme Court has ordered that if there are claims of a "Shivling" found in the complex, the area should be protected but Muslims must not be stopped from praying at the mosque.
A top official leading the filming, Advocate Commissioner Ajay Pratap Singh, said he stayed up all night to prepare the report, including videos and pictures from inside the mosque, even the basement.
"The court had given us a big responsibility and we conducted the survey honestly in the sweltering heat, even in dirty basements. We took all parties along, the petitioners and mosque representatives, so that there's no question of impropriety," he said.
The court will hear a petition by three of the original petitioners asking for the removal of debris gathered against the mosque wall facing a Nandi idol at the Kashi Viswanath temple, to access and film more areas to establish what they believe are parts of a temple.
Source: ND TV
Please click the following URL to read the full text of the original story:
https://www.ndtv.com/india-news/gyanvapi-mosque-video-survey-report-submitted-in-sealed-cover-in-varanasi-court-2989285
--------
Intervention in Mecca Masjid blast case sought
MAY 19, 2022
Civil society members on Wednesday demanded that the Telangana government file an intervention petition in the criminal appeal filed by families of the Mecca Masjid blast victims, and table the Justice V. Bhaskara Rao Committee report.
The Commission was constituted in the aftermath of the Mecca Masjid blast on May 18, 2007, when police opened fire at the mob, which resulted in the death of five people.
"Unfortunately, the report has not been tabled before the State legislature yet, due to which the kin of people who died in police firing are waiting for justice since more than a decade. The Telangana government, in the interest of justice, should take action on the findings of the report immediately as by reason of non–placing of the report of Commission before the legislature within the time limit prescribed by the relevant provision of this section, such report is not rendered void and the government is not precluded from acting upon it especially when the legislature has not disapproved," a statement reads.
Source: The Hindu
Please click the following URL to read the full text of the original story:
https://www.thehindu.com/news/cities/Hyderabad/intervention-in-mecca-masjid-blast-case-sought/article65427343.ece
--------
Bengaluru: Speakers at Hindutva Group Meet Call Muslims 'Cancer', Complaint Lodged
Gaurav Vivek Bhatnagar
May 19, 2022
New Delhi: As hatred against Muslims takes centre stage in the BJP-ruled Karnataka, yet again the state capital, Bengaluru, has become witness to another round of abuses hurled at the minority community by a Hindutva outfit recently.
On May 8, speakers at Bengaluru District Hindu Rashtra Convention described Muslims as "cancer" who are "taking over the country like a disease" in front of a gathering of 300 people at BBMP Community Hall in Rajaji Nagar, Bengaluru.
The convention and hate speeches came to light after one Zia Nomani lodged a complaint at Sanjaya Nagara police station on May 16 stating that "multiple speakers engaged in speech and expression which directly attracts Sections 153A, 153B, 295A and 505(2) of the Indian Penal Code". It was Nomani who had earlier filed a complaint against Hindu Janajagruti Samiti's Chandru Moger after he had issued a call at the beginning of April to Hindus to boycott Muslim fruit vendors while accusing them of "spit jihad". Moger is yet to be arrested even though an FIR is registered against him.
The complaint against Moger was filed by Law and Policy Research Institute with legal aid from Campaign Against Hate Speech.
According to Nomani, the latest convention too "witnessed discussions that reeked of bigotry and violence in the heart of Bengaluru". The speeches made at the convention are uploaded onto Hindu Janajagruti Samiti Karnataka Twitter page.
The complainant lamented that police inaction in Moger's case was emboldening right-wing groups in the state to organise such conventions, calling for Hindu Rashtra, with impunity.
Referring to the speech by the spokesperson of Hindu Janajagruti Samiti, Mohan Gowda, as "criminal speech", Nomani quoted the former as saying, "They (while referring to the entire Muslim community) are taking over our country like a disease. For one Hindu child, there are five Muslim children. Yet Muslims are the minority. That is why we have organised this meeting to make people aware that we need a Hindu Rashtra."
In his latest complaint, Nomani said that speakers at the May 8 convention explained to the gathering the terms bandied out by Hindutva groups such as "land jihad", "economic jihad" and "love jihad". He said the speakers also spoke about why loudspeakers should be banned (in mosques) and why India should become a country for Hindus, in a clear case of whipping up passions.
According to Nomani, G.M. Nataraj, a lawyer and a speaker at the convention, had said, "Muslims counter that they play it (azaan) only for five minutes. But it is not just a call to prayer. It is a call from mosques for every Muslim to wake up and pray and resolve that they will kill others."
Nataraj had further said, "When a Hindu hears such a call, they get scared. Hindu families near mosques get palpitations and panic when they hear the azaan playing loudly because they know it is asking Muslims to kill Hindus."
Referring to a speech by S. Bhaskaran, president of Vishwa Sanatan Parishad, Nomani, in his complaint, said he had "spoken about 'land jihad', and how Muslims are taking over the property from Hindus". It added that "before talking about 'land jihad', a term commonly used by right-wing groups to describe a conspiracy by Muslims to take over neighbourhoods". Bhaskaran had also said "Muslims are like cancer", according to the complaint.
Nomani then goes on to describe that, in response to Bhaskaran's speech, a member in the audience shouted loudly saying "ghar main ghuske maarenge, mulle ko nahin chodenge (We will enter their homes and beat them, won't spare a single Muslim)". The complainant said the speeches indeed amounted to propagating communal hatred and hence attracted various sections under the Indian Penal Code (IPC).
Chandru Moger's case
Speaking to The Wire about Moger's case, Nomani has said that the police are yet to arrest him even though Bengaluru Police had registered an FIR against him after directions from 8th Additional Chief Metropolitan Magistrate. Nomani had lodged a complaint with police against Moger after the latter issued a call for boycotting Muslim fruit vendors.
Consequent to the directions from the court, the police registered a case against Moger under Sections 153A, 503, 504, 505 (2) of IPC. These sections pertain to among other things promoting hatred against religious communities and spreading false alarming news and rumours. The police have been directed to submit a report on the matter to the court by July 30.
Nomani said while the offence against Moger was cognisable, the police did not arrest him yet. He wondered if the police had at least questioned Moger in the matter.
The complainant also accused police of harassing him instead of investigating Moger's conduct. He said police inquired about him from his neighbour.
"They asked where do I work, when do I come home and what is my job profile. I then approached DCP North and complained that the police are trying to intimidate me. He said we will look into it," said Nomani.
Source: The Wire
Please click the following URL to read the full text of the original story:
https://thewire.in/communalism/bengaluru-speakers-at-hindutva-group-meet-call-muslims-cancer-complaint-lodged
--------
Muslim personal law board constitutes legal committee to review Gyanvapi mosque case
Ashish Srivastava
Lucknow
May 18, 2022
The All India Muslim Personal Law Board (AIMPLB) constituted a legal committee on Wednesday to review the details of the Gyanvapi mosque case. The committee will also look into the Places of Worship Act to take appropriate legal action.
The board decided to provide legal aid to the maintenance body of the mosque, Intezamia Masjid Committee and its lawyers in the case. It also decided to launch a nationwide agitation if necessary to apprise the public about the "real intention" of creating disputes over places of worship.
An executive member of the AIMPLB, Qasim Rasool Ilyas, told PTI that an emergency virtual meeting of the board's working committee was held on Tuesday night. Ilyas said, "The meeting discussed the targeting of places of worship of Muslims in the country. It is regrettable that the central government and the state governments are silent on this. Apart from this, the political parties who call themselves secular parties are also keeping silent."
He said that the board demanded the government to clarify their stand on the issue. The board said the government's silence on such incidents is a criminal act which cannot be accepted in any way.
Ilyas added the board has appealed to Muslims to maintain peace, stand with courage and fight the legal battle to the best of their ability.
A petition was filed in 1991 in a Varanasi court claiming that the Gyanvapi Mosque was built during the 16th century on the orders of Aurangzeb by demolishing a part of the Kashi Vishwanath Temple.
The current controversy started when five Hindu women sought to routinely worship Shringar Gauri and other idols within the Gyanvapi mosque complex.
Source: India Today
Please click the following URL to read the full text of the original story:
https://www.indiatoday.in/india/story/all-india-muslim-personal-law-board-legal-committe-for-gyanvapi-mosque-case-1951130-2022-05-18
--------
Gyanvapi mosque case: Delhi University prof booked for post on Shivling
May 18, 2022
New Delhi: A case has been registered against an assistant professor from Delhi University's Hindu College for an allegedly objectionable social media post referring to the claims of a Shivling being found at the Gyanvapi mosque.
According to police, a complaint was recieved against Ratan Lal regarding "deliberate and malicious post" on Facebook intended to "outrage religious feelings by insulting a religion/religious beliefs".
The case has been registered under Sections 295A of the Indian Penal Code at Cyber Police Station, North district. A complaint in this regard was filed by lawyer Vineet Jindal against Ratan Lal for hurting religious sentiments of Hindus.
Soon after his Facebook post went viral, Ratan Lal shared a video and said that he was being threatened by many users online.
Source: Firstpost
Please click the following URL to read the full text of the original story:
https://www.firstpost.com/politics/gyanvapi-mosque-case-delhi-university-prof-booked-for-post-on-shivling-10690151.html
--------
Worship war reaches Punjab: Hindus, Sikhs claim sarai converted into mosque, Muslims deny
Manjeet Sehgal
Chandigarh
May 18, 2022
As the Gyanvapi mosque row continues to rage in Uttar Pradesh's Varanasi, a similar controversy has now emerged in Rajpura in Punjab's Patiala.
Members of the Sikh and Hindu communities have accused the Muslim community of forcefully occupying and converting what was a Sikh sarai into a mosque.
The Muslim community has denied the allegation and stated that the mosque in Gujranwala Mohalla dates back to the pre-independence era.
CLAIM
According to locals, two Sikh families had been living in the disputed structure till 2017 and were allegedly forced to leave. The Waqf board staked claim on the structure in 2016, it has been learnt.
Locals told India Today that the sarai began 'turning' into a mosque two years ago a dome was built and it was painted green, they said.
It has also been alleged that symbols of Sikh religion were removed from the structure.
COUNTER-CLAIM
The Muslim community has said the mosque existed even before 1947 and has only been renovated now.
AUTHORITIES ACT
After locals said that people from Haryana and Uttar Pradesh were creating trouble in the area, police force was deployed near the structure.
Additionally, both parties have been asked to submit requisite documents to prove their claims.
Source: India Today
Please click the following URL to read the full text of the original story:
https://www.indiatoday.in/india/story/punjab-hindus-sikhs-muslims-sarai-mosque-disputed-structure-1951036-2022-05-18
--------
Now, Petition Before Mathura Court for Video Survey of Shahi Idgah Mosque
May 19, 2022
New Delhi: A petition was filed with a court in Uttar Pradesh's Mathura on May 13 seeking a videographic survey of the Shahi Idgah mosque in the region, inviting comparison with the ongoing Gyanvapi mosque issue which is centred around a similar video survey.
Mathura's Shahi Idgah mosque is located next to the Krishna Janmabhoomi, believed to be the birthplace of Hindu deity Krishna.
Mathura, Ayodhya and Kashi (Varanasi) form the trio of sites that Hindutva activists often vow to "free" through the destruction of Islamic structures. Variations of the slogan, "Ayodhya-Babri sirf jhaanki hai, Kashi-Mathura ab baaqi hai" have accompanied rightwing agitations since the 1980s.
The Financial Express reported that, in the aforementioned petition, a video survey has been sought in order to ascertain whether or not there are "Hindu artefacts" and "ancient religious inscriptions" located within the mosque premises.
In the Gyanvapi case, too, the petitioners had sought for a survey to find out whether there were idols of Hindu deities and had sought year-round access to the mosque, which they contended housed a Hindu shrine within.
On May 12, a day prior to the present petition being filed, the Lucknow bench of the Allahabad high court had directed the Mathura court in question to dispose of all cases pertaining to the Krishna Janmabhoomi-Shahi Idgah dispute with a period of four months, according to news agency ANI.
The high court's order came on a plea by one Manish Yadav, president of the Narayani Sena, a group of Krishna devotees, which sought for the early disposal of its case related to the dispute pending before the Mathura court.
The high court also said that the parties to these cases, such as the Uttar Pradesh Sunni Waqf Board and others, are required to appear before the court and participate in the hearing. If they are not and if they attempt to stall the hearings, the high court said that the Mathura court could issue ex-parte orders.
Cases before the Mathura court
The plea for a survey to be conducted inside the Shahi Idgah mosque joins the Narayani Sena's and eight other pleas regarding the aforementioned religious dispute.
One such case was filed on behalf of child deity Bhagwan Shrikrishna Virajman, through the "next friend" Ranjana Agnihotri and seven others. "Next friend" is a legal term for a person who represents someone directly unable to maintain a suit.
The plea contended that Mughal emperor Aurangzeb had destroyed the Krishna "janmabhoomi" on the site and had erected the Shahi Idgah mosque in its stead. Moreover, it had cited the official website of the district of Mathura as the source of its claims.
Today, the official website reads as follows:
"The city was sacked and many of its temples destroyed by Mahmud of Ghazni in 1018 CE and again by Sikandar Lodhi, who ruled the Sultanate of Delhi from 1489 to 1517 CE. Sikander Lodhi earned the epithet of 'Butt Shikan', the 'Destroyer of Hindu deities'. The Mughal Emperor Aurangzeb, built the Shahi-Eidgah Mosque during his rule, which is adjacent to Shri Krishna Janmabhoomi believed to be over a Hindu temple."
Agnihotri's plea contended that the Shahi Idgah mosque had been constructed on land within the area of the Katra Keshav Dev temple.
The petition had named the Uttar Pradesh Sunni Central Waqf Board; Shahi Masjid Idgah Trust; Shri Krishna Janmabhoomi Trust; and Shri Krishna Janmasthan Seva Sansthan as defendants and had sought prohibitory injunctions restraining the defendants, their workers, supporters, men, attorneys and every person acting under them from entering the premises.
The petition had also cited the Places of Worship Act, which is currently being widely discussed in the context of the Gyanvapi mosque dispute.
The Gyanvapi mosque authorities and several commentators have called the videographic survey of the site, ordered by a Varanasi court, violative of the provisions of the Places of Worship Act.
The Places of Worship (Special Provisions) Act, 1991, says the religious character of place of worship will continue as it existed on on August 15, 1947, and:
"No person shall convert any place of worship of any religious denomination or any section thereof into a place of worship of a different section of the same religious denomination or of a different religious denomination or any section thereof."
The same act says "conversion, with its grammatical variations, includes alteration or change of whatever nature."
Source: The Wire
Please click the following URL to read the full text of the original story:
https://thewire.in/communalism/now-petition-before-mathura-court-for-video-survey-of-shahi-idgah-mosque
--------
Post-hijab row, Karnataka makes uniforms must for PU students
May 19, 2022
BENGALURU: The Karnataka government has made uniforms mandatory for pre-university course (PUC) students from the 2022-23 academic year. The admission guidelines cite the high court order upholding the government order on uniforms following the hijab controversy.
The circular issued on Wednesday follows confusion over the wearing of the hijab inside PUC classrooms.
According to education department officials, several institutions, teachers, and parents had questioned whether hijab will be allowed inside examination halls for students from private schools since admission guidelines for academic year 2021-22 state that uniforms are not compulsory for students.
Source: Times Of India
Please click the following URL to read the full text of the original story:
https://timesofindia.indiatimes.com/india/post-hijab-row-karnataka-makes-uniforms-must-for-pu-students/articleshow/91650186.cms
--------
Azan no match for Hanuman Chalisa in terms of noise
18th May 2022
By Dr. Javed Jamil
If Hindutva Brigade had been preaching religious values enshrined in Hindu Dharma, there was nothing bad about it. If they had been fighting for the rights of Hindus, even then it would not have created much of havoc. The problem with them is that their definition of Hindutva, in practice if not in theory, is based on their severest aversion to Muslims and everything that is or can be made to look linked to them. They are less interested in introducing the Hindu vision to the constitution and more in demolishing Muslim Personal Laws. (In recent years, adultery and homosexuality have been decriminalized despite their Government and they did not do anything to stop this despite their being against the position of almost all the religions.) They are not too much fond of building temples; they are more concerned about demolishing mosques. They love singing Vande Mataram not because of its inherent beauty but because it irks Muslims who find hard to worship the land instead of the Creator of the land. Even if they do not read their scriptures with any regularity, they would want to impose it on Muslim students through introduction in educational syllabi. Their love of cow, turning an animal into a holy entity, has grown over the centuries because this provides them ammunition to hit Muslims. They are not concerned about their students wearing saffron shawls but are more interested in going against the Hijab, which is their first line of defence against molestation, prescribed as obligatory in their religion. They are not so much in love of reciting Hanuman Chalisa but use it for stopping the sound of Azan reaching Muslims.
Azan and Hanuman Chalisa: Comparison
They ignore the fact that Azan involves only about 15 sentences and less than 50 words with gaps in between sentences, is recited by a single person without any loud music involved and lasts only for 3-5 minutes. Hanuman Chalisa is much longer, with 40 stanzas/verses and around 600 words, and is recited collectively with a much louder voice with hardly any gaps in between and often with a lot of music accompanying it. It is much longer often involving more than 100 recitations. There is a big difference between the "Sound Pollution" caused by Azan and that caused by Hanuman Chalisa. Moreover, Azan is necessary because it announces to the people living in the areas (just five times a day, with combined duration of around 10-20 minutes) surrounding the mosques that the time of prayer is near so that they can offer prayers at the right time. The truth is that they are not campaigning for bringing comforts to their fellow religionists; they are more interested in teasing and harassing the Muslim populace.
Muslims do not stop them from wearing saffron shawls but they would do it only to attack and campaign against Hijab. Similarly, Muslims have no objection to their reciting Hanuman Chalisa in their areas. But they are not as much in love with Chalisa as they hate Azan. I am a great proponent of coming together of all religions, and I have recurrently argued that Indian Muslims and Hindus must come together against the immorality propagated by the current world for commercial aims. Westernism or New World Order, based on the negation of religious morality and propagation of commercial morality, is a threat to every religion and the whole mankind. The fight today is not between religions but between religion and irreligion. Hindus and Muslims think alike in most matters be its family values, moral values, or social values. We all hate alcohol, gambling, sex outside marriage, and nakedness. We all are believers in God though our methods can be different. I will repeat here that Islam is not a religion started by Prophet Muhammad (PBUH). Islam means submission to God, called Allah in Arabic and Parmeshwar in Hindi/Sanskrit and Jehovah in Hebrew. Quran asks us to believe in the truthfulness of all the previous scriptures and messengers. Of God
Religious morality Vs religious identity
Source: Siasat Daily
Please click the following URL to read the full text of the original story:
https://www.siasat.com/azan-no-match-for-hanuman-chalisa-in-terms-of-noise-2329384/
--------
Pakistan
Imran says families of army personnel will march with him to Islamabad
May 18, 2022
Former prime minister Imran Khan on Wednesday said families of army personnel will also take part in his upcoming march to Islamabad to remove the "imported government that came to power through a US-backed conspiracy".
Addressing a huge public meeting in Gujranwala, Imran said: "The police will also help you [in getting to Islamabad]. They will send their family members with you and government employees will [do the same] as well.
"And I know my army's families will also come with us to Islamabad," he added.
The former prime minister is planning a long march towards Islamabad at a yet undecided date later this month in a bid to pressure the government into holding immediate elections as he claims that his government was "conspired against" and unfairly ousted by the US, with the help of his political opponents and in the form of a successful no-trust move against him last month.
Read more: Warning of march on capital, Imran seeks election date
Imran, in his speech today, said he would unveil the date of his long march during a rally in Multan on May 20 (Friday), and hoped he would win the "fight for real independence in Islamabad this month".
Imran called on women, children and the elderly to participate in the march. He said he was calling the people to Islamabad to foil the "American conspiracy" and send a message to all the conspirators that Pakistan was an "free nation".
"This isn't politics, this is revolution," Imran said, adding that the "biggest dacoits and mafias" of the country were standing on one side and the nation on the other.
"This is called revolution when the people become a nation and then we [can] combat these mafias who suck our blood. [We] will badly defeat them."
Turning his aim at his political opponents, the PTI chairman lashed out at Prime Minister Shehbaz Sharif, accusing him of "polishing boots" of officials from the US Embassy.
"When he sees the army boot, he polishes them [with such vigour] that he sees his own reflection," Imran said about PM Shehbaz, referring to his alleged appeasing of the military establishment.
Imran said PM Shehbaz and PML-N supremo Nawaz Sharif were "trapped". "There is an ocean in front of them and Imran Khan is standing behind them."
He claimed that the PML-N's time was up and a "sea of people" would soon enter Islamabad and sweep them away.
Read more: Nawaz Sharif might choose to surrender once he returns to Pakistan
Imran said the prime minister would not be able to escape the cases against him in the Federal Investigation Agency. "As soon as you go [from the prime minister's seat], the investigation will start and we will take money from you and throw you in jail," he added.
Imran claimed that PPP co-chairperson Asif Ali Zardari was "very happy" that PM Shehbaz and the PML-N were drawing everyone's ire. "Indeed, Zardari 'you are bhaari (dominant)' over PML-N and taking good revenge," he said.
Source: Dawn
Please click the following URL to read the full text of the original story:
https://www.dawn.com/news/1690304/imran-says-families-of-army-personnel-will-march-with-him-to-islamabad
--------
Pakistan Taliban declare ceasefire till May 30 for talks with govt
May 19, 2022
ISLAMABAD : The Pakistani Taliban on Wednesday said they are extending a ceasefire with the government until May 30, after the two sides held an initial round of talks hosted by the Afghan Taliban in Afghanistan. The spokesman for the militant group, Mohammad Khurasani, said the talks between the Pakistani Taliban and the Islamabad government were being facilitated by Afghanistan's new Taliban rulers.
The Taliban in Kabul confirmed the talks and the extension of the ceasefire. Their spokesman, Bilal Karimi, said they are doing their "best for the continuation and success of the negotiations". The Pakistani militant group — known as Tehrik-e-Taliban Pakistan or TTP — is separate but allied with Afghanistan's Taliban. TTP has long fought for stricter enforcement of Islamic laws in Pakistan. Over the past months they have stepped up attacks against government forces. Khurasani said the ceasefire, began on May 10. There was also no comment from Pakistan's military or the government.
Source: Times Of India
Please click the following URL to read the full text of the original story:
https://timesofindia.indiatimes.com/world/pakistan/pakistan-taliban-declare-ceasefire-till-may-30-for-talks-with-govt/articleshow/91653709.cms
--------
Devaluation of rupee versus US dollar continues as Pakistan resumes talks with IMF for relief
May 19, 2022
ISLAMABAD: Pakistani rupee has maintained its downturn against the US dollar as the country resumed talks with the International Monetary Fund (IMF) in Doha for the revival of the stalled multibillion-dollar loan programme.
In talks with IMF, Pakistan's delegation, having representatives of the State Bank of Pakistan (SBP), the Federal Board of Revenue (FBR) and Ministry of Energy, has been led by finance minister Miftah Ismail. The IMF has set tough conditions for Pakistan for a bailout that seems to have a political cost for the beleaguered coalition government. IMF wants Pakistan to withdraw subsidies on fuel and electricity that ex-PM Imran Khan had announced earlier this year. When the former opposition parties launched a no-trust vote campaign against Khan, he had announced a massive cut of Rs10 per litre in the price of petrol and diesel, and Rs5 per unit in the price of electricity along with announcements related to tax cuts and interest-free loans to students, small farmers and unemployed youth.
Khan's decisions had won him popular support but it has badly hit the three markets — debt, stocks and foreign exchange — triggering grave financial crisis in the country.
Of late, Pakistani rupee touched a critical threshold of 200 in the open market against the US dollar. The rupee has maintained a downward trend for the last 13 months. It has lost 30.28% (or Rs 46.12) to date, compared to the record high of Rs152.27 witnessed in May 2021.
In the interbank market, however, the local currency continues losing its value and with the latest decline of Rs 2.1, it plunged to yet another historic low of Rs 198 against the greenback, despite suspected intervention by the central bank.
Investors are concerned as there is speculation in the market that the IMF may not agree to resume the loan programme if the government failed to implement its demands.
Pakistan had signed a $6 billion bailout package with the IMF in 2019, which has never been fully implemented as the previous Khan-led government had reneged on agreements to cut or end some subsidies and improve revenue and tax collection.
Islamabad has so far received $3 billion, with the programme due to end later this year. Officials are seeking an extension to the programme till June 2023, as well as the release of the next tranche of $1 billion.
Source: Times Of India
Please click the following URL to read the full text of the original story:
https://timesofindia.indiatimes.com/world/pakistan/devalution-of-rupee-versus-us-dollar-continues-as-pakistan-resumes-talks-with-imf-for-relief/articleshow/91649283.cms
--------
Situation in Afghanistan has direct impact on people of Pakistan: Bilawal
19 May,2022
NEW YORK (Dunya News) – Foreign Minister Bilawal Bhutto Zardari Wednesday said that Pakistan always emphasized that the ultimate solution to the situation in Afghanistan is dialogue and diplomacy and the international community also ultimately went that route. We cannot change our neighbours and the situation in Afghanistan has a direct impact on the people of Pakistan.
In an interview with CNN television, Bilawal Bhutto said Pakistan was calling for increase in humanitarian efforts for Afghanistan and underscoring that collapse of the economy of Afghanistan should be averted.
He said the economic collapse in Afghanistan would have disastrous consequences for the people of Afghanistan. The minister said Pakistan had been worried about the increase in terrorist activity.
"We are looking to the regime in Afghanistan to play their role in discouraging the increase in terrorism. We continue to monitor the situation and are working to tackle the threat of terrorism."
"I hope that the regime in Afghanistan lives up to its international commitments regarding terrorism, women's education and their soil is not used for terrorism."
The Foreign Minister said Pakistan was working with the international community on the issue of recognition of Afghanistan and will take the decision in step with the international community.
"At the same time, we continue to advocate engagement particularly in view of the humanitarian crisis developing in Afghanistan. We believe that it is not good for the people of Afghanistan and the region if 95 percent of the people in Afghanistan descend into poverty."
If Taliban would live up to their commitments it would be easier for Pakistan to back their case for increased support for humanitarian efforts and stabilization of the Afghan economy, he noted.
Bhutto said women's rights and girls' education were not only an issue of the west but these rights were granted by Islam.
The first word in Quran was "read" and everyone in Islam had to pursue education, Bilawal said adding, "the right to education is not only a commitment between the international community and Taliban but these rights are granted by Islam."
He said Pakistan elected its first female Prime Minister Shaheed Mohtarma Benazir Bhutto twice.
To a question, he said Pakistan had consistently engaged with Afghanistan no matter who was in power in Pakistan.
Bhutto noted that the United States had direct communication and dialogue with the Taliban regime before their takeover of Kabul and there was direct agreement between the two sides.
He said the international community should look towards the future and not the past and it would not serve anybody's purpose if Afghanistan was abandoned again.
The minister said, "Combating extremism and terrorism and spreading the peaceful and progressive message of Islam and advocating human and women rights were incredibly important for myself and my party and it formed the basis of their manifesto."
Talking about the political situation in his country, Bilawal said there was a unity government in Pakistan and the political parties had come together in the larger interest to push for electoral and democratic reforms despite their diverse opinions, outlooks and manifestoes.
Source: Dunya News
Please click the following URL to read the full text of the original story:
https://dunyanews.tv/en/Pakistan/652759-Situation-in-Afghanistan-has-direct-impact-on-people-of-Pakistan:-Bilawa
--------
Suspects 'linked to Saddar IED blast' in killed in encounter
May 19, 2022
KARACHI: Two suspected militants, said to be associated with the proscribed Sindhudesh Revolutionary Army (SRA) and involved in the recent blast in Saddar, were gunned down in an alleged encounter on Wednesday, police said.
Counter-Terrorism Dep­art­ment (CTD) official Mazhar Mashwani told Dawn that the police and an intelligence agency carried out a joint raid on Mauripur Road, where Allah Dino, 28, and Nawab Ali, 26, were killed in a gun battle.
He said that the slain suspects had direct links with the head of banned SRA, Asghar Shah.
They were involved in the recent improvised explosive device (IED) blast in the busy commercial area of Saddar, he said.
On May 12, an unidentified suspect detonated an IED attached with a bicycle with the help of a remote control in the busy Saddar area killing a passer-by and injuries to several others. The banned SRA claimed responsibility of the attack targeting an official vehicle of the Pakistan Coast Guards.
The official said the CTD got information about their hideouts and it conducted a raid in the Mauripur area, where they were killed during an exchange of gunfire.
He did not divulge much detail and added that acting Inspector General of Police Kamran Fazal might share further information with the media at a press conference on Thursday (today).
The bodies of the two suspects were brought to the Dr Ruth Pfau Civil Hospital Karachi for a post-mortem examination.
Mashwani told the media there that the CTD and intelligence agencies were jointly working to trace the perpetrators of the recent blasts. He said their third accomplice managed to escape.
He claimed that explosives, remote control, detonators and two TT pistols were recovered from their hideout.
When asked about the role of the slain suspects in the Saddar blast, the CTD official said they had 'strong reasons' to believe that they were involved in the case.
'Fake encounter'
However, the Jeay Sindh Qaumi Party (JSQP) chairman, Nawaz Khan Zaur, in a statement termed the Mauripur encounter as 'fake.
"Allah Dino alias A D Rahimoon was not a terrorist but the central finance secretary of the JSQP," he said, adding that he was a resident of Chhachhro and doing a job in Hyderabad.
"He was picked up a few days ago and killed in the fake encounter," he stated.
Source: Dawn
Please click the following URL to read the full text of the original story:
https://www.dawn.com/news/1690325/suspects-linked-to-ied-blast-in-karachis-saddar-killed-in-encounter
--------
Ahmadiyya community member killed in Okara
Imran Gabol
May 19, 2022
LAHORE: Okara police on Wednesday arrested a suspect allegedly involved in killing a young man belonging to the Ahmadiyya community on Tuesday evening.
Abdul Salam, 33, a father of three, was on his way back home from the field when a seminary student, Hafiz Ali Raza alias Mulazim Husain, attacked him with a knife. The suspect stabbed Salam several times in the chest and abdomen, injuring him critically.
Victim's uncle Zafar Iqbal tried to stop the suspect but he managed his escape. Salam died instantly.
A police contingent reached the spot and shifted the body for autopsy.
Chochak police registered a case under section 302 (punishment of qatl­e­amd) and section 109 (punishment of abetment) of the Pakistan Penal Code and 7 of the Anti-Terrorism Act, 1997 on the complaint of the victim's uncle.
Salam's uncle Iqbal said Raza is believed to be a member of Tehreek-i-Labbaik Pakistan (TLP). He said Salam did not have any enmity.
He said the Ahmadi families living in Okara district were feeling highly insecure after the incident and demanded that the police arrest the suspect and provide security to their community.
Jamaat Ahmadiyya Pakistan spokesperson Saleemuddin told Dawn that attacks on Ahmadis were increasing and it had become more difficult for Ahmadis to do even basic things like running their business or going to their work.
Okara District Police Officer (DPO) Faisal Gulzar told this reporter that the suspect was taken into custody and was being interrogated.
He said initial investigation revealed the possibility of personal revenge behind the murder, however, police were also investigating the incident on religious grounds.
HRCP: The Human Rights Commission of Pakistan (HRCP) has condemned the killing.
Source: Dawn
Please click the following URL to read the full text of the original story:
https://www.dawn.com/news/1690355/ahmadiyya-community-member-killed-in-okara
--------
Army responds to disasters without fail: COAS
May 19, 2022
RAWALPINDI: Chief of Army Staff (COAS) General Qamar Javed Bajwa said on Wednesday it was the army that responds to disasters, "whether it is a flood, a hurricane, an earthquake or a tsunami, you would find army everywhere without warning".
Addressing the GHQ investiture ceremony, the army chief admitted that cholera had spread to many parts of Balochistan. "There is water shortage and the army has reached there and is serving those people, even without my knowledge. The army is providing water and relief to the affected population," he said.
Speaking at the ceremony, held to confer honours upon army personnel who had performed acts of gallantry and rendered meritorious services to the nation, Gen Bajwa said the world asked how Pakistan had succeeded against the menace of terrorism where the rest of the world had failed. "I always say that we have mothers who have sacrificed their loved ones, our sisters who have lost their husbands and the children who are ready to sacrifice their fathers in this country and as long as there are such mothers and our sisters, I am confident that no harm can come to Pak­istan," he said.
The COAS said no nation could offer compensation for the sacrifice of its martyrs. "No material power, wealth, money can be a substitute for their sacrifices. We have a responsibility to take care of the heirs of the martyrs, and their families, and also to take care of their widows and their parents while taking care of their children, which we will do, God willing. But I believe that no care and no privilege can be a substitute for sacrifices of the martyrs."
Source: Dawn
Please click the following URL to read the full text of the original story:
https://www.dawn.com/news/1690418/army-responds-to-disasters-without-fail-coas
--------
South Asia
The Taliban in Afghanistan Mediates Ceasefire Between Pakistan and Pakistani Taliban
By Saqalain Eqbal
18 May 2022
Following meetings between the two parties in Kabul on Wednesday, May 18, the Taliban in Afghanistan mediated a temporary ceasefire between Pakistan and a local Pakistani Taliban militant group.
The Pakistani Taliban, also known as the Tehreek-e-Taliban Pakistan (TTP), has been responsible for some of Pakistan's deadliest operations since 2007. TTP is not directly associated with the Afghan Taliban, but pledges allegiance to them.
"During the talks, a temporary ceasefire was also agreed upon", the Taliban spokesperson Zabihullah Mujahid wrote on Twitter, today, confirming the Kabul talks.
A TTP statement released on Wednesday also announced that talks were taking place in Kabul and that a cease-fire would be in effect until May 30.
Although General Faiz Hameed, the former director-general of ISI visited Kabul and was reported to be negotiating with the TTP, it was unclear who was representing Pakistan's government in the talks. Pakistan's foreign office spokesman did not respond to Reuters' request for clarification in this regard.
Islamabad claims that the TTP has established sanctuary in Afghanistan over the years, a claim disputed by both the Taliban and past US-backed regimes. Nevertheless, Islamabad handed over two TTP commanders to the Afghan Taliban, to be released if the talks with TTP succeeded.
Source: Khaama Press
Please click the following URL to read the full text of the original story:
https://www.khaama.com/the-taliban-in-afghanistan-mediates-ceasefire-between-pakistan-and-pakistani-taliban75879/
--------
The UN Special Rapporteur on Human Rights Visits the Foreign Minister of the Taliban
By Saqalain Eqbal
18 May 2022
Amir Khan Muttaqi, the Taliban's Acting Foreign Minister, met with Richard Bennett, the UN Special Rapporteur on the Situation of Human Rights in Afghanistan, to discuss the country's human rights situation.
The UN Special Rapporteur met with Muttaqi to discuss the purpose of his travel to Afghanistan, the assigned mission, and his work plan, according to Taliban Foreign Ministry spokesman Abdul Qahar Balkhi, who tweeted today, May 18.
Bennett is visiting Afghanistan for ten days. His visit is intended to review the human rights situation in Afghanistan and discuss the country's commitments under international human rights instruments.
The acting Taliban Foreign Minister, Muttaqi, had asked Richard Bennett to produce his report on the humanitarian situation in Afghanistan solely on documented facts, not relying on the media, biased circles, or the opinions of dissidents overseas, according to a statement released by the Taliban Foreign Ministry.
Source: Khaama Press
Please click the following URL to read the full text of the original story:
https://www.khaama.com/the-un-special-rapporteur-on-human-rights-visits-the-foreign-minister-of-the-taliban89536/
--------
Mullah Baradar Urges Afghan Traders Abroad to Invest in Country
May 19, 2022
The first deputy prime minister, Mullah Abdul Ghani Baradar, met with Afghan traders in the UAE and urged them to invest in Afghanistan.
He also said that the Islamic Emirate has provided many resources for the traders.
But the head of the Afghanistan traders council in the UAE, Obaidullah Sadarkhail, insisted that the current Afghan government provide security for the traders.
"We want you to hand over the operation of the Afghanistan airports to the UAE. We 300,000 Afghans are living here," he said.
The Afghan traders in the UAE also said that they should be provided with visas for their business activities.
Farid Rohani, an Afghan trader in the UAE, said he will invest in the agriculture and energy sector in the country.
"The Afghan traders have shown interest in investing in energy and agriculture in Afghanistan. There should be some measures for their security," he said.
The Afghanistan Chamber of Commerce and Investment (ACCI) said the surge in investment inside the country would boost economic development.
"We call on them to come back and invest here as it is their homeland and country," said Mohammad Younus Momand, head of the ACCI.
Source: Tolo News
Please click the following URL to read the full text of the original story:
https://tolonews.com/business-178076
--------
Ankara Gathering: Afghan Political Figures Gather in Turkey
By Saqalain Eqbal
18 May 2022
Last night, 17th May, a group of prominent Afghan political figures gathered in Turkey to discuss topics regarding Afghanistan and the present situation in the country.
Ehsan Niro, a spokesperson for the National Islamic Movement Party, confirmed the news, stating that significant political leaders from Turkey and other regions had traveled to Ankara to attend the gathering.
According to Niro, the discussion focused on solutions to Afghanistan's current predicaments.
He stated that the party leaders had previously communicated and that this conference is the first time they have come together to develop a serious and cohesive approach and plan.
Source: Khaama Press
Please click the following URL to read the full text of the original story:
https://www.khaama.com/ankara-gathering-afghan-political-figures-gather-in-turkey43456/
--------
We have open communication channels with India, says Taliban's Abdul Qahar Balkhi
May 18, 2022
In his first-ever interview with an Indian media organisation, Taliban foreign ministry spokesman Abdul Qahar Balkhi has said that the Taliban have "open communication channels with India'.
Speaking to WION's Principal Diplomatic Correspondent, Sidhant Sibal, Balkhi said India can "at least open consular section of the embassy in line with the international practices" in Kabul because "we live in an inter-connected world where world citizens, especially Afghans who have suffered from four-decade war need to address their education, medical, business and other needs."
Notably, India closed its embassy after the Taliban took over Afghanistan in August last year. But despite that, India has sent wheat and vaccines to Afghan people in the past few months.
New Delhi had committed to provide 50,000 MT of wheat to Afghanistan, which was sent overland via Pakistan.
On Afghan students keen to go back to India to complete education, the Taliban foreign ministry spokesman said that they have requested "India to provide them with necessary facilities to help them return to complete their courses."
Few excerpts
WION: How do you see the ties with India?
Abdul Qahar Balkhi: We seek positive relations with all countries, including India, based on mutual respect and interests.
WION: Have you been in touch with the Indian side? If yes, then how many times. Both India and the Taliban have had two meetings publicly, which is known
Abdul Qahar Balkhi: We have open communication channels with India and have met with their representatives on multiple occasions.
WION: India supplied wheat and vaccines to the Afghan people, how do you see this gesture?
Abdul Qahar Balkhi: We appreciate the humanitarian assistance provided to the Afghan people by India and see it as a goodwill gesture towards Afghanistan.
WION: How were the modalities of wheat discussed? Did you request India?
Abdul Qahar Balkhi: India offered to provide wheat as Afghanistan faced a challenging winter due to international sanctions. We will always remember those who helped Afghanistan in times of our need.
WION: What is your view on the Chabahar port, whose one of the key aims is to connect India with Afghanistan?
Abdul Qahar Balkhi: We support all regional connectivity projects and believe that the potential for regional and in turn international prosperity cannot materialise unless Afghanistan serves as a hub for regional connectivity and economic activity.
WION: How are the Indian projects in Afghanistan, like the India-Afghanistan friendship dam, or other community projects faring.
Abdul Qahar Balkhi: All projects whether by India or otherwise that serve the interests of the Afghan people are being maintained and those that are left half-done, we urge all countries, including India, to complete them to enhance friendship between our nations and prevent investments from going to waste.
WION: Are you looking forward to the day India opens its mission in Kabul? Have you requested New Delhi in this regard during any of the conversations that have taken place?
Abdul Qahar Balkhi: Yes, the Government of Afghanistan has urged all countries to reopen their embassies in order to address mutual interests and concerns via direct channels in a timely manner. But if they have reservations about complete re-openings, they can at least consider opening the consular section of the embassy in line with international practices, because we live in an inter-connected world where world citizens, especially Afghans who have suffered from the four-decade war need to address their education, medical, business and other needs.
WION: How are the people-to-people relations? A number of Afghan students are keen to come back to India.
Abdul Qahar Balkhi: For the better part of history, both nations and peoples have had good relations, and the current Government of Afghanistan continues to believe in maintaining positive relations with India. There are thousands of Afghan students who are either at the beginning of their academic year or in the last semester who have been unable to finish their studies. We have requested India to provide them with the necessary facilities to return to complete their courses.
WION: Many believe that since the Taliban enjoy close ties with Pakistan, it would be extremely difficult to have as good ties with India
Abdul Qahar Balkhi: This concept is not based on real-world practices. Having good relations with two countries that themselves have troubled relations among themselves does not mean a third country cannot maintain positive relations with both at the same time, especially in a country like Afghanistan where the foreign policy of the new government follows the principle of balance and neutrality.
Source: WIO News
Please click the following URL to read the full text of the original story:
https://www.wionews.com/south-asia/we-have-open-communication-channels-with-india-says-talibans-abdul-qahar-balkhi-480148
--------
Europe
Belarus introduces death penalty for 'attempted' terrorism
May 18, 2022
MOSCOW: Belarus has introduced the death penalty for attempts to carry out acts of terrorism — charges faced by exiled opposition leader Svetlana Tikhanovskaya, who on Wednesday joined the United States in denouncing the decision.
Belarus — a close ally of Russia that has supported its military offensive in Ukraine — is the only country in Europe that continues to carry out executions despite calls for a moratorium.
"Lukashenko signed a law on the possibility of the death penalty for an attempted terrorist act," Russia's state news agency RIA Novosti reported on Wednesday, citing an online government portal for legal information in Belarus.
It said the law would come into force 10 days after its publication.
Two years ago, Belarus faced historic protests against the re-election of strongman leader Alexander Lukashenko, who has ruled the ex-Soviet country with an iron fist for more than two decades.
Thousands of activists were arrested in the crackdown and the key leaders of the opposition movement are now either jailed or in exile.
Among them is Tikhanovskaya, a political novice who ran against Lukashenko in the August 2020 polls in place of her jailed husband.
She now leads the Belarusian opposition from exile in Lithuania, while her husband Sergei Tikhanovsky is serving 18 years in prison on what supporters say are politically motivated charges.
Last March, Belarusian prosecutors charged Tikhanovskaya in absentia with "preparing acts of terrorism as part of an organized group," according to Belarusian state news agency Belta.
Tikhanovskaya on Wednesday denounced the decision of the "lawless regime" to expand the use of the death penalty, saying it targeted anti-government activists.
"This is a direct threat to activists opposing the dictator and the war," Tikhanovskaya tweeted.
"I urge the international community to react: sanction lawmakers and consider any tools to prevent the political killings," she added.
The United States condemned the legislation, calling it a desperate move by Lukashenko to retain power.
"These actions are those of an authoritarian leader desperate to cling to power through fear and intimidation," said Secretary of State Antony Blinken.
Belarus and its leadership are already under a litany of Western sanctions over its handling of the opposition protests and over its support for Moscow's military campaign in Ukraine.
But many opposition activists remain behind bars in Belarus awaiting trial.
On Wednesday, a Belarusian court in the north-western city of Grodno started a closed-door hearing in the case against 12 activists accused of "preparing acts of terrorism," according to Belarusian rights group Vyasna.
Among them is veteran activist Nikolai Avtukhovich, who has already served more than seven years in prison. The 59-year-old faces other charges, including treason.
The activists are accused of setting a policeman's home and car on fire, and burning another policeman's car in the autumn of 2020.
Capital punishment in Belarus — carried out by shooting — is highly secret and there are no official statistics.
The country's last known death sentence was carried out against Victor Pavlov, who was arrested in January 2019 on suspicion of murder and larceny, according to the UN Human Rights Committee.
Source: Arab News
Please click the following URL to read the full text of the original story:
https://www.arabnews.com/node/2084891/world
--------
Turkey's Erdogan links Sweden NATO bid to return of 'terrorists'
18 May ,2022
President Recep Tayyip Erdogan said on Wednesday Sweden should not expect Turkey to approve its NATO bid without returning "terrorists," and Swedish and Finnish delegations should not come to Turkey to convince it to back their membership in the alliance.
Earlier, Finland and Sweden formally applied to join the NATO alliance, a decision spurred by Russia's invasion of Ukraine, with the accession process expected to take only a few weeks despite Turkey's objections.
Ankara says Sweden and Finland harbor people it says are linked to groups it deems terrorists, namely the Kurdistan Workers Party (PKK) militant group and followers of Fethullah Gulen, whom Ankara accuses of orchestrating a 2016 coup attempt.
"We have such a sensitivity as protecting our borders from attacks by terrorists organizations," Erdogan told lawmakers from his ruling AK Party in parliament.
Erdogan said NATO allies had never supported Turkey in its fight against Kurdish militant groups, including the Syrian Kurdish YPG, which Ankara also views as a terrorist group closely tied to the PKK.
"NATO expansion is only meaningful for us in proportion to the respect that will be shown to our sensitivities," he said.
Turkish state broadcaster TRT Haber said on Monday Sweden and Finland had not granted approval for the repatriation of 33 people that Turkey requested.
"So you won't give us back terrorists but you ask us for NATO membership? NATO is an entity for security, an organization for security. Therefore, we cannot say 'yes' to this security organization being deprived of security," Erdogan said.
Erdogan also accused NATO allies of supporting terrorists, citing their arms deliveries for the YPG, a main source of disagreement between Ankara and Washington, as well as other Western countries.
In 2019, Ankara received little international backing for its plans to build a safe zone in northern Syria, including settling one million Syrians in part of northeast Syria that Turkey and its Syrian allies seized from the YPG.
Erdogan called on NATO members to support Turkey's "legitimate" and "moral" operations in Syria, including the safe zone, or "at least do not try to trip us up."
Erdogan has also said Turkey would oppose the NATO bids from those who imposed sanctions on Ankara. Sweden and Finland had banned arms exports to Turkey after its Syria incursion against the YPG in 2019.
NATO and the US have said they were confident Turkey would not hold up the two Nordic countries' membership.
Source: Al Arabiya
Please click the following URL to read the full text of the original story:
https://english.alarabiya.net/News/middle-east/2022/05/18/Turkey-s-Erdogan-links-Sweden-NATO-bid-to-return-of-terrorists-
--------
Paris court indicts Lafarge for 'complicity in crimes against humanity' in Syria
Cindi Cook
18.05.2022
PARIS
A Paris court on Wednesday indicted the French company Lafarge for their "complicity in crimes against humanity" in Syria, local media reported.
According to French news outlet France24, the Court of Cassation – France's highest court – had overturned in September 2021 a decision by a lower court to dismiss charges against the cement maker for wrongdoings in Syria's civil war.
Lafarge is a French industrial company that specializes in cement, concrete, and construction aggregates. They were accused of paying almost €13 million ($13.68 million) to foreign groups there, including the terrorist group ISIS/Daesh, to maintain their factory presence in the city of Jalabiya in northern Syria during the civil war.
CEO Bruno Laffont along with eight Lafarge executives are also charged in the case. The formal complaints are financing a terrorist group and endangering the lives of others.
In 2019, the Paris Court of Appeals had dismissed the charges over crimes against humanity, accepting the defense that payments made by Lafarge were not used in aiding or abetting the war effort. The other charges stood though, including that of violating an EU embargo.
Lafarge denies any wrongdoing in the allegations that they negotiated with terrorist groups and has continued to fight all charges.
Documents obtained and published by Anadolu Agency earlier had revealed that the Lafarge constantly informed the French intelligence agencies about its ties with the Daesh/ISIS terror group.
Source: Anadolu Agency
Please click the following URL to read the full text of the original story:
https://www.aa.com.tr/en/europe/paris-court-indicts-lafarge-for-complicity-in-crimes-against-humanity-in-syria/2591562
--------
North America
US Takes Control of the Afghan Consulate and Embassy
18 May 2022
The State Department announced Tuesday that the US had taken control of Afghanistan's embassy in Washington as well as its consulates in New York and California.
The State Department announced on Monday that it had taken "sole responsibility" for the security and maintenance of the diplomatic missions, and that no one could access them without its authorization until further notice.
The US does not recognize the new Taliban administration in Afghanistan, which came to power last year after American and allied troops withdrew, and does not have formal diplomatic relations with the country.
The Afghan embassy and consulate closed at 12:00 noon on Wednesday, March 16 and was handed over to US State Department officials during a brief ceremony at the Afghan embassy in Washington DC.
According to a department official, the US took control of the facilities after reaching an arrangement with former Afghan government ambassadors who were facing "severe financial constraints that made continued operations unsustainable." The move, according to the official, did not reflect a shift in US policy toward Afghanistan and had no bearing on the Afghan UN mission.
Source: Khaama Press
Please click the following URL to read the full text of the original story:
https://www.khaama.com/us-takes-control-of-the-afghan-consulate-and-embassy57493/
--------
Bush mistakenly calls Iraq invasion 'brutal, unjustified'
May 19, 2022
Former United States President George W. Bush mistakenly described the invasion of Iraq as "brutal" and "unjustified" before correcting himself to say he meant to refer to Russia's invasion of Ukraine.
Bush made the comments in a speech during an event in Dallas on Wednesday, while he was criticising Russia's political system.
"The result is an absence of checks and balances in Russia, and the decision of one man to launch a wholly unjustified and brutal invasion of Iraq," Bush said, before correcting himself and shaking his head. "I mean, of Ukraine."
He jokingly blamed the mistake on his age as the audience burst into laughter.
In 2003, when Bush was president, the United States led an invasion of Iraq over weapons of mass destruction that were never found. The prolonged conflict killed hundreds of thousands of people and displaced many more.
Bush's remarks quickly went viral on social media, gathering over three million views on Twitter alone after the clip was tweeted by a Dallas News reporter.
Source: Dawn
Please click the following URL to read the full text of the original story:
https://www.dawn.com/news/1690448/bush-mistakenly-calls-iraq-invasion-brutal-unjustified
--------
US, Turkiye 'committed to working closely' to face challenges
Michael Hernandez
18.05.2022
WASHINGTON
The US and Turkiye are "committed to working closely together to face current geopolitical challenges," the nations said Wednesday.
A joint statement issued after a meeting between Secretary of State Antony Blinken and Turkish Foreign Minister Mevlut Cavusoglu said the top diplomats "intend to deepen bilateral cooperation through constructive and open dialogue as envisioned by the U.S. Turkey Strategic Mechanism."
"They discussed ways and assessed concrete steps to enhance their cooperation on defense issues, counterterrorism, energy and food security, combatting climate change and boosting trade ties, while agreeing to intensify consultations on a range of regional issues," it said. "They also reiterated their support for Ukraine's sovereignty and territorial integrity against Russia's unacceptable war. Within this framework, the United States and Turkey reaffirmed their support to find a solution to end the war."
Cavusoglu said earlier that talks with the US regarding the sale of F-16 jets to Ankara were progressing positively.
The top Turkish diplomat referred to a State Department letter to the US Congress which said the delivery of the jets "is not only important for Turkiye, but for the US."
"I can say that our negotiations and the meetings are going on positively, and the Congress should work on it as well," Cavusoglu told reporters.
The Turkish government requested the F-16s and modernization kits in October 2021. The $6 billion deal would include the sale of 40 newly built F-16V fighter jets and modernization kits for 80 F-16 C/D models that the Turkish Air Forces has in its inventory.
Commenting on Finland and Sweden's NATO membership bids, Cavusoglu said Turkiye's security concerns should be met.
"We have also legitimate security concerns that they have been supporting terrorist organizations," he Cavusoglu, adding that another issue was export restrictions on Turkish defense products.
"We already expressed our concerns and I had a candid and direct talk with two colleagues," he said.
Hours later, US National Security Advisor Jake Sullivan voiced confidence that Turkiye's "concerns can be addressed."
"Finland and Sweden are working directly with Turkey to do this, but we're also talking to the Turks to try to help facilitate," Sullivan told reporters at the White House.
Source: Anadolu Agency
Please click the following URL to read the full text of the original story:
https://www.aa.com.tr/en/americas/us-turkiye-committed-to-working-closely-to-face-challenges/2591890
--------
Saudi-US defence delegations review ties, discuss future cooperation
May 19, 2022
RIYADH: Prince Khalid bin Salman, Saudi Arabia's deputy minister of defense, on Wednesday met the US Secretary of Defense Lloyd Austin in Washington, the Saudi Press Agency reported.
The pair reviewed the Saudi-US partnership, and ongoing and future strategic military and defense cooperation between the Kingdom and US.
Prince Khalid expressed Saudi Arabia's appreciation for the close cooperation between the two countries' defense bodies to achieve the two sides' common interests and enhance security and peace regionally and internationally.
He also said that the meeting was organized based on Saudi Crown Prince Mohammed bin Salman's directives.
Prince Khalid and US Undersecretary of Defense for Policy Colin Kahl, then, co-headed the Saudi-US joint strategic planning committee meeting.
The meeting discussed regional and international developments, and a number of issues on defending common interests and global security and stability.
Source: Arab News
Please click the following URL to read the full text of the original story:
https://www.arabnews.com/node/2085126/saudi-arabia
--------
Southeast Asia
Singapore Denies Entry To Muslim 'Hate' Preacher Abdul Somad Batubara
By Katharina R. Lestari
May 18, 2022
An Indonesian Muslim cleric has been denied entry into Singapore because of "extremist and segregationist teachings" that target other religions, including Christians.
Abdul Somad Batubara, who boasts a large online following in Indonesia, was stopped and refused entry at Singapore's Tanah Merah Ferry Terminal on May 16 after arriving from Batam in Indonesia's Riau Islands with his family.
He and his group were sent back to Batam the same day.
In a short video posted on his YouTube channel on May 17, he said his visit was for a holiday, not for religious purposes.
"They gave me no explanation for refusing me entry before we were sent back on the last ferry that day," he said, adding that he was once denied entry into Timor Leste in 2018 over a terrorism allegation.
Singapore's Ministry of Home Affairs later said Somad was turned away as he was considered a security risk.
"Somad has been known to preach extremist and segregationist rhetoric, which are unacceptable in Singapore's multi-racial and multi-religious society," the ministry said in a statement posted on its website on May 17.
The ministry said he has denigrated members of other faiths, and pointed to him once describing the Christian crucifix as the dwelling place of demons and publicly referred to non-Muslims as infidels.
In 2019, Somad came under fire over a video uploaded on social media in which he referred to Christ as an "infidel on a cross" and called the cross a "symbol of the devil."
He was answering a question from a woman who had asked why she shivered when she saw a cross.
His answer sparked anger among Christians across Indonesia that saw Catholic university students in East Nusa Tenggara province stage a protest to demand his arrest.
Vincentius Hargo Mandirahardjo, chairman of the Jakarta-based Association of Indonesian Catholic Intellectuals, said Singapore's entry refusal of Somad came as no surprise.
Source: UC News
Please click the following URL to read the full text of the original story:
https://www.ucanews.com/news/singapore-denies-entry-to-muslim-hate-preacher/97308
--------
Selangor Islamic authority allows those with incomplete vaccination to attend 'nikah'
By Zarrah Morden
Thursday, 19 May 2022
KUALA LUMPUR, May 19 — The Selangor Islamic Religious Department (Jais) said on its Facebook page that individuals who have not completed their vaccinations are now allowed to attend akad nikah or wedding solemnisation ceremonies starting May 16.
The state Islamic authority said attendance depends on three conditions: that they are not Covid-19 positive, not under Home Surveillance Order (HSO), or that they are not newly arrived citizens who have not completed their vaccinations.
"There is no attendance limit for individuals who have completed their Covid-19 vaccination as specified by the Health Ministry (MoH).
"Akad nikah ceremonies are allowed to be carried out at Jais, district Islamic religious departments, mosques, surau, houses, or any halls," the infographic posted by Jais explained.
Jais also reminded its followers to observe Covid-19 regulations (SOP) set by the MoH.
The loosening of restrictions surrounding akad nikah ceremonies is an example of the nationwide rolling back of restrictions in Malaysia's journey to endemicity.
Since May 1, masks are no longer required for outdoor use, but are still strongly recommended in crowded areas.
Source: Malay Mail
Please click the following URL to read the full text of the original story:
https://www.malaymail.com/news/malaysia/2022/05/19/selangor-islamic-authority-allows-those-with-incomplete-vaccination-to-attend-nikah/7592
--------
Will you step down as MP to be envoy, Maria asks Tajuddin
Reshna Reem Ganesan and Sean Augustin
May 18, 2022
PETALING JAYA: A PKR MP has questioned if the newly named ambassador to Indonesia, Tajuddin Abdul Rahman, will step down as Pasir Salak MP.
"I feel that he (Tajuddin) needs to explain his decision to his constituents and the nation on whether he will give up his being an MP to take up this post. It is irresponsible," said Petaling Jaya MP Maria Chin Abdullah.
She said Tajuddin lacked foresight if he did not think about his voters, especially with the government allocation he had received.
"He is obliged to see his duties through and put the needs of the people first. He can't just drop them," she told FMT.
Noor Farida Mohd Ariffin, who is part of the G25 group of former civil servants, shared similar sentiments and wondered whether the government had thought about it before submitting Tajuddin's candidacy to the Indonesian government.
"As an ambassador, he will be living outside Malaysia and consequently, he will be leaving his constituents without an MP to represent their interests in parliament," said the former ambassador to the Netherlands.
She also pointed out that other MPs, like the late Rompin MP Jamaluddin Jarjis and former Ranau MP Bernard Dompok, had failed to perform their duties as MPs when they were appointed ambassadors to the US and Holy See, respectively.
Yesterday, Tajuddin confirmed that he would be the new ambassador to Indonesia. The post has been vacant since Zainal Abidin Bakar retired on April 4, 2021.
The controversial MP was removed from his post as Prasarana chairman last May, just days after his much-criticised press conference following a collision involving two LRT trains.
His appointment as the ambassador to Indonesia drew brickbats from opposition MPs and former diplomats alike.
Calling it a "crony appointment", Klang MP Charles Santiago questioned Tajuddin's background to qualify for the post.
"These political appointments have been around for some time, but they need to serve the best interest of the country," he said.
Source: Free Malaysia Today
Please click the following URL to read the full text of the original story:
https://www.freemalaysiatoday.com/category/nation/2022/05/18/will-you-step-down-as-mp-to-be-envoy-maria-asks-tajuddin/
--------
Prosecution closes case in Bung Moktar, wife corruption trial
May 17, 2022
KUALA LUMPUR: The prosecution in the corruption case of Kinabatangan MP Bung Moktar Radin and wife Zizie Izette Abdul Samad closed its case today after calling 30 witnesses.
The last prosecution witness was Malaysian Anti-Corruption Commission (MACC) assistant superintendent, Norsharil Saharom, 37.
Sessions court judge Rozina Ayob ordered the prosecution and defence to file their written submissions on or before June 17.
She also set June 24 for both parties to give their oral submissions before deciding whether the couple would be acquitted or ordered to enter their defence over corruption charges amounting to RM2.8 million to obtain approval for Felcra Berhad to invest RM150 million in Public Mutual Berhad unit trust.
Deputy public prosecutor (DPP) Law Chin How appeared for the prosecution together with DPP Faridz Gohim Abdullah and Mohd Sophian Zakaria. Bung Moktar was represented by counsel M Athimulan and Zizie Izette was represented by K Kumaraendran and Ridha Abdah Subri.
Law also informed the court that eight prosecution witnesses were offered to the defence among them were Felcra officer Mariah Husain, Felcra board member Ismail Kasim, Public Bank's Taman Melawati branch clerk Nor Azreen Rosli and MACC forensic officer Badri Azni.
Kumaraendran said the defence did not need the witnesses offered by the prosecution at the moment.
The trial began on Jan 2, 2020, and among the prosecution witnesses called to give their statements were former Felcra investment general manager Adnan Yusof, Felcra board member Dr Habibah Suleiman as well as two Public Mutual investment agents, Madhi Abdul Hamid and Norhaili Ahmad Mokhtar.
Earlier, Norsharil and two assistant MACC superintendents Hazlina Rahmat, 41, and Saiful Amir Hamzah, 33, told the court that both investment agents, Madhi and Norhaili were not threatened, forced or promised anything to give their statements at MACC headquarters, Putrajaya, in 2016 and 2018.
Hazlina, who was the 28th witness, said Norhaili was good, healthy, friendly and did not complain of anything to him, including threats, during the recording of their conversation in 2016.
Replying to a question by Law, the witness said Norhaili was allowed to eat, drink and rest during the recording of the conversation. Norhaili was also allowed to pray at the surau.
Saiful Amir, who was the 29th prosecution witness, said the condition of the recording room where Norhaili's statement was recorded in 2018 was comfortable with two chairs for the witness and the recording officer. He also denied that Norhaili was threatened and forced to give a statement.
"The room has no windows but has a mirror and a door. I recorded Norhaili's statement in the room according to the instructions of the MACC director-general then and Norhaili understood each question asked," he said during an examination-in-chief by Law.
Meanwhile, Norsharil told the court that he was alone when recording the conversation with Madhi in the room, and there were no threats or force to get the investment agent to give his answers as required.
Asked by Mohd Sophian whether Madhi was in fear and was worried during the recording of the statement, Norsharil replied: "None at all as the witness was allowed to pray and go out of the recording room."
On May 3, 2019, Bung Moktar, 64, was charged with two counts of receiving bribes amounting to RM2.2 million and RM262,500, as gratification to obtain Felcra's approval to make a RM150 million investment in Public Mutual unit trust.
Bung Moktar is accused of receiving bribes from Public Mutual investment agent Madhi via Zizie Izette at the Taman Melawati branch Public Bank here between 12.30pm and 5pm, on June 12, 2015.
Source: Free Malaysia Today
Please click the following URL to read the full text of the original story:
https://www.freemalaysiatoday.com/category/nation/2022/05/17/prosecution-closes-case-in-bung-moktar-wife-corruption-trial/
--------
Arab World
'Conflict, destruction' prevent return to Iraq's Yazidi heartland: Report
18 May ,2022
Violence and sluggish reconstruction have prevented the return to Iraq's northwestern town of Sinjar of its predominantly Yazidi population after the abuses of extremist rule, the Norwegian Refugee Council (NRC) said in a report Wednesday.
Five years after the defeat of ISIS terrorist group, which committed massacres against the Yazidis and used their women as sex slaves, the town's Yazidi, Muslim Kurdish and Arab residents are no closer to returning home, especially after a surge in violence earlier this month.
The aid group said that "nearly two-thirds of Sinjar's population - over 193,000 Yazidis, Arabs, and Kurds - remain displaced."
The Yazidis are a Kurdish-speaking minority who were persecuted by ISIS for their non-Muslim faith after its capture of the town in 2014.
"Widespread destruction of civilian houses, new clashes, and social tensions" are preventing returns, NRC said in a report.
Out of 1,500 people surveyed by the aid group to determine how decisions to return home are made, about 64 percent "said their homes were heavily damaged."
"A staggering 99 percent of those who applied for government compensation had not received any funding for damaged property," it said.
"Families from Sinjar remain in displacement, with thousands still living in camps," NRC's country director for Iraq, James Munn, said.
"We need durable solutions put in place so Iraqi families can once again start living their lives and plan for a safer future."
The aid group called on the Iraqi government and the authorities in the autonomous Kurdistan region to "prioritize the rehabilitation of infrastructure and the restoration of services to allow for safe housing, land, and property, alongside public infrastructure."
Some "80 percent of public infrastructure and 70 percent of civilian homes in Sinjar were destroyed" during the conflict years ago, the NRC said.
In early May, fighting broke out between Iraqi troops and Yazidi fighters affiliated with Turkey's banned Kurdistan Workers' Party (PKK), killing at least one Iraqi soldier.
Source: Al Arabiya
Please click the following URL to read the full text of the original story:
https://english.alarabiya.net/News/middle-east/2022/05/18/-Conflict-destruction-prevent-return-to-Iraq-s-Yazidi-heartland-Report
--------
Egypt Hands Down Death Sentence For Coptic Priest's Murder
18 May ,2022
An Egyptian court on Wednesday sentenced to death a man accused of the murder last month of a Coptic priest in the Mediterranean city of Alexandria, judicial sources said.
The Alexandria court's ruling is subject to approval by the mufti of the republic.
The sources said the defendant was found guilty of voluntary homicide after a court-ordered psychological assessment found him "responsible for his actions."
Father Arsanios Wadid died of his wounds in hospital after being stabbed on April 7 on Alexandria's seafront promenade as he accompanied a group of young parishioners.
Source: Al Arabiya
Please click the following URL to read the full text of the original story:
https://english.alarabiya.net/News/middle-east/2022/05/18/Egypt-hands-down-death-sentence-for-priest-s-murder
--------
Lebanon's new parliamentary line-up a 'double-edged sword' for economy: Expert
18 May ,2022
Lebanon's new parliamentary line-up is a "double-edged sword," an economist told Al Arabiya English on Wednesday, raising concerns about the ability MPs will have to initiate real change and help the country finally exit the long-running economic and financial crisis.
"We look at the new parliamentary lineup as a double-edged sword. On one hand, the rise in pro-western and pro-GCC forces, in addition to "change forces," could entail positive elements for the openness of the country to the global financial community and could have positive effects on securing potential much-needed international aid," said Marwan Barakat, Chief Economist and Head of Research at Bank Audi.
"On the other hand, the parliamentary elections lead to a much-fragmented parliament, with no one being able to call the majority, and with the presence of a large number of blocks and independent MPs," he explained
Divide and rule
The results of Lebanon's parliamentary elections were released by the country's interior ministry on Tuesday. While the Iran-backed Hezbollah group and its allies lost their parliamentary majority – some to independent candidates – many MPs from traditional political parties remained, and so did two lawmakers charged in connection with the 2020 Beirut Port blast.
Independent candidates won at least 13 seats in the new parliament, making unprecedented gains.
The reformists, who campaigned on the legacy of a 2019 anti-establishment protest movement, could yet obtain the support of several other independent and non-aligned lawmakers in the 128-member assembly. Twelve of the thirteen reformist candidates are newcomers. They campaigned against Lebanon's ruling elite, composed of sectarian parties that have ruled the country since the end of the civil war in 1990.
Many Lebanese blame the entrenched political elite for the country's economic collapse in 2019 and for failing to take measures to stop it.
"While such a new reality is good for checks and controls, it yet also means that it would be difficult to have agreement on major political milestones and legislation," said Barakat, highlighting that this puts the International Monetary Fund's (IMF) plan in jeopardy.
"There is a risk that the prior actions required by the IMF for a final agreement with Lebanon on an extended fund facility would not be easily ratified by such a fragmented parliament," he noted, adding that the possibility of failing to disagree on Cabinet formation and presidential elections exists. "[This] suggests possible fears that Lebanon could enter into a harmful vacuum at the level of its political and executive leadership."
In April, Lebanon reached a draft agreement with the IMF for a four-year $3 billion bailout, the final approval of which was conditional on the implementation of eight main requirements.
Seen as crucial for Lebanon to emerge from the devastating years-long financial crisis, a lot of hope is riding on the IMF program to initiate change in the country.
"It is very important to reduce differences and divergences on key issues [in parliament], foster coordination and convergence and search for common grounds among the various blocks and parties represented in Parliament," he said.
Unclear economic outlook
Bank Audi, a major financial group in Lebanon, released its quarterly report last week, predicting a highly uncertain economic outlook this year.
"2022 started with a number of noticeable developments in the country, namely the realization of a staff-level agreement with the IMF, the end of the diplomatic crisis with GCC countries and the countdown for critical parliamentary and presidential elections," Barakat said, when asked about the report's findings.
"Still, the real economy's outlook for 2022 is highly uncertain and is contingent upon the upcoming political milestones, the realization of a final agreement with the IMF, the launch of structural reforms and the securing of international assistance from abroad," the chief economist said, adding that real growth could deviate between a contraction of -6.5 percent, as projected by the World Bank for 2022, to an expansion of +2.5 percent as projected by the Institute of International Finance (IIF).
Source: Al Arabiya
Please click the following URL to read the full text of the original story:
https://english.alarabiya.net/News/middle-east/2022/05/18/Lebanon-s-new-parliamentary-line-up-a-double-edged-sword-for-economy-Expert
--------
Egypt removes all mosque restrictions amid Brotherhood criticism
Baher al-Kady
May 18, 2022
CAIRO — In a step to restore the situation to pre-pandemic conditions, Egypt's Ministry of Endowments issued a decision to reopen mosques at full capacity, from dawn prayer until evening, starting May 6.
During a press conference held at the ministry's headquarters in downtown Cairo May 6, Endowment Minister Muhammad Mukhtar Gomaa announced several decisions, including reopening mosques from 9 a.m. until evening prayers, resuming Sharia courses and Quran reciting for men and women held in mosques, intensifying courses as before the coronavirus pandemic, allowing visits to shrines outside prayer times, reopening the Islamic Cultural Center and the holy Quran memorization centers across the country, setting specific schedules for Quranic reciters in mosques and reopening the square of Imam Hussein Mosque throughout the day.
The ministry's decision to open all mosques at full capacity comes after scathing comments by the Muslim Brotherhood in the last 10 days of the holy month of Ramadan, when the ministry decided to suspend the Tahajjud and Itikaf prayers in mosques to try and limit the coronavirus spread among worshippers.
The decision caused an uproar on social media among Muslim Brotherhood supporters who condemned it as restrictions on worshippers who were not able to pray during the last 10 days of Ramadan.
Amid the scathing comments, the ministry was prompted to calm public opinion by retracting on the decision, allowing the performance of the Tahajjud prayers during nighttime on the 27th night until the last night of Ramadan, i.e., for three days only. This step was also not welcomed by the Brotherhood supporters, who continued to express their discontent with the ministry's measures.
Ahmed Karima, preacher at Al-Azhar and professor of comparative jurisprudence at Al-Azhar University, defended the ministry's decision to ban nighttime prayers, stressing in televised statements April 26 that it is within the Ministry of Endowments' remit to organize the mosques' work and affairs, and the ministry follows the Cabinet's instructions in relation to crisis management at the level of the homeland, including measures to face epidemics.
According to Gomaa, the ministry took the decision to reopen mosques following the last meeting of the Cabinet's Epidemiological Crisis Management Committee, which met before Ramadan to discuss the possibility of further reopening of public spaces.
Gomaa said during his May 6 press conference that the committee voiced concerns of opening mosques at full capacity during Ramadan. The plan, however, was to further open up the country after the fasting month, given the low number of COVID-19 cases, with mosques being the first to resume normal activity.
He noted that Al-Sayyida Nafisa Mosque would be the first to reopen from 9 a.m. until after the evening prayers, and during the early hours of dawn for dawn prayers as was the case prior to the coronavirus pandemic. He said that religious courses at the mosque would also resume starting with lessons of the afternoon prayers on Fridays.
The Tahajjud prayer is performed after the evening prayer and before the dawn prayer, usually during the last third of the night.
"These decisions come under the directives of President Abdel Fattah al-Sisi, and his interest in building the houses of God and to provide the appropriate spiritual atmosphere for the Egyptian people. The ministry's decisions were run by the Cabinet, which approved them swiftly," Gomaa said.
According to previous statements by Gomaa, Egypt has 140,000 mosques.
Abdullah al-Naggar, member of the Islamic Research Academy, one of the bodies affiliated with Al-Azhar Foundation, said that the decision to reopen mosques at full capacity reflects the Egyptian state's particular interest in mosques.
He told Al-Monitor that this decision "will silence all Sunni supporters of the terrorist Muslim Brotherhood who spread malicious rumors that the state is restricting worshippers," stressing that the government is doing its best to organize the work of mosques at all levels, whether in terms of preaching or opening more mosques.
"President Sisi attaches great importance to the preaching activity in mosques, and the [ministry's] decision should further reassure the Egyptian people in relation to the significant decrease in numbers of infections," Naggar said.
On May 7, in its daily statements on the numbers of infections, the Egyptian Health Ministry announced that the average daily number of coronavirus cases reached eight, with the average death toll reaching four cases only. The statement added that the number of daily recoveries was 20, and that the number of vaccinated people was 34,508,460 so far.
Osama al-Hadidi, executive director of Al-Azhar Global Center for Electronic Fatwas, praised the decision of the Ministry of Endowments to reopen mosques at full capacity, stressing that this decision represents a great joy for Egyptian Muslims, and is further proof of the declining number of coronavirus infections in Egypt. He expressed his wishes of seeing life fully return to normal across the world.
Source: Al Monitor
Please click the following URL to read the full text of the original story:
https://www.al-monitor.com/originals/2022/05/egypt-removes-all-mosque-restrictions-amid-brotherhood-criticism
--------
Hezbollah chief Nasrallah acknowledges loss of Lebanon parliamentary majority
18 May ,2022
The leader of Lebanon's Iran-backed Hezbollah Hassan Nasrallah acknowledged his party and its allies had lost their parliamentary majority in elections but said no single group had taken it, in his first televised speech since Sunday's election.
"Unlike the situation in parliament in 2018, no political group can claim a majority," he said.
Hezbollah and its allies scored 62 seats during Sunday polls, according to a Reuters tally, losing a majority they secured in 2018, when they and their allies won 71 seats.
Hezbollah and its ally Amal held on to all of parliament's Shia seats. But some of its oldest allies, including Sunni, Druze and Christian politicians, lost theirs.
The elections saw gains by the anti-Hezbollah Lebanese Forces party and more than a dozen reform-minded newcomers, as well as a smattering of independents.
The results mark a blow for Hezbollah, though Nasrallah declared the results "a very big victory."
Nasrallah called for "cooperation" between political groups including newcomers, saying the alternative would be "chaos and vacuum."
Source: Al Arabiya
Please click the following URL to read the full text of the original story:
https://english.alarabiya.net/News/middle-east/2022/05/19/Hezbollah-chief-Nasrallah-acknowledges-loss-of-Lebanon-parliamentary-majority
--------
Senate confirms Barbara Leaf to lead State Department's Middle East bureau
18 May ,2022
Barbara Leaf, the Biden administration's pick to head the State Department's Middle East bureau, was confirmed by the Senate on Wednesday after more than a year of being blocked by Republican lawmakers.
US President Joe Biden nominated Leaf, currently the White House Senior Director for Middle East and North Africa Affairs, to be the Assistant Secretary for Near Eastern Affairs in April 2021.
But political bickering and Republican opposition to Biden's early foreign policy blunders put her confirmation on hold.
Despite Leaf being a veteran diplomat, Republican Senator Ted Cruz put a blanket hold on all Biden foreign policy nominees because he disagreed with how the Iran nuclear deal was being approached and what was seen as initial appeasement of Russia by the administration.
Leaf was previously the US ambassador to the UAE and held several other senior positions at the State Department, including Deputy Assistant Secretary of State for the Arabian Peninsula and Deputy Assistant Secretary of State for Iraq.
Source: Al Arabiya
Please click the following URL to read the full text of the original story:
https://english.alarabiya.net/News/middle-east/2022/05/18/Senate-confirms-Barbara-Leaf-to-lead-State-Department-s-Middle-East-bureau
--------
Royal approval issued to hold international Qur'an writing competition
May 18, 2022
RIYADH — Custodian of the Two Holy Mosques King Salman has issued his approval to hold an international competition in writing of the Holy Qur'an next year by the King Fahd Complex for the Printing of the Holy Qur'an under the supervision of the Ministry of Islamic Affairs, Call and Guidance.
Minister of Islamic Affairs, Call and Guidance and Supervisor General of the complex Sheikh Dr. Abdullatif bin Abdulziz Al Al-Sheikh extended appreciation and gratitude to the Custodian of the Two Holy Mosques and the Crown Prince for their special care and big attention in printing, spreading and teaching the Holy Qur'an.
Al-Sheikh noted that the competition, to be held next Shaban (February 2023), aims to give an opportunity to those people distinguished in writing the Holy Qur'an, including skilful calligraphers and ensure their participation in writing the Holy Qur'an.
He said the competition will provide an opportunity to exchange expertise and opinions among calligraphers.
The minister said the conditions of the competition will be announced soon.
Source: Saudi Gazette
Please click the following URL to read the full text of the original story:
https://saudigazette.com.sa/article/620658/SAUDI-ARABIA/Royal-approval-issued-to-hold-international-Quran-writing-competition
--------
Mideast
Iranian Leader Underlines Importance of Increasing Population
2022-May-18
In a message on Wednesday, Ayatollah Khamenei appreciated the officials involved in population-related issues, saying that rejuvenating human forces and protecting the country from the aging population is a critical policy.
He added that seeking a way to protect the country from increased aging population was an important policy for the long-term future.
Making efforts to grow the population, rejuvenate human forces and protecting the family is one of the most necessary responsibilities of officials and the people, Ayatollah Khamenei said.
The Leader highlighted that honest studies have shown the policy could be moved forward while preventing conceivable damages.
He also recommended those concerned to attach importance to the culture making in public space and in the healthcare system besides legal measures.
This is not the first time that the Leader has addressed the topic of Iran's population.
Source: Fars News Agency
Please click the following URL to read the full text of the original story:
https://www.farsnews.ir/en/news/14010228000849/Iranian-Leader-Underlines-Imprance-f-Increasing-Pplain
--------
Israel activates missile defences near Lebanon after misidentification
19 May ,2022
Israel activated its missile defenses on Thursday after mistakenly identifying a threat near the border with Lebanon, the Israeli military said.
The incident also set off air raid sirens in parts of northern Israel.
Source: Al Arabiya
Please click the following URL to read the full text of the original story:
https://english.alarabiya.net/News/middle-east/2022/05/19/Israel-activates-missile-defenses-near-Lebanon-after-misidentification
--------
Thousands join Jewish pilgrimage year after stampede at Israel's Mount Meron
18 May ,2022
Tens of thousands of Jewish faithful were expected at Israel's Mount Meron on Wednesday for an annual pilgrimage, a year after 45 people were crushed to death in a stampede.
Prime Minister Naftali Bennett said his government made a "considerable investment" in new safety measures to ensure there is no repeat of what was described as the greatest civilian disaster in Israeli history.
The Mount Meron pilgrimage occurs on the Lag BaOmer holiday, when mainly ultra-Orthodox Jews throng the site of the tomb of revered second century rabbi Shimon Bar Yochai.
On April 30 last year, a stampede broke out in the male section of the gender-divided site as the size of the crowd turned a narrow passageway into a deadly choke-point.
At least 16 children were among those trampled to death.
Bennett urged worshippers to follow new rules put in place for the event.
Among those is a cap of 16,000 pilgrims allowed at the site at any given moment. Tickets must also be acquired in advance.
Israel's Magen David Adom emergency service said that it is expecting hundreds of thousands of worshippers at Mount Meron on Wednesday.
Hundreds of medical workers will be there "in light of last year's horrible disaster," it added.
Some 8,000 officers will be on hand to maintain order. Police said they would deploy mounted officers, drones and a helicopter to patrol the site.
Police said they would secure all access roads to the site, as well as the surrounding forest, to prevent unauthorized entries breaking the cap on numbers.
On Tuesday, police said they had seized knives and hammers from an "extremist ultra-Orthodox faction" which allegedly intended to sabotage communications infrastructure at the site.
Last June, the government set up a commission of inquiry to probe last year's disaster but it has yet to report its findings.
In interim recommendations published in November, the commission warned that even after infrastructure improvements at the site, it is still "awash with harmful hazards that endanger the safety of visitors."
Source: Al Arabiya
Please click the following URL to read the full text of the original story:
https://english.alarabiya.net/News/middle-east/2022/05/18/Thousands-join-Jewish-pilgrimage-year-after-stampede
--------
Yemen asks for US pressure on Houthis to break Taiz siege
18.05.2022
SANAA, Yemen
Yemen's government asked the US on Wednesday to pressure the Houthi rebel group to break its seven-year siege on the southwestern Taiz province.
The request was conveyed during a meeting between Yemeni Foreign Minister Ahmed Awad Bin Mubarak and US Secretary of State Antony Blinken in Washington DC, according to a statement by the Yemeni Council of Ministers.
The government statement added that the two top diplomats also discussed enhancing bilateral ties between the countries, as well as recent developments in the war-torn country and the two-month truce.
A statement by the US Department of State quoted Bin Mubarak as saying during the meeting that "Taiz is still under siege," and the Yemeni government expects "more pressure" from the international community, specifically from the US administration.
Meanwhile, the Houthi-run Saba news agency said the group's Supreme Political Council was reviewing a request by the UN to extend the truce, saying it would decide based on its evaluation of the ongoing cease-fire which ends on June 2.
On April 1, UN envoy to Yemen Hans Grundberg announced a "long overdue" two-month truce between Yemen's warring rivals, under which all offensive military air, ground, and maritime operations were halted.
The terms of the truce included a resumption of commercial flights from the capital Sanaa and the reopening of roads in Taiz city, which had been closed by the Houthis for seven years.
Since 2016, the Sanaa airport was closed by the Arab Coalition in Yemen, claiming that it was being used by the Houthis for military purposes, an accusation denied by the rebel group.
Yemen has been engulfed by violence and instability since 2014 when Iranian-aligned Houthi rebels captured much of the country, including the capital Sanaa.
The Saudi-led coalition entered the war in early 2015 to restore the Yemeni government to power.
Source: Anadolu Agency
Please click the following URL to read the full text of the original story:
https://www.aa.com.tr/en/middle-east/yemen-asks-for-us-pressure-on-houthis-to-break-taiz-siege/2591873
--------
Iran Dismisses New Development in Talks with S. Arabia
2022-May-18
There is no new development in the course of Iran-Saudi Arabia ongoing negotiations, although there are certain issues on both sides' agendas, Foreign Ministry Spokesman Saeed Khatibzadeh said on Tuesday.
He added that even after the last round of negotiations, there has been no new development.
Asked about media reports about possible meeting between the Iranian and Saudi foreign ministers in Baghdad, Khatibzadeh said that like all other similar negotiations, there are proposals on the method and level of them, proposed by both sides.
Khatibzadeh had said late last month that his country hoped that talks with Saudi Arabia on resolving problems would promote security and stability in the region.
The fifth round of talks between Iran and Saudi Arabia has been positive, the official said at the time.
He expressed the hope that the negotiations would enhance security and stability of the regional countries.
Khatibzadeh said this idea that talks between Saudi Arabia and Iran will help de-escalation in the region is naturally correct, adding that both states are important countries in the Persian Gulf region, which have impacts on trans-regional developments.
Source: Fars News Agency
Please click the following URL to read the full text of the original story:
https://www.farsnews.ir/en/news/14010228000303/Iran-Dismisses-New-Develpmen-in-Talks-wih-S-Arabia
--------
Iran releases two detained filmmakers on bail: Reports
18 May ,2022
Iranian authorities have released on bail two prominent documentary filmmakers after holding the women in detention for over a week at a time of protests over price rises, activists said Wednesday.
Mina Keshavarz and Firoozeh Khosravani, who had both been detained on May 7 and held in Tehran's Evin prison, were released on Tuesday evening, the Bidarzani women's rights group said.
Their release is temporary and came after the families intervened to bring about their freedom on bail, the group added. Persian-language media based outside of Iran also confirmed their release.
A group of Iranian actors and film directors, including prize-winning Iranian director Mohammad Rasoulof, had earlier this week published an open letter condemning the questioning and arrest of several filmmakers in recent days as well as raids on their homes.
The arrests of the filmmakers came as protests continue in Iran over price hikes for basic goods including bread which, according to activists based outside the country, have left several dead and hundreds more detained in a crackdown.
There is so far no indication that other prominent figures caught up in the crackdown have been released.
The US-based Committee to Protect Journalists said at least five journalists and filmmakers had been arrested, all women, also including the freelance photojournalist Reihane Taravati.
The other two held are believed to be documentary filmmakers Parisa Anvari and Shilan Saadi, it said.
"Iran's ongoing efforts to silence independent voices have landed five female journalists in prison," said CPJ Middle East and North Africa Program Coordinator Sherif Mansour.
"Iranian authorities must understand that they can't hide the country's difficult realities by jailing journalists."
Local Iranian media have also said police arrested prominent academic and author Said Madani on charges of acting "against the security" of the country and of having ties to foreign states.
Source: Al Arabiya
Please click the following URL to read the full text of the original story:
https://english.alarabiya.net/News/middle-east/2022/05/18/Iran-releases-two-detained-filmmakers-on-bail-Reports-
--------
Israel arrests pallbearer beaten at journalist's funeral
18 May ,2022
Israel police have arrested one of the Palestinian pallbearers beaten by officers at the funeral of slain journalist Shireen Abu Akleh, the detained man's lawyer said on Wednesday.
A police spokesperson confirmed the arrest of Amro Abu Khdair but said it was not connected to Friday's funeral.
For the latest headlines, follow our Google News channel online or via the app.
He declined to give the reason for the man's arrest.
Images of baton-wielding Israeli officers beating the pallbearers, who at one point nearly dropped Abu Akleh's coffin, drew widespread international condemnation and stoked anger over the killing of the reporter during an Israeli military raid in the occupied West Bank on May 11.
Abu Khdair's lawyer, Khaldoon Nijm, said his client was arrested on Monday but that the charges were not revealed to him and were based on information from Israel's domestic security service. He said Abu Khdair later told him he was questioned about the funeral.
A police spokesperson said any connection made to the funeral would amount to a "cheap conspiracy."
Abu Khdair's custody had been extended until Sunday, police and the lawyer said.
A second pallbearer, who asked not to be identified, told Reuters he had been questioned by police though not arrested.
Israel's Internal Security Minister Omer Barlev said on Saturday he and the police commissioner had appointed a panel to carry out a "comprehensive investigation of what happened during the funeral in order to learn lessons from the event."
Separately Israel is conducting a probe into Abu Akleh's death. The Palestinians are also investigating her killing.
Source: Al Arabiya
Please click the following URL to read the full text of the original story:
https://english.alarabiya.net/News/middle-east/2022/05/18/Israel-arrests-pallbearer-beaten-at-journalist-s-funeral
--------
Iran hostage taker kills three, takes own life: State media
18 May ,2022
A disgruntled employee of a huge Iranian foundation killed three of his colleagues before taking his own life in a workplace hostage drama Wednesday, state media reported.
The hostage taker struck in the western city of Ilam in the city center offices of the Foundation of the Oppressed, a massive holding company set up to manage the assets of the shah's regime after their confiscation during the Islamic revolution of 1979.
The foundation has been under US sanctions since November 2020.
"A 37-year-old employee of the Foundation of the Oppressed in Ilam, armed with a Kalashnikov rifle and two grenades, took staff hostage in one of the offices," the state broadcaster quoted provincial police commander Delavar Alqassi-Mehr as saying.
"He then started shooting and threw a grenade that instantly killed two women and a man, and wounded seven others," Alqassi-Mehr said.
"The assailant committed suicide after police and security officers arrived at the scene and tightened the siege," he added, without identifying the hostage taker.
The police chief said four of the wounded were undergoing surgery for serious injuries.
He told state news agency IRNA that the hostage taker "had personal disputes with management."
Source: Al Arabiya
Please click the following URL to read the full text of the original story:
https://english.alarabiya.net/News/middle-east/2022/05/18/Iran-hostage-taker-kills-three-takes-own-life-State-media
--------
Africa
Fatwa House calls Bashagha's move 'a coup' says elections are the right way forward
May 18, 2022
The Fatwa House has denounced Bashagha's move to overturn the administration based in Tripoli, considering it an armed coup to gain power.
The House's Research Council blamed the parliament's government headed by Fathi Bashagha for the clashes that erupted in the capital Tuesday, which it said terrorized civilians and spread chaos.
A statement released by the Council on Tuesday called on the Government of National Unity to abide by its duties towards maintaining security and stability in the region and to hold all those involved in Tuesday's events accountable.
At another level, the Fatwa House expressed its bewilderment at the response of some foreign missions in Libya.
It said it was "surprised by the statements issued by the US Embassy and the UN mission, which equate the internationally recognized government with those who turn against it by force of arms to gain power, and almost ignited a fire of war and strife inside the capital, the extent of which only God knows."
The Council underscored that the country's salvation lies in dissolving the House of Representatives and the High Council of State, and going to parliamentary elections on constitutional grounds.
"The country will never be at peace while these bodies (HoR HCS) remain perched on the chests of the Libyans, extending their terms, plundering the nation's wealth, and enabling criminals to seize power."
Source: Libya Observer
Please click the following URL to read the full text of the original story:
https://www.libyaobserver.ly/news/fatwa-house-calls-bashaghas-move-coup-says-elections-are-right-way-forward
--------
Jewish pilgrims back in Tunisia after two-year hiatus due to COVID-19
18 May ,2022
Hundreds of Jewish worshippers flocked to Africa's oldest synagogue in Tunisia on Wednesday, reviving an annual pilgrimage after a two-year hiatus due to the coronavirus pandemic.
Pilgrims passed through airport-style scanners and passed a heavy, armed police guard to enter the whitewashed Ghriba synagogue on the southern Tunisian resort island of Djerba.
Inside, they lit candles, prayed and handed each other sweets and nuts.
Many took photos and filmed relatives and friends inside the intricately decorated synagogue.
Others sat praying or reading scripture on their own, before leaving with their friends and family.
Solange Azzouz, 75, who was born in Tunis but has lived in Marseille, France for 58 years, said she had "lots of emotion."
"My father was from Djerba and for him the pilgrimage was very important," she said. "As I get older I appreciate it more and more."
She wore a brightly colored silk blouse and pearls as she stood outside in the heat.
The pilgrimage marks the Lag BaOmer festival, which starts 33 days after the start of the Jewish Passover.
Djerba is home to one of the last Jewish communities in the Arab world, and the synagogue is believed to date to the sixth century BC.
The community is still recovering from a suicide bombing claimed by al-Qaeda at the synagogue in 2002 that killed 21 people.
Before that, some 8,000 pilgrims used to travel to Djerba for the annual celebration.
The number plunged afterwards but had since recovered somewhat – until the COVID-19 pandemic struck.
Last year a pilgrimage was held but with much reduced numbers and strict sanitary conditions.
Moroccan-born Paris resident Adi Wizman Nicodeme, 74, said he was on the pilgrimage for the first time on the invitation of a friend.
"For me it was important to come and get to know the place," he said. "I'm a professor of Judaism and Hebrew. My friends and students have told me about this place."
Source: Al Arabiya
Please click the following URL to read the full text of the original story:
https://english.alarabiya.net/News/north-africa/2022/05/18/Jewish-pilgrims-back-in-Tunisia-after-two-year-hiatus-due-to-COVID-19
--------
Uganda will not allow itself to be used by FETO as base to undermine Turkiye: Minister
Hamza Kyeyune
19.05.2022
KAMPALA, Uganda
Uganda's state minister for foreign affairs has recently shed light on his country's stance toward the Fetullah Terrorist Organization (FETO) and its efforts to assist Turkiye in eradicating the terror group from the region.
Henry Oryem Okello's remarks were part of an exclusive interview with Anadolu Agency that also covered the Uganda-Turkiye Investment, Trade, Industry, and Tourism Summit 2022, diplomatic relations between Uganda and Turkiye, and Turkiye's role as a mediator in the Russia-Ukraine war.
Regarding FETO, Oryem Okello said Turkish Deputy Trade Minister Riza Tuna Turagay raised the matter with Ugandan President Yoweri Museveni.
"Those FETO fugitives who fled Turkiye to Uganda after the 2016 defeated coup have since been relocated. We know their assets and we are in discussions with the Turkish government on the transfer of these assets. We cannot support FETO. We condemn them and cannot allow them to use Uganda as their base to undermine Turkiye," he said.
Oryem Okello said Uganda and Turkiye have excellent unshakable bilateral relations and warned that any Turkish citizen involved in subversive activities will be deported from Uganda.
On the Uganda-Turkiye Industrial Park and Trade Centre established for the Turkish business community in Nakasongola, central Uganda, during the recently concluded Uganda-Turkiye Investment, Trade, Industry and Tourism Summit 2022, he said Turkish investors in the country have shown a lot of seriousness.
"There is stiff competition in the entire region, in our neighborhood. They also want investors. Therefore, we thought we should give them incentives. They have shown a lot of interest and seriousness in our country, and they bring a lot of money, give a lot of jobs to our people. These are benefits that we must not lose. Fair competition among businesses is vital to economic development and this is playing an important role in our region, promoting growth, efficiency and poverty alleviation. These investors will also have access to the new East African Community (EAC) market hosting 266 million people and a GDP of $243 billion," he said.
He added that although the business marriage is skewed in Turkiye's favor, Uganda is working hard to balance the trade. Although the trade volume between Uganda and Turkiye has increased to $71 million, Turkiye's total foreign trade volume stands at $496 billion, creating an imbalance between the two trading partners.
The minister also disclosed that Uganda is hosting 35 Afghan refugees that arrived in the country following the Taliban's takeover in August last year.
"We granted them temporary asylum at the request of the US government. We don't know when they will be relocated. We are not constrained by their stay. The US takes care of all their expenses," he said.
Oryem Okellos said Uganda abstained from voting in the United Nations General Assembly emergency session condemning Russia's war in Ukraine because the country needed to understand the source and dynamics of the conflict.
He hailed Turkiye's mediation role as a diplomatic breakthrough.
Source: Anadolu Agency
Please click the following URL to read the full text of the original story:
https://www.aa.com.tr/en/africa/uganda-will-not-allow-itself-to-be-used-by-feto-as-base-to-undermine-turkiye-minister/2592025
--------
Relations with Turkiye to thrive under new Somali president, say experts
Mohammed Dhaysane
19.05.2022
MOGADISHU, Somalia
As Somalia's longstanding political standoff ended with members of both houses of parliament that elected Hassan Sheikh Mohamud the country's president for the next four years, analysts are debating the direction of his foreign policy.
Somalia's foreign policy had changed under outgoing President Mohamed Abdullahi Mohamed, known as Farmajo, as his tenure witnessed disputes between Somalia and Kenya due to Nairobi's alleged involvement in Somalia's internal affairs. There were also accusations against the United Arab Emirates (UAE) for allegedly instigating political chaos in the country.
Many experts believe Mohamud's win will change the power and political dynamics of the country.
Speaking to Anadolu Agency, Abdi Wali Garad, a teaching associate at Birmingham University, however, expects the continuation of a good relationship with Turkiye.
"I'm saying this because of historical references; both in the past and present histories," he said.
Garad said Turkiye is the only country that has always been willing to help Somalia in the wake of civil wars and instability since the 1990s.
Somalia is the gateway to Africa. It has substantial resources and occupies a strategic location.
"Turkiye is pursuing its interests in Somalia. Yet Turkiye's interests are the only ones that do not contradict Somalia's hope of returning to the world stage" he told Anadolu Agency.
Abdirisak Aden, executive director of Farsight Africa Research and Policy Studies, who served as senior adviser to former Somali President Sharif Sheikh Ahmed, told Anadolu Agency that the country is finally feeling relieved after the successful conclusion of elections.
"Relieved that finally, the elections took place and were completed peacefully and Farmajo accepted the results. It's a great win for Somalia," he said.
Unifying president
Aden hoped that President Mohamud will be a unifying president who will focus on the dire needs of the people of the country and will fight poverty, create jobs, and increase security.
"Turkiye's support for Somalia since President Erdogan's visit to the country, including infrastructure projects and humanitarian projects, is viewed as support from an honest, brotherly nation in times of need for the Somali people," he said.
Somalia and Turkiye, he said, will probably deepen their economic and security relationship during this upcoming administration.
"Turkiye's supporting approach towards Somalia could be an example for other countries willing to support Somalia," he added.
President Mohamud is in many ways a very pragmatic leader, said Mukhtar Ainashe, a political analyst and former national security adviser.
Ainashe believes that the new president is also a "very thoughtful and shrewd politician."
He said the enormous political, security and economic challenges cannot be resolved by Somalia alone.
"The new president appreciates the substantial economic, political, security, and diplomatic support the Turkish government and Turkish people have given to Somalia over the past decade or so," he told Anadolu Agency.
Somalis consider Turkish involvement in Somalia as something extremely important for their country.
"All indications are that Turkish-Somali relations will thrive under Hassan Sheikh Mohamud's presidency," he said.
Relations with Turkiye beneficial
Avinashe believes that keeping Somali-Turkish relations intact is not only beneficial for Somalia's state-building but is also critical.
Turkiye is also helping Somalia rebuild a professional military by training its officers and soldiers, besides supplying substantial amounts of military equipment.
"It's important to remember that Somalia is still under a UN arms embargo. So, one could argue that Turkiye is willing to do more for Somalia in the defense sector, but the arms embargo is preventing that from happening," said Ainashe.
He said that for the first time, heart bypass operations are being conducted in Mogadishu thanks to Turkish doctors in Turkish-built hospitals and the medical equipment and medicine supplied by the Turkish government.
"Somalis now have access to a health care system that they never had before," he said.
Positive impact
He said Turkish development assistance will have an enormously positive impact for generations, especially in the education sector.
There are thousands of Somali students pursuing all sorts of undergraduate and graduate-level degrees at Turkish universities.
"These educated young people will return to Somalia armed with knowledge and technical expertise," he said.
Source: Anadolu Agency
Please click the following URL to read the full text of the original story:
https://www.aa.com.tr/en/africa/relations-with-turkiye-to-thrive-under-new-somali-president-say-experts/2592011
--------
2 prominent Sudanese opposition leaders arrested in South Sudan
Mohammed Amin
19.05.2022
KHARTOUM, Sudan
Two prominent Sudanese opposition leaders were arrested Wednesday in South Sudan's capital Juba.
Sudanese Communist Party Secretary General Mohammed al-Khatib and leading party member Saleh Mahmud were on a political mission to meet with rebels who are non-signatories to the Juba peace agreement, party spokesman Fathi Fadul told Anadolu Agency.
"What we know is that the security organs of South Sudan have complained about the travel of our delegation to the rebel-controlled areas in the Nuba Mountains in South Kordofan state via Juba without notifying the authorities of South Sudan," he said.
He further said that the two leaders may be released soon but deported directly to Khartoum.
"We are following up with our colleagues in Juba and we denounced this detention and investigation into our leadership, but talks are ongoing to release them," he added.
Fadul further accused the authorities in Sudan of being behind the arrests in order to stop the coordination between the political parties that oppose the military coup in Sudan.
"We have information that the Sudanese Sovereign Council in coordination with some groups in South Sudan has become involved in this to stop the declaration of the new alliances between our revolutionary groups," he claimed.
The Sudanese Sovereign Council and Foreign Ministry declined to comment on the matter.
Source: Anadolu Agency
Please click the following URL to read the full text of the original story:
https://www.aa.com.tr/en/africa/2-prominent-sudanese-opposition-leaders-arrested-in-south-sudan/2591906
--------
Libya's council urges Parliament-appointed premier to resign
Mahmoud Mohamed Barakat
18.05.2022
TRIPOLI, Libya
Head of the Libya's High Council of State, Khalid al-Mishri, on Wednesday called on parliament-appointed Prime Minister Fathi Bashaga to resign.
His call came one day after Bashagha arrived in the capital Tripoli to take control of the government from Prime Minister Abdul Hamid Dbeibeh, who has refused to hand over power.
His visit, however, triggered clashes between rival armed groups in Tripoli, forcing Bashagha to leave the Libyan capital.
"I reject the attempt of Bashagha and his government to enter Tripoli," al-Mishri told the local Libya Al-Ahrar TV channel.
He ruled out that the Bashagha and Dbeibeh governments will not be able to hold elections, even after five years.
"We recommend Bashagha to submit his resignation and Dbeibeh to accept the change," he said. "We should agree on a constitutional basis and a mini-Cabinet whose purpose will be to hold elections."
Al-Mishri said that the Dbeibeh's government will not be able to hold elections because its influence is limited to Tripoli and some cities.
For more than two months, there have been two governments in Libya: the national unity government led by Dbeibeh and the one granted confidence in early March by the Tobruk-based House of Representatives.
Source: Anadolu Agency
Please click the following URL to read the full text of the original story:
https://www.aa.com.tr/en/middle-east/libyas-council-urges-parliament-appointed-premier-to-resign/2591495
--------
URL: https://newageislam.com/islamic-world-news/hindus-muslims-dharmik-sanskar-religious-sacrament/d/127043
New Age Islam Islam Online, Islamic Website, African Muslim News, Arab World News, South Asia News, Indian Muslim News, World Muslim News, Women in Islam, Islamic Feminism, Arab Women, Women In Arab, Islamophobia in America, Muslim Women in West, Islam Women and Feminism