New Age Islam News Bureau
2 Feb 2013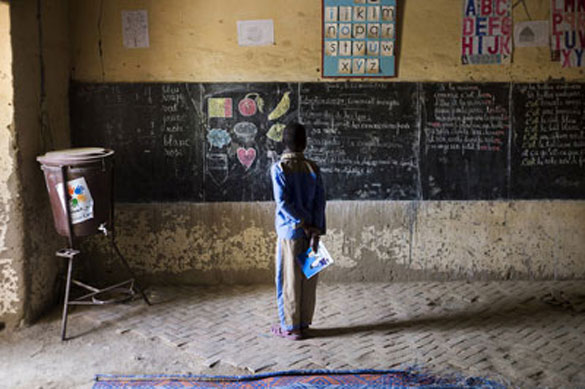 Arab World
• Lebanon's Top Cleric Issues Fatwa against Legalising of Civil Marriages
• Sunni Protesters Hold Anti government Rallies in Iraq
• Former intelligence chief appointed second deputy premier by King Abdullah
• Soldiers in Lebanon Die in Raid near Syria
• Dozens hurt as protesters petrol bomb Egypt's presidential palace
• Egypt to resume football league without fans
• Hackers attack embattled Iraq PM's website
• Egypt protesters stone PM's motorcade: Report
• Synod elects Iraqi archbishop as new Chaldean patriarch
• Rival protests outside Morocco trial of 24 Sahrawis
• A Rebel Commander in Syria Holds the Reins of War
India
• India irked as China gets Pakistan's strategic Gwadar port
• A backhanded compliment for Musharraf from General (retired) V.K. Singh
• Sohrabuddin trial set to begin in Mumbai court
• Haasan happy with response to Vishwaroop, to meet Muslim leaders
North America
• Attack on embassy in Turkey an act of terror: White House
• US Needs to Keep up Drone War Says Defence Secretary Panetta
• Iran Escalating Efforts to Destabilize Region-Panetta
• US Would Hold Direct Talks if Iran Serious
Africa
• Islamists' Harsh Rule Awakened Ethnic Tensions in Timbuktu
• Boko Haram crisis: Nigeria raids 'kill 17 militants'
• In Nurturing Warlord, Algeria Sowed Seeds of Hostage Crisis
• Jazz Warrior Defending Mali's Values
• Sudan Riot Police Clash with Students at Khartoum University
• UN 'deeply disturbed' by army abuse claims in Mali
• Tribal Battles Displace Thousands in Darfur
Pakistan
• 31 killed as militants attack checkpoint in Lakki Marwat
• Multiple death sentences for orchestrator of 2011 suicide bombing
• HRW voices concern on attacks on religious minorities
• Afghanistan mortars kill five in Pakistan
• Sherry files review plea against SC order in blasphemy case
• In Pakistan, insider's Kargil account raises a stink
• Musharraf had planned Kargil operation with 3 confidants
• P M Gilani files review plea in SC against disqualification
• Judiciary determined to fulfil constitutional responsibilities, says CJ
• No mechanism for overseas Pakistanis to vote, Senate told
• Balochistan's teachers: in a sorry state
• Man of light: Octogenarian who gave Swat village power
• It's Pakistan govt's duty to stop drone attacks: Court
Mideast Asia
• Yemen troops kill 12 'Qaeda militants'
• Iran hangs five drug smugglers: Agency
• Ahmadinejad Unveils Iran's Newest Fighter Jet
Southeast Asia
• Philippines 'yes' to agencies to recruit housemaids for Saudi Arabia
• Four Teenagers Arrested for Alleged Rape of 13-Year-Old in Jakarta
• Bali man who wed teen is named suspect
South Asia
• China poised to control strategic Pakistani port
• How Do You Get to Carnegie Hall? Start in Kabul
• PM Hasina Sheikh accuses Khaleda of killing people
• Scrap tribunals or non-stop Hartal: Jamaat leader
Europe
• 'Traces of Pork DNA' Found In Halal Prison Meat in UK
• Amnesty International demands Mali civilian deaths probe
• Italian Court Convicts 3 Americans in Kidnapping Case
• Germany security talks begin with Syria in focus
• British Anti terrorism Official Sentenced in Hacking Scandal
• U.N. Chief Suggests Review of 21-Year-Old Somalia Arms Embargo
• UN aid reaches Syria rebel-held northern area of Azaz
Compiled by New Age Islam News Bureau
Photo: A Malian child returned to a school that Islamist occupiers had closed when they took Timbuktu. Most of the school year was lost
URL: https://www.newageislam.com/islamic-world-news/new-age-islam-news-bureau/-traces-of-pork-dna--found-in-halal-prison-meat-in-uk/d/10243
-----------
'Traces of Pork DNA' Found In Halal Prison Meat in UK
February 02, 2013
The Ministry of Justice is to suspend a firm supplying meat to prisons after tests found that it may have provided pies and pasties described as Halal - but with traces of pork DNA.
The Food Standards Agency (FSA) said the "local authority" involved was investigating, while the MoJ said the products have been withdrawn.
Justice Minister Jeremy Wright said the incident was "absolutely unacceptable".
Under Islamic law, Muslims are strictly forbidden to eat pork.
In a statement, Mr Wright said the Prison Service was investigating the incident "as a matter of urgency".
He added: "This is an absolutely unacceptable situation and one which we regret greatly.
"Clearly this must be distressing for those affected and they can be reassured we are doing everything we can to resolve the situation."
'Immediate steps'
The MoJ said it commissioned tests after the "recent high profile incidents" in which beef burgers sold by some supermarket chains were found to contain horsemeat.
It said the results of the tests, undertaken by an independent agency, became known on Thursday.
A spokesman said: "All prisons have been informed about this very regrettable incident and we reported this issue to the Food Standards Agency immediately.
"We are taking immediate steps to suspend the contract with the relevant sub-contractor."
A spokeswoman for the FSA said it was "informed" that a number of meat pies and pasties supplied to UK prisons - labelled and served as Halal - could have contained traces of pork DNA.
She said: "The local authority is investigating how this contamination came about and whether these products have been distributed further across the UK."
She added that the supplier and the local authority were based in the same area, but declined to say where.
Under Islamic law, the eating of pork is strictly prohibited for Muslims, as is the consumption of meat which has not been slaughtered in the correct way.
Halal meat is defined as meat slaughtered by hand and blessed by the person doing the killing, however some Muslims believe a mechanised form is also now acceptable.
Food and farming Minister David Heath said people "have a right to expect that the food they are eating is correctly described".
He insisted: "I have made it clear that I want an urgent meeting with major retailers and suppliers first thing next week to get to the bottom of this completely unacceptable situation."
Editor of the Muslim News, Ahmed Versi, said the development was disturbing.
"This is very serious because no Muslim would ever eat pork meat - anything to do with pork - and it must be very distressing for those in prison who have been given this meat to realise they may have been eating food which was contaminated with pig."
Juliet Lyon, director of the Prison Reform Trust charity, said: "This lapse will have offended and distressed high numbers of Muslim prisoners and their families so apologising, suspending the supplier and investigating the incident are the right steps for the Ministry of Justice to take."
http://www.bbc.co.uk/news/uk-21302925
-----------
Arab World
Lebanon's top cleric issues fatwa against legalising of civil marriages
The edict comes a day after Sulaiman tweets he will remain steadfast in supporting such unions
January 30, 2013
Beirut: Lebanon's top Sunni Muslim authority on Monday issued a fatwa against moves to legalise civil marriages inside the country, where couples of different faiths have to travel abroad to tie the knot.
The religious edict came a day after President Michel Sulaiman tweeted that he would remain steadfast in supporting such unions, while Prime Minister Najeeb Mikati wrote on his Twitter account that a consensus was required to address the issue.
"Any Muslim with legal or executive authority in Lebanon who supports the legalisation of civil marriage is an apostate and outside the religion of Islam," Grand Mufti Shaikh Mohammad Rashid Qabbani said on the website of Dar Al Fatwa, the official institution for fatwas.
"There are predators lurking among us, trying to sow the bacteria of civil marriage in Lebanon, but they should know that the religious scholars will not hesitate to do their duty and prevent the passage of such a bill. "
Qabbani said offenders would not be eligible to be buried in a Muslim cemetery.
Sulaiman, a Christian, tweeted that he would "respond to the evolution and aspirations of the people and prepare the appropriate laws for the issue of civil marriage."
"There are authorities opposed to civil marriage, but this will not sway my convictions or my quest to put the train on the right track," he said in another tweet.
But after meeting Sulaiman on Sunday, Mikati, a Sunni, tweeted in Arabic "the current circumstances do not allow us to address new controversial topics that create divisions." He added in English: "I believe that the civil marriage issue cannot be dealt with from a top-down approach."
The campaign for civil marriage in multi-faith Lebanon, which is considered a liberal Arab country in a conservative region, has gained momentum with a daring initiative to create new jurisprudence.
Kholoud Sukkariyeh and Nidal Darwish announced earlier this month they had wed as a secular couple by having their religious sects legally struck from their family registers under an article dating from the 1936 French mandate. Sulaiman has since lobbied for a civil marriage law as a "very important step in eradicating sectarianism and solidifying national unity."
Despite a long-running campaign by civil groups, civil marriage has no legal basis in Lebanon, a country of around four million people who belong to 18 different religious communities, mainly Christian and Muslim. Former president Elias Hrawi in 1998 proposed a similar law, which gained approval from the cabinet only to be halted amid widespread opposition from the country's religious authorities. Lebanese authorities recognise civil weddings only if they have been registered abroad, and thousands of mixed-faith couples have travelled to nearby Cyprus or Turkey to marry. Most religious faiths have their own regulations governing marriage, divorce and inheritance, and mixed Christian-Muslim weddings in Lebanon are often discouraged unless one of the potential spouses converts.
Christian religious authorities have yet to comment on the issue.
http://gulfnews.com/news/region/lebanon/lebanon-s-top-cleric-issues-fatwa-against-civil-marriage-1.1139123
---------
Sunni Protesters Hold Anti government Rallies in Iraq
2 February 2013
FALLUJAH: Chanting "No" to Iraqi Prime Minister Nuri Al-Maliki, tens of thousands of Sunnis protested after Friday prayers in huge rallies against the Shiite premier that are raising the specter of renewed sectarian unrest.
Sunni outrage erupted in late December over what protesters see as abuses and discrimination against their minority sect since the fall of Saddam Hussein and the rise of the country's Shiite majority.
Waving the old three-star Iraqi flag from Saddam's era, Sunni clerics, tribal sheikhs and young protesters called for reform of anti-terrorism laws they say security forces abuse to target Sunnis and unfairly detain prisoners.
Al-Maliki has offered concessions, and freed hundreds of prisoners. But Sunni protesters have grown more defiant after soldiers opened fire at a Fallujah city rally, killing five people a week ago.
"We will never forget what the army did to us, not only last Friday, but all of their behavior has been sectarian against us," Omar Al-Jumaili, 51, in Fallujah city. "Our new demand; the Iraqi army should leave this area."
Sunni ranks are already split among moderates and hard-liners who are threatening Iraq's unity with a more radical demand for an autonomous Sunni fiefdom in western Iraq along the border with Syria, Saudi Arabia and Jordan.
The protests are evolving in the most serious test yet for Al-Maliki and his fragile government that splits posts among Shiite, Sunni and ethnic Kurds, who were already deadlocked over how to share power for more than a year.
Iraq's Al-Qaeda affiliate, Islamic State of Iraq, still active after years of losses against American and Iraqi soldiers, has also urged Sunni protesters to take up arms though moderate leaders reject the incitement to violence.
Al-Maliki has appointed a senior Shiite figure to talk to demonstrators about demands such as an amnesty law and easing of so-called de-Baathification campaign against former members of Saddam's outlawed Baath party.
Iraq's vice premier Saleh Al-Mutlaq, a Sunni, said a meeting yesterday with Al-Maliki's Shiite National Alliance coalition and Sunni-backed Iraqiya had been positive on proposed reforms.
"We can say there was a progress in this meeting, which may be hasn't happened in the previous ones," he said.
http://www.arabnews.com/massive-iraq-rallies-say-%E2%80%98no%E2%80%99-al-maliki
-----------
Former intelligence chief appointed second deputy premier by King Abdullah
1 February 2013
Custodian of the Two Holy Mosques King Abdullah yesterday named former intelligence chief Prince Muqrin bin Abdulaziz, as second deputy prime minister.
The appointment has been welcomed by all sections of Saudi society. Prince Muqrin will take over the post immediately, the Saudi Press Agency reported yesterday.
"The royal order should be carried out by the concerned authorities with immediate effect," said the SPA statement.
Full report at:
http://www.arabnews.com/%D9%8Droyal-order-appointing-prince-miqren-second-deputy-premier
-----------
Soldiers in Lebanon Die in Raid Near Syria
By ANNE BARNARD and HWAIDA SAAD
February 2, 2013
BEIRUT, Lebanon — At least three Lebanese Army soldiers were killed Friday in a shootout as they tried to arrest a resident of a village that has become a hub of refugees and where Syrian rebels often cross the border. Their target was also fatally shot.
There were conflicting reports about the nature of the clash, in which security forces were ambushed as they pursued a wanted man, but the episode played into fears that the accelerating influx of Syrians could spread the conflict into Lebanon.
Full report at:
http://www.nytimes.com/2013/02/02/world/middleeast/syria-crisis.html?ref=middleeast
-----------
Dozens hurt as protesters petrol bomb Egypt's presidential palace
Feb 2, 2013
CAIRO/PORT SAID: Dozens of Egyptian protesters were wounded on Friday when youths hurling petrol bombs at President Mohamed Morsi's palace clashed with riot police, as thousands took to the streets to demand the overthrow of the Islamist leader.
Youths threw petrol bombs and shot fireworks at the outer wall of Morsi's Cairo presidential compound as night fell, and police responded by firing water cannon and tear gas.
The head of Egypt's ambulance service said 54 people had been wounded across the country, mostly in Cairo, although there were no reports of deaths by evening.
Full report at:
http://timesofindia.indiatimes.com/world/middle-east/Dozens-hurt-as-protesters-petrol-bomb-Egypts-presidential-palace/articleshow/18298469.cms
-----------
Egypt to resume football league without fans
February 02, 2013
Egypt is to kick off on Saturday the local Premier League one year after it was suspended over deadly riots, state-run television reported on its website.
The fixtures are to be at army stadiums without fans, added the report, reflecting fears about new violence.
The previous season was suspended in February last year after 74 people were killed in riots at a stadium in the coastal city of Port Said, following a match between the home team and Cairo's al-Ahly.
Full report at:
http://www.thehindu.com/news/international/egypt-to-resume-football-league-without-fans/article4372487.ece
-----------
Hackers attack embattled Iraq PM's website
February 02, 2013
Hackers attacked the official website of Iraqi Prime Minister Nuri al-Maliki on Saturday, posting a message critical of the leader who has faced weeks of protests demanding he quit.
The message, posted by a group calling themselves "Team Kuwait Hackers", described Maliki as a "tyrant" and warned him that he would end up like Syrian President Bashar al-Assad, who has been grappling with a 22-month uprising.
Full report at:
http://www.hindustantimes.com/world-news/restofasia/Hackers-attack-embattled-Iraq-PM-s-website/Article1-1005470.aspx
----------
Egypt protesters stone PM's motorcade: Report
Feb 2, 2013
CAIRO: Protesters threw stones and bottles at the Egyptian prime minister's motorcade on Saturday as he tried to enter Cairo's Tahrir Square after overnight clashes nearby and at the presidential palace, media reported.
Dream Live, a private television station, reported that Prime Minister Hisham Qandil left the scene after the attack. His office said in a statement, without elaborating, that he had been "confronted by youths and troublemakers."
Full report at:
http://timesofindia.indiatimes.com/world/middle-east/Egypt-protesters-stone-PMs-motorcade-Report/articleshow/18306241.cms
----------
Synod elects Iraqi archbishop as new Chaldean patriarch
1 February 2013
VATICAN CITY: Bishops from the Iraq-based Chaldean Church elected the archbishop of Kirkuk as their new patriarch yesterday at a synod held in Rome instead of Baghdad for security reasons, church websites said.
Louis Sako will replace Emmanuel III Delly who retired in December after reaching the age limit of 85 in the Christian church which recognizes the authority of the pope.
Full report at:
http://www.arabnews.com/middle-east/synod-elects-iraqi-archbishop-new-chaldean-patriarch
-----------
Rival protests outside Morocco trial of 24 Sahrawis
1 February 2013
RABAT: Rival protests were held yesterday outside a military tribunal in the Moroccan capital where 24 Sahrawis accused of killing members of the security forces in the Western Sahara in 2010 are in the dock.
The politically charged trial, which is being attended by a number of independent foreign observers, has been repeatedly delayed, with the defendants held in custody for more than two years.
Full report at:
http://www.arabnews.com/rival-protests-outside-morocco-trial-24-sahrawis
-----------
A Rebel Commander in Syria Holds the Reins of War
By C. J. CHIVERS
2013/02/02
THE would-be assassin was patient, if not an accomplished shot.
His victim, the Syrian rebel commander Hajji Marea, was fighting a cold and had sent a bodyguard out to find medicine, the commander's supporters said. As he waited, Hajji Marea stepped outside to make a phone call, when the gunman fired. The bullet missed his head, and struck his left shoulder.
Full report at:
http://www.nytimes.com/2013/02/02/world/middleeast/the-saturday-profile-hajji-marea-a- -----------
India
India irked as China gets Pakistan's strategic Gwadar port
By Indrani Bagchi
Feb 2, 2013
NEW DELHI: Pakistan's cabinet formally agreed to hand over the operation of its strategically located Gwadar port to China on Wednesday. This puts in place China's famed "string of pearls" strategy which may have significant implications for India.
On Wednesday, the Pakistan cabinet, in one of its last decisions, transferred the operations responsibility of the Gwadar port from Singapore's PSA (Port of Singapore Authority) International to China's Overseas Port Holdings. This had been agreed some time ago as PSA International and Pakistani navy fell out over land transfers, security issues and lack of infrastructure. PSA had asked to withdraw from the contract and Pakistan had agreed.
Full report at:
http://timesofindia.indiatimes.com/india/India-irked-as-China-gets-Pakistans-strategic-Gwadar-port/articleshow/18299006.cms
------------
A backhanded compliment for Musharraf from General (retired) V.K. Singh
GARGI PARSAI
Feb 2, 2013
That he dared to come 11 km inside Indian territory was courageous, but this confirms Pakistan started Kargil war'
The former Army Chief, General (retired) V.K. Singh, on Friday said "as a military commander" he commended the former Pakistan military ruler, General (retired) Pervez Musharraf for daring to come 11 km inside Indian territory before the Kargil war, but on the other hand, he said, the revelation was a confirmation that Islamabad started the Kargil war.
Full report at:
http://www.thehindu.com/news/national/a-backhanded-compliment-for-musharraf/article4369792.ece
---------
Sohrabuddin trial set to begin in Mumbai court
Feb 02 2013
Mumbai : Seven years after the killing of Sohrabuddin Sheikh in an alleged fake encounter, a magistrate court in Mumbai transferred Friday the case to a special CBI court, paving the way for start of trial of 19 accused, including former Gujarat minister Amit Shah.
"After completion of formalities the magistrate has committed the case to sessions court," said special public prosecutor Ejaz Khan.
Full report at:
http://www.indianexpress.com/news/sohrabuddin-trial-set-to-begin-in-mumbai-court/1068237/
---------
Haasan happy with response to Vishwaroop, to meet Muslim leaders
February 02, 2013
Actor-filmmaker Kamal Haasan said on Saturday he is pleased with the response to the Hindi version of his controversial film Vishwaroop in north India. The Hindi version released in over 1,000 screens on Friday. "I am extremely happy with the response my film has
received in north India," Kamal Haasan said upon his return to Chennai on Saturday.
Full report at:
http://www.hindustantimes.com/India-news/chennai/Haasan-happy-with-response-to-Vishwaroop-to-meet-Muslim-leaders/Article1-1005326.aspx
---------
North America
Attack on embassy in Turkey an act of terror: White House
Feb 02 2013
Washington : The US described as a "terrorist attack" the blast outside its highly-fortified embassy in Turkey today that claimed two lives and injured three others.
The White House strongly condemned the suicide attack, saying it was "clearly an act of terror", while outgoing Secretary of State Hillary Clinton Clinton spoke with her Turkish counterpart Ahmet Davutoglu on the incident.
Full report at:
http://www.indianexpress.com/news/attack-on-embassy-in-turkey-an-act-of-terror-white-house/1068335/
----------
US Needs to Keep Up Drone War Says Defense Secretary Panetta
February 02, 2013
The United States will have to keep up an open-ended drone war against Al-Qaeda militants in Pakistan and elsewhere to prevent another terror attack on America, Defense Secretary Leon Panetta said.
The assassination of Al-Qaeda figures in Pakistan, Yemen and Somalia with unmanned, robotic aircraft has provoked widespread criticism from human rights groups and some US allies, but Panetta said the US campaign has been effective.
Full report at:
http://www.thejakartaglobe.com/international/us-needs-to-keep-up-drone-war-says-defense-secretary-panetta/569148
-----------
Iran Escalating Efforts to Destabilize Region-Panetta
February 2, 2013
WASHINGTON (Reuters) - Outgoing U.S. Defense Secretary Leon Panetta accused Iran of an intensified campaign to destabilize the Middle East by smuggling anti-aircraft weapons to militant allies, The Wall Street Journal reported on Friday.
"There is no question when you start passing MANPADS around, that becomes a threat, not just to military aircraft but to civilian aircraft," Panetta told the newspaper in an interview. "That is an escalation."
Full report at:
http://www.nytimes.com/reuters/2013/02/01/world/middleeast/01reuters-usa-iran-
-----------
US Would Hold Direct Talks if Iran Serious
February 2, 2013
MUNICH (AP) — The United States is prepared to hold direct talks with Iran in the standoff over its nuclear ambitions, Vice President Joe Biden said Saturday — but he insisted that Tehran must show it is serious and Washington won't engage in such talks "just for the exercise."
Washington has indicated in the past that it's prepared to talk directly with Iran, and talks involving all five permanent members of the U.N. Security Council plus Germany have made little headway. Several rounds of international sanctions have cut into Iran's oil sales and financial transactions.
Full report at:
http://www.nytimes.com/aponline/2013/02/02/world/europe/ap-eu-germany-security-
-----------
Africa
Islamists' Harsh Rule Awakened Ethnic Tensions in Timbuktu
By LYDIA POLGREEN
February 2, 2013
TIMBUKTU, Mali — Zahby Ould Ibrahim's general store was looted to the studs this week. The horde that descended upon it took not just the shop's stock of pots, pans and bedding but the electric sockets, the light bulbs and the doorframe, too.
A few shops away, Mahamane Dguitteye's grocery store, its shelves lined with packets of spaghetti, bottles of olive oil and bars of soap, was completely untouched.
Full report at:
http://www.nytimes.com/2013/02/02/world/africa/timbuktu-endured-terror-under-harsh-shariah-law.html?ref=africa
-----------
Boko Haram crisis: Nigeria raids 'kill 17 militants'
February 02, 2013
Nigeria's military said it has killed 17 insurgents in an attack on two training camps belonging to the Boko Haram Islamist group.
One soldier was also killed in the firefight that broke out after they moved in on the camps, backed by helicopter gunships, the military said.
Full report at:
http://www.bbc.co.uk/news/world-africa-21299327
-----------
In Nurturing Warlord, Algeria Sowed Seeds of Hostage Crisis
By ADAM NOSSITER and NEIL MacFARQUHAR
2013/02/02
To the Algerians, the desert warlord in the swirling blue robes was a man of his word — the key to managing the crisis next door in northern Mali — and for months they lodged his representative here in the Algerian capital in high style in one of the city's finest hotels.
They were nurturing a viper. The warlord, as the Algerians well knew, was the leader of one of the militant Islamist groups holding northern Mali captive. That was not a deal-breaker, they reasoned. To the contrary, having tight connections with a powerful militant across the border, much as Pakistan does in Afghanistan, could protect their interests.
Full report at:
http://www.nytimes.com/2013/02/02/world/africa/hostage-crisis-exposes-flaws-in-algiers-
-----------
Jazz Warrior Defending Mali's Values
By CELESTINE BOHLEN
2013/02/02
Cheick Tidiane Seck played a concert in Bamako last Saturday, the capital of his native Mali, just before he returned to his home in Paris.
A war was raging in the north of the country, as Malian and French troops bore down on the fabled desert city of Timbuktu that had been held by Tuareg rebels and their Islamist allies since spring. The jihadist fighters, as they retreated, set fire to a library containing thousands of priceless manuscripts dating from as far back as the 13th century, according to reports that emerged later.
Full report at:
http://www.nytimes.com/2013/02/02/world/europe/02iht-
-----------
Sudan Riot Police Clash With Students at Khartoum University
February 2, 2013
KHARTOUM (Reuters) - Sudanese riot police fired teargas at students on Friday as government supporters stormed the main university in the capital Khartoum, activists and witnesses said, in a second day of unrest on the campus.
Sudan has avoided the Arab Spring style uprisings which unseated rulers in Egypt, Libya and Tunisia, but spiraling inflation sparked small protests which have broadened into demonstrations of discontent with veteran President Omar Hassan al-Bashir's rule.
Full report at:
http://www.nytimes.com/reuters/2013/02/01/world/africa/01reuters-sudan-
-----------
UN 'deeply disturbed' by army abuse claims
February 02, 2013
The UN anti-genocide envoy says he is "deeply disturbed" by reports of reprisal attacks by Malian troops as they retake control of the north.
Such widespread and systematic abuses could "constitute atrocity crimes", Adama Dieng said in a statement.
The military is suspected of recruiting and arming proxy militia groups to kill Arabs and ethnic Tuaregs, he added.
Full report at:
http://www.bbc.co.uk/news/world-africa-21303447
---------
Tribal Battles Displace Thousands in Darfur
By JEFFREY GETTLEMAN
February 2, 2013
NAIROBI, Kenya — Intense clashes between two Arab tribes fighting over a gold mine in a remote corner of Darfur, Sudan, have displaced around 100,000 people, becoming one of the biggest crises in Darfur in years, United Nations officials said Friday.
The fighting broke out last month in the Jebel Amir gold mining area. The region is so isolated that the United Nations has had to use peacekeeping helicopters to reach the thousands of people on the move, many of whom have been sleeping outside during the cold desert nights with no blankets or plastic sheeting.
Full report at:
http://www.nytimes.com/2013/02/02/world/africa/thousands-displaced-in-darfur-as-tribes-
-----------
Pakistan
31 killed as militants attack checkpoint in Lakki Marwat
February 2, 2013
DERA ISMAIL KHAN: Militants attacked an isolated army checkpoint in Lakki Marwat on Saturday, with at least 31 people killed in the initial assault, subsequent crossfire and a rocket attack on a house, officials said.
The Tehreek-e-Taliban Pakistan (TTP) claimed responsibility, saying the attack was in response to a US drone strike in North Waziristan last month in which two commanders were killed.
Full report at:
http://tribune.com.pk/story/501697/31-killed-as-militants-attack-checkpoint-in-lakki-marwat/
-----------
Multiple death sentences for orchestrator of 2011 suicide bombing
February 02, 2013
HARIPUR: An Anti Terrorism Court (ATC) on Friday awarded the death penalty seven times to an accused convicted of planning and orchestrating a suicide attack at a public rally of former Pakistan Muslim League-Quaid (PML-Q) leader Amir Muqam. His two accomplices were handed life sentences along with fines.
Full report at:
http://tribune.com.pk/story/501562/justice-served-multiple-death-sentences-for-orchestrator-of-2011-suicide-bombing/
-----------
HRW voices concern on attacks on religious minorities
February 02, 2013
ISLAMABAD: Pakistan's government has failed to act against abuses by the security and intelligence agencies, which continued to allow extremist groups to attack religious minorities, Human Rights Watch said today in its World Report 2013. The authorities did little to address attacks against journalists and human rights defenders, and committed serious abuses in counter-terrorism operations.
Full report at:
http://dawn.com/2013/02/01/attacks-on-religious-minorities-surge-judiciary-takes-political-decisions-hrw-report/
-----------
Afghanistan mortars kill five in Pakistan
February 02, 2013
PESHAWAR: Mortar shells fired from Afghanistan on Friday killed five people in South Waziristan tribal district, Pakistani officials said. "The shells hit five people near Angoor Adda, around three kilometres from Afghanistan border, and killed them," said a security official. The identity of the victims was not immediately clear as two officials said they were local militants and another said they were still identifying the bodies.
Full report at:
http://www.dailytimes.com.pk/default.asp?page=2013\02\02\story_2-2-2013_pg7_6
-----------
Sherry files review plea against SC order in blasphemy case
February 02, 2013
ISLAMABAD: Pakistan's Ambassador to the United States Sherry Rehman has filed a review petition in the Supreme Court against its January 17 order to Multan city police officer (CPO) for deciding an application regarding the registration of blasphemy case against her, according to the law. Senior counsel Makhdoom Ali Khan has filed the review petition on behalf Sherry Rehman, pleading that the court had passed the order without hearing his client's point of view in this case. It has also been learnt that three other senior lawyers, Salman Akram Raja, Abid Minto and Kamal Azfar, have also filed review petitions in the case. Full report at:
http://www.dailytimes.com.pk/default.asp?page=2013\02\02\story_2-2-2013_pg1_3
-----------
In Pakistan, insider's Kargil account raises a stink
Feb 2, 2013
ISLAMABAD: A retired lieutenant-general, who headed ISI's analysis wing during the Kargil operation, has revealed that even the spy agency may not have been aware of the planning of the misadventure in 1999.
The account, by an insider, which debunks the once all-powerful army's narrative on the battle has raised a huge stink in Pakistan ahead of national elections later this year. It has also renewed calls for a judicial probe into incident to ensure army generals do not repeat such blunders in future.
Full report at:
http://timesofindia.indiatimes.com/world/pakistan/In-Pakistan-insiders-Kargil-account-raises-a-stink/articleshow/18300631.cms
------
Musharraf had planned Kargil operation with 3 confidants: Retired Pak general Shahid Aziz
Feb 1, 2013
NEW DELHI: A retired lieutenant general, who headed ISI's analysis wing during the 1999 Kargil operation, has revealed that the spy agency may have been unaware of the misadventure's planning in the latest insider account debunking the once all-powerful Pakistan army's narrative on the misadventure.
Shahid Aziz has revealed that then army chief Gen Pervez Musharraf had planned the operation along with his three confidants -- Gen Aziz Khan, Gen Mahmoud Ahmad, and Maj Gen Javed Hassan- while keeping rest of the institution in the dark in his book Yeh Khamoshi Kaha Tak, Ek Spy Ki Dastan-e-Ishaq-o-Janoon.
Full report at:
http://timesofindia.indiatimes.com/india/Musharraf-had-planned-Kargil-operation-with-3-confidants-Retired-Pak-general-Shahid-Aziz/articleshow/18294160.cms
------------
P M Gilani files review plea in SC against disqualification
February 02, 2013
ISLAMABAD: Former prime minister and Pakistan People's Party (PPP) leader Yousuf Raza Gilani on Saturday filed an appeal against the apex court's ruling in the contempt case barring him from contesting elections and holding any public office for five years, DawnNews reported.
Full report at:
http://dawn.com/2013/02/02/gilani-files-review-plea-in-sc-against-disqualification/
-----------
Judiciary determined to fulfill constitutional responsibilities, says CJ
February 02, 2013
LAHORE: Chief Justice of Pakistan Iftikhar Muhammad Chaudhry said on Saturday that the judiciary was the defender of the Constitution and that it was determined to fulfill its constitutional responsibilities, DawnNews reported.
Speaking at a session of the National Judicial Policymaking Committee (NJPC) held at the Supreme Court's Lahore Registry, the chief justice said the judiciary wanted to ensure the supremacy of Constitution.
Full report at:
http://dawn.com/2013/02/02/judiciary-determined-to-fulfill-constitutional-responsibilities-says-cj/
-----------
No mechanism for overseas Pakistanis to vote, Senate told
February 02, 2013
ISLAMABAD: Overseas Pakistanis do have the right to vote, but absence of a suitable mechanism for the purpose will render it meaningless, at least for the upcoming general election.
This was what Law Minister Farooq H. Naek told the Senate on Friday.
He said the Election Commission of Pakistan (ECP) had enrolled as voters 4.3 million Pakistanis living abroad who possessed national identity cards. But they would be able to cast their votes in the constituencies where they had been registered, for which they must come to Pakistan.
Full report at:
http://dawn.com/2013/02/02/no-mechanism-for-overseas-pakistanis-to-vote-senate-told/
-----------
Balochistan's teachers: in a sorry state
By Safiullah
February 02, 2013
QUETTA: Teachers throughout the world are seen as 'builders of nations' and are held in high esteem on account of their attachment to a highly important and sacred profession. Moreover, their existence and welfare is important for the welfare and prosperity of a society. And when it comes to a backward province like Balochistan, where the education sector is already in deplorable conditions, teachers are and should be regarded as precious assets.
Full report at:
http://www.dailytimes.com.pk/default.asp?page=2013\02\02\story_2-2-2013_pg7_5
-----------
Man of light: Octogenarian who gave Swat village power
February 2, 2013
SWAT: Eighty-five-year-old Mohammad Sher Khan is a landlord and elder in his village of Gulibagh, located at Charbagh tehsil in Swat, and is known for his involvement in both social and political activities, but it is his work in bringing micro-hydel power (MHP) stations to the area that has made him a local legend.
Gulibagh village is no stranger to frequent crises which have resulted in prolonged blackouts, but the advent of a micro-hydel power station, introduced by Sher Khan, have helped resolve the problem in a cost-effective manner.
Full report at:
http://tribune.com.pk/story/501611/man-of-light-octogenarian-who-gave-swat-village-power/
-----------
It's Pakistan govt's duty to stop drone attacks: Court
Feb 2, 2013
LAHORE: A Pakistani court hearing Jamaat-ud- Dawah chief Hafiz Saeed's petition against American drone strikes in Pakistan has said it cannot order a war against the US.
However, Lahore HC Chief Justice Umar Ata Bandial yesterday said it was the Pakistan government's duty to stop attacks by the CIA-operated spy planes in the tribal areas.
"The US drone attacks are against Pakistan's policy but the court cannot order a war against America," Bandial said while hearing Saeed's petition.
Full report at:
http://timesofindia.indiatimes.com/world/pakistan/Its-Pakistan-govts-duty-to-stop-drone-attacks-Court/articleshow/18303617.cms
-----------
Mideast Asia
Yemen troops kill 12 'Qaeda militants'
February 02, 2013
ADEN: Yemen's armed forces killed 12 suspected Al Qaeda militants in an assault on their mountain hideout in the country's restive south, an official in the region said on Saturday.
The military used artillery and aircraft to target the hideout near Shaqra, 35 kilometres from the Abyan capital of Zinjibar, in the operation late on Friday, the official said on condition of anonymity.
Full report at:
http://dawn.com/2013/02/02/yemen-troops-kill-12-qaeda-militants/
-----------
Iran hangs five drug smugglers: Agency
February 2, 2013
TEHRAN: Iran has hanged five people in prison who were convicted of drug trafficking, the justice department in the southern province of Kerman said in a report by ILNA news agency on Saturday.
The men sent to gallows at the prison in the city of Kerman on Wednesday were identified as Allahnazar S, Rahmatollah S, Abdollah S, Saleh H, Nematollah S, said the report.
They had been convicted of trafficking more than a tonne of opium, ILNA said, adding they were also found to be in possession of a number of military-grade weapons.
Full report at:
http://tribune.com.pk/story/501704/iran-hangs-five-drug-smugglers-agency/
-----------
Ahmadinejad Unveils Iran's Newest Fighter Jet
February 2, 2013
TEHRAN, Iran (AP) — Iran unveiled on Saturday its newest combat jet, a domestically manufactured fighter-bomber that military officials claim can evade radar.
President Mahmoud Ahmadinejad said in a ceremony broadcast on state TV that building the Qaher-313, or Dominant-313, shows Iran's will to "conquer scientific peaks."
The Qaher is one of several aircraft designs rolled out by the Iranian military since 2007. Tehran has repeatedly claimed to have developed advanced military technologies in recent years but its claims cannot be independently verified because the country does not release technical details of its arsenals.
Full report at:
http://www.nytimes.com/aponline/2013/02/02/world/middleeast/ap-ml-iran-aircraft-
--------
Southeast Asia
Philippines 'yes' to agencies to recruit housemaids for Saudi Arabia
2 February 2013
The Philippine Overseas Labour Office said yesterday that it has accredited 44 Saudi recruitment agencies in the Western province to hire Filipino household service workers (HSW) to work in Saudi Arabia.
"Many agencies have applied as recruiters of Filipino HSWs but we have been very careful in screening them," Labour Attache Alex A. Padaen told Arab News. "This is why only 44 have been accredited so far in the Western Province. We examine the documents they have submitted for accreditation."
Full report at:
http://www.arabnews.com/philippines-gives-green-light-agencies-recruit-housemaids
--------
Four Teenagers Arrested for Alleged Rape of 13-Year-Old in Jakarta
Vento Saudale | February 02, 2013
Police in Bogor have arrested four teenage boys for the alleged rape of a 13-year-old girl, in the latest case of sexual assault against a minor in the Greater Jakarta area.
Adj. Comr. Imron Ermawan, the Bogor district police's chief of detectives, said on Thursday that the four suspects were being investigated by the police's special victims unit.
He said they were arrested last Saturday, three days after the alleged rape.
"Prior to the incident, the victim was in an angkot [public minivan] on her way home from school," Imron said.
Full report at:
http://www.thejakartaglobe.com/news/four-teenagers-arrested-for-alleged-rape-of-13-year-old/569090
-----------
Bali man who wed teen is named suspect
Agnes Winarti
February 02 2013
Thirty-nine-year-old construction worker I Wayan Cidra, from Jehem village in Bangli regency, who impregnated and then married a 14-year-old girl, was named a suspect for statutory rape by the Bangli Police on Wednesday.
"We have named Cidra a suspect in the hope that this kind of case is not repeated in the future," Bangli Police head Adj. Sr. Comr. Sakeus Ginting told a public meeting attended by representatives of child rights organizations, Bangli and Jehem village communities, the Bangli House of Representatives and other relevant stakeholders at the Bangli Police office on Friday.
Full report at:
http://www.thejakartapost.com/news/2013/02/02/bali-man-who-wed-teen-named-suspect.html
-----------
South Asia
China poised to control strategic Pakistani port
February 02, 2013
FILE – In this Friday, March 21, 2002 file photo, Pakistani President Gen. Pervez Musharraf, left, with Chinese Vice Premier Wu Bangguo, center, leaves the port under tight security after a ground breaking ceremony of Gwadar Port Project, 700 kilometers (435 miles) from Karachi, Pakistan. – Photo by AP
KARACHI: China is poised to take over operational control of a strategic deep-water Pakistani seaport that could serve as a vital economic hub for Beijing and perhaps a key military outpost, according to officials.
Full report at:
http://dawn.com/2013/02/02/china-poised-to-control-strategic-pakistani-port/
-----------
How Do You Get to Carnegie Hall? Start in Kabul
By ALISSA J. RUBINand DANIEL J. WAKIN
February 2, 2013
KABUL, Afghanistan — Every night Mohsen, a slight, awkward 13-year-old boy, goes home from school to an orphanage here and does something that would probably have been impossible a dozen years ago: he practices his violin before going to bed.
The instrument, he said, has become his closest friend. "It has a sad voice," he said.
All such voices, happy or sad, were banned by the Taliban from 1996 to 2001, when they imposed their extremist vision of Islam on Afghanistan, a country with a long and rich musical tradition. Musicians were beaten, instruments destroyed, cassette tapes smashed.
Full report at:
http://www.nytimes.com/2013/02/02/arts/music/afghanistan-national-institute-of-music-students-to-tour-us.html?ref=asia&_r=0
-----------
PM Hasina Sheikh accuses Khaleda of killing people
February 02, 2013
Prime Minister Sheikh Hasina on Saturday alleged that the opposition leader, Khaleda Zia, is killing people under the guise of various plots at a time when the trial of war criminals is going on.
"When they (BNP) were in power, they only resorted to corruption and killed people…they only know how to kill people. The country would have to be freed from their hands," she said at a public rally at Bera College ground in Pabna.
Full report at:
http://www.thedailystar.net/newDesign/latest_news.php?nid=44507
-----------
Scrap tribunals or non-stop hartal: Jamaat leader
February 02, 2013
Bangladesh Jamaat-e-Islami on Saturday threatened to enforce a non-stop hartal if the government does not scrap International Crimes Tribunal and release its detained top leaders.
"We will raise tougher programme if the government does not stop repression on our leaders and activists," Selim Uddin, a member of Jamaat Central Working Council, said while addressing a rally at Shapla Chattar in the capital's Motijheel area.
Full report at:
http://www.thedailystar.net/newDesign/latest_news.php?nid=44508
-----------
Europe
Amnesty International demands Mali civilian deaths probe
2 February 2013
PARIS: Amnesty International yesterday called on the French army to launch an independent investigation into the deaths of five civilians killed in a helicopter attack at the start of the Mali campaign.
A report from the London-based rights group also highlighted summary executions by Malian troops and militant groups, as well as the militants' use of child soldiers.
Amnesty said at least five civilians, including a mother and three of her children, died during an assault on the central Malian town of Konna on the morning of Jan. 11.
The organization quoted relatives of Aminata Maiga, 40, as saying the woman and her children, Ali, 11, Adama, 10 and Zeinabour, 6, had been killed when rockets fired from a helicopter struck her house and an adjacent mosque.
Full report at:
http://www.arabnews.com/amnesty-demands-mali-civilian-deaths-probe
-----------
Italian Court Convicts 3 Americans in Kidnapping Case
February 2, 2013
A Milan appeals court on Friday vacated acquittals for a former C.I.A. station chief and two other Americans, and convicted them in absentia in the 2003 abduction of an Egyptian cleric from a Milan street as part of the C.I.A.'s extraordinary rendition program for terrorism suspects. The decision means that all 26 Americans tried in absentia for the abduction now have been found guilty. An appeals court sentenced the former C.I.A. Rome station chief, Jeffrey Castelli, to seven years, and handed sentences of six years each to Betnie Medero and Ralph Russomando. A lower court, while convicting 23 other Americans in November 2009, had acquitted those 3, citing diplomatic immunity. Italy's highest court last year upheld the convictions of the 23 other Americans in absentia in the abduction of the Egyptian, Osama Moustafa Hassan Nasr, also known as Abu Omar, on Feb. 17, 2003. Mr. Nasr was transferred to American military bases in Italy and then Germany, before being flown to Egypt, where, he says, he was tortured. He has since been released.
http://www.nytimes.com/2013/02/02/world/europe/italian-court-convicts-3-americans-in-
--------------
Germany security talks begin with Syria in focus
Kate Millar | February 02, 2013
Syria's opposition chief said the international community must not be a bystander to the tragedy of the Syrian people as US and other officials, ministers and military brass gathered for the Munich Security Conference.
US Vice President Joe Biden is due to attend the Munich talks on Saturday.
The freshly re-inaugurated Biden, who on Friday met Chancellor Angela Merkel in Berlin, will in Munich turn his attention to Syria amid fears the conflict may spill over the country's borders.
Full report at:
http://www.thejakartaglobe.com/afp/germany-security-talks-begin-with-syria-in-focus/569167
-----------
British Antiterrorism Official Sentenced in Hacking Scandal
By JOHN F. BURNS
February 2, 2013
LONDON — A senior police officer in Scotland Yard's counterterrorism command was sentenced to a 15-month prison term on Friday for seeking cash payments from Rupert Murdoch's News of the World tabloid in return for information about a Scotland Yard investigation into phone hacking at the paper.
Full report at:
http://www.nytimes.com/2013/02/02/world/europe/scotland-yard-official-april-casburn-
-----------
U.N. Chief Suggests Review of 21-Year-Old Somalia Arms Embargo
February 2, 2013
UNITED NATIONS (Reuters) - The Security Council should consider lifting an arms embargo on Somalia to help rebuild the country's security forces and consolidate military gains against al Qaeda-linked al Shabaab, U.N. chief Ban Ki-moon suggested in a report Friday.
The council imposed the embargo in 1992 to cut the flow of arms to feuding warlords, who a year earlier ousted dictator Mohamed Siad Barre and plunged Somalia into civil war. Council diplomats said the arms embargo was "under discussion" as the delegations have not reached a final agreement.
Full report at:
http://www.nytimes.com/reuters/2013/02/01/world/africa/01reuters-somalia-
-----------
UN aid reaches Syria rebel-held northern area of Azaz
February 02, 2013
The UN refugee agency has for the first time reached an opposition-held area in northern Syria, saying some 45,000 displaced people there are living in "appalling" conditions.
The UNHCR said many people were staying in makeshift camps, with some sleeping in the open in sub-zero temperatures.
Full report at:
http://www.bbc.co.uk/news/world-middle-east-21297013
----------
URL: https://www.newageislam.com/islamic-world-news/new-age-islam-news-bureau/-traces-of-pork-dna--found-in-halal-prison-meat-in-uk/d/10243