Age Islam News Bureau
15 May 2017
• 'They Could Lead You to Hell': Muslim Preacher Slams Islamic Men for Wanting 'Supermodel' Wives Who Do Their Eyebrows and Don't Wear Hijabs
• Indian Muslim Scholars for Guard against 'Insiders Disintegrating Community'
• Tell Our Government to Keep Zakir Naik Out: Malaysian Hindus to UN
• Will Not Let Pakistan War against Neighbours, Says Former Pakistan President Asif Ali Zardari
Europe
• 'They Could Lead You to Hell': Muslim Preacher Slams Islamic Men for Wanting 'Supermodel' Wives Who Do Their Eyebrows and Don't Wear Hijabs
• Central Asia Becomes New Target In Russia's Televised Hunt For IS
• Russia, Saudi Arabia agree to extend oil output cuts until March 2018
• King Mohammed VI the 'Flag Bearer' of Moderate Islam: Malian Tidjaniya Council
--------
India
• Indian Muslim Scholars for Guard against 'Insiders Disintegrating Community'
• Triple Talaq Case: Can't Hear Nikah Halala, Polygamy Pleas Now, Have Limited Time, Says SC
• Man Tries To Get Aadhaar Card for Osama Bin Laden, Booked
• Hurriyat to Hizbul: Don't Get Emotional, Follow 'Freedom Struggle with Vision and Wisdom'
• Pakistan Tells UN That India Is 'Converting Kashmir's Muslim Majority to Minority'
• Palestine President in India Ahead Of Modi Israel Trip
• Terrorists Are Part of Pakistan's Border Action Team, Here's Proof
• Jail Breaker Stone Pelter Zubair Turray Joins Hizbul Mujahideen in South Kashmir
• J&K: Two LeT terrorists killed in Handwara encounter
--------
Southeast Asia
• Tell Our Government to Keep Zakir Naik Out: Malaysian Hindus to UN
• Umno-PAS Collaboration Is Possible, Spiritual Leader Says
• Pakatan leaders must speak up for secular rule, says Zaid
• Only Selangor Sultan can sack our reps, says PAS
• Jokowi recalls past trade relations with Chinese Muslims
--------
Pakistan
• Will Not Let Pakistan War against Neighbours, Says Former Pakistan President Asif Ali Zardari
• New Policy Will Apply both To Afghanistan and Pakistan: Mcmaster
• CTD kill four suspected terrorists in Khanewal
• China to play role in defusing Pak-Afghan tension
• JUI-F protests ISIS attack against Senate deputy
• Rabbani for unified stance against terrorism
--------
Arab World
• Iraqi Shia Cleric Warns Of Spread of Terrorism in Europe
• Syrian Army on Verge of Liberating Last Bastion of ISIL Terrorists in Aleppo Province
• Over 2,000 Gunmen, Family Members Evacuated from Eastern Damascus
• ISIL Centres in Deir Ezzur Receive Severe Blow in Syrian Armed Forces' Attacks
• Syria: More Gunmen Leave Eastern Damascus for Idlib
• Iraqi Security Forces Discover Mass Grave near Border with Iran
• Infighting Erupts between Rival Terrorist Groups in Yarmouk Camp in Southern Damascus
• Syria: More Civilians Killed in US-Led Coalition Air Raids in Raqqa, Deir Ezzur
• Russian FM Lavrov reveals disengagement zone plans in Syria
--------
Mideast
• Minister in Yemen Rebel Government Labels Houthis 'Bloodsuckers'
• Iran Urged To Join Islamic Summit to Settle Differences with KSA
• Sources: Turkey Warns US of Targeting YPG Forces if Necessary
• Oman confirms its stance alongside the legitimate government of Yemen
• Gargash: UAE's role in Yemen is in supporting Saudi Arabia
• Saudi Arabia must stop anti-Iran policies, accusations: Qassemi
• People across world mark Palestinian Nakba Day
• Yemeni sharpshooters kill 2 more Saudi soldiers in Jizan
--------
Africa
• Jordan, Egypt, Palestine Reiterate Commitment to Two-State Solution
• US Takes Sudan off State-Sponsored Terrorism Blacklist
• Death Toll in CAR Attacks Targeting Muslims Could Reach 30, UN Says
• Security guard killed in terrorist attack in northeast Nigeria
• Head of Algeria's Islamic party threatens to resign
--------
South Asia
• Taliban Vehicle Hit Roadside Mine in Kandahar, 10 Killed, 7 Wounded
• 4 Taliban insurgents killed while planting roadside bomb in Logar
• Ghani confers high state medal on NATO special operations commander
• No casualties reported in Kabul explosion: Danish
--------
North America
• US Court to Hear Today the Case against Trump's Muslim Travel Ban
• Trump Considering How Move of U.S. Embassy in Israel Could Affect Mideast Peace
• Latino Muslims embrace heritage and faith amid Islamophobia, ethnic fears in Trump's America
• Syria's al-Qaeda affiliate escapes from Canada's terror list
• Saskatchewan Muslims in Canada host luncheon to educate locals about Ramadan
• Muslim hate crimes: Reports of Islamophobic incidents in the US soared again in 2016
Compiled by New Age Islam News Bureau
URL: https://www.newageislam.com/islamic-world-news/they-lead-hell-muslim-preacher/d/111154
--------
'They Could Lead You to Hell': Muslim Preacher Slams Islamic Men for Wanting 'Supermodel' Wives Who Do Their Eyebrows and Don't Wear Hijabs
15 May 2017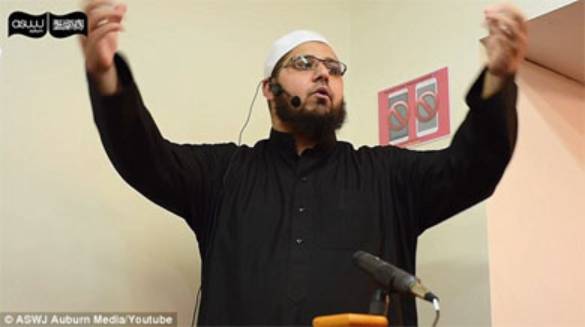 Nassim Abdi was up in arms about Muslim men who care more about beauty in a wife
-----
An Islamic preacher in Sydney's west has warned Muslim men they will go to hell if they seek a beautiful wife who doesn't wear a Hijab and plucks her eyebrows.
Nassim Abdi mocked men who were more concerned about their prospective wife's 'supermodel' looks than her devotion to prayer.
'If your children are bad then you're responsible because you chose a bad wife, they could lead you to the hell fire. But as long as they have a beautiful wife,' he said.
The Sunni preacher, from the hard-line Ahlus Sunnah Wal Jamaah Association in Auburn, said a Muslim man would be blessed if he chose a 'righteous wife'.
However, he said many men were more concerned about their wife's looks than their devotion to masjid, the Arabic term for a mosque.
'The person needs to make sure his wife is a supermodel from top to bottom,' Mr Abdi said.
'Doesn't wear hijab. Doesn't pray. Does her eyebrows. Goes out and beautifies.
'Doesn't care about the masjid. Doesn't want to be religious. Doesn't want to do this.
'Doesn't want to do that. As long as she's beautiful, that's what he's concerned about.
'Where are your priorities?'
His lecture about fearing Allah didn't single out any high profile Australian Muslims who are married to beautiful women who don't wear a hijab.
However, his words would be critical of Auburn's former deputy mayor Salim Mehajer, whose glamorous estranged wife Aysha has manicured eyebrows and doesn't cover up her luscious hair.
New Zealand All Blacks Rugby Union international Sonny Bill Williams, a Muslim convert, is married to a former Brazilian nightclub dancer Alana Raffie, who also doesn't wear a hijab.
A small number of Muslim men in Australia are married to high-profile women who choose to wear a hijab.
The Project's Waleed Aly's academic wife Dr Susan Carland wears a head scarf but she also does her eyebrows.
Diversity activist and lawyer Mariam Veiszadeh, who wears a hijab, is married to Ehssan Veiszadeh, the media director for New South Wales Premier Gladys Berejiklian.
In April, another fundamentalist preacher at the ASWJ Association told girls at a youth night that they would go to hell if they befriended non-Muslims or plucked their eyebrows.
Sheikh Mohamad Doar told a room of teenage girls in Sydney's west they needed to stop being friends with non-believers in a lecture that also covered Islamic fashion and grooming.
'The lady who plucks her eyebrows and the one who gets them plucked, they're both cursed by Allah,' he said.
http://www.dailymail.co.uk/news/article-4505754/Muslim-preacher-slams-Islamic-men-want-beautiful-wife.html
--------
Indian Muslim Scholars for Guard against 'Insiders Disintegrating Community'
May 15, 2017
Muslim scholars from different schools of thoughts on Sunday appealed to people to be on guard against efforts of insiders unwittingly disintegrating the community by playing into hands of anti-Islam forces. Following a brainstorming session at Bhagat Singh Hall in Saraspur, the Muslim leaders also concern over Waqf funds of crores of rupees lying idle. The meet was organised by Noor E Mohammadi Education and Social Welfare Trust, a local welfare body.
Mufti Rizwan Tarapuri, head of All India Milli Council, explaining the modus operandi of anti-Islam forces, said in the guise of scholars they spread controversial thoughts on orders from those wanting to disintegrate the community over differences in belief. "We must ignore these elements. The anti-Islam forces are eyeing Asian countries now to break Muslim unity. Let us spread message of love from all platforms. The unity lies in reviving our past glory," he said.
Iqbal Shaikh, former member of the Central Waqf Council, said: "They (anti-Islam forces) conduct daily drills, but Muslim youths are in slumber." He claimed Waqf funds of around Rs 4.90 Lakh crore in the country were lying idle. "Even if 10 per cent of the idle is used properly for welfare of the community, it will a great service to the community", he said. Shaikh also criticised the "criminal" attitude of several tenants of Waqf properties and said they pay rent as per market rates that existed two to three decades ago. He said at many places trusts and Waqf boards were hands in gloves in selling its properties even after November 2013 when sales of these properties was banned.
http://indianexpress.com/article/cities/ahmedabad/mulism-scholars-for-guard-against-insiders-disintegrating-community-4655965/
--------
Tell Our Government To Keep Zakir Naik Out: Malaysian Hindus To UN
May 14, 2017
The Chairman of HINDRAF (Hindu Rights Action Force) in Malayasia, P Waythamoorthy, has called for the UN Security Council Counter-Terrorism Committee to advise Malaysia to deny fugitive Islamist preacher Zakir Naik a safe haven in the country and to revoke the Permanent Resident (PR) status he enjoys in Malayasia. India's premier investigative agency, NIA, (National investigative Agency) has recently approached Interpol for a Red Corner Notice against Naik.
"We, in Malaysia, do not want our country to be used for terrorist installations or training camps, or for the preparation or organisation of terrorist acts intended to be committed either domestically or internationally," Waythamoorthy wrote.
"The ability for Dr Zakir Naik to freely conduct public lecturers in Malaysian universities, public events, associate with local movements to train protégés with his ideology with the blessing of current government leaders does not sit very well with the non-Muslim community as well as a sizeable Muslim community in Malaysia," he said.
A non-governmental organisation, HINDRAF, which has been fighting for the rights of Indians (predominatly Tamil Hindus) in Malaysia, had recently announced its entry in to politics and its plans to turn itself in to a political party.
HINDRAF secretary Muniandy Ponnusamy said that the decision followed a series of nationwide forums and meetings with the grassroots Indian community.
Malaysia has a population of 24.3 million, separated into four major demographic categories: the Bumiputras, Chinese, Indians and Others. Religion and race
are closely linked in the country. Under Article 160 of the Federal Constitution, a Malay is defined as "a person who professes the religion of Islam, habitually speaks the Malay language, conforms to Malay custom". As a consequence of this, all ethnic Malays who are followers of Islam are privileged under the 'Bumiputra' policy .
Facing the brunt of this state-sanctioned discriminatory policy were the Malaysian Indians who do not enjoy a high socio-economic status and form a very small minority within Malaysia - just 7.5 per cent (1.8 million) of the total population. 80 per cent of Malayasian Indians are Tamil Hindus and are descendants of those who emigrated from the Indian sub-continent to Malaysia as indentured and unassisted free labour. Their non-Bumiputra status, minuscule numbers, and lack of economic clout has led to their discrimination in an increasingly Islamised Malayasia.
Tamil Muslims, though, prefer to identify themselves with the Malay race to enjoy privileges under the state policy that provides preferences ranging from higher education quotas, public service employment, to business permits for Bumiputra Muslims only. Thousands of Tamil Muslims as a result became more Malay than the Malays themselves.
A broad coalition of 30 Hindu non-government organisations, HINDRAD was formed in early 2006 in response to the Malaysian High Court's verdict that it had no jurisdiction in the case of an Everest mountaineer and ex-soldier, Moorthy Maniam's burial.
Moorthy Maniam, who served as a corporal in the Malaysian Army, was among the first group of Malaysians to successfully climb Mount Everest.
In its decision, the court announced that it will not be able to override the country's Islamic courts in matters of religious conversion. This meant that Moorthy, a born and bred Hindu, was buried as a Muslim because of questionable claims that he had converted to Islam prior to his death. Moorthy's widow had refuted the claim.
This ruling was a galvanizing moment for the Hindus of Malayasia. The demolition of Hindu temples in the country had already created a huge wave of anger among the Tamil Hindus. Over 79 Hindu temples had been demolished by the Malaysian government since 1957.
On 25 November 2007, HINDRAF attempted a massive mobilisation of disenfranchised Malaysian Indians and organised a protest on the streets of the capital, Kuala Lumpur.
It also petition petitioned the British government that as descendants of the Indian indentured as labourers during colonial rule, its members were owed US$4 trillion in compensation.
https://swarajyamag.com/world/tell-our-government-to-keep-zakir-naik-out-malaysian-hindus-to-un
--------
Will not let Pakistan war against neighbours, says former Pakistan President Asif Ali Zardari
May 15, 2017
Former Pakistan President Asif Ali Zardari on Sunday said he stood for good relations with Pakistan's neighbouring countries and criticised the Nawaz Sharif led government for creating discord along the lines of what he perceives to be "American foreign policy".
Addressing a rally in Peshawar, the former President said that while he was in power, Pakistan's relations with Afghanistan and India were good and there was peace. "We should be friends with our neighbouring countries… (Prime Minister) Nawaz (Sharif) has the same thought process as the Americans when it comes to waging wars." "We will not let this war happen," Asif Ali Zardari added.
http://indianexpress.com/article/india/will-not-let-pakistan-war-against-neighbours-india-says-former-pakistan-president-asif-ali-zardari-4656277/
--------
Europe
Central Asia becomes new target in Russia's televised hunt for IS
May 15, 2017
MOSCOW: The arrests are decisive, dramatic, and nationally televised. As the camera rolls, masked Russian counterintelligence agents jump out of a van and dash across a field outside Moscow. They take down a man in a blue coat, pin him to the pavement and pull a pistol from his pants. This is Abror Azimov, the TV announcer says, "one of the organisers" of last month's bombing of a St Petersburg subway train, which killed 16 people.
In the next scene, agents arrest Azimov's older brother, Akram. They pull a grenade from a bag he is carrying. The elder brother, the announcer says, is also an accomplice in the bombing.
The detentions, broadcast recently on one of Russia's most-watched news programmemes, are designed to show law enforcement's resolve. They give the public a name for a new enemy in Russia's struggle against domestic terrorism: migrant workers from Central Asia. And, some rights advocates worry, they are the harbinger of a new wave of repression against a vulnerable minority.
The Azimovs are part of a group of about 20 suspects who have been rounded up in what Russian law enforcement authorities say is an aggressive pursuit of Islamist extremists involved in the bombing. All of the suspects hail from predominantly Muslim, strife-torn former Soviet republics of Central Asia, from which, Russian President Vladimir Putin recently estimated, several thousand people have left to join the IS.
Russian authorities say they are acting prudently to protect their country from a clear and present threat. Last month, Alexander Bortnikov, director of the Federal Security Service, or FSB, said agents had thwarted 16 terrorist attacks across Russia in 2016, most of which involved migrants from other former Soviet republics.
But some worry that migrant workers from Central Asia make convenient targets. In the 2013 campaign for Moscow mayor, both the eventual winner, Sergey Sobyanin, and the runner-up, opposition leader Alexei Navalny, campaigned on tough stances toward economic migrants from the region. "They are treated like second-class humans in Russia," said Tanya Lokshina, Russia programme director for Human Rights Watch.
As the "caliphate" crumbles and the Islamist militants return from the Middle East, the concern in Moscow is that they will travel to Russia to infiltrate the large population of Muslim economic migrants from Central Asia — between 2.7 million and 4.2 million people, according to a 2016 study published by the Moscow-based journal Russia in Global Affairs.
Citizens of Kyrgyzstan — the home country of the Azimovs and Akbarzhon Dzhalilov, the suspected suicide bomber in the St. Petersburg attack — can travel to Russia without a visa, as can those from Tajikistan and Uzbekistan. These countries intersect in the Ferghana Valley, a volatile region that has seen a growth of stringent versions of Islam and the recruitment of hundreds of militants to fight in the IS.
Central Asian migrants, who come to fill the low-paying jobs that Russians often refuse, become vulnerable to Islamist militant propaganda because of their "rather difficult social-economic position" in Russia, said Andrei Kazantsev, a specialist on Central Asia and a member of the Valdai Discussion Club, a Moscow think tank.
Some analysts are suspicious of the authorities' speed in identifying the alleged organisers of the St Petersburg bombing. Kazantsev is not, attributing the results to the sheer number of police and counterintelligence agents dedicated to the investigation.
Three days after the bombing, Russian investigators said they had arrested eight possible accomplices in the subway attack. Along with the footage of the Azimovs' arrest, Russian television has broadcast several FSB videos showing agents kicking down doors, taking suspected militants into custody and displaying what narrators describe as bomb components. One video showed the bodies of two men, shot by agents, the narrator says, after they put up a fight.
No one doubts that Central Asia is producing Islamist militants, but some Russian observers fear that the crackdown will extend to blameless civilians. They refer to Russia's response to militancy in the North Caucasus region along the country's southern border. There, federal forces fought two civil wars in Russia's semiautonomous republic of Chechnya. They are combating a simmering Islamist insurgency in the neighbouring republic of Dagestan, and facing IS fighters returning home to these regions. Along with suspected militants, rights advocates say, thousands of innocents have been subject to imprisonment, torture and summary execution.
Arkady Dubnov, an independent Central Asia analyst based in Moscow, said that authorities are clearly "hurrying to prove the Central Asian connection" to the St Petersburg attack, which is stoking "fear of migrants among the Russian population". He said authorities had provided little evidence of the suspects' terrorist links, other than "fake details of an investigation and staged arrests".
The Azimov brothers' mother, Vazira Mirzakhmedova, said in a statement last month that she believed her eldest son, Akram, had been kidnapped by authorities from a hospital in southern Kyrgyzstan, and that the arrest outside Moscow had been staged. In an interview in their home in Jalal-Abad, the Azimovs' youngest brother, Bilal, said that "everyone in Russia knows" that the arrests were "a setup, theatre".
When FSB agents prepare to detain an armed terrorist, he said, they normally wear body armour. In both of the televised arrests, the agents do not appear to be wearing protective vests under their jackets, and their guns are holstered, even though a narrator says they knew the suspects would be armed.
Investigators said that Akram Azimov had admitted that he and his brother had been accomplices in the bombing, but in court Azimov denied involvement in the attack.
Russia's FSB did not respond to a request for comment.
Televised crackdown having effect
Jalal-Abad is in Kyrgyzstan's part of the Ferghana Valley. The area has produced a prominent field commander in Syria, Sirozhiddin Mukhtarov, known as Abu Salah al-Uzbeki, who is believed to have been recruiting fighters from his native region since 2013. One Kyrgyz news site has
reported that Abu Salah ordered the St Petersburg bombing, although the SITE Intelligence Group, a private company that monitors terrorist organisations, reported last month that a group called the Imam Shamil Battalion claimed responsibility for the attack.
A well-known imam in Kara-Suu, Kyrgyzstan, not far from Jalal-Abad, was convicted in 2015 for possession of extremist literature.
"Lack of opportunities and access to good education among youth, a poor labour market, conflict tensions among ethnic groups, political turbulence and widespread corruption in the government system leave a large part of the population vulnerable and marginalised," said Akylai Karimova, an activist from the Ferghana Valley city of Osh, Kyrgyzstan, who runs a UN-funded project to reduce radicalism among young people. "These, in turn, become a perfect base for radical elements to spread among them."
Until now, the economic rewards of working in Russia, even in lower-paying jobs, were worth enduring the second-class treatment faced by many migrants. According to the 2016 study in Russia in Global Affairs, 31 per cent of Kyrgyzstan's gross domestic product came in the form of remittances from Russia.
But the news of arrests after the St. Petersburg attack has changed some people's minds, Karimova said. "They seem lost, saying, 'There is no point for us to go to Russia now,' " she said.
There is some evidence that the televised crackdown is having an effect on Russians, too. In a survey of 1,800 Russians taken in the wake of the bombing, 60 per cent said they believed the threat of international terrorism has increased in recent years. But 75 per cent said they believed Russian authorities could protect them from it.
https://www.dawn.com/news/1333138/central-asia-becomes-new-target-in-russias-televised-hunt-for-is
--------
Russia, Saudi Arabia agree to extend oil output cuts until March 2018
May 15, 2017
Saudi Arabia and Russia have agreed to extend crude oil output cuts until March 2018 in their latest effort to rebalance the global crude market, energy ministers for the two major oil producers said on Monday.
The next round of cuts will be on the same terms as the existing deal, Saudi energy minister Khalid al-Falih said at a joint briefing in Beijing with his Russian counterpart Alexander Novak.
News of the joint deal sent crude prices up more than 1.5 percent in Asian trading.[O/R]
In a joint statement issued after the briefing, both ministers agreed to do whatever it takes to reduce global inventories to their five-year average and expressed optimism they will secure support for the extension from other producers.
Under the current agreement, the Organization of the Petroleum Exporting Countries (OPEC), of which Saudi Arabia is the de-facto leader, and other producers including Russia pledged to cut output by almost 1.8 million barrels per day (bpd) during the first half of the year.
Full report at:
http://nation.com.pk/international/15-May-2017/russia-saudi-arabia-agree-to-extend-oil-output-cuts-until-march-2018
--------
King Mohammed VI the 'Flag Bearer' of Moderate Islam: Malian Tidjaniya Council
By Amira El Masaiti
May 14, 2017
As the Commander of the Faithful, the King plays a "very commendable" role in sub-Saharan Africa, said Thiam on May 13 during a meeting with a Moroccan delegation led by the Moroccan Caliph of Tariqa Tidjaniya of Mohamed El Kerbirin in Bamako.
"During his first visit to Mali, the King settled on training 500 imams in Mali" to implant the precepts of moderate Islam in Mali, Thiam told the MAP, adding that 300 Malian imams are already trained at the Mohammed VI Institute for the Training of Imams.
Thiam, who is also a member of the Governors Board of the Mohammed VI Foundation of African Ulema, highly praised the King's establishment of this institution, adding that the National Council of Tariqa Tidjaniya followers has already established an office of the Foundation in Mali.
The president stated that the establishment of the Foundation's office Mali is a great prospect for the coalition between Mali and Morocco, offering a chance to enrich noble values and principles of moderate Islam, tolerance and the right balance.He also referred to the Kingdom's readmission to the African Union as a great instance in African history and a chance to build a stronger and richer Africa.
The provisional president of the Tidjaniya women's association, Nana Haydara, also showed high praise of Morocco's moderate Islam, stressing upon the excellent relations between Mali and Morocco, "the Kingdom which promotes the values of peace, solidarity will always support Mali and Tarika Tidjaniya."
Haydara explained that thanks to the support of Morocco, her association succeeded in holding a Tidjaniya International Forum for Women in Bamako, an opportunity to stand against terrorism and violence.
Mohamed El Hanafi Oueld Hah, coordinator of the section of Islamic Studies at the Nouakchott Faculty of Arts, emphasized on the pioneering role played by the Moroccan King's consistent efforts to unify the ranks of the Islamic world.
Full report at:
https://www.moroccoworldnews.com/2017/05/216552/king-mohammed-vi-the-flag-bearer-of-moderate-islam-malian-tidjaniya-council/
--------
India
Triple Talaq case: Can't hear nikah halala, polygamy pleas now, have limited time, says SC
May 15, 2017
The Supreme Court on Monday made it clear to the Centre that it will only deal with the issue of triple talaq at present due to paucity of time. It said it will keep the issues of nikah halala and polygamy pending for now, ANI has reported. The Centre on Monday insisted deliberations on these two issues as well.
The five-judge bench headed by Justice Khehar was quoted, "It may not be possible to deal with all the three issues
in the limited time we have. We will keep them pending for future", as saying by PTI.
The observation came after Attorney General (AG) Mukul Rohatgi said, "The scope of referring had all the three issues that was divorce, nikah halala, polygamy. All these three issues are before this court by virtue of the reference order of the two- judge bench."
The bench, which began hearing a clutch of petitions on 'instant triple talaq' or talaq-e-bidat last week, observed on its first hearing that it will first determine if instant triple talaq is fundamental to Islam while stating that it will not dwell on polygamy and nikah halala.
http://indianexpress.com/article/india/triple-talaq-sc-says-cant-hear-nikah-halala-polygamy-have-limited-time/
--------
Man tries to get Aadhaar card for Osama bin Laden, booked
May 15, 2017
Saddam Mansuri, a 35-year old Unique Identification Authority of India (UIDAI) operator was reportedly caught by officials trying to make an Aadhaar card using the name of slain al Qaeda terrorist Osama Bin Laden. According to a report by Times of India, Mansuri, who runs an Aadhaar registration centre in Mandal area of Bhilwara city in Rajasthan tried to create an Aadhaar card using Laden's name. But the officials from the verification department spotted errors in the applicant's database and filed a complaint against the operator.
"Mansuri filled Abbottabad, district Bhilwara as Laden's address; he also uploaded a picture of the terrorist which was blurred. He did not upload details such as thumb impression or identification proof," Mandal Deputy SP Chanchal Mishra was quoted by the newspaper.
Sanjay Aludia, who works for the IT department in Mandal, told TOI that he filed the FIR against Mansuri after they were informed of the anomalies by the technical team in New Delhi. "Our technical team in New Delhi found the anomalies highly suspicious and informed Rajasthan department of information and technology. I received a call from Jaipur office and immediately filed an FIR," he told TOI.
The report says that police have booked a case against Mansuri under relevant sections of IT Act and are awaiting documentary evidence from the IT department after which they will start investigating the case. "Once we have all the documents, the accused would be quizzed as to why he tried to get an Aadhaar in the name of dead terrorist," officers told TOI.
Full report at:
http://indianexpress.com/article/india/man-tries-to-get-aadhaar-card-for-osama-bin-laden-booked-4656136/
--------
Hurriyat to Hizbul: Don't get emotional, follow 'freedom struggle with vision and wisdom'
M Saleem Pandit
May 15, 2017
SRINAGAR: Two days after Hizbul Mujahideen commander Zakir Bhat alias Musa warned Hurriyat separatists against calling Kashmir struggle a political issue and threatened to slaughter them, Syed Ali Geelani, Mirwaiz Umer Farooq and Mohd Yasin Malik on Sunday pleaded with the militants to not get emotional and instead follow "freedom struggle with vision and wisdom".
The spat between Hurriyat separatists and Hizb militants has created debate in the Valley. In a joint statement Geelani, Mirwaiz and Yasin asked all political and militant organisations to maintain unity.
"Our freedom movement is in its crucial stage and we need to be careful as our enemy can derive advantage from prevailing crises," the joint Hurriyat statement said, adding that in the 1990s, "We paid a lot in terms of lives... Disunity and differences proved disastrous."
Full report at:
http://timesofindia.indiatimes.com/india/hurriyat-to-hizbul-dont-get-emotional-follow-freedom-struggle-with-vision-and-wisdom/articleshow/58676596.cms
--------
Pakistan Tells UN That India Is 'Converting Kashmir's Muslim Majority to Minority'
May 14, 2017
NEW DELHI: Pakistan yesterday wrote to the UN again, this time claiming that India is attempting to "change Kashmir's demographic", Pakistani media reported.
India's efforts, Pakistan's letter alleged, are "to convert the Muslim majority" in Kashmir "into a minority, to pre-empt the results of a UN-administered plebiscite", according to The Express Tribune which quoted a government statement from yesterday.
Pakistan writes to the UN often, urging it to interfere in Kashmir. This letter also alleged that in Kashmir, India has issued permanent residence certificates to non-residents, alloted land to retired Indian army personnel and non-Kashmiris and established separate townships for Kashmiri pundits and "West Pakistan refugees", reported the Tribune.
The letter was written by Sartaj Aziz, Pakistan Prime Minister Nawaz Sharif's foreign affairs adviser. The letter was delivered to the UN Under-Secretary-General for Political Affairs in New York by Pakistan's ambassador to the UN Maleeha Lodhi, GeoTv reported.
Aziz also told the UN in his letter that the "non-implementation of the UN Security Council resolutions is leading to a grave human tragedy in the Valley", Pakistani media reported.
Full report at:
http://timesofindia.indiatimes.com/india/pakistan-tells-un-that-india-is-converting-kashmirs-muslim-majority-to-minority/articleshow/58667414.cms
--------
Palestine president in India ahead of Modi Israel trip
May 14, 2017
NEW DELHI: Palestinian President Mahmoud Abbas landed in New Delhi late Sunday for a three-day visit looking to strengthen ties with India ahead of Prime Minister Narendra Modi's historic trip to Israel.
Abbas arrived with a delegation for his third state visit to India, where he will hold key talks on bilateral, regional and international issues, including the peace process in the restive Middle East, according to India's foreign ministry.
On Monday - day one of his visit - he will zip to an IT centre in Noida, a satellite city outside the Indian capital, aiming to forge greater cooperation in technology.
He is also slated to make an address at New Delhi's India Islamic Cultural Centre in the evening.
On day two, he will meet with Modi, his Indian counterpart Pranab Mukherjee and Foreign Minister Sushma Swaraj after a ceremonial welcome at the presidential palace and laying a wreath at Mahatma Gandhi's memorial.
He is scheduled to head back home on Wednesday.
Abbas and Modi will sign several deals "on cooperation in various areas", the foreign ministry said, without providing specific details.
"India and Palestine enjoy historically close and friendly ties," it said in a statement late Saturday, reiterating India's "political support to the Palestinian cause".
New Delhi is hosting Abbas ahead of Hindu nationalist Modi's unprecedented visit to Israel reportedly in July - the first-ever by an Indian premier - with observers calling it a balancing act by India to assuage both sides.
India has traditionally voiced its support for Palestinian statehood, initially shunning diplomatic relations with the Jewish state.
Full report at:
http://timesofindia.indiatimes.com/india/palestine-president-in-india-ahead-of-modi-israel-trip/articleshow/58673364.cms
--------
Terrorists are part of Pakistan's Border Action Team, Here's proof
ET Bureau
May 15, 2017
Rare pictures of Pakistan Army's Border Action Team (BAT), accessed by ET, clearly indicate that Pak Army regulars and terrorists work in tandem on the Line of Control.
On the Indian side, the posts are connected with communication trenches — semi-protected pathways through which a soldier can move between the posts.
Indian soldiers also carry out regular patrols between the posts to detect intrusion attempts. Pak Army's BATs target Indian soldiers in these trenches as well as on patrol duty.
Commandoes, regular soldiers of the Mujahid regiment that mans the LoC and terrorists.
Although Pak has never acknowledged the existence of such teams, terrorists have in the past boasted about such operations on the border.
Full report at:
http://timesofindia.indiatimes.com/india/terrorists-are-part-of-pakistans-border-action-team-heres-proof/articleshow/58678333.cms
--------
Jail breaker stone pelter Zubair Turray joins Hizbul Mujahideen in south Kashmir
M Saleem Pandit
May 14, 2017
SRINAGAR: Zubair Ahmad Turray, chronic stone pelter of Shopian town in south Kashmir, who managed to escape from the jail just 15 days ago, where he was lodged for stone pelting, today announced that he has joined terror outfit Hizbul Mujahideen.
"Zubair Ahmad Turray (23) son of Bashir Ahmad Turray had fled from the Shopian district jail on May 1. Since then the town was observing continuous protests demanding his whereabouts," a senior police officer said, adding, "He was arrested in 2016 on stone pelting charges and PSA was also slapped on him."
In a video clip of five minutes Zubair Turray announced his joining of militancy wearing army dress.
"I was slapped with Public safety Act several times and even court quashed all of them but I was not released. I was facing illegal detention since three months," Zubair said in a video clip.
"Every effort of my father to get me released was failed.I appeal my father, Bashir Ahmad Turray not to worry for me," Zubair said.
Exhibiting arms and ammunition on a table in front of him Zubair asked people to support "freedom struggle" and said that he would carry forward his mission.
Shopian town was observing continuous shutdown from last four days demanding after his parents told that he was missing from the police custody. Even the Hurriyat leaders demanded the whereabouts of Zubair.
Full report at:
http://timesofindia.indiatimes.com/india/jail-breaker-stone-pelter-zubair-turray-joins-hizb-in-south-kashmir/articleshow/58673354.cms
--------
J&K: Two LeT terrorists killed in Handwara encounter
May 14, 2017
NEW DELHI: Two terrorists were killed in a fierce gunbattle broke out on Sunday evening between security forces and Lashkar-e-Taiba terrorists in north Kashmir's Waripora village of Handwara in Kupwara district.
"Two terrorists hiding inside a house in the village. As soon as the joint team of police and 21 Rashtriya Rifles approached the suspected site, the hiding militants opened fire, triggering an encounter," a police officer said, adding, "Both the terrorists were gunned down and two guns were recovered."
"No security personnel or civilian was injured in the operation," the officer said.
Full report at:
http://timesofindia.indiatimes.com/india/jk-two-let-terrorists-killed-in-ongoing-handwara-encounter/articleshow/58669771.cms
--------
Southeast Asia
Umno-PAS collaboration is possible, spiritual leader says
May 15, 2017
KUALA LUMPUR, May 15 — PAS has not ruled out the possibility of establishing a tahaluf siyasi or political co-operation with Umno, the party's spiritual leader Hashim Jasin said.
Hashim said Umno's support and will to address Islamic issues showed that there was a possibility for both parties to collaborate together.
"Prime Minister Datuk Seri Najib Razak, when tabling the recent Budget, had used some Islamic verses similarly used by the late PAS spiritual leader Datuk Dr Haron Din," he was quoted as saying in Utusan Malaysia.
Hashim added that PAS was, in fact, willing to work with any parties that agreed a Muslim must helm the possible pact.
"We are prepared to politically co-operate with not only Umno, but other NGOs as well," he was quoted as saying.
Full report at:
http://www.themalaymailonline.com/malaysia/article/umno-pas-collaboration-is-possible-spiritual-leader-says
--------
Pakatan leaders must speak up for secular rule, says Zaid
May 15, 2017
PETALING JAYA: Zaid Ibrahim is not letting up on his comments against Pakatan Harapan leaders who shy away from standing up for the basic tenets of the country's constitution, arguing that this is expected of anyone wanting to lead the country.
In a series of tweets sent this morning, the former minister said the country's secular status must be maintained over any effort to impose Islamic laws on the people.
The first three tweets read: "If you want to be leader of a multireligious country, you must be willing to defend secular institutions and laws."
"Only a secular country can ensure freedom and personal choice, and religious laws do not."
"They don't understand that public laws and policies must be based on the singular concept that our Constitution is secular."
Zaid also made an obvious push for PPBM chairman Dr Mahathir Mohamad to lead the opposition challenge against the Barisan Nasional (BN) in the next general election (GE14) with his fourth message.
"Muslim leaders in Pakatan (with the exception of Tun) are always afraid of answering questions about hudud. Wan Azizah is just one them," he said, referring to the former prime minister by his honorific title "Tun", in comparison with other Pakatan leaders, including PKR president Dr Wan Azizah Wan Ismail.
Last Friday, at a DAP fundraising event at the Tropicana Golf Resort, Zaid warned that the greatest threat to Malaysia today is Islamic radicalism.
"Islamic radicalism spells the death of our way of life and our free society.
"We will have the imposition of an extremist Wahhabi rule that will tell us what clothes we can wear and what things we can say," he said, adding that Islamic radicalism is a greater threat than the kleptocracy the opposition have been rallying against so vehemently.
Highlighting the cooperation between Prime Minister Najib Razak and PAS president Abdul Hadi Awang, the presence of Islamic preacher Zakir Naik and "projects" approved by Saudi Arabia, Zaid said there is no doubt in his mind as to which direction a Barisan Nasional-led government will take the country.
"The die is cast where the BN is concerned. Today, we already have an 'Islamic science university' funded by the Saudis and the Muslim League.
"We will have the King Salman Centre for International Peace in Malaysia, and yet only two weeks ago the deputy heir to the Saudi throne, Prince Mohamed, labelled Iran as a 'threat to Islam' and agitated for war.
"We also have Zakir Naik, who was offered a whole island off Terengganu to use as his centre, and to bring all his evangelical operations from India to this country. He is now a hero to Umno and the BN," Zaid said, asking "Do you need more evidence of radicalisation?"
Zaid, who joined DAP in February this year, told the audience at the DAP event that Pakatan Harapan has not done anything to deal with this phenomena of Islamic radicalism, before suggesting some tangible actions.
"The opposition must take the lead to bring all right-thinking Muslims, and moderate Malaysians together.
"They must reach out to moderate Malays, whom I define as those who give the people a choice in how they live their lives. The moderates don't care if anyone goes to heaven or hell because it's not their business.
Full report at:
http://www.freemalaysiatoday.com/category/nation/2017/05/15/pakatan-leaders-must-speak-up-for-secular-rule-says-zaid/
--------
Only Selangor Sultan can sack our reps, says PAS
BY RAM ANAND
May 15, 2017
KUALA LUMPUR, May 15 — The fate of Selangor's three PAS state executive council (exco) members can only be decided by the state Ruler, the Islamist party's secretary-general Datuk Takiyuddin Hassan asserted today.
The positions of Datuk Iskandar Samad, Datuk Dr Ahmad Yunus Hairi, and Zaidy Abdul Talib in the Selangor government appear shaky after PAS' Syura Council sanctioned cutting all ties with PKR on May 11.
"The constitution in Selangor is clear on this; the excos are appointed by the Sultan. And they will stay as long as the Sultan approves," Takiyuddin told a press conference at PAS headquarters here.
Full report at:
http://www.themalaymailonline.com/malaysia/article/only-selangor-sultan-can-sack-our-reps-says-pas
--------
Jokowi recalls past trade relations with Chinese Muslims
May 15, 2017
President Joko "Jokowi" Widodo in visiting Niujie Mosque in Beijing, China, on Sunday, honored Chinese Muslim traders that had traded with the archipelagic nation for centuries.
Jokowi met with several Chinese Muslim figures, including the mosque's imam, Ali Yang Gunjun, and the head of the Chinese Muslim Association, Yang Faming. The president expressed gratitude for friendship and hospitality given to Indonesian Muslims staying in Beijing.
Jokowi acknowledged that there was long history between Muslims in the two countries.
"Our relationship with China started 15 centuries ago, when Chinese Muslim traders arrived in Lasem [Central Java] and Palembang [South Sumatra]," he said.
Imam Ali of Niujie Mosque said the relationship between Indonesian and Chinese Muslims could strengthen economic ties and trade between the two countries.
The Chinese government, he said, has shown support toward Muslim communities in China.
"We have 56,000 imams and 7,000 Islamic associations in the country," Ali said.
Full report at:
http://www.thejakartapost.com/news/2017/05/15/jokowi-recalls-past-trade-relations-with-chinese-muslims.html
--------
Pakistan
New policy will apply both to Afghanistan and Pakistan: McMaster
ANWAR IQBAL
May 15, 2017
WASHINGTON: US National Security Adviser Gen H.R. McMaster has said that the Trump administration is working on a policy which would apply to both Pakistan and Afgha­nistan, and would be announced soon.
This marks the first time a senior US official has said that the new policy would also cover Pakistan as previous statements defined it only as the Afghan policy. "And so what we'll have at the end of the next few weeks here is an opportunity for a much more effective strategy for the problem set in Afghanistan, Pakistan, and the region broadly," Gen McMaster told a White House news briefing this weekend.
The adviser said the administration was considering a proposal to send thousands of additional troops to Afghan­istan and President Donald Trump would decide when to do so after he returns from his foreign trips later this month.
Gen John Nicholson, commander of US forces in Afgha­nistan, requested a "few thousand" more US troops during congressional hear­ings earlier this year. Currently, there are about 8,400 US troops in Afghanistan, along with about 4,500 from Nato and other allied nations. President Trump has delegated the authority to set troop levels in Iraq and Syria to his Defence Secre­tary James Mattis, but decisions on Afghanistan would be from the White House. Gen McMaster chairs a team of senior security advisers who are preparing the US policy for the Pak-Afghan region, which he says would also apply to the broader South Asian region.
Trump to discuss his anti-terrorism policies with Muslim leaders in Saudi Arabia
Last week, Gen McMaster submitted some proposals to the president, including suggestions for sending 5,000 additional troops to Afghanistan while Ameri­ca's Nato allies would also be asked to send more troops.
The US needs more time to "figure out with our allies options we can bring to the table" in Afghanistan, and "what more can we ask our allies to do," said Gen McMaster while explaining how this process would work.
President Trump is expected to discuss his anti-terrorism policies with Arab and Muslim leaders in Saudi Arabia next where he is scheduled to attend a summit of about 20 nations from across the Muslim world. The US media reported on Saturday that Mr Trump was also finalising a $100 billion arms deal for Saudi Arabia, which might be announced during the visit.
Mr Trump will also visit Israel and attend a Nato summit in Rome where he may brief his allies on his new Afghan policy and ask them for more troops.
When asked whether the trip represents a shift in Mr Trump's "America first" campaign slogan, Gen McMaster said, "America first didn't ever mean Ame­rica alone, ever. America first didn't mean America not leading."
Gen McMaster said that Mr Trump during his trip to Saudi Arabia would also discuss "bold new steps to promote peace and to confront those from ISIS to Al Qaeda to Iran to the Assad regime [in Syria] who perpetuate chaos and violence" in the region.
The president "expects our Muslim allies to take a strong stand against radical Islamist ideology," he added
Asked what would the president discuss in Riyadh and Brussels, Gen McMaster said he would stress the need for "all of us have to be committed to achieving our fundamental objectives in Afghanistan," which is never to allow extremists to use that country once again for launching terrorist attacks.
https://www.dawn.com/news/1333236/new-policy-will-apply-both-to-afghanistan-and-pakistan-mcmaster
--------
CTD kill four suspected terrorists in Khanewal
May 15, 2017
LAHORE: Four suspected terrorists from a banned organization have been killed in Khanewal, reported Punjab Counter Terrorism Department (CTD).
According to sources, CTD teams were conducting a raid in Jahanian area of Khanewal, where the suspected terrorists were hiding, when they were fired upon by the suspects. In exchange of fire, all the four suspects were killed while no CTD official was injured.
Full report at:
http://nation.com.pk/national/15-May-2017/ctd-kill-four-suspected-terrorists-in-khanewal
--------
China to play role in defusing Pak-Afghan tension
May 15, 2017
ISLAMABAD - China has assured Pakistan it will play its role to defuse tension between Pakistan and Afghanistan, The Nation has learnt.
Pakistan has already contacted the United States to help settle the differences with Kabul after Afghan forces fired inside Pakistan to kill several citizens.
In a retaliatory action, Pakistani forces also killed some Afghan soldiers.
The firing from the Afghan side of the border in Chaman targeted Pakistanis who were conducting a population census and the paramilitary Frontier Constabulary. The injured included FC soldiers. Afghan Chargé d'Affaires Abdul Nasir Yousafi was summoned to the foreign ministry and a strong protest was lodged. The Afghan government however, has shown no remorse.
A senior official at the foreign ministry told The Nation, that China was briefed about the Pak-Afghan tension.
"They promised to help in whatever way they can. Beijing believes peace is vital for regional progress," he added.
The official said that China understood tension with Afghanistan and Iran, and India would be a big hurdle to achieve peace in the region.
Prime Minister Nawaz Sharif is already in China to attend the Belt and Road Forum in Beijing.
Sunday, Nawaz Sharif said One belt and One Road (OBOR) project would link three subcontinents and would be a gift to the next generations.
Sharif said peace and development go hand in hand, and "nothing can pave the path for peace and security, more than economic development achieved through regional collaboration."
Another official at the foreign ministry said that China was concerned about peace in Pakistan for the sake of friendship and for the huge investment it was making in the country under the China-Pakistan Economic Corridor.
"They naturally want peace in Pakistan. They have always been helpful and we believe they can share our efforts to defuse tension with Afghanistan," he added.
The official said that Pakistan was also in talks with Kabul to settle the differences to achieve the goal of peace.
"Our main point is border management. If this could be done, we will have no issues in the future," he maintained.
Foreign Office Spokesperson Nafees Zakaria said Pakistan wanted good neighbourly ties with Afghanistan.
"They have started all this tension. Border between the two countries is clearly demarcated and we should manage it well," he said.
The spokesperson said that Pakistan could not compromise on its sovereignty and would definitely respond to any aggression.
He said that Afghanistan had internal problems and it was unfair to blame them on Pakistan.
"Blame game will not serve any purpose," the spokesperson added.
Defence analyst Brigadier (retired) Harris Nawaz said that Afghanistan should stop acting on India's directions and must support Pakistan to defeat terrorism.
"Afghanistan looks to be under the influence of India. They should come out of it and work with Pakistan to improve regional peace," he said.
Brigadier Nawaz said that Afghanistan had failed to stop infiltration, which was a huge threat to peace.
"When we speak of border management, they start crying," he contended.
International affairs expert Dr Zahid Anwar Khan said Afghanistan forces targeted civilians recently which could never be justified.
"They are creating instability in the region. If they really want peace, they should work with us and find ways to manage the borders," he said.
Khan said that Pakistan had tried to improve relations with Afghanistan.
"It is for Afghanistan to understand their interest and join hands with us. If they continue to follow India, they will never achieve their goals," he said.
Meanwhile, Adviser to the Prime Minister on Foreign Affairs Sartaj Aziz said on Sunday that the One Belt-One Road concept was the most significant transformative initiative in recent human history.
In his statement at the thematic session on "Connectivity of Think Tanks" in Beijing, Aziz said through focus on connectivity of infrastructure including roads, rail links, sea routes, ports, and connectivity of policy, trade and finance, "we are observing a phenomenon, which has few historical parallels. This initiative is a harbinger of shared hopes, common prosperity and win-win cooperation among the people of the World."
In a civilisational sense, the true impact of this initiative will be in the realm of thoughts, ideas and cultures.
The think tanks are the breeding grounds for these elements.
Hence, this "dialogue of the think tanks" is an extremely important, cross-cutting segment of the OBOR Summit, he said in his statement released by the foreign ministry here.
He said that Pakistan lauded the spirit of the OBOR initiative, adding the concept of shared partnerships, and voluntary cooperation were the basic principles of the Belt and Road Vision.
"China has created the necessary cooperative mechanisms and brought its intellectual, technological and financial resources to make it a reality. It is for us, the participating countries of this forum, to carry this initiative forward and play our due role in realising its true potential," he added.
Through the China-Pakistan Economic Corridor (CPEC), he said, Pakistan was privileged to be the first flagship project of the Belt and Road initiative.
"CPEC is making excellent progress. In its first phase, the focus is on building the requisite infrastructure and establishing connectivity. Simultaneously, several energy generation and distribution projects have been launched. Gwadar port is being developed as the cornerstone of the OBOR," he said.
Aziz said that establishment of several Special Economic Zones was an important part of the CPEC.
Full report at:
http://nation.com.pk/national/15-May-2017/china-to-play-role-in-defusing-pak-afghan-tension
--------
JUI-F protests ISIS attack against Senate deputy
May 14, 2017
Hundreds of Pakistanis rallied Sunday against an Islamic State suicide attack that targeted a politician seen as close to the Afghan Taliban.
The protesters in Quetta, the capital of Balochistan, called on the government to take action to dismantle the ISIS affiliate, which has a growing presence in South Asia alongside the Taliban and other extremist groups.
The suicide attack on Friday, which killed 28 people, targeted Abdul Ghafoor Haideri, deputy leader of the Senate, who narrowly escaped the blast.
Haideri's Jamiat-e-Ulema Islam is a pro-Taliban Islamist party that is allied with the ruling party of Prime Minister Nawaz Sharif, illustrating the government's complex ties to Islamic extremists, some of which it views as allies in regional power struggles with Afghanistan and India.
Rallies protesting Friday's attack were also held in other parts of Pakistan, said Hafiz Hamdullah, an aide to Haideri.
Elsewhere in Pakistan, gunmen ambushed a vehicle in a northwestern tribal region bordering Afghanistan, killing a government official and his paramilitary guard, said Irfan Khan, a local official.
Another two paramilitary troops were wounded Sunday in a roadside bomb attack in Quetta city.
Full report at:
http://nation.com.pk/national/14-May-2017/jui-f-protests-isis-attack-against-senate-deputy
--------
Rabbani for unified stance against terrorism
May 15, 2017
Islamabad - Senate Chairman Mian Raza Rabbani has urged all parliamentary parties to come forward with proposals to adopt a unified stand against the scourge of terrorism, said a statement issued by the Senate Secretariat here on Sunday.
While talking to the media outside Combined Military Hospital Quetta after a visit to inquire after the health of Senate Deputy Chairman Maulana Abdul Ghafoor Haideri and other injured persons of Mastung carnage, he said that a collective national narrative against terrorists and extremists ideologies cannot come from madrassah rather all the stakeholders including political parties will have to reach a consensus in this regard and present it to the parliament. He said that the war against terrorism could not be won without a refined foreign policy and a strong parliament.
Rabbani said that owing to the promotion of wrong policies, ethnic clashes and sectarianism by Pervez Musharraf and others, the country was struggling and gripped with terrorism in its worst manifestations.
Rabbani said that "we should learn some lesson from history and must change our attitudes towards our own people".
He said that the American war was imposed on Pakistan and the wrong policies of the past manifested its ugly faces in the form of terrorism in Mastung and Gwadar.
He said that military and civil leaders have to be united for defeating terrorism, adding that the current war was an ideological war and all the parliamentary parties have to present proposals for its elimination. He said that all have to come on a single page for the success of operation Raddul Fassad after the success of operation Zarb-e-Azab. He said that the country was passing through a critical time and national solidarity was the need of time instead of blaming each other.
Full report at:
http://nation.com.pk/islamabad/15-May-2017/rabbani-for-unified-stance-against-terrorism
--------
Arab World
Iraqi Shia cleric Warns of Spread of Terrorism in Europe
May 14, 2017
"If attempts to make hostile moves against Islam continue, it will result in the growth of extremist groups and it will be a start for the spread of terrorism in all European countries," al-Sadr said in a statement on Sunday.
"It is an invitation from me to them (Europeans) to show open arms to the moderate Islamic groups before it is too late," he added.
His remarks came after Iranian Interior Minister Abdolreza Rahmani Fazli blasted the western countries for supporting terrorist groups in Syria and Iraq, and warned against the spread of heinous phenomenon of terrorism to the European countries.
"All countries, including the European countries, should strive for the elimination of the threat of terrorism as this heinous phenomenon is on the verge of spilling over to the West," Rahmani Fazli said in a meeting with visiting Polish delegation headed by Anna Maria Anders in Tehran in January.
Rahmani Fazli voiced his country's readiness to set up a specialized anti-terrorism committee.
The Iranian interior minister expressed concern over the spread of terrorism to all countries, and said that all-out cooperation is needed to establish peace and security in all states, especially in Iraq and Syria.
http://en.farsnews.com/newstext.aspx?nn=13960224001285
--------
Syrian Army on Verge of Liberating Last Bastion of ISIL Terrorists in Aleppo Province
May 15, 2017
The sources said that the army troops liberated Jarah airbase after almost four years of terrorists' occupation and turned it into their command center for the ongoing operations in Aleppo.
They added that a large number of soldiers that were deployed in de-escalation zones will soon arrive in Jarah airbase to take part in a large-scale operation to drive ISIL terrorists out of the town of Maskana that is considered as the last main stronghold of the terrorist group in Eastern Aleppo.
The sources pointed out that the capture of Maskana will put an end to the ISIL's presence in Aleppo province, adding that liberation of Maskana will also restore more security to the only supply line of the army forces to Aleppo porvince and will also pave the way for the pro-government forces to enter Raqqa province to hit ISIL there.
Reports also said that thousands of the army forces deployed in de-escalation zones entered the province of Homs and Deir Ezzur to accelerated the trend of ending ISIL's presence in Syria.
In relevant developments in the province on Sunday, hundreds of ISIL terrorists deployed in Maskana region launched a large-scale operation to retake control over Jarah airbase liberated by the army soldiers on Saturday.
A military source said that after hours of fierce clashes in the region and in the villages of Jarah Kabireh and Jarah Saqireh the army men repelled ISIL's attack.
Full report at:
http://en.farsnews.com/newstext.aspx?nn=13960225000479
--------
Over 2,000 Gunmen, Family Members Evacuated from Eastern Damascus
May 15, 2017
The sources reported that the first phase of the evacuation of gunmen and their family members from al-Qaboun has ended, adding that 2,289 people, including 1,058 gunmen have been evacuated from al-Qaboun to be relocated to militant-held regions in Idlib province.
Well-informed sources in Eastern Ghouta said on Sunday that 1,900 gunmen and their family members left al-Qaboun district for militant-held regions in Idlib province.
The sources confirmed that a sum of 1,910 gunmen and their family members were evacuated from al-Qaboun district on 35 buses and were to be relocated to Idlib province within the framework of an evacuation deal between the Syrian Army and the militants.
Full report at:
http://en.farsnews.com/newstext.aspx?nn=13960225000300
--------
ISIL Centres in Deir Ezzur Receive Severe Blow in Syrian Armed Forces' Attacks
May 15, 2017
The army units engaged in sporadic clashes with the ISIL in the Southern outskirts of Deir Ezzur city, killing and wounding a number of terrorists and destroying their positions.
In the meantime, the army opened tank fire at ISIL's defense lines in Tamin Brigade base, inflicting major losses on them.
The Syrian Air Force targeted badly ISIL's concentration centers and movements in Tal (hill) 17, power company, areas near Tamin Brigade base, al-Maqaber (cemetery) region and the villages and regions of al-Hamidiyeh, Khasarat, Kanamat, Hatleh and Safireh, killing and wounding a number of militants and destroying their equipment.
Relevant reports said on Sunday that the army troops fended off ISIL's offensive in al-Maqaber region in the Southwestern outskirts of Deir Ezzur city, killing 15 terrorists and wounding several more.
In the meantime, the Russian fighter jets pounded ISIL's defense lines in the township of Huweiqa, killing almost 10 terrorists.
Full report at:
http://en.farsnews.com/newstext.aspx?nn=13960225000371
--------
Syria: More Gunmen Leave Eastern Damascus for Idlib
May 14, 2017
The sources confirmed that a sum of 1,910 gunmen and their family members have, thus far, been evacuated from al-Qaboun district on 35 buses and are to be relocated to Idlib province within the framework of an evacuation deal between the Syrian Army and the militants.
The sources added that the evacuated gunmen had not joined the peace agreement with the Syrian army.
Local sources informed earlier today that the first group of gunmen and their family members has been evacuated from al-Qaboun district.
The sources confirmed that the first group of militants, including 180 gunmen and 500 of their family members have left al-Qaboun district for militant-held regions in Idlib province.
Full report at:
http://en.farsnews.com/newstext.aspx?nn=13960224001385
--------
Iraqi Security Forces Discover Mass Grave near Border with Iran
May 14, 2017
"The security brigades discovered a mass grave which included 8 corpses, including 5 women, in Sha'anoun region, 20km of Qazaniyeh and 120km of Eastern Baqubah, following a report by a shepherd," the official told al-Sumeriya news on Sunday under the condition of anonymity.
Full report at:
http://en.farsnews.com/newstext.aspx?nn=13960224001424
--------
Infighting Erupts between Rival Terrorist Groups in Yarmouk Camp in Southern Damascus
May 14, 2017
The source who requested anonymity said that the ISIL terrorists who were driven by their anger at Tahrir al-Sham Hay'at's agreement with the Syrian Army to evacuate the Yarmouk camp launched a large-scale attack on Tahrir al-Sham's positions.
The source added that clashes inflicted several casualties on both warring sides.
rab media outlets reported last week that hundreds of Tahrir al-Sham Hay'at militants left the Yarmouk camp left Damascus province along with their family members for Idlib.
The Arabic-language Al-Hadath news reported that hundreds of militants and their family members moved towards Idlib province in Northwestern Syria in line with an evacuation deal concluded between the Syrian Army and the gunmen.
The report said with the withdrawal of Tahrir al-Sham from their positions in areas that stretch from Habib Mostafa Grand Mosque to al-Wasim Grand Mosque, the army and Palestinian groups would come in charge.
Full report at:
The deal would not cover ISIL and its allies groups, stressed the report.
http://en.farsnews.com/newstext.aspx?nn=13960224001201
--------
Syria: More Civilians Killed in US-Led Coalition Air Raids in Raqqa, Deir Ezzur
May 14, 201
The sources said that the US-led coalition fighter jets bombed heavily several regions in areas surrounding Raqqa city in Northeastern Syria, killing 7 member of a family.
Media activists, meantime, reported that the coalition warplanes targeted the town of al-Qouriyeh in Eastern Deir Ezzur, killing five civilians and wounding several more.
In relevant development in the province on Wednesday, the US-led collation fighter jets bombed heavily a village in Northern Raqqa, killing 10 civilians and wounding 20 more, local sources confirmed.
Full report at:
http://en.farsnews.com/newstext.aspx?nn=13960224001057
--------
Russian FM Lavrov reveals disengagement zone plans in Syria
15 May 2017
Russian Foreign Minister Sergei Lavrov said that he would seek to enforce the expansion of disengagement zones in four areas across Syrian territory.
Lavrov said in an interview with the Russian Channel 1, that his country had agreed with Turkey, Iran and the Syrian regime, as well as the armed opposition during the last meeting in Astana, on a memorandum to develop a safe zone initiative proposed earlier by US President Donald Trump and extend it to include all of Syrian territory.
This comes at a time when the regime forces continue their systematic displacement of civilians and fighters from areas under the control of the Syrian opposition.
The neighborhood of Qaboun in Damascus witnessed on Sunday the exit of about 2,000 civilians and fighters, according to the Syrian Observatory for Human Rights.
It also comes before the start of the Geneva 6 negotiations, which will be held on Tuesday, with uncertainty regarding the participation of the Syrian regime.
Full report at:
https://english.alarabiya.net/en/News/middle-east/2017/05/15/Lavrov-Plans-to-expand-disengagement-zones-in-Syria.html
--------
Mideast
Minister in Yemen rebel government labels Houthis 'bloodsuckers'
14 May 2017
Abdo Bishr, the minister of commerce in the Yemeni rebel government, slammed Houthi militias and their practices and called for abolishing the Houthi-affiliated revolutionary and popular committees that have been deployed in ministries and state institutions.
In a letter to Saleh al-Samed, the chief of the so-called rebel political council, Bishr said injustice and corruption must end in terms of protecting others and warned that the situation was only getting worse.
He called for not remaining silent over Houthis, whom he described as "bloodsuckers."
Bishr also warned the Houthis against their "immature" behavior and said the Yemeni people being governed by the rebel government "may soon run out of patience."
https://english.alarabiya.net/en/News/middle-east/2017/05/14/Minister-in-Yemen-rebel-government-labels-Houthis-blood-suckers-.html
--------
Iran urged to join Islamic summit to settle differences with KSA
15-May-17
JEDDAH: Lauding the decision to hold the Islamic Summit Session in Saudi Arabia, Pakistan Ulema Council Chairman Tahir Ashrafi on Sunday hoped that the event will prove to be a "good omen" to resolve confronting challenges of the Muslim world.
Talking to visiting delegates, clerics and scholars of various Islamic countries, he also urged the Iranian leadership to come forward on this historic occasion to settle differences with the Kingdom of Saudi Arabia. Ashrafi said that Islam is a religion of peace, security and stability and elements associating terrorism and extremism with Islam are enemies of Islam and Muslims. On pattern of 'Islamic Military Alliance', Muslims should get unite to constitute a 'Islamic Ideological Alliance' to contain the menace of terrorism, extremism and sectarian violence from the Muslim world, said Ashrafi, adding that the Pakistan Ulema Council has been in constant coordination with leadership of Muslim countries to constitute this ideological alliance. Muslims should also demonstrate unity to contain menaces like Daesh and other terrorist outfits. Denouncing terrorists attack at Abdul Ghafoor Haideri, Ashrafi said that religious organisations of Pakistan were carrying out positive struggle for unity and solidarity of the country and to defeat terrorists and extremists from Pakistan.
Full report at:
http://dailytimes.com.pk/pakistan/15-May-17/iran-urged-to-join-islamic-summit-to-settle-differences-with-ksa
--------
Sources: Turkey Warns US of Targeting YPG Forces if Necessary
May 14, 2017
The sources said that a Turkish preparatory delegation has held high-level talks with US officials in Washington ahead of President Recep Tayyip Erdogan's visit on May 16-17, when he will meet President Donald Trump.
Turkish Chief of General Staff Gen. Hulusi Akar met his US counterpart, Joseph Dunford, on May 6, while Turkish Intelligence Agency (MIT) chief Hakan Fidan held talks with CIA Director Mike Pompeo.
However, the third official in the delegation, presidential spokesman Ibrahim Kalin, was specifically in Washington to lay the groundwork for Erdogan's trip to the White House.
All three officials once again noted Turkey's appeals and warnings on the US cooperation with the YPG in Syria, which Ankara considers as an offshoot of the outlawed Kurdistan Workers' Party (PKK) and a terrorist group.
The United States, Turkey's ally within the North Atlantic Treaty Organization (NATO), announced last Tuesday the approval of its plan to arm Kurdish forces fighting ISIL terror group in Syria despite objections from Turkey.
Erdogan said on Thursday that Turkey expects its allies to support the country and not terrorist groups.
Full report at:
http://en.farsnews.com/newstext.aspx?nn=13960224001141
--------
Oman confirms its stance alongside the legitimate government of Yemen
15 May 2017
Oman's Minister of Foreign Affairs Yusuf bin Alawi affirmed his country's support for Yemen and its legitimate government of President Abd-Rabbu Mansour Hadi.
The Omani official said during a telephone conversation with Yemen's Deputy Prime Minister Abdulmalik al-Mekhlafi that Muscat supports any and all efforts to achieve security and stability in a manner that preserves the territorial integrity of Yemen and preserves its national institutions and the capabilities of the Yemeni people.
For his part, Mekhlafi hailed Oman's position in support of legitimacy and the right for Yemenis to live in peace, according Yemen's official news agency.
Full report at:
https://english.alarabiya.net/en/News/gulf/2017/05/15/Oman-confirms-its-stance-alongside-the-legitimate-government-of-Yemen-.html
--------
Gargash: UAE's role in Yemen is in supporting Saudi Arabia
14 May 2017
UAE's Minister of State for Foreign Affairs, Dr. Anwar bin Mohammed Gargash, stressed that the UAE, with its strategy and national directions, is in line with the Arab alliance, and that cowards will not be allowed to interfere.
"Our historic commitment to Yemen and its people has been directed by the late Sheikh Zayed bin Sultan, and was enriched by the sacrifices of the people of the UAE and their martyrdom, and that cowards will not be allowed to interfere." he tweeted on Saturday night. He stressed that the commitment of the UAE within the Arab alliance led by Riyadh "annoys those who like to tittle-tattle."
He also stressed, "The role of the UAE in Yemen is in supporting Saudi Arabia, and aims for Yemen's welfare."
Call for unity
On Saturday, the Organization of Islamic Cooperation (OIC) renewed its commitment to stand with the "unity" of Yemen, its sovereignty and its political independence.
He also declared in a statement, "It [UAE] is committed to support the legitimate government in Yemen in line with the resolutions of the Islamic Summit and the decisions of the Council of Foreign Ministers."
The OIC urged all Yemeni parties to stand with the legitimacy and reject calls for division and separation, stressing the need to reach a compromise to the crisis, based on the relevant resolutions of the Security Council, the Gulf initiative and its executive mechanisms, and outputs of the National Dialogue Conference.
Arab League General Secretary Ahmed Abu Al-Gheit, on Saturday, stressed the importance of preserving the unity of Yemeni soil and its legitimacy, calling on Yemenis to reject calls for division.
Full report at:
https://english.alarabiya.net/en/News/gulf/2017/05/14/Qarqash-UAE-s-role-in-Yemen-is-supporting-Saudi-Arabia.html
--------
Saudi Arabia must stop anti-Iran policies, accusations: Qassemi
May 14, 2017
Iranian Foreign Ministry Spokesman Bahram Qassemi says Saudi Arabia must stop pursuing anti-Iran policies and leveling accusations against the Islamic Republic, expressing Tehran's readiness to hold negotiations with Riyadh.
"We do not want our problems to continue with neighboring states and our foreign policy is based on the establishment of constructive relations with other countries, including the Persian Gulf littoral states," Qassemi said in an interview with the London-based al-Araby al-Jadeed newspaper.
He added that the issues between Tehran and Riyadh are not very complicated, saying, "What undermined mutual relations was misunderstanding and unfounded accusations against Iran."
Relations between Iran and Saudi Arabia soured after a deadly human crush occurred during Hajj rituals in Mina, near Mecca, in September 2015. Saudi Arabia initially published a death toll of 770, but refused to update it despite gradually surging fatality figures from individual countries whose nationals had been among the victims of the crush.
Iran said about 4,700 people, including over 465 of its nationals, lost their lives in the incident.
Mutual ties deteriorated further when Riyadh executed prominent Shia cleric, Sheikh Nimr al-Nimr, in January 2016. Saudi Arabia unilaterally severed its diplomatic ties with Iran after protests in front of its diplomatic premises in the cities of Tehran and Mashhad against Nimr's execution.
In response to a question about the dispute between Iran and Saudi Arabia over the war on Yemen, the spokesperson said Riyadh had made a big mistake by attacking Yemen.
"This issue is not acceptable to Iran," Qassemi pointed out.
He said that the Yemenis were in possession of a huge amount of arms, adding that the Al Saud regime had wrongly believed that everything would end in its own favor; however, it faced the Yemeni people's resistance.
"Iran has neither military nor financial intervention in Yemen," the spokesman said.
Full report at:
http://www.presstv.ir/Detail/2017/05/14/521873/Iran-Saudi-Arabia-Yemen-Bahram-Qassemi-AlAraby-AlJadeed
--------
People across world mark Palestinian Nakba Day
May 15, 2017
People across the world are commemorating the Nakba Day which marks the anniversary of the forcible eviction of hundreds of thousands of Palestinians from their homeland by Israelis in 1948.
The Day of Catastrophe is officially marked every year on May 15, but the occasion this year coincides with a hunger strike being observed by more than 1,600 Palestinian prisoners in Israeli jails.
Some 750,000 Palestinians were expelled from their homes during the 1948 war. Today, more than 7 million Palestinian refugees are living in exile, while 1.8 million Palestinians are living in the world's largest open-air prison in the Gaza Strip.
Ahead of the anniversary, the besieged Gaza Strip and several parts of the world witnessed protests against the Israeli oppression and occupation which has continued for decades.
Hani Islayim, a senior Hamas leader, said the march aimed at telling "hypocrites" that "we are staying in Palestine" to end the Israeli occupation.
"On the 69th anniversary, we say that the land is ours, al-Quds (Jerusalem) is ours and Palestine is ours," he said.
"If some people have forgotten our cause, we say that we haven't forgotten and the occupation will be forced out of our land soon, God willing, and Palestine will stay Islamic and Arab," Islayim added.
Jailed Fatah leader Marwan Barghouti urged Palestinians to carry out acts of "civil disobedience" to commemorate the Nakba Day. He also appealed to Fatah and Hamas to enter into a national reconciliation agreement.
Elsewhere across the world, people rallied in Berlin in remembrance of the Nakba Day. Protesters also gathered outside the Israeli consulate in the Canadian city of Toronto in support of the hunger-striking Palestinians in Israeli jails.
'Israel, UK must apologize for Nakba'
On Sunday, Secretary General of the Palestine Liberation Organization (PLO) and the chief Palestinian negotiator Saeb Erekat said Israel must acknowledge that its establishment in 1948 was a "catastrophe" for the Palestinians and apologize for it.
The Nakab Day, he said, "means an ongoing journey of pain, loss, and injustice."
Erekat also urged Tel Aviv to open all its 1948 archives and show "the truth of what was done to our people, including its ethnic cleansing policies and the policy of shooting to kill Palestinians that attempted to return home."
The official further urged the UK "to apologize for its role in the Palestinian catastrophe, beginning by the infamous Balfour Declaration and the denial of our national rights."
The document issued in November 1917 by the then British foreign secretary Arthur Balfour said the UK government "views with favor the establishment in Palestine of a national home for the Jewish people," settling the stage for creation of Israel.
Settlers attack Palestinians, Israeli forces stand idly: Video
In the occupied territories, human rights group Yesh Din released footage showing Israeli forces watching indifferently while Jewish settlers hurled stones at Palestinians in the West Bank.
According to Israeli newspaper Haaretz, the footage was shot on Friday near the village of Burin in the occupied West Bank.
"This is a very serious incident" in which Israeli soldiers "allowed the criminals to throw stones unhindered," the group said in a statement.
Yesh Din urged the Israeli military to investigate the incident but the army denied its soldiers ignored the attack.
There have been scores of attacks targeting Palestinians in different parts of the West Bank, with most of them largely going uninvestigated by Israeli authorities.
Full report at:
http://www.presstv.ir/Detail/2017/05/15/521930/People-world-Nakba-Day
--------
Yemeni sharpshooters kill 2 more Saudi soldiers in Jizan
May 14, 2017
Yemeni snipers have killed two Saudi troopers in the kingdom's southern region of Jizan in another retaliatory attack against Riyadh's full-scale war on the impoverished nation.
Yemen's Arabic-language al-Masirah television network carried the report on Sunday, saying the first soldier was killed in ambushes by the Yemeni army sharpshooters in the Faridhah military base and the second trooper was fatally wounded in Dafiniah village later in the day.
A report by Reuters published in April last year said that at least 400 Saudi soldiers had been killed in the cross-border fire since the start of the war in March 2015.
In early April, Arabic-language Yemen Watch news agency reported that nearly 120 Saudi troopers had been killed in dozens of sniper operations carried out by Yemeni army soldiers, backed by fighters from allied Popular Committees. It added that most of the operations had been conducted in Jizan, where a total of 74 Saudi soldiers lost their lives in 22 encounters.
In early May, al-Masirah reported that Yemeni sharpshooters had managed to fatally injure as many as 64 Saudi troops in April alone.
The Riyadh regime has maintained a policy of ambiguity regarding its casualties in the war on Yemen. Senior military officials have said that they would not release such information until after the war.
Meanwhile, Yemen's official Saba news agency, citing an unnamed military official, said that a unit of Yemeni forces had attacked a military vehicle belonging to the Saudi mercenaries near the al-Khanjar military base in the northern province of Jawf, destroying the vehicle and killing all its crew members.
Other reports also maintained that Yemeni forces launched an artillery attack against several Saudi mercenaries' gatherings in different localities of the kingdom's Asir region, killing a number of them.
Over the past two years, Yemen has been heavily bombarded by Saudi warplanes as part of a brutal campaign against the impoverished country in an attempt to crush the popular Houthi Ansarullah movement and reinstall the former president, Abd Rabbuh Mansur Hadi.
Nearly 3.3 million Yemeni people, including 2.1 million children, are currently suffering from acute malnutrition.
Full report at:
http://www.presstv.ir/Detail/2017/05/14/521911/Yemen-Saudi-Arabia-sniper-Jizan-Hadi-Houthi
--------
Africa
Jordan, Egypt, Palestine reiterate commitment to two-state solution
15 May 2017
Jordan, Palestine and Egypt reiterated their commitment to the two-state solution as the only solution to the Palestinian-Israeli conflict, expressing their willingness to cooperate with the US administration to achieve that goal.
Jordanian Foreign Minister Ayman Safadi met in Amman with his Egyptian counterpart Sameh Shukri and Saeb Erekat, who is the Palestine Liberation organization's executive committee's secretary and chief Palestinian negotiator, to discuss future steps regarding the peace process.
During a joint press conference following the meeting Safadi said the three countries' commitment to achieving peace as a strategic option, as all Arab states have reaffirmed in the Arab Peace Initiative during the 28th Arab summit recently held in Jordan.
"We all value the obvious and solid commitments that President Trump has made to ensure progress in the resolution of the Palestinian-Israeli conflict…We are ready to do whatever it takes to help push the process forward," Safadi was quoted as saying.
https://english.alarabiya.net/en/News/middle-east/2017/05/15/Jordan-Egypt-Palestine-reiterate-commitment-to-two-state-solution.html
--------
US takes Sudan off state-sponsored terrorism blacklist
15 May 2017
Sudan has been removed from the US list of countries harboring and sponsoring terrorism.
US intelligence has confirmed in a report to Congress that Khartoum is abiding by a number of conditions that would pave the way for lifting the sanctions imposed on the country for over 20 years,.
Washington has demanded that Sudan submit a report by July 12 stating its commitment to several conditions, including combating terrorism and ending warfare in conflict areas.
In January, the Sudanese Ministry of Foreign Affairs expressed its regret over the inclusion of Sudanese citizens in a ban issued by US President Donald Trump restricting entry for citizens of some countries to the United States.
An earlier statement by the Sudanese ministry of foreign affairs stated that "It is truly regrettable that the ban coincided with the two countries' achievement of an important historic step in lifting the economic and trade sanctions on Sudan, and while working to develop their investment and commercial projects for the benefit of the people of both countries. "
Full report at:
https://english.alarabiya.net/en/News/middle-east/2017/05/15/US-takes-Sudan-off-terrorism-list.html
--------
Death Toll in CAR Attacks Targeting Muslims Could Reach 30, UN Says
May 14, 2017
Hundreds of civilians are seeking refuge inside a mosque in the Central African Republic's border town of Bangassou amid ongoing attacks by Christian militias that have killed up to 30 civilians, UN officials and aid workers said on Sunday.
The attacks throughout the weekend on the town of Bangassou on the Congolese border have involved hundreds of fighters with heavy weaponry and appeared to be aimed at Muslims, they said, in the latest sign that the multi-year conflict is worsening.
The UN base there has also been targeted, prompting the deployment of extra troops to the remote town on Sunday in anticipation of further attacks. They had succeeded in partly securing the town by dusk, said Herve Verhoosel, spokesman for the UN mission (MINUSCA).
"The situation is extremely deplorable and we are doing everything to rapidly retake control of Bangassou," MINUSCA chief Parfait Onanga-Anyanga told Reuters in an interview.
Asked about the civilian death toll, he added, "It is clear that we are looking at numbers that could easily reach 20 to 30." Many of the fighters are child soldiers who appeared to be under the influence of drugs, he added.
Local Red Cross President Pastor Antoine Mbao Bogo said gunfire continued to ring out from the town on Sunday, blocking attempts by his organization and others to reach the wounded and recover the dead.
In recent months, roaming militias spurred by ethnic and religious rivalries have stepped up violence despite pledges to take part in a government-led disarmament program.
Aid workers say that militias seem to be exploiting security voids after Ugandan and French soldiers left in the past few months when their missions ended.
UN Secretary General Antonio Guterres said on Sunday he was "outraged" by the attacks on the 13,000-strong mission that have killed six peacekeepers around Bangassou, an area previously sheltered from conflict.
Prime Minister Simplice Sarandji condemned the attacks in a statement on local radio on Sunday and said those responsible would be brought to justice.
Full report at:
http://www.cbc.ca/news/world/central-african-republic-attacks-target-muslims-death-toll-1.4114932
--------
Security guard killed in terrorist attack in northeast Nigeria
May 13, 2017
A security guard was killed after two attackers blew themselves up in Maiduguri, a city in northeastern Nigeria that has regularly been targeted by Boko Haram Takfiri terrorists, officials said.
About an hour after midnight (0000 GMT) three "bombers, two men and a woman, tried to enter the University of Maiduguri, but were spotted by university security who stopped them for questioning," the country's NEMA emergency management agency said in a statement.
"During questioning, the two men detonated their explosives, killing one of the guards and wounding another," an agency spokesman, Abdulkadir Ibrahim, said in the statement.
The third bomber managed to hide near a church on the campus and detonated her device damaging the structure but leaving no victims, he said.
A security source also confirmed that a security guard had been killed and told AFP that the wounded guard was a Nigerian army soldier.
Boko Haram terrorists have increasingly resorted to bomb attacks against civilians and security positions, as the group has been weakened by a sustained military counter-insurgency. Civilians have been worst affected by the eight-year conflict, which has killed at least 20,000 in Nigeria alone and made more than 2.6 million others homeless.
This month, 82 of the more than 200 Nigerian schoolgirls who were kidnapped by Boko Haram in 2014 were released after negotiations with the government, but 113 are still being held.
Full report at:
http://www.presstv.ir/Detail/2017/05/13/521742/Nigeria-security-guard-killed-Boko-Haram-Maiduguri
--------
Head of Algeria's Islamic party threatens to resign
14 May 2017
The head of Algeria's largest Islamic party has threatened to resign if his movement decided to join the new government.
"I will quit my post if the [party] voted in favor of joining the government," Abdul-Razzaq al-Maqri, the head of the Movement of Society for Peace, told Anadolu Agency on Sunday.
Last week, the movement said it has received an offer from President Abdelaziz Bouteflika to join the new government.
Maqri said the Shura Council, the party's decision-making body, will take a final decision on the offer during its coming meeting, which is expected to be held on Friday.
The movement came third in the May 4 parliamentary elections with 33 seats.
Bouteflika's ruling National Liberation Front (FLN) clinched 164 out of 462 seats in the assembly, while the National Democratic Rally -- a coalition partner of the FLN -- came in second with 97 seats.
Though FLN and the Democratic Rally have secured the majority of seats to form the government, the Algerian president has opened the door to include other parties.
Maqri said he told Prime Minister Abdelmalek Sellal of his refusal to include his movement in the new government.
Full report at:
http://www.worldbulletin.net/africa/189477/head-of-algerias-islamic-party-threatens-to-resign
--------
South Asia
Taliban vehicle hit roadside mine in Kandahar, 10 killed, 7 wounded
May 14 2017
A Taliban vehicle struck an Improvised Explosive Device (IED) planted on a roadside in southern Kandahar province of Afghanistan, leaving at least 10 of them dead, the Ministry of Defense (MoD) said Sunday.
According to a statement by MoD, the incident took place on Saturday in Maiwand district.
The statement further added that seven insurgents were also wounded in the explosion and their vehicle was totally destroyed.
The ministry also added that 10 insurgents were killed, 6 were wounded, and 2 others were arrested during a separate operation conducted in Nish district.
The anti-government armed militant groups including the Taliban insurgents have not commented regarding the report so far.
Taliban insurgents and militants belonging to the other insurgent groups frequently use Improvised Explosive Device as the weapon of their choice to target the government and security personnel.
However, in majority of such attacks the ordinary civilians are targeted besides the roadside bombs inflict heavy casualties to the security personnel and government officials while in some cases the insurgents fall prey of the tactic.
http://www.khaama.com/taliban-vehicle-hit-roadside-mine-in-kandahar-10-killed-7-wounded-02752
--------
4 Taliban insurgents killed while planting roadside bomb in Logar
May 14 2017
A group of four Taliban insurgents were killed as they were planting an Improvised Explosive Device (IED) on a roadside in central Logar province of Afghanistan.
The Ministry of Interior (MoI) in a statement said "Last night, four Taliban mine planters including a local commander of Taliban were killed by own explosives while they were planting a roadside bomb."
The statement further added that the incident took place in Mohammad Agha district of Logar province.
"Afghan National Police are working diligently with local leaders and the public to prevent these types of acts from killing and wounding innocent civilians and security forces," the statement said, adding that "Afghan National Police encourages all citizens to report suspicious activities and criminal acts by dialing 119."
The anti-government armed militant groups including the Taliban insurgents have not commented regarding the report so far.
This comes as the Ministry of Defense said at least 10 Taliban insurgents were killed after their vehicle hit a roadside bomb in southern Kandahar province of Afghanistan on Saturday.
The Taliban insurgents frequently use IEDs as the weapon of their choice to target the security forces and government officials but in majority of such incidents the ordinary civilians are targeted.
The United Nations Assistance Mission in Afghanistan (UANAMA) released its latest civilian casualties report last month, covering a period of three months since the start of 2017.
According to the report, the Anti-Government Elements caused 62 per cent of civilian casualties – 1,353 civilian casualties (447 dead and 906 injured), reflecting a five per cent increase compared to the same period in 2016.
Full report at:
http://www.khaama.com/4-taliban-insurgents-killed-while-planting-roadside-bomb-in-logar-02754
--------
Ghani confers high state medal on NATO special operations commander
May 15 2017
President Mohammad Ashraf Ghani conferred the high state Mir Masjedi Khan medal on NATO special operations commander in Afghanistan.
The Office of the President, ARG Palace, said the medal was conferred on Major General Scott Howell during a ceremony organized in the presidential palace on Sunday evening.
President Ghani also conferred the high state Syed Jamaluddin Afghan medal on DFID head in Afghanistan Chris Austin.
A statement by ARG Palace said the Major General Scott and Mr. Austin received the medals during separate events organized in the Palace which were attended by high level government officials as well as the British Ambassador to Afghanistan and the commander of the NATO-led Resolute Support and US forces in Afghanistan.
According to the presidential decree recited during the events, Major General Howell was hailed for his services in commanding and controlling the US forces special forces in Afghanistan as well as the NATO troops stationed in the country.
The head of the DFID Mr. Austin was also hailed for his services in better management and coordination of the United Kingdom's aid to Afghanistan.
Full report at:
http://www.khaama.com/ghani-confers-high-state-medal-on-nato-special-operations-commander-02756
--------
No casualties reported in Kabul explosion: Danish
May 15 2017
An explosion took place in west of Kabul city on Sunday night causing panic among the local residents but the security officials are saying that no one was hurt in the incident.
The Ministry of Interior spokesman Najib Danish confirmed the incident took place in the vicinity of the third police district of the city.
Danish further added that a magnetic bomb planted in a Ranger vehicle went off but no casualties were reported.
The eyewitnesses earlier said a education official was injured after a magnetic bomb planted in his vehicle went off.
No group including the Taliban insurgents has so far claimed responsibility behind the incident.
This comes as at least two women were killed in a similar incident in Kabul city on Monday.
The incident took place in the vicinity of the 16th police district of the city on Monday morning after a magnetic bomb planted in a vehicle went off.
Full report at:
http://www.khaama.com/no-casualties-reported-in-kabul-explosion-danish-02755
--------
North America
Us Court To Hear Today The Case Against Trump's Muslim Travel Ban
May 15, 2017
Washington: A federal appeals court is scheduled to hear case on Monday against US President Donald Trump's travel ban.
The US Courts for the 9th Circuit, based in San Francisco, Northern California, ruled on February 9 against reinstating a travel ban signed on January 27 by Trump as part of an executive order.
The president subsequently issued a revised order on March 6, taking Iraq off the list of countries whose citizens are blocked from entering the United States for 90 days but keeping six other Muslim-majority countries on the list.
The travel ban in the second order was blocked by a federal judge in Hawaii, thus throwing the case again into the 9th circuit court.
Full report at:
https://www.siasat.com/news/us-court-hear-today-case-trumps-muslim-travel-ban-1184293/
--------
Trump considering how move of U.S. Embassy in Israel could affect Mideast peace
May 15, 2017
President Donald Trump is trying to determine how keeping his promise to move the U.S. Embassy in Israel to Jerusalem could affect his hopes of brokering a peace deal between the Israelis and the Palestinians, his secretary of state said on Sunday.
Since taking office in January, Trump has shown signs of shelving his campaign pledge to move the embassy from Tel Aviv, while vowing to do what is necessary to clinch a Middle East peace agreement.
"The president is being very careful to understand how such a decision would impact a peace process," Secretary of State Rex Tillerson told NBC's "Meet the Press." He spoke just days before Trump starts a Middle East trip that includes meetings with Israeli and Palestinian leaders.
Israel regards Jerusalem as its eternal and indivisible capital and wants all foreign countries to base their embassies there. The relocation is strongly opposed by many U.S. allies as the Palestinians also claim the city as their capital.
Tillerson said Trump's decision would depend greatly on how it is seen by governments in the region, including "whether Israel views it as being helpful to a peace initiative or perhaps a distraction."
His comments drew a quick response from Israeli Prime Minister Benjamin Netanyahu.
"Israel's position has been stated many times before to the American administration and the world," Netanyahu's office said in a statement.
Full report at:
http://nation.com.pk/international/15-May-2017/trump-considering-how-move-of-us-embassy-in-israel-could-affect-mideast-peace
--------
Latino Muslims embrace heritage and faith amid Islamophobia, ethnic fears in Trump's America
May 15, 2017
Eloisa Oropeza fears the policies and impact of Donald Trump's America on two levels.
The 20-year-old resident of Sunset Park, Brooklyn, is a Mexican-Spanish American who converted to Islam in 2015. Oropeza wears a hijab and says she's felt persecuted for being both Latina and Muslim.
A man lashed out at Oropeza in March, she said, shouting profanities at her and her friends at a McDonald's in Manhattan.
"You Mexican, they're going to deport you," the man yelled, according to Oropeza. Then he noticed her traditional headgear, she said, and shouted, "You stupid Arab! You terrorist!"
"I was really shocked," she said. "All of this is going to continue happening now that we have Donald Trump as President, especially when he talks about kicking out immigrants and banning Muslims from the country."
From reports of mosque vandalism to ICE raids in cities nationwide, Latino Muslims fear their community is especially vulnerable because of President Trump's sweeping proposals on immigration and rhetoric about Muslims.
Latino Muslims — hailing from different parts of Latin America and the Caribbean — are the fastest growing group in America's Muslim population, many of them converting from Christianity or Catholicism.
Latinos made up 12% of all U.S. Muslim converts in 2011, compared to 6% in 2000, according to a 2011 Council on American-Islamic Relations mosque report. There hasn't been a comprehensive study about Latino Muslims, but more than 100,000 of the United States' 3.3 million Muslims are believed to be Latino, the Pew Research Center reports.
Some projections estimate the country's Muslim population at 6 to 7 million, depending on how Muslims are surveyed.
Latino Muslims' population growth comes amid an increase in reported anti-Muslim bias incidents — 2,213 in 2016, up from 1,409 in 2015. Hate crimes rose 44% in the wake of the presidential election, with 260 in 2016, up from 180 in 2015, a CAIR Islamophobia report released this week reveals.
The new report highlights Trump's perceived role in a national increase of anti-Muslim tensions, stating that he entered the White House with "an unprecedented record of conditioning audiences to fear Muslims."
Full report at:
http://www.nydailynews.com/news/national/latino-muslims-embrace-heritage-faith-trump-america-article-1.3158113
--------
Syria's al-Qaeda affiliate escapes from Canada's terror list
May 14, 2017
The Syrian branch of al-Qaeda, currently calling itself Hay'at Tahrir al-Sham (HTS), has succeeded in getting itself off Canada's list of designated terrorist entities following its latest identity shift.
That complicates the task of prosecuting Canadians who travel to join the group, send it money or propagandize on its behalf.
It also illustrates the pitfalls of Canada following the lead of the U.S. in designating terror groups.
HTS escapes being listed at a time when it is absorbing other jihadi groups and attracting more recruits, even as the Islamic State retreats on multiple fronts.
HTS has a history of renaming itself and altering its structure to confuse outsiders, and the Syrian population, about its true affiliations. But until now, few observers have accepted its claims to have distanced itself from its parent organization.
ISIS and Nusra: Bin Laden's squabbling offspring
Hay'at Tahrir al-Sham (the Organization for Conquest in the Levant) began life as an expeditionary force called Jabhat al-Nusra (the Support Front), despatched into Syria in 2011 by the leader of al-Qaeda in Iraq, Abu Bakr al-Baghdadi, now "caliph" of the Islamic State (ISIS). Jabhat al-Nusra was led by Syrian jihadist Abu Mohammad al-Jawlani.
The United States put the group on its terrorist list in 2012, as the Syrian branch of al-Qaeda, and Canada followed suit.
Al-Baghdadi soon crossed into Syria himself, renouncing his allegiance to al-Qaeda and founding ISIS in April 2013.
Al-Jawlani's group remained loyal to the mother organization founded by bin Laden, and Jabhat al-Nusra and ISIS have been at each other's throats ever since. Meanwhile, the U.S.-led coalition focused its bombing on Islamic State, not al-Nusra.
While ISIS made headlines and enemies across the world, al-Nusra flourished.
It has carried out numerous suicide bombings, forced religious conversions, destroyed ancient shrines and enacted brutal punishments, including the stoning of women.
A history of shape-shifting
In early 2015, al-Qaeda's international leader Ayman al-Zawahiri, thought to be hiding in Pakistan, set al-Nusra free of its formal subordination to al-Qaeda.
"The brotherhood of Islam that exists among us is stronger than any passing or changing organizational ties," he said in a taped statement, instructing the group to integrate itself into the wider Syrian revolt. Al-Nusra changed its name to Jabhat Fateh al-Sham (Front for the Conquest of the Levant), and continued to gobble up other Syrian jihadi groups, often by force.
But the West wasn't buying it. The U.S. and Canada simply added the new name as another alias of al-Nusra on their terrorist listings.
Both countries are normally careful to capture all the aliases of terrorist groups, including minor variations in spelling and punctuation. (Islamic State has 46 permutations of its name listed by Public Safety Canada; al-Nusra has six).
But then in January of this year, the group shifted again, nominally dissolving itself and joining with four other jihadi groups. It altered its name, changing the word "Jabhat" (Front) to "Hay'at" (Organization), and "Fateh" (Conquest) to "Tahrir" (Liberation).
The military commander of the group continues to be al-Jawlani, whom the U.S. has branded a Specially Designated Global Terrorist. On Wednesday, the U.S. government posted a $10-million reward for him. The reward notice states that al-Nusra is "at the core of HTS," which is led by a triumvirate that also includes Egyptian Abu Khayr al-Masri, the number two of the global al-Qaeda organization.
And yet HTS has not been designated in the U.S. Canada, which usually follows the U.S. listing closely, has also not listed the group.
The change is significant, and the U.S. State Department confirmed to CBC News that HTS members are no longer considered terrorists.
The State Department did issue a statement in March, in Arabic only, branding HTS a terrorist group. But the State Department's Nicole Thompson told CBC that was a mistake.
"Though closely affiliated with al-Nusra, Hay'at Tahrir al-Sham is not a designated terrorist organization," she said in an email. "The statement you found should have said al-Nusrah Front and has been corrected."
Al-Nusra, however, no longer exists.
Extra headache for prosecutors
CBC News asked Public Safety and the Public Prosecution Service how the failure to list might affect prosecutions of HTS supporters in Canada.
"The PPSC cannot respond to hypothetical questions or questions asking how the laws relating to terrorism offences would apply in hypothetical cases," the Public Prosecution Service replied.
But University of Ottawa law professor Carissima Mathen says the lack of designation creates a higher barrier to prosecution.
"The Criminal Code provides two ways for something to be defined as a terrorist group. One of them is if it's actually a group that has as its purpose terrorist activities, and the second is if the Governor-in-Council puts it on a list, which is done on a less stringent basis.
"It's a 'reasonable grounds to believe' basis as opposed to 'beyond a reasonable doubt.' So there's no question that, if the group is not on the list, the prosecutor will have to establish beyond a reasonable doubt that the group is a terrorist group."
Mathen says that "might not be a deal-breaker for me as a prosecutor", but "depending on what other priorities and pressures I was facing, it would definitely count in terms of how I could fit that into my existing caseload."
She says it might lead a prosecutor to decide some cases are not worth the extra effort. Instead of prosecuting all money transfers to HTS, for example, prosecutors might only focus on larger amounts.
"I would think as a government if you had this power, you'd expect them to use it, to list this entity."
Why no listing?
The reasons for the reluctance to list the new al-Qaeda formation may have to do with one of its new members, the Nour ed-Dine Zenki Brigade, a jihadi group from the Aleppo governorate.
The Zenki Brigade was an early and prominent recipient of U.S. aid, weapons and training.
Zenki was cut off by the State Department only after Amnesty International implicated them in killings of Orthodox Christian priests and members posted a video of themselves beheading a young boy.
For the U.S. to designate HTS now would mean acknowledging that it supplied sophisticated weapons including TOW anti-tank missiles to "terrorists," and draw attention to the fact that the U.S. continues to arm Islamist militias in Syria.
Canada's longstanding reliance on U.S. listings exposes it to the increasingly politicized nature of those listings, which are influenced by the U.S. strategy of backing groups fighting the Syrian government and its Russian allies.
It also means that Canada currently does not list any active branch of al-Qaeda in Syria, the world's most important jihadi battleground.
Full report at:
http://www.cbc.ca/news/canada/terror-list-omission-1.4114621
--------
Saskatchewan Muslims in Canada host luncheon to educate locals about Ramadan
May 15, 2017
Saskatchewan (Canada): More than 100 community leaders from around the city of Saskatchewan in Canada, including church dignitaries and politicians, came together to a pre-Ramadan luncheon at the Royal Canadian Mounted Police (RCMP) Heritage Centre to learn what this sacred month is all about.
"People are nervous about asking questions," explained Sabreena Haque, a Muslim woman and member of the Regina chapter of the Islamic Association of Saskatchewan, which organized the event, CBC News reported.
"It's good just to come forward and just explain to people. Once you start talking, then people start asking questions," Haque said.
Thousands of Muslims in Saskatchewan are preparing to mark the start of Ramadan an intense month of fasting from dawn to dusk. Ramadan could begin on May 26 and ends June 24. The decision is made based on sighting of moon.
Haque explained the event is meant to create a bridge between communities. Haque described it as a type of spiritual training, where charity is emphasized.
Faisal Khan, president of the association's Regina chapter said, "It's a great opportunity to let others know who we are, why do we fast every year and what effect it has, and the generosity that we do."
"We call this home now, just as you do and it's a great place to be", he said.
He explained that Ramadan allows Muslims to understand better the pain felt by the impoverished.
"It gets us, first of all, understanding of what poor people go through and it helps us become more compassionate with them and it just generally results in a lot of generosity," explained Khan.
Full report at:
"This is going to be one grand event for the Muslim community," he added.
http://www.ummid.com/news/2017/May/14.05.2017/canada-pre-ramadan-lunch-2017.html
--------
Muslim hate crimes: Reports of Islamophobic incidents in the US soared again in 2016
May 15, 2017
More than fifteen years after 9/11, the number of Islamophobic attacks recorded in the US continues to soar.
Alongside data that shows Americans are seven times more likely to be killed by right-wing extremists than those driven by Islamist views, a new report suggests that incidents of Islamophobia rose by 57 per cent in 2016. This included a 44 per cent increase in anti-Muslim hate crimes.
The report by the Council on American-Islamic Relations (CAIR), shows that between 2014 and 2016, anti-Muslim bias incidents increased by 65 per cent. In that two-year period, CAIR found that hate crimes targeting Muslims surged 584 per cent.
The finding by CAIR was similar to that of other independent researchers. Looking at data from 20 states, researchers at California State University reported 196 incidents of hate crimes against Muslims in the US in 2015, a 78 per cent increase on the prior year. Those figures were later corroborated by FBI data.
Earlier this year, CAIR reported that the number of incidents of alleged Islamophobia involving US Customs and Borders Protection officials has increased by about 1,000 per cent since Donald Trump took office.
Laura Pitter of Human Rights Watch, wrote this week that Mr Trump's administration had rejected as "absurd" the allegation that his own anti-Muslim rhetoric had helped fuel the most recent increase of Islamophobic incidents.
"But he has lashed out against his critics far more loudly and more often than he has spoken up against hate crimes," she said. "Trump should be much more forceful in speaking out against acts of violent intolerance, especially since his own rhetoric and executive actions have so consistently scapegoated Muslims.
"So far, with the exception of one address to Congress, he has not spoken out against hate crimes, or addressed these issues more broadly in a prominent, public fashion."
She added: "If Trump really wants to distance himself from these hate incidents, public condemnation, in the wake of this chilling report, would be one way to do it."
CAIR said that harassment was the most frequent type of abuse last year, accounting for 18 per cent of the total number of incidents. Incidents during which the complainant was questioned by FBI employees or otherwise appeared to be inappropriately targeted by the agency made up 15 per cent of cases, making this the second largest category.
Employment issues, including denial of work, came third, while hate crimes were the fourth largest
Full report at:
http://www.independent.co.uk/news/world/americas/muslim-hate-crimes-increased-2016-islamophobia-donald-trump-latest-a7735141.html
--------
URL: https://www.newageislam.com/islamic-world-news/they-lead-hell-muslim-preacher/d/111154
New Age Islam, Islam Online, Islamic Website, African Muslim News, Arab World News, South Asia News, Indian Muslim News, World Muslim News, Women in Islam, Islamic Feminism, Arab Women, Women In Arab, Islamophobia in America, Muslim Women in West, Islam Women and Feminism