New Age Islam News Bureau
1 Oct 2013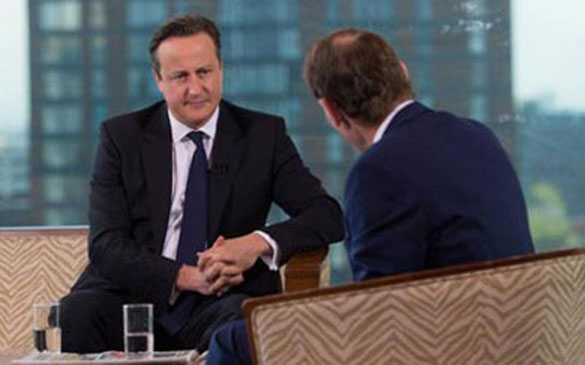 David Cameron told the BBC he did not support a ban on veils in public. (Reuters)
------------
Pakistan
• Militant violence: Clerics make impassioned appeal for truce
• I never called Manmohan Singh a 'village woman': Pak PM Nawaz Sharif
• Prayer Leader Confesses To Rape-And-Murder Plot, Police Asked To Seal All Seminaries
• Bloody Peshawar attacks spell gloom for Taliban talks
• Intelligence officer, family killed in Rawalpindi
• MPA of Jamiat Ulema-i-Islam-Fazl claims 123 killed in church blast
• PTI to host conference of scholars on militancy
• Cornered Sharif fights a lonely battle at home
India
• For Indian Muslim leaders, Peshawar bombing is a disgrace to Islam
• Unused or Little-Used Airstrips May Be Used For Terror Attack
• 13 found guilty for recruiting Kerala youth for terror camps
• Indian Islamic Centre staging event to mark Mahatma Gandhi's birthday
South Asia
• IOJ, Jamiat leaders dropped from Hefazat Shura
• 25 Rebels Killed in Afghanistan's Helmand Gun-Battle
• First Bangladesh MP sentenced to death for genocide
• Buddhist mobs kill 1, torch 70 homes in Myanmar
• Maldives SC collects details of Election Commission's Ballot Progress Reporting System
• Bangladesh honours 60 more foreign friends of liberation war
North America
• Pakistan flirted with terrorism as state policy: US official
• Invoking 9/11, Syria accuses US of hypocrisy
• Collapse of US-Iran Negotiations Will Result in Return of Extremists
Europe
• Cameron expresses support for Muslim veil ban in UK schools
• Muslim prisoners sue Britain over pork contaminated food
• Russia says unsure West can get Syrian rebels to peace talks by November
• Bosnia's census poses quandary for Muslims
• France arrests Paris woman for alleged al-Qaeda links
• Paris terror court sentences Indian Jihadi to 8 years in jail
Africa
• Al-Shabab Finds Fighters among Somali Youth in Minnesota
• Slow but Sustained - Ethiopian Muslims' Struggle for Rights Continues
• Sudan arrests 700 people in week of deadly demonstrations
• Sudan 'martyr' Salah becomes symbol of protest
• Shabab says no woman involved in mall attack
• Islamic extremist group blamed for attack that killed dozens of Nigerian students
Mideast
• Iran FM accuses Israel's Netanyahu of 'lies'
• Turkish PM announces reforms aimed at Kurds
• US still enemy, says Iran Guards chief
• Israel army shoots two Palestinians on Gaza border
Southeast Asia
• Music show ends with visit by Aceh's Sharia police
• SBY to have bilateral talks with Obama in Bali
• Sense of shame over failures and good work ethics missing among Malays, says Dr Mahathir
Arab World
• 'Terrorists' Eat Human Hearts, Cut People Alive: Syrian Foreign Minister to UN
• Syrian FM to UN: 'Terrorists from 83 Countries Fighting in Syria'
• 3 Killed in Attacks on Police HQ in Iraq's Tikrit
• As jihadist rebels burn two Catholic churches in ar-Raqqah, Assad's enemies openly split
• Mortar shell hits Chinese embassy in Syria, one injured
Compiled by New Age Islam News Bureau
URL: https://www.newageislam.com/islamic-world-news/new-age-islam-news-bureau/-terrorists--eat-human-hearts,-cut-people-alive--syrian-foreign-minister-to-un/d/13780
-------------
'Terrorists' Eat Human Hearts, Cut People Alive: Syria Foreign Minister to UN
Associated Press
Oct 01 2013
United Nations: Syria's foreign minister Monday claimed his government is fighting a war against al Qaeda-linked militants who eat human hearts and dismember people while they are still alive, then send their limbs to family members.
Walid al-Moallem, addressing world leaders at the UN General Assembly in New York, also charged that the US, Britain and France had blocked the naming of the real perpetrators of chemical weapons attacks in Syria.
He claimed "terrorists" fighting the regime in the civil war are being supplied with chemical weapons, but he did not name specific nations accused of supplying them.
President Barack Obama told the UN last week that it was the President Bashar Assad's regime that was behind a chemical weapons attack in August that killed hundreds in the Damascus suburbs and brought threats of a US strike.
Syria has committed to getting rid of its stockpiles of chemical weapons and the UN Security Council voted unanimously Friday to oblige it to do so based on a plan made by Organisation for Prohibition of Chemical Weapons.
Al-Moallem claimed it is clear to all that offshoots of al-Qaeda — "the most dangerous terrorist organization" — is fighting in the Syrian civil war. But some countries refuse to recognize it, he said.
A video published online in May purported to show a member of Syria's armed opposition eating a human heart while the body of a Syrian soldier lay close by. Another video the minister referred to purportedly showed rebels grilling the head of a Syrian soldier.
The video with the heart drew condemnation from human rights groups as well as the Syrian National Council, one of the main opposition groups.
http://www.indianexpress.com/news/-terrorists--eat-human-hearts-cut-people-alive-syria-minister/1176538/
-------
Pakistan
Militant Violence: Clerics Make Impassioned Appeal for Truce
October 1, 2013
ISLAMABAD: Distraught by the rampant militant violence in the country, a group of top religious scholars met in an extraordinary session on Monday to condemn the wanton killing of innocent civilians. They also made an impassioned appeal to both the government and the Taliban to cease fire and engage in dialogue to steer the country out of a 'civil war-like situation'.
"We strongly believe that dialogue is the only way to bring the country out of the civil war-like situation," the religious scholars from the Deobandi school of thought said in a joint statement following the meeting in Islamabad on Monday.
Wafaqul Madaris – an umbrella of Islamic seminaries belonging to mostly Deobandi school of thought – organised the meeting. The scholars condemned the ongoing violence in the country and expressed grief over the loss of innocent lives.
Sources privy to the meeting told The Express Tribune that the participants also decided to establish individual contacts with the government and the homegrown Taliban in an attempt to bring them to the negotiating table.
"The reckless use of force and bloodshed is not a solution to any problem," concurred the scholars at the meeting presided over by Wafaqul Madaris President Maulana Saleemullah Khan. "Violent attacks are killing and maiming innocent civilians in different parts of the country – which is a matter of grave concern."
They, however, expressed satisfaction over the willingness of both the government and the Taliban to pursue dialogue. "This is the only way to unite the nation on a single platform and fight external conspiracies," they said in the statement.
Two factions of politico-religious Jamiat Ulema-e-Islam, led by Maulana Fazlur Rehman and Maulana Samiul Haq, are already making efforts to broker a peace deal between the government and the Taliban. Their efforts were prompted by last month's all-party conference where major political groups supported the dialogue option.
However, the recent surge in attacks called the government's strategy into question. Interestingly, the Tehreek-e-Taliban Pakistan – the outlawed group responsible for most bloodshed in the country – denied involvement in most of these attacks.
The participants of Monday's meeting claimed that some forces were trying to create chaos and confusion to sabotage the embryonic peace process. They, however, did not name these 'forces'.
Attendees included Mufti-i-Azam Pakistan Mufti Rafi Usmani, Mufti Taqi Usmani and Wafaqul Madaris Secretary General Qari Muhammad Hanif Jalandhri.
http://tribune.com.pk/story/611803/militant-violence-clerics-make-impassioned-appeal-for-truce/
-------------
I never called Manmohan Singh a 'village woman': Pak PM Nawaz Sharif
PTI | Oct 1, 2013
ISLAMABAD: In an attempt to end a controversy over his purported remarks about his Indian counterpart, Pakistan Prime Minister Nawaz Sharif has said that he never called Manmohan Singh a "village woman".
Sharif also denied charges that Pakistan was sponsoring terrorism in India, saying his country was itself a victim of the menace.
Just a day before the two Prime Ministers met on the margins of the UN general assembly in New York on Sunday, a Pakistani TV talk show host claimed Sharif had described Singh as a "Dehati Aurat" (village woman) during an informal chat over breakfast with journalists.
The talk show host withdrew his remarks after an Indian journalist, who too was present at the interaction, said Sharif had made no such remarks.
Sharif told the media in London that he never called Singh a "village woman", Pakistani dailies reported today. He said he was satisfied with the outcome of his meeting with Singh.
He said external forces were involved in terrorism inside Pakistan and "far from being a sponsor, Pakistan was actually a victim of a foreign-funded well organised wave of terrorism".
During his meeting with US President Barack Obama and in his speech at the UN general assembly, Singh had referred to Pakistan as the "epicentre of terrorism".
Sharif said he had discussed with Singh "all important issues", including Kashmir, sharing of river waters, Siachen, Sir Creek and Balochistan.
http://timesofindia.indiatimes.com/india/I-never-called-Manmohan-Singh-a-village-woman-Pak-PM-Nawaz-Sharif/articleshow/23363779.cms
---------
Prayer Leader Confesses To Rape-And-Murder Plot, Police Asked To Seal All Seminaries September 30, 2013
MULTAN: Residents of Koraywala Colony in Multan caught a prayer leader on Sunday evening for plotting to rape and kill a three-year-old. He was beaten up, stripped and tied to an electricity pole before he was handed over to the Bahauddin Zakariya police. Police said he had confessed to his attempted assault.
The child was taken to a hospital, where she was later reported to be out of danger.
Investigation Officer Sheikh Mukhtar said that the girl and her brother were both students at a seminary in the neighbourhood. He said on Sunday their father had dropped them at the seminary for their daily Quran lessons.
After the lesson, he said, the cleric told her brother to return home saying that the girl had yet to revise her lesson and that he would drop her home in an hour.
When her brother left, the investigation officer said, the cleric drugged the girl and took her to a nearby graveyard, where he dug a hole for her.
He said a grave digger saw the cleric taking his clothes off. He said when he went closer, he saw the child. He said he grabbed the cleric and shouted for help. The grave digger told police that the cleric initially tried to put on the dress, but on seeing some other men approach, he left his clothes behind and fled.
He was caught at Kashmir Square, beaten up and tied to an electricity pole. Later, police were informed and the man was handed over to them.
The girl was taken to Nishtar Hospital emergency, where she was later said to be out of danger.
An FIR was registered with the girl's father as the complainant. Police said the cleric's assistant was missing and would be arrested soon.
The investigation officer said the cleric and told police that he had intended to rape the child. He said he had told his assistant to later bury her. He said he had told his assistant to dig a grave for an adult.
Several residents of the area gathered in front of the police station and demanded that the police seal all seminaries in the area. They said only mosques should be allowed to open. They said most of them would stop sending their children to seminaries and mosques. They demanded exemplary punishments for the suspect and his accomplice.
Boy accused of raping sister
Separately, a 16-year-old boy was arrested by Batala Colony police in Faisalabad and sent to district jail for allegedly raping his sister.
The Warispura resident was booked on his mother's complaint. She told police that she had been away when her son raped his sister. She said some neighbours had rushed to her house on hearing her daughter shout. She said she learnt about it when she returned.
Investigation Officer Arshad Chattha told The Express Tribune that the boy had been sent to district jail for 14 days by a judicial magistrate.
http://tribune.com.pk/story/611589/crime-against-children-prayer-leader-confesses-to-rape-and-murder-plot/
-------------
Bloody Peshawar attacks spell gloom for Taliban talks
AFP
2013-10-01
PESHAWAR: Three weeks after the country's main political parties backed the idea of talks with the Pakistani Taliban militants, the plan looks in deep trouble, hit hard by a wave of bloody attacks.
In the space of a week, the northwestern city of Peshawar has suffered three major bombings, killing over 140 people — the vast majority of them civilians.
Hurried denials issued by the main umbrella Tehrik-i-Taliban Pakistan (TTP) group hint at divisions within the organisation and the rise of splinter factions keen to pursue their own agenda rather than follow the central leadership.
Peshawar is no stranger to bloodshed. It lies on the edge of Pakistan's tribal areas and has frequently been hit by bombings and shootings.
Full report at:
http://www.dawn.com/news/1046695/bloody-attacks-spell-gloom-for-peace-talks
-------------
Intelligence officer, family killed in Rawalpindi
2013-10-01
RAWALPINDI: A retired brigadier, his wife and two daughters were killed by firing in Gulistan Colony on Tuesday, DawnNews reported.
Doctor Sikander Malik was the principle of the private medical college, and was residing within the medical facility's residential area.
Unknown men entered Brigadier (rtd) Doctor Sikander Malik's home, in the residential area of a private medical centre in Rawalpindi, and shot him in the head, along with his wife and two daughters.
Full report at:
http://www.dawn.com/news/1046700/retired-brigadier-three-family-members-murdered-in-rawalpindi
-------------
MPA of Jamiat Ulema-i-Islam-Fazl claims 123 killed in church blast
ZULFIQAR ALI
2013-10-01
PESHAWAR, Sept 30: A lawmaker of the opposition in Khyber Pakhtunkhwa Assembly on Monday contradicted official figures about the death toll of All Saints Church, Peshawar attack and claimed that twin suicide attack had killed 123 churchgoers on Sept 22.
Minority MPA Askar Pervaiz of Jamiat Ulema-i-Islam-Fazl told the House that the list issued by the provincial government about the death toll of church attack was not correct and that total 123 people had been perished in the bombing attack instead of 83 as claimed by the government.
Full report at:
http://www.dawn.com/news/1046660/mpa-claims-123-killed-in-church-blast
-------------
PTI to host conference of scholars on militancy
KHAWAR GHUMMAN
2013-10-01
ISLAMABAD: After floating a slew of proposals to deal with terrorism and the Taliban which failed to find common ground either with the government or other opposition parties, the Pakistan Tehreek-i-Insaf (PTI) has now decided to hold a national conference of religious scholars and intellectuals on Oct 5 for the purpose.
The surprising part of the move is that instead of inviting heads or representatives of political parties, only religious scholars, intellectuals and thinkers will be invited to the conference.
In the opening lines of a press statement the party's media wing issued on Monday about the conference, it criticised the government for sleeping over the recommendations of the Sept 9 all-party conference (APC).
Full report at:
http://www.dawn.com/news/1046617/pti-to-host-conference-of-scholars-on-militancy
-------------
Cornered Sharif fights a lonely battle at home
Imtiaz Ahmad, Hindustan Times
October 01, 2013
Asked recently to compare his present stint as Pakistan's prime minster with his previous two terms, Nawaz Sharif replied that this tenure was the most difficult. Despite his landslide electoral victory, his first 100 days in office has already shown him to be boxed in by domestic challenges.
The first challenge is law and order. More than 1,000 people have already died at the hands of Islamicist militants since he took office. His attempts to hold talks with the Tehrik-e-Taliban Pakistan (TTP) are under a cloud. Despite his offer, terror attacks have continued and the military has come out strongly against the talks. The army insists only a military solution is possible.
Full report at:
http://www.hindustantimes.com/world-news/pakistan/Cornered-Sharif-fights-a-lonely-battle-at-home/Article1-1129358.aspx
--------
India
For Indian Muslim leaders, Peshawar bombing is a disgrace to Islam
By Nirmala Carvalho
October 01, 2013
Mumbai (AsiaNews) - The attack on the church of Peshawar in Pakistan is "a disgrace to Islam and to all humanity. The authors of the attack are cowards and terrorists. Even if they are Muslims, they cannot be considered members of the Islamic community," said Suhail Lokhandwala, an Indian Islamic leader, who along with other Muslims took part in a meeting with bishops in Mumbai to condemn the massacre that claimed the lives of nearly 100 people and injured more than 130.
The meeting took place on Wednesday at the Archbishop's Palace. In addition to Lokhandawala, a former chairman of the Minorities Commission, other Islamic leaders were present at the meeting with Mgrs Bishop Agnelo Gracias and Dominic Savio Fernandes, auxiliary bishops of Mumbai. Minorities Commission Vice President Janet D'Souza was also in attendance.
Full report at:
http://www.asianews.it/news-en/For-Indian-Muslim-leaders,-Peshawar-bombing-is-a-disgrace-to-Islam-29130.html
-----------
Unused or Little-Used Airstrips May Be Used For Terror Attack
Mateen Hafeez & Manju V, TNN | Oct 1, 2013
MUMBAI: Intelligence agencies have sounded a terror red alert over the possible use of any one of Maharashtra's 24 unused or little-used airstrips to launch unmanned light aircraft laden with explosives.
The alert has been shot off to all security agencies, which have been asked to monitor unused air strips against launch of attacks on civilians and military establishments. The city's Juhu airport and the international airport are also under the scanner.
The two-page intelligence alert, issued on September 21, specifically mentions names of airports that require tighter security.
Full report at:
http://timesofindia.indiatimes.com/india/Red-alert-Airstrips-may-be-used-for-terror-attack/articleshow/23326579.cms
-------------
13 found guilty for recruiting Kerala youth for terror camps
T Ramavarman, TNN | Oct 1, 2013
KOCHI: A special National Investigation Agency (NIA) court on Tuesday found 13 accused guilty in the sensational Kashmir terrorist recruitment case but acquitted five others.
Those convicted include Lashkar-e-Taiba (LeT) operative Thadiyantavide Nazeer who is also an accused in 2008 Bangalore serial blasts.
The special court Judge S Vijayakumar will pronounce the quantum of punishment on Friday.
NIA is yet to nab two accused in the case, Abdul Rehman Alias Wali, a Pakistani national from Pakistan occupied Kashmir (PoK) and Mohammed Sabir.
The case relates to the recruitment of Indian youths by LeT in 2006 for carrying out terror acts after training them at different parts of the country.
In October 2008, four Malayalis — Fayas, Abdul Rahim, Mohammed Yasin and Fayis — were killed in an encounter in Jammu and Kashmir while attempting to cross the border and reach a terrorist training camp run by LeT in PoK.
Full report at:
http://timesofindia.indiatimes.com/india/13-found-guilty-for-recruiting-Kerala-youth-for-terror-camps/articleshow/23365537.cms
----------
Indian Islamic Centre staging event to mark Mahatma Gandhi's birthday
October 01, 2013
Abu Dhabi: More than 1,000 Indians will celebrate International Day of Non-Violence on Friday at the Indian Islamic Centre.
To secure a culture of peace, tolerance and understanding of non-violence, the Indian Media Abu Dhabi (IMA), in association with the cultural wing of the Indian Embassy and the Indian Islamic Centre, has organised a one-day event to remember the birthday of Mahatma Gandhi.
Cultural programmes, competitions and art exhibitions will be staged.
International Day of Non-Violence is marked on October 2, the birthday of Mahatma Gandhi, leader of the Indian Independence movement and pioneer of the philosophy and strategy of non-violence.
Full report at:
http://gulfnews.com/news/gulf/uae/general/indian-islamic-centre-staging-event-to-mark-mahatma-gandhi-s-birthday-1.1237032
-------------
South Asia
IOJ, Jamiat leaders dropped from Hefazat Shura
October 01, 2013
Hefazat-e-Islam has formed a 201-member new 'Shura' or executive council and a 25-member special policy-making body axing some top leaders who tried to establish dominance and impose their decisions on the madrasa-based outfit's activities.
Hefazat also decided to keep close watch on the activities of the dropped leaders so that they could not attempt sabotage or do any harm to the organisation.
Most of the leaders the Hefazat has removed belong to the Islamist allies of Bangladesh Nationalist Party.
Hefazat last week reconstituted the 'Shura' and the special policy-making body with its Ameer Maulana Ahmed Shafi as its head to set 'strategies' for realising the outfit's future programmes.
Full report at:
http://www.newagebd.com/detail.php?date=2013-10-01&nid=67529#.Ukp8i9K-pRI
-------------
25 Rebels Killed in Afghanistan's Helmand Gun-Battle
October 01, 2013
TEHRAN (FNA)- Twenty-five militants were killed after they stormed security posts of public order police in Southern Helmand province, an official claimed on Monday.
The heavily-armed insurgents stormed checkpoints between Nawzad and Greshk districts around midnight on Sunday, public order police's 7th battalion commander Col. Ghulam Sakhi Ghafoori told Pajhwok Afghan News.
He said the insurgents wanted to capture the area, but public order police personnel put up stiff resistance as the fierce gun-battle stretched into early Monday.
Only one policeman was injured, he said.
But the Taliban said 10 security personnel had been killed during the attack.
http://english.farsnews.com/newstext.aspx?nn=13920708001303
-------------
First Bangladesh MP sentenced to death for genocide
REUTERS
2013-10-01
DHAKA: A Bangladesh court on Tuesday sentenced to death a top opposition MP for genocide, the first lawmaker to be convicted of war crimes during the 1971 war of independence.
Salauddin Quader Chowdhury, a leader of the main opposition Bangladesh Nationalist Party (BNP), was found guilty by the International Crimes Tribunal of nine charges including murder, religious persecution, torture and rape. The ruling is likely to trigger fresh unrest in the already tense country.
The 64-year-old Chowdhury would be "hanged by the neck", presiding judge A.T.M Fazle Kabir told a packed court in the capital Dhaka.
"We are happy with the verdict," Attorney General Mahbubey Alam told AFP.
After the sentence was read out, a defiant Chowdhury accused the government of influencing the judge's decision.
Full report at:
http://www.dawn.com/news/1046699/first-bangladesh-mp-sentenced-to-death-for-genocide
-------------
Buddhist mobs kill 1, torch 70 homes in Myanmar
October 1, 2013
President Thein Sein traveled to Myanmar's conflict-torn west on Tuesday as a new spate of sectarian violence gripped the state of Rakhine, with police saying Buddhist rioters killed a 94-year-old Muslim woman and torched more than 70 homes.
Police officer Kyaw Naing said clashes broke out in Thabyachaing village, about 20 kilometers (12 miles) north of the coastal town of Thandwe, on Tuesday afternoon.
He said the 94-year-old woman, Aye Kyi, died of stab wounds and that between 70 and 80 houses were set on fire.
Full report at:
http://www.thejakartapost.com/news/2013/10/01/buddhist-mobs-kill-1-torch-70-homes-myanmar.html
-------------
Maldives SC collects details of Election Commission's Ballot Progress Reporting System
By Minivan News | October 1st, 2013
The Elections Commission (EC) has said that it has submitted the ballot monitoring software, the Ballot Progress Reporting System (BPRS) used by the election officials during the first round of presidential elections to the Supreme Court, with regard to the JP's election annulment case filed against the commission.
The BPRS System is a web based application that tallied the number of voters who had cast their vote or were in the queue to vote. However, due to difficulties of internet access in some islands, the system was not fully utilized.
Full report at:
http://minivannews.com/category/news-in-brief
-------------
Bangladesh honours 60 more foreign friends of liberation war
October 01, 2013
Bangladesh will honour 60 foreign friends and organisations from different countries for their outstanding contributions to the 1971 Liberation War.
The list includes former Indian president late Fakhruddin Ali Ahmed and ex-prime minister late Gulzarilal Nanda.
The state accolades will be given in two categories, titled "Bangladesh Liberation War Honour" and "Friends of Liberation War Honour" at a reception at the Bangabandhu International Conference Centre today.
Full report at:
http://www.thedailystar.net/beta2/news/honour-for-60-more-foreign-friends-today/
-------------
North America
Pakistan flirted with terrorism as state policy: US official
IANS | Oct 1, 2013
WASHINGTON: A day after Prime Minister Manmohan Singh asked Pakistan to shun terrorism to make peace with India, a top US defence official suggested that over time Islamabad "flirted" with terrorism as state policy.
"I was clear in Pakistan that the principal threat to Pakistan is terrorism, not its neighbours," deputy defence secretary Ashton Carter, who visited India, Pakistan and Afghanistan recently, said on Monday at a Washington think-tank.
"The government of Pakistan has flirted over time with using terrorism as an instrument of state policy, and it's coming to the realisation that terrorism's a boomerang and it comes back on you when you try to use it for your own purposes," he said.
Full report at:
http://timesofindia.indiatimes.com/world/pakistan/Pakistan-flirted-with-terrorism-as-state-policy-US-official/articleshow/23343277.cms
----------
Invoking 9/11, Syria accuses US of hypocrisy
October 01, 2013
New York: Seeking to rebut Syria's political opposition and its outside supporters, the Syrian foreign minister on Monday equated his country's brutal conflict to the September 11 attacks and accused the United States of hypocrisy.
"The people of New York have witnessed the devastations of terrorism, and were burned with the fire of extremism and bloodshed, the same way we are suffering now in Syria," the foreign minister, Walid Al Mua'alem, told the United Nations General Assembly meeting in New York. "How can some countries, hit by the same terrorism we are suffering now in Syria, claim to fight terrorism in all parts of the world, while supporting it in my country?"
The United States denounced Al Mua'alem's assertions. In a statement issued afterward, Erin Pelton, a spokeswoman for the US Mission, called Al Mua'alem's assertion "as disingenuous as it is offensive."
Full report at:
http://gulfnews.com/news/region/syria/invoking-9-11-syria-accuses-us-of-hypocrisy-1.1237697
-------------
Collapse of US-Iran Negotiations Will Result in Return of Extremists
October 01, 2013
TEHRAN, Iran — The phone conversation between US President Barack Obama and Iranian President Hassan Rouhani, during the final hours of Rouhani's visit to New York, was unexpected enough to dominate the media spheres of both Iran and the United States. The reactions of the Iranian people have been significant and mostly positive. Even the Principlists and conservatives, whose ideology is not similar to that of Rouhani, have not reacted negatively to Rouhani's diplomacy or that of his foreign minister, Mohammad Javad Zarif, in New York.
Full report at:
http://www.al-monitor.com/pulse/originals/2013/09/collapse-us-iran-negotiations-result-return-extremists.html#ixzz2gT3MMZX9
-------------
Europe
Cameron expresses support for Muslim veil ban in UK schools
October 01, 2013
Al Arabiya
British Prime Minister David Cameron said on Sunday he supports a ban on Muslim veils in the country's schools.
His comments came amid controversy over Islamic schools in Britain imposing religious dress as the uniform for young girls, according to recent media reports.
In an interview with the BBC, Cameron said he would consider issuing new guidelines to judges, teachers and immigration officers specifying when they can ask women to remove their veils.
"We are a free country and people should be free to wear whatever clothes they like in public or in private," Cameron said, clarifying that he does not object to women wearing the veil in public places.
Full report at:
http://english.alarabiya.net/en/News/world/2013/09/30/Cameron-expresses-support-for-Muslim-veil-ban-in-schools-.html
------
Muslim prisoners sue Britain over pork contaminated food
October 01, 2013
Nearly 200 Muslim prisoners are suing the British government, claiming their human rights were violated after test results confirmed that halal food being served to them contained pork meat, reported The Telegraph on Monday.
Islamic teachings strongly forbid any Muslim from eating pork.
Test results proved that halal sausage rolls, shepherd's pies, steak and kidney pies and pasties served to inmates actually contained the pork ingredient.
Full report at:
http://english.alarabiya.net/en/variety/2013/09/29/Muslim-prisoners-sue-Britain-over-pork-contaminated-food.html
-------------
Bosnia's census poses quandary for Muslims
RUSMIR SMAJILHODZIC
2013-10-01
SARAJEVO: Bosnia's first census since its 1990s inter-ethnic war, which could dramatically alter the balance of power between the three main ethnic groups, poses a particular quandary for the country's Muslims.
The 1995 Dayton peace agreement introduced a political system in which Muslims — known as Bosniaks — along with Serbs and Croats are the Balkan country's "constituent peoples" and the only ones with access to top state and legislative positions.
For months political and religious leaders of the three groups have been urging their respective communities to declare their ethnicity in the census, which begins on Tuesday and runs to Oct 15.
Full report at:
http://www.dawn.com/news/1046583/bosnias-census-poses-quandary-for-muslims
-------------
France arrests Paris woman for alleged al-Qaeda links
1 October 2013
AFP, Paris
Officers with France's DCRI domestic intelligence agency on Tuesday arrested a Paris woman suspected of links to al-Qaeda in the Arabian Peninsula.
A source close to the investigation said the woman was arrested around 6:30 am (0430 GMT) at her apartment in the working-class Belleville district of Paris.
She was arrested as part of a preliminary investigation into a conspiracy to commit "terrorist acts," the source said, without providing further details.
Based in Yemen, al-Qaeda in the Arabian Peninsula is considered one the deadliest franchises of the international militant network.
http://english.alarabiya.net/en/News/world/2013/10/01/France-arrests-Paris-woman-for-alleged-al-Qaeda-links.html
-------------
Paris terror court sentences Indian Jihadi to 8 years in jail
October 01, 2013
Indian national Mohammad Niaz Abdul Raseed was sentenced to eight years of prison for "criminal conspiracy for the preparation of a terrorist act" by the Paris Criminal court on Monday. Niaz was part of the group of eight in which rest were sentenced to between 18 months and five years.
Niaz had been under detention since his arrest in France in 2011. His lawyer Sebastien Bono told HT that his client doesn't considered himself a terrorist, denied all accusations made against him and wasn't sure yet if he will make an appeal.
Cases of Indians involved in terror activities abroad remained rare despite reports that terror groups were struggling to find supporters in India.
Full report at:
http://www.hindustantimes.com/world-news/europe/Paris-terror-court-sentences-Indian-jihadi-to-8-years-in-jail/Article1-1129365.aspx
-------------
Russia says unsure West can get Syrian rebels to peace talks by November
Oct 1, 2013
Russian Foreign Minister Sergei Lavrov said on Tuesday that it is unclear whether Western nations will be able to bring representatives of the Syrian opposition to a planned international peace conference by a target date of mid-November.
Syria's pledge to abandon its chemical arsenal has rekindled hopes that an international conference proposed by Russia and the United States in May could materialise, and UN Security Council powers hope it can be held in mid-November.
http://english.ahram.org.eg/NewsContent/2/8/82914/World/Region/Russia-says-unsure-West-can-get-Syrian-rebels-to-p.aspx
--------
Africa
Al-Shabab Finds Fighters Among Somali Youth in Minnesota
October 01, 2013
Minneapolis — While it is still unknown whether Somali-Americans were involved in the recent deadly attack by al-Shabab on a Kenyan shopping mall, it is known that the large Somali community in the U.S. state of Minnesota has been fertile ground for recruitment by the terrorist group. Many young Somali men in the U.S. are torn between two cultures, leaving some susceptible to religious and patriotic appeals from the Islamist militant group.
Hashim Yonis has embraced life in America and is running for the post of Park Board and Recreation Commissioner in Minneapolis. And he is mentoring other young Somali men to help them overcome a sense of alienation that many in his generation feel.
"My generation, I call them the lost generation. They are not part of the traditional Somalia. They are not part of, 100 percent, so they basically have their one foot on the America side, the Western side and the other one back home," said Yonis.
Full report at:
http://allafrica.com/stories/201310010226.html?aa_source=mf-hdlns
-------------
Slow but Sustained - Ethiopian Muslims' Struggle for Rights Continues
October 01, 2013
Muslims in Ethiopia have been protesting against government interference in religious affairs for more than twenty months. But ever since the violent crackdown by Ethiopian security forces on peaceful protestors during the Eid al-Fitr celebrations in Arsi last month, the Muslim community has been wary of organising new rallies.
Whereas some observers believe that the movement has lost its momentum, activists engaged in the protests vow to continue their peaceful resistance until their demands are met.
State violence and peaceful resistance
The protestors identify themselves as a civil movement and have three clear demands: for the government to stop meddling with religious affairs; the right to elect the members of the High Islamic Council known as the Majlis; and for their leaders, who have been jailed for over a year under "trumped-up" charges, to be released.
Full report at:
http://allafrica.com/stories/201309301375.html?viewall=1
-------------
Islamic extremist group blamed for attack that killed dozens of Nigerian college students as they slept
October 01, 2013
POTISKUM, Nigeria — Suspected Islamic extremists attacked an agricultural college in the dead of night, gunning down dozens of students as they slept in dormitories and torching classrooms in an ongoing Islamic uprising in northeast Nigeria, the school's provost said.
As many as 50 students may have been killed in the attack that began at about 1 a.m. Sunday in rural Gujba, Provost Molima Idi Mato of the Yobe State College of Agriculture, told The Associated Press.
"They attacked our students while they were sleeping in their hostels, they opened fire at them," he said.
He said he could not give an exact death toll as security forces still are recovering bodies.
The Nigerian military has collected 42 bodies and transported 18 injured students to Damaturu Specialist Hospital, said a military intelligence official, who insisted on anonymity because he is not authorized to speak to the press.
Full report at:
http://news.nationalpost.com/2013/09/29/islamic-extremist-blamed-for-attack-that-killed-dozens-of-nigerian-college-students-as-they-slept/
-------------
Sudan arrests 700 people in week of deadly demonstrations
1 October 2013
Around 700 people have been arrested during a week of anti-government unrest in central Sudan, the government said on Monday.
Protests, which were sparked by fuel subsidy cuts, are calling on the government led by President Omar Hassan al-Bashir to resign.
Interior Minister Ibrahim Mahmoud Hamad said 34 people had died, far fewer than the up-to-150 estimated by Sudanese human rights activists and some diplomats, according to Reuters news agency.
Full report at:
http://english.alarabiya.net/en/News/africa/2013/10/01/Sudan-arrests-700-people-in-week-of-deadly-unrest.html
-------------
Sudan 'martyr' Salah becomes symbol of protest
AFP
2013-10-01
KHARTOUM: The shouts of demonstrators carry the name of Salah Sanhouri through the Khartoum night, as they mourn a slain comrade who has become a symbol of a deadly government crackdown.
"With our souls and our blood, we are ready to die for you, Salah," a crowd chanted outside the home of the young pharmacist who was killed during a protest on Friday.
Most of the dozens killed last week during protests sparked by fuel price increases have died in obscurity. But the name of Sanhouri, who comes from a prominent business family, has resonated.
Full report at:
http://www.dawn.com/news/1046714/sudan-martyr-salah-becomes-symbol-of-protest
-------------
Shabab says no woman involved in mall attack
AFP
2013-09-30
NAIROBI: Somalia's Al-Shabab militants insisted Monday that no woman joined them in an attack on Nairobi's Westgate shopping mall, dismissing speculation that British 'White Widow' Samantha Lewthwaite took part in the massacre.
"We once again openly declare that no woman was involved at Westgate, "Shabab said on Twitter, reiterating it had a policy of "not employing sisters for such missions".
"A week after Westgate, the Kenyan government and Western intelligence officials failed to uncover the facts and details of the Westgate Operation," it added, playing up an apparent lack of information on the attackers and details of how the massacre was planned and carried out.
Full report at:
http://www.dawn.com/news/1046506/shebab-says-no-woman-involved-in-mall-attack
-------
Mideast
Iran FM accuses Israel's Netanyahu of 'lies'
AFP
2013-10-01
TEHRAN: Iranian Foreign Minister Mohammad Javad Zarif on Tuesday accused Israeli Prime Minister Benjamin Netanyahu of lying in his rejection of Tehran's overtures to the West as a cosmetic "charm offensive".
"We have seen nothing from Netanyahu but lies and actions to deceive and scare, and international public opinion will not let these lies go unanswered," Zarif said in an interview with Iranian television broadcast on Tuesday.
Zarif was speaking from the United Nations, where Netanyahu was set to address the General Assembly later the in the day, the same forum where last year he used a cartoon bomb as a prop to underline how close he believed Iran was to producing a nuclear warhead.
"For 22 years, the Zionist regime has been lying by repeating endlessly that Iran will have the atomic bomb in six months," Zarif said.
Full report at:
http://www.dawn.com/news/1046704/iran-fm-accuses-israels-netanyahu-of-lies
-------
Turkish PM announces reforms aimed at Kurds
Reuters | Sep 30, 2013
ANKARA: Turkish Prime Minister Tayyip Erdogan on Monday announced long-anticipated reforms seen as designed to salvage a fragile peace process with Kurdish insurgents, including changes to the electoral system and increasing language rights.
The Kurdistan Workers Party (PKK) insurgency has tarnished Turkey's human rights record and crippled the economy in the mainly Kurdish southeast of the country.
Erdogan has invested much political capital in the peace initiative, which has drawn strong public support but is increasingly attracting fierce nationalist criticism over perceived concessions to militants officially deemed terrorists.
In a major policy speech, Erdogan said parliament would debate whether to reduce the threshold for a political party to enter parliament to 5 percent of the national vote, or even eliminate the barrier completely and introduce a "narrowing" of the current constituency system.
Full report at:
http://timesofindia.indiatimes.com/world/europe/Turkish-PM-announces-reforms-aimed-at-Kurds/articleshow/23316165.cms
----------
US still enemy, says Iran Guards chief
AFP
October 01, 2013
he commander of Iran's elite Revolutionary Guards said Monday that president Hasan Rouhani should have refused to take last week's historic telephone call from US counterpart Barack Obama. It was the first public criticism by a senior Iranian official of Friday's landmark first contact between leaders of the two countries since the rupture of diplomatic relations in the aftermath of the 1979 Islamic revolution. "The president took a firm and appropriate position during his stay" in New York for the UN General Assembly, General Mohammad Ali Jafari said in an interview with the Tasnimnews.com website.
Full report at:
http://www.hindustantimes.com/world-news/restofasia/US-still-enemy-says-Iran-Guards-chief/Article1-1129361.aspx
-------------
Israel army shoots two Palestinians on Gaza border
30 September 2013
The Associated Press, Jerusalem
The Israeli military says its soldiers have shot two Palestinians who tampered with the border fence between Israel and the Gaza Strip.
The military said the Palestinians approached the fence on Monday and damaged it, posing an "imminent danger." The army said "a hit was confirmed" on both, but refused to elaborate.
It was unclear if the Palestinians were militants or civilians.
Palestinian officials in Gaza had no immediate comment on the shooting incident, and there were no immediate reports of casualties.
Israel considers the Gaza Strip a hostile entity because the Islamic group Hamas rules there, and because militants in the seaside territory have carried out attacks on Israel.
http://english.alarabiya.net/en/News/middle-east/2013/10/01/Israel-army-shoots-2-Palestinians-on-Gaza-border.html
-------------
Southeast Asia
Music show ends with visit by Aceh's sharia police
October 01, 2013
In Indonesia's Aceh province, which is governed under sharia law, a recent incident involving a late-night music performance has stirred debate over the way Islamic norms are enforced.
Hundreds of fans were swaying to the beat of a Dangdut performance in Karang Anyar, a village near Langsa in eastern Aceh late on August 25th. Suddenly, six men came on stage. One was Ibrahim Latif, the head of Islamic Sharia in Langsa. The others were members of the Sharia police, Wilayatul Hisbah (WH).
Ibrahim ordered the music stopped because, he said, the Langsa city government forbids late-night performances. The time was 11:45pm.
According to Ibrahim, the music fans were in no mood to comply. Dozens of audience members scrambled onto the stage, and the lights went out. The angry fans allegedly started to beat and kick the Sharia police. The performers – three female singers and a keyboardist – quickly left the stage.
Full report at:
http://khabarsoutheastasia.com/en_GB/articles/apwi/articles/features/2013/10/01/feature-02
-------------
SBY to have bilateral talks with Obama in Bali
October 1, 2013
President Susilo Bambang Yudhoyono is scheduled to hold a bilateral meeting with US President Barack Obama on the sidelines of the upcoming Asia-Pacific Economic Cooperation (APEC) Summit in Nusa Dua, Bali, with security in regions such as the South China Sea and the Middle East expected to be the focus of the talks.
As of Monday, no cancellation had been made for the attendance of the leaders of the 21 member economies, including Obama, according to a senior Foreign Ministry official, despite a political face-off in the US over its government's proposal to raise the country's debt ceiling.
Full report at:
http://www.thejakartapost.com/news/2013/10/01/sby-have-bilateral-talks-with-obama-bali.html
-------------
Sense of shame over failures and good work ethics missing among Malays, says Dr Mahathir
BY ELIZABETH ZACHARIAH
OCTOBER 01, 2013
The Malays have been left behind as they lack feelings of shame, discipline and are not hardworking, charged former prime minister Tun Dr Mahathir Mohamad (pic) today.
Speaking at a talk on the Second Look East Policy launched recently, Dr Mahathir noted that the Chinese are more successful than the Malays because of these factors.
He also took Japan, which was his inspiration behind the first Look East Policy initiated in 1982, as an example.
Full report at:
http://www.themalaysianinsider.com/malaysia/article/sense-of-shame-over-failures-and-good-work-ethics-missing-among-malays-says
-------------
Arab World
As jihadist rebels burn two Catholic churches in ar-Raqqah, Assad's enemies openly split
October 01, 2013
Damascus (AsiaNews/Agencies) - Jihadist rebels linked to al-Qaeda burnt statues and crosses in two churches in ar-Raqqah, northern Syria. The Syrian Observatory for Human Rights, often favourable to the rebels, reports that yesterday fighters from the Islamic State of Iraq and the Levant entered Our Lady of the Annunciation Greek Catholic Church where they destroyed icons and furniture. They did the same at the Holy Martyrs Armenian Catholic Church where they destroyed the cross on the clock tower and replaced it with their al-Qaeda flag.
Ar-Raqqah and its province, which are on the banks of the Euphrates River, fell into rebel hands in March. From the beginning, anti-Assad fundamentalists waged a struggle against their opponents within the Free Syrian Army.
Full report at:
http://www.asianews.it/news-en/As-jihadist-rebels-burn-two-Catholic-churches-in-ar-Raqqah,-Assad's-enemies-openly-split-29128.html
-------------
3 Killed in Attacks on Police HQ in Iraq's Tikrit
October 01, 2013
TEHRAN (FNA)- Suicide car bombing, mortar and gunfire attacks targeted a police headquarters in Tikrit, capital of Iraq's Northern Salahudin province on Tuesday, killing at least three people and wounding five others, a provincial police source said.
The attacks occurred in the morning, when a booby-trapped car was detonated near the entrance of the anti-explosive affair headquarters near the compound of the provincial government of Tikrit, some 170 km North of the Iraqi capital of Baghdad, the source told Xinhua on condition of anonymity.
Full report at:
http://english.farsnews.com/newstext.aspx?nn=13920709000824
-------------
Syrian FM to UN: 'Terrorists from 83 Countries Fighting in Syria'
October 01, 2013
TEHRAN (FNA)- The Syrian government is fighting against "terrorist groups from 83 countries" as part of its "constitutional right" to protect the country's people, Syrian Foreign Minister Walid Muallem told the UN General Assembly in New York.
In his speech to the UN Assembly, Muallem on Monday dismissed the definition of the Syrian conflict as a civil war, saying that the Syrian government is engaged in a "war against terrorism that recognizes no values, nor justice, nor equality, and disregards any rights or laws."
Full report at:
http://english.farsnews.com/newstext.aspx?nn=13920709000894
-------------
Mortar shell hits Chinese embassy in Syria, one injured
PTI | Oct 1, 2013
BEIJING: A mortar shell hit the compound of the Chinese embassy in Syria's capital Damascus, damaging the building and injuring a Syrian employee.
It was the first time that the Chinese embassy was hit since the Syrian conflict broke out two-and-a-half years ago, state-run Xinhua news agency reported ton Tuesday.
The Chinese embassy confirmed that the mortar shell which was allegedly launched from a southern suburb of Damascus fell into its compound on Sunday, damaging part of the office building's base walls and shattering some windows.
Full report at:
http://timesofindia.indiatimes.com/world/middle-east/Mortar-shell-hits-Chinese-embassy-in-Syria-one-injured/articleshow/23351402.cms
--------
URL: https://www.newageislam.com/islamic-world-news/new-age-islam-news-bureau/-terrorists--eat-human-hearts,-cut-people-alive--syrian-foreign-minister-to-un/d/13780