New Age Islam News Bureau
01 December 2022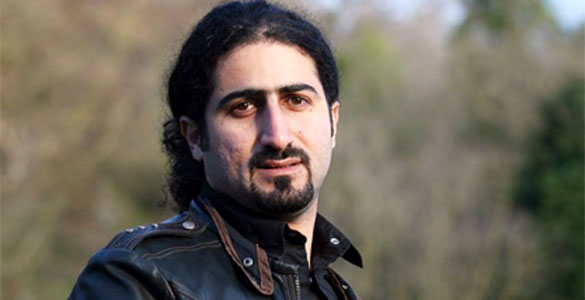 Omar bin Laden spent his childhood surrounded by al-Qaeda (Image: WireImage)
----
• Bilkis Case: 'Convicts Of Gang-Raping Many And Murdering 14 During The 2002 Communal Riots In Gujarat Didn't Tell SC That HC Had Junked Similar Pleas'
• Islamic State Leader Abu Hasan al-Hashimi al-Qurashi killed "in combat with enemies of God"; Abu al-Hussein al-Husseini al-Qurashi Appointed New Leader
• Mahsa Amini Protesters Celebrate US Win Against Iran In World Cup, Videos On Social Media Show
• Pakistan Tops List Of Nations At Risk Of Violence, US Think-Tank Report Says
Europe
• UK: Growing Muslim population hailed as 'strategic national asset'
• Western media criticism of World Cup host Qatar 'old orientalism refashioned for modern audience'
• Majority of British Muslims live in most deprived areas of England and Wales: Data
--------
India
• Kashmir Files Row: Israeli Filmmaker, Nadav Lapid Stands By His Comments, … "This Is A Very Crude, Manipulative And Violent Propaganda Film"
• Hindu Outfits Continue To Campaign Against Muslim Traders Near Karnataka Temples, Face Locals' Anger
• Gyanvapi mosque row: Allahabad HC to hear AIM plea challenging Varanasi court verdict on Dec 5
• Sheer Propaganda To Demonise Muslims: Mehbooba Mufti Backs Nadav Lapid's Remark On 'The Kashmir Files'
• Saanjh 2022: Indo-Pak Peace Initiative To Resume In Amritsar
--------
Arab World
• Saudi Arabia To Invest $13 Billion To Develop 21 Entertainment Hubs Across 14 Cities
• Free Syrian Army killed ISIS leader last month: Pentagon
• Russia sends reinforcements to northern Syria amid fears of Turkish incursion
• Saudi Arabia, Spain ink deal to build combat ships for Saudi Navy
• Ronaldo 'agrees a $200 mln-per-year' contract with Saudi Arabia's Al Nassr: Reports
• UAE postpones launch of moon explorer spacecraft to Thursday
--------
Mideast
• Far-right Ben-Gvir squabbles with Israel's military chief about ethics
• Iran's top court sentences 4 to death over links with Israel
• Israel's Lapid slams politicians' incitement against army commanders
• Arab 'normalization' with Israel failed to stamp out hatred for regime: Iran FM Spox
• Iran summons French envoy over 'interventionist' resolution, remarks
• Official: Iran signs $4 billion services deal with Iraq
--------
Pakistan
• Religious Groups Get In Momentum Against Blasphemous Stuff On Social Media, Utilizing The • Expertise of Federal Investigation Agency
• 'Do Not Forget Armed Forces Are Servants Of People': Imran Khan To New Pakistan Military Leaders
• Suicide blast targeting police truck kills 4, injures over 20 in Pakistan
• Religious extremists desecrate Ahmadi graves in Pakistan
• PML-N struggling to beat impression it's 'afraid of snap polls'
• Bilawal disputes 'political failure' narrative on 1971 debacle
• Govt urged to call joint session on terror threats
• New military leadership will work to 'end trust deficit': Imran
• COAS, JCSC chairman call on President Alvi, PM Shehbaz
• Security forces kill one terrorist in Shewa, North Waziristan
--------
South Asia
• Taliban Silence Voice Of America Broadcasts In Afghanistan
• Taliban: 10 Students Killed In Bombing Of Afghan Religious School, Al Jihad Madrassa
• TTP appears to have lost trust in the Haqqani faction of Taliban: Report
• At least 16 killed, 24 wounded in north Afghanistan blast - local media
• 'Islamic System is What Every Afghan Wants,' Says Afghan Deputy PM
• Pakistan's Hina Rabbani Stresses Imperative of 'Practically' Engaging with Afghan Government
• India May Restart 20 Stalled Projects In Afghanistan, Says Taliban: Report
--------
North America
• Muslim World League And Columbia University Launch Interfaith Research Lab
• Anti-Muslim Imagery Paraded Around Piscataway Mosque, Members Say
• US Knew for Weeks Islamic State Leader Was Dead
• Beijing relies on Pakistan to project its might, Pentagon report notes
• US defence chief urges Turkey not to launch Syria operation
• US envoy: Iran not pursuing a nuclear weapon, military option still on table
• Netanyahu slams Trump for inviting anti-Semitic guests to dinner
--------
Southeast Asia
• FATF Re-Rates China's Progress On Money Laundering And Terror Financing
• Malaysian Rulers Urge Politicians To Stop Using Race, Religion To Incite People
• Mat Sabu says worried about Muslims declaring one another infidels amid post-GE15 tensions
• Umno Youth chief says unity govt not dominated by non-Muslim MPs
--------
Africa
• Sudan sees protests against deal between army, civilians
Compiled by New Age Islam News Bureau
URL: https://newageislam.com/islamic-world-news/osama-laden-chemical-weapons-terrorist-omar/d/128541
--------
'Osama Bin Laden Tested Chemical Weapons On My Dogs,' Evil Terrorist's Son, Omar Says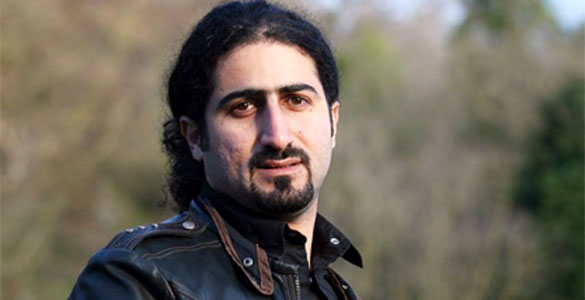 Omar bin Laden spent his childhood surrounded by al-Qaeda (Image: WireImage)
----
By Lizzie McAllister
30 NOV 2022
Osama bin Laden's son has spoken out about what life was like living with one of the world's most infamous terrorists.
Omar bin Laden, 41, was the al-Qaeda boss' fourth-eldest son and heir, and endured a harrowing upbringing where he witnessed his father's henchmen test weapons on his much-loved pets and was taught to fire AK47s at a young age.
"I think I was one of the victims of my father," Omar told the Sun.
"All my life [I spent] travelling around from place to place, area to area. I never settled down."
From a young age, Omar was taught to use lethal weapons and he recalled that some of his father's men had used chemical weapons on his dog, Bobby.
"I saw them [the henchmen]," he recalled. "They tried it on my dogs."
At 15, Omar was selected to carry on his father's legacy.
He previously recalled: "My father never asked me to join al-Qaeda, but he did tell me I was the son chosen to carry on his work.
"He was disappointed when I said I was not suited to that life."
Omar has long been critical of his father's actions and decided to abandon his terrorist dad and al-Qaeda before the famous Twin Tower bombings on September 11, 2001.
"I took myself, I got myself out before even all this happened," he recalled.
"I said goodbye and [...] [Osama bin Laden] wasn't happy that I'm leaving. End of the story. And I left."
After leaving al-Qaeda, Omar never spoke to his jihadi father again before he was killed in 2011.
Speaking of his father's death, Omar said: "I felt like, 'at least my now rests in peace', as they say in the Christian world.
"I don't know what they [did] to him. They said they threw him in the ocean but I don't believe that.
"I think they [took him] to America for [...] people to see."
When asked if he still loves his father, he said: "Family will always be family, no matter what."
Omar said he wasn't given the chance to see his father's body following bin Laden's historic death.
He believed that leaving the terrorist group would mean his trouble was over, but with the bin Laden name still attached to him, he has found people still judge him.
He said he is now trying to survive and has to take medicine sometimes, but that his suffering has continued, both caused by the trauma he faced growing up surrounded by al-Qaeda and from the way he has been treated since walking away.
"I always try not to live in the reality of this world," he said. "I struggle a lot in my life."
Nowadays, Omar's life couldn't be more different from his upbringing.
A celebrated international artist, Omar sells his paintings of Afghan scenery around the world for up to £8,500 apiece.
"From day to night I became a very famous artist, an international artist."
"My favourite subject is mountains after living in Afghanistan for five years," he said.
"They give me a safe feeling, like I'm untouchable."
Omar is also now married to Zaina bin Laden, a six-times-married great-grandmother who, before meeting Omar, was known as Jane Felix-Browne and was a parish councillor in Cheshire.
The pair now live in Normandy, France, after they met near the pyramids of Giza and eventually tied the knot.
Together the pair now like watching western movies, including Shrek and Clint Eastwood.
Source: Daily Star UK
Please click the following URL to read the text of the original story:
https://www.dailystar.co.uk/news/latest-news/osama-bin-laden-tested-chemical-28624752
--------
Bilkis Case: 'Convicts Of Gang-Raping Many And Murdering 14 During The 2002 Communal Riots In Gujarat Didn't Tell SC That HC Had Junked Similar Pleas'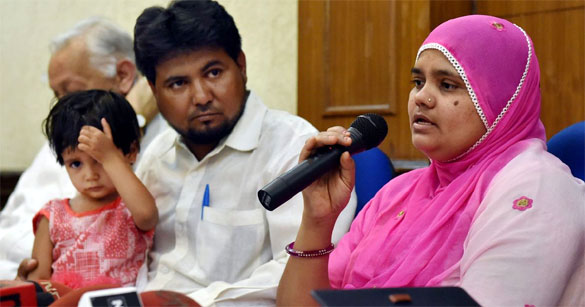 Bilkis Bano addresses press | Atul Yadav/ PTI
----
Dec 1, 2022
NEW DELHI: Rape survivor Bilkis Bano on Wednesday requested the Supreme Court for an open court hearing of her plea for review of the SC's May 13 judgment allowing Gujarat to consider the remission pleas of 11 lifers, guilty of gang-raping many and murdering 14 during the 2002 communal riots in the state, and also filed a writ petition challenging the BJP-governed state's decision to "arbitrarily and inappropriately" release the convicts by remitting the remaining part of their life sentences.
Before a bench of Chief Justice D Y Chandrachud and Justice P S Narasimha, counsel Shobha Gupta sought an urgent hearing of the two petitions filed by Bilkis. The CJI said, "The earlier petitions (filed by Subhasini Ali and others) challenging grant of remission and release of convicts are pending before a bench headed by Justice Ajay Rastogi. I will examine if both these petitions (review and writ by Bilkis) could be listed before the same bench. I will pass appropriate orders."
In her plea, Bilkis also said that the appropriate authority to consider the pleas for remission of sentence in her case should have been the Maharashtra government.
Responding to the earlier petitions challenging release of the lifers in the Bilkis Bano case, the Gujarat government had told the apex court that on June 28, it had sought the Centre's approval for its proposal to remit the sentences of the lifers. The approval was granted on July 11. The state, exercising its power under the 1992 Rules, on August 10 remitted the sentences of the convicts on the ground that they were in jail for over 14 years.
Importantly, the state government had conceded that the remission proposal was opposed by both the trial court judge at Mumbai, where the trial was shifted from Gujarat on the SC's orders, and the prosecuting agency CBI on the ground that the convicts didn't deserve remission as they had committed heinous offences in a gruesome manner.
Bilkis in both her pleas narrated the 2002 incident as "one of the most gruesome and heinous crime of multiple gang rape of a five-month pregnant woman (Bilkis), gang rape and murder of her mother, gang rape and murder of her cousin who was weak being fresh from child delivery two days ago, brutal murder of eight minors, including a two-day-old girl child of her cousin, her three-and-a-half-year-old daughter (her first child) by smashing her head on a rock, her two minor brothers and sisters, other relatives - her 'phupha', 'phuphi', 'mama', three cousin sisters."
Bilkis said she had survived the heinous, horrific and macabre crime "only because she became unconscious from the sexual assault and the accused (now prematurely released convicted prisoners) took her as dead".
She said the SC bench headed by Justice Rastogi erred in ruling on May 13 that Gujarat and not Maharashtra was the appropriate government under Section 432 of the Criminal Procedure Code to grant remission. She said the SC in numerous judgments, including those delivered by constitution benches, had ruled that the state, under whose jurisdiction the trial takes place, is the appropriate authority to consider a plea for remission of sentence, which in this case should have been the Maharashtra government.
Bilkis said the convicts who approached the SC for expeditious consideration of their remission pleas concealed from the apex court the fact that the Gujarat HC had twice rejected similar pleas, first on July 17, 2019 and then on March 13, 2020, while holding that Maharashtra would be the appropriate authority to consider their remission pleas.
She said she was not made a party before the SC by the convicts and hence was unaware of SC's direction to the Gujarat government to consider their remission pleas within two months. She said the state government also didn't consult her nor gave her any document relating to the grant of remission, thus depriving her of the opportunity to question the decision in SC at a prior date.
Expressing her gratitude to Subhasini Ali and others for supporting her cause and challenging the release of the life convicts, Bilkis said she could file the review and writ petition after getting the relevant documents from the public spirited persons.
"The premature en masse release of the convicts in the much-talked-about Bilkis Bano case has shaken the conscience of the society and resulted in a number of agitations across the country," she said.
Source: Times Of India
Please click the following URL to read the text of the original story:
https://timesofindia.indiatimes.com/india/bilkis-case-convicts-didnt-tell-sc-that-hc-had-junked-similar-pleas/articleshow/95896376.cms
--------
Islamic State Leader Abu Hasan al-Hashimi al-Qurashi killed "in combat with enemies of God"; Abu al-Hussein al-Husseini al-Qurashi Appointed New Leader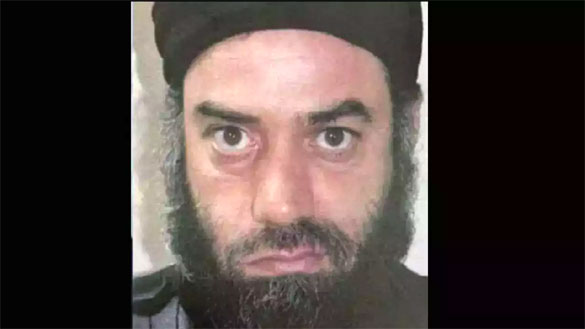 Abu Hasan al-Hashimi al-Qurashi
----
Dec 1, 2022
The Islamic State jihadist group said on Wednesday that its leader Abu Hasan al-Hashimi al-Qurashi has been killed in battle and announced a replacement.
A spokesman for the group said Hashimi, an Iraqi, was killed "in combat with enemies of God", without elaborating on the date of his death or the circumstances.
Speaking in an audio message, the spokesman identified the group's new leader as Abu al-Hussein al-Husseini al-Qurashi.
Qurashi refers to a tribe of the Prophet Mohammed, from whom IS leaders must claim descent.
The spokesman did not provide details on the new leader, but said he was a "veteran" jihadist and called on all groups loyal to IS to pledge their allegiance.
After a meteoric rise in Iraq and Syria in 2014 that saw it conquer vast swathes of territory, IS saw its self-proclaimed "caliphate" collapse under a wave of offensives.
It was defeated in Iraq in 2017 and in Syria two years later, but sleeper cells of the Sunni Muslim extremist group still carry out attacks in both countries.
IS's previous leader, Abu Ibrahim al-Qurashi, was killed in February this year in a US raid in Idlib province in northern Syria.
His predecessor, Abu Bakr al-Baghdadi, was killed, also in Idlib, in October 2019.
Hassan Hassan, who authored a book on IS, said one "unprecedented" but possible scenario was that Hashimi "was killed 'accidentally' during a raid or fighting without him being known to whoever killed him".
In October this year, US forces killed a "senior" IS member in a pre-dawn raid in northeastern Syria, the US military's Central Command said at the time.
It said a later air strike had killed two other senior IS members.
The US leads a military coalition battling IS in Syria.
In July, the Pentagon said it had killed Syria's top IS jihadist in a drone strike in the north of the country.
US Central Command said he had been "one of the top five" IS leaders.
Turkey in September said security forces had arrested a "senior executive" of IS known as Abu Zeyd, whose real name was Bashar Khattab Ghazal al-Sumaidai.
Turkish media said there were some indications Sumaidai might have been the IS leader.
Source: India Today
Please click the following URL to read the text of the original story:
https://www.indiatoday.in/world/story/islamic-states-leader-abu-hasan-al-hashimi-al-qurashi-killed-in-battle-2303752-2022-11-30
--------
Mahsa Amini Protesters Celebrate US Win Against Iran In World Cup, Videos On Social Media Show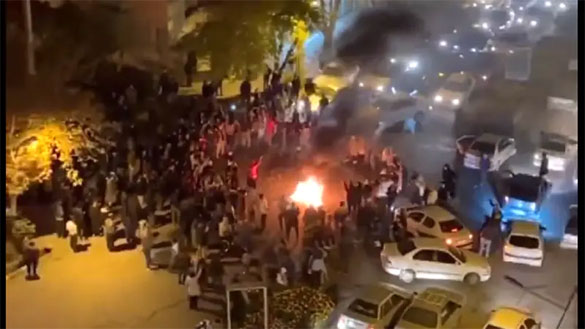 A video shows Iranians in the city of Sanandaj celebrating the Iranian national football team's elimination from the World Cup after losing 1-0 to the US on November 29, 2022. (Screengrab/Twitter)
-----
30 November ,2022
Iranians took to the streets in several cities early Wednesday to celebrate the Iranian national football team's elimination from the World Cup after losing 1-0 to the US, videos circulating on social media showed.
Videos posted on Twitter by the activist group 1500tasvir showed people dancing, chanting anti-regime slogans, and sounding their car horns across Iran, including in Tehran, Zahedan, Sanandaj, Isfahan, Qom and Mashhad.
The US beat Iran 1-0 on Tuesday and progressed to the knockout stage at the expense of Iran who are out of the competition.
Many Iranians have turned against their national football team amid ongoing protests in the country. They see the team as representing the regime rather than the people of Iran. Some in Iran had also celebrated Iran's 6-2 defeat in its opening World Cup match against England, posts on social media showed.
People in Behbahan, a city in the southwestern Khuzestan province, let off fireworks to celebrate Iran's elimination from the World Cup, one video showed.
Another video showed people dancing in the streets in Qom, a city considered to be Iran's "religious capital" as many senior Shia clerics are based there. The city is also home to the shrine of an important Shia figure.
In Marivan, a city in Iran's Kurdistan province, protesters chanted "death to Khamenei," in reference to Iran's highest authority, Supreme Leader Ali Khamenei.
Protests have swept across Iran since September 16 when 22-year-old Iranian Kurdish woman Mahsa Amini died three days after collapsing in police custody.
Demonstrators have been calling for regime change in the protests which have become one of the boldest challenges to the Islamic Republic since its establishment in 1979.
Security forces have killed hundreds and detained thousands, according to rights groups.
"The Islamic Republic spent over 43 years and billions of dollars on ideological programs in schools and TV to depict America as the enemy. Now many across the country celebrate the Great Satan's win against IRI team. What a humiliating defeat for the Islamic Republic," Amir Toumaj, an expert on Iran, wrote on Twitter.
Source: Al Arabiya
Please click the following URL to read the text of the original story:
https://english.alarabiya.net/News/middle-east/2022/11/30/Iranians-celebrate-US-win-against-Iran-in-World-Cup-videos-on-social-media-show-
--------
Pakistan Tops List Of Nations At Risk Of Violence, US Think-Tank Report Says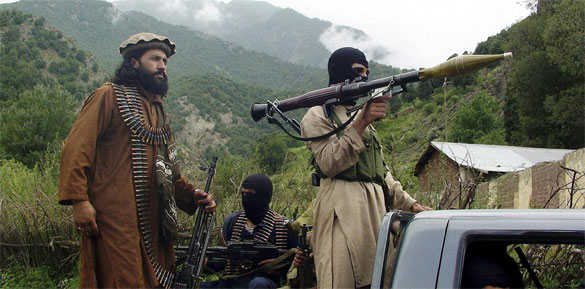 Pakistani Taliban patrol in then their stronghold of Shawal in Pakistani tribal region of South Waziristan. (File photo: AP)
-----
01 December ,2022
Pakistan tops the list of countries at the highest risk of experiencing new mass killings, according to a new report that cites violence by a local offshoot of the Taliban as one of the main challenges for the nation already facing political and economic crises.
"Pakistan faces multiple security and human rights challenges, including increasing violence by the Tehreek-e-Taliban Pakistan, or TTP," according to a report by Early Warning Project, a research organization that identifies countries at risk of mass violence.
Threats of attacks by the ISIS and the country's blasphemy laws, which have resulted in episodes of mob violence against religious minorities, were other factors for Pakistan's high-risk ranking.
Political volatility, following the ouster of former premier Imran Khan, was also expected to lead to "highly contentious elections next year," according to the report.
The study comes days after an announcement by the TTP militant group ending a months-long agreement with the government to pause violence and ordering its fighters to resume attacks.
Pakistan's neighbor Afghanistan ranked seventh on the list because of its growing targeted killings at mosques and other public places after the Taliban's takeover of the country last year.
The Early Warning Project is a joint initiative of the Simon-Skjodt Center for the Prevention of Genocide at the United States Holocaust Memorial Museum and the Dickey Center for International Understanding at Dartmouth College.
Two other Asian nations were on the top ten list -- Myanmar, where the military seized power in a February coup last year, was at number three. India was ranked eighth as Prime Minister Narendra Modi's government has increased its systematic discrimination against the country's Muslim minority, the report said.
Source: Al Arabiya
Please click the following URL to read the text of the original story:
https://english.alarabiya.net/News/world/2022/12/01/Pakistan-tops-list-of-nations-at-risk-of-violence-US-think-tank-report-says
--------
Europe
UK: Growing Muslim population hailed as 'strategic national asset'
30 November 2022
The Muslim Council of Britain (MCB) has said that the growth of the UK's Muslim population is a "strategic national asset" for the country but raised concerns about the levels of poverty the community continues to live in.
Results from the 2021 Office for National Statistics (ONS) census have shown that the Muslim community of England and Wales stood at 3.87 million, or 6.5 percent of the total population - a rise of 1.7 percent since 2011.
In a statement on Tuesday, the MCB said that the addition of so many young Muslims to the British workforce would provide a boost to the economy.
"While our nation has an increasingly ageing population, the contribution to the workforce of a youthful Muslim population remains a strategic national asset," said MCB secretary general Zara Mohammed.
"The last decade has seen more second and third-generation Muslims, confident of our faith and place in society, contributing immensely to the economic recovery and vitality of our nation."
They also noted, however, that Muslim communities in the UK were "disproportionately impacted by deprivation", according to the census.
The ONS data showed that around 40 percent of the Muslim population of England resided in the most deprived fifth of local authority districts.
In addition, almost 500,000 more Muslims live in these most deprived locales than in 2011.
"Policymakers now need to address these concerns, communities cannot continue to be left in cycles of poor social mobility," said Mohammed.
"Young people cannot have a bright future if they do not have the best opportunities available to them."
The census, which is taken every 10 years in the England and Wales, showed that less than half the population of the two regions was now Christian, compared to in 2011.
The biggest growth has been in the number of people who now identify as non-religious.
Source: Middle East Eye
Please click the following URL to read the full text of the original story:
https://www.middleeasteye.net/news/uk-muslim-council-britain-increase-population-strategic-national-asset
--------
Western media criticism of World Cup host Qatar 'old orientalism refashioned for modern audience'
Gulcin Kazan Doger
30.11.2022
As Qatar makes history as the first Muslim country to host the FIFA World Cup, the language of Western media outlets about the tournament is being criticized as racist, Islamophobic, and orientalist.
Western criticisms of Qatar are "not about human rights, and the inconsistency is very clear. It is the old orientalism which was refashioned for a modern audience," political scientist Muhammad Jalal, a lecturer and host of the Thinking Muslim podcast, told Anadolu Agency.
"Some of the old orientalist tropes have been wheeled out time and time again in the media. Arabs and Muslims are depicted as only being useful for producing oil and spending lavish amounts of money in Western capitals," he said.
Touching on the negative effect of Western media narratives on Muslims, Jalal said: "If you have the press constantly describing you as thieves, as terrorists, as murderers, as people who don't have the basic qualities of civilization that Europeans have, then over time the European public would see you in this one-dimensional way."
Stories for perception management
Jalal called most of media headlines about Qatar "manipulative," highlighting the cover of French satirical weekly Le Canard Enchaine showing Qatari footballers as terrorists holding guns in their hands.
He said that this is a kind of hate speech, one often seen in the French press, adding that such stories are run for the purpose of perception management.
Almost half of the newspaper headlines were about topics other than football, he added.
Citing a pre-tournament survey in the UK, Jalal said that around 62% of British public thought Qatar should be prevented from hosting the World Cup simply because of its stance on LGBT issues.
'World Cup becomes event to impose European culture, values'
Jalal said the World Cup turned into an opportunity to try to impose European culture and values rather than a sporting event, mentioning a British fan who tried to enter the stadium in a crusader costume.
He said: "Talk TV, which is a right-leaning British channel here, said: 'What a brave man! He's gone out to Qatar and now he's showing them English spirit.' It's unacceptable."
He explained that the crusader knight outfit evokes the 11th century occupation of Jerusalem.
"You wouldn't get any Arab or Muslim who come to Britain on a tourist visa or come to Britain or come to support a team and denigrate the culture and history of those people, but for the Brits and for the Europeans, it's perfectly acceptable to behave in such a way," he added.
Migrant workers
He said that there is some truth in the criticisms directed at Qatar over migrant workers, but added that the figures of workers who lost their lives during the construction of the stadium are misleading.
Some 6,500 migrant workers from Pakistan, Sri Lanka, Nepal, India, and Bangladesh are said to have died. This is accepted as the figure by most outlets.
He stressed that those 6,500 non-Qataris were from a wide range of professions, including doctors, educators, and workers, citing work by Marc Owen Jones, who teaches Middle East studies at Qatar Hamad Bin Khalifa University.
Touching on the BBC broadcasting a program that criticized Qatar's treatment of migrant workers, ban on the LGBT community, and corruption in FIFA instead of the World Cup opening ceremony, Jalal stressed the BBC previously broadcast similar events in Russia and China live.
He said: "Up to 2 million Uyghurs are currently based in so-called retraining camps (in China), which we will call genocide camps, yet during the (2022) Winter Olympics there was not much discussion (of that) at all."
Source: Anadolu Agency
Please click the following URL to read the full text of the original story:
https://www.aa.com.tr/en/europe/western-media-criticism-of-world-cup-host-qatar-old-orientalism-refashioned-for-modern-audience/2752080
--------
Majority of British Muslims live in most deprived areas of England and Wales: Data
November 30, 2022
LONDON: The majority of Muslims are living in the areas of England and Wales with the worst levels of deprivation, the UK Office for National Statistics revealed on Wednesday.
Muslims now account for 6.5 percent of the population in England and Wales, some 3.9 million in 2021, according to the latest ONS census.
However, the data showed 61 percent of them live in the lowest 40 percent of areas ranked by deprivation score, The Guardian reported.
Tower Hamlets, considered one of the most deprived areas, had the highest percentage of Muslims in England and Wales in 2011. The census in 2021 shows that they now account for 39.9 percent of the local population.
Meanwhile, only 4 percent of Muslims live in the 20 percent of areas least deprived.
Policymakers have been urged to address the "cycles of poverty" that have affected generations of British Muslims, the numbers of which have increased by 1.2 million in the last decade.
Muslim Council of Britain Secretary-General Zara Mohammed told The Guardian: "We're now the second or third generation (of Muslims).
"There's more of us here, and yet we're still in these cycles of poverty and deprivation.
"I think part of that is down to socioeconomic conditions where people are housed, and the economic opportunities available.
"There's something to really be said about what our politics and policies are doing to help those who are really suffering.
"There's all these stereotypes and tropes around Muslims, but the reality is that people are actually in cycles of poverty. And these need to be broken."
Sufia Alam, head of the Maryam Centre and programmes at East London Mosque in Tower Hamlets, told The Guardian: "I have worked for almost three decades in this borough and it's one of the poorest in London and indeed in the country.
"Even though it's a rich borough as well as a poor borough: We've got Canary Wharf on our doorstep.
"The (census data) are not surprising because of so many factors that we've often talked about: Islamophobia, cultural biases that exist, racism within institutions from education all the way to employment.
Source: Arab News
Please click the following URL to read the full text of the original story:
https://www.arabnews.com/node/2208841/world
--------
India
Kashmir Files Row: Israeli Filmmaker, Nadav Lapid Stands By His Comments, … "This Is A Very Crude, Manipulative And Violent Propaganda Film"
01.12.22
Israeli filmmaker Nadav Lapid has said he stands by his criticism of The Kashmir Files because he "knows how to recognise propaganda disguised as a movie" and believes it was his "duty" to speak up.
"Making bad films is not a crime, but this is a very crude, manipulative and violent propaganda film," Lapid said in an interview with Israeli newspaper Ha'aretz, unfazed by the backlash to his comments, made from the stage of the International Film Festival of India whose international jury he chaired.
"I feel as a foreigner who arrives there, you have an obligation to say the things that the people who live there may have a harder time saying," the award-winning filmmaker said.
"In such contexts, I don't believe in secrets and whispers. If you stand on stage and are asked to speak, what will you talk about? Only about the beaches you saw and the food you ate?"
The Kashmir Files portrays the attacks on Pandits in 1990 in a manner that seeks to demonise Muslims. The film was endorsed by Prime Minister Narendra Modi.
Speaking at the IFFI closing ceremony in Goa on Monday, Lapid described the film as "vulgar" and "propaganda" and unfit for the festival.
"The truth is that I also couldn't help but imagine a similar situation that might happen one day soon in Israel," the filmmaker said in the interview.
"And I would be happy that in such a situation, the head of a foreign jury would be willing to say things as he sees them. In a way, I felt it was my duty to the place that invited me," Lapid added.
The film's team and the BJP ecosystem have lashed out at Lapid for his comments, and Israel's ambassador to India Naor Gilon wrote an open letter to him condemning his criticism of the film.
Asked if he had in-depth knowledge of the Kashmir conflict, Lapid said "of course did not know enough". But, he added, "you can also watch films by Leni Riefenstahl (a German filmmaker who glorified the Nazi Party) and know what you're seeing, without being a great expert on that period".
"There are cases that are nuanced, but this is not the case. In a way, The Kashmir Files makes life easy because it is so bare and aggressive that it doesn't even mask itself intelligently," the filmmaker added.
Lapid made it clear he had commented only on the film and not the Kashmir issue, as many of those attacking him have alleged.
He was invited to the festival as a director and he talked about a film's subject, Lapid said. "I did not come to express one position or another on the conflict in Kashmir," he added.
"We learned that the film was pushed into the official competition of the festival due to political pressure," he said.
Responding to the criticism he has received from Israeli diplomats in India, Lapid said his comments were "political" but not representative of his country.
"Since this is a film that the Indian government encourages, I assume that the government there is not happy about it. But is a country only about its government?" he said.
"I assume not. What I said is not comfortable for the government of India, nor for the government in the making in Israel, which the ambassador there represents."
Lapid said he had received hundreds of emails and messages from Indians who were happy that "finally things were said that they believed in".
In another interview, Lapid said he shared his views at the closing ceremony with a lot of "discomfort and apprehension".
"I knew that this was an event that is terribly connected to the country, and everyone stands there and praises the government. It is not an easy position, because you are a guest," he said.
"I am the president of the jury here, you are treated very nicely. And then you come and attack the festival. There was apprehension, and there was discomfort."
But in countries that are increasingly losing the ability to speak the truth, "someone needs to speak up", he said.
Source: Telegraph India
Please click the following URL to read the full text of the original story:
https://www.telegraphindia.com/india/kashmir-files-row-israel-filmmaker-nadav-lapid-stands-by-his-comments-on-film/cid/1901209
--------
Hindu Outfits Continue To Campaign Against Muslim Traders Near Karnataka Temples, Face Locals' Anger
November 30, 2022
Hindu outfits in Karnataka targeting Muslim traders continued their protest and tried to stop non-Hindu traders from conducting business in several parts of the state, including the Anjanadri Hill in the Koppal district. However, the district administration stepped in and removed the banners that were put up and warned legal action against those behind them.
Anjanadri Hill located in the Koppal district in North Karnataka, which is believed to be the birthplace of Lord Hanuman, is a religious shrine that sees a good footfall of devotees throughout the year. On Tuesday, on the occasion of the 'Hanuman Mala Vrit Visarjana' event, Muslims had also installed shops even as there were posters demanding not to allow non-Hindus to conduct business.
According to sources, the banners were put up by the members of Hindu Jagarana Vedike. The temple authorities brought the issue to the notice of the district administration and police and the banners were removed later.
A large number of devotees, who wear Hanuman Mala annually, are expected to visit the shrine over the next few weeks.
Shrikanth, a leader from Hindu Jagran Vedike in Gangavathi, told the media they are demanding a ban against non-Hindu traders from doing business at all Hindu shrines in the state, including Anjanadri Hills. "You saw the recent arrests in terror accused cases and Hindu temples are under the radar of anti-national elements," he said.
Despite support from the district administration, some of the non-Hindu vendors have shut down their shops till the situation cools down and some have shifted their stalls away from the shrines. This is the second year in a row that this campaign has been launched by Hindu outfits.
In a similar incident, some members of a Hindu outfit demanded to a Muslim vendor to remove his shop near the Mangodu Subrahmanya Temple in the state's Udupi district but the villagers intervened and sent them away.
Sadashiva Katte, a local resident, said the incident took place on Saturday when a Muslim vendor had opened a soda and juice shop near the temple. Members of the rightwing outfit came to the spot and demanded the vendor to shift his shop. "We villagers stood with the Muslim trader and sent those members away. The Muslim trader is a local and has been doing business for a long time," said Katte.
Katte said it has become a trend to disturb peace and harmony in order to gain publicity using these cheap tricks. "Our Grama Panchayat has about 5,000 people and there are many Muslims. Once we all stood with the Muslim trader, they left the place silently," he added.
In Kodagu, Hindu activists sent away Muslim traders who were doing business near the Harihara Subramanya Temple in Ponnampete. Ambika, the district coordinator of Durga Vahini, a Hindu outfit, told the Muslim traders non-Hindus were not allowed to do business on the temple premises. Ambika claimed the Muslim youth were using fake identity cards such as Aadhaar cards with Hindu names.
Source: Indian Express
Please click the following URL to read the full text of the original story:
https://indianexpress.com/article/cities/bangalore/hindu-outfits-continue-to-campaign-against-muslim-traders-near-karnataka-temples-face-locals-anger-8298100/
--------
Gyanvapi mosque row: Allahabad HC to hear AIM plea challenging Varanasi court verdict on Dec 5
01st December 2022
By Namita Bajpai
LUCKNOW: The Allahabad High Court on Wednesday fixed December 5 as the date for further hearing on a civil revision petition filed by Anjuman Intezamia Masajid (AIM), the Gyanvapi mosque management committee, challenging the Varanasi district court order that had allowed the hearing in the suit filed by five Hindu women plaintiffs seeking right to worship Goddess Shringar Gauri and other deities on mosque premises.
The Varanasi court had ruled that the suit filed by Hindu plaintiffs was maintainable, and turned down the objections filed by AIM to its maintainability under Order 7 Rule 11 of Civil Procedure Code (CPC) on September 12, 2022.
Source: New Indian Express
Please click the following URL to read the full text of the original story:
https://www.newindianexpress.com/nation/2022/dec/01/gyanvapi-mosque-row-allahabad-hc-to-hear-aim-plea-challenging-varanasi-court-verdict-on-dec-5-2523919.html
--------
Sheer propaganda to demonise Muslims: Mehbooba Mufti backs Nadav Lapid's remark on 'The Kashmir Files'
30 November, 2022
Srinagar (Jammu and Kashmir) [India], November 30 (ANI): Jumping into the 'Kashmir Files' row that erupted following a "propaganda" remark by Israeli filmmaker Nadav Lapid, former Jammu and Kashmir chief minister Mehbooba Mufti on Wednesday said that the movie was "sheer propaganda" promoted by the BJP to "demonise Muslims".
The PDP chief also accused the Vivek Agnihotri-directed movie of attempting to "widen the gulf between Kashmiri Pandits and Muslims".
Nadav Lapid had called 'The Kashmir Files' a "propaganda, vulgar film" at the 2022 International Film Festival of India (IFFI) in Goa, adding that he was "shocked" to see the film in the competition section of such a prestigious film festival.
"Finally someone called out a movie that was nothing but sheer propaganda promoted by the ruling party to demonise Muslims esp Kashmiris & widen the gulf between Pandits & Muslims," Mufti tweeted.
Following Lapid's remark, Israel's ambassador to India Naor Gilon on Tuesday denounced the controversial remarks.
"I think one private person with his own opinion shouldn't change anything here. The relations are much stronger than one individual and I think they will continue regardless of another individual," Ambassador of Israel to India, Naor Gilon had told ANI.
Israel's Consul General Kobbi Shoshani also described IFFI jury head Nadav Lapid's controversial remarks as a "big mistake", and added that the comments made by the Israeli filmmaker don't reflect the country's position on the movie.
Reacting to the development, Mufti said that it is "sad" that the diplomatic channels are being used to "silence the truth".
"Sad that diplomatic channels are now being used to silence the truth," she added in her tweet.
After the remarks of Lapid on "Kashmir Files" set off a controversy, Israeli envoy Naor Gilon slammed the IFFI Jury Head and apologized for the conduct of his countryman at the 2022 IFFI in Goa.
"An open letter to #NadavLapid following his criticism of #KashmirFiles. It's not in Hebrew because I wanted our Indian brothers and sisters to be able to understand. It is also relatively long so I'll give you the bottom line first. YOU SHOULD BE ASHAMED," ambassador Gilon tweeted.
Gilon, in a series of tweets, rebuked Lapid and emphasized how the friendship between the people and the states of India and Israel is very strong and will survive the damage inflicted by him.
"The friendship between the people and the states of India and Israel is very strong and will survive the damage you have inflicted. As a human being I feel ashamed and want to apologize to our hosts for the bad manner in which we repaid them for their generosity and friendship," said Gilon.
Moreover, the Israeli envoy said Nadav Lapid has abused the Indian invitation to chair the panel of judges at IFFI Goa, as well as the trust bestowed on him.
Source: The Print
Please click the following URL to read the full text of the original story:
https://theprint.in/politics/sheer-propaganda-to-demonise-muslims-mehbooba-mufti-backs-nadav-lapids-remark-on-the-kashmir-files/1243178/
--------
Saanjh 2022: Indo-Pak Peace Initiative To Resume In Amritsar
Nov 30, 2022
AMRITSAR: Saanjh, also known as the Amritsar-Lahore festival, was brought to a standstill due to the Covid-19 pandemic-induced lockdown and hence the peace initiatives taken by votaries of Indo-Pak peace came to a standstill.
Saanjh 2022 will be held on December 11 . "Saanjh is a rare and ambitious initiative deriving from the belief that arts and cultures can succeed in bringing people together to share and celebrate their common roots. Keeping this in mind, we have decided to hold Saanjh 2022 this year," said Sahiljit Singh Sandhu, Chairman Spring Dale Educational Society.
He added that they extended an invitation to Pakistan's Rafi Peer Theatre Workshop (RPTW), besides Wadali Brothers and Manganiyars, folk musicians of the Thar desert, Rajasthan etc.
The event was organised by Punarjyot, an offshoot of the Spring Dale Educational Society. Late Faizaan Peerzada, former Chief Operating Officer, RPTW, Lahore had co-founded Saanjh with late Dr Shivinder Singh Sandhu and late Manveen Sandhu, in 2004, aiming to quell the unnecessary hatred in the minds of the Indian and Pakistani public towards each other and to unite them by exploring shared roots.
"We are delighted to bring back Saanjh 2022 which was conceptualised as a festival of peace by celebrating our composite culture and common roots through music," said Sahil.
About RPTW , he informed that it was Pakistan's foremost modern dramatist that was started to promote art and focused on culture and aims to educate and entertain through its activities.
Source: Times Of India
Please click the following URL to read the full text of the original story:
https://timesofindia.indiatimes.com/world/pakistan/saanjh-2022-indo-pak-peace-initiative-to-resume-in-amritsar/articleshow/95893617.cms
--------


Arab World
Saudi Arabia to invest $13 billion to develop 21 entertainment hubs across 14 cities
30 November ,2022
Saudi Arabia is to invest more than $13 billion (SAR50 billion) to develop 21 entertainment destinations across the Kingdom which will include cinemas, bowling tracks, electric karting tracks and indoor surfing areas.
The Saudi Entertainment Ventures (SEVEN), wholly owned by Saudi's Public Investment Fund (PIF), has announced that the entertainment hubs will include more than 150 entertainment areas in 14 cities across the country.
Construction workers have already broken ground for the first entertainment district – slated for al-Hamra in Riyadh, the official Saudi Press Agency (SPA) reported on Tuesday.
The al-Hamra destination – which will be located at the intersection of the Eastern Ring Road with King Abdullah Road - will cost $800 million (SAR3 billion) and will stretch over 90,000 square meters and a construction area of 167,000 square meters.
The entertainment destination will include an indoor viewing wheel, an indoor surfing area, bowling alleys that include 10 tracks, an indoor air-flying area, electric karting tracks, as well as cinemas, restaurants, cafes and branded retail stores with local and global brands. It is expected to cater for some six million visitors annually.
The details and locations of the remaining 13 entertainment destinations have yet to be revealed.
The announcement comes amid rapid growth within
the Saudi entertainment sector, and the country's efforts to consolidate the position of the sector.
This is in line with its Vision 2030 plans to diversify sources of income, create jobs, contribute to raising the quality of life for citizens and residents, and improve the ranking of Saudi cities among the best cities globally.
SEVEN said it will introduce a new concept in the world of entertainment; its destinations will offer various experiences including a wide range of entertainment attractions, a variety of local and international dining outlets and many more – all under one roof.
Chairman Abdullah AlDawood said: "SEVEN is redefining the future of entertainment in Saudi Arabia through our 21 entertainment destinations across 14 cities with more than 150 world-class attractions that enhance the quality of life for the people of Saudi Arabia. We are partnering with leading entertainment brands and will continue to do so to develop entertainment destinations like no other."
Source: Al Arabiya
Please click the following URL to read the full text of the original story:
https://english.alarabiya.net/News/gulf/2022/11/30/Saudi-Arabia-to-invest-13-billion-to-develop-21-entertainment-hubs-across-14-cities
--------
Free Syrian Army killed ISIS leader last month: Pentagon
01 December ,2022
ISIS leader Abu al-Hassan al-Hashemi al-Quraishi was killed by the Free Syrian Army last month, according to the US military.
"This operation was conducted by The Free Syrian Army in Dar'a province in Syria. ISIS remains a threat to the region," US Central Command Spokesman Col. Joe Buccino said in a statement.
Buccino said CENTCOM and Washington's partners remained focused on the enduring defeat of ISIS.
But no US military forces were involved in the operation, a military spokesman told Reuters.
ISIS released earlier in the day that said al-Quraishi was killed during fighting against "enemies of God."
After reports of the ISIS leader's death, National Security Council spokesman John Kirby said the White House welcomed the news.
This was the second ISIS leader to be killed this year.
US President Joe Biden announced in February that an operation to kill former leader Abu Ibrahim al-Qurashi was successful in Syria's Idlib province.
Abu Bakr al-Baghdadi, his predecessor was also killed in Iblib, in 2019 after then-President Donald Trump ordered a military raid on the ISIS leader.
But gains made against ISIS are at risk, according to US officials, following the recent Turkish military attacks on US-backed Kurdish fighters in Syria.
Source: Al Arabiya
Please click the following URL to read the full text of the original story:
https://english.alarabiya.net/News/middle-east/2022/12/01/Free-Syrian-Army-killed-ISIS-leader-last-month-Pentagon
--------
Russia sends reinforcements to northern Syria amid fears of Turkish incursion
30 November ,2022
Russia deployed troop reinforcements Wednesday to an area of northern Syria controlled by Kurdish fighters and government troops, residents and a war monitor said, amid fears of a Turkish ground incursion.
The move by Damascus ally Moscow comes after Ankara launched air strikes on Kurdish targets in Syria and Iraq on November 20, a week after a deadly Istanbul bombing that it blamed on Kurdish militants, who have denied responsibility.
Residents of Tal Rifaat, a Kurdish-held pocket north of Aleppo, told AFP that Russian troop reinforcements had reached the city.
Tal Rifaat lies 15 kilometers (nine miles) south of the border with Turkey. Kurdish forces control the city and surrounding villages, and Russian troops were already present in the area.
Residents said Russian forces had set up roadblocks at a nearby village separating it from positions under the control of Turkish forces and their Syrian proxies.
Turkish proxies control areas surrounding Tal Rifaat from the north, while Russian-backed Syrian troops control zones mostly to the south.
After carrying out a series of airstrikes, Turkey has threatened to launch a ground incursion into northern Syria, including the Tal Rifaat pocket as well as Kobane and Manbij further east.
Kobane and Manbij are under the control of the US-backed Syrian Democratic Forces (SDF), which include the Kurdish People's Protection Units (YPG), one of the groups Turkey accuses of being behind the Istanbul bombing.
The Syrian Observatory for Human Rights, a Britain-based war monitor, said Russia was also reinforcing its troops at a government-controlled airbase near Tal Rifaat.
The reinforcements could be an attempt "to stop or put off the Turkish operation," Observatory chief Rami Abdel Rahman told AFP.
Kurdish-led forces in northern Syria have called on Russia to dissuade Turkey from launching a ground offensive against them, their commander said on Tuesday.
The Observatory said Russian reinforcements had also reached the outskirts of the border city of Kobane.
Russian troops deployed in some Kurdish-controlled border areas of northern Syria following a 2019 agreement that sought to avert a previous Turkish incursion threat.
President Recep Tayyip Erdogan said last week that Turkey was more determined than ever to secure its border with Syria from attacks by Kurdish fighters, threatening a ground operation "at the most convenient time."
Source: Al Arabiya
Please click the following URL to read the full text of the original story:
https://english.alarabiya.net/News/middle-east/2022/11/30/Russia-sends-reinforcements-to-northern-Syria-amid-fears-of-Turkish-incursion
--------
Saudi Arabia, Spain ink deal to build combat ships for Saudi Navy
01 December ,2022
Saudi Arabia's Ministry of Defense has signed a memorandum of understanding (MOU) with Spanish company Navantia to build multi-mission combat ships for the Saudi Navy, state news agency (SPA) reported on Thursday.
"The MoU aims to raise the level of readiness of the Royal Saudi Naval Forces to enhance maritime security in the region and protect the vital and strategic interests of the Kingdom of Saudi Arabia and support the strategic, operational and tactical goals of the Ministry of Defense," it said.
According to the agreement, the Spanish company "would localize up to 100 percent of naval shipbuilding, integration of combat systems, and ship maintenance, in line with the Kingdom's objectives and Vision 2030."
The MoU focuses on integrating combat systems into new combat ships, systems design and engineering, hardware design, software development, testing, verification systems, prototyping, and simulation, as well as logistical support and training program design.
Ahmed al-Ohali, governor of General Authority for Military Industries (GAMI), said: "This memorandum promotes the march of localization in the military industries sector by achieving the goals of the Kingdom's vision to localize more than 50 percent of the total military spending by 2030, which will enable it to achieve the national priorities represented in In strengthening the strategic independence of the Kingdom, in addition to developing a sustainable local military industries sector."
Source: Al Arabiya
Please click the following URL to read the full text of the original story:
https://english.alarabiya.net/News/gulf/2022/12/01/Saudi-Arabia-Spain-ink-deal-to-build-combat-ships-for-Saudi-Navy-
--------
Ronaldo 'agrees a $200 mln-per-year' contract with Saudi Arabia's Al Nassr: Reports
30 November ,2022
Portugal captain and former Manchester United player Cristiano Ronaldo has reportedly agreed to a record-breaking $207 million-a-year contract with Saudi Arabia's Al Nassr football club, according to Spanish newspaper outlet Marca.
The 37-year-old parted ways with Manchester United earlier this month, following a rocky relationship and a 90-minute tell-all explosive interview with Piers Morgan saying that he felt "betrayed" by the club while also criticizing younger players.
Ronaldo is now said to have agreed a two-and-a-half year deal with Al Nassr - that will see him play until the age of 40.
Last week, CBS Sports said Al Nassr club was reportedly ready to present Ronaldo – who made history when he became the first player to score in five World Cups in Portugal's head-to-head with Ghana last week - with a three-year deal after the global tournament ends, but no confirmation had been publicly made.
"Due to contact being initiated over the summer, it is believed talks are relatively advanced but awaiting Ronaldo's final decision. Should he choose to accept the offer, sources tell CBS Sports a deal would not take long to finalize," the media outlet reported at the time.
According to the Spanish news outlet Marca, however, the deal has now been agreed. However, there has been no official announcement from the club.
Al Nassr are one of the most successful clubs in Saudi Arabia, having being crowned winners of the country's top flight nine times, with their most recent triumph coming in 2019.
In both 2020 and 2021, it won the Saudi Super Cup and they are currently managed by Frenchman Rudi Garcia, who has previously coached Roma, Marseille and Lyon.
Source: Al Arabiya
Please click the following URL to read the full text of the original story:
https://english.alarabiya.net/sports/2022/11/30/Ronaldo-agrees-a-200-mln-per-year-contract-with-Saudi-Arabia-s-Al-Nassr-Reports
--------
UAE postpones launch of moon explorer spacecraft to Thursday
Hussameldin Abdelgadir Salih Mohamed
30.11.2022
The UAE has announced the postponement until Thursday of the launch of its spacecraft to explore the moon.
"Mohammed bin Rashid Space Centre announces new launch date for the Emirates Lunar Mission, tomorrow, 1st of December at 12:37 PM (UAE time)," or 0837GMT, the official Emirates news agency said in a Wednesday tweet.
The center did not mention the reason for postponing the launch of the explorer Rashid.
Rashid was scheduled to launch Wednesday towards the moon's surface from Cape Canaveral Space Force Station in the US state of Florida.
The explorer's journey, from its launch until its arrival on the moon's surface, will take about five months, while its main exploratory mission will take over 14 lunar days, according to the center.
On the surface of the moon, it added, the explorer will have six study tasks: rock science, plasma, dust, soil, data to develop new technologies, and collect data related to the origin of the solar system and planet Earth.
Source: Anadolu Agency
Please click the following URL to read the full text of the original story:
https://www.aa.com.tr/en/middle-east/uae-postpones-launch-of-moon-explorer-spacecraft-to-thursday/2751941
--------
Mideast
Far-right Ben-Gvir squabbles with Israel's military chief about ethics
30 November ,2022
An Israeli far-right politician set to take a key security post in Benjamin Netanyahu's emerging government traded barbs on Wednesday with the military chief over the jailing of a soldier who had taunted leftist activists in the occupied West Bank.
Ultra-nationalist Jewish Power leader Itamar Ben-Gvir criticized the 10-day confinement handed down to a soldier who was filmed on Friday warning pro-Palestinian activists in the flashpoint city of Hebron: "Ben-Gvir will sort this place out."
Ben-Gvir, to whom Netanyahu has promised the post of national security minister, with expanded powers over police in the West Bank, said on Twitter on Monday that the sentence was too harsh and weakened soldiers' resolve.
He also appeared in a video together with the soldier's father on Tuesday, demanding that the army review the punishment and drawing apparent criticism from Chief of Staff Aviv Kohavi.
"We will not allow intervention by any politician, left or right, in commanders' decisions, nor use of the military to promote a political agenda," Kohavi told the soldier's battalion and brigade commanders in a telephone call, the military said on Twitter.
In his turn, Ben-Gvir, also on Twitter, accused Kohavi of making inappropriate political statements and said he had no intention of intervening in the commanders' punitive measures but demanded a change in policy.
Netanyahu called on Twitter for Israel's conscript military to be "left out of any political argument."
On Friday, his Likud party said it had reached agreements on cabinet posts with the Jewish Power after a Nov. 1 saw the joint list of far-right factions soar to third place in parliament.
The ascent of Ben-Gvir, a West Bank settler whose record includes 2007 convictions for incitement against Arabs and support for a Jewish militant group on the Israeli and US terrorist watchlists, has stirred concern at home and abroad.
Source: Al Arabiya
Please click the following URL to read the full text of the original story:
https://english.alarabiya.net/News/middle-east/2022/11/30/Far-right-Ben-Gvir-squabbles-with-Israel-s-military-chief-about-ethics
--------
Iran's top court sentences 4 to death over links with Israel
Syed Zafar Mehdi
30.11.2022
TEHRAN
Iran's apex court has upheld the death penalty for four people accused of working for Israel's intelligence agency, the judiciary said on Wednesday.
The individuals were charged with "destroying private and public property, kidnappings and obtaining false confessions," said a statement published by Mizan news agency, which is linked with the judiciary.
The four men were identified as Hossein Ordukhanzadeh, Shahin Imani Mahmoudabad, Milad Ashrafi Atbatan, and Manouchehr Shahbandi Bejandi.
Three others accused were given jail sentences ranging from 5 to 10 years on charges of "crime against the country's security, aiding in kidnapping and possession of weapons."
All of them, the judiciary said, were working "under the guidance" of Israel's intelligence service.
According to state media, the men were arrested in a joint operation by the Islamic Revolutionary Guard Corps and Intelligence Ministry in June.
Following the legal trial, four of them were sentenced to death by a lower court. The death verdicts were subsequently challenged in the Supreme Court, which has upheld the rulings.
Iran has been rocked by sweeping anti-government protests over the death of a young woman in police custody, but officials said this case is not linked to the ongoing unrest.
The Islamic republic has often accused Israel of recruiting locals for espionage activities, as well as sabotage at important nuclear, military and industrial facilities across the country in recent years.
It has also charged Tel Aviv of killing leading Iranian nuclear scientists.
Tensions between the two arch-foes escalated dramatically after the top nuclear scientist, Mohsen Fakhrizadeh, was killed in a sophisticated operation on the outskirts of Tehran in November 2020.
Source: Anadolu Agency
Please click the following URL to read the full text of the original story:
https://www.aa.com.tr/en/middle-east/iran-s-top-court-sentences-4-to-death-over-links-with-israel/2752358
--------
Israel's Lapid slams politicians' incitement against army commanders
Abdelraouf Arnaout
30.11.2022
JERUSALEM
Outgoing Israeli Prime Minister Yair Lapid on Wednesday slammed what he described as "wild incitement" against commanders of the Israeli army.
Lapid's statement was made in response to criticism of extremist politician Itamar Ben-Gvir to the army punishment of soldiers who assaulted Israeli activists last week in the West Bank city of Hebron.
"The wild incitement led by the [incoming] ministers and MKs [lawmakers] against the chief of staff [...] is dangerous and destructive and is at the head of the new government," Lapid said in a statement.
"The new government has not yet taken office and its ministers are already inciting the IDF [Israeli army] soldiers against their commanders," Lapid added.
Ben-Gvir, who heads the far-right Jewish Strength Party, is expected to become Israel's national security minister in the upcoming Israeli government headed by Benjamin Netanyahu.
Source: Anadolu Agency
Please click the following URL to read the full text of the original story:
https://www.aa.com.tr/en/middle-east/israel-s-lapid-slams-politicians-incitement-against-army-commanders/2752211
--------
Arab 'normalization' with Israel failed to stamp out hatred for regime: Iran FM Spox
30 November 2022
The so-called "normalization deals" between the Israeli regime and some Arab governments in recent years have failed to stamp out hatred of people in Arab countries towards the apartheid regime.
Iran's foreign ministry spokesman Nasser Kana'ani made these remarks in a Twitter post on Wednesday, saying the World Cup 2022 hosted by Qatar has demonstrated disgust against the Tel Aviv regime.
"The FIFA World Cup 2022 in Qatar has turned into a show of (Arab) people's disgust against the apartheid Zionist regime and the manifestation of the solidarity of nations with the cause of Palestine," Kana'ani said.
"The occupying Israeli regime is hated by all nations," he hastened to add.
In recent weeks, since the football carnival began in Qatar, anti-Israel sentiment has been running high, with football fans from across the world waving the Palestinian flag during the matches.
Football fans have also refused to speak to Israeli journalists covering the World Cup, citing the illegal occupation of Palestinian territories and unbridled atrocities against Palestinians.
Raz Shechnick, a reporter for Yedioth Ahronoth, took to Twitter to share his harrowing experiences in Qatar vis-à-vis sweeping anti-Israel sentiment and pro-Palestine advocacy.
"We didn't want to write these words, we are not the story here. But after ten days in Doha, we cannot hide what we are going through. We are feeling hated, surrounded by hostility, not welcomed," he said.
Dor Hoffman, an Israeli journalist, reported that a Qatari taxi driver kicked him out of his cab after he discovered his identity, refusing to take his money.
Moav Vardy, a foreign affairs reporter for the Israeli Kan 11 television channel, said he was yelled at by a Saudi fan, who told him "you are not welcome here, this is Qatar, this is our country, and there is only Palestine, no Israel."
During the matches, the Palestinian flag has been spotted regularly over the past few weeks, amid growing awareness about Israeli aggression in the occupied territories.
Meanwhile, in another tweet, Kana'ani cited Palestinian news sources as saying that at least five Palestinians had been killed by the Israeli regime troops over the past 24 hours.
He lashed out at Western states for supporting "a racist, terrorist and occupying regime," calling them "false advocates of human rights."
"The false claimants of human rights have been supporting a racist, terrorist, and occupying regime for more than 7 decades, which not only commits gross human rights violations but also commits genocide against the Palestinian nation," he stated.
Two young Palestinian men, identified by the official Palestinian news agency Wafa as Jawad and Dhafr Rimawi, aged 22 and 21, were killed on Tuesday during confrontations with the regime troops near the village of Kafr Ein, west of Ramallah.
Another Palestinian man identified by the Palestinian Health Ministry as Mufid Khalil was killed by Israeli soldiers during a military raid near al-Khalil.
Khalil was shot in the head, and at least eight others were injured, according to the ministry.
The health ministry said a fourth Palestinian died after being shot in the chest by Israeli soldiers on Tuesday during clashes north of Ramallah. Wafa named the victim Raed Ghazi al-Naasan.
Also on Tuesday, Israeli forces shot and killed a Palestinian over an alleged car-ramming attack near the Kochav Yaakov illegal settlement outside occupied East al-Quds.
The spree of killings comes as Israeli forces have been carrying out overnight raids in the northern occupied West Bank, mainly in the cities of Jenin and Nablus, where new groups of Palestinian resistance fighters have been formed.
Source: Press TV
Please click the following URL to read the full text of the original story:
https://www.presstv.ir/Detail/2022/11/30/693661/Arab-Normalization-Israel-Failed-Stamp-Out-Hatred
--------
Iran summons French envoy over 'interventionist' resolution, remarks
30 November 2022
Iran's foreign ministry on Wednesday summoned the French ambassador in Tehran over the adoption of an "interventionist" anti-Iran resolution at French National Assembly and "unacceptable" remarks by the country's top diplomat.
The ministry said in a statement that it conveyed to Nicolas Roche Iran's "strong protest" against "baseless" accusations made by French officials while also condemning and rejecting such intervention as "unacceptable."
It also slammed as unacceptable remarks made by French Foreign Minister Catherine Colonna during the Monday session of the parliament.
The Islamic Republic of Iran regrets that France and some European countries are using the issue of human rights as a tool and treating it with double standards, the statement noted.
"It is necessary for these countries to rectify their wrong approach which is in blatant violation of the principle of sovereignty in international law," it added.
The ministry also said that such countries lack "authority and competence" to claim advocating human rights because of their resort to force and unilateral approaches, which is in violation of the rights of nations.
Iran's official protest comes as the French National Assembly passed a resolution on Monday, condemning what it termed "crackdown on non-violent demonstrators."
During the session, Colonna said that the European Union was working on new anti-Iranian sanctions which will be prepared for the next Council of Foreign Ministers on December 12.
Deadly riots broke out in Iran in mid-September after the death of 22-year-old Mahsa Amini.
Amini fainted at a police station in Tehran and was pronounced dead three days later in hospital. An official report by Iran's Legal Medicine Organization concluded that Amini's death was caused by illness rather than alleged blows to the head or other vital body organs.
Rioters went on a rampage, attacking security officers and causing damage to public and private property as Western powers provided support.
Source: Press TV
Please click the following URL to read the full text of the original story:
https://www.presstv.ir/Detail/2022/11/30/693678/Tehran-summons-French-ambassador-over-anti-Iranian-resolution
--------
Official: Iran signs $4 billion services deal with Iraq
30 November 2022
Iran has concluded a $4 billion contract in the field of exporting technical and engineering services with Iraq, board director of the Iranian Oil, Gas and Petrochemical Products Exporters' Association (OPEX) has said.
The contract is on course to offset part of the shortfall which has arisen in Iran's exports to Iraq in the field of technical and engineering services, futures, production and medical treatment over the past year.
"In the eight months of this year [beginning on March 20], exports to Iraq, except for electricity, totaled $4.7 billion, down by $1.4 billion compared to the same period last year," Hamid Hosseini said.
The official touched on shocks to the Iraqi market and uncertainty over the formation of government in the Arab country last year, saying he expected Iraqi imports to increase in the next four months.
It is expected that Iran exports to Iraq will reach $8-9 billion, Hosseini said.
Iraq's new prime minister Mohammed Shia al-Sudani paid a day-long visit to Iran on Tuesday and was received by President Ebrahim Raeisi who expressed hopes of bolstering ties.
Raeisi said banking, finance and wider business topics were also discussed and that talks between the two allies "will help to resolve bilateral problems".
Sudani thanked Iran for its continued deliveries of gas and electricity, which have been in short supply in Iraq, while he also pointed to discussions on a "mechanism" to enable Iraq to pay Iran for these services.
Iraq relies on Iran for natural gas that generates as much as 45 percent of its 14,000 megawatts of electricity consumed daily. Iran transmits another 1,000 megawatts directly, making itself an indispensable energy source for its Arab neighbor.
The US has had to repeatedly extend sanctions exemption by 45, 90 or 120 days, to allow Baghdad to import Iranian energy, but it is unhappy with close relationship and trade between Baghdad and Tehran.
Years of war following the 2003 US invasion have left Iraq's power infrastructure in tatters and a deficit of some 7,000 megawatts.
In the past, officials in Baghdad have said there is no easy substitute to imports from Iran because it would take years to adequately build up Iraq's energy infrastructure.
They have said American demand acknowledges neither Iraq's energy needs nor the complex relations between Baghdad and Tehran.
Source: Press TV
Please click the following URL to read the full text of the original story:
https://www.presstv.ir/Detail/2022/11/30/693657/Iran-Iraq-technical-services-deal-electricity
--------
Pakistan
Religious Groups Get In Momentum Against Blasphemous Stuff On Social Media, Utilizing The Expertise of Federal Investigation Agency
DECEMBER 1, 2022
Religious-based organizations have got in momentum against the blasphemous stuff on social media as they are using all legal forums to control this burgeoning social as well as religious menace through proper channel.
The religious organizations are also utilizing the expertise of Federal Investigation Agency (FIA)'s Cyber Crime Wing to net those culprits allegedly involved in this heinous crime.
Legal Commission on Blasphemy Pakistan Secretary General Sheraz Ahmed Farooqui, in an exclusive talk with APP, informed that the FIA had booked an accused allegedly involved in publication of indecent content against the sacred books Quran and Bible on social media on Tuesday.
The FIA had also arrested two miscreants allegedly involved in proliferation of desecration things on social media on Wednesday, he added.
He further said 62 blasphemers had been put behind the bars so far, nine of them had been awarded the capital punishment by the trial court, two of the death penalty accused's sentences had been confirmed by the high courts.
Farooqui said the accused under trial in blasphemous cases had never been granted bail by any court of law yet.
He said today, a blasphemer namely Sana Ullah had been awarded death sentence by the Anti-Terrorist Court, Peshawar – I.
He said ATC Judge Fazl Sattar Khan reserved the verdict in the following case on November 24, adding that the convicted used to share desecration material on the WhatsApp group against the sanctity and prestige of Holy Prophet Muhammad Peace Be Upon Him, Mothers of believers (Ummahaat-ul-Momineen) and the religion of Islam.
Farooqui informed that there was a consortium of religious-based organizations including Namoos-e-Risalat Lawyers Forum Pakistan, Legal Thinkers Forum, Tehreek Tehfuz Namoos-e-Risalat Pakistan, World Khatm-e-Nabuwat Council, Anjuman Ashqaan-e-Muhammad, Tehfuz Khatm-e-Nabuwat Forum, Tehfuz Khatm-e-Nabuwat Wukla Forum, Legal and Cyber Experts Forum, Razakaran-e-Khatm-e-Nabuwat and Islamabad Bar Association which were pursuing the blasphemous cases till their logical conclusions.
Meanwhile, the National Assembly (NA) had passed a unanimous resolution to withdraw appeals of government from the Supreme Court to annul the Lahore Haigh Court (LHC)'s decision against the publication of blasphemous content on the social media.
The mover of resolution Pakistan Muslim League-Nawaz's Member of the National Assembly Choudhary Faqir Ahmad, talking to this national premier news agency, informed that the Pakistan Tehreek-e-Insaf government of then challenged the decision in the apex court instead of implementing it in letter and spirit.
He urged the incumbent government to withdraw the appeals against the LHC's decision filed by the Ministry of Information Technology and Telecommunication and Pakistan Telecommunication Authority in the tenure of so called Riyasat-e-Madinah.
In addition, the Ministry of Religious Affairs and Interfaith Harmony had reactivated its Web Evaluation Cell to control the increasing incidents of blasphemy on social media.
The ministry's spokesperson Muhammad Umar Butt told APP that the people could report blasphemous material if found on social media on the official email address: reportblasphemy@mora.gov.pk, Facebook page: @mora.official or WhatsApp number: 0306 3332555.
He made it clear that hate material against the religion or sacred figures was completely banned as per law and the Constitution. "Those allegedly involved in this illegitimate activity would be taken to task as per law of the land," he added.
He said Ulema and Mashaykh of all schools of thought were making all out efforts to promote religious harmony in all sections of the society.
Source: Daily Times
Please click the following URL to read the full text of the original story:
https://dailytimes.com.pk/1033903/religious-groups-get-in-momentum-against-blasphemous-stuff-on-social-media/
--------
'Do not forget armed forces are servants of people': Imran Khan to new Pakistan military leaders
Nov 30, 2022
ISLAMABAD: In a message to the newly appointed military leaders, including army chief Asim Munir, former Pakistan Prime Minister Imran Khan on Wednesday expressed hope that they will work to end the prevailing trust deficit between the nation and the State.
"Congratulations to Gen Sahir Shamshad Mirza as new CJCSC and Gen Syed Asim Munir as new COAS. We hope new mly ldrship will work to end prevailing trust deficit that has built up in last 8 months between the nation and the State. Strength of the State is derived from its people," Khan said in his congratulatory tweet for the newly appointed military leadership.
In his Twitter post, the PTI chief quoting Pakistan's founder Mohammad Ali Jinnah, "Do not forget that the armed forces are the servants of the people and you do not make national policy; it is we, the civilians, who decide these issues and it is your duty to carry out these tasks with which you are entrusted."
This comes a day after General Asim Munir took over the command from outgoing Chief of Army Staff (COAS) General Qamar Javed Bajwa. Marking an end to his six-year tenure as the most powerful person in the country, Bajwa passed the baton of command to Lt Gen Munir at a ceremony held at the General Headquarters (GHQ) in Rawalpindi, the Dawn newspaper reported.
Since his ouster from power in April this year, Imran Khan has had a fallout with the country's coalition government and military establishment.
The hype and hoopla created over the appointment of Pakistan's new army chief came to rest after General Asim Munir and General Sahir Shamshad Mirza were notified as the next chief of army staff (COAS) and chairman Joint Chiefs of Staff Committee (CJCSC) respectively on November 24.
Munir, who was to retire on November 27, two days before Bajwa completed an extended tenure of almost six years, was among six generals in the race for the top post -- a cause for much uncertainty and speculation till this week.
There was an unprecedented hysteria and frenzy in Pakistan by former Prime Minister, his followers and his social media brigade after the PTI government was thrown out of the power corridors of Islamabad in April. The Shehbaz Sharif government has accused Khan of making the appointment of the new army chief controversial for political gains.
For the last month, Pakistan was literally paralysed administratively and economically because of the delay in the appointment of the army chief who is considered the most powerful personality with all political stakeholders dying for his blessings.
Source: Times Of India
Please click the following URL to read the full text of the original story:
https://timesofindia.indiatimes.com/world/pakistan/do-not-forget-armed-forces-are-servants-of-people-imran-khan-to-new-pakistan-military-leaders/articleshow/95882196.cms
--------
Suicide blast targeting police truck kills 4, injures over 20 in Pakistan
Nov 30, 2022
KARACHI: A suicide bomber from the banned Pakistani Taliban blew himself up near a patrolling police truck carrying security personnel to protect polio workers in the restive Balochistan province on Wednesday, killing at least four people and injuring 26 others, including 23 policemen.
The attacker targeted the paramilitary constabulary truck in Quetta's Baleli area, which was going to provide security to polio workers at the ongoing drive.
Quetta deputy inspector general of police (DIGP) Ghulam Azfar Mahesar confirmed the attack and said that a total of three vehicles were hit in the blast.
"Looking at the crime scene and given that the truck toppled, it is estimated that 25 kilograms of explosives were used," he said.
The death toll from the targeted suicide attack in Quetta rose further as another child died during treatment, Geo News reported.
The attack killed a cop and a child on the spot, and reportedly left 26 including 23 cops wounded, it said.
The death toll climbed to 4 after a woman and her child injured in the bombing succumbed to their injuries later in the day, the report quoted the hospital administration as saying.
Earlier, the hospital administration had said that most of the injured are out of danger.
The banned Tehreek-e-Taliban Pakistan (TTP) group claimed responsibility for the attack which came just two days after the group announced to call off its ceasefire.
It said the attack was in retaliation for the killing of Abdul Wali also known as Omar Khalid Khurrassni killed in Afghanistan in August.
Mahesar said that the explosion was a suicide attack as they have found the remains of a suicide bomber near the crime scene.
Preliminary police investigations showed that a rickshaw hit the police truck. Authorities have declared an emergency in the hospitals of Quetta to treat the victims.
Prime Minister Shehbaz Sharif condemned the incident and directed the authorities to initiate an investigation into the attack.
According to the state-run Radio Pakistan, the premier expressed grief and sorrow over the loss of life.
He also said that polio workers across the country were fulfilling their responsibilities without caring for their lives.
"Eliminating polio virus from the country is amongst the top priorities of the government and we will not rest until polio is completely eradicated," he said, asserting that "evil elements" would always fail to harm the anti-polio campaign in the country.
President Dr Arif Alvi also condemned the attack and prayed for the forgiveness of the deceased and the recovery of the injured.
He said that children were Pakistan's most valuable asset and the government was determined to protect them from diseases such as polio.
"The State will not allow anti-social elements to interfere in the mission of complete eradication of polio," he said.
Former premier and PTI chief Imran Khan also expressed deep grief on the attack and prayed for the speedy recovery of the injured people.
Attacks on workers of the anti-polio vaccination drives in Pakistan have increased in recent times.
In March this year, gunmen in northwestern Pakistan shot and killed a female polio worker as she was returning home after taking part in the country's latest anti-polio campaign.
In January last year, armed gunmen shot dead a police officer guarding a team of polio vaccine handlers in northwestern Pakistan.
Source: Times Of India
Please click the following URL to read the full text of the original story:
https://timesofindia.indiatimes.com/world/pakistan/suicide-blast-targeting-police-truck-kills-4-injures-over-20-in-pakistan/articleshow/95874066.cms
--------
Religious extremists desecrate Ahmadi graves in Pakistan
November 29, 2022
Several graves belonging to Ahmadis have been allegedly desecrated by religious extremists in Pakistan's Punjab province, a spokesman for the minority community said on Tuesday.
Jamaat Ahmadiya Pakistan official Amir Mahmood told PTI that the tombstones of the graves were desecrated at Prem Kot graveyard in Hafizabad district, some 100 kilometres from Lahore.
He said that those who damaged the graves also wrote "Ahmadi dog" on them, which is very distressing for the families.
"The Ahmadis living in Pakistan are not at peace even after their demise. The Ahmadis are not safe in their graves," he said.
Mahmood demanded the arrest of those involved in the desecration of graves of the minority community.
In the past also, such incidents have taken place in other Ahmadi graveyards in Punjab but not a single culprit was arrested or put on trial.
In August this year, 16 graves of the Ahmadi community in Pakistan's Punjab province were allegedly desecrated by religious extremists for using Islamic symbols on gravestones at a cemetery in Chak 203 RB Manawala, Faisalabad district, some 150 kilometres from Lahore.
Minorities, especially Ahmadis, are very vulnerable in Pakistan and they are often targeted by religious extremists. Former military dictator Gen Zia-ul Haq made it a punishable offence for Ahmadis to call themselves Muslims or to refer to their faith as Islam.
Pakistan's Parliament in 1974 declared the Ahmadi community as non-Muslims. A decade later, they were banned from calling themselves Muslims. They are banned from preaching and from travelling to Saudi Arabia for pilgrimage.
Source: The Week
Please click the following URL to read the full text of the original story:
https://www.theweek.in/news/world/2022/11/29/religious-extremists-desecrate-ahmadi-graves-in-pakistan.html
--------
PML-N struggling to beat impression it's 'afraid of snap polls'
Zulqernain Tahir
December 1, 2022
LAHORE: There appears to be an impression in political circles that the PML-N is 'running away' from elections in Punjab, something that seems to stem from the party's insistence that it wants to save the Punjab Assembly 'at any cost'.
However, the party says it is taking the decision in the interests of the country and not on the whims of an individual or a party, as it doesn't want to appear to be giving in to Imran Khan's demands.
The Sharifs have reportedly been advised by well-wishers within the party to change their narrative of 'saving Punjab Assembly at any cost' and adopt a more confident tone that shows they are not afraid of contesting polls in case Punjab Chief Minis­ter Ch­a­u­dhry Parvez Elahi dissolves the assembly on the request of Pakis­tan Tehreek-i-Insaf (PTI) chief Imran Khan.
These conversations within the party come in the wake of PTI chairman and his party members claiming that the PDM parties, especially the PML-N, are afraid to contest even a by-poll because of the fear of a 'loss' as their popularity has dipped immensely since April.
A PML-N insider told Dawn on Wednesday that some close aides of the Sharif family have asked it to shun the 'apologetic' narrative, which the insider said implied that the party was running away from elections in the province.
"This makes it sound like we are seconding the narrative of Imran Khan that the PML-N is afraid of going to polls because of his supposedly rising popularity. We are in government in the Centre, not in Punjab. Why should we oppose the dissolution of the PA? Rather we should dare Imran to dissolve the assembly after which we will form a government here — this should be our narrative," the insider quoted as having conveyed it to the Sharif family.
However, PML-N Punjab Information Secretary Azma Bokhari told Dawn that the reasons the party wanted to save the assemblies were constitutional, economic and law and order.
"The country cannot be run on the wishes of Imran Khan. Elections are held after consensus among all political parties and not on the desire of one person. Nowhere in the world can one party force others to call elections," she maintained.
The MPA said the Constitution enunciated that the assemblies should complete their tenure.
"It is also not possible that elections are held in various assemblies separately. Besides, the ECP has also announced local body polls in Punjab in April."
Ms Bokhari further said Pakistan's economic situation, the post-flood situation, TTP's end of the ceasefire with the government were the other pressing issues that did not make the environment conducive for elections.
It is pertinent to mention that the election commission sacked its spokesperson Haroon Shinwari for issuing a statement "without directions from the higher authorities" regarding the holding of elections in 60 days in case the Punjab and KP assemblies were dissolved. Subsequently, the commission announced holding of local body polls in Punjab in April.
Observers see this as an anticipatory move in the wake of the PTI's possible dissolution of KP and Punjab assemblies, commenting that the election body could make an excuse that it would not be possible for it to conduct two elections — local bodies and Punjab — simultaneously.
On the other hand, PML-N senior leader Pervaiz Rashid dispelled the impression that the party was running away from polls.
"We are very much ready to contest and defeat the PTI in Punjab, but don't want billions of rupees wasted twice. If Punjab and KP go to polls in March then after six months, elections for the national, Balochistan and Sindh assemblies will be held, which means billions of rupees will be spent twice for no reason. Every penny is precious and to be spent on the rehabilitation of flood-affected families, as we prefer the country's economic situation over party politics."
The former senator and close aide of Nawaz Sharif further said Mr Khan's popularity was just a myth.
"People have seen his popularity graph during the long march, which reached Rawalpindi from Lahore in a month. He is not interested in dissolving the Punjab and KP assemblies… he wants to maintain political instability and create problems for the government," Mr Rashid remarked and added that when the people of Punjab go to vote, they would compare the performances of Shehbaz Sharif as the chief minister with the PTI's Usman Buzdar.
Meanwhile, a PML-N lawmaker close to Hamza Shehbaz told Dawn the party was not ready to go to polls in Punjab or anywhere before Nawaz Sharif's return to Pakistan.
"Let Nawaz come back and then we won't mind taking up Imran Khan's challenge," he commented.
Since former premier Khan decided to dissolve the two provincial assemblies besides tendering resignations from the Sindh and Balochistan legislatures, the former Punjab rulers, the PML-N, have been talking about using all 'available tactics' to foil the PTI's plan to dissolve the two provincial assemblies.
Punjab Assembly Opposition Leader Hamza Shehbaz has come out of 'hibernation' and in back-to-back meetings in Lahore with the fellow opposition party, the PPP, vowed to 'save the PA' through various available options such as a no-trust move against CM Elahi, imposition of governor's rule, the governor seeking a vote of confidence from the CM, requesting the apex court to take up Hamza's review petition on its decision in the Punjab CM election case etc.
Besides, both the PML-N and PPP have agreed to contact 'disgruntled' PTI lawmakers to preempt the ruling party's move to dissolve the PA.
Prime Minister Shehbaz Sharif and former president Asif Ali Zardari of the PPP also met on Tuesday and discussed ways to prevent the possible political crisis in the province.
"PML-N supreme leader Nawaz Sharif should tell his younger brother and nephew to adopt a more daring approach and respond to Khan's challenge in a political way instead of talking like a dictator about governor's rule," a party leader from Punjab told Dawn.
He questioned that if Mr Khan was taking his chances by dissolving the Punjab and KP assemblies where his party had governments, what was stopping the PML-N from going to polls there?
"Holding elections in Punjab and KP provide an opportunity to the PML-N and Pakistan Democratic Movement (PDM) to form their government, especially in Punjab, while holding onto power in the Centre. The Sharifs, especially PM Shehbaz and the opposition leader in Punjab, should come forward and look Mr Khan in the eye and take him up on his challenge of provincial polls," the party leader suggested, adding the PML-N maintaining its 'apologetic' narrative would show its popularity had completely eroded in Punjab and it might need some assurance (for securing a victory) from the establishment before going to polls.
Source: Dawn
Please click the following URL to read the full text of the original story:
https://www.dawn.com/news/1724031/pml-n-struggling-to-beat-impression-its-afraid-of-snap-polls
--------
Bilawal disputes 'political failure' narrative on 1971 debacle
Imran Ayub
December 1, 2022
KARACHI: Exactly a week after former army chief Gen Qamar Javed Bajwa referred to the East Pakistan loss as a 'political' failure, Foreign Minister Bilawal Bhutto-Zardari in a thinly-veiled rejection of the claim insisted on Wednesday that the Dhaka debacle in 1971 was in fact a 'military failure' that had brought host of challenges for the Zulfikar Ali Bhutto-led PPP.
The foreign minister expressed this opinion at the Nishtar Park rally, which was organised to mark the 55th foundation day of his party as part of countrywide celebrations.
On the occasion, the PPP chairman revisited the history of his party and recounted the achievements of its founder. He referred to the fall of Dhaka in 1971, when his grandfather took up the challenge to reunite the "disintegrated country" and "regain the lost glory".
"When Zulfikar Ali Bhutto took over the government, the people were broken and had lost all hope," he said. "But he rebuilt the nation, restored the confidence of the people and finally brought our 90,000 troops back home who had been made prisoners of war due to 'military failure'. Those 90,000 soldiers were reunited with their families. And that all was made possible due to politics of hope... of unity... and inclusion."
Terms fall of Dhaka 'military failure'; says PTI will never resign from KP and Punjab assemblies
While addressing a Defence and Martyrs Ceremony at the General Headquarters last week, former army chief retired Gen Qamar Bajwa — in an attempt to "correct the record" — had made the claim: "I want to correct the record. First of all, the fall of East Pakistan was not a military but a political failure. The number of fighting soldiers was not 92,000, it was rather only 34,000, the rest were from various government departments."
He had said those 34,000 people fought 250,000 Indian army soldiers, and 200,000 trained Mukti Bahini fighters but still they fought valiantly despite all odds and offered unprecedented sacrifices.
In an over hour-long speech, the foreign minister recalled the history of his party that he said "sacrificed" two elected prime ministers. Even their family members were not spared and slain in an att­empt to weaken democracy and stren­gthen the "puppet leadership", he said.
Taking a jibe at Pakistan Tehreek-i-Insaf (PTI) chairman, the PPP chief said that contrary to Imran Khan's claim, the PTI would never quit the assemblies of Khyber Pakhtunkhwa and Punjab, as it had a history of taking "U-turns" and that too for the vested interests.
Source: Dawn
Please click the following URL to read the full text of the original story:
https://www.dawn.com/news/1724027/bilawal-disputes-political-failure-narrative-on-1971-debacle
--------
Govt urged to call joint session on terror threats
Amir Wasim
December 1, 2022
ISLAMABAD: The coalition government has been asked to convene a joint sitting of parliament immediately to discuss the banned Tehreek-i-Taliban Pakistan's (TTP) fresh claim about a breakdown of negotiations with Pakistani authorities and instructions to its militants to carry out terrorist attacks across the country.
As the TTP announcement to call off the ceasefire indicates that people of Pakistan were being kept in dark, a clear policy is required to deal with violent extremism rather than the 'policy of use of force and appeasement'.
These demands were made by PPP Senator Raza Rabbani in a statement issued here on Wednesday, a day after Gen Asim Munir took over army's command.
The banned outfit earlier on Nov 28 announced it was calling off the ceasefire agreed with the Pakistan government in June.
The senator also highlighted the need for making the Parliamentary Committee on National Security (PCNS) more effective which, according to him, would become possible by "removing National Assembly Speaker Raja Pervaiz Ashraf from its chairmanship" since due to time constraints, the NA speaker could not effectively chair the PCNS.
He was of the opinion that over the past few months, the state had been concealing the facts despite an increase in terrorism throughout the country, particularly in Khyber Pakhtunkhwa. "The re-emergence of militancy in the shape of TTP finishing the ceasefire has made it clear that the state continues to keep the people of Pakistan in the dark, as this announcement was made by the TTP," he said.
"There was clear evidence of increasing sporadic attacks, extortion demands and kidnapping. The people of Swat held massive rallies against the increase in terrorism but the state relied by applying the anti-terrorism act on innocent citizens."
The PPP senator alleged that the state had failed to provide adequate infrastructure despite four years of Fata's merger with KP. Secondly, he said, the state had refused to engage with peaceful civilian movements that have a potential of standing up against militancy.
"I made repeated demands for a joint session of the parliament to discuss the increase in terrorism but it has fallen on deaf ears," he regretted.
Last year, when the talks began with the TTP, Mr Rabbani had made a similar demand, stating that the PTI government had no right or mandate to enter into talks with the banned entity without taking the parliament into confidence.
"The Pakistani parliament should be locked and the key thrown away, rather than suffering humiliation and being shown to be redundant every day," Mr Rabbani had gone to the extent of saying while commenting on the interview of the then prime minister Imran Khan with TRT World in which he had offered general pardon to the TTP provided the banned group laid down weapons.
In the same interview, the prime minister had disclosed that the Pakistan government was in talks with some groups of the TTP seeking reconciliation.
Talks between Pakistani officials and the militant outfit started in October last year under the PTI government but broke down in May this year due to a deadlock on the revocation of the merger of erstwhile tribal areas with Khyber Pakhtunkhwa. Subsequently, attacks by the TTP have been on the rise since September after the group's ceasefire with the army ended.
Most of the attacks have happened in and around Dera Ismail Khan, Tank, South Waziristan, and North Waziristan districts in KP, while the Quetta blast was the latest in a series of attacks.
Source: Dawn
Please click the following URL to read the full text of the original story:
https://www.dawn.com/news/1724028/govt-urged-to-call-joint-session-on-terror-threats
--------
New military leadership will work to 'end trust deficit': Imran
December 1, 2022
LAHORE: PTI Chairman Imran Khan on Wednesday congratulated the newly appointed military leadership, expressing the hope that they would work to "end the prevailing trust deficit" between the nation and the state.
In a tweet on Wednesday, Imran felicitated the new military command. "We hope the new military leadership will work to end the prevailing trust deficit that has built up in the last 8 months between the nation and the state.
"The strength of the state is derived from its people," the PTI chief added.
Along with the message, Imran also shared a screenshot of a purported quote by Quaid-i-Azam Muhammad Ali Jinnah, which some people on social media questioned the veracity of.
Last week, Gen Asim Munir, a soldier with considerable operational experience and a career steeped in intelligence, was designated as the country's 17th army chief while Gen Sahir Shamshad Mirza, another infantry officer with an enviable career, was appointed as the chairman of the joint chiefs of staff committee.
The appointments ended weeks of intense speculation about who will lead the powerful military following Gen Qamar Javed Bajwa's retirement. Gen Mirza took charge on Nov 27 while Gen Munir assumed charge on Nov 29.
Imran slammed for 'selective memory'
Reacting to Imran's statement, Information Minister Marriyum Aurangzeb took exception to his claim and questioned whether Quaid-i-Azam had also offered an indefinite extension to the army chief behind closed doors.
The information minister, addressing a press conference in Islamabad, said the only mistrust present was the one in Imran's mind.
Aurangzeb said Imran was now twiddling his thumbs after the party's long march and advised him to do the following two things: Declare all the gifts he had taken from the Toshakhana and follow through on registering a case against the Jang Group and Dubai-based businessman Umar Zahoor for the claims they made against him.
"You know that if you file the case, you will have to provide details about the watch and all those details related to the Toshakhana which have yet to be revealed to the nation."
As for the PTI's announcement to leave the provincial assemblies, she said Imran only wanted political instability and discord in the country.
PML-N Vice President Maryam Nawaz claimed Imran had a "selective memory" but other people did not.
"You collude with certain elements of the establishment, they raise and feed you like their godson. Now you beg for their unconstitutional interference and when it is denied you call them traitors. You have the audacity to talk about trust deficit? You think people are fools," she tweeted.
PML-N leader Muhammad Zubair was also of the opinion that the PTI chief had "selective memory".
Source: Pakistan Today
Please click the following URL to read the full text of the original story:
https://www.pakistantoday.com.pk/2022/12/01/new-military-leadership-will-work-to-end-trust-deficit-imran/
--------
COAS, JCSC chairman call on President Alvi, PM Shehbaz
November 30, 2022
ISLAMABAD: Newly-appointed Chairman Joint Chiefs of Staff Committee Sahir Shamshad Mirza and Chief of Army Staff General Asim Munir called on President Arif Alvi and Prime Minister Shehbaz Sharif separately.
Both CJCSC General Shamshad and Army Chief General Asim Munir separately called on President Alvi at Aiwan-e-Sadr on Wednesday. The duo also called on Prime Minister separately.
Source: Pakistan Today
Please click the following URL to read the full text of the original story:
https://www.pakistantoday.com.pk/2022/11/30/coas-jcsc-chairman-call-on-president-alvi-pm-shehbaz/
--------
Security forces kill one terrorist in Shewa, North Waziristan
November 30, 2022
RAWALPINDI: Security forces in an operation have killed one terrorist in Shewa, North Waziristan while a troop also embraced martyrdom.
"On 30 November 2022, fire exchange took place between terrorists and own troops in general area Shewa, North Waziristan District. Own troops fought bravely and engaged the terrorist's location effectively; 1 x terrorist got killed. Weapon and ammunition was also recovered from the killed terrorist," says a handout issued by the ISPR.
The killed terrorist remained actively involved in terrorist activities against security forces.
During intense fire exchange, Havaldar Parosh (age 35 years, resident of Kohat) having fought gallantly, embraced Shahadat.
Source: Pakistan Today
Please click the following URL to read the full text of the original story:
https://www.pakistantoday.com.pk/2022/11/30/security-forces-kill-one-terrorist-in-shewa-north-waziristan/
--------
South Asia
Taliban silence Voice of America broadcasts in Afghanistan
December 01, 2022
Washington, Dec 1 (AP) The Voice of America said Wednesday that Taliban authorities have banned FM radio broadcasts from VOA and Radio Free Europe/Radio Liberty in Afghanistan, starting Thursday.
VOA said Taliban authorities cited "complaints they have received about programming content" without providing specifics.
VOA and RFE are funded by the U.S. government, though they claim editorial independence.
The Taliban overran Afghanistan in August 2021 as American and NATO forces were in the final weeks of their pullout from the country after 20 years of war.
Despite initially promising a more moderate rule, they have restricted rights and freedoms and widely implemented their harsh interpretation of Islamic law, or Sharia.
Abdul Qahar Balkhi, the spokesman for the Ministry of Foreign Affairs, told The Associated Press Thursday that Afghanistan has press laws and any network found "repeatedly contravening" these laws will have their privilege of working in the country taken away.
"VOA and Azadi Radio (Radio Liberty) failed to adhere to these laws, were found as repeat offenders, failed to show professionalism and were therefore shut down," he said.
Source: The Week
Please click the following URL to read the full text of the original story:
https://www.theweek.in/wire-updates/international/2022/12/01/fgn16-afghan-ld-voice-of-america.html
--------
Taliban: 10 Students Killed In Bombing Of Afghan Religious School, Al Jihad Madrassa
Nov 30, 2022
ISLAMABAD: A bomb blast hit a religious school in northern Afghanistan on Wednesday, killing at least 10 students, a Taliban official said. The explosion went off at around the time of afternoon prayers at the Al Jihad Madrassa in Aybak, capital of Samangan province, a resident of the city who heard the explosion told The Associated Press. Most of the students at the school are young boys, said the resident, speaking on condition of anonymity for his own safety.
Video distributed by the Taliban to the media showed the blast site, a hall littered with debris, mats and shoes, with dead bodies and bloodstains on the floor. Sirens can be heard in the background and men, some of them armed, move through the hall surveying the explosion's aftermath.
Interior Ministry spokesman Abdul Nafi Takor said a number of students were wounded in the attack. Samangan province has a majority population of ethnic Uzbeks.
There was no immediate claim of responsibility. But the Afghan affiliate of the Islamic State group has been waging a campaign of violence that escalated since the Taliban took power in August 2021.
Source: Times Of India
Please click the following URL to read the full text of the original story:
https://timesofindia.indiatimes.com/world/south-asia/taliban-10-killed-in-bombing-of-afghan-religious-school/articleshow/95890905.cms
--------
TTP appears to have lost trust in the Haqqani faction of Taliban: Report
Dec 01 2022
Islamabad, Dec 1 (IANS): The Tehreek-e-Taliban Pakistan (TTP) appears to have lost trust in the "Haqqani faction" of the Afghan Taliban, which is considered close to the Pakistani establishment, and instead seeks to align itself with the rival "Kandahari faction" led by Afghan Defence Minister Mullah Yaqoob.
The TTP's statement on ending the ceasefire with Pakistan government came hours after the Foreign Ministry said that Deputy Foreign Minister Hina Rabbani Khar will be leading a high-level delegation to Kabul for talks with Taliban officials, The Express Tribune reported.
Rumours have it the TTP was also invited by Afghan Interior Minister Sirajuddin Haqqani to Kabul, but the group declined the invitation.
Some Afghan media reports also claimed that Mullah Yaqoob refused to meet the Pakistani delegation in Kabul, The Express Tribune reported.
A Defence Ministry official, however, denied such a meeting was ever planned.
There is a possibility that the TTP's move might have been choreographed by the Kabul regime to use it as a pressure tactic in their talks with Khar and her delegation because they believe Pakistan is again ditching their regime after warming up to the US.
The TTP announced the truce collapse a day before Gen Qamar Javed Bajwa was to pass the baton of army command to his successor Gen Asim Munir.
This could be a reminder for the new army chief to revive the negotiation process which has stalled since the transfer of Lt Gen
Faiz Hameed out of Peshawar. Gen Munir has inherited far too many challenges in the politically volatile and economically near-bankrupt country, The Express Tribune reported.
There could also be a possibility that the TTP wants to break away from the Afghan Taliban after the loss of some of its big guns in recent months in Afghanistan, suspecting a role of the Kabul regime which has been under increasing pressure from Islamabad to dismantle TTP sanctuaries.
If that is the case, then we may next expect the TTP drifting towards the Khorasan enterprise of Islamic State (IS) terror group. And if that happens, the Taliban regime's worst nightmare would come true, The Express Tribune reported.
The TTP knows that its alliance with the IS could create the most potent threat to the Taliban's nascent regime and that it would try to prevent it at any cost. The TTP timed its truce collapse announcement with Khar's arrival in Kabul to give a message to Islamabad that the Taliban would no longer speak or negotiate on its behalf. Or this could also be a message to Kabul to put pressure on the Pakistani side for a deal with the TTP.
Whatever may be the reason for its latest move, the TTP has zero motivation to give up violence and disband, especially following the takeover of Kabul by the Taliban in August 2021. Instead the group has been emboldened by the Taliban's bewildering victory over foreign forces which gave it a hope that it could also bring the Pakistan government to its knees, The Express Tribune reported.
Source: Daiji World
Please click the following URL to read the full text of the original story:
https://www.daijiworld.com/news/newsDisplay?newsID=1025021
--------
At least 16 killed, 24 wounded in north Afghanistan blast - local media
November 30, 2022
KABUL: At least 16 people were killed and 24 others wounded Wednesday by a blast at a madrassa in Afghanistan's northern city of Aybak, a doctor at a local hospital said.
There have been dozens of blasts and attacks targeting civilians since the Taliban returned to power in August last year, most claimed by the local chapter of the Daesh group.
A doctor in Aybak, about 200 kilometres (130 miles) north of the capital Kabul, said the casualties were mostly youngsters.
"All of them are children and ordinary people," he told AFP, asking not to be named.
The Taliban, which frequently plays down casualty figures, said 10 students had died and "many others" were injured.
"Our detective and security forces are working quickly to identify the perpetrators of this unforgivable crime and punish them for their actions," tweeted Interior Ministry spokesman Abdul Nafay Takor.
Source: Arab News
Please click the following URL to read the full text of the original story:
https://www.arabnews.com/node/2208621/world
--------
'Islamic System is What Every Afghan Wants,' Says Afghan Deputy PM
By Saqalain Eqbal
November 30, 2022
The Deputy Prime Minister in Political Affairs of the incumbent administration in Afghanistan, Qari Abdul Kabir, stated in a meeting of influential figures that an "Islamic system is what every Afghan wants."
The political deputy of the Afghan prime minister, according to the state-run Bakhtar News Agency, met with influential figures of Maidan Wardak, Baghlan, Takhar, Kapisa, Parwan, and Panjshir provinces, in the Sapidar Palace in Kabul, the Afghan capital.
According to Bakhtar, the top official from the new administration met with the attendees on November 30 and offered to cooperate with any problem by emphasizing that everyone is welcome to the current Afghan authorities' offices.
The Deputy Prime Minister in Political Affairs hailed the meeting and stated that "every Afghan" wants the "Islamic Emirate."
Source: Khaama Press
Please click the following URL to read the full text of the original story:
https://www.khaama.com/islamic-system-is-what-every-afghan-wants-says-afghan-deputy-pm-35896/
--------
Pakistan's Hina Rabbani Stresses Imperative of 'Practically' Engaging with Afghan Government
By Saqalain Eqbal
November 30, 2022
Hina Rabbani Khar, the State Minister for Foreign Affairs of Pakistan, stressed the imperative for the world community to engage "practically" with the caretaker Afghan government.
According to a statement from the Pakistani Ministry of Foreign Affairs on Tuesday, November 29, the Pakistani official Hina Rabbani Khar undertook a one-day official visit to Afghanistan where she met with the current Afghan administration's several authorities.
The Pakistani top official, according to the statement, held meetings with the Afghan Acting Minister of Foreign Affairs, Deputy Prime Minister for Administrative Affairs, Acting Minister of Mines and Petroleum, and Acting Minister of Commerce and Industry.
Hina Rabbani, in her meetings with Afghan authorities, discussed bilateral issues of mutual interest in the areas of health, education, trade, regional connectivity, and other socio-economic issues.
The Minister of State emphasized the need for practical cooperation between the international community and the interim Afghan government in order to assist Afghanistan in addressing the country's catastrophic humanitarian situation and other reconstruction matters.
She emphasized further that the goal of a practical engagement would be furthered by the unfreezing of Afghanistan's financial assets.
The Pakistani side also discussed matters of mutual cooperation in the face of the growing terrorism, including joint counter-terrorism measures in preserving regional security.
Pakistan's Rabbani Khar also visited women representatives of the chamber of commerce, where she pledged that her country would give "special preference" to importing products produced by women businesses in Afghanistan.
Source: Khaama Press
Please click the following URL to read the full text of the original story:
https://www.khaama.com/pakistans-hina-rabbani-stresses-imperative-of-practically-engaging-with-afghan-government-35643/
--------
India May Restart 20 Stalled Projects In Afghanistan, Says Taliban: Report
December 01, 2022
Kabul: Taliban on Wednesday said that India may restart 20 stalled projects in Afghanistan.
The Ministry of Urban Development and Housing (MUDH) of Afghanistan said that the Indian charges d'affaires, Bharat Kumar, expressed India's interest in improving relations and the resumption of Delhi's projects in Afghanistan, reported Tolo News.
Mr Kumar made the remarks in a meeting with the Minister of Urban Development and Housing, Hamdullah Nomani.
The agency quoting the MUDH Ministry said, "It is expected that India will resume work on at least 20 projects in several provinces of the country. Mr Kumar made the remarks in a meeting with the Minister of Urban Development and Housing, Hamdullah Nomani, in Kabul.
"Projects they were implemented during the former government but were delayed due to political changes or other issues--they are now interested in resuming these projects, said Mohammad Kamal Afghan, a spokesman for the MUDH.
Economists said they believe that the implementation of the projects will facilitate job opportunities and boost development in the country, reported Tolo News.
"The resumption of these projects can also create job opportunities for the people and it can promote people's income and drive Afghanistan out of political isolation," said Darya Khan Baheer, an economist.
"The restart of these projects will decrease the level of poverty and unemployment," said Nazkamir Ziarmal, an economist.
The Pajhwok Afghan News meanwhile said that Urban Development and Land Affairs Acting Minister Mawlavi Hamdullah Nomani had urged the Indian business community to invest in the urban development sector of Afghanistan.
On its Twitter handle, the Ministry wrote that acting Minister Nomani met the charge de affairs of the Indian embassy in Kabul. During this visit, the acting Minister Nomani said: "The Indian businessmen can invest in the urban and housing sector, especially in the New Kabul City project".
Numani further added, "India implemented some projects in Afghanistan in the past, while some of them remained incomplete due to non-payment". He asked the Indian government to clear its stance about the incomplete projects as well.
"Projects they were implemented during the former government but were delayed due to political changes or other issues--they are now interested in resuming these projects, said Mohammad Kamal Afghan, a spokesman for the MUDH.
Locals believe that implementing the projects will facilitate job opportunities, decrease poverty and unemployment, and boost development in the country.
In addition, the visiting Indian envoy was requested to provide the Afghan nationals with scholarships for master's and PhD degrees in the civil and urban development field to increase Afghan engineers' capacity further.
Charge de affairs Bharat Kumar said the ministry could share information about all the mentioned projects. He will convey the message to the Indian government to solve their problems and make all projects ready to use.
I have received some details about the New Kabul Project, and I would talk about them to Indian investors as well, Mr Kumar said.
India had to stop all its projects once the Taliban took over the reins of power in August 2021. India then closed its embassy, which restarted functioning a few months ago. India still has security issues as several civilian projects, religious places and the Russian embassy were targeted recently by suspected Islamic State terrorists.
India, before the takeover of Afghanistan by the Taliban, had invested in developmental and capacity-building projects of around three billion dollars.
The significant projects India supported in Afghanistan were: The 42MW Salma Dam in Herat province was inaugurated in 2016 and is known as the Afghan-India Friendship Dam. The other high-profile project was the 218-km Zaranj-Delaram highway built by the Border Roads Organisation. Zaranj is located close to Afghanistan's border with Iran.
India built the Afghan Parliament in Kabul for $90 million. A block in the building is named after former PM Atal Bihari Vajpayee.
In 2016, Afghan President Ashraf Ghani and Prime Minister Modi inaugurated the restored Stor Palace in Kabul, initially built in the late 19th century. India also constructed one of its leading hospitals in Kabul.
India, in the past, has been supporting in developing the human resources, giving training to professionals and offering a considerable number o scholarships and admissions to Afghan students to study in India.
The Indian projects are mostly people-centric in all 34 provinces of Afghanistan. The projects were aimed at making Afghanistan a self-sufficient nation. India also operationalized air freight corridors and the Chabahar Port to enhance regional connectivity to Afghanistan.
Source: ND TV
Please click the following URL to read the full text of the original story:
https://www.ndtv.com/india-news/india-may-restart-20-projects-in-afghanistan-taliban-3567520
--------
North America
Muslim World League and Columbia University launch interfaith research lab
November 30, 2022
NEW YORK: The Muslim World League, in partnership with Teachers College, Columbia University in New York, on Wednesday launched the International Lab for Research and Leadership in Interfaith Collaboration and Coexistence.
Its founders said it aims to be a center of excellence for research, leadership and training to help combat all forms of hate and radicalization based on religion, race or ethnicity.
The Muslim World League has provided a grant to support the work of the lab, which will include the development of innovative, evidence-based training programs to address biases in communities and classrooms, along with the advancement of groundbreaking research to help foster and enhance coexistence and collaboration.
The officials who attended the signing ceremony for the project on Wednesday included Muslim World League Secretary General Mohammad Al-Issa, Teachers College President Thomas Bailey, Archbishop of New York Timothy Cardinal Dolan, Park East Synagogue Senior Rabbi Arthur Schneier, and members of the US Congress.
"The Muslim World League is dedicated to fighting hate speech and intolerance in all its forms," said Al-Issa.
Source: Arab News
Please click the following URL to read the full text of the original story:
https://www.arabnews.com/node/2208871/world
--------
Anti-Muslim Imagery Paraded Around Piscataway Mosque, Members Say
Nov 30, 2022
PISCATAWAY, NJ — Members of a Piscataway mosque said an anti-Muslim incident occurred there this past Saturday, where someone drove a truck in circles through the mosque's parking lot, showing graphic photos from the 2008 Mumbai terror attacks.
This took place Saturday afternoon at the Muslim Center of Middlesex County on Hoes Lane in Piscataway, according to Dina Sayedahmed, a spokeswoman for the New Jersey chapter of the Council on American-Islamic Relations (CAIR-NJ).
The truck circled the mosque parking lot at a time when more than 200 people were standing outside, having just concluded a religious service inside, she said.
PISCATAWAY, NJ — Members of a Piscataway mosque said an anti-Muslim incident occurred there this past Saturday, where someone drove a truck in circles through the mosque's parking lot, showing graphic photos from the 2008 Mumbai terror attacks.
This took place Saturday afternoon at the Muslim Center of Middlesex County on Hoes Lane in Piscataway, according to Dina Sayedahmed, a spokeswoman for the New Jersey chapter of the Council on American-Islamic Relations (CAIR-NJ).
The truck circled the mosque parking lot at a time when more than 200 people were standing outside, having just concluded a religious service inside, she said.
"I and the Township Council condemn all forms of religious bigotry," said Wahler in a statement posted on social media. "And are committed to protecting all places of worship in Piscataway."
The Mumbai attacks were a series of terrorist attacks that took place in November 2008, where members of a Pakistani Islamic terrorist organisation carried out a series of coordinated shooting and bombing attacks that lasted for four days across Mumbai. In total, at least 174 people were killed. Tension between Muslim-majority Pakistan and Hindu-majority India has remained extremely high since then.
"The intent behind this incident is clear. By targeting a Muslim center and deliberately circling its premises repeatedly, the perpetrators expect New Jersey's Muslim community to answer to, or even feel shame for, an event that occurred entirely independent of them," said CAIR-NJ director Selaedin Maksut. "Anti-Muslim intimidation tactics like these are unacceptable. They mirror the tactics used against American Muslims in the aftermath of the 9/11 terror attacks."
This happened at approximately 1:30 p.m. Saturday, said Sayedahmed. The truck circled the mosque parking lot twice, making stops throughout.
One member of the mosque got into their car and followed the truck out of the parking lot onto Rt. 18 north, and recorded the truck as it drove off, she said. However, the driver was not stopped.
"No one has the right to target religious minorities especially at their houses of worship with acts of harassment," added Maksut.
He also said the incident was reminiscent of this past August, when a bulldozer was included in the India Independence Day parade in Edison and Woodbridge. In India, some say the bulldozer symbolizes anti-Muslim sentiment and the destruction of Muslim homes by the government. The specific bulldozer used in the Edison/Woodbridge parade had large photos of Prime Minister Narendra Modi and Indian Chief Minister Yogi Adityanath, both Hindu nationalist figures. Adityanath specifically has been known for making inflammatory anti-Muslim comments.
Gov. Phil Murphy and both U.S. Senators Bob Menendez and Cory Booker all condemned the use of the bulldozer in the parade, calling on parade organizers to apologize. After several weeks of declining to comment, parade organizers the Indian Business Association, apologized.
Source: Patch
Please click the following URL to read the full text of the original story:
https://patch.com/new-jersey/newbrunswick/bias-intimidation-incident-occurred-piscataway-mosque-members-say'
--------
US Knew for Weeks Islamic State Leader Was Dead
Jeff Seldin
November 30, 2022
WASHINGTON —
Word from the Islamic State terror group that it had lost its second leader in less than a year came as no surprise to the United States, which had been aware of his demise for more than a month.
IS, also known as ISIS or Daesh, announced the death of Abu al-Hassan al-Hashimi al-Qurashi in a short audio statement Wednesday, with spokesman Abu Umar al-Muhajir saying, "He died fighting the enemies of God, killing some of them before being killed like a man on the battlefield."
U.S. Central Command later issued its own statement, confirming Abu al-Hassan was killed in mid-October in Syria's southern Daraa province by the Free Syrian Army (FSA), a rebel group that does not partner with the U.S.
But despite the lack of American involvement in the operation, U.S. officials were quickly brought in to examine the results.
Based on evidence at the scene and subsequent DNA testing, the U.S. determined the FSA had in fact killed Abu al-Hassan, a U.S. defense official, speaking on the condition of anonymity in order to discuss the intelligence, told VOA.
The U.S. official did not say why the U.S. refused to confirm the IS leader's death until now, nor have U.S. defense and intelligence officials explained how they were able to identify him though DNA, as Abu al-Hassan is not his real name but a nom de guerre.
Intelligence gathered by United Nation member states and published in July suggested Abu al-Hassan was most likely one of two people – Juma'a Awwad Ibrahim al-Badri, the brother of former IS leader Abu Bakr al-Baghdadi, or Abd al-Raouf al-Muhajir, who led the IS general directorate of provinces.
Other, earlier reports suggested Abu al-Hassan was Iraqi national Bashar Khattab Ghazal al-Sumaida'i, but Turkish officials confirmed in recent months that al-Sumaida'i as been in their custody since May, following a raid in Istanbul.
The London-based Syrian Observatory for Human Rights, a war monitoring group that was among the first to report on a series of FSA raids that led to the IS leader's death, on Wednesday gave his real name as Abd Al-Rahman Al-Iraqi.
Regardless, U.S. officials welcomed the announcement of the IS leader's death.
"We are pleased to see the removal of ISIS' top leaders in such quick succession," said White House press secretary Karine Jean-Pierre, noting the death of the group's previous leader this past February.
"We will build on these counterterrorism successes," she added. "We'll keep that pressure on for sure."
Abu al-Hassan's death, while not at the hands of the U.S., is the latest in a series of heavy blows to the terror group's leadership.
In addition to the death of Abu al-Hassan's predecessor in February and the arrest of al-Sumaida'i in May, IS has lost at least five other senior officials in the past eight months.
Hani Ahmed al-Kurdi, a key leader for the group's Syrian operations, was captured in a U.S. helicopter raid in June.
A U.S. drone strike in July killed Maher al-Agal, said to be the top IS official in Syria.
Then, in October, a U.S. raid in the northeastern Syria village of Qamishli killed Rakkan Wahid al-Shammri, a longtime IS operative and smuggler.
The U.S. followed up less than 24 hours later with an airstrike that killed two more top IS officials: Abu 'Ala, described as one of the terror group's "top five," and Abu Mu'Ad al-Qahtani, the IS official responsible for prisoner affairs.
Even before the most recent operations targeting IS, U.S. officials had said the terror group had essentially been forced into survival mode by "a major talent loss in ISIS senior leadership."
"[It] has caused them to focus on kind of branch expansion that has diffused the threat and, again, made the focus on the United States less acute than we had seen in prior years," National Counterterrorism Center Director Christine Abizaid told a conference this past September.
The terror organization has also seen its ranks thin considerably. Intelligence estimates shared by the U.S. and by U.N. member states indicate IS has gone from commanding possibly upwards of 20,000 fighters in the months after the collapse of the last remnant of its self-declared caliphate in Syria, to overseeing perhaps as few as 6,000 across Syria and Iraq.
The task of leading IS now falls to Abu al-Hussein al-Husseini al-Qurashi, named as the group's new emir in the same statement announcing Abu al-Hassan's death.
"He is one of the veteran warriors and one of the loyal sons of the Islamic State," said IS spokesman al-Muhajir.
According to JihadoScope, a company that monitors jihadi activity on social media, some IS followers have already began pledging their allegiance, or bay'ah, to the new leader.
Source: VOA News
Please click the following URL to read the full text of the original story:
https://www.voanews.com/a/us-knew-for-weeks-islamic-state-leader-was-dead-/6856999.html
--------
Beijing relies on Pakistan to project its might, Pentagon report notes
Anwar Iqbal
December 1, 2022
WASHINGTON: China relies on Pakistan for projecting its military and economic might as Islamabad remains a key Beijing ally, says the US Department of Defence.
The China Military Power 2022 report — released here on Tuesday — examines how China seeks to achieve its "national rejuvenation" objective by 2049 with the help of international partners, such as Pakistan.
According to the report, China ranks Pakistan as its only "all-weather strategic partner" while Russia as its only "comprehensive strategic partner with coordination relations".
During the last five years, China has expanded ties with both of its historical partners, Pakistan and Russia. Pakistan is also one of the places that China has likely "considered as locations for military logistics facilities".
China Military Power notes that Beijing ranks Islamabad as its only 'all-weather strategic partner', ahead of Moscow
The report notes that China's Belt and Road Initiative (BRI) is associated with pipelines and port construction projects in Pakistan. But with the help of those projects, China "seeks to become less reliant on transporting energy resources through strategic choke points, such as the Strait of Malacca".
Beijing also attempts to exploit the relationships it builds through BRI to pursue additional economic cooperation with participating countries, the report adds.
It recalls that in 2021, 10 Chinese nationals were killed, and 26 others injured when a suicide bomber targeted a workers' bus on its way to a BRI infrastructure development project in Pakistan.
The report, however, claims that China used this incident to "extend its ability to project military power to safeguard its overseas interests, including BRI, by developing closer regional and bilateral counterterrorism" cooperation with Pakistan.
Reviewing China's growing military and economic cooperation with Pakistan, the report notes how Beijing helped Islamabad complete the in-orbit delivery of the Pakistan Remote-Sensing Satellite.
China also vigorously pursues its policy of supporting a BRI host-nation's security forces through military aid, including military equipment donations.
The examples of China-Pakistan cooperation cited in the report include joint military exercises. It notes that in 2020-21, China participated in a joint naval exercise with Pakistan and also supplied strike-capable Caihong and Wing Loong Unmanned Aircraft Systems to Pakistan.
China also supplied major naval vessels to its partners, highlighted by Pakistan's 2015 purchase of eight Yuan class submarines for more than $3 billion. In 2017 and 2018, China sold four naval frigates to Pakistan.
Under the PLANMC, which supports the PRC's military diplomacy, Chinese forces have trained with Thai, Pakistani, Saudi Arabia's, South African, and Djiboutian forces.
Pakistan is also a member of the China-led Asia-Pacific Space Cooperation Organisation.
The "Military and Sec­urity Developments Invo­lving the People's Republic of China," commonly known as the China Military Power Report (CMPR), is a Congressionally mandated document. It serves as an authoritative assessment of China's military and security strategy.
The report follows the Pentagon's release of the National Defence Strategy in October, which identified China as the "most consequential and systemic challenge" to US national security and a free and open international system.
The military power report covers the contours of the People's Liberation Army's way of war, surveys the PLA's current activities and capabilities, and assesses its future military modernisation goals.
The Pentagon argues that China's foreign policy seeks to build a "community of common destiny" that supports its strategy to realise "the great rejuvenation of the Chinese nation".
Source: Dawn
Please click the following URL to read the full text of the original story:
https://www.dawn.com/news/1724020/beijing-relies-on-pakistan-to-project-its-might-pentagon-report-notes
--------
US defense chief urges Turkey not to launch Syria operation
01 December ,2022
US Defense Secretary Lloyd Austin spoke with his Turkish counterpart Hulusi Akar on Wednesday, expressing "strong opposition" to Ankara launching a new operation in Syria, the Pentagon said.
Turkey has carried out air strikes against semi-autonomous Kurdish zones in Syria and Iraq since a deadly Istanbul bombing it blames on Kurdish groups, and has threatened to launch an operation on the ground in Syria.
"Secretary Austin called for de-escalation, and shared the (Defense) Department's strong opposition to a new Turkish military operation in Syria," the Pentagon said in a statement.
He also offered condolences for those killed in the Istanbul attack, it said.
Austin's call with Akar came a day after the Pentagon's press secretary said a Turkish ground incursion into Syria would "severely jeopardize" gains made against the Islamic State jihadist group -- operations in which Syrian Kurdish-majority forces played the central role.
Source: Al Arabiya
Please click the following URL to read the full text of the original story:
https://english.alarabiya.net/News/middle-east/2022/12/01/-US-defense-chief-urges-Turkey-not-to-launch-Syria-operation
--------
US envoy: Iran not pursuing a nuclear weapon, military option still on table
30 November ,2022
US Special Envoy Rob Malley said Wednesday that Washington is using pressure that Iran has not experienced for "many, many years" to prevent Tehran from acquiring a nuclear weapon, which he claims Iran is not looking to do currently.
Malley also warned that the military option was still on the table if the US could not get Iran back into compliance with the now-defunct 2015 nuclear deal through diplomatic efforts.
The Biden administration has rolled out several rounds of sanctions as chances to reach a nuclear deal worsen. The indirect talks, which were being held in Vienna, have been stalled for months.
One of the key foreign policy priorities for Biden officials after they took office was to revive the Joint Comprehensive Plan of Action (JCPOA), which was brokered under former President Barack Obama.
"If none of that works, the President has said, and, as a last resort, he will agree to a military option because if that's what it takes to stop Iran from acquiring a nuclear weapon, that's what will happen. But we're not there," the special envoy for Iran said in a webinar with Foreign Policy.
Malley defended the Biden administration's efforts to keep diplomacy open and as an option. But he criticized the Trump administration and its maximum-pressure campaign that was implemented in a bid to try to get Iran back to the negotiating table.
"We owe it to ourselves to have an honest examination of how sanctions work and how they don't work," he said, adding that Iran would not be advancing its nuclear program the way it currently is if sanctions had worked.
Source: Al Arabiya
Please click the following URL to read the full text of the original story:
https://english.alarabiya.net/News/middle-east/2022/11/30/US-envoy-Iran-not-pursuing-a-nuclear-weapon-military-option-still-on-table
--------
Netanyahu slams Trump for inviting antisemitic guests to dinner
Ahmed Asmar
01.12.2022
Israeli Prime Minister-designate Benjamin Netanyahu on Wednesday condemned the dinner gathering for former US President Donald Trump in which he hosted two guests accused of being antisemitic and Holocaust deniers.
Netanyahu described Trump's meeting with white supremacist Nick Fuentes and rapper Kanye West, both of which accused of being antisemitic, as a "mistake," a first criticism in-public to Trump by Netanyahu who had strong ties with him during his tenure.
"President Trump's decision to dine with this person I think is wrong and misplaced. I think it's a mistake. He shouldn't do that," Netanyahu said in an interview with American journalist Bari Weiss.
Netanyahu, however, acknowledged how Trump was supportive to him while in power as the first US president to move the US embassy to Jerusalem but hoped that his "mistake not repeated."
Trump's meeting with the guests was also met with many condemnations from US congress members and Jewish groups in the US.
The criticism has also come from Trump's former senior officials. Elan Carr, the ex-president's special envoy to combat antisemitism, implored Trump to "condemn these dangerous men and their disgusting and un-American views."
"No responsible American, and certainly no former President, should be cavorting with the likes of Nick Fuentes and Kanye West. To placate antisemitism is to promote antisemitism," he wrote on Twitter.
Source: Anadolu Agency
Please click the following URL to read the full text of the original story:
https://www.aa.com.tr/en/americas/netanyahu-slams-trump-for-inviting-antisemitic-guests-to-dinner/2752777
--------
Southeast Asia
FATF re-rates China's progress on money laundering and terror financing
Nov 30, 2022
PARIS: The Financial Action Task Force (FATF) re-rated China's progress made on money laundering and terror financing.
The country has been upgraded on two recommendations - Recommendation 7 - Targeted financial sanctions related to proliferation and Recommendation 24 - Transparency and beneficial ownership of legal persons, read a Paris-based watchdog report.
The FATF Plenary adopted the mutual evaluation report (MER) of China in February 2019, its 1st enhanced follow-up report (FUR) with technical compliance re-ratings (TCRR) in October 2020, and its 2nd enhanced FUR with TCRR in October 2021. This 3rd FUR analyses China's progress in addressing the technical compliance deficiencies identified in its MER. Overall, China has made progress in addressing some of the technical compliance deficiencies identified in its 32016 Mutual Evaluation report, read the report.
China is now compliant on 9 recommendations, largely compliant on 22, and partially compliant on 5 Recommendations. The country remains non-compliant with four recommendations. China will remain in enhanced follow-up and will continue to inform the FATF of progress achieved in improving the implementation of its AML/CFT measures.
Given these results and China's level of effectiveness, the FATF placed China in enhanced follow-up. Patricia Godinho Silva, Legal Advisor, Bank of Portugal, conducted the analysis of the re-rating. Section 3 of this report summarises China's progress made in improving technical compliance. Section 4 sets out the conclusion and a table showing which Recommendations have been re-rated.
Re-ratings are given where sufficient progress has been made. Overall, the expectation is that countries will have addressed most, if not all, technical compliance deficiencies by the end of the third year from the adoption of their MER. This report does not address what progress China has made to improve its effectiveness.
Notably, China has China, in recent months, has blocked several bids to designate several terrorists based in Pakistan. Beijing put on hold a proposal to list Talha Saeed, son of Lashkar-e-Taiba (LeT) chief Hafiz Saeed. This bid was moved by India and co-supported by the US, under the 1267 sanction regime.
FATF is the global money laundering and terrorist financing watchdog set up in 1989 out of a G-7 meeting of developed nations in Paris.
Initially, its objective was to examine and develop measures to combat money laundering. After the 9/11 attacks on the US, the FATF 2001 expanded its mandate to incorporate efforts to combat terrorist financing.
Source: Times Of India
Please click the following URL to read the full text of the original story:
https://timesofindia.indiatimes.com/world/china/fatf-re-rates-chinas-progress-on-money-laundering-and-terror-financing/articleshow/95891518.cms
--------
Malaysian Rulers Urge Politicians To Stop Using Race, Religion To Incite People
Iman Muttaqin Yusof
2022.11.30
Malaysia's Council of Rulers called Wednesday on politicians to stop stoking hatred in the multireligious and multiethnic country, amid an increase in hate speech following the formation of a new and diverse "unity government."
Tuanku Muhriz Tuanku Munawir, the council chairman and one of the nine rulers in the Muslim-majority nation, put out the message after an Islamic party in the opposition accused Prime Minister Anwar Ibrahim of being an Israeli agent and one of the ruling parties of promoting Islamophobia.
"I hope that there will be no more leaders who raise racial or religious issues with the purpose of incitement," Tuanku Muhriz said in a speech after chairing a two-day meeting of the Council of Rulers at the National Palace in Kuala Lumpur.
"I call on the new government to foster a spirit of togetherness among multireligious, multiracial, and multicultural Malaysians."
The rulers are considered protectors of the people and hold mostly ceremonial roles.
The council convenes at least once a year to get an overview from the prime minister about the situation in the country. This body of sultans and governors, who represent Malaysia's 13 states, also selects the king on a five-year, rotating basis.
This was the rulers' second meeting this year since June. It came after Anwar was appointed prime minister last week.
The Nov. 19 general election in Malaysia resulted in a hung parliament, where no party or coalition secured a majority to form a government.
Anwar's multiracial Pakatan Harapan bloc won the most parliamentary seats, 82. Muhyiddin Yassin's Perikatan Nasional bloc, which includes the fundamentalist Malaysian Islamic Party (PAS), followed close behind with 73.
The Barisan Nasional bloc, which had led the previous government, was routed at the polls. But it allied with Anwar to form a "unity government" when Malaysia's king appointed him as PM to break the electoral impasse.
PAS has been taking digs at Anwar's Pakatan bloc since the new ruling coalition came to power on Nov. 24, analysts say.
Perikatan leader Muhyiddin had said he did not want to be part of a "unity government," which the king preferred and recommended.
Earlier this week, while apparently responding to criticism for running a racially divisive campaign, PAS President Abdul Hadi Awang accused the Democratic Action Party, a Pakatan constituent party, of Islamophobia.
"They [DAP] openly slander Islam, especially PAS," Hadi Awang said in a Facebook post Monday.
"PAS has become DAP's target due to PAS's progress in the 15th general election in acquiring the highest number of parliamentary seats of all individual parties," he added.
DAP's members are largely ethnic Chinese. Some people in the country's Malay majority distrust the Democratic Action Party, which they see as putting the interests of Malaysian Chinese above those of Malays.
Police are also investigating a PAS lawmaker, Hassan Saad, over allegedly defamatory claims he made alleging that the prime minister was an Israeli agent.
Meanwhile, there has been an uptick in hateful posts on social media since the election produced a hung parliament.
Several online posts implied that race riots, which occurred in 1969, may happen again if DAP became part of the government.
Tensions over race and religion and economic resentment are a persistent theme in Malaysian society. They reached their nadir in May 1969 when communal violence killed nearly 200 people, many of them ethnic Chinese, according to official figures.
The Malaysian Communications and Multimedia Commission (MCMC) and the police have summoned the management of TikTok, a short-video platform, to explain these incendiary videos about 1969.
"Spreading such content is an irresponsible act which may cause disharmony, division, feelings of hatred or prejudice in matters related with race and religion," the commission said in a statement Tuesday.
Such actions are a criminal offense, the commission added.
If the current situation continues, it could disrupt Anwar's ability to govern, political analyst Azmi Hassan said.
"We don't need this kind of sideshow. I think it's very timely the advice the Council of Rulers gave that this type of campaign … harping on race and religion should stop," Azmi, a senior fellow at the Nusantara Academy for Strategic Research, told BenarNews.
"Mostly, the blame lies on Perikatan leaders, who they think they should have formed the government. If they think they have the majority, they should wait until Dec. 19, when Anwar proposes the vote of confidence in the parliament."
Azmi applauded DAP's response to provocations by the Islamic party.
"DAP in this … they have been on the receiving end," Azmi said.
"And they have been restrained, which is a very smart move."
Another analyst, Jayum A. Jawan, noted that racial tensions have been part of the Malaysian fabric for a long time.
"It will take a lot of effort to undo the damage done over decades," Jayum a political science professor at Universiti Putra of Malaysia, told BenarNews.
Source: Benar News
Please click the following URL to read the full text of the original story:
https://www.benarnews.org/english/news/malaysian/malaysia-ruler-dont-incite-hatred-11302022105239.html
--------
Mat Sabu says worried about Muslims declaring one another infidels amid post-GE15 tensions
By Shahrin Aizat Noorshahrizam
01 Dec 2022
KUALA LUMPUR, Dec 1 — Parti Amanah Negara president Mohamad Sabu has expressed his concern about the prevalence of takfiri among Muslims, or the act of declaring one an infidel due to a difference in opinion, saying this would ruin the country.
According to Malay daily Utusan Malaysia, the Pakatan Harapan (PH) deputy chairman popularly known as Mat Sabu said Malaysia should heed the lessons from Syria, Iraq and Somalia.
"Recently, Malaysia has been plagued with unpleasant notions. I can criticise Umno, I can bash Barisan Nasional (BN), I can criticise or bash DAP... but don't let it come to the point we are declaring Umno as infidels.
"I am worried that the concept of takfiri is re-emerging now. We see countries in the world that are destroyed because of the belief of takfiri. Like we disbelieve them when they do not agree with us, we lead the people astray, eventually it happened like in Syria, in Iraq, in Somalia.
"If you look at Somalia for more than 40 years no solution could be reached; (for) Iraq and Syria it has been 10 years and (they) have yet to resolve the conflict between them, between tribes, tribes and sects," he was quoted as saying during a political ceramah in Rompin yesterday.
He also said that he has visited Baghdad, Iraq for a special conference and had seen how the country that has regressed despite having the fourth largest oil resources had been plagued with civil war caused by the conflict.
Mohamad cited recent videos of May 13 riots being repeated that were disseminated on a social media platform as an example and which should not happen again.
"Why stoop to that level of making accusations against the opposing party? It is dangerous in the short and long term," he added.
Mohamad's remark came amid PAS president Tan Sri Abdul Hadi Awang's comparison of himself with the Prophet Muhammad.
Hadi compared himself to the Prophet who had opposed the oppressive Meccan Quraisy tribe, drawing parallels to non-Muslims in Malaysia.
"Unfortunately today, when offered the position of prime minister, mentri besar, exco and so on, they accepted it and were willing to compromise their principles. Who do we actually learn from?
"So, the people who see and understand must reject these type of leader. Let's all support the Perikatan Nasional (PN) to make changes and build national leadership in a sustainable manner based on the guidance of Allah," the PN deputy chairman said.
Abdul Hadi also alleged PH leaders of being liberals who would legitimise issues that are prohibited in Islam, giving examples such as recognising the LGBT and bribes.
Prior to the election, Hadi had caused backlash for suggesting that non-Muslims are the roots behind corruption.
Yang di-Pertuan Besar of Negri Sembilan Tuanku Muhriz Tuanku Munawir decreed yesterday for political leaders to cease and desist from raising religious issues to flame public anger after chairing the 260th Conference of Rulers.
Source: Malay Mail
Please click the following URL to read the full text of the original story:
https://www.malaymail.com/news/malaysia/2022/12/01/mat-sabu-says-worried-about-muslims-declaring-one-another-infidels-amid-post-ge15-tensions/42918
--------
Umno Youth chief says unity govt not dominated by non-Muslim MPs
By Shahrin Aizat Noorshahrizam
30 Nov 2022
KUALA LUMPUR, Nov 30 — Umno Youth chief Datuk Seri Asyraf Wajdi Dusuki today denied claims that the current unity government consisting of Barisan Nasional (BN), Pakatan Harapan (PH) and Gabungan Parti Sarawak (GPS) as main components are dominated by non-Muslims.
He said there are 68 out of 135 lawmakers in the three main components represented in the unity government making the Malay-Muslim MPs the majority ethnicity.
"Therefore, if the unity government of Malaysia takes into account the three main parties PH, BN and GPS only, Bumiputera Muslim MPs are the largest, which is 68 people," he said in a statement on his Facebook page today.
He also added that Warisan and Gabungan Rakyat Sabah (GRS) contributed another six Malay-Muslim lawmakers to the list out of nine seats that were won in the last general election (GE15).
"So the total Muslim Bumiputera-Malay Members of Parliament in the Malaysian Unity Government are 74 people, which is the highest and the majority," he added.
Previously, former PAS turned BN Kuala Nerus lawmaker Datuk Mohd Khairuddin Aman Razali has backed the unity government led by PH chairman Datuk Seri Anwar Ibrahim by saying that Malay-Muslim lawmakers are the dominant force.
Previously, Perikatan Nasional deputy chairman Tan Sri Abdul Hadi Awang claimed in a statement that DAP was being extreme when it tried to deceive by presenting members, candidates and leaders from Malay Muslim faces but could not legitimise its ideology which contradicted Islam.
Source: Malay Mail
Please click the following URL to read the full text of the original story:
https://www.malaymail.com/news/malaysia/2022/11/30/umno-youth-chief-says-unity-govt-not-dominated-by-non-muslim-mps/42782
--------
Africa
Sudan sees protests against deal between army, civilians
Mohammed Amin
30.11.2022
KHARTOUM, Sudan
Thousands of Sudanese protesters marched on Wednesday against a deal between the civilians and the military, which is expected to be finalized soon.
The protests were organized by the resistance committee in the Omdurman city of the Khartoum state.
The protesters marched in front of the national parliament, raising slogans against the political deal between the military and civilians that brokered by the international community.
"We are against this compromise as we agreed with the resistance committees. We are sticking with our slogans which is no negotiation, no compromise, and no partnership with the military" Ahmed Hassan, a protester, told Anadolu Agency.
The police have used tear gas to disperse the protesters, but no injuries have been reported so far.
The military, who ruled the country since the coup in October last year, and the political coalition of the Forces for Freedom and Change (FFC) have agreed on a political framework deal early this month.
The two sides agreed on ending the military coup of October 2021 and put new rules for a civilian ruling in the country that will end by general elections.
FFC also said the talks between the two sides will continue to sign a final agreement soon.
It added that the deal will also address the issues of the transitional justice, reformation of the military and security sector, and the revision of the Juba Peace agreement that was signed in October 2020.
Source: Anadolu Agency
Please click the following URL to read the full text of the original story:
https://www.aa.com.tr/en/africa/sudan-sees-protests-against-deal-between-army-civilians/2752287
--------


URL: https://newageislam.com/islamic-world-news/osama-laden-chemical-weapons-terrorist-omar/d/128541
New Age Islam, Islam Online, Islamic Website, African Muslim News, Arab World News, South Asia News, Indian Muslim News, World Muslim News, Women in Islam, Islamic Feminism, Arab Women, Women In Arab, Islamophobia in America, Muslim Women in West, Islam Women and Feminism