New Age Islam News Bureau
29 Apr 2020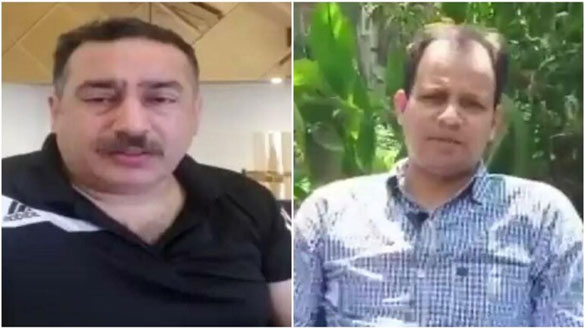 Both Anuj Sharma (left) and Tabrez Khan (right) said that Indian values are based on helping those in need.
---------
• 'Not Hindu Or Muslim My Blood Will Help Indian Recover': Delhi Plasma Donors Show Duty Above All
• 'Ulema From Different Schools of Thought In Pakistan Committed To Social Distancing At Mosques'
• Ramadan Drama with Jewish Characters Stirs Debate in Middle East
• British Government Asked to Account for Rise in Muslim Brotherhood Activity
• India Should Be Placed on Religious Freedom Blacklist, US Panel Says
• Muslim Community Donates 130,000 Cedis to COVID-19 National Trust Fund
• Indonesians In Aceh Pray at Mosque but Bring Their Own Rugs
• For Nepalis, Ramadan Is A Month Full of Communal Affairs: This Year's Ramadan Is Something They've Never Experienced Before
• Israeli Forces, Intelligence Officers, Storm House of Al-Aqsa Mosque Preacher, Report Says
--------
India
• 'Not Hindu Or Muslim My Blood Will Help Indian Recover': Delhi Plasma Donors Show Duty Above All
• BJP Served A Show-Cause Notice To Its MLA And Asked Him To Explain Why Action Should Not Be Initiated Against Him For Comments On Muslim Vendors
• Nadda warns BJP members after MLA asked people to avoid Muslim vegetable sellers
• Indian Actor Irrfan Khan Dies
------
Pakistan
• 'Ulema From Different Schools of Thought In Pakistan Committed To Social Distancing At Mosques'
• Yaum-e-Ali, Religious Gatherings Not To Take Place In Sindh This Ramadan
• Additional Inspector General Urges Prayer Leaders To Follow SOPs In Mosques
• Court seeks Sindh's response over restricting Taraweeh prayers in mosques
• Muslim Hands provides kits to motorway police
• President visits mosques to review guidelines during Tarawih
• Coronavirus: Sindh bans all religious gatherings in Ramadan
-----
Arab World
• Ramadan Drama with Jewish Characters Stirs Debate in Middle East
• Fuel Truck Bomb Kills 40 In Turkish-Controlled Northwestern Syria City
• Second version of Qur'an app launched
• Why street brawls surge in Egypt during Ramadan
• Celebrated Emirati Comic Duo Return To Tell A Unique UAE Story This Ramadan
------
Europe
• British Government Asked to Account for Rise in Muslim Brotherhood Activity
• Portland's Muslim Community Springs into Action to Feed The Needy During Coronavirus Crisis
• Etihad Airways will distribute Ramadan Boxes to those affected by COVID-19
• Estonia's Islamic community donates food to front-line staff
• Driver who rammed Paris police pledged allegiance to Islamic State - prosecutor
------
North America
• India Should Be Placed on Religious Freedom Blacklist, US Panel Says
• New York City Muslims Work to Build Food Security During Ramadan
• Islamist Hate Preacher Warns Muslims to Arm Themselves amid Coronavirus Threats
• CAIR Welcomes Arrest of Missouri Mosque Arson Suspect, Calls for Hate Crime Charges
• US Prison Denies Some Inmates from Fasting During Ramadan, Rights Groups Say
• Suspect charged in fire that destroyed Missouri mosque
• The Volunteers Helping Muslim Medical Workers Break Fast During Ramadan
• 11 Ways to Spend Your Ramadan While in Quarantine
-----
Africa
• Muslim Community Donates 130,000 Cedis to COVID-19 National Trust Fund
• Mozambique forces killed over 100 Islamist insurgents in past month: government
• Adunni Ade damns social media critics to identify as a Muslim
• I'm glad my son's recovery happened during Ramadan – Atiku
• South African police criticised for comments made while arresting Muslims who flouted lockdown
-------
Southeast Asia
• Indonesians In Aceh Pray at Mosque but Bring Their Own Rugs
• Malaysia Attended to Tabligh Cluster Nine Days Too Late, Says Health DG
• Pandemic has created new consumer trends
• We can't deal with an exodus of refugees
-----
South Asia
• For Nepalis, Ramadan Is A Month Full of Communal Affairs: This Year's Ramadan Is Something They've Never Experienced Before
• Bangladesh: Gazipur Mayo Orders Mosques Reopened Defying Government Curbs
• Muslim Congress Leader Rauff Hakeem Appealed to Airlift 160 Sri Lankans Stranded in Chennai.
• Suicide attack leaves 3 dead, 15 wounded in Kabul
• Afghan forces prevent rocket barrage on Kabul city
• Ask countries not to deport migrants amid pandemic
• 10 prison guards on hospital duty test Covid-19 positive
-------
Mideast
• Israeli Forces, Intelligence Officers, Storm House of Al-Aqsa Mosque Preacher, Report Says
• One million Yemenis risk losing shelter due to lack of funds: UN
• Is the American war in Vietnam anything like the Saudi war in Yemen?
• Israeli forces shoot, injure Palestinian teenager over alleged stabbing attack
• Gazans observe holy month of Ramadan under siege
• Leader approves vesting of Justice Shares owned by 49mn Iranians
• Iran's Zarif, Russia's Lavrov dismiss as 'impractical' Pompeo's anti-Iran UN bid
• Iran earned $5.8bn from agrifood exports in year ending March: Report
Compiled by New Age Islam News Bureau
URL; https://www.newageislam.com/islamic-world-news/not-hindu-muslim-blood-help/d/121706
------
'Not Hindu Or Muslim My Blood Will Help Indian Recover': Delhi Plasma Donors Show Duty Above All
Pooja Shali
April 28, 2020
After weeks of attempts to communalise the Covid-19 pandemic in India and divide people along religious lines, two plasma donors are now proving that the fight against coronavirus can only be Fought together.
With states across the country experimenting with plasma therapy as a viable treatment approach against Covid-19, India Today TV spoke to two plasma donors who are joining efforts to save their fellow countrymen.
Doctors have urged recovered Covid-19 patients to donate their plasma so it can be used for trials on more incoming cases. Plasma therapy is not seen as a cure but as a stop-gap measure by doctors to help patients recover.
He had heard appeals by Delhi CM Arvind Kejriwal and went to the Institute of Liver and Biliary Sciences on his own to contribute his plasma.
"I am so happy that after successfully donating plasma once, I am now ready to donate plasma for a second time also. On learning that I can donate plasma, my wife and my friend Shahid went to ILBS donate blood plasma. But my wife and Shahid were declared unfit for donation and I donated. The doctor said that five coronavirus patients will benefit from my donation."
Tabrez's sister, who also tested positive, had come from Saudi Arabia, and he and their mother got infected on March 18. After having tested negative on April 5, Khan was discharged and later his sister also recovered.
"I do not know if my plasma will be given to a Hindu or Muslim. But I am aware it will help an Indian recover. That is real patriotism," he told India Today TV.
Tabrez Khan also said, "I can say that I can offer all parts of my body, if required, to test any vaccines being developed. The beauty of India is that people following all religions live together. And the spread of infection should not be linked to a particular community. There have been all kinds of rumours doing the rounds to flare up communal tension; we should ignore these. Those who are attacking policemen or doctors are criminals."
"Rather than attaching them to a community, punish them hard as criminals. I just feel bad when there is an added pressure on a single community to prove their love towards the country each and every time," he added.
Speaking about his experience of donating plasma, Anuj Sharma said, "Only a needle prick was done to take plasma, it hurts for few seconds. But I felt no weakness and was sitting normally the next day with the same appetite and lifestyle as before. Due to coronavirus, so many people are presently suffering. I am happy to contribute to ongoing research that may help more patients. People need not fear plasma donation."
Anuj Sharma offered to donate plasma on the day of his wedding anniversary on the suggestion of his wife as a means to perform a good deed for society. He had earlier tested positive for Covid-19 and recovered successfully.
"Our Indian culture is about helping each other. It is a centuries-old tradition. I followed the ethos of social compassion," said Sharma.
https://www.indiatoday.in/india/story/-not-hindu-or-muslim-my-blood-will-help-indian-recover-delhi-plasma-donors-show-duty-above-all-1672249-2020-04-28
-----
'Ulema From Different Schools Of Thought In Pakistan Committed To Social Distancing At Mosques'
April 29, 2020
LAHORE: Ulema from different schools of thought in a joint statement have said they are committed to ensuring social distancing at mosques.
Leadership of Pakistan Ulema Council including Tahir Ashrafi and religious scholars including PirNaqeeb-ur-Rehman, Maulana AsadZikriya, AllamaZiaullah Shah Bukhari, Maulana Abdul Karim Nadeem, Allama Abdul Haq Mujahid, Maulana Hanif Bhatti, Maulana Ghulam Akbar Saqi, Maulana Asadullah Farooq, Qazi MatiullahSaeedi, Maulana Aseedur Rehman, PirAsad Habib Jammali and Maulana Abubakar Sabri in a joint statement said that mosque administrators are vigilant and committed to ensuring social distancing at mosques.
Masajid administrations are implementing SOPs agreed between Ulema and the government for permission to offer prayers at mosques during Ramazan. The clerics also pointed out that government is turning a blind eye to massive gatherings of people inside vegetable markets where people neither bother to wear facemasks nor keep social distancing.
The government should take notice of violation of preventive measures. Hafiz Tahir Ashrafi said clerics, Imams and Khateeb are responsible citizens and do not have intention to put any harm to people in the wake of coronavirus pandemic. He urged people to play a responsible role in the wake of coronavirus pandemic and ensure safety of one another by seeking preventive measures against coronavirus pandemic.
https://www.thenews.com.pk/print/651268-ulema-committed-to-social-distancing-at-mosques
-----
Ramadan drama with Jewish characters stirs debate in Middle East
April 29, 2020
DUBAI: A period drama about the trials of a Jewish midwife airing on MBC for Ramadan has drawn both criticism as an attempt to promote Arab "normalisation" with Israel and praise for a rare exploration of the Gulf's social history.
"Umm Haroun," a fictional series about a multi-religious community in an unspecified Gulf Arab state in the 1930s to 1950s, began airing on Friday as part of MBC's lineup for the Muslim holy month, when viewership typically spikes.
It comes at a time when several Gulf states have broken with the recent past and made overtures to Israel, with which they have found common ground in confronting Iran.
Some have also backed a US Middle East peace plan to move on from a conflict they say holds back the Arab world. Egypt and Jordan are the only Arab states that have peace deals with Israel.
An official from the Palestinian Islamist group Hamas, Basim Naeem, condemned the series before it aired and told Reuters that portraying Jewish people in a sympathetic light was "cultural aggression and brain washing."
Hamas, like other Palestinian groups, is vehemently opposed to the peace plan laid out by U.S. President Donald Trump's administration.
A group of regional organisations against normalising ties with Israel circulated a poster on social media urging viewers to boycott "the wicked drama," which was produced by Kuwait- and United Arab Emirates-based companies.
"People have spoken and judged before seeing it," said Muhammad. "The message focuses on the ways of Muslims centred on showing love, good intention and peace to non-Muslims."
MBC, the Arab world's largest private broadcaster, said that according to its data the show is the top-rated Gulf drama in Saudi Arabia for Ramadan and among the top five dramas across genres.
MBC spokesman Mazen Hayek said Umm Haroun's main message was a human one - a nurse who heals people "irrespective of any consideration."
"It also focuses on tolerance, moderation and openness, showcasing that the Middle East was once a region where acceptance of one another was the norm versus the twisted interpretation and stereotyping of the region by hardliners and extremists, over the last decades."
https://www.arabnews.com/node/1666801/lifestyle
------
British government asked to account for rise in Muslim Brotherhood activity
Damien McElroy
April 29, 2020
A senior British politician has today demanded answers over concerns at the rise in Muslim Brotherhood activities as a result of the coronavirus outbreak.
Andrew Rosindell, MP, has placed questions before Parliament over the increased levels of activities in both Britain and globally by the fundamentalist network.
There are concerns that the Islamist movement, that seeks to implement strict sharia law under a global caliphate, has taken advantage of the Covid 19 pandemic to spread its influence.
In a question to Priti Patel, the Home Secretary, Mr Rosindell, 54, asked what assessment she made of increased Muslim Brotherhood activity in Britain as a result of the economic downturn.
In a similar question to Dominic Raab, the Foreign Secretary, the Conservative politician asked for an evaluation of the "global economic downturn on trends in the level of recruitment activity by the Muslim Brotherhood overseas".
There are increased worries that the Brotherhood is growing in influence in Britain despite its close ties to terror groups such as Hamas. Last year the US gave serious consideration to designating the Muslim Brotherhood a terrorist organisation.
Mr Rosindell has been vocal in his stance against Britain harbouring Islamic extremists calling for a "ban" on radical organisations using the country as a base to raise funds and radicalise Muslims through community-based organisations and institutions.
"I think we have been far too soft for far too long. I think if we were to take action it would not only be the right thing to do but also the popular thing to do. It would show that the Conservative government is not going to tolerate such criminality within our own shores," he told the Conservative Party Conference in 2014. "We should take much firmer action and if necessary ban individuals and organisations from operating in this country."
Mr Rosindell's questions come after reports that there has been a drop in the number of referrals to Prevent, the organisation set up to de-radicalise religious extremists. In recent years there has been a rise in Islamic terrorism in Britain with a number of fatal attacks in London and Manchester.
Leading British-based Muslim Brotherhood sympathisers have been prominent in campaigns against the UK prime counter-extremism programme, the Prevent strategy.
There has been alarm at the Brotherhood's influence over the Muslim Council of Britain, an umbrella body of more than 500 Islamic organisations, that claims to be non-sectarian.
The Brotherhood, has exerted "significant influence" on the MCB and the Muslim Association of Britain, a government report stated. The inquiry led by Sir John Jenkins, a former British ambassador to Saudi Arabia and Iraq, was set up to look at how the movement's culture of secrecy made its influence in civil bodies hard to track. However, the government has still never published in full the findings of the full 2015 report on the Muslim Brotherhood commissioned by former Prime Minister David Cameron.
Last month Mr Rosindell, MP for Romford, Essex, asked what links there were between the European Institute of Human Sciences and the Brotherhood. The Home Office responded that it "keeps under review the views promoted and activities undertaken by the Muslim Brotherhood's associates in the UK".
There are growing concerns in Whitehall over increased Brotherhood influence after a relaxation on rules governing official contact between the Home Office and MCB. It is understood that there is also a close relationship between Public Health England, leading the fight against coronavirus, and its assistance in promoting MCB videos.
https://www.thenational.ae/world/british-government-asked-to-account-for-rise-in-muslim-brotherhood-activity-1.1012565
-----
India Should Be Placed On Religious Freedom Blacklist, US Panel Says
28 Apr 2020
A US government panel has called for India to be put on a religious freedom blacklist over a "drastic" downturn under the prime minister, Narendra Modi, triggering a sharp response from New Delhi.
The US commission on international religious freedom recommends but does not set policy, and there is virtually no chance the state department will follow its lead on India, an increasingly close US ally.
In an annual report, the bipartisan panel said that India should join the ranks of "countries of particular concern" that would be subject to sanctions if they do not improve their records.
"In 2019, religious freedom conditions in India experienced a drastic turn downward, with religious minorities under increasing assault," the report said.
It called on the US to impose punitive measures, including visa bans, on Indian officials believed responsible and grant funding to civil society groups that monitor hate speech.
The commission said that Modi's Hindu nationalist government, which won a convincing election victory last year, "allowed violence against minorities and their houses of worship to continue with impunity, and also engaged in and tolerated hate speech and incitement to violence".
It pointed to comments by the home minister, Amit Shah, who referred to mostly Muslim migrants as "termites", and to a citizenship law that has triggered nationwide protests.
It also highlighted the revocation of the autonomy of Kashmir, which was India's only Muslim-majority state, and allegations that Delhi police turned a blind eye to mobs who attacked Muslim neighborhoods in February this year.
"Its biased and tendentious comments against India are not new. But on this new occasion, its misrepresentation has reached new levels," a foreign ministry spokesman, Anurag Srivastava, said.
The state department designates nine "countries of particular concern" on religious freedom – China, Eritrea, Iran, Myanmar, North Korea, Pakistan, Saudi Arabia, Tajikistan and Turkmenistan.
Pakistan, India's historic rival, was added by the state department in 2018 after years of appeals by the commission, which was appalled by attacks on minorities and abuse of blasphemy laws.
In its latest report, the commission asked that all nine countries remain on the list. In addition to India, it sought the inclusion of four more – Nigeria, Russia, Syria and Vietnam.
https://www.theguardian.com/world/2020/apr/28/india-religious-freedom-narendra-modi-us?CMP=share_btn_link
-----
Muslim Community Donates 130,000 Cedis to COVID-19 National Trust Fund
Apr 28 , 2020
The presentation was made by the National Chief Imam, Sheikh Osman Nuhu Sharubutu, who led a coalition of Muslim groups to the Jubilee House on Tuesday for the presentation ceremony, which had Vice President Dr.MahamuduBawumia and Chief of Staff, Hon. Frema Osei Opare.
Spokesperson for the National Chief Imam, Sheikh Aremeyao Shuaib said the amount presented is the total donation made by various groups within the Islamic community.
Sheikh Aremeyao explained that following the setting up of the COVID-19 NationalTrust Fund by President Akufo-Addo to raise funds towards alleviating the devastating effects of the Coronavirus pandemic, the National Chief Imam also set up a committee made up of representatives of all Islamic sects to mobilise contributions for a collective Muslim donation to the Trust Fund.
Sheikh Aremeyao added that the presentation shows the Muslim Community's quest to contribute to government's humanitarian response to the COVID-19 pandemic.
Receiving the donation on behalf of the Trust Fund, a member of the COVID-19 National Trust Fund Board of Trustees, Dr. Ernest Ofori Sarpong, commended the Muslim community for the donation.
"On behalf of the Trustees of the National COVID-19 Trust Fund, I will like to say a very big thank you to the Ghana Muslim Community for this," said Mr. Sarpong.
"This is a great humanitarian gesture and we wish to thank them so much. I believe that from the good hearts that this donation is coming from, during this time of their fasting and prayer, we believe at the end of these prayers, this horrible pandemic would have subsided."
"We also plead and ask them that they should always remember Ghana in their prayers during this fasting period and ask that wherever the money came from, God will replenish it for them."
A member of the Board or Trustee of the COVID-19 Dr. Abdul SamedTanko and the Administrator of the Fund, Dr. Collins Asare were also present.
The National Chief Imam was accompanied by representatives of various Islamic sects and groups namely: Ahmadiyya Muslim Mission, Ahlusunnah Wal Jamaa, Shiat, Tijaaniya, Ghana Muslim Mission, Council of Zongo Chiefs as well as the Coalition of Moslem Organisations (COMOG).
https://www.graphic.com.gh/news/general-news/muslim-community-donates-130-000-cedis-to-covid-19-national-trust-fund.html
----
Indonesians in Aceh pray at mosque but bring their own rugs
1 HOUR AGO
The Aceh Ulema Council has allowed daily mass prayers as long as they follow previously announced health protocols, such as wearing masks and bringing their own prayer rugs.
In this Tuesday, April 28, 2020, photo made through glass window, Muslim women attend a Ramadan evening prayer at a mosque in Lhokseumawe, in Indonesia's Aceh province.
Hundreds of people join the Ramadan evening prayers at Baiturrahman Grand Mosque in the capital of Indonesia's far western Aceh province.
They come with masks, following a government appeal, but don't always wear them. Some worshipers bring their own prayer rugs after the carpets at the mosque were rolled up in March.
The scene stands in sharp contrast to past Ramadans. The mosque in Banda Aceh can accommodate thousands, and people flooded outside the mosque building in past years.
This year, not more than 400 worshipers have participated at the evening prayer. They were not packed together, but were not social distancing either.
Indonesia's Religious Affairs Ministry has issued guidance for people to worship from home, alongside government recommendations for working and learning from home.
The Indonesia Ulema Council also previously issued a fatwa advising against congregational prayers in areas where Covid-19 had spread uncontrollably.
It has recorded 4,002 cases with 370 deaths from the total 9,511 cases and 773 deaths across the country. The central government reported nine Covid-19 cases in Aceh with no deaths as of Tuesday.
Aceh is the only province in the world's most populous Muslim nation that practices Shariah law. The region's autonomy was a concession the central government made in 2001 as part of efforts to end a decades-long war for independence.
Some preachers are shortening sermons so worshipers won't stay long in a crowd, and some Aceh mosques are not allowing mass prayers, following the central government's guidance.
The Aceh council's deputy chairman Faisal Ali said the council only allowed congregational prayers in certain areas.
"For people who live in areas where the epidemic of Covid-19 is still under control, they can do the prayers that are held at mosques by limiting the duration," Ali said.
https://www.trtworld.com/life/indonesians-in-aceh-pray-at-mosque-but-bring-their-own-rugs-35857
-----
For Nepalis, Ramadan Is A Month Full Of Communal Affairs: This Year's Ramadan Is Something They've Never Experienced Before
April 29, 2020
On April 24, the hilal (crescent moon) marked the starting of the holy month of Ramadan for Muslim communities across the world. This year, however, with the shadow of the coronavirus pandemic, the festival's usual celebrations, which united families and friends, will not have the same charm.
"We have never ever observed Ramadan like this. For us, Ramadan is a month full of communal affairs. But this year, it's totally different," says Asgar Ali, a 50-year-old business person from Asan.
Every year on the ninth month of the lunar Islamic calendar, the 1.8 billion Muslims across the world observe Ramadan, also known as Ramazan. They believe that in this month, the Qur'an, the holy book of Islam, was revealed to Prophet Muhammad, the messenger of the Allah.
To observe this holy month, during the entire period, Muslims fast from dawn to dusk while also adhering to rules like not drinking, smoking, involving in sexual relations as well as not engaging in physical fights.
"Most of us fast during Ramadan as fasting, also known as sawm, is considered as one of the five pillars of Islam," says Ali. "While there are exceptions, like pregnant women as well as those who are ill and children who haven't reached puberty aren't encouraged to fast, but those who do fast try to do so sincerely as it is believed that our thawab, spiritual rewards, will get multiplied if we fast in this holy month."
Although the first meal before sunrise, suhoor, is eaten in the presence of immediate family members, iftar, the evening meal is a communal affair: friends and family members get together to break the day's fast, many even have their meals at the mosque. But due to the current pandemic, governments across the globe, including Nepal, have asked the Muslim community to hold iftar inside their premises only.
"Ramadan's true essence lies in celebrating in each other's company or in groups," says Mohd Irfan, 27, a social activist from Nepalgunj. "But this time we are doing only with limited family members and also with limited food, as we are trying to reduce going outdoors too much. Due to this, we aren't getting enough food items such as dates, sewai and RoohAfza, that are normally consumed during this month."
Similarly one of the specialities during this month is a special prayer called tarawih performed in the mosques. While the followers of Islam are expected to pray five times every day as salat (praying five times daily in a set form is also one of the pillars of Islam), during the month of Ramadan, tarawih is the additional set of prayers performed by the imam, a spiritual person who leads the prayers at mosques after the final prayer.
However, with the ongoing coronavirus crisis, the Muslim communities across Nepal are performing tarawih, where the one juz (section) of the Quran is recited, at their respective homes instead of the mosques.
"For us, because of the pandemic, our homes have become our mosques," says Kausar Shah, a former lawmaker. "We recite our prayers inside our homes in order to sincerely follow the rules of physical distancing. Similarly in some houses, the head of the families are reciting tarawih for the continuation of the special rituals performed during this holy month," says Shah.
Just like Nepal, other countries like Saudi Arabia and Indonesia are also strictly adhering to physical distancing rules to control the outbreak. However, to maintain their traditions and rituals, many Muslim communities from different parts of the world are using the internet to stay connected to each other and even to perform the rituals of Ramadan. For instance, some mosques in the United Kingdom are live streaming prayers. Similarly, many are using the video conferencing application Zoom to create their perfect iftar experiences in the virtual world, including sharing recipes and playing games.
A festival that used to be filled with cheers and laughter is today being observed inside closed doors, with only immediate family members. This year, Ramadan feels incomplete for many Muslims. "This year's Ramadan started without its charm and is really different from what we used to experience before the pandemic," says Irfan.
Even iftar is not the same now, says Ali. "Previously, I used to enjoy iftar because it united my community. Now we aren't inviting even our friends from our locality, as we have to follow the physical distancing rules," says Ali.
The mosques which previously used to hold communal prayers and iftars are largely empty as well. Likewise, there is also a worrying rise of islamophobia happening in the nation, with online portals and even influencers people, including journalists, taking the narrative of blaming the Muslim population for the spread of coronavirus outbreak in the country.
Regardless of the external pressure, the Muslim community is observing Ramadan, even if it lacks communal celebrations, as for them the holy month is also a time of self-discipline, spirituality, introspection, and appreciation for generosity and solidarity.
"Diseases don't have religion. We all need to maintain our solidarity in this difficult time and show compassion for each other. In all our duas [prayers], we are praying for our country to be free from the coronavirus," says Shah.
https://kathmandupost.com/art-culture/2020/04/29/for-nepalis-this-year-s-ramadan-is-something-they-ve-never-experienced-before
-----
Israeli forces, intelligence officers, storm house of al-Aqsa Mosque preacher, report says
28 April 2020
Israeli forces have raided the house of Sheikh Ekrima Sabri, the preacher of al-Aqsa Mosque in the occupied East Jerusalem al-Quds, a report says.
Israeli soldiers accompanied by intelligence officers broke into the residence, located in al-Suwananeighborhood on Monday evening, the Palestine Information Canter reported on Tuesday.
Sabri was then threatened by the raiders for his warning that if the Tel Aviv regime opened the al-Aqsa Mosque to Jewish settlers, the Department of Islamic Endowments in Jerusalem al-Quds would also open it to Muslim worshipers.
"Israeli intelligence forces came to my house and threatened me, saying that they will hold me responsible for any tension in al-Aqsa Mosque," said Sheikh Sabri in an interview with Turkey's official Anadolu news agency.
"I told them that suspending the reception of worshipers at al-Aqsa Mosque does not mean in any way that it is permissible to the settlers to enter it. Therefore, if the occupation police decide to open the Maghrabi Gate unilaterally to the settlers, then we will open the rest of the mosque's doors to worshipers," he added.
More than 750 Israeli settlers violate the al-Aqsa Mosque compound in the occupied Old City of East Jerusalem al-Quds under the tight protection of regime forces.
The al-Aqsa Mosque compound, which is currently closed due to the COVID-19 pandemic, sits just above the Western Wall plaza and houses both the Dome of the Rock and the al-Aqsa Mosque.
According to an agreement signed between Israel and the Jordanian government after Israel's occupation of East Jerusalem al-Quds in 1967, non-Muslim worship at the compound is prohibited. However, Israeli settlers and lawmakers frequently violate the agreement, storm the compound and observe their religious rituals there.
"Israel should not be allowed to take advantage of the coronavirus pandemic and attempt to impose new restrictions on al-Aqsa Mosque," the al-Aqsa preacher further said.
Nearly 270 Israeli settlers have stormed al-Aqsa Mosque in the occupied Jerusalem al-Quds in the latest provocation by the Israeli regime.
Earlier on Monday, Sheikh Sabri had said that several Israeli setter groups had called for taking advantage of the coronavirus lockdown to resume daily break-ins into the holy site.
Last month, the Department of Islamic Endowments in Jerusalem al-Quds announced that the al-Aqsa Mosque would remain closed and public worship suspended during the holy fasting month of Ramadan as a containment measure to prevent further spread of the contagious disease.
https://www.presstv.com/Detail/2020/04/28/624112/Palestine-Israeli-al-Aqsa-Mosque-Ekrima-Sabri
------
India
BJP Served A Show-Cause Notice To Its MLA And Asked Him To Explain Why Action Should Not Be Initiated Against Him For Comments On Muslim Vendors
Apr 29, 2020
Suresh Tiwari, BJP MLA from Barhaj constituency in Deoria district, was on Tuesday seen in a video clip telling people not to buy vegetables from Muslim vendors to avoid contracting coronovirus.
Taking note of Tiwari's comments, the BJP served a show-cause notice to him and asked him to explain why action should not be initiated against him.
"On the instructions of party chief Swatantra Dev, party general secretary Vidyasagar Sonker has issued notice to Suresh Tiwari ji and asked him to explain his conduct and why action shouldn't be initiated against him," said BJP's Manish Dixit.
Party spokesperson Chandramohan said the BJP had nothing to do with the statement. "The party's motto is 'sabkasaath, sabkavikas' -- something that all of us need to follow," Chandramohan said.
In the video, Tiwari is seen saying: "One thing you all should keep in mind. I am telling you openly. Do not buy vegetables from Mias (Muslim vendors)."
When contacted, Tiwari admitted that he made the remark, but clarified that he did so as a precautionary measure to protect people from getting infected with coronavirus after several of them had complained to him about the alleged role of Tablighi Jamaatis in spreading the deadly virus.
"On April 18, I was distributing masks among people in Deoria when I came across complaints from some of the people, who expressed fear that Tablighi Jamaatis were spreading infection in Deoria. Many of them were worried that Muslim vendors were infecting veggies with saliva from their mouths. As responsible MLA, I asked them (people) not to take the law into their hands to deal with situation but simply stop buying vegetables from them. Tell me what wrong I have done if I have said such things," Tiwari said.
Tiwari's remark drew sharp reaction from the Congress, with its UP chief Ajay Kumar Lallu flaying him and blaming his party for spreading hatred even at the time of the current pandemic.
"At a time when the country is reeling under severe crisis of coronavirus, BJP leaders are busy fanning hatred. It's a shameful act which has exposed the real face of BJP. The Tablighi Jamaatis, who are being blamed for spreading coronovirus, have set an example by offering to donate their plasma to cure patients. I am confident the countrymen will put up a united fight against Covid-19 by neglecting such comments," Lallu said.
https://www.hindustantimes.com/lucknow/bjp-mla-show-caused-for-comments-on-muslim-vendors-in-video/story-39rxEJTBcqyStEOObOXU4O.html
-----
Nadda warns BJP members after MLA asked people to avoid Muslim vegetable sellers
Apr 28, 2020
Bharatiya Janata Party (BJP) president JP Nadda has asked party members not to make "irresponsible" comments, a directive that came in the wake of an Uttar Pradesh legislator's remarks on Muslim vegetable sellers.
Suresh Tiwari, the BJP MLA from Barhaj constituency in Deoria district, stirred a controversy after he was purportedly heard telling people not to buy vegetables from Muslims in a video clip.
As a row raged, the BJP issued a show cause notice to Tiwari and sought his reply within seven days, according to people aware of the matter.
"The party president (Nadda) was extremely upset by the remarks of the MLA; he spoke to the Uttar Pradesh unit chief and said immediate action should be taken," said a person privy to the details.
The person quoted above said Nadda told office bearers to convey the message that the BJP will not tolerate any irresponsible remarks and that members should not violate the code of conduct.
In the video, Tiwari is heard saying: "One thing you all should keep in mind. I am telling you openly. Do not buy vegetables from mias (Muslim vendors)."
When contacted, Tiwari admitted that he made the remark. He tried defending himself by saying that he did so as a precautionary measure in order to protect people from the coronavirus disease (Covid-19) after apprehensions that the infection was spreading due to those associated with the Tablighi Jamaat, an Islamic movement of preachers.
A global religious congregation in New Delhi in mid-March, held by Tablighi Jamaat in defiance of official restrictions in the national capital's Nizamuddin area, has emerged as a hot spot of the fast-spreading infection.
https://www.hindustantimes.com/india-news/nadda-warns-bjp-members-against-making-irresponsible-remarks/story-BdMszGZ40PVVgr38fFFycM.html
------
Indian actor Irrfan Khan dies
April 29, 2020
Actor Irrfan Khan, 53, who was admitted to Mumbai's KokilabenDhirubhai Ambani Hospital with a colon infection, has died.
The internationally acclaimed actor battled a tumour for several months and returned to Mumbai some time ago after being treated in London, reports NDTV.
Yesterday, his spokesperson confirmed that he had been taken to the intensive care unit and later, dismissed rumours that Irrfan Khan had died.
https://www.thedailystar.net/india/news/indian-actor-irrfan-khan-dies-mumbai-53-1897840
-----
Pakistan
Yaum-e-Ali, religious gatherings not to take place in Sindh this Ramadan
Apr 28 2020
KARACHI: The Sindh government banned all religious gatherings during the holy month of Ramadan, which includes Yaum-e-Ali and Mehfil-e-Shabeenas, on Tuesday.
According to a notification released by the Home Department, Government of Sindh, all religious gatherings "being not farz shall not be held".
"All religious activities during the holy month of Raman with gathering of people like Majalis&Jaloos for Shandat-e-Imam AS (AS), Religious Rallies/Gatherings & Mehfil—e-Shabeenas being not far. shall not be held," read the notification.
Every year in Ramadan, thousands take part in processions and gatherings for Yaum-e-Ali. Rallies to salute Hazrat Ali (RA) on the day of his martyrdom are taken out across the country.
The decision has been taken by the provincial government in its bid to encourage social distancing to contain the novel coronavirus from spreading.
The development takes place as coronavirus cases in Pakistan surged past 14,500 on Tuesday and Sindh reported almost 5,300 cases of the infection.
https://www.geo.tv/latest/285409-sindh-bans-yaum-e-ali
------
Additional Inspector General Urges Prayer Leaders To Follow SOPs In Mosques
April 29, 2020
QUETTA: Maintaining social distancing and implementation on 20-point standard operating procedures (SOPs) will be ensured during Taraweeh prayers in the provincial capital in the wake of coronavirus pandemic, Quetta Additional Inspector General (AIG) Police Abdul Razzaq Cheema said.
"Quetta Police has prepared a checklist to review the implementation on 20-point SOPs in all mosques during Ramazan, while prayer leaders who violate orders regarding safety measures will be issued warning notice," he said, while speaking with different prayer leaders in Quetta.
The government and ulema had agreed on a 20-point agenda on mosques and congregations for the holy month of Ramazan.The AIG visited several mosques to review the safety measures there and expressed concern over the fast spreading Covid-19 in Quetta and other districts of Balochistan.
https://tribune.com.pk/story/2209392/1-aig-urges-prayer-leaders-follow-sops-mosques/
-----
Court seeks Sindh's response over restricting Taraweeh prayers in mosques
April 29, 2020
KARACHI -The Sindh High Court (SHC) on Tuesday issued notices to the Sindh Chief Secretary and other official respondents to furnish their response on a petition against the provincial government's "failure" to ensure implementation of the Centre's Standard Operating Procedures (SOPs) for congregational prayers.
Headed by Justice Muhammad Ali Mazhar, a division bench of the high court was hearing the petition that also sought to strike down the 18th constitutional amendment. It directed the respondents to come up with their replies by May 7.
During the course of the hearing, Justice Mazhar said the Standard Operating Procedures (SOPs) devised at a national level should be implemented, questioning why mosques were being shut in the province.
The petition argued that the Sindh Government was citing the 18th Amendment for not following the federal government's order, therefore, the amendment should be nullified under Article 199 of the Constitution.
It said the authorities were stopping worshippers from entering mosques and thus, depriving them of their constitutional right.
"We don't know what happens to the Sindh Chief Minister. He stands at night and says congregational Friday prayers will not be allowed in mosques. The police are booking worshippers under terrorism acts," the petition stated.
The petitioner stated before the judges that the Sindh Government doesn't act upon the Centre's directives, citing the 18th constitutional amendment and requested the court to declare it void.
At this, Justice Mazhar observed the SHC lacks the powers to strike down the constitutional amendment as it was up to members of the legislatures to enact legislation. He added the court could not issue any orders with regard to the amendment.
Justice Muhammad Ali Mazhar reprimanded the Sindh Government for "deviating" from the SOPs that were set by the president. "Why are all mosques being closed? Shouldn't only those mosques be shut where SOPs are not being followed?" the judge asked the Additional Advocate General.
Before the beginning of Ramazan, the Centre and top Islamic clerics agreed on holding congregational Taraweeh prayers in mosques across the country. It was decided that Taraweeh would take place with a gap of at least two people between worshipers.
However, the Sindh government held a separate meeting with Ulemas in the province and agreed on suspending Taraweehs for Ramazan to stem the increasing coronavirus infections.
The court, however, remarked that it was not authorised to nullify an amendment and that the lawmakers in the National Assembly should look into the matter. The petition was then withdrawn.
https://nation.com.pk/29-Apr-2020/court-seeks-sindh-s-response-over-restricting-taraweeh-prayers-in-mosques
-----
Muslim Hands provides kits to motorway police
April 29, 2020
Islamabad - The Muslim Hands International donated 1000 personal protection kits to the National Highway and Motorway Police (NH&MP).
The kits were handed over to Additional Inspector General of NH&MP JameelHashmi here in Islamabad by Manager Public Relations Muslim Hands Muhammad RehmanTahir.
On this occasion, Mr. Hashmi appreciated the services rendered by Muslim Hands in present pandemic and thanked its Chairman Lakht-e-Hussanin Shah for gifting personal protection kits to Motorway Police.
He also presented a souvenir of Motorway Police to the representatives of Muslim Hands.
The personal protection kits includes gloves, masks and hand sanitizers that would be given to motorway police personal performing their duties on national roads. The representative of Muslim Hands also handed over 1000 personal protection kits to Islamabad Police.
https://nation.com.pk/29-Apr-2020/muslim-hands-provides-kits-to-motorway-police
-----
President visits mosques to review guidelines during Tarawih
April 28, 2020
ISLAMABAD, Apr 28 (APP):President Dr ArifAlvi along with Member National Assembly Amir Mahmood Kayani on Tuesday night visited various mosques located in NA-61 Rawalpindi and reviewed the precautionary measures being adopted by mosques administrations during prayers and Tarawih.
The president visited Jamia Mosque Muhammaida Raza e Mustafa, Masjid-e-Aqsa Radio Pakistan, Masjid-e-GhosiaBoharWali Peshawar Road, and Jamia Hanfia Peshawar Road.
The president said that the implementation of anti-COVID-19 precautionary measures guidelines would have to be ensured both by the management of mosques and the people.
He said all segments of the society would have to play their role in preventing the spread of COVID-19 pandemic.
https://www.app.com.pk/president-visits-mosques-to-review-guidelines-during-tarawih/
-----
Coronavirus: Sindh bans all religious gatherings in Ramadan
April 28, 2020
KARACHI: The Sindh government on Tuesday banned all religious gatherings during the holy month of Ramadan, which includes Yaum-e-Ali and Mehfil-e-Shabeenas in a bid to curb the spread of coronavirus.
According to a notification released by the Home Department, Government of Sindh, all religious gatherings "being not farz shall not be held".
"All religious activities during the holy month of Raman with gathering of people like Majalis&Jaloos for Shandat-e-Imam AS (AS), Religious Rallies/Gatherings & Mehfil—e-Shabeenas being not far. shall not be held," read the notification.
Every year in Ramadan, thousands take part in processions and gatherings for Yaum-e-Ali. Rallies to salute Hazrat Ali (RA) on the day of his martyrdom are taken out across the country.
The decision has been taken by the provincial government in its bid to encourage social distancing to contain the novel coronavirus from spreading.
The development takes place as coronavirus cases in Pakistan surged past 14,600 on Tuesday and Sindh reported almost 5,300 cases of the infection.
https://www.thenews.com.pk/latest/651126-coronavirus-sindh-bans-all-religious-gatherings-in-ramadan
-----
Arab World
Fuel truck bomb kills 40 in Turkish-controlled northwestern Syria city
28 April 2020
More than three dozen people have lost their lives when a powerful fuel truck bomb explosion rocked a northwestern Syrian city seized by Turkish military forces and their allied militants in the aftermath of a cross-border ground offensive against the Kurdish People's Protection Units (YPG) militants more than two years ago.
The Turkish Defense Ministry, in a post published on its official Twitter page, said the attack took place in the city of Afrin, located more than 40 kilometers (24 miles) north of Aleppo, on Tuesday afternoon.
The ministry added that at least 40 people, including eleven children, were killed and 47 others wounded, blaming YPG militants for the explosion.
However, the so-called Syrian Observatory for Human Rights said at least 36 people were killed and nearly 40 others wounded when an explosive device inside the fuel truck went off at a market in the city.
On July 11 that year, more than a dozen people, including eight civilians, were killed and several others sustained injuries when a car rigged with explosives went off in the same northwestern Syrian city.
The Observatory said then the car bomb exploded near a checkpoint, manned by Turkish-backed militants of the so-called Free Syrian Army (FSA), at the entrance to Afrin, where vehicles were gathering to be checked.
The UK-based group added that 13 people were killed in the explosion, which shook Tirende residential area south of Afrin center. More than 30 people sustained injuries as well.
In March 2018, the Turkish military and allied Syria militants took control of Afrin after a two-month-long offensive, which dislodged YPG militants from the Syrian city.
https://www.presstv.com/Detail/2020/04/28/624129/Fuel-truck-bomb-kills-40-in-Turkish-controlled-northwestern-Syria-city
-----
Second version of Qur'an app launched
April 29, 2020
RIYADH — Minister of Islamic Affairs, Call and Guidance Sheikh Abdullatif Al-Asheikh launched on Tuesday the second version of mobile phone app for the Holy Qur'an.
The app developed for both Apple and Android users by King Fahd Holy Qur'an Printing Complex in Madinah was unveiled during a ceremony held at the ministry's headquarters in Riyadh.
Speaking on the occasion, Al-Asheikh said: "We are launching the second version of the Holy Qur'an application on the Android and Apple platforms with new features and updates keeping pace with developments in modern technologies in line with the Kingdom's Vision 2030."
"The application with its new updates — God willing — will serve all Muslims in the world in multiple languages, and will have a profound impact on disseminating the noble message of the holy book," he added.
Al-Sheikh stated that the King Fahd Complex for Printing the Holy Qur'an in Madinah is the largest press in the world for printing the Holy Qur'an, which is the Kingdom's gift to the Islamic world. It was established about 36 years ago.
He pointed out that the Ministry last year, at the beginning of Ramadan, launched the application "The Holy City of the Prophet" in its first edition, which was downloaded by more than three million people around the world.
The application supports 13 world languages and is supported by important features such as options for a quick search of chapters, verse numbers, words and references, making browsing through social networking sites simple and easy.
https://saudigazette.com.sa/article/592442/SAUDI-ARABIA/Second-version-of-Quran-app-launched
-----
Why street brawls surge in Egypt during Ramadan
LAILA MOHAMED
April 28, 2020
CAIRO: Abstaining from tobacco, caffeine, food and drink are some of the reasons why street brawls surge in Egypt during Ramadan, according to doctors.
Dr. Ahmed El-Zonfoly said the reason behind the anger, especially during daylight hours in Ramadan, was that people experienced withdrawal symptoms from "bad habits."
Muslims are forbidden to eat and drink between sunrise and sunset during the holy month and an absence of substances like caffeine and nicotine changed people's moods.
El-Zonfoly said that smokers felt lazy, inactive, hot-tempered, and lacked the desire to work when quitting nicotine. The more time they spent not smoking, the more they were subjected to stress and anxiety. But these symptoms, he added, were due to addiction rather than fasting.
Director of the Psychological Health Center in Cairo, Dr. Ashraf El-Kurdi, said it was not true that there was a link between an increase in tension and Ramadan.
Nervousness or anxiety had nothing to do with fasting but was more to do with people's unhealthy habits before and after Ramadan that were abruptly halted because of fasting.
He said studies had shown that water played a big role in how the brain functioned since the brain was 75 percent water. "Not drinking water during fasting could be directly responsible for the malfunction of brain cells, which leads to nervousness, anxiety and low concentration, and sometimes hallucinations."
Staying up late and a lack of sleep were among the reasons that also caused anxiety during fasting, he added. The lack of sleep could be because of work or watching too much TV late into the night. In this case daytime hours became harder to manage, especially with just a few hours in between iftar and suhoor. On the other hand, sleeping early yielded positive results including better moods, according to El-Kurdi.
Dr. Omar El-Tawansy told Arab News that when a fasting person was angry, stressed out or anxious, the excretion of adrenaline in the body increased in the blood, possibly 20 or 30 times higher than normal.
If this happened while fasting, arterial blood pressure might rise, increasing the amount of blood getting to the heart as well as increasing the heartbeat.
If a row erupted at midday or at the end of the day, the remaining supply of glycogen dissolved in the liver, body protein dissolved into amino acids, and more fatty acids were oxidized. These abnormal body functions raised the level of glucose in the blood therefore providing the body with more energy for fighting. "Thus, energy is wasted," according to El-Tawansy.
He added that an adrenaline rush could cause heart attacks or sudden death for some people as a result of high blood pressure, and the heart's need for oxygen. Anger could also cause strokes in those suffering from cardiovascular disease.
An absence of a moral and religious foundation was another factor that sometimes resulted in violent behavior, according to security expert Magdy El-Basiouny.
He said the reason behind fights and arguments between people during Ramadan could be attributed to a lack of religious foundation as well as a loose grasp of morals and ethics. He said that a surge in crime often ran parallel with the absence of a moral or ethical compass.
"Economic crises are unlikely to be a reason behind fights and arguments," he told Arab News. "It is rather the absence of social awareness and morals, a poor upbringing, and the absence of the roles of the family and school in bringing up youngsters."
Nutrition expert Nadine Shoukry advised people who were fasting to quit smoking and to drink large amounts of fluids between iftar and suhoor because fluids maintained proper brain function.
She also said people should cut down on the amount of food they ate at iftar in order to aid proper digestion which, she added, would lead to better arterial blood pumping throughout the day, decreasing nervousness and stress.
https://www.arabnews.com/node/1666546/middle-east
------
Celebrated Emirati Comic Duo Return To Tell A Unique UAE Story This Ramadan
Saeed Saeed
April 28, 2020
The anguish and challenges of the past are easier to swallow, while the modern advancements we readily take for granted can be shown through the use of absurd contrasts.
Aired daily throughout Ramadan on Abu Dhabi's Emarat TV, this charming sitcom takes us back to a small coastal freej (village) in 1969, two years before the formation of the UAE, as residents grapple with the arrival of electricity, education and a health care system.
As they venture into each home, mosque and small business of the freej, they either encounter problems or cause trouble and spend occasional bouts in the local jail.
"In the Emirati dialect, Kashe' denotes a quality that is confrontational or abrasive. That is pretty much my character," he says. "While my brother Gomaa plays Nashe', that word means something that is soft and soothing."
It is that quick-fire interplay that is responsible not only for much of the hilarity of the series, but for making both Zeid and Ali an indomitable comedic duo of Emirati television and film.
This is the fifth time both actors have collaborated over the past decade, with their previous appearance being last year's film Felfel Abyad and the 2018 Ramadan comedy series Dar Al Zain.
While enjoying the familiarity, Ali says their latest partnership stands out due to the detailed script written by Zeid. After co-writing the 2018 series HadekMadek, Zeid took the creative reigns completely for Khashe' Nashe' and penned all the episodes.
"While the comedy is still there, what really makes the work stand out is the stories and insights that people will get about life before the UAE was formed. It shows where we Emiratis derive our values from and that was from us living and working together through some difficult times."
Interestingly, these ideas came to Zeid while relaxing on a beach holiday in Thailand in 2018. It was there, he says, that he began outlining the story that has become Kashe' Nashe'.
This time around, Zeid says he wanted to dig deeper and deliver more than mere laughs. With the UAE celebrating its 50th anniversary next year, he wanted his story and characters to imbue the resilience and dynamism that powered the country's growth.
"There is a lot of messages here," he says. "I talk about how even before the UAE was formed, our leadership was forward-thinking and ensured that each freej got electricity, a good education and medical facilities. The show also looks at the importance of relationships, from the way we treat our elders to the rights of women, and how such values remains part of our lives today."
To achieve that goal, Zeid knew he needed a cast and set to match his ambition. A real life coastal freej was assembled in two months last year on a patch of Ras Al Khaimah beach complete with dhows, plants, wildlife ranging from camels to horses and old pick-up trucks.
With the exception of 10 days of inclement weather, Zeid recalls the 60-day shoot went relatively smoothly. Best part of all, he says, was that each day was a learning experience.
Zeid's affection for his co-star Ali, in addition to sharing screen time with veterans Ahmad Al Ansari (who plays the freej's mayor) and Bahrain's SalwaBekheet, who is his onscreen mother, shows that the freej mentality in the UAE remains strong nearly 50 years on.
"Every day I spend with these amazing people I grow more," he says. "The show may have two actors in the lead role, but each actor is the star of their own scenes. This is why the show works."
https://www.thenational.ae/arts-culture/television/celebrated-emirati-comic-duo-return-to-tell-a-unique-uae-story-this-ramadan-1.1012293
-----
Europe
Portland's Muslim community springs into action to feed the needy during coronavirus crisis
Today 1:27 PM
With the coronavirus crisis causing a widespread disruption of the Oregon economy, Portland's Muslim Educational Trust has kicked its food-delivery program into overdrive.
"With this crisis our executive committee decided to increase it to 500," said Wajdi Said, the MET's president and co-founder. "We thought about how we can reach the most vulnerable members of our community by supporting them and caring for them."
"We are fasting and we are focused," Said said. "Ramadan is supposed to be the wisdom of God, the wisdom of Allah, so we can feel how the poor and the needy are feeling.
"This is a good time for us to reflect and enhance our healing process, our togetherness, our caring, our responsibility that no one shall believe unless you love for your sister and your brother what you love for yourself."
Aid goes to Muslims and non-Muslims alike, and relief boxes have been shipped as far north as Southwest Washington and as far south was Woodburn.
"Color of skin doesn't matter," Said said. "Your faith, whatever nation or tribe you belong to, it doesn't matter. Need is need, you know?"
Which might explain why the MET's original intent to serve 500 at first was increased to 875, Said said. The need keeps growing, and the response keeps coming.
At the start of the week, 1,250 food boxes had been delivered during the last month. They have been targeted to those who have lost their primary sources of income during during the pandemic.
Boxes go out daily. Each contains staples such as flour, rice, beans, pasta, sugar, potatoes, onions, carrots, peanut butter, canned fish such as tuna or sardines, powdered milk, canned fruits, and vegetable oil. Boxes are intended to help feed a family of five for at least 30 days.
The drive is funded by donations. Among the companies and groups that have helped, Said said, are local food distributors the Sunshine Division and Bob's Red Mill.
"Some other interfaith and faith-based communities have helped to support our food drive," he said. "But 90 percent of the money comes from Oregon Muslims because of alms-giving in our faith."
"This is a process of healing and unifying," Said said. "I am healing myself and I am healing my dear brother and sister, irrespective of their denomination."
https://www.oregonlive.com/teamoregon/2020/04/portlands-muslim-community-springs-into-action-to-feed-the-needy-during-coronavirus-crisis.html
-----
Etihad Airways will distribute Ramadan Boxes to those affected by COVID-19
Tatiana Rokou
29 Apr 2020
ABU DHABI, UNITED ARAB EMIRATES - Etihad Airways has launched the Etihad Ramadan Box initiative to bring Iftar meals to homes across the UAE. The airline has partnered with Zomato, the world's largest restaurant search and discovery platform and one of the UAE's largest food delivery apps, to deliver these meals to those affected by the novel coronavirus (COVID-19) including hospitals, essential workers, volunteers and communities in need.
Those affected by the COVID-19 pandemic, through sickness or financial impact, can request one of the Etihad Ramadan Boxes through the Zomato app, and a freshly prepared meal will be delivered directly from Etihad's Catering facility in Abu Dhabi.
Robin Kamark, Chief Commercial Officer, Etihad Aviation Group, said: "Ramadan is a traditional time for gathering with friends and family, but with the impact of COVID-19, this year it is more challenging to do so. In these extraordinary times, we wanted to bring a touch of our signature inflight hospitality to our local community and recognise the incredible efforts of the UAE's medical staff and essential workers."
As well as the ready prepared meals delivered by Zomato, selected volunteers, healthcare and key workers will also receive a box filled with fresh ingredients and an easy to follow recipe. These Etihad Ramadan Boxes offer the opportunity to create themed cuisine from around the world easily at home and have been designed and curated by Etihad Airways' world-class Inflight Chefs.
Mr Kamark adds: "Our Inflight Chefs come from all over the world bringing a wide range of cuisines and cooking traditions into the mix. This diversity is celebrated in the Etihad Ramadan Boxes which will showcase a range of international flavours ready to be enjoyed at home."
Karl Baz, Regional Director, Zomato, said: "Zomato's motto is 'Better food for more people', and we have always been very committed to being the type of company that gives back to the community. We understand that there are people that may need some support right now, and this partnership with Etihad Airways is one more way we can do our best to help. Whether a person is sick, recently lost their job, or simply needs a helping hand, the Etihad Ramadan Boxes are offered purely on trust, and are a gesture of goodwill at this challenging time. We are proud to be working with Etihad Airways on this."
Etihad's Inflight Chefs are also offering their culinary expertise in a series of cooking demonstrations featured in the Etihad @ Home series on the airline's social media channels. The chefs have demonstrated quick and easy recipes to bring tastes from around the world to the comfort of people's home.
https://www.traveldailynews.com/post/etihad-airways-will-distribute-ramadan-boxes-to-those-affected-by-covid-19
-----
Estonia's Islamic community donates food to front-line staff
Today at 11.34
The Estonian Islamic Center (EestiIslamiKeskus) in Tallinn has been donating food to frontline workers and those in need during the coronavirus pandemic.
The month of Ramadan is about a week old at present, a time when charity and helping others is in particular focus in the Islamic faith, which also helped prompt the initiative, ETV current affairs show "Aktuaalnekaamera" reported Tuesday evening.
The center handed over a car trunk-full of rice meals to Alarm Center (Häirekeskus) employees, as well as to volunteer-staffed Toidupank, pharmacy staff and ambulance crews, the report said.
During the month of Ramadan, observant Muslims can only eat or drink, including water, after sunset. Breaking the fast is traditionally done at a communal meal, which this month has seen numbers as high as 500 at the Islamic center, the report said.
Mohammad Imran told "Aktuaalnekaamera" that he has been preparing meals during Ramadan for nine years now; with this year's initiative he has been preparing food at night, either alone or with helpers, and delivering it during daytime hours.
"It usually takes four to six hours, depending on the amount. Today there has been around 500 boxes of food, which took me six hours to make," he said.
Food donations to key staff and the needy have been a common occurrence during the pandemic, and have offered many a chance to sample foods they might not otherwise have done.
https://news.err.ee/1083445/estonia-s-islamic-community-donates-food-to-front-line-staff
-----
Driver who rammed Paris police pledged allegiance to Islamic State - prosecutor
APRIL 28, 2020
PARIS (Reuters) - The driver who rammed his car into two police motorcyclists in a Paris suburb had pledged allegiance to Islamic State, the French anti-terrorism prosecutor said on Tuesday.
A 29-year-old French man was arrested at the scene of Monday's attack, which occurred in the suburb of Colombes, in the northwest of the city, and was in custody, the prosecutor's statement said.
The officers had been stationary and conducting routine checks when they were hit by a black BMW. A police source said both policemen had both their legs broken. One also had his wrist broken and suffered a serious trauma to the head.
A letter containing a pledge of loyalty to Islamic State was found in the suspect's car, as well as a knife, the prosecutor said. It did not say if he had been formally charged.
The man, who has not been named, was not previously known to intelligence services, according to the department's statement. A police source said the man had no recent convictions.
Footage from the scene on the website of daily newspaper Le Parisien showed one police motorbike sandwiched between the crumpled bonnets of a police car and the BMW. Debris from a second bike lay strewn on the road.
Bombings and shootings on November 13, 2015, at the Bataclan theatre and other sites around Paris killed 130 people, and in July 2016 an Islamist militant drove a truck through a crowd celebrating Bastille Day in Nice, killing 86.
https://uk.reuters.com/article/uk-france-security/driver-who-rammed-paris-police-pledged-allegiance-to-islamic-state-prosecutor-idUKKCN22A2AC?rpc=401&
------
North America
New York City Muslims work to build food security during Ramadan
April 28, 2020
Aysha Khan
(RNS) — It's the holy month of Ramadan, and AsadDandia is spending his days fasting from food. But equally important to his practice of his faith, he says, is ensuring that his neighbors in Brooklyn have food to put on the table amid the coronavirus outbreak.
Dandia, a community organizer, will spend the next few weeks coordinating deliveries of gift cards for Muslim-owned businesses to working-class immigrant families in the area.
"We wanted to build a system where we could support our local businesses and sustain these families, who already live at the margins, for as long as we possibly can," said Dandia, co-founder of the volunteer group Muslims Giving Back, housed at Sunset Park's immigrant-majority Muslim Community Center. "These families can give business to their local stores while getting the groceries and household products they need."
From Brooklyn to the Bronx, Muslim community organizations are building mutual aid networks to support Muslim families who need food, particularly during Ramadan, when many families rely on free nightly meals from local mosques.
Muslims Giving Back is purchasing gift cards to Arab, South Asian and Muslim-owned pharmacies, supermarkets and halal meat markets — some Muslim families in the area only eat zabiha halal meat, Dandia noted — at discounted bulk rates. Volunteers will then distribute $150 worth of cards to families in Brooklyn and Queens.
Current partners include Balady Halal Food Market, Nile Ridge Pharmacy, Met Fresh Supermarket, Dwip Bangla Grocery and Green House Deshi Supermarket. All are based in Brooklyn's Bay Ridge and Kensington neighborhoods, with large numbers of Muslim families — particularly those with immigrant, working-class, refugee and undocumented statuses — that are no longer earning the income they need to sustain themselves.
Dandia also partnered with Shahana Hanif, a Brooklyn-based community organizer running to be the first Muslim woman on the New York City Council, to connect with Bangladeshi families. Hanif has been independently coordinating a similar effort to combat food insecurity among local Bangladeshi families, particularly the elderly, single mothers and people who have lost family members to the disease.
"This is a collective effort, centering people who are most impacted and organized by people who are impacted," Dandia said. "We're not reaching out to the government, we're not reaching out to millionaires. This is a community coming together, with all of us pooling our resources to support one another."
Every day during Ramadan, he and other volunteers are distributing free iftar meals in Bay Ridge to anyone in need. Muslims Giving Back is also coordinating weekly homeless feedings, meal deliveries to first responders and families in need, as well as a weekly food pantry in Brooklyn, where 50 families that are currently out of work and unable to file for unemployment come to pick up food regularly.
New York City is home to about 22% of America's Muslim population, as well as close to 100,000 Muslim-owned businesses and nearly 300 mosques. Particularly during Ramadan, when many mosques offer communal iftar meals nightly, those mosques have often served as a place where New Yorkers in need could eat a free meal.
But with mosques closed due to the outbreak, which has devastated the city and taken a disproportionate toll on people of color, that's no longer the case.
"One of Ramadan's most noble callings is to feed the hungry," New York City Mayor Bill de Blasio told media. "And it's a crucial part of how the holiday is celebrated, to remember to be there for those in need. And that is now harder than ever."
Every day at 7 p.m., the Muslim Community Center and Muslims Giving Back hold a Ramadan food drive in Brooklyn's Bay Ridge neighborhood. Photo courtesy of MCC
Since mid-March, a record 26.5 million Americans have filed for unemployment benefits. The crisis of lost income is particularly acute for many Muslim families in the city: Muslims comprise close to 40% of the city's taxi drivers and well over half the city's street food vendors.
According to the Street Vendor Project, street vendors, day laborers, delivery workers and other precariously employed workers are generally ineligible for small-business relief funds, paid sick leave, unemployment insurance and other government benefits.
Volunteers with the Queens Mutual Aid, which began in late March, are also working to provide groceries to Muslim families in need. The group, which serves to connect neighbors who can help with neighbors who need help, receives 25 requests for aid a day.
"When Ramadan was around the corner, we realized that we really need to amplify what we're doing to make sure we're hitting everyone in need," volunteer Rima Begum said. The group plans to partner with local mosques to cover 100 Muslim families' needs for 30 days.
"I think as Muslims, one of the biggest tests for us is service to the community," Begum, a social worker, said. "During Ramadan, we're fasting, but we're also reflecting and asking ourselves if we're doing enough for those around us."
Queens Mutual Aid will soon be delivering prepared meals to those in need through a partnership with the Ahmadi Muslim-led nonprofit Humanity First and Queens mosque Bait-uz-Zafar, which have been serving 800 packaged meals daily for the past three weeks.
"This has been a really trying few months for the community in Queens," said AsadBajwa, public affairs director for the Ahmadiyya Muslim Community's Queens chapter at Bait-uz-Zafar mosque. "We've been here in this community for 100 years now. It's been a blessing to be able to help alleviate our neighbors' food insecurity."
Members of the New York Police Department join volunteers from Humanity First and Bait-uz-Zafar mosque to distribute meals in the Queens borough of New York. Photo courtesy Bait-uz-Zafar
Last week, in preparation for Ramadan, Humanity First and Bait-uz-Zafar delivered a month's worth of staple groceries to 50 Muslim families. The organizations say they've seen a spike in volunteers since Ramadan began.
"This is something our faith teaches us, that we should give our wealth, time and whatever we have to donate," Bajwa said. "One of the ways we're doing that is volunteering our time, taking an extra risk to our health, by coming out and distributing meals."
The Arab-American Family Support Center has halted its usual community iftars and shifted toward distributing emergency aid to New Yorkers in need. During the first weekend of Ramadan, Yemeni-owned merchants including Keyfood and Saba Live Poultry joined forces with local Islamic nonprofits to give away hundreds of bags of food to Muslim families in the Bronx and in Brooklyn to help sustain them during Ramadan.
In one week, the Islamic Center at New York University, Penny Appeal USA, The Zakat Fund of NYC and the Imam Mahdi Association of Marjaeya have together raised over $300,000 to provide relief to families of all backgrounds facing financial hardship.
"In New York City and surrounding areas, there is severe food shortage, unemployment and homelessness that is plaguing our community," ICNYU associate chaplain Faiyaz Jaffer said. "During the course of these days and nights of the holy month, which emphasizes community, brotherhood and sisterhood, there is an opportunity for us to collectively come to the support of others during their time of need."
https://religionnews.com/2020/04/28/new-york-city-muslims-work-to-build-food-security-during-ramadan/
-----
Islamist Hate Preacher Warns Muslims to Arm Themselves amid Coronavirus Threats
by Hesham Shehab
April 27, 2020
He spins the bitter realities of failing, backward Middle Eastern communities and nations into narratives of victimization that fuel resentment towards the West, Jews and Israel.
One of Chicago's most notorious anti-Semites has responded to the COVID-19 outbreak in a despicable manner: by blaming Jews and encouraging Muslims to arm themselves against their neighbors.
During a series of alarmist rants on his YouTube channel, Imam Omar Baloch simultaneously declared that the coronavirus may be a Zionist-American plot to throttle the growth of the Chinese economy, a punishment from Allah and the work of shadowy secret societies.
However, Baloch's most concerning online lecture occurred on March 22, when he suggested that the coronavirus presents a "very good opportunity" for Muslims to "purchase firearms" ahead of confrontations with their Trump-supporting neighbors.
"Muslims need to start having systems of security, systems of firearms," he began. "You have to really think about the safety of your Muslim community. ... If you live in the suburbs, the neighbor to your right and neighbor to your left, those that love Trump don't necessarily love you that much. This is a very good opportunity," the imam said, adding that these same "neighbors" will become desperate after six to seven months of "financial crisis."
An anti-vaxxer and doomsday-prepper, Baloch was born in Chicago and preached there for much of his adult life, only recently relocating to Abingdon, Md., to work at the Al Falah mosque. He studied at Georgetown University in Washington, D.C., and also attended Al-Azhar University in Egypt and the Jamia ThulAhlul Hadith in Pakistan.
Despite his international education, Baloch proliferates outlandish and implausible theories based on medieval superstitions, reflecting a curious paranoia common among extremists of every persuasion.
To make the case that the coronavirus is a sadistic plot engineered by the West, Baloch sought to legitimize previous conspiracies as a matter of fact.
During a March 13 YouTube video titled "Corona Virus Man Made or God Sent?" Baloch explained that there are two types of conspiracies. According to the imam's stunted logic, the first kind is observably "clear," such as the Sept. 11, 2001 terrorist attacks. "It doesn't fit the facts," said Baloch, arguing that the deadly plot was carried out to show that "Muslims are terrorists."
The imam refused to "give a dissertation" to prove his 9/11 conspiracy, which was premised on a single observation: "You can't have a plane hit a building, and then it just comes tumbling down as if there was a bomb attached to it," he reasoned.
Baloch shared his hypothesis regarding the pandemic. "The economy was about to fall, and then they needed some way to deal with the falling economy," he reasoned. "So, there was no better timing than to come up with this coronavirus and then blame it for everything that happens."
The imam continued, reading a Foreign Policy headline: "'Beijing Knows Who to Blame for the Virus: America.' Okay, but we know who's behind [it]," he said, referring to a Jewish conspiracy. "It's not innocent America. In a sense, you know, we know who really is behind it."
As an Islamic scholar, Baloch attempted to provide theological justification for his superstitions, offering "conspiracy theories from a Koranic perspective," and asking, "Does not Allah punish people with plagues?"
Baloch pointed to the Divine nature of the coronavirus. "It's like from Allah: 'This will not affect kids.' And it's from Allah that it's affecting so many people that are very famous. Like Trump's daughter now has it. The Supreme Ayatollah—they have it," said Baloch, ostensibly referring to Ivanka Trump and Iranian Supreme Leader Ayatollah Ali Khamenei, neither of whom is afflicted with COVID-19.
Next, Baloch identified two corrupt and immoral tribes mentioned in Islamic eschatology and known as Yājūj and Mājūj (Gog and Magog). Contrary to scholarly consensus, he claimed that these tribes are "a specific variation of the Jews" who are "behind" the coronavirus.
However, Baloch was careful not to attribute too much power to infidels. "Once you release [coronavirus], where it goes is in the hands of Allah," he said. The imam argued that the pandemic could have been an experiment that went awry, as with the popular fiction novel Jurassic Park. "If you play with nature, you don't know what it will do," he insisted.
To the Maryland imam, the United States and Israel are inseparable, with the Zionist hidden hand perpetually manipulating American politics. Indeed, Baloch sees Jewish perpetrators behind every global plot. "Poor U.S. is used as a smokescreen by Yājūj and Mājūj," he said, using his erroneous euphemism for Jews. "Yājūj and Mājūj does 9/11 and puts America in the middle ... and over here it does coronavirus and puts America in the middle."
Having established a Jewish connection—however, flimsy—to the virus, Baloch naturally imagined other accomplices. "You know why there's so many of these secret societies: the Bones, the Freemasons, the Illuminati? Because this is how Shaytan [Satan] keeps them all divided to keep them under control," he said.
Baloch is not the only Islamist to peddle conspiracy theories about the coronavirus. Most Islamists spin the bitter realities of failing Muslim states and their backward Middle Eastern communities into narratives of victimization that fuel resentment towards the West, Jews and Israel.
However, as long as anti-Semitic Islamist leaders such as Baloch continue to find Western scapegoats for Muslim failures, they will not be able to build healthy Islamic communities. By reviving seventh-century mythologies and projecting them on the present, they work against freedom of faith, human equality and treasured Western values. Such Islamist leaders are forces of regression and backwardness, and they only serve to hinder the integration of Muslims in the West.
https://www.meforum.org/60766/islamist-warns-muslims-to-arm-themselves
------
CAIR Welcomes Arrest of Missouri Mosque Arson Suspect, Calls for Hate Crime Charges
April 28, 2020
(WASHINGTON, D.C., 4/28/20) – The Council on American-Islamic Relations (CAIR), the nation's largest Muslim civil rights and advocacy organization, today welcomed the arrest of a suspect in an arson attack on a Missouri mosque and urged state and federal law enforcement authorities to file hate crime charges against the suspect, who had reportedly vandalized mosques twice in the past.
Nicholas J Proffitt, 42, of Cape Girardeau., Mo., was arrested and charged with burglary, arson and property damage for a fire at the Islamic Center in Cape Girardeau on the first night of the Islamic fast of Ramadan.
In a statement, police said, "the defendant was knowingly motivated to do so by reason of a motive related to the religion of the people who worship at the Islamic Center." Proffitt is being held without bond.
In 2009, Proffitt was charged with first-degree property damage for throwing rocks at the same mosque and second-degree property damage for damaging a vehicle in the facility's parking lot. In 2005, Proffitt (known by a different name, Nicholas Stearns) was reportedly arrested for trashing a mosque in Dearborn, Mich.
"Based on the police statement indicating a bias motive for this crime, we urge local, state and federal law enforcement authorities to consider bringing appropriate hate crime charges in the case," said CAIR National Communications Director Ibrahim Hooper. "We thank all those law enforcement professionals who helped apprehend the alleged arsonist."
Hooper urged support for the mosque's effort to rebuild. Donations can be made at: https://www.gofundme.com/f/fundraiser-for-islamic-center-of-cape-girardeau
"CAIR-Missouri strongly condemns the act of an alleged repeat offender and appeals to Governor Mike Parson to take a personal interest in this case. Missouri's Muslim community stands for peace and justice. We urge authorities to bring swift and proper justice," said Yasir Ali, CAIR-Missouri board chair.
Ali and CAIR-Missouri Chair of Finance AathifShamail visited the damaged mosque over the weekend and met with the FBI and local responders.
"The damage is beyond repair. We are overwhelmed by the Muslim and the Cape's community support in a time of need and offer out our thanks to each one of them," said Shamail.
The Washington-based civil rights organization has reported an unprecedented spike in bigotry targeting American Muslims, immigrants and members of other minority groups since the election of Donald Trump as president.
CAIR recently launched an online information portal offering vital information on the growing COVID-19 pandemic and its impact on American Muslims and the entire society.
Every day (M-F), CAIR hosts a live 30-minute "Daily Dose: COVID Conversations with CAIR" at 3 p.m. (ET) on Facebook featuring spiritual leaders, health care professionals, counselors, experts, community advocates, and CAIR leaders from around the country.
CAIR is America's largest Muslim civil liberties and advocacy organization. Its mission is to enhance understanding of Islam, protect civil rights, promote justice, and empower American Muslims.
La misión de CAIR es proteger las libertadesciviles, mejorar la comprensión del Islam, promover la justicia, y empoderar a los musulmanesen los Estados Unidos.
https://www.cair.com/press_releases/cair-welcomes-arrest-of-missouri-mosque-arson-suspect-calls-for-hate-crime-charges/
-----
US prison denies some inmates from fasting during Ramadan, rights groups say
By SherenKhalel
28 April 2020
A number of Muslim prisoners in Virginia have been denied the right to fast during the holy month of Ramadan because prison management received "too many" requests, three rights groups said.
Muslim Advocates, the Islamic Circle of North America's Council for Social Justice and the Virginia Prison Justice Network said that several inmates at Wallens Ridge State Prison were also denied the right to observe Ramadan, which started on Thursday, because they had not properly registered as Muslim.
The rights groups said on Tuesday that prison authorities had ordered the facility's chaplain to arbitrarily deny requests that some of the inmates be placed on a "Ramadan List."
According the groups, if a prisoner is not on the list, they will not be able to receive meals before fasting begins or after it ends, and are thefore prevented from fasting during the day.
During Ramadan, Muslims fast from dawn until dusk, abstaining from food, liquids and smoking. The month is also a time for prayer, reflection, atonement and charity - when rewards for good deeds are multiplied - and a healthy person's ability to fast during sunlight hours is essential.
"It is shocking that we still have to fight for these fundamental rights to worship," said Rameez Abid, Director of Communications and Outreach for ICNA Council for Social Justice said in a statement.
"Ramadan is the most sacred month for Muslims around the world and the US Constitution gives Muslim inmates the right to observe fasting. This shouldn't even need to be to be demanded, but sadly, here we are."
Despite having advocated for Muslim prisoners' rights to properly observe Ramadan in Virginia last year, the groups said they worried some of the same issues were being repeated.
"Last year, we warned the Virginia Department of Corrections about policies that were preventing incarcerated Muslims across the state from observing Ramadan. Shockingly, many of those problems persist," said Muslim Advocates Staff Attorney Nimra Azmi.
"The right of incarcerated people to observe Ramadan is protected by the law and the US Constitution. Especially since the holy month of Ramadan is now upon us, Virginia state officials must take immediate steps to ensure that all Muslim prisoners can exercise their constitutional right to worship."
According to the groups, several prisons within the Virginia Department of Corrections (VDOC) failed to provide food and water for some inmates, even those who had registered properly.
In Alaska last year, Muslim inmates sued the state's correctional system for not providing sufficient food for fasting Muslims. In both states, some inmates even reported being given pork for dinner.
While the groups acknowledged that complications for prison staff could arise due to the coronavirus outbreak, it asked prison officials to "seek to balance religious practice with pandemic preparedness".
The groups also urged the Virginia government to step in quickly since the month of Ramadan has already begun and inmates' rights were already being violated.
"Given the gravity of the situation and its time-sensitive nature, we request a prompt response to this correspondence," the letter concluded.
While Muslims make up one percent of the US population, they make up nine percent of the US prison population, mostly due to the large number of conversions, which some research has shown reduces recidivism rates.
https://www.middleeasteye.net/news/ramadan-us-muslims-inmates-denied-fast-us-prison-rights-groups-say
-----
Suspect charged in fire that destroyed Missouri mosque
April 28, 2020
Aysha Khan
(RNS) — Police in Missouri have arrested a suspect with a history of mosque vandalism in connection with a fire that heavily damaged a southeastern Missouri Islamic center last week at the start of Ramadan.
Nicholas Proffitt, a 42-year-old resident of Cape Girardeau, Missouri, was arrested Monday night (April 27). He is accused of setting a fire at the Islamic Center of Cape Girardeau early Friday, the day most Muslims celebrated as the first day of Ramadan.
Over a dozen people, including several families who lived in the building that houses the mosque, had to be evacuated because of the blaze. No one was injured, but some tenants have been displaced by the fire.
"No one should have to suffer the devastating loss of their house of worship — particularly just as the holy month of Ramadan begins," said MadihhaAhussain, special counsel for anti-Muslim bigotry at the civil rights organization Muslim Advocates.
A fundraiser set up by mosque leaders said that the building has been declared a "total loss" and would require about $1 million in repairs.
If convicted, Proffitt, who is being held without bond, could face a maximum of 37 years behind bars. He faces felony charges of burglary, arson and property damage, with a hate crime enhancement in the charges, according to law enforcement.
Investigators say Nicholas Proffitt is the man recorded in this surveillance video still photo. Photo courtesy of Cape Girardeau Police
"The defendant was knowingly motivated to do so by reason of a motive related to the religion of the people who worship at the Islamic Center," police said in a news release.
Proffitt has been linked to several other mosque attacks in the past 15 years. A witness who helped authorities identify him said Proffitt has a history of making "anti-Muslim derogatory remarks," per a probable cause statement.
In 2005, he was arrested and accused of throwing rocks at the Islamic House of Wisdom in Dearborn, Michigan, punching holes in the mosque's siding and pouring a chemical on a wheelchair ramp. Law enforcement declined to pursue hate crime charges then, saying "it was just a drunk guy with a rock."
In 2009, he was accused of breaking windows at the Islamic Center of Cape Girardeau. Proffitt was convicted of a hate crime in that case and sentenced to three years in prison.
"This tragedy is a textbook case for why we must take anti-Muslim hate crimes seriously," Ahussain said. "These types of serial offenses often occur when law enforcement fails to hold perpetrators of hate crimes responsible for their actions. … What happened in Cape Girardeau was preventable."
Muslim Advocates and the Council on American-Islamic Relations, as well as CAIR's Missouri chapter, have urged law enforcement to pursue a hate crime charge.
"Missouri's Muslim community stands for peace and justice," said Yasir Ali, CAIR-Missouri board chair. "We urge authorities to bring swift and proper justice."
The Islamic Center of Cape Girardeau is seen after fire damaged the building Friday, April 24, 2020, in Cape Girardeau, Missouri. (Photo by Jacob Wiegand/Southeast Missourian via AP)
Local interfaith leaders have reached out to show their support for members of the Islamic Center. At the nearby Christ Episcopal Church, the Rev. Edie Bird put up a sign saying, "We love our Muslim neighbors, they are wonderful."
After the fire, the City of Cape Girardeau Municipal Government released a video compiling messages of support from city officials, first responders, faith leaders and business owners in the area.
"The damage is beyond repair," said AathifShamail, an official with CAIR-Missouri. "We are overwhelmed by the Muslim and the Cape's community support in a time of need and offer out our thanks to each one of them."
On the same day as the fire in Missouri, a Salt Lake City mosque reported an act of vandalism. Local police say they will investigate the incident, which left one window broken at the Islamic Society of Greater Salt Lake, to see if it was a hate crime.
https://religionnews.com/2020/04/28/suspect-charged-in-fire-that-destroyed-missouri-mosque/
-----
The Volunteers Helping Muslim Medical Workers Break Fast During Ramadan
29/04/2020
Dr. Karishma Rao was 12 hours into a 24-hour shift at a neonatal intensive care unit on Sunday when the sun set and she could break her fasting day, traditional for Muslims during the holy month of Ramadan. It's a stressful time at Children's Mercy hospital, with the coronavirus outbreak spreading, and the 32-year-old had no time to step out to get a bite to break her fast or to celebrate with family and friends.
So it was a relief when volunteers came by to drop off a free halal meal Rao could eat with fellow Muslim staffers at the hospital ― a brief moment of relief during a crisis.
"It was a stress that was taken off for me because I already knew that there's food there. I didn't have to plan for it or work for it," Rao said. "Especially knowing that you have, like, a really long shift ahead of you still, even after iftar, I think that makes a really big difference."
During the month of Ramadan, which began last Friday, Muslims embark on a daily fast from sunrise to sunset. While the majority of the Muslims are forced to celebrate at home with the closures of mosques and large gatherings banned, essential workers like medical professionals are fasting all while providing critical care for patients.
Kaitlin Abdelrahman with On Call Halal organizes and delivers halal meals to Muslim medical professionals at Kansas City-area hospitals during the month of Ramadan. Because of social distancing during the coronavirus pandemic, the meals are loaded and unloaded from the trunk of her car. On the first night, Abdelrahman delivered meals to Children's Mercy hospital, Friday, Apr. 24, 2020.
A volunteer group called On Call Halal, launched last monthby 31-year-old entrepreneur Kaitlin Abdelrahman, is aiming to provide dozens of Muslim health workers in the area with free meals to begin and break their fasts during Ramadan. The meals come from Muslim-owned restaurants that serve halal food, which is prepared through the requirements of the Islamic faith.
The idea occurred to Abdelrahman after several of her friends who were medical workers mentioned that their already long working hours nearly doubled after the coronavirus outbreak. Many of those health care providers did not have time to find a meal to break their fasts during their hectic shifts. Some workers did not have a proper meal until hours after the sun went down.
"It was just crazy, what they're going through," Abdelrahman said. A self-described problem-solver, she immediately began calling hospitals and surveyed the approximate number of Muslim workers. After securing their approvals, she called up several Muslim-owned businesses.
Her group already committed to delivering 3,300 meals for Muslim staffers across three major hospitals: The University of Kansas Health System, Children's Mercy hospital and Hospital Corporation of America's Midwest Research Medical Center.
"Our health system's response to the COVID-19 pandemic has not allowed the flexibility many of our employees and medical staff members normally have in their lives," said Jeff Novorr, the vice president of support services at The University of Kansas Health System.
Sohaila Humayon of Sohaila's Kitchen in the Lenexa Public Market fills containers with rice for meals she is preparing for pickup Friday, Apr. 24, 2020.
"Given the importance of the timing of these meals, this partnering with On Call Halal provided The University of Kansas Health System a unique opportunity to support our Muslim employees and medical staff members by having meals available on our campus and at the right time of the day and night," he added.
Abdelrahman and volunteers from On Call Halal pick up meals from local businesses that cater halal food for health care workers twice a day –– for their end-of-day break-fast meal and the predawn meal –– and plan to continue to do so through Ramadan. Normally, health care workers would eat these meals with one another, provided their schedules accommodated, or would go home to eat with family and friends. But with doctors and nurses working longer hours to deal with the pandemic, many barely have time to prepare food for themselves.
The meals are paid for through sponsors and local donations collected on its website. As of Monday, On Call Halal has raised enough money to pay for 1,400 out of those 3,300 meals.
Hospital workers at Children's Mercy in Kansas Citybroke their fast last Friday, the first full fasting day of Ramadan, with chicken biryani ― a hearty Pakistani dish made with rice, chicken and potatoes ― donated from Sohaila's Kitchen.
Amna Humayon, the 29-year-old founder of the restaurant, said it was deeply personal to her as a family-owned business and as part of a Muslim family to give back to her community. She named the restaurant for her mother, whom she said "has always looked for ways to help out the community."
"During Ramadan, there are so many spiritual aspects of fasting," Humayon said. "But you look forward to breaking your fast at the end of the day and having a really delicious meal."
Top left: Kaitlin Abdelrahman, left, and Sohaila Humayon of Sohaila's Kitchen discuss logistics. Top right: A sign hanging up at at Children's Mercy hospital, which partnered with On Call Halal to provide meals to its fasting medical workers. Bottom left: Kaitlin Abdelrahman talks with AmmadHumayon. Bottom right: Some of the food delivered by On Call Halal to Kansas City-area hospitals.
The restaurant was forced to shut its doors in early March after a statewide stay-at-home order to slow the spread of the outbreak. Humayon was also concerned her mother would contract the virus. She plans to open for takeout-only service this week in hopes of keeping the business afloat.
The opportunity to provide meals for health care workers is "a godsend," Humayon said. "Everyone keeps saying they've been hit really hard, but you don't really realize it until you're one of them," she said. "So we're trying to find ways to still stay connected."
Kashif Tufail, the owner of Chai Shai, another participating restaurant with On Call Halal, said it was important to provide a sense of comfort and normalcy to medical workers who may not have the time to run out and get food during their hectic work schedules.
"Someone who's working at a hospital and who's been fasting all day gets a meal that they know is from someone who is also Muslim and understands their faith and has also been fasting all day, and that person is taking care of them a little bit by providing a meal. I think that's a nice feeling," said Tufail.
Abdelrahman hopes to secure more funding for On Call Halal over the coming days. If the group exceeds the goal of enough funds to pay for 3,300 meals, it plans to expand and provide meals for more Muslim staffers at more hospitals and wants to see similar programs happen in other cities.
Abdelrahman said the entire project has been a collaborative way to show health care workers gratitude through the spirit of Ramadan and the community. All health care workers are amazing, she said.
https://www.huffingtonpost.in/entry/kansas-city-group-delivers-meals-for-fasting-muslim-medical-workers_n_5ea88850c5b6e50adaf4c2a6?ri18n=true
-----
11 Ways to Spend Your Ramadan While in Quarantine
By Aliya Karim
4/28/2020
Let's be real — cooking and eating has been an activity most of us have indulged in while in quarantine. But those observing Ramadan probably won't want to spend too much of the day around food. Below are a few ideas to keep your mind off of your stomach while you're stuck at home:
If you're stuck inside all day and busy with work, take some time to stretch. It'll help with your range of motion, flexibility, and muscle tightness, especially if you've been sitting for long periods of time. Take a walk or a light jog or try some low-intensity cardio, either after eating suhoor or before you break your fast, because working out in the middle of the day without food will be hard on your body.
Make sure not to push yourself; you know your body's limits. Fitness professional and nutritionist Zainab Ismail has a great Ramadan beginner's workout to get you started.
Use your own plants for your suhoor and iftar meals. Start an herb garden by calling your local plant nursery, grocery store, or gardening center to pick up seeds and cuttings of herbs, plus some potting mix and trays. Good Housekeeping has some great tips.
You can also regrow food from kitchen scraps. Lettuce, celery, and scallions can be regrown in a cup or jar of water with leftover bases and roots. Carrot, beet, and onion tops can be placed in a tray of water before being moved into soil.
Pull out those dusty board games, cards, and puzzles to keep yourself occupied. And if you're alone, go virtual! Play a multiplayer video game, participate in a communal puzzle online, and redownload Words With Friends. It'll make the time go by quickly.
Juggling? Origami? Sketching? There's probably a YouTube tutorial for that. Try something fun and get your creative juices flowing.
It's prime time to get your brain out of the 24-hour news cycle and into the rest of the world around you, whether it's listening to a podcast like NPR's Throughline, reading the Quran and some new books, or going down a Wikipedia rabbit hole (my latest was on the singer Aaliyah).
You can also literally immerse yourself in nature. The Night Sky app works like a planetarium in your pocket for your evening stroll and stargazing, and the Audubon Society has a bird guide app (of course). If you know where you're headed on your outdoor journey, you could even leave your phone behind to clear your head.
Ramadan in quarantine means none of us are going to the mosque, attending community iftars, or going out with friends to IHOP for suhoor. But that doesn't mean we need to celebrate alone.
Call your neighbors from outside their windows to check in on them! Video chat with loved ones, those who are parents, those who are alone, and those who are converts. This is a special time of year, so make it special.
Growing up, my family spent time cleaning the house in preparation for Eid day. But this year, we might as well start early while we're stuck at home anyway.
Get some deep, spring cleaning in by emptying your closets, those junk drawers, and moving your winter clothes aside. You can also use thredUP's donation clean-out kit to make it easier. Shift your furniture around, open some windows, and maybe get to that painting or DIY project you've been holding out on.
If you like spending time with your local community during Ramadan, there are many options to partake in online. Mosques and organizations around the U.S. are putting together virtual classes, lectures, halaqas, and community prayers that you can join from home.
I've already tuned into the Islamic Center at NYU's live dua sessions during quarantine, and they're offering tons more programming throughout the month. MPower Change, a grassroots advocacy group, just launched #DigitalRamadan, a huge guide for virtual activities, mental health resources, Quran and hadith resources, political organizing how-tos, and online iftars.
There's nothing wrong with the tried and true method of taking a midday siesta. And if you're working from home, take a 15-minute power nap in between your Zoom calls — no one will ever know.
Plan a virtual iftar with your family and friends. Sit down and break your fast with them while on your phone, tablet, or computer.
You can also spice it up with a virtual cooking session. As you prep your suhoor and iftar meals, video chat with someone and swap recipes — we all love a good iftar potluck, so share your food with the people who mean the most to you.
Ramadan looks really different this year. Many of us are cooped up at home, working in essential businesses, or fighting at the front lines. Many of us know someone who's contracted COVID-19. Many of us are grieving over lives lost.
No matter the circumstance, Ramadan allows each and every one of us a time of reflection on ourselves, our relationship with God, and our connections to one another. Pray, meditate, write in a journal — do what you can to reflect during this month of blessing. Verily, with every hardship comes ease. (Quran 94:5)
https://nowthisnews.com/news/11-ways-to-spend-your-ramadan-while-in-quarantine
-----
Africa
Mozambique forces killed over 100 Islamist insurgents in past month: government
APRIL 29, 2020
MAPUTO (Reuters) - Mozambique security forces killed at least 129 insurgents in the northern Cabo Delgado region that has been besieged by violence for at least the last three years, the interior minister said on Tuesday.
Since 2017, infrequent but violent raids on government buildings and villages by militias with suspected links to the Islamic State have intensified in the gas-rich northernmost province of one Africa's poorest nations.
The interior ministry said the 129 killings were the total for the month, and were a retaliation for an attack in Xitaxi in Muidumbe district earlier in April, where insurgents killed 52 villagers.
Little is known about the insurgents, though initial attacks were claimed by a group known as Ahlu Sunnah Wa-Jama. More recently, Islamic State has claimed a number of attacks.
Security officials have struggled to contain the attacks. Since clinching re-election in January President Filipe Nyusi has vowed to dedicate more resources to fighting the insurgency.
Exxon Mobil and Total, among the multi-national oil majors developing the gas projects off the shore of northern Mozambique thought to be worth more than $60 billion, have expressed concern the violence could affect operations.
Interior minister AmadeMiquidade said in a statement that 39 extremists were killed when they attempted to invade Muidumbe village on April 7, with 59 killed in a gun battle in Querimba islands three days later. Thirty-one more were killed in Ibo Island between April 11 and April 13, the statement said.
https://www.reuters.com/article/us-mozambique-insurgency/mozambique-forces-killed-over-100-islamist-insurgents-in-past-month-government-idUSKCN22A38T?feedType=RSS&feedName=worldNews&utm_source=feedburner&utm_medium=feed&utm_campaign=Feed%3A+Reuters%2FworldNews+%28Reuters+World+News%29&&rpc=401
-----
Adunni Ade damns social media critics to identify as a Muslim
April 29, 2020
Nollywood actress Adunni Ade has damned critics on social media to identify herself as a practicing Muslim.
Adunni Ade used the opportunity to caution trolls to stop judging celebrities based on their dressing but their inner intentions.
"Yes, I wear what I like, be it modest or not. Who are you to decide my inner intentions? You know, it's easy for you to type on your keypads and make assumptions, but folks who know me will say otherwise."
"About 4 years ago, Dec 31st, 2016, I decided I would live my life for ME. Me alone! I came back to Islam. I feel fulfilled. I'm happier. I have received more Blessings this way. My oldest son practices Islam prays and fasts as well."
On why she converted to Muslim, the Nigerian-American actress said, "I have a loving Muslim father who has given his children the free will to choose any religion they like be it Christianity or Islam. My Mom is a Christian, though not a practicing one. My Stepmom is a Christian, My stepsisters are Christians, my Stepbrothers are Muslims.
"Have I been to a Church before? Plentyyyyy of them. I once converted, name the Church, MFM, RCCG, CLAM, CAC sure been there but one thing was certain, Islam never left me. My ways of dealing, my upbringing, all I learned was from a Muslim and was what I truly knew. I was scared what folks would think about me if I went back to Islam and this went on for years."
https://thenationonlineng.net/adunni-ade-damns-social-media-critics-to-identify-as-a-muslim/
-----
I'm glad my son's recovery happened during Ramadan – Atiku
April 28, 2020
Former Vice President, Atiku Abubakar, said he was delighted that his son recovered from coronavirus during the Islamic month of Ramadan.
He made this known on Monday shortly after his son, Mohammed Abubakar, announced that he had been discharged from the Abuja Isolation Centre after 40 days of treatment.
Mohammed's discharge followed the protocols of the Nigeria Centre for Disease Control which included that patients could be discharged after testing negative twice for the virus.
The candidate of the Peoples Democratic Party in the 2019 presidential election appreciated the support and prayers of well-meaning individuals while thanking the health workers at the forefront of treating the patients.
"With gratitude to God, we are excited, @Mo_Atiku. It couldn't have come at a better time of the Ramadan. I thank you all for your prayers, even as we remain indebted to the medical personnel who have stayed tireless in their efforts," he tweeted.
https://punchng.com/im-glad-my-sons-recovery-happened-during-ramadan-atiku/
-----
South African police criticised for comments made while arresting Muslims who flouted lockdown
04/28/2020
A video posted on Twitter on 25 April shows police breaking up a gathering of Muslims in a mosque in South Africa, which is still under a nationwide lockdown to halt the spread of coronavirus. A total of 24 people were arrested at the service in Mbuzini marking the first day of Ramadan. The Muslim community is furious at comments made by a police officer during the incident, which they say were both disrespectful and blasphemous.
Muslims around the world are beginning a Ramadan unlike any other: under lockdown. That's certainly the case in South Africa, where the government has enacted a ban on all gatherings, including those of a religious nature.
On Saturday, April 25, about 20 Muslims from the village of Mbuzini (located in Mpumalanga province to the east of Pretoria) flouted lockdown orders to pray together at the mosque, which is a common practice during Ramadan. But their gathering was cut short.
In a video of the incident, which was filmed by the police themselves and which has been viewed more than 640,000 times on Twitter, one of the officers shouts out, "You think your president is crazy?" and then, "You are all under arrest!"
At the end of the video, a male officer calls out, "Are you greater than the president? Muhammad is greater than the president?" These comments have incensed Muslims on Twitter, many of whom see them as blasphemous and offensive.
According to online news outlet Sowetan Live, the Council of Muslim Theologians said that while the congregants were wrong to gather, they were outraged by the officers' conduct. The Council of Muslim Theologians said in a statement that "apart from the verbal abuse which is demeaning of the name of the Prophet Muhammad [peace be upon him], the SAPS officers are also seen entering the prayer room in their heavy boots. Such images are distressing to Muslims who consider prayer places as sacred and entered upon only without shoes."
On 24 April, 17 people were arrested in western Pretoria during a similar gathering. Police Minister Bheki Cele apologised to the Muslim community on Sunday for blasphemous remarks made during the arrest, according to South African Police spokesperson Mathapelo Peters. He added that police were carrying out an urgent investigation to determine the person "behind such sacrilege".
The police minister took the opportunity to remind the public to respect lockdown measures to protect their fellow citizens from the spread of Covid-19. He also called on religious leaders to support the government's efforts.
South Africa has the highest number of reported Covid-19 infections on the African continent, with 4,793 reported cases and 90 deaths.
https://observers.france24.com/en/20200428-south-africa-police-arrest-muslims-covid19-blasphemy
-----
Southeast Asia
Malaysia attended to tabligh cluster nine days too late, says Health DG
28 Apr 2020
PUTRAJAYA: Malaysia was nine days too late in acting on the Masjid Jamek Sri Petalingtabligh congregation, which accounts for close to 40% of the country's 5,851 Covid-19 infections.
Health director-general Datuk Dr Noor Hisham Abdullah said the ministry had only known about the gathering on March 9 when a participant from Brunei tested positive for the virus.
"The participants by then had already returned to their hometowns, villages and subdistricts, " he said at the ministry's daily Covid-19 press conference here on Tuesday (April 28).
Dr Hisham said this after he was asked to comment on Thailand's Covid-19 figures, which had shown consecutive single digits in its daily new cases.
"I'm sure if we did not have this gathering, our cases would be less than Thailand's. The tabligh gathering is responsible for close to 40% of our total cases, " said Dr Noor Hisham.
On Tuesday, Thailand recorded seven new Covid-19 cases - the second day of single digits in its cases - bringing the country's cumulative tally to 2,938.
"That is the safest thing you can do, and you will prevent the transmission of the virus from one person to another, " he said.
https://www.thestar.com.my/news/nation/2020/04/28/malaysia-attended-to-tabligh-cluster-nine-days-too-late-says-health-dg
-----
Pandemic has created new consumer trends
29 Apr 2020
KUALA LUMPUR: GroupM hosted a virtual roundtable on Business Unusual – A Look at Life After Covid-19 to share key learnings from their clients working across critical business verticals on how they are currently navigating businesses in such unusual times.
Moderated by m/Six Malaysia MD Sheila Shanmugam, the panellists comprised leaders in industry such as CIMB CMO Adam Wee Abdullah, Pos Malaysia VP of marketing Schrene Goh, Firefly Malaysia Airlines Group CEO Philip See, unifi VP and head of marketing Lai Shu Wei as well as GroupM Malaysia CEO Chanchal Chakrabarty and m/Six APAC CEO Kevin Rooney.
The panellists shared their perspective on how this unprecedented pandemic has impacted and will continue to impact their organisations and their respective industry at large.
The first question was directed to Chanchal and Rooney on how GroupM is helping its clients in this unprecedented time. What are the changes that are taking place in the market place and trends that might stay post Covid-19 from a local and regional perspective?
Chanchal shared how Covid-19 has changed the way that businesses look at operations, clients and on a more human level, talents. Collaboration between clients and agencies become even more critical to ride through these uncertain times.
"Media consumption has obviously changed given the fact that everyone is at home with in-home consumption having gone up. The biggest decline in media can be seen in media channels consumed out of home, for example all types of outdoor and radio. However, the RMO also comes with a rise in the use of media channels which was previously declining like TV. Digital and e-commerce are experiencing the biggest boom, from a social content perspective as well as with more consumers shifting their purchasing behaviour more to online. Another area which might continue to enjoy growth post pandemic is ewallets, as consumers get used to that method of payment. One aspect of consumer behaviour that will continue after Covid-19 is online grocery shopping as consumers have begun to enjoy the convenience. Brand switching is likely to stay as a consumer behaviour as consumers try out alternative brands compared to their preferred choices if it is not made available online or via delivery.
"Moving forward what will be important between brands and consumers is whether or not brands are providing authentic experiences and connections."
Rooney shared the need for balancing between a business focus and a talent focus – ensuring that while we maintain productivity, we also look at wellness and keeping talents engaged.
"Across the region our GroupM teams are also working on forecasting reports, where there is a deflation in cost of media as investment declines. But then equally, when things get better, there is likely to be hyperinflation as clients reinvest in media and exhaust their annual budgets. One of the places to look at for learning is China, as they went through the curve first and are recovering faster. For other markets like India where workers have been dispersed during the shutdown, it will probably take months or longer for some clients to restart production and see sales coming in to warrant returning to previous levels of advertising investment."
"The culture of savings will continue for a while as consumers facing uncertainty will want to ensure that they have a comfortable level of secure savings. The brands that will win in this recovery are the ones that focus on brand building in the near term and are top of mind as the end of this."
From the perspective of clients, Rooney said: "Things that we are focusing on right now are, working very closely with clients to manage the level of investments in media. We are looking not just at the short term sales, but the long term protection of the brands."
Covid-19 has caused economic and humanitarian challenges globally and this has highlighted a lot of weaknesses in the system, be it in the government, public or the private sector. In terms of our state of readiness in managing a crisis of this magnitude, we would like to ask our panelists, how they are coping and sustaining their business.
"Since the pandemic started, Pos Malaysia has seen a shift in trends. Pos Malaysia saw a decline in sales by almost half due to consumers buying only essentials and adjusting to the new way of life. However, in the second phase of the MCO, courier services have doubled, with an increase in larger ticket items. Also, services like Pos Online and PosLajuSendParcel have seen tremendous increase in take up, with more consumers paying bills and online sellers fulfilling their shipping needs via online parcel delivery platform, which they previously used to do in the post offices."
Lai shared: "When the MCO first started, we were focusing on existing customers to ensure that their services were seamless and always up. We placed the safety of our customers and employees as the key priority and worked on fixing customer pain points. This situation has also forced us to be very agile and creative in the way we attend to customers. We want to stay focused on being faithful to customers' needs and so we are finding creative ways to find new solutions, that we later formalise and become new processes. I have seen more innovation in the past three weeks than I have seen in the past one year.
"From a marketing viewpoint, while marketing plans are changing, the importance and role of communication has become more critical than ever before. What has changed is the way we communicate and the choice of mediums used," said Lai, stressing that communication clarity and education for customers and employees are more important now than it has ever been.
With Covid-19 impacting over 190 countries, so much is being said about the new normal, and it appears that we are at the cusp of a new era, a new world order. How does this new normal impact the airline category?
"The airline industry right now is in a very critical state as there is almost zero demand and the focus should be on cost containment and cash management. There is no real clear view of what the new normal will look like. The corporate market is expected to continue to drop in the short term as people get used to working digitally. We expect the frequency of travelling to drop significantly which will raise the question of loyalty and frequent flyer programmes. Looking at what happened in China, we are looking at the domestic market, so we anticipate an increased uptake in domestic travel as alternatives for international travel will be limited. From a consumer perspective, we expect a high amount of automation, and product ancillaries that allow social distancing and space within the cabin. We also see international travel becoming more seasonal, which means we will have to build a more dynamic business model to address fixed costs. That's our sense of what the new normal would look like in our industry.
"In terms of recovery to pre-Covid-19 levels, it will be much longer than the four quarters. The shape of recovery will be 'V' immediately when the travel ban is lifted across borders but only for a short period of time. Soon after, a W-shape recovery is expected."
Goh: "From a logistics perspective, there are a lot of ongoing marketing activities that Pos Malaysia will not reduce. What does change however are the messaging and diversion to online touchpoints. Being an essential service, there is a lot assurance that needs to happen with the consumers about service continuity and alternative solution during MCO."
One advice that Goh offered is to have a social listening tool, as that will be critical in understanding the constant change in consumer's needs and concerns during this challenging time to provide relevant product offering with better customer experience.
In conclusion, the core theme centred around this very interesting and insightful discussion was that while life has certainly changed due to the pandemic, businesses need to be agile and respond quickly to the consumers' new needs and habits. Businesses need to relook at their business model and be creative and innovative in the way they engage and communicate with their consumers.
"With every crisis, there is an opportunity. For the communication industry, this crisis gives us an immense opportunity to work with our partners to innovate and find different ways on how to come back stronger after Covid-19. Finding the new normal for our businesses will be very critical."
https://www.thestar.com.my/business/business-news/2020/04/29/pandemic-has-created-new-consumer-trends
------
We can't deal with an exodus of refugees
29 Apr 2020
THERE has been a strong shift of opinion in Malaysia towards the Rohingya refugees since the outbreak of the pandemic, especially among the country's Muslim majority.
That's simply because they have gauged the pulse of the ordinary Muslims well. The outpouring of anger, especially on Bahasa Malaysia social media, has been fierce and loud.
A Rohingya who posted a strong message on Facebook against Malaysians, found his identity and home address immediately exposed, receiving angry retaliatory messages swiftly.
A video of a kopiah-clad Rohingya has also gone viral. In it, a trader selling books on Islam was challenged to recite Islamic prayers by a Malaysian but he could not.
It's estimated there are more than 100,000 Rohingya in Malaysia. Incredibly, they are regarded the largest stateless population on earth.
In 2016, Datuk Seri Najib Razak led a gathering of Muslim leaders to show support for the Rohingya, but last week, the former prime minister backed the authorities for turning back about 200 Rohingya refugees trying to land on Malaysian shores recently.
The incident has drawn criticism from human rights groups and individuals, but Najib understands the sentiments of many Malaysians, who feel the government needs to prioritise the health, security and livelihoods of Malaysians first and foremost.
In declaring Malaysia's acts of kindness for them, he said: "Sudahdiberikanbetis, nakpehapulak," a Malay proverb equating to,"Give them an inch and they take a yard," in English.
Tun Dr Mahathir Mohamad has spoken up about the plight of the Rohingya, and at the United Nations last year, he criticised the UN and Myanmar government for their inaction in resolving the Rohingya crisis.
Myanmar's military has been accused of slaying thousands of Rohingya in western Rakhine state since 2017, resulting in the mass exodus of this Muslim minority group to neighbouring countries, which led to the world's largest refugee camp at Cox Bazar in Bangladesh.
But Malaysia has been turning away Rohingya refugees since 2015, when they started turning up here and in Indonesia. This isn't news.
As their numbers grew exponentially, Malaysia and Indonesia decided on May 20,2015 to provide temporary shelter for more than 3,000 of the refugees who landed on their shores.
Malaysia made it clear that the international community had to play its part in dealing with the crisis, but somehow we ended up cradling the baby.
Despite our help, then-UN human rights chief ZeidRa'ad al-Hussein still criticised Malaysia, Indonesia and Thailand for turning the refugees away.
The general sentiment among Malaysians is that we have far too many immigrant workers. Official registered foreign workers were estimated at a hair under two million in 2019, while other reports claimed that unofficial estimates showed up to six million of them, or 18.6% of the country's 32.6 million population.
According to the UNHCR website, there are about 24,900 refugees and asylum seekers from other countries, including 6,660 Pakistanis, 3,680 Yemenis, 3,290 Somalis, 3,290 Syrians, 2,590 Afghans, 1,830 Sri Lankans, 1,270 Iraqis, 790 Palestinians, and the remainder from miscellaneous countries.
Let's be realistic. We have little choice but to turn away refugees because once we accept them, word will spread at the camps, and soon, we'll have a massive influx on our hands.
If our borders are shut, as per the movement control order, it doesn't make sense that our shores are gateways for refugees. We are grappling with a pandemic that has infected over 5,800 Malaysians and killed 100. The last thing we need is a new wave of Covid-19, with new clusters formed.
No one should condone racist attacks of any form against minorities or the less fortunate, and those who speak up for refugees.
But we should be aware that unrestricted acceptance of these refugees is certainly not a viable and sustainable solution to the Rohingya issue.
Malaysians have become poorer, and we simply can't afford to have thousands of refugees turning up here, vulnerable as they may be.
Lest we forget, Malaysia is not a signatory to the UN convention on refugees and migrant rights because we already have our hands full dealing with this mass of humanity.
https://www.thestar.com.my/news/nation/2020/04/29/we-can039t-deal-with-an-exodus-of-refugees
------
South Asia
Bangladesh: Gazipur Mayo Orders Mosques Reopened Defying Government Curbs
28 Apr 2020
Gazipur Mayor ZahangirAlam has announced his decision to reopen mosques in the city corporation areas to worshipers during Ramadan despite strict restrictions imposed by the government to contain the coronavirus outbreak.
He made the announcement in a video posted on Facebook on Tuesday following the reopening of some readymade garment factories over a month after the entire country was put on lockdown.
Gazipur, an industrial hub, is one of the mostly affected districts with 318 confirmed coronavirus cases. The reopening of the factories has also raised concerns over a larger outbreak.
But the mayor said, "Only a few areas in the metropolitan area have coronavirus patients. The rest of the cases have been reported in other Upazilas."
"As the garments have reopened, the Muslim worshippers do not need to be bound by restrictions. They will be able to take part in Juma prayers and Taraweeh prayers. There will be no obstruction from the city corporation," he said.
The city corporation will be cooperative if the Muslims of the areas that have no confirmed coronavirus patients want to offer prayers at mosques, Zahangir said.
Zahangir, who won the election in 2018 with the ruling Awami League's ticket, said residents should also be vigilant to prevent suspected patients from entering the areas.
"The garment factories in Gazipur and the commercial entities in the surrounding areas have reopened. So it will not be right to confine the people of this area anymore so that they can go about doing their job, like harvesting paddy," the mayor said.
Gazipur Deputy Commissioner SM Tarikul Islam said he heard about Zahangir's announcement on reopening the mosques for Juma and Taraweeh prayers.
"The instructions from the religious affairs ministry on prayers at mosques are still in force. I haven't received anything after these," he added.
The government has decided not to allow more than 12 people at mosques for Ramadan evening prayers this year as the coronavirus outbreak continues to escalate. The 12 will include senior clerics and other mosque officials.
https://bdnews24.com/politics/2020/04/28/gazipur-mayor-zahangir-orders-mosques-reopened-defying-government-curbs
------
Muslim Congress Leader Rauff Hakeem Appealed to Airlift 160 Sri Lankans Stranded in Chennai.
2020-04-29
Colombo, 29 April, (Asiantribun,om):
In a letter, dated April 28, 2020, Sri Lanka Muslim Congress Leader, Rauff Hakeem, has appealed to the Ministry of Foreign Affairs, to facilitate the speedy airlift of Sri Lankans stranded in Chennai.
The letter to Secretary, Ministry of Foreign Affairs, RavinathaAryasinha, sought help to evacuate 160 Sri Lankans (from all communities, Sinhalese, Tamils and Muslims), stranded in Chennai, owing to COVID-19 related sanctions on international travel and lockdown in effect in India. He appealed on the grounds that these Sri Lankan nationals are subject to much hardship and mental distress owing to their inability to return home for over many weeks on end.
Rauff Hakeem also entreated the other authorities concerned to consider carrying out similar successful measures in evacuating the Sri Lankans stranded in other countries, in the recent past.
http://www.asiantribune.com/node/93912
-----
Suicide attack leaves 3 dead, 15 wounded in Kabul
29 Apr 2020
A suicide attack killed at least three people and wounded at least 15 others in capital Kabul earlier today, the security officials said.
Tariq Arian, a spokesperson for the Ministry of Interior, said a suicide bomber blew up himself in Reshkhor area of ChaharAsiab district around 8 am local time today.
Arian further added that the suicide bomber blew himself up among the civilians, leaving at least 3 people dead and 15 others wounded.
https://www.khaama.com/explosion-reported-close-in-kabul-city-04737/
------
Afghan forces prevent rocket barrage on Kabul city
28 Apr 2020
The Afghan forces prevented rocket barrage on Kabul city by discovering and confiscating at least 30 rounds of various types of rockets and mortar rounds.
The Kabul Police Headquarters in a statement said the police forces conducted multiple operations in Kalakan district of Kabul province.
The statement further added that the police forces confiscated at least 30 rounds of BM-1 rockets, 82 mm artillery rounds and 82 mm mortar rounds.
The militants were looking to carry out attacks on Kabul city using the rockets, artillery and mortar rounds, the Kabul Police Headquarters added.
The anti-government armed militants including Taliban have not commented in this regard so far.
https://www.khaama.com/afghan-forces-prevent-rocket-barrage-on-kabul-city-04735/
------
Ask countries not to deport migrants amid pandemic
April 29, 2020
Sixteen Bangladeshi civil society organisations have urged UN Secretary-General Antonio Gueterres to ask the destination countries to shelve their policies of deporting migrant workers amid Covid-19 pandemic.
In a letter issued on Monday, they expressed worries as some destination countries have exerted pressure on the countries of origins to take back their nationals who are undocumented in the host countries and also those behind bars.
Some home countries have been threatened with consequences, including revision of labour relations, if they don't adhere to the policies of destination countries, the letter said.
"Under international law in any crisis situation, it is incumbent upon the state concerned to take care of all people in its land including migrants, irrespective of their status.
"Moreover, bringing back migrants in the midst of a pandemic will heighten the risk of the spread of the virus that the concerned country can ill afford.
The letter comes nearly two weeks after some Middle Eastern countries have mounted pressures on the labour-sending countries, mostly of South Asia, to bring back their undocumented migrants.
In a letter jointly signed by Bangladesh Civil Society for Migrants (BCSM) Chair Prof CR Abrar and Co-chair Syed Saiful Haque, they said countries of origin now face the prospect of a large-scale unscheduled return of their nationals from the destination countries.
"These countries have very limited capacity to rehabilitate the returnees by engaging them in livelihood activities," it said.
They urged the UN secretary general to call upon international agencies such as the World Bank, Asian Development Bank and other development partners to create a global fund under the auspices of the UN to support the countries of origin in the rehabilitation of the returnee migrants.
The letter pointed out that there has been a major spread of Covid-19 in dormitories of migrant workers in Singapore due to a poor and crowded condition.
"We believe that governments of destination countries should discourage termination of workers. In case of such termination it is the duty of the destination countries to look after those retrenched," the letter said, urging the UN head exert his office's influence on the destination countries to take responsibility of such vulnerable workers.
They also requested the UN head to advise the governments to take measures so that migrants, who have jobs, can transfer remittances to their families, who depend on remittance and are now going through food crises at home.
Many of the migrants are also facing a food crisis, and it is imperative for the destination countries to provide emergency food support, the organisations said.
They also called for a system to be put in place in the destination countries so that the laid-off workers get priority when the dust settles.
The letter also requested the employers of host countries to clear all the dues and benefit claims of the returning workers as soon as possible.
Members of BCSM include Refugee and Migratory Movements Research Unit, WARBE Development Foundation, Bangladeshi OvhibashiMohila Sramik Association, ManusherJonno Foundation, Ain o Salish Kendra, BASUG, IMA Research Foundation, International Network of Alternative Financial Institutions Bangladesh, Bangladesh Construction and Wood Workers Federation, Young Power in Social Action, Bangladesh OvibashiAdhikar Forum, BASTOB, Rights Jessore, Center for Development Communications DEVCOM Ltd, Films 4 Peace Foundation and Change Makers.
https://www.thedailystar.net/backpage/news/ask-countries-not-deport-migrants-amid-pandemic-1897765
-----
10 prison guards on hospital duty test Covid-19 positive
April 29, 2020
"They were all discharging duties with ailing prisoners at different city hospitals. We are suspecting they were infected at the hospitals," said Iqbal Kabir, senior jail super of Dhaka Central Jail in Keraniganj.
"The prison guards used to stay at the old central jail in Bakshibazar after discharging duties. They showed symptoms for Covid-19 and got tested on several occasions," he said, adding they did not go to Keraniganj jail recently.
"As part of contact tracing, samples of some others prison guards have been taken. We are waiting for their test results," said a prison guard preferring anonymity.
https://www.thedailystar.net/health/coronavirus-update-10-prison-guards-test-positive-1897834
-----
Mideast
One million Yemenis risk losing shelter due to lack of funds: UN
28 April 2020
The United Nations refugee agency says nearly one million displaced people in Yemen risk losing their shelter due to torrential rains and seasonal floods, warning about a dire lack of funding at a time when the county is already threatened by the new coronavirus pandemic.
The United Nations High Commissioner for Refugees (UNHCR) said on Tuesday that some $89.4 million is urgently needed in the coming weeks to keep life-saving aid programs running in Yemen and raised the alarm that the funding shortfall threatens critical aid for nearly one million displaced Yemenis and refugees.
"Yemen is already considered to be the world's largest humanitarian crisis," UNHCR spokeswoman ShabiaMantoo told a virtual press briefing in Geneva.
"The country is now also facing the overlapping threat of the coronavirus pandemic, and the impact of recent torrential rain and flooding," she added.
The UNHCR spokeswoman said the relief aid has become "urgent" as the people it would be directed to are also the "most vulnerable" to the coronavirus.
"For many refugees and displaced families, this is a matter of life and death," Mantoosaid."After five years of conflict, more than 80 percent of Yemen's total population requires some form of assistance."
The start of the rainy season has already brought misery to thousands of Yemenis. Sana'a, Hajjah and the southern port city of Aden experienced torrential rainfall and deadly floods over two weeks, affecting thousands of people and partially destroying houses and businesses.
Yemen has been under brutal military aggression from Saudi Arabia and a number of its regional and foreign allies over the past five years.
The Saudi-led coalition claimed on April 8 that it was halting military operations in Yemen in support of UN efforts to end its five-year war, which has killed tens of thousands and spread hunger and disease.
However, shortly after the announcement, the coalition's warplanes struck positions at several Yemeni regions, including Sa'ada, Amran, and al-Bayda, according to Yemen's al-Masirah TV.
Saudi Arabia and a number of its regional allies launched the devastating war on Yemen in March 2015 in order to bring former president, AbdRabbuh Mansur Hadi, back to power and crush the Houthi Ansarullah movement.
The US-based Armed Conflict Location and Event Data Project (ACLED), a nonprofit conflict-research organization, estimates that the war has claimed more than 100,000 lives over the past five years.
Saudi Arabia and the United Arab Emirates have purchased billions of dollars' worth of weapons from the United States, France and the United Kingdom in their war on Yemen.
Riyadh and its allies have been widely criticized for the high civilian death toll resulted from their bombing campaign in Yemen.
The UN says over 24 million Yemenis are in dire need of humanitarian aid, including 10 million suffering from extreme levels of hunger.
https://www.presstv.com/Detail/2020/04/28/624136/Yemen-torrential-rains-seasonal-floods-coronavirus-pandemic
----
Is the American war in Vietnam anything like the Saudi war in Yemen?
28 April 2020
By J. Michael Springmann
In some ways you might make a comparison with Vietnam and the Saudi activities in Yemen, but I think it's a stretch to really try and compare it closely.
Back in the Vietnam War era in the United States, you had the general acceptance of the war based on the political ideology of the domino theory of dealing with communism. If the communists got one country, the next country would fall, and the next country after that would fall through the activities of the Communists and it was like a line of dominoes, that when one country went, you had a whole row of countries like dominoes being knocked down. That, of course, has been since disproved.
And it was by and large ignored by the American people until Lyndon Johnson, the president, raided the privileged sanctuaries, and by that I mean college campuses.
The middle class and the upper class were quite happy to let the high school educated, or dropouts, or people who are of a different race than the majority Caucasians in the country be drafted and go off to be killed in rice paddies. When Johnson started drafting college students there arose a great outcry in the United States and demands that the war end and helping with this of course was some less than good reporting, less than good analytical reporting from the news media about IndoChina.
And I think additionally, they put it on television, and all the Americans saw at dinnertime when they're eating their TV dinners, in front of the set was the war in Vietnam with murky camera angles and cameras flopping around and people dropping after being shot.
So, this is not happening though in Saudi Arabia. I hear nothing at all I read nothing at all about the people in the country demanding that Mohammed bin Salman stop sacrificing their children in Yemen now. What they're doing - the Saudis, are recruiting child soldiers from Sudan, for example, paying $10,000 to the family, and taking their kid off to be shot and killed in Yemen.
You can make the comparison I think only if you talk about outside forces at work. For example, the Americans and the British, and other European countries are selling arms to the Saudis for use in Yemen, and they are encouraging the Saudis.
They're giving aid to the Saudis, much as the United States did to South Vietnam, and much as Russia and China did to North Vietnam. of course the main difference is that I don't think Iran is as deeply involved in the war in Yemen as the Americans maintain they are. I think the Iranians are helping with advice. They are helping with technical issues. But Iran isn't acting like Russia and China and sending pilots, sending that many military advisors, trying to provide weapons and ammunition and things like this. And they're not working as the Russians and the Chinese did on world public opinion.
Unfortunately, I think if Iran could do that, and held up the mirror, a mirror to the American and British activities and Saudi activities in Yemen it might change the world's opinion. But by and large, the rest of the world just doesn't care.
Yemen is a small, out of the way country filled with brown people. And it is the poorest country in the Arab world. And in addition, of course, the country is riven by diseases, like cholera.
And about half the population now is in severe need of proper nutrition and sustenance. So I think that it's halfway comparable to the war in Vietnam, but nowhere near the way things were back then.
Things could change, of course, in the future, Iran might be able to provide more aid to Yemen in terms of military weapons. But I think if the Iranians really wanted to intervene in the war they could feed the Yemenis, get food past the blockade and strengthen them, thus increasing the Yemeni resistance to the Saudi and Emirati attacks on their country for no reason other than they (the Saudis and UAE) think they can do it.
Iran's role in this is not quite what the Americans claim or the British claim. Iran's role is to advise and to assist and take up the cause at the United Nations as Foreign Minister Zarif has done.
Iran has repeatedly drawn attention to the plight of Yemen, as it's done with Palestine, but unfortunately, this falls on the deaf ears of the megalomaniacs of Washington and London and Iran is doing its best, with its limited means and resources to call attention to the situation in Yemen, to starvation, to diseases running rampant in the country, and the murder, war crimes, human rights violations committed by the Saudis and the Emiratis, but regrettably Iran is just one country, and the rest of the world just simply ignores the situation, because they prefer to believe American lies, American propaganda and have no real knowledge of the situation.
https://www.presstv.com/Detail/2020/04/28/624121/Was-the-US-war-in-Vietnam-like-the-Saudi-war-in-Yemen
------
Israeli forces shoot, injure Palestinian teenager over alleged stabbing attack
28 April 2020
Israeli military forces have shot and seriously injured a Palestinian teenager in the central part of the Israeli-occupied territories amid mounting anger over Washington's announcement that it is ready to recognize Israel's annexation of much of the West Bank.
Israeli media outlets claimed the unidentified 19-year-old Palestinian, wearing a mask, stabbed a 62-year-old woman at around 1 p.m. local time (1000 GMT) on Tuesday outside a shopping mall on Galgalei ha-Plada Street in Kfar Sava.
The Israeli police said the Palestinian teenager, a resident of the West Bank city of Tulkarem, was shot at the scene by an armed settler who works for the police. He was seriously hurt and arrested.
This photo taken on April 28, 2020 shows the aftermath of an alleged stabbing attack in the city of Kfar Sava in the central part of the occupied Palestinian territories. (By the Jerusalem Post daily newspaper)
The woman was reportedly in moderate-to-serious condition and received treatment on the scene before being taken to Kfar Sava's Meir Medical Center.
Palestinians have expressed outrage at the Israeli regime's plans to further consolidate its grip on lands it has seized in the aftermath of the 1967 Six-Day War.
A US State Department spokesperson said on Monday that Washington, as consistently made clear, is prepared to recognize Israel's annexation of the occupied West Bank, and application of the Tel Aviv regime's rule on the occupied areas.
The United States says it is "prepared to recognize Israeli actions to extend Israeli sovereignty" in the occupied lands belonging to Palestinians.
The statement came after Israeli Prime Minister Benjamin Netanyahu said he was confident the US would give Israel the approval within two months to move ahead with the de facto annexation of parts of the occupied West Bank.
Also on Tuesday, the Palestinian Ministry of Foreign Affairs and Expatriates strongly condemned Washington's readiness to recognize the Israeli regime's annexation of occupied lands.
https://www.presstv.com/Detail/2020/04/28/624120/Israeli-forces-shoot,-injure-Palestinian-teenager-over-alleged-stabbing-attack
------
Gazans observe holy month of Ramadan under siege
28 April 2020
Ashraf Shannon
Muslims around the world enjoy holy month of Ramadan while people in Gaza struggle to observe it under inhumane conditions.
In Gaza, unemployment and poverty rates have sharply increased and poor people have been getting poorer year after year. Thousands of Gazan families can not afford to buy food to prepare their Ramadan dusk meal called Iftar.
Shop owners say purchase of food items during Ramadan has been dropping year after year since the beginning of the blockade. The coronavirus pandemic has further worsened the situation for nearly two million Gazans.
https://www.presstv.com/Detail/2020/04/28/624104/Gaza-Ramadan-Israel
-----
Leader approves vesting of Justice Shares owned by 49mn Iranians
28 April 2020
Leader of the Islamic Revolution Ayatollah Seyyed Ali Khamenei has endorsed a government request to vest restricted stocks of dozens of government-run companies that are owned by tens of millions of Iranians.
In a decree issued on Tuesday, Ayatollah Khameni ordered the government to prepare the required conditions for owners of the Justice Shares to be able to trade their stocks in the market and reach the profits that have accrued on the shares over the past years.
The Justice Shares were issued in 2006 during the administrative government run by former president Mahmoud Ahmadinejad. The scheme was launched in line with the amendments made to the Article 44 of the Iranian Constitution which requires the government to move toward economic privatization.
More than 49 million Iranian citizens own the currently unvested shares. Current estimates suggest the value of the stocks owned by each shareholder have increased from an initial price tag of 10 million rials to 80 million rials ($500).
Justice Shares had been valued at $36 billion in 2014. However, current estimates suggest the 25 listed companies and another 14 that are planning an initial public offering (IPO) would bring some $15 billion to the stock market once the Justice Shares are vested.
In his decree to the government, Ayatollah Khemeni regretted the fact that vesting of Justice Shares had taken so many years as the law stipulates a minimum of two years as the holding period for the shares.
The leader also set a series of conditions for allowing the Justice Shares to become tradable, saying shareholders should be able to choose which government-run firm they want to own a stake in.
Experts believe trade at Tehran Stock Exchange (TSE) would further boom once Justice Shares become tradable in Iran Fara Bourse, a TSE subsidiary for trade of securities and other instruments.
The TSE has already broken record highs this year with growing number of new investors joining in. The overall value of the market reached over $198 billion on Tuesday after main index TEDPIX rose 3.03 percent to top 845,353 points.
https://www.presstv.com/Detail/2020/04/28/624133/Iran-Justice-Shares-vesting-Leader-Ayatollah-Khamenei
------
Iran's Zarif, Russia's Lavrov dismiss as 'impractical' Pompeo's anti-Iran UN bid
28 April 2020
The top Iranian and Russian diplomats have dismissed a plot by their US counterpart to press for the extension of a UN arms embargo against the Islamic Republic by resorting to a process outlined in a 2015 nuclear agreement that Washington has already abandoned.
In a phone conversation on Tuesday, Foreign Minister Mohammad Javad Zarif of Iran and his Russian counterpart, Sergei Lavrov, slammed US Secretary of State Mike Pompeo's most recent anti-Iran scheme as "delusional" and "impractical," IRNA reported.
The two ministers were reacting to a report by The New York Times on Monday that Pompeo plans to invoke a provision in the UN-endorsed nuclear agreement, which Washington left in 2018, in an attempt to either extend beyond October the UN arms embargo in place against Iran since 2006/2007 or get the world body to slap even harsher sanctions on the Islamic Republic.
The Fox News Channel said on Monday that "this plan would give the US standing at the United Nations Security Council to push to extend the arms embargo on Iran expiring in October, and restore sanctions for Iran's violations of the deal."
The US, however, is likely to face a harsh battle at the UN Security Council, where veto-wielders Russia and China are expected to oppose the arms embargo.
UN diplomats say the US will have a tough challenge ahead if it pushes for an extension of the world body's arms embargo on Iran by resorting to a process outlined in a nuclear deal it left in 2018.
The Times report said Pompeo's bid would likely be challenged by many of Washington's European allies as well simply because America is no longer a party to the deal — officially named the Joint Comprehensive Plan of Action.
In their earlier reactions to the report, Zarif and Russian officials reminded the US that it was no longer considered a signatory to the Iran deal.
Elsewhere in the phone conversation, Zarif and Lavrov exchanged views on other issues of regional and international significance, including the Afghan peace process and a coronavirus pandemic plaguing the world community.
In turn, the Russian Foreign Ministry also issued a statement carried by the TASS news agency, saying the two ministers had exchanged views on ways to bolster cooperation on the fight against the virus spread, among other topics.
"They thoroughly discussed pressing global issues, focusing on developments in Afghanistan and the situation surrounding the Joint Comprehensive Plan of Action for Iran's nuclear program," the ministry further said.
In a phone call earlier this month, Iranian President Hassan Rouhani and his Russian counterpart, Vladimir Putin, had stressed the need for closer Tehran-Moscow cooperation in efforts to rein in the deadly virus.
https://www.presstv.com/Detail/2020/04/28/624122/Zarif-Lavrov-Iran-Russia-US-arms-JCPOA
-----
Iran earned $5.8bn from agrifood exports in year ending March: Report
28 April 2020
Iranian authorities say the agrifood sector has brought the country over $5.8 billion in foreign currency revenues over the past calendar year ending late March.
An Iranian deputy agriculture minister said on Tuesday that the country had exported a total of 7.104 million metric tons of agrifood worth $5.812 billion over the 12-month period.
ShahrokhShajari said main agrifood export items over the period included pistachio, which brought the country around $965 million, followed by apple, tomato and watermelon whose exports generated nearly $862 million in hard currency income.
The official said exports for fruit farming products reached a total of 1.945 million tons worth $2.727 million last year while crop farming accounted for 4.416 million tons of export shipments worth $2.092 billion.
He said Iran's export of livestock and poultry reached 568,000 tons worth $719 million over the last calendar year while seafood exports accounted for 127,000 tons or $249 million worth of agrifood shipments sent to other countries.
Shajari said that Iran had spent $6.392 billion on imports of 6.941 million tons of food and agricultural products over the year ending late March.
He said Iran's main agrifood import items were corn used as animal feed, for which the government and private entities spend over $2.176 billion, followed by semi-white or whitened rice with $1.9 billion, soymeal and soybeans on $0.95 billion and $0.905 billion respectively.
Iran has seen a surge in non-crude export revenues over the past two years and since the United States imposed its inclusive bans on the country's sale of oil.
The agriculture sector grew by nearly nine percent over the past calendar year, the government estimates show, as rising exports of agrifood has encouraged farmers to expand cultivation and production for various products.
https://www.presstv.com/Detail/2020/04/28/624114/Iran-agrifood-exports-foreign-currency-revenues
------
URL: https://www.newageislam.com/islamic-world-news/not-hindu-muslim-blood-help/d/121706
New Age Islam, Islam Online, Islamic Website, African Muslim News, Arab World News, South Asia News, Indian Muslim News, World Muslim News, Women in Islam, Islamic Feminism, Arab Women, Women In Arab, Islamophobia in America, Muslim Women in West, Islam Women and Feminism