New Age Islam News Bureau
13 Jul 2018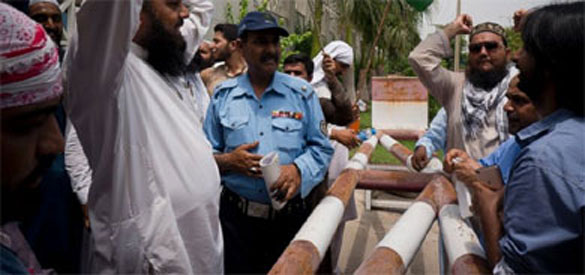 In this Monday, July 9, 2018 photo, supporters of Pakistani radical, religious and sectarian groups protest outside the office of the Pakistan Electronic Media Regulatory Authority, demanding that their election campaigns to be aired by media channels, in Islamabad, Pakistan. The country is seeing an unprecedented number of extremists and militant sectarian groups -- even an international terror figure with a $10 million U.S.-offered bounty on his head -- on the campaign bandwagon ahead of parliamentary elections later this month. (AP Photo/B.K. Bangash)
------
• 'Namaz Will Make Saryu Impure': Former VHP Chief Pravin Togadia Associates Foil RSS Arm's Plan
• Radicals, Extremists Campaign Ahead Of Pakistan Elections
• Four-Nation Alliance Decides To Counter Growing IS Footprint in Afghanistan
• Umno Says No To Shiah Ideology
• Riyadh Detains Islamic Scholar As Crackdown on Dissent Intensifies
• Poll Shows Most Arabs See US, Israel as 'Biggest Threat'
India
• 'Namaz Will Make Saryu Impure': Togadia Associates Foil RSS Arm's Plan
• Zakir Naik's Deportation to Be Discussed with Modi, Says M'sian Minister
• India Feared Turning Into Illiberal Democracy, Says Hamid Ansari
• Won't Oppose Scrapping Homosexuality Ban, Says Muslim Law Board
• This isn't Pakistan; Aligarh Muslim University must follow quotas: National SC panel
• After Bangladesh nudge, India turns back Khaleda Zia legal advisor
--------
Pakistan
• Radicals, Extremists Campaign Ahead Of Pakistan Elections
• PML-N Rivals Play Up Panama Papers Verdict, Qadri Sentence
• SC puts on hold FIA probe against Zardari, Faryal till polls
• NAB warns against creating hurdles in way of former PM's arrest
• Imran Khan summoned by NAB for 'misusing' KP govt's helicopters
• Kulbhushan case: Pakistan decides to file second counter-memorial in ICJ
• ANP European wing blames withdrawal of security for Peshawar suicide attack
--------
South Asia
• Four-Nation Alliance Decides To Counter Growing IS Footprint in Afghanistan
• Over 60 Killed, Wounded As Clashes Erupt Among Taliban, ISIS in Jawzjan Province
• 24 militants killed as Taliban leaders' gathering targeted in Ghazni airstrike
• Afghan forces have reportedly suffered heavy casualties in Kunduz attack
• British Lawyer for Jailed Bangladeshi Ex-PM 'Outraged' By India Entry Denial
• Rohingya crisis hits Bangladesh's exports to Myanmar
• Dhaka-Kuala Lumpur to sign MoU on defense training
--------
Southeast Asia
• Umno Says No To Shiah Ideology
• Putrajaya Gathers Disparate Muslims to Draft Reforms Plan
• Muslim region of Philippines to have religious freedom
• Mum converts kids to Islam without dad's consent
• Organiser apologises for serving pork to Muslim journalists
• Don slams 'racist' critics of non-Muslim CJ
• Stop labelling us as non-Muslims, says Ahmadi leader
• Muhaimin still on Jokowi's VP hopeful list, PKB claims
--------
Arab World
• Riyadh Detains Islamic Scholar As Crackdown on Dissent Intensifies
• Syrian Army Enters Dara'a City after 7 Years, Regains Control over 3 Regions
• Several Kurdish Fighters, Ankara-Backed Militants Killed in Afrin
• US airstrikes kill 30 civilians in Syria's Bukamal: SANA
• Tahrir Al-Sham Terrorists Fully Withdraw from Dara'a Province
• Kurds Likely to Return Control of Manbij to Syrian Army
• Terrorist Commanders Show Concerns about Peace Plan in Northern Syria
• 2 Notorious Terrorist Commanders Killed in Northern Syria as Tensions Increase
• Syrian Army Wards Off Tahrir Al-Sham's Heavy Offensive in Quneitra
--------
Mideast
• Poll Shows Most Arabs See US, Israel as 'Biggest Threat'
• At Least 45 Houthis Killed In Failed Attempts to Restore Various Lost Posts
• Turkish court gives life imprisonment to 72 over coup bridge killings
• Turkey to bring in new security regulations after emergency rule ends
• Arab coalition issues five entry permits to vessels heading to Yemen
• Yemeni forces shoot down Saudi jet in Asir: Ministry
• Netanyahu to Putin: Assad is safe from us, but Iran must quit Syria
--------
Europe
• Maryland Mayor Criticized for Calling London's Muslim Mayor a 'Terrorist'
• Racist Tweet Reignites Trump's Feud with London's Muslim Mayor
• Argentina asks Russia to arrest Iran official over 1994 bombing
• Saudi FM Adel Al-Jubeir meets MEPs at EU headquarters in Brussels
--------
North America
• Teaching Islam: Schools Must Be Proactive In Bringing Religious Tolerance to Classrooms
• Peter Strzok: Trump's Remarks about Muslim Gold Star Family 'Horrible, Disgusting'
• US State Secretary Pompeo urges EU to get tough on Iran
• Trump: Iran will seek fresh deal as looming sanctions hit economy
• US-led coalition did not treat MKO as terror outfit: RAND
• Trump intimidating Germany into abandoning Iran deal, stop imports from Russia: Scholar
--------
Africa
• Somalia: Southwest Army Claims Key Victory over Al-Shabab in Bay Region
• Haftar orders arrest of rogue officer behind executions of detainees
• 104 migrants rescued off Libyan coast
• Ethiopia: Scholars Laud PM's Role in Islamic Leadership Reconciliation
• Police repulse suspected Al-Shabaab attackers in Mandera
Compiled by New Age Islam News Bureau
URL: https://www.newageislam.com/islamic-world-news/namaz-make-saryu-impure-former/d/115822
--------
'Namaz Will Make Saryu Impure': Former VHP Chief Pravin Togadia Associates Foil RSS Arm's Plan
Jul 13, 2018
AYODHYA: The 'namaz' and 'wazu' programme on the bank of Saryu River in Ayodhya had to be cancelled due to stiff opposition from a section of saffron outfits on Thursday. It was to be hosted by RSS-affiliate Rashtriya Muslim Manch.
According to reports, a group of seers — led by Mahant Raju Das and Dharam Sena leader Santosh Dubey, both are considered close to former VHP chief Pravin Togadia — opposed the programme, saying the "pious Saryu water would become impure due to this". Raju Das threatened to immolate himself if 'namaz' was held on the banks of "holy Saryu".
Fearing unrest as a large number of protesters had reached the venue before the start of the programme, the administration deployed heavy security on the river banks. More than 1,000 Muslims had gathered at the venue by then. The 'namaz' was later performed at Nau Ghazi shrine, about 3km from the river banks. UP minister Laxmi Narayan and BJP MLA Ved Prakash Gupta took part in the 'namaz'.
Raju Das, a seer of Hanuman Garhi temple, told TOI: "The Saryu is a pious river. We sadhus and Hindu devotees take bath here to perform worship of Lord Ram. We will not allow Muslims to perform 'wazu' in this pious river as it will become impure.
Performing 'namaz' on the holy land of 'Saryu Ghaat' cannot be tolerated."
The Rashtriya Muslim Manch, which had earlier hosted roza iftar during Ramzan in Ayodhya, was disappointed for not being able to host the 'namaz', despite a receiving the nod from the administration.
Santosh Dubey, the Dharam Sena leader and one of the prime accused in the Babri Masjid demolition case who also opposed the programme, said: "We want a grand Ram Mandir. We don't want these types of drama being created by RSS and BJP to divert the mind of Hindus from the real issue of the temple."
https://timesofindia.indiatimes.com/india/namaz-will-make-saryu-impure-togadia-associates-foil-rss-arms-plan/articleshow/64968575.cms
--------
Radicals, extremists campaign ahead of Pakistan elections
July 13, 2018
FAISALABAD, Pakistan (AP) — Pakistan is seeing an unprecedented number of extremists and militant sectarian groups — even an international terror figure with a $10 million U.S.-offered bounty on his head — on the campaign trail ahead of parliamentary elections later this month.
Analysts warn the phenomenon is a slippery slope to further radicalization of this conservative Muslim majority nation.
Michael Kugelman, deputy director of the Asia Program at the Washington-based Wilson Center, says the participation of the radical groups "in the election is highly significant, not because of their ability to sweep into power, which won't happen, but because of how they can use the political process to legitimize themselves and their extremist ideologies."
Take the small political party known as the Milli Muslim League, or MML.
In April, Washington placed the MML on its list of foreign terrorist groups, calling it a front for the Lashkar-e-Taiba militant group, co-founded by U.S.-wanted militant Hafiz Saeed to stage attacks against Indian troops in the Himalayan region of Kashmir, divided between India and Pakistan but claimed by both in its entirety.
Saeed, blamed for the 2008 Mumbai attacks that killed 166 people, was declared a terrorist by the United Nations and the United States has offered a $10 million bounty for him.
When Pakistan's election commission refused to register the MML for the July 25 elections, Saeed fielded his candidates under the banner of the already-registered Allah-o-Akbar Tehreek party.
It's a familiar modus operandi for Saeed, who routinely dodges sanctions by renaming his outlawed organizations.
When Lashkar-e-Taiba was declared a terrorist group, it was resurrected as the Jamaat ul Daawa — a welfare organization aiding the poor and sick, according to Saeed.
"By bringing the often-toxic views of these groups into the political mainstream, Pakistan's already-enabling environment for extremism risks becoming all the more permissive," said Kugelman.
Mohammad Yaqoub Sheikh, a candidate for parliament from the Punjab provincial capital of Lahore, openly admits that the Allah-o-Akbar Tehreek and the MML "are one party."
The Allah-o-Akbar Tehreek has more than 260 candidates contesting the polls. In Lahore and elsewhere across Punjab province, where 60 percent of the country's 200 million people live, its campaign posters prominently feature Saeed and are emblazoned with the MML party name.
At a rally earlier this month in Faisalabad in southern Punjab, Saeed was showered with rose petals as he stepped onto a stage crowded with radical compatriots — men in long unkempt beards who adhere to a strict interpretation of Islam, akin to the version practiced under the Afghan Taliban.
The rally of several hundred supporters seemed unfazed that the world identifies Saeed as a terrorist.
"Outside they can say whatever they want, but inside Pakistan we love him," said a participant, Shahid, who goes by only one name.
Saeed has rejected allegations of masterminding the Mumbai attack but his fiery speech in Faisalabad was laced with threats to India, the U.S. and anyone who challenges his view of Islam.
"Our war against Crusaders, Hindus and Jews will continue," he warned and mocked U.S. concerns over his participation in the elections.
The political crisis that has gripped Pakistan since last July, when the Supreme Court ousted Prime Minister Nawaz Sharif from office over corruption and the subsequent cascading allegations against his ruling Pakistan Muslim League party, have also played into the hands of extremists and radicals, who have traditionally had the patronage of the country's powerful military and intelligence agency.
Forced to elect a new leadership, the Pakistan Muslim League is heading into the race for the 342-seat National Assembly and four provincial parliaments weakened by the scandal surrounding Sharif and an irate military.
Sharif is believed to have run afoul of the military, which has ruled Pakistan directly or indirectly for most of its 71-year history, when he sought to restrict its involvement in civilian affairs and criticized army efforts to combat extremist groups.
Rights groups say the military is seeking to influence the election outcome to keep Sharif's party out of power.
"The military derives benefits from having these hard-line outfits in the state of electoral play," said Kugelman. "They have the potential to attract votes from some of the more conservative supporters" of the Pakistan Muslim League.
While Saeed may be among the most prominent radicals on the campaign trail, others in the lineup are just as worrisome, said Mohammed Amir Rana, whose Islamabad-based Pakistan Institute of Peace Studies has long tracked radical groups in the region.
Outlawed groups, particularly radical Sunni Muslim ones, have been resurrected under new names but "their agenda is unchanged," Rana said.
Sectarian groups like Sipah-e-Sahaba — renamed as Ahle Sunnat Wahl Jamaat — are fielding candidates who openly attack minority Shiites as heretics, said Rana. "They have not abandoned violence."
For Saeed and other radicals, "this election is about gaining legitimacy, expanding their influence. We have not seen them giving up jihad," or holy war.
Another radical group in the fray is the previously unknown Tehreek-e-Labbaik Pakistan. Its rallies shut down parts of Islamabad earlier this year after the party accused Sharif's government of blasphemy for accidentally dropping a reference to the Prophet Muhammad from a draft law.
Winning even a small number of seats would be huge for Tehreek-e-Labbaik Pakistan and could set back lawmakers' efforts to curb the use of a controversial blasphemy law, which carries an automatic death penalty, to settle disputes, frighten or intimidate opponents simply by levelling accusations of insulting Islam's prophet.
When you have "hard-line political parties, including some aligned with internationally designated terror groups, come out in force to contest elections even in the face of international pressure — that's a sobering reality," said Kugelman.
http://www.tampabay.com/radicals-extremists-campaign-ahead-of-pakistan-elections-ap_world6094c55be40943f1a90f30709a99873f
--------
Four-nation alliance decides to counter growing IS footprint in Afghanistan
BY MIAN ABRAR
July 13, 2018
In an unprecedented development, four key regional military powers have decided to form a joint military front to counter the growing influence of the notorious terror group Islamic State (IS) in Afghanistan.
The meeting is the first of its kind held between three nuclear-armed neighbours and Iran to work together towards a joint objective of keeping the threat of IS contained, and reflected the growing concerns that IS might be able to cement its foothold in Afghanistan.
Sources told Pakistan Today that an agreement was reached during the extraordinary huddle held in Islamabad on Wednesday in which the intelligence chiefs of the four countries were present besides other high-ranking officials.
They said that the heads of intelligence agencies from Pakistan, Russia, China and Iran agreed over joint counterterrorism cooperation with a particular focus on foiling the rise of IS in Afghanistan and foil its efforts to destabilise the territorial boundaries of the four countries.
"This is just a start. Many central Asian countries are likely to join in soon as we all share the same concerns," an official privy to the development said, reflecting that the scope of joint counterterrorism alliance would grow sooner.
'ALLIANCE NOT AGAINST ANY COUNTRY':
An official, requesting anonymity, told Pakistan Today that the meeting was not aimed at any third country or state and no country should feel offended.
When asked if the alliance was directed against any regional or global power including the United States of America (USA), the official said, "Let me make it clear that the effort is against the terrorist outfit and not against a specific country."
"This is an agreement to counter the scourge of terrorism and since all the countries are against terrorism, such efforts should be encouraged by the regional and global partners," he said.
Furthermore, a spokesperson for Russian foreign intelligence service confirmed that the rise of the terrorist Islamic State in Afghanistan prompted the deliberations in Islamabad.
"The conference reached understanding over the importance of coordinated steps to prevent the trickling of IS terrorists from Syria and Iraq to Afghanistan, from where they would pose risks to neighbouring countries," Sergei Ivanov told state-run TASS news agency.
He said that the director of the Russian spy agency, Sergei Naryshkin, attended the Islamabad meeting along with Chinese and Iranian counterparts. He said the meeting "stressed the need for a more active inclusion of regional powers in the efforts to end the war in Afghanistan".
The discussions followed months of Russian allegations that the USA was supporting the growing influence of Islamic State, particularly in northern Afghan provinces next to the border with Central Asian countries. Washington dismissed the charges as rumours and an attempt to justify Moscow's links to the Taliban insurgency.
Russian envoy to the UN, Vasily Nebenzya, while addressing a Security Council meeting on Afghanistan last month, asserted that IS is creating training camps in the country for its fighters, including those who come from Central Asian states.
"This is a group, which has up to 10,000 fighters in its ranks and is already active in at least nine out of 34 provinces. It is constantly consolidating its positions in the north of the country, turning it into a springboard for its expansion into Central Asia," Nebenzya said.
Iran, which shares a long border with Afghanistan, has raised similar concerns in the wake of IS' growing terrorist activities in the region.
Islamic State calls its Afghan branch as Khorasan province or ISKP, and it routinely carries out deadly suicide bombings in the war-hit country and occasionally plots such attacks in Pakistan.
Pakistani officials maintain that the terrorist group has established strong bases in "ungoverned spaces" in Afghanistan and plans cross-border terrorist attacks from there.
They cite US military assessments that the Afghan government controls less than 60 per cent of the territory.
Islamabad, Moscow, Beijing and Tehran have all maintained contacts with the Taliban, saying they are meant to persuade the insurgency to seek a negotiated settlement to the Afghan war.
But the diplomatic ties with militants have upset both Kabul and Washington because they see them as an attempt to legitimise Taliban's violent campaign.
https://www.pakistantoday.com.pk/2018/07/12/four-nation-alliance-decides-to-counter-growing-is-footprint-in-afghanistan/
--------
Umno says no to Shiah ideology
12 July 2018
BAGAN DATUK, July 12 — Umno strongly oppose any efforts by the government to allow Muslims to practice or spread the Shiah ideology in the country, says its president Datuk Seri Ahmad Zahid Hamidi.
Ahmad Zahid said even though they respect the Shiah followers, but he said the efforts to assimilate the ideology among the Sunnah Wal Jamaah members, which is practiced in this country, will divide the unity among Muslims.
"According to the article 3 (1) of the Malaysian Constitution, it stated that Islam is the federal religion.
"And in terms of the social contract based on the constitution, it is understood that the National Council for Islamic Affairs and National Fatwa Council clearly stated that it cannot accept the Shiah ideology to be spread in this country," he said after attending the Bagan Datuk constituency future Haji thanksgiving ceremony here.
"The National Fatwa Council decided to reject the Shiah ideology not because they hate them, but we don't want this ideology to distort the teaching of Islam in the country," added Ahmad Zahid.
This came after the Minister in the Prime Minister's Department Datuk Mujahid Yusof Rawa, who oversees the Islamic affairs, said that they the followers of the Shiah ideology still has their right as the Malaysian citizen as long as they did not a commit crime.
In the report published by an online news portal, Mujahid agreed that Islam is the official religion with member of Sunnah Wan Jamaah being the main channel, but at the same time he also points out that the same constitution also talks about freedom of religion.
Mujahid was quoted saying that all the people in the country has the right to choose the religion which they believe is right.
"In this context, I cannot violate the clause of religion freedom under the federal constitution," he said.
Ahmad Zahid, who is the former Home Minister, also condemned the government's move to ink a memorandum of understanding via the Malaysian Institute of Translation and Books with a country that practices the ideology.
"This will open a wide space for the books from the countries, which practice the ideology to be translated into our national language.
"We oppose it strongly. Only books which has no contents of such ideology should be allowed from the countries which practice the ideology. When I was in the Home Ministry, I banned many books with such contents," he said.
Ahmad Zahid also urged all muftis, Islamic preachers and Islamic non-governmental organisations to join hands with Umno to oppose any move that allow such ideology from being spread.
https://www.malaymail.com/s/1651677/umno-says-no-to-shiah-ideology
--------
Riyadh detains Islamic scholar as crackdown on dissent intensifies
Jul 12, 2018
Saudi Arabia has taken into custody a prominent Muslim scholar as part of an ongoing campaign to silence dissidents in the kingdom.
Human rights campaigners and online activists said on Thursday that Sheikh Safar al-Hawali had been detained, without providing further details.
Hawali is a leading figure in Saudi Arabia's Sahwa (Awakening) movement, which opposes the presence of US troops in the Arabian Peninsula.
In the 1990s, Hawali was jailed for opposing the Saudi ties with US troops leading a military operation in Kuwait. In 1993, he was banned from public speaking and dismissed from his academic posts on suspicion of attempting to incite civil disobedience. In 1994, the Islamic scholar was once again arrested, but was soon released.
Last month, Saudi authorities detained a number of prominent women's rights advocates, just days before lifting the decades-long ban on women's driving.
Hundreds of influential Saudi businessmen and members of the royal family were also rounded up in November 2017 in an alleged "anti-corruption campaign" spearheaded by Crown Prince Mohammed bin Salman.
Bin Salman was appointed the first in line to the Saudi throne by his father, King Salman bin Abdulaziz Al Saud, last June.
Since then, he has engaged in a string of radical economic and social projects in a bid to portray himself as "reformist." However, those projects have been widely seen as being more about consolidating his personal power rather than bringing about real change to Saudi Arabia.
https://www.presstv.com/Detail/2018/07/12/567922/Saudi-Arabia-Sheikh-Safar-Hawali
--------
Poll shows most Arabs see US, Israel as 'biggest threat'
Jul 13, 2018
A new opinion poll has found that a majority of Arabs consider Israel and the US as the biggest threat to regional stability despite efforts by their rulers to portray Iran as a risk.
The poll, conducted by the Arab Center for Research and Policy Studies in Qatar, showed that above 75 percent of Arabs consider Israel and the US as the top two threats to their national security.
It also held that the Palestinian cause was an Arab one, dealing a blow to efforts by some Arab leaders to relegate the issue to a standoff between the Palestinians and Israelis.
Persian Gulf countries like Saudi Arabia, the UAE and Bahrain have recently begun to court Israel more overtly as they have tried to whip up a surge of animosity towards Iran.
The survey, however, showed that an overwhelming majority of respondents - 87 percent - disapproved of their home countries recognizing Israel. Ninety percent called Israel a source of instability in the region.
Asked to elaborate, many cited "Israel's mistreatment of Palestinians and its colonial policies," the Middle East Eye (MEE) news portal reported, citing the poll's results.
The study, known as the Arab Opinion Index, was based on interviews with more than 18,000 Arab citizens in 11 countries and its results were published on Thursday.
For the first time since 2011, when the center started carrying out the study, pollsters had a difficult time gauging Saudi citizens' opinions on Palestine.
When asked about Palestine, about 36 percent of the Saudis said they did not know or declined to answer, in contrast to five percent in the rest of the countries polled.
According to the report, Saudi Arabia's repressive domestic political atmosphere coupled with the ascension of Mohammed bin Salman to the position of crown prince as well as the regional shift in Persian Gulf-Israeli relations have affected the way Saudis engaged with the survey.
Bin Salman, who has been trying to portray himself as a reformer, controversially said earlier in the year that Israelis were entitled to their "own land," and that Palestinians should either accept "peace proposals" or "shut up".
In the poll, 87 percent said they held a negative view of US policy towards Palestine.
Washington is about to unveil a "peace plan" aimed at resolving the Israeli-Palestinian conflict without negotiating with the Palestinians.
Last year, US President Donald Trump recognized the occupied holy city of Jerusalem al-Quds as Israel's "capital" and later relocated its embassy from Tel Aviv to the city.
The survey found that 81 percent of Arabs perceived US foreign policy towards war-ravaged Syria negatively, as did 82 percent on Iraq.
The Arab Opinion Index, which has been published yearly since 2011, has become a barometer of Arab public opinion from Lebanon to Mauritania on issues ranging from local economy to global foreign affairs.
https://www.presstv.com/Detail/2018/07/13/567952/Arabs-United-States-Israel-poll-Palestine-Trump
--------
India
Zakir Naik's deportation to be discussed with Modi, says M'sian minister
13 JULY, 2018
KUALA LUMPUR — A Malaysian minister said on Friday (July 13) that the issue of deporting controversial Islamic preacher Zakir Naik was discussed in the last Cabinet meeting, and it was decided that the Attorney-General (AG) will only be consulted following a formal request from India.
Human Resources minister M Kulasegaran said he will also bring up the matter with India's prime minister Narendra Modi when he leaves for an official visit there.
"Let the Indian government make the necessary deportation order and we will follow the rule of law, but the bottom line was that the Indian government must make that request," he said in a statement.
"This is the right way of doing things, it is not right for the government nor one man to decide this matter, it should be decided by law in the courts as they have the duty to dispense justice."
He said the matter was raised in the Cabinet meeting by him, and fellow ministers Gobind Singh Deo and Xavier Jayakumar.
On Wednesday, Tun Dr Mahathir Mohamad said his administration have not made a decision yet on whether or not to deport Dr Zakir, after religious groups urged the Prime Minister to rethink his decision to allow the man to remain in the country.
Following Dr Mahathir's comments, Dr Zakir gave a commitment that he will not break any laws during his stay here. He has permanent residency in Malaysia.
The Mumbai-born televangelist - who is wanted by the Indian government for alleged money laundering and terrorism - is known for hate speeches that apparently inspired one of the attackers in the 2016 Dhaka terror attack.
He has been singled out by Singapore as a preacher whose divisive preaching is not accepted in the Republic.
Dr Zakir allegedly fled to Saudi Arabia after the Indian authorities started investigating him and his Islamic Research Foundation for alleged terror propaganda in 2016.
He has previously voiced support for Al Qaeda jihadists and Osama bin Laden and, in a 2006 lecture, he called for "every Muslim to be a terrorist".
India filed radicalisation charges against Dr Naik last year and has been seeking his extradition from Malaysia, where he has permanent residency and has been living despite protests from the local Indian community.
Dr Zakir has asserted that none of his speeches was objected to by non-Muslims in India, his homeland, until 2012, during which he claimed "a group of religious fanatics" had then sought to tarnish his image.
He insisted that he has never promoted terror using Islam in 25 years of preaching.
Dr Naik is popular as an English-speaking preacher among the local Muslim community and was usually seen at the main mosque in the Putrajaya administrative capital.
Singapore leaders have cautioned against divisive preaching by the likes of Dr Naik — who had urged followers not to vote for someone of another religion.
In Parliament last October, Law and Home Affairs Minister K Shanmugam had showed videos of two preachers, including one featuring Dr Naik, as he spoke about how the Government is looking to tighten processes to ensure foreign preachers with divisive teachings do not come to the Republic to preach.
The video showed Dr Naik advising followers not to vote for someone of another religion.
"I think Singaporeans will say that is not acceptable," said Mr Shanmugam.
"If we allow that kind of teaching in Singapore, we can easily imagine what else might be said by people. It will move to race. If you are one race, you should vote for a person of that race." AGENCIES
https://www.todayonline.com/world/zakir-naiks-deportation-be-discussed-modi-says-msian-minister
--------
India feared turning into illiberal democracy, says Hamid Ansari
Jul 12, 2018
Former vice-president M Hamid Ansari has said India is feared to be turned into an illiberal, majoritarian democracy where religious minorities would not be equal citizens but "on sufferance" and underlined that democratic institutions have been "eroded very seriously" in the country.
"The basic concept that I have used is what is a liberal democracy and what is an illiberal or ethnic democracy. An illiberal democracy is one which prescribes the limits within which you can be a full national," Ansari said in an interview with NDTV on Thursday, ahead of the release of his latest book "Dare I Ask".
"What is Indian nationalism? Our nationalism is defined by the Indian Constitution. It is inclusive. It includes the entire citizen body. Now an effort is being made to circumscribe that, to say that if you do this you are less of a nationalist. That is when the problem comes in," he added.
Asked if he feels that India is feared to be turning into a majoritarian, illiberal democracy, Ansari said: "Yes, yes. There is a good deal of writing on this subject."
On Ministers garlanding lynching convicts, he said: "They are sending a message to their core following and to the rest of the citizen body in the country. And that is what is worrying."
Asked if there is indeed a growing unease among the Muslims in India, the former Vice President said: "I think the media is full of reports of incidents which cannot but cause unease. Whatever the reasons might be, wherever the incidents may have happened, but if you take them in their totality, there is a sense of unease."
Without naming anyone, he said that if there is violation of law and of constitutional rights of a section of citizens, no person whether "up the ladder or down the ladder" entrusted with the enforcement of law can escape the blame.
"The rule of law means what? That before the law everybody is equal and the principles of law would be implemented. That's all. The division of responsibility is well spelt out in our Constitution and administrative system. But you cannot say that 'X' is responsible, 'Y' is not responsible," he said.
Commenting on India's foreign policy, Ansari - a career diplomat - observed that series of writings by competent practitioners and observers of Indian diplomacy have expressed concern over the direction of its neighbourhood policy.
"Our general policy by and large is fine. But it's bad in the context of neighbourhood. Ultimately, everybody looks how you are managing your own periphery, your own neighbourhood. Your standing in the world is affected by how you are dealing with your neighbours and I think somewhere we have reached a point of impasse with our neighbours which has to be corrected," he said.
Defending Congress MP Shashi Tharoor's remark that if BJP gets another shot at power at the Centre, India would be turned into a "Hindu Pakistan", Ansari said that Tharoor was entitled to draw his conclusions based on the saffron party's well-established texts.
"Mr. Tharoor is an erudite, well-informed man. I think he was commenting on some basic text of a political party. Now if you go to that text and he draws certain conclusions, you can't find fault with him.
"If somebody has said in black and white that if tomorrow I become the ruler of India I will scrap this or scrap that, then people are entitled to draw their conclusions about the implications of scrapping this or that," he said.
Asked how he feels on being trolled on the social media by the hate brigade, Ansari said that he stays away from social media and thus does not get to read the hate messages.
Full report at:
https://www.hindustantimes.com/india-news/india-feared-turning-into-illiberal-democracy-says-hamid-ansari/story-sUDNGry7Saa4TfXoeC2W7H.html
--------
Won't Oppose Scrapping Homosexuality Ban, Says Muslim Law Board
July 13, 2018
NEW DELHI: The All India Muslim Personal Law Board will not contest a move to scrap the colonial-era ban on homosexuality if the Supreme Court decides to do so, the organisation said today.
"We left the matter to the Supreme Court. We will not participate in the (Section) 377 proceedings," AIMPLB member Yusuf Hatim Muchhala told NDTV.
The 157-year-old Section 377 bans gay sex in India, considered taboo by many despite increasing calls for its repeal. Despite opposition to lifting the ban from other petitioners and some lawmakers, activists are hopeful of a positive judgment from the Supreme Court which is reviewing it. Earlier this week, Chief Justice of India Dipak Misra had indicated the Supreme Court is likely to scrap the law.
In the past, the Muslim law board had opposed scrapping the ban in the Delhi High Court and the Supreme Court. The non-governmental organisation had been constituted in the 1970s to integrate Islamic law into the mainstream. Homosexuality is forbidden in traditional Islamic jurisprudence.
The Supreme Court had on Tuesday began a long-awaited review of Section 377 which prohibits "carnal intercourse against the order of nature with any man, woman or animal" - which is widely interpreted to refer to homosexual sex. Gay sex is punishable by up to 10 years in jail.
The central government has said that it would leave it to "the wisdom" of the court to decide the constitutional validity of the law.
Lawyers for petitioners seeking to scrap the law have argued that sexual orientation is an intrinsic part of individual identity.
Full report at:
https://www.ndtv.com/india-news/section-377-aimplb-wont-oppose-scrapping-homosexuality-ban-1882536
--------
This isn't Pakistan; Aligarh Muslim University must follow quotas: National SC panel
by Liz Mathew , Shalini Nair
July 13, 2018
The National Commission for Scheduled Castes will order Aligarh Muslim University to implement the reservation policy, as required by all central universities, unless the AMU submits documents to prove its minority status by August, the panel's chairman Ram Shankar Katheria told The Indian Express.
"This is not Pakistan, the university has to follow the rules," Katheria, BJP MP from Agra and former Union minister, said.
Katheria said that the HRD Ministry, UGC and the National Commission for Minorities have confirmed that the AMU does not enjoy minority status. In 2016, the central government approached the Supreme Court, stating the AMU is not a minority institution, and the matter is pending.
"In my meeting with the AMU authorities on July 3, the Registrar and the Vice-Chancellor could not show a single document to prove the minority status of the university. We have given them a month's time to submit the documents. But it's clear that they do not have them," Katheria said.
"By the end of August, the full committee (of the SC/ST panel) will meet and issue an order asking the university to provide the quota as required by all central universities. The university has around 30,000 students and 15 per cent of these seats should have gone to SC students and 7.5 per cent to STs. If AMU fails to provide the documents, it will have to admit 4,500 Dalit students and 2,250 tribal students," he said.
Katheria claimed that the AMU's refusal to provide the quota prescribed in the Constitution has denied seats to 5 lakh students belonging to SC/ST/OBC section since 1951, when it was made a national university through an amendment in Parliament.
Giving a political turn to the issue, Katheria asked why BSP supremo Mayawati has remained silent on this issue. "If she thinks that the BJP is doing dirty politics on Dalit issues, let her take the movement forward. We will rally behind her," he said.
The controversy over AMU's minority status was revived after the Uttar Pradesh SC/ST Commission sent the university a notice asking why it has not provided quotas for Dalits and Adivasis despite receiving grants from the central government and making faculty appointments as a national university.
"It does not qualify to be a minority institution under Article 30 (1) and this has been upheld by the Supreme Court ruling of 1968. The institute was granted the National University status by a Parliament Act in 1951. In 1981, the then Congress government brought in an amendment to grant minority status but the Allahabad High Court struck down the provision in 2005," Katheria said.
Responding to Katheria's charges, AMU Vice-Chancellor Tariq Mansoor told The Indian Express that the 1981 amendment Act of the Parliament confers minority status to AMU.
Full report at:
https://indianexpress.com/article/india/this-isnt-pakistan-aligarh-muslim-university-must-follow-quotas-national-sc-panel-5257442/
--------
After Bangladesh nudge, India turns back Khaleda Zia legal advisor
by Shubhajit Roy
July 13, 2018
A NUDGE from Bangladesh and a rethink by South Block "at the eleventh hour" led to British lawmaker Lord Alexander Carlile being turned back at the Delhi airport Wednesday night, top sources told The Indian Express. Carlile, who is an advisor to the legal team of jailed former Bangladesh prime minister Khaleda Zia, was not allowed to enter India for not having an "appropriate visa", according to the Ministry of External Affairs (MEA). The London-based lawyer claimed he had a "business visa", but MEA countered that his intended activities were not compatible with his visa category. Sources said the Indian security establishment and some sections in the foreign policy apparatus raised the red flag over Carlile's arrival and schedule in the National Capital, which included a press conference.
Sources said top functionaries in the Bangladesh government had conveyed to Indian diplomats in the last few days — Bangladesh Foreign Secretary Shahidul Haque met Indian Deputy High Commissioner Adarsh Swaika — that Carlile's activities would amount to "anti-Bangladesh activities".
However, sources said, the initial assessment by MEA was that India must engage with leaders or representatives of political parties, cutting across Bangladesh's political spectrum. Based on that assessment, Carlile was granted a business visa as his application submitted at the Indian High Commission in London listed meetings in Delhi.
However, security agencies and a section in South Block were of the view that Carlile was "not a political leader" and his addressing a press conference — where he would take up what he calls the "unfair and unjust approach" of Bangladesh against Khaleda Zia — would amount to "political activity". South Block felt this would "unnecessarily drag" India into the internal political rivalry between Zia and Bangladesh Prime Minister Sheikh Hasina. "We had zero interest in getting involved in their internal rivalry. We wanted to steer clear of their mud-slinging. But it seems that getting India involved was the motive of Zia's legal counsel," sources said.
Sources said New Delhi had engaged with leaders of Hasina's BNP in the recent weeks, with the party's vice-chairman Abdul Awal Mintoo, standing committee member Amir Khasru Mahmud Chowdhury and international affairs secretary Humayun Kabir visiting India. Mintoo reportedly met Minister of State for External Affairs M J Akbar in New Delhi on June 7. The leaders also met Congress president Rahul Gandhi and held meetings at Institute for Defence Studies and Analyses, Observer Research Foundation, Vivekananda International Foundation and Dr Syama Prasad Mookerjee Research Foundation. "But they did not indulge in any politics or hold press conferences here," sources said. Security agencies also indicated that the Hasina government has been "extremely cooperative", and cracked down on anti-India terror groups and individuals operating in Bangladesh. As the assessment about Carlile's visit changed virtually at the last-minute, his visa was revoked, sources said.
Denied entry, Carlile spoke to media in Delhi via video conference from London. He alleged that he was denied entry under pressure from the Bangladeshi government. Indian authorities gave "no true reason" for revoking the visa and denying entry on arrival last night, Carlile alleged. He also accused Delhi of capitulating to pressure from Bangladesh.
Full report at:
https://indianexpress.com/article/india/after-bangladesh-nudge-india-turns-back-khaleda-zia-legal-advisor-lord-alexander-carlile-5257419/
--------
Pakistan
PML-N rivals play up Panama Papers verdict, Qadri sentence
Waqas A. Khan
JULY 13, 2018
Sahiwal is known for its Rajput, Arain, Jutt, Syed, and Ansari clans, alongside Langriyal, Khagga, Fatyana, Kathiya, Murdanay and Bharwana tribes.
In the latest delimitations, it has lost a national assembly seat, and will send three instead of four representatives to the Parliament on July 25. The three NA constituencies here are NA 147,148 and 149. There are seven provincial assembly seats (PP-196 to PP-202) falling under the three NA seats of the district.
NA-147 comprises the Chicha Watni tehsil. Though some villages of Chicha Watni are included in NA-148 and NA-149 as well, but the bulk of the areas in these seats are those of the Sahiwal tehsil.
In the previous election, the PML-N won three of the four seats in Sahiwal district. Rai Hassan Nawaz won the fourth seat for PTI, however, he was disqualified for defaulting on a bank loan. In the bypoll, the seat was secured by the influential Jutts of Chicha Watni who contested on the PML-N ticket.
The Jutts have been a potent electoral force in the district with three heavyweights coming from the clan and winning elections on PML-N tickets: Tufail Jutt in NA-162 (ex-tehsil nazim of Chicha Watni), Arshad Jutt in PP-225 and Hanif Jutt in PP-226.
Analysts suggest that the situation in the district ahead of the 2018 election is not as conducive for the N-League as it used to be in the past. They refer to the Panama Papers verdict and the social media campaign of N-League's opponents in the wake of the verdict to justify their assessment.
In NA-147, PML-N's Pir Imran Shah will face PTI's Chaudhry Nauraiz Shakoor. In 2013, Shah had defeated Shakoor's son Ali Nauraiz Shakoor, who also contested on a PTI ticket. Rana Amir Shahzad of the PPP secured 20,000 votes from the area but he is contesting the election on the PP seat this time. Far-right Tehreek-e-Labbaik Pakistan (TLP) has also fielded a strong candidate from the Kamyana family in NA-147, Khalid Siddique Kamyana. Contrary to the popular perception, the TLP candidate here is neither a barelvi cleric nor comes from middle-class professions identified with conservative religious outlook, he is the brother of a high-ranking police officer, Bilal Kamyana, and son of a prominent Supreme Court lawyer, Sadiq Kamyana.
In NA-148, PML-N's Chaudhry Ashraf is contesting against PTI's Muhammad Yar Dhakoo, whom he defeated in 2013 with a margin of 50,000 votes. PPP has given its ticket to Ghulam Farid Kathiya who has a stronghold over villages along the River Ravi bank.
At NA-149, the PTI is in a poor position. Both Rai and Langrial families were hoping for a ticket from the PTI, however, the ticket went to Rai Hassan Murtaza who lost to Tufail Jutt of PML-N in the by-poll held here during the previous term.
PML-N has posed its trust in the Jutt panel that secured it victory on NA and PP seats, and has given tickets to the past winners again. PML-N could not award a ticket to Mian Muneer Azhar who won from old NA-163 in 2013, due to new delimitations. However, the party compensated him by awarding a ticket for a provincial assembly seat in the district to his son.
The latest verdict in the Avenfield reference has given encouragement to many groups and local political and religious parties who were earlier not openly endorsing candidates. Hardliner Sunni Tehreek has announced support for the PTI candidates in all constituencies of the district, instead of supporting the TLP. ST district president Muhammad Ijaz Qadri, while talking to Daily Times, said that his party would vote for PTI as the PML-N was responsible for the death sentence of Mumtaz Qadri. When asked why was he not supporting TLP, he said, "we doubt their sincerity to the cause. PTI seems more sincere to bring about an Islamic revival in the country."
https://dailytimes.com.pk/266925/pml-n-rivals-play-up-panama-papers-verdict-qadri-sentence/
--------
SC puts on hold FIA probe against Zardari, Faryal till polls
Nasir Iqbal
July 13, 2018
ISLAMABAD: The Supreme Court on Thursday restrained the Federal Investigation Agency (FIA) from pursuing its investigation against PPP co-chairman Asif Ali Zardari and his sister Faryal Talpur in the fake bank accounts case till the coming general elections are over.
"We do not want excuses that the July 25 elections are rigged," observed Chief Justice Mian Saqib Nisar while hearing a suo motu case regarding the slow-paced investigation on part of the FIA in pending inquiries relating to fake accounts and suspicious transactions worth Rs35 billion. These accounts were allegedly used for transactions of heavy amounts obtained through receiving bribes and kickbacks.
The apex court also explained that its July 9 order had not asked for placing the names of the two leaders on the Exit Control List (ECL).
Justice Ijaz-ul-Ahsan, a member of the bench, cautioned FIA Director General Bashir Memon to ensure that no complaint of harassment was made during the investigation, suggesting that the agency should not summon anyone who was not related to the investigation.
The complaints of corruption should always be probed, the court said but clarified that the present hearing was not aimed at damaging the credibility or harming the integrity of any individual named as accused in the case.
"We will hear the case of those who have been put on the ECL and decide the case after hearing them while remaining within the confines of the law," the chief justice said.
The case revolves around a 2015 inquiry into the suspicious transactions when 29 'benami' accounts were identified of which 16 were opened in the Summit bank, eight in the Sindh Bank and five in the United Bank Limited. Seven individuals were involved in suspiciously transacting Rs35bn through these accounts.
Removed chairman of the Pakistan Stock Exchange Hussain Lawai, said to be a close aide to former president Asif Ali Zardari, and co-accused Taha Raza, corporate unit head of the Summit Bank, have been arrested by the FIA in the case.
Earlier, the Supreme Court had ordered the interior ministry to immediately place the names of a number of individuals identified as accused by the FIA on the ECL so that they might not leave the country until the investigation was concluded or till further orders.
The individuals are: Anwer Majeed, Abdul Ghani Majeed, Aslam Masood, Arif Khan, Noreen Sultan, Kiran Aman, Summit Bank Chairman Naseer Abdullah Lootah, Muhammad Iqbal Khan Noori, Muhammad Ashraf, Muhammad Iqbal Araen, Muhammad Umair, Adnan Jawed, Qasim Ali and Azam Wazir Khan.
On Thursday the chief justice wondered how an impression was created in the media that the apex court had ordered placing the names of Asif Zardari and Faryal Talpur on the ECL when nothing of the sort had been stated.
"We did not even summon Asif Zardari and Faryal Talpur in person before the court," the chief justice explained.
Pointing to senior PPP leader Barrister Aitzaz Ahsan, the chief justice observed that he should have removed vagueness if he had any about the orders before briefing his party after attending a meeting on the subject. If he felt any ambiguity, he should have moved an application to seek clarity on the order.
Farooq H. Naek, another PPP leader and lawyer, regretted that the FIA had hurled allegations that Mr Zardari had received Rs15 million in his accounts when he was not a director of the Zardari Group Pvt Ltd.
Moreover, the FIA had appointed Najaf Mirza head of the Joint Investigation Team (JIT) it had constituted to investigate the matter, he said, recalling that Mr Mirza as the then superintendent of Karachi jail had been accused of inflicting a wound on the tongue of Mr Zardari during an investigation in 2005. His name had been mentioned in the FIR registered on behalf of Mr Zardari.
The court, however, observed that no official could be removed unless he had been heard by the court, adding that Mr Naek should file an application to raise the apprehensions he had expressed.
The court, however, asked the FIA not to summon Mr Zardari and Ms Talpur or any one contesting elections until the polls were over, emphasising again that the elections would be held in a fair and impartial manner.
The court regretted the role of the State Bank of Pakistan which it said had taken three days to open the Diamer-Bhasha and Mohmand Dams Fund and even avoided to take up the call of the apex court's registrar.
Senior counsel Raza Kazim told the court that he was representing 76-year-old Anwar Majeed who was a heart patient. The court said that the case was in preliminary stage and Mr Majeed would be summoned whenever needed.
Full report at:
https://www.dawn.com/news/1419719/sc-puts-on-hold-fia-probe-against-zardari-faryal-till-polls
--------
NAB warns against creating hurdles in way of former PM's arrest
Kalbe Ali | Malik Asad
July 13, 2018
ISLAMABAD: The National Accountability Bureau (NAB) has warned those intending to welcome former prime minister Nawaz Sharif and his daughter Maryam upon their arrival in Lahore from London on Friday against creating "any obstacle in the arrest of the convicted persons".
In a press release issued on Thursday, the bureau stated that "chairman NAB retired Justice Javed Iqbal has said that the accountability court's verdict in the Avenfield properties reference and the arrest warrants issued against Nawaz Sharif and Maryam Nawaz will be executed in accordance with law".
NAB warned that action would be taken against those who would try to create any obstacle in the arrest of Mr Sharif and Ms Maryam.
Both father and daughter are coming to undergo the sentence handed down by the accountability court of Islamabad.
Accountability judge Mohammad Bashir sentenced Mr Sharif to 10 years and Ms Maryam to seven years' rigorous imprisonment and imposed fines on them for not justifying possession of Avenfield apartments. The court also ordered takeover of Avenfield apartments.
Sources said that NAB planned to arrest Mr Sharif and Ms Maryam at Lahore airport and shift them to Islamabad by helicopter. They would be sent to Adiala jail after being produced before the accountability court.
Meanwhile, caretaker Minister for Information and Broadcasting Barrister Ali Zafar has said that Nawaz Sharif is coming to surrender and NAB is going to arrest him.
Talking to newsmen after attending the concluding session of National Counter Terrorism Authority Youth Conference here on Thursday, he said efforts should be made that matter was settled peacefully without creating any untoward situation.
"We can't decide what's right while sitting over here (Islamabad). Whatever they (Punjab provincial authorities) are doing are doing okay in accordance with the ground realities. They are wise people. We need to help them and provide them support," the minister said.
In reply to a question, he said according to the law they (Nawaz and Maryam) were needed to be taken to the NAB court. "It would be decided in accordance with the security situation whether they should first be taken to the court or at a later stage."
About the concerns expressed by the PML-N and PPP, Barrister Zafar said everybody had freedom of speech. "We are trying to do our work sincerely."
Full report at:
https://www.dawn.com/news/1419713/nab-warns-against-creating-hurdles-in-way-of-former-pms-arrest
--------
Imran Khan summoned by NAB for 'misusing' KP govt's helicopters
Sirajuddin
July 12, 2018
The National Accoun­tability Bureau (NAB) has summoned Pakistan Tehreek-i-Insaf (PTI) chairman Imran Khan next week in connection with an ongoing inquiry against the alleged misuse of Khyber Pakhtunkhwa government's helicopters for private visits by the PTI chief.
A notice has been issued to Khan to appear before NAB Khyber Pakhtunkhwa on July 18, an official confirmed to DawnNewsTV.
NAB chairman retired Justice Javed Iqbal had in February this year directed the bureau's KP director general to conduct an inquiry against the PTI chief and then-KP chief minister Pervez Khattak over unofficial use of two government helicopters — MI-17 and Ecureuil — by misusing authority.
A press release issued by the bureau had stated that there is documentary evidence that Khan paid Rs2.1 million for using an Mi-17 and an Ecureuil helicopter belonging to the KP government for a total of 74 hours, which amounts to Rs28,000 spent for every hour the helicopters were used.
The NAB report claims that had Khan used a private company's choppers, it would have cost him an hourly fare of between Rs1m and Rs1.2m for the Mi-17, and between Rs0.5m and Rs0.6m for the Ecureuil.
Citing Pervez Khattak's principal adviser on technical training and aviation, the report added that the use of KP helicopters can cost as much as Rs0.2m per hour.
It claimed that Khan should have paid the KP government Rs11.1m, but official documents only mention payments worth Rs2.1m.
According to sources, the PTI chief was served summons after the NAB chairman approved an application in this regard by the bureau's KP chapter.
Khan had claimed at a party meeting that he had not used official helicopters of the PTI-led KP government for personal use.
Full report at:
https://www.dawn.com/news/1419616/imran-khan-summoned-by-nab-for-misusing-kp-govts-helicopters
--------
Kulbhushan case: Pakistan decides to file second counter-memorial in ICJ
July 13, 2018
ISLAMABAD: Pakistan has decided to file a second counter-memorial in the International Court of Justice (ICJ) regarding the conviction of Indian spy Kulbhushan Jadhav by July 17.
Earlier on January 23, the ICJ had given a timeline to both India and Pakistan for filing another round of memorials.
Pakistan's counsel Khawar Qureshi briefed Interim Prime Minister Justice (R) Nasirul Mulk regarding the case last week. Attorney General (AG) Khalid Javed Khan and other senior officials were also briefed during the meeting.
India had already submitted its second memorial in the ICJ earlier on April 17.
Earlier in December 2017, Pakistan had dismissed India's plea at the international court seeking consular access to the Indian spy, saying the provision of such an access under the Vienna Convention is only for legitimate visitors and not for spies.
Submitting counter-memorial in the ICJ, Pakistan had said that since India did not deny Jadhav was travelling with an assumed Muslim name, they have no case to plead.
"Lack of explanation on how a serving naval commander was operating under secondment to Indian spy agency Research and Analysis Wing (RAW) was travelling under an assumed name leads to only one conclusion that India wanted consular access to the information he had gathered," the Pakistani reply stated.
"Only a state which adheres to legitimate actions can request the court to intervene in a matter between two states," Pakistan had also stated.
Moreover, Pakistan had granted permission to the mother and wife of the Indian convicted spy to meet him on December 25.
Jadhav was arrested from Balochistan in March 2016 in a joint counter-intelligence operation.
A few days later, the Inter-Services Public Relations (ISPR) released his recorded statement in which the naval officer-turned-RAW agent confessed to have been working for the Indian secret service.
He admitted that he was working for RAW, which had given him the task to carry out subversive activities in Pakistan, particularly in Balochistan.
Full report at:
https://www.pakistantoday.com.pk/2018/07/12/kulbhushan-case-pakistan-decides-to-file-second-counter-memorial-in-icj/
--------
ANP European wing blames withdrawal of security for Peshawar suicide attack
Afnan Khan
JULY 13, 2018
BRUSSELS/LONDON: The Awami National Party's (ANP) European wing Thursday said that failure of law enforcement agencies and withdrawal of official security from Barrister Haroon Bilour had resulted into the tragic attack on ANP's corner meeting in Yakatoot area of Peshawar that had claimed at least 19 lives, besides injuring more than 60 people.
The ANP Europe wing is also considering organising demonstration outside Pakistan embassies in London and Brussels while holding references to commemorate the sacrifices of Bilour family for democracy and equal rights in Pakistan.
ANP United Kingdom spokesperson Alamgeer Tahir Khan told Daily Times that ANP Europe was holding a meeting to devise their next strategy in the wake of sheer terror against their party once again.
He added that the terrorists had been keeping their party in a crosshairs for a long time and assassinating Bilour and his supporters was a message from them to party supporters to abandon their struggle for democracy or face blatant terror and death.
Full report at:
https://dailytimes.com.pk/266750/anp-european-wing-blames-withdrawal-of-security-for-peshawar-suicide-attack/
--------
South Asia
Over 60 killed, wounded as clashes erupt among Taliban, ISIS in Jawzjan province
Jul 12 2018
Over sixty militants were killed during the infighting the Taliban and ISIS militants in northern Jawzjan province of Afghanistan.
The 209th Shaheen Corps of the Afghan Military in the North said the clashes erupted in Darzab district of Jawzjan after a coordinated attack by the Taliban militants.
According to a statement released by Shaheen Corps, at least 16 ISIS militants and 10 Taliban militants have been killed during the clashes.
The statement further added that 14 ISIS militants also sustained injuries and at least 9 others were detained by the Taliban militants.
A commander of the Taliban group was among those killed and at least 11 Taliban militants have sustained injuries while 2 others were detained by ISIS militants, Shaheen Corps added.
According to Shaheen Corps, clashes between the two sides still continue as the Taliban militants are attempting to clear Darzab district from the presence of ISIS militants.
The anti-government armed militant groups including Taliban and ISIS militants have not commented in this regard so far.
Jawzjan has been among the relatively calm provinces in the North but the security of the province has deteriorated during the recent months amid growing ISIS and Taliban activities.
https://www.khaama.com/over-60-killed-wounded-as-clashes-erupt-among-taliban-isis-in-jawzjan-province-05565/
--------
24 militants killed as Taliban leaders' gathering targeted in Ghazni airstrike
Jul 12 2018
An airstrike targeted a meeting of high level Taliban leaders in southeastern Ghazni province of Afghanistan, leaving at least 24 militants dead.
The Ministry of Defense (MoD) said the airstrike was carried out in the vicinity of Nawa district based on intelligence tip off.
A statement by the Ministry of Defense said the Taliban leaders had gathered for a meeting in Langa village in Nawa district when they came under the airstrike.
The statement further added that the airstrike also left at least seventeen Taliban militants wounded.
According to Defense Ministry, some of the senior Taliban leaders who had attended the meeting, included the former Taliban defense minister Mullah Amir Khan Mutaqi, Mullah Khalifa, Taliban's Quetta Council member Mullah Shah Mohammad, Taliban's shadow governor for Ghazni Mullah Yousuf, and Taliban's shadow governor for Paktia province Mullah Sayed Almas.
The Ministry of Defense also added that preliminary information received from the area indicates that Mullah Amir Khan, Mullah Khalifa, Mullah Shah Moammad, and Mullah Yousuf have sustained injuries in the airstrike.
Full report at:
https://www.khaama.com/24-militants-killed-as-taliban-leaders-gathering-targeted-in-ghazni-airstrike-05569/
--------
Afghan forces have reportedly suffered heavy casualties in Kunduz attack
Jul 12 2018
The Afghan armed forces have reportedly suffered heavy casualties in a coordinated attack by the Taliban militants in northern Kunduz province of Afghanistan.
Provincial governor's spokesman Nematullah Temori confirmed that the Taliban militants have launched a coordinated attack in Dashti Archi district.
Temori further added that heavy clashes are still underway between the militants and armed forces but did not disclose further information regarding the casualties.
Unconfirmed reports indicate at least thirty soldiers lost their lives in the attack and at least 17 others sustained injuries.
However, another official, speaking on the condition of anonymity, said at least sixty soldiers have been killed or wounded in the attack.
The source further added that the attack was carried out by the militants belonging to the red unit of the Taliban group.
According to the official, the attack was carried out on security posts between Dashti Archi of Kunduz and Khwajah Ghar of Takhar province.
The security and defense authorities have not commented regarding the casualties of the armed forces so far.
Full report at:
https://www.khaama.com/afghan-forces-have-reportedly-suffered-heavy-casualties-in-kunduz-attack-05568/
--------
British lawyer for jailed Bangladeshi ex-PM 'outraged' by India entry denial
12 Jul 2018
NEW DELHI: A British parliamentarian and lawyer, who is a counsel for jailed Bangladeshi politician Khaleda Zia, said on Thursday he was outraged by India's decision to deny him entry to address a press conference defending his client and meet a human rights body.
India's foreign ministry said it sent back Alex Carlile, a member of the House of Lords, from New Delhi airport on Wednesday because his "intended activity in India was incompatible with the purpose of his visit as mentioned in his visa application".
"This is no way to treat a 70-year-old senior lawyer and Parliamentarian," Carlile said in a statement. "I am outraged by the political interference in Begum Khaleda Zia's case on political grounds by two governments, and I expect a full explanation from the Indian Government. I have the visa they granted me a few days ago."
Bangladesh opposition leader and two-term Prime Minister Zia was jailed in February for corruption, but her party says the case is politically motivated by the ruling party in an election year. The Bangladeshi government has consistently denied the charges.
In his prepared statement for the planned New Delhi briefing on Thursday, released to reporters by email, Carlile said Bangladesh had delayed granting him a visa and that he was grateful to the Indian media for the chance to "lay bare the unfair and unjust approach of the Bangladesh authorities to the case of my client".
A Bangladesh foreign ministry spokesman declined to comment.
India's foreign ministry spokesman, Raveesh Kumar, told a weekly media briefing in New Delhi that it was not acceptable for Carlile to use Indian soil to hold such a press conference when he could have done the same from London.
Kumar declined to answer what category visa Carlile should have held other than his "business" visa, but said he suspected there was an attempt to "create some kind of a problem" in the relationship between India and Bangladesh.
India and Bangladesh enjoy close ties. New Delhi militarily helped the then East Pakistan liberate itself from Pakistan in 1971.
Zia's Bangladesh Nationalist Party (BNP) said it was disappointed that India sent Carlile back.
Full report at:
https://www.channelnewsasia.com/news/asia/british-lawyer-for-jailed-bangladeshi-ex-pm--outraged--by-india-entry-denial-10524902
--------
Rohingya crisis hits Bangladesh's exports to Myanmar
July 12th, 2018
According to Export Promotion Bureau (EPB) data, Bangladesh's export earnings from Myanmar stood at $21.37 million, down by 9.93%, from the last fiscal year. In FY 2016-17, Bangladesh earned $23.73 million from the neighboring country
Bangladesh's exports to Myanmar have declined by nearly 10% to $21.37 million in the last fiscal year due to the Rohingya crisis.
According to Export Promotion Bureau (EPB) data, Bangladesh's export earnings from Myanmar stood at $21.37 million, down by 9.93%, from the last fiscal year. In FY 2016-17, Bangladesh earned $23.73 million from the neighboring country.
The business community and trade experts blamed the ongoing Rohingya crisis for the downswing in export earnings as it hurt the shipment of export goods at the border.
Following attacks on Myanmar security outposts, reportedly launched by a small band of Rohingya insurgents, a deadly military campaign began in Rakhine state on August 25 which resulted in a mass influx of Rohingyas into Bangladesh.
Around 700,000 Rohingya men, women, and children have taken shelter in Cox's Bazar, a southern district of Bangladesh where more than 300,000 displaced Myanmar nationals have already been living in the country for several decades.
Both the crackdown and the Rohingya exodus have seriously affected bilateral trade between Bangladesh and Myanmar in border areas.
Of the total amount, $15.45 million came from pharmaceuticals products, which is 15% of the total export earnings of $103.46 million. Myanmar is the number one importer of Bangladeshi pharmaceuticals.
Bilateral trade is in favour of Myanmar as Bangladesh imports more than it exports. In FY17, Bangladesh imported products worthTk384.88 crore, while exports to the country amounted to goods worth Tk187.78 crore.
"Trade activities between Bangladesh and Myanmar at the border were hampered due to the Rohingya crisis at Tekhnaf as most of the shipment takes place through this area ," Founder President of the Bangladesh-Myanmar Chamber of Commerce and Industry (BMCCI), KB Ahmed, told the Dhaka Tribune.
"If the Rohingya crisis is not resolved, bilateral trade between the two neighboring countries will drop further," said Ahmed.
While, there were confrontations between traders of the two countries – due to border tensions as a result of the Rohingya influx at Teknaf – which has hurt business decisions. As a result, both trade volume and value have declined, he added.
In increasing our regional trading base, Myanmar can be invaluable as it is a huge market for Bangladeshi pharmaceutical products. Bangladesh is going very strong in pharmaceutical manufacturing, which creates opportunities in Asian markets, former caretaker government adviser, AB Mirza Azizul Islam, told the Dhaka Tribune.
He suggested resolving trade issues so that business people can continue export-import without any disruption.
However, the trade volume is much higher than what the data suggests, since there is a lot of informal cross-border trade not reflected in the export and import data.
Ahmed urged the government to strengthen vigilance at the borders to stop the informal trade, which would help the government generate more revenue from formal and legitimate trade.
In an attempt to diversify the market, manufacturers have to focus on non-traditional markets, especially in Asia as it has high potential due to its proximity," Exporters Association of Bangladesh (EAB) President Abdus Salam Murshedy told the Dhaka Tribune.
"I hope the Rohingya crisis will be over soon as international rights groups and developed countries are working with Bangladesh to resolve it," said Salam.
Full report at:
https://www.dhakatribune.com/business/commerce/2018/07/12/rohingya-crisis-hits-bangladesh-s-exports-to-myanmar
--------
Dhaka-Kuala Lumpur to sign MoU on defense training
July 12, 2018
Bangladesh and Malaysia are preparing to sign a Memorandum of Understanding (MoU) on defense training and technical cooperation.
It was told in a meeting with Prime Minister Sheikh Hasina and visiting Malaysian Defense Minister Mohamad bin Sabu at Prime Minister's Office (PMO) in Dhaka today.
PM's press secretary Ihsanul Karim said the prime minister and Malaysian minister discussed the issues of cooperation in defense sector, Rohingya and matters of other mutual interests.
The press secretary said the prime minister laid importance on continued international pressure on Myanmar to take back their nationals. She said an island is being developed to relocate the Rohingyas to facilitate them to live in a better condition.
Malaysian minister appreciated the gesture of Bangladesh for giving shelter to a large number of displaced Rohingays saying his country would continue support for repatriation of the Myanmar nationals to their homeland.
The prime minister conveyed her greetings to Mahathir Muhammad as he was elected as the prime minister of Malaysia. She also greeted Mohamad bin Sabu for being elected in the parliament of Malaysia and becoming the defense minister in the cabinet of Mahathir Muhammad.
The press secretary said the Prime Minister and Malaysian minister expressed satisfaction over very excellent brotherly relation between the two countries and agreed to continue to promote this relation for promotion of mutual relation of the two countries.
Sheikh Hasina said resourceful countries of South and South East Asian region can expedite their development through cooperation. She recalled her visit to Malaysia in December 2014.
Sheikh Hasina briefed the Malaysian minister on Bangladesh's progress in the agriculture sector, success of research in producing saline and drought tolerant rice and archiving self sufficiency in food production.
The prime minister emphasized on greater integrity of Muslim countries saying the fratricidal conflict is unfortunate.
Mohamad bin Sabu praised Bangladesh's overall development under the leadership of Prime Minister Sheikh Hasina saying 7.78 percent GDP growth is highly appreciable.
Full report at:
https://www.thedailystar.net/world/south-asia/bangladesh/dhaka-kuala-lumpur-malaysia-sign-mou-defense-training-and-technical-cooperation-1604161
--------
Southeast Asia
Putrajaya gathers disparate Muslims to draft reforms plan
July 13, 2018
PETALING JAYA: After a series of discussions with Muslim scholars and activists on the future of Islamic administration in the country, Putrajaya's top advisory council has shortlisted several prominent names to help draft a proposal on reforms for the sector.
This comes about three weeks after the five-member Council of Eminent Persons met separately with scholars, activists and muftis, as part of its feedback gathering process to hear views on the future of the administration of Islam.
It is believed that the council has tasked a state mufti with coordinating the efforts, and has also suggested several names to be included in the process.
A source said members of the team come from a cross-section of Muslim activists who have in the past clashed with each other over several issues.
"Their coming together would be interesting to watch," the source added.
It is understood that one of them was a vocal critic of Islamic bureaucrats during the previous administration.
Over the years, Muslim leaders have questioned state Islamic authorities as well as the federal-controlled Department of Islamic Development or Jakim, over what is perceived as their penchant for imposing a more rigid form of Islam in the country.
Influential government religious officers have also been blamed for a spate of controversial religious rulings as well as the banning of hundreds of books over the years on the topic of Islam.
Jakim has also come under the microscope, with leaders in both Barisan Nasional and Pakatan Harapan calling for its dismantling, saying its powers are against the constitutional provision that matters of Islam come under the purview of state rulers.
http://www.freemalaysiatoday.com/category/nation/2018/07/13/putrajaya-gathers-disparate-muslims-to-draft-reforms-plan/
--------
Muslim region of Philippines to have religious freedom
July 12, 2018
Freedom of religion will be enshrined in a proposed law that will allow the creation of a new autonomous Muslim region in the southern part of the Philippines.
A congressional bicameral committee agreed this week to adopt a provision that will allow freedom of religion in the predominantly Muslim territory.
The Senate version of the proposed Bangsamoro Basic Law provides "the promotion of religious freedom by the Bangsamoro government," said Senator Joel Villanueva.
The senator said his counterparts in the Lower House of Congress have agreed to adopt the provision that he proposed.
Villanueva, son of tele-evangelist pastor Eduardo Villanueva, said "religion plays a big role in shaping the beliefs, backgrounds and acts of people living in the area."
"This is not to mention the fact that the region is multicultural. We have Islam, Christianity, and dozens of indigenous beliefs in the area," he said.
The legislator said the exercise of freedom of religion in the Muslim region must extend even to "establishments that wish to express a certain faith."
He said the law must guarantee that Bangsamoro people should be protected from harassment or any undue pressure, coercion or violence on account of religion.
"We need to be mindful of the fact that people are harassed or subjected to violence because of their choice of beliefs in certain areas of the country," said Villanueva
Law does not guarantee religious freedom
Religion experts, however, warned that a provision in the proposed law would not guarantee respect for religious freedom.
Maylanie Sani-Boloto, a sociology professor at Mindanao State University, said the problem is not the law "but the people who will implement it."
"If they will not subscribe to the true interpretation of sharia law, then they will not abide to the very provision that they themselves included," said the professor.
She assured that Islamic law has "very high tolerance to the practice of other religious beliefs" including protecting other faiths and places of worship.
"If we really want a true implementation of sharia law that would truly ensure and protect religious freedom, Muslims should abandon their tribal affiliations and tribal identities," said Sani-Boloto.
She said the proposed Bangsamoro Basic Law cannot guarantee respect for freedom of religion "as long as we submit to the secular laws of the Philippine state."
"The real implementation of sharia law means separation of the entire Bangsamoro state from the Philippine state," she said.
Bishop Arturo Bastes of Sorsogon welcomed the inclusion of the religious freedom clause in the law but said it will not solve the conflict in Mindanao "because Muslims consider territories [under the proposed law] as theirs."
"So they will not respect the provision on freedom of religion," said the prelate, adding that the new Muslim region should not include Christian-dominated provinces.
The Philippine Congress is expected to finalize by July 13 the final draft of the proposed law that will facilitate the creation of a new autonomous Muslim region.
Full report at:
https://www.ucanews.com/news/muslim-region-of-philippines-to-have-religious-freedom/82802
--------
Mum converts kids to Islam without dad's consent
13 Jul 2018
KUALA LUMPUR: A Muslim convert mother has unilaterally converted her two children to Islam while she and her ex-husband were still in the process of seeking a divorce, a High Court here heard.
Lawyer K. Shanmuga who acted for her ex-husband, a Buddhist businessman, said the 42-year-old mother had converted her then eight-year-old daughter and four-year-old son to Islam in the Federal Territory while the children were residents of Selangor.
He added that both parents' consent were needed before the children could be converted.
"She went to the Federal Territory, when she does not even live there, to convert the children.
"The children were too young when they uttered the Affirmation of Faith (Kalimah Syahadah) on May 11, 2016. They did not understand the meaning of it. The children were informed of the meaning in English," he submitted before High Court (Appellate and Special Powers) judge Justice Azizah Nawawi yesterday.
He said even on an interpretation of the Federal Constitution alone, the Federal Court held that the Constitution requires both parents, if both are still alive, to consent to the conversion of a child.
Meanwhile, lawyer Nizam Bashir who appeared for the Federal Territories Registrar of Muallaf, said the businessman was given visitation rights to the children and the mother was given sole custody, care and control of them.
The mother converted to Islam in December 2015 and obtained custody of the two children from the Shah Alam High Court in April this year. The children converted to Islam on May 11, 2016.
In his application filed on June 14, 2016, the father named the director-general of Jawi (Federal Territories religious department), Federal Territories Registrar of Muallaf, the director-general of the Education Ministry, the Federal Government and the mother as respondents.
Full report at:
https://www.thestar.com.my/news/nation/2018/07/13/mum-converts-kids-to-islam-without-dads-consent/
--------
Organiser apologises for serving pork to Muslim journalists
Adam Abu Bakar July 12, 2018
PETALING JAYA: The organiser of the Agro Malaysia Excellence Award dinner in Melaka last night has apologised for accidentally serving pork to Muslim journalists on duty.
Secretary of the Association for Protection and Development of Agriculture, Chai Siong Siow said his staff made a mistake in failing to identify the journalists from other guests.
He said they prepared five halal food tables, five vegetarian food tables and the remaining 50 tables served non-halal food as 90% of the guests were non-Muslims and foreign investors.
"We're sorry. We prepared additional five tables (which serve halal food), which included the VIP reception desk, and four others for Muslim guests.
"There were also journalists sitting at the table, but the problem is that my crew did not know who the reporters were, otherwise they would have brought them to the halal table," he told FMT today.
Utusan Malaysia reported that several Muslim and Hindu journalists were upset after they were seated at a table which served pork during the dinner event at the Pay Fong School in Melaka last night.
They were reportedly disappointed with the organisers for not being sensitive and failing to inform them that the food served was non-halal.
Among the reporters present were those from Utusan Malaysia, MelakaKini, RTM Melaka, The Star and Tamil Nesan Daily and several Chinese press journalists.
The event was also attended by Deputy Agriculture and Agro-based Industry Minister Sim Tze Tzin and several distinguished guests.
Sim said he was present as a guest and the organiser had prepared tables serving halal food at the front of the hall as a sign of respect for Muslim guests.
"Tables that had non-halal food were placed behind for non-Muslims only," he said in a WhatsApp message to FMT today.
Commenting further, Chai said he had invited media agencies to attend the event, but only the China Press, Nanyang Siang Pau and Sin Chew Daily had confirmed their attendance.
"So we prepared a table for journalists from those media companies."
Full report at:
http://www.freemalaysiatoday.com/category/nation/2018/07/12/organiser-apologises-for-serving-pork-to-muslim-journalists/
--------
Don slams 'racist' critics of non-Muslim CJ
Robin Augustin
July 13, 2018
PETALING JAYA: Law expert Azmi Sharom has ripped into critics of new Chief Justice Richard Malanjum who said the appointment of a non-Muslim to the post was an encumbrance or threat to Islam.
Azmi, an associate professor of law at Universiti Malaya, described Malanjum's critics as being "ignorant and racist".
Speaking to FMT, he said his obversations showed that Malanjum's judgements in cases pertaining to Islam had been in line with the Federal Constitution, but some Muslim judges "have no problems in making decisions which are against the constitution".
Fears of a non-Muslim as Chief Justice were rooted in racism and ignorance, he said.
Azmi pointed out that the role of the Chief Justice was essentially to manage the courts, particularly the Federal Court. "A CJ doesn't have powers to do things unilaterally or veto powers in making judgments. A CJ can only decide on cases brought before the court."
The Federal Court, the country's highest court and final appellate court, did not hear cases with only one judge presiding, he said. Judgments would be decided by a majority of those judges hearing the case, and the CJ's vote would carry the same weight as any other judge on the bench.
Yesterday, PAS had questioned Malanjum's appointment, saying that the party's aspirations to strengthen shariah laws in the country had been undermined by the appointments of non-Muslims to several important posts related to the judiciary.
Besides Malanjum, the government has appointed Liew Vui Keong as minister in the Prime Minister's Department responsible for legal affairs and Tommy Thomas as attorney-general.
Full report at:
http://www.freemalaysiatoday.com/category/nation/2018/07/13/don-slams-racist-critics-of-non-muslim-cj/
--------
Stop labelling us as non-Muslims, says Ahmadi leader
Predeep Nambiar
July 12, 2018
GEORGE TOWN: A leader of the Ahmadi community here has urged the Penang Islamic authorities to stop labelling them as "kafir" or non-believers as it was against the teachings of the Prophet.
Islamic authorities in Malaysia have declared Ahmadi Islam as a deviationist sect because its followers believe Mirza Ghulam Ahmad of Qadian, who died in 1908, is the promised Messiah.
Mainstream Muslims, on the other hand, believe the Messiah is Jesus the son of Mary, and that he will come back to earth in his second coming towards the end of time.
Northern Malaysia Ahmadi Muslim Community Association president Abdul Aziz Mohd Ibrahim said the recent comment by Penang mufti Wan Salim Wan Mohd Noor that members of the community were to be considered followers of "a religion outside of Islam" was not right.
"The Penang mufti should be uniting all the sects in Islam. With all due respect, we hope he (the mufti) becomes a progressive Islamic leader by not simply declaring other sects or group to be non-Muslims.
"After all, the Prophet Muhammad had once said it was wrong to call anyone a kafir (non-believer), especially if they follow the five pillars of Islam and the six articles of faith," Aziz told FMT.
Recently, Wan Salim had welcomed a court ruling allowing the followers of Ahmadi Islam to practice as they wished in Selangor, saying members of the community were not Muslims in the first place and Ahmadi Islam should be regarded as a religion other than Islam.
Wan Salim said the ruling was in the spirit of religious freedom as guaranteed in the Federal Constitution, adding that the Ahmadi Muslim sect was never recognised as part of Islam.
The Ahmadi community claims to have tens of millions of followers throughout the world. It currently has its headquarters in Britain.
Full report at:
http://www.freemalaysiatoday.com/category/nation/2018/07/12/stop-labelling-us-as-non-muslims-says-ahmadi-leader/
--------
Muhaimin still on Jokowi's VP hopeful list, PKB claims
July 12, 2018
The National Awakening Party (PKB) remains certain that its chairman Muhaimin Iskandar is among the five names that President Joko "Jokowi" Widodo is considering for his vice-presidential slot, despite claims to the contrary.
"The PKB is still very hopeful that the ticket that will be announced will be Jokowi-Muhaimin," PKB executive Jazilul Fawaid said on Thursday.
Politicians from Jokowi's Indonesian Democratic Party of Struggle (PDI-P) have said that Muhaimin was no longer considered, with non-partisan candidates such as former Constitutional Court (MK) chief justice Mahfud MD coming to the fore.
Jazilul denied the claims, saying that Muhaimin regularly communicated with Jokowi, with their last meeting taking place on Wednesday evening, when Muhaimin attended a Quran reciting event at the State Palace.
"Their conversations are private, but we are optimistic," he said. "Muhaimin has received a mandate from Muslim clerics and Jokowi has recently met with young clerics, many of whom have a connection with Muhaimin and given their mandate to him."
Jokowi has been dogged by allegations of non-Muslim heritage, and analysts said that choosing a running mate with a strong Islamic background was needed to deter such attacks.
The PKB's support is important to Jokowi as it is the unofficial political arm of the largest Islamic mass organization Nahdlatul Ulama (NU).
There have been reports that the PKB may leave the pro-government coalition if Muhaimin is not selected.
Full report at:
http://www.thejakartapost.com/news/2018/07/12/muhaimin-still-on-jokowis-vp-hopeful-list-pkb-claims.html
--------
Arab World
Syrian Army Enters Dara'a City after 7 Years, Regains Control over 3 Regions
Jul 12, 2018
The Syrian army entered the town of al-Mozayrab in Northwestern Dara'a on Thursday after reaching an agreement with the terrorist groups, regaining control of the town.
Meantime, the Syrian army units won back control of the towns of Ankhal and Kafr Shams in Northern Dara'a.
Also, field sources reported that the army forces have for the first time entered Dara'a city which has been under the occupation of terrorists since 2011, and hoisted the Syrian government flag over the city's municipality.
They added that the army is expected to win control over the entire city in coming days.
Field sources said earlier today that the terrorists in Dara'a province agreed to return control of several important regions to the Syrian army after sustaining heavy defeats.
The sources in Southern Syria said that the terrorists in Dara'a al-Balad, Tariq al-Sad, al-Makhim-Sukhnah and al-Manshiyeh in Southern Dara'a have agreed with the Syrian army's peace plan.
Based on the agreement, the militants will surrender their weapons and military equipment to the Syrian army and will be granted amnesty by the government, and the terrorists who are opposed to the plan will leave the region.
Meantime, reports in Northwestern Dara'a said that the terrorists in the town of al-Ya'adoudeh have agreed with the peace plan in the region.
The Syrian army has now surrounded the terrorist-held areas in and North-West of Dara'a city.
http://en.farsnews.com/newstext.aspx?nn=13970421000614
--------
Several Kurdish Fighters, Ankara-Backed Militants Killed in Afrin
Jul 12, 2018
Sources affiliated to the Ankara-backed militants reported on Wednesday that 15 Kurdish forces have been killed and captured during the Turkish army's cleansing operations in the towns of Rajou, Sheikh Hadid, Jandaris, Meidanki and other villages of Afrin during the past week.
Meantime, the Turkish army forces and Ankara-backed militants heavily pounded the village of Baini in Shirawa region in Afrin on Wednesday.
Also, the Arabic-language al-Mayadeen news channel reported that the Turkish army has sent a large volume of military equipment, including artilleries and tanks, to the village of Bastouleh in Southern Afrin.
The Kurdish forces, meantime, said that a military vehicle of Faylaq al-Sham terrorists was destroyed during the military operations against the Ankara-backed militants in Afrin in the past few days, killing 5 terrorists.
In a relevant development on Tuesday, a media outlet reported that three Turkish Army soldiers and a number of Ankara-backed militants, including a commander, were killed in Kurdish militias' attacks in Afrin region in Northwestern Aleppo last week.
The Kurdish-language Hawar news reported that elite Kurdish militia troops launched fresh attacks on the positions of Ankara forces in Bolboleh region. They also stopped the vehicle of Mohammad al-Suleiman, the commander of Jeish al-Nokhba, as he was travelling in the same region, and killed him.
Hawar news further said that other units of the Kurds further attacked the Turkish troops in the village of Rajou and in Mabata area in Afrin, killing three soldiers along with a number of Ankara-backed militants.
Full report at:
http://en.farsnews.com/newstext.aspx?nn=13970421000504
--------
US airstrikes kill 30 civilians in Syria's Bukamal: SANA
Jul 13, 2018
At least 30 civilians have lost their lives when the US-led coalition purportedly fighting Daesh terrorists carried out airstrikes in Syria's eastern province of Dayr al-Zawr on Friday.
Local sources said the airstrikes struck a residential area on the outskirts of the city of al-Bukamal, which lies on the Euphrates River near the border with Iraq.
Many others, including women and children, were injured in the overnight airstrikes, with medical sources indicating that the death toll may rise due to the critical condition of some of the wounded.
The US has been conducting airstrikes inside Syria since September 2014 without any authorization from Damascus or a UN mandate. It has repeatedly been accused of targeting and killing civilians. It has also been largely incapable of fulfilling its declared aim of destroying Daesh.
On December 14, 2017, Syria's Ministry of Foreign Affairs and Expatriates stated that the US-led coalition was indeed targeting civilian facilities and providing Daesh terrorists with cover.
The latest US airstrikes come a day after the Syrian army entered the militant-held part of the southern city of Dara'a and hoisted the national flag near the city's post office.
The final push into the city happened after militants agreed to put down their arms through a deal facilitated by a Russian military delegation.
Earlier on Thursday, militant officials and witnesses said a Russian military delegation had entered Dara'a's terrorist-controlled area and begun negotiations over the region's handover to the Syrian government.
Two armored vehicles with senior Russian officers entered the al-Shayah area and began talks with commanders from the so-called Free Syrian Army (FSA) on implementing the terms of the surrender deal.
Since June 19, the Syrian army has been conducting the operation in Dara'a, which borders Jordan and the Israeli-occupied side of Syria's Golan Heights.
Dara'a's return to the Syrian government control would cut the much-reported collaboration between anti-Damascus militants and Israel which has beefed up its military presence in the Golan Heights in recent days.
Dara'a city was the birthplace of the sedition that began in March 2011 before morphing into a foreign-backed militancy that continues to this day.
Russia warns militants 'Idlib will be next'
Meanwhile, opposition-linked Smart Syria news agency cited an FSA spokesman as saying that Russian officials had warned the militant group's negotiators in Dara'a that they plan to launch an attack on the northern Syrian province of Idlib in September.
According to Ibrahim Jibawi, a spokesman for the FSA's Southern Front Central Operations Room, the Russians advised militants during a meeting in the Dara'a province town of Busra al-Sham not to continue north after Dara'a.
"There was a warning by the Russians for the Free Army not to go to Idlib....'After Dara'a, we'll go to Idlib'," Jibawi told SMART.
The news agency also quoted an FSA military commander as saying that the militants were now fortifying their bases in Idlib in anticipation of a new offensive.
The foreign-backed crisis in Syria first broke out in Idlib in 2011. The province has been the focal point of the militant campaign against the Damascus government.
Syrian government forces retook Idlib a year later, but it fell back into the hands of militants in 2015, when a coalition of Takfiri terrorists, including then al-Qaeda offshoot al-Nusra Front and Ahrar al-Sham, launched an offensive in the province, seized Idlib City and laid a siege to the Shia-majority villages of al-Fu'ah and Kafriya.
Full report at:
https://www.presstv.com/Detail/2018/07/13/567953/Syria-US-airstrikes-Dayr-alZawr-alBukamal
--------
Tahrir Al-Sham Terrorists Fully Withdraw from Dara'a Province
Jul 12, 2018
The Arabic-language website of Sputnik quoted a Syrian field source as saying that Tahrir al-Sham terrorists have evacuated the entire parts of Dara'a and moved to Queitra province in Southern Syria along with their military equipment.
He added that the development came after the Syrian army reached a peace agreement with other militant groups in Dara'a province.
Meantime, field sources reported that the Israeli army is protecting Tahrir al-Sham in the de-escalation zone after its withdrawal from Dara'a to Quneitra.
The Syrian army is now on the verge of full liberation of Dara'a province after extensive advances and agreement with militants to join the peace plan.
In a relevant development on Wednesday, Adham al-Akrad, the notorious commander of the terrorists in Dara'a province that was strictly opposing peace with the Damascus government, surrendered to the Syrian Army troops.
Adham al-Akrad, one of the most dogged field commanders of the Free Syrian Army and commander of the artillery regiment of the terrorist group in Southern Syria, handed over his weapon and surrendered to the Damascus forces.
Al-Akrad had once said if Moscow falls Dara'a will not fall.
Al-Akrad pointed to the rapid advances of the Syrian army in Dara'a province, saying that he had no way but resuming talks with the Damascus forces.
Full report at:
http://en.farsnews.com/newstext.aspx?nn=13970421000398
--------
Kurds Likely to Return Control of Manbij to Syrian Army
Jul 12, 2018
Media sources affiliated to the dissidents in Syria reported that representatives of the Syrian government and a number of officials of the Manbij military council, affiliated to the Syrian Democratic Forces (SDF), have held a meeting on the future of the town.
They added that the two sides conferred on the process to deliver control of a security region in Manbij as well as al-Shahba (Tishrin) dam South-East of the town to the Syrian army forces, noting that it can pave the ground for the army's full control over Manbij.
Meantime, earlier reports said that the US and Turkey had agreed on a roadmap to expel the Kurds from Manbij.
The Arabic-language al-Watan newspaper quoted informed sources as saying last Thursday that meetings between the Syrian government and the Kurdish forces have recently increased but they have not yet produced remarkable results.
They added that the Kurds have opted for delivering control of the Eastern Euphrates after Washington withheld its support for the Kurdish militias in Manbij and Afrin.
Meantime, Turkey is preparing for an agreement with the Americans in Eastern Euphrates after its recent elections, which would give the Kurds a hard time if made.
Full report at:
http://en.farsnews.com/newstext.aspx?nn=13970421000566
--------
Terrorist Commanders Show Concerns about Peace Plan in Northern Syria
Jul 12, 2018
Abdullah Muhammad al-Muhaysini, the former commander of Tahrir al-Sham Hay'at (the Levant Liberation Board or the Al-Nusra Front), cautioned on Wednesday against the growing number of the militants asking for the endorsement of the peace plan in Northern Syria, calling for their trial and punishment.
Also, Abdolrazaq al-Mahdi, the Mufti (religious leader) of another terrorist group in Northern Syria, warned of the dire situation in Northern Syria, calling on the militants to unite to stand against the Syrian army's imminent operations in the region.
The Syrian army will soon start military operations in Idlib after fully cleansing Southern Syria of terrorists, reports said.
Relevant reports said on Wednesday that differences and feuds are increasing among the non-Syrian members of Tahrir al-Sham Hay'at, known as al-Turkistani Party, in Northern Syria amid reports on the Syrian Army's imminent operation in the province.
Militant-affiliated websites disclosed that a fresh wave of defections has been reported among the foreign members of Tahrir al-Sham, known as al-Turkistani Party.
The websites further said that Abu Mohammad Mansour, one of the commanders of al-Turkistani, has seized leadership of the terrorist group in a coup against al-Turkistani's former commander Abu Ibrahim.
In the meantime, a large number of terrorists were killed in heavy fighting between ISIL and Horas al-Din along a road to the village of Hafsarja in Northwestern Idlib.
Full report at:
http://en.farsnews.com/newstext.aspx?nn=13970421000534
--------
2 Notorious Terrorist Commanders Killed in Northern Syria as Tensions Increase
Jul 12, 2018
Local sources in Southern Idlib reported on Thursday hat one of the senior commanders of Tahrir al-Sham Hay'at (the Levant Liberation Board or the Al-Nusra Front) terrorist group, namely Mohamed al-Iraqi, was assassinated by unknown assailants near the town of al-Khowin.
They also reported that two military vehicles of Tahrir al-Sham were destroyed and a number of militants were killed and wounded during the ISIL terrorists' attack on the road linking the village of Nayrab to the town of Sarmin in Southeastern Idlib.
Meantime, the commander of the terrorists' security committee in the town of Qala'at al-Maziq in Northwestern Hama was killed after unknown assailants fired at him.
Terrorists are now in panic and frustration after reports said that the Syrian army will launch imminent military operations in Idlib province.
Relevant reports said on Wednesday that differences and feuds are increasing among the non-Syrian members of Tahrir al-Sham Hay'at, known as al-Turkistani Party, in Northern Syria amid reports on the Syrian army's imminent operation in the province.
Militant-affiliated websites disclosed that a fresh wave of defections has been reported among the foreign members of Tahrir al-Sham, known as al-Turkistani Party.
The websites further said that Abu Mohammad Mansour, one of the commanders of al-Turkistani, has seized leadership of the terrorist group in a coup against al-Turkistani's former commander Abu Ibrahim.
In the meantime, a large number of terrorists were killed in heavy fighting between ISIL and Horas al-Din along a road to the village of Hafsarja in Northwestern Idlib.
Full report at:
http://en.farsnews.com/newstext.aspx?nn=13970421000344
--------
Syrian Army Wards Off Tahrir Al-Sham's Heavy Offensive in Quneitra
Jul 12, 2018
The Syrian army forces engaged in fierce clashes with Tahrir al-Sham terrorists and other militant groups near Tal Krom Jaba as Israeli fighter jets launched airstrikes on the military positions of the army in Quneitra.
Meantime, the army conducted heavy artillery fire on Tahrir al-Sham's positions and moves in al-Doha, Um Batenah and Western al-Samdaniyeh regions as well as areas near al-Ajraf with heavy fire.
They also launched attacks on the terrorists in the village of al-Hamidiyeh and Dawar al-Ilm in Eastern Quneitra which were the origin of militant attacks on civilian houses in areas near the town of al-Ba'ath, leaving heavy damages.
Also, field sources reported that the army units repelled the terrorists' attacks after inflicting heavy damage on them.
They added that the Israeli army is protecting Tahrir al-Sham terrorists in the de-escalation zone in Quneitra after they leave Dara'a towards Quneitra.
In a relevant development on Monday, a timely offensive by the Syrian army stopped Israel's move to supply logistical support to Tahrir al-Sham Hay'at terrorist group in Southwestern Quneitra.
The Syrian army's artillery and missile units staged heavy fire on Tahrir al-Sham's positions and moves in al-Alam square, Rawihineh and the road linking Naba'a al-Sakhrah to Southwestern Quneitra and the nearby areas on Monday.
Several positions and military vehicles of terrorists were smashed and a number of militants were killed and wounded.
Full report at:
http://en.farsnews.com/newstext.aspx?nn=13970421000192
--------
Mideast
At least 45 Houthis killed in failed attempts to restore various lost posts
12 July 2018
More than 30 Houthi militiamen were killed following Arab Coalition air raids in Yemen's Tahita directorate in the country's west coast, as well as several Saada fronts.
A security source said that the raids targeted Houthi gatherings in a number of farms surrounding Tahita, which resulted in the destruction of four Houthi military vehicles, and death of militiamen including top Houthi officials.
Meanwhile, at least 15 Houthi militiamen were killed, and several others injured after the Yemeni army deterred a Houthi attack on army posts in the Alab front, north of Saada.
Brigadier General Yasser Majli, commander of the 63rd infantry division, said the army forces deterred the Houthi attack on al-Shaeer Mountain and al-Tabab in the Baqim district, adding that the Houthis were trying to restore some of the posts they had lost control of, but failed.
The army's confrontations with the Houthi militias coincided with airstrikes launched by coalition fighter jets on Houthi posts in the area of Abwab al-Hadid and parts of al-Tabab.
The Yemeni army found TNT, owned by Houthi militias in Saada, following a qualitative military operation launched against Houthi posts in the Alab front on Monday night.
Colonel Sami al-Qabbati had told Al Arabiya news channel the TNT was seized after the Yemeni army succeeded in executing a military operation on the Houthis posts in Abwab al-Hadid in Baqim, adding that a number of Houthis were killed and injured during the raid.
In Baqim, new Arab Coalition military reinforcements arrived in support of the legitimate army, including tanks, armed vehicles and machine guns of various calibers, according to military sources.
https://english.alarabiya.net/en/News/gulf/2018/07/12/At-least-45-Houthis-killed-in-failed-attempts-to-restore-various-lost-posts.html
--------
Turkish court gives life imprisonment to 72 over coup bridge killings
Jul 12, 2018
A Turkish court has handed down life sentences to 72 defendants for their roles in clashes on an Istanbul bridge that led to the deaths of dozens of people, including a key aide of President Recep Tayyip Erdogan, during an abortive coup two years ago.
The court on Thursday convicted the men of deliberately killing civilians who heeded a call from President Erdogan to challenge the coup plotters on the bridge across the Bosphorus Strait in July 2016.
More verdicts are expected to be issued for 71 other defendants in the case.
Turkey witnessed a coup attempt when a faction of the Turkish military declared that the government of President Erdogan was no more in charge of the country. However, over the course of two days, the putsch was suppressed.
Thirty-four civilians and seven coup plotters were killed on Bosphorus Bridge. Among the fatalities were Erdogan's campaign manager Erol Olcak and his 16-year-old son Abdullah, who were killed when soldiers involved in the coup attempt opened fire on protesters.
The bridge was later renamed by the Turkish government as July 15 Martyrs' Bridge.
The Turkish government accuses the US-based cleric Fethullah Gulen of having orchestrated the attempted coup. Gulen, a former Erdogan ally turned arch-foe, has denied the allegation.
Ankara has called on the US to extradite Gulen, but the demand has not been taken heed of.
Tens of thousands of people have been arrested in Turkey on suspicion of having links to Gulen and the failed coup. More than 140,000 others, including military staff, civil servants and journalists have been sacked or suspended from work over the same accusations.
Full report at:
https://www.presstv.com/Detail/2018/07/12/567878/Turkey-court-2016-coup
--------
Turkey to bring in new security regulations after emergency rule ends
July 12, 2018
President Tayyip Erdogan's AK Party and its nationalist ally plan to introduce security regulations to ensure the "fight against terrorism" will continue after a two-year-old state of emergency ends this month, two sources told Reuters.
The regulations, which will grant broader authority to local governors, will likely be brought to parliament and go into effect by the end of this month, one of the sources, a senior AK Party official, said.
Turkey has been under a state of emergency since a 2016 failed coup, allowing the government to limit freedoms and rule by decree, bypassing parliament. Erdogan, who was this week sworn in an under a new, executive presidential system and now holds sweeping powers, had promised not to renew the state of emergency when it expires on July 18.
Critics have said Erdogan's new powers - which allow him to issue decrees on executive matters and appoint and remove senior civil servants, including some judges and prosecutors - may largely supersede the state of emergency.
"The main aim of the regulation is that the fight against terrorism will not be interrupted after the state of emergency is lifted," the official said. "The authority of governors will be broadened."
Unlike mayors, who are elected, governors in Turkey are appointed by Ankara.
"Turkey is well on its way to an increasingly authoritarian-style of government, built around President Erdogan," U.S. intelligence consultancy Soufan Group said. "The end of the state of emergency is a needed and positive step, but one that is undercut by the breadth of the new powers of the presidency that Erdogan now wields."
THOUSANDS DETAINED
Some 160,000 people have been detained under emergency rule and nearly the same number of state employees have been dismissed, the U.N. human rights office said in March.
Of those detained, about 77,000 have been formally charged and kept in jail during their trials, the interior minister said in April.
Critics of Erdogan accuse him of using the failed putsch as a pretext to quash dissent. Turkey says the measures are necessary to combat threats to national security.
"They made the state of emergency into a tool to intervene in every aspect of life," said Teoman Sancar, a lawmaker from the secularist opposition CHP lawmaker, referring to Erdogan's ruling AKP. "Now they want to make the state of emergency permanent with a legal cover."
Some security regulations are expected to end when emergency rule is lifted - such as right of security forces to search people without a warrant, the requirement that people carry an ID at all times and the government's ability to ban protests and cultural activities.
The maximum time someone can be held in detention without an indictment, up to 14 days now, will again be up to 4 days.
Full report at:
https://nation.com.pk/12-Jul-2018/turkey-to-bring-in-new-security-regulations-after-emergency-rule-ends
--------
Arab coalition issues five entry permits to vessels heading to Yemen
12 July 2018
The Arab coalition backing the Yemeni legitimate government issued five entry permits to vessels heading to Yemeni ports destroyed by Houthi militias.
The coalition said that two vessels are already at Hodeidah port to unload, while two others are still outside the port area, adding that another vessel is already unloading its shipment of corn and soya beans at Saleef port.
The coalition confirmed that the "Houthi militias try intentionally for the last two weeks to obstruct the entry of two vessels carrying diesel and gasoline into Hodeidah port."
https://english.alarabiya.net/en/News/gulf/2018/07/12/Arab-coalition-issues-five-entry-permits-to-vessels-heading-to-Yemen.html
--------
Yemeni forces shoot down Saudi jet in Asir: Ministry
Jul 12, 2018
Yemen's Defense Ministry says the country's air defense forces shot down a fighter jet in southwest Saudi Arabia in retaliation for fresh airstrikes by the kingdom against its impoverished neighbor.
In a statement, the ministry said on its website Thursday that the fighter jet belonging to the Royal Saudi Air Force had been hit in the Asir region as it was returning from Yemen's northern province of Sa'ada.
According to Yemeni military officials, the invading aircraft had taken part in deadly airstrikes against residential neighborhoods in the Arab country.
In January, Yemen's Houthi Ansarullah movement released footage of the moment its forces shot down an F-15 fighter jet belonging to the Saudi air force.
In June last year, Yemeni air defense forces also intercepted and shot down a Saudi F-15 fighter jet in the skies over Sana'a.
Yemeni forces regularly fire ballistic missiles at positions inside Saudi Arabia in retaliation for the Saudi-led war on Yemen.
In another development on Thursday, Yemeni army snipers shot dead five Saudi mercenaries at the strategic Jabal al-Doud military base in the kingdom's southwestern border region of Jizan.
In addition, at least 44 Saudi-backed militants were killed in a series of violent clashes across Yemen.
According to al-Masirah television network, Saudi warplanes carried out new airstrikes across Yemen, hitting different parts of the impoverished country.
At least two people were killed after the jets bombed residential areas in Al Shajan village and other towns across Hudaydah Province.
Yemen's Defense Ministry says the country's air defense forces shot down a fighter jet in southwest Saudi Arabia in retaliation for fresh airstrikes by the kingdom against its impoverished neighbor.
In a statement, the ministry said on its website Thursday that the fighter jet belonging to the Royal Saudi Air Force had been hit in the Asir region as it was returning from Yemen's northern province of Sa'ada.
According to Yemeni military officials, the invading aircraft had taken part in deadly airstrikes against residential neighborhoods in the Arab country.
In January, Yemen's Houthi Ansarullah movement released footage of the moment its forces shot down an F-15 fighter jet belonging to the Saudi air force.
In June last year, Yemeni air defense forces also intercepted and shot down a Saudi F-15 fighter jet in the skies over Sana'a.
Yemeni forces regularly fire ballistic missiles at positions inside Saudi Arabia in retaliation for the Saudi-led war on Yemen.
In another development on Thursday, Yemeni army snipers shot dead five Saudi mercenaries at the strategic Jabal al-Doud military base in the kingdom's southwestern border region of Jizan.
In addition, at least 44 Saudi-backed militants were killed in a series of violent clashes across Yemen.
According to al-Masirah television network, Saudi warplanes carried out new airstrikes across Yemen, hitting different parts of the impoverished country.
Full report at:
https://www.presstv.com/Detail/2018/07/12/567920/Saudi-Arabia-Yemen-Asir-Houthi-Ansarullah-movement
--------
Netanyahu to Putin: Assad is safe from us, but Iran must quit Syria
July 13, 2018
MOSCOW: Israeli Prime Minister Benjamin Netanyahu has told Russia that Israel would not seek to topple its ally, Syrian President Bashar Assad, but Moscow should encourage Iranian forces to quit Syria, a senior Israeli official said.
Netanyahu conveyed the message in talks with Russian President Vladimir Putin, the official said.
Israel has been on high alert as Assad's forces advance on fighters in the vicinity of the Golan Heights, much of which Israel captured from Syria in 1967 and annexed in a move not recognized internationally. Israel worries Assad could let his Iranian and Hezbollah reinforcements entrench near Israeli lines or that Syrian forces may defy a 1974 Golan demilitarization.
"They (Russia) have an active interest in seeing a stable Assad regime and we in getting the Iranians out. These can clash or it can align," said the Israeli official.
"We won't take action against the Assad regime," the official quoted Netanyahu as telling Putin in Moscow.
David Keyes, a Netanyahu spokesman, denied that the prime minister made that statement to Putin.
Asked to summarize Israeli policy on Syria, Keyes said: "We don't get involved in the civil war. We will act against anyone who acts against us."
The Israeli official who requested anonymity said Russia was working to distance Iranian forces from the Golan and had proposed that they be kept 80 km away but that this fell short of Israel's demand for their full exit along with that of Tehran-sponsored militias.
Russian officials had no immediate comment on the meeting.
Since turning the tide of Syria's civil war by intervening militarily in 2015 on Assad's behalf, Russia has turned a blind eye to scores of Israeli airstrikes against Iranian and Hezbollah deployments or arms transfers, while making clear it wanted Assad kept immune.
Israeli Cabinet ministers threatened this week to fire on Syrian forces that enter the Golan buffer zone set up as part of a 1974 UN-monitored armistice. The UN last month renewed the mandate of its Golan observer force UNDOF and on Wednesday called on all parties to abide by the armistice.
"There should be no military forces in the area of separation other than those of UNDOF," a UN spokesman said.
Israel has signaled openness to eventual ties with Assad, a tacit acknowledgement that he is re-consolidating power as he routs Syria's fighters.
Under Assad family rule, Syria held direct negotiations with Israel in the US in 2000 and indirect talks mediated by Turkey in 2008. Netanyahu's government has made clear it would not now cede the Golan and has been lobbying for US recognition of Israel's claim of sovereignty there.
On June 24, Israel's military said it launched a Patriot missile at an incoming drone from Syria, which turned away unscathed. A Syrian commander said the drone was engaged in local operations.
On July 6, Israel struck a Syrian post that it said had shelled the Golan buffer zone.
Hours after conferring with Netanyahu about Iran's presence in Syria, Putin received Ali Akbar Velayati, a senior adviser to Iran's Supreme Leader Ayatollah Ali Khamenei.
Putin's spokesman, Dmitry Peskov, said that Velayati handed Putin letters from Khamenei and Iranian President Hassan Rouhani.
Peskov said in a conference call with reporters that the letters dealt with bilateral relations and the situation in the region, but refused to elaborate.
"Our opinion is known that Iran needs to leave Syria — that is not something new for you," Netanyahu said at the start of Wednesday's talks in the Kremlin.
Full report at:
http://www.arabnews.com/node/1337956/middle-east
--------
Europe
Maryland mayor criticized for calling London's Muslim mayor a 'terrorist'
By Julie Zauzmer
July 12, 2018
The mayor of Hagerstown, Md., apologized Wednesday for his Facebook comments that upset many residents by referring to London's mayor as a "terrorist."
Sadiq Khan is the first Muslim elected mayor of the city of London. He approved protesters' request to fly a provocative balloon over the city — a massive blimp shaped like President Trump wearing a diaper — to mark the president's visit to Europe.
Robert Bruchey II, a car salesman who has been mayor of Hagerstown on and off since 1997, doesn't hold back his opinions on Facebook. A vocal supporter of Trump, he often criticizes the targets of the president's insults, such as his May 6 post about "Meet the Press" host Chuck Todd. Bruchey wrote on Facebook: "Chuck Todd talks about credibility. LOLOLOL….hows that (fake news) wire tapping thing going for you Todd?" When Eric Holder, U.S. attorney general under President Barack Obama, reportedly said he was considering running for president, Bruchey wrote: "Wait, can you do that from a prison cell?" referring to the president and his supporters' tendency to talk about imprisoning political opponents.
Bruchey's constituents in Hagerstown often debate his conservative views on the mayor's Facebook page.
But Bruchey's comment about Khan sparked unusually intense anger. Bruchey wrote that he didn't blame Trump for canceling a previous trip to London, adding a link to an article about the blimp and the comment: "Who would want to visit with this terrorist leading London." Then he pasted a photo of Khan.
It was unclear on which Facebook page Bruchey made the comments, but The Washington Post was sent images of his comments, which Bruchey confirmed were valid.
When a citizen accused Bruchey of Islamophobia for calling the Muslim mayor a "terrorist," Bruchey wrote back, "This isn't about him being Muslim, this is about him being a POS," a profane acronym that he has also used for Sen. Kamala D. Harris (D-Calif.).
But by Wednesday night, Bruchey said he regretted his words. "It's never okay to spout that kind of rhetoric. As a mayor myself, I know better. I actually dislike that very much when it gets done to me," he said.
But he said he didn't intend, by using Khan's photo and calling him a "terrorist," to dig at his religion. "This had nothing to do with religion or race," he said.
Kalim Ahmed, the president of Hagerstown's only mosque, saw it differently. American Muslims are on high alert for what Ahmed called "the T-word," which is often used as an anti-Muslim slur. "This is something that to hear that a mayor is calling another mayor of a big city — the only reason we feel it has been used is because that person is Muslim," he said.
Both Bruchey and Ahmed said the mayor had not reached out specifically to the local Muslim community, which Ahmed said numbers up to 800 people at Eid celebrations at the Islamic Society of Western Maryland. But Ahmed said Bruchey is welcome to the mosque to learn more about his Muslim constituents.
And Ahmed appealed to both American and Muslim values: "We have to go back to the civility which we cherished. . . . We established this nation as a shining hill," he said. "The teaching of our religion is to keep struggling to be a better human being."
Correction: An earlier version of this post said that Bruchey has been mayor of Hagerstown since 1997. While he first became mayor in 1997, he has served nonconsecutive terms.
https://www.washingtonpost.com/news/acts-of-faith/wp/2018/07/12/maryland-mayor-criticized-for-calling-londons-muslim-mayor-a-terrorist/
--------
Racist Tweet Reignites Trump's Feud With London's Muslim Mayor
NICO HINES
07.12.18
LONDON—He just wanted to make Donald Trump feel at home, but a British lawmaker has reignited the president's rumbling feud with London's first Muslim mayor by tweeting an inflammatory and wildly Islamophobic cartoon.
Michael Fabricant, who has been one of the few parliamentarians to speak out in favor of Trump's visit to Britain, overstepped the mark within hours of Air Force One touching down in the country. He tweeted an image of the mayor being violated from behind by a pig while Trump laughed along.
White House advisers would have hoped to get through the two-day visit to England without Trump's aggression towards Sadiq Khan, London's Labour mayor, being dragged back into the news. Trump and Khan have had a long-running feud that has seen the U.S. president target the son of a Pakistani bus driver as soft on terrorism.
Khan has given as good as he got from Trump, hitting him for the "shameful and cruel" Muslim travel ban and arguing that the U.S. president should not be invited to Britain.
Last week, Khan approved a request from protesters to fly a giant inflatable "Trump baby" balloon over Westminster. The 19-foot-high orange inflatable depicts a snarling Trump wearing nothing but a diaper.
Fabricant, a Conservative Member of Parliament, responded immediately to the mayor's approval by suggesting the U.S. embassy invite a sniper onto its roof to shoot down the balloon.
On Thursday, as Trump arrived in Britain, Fabricant continued to attack the protesters as hypocrites and fantasized about shooting the inflatable.
His goading went too far later in the day when he posted an image of Trump laughing in front of the Houses of Parliament as a balloon pig with Khan's face on it was mounted by a second inflatable pig. The Quran describes pigs as "impure" and eating pork is forbidden in Islam.
Fabricant added the comment: "Well, what can I say."
He deleted the image soon after posting it but not before stunned Twitter users had screen-grabbed the cartoon.
Amid calls for him to be suspended from the Conservative Party, Fabricant claimed that he had not seen Khan's face in the image.
"My fault was not checking it closer on my iPhone first. Moral of the story, don't examine a picture on a small screen," he said to Politics Home.
Labour Member of Parliament Chuka Ummuna said Fabricant's tweet was an example of Islamophobia, which he believes is endemic in the Conservative Party.
Despite such allegations, Prime Minister Theresa May has been among the British Conservatives who spoke out against Trump when he announced his Muslim travel ban last year.
May also attacked Trump for retweeting Islamophobic propaganda videos posted by far-right street protesters Britain First.
When Khan was elected as the first mayor of a Western capital in May 2016, the Britain First candidate Paul Golding turned his back on the new mayor as he delivered his acceptance speech.
Understandably, Khan then reacted with fury upon seeing Trump amplify their message of bigotry last year.
Full report at:
https://www.thedailybeast.com/racist-tweet-reignites-trumps-feud-with-londons-muslim-mayor
--------
Argentina asks Russia to arrest Iran official over 1994 bombing
July 13, 2018
BUENOS AIRES: Argentina has asked Russia to arrest former Iranian foreign minister Ali Akbar Velayati for extradition in connection with the 1994 bombing of a Jewish center in Buenos Aires, the foreign ministry said Thursday.
Velayati is in Russia as a special adviser to President Hassan Rouhani and will travel to China on Friday, so the same request has also been made to Chinese authorities, the foreign ministry said in a statement.
Argentina is awaiting a response from Russia to the request, which was made "within the framework of the extradition treaty between the two countries," the statement said.
Velayati was foreign minister when a bomb destroyed the headquarters of the Argentine Israelite Mutual Association (AMIA) on July 18, 1994 leaving 85 dead and 300 people wounded.
He is charged with "committing the crime of homicide, classified as doubly aggravated for having been committed with racial or religious hatred and a suitable method to cause widespread danger," according to the judge responsible for the case.
Full report at:
http://www.arabnews.com/node/1338021/world
--------
Saudi FM Adel Al-Jubeir meets MEPs at EU headquarters in Brussels
July 12, 2018
JEDDAH: The Saudi Minister of Foreign Affairs Adel Al-Jubeir met with members of the European Parliament at its headquarters in Brussels, Belgium, on Thursday.
Al-Jubeir met Vice-Chairman of the European Parliament's Terrorism Committee MEP Geoffrey Van Orden,the Foreign Affairs Coordinator of the Group of the Progressive Alliance of Socialists and Democrats Knut Fleckenstein, a member of the Foreign Affairs Committee of the European Parliament Mario Borghezio, and MEP Rachida Dati on Thursday.
A number of issues of mutual interest were discussed during the meetings, as well as cooperation between Saudi Arabia and the European Union.
Full report at:
http://www.arabnews.com/node/1337896/saudi-arabia
--------
North America
Teaching Islam: Schools must be proactive in bringing religious tolerance to classrooms
July 13, 2018
Come December, many schools across the United States ring in the holiday season with a classroom Secret Santa. They learn to play with a dreidel while parents bring in menorahs to teach students about Hanukkah. But even though Islam is the third-largest religion in the United States, many schools shy away from talking about celebrations such as Eid al-Adha or Eid al-Fitr.
In the past several decades, Islamophobia has undeniably permeated the American landscape. Dismantling this kind of institutionalized racism will take decades, but education is the first step toward instilling tolerance and acceptance in our generation and the next. Schools in Berkeley have taken many commendable actions to create a safer space for the education of students on Islamic issues — but more can still be done in the community.
UC Berkeley's American Cultures requirement encourages undergraduate students to explore the junction of race, culture and society in this nation — two such classes are even centered explicitly around the Muslim experience in America. But only the slim fraction of students who choose to take those two are even exposed to the subject material in this academic setting.
Furthermore, university cannot be the first or only point at which students learn about Islam and how it exists in the modern day. Raising a more tolerant population begins at the high school and even elementary level. It's great to see Berkeley High School providing a platform for its Muslim Student Association to educate students on topics such as gender in Islam and Islamophobia. This should be the standard for high schools across the country.
But in addition to inviting guest speakers and creating these platforms, Islamic intersectionality is something that can and should be interwoven into the everyday lives of students. In world history, remember that 1492 isn't just the year Christopher Columbus sailed across the Atlantic — it's also the year the 700-year Islamic rule of Spain ended. In math, note that the algebra you use to solve the Pythagorean theorem was developed in part by Persian and Islamic mathematician Muhammad Al-Khwarizmi in the 800s. Even in philosophy, mention Al-Farabi, a man whose works are held next to those of Aristotle.
American schools need to move toward this kind of holistic teaching if they want to begin breaking down the stigma and prejudices that surround the Muslim community.
At the end of the day, Americans are scared about crossing the line between preaching and teaching in the classroom. But at a time when many students still recite the Pledge of Allegiance, which calls the United States "one nation under God," it's ridiculous to use the separation of church and state as an excuse to shy away from talking about religion in schools. In order to begin pushing Islamophobia out of the United States, we must first normalize the presence of Islam in the classroom.
http://www.dailycal.org/2018/07/12/teaching-islam-schools-must-be-proactive-in-bringing-religious-tolerance-to-classrooms/
--------
Peter Strzok: Trump's Remarks About Muslim Gold Star Family 'Horrible, Disgusting'
12 Jul 2018
Disgraced FBI agent Peter Strzok testified before the House Judiciary and Oversight Committees that his infamous "we will stop it" text message was driven, in part, by then-candidate Donald Trump's criticism of Muslim Gold Star father Khizr Khan.
STRZOK: Sir, I think it's important when you look at those texts that you understand the context in which they were made and the things that were going on across America. In terms of the texts, "we will stop it," you need to understand these were written late at night, off the cuff, and in response to a series of events that included then candidate-Trump insulting the immigrant family of a fallen war hero."
My presumption based on that horrible, disgusting behavior – that the American population would not elect somebody demonstrating that behavior to be President of the United States. It was in no way, unequivocally, any suggestion that me, the FBI would take any action whatsoever to improperly impact the electoral process for any candidate.
The instance to which Strzok was referring was of then-candidate Trump and Gold Star father Khizr Khan, a Hillary Clinton supporter, trading barbs during the 2016 election.
Pakistan-born Khizr Khan fiercely attacked the billionaire businessman at the Democratic convention in July 2016, claiming if it were up to Trump, his son never would have been American or served in the military.
Khan said Hillary Clinton, by contrast, "called [his] son the best of America." Capt. Humayun Khan died in 2004 when a car loaded with explosives blew up at his compound. He was 27. Honoring his son, Khizr Khan pulled a copy of the Constitution out of his suit pocket and offered to lend it to Trump. "Look for the words 'liberty' and 'equal protection of law,'" he said, standing next to his wife and waving the paperback document vigorously.
"Have you ever been to Arlington cemetery?" he then asked. "Go look at the graves of brave Americans who died defending United States of America. You will see all faiths, genders, and ethnicities. You have sacrificed nothing."
Then-candidate Donald Trump responded to the attack in an interview with ABC News, calling Khan's statements inaccurate.
"I've created thousands and thousands of jobs, tens of thousands of jobs, built great structures. I've had tremendous success. I think I've done a lot," Trump said, adding Khan "was, you know, very emotional and probably looked like a nice guy to me."
Full report at:
https://www.breitbart.com/big-government/2018/07/12/strzok-trumps-remarks-muslim-gold-star-family-horrible-disgusting/
--------
US State Secretary Pompeo urges EU to get tough on Iran
12 July 2018
US Secretary of State Mike Pompeo urged European powers to get behind American measures to cut Iran off from world energy markets Thursday, during talks in Brussels.
While debate at the nearby NATO summit was marked by President Donald Trump's attacks on Germany's close energy ties with Russia, his top diplomat had another target.
Pompeo peeled off from Trump's summit entourage and joined US Energy Secretary Rick Perry and EU foreign policy chief Federica Mogherini at the EU-US energy council.
Pompeo made no statement going into the talks, but his Twitter account showed what was on his mind.
"Iran continues to send weapons across the Middle East, in blatant violation of UN Security Council resolutions," he wrote.
"Iran's regime wants to start trouble wherever it can. It's our responsibility to stop it."
Then, just before the talks started, he added: "We ask our allies and partners to join our economic pressure campaign against Iran's regime.
"We must cut off all funding the regime uses to fund terrorism and proxy wars," he warned.
"There's no telling when Iran may try to foment terrorism, violence and instability in one of our countries next."
Alongside the tweet he posted a map of Europe purporting to show the locations of 11 "terror attacks" US officials believe Iran or its proxy Hezbollah have carried out since 1979.
Washington dismayed Europe in May when Trump pulled out of the 2015 accord under which Iran agreed to controls on its nuclear program in exchange for sanctions relief.
US sanctions have now "snapped back" into place and US officials have begun to hope that the economic pressure is fueling domestic discontent against the Tehran regime.
European companies are reluctant to resume trade with Iran at the risk of being hit by US secondary sanctions, but the main EU capitals want to protect the accord.
Full report at:
https://english.alarabiya.net/en/News/middle-east/2018/07/12/Pompeo-urges-EU-to-get-tough-on-Iran.html
--------
Trump: Iran will seek fresh deal as looming sanctions hit economy
12 July 2018
US President Donald Trump said Iran's economic troubles were going to force it to seek a security deal with Washington following his withdrawal from a nuclear pact.
In May the United States pulled out of a multinational deal to lift sanctions against Iran in return for curbs to its nuclear program. Washington has since told countries they must halt all imports of Iranian oil from Nov. 4 or face US financial measures. This may cut Iran's hard currency earnings from oil exports, and the prospect has triggered a panicked flight of Iranians' savings from the rial into dollars, weighing on an already ailing local currency, hit by economic woes and financial difficulties at local banks.
Speaking to a news conference at a NATO leaders' summit in Brussels, Trump said Iran was treating the US with 'so much more respect' following the move and he expected Tehran to reach out for a fresh deal.
"I know they're having a lot of problems and their economy is collapsing. But I will tell you this: at a certain point they're going to call me they're going to say 'Let's make a deal'. They're feeling a lot of pain right now."
Tehran's Grand Bazaar was hit by strikes late in June and protesters angered by the rial's collapse clashed with the police and traders massed outside parliament to complain about a sharp fall in the value of the national currency.
European powers still support the 2015 deal, under which Tehran agreed to limit its nuclear development in exchange for international sanctions relief.
They say they will do more to encourage their businesses to remain engaged with Iran, though a number of firms have already said they plan to pull out as they also face sanctions following Trump's decision.
US Secretary of State Mike Pompeo on Thursday called on American allies to help impose economic pressure on Iran.
"We must cut off all funding the regime uses to fund terrorism & proxy wars," Pompeo said in a Twitter post ahead of his scheduled meeting with European Union's foreign affairs and security policy representative Federica Mogherini in Brussels.
Full report at:
https://english.alarabiya.net/en/News/middle-east/2018/07/12/Trump-says-Iran-will-seek-fresh-deal-as-looming-sanctions-weigh-on-economy.html
--------
US-led coalition did not treat MKO as terror outfit: RAND
Jul 12, 2018
An American nonprofit global policy think tank says the US-led coalition has been offering protection to the anti-Iran terrorist group Mujahedin-e Khalq Organization (MKO) since the occupation of Iraq in 2003.
In a report, the RAND Corporation said US forces not only did nothing to punish the MKO for its crimes, but also offered it protected status and allowed it to remain in Iraq and continue its provocations against neighboring Iran.
The West's collaboration with the MKO has come to light again in the wake of Germany's arrest of an Iranian diplomat on suspicion of planning to attack an MKO meeting in Paris. The Islamic Republic has dismissed the allegation as ludicrous, which came as President Hassan Rouhani visited Europe.
The RAND report said from the early weeks of the 2003 invasion of Iraq until January 2009, US forces detained and provided security to MKO terrorists to prevent the Iraqi government from expelling them to Iran.
"Among many resulting complications, this policy conundrum has made the United States vulnerable to charges of hypocrisy in the war on terrorism," the report read.
It also noted that Washington accepted the MKO's request for a ceasefire and designated its members as civilian "protected persons" under the terms of the Fourth Geneva Convention.
"It has proven to be extremely controversial because it appeared that the United States selectively chose to apply the Geneva Conventions to a designated terrorist organization and, further, to grant it a special status," it added.
The US-led coalition, the report said, did not establish a dominant role at Camp Ashraf, now known as Camp New Iraq, in Diyala Province near the Iranian border, and took very little action to limit the MKO's freedom of movement there.
"There is no fence around the approximately 15-square-mile facility; further, the coalition guarded only the main gate and did not search all vehicles entering or exiting the camp on a daily basis," the report said, adding that the coalition did not actively encourage MKO terrorists to leave Camp Ashraf.
"The MKO has not been treated as a terrorist organization. Failure to assert control over the MKO and its facility has exposed the coalition, and particularly the United States, to criticism that the group is being treated as an ally for intelligence gathering purposes rather than as an FTO (foreign terrorist organization.
"This has exposed the United States to accusations of hypocrisy in its worldwide effort to counter violent extremism, and there have been no attempts to counter this destructive misperception through broad-based communication efforts aimed at policymakers and the public," the report read.
The MKO is listed as a terrorist organization by much of the international community. It fled Iran in 1986 for Iraq, where it enjoyed the support of former Iraqi dictator Saddam Hussein.
The notorious group is responsible for killing thousands of Iranian civilians and several officials after the victory of the 1979 Islamic Revolution in Iran.
Full report at:
https://www.presstv.com/Detail/2018/07/12/567902/Iran-MKO-Iraq-US
--------
Trump intimidating Germany into abandoning Iran deal, stop imports from Russia: Scholar
Jul 12, 2018
US President Donald Trump is trying to intimidate Germany to sacrifice its economic imports, particularly petroleum, oil and gas, from Russia in favor of the United States, according to American writer and academic James Petras who added that Trump also wants Germany to join Washington in abandoning the Iran nuclear agreement.
Professor Petras made the comments in an interview with Press TV while commenting on Trump's unprecedented tirade against Germany during the NATO summit on Wednesday.
Trump called on NATO allies to commit 4 percent of their GDP to military spending, while the alliance's European partners are struggling to reach the current target of 2 percent of their annual output.
Trump singled out Germany for criticism over its military spending. He also Germany's "inappropriate" relationship with Russia.
"Germany is totally controlled by Russia … They will be getting between 60 and 70 percent of their energy from Russia and a new pipeline, and you tell me if that is appropriate because I think it's not," Trump said during a meeting with the NATO secretary-general.
Petras said that "no one takes it serious. I think the experts around the world are knowledgeable about Germany – an independent country – having a very successful economy that has grown tremendously over the last five decades, that Germany was formally divided in half and one half was under the Soviet influence, and subsequently Germany has been an independent acting as a bulwark for the European Union."
"So Germany has become a world power, has become a dominant country in the European Union. It sets the agenda for many of the meetings in the European Union, and it has channeled more of its resources into economic and diplomatic affairs rather than militarism that so dominates US influence. So I think this statement is correctly viewed as an extreme outburst by President Trump," the analyst said.
"Now other factors that's influenced Trump is very eager to promote US exports particularly petroleum, oil and gas. And his attack on Germany is essentially to replace Russia as the principle supplier of Germany despite the fact that it's cheaper for Germany to get its energy resources piped across the continent rather than to have them shipped from the United States," he noted.
"So this is partly an attempt by Trump to intimidate Germany to sacrifice its economic imports in favor of the United States. And that also is a very dubious preposition and many of the observers and the businessmen around the world recognize why Germany trades with Russia. It has nothing to do with the domination; it has a lot to do with the cost and benefits," the commentator stated.
Trump trying to secure more German financing for US aggressions
"Furthermore we can say that the attack on Germany is an attempt by Trump to secure a greater German financing for US military policies and aggressions," he argued.
"And this is the result of Germany joining with France and Russia in opposing Trump's boycott and breaking of the nuclear agreement with Iran. So by attacking Germany Trump is trying to break up the possibility that the other four countries that signed the agreement with Iran will be submissive and will not participate with Iran in finding a solution to the sanctions that Washington is imposing on Iran," Professor Petras said.
Full report at:
https://www.presstv.com/Detail/2018/07/12/567870/Why-Trump-trying-to-intimidate-Germany
--------
Africa
Somalia: Southwest Army Claims Key Victory Over Al-Shabab in Bay Region
12 JULY 2018
The deputy commissioner of Bay regional administration on the security said Southwest army made gains against Al-Shabaab following battle in the region. The fighting erupted after Southwest state troops supported by Somali national army have launched a joint offensive on Al-Shabaab near Qansah Dheere town.
At least three people have been confirmed dead and four wounded in the combat between the allied troops and the Al-Qaeda-linked Al Shabaab militants. The regional official said the coalition forces have overpowered the Al-Shabaab fighters during the skirmish and inflicted them heavy casualties. However, there were no independent sources confirming the official's claims.
https://allafrica.com/stories/201807120636.html
--------
Haftar orders arrest of rogue officer behind executions of detainees
12 July 2018
On Wednesday evening, Libyan army Field Marshal Khalifa Haftar ordered the arrest of Mahmoud Al-Ourfali, a Special Forces officer, accused of executing dozens of detainees after he escaped from prison.
Last January, the military ordered the arrest and capture of al-Ourfali for violating direct orders and military recommendations, and for creating sedation and confusion in Benghazi after he appeared in video clips as he was supervising the execution of terrorists who were shot dead in public squares before being helped to escape from prison earlier this month by a number of his supporters.
In a statement on Wednesday, the general command of the Libyan army stated that Haftar also ordered the arrest of anyone who has committed a violation of civil and military law, or threatened the security of the homeland, citizens and state's institutions, and to detain them in military prison while awaiting their trial.
The General Command emphasized that any harm to public or private property or the commission of any acts affecting the lives or endangering citizens would expose the perpetrator to prosecution and harsh punishment.
Full report at:
https://english.alarabiya.net/en/News/north-africa/2018/07/12/Haftar-orders-arrest-of-rogue-officer-behind-executions-of-detainees.html
--------
104 migrants rescued off Libyan coast
13 July 2018
At least 104 undocumented migrants have been rescued off Libya's eastern coast, the Libyan navy said Thursday.
In a statement, naval forces affiliated with Libya's UN-recognized unity government said the migrants were rescued off the coast of Al-Khoms city.
The migrants were Sudanese, Egyptian, Moroccan and Tunisian nationals, the statement said.
They were later referred to the detention center in Tripoli.
Ever since the collapse of the central authority in Libya in 2011, the country's northwestern coast has become a hub for illegal migration to Italy and other countries in Europe.
Full report at:
http://www.worldbulletin.net/africa/203966/104-migrants-rescued-off-libyan-coast
--------
Ethiopia: Scholars Laud PM's Role in Islamic Leadership Reconciliation
11 JULY 2018
By Bilal Derso
ADDIS ABABA- Muslim scholars said Prime Minister Dr. Abiy Ahmed's initiation to reconcile Ethiopia's Islamic leadership is a symbolic act in enhancing the Muslim community's active participation in peace and development.
Following the discussion with Prime Minister Abiy, a nine-member committee made up of representatives from the Ethiopian Islamic Affairs Supreme Council, Ethiopian Muslims Arbitration Committee and Muslim scholars was established in order to solve the differences in Islamic leadership.
Speaking to The Ethiopian Herald, Ustaz Hassan Taju, a Researcher of Islamic history, said that the initiative is a 'unique act' that comes from a good leader that understands the importance of unison in the Muslim community for Ethiopia's long-cherished peaceful coexistence.
Ustaz Hassan indicated that the government has shown an exemplary gesture to preserve the unity of the Muslim, and the move showcased Premier Abiy's desire to mobilize the participation of the Muslim community for the democratization anddevelopment of the country.
Besides its role in solving differences in a civilized manner, the initiative will have an invaluable importance in helping the Muslim community focus its attention on development, and play a meaningful role in the ongoing reconciliation, the Scholar added.
Expressing the previous administrations' failure in taking the initiative to address the age-old problems in Islamic leadership in participatory manner, Hassan commended the attention the new government attached to the Muslim case.
Sharing the above sentiment, Historian and Chief Curator of Institute of Ethiopian Studies, Dr. Ahmed Zekaria said that addressing the problem in Islamic leadership will have a paramount significance in fostering the Muslim community's participation in building a peaceful and prosperous country.
Dr. Ahmed said that the establishment of the new committee shows the priority PM Abiy has given to filling societal and religious gaps, and his plan to mobilizing equal participation of peoples with different religious backgrounds to build the new Ethiopia.
"For the first time in Ethiopia's long history, a leader has taken the initiative to solve the gaps in the Islamic leadership in the view to scale up the faithful's engagement in peace and development".
The scholar called on all parties to play a constructive role in the ongoing reconciliation to enhance the Muslim unity and ensure the laity's meaningful participation for democracy and development.
Meanwhile, Ustaz Hassan expressed his belief that the Supreme Council would come with fresh ideas that will significantly address its structural shortcomings and pave the way for competent scholars to take part in the leadership.
"It is my expectation the Council would transform to an efficient institution that leads the Muslim community to peace, development and spiritual enlightenment whilst nurturing the youth as peace loving citizens."
According to the Scholar, the Council has also the prime responsibility to keep Muslim's unity, and fight the destructive activities of some interest groups whose agendas are not religious.
The Council needs to support the Committee's efforts to execute successful task and ensures the active participation and benefit of the Muslim community in Ethiopia's development projects, Hassan added.
For his part, Dr. Ahmed pointed out that Muslim scholars have the major responsibility to teach the faithful about peace, tolerance and co-existence, and shun narrow nationalism.
The Committee is also expected to conduct extensive studies, and partner with the pertinent stakeholders to come up with strategic road-maps in a bid to satisfy the interest of all concerned bodies, the Assistant Professor added.
"The faithful should support the Committee's works financially, technically and morally, and make a meaningful engagement in exposing the wrong doings of some interest groups."
Full report at:
https://allafrica.com/stories/201807110591.html
--------
Police repulse suspected Al-Shabaab attackers in Mandera
JULY 12 2018
Rural Border Patrol Unit on Thursday morning managed to repulse an attempted terror attack on their camp at Manza in Sheikh Barrow, Mandera County.
Lafey deputy county commissioner Erick Oronyi told the Nation that the 7.30am attack found the Administration Police unit on high alert.
"The attackers started by hurling explosives into the camp before shooting at officers but luckily no one was injured," he said.
He said the all the security camps along the Kenya-Somalia border are always on high alert since Al-Shabaab militants are active in the area.
"We are always on high alert because the enemy is waiting for an opportunity to strike," he said.
Mr Oronyo said the officers had intelligence about the planned attack that caused no much damage.
A source said the militants attacked in the morning hoping to find the police asleep.
Mr Oranyi said security operation is underway in the area along the border, adding that all security agencies have been activated.
Full report at:
https://www.nation.co.ke/counties/mandera/Police-repulse-suspected-Al-Shabaab-attackers-in-Mandera/1183298-4659206-15s146hz/index.html
--------
URL: https://www.newageislam.com/islamic-world-news/namaz-make-saryu-impure-former/d/115822
New Age Islam, Islam Online, Islamic Website, African Muslim News, Arab World News, South Asia News, Indian Muslim News, World Muslim News, Women in Islam, Islamic Feminism, Arab Women, Women In Arab, Islamophobia in America, Muslim Women in West, Islam Women and Feminism