New Age Islam News Bureau
7 Feb 2018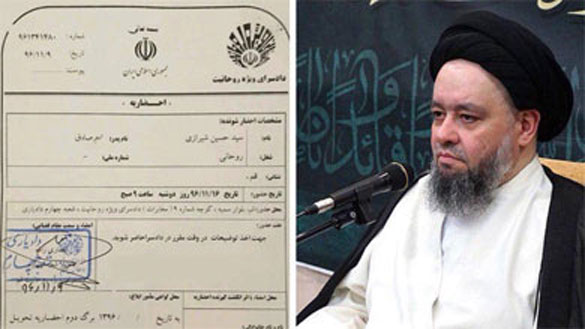 Iranian authorities on Monday arrested Hussein al-Shirazi. (Supplied)
---
• 'Muslims Should Not Even Be Living In This Country, They Should Go To Pakistan or Bangladesh,' Says BJP MP
• People with Money, Power Want To Destroy Our Composite Culture: Gujarat IPS
• Iran Arrests Son of Shirazi Cleric after Calling Khamenei A Pharaoh
• Muslim World League and Vatican Tackle Religious Violence
• Vatican Calls On All Faiths to Join Day of Prayer for Peace
India
• 'Muslims Should Not Even Be Living In This Country, They Should Go To Pakistan or Bangladesh,' Says BJP MP
• People with Money, Power Want To Destroy Our Composite Culture: Gujarat IPS
• Kasganj Violence: AMU Group Meets IG, Claims Two Accused Were In Aligarh on Republic Day
• UP: Dalit Man Threatens To Convert To Islam in Muzaffarnagar
• Man Carrying India's National Flag with Islamic Symbol Held
• Maldives crisis: Indian military kept on standby
• Militants kill 2 cops in Srinagar hospital, free Lashkar-e-Toiba man
• Delhi court frames charges against Yasin Bhatkal, others
• Nod to fencing in 'feasible' stretches along Pak, Bangladesh borders: Kiren Rijiju
--------
Mideast
• Iran Arrests Son of Shirazi Cleric after Calling Khamenei A Pharaoh
• Daesh neither Humane nor Islamic, Turkey's Top Religious Body Says
• Turkey's Erdogan Declares Jihad on Religious Minorities in Syria
• Erdogan warns US to quit Syria's Manbij
• Saudi Arabia spends almost a billion dollars in aid to Yemen
• Seven Houthis dead as Yemeni army controls new areas in Saada
• Palestinian man killed during clashes with Israeli troops in Nablus
• Palestinian stabs Israeli in West Bank, shot dead: Army
• US has calculations against Turkey, Iran, Russia in Syria: Erdogan
--------
Arab World
• Muslim World League and Vatican Tackle Religious Violence
• UN Investigates Claims Of Chemical Weapons Being Used In Syria
• Tourism boost for Madinah, hub of Islamic, historical sites
• Iraqi Kurds say they are holding 4,000 Islamic State suspects, including foreigners
• Where jihadists confess on prime-time TV
• Mystery shrouds return of pilot's 'stolen' body to Russia
• UN pleads for one-month Syria aid truce
• Syria dismisses US, UK gas attack allegations at UNSC
• Lebanese leaders agree to take action against Israel threats
--------
Europe
• Vatican Calls On All Faiths to Join Day of Prayer for Peace
• Tajikistan, Most Muslim Country in Central Asia, Struggles to Rein In Islam
• Path of IS cell survivor shows intersection of crime, terror
• Darren Osborne Muslim attack prompts mosque open doors call
--------
South Asia
• Abdullah Vows Justice as Likely Execution of Inmates Spark Panic among Taliban
• US B-52 Bomber Drops Record Number Of Bombs in Afghanistan
• Taslima Nasrin slams bid to push Dhaka for Islamic tourism
• ISIS military in charge for Haska Mina killed in East of Afghanistan
• India pledges $31m for the implementation of 108 projects in Afghanistan
• Taliban leader Mawlavi Nik Mohammad's 10 insurgents join peace process
--------
Africa
• Jordan's King Sees a Possible 'Lack of Understanding of Islam' in Washington
• Tunisia to Train Callers For Prayers At Music Institutes
• Libyan execution officer Ourfali surrenders following ICC charges
• South Sudanese protest US ban on weapons
• Nigeria: Traditionalists under Siege in Nigeria Sectarian Violence
--------
North America
• Muslim Men In America Should Be Continuously Monitored, Says Department Of Homeland Security
• Pentagon: Pakistan Still Not Taking 'Decisive Action' Against Jihadists After Funding Cuts
• 64 Americans went to fight with ISIS. What do we do with them now?
• 9/11 convict complains of mental 'torture'
• US launches airstrikes on Taliban training camps
• Hollywood Director's Son Calls for More Recruits in Al-Qaeda Propaganda Video
• America's ISIS Jihadists Were Largely Duds
--------
Pakistan
• Pakistan's Intelligence, Counter-Terrorism Experts Visit India after Two Years, Report Claims
• Wazir tribesmen attack office of pro-govt militia over lawyer's killing
• Bill to end US aid to Pakistan moved in House of Representatives too
• 2 dead, 3 injured as security force vehicle comes under attack in North Waziristan
• Haideri hopeful of religious parties alliance
--------
Southeast Asia
• Maldives' Top Judge Arrested As State Of Emergency Declared
• Why Muslim Parents Are Fighting To Name Their Illegitimate Children After Them
• Indonesia jails jihadist for buying weapons from Philippine militants
• Christian, Hindu groups want Hadi to retract 'caste' remarks
• Scale and Complexity of Terror Threat to Southeast Asia Growing: Asean
Compiled by New Age Islam News Bureau
URL: https://www.newageislam.com/islamic-world-news/muslims-even-be-living-this/d/114199
--------
'Muslims Should Not Even Be Living In This Country, They Should Go To Pakistan or Bangladesh,' Says BJP MP
Feb 7, 2018
NEW DELHI: BJP MP Vinay Katiyar said today that "Muslims should not even be living in this country, they should go to Pakistan or Bangladesh", reported ANI.
Katiyar, who founded the Vishwa Hindu Parishad's (VHP) youth wing, Bajrang Dal, further said a bill should be introduced in Parliament that frames a punishment for those "who do not respect Vande Mataram, (and) those who insult the national flag, or hoist the Pakistani flag."
Katiyar's comment was a response to AIMIM president Asaduddin Owaisi demanded the framing of a law to punish anyone who calls an Indian Muslim a "Pakistani".
Without referring to Owaisi, Katiyar further said that "Muslims partitioned the country" on religious lines.
"Muslims shouldn't even be living in this country, they're the ones who partitioned this country based on their populatkon, so why do they need to live here? They were given separate territory, they should go t Pakistan or Bangladesh, what business do they have here," said Katiyar.
Yesterday, the AIMIM's Owaisi, who was speaking in Lok Sabha , advocated a three-year jail term for anyone found guilty of calling an Indian Muslim a 'Pakistani'.
Owasi's comments came days after Bareilly's district magistrate (DM) questioned the "trend" of "entering Muslim localities by force, raising anti-Pakistan slogans and then creating a ruckus". The DM, Raghvendra Vikram Singh, was speaking in the context of the religious violence in Uttar Pradesh's Kasganj starting January 26.
" A very strange trend has started of late. Take out processions by force through Muslim dominated localities and raise anti-Pakistan slogans. Why? Are these people Pakistani? The same thing had happened in Khailam village of Bareilly. Then stones were pelted, FIRs lodged," wrote Singh in a Facebook post that he later deleted after facing severe criticism.
https://timesofindia.indiatimes.com/india/muslims-should-not-even-be-living-in-this-country-should-go-to-pakistan-bangladesh-says-bjp-mp-vinay-katiyar/articleshow/62815998.cms
--------
People with Money, Power Want To Destroy Our Composite Culture: Gujarat IPS
By Satish Jha
February 7, 2018
Gujarat cadre IPS officer Vinod Mall on Tuesday said that "the composite culture is the most important feature of our country and our biggest strength is letting people live the way they want to in accordance with the Constitution". Mall, currently posted as Additional Director General of Police (ADGP), Police Reform in Gandhinagar, said this during his power point presentation at a private school in Muslim-dominated Juhapura locality on Tuesday evening. He said, "Fundamentalists are threat to Islam and Hindus both and they want to destroy this culture. They have money and power and we will have to fight against these elements. I am not against any party or person. All I mean to say that we all should live together in harmony because that's what our culture is."
He said that Muslims from various countries, like the US, UK, France, Germany among others, joined the terrorist organisation ISIS where the Muslim population is dismal, but in India despite being over 20 crores, there is a handful of such people who went to join. He said that their numbers won't be more than 50. "This is because liberalism is in our blood. Composite culture is not only in our emotion but also in the Constitution…"
Giving example of culture, Mall said, "One can't define Gujarati culture by saying that Gujarat has an airport, a riverfront and garba dance unless it concludes the tribals of Bhiloda. We have to respect everyone and everything. Swami Vivekanand said that religion is like a river and it should flow because they all ultimately meet the ocean."
When he was asked about police's role in 2002 post-Godhra riots and the "government's inaction" to give justice to the victims, Mall said, "Police did what it should have done. I was there in Ahmedabad during that time. I don't have figures since figures are not the answer but conscience. The civil society has to show its courage as well."
The event was organised by "Hamar Awaj: Juhapura ki Guftagu" in which former IPS officer and whistleblower Rahul Sharma and Vadgam MLA Jignesh Mevani were also supposed to come. However, they didn't turn up.
http://indianexpress.com/article/cities/ahmedabad/people-with-money-power-want-to-destroy-our-composite-culture-gujarat-ips-vinod-mall-5054291/
--------
Iran arrests son of Shirazi cleric after calling Khamenei a pharaoh
6 February 2018
Farsi sites reported that the Iranian authorities on Monday arrested Hussein al-Shirazi, the son of Sadiq al-Shirazi, the famous Shiite cleric in Qom, because of a lecture in which he described the Supreme Leader of Iran Ali Khamenei as "the pharaoh."
The microphone news site published a copy of al-Shirazi's arrest warrant, saying that the prosecutors of Qom's clerics' court had ordered that the speech is an open criticism of Iranian regime's practices and the principle laws of the Faqih's mandate. The authorities arrested him on Monday morning.
According to a clip posted on YouTube as part of a lecture by Hussein al-Shirazi, a few weeks ago, he compared the rule of the Faqih to the rule of Pharaoh, elaborating on the tyranny of the religious state in Iran and its oppressive methods against protesters, critics and dissidents.
Rejecting the Faqih's mandate
Sources close to Shirazi confirmed that the IRGC intelligence services have been behind the summoning of Hussein al-Shirazi and other members of his family over the past years, with their continued humiliation and intimidation, because of the Shirazi family's call for the independence from political power.
It is noteworthy that the Shirazi family has followers in Iran, Iraq and a number of other countries with a Shiite presence rejecting the mandate of the jurisprudent and the rule of the Supreme Leader Ayatollah Ali Khamenei.
However, they offer extremist ideas that fuel sectarianism in the region and are not different from the Iranian regime's speech in terms of intellectual principles.
Clashing with Khamenei
The Revolutionary Guard began to limit the growth of the Shirazis after Mohammed Shirazi supported the idea of the Shura Council of Jurists in place of the absolute rule of Faqih after Khomeini's death.
Al-Shirazi also opposes Khamenei's fatwa against the prohibition of slashing heads with sowrds as performed by some during 'Ashura' ceremony.
Following this, al-Shirazi was silenced, his influence was curtailed and he was under house arrest until his death in 2001.
https://english.alarabiya.net/en/News/middle-east/2018/02/06/Iran-arrests-son-of-Shirazi-cleric-after-calling-Khamenei-a-pharaoh.html
--------
Muslim World League and Vatican tackle religious violence
7 February 2018
JEDDAH: The Vatican Secretary of State Cardinal Pietro Parolin has met the secretary-general of the Muslim World League, Mohammed bin Abdul Karim Al-Issa, in his office on Tuesday.
Parolin praised the Muslim World League, which represents Islamic nations and has its headquarters in Makkah.
He also praised the efforts of the secretary-general for enhancing cooperation with the Vatican, especially after the historical meeting last September between the pope and the secretary-general, in which they both stressed their commitment to open dialogue between Islam and Christianity.
Dialogue was increasingly necessary because of the rise of extremists who committed violence in the name of religion, he said.
The secretary general of the MWL gave the opening speech at a conference on "Ways to solve the violence committed in the name of religion," organized by the Vatican and the British government.
The Vatican secretary of state stressed the importance of positive relations between the league and the Vatican, and praised the commitment of both parties to fruitful and constructive dialogue.
Al-Issa stressed the importance of creating awareness in future generations through a positive reading of the lessons of the past.
Respecting difference was vital and he warned that a lack of dialogue and acceptance of others opened the door to extremism and fanaticism.
He said that the pope was committed to the idea that differences should not be a reason for separation and that 80 percent of the diplomatic efforts of the Vatican focused on dialogue and spreading peace.
Al-Issa expressed his regret that 70 percent of wars throughout history were religious. Confronting extremism and counter-extremism was one of the major responsibilities of religious leaders, he said.
He praised the Vatican for its statement that "Islam has nothing to do with terror."
http://www.arabnews.com/node/1240946/saudi-arabia
--------
Vatican calls on all faiths to join day of prayer for peace
By Philippa Hitchen
Feb 7, 2018
Speaking at the recitation of the Angelus prayer last Sunday, the Pope invited all women and men of goodwill to join him in praying for an end to violence and conflict, especially in South Sudan and in the Democratic Republic of Congo.
Addressing the crowds gathered in St Peter's Square, the Pope said: "Faced with the tragic protracted situations of conflict in different parts of the world, I invite all the faithful to take part in a special Day of Prayer and Fasting for Peace".
Noting that February 23rd falls on a Friday during the first full week of Lent, the Pope asked people to pray especially for those suffering violence in the DRC and in South Sudan, where political unrest and a protracted civil war continues to claim thousands of lives.
Say no to violence
Pope Francis said: "Everyone, in their own conscience, before God, should ask 'what can I do for peace?'" "Surely, we can pray", he said, "but not only: each one of us can say 'no' to violence in their own way".
A statement from the Pontifical Council for Interreligious Dialogue on Tuesday stressed that the Pope specifically asked members of other faiths to join in the initiative in any way they can. Highlighting the vital role that religions play in achieving and consolidating peace, the statement urged members of other faith communities to take up the appeal and to join in "moments of prayer, fasting and reflection, according to their own traditions and in their own places of worship".
http://www.vaticannews.va/en/vatican-city/news/2018-02/vatican-council-interreligious-dialogue-day-of-prayer-for-peace.html
--------
India
Kasganj violence: AMU group meets IG, claims two accused were in Aligarh on Republic Day
February 7, 2018
by Manish Sahu
A delegation of Aligarh Muslim University (AMU) students has come out in support of two accused in the murder case of Abhishek alias Chandan Gupta, who was shot dead when violence erupted over a 'Tiranga rally' in Kasganj on Republic Day. Led by the AMU Student Union's honorary secretary Mohammad Fahad, the delegation met IG, Aligarh Range, Sanjeev Gupta, last Thursday. Handing over CCTV footage, they claimed that the two accused were in Aligarh on the day of the incident.
Police recently obtained a court nod for the attachment of property belonging to both accused — Saqib Azeez of Naderigate locality and Aseem Qureshi of Nawab locality, Kasganj. Both of them are absconding. The Special Investigation Team (SIT) that is probing cases related to the violence as well as the murder charges has been asked to verify the footage.
Speaking to The Indian Express, student union secretary Fahad, who belongs to Kasganj, said Saqib had been undergoing coaching at an institute in Aligarh for a certificate course in financial accounting since October last year, and stayed in a rented accommodation in Amir Nisha locality. "After he (Saqib) informed that he was not present in Kasganj that day, I collected CCTV footage from some houses in Amir Nisha locality showing his presence in the locality the day the violence had taken place. I also obtained CCTV footage of the AMU Student Union hall, which showed that Saqib had visited the place the same day," said Fahad.
Aseem Qureshi's brother Qayub told this newspaper that on January 23, he and Aseem had rushed their father to Jawahar Lal Nehru Medical College in Aligarh after the latter had complained of severe chest pain. "I returned after two days while Aseem stayed with our father. Doctors conducted an angiography on January 27 and referred him to New Delhi the same day for further treatment. Aseem is in Delhi with him," he added.
Fahad said, "We have got CCTV footage of Jawahar Lal Nehru Medical College showing Aseem in the hospital on January 26. We have handed over two CDs containing the footages showing Saqib and Aseem." He also claimed that the CCTV footage showed that Aseem was in the hospital from 10.30 am to 3.30 pm that day, while Saqib is seen walking out of his house in Aligarh at 1.30 pm that day. Additional Superintendent of Police, Kasganj, Pavitra Mohan Tripathi said that Abhishek's murder took place between 11 am and 12 pm on January 26. "Kasganj is around 70 km from Aligarh. It takes over one and a half hours to travel from one place to another," he added.
Additional Superintendent of Police (Etah district), Om Prakash Singh, who is heading the SIT, said, "We are verifying the footage given in support of the two accused."
http://indianexpress.com/article/india/kasganj-uttar-pradesh-up-riots-amu-delegation-gives-ig-cctv-footage-claims-2-accused-were-in-aligarh-that-day-5053980/
--------
UP: Dalit Man Threatens To Convert To Islam in Muzaffarnagar
February 6, 2018
A Dalit man staged a sit-in at the district magistrate's office here and threatened to convert to Islam if authorities failed to free his land from unauthorised possession, police said on Tuesday.
Suresh Kumar, a resident of Kakda village, on Monday alleged that his land had been illegally occupied by some influential people, they said.
He also handed over to officials a memorandum addressed to Chief Minister Yogi Adityanath, in which he threatened to convert to Islam if authorities failed to deal with the matter, police said.
Full report at:
http://indianexpress.com/article/india/up-dalit-man-threatens-to-convert-to-islam-in-muzaffarnagar-5053650/
--------
Man Carrying India's National Flag with Islamic Symbol Held
February 7, 2018
Hyderabad Police on Monday held a person for possessing India's national flag that was carrying a 'crescent moon' symbol at its centre in place of the Ashoka Chakra.
The police informed that the 25-year-old man was a native of Uttar Pradesh, and he was caught with the flag during a cordon and search operation in Bowenpally area.
"We have taken him into our custody, and we are going to hand him over to Counter Intelligence department for further investigation," the police said.
Full report at:
http://www.business-standard.com/article/news-ani/man-carrying-india-s-national-flag-with-islamic-symbol-held-118020700111_1.html
--------
Maldives crisis: Indian military kept on standby
Feb 7, 2018
NEW DELHI: The Armed forces are on standby for any contingency in the Maldives+ , from evacuation of Indian tourists to military intervention in the archipelago, but there is no political directive to swing into action as yet.
Sources on Tuesday said the armed forces, which keep a close watch on "developments" in the entire neighbourhood+ , were "prepared for any eventuality" and "deployment at short notice".
The Indian Navy always has a couple of warships on patrol on the western seaboard, which can be diverted to Maldives if required. "India also has some defence personnel in Maldives due to defence cooperation; our warships, aircraft and copters often patrol its exclusive economic zone," a source said.
India is also helping Maldives establish coastal surveillance radar system (CSRS) stations," the source added. In any case, a certain number of troops, warships and aircraft are always kept ready to swiftly render humanitarian assistance and disaster relief to other countries in the region.
The IAF has the rugged C-130J "Super Hercules" and C-17 Globemaster-III, which can swiftly airlift heavy loads and combat-ready troops. Capable of landing at small runways, the four-engine C-17s can transport a 70-tonne load to a distance of 4,200-km in a single hop, while the smaller C-130J is capable of airlifting 20 tonnes.
Full report at:
https://timesofindia.indiatimes.com/india/maldives-crisis-indian-military-kept-on-standby/articleshow/62813515.cms
--------
Militants kill 2 cops in Srinagar hospital, free Lashkar-e-Toiba man
by Naveed Iqbal
February 7, 2018
Two policemen were killed at Srinagar's Shri Maharaja Hari Singh Hospital Tuesday after militants opened fire on a police team accompanying detainees from the Central Jail to the hospital for a medical check-up, police said. A top Lashkar-e-Toiba (LeT) commander, Naveed Jat alias Abu Hanzulla, escaped from police custody during the attack.
Director General, Jammu and Kashmir Police, SP Vaid told The Indian Express: "At least two or three militants were involved in the incident. We are maintaining high alert and we will go after them till we neutralise them."
The policemen killed were identified as Head Constable Mushtaq Ahmad from Kupwara in North Kashmir and Constable Babar Ahmad from Anantnag in the South. A senior police officer said all angles, "including whether there was an inside hand", were being probed.
"The detainees brought to the hospital were referred to different departments and were not together during the incident," said the officer. Jat was with three policemen near the hospital's OPD when militants opened fire.
Jat, a resident of Chak No 421, district Vehari in Pakistan's Multan was arrested in Kulgam in 2014 and was then LeT's district commander and a close associate of Abu Qasim and Abu Dujana — both LeT Kashmir chiefs — who were subsequently killed by security forces.
According to police records, Jat had joined LeT in 2011 and had infiltrated the Valley in October 2012. Deputy Inspector General of Police (DIG) South Kashmir SP Pani told The Indian Express that Jat "was involved in three murder cases in 2013 in Pulwama and was facing trial in a number of cases across Kashmir".
Jat's escape, police sources said, will motivate the LeT, which has faced a rout after its commander Abu Ismail was killed in an encounter last year. Since then, Jaish-e-Mohammad (JeM) has emerged as the main militant outfit particularly in South Kashmir over the last year, sources said.
According to police, Jat's escape is expected reactivate the LeT's vast network, which has remained dormant after the death of Abu Qasim, Abu Dujana and Abu Ismail. Before his arrest, police said, Jat was active in South Kashmir for two years. Police said he was responsible for a number of attacks on police and security forces including the killing of a police officer and a CRPF personnel in Pulwama and Shopian (in 2013) and snatching their rifles.
According to witnesses at the hospital Tuesday, the police party was fired upon from inside the hospital as they approached the door of OPD Block A at around 11.30 am. "I heard gunshots and we ducked for cover but we saw several people running towards the main gate, the militants could have blended with the crowd as they ran out," said Zafarullah, the parking attendant outside the OPD block.
The police party, comprising 23 police officials, were accompanying six prisoners, including Jat, to the hospital for a check up, DIG Central Kashmir Ghulam Hassan Bhat said. None of the other five detainees suffered any injuries during the shooting, police said. Meanwhile, DG Prisons, SK Mishra has ordered an enquiry into the incident.
CCTV footage of the incident shows at least two phiran-clad men running towards the hospital gate. Witnesses told The Indian Express that they heard at least four gunshots before panicked crowds ran towards the hospital's main gate.
Well after the attack, patients continued to the arrive at the hospital as OPD services were not suspended. "We heard gunshots and all the patients who were awaiting their turn in the OPD entered the doctor's room to escape the bullets," said an attendant.
Full report at:
http://indianexpress.com/article/india/militants-kill-two-policemen-in-srinagar-hospital-free-let-commander-5053926/
--------
Delhi court frames charges against Yasin Bhatkal, others
February 6, 2018
A Delhi court on Tuesday framed conspiracy and other terror charges against Indian Mujahideen operative Yasin Bhatkal and eight others in a case of allegedly setting up an illegal arms factory here.
Additional Sessions Judge Sidharth Sharma framed the charges of conspiracy (section 18) and being a member of terrorist gang or organisation (section 20), punishable under Unlawful Activities (Prevention) Act (UAPA).
Besides Ahmad Siddibappa alias Yasin Bhatkal, the court also framed charges against other alleged IM members Zia-Ur-Rehman, Tehsin Akhtar, Mohd Waqar Azhar, Mohd Maroof, Mohd Saquib Ansari, Imteyaz Alam and Aijaz Shaikh.
The court posted the matter for further hearing on March 7.
Full report at:
http://indianexpress.com/article/india/delhi-court-frames-charges-against-yasin-bhatkal-others-5053730/
--------
Nod to fencing in 'feasible' stretches along Pak, Bangladesh borders: Kiren Rijiju
February 6, 2018
The government has approved barbed wire fencing in all "feasible stretches" along the borders with Pakistan and Bangladesh, the Lok Sabha was informed on Tuesday. In addition, a stretch of 10 km has also been approved for a barbed wire fence along the border with Myanmar, Union Minister of State for Home Kiren Rijiju said in response to a written question. "All feasible stretches along international borders with Pakistan and Bangladesh have been approved for erection of barbed wire fence," he said.
Rijiju said the area of responsibility of 382 BOPs (border outposts) along the Indo-Bangladesh and Indo-Pakistan borders have been assessed as vulnerable.
This has been done on the basis of incidents of crimes related to smuggling of cattle, phensedyl and FICN (fake Indian currency note) as well as illegal migration and attacks on BSF personnel by miscreants.
Full report at:
http://indianexpress.com/article/india/nod-to-fencing-in-feasible-stretches-along-pak-bangladesh-borders-kiren-rijiju-5053750/
--------
Mideast
Daesh neither Humane nor Islamic, Turkey's Top Religious Body Says
Feb 7, 2018
Turkey's state-run Presidency of Religious Affairs (DİB) published a detailed report that explains Daesh's destruction of global image of Islam. In the report, the DİB stressed that Daesh's activities tarnish the concept of jihad by enslaving people, spreading violence and triggering Islamophobia. "Daesh and similar Islamic-looking terrorist organizations have given the entire world a negative message on Islam," the report said. The DİB underlined in the report that the true meaning of jihad is taming the human soul, explaining real Islam and warning the authorities if they do anything wrong besides fighting the enemy.
"The fact that Daesh violated many rights and committed rape on the basis of jihad, which is not possible in any way to be accepted as legitimate, they corrupted an Islamic concept like jihad in the direction of their interests," it explained.
The religious body criticized the enslavement activities of Daesh and highlighted that slavery is an inhuman concept that everyone agreed on, including Muslims. "This is an attitude that proves that Daesh does not understand the basic aims and ideals of Islam," the directorate said.
Furthermore, the religious affairs body underlined that Daesh commits excessive violence including torture, torment and execution, which is neither Islamic nor humane. "Beyond Daesh's individual tortures, it also commits mass killings and genocide which is a crime against humanity to which Islam could never consent," the report stressed.
"The unpleasant images [and] violent scenes published in the media almost every day cause the spread of Islamophobia all over the world," the report said, adding that such terrorist groups using Islam as the pretext of spreading violence cannot be identified with any religion, above all Islam. DİB also criticized the negative effects of inhuman activities of Daesh on the global Islamic image that is tarnished by rising Islamophobia.
Muslim-majority Turkey is among the countries branded "infidel" by the terrorist group, which adheres to a warped ideology justifying acts of terror by its own version of Islam. Turkish security forces have been involved in a long-running campaign to thwart Daesh attacks. More than 300 people have lost their lives in Daesh-claimed attacks in Turkey, where the terrorist group has targeted civilians in suicide bombings, and rocket-and-gun attacks.
The country's efforts against Daesh made it a primary target for the terrorist group, which has carried out numerous gun and bomb attacks targeting security forces and civilians. This includes the country's deadliest terrorist attack, which killed 102 people and wounded 400 others in a twin suicide bombing at a peace rally in Ankara on Oct. 10, 2015. Turkey has also deported more than 5,000 Daesh suspects and 3,290 foreign terrorists from 95 countries in recent years and has dismantled several terrorist cells that provided logistical assistance in Syria and Iraq for plotting attacks inside the country.
DİB fights the exploitation of Islam by terrorists through raising awareness amid the faithful against the radicalization of youth by Daesh and similar groups, Friday sermons, booklets and reports published in multiple languages. Last year, it published a similar report on the Gülenist Terror Group (FETÖ), which is blamed for the July 15, 2016 coup attempt in Turkey that killed 249 people. Like Daesh, FETÖ recruited its followers by brainwashing them through religious messages they exploited for their own benefit and did not question leadership or orders, the previous DİB report says.
https://www.dailysabah.com/turkey/2018/02/07/daesh-neither-humane-nor-islamic-top-religious-body-says
--------
Turkey's Erdogan Declares Jihad on Religious Minorities in Syria
06 Feb 2018
Turkey's irascible President, Recep Tayyip Erdogan, is once again infuriated with a Kurdish group and has dispatched his army into Syria to decimate them.
On January 20, Erdogan launched what Islamists are openly calling a jihad against the Kurdish YPG faction. Thousands of Turkish soldiers, along with tanks and artillery, have blasted their way across the Turkish border into Syria.
With a cynical choice of words, the Turks have code-named their invasion, "Operation Olive Branch."
Under Erdogan's leadership, Turkey's military is believed by some to be a threat to Middle East peace. Perhaps more alarming is that Erdogan's troops also comprise NATO's second largest army.
Since Operation Olive Branch was launched, Turkish soldiers have been making their way toward Afrin City. But their progress has been slower than expected.
Egypt's Al-Ahram reported on Feb. 4, "Ankara is heightening the pitch of its chauvinistic rhetoric on Kurdish militias and U.S. policies in northern Syria, but is making painfully meagre progress in its ground offensive…."
Afrin is a canton in Syria's northwest, populated largely by Kurds. Many in Afrin's population belong to the YPK, a Kurdish militia that has heroically fought alongside United States forces against the Islamic State/ISIS.
In the complicated Middle East, however, one man's hero is another man's terrorist. In Erdogan's narrow-eyed view, the YPK (and several other Kurdish groups) are terrorists.
So the Kurdish communities in the Afrin region — many of them civilians alongside displaced minority families who fled the Syrian war — are once again literally under the gun.
Since the fighting began on Jan. 20, Turkish fighters have slaughtered over 900 soldiers and civilians, including Christians, Yazidis, and other unarmed civilians.
Many of the displaced people in the region were originally from Aleppo, a city that has historically had a Christian community of about 250,000. Aleppo used to be the largest city in Syria. But with the rise of sectarian violence beginning in 2010, many displaced Christian families were forced to flee to Afrin, Idlib, and other northern safe havens. There they were joined by Yazidis and other minorities.
Tragically, those safe havens are now warzones.
According to UN figures, today 323,000 people are living in Afrin and nearby areas under Kurdish control. Of them, 192,000 are in need of humanitarian aid and 125,000 are what the UN terms "internally displaced persons," or IDPs, from other parts of Syria.
As this latest fighting began to heat up, Twitter was alight with warnings from church groups in Afrin and nearby communities, pleading for help.
Some refugee parents posted online photos of their children living in tents, entirely unprotected as shells and shrapnel rained down on them. Others were photographed hiding in caves, cringing at the sound of incoming bombs and bullets.
Scores of appeals for help from trapped Christians have been tweeted and retweeted. One message from a local Pastor Hanan pleaded for international intervention and protection.
"As the Good Shepherd Church in Afrin city," he wrote, "we demand urgent international protection for the believers in Afrin and the cease of this Turkish shelling…."
Pastor Hanan also pointed out the very real danger that the present upheaval may help ISIS or al-Qaida to make a regional comeback.
Meanwhile, The New York Times reports that foreign fighters are joining the battle against Turkey in support of the YPG.
One volunteer posted online, "We have fought Daesh [ISIS] before in Raqqa, in Deir ez-Zor, and now with the fascist Turkish state that we are fighting here in Afrin."
Unrepentantly, Erdogan has threated to extend Operation Olive Branch further into Syria, and to remove all "terrorists," so he can transport some three million refugees, presently sheltering in Turkey, back in to Syria for repatriation.
One Feb. 3 report quotes Erdogan saying that the fighting is about to end. At the same time, Hurriyet, a Turkish news source, reports that the Turkish army is getting close to the Afrin City Center. It also reports that Erdogan's AKP party is seeking approval from Parliament, "for Turkey's ongoing military operation into the Syrian district of Afrin.…"
Will Erdogan's ever-expanding ambitions succeed? Will anyone — NATO, Russia, Iranian, Syrian, or any other force — stand in Erdogan's way?
The Economist sums up the very volatile situation, and warns the conflict could spiral out of control.
Full report at:
https://www.newsmax.com/lelagilbert/turkey-erdogan-kurds-syria/2018/02/06/id/841760/
--------
Erdogan warns US to quit Syria's Manbij
February 07, 2018
ANKARA - President Recep Tayyip Erdogan on Tuesday warned the United States to withdraw any American forces from the Syrian town of Manbij, vowing Turkish troops would expand a cross-border military operation to the key strategic hub.
Erdogan blamed Washington for the presence in Manbij of fighters from the Peoples' Protection Units (YPG) and its Democratic Union Party (PYD) political wing, which Ankara sees as terror groups.
Turkey on January 20 launched a major operation aimed at ousting YPG forces from their enclave of the northwestern town of Afrin. However moving east to Manbij - where unlike Afrin there is a US military presence - would mark a major escalation.
Accusing Washington of breaking past promises, Erdogan said: "They (Americans) told us they will pull out of Manbij. They said they will not stay in Manbij... Why don't you just go?"
"Who did you bring there? PYD. Who did you bring there? YPG. Who did you bring there? PKK," he said.
Turkey considers YPG as Syrian offshoot of the outlawed Kurdistan Workers' Party (PKK) which has waged an insurgency since 1984 and is designated a terrorist outfit by Ankara and its Western allies.
"And then you tell us not to come to Manbij! We will come to Manbij to return it to its original owners," he added. Turkey considers towns like Manbij to be originally Arab-majority territory whose ethnic balance was upset in favour of the Kurds during the seven-year civil war. Erdogan also accused US President Donald Trump and his predecessor Barack Obama of failing to tell the truth over US support for the YPG.
"They told us many things but unfortunately they did not tell the truth," Erdogan said. "Mr Obama did not tell the truth and now Mr Trump is heading down the same path." President Recep Tayyip Erdogan on Tuesday called on the government to strip Turkey's main medical association of the adjective "Turkish" in its name after it vehemently opposed the military operation in Syria.
Erdogan accused members of the Turkish Medical Association (TTB) of backing "terrorists" after its central council came out against the campaign in Syria against Kurdish militia launched on January 20.
The council had said "war is a man-made public health problem" and called for peace. All of its 11 members were detained, although they have subsequently been granted conditional release.
The Turkish leader has repeatedly made clear that he regards the so-called operation Olive Branch as a "national struggle" and that opposing it from the sidelines amounts to treachery.
"Having the word 'Turkish' in a name is something granted by the cabinet. And there it should be removed quickly," Erdogan told reporters in Ankara.
He said the same step should also be made with the Turkish Bar Association (TBB), the country's main grouping of lawyers, which has on occasion been bitterly critical of Erdogan .
He said the two associations "are not on our side in our struggle to protect the fatherland," he said, quoted by the Anadolu news agency.
"We have situations, on the contrary, where some are defending terrorists and on their side," Erdogan said.
Turkey regards the Peoples' Protection Units (YPG) and its Democratic Union Party (PYD) political wing as terror groups although this position is not shared by its Western allies.
The TTB association has over 83,000 members representing 80 percent of Turkey's doctors.
Authorities launched an investigation into its members last week, accusing them of "propaganda for a terror organisation" and "inciting hatred and hostility".
The head of the TBB lawyers' association Metin Feyzioglu - who in 2014 gave a critical speech that famously prompted a furious Erdogan to walk out of a ceremony - said he had listened to the president's remarks with "amazement".
"It's quite clear that Mr President has been wrongly informed," he said, insisting that the TBB was "with the soldiers and the people".
Full report at:
https://nation.com.pk/07-Feb-2018/erdogan-warns-us-to-quit-syria-s-manbij
--------
Saudi Arabia spends almost a billion dollars in aid to Yemen
7 February 2018
At a wind-swept camp for those displaced by Yemen's war, a young Yemeni woman named Leemi, who supports her child and eight others, gratefully accepted aid from Saudi Arabia.
Saudi Arabia says it has spent nearly a billion dollars in aid to Yemen and plans with its partners to spend another $1.5 billion. "They are our neighbors," said Abdullah Al-Wadei, the assistant director of medical and environmental assistance at the King Salman Humanitarian Aid and Relief Center. "They are human beings first."
Quick relief
To speed relief, the Saudis have run some 20 aid flights with American C-130 military transport planes into Marib, about 115 kilometers east of Sanaa. The aid has included rice, flour, sugar, salt, oil, beans and other foodstuffs, as well as blankets, tents, carpets and other material for those in need, said Fahad al-Osemy, the director of urgent aid at the King Salman Humanitarian Aid and Relief Center (KSRelief).
"There's different people here because there's more safety in Marib," al-Osemy said. "You have people coming from Sanaa, Dhamar, and they need more than anyone" as they've been forced from their homes.
The Saudis also provide food for Houthi-controlled territory in unmarked boxes that get distributed by local partners, he said.
From May 2015 until this January, the King Salman Humanitarian Aid and Relief Center says it has spent $854 million on aid to Yemen, much of it on health care and food. In January, the Kingdom announced the coalition will give another $1.5 billion in new humanitarian aid funding for distribution across United Nations agencies and other relief organizations.
Medical care
Medical care for wounded soldiers backing the internationally recognized government and civilians also remains a priority, Saudi officials said. At a Saudi-funded hospital in Marib, workers make prosthetics for those who have lost limbs in the conflict, their patients evenly split between soldiers and civilians.
"The injuries are to the women, the children, the old men and the military," said Haida Ali Al-Nasseri, a 26-year-old woman who works at the hospital's prosthetic department. "Everyone is coming."
Nearby, a 24-year-old soldier for Yemen's government who gave his name as Hamas waited for a prosthetic for his left foot. He said he lost it to a Houthi land mine near Sanaa. Asked about the conflict, he thought for a moment and said: "We don't need this war, but they kicked us out of our home."
Full report at:
https://english.alarabiya.net/en/News/gulf/2018/02/07/Saudi-Arabia-spends-almost-a-billion-dollars-in-aid-to-Yemen.html
--------
Seven Houthis dead as Yemeni army controls new areas in Saada
6 February 2018
The Yemeni army, with the support of the Arab Coalition, was able to control the two mountains of Kaam and Batr south of Mandaba in the Saada governorate after fierce battles with the Houthi militia.
A military source told Al Arabiya that the army was able to carry out an attack on the Houthis in both mountains in the Baqem district after tough battles that resulted in the death of seven militiamen.
The Yemeni army also captured one Houthi militiaman after he was injured during the battle. They also seized a number of weapons, RPGs, a cannon and Kalashnikovs.
https://english.alarabiya.net/en/News/gulf/2018/02/06/7-Houthis-dead-as-Yemeni-army-controls-new-areas-in-Saada.html
--------
Palestinian man killed during clashes with Israeli troops in Nablus
Feb 6, 2018
Israeli forces have shot and killed a Palestinian man in the occupied West Bank city of Nablus.
According to the Palestinian Health Ministry on Tuesday, 22-year-old Khaled Walid Tayeh died of a gun wound to the chest after being transported to hospital.
Tayeh was shot during clashes with Israeli troops who had surrounded a local residency and were attempting to arrest several of its inhabitants.
During the clashes, at least 40 other Palestinians were injured by the Israelis who were using live ammunition.
Six of the injured are reported to be in critical condition due to gunshot wounds.
The Israeli military regularly opens fatal fire on Palestinians, accusing them of attempting to engage in violence against its forces.
Human rights groups have repeatedly criticized the Tel Aviv regime for its policy of shoot-to-kill as a large number of the Palestinians killed at the scene of attacks did not pose serious threats to Israelis.
Earlier in the day, Israeli forces announced that they had killed a Palestinian man whom they claim was the prime suspect in the fatal shooting of a rabbi last month.
The Shin Bet security service said on Tuesday that it had shot dead Ahmad Nassar Jarrar during a pre-dawn raid on a building in the northern West Bank town of al-Yamun near the city of Jenin.
Full report at:
http://www.presstv.com/Detail/2018/02/06/551511/israeli-palestine-kill-shoot-nablus
--------
Palestinian stabs Israeli in West Bank, shot dead: Army
7 February 2018
Jerusalem: A Palestinian stabbed a security guard at the entrance to an Israeli settlement and was shot dead on Wednesday in the latest violence in the occupied West Bank, Israel's military said.
The guard was lightly wounded at the entrance to the Karmei Tzur settlement north of Hebron, the army said in a statement. Another security guard opened fire on the assailant and killed him, it said.
No further details were immediately available on the identity of the Palestinian.
On Monday, an Israeli was stabbed to death near the settlement of Ariel in the West Bank.
In an apparent search for the attacker, Israeli forces raided the West Bank city of Nablus late Tuesday, sparking clashes that left a Palestinian dead.
Tensions have risen since US President Donald Trump's controversial recognition of Jerusalem as Israel's capital on December 6.
Full report at:
http://www.arabnews.com/node/1241136/middle-east
--------
US has calculations against Turkey, Iran, Russia in Syria: Erdogan
Feb 6, 2018
President Recep Tayyip Erdogan says the US is now working against the interests of Turkey, Iran and Russia in northern Syria, where Washington has been backing anti-Damascus Kurdish militants, after the defeat of the Takfiri Daesh terrorists.
"If the United States says they are sending 5,000 trucks and 2,000 cargo planes of weapons for the fight against Daesh, we don't believe this," Erdogan told members of his ruling Justice and Development Party (AKP) in parliament on Saturday.
Washington had "calculations against Turkey, Iran and maybe Russia" in Syria, he said, renewing a call for US troops to withdraw from the Syrian town of Manbij.
The US has around 2,000 military personnel in northern Syria supporting the so-called Syrian Democratic Forces (SDF), which is an alliance of militias in northern and eastern Syria and largely dominated by the Kurdish People's Protection Units (YPG).
Turkey is wary of the presence of Kurdish militants close to its borders in Syria, and has been opposed to Washington's efforts to train and arm them in the Arab country. The US has said it has no plans to pull out troops stationed near the town of Manbij.
Ankara has been waging "Operation Olive Branch" against the Kurds in Syria's Afrin region since January 20 in a bid to eliminate the Kurdish militants. Turks have said the offensive could extend to Manbij and beyond.
Accusing Washington of breaking past promises, Erdogan said the Americans "told us they will pull out of Manbij. They said they will not stay in Manbij... Why don't you just go?"
"And then you tell us not to come to Manbij! We will come to Manbij to return it to its original owners," he added.
In a show of anger at Turkey's NATO ally, Erdogan asked the United States what it was doing in Syria in the first place.
"You do not have a border, you are not a neighbor (of Syria)," he said. "What's your business there? We have a 911-kilometer (566 miles) border."
Erdogan also accused US President Donald Trump and his predecessor Barack Obama of failing to tell the truth over US support for the YPG.
"They told us many things but unfortunately they did not tell the truth," Erdogan said. "Mr. Obama did not tell the truth and now Mr. Trump is heading down the same path."
Erdogan had earlier said the YPG is trying to establish a "terror corridor" on Turkey's southern border, linking Syria's northern city of Afrin with a large Kurdish-controlled area to the east.
Full report at:
http://www.presstv.com/Detail/2018/02/06/551457/Turkey-Erdogan-US-Syria-Manbij-Iran-Russia
--------
Arab World
UN investigates claims of chemical weapons being used in Syria
February 06, 2018
United Nations (UN) war crimes investigators on Tuesday said they were investigating fresh reports that chemical weapons were being used in rebel-held zones in war-ravaged Syria .
The UN Commission of Inquiry on the human rights situation in Syria voiced alarm that it had received "multiple reports — which it is now investigating — that bombs allegedly containing weaponised chlorine have been used in the town of Saraqeb in Idlib and in Douma in Eastern Ghouta".
Residents in Eastern Ghouta, near Damascus, and in the northwestern Idlib province have accused Syrian troops of using the toxic weapons in recent weeks.
The United States (US) on Monday said there was "obvious evidence" of multiple chlorine gas attacks in recent weeks, including in the opposition-held enclave of Eastern Ghouta near Damascus.
Eastern Ghouta, where an estimated 400,000 people are living under a crippling government siege, is included in a de-escalation deal agreed last year by rebel ally Turkey and government supporters Iran and Russia.
But violence has ramped up there in recent weeks, and this month alone, chlorine is suspected of having been used on two occasions in munitions launched by the regime on Eastern Ghouta.
A third accusation of toxic gas use came from Idlib, an opposition-controlled province in the country's northwest that also falls in a de-escalation zone.
The UN commission, headed by Brazilian diplomat Paulo Pinheiro, was last September the first UN body to officially blame Damascus for a chemical attack that killed more than 80 people in Khan Sheikhun in Idlib five months earlier.
The UN has also determined that Syria 's government carried out chlorine gas attacks in 2014 and 2015, a charge Damascus has vehemently denied.
More than 340,000 people have been killed in Syria 's conflict, which began in 2011 with anti-government protests but morphed into a brutal civil war, pulling in world powers and attracting jihadist fighters from around the globe.
https://nation.com.pk/06-Feb-2018/un-investigates-claims-of-chemical-weapons-being-used-in-syria
--------
Tourism boost for Madinah, hub of Islamic, historical sites
February 06, 2018
According to Arab News, Big steps are being taken to attract more visitors to Madinah , one of Saudi Arabia's most important tourist regions. It has many Islamic and historical sites, most of them linked with the life of Prophet Muhammad (peace be upon him).
They include historical mosques and the locations of battles. Madinah was the capital of Islamic culture in 2013 and the capital of Islamic tourism in 2017, and it witnessed tremendous progress in the tourism sector.
Khalid bin Hussein Al-Shahrani, director general of the Madinah branch of the Saudi Commission for Tourism and National Heritage (SCTH), told Arab News: "Madinah is witnessing continuous activity in the tourism sector thanks to the support and guidance of Prince Faisal bin Salman, governor of Madinah Region and chairman of the Tourism Development Council in the region.
"Madinah is considered one of the pillars of the National Transformation Program (NTP) 2020 and Vision 2030. Therefore, the Tourism Development Board seeks to revitalize tourism through many steps, including the development of facilities and service sites in addition to the preparation of the tourist accommodation sector which reached 565 facilities in Madinah area, as well as packages of activities and entertainment programs."
The region will implement a number of investment projects that will contribute to the revitalization of tourism , providing revenue and more job opportunities in this vital sector, said Al-Shahrani.
He said Madinah includes 173 licensed travel and tourism agencies, and the SCTH is to license 55 tour operators and eight offices for booking tourist accommodation. The number of accredited tourist guides in the SCTH in Madinah has reached 63.
Full report at:
https://nation.com.pk/06-Feb-2018/tourism-boost-for-madinah-hub-of-islamic-historical-sites
--------
Iraqi Kurds say they are holding 4,000 Islamic State suspects, including foreigners
FEB 7, 2018
ARBIL, IRAQ – Authorities in Iraqi Kurdistan said Tuesday they had detained some 4,000 suspected members of the Islamic State jihadist group, including foreigners, in recent years.
They include around 1,000 jihadis who surrendered during the battle for Hawija, the last IS urban stronghold in Iraq until its fall late last year, Iraqi Kurdish official Dindar Zibari told reporters.
He said 350 people detained in northern Iraq who admitted to belonging to IS had been transferred from the city of Kirkuk, retaken by federal forces in October, to Kurdish-run prisons.
Human Rights Watch said in December that hundreds of detainees held by the Iraqi Kurdish authorities in Kirkuk were feared to have been "forcibly disappeared.
"The names of all these prisoners were submitted to the United Nations and the International Committee of the Red Cross, but they did not inform the families of 350 people," Zibari said.
He did not specify the number of foreigners among those arrested but said some had already been sent home, including a Japanese journalist detained in 2016 on suspicion of ties to IS.
Security forces from the autonomous Kurdish region in northern Iraq have played a significant role in the war against IS.
Iraqi Prime Minister Haider al-Abadi declared victory in December in the three-year campaign by Iraqi forces to expel IS jihadis from the vast areas north and west of Baghdad.
His forces also took back disputed areas in the north from the Kurds after Baghdad rejected a controversial Kurdish independence vote in September.
Full report at:
https://www.japantimes.co.jp/news/2018/02/07/world/iraqi-kurds-say-holding-4000-islamic-state-suspects-including-foreigners/#.WnqJ6VSWazc
--------
Where jihadists confess on prime-time TV
07th February 2018
Every Friday in Iraq, a gripping show on state television beams the alleged confessions of death-row jihadists into homes around the country. At peak viewing time, it broadcasts gruesome images of their purported crimes before interviewing the convicts, who appear clad in orange or yellow jumpsuits
'In the grip of law'
Iraq has detained thousands of suspected members of the Islamic State, known for the execution of detainees in orange jumpsuits. Once a week, the show titled "In the grip of the law" escorts convicted jihadists back to the scene of their crime under heavy security
By spotlighting IS atrocities, the show aims to stamp out any remaining support for the jihadist group's ideology, its presenter says. "I get tipped off by the interior ministry, the defence ministry or national security, who captured them," Ahmad Hassan was quoted as saying by AFP
Re-enacting a massacre in Iraq
Dressed in a beige suit and brown tie, on a set meant to evoke a detective agency, Hassan starts his show each week with shocking images. One episode opens with a photo of dozens of Sunni tribesmen lying in a pool of their own blood, after their 2014 execution by IS in the town of Heet, northwest of Baghdad
It then introduces Mithaq Hamid Hekmet, 41, one of those condemned over the massacre, who recounts the killings in chilling detail—even citing the names of others who took part. On the show's set, a mahogany desk, stacks of papers, maps of Baghdad and mugshots of the day's convict seek to create an intriguing atmosphere to draw in viewers
On death row
Full report at:
http://www.newindianexpress.com/opinions/2018/feb/07/where-jihadists-confess-on-prime-time-tv-1769590.html
--------
Mystery shrouds return of pilot's 'stolen' body to Russia
7 February 2018
Two days ago, Russian media outlets said Moscow will spare no effort in retrieving the body of its Pilot Major Roman Filipov whose Sukhoi Su-25 was downed over Syria's Idlib on Saturday.
Filipov parachuted out of the plane after it was hit and then blew himself up with a grenade after clashing with armed men believed to be members of Tahrir al-Sham, formerly known as Al-Nusra Front.
His body, which Tahrir al-Sham, had seized disappeared overnight amid mysterious circumstances as on Tuesday night. A media outlet affiliated with the group said that Filipov's body was "stolen."
A security source was quoted as saying that the body disappeared as "after we demanded it to be handed over, they kept stalling until we found out that the body was handed over to the Russian invader."
"We will follow up on the matter and punish whoever committed this hideous crime," the source added. It is still unclear how the body was returned to in Russia but it is likely that factions close to Turkey managed to get the body and smuggle it through the Turkish borders and then from Turkey into Russia.
Full report at:
https://english.alarabiya.net/en/News/middle-east/2018/02/07/Mystery-shrouds-return-of-pilot-s-stolen-body-to-Russia.html
--------
UN pleads for one-month Syria aid truce
6 February 2018
The United Nations in Syria appealed on Tuesday for a one-month truce in the conflict to allow aid to reach hundreds of thousands of civilians in urgent need of assistance.
In a statement issued in Damascus, the UN said a humanitarian crisis was unfolding in several parts of the country to which it was not being given access.
The UN's humanitarian coordinator and top envoys in Syria called "for an immediate cessation of hostilities lasting for at least one month throughout Syria."
The measure would "enable the delivery of humanitarian aid and services, evacuation of the critically sick and wounded, and alleviation of people's suffering, to the extent possible, wherever they are," the UN said.
It went on to list some of the emergencies across Syria, where conflict has raged uninterrupted for almost seven years, killing more than 300,000 people and displacing millions.
Regime and allied forces are currently engaged in military operations against rebels and jihadists on several fronts, including in the northwestern province of Idlib and on the outskirts of Damascus.
On January 20, Turkish forces backing Syrian rebels launched a major operation against the Kurdish-controlled region of Afrin in the north of the country.
Large numbers of people who were displaced by last year's operations against the Islamic State group in the Raqa and Deir Ezzor regions are still in urgent need of humanitarian relief.
The UN said existing agreements on the delivery of aid were not being honored and stressed that "if access was granted, three convoys could be dispatched each week, reaching over 700,000 people in these areas in two months."
Full report at:
https://english.alarabiya.net/en/News/middle-east/2018/02/06/UN-pleads-for-one-month-Syria-aid-truce.html
--------
Syria dismisses US, UK gas attack allegations at UNSC
Feb 6, 2018
Syria has dismissed fresh accusations by the US and the UK about Damascus using of chemical weapons against militants and civilians in the country.
During a UN Security Council (UNSC) meeting on Monday, acting chargé d'affaires of the Syrian delegation at the UN, Munzer Munzer, rejected the US claims as "false and cheap."
The Syrian diplomat said the US resorts to such "fabricated accusations" whenever it realizes that terrorist groups are in trouble in the face of any progress by the Syrian army.
He noted that the US, Britain and France bear full responsibility for obstructing an independent investigation into the use of chemical weapons by covering up crimes committed by terrorists in Syria.
The UNSC meeting was requested by Russia to discuss the use of chemical weapons, following a report on a poisonous gas attack in northwestern Syria.
At the UNSC session, the US and Britain once again accused the Syrian government of using chemical weapons against civilians.
The two countries also accused Russia of obstructing investigation into chemical incidents in Syria.
"There are reports of yet another chemical weapons attack on Sunday. Victims of what appears to be chlorine gas are pouring into hospitals," US envoy to the UN Niki Haley said.
"So, we proposed the Security Council press statement condemning these attacks. So far, Russia has delayed the adoption of the statement; a simple condemnation of Syrian children being suffocated by chlorine gas," she added.
Britain's representative at the meeting also lashed out at Russia for vetoing investigation into chemical incidents in Syria for three times, saying Moscow has been shielding the Syrian government.
Addressing the council members, Russia's Ambassador to the UN Vasily Alekseevich Nebenzya rejected any use of chemical weapons by Damascus and accused the Western media outlets of what he called "propagandistic campaign."
"Recently, there has been all the fuss about the alleged use of chlorine in Damascus suburbs. There are even rumors about Sarin being used. Where? When? By whom? What comes with this propagandistic campaign is nothing new," Nebenzya said.
The Russian ambassador also accused the US and Britain of using the issue to sabotage Moscow's efforts to find a political solution to the crisis in Syria.
"Today's meeting is being used by the US and UK to slander the Russian Federation. We can see clearly why this is taking place. Some are concerned about the success of the Syrian national dialogue conference in Sochi. There are concerns about the prospect to breathe new life into the political process in Syria," he noted.
Around 1,600 delegates representing a wide range of Syrian political factions attended the Sochi talks in late January. The event was boycotted by the High Negotiations Committee, which is based in and guided by Saudi Arabia.
Damascus welcomed the results of the event and stressed that its final statement affirmed that political progress in Syria cannot begin except under the Syrian leadership and without any foreign interference.
Apart from Washington's claim about a chemical attack on Sunday, US Defense Secretary Jim Mattis said Friday that the White House was concerned that militants had been attacked by sarin, an allegation that Damascus dismissed as US "lies."
Since the beginning of the conflict in Syria in early 2011, the Western governments have on several occasions accused Syria of using chemical weapons against militants. Damascus has denied the allegation, saying it is meant to pile more pressure on the government forces and delay their success in the fight against terrorists.
Last year, the US and allies in Europe said Syria and Russia, an ally of Damascus in the fight against terror, used chemical weapons against militants in Khan Sheikhun in the province of Idlib. Moscow swiftly rejected the allegations, saying its fighter jets had in fact bombarded a depot in the area in which the militants had stored chemicals.
The Syrian government and allied fighters have managed to liberate most of the territories that used to be under the control of the militants for the past years.
Damascus still maintains that foreign governments, including the US, fanned the flames of militancy in Syria by providing weapons and training to certain groups of militants. The government says if it was not for the support of certain foreign states, the militancy could have not gone out of hand in such a devastating degree.
Full report at:
http://www.presstv.com/Detail/2018/02/06/551486/Syria-chemical-attack-UNSC
--------
Lebanese leaders agree to take action against Israel threats
Feb 6, 2018
Lebanese leaders have agreed to take actions at the regional and international levels against Israel's plans to construct a border wall and the regime's threats against Lebanon's offshore oil and gas exploration projects.
President Michel Aoun held the meeting with Parliament Speaker Nabih Berri and Prime Minister Saad Hariri before noon at the presidential palace of Baabda on Tuesday in an attempt to boost stability amid rising Israeli threats against the country.
The Lebanese leaders discussed "the Israeli threats, and saw in them ... a direct threat to the stability" of the border region, a statement by the presidential office said.
The top Lebanese officials denounced the Israeli threats against the country's borders as violation of the UN Security Council resolutions, noting that Tel Aviv's measures jeopardize the efforts by the Lebanese army and the UN peace keepers to maintain the regional security since 2006.
The meeting comes after tensions flared last week between the Free Patriotic Movement (FPM), founded by Aoun, and the Amal Movement, presided by Berri, fueled by a video in which Foreign Minister Gebran Bassil, who heads the FPM party, was shown calling Lebanon's parliament speaker a "thug." A wave of protests by Berri's supporters ensued.
The gathering focused on discussing the necessary measures the country needs to take after Israeli remarks on oil and gas exploration in south Lebanon's Block 9.
Israel's minister of military affairs, Avigdor Lieberman, has described as "very provocative" a Lebanese tender for projects in two of its 10 offshore blocks in the Mediterranean Sea. Tel Aviv, which claims sovereignty over Block 9, also urged international firms not to bid.
Lieberman's remarks came as Beirut is set to hold a meeting on February 9 to sign contracts with three international gas exploration firms.
In another hostile remark against Lebanon, Israel's Transportation Minister Yisrael Katz threatened to return Lebanon to "the Stone Age," if it is turned into what he said an Iranian factory of precision-guided weapons.
"Israel has set a red line—it will not allow Lebanon to become a factory for the production of precision-guided missiles for Iran," Katz said in an interview with the Ynet studio on Sunday.
He claimed that "Iran is working to turn Lebanon into an advanced post against Israel and has basically taken Lebanon hostage through Hezbollah by implementing its aggressive trends."
"We are being very clear. If an open, comprehensive conflict develops as a result of Hezbollah's aggression, we will act very firmly, much more than we did in 2006. Not a single target in Lebanon will be immune, and any infrastructure used both by Hezbollah and for military purposes will be hit. Lebanon will go back many, many years, some say to the Stone Age and others say to the age of cavemen."
Nearly 1,200 Lebanese, most of them civilians, lost their lives during Israel's 33-day war on Lebanon back in the summer of 2006.
According to the 629-page Winograd Report by the Israeli regime itself, Hezbollah fighters involved in defending Lebanon against the Israeli war defeated the enemy and Tel Aviv was compelled to withdraw without having achieved any of its objectives.
Full report at:
http://www.presstv.com/Detail/2018/02/06/551469/Lebanon-israel-gas-oil
--------
Europe
Tajikistan, Most Muslim Country in Central Asia, Struggles to Rein In Islam
By: Paul Goble
February 6, 2018
In the last month alone, local authorities closed almost 100 mosques in the northern part of Tajikistan, the latest effort by Dushanbe to control Islam in the most fervently Muslim country in Central Asia. Yet, this campaign is exceedingly likely to backfire by driving both imams who have lost their jobs as well as their former parishioners and followers to go underground. Indeed, this move may be at least as counterproductive as Dushanbe's decision two years ago to call home the 6,000 Tajikistani Muslims studying in madrassas (Muslim religious schools) and Islamic universities abroad and then refusing to allow them to work in government-registered mosques. And that entire situation was further exacerbated by the fact that the government has restricted higher Islamic education inside the country to a single Muslim center.
By systematically going after mosques and places of Islamic study, Dushanbe is in large measure recapitulating the unsuccessful Soviet approach, dramatically expanding the Muslim underground in the most Muslim country in Central Asia. As a result, at least some of those Muslim faithful pushed to the shadows could ultimately link up with Islamist radicals coming into the country from Afghanistan, destabilizing the impoverished country still further. If that happens—and there is some evidence that it already is (see below)—the government in Dushanbe and those who want to block the export of Islamist radicalism from Afghanistan are likely to suffer a major defeat and possibly even the overthrow of the secular regime in Tajikistan. In large measure, they will have only themselves to blame for such a loss.
At the end of January, officials in the Tajikistani city of Isfara (Sughd Region) announced that they had closed 45 mosques for failing to maintain "sanitary norms." Apparently, these former places of worship will be converted into clubs and other social institutions (News.tj, January 25). Then, officials in the neighboring Ghafurov District announced that they were closing 45 mosques supposedly because some of them were built too close together—Tajikistani law bans having two religious facilities within 50 meters of one another—and transforming them into social centers as well (News.tj, January 30).
Officials insist that a sufficient number of mosques will remain open. In the case of the latter closings, the Ghafurov District, which has 360,000 residents, will still have 136 mosques—one for every 2,700 people (Fergananews.com, January 30). The authorities claim there are "about 4,000" officially registered mosques throughout Tajikistan, of which 370 are so-called "cathedral mosques" of significant size. Moreover, according to the government, that there are some 3,914 imams, or one for every 2,210 people in the country, making Tajikistan the most Islamic state in Central Asia by either of these measures (Fergananews.com, November 2, 2017).
But those numbers are deceptive. On the one hand, the government exercises tight control over both mosques and imams. All of the latter are appointed by the government-controlled Council of the Ulema and the State Committee for Religious Affairs. The imams are paid out of government funds, a miserly 800 som ($90) a month. The government also has banned from serving as an imam in official mosques anyone who has received any theological education abroad. This has dramatically limited the number of people in the country who can serve—there is only one Muslim academy in all of Tajikistan, and it is small. It has also diminished the quality of those serving—many Tajikistani imams do not know Arabic or even basic prayers. Furthermore, the government decides on the subjects of the homilies of the imams and regularly distributes to them a special brochure of "recommended" texts. Finally, the country's security services have set up video surveillance within and around all mosques in the capitals and major cities and many of the mosques in smaller towns as well (Fergananews.com, January 30). It would seem that the authorities have things under control as much as possible.
But on the other hand, there is an alternative Islam, one that in Soviet times Western scholars like Alexandre Bennigsen called "unofficial" or "underground" Islam. It consists of all Islamic practice that the government does not allow. And as Bennigsen showed, the more tightly the Soviet authorities restricted what "official" mosques and imams could do, the larger and more vital became this second face of Islam (Alexandre Bennigsen, Islam in the Soviet Union, London, 1967; Bennigsen, Islamic Threat to the Soviet State, London, 1983).
The reasons for evoking that legacy when discussing present-day Tajikistan are numerous: First, Tajikistan in the 1990s suffered a bitter civil war in which an Islamic party played a major role. That party has now been banned (see EDM, September 11, 2015); but its supporters remain not only in the population but among the military and the civilian bureaucracy (RFE/RL, December 1, 2015). The large number of Tajiks who identify as imams but who cannot work in official mosques because they received their training abroad or because, as now, their mosques have been closed are ready, willing and able to lead those who also do not feel comfortable in the denatured Islam that Dushanbe permits (Emmanuel Karagiannis, "The Challenge of Radical Islam in Tajikistan," Nationalities Papers, 34:1, 2006, pp. 1–20.). And the Tajiks of northern Afghanistan, many of whom are Islamists, have made inroads in Tajikistan in recent months as have Tajik Islamic State fighters now returning home (Asia Times, February 4, 2018).
Many in Moscow and the West have praised Dushanbe for its moves to control Islamist radicalism. But they have generally failed to understand that by its actions against Islam, the Tajikistani government is radicalizing far more of its citizens than it is reining in.
https://jamestown.org/program/tajikistan-muslim-country-central-asia-struggles-rein-islam/
--------
Path of IS cell survivor shows intersection of crime, terror
Feb 6, 2018
PARIS — He is the silent survivor of the 10-man Islamic State cell that terrorized Paris in November 2015, refusing all pleas to shed light on the attack that killed 130 people in the French capital or the one in Belgium four days after his arrest.
After spending nearly three years jailed in isolation, Salah Abdeslam was set to go on trial Monday in his hometown of Brussels for a police shootout that he himself fled. The man who covered for his getaway with a spray of automatic gunfire died. Abdeslam's escape was short-lived — he was captured on March 18, 2016, in the same neighborhood where he and many of his Islamic State fighter colleagues grew up.
Four days later, Islamic State suicide attackers struck again, this time at the Brussels airport and subway. In all, that sprawling network of IS fighters killed 162 people in the two European capitals. Most of the extremists were French speakers, raised in one of the cities they struck. The plot's execution depended upon Islamic State's success in wedding crime and religion.
Abdeslam, who along with his brother was suspected of dealing drugs from the bar they ran, is the starkest example of that convergence. But in Paris, the trial of three men accused of giving safe haven to the attackers also provides a revealing look at the intersection that made possible two of the deadliest terror attacks in Europe since World War II.
The operational commander of the cell was Abdelhamid Abaaoud, a petty criminal who used his home neighborhood of Molenbeek in Brussels as a fertile recruiting ground for IS. Abaaoud even recruited his 14-year-old brother.
But many of the young men who followed him into IS were small-time criminals themselves, part of the extremist organization's deliberate attempt to make use of "skills" that include accessing black market weapons, forging documents and handling covert logistics .
When the night of carnage in Paris — Nov. 13, 2015 — finally ended, seven attackers were dead and three were on the run: Abdeslam, Abaaoud and another Molenbeek native named Chakib Akrouh. Abdeslam called friends in Brussels to drive through the night and pick him up.
Abaaoud also called his cousin, Hasna Ait Belkacem, who lived in a suburb of Paris and vacillated between hard-line Islam and even harder drug use. She was happy to help. She called her dealer. He called another dealer.
It took a few days of sleeping under bushes, but for 150 euros ($187) wired from Belgium, they secured a room in the Paris neighborhood of Saint-Denis, near the national stadium they had attacked on Nov. 13.
In the pre-dawn hours of Nov. 18, frantic French investigators tipped off by a friend of Ait Belkacem tracked them to the building and sealed off the neighborhood.
Abaaoud, Ait Belkacem and Akrouh all died when Akrouh detonated a suicide vest.
Just before his building crumbled to the ground, one of the drug dealers, Jawad Bendaoud, showed up to find out what was happening and explained on live television that he was just "doing a service" by renting out his room. With the cameras still rolling , Bendaoud was taken into custody.
At their trial, fellow dealer Mohammed Soumah explained how he framed the world: Good citizens, delinquents, rapists, and terrorists.
"Me, I don't fit in the terrorist box. I'm a thug, a scumbag," Soumah told the judge. But there he was sitting in the box for terrorism defendants in central Paris alongside Bendaoud.
As for why neither man made the connection between the two Belgians desperate for a hideout amid a massive police manhunt and an outpouring of grief for France's 130 victims, Soumah had another explanation.
"The criminal life goes on," he said.
But the lines between terrorists and criminals are less clear now than ever , said Peter Neumann, director of the International Centre for the Study of Radicalisation.
"ISIS is perhaps the first jihadist group that has explicitly targeted this demographic, and they've done it very consciously and especially in Europe," Neumann said. "If you go to Sweden, Norway, Holland, Germany, they will all tell you that 50 percent-plus of the people who have turned up traveling to Syria or involved in domestic plots have previous criminal convictions, often for petty crime."
The attacks often are interwoven as well. On Friday, a Belgian career criminal was transferred into French custody over allegations that he housed the jihadi who attacked the Thalys high-speed train between Brussels and Paris in August 2015.
The suspect, Youssef Siraj, is also believed to have put up some of the Brussels attackers, according to the Belgian news site DH. The same group allegedly is linked to a raid in the Belgian town of Verviers, where authorities say a jihadi cell was on the verge of a coordinated attack against police.
"We are coming to realize that Verviers, Thalys, Nov. 13, the attacks of March 22, it's a large and perhaps single operation of Daesh," Belgian federal prosecutor Frederic Van Leeuw said, using another term for IS. All were bound by ties of crime and extremism.
The jihadi who wired the money to pay Bendaoud and Soumah was himself a petty criminal in Sweden before joining the Islamic State group, a thief who picked up firearms skills during his time in Syria named Mohamed Belkaid. It was also Belkaid who opened fire on Belgian police as they raided Abdeslam's Brussels hideout. He was shot dead in the March 15, 2016, raid.
Abdeslam escaped through a window over the rooftops.
He was traced to a cousin's apartment on March 18, 2016, near his Molenbeek home. Still more members of the cross-border Islamic State cell struck Brussels on March 22, 2016, including the bomb-maker for both attacks. Thirty-two people were killed in Brussels, along with three suicide attackers.
Abdeslam has been imprisoned ever since. His trial will be the first time he is seen in public since his capture.
According to the French network France Inter, Abdeslam stored a message in his computer similar to the farewells written by other jihadis before suicide attacks.
Full report at:
http://www.phillytrib.com/news/path-of-is-cell-survivor-shows-intersection-of-crime-terror/article_55987601-84fe-5bc2-9327-89a72e422ccc.html
--------
Darren Osborne Muslim attack prompts mosque open doors call
6 February 2018
Following an attack on Muslims in London, mosques will open their doors to help build community relations.
Darren Osborne, 48, from Cardiff, was found guilty of murdering Makram Ali, 51, after ploughing into a crowd in London's Finsbury Park in June.
Following the attack, Muslim Council Wales officials said they wanted mosques to welcome people from other faiths on an open day.
Already, 11 have signed up for the event on 18 February.
"Muslims get a lot of bad press and much of the faith's practices such as the headscarf for women and halal diets are misunderstood," a spokeswoman said.
"This is the perfect opportunity to just go ask the questions."
Full report at:
http://www.bbc.com/news/uk-wales-42957191
--------
South Asia
Abdullah vows justice as likely execution of inmates spark panic among Taliban
Feb 06 2018
The Chief Executive of the Government of the National Unity of Afghanistan Abdullah Abdullah has vowed that the justice will be served as the possible execution of the inmates in Kabul's Pul-e-Charkhi prison has sparked panic among the Taliban group leaders.
In response to the questions of the reporters regarding the possible execution of the Taliban inmates, Abdullah said the orders will be executed in certain cases.
However, he did not elaborate further in this regard and it is yet not clear how many Taliban inmates are currently serving in the jails and how many of them have been sentenced to death.
This comes as the Taliban group claimed Monday that the Afghan government is mulling to execute a number of prisoners belonging to the Taliban group in Kabul's Pul-e-Charkhi prison.
Taliban group spokesman Zabiullah Mujahid in a statement said the Afghan authorities have started shifting several prisoners in Pul-e-Charkhi since Sunday.
Mujahid further added that the information received by the group suggests that the government is planning to carry out execution of the prisoners having links with the Taliban.
He warned that the execution of the political inmates and Taliban affiliates will have negative consequences and that the government and judicial institutions of the government will be responsible.
Mujahid also claimed that the government and its judicial institutions have no legitimacy and the capabilities to carry out executions on Taliban affiliates.
He also called on international rights organizations to intervene and prevent the Afghan government and the United States from the execution of the prisoners.
In the meantime, reports indicate that around 750 prisoners serving in the jails in Afghanistan have been sentenced to death but the execution orders of the Taliban inmates have not been signed by President Mohammad Ashraf Ghani.
https://www.khaama.com/abdullah-vows-justice-as-likely-execution-of-inmates-spark-panic-among-taliban-04442
--------
US B-52 bomber drops record number of bombs in Afghanistan
Feb 6, 2018
A US Air Force B-52 Stratofortress long-range bomber has dropped a record number of precision guided bombs on alleged Taliban targets across Northern Afghanistan, the US Forces-Afghanistan says.
Announcing the airstrike in a statement Tuesday, the force said the aircraft had dropped at least 24 guided munitions the past 24 hours.
The B-52's mission was part of a 96-hour operation that saw USAF aircraft struck what the force said were Taliban training bases and revenue sources, including narcotics laboratories.
"During these strikes, a US Air Force B-52 Stratofortress dropped 24 precision guided munitions on Taliban fighting positions, setting a record of the most guided munitions ever dropped from a B-52," the statement read.
Among the targets there were several stolen Afghan National Army vehicles that had been "converted to vehicle-borne" improvised explosive devices (IEDs), the statement added.
"The Taliban have nowhere to hide," said General John Nicholson, commander of the American forces in the war-torn country. "There will be no safe haven for any terrorist group bent on bringing harm and destruction to this country."
The bomber had recently been reconfigured with a conventional rotary launcher (CRL), which allows the 1960s-era aircraft drop conventional, precision-guided weapons from its bomb bay.
The bombing comes amid reports that Washington is stepping up military engagement in Afghanistan by removing its troops from Iraq and redeploying them to Afghanistan.
US President Donald Trump has openly expressed his desire to expand the US military buildup in Afghanistan, contrary to his campaign promises to end the years-long occupation that not only has failed to defeat Taliban but has given rise to Daesh-linked groups in the country.
The American president introduced a new Afghanistan strategy in August, hinting at relaxing the rules of engagement, accelerating strikes and other military actions aimed at producing "an honorable and enduring outcome."
Since he took office, US troop levels in Afghanistan have nearly doubled– from 8,500 in early 2017 to 14,000 today.
US bombing campaign in Afghanistan took the center of attention last April when a USAF MC-130 aircraft dropped the GBU-43/B Massive Ordnance Air Blast Bomb (MOAB), also known as the "mother of all bombs," on Taliban's underground tunnels in the Nangarhar province.
Full report at:
http://www.presstv.com/Detail/2018/02/06/551491/US-b52-Afghanistan-bombing
--------
Taslima Nasrin slams bid to push Dhaka for Islamic tourism
Feb 7, 2018
Debasish Konar
KOLKATA: Author-in-exile Taslima Nasrin has criticised Bangladesh tourism and civil aviation minister AKM Shahjahan Kamal for his bid to showcase Dhaka as an Islamic tourist city.
Kamal plans to showcase Dhaka to representatives of 57 countries who are in the Bangladesh capital for the meet of Islamic Conference of Tourism Ministers. He had said on Sund-ay he would showcase Bangladesh's Islamic heritage to Muslim countries across the globe, which infuriated Taslima, who lives in Delhi.
The author said Bangladesh had a secular history as it was formed after fighting the Islamic state of Pakistan, addindg that Dhaka had always been a secular city and had no major history of Islamic heritage. "The minister may have said this for commercial gains. But it is impractical. A major section of the Muslim population are converts from other religions. So, it is unwise to try to portray Dhaka as an Islamic heritage city, which is an attempt to deprive it of its Bengali culture."
"Saudi Arabia and other Middle East countries are known for Islamic heritage and people from across the globe visit Mecca and Medina but no one visits Dhaka for this purpose," she said.
She added: "While Bangladesh PM Sheikh Hasina is trying to show a secular face and has brought back the secular constitution, her minister is saying something contrary. How can the PM tolerate him?"
Taslima posted similar comments on Facebook.
Full report at:
https://timesofindia.indiatimes.com/city/kolkata/taslima-slams-bid-to-push-dhaka-for-islamic-tourism/articleshow/62812220.cms
--------
ISIS military in charge for Haska Mina killed in East of Afghanistan
Feb 06 2018
A key ISIS leader in charge of the military commission of the terror group for Haska Mina district has been killed in eastern Nangarhar province of Afghanistan.
The provincial police commandment said a clash broke out between the ISIS militants and the Afghan security forces in Chaparhar district late on Monday, leaving at least four ISIS militants dead or wounded.
The Nangarhar police officials are saying that the Afghan police and army forces were busy conducting routine patrol when they were ambushed by the ISIS militants.
The officials further added that the Afghan forces responded to the ISIS fire and forced the militants to retreat, leaving two of them dead.
According to the police officials citing intelligence reports two ISIS militants including Qari Habib the military commission in charge of the group were killed during the clashes.
The other ISIS member killed during the clashes has been identified as Qari Hanifa and two others were wounded, the officials said.
According to the security officials, the Afghan armed forces and the local residents did not suffer any casualties during the clashes.
Full report at:
https://www.khaama.com/isis-military-in-charge-for-haska-mina-killed-in-east-of-afghanistan-04441
--------
India pledges $31m for the implementation of 108 projects in Afghanistan
Feb 06 2018
The government of India has pledged a fresh aid package of $31 million for the implementation of 108 new development projects in Afghanistan.
A ceremony was also organized in Kabul today for the signing of the Memorandums of Understanding for the new aid package of the government of India.
The Indian Ambassador to Afghanistan Manpreet Vohra signed the Memorandums of Understanding with different governmental institutions of Afghanistan.
The Chief Executive of the Government of National Unity of Afghanistan Dr. Abdullah Abdullah was also present in the signing ceremony.
The economy minister of Afghanistan Mustafa Mastoor said the new aid package will help to implement 108 new development projects across the country.
He said the projects will be implemented in 31 different provinces of the country to cover different sectors including health, energy and power, higher education, agriculture, rural development, and sports.
India has played a major role in the reconstruction of Afghanistan since the fall of the Taliban regime and has invested over $2 billion in various reconstruction and infrastructure projects.
Full report at:
https://www.khaama.com/india-pledges-31m-for-the-implementation-of-108-projects-in-afghanistan-04440
--------
Taliban leader Mawlavi Nik Mohammad's 10 insurgents join peace process
Feb 06 2018
At least ten insurgents belonging to the Taliban group leader Mawlavi Nik Mohammad joined peace process in eastern Nangarhar province of Afghanistan.
The provincial government media office in a statement said the militants led by Ismail alias Fawad joined the peace process due to the ongoing peace efforts of the provincial National Directorate of Security.
The statement further added that the militants joined peace process in Khogyani district and also handed over some weapons and ammunition to the local authorities.
The weapons handed over to the authorities include five Ak-47 assault rifles, two pistols, a rocket launcher, six hand grenades, and one communication device set.
The militants were previously active in Khogyani district where they were conducting destructive activities under the leadership of the Taliban leader Mawlavi Nik Mohammad, the statement added.
The leader of the group Islami said they have been conducting insurgency based on irrelevant and wrong instructions of the Taliban group leaders since last eight years.
He said the Taliban insurgents who have joined peace process are regretting for their activities and he called on other insurgents to renounce violence and join peace process.
They also promised to live a peaceful life after the reconciliation process and contribute in the reconstruction of the country.
Full report at:
https://www.khaama.com/taliban-leader-mawlavi-nik-mohammads-10-insurgents-join-peace-process-04439
--------
Africa
Jordan's King Sees a Possible 'Lack of Understanding of Islam' in Washington
February 6, 2018
Islam is "not a religion of hate," Jordan's King Abdullah said in a recent interview, arguing that there was perhaps a "lack of understanding" of the religion in Washington.
CNN's Fareed Zakaria asked Abdullah – in an interview filmed in Davos last month but aired on Sunday – about President Trump's stated view during the 2016 election campaign that "I think Islam hates us."
"By 'us,' I think he meant America," Zakaria said. "In your conversations with President Trump, have you tried to persuade him that that was not the case?"
"Absolutely, to all Americans," Abdullah replied. "And whether I'm in Washington, in the Congress, or with the administration, I think maybe there's a lack of understanding of Islam."
Abdullah said his religion is built on "moral virtues" that are seen in other faiths including Christianity and Judaism.
"It is not a religion of hate," he said. "We, as Muslims, believe in Jesus Christ as the Messiah. We believe in the holy virgin mother. We believe in the Bible and the Torah. And I think this is the way that all of us were brought up."
The Jordanian king conceded that there were those within Islam who have a different view.
"We have challenges, because there are fringe groups that have created problems," he said.
"As I've said before, we have a fight inside of Islam. This is a civil war between all of us and those that not only consider us heretics, but consider Christians, Jews and other religions all heretics and should be put to the sword."
In fighting that "scourge," he said, Muslims are working side-by-side with Christians, Jews and others.
Abdullah said his concern about terrorism in the United States is not so much about "terrorists getting in," since security is "quite robust."
"What you don't want – and not just in the United States – in my country or in Europe, is to have the Muslim population feeling victimized and isolated," he said. "That creates a breeding ground of contempt."
Pressed again about Trump's rhetoric on Islam, Abdullah said again he has discussed the issue with the president, but also emphasized the U.S. global leadership against terrorism.
"Don't forget that, in our global fight against international terrorism, the United States is the most active partner in the world – not just with Jordan, but with Europe, the countries in Africa and the Far East."
"So they are our allies," he said. "And, you know, our relationship with the United States is institutional. I think that, you know, we are all partners in this global challenge."
While Abdullah correctly identified areas of commonality between Islam and Christianity, the theological doctrines underpinning them are starkly different.
The Qur'an does describe Jesus (Issa) as Messiah, but Islam rejects the foundational notion in Christianity of Jesus as redeemer and Savior. Islam and Christianity both hold as true the virgin birth, but while the former regards it as a miracle of Allah the latter contends that Jesus was conceived by the Holy Spirit (Matt. 1:20, Luke 1:35), making him both God and man.
Islam rejects Jesus' divinity (Qur'an 9:30 states: "the Christians say: The Messiah is the son of Allah … may Allah destroy them") and it denies that Jesus was crucified and resurrected (Qur'an 4:157 says: "And they did not kill him, nor did they crucify him.")
https://www.cnsnews.com/news/article/patrick-goodenough/jordans-king-sees-possible-lack-understanding-islam-washington
--------
Tunisia to train callers for prayers at music institutes
6 February 2018
Tunisia will soon begin training the callers for prayers at the Rachidi Institute of Tunisian Music to improve their voices and performance. The initiative is set to assert the countries identity, resist extremism in an unprecedented move by the authorities.
The Minister of Religious Affairs, Ahmed Adhoum, revealed that this experiment is aimed at enhancing reciting the adhaan (call for prayer) as per the Tunisian school.
He told Tunis Africa news agency that Tunisia has an important heritage of listeners and readers heard by generations of Tunisians and their style of reading the Holy Quran.
The ministry will create a new generation of callers for prayer in accordance with this heritage.
"This is not a sort of fanaticism for the Tunisian school, it is about training Tunisians to hear the adhaan and reading the Quran with the voice of Tunisian readers," he said, adding that Tunisia was "open to all kinds of reading styles."
In a statement to Al Arabiya, Al-Shadi Shoro, director of the Higher Institute of Theology at Al-Zaytoonah University, said that the aim of the initiative was to "establish the country's identity by teaching the proper pronunciation of words as per the practice followed in the Tunisian style, by the professors of phonetics and music, denying that this is a mere new trend.
Shorou added that the Ministry of Religious Affairs is also seeking to "improve the performance of some of the mu'ezzins (callers for prayer) who have caused complaints from the citizens because of their poor voices and their use of loudspeakers at the mosques."
He added that the ministry is working to ensure that the mu'ezzins have a voice that is able and beautiful, to allow people to enjoy the adhaan and the prayer.
In the first stage, this composition will target the "big mosques" in Tunis, before implementing it across the country's mosques as a first move towards unifying the call for prayer.
Full report at:
https://english.alarabiya.net/en/features/2018/02/06/Tunisia-to-train-callers-for-prayers-at-music-institutes.html
--------
Libyan execution officer Ourfali surrenders following ICC charges
7 February 2018
The Libyan army's special forces officer, Mahmoud al-Ourfali, said on Tuesday evening in a videotaped message that he has surrendered himself to the General Command of the army.
Ourfali will be investigated on the charges levelled against him by the International Criminal Court.
Ourfali said he was surrendering "in order to comply with Commander General Khalifa Haftar's orders." At an earlier time, Hafer ordered Ourfali's immediate arrest to complete investigations into ICC charges.
The ICC has issued a number of arrest warrants against Ourfali after several video clips surfaced purportedly showing him executing terrorists.
The most recent memorandum was issued by the prosecutor at the International Tribunal last month asking the Libyan authorities to hand over Ourfali to the court after the release of his last video.
Full report at:
https://english.alarabiya.net/en/News/north-africa/2018/02/07/VIDEO-Libyan-execution-officer-Ourfali-hands-himself-over-to-military-police.html
--------
South Sudanese protest US ban on weapons
Feb 6, 2018
Anti-Trump demonstrations in South Sudan's capital turned violent on Tuesday as people took to the streets to protest the US president's new ban on the supply of weapons to the army or rebels.
On Friday, the United States imposed a unilateral arms embargo on South Sudan, which is embroiled in a 5-year civil war. The State Department said it is "appalled" by the continuing violence perpetrated by both sides in the conflict.
Hundreds gathered outside the US embassy and the nearby United Nations base on Tuesday morning to show their anger.
"Down Down Mr. Trump" and "Don't weaken our nation Mr. Trump" were posters held up by some demonstrators.
The protesters delivered a petition to the US embassy, an embassy spokesman confirmed. The petition cited the demonstrators' anger over the arms embargo and accused the US of supporting the rebels through the UN mission to South Sudan and neighboring countries, according to a copy seen by The Associated Press.
Although the protest began peacefully, it turned violent and the crowd harassed and physically assaulted three journalists, including a reporter for the AP, a German freelancer and a reporter for the South Sudan press. None were seriously injured.
South Sudan's government wouldn't comment on the embargo but condemned the violence.
"The security authorities would have been there for the peaceful protest," said government spokesman, Ateny Wek Ateny. "If violence took place it was individuals taking the law into their own hands."
Full report at:
http://www.presstv.com/Detail/2018/02/06/551493/South-Sudan-US-Protest-
--------
Nigeria: Traditionalists Under Siege in Nigeria Sectarian Violence
6 FEBRUARY 2018
By Emeka Okonkwo
Abuja — INVESTIGATIONS into the violence against Christians in Nigeria have revealed the victims have allegedly been abusing traditionalists.
The International Society for Civil Liberties and the Rule of Law (Intersociety), embarked on the investigations following sectarian violence that has been destabilising the West African country over the years but worsened in December and last month (January 2018).
Emeka Umeagbalasi, Chairman of Intersociety, said "strong pieces of evidence" also indicate that Christians in Nigeria, particularly in the southeast, were intolerant of alternative religions in the zone, particularly members and institutions of traditional religions.
"Intersociety condemns in strongest term all forms of Christian violence against traditional religionists and their sacred places of worship and symbols," he said.
Umeagbalasi said fanatical Christians, including preachers, were found to be directing unprovoked violence or attacks on traditional religionists and their sacred places of worship.
Intersociety established that using midnight crusades, Christian fanatics and their radical preachers located and stormed sacred places of traditional religionists and set ablaze or destroyed their symbols and artifacts.
On the investigations into alleged persecution of the estimated 30 million Christians in the mostly Muslim northern Nigeria, Intersociety established the former suffered marginalisation, discrimination and targeted violence by violent groups such as the Boko Haram and Fulani herdsmen.
The clashes over land, featuring the mainly Christian villagers and Muslim herders in the Adamawa, Benue, Borno, Kaduna and Taraba States, have claimed the lives of over 100 civilians so far this year.
Full report at:
http://allafrica.com/stories/201802060491.html
--------
North America
Muslim Men In America Should Be Continuously Monitored, Says Department Of Homeland Security
By Tom Porter
2/6/18
A leaked Department of Homeland Security document recommends the continuous vetting of male Muslim immigrants from parts of the world deemed a security threat, Foreign Policy reported Monday.
The January document calls for "dedicating resources to continuously evaluate" Sunni Muslim immigrants South Asia, Africa and the Middle East on a "long-term basis."
The department bases its recommendations on a study of 25 terror attacks in the U.S. between October, 2001, and December, 2017. It describes male Sunni Muslim residents as being potentially "vulnerable to terrorist narratives," with their country of origin and gender acting as determining factors.
The purpose of the report, the document says, is to "inform United States foreign visitor screening, immigrant vetting and on-going evaluations of United States-based individuals who might have a higher risk of becoming radicalized and conducting a violent attack."
Critics told the publication that the report's focus on Sunni Muslims skewed its findings.
"They're saying we can use their demographics to identify at-risk people, but the demographics they identify are all over the map: citizens and noncitizens, native and naturalized, Middle Eastern, African, and South Asian," Margo Schlanger, who served as the DHS officer for civil rights and civil liberties during the Barack Obama administration, told the publication.
"So it basically concludes that everybody who is Sunni Muslim needs extra scrutiny."
A DHS spokesperson did not deny the draft's authenticity, but cautioned that the policy was still under internal review.
Full report at:
http://www.newsweek.com/department-homeland-security-recommends-continuous-monitoring-muslims-800199
--------
Pentagon: Pakistan Still Not Taking 'Decisive Action' Against Jihadists After Funding Cuts
6 Feb 2018
WASHINGTON, DC — Islamabad has refused to take "decisive action" against Pakistan-based jihadist groups planning and carrying out attacks in neighboring Afghanistan despite U.S. President Donald Trump's move to suspend security assistance to Pakistan.
President Trump suspended American taxpayer-funded aid to Pakistan in January after urging Islamabad to take action against terrorist groups and their sanctuaries on Pakistani soil for months. Islamabad denies that Pakistan is serving as a sanctuary for terrorist groups fighting U.S. troops and their allies in Afghanistan.
During a Senate Foreign Relations Committee hearing Tuesday on the U.S. Afghan war strategy, Randall Schriver, the assistant secretary for Asian & Pacific Security Affairs at the U.S. Department of Defense (DoD), told lawmakers, referring to Islamabad's actions against terrorists:
Since the announcement of the South Asia Strategy in August, Pakistan has taken some positive steps. The steps to date, however, do not reflect the type of decisive action that is necessary to restore regional stability.
We continue to call on Pakistan to take decisive, sustained action against terrorist safe havens on its soil. DoD will continue to press Pakistan to make positive changes in its approach, and will provide clear and consistent feedback in response to Pakistani action or inaction. DoD wants to ensure that Pakistan has a "bridge back" to enhanced cooperation if it takes decisive action on U.S. requests.
In late January, the U.S.-backed Afghan government unveiled what it claimed to be proof that the Islamic State (ISIS/ISIL) and Taliban attackers who killed about 200 people on Afghan soil over the last month trained and planned the assaults in neighboring Pakistan.
The top Pentagon official acknowledged that Islamabad has made some sacrifices in fighting terrorist groups in the Afghanistan-Pakistan region, home to the largest concentration of U.S. -designated terrorist groups in the world.
Schriver told the Senators:
Pakistan is a long-standing and important partner, with deep historical ties to the U.S., and is key to the success of the President's South Asia strategy. America's interests are clear: we must stop the resurgence of safe havens that enable terrorists to threaten America, we must encourage restraint in Pakistan's nuclear weapons program and prevent nuclear weapons and materials from falling into the hands of terrorists. We must also encourage India and Pakistan to address tensions, in order to reduce the risk of nuclear war.
He went on to say that U.S. Secretary of Defense James Mattis, during his first trip to Pakistan in December, told the Pakistani Chief of Army Staff Bajwa that America appreciates Pakistan's "significant sacrifices" in the ongoing war in Afghanistan, which started in October 2001.
Secretary Mattis also indicated "Pakistan can play a vital role in working with the United States and others to facilitate a peace process in Afghanistan," according to the Pentagon official, who also said the Pentagon chief "stressed that we must see a change in Pakistan's behavior in the areas of greatest concern to the United States."
The United States hopes Pakistan uses its influence over the Afghan Taliban to bring the jihadist group to the peace negotiating table, John Sullivan, the Deputy Secretary of State, told the Senate panel while testifying alongside the Pentagon official.
Sullivan acknowledged that the current security conditions, namely the recent attacks in Kabul, "preclude" the Afghan government from achieving some sort of reconciliation status with the Afghan Taliban, but stressed that the United States remains committed to the peace process, a major tenet of Trump's strategy.
"We hope the Pakistanis will also help to convince the Taliban to enter a peace process," declared Sullivan, later adding, "We have shared with Pakistan our South Asia strategy in detail and have made our expectations clear to Pakistan, emphasizing that they must take decisive action against all militant and terrorist groups based there."
The State official told lawmakers that Trump's strategy is beginning to improve the deteriorating security conditions in Afghanistan.
"Despite recent setbacks stemming from horrific and senseless acts of violence, the President's South Asia strategy is showing some signs of progress," proclaimed Sullivan. "On the battlefield, we are seeing the Taliban's momentum begin to slow."
However, Schriver conceded that the United States is "clearly not where we want to be," noting that there have been "Taliban gains" in rural areas in Afghanistan.
According to the latest assessment by the U.S. Special Inspector General for Afghanistan Reconstruction (SIGAR), a watchdog agency, terrorist groups, primarily the Taliban, controlled or contested about 45 percent of Afghanistan as of October 2017, a slight increase in the territory held by the terrorists in August of the same year.
Full report at:
http://www.breitbart.com/national-security/2018/02/06/pentagon-pakistan-still-not-taking-decisive-action-against-jihadists-after-funding-cuts/
--------
64 Americans went to fight with ISIS. What do we do with them now?
FEB 06, 2018
When the young Muslim known as "Mo" decided he could no longer live in America, the Islamic State wasn't his destination of choice. Initially, he said, he wanted to migrate to Saudi Arabia to study at the University of Medina—but he couldn't get in. A diet of online propaganda convinced him the state was "a good Islamic community to raise a family." So in 2014, he hopped a plane to Istanbul, and set off to join the caliphate.
"I went because I wanted to live in a sharia environment," he said. "Some Muslims are fine living here, and find ways to live a proper Islamic life, but at that time I was not one of them."
The much-heralded military rout of the Islamic State has led to a new headache for the West: the prodigal children returning home, bringing their unfriendly ideologies with them. Mo is one of 64 known Americans who traveled to the Middle East to join Islamist extremist groups between 2011 and 2015 (12 of whom have since returned to the United States). Those 64 men and women are the subject of a remarkable new report from George Washington University's Program on Extremism, a multi-year, exhaustively researched look into their lives, allegiances, and motivations.
Some fast facts from "The Travelers: American Jihadists in Syria and Iraq": 89 percent of known American jihadists are male. Their average age when they left home was 27. They hailed from 16 U.S. states, with the highest concentration coming from Minnesota—between 2013 and 2017, at least 17 residents of the Twin Cities attempted to travel abroad to fight; 7 were successful. More than a third died overseas, while 44 percent remain at large. Five percent returned to America without facing charges.
The report's authors break their subjects down into three categories. First, there are the pioneers: Americans with strong ties to extremist communities (and often previous military experience) who left early, getting in on the ground floor in groups like ISIS and rising to positions of leadership. These individuals became propaganda beacons for other Americans to follow. The second (and largest) group is the networked travelers: family members or friend groups who relied on personal connections to aid their journey from home. These fugitives traveled together, trusting in numbers to ensure that at least some would make it past law enforcement to get overseas. Finally, there were loners like Mo: rare cases in which a person made their journey without any offline, personal aid.
But the real power of the report is not in its generalizations, but the specific stories it tells. "Radicalization is a complex process," it reads; "What holds true in one individual's case may not hold in another." So some cases are as we expect them to be: disaffected American Muslims, perhaps poor, perhaps disgusted by what they perceive to be an immoral society, decide the grass would be greener in a state tailored to meet their religious needs. "Leaving a place where haram (things forbidden in Islam) was easy and halal (things that are permissible, or even encouraged, in Islam) was difficult," as Mo said. Others, such as Brian Dempsey of Sacramento, California, a youth counselor for the California Department of Corrections prior to his conversion to Islam, are more unexpected.
Similar bizarre details abound: One American, Warren Clark of Texas, applied for a job teaching English at the University of Mosul. "I am looking to get a position teaching English to students in The Islamic State," he wrote. "I believe that a successful teacher can understand students' strengths and weaknesses and is able to use that understanding in order to help students build on their knowledge of the English language." Apparently, even terrorist sympathizers have to write cover letters.
The report's authors credit strong U.S. laws against traveling abroad with intent to join an extremist group for foiling many travelers' plans. But they caution that prosecuting homegrown extremists is not in itself a solution to the problem: For one thing, they'll be back on the streets in a few years. And even before their release, an extremist prisoner can easily create new networks with other convicts. The authors recommend intervention programs to help reintegrate radicals into society, perhaps with the help of other deradicalized returnees.
"Some American returnees have expressed disillusionment with the false utopian vision offered by Jihadist groups," the report says. "The U.S. should consider leveraging these individuals in a more comprehensive way."
Full report at:
http://www.weeklystandard.com/64-americans-went-to-fight-with-isis.-what-do-we-do-with-them-now/article/2011484
--------
9/11 convict complains of mental 'torture'
February 07, 2018
WASHINGTON - The only person convicted in the United States for the 9/11 attacks is suing President Donald Trump over his conditions at a high-security prison in Colorado.
In a four-page handwritten complaint seen by AFP Zacarias Moussaoui, a French citizen, says "I want to be heard" and claims to have been subjected to "psychological torture in solitary detention."
According to the document, filed in December, Moussaoui accuses the Trump administration and the US prison bureau of denying him access to a lawyer in order "to break me psychologically and stop me to expose the truth about 9/11."
US courts have rejected previous applications by Moussaoui, whose mental health was the object of questioning at the 2006 trial that sentenced him to life in prison. He was convicted for involvement in the September 11, 2001 Al-Qaeda attacks that killed nearly 3,000 people in New York, Washington, and Pennsylvania.
Arrested several weeks before the attacks, Moussaoui was considered a potential 20th hijacker.
Full report at:
https://nation.com.pk/07-Feb-2018/9-11-convict-complains-of-mental-torture
--------
US launches airstrikes on Taliban training camps
February 6, 2018
The US military launched a series of airstrikes on Taliban training camps located in Afghanistan's remote northeastern province of Badakhshan, which borders Tajikistan. The camps were used by the East Turkistan Islamic Movement (ETIM) and other terrorist groups.
"Over the past 96 hours, US forces conducted air operations to strike Taliban training facilities in Badakhshan province, preventing the planning and rehearsal of terrorist acts near the border with China and Tajikistan by such organizations as the East Turkistan Islamic Movement and others," Resolute Support announced in a press release.
According to Resolute Support, the airstrikes also "destroyed stolen Afghan National Army vehicles that were in the process of being converted to vehicle-borne improvised explosive devices."
The strike took place in the district of Warduj, a US military officer told The Washington Post. FDD's Long War Journal has assessed Warduj to be under Taliban control. The district has changed hands several times over the past 4 years. The presence of camps in the district is further evidence that the Taliban controls the district.
Badakhshan, once a peaceful province, has become a Taliban hotbed since the US withdrew the bulk of its forces after the troop surge ended in 2012. Of Badakhshan's 28 districts, LWJ assesses three to be Taliban controlled and another nine to be contested. The East Turkistan Islamic Movement (ETIM), which is also known as the East Turkistan Islamic Party, is an al Qaeda-affiliated jihadist group based in Afghanistan and Pakistan and operates throughout Central Asia.
ETIM's emir has served on al Qaeda's shura, and it has operated a training camp that was sponsored by Osama bin Laden and al Qaeda. After the Taliban lost control of Afghanistan in 2001, the ETIM established training camps in Pakistan. [See Turkistan Islamic Party leader criticizes the Islamic State's 'illegitimate' caliphate.]
ETIM fighters have fought alongside the Taliban and other jihadist groups against Coalition and Afghan forces since the US first invaded Afghanistan in 2001.
The US has previously targeted ETIM leaders inside Pakistan in its drone campaign. In Aug. 2010, the US thought it killed Abdul Haq al Turkistani, the emir of the ETIM, in a drone strike in North Waziristan, Pakistan. Turkistani later re-emerged in a video in 2015, and said he was severely wounded in the 2010 drone strike. Abdul Haq issued another in 2016 that took al Qaeda's side in its dispute with the Islamic State.
Full report at:
https://www.longwarjournal.org/archives/2018/02/us-launches-airstrikes-on-taliban-training-camps.php
--------
Hollywood Director's Son Calls for More Recruits in Al-Qaeda Propaganda Video
6 Feb 2018
The son of a British Hollywood director has reportedly appeared in an al-Qaeda propaganda video calling for new recruits to join the Islamic terrorist organization.
Lucas Kinney, the son of the director Patrick Kinney, appears in the video encouraging recruits to join the al-Qaeda affiliated Syrian group Jabhat al-Nusra (the Nusra Front) currently fighting Bashar al-Assad's Syrian Arab Army. He addresses viewers in Arabic in front of five other militants.
The 26-year-old became the first known white Briton to join al-Qaeda in 2015 after studying Arabic at Leeds University. As a young boy, Kinney reportedly held ambitions of becoming a Catholic priest or being part of a rock band, but became radicalized after moving to live with his father in Vienna after completing his degree.
Kinney has previously appeared in other propaganda videos under his nom de guerre 'Abu Basir al-Britani,' where he discusses atrocities being carried out by Islamic State (ISIS) against his own caliphate.
In another video, he visits a mosque in a Jabhat al-Nusra region of Syria where ISIS carried out another attack, but argues that his "brothers" killed in the attack had an "honorable death" and that "Allah chose to take them in a very good time."
Kinney's father, Patrick, has worked as an assistant director on major box office hits such as Rambo, Empire Of The Sun, and Indiana Jones And The Last Crusade.
"Lucas is a target. I'm glad he's associated with al-Qaeda rather than IS, but obviously, I worry," his mother Deborah Phipps told The Daily Mail. "On Mother's Day last year I spoke to his father and he told me he thought our son was dead because there was a picture of him on the internet lying on a bed in Syria and you couldn't tell if he was alive."
"I last heard from him recently," she continued. "I don't get anything for months and months and then all of a sudden I get an email and every time I think, 'Well, at least he's still alive.' That's the relief."
"We just want him to come home," she added. "If he's done something wrong I'd like him to accept the consequences. He's still young – and at least he's still alive."
Full report at:
http://www.breitbart.com/national-security/2018/02/06/hollywood-directors-son-calls-for-more-recruits-in-al-qaeda-propaganda-video/
--------
America's ISIS Jihadists Were Largely Duds
By Robin Wright
February 6, 2018
For all the hype about Americans joining isis, the majority never saw combat during the Islamic State's three-year rule. They were largely marginal players in the jihadist caliphate—often working in menial jobs as cooks, mechanics, cleaners, or orderlies. In the end, many became disillusioned and looked for a way out, a new study, "The Travelers: American Jihadists in Syria and Iraq," reported, on Tuesday.
"For many of the returnees, life in jihadist-held territory did not live up to their expectations," the report, by George Washington University's Program on Extremism, concludes. "The propaganda, while enthralling, presented an idealized version of reality, meaning that their real-world experience upon arrival was often jarring. Living conditions were much harsher than they saw in the online magazines and videos, and the promises of companionship and camaraderie were rarely fulfilled. Instead, cultural clashes, bitter infighting, and suspicion among recruits and leaders abounded."
One of the report's most striking finds is that the vast majority of the Americans who travelled to Syria or Iraq to join terrorist organizations—there were between two hundred and fifty and three hundred of them, in total—were U.S. citizens or green-card holders, not recent immigrants. The phenomenon is "primarily homegrown," the report concludes, a view shared by U.S. counterterrorism officials. "Of the twenty-two attacks carried out in the United States between 2011 and 2017, none were committed by someone who travelled to Syria or Iraq," a State Department official told me, on Tuesday. "Homegrown terrorism is much more of a concern."
The study was released on the day that President Trump issued an announcement about the creation of a new National Vetting Center to tighten screening of visa applicants and potential immigrants. On Monday, Foreign Policy magazine also reported that a draft proposal from the Department of Homeland Security advocates surveillance of Sunni Muslim immigrants on a "long-term basis." The moves are the latest steps in Trump's campaign to portray immigrants as potential terrorists or criminals. During the 2016 campaign, he called for a "complete shutdown" of Muslims entering the United States. Since taking office, his Administration has issued executive orders that limit or ban visas to residents of seven predominantly Muslim countries. He has also vowed to build a wall along the U.S.-Mexico border, even though illegal immigration across that border is at a forty-six-year low.
On Tuesday, the President called for a government shutdown this week if Congress does not pass new border-security measures. "If we don't get rid of these loopholes where killers are allowed to come into our country and continue to kill . . . If we don't change it, let's have a shutdown," he said, at a White House roundtable. "It's worth it for our country. I'd love to see a shutdown if we don't get this stuff taken care of."
Among the Americans who went to Syria and Iraq, only four—out of the more than two hundred and fifty—rose to leadership positions, the study found. Among them was Ahmad Abousamra, also known as Abu Sulayman ash-Shami, who was born in France and brought up in Massachusetts. The Iraqi military claimed that he was involved in isis propaganda, including filming the beheadings of his fellow-Americans James Foley, Stephen Sotloff, and Peter Kassig, and of two British hostages.
Only one American, Abdirahman Sheik Mohamud, an Ohio resident who joined an Al Qaeda franchise in Syria, a rival to isis, was sent back to the United States with orders to attack. He was apprehended in the early stages of planning. Although often ad hoc, "overall, U.S. law enforcement and the U.S. criminal justice system have effectively monitored, detected, and where applicable, prosecuted returning travelers," the report concludes.
The study broke recruits into three categories. "Pioneers" joined early and tended to have some skill—military training, religious knowledge, or experience in jihadist movements—that helped them rise to senior roles. The second and largest category is the "networked travelers," who formed groups to facilitate travel to Syria and Iraq. Most were small—only two or three people. The largest cluster involved seventeen people from Minnesota, which has a large Muslim community. Seven made it; ten tried but were unsuccessful. The third category—an exception to the norm—are the loners who relied on "virtual connections" to sign up and get there. The report names only six cases.
America's jihadists fit no single profile, however. The average age is twenty-seven. Most are male, though women have had an "outsized" role, notably in cultivating recruitment networks, the report notes. Minnesota, Virginia, and Ohio have produced the largest numbers of jihadist travellers. Motives vary widely, springing from personal identity crises, or perceived religious obligations, or strong reactions to seductive propaganda.
"They were seemingly random in their reasoning," Seamus Hughes, a co-author of the study and a deputy director of the Program on Extremism, told me. "For some, it was ideological. For some, it was personal. It runs the spectrum." In previous generations of jihadists, he noted, "you could find ideologues who had read a hundred-and-forty-page religious treatise. The new generation reads in a-hundred-and-forty-character tweets. That's not to say ideology doesn't play a role, but they want bite-size views of the world."
In a sample of sixty-four American jihadists identified by the study, only twelve who travelled to Syria and Iraq are known to have returned to the United States, a U.S. official told me. Nine have been charged with terrorist-related crimes; three have not yet been charged with crimes, largely for lack of evidence that could be used in a courtroom.
The number of American travellers—who include those who were arrested before leaving the United States—is small compared to the five thousand to six thousand Europeans who travelled to Syria and Iraq. More than twice as many travelled from Britain, France, and Germany, respectively—all of which have much smaller populations than the United States. The large alienated diasporas in Europe have facilitated both recruiting and domestic support for jihadism.
The report is based on interviews with American travellers to Syria and Iraq and with U.S. officials; legal documents and court records; material left behind in isis territory; and information culled from social media, including more than a million tweets from some three thousand pro-isis accounts.
Full report at:
https://www.newyorker.com/news/news-desk/americas-isis-fighters-were-largely-duds
--------
Pakistan
Pakistan's intelligence, counter-terrorism experts visit India after two years, report claims
Feb 7, 2018
A four-member Pakistani team of counter-terrorism and intelligence specialists visited New Delhi last week to attend a multilateral meeting, a media report said.
The Indian Express, quoting sources, said that the Pakistani officials, including a colonel from the country's army, were hosted by Deputy NSA Rajinder Khanna — a former chief of RAW, India's external agency — for a dinner reception, along with other delegates.
The Pakistan delegation comprised Pakistan's Foreign Ministry Director General (Counter-Terrorism) Ahmad Farooq, National Counter Terrorism Authority Director Farhan Zahid, Joint Secretary (headquarters) Col Sajjad Hussein, and Shanghai Cooperation Organisation (SCO) Director Adeel Ahmed Khan, said the report.
They were in Delhi from January 31 to February 2, and the meeting was deliberately kept under wraps at the request of the visiting delegates, it said.
The quiet meeting on "counter-terrorism" and "security cooperation", under the umbrella of SCO, was held in Delhi, the report said. Quoting sources, the reports said delegates from Pakistan, China, Russia among other countries in the grouping also went to Agra to see the Taj Mahal.
There was "no bilateral meeting" between Pakistani and Indian officials, but the discussions at the grouping were of "substantive nature", it added.
"The discussions were largely focused on violent extremism and radicalisation — two of key concerns for the Central Asian countries, along with China and Russia," the report quoting a source said.
"Since Pakistan and India have just entered the grouping, their concerns were not reflected. Chinese and Russian interlocutors are very clear on the fact that they do not want the bilateral issues between Pakistan and India to spill over on SCO discussions," it added.
This was the first such occasion where officials dealing with "counter-terrorism" and "security" issues came to India from Pakistan in the last two years.
https://www.pakistantoday.com.pk/2018/02/06/pakistans-intelligence-counter-terrorism-experts-visit-india-after-two-years-report-claims/
--------
Wazir tribesmen attack office of pro-govt militia over lawyer's killing
BY SHAMIM SHAHID
Feb 7, 2018
PESHAWAR: Tribesmen from the Ahmadzai Wazir clan, Wana South Waziristan on Tuesday attacked the pro-government Taliban militant's office in Dera Ismael Khan and set it on fire in protests triggered by a youths killing in the heart of the metropolitan.
As a result of the fire, almost all of the Taliban office which is located in Madeena Colony was burnt along with its belongings and two vehicles parked inside. The militants, however, managed to escape before the arrival of angry tribesmen.
The Ahmadzai Wazir tribesmen attacked the Taliban office in reaction to the killing of a young lawyer, Advocate Muhammad Idrees who belonged to South Waziristan. He was shot dead while his brother was injured by a group of Taliban militants who opened fire when both the brothers were present in their father's shop on Monday.
Earlier, Idrees and the pro-government militants had entered into a heated debate over a vehicular accident. Later a group of the militants came to Idrees's father's shop in Nizam Bazar; shot him dead, injured his brother and made a quick escape.
Afterwards, the Ahmadzai Wazir clan organized their traditional lashkar and attacked the militant office, but occupants of the office had disappeared. The present situation is tense all over Dera Ismael Khan City and almost all bazaars and shopping centres are closed.
Thousands of tribesmen from two Wazir and Mehsud tribes of North and South Waziristan had held a Jirga in D. I. Khan on Monday and gave a days deadline for the arrest of the killers and specifically, the main culprit Sher Khan Mehsud, the brother of Misbahuddin Mehsud who heads the peace committee.
Police had assured the protesters that the killers would be arrested within 24 hours. As the deadline expired at 12:00 pm on Tuesday without any arrest, thousands of tribesmen resorted to violence in protest.
The tribesmen from North and South Waziristan had agreed on the five points to be presented to the government including the arrest of the murderers and their death sentence, recovery of missing persons, and that offices of Taliban 'good or bad' are not acceptable in D. I. Khan and Bannu. They said that a peaceful protest will be continued subject to the Jirga's satisfaction regarding the above demands.
Dera Ismael Khan Commissioner Mr Abdul Ghafoor Baig in a statement on Tuesday confirmed that the tribesmen had attacked the militant's office, however, he was reluctant to accept that they were pro-government militants and added that efforts for the arrest of those who murdered the lawyer and injured his brother were underway.
However, the police arrested hundreds of people for setting the militant's property on fire. They have so far arrested over 2,000 tribal people.
Tribesmen believe that some elements wanted to create tension in D. I. Khan by killing Idrees Wazir as the all Pashtuns sit-in is underway in Islamabad.
They say that the murder of a Wazir tribesman was an attempt to derail the Islamabad dharna. Thousands of tribal people are attending the sit-in following the killing of Naqeeb Mehsud who was killed in Karachi on January 13 in a fake police encounter.
Full report at:
https://www.pakistantoday.com.pk/2018/02/06/wazir-tribesmen-attack-office-of-pro-govt-militia-over-lawyers-killing/
--------
Bill to end US aid to Pakistan moved in House of Representatives too
Anwar Iqbal
February 07, 2018
WASHINGTON: The US House of Representatives joined the Senate on Tuesday in seeking to end US economic aid to Pakistan while the Trump administration has already suspended military aid.
A bill introduced in the House said that non-defence aid to Pakistan should also end and the money set aside for this purpose should be invested in infrastructure projects in the United States.
The movers say they are seeking the ban because Pakistan "provides military aid and intelligence" to terrorists, a charge Islamabad strongly denies. Pakistani officials say that the US administration blames their country to hide their failure in Afghanistan where they have failed to subdue an ever-increasing insurgency.
The legislation, introduced by Congressmen Mark Sanford from South Carolina and Thomas Massie from Kentucky, seeks to prohibit the US State Department and the US Agency for International Development (USAID) from sending American taxpayer money to Pakistan.
Instead, these funds will be redirected to the Highway Trust Fund, the account that pays for road infrastructure in the US.
This common-sense bill puts America first by reallocating tax dollars to roads and bridges at home instead of funnelling money overseas, Congressman Massie said.
"When the American people support other nations, our generosity shouldn't be used to reward terrorists with US taxpayer dollars," Congressman Sanford added.
"Couple this with the fact that the Highway Trust Fund will be $111 billion short by 2026, and it simply makes financial sense to repurpose these funds for our infrastructure," he said.
The move to stop US economic assistance to Pakistan initiated in the Senate where Senator Rand Paul introduced a companion legislation early last month.
"We fail to protect the country and steward taxpayers' hard-earned money when we support countries that chant 'death to America and burn our flag'," he argued.
"Let's bring that money home and use it to help rebuild our infrastructure instead of giving it to a nation that persecutes Christians and imprisons people such as the doctor that helped us get Osama bin Laden," Senator Paul said.
The current debate in Congress on the rationale for continuing US assistance to Pakistan followed a New Year Day tweet from President Donald Trump, who accused the country of receiving more than $33 billion in 15 years but giving "nothing but lies and deceit" in return.
Full report at:
https://www.dawn.com/news/1387821/bill-to-end-us-aid-to-pakistan-moved-in-house-of-representatives-too
--------
2 dead, 3 injured as security force vehicle comes under attack in North Waziristan
Ali Akbar
February 07, 2018
Two men belonging to the security forces lost their lives while three others were injured on Wednesday when their vehicle was targeted in Mir Ali tehsil of North Waziristan.
According to sources the three injured men have been transferred to a Combined Military Hospital (CHM) nearby.
Political administrations of the area claimed that terrorists fired rockets on a vehicle carrying members of the security forces Edak area of Mir Ali tehsil.
The area where the attack occurred has been sealed and a search operation for the perpetrators of the attack is underway.
The uptick in attacks targeting security forces raises questions over the efficacy of counter-terror operations in different parts of the country, including North Waziristan where the army was said to have cleared the area of the presence of terrorists under Operation Zarb-i-Azb which was launched in June 2014.
Full report at:
https://www.dawn.com/news/1387901/2-dead-3-injured-as-security-force-vehicle-comes-under-attack-in-north-waziristan
--------
Haideri hopeful of religious parties alliance
February 07, 2018
ATTOCK-Deputy Chairman Senate and general secretary of Jamiat Ulema-e-Islam-Fazl (JUI-F) Maulana Abdul Ghafoor Haideri on Tuesday claimed that proposal is under consideration to ensure that religious parties contest the upcoming general elections from a single platform.
The deputy chairman Senate was talking to newsmen after addressing a religious gathering in Madrasah Sirajul Aloom here in Jand on Tuesday.
JUI-F Attock District Ameer Sher Zaman, General Secretary Aslam Ghuri and other leaders of the party's local chapter were also present on the occasion.
Mr Haideri claimed that the religio-political alliance of MMA would play a decisive role in the upcoming general elections and give the opponents a tough time, especially in KP, Balochistan and Karachi.
"JUI-F which is currently the largest religious political party in Parliament, is an ally of the incumbent PML-N government," Maulana Haideri informed, adding that the parliament must complete its constitutional tenure and elections should be held on stipulated time.
He said that the institutions responsible for eradication of corruption should carry out accountability of every individual without discrimination.
"Corruption is a serious malaise which has plagued all sections of government and society and has rendered them weak from within," he pointed out. The JUI-F leader asserted that religious parties and scholars have guard religious ideology of the country against secular forces. He said India and some other countries want to destabilize Pakistan but they would not be allowed to succeed in their nefarious designs.
LEADER THINKS COMING GENERATION
PTI Chairman Imran Khan has said that a politician thinks about the coming elections while a leader thinks about coming generations.
Talking to former PTI (North Punjab) Senior Vice President Malik Taimoor Aslam, Imran Khan said that all PTI leaders are bound to follow party policies and discipline and no one has authority to make announcement or force personal decisions.
He said that in the upcoming elections PTI would emerge as a dominant political party.
Full report at:
https://nation.com.pk/07-Feb-2018/haideri-hopeful-of-religious-parties-alliance
--------
Southeast Asia
Maldives' top judge arrested as state of emergency declared
February 07, 2018
MALÉ - The Maldives' top judge was arrested Tuesday as security forces stormed the Supreme Court at dawn, after President Abdulla Yameen declared a state of emergency in the honeymoon islands.
The detention of Chief Justice Abdulla Saeed and another Supreme Court judge dramatically raised the stakes after Yameen refused to comply with the court's order to release political dissidents. It was the latest twist in a political battle that has plunged the tiny Indian Ocean nation into crisis and sparked a strong US protest.
The Maldives ' highest court Tuesday revoked an order to release nine high-profile political prisoners.
The remaining three judges of the Supreme Court said in a statement they were rescinding the order to release the prisoners "in light of the concerns raised by the President".
"The Supreme Court bench hereby rescinds number 5 of its order to release the individuals," it said.
Several countries have warned against travel to the upmarket holiday paradise, which depends heavily on tourism, at the peak of the season. Yameen, facing threats from a galvanised political opposition to impeach him for alleged corruption, had earlier ordered a shutdown of parliament.
Amnesty International on Tuesday called for the immediate release of top judges detained in the Maldives , warning the "eyes of the world" were on the worsening crisis in the troubled islands. Amnesty urged the embattled regime leader against using the state of emergency as a cover for rights abuses.
"The world's eyes are on the Maldives right now and human rights must not become a casualty of this ongoing crisis," the watchdog's director Biraj Patnaik said in a statement. Maldivian security forces stormed the Supreme Court after arresting former president Maumoon Abdul Gayoom for conspiracy against Yameen, his estranged half brother. In a televised address to the nation, the president accused the judges of being part of a plot to overthrow him. "I had to declare a national emergency because there was no other way to investigate these judges," he said. "We had to find out how thick the plot or coup was."
Yameen has presided over an escalating crackdown on dissent that has battered the image of the nation, and left almost all the political opposition jailed since he came to power in 2013.
On Monday he ordered the arrest of his estranged half-brother and former president Maumoon Abdul Gayoom, who had sided with the main opposition.
The 80-year-old - president for 30 years until the country's first democratic elections in 2008 - was taken from his home in the capital Male around midnight on Monday, hours after the government announced a 15-day state of emergency .
"I have not done anything to be arrested ," Gayoom said in a video message to supporters posted on Twitter. "I urge you to remain steadfast in your resolve too. We will not give up on the reform work we are doing." The exiled leader of the Maldives opposition, Mohamed Nasheed, accused Yameen of acting illegally and called on the US and India to step in and help remove him from office.
"President Yameen has illegally declared martial law and overrun the state. We must remove him from power," said Nasheed, the first democratically elected leader of the Maldives , in a statement issued Tuesday.
"We would like the Indian government to send an envoy, backed by its military, to free the judges and the political detainees."
Nasheed was jailed in 2015 after he was convicted on a terrorism charge widely seen as politically motivated. He has been in exile since 2016 when he travelled to the UK for medical treatment and was granted asylum there.
He has repeatedly accused Yameen of corruption and pledged to return from exile and run for president in elections due to be held later this year, after the Supreme Court last week quashed his terrorism conviction.
On Tuesday he said he was calling on India to send troops to the strategically located archipelago, which has grown increasingly close to regional rival China under Yameen's leadership.
Tuesday's arrests follow the court's shock decision last Thursday to order the release of political dissidents and quash the convictions of Nasheed and other exiled opposition figures.
The judges also ordered the government to restore the seats of 12 legislators sacked for defecting from Yameen's party, a move that effectively gave the opposition a majority in parliament and the power to impeach the president.
Yameen, who has faced several unsuccessful opposition attempts to impeach him for alleged corruption, responded by shuttering parliament before moving late Monday to impose a state of emergency .
That gives sweeping powers to security forces to arrest and detain individuals, curtails the powers of the judiciary and bars parliament from impeaching Yameen.
The United States said it was "troubled and disappointed" by the move and called on Yameen to comply with the rule of law.
The United Nations, Australia, Britain, Canada, India and the US had welcomed the court's decision last week, while UN Secretary General Antonio Guterres at the weekend called for "restraint".
United Nations Secretary General Antonio Guterres on Tuesday urged the government of the Maldives to lift the state of emergency and guarantee safety for its citizens, "including members of the judiciary."
The appeal comes after President Abdulla Yameen of the Maldives declared a state of emergency and his security forces stormed the Supreme Court. The court's chief justice and another judge were also arrested .
Guterres "urges" the Maldivian government "to uphold the constitution and rule of law, lift the state of emergency as soon as possible, and take all measures to ensure the safety and security of the people in the country, including members of the judiciary," a statement from his spokesman Stephane Dujarric read.
The escalating crisis has also led several countries including the US and China to advise their citizens against travelling to the Maldives .
Last year nearly 1.4 million foreign holidaymakers visited the tiny nation of 1,190 coral islets famed for its pristine and secluded beaches.
https://nation.com.pk/07-Feb-2018/maldives-top-judge-arrested-as-state-of-emergency-declared
--------
Why Muslim parents are fighting to name their illegitimate children after them
BY IDA LIM
February 7, 2018
KUALA LUMPUR, Feb 7 ― In a rare move, 41 parents recently tried to join a court case challenging the National Registration Department's (NRD) policy of registering illegitimate Muslim children with the "bin Abdullah" or "binti Abdullah" patronym.
Lokman Hakim, the lawyer for the 41 parents (20 married couples and a single mother from Pahang), said he had asked his clients to go straight to the Federal Court, instead of wasting their time and money by going to the Perlis Shariah court for court orders in his clients' favour that would not be complied with.
"All these matters, before this I bring to the Perlis Shariah court, even though not from Perlis, but I bring also to Perlis. But when I have the order from the Perlis Shariah High Court, my clients got the order but JPN didn't comply with the order, so I [diverted] all the clients to intervene in the proceedings in Federal Court," he told Malay Mail in a recent interview, referring to the NRD by its Malay initials.
"JPN's reason is they want to wait until the decision of the Federal Court on February 7," he said, referring to today's hearing at the Federal Court.
Today, the Federal Court will hear the NRD's appeal against a Johor Muslim couple's successful bid to have the "bin Abdullah" entry for their son declared unlawful.
Lokman's 41 clients had filed last December 14 an application to be interveners or parties of this Federal Court case. In court documents sighted by Malay Mail, the parents said they wanted to be part of the lawsuit as they felt the issues raised there will directly affect their interests, adding that their children's interests will be prejudiced if their bid was denied.
On January 23, the Federal Court rejected the application by the 41 to be interveners, but said they may seek to appear as amicus curiae or as friends of the court.
"My concern is all the parents have the same problem with that case, so the decision that will be made will affect my clients. That is my concern, but for us to be amicus should be okay also," he said
The Perlis fatwa and Perlis Shariah courts
Malay Mail sighted a brief written judgment by the Perlis Shariah court in one of Lokman's cases, where it ruled that the child be allowed to use the father's name as a patronym.
Additionally, the Perlis Shariah court also ruled in that case that the applicant "cannot be a wali to this daughter forever" and that the "applicant and child cannot inherit each other's inheritance". A wali is a guardian that is required for a Muslim marriage to be solemnised, with a wali raja or wali authorised by the state ruler or the Yang di-Pertuan Agong (for the Federal Territories, Malacca, Penang, Sabah and Sarawak) to give away in marriage a woman who has no guardian of lawful blood relationship.
Lokman said he has three cases ― one each from those residing in Perlis, Selangor and Melaka ― which had received such a court order from the Perlis Shariah court that allowed the child to use the father's name as patronym. He has five other ongoing cases in the Perlis Shariah court.
He suggested that the NRD's refusal to comply with the Perlis Shariah court order was due to the government body following federal laws and federal institutions, instead of state laws.
While the Perlis Shariah court order sighted by Malay Mail did not elaborate on the grounds for its decision, Lokman explained that this was due to a Perlis fatwa or religious edict.
"In Perlis, this fatwa was gazetted by the Perlis state government in 2013, that a child born less than six months (from the marriage date) can be 'bin' to the father; can be 'bin' to the husband after the mother marries unless denied by the husband. If there are marriage ties, the father admits, then can 'bin'.
"That's why the Shariah High Court gave approval to 'bin' (the father's name) because that is the law under the Perlis state government. The Shariah courts follows state laws, not federal laws," he said.
The Perlis fatwa referred to here is a 2008 fatwa which unusually states that "The child that is born less than six months from the date of the mother's marriage, can be 'bin' to the mother's husband, unless denied by the husband", which is a rare departure from the stance and approach taken by other local fatwas.
In an August 1, 2017 compilation by the Federal Territories Mufti, the Federal Territories has a 2001 fatwa that says children born less than six months from the parents' marriage are illegitimate, while Selangor has an 2005 fatwa with definitions for illegitimate children including a similar category. Sarawak was said to have accepted the national-level fatwa body's stand that illegitimate children has to be bin or binti Abdullah, regardless of whether their birth was followed by their parents' marriage. Negri Sembilan had in 2002 issued a fatwa that said the authorities that register births are "ditegah" (barred) from using the father's or husband's name for children born less than six months from the marriage date.
The 21 cases handled by Lokman are from all over Malaysia ― Kuala Lumpur and nine states ― with the children's ages ranging from those who will be one year old and those turning 19 years old this year. This means they were born during the 1999-2017 period.
Not all of the 21 children use the "bin Abdullah" or "binti Abdullah" patronym. In their birth certificates sighted by Malay Mail, some use only the child's name alone (e.g. Adam*), while some combine the child's name and the father's name but without the word 'bin' that denotes their lineage (e.g. Adam Ali*), and another three do not use "Abdullah" but instead use one of the 99 names of 'Allah' in Islam (e.g. Adam bin Abdul Rahman*).
In any case, the absence of the words "bin Abdullah" will not shield the child from the stigma of being officially declared as an illegitimate child, as the public can easily tell by comparing their names in official records to that of their fathers.
A bigger problem
Speaking to Lokman, one gets the sense that the 21 cases are merely scraping the tip of the iceberg of Muslim children condemned to a life of not having their fathers' name in their IC, or having telltale details of their illegitimate birth status revealed in official records.
He currently has over 50 active cases involving Muslim children facing the "bin Abdullah" problem, and his law firm alone has received over 200 such cases in a short span of time.
"If you ask me how many cases, since 2015, the cases that come to my firm are around 200 over. But some of them want to continue, some of them don't want to continue, because of the cost," he said.
The NRD's statistics showed that the births of 542,363 illegitimate children in Malaysia were registered during the 2006 to June 30, 2017 period, according to a Home Ministry's written parliamentary reply during the Dewan Rakyat's July-August 2017 meeting.
The parliamentary reply did not provide a breakdown of the NRD statistics based on the parents' religion or the different categories for illegitimate children ― such as for those born out of wedlock, those born to parents whose marriages were not registered according to local laws or whose marriages abroad were not registered locally again, or those found abandoned with parents unknown.
In 2010, local daily Berita Harian reported the racial breakdown of NRD's statistics of the births of illegitimate children in Malaysia during the 2005 to 2009 period, with those from other races being the highest at 91,922 cases, while Malays account for the group with the second highest numbers at 74,723 cases, followed by Indians (23,696 cases) and Chinese (23,692 cases).
It was also reported in 2010 that the number of illegitimate births recorded in 2007 was 16,100 cases, and 16,541 in 2008 and 17,303 in 2009. According to the Home Ministry's May 17, 2016 written parliamentary reply, there were 263,691 illegitimate births recorded during the 2011-2015 period, with the annual breakdown being 49,470 (2011), 54,496 (2012), 53,942 (2013), 54,614 (2014) and 51,169 (2015).
Lokman himself believes that the NRD started implementing the "bin Abdullah" policy from 2010 onwards. Malay Mail could not verify this at the time of writing. The NRD had in court documents only cited two fatwa or religious opinion by a national-level body (National Fatwa Committee) in 1981 and 2003 to back their "bin Abdullah" policy.
The 1981 fatwa says that illegitimate children has to be bin or binti Abdullah regardless of whether their birth was followed by their parents' marriage. The 2003 fatwa defines an illegitimate child and states that such a child cannot have the lineage of the father, which means they cannot be the guardian or mahram (kin) or inherit each others' inheritance.
More than a name
Lokman spoke of the practical difficulties that his clients have to face in life, including a particular case last year where both parents received an offer to further their studies in the US, but were unable to obtain a visa as well for their three-year-old boy due to the latter's different name in official papers.
"He needs to bring his child to the US. The problem is the US Embassy didn't allow the child (to have a visa), because the US Embassy said it's not your son...They apply for visa, the father and mother okay, but the kid cannot get the visa," he said.
In the end, both parents gave up the opportunity to pursue their studies in the US and remained in Kuala Lumpur.
The challenges continue in school for Muslim children who are denied this crucial part of their identity, where they have to face probing questions from inquisitive friends.
"The children ― at school, they know their status already. When they are 'bin Abdullah', sometimes friends ask 'why is your father's name not the same as your name in IC'. When asked that, he will have a question mark for himself, when he goes home, he will ask the parents.
"It's unfair for those parents to explain that 'last time I was bad', it's unfair for parents to share again what happened the previous 12 years," he said, saying that Islam should not be about opening up past embarrassment.
Because of the NRD's "bin Abdullah" policy, some of Lokman's clients have yet to apply for a MyKad for their children even though they have turned 12.
But with MyKad being a mandatory requirement for the Form 3 examination in secondary school, Lokman said he has to write to the Education Ministry to seek approval for the children to sit for it without a MyKad.
Lokman had to apply for two or three such children last year, and another two more this year. So far he has been successful in getting approval, noting that his clients would have to explain the situation to the schools' principals.
"When it comes to PT3, the Education Ministry needs IC. If don't have IC, they cannot register to enter the exam. That is the big problem. When you have 'bin Abdullah', let's say he pass and then want to change 'bin Abdullah' to father's name; all the certificates, the passport, the bank account must change," he said.
He has yet to encounter a situation where he has to apply for his clients to be allowed to sit for the Form 5 examination without a MyKad.
Counter-productive
In response to those who defend the "bin Abdullah" policy as aimed at reducing baby-dumping cases, adultery and rape cases, Lokman insisted that these arguments were not logical.
He pointed out for example that the internet and the widespread use of smartphones, even among schoolchildren, meant that access to pornographic materials cannot be controlled, saying that religious education should instead be the solution.
He noted that the high number of children with "bin Abdullah" would instead make illegitimate births a common and ordinary scenario for Malaysians and ironically increase the numbers of illegitimate children, arguing that such a policy would destroy the Muslim family institution instead of restore it.
Lokman questioned why Malaysia was allegedly the only country that insists on Muslim illegitimate children using "bin Abdullah" or "binti Abdullah", rubbishing the justification that this was due to Malaysia following the Shafie school of Islamic jurisprudence under Sunni Islam.
He said Malaysia itself does not follow Shafie jurisprudence completely, including where the latter uses rice for the payment of zakat fitrah or tithes for religious alms. "But Malaysia makes it easier by paying using money. So my question is why this issue, they don't want to facilitate it?"
"It seems as what is happening is as if NRD is putting a mark (on the forehead) that this is an anak zina (a child born of illicit sexual relations)," Lokman further said.
He said it appeared as if the NRD was taking the role of being a judge that decided on how Muslim illegitimate children should be named, instead of fulfilling its administrative duty of "recording births and deaths".
A majority of the birth certificates for the 21 children carried the seemingly innocuous phrase "Permohonan Seksyen 13" (Section 13 application), which has been used by the NRD to bar Muslim illegitimate children from using their father's name as patronym, as in a case highlighted by Malay Mail last month.
The phrase refers to Section 13 of the Births and Deaths Registration Act (BDRA), which Lokman pointed out does not bar Muslim children born less than six months from the parents' marriage from using their father's name as patronym. It does not mention the need to use "bin Abdullah" or "binti Abdullah" in place of their fathers' names.
The section only states that the father of an illegitimate child is not required to provide information on the child's birth, and allows the name of the person acknowledging himself to be the father to be registered as such if it is at the joint request of him and the mother.
All eyes on appeal
This afternoon, the Federal Court is expected to hear the case that is expected to have a far-reaching implication on the fate of illegitimate Muslim children in Malaysia.
Full report at:
http://www.themalaymailonline.com/malaysia/article/why-muslim-parents-are-fighting-to-name-their-illegitimate-children-after-t#SQSVw30Odq2PObo8.97
--------
Indonesia jails jihadist for buying weapons from Philippine militants
6 Feb 2018
AN Indonesian court today jailed an Islamist militant for 10 years for buying a cache of firearms from the Philippines' biggest Muslim rebel group for attacks on home soil.
Suryadi Mas'ud, 45, was found guilty of a range of offences —- including planning a terrorist act and procuring weapons —- by a panel of three judges at the West Jakarta district court.
The sentencing has highlighted the strong links between militants in Indonesia and the Philippines and comes amid heightened fears about Islamic State-inspired attacks in Southeast Asia.
Suryadi – who accepted the verdict – raised one finger into the air and shouted "Allah-u Akbar" ("God is greatest") after he was sentenced today.
He was ordered to pay a fine of Rp50 million (RM14,420) on top of a 10-year prison sentence.
Suryadi first travelled to the Philippines from Indonesia in 2015 at the request of death-row inmate Iwan Darmawan, who is awaiting execution for his part in the 2004 bombing of the Australian embassy in Jakarta, the court heard.
While there, Suryadi met with members of the Moro Islamic Liberation Front (MILF) in the city of Davao, where he paid US$30,000 (RM 117,400) via a Western Union account for 18 assault rifles and five handguns.
Just under a year later, he bought another 12 M-16 rifles from the group, again at the request of Darmawan, the court heard.
The weapons were then used in attacks in Indonesia, prosecutors said.
Authorities in Indonesia have been on heightened alert following a wave of recent IS-inspired attacks and plots.
Full report at:
https://www.themalaysianinsight.com/s/36528/
--------
Christian, Hindu groups want Hadi to retract 'caste' remarks
Nurul Azwa Aris
February 6, 2018
PETALING JAYA: The Council of Churches (CCM) has taken PAS president Abdul Hadi Awang to task over his remark that Christianity was a religion which practises a "caste" system.
Its secretary-general Hermen Shastri said Hadi's remark was a gross misrepresentation.
He said that "caste" was not integral to Christian doctrine and practice and pastors were not considered "sacred" and above reproof.
"Pastors are called upon to perform holy duties on behalf of the people of God and live holy lives.
"If priests or pastors become political leaders, they cannot continue to perform their religious duties," he told FMT.
The group took exception to the recent remarks made by Hadi, as reported by Harakah Daily, where he said that while Islam had eradicated caste, other religions such as Hinduism and Christianity had castes, with the priests regarded as sacred.
Shastri urged Hadi to retract his remarks which were unwarranted and bigoted.
He said if such remarks were left unchecked, it would hurt the religious feelings of Christians and affect harmonious interfaith relationships in the country.
The Malaysia Hindu Sangam (MHS) also urged Hadi not to raise such issues as it could give rise to confusion.
MHS president RS Mohan Shan said that although what Hadi said about the caste system in Hinduism was true, it was no longer practised in Malaysia and India.
"The requirement that priests should be from the top of the caste system is no longer happening nowadays.
"Now, anyone who studies Hinduism can become a priest at a temple.
"I am advising Hadi not to do this (make the remarks). Why should he confuse our Hindu community in the country?" he said, adding that it was not a healthy statement to make in a multiracial country like Malaysia.
He said PAS was free to do whatever it wanted but it should not make an issue of the caste system.
"Although we may not get irritated by this, we are not sure how others may view it," he said.
Earlier today, Hadi had issued a statement to clarify reports which quoted him as saying that a PAS government would implement a "two-cabinet" system, which would exclude non-Muslims from being policymakers.
Full report at:
http://www.freemalaysiatoday.com/category/nation/2018/02/06/christian-hindu-groups-want-hadi-to-retract-caste-remarks/
--------
Scale and Complexity of Terror Threat to Southeast Asia Growing: Asean
February 07, 2018
Singapore. The terrorist threat facing Southeast Asia is growing as foreign fighters return to the region, Southeast Asian defense ministers said in a joint statement on Tuesday (06/02) in which they pledged to improve cooperation to tackle militancy.
Six Southeast Asian nations launched an intelligence pact last month aimed at combating Islamist militants and improving co-operation on security threats, overcoming what analysts described as a high level of distrust. They also pledged to increase cooperation in July.
"We, the Defense Ministers of the Association of Southeast Asian Nations [Asean], note with grave concern the rise of terrorism in our region, perpetrated by individuals and groups with increasingly sophisticated and deadly tactics and weapons," they said at the conclusion of their two-day meeting in Singapore.
"The scale and complexity of the terrorist threat faced by our region continues to grow with the influx of returning foreign terrorist fighters and cross border movement of terrorists."
The ministers said they would also improve cooperation with external partners.
The push for further regional cooperation comes after insurgents aligned to Islamic State laid siege to the southern Philippine city of Marawi last year.
That battle sparked alarm that as Islamic State suffered reversals in Iraq and Syria, it was seeking to create a stronghold in Southeast Asia, buttressed by fighters returning from the Middle East.
Asean consists of Indonesia, which has the world's biggest Muslim population, and mostly Muslim Malaysia alongside Brunei, Cambodia, Laos, Myanmar, the Philippines, Singapore, Thailand and Vietnam.
Full report at:
http://jakartaglobe.id/international/scale-complexity-terror-threat-southeast-asia-growing-asean/
--------
URL: https://www.newageislam.com/islamic-world-news/muslims-even-be-living-this/d/114199
New Age Islam, Islam Online, Islamic Website, African Muslim News, Arab World News, South Asia News, Indian Muslim News, World Muslim News, Women in Islam, Islamic Feminism, Arab Women, Women In Arab, Islamophobia in America, Muslim Women in West, Islam Women and Feminism