New Age Islam News Bureau
16 Sept 2016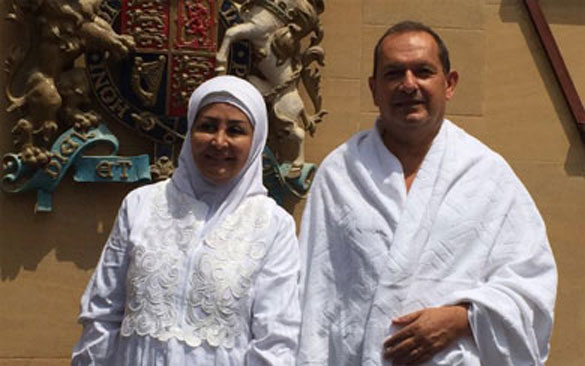 Simon Collis and his wife Huda in front of the British consulate in Mecca
--------
South Asia
• 'Missing' Bangladesh Brothers Resurface on Facebook with Islamic State Flag in Background
• Terrorist Groups from Face-To-Face To Face-To-Faceless: Ghani
• Report Reveals U.S. Aid Funds Taliban in Afghanistan
• US supports India for helping Afghanistan to become strong, independent
• Afghan forces receive 4 MD-530 light attack helicopters in North
--
Europe
• British Ambassador to Saudi Arabia Completes Hajj Pilgrimage after Converting To Islam
• Cardinal Denies Attacking Muslims after Warning of 'Islamic Conquest of Europe'
--
Southeast Asia
• Aceh Authorities Shut Down Two Beaches Prone To Sharia Violations
• Jakarta Election Heats up With Anti-Ahok Movements
--
Pakistan
• Four Suspected Daesh Terrorists Arrested In Lahore
• At Least 16 Killed In Suicide Blast At Mohmand Agency Mosque during Friday Prayers
• Police raid MQM leader Khawaja Izhar's house
• Militant attacks on polio workers haunt KP
• Nawaz Sharif to consult Hurriyat, PoK leaders before leaving for US
--
Arab World
• Iran Calls for Collective Efforts to Fight Global Terrorism
• Terrorist Groups Continue to Violate Ceasefire in Damascus Province
• Army Wins Back Key Hilltop in Deir Ezzur Province, Terrorists Sustain Heavy Losses
• More Terrorist Commanders Killed in Clashes with Syrian Army in Quneitra
• Terrorist Commander Killed in Clashes between Rival Militant Groups in Northern Aleppo
• Syrian Army Receives Advanced Artillery Tracker System from Russia
• Iran, Britain Discuss Broadening of Banking Ties
--
North America
• New Muslim Chaplain Hopes to Increase Interfaith Relations and Awareness of Islam
• Obama's Majority Muslim Refugee Program Hiked To 110,000
• Isis 'Made Up' By The Us, 9/11 Orchestrated By The West To Launch War On Terror, Egypt's State Media Claims
--
Mideast
• CHP Leader Slams Post-Coup Imprisonment of Turkish Journalists
• 10 killed in PKK attack in eastern Turkey
• Turkish warplanes hit PKK targets in Turkey, northern Iraq
• Turkey, Russia agree on joint understanding in resolving regional issues in key military meet
--
India
• 'You Cannot Sip On Poison and Hope to Live': MoS for External Affairs Slams Pak Support of Terrorism at NAM
• Bahrain Gives Rs 9L to Odisha Tribal
• Maoists Ranked Fourth Dreaded Terror Outfit after Taliban, Islamic State, Boko Haram
• Accused of LeT Plot to Recruit Indian Muslims, 13 Plead Guilty, Sentencing Today
Compiled by New Age Islam News Bureau
URL: https://www.newageislam.com/islamic-world-news/new-age-islam-news-bureau/-missing--bangladesh-brothers-resurface-on-facebook-with-islamic-state-flag-in-background/d/108578
---
South Asia
'Missing' Bangladesh Brothers Resurface on Facebook with Islamic State Flag In Background
Thu Sep 15 2016
Ibrahim Hasan Khan and Junayed Hossain Khan, who figure on the list of youths suspected to have joined militancy after fleeing home, have reappeared through a photo on Facebook, with the Islamic State flag and guns.
The brothers appeared on the first list of 10 such youths released by police after the July 1 terror attack on a cafe in Dhaka's Gulshan.
Security forces had said the duo and the members of their family, residents of Bashundhara in Dhaka, had been missing for around a year.
The photo of the two brothers along with another person, who is yet to be identified, was posted on Ibrahim's Facebook wall on Wednesday night BdST. It was removed later.
A person who knew them has confirmed bdnews24.com of their identities.
Farhan Islam, who studies at Malaysia's Sarawak campus of the Swinburne University of Technology, said he had been in the same school with Ibrahim in Saudi Arabia.
"I was shocked to see Ibrahim and his elder brother Junayed's photo on Facebook timeline. I saw another person in the photo. I haven't ever thought of seeing something like this," he said.
The DMP's counterterrorism unit Deputy Commissioner Mohidul Islam said police were investigating the matter.
All three were seen wearing dark clothes, with glasses poured with dark drink in hands, in the photo. Firearms like rifles and pistols lay on a table and beside the chairs.
Farhan said the youth sporting sunglasses in the centre is Ibrahim and the person wearing red turban is Junayed.
Shahadat Hossain Bachchu, the vice-president of the flat owners' association of the building in Bashundhara where the family had lived, said the family 'have not been in the country' for around a year.
According to him, Ibrahim and Junayed's father Munir Hasan Khan lived in Saudi Arabia. He saw the brothers with their father for the last time more than a year ago.
He (Munir) is tall and has beard. His sons are also tall and healthy. They did not usually stay in Dhaka for long."
Several photos on Ibrahim's Facebook wall capture a reunion of the former students of Bangladesh International School in Riyadh.
Farhan, who was a year's junior to Ibrahim at the school, said he spoke with him in mid-2015, but could not possibly think that he had turned a militant.
"We had normal conversations like friends do, but talked nothing about religion."
Ibrahim posted this photo of him visiting Holey Artisan Bakery in Gulshan in June, 2015. Ibrahim posted this photo of him visiting Holey Artisan Bakery in Gulshan in June, 2015. He also said he heard Ibrahim travelled to the US from Saudi Arabia in 2013.
"I've never thought he would join the IS," he added.
Abdur Rahman, the caretaker of the building where the brothers lived, told bdnews24.com in July that a person, identifying himself as Munir's son-in-law, paid the service charge of the flat in April.
The pictures on Ibrahim's Facebook wall also included some of him visiting the Gulshan cafe that came under a terror attack on July 1.
At least 22 persons, including 17 foreigners, were killed in the siege.
Three of the six suspected attackers killed in raid by security forces emerged to be from renowned educational institutions for children of rich families.
bdnews24.com/bangladesh/2016/09/15/missing-bangladesh-brothers-resurface-on-facebook-with-islamic-state-flag-in-background
--
Terrorist groups from face-to-face to face-to-faceless: Ghani
Thu Sep 15 2016
The Afghan President Mohammad Ashraf Ghani spoke regarding the 'Fifth Wave of Political Violence and Global Terrorism' at the Institute
for Defence Studies and Analyses (IDSA) during his 2-Day State visit to India.
Describing the 'fifth wave' as probably one of the "most well-financed movements in history" he observed that "in the absence of rules
of the game", and due to the willingness of some states to sponsor non-state actors, the phenomena has evolved over the years with
deepened and broadened techniques. The understanding of the current political violence has largely been reactive, due to which global
actions have been sporadic and not sustained, he observed.
Elaborating on the revolution in networking as a striking feature of the fifth wave, the Afghan president observed that the terrorist networks that previously used to be face-to-face or in small groups have now become face-to-faceless, resulting in a distinct form of mobilization, according to a statement by IDSA.
Political violence is not owned by a specific culture, religion or geographic space, and requires careful analysis. Criminality and political violence have become organically related, he said, adding that there is a distinctive form of violence that is inflicted on the citizens and that results in erosion of state authority.
Insisting that the minority groups should not be allowed to hijack civilisations, the President pointed out that the terrorists target public spaces to disrupt the compact between the citizens and the state. The objective is to induce fear in a systematic manner which effectively breaks the bond of trust between citizens and state.
President Ghani also thanked Prime Minister Narendra Modi for his generous offer of $1 billion assistance for Afghanistan's development.
Director General, IDSA, Shri Jayant Prasad lauded President Ghani for his message of optimism and confidence that reflected the resilience, patience and perseverance of the Afghan people.
Source: khaama.com/terrorist-groups-from-face-to-face-to-face-to-faceless-ghani-01884
--
Report Reveals U.S. Aid Funds Taliban in Afghanistan
Thu Sep 15 2016
Further evidence of America's failed foreign policy is highlighted in a new report by the "Special Inspector General for Afghanistan Reconstruction" (SIGAR). The report indicates that the U.S. government's failure to identify and combat corruption allowed American aid to fuel the Taliban insurgency in Afghanistan. The report contends that the corruption ultimately resulted in widespread disenchantment amongst the Afghani people and increased support for the insurgents' cause, thereby undermining the very goals the United States hoped to achieve when it first launched the invasion in 2001.
According to the report, billions of dollars in American aid were utilized in contracts and partnerships with "malign powerbrokers." Among those unsavory individuals were corrupt warlords, who demanded protection payments from U.S. defense contractors if they wanted access to public roads. Those extortion payments amounted to a significant source of income for the Taliban, the report explains.
The report indicates that in some cases, U.S. aid went directly into the hands of those fighting the American-backed government.
With the help of American dollars, corruption became so deeply entrenched in Afghanistan in all the critical sectors, such as the army and courts, that the people of Afghanistan began to turn against the very government the United States was supporting.
"Stemming from a growing body of evidence that corrupt networks were channeling support to the Taliban, a consensus began to emerge among DOD (Department of Defense), State, and USAID that corruption was undermining core U.S. goals by materially fueling the insurgency and turning the population against the Afghan government," said the report. "In short, corruption posed a strategic threat to the mission."
The report lists a number of damning conclusions, including that the U.S. government was "slow to recognize the magnitude of the problem, the role of corrupt patronage networks, the ways in which corruption threatened core U.S. goals, and that certain U.S. policies and practices exacerbated the problem."
Even when the government acknowledged that corruption was taking place, it was slow to address the problem because "security and political goals consistently trumped strong anticorruption actions."
Whether the report will have any impact on the current reconstruction efforts in Afghanistan remains to be seen, but it's worth noting that this is not the first time that investigators have discovered taxpayer money being funneled to questionable individuals and groups under the umbrella of U.S. foreign policy.
Full report at: thenewamerican.com/usnews/foreign-policy/item/24077-report-reveals-u-s-aid-funds-taliban-in-afghanistan
--
US supports India for helping Afghanistan to become strong, independent
Fri Sep 16 2016
The United States lauded India for its support to Afghanistan to help the country become stronger and independent as New Delhi announced a fresh aid package of $1 billion on Wednesday.
Mark C Toner, deputy spokesman for the US Department of State, told reporters "obviously support India's generosity and focus on Afghanistan and willingness to help Afghanistan become a stronger, independent country that has the stronger economic growth, certainly, but also has the capacity to defend itself and provide for the security of its people."
He also added " The fact that India is willing to invest in that future we view as a very positive sign and we appreciate India's effort."
India pledged the fresh aid during President Ghani's visit to New Delhi on Wednesday which comes as the country has already invested around $2 billion in various reconstruction projects in Afghanistan.
India's foreign secretary S Jaishankar told reporters that the $1 billion aid will be for Afghanistan's capacity and institution building.
"The two leaders discussed the regional situation and expressed grave concern at continued use of terrorism and violence in the region for achieving political objectives," according to a statement released following the meeting.
The statment further added "Stressing that elimination of all forms of terrorism, without any discrimination, is essential, they called upon the concerned to put an end to all sponsorship, support, safe havens and sanctuaries to terrorists, including for those who target Afghanistan and India."
The two leaders also discussed security and defense cooperation between Kabul and New Delhi as they greed that the Strategic Partnership Council headed by the foreign ministers of the two countries will meet in the near future.
Source: khaama.com/us-supports-india-for-helping-afghanistan-to-become-strong-independent-01885
--
Afghan forces receive 4 MD-530 light attack helicopters in North
Fri Sep 16 2016
The Afghan Air Force commander Gen. Abdul Wahab Wardak told reporters in Mazar-e-Sharif city that the helicopters will be used by the 209th Shaheen Corps of the Afghan army.
He said the helicopters have been deployed to 22 provinces and are currently involved in counter-insurgency activities in at least 10 provinces.
Gen. Wardak further added that the Afghan Air Force is currently having 35 MD-530 Cayuse helicopters which have been delivered by the United States.
According to Gen. Wardak the pilots of the helicopters have been trained in the United States and the newly deployed helicopters in north will be used to cover operations in Baghlan, Sar-e-Pul and Kunduz provinces.
MD-530 helicopters are designed for high altitude and/or hot weather operations to provide close-air support to the ground forces.
The US army awarded a contract worth $13.2 million to add the seven-tube M260 launcher for the 70mm (2.75 inch) rockets to MD-530Fs nearly a year ago.
Source: khaama.com/afghan-forces-receive-4-md-530-light-attack-helicopters-in-north-01886
--
Europe
British ambassador to Saudi Arabia completes Hajj pilgrimage after converting to Islam
15 SEPTEMBER 2016
Britain's ambassador to Saudi Arabia has been inundated with congratulations from across the Islamic world after it emerged that he converted to Islam and carried out the first Hajj pilgrimage to Mecca ever performed by a senior UK diplomat.
The conversion of Simon Collis, the UK envoy to Riyadh, became public after pictures posted on Twitter showed him and his wife Huda wearing the traditional white garments of Muslim pilgrims in front of the British consulate in Mecca.
The 60-year-old diplomat, who speaks fluent Arabic, confirmed the news in response to messages on Twitter.
"God bless you. In brief: I converted to Islam after 30 years of living in Muslim societies and before marrying Huda," he wrote.
The news led to a wave of online congratulations from Saudi Arabia and across the Islamic world, with many Muslims saluting Mr Collis as "Haji Simon" using the title reserved for those who make the pilgrimage to Mecca.
Mr Collis converted in 2011 shortly before marrying his wife, who is Syrian. While his conversion was known to some fellow diplomats it was not public knowledge in Riyadh.
The Foreign Office declined to comment, saying Mr Collis's religion was a personal matter.
While Mr Collis acknowledged many of the congratulatory messages coming in on Twitter, he declined interviews about his faith.
The pictures of him and his wife were first posted by Fawziah Al-Bakr, a Saudi women's rights activist. "The first British ambassador in Saudi Arabia is performing the Hajj with his wife Mrs Huda after he converted to Islam. Thanks be to God," she wrote.
He is believed to be the first British ambassador to carry out the Hajj pilgrimage although other ambassadors are thought to have converted to Islam in the past.
Mr Collis took up the post in Riyadh in early 2015 after a long career across the Middle East. He was the ambassador to Syria from 2007 until 2012 and angered the Assad regime after he criticised the government's crackdown on peaceful protesters.
He left Damascus in February 2012 when the British government suspended diplomatic ties with Syria.
Mr Collis also served as ambassador to Iraq from 2012 until 2014 and before was the UK enjoy to Doha.
He is a graduate of Christ's College, Cambridge and has five children.
Mr and Mrs Collis were among 1.8 million Muslim pilgrims from across the world to make the Hajj this year, according to the Saudi government.
Islamic scripture calls for all able-bodied Muslims to make the journey to Mecca at least once in their lives.
Mecca, the Saudi city where the Prophet Mohammed is said to have received the first revelations of the Koran, is the holiest site for Muslims and believers pray towards it every day.
Source: telegraph.co.uk/news/2016/09/15/british-ambassador-to-saudi-arabia-completes-hajj-pilgrimage-aft/
--
Cardinal denies attacking Muslims after warning of 'Islamic conquest of Europe'
16 September 2016
A senior Austrian Cardinal has denied attacking the Muslim faith after reports that he had warned against an "Islamic conquest of Europe".
Cardinal Schönborn, 71, is a conservative who has been referred to as the "spiritual son" of his one-time mentor, Pope Benedict XVI.
The office of Cardinal Christoph Schönborn, the Archbishop of Vienna, said in a statement that his homily on September 11 had been "misinterpreted on social media as an attack against Muslims and even as directed against the refugees".
He had said in a speech to mark the 333rd anniversary of the Battle of Vienna: "Will there be a third Islamic attempt to conquer Europe? Many Muslims think this and wish this and say that Europe is at its end."
The Cardinal reportedly went on to pray: "God have mercy on Europe and on thy people, who are in danger of forfeiting our Christian heritage". He added that this was already being felt "not only economically, but above all, in human and religious matters".
However, his office insists that he was "not championing a sort of defensive battle, defending Christian values against Islam".
Advertisement
The Cardinal has offered a clarification: "Europe's Christian legacy is in danger, because we Europeans have squandered it. That has absolutely nothing to do with Islam nor with the refugees. It is clear that many Islamists would like to take advantage of our weakness, but they are not responsible for it. We are."
He continued: "One must not take my homily to be a call to defend ourselves against the refugees, this was not at all my intention. The opportunity for a Christian renewal of Europe lies in our hands: if we look at and come to Christ, spread his gospel and deal with our fellow men, strangers included, as he has taught us, in love and responsibility."
Cardinal Schönborn, 71, is a conservative who has been referred to as the "spiritual son" of his one-time mentor, Pope Benedict XVI.
Source:christiantoday.com/article/cardinal.denies.attacking.muslims.after.warning.of.islamic.conquest.of.europe/95584.htm
--
Southeast Asia
Aceh authorities shut down two beaches prone to sharia violations
Fri, September 16 2016
Several village chiefs in Seunuddon subdistrict of North Aceh in Aceh shut down Bantayan and Ulee Matang beaches in the past week, following reports of visitors violating Islamic sharia law.
Local authorities opened the two beaches last year as sharia-based tourism beaches. However, those who are not muhrim (lawful spouses or close relatives) are forbidden to get in the water together, essentially separating males and females, where only married couples can be together.
"We agreed to close the beaches because holidayers who were not muhrim got together at the beaches," Ule Rubek Timu village chief Asnawi said on Friday as reported by kompas.com.
West Ulee Rubek village chief Badlisyah Yahya echoed Asnawi's sentiment. The decision was made after a joint meeting attended by a local consultative forum and local clerics last week.
"Just recently locals caught two people acting indecently at the beach. Our people cannot monitor [visitors] all the time. So, to prevent immoral acts, we agreed to close the beaches," he said as quoted by tribunnews.com.
Meanwhile, Seunuddon Police chief Adj. Comr. M. Ridwan said police personnel would conduct patrols at the two beaches following the decision. The patrol aimed to prevent unwanted conflict between visitors and locals, who had closed access to the beaches.
Tribunnews.com also reported last week that locals prevented visitors heading to the beach. They told visitors, who were mostly youths, that the beaches were closed for tourism and asked them to return home.
Aceh, a special autonomous region, is the only province in Indonesia currently living in accordance to sharia law. Thus, Aceh's local administrations are able to impose Islamic-based bylaws.
Source: thejakartapost.com/news/2016/09/16/aceh-authorities-shut-down-two-beaches-prone-to-sharia-violations.html
--
Jakarta Election Heats up With Anti-Ahok Movements
16 Sep 2016
Jakarta, GIVnews.com – The political atmosphere in Jakarta is heating up this week as the adversaries of Jakarta Governor Basuki 'Ahok' Tjahaja Purnama are launching more direct offence against him before next week's registration at the election committee (KPUD) of governor and vice governor candidates.
This is despite of the results of an opinion poll made public on Thursday (15 Sep) which shows 68.72 percent of Jakarta citizens are satisfied with Governor Ahok's performance.
Nachromi Ramli, chairman of the Jakarta chapter of Partai Demokrat (Democratic Party), called on the Betawi people to be united against Governor Ahok. Speaking in a seminar in Central Jakarta, Nachromi, who is a native of Betawi and a former army general, mentioned why they had to act against Governor Ahok.
Nachromi reasoned that the Jakarta governor had 'attacked' the people of Betawi, who are the original inhabitants of Jakarta, or Batavia in Dutch colonial times. But, the source, Detik.com, did not mention what attack Governor Ahok actually carried out against the Betawi people as claimed by Nachromi.
The chairman of Jakarta's Betawi Culture Consultative Body (Forkabi) said, "We must face the current emergency situation in Jakarta in an extraordinary way. I have to say that this is the first time that someone has acted against the Betawi community. So let us be united against Ahok."
In the past few months Forkabi and other groups who claimed to represent the Betawi people held street demonstrations against Governor Ahok. The protesters complained that he had inhumanely and unfairly relocated low-class people from their residential areas while giving greater attention to the welfare of wealthy people. Repetitively denying their allegations, Governor Ahok recently decided to stop channeling financial assistance to Forkabi.
Also, dozens of people who claimed to be from Gerakan Indonesia (Indonesia Movement) held a demonstration at the national headquarters of the Indonesian Democratic Party of Struggle (PDI-P) in South Jakarta yesterday.
The demonstrators carried posters that read "Risma Pro-People", "Ahok Falls", "Risma will win, Ahok will lose", and others. They urged PDI-P to pick Risma, the popular name of Tri Rismaharini, as its governor candidate for Jakarta's election in February 2017, Detik.com reported. Risma is currently Surabaya mayor who many perceive to be Governor Ahok's possible strongest rival. She is renowned due to her remarkable achievements in developing the East Java capital and because she is a cadre of PDI-P.
PDI-P so far has not given any clear signal that it will nominate either Risma or Ahok for the 2017 election. But, the Jakarta governor had frequently shared that PDI-P would likely pick him, instead of Risma. He claimed that PDI-P chairwoman Megawati Soekarnoputri had said to him about it with a gesture.
Amien Rais' comments against Ahok
Meanwhile, a widely perceived rude remark against Governor came from senior politician Amien Rais, one of the icons of Indonesia's reform movement. On Wednesday evening, while addressing participants in a meeting in Jakarta, Rais called Ahok 'sontoloyo' (a fool). Rais picked that phrase as a reaction to Governor Ahok's criticism against him for advising an Idul Adha congregation on Monday (12/9) to vote against Ahok.
In response, Governor Ahok publicly alleged Rais of manipulating the congregation for political purposes. He reminded Rais about the stipulations of the Indonesian Ulema Council (MUI) which forbid such sermons. MUI chairman Ma'ruf Amin and several other Muslim figures agreed with the governor. Previously, Rais had said that his Partai Amanat Nasional (PAN, National Mandate Party) would set up 8,000 makeshift posts around Jakarta to campaign against Governor Ahok's re-election.
Rumadi Ahmad, a senior leader of the central board of the Nahdlatul Ulama (NU), Indonesia's largest Muslim organization, said Muslims are basically forbidden to pick non-Muslims as their leaders. But NU has a rule that allows them to pick non-Muslims as their leaders as long as "they are not threats towards Muslims." NU is known to be a pluralist organization, to which late the reformist president Abdurrahman Wahid (Gus Dur) belonged.
The results of an opinion poll made public by Poltracking Indonesia on Thursday (15 Sep) shows 68.72 percent of Jakarta citizens (i.e. 400 Jakarta residents with voting rights) are satisfied with Governor Ahok's performance. Most surveys conducted in the past months also showed that Governor Ahok as the most popular and has the highest electability among potential gubernatorial candidates. However, based on the reaction of the other parties and organizations, Ahok's journey as a governor is not going to be smooth sailing.
Source: globalindonesianvoices.com/27847/jakarta-election-heats-up-with-anti-ahok-movements/
--
Pakistan
Four suspected Daesh terrorists arrested in Lahore
16 September,2016
LAHORE (Web Desk) – Punjab's Counter Terrorism department (CTD) and intelligence agencies have arrested at least four terrorists belonging to Daesh, also known as Islamic State, during a joint raid Lahore's in Allama Iqbal Town on Friday.
According to sources, two kilograms of explosives, detonators and weapons were recovered during the operation near Moon Market area.
The arrested suspects have been identified as Abdullah Aalam, Muhammad Hafeez, Nisar Ahmed and Ahmed Tassawur who were planning to target government buildings and sensitive installations in the provincial capital.
They have been moved to undisclosed location for interrogation.
Earlier this month, Pak Army spokesperson Lieutenant General Asim Bajwa briefed media that the law enforcement agencies have so far arrested 309 people associated with Islamic State (IS) in Pakistan.
Islamic State's attempt to expand in the country has been crushed, he said.
Bajwa said major terror attacks planned by the IS on targets, including the ministry of foreign affairs, foreign embassies, consulates and their staff, the Islamabad airport, prominent public figures, media persons and law enforcement personnel, were averted.
He also released figures on progress in its anti-militant operation, saying more than 3500 had been killed during the course of Operation Zarb-i-Azb.
He added that 516 soldiers had also been martyred and 2,272 wounded.
Source: dunyanews.tv/en/Pakistan/353372-Four-suspected-Daesh-terrorists-arrested-in-Lahore
--
At least 16 killed in suicide blast at Mohmand Agency mosque during Friday prayers
September 16, 2016
PESHAWAR: A suicide bomber targeted a mosque in Mohmand Agency's Anbar tehsil during Friday prayers, leaving at least 16 people dead.
At least 23 others were injured in the blast, Assistant Political Agent Naveed Akbar told DawnNews. He added that the injured had been transported to hospitals in Bajaur Agency, Charsadda and Peshawar for treatment.
A security source confirmed the explosion was a suicide blast.
The source said that the suicide bomber blew himself up in the veranda of the mosque.
There was no immediate claim of responsibility, but Pakistani Taliban in particular routinely attack soft targets such as courts, schools and mosques.
The army launched an operation in June 2014 in a bid to wipe out militant bases in the northwestern tribal areas and so bring an end to the bloody insurgency that has cost thousands of civilian lives since 2004. Security has since improved though scattered attacks still take place.
Source: dawn.com/news/1284121/at-least-13-killed-in-blast-at-mohmand-agency-mosque-during-friday-prayers
--
Police raid MQM leader Khawaja Izhar's house
September 16, 2016
KARACHI: Police raided the residence of Muttahida Qaumi Movement (MQM) leader Khawaja Izharul Hassan on Friday, a senior police officer told Dawn. No arrests have been made as yet,
Chief Minister Sindh Syed Murad Ali Shah took notice of reports of the raid and ordered the suspension of the station house officer at a Sohrab Goth police station.
The chief minister also sought a report from Inspector General Police Sindh A.D. Khawaja regarding the raid.
The MQM has been in the midst of a crisis since party chief Altaf Hussain issued controversial anti-Pakistan statements. Following the incident, party leadership in Pakistan distanced itself from the London offices and Altaf.
Source: dawn.com/news/1284116/police-raid-mqm-leader-khawaja-izhars-house
--
Militant attacks on polio workers haunt KP
September 16, 2016
PESHAWAR: With a high likelihood of becoming polio-free next year, Khyber Pakhtunkhwa is facing the challenge of how to counter militant attacks on vaccinators on its soil.
The militants had killed union council polio eradication committee head Dr Zakaullah Khan in Peshawar last week to send a message across that they're around and thus, terrifying vaccinators to stay away from administering oral polio vaccine against which they spread false propaganda for years.
Pakistan along with Afghanistan, the last two polio-endemic countries in the world, is facing militants, who first forcibly stopped vaccination in Swat in 2007 and then in North and South Waziristan agencies in 2012 and thus, leaving at least 160 children crippled.
Swat recorded the most nationwide polio cases in 2009 due to the ban imposed by the outlawed Pakistan Tehreek-i-Taliban chief, Maulvi Fazalullah, who then held sway in the region.
Official fears any laxity will reverse gains against crippling disease
Waziristan suffered immensely when 150,000 children remained unimmunised for two years. The situation improved when the army began action. Swat hasn't recorded any polio case for five years now, while the number of such cases in Waziristan has dropped to two.
The authorities in Federally Administered Tribal Areas argue that both children got infected in Afghanistan where they had migrated due to the military campaign against Taliban militants.
The areas across the border, where they stayed, are under the influence of militants loyal to Fazalullah, a known opponent of OPV
Officials associated with the anti-polio campaign in the province believe they cannot afford to abandon the efforts and lose the gains they have obtained in the prolonged fight against polio.
"The province is in eradication stage and any laxity could put its two-decade efforts in reverse gear," an official told Dawn.
He said Dr Zakaullah stood stood undeterred despite killing and injuring of his several anti-polio colleagues in targeted militant attacks.
The official said the association of the deceased with anti-polio campaign had been exemplary for his colleagues, who remembered him a true worker.
Another official said despite meagre wages, vaccinators had played instrumental part in containing the crippling disease in KP and Fata, where the Taliban assassinated their colleagues.
He said a proposal was under consideration lately to give vaccinators more money but that didn't get approval.
According to him, the militants have killed 41 anti-polio workers and injured 40, including women, and policemen deployed to protect door-to-door vaccination campaign but the efforts have not been halted.
Only last month, water sample collected in the city for polio examination tested negative, indicating that high quality vaccination campaign has taken place due to which the virus didn't exist and the children were safe.
However, the massive migration of children from Afghanistan and tribal areas have brought the provincial capital to spotlight prompting the World Health Organisation to declare it one of three core polio reservoirs in Pakistan.
The official said as a result of the army's operation, militants had been targeting vaccinators not only in Peshawar but also in Charsadda, Swabi and Mardan to block the global polio eradication campaigns.
"The province, which deploys 32,000 workers in each of the monthly vaccination campaigns to immunise around 5.4 million children in close coordination with the police and security agencies to vaccinate all children under five years of age and do away with the disease by next year in line with the prime minister polio plan 2016-17," he said.
The official said in Fata and Frontier regions, around one million children were vaccinated, while the children accessibility rate was more than 99 per cent.
He said the authorities in KP and Fata banked on the support of security personnel to eradicate polio from the region for good.
Source: dawn.com/news/1284090/militant-attacks-on-polio-workers-haunt-kp
--
Nawaz Sharif to consult Hurriyat, PoK leaders before leaving for US
September 16, 2016
Islamabad :Prime Minister Nawaz Sharif will hold consultations with Hurriyat and Pakistan-occupied Kashmir (PoK) leaders on Friday before leaving for the US to address the UN General Assembly where he is likely to raise the Kashmir issue.
"Prime Minister Nawaz Sharif will come here in Muzaffarabad on Friday before leaving for New York. He will consult the Kashmiri leadership regarding his speech at the UN session," PoK Prime Minister Raja Farooq Haider said.
He said the premier will hold separate meetings with PoK legislators and a delegation of the All Parties Hurriyat Conference, PoK chapter.
"The prime minister wants to take the Kashmiri leadership into confidence over the content of his speech to be delivered at the UN General Assembly session on September 21," the DawnNews quoted him as saying.
Haider said the gesture would send a positive message across the Line of Control (LoC). Sharif is likely to leave for the US on September 17.
Source: siasat.com/news/nawaz-sharif-consult-hurriyat-pok-leaders-leaving-us-1021495/
--
Arab World
Iran Calls for Collective Efforts to Fight Global Terrorism
16 September,2016
TEHRAN (FNA)- Iranian Foreign Minister Mohammad Javad Zarif underlined the need for cooperation among all countries to fight against terrorism in the region.
"Violent extremism and terrorism as well as their unpleasant consequences, including the growing conflicts and humanitarian crises, are threats which demand serious attention by the world countries," Zarif told reporters on Friday.
He underlined that interference in the internal affairs of other countries threatens global peace.
The Iranian foreign minister underlined the need for exercise of self-restraint by different countries in the face of global challenges and difficult situation.
"Today, interference in other counties' internal affairs as well as occupation and extremism has not only resulted in unprecedented threats against world development, security and peace."
In relevant remarks earlier in September, Iranian President Hassan Rouhani in a meeting with French Parliament Speaker Claude Bartolone in Tehran underlined that all-out efforts by all countries is needed to uproot terrorism in the world.
"In addition to coordinated military campaign against terrorism, the states must initiate cultural campaign and also prevent the youth not to fall into the trap of the terrorist groups," President Rouhani said.
The Iranian president said that as victim of terrorism Iran is well aware of the magnitude of the threat of the dirty phenomenon of terrorism, adding, "At the same time France has well understood the momentous issue due to the terrorist attacks over the past several months."
He, meantime, pointed to the status quo of Iran-France ties, and said, Immediate and careful implementation of the contracts will bring about tangible change in Tehran-Paris relations in the political, economic, cultural and scientific domains."
President Rouhani called for implementation of tens of contracts and documents signed by the Iranian and French public and private sectors during his tour of Europe after nuclear accord last year.
Source: en.farsnews.com/newstext.aspx?nn=13950626000355
--
Terrorist Groups Continue to Violate Ceasefire in Damascus Province
16 September,2016
TEHRAN (FNA)- The terrorist groups continued to shell the Syrian government forces' positions across Eastern Damascus regardless of the newly nationwide truce plan.
Militants' mortar launchers targeted the Eastern entrance of Damascus with several rounds.
In the meantime, government positions along Harasta highway near al-Qaboun al-Sina'ah in Jobar were attacked by the terrorist groups' mortar shells.
The terrorist groups in Syria violated the ceasefire 35 times on Wednesday.
According to the sources, the ceasefire was violated 35 times in different parts of Syria, including 4 times in Damascus and its countryside with mortar, sniper and machine gun fire, 1 time in Quneitra and its countryside with mortar attacks, 14 times in Aleppo with mortar, sniper gun and machine gun attacks, 13 times in Hama and its countryside with machine gun, artillery, mortar and tank fire, 1 time in Lattakia and its countryside with machine gun and 2 times in Homs and its countryside with mortar and machine gun attacks.
The 48-hour ceasefire in Syria brokered by Russia and the US came into effect on Monday at 7pm Damascus time (16:00 GMT).
A Russian official said on Wednesday that the militant groups in Syria had violated the ceasefire 60 times since it began.
Moscow has also called for the ceasefire in Syria to be extended for another 48 hours, the Russian General Staff said.
"In accordance with the Russian-US agreements, the existing 48-hour ceasefire is expiring today at 7pm [Moscow time – 16:00 GMT]. We note that recently the cessation of hostilities was observed in full. As of this morning the overall number of violations by the militants has reached 60," Russian General Staff official Viktor Poznikhir added.
He added that Russia understands the necessity of the full implementation of the agreements reached, and that it is "in favor of extending the ceasefire across Syria for another 48 hours".
Source: en.farsnews.com/newstext.aspx?nn=13950626000429
--
Army Wins Back Key Hilltop in Deir Ezzur Province, Terrorists Sustain Heavy Losses
16 September,2016
TEHRAN (FNA)- The Syrian army and popular forces continued their military operations against the terrorist groups in Deir Ezzur, and seized back a strategic region in the province over the past 24 hours.
The army units took full control of al-Sanouf hill in fierce clashes with the terrorists to the West of Deir Ezzur city after inflicting heavy losses on the terrorists in heavy fighting.
The terrorist groups also sustained heavy casualties in other key provinces across Syria.
Deir Ezzur
The Syrian army backed by popular forces seized back control of a strategic hill in the Western parts of Deir Ezzur after heavy clashes with the ISIL militants.
The Syrian army units launched special operations night on ISIL's gatherings and fortified positions, establishing control over al-Sanouf hill in the West of Deir Ezzur city.
The army forces restored control over al-Sanouf hill after tough battle with the ISIL terrorists, killing tens of militants and injuring many others.
Also, a number of weapons and ammunition belonging to the terrorists were destroyed during the offensive.
Also, the ISIL terrorist group sustained heavy causalities in the Syrian army's special operations in the Southwestern parts of Deir Ezzur.
The ISIL terrorist group in Deir Ezzur faced with the army and popular forces' rapid advances as pro-government troops started a new round of military operations in the Southwestern parts of the province.
Pro-government forces recaptured several checkpoints near the Tayyem Valley after a series of fierce clashes with militants.
Full report at: en.farsnews.com/newstext.aspx?nn=13950626000279
--
More Terrorist Commanders Killed in Clashes with Syrian Army in Quneitra
16 September,2016
TEHRAN (FNA)- A large number of terrorists, including eight commanders, were killed in clashes with Syrian Army troops in Quneitra in Southwestern Syria on Friday.
At least 108 terrorists, including Commander of the suicide attackers of Fatah al-Sham (the newly-formed al-Qaeda-affiliated terrorist group previously known as the al-Nusra Front) Amjad Abdul Hakim Balkhi, nom de duerre Abu Omar Basri, Field Commander of Fatah al-Sham Abu Aisha al-Ma'ani, Commander of Qadesiyeh Janoub Mohammad Amin Soleiman Hariri, nom de guerre Abu Jabr al-Hariri, Mohammad Yusuf al-Sabihi, nom de guerre Abu Qanwah, Abu Soheib Tunisi, Commander of Ahrar al-Sham Asem Susaq, nom de guerre Abu Maothana, Field commander of al-Sebtin Brigade Ebrahim Oman al-Ahama and Commander of a terrorist group affiliated to Fatah al-Sham Baslan Fawaz Qasim Mesri were killed in intense battles with the Syrian army soldiers in Quneitra.
408 terrorists have also been injured in the clashes in the last three days.
On Wednesday, Syrian Army troops beat back attacks of Fatah al-Sham Front in Quneitra in Southwestern Syria, killing at least 45 militants, including five commanders.
Commander of Ansar al-Islam Brigade Abu Khalid al-Zo'abi, Commander of al-Forqan Brigade Mohammad al-Omari, Commander of Beit al-Moqadas Group Abu Islam, Commander of Jund al-Molahem group Abu Mojahed, Top Commander of Fatah al-Sham's affiliated groups Ahmad Mohammad al-Khabi, nom de guerre Abu Qatadeh, were among the terrorist killed in their unsuccessful attacks on the government forces' positions near the Golan Heights and Tal al-Ahmar.
In the meantime, two tanks, a BMP vehicle, machinegun-equipped vehicles, several canons and a missile launch-pad of Fatah al-Sham were also destroyed in the battle.
Source: en.farsnews.com/newstext.aspx?nn=13950626000222
--
Terrorist Commander Killed in Clashes between Rival Militant Groups in Northern Aleppo
16 September,2016
TEHRAN (FNA)- A senior commander of the Free Syrian Army (FSA) was killed in an infighting between rival terrorist groups near Syria's border with Turkey.
Othman Saleh, the FSA commander of the Syria-Turkey border crossing, was killed in clashes between the Turkmen and Arab terrorists near Jarabulus.
Othman Saleh was the commander of Soqour al-Jabal brigade of the FSA.
Turkmen militants have recently advanced against theri rival Arab terrorists in the border crossing near Jarabulus.
Earlier this month, field sources in Southern Aleppo disclosed intense infighting among three terrorist groups stationed in the region.
According to the sources, differences increased among the terrorist groups affiliated to Jeish al-Fatah, Jeish al-Mojahedeen and Jeish al-Hor in Southern Aleppo while they accuse each other of betrayal.
"The reason behind their intensified differences is that certain groups affiliated to Jeish al-Hor left their comrades in Jeish al-Fatah during the clashes with the Syrian army and popular forces and fled the battleground," they added.
Infighting has increased among rival terrorist groups after they came under the Syrian army siege and lost vast parts of Southern Aleppo to government forces. The infightings started last month after the ISIL terrorist group engaged in heavy fighting with its rivals from al-Shamiyeh Front and Jeish al-Tahrir in the Northern territories of Aleppo province.
The ISIL stormed the defense lines of Jeish al-Tahrir and al-Shamiyeh Front near al-Rai and recaptured the town.
Both sides suffered a heavy death toll in the clashes.
Source: en.farsnews.com/newstext.aspx?nn=13950626000284
--
Syrian Army Receives Advanced Artillery Tracker System from Russia
16 September,2016
TEHRAN (FNA)- Damascus appreciated the Russian Defense Ministry for delivering an advanced model of "Aistёnok" artillery-missile tracker system to the Syrian Army to reinvigorate its truce-monitoring capabilities, the spokesman for the Syrian army said.
"Let's thank you (Russian Defense Ministry) for the delivery of an advanced artillery tracker system to our soldiers, which will enable us to monitor ceasefire across the country much more efficiently," the spokesman said.
Aistёnok is a portable radar system intelligence and control fire (counter-battery radar). Designed for intelligence-monitoring of positions of fire weapons (artillery and mortar positions, launchers, tactical missiles and air defense systems, etc.), Calculating the trajectories of shells and rockets, surveillance of airspace and control of unmanned aerial vehicles.
81-120mm mortar shelling, tanks' fire from five kilometers distance and 122-155 mm artillery units' fire from 20 kilometers distance can be traced by the Aistёnok system.
Source: en.farsnews.com/newstext.aspx?nn=13950626000336
--
Iran, Britain Discuss Broadening of Banking Ties
16 September,2016
TEHRAN (FNA)- Head of the Atomic Energy Organization of Iran (AEOI) Ali Akbar Salehi and British Chancellor of the Exchequer Philip Hammond in a meeting in London underlined the need to further expand banking cooperation between the two countries.
During the meeting in Britain's capital on Thursday, Salehi and Hammond explored avenues for bolstering and reinvigorating bilateral ties in the economic field, specially in the banking field.
During the meeting, Iran's nuclear chief said that after the implementation of the Joint Comprehensive Plan of Action (JCPOA) many problems were removed and a number of banks are now cooperating with Iran.
"During talks with (British Chancellor of the Exchequer) Philip Hammond, the issue was raised and I assumed that he is doing his best to find way out of the current situation," Salehi told reporters after the meeting.
"We discussed the issue very deeply but prior to reaching any concrete agreement we do not unveil it, but we can say that negotiations to his end are seriously underway to resolve the issue," Salehi said.
In relevant remarks in mid-July, Iranian Energy Minister Hamid Chitchian announced his country's readiness for investment by UK firms.
"Iran is ready to accept investment by British companies in the field of water industry and management," Chitchian said in a meeting with a groups of British industrialists and businessmen in London at the time.
He said that Iran needs at least $12 billion of investment in its water and wastewater management sectors in the next five years.
Source: en.farsnews.com/newstext.aspx?nn=13950626000458
--
North America
New Muslim Chaplain Hopes to Increase Interfaith Relations and Awareness of Islam
September 15, 2016
Following the departure of Kaiser Aslam, the University has hired Sami Abdul Aziz as the new University Muslim Chaplain. Also known as Imam Sami, he began working at the University in August and hopes to focus and create events dealing with issues of Islamophobia and interfaith relations between different religions.
As chaplain, his role is to facilitate religious services on campus, as well as provide pastoral counseling to all students, regardless of religious beliefs.
"If somebody on campus is of another faith, doesn't matter which, I'm also there to listen to them," Aziz said.
Aziz emphasizes that although he focuses on Muslim events, everyone is invited to all events, including weekly Friday prayers and support groups. The support groups are created for Muslim students to have a safe space and to interact with one another.
Speaking to the political climate in the country with respect to Islam, Aziz highlighted the importance of openness in the campus community.
"Being a Muslim in America can be difficult right now, [as] we are minorities not only in religious group, but also a minority group in the color of our skin," Aziz said. "There is a lot of fear in the Muslim community regarding the political situation, [such as] what is going to happen. Is Islamophobia going to increase, and are people going to judge us based on our religion? There is some of that fear here among students on campus, and I want to help them be comfortable and let them know that this campus is open to you."
As Aziz works only part time at the University, he discussed his efforts throughout Connecticut in spreading awareness of Islam as a whole. He is the founder and CEO of the Common Grounds Services Institute. Through the institute, he travels to churches, libraries, and schools, educating members of these institutions on a variety of topics, including ISIS, Islamophobia, and women in Islam. He has also hosted joint services in churches, giving talks on the relationship between Islam and Jesus Christ.
Aziz hopes to host an event at the University on the difference between ISIS and Islam.
Interfaith relations are also something on which Aziz focuses, as he works with the on-campus Protestant, Catholic, and Jewish leaders in hosting interfaith events and exploring ways that they can work together. Aziz is also a member of the Bloomfield Interfaith Council.
"I would like to see more interfaith collaboration events, maybe we talk about our faiths and what's similar," Aziz said. "The similarities are amazing between Christianity, Judaism, and Islam. We have so many things in common that we don't have an excuse to divide ourselves, in my opinion."
Full report at: wesleyanargus.com/2016/09/15/new-muslim-chaplain-hopes-to-increase-interfaith-relations-and-awareness-of-islam/
--
OBAMA'S MAJORITY MUSLIM REFUGEE PROGRAM HIKED TO 110,000
September 15, 2016
Since we just don't have enough Islamic terror plots in this country, Obama wants to drastically boost migrant refugee numbers.
The Obama administration is pressing ahead with plans to boost the number of refugees it will allow into the U.S. as a national debate rages over immigration and security.
The increase to 110,000 represents a nearly 30 percent increase over the current fiscal year. It is also a more than 57 percent jump since 2015
Of the 110,000 the U.S. intends to begin admitting at least 40,000 are from the Near East and South Asia, a White House senior administration official said. And most of those are likely to be people escaping the brutal Syrian civil war, even as many GOP lawmakers and Republican presidential nominee Donald Trump sound the alarm about terrorists in the midst of the refugees.
In short, they're going to be Muslim. Because Obama has done everything possible to keep Christians out short of hanging up a big sign saying, "No Christians Allowed'.
The most persecuted peoples in Syria are Christians and Yazidis. Obama has officially resettled 9,144 Syrians. 9,077 of them are Muslims. A mere 47 Christians and 14 Yazidis managed to slip through the nets of his careful screening process.
Remember those people on television pleading to be saved from genocide and mass rape? Obama took in barely a dozen of them.
8,984 of the poor oppressed refugees are members of the genocidal Sunni Islamic majority in Syria. That's 98 percent.
That's not a statistic. It's a war crime.
And the entire refugee program is now majority Muslim.
As the Obama administration races towards its goal of resettling 10,000 Syrian refugees in the United States this fiscal year, its overall refugee admission program has opened the door to more Muslims than Christians from around the world.
As of Monday, the U.S. had admitted a total of 66,480 refugees from 74 countries since the beginning of FY 2016 last October. Of those, 30,543 (45.94 percent) are Muslims and 28,973 (43.58 percent) are Christians.
According to the Pew Research Center, this is the first time in a decade that the U.S. has admitted more Muslim refugees than Christians.
Source: frontpagemag.com/point/264194/obamas-majority-muslim-refugee-program-hiked-daniel-greenfield
--
ISIS 'MADE UP' BY THE US, 9/11 ORCHESTRATED BY THE WEST TO LAUNCH WAR ON TERROR, EGYPT'S STATE MEDIA CLAIMS
SEPTEMBER 16, 2016
A newspaper columnist in Egypt has accused the United States of completely fabricating ISIS (Islamic State in Iraq and Syria) and being complicit with other Western powers in orchestrating the terror attacks on September 11, 2001, in order to justify launching its so-called "War on Terror." The column ran in Egypt's state-run newspaper, Al-Ahram, and casts doubt on the two principle drivers in America's (and the West's) involvement in Middle Eastern affairs over the past one-and-a-half decades.
The Independent reported Thursday that columnist Noha Al-Sharnoubi, writing for the state-operated Egyptian newspaper Al-Ahram back on August 23, questioned the validity of the United States and other Western powers' reasons for attacking nations like Iraq after the fall of the Twin Towers at the World Trade Center in New York on September 11, then goes one step further by postulating that ISIS was a contrivance of the United States as well. Al-Sharnoubi asked if the United States' "official version" of the events of September 11 was even believable, allowing that the jetliner attacks on the World Trade Center could very well have been premeditated to "justify the war on terror."
The columnist went on to question the actual existence of the Islamic State, the fundamentalist Islamic quasi-state that sprang into existence in June 2014 after extremist militants took over territory in eastern Syria and northwestern Iraq. Al-Sharnoubi posited that ISIS could have been a fabrication to "trick" the rest of the world and validate U.S. foreign policy in the Middle East.
Using reasoning often associated with conspiracy theorists, Al-Sharnoubi asked questions concerning both the 9/11 terrorist attacks and ISIS that were meant to instill the reader with incredulous doubt. She found that the 9/11 terrorists training at American flight schools too coincidental, easily "penetrated US airspace and hit the towers of the World Trade Center and the Pentagon one by one," and weren't shot down despite the last attacks occurring roughly 15 and 30 minutes after the Twin Towers fell.
And like conspiracy theories that have been circulating since the 9/11 terrorist attacks, including several variations on the theme of a Bush administration "inside job," flaws in the reasoning and questioning must be pointed out. Like the fact that the planes never "penetrated US airspace" simply due to the fact that all flights involved originated in the U.S. and were never outside American airspace so they would have to "penetrate" it. And although it might have been possible for the terrorist-piloted planes to be targeted and shot down by U.S. jets, until air traffic was ordered out of the skies across the country, the military could easily have mistakenly shot down numerous airliners. Since the number of hijacked planes was unknown until all planes were grounded, save for the four that crashed, reacting to potential targets while so many aircraft were in the air would have been problematic.
Full report at: inquisitr.com/3513941/isis-made-up-by-the-us-911-orchestrated-by-the-west-to-launch-war-on-terror-egypts-state-media-claims/
--
Mideast
CHP leader slams post-coup imprisonment of Turkish journalists
16 September,2016
Main opposition Republican People's Party (CHP) leader Kemal Kılıçdaroğlu has criticized the imprisonment of dozens of writers and journalists in the ongoing crackdown on government opponents in the aftermath of Turkey's failed July 15 coup attempt.
"Those who prevent writers, journalists and intellectuals from celebrating Eid al-Adha with their loved ones have no right to talk about democracy," Kılıçdaroğlu posted on his Twitter account late on Sept 14.
The CHP leader had earlier slammed the ruling Justice and Development Party (AKP) for taking "indiscriminate" post-coup attempt measures and carrying out a "witch hunt" against independent media, academics and teachers.
In a statement on Sept. 9, Kılıçdaroğlu had warned officials carrying out post-coup attempt investigations to stick to the principles of presumption of innocence and individual criminal responsibility.
Dozens of Turkish journalists, writers and academics have been detained on the grounds of suspected links to terrorist organizations since July 15, raising protests from local and international rights groups.
Source: hurriyetdailynews.com/chp-leader-slams-post-coup-imprisonment-of-turkish-journalists-.aspx?pageID=238&nID=103927&NewsCatID=338
--
10 killed in PKK attack in eastern Turkey
16 September,2016
Seven village guards, one specialist sergeant, one soldier and former village guard were killed on Sept. 15 in an outlawed Kurdistan Workers' Party (PKK) attack in the eastern province of Ağrı, according to officials.
Three soldiers and two civilians were also injured in the same attack by the terrorist group.
A clash broke out between security forces and PKK militants near Gokcebulak village in Tendurek Mountain after the attack, according to a statement by the Ağrı governors' office.
The wounded were taken to Doğubeyazit State Hospital, the statement said.
One soldier who was in critical condition succumbed to his wounds at the hospital.
An air-supported operation was launched in the area.
Source: hurriyetdailynews.com/10-killed-in-pkk-attack-in-eastern-turkey--.aspx?pageID=238&nID=103941&NewsCatID=341
--
Turkish warplanes hit PKK targets in Turkey, northern Iraq
15 September,2016
Turkish warplanes have conducted airstrikes against outlawed Kurdistan Workers' Party (PKK) targets in the southeastern province of Hakkari and northern Iraq, the Turkish Armed Forces (TSK) has announced.
The jets carried out an air operation against PKK targets in the Avaşin and Basyan regions of northern Iraq late on Sept. 14. The jets also hit PKK positions in the Çukurca district of Hakkari, where clashes between security forces and PKK militants have intensified in recent days.
Four militants were killed in the airstrikes carried out between 5:51 p.m. and 6:10 p.m., the TSK said, citing imagery obtained after the bombings.
"The warplanes returned to their bases safely," the statement added.
Another air operation was also conducted in Çukurca, in order to prevent militants from infiltrating into the military base zone in the Uzundere region of the district. The militants were hit from an armored vehicle, in addition to airstrikes. Two PKK militants were killed as a result.
The airstrikes in Çukurca were conducted between 4:10 a.m. and 4:15 a.m. on Sept. 15, as the Turkish General Staff added the militants took the wounded ones away.
Meanwhile, according to the military's statement, a total of 201 PKK militants have been either killed or wounded in the operations in Çukurca.
"A total of 201 terrorists were neutralized in the ongoing operations," the TSK said on Sept. 15.
Also in Çukurca, PKK militants launched a mortar attack on the second border brigade command. No casualties were reported in the attack, as the mortars fell into a vacant area in a village.
An operation was launched to apprehend the militants involved in the attack.
Meanwhile, hand grenades were found under the dead body of a former village guard in the Kağızman district of the eastern province of Kars. Mikail Gülderen, 51, who was a shepherd, was allegedly murdered by PKK militants.
His body was found on a road by his brother, who notified the gendarmerie. The gendarmes discovered that explosives were hidden under Gülderen's dead body.
The explosives was detonated in a controlled explosion and an investigation was launched into the killing of the shepherd.
Source: hurriyetdailynews.com/turkish-warplanes-hit-pkk-targets-in-turkey-northern-iraq.aspx?pageID=238&nID=103933&NewsCatID=341
--
Turkey, Russia agree on joint understanding in resolving regional issues in key military meet
16 September,2016
The Turkish and Russian chiefs of general staff held extensive discussions in Ankara on a wide range of issues, including the ongoing turmoil in Syria, on Sept. 15, in the first top level military-to-military meeting since the two countries resolved a long-standing crisis after Turkey downed a Russian warplane last year.
One of the most important outcomes of the talks is that both top soldiers agree that regional problems can only be resolved through joint initiatives of regional countries as Turkish military sources described the meeting as "fruitful."
Russian Chief of General Staff Gen. Valery Gerasimov arrived in Ankara on Sept. 15 for a visit that was announced by Russian Defense Ministry spokesman Igor Konashenkov just hours before Gerasimov landed in the Turkish capital. He was welcomed by Turkish Chief of General Staff Gen. Hulusi Akar through an official welcoming ceremony at the Turkish military headquarters.
The Russian chief of staff had planned to pay a visit to Ankara on Aug. 26, but the trip was postponed in the last minute.
According to Turkish military sources, this visit of Russian chief of staff that comes after an 11-year gap was very fruitful as the common understanding in the military has been enhanced with expectation that it will bring about more positive results in the future.
Need for a common perspective for regional issues
"This positive development is believed to be important in regards that this will lead to a common perspective between the two countries for the solution of other problematic regions in the Middle East," sources stressed.
Turkish military sources evaluated the visit as the indication of the importance the Russian Federation attaches to Turkey's capabilities in the region as a big power.
"Another important point with regards to this visit is the view that regional problems can only be resolved through joint initiatives of the regional countries among themselves has prevailed," sources said.
Military leg of normalization completed
The meeting in Ankara is very significant from different perspectives. From the bilateral relations angle, Gerasimov's visit could be considered as the "military leg" of the normalization process between Ankara and Moscow that was launched in late June after President Recep Tayyip Erdoğan sent a letter to Russian President Vladimir Putin expressing his sorrow over the downing of the Russian jet on Nov. 24, 2015.
Full report at: hurriyetdailynews.com/turkey-russia-agree-on-joint-understanding-in-resolving-regional-issues-in-key-military-meet.aspx?pageID=238&nID=103940&NewsCatID=510
--
India
'You Cannot Sip On Poison and Hope to Live': MoS for External Affairs Slams Pak Support of Terrorism at NAM
September 16, 2016
New Delhi: Terming terrorism as the "biggest enemy of human rights", India asked the 120-member NAM to set up a "Working group on terrorism" to safeguard world peace, stability and prosperity.
Calling for "zero tolerance" on direct or indirect support to terrorism at the 17th NAM Summit here in Venezuela, Minister of State for External Affairs M J Akbar said, "Terrorism threatens the contemporary architecture of world stability, based on respect for sovereignty." "We must not be so naive as to believe that terrorists do not have a political objective.
"Terrorism is the biggest enemy of human rights. The subjugation of terrorists is, therefore, protection of human rights," Akbar said, adding that terrorism remains the biggest obstacle to development. The NAM response to terrorism, said Akbar, must be as unambiguous as it was once about 'apartheid and colonialism'. Naming the terrorist groups like ISIS, Hizbul Mujahideen, and JeM, Akbar called on the NAM nations, the biggest nation grouping outside the UN, to set up a "NAM Working group on terrorism".
'Criticising state support for terrorist groups who wants to establish 'empires of destruction', Akbar said: "Governments which think they can pay lip service to sanity at a NAM summit, and continue to arm, shelter and exploit terrorists in a war by other means, when they return home will learn that you can not sip on poison and hope to live." Akbar also called for passing of 'Venezuela declaration' for an early convention on international terrorism and asked member nations to support 'urgent reforms' in the UN Security Council. The 17th NAM summit, which started on Tuesday and will end on September 18.
Source: siasat.com/news/cannot-sip-poison-hope-live-mj-akbar-slams-pak-support-terrorism-nam-1021266/
--
Bahrain gives Rs 9L to Odisha tribal
Sep 16, 2016
The Kingdom of Bahrain on Thursday offered a red carpet welcome and donated Rs 8.87 lakh to a Odisha tribal who was forced to carry his wife's body for nearly 12 km, en route to his village, after she died at a hospital last month.
A video of Dana Manjhi walking with a wailing daughter and wife's body over his shoulder after help eluded him went viral last month, sparking national outrage.
The video caught the attention of the international media too. Moved by the plight, Bahrain prime minister Prince Khalifa bin Salman Al Khalifa offered help to Manjhi, who received the cheque at the country's embassy here.
An illiterate marginal farmer from Kalahandi district, Manjhi has so far been struggling to earn Rs 2,000 a month and has never even visited Bhubaneswar.
"I have never visited New Delhi or Bhubaneswar. I do not know who donated the money. But I was told, after seeing my plight, the Bahrain Prince gave me the money," he said. The flood of donations and the near-celebrity status has left him bemused.
Dressed in a wrinkled shirt and a dhoti, Manjhi told reporters: "I don't know how many zeros are there in nine lakh. I will educate them (daughters). They should have a better life. If I had the money, I would not have suffered this much."
Reports stated that the Odisha government has issued a work order worth Rs 75,000 under the Indira Awas Yojana and has alloted a plot.
While the state government has also promised to bear the cost of educating his daughters, the Bhubaneswar-based Kalinga Institute of Social Sciences (KISS), too, promised free education to Manjhi's children.
Source: deccanherald.com/content/570679/bahrain-gives-rs-9l-odisha.html
--
Maoists ranked fourth dreaded terror outfit after Taliban, Islamic State, Boko Haram
Friday, September 16, 2016
New Delhi: In a major cause of concern for the Indian authorities, a US-sponsored study has now claimed that the banned CPI-Maoists are the fourth dreaded terrorist outfit in the world after Taliban, Islamic State and Boko Haram.
As per the figures, which are part of the data collected by the National Consortium for the Study of Terrorism and Responses to Terrorism contracted with the US State Department, India witnessed a total of 791 terror attacks in 2015, of which 43% were carried out by Naxalites, in which 289 people died.
The report further claimed that the CPI (Maoist) carried out a total of 343 attacks in 2015 killing 176 Indians. Taliban were involved in a massive 1,093 terror attacks, which took 4,512 lives.
The study found that as many as 28,328 people were killed and 35,320 injured in the 11,774 terror attacks witnessed by the world in 2015.
Shockingly, the study claimed that India was the fourth worst-affected country after Iraq, Afghanistan and Pakistan.
Islamic State, on the other hand, launched 931 attacks which left 6,050 people dead. Boko Haram, Nigeria's militant Islamic group, carried out 491 attacks killing a total of 5,450 people.
Over half of the 791 terror attacks witnessed by India took place in four states – Chhattisgarh (21%), Manipur (12%), Jammu & Kashmir (11%) and Jharkhand (10%). Chhattisgarh, which has been a victim of Left-wing extremism, suffered double the attacks as compared to 2014 – 167 as compared 76 in 2014, it said.
The report further revealed that the number of people held hostage by terrorists and rebel groups in India almost tripled in 2015 – from 305 in 2014 to 862, of which Naxals alone kidnapped 707 people.
However, the data collected by Home Ministry also revealed that as many as 2,162 civilians and 802 security personnel were killed by Naxals between 2010 and 2015.
Source: christiandaily.com
--
Accused Of LeT Plot To Recruit Indian Muslims, 13 Plead Guilty, Sentencing Today
September 16, 2016
FOUR YEARS after they were accused of being part of a Lashkar-e-Toiba (LeT) plot to recruit young Indian Muslims, 13 of the 22 men named in the case — many of them doctors and engineers — have pleaded guilty. They were all convicted by a special court in Bengaluru on Thursday. The quantum of punishment will be pronounced on Friday.
The 13 men — most of them incarcerated for the last four years after courts turned down their bail pleas — pleaded guilty on September 1, during the early stage of the trial. They ascribed their decision to fears that a protracted trial could take away many years of their lives.
Since the start of the trial last year, only 14 of the 240 witnesses have been examined so far.
Despite the special terrorism court stating that a guilty plea would have adverse consequences on their personal records, the men stuck to their decision. The judge, Muralidhar Pai, recorded the guilty plea after speaking to each of them in private to ascertain their reasons.
The men faced charges of criminal conspiracy, promoting enmity between different groups, unlawful activities, membership of a terrorist organisation and illegal possession of arms. Twelve of them — arrested in Bengaluru, between August 29 and September 1, 2012 — were also accused of conspiring to target leaders of Hindutva groups and a journalist backing such groups in Bengaluru.
The NIA filed a chargesheet against them on November 25, 2012 under IPC Sections 120B read with Section 153 A and Section 399. They were also charged under Section 18 of the Unlawful Activities (Prevention) Act, 1967 read with Sections 10, 13, 17, and 38, as well as under the Arms Act 1959 (Section 3 read with Section 25).
The 13 who have pleaded guilty are: Shoaib Ahmed Mirza, 27, a computer applications degree holder, Abdul Hakeem Jamadar, 30, Riyaz Ahmed Byahatti, 32, Mohammad Akram, 27, Ubedullah Bahadur, 28, Waheed Hussain, 31, an MBA, Dr Zafar Iqbal Sholapur, 31, Mohammad Sadiq Lashkar, 33, Mehboob Bagalkote, 32, Obaid-ur-Rehman, 26, an undergraduate student, Dr Nayeem Siddique, 32, Dr Imran Ahmed, 30 and Syed Tanzeem Ahmed, 27.
One of them, Ubedullah Bahadur — accused under sections of the Official Secrets Act 1923, after "confidential information about deployment of military and armed forces'' and space, atomic energy, and defence agencies was reportedly found on his laptop — has also pleaded guilty to the additional charge of spying.
Three others — a journalist, a junior scientist at DRDO, and a daily wage earner — were discharged from the case. Eight other accused persons are absconding, including the alleged main perpetrators of the plot. Most of them are suspected to be in Pakistan, while one, Dr Sabeel Ahmed, 33, is awaiting deportation from Saudi Arabia.
One accused, Asadullah Khan, 52, was deported from Saudi Arabia in December 2015 and his trial is yet to commence.
Dr Sabeel Ahmed, Mohammed Shaheed Faisal alias Ustad, 32, and a veteran LeT man Farhatullah Ghori, 51 — all absconding — were also named in a recruitment plot of the Al Qaeda in the Indian Subcontinent by the Delhi Special Cell in May 2016.
According to the NIA chargesheet, a number of Indian youths were enticed to join the terror outfit in 2010-11 by a group of LeT-linked operatives based in Saudi Arabia.
According to the chargesheet, two of them, Abdul Hakeem Jamadar and Dr Zafar Iqbal Sholapur, also travelled to Pakistan via Iran, between December and January 2011, with the intention "of going to Afghanistan to join the Taliban to fight against American and NATO forces''. But Farhathullah Ghori, based in Karachi and wanted in the Akshardham attack case, convinced them to focus on India. In Karachi, the duo "met some senior ISI officials'' and LeT operatives, according to the chargesheet.
"These ISI officials motivated them to collect intelligence and carry out espionage activities for them in India,'' said the NIA.
Source: indianexpress.com/article/india/india-news-india/indian-muslim-recruitment-lashkar-islamic-state-sentencing-guilty-3033503/
--
URL: https://www.newageislam.com/islamic-world-news/new-age-islam-news-bureau/-missing--bangladesh-brothers-resurface-on-facebook-with-islamic-state-flag-in-background/d/108578
New Age Islam, Islam Online, Islamic Website, African Muslim News, Arab World News, South Asia News, Indian Muslim News, World Muslim News, Women in Islam, Islamic Feminism, Arab Women, Women In Arab, Islamophobia in America, Muslim Women in West, Islam Women and Feminism