New Age Islam News Bureau
20 Jan 2014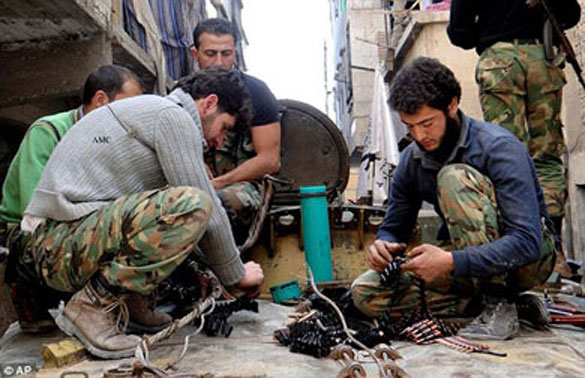 Prepared: The fighters from abroad are being taught how to construct explosives such as car bombs and suicide vests (file picture)
--------------
Arab World
• 'Living Suicide Bomb' Rejoins Al-Qaida after Saudi Deprogramming
• Syria Militants Ready to Bomb US, Europe
• Baghdad bomb blasts 'kill 16' as Iraq violence continues
• UAE mulls introducing compulsory military service
• Syria's al-Assad: Losing war means 'chaos' across Mideast
• Iraq Again Uses Sunni Tribesmen in Militant War
• Syrian opposition threatens to pull out of peace talks after Iran invitation
• Syria talks face immediate hurdle of Assad's refusal to step down
• Jordan agrees to host US training of Iraqi military after al-Qaida gains
• Saudi Arabia withdraws time-share concept for non-Saudis
Pakistan
• Taliban bomb kills 13 near main Pakistani army HQ
• Jamaat-i-Islami asks govt to initiate talks with Taliban
• Two killed in Dera Ismail Khan explosion
• Four killed, three injured in Karachi violence
• Govt has decided to make tough calls for peace, PM tells army chief
• Negotiation mantra fails to impress TTP
• Afghan slums in Islamabad den for light weapons
South Asia
• 14 Taliban militants killed, 18 detained in Afghan operations
• 9 militants killed in attack on NATO base in Kandahar
• Jamaat leader killed in gunfight with Bangladesh security forces
• 3 Pakistani militants held in Dhaka
• Dhaka bourse to launch Shariah index today
Mideast
• North Yemen battles 'kill 22 in 48 hours'
• Palestinians won't give up land occupied in 1967
• Iranian Deputy FM Warns Supporters of Takfiri Groups
• Israeli intel officers storm Al-Aqusa courtyard
• Post-Geneva process should be monitored by UN peace force: Turkey suggests
• Report: Canada pledges to absorb Palestinian refugees as part of peace deal
• Mideast may flare up if peace talks fail: Israel's Peres
Europe
• Top US, Saudi Officials Directly Responsible for Chemical Weapons Attack
• France alarmed by rise in young fighters headed for Syria
• EU's Ashton welcomes Egypt's 'largely orderly' constitution vote
• France closes its airspace for Syrian Geneva-2 delegation - media
• Russia steps up military lifeline to cornered Assad
• Row over UN invitation to Iran for Syrian peace conference
• Exhibition hails 70 Muslims who helped Jews in WWII
Australia
• Australians fighting in Syria could lose citizenship, immigration minister signals
Africa
• 24 killed in Libya clashes
• South Sudan Army 'Attempts to Forcibly Enter' UN Base
• Nigeria: Our Concerns over Islamisation Agenda: CAN
• EU readies military mission to CAR
• Tunisia's last hope for democratic transition
Southeast Asia
• Non-Muslims not bound by royal decrees or fatwa on Islam, say lawyers
• Malaysia Opposition leader barred from entering Japan
• Three Indonesians shot dead by Malaysian Police
• We were tricked into converting to Islam, claim Christian villagers in remote Sabah district
India
• Terrorists try to attack secularism, democracy: Home Minister
• India will be Taliban's next target: Ex-NSA Narayanan
• Indian Mujahideen group capable of striking from Pakistan
North America
• Obama: Less than fifty-fifty odds of Mideast peace treaty but progress also important
• Iran curbs nuclear activities; EU, US to lift sanctions
• US lawmaker Mike Rogers claims Snowden had Russian help in revealing snoop operations
Compiled by New Age Islam News Bureau
URL: https://www.newageislam.com/islamic-world-news/new-age-islam-news-bureau/-living-suicide-bomb--rejoins-al-qaida-after-saudi-deprogramming/d/35356
----------
Arab World
'Living Suicide Bomb' Rejoins Al-Qaida after Saudi Deprogramming
20 January 2014
Ahmed al-Shayea was known as the "living suicide bomb" – the young Saudi driver of a fuel tanker bomb in Iraq who survived to renounce violence and warn his countrymen of the dangers of jihad.
In the process he became Saudi Arabia's poster boy for a high-profile jihadi de-programming initiative whose secondary purpose is to discourage Saudis from joining al-Qaida.
With his burned face and mangled hands, Shayea was presented as a vivid warning to young Saudis about the perils of jihad and the untrustworthiness of al-Qaida, which he claimed had tricked him into driving the tanker bomb, which killed 12 people in 2004.
That was until November. Then Shayea disappeared from Saudi Arabia, only to reappear reportedly in Syria where – his Twitter feed reveals – he has rejoined the ranks of an al-Qaida franchise, the Islamic State of Iraq and the Levant (ISIL), which is engaged in a civil war with other rebels fighting the Assad regime.
The case of Shayea raises questions about the effectiveness of the jihadi de-programming efforts, including the well-known Saudi model, which has boasted of rehabilitating and releasing several thousand former jihadis, including some returned by the US.
And Shayea is not the only prominent jihadi to have returned to al-Qaida. Despite long denials of any recidivism, four years ago it was revealed that Said Ali al-Shihri, a former inmate of Guantánamo who was also released to the Saudis under the same programme, had re-emerged as al-Qaida's deputy leader in Yemen, one of a number of graduates of the de-radicalisation programme to return to the group.
Khalid al-Suwid, who also fought in Iraq and was released under the same programme in 2012, is another who quickly resumed jihad. His death in Syria was announced in a martyrdom video on Facebook.
Hundreds of young Saudis have undergone the Jihadi de-programming, being re-educated in prisons and rehabilitation centres, a scheme run by the interior ministry and available only to captured jihadis who demonstrate a desire to revoke their beliefs.
If Shayea's story is instructive, it is because so much is known about him. Held by US forces in Abu Ghraib prison in Iraq after the fuel tanker attack, he was repatriated to Ha'ir prison in Riyadh, where he told a visiting cleric he had experienced a change of heart.
In an outreach programme similar to ones run in Egypt and Yemen at the time involving psychiatrists and clerics, Shayea was persuaded to go public, appearing on television as part of a co-ordinated campaign to persuade others not to follow him.
He had been tricked, he said in his appearances. Although he had gone to fight Americans, he added, he was not told that the tanker he drove into Baghdad was a bomb.
His message was not just aimed at Saudi Arabia's jihadis; the authorities were keen to show him off to the wider world as well. In 2007 he described rejection of jihad in an interview organised by the Saudi government with western media outlets. "I realised that all along I was wrong," Shayea told the Associated Press in a two-hour interview at a Riyadh hotel before returning to an interior ministry compound that serves as a sort of halfway house for ex-jihadis rejoining Saudi society. "There is no jihad. We are just instruments of death," he said.
When he was recruited in his home town of Buraida, Shayea was 19 and jobless. "My friend started telling me about Iraq, how Muslims are getting killed there and how we should go there for jihad," said Shayea in 2007. "He told me there were fatwas and DVDs issued by Saudi and Iraqi clergymen that called for jihad."
In another interview in the same year that was broadcast by Fox News, Shayea added: "I would like to say to the American people that Islam forbids killing innocent people."
What is puzzling about Shayea's return to al-Qaida in Syria is that – by his own account – while being treated by US forces in Iraq who had saved his life, he claims that he told his American interrogators where to find a senior al-Qaida figure in Baghdad and revealed all that he knew about the group.
Noman Benotman, president of the think-tank Quilliam, which has its own de-radicalisation work, believes that, of 4,000 to 6,000 Saudis who have gone through the scheme, only 80 to 100 have either picked up arms again or drifted back into Jihadi ideology.
"You have to separate the myth from the reality of this programme. It has been largely successful, but it has not – as the Saudis have tried to claim in the past – been magic, with no cases of people returning to jihad.
"Some have gone to Syria, others to Yemen, but it is still a small number," said Benotman.
He said that graduates from the de-programming initiative had been influenced by the same narrative of the war in Syria as wider Saudi society, where Salafists have used the official attitude of the ruling family to argue that the royal family has been hypocritical over events in Syria.
http://www.theguardian.com/world/2014/jan/18/suicide-bomb-al-qaida-saudi-ahmed-al-shayea
----------
Syria Militants Ready to Bomb US, Europe
20 January 2014
TEHRAN (FNA)- British militants in Syria are being trained by Al-Qaeda to not only fight against Syrian President Bashar Assad's government but also carry out attacks on behalf of the extremist group when they are back home, a new report said.
According to an interview conducted by the British Daily Telegraph on Monday one of the defectors from Al-Qaeda's Islamic State of Iraq and Levant (ISIL) said other recruits from Europe and the US were also being trained to make car bombs before being sent home to form terror cells.
"They talked often about terrorist attacks," he said of his former ISIL instructors.
"The foreigners were proud of 9/11 and the London bombings. The British, French and American Mujahideen in the room started talking about places that they wanted to bomb or explode themselves in Europe and the United States.
"Everyone named a target. The American said he dreamed of blowing up the White House."
He called the teachings of ISIL, which grew out of Al-Qaeda's affiliate organization in Iraq, "very hard-line" and not according to the Islam he knew.
"The teachings by the older jihadists were very hard-line," he said. "I had to edit what I believed about Islam to accept them."
Tens of thousands of foreign fighters have entered the war in Syria, including up to 500 from Britain.
The mainstream media coverage over Syria which has been long criticized by the Syrian government for not showing a true face of the war are considered to be one of the main reasons contributing to more people joining hard-line groups.
The Telegraph wrote in its report that, "many of these foreign volunteers had come to Syria with genuine intentions, moved by images of children and women killed by the regime and hoping to defend their fellow Muslims".
Al-Qaeda, as well as groups affiliated with the Syrian foreign-backed opposition, has been making videos, many of them not reliable, trying to blame the Syrian army which has been struggling to save the country from one of the most violent wars the region has witnessed in recent history, for killing of people.
The crisis in Syria started in March 2011, when pro-reform protests turned into a massive insurgency following the intervention of western and regional states.
More than 130,000 people have been killed and millions displaced in the turmoil.
http://english.farsnews.com/newstext.aspx?nn=13921030000320
----------
Baghdad bomb blasts 'kill 16' as Iraq violence continues
20 January 2014
At least 13 people have been killed in a series of bomb blasts across the Iraqi capital, Baghdad, say police and medics.
At least 40 people were wounded in the explosions.
The deadliest single attack, in which at least six people died, struck the south of the city.
In an extended surge of violence, at least 759 people died in December alone. More than 650 have died so far in January, said AFP news agency.
http://www.bbc.co.uk/news/world-middle-east-25811115
----------
UAE mulls introducing compulsory military service
IANS | Jan 20, 2014
DUBAI, The United Arab Emirates (UAE) Prime Minister, Sheikh Mohammed Bin Rashid Al-Maktoum, has said that the Gulf state will introduce mandatory military service for its nationals aged between 18 and 30.
"The service will cover military training in the armed forces, 9 months for high school graduates and two years for those less than high school," Xinhua quoted Sheikh Mohammed Bin Rashid on tweeter.
"UAE reserve forces will consist of retired armed forces' soldiers and national service program graduates," the UAE prime minister tweeted.
"Protecting the nation and preserving its independence and sovereignty is a sacred national duty. The new law will apply to everyone," tweeted Sheikh Mohammed Bin Rashid. The UAE has 8.8 million inhabitants of which only 20 percent are UAE nationals.
The UAE prime minister, who is also the country's vice president and ruler of Dubai, has ordered his cabinet to draw up a bill for national defence and reserves.
http://timesofindia.indiatimes.com/world/middle-east/UAE-mulls-introducing-compulsory-military-service/articleshow/29087994.cms
----------
Syria's al-Assad: Losing war means 'chaos' across Mideast
20 January 2014
Syria's President Bashar al-Assad, in an exclusive interview with AFP, warned ahead this week's crucial peace talks in Switzerland that if his government loses the country's war it would mean "chaos throughout the Middle East."
"Should Syria lose this battle, that would mean the spread of chaos throughout the Middle East," he said in an interview on Jan. 19.
Speaking at the presidential palace in Damascus, days before the beginning of the Geneva II peace talks, al-Assad said he expected his country's bloody conflict to drag on, calling it a "fight against terrorism" and rejecting any distinction between opposition fighters and radical jihadists.
Full report at:
http://www.hurriyetdailynews.com/syrias-al-assad-losing-war-means-chaos-across-mideast.aspx?pageID=238&nID=61281&NewsCatID=352
----------
Iraq Again Uses Sunni Tribesmen in Militant War
20 January 2014
BAGHDAD — At a command center in western Anbar Province, Iraqi military officials are handing out guns and cash to local Sunni tribal fighters who are battling militants for control of Iraq's largest province.
The United States, at the same time, is rushing shipments of small arms and ammunition to the Iraqi government and urging the Iraqis to pass the weapons on to the tribes.
As Prime Minister Nuri Kamal al-Maliki struggles to put down an insurgency led by militants affiliated with Al Qaeda, he has embraced the same strategy the Americans used in 2007, one that has been attempted with varying degrees of success by the authorities here for nearly a century: paying and arming tribal militias to fight as proxies.
The American version, known as the Sunni Awakening, coupled with an American troop increase, helped turn the tide of the Iraq war but ultimately, as recent events have laid bare, achieved no lasting reconciliation.
Full report at:
http://www.nytimes.com/2014/01/20/world/middleeast/iraq-again-uses-sunni-tribesmen-in-militant-war.html
----------
Syrian opposition threatens to pull out of peace talks after Iran invitation
20 January 2014
Syria's political opposition said on Monday it would withdraw its attendance at international peace talks scheduled this week unless United Nations secretary-general Ban Ki-moon retracted an invitation to Iran, President Bashar al-Assad's main backer.
Ban said earlier he had invited Iran to attend the first day of talks on 22 January in Montreux, Switzerland, and that Tehran had pledged to play a "positive and constructive role" if it was asked to participate.
Less than 48 hours after Syria's main political opposition group in exile, the National Coalition, agreed to attend the talks, dubbed "Geneva II", it threatened to withdraw.
"The Syrian Coalition announces that they will withdraw their attendance in Geneva II unless Ban Ki-moon retracts Iran's invitation," it said in a Twitter post, quoting National Coalition spokesman Louay Safi.
Full report at:
http://www.theguardian.com/world/2014/jan/20/syrian-opposition-withdraw-talks-iran-invitation
----------
Syria talks face immediate hurdle of Assad's refusal to step down
20 January 2014
International hopes for a resolution to the bloody crisis in Syria will be tested this week as President Bashar al-Assad's government and rebels seeking to overthrow him head for a UN-sponsored peace conference and the first direct talks between the sides since the conflict began nearly three years ago.
On Sunday night, the UN secretary general Ban Ki-moon said he had invited Iran to attend the first day of Syria peace talks and that Tehran had pledged to play a "positive and constructive role" if it was asked to participate.
Ban said he made a late invitation to Iran after intensive talks with Iran's foreign minister, Mohammad Javad Zarif, who agreed to attend.
However there were reports that the Syrian opposition would withdraw from the talks unless Ban retracted the invitation.
Full report at:
http://www.theguardian.com/world/2014/jan/20/syria-regime-rebels-geneva-peace-talks
----------
Jordan agrees to host US training of Iraqi military after al-Qaida gains
20 January 2014
Jordan is ready to host US training of Iraqi soldiers after al-Qaida militants seized control of two towns in Iraq's contested Anbar province, the information minister, Mohammad Momani, said on Sunday.
He told the Associated Press that Jordan has received a US request to host the training and that details are being discussed.
"We look positively at the training because it is consistent with our foreign policy goal of fighting terrorism and because we have one of the best security and military training facilities in the region," said Momani, who is also the government spokesman.
Full report at:
http://www.theguardian.com/world/2014/jan/19/jordan-us-training-iraqi-military
----------
Saudi Arabia withdraws time-share concept for non-Saudis
20 January 2014
The Saudi government has withdrawn the time-share concept for non-Saudis in the two holy cities of Makkah and Madinah, an embassy statement said here.
"Due to intensive infrastructure construction activities undertaken by the government of Saudi Arabia, which entails construction of dozens of news hotels, for the benefit of pilgrims to the two holy cities of Makkah and Madinah, the practice of time-share activity in tourist units in the two cities (other than through inheritance) has been prohibited for non-Saudis with immediate effect," the embassy stated quoting a government announcement.
The Saudi government had, in 2005, begun the time-share concept for tourist real estate units, such as hotels and guesthouses,and defined the responsibilities and obligations of contracting parties, with penalties for violators of the regulations.
Full report at:
http://www.thehindu.com/news/international/world/saudi-arabia-withdraws-timeshare-concept-for-nonsaudis/article5597102.ece
---------
Pakistan
Taliban bomb kills 13 near main Pakistani army HQ
AP | Jan 20, 2014
ISLAMABAD: A Taliban suicide bomber blew himself up near Pakistan's main military headquarters on Monday, killing 13 people just a day after the militants struck inside an army compound in the northwest of the country and killed 20 troops, officials and militants said.
The two-day barrage is among the most intense onslaughts recently against the Pakistani army as it struggles to battle insurgents in the country's volatile frontier regions.
Monday's attack took place early in the morning in the garrison city of Rawalpindi, next to the capital of Islamabad. Police official Sardar Zulfiqar said a suicide bomber struck just outside the main military headquarters.
A retired officer and five soldiers were among those killed, according to police officer Haroon Joiya, who said the bombing also wounded 18 people.
The suicide bomber was riding a bicycle and detonated his explosives when he got close to a military checkpoint, said Joiya.
Full report at:
http://timesofindia.indiatimes.com/world/pakistan/Taliban-bomb-kills-13-near-main-Pakistani-army-HQ/articleshow/29104404.cms
----------
Jamaat-i-Islami asks govt to initiate talks with Taliban
January 20, 2014
LAHORE - Jamaat-i-Islami chief Syed Munawar Hasan has stressed upon Prime Minister Nawaz Sharif to immediately constitute a high powered committee under the Federal Interior Minister for talks with the Taliban, instead of transferring this responsibility to others who had no powers.
In a statement here on Sunday, he welcomed the Taliban statement expressing their willingness for talks, and said that now the government could not blame the Taliban for avoiding dialogue.
Syed Munawar Hasan said that US, Indian and Israeli agents were carrying out terrorist activities in the country in the name of Taliban ,however, the security agencies dared not to name these countries despite having solid evidence.
Full report at:
http://www.nation.com.pk/lahore/20-Jan-2014/ji-asks-govt-to-initiate-talks-with-taliban
---------
Two killed in Dera Ismail Khan explosion
2014-01-20
DERA ISMAIL KHAN: At least two people were killed Monday when a roadside remote-controlled explosion occurred in Dera Ismail Khan, DawnNews reported.
According to DawnNews, the explosion occurred in the Loni area of Dera Ismail Khan's Kolachi Tehsil. Subsequently, two people sustained severe injuries.
They were being shifted to the Dera Ismail Khan District Headquarters for medical treatment but succumbed to their injuries on the way.
The deceased persons were identified as Zainullah and Shamsur Rahman.
Following the explosion, a tip-off was received regarding more bombs in the area. The Bomb Disposal Squad (BDS) team personnel reached the site of explosion and defused four bombs.
Meanwhile, security personnel cordoned off the area and a probe into the incident went underway.
Full report at:
http://www.dawn.com/news/1081514/two-killed-in-dera-ismail-khan-explosion
----------
Four killed, three injured in Karachi violence
2014-01-20
KARACHI: Four people were killed whereas three others were injured in different incidents of violence in Karachi on Monday, DawnNews reported.
Three trussed-up bodies were discovered near Wilayat Shah Mazaar in Malir. According to the police, the victims had been tortured before being shot dead.
On receiving a tip-off, police recovered the bodies and later shifted them to a hospital. The victims could not be identified.
Meanwhile, two policemen sustained injuries in a firing incident near Chakra Goth Graveyard. One of the injured policemen later succumbed to his injuries.
Full report at:
http://www.dawn.com/news/1081502/four-killed-three-injured-in-karachi-violence
----------
Govt has decided to make tough calls for peace, PM tells army chief
2014-01-20
ISLAMABAD: Speaking to Chief of Army Staff (COAS) General Raheel Sharif, Prime Minister Nawaz Sharif Monday expressed his grief over today's bomb blast near the General Head Quarters (GHQ), adding that the government has decided to take difficult decisions in order to establish peace in the country, DawnNews reported.
During the telephonic conversation with the COAS, the prime minister said he shared the grief of the dead soldiers' families and the efforts to exterminate terrorism would continue.
The premier also told the army chief that the cabinet members would gather and discuss the internal security situation of the country.
Full report at:
http://www.dawn.com/news/1081503/govt-has-decided-to-make-tough-calls-for-peace-pm-tells-army-chief
----------
Negotiation mantra fails to impress TTP
2014-01-20
PESHAWAR: The peace negotiation mantra, repeated daily by both the federal and Khyber Pakhtunkhwa governments, has not charmed the unforgiving Tehreek-i-Taliban Pakistan.
TTP does not seem impressed with the peace talks offer as its campaign to kill and devastate civilian targets in Khyber Pakhtunkhwa, Karachi, and elsewhere intensified during the past two weeks.
After the Jan 6 Hangu school suicide bomb attack, the nation was rocked by a powerful car bomb blast in Karachi on Jan 10. Later, Khyber Pakhtunkhwa experienced two attacks on Jan 13, including one in Peshawar and the other in Shangla. The terrorists hit again Peshawar on Jan 16 and the same day Shangla, too, saw an attack. Sunday morning brought the news of an attack on a security forces in Bannu, killing over 20 soldiers and injuring 15 others.
Full report at:
http://www.dawn.com/news/1081423/negotiation-mantra-fails-to-impress-ttp
----------
Afghan slums in Islamabad den for light weapons
January 20, 2014
ISLAMABAD- It takes only a few thousand rupees to buy a pistol and a few lakhs to own world's most deadly weapon AK-47. Sadly, an individual is not required to travel to Peshawar or Karachi to purchase these light arms; rather, these machines are available at an affordable price in black markets established in Islamabad Capital Territory.
Illegal Afghan locality in 1-12 sectors, situated at a distance of merely 8 kilometers from Presidency and Prime Minister's House, is one such locality where dealers offer these deadly weapons at an affordable price. However, one has to find out a reliable agent who may connect him with an arm dealer based in Afghan Basti that is situated not very far from office of ICT police chief.
Full report at:
http://www.nation.com.pk/islamabad/20-Jan-2014/afghan-slums-in-islamabad-den-for-light-weapons
----------
South Asia
14 Taliban militants killed, 18 detained in Afghan operations
Jan 20 2014
At least 14 Taliban militants were killed and another militant was injured during coordinated military operations by Afghan national security forces during the past 24 hours.
The interior ministry of Afghanistan following a statement announced Monday that the militants were killed in varius provinces of Afghanistan.
The statement further added that the operations were jointly conducted by Afghan police, Afghan army and intelligence – National Directorate of Security (NDS) operatives.
The statement confirmed that 14 militants were killed, 1 militant was injured and 18 others were arrested during the operations which were conducted in Kandahar, Uruzgan, Maidan Wardak, Ghazni, Farah and Helmand provinces of Afghanistan.
Full report at:
http://www.khaama.com/14-taliban-militants-killed-18-detained-in-afghan-operations-3320
----------
9 militants killed in attack on NATO base in Kandahar
Jan 20 2014
A heavy explosion was reported near the joint Afghan-NATO forces military base in southern Kandahar province of Afghanistan on Monday.
Local officials in Kandahar province said, the blast took place in Zherai district of Kandahar province after a group of nine militants attacked the joint military base.
The Kandahar provincial government media office following a statement said, the attack was carried out around 11am local time.
Full report at:
http://www.khaama.com/explosion-reported-near-afghan-nato-forces-base-in-kandahar-3319
----------
Jamaat leader killed in gunfight with Bangladesh security forces
20 January 2014
A local leader of fundamentalist Jamaat-e-Islami was killed on Monday in a gunfight with Bangladesh's security forces carrying out raid at one of the party's hideouts.
Tarique Mohammad Saiful Islam, 35, assistant secretary general of Jamaat's Meherpur district unit, was killed as he tried to evade the police.
According to reports, police arrested Islam on Sunday, on charges of attacking police and leading the violent campaign ahead of January 5 elections. They carried out the raid at a village in the district in-line with Islam's confession that fellow party men were holding a clandestine meeting there.
Full report at:
http://www.thehindu.com/news/international/south-asia/jamaat-leader-killed-in-gunfight-with-bangladesh-security-forces/article5596983.ece
----------
3 Pakistani militants held in Dhaka
20 January 2014
Detectives in Dhaka last night arrested three Pakistani militants who, the law enforcers say, flew in to reinvigorate Islamist militant movement here in Bangladesh.
The three -- aged between 25 and 50 -- had a laptop containing manuals on bomb making and operating firearms with them when they were detained in front of Shilpakala Academy at Segunbagicha around 11:30pm.
Osman, Mehmud and Fakhrul are members of banned militant outfit Tehrik-e-Taliban Pakistan (TTP), said Monirul Islam, joint commissioner of Detective Branch of police, at a press briefing at DB headquarters on Minto Road in the capital.
Full report at:
http://www.thedailystar.net/3-pakistani-militants-held-in-dhaka-7613
----------
Dhaka bourse to launch Shariah index today
20 January 2014
A shariah-compliant index is set to be introduced to the Dhaka Stock Exchange today to meet the requirements of Islamic fund investors.
"Many people and institutions do not want to make investment in the stockmarket as there are no products reflecting shariah investment principles. Now they will be encouraged to come to the market," DSE President Ahsanul Islam said yesterday.
Titled the DSEX Shariah Index, it is designed and developed by the S&P Dow Jones Indices Methodology, a global leader in providing investable and benchmark indices for financial markets.
Full report at:
http://www.thedailystar.net/business/dhaka-bourse-to-launch-shariah-index-today-7566
----------
Mideast
North Yemen battles 'kill 22 in 48 hours'
20 January 2014
Two days of fighting between Shia rebels and gunmen from the powerful Hashid tribes in north Yemen have killed nearly 22 people, a tribal source said on Monday.
A presidential commission had on 8 January brokered a truce between the Huthi rebels and Hashid fighters, ending two days of clashes in Amran province.
The fighting first erupted when Huthis tried to seize the towns of Wadi Khaywan and Usaimat, both Hashid strongholds.
But battles resumed a week ago and intensified over the past two days, the tribal source said.
"There were 22 people killed on both sides during the last 48 hours," the source said, adding that fighting was concentrated on Usaimat, 140 kilometres (87 miles) north of Sanaa.
The Huthis launched the attacks in retaliation for the Hashid tribe's support for hardline Sunni Salafist groups fighting Huthis in Dammaj, a rebel stronghold in the north.
Full report at:
http://english.ahram.org.eg/NewsContent/2/8/92035/World/Region/North-Yemen-battles-kill--in--hours.aspx
----------
Palestinians won't give up land occupied in 1967
World Bulletin / News Desk
20 January 2014
Palestinian Authority (PA) President Mahmoud Abbas said Monday that Palestinians would not abandon their longstanding demand of establishing an independent state on all Palestinian land occupied by Israel in 1967 with Al-Quds (East Jerusalem) as its capital.
"We will continue to negotiate with the Israelis for nine months, according to schedule," Abbas said in Ramallah at a joint press conference with visiting Canadian Prime Minister Stephen Harper.
"We hope negotiations will lead to an agreement that will open the door to the establishment of two states within the context of international legitimacy and the [2002 Saudi-backed] Arab peace initiative," Abbas added.
Full report at:
http://www.worldbulletin.net/?aType=haber&ArticleID=127281
-----------
Iranian Deputy FM Warns Supporters of Takfiri Groups
20 January 2014
TEHRAN (FNA)- Iranian Deputy Foreign Minister for Arab and Africa Affairs Hossein Amir Abdollahian warned the major world powers and some regional countries against the negative outcomes of their supports for Takfiri groups.
Amir Abdollahian made the remarks two days after Iran's commercial attaché in Yemen Abolqassem Assadi was assassinated by gunmen in Sanaa.
"We warn all the parties that support the Takfiri currents in the region to avoid playing with fire," Amir Abdollahian said.
Full report at:
http://english.farsnews.com/newstext.aspx?nn=13921030000891
----------
Israeli intel officers storm Al-Aqsa courtyard
World Bulletin / News Desk
20 January 2014
Scores of Jewish settlers and Israeli police stormed the Al-Aqsa Mosque courtyard on Monday as Canadian Prime Minister Stephen Harper paid a visit to the Palestinian territories.
"Around 65 Israeli settlers and intelligence officers broke into the mosque courtyard under the heavy protection of Israeli police," according to one mosque guard.
He added that around 20 Israeli intelligence officers had toured the mosque courtyard while hearing explanations from accompanying guides.
Full report at:
http://www.worldbulletin.net/?aType=haber&ArticleID=127277
-----------
Post-Geneva process should be monitored by UN peace force: Turkey suggests
20 January 2014
The international community should make clear to the Syrian regime and the opposition that non-compliance with potential conclusions of the Geneva II conference will lead to sanctions, the Turkish foreign minister has suggested, proposing that Western powers and Arab countries either establish a peace force or a U.N. mission in order to closely control and monitor the implementation of the post-Geneva process.
"Success would come [in the Geneva talks] if the parties are sincere and a decision for the establishment of a Syria Transitional Government is taken and [in the case of an agreement over] sanctions to be imposed when necessary," Foreign Minister Ahmet Davutoğlu told a group of reporters yesterday.
Full report at:
http://www.hurriyetdailynews.com/post-geneva-process-should-be-monitored-by-un-peace-force-turkey-suggests.aspx?pageID=238&nID=61268&NewsCatID=338
----------
Report: Canada pledges to absorb Palestinian refugees as part of peace deal
20 January 2014
Citing a report in the Arab-language daily Al-Quds Al-Arabi, Israel Radio quotes Palestinian sources as saying that Harper is likely to state these assurances during his meeting on Monday with Abbas.
Palestinian sources expect Canadian Prime Minister Stephen Harper to give assurances to the Ramallah government that Canada officially pledges to absorb refugees from neighboring Arab countries as part of a final status peace settlement with Israel, according to Israel Radio.
Citing a report in the Arab-language daily Al-Quds Al-Arabi, Israel Radio quotes Palestinian sources as saying that Harper is likely to state these assurances during his meeting on Monday with Palestinian Authority President Mahmoud Abbas.
Full report at:
http://www.jpost.com/Diplomacy-and-Politics/Report-Canada-pledges-to-absorb-Palestinian-refugees-as-part-of-peace-deal-338744
----------
Mideast may flare up if peace talks fail: Israel's Peres
20 January 2014
The Middle East could erupt into violence if the ongoing Israeli-Palestinian peace talks collapse, Israel's President Shimon Peres warned on Monday.
"It is crucial that these negotiations will be completed successfully," Peres said after meeting Romanian President Traian Basescu.
"A failure to do so would be tragic for the Middle East. The situation in the Middle East can flare up overnight if the talks fail."
Israel and the Palestinians embarked upon a nine-month track of direct negotiations at the urging of US Secretary of State John Kerry, at the end of July.
But although the April deadline is looming, the talks appear to have made little visible progress. Currently, Kerry's main focus is trying to get the sides to agree on a framework to guide the negotiations forward in the coming months.
Full report at:
http://english.ahram.org.eg/NewsContent/2/8/92038/World/Region/Mideast-may-flare-up-if-peace-talks-fail-Israels-P.aspx
----------
Europe
Top US, Saudi Officials Directly Responsible for Chemical Weapons Attack
20 January 2014
TEHRAN (FNA)- A new study by former UN weapons inspector Richard Lloyd, and MIT Professor Theodore A Postol, presented new details to the evidence about the war crime in Syria that almost led to a NATO – led military aggression and a full scale regional war in the Middle East.
On 7 October 2013, nsnbc international published a detailed analysis of the chemical weapons attack in the Damascus suburb East Ghouta, on 21 August 2013. The report detailed the name of the Saudi Arabia and US commanded Al-Qaeda brigade and the name of the commander who gave the direct order. The report placed direct command responsibility with the US Chairman of the Joint Chiefs of Staff, General Martin Dempsey and other Top US and Saudi officials.
A new study by former UN weapons inspector Richard Lloyd, and MIT Professor Theodore A Postol, corroborates the analysis and adds additional detail to the evidence about the war crime, that almost led to a NATO – led military aggression and a full scale regional war in the Middle East, nsnbc reported.
Full report at:
http://english.farsnews.com/newstext.aspx?nn=13921030000391
----------
France alarmed by rise in young fighters headed for Syria
AFP | Jan 19, 2014
PARIS: France's interior minister on Sunday said he was alarmed at the growing number of French jihadists, including minors, going to fight alongside extremist groups in Syria.
Manuel Valls said the trend of young fighters heading for Syria had "accelerated" in recent weeks, and that around a dozen French minors had already gone to Syria or wanted to go there.
"The phenomenon worries me to say the least," Valls told French media. "It represents to me the greatest danger that we face in the coming years."
French authorities estimate that around 250 French nationals or residents are currently fighting alongside rebels against President Bashar al-Assad's regime.
Full report at:
http://timesofindia.indiatimes.com/world/europe/France-alarmed-by-rise-in-young-fighters-headed-for-Syria/articleshow/29067962.cms
----------
EU's Ashton welcomes Egypt's 'largely orderly' constitution vote
20 January 2014
European Union foreign policy chief Catherine Ashton has welcomed Egypt's constitution referendum, saying she expects the document to set the scene for civilian rule.
"I would like to congratulate the Egyptian people and the authorities responsible for organising the vote in a largely orderly manner," the EU high representative said in a statement on Sunday.
Egyptians overwhelmingly approved the new constitution, replacing the 2012 Islamist-drafted document in a referendum last week by more than 98 percent, in what the government hailed as a public seal of approval for the overthrow of Islamist president Mohamed Morsi.
Ashton noted the EU could not assess or verify alleged irregularities in the poll, but said they "do not appear to have fundamentally affected the outcome."
Full report at:
http://english.ahram.org.eg/NewsContent/1/64/92001/Egypt/Politics-/EUs-Ashton-welcomes-Egypts-largely-orderly-constit.aspx
----------
France closes its airspace for Syrian Geneva-2 delegation - media
20 January 2014
France has threatened to turn its sky into a no-fly zone for the Syrian administration's delegation that is expected to sit down at the negotiating table in the Swiss town of Montreux, local media say. AFP has cited a source in the Syrian foreign ministry as saying Monday the French have vowed not to let the board with the official Syrian delegation pass over its territory tomorrow, a move which the Assad administration has condemned as an attempt to torpedo the Geneva-2 conference on Syrian peace at all costs.
Full report at:
http://voiceofrussia.com/news/2014_01_20/France-closes-its-airspace-for-Syrian-delegation-media-4362/
-------------
Russia steps up military lifeline to cornered Assad
20 January 2014
LONDON – In recent weeks Russia has stepped up supplies of military gear to Syria, including armoured vehicles, drones and guided bombs, boosting President Bashar Al-Assad just as rebel infighting has weakened the insurgency against him, sources with knowledge of the deliveries say.
Moscow, which is trying to raise its diplomatic and economic influence in the Middle East, has been a major provider of conventional weapons to Syria, giving Assad crucial support during the three-year civil war and blocking wider Western attempts to punish him with sanctions for the use of force against civilians.
Full report at:
http://www.saudigazette.com.sa/index.cfm?method=home.regcon&contentid=20140120193072
----------
Row over UN invitation to Iran for Syrian peace conference
PTI | Jan 20, 2014
UNITED NATIONS: UN chief Ban Ki-moon has invited Iran to a crucial peace conference on Syria this week after Tehran pledged to play a "positive and constructive role", inviting objections from the US and threats from the Syrian opposition to pull out of the meeting.
In an abruptly called press conference at the world body's headquarters here yesterday evening, Ban said he "strongly" believes that Iran "needs to be part of the solution to the Syrian crisis" as he has been striving to generate momentum and create the "best possible atmosphere" for the success of the "crucially important" effort to end the Syrian war.
Ban said he has "spoken at length" in recent days with Iran's Foreign Minister Javad Zarif, who he said agreed that the goal of the negotiations is to establish, by mutual consent, a transitional governing body with full executive powers.
Full report at:
http://timesofindia.indiatimes.com/world/middle-east/Row-over-UN-invitation-to-Iran-for-Syrian-peace-conference/articleshow/29108067.cms
----------
Exhibition hails 70 Muslims who helped Jews in WWII
World Bulletin / News Desk
20 January 2014
The UK capital of London today began hosting the Righteous Muslim Exhibition, to honor the heroic actions of Muslims during World War II who protected Jews fleeing from the Nazi holocaust.
Hoping to shed light on the reality behind Muslim-Jewish relations, which has traditionally mostly been a positive one, the exhibition features photographs of Muslims who sheltered Jews from the Nazis while providing the stories of their brave actions.
Full report at:
http://www.worldbulletin.net/?aType=haber&ArticleID=127279
-----------
Australia
Australians fighting in Syria could lose citizenship, immigration minister signals
20 January 2014
Scott Morrison has signalled the government could seek to remove the Australian citizenship rights of dual nationals fighting in Syria, along the lines of powers being exercised in the UK.
The immigration minister used an interview with Sydney radio station 2GB on Monday to confirm the Abbott government was looking "right now" at strengthening its options to deal with dual nationals fighting in Syria.
The minister was asked whether the Australian government would seek to emulate the citizenship-stripping powers being exercised by the British home secretary, Theresa May.
May targeted 20 dual nationals in 2013 using "deprivation of citizenship orders" in an attempt to prevent combatants in the Syrian conflict returning to the UK. This was a significant increase in the use of the powers compared with the previous two years.
Full report at:
http://www.theguardian.com/world/2014/jan/20/australians-fighting-in-syria-could-lose-citizenship-say-scott-morrison
----------
Africa
24 killed in Libya clashes
World Bulletin / News Desk
20 January 2014
At least 24 people were killed late on Sunday in clashes between Libyan security forces and loyalists of the country's late strongman Muammar Gaddafi, a security source said.
A police force headed to Warash al-Thana area, southwest of Tripoli, to arrest individuals who had raised posters of the slain leader, the source told Anadolu Agency.
Clashes erupted between the security forces and pro-Gaddafi militants, leaving four troops and 20 militants dead, he added.
The ensuing gunfight also left 15 people injured.
Libyan authorities are yet to comment on the reported clashes.
The violence came one day after the army said it had recaptured Tamahid, the largest air force base in southern Libya.
Full report at:
http://www.worldbulletin.net/?aType=haber&ArticleID=127238
---------
South Sudan Army 'Attempts to Forcibly Enter' UN Base
20 January 2014
TEHRAN (FNA)- Soldiers in South Sudan have tried to forcibly enter a United Nations compound in the city of Bor where thousands of civilians have taken shelter from ongoing violence, a UN spokesman said.
Martin Nesirky said in a statement that senior government figures and troops threatened UN staff on Sunday when the latter "refused to allow armed soldiers to accompany civilians" into the compound of the UN Mission in South Sudan (UNMISS) in Bor in the restive state of Jonglei, press tv reported.
Nesirky, who is UN Secretary General Ban Ki-moon's spokesman, said, the UN chief "condemns the threats made against UN personnel and demands that all parties to the conflict respect the sanctity of UNMISS protection sites".
Full report at:
http://english.farsnews.com/newstext.aspx?nn=13921030000434
-----------
Nigeria: Our Concerns over Islamisation Agenda: CAN
20 January 2014
THE leadership of Christian Association of Nigeria, CAN, in the South-west has accepted a challenge of mobilizing the Church to put an end to Islamic intolerance in the nation.
Chairman of CAN South-west also declared a 31-day fasting and prayers programme for the persecuted Church in Nigeria with effect from January 14.
President of Christian Welfare Initiative (CWI), who doubles as the chairman of the Christian Association of Nigeria (CAN), South-west Zone, Archbishop Magnus Atilade, urged Christians to join in the prayer programme, noting that denominations/ministries which had begun fasting and prayers programme in this season should add the prayers for the persecuted Church to their prayer schedules in addition to praying against any Islamic agenda.
He maintained that Christians should use the period to draw attention of the entire country, as well as other nations of the world, to the growing security threats to Christians in the Federal Republic of Nigeria.
Full report at:
http://allafrica.com/stories/201401200970.html?viewall=1
----------
EU readies military mission to CAR
2014-01-20
BRUSSELS: EU foreign ministers are expected Monday to approve sending several hundred troops to Central African Republic to back up French and African soldiers trying to restore order after bloody communal clashes.
"Unless there is a last-minute surprise, the way is clear" for approval, a diplomatic source said, of a mission limited to 4-6 months and 400-600 soldiers who will take over security at Bangui airport to free up French troops.
For President Francois Hollande, under pressure at home, the decision may prove doubly welcome after he committed troops to France's former colony and then sought EU support.
"An EU deployment now (will) offer Paris both some immediate operational benefits -- freeing up French troops – and political relief," said Richard Gowan of the European Council on Foreign Relations.
Full report at:
http://www.dawn.com/news/1081501/eu-readies-military-mission-to-car
----------
Tunisia's last hope for democratic transition
20 January 2014
After the resignation earlier this month of Tunisia's Islamist prime minister, Ali Larayedh, Mehdi Jomaa, the new caretaker premier, is closing in on forming a new cabinet. Jomaa is to form a technocratic, non-partisan cabinet in order to end months of political deadlock and lead the country to fresh elections.
It is a rocky time for Tunisia, where economic problems reign, mistrust is deep between Islamists and secularists, and disappointed Tunisians, searching for light at the end of the tunnel, hold constant protests.
However, Tunisians are trying to have faith in Jomaa, hoping he will deliver.
Tunisia recently celebrated the third anniversary of its revolution and is on the verge of approving a post-revolution constitution. Applauded by many human rights organisations, the draft Tunisian constitution has been deemed by the Carter Center to underscore "the [Tunisian] authorities' strong commitment to democratic reform." Tunisia's constitutional commission allowed such NGOs to review drafts of the constitution as well as make recommendations on specific articles.
Full report at:
http://english.ahram.org.eg/NewsContent/2/8/91934/World/Region/Tunisias-last-hope-for-democratic-transition.aspx
----------
Southeast Asia
Non-Muslims not bound by royal decrees or fatwa on Islam, say lawyers
20 January 2014
Malaysia is a secular state and non-Muslims in the country are not bound by any edicts issued by state rulers or the National Fatwa Council on issues concerning Islam, said constitutional experts.
The Sultan of Kedah, who is the reigning Yang di-Pertuan Agong, yesterday cited a 1986 ruling by the National Fatwa Council that several words including Allah were exclusive to Muslims, reigniting concerns over non-Muslim religious rights that are guaranteed under the Malaysia Agreement of 1963.
"Edicts and fatwa cannot be applied on non-Muslims as it will violate their legal and religious rights," constitutional lawyer Edmund Bon told The Malaysian Insider, citing a 2009 case.
"Non-Muslims cannot be charged in a syariah court so any decree by the National Fatwa Council does not apply to non-Muslims," he said, pointing out fatwa rulings or edicts were only applicable to Muslims as decided by a three-man Federal Court bench in 2009 in the case of Sulaiman Takrib v Kerajaan Negeri Terengganu; Kerajaan Malaysia (intervener) & Other Cases.
The bench then was constituted of current Chief Judge of Malaya Tan Sri Zulkefli Ahmad Makinudin and former Chief Justices Tun Zaki Azmi and Tun Abdul Hamid Mohamad, who made his farewell judgment which among other things reiterated that fatwa is for those professing the Islamic faith.
Full report at:
http://www.themalaysianinsider.com/malaysia/article/non-muslims-not-bound-by-royal-decrees-or-fatwa-on-islam-say-lawyers
----------
Malaysia Opposition leader barred from entering Japan
20 January 2014
Malaysian Opposition leader Anwar Ibrahim was barred from entering Japan, his party said on Monday.
Japanese immigration officials on Sunday stopped Anwar at Narita International Airport, and told him to take the next flight back to Kuala Lumpur, said Latheefa Koya, human rights and legal bureau chief for the Opposition People's Alliance.
Anwar said in a blog post that the officials apparently denied him entry for a previous conviction in 1999, and for what they described only as a "latest report." "I protest in the strongest terms this unwarranted action of the Japanese government in refusing me entry," Anwar said on his blog.
Full report at:
http://www.thehindu.com/news/international/world/malaysia-opposition-leader-barred-from-entering-japan/article5596510.ece
----------
Three Indonesians shot dead by Malaysian Police
20 January 2014
The Malaysian Police shot dead three alleged Indonesian criminals in Johor Bahru, their families have said.
The three victims — identified as Wahab, Sudarsono and Gusti Randa alias Agus — were reportedly killed after attacking patrolling police officers at the 37.2 kilometer point of the Lebuhraya Senai-Desaru road in Johor Bahru on Jan. 11 at 4:40 a.m.
The victims were shot multiple times and sustained wounds to their chests and abdomen.
Fadil, a relative of Agus and Sudarsono, said his family was deeply shocked by the news.
He said the family doubted claims that the two men were criminals.
"An official from the Indonesian Consulate General in Johor Bahru told us that Johor Bahru Ulu Tiram Police officers were on patrol when they saw what they deemed three 'suspicious' men. When the police approached, the men attacked the police with machetes and revolvers," Fadil told The Jakarta Post in a telephone interview.
Full report at:
http://www.thejakartapost.com/news/2014/01/20/three-indonesians-shot-dead-malaysian-police.html
----------
We were tricked into converting to Islam, claim Christian villagers in remote Sabah district
20 January 2014
The small, white, nondescript wooden Protestant Church in Sabah (PCS) church in the Dusun village of Layung Maliau, in Sabah's remote Pitas district, was again packed for its Sunday service yesterday.
It has been filled to the brim since the first Sunday of 2014.
But what was strange in this revival of faith in this dirt poor village of 100 people is that a third of the worshippers are "Muslims" – or are supposed to be.
"They think they had converted us (to Islam). They are wrong. We are still Christians and our faith in God has not changed," housewife Lenney Masangal said, explaining the presence of "Muslims" at the church.
Full report at:
http://www.themalaysianinsider.com/malaysia/article/we-were-tricked-into-converting-to-islam-claim-christian-villagers-in-remot
----------
India
Terrorists try to attack secularism, democracy: Home Minister
20 January 2014
Terrorists and extremists seek to attack the democratic and secular fabric of the country and they would continue to try to keep everyone on tenterhooks, Union Home Minister Sushilkumar Shinde said on Monday.
"Terrorism and extremism seek to attack our two most significant achievements -- secularism and democracy. Our enemies who are at cross purposes with the 'idea of India', will continue to attempt to keep us on tenterhooks, and unsettle us, as we move forward in our endeavour of nation building," he said.
Mr. Shinde was speaking on the occasion of foundation day of National Investigation Agency (NIA), and said these values lie at the very core of India's existence, and bind its citizen as a 'nation'.
The Minister said the threats to the country need not merely take on conventional forms and may emanate from hitherto unknown areas, methods, and motivations and security agencies need to keep themselves prepared in this fight.
Full report at:
http://www.thehindu.com/news/national/terrorists-try-to-attack-secularism-democracy-shinde/article5597209.ece
----------
India will be Taliban's next target: Ex-NSA Narayanan
PTI | Jan 20, 2014
NEW DELHI: India will be the next target of terror groups like Taliban operating in Afghanistan if they succeeded in capturing power in the war-ravaged country, former national security adviser MK Narayanan said here on Monday.
The West Bengal governor also said what was particularly worrying was that Pakistan shows no inclination to desist from pursuing "high risk" strategies, and it appears determined to support Jihadist elements as a strategic instrumentality to keep India off balance.
Narayanan said given India's location, it is easy to see how the threat posed by terrorism — most of which emanates from outside the country's borders — is dependent on what prevails in the volatile and difficult neighbourhood.
Full report at:
http://timesofindia.indiatimes.com/india/India-will-be-Talibans-next-target-Ex-NSA-Narayanan/articleshow/29112050.cms
------------
Indian Mujahideen group capable of striking from Pakistan
TNN | Jan 20, 2014
NEW DELHI: Indian Mujahideen's (IM) chief operative in India, Ahmed Zarar Siddibappa alias Yasin Bhatkal, may be behind bars and his aides such as Patna blasts suspect Tehseen Akhtar alias Monu on the run but the outfit is in no way out of action. Security sources said IM's another faction led by Mirza Shadab Baig and Mohammed Sajid is fully functional and capable of launching strikes.
Both are known to have fled to Pakistan and are controlling cadres and operations in India from across the border. Sources said inputs received in the recent past have confirmed their presence in Pakistan and their activities over the internet, in terms of chats with recruits and other operatives, have been tracked.
Full report at:
http://timesofindia.indiatimes.com/india/Indian-Mujahideen-group-capable-of-striking-from-Pakistan/articleshow/29079002.cms
----------
North America
Obama: Less than fifty-fifty odds of Mideast peace treaty but progress also important
20 January 2014
US President Barack Obama believes that there is a less than 50 percent chance that his administration's efforts to resolve the Israeli-Palestinian conflict will end in success.
Obama made the remark in a long interview with the New Yorker magazine that was released on Sunday.
Obama told the New Yorker's editor David Remnick that the odds of reaching final treaties in US efforts on the Israeli-Palestinian front, the Iranian nuclear program, and in the Syrian war were less than fifty-fifty.
Despite his assessment Obama said there was value in making some progress in these three Middle Eastern initiatives.
Full report at:
http://www.jpost.com/Diplomacy-and-Politics/Obama-Less-than-fifty-fifty-odds-of-Middle-East-peace-treaty-but-some-progess-is-also-important-338723
----------
Iran curbs nuclear activities; EU, US to lift sanctions
Jan 20, 2014
IAEA inspectors said that Iran is not building any new uranium enrichment plants
Iran took the first steps Monday to limit its nuclear programme under a deal with world powers, the International Atomic Energy Agency (IAEA) confirmed, paving the way for the European Union and the United States to suspend some sanctions.
This is the first time that Iran has scaled back its nuclear programme, 10 years after its secret activities came to light and prompted Western fears that Tehran was working on a nuclear weapon.
In Tehran, Ali Akbar Salehi, the head of Iran's Atomic Energy Organization, said the country had halted uranium enrichment to 20 per cent and had begun down-blending uranium enriched to higher levels, according to the Fars news agency.
A report by IAEA inspectors confirmed these measures, which Iran had agreed to in its deal with six western powers on November 24, under which several sanctions on Iran will in turn be lifted for six months.
Full report at:
http://www.thehindu.com/news/international/world/iran-curbs-nuclear-activities-eu-us-to-lift-sanctions/article5596924.ece
------------
US lawmaker Mike Rogers claims Snowden had Russian help in revealing snoop operations
ANI | Jan 20, 2014
LONDON: Chairman of the House Intelligence Committee and a Republican representative from Michigan, Mike Rogers, has reportedly claimed that NSA whistleblower Edward Snowden had some Russian help in his mega revelations of the classified surveillance programmes.
Rogers allegedly called Snowden a 'thief', and said that he had some Russian help, adding that the committee was investigating whether the possibility was true.
According to The Guardian, Rogers pointed that it wasn't a gee-whiz luck event that Snowden ended up in Moscow under the handling of the Russian intelligence service, referring to the whistleblower's weeks long stay at the Sheremetyevo airport.
Chairman of the House Committee on homeland security, Michael McCaul, backed Rogers' comments and said that he believed Snowden was cultivated by a foreign power to do what he did.
Full report at:
http://timesofindia.indiatimes.com/world/us/US-lawmaker-Mike-Rogers-claims-Snowden-had-Russian-help-in-revealing-snoop-operations/articleshow/29112654.cms
------------
URL: https://www.newageislam.com/islamic-world-news/new-age-islam-news-bureau/-living-suicide-bomb--rejoins-al-qaida-after-saudi-deprogramming/d/35356